New Age Islam News Bureau
1 Nov 2015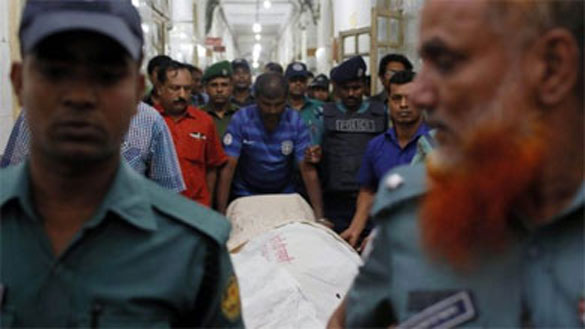 A Bangladeshi publisher of secular books Mr Dipon is the latest victim of suspected Islamists
--------
South Asia
• Secular Publisher Hacked To Death In Latest Bangladesh Attacks
• Rocket Hits Mosque in Eastern Afghanistan, 6 Killed
• Bangladesh Teachers, Students Rally Against Latest Killing
• Taliban kidnap four civilians in Jawzjan
• 14 civilians held hostage by gunmen released in Ghazni
• Afghan national allegedly responsible for over 1,000 lives in 1979 arrested in Holland, HRW says
------
Arab World
• 33 Terrorists Killed, Injured in Damascus Countryside
• Tens of ISIL Terrorists Killed in Army Operations across Iraq
• Al-Jubeir: Yemen War in Final Stage
• Russia Delivers Powerful Bombs to ISIL's Doorstep
• Saudi Arabi demands Iran hand over Alkhobar terrorists
• Iran bigger threat than Daesh, say Saudis
• Over 180 Militants Give up Fight, Surrender to Syrian Authorities
• Islamic State takes over Syrian town in Homs province - monitor
• Syrian Army Pushes Back ISIL Further, Comes Very Close to Kuweires Airbase
• Le Figaro Poll: Over 70% Want Syria's Assad to Remain in power
• Syrian Army Seizes Militants' Large Munition Depot near Hama
• Syrian Forces Purge Terrorists from another Village Lattakia
• New U.S.-backed Syrian rebel alliance launches offensive against Islamic State
-------
Africa
• 9 Killed As Islamic Extremists Attack Somalia Hotel; Siege Continues
• Buhari Ministers: We Are Ready To Work For Free
--------
Mideast
• Turkish, US Air Strikes Kill More Than 50 Islamic State Militants in Syria: Report
• Divided Turkey Votes In Critical Election as Violence Spirals
• Israel: Palestinian Shot Dead in Attempted Stabbing
-----
Pakistan
• At Least Four Dead as IED Blast Hits Passenger Train in Mastung
• Senate May Discuss Modi's Remarks
• Shafqat Mehmood steps down from post after PTI's dismal performance
------
India
• Must Worry About Female Foeticide, Not Religious Imbalance: Muslim Cleric
• Review Policy to Check Muslim, Christian Population: RSS Resolution
• MP SIMI Boss Abu Faisal Sentenced To Life
• Pakistan abducts 18 Gujarat fishermen with 3 boats
--------
Australia
• Australian Muslims Being Forced To Assimilate, Islamic Conference Told
-------
Europe
• Still the Refugees Are Coming, but In Europe the Barriers Are Rising
-------
North America
• US Troops in Syria Will Only Fight Islamic State: John Kerry
• Kerry to Prod Central Asian Nations on Rights amid IS Threat
-------
Compiled by New Age Islam News Bureau
URL: https://www.newageislam.com/islamic-world-news/new-age-islam-news-bureau/secular-publisher-hacked-to-death-in-latest-bangladesh-attacks/d/105120
-------
South Asia
Secular Publisher Hacked To Death in Latest Bangladesh Attacks
31 October 2015
A publisher of secular books has been hacked to death in the Bangladeshi capital, police have said. In a separate attack in Dhaka, police said two other writers and a publisher were stabbed and shot at a publishing house.
Fears of Islamist violence have been growing in Bangladesh after at least four atheist bloggers were murdered in the country this year. The attacks have been linked by police to domestic Islamist extremists, while Islamic State has claimed responsibility for three other attacks.
The body of Faisal Abedin Deepan, of the Jagriti Prokashoni publishing house, was found inside his office, said senior police officer Shibly Noman. The publisher had filed a complaint with police afterdeath threats on Facebook, friends said.
Earlier in the day, publisher Ahmed Rahim Tutul was attacked in the office of the Shudhdhoswar publishing house and seriously wounded. Two writers were also wounded in that attack. All three of the victims were hospitalised, and Tutul was in critical condition, police said.
Both Deepan and Tutal had published books by Bangladeshi-American writer and blogger Avijit Roy, who was hacked to death in February. He was one of the four secular bloggers killed in Bangladesh this year.
A local Islamist group, Ansarullah Bangla Team, had claimed responsibility for the killings and recently threatened to kill more bloggers. At least 15 members of Ansar Bangla, including a British citizen, have been arrested since August, when blogger Niloy Chatterjee was killed by a group of attackers armed with machetes.
No one has yet claimed responsibility for Saturday's attacks.
Robert Gibson, the British high commissioner to Bangladesh, condemned Saturday's attacks. "Violence is never the answer or acceptable in any circumstances," he tweeted.
Bangladesh has been rocked by a series of attacks this year claimed by Islamic extremists, including the blogger murders and, more recently, the killing of two foreigners: an Italian aid volunteer and a Japanese agricultural worker. A bomb attack on 24 October in Dhaka aimed at Shia Muslims killed a teenager and injured more than 100 other people.
Isis claimed responsibility for the attacks on the two foreigners and the bombing, but Bangladesh's government has denied the extremist Sunni militant group has any presence in the country.
The government has instead blamed domestic Islamist militants and political parties for orchestrating the violence in a bid to destabilise the nation.
Avijit Roy's books included Caravan of Darkness Walking With Light in Hand (2005), In Search of Life and Intelligence in the Universe (2007), The Virus of Faith (2008), Homosexuality: A Scientific and Socio-psychological Investigation (2010) and The Philosophy of Disbelief (2011).
http://www.theguardian.com/world/2015/oct/31/faisal-abedin-deepan-bangladesh-secular-publisher-hacked-to-death
-----
Rocket Hits Mosque In Eastern Afghanistan, 6 Killed
Oct 31, 2015
KABUL: A rocket apparently fired by fighters from the radical Islamic State movement has hit a mosque in eastern Afghanistan, killing six worshippers and wounding four others, a local official said on Saturday.
The attack in Achin, southeast of Jalalabad in Nangarhar province, occurred during evening prayers on Friday, district governor Haji Ghalibhe said.
It was not clear if it was aimed at the mosque or went astray after being fired at security forces based nearby.
Islamic State has been building up its presence in Afghanistan while battling both government forces and the Islamist Taliban movement. Nangarhar, on the border with Pakistan, has become one of its main strongholds.
Hazrat Hussain Mashriqiwal, a spokesman for the Nangarhar police chief, said security forces had detained two suspects, one of whom was a foreigner.
Islamic State's rise has caused alarm outside Afghanistan, with Russia saying it was concerned about the threat to its central Asian neighbours and U.S. commanders citing the movement as a reason to delay plans to pull out troops next year.
http://timesofindia.indiatimes.com/world/south-asia/Rocket-hits-mosque-in-eastern-Afghanistan-6-killed/articleshow/49610871.cms
-----
Bangladesh Teachers, Students Rally Against Latest Killing
AFP —1 11 15
DHAKA: Protesters rallied in the Bangladesh capital Sunday over the latest attacks against secular writers and publishers, accusing the government of failing to halt rising deadly violence blamed on hardline Islamists.
Teachers, writers, students and other protesters converged on Dhaka University to vent their anger, one day after a gang of men armed with machetes and cleavers hacked to death a publisher of secular books.
Two secular bloggers and another publisher were also badly injured in a similar and separate attack in Dhaka on Saturday, leaving them in pools of blood in their office.
"First they targeted the writers, and now the publishers and soon they'll target all of us," Samina Lutfa, a teacher at the university, told the rally of a couple of hundred protesters.
"Don't stay at home, come out on the street and protest these killings," she said at the campus, Bangladesh's secular bastion, as protesters called for similar rallies elsewhere in the country.
Fears of violence have been rising in Muslim-majority Bangladesh after four atheist bloggers were murdered this year, allegedly by Islamist hardliners.
Al Qaeda in the Indian Subcontinent (AQIS) claimed responsibility for Saturday's attacks, along with the four earlier ones, branding the victims "blasphemers" and warning any writers who criticise Islam of being next in line.
Police said Faisal Arefin Dipan, 43, was killed in his third-floor publishing office in central Dhaka on Saturday, with his attackers padlocking the door from the outside as they left.
Dipan published several books by Avijit Roy, a United States national of Bangladeshi origin, who was hacked to death outside a book fair in February in the capital.
Hours before Dipan's murder, three unidentified attackers entered another publishing office, Shuddhaswar, and attacked its owner along with two secular bloggers, police said.
Shuddhaswar owner Ahmedur Rashid Tutul, 43, whose condition is still serious, also previously brought out several of Roy's books including one on homosexuality.
"It's a failure of the government that it has not been able to prosecute the killers," said Imran Sarker, head of a secular bloggers' group, which organised the protests.
"There is a climate of impunity in which these militants now operate brazenly," he said.
Police said both of Saturday's attacks bore the hallmarks of the earlier ones on bloggers which were blamed on banned local group Ansarullah Bangla Team. Police could not confirm if AQIS was behind the latest ones.
Bloggers say about a dozen secular writers have fled the country in fear following this year's killings, while some have faced threats themselves from Islamists.
Prime Minister Sheikh Hasina's government has blamed local hardline Islamist groups for the earlier attacks and launched a crackdown after facing Western criticism of failing to stop the bloodshed.
Bangladesh has also been rocked by the recent murders of an Italian aid worker and a Japanese farmer, while Dhaka's main imambargah was bombed last weekend, killing two people and wounded dozens.
The government has accused its political opponents of orchestrating those attacks to destabilise the country, rejecting the self-styled Islamic State group's claim of responsibility.
Bangladesh prides itself on being a mainly moderate Muslim nation, but the gruesome killings along with the Shia shrine bombing have heightened fears for minorities.
http://www.dawn.com/news/1216804/bangladesh-teachers-students-rally-against-latest-killing
-----
Taliban Kidnap Four Civilians In Jawzjan
By Khaama Press - Sun Nov 01 2015
Police HeadquartersTaliban militants kidnapped four civilians from Qush Tepa District of northern Jawzjan province last night after accusing them of helping government.
Deputy Police Chief of Jawzjan said on Sunday that Taliban have taken the abducted villagers of Jarqaduq village to an unknown location.
Colonel Abdul Hafiz Khashi added that there is no information about the where about of the hostages but community elders are trying to secure their release.
Reports suggest that the kidnapped civilians are not government employees but their sons were once soldiers of the Afghan National Army.
Taliban had not commented on the report by the time it was filed.
This comes as the leadership of Taliban always stress to fighters in messages to refrain from bothering or harming civilians.
http://www.khaama.com/taliban-kidnap-four-civilians-in-jawzjan-4069
-----
14 Civilians Held Hostage By Gunmen Released In Ghazni
By Khaama Press - Sat Oct 31 2015
14 civilians who were kidnapped by a group of unidentified gunmen from Khak-e-Afghan District of southern Zabul province have been released.
The 14 people, all members of the same family, were reportedly taken to Jaghori District of neighboring Ghazni province.
Officials say release of the hostages was secured this morning after joint efforts by the provincial councils of both provinces and some members of parliament.
Haji Ata Jan Haqbayan, head of the provincial council of Zabul province, said no compensation has been given to the kidnappers in return.
We still demand central government to arrest the illegal armed group behind it and punish them, Haqbayan said.
Including women and children, the 14 family members were kidnapped after head of the house was shot dead around 11:00 PM on 26 October.
Neither officials have released identification of the kidnappers nor has any group claimed responsibility for the kidnapping but Haqbayan said that foreign intelligence is trying to put ethnic and tribal tensions in Afghanistan.
http://www.khaama.com/14-civilians-held-hostage-by-gunmen-released-in-ghazni-4067
------
Afghan national allegedly responsible for over 1,000 lives in 1979 arrested in Holland, HRW says
By Zabihullah Moosakhail - Sat Oct 31 2015
According to Human Rights Watch (HRW) security officials have arrested an Afghan who ordered the killing of more than 1,000 people in eastern Kunar province of Afghanistan in the year 1979.
A report published by HRW on Friday states that Sadeq Alamyar was arrested in the southern Holland city of Rotterdam on October 27, 2015 on charges of ordering one of the most horrific crimes of the early years of Afghanistan's long wars.
If the case goes to trial, survivors and witnesses are expected to recount how on April 20, 1979, troops of the 444th Commando Force of the Afghan Army, which Alamyar commanded, shot more than 1,000 men and boys in Karala, in Kunar province, the report states, adding that according to the Afghanistan Justice Project, as the remaining villagers watched, Alamyar's forces then bulldozed the bodies into a trench. Many were only wounded and buried alive.
"The mass grave is still visible in Karala. The incident has been described in media accounts and documented by human rights organizations, but no one has ever been held accountable for the atrocity," states the report.
"In announcing Alamyar's arrest, the Dutch Public Prosecutor's Office has called for witnesses to the massacre to come forward. Those who have done so have already sent a clear message from beyond Karala's mass grave: Alamyar – and other war crimes suspects like him – will never be out of the reach of justice."
HRW says thousands of killings and systematic torture have taken place during the Afghan wars.
"It's rare when victims of 36-year-old crimes get their day in court. In Afghanistan's wars, there have been thousands of killings, systematic torture, rapes, and a litany of other war crimes and grievous human rights abuses. Many Afghans have called for accountability, but few perpetrators have ever faced justice. Human Rights Watch has documented similar cases over the years, and Alamyar's prosecution would give hope to victims everywhere that they too might one day see justice."
The Netherlands has been one of the leading countries to proactively implement universal jurisdiction, an international law principle that allows the courts of one country to prosecute grave international crimes even if they were committed abroad, by foreigners and against foreigners. With its specialized war crimes unit, the Dutch have dedicated significant resources to ensuring the country does not become a safe haven for war criminals.
In 2005, Dutch convicted two former officials of Afghanistan's then intelligence agency, Khad, for torture and since then they have been serving a lengthy prison term.
http://www.khaama.com/afghan-believed-to-be-responsible-for-over-1000-lives-in-1979-arrested-in-holland-hrw-says
-----
Arab world
33 Terrorists Killed, Injured in Damascus Countryside
TEHRAN (FNA)- At least 33 terrorists were killed and injured in Syrian airstrikes on the Takfiri militants' positions in Damascus countryside on Sunday.
Syrian warplanes conducted pinpoint airstrikes on militant positions and gathering centers in Jobar in Damascus countryside, and killed and injured at least 33 terrorists, sources said, adding that the terrorists' vehicles and weapons were also destroyed in the air attacks.
Provincial sources announced on Sunday that scores of militants were killed or wounded in a joint offensive operation of the Syrian Army and popular forces on their positions in Eastern Ghouta.
The militants' strongholds in Housh Admal village and its farms in al-Mashabiyeh came under massive attacks of the Syrian army troops and popular forces, which left dozens of the terrorists dead or wounded, the sources said.
http://english.farsnews.com/newstext.aspx?nn=13940810000546
-----
Tens of ISIL Terrorists Killed in Army Operations across Iraq
1 Nov 2015
TEHRAN (FNA)- Several dozens of Takfiri terrorists have been killed in Iraqi forces' massive military operations in the country's three key provinces of Salahuddin, Al-Anbar and Nineveh, media reports said.
At least 62 ISIL militants were killed in the joint operation of the Iraqi security and popular forces in Ramadi region of Anbar province, some areas of Salahuddin province, Sinjar, Mosul and Tal Afar regions in Nineveh province in Northwestern Iraq, the Arabic-language al-Harra news agency reported.
Meantime, the Iraqi forces destroyed 19 military positions of the ISIL in Ramadi, Mosul, Sinjar and Tal Afar regions.
Field reports said that the Iraqi army and popular forces' effective advances in Anbar have pushed the foreign terrorists to withdraw from the Western province.
Reports earlier this week said that Iraq's army and volunteer forces (Hashd al-Shaabi) regained full control over several strategic bases of ISIL terrorists in Anbar.
The Iraqi forces retook the ISIL bases in the areas of East Haseebah, al-Sajariyyah, Theela and Al Sufiyyah, East of the city of Ramadi, and killed dozens of the militants and destroyed scores of their armed vehicles, informed sources said.
The Iraqi army and volunteer forces intensified their military operations in the Western al-Anbar province earlier this month.
The Iraqi forces launched massive offensives on ISIL terrorists in Anbar from the North, South and the West.
In the North, the Iraqi forces advanced towards al-Bu Faraj in the Northern parts of the city of Ramadi.
The Iraqi army and popular forces killed dozens of ISIL terrorists in the surrounding areas of al-Bu Faraj and destroyed their military vehicles.
In the West, the Iraqi forces backed by the Iraqi air force advanced towards the Western parts of Ramadi from al-Borisheh and Zankoureh towards the Iraqi army's 8th Brigade base.
In the South, the Iraqi army and popular forces moved towards al-Tamim region after reinforcing their positions near Al-Anbar University in the Southern parts of Ramadi.
http://english.farsnews.com/newstext.aspx?nn=13940810000543
------
Al-Jubeir: Yemen war in final stage
Sunday 1 November 2015
MANAMA: Foreign Minister Adel Al-Jubeir has said that he sees the Yemen war nearing its end.
"I am confident that the Yemeni conflict has entered its final stage, and I'm optimistic," he said.
"There are indications that the war in Yemen is entering a final phase. The legitimate government forces are now in control of the vast majority of Yemeni territory. There still remain some areas that need to be liberated including Sanaa, but the trend is moving in the right direction," said the minister.
"The Houthis and the Yemenis have every right to be part of the Yemen political process, we have said that from the very beginning. The only thing they cannot have is a privileged position because that would distinguish them from other Yemenis and that would not be fair. And they cannot have a militia outside of the institutions of the state," he added.
Speaking at the Manama Dialogue security conference on Saturday, Al-Jubeir said: "GCC is a young, vibrant region. Anyone who bets against the GCC is bound to lose."
Syria dominated discussions at the gathering of Western and Arab officials in Manama.
The minister said that the timing of the departure of Syrian President Bashar Assad and the withdrawal of foreign fighters remain the sticking points to finding a lasting resolution to the civil war in Syria.
"Once Assad is gone, Daesh will be no more than a terrorist organization and easily extinguished," he said.
Al-Jubeir's remarks came just hours after Saudi Arabia, US, Russia and more than a dozen other countries agreed to pursue a new peace effort involving Syria's government and opposition groups.
Al-Jubeir downplayed the significance of what had been achieved at the talks in Vienna, declaring in Bahrain that "We have not been able to reach an agreement."
He said Saudi Arabia's policy toward Syria has not changed, and that it would continue to support what he called the moderate Syrian opposition.
He described the presence of foreign forces, particularly Iranian, as a roadblock to ending the fighting.
Al-Jubeir also made clear that the negotiations had done nothing to change Saudi Arabia's position that Assad must go.
"Ideally he should leave this afternoon. The sooner the better," Al-Jubeir said.
"For us without Assad's departure, there is no solution for the Syrian problems," he was quoted as saying by Reuters.
Russia and Iran must agree to a date and means for Assad to quit the country, and agree to withdraw all foreign forces from Syria, Al-Jubeir said in an interview with Sky News Arabia.
Al-Jubeir said the Vienna talks, which will resume within two weeks, would show how serious Assad and Iran and Russia were in seeking a peaceful solution to the crisis.
"Our two points where we differ from them are on a date and means for Assad's departure, and the second point is on a date and means for the withdrawal of foreign forces, especially Iranian ones. These are the two basic points without which there can be no solution," he said.
Al-Jubeir also voiced hoped that Iran would use its additional revenue after sanctions on it were lifted following its nuclear deal with world powers to develop its economy "rather than for aggressive policies."
Saudi Arabia has characterized Assad's use of air power and artillery in Syrian cities as genocidal and has described the presence of Iranian military forces and ShiiteIraqi and Lebanese militia in Syria as a foreign occupation.
http://www.arabnews.com/featured/news/828886
------
Russia Delivers Powerful Bombs to ISIL's Doorstep
TEHRAN (FNA)- Russian warplanes based near the Syrian city of Lattakia have reportedly used heavy laser-guided bombs to attack ISIL positions.
Russian Su-34 frontline bombers stationed at the Hmaimim air base near the Syrian port of Lattakia have used KAB-1500 guided bombs to destroy ISIL targets, RIA Novosti quoted Russian Aerospace Forces spokesman Igor Klimov as saying.
Accompanied by Su-30SM multi-role fighter jets, the Su-34 planes dropped the 1,500 kg bombs on ISIL targets in parts of eastern Syria controlled by the jihadist group. The Russian acronym KAB stands for "adjustable aircraft bomb" in English.
"The KAB-1500 guided bomb is known for its high accuracy. It is equipped with a laser seeker which helps to direct the bomb," Klimov said.
The KAB-1500L-Pr version, fitted with a 1,100-kg concrete-piercing warhead, is designed for attacking reinforced concrete fortifications, runways and rail bridges.
The KAB-1500L-F version is equipped a 1,180-kg blast warhead for surface targets, such as military and industrial facilities.
According to Klimov, these KAB-1500 bombs can pierce through twenty meters of soil or a three-meter reinforced concrete ceiling.
On September 30, more than fifty Russian aircraft, including Su-24M, Su-25 and Su-34 warplanes, commenced precision airstrikes on ISIL targets in Syria at the behest of Syrian President Bashar al-Assad.
Earlier that day, the Russian upper house of parliament unanimously supported the request of President Vladimir Putin to deploy units of the Russian Aerospace Forces abroad.
Syrian Ambassador to Russia Riad Haddad confirmed, for his part, that Syrian Army strikes, supported by the Russian Air Force, were carried out against armed terrorist organizations, not political opposition factions or civilians.
In the past thirty days, Russian military aircraft carried out total of 1,391 sorties in Syria, destroying 1,623 ISIL targets, according to the Russian Armed Forces's General Staff.
http://english.farsnews.com/newstext.aspx?nn=13940809001398
-----
Saudi Arabi demands Iran hand over Alkhobar terrorists
Sunday 1 November 2015
RIYADH: Saudi Arabia has again raised the issue of Iran giving shelter to the terrorist leaders involved in the 1996 Alkhobar bombing, and demanded that they be handed over to the Saudi authorities.
The demand was made by Foreign Minister Adel Al-Jubeir during a meeting in Vienna on Friday, in the presence of his Iranian counterpart Mohammad Javad Zarif.
The Kingdom has called for the handover of the terrorists a number of times, but Iran has refused till today, said Al-Jubeir during the conference, which was organized to end the ongoing conflict in Syria.
Observers have said Iran has been implicated for hosting terrorists directly in the June 25, 1996 bombing of the Alkhobar Towers residence at an American military base in the Kingdom, in which 19 American soldiers were killed and 379 people injured.
http://www.arabnews.com/saudi-arabia/news/828856
-------
Iran bigger threat than Daesh, say Saudis
Sunday 1 November 2015
RIYADH: The opinion in the Kingdom on Daesh is mostly negative, but the citizens consider Iran as more dangerous than the terror organization, a survey has revealed.
A huge 78 percent of Saudis said Daesh was greatly negative and 14 percent said they looked at Daesh with a "negative outlook somewhat," said the survey conducted by David Pollock of Washington Institute of Near Eastern Affairs.
Saudis look at Iran in a greatly negative way as 42 percent see the latest policies of Tehran as negative and 49 percent find the same very negative, local media reported, citing the survey.
"Only 12 percent of those surveyed expect an improvement in Arab-Iran policies in the coming years. The opinion toward Iran's nuclear agreement is divided in an unexpected way, as 42 percent said it's a bad deal, while 39 percent thought it was good to a certain extent," the survey shows.
The survey shows that Saudis look negatively toward the effects of Iran, Russia and United States vis-a-vis the stability of the region.
The opinion on Russia and the US is similar with Russia receiving 85 percent and America 81 percent ratings in negativities because of their policies.
Pollok included interviews with local employees with a geographical sample representing thousands of adults. Also, samples included all of the geographical areas and demographic features in line with its gross population sectors.
Pollok said the main result that can be elucidated is Daesh doesn't have popular support among the Saudi public in the Kingdom. He said China and France got better ratings among Saudis.
http://www.arabnews.com/saudi-arabia/news/828851
------
Over 180 Militants Give up Fight, Surrender to Syrian Authorities
TEHRAN (FNA)- At least 184 terrorists have laid down arms and surrendered to the Syrian authorities in Damascus, Aleppo and Deir Ezzur provinces, local sources said on Sunday.
Some 184 wanted persons from Damascus, Aleppo and Deir Ezzur turned themselves in to the authorities to be pardoned, provincial officials said.
The army troops, backed by Russian warplanes, have made major advances in their fight against the Takfiri terrorists across the Muslim country in recent days.
Following the Syrian-Russian joint operations, thousands of Takfiri terrorists have also fled Syria to Jordan, Turkey and Europe.
http://english.farsnews.com/newstext.aspx?nn=13940810000599
-----
Islamic State takes over Syrian town in Homs province - monitor
01 Nov 2015 16:45
BEIRUT: Islamic State fighters took control of the Syrian town of Maheen in the southwest of Homs province on Sunday after an attack on government forces in the area, a monitoring group and a statement by the jihadists said.
The attack killed and wounded at least 50 fighters on the government side and brought Islamic State to within 20 kilometres (13 miles) of the main highway that links Damascus to Homs and cities further north, the Britain-based Syrian Observatory for Human Rights said.
Clashes also raged on the outskirts of Sadad, a nearby town mostly inhabited by Christians, as Islamic State fighters pressed their advance, the Observatory said.
(Reporting by John Davison; editing by John Stonestreet)
http://www.channelnewsasia.com/news/world/islamic-state-takes-over/2231394.html
------
Syrian Army Pushes Back ISIL Further, Comes Very Close to Kuweires Airbase
1 11 15
TEHRAN (FNA)- The Syrian Army, Lebanese Hezbollah fighters and popular forces won a series of tough clashes with militant groups in the Southern part of Sheikh Ahmad town in Aleppo province and are now just less then 3 kilometers to the strategic Kuweires Airbase, field sources informed on Sunday.
The sources said that the joint operations of the Syrian army troops, Hezbollah fighters and National Defense Forces (NDF) that have been underway with the Russian air backup for the last one month have forced the militant groups, specially ISIL, to withdraw from the Southern parts of Sheikh Ahmad town near the Kuweires airbase.
The government forces have passed the railroad crossing near Sheikh Ahmad and have only 2,600 meters to reach to the gates of the airbase, the sources added.
The sources said that the militant groups have suffered heavy casualties in the latest stage of the pro-government troops' joint operations last night.
On Saturday, the Syrian Army, popular forces and Hezbollah fighters, backed up by Russian fighter bombers, advanced against the ISIL terrorists in the surrounding areas of the Kuweires Airbase.
The sources said that the Syrian soldiers, the National Defense Forces (NDF) and Lebanese Hezbollah fighters seized back dozens of buildings in the town of Sheikh Ahmad after taking full control over the Southern and Central regions of the town.
In the meantime, the ISIL positions in Sheikh Ahmad and around the Kuweires airbase were bombed by the Russian jets, which resulted in the heavy death toll of the terrorists.
The ISIL Takfiri terrorists have besieged the Kuweires airbase for over 2.5 years now, but the base itself is under the Syrian army's control.
Hundreds of Syrian forces are under a tight siege at the airbase as a result of the occupation of vast areas surrounding the airport by the terrorists.
The Syrian army's helicopters supply foodstuff and other needs to the Syrian troops defending the airport.
http://english.farsnews.com/newstext.aspx?nn=13940810000316
-------
Le Figaro Poll: Over 70% Want Syria's Assad to Remain in power
TEHRAN (FNA)- A recent poll carried out by France's Le Figaro newspaper has indicated that at least 72 percent of respondents want Syrian President Bashar al-Assad to remain in power.
The survey, published on Thursday, asked: "Should world powers demand Bashar al-Assad to leave?" At least 28 percent from 21,314 respondents have voted "Yes" so far, while the majority – 72 percent – has said "No".
The poll was conducted ahead of the Vienna talks, where 19 global powers gathered to find a solution for a nationwide ceasefire in Syria. The fate of Assad remained the stumbling block during discussions, RT reported.
The US and its allies including Saudi Arabia repeatedly said the Syrian president, whose term expires in 2021, must resign.
"There is no way President Assad can unite and govern Syria," US Secretary of State John Kerry said during the meeting, adding, "Syrians deserve a different choice."
However, Russian Foreign Minister Sergey Lavrov said the Syrian people "should define the future of their country... including Assad's fate."
Earlier in October, a member of Moscow's parliamentary delegation told TASS that Assad had agreed to hold preliminary elections in the country, only if the move has the people's backing.
Syria has been caught up in a war since 2011, when violent protests erupted as part of the so-called Arab spring. During the turmoil, ISIL militants managed to capture large amounts of territory in Syria and Iraq.
On September 30, Moscow launched a military operation targeting ISIL positions following a formal request from Assad.
http://english.farsnews.com/newstext.aspx?nn=13940809001417
-------
Syrian Army Seizes Militants' Large Munition Depot near Hama
TEHRAN (FNA)- The Syrian Army on Sunday morning stormed one of the hideouts of the militant groups near al-Farai district and found a large depot of ammunition, weapons and other military equipment after breaking into the terrorists' defense line, army officials said.
The sources said that the army raided the terrorist group in the early hours of this morning, and killed most of the terrorist in the hideout.
The remaining terrorists withdraw and their hideout which also was used as a munitions depot fell into the hand of the government forces.
Weapons, explosives devices, sniper rifles, RPG launchers, Israeli-made assault rifles, explosive belts and large amounts of C4 and silver nitrates used in making explosive devices were in the seized depot.
On Saturday, Syrian warplanes bombed more positions of Jeish al-Fateh terrorists in the provinces of Hama and Idlib, killing a large number of the militants.
The Syrian warplanes pounded the hideouts and concentration centers of Jeish al-Fateh terrorists in the villages and towns of al-Lataminah, Skaik, al-Mestriha, Tal Hawaqs, Wadi Jafar and in the vicinity of al-Tawbah School on the outskirts of Hama and Idlib.
The air raids killed and wounded a large number of terrorists and destroyed their vehicles, weapons and ammunition.
Earlier reports said on Saturday that the Syrian warplanes bombed several positions of the Takfiri terrorists in the provinces of Idlib and Hama, inflicting heavy casualty on the militants.
Syrian fighter jets targeted Takfiri terrorists' positions in Rasem al-Tina and al-Latamina in Hama countryside, informed sources said.
The airstrikes also hit the militants' positions in al-Mestriha and Maaret al-Noman in the countryside of Idlib.
The air attacks killed scores of militants and destroyed their vehicles and weapons, the sources added.
http://english.farsnews.com/newstext.aspx?nn=13940810000419
------
Syrian Forces Purge Terrorists from Another Village Lattakia
TEHRAN (FNA)- The Syrian army, backed by Russian warplanes, won back a village in Lattakia province from the Takfiri militants in a surprise attack against the terrorists, reports said Sunday.
The Syrian army regained full control over Jub al-Ahmar village in Lattakia, and killed scores of Takfiri terrorists.
No further report has been given on the possible number of casualties on either side of the clashes.
Earlier reports said the Syrian army, backed by Russian fighter jets, conducted surprise military operations across Lattakia province.
On Friday, the Syrian army killed tens of Takfiri terrorists and wounded dozens more in a counteroffensive in the Lattakia province.
The al-Nusra Front terrorists stationed near the strategic region of Salma attacked the Syrian army's positions in Kafar Dalbeh village, but were repelled.
The army troops pushed the militants to a region located between Salma and Kafar Dalbeh and then pounded them with missiles and mortar shells, killing all of them, FNA dispatches from the battlefield said.
The Syrian army is still in full control over the farms and buildings surrounding the Salma region.
http://english.farsnews.com/newstext.aspx?nn=13940810000380
------
New U.S.-backed Syrian rebel alliance launches offensive against Islamic State
BEIRUT | By John Davison
A newly formed U.S.-backed Syrian rebel alliance on Saturday launched an offensive against Islamic State in the northeast province of Hasaka, a day after the United States said it would send special forces to advise insurgents fighting the jihadists.
It was the first declared operation by the Democratic Forces of Syria, which joins together a U.S.-backed Kurdish militia and several Syrian Arab rebel groups, since it announced its formation earlier this month.
World powers and regional rivals are convening in Vienna to seek a solution to the four-year conflict in Syria that has escalated since Russia intervened a month ago with an intense air campaign.
Fighting in Hasaka had begun after midnight, a spokesman for the alliance said. A group monitoring the war reported fighting and coalition air strikes in the area.
A video posted earlier on Youtube announced the offensive in southern Hasaka, and showed several dozen men in fatigues standing outdoors with yellow flags and banners carrying the name of the Democratic Forces of Syria in Arabic and Kurdish.
The campaign would "continue until all occupied areas in Hasaka are freed from Daesh," a spokesman for the alliance's general command said in the video, using an Arabic name for IS. He urged residents to stay away from IS-controlled areas of Hasaka.
Another spokesman later said alliance forces had already attacked Islamic State fighters.
"The battle began after midnight," Talal Salu told Reuters via internet messaging service. "They were flanked by our forces... (who) thwarted a counter attack."
Another spokesman later said alliance forces had already attacked Islamic State fighters.
"The battle began after midnight," Talal Salu told Reuters via internet messaging service. "They were flanked by our forces... (who) thwarted a counter attack."
UNITED STATES' SUPPORT
The United States' decision to station ground troops in Syria comes after it dropped ammunition to rebel groups in northern Syria several weeks ago.
Washington's strategy in Syria has shifted from trying to train fighters outside the country to supplying groups headed by U.S.-vetted commanders.
The Britain-based Syrian Observatory for Human Rights, which monitors developments on the ground, said fighting was raging on Saturday near al Hawl, a town close to the Iraqi border, accompanied by coalition air strikes.
Hasaka province borders Iraq and territory there that is a crucial stronghold for Islamic State.
One member of alliance, the Kurdish YPG has to date proved Washington's most effective partner on the ground against IS in Syria. It had pushed towards the border in previous fighting this year.
The Raqqa Revolutionaries Front, one of the Arab groups in the alliance, on Thursday declared an imminent offensive against Islamic State in its Syrian stronghold of Raqqa province, which borders Hasaka.
http://www.reuters.com/article/2015/10/31/us-mideast-crisis-syria-idUSKCN0SP0EA20151031
-------
Africa
9 Killed As Islamic Extremists Attack Somalia Hotel; Siege Continues
1 Nov 2015
(Said Yusuf Warsame / European Pressphoto Agency)
Somalia's Islamic extremists attacked a hotel at dawn Sunday in the capital, Mogadishu, killing at least nine people and injuring 10, a police official said.
The attack started at daybreak when a suicide bomber detonated a vehicle laden with explosives at the gate of the Sahafi Hotel, then gunmen on foot ran into the hotel and opened fire, Capt. Mohamed Hussein said.
"They have killed the owner of the hotel, a former military general, and other officials during the attack," Hussein said by phone from the scene as gunfire could be heard in the hotel.
"There's a hostage situation inside the hotel," Hussein said.
A second explosion came from a car bomb outside the hotel, said witnesses.
Shabab, the Islamic extremist rebels waging an insurgency against Somalia's weak U.N.- backed government, claimed responsibility for the attack through the group's radio Andulus. The fighters infiltrated the hotel and are still in control of the building, Sheikh Abdiaziz Abu-Musab, Shabab's military spokesman, told the radio station.
Somali troops and African Union forces were at the scene of the attack, according to a Twitter post by the African Union Mission in Somalia, which has deployed troops to bolster Somalia's government against Shabab's insurgency.
One photographer was among those killed and another was injured, according to witnesses.
"I was at the scene of the explosion busy with taking photos when a vehicle full of explosives exploded beside me, I fell on the ground and saw part of my body bleeding, I was with another journalist who was killed in the attack," said Feisal Omar, who has since been discharged from the Mogadishu hospital.
See the most-read stories this hour >>
The Sahafi Hotel is often frequented by Somali government officials and business executives and it has been targeted before. Two French security advisers were abducted from the hotel by militants in 2009.
Despite being forced out of Mogadishu and many other cities and towns across Somalia, Shabab continues to launch lethal attacks in the capital and elsewhere. Shabab is fighting to oust the Mogadishu government and install a strict version of Shariah law. Shabab have also attacked neighboring countries that have sent troops to support the Mogadishu government. The extremist rebels killed 148 people in an attack on a college in Garissa, Kenya in April.
http://www.latimes.com/world/africa/la-fg-islamic-extremists-attack-somalia-hotel-20151031-story.html
-------
Buhari Ministers: We Are Ready To Work For Free
Clement Ejiofor 1 11 15
After President Muhammadu Buhari said last Friday that Nigeria is broke and he might not be able to pay ministers, some minister-designates have said they are ready to work for free.
Adebayo Shittu and Professor Isaac Adewole were among those who announced this. The ministers, who along with their colleagues are expected to be sworn in and given portfolios any moment from now, described their appointment as a call to service.
Shittu, representing Oyo state at the yet-to-be-constituted Federal Executive Council, said he was ready to give his services for free to Nigeria if that was what the situation demanded.
According to Shittu, who is also a legal practitioner and human rights activist, what matters is the intention to serve and not the financial benefits.
"It is an issue of national service. There is nothing too much to sacrifice. If that is what our situation in Nigeria demands, then we must put ourselves up selflessly. We cannot say because of selfishness, we cannot work selflessly," he said.
"With my background as somebody from a very humble family, I know what poverty is and I have been experiencing it. I have been dogged in conforming to the dictates of politics and poverty. There is nothing too much to sacrifice for the service of our people," he added.
Adewole, a former vice chancellor of the University of Ibadan, in a statement signed by his media aide Sunday Saanu, said he was ready to serve the nation without pay.
Saanu who is to represent Osun state said: "It is a great honour to serve one's fatherland and I can tell you Prof. Adewole is ready to serve Nigeria without collecting salaries. Everything is not about money. It is a privilege and a great honour to serve. This is what he was doing at his former school. He was paying some teachers employed to complement government's efforts.
"He is not driven by money but passion to make positive impact in the nation in whatever capacity."
The former governor of Rivers state, Rotimi Amaechi, also said he did not accept to be a minister for personal and pecuniary gains.
According to Amaechi's former aide, Ibim Semenitari, he is interested in the development of Nigeria. "If he (President Buhari) has not said that he would not pay ministers, the question of whether he (Amaechi) will work for free should not be necessary. We know that we are currently dealing with hard times. For us as a country, we will manage our cost," Ibim Semenitari said.
"He (Amaechi) has never run for anything because he is looking for money. His interest is in the development of Nigeria," the former aide added.
https://www.naij.com/623958-buharis-ministers-ready-work-ror-free-nigeria-broke.html?source=notification
-----
Mideast
Turkish, US Air Strikes Kill More Than 50 Islamic State Militants in Syria: Report
November 01, 2015
Istanbul: Air strikes by Turkish and US aircraft in Syria on Saturday killed more than 50 Islamic State militants and wounded around 30, state-run Anadolu Agency quoted security sources as saying on Sunday.
A senior government official told Reuters on Saturday that Turkish jets had bombed Islamic State targets in Syria, as before Turks prepared to vote in Sunday's parliamentary election.
Six Turkish F-16 jets which took off from the Incirlik base in southern Turkey had been involved in the air strikes between 0900-1400 GMT on Saturday, as well as a drone belonging to the coalition, Anadolu said.
It said the operation destroyed eight Islamic State targets around 5 km inside the Syrian border near the Turkish province of Kilis. The operation was backed up by Turkmen forces on the ground in Syria, it added.
Turkey vowed to take a more active role in combating Islamic State in July, as part of a multi-pronged offensive which also saw them ramp up attacks on Kurdish militants.
Since then, the Turkish military has primarily concentrated on hitting its old foe, the outlawed Kurdistan Workers Party (PKK), although Turkish airbases have also been used by US-led coalition jets to hit IS targets in northern Syria.
© Thomson Reuters 2015
http://www.ndtv.com/world-news/turkish-us-air-strikes-kill-more-than-50-islamic-state-militants-in-syria-report-1238634
--------
Divided Turkey votes in critical election as violence spirals
Nov 1, 2015
ISTANBUL: Turkey votes today in its most crucial election in years as the deeply divided country confronts a bloody wave of jihadist attacks and a renewed Kurdish conflict.
The poll is the second in only five months, called after the Justice and Development Party (AKP) lost its parliamentary majority in June for the first time in 13 years of single- party rule and then failed to forge a power-sharing government.
Opinion polls are, however, predicting a replay today, leaving the strategic Muslim-majority nation at risk of further instability just as it is facing what some observers warn are existential threats.
Turks are fearful of a return to all-out war with outlawed Kurdistan Workers' Party (PKK) rebels after renewed violence shattered a 2013 truce in July, just a month after a pro- Kurdish party took up seats in parliament for the first time.
The threat of further jihadist violence is also overshadowing the election after a string of attacks blamed on the Islamic State group, including twin suicide bombings on an Ankara peace rally that killed 102 people - the worst in the country's modern history.
President Recep Tayyip Erdogan's Islamic-leaning AKP is tipped to win between 40 and 43 per cent of the vote, paving the way either for a shaky coalition that many analysts say will not last long, or yet another election.
With the country polarised along ethnic and sectarian lines and its economy faltering, Prime Minister Ahmet Davutoglu called yesterday on voters to choose "stability".
"Turkey needs a strong and shrewd government at such a critical time," said Davutoglu, whose own job could be at risk if the AKP fails to secure an outright victory.
"We will definitely clear Turkey of terror, fighting, violence and hostility. We will never make concessions on democracy, freedom and rights."
The vote could also determine the future of Erdogan, who has dominated Turkey's political scene for more than a decade, even though his name is not on the ballot paper.
The stunning June election setback wrecked - at least temporarily - his ambition to expand his role into a powerful US-style executive presidency that opponents fear would mean fewer checks and balances on a man seen as increasingly autocratic.
timesofindia.indiatimes.com/world/middle-east/Divided-Turkey-votes-in-critical-election-as-violence-spirals/articleshow/49615376.cms
-------
Israel: Palestinian Shot Dead in Attempted Stabbing
By THE ASSOCIATED PRESS NOV. 1, 2015
JERUSALEM — Israeli soldiers shot dead a knife-wielding Palestinian who had tried to stab them on Sunday in the West Bank city of Hebron, the military said, in the latest violence of a bloody six-week spell. The military said the shooting took place during a violent riot and that no Israelis were harmed.
A series of Palestinian attacks began in mid-September over tensions surrounding a Jerusalem site and have since spread across Israel, the West Bank and Gaza. It has been accompanied by widespread unrest, including clashes between Palestinian stone-throwers and Israeli troops.
In all, 11 Israelis have been killed in Palestinian attacks, mostly stabbings, and 68 Palestinians have died by Israeli fire, including 42 said by Israel to have been involved in attacks or attempted attacks.
Israel has blamed the Palestinian attacks on what it says is anti-Israel incitement by Palestinian political and religious leaders. Palestinians say the violence is largely driven by the hopelessness many Palestinians feel after nearly half a century of Israeli military rule, with no end in sight.
In recent days, Hebron has become a main flashpoint of Israeli-Palestinian violence, with near-daily deadly confrontations at Israeli checkpoints that guard ultra-nationalist Jewish settlers in the center of the city. In these incidents, Palestinians have been shot dead after the military said they stabbed or tried to stab soldiers.
Hebron has been divided since the late 1990s, as part of what was meant to be an interim agreement ahead of a final peace deal that never materialized. Israel controls the city center, where 850 Jewish settlers live, while the remaining areas of the city are under Palestinian self-rule.
Also Sunday, Israel's deputy foreign minister said cadets training to become diplomats will now visit the West Bank and be taught how to defend the status of Jewish settlements there.
Tzipi Hotovely told Israel's Army Radio that she initiated changes in the course curriculum to include a greater emphasis on the Jewish people's ancient links to the land. It will include compulsory tours to the City of David, a Jewish settlement in traditionally Arab east Jerusalem, seized by Israel in the 1967 war.
Hotovely says it is important to stress that Jewish settlements are legal "by law and custom."
The international community generally considers settlement in lands captured in the 1967 war to be illegal and illegitimate. With Prime Minister Benjamin Netanyahu also serving as foreign minister, Hotovely oversees the office's day-to-day operations.
http://www.nytimes.com/aponline/2015/11/01/world/middleeast/ap-ml-israel-palestinians.html?ref=world&_r=0
------
Pakistan
At Least Four Dead as IED Blast Hits Passenger Train In Mastung
SYED ALI SHAH — 1 November 2015
QUETTA: At least four people were killed and at least 10 others injured as an improvised explosives device (IED) was detonated near a stretch of railway track in the Dasht area of Balochistan's Mastung district.
Rescue sources say four passengers are dead, while at least 10 others are injured. The injured were taken to Civil Hospital Quetta and Bolan Medical Complex Hospital for treatment. An emergency was also declared in Civil Hospital Quetta.
The explosion took place as the Quetta-Rawalpindi Jaffar Express, a passenger train, was passing. According to the Bomb Disposal Squad, 8 kilograms of explosives were used in the blast.
Faiz Muhammad Bugti, Divisional Superintendent of Railway said that the BDS had also scanned the tracks in order to avoid occurrence of another untoward incident.
Chief Secretary Balochistan Saifullah Chattha said, "Train service between Quetta and other parts of Balochistan have been restored."
He also ordered that the blast victims be shifted from Civil Hospital Quetta to the Combined Military Hospital for medical treatment.
The Jaffar Express had earlier been stopped immediately after the attack.
Security has been tightened along the railway tracks from Quetta to Jaccobabad in the aftermath of the fresh terror attack.
FC and levies personnel have been guarding the track to ensure security of passengers.
There has been no immediate claim of responsibility for the attack.
The Jaffar Express has been targeted by similar IED attacks in the past.
Militants have targeted vital national installations and security forces in the province for over a decade. Mastung is considered one of the most sensitive and troubled districts of Balochistan.
http://www.dawn.com/news/1216800/at-least-four-dead-as-ied-blast-hits-passenger-train-in-mastung
------
Senate May Discuss Modi's Remarks
AMIR WASIM —1 11 15
ISLAMABAD: The Senate may discuss on the opening day of its winter session on Monday a statement of the Indian prime minister in which he admitted his country's role in the breakup of Pakistan in 1971.
A motion seeking discussion on the Indian leader's controversial remarks during his visit to Bangladesh in June has been submitted by PPP's former interior minister Rehman Malik.
It is part of the 17-point agenda for the private member's day.
"This house may discuss the confession of Indian Prime Minister Narendra Modi in Bangladesh that India played a role in breaking Pakistan," the motion said.
Mr Modi, while receiving the 'liberation war honour' on behalf of former prime minister Atal Behari Vajpayee, had said that he was one of the activists who reached Delhi in response to Mr Vajpayee's call for "Satyagraha for the liberation of Bangladesh in 1971" and that like millions of other Indians he wanted this vision realised.
Mr Modi also accused Pakistan of stirring trouble in India.
The senators talked about the remarks on a number of occasions during debates on Pakistan-India relations and foreign affairs ministry also issued a reaction, but this is for the first time that the Senate will hold a debate on the issue.
Adviser to Prime Minister on Foreign Affairs Sartaj Aziz is likely to respond to the speeches of senators.
Meanwhile, a minister will present a report on the relief work carried out by the federal government after the Oct 26 earthquake.
The report was sought by Senate Chairman Raza Rabbani through a letter to the minister in charge for climate change.
Mr Rabbani had also sought reports from the governments of Khyber Pakhtunkhwa and Punjab on the steps taken to provide relief to people in the quake-affected areas. The provinces may submit the reports anytime during the session, which is expected to last 10 days.
http://www.dawn.com/news/1216754/senate-may-discuss-modis-remarks
------
Shafqat Mehmood Steps Down From Post After PTI's Dismal Performance
DAWN.COM | IRFAN HAIDER, 1 11 15
ISLAMABAD: Pakistan Tehreek-i-Insaf (PTI) leader Shafqat Mehmood stepped down from the post of party organiser in Lahore for what he called the party's poor performance in the local government polls.
Mehmood posted a message on the social media saying, "it is my moral duty to accept responsibility for this (party's) poor performance."
The PTI's leader acknowledged that PTI performed much worse than the expectations during the recently held local body polls in Lahore on October 31.
The party workers and organisers did their best but the best was not good enough, he maintained.
The first phase of local body elections was held on Saturday.
The Pakistan Muslim League-Nawaz and the Pakistan Peoples Party looked set to emerge as the leading groups in Punjab and Sindh respectively according to the unofficial results received so far.
Voters tried to make the most of a much-awaited opportunity to elect their representatives at the grassroots.
Although polling in most areas was by and large peaceful, Khairpur saw deadly violence when supporters of PPP and PML-F fought a gunbattle which claimed 11 lives.
http://www.dawn.com/news/1216807/shafqat-mehmood-steps-down-from-post-after-ptis-dismal-performance
-----
India
Must Worry About Female Foeticide, Not Religious Imbalance: Muslim Cleric
ANI | Nov 1, 2015
NEW DELHI: Muslim cleric Imam Umer Iliyasi today drew attention towards the rising cases of female foeticide and downplayed the RSS resolution asking the government to reformulate the population policy to check demographic imbalance.
"Instead of worrying about the increase or decrease of population of the country, we must worry about female foeticide. The balance of the country's population is being disturbed because of this. If you look at Haryana, Punjab and Rajasthan, you will notice that our balance has been disturbed in a way that the women population has gone down and male population has increased," he said.
"As far as the demographic balance is concerned, it is the work of God to maintain the balance. It cannot be handled by man. An example of the interference by man in maintaining balance can be seen in China where they started a 100 years policy and now the result is in front of all. They are now requesting people to give birth to more and more number of children," he added.
The RSS on Saturday sought a review of the population policy to counter "severe demographic changes" in India, flagging what it considers a high rate of growth among Muslims in the country.
The RSS passed a resolution on this contentious issue at its three-day national executive in Ranchi.
The RSS and its affiliated organisations have been citing the last census figures to claim that Hindus are facing the threat of being swamped by Muslims, though the minority community accounts for only 14.2 per cent of the country's population while their population is growing at a slower rate.
http://timesofindia.indiatimes.com/india/Must-worry-about-female-foeticide-not-religious-imbalance-Muslim-cleric/articleshow/49618668.cms
-----
Review Policy to Check Muslim, Christian Population: RSS Resolution
November 1, 2015
The resolution, adopted at its Akhil Bhartiya Karyakari Mandal in Ranchi, noted that "vast differences in growth rates of different religious groups, infiltration and conversion" have caused "religious imbalance of the population ratio, especially in border areas", which may threaten "the unity, integrity and identity of the country". (Source: Express file photo)
Seeking to make a distinction between "religions of Bharatiya origin" and others like Islam and Christianity, the RSS on Saturday passed a resolution asking the government to "reformulate" the population policy to check "demographic imbalance". Claiming "higher growth" in the Muslim and Christian population, the RSS blamed this on "infiltration and conversion".
The resolution, adopted at its Akhil Bhartiya Karyakari Mandal in Ranchi, noted that "vast differences in growth rates of different religious groups, infiltration and conversion" have caused "religious imbalance of the population ratio, especially in border areas", which may threaten "the unity, integrity and identity of the country". It asked the government to "reformulate" the national population policy and prepare a national register of citizens.
RSS Sarsanghchalak Mohan Bhagwat had also raised the issue in his annual Vijayadashami speech last week. "Facts and figures of last two census reports and imbalances that have come to notice as a result are being widely discussed. Our present and future is getting impacted by the same… We need to rise above vote bank politics to formulate a holistic approach, equally applicable to all citizens, towards the population policy," he had said.
"The share of population of religions of Bharatiya origin, which was 88 per cent, has come down to 83.8 per cent, while the Muslim population, which was 9.8 per cent, has increased to 14.23 per cent during the period 1951-2011," said the RSS resolution.
"The rate of growth of Muslim population has been higher than the national average in the border districts of border states like Assam, West Bengal and Bihar, clearly indicating the unabated infiltration from Bangladesh," it said.
Noting that "infiltrators are usurping the rights of the citizens of these states," it said that they are "becoming a heavy burden on the already scant resources, apart from creating socio-cultural, political and economic tensions".
Arguing that the "religious imbalance of population in the Northeastern states has assumed serious proportions", the resolution said the "people of religions of Bharatiya origin" in Arunachal Pradesh came down from 99.21 per cent in 1951 to 81.3 per cent in 2001 and 67 per cent in 2011. In just one decade, Chirstian population in the state has grown by almost 13 percentage points, it said.
In Manipur, the share of people of "religions of Bharatiya origin" was over 80 per cent in 1951, but came down to 50 per cent in 2011, the resolution said.
"These examples and pointers of unnatural growth of Christian population in many districts of the nation indicate an organised and targeted religious conversion by some vested interests," it said.
The resolution noted that while India announced as early as in 1952 its intention to introduce population planning measures, a comprehensive population policy was formulated only in 2000.
The policy aimed at achieving a stable population by 2045 by "optimising fertility rate to the ideal figure of 2.1" and it was expected to be "uniformly applied to all sections of the society". However, the National Fertility and Health Survey of 2005-06 and 0-6 age group population percentage data of religion in Census 2011 indicate that the TFR and child ratio is uneven across the religions, it said.
Expressing "deep concern" over these "severe demographic imbalances", the Akhil Bharatiya Karyakari Mandal urged the government to "reformulate the national population policy keeping in view the availability of resources in the country, future needs and problem of demographic imbalance and apply the same uniformly to all."
It also urged the government to "totally curb illegal infiltration from across the border", "prepare a national register of citizens and prevent these infiltrators from acquiring citizenship rights and purchasing lands".
Denying any political inference, as the resolution comes in the middle of the Bihar elections, RSS Akhil Bharatiya Prachar Pramukh Manmohan Vaidya told The Sunday Express: "The dates for the Ranchi meeting and the proposed resolution were decided long ago. Bihar elections were announced much later. RSS does not do any politics."
While Sah Sarkaryavah Krishna Gopal addressed the media on Saturday, Sarkaryawah Suresh Joshi will hold a press conference on the issue on Sunday.
http://indianexpress.com/article/india/india-news-india/review-policy-to-check-muslim-christian-population-rss/
-------
MP SIMI Boss Abu Faisal Sentenced To Life
TNN | Nov 1, 2015
BHOPAL: A special court here on Saturday awarded life imprisonment to the chief of Madhya Pradesh unit of outlawed Student Islamic Movement of India (SIMI).
Abu Faisal alias Doctor was found guilty of murdering an anti-terrorist squad (ATS) constable Sitaram Yadav in 2009.
Besides murder, court also sentenced him to life imprisonment under section 16A of Unlawful Activities (Prevention) Act. On Friday, court had pronounced Faisal guilty.
The SIMI operative participated in the hearing through video conferencing and remained calm even though he was tense during his conviction on Friday, said sources in Bhopal prison.
Faisal's lawyers are gearing up to appeal against the sentencing. "I have not received the copy of the order and will decide on further course of action after going through the order," counsel for Abu Faisal, advocate Zeenat Anwar told TOI.
He was charged with murder, criminal conspiracy and different sections of UAPA. Yadav was an undercover cop who tracked down the SIMI network in the state. He was shot on a highway by Faisal and his gang in Khandwa district on November 29, 2009.
Faisal also mastermind of the 2013-Khandwa jailbreak and was part of a criminal conspiracy hatched in MP to shoot BJP leader Pramod Tiwari in 2008. He actively participated in setting up terror camps in Indore, Baroda and Kerala in 2008. He has also admitted to funding lawyer's fee to defend former SIMI boss, Safdar Nagori. He is alleged to be a vital link between Indian Mujahideen and SIMI. Besides Abu Faisal, court sentenced another accused, Mehtab with 3-year imprisonment under the Arms Act.
http://timesofindia.indiatimes.com/india/MP-SIMI-boss-Abu-Faisal-sentenced-to-life/articleshow/49614073.cms
------
Pakistan abducts 18 Gujarat fishermen with 3 boats
TNN | Nov 1, 2015
RAJKOT: At least 18 Gujarat fishermen were abducted by the Pakistan Marine Security Agency (PMSA) from near the International Maritime Border (IMB) off the Jhakhau coast on Saturday.
The Pakistan agency also seized three boats of the fishermen who are from Porbandar. This is the third such incident this month. On October 15, the PMSA had abducted 25 fishermen from near Jakhau coast after firing at them. One fisherman was injured in the incident.
Manish Lodhari, secretary of National Fishworkers' Forum, told TOI the fishermen were abducted when they were fishing off Jakhau. "All boats and fishermen are from Porbandar," he added.
"A total of 117 fishermen along with 19 boats were abducted by PMSA this month alone. There are about 317 Gujarat fishermen languishing in Pakistan jails. Pakistan is also yet to release 850 boats which were seized by their agency over the last two decades. Last year, Pakistan had released 57 boats as a goodwill gesture," Lodhari said.
Gujarat fishermen venturing into Pakistan territory is not uncommon, especially after the monsoon is over. In search of better catch, fishermen go deep into the Arabian Sea, and accidentally cross the IMB.
On October 2, 72 Gujarat fishermen along with 12 boats were abducted off Jakhau coast while they were fishing near IMB.
http://timesofindia.indiatimes.com/india/Pakistan-abducts-18-Gujarat-fishermen-with-3-boats/articleshow/49614083.cms
------
Australia
Australian Muslims Being Forced To Assimilate, Islamic Conference Told
By Helen Isbister
1 Nov 2015
Hizb Ut-Tarir says Muslims are not just being forced to obey the law - but also adopt Australian values.
The group, which supports an Islamic caliphate and sharia law, is banned in some countries but not in Australia.
At a conference in Sydney's south west today titled Innocent Until Proven Muslim, there were numerous speakers and testimonies from people who said they have been affected by government intervention.
Hizb Ut-Tarir spokesman Uthman Badar told the audience that Muslim children should not have to sing the Australian national anthem and accused the Australian Government of an "agenda of forced assimilation ... justified by exaggerated fears of a security threat".
Mr Badar said the anthem reflected a disputed view of history.
"Stop forcing your values on Muslims at home. Stop trying to change the identity of Muslims through projects of assimilation and integration," he said.
Other peakers accused authorities of unfairly targeting Muslims at school, airports and in their homes
Victoria Police are investigating the alleged assault of a young Muslim woman in Melbourne's CBD, but have ruled out race as a motivation.
One said increasing the powers of police and spy agencies was turning Australia into a police state.
"Security agencies were beefed up so drastically that they are in effect a paramilitary force in this country," he said.
Hizb Ut-Tarir first held a conference like this one two years ago. Since then organisers say hysteria has reached new levels and the government has deployed unprecedented new tactics.
Another speaker said Muslims were being treated like criminals because of their beliefs.
"There are criminals amongst every nation, religion, creed whatever. There are people out there who will commit acts which are violent, and those people don't represent Muslims."
Another told the audience: "I feel that I'm not first class citizen and the media is helping the government with what they are doing."
The conference, which follows The National Day of Unity on Saturday, was held at The Bellevue in Bankstown.
http://www.sbs.com.au/news/article/2015/11/01/australian-muslims-being-forced-assimilate-islamic-conference-told
-------
Europe
Still The Refugees Are Coming, But In Europe The Barriers Are Rising
Emma Graham-Harrison in Brežive, Slovenia
Saturday 31 October 2015 22.30 GMT
Thousands of refugees stream across the Croatian border just a few hundred metres from Jurja's small shop each day, but in her sleepy hillside village the passing strangers are invisible.
"They are taken on trains from the south into Slovenia, we never see them," she says, as she packs up milk and chocolates in a country where the continent's refugee crisis has been more a question of travel logistics than resettlement.
The hundreds of thousands of travellers who arrived in Greece without documents since the start of this year almost all want to travel north to countries they believe offer a better chance of safety and a new life. So officials in countries along the way have focused on helping them travel as quickly and safely as possible, providing food, shelter, medical help and transport before handing them across borders towards their final destination.
Who backs whom in the Syrian conflict
But the cracks in that strategy are starting to show as Germany reconsiders its welcome for refugees, and the onset of cold weather has brought not the expected fall in the number of travellers but an increase in desperate journeys.
Governments have replaced talk of closer cooperation with threats of a more visible separation, warning that they are considering blocking off their borders in a region meant to be growing closer under the EU, not pulling apart.
The tiny republic of Slovenia was the latest to give notice that it was considering a border fence, after more than 110,000 refugees and migrants streamed across its borders in two weeks. That is equivalent to about 5% of the country's entire population, and 20 times the size of its police force. Camps set up to handle a few hundred people were suddenly struggling to provide food and shelter for 10 times as many.
"This is one of the first camps we made, originally for 400 migrants, but we were handling 4,000 to 5,000 a day," said Boris Brinovec, assistant commander at the police station in Brežice, which has handled much of the influx, even turning its forecourt into a temporary camp.
The numbers grew so fast that violence broke out last week, with a group setting fire to more than 20 tents, in a protest against how long they had been held in squalid conditions. The country begged for European help and has been promised 400 police officers from other countries, part of a wider European Union plan agreed in late October to try to stem the surge in dangerous journeys and process and resettle those who do reach European soil.
If that plan doesn't work, however, the Slovenian government has given notice that it will resort to physical barriers to entry, following the example of neighbouring Hungary. A quarter century after Europe celebrated the tearing down of the Berlin Wall, its members are threatening to throw up a string of other barriers along the continent's southern edges.
"If necessary, we are ready to put up the fence immediately," said the Slovenian prime minister, Miro Cerar, as images of migrants struggling to enter the country in the south and travel onwards to Austria in the north flashed around news sites and television channels worldwide.
A column of migrants moves on a path between agricultural fields in Rigonce, Slovenia, on 25 October.
A column of migrants moves on a path between agricultural fields in Rigonce, Slovenia, on 25 October. Photograph: Darko Bandic/AP
Just a day later, Austria issued its own notice that it planned to throw up barriers along the border with Slovenia, although chancellor Werner Faymann insisted they would be to control the flow of refugees more effectively rather than stop anyone entering the country. "We want to be able to carry out controls on people, and for that one needs certain technical security measures," he told reporters last Thursday, while adding that he was not planning to copy Hungary's razor-wire barrier, which stretches hundreds of kilometres.
Those open doors could come under threat, however, if Germany retracts its welcome for refugees, which is under mounting political pressure. The German chancellor, Angela Merkel, who has been a staunch defender of her country's ability and obligation to accept refugees, called crisis talks over the weekend amid widespread accusations that her grand coalition is so riven over the issue that its ability to act is being severely affected.
Germany is the main destination for many of those who risked the boat crossing to Greece this summer, and if the country called even a partial halt to the flow of new arrivals it could strand tens of thousands of refugees in ill-prepared countries.
A fence thrown up by Hungary to seal its border with Croatia triggered Slovenia's current crisis. It also provided a stark warning of how dangerous it can be to abruptly disrupt a route being travelled by thousands of people each day.Refugees heading for Hungary turned to Slovenia instead, but after being brought on trains to within sight of Slovenian fields there were no arrangements to get them across the border. Hundreds marched through farmland and waded chest-deep across an icy river, desperate to continue their journey before the weather got even colder.
"Many people had no winter clothes. There were children without socks, their feet red with the cold," said Niveska Stanic Buljan, a volunteer with the Christian charity Remar, who lives just inside the Croatian border. The group normally works with drug addicts, orphaned children and vulnerable sections of the local population, but shifted much of its effort towards aiding refugees when hundreds began stumbling out of trains into their town, looking for the border.
"We didn't expect the donations we got from people here, I was really overwhelmed," she said, in a house that doubled as a temporary dormitory for mothers with young children before Slovenian authorities arranged for trains to continue straight over the border.
Many who did cross on foot were corralled into open-air camps just inside the border, where some spent more than 24 hours. Slovenian police say that those traumatic journeys were caused by the Croatian authorities, in a hurry to unload refugees and migrants across their border as quickly as possible. "We filmed with police helicopters how the Croatians brought the train to the last stop, escorted them to the border and then pointed them towards Slovenia," said Brinovec.
The two countries later negotiated a deal to bring refugees across in trains, which means that they can be registered and sent on more humanely and efficiently, he said. But like many in Slovenia, he is concerned about what will happen when the bitter Balkans winter sets in properly.
Refugees wait at the border to Austria in Sentilj, Slovenia.
Refugees wait at the border to Austria in Sentilj, Slovenia. Photograph: Maja Hitij/dpa/Corbis
"In winter we have snow, temperatures can fall to minus 10 or minus 15 degrees Celsius, we are worried about people arriving in sub-zero temperatures in future," Brinovec said.
Police in the north of the country resorted to cramming shivering children into their vehicles to ward off disaster last week, but the number of refugees flooding into the country and the rapidly dropping temperatures make that only the most makeshift of solutions.
Hopes that winter would slow down the flow of refugees and allow Europe to plan a response for next year have proved to be in vain.
"We didn't know we would be on the road so long when we set out," said 35-year-old Makhtab Mohammedi, at the bedside of her teenage daughter in a field hospital just inside Slovenia. Her family of five had been travelling for a month until her daughter's illness stopped them inside Slovenia. When she recovers they are heading to Germany or "any country that will welcome us, where we can be safe and not returned".
If anything, Europe's toughening stance may have propelled thousands to take even greater risks. Some fear that plans for a network of fences and long-term camps could effectively cut the route to countries like Germany forever, and others simply cannot afford to spend a winter in Turkey.
"There is a war back home, what choice do we have?" said 43-year-old Wajd Abu Sayed, waiting to be bussed to a Slovenian refugee centre after crossing Croatia by train. A chef who worked for years in Venezuela, he only returned to his home outside Damascus months before fighting broke out. "I did want to live in Syria," he said.
I made an SOS call for the Aegean refugees. Now I'm lost for words
More people risked the sea journey from Turkey on an average day in October than at the height of the summer, despite rough seas claiming an ever higher death toll, said Ron Redmond, regional spokesman for the UN high commissioner for refugees in Greece.
"There is definitely a sense of urgency among people coming here, they are looking at this pretty much as a now or never situation," Redmond told the Observer in a phone interview from the Greek island of Lesbos, where many new arrivals land. "What we are seeing is people waiting for a day of slightly calmer weather before risking the journey, and the traffickers are happy to facilitate it," he said. "They also offer discounts to people willing to set to sea in worse weather."
Squabbling at the government level, however, has been matched by coordination on the ground in Slovenia, where Hungarian medics and volunteers have flooded in to offer services no longer needed in their own country.
"We have free hands and free heads, and a big storage full of donated supplies, so we brought it here," said Robert Bekesi, a 75-year-old Holocaust survivor who volunteers with Migration Aid Hungary. "I know what it is like to be a refugee."
Eastern Europe pulls up the drawbridge
Germany
Expected to take up to 1.5 million people by the new year. Angela Merkel has come under increased domestic pressure to reduce the numbers arriving, with anti-immigrant group Pegida gaining in popularity. Germany has tightened its refugee policy, saying that Afghans should not seek asylum.
Hungary
Once a major transit country for migrants, it has closed its borders with Serbia and Croatia. It has been criticised for its treatment of refugees, including the use of razor-wire fencing to keep out migrants. It has fiercely opposed Angela Merkel's push for compulsory and permanent quotas.
Austria
Once a critic of fences, it has announced it will erect barriers at the Spielfeld border crossing with Slovenia. It has struggled to cope after Germany began slowing entries. Johanna Mikl-Leitner, the interior minister, said Austria was being overwhelmed "because Germany is taking too few" migrants.
Slovenia
Nearly 105,000 people have entered Slovenia in less than two weeks since Hungary sealed its border with Croatia. Miro Cerar, Slovenia's prime minister, said the country was ready to build a fence immediately and he has criticised Croatia for continuing to let migrants cross the border by train.
Croatia
The closure of Hungary's borders has led thousands of migrants a day to enter Croatia and Slovenia. In the four weeks to mid-October, about 200,000 migrants passed through Croatia. Most of them moved on to Hungary, which has since closed its borders, diverting refugees to Slovenia.
Serbia, others
Bulgaria, Romania and Serbia have warned that they are ready to close their borders if other countries do so, fearing that they will otherwise face millions of migrants being stranded throughout their territories. Bulgaria has already built a wire fence along its border with Turkey.
reece
In 2015, 560,000 migrants and refugees have arrived by sea, out of 700,000 who reached Europe this way. Alexis Tsipras, the prime minister, said he felt shame over "the inability of Europe to deal with this human drama". European leaders have called for reception camps to be boosted in Greece.
Turkey
It is now hosting 2.5 million refugees. EU leaders have attempted to secure Turkey's co-operation in stemming the flow of refugees by offering to consider giving more aid, speeding up visa liberalisation talks and resuming negotiations on Turkey's EU membership bid. No deal has been reached.
http://www.theguardian.com/world/2015/oct/31/austria-fence-slovenia-wire-europe-refugees
--------
North America
US Troops in Syria Will Only Fight Islamic State: John Kerry
AP | Oct 31, 2015
BISHKEK, Kyrgyzstan: US secretary of state John Kerry said that American special operations troops being sent to Syria will only fight Islamic State militants and won't become involved in the long-running civil war.
Kerry calls IS a threat to every nation and says US policy is clear — the group must be defeated.
Kerry isn't ruling out a further US escalation of the fight, saying he can't predict the future.
The Obama administration is sending up to 50 special operations troops to assist Kurdish and Arab forces in northern Syria. It's the first pledge of American military boots on the ground in Syria.
Kerry spoke Saturday at a news conference in Kyrgyzstan alongside the country's foreign minister, Erlan Abdyldaev.
http://timesofindia.indiatimes.com/world/us/US-troops-in-Syria-will-only-fight-Islamic-State-John-Kerry/articleshow/49609721.cms
------
Kerry to prod Central Asian nations on rights amid IS threat
AP | Nov 1, 2015
John Kerry and Kyrgyz President Almazbek Atambayev shake hands before a meeting on Saturday. (AP photo)John Kerry and Kyrgyz President Almazbek Atambayev shake hands before a meeting on Saturday. (AP photo)
SAMARKAND: On a tour of Central Asia, Secretary of State John Kerry is hoping to prod the former Soviet republics of the region toward greater democracy and respect for human rights even as they work to snuff out funding and recruiting by the Islamic State group that has spread to the region.
He meets with top officials from all five nations Sunday in the ancient Silk Road city of Samarkand, Uzbekistan.
Kerry began his five-day visit of the region in Kyrgyzstan on Saturday, where he met the president and foreign minister of a government that has been a bright spot for democracy in a largely autocratic area of the world. He praised recent parliamentary elections and expressed regret for the State Department's awarding of its annual Human Rights Award to an ethnic Uzbek journalist and activist serving a life sentence in prison for stirring up ''ethnic hatred.''
Azimzhan Askarov had devoted his life to documenting rights violations of Uzbeks in Kyrgyzstan. The honour was meant to reflect Askarov's life work, Kerry stressed, not to offend the Kyrgyz government. It responded in July by lambasting the US and dissolving a 22-year-old cooperation agreement with the United States.
But Kerry also sought more action from Kyrgyzstan to prevent its citizens from joining extremist groups abroad, noting their presence among the throng of foreign fighters who have sown chaos throughout the Middle East.
The one-day stop foreshadowed some of the competing interests the US is balancing as it deepens ties in a region largely dominated by Russia's lasting cultural influence and China's increasing economic might. Kerry's discussions with all five Central Asian governments on Sunday will focus on security, economic and human rights issues. He'll then visit Kazakhstan, Tajikistan and Turkmenistan _ making him the first secretary of state to travel to all five countries on a single trip.
For now, US officials say the Islamic State group's recruitment in country isn't significantly affecting them; some recruits are operating in Russia and others are showing up in Syria.
But that may change. And the entire region has been unnerved by the Islamic State group's recruitment of Gulmurod Khalimov, a senior police official in Tajikistan who posted a video online in May declaring his new allegiance and urging his former comrades to rise up against their authoritarian leaders.
Khalimov even had been trained at one point by the United States, and his radicalization was a ''shock to everyone,'' according to a senior US official, who briefed reporters on Kerry's plans on condition of anonymity. Crackdowns throughout the region in recent months largely reflect those fears, the official said.
The US wants to improve security cooperation with each government but is bothered by what it sees as heavy-handed responses to perceived threats. In Taijikistan, for example, a nation that cracks down on men with long beards, the opposition Islamic Renaissance Party has now been banned. Elsewhere, already limited space for civil society may be narrowing.
In a letter to Kerry ahead of his trip, Sen. Ben Cardin of Maryland, the Senate Foreign Relations Committee's top Democrat, highlighted the issue of political prisoners and cited an ''erosion of the democratic process and respect for human rights across Central Asia.''
Cardin said Uzbekistan may be holding thousands of such prisoners alone, but he listed the cases of opposition figures in each land who are jailed on charges ranging from illegal entry into the country, polygamy and violation of internal prison to questionable claims of corruption, hostage taking, terrorism and murder.
timesofindia.indiatimes.com/world/us/Kerry-to-prod-Central-Asian-nations-on-rights-amid-IS-threat/articleshow/49615821.cms
------
URL: https://www.newageislam.com/islamic-world-news/new-age-islam-news-bureau/secular-publisher-hacked-to-death-in-latest-bangladesh-attacks/d/105120