New Age Islam News Bureau
11 Apr 2014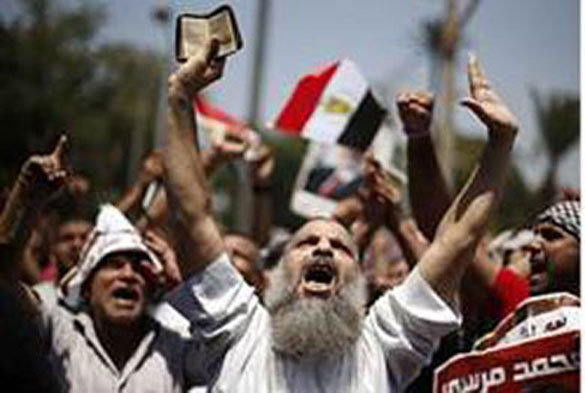 Muslim Brotherhood supporters, Reuters
--------------
Mideast
• Secular Education on the Decrease in National-Religious Schools of Jerusalem
• Islamic Jihad gains support in Gaza as Hamas declines
• Israel, Palestinians in 'intensive' talks to end deadlock
• State Department adds Ansar Jerusalem to terrorist designation lists
• Turkey's EU minister warns against racism and Islamophobia
• Palestinians join Geneva Conventions on war: Switzerland
• AKP deputy applies to Constitutional Court for blocking Twitter
• Israeli coalition partner threatens to quit over peace talks
Southeast Asia
I• slamic parties bounce back in Muslim-majority Indonesia
• Bangladeshi sues Putrajaya, cops, immigration department over 'hurried' whipping
North America
• 800 Sq Miles of Afghan Area Littered With US Explosives: Washington Post
• Canada Considers Blacklisting Muslim Brotherhood
• No One Helped a Muslim Teen When a Man Spat On Her, Called Her a Terrorist in NY
• American study: Iran's military capabilities do not match its ambitions
• US announces sanctions in South Sudan conflict
Arab World
• 51 Killed as Syrian Jihadists Battle along Iraqi Border
• Two Muslim Brotherhood members killed in gunfire exchange with security forces
• Hezbollah fighters say a 'duty' to help Syria's Assad
• Secular Egyptian groups demonstrate against protest law
• Arabs Need Third Way between Religious and Military Regimes
Africa
• Nigerian Army Accused of Slaughtering Muslims in Name of 'Counter-Terrorism'
• Islamist militants kill eight in northern Nigeria
• Nigeria: Fityanul Islam Plans Orphanage On 50th Anniversary
• Radical Youth Take Second Mosque in Mombasa
• Kenya's Sharia-friendly livestock insurance
• Libya's Berbers maintain boycott of charter drafting polls
• Gunmen ambush foreign peacekeepers in C. African town
Europe
• Enforced Disappearances, Arbitrary Arrests, and Extra-judicial Killings of Uyghurs in China
• European jihadists form ISIS brigades in Syria
• Syrian warring parties disdain human life, ignore war rules
• Kuwait "most generous" donor nation so far for Syria - UN Development Programme
• Professor to Face Sharia Court for Picking up Pottery in Iraq
Pakistan
• Several killed in latest Waziristan militant infighting
• Human Rights Watch urges Senate to strike down 'repressive' law
• Shia Taxi Driver Shot Martyred in Takfiri Terrorist Attack
• Safeguarding democracy is responsibility of every institution: CJ
• Government, Taliban talks hit deadlock: Prof. Ibrahim
• Jamiat Ulema-i-Islam-Faz announces withdrawal from government
• Rawalpindi district court attack kills at least two
• TTP Shura may decide fate of truce today
• Rivalry between Pakistani Taliban factions erupts in deadly violence
• Imran Khan likens Pakistan's former CJ with Indian umpire
• S. Arabia has no hidden agenda, says ambassador
• Pakistan attaches 'highest priority' to relations with China: PM
• Detained in Libya: Last Pakistani crew member of Morning Glory awaits freedom
South Asia
• Attorney General: Sayedee's crimes more dreadful than Molla's
• Taliban's shadow governor for Kunar reported killed in US airstrike
• IO testifies on al-Badr leader Mir Kashem's involvement in war crimes
• Former Taliban leader Agha Jan Mutasim goes missing in UAE
India
• Pakistan for resumption of dialogue with India
• Jade pendant from Mughal era is sold for Rs 3 crore at London auction
Compiled by New Age Islam News Bureau
URL: https://www.newageislam.com/islamic-world-news/new-age-islam-news-bureau/secular-education-on-the-decrease-in-national-religious-schools-of-jerusalem/d/66500
-----------
Mideast
Secular Education on the Decrease in National-Religious Schools of Jerusalem
April 11, 2014
Such schools are gender-separated and emphasize superficial learning by rote instead of encouraging deeper examination of ideas, the study says.
The number of schools teaching intensive religious studies curriculums in the national-religious sector has doubled in the past 10 years, research published by the Ne'emanei Torah Va'Avodah organization reveals.
At the start of academic year there were 56 schools in the national-religious sector teaching a syllabus dedicated to religious studies, according to the group.
Boys and girls are separated in such schools, secular studies are greatly reduced and there is an emphasis on superficial learning by rote instead of encouraging deeper examination of ideas, the study says. Two-thirds of these so-called Talmud Torah schools operate within the state religious school system.
The increase in these types of national-religious schools comes as more and more state religious elementary schools have either turned themselves into Talmud Torah schools, or established themselves as such from the outset, Ne'emanei Torah Va'Avodah's report said.
In addition, whereas they used to be primarily located in Jerusalem and Judea and Samaria, they can now be found across the country.
Eyal Berger, the organization's policy and research coordinator who conducted the research, said that despite the far-reaching consequences of what he termed "an educational revolution," the national-religious community has not held a serious debate on the issue.
"In the framework of these developments, elementary schools in the state religious system are breaching the delicate balance they inherited between Torah study and general education, and the need for intellectual curiosity and integration into all aspects of life," he said.
Speaking to The Jerusalem Post, Berger said that it was always a critical value of the national-religious community to provide its children with a broad general education, alongside a deep knowledge of Torah, because an aspect of the community's ideology is to be a part of broader society and to help shape it.
But he said that if the trend observed in the past 10 years of a decreased emphasis on general education continues, it could certainly influence the ability of children from sectors of the national-religious community to enter higher education and at a later stage integrate into the workforce.
http://www.jpost.com/National-News/Study-Secular-education-on-the-decrease-in-national-religious-schools-348257
-----------
Islamic Jihad gains support in Gaza as Hamas declines
April 11, 2014
GAZA CITY, Gaza Strip — Despite the general harmony between Hamas and Islamic Jihad on political positions involving the Israeli-Palestinian conflict, a rivalry exists behind the scenes. The two compete to attract Islamist supporters and appear to the public as the group best suited to achieve the aspirations and hopes of the Palestinian people.
These Islamist movements use various methods to garner support, such as mass mobilizations, donating food and money to the poor, proselytizing and insisting on such Palestinian constants as the importance of Jerusalem and the right of return of the refugees. In general, they aim to fulfill the public's wishes.
Although Hamas is more popular than Islamic Jihad, a recent poll by the Watan Center for Studies and Research in the Gaza Strip suggests increased support for the Islamic Jihad movement amid reports of declining popularity for Hamas. Among Gazans, 23.3% expressed support for Hamas, while 13.5% preferred Islamic Jihad. Fatah, however, was more popular than the Islamist movements individually, with the support of 32.9% of Gazans. Backing for the Popular Front for the Liberation of Palestine stood at 4.2% and 1.5% for the Democratic Front for the Liberation of Palestine. Of all those surveyed, 24.6% had no opinion.
Because Islamic Jihad has not participated in elections, it is difficult to determine its popularity in that respect. This latest poll suggests a rise in the group's popularity compared to the results of previous polls conducted by local research centers in recent years. In a 2010 poll, for example, Islamic Jihad registered only 1% in terms of popularity vis-a-vis other Palestinian factions. The Watan Center survey consisted of interviews with 467 people of both sexes and was conducted throughout the Gaza Strip on Feb. 9-17. The results were picked up by various media outlets at the end of March.
The poll also revealed that the public largely supports armed resistance to obtain Palestinian rights. Of those surveyed, 60.3% believe that armed resistance is the most appropriate way to attain the rights of the Palestinian people if negotiations fail, while 6.5% support continuing negotiations.
The burden of governance has cost Hamas popularity on the ground as it struggles to steer Gaza through the hardships associated with the Israeli-Egyptian siege and a series of economic and political crises. Political analyst Iyad Atallah explained, "Hamas suffers from declining grassroots popularity due to growing discontent caused by the lack of success in resolving livelihood crises for citizens, such as providing electricity and fuel, and solving the problem of the Rafah crossing." He also explained to Al-Monitor, "Hamas came to power in Gaza and started running civil affairs for the citizens. That distracted the movement on many occasions from confronting Israel militarily, thus leaving the pro–armed resistance public to the Islamic Jihad movement, which still conducts organized retaliations against Israeli attacks."
On March 12, the Al-Quds Brigades, the military wing of Islamic Jihad, launched 130 locally made rockets at Israel as part of a military operation dubbed Breaking the Silence. The attack was in response to the killing of three Islamic Jihad fighters. The group threatened that the response "will be of the same size as Zionist violations if they continue."
Khader Habib, an Islamic Jihad official, told Al-Monitor that the movement has become more popular because it has stuck with armed resistance, has not granted legitimacy to Israel's existence anywhere on Palestinian soil and has stayed away from governance and participation in the Palestinian Authority, which stems from the 1993 Oslo Accord. "We are a movement that refuses to let Israel go unpunished when it attacks our people, and we believe that becoming part of the ruling authority would be catastrophic. That's the secret behind why more people are supporting us," Habib asserted.
The results of the Watan Center poll were in line with those of a survey by Alam wa Sinaa, an Iranian university, involving 1,263 Gazans after March 2012 clashes between Islamic Jihad and Israel. The Iranian poll showed a clear change in attitudes among Gaza residents in revealing a rise in popularity for Islamic Jihad at the expense of Hamas, because the former adhered to the option of resistance to the occupation.
Islamic Jihad's Habib said his movement was closely following opinion polls about its support among the Palestinian street and asserted that it reinforces its leadership's conviction that armed struggle is the only way to fully obtain Palestinian rights.
The analyst Atallah explained Hamas' situation, stating, "Hamas has more elements and more hardware compared to Islamic Jihad, but it doesn't want continuous conflict with Israel," he said. "A new military confrontation will cause material losses that would include the homes of citizens and possibly factories and iron workshops, resulting in more unemployed and people in need of shelter. This would increase the material burden on Hamas."
Political analyst Hassan Abdo said that Islamic Jihad's decision to stick with armed resistance and immediately respond with attacks against the occupation are the main reasons for its increased support. He contended that immediately responding to the occupation inspires people, earns their admiration and fulfills their desire not to let Israel's actions go unpunished, leading to increased popular support.
Abdo also noted that Islamic Jihad has stuck to its political principles, despite the local and regional changes around it. This is evidenced by the group sticking with its allies in Syria and Iran despite their current crises. Abdo believes this adds to Palestinians' impression that Islamic Jihad is more consistent in its positions as opposed to Hamas.
According to Atallah, Islamic Jihad's continued alliance with Syria and Iran forces the movement to resist being silent in the face of Israeli attacks. "Islamic Jihad sticking to the Syria and Iran axis is a source of strength for it, especially in light of the lack of Arab funding sources for [the movement]," he said. On the other hand, he noted, Hamas' alliance with Qatar has not been warmly received by locals. "[The Qatar-Hamas alliance] is something the Palestinians don't want. … The Palestinians respect Qatar for its assistance and funds, but they fear a political role by [Qatar] because of its good relations with America and Israel."
http://www.al-monitor.com/pulse/originals/2014/04/islamic-jihad-support-gaza-expense-hamas.html#ixzz2yZje3ZNP
-----------
Israel, Palestinians in 'intensive' talks to end deadlock
2014-04-11
JERUSALEM: Israeli and Palestinian negotiators held a fresh round of US-mediated talks Thursday to try to revive crisis-hit peace talks, officials said.
"The gaps are narrowing, but any speculations about an agreement are premature at this time," said US State Department spokeswoman Jen Psaki.
Washington remains in "intensive negotiations" with both sides, Psaki told reporters, but stressed that reports of a deal were "inaccurate" as Israel announced it was going to sanction the Palestinians by freezing taxes it collects on their behalf.
"We're working, as you know, to determine what the path forward is for these negotiations, and that is up to the parties."
The talks hit a new impasse last week after Israel refused to release a final batch of Palestinian prisoners and the Palestinians retaliated by seeking accession to several international treaties.
US Secretary of State John Kerry blamed Israel this week for the deadlock as Washington mulled how much more time and effort to put into the faltering negotiations.
American envoy Martin Indyk presided over Thursday's meeting in Jerusalem between Israel's chief negotiator, Justice Minister Tzipi Livni, and her Palestinian counterpart, Saeb Erakat, a Palestinian source close to the talks said.
Also present were Yitzhak Molcho, a confidant of Prime Minister Benjamin Netanyahu, and Palestinian intelligence chief Majed Farah.
The Palestinians were pushing for the release of a final batch of prisoners, a commitment Israel reneged on in a move that sparked the crisis.
An Israeli official told AFP that "Israel wants to return to talks and overcome the current crisis."
And Israeli television later reported that the two sides were on the verge of a deal to extend peace talks beyond their April 29 deadline.
The deal, which could be finalised within "a few days," would see a final batch of Palestinian prisoners released in return for Washington freeing American-born Israeli spy Jonathan Pollard, Channel 2 television said.
Sources in Washington said the Palestinians would refrain from pursuing accession to the treaties, Channel 2 said, and both sides would agree to extend the talks beyond April 29.
Pollard reports 'incorrect'
"According to the source, the agreement will include the release of Palestinian prisoners, including Arab-Israelis, in exchange for the release of Jewish American spy Jonathan Pollard," the report said.
But insisting there was no deal yet, Psaki said "no decision has been made about Jonathan Pollard."
The Israelis have repeatedly asked Barack Obama and previous US presidents to release Pollard, sentenced to life in 1987 for passing US secrets on Arab and Pakistani weapons to Israel.
Pollard is eligible for release from November next year.
And Psaki revealed that Indyk would be returning to Washington this week for consultations with Kerry and the White House.
He would then return to the region some time next week.
Freeing the Palestinian prisoners was among "a range of issues that are being discussed," Psaki said.
A Palestinian official also denied any deal was yet on the table, telling AFP there was still a "deep chasm" between the two sides.
That chasm was highlighted late Thursday when Israel announced sanctions on the Palestinians, whose actions an official said were in "flagrant violation of accords" between the two sides.
"It has been decided to freeze the transfer to the Palestinian Authority of the taxes collected by Israel on its behalf," the official told AFP on condition of anonymity.
At the same time, Israel was suspending its participation with the Palestinians in developing a gas field off the Gaza Strip and putting a cap on Palestinian deposits in its banks.
However, the official also said that "discussions under the aegis of the United States to overcome the talks crisis will continue."
When Israel refused to release 26 long-time Palestinian prisoners, it went back on a pledge it made at the launch of the peace talks.
The Palestinians responded by abandoning their own commitment not to seek international recognition until the nine months of talks ended, applying for accession to 15 treaties.
The United Nations said Thursday it had accepted the deposit of the request, but Psaki said that was merely "a technical step... so I don't think it changes, necessarily, what we're negotiating now."
On Tuesday, Kerry blamed Israel for the crisis, pointing to its April 1 decision to issue tenders on 708 Jewish settlement homes in occupied Arab east Jerusalem.
https://www.dawn.com/news/1099060/israel-palestinians-in-intensive-talks-to-end-deadlock
-----------
State Department adds Ansar Jerusalem to terrorist designation lists
April 11, 2014
The State Department today added Ansar Jerusalem (Ansar Bayt al Maqdis, or ABM) to the US government's lists of designated terrorist entities.
Based in the Sinai, ABM was founded in the aftermath of the uprisings in Egypt in 2011. The group attracted early attention by conducting attacks, including daring guerilla-style raids, in Israel and against Egyptian security forces in the Sinai. Following the overthrow of former Egyptian president Mohamed Morsi, ABM has escalated its attacks inside Egypt, including in the country's urban areas. As the State Department notes, ABM has also expanded its targets to include foreign tourists.
The State Department's designation follows a similar move by the British government, which designated ABM as a terrorist entity earlier this month. The designations are intended to prevent citizens in either the US or the UK from supporting the terrorist organization.
ABM attacks consistent with al Qaeda's global jihad
The State Department says that "ABM -- who shares some aspects of AQ [sic] ideology, but is not a formal AQ affiliate and generally maintains a local focus -- was responsible for a July 2012 attack against a Sinai pipeline exporting gas to Israel." But it is not clear what aspects of al Qaeda's ideology the group does not share. It is also not known, based on publicly available information, whether or not ABM is an unannounced branch of al Qaeda. It may not be, but other groups, such as Shabaab in Somalia and the Al Nusrah Front for the People of the Levant in Syria, have operated within al Qaeda's sphere of influence long before any formal announcement of allegiance was made public.
ABM's "local focus" is also entirely consistent with al Qaeda's priorities. Both seek to impose a harsh version of sharia law within Egypt. And ABM has frequently portrayed its attacks, both against Israel and inside Egypt, as being a part of al Qaeda's global jihad. In turn, al Qaeda's most senior leader, Ayman al Zawahiri, has repeatedly praised ABM's attacks. The July 2012 attack on the Sinai pipeline mentioned by the State Department is a good illustration of this point.
ABM released a video on July 24, 2012 in which it claimed responsibility for 13 pipeline attacks. The video is peppered with clips of Zawahiri praising the pipeline bombings, which he has heralded on several occasions. Zawahiri provides an economic justification for the attacks, saying they damage Israel's economy. "The greeting goes to the heroes who blew up the gas pipeline and who represent the dignity of the Egyptian people," Zawahiri says in one clip used in the ABM video. "May Allah bless them, until they see the Islamic Caliphate ruling over the countries of Islam. I ask Allah to grant them patience and determination, and to reward them in the best way in this life and the hereafter."
Other high-profile ABM attacks have been portrayed as consistent with al Qaeda's global jihad as well.
On Sept. 21, 2012, as the State Department noted in its release, "ABM militants attacked an Israeli border patrol, killing one soldier and injuring another." In a statement released the following day, ABM justified the attack as an act of retaliation for the video Innocence of Muslims. The group falsely claimed that Jews were involved in the video's production. In reality, this was merely a pretext, not a true motivation. ABM had attacked Israeli interests before the video became an issue, and continued to do so long after.
As The Long War Journal has documented, other al Qaeda-linked groups similarly used the video as a pretext for assaulting American diplomatic facilities in September 2012. And ABM portrayed its Sept. 21, 2012 attack as part of this wider, anti-American effort. "America, the head of disbelief, was the one who produced the film on its land and under its protection," ABM said in its statement claiming responsibility for the attack, "so Muslims rose against it and surrounded and stormed its embassies, lowered its flags, and raised their banners of tawhid (monotheism) high instead of its flags."
In a video released on Jan. 11, 2013, ABM once again claimed that the Sept. 21, 2012 attack in Israel was retaliation for Innocence of Muslims. The group cited Osama bin Laden as its inspiration. "If the freedom of your expression has no limit, then your chests should bear the freedom of our actions," bin Laden says in the ABM video. This quote, or a similar one, was used by jihadists with known al Qaeda ties, including Ayman al Zawahiri's younger brother, to justify the protest-turned-assault on the US Embassy in Cairo on Sept. 11, 2012. The ABM video contains footage from that pro-al Qaeda event.
Another ABM attack mentioned by the State Department is the Sept. 5, 2013 attempted assassination of Egyptian Interior Minister Mohammed Ibrahim. On Oct. 26, 2013, ABM released a video dedicated to the suicide bomber responsible for the operation, a former major in the Egyptian army named Walid Badr. The video begins with an audio clip from Ayman al Zawahiri and ends with a video of Zawahiri. In the closing scene, Zawahiri says that the conflict in Egypt is not "a struggle between political parties, but a struggle between Crusaders and Zionists on one side and Islam on the other side." Thus, ABM considers the assassination attempt to be part of al Qaeda's global jihad.
Walid Badr, the would-be assassin, was clearly a global jihadist. The ABM video celebrating his "martyrdom" says he traveled to Afghanistan and participated "with his brothers in deterring the Crusader campaign against the proud land of Khorasan." This is a reference to the America-led campaign in Afghanistan that began in late 2001. Badr attempted to fight in Iraq as well, but failed to do so and eventually returned to Egypt. Badr traveled to Syria to fight Bashar al Assad's regime, only to return to Egypt once again and become a suicide bomber. This sequence of events shows that Badr fought in three different theaters for jihad -- Afghanistan, Syria, and Egypt. Other ABM members have reportedly fought among rebel ranks in Syria, including the Al Nusrah Front, which is a branch of al Qaeda.
There are still additional details in Badr's story that connect him and ABM to the al Qaeda network. Egyptian officials alleged that he was trained by Muhammad Jamal's organization, which is clearly a part of al Qaeda's global network. In a previous designation, for example, the State Department pointed to Jamal's direct ties to al Qaeda's senior leadership, al Qaeda in the Arabian Peninsula (AQAP), and al Qaeda in the Islamic Maghreb (AQIM). Jamal is a longtime subordinate to Ayman al Zawahiri and was in direct contact with the al Qaeda leader in 2011 and 2012. In his letters to Zawahiri, Jamal explained that he had established multiple groups in the Sinai.
And in late October 2013, Egyptian security sources arrested Nabil al Maghraby, whom they described simply as "a key al Qaeda operative." Al Maghraby had been imprisoned for the 1981 assassination of Egyptian president Anwar Sadat, but was freed by a presidential pardon from Mohamed Morsi in 2012. Egyptian authorities described al Maghraby as "a close associate" of Badr.
There is much we still do not know about ABM's leadership, organizational structure, ties to other jihadist groups, and financing. But ABM's "local" attacks are precisely what al Qaeda's senior leadership wants, both against Israel and inside Egypt.
Notes: All quotes from ABM's videos were translated by the SITE Intelligence Group. Parts of this article are adapted from written congressional testimony.
http://www.longwarjournal.org/archives/2014/04/state_department_add.php#ixzz2yZoWlPpJ
-----------
Turkey's EU minister warns against racism and Islamophobia
World Bulletin / News Desk
April 11, 2014
Turkey's EU Minister and Chief Negotiator Mevlut Cavusoglu has called for a halt to racist, xenophobic and Islamophobic political discourse ahead of the European Parliament elections in May.
"Unfortunately, we have seen an increase in racism, xenophobia, Islamophobia, and anti-semitism all over Europe ahead of the EP elections," he explained at a conference on "the contribution of immigrant entrepreneurs to Europe's growth" organized by the office of TUMSIAD, a Turkish businessmen's association, in Brussels on Wednesday.
"Europe has suffered a lot from racism. The people of Europe still remember how the waves of racism led to wars and disasters. We need to acknowledge that European values which unite us today were established to prevent such incidences from happening again," he said, adding that the EU and the Council of Europe were established with this goal in mind.
"I have got to say that an increase in the seats of racist parties in the European Parliament would threaten the future of the EU. Today racist parties not only use hate speech against immigrants and Muslims; but they also act and speak in a way aimed at destroying the EU and its values. This must stop immediately," he warned.
Full report at:
http://www.worldbulletin.net/muslim-world/133396/turkeys-eu-minister-warns-against-racism-and-islamophobia
----------
Palestinians join Geneva Conventions on war: Switzerland
April 11, 2014
The Palestinian Authority has signed up formally to the Geneva Conventions, which set down the rules of warfare and humanitarian operations in conflict zones, the treaties' guardian Switzerland confirmed Friday.
Swiss foreign ministry spokesman Pierre-Alain Eltschinger told AFP that the Palestinian Authority had declared itself party to the conventions on April 2.
The was registered formally by Switzerland on Thursday, he added.
The step is part of a new diplomatic drive by Mahmud Abbas, the Palestinian president, coming as peace talks with Israel are close to collapse.
The Palestinians had pledged to freeze all moves to seek membership in UN organisations and international conventions -- a stepping stone to recognition of their hoped-for state -- during the talks in return for Israel's release of veteran Arab prisoners.
Full report at:
http://www.hurriyetdailynews.com/palestinians-join-geneva-conventions-on-war-switzerland.aspx?pageID=238&nID=64917&NewsCatID=359
-----------
AKP deputy applies to Constitutional Court for blocking Twitter
April 11, 2014
The ruling Justice and Development Party (AKP) deputy and the Turkish Parliament Constitution Commission's head Burhan Kuzu applied to the Constitutional Court April 10 to block access to Twitter or remove content which allegedly insulted him on the social media website.
Kuzu told Anadolu Agency he was insulted via Twitter on June 2013 and applied to the Ankara Prosecutor's office about the issue. He said his petition was sent to the statute of limitations bureau, as the office said they did not have authority over the issue.
"The petition became dead in a way," said Kuzu adding he decided to apply to the Constitutional Court.
Full report at:
http://www.hurriyetdailynews.com/akp-deputy-applies-to-constitutional-court-for-blocking-twitter.aspx?pageID=238&nID=64893&NewsCatID=338
-----------
Israeli coalition partner threatens to quit over peace talks
April 11, 2014
A key partner in Prime Minister Benjamin Netanyahu's coalition threatened on Friday to pull out of the government if a deal to salvage peace talks with the Palestinians includes the release of Israeli-Arab prisoners.
The ultimatum by Economy Minister Naftali Bennett, who heads the ultra-nationalist Jewish Home party, further complicates U.S. efforts to keep fraught negotiations from collapsing.
Bennett's party has 12 of the 68 seats in ruling coalition, and should it quit, Netanyahu would have to find new allies to maintain a working majority in the 120-seat parliament.
There was no immediate comment from Netanyahu's office, but senior members of his right-wing Likud party dismissed Bennett's announcement as an "empty threat".
Bennett says the Palestinians should not have any say in how Israel deals with its own citizens. "The emerging deal, if it includes the release of murderers with Israeli citizenship, damages Israeli sovereignty," Bennett said in a statement.
Full report at:
http://www.hurriyetdailynews.com/israeli-coalition-partner-threatens-to-quit-over-peace-talks.aspx?pageID=238&nID=64915&NewsCatID=352
-----------
Southeast Asia
Islamic parties bounce back in Muslim-majority Indonesia
April 11, 2014
JAKARTA, April 11 — Indonesia's Muslim parties enjoyed a surprise jump in support at legislative elections this week, but analysts put it more down to anger with a corrupt ruling party than the growing popularity of political Islam.
Surveys had predicted that the five Islamic parties running at the polls in the world's most populous Muslim-majority country would see their support slip further after years of decline.
While there have been increasing signs of Islam in Indonesian public life since the 1998 downfall of dictator Suharto — such as more women wearing the headscarf — Islamic-based parties saw their support wane.
But this picture unexpectedly changed at Wednesday's polls. Combined support for the parties rose to 32 per cent from 26 per cent in 2009, according to an unofficial tally by the CSIS think-tank.
Full report at:
http://www.themalaymailonline.com/world/article/islamic-parties-bounce-back-in-muslim-majority-indonesia#sthash.Bu6IbaJm.dpuf
-----------
Bangladeshi sues Putrajaya, cops, immigration department over 'hurried' whipping
April 11, 2014
A Bangladeshi worker is suing Putrajaya, the Immigration Department and the police for RM3 million for being whipped in prison while waiting for his case to be reviewed.
Alamin Sheikh Badsha Sheikh, 28, a construction worker, was sentenced in July last year to three months jail and ordered to be given three strokes of the cane after he pleaded guilty to a charge of failing to furnish valid travelling and working permits.
He was arrested in June and produced in the Bukit Mertajam Magistrate's Court the following month, where he pleaded guilty to the charge without a lawyer representing him.
Only after Alamin was sentenced did his employer turn up with valid documents to prove his innocence.
He was waiting for his case to be reviewed at the Penang High Court when the prison in Pokok Sena carried out his whipping.
Lawyer S. Raveentharan, who has taken up Alamin's case, said his client received three strokes of the cane on October 9, just 16 days before his case was to be heard at the High Court, where judge Datuk Zamani Abdul Rahim set aside the conviction under the Immigration Act.
Full report at:
http://www.themalaysianinsider.com/malaysia/article/bangladeshi-sues-putrajaya-cops-immigration-department-over-hurried-whippin
---------
North America
800 Sq Miles of Afghan Area Littered With US Explosives: Washington Post
April 11, 2014
WASHINGTON: The US military will leave behind about 800 square miles of land littered with undetonated grenades, rockets and mortar shells as it withdraws from Afghanistan by the end of this year, The Washington Post reported on Thursday.
According to this report, the explosives have already killed dozens of Afghan children who stumbled upon the ordnance at the poorly marked sites.
"Casualties are likely to increase sharply," the report warned, adding that the US military has removed the munitions from only 3 per cent of the territory covered by its sprawling ranges. Clearing the rest of the contaminated land – twice as big as New York City – could take two to five years. US military officials say they intend to clean up the ranges but do not have the funds required to do so. The clean-up is expected to cost $250 million.
Since 2012, the UN Mine Coordination Centre of Afghanistan has recorded 70 casualties in and around US or NATO firing ranges or bases, and the pace of the incidents has been quickening. The Washington Post found 14 casualties not included in the UN data. Of the casualties recorded by the United Nations, 88pc were children.
Full report at:
https://www.dawn.com/news/1099068/800-sq-miles-of-afghan-area-littered-with-us-explosives-wp
---------
Canada Considers Blacklisting Muslim Brotherhood
April 11, 2014
The Canadian government is considering blacklisting the Muslim Brotherhood as a terrorist group, Shalom Toronto reports Friday, after a petition submitted by conservative MPs in Ontario province's Mississauga and Streetsville reached the House of Commons earlier this month.
Egypt began an intense crackdown on the Muslim Brotherhood in July, after the ouster of former leader Mohammed Morsi. More than 1,400 people have died in street clashes, and thousands have been imprisoned, in the crackdown on Morsi's supporters following his overthrow.
Since Morsi's ouster, the Muslim Brotherhood has been outlawed and has been designated as a terrorist organization by the army-led government.
Recently, investigations into the true nature of the Brotherhood have become a Western phenomenon, as both Canada and the UK consider blacklisting the group. The Brotherhood responded to the UK probe by subtly threatening more terrorism in the event of a ban.
Full report at:
http://www.israelnationalnews.com/News/News.aspx/179525#.U0fPDKhdU4U
-----------
No One Helped a Muslim Teen When a Man Spat On Her, Called Her a Terrorist in NY
April 11, 2014
A man on board a New York City bus allegedly spat on a 15-year-old Muslim girl on Tuesday, pushed her, and called her a "terrorist." DNA info reports police are investigating the incident as a hate crime.
The teen was wearing a traditional headscarf Tuesday morning while riding the Q88 bus on her way to school in Kew Gardens Hills, Queens. According to The New York Post, she accidentally brushed her bag against the man, sending him into a hate-filled tirade.
The man, who is described as a 5-foot-7 middle-aged white man, allegedly raised his fist at the teen, threatening her. "He kept cursing, 'terrorist' and stuff," she told ABC News, who didn't identify her at the request of her family. "He kept cursing and 'Oh, you Muslim piece of s***, you're a terrorist.'"
Full report at:
http://www.huffingtonpost.com/2014/04/10/muslim-teen-hate-crime-queens-bus_n_5125077.html
-----------
American study: Iran's military capabilities do not match its ambitions
April 11, 2014
The Iranian regime is cautious about using its military capabilities because they do not match its ambitions, a new study says.
Despite Tehran's efforts to export its Islamic revolutionary ideology, history shows that the lack of following through with its belligerent rhetoric "is due as much to experience as to realism about its own limits," according to Shahram Chubin.
Chubin is a nonresident senior associate at the Nuclear Policy Program at the Carnegie Endowment for International Peace organization and the former director of studies at the Geneva Center for Security Policy.
"But where Iran excels is in the more subtle areas of indirect diplomacy, menace and intrigue," he said.
Full report at:
http://www.jpost.com/Middle-East/American-study-Irans-military-capabilities-do-not-match-its-ambitions-348261
-----------
US announces sanctions in South Sudan conflict
April 11, 2014
The United States, which backed the independence of South Sudan, will take targeted sanctions against those involved in the conflict which has ravaging the young nation for the past four months, the State Department said.
Secretary of State John Kerry met Thursday with the South Sudanese Minister in the Office of the President, Awan Riak, the department said in a statement.
This comes as the country which gained independence in July 2011 is torn by a civil war between the army of President Salva Kiir and rebel fores loyal to former vice president Riek Machar.
Full report at:
http://english.ahram.org.eg/NewsContent/2/8/98799/World/Region/US-announces-sanctions-in-South-Sudan-conflict.aspx
-----------
Arab World
51 Killed as Syrian Jihadists Battle Along Iraqi Border
April 11, 2014
Fierce infighting between rival Islamic rebel groups in eastern Syria killed more than 50 fighters on Thursday, an opposition group said, while government shelling left at least four teenagers dead in a town in the country's west.
The rebel infighting took place around the town of Bukamal in the oil-rich Deir el-Zour province near the Iraqi border between rebels from the al-Qaeda breakaway group known as the Islamic State of Iraq and the Levant and fighters of the al-Qaeda-linked Nusra Front and other Islamic groups. The two sides have fought each other for months other over territory they previously captured together from President Bashar Assad's forces.
The Britain-based Syrian Observatory for Human Rights said 51 died in the rebel-on-rebel fighting on Thursday. The numbers could not be independently confirmed and calls to activists in the area went unanswered.
Full report at:
http://www.thehindu.com/news/international/world/51-killed-in-syria-rebel-infighting-report/article5897574.ece
-----------
Two Muslim Brotherhood members killed in gunfire exchange with security forces
April 11, 2014
CAIRO, April 11 (KUNA) -- Two members of the Muslim Brotherhood were killed in a shoot out with security forces in the Nile Delta north of Cairo, the state news agency reported on Friday.
MENA news agency said the two sides exchanged gunfire on a road between the cities of Tanta and al-Mahalla al-Kubra in the Nile Delta province of Gharbiya.
They had also tried to set ablaze a traffic police checkpoint, according to the agency.
http://www.kuna.net.kw/ArticleDetails.aspx?id=2371766&language=en
-----------
Hezbollah fighters say a 'duty' to help Syria's Assad
April 11, 2014
As he pushes a cart full of tomatoes and cucumbers in the market at Bint Jbeil in southern Lebanon, nothing marks out Mahmud as an experienced Hezbollah fighter.
The stocky vegetable vendor in his fifties, who sports a red beard, fought Israel here in 2006, but that battle is now old news.
He has just come back from another front: in Syria, where he fought for 25 days against the rebels who have sought to overthrow President Bashar al-Assad for the past three years.
Since the Shia movement's chief Hassan Nasrallah gave the order more than a year ago, thousands of Hezbollah fighters have fought in Syria, playing a decisive role in key victories for the regime.
Full report at:
http://english.ahram.org.eg/NewsContent/2/8/98790/World/Region/Hezbollah-fighters-say-a-duty-to-help-Syrias-Assad.aspx
-----------
Secular Egyptian groups demonstrate against protest law
April 11, 2014
Egyptian anti-government groups on Thursday held a march in central Cairo in protest at a law that imposes strict limits on public demonstrations.
Three prominent activists were recently jailed for three years under the provisions of the law.
Thousands of protesters, both Islamists and non-Islamists have been arrested since the law was enacted last November.
The march, organised by the Way of the Revolution movement, started with a press conference at the Journalists Syndicate and a sit-in on the steps of the building, followed by a march in the streets close to Tahrir Square.
Full report at:
http://english.ahram.org.eg/NewsContent/1/64/98772/Egypt/Politics-/Secular-Egyptian-groups-demonstrate-against-protes.aspx
-----------
Arabs Need Third Way between Religious and Military Regimes
April 11, 2014
"[We want] power, all the power, or else civil war." This is the slogan that governs the behaviour of Islamists, whether Brotherhood or Salafists, in the Arab world, West and East, especially where these groups and organizations are allowed to raise slogans that exude distorted memories of the past as they progress to hijack the future.
"Try to appear as a victim to gain power," goes a motto of Islamist origin. And those organizations, especially the Muslim Brotherhood, have applied that motto to the letter. So they agreed to stand in the rear seats so that the regime could claim to be democratic, as happened in Egypt during the Anwar Sadat era and in the latter days of the Hosni Mubarak era.
Full report at:
http://www.al-monitor.com/pulse/politics/2014/04/egypt-military-rule-failure-islamists-choice.html#ixzz2yZjF0hU9
-----------
Africa
Nigerian Army Accused of Slaughtering Muslims in Name of 'Counter-Terrorism'
April 11, 2014
The Nigerian military is murdering innocent Muslims under the guise of a campaign against terrorism, the leading Nigerian Islamic group Jama'atul Nasril Islam (JNI) has said in a statement.
"The dimension of extrajudicial killing of Muslims by the military on unsubstantiated suspicion leaves much to be desired, which clearly depicts that Muslims have become an endangered species, murdered and maimed indiscriminately under the guise of fighting terrorism," the statement said earlier this week.
The Muslim group referred to the execution of Muslims in Nigeria's central Nasarawa region last Thursday.
Full report at:
http://en.ria.ru/world/20140409/189121229/Nigerian-Army-Accused-of-Slaughtering-Muslims-in-Name-of.html
-----------
Islamist militants kill eight in northern Nigeria
2014-04-11
KANO (Nigeria): Scores of Islamist gunmen attacked a police station, a court and a bank in northern Nigeria on Wednesday, killing seven officers and a civilian, a police chief said.
The raid in the town of Gwaram in Jigawa state began at 1am and sparked an hours-long shootout with the security forces, said Tamari Yabo, the assistant inspector-general of police in charge of the region.
Boko Haram Islamists, waging a brutal insurgency which has killed thousands since 2009, have carried out dozens of attacks in surrounding areas, but Jigawa itself has been spared much of the violence.
"We lost seven policeman. One civilian was also killed," Yabo said of the fighting roughly 100 kilometres from Jigawa's capital Dutse.
Full report at:
https://www.dawn.com/news/1099073/islamist-militants-kill-eight-in-northern-nigeria
-----------
Nigeria: Fityanul Islam Plans Orphanage On 50th Anniversary
April 11, 2014
The Fityanul Islam of Nigeria held its 50th anniversary and awards presentation last Sunday at the Arewa House in Kaduna. A non-governmental organisation the sect propagates the Islamic religion through the Sufi doctrine of purification by Zikr.
The golden jubilee of the society was graced by personalities including one of its spiritual leaders, Sheikh Dahiru Usman Bauchi, who delivered a sermon and traced the genesis of the Tijjaniyya denomination.
He said: "The origin of Tijjaniyya denomination is Shehu Tijjani (RTA) who was a Moroccan. Allah has hierarchised mankind into four strata: the prophets, the companions, those who love and adhere to the teachings of the first three.
Full report at:
http://allafrica.com/stories/201404110433.html?viewall=1
-----------
Radical Youth Take Second Mosque in Mombasa
April 11, 2014
RADICAL Muslim youth yesterday 'officially' took over troubled Sakina mosque in Majengo and renamed it Masjid Mujahideen. The youth believed to be from Masjid Shuhadaa, a hotbed of militant Islamists, cleansed the mosque during prayers yesterday before painting the new name at the entrance.
The leaders of the al-Shabaab refer to Muslim fighters as 'Mujahideen' who wage holy war (Jihad) against their enemies. Mujahideen is an Arabic name which refers to one who engages in jihad.
In December last year, the youth ousted the Mosque's Imam Sheikh Mohamed Idris of the Council of Imams and Preachers of Kenya (CIPK), whom they accused of having links to politicians and the government. They later imposed their own imam.
Full report at:
http://allafrica.com/stories/201404100720.html?viewall=1
-----------
Kenya's Sharia-friendly livestock insurance
April 11, 2014
A mutual insurance scheme based on Islamic Sharia law has been launched to reduce the impact of extreme weather events on pastoral livelihoods in Kenya's arid northern regions where perennial drought often decimates thousands of livestock.
The Islamic Takaful insurance, which is gaining acceptance by livestock keepers keen to operate under the religion's precepts, is boosting risk management.
Prior to its introduction, livestock farmers here had not embraced conventional insurance schemes in great numbers, though IRIN reported on a pilot Index Based Livestock Insurance (IBLI) scheme in 2010.
Full report at:
http://www.irinnews.org/report/99909/kenya-s-sharia-friendly-livestock-insurance
-----------
Libya's Berbers maintain boycott of charter drafting polls
World Bulletin / News Desk
April 11, 2014
Libya's Berbers said on Thursday that they will maintain their boycott of the elections of their country's constitution-drafting panel as long as article 30 of country's constitutional declaration does not clearly recognize their cultural rights.
"A recent amendment of the article does not satisfy the minimum hopes of the Berbers," Ibrahim Makhlouf, the head of Libya's Supreme Berbers Council, told Anadolu Agency.
He said the article amendment does not clearly recognize either the Berbers' language or cultural identity in the Libyan state.
Makhlouf's statement comes only hours after Libya's election commission invited candidates to submit their applications to contest two constituent assembly seats designated for the Berbers.
Full report at:
http://www.worldbulletin.net/headlines/133472/libyas-berbers-maintain-boycott-of-charter-drafting-polls
-----------
Gunmen ambush foreign peacekeepers in C. African town
April 11, 2014
Gunmen have ambushed French and African peacekeeping troops in the Central African Republic's mining town of Bria, residents said Friday.
A hospital employee said that French troops and Congolese soldiers of the African Union force MISCA were "ambushed at about 7:00 pm (1800 GMT) outside the hospital, while making their way back to their airport base."
Gunfire broke out for around half an hour outside the hospital in Bria's town centre and a MISCA soldier was wounded, added the employee, who asked not to be named.
Earlier, when the foreign troops rolled into town, 400 kilometres (250 miles) northeast of the capital Bangui, they were stoned by Muslim youths, said a teacher reached by telephone.
The teacher blamed the stone-throwing on "young Muslims manipulated by the Seleka", the former rebel coalition that seized power a year ago before some of its commanders went rogue.
Full report at:
http://english.ahram.org.eg/NewsContent/2/9/98802/World/International/Gunmen-ambush-foreign-peacekeepers-in-C-African-to.aspx
-----------
Europe
Enforced Disappearances, Arbitrary Arrests, and Extra-judicial Killings of Uyghurs in China
April 11, 2014
The World Uyghur Congress (WUC), in cooperation with the Unrepresented Nations and Peoples Organization (UNPO) and Society for Threatened Peoples, and with the financial support of the National Endowment for Democracy, will be convening a conference entitled 'The Silenced Crimes against Humanity: Enforced Disappearances, Arbitrary Arrests, and Extra-Judicial Killings of Uyghurs in China' in Munich, Germany, from 13 to 16 April, 2014.
The conference will serve as a platform for dialogue on one of the most alarming developments in China; the odious crimes against humanity specifically targeting the Uyghur community with the aim of silencing peaceful dissent. The conference will serve as a discussion to raise the issues of enforced disappearances, arbitrary arrests, extra-judicial killings and organ harvesting, in light of new Chinese leadership and increased international attention to China's deteriorating human rights record.
Full report at:
Copyright © 2014 World Uyghur Congress (WUC), All rights reserved.
-----------
European jihadists form ISIS brigades in Syria
April 11, 2014
Recent reports in the European press and evidence from social media implicate European jihadists fighting with the Islamic State of Iraq and al-Sham (ISIS) in atrocities committed in the vicinity of Aleppo, in northern Syria. The reports, moreover, suggest that European jihadists in Syria are more numerous than official statistics indicate. Indeed, they point to the existence of entire French-speaking and German-speaking brigades in the Aleppo region.
One Abu Shaheed, a French jihadist interviewed by the weekly Paris-Match in March, claims that there are "at least" 500 recruits from France alone fighting with ISIS, which is merely one of the jihadist factions in Syria. It has lately been involved in an internecine conflict with other such factions, including Jabhat al-Nusra, al-Qaeda's official affiliate in Syria. In a recent study, Thomas Hegghammer, director of terrorism research at the Norwegian Defense Research Establishment, used published estimates from European intelligence services to put the total number of European recruits fighting in Syria at fewer than 2,000. The study estimated the total number of French recruits fighting with all the factions, not only ISIS, at between 200 and 400.
Full report at:
http://www.al-monitor.com/pulse/originals/2014/04/europe-jihadist-isis-syria-qaeda-terror-france-germany.html#ixzz2yZiy0QqX
-----------
Syrian warring parties disdain human life, ignore war rules
April 11, 2014
NEW YORK, April 11 (KUNA) -- UN Emergency Relief Coordinator Valerie Amos late Thursday sharply criticized the warring parties in Syria for their contempt for human life and reminded them that even wars have rules.
In a statement issued by her office, Amos cited Wednesday's deadly car bomb attacks on a shopping street in Homs as yet another reminder of the "contempt the parties to this conflict show for human life." More than twenty people were killed and more than one hundred injured, including innocent women and children and two volunteers from the Syrian Arab Red Crescent who arrived in an ambulance to treat people hurt in the first blast, and were themselves caught in the second. "This is a war, but even wars have rules," she argued, urging all parties to the conflict "to commit now to upholding International Humanitarian Law." "Brutal violence and indiscriminate attacks on ordinary people have been taking place for more than three years in Syria and no longer have the power to shock. But attacks on civilians are war crimes and may also amount to crimes against humanity," she warned in her statement.
Full report at:
http://www.kuna.net.kw/ArticleDetails.aspx?id=2371751&language=en
-----------
Kuwait "most generous" donor nation so far for Syria - UN Development Programme
April 11, 2014
A UN Development Programme (UNDP) official on Thursday said Kuwait has been the "most generous" donor nation and has taken a "leading role" in coordinating and contributing to the international response to the Syrian humanitarian crisis in recent years, hosting two major International Humanitarian Pledging Conferences for Syria and fulfilling its pledges.
Kuwait has been "the most generous donor nation so far in helping to deal with the on-going emergency," Sima Bahous, UN Assistant Secretary-General and Director of the Regional Bureau for Arab States of UNDP, said in a statement, recalling that Kuwait contributed $300 million to the overall UN response in 2013 and $500 million this year.
Full report at:
http://www.kuna.net.kw/ArticleDetails.aspx?id=2371727&language=en
-----------
Professor to Face Sharia Court For Picking up Pottery in Iraq
The Moscow Times
April 11, 2014
A Russian law school professor is set to face an Islamic Sharia court for trying to take home a few fragments of pottery he picked up from the ground during a guided tour in Iraq, a news report said.
Alexander Gorbachyov, chair of the legal studies department at Bryansk State University in western Russia, was detained at customs when trying to leave Iraq, a university spokesperson said, Interfax reported Wednesday. Iraqi officials said that the pottery fragments may have a "cultural and historic value."
Full report at:
http://www.themoscowtimes.com/news/article/professor-to-face-sharia-court-for-picking-up-pottery-in-iraq/497781.html
-----------
Pakistan
Several killed in latest Waziristan militant infighting
2014-04-11
PESHAWAR: Several are being reported killed in infighting between two distraught Tehreek-i-Taliban factions between whom fighting intensified on Friday in Waziristan.
The clash started between the two militant factions a few days ago and the cause of infighting was said to be over interference in matters inside one another's domains.
At least 10 people were killed today during a clash in North Waziristan's Shawal tehsil and several were injured.
The casualties in Shawal took place when the two factions exchanged fire, local sources and officials confirmed.
Cause for strife
Fighters from both sides have been launching attacks in the areas of Shawal, Shaktoi, Makin and Tank with heavy ammunition and artillery in an attempt to destroy one another's sanctuaries.
Full report at:
https://www.dawn.com/news/1099185/several-killed-in-latest-waziristan-militant-infighting
-----------
Human Rights Watch urges Senate to strike down 'repressive' law
April 11, 2014
NEW YORK: Criticising the recently passed Protection of Pakistan Ordinance (PPO), Human Rights Watch on Friday said the law threatens basic rights and freedoms in violation of Pakistan's international legal obligations.
PPO was approved by President Mamnoon Hussain on October 20, 2013 and passed in the National Assembly on April 7, 2014 but it still requires Senate approval. The ordinance grants sweeping powers of arrest and detention to security forces.
According to a press release, the rights body called on the Senate to refuse to approve the "repressive law" and return it to the National Assembly with needed revisions.
Asia director at Human Rights Watch Brad Adams said the anti-terror laws shouldn't be used to undermine fundamental rights. "The Protection of Pakistan Ordinance as drafted runs roughshod over rights provided under international law as well as Pakistan's constitution."
Full report at:
http://tribune.com.pk/story/694222/human-rights-watch-urges-senate-to-strike-down-repressive-protection-of-pakistan-ordinance/
---------
Shia Taxi Driver Shot Martyred In Takfiri Terrorist Attack Near Parachinar
April 11, 2014
A Shia taxi driver embraced martyrdom due to firing of Yazidi nasbi takfiri terrorists of banned Taliban near Parachinar on Thursday. According to Shiite News, Mohammad Karam was driving his taxi when the Yazidi nasbi takfiri terrorists of banned terrorist outfit TTP (Tehrik-e-Taliban Pakistan) stopped him. When the terrorists came to know that he was a Shia Muslim, they pulled him out and killed him by sporadic firing upon him. The martyr was resident of Jallandar area of Kurrum Agency, FATA. Shia parties and leaders have condemned the targeted murder of Shia Muslim in Kurrum Agency, FATA. Shia parties and leaders have condemned the targeted murder of Shia taxi driver. They said that terrorists continued genocide against Shiites across Pakistan. They reiterated their demand that only a surgical operation by military to eliminate the terrorists would bring an end to ongoing terrorism.
http://pakistan.shafaqna.com/agencies-news/item/22156-shia-taxi-driver-shot-martyred-in-takfiri-terrorist-attack-near-parachinar.html
-----------
Safeguarding democracy is responsibility of every institution: CJ
2014-04-11
ISLAMABAD: Chief Justice Tassaduq Hussain Jillani said Friday that safeguarding democracy was the responsibility of the government and all other institutions, DawnNews reported.
Addressing a full court reference in honour of Justice Khilji Arif Hussain at the Supreme Court, he said even the courts had to play their role, especially the apex court.
Chief Justice Jillani said that state institutions in the country should play their respective roles to strengthen justice but avoid exceeding their limits.
He said the country was faced with terrorism, sectarian conflicts and the issue of basic rights.
The CJ said it was our duty to abide by the rule of law, ensure human dignity and uphold the values of tolerance and trust.
Full report at:
https://www.dawn.com/news/1099208/safeguarding-democracy-is-responsibility-of-every-institution-cj
-----------
Government, Taliban talks hit deadlock: Prof. Ibrahim
April 11, 2014
PESHAWAR- Member Taliban dialogue committee, Professor Ibrahim said today that there was a deadlock like situation in talks between the government and Tehrik-i-Taliban Pakistan (TTP).
In an interview to a TV channel, Prof Ibrahim said the army was not happy over the release of prisoners. He added the army did not want the release of Taliban prisoners. Professor Ibrahim attributed the deadlock to silence from both sides, adding that he could only pray that talks start proceeding in the right direction. He further said efforts were being made to make the talks successful. The government committee and TTP Shura have only held one round of talks. The 40 day ceasefire announced by the TTP expired yesterday- Thursday.
Full report at:
http://www.nation.com.pk/national/11-Apr-2014/government-taliban-talks-hit-deadlock-prof-ibrahim
-----------
Jamiat Ulema-i-Islam-Faz announces withdrawal from government
2014-04-11
ISLAMABAD: A spokesperson of the Jamiat Ulema-i-Islam-Fazl (JUI-F) announced on Friday the party's decision to withdraw from the federal government saying that they had reservations over the policy issues undertaken during the past four months, DawnNews reportd.
The spokesperson claimed that the government had not taken JUI-F into confidence over mediation between the Tehreek-i-Taliban Pakistan and government, nor over the issues related to the Protection of Pakistan Ordinance (PPO)and National Security policy.
Moreover, the two JUI-F members of the federal cabinet, who had taken oath in January this year, also tendered their resignations.
Full report at:
https://www.dawn.com/news/1099207/jui-f-announces-withdrawal-from-government
-----------
Rawalpindi district court attack kills at least two
2014-04-11
RAWALPINDI: At least two people were killed and several injured on Friday in an incident of indiscriminate firing on a local district court in the garrison city, DawnNews reported.
According to police personnel, the firing in the district court occurred between two groups which killed a prisoner and a passerby.
Moreover, an exchange of fire between police and armed attackers also took place after which policemen arrested four assailants.
Full report at:
https://www.dawn.com/news/1099189/rawalpindi-district-court-attack-kills-at-least-two
-----------
TTP shura may decide fate of truce today
2014-04-11
KARACHI: The ceasefire announced by the banned Tehreek-i-Taliban Pakistan (TTP) on March 1 for a month and later extended by 10 days ended on Thursday with no word whether it would hold any further. TV channels reported earlier in the day that a meeting of the TTP shura was under way to take a decision on the issue. The report turned out to be unsubstantiated.
According to a source, the TTP shura will meet on Friday (today) to discuss if the peace talks with a government-appointed committee has made any progress. The 10-day extension in the truce was announced by the Taliban after a number of people said to be associated with militants were set free as a goodwill gesture.
Full report at:
https://www.dawn.com/news/1099115/ttp-shura-may-decide-fate-of-truce-today
-----------
Rivalry between Pakistani Taliban factions erupts in deadly violence
Reuters | Apr 11, 2014
PESHAWAR: A struggle for power between Pakistani Taliban commanders divided over whether to talk to the government has erupted in violence with dozens of fighters killed along the Afghan border over recent weeks, Pakistani security officials said.
It is unclear if the fighting will weaken an insurgency aimed at bringing down the nuclear-armed Pakistani state but the security agencies will be hoping to turn the bloodshed to their advantage.
The violence is between rivals in the Mehsud tribe, one of numerous ethnic Pashtun groups that straddle the Afghan-Pakistan border who have for generations battled outsiders to preserve their autonomy, and often each other over feuds.
The Pakistani Taliban, a loose alliance of militant groups drawn largely from Pashtun communities, have been fighting for years to overthrow the government and impose strict Islamic law.
The rivals are from the same subgroup of the Mehsuds, a tribe based in the South Waziristan region that provides the Taliban the bulk of their money and many of their fighters.
On one side is a commander called Khan "Sajna" Said, who is in his mid-thirties and acts as an arbitrator for the Taliban in Karachi, Pakistan's largest city, and controls lucrative extortion rackets there, said an analyst with extensive contacts in the insurgency.
Sajna supports peace talks with the government of Prime Minister Nawaz Sharif, Taliban commanders said.
Full report at:
http://timesofindia.indiatimes.com/world/pakistan/Rivalry-between-Pakistani-Taliban-factions-erupts-in-deadly-violence/articleshow/33617079.cms
------------
Imran Khan likens Pakistan's former CJ with Indian umpire
Press Trust of India | Lahore | April 11, 2014
Cricketer-turned-politician Imran Khan has compared former Chief Justice of Pakistan Iftikhar Chaudhry to an Indian umpire while criticising him for "refusing" to audit votes in four constituencies for alleged
rigging during last year general elections.
Khan, who heads the Pakistan Tehreek-e-Insaf, recalled an Indian umpire, who according to him had refused to consider his appeal against an Indian batsman during a cricket match allegedly "in order to secure a win for his team".
"How can it be possible for lawmakers who come to the assembly through rigged elections to remove corruption from society and from among their ranks?," he asked while addressing an event here yesterday.
Full report at:
http://indianexpress.com/article/world/asia/imran-khan-likens-pakistans-former-cj-with-indian-umpire/
------------
S. Arabia has no hidden agenda, says ambassador
2014-04-11
ISLAMABAD: Ambassador Ali Saeed Asseri, who remained Saudi Arabia's envoy to Pakistan for nine years, is returning to Islamabad for a second stint.
Mr Asseri will succeed Abdul Aziz Al-Ghadeer who would be leaving after completing his tenure in a couple of months.
Talking to Dawn in his office, Mr Ghadeer described his over five-year stay in Pakistan as eventful.
Speaking for the first time about criticism in Pakistan of the $1.5 billion aid given by the kingdom, he said Saudi Arabia "had no hidden agenda".
During Crown Prince Salman bin Abdulaziz Al-Saud's visit to Islamabad Saudi Arabia donated $1.5 billion with the condition that the source of donation should not be identified.
The opposition questioned the gift from the unidentified source and said that it was meant to make Pakistan change its Middle East policy, particularly on Syria.
Full report at:
https://www.dawn.com/news/1099084/s-arabia-has-no-hidden-agenda-says-ambassador
-----------
Pakistan attaches 'highest priority' to relations with China: PM
2014-04-10
BOAO: Describing Pakistan's friendship with China as an exemplary inter-state relationship, Prime Minister Nawaz Sharif on Thursday stressed that Pakistan attaches the highest priority to its relations with China.
The prime minister, who is in China to attend the Boao Forum for Asia (BFA) 2014, held a bilateral meeting with his Chinese counterpart on the sidelines of the BFA.
During the meeting the PM urged Premier Li Keqiang to encourage Chinese companies to invest in Pakistan, especially in energy and infrastructure.
Both the leaders also discussed bilateral, regional and global issues.
Reviewing the whole range of bilateral relations, the two leaders focused on enhancing connectivity between China and Pakistan and agreed that expanding economic and trade cooperation, promoting economic integration, fostering economic development of the two countries would not only benefit China and Pakistan but also transform the whole region.
Full report at:
https://www.dawn.com/news/1098999/pakistan-attaches-highest-priority-to-relations-with-china-pm
-----------
Detained in Libya: Last Pakistani crew member of Morning Glory awaits freedom
April 11, 2014
KARACHI: Almost a week after five out of the six crew members of Morning Glory returned home, family members of Ghufran Marghoob, still with the Libyan authorities, appealed to the government to make efforts for his release citing threats to his life.
"The offloading of the vessel has been completed but my brother has not been released by the Libyan government. His life is in danger as the rebels can attack the ship and take them hostage again," said Hassan, Maghroob's elder brother.
While the rest of the five Pakistan crew members including the captain returned to Pakistan on Saturday, Ghufran, chief officer of the Morning Glory, was asked by the Libyan authorities to stay back and help in the offloading process.
Full report at:
http://tribune.com.pk/story/694110/-in-libya-last-pakistani-crew-member-of-morning-glory-awaits-freedom/
-----------
South Asia
Attorney General: Sayedee's crimes more dreadful than Molla's
April 11, 2014
The Jamaat-e-Islami leader had committed more monstrous crimes than war criminal Abdul Quader Molla, who was executed on December 12
At the end of government's arguments yesterday, attorney general Mahbubey Alam pleaded for upholding the capital punishment of war criminal Delawar Hossain Sayedee for the sake of justice.
He said the Jamaat-e-Islami leader had committed more monstrous crimes than war criminal Abdul Quader Molla, who was executed on December 12.
Molla had to walk to gallows for a deposition from Momena. Similarly, reliable witnesses like Momena gave testimonies in the case against Sayedee. "As per their depositions, Sayedee's crimes are more despicable and terrible than Molla's," he said.
Mahbubey said that no other punishment is appropriate for the heinous crimes Sayedee had committed during the 1971 Liberation War in Pirojpur.
Full report at:
http://www.dhakatribune.com/law-rights/2014/apr/11/ag-sayedee%E2%80%99s-crimes-more-dreadful-molla%E2%80%99s#sthash.cePuGoUE.dpuf
-----------
Taliban's shadow governor for Kunar reported killed in US airstrike
April 11, 2014
The National Directorate of Security, Afghanistan's domestic intelligence service, claimed that the Taliban's shadow governor for Kunar province and several senior commanders were killed in an airstrike three days ago. The Taliban commander's death has not been confirmed.
The NDS issued a press release stating that Noor Qasim Sabari, the shadow governor of Kunar, was killed in an airstrike that targeted "a gathering of the senior Pakistani and Afghan Taliban leaders" on the evening of April 7, Khaama Press reported.
Sabari appeared in a video by the Taliban that was released in 2012. In that video, which is titled "The Ghazi of Ghaziabad," the Taliban welcomed two Afghan National Army (ANA) soldiers suspected of killing US and Afghan soldiers in insider or green-on-blue attacks earlier in 2012. [See Threat Matrix report, Observations on Taliban video 'welcoming' rogue ANA soldiers.]
Full report at:
http://www.longwarjournal.org/archives/2014/04/talibans_shadow_gove_1.php#ixzz2yZplHBK7
-----------
IO testifies on al-Badr leader Mir Kashem's involvement in war crimes
April 11, 2014
The investigation officer in the case against Jamaat-e-Islami leader Mir Kashem Ali, an alleged commander of notorious al-Badr force in Chittagong during the 1971 Liberation War, testified at the war crimes tribunal yesterday.
Nurul Islam is the 24th and last prosecution witness in the case. After his submission, defence lawyer Nazibur Rahman began questioning him. The International Crimes Tribunal 2 adjourned the proceedings until April 15 keeping the cross-examination incomplete.
The IO said as a leader of Islami Chhatra Sangha, then Jamaat's student wing, the accused had created armed group al-Bad. He led the abduction and persecution of many pro-liberation people at three torture cells in the city.
Full report at:
http://www.dhakatribune.com/law-rights/2014/apr/11/io-testifies-al-badr-leader-mir-kashem%E2%80%99s-involvement-war-crimes#sthash.GlN1o3T0.dpuf
-----------
Former Taliban leader Agha Jan Mutasim goes missing in UAE
Apr 11 2014
According to reports, the former Taliban leader Agha Jan Mutasim who met with the Afghan officials to discuss peace process has gone missing in the United Arab Emirates.
Agha Jan Mutasim is believed to be an influential Taliban leader who could play a vital role in Afghan peace talks with the Taliban group.
He met with the senior members of the Afghan high peace council (HPC) in Dubai last month and was due to meet with the Afghan peace delegation in the near future in UAE.
Sources close to Agha Jan Mutasim including his family members have confirmed that he has gone missing in UAE and they cannot contact him since last week, Pakistan's The Express Tribune reported.
Full report at:
http://www.khaama.com/former-taliban-leader-agha-jan-mutasim-goes-missing-in-uae-2986
----------
India
Pakistan for resumption of dialogue with India
Apr 11, 2014
Pakistan looks forward to the resumption of dialogue with India so that people of this region can benefit from economic cooperation, Tasnim Aslam, spokesperson for the Ministry of Foreign Affairs said on Thursday.
At the weekly media briefing, she said in response to questions that "We have a framework with India which has an eight point agenda. This process has been disrupted for the last three years. We believe that to have sustainable and durable peace, we need to address all the issues and disputes ... "
To a question on Narendra Modi coming to power in India and whether he will respond positively to Pakistan, Ms. Aslam said she was not in the business of reading minds.
On the position of Pakistan on Article 370 of the Indian Constitution, she said India's constitution was India's internal matter. "We have a position on Jammu and Kashmir because Pakistan is a recognised and legitimate party to this dispute," she said.
http://www.thehindu.com/news/international/south-asia/pakistan-for-resumption-of-dialogue-with-india/article5899402.ece
-----------
Jade pendant from Mughal era is sold for Rs 3 crore at London auction
Kounteya Sinha,TNN | Apr 11, 2014
LONDON: An exquisite jade pendant from the Mughal courts of India, inscribed with verses from the Quran has sold for a whopping £290,000 or nearly Rs 3 crore.
Dating back to 1597, the jade pendant has been analyzed to be the earliest known Mughal jade and was expected to fetch over £20,000.
It was auctioned by Christie's in London on Thursday and sold for over 14 times the expected price.
Experts said that the quality of the jade and the extremely fine calligraphy suggested possibly royal patronage and excited the numerous bidders who competed in the room and on the telephones for the piece.
Full report at:
http://timesofindia.indiatimes.com/world/uk/Jade-pendant-from-Mughal-era-is-sold-for-Rs-3-crore-at-London-auction/articleshow/33610044.cms
------------
URL: https://www.newageislam.com/islamic-world-news/new-age-islam-news-bureau/secular-education-on-the-decrease-in-national-religious-schools-of-jerusalem/d/66500