New Age Islam News Bureau
18 Aug 2015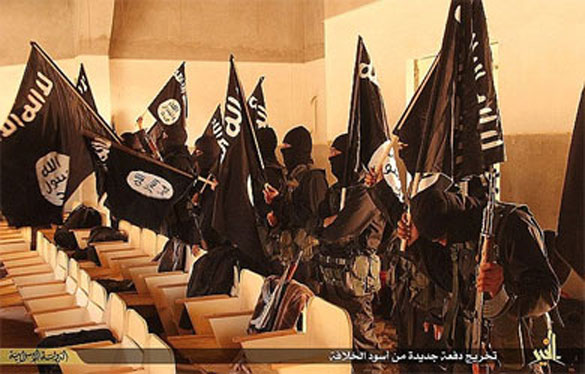 Questionable: The 32-page document allegedly contains a history of the modern-day jihad and a strategy plan
---------
Pakistan
• Secret Islamic State Document Found In Pakistan
• 15 Suspected Militants Killed In Khyber Airstrikes
• Two Suspected Terrorists, One Rangers Man Killed In Karachi Raid
• 2 Pakistani Nationals Arrested As Members Of ISIS
• 28 suspected militants surrender in Balochistan
• Four militant commanders surrender in Balochistan
• MQM's Rashid Godil shot, critically injured in Karachi
• PM okays agenda for talks with India
• Hopeful Fazl meets MQM leaders today
• Reham won't attend PTI events in future, says Imran
-----------
Arab World
• Amnesty International Director Alleged To Have Links to Muslim Brotherhood and Radical Islamists in Egypt
• Top Muslim Clerics to Counter IS Fatwas
• Daesh, Hezbollah Eye Gulf for Cadres
• 13 Nusra Fighters Killed in Syrian Air Attacks in Lattakia Province
• Syrian Army Repels ISIL Attack after 7-Hour Fight in East of Homs
• Iraqi Army, Popular Forces Kill over 10 ISIL Terrorists in Anbar Province
• U.N. Security Council backs new Syria peace plan
• Lebanon health minister warns of dangers from trash crisis
• Chemical watchdog 'concerned' by Iraq attack reports
• U.N. 'horrified' by attacks on Syrian civilians
• Iraqi parliament refers Mosul report to prosecutor
• Conference on Islamic law to be held in Riyadh
• Syrian Forces Win Back Deir Ezzur Juvenile Prison, Nearby Areas
• Syria: Army, Hezbollah Fighters Win Back 2 Strategic Areas in Zabadani
----------
South Asia
• Two Commanders Including Seven Militants Killed In Maidan Wardak Airstrikes
• Afghan Interpreter Abandoned By British Executed In Iran
• Bangladesh arrests Briton over blogger murders
• Exodus grows as Afghans escape quagmire of violence
• Foreign aid worker kidnapped in central Kabul
• Hizb-e-Islami envoy in Kabul for peace talks
-----------
India
• Minority Platform with 15 Muslim Bodies On Cards in West Bengal
• Hindu by Birth, But a Muslim Now: Upper Caste Atrocities Force Dalits in Haryana to Convert
• Pak to ask India for revival of foreign-secretary-level talks
• Two cops arrested for colluding with passport agent to give passports to Huji activists
-----------
Africa
• Boko Haram Attack Kills Seven in NE Nigeria Village: Locals
• Somalia: Ethiopian Helicopters Targets Al Shabaab Bases
• South Sudan rivals hold peace talks on deadline day
• Libya PM withdraws offer to resign
• South African premier lauds role of Indian Muslims in liberation
• New Recording Emerges of Boko Haram's Purported Leader
• UN sponsors 500 Boko Haram victims to acquire vocational skills
• FG assures Military of logistics for war on Boko Haram
• Nigeria: My Encounter with Boko Haram Foot Soldiers - Barrister Aisha
• Police name Kenyan suspects luring youth to join Al Shabaab
-----------
Southeast Asia
• Najib: Putrajaya Will Defend Human Rights, But Only In the Context of Islam
• Vape, Electronic Cigarettes, Is 'Haram' For Muslims, Declares Malaysian Fatwa Council
• Malaysia is not a failed state, PM Najib says
• RM2.6b 'donation' for Islam should go to government instead of Najib, says Muslim group
• Can an Islamic climate change declaration inspire 1.6B Muslims?
----------
North America
• American Muslim Youth Community Organizes Annual Halal Food Festival
• Hamas and Hezbollah Reject Own Blacklisting By Canada
------------
Europe
• Russia Jails Members of Banned Islamic Group
• Critics outraged by British theater's cancellation of play about Muslim radicalization
• UK Labor frontrunner invited radical Israeli-Muslim cleric to Parliament for tea
• Charlie Hebdo and the dawn of French McCarthyism
-----------
Mideast
• ISIS Video Calls on Turks to Join Fight against 'Traitor' Erdogan
• Ansarullah Foils Saudi Plot to Capture Sana'a
• GCC condemns Houthi occupation of UAE mission in Sanaa
• Pro-Kurdish opposition to consider taking part in Turkish 'election govt'
• Turkish govt mandate to return to Erdogan
• Arab coalition bombs Yemen's Hodeidah port
• Israel denies ceasefire talks with Hamas
• U.S.: Patriot pullout from Turkey reflects weaker Syria
• Israel offer to exile Palestinian hunger-striker rebuffed
• Iranian DM: Air Force Equipped with Supersonic Saeqeh 2 Fighter Jets
Compiled by New Age Islam News Bureau
URL: https://www.newageislam.com/islamic-world-news/new-age-islam-news-bureau/secret-islamic-state-document-found-in-pakistan/d/104310
-----------
Pakistan
Secret Islamic State Document Found In Pakistan
By TOM WYKE FOR MAILONLINE
17 August 2015
ISIS's 'Mein Kampf': Secret jihadi document discovered in Pakistan blames Israel for the emergence of the Islamist group and calls Barack Obama the 'mule of the Jews'
The document is in Urdu and was found by American Media Institute (AMI)
It was discovered in one of the remote tribal areas in western Pakistan
'Open warfare' is predicted as the final stage of the jihadi group's strategy
Found in one of the tribal areas of Pakistan, a new jihadi document has been billed as the ISIS equivalent of Adolf Hitler's book Mein Kampf.
Titled 'A Brief History of the Islamic State Caliphate (ISC): The Caliphate According to the Prophet', the mysterious document includes a graphic depiction of the six stages of the Islamic State.
According to the diagram, the fifth phase 'declaring the caliphate' will be followed by the final phase 'open warfare' in 2017.
'It reads like the caliphate's own Mein Kampf,' an U.S. intelligence official told Israel National News after reading over the 32-page document.
He said: 'While the world is watching videos of beheadings and crucifixions in Iraq and Syria the Islamic State is moving into North Africa the Middle East.
'We see it has a strategy in South Asia. It's a magician's trick, watch this hand and you'll never see what the other is doing,' he said.
The authenticity of the document has reportedly been confirmed as genuine by retired U.S. Defense Intelligence Agency Director Gen. Michael Flynn.
Yet some of its claims seem out of place, particularly the idea that the jihadi group perceive India as its future battleground rather than Western Europe.
The document also contains a lengthy history of Islamic State and militant jihadism before conveniently suggesting that Pakistan and Afghanistan would be the next areas for terror camps.
Reading more like the work of a dedicated fan rather than an official document, the file claims; 'Accept the fact that this caliphate will survive and prosper until it takes over the entire world and beheads every last person that rebels against Allah. This is the bitter truth, swallow it.'
The document also moves away from ISIS's longstanding strategy to inflict terror on the West and develop the caliphate across North African countries like Libya.
Instead it claims: 'Instead of wasting energy in a direct confrontation with the U.S., we should focus on an armed uprising in the Arab world for the establishment of the caliphate.'
The document was found by American Media Institute (AMI) and was written in Urdu.
dailymail.co.uk/news/article-3200904/ISIS-s-Mein-Kampf-Secret-jihadi-document-discovered-Pakistan-blames-Israel-emergence-Islamist-group-calls-Barack-Obama-mule-Jews.html#ixzz3jAyOSVre
------
15 suspected militants killed in Khyber airstrikes
ALI AKBAR
Aug 18, 2015
PESHAWAR: At least 15 suspected militants were killed airstrikes in the Khyber tribal region's Rajgal area near the Pak-Afghan border, the Inter-Services Public Relations (ISPR) said on Tuesday.
The militants killed in the airstrikes also included at least two suicide bombers, the military's media wing said, without giving out any other details.
Know more: Security forces kill ten terrorists near Pak-Afghan border
The conflict zone of Khyber is off-limits to journalists making it difficult to verify the army's claims, including the number and identity of those killed.
The latest airstrike is part of the counter-terrorism efforts that are being made under the National Action Plan (NAP) and the Zarb-i-Azb military operation, with both having significantly curbed terror attacks in the country.
Full report at:
http://www.dawn.com/news/1201217/15-suspected-militants-killed-in-khyber-airstrikes
-----------
Two suspected terrorists, one Rangers man killed in Karachi raid
Aug 18, 2015
KARACHI: At least two suspected terrorists and one Rangers man were killed during a targeted operation carried out by the paramilitary force in Gulshan-i-Iqbal neighbourhood early on Tuesday, said a press release.
According to the statement, Rangers personnel conducted an intelligence-based targeted raid on suspected hideouts of banned outfits in Gulshan-i-Iqbal area.
"On seeing the Rangers, the suspected militants resorted to firing, upon which paramilitary troops returned fire," the statement said.
As a result of the firing, two suspected terrorists and one Rangers official, who the force identified as Assistant Director of law enforcement agency, were killed while one Rangers man sustained injuries.
Earlier this month, Chief Minister Sindh Qaim Ali Shah extended the special powers granted to Pakistan Rangers Sindh by 120 days.
Also read: Rangers' stay in Karachi extended for four months
According to the recently compiled figures, since September 5, 2013 when the federal government decided to launch the Rangers-led 'targeted-operation' in Karachi with the provincial government consent, the paramilitary force has conducted some 5,795 operations and apprehended 10,353 suspects that ranged from street criminals to terrorists.
The deployment of Pakistan Rangers, Sindh, in Karachi is requisitioned under Article 147 of the Constitution, and under Clause 1 of Sub-section 3 of Section 4 of Anti-Terrorism Act 1997, authorised to prevent the commission of terrorist acts, or scheduled offences in notified area for the punishment of terrorist in accordance with the provision of the Anti-Terrorism Act 1997.
http://www.dawn.com/news/1201219/two-suspected-terrorists-one-rangers-man-killed-in-karachi-raid
-----------
2 Pakistani nationals arrested as members of ISIS
August 17, 2015
KABUL: The National Directorate of Security (NDS) – Afghanistan's intelligence agency has detained Hayatullah alias Mansour, a commander of the terrorist group of Daesh, in eastern Nangarhar province.
A statement issued today by NDS states that the group was rounded up during a special operation from Torkham area of Nangarhar province. The two Pakistani nationals are identified as Yasir alias Sikandar and Bashir alias Abu Khalid Mohammadi who had crossed the border into Nangarhar province to participate in terrorist activities.
NDS press release adds that all of the three hostages have confessed of belonging to Daesh. Sharing a long border with Pakistan, Nangarhar has become a hot spot for Daesh as well as Full report at:
The group has since then started its recruitment and insurgency inside Afghanistan.
http://nation.com.pk/national/17-Aug-2015/2-pakistani-nationals-arrested-as-members-of-isis
-----------
28 suspected militants surrender in Balochistan
SALEEM SHAHID
QUETTA: Five leaders and 23 members of the banned militant organisations surrendered in Quetta and Panjgur on Monday.
Four of the leaders handed over their arms to the authorities in the presence of provincial Home Minister Mir Sarfaraz Ahmed Bugti and Home Secretary Akbar Hussain Durrani at the Quetta Press Club. Abdul Sattar Masoori Bugti, Iftikhar Bugti, Najeebullah Bugti and Idrees Rind belonged to the banned Baloch Republican Army (BRA).
The minister described the surrender as a big achievement of the government because the men were said to be the "right hand of Barhamdagh Bugti".
Also read: 400 militants in Balochistan lay down weapons on Independence Day
He said they had abandoned the armed struggle against the state and decided to join the mainstream. Now they would work for the development and prosperity of the country, especially Balochistan, he added.
Sattar Masoori said he went to Afghanistan in 2006 and spent most of his time in Nimruz province. He said the BRA had set up 20 to 30 camps in Sobatpur, Panjgur, Khuzdar, Dera Bugti and other areas.
He claimed that the Indian intelligence agency RAW and Afghanistan's National Directorate of Security (NDS) were behind funding and training of the BRA militants. The RAW and NDS personnel trained BRA militants in its camps, he said, adding that providing arms and ammunition and transport were also their responsibility.
He said he and many other BRA militants had received training to carry out subversion activities in camps in the Afghan district of Spin Boldak and Nimruz. "I was commanding 20 camps of BRA in Dera Bugti," Masoori Bugti said, adding that Najeebullah Bugti was responsible for camps in Chagai.
Full report at:
http://www.dawn.com/news/1201142/28-suspected-militants-surrender-in-balochistan
-----------
Four militant commanders surrender in Balochistan
SYED ALI SHAH
Aug 18, 2015
QUETTA: Four commanders of a proscribed organisation laid down their weapons and surrendered to authorities in Quetta today.
The surrender took place in the presence of Home Minister Balochistan Mir Sarfaraz Bugti.
"Militants surrendering before the law would be compensated and respected," said Bugti.
Read: 400 militants in Balochistan lay down weapons on Independence Day
"We were trained in Afghanistan's Nimruz province to carry out subversive activities in Pakistan," said Abdul Sattar, a militant commander who surrendered.
"We have also informed the federal government of training camps operating across the border, and their role in training militants," added Bugti.
Bugti also said that the present government is determined to ensure peace in the province.
On Friday, around 400 militants laid down their weapons before authorities in Quetta during a ceremony to celebrate Pakistan's Independence Day.
The government also announced amnesty for the militants adopting peaceful lives and they will be integrated in Balochistan.
Full report at:
http://www.dawn.com/news/1201032/four-militant-commanders-surrender-in-balochistan
-----------
MQM's Rashid Godil shot, critically injured in Karachi
Aug 18, 2015
KARACHI: Muttahida Qaumi Movement leader Rashid Godil was critically wounded after unidentified armed men opened fire at his vehicle near his residence in Karachi's Bahadurabad area on Tuesday, DawnNews reported.
Gulshan SP Abid Qaimkhani told Dawn that unidentified motorcycle-riding armed men intercepted Godil's vehicle and fired eight 9mm bullets after identifying the Muttahida leader.
Godil was travelling with his driver and a family member when the attack took place.
TV reports said that the MQM leader suffered bullets wounds on his chest, head and arm. Details of the family member's condition are not known.
The MQM leader was shifted to a nearby hospital where his condition was stated as critical owing to excessive loss of blood. He underwent surgery at a private hospital following which the MQM leader was put on the ventilator, according to hospital sources.
Hospital sources said that Godil's driver, who was also injured in the incident, succumbed to his wounds during treatment.
MQM leader Syed Ali Raza Abdidi tweeted that Godil's condition was stable and wished a speedy recovery of the wounded leader.
Addressing a press conference, MQM leader Farooq Sattar, who was flanked by Jamiat Ulema-i-Islam-Fazl (JUI-F) chief Maulana Fazlur Rehman, condemned the 'cowardly terrorist attack' on Rashid Godil. He said that condemnations against the tragic incident had poured in from within the party and other political quarters.
Sattar said that the incident is being considered as an attempt to sabotage the peace of Karachi and hoped that those behind the attack woulds be arrested soon and made to face justice.
Full report at:
http://www.dawn.com/news/1201226/mqms-rashid-godil-shot-in-karachi
-----------
PM okays agenda for talks with India
AMIR WASIM
Aug 18, 2015
ISLAMABAD: Prime Minister Nawaz Sharif has approved the agenda for talks between national security advisers of India and Pakistan scheduled to be held in New Delhi next week, sources told Dawn.
The approval was given by the prime minister on Monday during a meeting with key members of his cabinet dealing with internal and external policies.
The meeting lasted over three hours. It was attended by Adviser to the Prime Minister on National Security and Foreign Affairs Sartaj Aziz, Interior Minister Chaudhry Nisar Ali Khan, Finance Minister Ishaq Dar, Assistant to the PM on Foreign Affairs Tariq Fatemi and Foreign Secretary Aizaz Ahmed Chaudhry.
Also read: Nawaz vows to pursue NAP with full force
A participant told Dawn that the meeting was an amalgamation of both internal security and foreign policy matters. He said Mr Aziz gave a presentation about the agenda prepared by the Ministry of Foreign Affairs for the talks with India. He said the agenda had been finalised and was now being sent to New Delhi.
Sharif asks interior minister to bring to justice perpetrators of attack on Khanzada
Moreover, he said, the recent statements by Afghan officials, including President Ashraf Ghani, about Pakistan's alleged role in sponsoring terrorism inside Afghanistan were also discussed. "A strategy has been prepared to counter such statements as well as to remove concerns of Afghanistan," he added.
Besides this, he said, the participants deliberated upon the forthcoming visit of the prime minister to the United States to attend the United Nations General Assembly session.
Sartaj Aziz recently told reporters after attending a function in Islamabad that Pakistan would send its agenda to India with a confirmation letter for the coming talks so that there could be no misunderstanding or ambiguity "about what has to be discussed".
India invited Mr Aziz earlier this month to a meeting with his counterpart Ajit Doval in New Delhi on Aug 23 and 24. Prime Minister Nawaz Sharif and his Indian counterpart Narendra Modi had agreed during their talks in Russia last month on convening a meeting of the national security advisers to discuss issues relating to terrorism.
Full report at:
http://www.dawn.com/news/1201152/pm-okays-agenda-for-talks-with-india
-----------
Hopeful Fazl meets MQM leaders today
August 18, 2015
KARACHI - JUI-F chief Fazlur Rehman reached Karachi on Monday and expressed the hope that he will convince MQM to withdraw the resignations.
The federal government has tasked him to help end the gridlock regarding resignations issue and he will hold a key meeting with Muttahida Qaumi Movement leaders at Nine-Zero today (Tuesday) morning.
The lawmakers of Karachi-based party have tendered resignations from their seats in the National Assembly, Senate and Sindh Assembly, but the resignations are yet to be accepted.
Jamiat Ulema-e-Islam-Fazl leader told the media that during his telephonic conversation with MQM chief Altaf Hussain it was assured that MQM is not against the ongoing targeted operation in Karachi, and he is visiting Karachi with high hopes.
"If there were not hope then I would not have come here… I am playing a mediator for the sake of the good of parliament and democracy," said JUI-F chief, adding that he is in touch with the prime minister regarding the MQM demands.
Sources said that the JUI-F chief will be accompanied by Federal Housing Minister Akram Durrani and JUI-F Sindh leadership during his visit to MQM headquarters, and the delegation will be welcomed by the MQM senior leader Dr Farooq Sattar and MQM Coordination Committee member Kanwar Naveed Jameel.
Full report at:
http://nation.com.pk/national/18-Aug-2015/hopeful-fazl-meets-mqm-leaders-today
-----------
Reham won't attend PTI events in future, says Imran
Aug 18, 2015
ISLAMABAD: Pakistan Tehreek-i-Insaf (PTI) Chairman Imran Khan on Tuesday lashed out on Twitter against "attacks" on wife Reham Khan following the NA-19 by-polls.
He said he was "appalled & disgusted by attacks on Reham" after the party's candidate faced defeat at the hands of PML-N leader Babar Nawaz during the by-elections for the Haripur constituency.
He defended his wife's visit to the constituency to campaign for PTI candidate Raja Aamir Zaman saying, "Reham has only attended PTI functions at the constant insistence of PTI members".
He stated that while Reham would not hold any positions in the party, contest elections on a PTI ticket, hold any position in the Khyber Pakhtunkhwa government or be given official protocol, she was "politicised".
Khan also said that the PTI was "opposed to all forms of nepotism".
The PTI chief claimed that one of his party's greatest achievements was encouraging women and the youth to engage in political activity, as it galvanised them to "fight effectively for their rights and against injustice",
Khan said Reham already had too much on her plate, especially with her social work with street children, and that she would not attend any PTI events in the future.
He said his wife was with him in Karachi during the NA-246 by-polls because the party wanted to "challenge the fear factor" and encourage women voters to cast their ballots in the election.
Full report at:
http://www.dawn.com/news/1201218/reham-wont-attend-pti-events-in-future-says-imran
-----------
Arab World
Amnesty International Director Alleged To Have Links to Muslim Brotherhood and Radical Islamists in Egypt
17 Aug, 2015
A senior Amnesty International official has been found to have private links with the Muslim Brotherhood in Egypt and revolutionary Islamists accused of plotting a coup in an Arab state.
Amnesty's director of faith and human rights, Yasmin Hussein, stayed overnight at the residence of a Muslim Brotherhood advisor during an official visit to Egypt in direct contravention of Amnesty guidelines.
Her husband was also named as an alleged Islamist in documents relating to a 2013 sedition trial in the United Arab Emirates.
Hussein, who was until recently the charity's director of international advocacy and among its leading voices at the UN, denies being an Islamist and has said she is "vehemently opposed" to raising money for "any organization that supports terrorism."
An investigation published by The Times claimed that Hussein, 51, held a private meeting with a Muslim Brotherhood government official during an Amnesty mission to Egypt in 2012.
After the private meeting with Adly al-Qazzaz, a ministerial education adviser, Hussein had dinner with his family and stayed overnight in their home.
Amnesty International was not informed of the visit, despite instructing its staff to declare any links that may generate a real or perceived conflict of interest with its independence and impartiality.
An Amnesty employee told The Times that the charity had strict rules on overseas trips, adding: "For an Amnesty delegate to accept an invitation to stay at the residence of a government official is a serious breach of protocol."
The Muslim Brotherhood is considered a terrorist organization in Bahrain, Russia, Syria, Saudi Arabia and the UAE.
The transnational Sunni Islamist organization has been illegal in Egypt since 2013, when the Muslim Brotherhood was overthrown by the military in a coup d'état which has since led to a violent crackdown on the group.
Ording to The Times, Adly al-Qazzaz's family was well connected within the party. His son, Khaled al-Qazzaz, was the Brotherhood's presidential secretary for foreign affairs. His daughter was the official spokeswoman for the group in the UK.
Both Adly al-Qazzaz and his son were arrested and detained following the military coup in 2013, but the father has since been released.
Hussein said she did not know about the Muslim Brotherhood positions held by members of the family and that she met with al-Qazzaz to speak about "the synergies between human rights and educational planning."
Amnesty said that, with the exception of the overnight stay, it "found no evidence to suggest any inappropriate links between Ms Hussein and the al-Qazzaz family."
In a separate incident, Hussein's husband was identified in documents released after a criminal trial of Islamists accused of plotting a coup in the United Arab Emirates.
Wael Musabbeh was one of several alleged British Islamists, none of whom were charged, named in documents relating to a 2013 trial that ended with the jailing of more than 60 Emirati citizens for conspiracy and sedition.
Amnesty, which challenged the fairness of the trial at the time, said it was unaware of the connection because it did not realize Musabbeh was Hussein's husband.
Musabbeh is also a director and trustee of Human Relief Foundation, a global Islamic charity banned in Israel for its alleged connecting to groups which finance Hamas.
The charity said Hussein denied being a supporter of the Brotherhood and has told Amnesty "any connections are purely circumstantial." It said it did not believe any of her alleged connections with Islamists represented a conflict of interest.
It added: "Amnesty International does, however, take very seriously any allegations that would call into question our impartiality and is therefore investigating the issues raised."
The charity has also come under fire for a separate incident in which an employee defended the organization's links with CAGE, an advocacy group which campaigns for victims of the "war on terror," but which has been accused of acting as apologists for jihadists.
The Amnesty employee voiced sympathy for those whose "only crime is to be soft on Islamic militants."
AGE was condemned by Prime Minister David Cameron in February for suggesting the UK-born Islamic State (formerly ISIS/ISIL) executioner "Jihadi John" was turned into a brutal killer after coming into contact with UK intelligence services.
An Amnesty spokeswoman said the charity "believes that staff should feel free to discuss and debate issues and other topics which impact the organization."
"[Amnesty] campaigns and calls for states to respect, protect and fulfill their international human rights obligations, including freedom of expression, freedom of religion and women's rights," the spokeswoman added.
https://www.rt.com/uk/312630-amnesty-international-muslim-brotherhood/
-----------
Top Muslim Clerics to Counter IS Fatwas
Tue, 18 Aug 2015
Top Muslim clerics gathered in Egypt on Monday to address extremist religious edicts in the face of an unprecedented threat from Islamic State group jihadists who have declared a "caliphate".
The muftis - usually the official interpreters of Islam in their countries - are meeting alongside other clerics over two days in Cairo to cope with what the clerics described as a rash of extremist fatwas, or edicts.
"You do not need to be reminded that leniency (in dealing) with fatwas that ex-communicate" Muslims has resulted in "murder and bloodshed," Ahmed al-Tayyeb, the head of the prestigious Cairo-based Islamic Al-Azhar institution, told the conference.
But it was not immediately clear how effective the clerics' proposal to realistically address the problem would be, especially in the age of the Internet where many Muslims consult religious websites.
And for the first time in Islamic history, the entire corpus of Islamic scholarship is available online, a Google search away for those seeking a quick answer to a religious query.
The dilemma has particularly been highlighted by the Islamic State group's atrocities in Syria, Iraq and other countries where they have a presence.
In February, the jihadists announced they had immolated a captured Jordanian pilot, Maaz al-Kassasbeh, prompting an outcry among Muslims.
IS supporters circulated, among other justifications, a collation of classical fatwas taken from the website of a major Saudi university in support of such execution-style killings.
"The goal of this conference is to unite the message of muftis in light of the challenges faced by the region and world in the shape of extremist fatwas and groups that talk in the name of religion," Ibrahim Negm, an adviser to Egypt's mufti, told AFP.
Negm said the conference could decide to form a general secretariat for the region's muftis, centres to monitor and rebut extremist fatwas and training for aspiring muftis.
The clerics also aimed at "creating a new strategy for Muslim communities in the West to confront extremist thought," he said.
The Islamic State group, which follows a strict interpretation of the Salafi sect in Sunni Islam, had added to the challenge of traditional Muslim authorities such as Al-Azhar.
http://news.iafrica.com/worldnews/1002906.html
-----------
Daesh, Hezbollah Eye Gulf for Cadres
18 August 2015
DAMMAM: Hezbollah has established a rivalry with Daesh on their chosen recruitment pools. According to investigators, Daesh continues to recruit citizens from the Gulf States and Hezbollah has followed suit due to the region's intellectual links to the Iranian Revolutionary Guard.
Informed sources have pointed to the specific involvement of a group of GCC citizens with Hezbollah, who are believed to be members of the Abdali cell, local media reported on Monday.
The recruitment of GCC citizens is seen as highly valuable to the Iranian Revolutionary Guard due to the easy travel between GCC countries without visas. However, this has not prevented the participation of foreign nationals such as Lebanese or Iranian citizens.
Sources said the operation in the Kuwaiti area of Adan on Sunday was an extension of the operation carried out last week, noting that the coming days will be challenging for Hezbollah and its affiliates in the Gulf.
As security authorities in the GCC intensify coordination efforts, arrests are expected to span across more than one location, in addition to the arrests of those involved in terrorist operations in Kuwait, Bahrain and Saudi Arabia, they said.
Meanwhile Kuwaiti security forces are continuing their investigations into Hezbollah-affiliated cells, after detecting the Abdali cell last week. On Saturday, security forces seized weapons, maps and wireless devices from a house in Adan, though the Interior Ministry has not yet issued a statement about the operation.
According to the head of the Gulf Forum for Peace and Security, Fahd Alshleymi, recruitment efforts by Hezbollah-affiliated groups in the GCC countries rely on modern means of communication and 25 TV satellite channels funded by Iran and broadcast in Arabic, English and Spanish.
"There are operations rooms administered from Iran around-the-clock on Twitter, which target citizens of Gulf States for recruitment," he said, pointing to the need for joint Gulf efforts directed against Iran to combat these efforts.
http://www.arabnews.com/saudi-arabia/news/793066
-----------
13 Nusra Fighters Killed in Syrian Air Attacks in Lattakia Province
Aug 18, 2015
The sources said that 13 terrorists from al-Nusra Front were killed and their supplying routes were destroyed in a series of airstrikes against their positions in the villages of al-Eido and Marj al-Zawia.
On Saturday, the Syrian army killed 3 Turkish terrorists in the Northern countryside of Lattakia and struck hard the ISIL Takfiri terrorists' hideouts in Palmyra countryside.
The Syrian army destroyed 5 cars of terrorists and killed 3 Turkish terrorists during its operations against al-Nusra Front hideouts in the Northern countryside of Lattakia.
The agency added that Syrian warplanes bombed the ISIL hideouts in Palmyra countryside, killing many terrorists.
The sources also confirmed the death of at least 33 terrorists affiliated to the so-called Jaish al-Fateh during the country's army men operations in Idlib and Hama.
http://english.farsnews.com/newstext.aspx?nn=13940527000521
-----------
Syrian Army Repels ISIL Attack after 7-Hour Fight in East of Homs
Aug 18, 2015
The sources said that the ISIL terrorist group began its assault on the Syrian Army's positions at Wadi al-Abyad and Wadi al-Zakarah, where the terrorists attempted to break-through the army men's defense lines.
Finally, after nearly seven hours of non-stop firefights with the ISIL, the Syrian army troops repelled the terrorists' multiple infiltration attempts into Wadi al-Abyad, Wadi al-Zakarah, and the Qasr al-Hayr al-Gharbiyah area in the Eastern countryside of Homs.
According to a military source, 21 ISIL fighters, including Bassem 'Umar Khaldoun, Nouress Walid Thayyem, 'Ali Ghassan Al-Bustani, Mohammad Ziad Yousif, Rayyan Mahmad 'Abdel-Nour, and Mohammad 'Abdullah Al-'Alamat were killed in fighting.
Meantine, the Syrian army's 67th Brigade of the 18th Tank Division – in coordination with the National Defense Forces (NDF) – continued their assault on the ISIL positions at the small village of Al-Dalat, destroying two armored vehicles and killing 13 enemy combatants.
http://english.farsnews.com/newstext.aspx?nn=13940527000656
-----------
Iraqi Army, Popular Forces Kill over 10 ISIL Terrorists in Anbar Province
Aug 18, 2015
"The Shiite Hashed al-Shaabi forces and the Iraqi army men kill more than 10 ISIL terrorists in Husaiyba in their advance towards Ramadi city," the ministry said.
"The ISIL elements left their weapons and equipment behind in the battlefield and fled the fighting area," the ministry further added.
Full report at:
http://english.farsnews.com/newstext.aspx?nn=13940527000416
-----------
U.N. Security Council backs new Syria peace plan
18 August 2015
The U.N. Security Council on Monday backed a new push for peace talks in Syria adopted by Russia and the other 14 member states, despite reservations from Venezuela.
It was the first time in two years that the council agreed on a political statement on Syria, which French Deputy Ambassador Alexis Lamek described as "historic."
Venezuela, which has friendly relations with Syria, said it was disassociating itself from parts of the statement calling for a political transition to end the four-year war.
Caracas envoy Rafael Ramirez said the council was setting "a very dangerous precedent" by supporting a transition that he said violated Syria's right to self-determination.
The 16-point statement drafted by France had been under negotiation since U.N. envoy Staffan de Mistura presented his new approach for peace talks to the council last month.
The peace initiative, set to begin in September, would set up four working groups to address safety and protection, counterterrorism, political and legal issues and reconstruction.
The council demanded that all sides work for an end to the war by "launching a Syrian-led political process leading to a political transition that meets the legitimate aspirations of the Syrian people."
Full report at:
http://english.alarabiya.net/en/News/middle-east/2015/08/18/U-N-Security-Council-backs-new-Syria-peace-plan.html
-----------
Lebanon health minister warns of dangers from trash crisis
17 August 2015
Lebanon's health minister says the country is on the brink of a "major health disaster" unless an immediate solution is found for its mounting trash problem.
Garbage has been collecting on the streets in Lebanon for the past month amid government paralysis and inability to agree on a solution after Beirut's main landfill was closed down.
Some residents have resorted to burning the trash on the streets, sending toxic fumes over the city's skyline and into people's homes.
Full report at:
http://english.alarabiya.net/en/News/middle-east/2015/08/17/Lebanon-health-minister-warns-of-dangers-from-trash-crisis.html
-----------
Chemical watchdog 'concerned' by Iraq attack reports
17 August 2015
The Organization for the Prohibition of Chemical Weapons on Monday voiced "serious concern" over reports that the Islamic State group has used chemical weapons in Iraq.
"Recent reports of possible use of chemical weapons in Iraq by non-State actors are a matter of serious concern," The Hague-based OPCW said in a statement.
German officials said last week that Kurdish fighters had been attacked on Tuesday with chemical weapons, possibly chlorine or mustard gas, in northern Iraq, leaving many Peshmerga suffering from "respiratory irritation.
The allegations, deemed "plausible" by a US official, follow claims in March by the autonomous Kurdish government in northern Iraq which said it had evidence that the jihadist group used chlorine in a car bomb attack on January 23.
The Wall Street Journal cited US officials as saying they believe last week's attack used mustard gas, which may have come from stockpiles of banned poisons that Syrian President Bashar al-Assad was forced to get rid of after joining the OPCW in 2013.
The OPCW said it was in contact with the Iraqi government and "will examine any substantive reports it receives".
Full report at:
http://english.alarabiya.net/en/News/middle-east/2015/08/17/Chemical-watchdog-concerned-by-Iraq-attack-reports-.html
-----------
U.N. 'horrified' by attacks on Syrian civilians
17 August 2015
The U.N.'s humanitarian chief fiercely condemned attacks against civilians in Syria at a press conference in Damascus on Monday, a day after one of the bloodiest government raids in the four-year war.
"I am horrified by the total disrespect for civilian life in this conflict," Stephen O'Brien said in a statement.
He said he was "particularly appalled" by reports of civilian deaths in Sunday's air strikes on the rebel-held town of Douma, and said attacks on civilians "must stop".
At least 96 people were killed on Sunday in 10 government raids on Douma, according to the Syrian Observatory for Human Rights.
O'Brien's press conference concluded his three-day visit to Damascus, his first to the war-torn country since his appointment in May.
In a statement released by the U.N.'s Office for the Coordination of Humanitarian Affairs, O'Brien appealed "to each and every party to this protracted conflict to protect civilians and respect international humanitarian law."
Full report at:
http://english.alarabiya.net/en/News/middle-east/2015/08/17/U-N-aid-chief-horrified-by-attacks-on-civilians-in-Syria.html
-----------
Iraqi parliament refers Mosul report to prosecutor
17 August 2015
Iraq's parliament on Monday referred to the judiciary a report calling for the trial of former Prime Minister Nouri al-Maliki and dozens of other top officials in connection with the fall of Mosul to ISIS last year, two lawmakers said.
Lawmaker Mohamed al-Karbouli said the vote in parliament was taken by a show of hands and passed by a majority. He said the report was now due to go to the public prosecutor and Prime Minister Haider al-Abadi, who has the right to refer officers for court martial.
The panel's report, the most drastic step yet taken by Baghdad to provide accountability for the loss of nearly a third of the country's territory to the Islamist insurgency, alleges that Maliki had an inaccurate picture of the threat to the northern city because he chose commanders who engaged in corruption and failed to hold them accountable.
There has been no official accounting for how Mosul was lost, or of who gave the order to abandon the fight. Maliki has accused unnamed countries, commanders and rival politicians of plotting the city's fall.
Full report at:
http://english.alarabiya.net/en/News/middle-east/2015/08/17/Iraqi-parliament-refers-Mosul-report-to-prosecutor.html
-----------
Conference on Islamic law to be held in Riyadh
18 August 2015
RIYADH: Imam Muhammad Ibn Saud Islamic University in Riyadh plans to host an international conference on the judiciary with a focus on arbitration in October.
The institution's Supreme Jurisdiction Institute would organize the conference, said Fawzan bin Abdul-Rahman Al-Fawzan, acting rector of the university. The event would see specialists interact with members of the community on the subject matter, he said.
The themes cover various aspects of Islamic law in relation to international law.
Full report at:
http://www.arabnews.com/saudi-arabia/news/793036
-----------
Syrian Forces Win Back Deir Ezzur Juvenile Prison, Nearby Areas
Aug 18, 2015
The sources said that the Syrian Army's 137th Artillery Regiment of the 17th Reserve Division, alongside Shaytat Tribesmen and the National Defense Forces (NDF), launched a counter-assault against the ISIL positions at the al-Amal district after three straight days of being on the defensive position at the Regiment 137th Base.
The sources added that the army men and popular forces pushed the ISIL terrorists back from their positions in al-Amal and retook full control over the Deir Ezzur Juvenile Prison that was used by the ISIL as a military base.
Full report at:
http://english.farsnews.com/newstext.aspx?nn=13940527000369
-----------
Syria: Army, Hezbollah Fighters Win Back 2 Strategic Areas in Zabadani
Aug 18, 2015
The army units and the resistance forces seized back al-Zahra and al-Qarbiya districts in Western Zabadani in fierce clashes with the foreign-backed terrorists.
The operation rooms of the terrorist groups, including Ahrar al-Sham were deployed in al-Zahra and al-Qarbiya districts.
The military observers believe that the Syrian army and Hezbollah fighters will take full control of Zabadani in the coming days.
The strategic city of Zabadani is located 45 kilometers to the Northwest of the city of Damascus in the Southern parts of Al-Qalamoun region.
The Syrian army and Hezbollah fighters started fresh operations to win back Zabadani over three weeks ago.
Full report at:
http://english.farsnews.com/newstext.aspx?nn=13940527000837
-----------
South Asia
Two commanders including seven militants killed in Maidan Wardak airstrikes
By KHAAMA PRESS - Tue Aug 18 2015
Two militant commanders and five of their fighters have been killed in two separate air strikes in Maidan Wardak province.
A statement issued by the province's media office states that the airstrikes were carried out in Dai Mirdad and Chak districts last night.
One airstrike targeted militant commander Hamidullah alias Shahid in Alkah area of Dai Mirdad District in which he killed with four of his fighters.
Full report at:
http://www.khaama.com/two-commanders-including-seven-militants-killed-in-maidan-wardak-airstrikes-3781
-----------
Afghan interpreter abandoned by British executed in Iran
Aug 18 2015,
An Afghan interpreter who worked with British military in Afghanistan and denied to refuge in Britain has been executed in Iran while trying to reach the west because he was receiving death threats in his homeland.
UK's Dailymail news is reporting the tragic story of an Afghan interpreter, who worked with British forces in Afghanistan, escaped the death threats and executed Iran.
The report is about Popal whose brother lost his life because of his association with British forces and he was executed near the Iranian city of Mashad apparently for the same cause. Popal's dead body returned to Afghanistan's Kandahar province last week.
His friend said Popal's brother had been killed by the Taliban in his home in Kandahar because of his work with British forces.
He says that after receiving numerous threats he applied to get refuge in UK but the British did not believe him.
'The British did not believe that Popal's life was in danger but he believed that if he stayed in Afghanistan he would be killed,' he said.
'He had written and telephone threats … and escaped an ambush so he said he had no alternative but to try to reach Germany.
'It was a last resort but the decision is simple: if he stayed, he knew he would be hunted down. If he went, he would at least have a chance of an honest life not wondering who is behind him all the time.
'It is disgusting the British let him down after he risked his life to help them, and to save their lives, now he has lost his own.'
The media has spoken to other interpreters who has said that the people smugglers tell them in advance that if they are captured it is on their own.
'The smugglers warn us before we begin the journey that there is a good chance we will be captured and that if that happens "you are on your own".
'Some Afghans who were stopped making the journey to Europe have been enrolled in the Iranian military and sent to fight in Syria. Others have been brutally questioned. If you say you have worked for the British or the Americans, then it is likely you will be killed.'
Another 23 interpreters 'abandoned' by Britain who successfully made it to Europe has told the media.
Full report at:
http://www.khaama.com/afghan-interpreter-abandoned-by-british-killed-in-iran-3780
-----------
Bangladesh arrests Briton over blogger murders
Aug 18, 2015
DHAKA: Bangladesh's elite security force Tuesday arrested three suspected Islamist militants including a British citizen who police said was the "main planner" of the murders of two prominent atheist bloggers.
Rapid Action Battalion (RAB) spokesmen said they had arrested Touhidur Rahman, 58, and two other "active members" of Ansarullah Bangla Team, which was banned in May over a spate of killings of bloggers.
"We've arrested them in the capital today. We can confirm that Rahman is a Bangladesh origin British citizen. He is the main planner of the attacks on Avijit Roy and Ananta Bijoy Das," Major Maksudul Alam of the RAB told AFP.
Four secular bloggers were killed in Bangladesh in the past six months. These include Avijit Roy and Ananta Bijoy Das.
This began when their photographs appeared on a new Facebook page registered under the name Ansar-BD. The post also said, "There are three anti-Islamic poets and three organisers of bloggers. They are the enemy of Islam. We should do whatever it takes."
Avijit Roy had founded a popular Bengali-language blog, Mukto-mona, or Free Mind, in which articles on scientific reasoning and religious extremism featured prominently.
"He was a free thinker. He was a Hindu but he was not only a strong voice against Islamic fanatics but also equally against other religious fanatics," Baki Billah, a friend of Roy and a blogger, told Independent TV station.
Full report at:
http://www.dawn.com/news/1201225/bangladesh-arrests-briton-over-blogger-murders
-----------
Exodus grows as Afghans escape quagmire of violence
August 18, 2015
Anuj CHOPRA - Fingers nervously skittering over his cellphone, one Afghan man calls a people-smuggler in a third desperate attempt to claim asylum abroad, as a record number of people escape escalating violence.
The toppling of the repressive Taliban regime in 2001 had ignited new hope about the future of Afghanistan, bringing waves of Afghan refugees home, but recent years have witnessed a stark reversal of that trend.
The snaking queues outside Kabul's passport office are a totemic indicator that the exodus is gathering fresh momentum as pessimism abounds about the deteriorating war, the tanking economy and a government widely derided as lacking direction.
Ashraf, 28, casts worried looks around him as he bolts the door of his spartan home in a crowded Kabul suburb and gets the people-smuggler named Murad, "highly recommended" by a friend, on the phone.
"Meet me in Nimroz (on the Iran border)," Murad says over the crackling line after a lengthy exchange of Islamic greetings.
"The journey to Tehran will take four or five days - partly by car, partly on foot.
" "I have a handicapped, wheelchair-bound brother," says Ashraf, who allowed AFP to listen to the conversation but requested that his last name be withheld.
"For you it'll cost 2.
2 million Toman (US$700); for your brother three million - because he cannot walk," Murad says.
"What if we are arrested and deported?" Ashraf asks, his tone cagey.
"No, no," retorts Murad.
"I've been deported before and got duped (by the smuggler)," Ashraf insists.
"Listen brother, I give you 100 percent guarantee.
"
Ashraf, an oil-tanker driver who carries supplies from Kabul to military bases in Taliban-prone provinces, was deported - first from Indonesia, next from Malaysia - while attempting to reach Australia in 2012.
Hopeless and broke, his third attempt to flee spotlights the anguished personal choices of Afghan civilians, increasingly caught in the cross-hairs of an ascendant 14-year insurgency.
The number of Afghans seeking asylum in industrialised nations has surpassed all previous years since 2001, with the UN refugee agency reporting a 65 percent surge in applications in 2014 over the previous year.
Everyone is leaving'
"Almost everyone I know is leaving or planning to leave - my aunts, my cousins, my neighbour, my friend in Kandahar," said Azeem Raheemi, 48, a transporter for a poultry feed supplier.
Raheemi, a father of three, lives near Shah Shaheed, a working-class Kabul neighbourhood which was hit in a recent wave of fatal bombings.
Full report at:
http://nation.com.pk/international/18-Aug-2015/exodus-grows-as-afghans-escape-quagmire-of-violence
-----------
Foreign aid worker kidnapped in central Kabul
August 18, 2015
KABUL: Armed men kidnapped a foreign aid worker, believed to be German, in downtown Kabul on Monday, the latest in a spate of attacks on foreign targets at a time of declining security in the Afghan capital.
It was not clear if militants or a criminal group were behind the kidnap, as there was no immediate claim of responsibility for the second abduction of a foreigner in recent months in Kabul, which has suffered a wave of lethal bombings.
"Right now an investigation is ongoing," said interior ministry spokesman Najib Danish, confirming the kidnapping.
Full report at:
http://nation.com.pk/international/18-Aug-2015/foreign-aid-worker-kidnapped-in-central-kabul
-----------
Hizb-e-Islami envoy in Kabul for peace talks
Aug 18 2015
An envoy of the Hizb-e-Islami faction that has been held responsible for a number of attacks in Afghanistan has arrived in Kabul to hold talks with government.
Mohammad Azim Abromand says that he is in Kabul for peace talks.
Abromand has told Azadi radio that if government accepts the conditions of Gulbudin Hikmatyar, leader of Hizb-e-Islami, then they will fight with Daesh and other terrorist groups operating and killing people in Afghanistan.
He says that Daesh is a dangerous phenomenon and if government does take the advantage of the current peace efforts this group will improve.
Full report at:
http://www.khaama.com/hizb-e-islami-envoy-in-kabul-for-talks-3778
-----------
India
Minority Platform with 15 Muslim Bodies On Cards in West Bengal
Aug 18, 2015
KOLKATA: In what could spell fresh trouble for the Mamata Banerjee government, a new minority platform, tentatively named Milli Ittehad Council, is being formed by 15 Muslim organisations with blessings from senior Muslim clerics and peers.
Qari Maulana Fazlur Rehman, whose Eid message after the Red Road namaaz targeted the Trinamool government on its unfulfilled promises, is expected to head the council that will press for social upliftment of the Muslims.
Over the past two days, senior Muslim clerics and leaders have been trying to give shape to this council deliberating in a Park Circus hotel.
All Bengal Minority Youth Federation secretary Md Kamruzaman said, "The Sacchar Committee report had brought to light the fact that Left Front had merely done lip service for the minorities in Bengal. A third of Bengal's population is Muslim. It is undeniable that chief minister Mamata Banerjee's coming to power was partly due to the fact that she got the minority votes en masse. But the promises she made are yet to be fulfilled. This new body, which brings together all Muslim bodies, will press for their rights in one voice."
Full report at:
http://timesofindia.indiatimes.com/city/kolkata/Minority-platform-with-15-Muslim-bodies-on-cards/articleshow/48520837.cms
-----------
Hindu By Birth, But A Muslim Now: Upper Caste Atrocities Force Dalits In Haryana To Convert
By Debobrat Ghose
Aug 17, 2015
I'm Satish Kajla, a Hindu by birth, but I'm a Muslim now".
Earlier, his identity among fellow Hindus was that of a Dalit, an untouchable, an outcaste, a landless labourer in a village of Haryana, who was deprived of his basic rights and facilities that the government has granted them. But, now the white skullcap on his head, a kafia (scarf) around the neck has changed at least his religious identity.
This is not just about one Kajla, but many like him, who have recently embraced Islam in Delhi, after leaving their ancestral village Bhagana in Haryana forever.
They have embraced Islam by choice, not by force. According to them, they were compelled to do so, to escape the wrath of fellow Hindus — the upper castes in village Bhagana.
Kajla, a 34-year old Master of Sanskrit, with a B Ed degree, sporting unshaved look, wearing an unclean white Kurta and a pair of trousers can be found sitting under a canopy at a corner in Jantar Mantar — the place allocated by the Delhi government for demonstration and protests.
Despite embracing Islam, why Kajla and others continue to have Hindu names.
"We've recently embraced Islam (8 August) and haven't changed our Hindu names, simply to tell the government and the people that we were originally Hindus and haven't got converted to Islam to be a part of religious politics. We've embraced Islam, after having faced atrocities for years and not getting any justice. We've been socially ostracised and were compelled to flee our ancestral village, maybe forever," Kajla told Firstpost.
His fractured right arm, supported by a plaster, is evidence of the fact that even after escaping from his village Bhagana, his ill-fate continues to chase him. As the Dalits from Bhagana village, who have been on a sit-on dharna since 16 April, 2014 demanding justice, were allegedly beaten up by the Delhi police and 'unidentified goons'.
The confidence of these Dalits has been badly shaken, as even after being beaten black and blue allegedly by the police and some 'unidentified goons' on the night of 9 August at Jantar Mantar, these poor families couldn't muster courage to file an FIR against the accused.
"All of a sudden, the policemen and a few unidentified men started beating us with lathis and told us to vacate Jantar Mantar immediately. Besides others, I was also beaten up badly and my left arm got fractured. A few volunteers of Swaraj Abhiyan, who tried to intervene, were also beaten up badly," alleged 65-year old Mahender Kajla, father of Satish.
These poor villagers of Bhagana had been facing atrocity of the upper caste Jats for years, but the worst happened in 2011, when a 280-acre government land (Shamlaat Zameen), which used to be a playground and was meant for social functions of the Dalits, was usurped by the upper-caste villagers.
Full report at:
http://www.firstpost.com/india/hindu-birth-muslim-now-upper-caste-atrocities-force-dalits-haryana-village-convert-2395980.html
-----------
Pak to ask India for revival of foreign-secretary-level talks
Aug 18, 2015
ISLAMABAD: Pakistan is expected to ask India to revive the foreign-secretary-level talks and raise the issue of bail granted to main accused in Samjhauta blasts case during the meeting of the national security advisers of the two countries in New Delhi next week, officials said on Tuesday.
Pakistan Prime Minister's Adviser on National Security Sartaj Aziz will travel to India on August 23 for talks with his counterpart Ajit Doval.
Prime Minister Nawaz Sharif yesterday chaired a meeting to discuss the agenda of the NSA-level talks.
Interior minister Nisar Ali Khan, finance minister Ishaq Dar, Aziz, PM's special assistant on foreign affairs Tariq Fatemi and other officials were present in the meeting.
Government sources said that different aspects of the meeting and agenda were discussed.
"Issues like start of foreign-secretary-level talks and our concerns over RAW's activities will be on the agenda," according to the officials privy to the meeting.
India had cancelled foreign secretary-level talks in August last year after the Pakistan high commissioner in New Delhi held consultations with Kashmiri separatists.
No date has been fixed for next round of FS-level talks.
"The issue of bail to the main accused in the Samjhauta train bombing will also be taken up by Pakistan," they said.
Full report at:
http://timesofindia.indiatimes.com/india/Pak-to-ask-India-for-revival-of-foreign-secretary-level-talks/articleshow/48525830.cms
-----------
Two cops arrested for colluding with passport agent to give passports to Huji activists
By Sreenivas Janyala
August 17, 2015
Police suspects that the four illegal migrants arrested from Hyderabad, who reportedly have links with the Harkat-ul-Jihad-al-Islami, were helped by several government officials in getting passports and voter ID cards. Cops on Monday evening arrested one Special Branch constable Basheer Ahmed and a Home Guard S K Saleem attached to the Passport Verification Cell, and a passport agent, Ahsan Zia Ansari, for allegedly helping the four Huji activists in getting passports using forged or fake identity papers. The passport agent Ansari, a native of Mumbai living in Hyderabad since 2003, used to work as a data entry operator during which time he came in contact with Mohammed Javeed, a Myanmar refugee living in Shaheennagar. Javeed used to work as a tout near the Aadhar Enrolment Centre at Moghalpura and used to arrange fake address proofs and other forged documents for Myanmar refugees to obtain Aadhar cards.
Ansari also came in touch with Special Branch constable Basheer Ahmed and Home Guard S K Saleem. Saleem used to divert certain passport applications for verification to Special Branch constable Basheer Ahmed and both of them used to allegedly charge a hefty amount to give positive reports so that certain individuals could obtain passports. Officials said, it was Constable Basheer Ahmed and S K Saleem who arranged for passports for the four Huji activists after allegedly receiving hefty amounts from passport agent Ansari, and two other agents Mohammed Masood Ali Khan and Sohail Parvez Khan. At least six Special Branch constables who verify passport applicants and four officials who issue voter IDs and Aadhar cards are under the scanner and police is probing if these officials took bribes from the two agents who were trying to arrange the documents for the four accused. The four were arrested by the Detective Department of Crime Central Station, Hyderabad. One of them is Mohammed Nasir, originally a Bangladeshi who migrated to Pakistan, became its citizen and then came to India. The other three–Bangladeshi nationals Faizal Mohamoud and Joynal Abedin and Myanmar national Zia Ur Rahman–crossed into the country and were living illegally in Hyderabad. Police said Nasir and Zia-ur-Rahman also helped Pakistani national Waqas who was allegedly involved in several terror attacks across the country, including the 2013 Disukhnagar twin blasts case. Waqas was later arrested. Two local agents Mohammed Masood Ali Khan, a resident of Chanchalguda, and Sohail Parvez Khan, a resident of Balapur, Cyberabad, were also arrested for allegedly helping the accused. An official of the Detective Department of Hyderabad Police said Nasir had spent nearly Rs 2 lakh to get his passport. Full report at:
http://indianexpress.com/article/india/india-others/two-cops-arrested-for-colluding-with-passport-agent-to-give-passports-to-huji-activists/
-----------
Africa
Boko Haram attack kills seven in NE Nigeria village: locals
18 August 2015
Kano (Nigeria) (AFP) - Boko Haram extremists on Monday raided a village in restive northeast Nigeria's Borno state near the border with Niger, killing seven people, community leaders told AFP.
Dozens of gunmen stormed Awonori, a farming and herding village near the fishing town of Damasak, and carted away food supplies and livestock, they said.
"They killed seven people, looted grains and took away all the livestocks in the village before fleeing into the bush," Muhammadu Modu Wan-Wan, head of the Damasak fishermen's union, told AFP.
"The gunmen who came in vans and on motorcycles around 7:00 am (0600 GMT) besieged the village and opened fire on residents as they were having breakfast before moving to their farms," he said.
Wan-Wan said the attack forced the villagers to flee but they returned after the assailants had left.
Abubakar Gamandi, the head of Borno's fishermen's union, confirmed the attack.
"I received report from my members in the Damasak area that Boko Haram gunmen attacked Awonori village this morning where they killed seven people and took away food and livestocks," he said.
Full report at:
http://news.yahoo.com/boko-haram-attack-kills-seven-ne-nigeria-village-191319633.html
-----------
Somalia: Ethiopian Helicopters Targets Al Shabaab Bases
17 AUGUST 2015
The Ethiopian military warplanes reportedly bombed several bases belonging to Al Qaeda linked Al Shabaab militants in central Somalia.
The strikes happened an area sandwiched between Celqoxle and Masagawaa residential areas in Galgaduud region where Al Shabaab members were targeted.
The targeted Al Shabaab members are feared dead, sources have told Shabelle Media based in Mogadishu.
Full report at:
http://allafrica.com/stories/201508180480.html
-----------
South Sudan rivals hold peace talks on deadline day
August 18, 2015
ADDIS ABABA : South Sudan's warring rivals were locked in peace talks Monday in a bid to broker a deal to end 20 months of civil war, just hours ahead of deadline to avoid possible sanctions.
President Salva Kiir and rebel chief Riek Machar met alongside regional presidents in Ethiopia, under intense diplomatic pressure to sign a deal by a Monday deadline, Kenyan President Uhuru Kenyatta said.
But Kiir, who arrived in Ethiopia late Sunday, said he had been "compelled" to join the talks, and warned it would not be possible to sign a lasting or full peace deal until all opposition factions could join the agreement.
"A peace that cannot be sustained cannot be signed," Kiir said Sunday. "You should sign something that you will enjoy. If it is signed today and then tomorrow we go back to war, then what have we achieved?"
Kenyatta however was more optimistic, saying late Sunday that the talks were "on course to strike a deal". The rivals met Sunday with talks lasting late into the night, before negotiations resumed on Monday morning, diplomats said.
Key issues of disagreement include a power-sharing proposal between the government and rebels, which could see Machar return as vice-president.
- 'Enough is enough' -
Tens of thousands of people have been killed in the civil war, and South Sudanese civil society groups on Monday pleaded for a "stoppage of bloodshed" and a deal to be struck.
"Enough is enough," a dozen groups said in a joint statement. "The people of South Sudan cannot raise another generation of South Sudanese children in civil war."
Kiir initially said he would not attend talks, complaining it was not possible to strike an effective deal because rebel forces have split.
Powerful rebel general Peter Gadet and other key commanders last week accused Machar of seeking power for himself, and said they would not recognise any deal agreed.
South Sudan's civil war erupted in December 2013 when Kiir accused his former deputy Machar of planning a coup, setting off a cycle of retaliatory killings that has split the poverty-stricken, landlocked country along ethnic lines.
The latest round of talks opened on August 6, mediated by the regional eight-nation bloc IGAD, the Intergovernmental Authority on Development, as well as the United Nations, African Union, China and the "troika" of Britain, Norway and the United States.
As well as Kenyatta, regional leaders at the talks include host Ethiopian Prime Minister Hailemariam Desalegn, as well as Ugandan President Yoweri Museveni - who has sent troops into South Sudan to back Kiir - and Sudanese President Omar al-Bashir.
Full report at:
http://nation.com.pk/international/18-Aug-2015/south-sudan-rivals-hold-peace-talks-on-deadline-day
-----------
Libya PM withdraws offer to resign
17 August 2015
Libya's internationally recognised prime minister, Abdullah al-Thani, has withdrawn an offer to resign, a move which would have added to the chaos in the conflict-strewn country, his spokesman said Monday.
"The prime minister didn't submit his resignation. He backed down from his previous announcement," Hatem el-Ouraybi told AFP.
"The government is working as normal, as usual, and is ready to go to the parliament for any possible questioning".
Thani announced he was ready to step down during an emotional live television appearance last Tuesday in which he faced a barrage of angry questions from ordinary Libyans.
However, it was unclear whether he intended to follow through.
On television, Thani's government was blamed for the lack of basic services such as electricity, and poor security in areas it controls.
"If my exit is the solution, then I announce it here," Thani said. "My resignation will be submitted to the parliament on Sunday."
Full report at:
http://english.alarabiya.net/en/News/africa/2015/08/17/Libya-PM-withdraws-offer-to-resign-.html
-----------
South African premier lauds role of Indian Muslims in liberation
17 August 2015
The Premier of a coastal province in South Africa, home to over 60% of the country's Indian population, has lauded the "massive" role Indian Muslims had in the liberation of the South African people from apartheid.
Senzo Mchunu, Premier of the KwaZulu-Natal province, praised the role of Indian Muslims and singled out South African Indian Congress leader Yusuf Dadoo, sociologist Prof Fatima Meer and her husband Ismail Meer, all now deceased, as struggle veterans who "rose above their community and embraced humanity."
"Both the government and the (ruling) African National Congress want to be close to you because of our historical ties. Muslims were committed in the struggle for the liberation of all Africans," he said as he recounted the views of anti-apartheid icon Nelson Mandela on the community's role.
Full report at:
http://www.dnaindia.com/world/report-south-african-premier-lauds-role-of-indian-muslims-in-liberation-2115525
-----------
New Recording Emerges of Boko Haram's Purported Leader
Aug. 17, 2015
ABUJA, Nigeria—Days after Chad's president declared him dead, Africa's most wanted terrorist, Abubakar Shekau—or somebody claiming to be him—surfaced in an online audio recording, vowing to keep Boko Haram's militancy raging for years to come.
"Woe unto liars that had claimed I'm dead," the person claiming to be the insurgency's leader said in the recording, which was posted on jihadist websites on Sunday. "Nobody can kill me."
The recording, which couldn't be independently verified, came after six months of radio silence from Mr. Shekau, or anyone professing to be him, prompting a guessing game over whether he had died. In a radio address last week, Chadian President Idriss Deby said—without offering proof—that his troops had killed the militant leader, who voiced loyalty to Islamic State in a audio recording this year—although that clip also couldn't be verified.
Nigeria's defense ministry immediately dismissed the tape's credibility, saying, "The audio message is baseless and cannot be corroborated."
The vague eight-minute message was a more restrained display than what Nigeria has come to expect from the public face of Boko Haram's six-year-long killing spree. The voice claiming to be Mr. Shekau mumbled in measured tones, a stark departure from the bombastic displays he once broadcast on YouTube, grinding his hips against an AK-47 or threatening to make slaves of the more than 200 girls Boko Haram seized from a boarding school in Chibok, Nigeria.
The shift in tone was one reason for skepticism over whether it indeed was Mr. Shekau on the recording. Nigeria's military has three times announced the terrorist leader's death—in 2009, 2013, and 2014—only to accuse Boko Haram of using impostors.
The audio tape marks the latest tangle in the hunt for the taunting frontman of a group whose war with government has left more than 23,000 people dead. The U.S. has placed drones over northern Nigeria, trained thousands of troops there, and offered a $7 million reward for Mr. Shekau's capture, a bounty that surpasses that of every other fugitive in Africa, including itinerant warlord Joseph Kony.
For years, posters bearing Mr. Shekau's face—taken from early videos of him—have been glued to walls across northeastern Nigeria.
Yet neither Nigeria—nor the U.S., with its extensive surveillance—can say whether Africa's most valuable terrorist is alive or dead, one person or several.
"This whole issue of Shekau has generated a lot of controversies," said Col. Rabe Abubakar, spokesman for the Nigerian military. "You see, we the Nigerian military are not concerned about the individual Shekau. What we are concerned about is Boko Haram as a collective insurgent group."
Full report at:
http://www.wsj.com/articles/new-recording-emerges-of-boko-harams-purported-leader-1439840984
-----------
UN sponsors 500 Boko Haram victims to acquire vocational skills
August 17, 2015
The United Nations said on Monday in Abuja that it has sponsored 500 victims of Boko Haram violence from three North East states of Adamawa, Borno and Yobe to acquire vocational skills.
Matthew Alao, UN Conflict Prevention and Peace Building Analyst, said the programme was under the UNDP Livelihood Support Scheme for the zone.
Mr. Alao explained that an orientation programme for the 500 selected beneficiaries would commence on August 17 at the Citizenship and Leadership Training Centre in Jos, Plateau.
He said the skills acquisition programme is the first phase of intervention by the UN to ameliorate the sufferings of the displaced persons.
Mr. Alao said that the skills training would cover hair dressing, tailoring, knitting, catering and decorations as well as GSM repair, shoe-making, leather works and computer studies.
He said the participants will also undertake specialised training on conflict resolution and peace building.
"A total of 500 beneficiaries who are victims of Boko Haram from three North East states of Adamawa, Borno and Yobe will be placed in a two-week compulsory orientation programme.
"They are going to undergo physical exercise, training, capacity building on mediation, conflict prevention, conflict transformation, social integration, peaceful coexistence for two weeks.
"We received over 2,000 applications and engaged in rigorous screening exercise out of which we selected the 500 that genuinely need this assistance.
"We took the successful 500 candidates for 2-weeks intensive course on mental and physical training.
"We are also going to train them on mediation and conflict transformation as well as business management; after that, we will put then on six-month to one-year training,'' he said.
The UN official noted the intervention was necessitated by the negative effects of the activities of Boko Haram insurgency on the people of the North East.
Full report at:
http://www.premiumtimesng.com/news/top-news/188507-un-sponsors-500-boko-haram-victims-to-acquire-vocational-skills.html
-----------
FG assures Military of logistics for war on Boko Haram
August 17, 2015
President Muhammadu Buhari has assured the military that his government would provide the necessary logistics needed to successfully prosecute the on-going war against the Boko Haram terrorists.
Speaking on behalf of the President, the National Security Adviser (NSA), Major General Babagana Munguno (rtd) gave the reassurance during his visit to operational areas in the North-Eastern part of the country in the company of the Service Chiefs and the Inspector General of Police.
While addressing officers and men of the Nigerian Air Force in Yola, General Monguno: "I am telling you this, and you can take it as if it is coming from Mr President himself that you are going to be given everything you require, not only for the operation but for your personal welfare. This is an assurance I want to give you".
Full report at:
http://dailypost.ng/2015/08/17/fg-assures-military-of-logistics-for-war-on-boko-haram/
-----------
Nigeria: My Encounter With Boko Haram Foot Soldiers - Barrister Aisha
By Shehu Abubakar and Ibrahim Sawab
18 August 2015
Maiduguri — Barrister Aisha Kalil Wakkil is a lawyer and human rights activist with the National Human Rights Commission. The senior legal officer has, for over five years, been into peacemaking between the Jama'atu Ahlil Sunnah (Boko Haram) and the federal government. In this exclusive interview with the Daily Trust on Sunday, Barr Wakkil, who claims to be a very close confidant of Boko Haram foot soldiers, spoke on several issues.
How did your mediation initiative between the federal government and Boko Haram start?
Nobody asked me to do it. Such a quality is in my nature because I love peace so much. Where I come from in the Southeast, we live in a very peaceful atmosphere, especially in my family. We mediate a lot where there is any problem. Now that I am a Muslim and Islam is a very peaceful religion, with all its teachings, this Boko Haram development doesn't really make sense to me. Why should such a wonderful religion experience this kind of a thing? But I also know that anywhere there is smoke, there must be fire. Something must have happened for these children to start behaving like this.
Do you really know them well?
Yes, they were children I knew a long time ago. The first time I visited Maiduguri around 1989 was when some of them were circumcised. I witnessed the circumcision. That is to tell you how young some of them were - and still are. I witnessed the growth of most of them. They were very wonderful children. As time went on, most of them began living in my house because my house is always open to all the children in that area. That was how I got to know most of them. Then they were not Boko Haram and Jama'atu ah-lil Sunnah members.
So at what stage did they become extremists?
It is surprising how these children turned out to be what they are now. I keep on saying there is certainly no smoke without fire. Something must have triggered those innocent-looking children to grow up behaving the way they are behaving now. You needed to see them growing up. These were children that would come to my house, play around and help in watering my ugwu plant. We would cook together and they would help clean my kitchen, my room and the entire house. Sometimes when I start talking about them, I shed tears. Those children prayed, and still pray a lot. I have a mosque in the house and they would always go in and pray. Anytime I went to Shehuri north, whatever was in my handbag would not follow me back because they would finish it there. They all called me Mama.
At what stage did you start noticing changes in their character?
It all started with a rumour. I began observing they would go out in the morning and return in the evening. During the fasting period, they would not return until around 11 or 12 midnight. I also remember they would go to Muhammad Yusuf's lectures to listen to his preaching. Sometimes, they would come back to tell me, "Mama, see what we read today", and I would say, "thank God, this Muhammad Yusuf is really trying o." I didn't observe anything strange about the teaching.
Full report at:
http://allafrica.com/stories/201508172184.html
-----------
Police name Kenyan suspects luring youth to join Al Shabaab
By Cyrus Ombati
August 18th 2015
The murderous Islamic State in Iraq and Syria (ISIS) has also been recruiting in Kenya and so far up to 12 youth are believed to have left for Syria. According to police, some of the suspects responsible for disappearances of youths are Abdifatah Abubakar Ahmed, Ramadhan Hamisi Kufungwa and Ahmed Iman Ali. See also: Man who 'confessed' to be Al Shabaab member remanded pending investigations Abdifatah and Kufungwa have a sway on the youths in Mombasa and the entire coastal region. Abubakar is also accused of being responsible for a series of terror attacks at Coast. He is accused of co-ordinating Al Shabaab activities and was allegedly among commanders of Jesh Ayman in the Boni forest and spearhead attacks in Lamu, Tana River County. Security agencies also claim he was involved in the planning of the attack on Westgate Mall in 2013. Abdifatah, police say, was also involved in the recruitment of young men and women at the Coast to join Al Shabaab. The women include Ummul Khayr Sadir, Khadija Abubakar Abdulkadir and Maryam Said Aboud. The three were arrested in El Wak while attempting to cross to Somalia.
http://www.standardmedia.co.ke/article/2000173237/police-these-men-lure-youths-to-al-shabaab
-----------
Southeast Asia
Najib: Putrajaya will defend human rights, but only in the context of Islam
BY SYED JAYMAL ZAHIID
August 18, 2015
BANGI, Aug 18 — Prime Minister Datuk Seri Mohd Najib Razak pledged today that his administration will do its best to uphold human rights here, but only within the confines of Islam.
Najib said this was in line with the Islamic teaching of balance and wasatiyyah (moderation), adding that Muslim Malaysia cannot defend the more extreme aspect of human rights, citing lesbian, gay, bisexual and transexual rights as example.
Full report at:
http://www.themalaymailonline.com/malaysia/article/najib-putrajaya-will-defend-human-rights-but-only-in-the-context-of-islam
-----------
Vape, Electronic Cigarettes, Is 'Haram' For Muslims, Declares Malaysian Fatwa Council
18 August 2015
Using electronic cigarettes, also known as Vape, is now haram for Muslims, the National Fatwa Council has decreed, Utusan Malaysia reported today.
The council's chairman Professor Emeritus Tan Sri Dr Abd Shukor Husin said the decision was based on laws that were used against shisha, also known as water pipes or hookahs.
"We have discussed the issue of cigarettes and shisha and we can equate it with the Vape. Firstly, it is dangerous, second, it is wasteful and third, it is detrimental to health. So when the effects are the same, we have declared it as haram," he was quoted as saying.
"We have decided and there is no problem (with the fatwa). In fact, the Health Ministry has informed that they are waiting for (findings) from experts but we have gone ahead because fundamentally, if it is detrimental and wasteful, then we cannot agree to something like that."
On July 17, 2013, the Fatwa Committee of the National Council for Islamic Affairs said that shisha or water-pipe smoking was haram for Muslims.
It had said then that shisha smoking would have a detrimental effect in the health of the individual, national economic growth and shaping of future generations.
The committee found that all scientific findings from comprehensive studies in the country and internationally proved that shisha smoking was bad for health, and its widespread practice, particularly among youths and women, was worrying.
The Vape, or electronic cigarette (e-cig or e-cigarette), personal vaporizer (PV) or electronic nicotine delivery system (ENDS) are battery-powered vaporisers that simulates the feeling of smoking, but without the tobacco combustion.
Full report at:
http://www.themalaysianinsider.com/malaysia/article/vape-is-haram-for-muslims-declares-fatwa-council
-----------
Malaysia is not a failed state, PM Najib says
Aug 18, 2015
BANGI (THE STAR/ASIA NEWS NETWORK) - Malaysia may not be a perfect nation, but it is by no means a "failed state", said Prime Minister Najib Razak.
The Prime Minister said it was wrong to label Malaysia as a failed nation when reports like the "The Global Islamic Economy Indicator 2014-2015" recognised Malaysia as a top Muslim nation.
"We have been called a failed state. Some called us a rogue nation. But is this the true image of Malaysia?
"It is quite ironic, when this 'failed state' topped the Global Islamic Economy Indicator 2014-2015, an independent study that is not influenced by our government," Datuk Seri Najib said at the International Wasatiyyah Seminar 2015 here on Tuesday.
"The research covers 70 Muslim counties and looks into the quality of the overall Islamic economy eco-system.
Full report at:
http://www.straitstimes.com/asia/se-asia/malaysia-is-not-a-failed-state-pm-najib-says
-----------
RM2.6b 'donation' for Islam should go to government instead of Najib, says Muslim group
August 17, 2015
KUALA LUMPUR, Aug 17 — Any cash donation for Islam should have been banked directly into Putrajaya's coffers instead of the private accounts of its prime minister, Angkatan Belia Islam Malaysia (ABIM) said today.
Its president Amidi Abdul Manan said he was sceptical of the assertion yesterday by Kuantan Umno division chief Datuk Seri Wan Adnan Wan Mamat that the controversial RM2.6 billion cash deposits into Datuk Seri Najib Razak's personal bank accounts was a gesture of appreciation for Malaysia's anti-terror campaign against militant group Islamic State (IS).
However, he said that even given the benefit of doubt, the money should be donated to the government and the Malaysian people as the fight against Islamic terrorism is done collectively.
"The donation should have been given to the government that represents the people and not to an individual named Datuk Seri Mohd Najib Abdul Razak personally.
"This is because each of the people who battle IS radicalism deserves the donation," Amidi said in a statement.
Full report at:
http://www.themalaymailonline.com/malaysia/article/rm2.6b-donation-for-islam-should-go-to-government-instead-of-najib-says-mus
-----------
Can an Islamic climate change declaration inspire 1.6B Muslims?
August 17, 2015
Islamic leaders from around the globe tomorrow will unveil a declaration calling on the world's 1.6 billion Muslims to embrace climate change action as part of their religious duty.
Activists gathering in Istanbul for the event said that just as Pope Francis declared climate change essential to the Catholic faith, they hope Islamic religious scholars can inspire Muslim communities to make the issue a priority.
"Islam is very strong on environmental protection," said Wael Hmaidan, director of Climate Action Network International, who is helping to organize the declaration.
"From the Quran to the hadiths [sayings attributed to the Prophet Muhammad], it really says it is a human responsibility ... that we are tasked with protecting creation and it is part of our duties as Muslims," he said.
Leaders will be carrying that message when the Islamic Climate Change Declaration is formally unveiled at the conclusion of a two-day symposium organized by Islamic Relief Worldwide, the Islamic Foundation for Ecology and Environmental Sciences, and GreenFaith.
In addition to emphasizing the Quran's teachings on environmental protection and the role that Islam can play in addressing climate change, it is expected to call on wealthy countries to "drastically" reduce greenhouse gas emissions and help vulnerable nations grapple with climate impacts.
A call for a fossil fuel-free world
Issuing the declaration will be religious and political leaders from throughout the Muslim world, including professor Din Syamsuddin, president of the Indonesian Council of Ulama; Sheikh Shaban Ramadhan Mubajje, grand mufti of Uganda; and Mohammed El Arwadi, a representative of the grand mufti of Lebanon.
"In Islam, we don't have a pope, so there isn't one focal point," noted Saleemul Huq, who leads the International Centre for Climate Change and Development in Bangladesh.
But, he said, with so many predominantly Muslim countries like Bangladesh, Pakistan and Indonesia highly vulnerable to the impacts of rising temperatures, "many people felt it was something the Muslim community couldn't just stand by and not have a say in." The declaration, meanwhile, brings together leaders from different branches of Islam in a common message.
Full report at:
http://www.eenews.net/stories/1060023527
-----------
North America
American Muslim youth community organizes annual halal food festival
August 17, 2015
For four years, the American Muslim youth community center has organized an annual halal food festival to draw Muslim families and also to enhance friendship ties with non-Muslims.
This year's festival, held Saturday at Rowland Park, drew vendors from Central Jersey, New York City and even as far away as Ohio. Thousands of people attended and they included many local and immigrant Muslims as well as non-Muslims.
Crescent Foods, a company that sells halal meats, had an information booth at the festival. The company sells meat to select Walmart stores in several Mid-Atlantic states, as well as Central Jersey. East Brunswick Flemington, Freehold and Phillipsburg Walmarts carry the firm's foods. The company's products have no added antibiotics, no animal by-products, and no added hormones. The animals eat all vegetarian diets, are raised cage-free and are treated well, the company literature states.
Food has a way of bringing people together, even across bitterly drawn lines. "Want to appeal to all communities," said Sami Shaban, one of the organizers of the event. "For instance, we want all Muslims to come together over delicious food. But we want more people to come. We want all of South Brunswick to come and taste our delicious food."
Vendors at the fair were selling food from many countries, from Turkey and the Middle East to traditional American items such as burgers and fried chicken. Much of the food was grilled, including corn, and several vendors were selling meat and rice dishes. Shaban was particularly proud that the Halal Guys, a New York company with 42,000 Facebook followers, was selling food at the festival. Shaban expected 4,000 attendees by the end of Saturday.
From New Brunswick, 25 Burgers were there, serving an all-Halal menu. In fact, that vendor was handing out menus with 35 burgers on it.
"It's great food," Salman Tarar said. "It's Halal, it's good. We will definitely come again next year."
Full report at:
http://en.abna24.com/service/america/archive/2015/08/17/706437/story.html
-----------
Hamas and Hezbollah reject own blacklisting by Canada
Aug. 16, 2015
TAMSYN BURGMANN
Two political parties in the Middle East designated as terror groups by Canada predict the Islamic State movement won't survive and question why they're blacklisted when co-operation could defeat the common enemy.
Representatives of both Hezbollah and Hamas in Lebanon have separately condemned the Islamic State in interviews.
Prime Minister Stephen Harper has denounced the jihadi militants, a position he has used to buttress Canada's involvement in the U.S.-led coalition conducting air strikes in Iraq and Syria.
National security is a key issue in the Oct. 19 federal election.
The Islamic State is "not accepted" by most Muslims represented by Hamas, said its boss in Lebanon, Osama Hamdan.
A source close to Hezbollah's top leadership said extremist movements "mushroom, but they never last and don't find a place with moderate Sunnis and Shias.
"There will always be radical thinking in the world," said the man, who agreed to speak on anonymity, through a translator.
"We had called for the largest coalition to fight terrorism. We had also called upon religious scholars in this region to condemn this phenomenon."
A political analyst with the American University of Beirut said the tough talk could signal more shifting alliances.
"It's possible you could have Canada and the U.S. working with Hezbollah and Hamas against ISIL if they're seen as a common threat – which they are," said Rami Khouri, who has 45 years of experience in the region. "But it's not happening right now. If it did happen, it would be in different political circumstances."
Canada has joined the United States and Israel in outlawing Hezbollah and Hamas. Some countries, including Australia, blacklist just their military wings, while the Lebanese government recognizes the party and its MPs.
Full report at:
http://www.theglobeandmail.com/news/national/hamas-and-hezbollah-reject-own-blacklisting-by-canada/article25982460/
------------
Europe
Russia Jails Members Of Banned Islamic Group
August 17, 2015
A court in Russia's second-largest city, St. Petersburg, has jailed a member of a banned Islamic group.
The Leningrad Regional Military Court found Russian citizen Gapur Magomedov guilty of participation in the activities of Hizb ut-Tahrir organization on August 17 and sentenced him to five years in jail.
The same court sentenced a Kyrgyz citizen, Makhamadimin Saliev, to five years in jail on the same charges on August 14.
Full report at:
http://www.rferl.org/content/russia-jails-members-of-banned-islamic-group/27193755.html
-----------
Critics outraged by British theater's cancellation of play about Muslim radicalization
August 17, 2015
CANTERBURY, England (RNS) Prominent artists and human rights campaigners have criticized the National Youth Theatre in London for canceling a play because its theme is the radicalization of young British Muslims and their attraction to terrorist organizations such as the militant Islamic State group.
There is growing concern the play called "Homegrown" by British–born Omar El-Khairy was shut down before its scheduled opening on Saturday (Aug. 15) because of pressure from the British police.
A report in The Times (Aug. 15) by Jack Malvern, the paper's arts correspondent, quoted Nadia Latif, the play's director, saying the police had asked to see the final script of "Homegrown" before the play opened at a school in Brixton, a part of South London with a large Muslim community.
The paper's report said that Latif at first refused to send the script but later relented when asked again a week later.
"The play was pulled the next week," Malvern wrote.
The play set out to explore some of the factors that might cause someone to be attracted to Muslim extremists.
The cancellation has infuriated some of Britain's leading figures in the world of arts and human rights.
One of Britain's leading playwrights, Sir David Hare, the actor Simon Callow and the human rights activist Shami Chakrabarti wrote in a letter to the paper saying the cancellation is "a troubling moment for British theater and freedom of expression. "
The three wrote: "Its cancellation serves only to shut down conversation on these important issues. We fear that government policy in response to extremism may be creating a culture of caution in the arts."
Full report at:
http://gazette.com/critics-outraged-by-british-theaters-cancellation-of-play-about-muslim-radicalization/article/1557555
-----------
UK Labor frontrunner invited radical Israeli-Muslim cleric to Parliament for tea
August 17th 2015
Britain's Labor Party leadership frontrunner Jeremy Corbyn was caught on video praising a hate preacher and inviting him to "tea on the terrace" at Parliament, the Daily Mail reported Saturday.
In the latest revelation about his ties to alleged extremists, Corbyn, who is far ahead in the race to take over the leadership of the main British opposition party, can be seen referring to Sheikh Raed Salah as an 'honored citizen' and even inviting him to tea in the House of Commons.
'[Salah] is a very honored citizen. He represents his people extremely well and his is a voice that must be heard," Corbyn says in the video from 2012. "I hereby renew my invitation to Sheikh Salah to come to Parliament, meet with me, meet with my colleagues."
"He will be assured of a very warm welcome. I look forward to giving you tea on the terrace because you deserve it."
Salah, a prominent member of the Islamic Movement in Israel, was banned from the United Kingdom due to concerns over his 'virulent anti-semitism'.
Salah served numerous jail terms for raising millions of dollars for the radical-Islamic Palestinian terror group Hamas, contacts with Iranian intelligence, attacking a police officer and leading a violent demonstration.
In 2012, he was able to slip enter the UK undetected through London's Heathrow airport and give a number of speeches before he was arrested and jailed for three weeks before being released on bail.
In a speech broadcast by Al-Jazeera in 2012, he said: "Very soon, Muhammad will be the most popular name in Europe."
"I say to you who harbor hatred towards the Messenger of Allah that it will not be long before Allah grants us victory over you."
"Zionist scumbag"
British MPs critical of Corbyn meanwhile, received a large number of anti-Semitic messages, calling them "utter filth" and Zionist stooges," The Jewish Chronicle reported Monday.
Labor party MP John Mann, a vocal critic of Corbyn and chairman of the All-Party Parliamentary Group Against Anti-Semitism, said he received over 40 such emails and tweets over the past six-weeks.
Full report at:
http://www.i24news.tv/en/news/international/europe/82406-150817-uk-labor-frontrunner-invited-radical-israeli-muslim-cleric-to-parliament-for-tea
-----------
Charlie Hebdo and the dawn of French McCarthyism
PHILIPPE MARLIÈRE
17 August 2015
In the aftermath of the killings in Paris in January 2015, the French media as well as the government and most politicians delivered an emphatic verdict on those barbaric assassinations: what was at stake, they concurred, was the issue of freedom of speech. In other words, through their actions, the murderers had attempted to silence free speech, a cardinal value in French society.
From the outset, it was clear that the deeply unpopular socialist executive was trying to rally public opinion under the "Je suis Charlie" banner. To some extent, President François Hollande and Prime Minister Manuel Valls managed to achieve this objective. The "Charlie Effect" – as it was called in the French media – did not last long though. The grand march in Paris on 11 January brought together large segments of the nation: people from various social, religious and ethnic backgrounds took peacefully to the streets of Paris (as well as in many cities across France).
But what was the meaning of those peaceful demonstrations? Was it really in defence of freedom of expression and the "right" to ridicule believers and their beliefs, as it was depicted by the French media and most politicians? Did the public do so with a view to supporting the "right" to blasphemy? It would be hard to answer those complex issues unequivocally; however one can certainly challenge some of the official assumptions of the nebulous "Nous sommes Charlie" movement. In short, one can attempt to contextualise and objectify the government narrative on the matter.
The Hollande-Valls Narrative
The only way not to concede victory to terrorists is to remain calm (Laborde 2015). This is not what George W Bush did after 9/11, and this is not what the French government did either. The point here is not to draw a parallel between the two situations which were, in many respects, dissimilar. But what was striking in the hours following the Paris attacks – and this was somehow reminiscent of the American reaction – was the public outpouring of emotion, and the active role played by the media and the government in conveying this sentiment. The fact that the attack was perpetrated by French Jihadists against a left-libertarian publication certainly struck a chord with large sections of the public. Although Charlie Hebdo's "anti-Islamic" stance was increasingly seen as divisive and politically ambiguous by some on the left (Cyran 2013), the cartoonists who were killed – notably the elder ones such as Cabu and Georges Wolinski – were held in high esteem by the public.
There were unusual reactions in France the days following the attacks: in the "unity Full report at:
https://www.opendemocracy.net/can-europe-make-it/philippe-marli%C3%A8re/charlie-hebdo-and-dawn-of-french-mccarthyism
-----------
Mideast
ISIS video calls on Turks to join fight against 'traitor' Erdogan
18 August 2015
ISIS militants have called Turkish President Recep Tayyip Erdogan a traitor for allowing the U.S. to use air bases for strikes against the group, and urged Muslims in Turkey to support the extremist group and fight the "crusaders, atheists and tyrants."
An ISIS video message released on Twitter on Monday shows a Turkish-speaking fighter, flanked by two others, accusing Erdogan of permitting the U.S. to "bombard the people of Islam."
Full report at:
http://english.alarabiya.net/en/News/middle-east/2015/08/18/ISIS-calls-Turks-to-join-fight-against-traitor-Erdogan.html
-----------
Ansarullah Foils Saudi Plot to Capture Sana'a
Aug 18, 2015
"The Riyadh government had plotted for the fall of Sana'a, but Ansarullah movement with maximum vigilance foiled it," the Arabic-language Beirut-based Al-Akhbar newspaper quoted Shami as saying on Tuesday.
He underlined that the plot to capture the Yemeni capital has failed and what the pro-Saudi media are propagating now is just psychological war.
In similar development, Ali Rasheed al-Zaidi, another senior Ansarullah leader, said last month that the Saudi had planned to kill a number of Yemeni army commanders to destabilize the country and push it into chaos in a bid to pave the way for the takeover of Sana'a and a subsequent military coup by the pro-Hadi militias.
The clashes between the Ansarullah fighters and the Saudi-backed al-Qaeda terrorists as well as the pro-Hadi militias continue in the Southern parts of the country as Saudi Arabia has been striking Yemen for 146 days now to restore power to fugitive president Mansour Hadi, a close ally of Riyadh.
Full report at:
http://english.farsnews.com/newstext.aspx?nn=13940527000774
-----------
GCC condemns Houthi occupation of UAE mission in Sanaa
18 August 2015
The Gulf Cooperation Council (GCC) Secretary General strongly condemned the occupation of the United Arab Emirates Embassy building by Houthi militias in the Yemeni capital of Sanaa, calling it a flagrant violation of the Vienna Convention on Diplomatic Relations, according to the Saudi Press Agency (SPA).
Dr. Abdul Latif Bin Rashid Al Zayani condemned this cowardly act calling it proof of the Houthi group's violations of international laws. He also called for the prompt evacuation of the embassy building.
In Abu Dhabi, the UAE Ministry of Foreign Affairs (MoFA) too condemned, in the strongest possible terms, the occupation of the UAE Embassy in Sanaa by the Houthi group.
In a statement, it called for the evacuation of the embassy immediately and restore it to the embassy staff, adding that the UAE retains the right to bring perpetrators of this attack to justice and accountability, WAM reported.
"This act is further evidence that the group which committed this attack does not show any regard or respect for international conventions and diplomatic norms, as it practices jungle law," the statement said.
Full report at:
http://english.alarabiya.net/en/News/middle-east/2015/08/18/GCC-condemns-Houthi-occupation-of-UAE-mission-in-Sanaa.html
-----------
Pro-Kurdish opposition to consider taking part in Turkish 'election govt'
18 August 2015
Turkey's pro-Kurdish Peoples' Democratic Party (HDP) will consider taking part in an interim power-sharing government to lead the country to a new election, co-chairman Selahattin Demirtas said on Tuesday, after talks between other parties failed to produce a coalition government.
The HDP would also be happy to meet and discuss joining a coalition with the second-biggest party, the Republican People's Party (CHP), if it is now given a mandate to form a government, Demirtas said in comments broadcast live by CNN Turk.
Full report at:
http://english.alarabiya.net/en/News/middle-east/2015/08/18/Turkey-s-pro-Kurdish-Peoples-Democratic-Party.html
-----------
Turkish govt mandate to return to Erdogan
18 August 2015
Turkish Prime Minister Ahmet Davutoglu will return the mandate to form a government to President Tayyip Erdogan on Tuesday evening after the ruling AK Party's coalition talks with opposition parties collapsed, an AKP official told Reuters.
Full report at:
http://english.alarabiya.net/en/News/middle-east/2015/08/18/Turkish-PM-to-return-govt-mandate-to-Erdogan-.html
-----------
Arab coalition bombs Yemen's Hodeidah port
18 August 2015
Jets from a Saudi-led coalition struck Yemen's Red Sea port of Hodeida early on Tuesday, port officials said, destroying cranes and warehouses at a main import hub for aid supplies to the country's north.
Hodeidah, which lies almost due west of the capital Sanaa, is held by the Houthi militias and allied army units loyal to former president Ali Abdullah Saleh. They retain control of the northern highlands and the Red Sea coastal plain as far south as Ibb, which lies around 200 kilometers southeast of the port.
Full report at:
http://english.alarabiya.net/en/News/middle-east/2015/08/18/Arab-coalition-bombs-Yemen-s-Hodeidah-port.html
-----------
Israel denies ceasefire talks with Hamas
Occupied Jerusalem
18 August 2015
Israel said Monday it was not engaged in talks with Hamas following a flurry of media reports suggesting the two sides were discussing a long-term ceasefire.
"Israel is officially clarifying that it is not holding any meetings with Hamas, neither directly, nor via other countries or intermediaries," the office of Prime Minister Benjamin Netanyahu said in a statement.
Arab and Turkish media have in recent weeks carried reports, that were picked up by Israeli media, claiming Israel and the Palestinian movement that rules the Gaza Strip were holding talks.
According to the reports, the talks were aimed at reaching an eight-year of 10-year truce, with Israel removing its blockade on the coastal Palestinian territory.
A 50-day war between Israel and Hamas in July-August 2014 killed about 2,200 Palestinians and 73 on the Israeli side, and destroyed or damaged tens of thousands of homes in Gaza.
Israel says its nine-year blockade on the impoverished territory is essential to prevent militants from obtaining materials to fortify military positions and build rockets they could fire.
Full report at:
http://english.alarabiya.net/en/News/middle-east/2015/08/18/Israel-denies-talks-with-Hamas.html
-----------
U.S.: Patriot pullout from Turkey reflects weaker Syria
17 August 2015
A Pentagon spokesman says the U.S. is pulling its Patriot air defense force out of Turkey mainly because it sees a declining Syrian military threat.
The spokesman, Navy Capt. Jeff Davis, said Monday that the Syrian regime has grown weaker and has used up most of its Scud missiles capable of striking Turkey.
The Patriot anti-missile system is capable of defending against ballistic missiles as well as aircraft. The U.S. and Turkey announced on Sunday that the Patriot mission in Turkey will end in October.
Full report at:
http://english.alarabiya.net/en/News/middle-east/2015/08/17/U-S-Patriot-pullout-from-Turkey-reflects-weaker-Syria.html
-----------
Israel offer to exile Palestinian hunger-striker rebuffed
17 August 2015
Lawyers for a Palestinian in the ninth week of a hunger strike against his detention without trial took his case on Monday to Israel's Supreme Court, where a new offer to free him in exchange for exile was rebuffed.
The condition of Islamic Jihad activist Mohammed Allan, who is unconscious in an Israeli hospital, is being closely monitored by opposing forces in an Israeli-Palestinian conflict that could erupt in new violence if he dies.
Israel sees his hunger strike, which began more than 60 days ago, as a powerful challenge against "administrative detention," a practice that has drawn criticism from Palestinians and human rights groups but which Israel calls a security necessity.
It fears that his unconditional release - Allan's lawyers argued that in his current condition he posed no security threat - would only encourage several hundred other Palestinian detainees suspected of anti-Israeli activities to refuse food.
Internal Security Minister Gilad Erdan, writing on Twitter, called the petition for his release "ludicrous," as Allan's medical endangerment was self-inflicted.
As the hearing got under way in Israel's highest court, the Justice Ministry said it would consider freeing Allan, 31, if he agreed to be exiled abroad for four years.
The court issued no ruling, urging the sides to negotiate further before reconvening for another hearing on Wednesday.
Israel has not formally charged Allan with any crime but alleged that he was involved in "grave terrorism" on behalf of Islamic Jihad, which has threatened attacks against Israel if he dies.
Full report at:
http://english.alarabiya.net/en/News/middle-east/2015/08/17/Israel-offer-to-exile-Palestinian-hunger-striker-rebuffed.html
-----------
Iranian DM: Air Force Equipped with Supersonic Saeqeh 2 Fighter Jets
Aug 18, 2015
"Saeqeh 2 fighters have been delivered to the Air Force and a training jet has also been tested and is ready for manufacturing," Dehqan told reporters on Tuesday in Tehran on the occasion of the National Defense Industry Day.
He explained about the underway projects and future plans pursued by the defense ministry, and said, "We are working on increasing our missiles' precision and want to make them impenetrable to electronic warfare and interception."
Noting that the precision of Iran-made long-range missiles and their lifetime have increased and long-range ballistic missiles with Multiple Reentry Vehicle payloads have been produced, Dehqan said, "We are after turning our ground-based missiles into air-launched missiles."
He also stressed that the Armed Forces have been equipped with the best anti-armored missiles.
Dehqan also elaborated on the new progresses in the Navy, and said, "A new 500-ton subsurface vessel will join the Navy this year and we will take other steps to develop heavy subsurface vessels in future."
He also underlined Iran's efforts to develop the home-made analogue wireless systems into digital ones, and said, "We are also working on the phased-array radars and are on the path to make them passive systems."
Dehqan said that Tehran has also manufactured different types of UAVs, including combat, reconnaissance and surveillance drones, which have attracted many customers from around the world.
Also on the delivery of the Russia-made S-300 surface-to-air missile defense system, he said that Tehran had asked for 3 battalions of S-300, while a fourth system has recently been added to the order.
Asked about staging new missile drills, he said that none of the country's exercises will be delayed or stopped, adding that the country's missile tests are conducted proportionate to the research and production process and the UN Security Council's resolutions cannot stop them.
In recent years, Iran has made great achievements in the defense sector and gained self-sufficiency in essential military hardware and defense systems.
The country has repeatedly made it clear that its military might is merely based on the state's defense doctrine of deterrence and that it poses no threat to other countries.
In February, Iran unveiled Saeqeh 2 fighter jet which can also be used for training purposes.
"The double-cockpit supersonic fighter jet, which has been designed and built by the defense ministry's aerospace industries organization in cooperation with the Islamic Republic of Iran's Air Force, can be used for combat missions, close-range cover and backup in tactical missions, and also advanced pilot training programs," Iranian Deputy Defense Minister Brigadier General Amir Hatami said, addressing the unveiling ceremony.
He said the aircraft had been built on the basis of a new design which had maximized its combat power, adding that the plane had also been equipped with advanced electro-avionics and weapons systems to train pilots for flying with the existing or new heavy fighters.
Also early February, a senior Iranian Air Force commander announced that the country was planning to build a new high-tech combat aircraft capable of tracing US and Israeli modern and stealth planes.
"… we will manufacture an aircraft on Saeqeh platform which will be equipped with Fourth generation (and even higher) avionics …," Commander of Air Force's Owj Complex Colonel Houshang Monfaredzadeh said in an exclusive interview with FNA.
He reiterated that Iran was reaching a level of expertise that it would soon be able to manufacture a totally different aircraft in terms of electronic, radar and avionic systems as well as weaponry equipment.
Full report at:
http://english.farsnews.com/newstext.aspx?nn=13940527000788
-----------
URL: https://www.newageislam.com/islamic-world-news/new-age-islam-news-bureau/secret-islamic-state-document-found-in-pakistan/d/104310