New Age Islam News Bureau
18 Jun 2012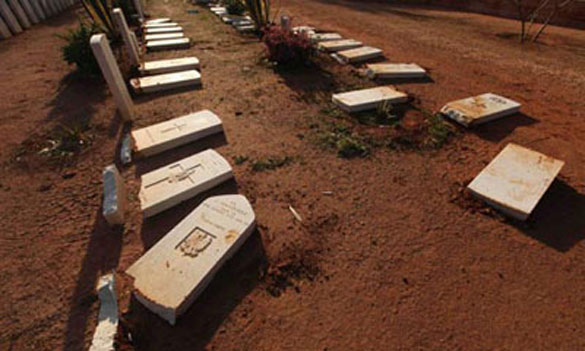 Africa
• Second World War graves in Libya desecrated again
• Wahhabis, Muslim Radicals against Runaway Marriages in Somalia
• Top Mali Islamist wants Sharia in whole country
• NDC has kept faith with Muslims-Ghana Minister
• Oasis in Tunisia: the unfinished revolution and its future
• 120 South Sudanese leaving Israel under pressure
Europe
• Tajik Mullahs Warn Of New Threat in Temporary Marriages
• Crises in Libya, Sudan, Somalia and elsewhere forced 800,000 to flee their countries
• Google reveals '640 terrorism video' removals from You Tube
• Islam in Germany: "Germany Does Away With Itself"
• LSBU Islamic Society, the East London Mosque and the peril of off-campus events
India
• 4th J&K cop held for 'terror links' in 24 hrs
• Ishrat case: CBI to quiz IB men about LeT terror plot in 2004
• MHA report nails Pak lies on LoC raids
• NC raises autonomy bogey for J& K again
Pakistan
• 5 killed in attack on Shia students in Quetta
• Coverage of Scandal Dents Credibility of Pakistani TV News
• Pak ties in turmoil, US holds up payments
• 'Corrupt' Pak media on judiciary radar
• Pak Taliban not to allow anti-polio campaign in North Waziristan
• Bomb blast kills six Pakistani policemen, one civilian
• Pot-bellied Pak Punjab policemen told to 'diet or quit!'
• Eight lives lost in Karachi violence; 'shoot on sight' orders issued
South Asia
• Bangladesh arrests media doyen for 1971 war crimes
• Maldives' Mohamed Nasheed to be presidential candidate
• Bangladesh jails 611 soldiers for 2009 mutiny
• Five killed in bombing in eastern Afghanistan
• Refugee shot in Myanmar dies in Bangladesh: Police
Southeast Asia
• Jakarta: Tasikmalaya Authorities Impose Sharia Law and Compulsory Veil
Mideast Asia
• Al Qaeda Suicide bomber kills Yemen's army chief
• Yemenis say more secure under al-Qaeda rule
• Two Islamic Jihad activists killed in Israeli strike on Gaza
• Iranian Officials Warn Alcohol Abuse on the Rise
• Israel's Moral Crisis 'Is Driving Its Youth Away'
• Al Qaeda in Mediterranean dangerous than Iranian nuclear programme
• Iran, world powers face off in 'last chance' nuclear talks
• UN: Israeli forces killed 2,300 in Gaza under blockade
• How BBC comedy Episodes inadvertently went viral in Israel
Arab World
• Al-Qaida urges Egypt to cancel treaty with Israel
• Egypt Islamists claim election victory, army grabs powers
• Militants infiltrate from Egypt, two reported dead
• Syria accused of violence rise after U.N. monitor halt
• The Dynamics and Players in Saudi Succession
• Syria crisis: Trapped civilians must be evacuated - UN
• Saudis Seek a Crown Prince and Talk of Other Successors
• One Night Only: Syria in Revolt, on a Beirut Stage
North America
• US embassy hosts discussion on religion, politics, and media
Compiled by New Age Islam News Bureau
Photo: Gravestones at Benghazi military cemetery, which were smashed and overturned earlier this year
URL: https://newageislam.com/islamic-world-news/second-world-war-graves-libya/d/7652
----------
Africa
Second World War graves in Libya desecrated again
16 June 2012
Military graves desecrated in Benghazi in second such attack in four months
Headstones on Second World War military graves in Libya's eastern city of Benghazi have been desecrated again, in the second such attack in four months.
Khaled Al-Jazwi, a spokesman for the Benghazi local council, said the attack occurred on Thursday.
"We don't know yet who did this," said Jazwi. "We have spoken to the local council's security committee about investigating who is behind this. This cemetery has been here for decades and nothing like this has ever happened before."
Earlier this year, Libya's leadership apologised after armed men in Benghazi smashed the graves of British and Italian troops killed during the second world war.
In February, amateur video footage posted on Facebook showed men casually kicking over headstones in a war cemetery and using sledgehammers to smash a metal and stone cross.
Benghazi is near where British and Commonwealth troops fought heavy battles against German and Italian forces during the 1939-45 war.
The city was the starting point of the uprising last year that later ended Muammar Gaddafi's 42-year rule, but it is now a hotspot for violence, with arms readily available and state security forces struggling to assert their authority.
A convoy carrying Britain's ambassador to Libya was hit by a rocket-propelled grenade on Monday, wounding two of his bodyguards.
Five days before that, an explosive device was dropped from a passing car outside the offices of the US diplomatic mission in Benghazi. The blast that followed slightly damaged the gate in front of the building.
Earlier attacks targeted the International Committee of the Red Cross and a convoy carrying the United Nations envoy to Libya.
Security experts say the area around the city is host to a number of Islamist militant groups opposed to any western presence in Muslim countries.
http://www.guardian.co.uk/world/2012/jun/16/war-graves-desecrated-libya
--------
Wahhabis, Muslim Radicals Against Runaway Marriages In Somalia
15 June 2012
By Mohamed Sheikh Nor in Mogadishu
Running away to get married is part and parcel of Somali culture and society, though Islamic clerics have different opinions regarding the legality of this type of marriage.
Wahabis and other Muslim radicals believe that eloping is against the teaching of Islam. The practice is taboo because it ignores the consent and the knowledge of the parents. But the moderate Sufis argue this type of marriage is valid as long as the spouses live 90 kilometers away from their parents.
Sheikh Abdall Ahmed is one of the moderate clerics. He says there is no distinction between running away to get married and a marriage with parental consent.
"According to Islamic law a man and a woman can contract marriage without consent from their parents, therefore clerics like me approach the couple to carry out the ritual as we normally welcome them," he explains.
According to current official statistics, one in every three Somali families were created after the couple had eloped but the practice was totally banned by Al-Shebab, a militant group that has links with Al-Qaeda when they were in control of large swathes of south and central Somalia. They say eloping is un-islamic therefore its eradication is necessary.
A few months back it used to be rare in areas under Al-Shebab control that a girl would run-off with a boy and get married without the consent of the parents, but where the militias have been driven away it seems an everyday occurence.
It was only a few days ago that Somali troops backed by the African Union's peacekeeping mission, Amisom, forcefully took control of Afgoi in Lower Shabelle region. This raised the hopes of many couples who heard that the next step would be to free Wanleweyn, a town 90 kilometers away from Mogadishu, known for hosting the majority of elopement marriages in south and central Somalia .
Mohamed Ahmed, who is unable to afford the lavish sum that a wedding normally costs, is now getting ready to pack as he and his partner are planning to travel to Wanleweyn town.
"I can't wait until Wanlaweyn is liberated, but time proves that the days of the ban on eloping to get married are numbered. I and my fiancée will be the first to reach Wanleweyn town, in order to formalise our long standing relationship and to reap the crops of our beautiful love".
Most arguments involve economic aspects. The huge amounts of expenses incurred are said to be too staggering for families from a poor country like Somalia.
Khadro, Mohamend's fiancée, says only sweet words, smooth love, open hands, beautiful behavior, sweetness and togetherness is what yields success and she is against pressurising her husband to pay what he cannot afford.
"I have to follow what my fiancé sees as appropriate for our love and oppose whatever obstacles are in our way, I have never dictated to him nor stipulated that he must have a fortune that is why our love has endured so many years"
Elopement is also a common way for a Somali woman to avoid an arranged marriage. However, the practice is frowned upon in Somali society and a woman who elopes may be risking her family's angerand weakening the bonds between her parents and her husband.
But sometimes after a lengthy wrangle between the two families, parents finally reach a compromise on the expenditure of the wedding feast and the dowries.
http://www.english.rfi.fr/africa/20120615-elopment-somali-culture-shebab
--------
Top Mali Islamist wants Sharia in whole country
JUNE 17, 2012
The leader of the Ansar Dine Islamic group in northern Mali has rejected any form of independence of the northern half of the country and has vowed to pursue plans to impose sharia law throughout the West African nation.
Iyad Ag Ghali's stance could further deepen the rift between his group and the separatist Tuareg rebels of the National Movement for the Liberation of Azawad (MNLA) as both vie for the control of the desert region.
"We are not asking for much: just the application of sharia law in the northern and southern regions. We are Malians and we are against the division of Mali," Ag Ghali said in an interview in the rebel-occupied northern city of Kidal late on Friday.
Ansar Dine and the MNLA seized the three regions of northern Mali, about two-thirds of the country, in early April after Malian government forces were left without a command following a March 22 coup.
While the MNLA declared an independent state of Azawad in the occupied region, Ansar Dine, which also has links with al Qaeda's north Africa wing, rejected the idea, saying its objective was to impose sharia law across Mali.
After weeks of awkward joint occupation of Kidal, Gao and Timbuktu, the two groups announced a merger in late May. But the deal was never finalised due to differences over the application of Islamic law.
The groups exchanged fire near Timbuktu last week.
http://blogs.reuters.com/faithworld/2012/06/17/top-mali-islamist-rejects-northern-independence-wants-sharia-in-whole-country/
--------
NDC has kept faith with Muslims-Ghana Minister
18th June 2012
Mr Samuel Ofosu Ampofo, Minister of Local Government and Rural Development, has said that the National Democratic Congress (NDC) has kept faith with Muslims.
He said for the NDC Government had instituted holidays for the celebration of the two important Muslim festivals, Eid ul Adha, and Eid ul Fitr.
The Minister was speaking at the inauguration of the Adjei Kojo branch of the Zongo Caucus of the party over the weekend.
He said the NDC had established the Islamic Education Unit to ensure that Muslim children benefitted from quality education.
Mr Ofosu Ampofo, who is also NDC parliamentary aspirant for Tema West, reminded people of the Zongo communities that they were true allies of the NDC, and appealed to them to vote for the party in the December Election.
Full report at:
http://www.businessghana.com/portal/news/index.php?op=getNews&news_cat_id=&id=167558
--------
Oasis in Tunisia: the unfinished revolution and its future
Bernardo Cervellera
06/16/2012
Tunisia, the most secularized Arab country, after the success of "Jasmine Revolution", is facing the danger of Salafi Islam, also bankrolled by al Qaeda, Saudi Arabia and Qatar. The struggle between different kinds of Islam and the place that religion should have in a modern and pluralistic society. The concerns of Christian minorities. The pragmatism of the West.
Rome (AsiaNews) - The scientific committee of Oasis, the magazine about Christian-Muslim dialogue founded by Card. Angelo Scola, meets this year in Tunis on 18 and 19 June to try to understand the emerging trends of the "Jasmine Revolution" that began in Tunisia and spread among the Arab dictatorships, breaking up old balances and opening new tensions and problems.
More than 50 personalities from around the world - academics, bishops, experts, journalists - will meet in the capital for a series of testimonies, studies, discussions on the theme: "Religion in a society in transition. Tunisia calls upon the West."
The relevancy of the theme is evident from the way the Arab revolutions are evolving. What first begin as a "revolt for dignity" to demand labor, human rights, justice, democracy, have gradually been taken over or endangered by fundamentalist Salafi Islam, shaking the same liberal forces that set the change in motion.
Full report at:
http://www.asianews.it/news-en/Oasis-in-Tunisia:-the-unfinished-revolution-and-its-future-25048.html
--------
120 South Sudanese leaving Israel under pressure
Jun 17, 2012
JERUSALEM: Israel was forcing 120 South Sudanese to leave the country on Sunday, starting what was to be a mass deportation of thousands of unauthorized African migrants who have poured into the Jewish state.
Some 60,000 impoverished Africans, most from Eritrea and Sudan, have slipped into Israel across its southern border with Egypt since 2005, fleeing repressive regimes and seeking work. The influx has caused friction with Israeli locals and several incidents recently turned violent. Authorities, alarmed by the swelling numbers, say the migrants are a burden on the economy and threaten to undermine Israel's Jewish character.
Facing a public uproar, the government launched a campaign last week to round up and expel migrants from South Sudan and other countries that have friendly relations with Israel, and therefore would be expected to treat returning citizens well. In all, it hopes to expel 4,500 Africans.
Full report at:
http://timesofindia.indiatimes.com/world/rest-of-world/120-South-Sudanese-leaving-Israel-under-pressure/articleshow/14211028.cms
-------
Europe
Tajik Mullahs Warn Of New Threat In Temporary Marriages
By Farangis Najibullah
June 17, 2012
Mosque sermons in Tajikistan tend to focus on issues that affect people's everyday lives.
These days, the hot-button topic of many sermons in Dushanbe has been temporary marriages -- a phenomenon that was almost unheard of in Tajik society until recently.
Recently, at a gathering following Friday Prayers on June 8, prominent Dushanbe Imam Eshon Abdul-Basir Saidov warned women against entering into temporary marriages, which religious leaders say have become a trend in Dushanbe over the past two or three years.
Echoing concerns voiced by his fellow imams, Saidov says dozens of Tajik women have fallen victim to "Iranian-style temporary marriage," known as mut'a.
Fairly widespread, and legally approved in predominantly Shia Iran, mut'a is a fixed-term marriage in Shi'a Islam which automatically dissolves upon the completion of a term agreed upon by both parties prior to the marriage.
Mut'a is not recognized by Sunni Islam, which is followed by the majority of Tajik Muslims.
Nevertheless, says Zurafo Rahmoni, the head of the Culture Department of Tajikistan's Islamic Revival Party, "nowadays we increasingly hear about Tajik women entering into mut'a matrimony with Iranian citizens living here."
'No Rights Or Protection'
Tajikistan has a sizeable Iranian community, the majority of which reside in Dushanbe and other major cities.
"These women are ultimately being left with no rights or protection both during and after their so-called marriages," Rahmoni says. "In all cases, the men eventually leave the country, leaving their temporary wives behind. The most painful part is that sometimes children are born into such unions."
Rahmoni blames the trend on the "dire" economic situation that prevails in Tajikistan.
"Many Tajik men have left the country for migrant work," he says. "There are foreign men coming to work in Tajikistan, and that's why the [mut'a] practice is on the rise in Tajikistan. Social and economic hardship are contributing factor to the rise of this phenomenon in recent years."
There are no official statistics about Tajik women who enter mut'a unions, but Rahmoni puts the number at "hundreds."
When contacted by RFE/RL's Tajik Service, however, the Iranian Embassy in Dushanbe said it had never received any complaints from Tajik citizens in connection with such unions involving Iranian nationals.
'Legalized Prostitution'
Tajik imams have dubbed mut'a "un-Islamic" and "contradictory to Tajik religious beliefs and traditions."
"Mut'a is an attempt to legalize prostitution," says Imam Saidov. "It shouldn't be recognized as a religious matrimony, and we consider it a sin."
In his Friday sermon, religious leader Saidov said Tajik women's "naivety and lack of awareness of their religious and civil rights" was to blame for their falling victim to temporary marriages.
For Maya, a 25-year-old hairdresser from Dushanbe, her temporary marriage was initially "love at first sight" with a man from a foreign culture.
Maya, who declined to give her full name, said she met her former partner -- an Iranian businessman -- a year ago in a city restaurant popular with well-to-do foreigners.
A marriage proposal came "surprisingly swiftly," and Maya accepted. She says the religious marriage ceremony was conducted by a friend of the groom, with two others attending as witnesses.
"He mentioned something about short-term marriages, but I didn't quite understand it, I thought he was just being cautious," Maya admits. "But he left six months later. I live with my baby daughter. I don't get any support from him, financial or moral."
To prevent such cases, Tajik imams are calling on women not to enter into religious matrimony with foreigners -- namely followers of Shi'a Islam -- without officially registering their marriages with the secular authorities and even signing legal, prenuptial contracts protecting women's rights in marriage and/or divorce.
Tajik laws do not recognize religious marriages -- temporary or otherwise. As a measure aimed at curbing polygamy, Tajikistan has banned mullahs from performing Islamic marriages, or "nikah," unless the couple presents their official marriage certificate.
Polygamy is a criminal offense in Tajikistan which carries a maximum penalty of five years' imprisonment.
http://www.rferl.org/content/tajik-mullahs-warn-against-temporary-marriages/24616875.html
--------
Crises in Libya, Sudan, Somalia and elsewhere forced 800,000 to flee their countries
Jun 18 2012
Geneva: Crises in Libya, Sudan, Somalia and elsewhere prompted 800,000 people to flee their countries last year, the highest number in 11 years, the United Nations' refugee agency says.
A report issued Monday by the U.N. High Commissioner for Refugees said that, including people who fled their homes but not their countries, the total number of newly displaced people worldwide in 2011 was 4.3 million. The number of new cross-border refugees was the highest since it hit 822,000 in 2000.
However, the total number who were either refugees, internally displaced or in the process of seeking asylum at the end of last year declined to 42.5 million from 43.7 million in 2010. The reason was that 3.2 million people who were uprooted but stayed inside their countries were able to return home, the highest rate in more than a decade, the agency said.
But it said the latest figures point to worrying trends, including a consistently high number of displaced people over several years now. The total has exceeded 42 million people for each of the past five years.
UNHCR also said that recent years' figures suggest people who become refugees are likely to remain uprooted for a long time. Of the 10.4 million refugees covered by the agency's mandate, 7.1 million have been in exile for at least five years, it said.
Afghanistan remains the world's leading source of refugees, accounting for some 2.7 million, UNHCR said. It was followed by Iraq with 1.4 million, Somalia with 1.1 million, Sudan with 500,000 and Congo with 491,000.
http://www.indianexpress.com/story-print/963370/
--------
Google reveals '640 terrorism video' removals from You Tube
18th June 2012
Google has revealed it removed about 640 videos from YouTube that allegedly promoted terrorism over the second half of 2011 after complaints from the UK's Association of Police Officers.
The news was contained in its latest Transparency Report which discloses requests by international authorities to remove or hand over material.
The firm said it terminated five accounts linked to the suspect videos.
However, the firm said it had rejected many other state's requests for action.
Canada's Passport Office was among the organisations rebuffed. It had asked for a video of a Canadian citizen urinating on his passport and then flushing it down the toilet be removed.
Google also refused to delete six YouTube videos that satirised Pakistan's army and senior politicians. The order had come from the government of Pakistan's Ministry of Information Technology.
Full report at:
http://www.bbc.com/news/technology-18479137
--------
Islam in Germany: "Germany Does Away With Itself"
by Soeren Kern
June 15, 2012
"The values represented by Islam must correspond to our constitution. What applies here is the constitution, not Sharia law.... Those who do not accept this are in the wrong place here." — Chancellor Angela Merkel
German President Joachim Gauck recently said in a newspaper interview that Muslims living in Germany are a part of the country, but that Islam is not.
The comments -- Gauck is the ninth prominent German politician to voice an opinion about Islam -- have sparked a new round in the on-going debate over the role of Islam and Muslim immigrants in Germany.
During a May 31 interview with the German weekly newspaper Die Zeit, Gauck was asked about a quote from the previous German president, Christian Wulff, who during a keynote speech to mark the 20th anniversary of German reunification in October 2010, proclaimed that "Islam belongs in Germany" because of the four million Muslims who now live there. Germany has Western Europe's second-biggest Islamic population after France, with Turks the single biggest minority.
Gauck responded by saying that Wulff had wanted to encourage Germans to open themselves up to the reality that "many Muslims live in this country," but that he, Gauck, would have worded things differently than did Wulff.
Full report at:
http://www.gatestoneinstitute.org/3111/germany-does-away-with-itself
--------
LSBU Islamic Society, the East London Mosque and the peril of off-campus events
14 June 2012
Towards the end of April Student Rights highlighted that Kingston and Roehampton Islamic Societies had invited the extremist preacher Haitham al-Haddad to their end of year dinner, only to have him cancel on them at the last minute.
One of the issues raised by this event was that it was due to take place off-campus at a Holiday Inn in Kingston. This would have made it very difficult for the university to fulfil their pastoral care responsibility to protect their students from extremism.
Similarly, this Friday will see London South Bank University host their end of year dinner called 'With Hardship Comes Ease'. This will feature speeches by Wasim Kempson and Mufti Menk, and will take place at the East London Mosque.
This is the same East London Mosque that has repeatedly been criticised for its connections to extremism, including hosting individuals such as Bilal Phillips, banned from the UK in 2010 and Hussain Yee, who believes that 9/11 was a Jewish conspiracy.
The mosque management also allowed an organisation called Noor Pro Media to use its facilities to show video of the senior Al-Qaeda cleric Anwar Al-Awlaki in January 2009, and to run a live telephone Q&A session afterwards.
As well as this, it has also been described as "inextricably intertwined" with the Islamic Forum of Europe, an organisation which was found to be telling youth members "Our goal is to create the True Believer, [and] to then mobilise these believers into an organised force for change who will carry out dawah [preaching], hisbah [enforcement of Islamic law] and jihad".
The speakers at Friday's dinner event do not appear especially controversial, though Wasim Kempson frequently shares platforms with extremists including Haitham al-Haddad, Murtaza Khan and Jalal Ibn Saeed.
Full report at:
http://www.studentrights.org.uk/article/1930/lsbu_islamic_society_the_east_london_
--------
India
4th J&K cop held for 'terror links' in 24 hrs
Jun 18, 2012
SRINAGAR: Jammu & Kashmir police arrested a fourth constable for alleged links with terror groups here on Sunday. The cop, Mohammad Illyas, was working with the CID wing of the state police.
Three policemen were also apprehended on Saturday for suspected "anti national activities" by a special investigation team constituted by the J&K police. Intelligence inputs had indicated that the suspects were allegedly leaking vital information to groups like the Hizbul Mujahideen.
The arrested cops were identified as Mukhtar Sheikh, Mohammed Abbas and Riyaz Ahmed. Interestingly, Mukhtar Sheikh was arrested in the aftermath of the 26/11 attack in Mumbai for supplying SIM cards to Laskhar-e-Taiba terrorists. However, the case was later dropped against him.
The four constables have been booked under section 10 (being member of an unlawful organization), section 13 (any form of assistance in unlawful activity) and section 18 (conspiracy to commit terrorist act) of the Unlawful Activities (Prevention) Act and section 3 of Police Enhanced penalties ordinance.
"A few senior officers who qualified for the state police examination were also affiliated with militant groups before joining the police service," said a police source.
The state police have refused access to the arrested policemen by central intelligence agencies until the conclusion of preliminary investigation.
http://timesofindia.indiatimes.com/india/4th-JK-cop-held-for-terror-links-in-24-hrs/articleshow/14221412.cms
--------
Ishrat case: CBI to quiz IB men about LeT terror plot in 2004
Jun 18, 2012
NEW DELHI: The CBI will soon question some officials of the Intelligence Bureau (IB) in connection with a 2004 alert generated by the agency regarding Lashkar-e-Taiba's (LeT) plan to attack some BJP leaders leading to an alleged fake encounter of Ishrat Jahan by the Gujarat Police.
The CBI will question some IB officers to understand the basis of the warning and the source of inputs, agency sources said. CBI sources said a Special Investigation Team (SIT), constituted by the Gujarat High Court, had recommended probe into the IB officials' role.
They said CBI has found some indications that require the role of IB officials to be investigated. CBI has also analyzed intelligence input generated from the IB here cautioning the state police about LeT's plan to attack BJP leaders L K Advani, Gujarat CM Narendra Modi and VHP leader Praveen Togadia.
Full report at:
http://timesofindia.indiatimes.com/india/Ishrat-case-CBI-to-quiz-IB-men-about-LeT-terror-plot-in-2004/articleshow/14222165.cms
----------
MHA report nails Pak lies on LoC raids
By Dipanjan Roy Chaudhury
Jun 18, 2012
SECURITY forces have foiled as many as four major infiltration attempts this summer from Pakistan into Jammu and Kashmir along the Line of Control ( LoC), a home ministry report says.
While fewer militants have managed to infiltrate into the state over the past three years because of stepped- up vigilance, as many as 14 attempts at staging terror attacks in the Valley have been defused till March this year, the report reveals. These attacks had been planned by Pakistan- based terror groups.
It has been learnt that India had presented the list of these foiled infiltration attempts and terror attacks to Pakistan during the home secretarylevel talks in Islamabad last month.
India also apprised Pakistan of the failed attempts this summer to smuggle arms, ammunition and fake Indian currency notes ( FICN) meant for terror groups into the country through the Rajasthan and Punjab borders.
Full report at: Mail Today
----------
NC raises autonomy bogey for J& K again
Jun 18, 2012
THE ruling National Conference ( NC) on Sunday described autonomy as the only solution to Jammu and Kashmir's problems, and asked the Centre to restore it.
" Till the Delhi agreement of 1952, J& K did not accept any provisions of the Indian Constitution, other than those agreed to in the Instrument of Accession, and retained its autonomy," minister for finance and Ladakh affairs, Abdul Rahim Rather said.
" Peace will return to the state only after the pledge made to the people of J& K ( that of autonomy) is honoured," he added.
Full report at: Mail Today
----------
Pakistan
5 killed in attack on Shia students in Quetta
Jun 18, 2012
QUETTA: A bomb tore into a bus heading to a university in southwestern Pakistan on Monday, killing five students and injuring more than 50 people, police said.
The attack took place in the city of Quetta, the capital of Baluchistan province. Police declined to say who they suspected in the latest blast to rock a region that is frequently hit by acts of violence.
Islamist militants often attack security force or government targets, as do separatist rebels, who also kill settlers from other parts of Pakistan. Sunni extremists also frequently kill Shiites in the region, sometimes pulling them off buses and gunning them down.
The bus targeted on Monday was heading to the Baluchistan University of Information Technology in an upmarket neighborhood of Quetta.
Police officer Mir Zubair Mahmood said five students on the bus were killed and scores were wounded, as were several passers-by.
Police initially said it was a motorcycle bomb, but later said it was a car bomb that was detonated remotely.
http://timesofindia.indiatimes.com/world/pakistan/Bomb-kills-5-students-on-bus-in-southwestern-Pakistan/articleshow/14234795.cms
----------
Coverage of Scandal Dents Credibility of Pakistani TV News
By DECLAN WALSH
18 June, 2012
Not long ago, judges and journalists were clearly on the same team in Pakistan, reveling in a shared crusade to expose the corrupt, hold the powerful to account and reshape the dynamics of a fragile democracy. Now, following a cascade of explosive scandals, they are at each other's throats.
For a week, the country has been gripped by a drumroll of revelations: lurid corruption accusations against the family of the populist chief justice; dramatic television appearances by his billionaire accuser; angry judges threatening legal action against a major television station; and a leaked video exposing sham journalism at its worst.
The drama is still unfolding. But few doubt that it has already wounded the integrity of the buccaneering Supreme Court chief justice, Iftikhar Muhammad Chaudhry, who faces sharp criticism of his judgment that could threaten his job. And it has raised pressing questions for the burgeoning television news channels, which have acquired great influence in Pakistani public life but now face accusations of becoming an entrenched part of what is wrong with the country.
"The credibility of the electronic media is at stake," said Raza Rumi, policy director of the Jinnah Institute, a policy group in Islamabad. "This is starting to look like the scam of the year."
Full report at:
http://www.nytimes.com/2012/06/18/world/asia/pakistan-corruption-scandal-embroils-tv-
----------
Pak ties in turmoil, US holds up payments
Jun 18 2012
Islamabad : The US has held up a reimbursement of USD 400 million spent by Pakistan on the war against terror due to the strained relationship between the two countries, adding to the worries of financial managers in Islamabad, a media report said today.
The US Congress is yet to "notify" the reimbursement of USD 400 million from the Coalition Support Fund (CSF) and Pakistan is unlikely to receive the payment by June 30, when the current fiscal year will end.
The delay will contribute to a surge in the fiscal deficit by 0.2 per cent, taking it to 7.5 per cent of GDP for the current financial year.
For release of outstanding dues from the CSF, the US administration requires a notification from the Congress 15 days before the formal release of the amount.
The time for issuing the notification has been exhausted and it is unlikely that Pakistan will get the USD 400 million by June 30, The News daily quoted its sources as saying.
As a result, the budget deficit will cross 7.5 per cent of the GDP, including liabilities of Rs 391 billion on account of the power and commodities sector, the sources said.
The government's financing requirement will touch Rs 1,545 billion even if all tax and non-tax targets are met in accordance with revised projections.
Rana Asas Amin, the Special Advisor to the Finance Division, said the projected budget deficit of 5.5 per cent of the GDP (excluding Rs 391 billion on account of liabilities of the power and other sector) would be impacted by 0.2 per cent if the reimbursement is not received from the US.
Full report at:
http://www.indianexpress.com/story-print/963413/
----------
'Corrupt' Pak media on judiciary radar
By Badar Alam
Jun 18, 2012
News channels accused of being on payroll of man who 'bribed' CJ son
UNTIL recently, Pakistan's judiciary and media appeared to be allies in their mutual pursuit to check corruption in the government led by President Asif Ali Zardari and Prime Minister Yousaf Raza Gilani.
Early this month, however, the bond showed the first signs of fraying when a few news channels conducted talk shows on allegations of corruption against Arsalan Iftikhar, the son of Pakistan Chief Justice Iftikhar Chaudhry.
The judges were furious. A day after the allegations against Arsalan became public in the first week of June, a three- member Supreme Court bench, headed by Justice Chaudhry, summoned two popular anchors and the chief executive officer of the Jang Media Group which runs Geo, Pakistan's most popular television news channel.
The bench sought to know why the allegations were used as a subject for debate without their veracity having been verified. In a judgment that ordered the government to initiate a probe against Arsalan, the judges did not mince words in criticising the media's failure to observe restraint and abide by the ethic of professional journalism.
The anchors and the channel were defensive at best and embarrassed at worst.
The situation was made all the worse by rumours that several Pakistani news anchors were on the payroll of the businessman who kicked up the legal storm against Arsalan, alleging that he had paid the Chief Justice's son 340 million Pakistani rupees in cash and kind to manipulate the verdicts in cases against him.
Full report at: Mail Today
----------
Pak Taliban not to allow anti-polio campaign in North Waziristan
Jun 17, 2012
ISLAMABAD: A powerful Pakistani Taliban faction has said it will not allow an anti-polio campaign to be conducted in its stronghold of North Waziristan tribal region as long as US drone strikes continue in the area.
The group led by commander Hafiz Gul Bahadur distributed a pamphlet yesterday that announced the ban on the government's polio vaccination campaign.
The ban has raised concerns about the spread of polio in a region with poor healthcare facilities, and local tribesmen said they had no option but to accept the Taliban's directive.
The pamphlet in Urdu, distributed in Miranshah, the main town of North Waziristan, said: "We announce a ban on polio vaccination campaign from today (Saturday)."
It warned local residents that "violators will have no right to register a complaint if they are harmed".
Full report at:
http://timesofindia.indiatimes.com/world/pakistan/Pak-Taliban-not-to-allow-anti-polio-campaign-in-North-Waziristan/articleshow/14205128.cms
----------
Bomb blast kills six Pakistani policemen, one civilian
Jun 17, 2012
PESHAWAR: A roadside bomb targeting a police van killed six police officers and one civilian in the northwestern Pakistani city of Kohat late Saturday, police said.
"The bomb was planted in a drain, it was detonated by a remote-controlled device. The target was a police van," local police chief Mubarak Zeb told AFP on a deadly day in the northwest, after an earlier blast killed 25 people.
"A police van was on a routine patrol in the city. Six police officials in the van were killed. The vehicle was badly damaged," said another police official, Safazle Naeem. A passerby also died in the blast, he added.
"It was a terrorist act," Naeem said, blaming Pakistani militants for the attack.
There was no immediate claim of responsibility but Islamist militants have carried out several attacks in the area.
Earlier in the day a car bomb ripped through a market area in the northwest Khyber tribal district near the Afghan border, killing 25 people including three children.
In the last five years, attacks blamed on Islamist bombers have killed more than 5,000 people in Pakistan according to an AFP tally.
US officials consider the country's semi-autonomous tribal belt a safe haven for Al-Qaeda and insurgents fighting both in Pakistan and across the border in Afghanistan.
http://timesofindia.indiatimes.com/world/pakistan/Bomb-blast-kills-six-Pakistani-policemen-one-civilian/articleshow/14190606.cms
----------
Pot-bellied Pak Punjab policemen told to 'diet or quit!'
18th June 2012
ISLAMABAD: A Pakistani police commander has ordered tens of thousands of pot-bellied officers to diet or quit frontline duties, officials said Monday in what one newspaper dubbed the "battle of the bulge".
Habibur Rehman, police chief (Inspector General) in the country's most populous province Punjab, has ordered 175,000 personnel not to allow their waistlines to exceed 38 inches, spokeswoman Nabila Ghazanfar told AFP.
"I'm on a diet and if I can do it, why can't you?" she quoted Rehman as telling officials last month in the province.
At least 50 per cent of Punjab police are overweight, Ghazanfar said.
A local daily said the number of overweight officers in the city of Rawalpindi stood at more than 77 per cent, adding that "policemen appear to be losing the battle of the bulge".
Police said officers had been given until June 30 to shape up and those deemed too fat from July 1 would not be given jobs in the field.
Full report at:
http://dawn.com/2012/06/18/pot-bellied-punjab-policemen-told-to-diet-or-quit/
----------
Eight lives lost in Karachi violence; 'shoot on sight' orders issued
18th June 2012
KARACHI: Violent incidents of bloodshed continued in Karachi, as eight more people lost their lives and several received injuries on Sunday, DawnNews reported.
The new wave of targeted killings has possibly escalated after the death of Awami National Party (ANP) leader Liaquat Bangash, whose body found in Rabia city near Karachi's Gulistan-e-Jauhar area on Saturday.
Tension prevailed and the markets remained closed in the area after the death of Bangash.
Addressing a press conference, Acting Additional Inspector General (AIG) Ghulam Shabbir Shaikh said that Bangash, in his efforts to escape from police, jumped from the height which resulted in his death.
The acting AIG issued 'shoot on sight' orders if any miscreant was seen taking the law in his/her hands.
Full report at:
http://dawn.com/2012/06/18/eight-lives-lost-in-karachi-violence-shoot-on-sight-orders-issued/
--------
South Asia
Bangladesh arrests media doyen for 1971 war crimes
17 JUNE 2012
Bangladesh police on Sunday arrested Jamaat-e-Islami leader and media doyen Mir Kashem Ali for his suspected role in perpetrating crimes against humanity during the country's 1971 liberation war.
Dhaka metropolitan police's detective wing chief Masudur Rahman said Ali was arrested from the office of the Naya Diganta newspaper, a concern of the Diganta Media Corporation that he heads.
"He was arrested from his Motijeel office," a police spokesman said.
The development came two hours after the International Crimes Tribunal-1 issued the warrant against Ali, asking police to ensure his appearance before the court within 24 hours of his arrest.
"Produce him in 24 hours after his arrest," chairman of the three-member panel Justice Nizamul Haque, chairman of the tribunal said issuing the warrant against Ali. The Diganta Media Corporation also runs a television channel. The order came on a prosecution plea seeking him to be kept in confinement immediately fearing he could influence the trial process which is now underway to expose to justice the perpetrators of crimes against humanity during the liberation war being media doyen.
Lawyer Rana Dasgupta filed the petition saying Ali was a stalwart of notorious Al Badr, a vital auxiliary force of the Pakistani troops. The warrant came months after another suspect Abul Kalam Azad Bacchu fled the country, forcing Bangladesh to seek Interpol assistance to track him down.
http://www.dailypioneer.com/world/73825-bangladesh-arrests-media-doyen-for-1971-war-crimes.html
----------
Maldives' Mohamed Nasheed to be presidential candidate
Jun 17, 2012
COLOMBO: Former Maldivian leader Mohamed Nasheed, who claims he was ousted in a military coup earlier this year, secured his party's nomination Sunday to be its presidential candidate, the party said.
Nasheed stood unopposed in Saturday's vote but Maldivian Democratic Party rules required him to get the endorsement of at least 10 percent of the 48,000-strong membership.
The former Maldivian leader had gained more than 22,000 votes with half of them counted on Sunday, organiser Ibrahim Waheed told reporters.
"With the ballots counted so far, Nasheed received 22,375 votes endorsing him while 210 rejected him," Waheed said, adding that the former president had clearly won the party's nomination for the next presidential vote.
The 45-year-old Nasheed insists he was forced to resign after 300 soldiers backed by Islamic radicals and local businessmen staged a mutiny that capped three weeks of anti-government protests in February.
Full report at:
http://timesofindia.indiatimes.com/world/south-asia/Maldives-Mohamed-Nasheed-to-be-presidential-candidate/articleshow/14213248.cms
----------
Bangladesh jails 611 soldiers for 2009 mutiny
18th June 2012
* Probe into Bangladesh teacher's 1.3m interviews for thesis
DHAKA: A Bangladesh court jailed 611 border guards for their role in a bloody 2009 military mutiny, bringing the total number of soldiers imprisoned for the unrest to more than 4,000, a prosecutor said.
Scores of senior army officers were killed during an uprising that began when soldiers at the Bangladeshi Rifles (BDR) headquarters in the capital Dhaka went on a killing spree, later dumping the bodies in sewers and shallow graves. A special military court in Dhaka on Saturday found 611 border guards from the force's 13th battalion guilty of joining the mutiny, state prosecutor Manjur Alam said.
"Of the 621 soldiers charged, 10 were acquitted and 611 were handed out prison terms starting from four months to seven years. At least 55 soldiers were sentenced to maximum seven years in jail," Alam said. The mutiny spread from Dhaka to BDR posts across the country, with thousands of guards taking up arms against their commanding officers in the worst military rebellion in Bangladesh's history.
Full report at:
http://www.dailytimes.com.pk/default.asp?page=2012\06\18\story_18-6-2012_pg14_6
----------
Five killed in bombing in eastern Afghanistan
18th June 2012
KABUL: Afghan authorities say a remote-controlled bomb has killed five people in eastern Afghanistan.
Hussain Khan Sanjani, the leader of the provincial council in Kapisa province, says Monday's explosion killed an Afghan local police commander along with his son, two body guards and one civilian.
He says 17 other people were wounded in the blast, which occurred around 11 a.m. in a bazaar in Tagab district. Separately, the US-led military coalition says a Nato service member died on Monday of wounds he received during an insurgent attack in southern Afghanistan.
No other details were disclosed about the death. So far this year, 198 Nato service members have been killed in Afghanistan.
http://dawn.com/2012/06/18/five-killed-in-bombing-in-eastern-afghanistan/
----------
Refugee shot in Myanmar dies in Bangladesh: Police
17 JUNE 2012
A Rohingya Muslim died in a Bangladesh hospital on Sunday, police said, the second refugee fleeing violence in neighbouring Myanmar to do so after allegedly being shot by security forces.
Mohammad Tyeb, 20, died at a Government clinic in Bangladesh's port city of Chittagong more than a week after he was shot in the head, police officer Nasir Uddin said.
Uddin said the man told Bangladesh authorities that he was shot by security forces on June 8, in Maungdaw, a small Myanmar city close to the border with Bangladesh.
"He later went into a coma and never regained consciousness," the police officer said.
At least 50 people have died in western Myanmar's Rakhine State in more than a week of sectarian violence and revenge attacks between Buddhists and Muslim Rohingya. Tyeb is the second Rohingya from Myanmar to die in Bangladesh after escaping the violence. A 50-year-old named Kala Hossain died at the same hospital after being shot by Myanmar forces, said Uddin.
Senior doctor M Kamaluddin said today: "Tyeb died at 7:40 am this morning as a bullet was stuck in his head. He suffered severe brain injury. We could not operate his head as it was risky."
Full report at:
http://www.dailypioneer.com/world/73829-refugee-shot-in-myanmar-dies-in-bangladesh-police-.html
----------
Southeast Asia
Jakarta: Tasikmalaya Authorities Impose Sharia Law and Compulsory Veil
Mathias Hariyadi
06/11/2012
The objective is to strengthen moral and traditional values. The "morals police" that does not refer to the Islamic courts, but to civil justice. Jakarta politician: "unconstitutional and discriminatory." Protests of women: the veil is not a "matter of state" but a personal choice.
Jakarta (Asia News) - Activists and members of civil society in different parts of Indonesia have strongly criticized the proposal of the authority of the District of Tasikmalaya (West Java) to introduce norms inspired by Sharia, or Islamic law, by mid-July ahead of the start of Ramadan, the holy month of fasting and prayer. The obligations will be the imposition of the veil for all women - foreign and local, and non-Muslim - better known in the archipelago as the jilbab.
The officials of the municipalities also plan to form a local "moral police", called to ensure compliance with the rules laid down in Islamic law and trials in courts against anyone who breaks the rules. However, the authority considers the application of Sharia law will not be the same as in the province of Aceh. The "moral police", in fact, will not report the culprits to the Islamic courts, but to civil courts which will issue fines or penalties.
Since 2009 the municipality of Tasikmalaya has been discussing the introduction of Islamic law, among the reasons for the choice, according to the Mayor Syarif Hidayat, the fact that the city is an overwhelming Muslim majority. The rules will also govern the conduct of life of unmarried men and women, including a norm banning women from leaving the house alone. All of this, the promoters feel, aims to minimize behaviour that is "contrary to morality" such as premarital sex among adolescents and adults.
After weeks of controversy and confrontation, the mayor Syarif Hidayat has broken his silence to deny the hypothesis of a strict application of Islamic law. What we want to "impose" warned the official, only "local rules" which aim to promote "social and moral values" according to the dictates of Islam and local traditions of Tasikmalaya.
"I do hope - said Hidayat - that the city of Tasikmalaya will be freed from all kinds of misleading conduct, which disadvantages everybody". And that he will not force "non-Muslims" to practice specific Islamic morals, but there are some "customs" that all are equally bound to respect.
Meanwhile, the proposal has sparked controversy and criticism. In Jakarta Eva Kusuma Sundari, a national politician strongly condemns the plan, saying that the laws inspired by Sharia are "unconstitutional and discriminatory." Even in the same Tasikmalaya dozens of Muslim women protested vigorously, pointing out that the imposition of the veil "is not a matter of state" but a personal choice.
http://www.asianews.it/news-en/West-Java:-Tasikmalaya-authorities-impose-Sharia-law-and-compulsory-veil-24989.html
--------
Mideast Asia
Al Qaeda Suicide bomber kills Yemen's army chief
Jun 18, 2012
SANAA, YEMEN: Security officials say a suicide bomber has killed the army general leading the fight against al-Qaida militants in southern Yemen.
The officials say Maj Ge. Salem Ali al-Quton was killed on Monday while on his way to work. The bomber threw himself at the general's SUV in the southern port city of Aden. Four members of the general's security detail and a passer-by were seriously wounded. The general's vehicle was in a three-car convoy.
Al-Quton was appointed in April as the commander of the army in the south. The military there scored a series of battlefield victories last week against al-Qaida, driving militants out of the cities of Zinjibar and Jaar in Abyan province.
The officials spoke on condition of anonymity because they were not authorized to talk to the media.
http://timesofindia.indiatimes.com/world/middle-east/Suicide-bomber-kills-Yemens-army-chief/articleshow/14234210.cms
----------
Yemenis say more secure under al-Qaeda rule
By Areeb Hasni
Jun 18th, 2012
Sana'a: For 15 months, residents of the southern Yemeni town of Jaar lived under the watchful gaze of armed young men who swore allegiance to al Qaeda, woke people at dawn to pray, and chopped off the hands of thieves in the name of Sharia law.
But the relief that they felt when government troops drove al Qaeda's local allies out last week was tempered with worry, as looters ransacked abandoned houses in their wake.
Although some of Jaar's 100,000 people saw Islamist rule as a nightmare, they acknowledged it had also been a respite from the lawlessness that gripped Yemen during the uprising that eventually forced President Ali Abdullah Saleh to step down.
A street vendor Mohammed Mohsen Bakr said that people felt secure and safe (under al Qaeda).
"People would leave their shops open when they went to pray and when we came back our goods were untouched," he added.
Bakr said that before Islamist militants took over Jaar, vendors like himself were forced to make regular payments to local gangsters in order to carry on their businesses, and that shakedowns resumed the day the Islamists fled.
Such crimes have been carried out regularly in other parts of southern Yemen, including its second city and port, Aden.
Full report at:
http://www.thenewstribe.com/2012/06/18/yemenis-say-more-secure-under-al-qaeda-rule/#.T97SaRfrqTk
---------
Two Islamic Jihad activists killed in Israeli strike on Gaza
June 18, 2012
Two Palestinians were killed in an Israeli strike on north Gaza on Monday, medics said, just hours after gunmen mounted a deadly ambush on the Egyptian border, killing an Israeli.
"Two Palestinians were killed in an Israeli air strike targeting a group of people east of Beit Hanun," said Adham Abu Selmiya, spokesman for the Hamas-run emergency services.
A spokespersonfor the Israeli military confirmed the strike but refused to say whether it was connected to the early-morning attack along the Egyptian border.
"I can confirm there was a targeted attack a while ago against two terrorists in the northern Gaza Strip," he said.
Witnesses identified the two men as members of the radical Islamic Jihad movement and said they were riding a motorcycle near the Israeli border at the time.
They named the two as Mohammad Shabat and Ismail Odeh, saying both were in their 20s.
The Israeli military staged two raids over Gaza during the night, hitting a weapons manufacturing site in the south and another "terror activity site" in the center of the coastal strip.
The raids came several hours after militants fired eight mortars at troops on the border.
http://www.nowlebanon.com/NewsArticleDetails.aspx?ID=410239#ixzz1y8ZY0cm8
----------
Iranian Officials Warn Alcohol Abuse on the Rise
By Golnaz Esfandiari, Mohammad Zarghami
June 17, 2012
Wine has always been a part of Iranian culture. References to it even appear frequently in poetry.
But since the 1979 revolution, alcohol has been banned in Iran -- punishable by flogging, fines, and jail time.
Despite the stiff penalties and the confiscation of millions of liters of alcoholic beverages, Iranian officials say consumption is on the rise.
The country's newspapers reported earlier this week that the amount of confiscated alcohol has increased by 69 percent in the past year.
Deputy Health Minister Alireza Mesdaghinia expressed concern on June 13 about an apparent increase in "abnormal behaviours such as alcohol consumption," which he said has damaging health effects and goes against the religious and moral norms of Iranian society.
"Personal reasons are the most important factors which lead to the spread of alcohol consumption in society," he said. "Some think this is a way [to cope] with their frustrations."
'A Means of Escape'
Full report at:
http://www.rferl.org/content/iran-alcohol-abuse-on-the-rise/24617070.html
----------
Israel's Moral Crisis 'Is Driving Its Youth Away'
Mai abdul rahman
17/06/2012.
Israel's interest in maintaining the attention and devotion of its people by constantly fostering fear with forecasts of a future of endless wars is too difficult for its young to carry. So it is not surprising that many Israelis are leaving for more peaceful nations. The recent defection of a young Israeli not to far away lands but across the green line to the Dahashieh refugee camp of Beit Lahem (Bethlehem) in the West Bank is another example of how disenchanted young Israelis are with the state of Israel.
Andre Pshenichnikov, a 23-year-old former IDF soldier was detained last week by Israeli police for residing illegally in a Palestinian Refugee Camp near Bethlehem. While it is not unusual for Israelis to move and live among Palestinians, many reside in the West Bank and Gaza, but Pshenichnikov's request to renounce his Israeli citizenship for Palestinian citizenship is indicative of a serious underlying problem brewing in Israel. His defection illustrates the cost of Israel's illegal occupation on young Israelis and the inherent deficiencies and limits of its declared policies.
Israel's profitable settlement enterprise and its growth depend on attracting new Jewish immigrants and limiting Israeli migration. This difficult balancing act has faced considerable challenges forcing Israel to depend on newly converted Jews. To populate Israel's illegal settlements Israel's High Rabbis commission delegations of rabbis to travel to the remote regions of the world converting any one interested in moving immediately to Israel.
Full report at:
http://mideastposts.com/2012/06/israels-moral-crisis-is-driving-its-youth-away/
----------
Al Qaeda in Mediterranean dangerous than Iranian nuclear programme
06/15/2012
The provocative statement comes from Hassad Firouzabadi, chief of staff of the Iranian Armed Forces. Diplomatic sources and experts confirm the terror network's increased activity in the region. Muslim extremists want to get their hands on Assad's chemical weapons and medium-range missiles.
Tehran (AsiaNews/ Agencies) - The establishment of "Al-Qaeda on the southeast coast of the Mediterranean is more dangerous than the threat of nuclear weapons," said Iranian Major General Hassan Firouzabadi, in what amounts to a provocation. He spoke a few days before the Moscow meeting between Iran and the 5+1 group (the five permanent members of the UN Security Council of the US, Russia, China, UK and France, plus Germany).
According to Firouzabadi, who is the Chief of Staff of the Iranian Armed Forces, the terrorist movement has already replaced the late Osama bin-Laden and is moving its main forces from Afghanistan, Iraq and Pakistan to the Mediterranean with the complicity of Western forces. Although biased, Firzouzabadi's words have a kernel of truth.
For months the United Nations and Western nations have denied the presence of al Qaeda operatives in the ranks of the Syrian Free Army; now British Foreign Secretary William Hague and UN Secretary General Ban ki-moon have both acknowledged their presence.
News accounts about foreigner fighters trying to cross into Syria from Turkey with Turkish approval have been pouring in on a daily basis.
Full report at:
http://www.asianews.it/news-en/Al-Qaeda's-rise-in-the-Mediterranean-more-dangerous-
----------
Iran, world powers face off in 'last chance' nuclear talks
Jun 18 2012
Moscow : Iran and world powers today locked horns in Moscow for a new round of high-stakes talks on the controversial Iranian nuclear programme seen as a last chance to solve the crisis diplomatically.
Chief Iranian nuclear negotiator Saeed Jalili sat down with representatives from six world powers including Tehran's arch foe the United States for two days of talks which will show if there is any hope of progress in resolving the standoff.
With an initial show of protocol smiles and polite cordiality, Jalili and the Iranian negotiating team sat at one side of the table opposite the envoys of the six world powers and EU foreign policy chief Catherine Ashton.
Failure in the talks could carry a heavy cost with the United States and its ally Israel refusing to rule out the option of airstrikes against the Iranian nuclear programme and Tehran facing sanctions that could cripple the economy.
But Iran made clear ahead of the negotiations it has no intention of abandoning its right to enrich uranium, the process which can be used to make nuclear fuel but also the explosive core of an atomic bomb.
Full report at:
http://www.indianexpress.com/story-print/963417/
----------
UN: Israeli forces killed 2,300 in Gaza under blockade
June 15, 2012
BETHLEHEM (Ma'an) -- Israeli forces have killed nearly 2,300 Palestinians and injured 7,700 in Gaza over the last five years, the UN Office for the Coordination of Humanitarian Affairs said Thursday.
Some 27 percent of the fatalities in Gaza were women and children, the UN agency said in a report highlighting the effects of Israel's blockade.
The land, sea and air blockade of Gaza entered its sixth year on Thursday.
Under the blockade, exports have dropped to less than 3 percent of 2006 levels.
"The continued ban on the transfer of goods from Gaza to its traditional markets in the West Bank and Israel, along with the severe restrictions on access to agricultural land and fishing waters, prevents sustainable growth and perpetuates the high levels of unemployment,
food insecurity and aid dependency," UNOCHA said.
Israel's naval blockade has undermined the livelihood of 35,000 fishermen, and farmers have lost around 75,000 tons of produce each year due to Israeli restrictions along Gaza's land border, it added.
Full report at:
http://www.uruknet.info/?p=m88884&hd=&size=1&l=e
----------
How BBC comedy Episodes inadvertently went viral in Israel
17 June 2012
The programme has become infamous after its makers mistranslated a gravestone inscription – with disastrous results
Everyone in Israel is talking about the British-American BBC comedy Episodes. Not that it is airing there, but the show has recently become famous for its disastrous use of freebie online translation.
In episode three, Merc Lapidus, one of the lead characters, attends the funeral of his father. The episode was shown in the UK several weeks ago and is airing in the US later this summer.The gravestone, as per Jewish tradition, is bilingual – the local vernacular, in this case English, along with Hebrew. But the entire Hebrew inscription is written backwards, starting with the last letter and working back to the first. The reason, of course, is that Hebrew runs in the opposite direction from English, from right to left. And it gets worse. If you go to the trouble of reading the text, you'll discover that the man commemorated, a certain Yuhudi Penzel, has been "pickled at great expense". This is what you get if you use Google Translate to render "dearly missed" into Hebrew. The blooper is now going viral in Israel.
Full report at:
http://www.guardian.co.uk/world/shortcuts/2012/jun/17/bbc-comedy-episodes-viral-in-israel
----------
Arab World
Al-Qaida urges Egypt to cancel treaty with Israel
Jun 18, 2012
CAIRO: Al-Qaida's leader has urged Egypt to cancel its peace treaty with Israel and to establish Islamic rule, according to an audio message released Sunday.
He said the goal was to stop Israel from turning Jerusalem into a Jewish city.
Ayman al-Zawahri, an Egyptian, issued his 10th message to Egypt since taking over al-Qaida's leadership after founder Osama bin Laden was killed in an American raid in Pakistan last year.
His 47-minute audio recording was posted on jihadi websites.
"The continued crimes of the Zionists reveal the truth that these crimes could not have reached this level without taking Egypt out of the battlefield by the peace treaty signed by (late president Anwar) Sadat, the traitor," he said.
He said, "if we want to confront the Judaization of Jerusalem, there is no way other than applying the Shariah (Islamic) laws, exerting pressure on Israel and ending the treaty."
Egypt and Israel signed their peace treaty in 1979.
The fate of Jerusalem is one of the most sensitive and difficult issues in Israel-Palestinian peace efforts. Israel claims the whole city, while Palestinians want the eastern part, including its holy sites, for the capital of the state they hope to create.
Al-Zawahri charged that Egypt's ruling military council takes orders from the United States.
He said the United States helped its citizens flee Egypt after they were accused of being involved in illegal activities with groups that received money from foreign sources.
"This is a clear proof of the military council's subordination to the American wishes," he said. The case, involving pro-democracy groups working in Egypt, caused a severe rift in U.S.-Egypt relations.
Full report at:
http://timesofindia.indiatimes.com/world/middle-east/Al-Qaida-urges-Egypt-to-cancel-treaty-with-Israel/articleshow/14233290.cms
----------
Egypt Islamists claim election victory, army grabs powers
Jun 18, 2012
CAIRO: Muslim Brotherhood candidate Mohammed Mursi claimed victory Monday in Egypt's first free presidential vote, as the military handed itself sweeping powers in a move denounced by activists as a "coup."
A confirmed win by Mursi would mark the first time Islamists are elected to the presidency in the Arab World's most populous nation, but the military rulers' moves to consolidate power ahead of the final results have rendered any future president toothless.
The Islamists' rival Ahmed Shafiq, a former air force chief and ex-prime minister to ousted president Hosni Mubarak, disputed the Brotherhood's victory announcement, labelling it "bizarre behaviour."
State television too reported that initial counts showed Mursi in the lead.
There were scenes of jubilation at Mursi's headquarters, where the candidate himself thanked Egyptians for their votes in brief remarks after the Brotherhood said he had won 52 percent of the vote.
Full report at:
http://timesofindia.indiatimes.com/world/europe/Egypt-Islamists-claim-election-victory-army-grabs-powers/articleshow/14234330.cms
----------
Militants infiltrate from Egypt, two reported dead
Jun 18, 2012
JERUSALEM: Militants infiltrated Israel early on Monday, opening anti-tank fire against Israeli civilians building a security fence along the border with Egypt's turbulent Sinai Peninsula, the military said. The media reported that one Israeli was killed in the attack.
Israeli radio and TV stations said the victim was one of the workers and that an explosive device was also set off during the attack. Military spokesman Brig Gen Yoav Mordechai did not confirm the Israeli death, though he said there were "limited casualties." He told Israel Radio that one militant was fatally shot by Israeli troops who arrived at the scene.
He said other militants were believed to be at large and that troops were searching for them. Israelis living in the area were asked to remain inside their communities until the military finished its search, and two major roads in the area were closed to civilian traffic, he said.
The incident underscored the Egyptian government's increasing loss of control over the Sinai, where political turmoil, weak policing and difficult terrain have encouraged Islamic militant activity.
Israel had been bracing for possible attacks from the area after rockets believed fired from Sinai struck southern Israel over the weekend.
Last August, gunmen from Sinai crossed into Israel and ambushed vehicles on a desert highway, killing eight Israelis. Six Egyptians were killed in Israel's subsequent hunt for the militants, causing a diplomatic crisis that ended with an Israeli apology.
In response to the growing threat, Israel has increased its surveillance on the Egyptian border and is building an electronic barrier along the 230-kilometer (150-mile) frontier in a bid to keep out both militants and illegal migrants from Africa.
http://timesofindia.indiatimes.com/world/middle-east/Militants-infiltrate-from-Egypt-two-reported-dead/articleshow/14232389.cms
----------
Syria accused of violence rise after U.N. monitor halt
Jun 18 2012
Amman : President Bashar al-Assad's army intensified shelling of Sunni Muslim regions in central and northern Syria on Sunday, killing at least 50 people and wounding hundreds hours after U.N. monitors suspended their work, opposition activists said.
The monitors' decision on Saturday was the clearest sign yet that a peace plan brokered by international mediator Kofi Annan had collapsed after repeated violations by Assad's forces and rebels backing a Sunni-led revolt across the country.
U.S. President Barack Obama will hold talks with Russian President Vladimir Putin on the sidelines of a G20 summit in Mexico on Monday but expectations are low that they will break a deadlock over Syria's conflict, which has sectarian dimensions.
Russia and China, veto-wielding members of the U.N. Security Council, have shielded Assad from Western-sponsored action beyond verbal condemnation of the violence - a stance that Assad's foes say gives him a free hand to pursue his 15-month-old crackdown against protesters.
"Around 85 percent of Homs is now under shelling or bombardment with mortar rounds and heavy machineguns," opposition activist Abu Imad told Reuters by phone from the hot spot city, 140 km (80 miles) north of the capital Damascus.
Full report at:
http://www.indianexpress.com/story-print/963378/
----------
The Dynamics, and Players in Saudi Succession
David Roberts
17/06/2012.
The key positions in Saudi Arabia are still mostly held by sons of the founder the modern Saudi state, Abdulaziz Al Saud (or Ibn Saud, as he is commonly known).
This means that those in power are often exceedingly old and thus in ill-health and the death of two Crown Princes within nine months testifies to this concern.
[Editor's note: the succession rule in Saudi Arabia is termed 'agnatic', in that the next in line is the next eldest brother of the King, subject to suitability - and not necessarily the eldest son of the monarch. This means the King is likely to be older than in other monarchies where succession is passed onto a younger generation. It will also present problems when it is the next generation's turn... After the brothers have run out, who is the first in the next generation].
There is a paradoxical issue here. On the one hand, the passing of power from one man to the next does not make a huge amount of difference. Change in Saudi Arabia occurs at a glacial pace. There is just no room for a new, dynamic leader to take the top job, 'clean house', and institute significant changes. Thus, there is no real concern that immediate policies and practices will change.
However, simultaneously, Saudi Arabia's politics is heading towards a cliff of some description. It is running out of sons of Ibn Saud and the stints in power of coming Kings will necessarily be short. There need to be practices and procedures in place to manage the transition to the next generation, the grandsons of Ibn Saud.
ole if it is allowed to by the more powerful Princes.
Another key piece of the succession pie lies in the blocks of power within the Kingdom.
The Sudairis
Full report at:
http://mideastposts.com/2012/06/the-dynamics-and-players-in-saudi-succession/
----------
Syria crisis: Trapped civilians must be evacuated - UN
18th June 2012
The head of UN observers in Syria has urged warring parties to allow the evacuation of women, children, elderly and injured people from conflict zones.
Maj Gen Robert Mood also admitted that "attempts to extract civilians" from the besieged city of Homs over the past week had been unsuccessful.
Homs has reportedly been under heavy bombardment from government forces.
The UK-based Syrian Observatory for Human Rights has said over 1,000 families in Homs need to be evacuated.
The Observatory said at least one person had died in Sunday's violence in Homs' Khalidiyeh district, and that 10 other deaths had been reported elsewhere in the country.
Massacre warning
In a statement, Gen Mood, the head of the UN Supervision Mission in Syria (UNSMIS), said that both troops of President Bashar al-Assad and rebel fighters "must reconsider their position and allow women, children, the elderly and the injured to leave conflict zones without any preconditions and ensure their safety".
"This requires willingness on both sides to respect and protect the human life of the Syrian people," the Norwegian general added.
Full report at:
http://www.bbc.co.uk/news/world-middle-east-18481823
----------
Saudis Seek a Crown Prince and Talk of Other Successors
By NEIL MacFARQUHAR
18th June 2012
BEIRUT, Lebanon — Prince Salman bin Abdulaziz al-Saud, who was governor of Riyadh for nearly 50 years until his recent promotion to Saudi Arabia's defense minister, has long been an austere, hard-working family disciplinarian whose tasks included controlling the special jail for princes run amok.
Prince Salman's anticipated selection as the country's crown prince seemed, therefore, a natural choice within the family and beyond. That opinion still prevails, but the sudden death on Saturday of Crown Prince Nayef bin Abdulaziz al-Saud has scrambled the complicated jigsaw puzzle of family rule in Saudi Arabia, the world's largest oil exporter.
After Prince Nayef was buried in Mecca on Sunday, the ruling family faced the task of filling not just the role of crown prince, but also, if Prince Salman is chosen for that, possibly two other crucial positions — defense minister and minister of the interior, a post that Prince Nayef also held.
Full report at:
http://www.nytimes.com/2012/06/18/world/middleeast/salman-expected-to-become-next-
----------
One Night Only: Syria in Revolt, on a Beirut Stage
By NEIL MacFARQUHAR
18 June, 2012
The Syrian playwright Mohammad al-Attar considers the common wisdom about the uprising in his country — "the fear is gone" — somewhat overstated.
The fear endures, but the type that kept Syrians cowed into silence for decades has morphed into something different, he said over a beer in a Beirut cafe. "Fear is a human instinct, but the fear is no longer preventing people from doing things," he said.
That is one theme he explores in his play about the uprising, "Could You Please Look Into the Camera," which was staged last month at the Sunflower Theater in Beirut.
It was a remarkable event for several reasons: There was only one performance. It aired its accusations of torture and other abuse by President Bashar al-Assad's government in Beirut, where a small clandestine community of Syrian activists lives in dread of the long arm of his secret police. A chunk of the audience came from Damascus.
Many playgoers emerged electrified by the experience of seeing the uprising examined publicly in a work of art. "It was cathartic because it was no longer kept inside everybody, or a whispered conversation," said one woman, who spoke on the condition of anonymity because she was going back to Damascus. "I could imagine other people were having the same conversation, but I had no real idea — everyone is keeping their circles tighter because everyone is afraid."
Full report at:
http://www.nytimes.com/2012/06/17/world/middleeast/mohammad-al-attar-play-explores-
----------
North America
US embassy hosts discussion on religion, politics, media
By Asad Farooq
18th June 2012
KARACHI: The founder and CEO of US-based non-profit organisation, Institute of Religion and Civic Values, Shabbir Mansuri presented his theory of 'Ismailea Nishat Paradigm,' focusing on the viewpoint that Muslims, Jews and Christians all were indeed the progeny of divine messenger, Hazrat Ismail (AS).
Mansuri talked about the paradigm at a media roundtable discussion entitled 'Religion, Media and Politics in United States,' hosted by the US Consulate General in Karachi at a local hotel Saturday evening.
Speaking on the occasion, Mansuri said that although in post 9/11 scenario, anti-Muslim sentiments and behaviour prevailed at public squares however in policy making forums and intellectual mediums, there was a very balanced vision for Islam and Muslims.
He was of the view that to present itself as inclusive, instead of adopting an exclusive identity was need of the hour for Muslims. He said that he intended to promote 'Ismailia Neshat Paradigm' which suggested that believers of all divine religions including Muslims, Jews and Christians should come close, pursuing the historical reality that prophets in which Muslims, Christians and Jews trust were progeny of the divine messenger, Hazrat Ismail (AS). To him, this was a divine design and the only way following which all faithful could live with harmony and tolerance.
To a question, he said that historical realities of prolonged religious wars were the core reasons behind conflicts between different religions.
Mansuri said that there was no anti-Muslim policy in the US. He presented several examples in which state forces and authorities saved Muslims in the US. He added that though some people including politicians, society representatives and religious clerics gave provoking statements in context of 9/11 tragedy, separate viewpoints prevail in all segments even in same school of thoughts. He further said that institutional laws were also present to protect individuals' rights, adding that there were several examples of an individual being faced with religious discrimination winning lawsuits of millions of dollars.
Full report at:
http://www.dailytimes.com.pk/default.asp?page=2012\06\18\story_18-6-2012_pg7_21
---------
URL: https://newageislam.com/islamic-world-news/second-world-war-graves-libya/d/7652