New Age Islam News Bureau
19 Oct 2014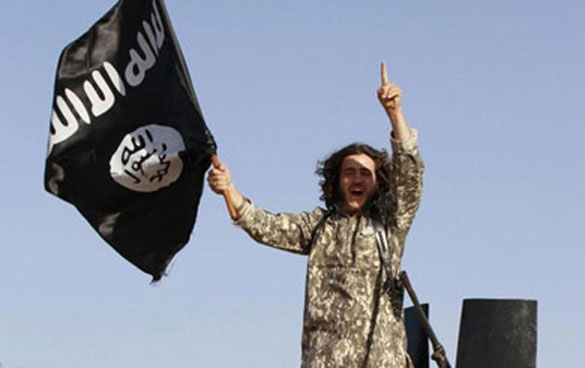 "Khilafah.is" was taken down by Internet in Iceland Inc (ISNIC), the authority regulating the country's domain .is. (File Photo: Reuters)
-----------
Southeast Asia
• Scrubbed Islamic State Graffiti Belies Jokowi Security Challenge
• Ridiculous to Stop Non-Muslims from Using 'Allah', Says Brotherhood Leader
• Barisan and Umno reject all forms of extremism, says Najib
• 'I Want To Touch A Dog' Event A Big Hit With Muslims
Pakistan
• Pakistan's Clerics Condemn Islamic State for Violating Islamic Teachings
• Al-Qaeda Regional Chief an Indian, Met Him Twice: Pakistani Journalist
• Khyber Residents Given Three-Day Deadline to Surrender Arms
• Gunmen kill eight non-locals in Balochistan
• Pakistan court upholds death penalty in Christian woman's blasphemy case
• Pakistan calls for equal security for all in nuclear disarmament efforts
• 'Ro Imran Ro' slogan rocks PPP public rally
• Resolution of Kashmir issue vital for peace: Pakistan Army Chief
South Asia
• 50 Taliban militants killed, 32 wounded in clearing operations
• Trial of Jamaat: International Crimes Tribunal Act amendment soon
• APJ Abdul Kalam stresses need for poverty-free Saarc region
• Top al Qaeda leader operative killed in Nangarhar province
Arab World
• 45 Isil Terrorists Killed In Tikrit, Mosul by Iraqi Bombers
• Egyptian Ex-Police Officer Conducted 'Isis Suicide Attack in Iraq'
• Jihadists Take Heavy Losses In Battle For Syria's Kobane
• Roadside bomb kills seven in Egypt's Sinai Peninsula
• Kurds thwart new IS bid to cut off Syrian town
• ISIS commits 'fatal' blunders in Kobane battle
• 400 Volunteers Join Iraqi Forces to Fight ISIL
• Focus on education to guide Arab youth: Prince Khaled
Europe
• In Iceland's Freedom of Expression ISIS Propaganda Crushed
• Syrian civil war film wins London festival prize
• HRW calls on Kuwait to stop stripping citizenship
• British govt to request information from web giants on extremists
• Britain targets Qatari national suspected of funding Islamic State militants
Mideast
• Yemen's Shia rebels take town south of Sanaa
• Iran says militants infiltrating from Pakistan
• Palestinian leader calls Jews settlers "herd of cattle"
• Iran summons Pakistani ambassador over border killings
• Senior AKP deputy slams Erdoğan, his party over Kurdish policies: BBC
• Israel's defence minister in US after spat over Kerry remarks
India
• As 'Love Jihad' Charge Falls Flat, Families of Ten Accused Wait For End of Ordeal
• Modi Talks to Karzai, Former Afghan Prez Lauds India's Assistance
North America
• 'Only 84 of 2,379 killed by drones were Qaeda terrorists'
• Slain journalist James Foley 'tried to see the good'
• U.S. and Europe call for a halt of Libya violence
Africa
• Libya PM says united forces aim to 'liberate' Tripoli, Benghazi
• 'Ceasefire' doubts after attacks reported in Nigeria
Compiled by New Age Islam News Bureau
URL: https://www.newageislam.com/islamic-world-news/new-age-islam-news-bureau/scrubbed-islamic-state-graffiti-belies-jokowi-security-challenge/d/99603
-----------
Southeast Asia
Scrubbed Islamic State Graffiti Belies Jokowi Security Challenge
Oct 19, 2014
Amir Mahmud hoped to attract 500 locals to an event he organized in July to support Islamic State at a mosque in Solo, the hometown of Indonesia's incoming president Joko Widodo. Two thousand came from across the island of Java.
The scholar, who spent three years at a military camp in Afghanistan in the 1980s, would like to see a caliphate in Indonesia, an officially secular nation with the world's largest Muslim population. Support for Islamic State's campaign in the Middle East, including young men who have travelled there to join the fight, will pose a challenge for Joko when he is inaugurated Oct. 20 to lead a country with a history of terror attacks.
Outgoing President Susilo Bambang Yudhoyono has condemned extremism and officials have scrubbed black murals backing Islamic State from Solo's walls. That may not be enough to counter efforts by outfits such as Mahmud's to tap the interest that Islamic State has triggered in reviving home-grown militant groups whose leaders were captured or killed, such as Jemaah Islamiyah.
"We just lay low for now," said Mahmud, wearing a brown safari suit and talking about Islamic fundamentalism in a hotel restaurant in Solo. "IS as an ideology will never die."
With a civilian background that contrasts with both his ex-general predecessor and main political opponent Prabowo Subianto, Joko will need a strategy to counter the potential for militants returning from the Middle East and radicalizing others. That adds to security tasks from a separatist movement in Papua to an increasingly assertive China in the nearby South China Sea.
The total number of Southeast Asians fighting alongside Islamic State is estimated by governments and police to be a few hundred. The brutality of terrorist groups in Iraq and Syria poses a threat to the Middle East and, if left unchecked, the world, the 10-member Association of Southeast Asian Nations said in a statement Sept. 27.
Religious groups
Joko, who has eschewed a heavy security detail to mingle on unscheduled public walks, says he will pursue a different tack to Yudhoyono, whose counter-terrorism forces largely neutralized militant groups such as Jemaah Islamiyah, which orchestrated the 2002 bombing of Bali nightclubs that killed 202 people.
"Not only have a security approached, but also a religious approach," Joko said in an interview last month. He plans to use the country's largest Muslim groups, Nahdlatul Ulema and Muhammadiyah, who together have about 80 million members or a third of the population, to curb militant teaching. "I will give the problem to those organizations, to control, to manage and to solve," he said.
That approach probably won't work as radical elements are unlikely to be influenced by moderate organizations, said Keith Loveard, head of political risk at Jakarta-based security company Concord Consulting.
National ideology
"It's a bit easier to say hate your neighbour than love your neighbour," said Loveard. "It's hard to say publicly that's wrong if it's within interpretations of Islam."
The debate over whether Indonesia should be an Islamic nation is as old as the country itself. Its first leader after independence, Sukarno, adopted an ideology known as 'Pancasila' that allowed for other religions to be recognized by the state, in a country with significant numbers of Christians and Hindus and where Islam is often blended with animist beliefs.
The outgoing administration only spoke out against Islamic State after that group called in August for Indonesians to transfer their loyalty to a caliphate, making it a threat to the cohesion of the archipelago, said Sidney Jones, director of the Jakarta-based Institute for Policy Analysis of Conflict.
Bragging rights
Returnees from the Afghanistan conflict forged the leadership in the early 1990s of Jemaah Islamiyah, yet security forces have been successful in tackling that group, she said.
The risk is that a new set of militants get training and combat experience in Syria and Iraq and reforge local networks, Jones said.
Militants from Malaysia and Indonesia have formed a unit in Syria for Malay-speaking fighters under the Islamic State banner, raising the risk of a shared strategy for returnees to Southeast Asia, the institute said in a report Sept. 24.
"As the Syrian jihadists come home, they will have bragging rights among hardliners and will probably rise to the top of the next generation of radicals in Indonesia," said Ken Conboy, country manager for RMA Indonesia, a private security consultancy in Jakarta. While Indonesia has a robust counter- terrorism structure, Joko will need to surround himself with people well-versed in security, he said.
Same challenge
"He remains largely untested on the foreign policy and security front," Conboy said. "On a more personal level, Joko has to balance his penchant for mingling with the masses, and the heightened risks this entails when he dives into a crowd that has not been adequately screened."
Indonesia carried out legislative and presidential elections this year without ethnic or religious tensions surfacing, said Bob Carr, Australia's foreign minister from 2012 to 2013 and a former state premier.
"I'm still confident about the diversity and tolerance of the Indonesian model," Carr said in an interview in Singapore. "It's a challenge that we've all got. Australians have gone to Syria and Iraq to fight. It raises real concerns about the security challenge should they return."
Information sharing
Militants have in recent years opted for low-cost attacks on state targets such as police outposts, and could potentially target foreign business people in central Jakarta, said Loveard.
Bombs at Ritz-Carlton and JW Marriott hotels in the capital killed nine people in 2009. Authorities in 2012 arrested 11 people suspected of plotting to attack the U.S. Embassy in Jakarta.
Joko needs to tackle these risks by better information sharing between security forces, the immigration service and embassies in the Middle East, Jones said. Indonesia's embassies there have been swamped by other challenges, including getting migrant workers out of Syria and helping Indonesians at risk of execution in the Middle East, she said.
To strengthen legislation on combating terrorism or militant groups, Joko would need the support of parliament, where the opposition coalition that includes Islamic parties holds the majority of seats. The current 2003 law was issued as an emergency rule in the wake of the Bali bombings, and then approved by parliament.
'Achilles heel'
Joko may face conflict with parliament over how to handle Islamic extremism, said Tim Huxley, executive director of the International Institute for Strategic Studies-Asia in Singapore and author of "Disintegrating Indonesia? Implications for Regional Security". If the opposition chooses not to cooperate, it could politicize the issue.
"If Joko's government was hard-line toward the Islamic State that could be portrayed as repression of Muslims," said Huxley. "I'm sure he knows that if it's not handled effectively it's an Achilles heel and not just in the sense of opening up vulnerabilities for Indonesia, but also political vulnerabilities."
Indonesia's top clerical council, Majlis Ulema Indonesia, in August called Islamic State a "radical movement".
"We urge all Muslims in Indonesia to reject the existence of ISIS movement in Indonesia that potentially can divide the unity of Muslims and destabilize the state of Indonesia," it said in a statement on its website.
'Islamic leadership'
While Mahmud said he didn't support violence to spread the Islamic State ideology in a peaceful country like Indonesia, he set up the Solo forum together with two people previously arrested by the country's anti-terror forces.
"ISIS or IS brings back an idea of an Islamic caliphate, and we don't need to be afraid of this," he said. "If the Catholic Church has the Pope as its supreme leader, why can Muslims not have a similar leader? I don't understand why the Islamic world is so afraid of this idea of Islamic leadership."
http://thejakartaglobe.beritasatu.com/news/scrubbed-islamic-state-graffiti-belies-jokowi-security-challenge/
-----------
Ridiculous to Stop Non-Muslims from Using 'Allah', Says Brotherhood Leader
Oct 19, 2014
Prohibiting non-Muslims from using the word "Allah" is ridiculous, says Kuwait's Muslim Brotherhood leader Dr Tareq Suwaidan.
He said this was because there was no law or ruling within the Islamic realm which prevented the use of the word by non-Muslims.
"I have been following this development in Malaysia, this use of the word 'Allah'... there is no law in Islam that says so," he told a forum organised by PAS international committee last night.
He noted that there were many instances in Islamic history where non-Muslims had been encouraged to use the Arabic word "Allah".
"Do not be confused, this is just wrong, I have hundreds. No, thousands of proof on this," he said, in front of a crowd of 100.
His comment came after an Indonesian scholar Dr Ulil Abshar Abdalla waded into the "Allah" controversy, saying Muslims who believed the word was exclusive to Islam were "confused".
Ulil, who was denied entry into Malaysia this month for allegedly opposing its Islamic stand, said Muslims did not have a monopoly of the word "Allah" as it was a general term to refer to God.
"The term 'Allah' comes from two words which are 'Al' 'and 'Ilah' which means God.
"If we mention the word 'Allah', it is translated as God. The people of Mecca also used the word 'Allah' before Islam came," he had said.
Tareq and Ulil's view of the "Allah" controversy echoes that of Muslim scholars and clerics, both locally and worldwide, who have criticised the ban of the use of the word among non-Muslims here.
Even the United Nations Special Rapporteur on freedom of religion and belief, Heiner Bielefeldt, had said that many Muslims were of the view that the court ruling undermined the credibility of Islam, in a reference to the Federal Court decision that the word "Allah" could not be used in the Catholic publication, Herald, on grounds it was not an integral part of Christianity.
Earlier this month, evangelical denomination Sidang Injil Borneo (SIB) obtained leave from the Court of Appeal to seek a declaration that the word "Allah" could be used in Christian publications.
A three-man Court of Appeal bench, chaired by Datuk Rohana Yusof, said the Federal Court held that the September 14 finding that "Allah was not an integral part of Christianity" was a mere passing remark.
Among the groups which have defended "Allah" as exclusive to Muslims are Malay rights group Perkasa and Ikatan Muslimin Malaysia (Isma).
The "Allah" row started in 2008 when the Home Ministry threatened to revoke the Herald's newspaper permit, prompting the Catholic Church to sue the government for violating its constitutional rights.
http://www.themalaysianinsider.com/malaysia/article/ridiculous-to-stop-non-muslims-from-using-allah-says-muslim-brotherhood-lea#sthash.Hx3h1XJd.dpuf
-----------
Barisan and Umno reject all forms of extremism, says Najib
Oct 19, 2014
Barisan Nasional, including Umno, rejects any form of extremism, Datuk Seri Najib Razak said, calling on political leaders to show the way by demonstrating moderation.
"Political leaders must set an example for the rakyat and reject any form of extremism," the prime minister said before opening Gerakan's 43rd National Delegates Conference at the Setia City Convention Centre in Setia Alam, Selangor, today.
In his opening address, Gerakan president Datuk Mah Siew Keong had expressed uneasiness at the comments posted by Malaysians on social media and blogs.
"It saddens me that young Malaysians, the future of the country, can post racially charged messages and comments," Mah had said.
Najib said as the Internet was not subject to censorship, it was easy for people to get carried away and get out of control when giving feedback on an issue.
"The solution is for political leaders to show the way by rejecting extremism. Barisan Nasional, and this includes Umno, rejects any form of extremism," Najib said.
"We must educate Malaysians to not only be knowledgeable, but to be rational and think things through thoroughly.
"Malaysia wants to be a fully matured democracy, and in order to achieve that, we must have a thinking public.
"It is easy to be an extremist, but in order to be a true leader, to be accepted by all races, we must strike a balance," he said.
Najib said Malaysia's appointment as a non-permanent member of the United Nations security council was due to the fact that the country is the epitome of a multi-racial nation.
"Why was Malaysia elected by other countries? Because we are the epitome of a nation which has succeeded in being multi-racial and multi-ethnic," he said.
"We have shown this in a humble manner, through our practices of moderation and political compromise between the different races in Malaysia.
"That is how Malaysia secured a position on the United Nations security council, by striking the right balance and being moderate rather than extreme."
Najib paid tribute to Mah, whom he considered to be a risk-taker and had put himself and Gerakan in the firing line by contesting the Teluk Intan by-election in May.
"It was tantamount to political suicide by Mah, pulling off what appeared to be mission impossible," Najib said, referring to DAP's 7,313 majority when it won the seat last year.
After six years, Barisan Nasional regained Teluk Intan when Mah defeated DAP's Dyana Sofya Mohd Daud by a majority of 238 votes.
"I admire such an individual who dares to take risks and put himself in the firing line despite the odds stacked against Gerakan."
Najib told Gerakan not to be afraid of the opposition, especially DAP, in their efforts to reclaim Penang.
"If DAP is wrong, tell them that they are wrong. Do not be like the opposition and resort to lies and falsehoods," he said.
"Use facts and the truth, Gerakan must come up with a plan, a better plan than what DAP is currently doing for Penang.
"How many affordable homes have been built in Penang under DAP? How much investment have they attracted to the island?
"Compare this to the era of the late Tun Dr Lim Chong Eu and Tan Sri Koh Tsu Koon. Do not be afraid, use facts to back up your arguments."
Najib said although Pakatan Rakyat was fond of attacking BN with arguments which were based on lies, BN will not stoop that low.
"We will attack them based on facts and figures, I feel Gerakan is capable of doing this," he said, to a loud roar of approval from the delegates.
Najib said Chinese voters had shied away from Barisan Nasional because of the lies spread by Pakatan Rakyat.
"Chinese votes had fallen during the 13th general election last year due to the lies about phantom Bangladeshi voters," Najib said.
"Think about it, why did Chinese votes drop during last year's general polls?" Najib asked Gerakan delegates.
"Pakatan Rakyat spun a tale about the 40,000 Bangladeshis who had been imported to Malaysia to vote for Barisan Nasional."
As the delegates broke into laughter, Najib said it may seem funny now but many people believed it at that time.
"An outright lie was spun and preached as the absolute truth."
http://www.themalaysianinsider.com/malaysia/article/barisan-and-umno-reject-all-forms-of-extremism-says-najib#sthash.A260xQgt.dpuf
-----------
'I Want To Touch A Dog' Event A Big Hit With Muslims
Oct 19, 2014
Siti Sakinah Meor Omar Baki has been afraid of dogs all her life. Not only that, she was told that touching dogs is not allowed in Islam. That was the mentality and teaching instilled in her by her conventional family.
But today, Siti Sakinah, along with her four children, turned up at Central Park in Bandar Utama, Selangor, to participate in the "I want to touch a dog" event to overcome her fear.
"It is also to show that touching a dog is not haram. People are worried about touching the dogs more as it's a sin instead of worrying about the biggest sins," said Siti Sakinah, a former religious teacher who currently works with an NGO.
She said her husband, an ustaz, gave her the permission to attend today's event.
"I wanted to jump for joy when he said 'yes' and I told my children they had to go. And all of them came today with me to overcome their fear and to learn that dogs are also creatures created by Allah that need love and care," said Siti Sakinah, who touched and petted a few dogs at the event.
"I am still scared of big dogs so I am touching the small ones first," she said gleefully.
Siti Sakinah and her children were among the many families who turned up at the event which was attended by more than 1,000 people.
The organiser of the event, Syed Azmi Alhabshi, said he was satisfied with the turnout.
"We only expected 60 but this is way more than 60. This is overwhelming and I hope I provided enough water for the dogs and apologise for any shortcomings," he said.
Syed Azmi, who was busy making sure everything, was in order, also managed to touch not one but a few dogs for the first time in his life.
"I wanted to touch a husky but I was so busy," he said.
Animal lovers who had arrived at Central Park since morning walked around with their dogs of various breeds like husky, German Shepherd, Doberman, Golden Retriever and poodle.
Chidren were elated touching the animals. There were also some Muslims yelping when the dogs sniffed them.
"I am curious, that is why I am here. I touched a few. I never had a chance like this before. I grew up in Kota Baru and I study at the International Islamic University Malaysia. My parents don't know that I am here but my friends are very supportive," said Nik Farhana Nik Othman, 22.
Nik Farhana was accompanied by a friend.
Another woman who wished to be known only as Munirah Mohamad, 35, said her relationship with dogs began three years ago when she rescued a dog abused by her neighbour.
"I didn't know what to do. I was scared so I let the dog into my porch. I called the vet to come and pick him up for treatment. And I scolded my neighbour for abusing the animal," said Munirah.
Since then, she said she had rescued more than 50 dogs. Most of them are strays which she fed and treated. Some would return to the streets after being treated while others were adopted.
At present, Munirah has two dogs as pets. Both are strays but she only took one to the event today.
"I found my dog, Sasa, on the street with a broken leg. I took her home and nursed her to health. My family doesn't appreciate wA participant petting a dog while cradling another at the event in Bandar Utama. – Pic used with permission, October 19, 2014.A participant petting a dog while cradling another at the event in Bandar Utama. – Pic used with permission, October 19, 2014.hat I am doing. They feel that I am wasting my energy and money but, to me, dogs are also like other animals that need care and love," said Munirah.
She said all the negativity that she had encountered had made her think of migrating.
"Sometimes I think I want to leave but if I stay, I get to save more dogs. So I haven't decided what to do."
She said the event today was a good way to educate Muslims to love and show compassion towards animals.
"Sometimes people like to experience things themselves rather than be told what to do. Now, I rather show than talk. They are not listening anyway," said Munirah.
The "I want to touch a dog" event was put together to make Malaysians more aware of the furry four-legged creatures and also to educate others on how to practise "sertu" (cleansing).
This is to help many overcome their fear of dogs and bring together Malaysians to promote tolerance and understanding that goes beyond culture, race or religion.
Also present at the event was Ustaz Mohd Iqbal Parjin who gave talks on the touching of dogs in Islam.
"Dogs are also god's creatures. We need to overcome the mentality of seeing the animal as an offensive creature. Teach the young to love others but at the same time know the limit of touching one," said Iqbal.
http://www.themalaysianinsider.com/malaysia/article/i-want-to-touch-a-dog-event-a-big-hit-with-muslims#sthash.acSkTPAJ.dpuf
-----------
Pakistan
Pakistan's clerics condemn Islamic State for violating Islamic teachings
Oct 19, 2014
A group of clerics in Pakistan have condemned the Islamic State (IS), saying that the extremist group's actions were in violation of Islamic teachings.
According to News 24, the Pakistan Ulema Council (PUC) said Islam and Muslims cannot support the killing of innocent people and destruction of their properties at the hands of IS.
The PUC further appealed to people and the youth in Islamic countries to not co-operate with any violent group whose teachings or actions were against the teachings of Islam and Prophet Muhammad.
Harrowing tales of atrocities committed by the Islamic State against minority communities in Iraq and Syria have come to light.
Earlier, members of IS distributed pamphlets in Pakistan announcing their presence in the country.
The Tehreek-e-Taliban Pakistan (TTP) had vowed to send fighters to support IS jihadists but stopped short of pledging allegiance to the organisation's leader, the report said.
http://www.dnaindia.com/world/report-pakistan-s-clerics-condemn-islamic-state-for-violating-islamic-teachings-2027195
-----------
Al-Qaeda Regional Chief an Indian, Met Him Twice: Pakistani Journalist
Oct 19, 2014
Pakistani journalist Hamid Mir has claimed that the head of al-Qaeda's new wing in the subcontinent had once offered to stage an attack on American forces in Afghanistan for him, and allow him to film the "story" for his television channel.
Mir, who spoke at the Idea Exchange programme of The Indian Express on Friday, said he had met Asim Umar, chief of al-Qaeda in the Indian Subcontinent, in Afghanistan's Ghazni province in 2005, and again, for a second time, two years later. He had refused Asim Umar's offer, Mir said.
Al-Qaeda's leader Ayman al-Zawahiri issued a video early last month, announcing the terror organisation's new subcontinent wing under Asim Umar. Mir said Asim Umar was an Indian — a possibility that The Indian Express has reported investigators in India was studying. "Asim Umar is an Indian Muslim, that's his only qualification for which he was appointed head of al-Qaeda's south Asia chapter," he said. "Yes, I have met Asim Umar… I met him for the first time in 2005, I was visiting Afghanistan. In those days, the Afghan Taliban were in control of Andar district of Ghazni province. I was visiting the tomb of Mahmud Ghaznavi. Somebody there contacted me, it was a taxi driver. He asked me, 'Oh, you come on Geo TV'. I said yes. Full report at:
http://indianexpress.com/article/india/india-others/al-qaeda-regional-chief-an-indian-met-him-twice-pakistani-journalist-hamid-mir/#sthash.nphv5chr.dpuf
-----------
Khyber residents given three-day deadline to surrender arms
Oct 19, 2014
PESHAWAR: The political administration of Khyber tribal region has given a three-day deadline to militants in the Jamrud and Bara areas to lay down their arms and surrender or face a full-fledged operation.
Pamphlets containing the message and deadline were dropped from helicopters into the Jamrud and Bara areas of Khyber tribal region.
The announcement effectively ended hopes of talks, which a tribal jirga had recommended to the government, a day earlier.
Most jirga members had wanted an immediate halt to the ongoing 'Operation Khyber 1' in the area and asked for a channel of negotiations should be opened with outlawed militant groups of Bara.
Khyber agency's political agent Shahab Ali Shah, however, had rejected the jirga recommendations about holding talks with militant groups and said the jirga was not convened to authorise elders to hold talks with anti-state elements.
"You are authorised only to talk to those who surrender to security forces and accept the writ of the government," he said.
Full report at:http://www.dawn.com/news/1138991/khyber-residents-given-three-day-deadline-to-surrender-arms
-----------
Gunmen kill eight non-locals in Balochistan
Oct 19, 2014
QUETTA: Bodies of eight people were found in Lasbela on Sunday, official sources said, Geo News reported.
The sources said that all the slain were laborers who went missing along with three others on Saturday.
They said that all the eight men were shot dead while one was found injured with bullet injuries.
The sources said that two laborers were released by the unknown gunmen. Identities of the deceased were yet to be known but authorities say the laborers were non-locals.
Baloch militants have killed several settlers from other provinces as part of their campaign against the state in the past.
http://www.thenews.com.pk/article-162977-Gunmen-kill-eight-non-locals-in-Balochistan-
-----------
Pakistan court upholds death penalty in Christian woman's blasphemy case
Oct 19, 2014
A Pakistani high court has upheld the death sentence given to Asia Bibi, a jailed Christian woman convicted of blasphemy in 2010, whose case at the time played into an atmosphere of recrimination and spawned several murders of prominent human rights and political figures.
Ms. Bibi's lawyers had asked the Lahore High Court to overturn the death sentence which was handed down after she had a row with Muslim women neighbors at a village well in Pakistan's Punjab province.
Bibi's name and case have since become nearly synonymous with a sensitive national debate over blasphemy laws, which are not clearly defined and were further criminalized under the military dictatorship of Gen. Zia ul Haq in the 1980s. The laws can carry the death penalty, though in Pakistan since 2008 there has been an unofficial moratorium on the death sentence and only one person has been executed.
The Lahore death sentence came during a period of extreme attacks on Christians and minorities. In 2010 the governor of Punjab, Salmaan Taseer, visited Bibi in jail and was shortly after shot dead in Islamabad by his guard, who assumed that Mr. Taseer opposed the blasphemy law and supported Bibi.
Full report at:http://news.yahoo.com/pakistan-court-upholds-death-penalty-christian-womans-blasphemy-180730835.html
-----------
Pakistan calls for equal security for all in nuclear disarmament efforts
October 19, 2014
Geneva- Pakistan has stressed the need for upholding the principle of equal and undiminished security for all states in global nuclear disarmament efforts.
Pakistan's permanent representative to the United Nations' European offices in Geneva, Zamir Akram, speaking in the General Assembly's First Committee that deals with disarmament and international security matters urged the major nuclear weapon states to progress towards achievement of the goal of global nuclear disarmament.
He said there should be no discrimination, selectivity or exceptions in the context of arms control, non-proliferation and disarmament.
He said that the major nuclear states consistently oppose the start of any negotiations on the issue.
Pakistan's representative also urged for a Fissile Material Treaty banning future production, demanding reduction and putting under international safeguards the existing stockpiles of fissile materials.
http://nation.com.pk/national/19-Oct-2014/pakistan-calls-for-equal-security-for-all-in-nuclear-disarmament-efforts
-----------
'Ro Imran Ro' slogan rocks PPP public rally
Oct 19, 2014
KARACHI: The Pakistan People's Party (PPP) rally was rocked with 'Ro Imran Ro' slogans, as a reaction to Pakistan Tehreek-e-Insaf (PTI) Chairman Imran Khan's criticism on PPP leader Asif Zardari. According to details, PPP workers and supporters voiced 'Ro Imran Ro' as a majority of PPP leaders during their address seemed to be offended with Imran Khan's criticism on PPP. Owais Muzaffar flayed Kaptaan for calling PPP workers as bodies. He said that an old man pretending to be a youngster was being affected with PPP phobia, which kept him restless at nights. Akhunzada Chataan while referring to the participants of the PPP rally said that they were political workers fuelled with a passion for their leadership, unlike those 'mirasis' who come up for dancing and listening to music at the rallies of another party. Meanwhile, PPP leader Zamrud Khan was also called upon the stage to address the people. Zamurd said that tigers were not those who run away when they were pelted with a few stones. The speeches resulted in fuelling up the PPP Jiyalas with anti-PTI sentiments and they started shouted 'Ro Imran Ro'.
http://www.dailytimes.com.pk/sindh/19-Oct-2014/ro-imran-ro-slogan-rocks-ppp-public-rally
-----------
Resolution of Kashmir issue vital for peace: Pakistan Army Chief
Oct 19, 2014
Pakistan's powerful Army Chief Gen Raheel Sharif on Saturday said that the resolution of Kashmir issue was imperative for establishment of sustainable peace in the region.
Addressing a passing-out parade at Military Academy in Kakul, Gen Sharif said that the people of Kashmir should be allowed to decide their fate in the light of UN resolutions.
He said Pakistan desires regional stability and relationship based on equality and mutual respect.
"We persistently seek peace in the region and beyond. This quest for peace is our nation's greatest strength. We desire regional stability and relationship based on equality and mutual respect," he said. The army chief said Pakistan's armed forces were fully capable of meeting any external threat. He said that any aggression against Pakistan will get a "befitting response." Gen Sharif said the military operation in North Waziristan was successfully going on and it would continue till militancy is completely smashed. He said the objective of the armed forces is to establish peace in the country and they have already destroyed the organised network of terrorists which was based in North Waziristan.
http://indianexpress.com/article/world/neighbours/resolution-of-kashmir-issue-vital-for-peace-pakistan-army-chief/#sthash.3pbUDS6P.dpuf
-----------
South Asia
50 Taliban Militants Killed, 32 Wounded In Clearing Operations In Afghanistan
Oct 19, 2014
At least 50 Taliban militants were killed and 32 others were wounded following military operations by Afghan national security forces in the past 24 hours, the Ministry of Interior (MoI) said.
"In past 24 hours, Afghan National Police conducted several anti-terrorism joint operations with Afghan National Army and NDS to clean some of the areas from terrorists and enemies of peace and stability of Afghanistan," MoI said following a statement.
The statement furhter added that the operations were conducted in Uruzgan, Nangarhar, Zabul, Khost, Kandahar, Ghazni, Jowzjan, Laghman, Paktika and Helmand provinces, as a result 50 armed Taliban members were killed, 32 wounded and 16 others were arrested by Afghan National Security Forces.
Afghan National Police discovered and confiscated 18 AK-47 rifles, three rocket launchers, once machine gun, 62 different types of IEDs and some amount of light and heavy rounds ammunition, the statement added.
Taliban militants group has not commented regarding the report so far.
http://www.khaama.com/moi-50-taliban-militants-killed-32-wounded-in-clearing-operations-8837
-----------
Trial of Jamaat: International Crimes Tribunal Act amendment soon
Oct 19, 2014
In a bid to try Jamaat-e-Islami, the draft for amending the International Crimes Tribunal Act, keeping a provision to bring organisations involved with crimes against humanity, would be tabled at the cabinet on November 3, said Law Minister Anisul Haq.
He said: "The ministry had already prepared the draft of the amendment, keeping the provision of trying Jamaat-e-Islami and it will be placed before the cabinet during its regular meeting on November 3."
The minister further said there was no option but to amend the ICT Act to try Jamaat-e-Islami as an organisation involved in war crimes.
In the draft, the ministry proposed inserting the word "organisation" in section 20(2) of the ICT act so that organisations could also be tried along with individuals for war crime charges.
It would also keep the provision for the tribunal to take the offence in cognisance if an organisation was found guilty. The provision for allowing bail for the accused would be included in the law.
Full report at:
http://www.dhakatribune.com/bangladesh/2014/oct/19/draft-amending-ict-act-be-placed-cabinet-nov-3#sthash.oUHoczZk.dpuf
-----------
APJ Abdul Kalam stresses need for poverty-free Saarc region
Oct 19, 2014
Former Indian President APJ Abdul Kalam yesterday stressed improving physical, electronic and knowledge connectivity in rural areas for a poverty-free Saarc region.
Physical, electronic and knowledge connectivity can prove to be effective to prevent the flow of rural people into cities as these will facilitate earning capacity leading to economic connectivity, he noted, expounding his development concept of Providing Urban Amenities in Rural Areas (PURA).
Abdul Kalam came up with the recommendations while delivering his lecture at the 110th founding anniversary of Metropolitan Chamber of Commerce and Industry (MCCI) at Bangabandhu International Conference Centre (BICC).
Kalam, the 11th Indian president, said when urban amenities to rural areas are provided, the investors of small scale industries can be attracted and effective financing systems like microfinance can also be introduced there.
Full report at:
http://www.dhakatribune.com/bangladesh/2014/oct/19/apj-abdul-kalam-stresses-need-poverty-free-saarc-region#sthash.yFIbyXxN.dpuf
-----------
Top al Qaeda leader operative killed in Nangarhar province
Oct 19, 2014
A senior al Qaeda operative was killed following an operation in eastern Nangarhar province of Afghanistan.
The Afghan intelligence – national directorate of security (NDS) said Sunday that Abul Bara Al Kuwaiti, senior member of al Qaeda was killed in Nangarhar.
NDS further added that Al Kuwaiti had close ties with the al Qaeda chief Ayman al-Zawahiri.
No further details were given by NDS regarding the operation which led to the death of Al Kuwaiti.
Nangarhar is among the relatively volatile provinces in eastern Afghanistan where anti-government armed militant groups are actively operating in its various districts.
http://www.khaama.com/top-al-qaeda-leader-operative-killed-in-nangarhar-province-8842
-----------
Arab World
45 ISIL Terrorists Killed in Tikrit, Mosul by Iraqi Bombers
Oct 19, 2014
Iraqi warplanes hit the hideouts and convoys of the ISIL terrorists in Tikrit and Mosul, and managed to kill 45 members of the Takfiri group.
Iraq's bombers, in cooperation with the army's Military Intelligence Service, launched massive strikes against the positions of the terrorists in Shirqat, Tikrit, leaving 30 ISIL Takfiri terrorists dead and injured on Saturday.
Also, the airstrikes claimed the lives of 15 ISIL terrorists in Aziz al-Balad district, in Mosul. Three vehicles of the terrorists equipped with heavy machine-guns were targeted during the Mosul operation by the army as well.
The ISIL Takfiri terrorists currently control parts of Syria and Iraq. They have threatened all communities, including Shiites, Sunnis, Kurds, Christians, Ezadi Kurds and others, as they continue their atrocities in Iraq.
Senior Iraqi officials have blamed Saudi Arabia, Qatar, and some Persian Gulf Arab states for the growing terrorism in their country.
The ISIL has links with Saudi intelligence and is believed to be indirectly supported by the Israeli regime.
http://english.farsnews.com/newstext.aspx?nn=13930727000250
-----------
Egyptian ex-police officer conducted 'ISIS suicide attack in Iraq'
Oct 19, 2014
A former Egyptian police officer and parliamentary candidate has reportedly conducted a suicide attack for ISIS in Iraq.
An article published on pro-ISIS news website Haq, which spread rapidly among Egyptian Twitter users over the weekend, said Ahmed El-Darawi conducted the attack in May.
El-Darawi's brother Haitham confirmed the news on Twitter.
According to Haitham (@SadButTrue33), El-Darawi's family did not know about their son's supposed involvement with ISIS.
He said El-Darawi traveled to Turkey over a year ago, telling them it was for medical treatment. The family then received news, according Haitham, that El-Darawi had died during surgery on 29 May 2014.
The family held a funeral in Egypt without their deceased son's corpse. Haitham said he later traveled to Turkey "to learn the details" and receive the corpse, whereupon "people revealed the news [about ISIS]."
Haitham emphasised in his tweets that the news was old and had resurfaced on Saturday.
A discrepancy remains about where El-Darawi died. While news articles claim he carried out a suicide operation in Iraq, social media users say he probably died in Syria as ISIS had still not deepened its involvement in Iraq at that time.
Full report at:
http://english.ahram.org.eg/NewsContent/1/64/113417/Egypt/Politics-/Egyptian-expolice-officer-conducted-ISIS-suicide-a.aspx
-----------
Jihadists take heavy losses in battle for Syria's Kobane
Oct 19, 2014
The Islamic State group was taking heavy losses in the Syrian battleground of Kobane Sunday as Iraqi forces fought the jihadists buoyed by US backing for top government security appointments.
US Secretary of State John Kerry said the appointment of defence and interior ministers after weeks of delay was a "very positive step forward" in the fightback against IS in Iraq, which Washington has made its priority.
But US-led warplanes kept up their strikes on the jihadists around Kobane on Syria's northern border with Turkey, helping the town's Kurdish defenders to repulse a new attempt to cut their supply lines.
The Kurdish fighters, who have been under IS assault for more than a month, weathered fierce street fighting and at least two jihadist suicide bombings but the front line remained unchanged on Sunday, a Kurdish official said.
"(IS) brought in reinforcements... and attacked hard," Idris Nassen told AFP by telephone.
"But thanks to air strikes and (the Kurdish fighters') response, they did not make any progress."
Full report at:
http://english.ahram.org.eg/NewsContent/2/8/113440/World/Region/Jihadists-take-heavy-losses-in-battle-for-Syrias-K.aspx
-----------
Kurds thwart new IS bid to cut off Syrian town
Oct 19, 2014
MURSITPINAR: Kurdish forces in the Syrian town of Kobani repulsed a new attempt by Islamic State (IS) fighters to cut off the border with Turkey Saturday as troops battled the militants in neighboring Iraq.
It came as the US military said it had unleashed 25 more air strikes in Syria and Iraq since Friday, hitting IS militants and oil infrastructure they control. But while Washington said it saw "encouraging" signs, it warned the raids might not prevent the fall of Kobani, and its priority remained the campaign against IS in Iraq.
Despite a wave of coalition air strikes in recent weeks, Iraqi forces are struggling to regain and hold ground from the militants.
Heavy IS mortar fire hit the Syrian side of the border crossing with Turkey which is the Kurdish fighters' sole avenue for resupply and the only escape route for remaining civilians, Kurdish official Idris Nassen told AFP.
At least three rounds crashed onto Turkey's side of the border, one of them near a hill where the Turkish army is deployed, an AFP correspondent at the scene said.
http://www.arabnews.com/middle-east/news/646551
-----------
ISIS commits 'fatal' blunders in Kobane battle
19 October 2014
Forces loyal to the Islamic State of Iraq and Syria (ISIS) militant group have committed grave strategic mistakes in their fight to take control of the Syria-Kurdish town of Kobane, an analyst wrote in an opinion article for CNN.
In its fourth week, the battle for Kobane witnessed the fiercest fighting in days overnight when ISIS fighters attacked Kurdish forces with mortars and car bombs, sources in the town and a monitoring group said on Sunday, according to Reuters news agency.
ISIS fired 44 mortars at Kurdish parts of the town on Saturday, some of which fell inside nearby Turkey, according to the British-based Syrian Observatory for Human Rights. It said four more were fired on Sunday.
Justin Bronk, a research analyst in the military sciences program at the Royal United Services Institute in London, said ISIS's strategies are now outdated in the face of different conditions posed in Kobane where Syrian-Kurdish fighters have lured the extremist militants to street battles, making them easy targets for U.S. and Arab warplanes.
Full report at:
http://english.alarabiya.net/en/News/middle-east/2014/10/19/ISIS-commits-fatal-strategic-blunders-in-Kobane.html
-----------
Roadside bomb kills seven in Egypt's Sinai Peninsula
19 October 2014
Egyptian officials say a roadside bomb in the restive Sinai Peninsula has killed 7 troops and seriously wounded four.
The officials said the explosion Sunday ripped through a military armored vehicle traveling south of el-Arish, the provincial capital of northern Sinai. The troops were heading to an area to comb it for suspected militant activities. The officials spoke on condition of anonymity because they were not authorized to brief reporters.
Northern Sinai has been a haven for Islamic militants, who have waged regular attacks against troops and security forces.
http://english.alarabiya.net/en/News/middle-east/2014/10/19/Roadside-bomb-kills-seven-in-Egypt-s-Sinai-Peninsula.html
-----------
400 Volunteers Join Iraqi Forces to Fight ISIL
Oct 19, 2014
About 400 volunteers of Iraqi tribes joined the security forces to combat the Islamic State of Iraq and the Levant (ISIL) terrorists.
"400 volunteers from the tribes of Shurqat and Alam districts under the lead of Sheikh Emad al-Jebouri joined the Iraqi security forces to combat ISIL and liberate all Salahuddin province from the control of the terrorists," an informed source said Saturday.
http://english.farsnews.com/newstext.aspx?nn=13930727000644
-----------
Focus on education to guide Arab youth: Prince Khaled
Oct 19, 2014
Education Minister Prince Khaled Al-Faisal stressed the role of the Arab Education Office in achieving educational awakening to protect youth from destructive ideologies in the Gulf Cooperation Council countries.
"It is the responsibility of the Arab Education Office to take steps for educational awakening in the GCC countries in addition to protecting the young generation from the extraneous destructive ideologies that the enemies of the Arab and Islamic ummah are striving to inject in the youth in the region," the prince, who will lead the Saudi delegation to the 23rd conference of the GCC education ministers said in a statement to the Saudi Press Agency on Saturday.
The prince said the two-day conference to be opened in Kuwait on Tuesday is a fresh opportunity to move toward formulating strategies to tackle the issues facing educational developments in the region. The conference will also highlight the importance of strengthening the ties of belonging, loyalty and patriotism of the Gulf youth in addition to integrating plans and programs that serve the interests of teachers, students and their families.
Full report at:
http://www.arabnews.com/saudi-arabia/news/646616
-----------
Europe
In Iceland's Freedom of Expression ISIS Propaganda Crushed
Oct 19, 2014
In an unprecedented move, Iceland blocked this week a website that was reportedly linked to the Islamic State of Iraq and Syria (ISIS) militant group, reviving debate on freedom of expression when it comes to fighting violent extremism.
"Khilafah IS" was taken down by Internet in Iceland Inc (ISNIC), the authority regulating the country's domain .is, which said was run by a group calling itself the Islamic State – the name adopted by ISIS.
The site was then tracked to a web hosting company in Iceland and was believed to have gone online in mid-September.
The website was taken down for the sake of "the reputation of the main domain .is," ISNIC head Jens Petur Jensen told Agence France-Presse.
Iceland is known for its laws prohibiting censorship and has been at the forefront of the international debate on Internet freedom.
"Calling for hate, violence and discrimination is not really covered by freedom of expression. It is a crime in Iceland, as is the case in all other European countries," Jan Keulen, a commentator on media and freedom of expression, told Al Arabiya News in an email.
"ISIS propaganda is not something 'disgusting' we have to accept on behalf of defending the principles of media and Internet freedom," he added.
Full report at:
http://english.alarabiya.net/en/media/digital/2014/10/18/In-Iceland-s-freedom-of-expression-ISIS-propaganda-crushed.html
----------
Syrian civil war film wins London festival prize
19 October 2014
The London Film Festival on Saturday granted the documentary award to the creators of a Syrian documentary film that depicts the country's bloody civil conflict.
The documentary prize went to "Silvered Water, Syria Self-Portrait," a searing look at war's brutality by Paris-based director Ossama Mohammed and Wiam Simav Bedirxan, a schoolteacher who filmed life in the besieged city of Homs.
The festival has also awarded Andrey Zvyagintsev's "Leviathan," a tragic satire of small-town Russian corruption, was named best picture. The film, which took the screenplay prize at this year's Cannes Film Festival, was praised for its "grandeur and themes" by a jury that included producer Jeremy Thomas and actor James McAvoy.
Ukrainian director Myroslav Slaboshpytskiy won the first-feature award for "The Tribe," a teen-gang drama set at a school for the deaf and performed entirely in sign language, without subtitles.
Full report at:
http://english.alarabiya.net/en/life-style/entertainment/2014/10/19/Documentary-on-Syrian-civil-war-wins-prize-at-London-Film-Festival-.html
-----------
HRW calls on Kuwait to stop stripping citizenship
Oct 19, 2014
International advocacy group Human Rights Watch called on Kuwait on Sunday to stop targeting opponents through revoking their citizenship and to reinstate withdrawn nationalities.
Kuwait -- where citizens have elected a parliament for decades and which is traditionally seen as one of the more tolerant Gulf monarchies -- was damaging its reputation with the practice, HRW said.
"Kuwaiti authorities should immediately stop stripping nationals of their citizenship because they exercise free speech or other legitimate human rights," New York-based HRW said in a statement.
They should "reinstate the citizenship of people whose citizenship has been withdrawn on those grounds," it added.
In the past few months, Kuwait revoked the citizenship of 33 people and most of their family members.
Full report at:
http://english.ahram.org.eg/NewsContent/2/8/113437/World/Region/HRW-calls-on-Kuwait-to-stop-stripping-citizenship.aspx
-----------
British govt to request information from web giants on extremists
19 October 2014
The British government summoned Google, Facebook, Twitter and Microsoft to a meeting where officials will ask the tech giants to surrender details of those who post inflammatory web content, the Daily Mail reported.
Downing Street policy chiefs are scheduled to meet with the firms as they request more information to aid in the track down of extremists responsible for radicalizing young British Muslims.
However, sources said the companies are reluctant out of fear of being labeled as policy informants.
The internet has been a key-recruitment policy used by Islamic State of Iraq and Syria militants who have convinced a growing number of British Muslims to travel to Syria to join their ranks, the Mail reported.
British ISIS militants are active on social media sites such as Twitter and Facebook where they work to attract more youths.
Full report at:
http://english.alarabiya.net/en/media/digital/2014/10/19/British-government-to-request-access-to-details-of-extremist-users.html
-----------
Britain targets Qatari national suspected of funding Islamic State militants
Oct 19, 2014
A second Qatari national has been added to the UK terror list, singled out by the British government for his alleged role in funding terrorism.
Abd Al-Rahman Bin Umayr Al-Nuaymi has been banned from doing business in Britain, the British government has announced.
Al-Nuaymi, who has been an adviser to the Qatari government, is accused of sending $2.1 million a month to the militant jihadists of the Islamic State in Iraq.
He has been added to a British list of suspects targeted with financial sanctions as an alleged terrorist financier.
About 10 months ago, the US government imposed sanctions on Al-Nuaymi, claiming he was a "terrorist financier and facilitator who has provided money and material support and conveyed communications to Al-Qaeda and its affiliates in Syria, Iraq, Somalia and Yemen for more than a decade."
Full report at:
http://english.ahram.org.eg/NewsContent/2/8/113410/World/Region/Britain-targets-Qatari-national-suspected-of-fundi.aspx
-----------
Mideast
Yemen's Shia rebels take town south of Sanaa
Oct 19, 2014
Security officials say Yemen's Shia rebels have captured a town south of the capital Sanaa, where they have also blown up the house of a rival Islamist politician.
They say the rebels, known as the Houthis, have also stormed the headquarters of Sanaa's local government on Sunday_chasing out the capital's governor, who they accuse of corruption.
The Yemeni officials spoke on condition of anonymity because they were not authorized to speak to the media.
Sunday's developments reflected the growing strength of the Houthis, who overran Sanaa last month and captured a Red Sea port last week along with a province south of the capital.
Early on Sunday, the Houthis captured the town of Yarim about 170 kilometers (106 miles) south of Sanaa.
http://english.ahram.org.eg/NewsContent/2/8/113424/World/Region/Yemens-Shia-rebels-take-town-south-of-Sanaa.aspx
-----------
Iran says militants infiltrating from Pakistan
Oct 19, 2014
Iran has proof that militants are entering the country from neighboring Pakistan to carry out attacks and will be pursuing the matter through "diplomatic channels," an Iranian military official said today.
Abdollah Araghi, a senior Revolutionary Guard commander, was quoted by state TV as saying that his forces have provided documents to Iranian officials proving that militants cross the border to carry out attacks.
"We have provided information and complete documents about the infiltration of terrorist elements (from Pakistan into Iran) to political and security officials to be pursued through diplomatic channels," he said.
Yesterday the spokesman for Pakistan's Frontier Corps said Iranian border guards opened fire at a patrol van, killing a member of the paramilitary border guard and wounding three other troops. The shooting came a day after Iranian Brig Gen Hussein Salami issued a stark warning to Pakistan, saying that Iranian forces may enter Pakistani territory to "prevent terrorists" from entering Iran. Last week, four Iranian guards were killed by unknown attackers in the eastern Iranian province of Sistan and Baluchistan, which borders Pakistan's southwestern Baluchistan province.
http://indianexpress.com/article/world/asia/iran-says-militants-infiltrating-from-pakistan/#sthash.Zx5ule9y.dpuf
---------
Palestinian leader calls Jews settlers "herd of cattle"
Oct 19, 2014
The Palestinian president says his people should guard a Jerusalem holy site against visiting Jews, who he referred to as a "herd of cattle."
Mahmoud Abbas' fiery rhetoric Saturday follows comments he made the previous day that Jews settlers should be banned from visiting the site, known to Jews as the Temple Mount and to Muslims as the Noble Sanctuary.
Palestinian demonstrators have recently clashed with Israeli occupation forces over what Palestinians see as Jewish encroachment on the site. The site is the third holiest in Islam.
Israel maintains that it allows free prayer to all but Palestinians claim Israel is unilaterally widening access to accommodate larger numbers of Jewish worshippers.
http://english.ahram.org.eg/NewsContent/2/8/113420/World/Region/Palestinian-leader-calls-Jews-settlers-herd-of-cat.aspx
-----------
Iran summons Pakistani ambassador over border killings
Oct 19, 2014
TEHRAN: Iran has summoned the Pakistani ambassador and demanded immediate steps to stop attacks by "terrorists and rebels" that sparked deadly clashes on the countries' border, state media reported Sunday.
Noor Muhammad Jadmani was called to the foreign ministry on Saturday evening following the deaths in the restive border province of Sistan-Balochistan, the official IRNA news agency said.
Iranian Ambassador to Pakistan Ali Raza Haghighian was summoned to the Foreign Office in Islamabad the same day and Pakistan lodged a strong protest with him over the recent shooting which had killed two Iranian border guards and a Pakistani paramilitary officer on Friday evening.
Iran claimed rebels had tried to infiltrate the country.
"It is unacceptable that terrorists and rebels attack our country from Pakistani territory and kill our border guards," the foreign ministry's western Asia director, Rasul Salami, told IRNA.
He asked the Pakistani government to "take serious steps to prevent any recurrence of such incidents," the news agency said.
Full report at:
http://www.dawn.com/news/1138989/iran-summons-pakistani-ambassador-over-border-killings
-----------
Senior AKP deputy slams Erdoğan, his party over Kurdish policies: BBC
Oct 19, 2014
A senior member of Parliament from Turkey's ruling Justice and Development Party (AKP) has slammed President Recep Tayyip Erdoğan and his party over Kurdish policies, BBC Turkish reported Oct. 18.
The AKP deputy, who spoke to BBC correspondent Paul Moss in Istanbul on condition of anonymity, directed "harsh criticism" at Erdoğan and the AKP, according to the report.
"It is very hard to understand why the government decided to attack the PKK. President Erdoğan is focused on increasing his votes, not to solve the Kurdish problem. I believe that the peace process may soon collapse and this would drive the country into chaos," the AKP MP reportedly
Full report at:
http://www.hurriyetdailynews.com/senior-akp-deputy-slams-erdogan-his-party-over-kurdish-policies-bbc.aspx?pageID=238&nID=73158&NewsCatID=338
-----------
Israel's defense minister in US after spat over Kerry remarks
Oct 19, 2014
Israeli Defense Minister Moshe Yaalon sought to calm fresh tensions with Washington on Oct. 19 as he began a five-day trip to the United States.
In a statement released ahead of his departure, Yaalon warned that no dispute should be allowed to "cast a shadow" over Israel's crucial relationship with its closest ally.
"The relationship between the United States and Israel is based on shared interests and values, and disputes of one sort or another must not cast a shadow over it," he said.
On Friday, two senior Israeli cabinet ministers took aim at US Secretary of State John Kerry over remarks linking the growth of Islamic extremism to Israel's decades-long conflict with the Palestinians.
At issue was a statement by Kerry in which he said regional leaders approached him over the need to broker peace between Israel and the Palestinians "because it was a cause of recruitment and of street anger and agitation".
Full report at:
http://www.hurriyetdailynews.com/israels-defense-minister-in-us-after-spat-over-kerry-remarks.aspx?pageID=238&nID=73164&NewsCatID=359
-----------
India
As 'love jihad' charge falls flat, families of ten accused wait for end of ordeal
Oct 19, 2014
Three-year-old Ayan has not seen his father Nawab in two months. His mother Farida tells him Nawab is in hospital, taking care of his ailing father. The toddler plays in the courtyard of a large house in Sarawa village, Meerut, but is careful not to disturb a group of women sitting on a mat in a corner. They are reciting the Quran and "praying for the end of our ordeal", says Farida, who has held many such prayer sessions since August 3.
Baqaullah is 75. He never thought at his age he would be running around for bail for his son Sanaullah and daughter-in-law. They called his son a cleric and arrested him. "He is a farmer like me, he is no cleric. Party-baazi ke chakkar mein kuchch bhi bol dete hain yeh log (for the sake of politics, these people cook up anything)." Baqaullah has five other children, including three sons. "I tell my grandsons to stay away from girls."
Vasila can't hold back her tears as she talks of daughter Nishat. The family had been planning for the 20-year-old's wedding. "She was due to get engaged in August and married in October. After her arrest, the boys' family called off the engagement. We had spent Rs 1 lakh in gifts."
Full report at:
http://indianexpress.com/article/india/uttar-pradesh/as-love-jihad-charge-falls-flat-families-of-ten-accused-wait-for-end-of-ordeal/99/#sthash.UnP3vpLH.dpuf
-----------
Modi talks to Karzai, former Afghan prez lauds India's assistance
TNN | Oct 19, 2014
NEW DELHI: PM Narendra Modi on Saturday spoke to former Afghan President Hamid Karzai describing him as a special friend of India whose contribution in strengthening bilateral relations and in successfully steering his country on the path of peace, prosperity and stability would "never be forgotten".
In his response, Karzai told Modi that there is no country which had contributed as much to Afghanistan as India despite resource constraints.
Modi told Karzai that he would always remain a "special friend" for India which was like a second home to him and invited him to undertake an early visit. Karzai said he looked forward to visiting India soon.
During the telephone call more than a month after Karzai demitted office which he held for nearly 13 years, Modi congratulated him for his leadership in ensuring a historic and peaceful political transition and formation of a National Unity Government in Afghanistan, a PMO statement said.
http://timesofindia.indiatimes.com/india/Modi-talks-to-Karzai-former-Afghan-prez-lauds-Indias-assistance/articleshow/44872785.cms
-----------
North America
'Only 84 of 2,379 killed by drones were Qaeda terrorists'
Oct 19, 2014
LONDON: The CIA drones strikes in Pakistan have killed as many as 2,379 people since 2004, but only 84 of the victims have been named al Qaeda terrorists, a report has revealed.
On October 11, the US carried out its 400th drone strike in northwest Pakistan since its strikes started there in 2004. In almost a decade, 2,379 people have been killed.
"Only 704 of the 2,379 dead have been identified, and only 295 of these were reported to be members of some kind of armed group," the UK-based Bureau of Investigative Journalism found out. As a part of its Naming the Dead project, the bureau collected the names and, where it was possible, the details of people killed by the CIA using a multitude of sources. "These include both Pakistani government records leaked to the bureau, and hundreds of open source reports in English, Pashtun and Urdu," they noted. It appears that less than 4 percent or 84 of the total number of killed have been identified as al Qaeda members.
These figures contradict what the US secretary of state said in May 2013, defending the CIA drone programme as one of the "most accountable".
Full report at:
http://www.dailytimes.com.pk/national/19-Oct-2014/only-84-of-2-379-killed-by-drones-were-qaeda-terrorists
--------
Slain journalist James Foley 'tried to see the good'
Oct 19, 2014
Family and friends say slain journalist James Foley was a compassionate and capable journalist who tried to see the good in others.
Foley was abducted in Syria in November 2012 and hadn't been heard from since until a video showing his killing at the hands of Islamic State extremists was posted on the Internet in August.
Hundreds of people filled Our Lady of the Holy Rosary Church on Saturday in Foley's hometown of Rochester, New Hampshire, during a memorial Mass on what would have been his 41st birthday. Afterward, friends paid tribute to Foley in a poignant ceremony.
One friend, Jeremy Osgood, said there were two absolutes in Foley's life: His faith and his family. Osgood said those gave him a "wealth of strength and courage."
http://indianexpress.com/article/world/americas/slain-journalist-james-foley-tried-to-see-the-good/#sthash.4CGnk4M6.dpuf
-----------
U.S. and Europe call for a halt of Libya violence
19 October 2014
The United States and four European countries jointly called on Saturday for an end to violence in Libya.
The governments of France, Italy, Germany, Britain and the United States said in a statement that they "agree that there is no military solution to the Libyan crisis" and expressed dismay that calls for a ceasefire had not been respected.
Dozens of people have been killed in Benghazi in days of fighting between Islamic militant groups, including Ansar al-Sharia, and pro-government forces led by former General Khalifa Haftar, who began an offensive on Wednesday.
The joint statement voiced concern over Haftar's offensive and said Libya's "fight against terrorist organizations can only be sustainably addressed by regular armed forces under the control of a central authority."
Full report at:
http://english.alarabiya.net/en/News/middle-east/2014/10/19/U-S-and-Europe-call-for-a-halt-of-Libya-violence.html
-----------
Africa
Libya PM says united forces aim to 'liberate' Tripoli, Benghazi
Oct 19, 2014
Libya's internationally-recognised prime minister said Saturday that military forces in the strife-torn country had united to try to recapture Tripoli and the second city Benghazi from Islamist militias.
"All military forces have been placed under army command to liberate Tripoli and Benghazi soon, inshallah (God willing)," Abdullah al-Thani said in an interview with AFP by telephone from the eastern town of Al-Baida.
Since a 2011 revolution which toppled Libya's longtime leader Moamer Kadhafi, interim authorities have failed to establish a regular army and had to rely on state-backed militias.
Former rebels who fought against Kadhafi have formed powerful militias and seized control of large parts of turmoil-gripped Libya over the past three years.
An operation launched Wednesday against Islamist militias in Benghazi, launched by former general Khalifa Haftar, is "under the command of the regular army and the control of government and parliament," Thani said.
Full report at:
http://english.ahram.org.eg/NewsContent/2/8/113397/World/Region/Libya-PM-says-united-forces-aim-to-liberate-Tripol.aspx
----------
'Ceasefire' doubts after attacks reported in Nigeria
Oct 19, 2014
Nigerian military and intelligence officials raised doubts on Sunday about the implementation of a ceasefire with Boko Haram, as reports of fresh attacks filtered out of the country's northeast.
The chief of defence staff and a senior presidential aide announced on Friday that agreement had been reached to end hostilities and the possible release of more than 200 kidnapped schoolgirls.
Air Marshal Alex Badeh said he had instructed all armed forces' chiefs to ensure the "immediate compliance" with the development.
But a senior army officer in the violence-wracked northeast, who asked to remain anonymous, said: "Honestly, we are yet to receive any operational order on the ceasefire.
"As such, we are battle-ready and would confront the terrorists if we see them."
A senior intelligence official in the region also indicated to AFP that he had not received word about the purported ceasefire.
Full report at:
http://english.ahram.org.eg/NewsContent/2/9/113438/World/International/Ceasefire-doubts-after-attacks-reported-in-Nigeria.aspx
-----------
URL: https://www.newageislam.com/islamic-world-news/new-age-islam-news-bureau/scrubbed-islamic-state-graffiti-belies-jokowi-security-challenge/d/99603