New Age Islam News Bureau
9 Oct 2013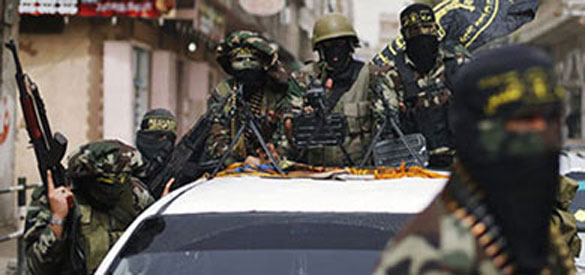 Islamic Jihad militants ride on a pickup truck as they follow the convoy of freed Palestinian prisoner Ibrahim Baroud, upon his arrival in the northern Gaza Strip, April 8, 2013. (Photo by REUTERS/Mohammed Salem)
------------
Europe
• Scotland Shuts Down Childhood Immunisation Program over Muslim Complaints
• First French-Turkish Muslim campus to be built in Strasbourg
• MI5 chief Andrew Parker warns of Islamist threat to UK
• French police detain suspected Islamist sent from Pakistan
• UK starts process to fix Iran ties, reopen embassies
• UN chief wants credible Presidential polls in Maldives
Arab World
• Iraq bombing kills eight: officials
• Poll finds Westerners opposed to military intervention in Syria
• Mourning Syrian Soldier, but Not Doubting a War
• Grand Mufti: Help the poor than repeating Haj
• Syrian opposition leader speaks on U.S.-Russian deal
• Egypt requests the return of eight stolen Islamic reliefs
• Egypt's Mursi to stand trial in November over protester killings
Africa
• Libya demands US return seized Qaeda 'operative'
• Africa raids suggest US rethinking targeted killing
• Around 60 dead in clashes in Central African Republic
• Libyan PM Ali Zeidan calls for foreign help on militancy
• Relief and distrust after Tunisian Islamist govt agrees to make way
South Asia
• Suicide attack in Afghanistan kills four people
• China punishes nearly 400 for jihad-related offences
• Maldivian-Canadian spat explained by Global News
• 'Freedom fighters, Hindus were killed in presence of Yusuf', Jamaat-e-Islami leader
• China police target online 'jihad' talk amid rumour crackdown
vPakistan has not released Mullah Baradar, says Afghan Taliban
Southeast Asia
• Malaysian Minister: Education vital in curbing child marriages
• Australia PM Announces Terror Attack Compensation in Bali
• Shariah court approves inheritance claim by Najadi heir
Mideast
• Palestinian Islamic Jihad Worried By Possible US-Iran Entente
• Attack on Jerusalem graves unnerves Christians
• Erdan: Enemies have 200,000 rockets and missiles pointed at Israel
• Turkish public servants start wearing headscarf freely
• Iran: We can 'clearly prove' nuclear program isn't for bomb
North America
• U.S. Officials Say Libya Approved Commando Raids
• US leans toward withholding military aid from Egypt
• Obama: captured Qaeda leader Abu Anas al-Libi to face justice
• 9/11 perpetrators no longer threat to US: Marie Harf
Pakistan
• Home Minister hails Ulema efforts for striking govt-Taliban deal
• Islam teaches tolerance towards minorities, says Imran
• Rangers 'raid' Nine Zero, MQM's headquarter
• MQM's mandate exposed: Jamaat-i-Islami
• From the ruins of Awaran: Top military official makes peace overture to Baloch rebels
• Islamabad defends stand on military posts
• Pakistan's Pervez Musharraf bailed over Bugti murder
India
• Maldives' poll standoff worries India
• Muzaffarnagar riots were 'caused', they didn't happen: Rahul Gandhi
• India-Pak ties: We have to show some patience, Khurshid says
• Israel to showcase its agro excellence in 10 Indian states by 2015
• Impossible to normalize ties if Pak doesn't stop infiltration: Omar
Compiled by New Age Islam News Bureau
URL: https://www.newageislam.com/islamic-world-news/new-age-islam-news-bureau/scotland-shuts-down-childhood-immunisation-program-over-muslim-complaints/d/13913
---------
Europe
Scotland Shuts Down Childhood Immunisation Program over Muslim Complaints
October 09, 2013
Muslims don't like vaccines. It's safe to mock a Jenny McCarthy over vaccines, but no one mentions the vehement opposition of Islamists to vaccinations.
In Afghanistan, the Taliban have issued Fatwas against vaccines and murdered workers. Nigeria and Pakistan have also been scenes of violent Muslim opposition to vaccination.
Muslims aren't even 1 percent of the population of Scotland. But they've been doing their Talibanest best there, with the aid and support of the so-called Scottish National Party that often seems more like the Pakistani Immigrants Party and now Scotland's largest vaccination program has been shut down because of them.
The roll-out of the flu vaccine nasal spray pilot scheme in Glasgow had been due to begin at city primary school on Wednesday, days after its launch by First Minister Alex Salmond.
But after parents at Glendale Primary in Pollokshields – which has a large number of Muslim pupils who cannot consume or use pig products for religious reasons – became aware of the ingredients, complaints were made and the scheme was put on hold.
NHS Greater Glasgow and Clyde (NHSGGC), whose area contains the overwhelming majority of Scotland's Muslims, said it had postponed the vaccinations "following concerns raised by a small number of parents".
The health board added that, in 2001, 100 Islamic scholars had agreed pork gelatine was permissible within a vaccine so there had been no need for advance publicity.
Which is true. The issue isn't pork gelatine when part of a medication. Muslim scholars are on board with it. This is about Islamist activism imposing Taliban norms on an entire country. It's about Muslims getting to throw their weight around and impose control by once again pretending to be offended by something that they only care about as a vehicle for power.
Glasgow councillor Soryia Siddique said: "Children's health and wellbeing is paramount. The serious failure is at a national level with regards to the clarity of the vaccine ingredient which should have been communicated to parents so they could make an informed decision."
The only people endangering the wellbeing of children here are Soriya and her sorry clan who insist on putting Islamist power plays ahead of children's health the same way that they do in Pakistan.
Dr Syed Ahmed, consultant in public health medicine at NHSGGC, said: "We want to point out to parents and carers that the nasal spray vaccine contains a tiny amount of gelatine of pork origin used during the manufacturing process."
He said gelatine was commonly used in the manufacture of medicines and the trace in the finished nasal spray was a "completely changed substance".
He added: "In view of the 2001 ­agreement between the World Health Organisation and the Muslim scholars that pork gelatine was permissible within a vaccine there was no specific reference to this ingredient in the initial national communication that was produced for parents.
So we have a Muslim doctor saying that Soryia Siddique and the Islamist power play is full of crap. This isn't about Islamic law on pork gelatin, it's about pushing harsher versions of Islamic law on the rest of society in order to impose Islamic dominance.
http://frontpagemag.com/2013/dgreenfield/scotland-shuts-down-childhood-immunization-program-over-muslim-complaints/
-----------
First French-Turkish Muslim campus to be built in Strasbourg
October 9, 2013
Funded by Turkey to train future imams
PARIS - The first French-Turkish Muslim campus in France will be built in Strasbourg's outskirts.
The project, fully funded by Turkey, will train France's future imams with courses and exams exclusively in Arabic. There are currently only two private institutes in France for the training of imams: one school created by Paris's Grand Mosque and one set up by the Muslim Brotherhood-linked Union of Islamic Organisations in France (UOIF). In addition to the theology faculty and its five-year course of studies, there will also be a Muslim secondary school based on the Turkish imam hatip, as well as internships. ''The secondary school will be a nursery ground for recruiting future students of theology. It will become the standard for Islam in France and Europe,'' Libération was told by Saban Kiper, socialist councillor in the Strasbourg municipality. There will be at least six hours per week of courses on religion. Though the campus is still under construction, several different structures were purchased in 2010 and are currently undergoing renovation. One room will be set aside for prayer.
Libération cites data showing that Turkey is investing 15 million euros in ''the most ambitious project ever for France's Muslim community of Turkish origins'. The aim is to train the younger generation of French Muslims - born and raised in France - in the work of an imam, under the supervision of Diyanet, the Turkish religious affairs service. The newspaper states that this is a way for the Turkish government to ''preserve its influence over its diaspora''. The training of imams has been under discussion in France - where the largest Muslim community in Europe lives, and where the deepest divides between different generations of Muslims exist - for the past twenty years. Only a third of imams receive a salary, while the other rely on donations from mosque-goers and are volunteers. ''While the private institutes in existence do accept a certain quantity of students, few of them want to become imams.
Most sign up to learn Arabic or the basics of theology,'' sociologist Romain Sèze told Libération. France's young Muslims are generally not attracted to this work since it ''is badly paid, there are few social protections in place and there is no work contract. Imams depend on mosques, mosque-goers and public authorities.''
http://www.ansamed.info/ansamed/en/news/sections/generalnews/2013/10/07/France-first-Muslim-campus-be-built-Strasbourg_9424662.html
---------
MI5 chief Andrew Parker warns of Islamist threat to UK
Oct 9, 2013
Thousands of Islamist extremists in the UK see the British public as a legitimate target for attacks, the director general of MI5 has warned.
Andrew Parker was making his first public speech since taking over as head of the UK Security Service in April.
Al-Qaeda and its affiliates in Pakistan and Yemen present "the most direct and immediate threats to the UK," he said.
He also warned of the damage done to British security by the leaking of classified documents from GCHQ.
Addressing the Royal United Services Institute in Whitehall, Mr Parker added the security services must have access to the many means of communication which terrorists now use.
He also revealed some of the fears and frustrations his service was experiencing over both the advances in technology, and those who leak government secrets into the public domain.
'Enormous damage'
Intelligence officials in both the US and Britain have been absolutely dismayed at the wealth of secret data taken by the former CIA contractor Edward Snowden when he fled to Russia.
Some 58,000 of the files are from GCHQ, whose intelligence, Mr Parker said, had played a vital role in stopping many UK terrorist plots over the past decade.
Without mentioning Mr Snowden by name, he said ''it causes enormous damage to make public the reach and limits of GCHQ techniques".
Doing this, he added, handed the advantage to the terrorists.
He warned that terrorists now had tens of thousands of means of communication "through e-mail, IP telephony, in-game communication, social networking, chat rooms, anonymising services and a myriad of mobile apps".
Mr Parker said it was vital for MI5 - and by inference its partner GCHQ - to retain the capability to access such information if the Security Service was to protect the country.
However, some have argued that Snowden's revelations, which were published in the Guardian newspaper, have not harmed Britain and, in fact, opened a debate on the balance between privacy and security.
Henry Porter, a columnist with that newspaper's sister title the Observer, said: "The people who released and let go of these documents, of course, were the NSA in America.
"That's where the leak took place and we haven't published anything which jeopardised the security of this country."
In an interview with BBC Radio 4's Today programme, he said: "What we have done is shown how much surveillance we are under; legitimately under the laws that have been passed by this government."
A Guardian News & Media spokesman said: "A huge number of people - from President Obama to the US Director of National Intelligence, James Clapper - have now conceded that the Snowden revelations have prompted a debate which was both necessary and overdue.
"The President has even set up a review panel and there have been vigorous discussions in the US Congress and throughout Europe
"Such a debate is only worthwhile if it is informed. That is what journalism should do."
'Not perfect'
But Mr Parker warned that threats to the UK are growing more diverse and diffuse. And he warned: "It remains the case that there are several thousand Islamist extremists here who see the British public as a legitimate target."
He explained that "knowing of an individual does not equate to knowing everything about them".
"Being on our radar does not necessarily mean being under our microscope," he said.
"The reality of intelligence work in practice is that we only focus the most intense intrusive attention on a small number of cases at any one time.
"The challenge therefore concerns making choices between multiple and competing demands to give us the best chance of being in the right place at the right time to prevent terrorism."
Mr Parker added: "We are not perfect, and there are always things we can learn, do better and sharpen up on."
With 30 years in MI5, Mr Parker was previously deputy director general and before that director of its counter-terrorism division at the time of the London bombings in 2005.
'Stopped at airports'
In his speech, he named al-Qaeda and its affiliates in south Asia and the Arabian peninsula as presenting "the most direct and immediate threats to the UK".
By that he meant primarily its elements in Pakistan and separately in Yemen, from where al-Qaeda has three times succeeded in smuggling explosives past security on to planes in the last four years.
Referring to the ongoing conflict in Syria, he said a growing proportion of MI5's casework concerned individuals from the UK who had travelled to fight there.
He said extremist Sunni groups in Syria were aspiring to attack Western countries.
This has long been a concern of Western governments - that British-based jihadists will one day return from the killing fields of Syria and turn their new-found skills on the population back home.
A number of people have been stopped at airports and some have been arrested on suspicion of terrorism.
"For the future, there is good reason to be concerned about Syria," he said.
Mr Parker said 330 people had been convicted of terrorism-related offences in Britain between 11 September 2001 and 31 March 2013.
He added that in the first few months of this year, there had been four major trials related to terrorist plots.
Chillingly, he reminded the public that these included plans for a 7/7-style attack with rucksack bombs, and named two other plots.
There were guilty pleas in each case, he said, with 24 terrorists convicted and sentenced to more than 260 years in jail.
In conclusion, Mr Parker said he did not believe the terrorist threat was any worse now than before. But it was "more diffuse, more complicated, more unpredictable".
http://www.bbc.co.uk/news/uk-24454596
----------
French police detain suspected Islamist sent from Pakistan
Reuters | Oct 8, 2013
PARIS: A Frenchman held in Pakistan for months on suspicion of training Islamist militants was detained for questioning by French police on his return home, an official at the Paris prosecutor's office said on Tuesday.
Naamen Meziche was arrested on a bus along with three other French nationals in south-western Pakistan in May 2012 on suspicion of training Jihadi networks and preparing terrorist attacks, the official said.
Pakistan deported the three to France in April and they have been held since then on suspicion of conspiring to commit terrorist acts.
Meziche, who is of Algerian origin, was held in Pakistan until Monday evening. French security officials suspect him of being a member of al-Qaida.
"We hope that confronting Meziche with the three others will enable us to find out more about this cell and its exact role within al-Qaida," the prosecutor's office aide said, declining to give further details.
No lawyer for Meziche could immediately be reached for comment.
According to French and German media reports, Meziche lived a large part of his life in Hamburg in northern Germany.
He attended the same Hamburg mosque as some of the men behind the Sept. 11, 2001 attacks in the United States and he knew their ringleader, Mohammed Atta, according to the reports.
French officials say they are increasingly worried about the threat of their own nationals travelling abroad to fight in Syria's civil war and one day returning to carry out attacks at home.
Dozens of Frenchmen travel each year to remote places in Africa and Asia viewed as strongholds of al-Qaida to train or fight as Islamist militants, security sources say.
Many are arrested on their return to France.
A man who killed seven people in Toulouse in March last year, Mohamed Merah, had also previously travelled to Pakistan, as well as Afghanistan.
http://timesofindia.indiatimes.com/world/europe/French-police-detain-suspected-Islamist-sent-from-Pakistan/articleshow/23744199.cms
-----------
UK starts process to fix Iran ties, reopen embassies
Reuters | Oct 8, 2013
LONDON: British foreign secretary William Hague said on Tuesday that Britain and Iran had embarked on a process that could lead to the reopening of their embassies after diplomatic relations broke down in 2011.
"Both our countries will now appoint a non-resident charge d'affaires tasked with implementing the building of relations, including interim steps on the way towards (the) eventual reopening of both our embassies," Hague told parliament.
Addressing Iran's disputed nuclear programme, Hague said Tehran would need to make "substantive changes" to it if it wanted the West to ease sanctions, saying the future of British-Iranian relations would depend on tangible steps.
Full report at:
http://timesofindia.indiatimes.com/world/uk/UK-starts-process-to-fix-Iran-ties-reopen-embassies/articleshow/23738813.cms
----------
UN chief wants credible Presidential polls in Maldives
Oct 09 2013
Maldives' Supreme Court has annulled results of the September 7, 2013 first-round Presidential vote
The United Nations chief has called for a credible and peaceful revote for presidency in the Maldives after the country's Supreme Court annulled results of an earlier election widely hailed as free and fair.
U.N. Secretary-General Ban Ki-moon has noted the court decision to hold fresh elections, his office said in a short statement dated on Tuesday.
Maldives' Supreme Court on Monday annulled results of the September 7, 2013 first-round Presidential vote, agreeing with a losing candidate that the voters' registry included made-up names and deceased people. It said some 5,600 votes were thus tainted.
Full report at:
http://www.thehindu.com/news/international/south-asia/un-chief-wants-credible-presidential-polls-in-maldives/article5217408.ece
---------
Arab World
Iraq bombing kills eight: officials
2013-10-09
BAGHDAD: A roadside bomb exploded near a truck carrying workers in Iraq on Wednesday, killing eight people, a police officer and a hospital employee said.
The blast south of Baghdad also wounded seven, they said.
Violence in Iraq has reached a level not seen since 2008, when the country was just emerging from a brutal sectarian conflict.
This year's surge in violence has raised fears of a relapse into the kind of intense Sunni-Shia bloodshed that peaked in 2006-2007 and killed tens of thousands of people.
Diplomats and analysts say the Shia-led government's failure to address the grievances of the Sunni Arab minority — which complains of political exclusion and abuses by security forces — has driven the rise in unrest.
Full report at:
http://www.dawn.com/news/1048529/iraq-bombing-kills-eight-officials
---------
Poll finds Westerners opposed to military intervention in Syria
Oct 09 2013
(Reuters) - Over half of the people surveyed in an international Reuters/Ipsos poll are opposed to foreign military action against Syrian President Bashar al-Assad and more are against their own countries intervening in the conflict.
The poll, conducted in 15, mostly European countries, also found that only about a third of respondents held Syria's government accountable for using chemical weapons despite Western efforts to blame Assad for an August 21 sarin gas attack.
The United States had threatened punitive strikes against Damascus after the attack, which killed hundreds of people in the capital's suburbs, but stepped back after Syria agreed to eliminate its chemical weapons.
Full report at:
http://www.reuters.com/article/2013/10/09/us-syria-crisis-poll-idUSBRE9980I220131009
--------
Mourning Syrian Soldier, but Not Doubting a War
By ANNE BARNARD
DAQAQA, Syria — Under a silvery canopy of olive trees, men and women crowded around the grave of a 24-year-old lieutenant in the Syrian Army. As a commander handed the dead man's mother a Syrian flag folded into a neat triangle, the scrape of branches shifting in the wind could be heard over quiet sobs and prayers.
A rifle barrage erupted as the dead man's friends and relatives fired into the air, sending scores of empty shells clinking to the pebbly ground.
"God give victory to our president, Bashar al-Assad, heal our wounded, set our prisoners free and let our words be one word," a sheik in a white robe and skullcap intoned. "Don't think those who die for the sake of God are dead. The martyr is precious for all eternity."
Killed in an ambush at the other end of the country, the lieutenant — whose family asked that he be called by his nickname, Abu Layth — was the first soldier to fall from this village of 125 people in Syria's coastal foothills, two years into a war that has only recently come close enough for the sounds of shelling to be heard.
Full report at:
http://www.nytimes.com/2013/10/09/world/middleeast/at-a-syrian-soldiers-funeral-few-doubts-about-a-wars-rightness.html
--------
Grand Mufti: Help the poor than repeating Haj
October 9, 2013
MAKKAH – Grand Mufti Sheikh Abdul Aziz Al-Asheikh said that spending money to help the poor and needy or helping another Muslim to perform his obligatory ritual of Haj is better than repeating Haj by a wealthy Muslim.
He made the remarks while addressing the three-day Grand Haj Seminar with the theme "Learn priorities in Haj" which began here on Tuesday. He urged Islamic scholars to enlighten Muslims on this major aspect of Islam.
Full report at:
http://www.saudigazette.com.sa/index.cfm?method=home.regcon&contentid=20131009183146
---------
Syrian opposition leader speaks on U.S.-Russian deal
9 October 2013
The head of the Syrian opposition coalition's interim government, Ahmad Tohmeh, has aired his thoughts on the U.S.-Russian deal to destroy the Syrian regime's chemical stockpile within a year.
In an interview with Al Arabiya, Tohmeh said the deal was reached between the two parties in a manner that prevented the Syrian people from influencing the decision.
Tohmeh also said that the agreement helped the Americans achieve two major aims; disarming the Syrian regime of its chemical weapons in order to serve Israel's interests and hampering Iran's nuclear program.
Full report at:
http://english.alarabiya.net/en/News/world/2013/10/09/Syrian-opposition-leader-speaks-on-U-S-Russian-deal.html
---------
Egypt requests the return of eight stolen Islamic reliefs
October 9, 2013
Egypt's Ministry of State of Antiquities (MSA) asked the Ministry of Foreign Affairs Tuesday to take all required procedures to stop the sale of eight Islamic wooden reliefs in Bonham's auction hall in London.
MSA minister Mohamed Ibrahim explained that these reliefs were illegally stolen last April from the Dome of Abbasids Caliphs in Al-Sayeda Nafisa area in Old Cairo.
Full report at:
http://english.ahram.org.eg/NewsContent/9/43/83539/Heritage/Islamic/Egypt-requests-the-return-of-eight-stolen-Islamic-.aspx
---------
Egypt's Mursi to stand trial in November over protester killings
9 October 2013
The trial of Egypt's deposed Islamist president Mohammad Mursi on charges of inciting the murder of protesters will start on November 4, the official MENA news agency reported Wednesday.
Mursi will stand trial with 14 other defendants over the killings of protesters outside his presidential palace in December 2012, almost six months before his ouster in a military coup.
Mursi is also facing charges of insulting the country's judiciary, state media reported on last month.
Full report at:
http://english.alarabiya.net/en/News/middle-east/2013/10/09/Murder-trial-of-Egypt-s-Mursi-to-start-in-November.html
---------
Africa
Libya demands US return seized Qaeda 'operative'
October 09, 2013
TRIPOLI: Libya's top political authority demanded Tuesday the United States "immediately" hand back an alleged Al-Qaeda operative its forces captured in Tripoli, as activists urged that his rights be respected.
The country is bristling after the US operation to snatch Abu Anas al-Libi on Saturday, with the government summoning the US ambassador and Prime Minister Ali Zeidan insisting that all Libyans should be tried on home soil.
The case has embarrassed and put the Libyan government under pressure from its critics -- notably former rebel groups in the 2011 revolt that ousted and killed dictator Moamer Kadhafi.
Full report at:
http://www.thenews.com.pk/article-121692-Libya-demands-US-return-seized-Qaeda-operative--
----------
Africa raids suggest US rethinking targeted killing
SPENCER ACKERMAN
October 9, 2013
LONDON: The twin raids mounted by US forces on terror suspects in Africa at weekend are shaping up as a test of whether the Obama administration is re-emphasising the capture of terrorist suspects - risky missions that have been relatively rare during the past five years - and shifting away from what it calls "targeted killing" operations, usually involving armed drones.
The seizure of Abu Anas al Libi, an alleged Al Qaeda operative wanted for the 1998 east Africa embassy bombings, is also looking like a test of a related issue: whether the Obama administration is recommitting to civilian courts for trying terrorist suspects that it captures in the future.
Full report at:
http://www.dawn.com/news/1048360/africa-raids-suggest-us-rethinking-targeted-killing
--------
Around 60 dead in clashes in Central African Republic
Oct 09 2013
(Reuters) - Around 60 people have been killed in sectarian clashes in Central African Republic between local militias and former rebels, witnesses and a local official said on Wednesday.
The mineral-rich but impoverished nation has descended into chaos since mostly Muslim Seleka rebels from the north seized the capital Bangui in March, ousting President Francois Bozize.
The new transitional government's failure to stem the violence has prompted the U.N. Security Council to consider intervening to restore order.
Local self-defence militias, known as "anti-balaka" or anti-machetes, attacked a Seleka position in the mining village of Gaga, around 250 km (150 miles) northwest of Bangui, on Monday, killing four ex-rebels before attacking Muslim civilians.
Full report at:
http://uk.reuters.com/article/2013/10/09/uk-centralafrica-clashes-idUKBRE9980GQ20131009
---------
Libyan PM Ali Zeidan calls for foreign help on militancy
Oct 9, 2013
Libyan Prime Minister Ali Zeidan has called on Western powers to help stop the spread of militancy in his country.
In an interview with BBC Newsnight he said Libya was being used as a base to export weapons throughout the region.
"The movement of these weapons endangers neighbouring countries too, so there must be international co-operation to stop it," Mr Zeidan said.
On Monday Libya questioned the US ambassador over the capture of a suspected al-Qaeda leader in Tripoli.
Anas al-Liby, wanted over the 1998 bombings of US embassies in Kenya and Tanzania, was seized by US commandos in an early morning raid on Saturday.
Full report at:
http://www.bbc.co.uk/news/world-africa-24451180
----------
Relief and distrust after Tunisian Islamist govt agrees to make way
October 9, 2013
TUNIS – The ruling Tunisian Islamist party Ennahda's pledge to stand down in favor of a government of independents has prompted both relief and distrust among observers and members of the opposition.
Despite Saturday's agreement aimed at ending a months-long political deadlock, some already fear that Ennahda may try to renege on the deal.
Saturday's roadmap signed by Ennahda chief Rached Ghannouchi was brokered to end a crisis sparked by the murder in July of opposition MP Mohamed Brahmi.
http://www.saudigazette.com.sa/index.cfm?method=home.regcon&contentid=20131009183156
---------
South Asia
Suicide attack in Afghanistan kills four people
2013-10-09
KABUL: A security official says a suicide car bombing has killed four people, two civilians and two policemen, in southern Afghanistan.
Police spokesman for southern Helmand province, Shamem Noorzai, says Wednesday's attack took place in the Gareshk district.
He says the bomber targeted a police patrol and blew up his car next to a police vehicle in a crowded area of the town of Gareshk.
Full report at:
http://www.dawn.com/news/1048528/suicide-attack-in-afghanistan-kills-four-people
---------
China punishes nearly 400 for jihad-related offences
Oct 09 2013
Beijing : Nearly 400 people in China's volatile Xinjiang region, home to Uygur Muslims, have been punished for allegedly spreading jihad and rumours online, officials said on Wednesday as the country stepped up efforts to curb militancy.
The Xinjiang Uyghur Autonomous Region has punished 256 people for spreading online rumours that jeopardised social stability, state-run Global Times reported on Wednesday.
Another 139 people were arrested for "spreading religious extremism, including jihad", China Daily reported.
Several people received admonitions, while 16 were put under criminal custody, Hou Hanmin, deputy director of the publicity department under the region's Communist Party, said.
Police in Xinjiang have handled an "increasing number of cases in which individuals have posted or searched for religious extremist content on the Internet during the past three years".
Full report at:
http://www.indianexpress.com/news/china-punishes-nearly-400-for-jihadrelated-offences/1180416/
----------
Maldivian-Canadian spat explained by Global News
By Minivan News | October 9th, 2013
Canada's Global News has revealed the story behind the recent war of words between Canadian Foreign Minister John Baird and the Government of Maldives.
The news outlet reports that Baird's "inappropriate remarks" – later complained about by Waheed in a letter to Canada's Prime Minister – came as a result of the Maldives' Acting Foreign Minister accusing Baird of bias during the Commonwealth Ministerial Action Group (CMAG) meeting on September 27.
Full report at:
http://minivannews.com/category/news-in-brief
---------
'Freedom fighters, Hindus were killed in presence of Yusuf', Jamaat-e-Islami leader
October 9, 2013
A prosecution witness on Tuesday told the war crimes tribunal that Jamaat-e-Islami leader AKM Yusuf, also the alleged founder of Razakar force, had instructed to shoot some unarmed Hindus and two pro-liberation people in Morolganj of Bagerhat during the 1971 Liberation War. Second prosecution witness Nasir Uddin Ahmed claimed his two friends – freedom fighter Abu Bakar and social worker Abdul Majid were killed by Razakars upon Yusuf's order and in his presence. Razakars, formed with the members of Jamaat, had collaborated with the Pakistani occupation forces and committed crimes against humanity against the pro-liberation forces. Full report at:
http://www.dhakatribune.com/law-amp-rights/2013/oct/09/%E2%80%98freedom-fighters-hindus-were-killed-presence-yusuf%E2%80%99#sthash.fxoM9yPr.dpuf
---------
China police target online 'jihad' talk amid rumor crackdown
October 9, 2013
BEIJING — Police in China's Xinjiang region are cracking down on people who promote jihad online, state media reported on Tuesday, amid a nationwide campaign against internet rumours that activists say is a blow to freedom of speech.
Sprawling Xinjiang is home to the mostly Muslim Uighur ethnic minority, many of whom harbor resentment of what they see as Chinese repression of their culture and religion. Some are campaigning for a separate Muslim state and there have been incidents of violence.
Xinjiang police were investigating 256 people for spreading "destabilizing rumors" online, the Xinjiang Daily newspaper said. Of those, 139 spread rumors about jihad, or Muslim holy war, or other religious ideas. More than 100 had been detained.
Full report at:
http://www.saudigazette.com.sa/index.cfm?method=home.regcon&contentid=20131009183124
---------
Pakistan has not released Mullah Baradar, says Afghan Taliban
9 October 2013
The Afghan Taliban said on Wednesday that Pakistan has not freed Mullah Baradar, founder of the Afghan Taliban and its former military commander.
Baradar, whose health is deteriorating rapidly, is seen by many in Afghanistan as the key to restarting peace talks with the Afghan Taliban.
"Unfortunately he still spends his days and nights in prison, and his health condition in worrying. It is getting worse day by day," said Taliban spokesman Zabihullah Mujahid.
Full report at:
http://english.alarabiya.net/en/News/asia/2013/10/09/Afghan-Taliban-say-Pakistan-still-keeping-former-No-2-in-jail.html
---------
Southeast Asia
Malaysian Minister: Education vital in curbing child marriages
October 9, 2013
PETALING JAYA: Educating society is the key to tackling the issue of child marriages, says the Women, Family and Community Development Ministry.
Its minister Datuk Rohani Abdul Karim said society should be taught that child marriages posed a real danger to the young brides.
"If they undergo the reproductive process at an early stage, it is not good for their health. They will be prone to various diseases and even death," she said.
The ministry, she added, was concerned about the rising trend of child brides and would continue to educate Malaysians in a bid to reduce or stop such marriages.
"If we follow the law, there shouldn't be any child brides but we know that in certain circumstances such unions exist," Rohani said during a visit to Menara Star on Monday.
"We hope that through education, we can reduce their number."
Full report at:
http://www.thestar.com.my/News/Nation/2013/10/09/Rohani-Education-vital-in-curbing-child-marriages.aspx
-----------
Australia PM Announces Terror Attack Compensation in Bali
October 9, 2013
Kuta, Bali. Prime Minister Tony Abbott Wednesday announced a scheme to compensate Australian victims of overseas terror attacks and their families as he laid a wreath at the site of the 2002 Bali bombings.
Flanked by his wife Margie and Bali governor I Made Mangku Pastika, Abbott bowed his head during the solemn ceremony at a stone monument that honours the 202 people, mostly foreign tourists, who died in the attacks.
Abbott said he was making the visit, after his attendance at a summit on Bali, to "honour the dead, to commiserate with those who were injured on that night and who still bear the scars, physical and mental".
Full report at:
http://www.thejakartaglobe.com/international/australia-pm-announces-terror-attack-compensation-in-bali/
-----------
Syariah court approves inheritance claim by Najadi heir
October 9, 2013
KUALA LUMPUR: The sole heir of Arab Malaysian Banking Group founder Hussain Ahmad Najadi is to receive RM1.82mil in cash and shares after his faraid application was approved by the Syariah High Court here.
Faraid deals with the distribution of the estate of a deceased person among the heirs.
Pascal Najadi, 46, is the only child of Hussain who was gunned down at the carpark of the Jalan Ceylon Kuan Yin temple on July 29.
http://www.thestar.com.my/News/Nation/2013/10/09/ahmad-najadi-hussain-heir-pascal.aspx
-----------
Mideast
Palestinian Islamic Jihad Worried By Possible US-Iran Entente
Oct 9, 2013
GAZA CITY, Gaza Strip — As signs of an entente between the United States and the Islamic Republic of Iran increased, talks abound about the possibility of both sides agreeing to concessions meant to lead to an actual reconciliation. Such a reconciliation could ultimately affect Iran's stance vis-à-vis the Palestinian cause and the support that it gives to some Palestinian factions, both financially and militarily.
Islamic Jihad, which is has the closest relations out of the Palestinian factions to Iran and is the recipient of generous financial and military backing from the latter, expressed cautious concern toward the prevalent signs of a rapprochement between Iran and the United States. Furthermore, it was leery that its relationship with Tehran might be affected and the support it receives curtailed, which would negatively affect its performance on the ground.
On the other hand, Hamas, which rules the Gaza Strip, did not express a lot of concern about the possibility that Iranian-American relations could improve. Its own relationship with Iran has been tense and at its lowest point for the past two years, as a result of its stance towards the Syrian crisis.
Despite most of Islamic Jihad's political leaders refusing to publicly comment about the budding Iranian-American entente, a high-ranking source inside the movement told Al-Monitor that the movement felt "apprehension and concern that the sudden rapprochement between the two parties might negatively impact the amount of support to the Palestinian cause, because the US is the main backer of Israeli occupation."
"Since word spread about contact between the two sides, which was culminated by the phone call between Presidents Barack Obama and Hassan Rouhani, concern began creeping in the minds of Islamic Jihad's leaders. This is because the movement primarily relied on Iran's financial, military, and political support," the source, who preferred to remain anonymous, told Al-Monitor.
"We are not worried in the short term, and do not perceive the ongoing negotiations to be a threat to the support received by the Palestinian cause and resistance factions. But we are concerned that, as the relationship between the two sides progresses, the US might request that support for Palestinian factions be curtailed, which we assert will not happen anytime soon," he added.
Islamic Jihad has close ties with Iran and its allies in the region, such as Syria and Hezbollah. This has allowed it to receive backing on all levels, and has distinguished it from other Palestinian factions, insofar as the types of weapons that it alone was given, according to sources from both the Islamic Jihad and Hamas.
Hassan Abdo, a political affairs writer with close ties to Islamic Jihad, thought it unlikely that the Iran-US rapprochement would lead to a change in support for the Palestinian factions "because the Islamic Republic's stance is firm and genuine."
"The issue will not solely revolve around Palestinian factions, but will also touch on Iran's actions on the regional and international arenas. The Palestinians will therefore not be directly impacted," Abdo said in an interview with Al-Monitor.
At the same time, he opined that Iran would also change its media rhetoric towards the United States, if real reconciliation ensued. "The previously prevalent slogans uttered by Iranian politicians, such as 'death to America and Israel,' will become less evident during Rouhani's reign."
Abdo stressed that Iran "would not abandon the Palestinian cause and factions, but will maintain the best of relations with them. The main new development might take the form of bolstered relations with the Palestinian Authority (PA), led by Fatah in the West Bank."
For its part, Hamas considered that changes in political stances might occur if real reconciliation ensued between the Americans and Iranians. But it regarded such an eventuality to be unlikely in the short term, because the chasm was still wide between the two.
In an interview with Al-Monitor, Bassem Naim, a Hamas leader in Gaza, said that he expected change to occur, with Iran expressing added flexibility towards reaching a political solution between Palestinians and Israelis, and refraining from opposing political solutions if the Palestinians agreed to them.
"Reconciliation between the two sides might lead to a decline in Iranian support for Palestinian resistance movements in the region. But there won't be any radical changes to the political stances vis-à-vis the Palestinian cause," said Naim.
Naim clarified that Hamas would not be greatly affected by any changes that might occur because, contrary to other Palestinian factions, it never relied on Iran as a sole source of support.
He pointed out that Iran still needed the Palestinian factions "as regional proxies in the region, and that continued relations fell within the scope of purely Iranian interests, not just Palestinian ones."
"Iran is not in a vulnerable position now and does not need to surrender its sources of strength to the Americans at this stage," he added.
Political affairs writer Mukhaimar Abu Saada also found it improbable that the current entente would result in any changes to Iran's backing of Palestinian factions at this stage. However, he did not rule out such changes taking place in the mid- to long terms, if relations between the United States and Iran continued to develop.
Speaking to Al-Monitor, he said: "The biggest loser in the long term might be Islamic Jihad, because, over the past two years, Iran stopped all backing to Hamas as a result of the Syrian crisis. Yet, the latter will also not be very happy about this rapprochement."
The rapprochement between the US and Iran under the rule of moderate Iranian Rouhani might not lead to radical changes in the Islamic Republic's stance towards Palestinian factions that it currently has relations with. Yet it might, however, lead Tehran into carefully thinking about breaking the shackles of ideologies that hold it captive, adopting flexible and pragmatic policies that diverge from its traditional stances.
http://www.al-monitor.com/pulse/originals/2013/10/us-iran-rapprochement-islamic-jihad-hamas.html#ixzz2hERBJlTl
----------
Attack on Jerusalem graves unnerves Christians
AP | Oct 9, 2013
JERUSALEM: Christian leaders in Israel are up in arms over what they say is a string of relentless attacks on church properties and religious sites _ most recently the desecration of a historic Protestant cemetery where vandals toppled stone crosses from graves and bludgeoned them to pieces.
The attack in the Protestant Cemetery of Mount Zion, one of Jerusalem's most important historic graveyards, has struck a particularly sensitive nerve because some of the damaged graves belong to famous figures from the 19th and 20th centuries, a key period in Jerusalem's history. Among them are a German diplomat, the founder of an orphanage who was a significant contributor to modernizing the city, and a relative of the owners of a prominent hotel.
Though members of the clergy say interfaith relations between top religious leaders have never been stronger, and police have been more responsive to such attacks in recent years, they say attacks continue unabated. Some activists say not enough is being done to stop them.
Full report at:
http://timesofindia.indiatimes.com/world/middle-east/Attack-on-Jerusalem-graves-unnerves-Christians/articleshow/23816290.cms
----------
Erdan: Enemies have 200,000 rockets and missiles pointed at Israel
October 9, 2013
Israel's enemies, including Hezbollah, has 200,000 rockets and missiles pointed at Israel, Homeland Defense Minister Gilad Erdan said Tuesday at the Israel's Perils and Prospects conference aat Bar Ilan University.
A rocket and missile protection program will be set up within three months for around 30 percent of Israel's population that remains vulnerable to such attacks, he added
Around 30 percent of Israel's population is vulnerable to attacks Erdan said that in any IDF scenario of a full-scale war, the Israeli home front will be pounded by thousands of rockets for up to three weeks, and that every point in the country could be targeted by Hezbollah.
"One out of every 10 homes in Lebanon has a rocket launcher or weapons stored in it," Erdan said. "They plan homes there so that the roof opens up and closes for rocket launchers to fire."
Full report at:
http://www.jpost.com/Defense/Erdan-Hezbollah-has-200000-rockets-and-missiles-pointed-at-Israel-328225
---------
Turkish public servants start wearing headscarf freely
October 9, 2013
Covered women working as public servants were able to enter their workplaces with their headscarves on yesterday for the first time ever after an amendment guaranteeing the freedom of dress went into effect earlier in the day.
The watershed move, which was announced by the ruling Justice and Development Party's (AKP) government in a "democratization package" on Sept. 30, was the fulfillment of a long-time promise.
Both the lifting of the headscarf ban and the abolition of an oath that was obligatory for primary school students are moves that will serve to normalize the country and bring back the authentic spirit of the Turkish Republic, Erdogan told a parliamentary group meeting of his ruling party yesterday.
Full report at:
http://www.hurriyetdailynews.com/turkish-public-servants-start-wearing-headscarf-freely.aspx?pageID=238&nID=55924&NewsCatID=341
---------
Iran: We can 'clearly prove' nuclear program isn't for bomb
October 9, 2013
Iranian Parliament Speaker Ali Larijani on Tuesday told CNN that Tehran was serious about resolving its nuclear issue, and was seeking to come to an agreement shortly given that the West would agree to let Iran to enrich nuclear fuel for civilian purposes.
"From Iran's side, I can say that we are ready," Larijani, speaking from Geneva, told CNN's Chrisitan Amanpour.
Larijani told Amanpour that Iran can "clearly show and prove" to world powers that it was not developing a nuclear bomb.
Full report at:
http://www.jpost.com/Iranian-Threat/News/Iran-We-can-clearly-prove-nuclear-program-isnt-developing-bomb-328211
---------
North America
U.S. Officials Say Libya Approved Commando Raids
By MICHAEL S. SCHMIDT and ERIC SCHMITT
Oct 9, 2013
WASHINGTON — The Libyan government in recent weeks tacitly approved two American commando operations in its country, according to senior American officials, one to capture a senior militant from Al Qaeda and another to seize a militia leader suspected of carrying out the Sept. 11, 2012, attacks on the United States diplomatic mission in Benghazi.
The Qaeda leader, Nazih Abdul-Hamed al-Ruqai, was captured by American commandos in Tripoli on Saturday in a raid that the United States had hoped to keep secret, but that leaked out to the news media. The operation has been widely denounced by Libyan officials, who have called it a kidnapping and said they had played no role in it.
While American officials expected that the Libyan government would claim that it had known nothing about the operation, news of the raid has raised concerns that the suspect in the Benghazi attacks, Ahmed Abu Khattala, has now been tipped off that the United States has the ability to conduct an operation in Libya.
Full report at:
http://www.nytimes.com/2013/10/09/world/africa/us-officials-say-libya-approved-commando-raids.html?pagewanted=all
---------
US leans toward withholding military aid from Egypt
Reuters
October 09, 2013
The United States is leaning toward withholding most military aid to Egypt except to promote counterterrorism, security in the Sinai Peninsula that borders Israel, and other such priorities, a US official said on Tuesday.
The official said US President Barack Obama had not made a final decision on the issue, which has vexed US officials as they balance a desire to be seen promoting democracy and rights with a desire to keep up some cooperation with Egypt's military.
The military on July 3 overthrew President Mohamed Morsi, who emerged from Egypt's Muslim Brotherhood movement to become the country's first freely elected president last year after the Feb. 2011 fall of longtime authoritarian ruler Hosni Mubarak.
Morsi supporters and security forces have repeatedly clashed since, including on Sunday, one of the bloodiest days since the military took power, with state media reporting 57 people dead.
Full report at:
http://www.hindustantimes.com/world-news/NorthAmerica/US-leans-toward-withholding-military-aid-from-Egypt/Article1-1132804.aspx
---------
Obama: captured Qaeda leader Abu Anas al-Libi to face justice
8 October 2013
U.S. President Barack Obama said on Tuesday that senior al-Qaeda leader Abu Anas al-Libi who was captured earlier this week is behind plots that killed hundreds and will be brought to justice.
Al-Libi "helped plan and execute plots that killed hundreds of people, a whole lot of Americans. We have strong evidence of that. And he will be brought to justice," Obama told reporters in a news conference.
The al-Qaeda figure was captured in Tripoli on Saturday and then taken onto a Navy ship in the Mediterranean Sea.
Al-Libi is being questioned by the U.S. High Value Detainee Interrogation Group, an inter-agency group created in 2009 and housed in the FBI's National Security Branch, according to Reuters.
http://english.alarabiya.net/en/News/middle-east/2013/10/08/Obama-says-captured-al-Qaeda-suspect-will-be-brought-to-justice.html
--------
9/11 perpetrators no longer threat to US: Marie Harf
October 09, 2013
WASHINGTON: US said that the two dozens of Al Qaeda leaders, the perpetrators of 9/11 in Pakistan and Afghanistan were no longer threat to America, adding that Al Qaeda existing leadership was weak and different from the earlier one, Geo News reported.
State Department deputy spokeswoman Marie Harf in her routine press briefing said that the two dozens of Al Qaeda militants involved in the September 11, 2001 attack on US were no longer threat for us although Ayman Al Zawahiri was still left.
Full report at:
http://www.thenews.com.pk/article-121708-Al-Qaeda-stands-weakened,-split-across-Yemen,-Somalia,-N.Africa:-Marie-Harf-
--------
Pakistan
Home Minister hails Ulema efforts for striking govt-Taliban deal
October 08, 2013
ISLAMABAD - Federal Interior Minister Chaudhary Nisar Ahmed Khan on Monday said that government wants the religious scholars efforts to yield fruit by striking a peace deal between the Talban and government.
"We appreciate religious scholar's efforts to strike a peace deal between the government and Taliban. We want their efforts to yield fruit in greater interest of millions of people of Pakistan. However, there must be end to bloody violence that has engulfed thousands of innocent lives," Chaudhary Nisar Ali khan said on Monday.
Full report at:
http://www.nation.com.pk/pakistan-news-newspaper-daily-english-online/editors-picks/08-Oct-2013/nisar-hails-ulema-efforts-for-striking-govt-taliban-deal
---------
Islam teaches tolerance towards minorities, says Imran
October 08, 2013
ISLAMABAD: Pakistan Tehreek-e-Insaf Chairman Imran Khan on Monday said that there was no coercion in Islam, killing of innocent people was against the tenets of Islam and that tolerance towards the minorities was enshrined in the Quran.
PTI's media centre issued this statement, which Imran tweeted two days after the Taliban clarified that they had not carried out the attack on a Peshawar church a few days back but they said the attack was as per Shariah.
Imran, who has been closely watching the Taliban moves and being attentive to Taliban's statements, preferred not to issue any formal statement on their assertion of dubbing the deadly church attack as per the Shariah.
Full report at:
http://www.thenews.com.pk/Todays-News-13-25950-Islam-teaches-tolerance-towards-minorities-says-Imran
----------
Rangers 'raid' Nine Zero, MQM's headquarter
October 09, 2013
KARACHI - Panic spread across the metropolis as heavy contingent of rangers cordoned off the MQM's headquarter Nine Zero on Monday evening.
They made videos through multi storey buildings but no arrest had been made. Heavy contingent of rangers cordoned off the block 8, Azizabad where MQM headquarter has also been located. Rangers removed the barriers of various lanes erected for the security of Nine Zero. Rangers stick down the entry and exit points and visited various organisational departments. Ranger's spokesperson Major Sibtain while talking to The Nation termed the raid as routine patrolling.
Full report at:
http://www.nation.com.pk/pakistan-news-newspaper-daily-english-online/karachi/09-Oct-2013/rangers-raid-nine-zero
---------
MQM's mandate exposed: Jamaat-i-Islami
October 09, 2013
LAHORE - Jamaat-i-Islami chief Syed Munawar Hasan has said that the massive bogus voting in the May elections in Karachi revealed by the NADRA report in NA-256 seat has exposed the MQM's 90 per cent mandate from the port City.
In a statement on Tuesday, he said that bogus votes were cast on mass scale in Karachi and Hyderabad in the National Assembly and Sindh Assembly seats from where the MQM had won.
He said that the MQM had been securing false mandate at gun point as the security institutions and the agencies knew everything but were not ready to speak out the truth and all past governments had been patronising the MQM.
Full report at:
http://www.nation.com.pk/pakistan-news-newspaper-daily-english-online/lahore/09-Oct-2013/mqm-s-mandate-exposed-ji
---------
Islamabad defends stand on military posts
October 9, 2013
Defending the government stand on appointments to two key military posts, federal Information Minister Pervaiz Rashid on Tuesday said the new Chairman Joint Chief of Staffs Committee (CJCSC) could be named in a 30-day period according to Constitutional provisions. Speaking to the media, he said the post of CJCSC and army chief would be filled within the procedures laid out by the Constitution. After CJCSC General Khalid Shameem Wynne's retirement on Monday, army chief General Ashfaq Parvez Kayani — who is to retire on November 29 — would hold the charge, he said. On Monday Prime Minister Nawaz Sharif said he would announce the names for the two posts simultaneously.
http://www.thehindu.com/news/international/south-asia/islamabad-defends-stand-on-military-posts/article5214943.ece
-------
Pakistan's Pervez Musharraf bailed over Bugti murder
Oct 9, 2013
Former Pakistan President Pervez Musharraf has been granted bail on a murder charge, raising chances of his release from months of house arrest.
The country's Supreme Court granted him bail of 1m rupees ($9,400; £5,800) in the murder case of a rebel leader.
Mr Musharraf denies involvement in the 2006 death of Nawab Akbar Bugti in Balochistan while he was president.
The former military ruler faces other charges, including a murder claim over Benazir Bhutto's 2007 assassination.
Full report at:
http://www.bbc.co.uk/news/world-asia-24461468
----------
India
Maldives' poll standoff worries India
Indrani Bagchi, TNN | Oct 8, 2013
NEW DELHI: Maldives may be walking away from its new-found democratic moorings, which may spell serious implications for India, its neighbourhood and its security.
After Maldives' Supreme Court on Monday annulled the first round of voting for the presidential elections - held on September 7- India has had to deliver a sharply-worded message to the government in Male. New Delhi wants Maldives to adhere to the November 11 deadline for a new government to take over. The Maldives SC annulled the elections as a verdict to a lawsuit filed by one of the presidential candidates, Qasim Ibrahim, a businessman, who has tied up with the religious Adhaalath Party.
Full report at:
http://timesofindia.indiatimes.com/india/Maldives-poll-standoff-worries-India/articleshow/23737291.cms
---------
Muzaffarnagar riots were 'caused', they didn't happen: Rahul Gandhi
October 09, 2013
Congress vice-president Rahul Gandhi addressed party rally in Aligarh on Wednesday and attacked the Akhilesh Yadav-led Samajwadi Party government in Uttar Pradesh for its failures saying 'the riots in Muzaffarnagar were caused, they didn't happen'.
Gandhi on Wednesday drew the attention of the people on the UPA's achievements and said that the UPA government passed the food bill to secure every family gets food in the country.
What Rahul Gandhi said in Aligarh
# I was slammed for my comment on the ordinance on convicted lawmakers but there is no right time to speak the truth.
# Riots in Muzaffarnagar were "caused", they didn't happen.
# Samajwadi Party or Bahujan Samaj Party can't save Uttar Pradesh, only Congress can.
# Are fee laptops donated by SP government working?
# Congress gave people the right to food; I ask you to demand the same from Uttar Pradesh government.
Full report at:
http://www.hindustantimes.com/India-news/UttarPradesh/Muzaffarnagar-riots-were-caused-they-didn-t-happen-Rahul-Gandhi/Article1-1132925.aspx
---------
India-Pak ties: We have to show some patience, Khurshid says
PTI | Oct 9, 2013
NEW DELHI: Notwithstanding the infiltration bid along the LoC, India has to show some patience and not play into the hands of certain elements in Pakistan wanting to stall the peace process, external affairs Minister Salman Khurshid has said.
"I think much as we feel upset and concerned and hurt by what is happening on the border and the LoC, I think we have to show some perseverance, some patience and some fortitude to ensure that we don't play into the hands of the forces that want to create trouble," he told.
Full report at:
http://timesofindia.indiatimes.com/india/India-Pak-ties-We-have-to-show-some-patience-Khurshid-says/articleshow/23817007.cms
----------
Israel to showcase its agro excellence in 10 Indian states by 2015
Vishwa Mohan, TNN | Oct 9, 2013
NEW DELHI: Israel will have its footprints in 10 Indian states by 2015 as it plans to set up various centres of excellence for floriculture, fruits and vegetables.
Emboldened by the success of two such centres — one for vegetables in Karnal and another for fruit orchards in Sirsa - in Haryana, both the countries have decided to have 26 similar set-ups in different states under Indo-Israel agriculture cooperation agreement of 2008.
Objective of such centres is to demonstrate Israeli agriculture technologies and know-how to local farmers on use of protected cultivation which allows growing of crops beyond seasonal barrier through efficient use of water and controlling of temperature using poly-houses\canopies.
Full report at:
http://timesofindia.indiatimes.com/india/Israel-to-showcase-its-agro-excellence-in-10-Indian-states-by-2015/articleshow/23765934.cms
---------
Impossible to normalize ties if Pak doesn't stop infiltration: Omar
PTI | Oct 9, 2013
SRINAGAR: Jammu and Kashmir chief minister Omar Abdullah on Wednesday said it was impossible for India to normalise relations with Pakistan till it does not stop infiltration and ceasefire violations.
He also said that calling the operation against holed up militants in Keran sector as "second Kargil" was a media hype.
"At least, it is through talks that Prime Minister ( Manmohan Singh) talked to (Pakistan Prime Minister) Nawaz Sharif in clear terms in New York and he said the situation should not remain as such and infiltration and ceasefire violations should stop.
Full report at:
http://timesofindia.indiatimes.com/india/Impossible-to-normalize-ties-if-Pak-doesnt-stop-infiltration-Omar/articleshow/23797040.cms
---------
URL: https://www.newageislam.com/islamic-world-news/new-age-islam-news-bureau/scotland-shuts-down-childhood-immunisation-program-over-muslim-complaints/d/13913