New Age Islam News Bureau
5 Feb 2019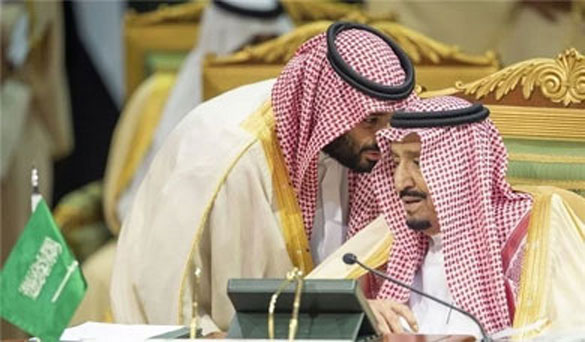 Saudi Whistle-Blower Reveals MbS' Plots against Father
------
• Saudi Whistle-Blower Reveals MbS' Plots against Father, the Saudi King
• Indian Subcontinent Religious Leaders Hail Pope Francis and Shaikh Al Azhar Meeting
• Former Lawmaker from Far-Right Dutch Party PVV Becomes Muslim After Writing Anti-Islam Book
• Palestinian Mosque Desecrated In Apparent Hate Crime in West Bank
• Christians, Muslims Hold 'Unity Walks' In Wake Of Attacks
• 146 Terrorists 'Neutralized' In Burkina Faso
Arab World
• Saudi Whistle-Blower Reveals MbS' Plots against Father, the Saudi King
• Grand Imam of Al Azhar Calls for Religious Leaders to Set an Example of Peace
• Pope Francis makes history with Muslim dialogue in UAE
• Over 1,100 Truckload of Military Equipment Sent to Eastern Euphrates since US Pullout Declaration
• Nasrallah: New Lebanese govt. not controlled by Hezbollah, belongs to all factions
• Pope Francis brings a message of love to UAE
• Pope in UAE: Religious leaders commit to fighting Islamophobia
• Pope Francis meets Muslim leaders in Abu Dhabi on historic UAE visit
• Pope Francis and Al-Azhar's Sheikh Ahmed Al-Tayeb sign declaration of fraternity in Abu Dhabi
• Gargash: Pope Visit overcomes the challenge posed by extremism in all religions
--------
India
• Indian Subcontinent Religious Leaders Hail Pope Francis and Shaikh Al Azhar Meeting
• Triple Talaq Made Punishable Offence as Practice Continued, Centre Tells HC
• NIA arrests JeM operative in terror attack on CRPF Group Centre in J-K
• Soft separatist battles to stay relevant in valley of violence
• NIA arrests Jaish member for attack on CRPF camp in J&K
• Jamaat-e-Islami Hind to introduce course for brides and bridegrooms
--------
Europe
• Former Lawmaker from Far-Right Dutch Party PVV Becomes Muslim After Writing Anti-Islam Book
• Greece's Muslim minority complain of 'marginalization' in Komotini
• Muslim, Jewish College Presidents Focus on Common Goals with Christian Educators
• Spain church cancels anti-Israel film event under 'pressure from powerful Jews'
• EU issues stark warning to Iran on missiles and human rights
--------
Mideast
• Palestinian Mosque Desecrated In Apparent Hate Crime in West Bank
• Palestinian left-wing party refuses to participate in new government
• Imam's triumphant return and Islamic Revolution
• Erdogan says Turkey has maintained contacts with Damascus
• Iraqi president: Trump did not ask for permission to 'watch Iran'
• Israeli forces shoot Palestinian boy in head with live round
• State of Palestine: Orphaned kids condemn Israel's 12-year siege of Gaza
• Yemen's Houthi militia using human shields
• Yemeni army liberate an important mountain chain in Kitaf, Saada province
--------
Southeast Asia
• Christians, Muslims Hold 'Unity Walks' In Wake Of Attacks
• Trafficking In Rohingya Camps Feared Rising As Crisis Rolls On
• Rights Groups Seek U.N. Inquiry into China's Mass Detention of Muslims
• Report: Hindu man's daughter forced to join Islamic Studies class
• Philippine Troops Battle Muslim Militants after Church Blast
--------
Africa
• 146 Terrorists 'Neutralized' In Burkina Faso
• Somalia port boss killed, car bomb leaves 11 dead
• Turkey condemns terror attack in Somalia
--------
North America
• Republican-Led Senate Breaks With Trump over Syria, Afghanistan Withdrawal Plans
• Muslim patrol group in New York faces backlash including far-right conspiracy theories
• Saudis transferring US weapons to Qaeda in Yemen, report reveals
• Donald Trump's Syria withdrawal plans loom large over anti-ISIS coalition meeting
--------
Pakistan
• SC Says Rejected Review Plea in Aasia Bibi Case Due To Contradictions in Evidence, Deposition
• ATC extends Khadim Rizvi, TLP leaders' judicial remand until Feb 8
• Imran for improved coordination between Centre, provinces
• Taliban negotiating from position of strength, says Ahmed Rashid
• SC to announce verdict in Faizabad sit-in case on Wednesday
--------
South Asia
• Withdrawal of Foreign Forces 'Not the End of the World' For Afghanistan: Abdullah
• Afghan Peace Talks: Revisiting the Indian and Pakistani Stakes In Afghanistan
• Kabul sees Taliban-Afghan opposition talks in Moscow as betrayal
• Spiritual Rector Boosts Pilgrimage at Bangladeshi Catholic Shrine
• More than 10 Taliban, ISIS-K militants killed in Afghan, Coalition Forces operations
Compiled by New Age Islam News Bureau
URL: https://www.newageislam.com/islamic-world-news/saudi-whistle-blower-reveals-mbs/d/117656
--------
Saudi Whistle-Blower Reveals MbS' Plots against Father, the Saudi King
Feb 04, 2019
"He (bin Salman) has made his father busy with gambling and debauchery and has ordered his medical team to increase dozes of King Salman's drugs so that he can ascend to the throne after his father's death due to overdose of medicine," Mujtahid wrote on his twitter page on Monday.
The whistle-blower added that he will inform people of the Saudi king's health conditions as promised before.
A Saudi dissident figure had also last year revealed plots by the MbS to oust his father from ruling Saudi Arabia.
"Bin Salman intends to treat his father the same way he did in the case of former crown prince and his cousin Mohamed bin Nayef," Sultan al-Abdoli al-Qamedi said.
He added that King Salman had grown weak and incapable of resisting against his son's plans to take control of the royal palace and change the old guards.
"Bin Salman will not wait for his father to resign and will make him leave power anytime that he thinks is proper," al-Qamedi said.
Also in 2018, sources close to the Saudi royal palace had revealed that the Saudi king had said in a private gathering that he did not feel any necessity for transition of power to the crown prince as he was still able to fulfill his responsibilities.
They added that the medical tests had, meantime, diagnosed King Salman with severe fatigue and respiratory problems.
http://en.farsnews.com/newstext.aspx?nn=13971115000845
--------
Indian subcontinent religious leaders hail Pope Francis and Shaikh Al Azhar meeting
February 04, 2019
Abu Dhabi: Religious leaders from the Indian subcontinent have said that the Global Conference of Human Fraternity is a big success in bringing all religions together at a single platform and that it will relay "a good message" to the world against extremism and terrorism.
"Since His Holiness Pope Francis, Head of the Catholic Church, is here and Islamic scholars are also here, this will give a message to the whole world that religions do not have any link with terrorism and extremism," Allama Mohammad Tahir Ashrafi, chairman of the Pakistan Ulema Council, told the Emirates News Agency, WAM, in an interview on the sidelines of the conference.
He described the conference as a big success because it has brought together Muslims and Christians religious leaders from all over the world to show to the world that "we are united against extremism and terrorism."
"We must open the dialogue among the religions," he added, saying that Islam is a religion of peace, love and brotherhood. Quoting a verse (Aya) from the Quran's chapter 109, which reads: "To you your religion and to me mine", he added "come sit together and make efforts for mankind".
The two-day conference at Emirates Palace has brought together more than 600 religious figures from across the world, to discuss and promote tolerance and inter-faith dialogue.
"The world needs clean water, education, children are suffering from malnutrition and there are health issues as well," Ashrafi pointed out, adding, "we must be united and make efforts to serve the humanity."
"I think the big terrorism is when anyone uses the name of Islam," he explained.
Terrorism, he added, does not belong to any religion.
Ashrafi also spoke about the role of media in this context, saying that today it is very important that all religious leaders should come out and tell the real message, which he said is that of peaceful coexistence. He quoted an example when the Prophet Mohammed gave a place to Christians to worship in the Prophet's Mosque in Medina. "This," he said, " is the real message from Islam."
He said that the teachings of Islam advocate a dialogue with others for the cause of humanity, describing the conference as an excellent forum for holding inter-faith dialogue. The governments in the UAE and Saudi Arabia have devoted a lot of effort to encouraging peace and dialogue, he said, as well as Egypt's Al Azhar Al Sharif and the Pakistan Ulema Council.
He said that his message to the Pontiff is "come together to serve the humanity, so we relay a message to the whole world, that as a Muslim we respect all Prophets, all religious books, and holy things."
Shaikh Abubakr Ahmad, general secretary of the Muslim Scholars Organisation of India and president of the Islamic Education Board of India, told WAM that the meeting between Pope Francis and Shaikh Ahmad Al Tayeb, Grand Imam of Al Azhar Al Sharif, at the invitation of His Highness Shaikh Mohammad Bin Zayed Al Nahyan, Crown Prince of Abu Dhabi and Deputy Supreme Commander of the UAE Armed Forces, and gathering of religious leaders, would be successful and would yield positive results.
He said that the conference has brought together different religions to have a dialogue and reject conflict as "confrontation does not lead to any good".
https://gulfnews.com/uae/government/indian-subcontinent-religious-leaders-hail-pope-francis-and-shaikh-al-azhar-meeting-1.61866688
--------
Former lawmaker from far-right Dutch party PVV becomes Muslim after writing anti-Islam book
Feb 05, 2019
A former far-right Dutch politician announced on Monday that he has converted to Islam.
Writing a book on Islam changed the views of Joram van Klaveren, 39, on the religion, and he converted last October, local media reported.
Van Klaveren served as a member of parliament for the far-right and anti-Muslim Freedom Party (PVV) from 2010 to 2014.
He resigned after PVV leader Geert Wilders' racist remarks about Moroccans and set up his own party, but failed to win a seat in the 2017 national elections, and quit politics.
Van Klaveren's about-face follows in the footsteps of Arnoud Van Doorn, another former PVV member who converted to Islam.
Van Doorn praised van Klaveren on Twitter, saying he never thought that he would see so many converts from his former party.
https://www.dailysabah.com/europe/2019/02/04/former-lawmaker-from-far-right-dutch-party-pvv-becomes-muslim-after-writing-anti-islam-book
--------
Palestinian mosque desecrated in apparent hate crime in West Bank
Feb 4, 2019
Several extremist Jewish settlers have desecrated a mosque in the central part of the occupied West Bank, spraying racist slogans and Hebrew graffiti messages on the walls of the sacred place.
Mansour Mansour, the mayor of the city of Dayr Dibwan, located east of Ramallah, told Palestine's official WAFA news agency that settlers stormed the city early on Monday, and spray-painted anti-Palestinian slogans on the walls and asphalt of the mosque and several vehicles there.
Among the slogans spray-painted on the walls of the mosque were "Here people incite to murder Jews" and "The Jewish nation lives."
Palestinian sources also reported that settlers poured flammable material on the shoe rack placed at the entrance of the mosque, but apparently didn't light it.
Palestinian Minister of Religious Affairs Sheikh Youssef Idais denounced the act, saying, "There are no longer safe places of worship in light of Israeli forces' and settlers' attacks and crimes [against Palestinian people]."
"This racist attack is a new [act of] provocation added to the list of Israeli crimes against the holy sites," he added.
He highlighted that Israeli violations and attacks against places of worship, including their closure, and Tel Aviv's prohibition of the Muslim call to prayer attest to the magnitude of barbarism being enforced by the Israeli regime.
Idais then urged Arab and Muslim countries in addition to the international community to intervene and protect holy places in the occupied Palestinian territories.
Last Tuesday, Israeli police opened an investigation after eight cars were vandalized overnight in the northern West Bank Palestinian village of Lubban al-Sharqiyah.
Locals said Israeli settlers raided the village, slashing the tires of Palestinian-owned vehicles and spray-painting Hebrew slogans on them, in another "price tag" attack.
The so-called price tag attacks are acts of vandalism and violence against Palestinians and their property as well as Muslim holy sites by Israeli settlers.
More than half a million Israelis live in over 120 settlements built since Israel's occupation of the Palestinian territories of the West Bank in 1967. This is while much of the international community considers the settler units illegal and subject to the Geneva Conventions, which forbid construction on occupied land.
https://www.presstv.com/Detail/2019/02/04/587653/Palestinian-mosque-desecrated-amidst-hate-crime-in-occupied-West-Bank
--------
Christians, Muslims hold 'unity walks' in wake of attacks
February 4, 2019
Christians and Muslims in the Philippines held "unity walks" to call for peace following deadly blasts that rocked the south of the country last week.
In Manila, hundreds of people gathered for a prayer rally on Feb. 3 to show "the world that Filipino Muslims and Christians are one."
They condemned the bombing of a Catholic cathedral in Jolo province that killed at least 22 people on Jan. 27 and a grenade explosion in a mosque in Zamboanga City that killed two on Jan. 30.
In Mindanao, an interfaith prayer rally was also held in Cagayan de Oro City on Feb. 2 to mark the start of the observance of "World Interfaith Harmony Week."
Monsignor Rey Monsanto admitted that there was "a sense of fear" among Catholic clergy in Mindanao and that the bomb explosions in Jolo and Zamboanga could spark further violence.
"We are worried that Christians and Muslims will begin blaming each other," said the priest, adding that they might use religion as an excuse to wage war.
Abdulnasser Masorong, director of the National Commission on Muslim Filipinos, said the violence "has caused harm to the entire nation in a divisive effort to further widen the gap between Muslims and Christians."
Alec Mohammad, a Muslim religious leader in Cagayan de Oro, however, said the violence "will not break the spirit of the long-standing relationship" among Mindanao's peoples.
In Zamboanga City, Muslim religious leaders appealed for calm, saying any attack on a place of worship "can never be justified by rhyme or reason."
In Manila, Monsignor Albert Songco, vicar-general of the Military Ordinariate of the Philippines, urged people during the "unity walk" to "activate the forces of goodness, justice, love, and peace in our communities."
On Feb. 3, prayer intentions during Sunday Masses in Manila Archdiocese included the victims of the bombings in Jolo and Zamboanga.
Meanwhile, the Minor Basilica of the Black Nazarene in Manila, has beefed up security following the Jolo incident.
Sniffer dogs and security personnel have been deployed to patrol the church, also known as Quiapo Church, and the surrounding area.
The Archdiocese of Davao earlier prohibited backpacks and boxes inside churches as a security measure.
https://www.ucanews.com/news/christians-muslims-hold-unity-walks-in-wake-of-attacks/84437
--------
146 terrorists 'neutralized' in Burkina Faso
05.02.2019
Security forces in Burkina Faso have "neutralized" 146 terrorists in land and air operations in the country's northwest.
In a statement, the military said Monday that armed forces conducted operations in the Boucle du Mouhoun region in response to an attack by terrorists Sunday that killed 14 civilians.
The General Staff announced that the operations will continue until the country's lands and the lives of its citizens are secured.
Burkina Faso has been threatened by terrorist attacks since 2015.
On Dec. 27, a terrorist attack on security forces in Sourou State in northwestern Burkina Faso left 10 gendarmes dead.
Following the incident, a state of emergency was declared in seven of the country's 13 administrative regions.
https://www.aa.com.tr/en/africa/146-terrorists-neutralized-in-burkina-faso/1383584
--------
Arab World
Grand Imam of Al Azhar calls for religious leaders to set an example of peace
James Langton
February 4, 2019
Religious leaders must set an example if peace and love are to be embraced by their followers, Dr Ahmed Al Tayeb, the Grand Imam of Al Azhar told the Global Conference of Human Fraternity on Monday.
This means confronting extremists with courage, including both those who claim to base their actions on religious teachings and those who seek to drive faith completely from public life, he said.
The conference, at the Emirates Palace, was essential to begin opening doors that would achieve peace, coexistence and tolerance for all people, regardless of their faith, Dr Al Tayab said.
That it was taking place in the UAE was a demonstration of the commitment of the country and its rulers to promote what Dr Al Tayeb called the eternal values of tolerance and coexistence.
The two-day Global Conference of Human Fraternity was organised by the Muslim Council of Elders and coincided with the visit to Abu Dhabi by Pope Francis, the leader of the Roman Catholic faith.
But its reach has gone far beyond dialogue between just Muslims and Christians. Among those also invited to take part were Hindus, Buddhists, Sikhs and Jewish rabbis.
All have expressed a desire to actively work for better relations between different religions. And many will have made new connections not just by listening to the speeches and presentations, but also in the informal interactions over lunch or a coffee break.
The scale of their task was underlined by a survey released during the conference that examined global attitude to religion across the West and the Middle East region.
In several countries, especially in Europe, it showed a widespread belief that Islam was incompatible with the values of their society.
In France and Germany this represented nearly half of those polled, while in the USA and Britain well over one in three said they agreed with the statement that: "There is a fundamental clash between Islam and the values of society in my country."
Only a minority in the YouGov poll said they felt the reverse was true - that there was no conflict with Islam.
In Britain, this was one in four, while the percentage fell to just one in five in Germany and 17 per cent in the US.
Asked if they were worried about the rise of extremism linked to Islam, the numbers were even higher, rising to 72 per cent in France and Germany, 66 per cent in Britain and just over half of Americans.
In a stark contrast, the numbers were more than reversed in the Middle East, where an overwhelming majority said they did not feel Christianity posed any threat to Islamic values.
In the UAE only 13 per cent said they supported the view of a fundamental clash with Christianity, while the number fell to just three per cent in Egypt, where over half felt Christian and Muslim values were compatible.
The concept of a "clash of civilisations" was challenged by one of the main speakers on Monday, who said such conflicts were not based on ideas but ignorance.
Irina Bokova is the former Director General of Unesco and now honorary president of the Alliance for Hope International, a global organisation seeking to end violence and abuse against women and children through social change.
Intolerance and prejudice were due to a lack of education rather supposed differing values, Dr Bokova said.
She added that she believed peaceful coexistence could be achieved by "dialogue and creativity in all its forms through exploring new opportunities for creating connections between people that we can prove that diversity is our strength".
The destruction of religious sites as the result of extremism that had been witnessed by Unesco was a tragedy for all faiths, she said. "We all suffer. We are all diminished."
"We need understand and knowledge about each other," Dr Bokava added. "Many of the answers come through education. We can combat stereotypes and prejudice."
https://www.thenational.ae/uae/the-pope-in-the-uae/grand-imam-of-al-azhar-calls-for-religious-leaders-to-set-an-example-of-peace-1.821864
--------
Pope Francis makes history with Muslim dialogue in UAE
February 4, 2019
Pope Francis, the first leader of the world's 1.3 billion Catholics to visit the Arabian Peninsula, will attend an interfaith meeting in the UAE on Monday as part of his outreach to Muslims.
The pontiff arrived in a modest black Kia at Abu Dhabi's presidential palace, where he was welcomed with a lavish military parade.
Officers fired 21 shots in the air, while jets flew overhead leaving white and yellow trails -- the colours of the Vatican City flag.
The pope's highly publicised 48-hour visit to the United Arab Emirates will also include an open-air mass on Tuesday for 135,000 of the Muslim country's million Catholic residents, set to be the largest public gathering in the country's history.
The pope was expected to raise the issue of Yemen, devastated by a war in which the UAE is a key player, in talks with Abu Dhabi's Crown Prince Mohammed bin Zayed.
Yemen is the scene of what the UN calls the world's worst humanitarian crisis, triggered by the intervention of Saudi Arabia, the UAE and their allies in a war between the government and Huthi rebels.
More than 10 million Yemenis now risk imminent starvation.
'Delighted' to welcome pope
Sheikh Mohammed said on Monday that UAE rulers were "delighted" to meet the pontiff "in our homeland of tolerance".
"We discussed enhancing cooperation, consolidating dialogue, tolerance, human coexistence and important initiatives to achieve peace, stability and development for peoples and societies," he tweeted.
Pope Francis, who made history when he touched down in Abu Dhabi on Sunday night, said he came "as a brother, in order to write a page of dialogue together, and to travel paths of peace together".
To mark the occasion, the pontiff offered the crown prince a framed medallion of the meeting between St. Francis Assisi -- the pope's namesake -- and the Sultan of Egypt Malek al-Kamel, in 1219.
Sheikh Mohammed, in turn, offered a deed for the plot of land on which the first church in the UAE was built.
The pope was set to meet with Sheikh Ahmed al-Tayeb -- imam of Cairo's Al-Azhar, Sunni Islam's prestigious seat of learning -- later Monday.
Sheikh Ahmed greeted the pope personally with an embrace on Sunday night as the pontiff arrived in the UAE capital Abu Dhabi.
The emirate's crown prince was also at the airport to greet the pontiff, who has made strengthening ties between Christianity and Islam a cornerstone of his papacy.
Hours before he flies back to Rome on Tuesday, the pope will lead a mass at a stadium in the capital.
- Pope addresses Yemen war -
The UAE has dubbed 2019 its "year of tolerance", but rights groups have criticised the country for its role in Yemen, where an estimated 10,000 people have been killed since the Saudi-led alliance including the UAE joined the government's fight against the Huthis in 2015.
Rights groups, which have slammed the UAE over its intolerance of dissent, have also urged the pope to raise the issue of Ahmed Mansoor, an Emirati activist serving a 10-year prison term.
Before heading to the Gulf on Sunday, Pope Francis urged warring parties in Yemen to respect a truce agreement and allow deliveries of food aid.
"The population is exhausted by the lengthy conflict and a great many children are suffering from hunger, but cannot access food depots," he said.
"The cry of these children and their parents rises up to God."
The UAE, which prides itself on its religious diversity in the Gulf, is a member of the US-led coalition battling the Islamic State group in both Syria and Iraq.
The UAE has eight Catholic churches. Oman, Kuwait and Yemen each have four.
Qatar and Bahrain have one each, while ultra-conservative Sunni powerhouse Saudi Arabia bans all non-Muslim places of worship.
Muslims make up nearly four fifths of the UAE's population, but the country is also home to nearly a million Catholics, according to the Apostolic Vicariate of Southern Arabia.
Full report at:
https://www.thejakartapost.com/news/2019/02/04/pope-francis-makes-history-with-muslim-dialogue-in-uae.html
--------
Over 1,100 Truckload of Military Equipment Sent to Eastern Euphrates since US Pullout Declaration
Feb 04, 2019
The London-based Syrian Observatory of Human Rights (SOHR) reported on Sunday that despite US President Donald Trump's announcement on December 19 to evacuate forces from Syria, the US army continues sending military convoys to Eastern Euphrates.
It added that over 1,130 convoys, carrying military and logistic equipment have been dispatched to the US-occupied bases in Eastern Euphrates since Trump's declaration.
In a relevant development in late January, the US Army sent over 250 Military Trucks to Raqqa, Hasaka, Aleppo to reinforce its military bases there.
The SOHR reported that US military convoys comprising of 250 military trucks had entered the provinces of Aleppo, Raqqa and Hasaka.
The SOHR noted that the trucks carried ammunition and logistical supplies for the US troops in Syria, and said that the trucks were unloaded in Ain al-Arab, Ain al-Arab Airport, Ain Issa, Raqqa and Tal Tamr as well as several other military bases in Raqqa, Hasaka and Aleppo.
Also, on January 14, the SOHR had reported that a US military convoy comprising of tens of military vehicles had arrived in Deir Ezzur province via roads linking Eastern Euphrates in Syria to Iraq's Kurdistan Region.
Also on January 11, a US military convoy comprising 150 armored vehicles, military hardware and logistics supplies entered al-Jabalieh military base in Northern part of Raqqa city and Ain al-Arab in Aleppo countryside.
The analysts believe that even if the US decision for pullout would take place it would not mean end of Washington's presence in Syria.
They say that the US failure in Syria and Iraq has made Washington to face two options of whether to leave the region without any achievement or continue to maintain its political and military presence in Syria through its proxies.
Full report at:
http://en.farsnews.com/newstext.aspx?nn=13971115000782
--------
Nasrallah: New Lebanese govt. not controlled by Hezbollah, belongs to all factions
Feb 4, 2019
Secretary general of the Lebanese Hezbollah movement has strongly dismissed latest allegations by Israeli Prime Minister Benjamin Netanyahu that the movement is in control of the Lebanese government, stressing the new administration belongs to all political factions participating in it.
The Israeli premier is "provoking the United States, European countries and the [Persian] Gulf states against the Lebanese government, claiming that it is controlled by Hezbollah. Such false claims have serious international repercussions," Sayyed Hassan Nasrallah said as he addressed his supporters via a televised speech broadcast live from the Lebanese capital Beirut on Monday evening.
Nasrallah underscored that the new Lebanese government consists of various political parties, and that Hezbollah is just one of them.
In response to certain media reports that the new health minister is a member of Hezbollah, Nasrallah pointed out that Jamil Jabak, who is a doctor by profession, is solely close to the resistance movement, but not a member of it.
Nasrallah's remarks echoed that of Hezbollah's deputy chief, Sheikh Naim Qassem, who had said a day earlier that only three of Lebanon's new government ministers were members of Hezbollah, adding, "We are only 10 percent [in the Lebanese cabinet]."
Elsewhere in his speech, the Hezbollah chief emphasized that the Health Ministry in the new national unity government must strive to supply medicine and health care to people from all walks of life.
He called on the new government to be transparent, advising Lebanese politicians to make decisions, which would best serve the interests of the Arab country and its nation.
The Hezbollah secretary general also urged Lebanese political figures to stick to political calm after the formation of the new national unity government, asking them to resolve their differences through dialog and negotiations.
Full report at:
https://www.presstv.com/Detail/2019/02/04/587680/Nasrallah-New-Lebanese-govt-not-controlled-by-Hezbollah-belongs-to-all-factions
--------
Pope Francis brings a message of love to UAE
February 04, 2019
From the very first moments of his elevation as spiritual leader of the world's 1.2 billion Roman Catholics, Pope Francis has chosen to live in the footsteps of the saint who inspired him and after whom the new pontiff took his papal name. For Pope Francis, his leadership is based on simplicity. And his spirituality is based on this simplicity too — we are all equal. And the essence is that we share our love for one another in our thoughts, prayers and daily actions.
During this historic visit to the UAE, that is a message that His Holiness brings. And it is also a message shared with the Muslim Council of Elders, headed by the Grand Imam of Al Azhar, Ahmad Al Tayyeb. Both Islam and Christianity share a common link to the sacrifice of Ebrahim, or Abraham as he is called in the western tradition. Together, both share a common message, that respect and love for fellowmen is pivotal, and that eternal happiness is assured by our following this most basic tenet. Here in the UAE, much has been written about the people from more than 200 nations that live under this green, red, black and white tent, sharing our values of tolerance and respect for all. The message brought by Pope Francis, and the gospel that he preaches, sit easy too in this tent of tolerance.
As he visited the Presidential Palace in Abu Dhabi yesterday — by its very definition an occasion of great ceremony, honour and circumstance — Pope Francis chose to arrive in a simple vehicle. This gesture is in keeping with walking in the footsteps of Saint Francis of Assisi, a man who dedicated his life to helping others, tending to the sick, feeding and clothing the poor. It also serves to remind us all that while the material possessions of this world are indeed to be welcomed, there is much greater work that needs to be done. And certainly, here in the UAE, that is a message too that has been taken to heart from the very first days that the founders of this nation laid the foundation stones for growth. Pope Francis' visit here is a reminder that we all have a duty to reach out to those in need, to provide shelter and succour for those afflicted by humanitarian crises, natural disasters or social unrest.
Full report at:
https://gulfnews.com/opinion/editorials/pope-francis-brings-a-message-of-love-to-uae-1.61864819
--------
Pope in UAE: Religious leaders commit to fighting Islamophobia
February 04, 2019
Binsal Abdul Kader
Abu Dhabi: Fighting Islamophobia along with his Muslim brothers is his commitment and responsibility, said a Jewish religious leader.
Speaking on the sidelines of the two-day Global Conference on Human Fraternity that concluded yesterday, Rabbi Marc Schneier, president of Foundation for Ethnic Understanding in New York told Gulf News: "As a Jewish leader, I see it as my responsibility to the Islamic community to be at the forefront of battling Islamophobia and any attack or form of bigotry against the Islamic faith and Muslims. I also expect Muslim leaders to engage with their responsibilities when it comes to speaking out against anti-Semitism and against holocaust denials."
The conference was attended by more than 700 scholars from across the globe representing all religions to mark the historic three-day visit of the Pope to the UAE.
Schneir added that the UAE's invitation to Jewish community to the conference will help strengthen Islam-Judaism relations. "The conference represents a benchmark in terms of the transition of the Gulf in developing interfaith relations. There is a tremendous momentum in interfaith dialogue as the UAE has even named 2019 as the Year of Tolerance," he said
The participation of the Jewish community in the conference is being recognised as a faith community in the UAE and that makes him proud, said Schneier. "This official recognition not only resonates with the Jewish community in the UAE, it also has a great significance for the Jewish people around the world," he said.
He appreciated the UAE's genuine intention to strengthen relations between Islam and Judaism. "The conference, with the participation of so many Muslim scholars, shows their sincere intention and the progress of interfaith dialogue in the Islamic world today. The UAE is not simply talking but walking the talk, and recognising the importance of connecting Islam with other faith traditions by reaching out to them. This presents a new face of Islam to the world," Schneier said.
Other religious scholars told Gulf News that the discussions at the conference would lead to tangible results.
Dr Ali Rashid Al Nuaimi, Chairman of the World Muslim Communities Council, said he was optimistic about participants in the conference translating the ideas of harmony and fraternity into action in their respective communities: "We will have so many initiatives in different parts of the world [by] taking forward the ideas discussed here."
Al Nuaimi said all religious representatives gave a loud and clear message to the world to create a better future for all. "We all human beings are brothers and we share so many things in common. That is the real achievement of this conference," Al Nuaimi said.
Swami Amaranada, director, Vedantic Centre, Geneva, established by Rama Krishna Order, said achieving human fraternity is not an easy task. "You may talk about fraternity. But if you don't have divinity in you, it is not possible. Otherwise, it will be a mere talk."
The UAE, he said, has proved its commitment to this goal with its Ministry of Tolerance and related initiatives.
Professor Mohinder Singh, Director, National Institute of Sikh Studies in New Delhi, said that when he attended an interfaith conference in Milan a decade ago, he had commented on the absence of women in it. "Here [at this conference], there are women representatives."
He said the conference reinforced the message of Guru Nanak, the founder of the Sikh religion, who said that good action is more important than carrying labels of religions.
Full report at:
https://gulfnews.com/uae/government/pope-in-uae-religious-leaders-commit-to-fighting-islamophobia-1.61868307
--------
Pope Francis meets Muslim leaders in Abu Dhabi on historic UAE visit
February 04, 2019
ABU DHABI: Pope Francis met with Sheikh Ahmed Al-Tayeb, the imam of Al-Azhar, and Emirati leaders on Monday during his historic visit to the United Arab Emirates.
In a trip laden with interfaith symbolism and messages of religious tolerance, the Pope began his day at the Presidential Palace in Abu Dhabi and ended with the signing of an agreement pledging to make efforts to strive for peace.
The day's tour of key locations in Abu Dhabi, both religious and political, marked the end of a two-day conference – the Human Fraternity Meeting – in which religious leaders from many faiths, both Abrahamic and non-Abrahamic discussed the importance of tolerance.
At the end of the day - giving thanks to his hosts, Pope Francis said: "I have welcomed the opportunity to come here as a believer thirsting for peace, as a brother seeking peace with the brethren.
"We are here to desire peace, to promote peace, to be instruments of peace."
Pope Francis also urged religious leaders to work together to reject war and strongly denounced violence committed in God's name.
The Human Fraternity Meeting was also attended by Sheikh Ahmed El-Tayeb, the Grand Imam of Egypt's Al-Azhar mosque and university, and he called on Muslims in the Middle East to "embrace" local Christian communities.
He addressed Muslims saying: "Continue to embrace your brothers the Christian citizens everywhere, for they are our partners in our nation," he said during the televised speech from the ceremony in the United Arab Emirates capital Abu Dhabi.
Then he addressed Christians saying: "You are part of this nation. You are citizens, you are not a minority.. You are citizens with full rights and responsibilities."
Sheikh Tayeb also called on Muslims in the west to integrate in their host nations and respect local laws.
Pope Francis and Sheikh Tayeb signed the Human Fraternity Document during the ceremony, and they were presented with the inaugural Human Fraternity Award for their efforts to spread international peace.
Earlier at the Presidential Palace he was met by Sheikh Mohammed bin Zayed, Crown Prince of Abu Dhabi and Deputy Supreme Commander of the UAE Armed Forces and Sheikh Mohammed Bin Rashid Al-Maktoum vice president and prime minister of the UAE.
Soldiers marched to the square inside the presidential palace grounds, led by a military band.
A fly past saw jet planes leaving a trail of white and yellow smoke – the colors of the Vatican's flag - and in the background the thundering noise of a 21-gun salute could be heard echoing from behind the palace buildings.
They stood for the national anthems and then the Pope was introduced to members of the UAE government.
Then it was the turn of members of the Vatican to shake hands with the two Emirati leaders. The Pontiff was then taken in a simple Kia car to the Sheikh Zayed Grand Mosque in Abu Dhabi where he and Sheikh Ahmed Al-Tayeb met the Muslim Council of Elders.
It was a short visit and within an hour the convoy of Emirati and Vatican staff and security drove to the final and most significant part of the day which was at the Founder's Memorial, a tribute to the UAE's founding father, Sheikh Zayed bin Sultan Al Nahyan.
Sheikh Mohammed said on Monday that UAE rulers were "delighted" to meet the pontiff "in our homeland of tolerance."
"We discussed enhancing cooperation, consolidating dialogue, tolerance, human coexistence and important initiatives to achieve peace, stability and development for peoples and societies," he tweeted.
Pope Francis, who touched down in Abu Dhabi on Sunday night, said he came "as a brother, in order to write a page of dialogue together, and to travel paths of peace together."
Full report at:
http://www.arabnews.com/node/1446906/middle-east
--------
Pope Francis and Al-Azhar's Sheikh Ahmed Al-Tayeb sign declaration of fraternity in Abu Dhabi
February 04, 2019
ABU DHABI: The first day of the historic visit by Pope Francis to the Arabian Peninsula ended with the signing of a "Human Fraternity Document" by the leader of the Roman Catholic Church and one of the highest authorities in Islam, Sheikh Ahmed Al-Tayeb, grand imam of Al-Azhar Mosque.
The declaration of fraternity — which pledges the religious leaders to work together in perpetuity and to reject violence and radicalism — was also signed by Sheikh Mohammed bin Rashid Al-Maktoum, prime minister of the UAE, which hosted the ceremony in its capital Abu Dhabi.
The pope told an audience: "Fraternity is established here at the roots of our common humanity, as a vocation contained in God's plan of creation."
His address centered on the themes of fraternity, education, justice, and human development built on inclusion.
"There is no alternative," he added. "We either build the future together, or there will not be a future. Religions, in particular, cannot renounce the urgent task of building bridges between peoples and cultures." The speech was delivered in Italian translated into Arabic for most in the audience.
Al-Tayeb said: "The document is historic, and it calls for policymakers to stop bloodshed and conflict. Muslims must protect their Christian brothers. I will work with my brother and friend Pope Francis to protect all communities."
The grand imam added: "It is encouraging to see the UAE investing in human resources, and especially the youth. Far-sightedness and wisdom transformed the UAE into a bright country that hosts such a meeting."
He said: "Muslims in Western countries must follow and respect the rules and regulations of the countries in which they reside."
The Western media "exploited" the 9/11 attacks in the US "to show Islam negatively as a bloodthirsty religion, and to show Muslims as savage barbarians who pose a danger and threat to modern societies," he added, quoting numerous Qur'anic verses about the value of life.
The pope aimed a slanted barb at modern economic inequality, saying: "The world's religions also have the task of reminding us that greed for profit renders the heart lifeless, and that the laws of the current market, demanding everything immediately, do not benefit encounter, dialogue and family … Religions should be the voice of the least, who are not statistics but brothers and sisters."
He added: "Here, in the desert, a way of fruitful development has been opened which, beginning from the creation of jobs, offers hope to many persons from a variety of nations, cultures and beliefs."
He continued: "Religious freedom is not limited to freedom of worship, but to others as brothers in humanity … We must have the courage to accept and recognize freedom of the other."
The pope also held out the promise of further visits to Islamic countries, saying: "It is in this spirit that I look forward to concrete opportunities for meeting, not only here but in the entire beloved region, a focal point of the Middle East."
Full report at:
http://www.arabnews.com/node/1447036/middle-east
--------
Gargash: Pope visit overcomes the challenge posed by extremism in all religions
4 February 2019
Pope Francis' historic visit to Abu Dhabi is a significant step toward breaking the barriers of extremism and is in line with the country's message of promoting co-existence and tolerance, UAE Minister of State for Foreign Affairs, Anwar Gargash, said on Monday.
"There is no doubt that the visit is historic. It is his first visit to the Arabian Peninsula. It particularly overcomes the challenge posed by extremism in all religions, not just in a specific one," Gargash told Al Arabiya.
The head of Catholic Church and the sovereign of the Vatican, was accorded a state welcome to the UAE at a grand ceremony organized at the Presidential Palace in Abu Dhabi on Monday. The Pope's visit coincides with the Year of Tolerance being marked by the UAE in 2019.
The pope's three-day visit, which began on Sunday, has also brought Dr. Ahmad al-Tayyeb, the Grand Imam of al-Azhar al-Sharif to the country. Gargash called this an important event in the path of promoting interfaith dialogue.
"The presence of someone like Pope Francis and the Grand Imam of al-Azhar in one place is significant in sending out the message of interfaith dialogue, which the UAE is eager to promote. This also marks breaking of the scourge of extremism during the past few decades," Gargash said.
"In order to compete on a global level, every country has to break the barriers of extremism, which only divides us instead of uniting," he said. Later on Monday, al-Tayyeb is scheduled to take part in the International Conference for Human Fraternity alongside Pope Francis.
The conference brings together 700 multi-faith representatives from around the world. They will visit the Sheikh Zayed Grand Mosque together and the Pontiff and will also meet the Muslim Council of Elders.
Full report at:
https://english.alarabiya.net/en/features/2019/02/04/Gargash-Pope-visit-overcomes-the-challenge-posed-by-extremism-in-all-religions.html
--------
India
Triple talaq made punishable offence as practice continued, Centre tells HC
FEBRUARY 05, 2019
Mohamed Imranullah S.
The Centre has informed the Madras High Court that it was forced to promulgate an ordinance making Talaq-e-biddat (the practice of Muslim men divorcing their wives by pronouncing the word 'talaq' thrice) a criminal offence because the practice continued unabated across the country despite the Supreme Court holding it as unconstitutional.
In a counter affidavit filed before a Division Bench of Justices S. Manikumar and Subramonium Prasad, the Union Law Ministry stated that the government in its wisdom had thought it fit to promulgate the ordinance also because the police officers were helpless and could not initiate any punitive action whenever victims of Talaq-e-biddat lodged complaints.
Additional Solicitor General G. Rajagopalan submitted the counter affidavit in reply to a public interest litigation petition filed by advocate S. Hussain Afroze who had challenged the constitutional validity of the ordinance.
The counter recalled that the Supreme Court had declared triple Talaq unconstitutional in Shayara Bano's case in August 2017.
During the course of the hearing of the case, the All India Muslim Personal Law Board too had assured the court that it would prescribe guidelines to be followed in matters of divorce and urge Muslims to avoid Talaq-e-biddat. Despite such an undertaking and court ruling against the practice, the "menace" continued to be reported from various parts of the country.
"It was also reported in various news channels and dailies that even educated persons are resorting to divorce their wives by adopting instantaneous and irrevocable Talaq... In the absence of any punitive provisions in the extant laws, the police were helpless and no action could be taken against the errant husbands," the counter read.
Inadequate relief
Though the victimscould seek relief under the Protection of Women from Domestic Violence Act of 2005, "the reliefs under the said Act are ineffective against Triple Talaq... Therefore, it is considered necessary to have a standalone legislation and hence there is no unconstitutionality as averred by the petitioner," it added.
It was also brought to the notice of the court that the ordinance was promulgated even as the Muslim Women (Protection of Rights on Marriage) Bill of 2017 was passed by the Lok Sabha on December 28, 2017, and was pending in the Rajya Sabha. The Ministry also said that few other High Courts in the country had already dismissed cases challenging the ordinance.
The ASG told the court that the present writ petitioner would have to amend his prayer since he had filed the case last year challenging the 2018 ordinance, which the Centre replaced with a fresh ordinance on the same subject on January 12, 2019.
https://www.thehindu.com/news/cities/chennai/triple-talaq-made-punishable-offence-as-practice-continued-centre-tells-hc/article26178797.ece
--------
NIA arrests JeM operative in terror attack on CRPF Group Centre in J-K
by sana
Feb 04, 2019
General News: National Investigation Agency (NIA) on Monday claimed to have arrested a JeM operative for his alleged involvement in a terror attack on CRPF Group Centre in Lethpora village in Pulwama district.
The arrested JeM operative has been identified as Fayaz Ahmad Magray. "Accused Fayaz will be produced in the Special NIA Court, Jammu, and will seek his custody for further investigation and unearthing of the larger conspiracy," said NIA in a statement on Monday.
"NIA on Monday arrested accused Fayaz Ahmad Magray, son of late Jalalludin Magray, resident of village Lethpora, Police Station Awantipora, District Pulwama, Jammu & Kashmir, in case RC No. 10/2018/NIA/DLI (attack on CRPF Group Centre, Lethpora)," said the investigation agency.
A terrorist attack on CRPF Group Centre, Lethpora, was carried out in the intervening night of December 30-31, 2017 by three terrorists of proscribed terrorist organisation Jaish-e-Mohammad (JeM).
During investigation by NIA, the three terrorists were identified as Fardeen Ahmad Khandey, son of Ghulam Mohideen Khandey, resident of Nazeempora, Tral, Pulwama district, Manzoor Baba, son of Ali Mohammad Baba, resident of Drubgam, Pulwama, and a Pakistani terrorist, namely, Abdul Shakoor, resident of Rawalakot area of PoK.
All the three terrorists were killed in the encounter. In this attack, five CRPF personnel were martyred and three were grievously injured.
NIA said that arrested accused Fayaz Ahmad Magray is an active over ground worker (OGW) of proscribed terrorist organisation JeM. "He is a key conspirator who provided logistical support such as providing shelter to the terrorists and conducting reconnaissance of the CRPF Group centre, Lethpora before the terrorist attack," said the central agency.
Full report at:
https://www.siasat.com/news/nia-arrests-jem-operative-terror-attack-crpf-group-centre-j-k-1463791/
--------
Soft separatist battles to stay relevant in valley of violence
Rayan Naqash
Feb 04, 2019
Death, they say, is a great equaliser. In downtown Srinagar's Mazar-e-Shuhada, or the martyrs' graveyard, assassinated Hurriyat leader Mirwaiz Farooq Shah lies buried close to Hizbul Mujahideen's Abdullah Bangroo, the man believed to have plotted his murder.
In their death, both Shah and Bangroo have been declared martyrs. The lines between the conspirator and his victim blur in this graveyard, illustrating the contradictions in the Kashmiri separatist movement.
The killing of Shah at the hands of his own is an open secret most in the Valley dare not talk about, not even his son and the current Mirwaiz, Umar Farooq, who inherited his father's title as well as his politics.
All of 17, Farooq, a Class 11 student, was a youthful face among the separatist politicians. Showing maturity beyond his years, he brought together disparate leaders under the banner of the All Parties Hurriyat Conference in 1993 and was elected its first chairperson. He was 19 and the new hope of the separatist movement.
Ten years ago, he was central to the dialogue between India and Pakistan. Former Indian spy chief and a Kashmir expert Amarjit Singh Dulat in his book Kashmir: The Vajpayee Years, says the Mirwaiz was "rated very high by everybody, the Pakistanis, the Americans, the British, other foreigners, and by us".
Cut to 2019, a lot has changed for the Hurriyat as well as the Mirwaiz, who turns 46 on 23 March. The Mirwaiz is battling to stay relevant in a Kashmir hit by a new generation of Islamists.
The soft separatist
Since inception, the Hurriyat has battled internal rifts — over the methods and direction the separatist movement should take. The Hurriyat leaders have ridden the popular wave rather than steer the discourse in the Valley.
As the Hurriyat fragmented, the faction led by the Mirwaiz came to be seen as moderate and often faced criticism from hardliners led by Syed Ali Shah Geelani.
The Mirwaiz was called a political novice backed by India and the "innocent and ignorant rulers" of Pakistan by Masarat Alam, a leading member of the Geelani faction, in a 2007 speech. The hardliners were unhappy with the Mirwaiz camp facilitating talks between the BJP-led government and Pakistan, whose president Parvez Musharraf was said to have sidelined Geelani.
The Hurriyat's representative character helped it tide over the crisis and stay relevant. The following year when Kashmir erupted over an order to transfer forest land to the Amarnath Shrine Board, New Delhi's only hope was the Hurriyat. Chants of "Kaun karega tarjumani? Syed Ali Shah Geelani. (Who will plead our case? Syed Ali Shah Geelani)" were met with: "Choice! choice! Mirwaiz!"
The Mirwaiz's Hurriyat was again but quietly talking to New Delhi in 2009. A 'secret meeting' between the Mirwaiz and home minister P Chidambaram made the top news in The Hindu. The backlash was swift. A member of the moderate Hurriyat was injured in an attack and the talks derailed. Today, the Hurriyat makes careful calls for dialogue – terming Pakistan an important party to the conflict.
But, the hardliners have kept at it.
In April 2014, Geelani alleged that the Mirwaiz had met "emissaries" of Narendra Modi, the BJP's prime ministerial candidate who was accused of inaction during the 2002 anti-Muslim riots in Gujarat. The Mirwaiz called out Geelani's supporters for their "holier than thou approach".
"On several occasions since 1990 they (Geelani-led Hurriyat) have behaved as such with every (other) separatist party," he said. Such "irresponsible" statements created confusion and led to the fatal targeting of Hurriyat leaders, the Mirwaiz said. "Who does Geelani want to see dead today?"
Politics may not have been kind to the Mirwaiz but his place in Kashmir's politics was not lost on others. Dulat notes in his book, published in 2014, that Umar Farooq was "among the Hurriyat, a big player".
If there was any chance of getting the Hurriyat to the talking table, "The Mirwaiz was key to that, because Geelani would never come around", says Dulat. The Mirwaiz has done so, at considerable risk.
In a free fall
Shifting goalposts and acrimony among its constituents, compounded by the Hurriyat's failure to come up with a concrete roadmap or secure any concessions from New Delhi, or even Islamabad, has disillusioned many.
Six years after the 2010 unrest, the Hurriyat was nowhere in the picture when the streets were again taken over by angry youth who ignored its diktats.
Not just the boys on the streets but also those wielding guns were moving away, from both the United Jihad Council and the Hurriyat.
The reality hit home hard when in 2015 a north Kashmir module of the Hizb, led by jihadist Abdul Qayoom Najar, rebelled against the leadership. The group rechristened itself the Lashkar-e-Islam and targeted cellphone towers and service providers, killing at least six people, including Hurriyat activists. The Hurriyat took the easy way out and blamed intelligence services.
The UJC claimed that Najar was expelled from the Hizb and in 2017, the Hurriyat paid tributes after the jihadist was killed in a gunfight. Najar was claimed by a self-avowed al Qaeda affiliate headed by Zakir Musa, another Hizb rebel who denounced the Hurriyat and nationalism.
Najar was also claimed by a self-styled Islamic State chapter. Police believe these are largely modules of outfits such as the Tehreek-ul-Mujahideen. Others see it as an intelligence ploy to further fracture the separatist movement.
Regardless of the theories, pan-Islamism has found traction among the stone-pelting protesters of downtown Srinagar, who have repeatedly denounced the Hurriyat in the Mirwaiz's bastion of the Jamia Masjid in Nowhatta.
Recently, the Islamic State flags were waved from the mosque's pulpit from where the Mirwaiz delivers his Friday sermon. He urged the youth to come forward with their grievances instead of playing into the hands of "the enemy".
The Hurriyat's track record, however, indicates it is "repulsive to the idea of accommodation", says Aijaz Ashraf Wani, an associate professor at the Kashmir University. "They seem to go with the flow rather than being able to create and direct the flow decisively."
Full report at:
https://www.firstpost.com/india/soft-separatist-battles-to-stay-relevant-in-valley-of-violence-6010281.html
--------
NIA arrests Jaish member for attack on CRPF camp in J&K
Feb 5, 2019
NEW DELHI: The National Investigation Agency on Monday arrested a Jaish-e-Mohammad terrorist in connection with the attack on a CRPF camp in J&K's Lethpora in 2017.
The accused, Fayaz Ahmad Magray, is an active OGW (over ground worker) of proscribed terrorist organisation JeM, said NIA in a statement. Magray, NIA said, is a key conspirator who provided logistical support such as providing shelter to the terrorists and conducting reconnaissance of the CRPF group centre in Lethpora before the terrorist attack, the NIA said in the statement.
Full report at:
https://timesofindia.indiatimes.com/india/nia-arrests-jaish-member-for-attack-on-crpf-camp-in-jk/articleshow/67842904.cms
--------
Jamaat-e-Islami Hind to introduce course for brides and bridegrooms
5th Feb 2019
Hyderabad: The Jamaat-e-Islami Hind is working with the All India Muslim Personal Law Board and other organisations to introduce a course for the would be brides and bridegrooms. The intention is to enable them to know their responsibilities.
The Jamaat took a cue from other countries such as certificate course in Malaysia and Indonesia where it is mandatory to complete the course. "We are planning to bring in the system in India to enlighten young generation on the responsibilities of men and women after the marriage," said JIH City President Hafiz Mohammed Rashaad
The Jamaat is working to include topics such as Muslim Personal Law, rights of women, responsibilities to society and their family, etc in Friday sermons. The Jamaat-e-Islami Hind, Greater Hyderabad launched a 10 day campaign to "restore and reinstate family values" in the society and Muslim community in particular.
"The biggest crisis in the world is the disappearing joint family system, it is one of the key roots of all societal problems," said Hamed Mohammed Khan, president Jamaat-e-Islami, Telangana and Odisha.
Full report at:
https://telanganatoday.com/jamaat-e-islami-hind-to-introduce-course-for-brides-and-bridegrooms
--------
Europe
Greece's Muslim minority complain of 'marginalization' in Komotini
February 05, 2019
KOMOTINI, Greece: Outwardly, Komotini looks like other Greek cities, but there is a major difference: it has nine mosques whereas there are none in Athens.
The northeastern city has existed from the second century and was captured by Ottoman-era Turkey in the 14th. It was an important hub connecting the capital city of Constantinople, as Istanbul was then known, with the European part of the empire.
Now it is home to nearly 30,000 Muslims, many of whom complain of marginalization.
Greece has for centuries had a testy relationship with Turkey, with a slew of disputes ranging from Aegean sea issues to the long-running Cyprus problem.
"The minority Muslims and their Greek compatriots cohabit but each side lives in its own corner," said Mustafa Mustafa, a lawmaker from Prime Minister Alexis Tsipras's party, speaking in this frontier city of some 60,000 people.
Tsipras visits Turkey on Tuesday in a bid to improve relations.
"Relations deteriorated in the 1960s and until 1990 many villages in the area were ringed by military barricades," Mustafa, who is in his sixties, said.
"We could not access our properties or get a driving license," he said.
"We would like to be a bridge of peace and friendship and not act as a brake."
The issue of the Muslim minority is one of the sensitive areas in ties between the two neighbors.
Turkish President Recep Tayyip Erdogan, during a historic trip to Greece in 2017 — the first by a Turkish leader in 65 years — visited the Thrace region and called for the respect of the Muslim minority, railing against "discrimination" by the Greek government.
"It's sad that we are being used," said a young Muslim woman, speaking on condition of anonymity.
"These are normal people like us who are paying the price of politics," she said of residents of Komotini, which lies about 100 kilometers from the border.
There are up to 150,000 Muslims in Greece's western Thrace region, who were given minority status after the 1923 Treaty of Lausanne following the end of a war between Turkey and Greece which rang the death knell for the Ottoman empire.
The treaty provided for the application of sharia law to settle family disputes and the use of Turkish in educational institutions.
The presence of a Turkish consulate in the region adds to tensions.
"It would be better for everyone if the consulate stops serving the interests of the Turkish foreign ministry," Komotini's mayor Giorgos Petridis said.
"What characterises this population is a plural identity," said Thalia Dragona from the Athens National University.
"The new generation is educated and wants to break free from being slotted," she said.
A young Muslim recounted how her family was criticized for putting their children in Greek schools, saying: "In their eyes, we had become traitors."
Chatitze Molla Sali, who is in her seventies, lived in Komotini before relocating to Istanbul. She had inherited her husband's house under Greek law but her sisters-in-law contested the decision, evoking sharia.
The European Court of Human Rights ruled in her favor in December.
"The decision clarifies the situation since it makes it impossible to apply Muslim law on European citizens," her lawyer Yanis Ktistakis said.
In a deeply orthodox society where 76 percent of Greeks see Christianity as a central part of their identity, according to the Pew Research Center, "many people associate Islam with Turkey," said Giorgos Kalantzis, the general secretary of religious affairs.
"The country has suffered at the hands of Turkey and this still brings up painful memories," he said.
http://www.arabnews.com/node/1447241/offbeat
--------
Muslim, Jewish college presidents focus on common goals with Christian educators
February 4, 2019
WASHINGTON (RNS) — Like most college presidents, Ari Berman and Hamza Yusuf care about giving their students the best education possible in the classroom.
They also want to support their students' rights as people of faith.
Faith-based schools help students "to contextualize our lives in a greater mission, to have a sense of holiness about everything that we do," Berman, president of Yeshiva University in New York, told a gathering of Christian college presidents in the nation's capital last week (Feb. 1).
The Yeshiva University president's comments prompted an "Amen" from an audience member.
Berman and Yusuf, president of Zaytuna College in California, took part in an interfaith panel focused on what faith-based schools from diverse backgrounds have in common. The panel, which also included presidents of Mormon, Catholic and Protestant schools, took place at the end of the Presidents Conference of the Council for Christian Colleges and Universities, an evangelical consortium of more than 180 schools.
Like their counterparts, both Zaytuna College and Yeshiva University aim to reinforce their religious traditions to a younger generation as they educate them in fields of study ranging from liberal arts to law, their presidents said.
They defended their institutions as alternatives for students of faith who may be met with hostility from college professors at secular schools who consider their religion to be superstition or fellow students who don't understand their beliefs.
"For me, just having safe places where people that actually are devotional can come to and not be offended," said Yusuf, "I think that's extremely important."
Brigham Young University President Kevin J. Worthen also spoke of the connection between faith and learning.
"Our goal at Brigham Young University is not simply to prepare students for their first job — though that is not unimportant to them or us," he said. "And it's not even to prepare them for their last job. It's to prepare them for their eternal destiny."
Although attendees hailed the unusual gathering as historic, more than one panelist noted that connections between great thinkers across faiths dates to medieval times.
Regis University President John Fitzgibbons, the leader of a Catholic school in Denver, and Yusuf noted that Catholic theologian Thomas Aquinas benefited from the teachings of Muslim philosophers Averroes and Avicenna, who interpreted Aristotle's theories.
Berman provided a fresher example of academicians making connections across faiths.
Soon after he became president of Yeshiva in 2017, he sought out Worthen — as well as the presidents of Fordham University and Catholic University of America — to compare notes with colleagues of other faith-based institutions.
"That's why I'm here," he said at a media lunch after the discussion of his acceptance of CCCU's invitation. "It was from those conversations that, when I was invited, I thought this is the kind of room that I want to be in."
Yusuf told RNS that he has attended religious freedom events sponsored by evangelical Christians.
"Religion's under siege right now, and religious liberty is being challenged," he said in an interview. "I think Christian colleges and Christian institutions are realizing the necessity for alliances."
Fitzgibbons welcomed Yusuf's description of religion-related colleges being needed as safe spaces for people of faith. But he added that he believes they also should be places where all questions are allowed, including debates related to LGBTQ rights.
"We are all created in the image and likeness of our God — all of us. So how do we get there?'' he asked. "If that conversation doesn't happen in the university, then that university should not exist. I say that humbly, but I really mean that."
Shirley Mullen, president of Houghton College, a Wesleyan Church-sponsored school in western New York state, said she thinks all of the presidents should work to affirm the value of faith-based education within the overall offerings in higher education.
"All of us today in our own ways have spoken about this kind of education that does not require students to leave behind their fundamental moral and spiritual conviction as they deepen their intellectual understanding," she said.
Other college presidents — on the panel and off — said that, in a polarized country, it was beneficial to focus on where people leading faith-based colleges and universities can agree despite their different theologies.
Full report at:
https://religionnews.com/2019/02/04/muslim-jewish-college-presidents-focus-on-common-goals-with-christian-educators/
--------
Spain church cancels anti-Israel film event under 'pressure from powerful Jews'
Feb 4, 2019
A Spanish priest says his church canceled the projection of an award-winning documentary on the plight of Palestinians in the Israeli-besieged Gaza Strip due to threats and pressure from "powerful Jews" in the European country.
Spain's El Pais newspaper ran an interview with Pastor Javier Baeza, in which the priest criticized "powerful Jews" for exerting pressure, issuing threats, and launching an intimidation campaign against his church over its plan to screen "Gaza, a look into the eyes of barbarism," Israeli media reported Sunday.
He said, "There were pressures from the Jewish community" to cancel the screening of the film, which has won the "Best Documentary" category of Spain's main national annual film festival, the Goya Awards.
The heart-rending film is about the Israeli atrocities and human rights violations against the downtrodden Palestinian population in the Gaza Strip, which has been under a crippling Israeli blockade since 2007.
The documentary was scheduled to be screened on Friday at the Pastoral Center of San Carlos Borrome in southeastern Madrid.
Carlos Osoro, the archbishop of Madrid, however, said the church was "obligated" to suspend the projection indefinitely due to security concerns "because of the threats we've received in the last few days."
The Federation of Jewish Communities of Spain said in a statement that the film was being promoted by organizations supporting the pro-Palestinian Boycott, Divestment and Sanctions (BDS) movement against Israel, which he said "seeks to delegitimize Israel and Israelis."
The BDS movement is an international campaign launched more than a decade ago with the aim of ending Israel's occupation of Palestinian territories.
Full report at:
https://www.presstv.com/Detail/2019/02/04/587628/Israel-Palestine-Gaza-Siege
--------
EU issues stark warning to Iran on missiles and human rights
February 5, 2019
The EU has warned Iran over the progression of ballistic missile testing and its behaviour in the wider region.
In a 12-point statement issued on Monday the bloc, which remains part of the Joint Comprehensive Plan of Action to curb Iran's nuclear ambitions, said it is "gravely concerned" over the state's missile activity.
"Iran continues to undertake efforts to increase the range and precision of its missiles, together with increasing the number of tests and operational launches … These activities deepen mistrust and contribute to regional instability," the statement read. A UN Security Council resolution that enshrined Iran's 2015 nuclear deal with world powers called upon Tehran to refrain for up to eight years from work on ballistic missiles designed to deliver nuclear weapons.
Iran says its missile tests are not in violation of the resolution and denies its missiles are capable of carrying nuclear warheads.
The statement comes less than a week after the UK, German and France created a mechanism for non-dollar trade between Iran and the bloc, enabling the trade of medicines and food without running afoul of US sanctions on Iran.
The EU Council also took issue with Iran's growing role in the Middle East, particularly the presence of Iranian troops in Syria, calling on the state to support UN efforts to broker peace and use its leverage with Bashar Al Assad to encourage a conclusion to the bloody almost eight year conflict.
The 27-member bloc also encouraged Iran to adhere to the UN's arms embargo in Yemen and international human rights legislation.
Full report at:
https://www.thenational.ae/world/europe/eu-issues-stark-warning-to-iran-on-missiles-and-human-rights-1.821905
--------
Mideast
Palestinian left-wing party refuses to participate in new government
Feb 4, 2019
The left-wing Popular Front for the Liberation of Palestine (PFLP) says it will not take part in any new Palestinian unity government, which is expected to be formed in the central West Bank city of Ramallah.
The PFLP, which is the second-largest of the groups forming the Palestine Liberation Organization (PLO), announced in a statement that it had officially notified the Fatah movement led by Palestinian President Mahmoud Abbas of its position over the weekend.
"The crisis that the Palestinian political arena is passing through on various levels amid [a] deepened internal split urges all of us to stop carrying out any measures that will complicate the situation, including the formation of a government," the statement read.
It then warned that the formation of a new government "would bring more obstacles that would block any opportunity for achieving reconciliation and ending the internal split."
The PFLP called for an alternative to the formation of a new government by holding an emergency meeting for activating the PLO, and reaching an agreement on a joint political platform.
Meanwhile, Hamas resistance movement has hailed a firm refusal by PLO-affiliated political factions to join the next Palestinian government.
"The fact that senior PLO factions refused to strike political partnership with the Fatah government is a step in the right direction" to stop the policy of singularity, Hamas spokesman Sami Abu Zuhri wrote in a post published on his official Tweeter page.
"Such a reaction is a proof that Palestinians have no option other than joining forces in favor of national unity," he added.
Late last month, Palestinian Prime Minister Rami al-Hamdallah officially submitted his resignation and that of his unity government to Abbas, casting doubt on the prospects of reconciliation efforts with Hamas.
Abbas had been facing pressure from his ruling Fatah movement over the past few weeks to remove Hamdallah from power, and establish a new government comprised of representatives from PLO factions in addition to independent figures.
Hamdallah headed the Palestinian National Consensus Government, which was formed after Fatah and Hamas reached an agreement in 2014.
Fatah leaders said there was no point in keeping the government in power in the wake of the continued crisis between their faction and Hamas.
They also argue that since their faction is the largest group in the PLO, it should have a strong presence in any government.
https://www.presstv.com/Detail/2019/02/04/587670/Palestinian-leftwing-party-PFLP-refuses-to-participate-in-new-Palestinian-government
--------
Imam's triumphant return and Islamic Revolution
February 4, 2019
"For Imam's reception, we have arranged an elaborate program. Tell Imam that we will roll carpet at the airport, decorate it with lights, and the parade will pass from Mehrabad Airport to Behesht-e-Zahra by helicopter," he told Firdousi Pur, who was in charge of Imam's office in Paris.
When Firdousi Pur informed Imam about it, he listened carefully and with a characteristic grin said: "Go and tell the men that they are not welcoming Cyrus to Iran. This is not necessary at all! A student has left Iran and the same student is returning to Iran. I want to be among my people and go with them, even if I get trampled upon."
The flight back home after 14 years in exile was unarguably the most important journey undertaken by the founder of the Islamic revolution. All eyes were on him and his arrival in Tehran, even as nationwide protests against the Pahlavi regime and confrontation between protestors and military forces raged on.
Before heading home, Imam issued a brief statement thanking the French government. "I leave your country to go and serve my country," read the note.
Two weeks prior to Imam's triumphant homecoming, West-backed despotic ruler Reza Shah Pahlavi had fled the country, appointing his lackey Shahpour Bakhtiar as the head of caretaker regime. The popular uprising in Iran against the Pahlavi regime had forced Pahlavi to escape.
On board a chartered Air France Boeing 747, Imam sat quietly, surrounded by his close aides, a bunch of journalists and younger son Ahmad Khomeini.
Peter Jennings, a Canadian-American journalist who anchored a prime time show on ABC World News, asked him: "What do you feel?" Imam answered: "Nothing!" He asked again, the answer was same.
In that "nothing", Imam said everything. That one-word answer reflected his extraordinary strength of character. Lack of emotions at that important moment signified that Imam sought nearness to Allah rather than nearness to the grandeur of world, power and fiefdom. He detached 'self' from his endeavors and sought pleasure of the 'ultimate power' above all powers.
On February 1, 1979, Imam touched down at the Mehrabad Airport in Tehran, ending his long exile. The packed airport reverberated with 'Allah is great' and 'Khomeini is our leader' slogans.
"We are succeeding, but this is only the first stage," Imam told his ecstatic supporters who had turned up at the airport to welcome him. "The movement will be successful only when the roots of colonialism are pulled out," he added, referring to the Pahlavi regime backed by the U.S.
The success of the revolution, he said, was the result of the unity of all Iranians, irrespective of their religious beliefs. Among those who had come to welcome Imam at the airport were representatives of the Armenian and Assyrian churches.
During the flight from Paris to Tehran, Imam had told journalists accompanying him that he would announce his own provisional government and the nationwide protests would be called off if Bakhtair agrees to resign.
The morning Imam arrived, millions of people poured into streets across the country to welcome him. They chanted vociferous slogans in support of the Islamic revolution and against the Pahlavi monarchy.
Upon landing in Tehran, Imam drove straight to Behesht e Zahra (sa) cemetery in south Tehran to pay his respects to the martyrs of revolution. The visibly jubilant followers lined the one mile stretch from the airport to the city's largest cemetery.
In his first address, he offered his condolences to the parents of martyrs and vowed to uphold the principles of resistance and resilience against the forces of evil. He denounced the interim government led by Bakhtiar and asked him to abdicate power immediately.
"I must tell you that Mohammad Reza Pahlavi, that evil traitor, has gone. This man, his government, his Majlis are all illegal. If they were to continue to stay in power, we would treat them as criminals and would try them as criminals," Imam declared.
Imam soon announced formation of a new government with Mahdi Bazargan as the prime minister, forcing Pahlavi's lackey Bakhtiar to escape. His regime collapsed on February 11, ten days after the arrival of Imam.
Thus the West-backed Pahlavi monarchy crumbled and the Islamic revolution became a great success story. The overthrow of Pahlavi regime was followed by the takeover of U.S. embassy in Tehran.
In Pahlavi's disgraceful downfall, Americans lost an important ally in the region and they lost their grip over Iran. They continue to hold that grudge. Hence the bullying, saber-rattling and sanctions. Iranians stood unfazed then, they stand unfazed now. Imam's legacy continues to guide the proud Iranian nation and his worthy predecessor Imam Khamenei has followed on the same path, refusing to surrender before the so-called 'superpowers' of the world despite enormous pressure.
Imam's socio-political ideology was deeply rooted in Islam. In Kashaf-ul-Asrar, he said religion is the "only thing that dissuades mankind from treachery and crime".
Full report at:
https://www.tehrantimes.com/news/432670/Imam-s-triumphant-return-and-Islamic-Revolution
--------
Erdogan says Turkey has maintained contacts with Damascus
4 February 2019
Turkey has maintained low-level contact with the Syrian government, President Tayyip Erdogan said on Sunday, even though Ankara has supported rebels who fought for years to topple President Bashar al-Assad.
Erdogan has described Assad as a terrorist and said several times during Syria's eight-year conflict that the Syrian leader must go. But with support from Russia and Iran, Assad has recaptured large parts of Syria from rebel fighters, driving them from most of their former strongholds.
Foreign Minister Mevlut Cavusoglu said in December Turkey and other countries would consider working with Assad if he won a democratic election, and last month said Ankara was in indirect contact with Damascus via Russia and Iran.
Erdogan suggested on Sunday that Turkey also had direct contacts with the Syrian government.
"Foreign policy with Syria continues at a lower level," he told broadcaster TRT in an interview, adding that intelligence services operated differently to political leaders.
"Leaders may be cut out. But intelligence units can communicate for their interests," Erdogan said. "Even if you have an enemy, you should not break the ties. You may need that later."
Safe zone proposal
The Turkish president also said that a proposed safe zone in northeastern Syria, which President Donald Trump has said should be established as US forces withdraw from the area, could not be set up by Western coalition forces without Turkey.
"We can provide the security in the area. We can manage the region together with you," Erdogan said. "No problem there. But we can't leave the region for coalition forces."
Washington has said the proposed safe zone should address Turkish concerns about preventing any cross-border threat from Kurdish YPG militia fighters in north Syria, while also preventing Turkish military operations against the YPG.
Trump abruptly announced his intention in December to withdraw the 2,000-strong US forces from Syria, over the objections of top advisers including Defense Secretary Jim Mattis who quit in protest.
One of the main concerns of critics of Trump's decision is the fate of the YPG if US forces leave. The group has been the main ally of US forces battling ISIS in Syria. Turkey, however, considers the YPG to be a terrorist group indistinguishable from the outlawed Kurdistan Workers Party (PKK) which has fought an insurgency in mainly Kurdish southeastern Turkey since the 1980s.
Full report at:
https://english.alarabiya.net/en/News/middle-east/2019/02/04/Erdogan-says-Turkey-has-maintained-contacts-with-Damascus.html
--------
Iraqi president: Trump did not ask for permission to 'watch Iran'
4 February 2019
Iraqi President Barham Salih said on Monday that US President Donald Trump did not ask Iraq's permission for US troops stationed there to "watch Iran."
Speaking at a forum in Baghdad, Salih was responding to a question about Trump's comments to CBS about how he would ask troops stationed in Iraq to "watch" Iran.
US troops in Iraq are there as part of an agreement between the two countries with a specific mission of combating terrorism, Salih said, and that they should stick to that.
Trump said it was important to keep a US military presence in Iraq so that Washington can keep a close eye on Iran "because Iran is a real problem," according to a CBS interview broadcast on Sunday.
"Don't overburden Iraq with your own issues," Salih said. "The US is a major power ... but do not pursue your own policy priorities, we live here."
Iraq is in a difficult position as tensions between its two biggest allies, the United States and Iran, increase.
Full report at:
https://english.alarabiya.net/en/News/middle-east/2019/02/04/Iraqi-president-Trump-did-not-ask-for-permission-to-watch-Iran-.html
--------
Israeli forces shoot Palestinian boy in head with live round
Feb 4, 2019
Israeli forces have killed a Palestinian teen and wounded another in the occupied West Bank.
A Palestinian Red Crescent spokesperson, Mahmoud al-Saadi, said the Israeli forces fired at the two teenagers who happened to pass by on a motorbike by the Jalameh checkpoint Monday.
The two men were rushed to the hospital in the Northern city of Jenin.
The young man, who is identified as 19 year-old Abdullah Tawalba, did not survive the shot to his head.
His companion, who remains unidentified, is reported to be in stable condition.
In an expected turn of events, the Israeli army shifted the blame onto the victims, stating they had opened fire at "two assailants who hurled an explosive device" near the aforementioned checkpoint.
Full report at:
https://www.presstv.com/Detail/2019/02/04/587695/Palestinian-teen-killed-by-Isarel
--------
State of Palestine: Orphaned kids condemn Israel's 12-year siege of Gaza
Feb 4, 2019
The orphaned children of the Gaza Strip released balloons carrying their cries for help as they pleaded to the international community to help end the 12-year blockade of Gaza, near Beit Hanoun's 'Erez' crossing, on Sunday.
The protest which was organized by Hamas, saw children of parents killed by Israeli forces marching with banners and messages tied to their colorful balloons before they released them into the sky.
"The charity institutions have become unable to provide aid to this important group of people [children]," said spokesperson of charity institutions in Gaza Ramez al-Gebawi.
Full report at:
https://www.presstv.com/Detail/2019/02/04/587693/Palestinian-children-condemn-Israels-12year-siege-of-Gaza
--------
Yemen's Houthi militia using human shields
February 04, 2019
RIYADH: The Iranian-backed Houthi militia is using human shields and continues to violate a cease-fire in Yemen, a spokesman for the Arab coalition told a weekly press briefing in Riyadh on Monday.
Col. Turki Al-Maliki showed the media videos featuring examples of the violations.
Footage showed fighters threatening people and forcing them out of their homes, turning their properties into barracks and using them for military purposes.
The cease-fire, brokered in Stockholm between Yemen's warring parties, went into effect on Dec. 13, 2018, in the strategic port city of Hodeidah.
They were the first direct talks in more than two years between representatives of Yemen's internationally recognized government and the Iranian-aligned Houthis.
The besieged Houthi-held city is an entry point for 70 percent of foreign humanitarian aid into the country, according to the UN, which has described Hodeidah as a "lifeline" for Yemen's war-ravaged population.
There have been 1,080 violations since the cease-fire came into effect, including the Houthis setting up military camps in different provinces, Al-Maliki said.
Coalition raids killed more than 270 Houthi fighters at a training site in Al- Mahwit on Jan. 23, he added.
He showed photographs of Iranian-made drones that had been destroyed by the coalition, which was targeting drone warehouses near Sanaa. The Royal Saudi Air Force had intercepted and destroyed anti-civilian drones in Abha and the militia were hiding in pipes, digging trenches to store weapons and planting mines that threatened global maritime and commercial lines in the southern Red Sea.
There have been 216 ballistic missiles launched by the Houthis toward Saudi Arabia between March 26, 2015, and Feb. 4, 2019, according to the coalition.
Full report at:
http://www.arabnews.com/node/1447151/saudi-arabia
--------
Yemeni army liberate an important mountain chain in Kitaf, Saada province
February 05, 2019
DUBAI: Yemen's army liberated a strategic mountain range in the Kitaf district of Saada province, Saudi state-news agency SPA reported.
According to a statement issued by the Yemeni Ministry of Defense, the Arab Coalition backed the Yemeni army forces during the operation, and bombed Iran-supported Houthi militia positions and their reinforcements.
The operation resulted in several deaths and injuries among the militia, the destruction of military vehicles belonging to them and the capture of a number of militants.
http://www.arabnews.com/node/1447306/middle-east
--------
Southeast Asia
Trafficking in Rohingya camps feared rising as crisis rolls on
5 February 2019
COX'S BAZAR (Bangladesh), Feb 5 ? In a shelter made of plastic sheets and bamboo next to a reeking stream in the world's largest refugee settlement, Rohingya Nazma Akter recalled how her daughter was trafficked seven months ago.
Rashida, 17, was picked up next to a health clinic in a camp in southeast Bangladesh by a man who had been courting her by phone for sometime while her mother visited the doctor.
The man, however, turned out to be a trafficker.
Two days later Rashida was rescued by the police at Jashore, a regional hub for sex trafficking about 500km north of the camps near to Bangladesh's border with India.
It has been 18 months since more than 730,000 mainly Muslim Rohingya fled persecution in Buddhist-dominated Myanmar and set up camps across the border in a coastal district about 40km south of Cox's Bazar, Bangladesh's top tourist location.
The camps, sprawled over about 6,000 acres ? just under half the size of Manhattan ? have become more organised but recent police activity suggested the risk of being trafficked has increased due to the promise of work and better lives.
For there are no signs the Rohingya will be able to leave the camps any time soon. Plans for repatriation were put on hold by the Bangladesh government last November amid protests in the camp with a vow no one will be sent back against their will.
"In the middle there were talks about repatriation. Once that slowed down, we noticed an increase in trafficking," said Major Mehedi Hasan, company commander of Bangladesh's elite police force Rapid Action Batallion (RAB).
Latest police records showed that on Jan. 30, police at Jashore rescued five Rohingya girls and one boy, all teenagers, from being trafficked into India.
Six days earlier RAB officers rescued 11 Rohingya Muslims from Chittagong, a major coastal city and financial centre in southeast Bangladesh about 170 km from the camps.
Last November, law enforcement agencies rescued 57 Rohingya refugees from Malaysia-bound boats on three different occasions.
Anti-trafficking groups fear the human trafficking routes to southeast Asia through the Bay of Bengal, which became active around 2010, are now being used to smuggle increasingly desperate Rohingya refugees out of Bangladesh.
Lacking data
The Bangladesh government has not released an official figure of the number of Rohingya who have been trafficked but aid agencies have come up with various numbers which highlight the severity of the issue.
Jishu Barua, programme coordinator for Young Power in Social Action, a non-profit group that deals with trafficking, said an analysis of local papers suggested at least 200 Rohingya had been rescued here in the last three months.
"The numbers have increased. We are telling everyone in the camps to be more careful. We are spreading awareness through different events, such as street dramas and courtyard briefings," Barua told the Thomson Reuters Foundation.
The United Nations' International Organization for Migration (IOM) has identified about 204 cases of trafficking so far.
"But this is just a fraction of what we believe is happening," said IOM spokeswoman Fiona MacGregor, adding that young girls were particularly vulnerable to being taken as domestic workers both locally and within Bangladesh.
"There are cases where people don't know what is going on and then others that do take the risk because they feel there is no other choice."
The government view is that improving people's livelihood at the camps was the only way to curb human trafficking from the area that was known to be at the heart of a people smuggling business long before the Rohingya influx.
Bangladesh bars the Rohingya from leaving the camps, or holding jobs other than participating in small-scale cash-for-work programs run by humanitarian agencies.
In the past, traffickers misled hundreds of people who wanted to go to Malaysia and trapped them in camps in the border areas of Thailand and Malaysia, torturing them until their families agreed to pay up to US$1,800 (RM7,357), a fortune for impoverished migrants.
This came to light in 2015 with the discovery of scores of mass graves believed to contain the bodies of Rohingya and Bangladeshi migrants.
"Trafficking was present in the past and it is present today as well," said Shamimul Huq Pavel, a government officer with the Refugee, Relief and Repatriation Commission (RRRC), a government organisation created to deal with the Rohingya crisis.
"We are trying to improve the situation in the camps here. Once that happens, the situation will improve."
With trafficking on the rise, Bangladesh law enforcers have also stepped up activities to crack down on trafficking, as has Malaysia, which announced last month it would set up an official inquiry to investigate human trafficking camps in border areas.
"We have increased our surveillance near the boat areas," said RAB's Hasan.
Reintegration troubles
While Akter was relieved to get her daughter back, she knew she would have to keep her story quiet. The names of both were changed in this story to protect their identities.
"If people knew her story, no one would marry her," said Akter, stressing that the Rohingya were a conservative community in which men and women were largely segregated in Myanmar.
"Yes, she was foolish and she was trapped. But we live in a problematic area. It can happen to anyone. We have heard many (stories) of children disappearing in the camps."
Since her return, Rashida has married and lives near her mother in Balukhali camp, one of 34 camps in the settlement ? but her husband does not know about the trafficking.
"She is happy today. Let her be. There's no need to bring these issues up again," said Akter, who lives with her husband and two younger daughters in the camp.
While Rashida escaped public stigma on her return, 28-year-old Ramida Khatun ? who also requested anonymity for her security ? from the largest camp, Kutupalong, was not so lucky.
Last May, Khatun was forced by her husband to travel to Sylhet, a city 500 km from the camps, along with a trafficker to get a Bangladeshi passport so the couple could go to Malaysia.
According to Khatun's uncle, she went to Sylhet with two other Rohingya women and stayed at a hotel with the trafficker for nine days before the police rescued her.
When she returned to the camp, she faced public insults from the leader of her block for days and those memories haunt her.
"The insults have stopped. No one troubles me now. But whenever I think about those days, my head begins to hurt a lot," Khatun told the Thomson Reuters Foundation via an interpreter at the Kutupalong camp. ? Thomson Reuters Foundation
https://www.malaymail.com/news/malaysia/2019/02/05/trafficking-in-rohingya-camps-feared-rising-as-crisis-rolls-on/1719956
--------
Rights Groups Seek U.N. Inquiry Into China's Mass Detention of Muslims
By Nick Cumming-Bruce
Feb. 4, 2019
GENEVA — Human rights groups called on Monday for a United Nations investigation into China's mass detention of Muslims in the western region of Xinjiang, seeking to galvanize an international response to allegations of widespread abuses.
The rights organizations, presenting the issue as a test of the United Nations Human Rights Council's credibility, urged it to set up an international fact-finding mission during its session that starts at the end of February.
"The magnitude of abuses allegedly occurring in Xinjiang demand uncompromising scrutiny," Kenneth Roth, executive director of Human Rights Watch, said in a statement released at a news conference in Geneva.
"The Human Rights Council's integrity demands that states not allow China to hide behind its membership or economic might to escape accountability," he said.
Human Rights Watch was joined by Amnesty International, the Geneva-based International Service for Human Rights and the World Uyghur Congress, a Munich-based group representing the Uighur ethnic group, sometimes spelled Uyghur.
Investigations by academics and journalists over the past year have exposed a campaign that has swept around a million people, mostly Uighur Muslims, into indefinite detention in an expanding network of secretive re-education camps across Xinjiang.
The Chinese authorities, invoking what they called the threat of terrorism, have also carried out a draconian crackdown on Muslims that has targeted religious practice and customs. Officials have banned beards, religious instruction of children and even the granting of names with religious connotations to children.
"This is an effort to change the religious and ethnic identity of an important minority," Mr. Roth said, and "absolutely demands an international response."
Underpinning the campaign has been a surveillance program involving widespread installation of facial recognition technology, collection of DNA samples and deployment of thousands of additional security personnel.
"Xinjiang has become an open-air prison — a place where Orwellian high-tech surveillance, political indoctrination, forced cultural assimilation, arbitrary arrests and disappearances have turned ethnic minorities into strangers in their own land," Kumi Naidoo, secretary-general of Amnesty International, said in a video statement.
China's mission to the United Nations in Geneva could not immediately be contacted for comment. Many Chinese government offices have closed in celebration of the Lunar New Year.
China initially responded to reports of mass incarceration of Muslims by issuing blanket denials, but its position changed after a United Nations panel monitoring religious equality expressed its alarm in August.
Defending its record at the Human Rights Council in November, China brushed aside allegations of mass detentions and abuses as politically motivated, presenting its camps as vocational training centers designed to improve the economic prospects and living standards of China's minorities.
China has sought to reinforce the official narrative this year by taking small groups of diplomats and journalists on carefully arranged visits to Xinjiang, but journalists trying to make independent visits have faced obstacles.
The European Union said last week that a visit by three of its diplomats to sites carefully selected by the Chinese authorities had provided insight into China's official thinking, "but does not invalidate the E.U.'s view of the human rights situation in Xinjiang, including in relation to mass detention, political re-education, religious freedom and sinicization policies."
With their call for an international investigation on Monday, the human rights groups sought to ratchet up pressure for action not only by the United Nations but also by its member states, including members of the Organization of Islamic Cooperation, which remained conspicuously silent during November's review of China's record.
Last year, European states and members of the group of Muslim nations had combined in the Human Rights Council to step up investigation of Myanmar's atrocities against Rohingya Muslims. "In our view, Xinjiang demands a similar response," Mr. Roth said.
Full report at:
https://www.nytimes.com/2019/02/04/world/asia/un-xinjiang-uighurs-china.html
--------
Report: Hindu man's daughter forced to join Islamic Studies class
04 February 2019
By Azril Annuar
KUALA LUMPUR, Feb 4 — A Hindu father has filed a complaint with the Education Department that his "Hindu" daughter is being forced to take Islamic Studies in school even though the child's mother is born a Hindu and is seeking an appeal to renounce Islam. Online portal Malaysiakini reported that the father identified as 50-year-old Grab driver P. Manivanan had requested the Education Ministry's intervention to resolve the dispute faced by his nine year old child M. Luganeshvari.
Apparently, the man's wife was born a Hindu but her parents had converted into Islam together with her when she was three years old and given the name Siti Fatimah Paramaswari.
However, when Paramaswari was 18, she married Manivanan and had applied to the Shah Alam Syariah Court to have her Muslim status annulled.
He and his wife were married according to Hindu rites and they also hold a valid marriage certificate issued by a commissioner of oaths.
"The issue now is that the National Registration Department (NRD) has declared my daughter as a Muslim," Manivanan reportedly said.
"When she was born, we told the NRD officer on duty that my wife has applied to revert to being a Hindu, and the said officer registered the child (then) as a Hindu. However, when the birth certificate came out, my daughter's religion was stated as Islam. "Worse still, my name was not included in the certificate at all. In the column where the father's name is supposed to be, it is stated 'information not obtained'."
Manivanan complained that Tamil schools refused to accept Luganeshvari due to the dispute over her birth certificate and he was forced to register his daughter into a national school where she was forced to take Islamic studies.
He explained that Lugeshnvari had never practiced Islam and his wife had already renounced the religion but they hold Islam and Muslims with respect.
The NRD in Putrajaya on the other hand said his daughter was registered as a Muslim due to Paramaswari's religion.
"What right does NRD have to decide on my behalf? And why was my name excluded? I challenge the NRD to explain the exclusion of my name, when I have a valid marriage certificate. They should have waited until my wife's case is resolved, and not make hasty decisions," he told Malaysia Kini.
Manivanan had lodged a police report against the NRD for allegedly falsifying the details in Luganeshvari's birth certificate.
Full report at:
https://www.malaymail.com/news/malaysia/2019/02/04/report-hindu-mans-daughter-forced-to-join-islamic-studies-class/1719745
--------
Philippine Troops Battle Muslim Militants After Church Blast
February 4, 2019
Philippine troops clashed with Abu Sayyaf gunmen in fierce jungle fighting that left five soldiers and three militants dead, as the military pushed forward with a fresh offensive following a deadly church bombing last weekend.
President Rodrigo Duterte has ordered government forces to destroy the Abu Sayyaf after the bombing last Sunday of Our Lady of Mount Carmel Cathedral in the Sulu provincial capital of Jolo that killed 22 people and wounded more than 100. The attack has renewed terrorism fears across the Philippines, where the national police went on full alert and security has been strengthened in churches, shopping malls and other public areas.
Regional military spokesman Col. Gerry Besana said another five soldiers and 15 militants were wounded in nearly two hours of fighting Saturday between the army and about 150 Islamic State group-linked fighters in the jungles near Patikul town.
The militants were led by Abu Sayyaf commander Hatib Hajan Sawadjaan, who is suspected of helping plot the bombing. The Abu Sayyaf, which has about 300 to 400 armed fighters, has been blacklisted by the United States and the Philippines as a terrorist organization because of years of bombings, kidnappings and beheadings in the predominantly Roman Catholic nation.
Government forces have over the years pressed on sporadic offensives to crush the group, including in Jolo, a poverty-wracked island of more than 700,000 people where Muslims are the majority. A few thousand Catholics live mostly in the provincial capital.
Since the church attack, the air force has launched airstrikes on suspected militant bases near Patikul and police killed a suspected militant on a raid in the city.
Duterte told reporters earlier this week that the church bombing was a suicide attack carried out by a militant couple.
Interior Secretary Eduardo Ano said Friday that an Indonesian couple was responsible for the bombing aimed at fomenting sectarian conflict in the south. The Indonesian man reportedly used the nom de guerre Abu Huda and Philippine authorities said they would coordinate with their Indonesian counterparts to try to validate the identities of the two.
Indonesian Foreign Ministry spokesman Arrmanatha Nasir said the government had not been able to confirm the involvement of Indonesian nationals in the attack.
There has been speculation that the bombing may be a diversionary move by Muslim militants after troops recently carried out an offensive that killed a number of IS-linked extremists in an encampment in the hinterlands of Lanao del Sur province, also in the south. The area is near Marawi, a Muslim city that was besieged for five months in 2017 by hundreds of IS-aligned militants, including foreign fighters.
Troops quelled the insurrection, which left more 1,100 people dead, mostly militants, and the heart of the mosque-studded city in ruins.
Full report at:
https://www.newdelhitimes.com/philippine-troops-battle-muslim-militants-after-church-blast/
--------
Africa
Somalia port boss killed, car bomb leaves 11 dead
February 04, 2019
MOGADISHU: Somalia's Al-Shabab terrorists on Monday shot dead the Maltese manager of a port, while detonating a car bomb in the capital which killed 11 people and wounded several others.
In a deadly day for the restive nation, a gunman shot Maltese national Paul Anthony Formosa, manager of the port of Bossasso in semi-autonomous Puntland state for P&O Ports, a subsidiary of the Dubai-based DP World.
Shortly thereafter a powerful explosion from a car bomb rocked the busy Hamarweyne market in the capital Mogadishu, killing 11 people in the latest attack from the Al-Qaeda affiliate plaguing the country.
"An armed man shot and killed Paul Anthony Formosa who was the construction project manager for DP World. He was killed inside the port and the security forces also shot the killer on the spot," said local security official, Mohamed Dahir.
The Dubai government confirmed the death in a statement on Twitter and said the circumstances of the incident were being investigated. "Three other employees have been injured in this morning's incident, and all are currently receiving medical treatment," read the statement.
The attack was claimed by Al-Shabab, which said in a statement it was "part of broader operations targeting the mercenary companies that loot the Somali resources."
The DP World subsidiary in 2017 signed a 30-year concession contract for the management and development of the port, strategically located on the Gulf of Aden, between the Red Sea and the Indian Ocean, more than 1,300 km north of Mogadishu.
The Dubai-based ports company has sparked friction with Mogadishu over its development of ports in Berbera in breakaway Somaliland — whose independence is not recognized — as well as Puntland.
Al-Shabab also claimed responsibility for the car bomb in Mogadishu, via a statement on a pro-Shabab website.
"The blast occurred close to Mogadishu mall and it has caused death and destruction," police officer Ahmed Moalin Ali said.
"The terrorists parked a vehicle loaded with explosives in the vicinity of the mall to kill the innocent civilians."
He said some of the victims died in a building that collapsed as a result of the blast in the Hamarweyne market.
"I saw the dead bodies of four people recovered from the debris of a collapsed building and three others were strewn dead outside after the blast had blown them," said shopper Munira Abdukadir.
"I was not far away from the blast location, but I was lucky to have survived, several people were wounded and some were screaming before the ambulances arrived," said another witness, Abdulahi Mohammed.
Somalia has not had an effective central government since the 1991 overthrow of President Siad Barre's military regime which ushered in decades of chaos — including an insurrection by Al-Shabab since 2006.
The group once held sway over large swathes of countryside and the capital, however they were chased out of Mogadishu by the 22,000-strong African Union peace-enforcement mission, AMISOM in 2011, and have since abandoned many strongholds.
They nevertheless control vast rural areas and remain a key threat to peace in Somalia and the region, with the capacity to stage significant attacks.
In October 2017, a truck bombing in a busy neighborhood of Mogadishu killed over 500 people in the deadliest attack in Somalia to date.
On Jan. 15, Al-Shabab gunmen — and the first-ever suicide bomber in Kenya — attacked the Dusit hotel and office complex in Nairobi, leaving 21 dead and prompting police and the US Embassy to urge caution in public spaces.
http://www.arabnews.com/node/1446916/world
--------
Turkey condemns terror attack in Somalia
05.02.2019
Turkey on Tuesday strongly condemned a car bomb attack that targeted a busy shopping mall in Somalia's capital Mogadishu.
In a statement, the Foreign Ministry said: "We strongly condemn this heinous attack."
The ministry added: "We wish Allah's mercy upon those who lost their lives, wish a speedy recovery to the wounded, and convey our condolences to the brotherly people and government of Somalia."
At least seven people were killed and nine others were injured when a bomb-laden car blasted near a busy shopping mall in Mogadishu on Monday.
https://www.aa.com.tr/en/africa/turkey-condemns-terror-attack-in-somalia/1383659
--------
North America
Republican-led Senate breaks with Trump over Syria, Afghanistan withdrawal plans
Feb 5, 2019
The Republican-led US Senate has backed an amendment opposing President Donald Trump's plans for quick withdrawal of American troops from Syria and Afghanistan, citing concerns that such moves will benefit Russia and Iran.
The senators voted 70-26 in favor of the non-binding and largely symbolic amendment on Monday, which disputed Trump's claims about defeating Daesh and said the terrorist group still posed a "serious threat" to the US mainland.
Upon announcing his plans to evacuate Syria and drastically reduce troop levels in Afghanistan in December, Trump said he was returning American soldiers home in a few months because Daesh was no longer a threat.
However, the new amendment, drafted by Majority Leader Mitch McConnell, argued that while there had been progress in the fight against Daesh in both Syria and Afghanistan, the Trump administration had more to do in order to ensure the terror outfit's "enduring defeat."
It further warned that "a precipitous withdrawal" from the two countries could cause instability in the region and leave behind a vacuum that Iran and Russia would fill.
Trump's announcement has been met with heavy backlash from both sides of the aisle. It also led retired General Jim Mattis to hand in his resignation as Defense Secretary.
Before the vote on Monday, McConnell said he brought the bill to let senators "speak clearly and directly about the importance of the" missions in Afghanistan and Syria.
Last week, after senators pushed the amendment through, he told reporters: "Withdrawal of the United States forces from the ongoing fight against these groups . . . could allow terrorists to regroup, destabilize critical regions, and create vacuums that could be filled by Iran or Russia, to the detriment of United States' interests and those of our allies."
I defeated all Republicans, people agree with me: Trump
In an interview aired by CBS on Sunday, Trump made it clear that he was not going to halt the withdrawal and retract one of his main campaign promises just because Senate Republican's said it was being done "precipitously."
"Precipitously? We've been there for 19 years. I want to fight. I want to win, and we want to bring our great troops back home," Trump said.
"I ran against 17 Republicans. This was a big part of what I was saying, and I won very easily. I think the people out in the world- I think people in our country agree," he said, referring to 2016 presidential primaries, where he defeated over a dozen of Republican candidates to win party nomination.
He claimed that even Taliban were weary of war and had agreed to peace talks to end the conflict.
"And we'll see what happens with the Taliban. They want peace. They're tired. Everybody's tired. We'd like to have- I don't like endless wars. This war. What we're doing is got to stop at some point," he said.
War unites Republicans, Democrats: Rand Paul
The vote drew an angry response from Senator Rand Paul, who accused both parties of forming a "war caucus."
"What is the one thing that brings Republicans and Democrats together?" Paul asked. "War. They love it, the more, the better. Forever war, perpetual war."
The Kentucky lawmaker hailed Trump for being "bold enough and strong enough" to bring the war in Afghanistan to an end.
"How do you leave precipitously after 17 years?" Paul asked. "We are no longer fighting anyone who attacked us on 9/11."
The US invasion of Afghanistan began after the September 11, 2001 attacks against World trade Center in New York City.
Middle East bill moves forward
The vote on Monday added the new amendment to a broader Middle East security bill which is currently moving through Congress and addresses a range of issues involving America's regional interests
The Senate voted 72-24 in a procedural vote later on Monday to advance the bill.
To become law, the Middle East bill needs to pass the Democratic-controlled House of Representatives, which is unlikely due to concerns about a provision that aims to curb the "Boycott, Divest and Sanction" movement against Israel and its violent treatment of Palestinian people.
Full report at:
https://www.presstv.com/Detail/2019/02/05/587716/US-Senate-Republicans-Trump-Afghanistan-Syria-withdrawal
--------
Muslim patrol group in New York faces backlash including far-right conspiracy theories
Feb 05, 2019
Maeen Ali remembers the worry he felt when he first spotted the "Punish a Muslim Day" screed online.
The letter, mailed last spring throughout England, encouraged violence that ranged from pulling off a woman's head scarf to bombing mosques. Each attack, the letter instructed, would be rewarded with points. The hate campaign prompted the police in New York and other big cities to expand patrols around mosques and Islamic centres on the specified day.
Mr Ali, who lives in downtown Brooklyn, said he was consumed by thoughts of his four children's safety.
"That just boiled inside of me," said Mr Ali, who moved to the United States from Yemen in 1990. "That's when I said to myself that it was really important to come out and protect Muslims in the community."
He added, "I have to stand up."
As it turns out, he will spend most of his time sitting – in a white Ford Taurus that is detailed to look like a police squad car with red and white emergency lights.
Mr Ali is among the first 30 members of the all-volunteer Muslim Community Patrol & Services that is preparing to operate in neighbourhoods in Brooklyn, with a goal of growing its fleet of two cars to five by the end of the month and eventually expanding citywide. The group recently held a training led by off-duty officers from the police department's 72nd precinct.
"It's like a neighbourhood watch but on steroids," said Noor Rabah, the group's 31-year-old vice president who lives in Sunset Park.
As word of the new patrol has begun to spread, the backlash has been swift, even among some members of the Muslim community who have criticised the lack of information, and questioned the need for the patrol.
Like the Shomrim that patrols largely Hasidic neighbourhoods in Brooklyn and the Brooklyn Asian Safety Patrol that operates mainly in Sunset Park, the new group – believed to be the first of its kind in the country – hopes to function as extra sets of eyes and ears for the police.
The unarmed civilian patrol will offer translation services – its members are fluent in any of seven languages – explain cultural nuances, report suspicious activity, respond to traffic accidents and even help in searches for the missing. The patrol has the support of Brooklyn's borough president, Eric L Adams, and assistant chief Brian J Conroy, the commanding officer of patrol borough Brooklyn South.
"More than buildings went down in 9/11. Trust between communities went down," Mr Adams said. "We are building it back one brick at a time, and this patrol is one of those bricks."
Leaders said the group is self-funded and used donations to purchase the cars and navy blue uniforms for its members, many of whom are involved with the Muslim Community Centre in Sunset Park.
Volunteers plan to work in shifts, watching over arrival and dismissal times at three Islamic schools in Brooklyn and conducting patrols from 5pm to 11pm, mostly near mosques and bus and subway stops in Bay Ridge and Sunset Park, where there are large Muslim populations. It will also link residents to food pantries, mentorship programs and counselling services. It aims to serve anyone who needs help, Mr Rabah said, not just Muslims.
"Presence is prevention," Mr Rabah said. "Just us being around should deter the average criminal mind of doing something to harm another person."
But in a world where far-right conspiracy theories have inspired terror plots against an Islamic enclave in upstate New York, and a travel ban has blocked residents of predominantly Muslim countries from entering the United States, nothing, it seems, is that simple.
Organisers said they were prepared for sceptics.
But they did not expect the vitriol unleashed when a photo of their new, double-parked patrol cars on Fifth Avenue in Bay Ridge turned up 21 December on Facebook, and later on Instagram. The hostility spread after a far-right Canadian website, Rebel Media, posted a snippet on YouTube. The ugly online comments included accusations that the group was a stalking horse for sharia law, and worse.
"I expected some sort of, 'Wait, what is that?' but not, 'Wait, what the hell is that?' Mr Rabah said. "There's a big difference."
Some in the Muslim community were equally startled, but for a different reason: the cars' resemblance to New York City police cruisers stoked anxieties rather than allayed them.
Somia Elrowmeim, the adult education and women's empowerment manager at the Arab American Association of New York, based in Bay Ridge, said a single misstep from the patrol could reflect poorly on the city's entire Muslim community. She said more outreach to community leaders was essential before patrols began operating.
Until then, Ms Elrowmeim offered this message: "We don't want you near our community."
Community patrols work in concert with the police, but are not sanctioned or regulated by the police department. "Safety is a shared responsibility with the community, so this is an opportunity for the community to help out and work together with the police," Mr Conroy said in an interview.
Mr Rabah, a funeral organiser for the Janazah Project, said the Muslim Community Patrol had been a long-held dream of his and others. A series of sensational 2016 attacks, including the murder of an imam and his assistant in Queens and an arson attack on a Muslim woman dressed in traditional garb in Manhattan, gave energy to their cause, he said.
New York City is home to an estimated 769,000 Muslims. They make up about 9 per cent of the city's population, but represent 22 per cent of all Muslims living in the United States, according to Muslims for American Progress.
In 2017 in the city, there were 14 reported anti-Muslim bias incidents, according to the police department's annual report. Last year, there were 14 bias-crime incidents recorded against Muslims during the first three quarters of the year, the most recent data available.
Huda Quhshi, the owner of Le'Jemalik Salon & Boutique in Bay Ridge, said she felt a "spark of happiness" when she saw a video of the patrol car on Instagram. The extra protection is welcome, she said, especially for women who wear hijabs – "walking billboards of a Muslim" – and are particularly vulnerable to harassment.
Full report at:
https://www.independent.co.uk/news/world/americas/muslim-patrol-group-community-new-york-police-far-right-conspiracy-a8762056.html
--------
Saudis transferring US weapons to Qaeda in Yemen, report reveals
Feb 5, 2019
Saudi Arabia is "transferring" American weapons to al-Qaeda terrorists and Salafi militias in Yemen, a report reveals.
Saudi and its main accomplice in the war on Yemen, the UAE, "have used the US-manufactured weapons as a form of currency to buy the loyalties of militias or tribes, bolster chosen armed actors, and influence the complex political landscape," CNN said in a report Monday, citing local commanders on the ground and analysts.
The report added that Houthi Ansarullah fighters have also managed to gain access to the weapons "exposing some of America's sensitive military technology to Tehran."
During his maiden state visit, US President Donald Trump went to Saudi Arabia where he signed a massive $110 billion arms deal with the oil-rich kingdom.
According to the Department of Defense, the monarchy is breaking the terms of its arms deal with Washington.
The Monday report further suggested that Trump "has lost control over" the royal family, questioning whether it is "responsible enough to be allowed to continue buying the sophisticated arms and fighting hardware."
Saudi Arabia has been pounding Yemen for over two years and killing thousands of civilians there, while receiving full logistic and intelligence support from America.
Trump has thrown his support behind the monarchy and Saudi Crown Prince Mohammed bin Salman, who reportedly ordered the assassination of former Washington Post columnist Jamal Khashoggi at the Saudi consulate in Turkey.
Full report at:
https://www.presstv.com/Detail/2019/02/05/587705/Saudis-transferring-US-weapons-to-Qaeda-in-Yemen-report-reveals
--------
Donald Trump's Syria withdrawal plans loom large over anti-ISIS coalition meeting
Joyce Karam
February 5, 2019
The anti-ISIS Coalition is gathering in Washington on Wednesday for its first meeting since last summer, aiming to stave off any ISIS resurgence following territorial defeat of the group.
The meeting of the 79 member states will start on Wednesday by discussing Syria and Iraq, ahead of remarks by US Secretary of State Mike Pompeo.
Mr Pompeo will also chair a meeting for the Small Group of the Global Coalition. Its members besides the US are France, Germany, the United Kingdom, Egypt and Jordan.
Saudi foreign minister Adel Al Jubeir is expected to represent Riyadh in the meetings and his Turkish counterpart Mevlüt Çavuşoğlu has confirmed his attendance, even as talks over a Turkish safe zone in Syria appear to have hit a snag. National security advisers and defence ministers from other regional countries will also be in attendance.
US officials on Monday said the summit will focus on four themes: recognising the liberation of territory and ensuring permanent defeat, supporting the Iraqi government, renewing the coalition's commitment, and holding ISIS members accountable. However, the recently-declared US withdrawal of troops from the area is casting a shadow over proceedings before they have even begun and raising questions from within the administration over risks of ISIS resurgence.
"ISIS is regenerating key functions and capabilities more quickly in Iraq than in Syria, but absent sustained pressure, ISIS could likely re-surge in Syria within six to twelve months and regain limited territory" a report by the Pentagon released this week said. The terrorist group "may conduct opportunistic attacks on US personnel as they withdraw but will leverage the event as a 'victory' in its media" the US defence officials warned.
ISIS remains a "potent force of battle-hardened and well-disciplined fighters that could likely re-surge in Syria absent continued counter-terrorism pressure" it added.
The ministerial meet-up has been in the planning since last September, before US President Donald Trump declared his intention to withdraw from Syria on December 19, one official explained. "We will discuss the next phase of the campaign in Iraq and Syria, which will focus on protecting against a resurgence of ISIS through stabilisation and security assistance" he added.
One US official insisted that the goals in Syria remain unchanged despite Mr Trump's plan to pull out at least 2000 US troops in the country. "One of our overarching goals in Syria is the exit of all Iranian commanders from Syria" the official said.
Mr Trump's planned withdrawal pushed his Secretary of Defence James Mattis and his anti-ISIS envoy Brett McGurk to resign in protest.
In an effort to reassure allies about US commitment, Mr Trump said on Sunday that American troops will stay in Iraq. "We're going to keep watching and we're going to keep seeing and if there's trouble, if somebody is looking to do nuclear weapons or other things, we're going to know it before they do," Mr Trump told CBS's "Face The Nation." "I want to be able to watch Iran" he said.
But in Syria, US officials say the withdrawal plans are still on track albeit no timetable being announced. On Monday, the State Department called upon other nations to repatriate hundreds of ISIS foreign fighters in custody by the Syrian Democratic Forces in Syria. "The United States calls upon other nations to repatriate and prosecute their citizens detained by the SDF and commends the continued efforts of the SDF to return these foreign terrorist fighters to their countries of origin" the statement read.
Mr Trump's withdrawal plan from Syria and Afghanistan (7000 troops) is also being challenged by Congress as the US Senate passed a non-binding amendment last week that warns against any precipitous pullout from those countries.
Faysal Itani, a fellow with the Atlantic Council who studies Syria, said "there is no argument that ISIS has been defeated if we were to measure success by the square miles it controls." But he warned that in a holistic conversation about ISIS as an insurgency group, sleeper cells or its ability to carry operations, then the debate gets more complicated, and the group is far from being completely eradicated.
Mr Itani said one misconception about this US administration "was assuming it spoke with one voice (and that its members all spoke for the US president)."
Full report at:
https://www.thenational.ae/world/the-americas/donald-trump-s-syria-withdrawal-plans-loom-large-over-anti-isis-coalition-meeting-1.821914
--------
Pakistan
SC says rejected review plea in Aasia Bibi case due to contradictions in evidence, deposition
Feb 05, 2019
ISLAMABAD: The Supreme Court (SC) on Monday said that there were clear contradictions in pieces of evidence and depositions in the petition to review Aasia Bibi's acquittal verdict.
"Since there are no new pieces of evidence in the review petition, therefore it is rejected," read the detailed verdict.
A three-member bench, headed by Chief Justice of Pakistan (CJP) Asif Saeed Khosa and comprising Justice Qazi Faez Isa and Justice Mazhar Alam Miankhel, had rejected the appeal after hearing arguments from the appellant's lawyer and said that the appellant "failed to prove flaws in the announced judgement".
The court ruling said, "The petitioner had requested to form a larger bench but there was no such need for it."
Justice Khosa had also noted that the witnesses were oblivious to the real facts of the incident and made misstatements in court.
On Tuesday, the top court had rejected the review petition and had said the petitioner was unable to pinpoint any mistake in the October 31, 2018, verdict that acquitted Aasia Bibi.
Justice Khosa had asked the complainant counsel's to assist in deciding what should be punishment for those witnesses who made the false statement. The chief justice had said that under the law, the false witnesses in such cases should be awarded life imprisonment after a summary trial.
Justice Khosa had then announced that "the review petition is dismissed on merit".
PETITION:
On October 31, 2018, the apex court had acquitted Aasia Bibi, who was facing a death sentence for blasphemy and ordered to release her from prison immediately. The acquittal had led to countrywide protests by the TLP headed by Khadim Rizvi and other radical Islamist parties.
After three days of the massive demonstrations, the government and Labbaik reached an agreement, with the government vowing not to oppose review plea in the case. Subsequently, a review petition was filed on November 1, 2018, at the Lahore Registry of the apex court, urging the SC to reconsider its decision.
The petitioner had also sought the placement of Aasia's name on the Exit Control List (ECL) till the judgement is reviewed.
In the petition, it was argued that the SC's acquittal of Aasia Bibi did not meet the standards of jurisprudence as well as Islamic provisions and the "normal principle of justice with reference to application in blasphemy laws".
The blasphemy allegations against Bibi date back to June 2009. She was working in a field when she was asked to fetch water. Muslim women labourers objected, saying that as a non-Muslim she was unfit to touch the water bowl.
A few days later the women went to a local cleric and put forward the blasphemy allegations.
https://www.pakistantoday.com.pk/2019/02/04/aasia-bibi-case-sc-rejected-review-petition-due-to-contradictions-in-evidence-deposition/
--------
ATC extends Khadim Rizvi, TLP leaders' judicial remand until Feb 8
Rana Bilal
February 04, 2019
Police on Monday arrested dozens of Tehreek-i-Labbaik Pakistan (TLP) workers after they tried to block an armoured vehicle carrying the party chief Khadim Hussain Rizvi, who was produced by the law enforcement agencies before an anti-terrorism court (ATC).
Several workers had gathered outside an ATC in Lahore where Rizvi had been brought for the hearing of a case registered against him and five other party leaders — who were also produced before the court today — for damaging property and vandalism during violent protests that the TLP held following a Supreme Court verdict that acquitted Aasia Bibi in a blasphemy case last year.
The TLP leaders, including Afzal Qadri, Pir Ejaz Ashrafi, Farooqul Hasan, Shafqat Jamil and Waheed Noor, appeared amid heavy security before ATC admin judge Sheikh Sajjad today after the expiration of their 14-day judicial remand. The court extended their judicial remand until Feb 8.
After the hearing was over, TLP workers tried to block an armoured vehicle carrying Rizvi away from the ATC, leading the police to launch a crackdown and arrest multiple workers.
Rizvi was taken into 'protective custody' by the police on Nov 23, 2018 in a massive crackdown against TLP workers.
Full report at:
https://www.dawn.com/news/1461784/atc-extends-khadim-rizvi-tlp-leaders-judicial-remand-until-feb-8
--------
Imran for improved coordination between Centre, provinces
Syed Irfan Raza
February 05, 2019
ISLAMABAD: The Centre has asked the provinces to ensure complete coordination for improvement in health, education, agriculture, tourism and industrial sectors.
The Centre sought the coordination of the provinces at a meeting presided over by Prime Minister Imran Khan and attended by Punjab Chief Minister Sardar Usman Buzdar, Khyber Pakhtunkhwa Chief Minister Mahmood Khan and Governor Shah Farman and provincial ministers of the two provinces.
The prime minister stressed the need for better coordination between the Centre and the provinces to overcome the problems confronting people. He also called for inter-provincial coordination. "After completing the first phase of six months, the government is stepping into its next phase which requires better coordination between the Centre and provinces," he added.
Mr Khan said there was a need to highlight the measures taken by the government for the betterment of people and the country so that the people could know that in what circumstances former rulers had left the nation. "We have come into power in a difficult situation and we know that people are in trouble due to devaluation of rupee. But the government is striving hard to bring prosperity to the country," he added.
Minister for Planning and Development Khusro Bakhtiar briefed the meeting on future priorities of the government.
The meeting reviewed the steps being taken for establishing the proposed Regional Equalisation Development Fund to provide equal opportunities for development of remote areas of the country. In this connection development activities will be launched in 50 cities under the World Bank and Asian Development Bank programmes.
The prime minister emphasised the need for preparing a roadmap for tapping potential of tourism in the country. "We can generate $40 billion annually only through tourism," he said.
The provincial ministers of Punjab and KP briefed the meeting on health, education, agriculture, tourism and other sectors. On this, working groups comprising federal and provincial ministers were formed.
The meeting was informed that a summary for establishment of seven industrial zones in Punjab had been sent to the Board of Investment (BoI). Finance Minister Asad Umer told the meeting that the BoI had been directed to prepare a special economic zones framework for tourism in 30 days. The meeting was informed that Rashakai Economic Zone would become operational soon.
In the agriculture sector, the prime minister was informed that due to the government's efforts the farmers of Punjab had for the first time received actual price of their sugarcane yield. In addition to this, subsidy is being given to the farmers for increasing canola and sunflower oil production.
Prime Minister Khan said improvement in the agriculture sector would help rid people of poverty.
He directed the authorities concerned to upgrade health facilities in all government hospitals and ensure cleanliness there. "Administrations of hospitals must be directed that no leniency will be tolerated in cleanliness of the hospitals and for that purpose the ministers concerned will pay frequent visits there."
The prime minister was informed that arrangements had been made to provide Health Insaf Cards to over 800,000 people in Punjab from Feb 20. In the first phase, the cards will be issued to the people in Rajanpur, Dera Ghazi Khan, Muzaffargarh and Multan, and later the people in 36 districts of Punjab will get the facility.
EAC meeting
Prime Minister Khan also chaired a meeting of the Economic Advisory Council (EAC) and reviewed the measures being taken by the government to come out of the prevailing economic crisis.
The finance minister informed the meeting about improvement in economic indicators in January and the steps being taken for digitalisation of the economy.
Full report at:
https://www.dawn.com/news/1461906/imran-for-improved-coordination-between-centre-provinces
--------
Taliban negotiating from position of strength, says Ahmed Rashid
Feb 05, 2019
While sharing his views about the ongoing negotiations between the United States and the Taliban, renowned foreign policy author Ahmed Rashid has said the Taliban were talking from a position of strength as they controlled more territory than the Afghan government.
"What I think is crucial is that the Taliban have now found an America that is willing to talk. Even the initiative taken by Richard Holbrooke and other American diplomats in the past – never had the full backing of the President or the US establishment. Now the Taliban are finding that Trump is determined to pull out and this was his promise to his own voter base in the US," said Mr Rashid on the concluding day of Adab Festival, which was held at the Governor House.
At the session titled 'In conversation with Ahmed Rashid', being moderated by journalist Zahid Hussain, the author was asked about his take on Afghan peace negotiations.
"I want to know what has made the Trump administration take this more seriously? And as reports are coming in from Afghanistan that the Taliban are much more powerful than ever and more than 55 per cent of Afghan territory is supposed to be under their control. What has led the Taliban to negotiate, they have always talked about talking to the Americans and refused to have any interaction with the Kabul government, do you think now the Taliban are talking from a position of strength?" asked Mr Hussain.
Rashid said: "Now the Taliban are finding that Trump is determined to pull out and this was his promise to his own voter base in the United States. He wants to fulfil this promise before the next election so he can point to them and say, 'look I promised you troops out of Afghanistan…' and this whole Trump philosophy is all about internalising economy, abandoning trade and international alliances while concentrating on strengthening the US.
"Of course, you can argue that this is ridiculous because you need interaction with your allies and trading partners. So I think the whole American ideology has shifted dramatically by Trump. I'm sure Zalmay Khalilzad (a US diplomat and special representative for Afghanistan) wakes up every morning fearing that Trump has tweeted something overnight saying that all American forces are coming out tomorrow morning. And Trump won't even wait for a settlement."
Having said that, Rashid added there had however been remarkable progress in the past three to four months but it still needed time to change people's mind and negotiate.
"The next round [of talks] between the Taliban and Khalilzad is at the end of this month. And we don't know what is going to happen. Trump is facing huge threat from the Muller investigation and it is very unpredictable. But at the moment I think he is determined to take US troops out of Afghanistan.
"The other thing is that the Taliban are not going to have a ceasefire immediately until they probably gain more territory. They also realize that all these regional countries are wooing them. They've been to Japan, Indonesia, Russia…so all the regional countries are taking the Taliban very seriously and of course this is a big blow to President Ashraf Ghani."
Full report at:
https://www.pakistantoday.com.pk/2019/02/04/taliban-negotiating-from-position-of-strength-says-ahmed-rashid/
--------
SC to announce verdict in Faizabad sit-in case on Wednesday
Feb 05, 2019
ISLAMABAD: The Supreme Court (SC) will announce its verdict on a suo motu notice of the 2017 Faizabad sit-in staged by the Tehreek-i-Labbaik Pak­is­tan (TLP) on Wednesday.
The apex court has issued notices to the attorney general, Islamabad police inspector general, and secretaries of interior, defence and Election Commission of Pakistan.
The verdict is expected to be announced at 9am.
The verdict pertains to a variety of issues stemming from TLP's infamous sit-in, including its party registration, its violent protest as well as the role of government institutions and regulators in the buildup, on the day and in the aftermath of the protest.
On November 22, a two-member bench of the top court comprising Justice Qazi Faez Isa and Justice Musheer Alam had reserved its verdict in the case after dishing out severe criticism to the attorney general, media regulator and other stakeholders.
In November 2017, the TLP had held a weeks-long protest at Islamabad's Faizabad Interchange which virtually paralysed Islamabad and saw several people losing their lives. The court had taken suo motu notice soon after.
Full report at:
https://www.pakistantoday.com.pk/2019/02/04/sc-to-announce-verdict-in-faizabad-sit-in-case-on-wednesday/
--------
South Asia
Withdrawal of foreign forces 'not the end of the world' for Afghanistan: Abdullah
04 Feb 2019
The Chief Executive of the Government of National Unity Abdullah Abdullah has said the partial withdrawal of the foreign forces will not be the end of the world for Afghanistan.
Speaking with a group of reporters in Kabul on Monday, Abdullah said the presence of U.S. forces in Afghanistan and their cooperation with Afghanistan has become one of the main topics locally, regionally, and internationally.
Abdullah further added that Washington's South Asia policy regarding the presence of U.S. forces, circumstances surrounding their cooperation and support are based on conditions.
He also added that no negotiation has been made regarding the permanent U.S. bases in Afghanistan and no such agreement exist but commitments exist based resulting to cooperation to cope with the joint threats against peace, regional affairs and countries.
Emphasizing that the Afghan National Defense and Security Forces are in charge of the majority of security related issues, Abdullah said the partial withdrawal of the foreign would not mean an end to international community's commitments to Afghanistan, insisting that even such discussions have not been made.
However, Abdullah said there is a possibility that the number of foreign forces would decline but no such instructions have been given so far.
The Chief Executive of the Unity Government also added that the foreign forces will one day leave Afghanistan and it is up to the Afghans to prepare themselves for such a scenario and the government should stand on its own feet with the support of the Afghan people.
Meanwhile, Abdullah said cooperation should continue to exist since it will be in the interest of the United States, international community and regional peace and stability.
https://www.khaama.com/withdrawal-of-foreign-forces-not-the-end-of-the-world-for-afghanistan-abdullah-03236/
--------
Afghan Peace Talks: Revisiting the Indian and Pakistani Stakes in Afghanistan
05 Feb 2019
For the first time in the last seventeen years of war in Afghanistan, peace agreement looks possible. After the six days of continuous deliberations in Doha, both sides, Taliban leaders and Zalmay Khalilzad (US Special representative and the chief American negotiator) seemed hopeful regarding the peace deal. But we should not be so optimistic regarding the same yet, as Khalilzad said, "Meetings here were more productive than they have been in the past. We made significant progress on vital issues". He rightly added, "nothing is agreed until everything is agreed". Negotiators are still miles to go, as different challenges are still hovering over the same because Afghanistan is no longer an intra-state conflict, it has long ago taken the shape of inter-state conflict involving multiple international actors.
As peace deal with the Taliban seems an agreed only option by the global powers, after it clearly seemed to the United States that the Afghan war can't be solved with bombs and guns, what this peace deal with the Taliban means to India and Pakistan, will be interesting to see.
Since the fall of the Taliban, India has heavily invested in Afghanistan and has also given $3 billion in Aid to Afghanistan. India is not the part of the peace process with the Taliban as India still doesn't consider them the legitimate stakeholders of the Afghan people/society. Although, in November 2018, India participated in the peace talks in Moscow, changing the decade's old policy, but India isn't part of the peace process between the US and the Taliban. Moscow led peace process isn't so much important because Russia isn't the direct party of the current Afghan conflict. The US and the Taliban are still Head-to-Head in Afghanistan, so the peace process between these two matter the most, of which India is far away (emphasis added), because of multiple reasons, first, Pakistan doesn't want India to be the part of the talks, the US respects the Pakistani view most, at least in this matter, and does not want to annoy Pakistan, if they do that, they understand that the talks will not go anywhere, second, India does not recognize the Taliban as a legitimate force.
So, the question arises what will happen to the Indian involvement, investment, and aid to Afghanistan. Will it all be in vain once the peace deal with the Taliban is reached? Will India still maintain its diplomatic ties with the new Afghan government, which will include the Taliban forces in near future? Will India immediately lose a neighbour to Pakistan, which it never wants. Nobody is having the absolute answers for these questions, only time will tell.
Pakistan has been at odds in Afghanistan at least since the Soviet intervention in Afghanistan. Pakistan vehemently supported the Afghan guerillas with the help of Saudi Arabia and the United States against the Soviet forces in Afghanistan and was successful in getting the 'Strategic Depth' they wanted in their immediate neighbourhood. Since then the relations between the two took a new turn. Pakistan favoured the rise of the Taliban after the civil war broke out in Afghanistan, as the war-torn country needed a stable force/government. Since then Taliban has been the favourite of every Pakistani government.
Till recently it was an open secret that the Taliban had good relations with the Pakistani government and they did whatever way they were directed from Islamabad. But a new story emerged very recently. Pakistan released Abdul Ghani Baradar, Afghanistan's Taliban leader, also the co-founder of the Taliban movement, who was jailed in Pakistan since 2010. This is, without doubt, a step by Pakistan towards the peace, but this also indicates something different and otherwise. Pakistan, a key component of the peace talks will now have to talk to the person they had jailed, as Baradar is now going to lead the talks for the peace process, as suggested by the recent reports. How much comfortable Pakistan will be with him, and how challenging it will be for Pakistan, is open to debate.
Before the fresh and the most successful round had started in Doha, Pakistani media had reported that the fresh round of peace talks will take place in Islamabad, the claim rigorously rejected by the Afghan Taliban, "We wanted to make it clear that we will not hold any meeting with Zalmay Khalilzad in Islamabad," Taliban spokesman Zabiullah Mujahid said in a statement, Reuters reported. This statement vindicates two things, first, Pakistan is no longer enjoying their control on the Afghan Taliban, as they had previously, second, the Afghan Taliban is capable enough now to reject a Pakistani demand, and to survive. Whether Pakistani government had requested for this or not isn't of much importance here, but the statement from the Taliban spokesperson regarding and rejecting the same is very important, and the two conclusions which I drew out of it, both are challenges and the worrisome for the Pakistani establishment.
With every passing day, the contours of the Afghan conflict are changing. Taliban is getting international recognition, the US has already lost their longest war, Pakistan is no longer enjoying their control on the Afghan Taliban as they were enjoying historically, India is already out of the scene of peace process, an end to the conflict seems possible. But the dominant question which needs to be answered is, WHAT NEXT, for both India and Pakistan.
Full report at:
https://www.khaama.com/afghan-peace-talks-revisiting-the-indian-and-pakistani-stakes-in-afghanistan-03238/
--------
Kabul sees Taliban-Afghan opposition talks in Moscow as betrayal
February 05, 2019
KABUL: Senior Afghan officials warned on Monday that talks this week between Taliban militants and opposition politicians, including former president Hamid Karzai, betrayed the principles of democracy and Afghanistan's best interests.
The talks, starting on Tuesday (today) in Moscow, come 10 days after peace negotiations between the United States and the Taliban in Qatar ended with signs of progress towards the withdrawal of thousands of foreign troops from Afghanistan and an end to more than 17 years of war.
Moscow had decided to snub Afghan government officials, sources said, to ensure the participation of the Taliban who refuse to hold talks with representatives of Western-backed President Ashraf Ghani, branding them puppets of the United States.
Fazel Fazly, chief adviser to Ghani, expressed "regret" that politicians who previously led Afghanistan's democratic transition were to meet the Taliban. "[They] are ready to bypass these principles and move towards [the principles'] destruction due to differences and being away from power," Fazly said in a Tweet.
Abdullah Abdullah, the government's chief executive, said the Taliban would have achieved their objective once foreign troops withdrew, ending the need for talks.
While Russian officials are expected to remain in the background, the Moscow talks highlight the growing role Russia is playing in Afghanistan.
Karzai confirmed his attendance at the talks, saying in a tweet he would carry a message of "peace, unity sovereignty and progress for all of us".
Another delegate to the Moscow sessions, Mohammad Hanif Atmar, an influential former national security adviser to Ghani, said they would emphasise the need to include the government in future intra-Afghan discussions.
But he urged the government not to look at the peace process from a "narrow governmental window".
Full report at:
https://www.dawn.com/news/1461917/kabul-sees-taliban-afghan-opposition-talks-in-moscow-as-betrayal
--------
Spiritual Rector Boosts Pilgrimage at Bangladeshi Catholic Shrine
February 5, 2019
The recent appointment of a resident spiritual rector at Bangladesh's most popular Catholic shrine, dedicated to St. Anthony of Padua, sparked a surge in pilgrims for its annual feast day.
About 80,000 pilgrims, mostly Catholics but also non-Christians from all around Bangladesh flocked to pray and honour St. Anthony at Panjora village in Gazipur district on Feb. 1.
Cardinal Patrick D'Rozario of Dhaka presided over a Mass for devotees. Thousands waited in long queues to pay respect to the saint by touching and kissing his statue. Many offered St. Anthony manots (gifts for fulfilling a wish) in the form of candles, ornaments, money, pigeons and rabbits.
Prior to the feast day, the shrine held nine-day novena prayers and Masses that drew thousands of devotees.
Church officials say the increased number of pilgrims resulted from better management including expansion of the pilgrimage site, added security and low-cost food as well as the appointment of a first resident spiritual rector.
The Archdiocese of Dhaka appointed diocesan Father Leonard Poresh Rozario, 72, to offer spiritual care to the shrine and pilgrims all year round in response to long-standing demands from devotees. The priest joined the shrine on Jan. 18.
"I am happy to join St. Anthony's shrine to assist individual and group pilgrims who come here to pray and pay honor to the great saint. I am able to help them in taking part in confessions, meditation, reflection and to offer spiritual solace for various kinds of problems and petitions they have," said Father Rozario.
"For a long time, I have preferred a monastic life, a life in seclusion. I believe the new role suits me best."
Rabeya Begum, 40, a Muslim mother of two, traveled from Munshiganj district to the shrine to thank the saint for "incredible blessings" she received.
"For five years after my marriage, I failed to conceive. I came here to pray and promised to offer the saint a manot if my wish was fulfilled. Today I am a proud mother of two and I try to attend the pilgrimage every year," she told ucanews.com.
Catholic mother Rosaline Gomes, 56, traveled from Rajshahi district with five pairs of pigeons but declined to disclose her secret wish.
"I had my wish fulfilled through the intervention of St. Anthony. Anyone who seeks favor from the saint with great faith will never go empty-handed," she told ucanews.com.
The pilgrimage is the largest annual Christian gathering in Muslim-majority Bangladesh, where Christians account for less than half a percent of the population of more than 160 million.
Church historians believe devotion to St. Anthony at Panjora dates back centuries. Legend has is that a small statue of St. Anthony appeared and reappeared several times in the place where the shrine is now located, and people started going there to pray. It is believed Dom Antonio, a Bengali Catholic preacher, also helped popularize the shrine.
Dom Antonio was a son of a Hindu king kidnapped by pirates and sold to a Portuguese Catholic missionary who converted him. Antonio learned catechism, language skills, music and dance and became a prolific preacher. He is credited with converting thousands of lower-class Hindus in the Bhawal area of Dhaka, a Catholic stronghold that covers the shrine.
St. Anthony was born in Lisbon, Portugal, on Aug. 15, 1195. He was ordained a priest and later became a Franciscan friar. He was widely acclaimed for his outstanding preaching, undying love for the poor and sick and expert knowledge of scripture.
Full report at:
https://www.ucanews.com/news/spiritual-rector-boosts-pilgrimage-at-bangladeshi-shrine/84440
--------
More than 10 Taliban, ISIS-K militants killed in Afghan, Coalition Forces operations
04 Feb 2019
More than ten militants affiliated with the Taliban and ISIS Khurasan groups have been killed during the operations of the Afghan and Coalition Forces in various provinces of the country.
The 201st Silab Corps in a statement said two ISIS Khurasan militants were killed in an airstrike of the Coalition Forces in Khogyani district of Nangarhar province.
The 209th Shaheen Corps in the North said two anti-government armed militants were killed and two others were wounded during the operations of the Afghan National Defense and Security Forces in Yaka Pista and Qara Qol areas of Qaisar district in Faryab.
In the meantime, another Taliban militant identified as Talib Shah surrendered to the Afghan forces in Sayad district of Sar-e-Pul province, the 209th Shaheen Corps added.
On the other hand, the 205th Atal Corps in the South said the Afghan forces carried out artillery strikes against the hideouts of militants in Mizan district of Zabul, leaving 8 militants dead and 2 others wounded.
Full report at:
https://www.khaama.com/more-than-10-taliban-isis-k-militants-killed-in-afghan-coalition-forces-operations-03233/
--------
URL: https://www.newageislam.com/islamic-world-news/saudi-whistle-blower-reveals-mbs/d/117656
New Age Islam, Islam Online, Islamic Website, African Muslim News, Arab World News, South Asia News, Indian Muslim News, World Muslim News, Women in Islam, Islamic Feminism, Arab Women, Women In Arab, Islamophobia in America, Muslim Women in West, Islam Women and Feminism