New Age Islam News Bureau
21 Sept 2014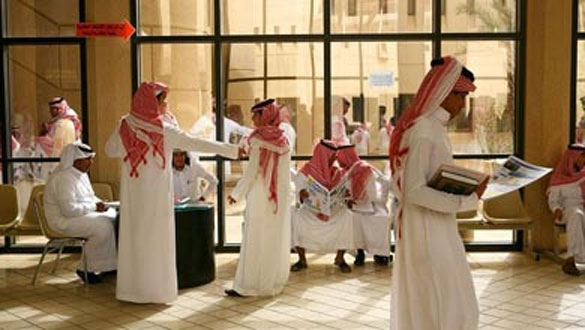 The university will eliminate books and references that contain certain religious content or security issues. (Courtesy: muslimwomennews.com)
-----------
Arab World
• Saudi University Removes Books with 'Deviant' Ideologies
• Kurdish Fighters Head to Syria to Face ISIS Militants
• Syria blasts coalition against Islamic State
• Iraq: Dozens of ISIL Terrorists Killed in Salahuddin Province
• Egypt army continues "anti-terrorist" operations, kills 7
• Egypt forces shoot Palestinians infiltrating through Gaza tunnel
• Bomb kills two near Egypt foreign ministry
• Assad to UN Envoy: No Geneva III, Talks with Opposition Only in Damascus
• Online abuse of spouses after separation rapped: Grand Mufti
Pakistan
• 'London Plan', Hatched By Imran-Qadri Duo, a Conspiracy against the Country
• Imran-Qadri Hatched Conspiracy in Collusion with US: Former Army Chief Gen
• Soldier, 15 terrorists killed in NWA
• Only democracy can establish world peace: Bilawal Bhutto
• Rulers have failed miserably, government writ invisible: Musharraf
• Imran, Qadri know nothing about revolution: Bezenjo
• Altaf says Imran will be MQM's guest in Karachi
• Pakistan welcomes power-sharing deal, new unity govt in Afghanistan
India
• Muslim Body Welcomes PM Narendra Modi's Statement on Community
• Top Cops Divided On 'Love Jihad'
• Bilawal One Of The 'Daydreamers' In Pakistan: Indian Union Muslim League
• Maharashtra cops get cracking in ISIS recruitment case
South Asia
• Afghanistan says 51 militants killed in fresh operations
• Small states can contribute to international community: Maldives FM
• If banned, Jamaat to go underground: Bangladesh FM
• Afghan presidential rivals sign unity deal
Africa
• Nigerian Islamists kill 36 in attacks on northeast town
• Qaeda Tunisia offshoot offers backing to IS
• S. Sudan mediators condemns renewed fighting
Mideast
• Israel Bans Muslims from Ibrahimi Mosque
• Tuesday's indirect talks with Israel are 'preliminary': Palestinian negotiator
• Rise of Islamic schools causes alarm in secular Turkey
• Captive Turkish diplomat resisted ISIL with gun to his head
Europe
• Pope, on trip to mainly Muslim Albania, condemns Islamist militants
• Poll: Most who voted Likud want Netanyahu to launch diplomatic drive for Palestinian state
• Fighting rages in Yemen capital despite UN talk of deal
• Wife of Alan Henning, Briton held by Islamic State, pleads for his release
• British MPs to vote on motion calling for Palestinian state
• Report: Goldman Sachs had 'strengthened ties' with Qaddafi's Libya fund
North America
• Obama 'ready for Syria ground war' as Kurds flee
• U.S. plans boost to Egypt's counter-terror efforts
• U.S. says other countries willing to launch air strikes in Syria
Southeast Asia
• Islamic State, MH17 to figure prominently at 69th UN General Assembly
• Without Putrajaya's help, Sabah open to Islamic State terror plot, minister warns secessionists
• Rally against sedition law before more arrests, Teresa Kok tells Malaysians
• Religious Minister Said to Be Targeting Sampang Shia Resolution before Handover
Compiled by New Age Islam News Bureau
URL: https://www.newageislam.com/islamic-world-news/new-age-islam-news-bureau/saudi-university-removes-books-with-'deviant'-ideologies/d/99184
-----------
Arab World
Saudi University Removes Books with 'Deviant' Ideologies
21 September 2014
Imam Muhammad Bin Saud University in Riyadh has begun reviewing the books in its library to eliminate books that spew deviant and extremist ideologies, Makkah daily reported.
The university has set up a special committee to go through all books listed in the library and take improper ones off the shelves so that students do not read them, a source said.
Books and references that contain certain religious content or security issues will also be eliminated. The source said the university is keen to ensure that all the books in the library do not have any ideas that encourage extremism and factionalism.
The university has banned the registration of any research dealing with a personality or a society that has any form of ties with extremist groups and organizations unless the research criticizes these groups. Students are not allowed to summarize any audio or written files about extremist groups and persons or distribute them to other members of the university community.
Earlier, the university's administration instructed all faculties to remove books written by those who belong to extremist groups and whose names were announced by the Interior Ministry. The university will not invite any such people to participate in any conference, seminary, or symposia or be a member of an arbitration panel or any academic commission. All faculty members are forbidden from participating in any conference outside the Kingdom organized by such persons or groups.
http://english.alarabiya.net/en/perspective/features/2014/09/21/Saudi-university-removes-books-with-deviant-ideologies.html
-----------
Kurdish fighters head to Syria to face ISIS militants
AP | Sep 21, 2014
BEIRUT: Hundreds of Kurdish fighters raced from Turkey and Iraq into neighboring Syria on Saturday to defend a Kurdish area under attack by Islamic State militants. As the fighting raged, more than 60,000 mostly Kurdish refugees streamed across the dusty and barren border into Turkey, some hobbling on crutches as others lugged bulging sacks of belongings on their backs.
The large-scale displacement of so many and the movement of the Kurdish fighters into Syria reflected the ferocity of the fighting in the northern Kobani area, which borders Turkey. Militants of the extremist Islamic State group have been barreling through the area for the past three days, prompting Kurdish leaders to plead for international help.
Civilians seeking safety began massing on the Turkish border on Thursday. Turkey did not let them in at first, saying it would provide them with aid on the Syrian side of the border instead. By Friday, it had changed its mind and started to let in several thousand.
The numbers grew quickly as more entry points opened, and by late Saturday afternoon, more than 60,000 had poured across the frontier, Turkish Deputy Prime Minister Numan Kurtulmus said.
Even by the standards of Syria's bitter war, it was unusual for so many refugees to flee in such a short time. Their numbers add to the 2.8 million Syrians who have become refugees in the past three years, and another 6.4 million who have been displaced within their own country— nearly half of Syria's pre-war population of 23 million.
Many of those who came across Saturday cradled young children or carried them on their shoulders. Kurtulmus said some refugees were staying with relatives, while others took shelter in schools or tents.
''Kobani is facing the fiercest and most barbaric attack in its history,'' said official Mohammed Saleh Muslim, head of Syria's powerful Kurdish Democratic Union. The groups' members dominate the Syrian Kurdish group known as the YPK, which is fighting the Islamic State militants.
''Kobani calls on all those who defend humane and democratic values ... to stand by Kobani and support it immediately. The coming hours are decisive,'' he said.
On Friday, the president of Iraq's largely autonomous Kurdish region, Masoud Barzani, warned that the militant group's attacks on the Kobani area ''threaten the whole entirety of the Kurdish nation.''
The battle over Kobani is part of a long-running fight between the Islamic State group and Syria's Kurds that has raged across a band of Syrian territory stretching along the Turkish border from the north to the far northeast, where large numbers of Kurds live. The clashes are one aspect of Syria's broader civil war —a multilayered conflict that the UN says has killed more than 190,000,
The YPK is viewed with suspicion by many Syrian rebels and their Western supporters because of perceived links to President Bashar Assad's government. That may be changing, however, as Kurdish fighters battle alongside some Syrian rebel groups against the Islamic State in northern and eastern Syria.
Nato member Turkey is wary of the group, which it believes is affiliated with the Kurdish PKK movement, a Kurdish movement that has waged a long and bloody insurgency in southeast Turkey.
Several hundred Kurdish fighters streamed into the Kobani area from Turkey, said the Britain-based Syrian Observatory for Human Rights. Kurdish official Nawaf Khalil also confirmed the movement of fighters into Syria.
At least some of the volunteers looked to be PKK fighters, while others appeared to be eager civilians, according to Kurdish officials who insisted on anonymity because they weren't authorized to speak to reporters.
Some 600 PKK fighters also crossed from Iraq into Syria, heading toward Kobani, said a military official in Iraq's northern Kurdish region. That official also spoke on condition his name not be used because he wasn't authorized to speak to journalists. The PKK have a base in the Qandil mountains in the Kurdish region of Iraq.
Ethnic Kurds dominate a mountainous region that straddles Iran, Iraq, Syria and Turkey.
Syrian Kurdish fighters had been successfully fighting off the militants for the past two years. They even clashed with the Islamic State group's fighters in northern Iraq, carving a safe passage for thousands of embattled Iraqis of the Yazidi minority, whom the militant group sees as apostates.
But the tide changed in September as Islamic State group fighters began employing more powerful weaponry they seized from Iraqi soldiers who fled the militants' advance in June.
The US has yet to launch any airstrikes in Syria to stem advances by Islamic State fighters, but airstrikes in Iraq have helped Kurdish fighters there and the Iraqi army stem attacks by Islamic State forces.
US Central Command reported five airstrikes against militants on Friday and Saturday, including one southwest of Baghdad that destroyed an Islamic State group boat carrying supplies across the Euphrates River. The four other strikes were northwest of Haditha, targeting armed vehicles, checkpoints and guard outposts.
The US has now conducted 183 airstrikes across Iraq since the military action began in early August.
http://timesofindia.indiatimes.com/world/middle-east/Kurdish-fighters-head-to-Syria-to-face-ISIS-militants/articleshow/43044235.cms
-----------
Syria blasts coalition against Islamic State
21 Sep, 2014
Syria's parliament speaker says the U.S. should work with Damascus in assembling a coalition to battle the Islamic State extremist group rather than allying with nations that support terrorism.
Mohammad Jihad Lahham was apparently referring to Saudi Arabia and other countries that back rebels trying to overthrow Syrian President Bashar Assad.
Lahham said during a parliament session Sunday that nations that "want to fight terrorism should coordinated" with Damascus rather than Syrian rebel groups.
President Barack Obama is working to form a global coalition to confront the Islamic State group, which controls large parts of Syria and Iraq.
The U.S. has been conducting airstrikes against Islamic State fighters in Iraq since August. Obama has more recently authorized strikes against the group in Syria.
http://english.ahram.org.eg/NewsContent/2/8/111307/World/Region/Syria-blasts-coalition-against-Islamic-State.aspx
-----------
Iraq: Dozens of ISIL Terrorists Killed in Salahuddin Province
21 Sep, 2014
Fighters of the Jobour tribe killed dozens of the terrorists of the Islamic State of Iraq and the Levant (ISIL) group in Salahuddin province.
The fighters of the Jobour tribe killed 30 of the ISIL terrorists, including Arabs, in Dhilo'aya district in Salahuddin province, and destroyed six of their vehicles, sources said on Saturday.
Also on Saturday, the Iraqi air force fighter jets killed 27 terrorists of the Islamic State of Iraq and the Levant (ISIL) terrorist group in Southern Tikrit.
"The Iraqi air force bombed the ISIL shelters in Aziz Balad area in Dhilo'aya district of Southern Tikrit, killing 27 of them," an informed source said on Saturday.
The Takfiri terrorists currently control parts of Syria and Iraq. They have threatened all communities, including Shiites, Sunnis, Kurds, Christians, Ezadi Kurds and others, as they continue their atrocities in Iraq.
Senior Iraqi officials have blamed Saudi Arabia, Qatar, and some Persian Gulf Arab states for the growing terrorism in their country.
The ISIL has links with Saudi intelligence and is believed to be indirectly supported by the Israeli regime.
http://english.farsnews.com/newstext.aspx?nn=13930630000923
----------
Egypt army continues "anti-terrorist" operations, kills 7
21 Sep, 2014
Egypt's army said on Sunday that it has killed seven "terrorists" in raids on "militant sites" in North Sinai, Ismailiya and Daqahliya governorates.
The army's spokesman, Brigadier General Mohamed Samir, said in a statement on his official Facebook page that seven "terrorists" were killed in shootings during the raids, with 91 others arrested from 14-19 September.
He added that forces destroyed nine cars and 65 motorcycles that were "used to carry out terrorism operations against the army and police". Forces also seized firearms and improvised explosive devices (IED).
Egypt's government expanded its anti-terrorism campaign – previously mainly concentrated in Sinai – following a spike in attacks on army and police sites and personnel after Islamist president Mohamed Morsi's ouster.
Samir also said on Sunday that the army destroyed five entrances to smuggling tunnels connecting the peninsula to the Palestinian Gaza Strip.
Army forces have targeted militant hideouts in Sinai with helicopters and ground troops, killing hundreds in recent months, while Islamist militants have repeatedly attacked security personnel, also killing hundreds.
Speculation has been rife on the appearance in Sinai of the Islamic State (IS), a militant group that has overrun swathes of Iraq and Syria. Security officials have expressed concern that the volatile peninsula could serve as a base to export extremism across the region.
http://english.ahram.org.eg/NewsContent/1/64/111312/Egypt/Politics-/Egypt-army-continues-antiterrorist-operations,-kil.aspx
-----------
Bomb kills two near Egypt foreign ministry
21 September 2014
A bomb blast killed two Egyptian policemen and wounded several others near the foreign ministry in central Cairo on Sunday, a security official said.
State television reported that the blast occurred along a sidewalk in the neighbourhood of Boulaq abu Eila, which houses the foreign ministry and state television headquarters beside the Nile.
Live television footage showed the aftermath of the blast, which brought a tree down on a nearby car. Policemen with sniffer dogs were scouring the area for more bombs.
Militants have killed scores of policemen in bombings and shootings since Egypt's military toppled Islamist president Mohammad Mursi in July 2013.
Militants have in the past set off several bombs in succession, to target first responders after the initial attack.
Attacks in the capital raise concerns over security forces, who have vowed to end Islamist militant bloodshed that has hammered the tourism industry, a pillar of the economy.
http://english.alarabiya.net/en/News/2014/09/21/Bomb-kills-four-near-Egypt-foreign-ministry.html
-----------
Egypt forces shoot Palestinians infiltrating through Gaza tunnel
21 September 2014
Egypt forces shoot Palestinians infiltrating through Gaza tunnel
Security forces shot dead a Palestinian and wounded two others Saturday after they tried to enter Egypt from Gaza through a tunnel under the border town of Rafah, security officials said.
The men, who were spotted by a security patrol, tried to run back into the tunnel after being ordered to stop and were shot.
Egypt's army says it has destroyed more than 1,600 tunnels connecting the Sinai Peninsula and the Gaza Strip, most of them since the ouster of Islamist president Mohammad Mursi last year.
The Islamist group Hamas, the main power in the blockaded Palestinian enclave, uses the tunnels to smuggle in arms, food and money.
Cairo has poured troops into the peninsula to counter a rising insurgency since Mursi's overthrow.
Full report at:
http://english.alarabiya.net/en/News/middle-east/2014/09/21/Egypt-forces-shoot-Palestinians-infiltrating-through-Gaza-tunnel-.html
-----------
Assad to UN Envoy: No Geneva III, Talks with Opposition Only in Damascus
21 Sep, 2014
Well-informed western sources reported that the Syrian President Bashar al-Assad told UN Envoy to Syria Staffan de Mistura that there will be no Geneva III, asserting that Damascus will be the only place to host any talks with the opposition forces if they decide to hold negotiations.
The sources added that Staffan de Mistura did not launch any initiative during his visit to Damascus in the shade of the US insistence on holding Geneva III and the Russian rejection for the "wasting-time" conferences, Al-Manar reported Saturday.
http://english.farsnews.com/newstext.aspx?nn=13930630000556
-----------
Online abuse of spouses after separation rapped: Grand Mufti
21 Sep, 2014
Grand Mufti Abdul Aziz Al-Asheikh has warned people against defaming their spouses or in-laws on social networking sites, saying such publicity could destroy families, complicate court cases and create scandals.
Electronic daily sabq.org has published the harrowing story of one divorcee. "My husband divorced me after 20 years of marriage by pronouncing the divorce verbally thrice," said Umm Abdul Rahman.
"When I moved the court, he got furious and started to defame me online, saying he divorced Full report at:
http://www.arabnews.com/featured/news/633316
-----------
Pakistan
'London Plan', Hatched By Imran-Qadri Duo, a Conspiracy against the Country
21 Sep, 2014
LAHORE: Chief Minister Shahbaz Sharif visited flood-affected areas of Hafizabad, Chiniot and Multan on Saturday and inspected relief and medical camps set up for the calamity-hit people at various places. According to a handout, the chief minister also met with flood victims and inquired after them.
The National Highways Authority (NHA) and other institutions have opened Multan-Muzaffargarh Road for traffic by completing rehabilitation work in 48 hours. Addressing the inaugural ceremony, the chief minister congratulated the district administration, NHA, army and other institutions for their efforts, which resulted in rehabilitation of Multan-Muzaffargarh Road within two days and said that all other important roads in the province should also be rehabilitated with the same speed and the same spirit.
Talking to flood victims and also talking to the press, the chief minister said that the "London Plan" was a conspiracy against 180 million people of the country hatched by Imran-Qadri duo and the Chaudhry brothers of Gujarat, which has been exposed.
He said that Imran Khan has been lying about his meeting with Dr Tahir ul Qadri but that Dr Qadri has exposed Imran Khan.
Full report at:
http://www.dailytimes.com.pk/punjab/21-Sep-2014/london-plan-a-conspiracy-against-180-million-people-says-shahbaz
-----------
Imran-Qadri Hatched Conspiracy in Collusion with US: Former Army Chief Gen
21 Sep, 2014
ISLAMABAD: Former army chief Gen (retd) Aslam Baig has claimed that Chief of the Army Staff General Raheel Sharif foiled a conspiracy hatched by Pakistan Tehreek-e-Insaf chairman Imran Khan, Pakistan Awami Tehreek chief Dr Tahir ul Qadri and the United States.
The ex-army chief further claimed that the "conspirators" wanted army to seize power but the "military leadership had all the knowledge about the conspiracy".
Mr Baig also asserted that the US created chaos in Pakistan in collusion with the UK, Canada and Iran.
"Had General Raheel got late in making decision, country would have suffered great loss," he said, adding that the Pakistan Army never harboured any desire to formulate Islamabad's foreign policy.
He said that all those people who were standing beside Imran Khan and Qadri were the same lot who had been rubbing shoulders with former military dictator Pervez Musharraf.
The former army chief said that Imran Khan and Qadri's demands were extra constitutional.
http://www.thenews.com.pk/article-160397-Imran-Qadri-hatched-conspiracy-in-collusion-with-US-:-Aslam-Baig
-----------
Soldier, 15 terrorists killed in NWA
September 21, 2014
PESHAWAR - At least 15 terrorists were killed and a naib subedar embraced Shahadat in exchange of fire and strikes by army gunship helicopters on militant hideouts in Boya and Ghorshtai Nulla areas of North Waziristan as part of the ongoing Zarb-e-Azb operation.
According to the Inter-Services Public Relations (ISPR), a media wing of Pakisan Army, during the operation, exchange of fire between militants and security forces took place in the Boya area. As a result, three terrorists were killed while Naib Subedar Muzammil embraced martyrdom. Similarly, at least 12 more terrorists were killed in precise strikes by the army aviation gunship helicopters on militants' positions in Ghorshtai Nullah of Ghulam Khan tehsil.
During the operation, three terrorist hideouts and four explosive-laden vehicles were also destroyed in the airstrikes by gunships, the ISPR said. Since June 15, the day of launching a full-scale military operation against both local and foreign militants in North Waziristan Agency, over 1,000 local and foreign militants have been killed more than 80 soldiers have embraced martyrdom. Dozens of explosive-laden vehicles and hundreds of militant hideouts have also been destroyed in the operation, the ISPR added.
Full report at:
http://nation.com.pk/national/21-Sep-2014/soldier-15-terrorists-killed-in-nwa
-----------
Only democracy can establish world peace: Bilawal Bhutto
September 21, 2014
KARACHI- Chairperson Pakistan People Party Bilawal Bhutto Zardari said a democratic Pakistan will contribute far better and effective role in world peace hence all the stake holders aspiring for international peace should supplement the efforts for strengthening democracy.
In his message on the International Day for Peace being observed across the globe on today, Bilawal Bhutto Zardari stressed on the developed world to make a pledge that they won't adopt the dictators of third world countries as their lap-pets.
Authoritarianism, dictatorship and states that perpetuate inequality amongst its citizens breed terrorism. Hence to curb terrorism and eventually eliminate it, the international community has to help countries free themselves from perpetual poverty and dictatorial rule. Democracy is the only weapon that can defeat terrorism and establish world peace," he added.
http://nation.com.pk/national/21-Sep-2014/democracy-can-only-establish-world-peace-bilawal-bhutto
-----------
Rulers have failed miserably, government writ invisible: Musharraf
September 21, 2014
KARACHI/ISLAMABAD- All Pakistan Muslim League (APML) chief, former president General (R) Pervez Musharraf said today that the present government had been failed miserably and the government writ was invisible anywhere.
Talking to the APML secretary general Dr Amjad, Musharraf said the so-called democratic parties and their leaders called the longest session of the Parliament, but the concluding speech of Prime Minister Nawaz Sharif was extremely disappointing, which lacked any program for the future.
The APML chief said the Parliament session didn't come out with any solution to the ongoing political crisis in the country. During the whole session, he said Nawaz Sharif continued praising the PPP while the PPP returned the favors to the prime minister.
Musharraf said Nawaz Sharif and his aides were facing immense frustration after failing to intimidate him through fake cases. He said those who were disturbing him so far will soon face the same trouble. He said the political parties called the Parliament session for a purpose but after so many days of the session all of them took a U-turn. He said the purpose of the Parliament session was to find a solution to the political crisis but the government and the opposition were seen saving each other during the whole episode.
Full report at:
http://nation.com.pk/national/21-Sep-2014/rulers-have-failed-miserably-government-writ-invisible-musharraf
-----------
Imran, Qadri know nothing about revolution: Bezenjo
September 21, 2014
ISLAMABAD - Commenting on the claims of bringing revolution in the country by Imran Khan and Tahirul Qadri, President of National Party Mir Hasil Bezenjo has said that both of them know nothing about the revolution and they are just playing with the sentiments of the people for their personal gains.
Addressing workers convention of the party organised here at a local hotel on Saturday Mir Hasil Bezenjo said that both PTI and PAT leaders were trying to become the representatives of the oppressed and poor people of the country, but actually both of them have no idea of poverty and sufferings of the people living below the poverty line.
He was of the view that only the oppressed and deprived segments of society can bring real revolution in the country because they feel and know the sufferings of the poor. Bezenjo said that unless the poor and downtrodden people would not have the ownership of the incumbent democratic order, it would remain vulnerable to external threats. Public at large would only adopt the system when it would become benevolent and fruitful for them, he added.
Hasil Bezenjo said that the slogan of bread, cloth and shelter was actually given by his party and Pakistan Peoples Party and other revolutionary parties had adopted it later.
Full report at:
http://nation.com.pk/islamabad/21-Sep-2014/imran-qadri-know-nothing-about-revolution-bezenjo
-----------
Altaf says Imran will be MQM's guest in Karachi
21 Sep, 2014
LONDON: Muttahida Qaumi Movement chief Altaf Hussain while welcoming PTI chairman Imran Khan in Karachi, said Khan will be the guest of MQM in the port city, Geo News reported.
Addressing a gathering on the occasion of his 61st birth anniversary, Altaf Hussain said: "I had also greeted Imran Khan when he entered politics".
Altaf said MQM is against division of Sindh, however, it wants new provinces. He added that his party will never backtrack from its lawful demands.
He dismissed the impression that PTI and PAT talked first about the revolution, saying that the terminology of revolution was introduced by MQM.
MQM chief also rejected Imran's allegations and said PTI chief put baseless accusations against him.
http://www.thenews.com.pk/article-160355-Altaf-says-Imran-will-be-MQMs-guest-in-Karachi
---------
Pakistan welcomes power-sharing deal, new unity govt in Afghanistan
21 Sep, 2014
ISLAMABAD – The government and the people of Pakistan welcome the agreement signed by the two presidential candidates in Afghanistan regarding the establishment of a government of national unity, Foreign Office said on Sunday.
"Consistent with our support for a peaceful democratic transition, we regard the signing of this agreement as a positive development," said a statement issued by the Foreign Office. It said that this outcome has been possible due to the wise and sagacious leadership of Dr Ashraf Ghani and Dr Abdullah Abdullah.
"We congratulate the two leaders and the brotherly people of Afghanistan and reaffirm Pakistan's support for all their efforts to build a peaceful, stable and unified Afghanistan," the statement said.
http://www.dailytimes.com.pk/national/21-Sep-2014/pakistan-welcomes-power-sharing-deal-new-unity-govt-in-afghanistan
-----------
India
Muslim Body Welcomes PM Narendra Modi's Statement On Community
21 Sep, 2014
A body of Muslim intellectuals, on Sunday welcomed Prime Minister Narendra Modi's statement lauding the patriotism of Muslims in the country.
The Forum for Muslim Studies and Analysis (FMSA) on Sunday passed a resolution stating that by acknowledging and accepting the positive contribution to the nation by this vital segment of the country's populace, the PM has tried to assuage the collective hurt undergone by the Muslim community recently because of some vitriolic utterances by some of his own party members.
The Forum in its resolution has urged the PM to now take remedial steps for ensuring that those of his party who are persisting with their divisive communal agenda are not permitted to do so.
"This is the only way that he can ensure that the country's development plans can bear fruit," it said.
The resolution stressed that Muslim community was second to none in its patriotism and would thwart the evil designs of any external force which tries to disturb the peace of the country.
Full report at:
http://indianexpress.com/article/india/india-others/muslim-body-welcomes-pm-narendra-modis-statement-on-community/#sthash.pnycwCnN.dpuf
-----------
Top Cops Divided On 'Love Jihad'
21 Sep, 2014
"Love jihad" may be merely a fear fantasy of Hindutva propagandists, but the campaign has struck a chord with several senior police officers across the country.
Such is the traction that "love jihad"— the notion that there is a global Islamist conspiracy to seduce Hindu women and convert them to Islam — has gained among a section of Indian Police Service (IPS) officers that a debate on the subject on "TopCop," a discussion forum on Yahoo!, had to be discontinued after some members turned vituperative against Muslims and Islam.
Serving and retired IPS officers are members of the TopCop Internet forum and The Hindu was allowed access by one of them who found the trend "disturbing and alarming."
"What is shocking is not to know that such prejudices exist among us because we knew that always. That IPS officers can say such things with such brazenness add another dimension, which is new," the officer told The Hindu.
Full report at:
http://www.thehindu.com/news/national/top-cops-divided-on-love-jihad/article6430631.ece
-----------
Bilawal One Of The 'Daydreamers' In Pakistan: Indian Union Muslim League
21 Sep, 2014
Indian Union Muslim League Sunday dubbed Bilawal Bhutto Zardari as one of the "daydreamers" in Pakistan for his Kashmir remarks and said that every inch of Indian territory will be protected to the last minute.
"The utterances of Pakistan's Opposition leader Bilawal Bhutto is nothing but to show he is also one of the daydreamers in Pakistan when he spoke that he will take every inch of Kashmir," E Ahamed, the Member of Parliament and the IUML chief, said in a statement.
Asserting that Jammu and Kashmir is an integral and inalienable part of India, Ahamed said: "entire India especially 170 million Muslims will defend the integrity of the country for which last drop of blood will also be shed."
Full report at:
http://indianexpress.com/article/india/india-others/bilawal-one-of-the-daydreamers-in-pakistan-iuml/#sthash.usx1gNyR.dpuf
-----------
Maharashtra cops get cracking in ISIS recruitment case
Mateen Hafeez,TNN | Sep 21, 2014
MUMBAI: The state anti-terrorism squad (ATS), probing the mysterious disappearance of four Kalyan-based youths, on Friday registered an FIR against fruit seller Aadil Dolare, two Afghanistan nationals and a hotel manager for violating the Foreigner's Rule. Dolare has been under the police radar for allegedly brainwashing the four youths who went to Iraq and one of them died while fighting for Islamic State of Iraq and Syria (ISIS).
An FIR was registered with the Bazarpeth police station in Kalyan under various sections of the Foreigner's Act, Registration of Foreigner's Act and Registration of Foreigner's Rule. Four persons mentioned as accused in the FIR Kabul residents, Rehman Daulati (25) and Ahmed Rateb HusseinZade (35), fruit seller Dolare and Govind Thapa, manager of a Raja Hotel at Tilak Chowk in Kalyan. The probe has been taken over by the ATS. Dolare's name cropped up during the investigation of four missing youth, Arif Majeed, Shaheen Tanki, Fahad Shaikh and Aman Tandel who left India in May to visit holy places but disappeared. They allegedly went to Mosul and then Raqqa city in Syria.
Full report at:
http://timesofindia.indiatimes.com/india/Maharashtra-cops-get-cracking-in-ISIS-recruitment-case/articleshow/43045347.cms
-----------
South Asia
Afghanistan says 51 militants killed in fresh operations
September 21, 2014
KABUL- About 51 Taliban militants have been killed in fresh military operations across Afghanistan within the past 24 hours, said the country's Interior Ministry today morning.
"Afghan National Security Forces (ANSF) carried out cleanup operations in Kandahar, Zabul, Logar, Ghazni and Helmand provinces over the past 24 hours. As a result 51 armed Taliban members were killed, 32 wounded and five others were arrested by the ANSF," the ministry said in a statement providing daily operational updates. The security forces also discovered and confiscated light and heavy rounds ammunition, according to the statement. The statement did not disclose if there were any casualties on the side of security forces.
Furthermore, Afghan police detained four armed militants in northern Kunduz province overnight, a police spokesman in the province told Xinhua earlier on the day, adding the captured militants tried to attack a security checkpoint in surrounding areas of provincial capital Kunduz city.
Meantime, Taliban outfit in a counter-claim has rejected the ministry's statement. A Taliban purported spokesman, Zabiullah Mujahid, told local media that the statement was not true. The Taliban-led violence continues in Afghanistan. Security forces have pressed on to clear the militants in restive provinces. The Taliban responds by bombing and armed attacks.
http://nation.com.pk/international/21-Sep-2014/afghanistan-says-51-militants-killed-in-fresh-operations
-----------
Small states can contribute to international community: Maldives FM
By Daniel Bosley | September 21st, 2014
Minister of Foreign Affairs Dunya Maumoon has told the UN General Assembly that the Maldives journey with the body is proof small states can contribute to the international community.
"The story of the Maldives is the story of all small states at the United Nations. The Maldives journey at the UN is proof that with smart ideas, small states can successfully contribute and become significant members of the international community," said Dunya on the anniversary of the Maldives' membership.
A press release from the foreign ministry has today described the UN as a "trusted partner and a staunch advocate" of the Maldives during the past half century.
Dunya's comments were in stark contrast to the previous two appearances by the country's leaders at the UNGA in New York, during which the Maldives was critical of perceived attempts by the organisation to interfere in the state's sovereign affairs.
Speaking at the 69th session of the UNGA this week, Dunya noted that the Maldives was the first so-called 'micro-state' to seek entry to the UN, and has since been at the forefront of the small state issues, holding the first ever conference of small states 25-years ago and forming the first alliance of small nations.
Full report at:
http://minivannews.com/politics/maldives-un-journey-is-proof-small-states-can-contribute-to-international-community-foreign-minister-90196
-----------
If banned, Jamaat to go underground: Bangladesh FM
21 Sep, 2014
Finance Minister AMA Muhith today said if Jamaat-e-Islami is banned through enacting a law, the fundamentalist party would go underground.
"They (Jamaat) are expert in killing," Muhith told reporters after a meeting with the Asian Development Bank (ADB) managing board team at his secretariat office in Dhaka.
On the Jamaat enforced ongoing hartal to protest the Supreme Court verdict on Jamaat leader Delawar Hossain Sayedee, the finance minister said, "What have they called the hartal for. They do not believe in Bangladesh. Jamaat-e-Islami is a bloody party."
When the reporters asked the minister whether the government has entered into an entente with Jamaat, Muhith became angry and said: "Rubbish. We discussed yesterday. How will Jamaat have talks with us? Jamaat has been spreading this and BNP is with them."
On the meeting with ADB, Muhith said it has raised the issue of giving emphasis on private sector as the investment is low. Raising per capita income is not enough for becoming a middle income country.
http://www.thedailystar.net/if-banned-jamaat-to-go-underground-muhith-42695
-----------
Afghan presidential rivals sign unity deal
21 Sep, 2014
KABUL: Afghanistan's two presidential candidates have signed a power-sharing deal for the roles of president and chief executive three months after a disputed runoff that threatened to plunge the country into turmoil and complicate the withdrawal of US and other foreign troops.
Ashraf Ghani Ahmadzai, who will become president, and Abdullah Abdullah signed the national unity government deal as outgoing President Hamid Karzai watched.
The deal follows weeks of negotiations on a power-sharing arrangement following accusations of fraud in the June runoff vote.
The deal is a victory for US Secretary of State John Kerry, who first got the candidates to agree in principle to share power during a July visit.
The inauguration to replace Karzai — who has been in power since late 2001 — is expected within days.
The final vote count is also scheduled for release, after being delayed for last-minute talks to break a deadlock that has plunged Afghanistan into crisis as US-led troops end their 13-year war against the Taliban.
Ashraf Ghani — who won June's run-off vote according to preliminary results — is set to emerge as president, with Abdullah Abdullah nominating his pick for the new post of "chief executive officer", possibly taking on the role himself.
Both Ghani and Abdullah claim to have won the fraud-tainted election, and the United Nations has pushed hard for a "national unity government" to avoid a return to the ethnic divisions of the 1990s civil war.
"Both candidates are expected to sign an agreement on the structure of National Unity [Government] tomorrow," Aimal Faizi, spokesman for outgoing President Hamid Karzai, said on his Twitter account late Saturday.
Full report at:
http://www.dawn.com/news/1133382/afghan-presidential-rivals-sign-unity-deal
----------
Africa
Nigerian Islamists kill 36 in attacks on northeast town
21 Sep, 2014
Fighters from Nigerian Islamist militant group Boko Haram stormed the northeastern town of Mainok on Friday, killing at least 36 people, and were still attacking it on Saturday, two security sources said.
Among the dead were 23 were civilians, the security sources said, the rest being soldiers defending the town.
http://english.ahram.org.eg/NewsContent/2/9/111266/World/International/Nigerian-Islamists-kill--in-attacks-on-northeast-t.aspx
-----------
Qaeda Tunisia offshoot offers backing to IS
Sep 21, 2014
An Al-Qaeda-linked Tunisian group has offered backing to the Islamic State organisation that has overrun chunks of Iraq and Syria, becoming the third jihadist group to do so this week, a US-based monitor says.
Okba Ibn Nafaa, whose militants Tunisian armed forces have been hunting in mountains near the Algerian border for two
years, has identified itself with Al-Qaeda in the Islamic Maghreb, the international jihadist network's North African branch.
On Tuesday, AQIM and the Yemen-based Al-Qaeda in the Arabian Peninsula (AQAP) urged jihadists in Iraq and Syria to unite against the common threat from a US-led coalition assembled to fight IS.
Full report at:
http://indianexpress.com/article/world/middle-east-africa/qaeda-tunisia-offshoot-offers-backing-to-is/#sthash.WALQEzc9.dpuf
--------
S. Sudan mediators condemns renewed fighting
21 Sep, 2014
Mediators of the conflict in South Sudan say there is renewed fighting there between government and rebel troops.
Seyoum Mesfin, the chairman of the South Sudan mediation process by the regional block IGAD, Saturday condemned the fighting in Renk County in the Upper Nile state.
He says the fighting is a purposeful act aimed at derailing the next phase of the peace process.
South Sudan plunged into conflict mid-December when troops loyal to former Vice President Riek Machar clashed with those loyal to President Salva Kiir in what government claimed was a coup attempt.
There has been sporadic fighting between the government and rebels despite the signing of two peace agreements during mediation process in Ethiopia.
More than 1 million people have fled their homes since the conflict began.
http://english.ahram.org.eg/NewsContent/2/8/111258/World/Region/S-Sudan-mediators-condemns-renewed-fighting.aspx
---------
Mideast
Israel Bans Muslims from Ibrahimi Mosque
21 Sep, 2014
The Ibrahimi Mosque in Hebron, West Bank, will be closed to Muslim worshipers on Thursday and Friday on the occasion of Jewish New Year, an official said Sunday.
"The mosque would be open to Israeli settlers during the two days of Rosh Hashanah, or Jewish New Year, but closed to Muslims," Hijazi Abu Sneina said, Ma'an news agency reported.
A 1997 agreement split Hebron into areas of Palestinian and Israeli control.
More than 500,000 Israeli settlers live in settlements across the West Bank and East Jerusalem, in contravention of international law.
http://english.farsnews.com/newstext.aspx?nn=13930630001241
-----------
Tuesday's indirect talks with Israel are 'preliminary': Palestinian negotiator
21 Sep, 2014
Ziad Nakhala, Islamic Jihad's deputy secretary-general, told Ahram Online Sunday that indirect negotiations with Israel in Egypt, due to resume Tuesday, are "preliminary and procedural."
Speaking from Lebanon's capital Beirut, he pointed out that the requests of both sides will be discussed in detail in October, coinciding with a Cairo-hosted meeting on the reconstruction of the Gaza Strip.
The talks, sponsored by Egypt, will involve setting the agenda of the talks, Nakhala — a member of the Palestinian negotiating delegation — said.
He added that the Palestinian delegation will be "limited this time" and will meet with Egyptian officials in advance. Nakhala praised Egyptian efforts in the talks, claiming that the main aim of the talks involves "maintaining the state of ceasefire."
The Palestinian official also highlighted Egypt's sponsorship of inter-Palestinian reconciliation efforts, as the country will broker a meeting between Fatah and Hamas officials in the coming days.
Full report at:
http://english.ahram.org.eg/NewsContent/2/8/111300/World/Region/Tuesdays-indirect-talks-with-Israel-are-preliminar.aspx
-----------
Rise of Islamic schools causes alarm in secular Turkey
Sep 21, 2014
When Turkish pupils received their school entry exam results after the end of last term, textile worker and father Halil Ibrahim Beyhan received an unpleasant surprise.
His daughter had been assigned to a religious high school, like thousands of other students under a new system that caught many parents off guard.
Parents, educators and civil society groups have decried the move as another attack on Turkey's secular principles by the Islamic-rooted Justice and Development Party (AKP) co-founded by President Recep Tayyip Erdogan, accusing the government of imposing religion on students.
"My child will be forced to wear a long skirt. She will be forced to put a headscarf on her head too. It is not mandatory for now, but who knows it won't be one day?" said Beyhan, 49.
"I am a practicing Muslim, I fast, I say my prayers and read the Koran, but I still want my daughter to be educated in a normal school," he said.
Full report at:
http://english.ahram.org.eg/NewsContent/2/8/111286/World/Region/Rise-of-Islamic-schools-causes-alarm-in-secular-Tu.aspx
-----------
Captive Turkish diplomat resisted ISIL with gun to his head
21 Sep, 2014
One of the Turks who was freed Sept. 20 from the hands of the Islamic State of Iraq and the Levant (ISIL) has said Turkey's consul general in Mosul, Öztürk Yılmaz, resisted the group's demands by risking his life.
"Our consul general faced great difficulty. Two or three times, [the ISIL militants] tried to force him to make a statement by putting a gun to his head. But despite being at gunpoint, he didn't do anything they wanted," the freed Turk told broadcaster CNNTürk on the airplane that transported the released captives from Şanlıurfa to Ankara.
"They were forcing us to be filmed since the first day, but our consul general said, 'You can shoot me, but I won't allow you to meddle with the pride of Turkey,' risking his life," Derviş Öztürk told CNNTürk correspondent Gülşen Coşkun.
Full report at:
http://www.hurriyetdailynews.com/captive-turkish-diplomat-resisted-isil-with-gun-to-his-head.aspx?pageID=238&nID=71962&NewsCatID=352
-----------
Europe
Pope, on trip to mainly Muslim Albania, condemns Islamist militants
21 Sep, 2014
Pope Francis, in his strongest criticism of Islamist militants to date, said on Sept. 21 no religious group which used violence and oppression could claim to be "the armour of God".
Francis made his comments during a one-day visit to Albania, an impoverished Balkan country hailed by the pontiff as a model of inter-faith harmony because of good relations between its majority Muslim community and its Christian denominations.
"Let no one consider themselves the 'armour' of God while planning and carrying out acts of violence and oppression," he said in the presidential palace in Tirana, responding to an address by Albanian President Bujar Nishani, who is Muslim.
"May no one use religion as a pretext for actions against human dignity and against the fundamental rights of every man and woman, above all to the right to life and the right of everyone to religious freedom," he said.
Francis, on his first trip as pope to a European country outside Italy, made no direct reference to Islamic State of Iraq and the Levant (ISIL) militants who have seized territory in Syria and Iraq, but it was clear he had events in the Middle East in mind.
About 70,000 Syrian Kurds have fled into Turkey since Friday as ISIL militants seized dozens of villages close to the border. A Kurdish politician from Turkey said local people had told him the militants were beheading people as they went from village to village.
Full report at:
http://www.hurriyetdailynews.com/pope-on-trip-to-mainly-muslim-albania-condemns-islamist-militants.aspx?pageID=238&nID=71983&NewsCatID=393
-----------
Poll: Most who voted Likud want Netanyahu to launch diplomatic drive for Palestinian state
21 Sep, 2014
A majority of voters who supported Likud Beytenu believe that Prime Minister Binyamin Netanyahu should launch a diplomatic initiative that would eventually yield a Palestinian state alongside Israel, according to a new poll commissioned by the Geneva Initiative.
The survey, which was done for the Geneva Initiative by New Wave Research, found that 53 percent of Israelis who cast their votes for the ruling party and a majority of the general public (58 percent) believe that the government should make a renewed push toward a settlement with the Palestinians in the wake of the seven-week military campaign against Hamas in the Gaza Strip.
The Geneva Initiative is a joint Israeli-Palestinian nongovernmental organization that advocates a two-state solution "based on previous official negotiations, international resolutions, the Quartet Roadmap, Clinton Parameters, Bush Vision, and Arab Peace Initiative."
Full report at:
http://www.jpost.com/Israel-News/Politics-And-Diplomacy/Poll-Most-Likud-voters-want-Netanyahu-to-launch-diplomatic-drive-for-Palestinian-state-375869
-----------
Fighting rages in Yemen capital despite UN talk of deal
21 Sep, 2014
Fighting raged in the Yemeni capital on Sept. 21 despite an announcement by the UN envoy that pro-government forces and Shiite rebels were poised to sign a deal.
The shelling and gunfire in the north of Sanaa was heard across the capital, as Sunni Islamist militiamen battled the rebels prompting an exodus of terrified residents, an AFP correspondent reported.
A week of fighting between the two sides has left dozen of people dead and forced the suspension of all flights into or out of Sanaa airport, which lies within the battle zone.
There was no let-up in the fighting during the night despite an after-dark curfew ordered by Full report at:
http://www.hurriyetdailynews.com/fighting-rages-in-yemen-capital-despite-un-talk-of-deal.aspx?pageID=238&nID=71988&NewsCatID=352
-----------
Wife of Alan Henning, Briton held by Islamic State, pleads for his release
21 Sep, 2014
MANCHESTER - Alan Henning, a volunteer British aid worker being held by Islamic State (IS) militants, should be released unharmed, his wife said in a statement issued a week after his captors threatened to murder him.
Henning, 47, was part of an aid convoy taking medical supplies to a hospital in northwest Syria in December last year when it was stopped by gunmen and he was abducted.
He appeared in a video released by IS last week, which showed the murder of another Briton, David Haines. In it, a masked man said Henning would also be killed if British Prime Minister David Cameron kept supporting the fight against IS.
"Alan is a peaceful, selfless man," his wife Barbara said in a statement released via Britain's Foreign Office late on Saturday.
"When he was taken he was driving an ambulance full of food and water to be handed out to anyone in need. His purpose for being there was no more and no less."
http://www.jpost.com/Breaking-News/Wife-of-Alan-Henning-Briton-held-by-Islamic-State-pleads-for-his-release-375931
-----------
British MPs to vote on motion calling for Palestinian state
21 Sep, 2014
LONDON – British MPs will have an unprecedented opportunity to vote on whether there should be a Palestinian state when the House of Commons resumes after its current party conference break on October 13.
A group of MPs from all major political parties, headed by Labor's Grahame Morris – including Conservative MP Crispin Blunt, Liberal Democrat Sir Bob Russell, and Green Party former leader Caroline Lucas – have secured a debate under a relatively new procedure for a full-scale, whole day's debate in the Commons chamber.
The motion reads: "This House believes that the government should recognize that state of Palestine alongside the State of Israel.'' With those proposing the motion appearing determined to push the issue to a vote, seasoned Westminster observers fear a vote in favor of immediate recognition of a Palestinian state could cause a substantial shift in public opinion and lead to added pressures on the government to change its current policy, which favors securing an agreement between the Israelis and Palestinians before considering granting Palestinians recognition.
Full report at:
http://www.jpost.com/International/British-MPs-to-vote-on-motion-calling-for-Palestinian-state-375904
-----------
Report: Goldman Sachs had 'strengthened ties' with Qaddafi's Libya fund
21 Sep, 2014
Court documents show that Goldman Sachs admitted to using entertainment, gifts, occasional travel, an internship and training to strengthen ties with the Libyan Investment Authority under deposed leader Muammar Qaddafi, the Financial Times reported.
A $1 billion lawsuit filed in London by the Libyan Investment Authority (LIA) revealed the methods western financial institutions used to solidify relationships with the country's wealth fund.
These methods are being investigated in the United States as to whether they have reached a status of bribery. However, the bank upholds that its actions did not result in unusual influence and that it kept "an arm's-length banker and client relationship," with the LIA, the Financial Times said, quoting the defense filed in London's High Court last week.
In response to accusations that Goldman entertained high-level LIA officials using the bank's credit card, the defense argued that the LIA was aware of the accommodation and entertainment provided.
Full report at:
http://english.alarabiya.net/en/business/banking-and-finance/2014/09/20/Goldman-Sachs-strengthened-ties-with-Qaddafi-s-Libya-fund-.html
-----------
North America
Obama 'ready for Syria ground war' as Kurds flee
21 September 2014
The United States will have to resort to sending "some troops on the ground" in Syria should President Barack Obama aim to destroy the Islamic State or Iraq and Syria (ISIS) group, a senior U.S. Congressman told this week's Sunday Times.
The west is facing a "long, hard war" against ISIS, Republican Peter King said, adding that Obama was reviewing his refusal to send ground troops after military advisers said they would be needed.
These remarks come after 70,000 Syrian Kurds poured into Turkey since Friday fleeing an offensive by ISIS militants in northeastern Syria, the U.N.'s refugee agency said Sunday.
By ruling out sending troops to Syria, King said Obama is sounding an "uncertain trumpet."
Following General Martin Dempsey, chairman of the Joint Chiefs of Staff, address to Congress in which he said that ground intervention may be necessary; King said the "military message is getting through" to Obama.
"The president is going further than he ever thought he would," he told the Sunday Times, praising Obama's decision to deploy 2,000 troops to Iraq.
King, a member of the House Committee on Homeland Security and chairman of its counterterrorism and intelligence group, also said CIA officers and Special Forces would need to be a part of a ground invasion.
Full report at:
http://english.alarabiya.net/en/News/middle-east/2014/09/21/U-S-congressman-Obama-ready-for-ground-war.html
-----------
U.S. plans boost to Egypt's counter-terror efforts
21 September 2014
U.S. Defense Secretary Chuck Hagel spoke with Egyptian Defense Minister Colonel General Sedqi Sobhy on Saturday to confirm the United States plans to deliver 10 Apache helicopters to Egypt to support Cairo's counter-terrorism efforts, the Pentagon said.
The United States originally announced in April that it had decided to lift its hold on the delivery of the attack helicopters to Egypt, imposed last year after the military's ouster of President Mohamed Mursi and an ensuing crackdown against protesters.
Pentagon spokesman Rear Admiral John Kirby said at the time that the helicopters would support Egypt's counter-terrorism operations in the Sinai Peninsula.
On Saturday, Kirby said Hagel had confirmed to General Sobhy that Washington planned to deliver the helicopters, built by Boeing Co., but gave no date.
Kirby said Hagel also thanked Egypt for its role in brokering a ceasefire to end the latest round of Gaza fighting between Hamas and Israel.
http://english.alarabiya.net/en/News/middle-east/2014/09/21/U-S-to-deliver-10-Apache-helicopters-to-Egypt-.html
-----------
U.S. says other countries willing to launch air strikes in Syria
World Bulletin/News Desk
Sep 21, 2014
The United States has indications other countries are willing to launch air strikes against ISIL militants in Syria, its U.N. ambassador said on Sunday, predicting "we will not do the air strikes alone."
Washington is trying to build an international military, political and financial coalition to defeat the ISIL group that has seized swathes of Iraq and Syria.
U.S. Ambassador to the United Nations Samantha Power was asked on CBS' "Face the Nation" if Washington had any indication other countries were willing to launch air strikes in Syria.
"We do," Power said. "But we're going to leave it to other nations to announce for themselves what their specific commitments to the coalition are going to be."
Power highlighted U.S. efforts to build a coalition against ISIL on television news shows as world leaders gathered in New York for this week's U.N. General Assembly.
The United States has launched air strikes against ISIL within Iraq and President Barack Obama on Sept. 10 authorized air strikes in Syria aimed at denying ISIL fighters safe havens in either country.
Full report at:
http://www.worldbulletin.net/todays-news/144868/us-says-other-countries-willing-to-launch-air-strikes-in-syria
----------
Southeast Asia
Islamic State, MH17 to figure prominently at 69th UN General Assembly
21 Sep, 2014
NEW YORK, Sept 21 — As the high-profiled Malaysian delegation led by Prime Minister Datuk Seri Najib Razak arrives to address the 69th United Nations (UN) General Assembly session, two issues will invariably, figure prominently in much of the debates.
The two are the atrocities committed by the Islamic State in Iraq and Syria (also known as the Islamic State in Iraq and the Levant – Isil) and the downing of the Malaysia Airlines Flight MH17 aircraft in eastern Ukraine on July 17.
The downing of the MH17 aircraft, by default, will also turn attention to the Russian-Ukrainian conflict and the threat posed by Russia-backed rebels in eastern Ukraine.
A sampling of these two issues was provided by Australian Foreign Minister Julie Bishop during the UN Security Council (UNSC) ministerial debate on Iraq, chaired by US Secretary of State John Kerry, on Friday. (On that day, too, Malaysian Foreign Minister Datuk Seri Anifah Aman addressed the UNSC.)
Full report at:
http://www.themalaymailonline.com/malaysia/article/islamic-state-mh17-to-figure-prominently-at-69th-un-general-assembly#sthash.EaTCGLib.dpuf
-----------
Without Putrajaya's help, Sabah open to Islamic State terror plot, minister warns secessionists
21 Sep, 2014
KOTA KINABALU, Sept 21 ― Sabah will be vulnerable to possible terrorist attacks from Southern Philippine's Islamic rebels without the protection of security forces from the federal government, Datuk Seri Hishammuddin Hussein warned today, warding off calls for the state to leave Malaysia.
The Defence Minister warned pro-secessionist groups that the threat of a terrorist takeover was very real in light of a recent statement from Southern Philippines's Bangsamoro Islamic Freedom Fighters (BIFF) and the Abu Sayyaf, who have pledged support for the Islamic State (IS) militant movement.
"We are not trying to scare the people but we want to remind them (pro-secessionist groups) not to gamble with Sabah's future.
Full report at:
http://www.themalaymailonline.com/malaysia/article/without-putrajayas-help-sabah-open-to-islamic-state-terror-plot-minister-wa#sthash.0SLd6HuM.dpuf
-----------
Rally against sedition law before more arrests, Teresa Kok tells Malaysians
21 Sep, 2014
Prime Minister Datuk Seri Najib Razak to fulfil his promise to repeal the Sedition Act as promised two years ago, DAP lawmaker Teresa Kok said today.
The DAP vice-chairman said the current sedition blitz stifled freedom of expression and showed that Najib's promise to repeal the act and pledge for political reconciliation as hollow and insincere.
"How many more people will be arrested and charged in the new crackdown which is an obvious selective prosecution against government critics?" the Seputeh MP asked.
She said despite widespread criticism against the government's move, Najib has not stopped the crackdown.
Full report at:
http://www.themalaysianinsider.com/malaysia/article/protest-against-sedition-law-before-more-arrests-teresa-kok-tells-malaysian#sthash.vs6usHMN.dpuf
-----------
Religious Minister Said to Be Targeting Sampang Shia Resolution Before Handover
21 Sep, 2014
Jakarta. Despite the fact that his tenure will soon end, the new religious affairs minister is said to be planning to make progress in resolving a dispute in East Java that has forced tens of Shiite families from their homes.
Albert Hasibuan, an adviser to President Susilo Bambang Yudhoyono on religious issues, told the Jakarta Globe that minister Lukman Hakim Saifuddin has said privately that he aims to achieve a resolution within a month.
Albert said that Lukman had planned to talk with the East Java governor, the Sampang district government and representatives of Sunni and Shiite communities in Sampang district to carry out his plan.
"He plans to build a low-cost apartment block in Sampang for the displaced Shiites," Albert said. "But he still needs to finalize the plan with the housing minister."
Hertasning Ichlas, a spokesman for the displaced Shiites, told the Globe on Saturday that there were still 170 Shiites living in apartments in Sidoarjo district with the bare minimum of facilities.
Full report at:
http://www.thejakartaglobe.com/news/religious-minister-said-targeting-sampang-shia-resolution-handover/
-----------
URL: https://www.newageislam.com/islamic-world-news/new-age-islam-news-bureau/saudi-university-removes-books-with-'deviant'-ideologies/d/99184