New Age Islam News Bureau
9 Nov 2013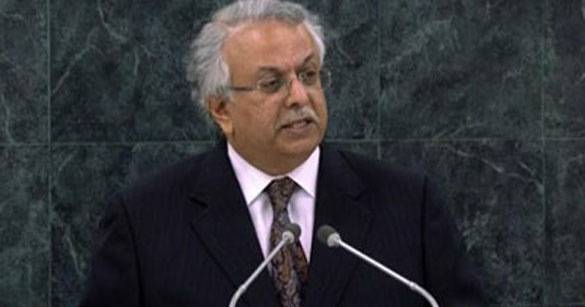 Saudi Arabia's Ambassador to UN (Al Arabiya)
-----------
Arab World
• Saudi U.N. envoy demands permanent Security Council seat for Arabs
• Salafi mentor calls for Muslim Brotherhood to be supported
• Egyptian lawyers accuse Obama of crimes against humanity
• Al-Qaeda's Zawahiri disbands main faction operating in Syria
• Diplomats: Jordan likely to take UN Security Council seat rejected by Saudis
• Syria's Muslim Brotherhood to announce political party
• Egypt's Nour Party slams Muslim Brotherhood's 'defamation campaign
• Egyptian government deploys armed guards at remote temple sites
• Syrian rebels retake strategic base in north: NGO
South Asia
• 39 killed in Hefazat-e-Islam clashes on May 5-6: Committee Report
• Former Indian HC bins US notion that Jamaat-e-Islami moderate Islamic party
• Saturday's election an opportunity to reverse damage of February 7, says Nasheed
• Afghans split over impact of Hakimullah's death on peace process
• Bangladesh arrests five opposition leaders
Pakistan
• Shia and Sunni Clerics Shun Sectarian Differences, Offer Prayers Together
• Dynamics of militancy after Fazlullah's surprise pick
• Attacks on Imambargahs kill three in Gujranwala
• Peshawar raids: Over 100 suspects detained
• 86 civilians, 23 policemen lost lives during terror attacks in October
• Nine killed in Balochistan violence
• Baloch militants urged to shun path of violence
Mideast
• Lift Restrictions on Sunni Worship, Keep Promise to Allow Sunnis Religious Freedom: HRW
• Several killed in Yemen drone strikes
• Israel 'Utterly Rejects' Iran Nuclear Deal That Could Avoid War
• PM Erdoğan rebuffs Deputy PM Arınç's criticism over co-ed housing stance
• Turkey's nationalist party seeks prayers in the Hagia Sophia
• Palestinians urge France to send Arafat probe finding
• Iran opens air defence missile production plant
North America
• US: Suriname President's Son Wanted To Host Hezbollah Base for Attacks on Americans
• US, Israel lose UNESCO voting right in dispute
• Insurgent attacks down, Afghan army casualties up: US
• Canadian 'child soldier' appeals Guantanamo conviction
• Roadblocks remain as officials work toward Iranian nuclear pact
Europe
• Moscow Strives to Break the Resistance of Dagestani Militants
• France says no certainty Iran talks will succeed
• Iran nuclear talks: We must 'seize moment', says Hague
• From Germany, a call to rediscover Sufism
Southeast Asia
• Why get emotional, 'Allah' not exclusive to Muslims, says Oxford theologian
• Malay history twisted by 'Western Christian conspiracy', claims Isma
• 7.3 million Adolescent girls in developing countries give birth every year: UNFPA
Africa
• Somalia: 11 dead in Mogadishu hotel car bombing
• Somali president resolute after al-Shabaab car bombing
India
• India, Kuwait to take relationship beyond buyer-seller partnership
• Peace on LoC necessary to engage with Pakistan: India
• Minorities Commission chairman slams 'misuse' of police authority
Compiled by New Age Islam News Bureau
URL: https://www.newageislam.com/islamic-world-news/new-age-islam-news-bureau/saudi-un-envoy-demands-permanent-security-council-seat-for-arabs/d/14376
------------
Arab World
Saudi U.N. envoy demands permanent Security Council seat for Arabs
9 November 2013
Saudi Arabia's Ambassador Abdallah al-Mouallimi to the United Nations demanded on Friday a permanent seat for Arabs at the Security Council, saying the U.N. body has failed tackle Middle East issues.
The Saudi ambassador criticized the Security Council as "crippled" by the veto power, which only five countries hold. He said a "just international representation" is needed.
Saudi Arabia rejected last month to take a traditional Arab seat in the Security Council in protest at the body's failure to end the Syria war and act on other Middle East issues,
The Security Council is dominated by its five permanent members - Britain, China, France, Russia and the United States - which have veto power over its decisions.
To ensure diversity, the council's 10 elected members are made up of three from Africa, two from Asia-Pacific, one from Eastern Europe, two from the Latin American and Caribbean group, and two from the Western European and others group. Five are chosen each year to serve two-year terms.
Arab states are split between the Asia-Pacific and African regional blocs and there is an unofficial deal that at least one Arab nation is always represented on the Security Council.
Saudi Arabia was the Arab candidate from the Asia-Pacific bloc. Kuwait had put its hand up to be the next Arab candidate from the group and to run for the 2018-2019 term on the Security Council, which has led some diplomats to speculate that the Gulf U.S. ally could be a capable replacement.
Arab countries have been trying to persuade Saudi Arabia to take up the Security Council seat.
"Kuwait forms part of the efforts currently being carried out to convince Saudi Arabia to reverse its decision," Foreign Ministry Undersecretary Khaled al-Jarrallah told state news agency KUNA on Thursday.
Saudi Arabia's U.N. ambassador, Abdullah Al-Mouallimi, called on Friday for "rofound and comprehensive" reform of the U.N. Security Council that includes expanding its membership and "abandoning the veto system or restricting its use."
"The Security Council has failed to address the situation in the Palestinian and Arab occupied territories, an issue under consideration by the council for more than six decades," Al-Mouallimi told a General Assembly debate on Security Council reform.
"The Syrian crisis continues, with a regime bent on suppressing the will of its people by brutal force, killing and displacing millions of people under the watch and sight of a council paralyzed by the abuse of the veto system," he said.
Syrian ally Russia, backed by China, has vetoed three council resolutions since October 2011 that would have condemned Syrian President Bashar al-Assad's government and threatened it with sanctions.
Saudi Arabia has warned of a shift away from the United States in part over what it sees as Washington's failure to take action against Assad and its policies on Iran.
U.S. Secretary of State John Kerry met King Abdullah of Saudi Arabia on Monday and praised the U.S. alliance with Saudi Arabia as strategic and enduring, but strains in the nearly 70-year-old relationship were apparent.
http://english.alarabiya.net/en/News/middle-east/2013/11/09/Saudi-U-N-envoy-demands-permanent-Security-Council-seat-for-Arabs.html
------------
Salafi mentor calls for Muslim Brotherhood to be supported
09 November 2013
The prominent Salafi Jihadi Islamist Jordanian Palestinian leader; Issam Barqawi, better known as Abu Muhammad al-Maqdisi, has strongly condemned members of his movement who attacked the Muslim Brotherhood during their plight in Egypt.
Al Maqdisi, who is in the custody of Jordanian authorities, has addressed members of his movement in a lengthy letter entitled "justice is the quality of honourable men" which al Jazeera TV obtained a copy of. In the letter al Maqdisi said he was hurt to see members of his movement attack the Muslim Brotherhood through their statements, writings and speeches, defaming and slandering as the Egyptian regime prosecuted them. Al Maqdisi said "such attitudes make our brothers unintentionally join the ranks of oppressors, tyrants and apostates in their attack on all that is related to Islam". Al Maqdisi said he was hurt to see unjust statements which portrayed the Muslim Brotherhood as worse than the secularist and apostate coup leaders who are sentencing them to tyranny.
The letter read "the whole world should know that we do not accuse the Muslim Brotherhood of impurity. They are Muslims, as we are and despite our religious differences; it would be unacceptable to prosecute them even if they had prosecuted us. We will not follow the same path that they did when they unjustly accused us of terrorism. We must follow God's orders and be kind to them. It is neither chivalrous nor manly to gloat over Muslims who disagree with us, when God's enemy unjustly violates them. Those who oppose them for their 'moderate' Islam will be more hostile to us and our Islam, which they describe as 'extremist, radical and terrorist."
Al Maqdisi denounced the Arab Gulf States and other countries that had supported the coup in Egypt and responded to members of his movement circulating statements through jihadist sites attacking the Muslim Brotherhood in Egypt and President Mohamed Morsi.
An anonymous senior Salafist leader told al Jazeera that al- Maqdisi's message aims to resolve the on-going debate in the movement about the suffering of the Muslim Brotherhood in Egypt saying "the movement's leaders have agreed not to undermine Egypt's Muslim Brotherhood and to stop attacking them. We pray that God take's revenge on those who wronged them despite our religious disagreements and the fact that we oppose their acceptance to resort to constitutions and to taking oaths to respect the constitutions that proceeded without God's orders".
Bassam Nasser, a researcher on Islamic groups, with a focus on Salafists said "al Maqdisi's message is directed to the spokesman of the 'Islamic state in Iraq and the Levant' Abu Muhammad al Adnani".
Nasser said "Al Adnani recently attacked the Muslim Brotherhood in an audio recording describing them as a 'secular party with Islamic cloak who were more insidious than the secularists.' Al- Maqdisi's position can only be read as a moral stance par excellence. Despite his fundamental ideological differences with the Muslim Brotherhood, including their stance on democracy and their participation in the parliamentary elections which he considers to be a severe violation, but he also believes it was cowardly to attack them during these difficult times when they are being prosecuted, detained and tortured by Egypt's coup leaders."
http://www.middleeastmonitor.com/news/africa/8230-salafi-mentor-calls-for-muslim-brotherhood-to-be-supported#sthash.TCPvZJ0E.dpuf
----------
Egyptian lawyers accuse Obama of crimes against humanity
IANS | Nov 9, 2013
On Thursday, CBN said that lawyers in Egypt filed a complaint with the International Criminal Court charging President Obama with crimes against humanity, citing the Egyptian news outlet El Watan.
The charges also allege Obama is an accessory to the Muslim Brotherhood, a group that has spread violence in Egypt before and after the June 30 coup.
Along with Obama, El Watan mentions several members of the Muslim Brotherhood by name, Raymond Ibrahim said, beginning with Muhammad Badie, the leader of the organization, and other top ranking individuals like Mohamed al-Beltagy, Essam al-Erian, and Safwat Hegazi.
The complaint says that "Obama cooperated, incited, and assisted the armed elements of the Muslim Brotherhood in the commission of crimes against humanity in the period from 3/7/2013-8/18/2013, in the Arab Republic of Egypt."
According to Ibrahim, the complaint cites Article 7/1 of the Statute of the International Criminal Court, which he reproduced at CBN.
The complaint then explains how the Muslim Brotherhood violated the statute.
The English translation of El Watan then says Obama "teamed up" with leaders of the Brotherhood and assisted by providing "firearms and cartridges."
Ibrahim added:
"Above and beyond the accusations of crimes against humanity that the lawyer-drafted complaint cited by El Watan levels against the Brotherhood, one need only look to the fate of Egypt's Christian minority, who were especially targeted by the Muslim Brotherhood—and thus, by extension, their supporter, Obama—to see numerous examples of nearly every aforementioned definition of crimes against humanity..."
He goes on to explain that the Brotherhood engaged in religious persecution against Christians, murdered and threaten to exterminate Christians in Egypt, engaged in mass destruction of churches and mass deportation of Christians.
Coptic Christians, he said, were also forced to pay a "jizya" tax, which he described as "the money, or tribute, that conquered non-Muslims historically had to pay to their Islamic overlords" to ensure their continued existence.
During and after Morsi's tenure in Egypt, he added, children of Christians have been targeted, with young girls "regularly abducted, raped, and shamed into converting to Islam and 'marrying' their rapists."
Boys have also been abducted and held for ransom.
"In short," Ibrahim said, "by simply focusing on the plight of Egypt's Christians, almost every criterion found under the category of 'crimes against humanity'—including murder, extermination, deportation, torture, rape, disappearance, apartheid and religious persecution—are met."
And, he added, only one is necessary for the charge to stick.
Ibrahim said that one only has to look at the "words and deeds of Anne Patterson, John McCain, Lindsay Graham, Hillary Clinton" and others, to understand that Obama supports the Muslim Brotherhood.
Another article, he said, talks of another complaint against Obama that was apparently leveled by Coptic activists.
The complaints, he said, are futile as the United States is not a signatory to the ICC.
Nevertheless, Ibrahim said, the Obama administration is complicit in the crimes committed against Coptic Christians due to its ongoing support for the Muslim Brotherhood.
"Remember this next time the Obama administration cites concerns about 'human rights' violations as reason to involve the U.S. in war—as it recently tried to do in Syria, again, to support more Islamic terrorists who are committing even worse crimes against humanity," he said.
http://www.examiner.com/article/egyptian-lawyers-accuse-obama-of-crimes-against-humanity
------------
Al-Qaeda's Zawahiri disbands main faction operating in Syria
Saturday, 9 November 2013
Al-Qaeda chief Ayman al-Zawahiri has anointed al-Nusra Front jihadists to carry the network's banner in Syria and ordered the Iraqi faction of his network to stop interfering in the civil war.
Zawahiri's remarks, made in an audio recording broadcast on Friday, confirmed a written order issued in June that has so far gone unheeded, according to Agence France-Presse.
The news came as the Britain-based Syrian Observatory for Human Rights said troops, backed fighters from Lebanon's Shiite group Hezbollah, recaptured parts of Base 80 in the north.
Zawahiri said the al-Nusra Front was the jihadist's group only branch in Syria, tasked with reporting "to the general command," and will no longer operate under the banner of al-Qaeda's Iraq affiliate, AFP reported.
"The Islamic State in Iraq and the Levant (ISIL) is to be abolished, while the Islamic State of Iraq (ISI) remains functioning," he said.
In April of this year, a dispute erupted when ISIL leader Abu Bakr al-Baghdadi had claimed that Nusra was now its branch in Syria, but that was rejected by its Nusra commander Abu Mohammad al-Jawlani, who affirmed allegiance to Zawahiri.
The al-Nusra Front, created in January 2012, joined al-Qaeda in December of that year and is on a U.S. list of foreign terrorists organizations.
The al-Nusra Front has carried out some of the deadliest attacks against the Syrian regime, including several suicide bombings.
The war in Syria has killed so far more than 120,000, according to the Observatory.
http://english.alarabiya.net/en/News/middle-east/2013/11/09/Al-Qaeda-leader-disbands-main-faction-operating-in-Syria.html
------------
Diplomats: Jordan likely to take UN Security Council seat rejected by Saudis
By REUTERS
IANS | Nov 9, 2013
UNITED NATIONS - Jordan appears set to take the traditional Arab seat on the UN Security Council after Saudi Arabia rejected the position in protest at the body's failure to end the Syria war and act on other Middle East issues, Western diplomats said on Friday.
The 193-member UN General Assembly elected Saudi Arabia last month to the Security Council for a two-year term from Jan. 1, but in a surprise move, Riyadh declined the position a day after the vote.
Full report at:
http://www.jpost.com/International/Diplomats-Jordan-likely-to-take-UN-Security-Council-seat-rejected-by-Saudis-331020
------------
Syria's Muslim Brotherhood to announce political party
9 November 2013
The Syrian branch of the Muslim Brotherhood will announce the formation of a political party on Nov. 12 with the party's deputy leader set to be a Christian, the London-based Asharq al-Awsat newspaper reported on Friday.
The new party will be named the National Constitution and Freedom Party and will be known by the Arabic name Waad (the Promise), Syrian Muslim Brotherhood General Guide Ali Sadreddine Bayanouni told Asharq al-Awsat.
Full report at:
http://english.alarabiya.net/en/News/middle-east/2013/11/09/Syria-s-Muslim-Brotherhood-to-announce-political-party.html
------------
Egypt's Nour Party slams Muslim Brotherhood's 'defamation campaign
IANS | Nov 9, 2013
Official Nour Party spokesperson Sherif Taha slammed the Muslim Brotherhood for defaming the Salafist group and "the icons" of the party's mother movement – Salafist Calling.
In a statement published on the official Nour Party website on Friday, Taha condemned how the Muslim Brotherhood was defaming the Salafist Calling and its political arm, Nour Party. He accused the Brotherhood of spreading lies as a part of a campaign "that goes back even before June 30," according to the party's spokesperson.
Full report at:
http://english.ahram.org.eg/NewsContent/1/64/85950/Egypt/Politics-/Egypts-Nour-Party-slams-Muslim-Brotherhoods-defama.aspx
------------
Egyptian government deploys armed guards at remote temple sites
IANS | Nov 9, 2013
The Ministry of State for Antiquities has started to provide security in remote archaeological areas which were left without guards after the 2011 revolution.
Ten ministry security guards at the Wadi Al-Sebua temple area on Lake Nasser, south of Aswan, were armed with guns on Friday, in order to tighten security measures at the remote site.
Antiquities minister Mohamed Ibrahim said the step was important for preventing further looting attempts.
Full report at:
http://english.ahram.org.eg/NewsContent/9/40/85915/Heritage/Ancient-Egypt/Egyptian-government-deploys-armed-guards-at-remote.aspx
------------
Syrian rebels retake strategic base in north: NGO
AFP | Nov 9, 2013
BEIRUT: Syrian rebels retook a strategic base in the northern Aleppo province on Saturday, as shelling killed at least 11 people in nearby Aleppo city, the Syrian Observatory for Human Rights said.
The group said rebels, including jihadists from two Al-Qaida affiliates, launched a nighttime counterattack against regime forces, after they captured parts of the base on Friday.
Using Grad rockets against army tanks, they were able to regain control of the parts of the strategic Base 80 that they had lost during Friday's fighting, Observatory director Rami Abdel Rahman said.
Full report at:
http://timesofindia.indiatimes.com/world/middle-east/Syrian-rebels-retake-strategic-base-in-north-NGO/articleshow/25513174.cms
----------
South Asia
39 killed in Hefazat-e-Islam clashes on May 5-6: Committee Report
IANS | Nov 9, 2013
Ekatturer Ghatak Dalal Nirmul Committee has claimed that 39 people were killed during the rally and sit-in programmes of Hefazat-e-Islam in the capital's Motijheel area on May 5-6 this year.
Of them, 24 were killed from morning to 8pm on May 5 in Hefazat activists' clashes with law enforcers and Awami League activists, the organisation claims in a white paper it published on Friday.
Another nine people got killed on May 6 morning during clashes between Hefazat and Jamaat-e-Islami activists and law enforcers at Kanchpur on Chittagong Road, Madanipur and Narayanganj.
Full report at:
http://www.dhakatribune.com/bangladesh/2013/nov/09/39-killed-hefazat-clashes-may-5-6#sthash.uC57XiNO.dpuf
------------
Former Indian HC bins US notion that Jamaat-e-Islami moderate Islamic party
IANS | Nov 9, 2013
The Jamaat has intimate relations with its namesake in Pakistan and is close to Saudi Arabia, and getting funds,' he said
Terming the US notion that Bangladesh Jamaat-e-Islami is a moderate Islamic party flawed, former Indian High Commissioner in Dhaka Pinak Ranjan Chakravarty has said this argument only helps Jamaat gain leverage.
"The US believes that the Jamaat is a moderate Islamic party ... The US argument is flawed ... it only helps the Jamaat gain leverage," he told a roundtable in New Delhi on Thursday, says a UNB report.
Full report at:
http://www.dhakatribune.com/foreign-affairs/2013/nov/09/pinak-bins-us-notion-jamaat-moderate-islamic-party#sthash.9SmgWQzZ.dpuf
------------
Saturday's election an opportunity to reverse damage of February 7, says Nasheed
By Ahmed Naish | November 8th, 2013
The long-awaited president election on November 9 is an opportunity to "regain the development lost on February 7, 2012," former President Mohamed Nasheed said in his final campaign message ahead of tomorrow's presidential polls.
"Through the right to vote we will secure the right to water and sanitation, housing, transport, and education," the Maldivian Democratic Party (MDP) presidential candidate said. "Our second term will also bring contentment to the Maldivian people."
The MDP's "costed and budgeted" manifesto was devised to bring about the "proud citizen" who can stand tall, provide for his family through honest work and be free from anxiety over unaffordable healthcare, he said.
Full report at:
http://minivannews.com/politics/saturdays-election-an-opportunity-to-reverse-damage-of-february-7-says-nasheed-71100
----------
Afghans split over impact of Hakimullah's death on peace process
IANS | Nov 9, 2013
ISLAMABAD: The news of Tehreek-e-Taliban Pakistan (TTP) chief Hakimullah Mehsud's death in a US drone strike in North Waziristan on November 1 was the lead story in Afghanistan's electronic and print media.
Almost all TV channels airing current affairs programmes debated the possible impact of the American attack on the Afghan reconciliation process, as it has derailed Pakistan's own peace efforts. They fear the country may not fully focus on its key role in Afghanistan, at least for now.
Full report at:
http://tribune.com.pk/story/629282/afghans-split-over-impact-of-hakimullahs-death-on-peace-process/
------------
Bangladesh arrests five opposition leaders
2013-11-09
DHAKA: Bangladeshi authorities have arrested three senior leaders of the main opposition party amid increasing tensions ahead of next year's elections, an official said Saturday.
Police detectives arrested Moudud Ahmed, M.K. Anwar and Rafiqul Islam Mia on late Friday, hours after an alliance led by main opposition Bangladesh Nationalist Party announced a new round of a 72-hour nationwide strike.
The strike is due to start Sunday morning to pressure the government of Prime Minister Sheikh Hasina to quit and appoint a caretaker to oversee the elections.
Police also arrested a prominent businessman who is tied to the main opposition party and another aide of opposition leader Khaleda Zia early Saturday.
Full report at:
http://www.dawn.com/news/1055215/bangladesh-arrests-five-opposition-leaders
------------
Pakistan
Shia and Sunni Clerics Shun Sectarian Differences, Offer Prayers Together
November 8, 2013
GILGIT: Shia and Sunni clerics offered Maghrib prayers together in Gilgit Town on Thursday evening to promote sectarian harmony.
Jamaat-e-Islami (JI) Secretary General Liaqat Baloch visited the office of the Shia Ulema Council (SUC), a party headed by renowned Shia cleric Allama Sajid Naqvi, along with other party leaders and local elders as part of a goodwill gesture.
"It was time to offer Maghrib prayers when Baloch reached the Shia Ulema Council office located on Khazana Road with his delegation," said Nazakat Ali, a local who also joined in the prayers. "The Shia clerics then invited Liaqat Baloch to lead the prayers, which he accepted."
Shia clerics who offered prayers together included SUC President Mirza Ali, Syed Azhar, Sheikh Shahadat and MPA Didar Ali. Sunni clerics included JI leaders Abdur Rasheed Turabi, Maulana Sami and others.
Full report at:
http://tribune.com.pk/story/629290/promoting-harmony-clerics-shun-sectarian-differences-offer-prayers-together/
------------
Dynamics of militancy after Fazlullah's surprise pick
2013-11-09
PESHAWAR: Unexpected elevation of Mullah Fazlullah to the position of chief of the outlawed Tehreek-i-Taliban Pakistan is likely to change things in the country's troubled northwestern region.
The selection of Mullah Fazlullah and deputy Sheikh Khalid Haqqani by 17-member Supreme Council has shifted the command of TTP from Mehsud tribe of South Waziristan Agency to the Khyber Pakhtunkhwa province.
Despite the shifting of command from Fata to a settled area of the province, Waziristan would remain to be the centre of gravity and main sanctuary of militants, which many observers believe has made the situation more complex.
Full report at:
http://www.dawn.com/news/1055174/dynamics-of-militancy-after-fazlullahs-surprise-pick
------------
Attacks on imambargahs kill three in Gujranwala
AGENCIES
2013-11-09
GUJRANWALA: At least three worshipers were killed early Saturday morning when gunmen opened fire at two different Imambargahs in Gujranwala, sparking protests from mourners and enraged members of the Shia community.
According to police reports, the first incident took place close to dawn when unknown gunmen opened fire as Mohammad Yousuf, the prayer leader (pesh-imam) of the Qasr-i-Abu Talib imambargah in Mominpura area, had just finished leading Fajr prayers. Yousuf and another person present at the mosque died on the spot.
Full report at:
http://www.dawn.com/news/1055230/attacks-on-imambargahs-kill-three-in-gujranwala
------------
Peshawar raids: Over 100 suspects detained
DAWN.COM
2013-11-09
PESHAWAR: Police and security forces' personnel conducted search operations in different areas of Peshawar Saturday and detained over 100 suspects, DawnNews reported.
According to the police, raids were carried out within the remit of Pahari Pura and Faqirabad police stations. Over 100 suspects were taken into custody during the operation.
Operations are ongoing in Peshawar on a daily basis in order to maintain peace and stability during the month of Muharram, police said.
Full report at:
http://www.dawn.com/news/1055221/peshawar-raids-over-100-suspects-detained
------------
86 civilians, 23 policemen lost lives during terror attacks in October
2013-11-09
ISLAMABAD: Civilians and policemen remained major victim of terrorism across Pakistan last month, said monthly security report of Pakistan Institute for Peace Studies (PIPS) released on Friday.
The report said five militants were also killed and as many injured in the exchange of fire with army men.
Civilians had major share in casualties as 86 of them lost their lives while 246 were injured, the report said, adding 23 policemen died and 36 were injured in terror attacks.
Full report at:
http://www.dawn.com/news/1055122/86-civilians-23-policemen-lost-lives-during-terror-attacks-in-october
------------
Nine killed in Balochistan violenc
IANS | Nov 9, 2013
QUETTA: At least three armed militants and a Frontier Corps (FC) personnel were killed in a clash in Balochistan's insurgency-hit district of Kech on Friday.
Khan Wasey, the Spokesman FC told Dawn.com that armed militants attacked the FC convoy in Mand Tehsil of Kech.
He said one personnel was killed in the attack.
"FC launched a quick search operation in the aftermath of the attack," Wasey said.
He said three armed militants were killed during an exchange of fire and two FC personnel also sustained bullet wounds.
FC personnel recovered a large quantity of ammunition from the house where the clash took place. In another incident, two persons were killed in a firing incident in Eastern Bypass area of Quetta.
Full report at:
http://www.dawn.com/news/1055033/nine-killed-in-balochistan-violence
------------
Baloch militants urged to shun path of violence
November 9, 2013
QUETTA: Prime Minister Nawaz Sharif has appealed to Baloch separatists to renounce violence, join the national mainstream and play their role in putting the country on the road to peace and prosperity.
"I appeal to the people who opted for the wrong path, please leave this path. Lay down your weapons because fighting leads to nowhere. Help the government eliminate terrorism and bring development and economic stability," he said referring to, but without naming, Baloch separatists.
Full report at:
http://tribune.com.pk/story/629486/trip-to-awaran-baloch-militants-urged-to-shun-path-of-violence/
------------
Mideast
Lift Restrictions on Sunni Worship, Keep Promise to Allow Sunnis Religious Freedom: HRW
NOVEMBER 9, 2013
(Beirut) – The Iranian government should follow through on President Hassan Rouhani's promises to improve access to human rights for religious minorities, Human Rights Watch said today. That should include allowing Sunni Muslims, a minority in Shia-dominated Iran, to gather and pray freely in their own mosques in Tehran and other areas of the country.
Rouhani's special adviser on ethnic and religious minorities recently met with a Sunni leader to discuss the rights of the Sunni minority and work toward removing barriers preventing Sunnis from achieving full equality under the law. The meeting followed incidents in which security forces in Tehran prevented Sunnis from gathering and praying in designated sites to commemorate holy days, Sunni activists told Human Rights Watch. Local activists say that in recent years security forces have restricted Sunnis from praying in mosques during Eid holidays.
Full report at:
http://www.hrw.org/news/2013/11/09/iran-lift-restrictions-sunni-worship
------------
Several killed in Yemen drone strikes
Nov 9, 2013
Five people have been killed by two drone strikes in Yemen's southern province of Abyan, the country's interior ministry says.
A ministry statement released on Friday said that the men were al-Qaeda suspects, and that they were killed on Thursday.
The statement did not whether the drones were launched by Yemen or the United States.
However, local officials in Abyan, which was a stronghold for Yemen-based al-Qaeda in the Arabian Peninsula (AQAP) and other armed groups during an uprising that ousted veteran President Ali Abdullah Saleh last year, told the Reuters news agency that the drones were American.
Full report at:
http://www.aljazeera.com/news/middleeast/2013/11/several-killed-yemen-drone-strikes-2013119003940201.html
----------
Israel 'Utterly Rejects' Iran Nuclear Deal That Could Avoid War
IANS | Nov 9, 2013
As international hopes rose around the possibility of successful talks on Iran's nuclear program in Geneva on Friday, Israel's Prime Minister Benjamin Netanyahu had a message for the world: No, no, no.
"Israel is not obliged by this agreement and Israel will do everything it needs to defend itself, to defend the security of its people," Netanyahu said in one of two videos released to reporters ahead of talks with U.S. Secretary of State John Kerry at Ben Gurion airport that took place Friday morning. Many interpreted the comments as the latest in a series of veiled threats about Israel's desire to strike militarily against Iran.
Full report at:
http://www.commondreams.org/headline/2013/11/08-1
------------
PM Erdoğan rebuffs Deputy PM Arınç's criticism over co-ed housing stance
IANS | Nov 9, 2013
Prime Minister Recep Tayyip Erdoğan has expressed his discomfort over the statements made by Deputy Prime Minister Bülent Arınç's in a live televised interview on Nov. 8. Arınç had criticized the way the mixed-sex student housing debate was being conducted, particularly the situation that he was put in as the government spokesperson after rejecting the possibility of any legal arrangement on the issue.
"If one of my friends or my government spokespeople has said something, this is not the place where I will comment on it, nor are you the ones with whom I will speak about this issue. We will deal with it between ourselves," Erdoğan was quoted as saying by senior journalists during his bilateral visit to Poland late on Nov. 8.
Full report at:
http://www.hurriyetdailynews.com/pm-erdogan-rebuffs-deputy-pm-arincs-criticism-over-co-ed-housing-stance.aspx?pageID=238&nID=57651&NewsCatID=338
------------
Turkey's nationalist party seeks prayers in the Hagia Sophia
IANS | Nov 9, 2013
The Nationalist Movement Party (MHP) deputy parliamentary group chair Yusuf Halaçoğlu has submitted a bill to turn the Hagia Sophia in Istanbul into a mosque, suggesting the current function of the Hagia Sophia as a museum was not legal.
In his lawful cause attached to the bill submitted on Nov.8, Halaçoğlu recalled that a Cabinet decree declaring the Hagia Sophia as museum was released in 1934, but this decree was not published in the Official Gazette or any other similar official publication. However, both according to the Constitution of 1924 and the current Constitution, bills, proposals or decrees need to be published in the Official Gazette after the presidential approval in order for them to be accepted as laws or governmental decrees having the force of law (KHK), he explained.
Full report at:
http://www.hurriyetdailynews.com/turkeys-nationalist-party-seeks-prayers-in-the-hagia-sophia.aspx?pageID=238&nID=57632&NewsCatID=338
------------
Palestinians urge France to send Arafat probe finding
AFP, Ramallah
IANS | Nov 9, 2013
Palestinian justice minister Ali Mhanna on Friday urged France to send findings from its investigation into President Yasser Arafat's death, after Swiss tests suggested he died from polonium poisoning.
"We've so far received no response from the French side," Mhanna told a news conference in the West Bank city of Ramallah.
"We've sent a letter to the French demanding they accelerate the sending of results, and we're still waiting.
Full report at:
http://english.alarabiya.net/en/News/middle-east/2013/11/08/Palestinians-say-Israel-only-suspect-in-Arafat-death-.html
------------
Iran opens air defense missile production plant
AP | Nov 9, 2013
TEHRAN, Iran: Iranian defense minister Gen Hossein Dehghan has inaugurated a missile production plant aimed at improving the country's air defense capabilities.
Semiofficial Fars news agency quotes Dehghan as saying on Saturday that the Sayyad-2 missile production facility allows the Islamic Republic to hit helicopters, drones and other aerial targets at medium range. The solid fuel gives the missiles improved accuracy compared to liquid fuelled missiles, which make up the bulk of Iran's air defense arsenal.
Full report at:
http://timesofindia.indiatimes.com/world/middle-east/Iran-opens-air-defense-missile-production-plant/articleshow/25503693.cms
-----------
North America
US: Suriname President's Son Wanted To Host Hezbollah Base For Attacks On Americans
IANS | Nov 9, 2013
The son of Suriname's president has been charged by the United States with attempting to provide material support to a foreign terrorist organisation.
Dino Bouterse was allegedly paid millions of dollars to provide a base and weapons for Hezbollah fighters.
The Shia militants were planning attacks on the US and the Netherlands, Suriname's former colonial ruler, US prosecutors say.
The son of President Desi Bouterse was extradited from Panama in August.
He had already been charged with trying to smuggle cocaine and weapons into the United States.
Mr Bouterse could be sentenced to life in jail for the drugs and weapons smuggling charges and to up to 15 years for the terrorism-related accusations.
Full report at:
http://www.bbc.co.uk/news/world-latin-america-24875963
------------
US, Israel lose UNESCO voting right in dispute
November 09, 2013
American influence in culture, science and education around the world took a high-profile blow when the US automatically lost voting rights at UNESCO by missing a deadline to repay its debt to the world's cultural agency. The US hasn't paid its dues to the Paris-based UN Educational,
Scientific and Cultural Organization in three years in protest to the decision by world governments to make Palestine a UNESCO member in 2011. Israel suspended its dues at the same time in support of the US and also lost voting rights on Friday.
Under UNESCO rules, the US and Israel had until Friday morning to resume funding or explain themselves, or to automatically lose their vote. A UNESCO official, who was not authorized to speak publicly about the issue, said nothing was received from either country.
Full report at:
http://www.hindustantimes.com/world-news/us-israel-lose-unesco-voting-right-in-dispute/article1-1149055.aspx
-----------
Insurgent attacks down, Afghan army casualties up: US
2013-11-09
WASHINGTON: Insurgent attacks in Afghanistan have declined but the government forces are suffering higher number of casualties and the Taliban have strengthened their grip in some rural areas, the Pentagon said on Friday.
Attacks initiated by Islamist militants decreased six per cent and assaults involving homemade bombs dropped 22 per cent between April and September, according to a Department report to Congress.
About 80 per cent of the insurgent attacks occurred in areas where less than 25 per cent of the population lives.
The ten most violent districts, mainly in Helmand and Kandahar provinces, represent three per cent of the country's population but 30 per cent of all attacks, the report said.
Full report at:
http://www.dawn.com/news/1055222/insurgent-attacks-down-afghan-army-casualties-up-us
------------
Canadian 'child soldier' appeals Guantanamo conviction
November 9, 2013
WASHINGTON: Omar Khadr, the Canadian "child soldier" held for a decade at Guantanamo, appealed his terror conviction Friday.
Once the US military prison camp's youngest inmate, Khadr has returned to Canada to serve the rest of his term. He filed the appeal with the US Court of Military Commissions Review, his Pentagon and Canadian lawyers said.
The motion marked the third time a former Guantanamo prisoner has urged authorities to drop charges of material support for terrorism since late al Qaeda chief Osama bin Laden's former driver Salim Hamdan saw his conviction reversed in October 2012.
Full report at:
http://tribune.com.pk/story/629555/canadian-child-soldier-appeals-guantanamo-conviction/
------------
Roadblocks remain as officials work toward Iranian nuclear pact
Michael R Gordon & Mark Landler, NYT News Service | Nov 9, 2013
GENEVA - With secretary of state John Kerry and other ranking Western officials converging on Friday, negotiators wrestled with the final hurdles to a landmark nuclear agreement with Iran that would temporarily freeze its nuclear programme.
But they quit shortly before midnight, still confronting several difficult issues. Among the most contentious issues during the talks have been the fate of a reactor that Iran is building near Arak, what to do about Iran's stockpile of enriched uranium and how much relief to give Iran from punishing economic sanctions.
Full report at:
http://timesofindia.indiatimes.com/world/europe/Roadblocks-remain-as-officials-work-toward-Iranian-nuclear-pact/articleshow/25497344.cms
------------
Europe
Moscow Strives to Break the Resistance of Dagestani Militants
November 8, 2013
By: Mairbek Vatchagaev
Militants in Dagestan have been extensively targeting judges in the republic, killing four so far this year. On January 15, Dagestani Supreme Court judge Magomed Magomedov was killed in Makhachkala. On March 9, federal judge Akhmed Rajabov was killed near his home in Izberbash. On September 25, Dagestani Supreme Court judge Mukhtar Shapiev and his son were severely wounded in an attack and died later in the hospital. Meanwhile, on October 9, a judge of the Arbitration Court of Chechnya, Adam Agakhajiev, was found dead in Kabardino-Balkaria (https://www.kavkaz-uzel.ru/articles/232867/), and on November 4, federal judge Zainutdin Madanov was killed in the central part of Makhachkala (http://www.internovosti.ru/text/?id=77559). This targeted assassination was, respectively, the fourth judge killed in Dagestan and the fifth judge killed in the greater North Caucasus so far this year. Madanov was killed in the capital of Dagestan on the city's busiest street, named after the national hero, Imam Shamil. The attackers fired shots at the judge and his driver before fleeing (http://www.riadagestan.ru/news/incidents/v_makhachkale_ubit_mirovoy_sudya/). Madanov served as a federal judge at the court in Makhachkala's Lenin district. According to investigators, he previously held the position of deputy chairman of the Lenin district court, (https://www.kavkaz-uzel.ru/articles/232864/).
Full report at:
http://www.jamestown.org/regions/russia/single/?tx_ttnews%5Btt_news%5D=41604&tx_ttnews%5BbackPid%5D=48&cHash=739d0429a9aaf40cf3d015a3fa245dc9#.Un6y7nC-rXA
------------
France says no certainty Iran talks will succeed
Reuters | Nov 9, 2013
PARIS: France said on Saturday there was no certainty nuclear talks under way with Iran in Geneva would succeed because of major stumbling blocks over an initial proposed text on a deal.
"As I speak to you, I can not say there is any certainty that we can conclude" the talks, foreign minister Laurent Fabius said on France Inter radio.
http://timesofindia.indiatimes.com/world/europe/France-says-no-certainty-Iran-talks-will-succeed/articleshow/25494607.cms
------------
Iran nuclear talks: We must 'seize moment', says Hague
IANS | Nov 9, 2013
UK Foreign Secretary William Hague has urged negotiators to "seize the moment", as talks in Geneva over Iran's nuclear plan enter a third day.
Mr Hague hailed "good progress" but said there was still uncertainly about whether a deal could be reached.
Under a possible deal, Iran could freeze expansion of nuclear activity for limited sanctions relief.
UK, French and German foreign ministers have joined their US and EU counterparts for the unscheduled talks.
Russian Foreign Minister Sergei Lavrov and the Chinese Foreign Minister Wang Yi are also expected to attend on Saturday.
Full report at:
http://www.bbc.co.uk/news/world-middle-east-24877014
----------
From Germany, a call to rediscover Sufism
November 09, 2013
Karachi: Every time Prof Dr Jürgen Wasim Frembgen reads the words, "Mohabbat Sab Kay Leay, Nafrat Kisi Kay Leya Nahin", written on the back of a truck, his heart goes out to the country he likes to call "The Heartland of Sufism".
The German anthropologist, who has authored several books on mystic Islam, spoke at a talk titled "Tolerance in Sufism" at the Aga Khan University Hospital on Friday
His books include "At the Shrine of the Red Sufi" - a detailed account of the Urs - and 'The Friends of God" among others.
"Students in Germany often ask me how to define Islamic mysticism. I tell them it is marked by tolerance and a quest for freedom. An ideal Sufi cares for other living beings. You can call it Muslim Humanism."
Full report at:
http://www.thenews.com.pk/Todays-News-4-213098-From-Germany,-a-call-to-rediscover-Sufism
------------
Southeast Asia
Why get emotional, 'Allah' not exclusive to Muslims, says Oxford theologian
IANS | Nov 9, 2013
KUALA LUMPUR, Nov 3 — Only Muslims with an "inferiority complex" would monopolise the use of "Allah" when the Arabic word for God is not exclusive to Islam, celebrated Swiss-Muslim theologian Dr Tariq Ramadan has said.
The Oxford University professor of contemporary Islamic studies, who was hailed by Foreign Policy magazine as one of the top 100 global thinkers last year, took to Twitter yesterday to add his voice to a growing number of prominent Muslims outside Malaysia who have been critical of the government's stand that "Allah" cannot be used by followers of other faiths as it will cause confusion to Muslims.
"Why do we get emotional when others use the word #Allah?" Ramadan asked on his Twitter account, @TariqRamadan handle.
"There is only one God. My God is your God. Allah is not just the God for Muslims," he wrote.
He added: "It is because of an inferiority complex that the word #Allah is monopolized. How about monopolizing good deeds instead?"
Ramadan, who comes from an illustrious religious family—his father, Said Ramadan, was a prominent figure in Egypt's Muslim Brotherhood founded by his maternal grandfather, Hassan al-Banna, while his grand-uncle, Gamal al-Banna, is a famed liberal Muslim reformer—has been a vocal advocate of a progressive and moderate Islam.
Full report at:
http://www.themalaymailonline.com/malaysia/article/why-get-emotional-allah-not-exclusive-to-muslims-says-oxford-theologian#sthash.045KvusK.dpuf
---------
Malay history twisted by 'Western Christian conspiracy', claims Isma
IANS | Nov 9, 2013
BANGI, Nov 9 — The Malays face a "Western Christian conspiracy" that has lasted over four centuries, Muslim group Ikatan Muslimin Malaysia (Isma) claimed today, as it launched its bid to rewrite the history of the Malay archipelago to reflect what it believes to be the true representation of Malay civilisation.
Isma president Ustaz Abdullah Zaik Abd Rahman said Malaysian history and, by extension, the history of the Southeast Asian region has long been skewed towards the "contributions of the colonists" and non-Malays, which downplayed the greater role played by the Malays in developing the region.
Full report at:
http://www.themalaymailonline.com/malaysia/article/malay-history-twisted-by-western-christian-conspiracy-claims-isma#sthash.2bdrKjN1.dpuf
------------
7.3 million adolescent girls in developing countries give birth every year: UNFPA
IANS | Nov 9, 2013
The United Nations Population Fund (UNFPA) has said in its 2013 World Population Report titled "Motherhood in Childhood, Facing the Challenge of Adolescent Pregnancy" that every year, around 7.3 million girls under 18 years of age in developing countries give birth.
"UNFPA's focus on adolescent pregnancies this year highlights that this is not just a health issue, but also a development and human rights issue," said UNFPA Indonesia representative Jose Ferraris in his remarks during the report launch in Yogyakarta on Friday.
He explained that adolescent pregnancy was most often not the result of a deliberate choice, but rather the absence of choices and due to circumstances beyond a girl's control.
"It is a consequence of little or no access to school, employment, quality information and health care," Ferraris said.
Full report at:
http://www.thejakartapost.com/news/2013/11/08/73-million-adolescent-girls-developing-countries-give-birth-every-year-unfpa.html
------------
Africa
Somalia: 11 dead in Mogadishu hotel car bombing
November 09, 2013
Around 11 people were killed on Friday in a car bomb attack against a top hotel in Somalia's capital Mogadishu, police said. Police and security forces immediately sealed off the area around the Maka al Mukarama hotel, situated along a busy Mogadishu street and popular with politicians
and the elite.
"Some 11 people were killed and a dozen more injured," police official Anshur Nur told AFP close to the scene of the blast.
"I could see several burning cars, dead and injured people on the ground," he said.
Mogadishu is frequently targetted with suicide and car bombings carried out by al-Qaeda-linked Shebab rebels, who are fighting to overthrow the country's internationally-backed government.
Full report at:
http://www.hindustantimes.com/world-news/somalia-11-dead-in-mogadishu-hotel-car-bombing/article1-1149009.aspx
------------
Somali president resolute after al-Shabaab car bombing
9 November 2013
AFP, Mogadishu
Somalia's president vowed Saturday he would not halt efforts to restore peace and security to the country in the wake of a car bomb attack in central Mogadishu by al-Qaeda-linked al-Shabaab rebels.
The huge blast on Friday evening outside a top hotel in Somalia's capital killed at least four people, including a government official, and wounded 15, according to the government.
"I strongly condemn this heinous act of terrorism outside the Maka al Mukurama Hotel by al-Shabaab, which caused deaths and injuries to civilians," Somalia's internationally backed president, Hassan Sheikh Mohamud, said in a statement.
Full report at:
http://english.alarabiya.net/en/News/africa/2013/11/09/Somali-president-resolute-after-al-Shabaab-car-bombing-.html
------------
India
India, Kuwait to take relationship beyond buyer-seller partnership
SANDEEP DIKSHIT
IANS | Nov 9, 2013
Joint ventures in petrochemicals and fertilizers discussed
India and Kuwait on Friday held talks in the areas of investment, trade, and security, and of joint ventures in the energy sector, to take their relationship beyond the present buyer-seller partnership.
Five pacts signed
As Kuwait holds over $350 billionin surplus funds and accounts for 10 per cent of India's oil imports, talks between Prime Minister Manmohan Singh and his Kuwaiti counterpart Sheikh Jaber Al-Mubarak Al-Hamad Al-Sabah centred around these two aspects. As many as five pacts were signed in the presence of the two leaders.
Full report at:
http://www.thehindu.com/news/national/india-kuwait-to-take-relationship-beyond-buyerseller-partnership/article5330790.ece
------------
Peace on LoC necessary to engage with Pakistan: India
IANS | Nov 9, 2013
NEW DELHI: India on Saturday reiterated the need for peace and tranquillity on the Line of Control (LoC) in Jammu and Kashmir if India and Pakistan were to engage.
External affairs ministry spokesperson Syed Akbaruddin told reporters that Sartaj Aziz, Pakistani Prime Minister Nawaz Sharif's foreign affairs adviser, would be meeting external affairs minister Salman Khurshid on the sidelines of the Nov 11-12 Asia-Europe Meeting.
He said their talks would "take up the outcome of the last meeting - that for India and Pakistan to engage it is important, as a precondition that there should be peace and tranquillity on the Line of Control... And where to go forward based on their assessment on the situation elapsed."
Full report at:
http://timesofindia.indiatimes.com/india/Peace-on-LoC-necessary-to-engage-with-Pakistan-India/articleshow/25504374.cms
------------
Minorities Commission chairman slams 'misuse' of police authority
Nov 09 2013
New Delhi: Chairman of the National Commission for Minorities, Wajahat Habibullah, has said that possession of a Quran is treated as incriminating evidence in terror related cases against Muslims. "But when they are asked to read the incendiary portions from the said texts in courts, the policemen cannot read it," he said on Thursday.
Habibullah was speaking at the release of a report by the Jamia Teachers' Solidarity Association on cases registered under the Unlawful Activities Prevention Act (UAPA) in Madhya Pradesh. He said when a sentiment that only Muslims are targeted is allowed to grow, "it seriously compromises the whole concept of India's nationhood". He also recommended a review of UAPA and said that the commission has examined the Act and found "it is not a sound Act legally as it gives too much authority to the police".
Full report at:
http://www.indianexpress.com/news/minorities-commission-chairman-slams--misuse--of-police-authority/1192703/
---------
URL: https://www.newageislam.com/islamic-world-news/new-age-islam-news-bureau/saudi-un-envoy-demands-permanent-security-council-seat-for-arabs/d/14376