New Age Islam News Bureau
20 November 2020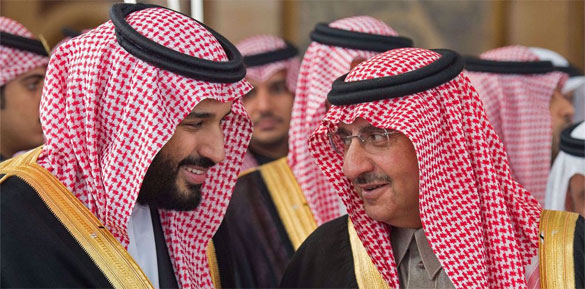 Bin Salman preparing new charges to seek $15bn settlement from ex-rival: Report
------
• Abraham Accord 'Qualitative Step' To Achieving Regional Peace: UAE Minister Of State
• US Asks Goods Makers To Label Products From Settlements As 'Made In Israel'
• Bangladesh's Radical Islamist Group, Hefazat-e-Islam, Will Test Govt, Analysts Say
• CBI Books Former Uttar Pradesh Shia Waqf Board Chief Wasim Rizvi In Illegal Sale-Purchase
• Jamat-ud-Dawa Chief Hafiz Saeed Gets VIP Treatment In Pakistan, Seen Roaming In SUV: Sources
• Hardline Cleric, Rizieq Shihab's Return From Exile Unlikely To Stir Muslim Rage In Plural Indonesia
Arab World
• Saudi Princes Tortured, Billionaires And Senior Government Officials Blackmailed During 2017 'Sheikhdown': Report
• Iraq Wants US Troops To Remain To Help Fight ISIS: CENTCOM Chief
• IMF reaches agreement with Egypt upon first review of $5.2 bln financing agreement
• US must consider regional challenges in case of a new deal with Iran: Bahrain envoy
• Major Iraqi parliamentary bloc wants full withdrawal of US troops, not partial drawdown
--------
Mideast
• Abraham Accord 'Qualitative Step' To Achieving Regional Peace: UAE Minister Of State
• IRGC Commander: Iran Not Limited to Any Specific Geography for Defence
• Iran Asks Canada Not to Cooperate with US Economic Terrorism Instead of Hypocritical Sympathy
• FM Underlines Iran's Preparedness to Negotiate Terms for US Rejoining N. Deal
• Spokesman: Sanctions Part of US Psycho War against Iranians
• Palestinian Authority condemns Pompeo's visit to West Bank Settlement
• Turkey orders arrest of 101, including lawyers, over alleged Kurdish militant links
• Israeli forces detain over 400 Palestinian minors since January: Rights group
--------
North America
• US Asks Goods Makers To Label Products From Settlements As 'Made In Israel'
• Pompeo visits Golan and West Bank settlements, first US secretary of state to do so
• Biden will re-enter Iran nuclear deal unconditionally: Italian international relations expert
--------
South Asia
• Bangladesh's Radical Islamist Group, Hefazat-e-Islam, Will Test Govt, Analysts Say
• Afghan President Urges Pakistan to 'Overcome Distrust that has Haunted' Bilateral Relations
• Bangladeshi MP under fire after blaming feminists for rape
• 12 Taliban Killed in Kandahar Battle, 7 Wounded
• Infrastructure Dev. Investment on Prosperity in Afghanistan: ADB
--------
India
• CBI Books Former Uttar Pradesh Shia Waqf Board Chief Wasim Rizvi In Illegal Sale-Purchase
• After MP, Uttar Pradesh To Bring Law Against 'Love Jihad'; Proposal Sent
• Senior Congress Leader And Rajasthan CM: 'Jihad Has No Place In Love', BJP Dividing Nation, Disturbing Communal Harmony
• 4 terrorists in truck loaded with weapons, ammo killed in Jammu gunfight
• India slams Pakistan, says polls in Gilgit-Baltistan aimed at hiding illegal occupation of territory
--------
Pakistan
• Jamat-ud-Dawa Chief Hafiz Saeed Gets VIP Treatment In Pakistan, Seen Roaming In SUV: Sources
• Radical Pakistani Cleric Khadim Hussein Rizvi Dies After Leading Sit-In Over Caricatures Of The Prophet Muhammad
• Imran Aims To Bolster Ties With Afghanistan During Maiden Visit, Vows To Reduce Violence
• Tech giants threaten to leave Pakistan if social media rules stay
• NAB finds more 'illegal transactions' of Shehbaz's sons
• Balochistan to establish new administrative sub-divisions
--------
Southeast Asia
• Hardline Cleric, Rizieq Shihab's Return From Exile Unlikely To Stir Muslim Rage In Plural Indonesia
• Human Rights Commission Of Malaysia: Allow Foreign Spouses In To Prevent Stateless Children
• Stop trying to scare people with baseless statements, Dr M tells govt leaders
• On World Children's Day, human rights group urges Putrajaya to free migrant minors detained by Immigration Dept
• Ismail Sabri: Wristbands for migrants just a proposal, will be presented to Security Council today
• Govt will not ratify Rome Statute, Dewan Rakyat told
--------
Africa
• Jordan To Open Consulate In Western Sahara Amid Dispute
• Ethiopia's Tigray rebels fire rockets into Bahir Dar city, says regional government
--------
Europe
• Top British Diplomat Welcomes Resumption Of Palestine-Israel Communication
• Turkey's Behaviour 'Widening Its Separation' From Europe: EU Foreign Policy Chief
• Azerbaijan's army enters Aghdam, Armenian district handed back in peace deal
Compiled by New Age Islam News Bureau
URL: https://www.newageislam.com/islamic-world-news/saudi-princes-tortured-billionaires-senior/d/123527
--------
Saudi Princes Tortured, Billionaires And Senior Government Officials Blackmailed During 2017 'Sheikhdown': Report
20 November 2020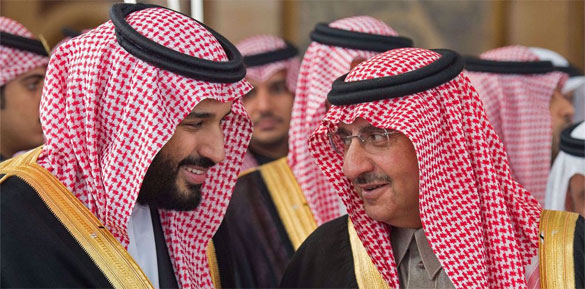 Bin Salman preparing new charges to seek $15bn settlement from ex-rival: Report
------
A new report has shown that Saudi royals, billionaires and senior government officials were tortured and blackmailed in early November 2017, when they were rounded up and detained at the Ritz-Carlton hotel in an extraordinary power play by Crown Prince Mohammed bin Salman (MbS) to remove people who could potentially pose a political threat.
"On the first night, everyone was blindfolded and nearly everyone was subjected to what Egyptian intelligence calls the 'night of the beating,'" an unnamed source with intimate knowledge of what took place told British daily newspaper the Guardian.
The source added, "People were asked if they knew why they were there. No one did. Most were beaten, some of them badly. There were people tied to the walls, in stress positions. It went on for hours, and all of those doing the torturing were Saudis."
The "night of the beating" was apparently intended to "soften up" the detainees before the interrogators arrived to question them about corruption.
A new report has shown that Saudi royals, billionaires and senior government officials were tortured and blackmailed in early November 2017, when they were rounded up and detained at the Ritz-Carlton hotel in an extraordinary power play by Crown Prince Mohammed bin Salman (MbS) to remove people who could potentially pose a political threat.
"On the first night, everyone was blindfolded and nearly everyone was subjected to what Egyptian intelligence calls the 'night of the beating,'" an unnamed source with intimate knowledge of what took place told British daily newspaper the Guardian.
The source added, "People were asked if they knew why they were there. No one did. Most were beaten, some of them badly. There were people tied to the walls, in stress positions. It went on for hours, and all of those doing the torturing were Saudis."
The "night of the beating" was apparently intended to "soften up" the detainees before the interrogators arrived to question them about corruption.
The purge, also nicknamed the "sheikhdown", purportedly came at the price of breaking trust between the monarchy and the Saudi business community.
One of the sources said the November 2017 round-up at the Ritz-Carlton hotel in Riyadh "was about consolidating his (MbS) rule, plain and simple" and came before the cruel murder of dissident journalist Jamal Khashoggi at the Saudi consulate in Istanbul on October 2, 2018.
"The fact that he got away with it allowed him to do the latter. The same guards involved in the Ritz were involved in the killing. History won't be kind to MbS on either," the source said.
Prominent dissident cleric's brother sentenced to five years in prison
Separately, a court in Saudi Arabia has sentenced the brother of jailed prominent dissident cleric Sheikh Salman al-Odah to five years in prison on charges of "inciting discord."
"Authorities, via a special criminal court in Riyadh, have sentenced my uncle to five years in prison and issued him a travel ban on charges of exploiting his brother's case to foment discord and harm security," the 63-year-old cleric's son Abdullah al-Odah tweeted.
The Prisoners of Conscience, an independent non-governmental organization advocating human rights in Saudi Arabia, confirmed the sentence in a post on its official Twitter page, saying Khaled was transferred to Riyadh "handcuffed and feet bound" in his first secret trial session in October 2018.
The advocacy group said that in 2018, before his first session in court, he was deprived of his medication and consequently fainted in the courtroom.
Khaled was arrested three and a half years ago after he showed solidarity with his influential brother on social media.
Saudi authorities detained Sheikh Salman al-Odah in September 2017, and have held him in solitary confinement without charge or trial ever since. The officials have imposed travel bans on members of his family as well.
The detained cleric has written hundreds of articles on Islamic law while at the same time embracing modernity and democracy.
Both Odah's family and Saudi media have previously said the detained scholar faces the death penalty, but the charge sheet has not yet been made public.
Ever since bin Salman became Saudi Arabia's de facto ruler in 2017, the kingdom has arrested dozens of activists, bloggers, intellectuals and others perceived as political opponents, showing almost zero tolerance for dissent even in the face of international condemnations.
Muslim scholars have been executed, women's rights campaigners – including Loujain al-Hathloul – have been put behind bars and tortured, and freedom of expression, association and belief continue to be denied in the kingdom.
https://www.presstv.com/Detail/2020/11/20/638978/Saudi-princes-were-tortured,-blackmailed-during-2017-%E2%80%9Csheikhdown%E2%80%9D--Report
--------
Abraham Accord 'Qualitative Step' To Achieving Regional Peace: UAE Minister Of State
19 November 2020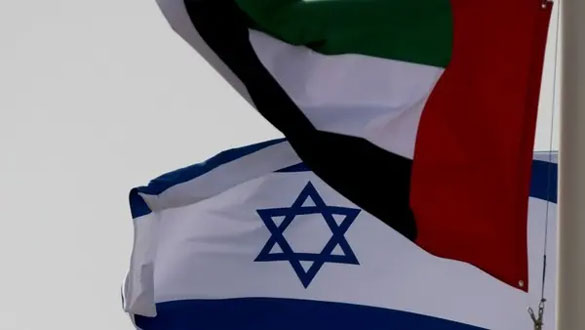 The flags of UAE and Israel fly at Abu Dhabi International Airport. (File photo: Reuters)
-----
The Abraham Accords deal between the United Arab Emirates and Israel is a "qualitative step" towards achieving peace in the region, the UAE's Minister of State Reem al-Hashimi said on Thursday.
The US-brokered deal – signed at the White House in Washington in September– is a different approach to dealing with the Arab-Israeli crisis since it prioritizes a culture of dialogue and tolerance, Emirates News Agency (WAM) quoted al-Hashimi as saying.
For all the latest headlines follow our Google News channel online or via the app.
The Palestinian cause is still of great importance for all Arabs, she said.
Her comments came during a virtual conference titled "The Abrahamic Peace Agreement – Strengthening Cooperation Bonds" that aims to identify the role of the deal in building ties and its strategic impact on the development of Emirati-Israeli relations, WAM reported.
The conference was also aimed at exploring the impact the Abraham Accord will have on the regional level and between Muslims and Jews.
Al-Hashimi stressed the importance of taking advantage of the opportunities the agreements offers the UAE and Israel in various sectors, including: the economy, scientific research, and tourism
https://english.alarabiya.net/en/News/gulf/2020/11/19/Israel-relations-Abraham-Accord-qualitative-step-to-achieving-regional-peace-UAE-Minister-of-State
--------
US asks goods makers to label products from settlements as 'Made in Israel'
Anwar Iqbal
20 Nov 2020
WASHINGTON: The United States issued new guidelines on Thursday to label goods manufactured in Jewish settlements in the West Bank as "Made in Israel", a move likely to irk human rights groups that see Israeli settlements as infringing on the rights of Palestinians.
"Today, the Department of State is initiating new guidelines to ensure that country of origin markings for Israeli and Palestinian goods are consistent with our reality-based foreign policy approach," said a statement issued in Washington and signed by Secretary of State Mike Pompeo.
"All producers within areas where Israel exercises the relevant authorities – most notably Area C under the Oslo Accords will be required to mark goods as 'Product of Israel' or 'Made in Israel' when exporting to the United States," the statement added.
Over the last four years, the Trump administration has initiated various policy shifts legitimising Israeli settlements in the West Bank that the international community considers illegal.
Pompeo reversed a State Department ruling last year that considered Israeli settlements illegal. Now, Washington recognises those as legal settlements.
The State Department noted that producers in the Area C operate within the economic and administrative framework of Israel and their goods should be treated accordingly.
The department also said that the update would eliminate confusion by recognising that producers in other parts of the West Bank are for all practical purposes administratively separate and that their goods should be marked accordingly.
The new US policy explained that "goods in areas of the West Bank where the Palestinian Authority maintains relevant authorities shall be marked as 'products of West Bank' and goods produced in Gaza will be marked as 'products of Gaza'".
Under the new approach, the United States will no longer accept "West Bank/Gaza" or similar markings, in recognition that Gaza and the West Bank are politically and administratively separate and should be treated accordingly.
"We will continue to oppose those countries and international institutions which delegitimise or penalise Israel and Israeli producers in the West Bank through malicious measures that fail to recognise the reality on the ground," Pompeo said in the statement.
https://www.dawn.com/news/1591344/us-asks-goods-makers-to-label-products-from-settlements-as-made-in-israel
--------
Bangladesh's Radical Islamist Group, Hefazat-e-Islam, Will Test Govt, Analysts Say
2020-11-19
Bangladesh's most influential faith-based organization, Hefazat-e-Islam, is likely to become more hardline and take an even stronger anti-government stance after a pro-opposition faction recently took control of the group, analysts told BenarNews.
Amid infighting with a faction allied with the prime minister's Awami League, Hefazat selected Junayed Babunagari as its emir, or leader, on Nov. 15. He is a supporter of the opposition Bangladesh Nationalist Party (BNP) and its ally, the conservative religion-based Jamaat-e-Islami (JI) party, which advocates for sharia rule in the South Asian nation.
This pro-opposition group is now the stronger of the two Hefazat factions, said K.M. Mohiuddin, a government and politics professor at Dhaka's Jahangirnagar University.
"Ultimately, the pro-BNP group has taken over the leadership of Hefazat," Mohiuddin told BenarNews.
He was referring to how the organization had revamped its central committee, packing it with those who support Babunagari and who were the force behind last month's massive protests against the French president for his defense of satirical cartoons of the Prophet Muhammad.
Many Muslims viewed them as offensive and blasphemous, but President Emmanuel Macron defended the cartoons after a French school teacher was murdered for showing the images to his class as part of a lesson.
"The pro-BNP lobby is now stronger. This group was earlier cornered, as the ruling Awami League had successfully appeased Ahmed Shafi and his son," Mohiuddin said, referring to Hefazat's recently deceased leader, Ahmad Shafi, and his son Anas Madani, who was left out of the organization's new central committee.
Babunagari's faction has the upper hand and could lead government of Prime Minister Sheikh Hasina to make concessions to the hardline group, according to Imtiaz Mahmood, a Supreme Court lawyer and former pro-Left activist.
"This is obvious in the government's silence over Hefazat's demand on the statue of the country's founding father, Sheikh Mujibur Rahman, and organizing mammoth rallies against France," Mahmood told BenarNews.
"The government leaders have been embarrassed by this demand on the statue and on cutting-off diplomatic ties with France.
Babunagari, as former secretary general of Hefazat, has been the group's de facto leader since Shafi died in September. Under him, Hefazat and some other Islamist parties this month protested the installation of a Mujib statue in a suburb of Dhaka.
Mujib, Hasina's late father, is a revered figure in Bangladesh. He spearheaded a pro-secular movement during the war of independence against Pakistan in 1971.
By contrast, JI, the opposition BNP's ally, has been controversial since Bangladesh's birth as a nation because it opposed what was then known as East Pakistan breaking from West Pakistan. Many of the party's top leaders have since been executed for crimes against humanity allegedly committed during the 1971 war.
Still, Hasina may want to ensure that the stronger Hefazat faction is on her side because the influential organization has shown it has the ability to transform the political landscape, said Afsan Chowdhury, a political analyst and professor at Brac University.
"Hefazat has huge support in rural Bangladesh, a constituency that Hasina and the Awami League want to keep close," Chowdhury told Benar News.
"She is a clever politician."
Chowdhury was referring to the Awami League's contrasting attitudes to Hefazat in 2013 and 2017 onward.
In May 2013, Hefazat organized a massive rally in Dhaka demanding the introduction of Sharia law, including a blasphemy law with a proviso to execute secular bloggers and those who defame Islam.
The rally followed the brutal slaying in February 2013 of secular blogger Ahmed Rajib Haider, and preceded a string of machete-killings of other bloggers carried out by Muslim zealots in 2015 and 2016.
At that time, the Awami League government took decisive action, mobilizing security forces to begin operations to end the rally. Officials said 39 people, including police, were killed in this operation.
Then in 2017, as general elections loomed, Hasina decided to court the support of faith-based groups, in a bid to counter the challenge from the BNP, which had aligned with the JI party.
The Awami League looked to Hefazat and began making concessions to the hardline organization.
Soon after, the government said it would recognize degrees from thousands of unregulated Qwami madrassas – Islamic schools. The prime minister also agreed to changes in public school textbooks to make them more "Muslim-friendly," as demanded by Hefazat.
BenarNews contacted Awami League General Secretary Mahbubul Alam Hanif for comment on developments in Hefazat, but he declined to say anything. Party presidium members Abdur Razzak and retired Lt. Col. Faruk Khan did not respond to questions.
On the Hefazat demand to demolish Mujib's statues, an Awami League member told reporters on Nov. 16 that the party was "following the issue."
'Split'
For its part, the pro-government faction in Hefazat isn't stepping away quietly.
Mawlana Altaf Hossain, a former Hefazat central committee member now left out in the cold, said he and other supporters of Madani were regrouping.
"We are engaged in the ground work and will form a new committee by Dec. 31," Hossain told BenarNews.
A split in Hefazat along party lines may well be in the offing, Mohiuddin said.
"A bifurcation of Hefazat is inevitable now," he said.
Meanwhile, Babunagari and his supporters aren't afraid of the Hefazat faction that opposed them, said Ahmad Abdul Quader, vice president of the new central committee.
"They can form a counter-committee – it does not matter. We are not worried about it at all," Quader told BenarNews.
https://www.benarnews.org/english/news/bengali/faith-analysis-11192020164548.html
--------
CBI books former Uttar Pradesh Shia Waqf Board chief Wasim Rizvi in illegal sale-purchase
20th November 2020
LUCKNOW: The CBI has registered two FIRs against former Uttar Pradesh Shia Waqf Board chairman Wasim Rizvi in connection with alleged illegal sale-purchase and transfer of Waqf properties in Uttar Pradesh.
This follows after the state government had ordered a CBI probe in October last year into alleged irregularities in sale-purchase and transfer of Waqf properties by Shia Central Waqf Board and Sunni Central Waqf Board.
This development comes after the Central government gave its nod to the CBI to proceed with the case. The CBI registered the case on Thursday on the basis of the FIRs lodged at Hazratganj police station (Lucknow) on March 27, 2017, and another in Prayagraj registered in August 8, 2016.
Uttar Pradesh Minority Minister Mohsin Raza said that Yogi Adiyanath's government had received a lot of complaints regarding irregularities in the sale and purchase of properties in the Waqf Board.
He said the Uttar Pradesh government will make sure that the "culprits" will end up in jail. "The SP and BSP government in the past did not listen to the demands of senior religious leaders and social workers, which has led to this huge loss of government funds," he added.
https://www.newindianexpress.com/nation/2020/nov/20/cbi-books-former-uttar-pradesh-shia-waqf-board-chiefwasim-rizviin-illegal-sale-purchase-2225802.html
--------
Jamat-ud-Dawa Chief Hafiz Saeed Gets VIP Treatment In Pakistan, Seen Roaming In SUV: Sources
Nov 19, 2020
ISLAMABAD: Pakistan is still giving preferential treatment to Mumbai attack mastermind and Jamat-ud-Dawa chief Hafiz Saeed despite his sentencing in two terror-financing cases.
A Lahore anti-terrorism court sentenced Hafiz Saeed to 10-year imprisonment in two terror-financing cases.
According to sources, the Counter-Terrorism Department officials are treating Hafiz Saeed as a VIP. Saeed is still roaming in his SUV escorted by his aides, they said.
He was slapped with a prison sentence of five-and-a-half years and a fine of Rs 15,000 in each case. The sentences of both cases will run concurrently. The court also granted him the benefit of Section 382-B of the Code of Criminal Procedure (reduction of period of sentence of imprisonment). Malik Zafar Iqbal, the secretary of Al-Anfaal Trust, has also been convicted in the same cases and has been awarded similar punishment, the Dawn reported.
They were convicted under the Anti-Terrorism Act Section 11-F(2) — pertaining to membership, support and meetings relating to a proscribed organisation — and 11-N (punishment under Sections 11-H to 11-K).
Section 11H relates to fundraising for the purpose of terrorism, 11-I is about the use and possession of money or other property for terrorism, 11-J relates to funding arrangements which result in money being made available for terrorism, while 11-K relates to money laundering.
The court also ordered that Saeed's properties be confiscated.
The Jamaat-ud-Dawa chief was arrested on July 17, 2019, at the Kamoke toll plaza, about 50 km north of Lahore. The US has placed a $10 million bounty on the UN-designated terrorist Hafiz Saeed. The court has ordered their properties to be seized.
The counter-terrorism department has registered 41 cases against the JuD leaders.
Back in July, the top 13 members of the JuD, including Saeed, were booked in nearly two dozen cases for terror financing and money laundering under Pakistan's Anti-Terrorism Act (ATA), 1997.
Subsequently, Saeed was arrested from Gujranwala on charges of terror financing by the Punjab Counterterrorism Department (CTD).
https://timesofindia.indiatimes.com/world/pakistan/hafiz-saeed-gets-vip-treatment-in-pakistan-seen-roaming-in-suv-sources/articleshow/79309351.cms
--------
Hardline Cleric, Rizieq Shihab's Return From Exile Unlikely To Stir Muslim Rage In Plural Indonesia
20 Nov 2020
JAKARTA (The Straits Times/ANN): Chaotic scenes of men in white robes and matching turbans celebrating the return of Indonesian firebrand cleric Rizieq Shihab from self-exile in Saudi Arabia have been hogging the media spotlight for over a week now.
Carrying posters of their "grand imam" and chanting "Allahu Akbar" (God is Great), thousands had welcomed him at Jakarta's international airport last Tuesday (Nov 10), causing massive jams and sparking fears of a coronavirus spike in a country with nearly half a million cases and more than 15,000 deaths -- the highest in South-east Asia.
They are supporters of the Islamic Defenders' Front, or Front Pembela Islam (FPI), a hardline group Rizieq founded a few months after the fall of strongman President Suharto in 1998.
Notorious for religious intolerance and acts of vigilantism, raiding bars during the Ramadan fasting month and attacking minorities -- with machetes and swords -- the FPI had started out as a civil group with backing from the police and the military to keep a lid on vice.
Once on the fringes of Indonesian politics, the group, which claims five million members, has grown increasingly bold in demanding that sharia law be made official in the world's largest Muslim nation, while muscling its way into the mainstream by lending political support to aspiring office holders.
The FPI had thrived under former President Susilo Bambang Yudhoyono, but President Joko Widodo in 2017 warned that the authorities would "clobber" groups threatening Indonesia's pluralism and moderate Islam.
At the time, hardline groups including the FPI had mobilised Muslims to rally against his ally, former Jakarta governor Basuki Tjahaja Purnama, a Chinese Christian, over charges of blasphemy against Islam. Basuki, better known as Ahok, was jailed for two years.
Rizieq's return after three years has raised concerns that he would again stoke division in Indonesia's multicultural society and raise the political temperature just weeks ahead of the Dec 9 regional election to elect governors, regents and mayors.
But analysts say the huge turnouts to greet the 55-year-old cleric at the airport, as well as at his daughter's wedding and a religious event days later, posed little threat to secular Indonesia.
Since the 2016-2017 Islamist protests against Basuki, President Joko has intensified communication with Muslim leaders and embraced his opponents including presidential foe turned defence minister Prabowo Subianto, who was seen as close to the FPI.
Hence, a repeat of unrest of such megascale is unlikely, Paramadina University political analyst Hendri Satrio told The Straits Times.
"There's little danger as long as there continues to be open communication between the government and FPI. It's more dangerous to disband the FPI as it's easier for the government to control a group that exists than one that doesn't," he added.
Agreeing, Prof Amin Abdullah, a professor of philosophy at Sunan Kalijaga Islamic State University, said Mr Rizieq and his followers form a "tiny minority" in the country of 270 million people.
Even if the FPI wants to establish itself as a political party, it will be of little relevance to Indonesians who have repeatedly proven at the ballot box that they are not too enamoured of Muslim parties.
"Pluralism is the very texture of Indonesia," he said.
"The authorities will take action when violence is involved. But if it's just rhetoric on the podium, although certainly annoying, better to just let them be. Under Indonesia's system of democracy, we can't stifle freedom of expression and freedom of association," he added.
In just a week, Rizieq has been inciting the crowd with inflammatory rhetoric. A video of his sermon has been making the rounds on social media urging the government to be tough against blasphemers, or "don't blame the Muslims when a head is found on the streets".
Prominent Muslim scholar Azyumardi Azra said the FPI has "never been genuinely cooperative" with any Indonesian administration, past or present.
President Joko, or Jokowi as he is better known, has never tried to embrace the FPI and likewise the "FPI refuses to be embraced or be close to Jokowi as it is anti-Jokowi", he added.
"He (Mr Rizieq) has stirred a lot of commotion, uproar and political tensions in Indonesia," Prof Azyumardi told The Straits Times.
"The government must stand firm and not fear Muslim backlash as the mainstream Muslims will never side with or defend Rizieq if he's arrested.
"It's time for President Jokowi to take action against Rizieq and the FPI." - The Straits Times/Asia News Network
https://www.thestar.com.my/aseanplus/aseanplus-news/2020/11/20/hardline-cleric039s-return-from-exile-unlikely-to-stir-muslim-rage-in-plural-indonesia
--------
Arab World
Iraq wants US troops to remain to help fight ISIS: CENTCOM chief
19 November 2020
The US Middle East commander said Thursday that troops in Iraq will be cut to 2,500 on President Donald Trump's order, but that Baghdad wants a continued US presence to fight ISIS.
Central Command Commander General Kenneth McKenzie told a conference that the continuing US presence has successfully limited the activities of Iran and ISIS.
For all the latest headlines, follow our Google News channel online or via the app.
Iran has recently curtailed attacks, McKenzie said, "based on the hope that we would be asked to leave Iraq through the government of Iraq's political processes."
However, he said, "the government of Iraq has clearly indicated it wants to maintain its partnership with the United States and coalition forces as we continue to finish the fight against ISIS."
Speaking to an online conference held by the National Council on US-Arab Relations, McKenzie cited estimates that the Islamic State still has a body of 10,000 supporters in the Iraq-Syria region and remains a real threat.
"The progress of the Iraqi Security Forces has allowed the United States to reduce force posture in Iraq," he said.
But US and coalition forces have to be there to help prevent Islamic State from reconstituting as a cohesive group able to plot major attacks, he said.
"When you're running for your life up and down the Euphrates River Valley, listening to the noise of an armed MQ-9 drone overhead, it's hard to think about conducting attack planning against Detroit."
McKenzie said the US presence and measured retaliations had also successfully deterred Iran from persisting in attacks on Gulf shipping and limited its proxy attacks in Iraq.
"Today I believe Iran has been largely deterred because the regime now understands we possess both the capability and the will to respond," he said.
https://english.alarabiya.net/en/News/middle-east/2020/11/20/Iraq-wants-US-troops-to-remain-to-help-fight-ISIS-CENTCOM-chief
--------
IMF reaches agreement with Egypt upon first review of $5.2 bln financing agreement
19 November 2020
The International Monetary Fund (IMF) said on Monday it had reached a staff-level agreement with Egypt after the first review of a $5.2 billion financing agreement.
For all the latest headlines follow our Google News channel online or via the app.
Upon the approval of the executive board, a $1.6 billion tranche will be disbursed, the statement said.
"The Egyptian economy performed better than expected despite the pandemic," the IMF statement said.
https://english.alarabiya.net/en/News/middle-east/2020/11/19/IMF-reaches-agreement-with-Egypt-upon-first-review-of-5-2-bln-financing-agreement
--------
US must consider regional challenges in case of a new deal with Iran: Bahrain envoy
Rawad Taha
19 November 2020
A senior Bahraini diplomat said Thursday that any new agreement signed with Iran must take into account more than just Tehran's nuclear and missile programs.
Bahraini Ambassador to the United States Sheikh Abdullah bin Rashid Al Khalifa said the US must also consider all the challenges facing the countries of the region in the event of a new deal.
For all the latest headlines follow our Google News channel online or via the app.
US President-elect Joe Biden has expressed his willingness to reenter the nuclear deal signed in 2015 between Iran and the P5+1.
During a symposium on Thursday where the UAE and Israeli ambassadors in the US also participated, the Bahraini ambassador added that Iran was working to destabilize the region.
Bahrain and the UAE signed a peace deal with Israel in September, in a move brokered by the Trump administration.
https://english.alarabiya.net/en/News/world/2020/11/19/Bahrain-Amb-US-must-consider-regional-challenges-in-case-of-a-new-deal-with-Iran
--------
Major Iraqi parliamentary bloc wants full withdrawal of US troops, not partial drawdown
19 November 2020
A powerful political coalition in Iraq's parliament says Washington must withdraw all its troops from the Arab country instead of partial drawdown its forces.
Karim Alaiwi, a legislator from the Fatah (Conquest) alliance and a member of the Security and Defense Committee in the Iraqi legislature, told Arabic-language Baghdad Today news website on Thursday that his coalition and all other national factions seek complete pullout of all foreign forces, not just Americans, from the Iraqi soil.
Alaiwi described the Pentagon's decision to reduce the number of US forces in Iraq as "unacceptable," emphasizing that the Iraqi parliament's resolution concerning withdrawal of US troops from the entire Iraqi territories, including the semi-autonomous Kurdistan region, is unambiguous and irreversible.
"Calls for the full withdrawal of all foreign troops from Iraq will continue and will even step up… Any cut in troop levels will not make us abandon our demands as they have been ratified by the parliament and enjoy both political and popular support," the Iraqi lawmaker said.
Acting Secretary of Defense Christopher Miller announced on Tuesday that the US will withdraw thousands more US troops from Afghanistan and Iraq by January 15, 2021 – just days before President Donald Trump leaves office on January 20 and projected winner of US election Joe Biden takes office.
Miller said the withdrawal will leave approximately 2,500 troops in Afghanistan and roughly the same number in Iraq.
Currently, there are approximately 4,500 US troops in Afghanistan and 3,000 troops in Iraq.
Kata'a al-Rikabi, a member of the Security and Defense Committee in the Iraqi parliament, told Arabic-language al-Maalomah news agency on November 14 that the change in the US administration cannot impact the implementation of the resolution adopted by Iraq's parliament concerning the withdrawal of US forces from the country.
"The Iraqi government must work out a schedule for the exit of US forces in coordination with the White House, no matter whether the incumbent administration (of President Donald Trump) is in office or Biden's team," he said then.
Anti-US sentiment has been running high in Iraq since the assassination of top Iranian anti-terror commander Lieutenant General Qassem Soleimani, the commander of the Quds Force of Iran's Islamic Revolution Guards Corps (IRGC), and his Iraqi trenchmate Abu Mahdi al-Muhandis, the deputy head of the Popular Mobilization Units, along with their companions in a US terror drone strike authorized by Trump near Baghdad International Airport on January 3.
Iraqi lawmakers approved a bill two days later, demanding the withdrawal of all foreign military forces led by the United States from the country.
https://www.presstv.com/Detail/2020/11/19/638951/Major-Iraqi-parliamentary-bloc-wants-full-withdrawal-of-US-troops-not-drawdown
--------
Mideast
IRGC Commander: Iran Not Limited to Any Specific Geography for Defence
2020-November-19
"We will not be limited to any specific geography to defend our security and vital interests and if anyone wants to threaten the interests of this nation and great country, certainly he/she will not find a safe point on Earth," General Salami said on Thursday, addressing a ceremony to deliver an ocean-going warship to the IRGC.
He, meantime, underlined that Iran's strategy has always been defensive, and said, "This means that we are never the first to threaten any country; but this defensive strategy has always been accompanied by offensive tactics."
General Salami described the Persian Gulf as the strong forehead of Iran's defense, and said the world should appreciate the Iranian Armed Forces for establishment of security in "the strategic region of global economy".
In relevant remarks on Wednesday, Secretary of Iran's Supreme National Security Council (SNSC) Ali Shamkhani warned the enemies and terrorists that they will face a harsh revenge for their crimes against the Iranian nation.
"There is no safe and impenetrable haven for criminals and ill-wishers of the Iranian nation," Shamkhani wrote on his twitter page.
He warned that the powerful hands of the defenders of the Islamic Republic of Iran "will sooner or later take the breath of any aggressor or criminal', adding that history will witness this claim.
Shamkhani also used the #انتقام_سخت (harsh revenge) in his twitter post (written in Persian language) which had gone viral after the US assassination of former IRGC Quds Force Commander Lieutenant General Qassem Soleimani in January.
Also, on Monday, Islamic Revolution Guards Corps (IRGC) Aerospace Commander Amir Ali Hajizadeh said taking revenge from the United States for its nefarious assassination of General Soleimani will surely take place, and meantime, stressed the need to heed the conspiracies hatched by the US against the Islamic Ummah.
"Taking revenge from the US for Martyr Soleimani will certainly happen," Hajizadeh said on Monday in his meeting with the visiting Iraqi Defense Minister Juma Anad Saadoun and his accompanying delegation, and underlined the need to pay attention to the schemes and strategies of the wicked enemies of the Islamic Ummah, specially the US.
Also, on Sunday, General Salami emphasized that Iran will take revenge from the killers of General Soleimani, stressing that martyr Soleimani and deputy commander of Iraq's Popular Mobilization Forces (PMF) Abu Mahdi Al-Muhandis played the main role in obliteration of ISIL.
Salami made the remarks during a meeting with the visiting Iraqi Defense Minister Juma Anad Saadoun, adding that Iran will definitely take revenge for General Soleimani's blood from murderers on the battlefield.
"Taking revenge has nothing to do with the legal pursuit of the assassination," he said, adding, "We are sure that the children of the great Iraq will also take revenge for Abu Mahdi Al-Muhandis' blood."
"General Soleimani started defeating ISIL from Iraq. Americans could not tolerate his brilliance and decided to kill him," the commander noted.
Lieutenant General Soleimani was assassinated in a US drone strike on Baghdad International Airport in Iraq on January 3, 2020.
The airstrike also martyred al-Muhandis. The two were martyred in an American airstrike that targeted their vehicle on the road to the airport.
Five Iranian and five Iraqi military men were martyred by the missiles fired by the US drone at Baghdad International Airport.
On January 8, the IRGC Aerospace Force started heavy ballistic missile attacks on US Ein Al-Assad airbase in Southwestern Iraq near the border with Syria and a US operated airbase in Erbil in retaliation for the US assassination of General Soleimani.
Ein Al-Assad is an airbase with a 4km runway at 188m altitude from sea levels, which is the main and the largest US airbase in Iraq. Early reports said the radar systems and missile defense shields in Ein Al-Assad failed to operate and intercept the Iranian missiles. Unofficial reports said the US army's central radar systems at Ein Al-Assad had been jammed by electronic warfare.
The second IRGC reprisal attack targeted a US military base near Erbil airport in Iraqi Kurdistan Region in the second leg of "Martyr Soleimani" reprisal operation.
Iraq said the attacks had not taken any toll from its army men stationed at these two bases. The US army had blocked entrance into Ein Al-Assad to everyone, including the Iraqi army.
The IRGC officials said none of the missiles had been intercepted.
Meantime, Iran announced in late June that it had issued arrest warrants for 36 officials of the US and other countries who have been involved in the assassination of the martyred General Soleimani.
"36 individuals who have been involved or ordered the assassination of Hajj Qassem, including the political and military officials of the US and other governments, have been identified and arrest warrants have been issued for them by the judiciary officials and red alerts have also been issued for them via the Interpol," Prosecutor-General of Tehran Ali Alqasi Mehr said.
He said that the prosecuted individuals are accused of murder and terrorist action, adding that US President Donald Trump stands at the top of the list and will be prosecuted as soon as he stands down presidency after his term ends.
https://www.farsnews.ir/en/news/13990829000533/IRGC-Cmmander-Iran-N-Limied-Any-Specific-Gegraphy-fr-Defense
--------
Iran Asks Canada Not to Cooperate with US Economic Terrorism Instead of Hypocritical Sympathy
2020-November-19
Khatibzadeh deplored the UN resolution, drafted and proposed by Canada, as a rehash of "groundless" claims about the Islamic Republic's human rights situation, saying it instead proves the "hypocrisy" of the "notorious" group of countries that voted for it.
He described the resolution as "unacceptable", saying it "lacks any legal grounds and effect".
Khatibzadeh noted that the move made by the Ottawa government and other sympathizers of the resolution is a clear example of "abusing lofty human rights concepts and values in order to achieve short-sighted political objectives."
He expressed regret that the Canadian government is using human rights and its international mechanisms as a means for achieving its goals and political ambitions.
"Such unconstructive actions will not only fail to help promote the status of human rights and respect for human rights at the international level, but will only trigger moves to form negative clichés against, and attach political stigmas to independent countries," the spokesman added.
The anti-Iran resolution was passed with 79 'yes' votes at the third committee of the UN General Assembly on Wednesday, even though 32 countries had voted against it and 64 others abstained from voting.
In his statement, Khatibzadeh said the majority of UN member states either voted 'no' or abstained from voting in a bid to show their discontent with the hypocritical approach adopted by the supporters of the resolution.
The resolution was adopted with the votes of less than half the UN member states, including the Israeli regime, the United States, Saudi Arabia, Bahrain, the United Arab Emirates, Albania, Britain and Canada, he said.
Khatibzadeh stressed it is a shame that Canada has brought together a bunch of governments with "notorious records in the domain of human rights", including the American, Israeli and Bahraini regimes, to teach human rights to Iranian people.
He also urged Canada to stop hosting economic offenders and looters of Iranian people's wealth, "who have found Canada a safe haven for the transfer and investment of the assets they have looted."
In relevant remarks on Monday, the head of the Iranian Judiciary's High Council for Human Rights had also slammed the countries trying to pass the anti-Iran rights resolution at the United Nations General Assembly's Third Committee, highlighting bleak rights records of the sponsors of the draft resolution.
"Canada, which is the main driving force behind rights resolution against Iran has a record of systematic violation of human rights," including against the country's native population while being among top countries in terms of violence against women and girls, Ali Baqeri Kani said.
"Those who are behind this resolution are the same countries, which have given refuge to terrorist groups that have killed thousands of Iranians ... or have been following suit with the United States' "maximum pressure" campaign by implementing Washington's unjust and illegal sanctions against the Iranian nation," Iran's rights chief added.
https://www.farsnews.ir/en/news/13990829000291/Iran-Asks-Canada-N-Cperae-wih-US-Ecnmic-Terrrism-Insead-f-Hypcriical
--------
FM Underlines Iran's Preparedness to Negotiate Terms for US Rejoining N. Deal
2020-November-19
"The US is still a UN member," Zarif wrote on his Twitter page on Wednesday.
"If it meets its obligations as such under UNSCR 2231, we will fulfill ours under the JCPOA. If the US then seeks to rejoin the JCPOA, we're ready to negotiate terms for it to regain its JCPOA Participant status," he added.
US President-elect Joe Biden has recently said in a CNN article that he wants a renegotiation of the contents of the deal before he agrees to rejoin the agreement.
"I will offer Tehran a credible path back to diplomacy. If Iran returns to strict compliance with the nuclear deal, the United States would rejoin the agreement as a starting point for follow-on negotiations. With our allies, we will work to strengthen and extend the nuclear deal's provisions, while also addressing other issues of concern," he wrote, mentioning that he wants changes to the contents of the nuclear deal and guarantees from Tehran that it would be open for compromise to strike multiple deals over its missile and regional powers as well as a number of other issues that have been the bones of contention between the two sides in the last four decades.
Zarif had stressed in relevant remarks in the last few days that the US has violated the nuclear deal and is in no position to ask for any conditions for its return to the JCPOA, adding that it's Tehran that has its own terms to allow the US back into the internationally endorsed agreement.
The foreign minister has reiterated time and again that Tehran would not change even a single word of the agreement, and cautioned the US that it needs to pay reparations for the damage it has inflicted on Iran through its retreat from the nuclear agreement and give enough ensurances that it would not go for initiating the trigger mechanism again before it could get back to the deal.
US President Donald Trump, a stern critic of the historic deal, unilaterally pulled Washington out of the JCPOA in May 2018, and unleashed the "toughest ever" sanctions against the Islamic Republic in defiance of global criticism in an attempt to strangle the Iranian oil trade, but to no avail since its "so-called maximum pressure policy" has failed to push Tehran to the negotiating table.
In response to the US' unilateral move, Tehran has so far rowed back on its nuclear commitments four times in compliance with Articles 26 and 36 of the JCPOA, but stressed that its retaliatory measures will be reversible as soon as Europe finds practical ways to shield the mutual trade from the US sanctions.
Tehran has particularly been disappointed with failure of the three European signatories to the JCPOA -- Britain, France and Germany -- to protect its business interests under the deal after the United States' withdrawal.
On January 5, Iran took a final step in reducing its commitments, and said it would no longer observe any operational limitations on its nuclear industry, whether concerning the capacity and level of uranium enrichment, the volume of stockpiled uranium or research and development.
In relevant remarks last Wednesday, Iranian Deputy Foreign Minister Seyed Abbas Araqchi said that the US should lift all sanctions imposed against his country in the past 3 years before returning to the nuclear deal.
"If the US wants to return, all sanctions which have been imposed in this period of time (past 3 years) should be removed. This is not a precondition for returning to the nuclear deal but it is the nuclear deal itself," Araqchi said.
He added that of course there are other challenges that Iran and the US should talk about (within the framework of the nuclear deal) and the ground should be paved for the US return to the nuclear deal in a way that will meet the Iranian people's interests.
"The world is now speaking about one point and the entire world has accepted that the (US) policy of maximum pressure has failed and did not attain any of its goals," Araqchi said.
https://www.farsnews.ir/en/news/13990829000338/FM-Underlines-Iran's-Preparedness-Negiae-Terms-fr-US-Rejining-N-Deal
--------
Spokesman: Sanctions Part of US Psycho War against Iranians
2020-November-19
"These are part of the psychological warfare against Iranians," Khatibzadeh said.
He underlined that there's nothing more they can do other than to continue this psychological warfare against the Iranian nation.
The Iranian foreign ministry spokesman, meantime, pointed out that the outgoing US officials were making certain claims out of frustration and in order to convince the world that their maximum pressure policy was still alive.
Earlier on Wednesday, Iranian Foreign Minister Mohammad Javad Zarif cautioned US president-elect Joe Biden to return to the JCPOA and lift the unlawful sanctions, as well as stop the economic war against Tehran.
"The US has two positions. It is a member of both the JCPOA and the United Nations. Although Trump pulled the US out of the JCPOA, he did not withdraw the country from the UN. Whether under Biden or Trump, the US must remain committed to Article 25 of the UN Charter, mandating the member-states to accept and carry out the decisions of the UN Security Council," Zarif said.
The Iranian foreign minister reiterated that as a UN member and a permanent member of the UN Security Council, the US cannot say the Resolution 2231 — a July 20, 2015 resolution endorsing the JCPOA on the peaceful nuclear program of Iran — is illegal.
"By pulling Washington out of the JCPOA, Trump solely failed to benefit from the deal. This was the mistake Trump and his associates made. If Biden seeks to return to the JCPOA, he will have to fulfill US commitments under the deal and lift the sanctions," Zarif underlined.
The Iranian foreign minister said that the US is definitely in no position to set out conditions for Iran, adding, "As a UN member and a permanent member of the UN Security Council, the US is duty-bound to implement Resolution 2231."
"If the resolution is implemented, the sanctions will be removed. Iran has announced that in that case, it will resume honoring its commitments under the JCPOA," he added.
Iran signed the JCPOA with six world states — namely the US, Germany, France, Britain, Russia, and China — in 2015.
US President Donald Trump, a stern critic of the historic deal, unilaterally pulled Washington out of the JCPOA in May 2018 and unleashed the "toughest ever" sanctions against the Islamic Republic in defiance of global criticism in an attempt to strangle the Iranian oil trade, but to no avail since its "so-called maximum pressure policy" has failed to push Tehran to the negotiating table.
In response to the US' unilateral move, Tehran has so far rowed back on its nuclear commitments four times in compliance with Articles 26 and 36 of the JCPOA but stressed that its retaliatory measures will be reversible as soon as Europe finds practical ways to shield the mutual trade from the US sanctions.
Tehran has particularly been disappointed with the failure of the three European signatories to the JCPOA -- Britain, France, and Germany -- to protect its business interests under the deal after the United States' withdrawal.
On January 5, Iran took a final step in reducing its commitments and said it would no longer observe any operational limitations on its nuclear industry, whether concerning the capacity and level of uranium enrichment, the volume of stockpiled uranium, or research and development.
https://www.farsnews.ir/en/news/13990828001279/Spkesman-Sancins-Par-f-US-Psych-War-agains-Iranians
--------
Palestinian Authority condemns Pompeo's visit to West Bank Settlement
19 November 2020
The Palestinians condemned US Secretary of State Mike Pompeo's unprecedented visit to a Jewish settlement in the occupied West Bank Thursday as well as Washington's decision to label exports from settlements as Israeli.
"The decision blatantly violates international law," said Nabil Abu Rudeineh, a spokesman for Palestinian president Mahmud Abbas, dismissing it as yet another biased, pro-Israeli move by President Donald Trump's administration.
https://english.alarabiya.net/en/News/middle-east/2020/11/19/Israel-Palestine-Palestinian-Authority-condemns-Pompeo-s-visit-to-West-Bank-Settlement
--------
Turkey orders arrest of 101, including lawyers, over alleged Kurdish militant links
20 November 2020
Turkish authorities have issued arrest warrants for 101 people including lawyers in a wide-scale operation aimed at outlawed Kurdish militants, a judicial source said on Friday.
For all the latest headlines follow our Google News channel online or via the app
Police conducted simultaneous raids in Diyarbakir, in the Kurdish-majority southeast, Istanbul, Izmir and Adiyaman as part of an investigation into the Democratic Society Congress (DTK).
The group is accused of links to the outlawed Kurdistan Workers' Party (PKK).
Turkey and its Western allies designate the PKK a terror group. It has waged an insurgency against the state since 1984 which is believed to have killed tens of thousands.
Police rounded up at least 72 suspects, including 24 lawyers, the source, who spoke on condition of anonymity, told AFP.
Four others could not detained as they had tested positive for the coronavirus, the source said.
The Diyarbakir bar association condemned the latest arrests, which targeted 17 of its members.
"The Diyarbakir bar has never bowed to the threat of detentions and arrests and will never do so," it said in a statement on Twitter.
"These operations indicate a desire to stifle the voice of the Diyarbakir bar and is a direct intervention in the activities of the civil society."
The opposition pro-Kurdish Peoples' Democratic Party (HDP) has also been on the radar of Turkish authorities for its alleged links to the PKK and dozens of its mayors -- elected in the 2019 local elections -- have been ousted.
The HDP is Turkey's second-largest opposition group in the parliament.
https://english.alarabiya.net/en/News/world/2020/11/20/Turkey-orders-arrest-of-101-including-lawyers-over-alleged-Kurdish-militant-links
--------
Israeli forces detain over 400 Palestinian minors since January: Rights group
19 November 2020
A Palestinian human rights group says Israeli military forces have arrested more than 400 Palestinians under the age of 18 since the start of the current year, as the regime continues to target young Palestinians across the occupied territories.
The Palestinian Prisoners' Society (PPS), in a statement released on the occasion of World Children's Day, which is celebrated on November 20 each year, announced that approximately 170 Palestinian children are currently languishing behind bars in the three Israeli-run detention centers of Megiddo, Ofer and Damon.
It added that Israeli troops relentlessly continue their arrest campaign against Palestinian children despite the COVID-19 pandemic. Palestinian minors held in Israeli prisons are denied access to lawyers and family visits as well.
The PPS then pointed to a number of violations that Israeli forces carry out against Palestinian child prisoners, namely abduction from their homes in the middle of the night, hours-long detention without food or drink, verbal abuse, threats of torture to force confessions, interrogation without the presence of a parent or a lawyer and deprivation of education.
More than 7,000 Palestinian children have been detained by Israeli authorities since 2015, and some have been sentenced to ten years in prison or life imprisonment, the society highlighted, noting that most of the child detainees are from occupied Jerusalem al-Quds.
The PPS finally called on international human rights institutions, and the United Nations Children's Fund (UNICEF) in particular, to make serious efforts to protect Palestinian children, and to oblige Israeli authorities to abide by a series of agreements concerning protection of child detainees.
More than 7,000 Palestinian prisoners are currently held in some 17 Israeli jails, with dozens of them serving multiple life sentences.
https://www.presstv.com/Detail/2020/11/19/638937/Israeli-forces-have-arrested-over-400-Palestinian-minors-since-January-Rights-group
--------
North America
Pompeo visits Golan and West Bank settlements, first US secretary of state to do so
19 November 2020
Mike Pompeo on Thursday became the first US secretary of state to visit an Israeli West Bank settlement and the Golan Heights, in a show of solidarity that led Palestinians to accuse him of helping to cement Israeli control over occupied territory.
Pompeo's trips came during the Israeli leg of what may be his last tour of the Middle East in the final months of President Donald Trump's administration.
For all the latest headlines follow our Google News channel online or via the app.
Trump delighted Israel in 2019 by recognizing Israel's claim to sovereignty over the area of the Golan Heights that it captured from Syria in a 1967 war and later annexed, in a move that was not recognized by most of the international community.
Last year, Pompeo, an evangelical Christian, broke with decades of US foreign policy to announce that the United States under Trump no longer viewed Israel's settlements in the West Bank as "inconsistent with international law."
These and other decisions were greeted with dismay by the Palestinians, who boycotted the Trump White House for nearly three years, accusing it of consistent pro-Israel bias.
The Palestinians have indicated they would resume relations as normal with Washington once President-elect Joe Biden takes office, widely seen as a gesture of goodwill towards his future administration.
However it is unclear how many of Trump's decisions will be reversed by a Biden administration.
On Thursday morning Pompeo appeared alongside Israeli Prime Minister Benjamin Netanyahu, who said both Pompeo and Trump were long-standing friends of Israel.
Pompeo said the two leaders discussed Iran, the perceived threat of which has shifted political fault lines in the region, uniting Israel and Gulf Arab states in fear of Tehran.
He also issued guidelines for Israeli products made in settlements to be labeled "Made in Israel" or "Product of Israel" when exported to the US, removing the distinction between goods made within Israel and those produced in occupied territory.
But first Pompeo traveled the short distance from Jerusalem to the Israeli-occupied West Bank - known to most Israelis as Judea and Samaria - where more than 440,000 Jewish settlers live uneasily among three million Palestinians, mostly in fortified hilltop settlements.
He dined at Shaar Binyamin, an Israeli industrial zone just north of Jerusalem where Psagot winery - taking its name from a nearby settlement - has a blend named after him.
"Enjoyed lunch at the scenic Psagot Winery today. Unfortunately, Psagot and other businesses have been targeted by pernicious EU (European Union) labeling efforts that facilitate the boycott of Israeli companies. The US stands with Israel and will not tolerate any form of delegitimization," Pompeo wrote on Twitter.
Under EU guidelines farm and other products made in Israeli settlements and exported to EU member countries should be clearly labeled as coming from the settlements, which the bloc considers illegal under international law.
Pompeo's visit departed from past policy that had kept top US officials away from settlements, which Palestinians view as obstacles to a viable future state.
Palestinians in the area say that the Psagot winery was built in part on Palestinian land near the cities of Ramallah and Al-Bireh.
"This land has been handed down from generation to generation to its Palestinian owners," Musa Jwayyed, a Palestinian-American who sits on Al-Bireh's city council.
"I am a US citizen, a taxpayer, educated, loyal, ok? Why do these settlers have more rights than I do?"
Pompeo later flew to the Golan Heights, a mountainous and strategic plateau that overlooks Israel, Syria, Lebanon and Jordan.
"I very much wanted to come here on this trip to tell the world that we have it right. That we, the US has it right. That Israel has it right," Pompeo said from a hilltop looking into an area of the Syrian Golan that was until recently controlled by militias fighting the Syrian civil war.
"Each nation has the right to defend itself in its own sovereignty," he said.
Such signs of support left many Israelis backing Trump's bid for re-election.
But Palestinian negotiator Hanan Ashrawi accused Pompeo of using Trump's final weeks in office "to set yet another illegal precedent, violate international law and perhaps to advance his own future political ambitions."
https://english.alarabiya.net/en/News/middle-east/2020/11/19/Mike-Pompeo-visits-Israeli-settlement-in-West-Bank-first-secretary-of-state-to-do-so
--------
Biden will re-enter Iran nuclear deal unconditionally: Italian international relations expert
19 November 2020
An Italian political scientist and international relations expert believes that Joe Biden will stick to his commitment to reenter the Iran nuclear deal "and do so unconditionally."
Nathalie Tocci, who was a special adviser to former European Union foreign policy chief Federica Mogherini, made the remarks in an interview with Press TV on Thursday, when asked whether Biden would change the US foreign policy on Iran and rejoin the he Joint Comprehensive Plan of Action (JCPOA) unconditionally?
"Yes, I believe that Biden will stick to his commitment to reenter the JCPOA and do so unconditionally. However, the US's return to compliance will not be unconditional but will depend on Iranian steps returning to full compliance. In other words, I expect a clean and unconditional return but a conditional step by step compliance for compliance process," stated Tocci, who has served as the Director of the Istituto Affari Internazionali.
The administration of Republican President Donald Trump has unleashed the so-called maximum pressure campaign and targeted the Iranian nation with the "toughest ever" sanctions.
A critic of Trump's, the projected winner of the 2020 election, Biden, has said he would return the United States to the Iran nuclear deal as a starting point for follow-on negotiations.
Iran's Foreign Minister Mohammad Javad Zarif has expressed the Islamic Republic's readiness to hold talks on new issues with the US, but said that the country will never renegotiate an issue it has already concluded through negotiations.
Zarif made the remarks in response to Trump, who has been insisting that Iran should give up the 2015 nuclear deal it clinched under the Obama administration with six world powers, and conclude a new agreement with the Trump administration.
Iranian President Hassan Rouhani has said that the new US administration would need to switch from a posture of threats against Iran to one of seeking opportunities with the country.
Speaking at a cabinet meeting in Tehran on Wednesday, Rouhani said the incoming US administration would return to a situation in which rules are respected.
"With the situation that has been brought about, we will in the future be moving from an atmosphere of threats created by this rogue [US] administration to one of opportunity," he said.
https://www.presstv.com/Detail/2020/11/19/638965/Biden-will-renter-Iran-nuclear-deal-unconditionally
--------
South Asia
Afghan President Urges Pakistan to 'Overcome Distrust that has Haunted' Bilateral Relations
By Mohammad Arif Sheva
20 Nov 2020
KABUL, Afghanistan – Afghan President Ashraf Ghani urged Pakistan to "overcome distrust that has haunted" bilateral relationship, as both leaders met at Presidential Palace for the first time in their positions.
On Thursday morning, Pakistani Prime Minister Imran Khan landed in Kabul in a bid to meet President Ashraf Ghani and other prominent leaders of the country on peace process and bilateral ties.
"Our common objective is to take a leap of faith to overcome the distrust that has haunted our relationship," said Ghani in a statement.
"We have come to an understanding that a shared vision regarding cooperation is not only essential for relations between Pakistan and Afghanistan, but a harbinger of regional cooperation and connectivity," he added.
Addressing the ongoing poverty that hit roughly 50 percent of the country, Ghani said the common interest and "focus" are what inspire both leaders to move together towards "poverty eradication" and "empowerment" of both countries' citizen within the framework of the Islamic constitution.
Ghani reiterated that embracing a constructive and inclusive politics is the way to future, according to the statement.
Meanwhile, Prime Minister Imran Khan said the objective of his visit amidst escalation of violence in the country is to assure that people and government of Pakistan want peace in Afghanistan.
"My idea of choosing this time to come was to assure you that Pakistan will do everything, whatever is possible to help to reduce this violence and move toward ceasefire," he said.
Khan exclaimed Pakistan is next to Afghanistan whose utmost interest is in peace and stability in the region, expressing hope that trade and connectivity will increase between the two countries.
https://www.khaama.com/ghani-urges-pakistan-to-overcome-distrust-that-has-haunted-bilateral-relations-343234/
--------
Bangladeshi MP under fire after blaming feminists for rape
November 19, 2020
A Bangladeshi parliamentarian has triggered a public backlash after blaming feminists for a surge in rape cases in the country and for supporting the controversial remarks of a late radical Islamist who compared women to "mouth-watering tamarind."
Rezaul Karim Bablu, an independent MP from Bogura-7 constituency in northern Bangladesh, made the controversial remarks in the Jaitya Sangsad (National Assembly) on Nov. 17.
"In the name of women's liberation, feminists are encouraging women to become freer. This has increased the acceptability of rape so much among rapists that they are encouraged to commit the act," the MP was quoted as saying by the Daily Star.
The parliamentarian also suggested that a controversial theory spelled out by a late radical Islamist leader should have been applied so that rape could be resisted.
In 2013, Shah Ahmad Shafi, then head of Hefajat-e-Islam, the country's largest radical Islamic group, compared women to "mouth-watering fruit like tamarind" and said that women should stay at home and their primary duty is to take care of the family and children. In his view, women's exposure to the outside world for education and employment increased the risks of sinful and immoral acts.
Hefajat has strongly opposed women's freedom and empowerment and the Women Development Policy 2010 that seeks to offer equal rights including inheritance to women in Muslim-majority Bangladesh.
Activists have heavily criticized him for derogatory remarks against feminists and supporting what they called the "medieval ideology" of religious radicals to confine women at home.
Angela Gomes, a prominent Catholic women's rights champion and founder and executive director of Banchte Shekha (Learning How to Survive), a women's empowerment NGO, slammed the MP.
"This is absurd, unappetizing and deplorable. How could a public representative make such irresponsible comments? Our prime minister and speaker are women, and under their watch he makes such derogatory remarks against women's liberation and empowerment. People like him still dwell in the medieval age and want to see the talent and energy of women wasted at home," said Gomes, 68, who won the Ramon Magsaysay Award in 1999 for her outstanding contributions to community leadership.
Women's groups have made the lives of women in Bangladesh better by championing their rights and eliminating violence against them in a patriarchal society, so it is nonsense when someone blames them for increasing rape, she added.
Khushi Kabir, another eminent women's rights advocate and coordinator of NGO Nijera Kori (We Do It Ourselves), also criticized the MP.
"Through policies and actions, the government has been encouraging women to be independent and attempting to ensure equality for them because women's empowerment can ensure comprehensive development. However, some people like MP Bablu think backwards and makes irresponsible and baseless remarks," she said.
"It is an ill mindset that triggers rape, not freedom or empowerment of women, and he must keep this in mind."
Social media users also grilled the MP for his comments.
"Activists have given voice to oppressed women who now speak up when raped unlike before and the ruling class is uncomfortable with such unpleasant truths and pressure. They don't like it and blame it on feminists," wrote Hasan Habibur Rahman.
"Whenever women speak for rights, insecure and cowardly men attack them with brute force. Instead of blaming oppressors like rapists, people like him attack feminists. This is stupidity and misogyny," said Sumaiya Azad.
Death penalty for rape
On the day MP Bablu made his controversial remarks, Bangladesh's parliament passed the Women and Child Repression Prevention (Amendment) Bill 2020 that provides the death penalty as the highest punishment for rape.
The bill was passed unanimously in a voice vote when moved in the house by Minister for Women's and Children's Affairs Fazilatunnesa Indira.
It comes against the backdrop of an alarming increase in rape and gang rapes in Bangladesh that triggered massive nationwide protests.
At least 975 women were raped in Bangladesh up to October this year, according to Dhaka-based rights group Ain-O-Salish Kendra (Law and Arbitration Center). The group documented 1,413 rape cases in 2019.
Rights activists argued that introducing the death penalty won't suffice to stop the rape menace in the country.
In a statement, Naripokkho, a women's group, said the change in the law cannot ensure the end of rape culture.
"How many people can be dealt with by the death penalty? The problem is all around us. Rapists don't come from another planet — they are our brothers, our relatives. Children must be taught to respect women from an early stage; this is the only solution," the group said.
https://www.ucanews.com/news/bangladeshi-mp-under-fire-after-blaming-feminists-for-rape/90371#
--------
12 Taliban Killed in Kandahar Battle, 7 Wounded
By Mohammad Arif Sheva
20 Nov 2020
KANDAHAR, Afghanistan – At least 12 Taliban killed and further seven wounded during an operation by Afghan National Defense and Security Forces (ANDSF) in Maiwand and Zherai districts of Kandahar province, said the Ministry of Defense in a statement.
"12 Taliban were killed and 7 others were wounded in Maiwand and Zherai districts of Kandahar province during reciprocal operation of #ANDSF, last night," said the MoD in a tweet.
Officials did not provide further details on the possible casualties the Afghan forces may have suffered during the operation but said "a large amount of their weapons and ammunitions were destroyed."
https://www.khaama.com/12-taliban-killed-in-kandahar-battle-7-wounded-3333/
--------
Infrastructure Dev. Investment on Prosperity in Afghanistan: ADB
By Mohammad Arif Sheva
20 Nov 2020
KABUL, Afghanistan – In the context of the 2020 Afghanistan Conference, the European Union (EU) and the Asian Development Bank (ADB) Thursday co-hosted an international virtual meeting to discuss the contribution of Public-Private Partnerships (PPPs) towards peace and prosperity in Afghanistan.
The event brought together Afghanistan, its international partners, financing institutions and the private sector for an exchange of ideas on the basis of existing examples in view of developing an agenda for future investments, said ADB in a press release.
"By focusing our efforts on the key challenges that prevent entrepreneurs from investing in Afghanistan, we can multiply the development impact of every Euro we spend," said EU acting Director Jean-Louis Ville in an opening speech. "In doing so, we will demonstrate that public private cooperation is a real possibility in Afghanistan…"
ADB's Director General Werner Liepach explained its approach to PPPs in Afghanistan, saying "the need for infrastructure is growing in Afghanistan and requires greater private investments and public-private partnerships to fill the funding gaps and reduce the country's dependence on donor support."
"Over the coming years, ADB will support private sector development, bring private sector investment and facilitate public-private partnerships, which are key to addressing Afghanistan's significant investment needs," he added.
Meanwhile, Abdul Habib Zadran, Afghanistan's Deputy Minister for Finance, highlighted the Government investment agenda under the new Afghanistan National Peace and Development Framework 2, saying PPPs can play a central role in reducing the dependency on external grant financing for development investments, laying a path to increased economic self-reliance.
"PPPs are an integral part of the economic reform strategy and development agenda of the Government," he said. "With the support of our development partners, the Afghan government will continue to encourage and mobilize private sector investments to expand access to infrastructure services to support sustained and inclusive economic growth."
During the meeting, all sides agreed to establish an annual PPP Forum in order to bring together government, donor partners and private sector.
https://www.khaama.com/infrastructure-dev-investment-on-prosperity-in-afghanistan-adb-34534/
--------
India
After MP, Uttar Pradesh to bring law against 'Love Jihad'; proposal sent
November 20, 2020
After Madhya Pradesh, the Yogi Adityanath-led Uttar Pradesh government has now sent a proposal to bring in a strict law against 'Love Jihad' in the state.
The Home Department has sent a proposal to the Department of Law for the same, news agency ANI reported on Friday.
This comes after the Shivraj Singh Chouhan-led BJP government in Madhya Pradesh said the state would soon have a law against 'love jihad'. MP Home Minister Narottam Mishra has said non-bailable charges would be applicable in cases of 'love jihad' in Madhya Pradesh.
Narottam Mishra told reporters on Tuesday, "We are making preparations to introduce Madhya Pradesh Freedom of Religion Bill, 2020 in Assembly. It will provide for 5 years of rigorous imprisonment. We're also proposing that such crimes be declared a cognizable and non-bailable offence."
The Madhya Pradesh minister said in the upcoming assembly session, the Shivraj Singh Chouhan government will bring a secular law to check the problem of 'love jihad'.
https://www.indiatoday.in/india/story/law-against-love-jihad-uttar-pradesh-1742497-2020-11-20
--------
Senior Congress Leader And Rajasthan CM: 'Jihad Has No Place In Love', BJP Dividing Nation, Disturbing Communal Harmony
Edited by Arpan Rai
Nov 20, 2020
Senior Congress leader and Rajasthan chief minister Ashok Gehlot on Friday cornered the Bharatiya Janata Party (BJP) on the issue of "love jihad" and said that the BJP "manufactured" the term to divide the nation.
"Love Jihad is a word manufactured by BJP to divide the Nation & disturb communal harmony. Marriage is a matter of personal liberty, bringing a law to curb it is completely unconstitutional & it will not stand in any court of law. Jihad has no place in Love," Gehlot said in a series of tweets.
"They are creating an environment in the nation where consenting adults would be at the mercy of state power. Marriage is a personal decision & they are putting curbs on it, which is like snatching away personal liberty," he added. "It seems a ploy to disrupt communal harmony, fuel social conflict & disregard constitutional provisions like the state not discriminating against citizens on any ground," he also tweeted.
The tweets from Gehlot condemning the issue comes as states ruled by the BJP, including Uttar Pradesh and Haryana, are contemplating bringing a law against "love jihad", saying conversion for marriage by force, fraud, lure or instigation will be punishable by a maximum jail term of five years.
Madhya Pradesh has proposed replacing the 1968 Madhya Pradesh Freedom of Religion Act with The Madhya Pradesh Dharm Swatantrey (freedom of religion) Bill, 2020. Under this bill, the offence of forceful conversion for marriage shall be cognizable -- which means that police can arrest someone without a warrant and start an investigation without the permission of the court -- and non-bailable.
If such forced conversion is proved, then the marriage concerned shall be declared null and void and anyone who assisted or was a part of the conversion exercise shall be treated at par with the main accused, officials have said.
"Love Jihad" is a term used by right-wing workers to describe interfaith relationships between a Muslim man and a Hindu woman. In February this year, the government told Parliament that there was no definition of the term and no such cases were reported by agencies.
https://www.hindustantimes.com/india-news/jihad-has-no-place-in-love-ashok-gehlot-attacks-bjp-for-dividing-nation-disturbing-communal-harmony/story-0xehjoyUVWJqZNDrfMujeL.html
--------
4 terrorists in truck loaded with weapons, ammo killed in Jammu gunfight
Nov 19, 2020
JAMMU/DELHI: Four suspected Jaish-e-Mohammed terrorists travelling in a truck with a stockpile of weapons, ammunition and explosives were killed and two cops injured in a three-hour shootout at a checkpoint near the Ban toll plaza on the Jammu-Srinagar highway on Thursday morning, less than 10 days ahead of J&K's first electoral exercise since becoming a Union Territory.
IGP (Kashmir range) Vijay Kumar said the encounter between the terrorists and a joint team of the police, CRPF and Army at Nagrota was "clear evidence of Pakistan pushing infiltrators into J&K to disrupt the eight-phase District Development Council (DDC) polls starting November 28".
Jammu IGP Mukesh Singh told TOI that the slain quartet, who opened fire from inside the truck as soon as it was intercepted at the highway checkpoint, was possibly part of a larger group that had recently infiltrated Jammu through Samba-Hiranagar to carry out "a big strike" in the next few days. Eleven AK-47 rifles, three pistols, 29 grenades (excluding those hurled at the security personnel), some RDX, SOS medicines and an unspecified number of mobile phones were found in the truck's hold. The driver of the vehicle fled in the melee.
"This is the largest haul of weapons seized from terrorists following an encounter in J&K in recent years," IGP Singh said. "Ever since the DDC polls were announced, we had been receiving information about a possible terrorist infiltration bid in Jammu. The terrorists killed at Nagrota were intercepted based on these intelligence inputs."
Singh said the modus operandi of the terrorists, their infiltration route from Pakistan and the weaponry seized from the truck bore the signature of Jaish-e-Mohammed. The trouser tags of the slain terrorists might help establish their Pakistani origins, another officer said.
Sources said the terror quartet may have been on a mission to not only carry out strikes in Kashmir but also distribute weapons among other terrorists, including local recruits, to foment trouble as the UT goes into poll mode.
"Of late, Pakistan-based terrorist outfits have been using drones to smuggle weapons from across the border. This is yet another attempt to send in sophisticated weapons to arm the terrorists and local militants based in J&K. Eleven is an unusually high number of AK-47s to be seized from four terrorists. Usually, one terrorist may carry up to two AK-47s," an intelligence source said.
In Srinagar, BSF director general Rakesh Ashtana said there could be a spike in infiltration attempts ahead of the snowfall season, when the area's difficult terrain becomes even more treacherous to negotiate. "There is a challenging situation along the border and we are facing it bravely."
At least three major infiltration attempts by Pakistan-based terrorists have been reported in J&K this year, two of them in the past fortnight. An Army captain was among four defence personnel killed fighting infiltrators in the Machil sector of north Kashmir's Kupwara on November 8. Seven months earlier, five soldiers and as many infiltrators were killed in an encounter in the Keran sector of the same district.
On January 31, security forces had intercepted and killed three terrorists travelling to south Kashmir in a truck after entering Jammu through Hiranagar in Kathua district.
Meanwhile, lieutenant governor Manoj Sinha visited the cops injured in Thursday's gunfight — Kuldeep Raj of Akhnoor and Mohammad Ishaq Malik of Neel Qasim in Banihal — at the Government Medical College and Hospital in Jammu.
https://timesofindia.indiatimes.com/india/4-terrorists-in-truck-loaded-with-weapons-ammo-killed-in-jammu-gunfight/articleshow/79310019.cms
--------
India slams Pakistan, says polls in Gilgit-Baltistan aimed at hiding illegal occupation of territory
Nov 19, 2020
NEW DELHI: India on Thursday slammed Pakistan for holding elections in Gilgit-Baltistan, saying it was aimed at hiding Pakistan's illegal occupation of its territory.
Ministry of external affairs spokesperson Anurag Srivastava asserted that Gilgit-Baltistan was an integral part of India since 1947.
Asked at an online briefing about elections held in Gilgit-Baltistan and protests against the poll process there, he said, "I had given a few answers before the elections. Elections in Gilgit-Baltistan are nothing but a sham and their aim is to hide Pakistan's illegal occupation of areas of the Union Territory of Jammu and Kashmir."
"We reiterate that along with Union territories of Jammu and Kashmir and Ladakh, Gilgit-Baltistan is an integral part of India since 1947," Srivastava said.
India had earlier also slammed Pakistan for its decision to hold elections in Gilgit-Baltistan and said any action to alter the status of the militarily-occupied region has no legal basis.
To a question on the Kulbhushan Jadhav case, Srivastava said Pakistan has failed to provide an environment in which the allegations against him can be seriously and effectively challenged.
"We had asked Pakistan to allow Queen's Counsel for Jadhav. The International Court of Justice had pronounced judgment on Kulbhushan Jadhav in July 2019, but Pakistan has not made available to us all documents related to the case till now," Srivastava said.
The ICJ judgment should be implemented fully, he asserted.
In 2017, India approached the ICJ against Pakistan for denial of consular access to Jadhav and challenging the death sentence handed to him by a military court.
The Hague-based ICJ ruled in July 2019 that Pakistan must undertake an "effective review and reconsideration" of the conviction and sentence of Jadhav and also to grant consular access to India without further delay.
India has slammed Pakistan for adopting a "farcical" approach in denying available legal remedies to Jadhav against his death sentence in contravention of the ICJ order.
The retired Indian Navy officer, Jadhav, was sentenced to death by a Pakistani military court on charges of espionage and terrorism in April 2017.
On another question as to who will represent India at the International conference on humanitarian assistance to Afghanistan in Geneva next week, Srivastava on Thursday said External Affairs Minister S Jaishankar will represent India at the conference which will be held in the virtual format.
https://timesofindia.indiatimes.com/india/india-slams-pakistan-says-polls-in-gilgit-baltistan-aimed-at-hiding-illegal-occupation-of-territory/articleshow/79309811.cms
--------
Pakistan
Radical Pakistani Cleric Khadim Hussein Rizvi Dies After Leading Sit-In Over Caricatures Of The Prophet Muhammad
Nov 20, 2020
LAHORE: Khadim Hussein Rizvi, a radical Pakistani religious scholar who this week led thousands of supporters into a sit-in in Islamabad over the republishing in France of caricatures of the Prophet Muhammad, which they deem blasphemous, died on Thursday. He was 54.
According to the cleric's spokesman and a doctor at the hospital where Rizvi was taken to in the eastern city of Lahore, he was showing symptoms similar to those of Covid-19 but had not been tested for the coronavirus.
The doctor, Salman Ahmed, said Rizvi had had a high fever for four days and developed serious respiratory problems on Thursday. He was then taken to hospital where he died.
The protest by Rizvi's party, the Tehreek-e-Labiak, started Sunday on the outskirts of the capital, Islamabad, where protesters and Pakistani security forces briefly clashed, prompting the police to fire tear gas at stone-hurling demonstrators. The rally was one in a series held around the country to express outrage over the caricatures.
After the violence in Islamabad died down, the protesters subsequently staged a sit-in that ended early Tuesday after Prime Minister Imran Khan's government promised their demands for cutting diplomatic ties with France and expelling the French ambassador would be discussed in Parliament in three months.
The sit-in had attracted thousands of men who sat for two days, crowded together with few wearing face masks. Tehreek-e-Labiak spokesman Shafiq Amini said the government had also agreed to release all arrested members of the party.
The radical Islamist party gained prominence in Pakistan's 2018 federal elections, campaigning on a single-point agenda: defending the country's controversial blasphemy law which calls for the death penalty for anyone who insults Islam. The party won only two provincial seats in the southern Sindh province, though Rizvi's rallies typically attracted tens of thousands.
In conservative Pakistan, the mere charge of blasphemy can incite mobs to riot. Rizvi also led the protests last year, when Khan's government freed Aasia Bibi, a Christian woman held on death row for eight years on charges of committing blasphemy. A court acquitted her but she had to flee to Canada after threats to her life.
The prophet caricatures have sparked protests in Asia and the Middle East, with calls for boycott of French products. They were also seen as the trigger for several deadly attacks against French nationals and interests in recent weeks.
Tehreek-e-Labiak has a history of staging protests and sit-ins to press their demands. In November 2017, its followers staged a 21-day protest and sit-in after a reference to the sanctity of the Prophet Muhammad was removed from the text of a government form.
Khan tweeted his condolences on Rizvi's death while Minister for Religious Affairs Peer Noor ul Haq Qadi called the cleric ``a great Islamic scholar and lover of the Prophet.''
Rizvi's funeral is expected to draw tens of thousands of people at a time when coronavirus cases in Pakistan have been climbing steadily. Pakistan has reported more than 365,900 cases of the virus and 7,248 deaths.
https://timesofindia.indiatimes.com/world/pakistan/radical-pakistani-religious-cleric-khadim-hussein-rizvi-dies-after-leading-sit-in/articleshow/79317840.cms
--------
Imran aims to bolster ties with Afghanistan during maiden visit, vows to reduce violence
Nov 20, 2020
KABUL: Pakistani PM Imran Khan met with Afghan President Ashraf Ghani on his first official visit to Kabul on Thursday, focusing on the ongoing peace talks with the Taliban as well as on building trust and strengthening relations between the two often acrimonious neighbors.
Ghani called Khan's visit "historic" while the Pakistani PM assured the Afghan president that his government would do "everything possible" to help reduce violence in the war-torn country. The visit comes at a crucial time for Afghanistan as Kabul government negotiators and the Taliban are holding US-brokered negotiations in Qatar, where the Taliban maintain a political office, to chart a course for a post-war Afghanistan.
"You come with a with a series of important messages... but fundamental to this is that violence is not an answer, a comprehensive political settlement for an enduring peace within the framework of our values, our constitution in the Islamic republic is the way to the future," Ghani told Khan at the presidential palace. Khan acknowledged Pakistan had played a key role in getting the Taliban to the negotiating table and that Islamabad remains concerned that "despite the talks in Qatar, the level of violence is rising". "Whatever is possible, we will do to help reduce the violence," and help move the Afghan-Taliban talks toward a cease-fire, Khan said. "The whole objective of this visit is to build trust, to communicate more. We will be helping you."
Pakistan has been applauded by Washington and Kabul for its role in getting the Taliban to the peace table. However, many Afghans still view Pakistan with mistrust, blaming it for the resurgence of the Taliban and for giving the insurgents a safe haven from which to operate. Also, Pakistan is seen by many in Afghanistan as wanting to keep the Taliban as possible leverage against influence in Afghanistan by India, which has been critical of any post-war government in Afghanistan that would include the Taliban.
https://timesofindia.indiatimes.com/world/south-asia/imran-aims-to-bolster-ties-with-afghanistan-during-maiden-visit-vows-to-reduce-violence/articleshow/79313819.cms
--------
Tech giants threaten to leave Pakistan if social media rules stay
Ramsha Jahangir
20 Nov 2020
A DAY after the government notified rules that define how social media will be governed in Pakistan, technology companies announced that the regulations would make it difficult for them to continue their operations in the country.
The rules titled, "Removal and Blocking of Unlawful Online Content (Procedure, Oversight and Safeguards) Rules 2020," have been framed under the Prevention of Electronic Crimes Act 2016 (Peca).
In a statement shared with Dawn on Thursday, the Asia Internet Coalition (AIC) expressed its alarm over the scope of the new law targeting internet companies, as well as the government's "opaque process" by which these rules were developed.
Earlier this year, Prime Minister Imran Khan promised to initiate a "broad-based" consultation on content regulation after a strong backlash from stakeholders over the release of formally known as the Citizen Protection (Against Online Harm) Rules 2020.
Asia Internet Coalition regrets absence of consultation earlier promised by govt
"The consultation that was announced in February never occurred," AIC managing director Jeff Paine regretted in the statement.
The tech companies warned that the rules would make it extremely difficult for AIC members to make their services available to Pakistani users and businesses.
Under the new rules, social media companies shall provide the designated investigation agency with any information or data in decrypted, readable and comprehensible format.
Subject to justifiable technical limitations, the information to be provided may include subscriber information, traffic data, content data and any other information or data.
"The draconian data localisation requirements will damage the ability of people to access a free and open internet and shut Pakistan's digital economy off from the rest of the world," the AIC said.
The companies said it was chilling to see the PTA's powers expanded, allowing them to force social media companies to violate established human rights norms on privacy and freedom of expression.
Since February when the rules were first released, the AIC has repeatedly urged the government to adopt a comprehensive consultation strategy.
Earlier in October, the AIC had expressed its reservations over the consultation process in a letter addressed to Prime Minister Khan.
"The lack of transparency on the consultation, an abbreviated consultation process, and strict local office requirements for online platforms are very concerning," Mr Paine had stated.
"The consultation process therefore appears to have lost credibility," it said.
In response to the notification of rules by the government, the AIC on Thursday said if Pakistan wanted to be an attractive destination for technology investment and realise its goal of digital transformation, then it should work with industry on practical, clear rules that protect the benefits of the internet and keep people safe from harm.
https://www.dawn.com/news/1591357/tech-giants-threaten-to-leave-pakistan-if-social-media-rules-stay
--------
NAB finds more 'illegal transactions' of Shehbaz's sons
Zulqernain Tahir
20 Nov 2020
LAHORE: The National Accountability Bureau (NAB) on Thursday detected another $2.9 million alleged money laundering transactions of PML-N President Shehbaz Sharif's sons – Hamza and Salman.
"Hamza Shehbaz (opposition leader in Punjab Assembly) and Salman Shehbaz had laundered $2.9m through 18 persons, most of them never visited the United Kingdom," an official source told Dawn on Thursday.
All the suspects involved in facilitating Shehbaz's sons had no record in the National Database and Registration Authority (Nadra), thus NAB has termed them 'ghost remitters'.
They have been identified as Faiz Rasool, Muhammad Saqib, Muhammad Shakoor, Pervaiz, Muhammd Kamal, Muhammad Sarwar, Muhammad Kashif, Anees Mughal, Faisal Rasool, Iftikhar, Nisar Ahmed, Bashir, Noor Alam, Muhammad Moosa, Younas, Umer Hussain, Mansoor and Anjum Ali.
Bureau to make fresh evidence part of reference
"Through the Usman Exchange Company this laundering of $2.9m through 177 transactions was made by Hamza and Salman," he said, adding the NAB would make the new evidence part of the reference filed against the Shehbaz family.
According to a fresh NAB report, "Not only have the family members of Shehbaz Sharif accepted and utilised foreign remittances from 'fake/ghost' remitters all of them have duly acknowledged their receipts into their personal bank accounts in black and white. They signed the bank's 'Due Diligence Forms' for inward remittances and also Form R required under the Foreign Exchange Regulation Act. These 177 fake foreign remittances in the name of fake foreign investment remitters coming from them either from business relations, cousins or friends for the purpose of investment in business."
An accountability court last week had indicted Leader of Opposition in National Assembly Shehbaz Sharif and Hamza Shehbaz and eight other suspects in a Rs7 billion reference of money laundering and assets beyond means.
Denying the charges as false and fabricated, Mr Shehbaz said he had been victimised on political grounds. He said all the cases pending against him had been engineered by his political opponents.
As the suspects pleaded not guilty, the judge directed the NAB to present its witnesses on the next hearing for their evidence.
The reference mainly accused Shehbaz of being a beneficiary of the assets held in the name of his family members and benamidars, who had no sources to acquire such assets.
The reference said Shehbaz and his family failed to justify the sources of funds used for acquisition of assets.
Both Shehbaz and Hamza are in Kot Lakhpat jail on judicial remand. Salman is absconding in the UK.
https://www.dawn.com/news/1591332/nab-finds-more-illegal-transactions-of-shehbazs-sons
--------
Balochistan to establish new administrative sub-divisions
Saleem Shahid
20 Nov 2020 '
QUETTA: The Balochistan cabinet has decided to establish new administrative sub-divisions in the province in view of its increasing population and formed a sub-committee of the cabinet which will be headed by Minister for Revenue Saleem Ahmed Khosa.
The decision in this regard was taken at a cabinet meeting which was presided over by the Chief Minister Jam Kamal Khan Alyani here on Wednesday.
It was observed in the meeting that due to increasing population of the province, the administrative issues were increasing that needed establishment of new sub-divisions.
It was decided in the meeting that a senior member of the Board of Revenue, secretaries of law, services and general administration and a member at the divisional level would be included in the sub-committee of the cabinet to look after the administrative and other issues.
The provincial cabinet approved in its meeting the draft of the Balochistan Power Development Act, 2020, for integrating energy policy in the province, implementing programmes and projects for available energy resources in a better way and attracting the private sector's investment in the energy sector.
While discussing the impact of Covid-19, the cabinet meeting approved the grant for National Response and Reliance Plan for coronavirus and National Equitable Education Programme.
The cabinet meeting also approved the suggestion of changing the names of irrigation department's development schemes and the amendments to Balochistan Arts Council Act, 2018, to establish the board of the council.
The meeting also approved the procedure for allotment rules 2009 regarding allotment of official residence facility in Quetta. Under the amendment in the rules, an official resident could be allotted in the name of the daughter of a retired government employee. Earlier, it was not included in the allotment rules.
The cabinet also approved the Balochis­tan Judicial Academy Contributory Provi­dent Funds rules 2019 and Pension rules, 2019.
The cabinet while discussing issues rela­ting to the health department gave appro­val to ad-hoc and contract appointments of medical officers, lady medical officers, dental surgeons, staff nurses in the health department and appointments on specialist cadre posts and teacher cadre posts of medical colleges and teaching hospitals.
The meeting also gave approval for making functional eight teaching hospitals of the province. It also approved the hawkers' welfare fund revised policy 2020.
Ministers, the parliamentary secretary on information, the chief secretary and other officials attended the meeting.
https://www.dawn.com/news/1591364/balochistan-to-establish-new-administrative-sub-divisions
--------
Southeast Asia
Human Rights Commission Of Malaysia: Allow Foreign Spouses In To Prevent Stateless Children
Faye Kwan
November 20, 2020
PETALING JAYA: The Human Rights Commission of Malaysia's (Suhakam) children's commissioner has urged the government to review its entry ban from countries with a high number of Covid-19 cases so Malaysian mothers can return to the country with their foreign spouses.
Noor Aziah Mohd Awal said the pandemic had forced many mothers to choose between giving birth to a stateless child overseas or returning to Malaysia but being separated from their spouses for months.
"The uncertainty for children born to Malaysian mothers married to foreign spouses is really alarming. It will have long-term effects on the children when they grow older," Noor Aziah said at a webinar by the Foreign Spouses Support Group (FSSG), held in conjunction with World Children's Day, today.
FSSG co-founder Bina Ramanand said focus groups had found that many children born to Malaysian mothers were being raised in hotel rooms overseas without access to vaccination or education, six months into the movement control order (MCO).
She said 205 mothers had reported that their spouses were stranded overseas in August, with 44 of them either pregnant or raising their newborns without their fathers.
Noor Aziah said that under the Federal Constitution, Malaysian women giving birth abroad cannot confer their nationality on their children.
As a result, she said, many mothers had returned to Malaysia alone during the pandemic to ensure that their children were granted citizenship.
Failure to do so would require them to go through a lengthy application process, with low approval rates.
"The government should simplify the permanent residence and approval process to prevent hardship and economic difficulties to foreign spouses," she said.
She said foreign spouses had to enter Malaysia on long-term social visit passes, which prohibited them from seeking employment for up to a year.
She urged Putrajaya to remove its limitations on employment for foreigners as it could have a negative impact on the livelihood of families and prevent economic growth in the country.
Former deputy women, family and community development minister Hannah Yeoh said lack of cooperation from the home ministry had led to a backlog of citizenship applications last year.
She said the home ministry under Muhyiddin Yassin during the Pakatan Harapan (PH) administration had only agreed to streamline new applications, leaving about 40,000 existing applications still pending.
"With the current set-up in Parliament, I do not think we will be able to see a proposed amendment brought by the home ministry in the near future," she said, adding that the issue would be brought up during the debate for the ministry's budget in two weeks.
Dr Amar Singh, a paediatrician and child rights advocate, said separation would have long-term effects on the mental health of families.
"More children and families are constantly anxious and depressed. Now that it has dragged on for months with the Covid-19 pandemic, there has been no real resolution," he said.
"Children become less hopeful for the future and this hopelessness is not good for a young child. I don't think online communication of any sort can replace the physical presence of a parent to a child."
Amar said non-citizen children would also be denied access to education at public schools and routine immunisation. This would effectively reduce the country's herd immunity and expose people to more illnesses.
https://www.freemalaysiatoday.com/category/nation/2020/11/20/allow-foreign-spouses-in-to-prevent-stateless-children-says-suhakam-rep/
--------
Stop trying to scare people with baseless statements, Dr M tells govt leaders
November 20, 2020
PETALING JAYA: Former prime minister Dr Mahathir Mohamad today hit out at government leaders, telling them to stop trying to scare the people with baseless statements.
He said this in response to Finance Minister Tengku Zafrul Aziz's remarks that Putrajaya will not be able to pay civil service salaries if the budget is not approved by the Dewan Rakyat.
"That statement aims to restrict MPs from carrying out their duties in ensuring the budget fulfils the interests of the people and not the ruling party's interests," said Mahathir.
He said Tengku Zafrul and other government leaders were being "very irresponsible" in making statements to "threaten" MPs to pass the budget despite its weaknesses.
"If this is the stand of the finance minister and government leaders, it means MPs need to give (the government) a blank cheque and support the budget."
Yesterday, Mahathir's party Pejuang said emoluments for civil servants and expenditures for frontliners, including medical and health equipment, will not be affected if the budget is rejected.
Citing Article 102, Pejuang said the Federal Constitution allows a new government replacing the Perikatan Nasional (PN) government to table a fresh budget.
Other MPs and groups have also voiced their objection to the statement by Tengku Zafrul, with opposition leader Anwar Ibrahim among the first to go on the attack.
https://www.freemalaysiatoday.com/category/nation/2020/11/20/stop-trying-to-scare-people-with-baseless-statements-dr-m-tells-govt-leaders/
--------
On World Children's Day, human rights group urges Putrajaya to free migrant minors detained by Immigration Dept
20 Nov 2020
BY KEERTAN AYAMANY
KUALA LUMPUR, Nov 20 — The government should immediately release all underaged migrant children currently detained with their families by the Immigration Department, the Human Rights Watch (HRW) said today amid reports of high Covid-19 infection rates in the facilities.
The international human rights watchdog also pressed the government to allow representatives from the United Nations Refugee Agency regular access to the immigration detention centres.
"The authorities should urgently identify and release children along with family members and provide safe alternatives to detention to which humanitarian agencies have regular access," it said in a statement.
Phil Robertson, the deputy Asia director of HRW, also questioned the need to detain children, noting reports of overcrowded and unsanitary detention facilities for undocumented immigrants, which often include refugees.
"These vulnerable children, including many who likely fled atrocities in Myanmar, should be cared for, not treated as criminals.
"The spread of Covid-19 makes it even more urgent for the Malaysian government to reassess its practice of detaining migrants, including children," he said in a statement.
He reminded the government of Malaysia's commitment to the UN Convention on the Rights of the Child (CRC) — which prohibits the detention of children for immigration reasons — and to protect the children from abuse and the Covid-19 pandemic.
Today also marks World Children's Day, which commemorates the Declaration of the Rights of the Child by the UN General Assembly on November 20, 1959.
HRW pointed to the 2019 UN Global Study on Children Deprived of Liberty, which reported that even under good conditions, detaining children exacerbates existing health conditions and causes new ones, including anxiety, depression, post-traumatic stress, and suicidal thoughts.
The study said detention also exposes children to the risk of sexual abuse and exploitation, even in countries that do not detain children with unrelated adults.
HRW said immigration detention centres should only be used as an "exceptional measure of last resort", provided they meet international standards under the UN Standard Minimum Rules for the Treatment of Prisoners.
On October 26, the Home Ministry reported that 756 children were being held in immigration detention facilities nationwide, including 326 from Myanmar who are detained without parents or guardians.
This came after the authorities, since May conducted numerous raids on migrants under the government's response to the Covid-19 pandemic. The Perikatan Nasional government also discounted the rights of refugees, with the Home Ministry stating that they have "no status, rights, or basis to present any demands to the government".
Malaysia authorities have also denied the UNHCR access to immigration facilities since August 2019, which the agency claims leaves it unable to find out whether those detained have already been determined to be refugees or are entitled to refugee protection.
https://www.malaymail.com/news/malaysia/2020/11/20/on-world-childrens-day-human-rights-group-urges-putrajaya-to-free-migrant-m/1924474
--------
Ismail Sabri: Wristbands for migrants just a proposal, will be presented to Security Council today
20 Nov 2020
BY SYED JAYMAL ZAHIID
KUALA LUMPUR, Nov 20 — The government has yet to decide on making identification wristbands for migrant workers compulsory, said Senior Minister Datuk Seri Ismail Sabri Yaakob following strong reactions from human rights groups and industry players.
Ismail Sabri who is defence minister in charge of the security during the Covid-19 pandemic added that the identification wristbands was only a proposal to be decided by the National Security Council (NSC), The Star reported today.
"It is still at the proposal stage and I will present it to the National Security Council (NSC) today before any decision is made," he was quoted saying.
Government officials had mooted the identification wristband proposal for "surveillance" following a surge in Covid-19 infections among foreign workers, mostly in the construction sector.
The idea has drawn flak from industries and rights groups, who said the move would deepen prejudice and xenophobia against an already stigmatised community.
Some critics even likened the idea to Nazism.
They urged the government to solve the root cause of the problem instead such as improving housing. A majority of foreign workers live in cramped dormitories, where the highly contagious disease can easily spread.
Earlier this week Minister in the Prime Minister's Department Datuk Seri Mohd Redzuan Md Yusof said NSC had urged inter-ministerial cooperation to tackle the surge of cases among foreign workers.
"The NSC held a special meeting on Wednesday night and, among others, agreed that the Housing and Local Government Ministry and Human Resources Ministry draft a comprehensive plan for foreign workers housing, accommodation and facilities," he said when answering a question in the Dewan Rakyat yesterday.
Works Minister Datuk Seri Fadillah Yusof has pledged action, according to The Star. The minister reportedly said he would consult industry players first on the proposal.
"I will listen to the proposal (by Ismail Sabri) first and talk to industry players to get their feedback before deciding, " Fadillah was quoted as saying.
The construction industry is the largest employer of foreign workers in the country by sector.
Construction falls under the Works Ministry.
https://www.malaymail.com/news/malaysia/2020/11/20/ismail-sabri-wristband-for-migrants-just-a-proposal-will-be-presented-to-se/1924384
--------
Govt will not ratify Rome Statute, Dewan Rakyat told
November 18, 2020
KUALA LUMPUR: The government today said it will not accede to the Rome Statute, which allows prosecution of those accused of genocide and war crimes.
Deputy Foreign Minister Kamarudin Jaffar told the Dewan Rakyat that Perikatan Nasional (PN) will maintain the decision made by the then Pakatan Harapan (PH) government in April 2019 to quit the treaty.
The PH government had said it was withdrawing from the Rome Statute, which had come under criticism from several parties, with some saying it would undermine the royal institution.
"The United Nations had confirmed our withdrawal effective from April 29, 2019," Kamarudin (PPBM-Bandar Tun Razak) said in response to a question by Maria Chin Abdullah (PH-Petaling Jaya).
"If the previous government, which said it had the people's mandate, withdrew as a signatory, the government today understands what the people want."
Several MPs were heard telling Kamarudin the PN government did not have the people's mandate.
To Maria's follow-up questions on how the government plans to handle issues related to Palestine, the downing of MH17, and Rohingya refugees without going through the International Criminal Court (ICC), Kamarudin said Malaysia is playing an active role in seeking justice for them through various platforms.
The Rome Statute is an international agreement that created the ICC, which serves to complement existing laws in a state to prosecute individuals who commit international crimes such as genocide, crimes against humanity, war crimes and crimes of aggression.
Critics of the treaty had said that ratifying it would violate the Federal Constitution as it would affect the monarchy, Malay rights and the sanctity of Islam in the country.
https://www.freemalaysiatoday.com/category/nation/2020/11/18/govt-will-not-ratify-rome-statute-dewan-rakyat-told/
--------
Africa
Jordan to open consulate in Western Sahara amid dispute
20 November 2020
Jordan will open a consulate in Western Sahara, Morocco said on Thursday, in an apparent show of support for Rabat after the disputed territory's Polisario independence movement said it was returning to an armed struggle.
The consulate will be in Laayoune, the largest city in Western Sahara, and the decision to open it came after a phone call between King Mohammed VI and King Abdullah II.
For all the latest headlines, follow our Google News channel online or via the app.
Arab Gulf monarchies have expressed support for Morocco after its army intervened on Friday in a UN-monitored area to open a road that was blocked by Polisario supporters and armed fighters for three weeks.
The Jordanian monarch welcomed "the reopening of the passage to the safe movement of people and goods between the Kingdom of Morocco and Sub-Saharan Africa," the Royal palace said in a statement. Following the entry of the Moroccan army into the UN-monitored buffer strip, the Polisario independence front said it has quit the UN-brokered ceasefire and declared war.
Algeria, which backs the Polisario, was the only Arab state that has condemned Morocco's actions in the Western Sahara passage.
The Polisario front, which seeks independence for the territory, announced it has quit the UN-brokered ceasefire and declared war against Morocco.
The UAE and some 16 African states have already opened consulates in the disputed territory as Rabat reaps more support for its position over the Western Sahara conflict since it joined the African Union in 2017.
Morocco has held the vast desert region since Spain quit in 1975 and regards it as an integral part of its own land.
Rabat has said the most it can offer as a political solution to the dispute is autonomy. The Polisario and its ally Algeria reject this and say they want a referendum, with independence for Western Sahara as one of the options.
https://english.alarabiya.net/en/News/middle-east/2020/11/20/Jordan-to-open-consulate-in-Western-Sahara-amid-dispute
--------
Ethiopia's Tigray rebels fire rockets into Bahir Dar city, says regional government
20 November 2020
Ethiopia's Tigray rebel forces fired rockets into the city of Bahir Dar in the Amhara region on Friday but caused no damage, the regional government said.
The conflict in northern Ethiopia has killed hundreds over the past two weeks, sent 33,000 refugees into Sudan, and called into question whether Prime Minister Abiy Ahmed - Africa's youngest leader and last year's Nobel Peace Prize winner - can hold his ethnically divided nation together.
For all the latest headlines, follow our Google News channel online or via the app.
The northern-based Tigray People's Liberation Front (TPLF) effectively ruled Ethiopia for decades as the strongest force in a multi-ethnic coalition, until Abiy took power two years ago.
"The illegal TPLF group have launched a rocket attack around 1:40 a.m. in Bahir Dar," the regional government's communications office said on its Facebook page.
"The rockets have caused no damage."
Amhara state has sent troops into Tigray in support of Abiy.
Ethiopia said on Thursday it was closing in on Mekelle, the capital of Tigray region.
Africa's second most populous nation of 115 million people, Ethiopia is a federation of 10 states run by separate ethnic groups. The latest war has pitted the central government against one of the most heavily militarized regions.
https://english.alarabiya.net/en/News/world/2020/11/20/Ethiopia-s-Tigray-rebels-fire-rockets-into-Bahir-Dar-city-says-regional-government
--------
Europe
Top British diplomat welcomes resumption of Palestine-Israel communication
Rawad Taha
November 20, 2020
British Foreign Secretary Dominic Raab Thursday welcomed the decision by the Palestinian Authorities and the Israeli government to resume coordination based on bilateral agreements.
Palestinian officials announced earlier this week the resumption of ties with Israel after a monthslong pause following the Middle East peace plan unveiled by Washington earlier this year.
For all the latest headlines, follow our Google News channel online or via the app.
Raab said in a tweet that the move was an important and constructive step toward peace.
In February, Palestinian President Mahmoud Abbas said that his country would cut all ties with the United States and Israel, including those relating to security, after rejecting a Middle East peace plan presented by US President Donald Trump.
Israel and the Palestinian Authority's security forces have long cooperated in policing areas of the occupied West Bank that are under Palestinian control. The PA also has intelligence cooperation agreements with the CIA, which continued even after the Palestinians began boycotting the Trump administration's peace efforts in 2017.
https://english.alarabiya.net/en/News/world/2020/11/19/British-Foreign-Secretary-supports-Palestinian-Authority-and-Israeli-re-cooperation
--------
Turkey's Behaviour 'Widening Its Separation' From Europe: EU Foreign Policy Chief
19 November 2020
Turkey's rhetoric on Cyprus is aggravating tensions with the European Union and Ankara must understand that its behavior is "widening its separation" from the 27-nation bloc, EU foreign policy chief Josep Borrell said on Thursday.
"We consider the recent actions and statements by Turkey related to Cyprus contrary to the United Nations resolutions and further igniting tensions," Borrell told a news conference after a meeting of EU foreign ministers.
For all the latest headlines follow our Google News channel online or via the app.
"We consider that it is important that Turkey understands that its behavior is widening its separation from the EU ... In order to return to a positive agenda, as we wish, will require a fundamental change of attitude on the Turkish side."
He was referring to comments by Turkish President Tayyip Erdogan, who called for an equal "two-state" solution in Cyprus during a visit earlier this week to the breakaway Turkish Cypriot north of the island.
Erdogan also said Turkey and Northern Cyprus would no longer tolerate what he called "diplomacy games" in an international dispute over rights to offshore resources in the Eastern Mediterranean.
Turkey is an official candidate for EU membership.
Cyprus has been split along ethnic lines since a Turkish invasion in 1974 triggered by a brief Greek-inspired coup. Only Ankara recognizes Northern Cyprus as an independent state and it has no diplomatic relations with the government of Cyprus, which is a member of the EU.
Cyprus called Erdogan's visit "provocative and illegal".
The EU has threatened to impose sanctions on Turkey over illegal exploration at sea when its leaders meet next month.
"Time is running, and we are approaching a watershed moment in our relationship with Turkey," Borrell said.
The EU has failed to persuade Ankara to stop exploring in waters disputed by Greece and Cyprus, but it has so far held off imposing sanctions that Athens and Nicosia are seeking.
Germany, which has led diplomatic talks with Ankara, wants to give dialog a chance because of close EU-Turkey trade ties.
https://english.alarabiya.net/en/News/middle-east/2020/11/19/EU-foreign-policy-chief-Turkey-s-behavior-widening-its-separation-from-EU
--------
Azerbaijan's army enters Aghdam, Armenian district handed back in peace deal
20 November 2020
Azerbaijan's army said Friday it had entered the district of Aghdam, the first of three to be handed back by Armenia as part of a Russian-brokered peace deal to end fighting in the Nagorno-Karabakh region.
"Units of the Azerbaijan Army entered the Aghdam region on November 20," Azerbaijan's defense ministry said of the district, which had been controlled by Armenian separatists for nearly 30 years.
https://english.alarabiya.net/en/News/world/2020/11/20/Azerbaijan-s-army-enters-Aghdam-Armenian-district-handed-back-in-peace-deal
--------
URL: https://www.newageislam.com/islamic-world-news/saudi-princes-tortured-billionaires-senior/d/123527
New Age Islam, Islam Online, Islamic Website, African Muslim News, Arab World News, South Asia News, Indian Muslim News, World Muslim News, Women in Islam, Islamic Feminism, Arab Women, Women In Arab, Islamophobia in America, Muslim Women in West, Islam Women and Feminism