New Age Islam News Bureau
13 Dec 2013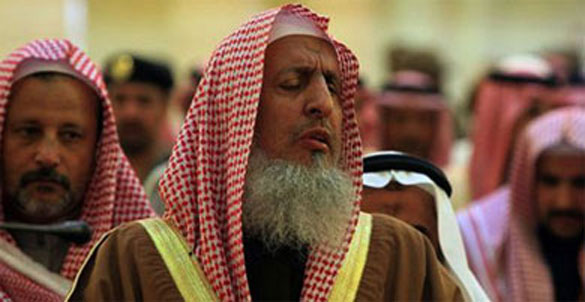 Saudi Arabia's grand mufti Sheikh Abdul Aziz bin Abdullah al-Sheikh branded suicide bombers as "criminals" who will go to "hell." — Photo by AFP
-----------
Arab World
• Saudi Mufti Calls Suicide Bombers 'Criminals', Who Will Go To "Hell"
• 10 years on, al-Qa'ida reclaims Iraq's bloodstained streets
• Syria rebels unite against al-Qaeda
• Islamic Front in Syria deals another blow to rebel alliance
• Emirati youngsters' life-changing visit to a Manila slum
• Free Syrian Army denies reports that Idris fled to Qatar
• Art of Islamic miniatures in focus
• UAE donates Dh7 million to improve Islamic communities
------------
South Asia
• 5 killed in Jamaat-e-Islami rampage
• 1971 War Crimes: Bangladesh Executes Opposition Leader
• Bangladesh PM assures British minister Warsi of fair election
• Afghanistan presses India for artillery before NATO withdrawal
------------
India
• Iran to attend World Islamic Congregation (Aalmi Tablighi Ijtema) in India
• 4 states, 589 elected, 8 Muslims
• Minister urges Pak to remove Indian films from 'Negative List'
• Indian PM accepts invitation to visit Pakistan
------------
Africa
• Central African Republic peacekeepers save Muslim group from violent crowd
• Rights group: Nigeria ignores sectarian violence
• With VIPs gone, mourning S. Africans reclaim Madiba
• Tunisia's Islamists and opposition reach deal on premier
------------
Pakistan
• Molla's execution: JI to stage Pakistan-wide protests today
• Maulana Fazl ur Rehman to address peace seminar at Deoband, India, today
• Pakistan bans Three Islamic terror organisations based in China: Munsif Urdu Daily
• Bomb kills four soldiers in North Waziristan Agency
• Sharif can improve ties with India and Afghanistan, says US
• Grappling with sectarian terrorism
• War on terror: country suffered $100 billion direct losses: Dar
• PM raises LoC violations with Sharif's brother
------------
North America
• Geneva 2 invitation to KSA rekindles hope for Syrians
• Muslim Millennials Explore The Problem With American Mosques
• UN Inspectors Confirm Syria Chemical Attack
• American missing in Iran worked for CIA: Report
------------
Southeast Asia
• China stepping up ideological education in Xinjiang, Tibet
• Ignorance, extremist Sunnis fuelling anti-Shia sentiments in Malaysia, says academic
• Try to resolve Shia, Sunni divide, suggests Malaysian Human Rights Commission chief
• Malaysia expects global Islamic financial industry to grow next year
• Japan's MUFG Provides Its First Islamic Loan in Indonesia: Sources
• As a child, Obama crossed a cultural divide in Indonesia
------------
Mideast
• It's time we bury 'Orientalism' in Jerusalem's Museum of Islamic Art
• Israel's Livni accuses Jewish Home party of sabotaging talks with Palestinians
• Iran, S Arabia invited to Syria peace talks
• Syrian refugees in Turkey caught in cold
------------
Europe
• 'Muslims should know better' - Anjem Choudary on anti-alcohol protest
• US, Britain suspend non-lethal aid to Syrian rebels
------------
Australia
• Muslim school allowed to open one more year
Compiled by New Age Islam News Bureau
URL: https://www.newageislam.com/islamic-world-news/new-age-islam-news-bureau/saudi-mufti-calls-suicide-bombers--criminals-,-who-will-go-to-"hell"/d/34839
------------
Arab World
Saudi Mufti Calls Suicide Bombers 'Criminals', Who Will Go To "Hell"
2013-12-13
RIYADH: Saudi Arabia's grand mufti Sheikh Abdul Aziz bin Abdullah al-Sheikh branded suicide bombers as "criminals" who will go to "hell," Al-Hayat daily reported Thursday.
Suicide bombings are "great crimes" and bombers are "criminals who rush themselves to hell by their actions," Sheikh said during a lecture in Riyadh a few days ago, according to Al-Hayat.
Sheikh described suicide bombers as "robbed of their minds... who have been used (as tools) to destroy themselves and societies."
In February 2010, Sheikh denounced terrorism as un-Islamic and condemned the killing of civilians, saying such attacks have nothing to do with the Muslim religion.
His latest remarks come after a preliminary inquiry into a December 5 suicide car bombing and assault on a Yemen defence ministry complex found that most assailants were Saudis. Fifty-six people were killed in the attack.
Al Qaeda in the Arabian Peninsula (AQAP), which was formed from a merger of the jihadist network's Saudi and Yemeni branches, has claimed responsibility for the attack.
On Tuesday, a Saudi court jailed an Al Qaeda-linked jihadist for 16 years for plotting to kill Sheikh and other clerics.
http://www.dawn.com/news/1072221/saudi-mufti-calls-suicide-bombers-criminals
------------
10 years on, al-Qa'ida reclaims Iraq's bloodstained streets
13 DECEMBER 2013
Today's anniversary sees the country still struggling with his legacy, and al-Qa'ida launching a fresh campaign of terrorist atrocities from new territory carved out in the west and north of the country.
Backed by jihadists fighting in neighbouring Syria, the group is trying to create an "emirate" straddling the two countries, taking advantage of the collapse in security across the border.
Bridges on roads around four towns near the border -- including Haditha and Rutba -- on the Iraqi side have been dynamited, making it difficult for security forces to operate in the area.
Road signs have even been put up proclaiming it to be the turf of the Islamic State of Iraq and the Levant, the name for the joint Syrian-Iraqi al-Qa'ida franchise.
Further north in the city of Mosul, another al-Qa'ida stronghold, the group is boosting its war chest by raking in up to €6million a month in "tithes" from local businesses.
Using its new haven as an operating base, al-Qa'ida has mounted repeated strikes across the country, with an average of 68 car bombs a month this year.
After a period between 2009 and 2011 in which violence waned, al-Qa'ida's resurgence in the past year has led to a fresh sense of despair on the streets of Baghdad.
"It is not as bad as during the civil war, but whenever you leave your house, you can't be sure that you will be coming back," said Shadi Karaqzi (23) an accountancy student smoking a shisha pipe in a central Baghdad cafe, itself the target of a car bomb attack in 2007. "We are living in terror."
The death toll for 2013 has hit 7,000. Some 979 people died in October alone, twice the death rate when US forces plucked Saddam from his "spider hole" in December 2003. (©Daily Telegraph, London)
http://www.independent.ie/world-news/10-years-on-alqaida-reclaims-iraqs-bloodstained-streets-29834422.html
--------
Syria rebels unite against al-Qaeda
December/13/2013
groups, including the Supreme Military Council of Free Syrian Army (FSA), have established a new front under the name of "Syrian Rebels Front" to fight both President Bashar al-Assad's government and al-Qaeda-affiliated groups in Syria.
The former spokesperson for the Supreme Military Council, Col. Qassim Saad Eddine, called on all other fractions to join the front, which included 15 battalions and a brigade belonging to the FSA. Eddine also said the new "Syrian Rebels Front" would create "the core of the Syrian army in the future."
According to the statement, the aim of the new group was "to overthrow the al-Assad regime and protect the people and the country."
Eddine said in July 2013 that the killing of senior FSA commander Kamal Hamami by the al-Qaeda-affiliated Islamic State of Iraq and the Levant (ISIL) was a declaration of war.
The announcement of the new front came one month after Syria's most powerful rebel groups said they had forged a new Islamic force called "The Islamic Front" and were seeking to topple the government of al-Assad and replace it with an Islamic state.
Meanwhile, a prominent member of the political wing of the Syrian opposition, the Syrian National Council (SNC), refuted allegations that the commander of the FSA, Gen. Salim Idris, fled Syria after Islamist militant fighters ran him out of his headquarters.
According to a report in the Wall Street Journal, which was based on White House sources, Idris flew to Doha recently after fleeing to Turkey from Syria.
Speaking on condition of anonymity, a member of the SNC claimed "Idris has been living in three countries, Turkey, Qatar and Jordan for the last one year. He was going to Syria from time to time."
The 13-month-old U.S.-backed Syrian National Coalition, which supports the FSA, is based in Doha. The United States and United Kingdom have suspended all "non-lethal" support for rebels in northern Syria after the Islamic Front took over key FSA-controlled warehouses holding lethal and non-lethal weapons intended for moderate fighters in northern Syria.
http://www.hurriyetdailynews.com/syria-rebels-unite-against-al-qaeda.aspx?pageID=238&nID=59483&NewsCatID=352
------------
Islamic Front in Syria deals another blow to rebel alliance
December 12th, 2013
Influencing events in Syria just got a lot harder for the Obama administration and its allies. Despite receiving months of training, diplomatic support and aid from the West, the Free Syrian Army's command has lost control of its headquarters and supply depots in northern Syria to the recently formed Islamic Front - another sign that the balance among rebel forces is tipping toward militant groups away from more secular brigades.
The warehouses - belonging to the FSA's Supreme Military Command (SMC) - are at Bab al Hawa, a border crossing into Turkey. There are conflicting reports about just how they were taken over and what they held. The head of the SMC, Gen. Salim Idris, told CNN that only food and other humanitarian supplies were taken; other FSA officials say guns and two tons of ammunition were removed.
Turkish authorities closed the Bab al Hawa crossing after the Islamic Front occupied the Syrian side. Different Islamist militant groups now control several areas along Syria's border with Turkey, making the resupply of the SMC more difficult.
The Islamic Front was created last month by seven groups with the aim of toppling the regime of Syrian President Bashar al-Assad and creating an Islamic state in Syria "where the sovereignty of God almighty alone will be our reference and ruler." Two weeks later the Front abandoned the Supreme Military Command.
Aron Lund, editor of the Carnegie Endowment's Syria in Crisis website, says the Front includes some of the strongest rebel groups in Syria - especially in the north.
"Most of these groups are concentrated in a particular area, like Aleppo or Damascus, but together they have units all across the country," Lund told CNN.
It is difficult to know how many fighters the Islamic Front includes, but estimates vary between 40,000 and 50,000, which would probably make it the single largest rebel command. In terms of ideology, the Islamic Front groups keep their distance from the strongest al Qaeda affiliate active in northern Syria, the Islamic State of Iraq and al-Sham (ISIS).
Even so, says Aron Lund, the Front "are hardline Islamists influenced by the Salafi school of thought. They want a theocratic state, and are opposed to secularism and Western-style democracy - although they've said they can imagine having some sort of elections in a framework of Sharia law."
The most effective of the groups is Ahrar al Sham, which has been involved in the insurgency since its early days. Observers say it is disciplined and well-funded from Gulf sources and has captured a good amount of heavy weaponry, including tanks and mobile artillery, from government forces. Opposition activists say it was Ahrar al Sham that led the takeover of the SMC's headquarters at Bab al Hawa.
On the battlefield Ahrar al Sham and others in the Islamic Front groups do cooperate with another al Qaeda affiliate: Jabhat al Nusra. Some analysts say this is because al Nusra is more focused on waging the insurgency on a national level against al-Assad than is ISIS, which is devoting much of its effort to creating a mini-state - an emirate - in northern Syria, complete with Sharia law.
The leader of Ahrar al Sham, Hassan Aboud Abu Abdullah al-Hamawi, has been complimentary about al Nusra, telling al Jazeera earlier this year that "we see honesty in their work as well as toughness and courage."
The two groups joined forces to seize a border crossing with Jordan in September. But there are also instances, especially around Damascus recently, where fighters from the Front, al Nusra and ISIS have all fought together against al-Assad's forces. As so often in Syria, there are few hard-and-fast alliances and many local variations on a theme.
Valerie Szbala at the Institute for the Study of War in Washington says the Islamic Front contains a wide spectrum of groups, but for the West the presence of Ahrar al Sham - and its extensive relationship with al Nusra - is the most troubling. She says most of its funding appears to come from sources in the Gulf, especially Saudi Arabia.
Lund - a contributor to the Sentinel journal of the Combating Terrorism Center at West Point - says that because the Front is a new coalition "it is hard to tell how effective and organized it really is. The Islamic Front leadership has said that they are aiming for full unity, meaning that they want to merge all the member factions into one single group under one single leader, but so far it remains an umbrella organization."
For now, the Front's nominal leader is Ahmed Issa from Suqour al-Sham - one of the more moderate but militarily one of the weaker components of the alliance.
For the last year, the United States and Britain have focused their efforts on building up the Supreme Military Command under Gen. Idris. But Idris has never been able to exert control over brigades with different local agendas, tactics and allegiances. Some have gained a reputation for smuggling and other crime rather than fighting the al-Assad regime.
Islamist factions have gained ground at the expense the Free Syrian Army - sometimes with ruthless tactics. One senior FSA commander was murdered by ISIS in July. Another, Abdel-Jabbar Ukaidi, quit as head of the Aleppo Revolutionary Military Council last month. Ukaidi accused other commanders of in-fighting and building power bases rather than attacking regime forces, and had scathing words for the political opposition in exile. Other groups affiliated with the SMC - such as Liwa al-Tawhid, Liwa al-Islam, and Suqour al-Sham - lost faith and invested in other alliances.
Some analysts say the formation of the Islamic Front may be a double-edged sword. On the one hand, it is weakening an already dispirited FSA. But it may also draw Islamists away from al Qaeda affiliates, especially from ISIS. Valerie Szybala says as yet there is no evidence of that but she believes the Islamic Front may try to begin providing the sort of services that ISIS does - including opening bakeries and handing out aid - to win civilian support.
Alliances among rebel factions in Syria have come and gone with bewildering rapidity over the past two years, and it's far from clear how the Islamic Front will evolve. But a month before the Syrian government and opposition are due to meet under U.N. auspices in Geneva, the emergence of the Islamic Front complicates the most critical question: Just who is the Syrian opposition?
http://security.blogs.cnn.com/2013/12/12/islamic-front-in-syria-deals-another-blow-to-rebel-alliance/
------------
Emirati youngsters' life-changing visit to a Manila slum
December 12, 2013
ABU DHABI // Having already learnt about entrepreneurship, sustainability and ingenuity, six Emiratis visiting the Philippines have been taught about determination, compassion and hope.
The youths are travelling across the archipelago and their life-changing journey is being captured in the six-part Beyond Borders television show.
In this week's fifth episode, the group of three men and three women visit the poorest district of Manila, Tondo, with slum housing and the country's most notorious landfill site, known as Smokey Mountain.
"I didn't know places like this existed, where people live in such misery," said Mohammed Al Ameri, 18, after watching children picking through heaps of rubbish.
Ahmed Al Ghurair, 19, unsuccessfully tried to hold back his emotions after seeing some families living 10 to a room with no electricity or running water.
"I tried not to cry, but I couldn't. The conditions are horrific," he said.
Amid the despair, the volunteers discovered an island of hope – a unique, four-storey building made from 40 recycled shipping containers that house a charity foundation, a school and a local business.
"I needed to build a school with no money and there were rotting shipping containers everywhere," said Jane Walker, 48, the founder of the Philippines Christian Foundation, which built the structure 16 years ago.
She felt compelled to act after visiting Tondo during her first trip to the Philippines at the age of 33.
"I thought I was going to relax on beaches but when I saw images of this place on TV, I got into a taxi and told him to take me straight to the poorest area," she said.
After witnessing the abject poverty, Mrs Walker said she could not have lived with herself if she walked away.
The charity now gives the child scavengers education, health care and nutrition.
"What affected me the most is their life is so difficult but they still smile a lot," said teary-eyed Tasneem Alnaqbi, 23, after sitting down to lunch with the school's pupils.
"We live so comfortably but we don't appreciate it."
Ahmed said: "The children and the people were really happy, which is strange. We have to really learn from them."
Fatima Abdullah Farah, 21, offered the children her meat after they asked her if she was going to finish it.
"I was taken aback when they didn't eat it there and then. I later found out they keep it for their mothers," she said.
The group was soon lending a helping hand by making jewellery, bags and purses from recycled items.
Set up to put mothers and members of the community to work with the goal of making them and the charity self-sustainable, the business creates and sells such items.
Fatima said the visit to Tondo had affected her profoundly.
"This experience changed me a lot and is the thing I benefited the most from on this trip," she said.
Mariam Al Kuwaiti, 17, said: "What I saw here has changed my perception of the world.
"Life is difficult but I didn't know how much. We have to make most of our opportunities."
Beyond Borders airs every Friday on MBC1 at 2pm, with reruns on Saturdays at 6.30am.
tsubaihi@thenational.ae
http://www.thenational.ae/world/philippines/emirati-youngsters-life-changing-visit-to-a-manila-slum
------------
Free Syrian Army denies reports that Idris fled to Qatar
12 December 2013
The Free Syrian Army (FSA), the most prominent of several armed groups fighting to overthrow President Bashar al-Assad, has denied reports claiming that Salim Idris, head of the opposition's Supreme Military Council (SMC), has fled to the Gulf.
Reports circulated in the media that Idris fled to Turkey during the recent takeover of the SMC headquarters and weapons warehouses at the Bab al-Hawa crossing on Syria's northwestern border with Turkey by fighters from the Islamic Front. The reports added that from Turkey, Idris traveled to Qatar.
In a written statement issued on Thursday, the FSA said these reports are incorrect. "Salim Idris remains in his position and is continuing his work," said the statement. Despite its indication that Idris is still head of the SMC, it did not provide information on his current whereabouts.
The statement also noted that Idris is still in touch with SMC commanders and has been meeting with military delegations.
"This [story about Idris] is fabricated news that aims to demoralize the fighters struggling to topple Assad, who commits massacres," said the statement.
Sources told Today's Zaman that Idris was in Qatar simply to attend a conference.
In the meantime, The Wall Street Journal published a report based on information it obtained from American officials saying that Islamist fighters ran Idris out of his headquarters in Syria and that he fled thereafter the country.
The report adds that the takeover of the SMC headquarters and flight of Idris has shocked the US, which, along with Britain, immediately froze their shipments of non-lethal military aid to rebels in northern Syria.
The opposition says it considers the US/British move a rushed and mistaken one. "We hope our friends will rethink and wait for a few days when things will be clearer," FSA spokesman Louay Meqdad told Reuters.
Full report at:
http://www.todayszaman.com/news-333848-free-syrian-army-denies-reports-that-idris-fled-to-qatar.html
------------
Art of Islamic miniatures in focus
By LAALA KASHEF
December 13, 2013
Shahnameh, an epic poem, and the art of Islamic miniatures is the focus of the calendar, with illustrations from a rare manuscript from the collection of Dr Abdullatif Jassim Kanoo.
Proceeds from the sale of the calendar, which costs BD3, will go towards running the centre's activities and services, which include acquiring artwork for exhibitions, giving lectures and publishing its work.
The centre's services are free of charge and open to the public, regardless of their religion or nationality.
The themes are always based around the celebration of Islamic culture and art, as well as subjects relating to Bahrain.
"This year's calendar has been specifically designed and edited by Dr Kanoo," said Beit Al Quran director Samar Al Gailani.
"Islamic miniatures are a celebrated art form that was first created by Muslims in Baghdad, and developed in Mosul in the 10th century.
"That started a trend across the Islamic world, and established famous schools in Iran, Turkey and India.
"This continued into the 19th century.
"The illustrations that accompany the Shahnameh, written by the poet Ferdowsi, are the zenith of the art form."
Full report at:
http://www.gulf-daily-news.com/NewsDetails.aspx?storyid=366735
------------
UAE donates Dh7 million to improve Islamic communities
Kyle Sinclair
December 12, 2013
ABU DHABI // More than Dh7.3 million has been donated by the UAE to help improve living standards in Islamic communities.
Abdullah Ghobash, the Minister of State, announced the funding for the Organisation of Islamic Cooperation (OIC), which was handed over on Wednesday.
The donation was made to the Jeddah-based Islamic Solidarity Fund, a subsidiary of the OIC.
The fund is tasked with raising the intellectual and moral levels of Muslims around the world, providing emergency relief and granting assistance to Muslim minorities.
"The UAE, under the guidance of President Sheikh Khalifa, is closely monitoring conditions of the Islamic people and communities so as to deliver humanitarian and development aid to many Islamic countries," Mr Ghobash said.
The minister took the opportunity to discuss foreign-policy issues affecting the region, reported the state news agency Wam.
Full report at:
http://www.thenational.ae/uae/uae-donates-dh7-million-to-improve-islamic-communities
------------
South Asia
5 killed in Jamaat-e-Islami rampage
13 Dec 2013
Five people have died in attacks by Jamaat-e-Islami supporters in various parts of Bangladesh since the execution of war crimes convict Abdul Quader Molla on Thursday night.
An Awami League leader and a Juba League functionary were killed early on Friday in Satkhira, police said.
A rickshaw puller was killed in a clash between law enforcers and Jamaat activists in Noakhali's Begumganj.
Full report at:
http://bdnews24.com/bangladesh/2013/12/13/5-killed-in-jamaat-rampage
---------
1971 War Crimes: Bangladesh Executes Opposition Leader
By Julhas Alam
12th December 2013
Sheikh Yousuf Harun, chief government administrator in Dhaka, said Abdul Quader Mollah was hanged at 10:01 p.m.
Mollah's Islamic party, Jamaat-e-Islami, immediately called a nationwide general strike for Sunday.
Hundreds of people gathered at a major intersection in Dhaka to celebrate the execution, saying it delivered justice for crimes committed four decades ago.
Mollah, 65, was found guilty of crimes during the nation's war of independence against Pakistan in 1971. The government says Pakistani soldiers, aided by local collaborators, killed 3 million people and raped 200,000 women during the nine-month war.
He is the first person executed after Prime Minister Sheikh Hasina formed a special tribunal in 2010 to try people suspected of crimes during the war. Most of the defendants are opposition members.
Mollah's party says the trials are an attempt to weaken the opposition and eliminate Islamic parties. Authorities have denied the allegation.
His execution had been placed on hold Tuesday night just before he originally was to have been put to death. The Supreme Court rejected his final appeal on Thursday.
Jamaat-e-Islami, an ally of the main opposition Bangladesh Nationalist Party, had warned of "dire consequences" if he were executed.
Security was tight around the jail in Dhaka where he was hanged. Extra police were deployed along with paramilitary guards on the streets of the capital.
Earlier Thursday, party activists clashed with police, torched or smashed vehicles and exploded homemade bombs in three other major cities — Chittagong, Sylhet and Rajshahi, TV stations reported. Scores of people were injured in the latest violence to hit the South Asian country, which has seen weeks of escalating tension as it struggles to overcome extreme poverty and rancorous politics.
Security officials opened fire to disperse opposition activists in eastern Bangladesh, leaving at least three people dead and 15 others wounded, Dhaka's leading Bengali-language newspaper, Prothom Alo, reported.
Full report at:
http://www.newindianexpress.com/world/1971-War-Crimes-Bangladesh-Executes-Opposition-Leader/2013/12/12/article1942353.ece
------------
Bangladesh PM assures British minister Warsi of fair election
December 13, 2013
Prime Minister Sheikh Hasina yesterday assured British minister Baroness Sayeeda Warsi that the upcoming national election in Bangladesh would be held in a free, fair, neutral and acceptable manner as per the country's constitution.
All the elections during the tenure of her government were free, fair and neutral, in which many opposition candidates won, she told the senior minister of state for the Foreign and Commonwealth Office of the UK when the latter met her at her office, reports UNB.
After the meeting, PM's Press Secretary Abul Kalam Azad briefed journalists.
Full report at:
http://www.thedailystar.net/beta2/news/hasina-assures-warsi-of-fair-election/
------------
Afghanistan presses India for artillery before NATO withdrawal
December 12, 2013
NEW DELHI // Afghanistan is pressing India to supply military helicopters, tanks and artillery as it tries to shore up security through regional alliances before the withdrawal of most Nato-led foreign troops by the end of 2014.
The Afghan president, Hamid Karzai, will use a visit to India, which started yesterday, to push for progress on a "wish list" of military equipment he handed New Delhi in May.
India has invested US$2 billion (Dh7.35bn) in aid and reconstruction and trained scores of Afghan officers, but has so far stopped short of arms transfers for fear of provoking Pakistan, as well as armed groups in Afghanistan.
Pakistan and India have been locked in a long struggle for influence in Afghanistan, both fearing an unstable state on their doorsteps.
Kabul wants India to deliver on a strategic partnership agreement signed in 2011 that allowed for the transfer of "war-like stores", or lethal equipment. It argues that India's security is tied to a stable Afghanistan.
"Indian investment in Afghanistan, be it in the security or development sectors, is an investment in the security and development of India," said M Ashraf Haidari, deputy chief of mission at the Afghan embassy in New Delhi.
Mr Karzai, who will hold talks with the Indian prime minister, Manmohan Singh, today, has been seeking to bolster regional ties while he remains at loggerheads with his western backers in the run-up to the withdrawal of NATOforces.
On Sunday, he struck a cooperation agreement with the Iranian President, Hassan Rouhani, during a visit to Tehran. Mr Karzai is meanwhile resisting signing up to a long-term security arrangement with the United States.
The US security pact is a decade-long agreement that would provide a legal basis for about 8,000 US troops to stay on after the Nato-led combat mission ends next year.
Under that plan, the remaining US force would continue to train, advise and equip the roughly 350,000 Afghan soldiers, police and airmen who will take over the fight against the Taliban-led insurgency. The remaining force would also conduct limited counter-terrorism activities.
Afghanistan wants tanks and artillery to boost land-based firepower and air support, including helicopters, for medical evacuation, Mr Haidari said.
Mr Haidari was formerly a member of Afghanistan's National Security Council.
Afghanistan's security forces have also asked India for equipment to counter homemade bombs, the biggest killers of soldiers and civilians in Afghanistan.
Full report at:
http://www.thenational.ae/world/central-asia/afghanistan-presses-india-for-artillery-before-nato-withdrawal
------------
India
Iran to attend World Islamic Congregation (Aalmi Tablighi Ijtema) in India
2013/12/12
About 10 lakh people from India and abroad are likely to take part in an Islamic congregation.
Beside Iran, delegations from 13 countries, including Russia, Indonesia, Malaysia, France, US and Sri Lanka have already arrived in Bhopal, PTI reported quoting Managing Committee spokesperson Atiqul Islam as said.
The three-day 66th Aalmi Tablighi Ijtema (world Islamic congregation) is being held at Eintkheri near Bhopal.
Full report at:
http://www.abna.ir/data.asp?lang=3&id=488397
------------
4 states, 589 elected, 8 Muslims
ZEESHAN SHAIKH
Dec 11 2013
Mumbai: The newly elected assemblies will have eight Muslim members, down from 20 last time, out of a total of 589 in four of the five states that have had elections. This is not counting the MLA from Rajasthan's Churu, who is yet to be elected, and those from Mizoram, which has a very small Muslim population and no Muslim MLA.
In Delhi, Rajasthan, Madhya Pradesh and Chhattisgarh, Muslims constitute 7.03 per cent of the cumulative population, as per census figures. The current representation in the four assemblies works out to 1.35 per cent.
Seven of the eight were sitting members re-elected from their seats; the exception won from Delhi.
The largest drop has been in Rajasthan, which had 12 Muslim MLAs in 2008 and now has two. Intriguingly, both Yunus Khan from Deedwana and Habibur Rehman from Nagaur have been elected on BJP tickets. The BJP had fielded two other Muslims, who lost. The Congress had fielded 16.
Full report at:
http://www.indianexpress.com/news/4-states-589-elected-8-muslims/1206032/
------------
Minister urges Pak to remove Indian films from 'Negative List'
Dec 13, 2013
NEW DELHI: India on Thursday urged Pakistan to remove its films from the 'Negative List'. A Pakistani court ordered stopping the screening of foreign films and TV shows especially Indian content on country's channels.
Union information and broadcasting minister Manish Tewari tweeted, "Pakistan jingoists should know films & TV serials are ideas & ideas can't be barred/ banned. Pak government must remove them from 'Negative List' ASAP (as soon as possible)."
While staying the beaming of foreign content, Lahore High Court Justice Khalid Mahmood Khan on Tuesday ruled that Indian films and television serials be included in the 'Negative List' under the current bilateral trade regime. "The Indian films and other materials are included in the 'Negative List' which cannot be changed by issuing a Statutory Regulatory Order," the judge had remarked.
Full report at:
http://timesofindia.indiatimes.com/india/Tewari-urges-Pak-to-remove-Indian-films-from-Negative-List/articleshow/27268605.cms
------------
Indian PM accepts invitation to visit Pakistan
2013-12-13
NEW DELHI, Dec 12: Indian Prime Minister Manmohan Singh on Thursday got a formal invite from his Pakistani counterpart Nawaz Sharif for visiting that country, which was accepted, The Economic Times said.
The invite was handed over to Dr Singh by Mr Sharif's Special Assistant Tariq Fatemi and Chief Minister of Punjab Shahbaz Sharif who met the Indian prime minister for about half an hour.
Shahbaz Sharif was quoted as telling a group of reporters that the prime minister's goodwill message was handed over to Dr Singh along with the invitation.
Asked about the response, he said Dr Singh had accepted the invitation. "Let us see".
Pakistani leaders have been extending invitation to Singh for the last few years but the Indian leader has said his visit would depend on the situation on the ground in terms of terrorism and the LoC.
Full report at:
http://www.dawn.com/news/1072075/indian-pm-accepts-invitation-to-visit-pakistan
------------
Africa
Central African Republic peacekeepers save Muslim group from violent crowd
12 December 2013
African peacekeepers were forced to intervene in the Central African Republic on Thursday to disperse a crowd waiting to attack a group of Muslims who had taken refuge in a church compound.
Several thousand people stood by on Thursday as a group of men threw large rocks trying to break into the compound of the Saint-Jacques church in Bangui. They were looking for an ex-rebel general they believed to be inside.
They chanted: "Kill him! Kill him!" as others placed a large felled tree in front of the gate to prevent people escaping the refuge.
"He has attacked everyone and is responsible for many abuses here in Bangui," said Jonny Clevar, 18, as he and his friends stood near the entrance to the church. "We want to kill him."
The crowd hurled rocks at the peacekeepers and their vehicles, dispersing after shots were fired. Several men dressed in civilian clothing were then removed from the church compound.
Alongside 1,600 French soldiers, the peacekeeping forces are seeking to stabilise the country after more than 500 people were killed last week.
Full report at:
http://www.theguardian.com/world/2013/dec/12/central-african-republic-peacekeepers-church-bangui-seleka-muslim
------------
Rights group: Nigeria ignores sectarian violence
By MICHELLE FAUL
December 12, 2013
LAGOS, Nigeria (AP) — Nigeria's government has largely ignored years of ''mass murder'' in two central states, Human Rights Watch charged Thursday, failing to prosecute known perpetrators who have burned victims alive and hacked and shot to death others because of their tribe or religion.
The New York-based advocacy group presented a new report in Nigeria with details of ''horrific sectarian violence'' that has left more than 3,000 dead since 2010 in Plateau and Kaduna, states along Nigeria's 10th Parallel where Christianity and Islam meet and often clash.
In the absence of justice, people have taken to revenge killings, further fueling the cycle of violence, the organization said.
Nigeria's government did not immediately respond to requests for comment and routinely ignores such reports.
Human Rights Watch warned that Islamic militants waging an uprising in northeastern Nigeria have ''invoked the lack of justice for attacks on Muslims'' in these communities to justify killing Christians, including suicide bomb attacks on church services in Plateau and Kaduna states that killed dozens and sparked renewed sectarian clashes.
Violence in the area is rooted in religion, tribe, politics and a competition for land and water resources complicated by politicians who side with their religious or tribal group, leaving others feeling aggrieved.
It involves sedentary farmers who are mainly Christians and semi-nomadic Fulani cattle herders who are mainly Muslim. A violent incident could begin when a farmer steals or kills cattle that damage his crops. Then it could escalate when herders attack his village. It could be perpetuated when Christians retaliate by raiding a Muslim neighborhood.
The Human Rights Watch report of more than 100 pages carries testimony from more than 180 witnesses and victims as well as police investigators, prosecutors, defense lawyers, judges, and community leaders, along with observations from the group's researchers.
They visited villages that have been ''ethnically cleansed'' of Fulani people in attacks apparently orchestrated by Christians in the past year.
Full report at:
http://www.boston.com/news/world/africa/2013/12/12/rights-group-nigeria-ignores-sectarian-violence/LHrK8axANkiRMHDTkCF1yN/story.html
------------
With VIPs gone, mourning S. Africans reclaim Madiba
13 December 2013
PRETORIA: Nelson Mandela was reclaimed by ordinary South Africans Thursday, who queued patiently in their thousands to file past his open casket on a day of viewing reserved for the public.
On Wednesday, the cameras of the world had been trained on world leaders, VIPs and celebrities paying tribute to a man known for his common touch — relating to princes and paupers with equal ease.
Ordinary mourners from all walks of life had also queued for hours on end to view the body, but many were turned away by evening without having made it to the front of the long, winding line of people united in grief and gratitude for the father of their democratic nation.
Many returned on Thursday for another chance, with the entire day given over to general public access.
"My heart is so broken," said Anita Bodiba, 35, who arrived at the seat of government, the Union Buildings, at 4:30 a.m. (0230 GMT) to join the long queue that had already formed.
"I can't even sleep, I'm thinking of Madiba. He is the one who united us here in South Africa — white people, black people, Indian people," she said — using the clan name by which the democracy icon is fondly known.
On Wednesday, Mandela's distraught widow Graca Machel and other family members were followed by presidents, royalty and other international figures in paying their last respects in the amphitheater of the Union Buildings where the Nobel laureate is laying in state.
It was here that he was inaugurated as South Africa's first black president in 1994, after emerging from 27 years' imprisonment.
A third day of lying in state will be held Friday, after which Mandela's body will be transported to his boyhood home of Qunu, ahead of its eventual burial on Sunday.
Thursday's program began, as the day before, with Mandela's casket brought in a solemn cortege from the 1 Military Hospital to the Union Buildings.
Full report at:
http://www.arabnews.com/news/491791
------------
Tunisia's Islamists and opposition reach deal on premier
December 13, 2013
TUNIS: Tunisia's ruling Islamists and opposition parties reached a deal on Thursday to name a new prime minister to lead a caretaker administration until elections aimed at ending months of crisis.
The deal on a new premier clears the way for the current government to step down later this month and end turmoil that has threatened to upset Tunisia's transition to full democracy three years after its "Arab Spring" uprising.
Under a previous accord brokered by Tunisia's powerful UGTT labour movement, moderate Islamist party Ennahda has agreed to resign once the sides decide on a caretaker cabinet, finish a new constitution and set a date for elections.
"There is an agreement, which will be presented tomorrow," Hussein Abassi, head of the UGTT, told reporters after weeks of negotiations.
Political leaders did not give any further details. But former finance ministers and central bankers have topped the list of potential candidates for the post leading a technocrat, non-political cabinet meant to end months of deadlock.
Full report at:
http://www.dailystar.com.lb/News/Middle-East/2013/Dec-13/240932-tunisias-islamists-and-opposition-reach-deal-on-premier.ashx#axzz2nFLET955
------------
Molla's execution: JI to stage Pakistan-wide protests today
December 13, 2013
LAHORE: Jamaat-e-Islami has announced to observe Friday as a day of protest against the capital punishment of Jamaat-e-Islami Bangladesh leader Abdul Quader Molla, Geo News reported.
In a statement issued here Jamaat-e-Islami chief, Munawar Hassan, decried his Bangladeshi comrade's execution as deplorable.
"Molla embraced martyrdom with a smile on his face. His unflinching spirit is commendable. His execution at the hands of a "slanted" war tribunal is nothing but a mockery of justice," said he.
JI will also offer Molla's in-absentia funeral prayers in various cities across Pakistan today.
Going forward, JI Ameer also picked apart the government of Pakistan for being 'criminally silent' over Molla's unjust hanging.
"Had the government wanted it could have convinced Dhaka to spare Molla by referencing the agreements between former premier Zulfiqar Ali Bhutto and the then Bangladeshi leader Sheikh Mujeebur Rehman", said Hassan.
He added that Molla indeed became a victim of patriotism.
Bangladesh on Thursday hanged Molla, making him the first person to be put to death for massacres committed during the bloody 1971 war of independence.
Deputy Law Minister Quamrul Islam announced the execution, saying Abdul Quader Molla, 65, a senior leader of the Jamaat-e-Islami, was hanged by the neck at 10:01 pm (1601 GMT) in a jail in Dhaka.
Full report at:
http://www.thenews.com.pk/article-130104-Mollas-execution:-JI-to-stage-Pakistan-wide-protests-today
------------
Pakistan
Maulana Fazl ur Rehman to address peace seminar at Deoband, India, today
December 13, 2013
ISLAMABAD - The Chief of JUI and Chairman Kashmir Committee, Maulana Fazl ur Rehman, will address World Peace Seminar at Deoband, India, today (Friday).
He is on a weeklong visit to India as part of marking centenary of freedom fighters' struggle for the liberation of sub-continent, according to press release issued from JUI-F. Maulana will deliver a lecture on resolving contentious issues in South Asia and their linkage with peace, stability and security of the entire Asia. He spent busy time in Indian's Punjab province.
http://www.nation.com.pk/islamabad/13-Dec-2013/fazl-to-address-peace-seminar-in-india-today
------------
Pakistan bans Three Islamic terror organisations based in China: Munsif Urdu Daily
12 Dec 2013
In its October 25, 2013 issue, Munsif, in a news report has claimed that Pakistan has banned three Islamic terror organisations based in China's Xiang Province.
According to the Urdu daily, the organisations that have been banned are Islamic Movement of Uzbekistan, East Turkmenistan Islamic Movement, Islamic Jihad Union.
Full report at:
http://www.niticentral.com/2013/12/12/pakistan-bans-islamic-terror-organisations-based-in-china-munsif-167819.html
------------
Bomb kills four soldiers in North Waziristan Agency
December 13, 2013
MIRANSHAH: At least four soldiers were killed and five wounded when a military convoy struck a roadside bomb in the tribal areas on Thursday, security officials said. The convoy was passing through Spinwam village some 45 kilometres east of Miranshah, the main town of the North Waziristan Agency. Officials blamed "miscreants" – a term they often use for Taliban militants – for the attack. "Two more soldiers embraced Shahadat (martyrdom).
Full report at:
http://www.dailytimes.com.pk/default.asp?page=2013\12\13\story_13-12-2013_pg7_6
------------
Sharif can improve ties with India and Afghanistan, says US
ANWAR IQBAL
2013-12-13
WASHINGTON, Dec 12: The United States and India believe that Prime Minister Nawaz Sharif can succeed in improving relations with both New Delhi and Kabul, says a senior US official.
And the United States wants Mr Sharif to have "a fair chance of being able to do so", said US Special Representative for Pakistan and Afghanistan, James Dobbins.
Pakistan, its role in Afghanistan and its relations with India were discussed thoroughly at a congressional hearing — "Afghanistan 2014: Year of Transition" — on Wednesday afternoon.
Congressman Ed Royce, who chairs the House Foreign Affairs Committee, brought the Pakistan element into the debate in his opening remarks, claiming Pakistan's military and security service continue to complicate matters by supporting the Taliban.
"Pakistan is a double-dealer, paying lip service to cooperation with the US … while simultaneously undermining our primary objective of bringing Afghanistan under the control of a democratically elected government," he said.
Congressman Ami Bera, a California Democrat of Indian origin, highlighted Indian concern that once the US withdrew from Afghanistan, "hardened, trained jihadi fighters will start shifting over to the Indian-Pakistan border".
"Probably the greatest contribution India could make and Pakistan can make in Afghanistan is improving their bilateral relationship," said Mr Dobbins, while responding to Mr Bera's remarks.
This will have two effects: It will greatly increase the access of Afghan trade to India via Pakistan and will reduce the "highly destabilising" competition between the two countries for influence in Afghanistan, he said.
"So we've been encouraging both Pakistan and India to overcome their differences in Kashmir, their differences over Afghanistan. And I think there is some hope with the new Pakistani government."
Ambassador Dobbins assured India that there was no near-term danger of foreign fighters shifting from Afghanistan to the Indian border. "But the Indian concerns are legitimate and it's something that we do need to be careful about," he said.
"Do you sense, in your conversations with the Pakistani government, (a) desire (to improve ties with India)?" Mr Bera asked.
"I do and I think the Indians do as regards the new prime minister and his civilian leadership," Ambassador Dobbins replied.
But he also pointed out that in Pakistan "the security sphere has been left largely to the military and they've been largely free of civilian oversight or control. The last time Nawaz Sharif tried to exercise that kind of control, he was overthrown by General Musharraf," he added.
Full report at:
http://www.dawn.com/news/1072109/sharif-can-improve-ties-with-india-and-afghanistan-says-us
------------
Grappling with sectarian terrorism
December 12, 2013
True followers of Islam cannot agree more with what President Mamnoon Hussain had to say at a seminar the other day on "Interfaith Harmony". Islam is a religion of peace and tolerance; and forbids imposition of one's own faith on others, he said. That is why Muslims ruled over the subcontinent for several centuries. But, he lamented, today neither mosques nor imambargahs, churches or shrines are safe while schools are being blown up and innocent people killed. In fact, during the recent years, religious intolerance has reached a critical level.
The question at this point in time is that what should be done to get rid of religious intolerance and the violence it breeds? The President suggested a rather simplistic approach, saying the role of religious scholars is one of the best options. According to him, it can help build religious harmony among different sects, assisting the government to overcome the menace of terrorism and sectarianism. They do have a role, albeit only a limited one. They cannot counter terrorists. As a matter of fact, some religious scholars had to pay a heavy price for challenging the use of violence in the name of religion. It may be recalled that back in 2009 a prominent religious scholar, Allama Sarfraz Naeemi, Principal of Jamia Naeemia in Lahore, was killed along with three others in twin suicide bombings for issuing a fatwa declaring suicide bombing as 'haram'. Another well-respected scholar had to seek refuge abroad for the same reason. It is worthwhile also to recall that Ittehad-e-Bainul-Muslimeen Committee and Ulema Board passed a resolution some four years ago pronouncing suicide bombings as 'haram'. More recently, ie, following last September's fatal attack on a Peshawar church, the Sunni Ittehad Council issued an edict declaring the killing of religious minorities as violative of Islamic teachings. From time to time, some other religious leaders too issued similar edicts. Yet the threat of sectarian terrorism remains a clear and present danger.
Full report at:
http://www.brecorder.com/editorials/0:/1263810:grappling-with-sectarian-terrorism/
------------
War on terror: country suffered $100 billion direct losses: Dar
December 13, 2013
ZAHEER ABBASI
Finance Minister Ishaq Dar has said that Pakistan suffered a direct economic loss of $100 billion in the war against terrorism whereas its indirect cost was even greater. Speaking at the concluding session of SDPI seminar, Dar said that an indirect cost of war on terror in terms of human losses and infrastructure far exceeded the direct cost.
An official of Finance Ministry said the estimate of economic loss of $100 billion was based on figures compiled in a report jointly prepared by various ministries and would be officially released by the Foreign Office (FO) in near future. "We are trying to return to normalcy and not looking for a shortcut," he reiterated.
The Minister said the previous government had not done any good to the economy and people were suffering because of the economic mess created by them. Dar said the present government had taken Rs 200 taxation measures in budget to fulfil the commitment made by the previous government with the International Monetary Fund (IMF). The present government had to increase the power tariff to implement the delayed decision of caretaker government. The implementation of decisions delayed by previous or caretaker government has been responsible for fuelling inflation.
Full report at:
http://www.brecorder.com/business-a-economy/189/1263932/
------------
PM raises LoC violations with Sharif's brother
Sachin Parashar
Dec 13, 2013
NEW DELHI: PM Manmohan Singh on Thursday again raised the issue of LoC ceasefire violations with visiting Pakistan Punjab chief minister Shahbaz Sharif who is also Pakistani PM Nawaz Sharif's brother. Disclosing this, Shahbaz said he responded by saying that it was important for the DGMOs of the two countries to meet at the earliest to resolve the issue.
India, however, holds Pakistan responsible for the delay in the proposed meeting between the DGMOs. Shahbaz met Singh here to deliver a "goodwill'' message from Sharif.
Shahbaz was accompanied by Sharif's special assistant on foreign affairs Tariq Fatemi who delivered a letter from the Pakistani PM to Singh again inviting him to visit Pakistan. "The Indian PM appreciated the invitation and we hope that he will be able to visit Pakistan soon,'' said Shahbaz.
While the issue of terrorism was discussed, there was no mention of JuD chief Hafiz Saeed, said Shahbaz. "The fact is that Pakistan is a victim of terrorism. We condemn all shades and hues of terrorism and militancy and want to cooperate with India to fight this menace,'' he added.
"This issue (Saeed) was not taken up in today's meeting because Indian government also knows that their institutions under the UN (sanctions) have been taken over and are run by the government of Punjab,'' said Shahbaz. Saeed, who is based in Punjab, is regularly accused of giving hate speeches against India from public platforms.
"On the LoC issue, I said the DGMOs should meet as soon as possible. The PM did make certain observations. He spoke about LoC and other issues and I replied to those,'' said Shahbaz. The chief minister, the second most powerful person in PML (N) after his brother, insisted before Singh that issues like J&K, Sir Creek and water too had to be addressed.
Shahbaz is in India on the invitation of his Punjab counterpart Parkash Singh Badal. He is also Full report at:
http://timesofindia.indiatimes.com/india/PM-raises-LoC-violations-with-Sharifs-brother/articleshow/27271224.cms
------------
North America
Geneva 2 invitation to KSA rekindles hope for Syrians
13 December 2013
Saudi Arabia and Iran are among more than 30 countries invited to attend the Geneva 2 peace conference amid expectations that the Jan. 22 event would end the three-year-old Syrian tragedy that has killed more than 120,000 people and displaced millions.
Saudi political analyst Jamal Khashoggi expressed hope that the participation of Saudi Arabia in the conference would help bring about peace in Syria.
"Although Saudi Arabia is not happy with Iran's invitation to the conference, being the supporter of the dictator (Bashar Assad), I strongly believe that we should attend this conference in support of the Syrian opposition," Khashoggi told Arab News.
"Geneva 2 is aimed at finding a solution to the conflict that has killed thousands of innocent people and to form a transitional government with full power," he said.
Khashoggi said Saudi Arabia would support the Syrian National Coalition at the conference while reiterating the Kingdom's stance that Assad should not be part of the new government. He said Riyadh is seeking a quick end to the tragedy. There are currently 32 countries invited to the conference, but that number may increase because other countries want to join, an Arab diplomat said.
In addition to the five permanent members of the Security Council, there are also neighboring countries attending, as well as Saudi Arabia and Iran, and Germany and Italy, the Arab diplomat said.
Full report at:
http://www.arabnews.com/news/491906
------------
Muslim Millennials Explore The Problem With American Mosques
By Yasmine Hafiz
12/09/2013
Muslim millennials joined host Caroline Modarressy-Tehrani on Huff Post Live to discuss the exclusivity of many American mosques, as captured in the upcoming film "UnMosqued" by Ahmed Eid.
More and more American Muslims find themselves at odds with the culture in their mosque communities, particularly as many of these places of worship retain strong ties to homelands that self-identified American Muslims may not relate to, say many of those interviewed in "Unmosqued."
"You go to the Masjid, and so many Masjids speak their own native language," commented one man. "Whether it's Arabic, Bangla, Urdu, and Turkish and our children have a hard time understanding this message."
"Where is the young generation?" asks Imam Shamsi Ali. "They are moving away, and they are not coming back."
Ainee Fatima, Ali Baluch, Ramy Youssef, and Yousef Erakat chimed in on the debate to explain their feelings about the acceptance of the Muslim community.
Full report at:
http://www.huffingtonpost.com/2013/12/09/unmosqued-muslim-millenials_n_4394588.html
------------
UN Inspectors Confirm Syria Chemical Attack
13th December 2013
Chemical weapons were probably used in four locations in Syria this year, in addition to the confirmed attack near Damascus in August that forced the government to abandon its secret chemical stockpile, U.N. inspectors said in a report released Thursday.
The experts, led by Swedish professor Ake Sellstrom, examined seven alleged chemical weapons attacks and said it lacked information to corroborate the allegations at two locations.
The inspectors' limited mandate barred them from identifying whether the government or opposition fighters were responsible for any of the attacks.
Thursday's report said evidence indicated chemical weapons were probably used in Khan al Assal outside Aleppo, Jobar in Damascus' eastern suburbs, Saraqueb near Idlib in the northwest, and Ashrafiah Sahnaya in the Damascus countryside. In two cases, it found "signatures of Sarin."
The government and opposition accused each other of using chemical weapons at Khan al Assal and the report said none of the parties in Syria denied their use in the village. The allegations of chemical weapons use at Jobar and Ashrafiah Sahnaya were made by the Syrian government, while Britain and France raised the allegations about Saraqueb.
In an initial report on Sept. 16, Sellstrom's team concluded that evidence collected in the Ghouta area of Damascus following an Aug. 21 attack provided "clear and convincing evidence that surface-to-surface rockets containing the nerve agent sarin were used." Graphic video footage showed dozens of people gasping for air and bodies lined up and the U.S. government said more than 1,400 people were killed.
The confirmed use of chemical weapons in Ghouta, and the threat of possible U.S. military action, led to a U.S.-Russian agreement to eliminate Syria's chemical weapons by mid-2014. The process of getting Syrian chemicals that can be used to make weapons out of the country is currently underway.
The experts said they collected "credible information that corroborates the allegations that chemical weapons were used in Khan al Assal on March 19, 2013 against soldiers and civilians." The report said information from medical, military and health personnel corroborated the occurrence of rapid mass poisoning "by an organophosphorous compound."
But the inspectors said the release of chemical weapons at the site couldn't be independently verified because it lacked "primary information" on how the chemical agents were delivered and because environmental and medical samples weren't scientifically collected, preserved and analyzed.
The U.N. mission said it collected evidence "consistent with the probable use of chemical weapons in Jobar on Aug. 24, 2013 on a relatively small scale against soldiers." But it said it lacked information on the delivery system and the chain of custody for samples, and said therefore it could not "establish the link between the victims, the alleged event and the alleged site."
The report said Jobar was "compromised by previous demining activities and by visits of representatives of the Syrian Government who had reportedly moved the remnants of two explosive devices alleged to be the munitions used in the incident." The U.N. team was able to examine those remnants at a storage location.
The inspectors said interviews with survivors and clinicians and medical records confirmed symptoms of "organophosphorous" poisoning. They said blood samples recovered by the Syrian government on Aug. 24 and authenticated by the U.N. using DNA techniques "tested positive for signatures of Sarin," and one blood sample from the same patients on Sept. 28 tested positive for Sarin.
Full report at:
http://www.newindianexpress.com/world/UN-Inspectors-Confirm-Syria-Chemical-Attack/2013/12/13/article1943381.ece
------------
American missing in Iran worked for CIA: Report
Dec 13, 2013
WASHINGTON: An American who went missing in Iran six years ago worked for the CIA and was not in the country on a business trip as US officials had claimed, US media reported.
In a case that had long been shrouded in secrecy, the Associated Press and The Washington Post published lengthy reports yesterday revealing how retired FBI agent Robert Levinson had been paid by the CIA to gather intelligence.
Levinson flew to an Iranian resort, Kish Island, in March 2007 to investigate corruption in the country, with hopes of also gleaning information about Tehran's suspect nuclear program, the reports said.
But he vanished, and US officials have publicly said that he was a private citizen travelling on private business.
In violation of CIA rules, a team of analysts had hired Levinson -- a seasoned FBI agent with expert knowledge about Russian criminal circles -- to gather intelligence, the AP and the Post wrote.
When Congress finally learned what had taken place, the agency sacked three analysts and seven others faced disciplinary action.
Full report at:
http://timesofindia.indiatimes.com/world/us/American-missing-in-Iran-worked-for-CIA-Report/articleshow/27269576.cms
------------
Southeast Asia
China stepping up ideological education in Xinjiang, Tibet
December 12, 2013
Chinese authorities have started carrying out stricter ideological education among ethnic minorities in the Xinjiang and Tibet regions this month and detained those who are not obedient to what they call programs aimed at teaching a more modern way of living, people familiar with the situation said Thursday.
A copy of a notice regarding education issued by authorities of Hotan in the Xinjiang Uyghur Autonomous Region obtained by Kyodo News demands Muslim women not wear head scarves.
The notice, dated Dec. 4 and written in the Uyghur language, asks Muslim women to dress in a modern way and says they will have to take reeducation if they do not comply with the request.
It also warns that a serious violator of the order will be subject to criminal charges.
"There is a person who has been detained as a terrorist only because he was with a long beard," one person, an ethnic Uyghur, said on condition of anonymity. "Their approach is far from conciliatory."
The Chinese government under President Xi Jinping has been strengthening controls on Uyghur and Tibetan ethnic minorities since there was an apparent suicide car attack near Tiananmen Square in central Beijing in October.
Full report at:
http://www.globalpost.com/dispatch/news/kyodo-news-international/131212/china-stepping-ideological-education-xinjiang-tibet
------------
Ignorance, extremist Sunnis fuelling anti-Shia sentiments in Malaysia, says academic
BY SHERIDAN MAHAVERA
DECEMBER 12, 2013
Ignorance and an extremist brand of Sunni Islam influencing religious authorities are fuelling the current anti-Shia movement in Malaysia, although the minority community has deep roots in the country stretching back centuries, says an academic.
Universiti Kebangsaan Malaysia sociologist Dr Mohd Faizal Musa (pic) said extremist religious authorities have spread the myth that Shia Islam was a recent import starting in 1979 and that the denomination, which is the second largest in Islam, was a foreign threat.
"Wahhabis in Malaysia tend to regard Shiism as 'another religion' and consider Shias 'infidels', 'unbelievers', 'heretics', 'deviants', and 'non-Islamic'," he told The Malaysia Insider in Kuala Lumpur.
He said Wahhabism had also made dialogue between Sunni and Shia Muslims difficult, thus compounding the ignorance and fear that the majority Sunni feels towards the Shia.
But Mohd Faizal said the Shia Muslim community was here in the 14th century, at about the same time Sunni Islam arrived in Southeast Asia through Arab merchants.
The community continued to grow in Indonesia, Thailand, Myanmar, Singapore and Malaysia as more Shia Muslim immigrants arrived from Pakistan, Afghanistan and India.
The community has lived side-by-side and inter-married with Sunni Muslims in Malaysia for centuries with little evidence of conflict between them.
In fact, some Shia Muslims interviewed by the academic have been able to trace their ancestry back to the 1800s.
"As I conducted research in Kelantan, I encountered a Malaysian Shia family who claimed that one of their ancestors came from Turkey... who fled the oppressive taxation policy of the Ottoman Empire during the reign of Sultan Abdul Hamid II.
"A cross-check with Ottoman historical accounts showed that 'in the 1890s the government of Sultan Abdul Hamid II (1876-1909) attempted to curb Shiism and convert them to Sunnism," he said in a paper he wrote about the Malaysian Shia minority.
The essay titled "The Malaysian Shia: A preliminary atudy of their history, oppression and denied rights," was published a month ago by Mohd Faizal, who is attached to UKM's Instite of the Malay World and Civilisation.
The essay's findings refute the argument used by national religious authorities and Sunni Muslim groups that the Shia minority, which numbers more than 200,000 believers, is a recent, foreign import that threatens the Sunni Muslim-majority.
Last week, grassroots members from the country's largest party, Umno, called for the Federal Constitution to be amended so that only Sunni Islam would be the official religion of the Federation.
Full report at:
http://www.themalaysianinsider.com/malaysia/article/ignorance-extremist-sunnis-fuelling-anti-shia-sentiments-in-malaysia-says-a
------------
Try to resolve Shia, Sunni divide, suggests Malaysian Human Rights Commission chief
BY SHERIDAN MAHAVERA
DECEMBER 11, 2013
The Malaysian Human Rights Commission, or Suhakam, has called for a dialogue between the country's predominant Sunni Muslims and the tiny number of Shia Muslims.
Suhakam chairman Tan Sri Hasmy Agam, saying the Federal Constitution provided for freedom of different communities to practise their faith, called for such a freedom to be extended to other denominations within Islam.
"If other Muslim countries can have Shias and Sunnis living side by side, why can't Malaysia?" asked Hasmy, adding that the sensitive issue could still be solved through dialogue.
Hasmy said despite followers of two schools involved in violent conflicts elsewhere, both groups should work out their differences through dialogue.
Shiaism is the second largest denomination of Islam, and according to Washington-based Pew Research Center, its adherents make up 10% to 20% of the global Muslim population, now estimated to be at 1.6 billion.
Despite their small number in Malaysia, Shia Muslims have been targeted by local Islamic authorities. The move is ironic, as Malaysia has good relations with Iran, a predominantly Shia Muslim nation.
Hasmy's call, which was made during an event to mark Human Rights Day yesterday, followed months of belligerent talk by political parties, Muslim groups and government agencies against local Shia Muslims who they said posed a "threat" to Sunni Islam.
Last week, during the Umno general assembly, party leaders took turns in calling for a clampdown on Shia Muslims.
Other local Muslim groups have called for the same treatment towards Shias, although they said the denomination should not be recognised as a branch of Islam in Malaysia.
This is despite the 57-member Organisation of Muslim Cooperation's stand in support of good relations between Sunnis and Shias.
Hasmy meanwhile said the country's quest for a developed nation status by Vision 2020 can only be realised if "hold ourselves to a higher standard of behaviour when it comes to dealing with religious differences".
Full report at:
http://www.themalaysianinsider.com/malaysia/article/if-other-muslim-countries-can-have-shias-and-sunnis-why-cant-we-asks-suhaka
------------
Malaysia expects global Islamic financial industry to grow next year
December 12, 2013
KUALA LUMPUR: The global Islamic financial industry is expected to grow to US$2 trillion next year from US$1.3 trillion currently, propped up by growing demand from non-conservative countries, Malaysia's Deputy Finance Minister Ahmad Maslan said.
He said the world's acceptance of Islamic Finance was growing as evident from the issuance of sukuk or Islamic bond in non-conservative countries such as the United Kingdom UK, according to Malaysia's (Bernama) News Agency.
Ahmad said the Islamic Financial industry would continue to grow as more countries are increasingly accepting the financial system as a competent alternative to the conventional system.
"The Islamic financial industry will surely expand when the financial authorities out there understand the stability of the Islamic financial system.
"The system is not shaken by the economic downturn anywhere in the world," he said.
Furthermore, the Islamic financial system was also fairer such as in terms of profit distribution, Ahmad said.
Full report at:
http://thepeninsulaqatar.com/index.php/news/latest-news/264312/malaysia-expects-global-islamic-financial-industry-to-grow-next-year
------------
Japan's MUFG Provides Its First Islamic Loan in Indonesia: Sources
December 13, 2013.
Mitsubishi UFJ Financial Group's core banking unit will become the first Japanese bank to provide an Islamic loan in Indonesia, financial sources said, a key step that the bank hopes will help it build up its Islamic financing business.
Rapid economic growth in Muslim-majority countries in Southeast Asia and the Middle East has spurred many non-Muslim institutions to foray into Islamic finance. The top 20 Islamic banks have been growing 16 percent annually in the last three years, far outpacing their conventional rivals, according to Ernst and Young.
Full report at:
http://www.thejakartaglobe.com/business/japans-mufg-provides-its-first-islamic-loan-in-indonesia-sources/
------------
As a child, Obama crossed a cultural divide in Indonesia
December 13, 2013
PAUL WATSON
As a boy in Indonesia, Barack Obama crisscrossed the religious divide. At the local primary school, he prayed in thanks to a Catholic saint. In the neighborhood mosque, he bowed to Allah.
Having a personal background in both Christianity and Islam might seem useful for an aspiring US president in an age when Islamic nations and radical groups are key national security and foreign policy issues. But a connection with Islam is untrod territory for presidential politics.
Obama's four years as a child in Indonesia underscore how dramatically his background differs from that of past presidential hopefuls, most of whom spent little, if any, time in other countries. No one knows how voters will react to a candidate with an early exposure to Islam, a religion that remains foreign to many Americans.
Obama's campaign aides have emphasised his strong Christian beliefs and downplayed any Islamic connection. The candidate was raised "in a secular household in Indonesia by his stepfather and mother," his chief spokesman, Robert Gibbs, said in a statement in January after false reports began circulating that Obama had attended a radical madrasa as a child.
"To be clear, Senator Obama has never been a Muslim, was not raised a Muslim, and is a committed Christian who attends the United Church of Christ in Chicago," Gibbs' Ja. 24 statement said. In a statement to The Times on Wednesday, the campaign offered slightly different wording, saying: "Obama has never been a practicing Muslim." The statement added that as a child, Obama had spent time in the neighbourhood's Islamic centre.
His former Roman Catholic and Muslim teachers, along with two people who were identified by Obama's grade-school teacher as childhood friends, say Obama was registered by his family as a Muslim at both of the schools he attended.
That registration meant that during the third and fourth grades, Obama learned about Islam for two hours each week in religion class.
The childhood friends say Obama sometimes went to Friday prayers at the local mosque. "We prayed but not really seriously, just following actions done by older people in the mosque. But as kids, we loved to meet our friends and went to the mosque together and played," said Zulfin Adi, who describes himself as among Obama's closest childhood friends.
The campaign's national press secretary, Bill Burton, said Wednesday that the friends were recalling events "that are 40 years old and subject to four decades of other information." Obama's younger sister, Maya Soetoro, said in a statement released by the campaign that the family attended the mosque only "for big communal events," not every Friday.
The sensitivity of Islam as a political issue was on display earlier this year with the false report that Obama had attended a radical madrasa here. The report, which appeared initially on a conservative-oriented online magazine and then on a Fox News program, attributed the news to opposition researchers for Sen. Hillary Rodham Clinton (D-N.Y.). Both campaigns denied the story and accused conservative media outlets of trying to use the rumour to smear two Democratic hopefuls simultaneously.
Full report at:
http://www.nation.com.pk/international/13-Dec-2013/as-a-child-obama-crossed-a-cultural-divide-in-indonesia
------------
Mideast
It's time we bury 'Orientalism' in Jerusalem's Museum of Islamic Art
By Galia Yahav
Dec. 12, 2013
One of the most wonderful aspects of "Orient Express," the brilliant exhibition of works by Nevet Yitzhak at Jerusalem's L.A. Mayer Museum for Islamic Art, is the resounding answer she gives to the superficial, cliché-filled discourse on Islamic art. It is a discussion that defines Islamic art as a "rich, ancient, much respected culture" in a generalized manner that, as it declares the wealth of ancient Islam, presents Islamic art as homogeneous, monolithic and bereft of any nuances.
"Orient Express" rejects such declarations and, more importantly, Yitzhak transcends the critical treatment on which she bases herself, notably the article by art historian Avinoam Shalem, "What do we mean when we say 'Islamic art'"? In this article, Shalem, who coined the term "post-Edwardian," refers to the response to "Orientalism," the book written by Edward Said. In transcending this attitude, Yitzhak creates intricate artistic works that are an escape from conventions.
"In an age that expresses serious reservations about the canons of evaluation and cataloguing regarding 'Islamic art,'" writes the exhibition's curator, Sally Haftel Naveh, "and which, moreover, challenges this generalized category, Yitzhak offers a reflective interpretation of the essence of the museum's collection – a collection of ancient utilitarian and ceremonial objects. She raises questions regarding the museum's role as a space that preserves time, while presenting and conveying knowledge."
The exhibition is the result of extensive research into the museum's collections and was especially created for the museum, which also served as its inspiration. There are eight exhibits of animated films, three-dimensional model designs and digital collages, which radiate reproductions of items from the museum's collection - a piece of fabric, a ceramic plate, a decorated wooden chest, a sword, a decorated plate, an incense burner, a page from the Koran and a page from an illustrated manuscript.
Powerful X-rays
The adapted objects are animated and presented in YouTube segments and scenes from films that have been added to these objects or which are incorporated in them. The color has been removed from the photographs so that the result is powerful X-rays, which are reflections that have the look of catalogue items, but which have lost the classification technique of a museum. What the visitor sees therefore is magical images that lack any periodic, functional or cultural context, and which have been restored to their magical or mystical status as mysterious objects of the Orient.
Yitzhak's approach appears deceptively simple. In her "What in the World," a 17th-century Mughal ivory-ornamented chest of drawers opens up to display the video clip of a television quiz produced in 1950 by CBS and Penn State University's museum. The aim of the quiz is to identify archaeological objects.
The panel's participants – Froehlich Rainey, director of the museum; archaeologist Alfred Kedar; sculptor Jacques Lipchitz; and a scholar of Islamic art, Richard Ettinghausen – feel a given object with their hands, studying it from various angles and trying to decipher its nature: Is this a musical instrument, a writing tool or a ritual object? They are unable to discover its true identity.
The visitor sees this moment of failure and the nature of the object remains a mystery. In effect, the visitor is observing a pure academic scene: the etiquette of experts as expressed by their language, habitual behavior, interpersonal relations, diction and hedonistic, arrogant wonder. Unwittingly, the interpreters themselves become an archaic archaeological finding, which is contained in the chest as a reflection of typical academic behavior (which, in this case, is refracted through the medium of television); it is a finding that is no longer relevant. The experts are seen as genies that have been returned to their bottle.
In the film, "The Dark-Skinned Nightingale," a Persian illustration from 1506, "Yusuf and Zulaykha," is screened. The illustration is that of a couple engaged in lovemaking. Now the page turns into a screen that is also an apartment building through whose windows one can see segments from the film "Dalila" (1956), the first Egyptian movie to be shot in Cinemascope, directed by Mohammed Karim and starred Abdel Halim Hafez and Shadia.
The artist has added to the film segments various musical selections and a camel caravan that keeps on moving forward in an endless loop. The exhibit is a blend of segments from different works produced in different periods and under very different circumstances; yet together they give the impression of being a single, complex narrative in which the powerfully emotional dramas rise up to stunning climaxes as flames that unite, excite but also destroy.
In "Short Pictures," on a page from the Koran dating from the 16th century a film is screened, replacing the sura (chapter) that appears on that page. The film is very short, lasting only 52 seconds and consisting of three takes of Egyptian-born director-writer-producer Youssef Chahine being filmed by means of an original Cinématographe camera created by the Lumière brothers.
Full report at:
http://www.haaretz.com/culture/arts-leisure/1.563043
------------
Israel's Livni accuses Jewish Home party of sabotaging talks with Palestinians
December 12, 2013
JERUSALEM // Israel's chief peace negotiator yesterday accused a key coalition partner of deliberately seeking to sabotage talks with the Palestinians by ramping up settlement construction.
Speaking before the US Secretary of State, John Kerry, arrived on his second visit within a week, Justice Minister Tzipi Livni accused the far-right national religious Jewish Home party of deliberately promoting Israeli settlement projects in a bid "to derail" the negotiations.
"More building, more announcements of building in isolated settlements are meant to prevent us reaching peace," she told an audience at Tel Aviv University.
"That is their deliberate intention, to derail the negotiations. To cause the other side to walk out of the room," she said.
Mr Kerry's latest peacemaking mission to the region is expected to focus on security in any final-status accord.
Along with the issue of Israeli settlements on land Palestinians want for their future state, Palestinians also object to Israel's insistence on maintaining troops in the Jordan Valley area of the West Bank even after a final peace treaty is signed.
"There should be a complete withdrawal of Israeli forces to the 1967 lines, including the Jordan Valley," Saleh Rafat, a member of the Palestine Liberation Organisation's executive committee, said. "If Kerry just comes back with the same proposals, this is not acceptable."
The Palestinians would accept deployment of an international force in the Jordan Valley, Mr Rafat said — a proposal Israel rejects.
The Israelis want to maintain forces in the Jordan Valley to protect the country's eastern border.
"Sometimes there is the impression that the Palestinians are seizing on every detail, every excuse, to sabotage every chance for peace, every negotiation," Israeli minister of intelligence and strategic affairs, Yuval Steinitz, said. "The principle is very simple; our security must rest in our own hands."
Mr Kerry arrived yesterday for another round of shuttle diplomacy aimed at driving forward the peace talks.
He was to meet the Palestinian Authority president, Mahmoud Abbas, in the West Bank yesterday. However, a heavy snowstorm forced the cancellation of his meeting with Mr Netanyahu in Jerusalem yesterday, although they are scheduled to meet today.
Looking to win him over Mr Abbas, Mr Kerry was yesterday to be accompanied by retired US General John Allen, who has been working on possible solutions to allay Israeli security concerns.
"It is the first time that Gen Allen is doing a briefing with President Abbas," a US official said. Until now Gen Allen, a former commander of US troops in Afghanistan, has only briefed the Israelis on his ideas.
Full report at:
http://www.thenational.ae/world/middle-east/israels-livni-accuses-jewish-home-party-of-sabotaging-talks-with-palestinians
------------
Iran, S Arabia invited to Syria peace talks
December 13, 2013
Iran and Saudi Arabia, which back opposite sides in Syria's war, are among more than 30 countries slated to attend a peace conference next month, diplomats said.
The so-called Geneva 2 conference, a follow-up to a 2012 meeting, is aimed at mapping out a political transition to end nearly three years of fighting that has killed more than 120,000 people and displaced millions.
But the January 22 meeting will actually be held at the lakeside Swiss city of Montreux because of a shortage of hotel rooms in Geneva, which will be hosting a luxury watch fair, a Western diplomat told AFP.
"At the moment there are 32 countries invited, but that number may increase because everyone wants to come," an Arab diplomat told AFP.
"In addition to the five permanent members of the Security Council (the United States, Britain, France, Russia and China), there are the neighbouring countries, as well as Saudi Arabia and Iran, and also Germany and Italy and others."
Shia Iran is a key ally of President Bashar al-Assad's regime, while Saudi Arabia has strongly backed the Sunni-led rebels.
Full report at:
http://www.thedailystar.net/beta2/news/iran-s-arabia-invited-to-syria-peace-talks/
------------
Syrian refugees in Turkey caught in cold
12 December 2013
A cold front sweeping through many provinces across Turkey causing a sudden drop in the temperature has hit scores of Syrian refugees in particular as they now struggle for their lives in the place where they came to be sheltered.
GALLERY
Some 600,000 Syrian refugees, fleeing the tyranny of the Assad regime, have taken shelter in Turkey. Syrians taking refuge in tents -- erected within camps set up for their shelter -- are facing harsh winter conditions with heavy snowfall being seen across the country. Deprived of the means of heat, the Syrians sheltering in these tents are affected most by the cold which has dominated the whole country for the last few days. Struggling to survive the cold, Syrian refugees are calling on authorities to provide them with warm clothes and blankets.
These refugees, having fled the violence that has been going on in their homeland for almost three years and leaving everything behind, are now face to face with another crisis: winter. Cold weather is making their already difficult lives even more challenging in the tents where they survive day to day without knowing when or how they will return home. The only means by which they keep warm, they say, is through stoves which sometimes fail to work due to shortages of fuel. Some of the refugees claim that the cold weather goes directly into their tents, creating little difference between inside and outside.
Full report at:
http://www.todayszaman.com/news-333797-syrian-refugees-in-turkey-caught-in-cold.html
------------
Europe
'Muslims should know better' - Anjem Choudary on anti-alcohol protest
December 12, 2013
Islamist firebrand Anjem Choudary has told Muslims they "should know better" than to sell alcohol, ahead of a march he will attend in Brick Lane on Friday against the "sinful" practice.
The infamous leader of the group al-Muhajiroun said he hopes the rally will help convince Muslims and non-Muslims to "cut out alcohol from society altogether".
The march on Friday by The Sharia Project, a group based in Waltham Forest with members in Whitechapel, will protest the drinking and sale of alcohol by Muslims in east London, which it says is sinful under Islamic law.
Mr Choudary today confirmed his links to the group after its spokesman Abu Ramaysah described him as one of its "mentors".
He said: "I teach a lot of them and they have studied Sharia with me."
Mr Choudary also criticised mosques in east London for tolerating the sale of alcohol, accusing them of doing so for money.
He said: "A Muslim knows it's completely prohibited to sell alcohol.
Full report at:
http://www.london24.com/news/muslims_should_know_better_anjem_choudary_on_anti_alcohol_protest_1_3105347
------------
US, Britain suspend non-lethal aid to Syrian rebels
12 December 2013
ISTANBUL: The United States and Britain suspended non-lethal aid to northern Syria after rebel fighters seized Western-backed rebel weapons warehouses, highlighting fears that supplies could end up in the wrong hands and the general chaos engulfing the nation.
The rebel Free Syrian Army fighting President Bashar Assad said the US and British moves were rushed and mistaken. "We hope our friends will rethink and wait for a few days when things will be clearer," FSA spokesman Louay Meqdad said.
The suspension underlines a crisis for the FSA leadership, which needs international backing to reinforce its credibility and to stop its fighters joining powerful Al Qaeda-backed militants who now dominate the war with Assad.
The United States and Britain have in the past offered radios, body armor, medical supplies, money and food to rebels fighting Assad, but a US embassy spokesman in Turkey declined to give details of what supplies may have been halted.
Fighters from the Islamic Front, which groups six major rebel brigades and which said last week it had quit the FSA, seized headquarters of the Syrian Military Council, nominally in charge of the FSA, and weapons warehouses at the Bab Al-Hawa crossing on Syria's northwestern border with Turkey.
The Syrian Observatory for Human Rights, a British-based anti-Assad monitoring group, said the Islamic Front had seized dozens of 'Shilka' anti-aircraft weapons and anti-tank rockets from the SMC arms stores in fighting on Friday and Saturday.
The Islamic Front's battlefield success in capturing the weapons stores could undermine SMC assurances to the United States that no supplies sent to their fighters would fall into the hands of Islamist brigades.
The US embassy spokesman in Ankara said the situation was being investigated "to inventory the status of US equipment and supplies provided to the SMC."
"As a result of this situation the United States has suspended all further deliveries of non-lethal assistance into northern Syria," the spokesman said.
Five rebel fighters were killed in the clashes at Bab Al-Hawa but it was not clear which side they were on.
American aid, including trucks, ambulances and "meals ready to eat food," reaches Syria overland through Turkey.
Full report at:
http://www.arabnews.com/news/491321
------------
Australia
Muslim school allowed to open one more year
LEO SHANAHAN
DECEMBER 11, 2013
AUSTRALIA'S largest Muslim school has been given a reprieve by the NSW Education Minister Adrian Piccoli and will remain open for at least one more year.
The NSW Board of Studies last month recommended Malek Fahd at Greenacre in Sydney's west have its accreditation for next year disallowed after ongoing concerns about financial mismanagement and other practices.
The Australian has revealed concerns about the Australian Federation of Islamic Councils, which managed the school, wrongly charging Malek Fahd millions in "management fees" and backdated rent. The chairman of the board of directors of Malek Fahd, Ikebal Patel, was also president of the AFIC at the time the payments were made.
Malek Fahd received just under $20 million, or 80 per cent of its funding, from the commonwealth and state governments.
Mr Piccoli froze the school's funding and forced it to repay $9m in state funds.
The investigations have led to the resignation of Mr Patel as president of AFIC and as school board chairman. Probes by the Australian Securities & Investments Commission and the NSW police have been launched into the school's finances.
Despite the Board of Studies finding, Mr Piccoli decided yesterday to maintain the school's accreditation even though there were serious concerns about how the school was being run.
"While progress has been made in relation to the areas of the school's noncompliance with the Education Act, the board continues to have concerns about the school's compliance with the requirements for registration and accreditation," the board said in a statement. "Accordingly, the school's period of registration and accreditation has been extended until 31 December, 2014, during which time the school is required to address the board's concerns."
Five Muslim schools in Sydney have now had funding frozen or been subject to financial audits after concerns were raised about their financial management.
Full report at:
http://www.theaustralian.com.au/national-affairs/policy/muslim-school-allowed-to-open-one-more-year/story-fn59nlz9-1226780158262#
------------
URL: https://www.newageislam.com/islamic-world-news/new-age-islam-news-bureau/saudi-mufti-calls-suicide-bombers--criminals-,-who-will-go-to-hell/d/34839