Age Islam News Bureau
16 May 2017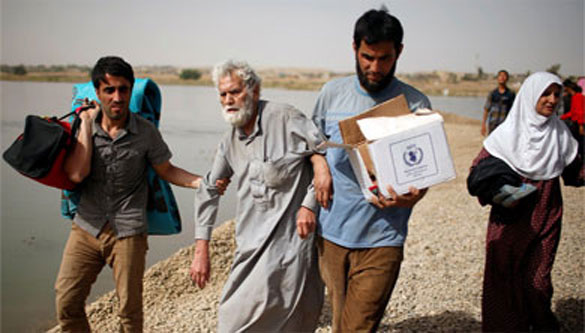 Displaced Iraqis cross the Tigris River, as Iraqi forces battle with ISIS militants, in western Mosul, Iraq May 12, 2017. (Reuters)
----
• Saudi King Touts Trump's Islamic Summit as 'New Partnership'
• Iraqi Forces Storm Mosul Neighbourhoods, Killing 173 ISIS Militants
• Triple Talaq Matter of Faith for Last 1,400 Years: AIMPLB to SC
• Vienna Convention Not For 'Spies' Involved In Terror: Pakistan to ICJ
Arab World
• Saudi King Touts Trump's Islamic Summit as 'New Partnership'
• Iraqi Forces Storm Mosul Neighbourhoods, Killing 173 ISIS Militants
• ISIL's Largest Chemical Weapons Workshop Seized by Iraqi Forces in Mosul
• Hezbollah Dispatches Hundreds of Fighters to Syria's Homs to Face US-Backed Militants
• US accuses Syrian govt of using 'crematorium' to hide mass killing
• Intense Infighting Reported among Terrorists in Eastern Ghouta of Damascus
• US Ground Troops Launch Joint Assault with Terrorists in Syria
• Syria: More Civilians Killed, Wounded in US-Led Coalition Airstrikes in Raqqa
• Daesh's days in west Mosul numbered: Iraqi military officials
--------
India
• Triple Talaq Matter of Faith for Last 1,400 Years: AIMPLB to SC
• Will Come Up With Law for Muslims If You Strike Down Triple Talaq: Govt to SC
• Kashmiri Militant Posts Video: 'Oppression Forced Me'
• Palestine President hosted by President, Prime Minister at Rashtrapati Bhawan
• Jammu and Kashmir: Blast in car parked at Kishtwar bus stand, one injured
• Arrest of 'Hizbul militant': Naseer was involved in Hawala transaction from Pak in 2014 says J&K Police
--------
Pakistan
• Vienna Convention Not For 'Spies' Involved In Terror: Pakistan to ICJ
• Chinese Tech Giant Alibaba Group Set To Enter Pakistan; Signs First MoU
• Lal Masjid cleric set to stir another controversy
• PUC to observe Harmain Sharifain-wal-Aqsa Day on last Friday
• Pakistani police kill 4 Islamic militants in shootout
• Rabbani for unified stance against terrorism
--------
South Asia
• 15 Militants Killed During Ongoing Silab-5 Operations in Laghman
• ISIS Leader Joins Peace Process with His 11 Fighters in East Of Afghanistan
• Bangladesh Upholds Life Sentence for Firebrand Preacher
• EU Pushes For Aid Access in Myanmar
• Afghan forces retake control of Qala-e-Zal district in Kunduz
--------
Southeast Asia
• Thinking Of Malaysia as an Islamic State
• Malaysia a dumping ground for foreign militants, says report
• Perkasa offended by planned protest against Naik, Asri
• Papuans join waves of support for Ahok
--------
Mideast
• Tension between Israel and White House Ahead of Trump's Mideast Tour
• Turkey issues arrest warrants for 85 ministry staff in post-coup probe
• Kuwait Ready to Host Yemeni Talks under Certain Conditions
• Oman confirms its stance alongside the legitimate government of Yemen
• Life is better for Jews in Iran than in Europe: Jewish MP
• Turkey considers establishing military base in Syria's Idlib
--------
North America
• Tillerson: Trump's Middle East Tour About 'Unity against Iran'
• Trump Revealed Intelligence Secrets to Russians in Oval Office: Officials
• Travel Ban Judges Scrutinize Trump's Muslim Statements
Canada is giving up on free speech
--------
Europe
• Putin Says Russia Sees No Need to Arm Syrian Kurds
• Russia bombing triggers crackdown on Central Asians
• Accused bomber Rahimi seeks reduced charges in New Jersey case
--------
Africa
• Genocide Changed Destiny of Rwandan Muslims: Vice-Mufti
• Nigeria: Buhari's Running Nigeria as Muslim Organization - CAN
• South Sudanese refugees need $1.4b this year: UN
• 20 Nigerian farmers killed in herdsman attack
Compiled by New Age Islam News Bureau
URL: https://www.newageislam.com/islamic-world-news/saudi-king-touts-trump-islamic/d/111167
--------
Saudi king touts Trump's Islamic summit as 'new partnership'
May 15, 2017
RIYADH: Saudi Arabia: Saudi Arabia's King Salman on Monday touted an upcoming meeting between President Donald Trump and heads of state from across Muslim-majority nations as the start of a new relationship that will strengthen global security.
Trump is scheduled to visit Saudi Arabia this weekend for his first overseas trip as president, which will also include stops in Israel and the Vatican.
The kingdom, in an effort to show its reach and convening powers, has invited dozens of heads of state from across the Middle East, Africa and Asia to a summit with Trump on Sunday. Some local media reports say more than 50 top dignitaries were invited by the Saudi monarch to attend.
Trump and Salman will be meeting for the first time in Saudi Arabia on Saturday for bilateral talks aimed at repairing relations that were strained under the Obama administration. Saudi Arabia views Trump's visit as a way to shore up support among its allies and with Washington against its rival Iran.
The leaders of Syria and Iran were not invited to the summit. The Sunni-ruled kingdom of Saudi Arabia is backing efforts to topple the Syrian government, which is backed by Shiite-ruled Iran.
Salman praised Trump in a telephone call in April, describing him as "courageous" for authorizing a US military strike on a Syrian air base following a chemical attack there. He also dispatched his son and the second-in-line to the throne, Prince Mohammed bin Salman, to Washington for a meeting with Trump in March and appointed another as ambassador to Washington to strengthen ties under Trump.
Salman expressed hope the May 21 summit with Arab and Muslim leaders "will establish a new partnership in confronting extremism and terrorism," according to a statement he made during a weekly Cabinet meeting and published by the official Saudi Press Agency.
Trump is also expected to meet separately with the Arab rulers of the six-nation Gulf Cooperation Council during his visit to Saudi Arabia. The Saudi-led GCC includes the United Arab Emirates, Qatar, Kuwait, Oman and Bahrain, which is host to the US Navy's 5th Fleet.
The Saudi monarch said the bilateral US-Saudi talks will strengthen relations between the two countries and enhance global security.
He said the subsequent US-GCC talks will contribute to consolidating Gulf solidarity and peace in the region. All of the GCC countries except Oman are part of a Saudi-led coalition that has been bombing an Iranian-allied faction in Yemen for more than two years. Washington has backed the coalition with logistical and intelligence support.
http://timesofindia.indiatimes.com/world/middle-east/saudi-arabias-salman-touts-trumps-islamic-summit-as-new-partnership/articleshow/58686832.cms
--------
Iraqi Forces Storm Mosul Neighbourhoods, Killing 173 ISIS Militants
15 May 2017
Iraqi forces have stormed four neighbourhoods in the city of Mosul on Monday, killing about 173 ISIS militants including one high-rank leader.
Iraq's anti-terrorism units on Monday have stormed Al-Oraibi and Al-Rifa'i neighbourhoods where heavy clashes are still taking place. The country's "Quick Reaction Force" as well as the Iraqi Army's 9th Division also entered Al-Iqtisadiyeen neighbourhood and the southern and northern parts of July 17 area, considered to be the most dangerous ISIS stronghold.
"We have destroyed 40 booby-trapped cars and killed 173 from ISIS, among them one leader," the head of federal police said.
Sources also said that 60 ISIS militants have left with their families from the July 17 neighbourhood amid the ensuing commotion and clashes.
Hours after storming the July 17 neighbourhood, the Iraqi forces evacuated more than 4,000 civilians despite heavy clashes between them and ISIS.
Only a couple of ISIS-controlled neighbourhoods are left after 210 days since the start of operation to liberate the northern Iraq city of Mosul.
Iraqi official sources say more than 90 percent of Mosul is liberated. Mosul's left side is completely liberated while more than 80 percent from the right is ISIS-free.
Mosul is separated by the Tigris River, making the left bank on the eastern side as the left side while the right bank on the western side as the right side.
Meanwhile, in the western province of Anbar, three would-be suicide bombers were killed after infiltrating the city of Haditha during dawn, Iraqi forces said on Monday.
https://english.alarabiya.net/en/News/middle-east/2017/05/15/Iraqi-forces-storm-Mosul-neighborhoods-killing-173-ISIS-militants-.html
--------
Triple talaq matter of faith for last 1,400 years: AIMPLB to SC
May 16, 2017
NEW DELHI: The All India Muslim Personal Law Board (AIMPLB) on Tuesday told the Supreme Court that triple talaq has been observed by Muslims for last 1400 years and questioned the Centre for calling the practice un-Islamic.
"Triple talaq is there since 637. Who are we to say that this is un-Islamic. Muslims are practicing it for last 1,400 years. It is a matter of faith. Hence, there was no question of constitutional morality and equity," former Union law minister and senior advocate Kapil Sibal, appearing for AIMPLB, said.
The Muslim body also equated triple talaq with the Hindu belief that Lord Rama was born at Ayodhya.
"If I have faith that Lord Rama was born at Ayodhya, then it's a matter of faith and there is no question of constitutional morality," Sibal told a five-judge Constitution bench headed by Chief Justice J S Khehar.
"Muslim marriage is a contract through nikahnama between consenting adults and so is divorce. If both marriage and divorce are contracts, why should others have a problem," the AIMPLB asked.
Sibal also referred to the fact that the source of triple talaq can be found in Hadith and that it came into being after the time of Prophet Muhammad.
The AIMPLB is advancing arguments before the bench which also comprises Justices Kurian Joseph, R F Nariman, U U Lalit and Abdul Nazeer.
Responding to the Centre's stand that it will enact a law on Muslim divorce if the SC quashed talaq in all forms, Sibal asked what will happen if the apex court quashed the practice and then Parliament refused.
On Monday, the Centre had told the apex court that it will bring a new law to regulate marriage and divorce among the Muslim community if all forms of divorce including triple talaq are struck down.
Today is the fourth day of the hearing on a clutch of petitions challenging triple talaq, polygamy and 'nikah halala' which is going on before a bench comprising members of different religious communities including Sikh, Christian, Parsi, Hindu and Muslim.
http://timesofindia.indiatimes.com/india/triple-talaq-matter-of-faith-for-last-1400-years-aimplb-to-sc/articleshow/58694758.cms
--------
Vienna Convention not for 'spies' involved in terror: Pakistan to ICJ
MAY 15, 2017
India has been unable to provide an explanation for Mr. Jadhav's passport which bears a Muslim name, claims Pakistan Foreign Office official
The Vienna Convention provisions on consular access were not intended for a "spy" involved in terror activities, Pakistan on Monday told the International Court of Justice (ICJ), which is hearing India's plea on the death sentence given to its national Kulbhushan Jadhav.
India's application on Mr. Jadhav, who was arrested in March last year and sentenced to death by a Pakistani military court on charges of espionage and subversive activities, was "unnecessary and misconceived" and must be dismissed, Pakistan told the U.N.'s highest judicial body.
India has been unable to provide an explanation for Mr. Jadhav's passport which bears a Muslim name, Mohammad Faisal of the Pakistan Foreign Office said in his opening remarks in response to India's submissions earlier in the day.
India was using the court as the "scene of political theatre" but "we will not respond in kind," Mr. Faisal told the ICJ which held daylong proceedings to decide the fate of the former Indian Navy officer.
There has been deafening silence and no response from India on Pakistan's accusations on Mr. Jadhav, Pakistan's lawyer Khawar Qureshi said.
Expressing the fear that Mr. Jadhav, 46, might be executed before the hearing was over, India accused Pakistan of violating the Vienna convention and conducting a "farcical trial" without a "shred of evidence."
Pakistan had denied India its 16 requests for consular access, India's lead attorney Harish Salve said.
The urgent hearing comes after the ICJ last week stayed Mr. Jadhav's execution. While India presented its argument over 90 minutes, Pakistan, which claims that Mr. Jadhav is an agent of India's external intelligence agency Research and Analysis Wing (RAW), took less than an hour.
India wants the ICJ to annul Mr. Jadhav's death sentence and for Pakistan to ensure that no action is taken that may prejudice the rights of India or of Mr. Jadhav.
Mr. Jadhav, the latest flashpoint in the tensions between Pakistan and India, was sentenced last month. On May 8, India moved the ICJ against the death penalty, alleging violation of the Vienna Convention on Consular Relations. On May 9, the highest court in the UN gave Mr. Jadhav a lease of life.
India, in its appeal to the ICJ, had asserted that Mr. Jadhav was kidnapped from Iran where he was involved in business activities after retiring from the Indian Navy. However, it denies that he has any connection with the government.
Pakistan claims to have arrested Mr. Jadhav from its restive Balochistan province.
http://www.thehindu.com/news/international/vienna-convention-not-for-spies-involved-in-terror-pakistan-to-icj/article18458214.ece
--------
Arab World
ISIL's Largest Chemical Weapons Workshop Seized by Iraqi Forces in Mosul
May 15, 2017
Jowdat said in a statement that his forces in a fresh round of operations West of Mosul engaged in fierce clashes with ISIL and managed to capture 15 sq/km of area North-West of Mosul and the villages of Hasouneh and Dejleh, a gas-cylinder workshop, and blocks number 1, 2, 3 and 4 of the al-Haramat residential complex.
He further added that the Iraqi police have liberated half of al-Eqtesadeen and Tamouz 17 region, and transferred civilians to the Northern districts of Mosul in a timely plan.
Jowdat said that Iraq's Quick Reaction Forces managed to seize the largest ISIL workshop used for making chemical weapons and defused tens of landmines and bombs planted by the terrorists in Tamouz 17 region.
Reports said earlier today that the ISIL terror group is in serious trouble inside their de-facto Iraqi capital, as the government forces close-in on the terrorist group's last positions in Mosul city.
The Iraqi Armed Forces managed to capture the Rifa'i and Aribi districts on Sunday after a short battle with the depleted ISIL militants inside Western Mosul, Iraqi News reported.
With the Rifa'i and Aribi districts captured, the Iraqi Armed Forces are now in control of more than 90 percent of Western Mosul, leaving the ISIL on their last legs inside the provincial capital.
In the coming days, the Iraqi Armed Forces are expected to capture the remaining districts under the ISIL's control and put an end to the terrorist group's presence inside the city.
http://en.farsnews.com/newstext.aspx?nn=13960225001134
--------
Hezbollah Dispatches Hundreds of Fighters to Syria's Homs to Face US-Backed Militants
May 15, 2017
The sources said that the Hezbollah Movement has deployed 12 regiments with 1,000 fighters to Homs, Dara'a and Quneitra to face the US-backed militants in al-Tanf border crossing and foil Washington's plan for the capture of Deir Ezzur.
The sources said that the Syrian Army troops and their popular allies are trying hard to intensify their operations in Badiyeh (desert) to reach the border with Iraq and Jordan to prevent the militants backed up by the US and Jordan from attacking Deir Ezzur via the Syrian border with Jordan.
The sources further added that advances of the Syrian soldiers and Hezbollah towards the border with Iraq will be done via two flanks, including Damascus Badiyeh and Eastern Homs, which is considered to be the Syrian units' base to launch their operation to lift ISIL's siege on Deir Ezzur city and airbase.
Field sources, meantime, reported that the pro-government forces are supposed to advance in parallel towards the border with Iraq to block the movements of the militants that are trying to enter Syria through border with Jordan and from areas close to Iraq.
The army soldiers and their allies will continue their cooperation to launch a large-scale operation in Southern Damascus to reinvigorate the friendly forces in the region to restore full security to the entire regions around Damascus from the direction of Dara'a and Quneitra provinces.
Full report at:
http://en.farsnews.com/newstext.aspx?nn=13960225001338
--------
US accuses Syrian govt of using 'crematorium' to hide mass killing
May 16, 2017
WASHINGTON - The United States on Monday accused the Syrian regime of installing a prison crematorium to destroy the remains of thousands of murdered detainees, piling pressure on Russia to rein in its ally.
Warning Moscow it should not turn a blind eye to Bashar al-Assad's crimes, the State Department released satellite images that it said backed up reports of mass killings at a Syrian jail.
"The United States is on record, has stated many times, that we are appalled by the atrocities that have been carried out by the Syrian regime," said Stuart Jones, the top US diplomat for the Middle East. "And these atrocities have been carried out seemingly with the unconditional support from Russia and Iran."
And he added a warning to President Vladimir Putin's government: "Russia must now, with great urgency, exercise its influence over the Syrian regime to guarantee that horrific violations stop now."
One newly released image, a commercial satellite photograph dating back to January 2015, shows snow melting on the roof of a building attached to the Saydnaya military complex north of Damascus.
This, along with an earlier picture allegedly showing heavy-duty ventilation systems on the structure, appear to support earlier claims by rights groups that Saydnaya is an execution center.
"Beginning in 2013, the Syrian regime modified a building within the Saydnaya complex to support what we believe is a crematorium," said Jones, currently an acting assistant secretary of state. "Although the regime's many atrocities are well documented, we believe that the building of a crematorium is an effort to cover up the extent of the mass murders taking place in Saydnaya."
Jones said Washington's information came from credible humanitarian agencies and from the US "intelligence community" - implying that classified evidence beyond the commercial pictures exists. "The regime holds as many as 70 prisoners in Saydnaya in cells that have a five-person capacity," Jones alleged. "And according to multiple sources, the regime is responsible for killing as many as 50 detainees per day at Saydnaya."
He did not give an official estimate for the total number killed, but cited an Amnesty International report that between 5,000 and 11,000 had died between 2011 and 2015 in the prison. Assad's regime, he alleged, has detained between 65,000 and 117,000 people over the same period - the first five years of a civil war that has left hundreds of thousands dead. One satellite photograph presented by Jones dated to January 2015, more than two years ago, and it was not immediately clear why the United States waited to present its evidence.
Jones told reporters Secretary of State Rex Tillerson had raised concerns about Assad's brutality with Russia's Foreign Minister Sergei Lavrov during his visit to Washington last week. "I would say that this information has been developing," Jones said on the timing of the crematorium allegation.
Jones said Washington is not specifically accusing Moscow or Tehran of complicity in the alleged Saydnaya killings, but said Russia is aware of and has supported other abuses. And he said last week's visit by Lavrov to the White House was "an opportune time to remind people about the atrocities that are being carried out inside of Syria all the time."
US-led coalition strike kills 23 in Syria
An air strike by the US-led coalition killed 23 civilians on Monday in a Syrian town held by the Islamic State group on the border with Iraq, a monitor said.
The deaths came after 12 women were killed in a strike by the US-led coalition fighting IS in the east of Syria's Raqa province on Sunday, the Syrian Observatory for Human Right said.
Full report at:
http://nation.com.pk/international/16-May-2017/us-accuses-syrian-govt-of-using-crematorium-to-hide-mass-killing
--------
Intense Infighting Reported among Terrorists in Eastern Ghouta of Damascus
May 15, 2017
Jeish al-Islam militants attacked the positions of Faylaq al-Rahman and Tahrir al-Sham Hay'at in Beit Sawa and al-Ash'ari regions in Eastern Ghouta, causing heavy clashes between the two sides.
During the clashes Jeish al-Islam took control of several points occupied by Faylaq al-Rahman near the town of Hamouriyeh in the Central parts of Eastern Ghouta.
In relevant developments in the province last Tuesday, Jeish al-Islam in a statement announced that its forces launched a fresh round of attacks on rival terrorist groups in Eastern Ghouta.
Jeish al-Islam's statement said that after a halt in military operations against Tahrir al-Sham Hay'at a number of Tahrir al-Sham forces launched an attack on Jeish al-Islam's positions with the participation of Faylaq al-Rahman.
Jeish al-Islam accused the commander of Faylaq al-Rahman of providing weapons, shelter and equipment for the remaining pockets of Tahrir al-Sham.
Full report at:
http://en.farsnews.com/newstext.aspx?nn=13960225001421
--------
US Ground Troops Launch Joint Assault with Terrorists in Syria
May 15, 2017
Abu Abdollah, head of Jeish Maqawir al-Thowra terrorist group's media center, underlined the US ground forces' partnership in the operation in al-Hamimeh desert in Eastern Homs, and declared the start of the operation from al-Tanf camp to Deir Ezzur province.
He reported that the ISIL forces retreated collectively and without any resistance from al-Hamimeh desert after the ground forces' advance.
The operation was also supported by the US fighter jets.
Maqawir al-Thowra intends to establish some bases in al-Hamimeh and turn the region into a start point for offensives against the ISIL position in al-Bu Kamal city.
Certain sources also reported that 150 US and British forces have been deployed in al-Hamidiyeh region East of Palmyra to launch operations in the Southern parts of al-Bu Kamal in Eastern Deir Ezzur in cooperation with Maqawir al-Thowra terrorists.
They entered the region through al-Tanf crossing in cooperation with the terrorists that were stationed in Iraq's al-Akashat district.
Arab media sources reported last week that the US Army forces have entered al-Tanf border-crossing in Southern Syria to continue training more militants called by opposition groups as moderates.
Adaleh al-Hamourabi website said that the American military forces are now training militants of Maqawir al-Thowra in al-Tanf mountain Southeast of Homs.
In the meantime, Charles Lister, a British analyst at the Middle East Strategic Research Association, released several images of terrorists along with the US forces in al-Tanf border-crossing via his tweeter page.
The website quoted sources as saying that the militants have been trained by Washington to fight against ISIL terrorists.
A number of sources affiliated to terrorists wrote on their Facebook pages that military movements have intensified at Syria's border with Jordan.
Military sources disclosed last Tuesday that the Syrian Army troops continued their anti-ISIL operation in the Southeastern direction of the ancient city of Palmyra to kill the chance for a US-led plan to access Deir Ezzur.
The sources reported that the army soldiers started a fresh round of operation against ISIL in Badiyeh al-Sham and managed to retake the region, thwarting a plan led by Washington to reach Deir Ezzur.
The sources went on to say that tough battles are now underway between the US-backed militants and ISIL and also between the Syrian soldiers and the US-backed militants in Badiyeh.
They added that the army units engaged in fierce clashes with ISIL in areas surrounding the protected region of al-Talileh in the Northeastern direction of Palmyra, trying to take control of the region earlier than any other rival.
Full report at:
The US-Britain-Jordanian Coalition has increased their presence at the Jordanian border.
http://en.farsnews.com/newstext.aspx?nn=13960225001214
--------
Syria: More Civilians Killed, Wounded in US-Led Coalition Airstrikes in Raqqa
May 15, 2017
The sources said that a coalition combat drone targeted several vehicles carrying female workers in the farms near the terrorist-held Raqqa city, killing 22 women and wounding nine more.
In relevant developments in the province on Sunday, A sum of 12 civilians were killed and several more were wounded in the US-led collation air raids on two regions in Raqqa and Deir Ezzur provinces.
The sources said that the US-led coalition fighter jets bombed heavily several regions in areas surrounding Raqqa city in Northeastern Syria, killing 7 member of a family.
Full report at:
http://en.farsnews.com/newstext.aspx?nn=13960225000719
--------
Daesh's days in west Mosul numbered: Iraqi military officials
May 15, 2017
An Iraqi commander says Daesh terrorists holed up in west Mosul are taking their last breaths.
After around seven months of fighting between Iraqi forces and the Takfiri terrorists, Daesh has been removed from most of Mosul and is expected to make their last stand around the Grand al-Nuri Mosque. Daesh's leader, Abu Bakr Al-Baghdadi, announced the forming of the group's so-called caliphate from the mosque in 2014.
"These are their dying breaths. They are completely surrounded…If we advance this quickly, we can finish it in days," said First Lieutenant Nawfal al-Dhari on Monday.
Other Iraqi military commanders and officials have stressed that they aim to retake the mosque before the beginning of the holy month of Ramadan.
"Our advance on a vast front has stunned the enemy and, God willing, we will achieve victory before Ramadan and announce the liberation of Mosul and people of Mosul from the dirtiness of Daesh," said Lieutenant General Othman al-Ghanmi, chief of staff.
Officials have also noted that the remaining number of terrorists in the city has been diminishing while disorganization is increasing in their ranks.
"Daesh are losing the ability to fight back. It's obvious they are blundering. We want to make the Old City a closed death casket for Daesh," said an Iraqi army intelligence colonel.
"Yes there will be remnants of Daesh inside the Old City, but it will be as easy as hunting rabbits to take them down," he added.
Full report at:
http://www.presstv.ir/Detail/2017/05/15/522032/iraq-mosul-daesh-ramadan-west
--------
India
Will come up with law for Muslims if you strike down triple talaq: Govt to SC
May 16, 2017
The government will write a new matrimony law for Muslims to fill a legal vacuum should the Supreme Court strike down triple talaq, the country's top law officer said on Monday.
Triple talaq is the lone controversial way Muslim men in India can get a divorce. It allows a man to end a marriage by uttering the word talaq thrice in quick succession.
The top court is hearing a bunch of petitions challenging triple talaq. The government too wants to scrap the practice which it calls unconstitutional and one that is against women.
Should the court strike down triple talaq and the government bring in a new law then it could mean the start of a process to overhaul Muslim personal laws in India that are now guided by a 1937 Sharia code. India has separate sets of personal laws for each religion governing marriage, divorce, succession, adoption and maintenance.
Attorney general Mukul Rohatgi told a five-judge constitution bench headed by Chief Justice of India JS Khehar that it wasn't the court's job to interpret the Quran and that it should consider the constitutional validity of triple talaq and not just restrict itself to examining whether the custom was fundamental to practicing the faith.
Rohatgi disagreed with the court that the government should first address whether triple talaq is "essential to religion or not", saying the Supreme Court was not an ecclesiastical court.
"If the practice of instant divorce (triple talaq) is struck down by the court then the Centre will bring a law to regulate marriage and divorce among the Muslim community," he said.
His remarks were in response to Justice Uday U Lalit's query: "where will Muslim men go for divorce" if the court strikes down triple talaq?
While the Hindu law overhaul began in the 1950s and continues, activists have long argued that Muslim personal law has remained mostly unchanged.
Triple talaq, practised by Sunni Muslims, is biased in favour of men and against gender justice, several Muslim women petitioners have told the court.
India has the world's third largest Muslim population and woman from the community face the threat of a sudden, oral, and out-of-court divorce.
But a Muslim woman seeking divorce has go to court for a legal separation under the Sharia law.
The top court sought to know if any order banning triple talaq will involve "tinkering with religion".
The attorney general argued that triple talaq cannot enjoy protection under Article 25 of the Constitution that allows people to practice his faith.
He tried to bolster his point citing the banned Hindu tradition of sati in which a widow is burned alive on the funeral pyre of her husband.
"What would you do if someone came saying sati was essential part of the Hindu religion. Women lived in fear of sati until the law declared it illegal. Muslim women want their dignity, freedom to live without fear of triple talaq," he said.
The All India Muslim Personal Law Board opposed the petitions and requested the court not to interfere with personal laws of a community.
The court denied the government's request to club the triple talaq trial with two other controversial practices — nikah halala and polygamy that allows a Muslim man to have four wives.
Nikah halala lets a divorced Muslim woman to remarry her husband but after marrying another man and then divorcing the latter. The court said it will hear arguments on these two practices later.
http://www.hindustantimes.com/india-news/will-deal-with-only-triple-talaq-due-to-paucity-of-time-says-supreme-court/story-dbyIBOt5DypAx7YO0EgtDJ.html
--------
Kashmiri Militant Posts Video: 'Oppression Forced Me'
May 16, 2017
A Kashmir youth who escaped from police custody two weeks ago has released a video, in which he says oppression forced him to join militancy. The youth, Zubair Ahmad Turray, has said in the video that he was in jail for four years under the Public Safety Act on the charge of stone-pelting.
In the video released on Sunday evening, Turray is seen wearing an olive green uniform and posing behind guns and grenades. He identifies himself as the man "who escaped from police custody some days ago". "The reasons for my escape were painful but oppression forced me to do it… I had no other option," he said.
The Shopian resident said he was kept behind the bars by circumventing the judicial process. "I was under custody for the past four years. In these four years, PSA was slapped against me eight times," he said. "Whenever I knocked the door of the high court, whenever my respected father made efforts (for my release) and a PSA case was quashed, they would slap another PSA case against me. After quashing of one case, they (police) would detain me illegally for three months and then slap another. This process continued for four years," he claimed.
Turray said this led him to become a militant. "When I could not see hope, I had only one way —that was to join the Mujahideen," he said. "God's help was with me and today I am among the Mujahideen".
Full report at:
http://indianexpress.com/article/india/kashmiri-militant-posts-video-oppression-forced-me-4657561/
--------
Palestine President hosted by President, Prime Minister at Rashtrapati Bhawan
May 16, 2017
Palestine President Mahmoud Abbas was warmly welcomed by President Pranab Mukherjee and Prime Minister Narendra Modi at Rashtrapati Bhawan on Tuesday. Mr Abbas also received a ceremonial guard of honour at Rashtrapati Bhavan in the morning. A delegation-level discussion between President Abbas and PM Modi is scheduled for today.
President Abbas arrived in the national capital Sunday on his four-day visit to hold extensive talks with PM Narendra Modi on key bilateral issues, including the Middle East peace process. This is Abbas's fifth visit and third state visit as to India. The visit comes ahead of Modi's first-ever visit to Israel scheduled in July this year.
Earlier on Saturday, the Ministry of External Affairs had said in a press release that India and Palestine enjoy historically close and friendly ties. Apart from the political support to the Palestinian cause, India continues to support developmental projects in Palestine by extending technical and financial assistance, the release added.
"Welcoming an important guest. Mr Mahmoud Abbas, President of the State of Palestine arrives in Delhi," External Affairs Ministry spokesperson Gopal Baglay tweeted on Sunday as President Abbas arrived.
Before President Abbas's visit, Dr Majdi Khaldi, a senior Palestinian official, had described India's relations with Palestine as "historic" and "steady" and asserted that the Palestinians want to strengthen their ties with India and seek support for their "struggle".
Full report at:
http://indianexpress.com/article/india/palestine-president-mahmoud-abbas-greeted-by-president-mukherjee-and-prime-minister-modi-at-rashtrapati-bhawan-4657826/
--------
Jammu and Kashmir: Blast in car parked at Kishtwar bus stand, one injured
May 16, 2017
by Arun Sharma
A blast took place in a car at Kishtwar town of Jammu region on Tuesday morning, leaving one person injured. Sources said the injured, identified as Raj Kumar of Keshwan, a contractor, had parked his car (number JK 17-5097) at the Old Bus Stand late on Monday as he lives nearby. In the morning, when he opened the front door of his car, there was an explosion inside the vehicle blowing off its gear box, and smashing both the front seats, its window panes and windscreen.
According to the victim, he had noticed a wire attached to the door but did not think much of it. Senior Superintendent of Police, Kishtwar, Sandeep Wazir said they are investigating the cause of the explosion, adding the injured has been hospitalised and his condition was stated to be stable.
Significantly, the explosion has come in the wake of reports about Lashkar trying to revive militancy in Chenab Valley which comprises Kishtwar, Doda and Ramban districts. The last militancy-related violence in Kishtwar took place almost a decade ago, during 2006-2007.
Police had on Monday smashed a militant hideout at Nagseni in Kishtwar district and seized huge quantity of arms, ammunition and explosives, incuding an AK 56 rifle along with two magazines, 60 rounds, four UBGL (under barrel grenade launcher) grenades, four hand grenades, one wireless set and a radio set antenna, three RPG rounds, one binocular, cooking utensils and two blankets.
Last week, a Lashkar module was also busted in adjoining Doda district and seven people, including a Special Police Officer, a former jawan of the Territorial Army, were arrested. Those apprehended included Bashir Ahmed of Bangraw Gandoh who had earlier been working in 139 TA Battalion in Thathri area, his nephew Altaf Ahmed, a serving SPO in Doda, besides a surrendered Lashkar militant Abdul Rashid Harga alias Abdullah of Tanta, his younger brother Shoket Ali and Akthar Magray. Two more people arrested in this connection include Shafqat Hussain and Hafiz alias Shafqat.
Full report at:
http://indianexpress.com/article/india/j-k-one-injured-in-car-blast-at-kishtwars-mini-bus-stand-4657782/
--------
Arrest of 'Hizbul militant': Naseer was involved in hawala transaction from Pak in 2014 says J&K Police
by Manish Sahu
May 16, 2017
The J&K Police have informed their counterparts in UP that alleged Hizbul operative Naseer Ahmed alias Sadiq — who was arrested at the Indo-Nepal border in Maharajganj on Friday — is wanted in a case of hawala transaction lodged in 2014, when he was staying in Pakistan. The FIR was registered at Banihal police station in Srinagar's Ramban district. Pramod Kumar, SP, Maharajganj district, said J&K Police faxed him a letter Monday informing him about the case.
On Saturday, Sashastra Seema Bal (SSB) personnel had caught Naseer trying to enter India at the Sonauli checkpost. A native of Ramban, Naseer had shifted to Pakistan in 2003. SSB claims he joined the Hizbul Mujahideen there and had been sent to India to "carry out terror activities". Mohan Lal, SSP, Ramban, told The Indian Express, "Naseer is wanted in unlawful activities where money was transferred through hawala." He added that they would procure a warrant against Naseer from court and a police team would be sent to Uttar Pradesh to seek his custody.
Inspector Afzal, in-charge of Banihal police station, told The Indian Express that the case against Naseer was lodged after police were tipped off about two persons carrying Rs 10 lakh allegedly procured from militants in Pakistan. They were also informed that the money was meant for militants and their families in Kashmir. The police had then laid a trap and on September 2, 2014, arrested two men.
"During questioning of the men, the names of Naseer and one Yasir had surfaced as those behind sending the money," the inspector said, adding they would move local court on Tuesday seeking a warrant against Naseer. Sources said Naseer during interrogation had told security agencies that because he wanted to meet his family in Srinagar, his handler had given him an assignment to kill a surrendered militant staying in Jammu. He had also revealed that his handler had briefed him about where he would get money and a weapon there, sources said.
Full report at:
http://indianexpress.com/article/india/hizbul-militant-naseer-involved-in-hawala-transaction-from-pakistan-j-and-k-police-4657599/
--------
Pakistan
Chinese tech giant Alibaba Group set to enter Pakistan; signs first MoU
May 16, 2017
Pakistan on Tuesday signed a Memorandum of Understanding with Alibaba Group Holdings Limited to promote Pakistan's worldwide exports by Small and Medium Enterprises (SMEs) through e-commerce.
Alibaba Group's Executive Chairman, Jack Ma and Prime Minister Nawaz Sharif witnessed the signing ceremony.
Speaking at the headquarters of the e-commerce giant, the prime minister appreciated the success and performance of the Alibaba group.
"I am glad my meeting with Jack Ma at the World Economic Forum in January has come to fruition in the shape of the MoU we have just signed," the premier said.
"My appreciation of Ma's dynamism and performance of [the Alibaba] group comes not only from its success as a e-commerce giant but more so from the focus of the group on job creation and livelihood generation," he added.
"Indeed, the Alibaba group is a business with strong humanistic dimension. These are the values that are the pivot of the policies my government has pursued with determination and commitment since taking office in 2013."
"E-commerce is a powerful tool to stimulate economic activity, effort, innovation and entrepreneurship across all sectors of the economy," the prime minister added.
"When Jack Ma shared with me his interest in establishing an e-platform in Pakistan, i instructed my office to facilitate Alibaba's initiative in every manner and in the shortest possilbe time frame," he the prime minister said, adding that the MoU had been signed within four months of when the initiative was first conceived.
The agreement between Alibaba and Trade Development Authority of Pakistan (TDAP) was signed by Commerce Minister Khurram Dastgir and Michael Evans, President of Alibaba Group, and Douglas Feagin, Senior Vice President of Global Business of Ant Financial, on behalf of Alibaba, during the visit of Prime Minister Muhammad Nawaz Sharif to the headquarters of the company.
Explore: PM Sharif, Alibaba president discuss e-commerce giant's prospects in Pakistan
Under the terms of the MoU, Alibaba, Ant Financial, and TDAP agreed to foster growth of worldwide exports of products by small and medium sized enterprises (SMEs) in Pakistan through e-commerce.
Online and offline training programs for the SMEs would also be conducted by Alibaba in a bid to assist SMEs with on-boarding on to Alibaba's platforms and optimizing exports through e-commerce.
TDAP will help identify suitable SMEs to participate in the training programs while Alibaba will be responsible for providing industry analysis to TDAP to assist them in their selection process.
In addition, Alibaba, Ant Financial and TDAP have agreed to promote the growth of financial services in Pakistan in areas such as mobile and online payment services.
The parties have also agreed to adopt cloud computing services to support the online and mobile e-commerce businesses of SMEs in Pakistan.
The Alibaba group has in recent years been aggressively courting foreign brands to set up Tmall stores to sell to China's vast and growing middle class by offering to smoothen out Chinese sales, payment and shipping processes.
Ma, a Chinese citizen, appears frequently with leaders from the highest echelons of the Communist Party, and both sides have voiced their support and admiration for each other.
Alibaba has deep ties with the Chinese government, working closely on some of the country's core technology development goals including cloud infrastructure and big data.
Ma is a true rags-to-riches story. He grew up poor in communist China, failed his university-entrance exam twice, and was rejected from dozens of jobs, including one at KFC, before finding success with his third internet company, Alibaba.
Alibaba not interested in acquisitions, more interested in partnerships
China's Alibaba is not interested in acquisitions this year as it is in partnerships, Alibaba Executive Chairman Jack Ma said on Thursday.
"I am not interested in acquisitions. I am more interested in partnerships," Ma said at a news conference on Alibaba's Olympic sponsorship deal, when he asked about his company's plans for the year. "We want to look for partners and empower them to be powerful," he said.
https://www.dawn.com/news/1333495/chinese-tech-giant-alibaba-group-set-to-enter-pakistan-signs-first-mou
--------
Lal Masjid cleric set to stir another controversy
KALBE ALI
May 16, 2017
ISLAMABAD: The deposed cleric of Lal Masjid Maulana Abdul Aziz is set to stir another controversy as he has decided to preside over a conference to mark the 10th anniversary of Lal Masjid operation.
"Invitations will be sent to the president, prime minister, the director general of the ISI and the federal cabinet along with leaders of like-minded political and religious parties to attend the conference," said a close aide to the cleric.
The conference, scheduled to be held on July 7, will be organised by Shuhada Foundation at Lal Masjid.
The foundation announced that the conference would not only be a milestone towards the implementation of 'Sharia' but would also prove to be a referendum towards the imposition of Islam in the country.
"We will file an application with the capital administration on Tuesday so that there is an ample time for them to clear all queries," the cleric's aide added.
"Similarly, invitations will be forwarded to key religious and political personalities and the leadership of the country as well as the head of the intelligence agency this week."
He said extending invitations to key officials would help the organisers put pressure on the local administration to grant permission for the conference besides facilitating the guests to set their schedule well on time to attend the event.
Meanwhile, a spokesman for the Shuhada Foundation said there was no need to obtain any NOC from the government as the conference was being held inside the mosque.
"If they do not give us the NOC we will approach the Islamabad High Court to get out right to hold the conference to highlight the sacrifices rendered by our comrades for the implementation of Islam in the country," said Hafiz Ehtesham Ahmed, the spokesman.
On the other hand, a senior official of the local administration told Dawn that the government had the right to grant or deny permission as the mosque was a state property and Maulana Aziz had already been deposed of as khateeb of the mosque. Besides, he is a proscribed person under the Fourth Schedule of the Anti-Terrorism Act (ATA), he added.
A similar situation occurred recently when Maulana Aziz announced to hold a conference on March, 24, 2017 (Friday) against the blasphemous content on the social media. But the government not only turned down the application but also blocked all roads leading to Lal Masjid on that day.
Full report at:
https://www.dawn.com/news/1333464/lal-masjid-cleric-set-to-stir-another-controversy
--------
PUC to observe Harmain Sharifain-wal-Aqsa Day on last Friday
Muhammad Arshad
Pakistan Ulma Council, Monday, urged Muslim ummah to unite against the cruelties on the Muslims of Syria, Iraq, Kashmir and Palestine. PUC also announced to observe last Friday of Ramadan as 'The Day for the protection of Harimain Sharifain Wal-Aqsa' throughout the country.
While addressing the 'Ulma Convention' here PUC Central Chairman Zahid Mehmood Qasmi and other senior leadership also called Ulma to come to the front to confront the views of Daish. It is the responsibility of ulema to convey the message of Islamic moderation to save the young generation from terrorism. Terrorist organizations such as Daash are made to destroy the peace of Islamic countries.
Qasmi said that western forces were jointly attacking Muslim countries to weaken the Islam and Muslims. After Libya, Syria Iraq and Palestine the next target of these western forces are Pakistan and Saudi Arabia. Islamic countries are united for the safety and stability of Pakistan.
Muslim Ummah can sacrifice everything for the protection of their sanctuaries. No one will be allowed to play with the safety and stability of the sacred land (Harmane Shareefain). He said that Pakistan Saudi Arabia relation cannot be weakened.
Full report at:
http://pakobserver.net/puc-observe-harmain-sharifain-wal-aqsa-day-last-friday/
--------
Pakistani police kill 4 Islamic militants in shootout
May 16, 2017
MULTAN, Pakistan (AP) — Pakistani police killed four Islamic militants in a shootout in a central district on Monday, according to an official with the country's counterterrorism department.
The militants were killed when the police returned fire in a raid in the Khanewal district, said Chaudhry Mohammad Saleem, the official. He said the militants were from Jamat-ul-Ahrar, a breakaway faction of the Pakistani Taliban.
The faction has also expressed support for the Islamic State group but has not pledged allegiance to it.
Hand grenades, assault rifles and a cache of explosives were seized in the raid, Saleem said, adding that three other suspects managed to escape from the scene.
The raid was part of an intelligence operation launched jointly by the police and military in urban areas in Pakistan, targeting militants who had fled military offensives in lawless tribal regions along the Afghan border that have long served as safe havens for local militants and foreign fighters.
Earlier in the day, a roadside bombing wounded four Pakistani paramilitary troops in the southwestern district of Mastung, which was the site of a deadly IS attack last week.
In Monday's attack, a roadside bomb struck the troops' vehicle, police official Abdul Nabi said.
Sunni extremist group Lashkar-e-Jhangvi claimed responsibility for the attack. Lashker-e-Jhangvi claimed a similar attack on Sunday that wounded two paramilitary troops.
Full report at:
http://www.nydailynews.com/newswires/news/world/pakistani-police-kill-4-islamic-militants-shootout-article-1.3166115
--------
Rabbani for unified stance against terrorism
May 15, 2017
Islamabad - Senate Chairman Mian Raza Rabbani has urged all parliamentary parties to come forward with proposals to adopt a unified stand against the scourge of terrorism, said a statement issued by the Senate Secretariat here on Sunday.
While talking to the media outside Combined Military Hospital Quetta after a visit to inquire after the health of Senate Deputy Chairman Maulana Abdul Ghafoor Haideri and other injured persons of Mastung carnage, he said that a collective national narrative against terrorists and extremists ideologies cannot come from madrassah rather all the stakeholders including political parties will have to reach a consensus in this regard and present it to the parliament. He said that the war against terrorism could not be won without a refined foreign policy and a strong parliament.
Rabbani said that owing to the promotion of wrong policies, ethnic clashes and sectarianism by Pervez Musharraf and others, the country was struggling and gripped with terrorism in its worst manifestations.
Rabbani said that "we should learn some lesson from history and must change our attitudes towards our own people".
He said that the American war was imposed on Pakistan and the wrong policies of the past manifested its ugly faces in the form of terrorism in Mastung and Gwadar.
He said that military and civil leaders have to be united for defeating terrorism, adding that the current war was an ideological war and all the parliamentary parties have to present proposals for its elimination. He said that all have to come on a single page for the success of operation Raddul Fassad after the success of operation Zarb-e-Azab. He said that the country was passing through a critical time and national solidarity was the need of time instead of blaming each other.
Full report at:
http://nation.com.pk/islamabad/15-May-2017/rabbani-for-unified-stance-against-terrorism
--------
South Asia
15 militants killed during ongoing Silab-5 operations in Laghman
May 16 2017
At least fifteen anti-government armed militants were killed during the ongoing Silab-5 operations in eastern Laghman province of Afghanistan.
The provincial government in a statement said the operations were launched on Monday morning covering the areas in Alingar district.
The statement further added that the militants were targeted in Basram, Katal, Maidanio, Hakimabad, Qasaba, Salimgar, and other areas.
At least fifteen insurgents were also critically wounded during the operations, the statement added.
The Afghan forces still conduct clearance operations in the mentioned areas, the provincial government said, adding that the operations will continue until the militants are fully eliminated from the area.
The anti-government armed militant groups have not commented regarding the report so far.
Laghman has been among the relatively calm provinces since the fall of the Taliban regime but the anti-government armed militant groups have increased their insurgency activities in some of its remote districts during the recent years.
This comes as at least five children were killed after a mortar shell landed on a residential house in this province on Monday.
The local officials blamed the Taliban group for the incident and said the mortar shell was fired by the militants to target the security forces but landed on a civilian house.
http://www.khaama.com/15-militants-killed-during-ongoing-silab-5-operations-in-laghman-02763
--------
ISIS leader joins peace process with his 11 fighters in East of Afghanistan
May 15 2017
A local leader of the Islamic State of Iraq and Syria (ISIS) terrorist group's offshoot in Afghanistan has joined peace process in Nangarhar province.
Provincial governor Ataullah Khogyani told reporters that Tawiz Khan joined peace process with his 11 fighters due to the ongoing efforts to attract the anti-government armed militant groups to reconciliation process.
Khogyani further added that the reconciliation process is being led by the Afghan Intelligence, National Directorate of Security (NDS).
He said the group was previously conducting anti-government insurgency in Kot, Nazian, Achin, and Haska Mina districts.
According to Khogyani, the group was operating under the direct instructions of Mufti Abdullah Orakzai and the militants also handed over their arms by joining peace process.
Tawiz Khan told reporters that he is originally a resident of Bandar area of Achin district and joined the ISIS terrorist group along with his family three years ago.
Full report at:
http://www.khaama.com/isis-leader-joins-peace-process-with-his-11-fighters-in-east-of-afghanistan-02762
--------
Bangladesh upholds life sentence for firebrand preacher
May 16, 2017
Dhaka - Bangladesh's top court Monday upheld a life sentence for a firebrand Islamic preacher convicted of war crimes, rejecting calls for him to be hanged.
The Supreme Court stood by its 2014 decision to jail Delwar Hossain Sayeedi for life over atrocities committed during Bangladesh's 1971 war.
Sayeedi's lawyers wanted the prominent member of Jamaat-e-Islami, Bangladesh's largest Islamic party, acquitted while government attorneys sought capital punishment for the 77-year-old cleric.
"The court rejected the review appeals by both sides," Sayeedi's lawyer Tanvir Al Amin told AFP.
Five Jamaat leaders, including mastermind Motiur Rahman Nizami, have been executed for their part in bloody crimes during the war of independence.
Sayeedi was sentenced to death in 2013 by a war crimes tribunal, despite criticism by human rights groups that the proceedings failed to meet international norms. The verdict triggered some of the worst political violence in years in the Muslim-majority nation, with scores left dead as tens of thousands of Islamists clashed with police.
Support for the radical preacher - whose sermons could draw hundreds of thousands - swelled even further after rumours that his image was seen in the moon, a perceived sign of his innocence.
The Supreme Court in 2014 commuted the death sentence to life imprisonment, angering secularists who had fought for decades for top Jamaat-e-Islami members to be punished for war crimes.
Full report at:
http://nation.com.pk/international/16-May-2017/bangladesh-upholds-life-sentence-for-firebrand-preacher
--------
EU pushes for aid access in Myanmar
May 16, 2017
A senior European Union official has urged Myanmar to allow full aid access to the north of Rakhine state, where thousands have fled their homes after a months-long army crackdown on Rohingya Muslims.
The area along the country's northwestern border has been under lockdown since October, when the military launched a campaign to hunt down Rohingya militants who staged deadly attacks on police posts.
Some 100,000 people from the Muslim minority were displaced by the violence, most of them fleeing to Bangladesh and bringing with them harrowing stories of rape, torture and mass killings by soldiers.
Myanmar has rebuffed UN claims that its security forces may have committed crimes against humanity and has refused to allow international observers into the area.
De facto leader Aung San Suu Kyi this month publicly rejected a UN mission to probe the violence after meeting the EU's diplomatic chief Federica Mogherini.
European Union commissioner for aid Christos Stylianides said he pushed for unrestricted humanitarian access during a three-day visit to Myanmar, which included a tour of northern Rakhine.
Full report at:
http://www.thedailystar.net/world/asia/eu-pushes-aid-access-myanmar-1405984
--------
Afghan forces retake control of Qala-e-Zal district in Kunduz
May 16 2017
The Afghan National Defense and Security Forces have retaken the Qala-e-Zal district of Kunduz province, ten days after the Taliban insurgents seized its control.
The Ministry of Interior (MoI) confirmed that the control of the district was retaken during the operations launched around 6 am local time today.
The provincial police spokesman Mr. Rahmani earlier said the offensive is underway as the Afghan forces have made major gains as the offensive is underway.
He said the operations were launched from the Aqtapa village and Afghan forces are moving forward to fully clear the district.
In the meantime, the 209th Shaheen Corps of the Afghan National Army said at least one insurgent has been killed so far during the operations.
The source further added that the operations are launched under the name of Pamir-5 to retake the control of Qala-e-Zal which was lost to Taliban ten days ago.
The anti-government armed militant groups including the Taliban insurgents have not commented regarding the report so far.
Full report at:
http://www.khaama.com/afghan-forces-retake-control-of-qala-e-zal-district-in-kunduz-02764
--------
Southeast Asia
Thinking of Malaysia as an Islamic state
May 16, 2017
MAY 16 ― The idea that Malaysia is an Islamic state was always present since independence. In recent years it has become more pronounced.
While there is a debate on what exactly is an "Islamic state", one simple definition is where the Quran is the basis of state (national) law.
Understanding the views of Muslims and non-Muslims on the role of the Quran in the state is important for several reasons but two are critical: (i) a state governed by laws based on the Quran could upend the concept of a liberal democracy, and (ii) due to the number of Muslims globally and in many countries where they are in majority, their preference become important.
There were 1.6 billion Muslims in the world in 2010 or 23 per cent of the global population and while Islam is currently the world's second largest religion, it is the fastest growing one.
There are 50 Muslim majority countries in the world. Although the Middle East and North Africa region are heavily Muslim, this region is home only to about 20 per cent of the world's Muslims.
The majority of Muslims globally (62 per cent) live in the Asia-Pacific region including large populations in Indonesia, India, Pakistan, Bangladesh, Iran and Turkey.
This question ― on how Muslims view the influence of the Quran on national (state) laws ― was the subject of a Pew Research study (Spring 2015 Global Attitudes Survey Q4).
A representative sample of citizens in 10 Muslim majority countries (Palestinian territories [100 per cent of its citizens Muslim], Pakistan [with 97 per cent of its citizens Muslim], Jordan [96 per cent], Turkey [96 per cent], Senegal [94 per cent], Indonesia [91 per cent], Malaysia [64 per cent], Burkina Faso [60 per cent], Lebanon [55 per cent] and Nigeria [50 per cent]) were surveyed.
In the survey (findings published as The Divide over Islam and National Laws in the Muslim World), the following question was asked: "Which of the following three statements comes closer to your view (1) laws in our country should strictly follow the teaching of the Quran, (2) laws in our country should follow the values and principles of Islam but not strictly follow the teachings of the Quran OR (3) laws in our country should not be influenced by the teachings of the Quran?"
In Pakistan, the Palestinian territories, Jordan, Malaysia and Senegal, roughly half or more of the total population says that laws in their country should strictly follow the teachings of the Quran. It was less than a quarter in Burkina Faso, Turkey, Lebanon and Indonesia.
In Malaysia, 52 per cent of Malaysians had views that laws in Malaysia should strictly follow the teachings of the Quran; 17 per cent had the view that laws in Malaysia should follow the values and principles of Islam but not strictly follow the teachings of the Quran, and only 17 per cent had the view that Malaysia's laws should not be influenced by the teachings of the Quran.
It is important to note that this result was based on a representative sample of Malaysian Muslims and non-Muslims.
When broken down, 78 per cent of Muslims surveyed for this study had the view that laws in Malaysia should follow the teachings of the Quran, 16 per cent had the view that it should follow the values and principles of Islam, 4 per cent had the view that Malaysian laws should not be influenced by the Quran, and 2 per cent did not know.
78 per cent of Pakistanis held the view that laws in Pakistan should strictly follow the teachings of the Quran but only 22 per cent of Indonesians held the same view.
Full report at:
http://www.themalaymailonline.com/opinion/greg-lopez/article/thinking-of-malaysia-as-an-islamic-state-part-1
--------
Malaysia a dumping ground for foreign militants, says report
May 16, 2017
KUALA LUMPUR: At least 30 foreign militants or individuals of "high risk", who failed to enter Syria and fight with the Islamic State (IS), are walking the nation's streets as tourists.
They were detained by authorities in Turkey enroute to Syria and "dumped" in Malaysia. Their travel documents say they are tourists.
Apparently they were given an option to be deported to their port of origin or go to Malaysia, according to a report in the New Straits Times (NST). They chose to come here, mainly because Malaysia is a Muslim-majority nation.
The NST also quoted a source as saying, it had even become the practice for some countries to assist unwanted individuals – including some deemed "dangerous" – to obtain travel documents to enter Malaysia as tourists.
The report said Malaysia had become the "unwitting" receiver of foreign fighters who were stopped from entering Syria to fight alongside the Islamic State.
The NST was told that these individuals, including some flagged as "high risk", had earlier been detained at airports in several countries for their "potential risk to national security".
Local intelligence operatives have managed to trace 28 of these foreigners, according to the NST report.
"We don't know who exactly they are, but they were not supposed to be sent to Malaysia.
"The normal procedure is, for example, if you had flown from Kuala Lumpur to Singapore and were arrested in Jakarta, the authorities must deport you to Singapore as that was the last point of disembarkation, not Kuala Lumpur," a source told the NST.
The source revealed that many of these foreigners had departed from all parts of the world — Dubai, Singapore, Indonesia — before being arrested in Istanbul, Turkey. Instead of being deported to their last port of disembarkation, they were given the "option" to be deported to Malaysia.
"We have become a dumping ground and this is likely because, not only are we a visa-free nation to visit for many countries, we are also a Muslim nation," the source was quoted as saying.
Another problem plaguing police was that some countries that wanted to be rid of unwanted individuals, including extremist-minded persons, were assisting them to obtain travel documents so that they could enter Malaysia as tourists.
The source was quoted as saying: "Worst still, these individuals, whose plans to join IS were thwarted, are now in the country and have stayed off the radar.
"There were several instances where they did alert the Malaysian authorities of such 'deportations' but it would be well after these individuals had entered the country. It is not easy for the police to trace them."
Some of those who had been allowed to travel to Malaysia as tourists had been labelled by intelligence agencies of their countries of origin as "dangerous".
The police, said the source, had managed to trace and deport some of them but others were still roaming free.
Full report at:
http://www.freemalaysiatoday.com/category/nation/2017/05/16/malaysia-a-dumping-ground-for-foreign-militants-says-report/
--------
Perkasa offended by planned protest against Naik, Asri
Predeep Nambiar
May 15, 2017
BUKIT MERTAJAM: Penang Perkasa has claimed that a protest planned against fugitive Indian preacher Zakir Naik and Perlis mufti Mohd Asri Zainal Abidin, along with insults hurled against them, constitute insults to Islam.
Its president, Mohd Nasir Othman, said the protest against the duo, scheduled this Sunday, had caused "unease" among Muslims in the country.
He said the event, planned to be held at a Hindu temple on Jalan Telaga Air in Butterworth, was also insulting.
"A banner on the event has defamed Asri and Naik. I worry that this kind of protest against them could lead to religious tension."
Nasir spoke to reporters after lodging reports at the Central Seberang Perai police headquarters today against the planned protest and against MIC's S Vell Paari.
He said the call by Vell Paari for Naik, who is wanted for investigations related to money-laundering and terrorism links in India, to be arrested and deported by Malaysia had caused disharmony among the country's multiracial society.
Naik has been granted permanent residence (PR) by the Malaysian government.
On April 21, Asri posted a poem on Facebook which derided "cow-worshippers", triggering anger among Malaysian Hindus. However, he later claimed it was directed at Indian prime minister Narendra Modi for his administration's alleged poor treatment of Muslims in India.
Indian rights group Hindraf later also criticised Asri over two old videos showing him giving talks in which he allegedly denigrated the Hindu faith.
Nasir however said Vell Paari had unfairly linked Naik to the Islamic State (IS) terrorist movement's ideology and depicted his supporters as terrorist "sympathisers".
"We are also very offended when Vell Paari asked the police to investigate Ibrahim Ali, our national president, for links with Naik.
"He (Vell Paari) is actually challenging Islam and creating disharmony in the country," Nasir said.
He said it was regrettable that minority races in the country chose to create unease by having protests against Muslim leaders, saying it was sowing further discord.
Earlier, Nasir and 20 others protested briefly outside the police headquarters, before lodging the police reports against Vell Paari and the organisers of Sunday's protest.
Meanwhile, Vell Paari denied defaming Naik, saying his comments about the preacher were based on reports marking him as a fugitive.
"I did not at any time make any defamatory or derogatory remarks about Islam as a religion.
"I believe in the sanctity of our constitutional right to worship and follow any religion of choice," he said in a statement.
Vell Paari also said he had merely suggested that police investigate Ibrahim, since he was close to Naik.
He said he had suggested an investigation be carried out on Perkasa's involvement with Naik, especially with regard to Naik's alleged recruiting of members for IS in Malaysia.
"I challenge Mr Ibrahim Ali and his organisation to take me to court if he views any of my statements as defamatory. I also challenge Zakir Naik to do the same.
"May I also suggest that you, Ibrahim, keep your 'spin doctor' tactics to yourself, especially on an issue involving a fugitive, namely Zakir Naik."
Full report at:
http://www.freemalaysiatoday.com/category/nation/2017/05/15/perkasa-offended-by-planned-protest-against-naik-asri/
--------
Papuans join waves of support for Ahok
May 15, 2017
Thousands of citizens of Jayapura in Papua have joined waves of national and international support for the release of non-active Jakarta Governor Basuki "Ahok" Tjahaja Purnama from detention as well as to save the state ideology of Pancasila from efforts to undermine it.
The four-kilometer long march from Papua Regional Representatives (DPRD) to the governor's office on Monday, which was coordinated by Ecumenical Council of Churches in Papua (PGGP), also demanded the dissolution of Islamic hard-line group Hizbut Tahrir Indonesia (HTI), Islam Defenders Front (FPI) and the arrest of FPI leader Rizieq Shihab.
PGGP chairman, Catholic bishop Leo Laba Ladjar stated that radicalism in Indonesia had reached an alarming level. "We believe the radical movements trouble our security and nationhood. We are becoming polarized," he stated.
Many believe that the North Jakarta District Court's decision to sentence Ahok to two years' imprisonment for blasphemy on May 9 was the result of pressure from hardline groups.
Addressing the rally at his office, Papua deputy governor Klemen Tinal said "the rally's aspiration is to remind us that we live in the NKRI [Unitary State of the Republic of Indonesia] under Pancasila and the UUD 45 Constitution."
Every evening since May 10, Jayapura residents have held a candle light vigil at Imbi park to support Ahok.
Full report at:
http://www.thejakartapost.com/news/2017/05/15/papuans-join-waves-of-support-for-ahok.html
--------
Mideast
Tension between Israel and White House ahead of Trump's Mideast tour
16 May 2017
Israel wants the White House to explain why a U.S. diplomat preparing President Donald Trump's visit to Jerusalem said Judaism's Holy Western Wall in its Old City is part of the Israeli-occupied West Bank, an Israeli official said on Monday.
Israel considers all of Jerusalem as its indivisible capital, a claim that is not recognized internationally, and the Western Wall - the holiest prayer site for Jews - is part of territory it captured in the 1967 Middle East war.
Israel's Channel 2 reported that during a planning meeting between U.S. and Israeli officials, the Israelis were told that Trump's visit to the Western Wall was private, Israel did not have jurisdiction in the area and that Prime Minister Benjamin Netanyahu was not welcome to accompany Trump there.
"The statement that the Western Wall is in an area in the West Bank was received with shock," said the official in Netanyahu's office.
"We are convinced that this statement is contrary to the policy of President Trump ... Israel has made contact with the U.S. on this matter," the official said.
The White House did not respond to a request for comment.
The new U.S. ambassador to Israel, David Friedman, departed from diplomatic protocol by visiting the Western Wall on Monday.
It is highly unusual for a new envoy to visit the holy site just hours after arriving in Israel.
The visit, a week before Trump's first foreign trip, coincided with a debate between the two countries on Trump's election pledge to move the U.S. embassy to Jerusalem from Tel Aviv.
Friedman is an orthodox Jew who has raised funds for a Jewish settlement in the occupied West Bank that Israel captured together with East Jerusalem 50 years ago.
Palestinians want East Jerusalem as the capital of a future state along with the occupied West Bank and the Gaza Strip that is controlled by Islamist Hamas.
A bankruptcy lawyer by profession, Friedman has no previous diplomatic experience. He will officially take up his role when he presents his credentials to Israeli President Reuven Rivlin on Tuesday.
On Sunday, U.S. Secretary of State Rex Tillerson said Trump was considering the best move to facilitate renewing Israeli-Palestinian peace talks that have been frozen since 2014.
"The president is being very careful to understand how such a decision would impact a peace process," Tillerson told NBC's "Meet the Press".
Netanyahu responded by saying that moving the U.S. embassy to Jerusalem would not harm the peace process, but would do the opposite.
"It will advance it by righting a historical wrong and by shattering the Palestinian fantasy that Jerusalem is not the capital of Israel," Netanyahu said.
Trump will embark on his first international trip since taking office on Friday and begin with visits to Saudi Arabia, Israel and the West Bank and Italy.
He will try to relaunch the peace process although the prospects for progress are unclear as both sides are entrenched in long-held positions.
Among the main bones of contention are Netanyahu insisting that the Palestinians recognize Israel as the nation state of the Jewish people and the Palestinians calling for a halt to Israeli settlement building in the West Bank.
https://english.alarabiya.net/en/News/middle-east/2017/05/16/Tension-between-Israel-and-White-House-ahead-of-Trump-s-Mideast-tour-.html
--------
Turkey issues arrest warrants for 85 ministry staff in post-coup probe
May 16, 2017
Prosecutors in Turkey have issued arrest warrants for 85 staff at two ministries as part of a probe targeting the network of US-based opposition cleric Fethullah Gulen whom Ankara accuses of masterminding the July 2016 failed coup.
Broadcaster CNN Turk reported on Tuesday that the detainees are staff at the energy and education ministries. No further details were immediately available.
The news comes a day after a court jailed the online editor of the opposition newspaper Cumhuriyet pending trial on a charge of spreading terrorist propaganda, the daily said.
Editor Oguz Guven joined a score of Cumhuriyet journalists already in jail facing sentences of up to 43 years in prison over alleged ties to Gulen.
Turkish officials say over 240 people were killed and more than 2,100 others injured in the failed coup, which was swiftly put down as tens of thousands of people flooded the streets across Turkey to support the government.
Ankara has accused Gulen of orchestrating the abortive putsch. The opposition figure is also accused of being behind a long-running campaign to topple the government via infiltrating country's institutions, particularly the army, police and the judiciary. Turkey has also outlawed the Gulen movement, branding it as "Fethullah Terrorist Organization."
Ankara has so far arrested 50,000 people and sacked or suspended some 150,000 others, including military personnel, judges and teachers, over suspected links to Gulen, as part of the post-coup crackdown.
Many rights groups have denounced Ankara's heavy clampdown.
Full report at:
http://www.presstv.ir/Detail/2017/05/16/522075/Turkey-arrests-postcoup-probe
--------
Kuwait ready to host Yemeni talks under certain conditions
16 May 2017
Kuwait has announced its readiness to host the parties involved in the Yemeni conflict, provided that they reach an agreement that would end the crisis rather than going into a new marathon of consultations, as happened last year.
This comes in conjunction with the new visit of UN envoy to Yemen Ismail Ould Sheikh Ahmed aiming to revive the peace process in Yemen and reach a truce before the month of Ramadan.
Kuwait's Deputy Foreign Minister Khalid al-Jarallah said that his country is committed to address the situation in Yemen, especially that it hosted a three-month peace consultation last year.
The tour of the UN envoy began from Riyadh, where he met with leaders of the legitimate government and he informed the ambassadors of the countries sponsoring the political settlement in Yemen about the latest developments and the suggestions for a solution that appears to have included some amendments.
Full report at:
https://english.alarabiya.net/en/News/middle-east/2017/05/16/Kuwait-ready-to-host-Yemeni-talks-but-conditions-apply.html
--------
Oman confirms its stance alongside the legitimate government of Yemen
15 May 2017
Oman's Minister of Foreign Affairs Yusuf bin Alawi affirmed his country's support for Yemen and its legitimate government of President Abd-Rabbu Mansour Hadi.
The Omani official said during a telephone conversation with Yemen's Deputy Prime Minister Abdulmalik al-Mekhlafi that Muscat supports any and all efforts to achieve security and stability in a manner that preserves the territorial integrity of Yemen and preserves its national institutions and the capabilities of the Yemeni people.
For his part, Mekhlafi hailed Oman's position in support of legitimacy and the right for Yemenis to live in peace, according Yemen's official news agency.
Full report at:
https://english.alarabiya.net/en/News/gulf/2017/05/15/Oman-confirms-its-stance-alongside-the-legitimate-government-of-Yemen-.html
--------
Life is better for Jews in Iran than in Europe: Jewish MP
May 16, 2017
A Jewish lawmaker at the Iranian Parliament (Majlis) says Jews can freely practice their religion in Iran and have always enjoyed better living conditions in the Islamic Republic than in Europe.
"Generally speaking, the Jews' condition in Iran has always been better than in Europe. In our country's history, there was never a time when all Iranians had the same religion, race, or language, so there is a high degree of tolerance," Siamak Moreh Sedgh said in an interview with Germany's Deutsche Welle (DW), which was published on Monday.
"Jews are a recognized minority here, so we can practice our religion freely. We have more than 20 working synagogues in Tehran and at least five kosher butcheries," he said.
The Iranian MP said that Jews and Muslims respected each other despite differences.
He said the Jewish community and other religious groups in Iran were not separated from one another, adding that Jews have economic relations with Muslims.
Moreh Sedgh, who also serves as the director of the Tehran Jewish Committee and the Dr. Sapir Hospital in the Iranian capital, said his closest friends were Muslims.
"The hospital I work in is a Jewish hospital, for example, but more than 95 percent of both our personnel and patients are Muslim," he added.
Elsewhere in his comments, the lawmaker pointed out that Jewish children, who go to Iranian public schools, are allowed to stay at home on Saturday if they want to observe the Sabbath, the holy Jewish day.
Full report at:
http://www.presstv.ir/Detail/2017/05/16/522074/Iran-Jews-Siamak-Moreh-Sedgh-Deutsche-Welle
--------
Turkey considers establishing military base in Syria's Idlib
May 16, 2017
The Turkish army is mulling the establishment of a military base close to the Syrian city of al-Bab, says deputy prime minister.
On Monday, Veysi Kaynak told reporters that Turkish General Staff is considering Aqil Hill, west of al-Bab, for the location of base.
After capturing the strategic location in February, the Turkish army has been using it as a temporary command post, but now seeks to establish something more permanent.
Kaynak, who was making the remarks following a trip from trip to Bosnia and Herzegovina, noted that since announcing of the end of its Euphrates Shield operation the number of troops stationed in the area has been reduced from 8,000 to 1,500.
On March 29, Turkish Prime Minister Binali Yildirim announced the end of the country's Euphrates Shield operation on Syrian soil.
In August 2016, Turkey began the major military intervention in Syria, sending tanks and warplanes across the border. Ankara claimed that its military campaign was aimed at pushing Daesh from Turkey's border with Syria and stopping the advance of Kurdish forces, but Damascus denounced the operation as a breach of its sovereignty.
The deputy premier also noted that Turkey is looking to establish an outpost in the province of Idlib, where a safe zone has been declared by Iran, Russia, and Turkey.
On May 5, an agreement to create four "de-escalation zones" aimed at ending the conflict in war-torn Syria has come into force a day after Iran, Russia and Turkey signed the agreement during the fourth round of the Syria peace talks in the Kazakh capital Astana, and two days after Moscow put forward the proposal.
Full report at:
http://www.presstv.ir/Detail/2017/05/16/522033/turkey-base-syria-albab
--------
North America
Tillerson: Trump's Middle East tour about 'unity against Iran'
15 May 2017
US Secretary of State Rex Tillerson said that President Donald Trump's visit to the Middle East is aimed at showing the countries in the region the US's stance in "unity against Iran," he told American news channel NBC during an interview on Monday.
"I think there is broad view and broad consensus among all in the region, among all Arab nations… and among others of Iran's destabilizing activities in the region," Tillerson said.
"This has to do with standing up in unity against Iran as opposed to any particular religious overtone," he said of Trump's trip to the region.
"I think the important aspect of this visit that the president is making is to bring a message of unity" among the followers of these religions in the face of the threats posed by ISIS and al-Qaeda," he added.
Trump is set to visit Saudi Arabia next week before stopping at Israel and the Vatican on his first official foreign trip.
https://english.alarabiya.net/en/News/middle-east/2017/05/15/Tillerson-Trump-s-Middle-East-tour-about-unity-against-Iran-.html
--------
Trump Revealed Intelligence Secrets to Russians in Oval Office: Officials
May 16, 2017
Washington. United States President Donald Trump disclosed highly classified information to Russia's foreign minister about a planned Islamic State operation during their meeting last week, two US officials with knowledge of the situation said on Monday (15/05).
The intelligence shared at the meeting with Russian Foreign Minister Sergei Lavrov and Russian Ambassador Sergei Kislyak was supplied by a US ally in the fight against the militant group, both officials said.
The White House said the allegations, first reported by the Washington Post, were not correct.
"The story that came out tonight as reported is false," H.R. McMaster, Trump's national security adviser, told reporters at the White House, adding that the two men reviewed a range of common threats including to civil aviation.
"At no time were intelligence sources or methods discussed. The president did not disclose any military operations that were not already publicly known. [...] I was in the room. It didn't happen," he said.
The White House also released a statement from Secretary of State Rex Tillerson, who said the meeting focused on counter-terrorism, and from deputy national security adviser Dina Powell, who said the Washington Post story was false.
Reacting to the news, the Senate's No. 2 Democrat, Dick Durbin, called Trump's conduct "dangerous" and "reckless." The Republican head of the Senate Foreign Relations Committee, Bob Corker, called the allegations "very, very troubling" if true.
The latest controversy in the White House came as it continued to reel from the fallout over Trump's abrupt firing of FBI Director James Comey last week and amid congressional calls for an independent investigation into allegations of Russian meddling in the 2016 US election.
On Monday, one of the officials said the intelligence discussed by Trump in the meeting with Lavrov was classified "Top Secret" and held in a secure "compartment" to which only a handful of intelligence officials have access.
After Trump disclosed the information, which one of the officials described as spontaneous, officials immediately called the CIA and the National Security Agency, both of which have agreements with a number of allied intelligence services, and informed them what had happened.
While the president has the authority to disclose even the most highly classified information at will, in this case he did so without consulting the ally that provided it, which threatens to jeopardize what they called a long-standing intelligence-sharing agreement, the US officials said.
Trump, a Republican who has called allegations of links between his presidential campaign and Russia a "total scam," has sharply criticized his 2016 election rival, Democrat Hillary Clinton, for her handling of classified information as secretary of state, when she used a private e-mail server.
The FBI concluded that no criminal charges were warranted, but Comey said she and her colleagues had been "careless" with classified information.
'No Filter'
In his conversations with the Russian officials, Trump appeared to be boasting about his knowledge of the looming threats, telling them he was briefed on "great intel every day," an official with knowledge of the exchange said, according to the Post.
US officials have told Reuters they have long been concerned about disclosing highly classified intelligence to Trump.
One official, who requested anonymity to discuss dealing with the president, said last month: "He has no filter; it's in one ear and out the mouth."
One of the officials with knowledge of Trump's meeting with the Russian called the timing of the disclosure "particularly unfortunate," as the president prepares for a White House meeting on Tuesday with Turkish President Tayyip Erdoğan, an ally in the fight against Islamic State.
Full report at:
http://jakartaglobe.id/international/trump-revealed-intelligence-secrets-russians-oval-office-officials/
--------
Travel Ban Judges Scrutinize Trump's Muslim Statements
MAY 15 2017
SEATTLE — Federal judges on Monday peppered a lawyer for President Donald Trump with questions about whether the administration's travel ban discriminates against Muslims and zeroed in on the president's campaign statements, the second time in a week the rhetoric has faced judicial scrutiny.
Acting Solicitor General Jeffrey Wall, who is defending the travel ban, told a three-judge panel of the 9th US Circuit Court of Appeals that "over time, the president clarified that what he was talking about was Islamic terrorist groups and the countries that sponsor or shelter them."
He argued that the executive order halting travel from six majority Muslim nations doesn't say anything about religion, and neither the state of Hawaii nor an imam from that state who wants his mother-in-law to visit has standing to sue.
"This order is aimed at aliens abroad, who themselves don't have constitutional rights," Wall said in a hearing broadcast live on C-Span and other news stations.
Neal Katyal, who represented Hawaii, scoffed at that argument and said Trump had repeatedly spoke of a Muslim ban during the presidential campaign and after.
"This is a repeated pattern of the president," Katyal said.
The 9th Circuit panel was hearing arguments over Hawaii's lawsuit challenging the travel ban, which would suspend the nation's refugee program and temporarily bar new visas for citizens of Iran, Libya, Somalia, Sudan, Syria and Yemen. The judges will decide whether to uphold a Hawaii judge's decision in March that blocked the ban.
Dozens of advocates for refugees and immigrants rallied outside the federal courthouse in Seattle, some carrying "No Ban, No Wall" signs.
Last week, judges on the 4th Circuit Court of Appeals heard arguments over whether to affirm a Maryland judge's decision putting the ban on ice. They also questioned whether they could consider Trump's campaign statements, with one judge asking if there was anything other than "willful blindness" that would prevent them from doing so.
On Monday, Judge Richard Paez questioned Katyal about Trumps statements, calling them "profound." But the judge wondered whether Trump is forever forbidden from adopting an executive order along the lines of his travel ban.
Katyal said no, and suggested the president could work with Congress on legitimate measures.
Monday's arguments mark the second time Trump's efforts to restrict immigration from certain Muslim-majority nations have reached the San Francisco-based 9th Circuit.
After Trump issued his initial travel ban on a Friday in late January, bringing chaos and protests to airports around the country, a Seattle judge blocked its enforcement nationwide — a decision that was unanimously upheld by a three-judge 9th Circuit panel.
The president then rewrote his executive order, rather than appeal to the U.S. Supreme Court, and in March, U.S. District Judge Derrick Watson in Honolulu blocked the new version from taking effect, citing what he called "significant and unrebutted evidence of religious animus" in Trump's campaign statements.
"Again, in this court, the President claims a nearly limitless power to make immigration policy that is all but immune from judicial review," Hawaii Attorney General Douglas Chin wrote to the 9th Circuit. "Again, he must be checked."
The administration's lawyers are seeking to persuade the judges that the lower court's decision is "fundamentally wrong," and that the president's order falls squarely within his duty to secure the nation's borders. The order as written is silent on religion, and neither Hawaii nor its co-plaintiff, the imam of the Muslim Association of Hawaii, has standing to sue, they say — arguments that were rejected in the lower court.
Full report at:
http://www.nbcnews.com/news/us-news/travel-ban-judges-scrutinize-trump-s-muslim-statements-n759681
--------
Canada is giving up on free speech
2017-05-15
The motion, presented by backbench Liberal MP Iqra Khalid and known as M103, maintains that parliament will attempt to quell instances of hate and fear and provide suggestions for parliament going forward on how to achieve these goals within 240 days.
M103 passed in a landslide victory, and was supported by the Trudeau government. Almost all Liberal MPs voted in favour of the motion, with only Gagan Sikand choosing to abstain. The NDP lent its full support. Conservative Party MPs, however, voted overwhelmingly against it. In this case, the Conservative Party had Canadians' interests at heart.
A Forum Research poll found an overwhelming majority of Canadians were against M103. Only 14 per cent of Canadians asked said they supported the motion in its current form. Many wanted words clarified, terms changed, or the focus broadened to all religions—but these concerns fell on deaf ears.
The motion has the potential to greatly limit Canadians' right to free speech. Our laws already protect identifiable groups—including those bound together due to religious affiliation—against hate speech, according to sections 318, 319 and 320 of the Criminal Code.
The motion has failed to define what exactly constitutes "Islamophobia." Current and former MPs have asked for a definition of the term to be included in the motion, or for the wording to be changed to intolerance of Muslim individuals rather than Islam—things the Liberals refused to do.
Irwin Cotler, MP for Mount Royal from 1999 to 2015, supported a rewording of the motion. "I would have preferred that Islamophobia had been defined," said Cotler. "I don't think there would have been any concern at the notion of anti-Muslim bigotry being used."
In the past, parliamentary motions have included terms like "anti-Semitism." However, these remain distinct from M103, as the Ottawa Parliamentary Protocol to Combat Anti-Semitism and the International Holocaust Remembrance Alliance, of which Canada is a member, use a standard definition of the term.
Saskatchewan Conservative MP David Anderson proposed a new motion that kept the spirit of M103 and while addressing fears about limiting free speech. His motion would have targeted systemic racism in general, specifying hatred of Muslims, and not fear of Islam, as a symptom of this problem. This motion was defeated 165-126 back in February, with Trudeau himself opposing it.
Without defining "Islamophobia," many fear the motion, and perhaps further legislation, could be used to justify persecution or even punishment of those who speak out against practices within Islam or tenants of the faith. Liberals' inability to compromise on definitions only lends credence to this fear.
French Prime Minister Maneul Valls believes this is a real possibility. "I refuse to use this term 'Islamophobia,' because those who use this word are trying to invalidate any criticism at all of Islamist ideology," he said. "The charge of 'Islamophobia' is used to silence people."
In France, these fears are coming to life. In 2016, Jewish historian and scholar, Georges Bensoussan, was prosecuted for making certain criticisms of Muslim anti-Semitism. His comments, while inflammatory, were based on a Fondapol survey, which uncovered anti-Jewish sentiments in France's Muslim population.
While many believe, in the wake of the tragic Quebec mosque shooting, that stronger action should be taken to protect this specific community, many fail to remember that this motion was tabled awhile before the attacks occurred.
Furthermore, Muslim Canadians are not the demographic experiencing the most hate crimes. According to 2014 police report data, despite a sharp increase in Muslim hate crimes, those most often targeted during hate crimes are Jewish Canadians. A report this week from B'nai Brith Canada shows that these crimes are still on the rise.
Full report at:
http://princearthurherald.com/en/politics-2/canada-giving-free-speech-634
--------
Europe
Putin says Russia sees no need to arm Syrian Kurds
15 May 2017
President Vladimir Putin said on Monday that Russia saw no need to arm the Syrian Kurds, but said Moscow would maintain working contacts with them.
"Unlike other countries we are not announcing any arms deliveries to Kurdish formations," said Putin, who was speaking in Beijing. "We don't believe we need to start such work."
Putin said the fact that the Kurds were engaged in the fight against ISIS militants meant it made sense to maintain working contacts with them however "even if it's only to avoid (accidental) clashes."
https://english.alarabiya.net/en/News/middle-east/2017/05/15/Putin-says-Russia-sees-no-need-to-arm-Syrian-Kurds.html
--------
Russia bombing triggers crackdown on Central Asians
Mansur Mirovalev
May 16, 2017
Moscow, Russia - Armed police officers broke into Nigora Marupova's rented apartment in southeastern Moscow at dawn on May 5 and took away her weeping and screaming daughters aged two and four.
They told the confounded woman from Uzbekistan who lived in Russia for 14 years without legal trouble that they would place the children in an orphanage because Marupova had ties to "terrorists" that masterminded the April 3 subway bombing in St Petersburg, Russia's second-largest city and President Vladimir Putin's hometown.
"They took the kids by force," Marupova, a 30-year-old brunette with a pale, haggard face, told Al Jazeera. "They did not want to return the smaller one, wanted to keep the child as a hostage, said she was their insurance."
No ties whatsoever were found after interrogations, but the children were released days later only after Memorial, one of Russia's oldest and most respected human rights groups, stepped in with a squall of complaints and a threat of legal action.
"This was an abduction," Memorial's Bakhrom Khamroev told Al Jazeera, adding the raid on Marupova's apartment was part of a sweep on at least 25 buildings in the area where ethnic Uzbeks rented apartments. "One of her girls was registered like she had been found at a junkyard."
Moscow city police and children's protection services refused to discuss Marupova's case.
The sweep was part of a nationwide crackdown on nationals of three ex-Soviet nations of Central Asia - Uzbekistan, Kyrgyzstan and Tajikistan because the subway bombing that killed 15 and wounded dozens was the first attack carried out in Russia by a Central Asian.
Investigators and security services said Akbarjon Jalilov, a 22-year-old suicide bomber was behind the attack. An ethnic Uzbek man born in neighbouring Kyrgyzstan, he became a Russian national and worked as a sushi chef and auto mechanic. The bespectacled man sported a stylish goatee, not a full beard, and never had ties to armed groups, his friends and relatives told Russian and Kyrgyz media.
Russian investigators claimed he was part of a "sleeping cell" of Islamic State of Iraq and the Levant, but the only group that claimed responsibility for the attack was ISIL's sworn enemy. Only three weeks after the attack, the Imam Shamil battalion - a previously unknown, al-Qaeda-linked group in Syria - said Jalilov was its member, according to SITE Intelligence Group, a US company that tracks attacks.
Unwanted migration
Russia sees Central Asia, an arid region strategically stretched between China, Iran and Afghanistan, as its "soft underbelly". Its five nations broke away from the Soviet Union in 1991 and now have a population of more than 60 million.
Three of them - Uzbekistan, Kyrgyzstan and Tajikistan - flooded Russia with millions of labour migrants since the early 2000s. The nations also are the homelands of two dozen suspected accomplices of Jalilov that have been arrested after the bombing, investigators say. Two more were killed while resisting arrest.
Jalilov and his presumed companions are Muslims below 40 who can't boast university degrees or fluent command of Russian and have blue-collar jobs that pay several hundred dollars a month. They also are the living images of Central Asian labour migrants many Russians don't want to live with but the Russian economy can't live without, according to a survey by the Moscow-based Institute for Social Analysis published in mid-May.
"We won't survive without Uzbeks," demographer Yulia Florenskaya wrote in the survey because Russia is losing about a million people of working age a year and has a barely visible growth of the general population of 143 million.
This demographic trend makes the arrival and long-term presence of millions of guest workers inevitable if Russia wants to secure the recovery of its economy hobbled by Western sanctions over Crimea, low oil prices, and cancerous corruption.
Skinheads and cops
Unlike Slavic labour migrants from Ukraine or Belarus that blend in with ethnic Russians, Central Asians have darker skin and hair, different fashion habits and cultural background - including their Muslim faith.
Unsurprisingly, they often attract negative attention - from xenophobic or racist remarks from passersby or neighbours to targeted violence by ultra-nationalists and neo-Nazis. Racially motivated attacks that targeted non-Russians peaked in 2008, when 97 people were killed - including 49 Central Asians - hate crimes monitor Sova said.
One of them was Salokhiddin Azizov, a 20-year-old Tajik labor migrant who was gunned down and then beheaded by a gang of skinheads who took a photo of his severed head and sent it to journalists. But his brother Jamsheed, who was shot twice by the same gang, returned to Russia after recovering from his wounds.
"There are no jobs to be found in our village," his uncle Rakhmatsho Azizov told this reporter in 2008.
The Kremlin's perennial crackdown on neo-Nazis diminished the number of hate crimes – seven people, including two Central Asians, were killed in 2016, Sova said.
But there is another scourge Central Asians face – the corruption and brutality of police officers who routinely detain them to extort money, rights groups and migrants say.
"If they don't pay up, the police officers get offended and get them deported," Valentina Chupik, head of Tong Jahoni, a Moscow-based human rights group that works with Central Asians, told Al Jazeera. "There is no oppression, there is only a conception of easy prey."
Kremlin's scapegoats?
Under Putin, Russia has seen several waves of government-orchestrated hate campaigns against the nationals of countries that fall out with the Kremlin.
In 2006, after ex-Soviet Georgia declared a pro-Western course, Kremlin-controlled media responded with weeks of hysteria that triggered arbitrary arrests, dismissals, deportations and beatings of ethnic Georgians. In the following years, people from Moldova, Tajikistan, Belarus and Ukraine faced similar abuses in Russia every time their governments disagreed with Moscow.
Russian nationals from the Northern Caucasus region have for years been a magnet of police scrutiny and abuses outside their mostly Muslim region. For more than two decades, Russia has been battling fighters from the Caucasus who were first linked to Chechen separatists and are now joining ISIL.
Several thousand Central Asians have also joined ISIL and other armed groups in Syria, Iraq, and Afghanistan, officials say, and some were labour migrants recruited in Russia. But it was the St Petersburg bombing that made their compatriots a subject of persecution and abuses.
Full report at:
http://www.aljazeera.com/news/2017/05/russia-bombing-triggers-crackdown-central-asians-170516020705429.html
--------
Accused bomber Rahimi seeks reduced charges in New Jersey case
May 16, 2017
An Afghan-born U.S. citizen accused of planting bombs in New York and New Jersey fired on police in New Jersey to evade arrest, but those crimes fall short of attempted murder as charged, his defense lawyer argued on Monday.
Ahmad Khan Rahimi, 29, faces a 30-count indictment in New Jersey's Union County in relation to a bomb blast in New York City's Chelsea district last September that wounded about 30 people. Another bomb in New Jersey injured no one and other devices he is accused of planting did not detonate.
Rahimi also faces a host of federal charges brought by U.S. prosecutors in New York and New Jersey, who have portrayed him as a jihadist who bought bomb components on eBay, praised Osama bind Laden and kept a journal expressing outrage at the U.S. "slaughter" of mujahideen fighters in Afghanistan, Iraq, Syria and Palestine.
Rahimi, who has pleaded not guilty to all charges, appeared in court shackled at the feet and hands while wearing a blue prison uniform, white skullcap and beard. He appeared to be mouthing verses of the Koran while seated at the defense table.
His state-appointed defense attorney, Peter Liguori, has asked Union County Superior Court Judge Regina Caulfield to dismiss all charges, but in oral arguments he focused mostly on getting three attempted murder charges reduced to aggravated assault in the instances where the police officers were unhurt.
Two other officers were wounded in the shootout, which erupted on the streets of Linden, New Jersey, two days after the bombs detonated. Rahimi was shot between eight and 12 times, Liguori said.
The defense lawyer also asked the judge to drop so-called lesser included offenses, arguing that prosecutors "overcharged" his client.
Full report at:
http://nation.com.pk/international/16-May-2017/accused-bomber-rahimi-seeks-reduced-charges-in-new-jersey-case
--------
Africa
Genocide changed destiny of Rwandan Muslims: Vice-Mufti
16.05.2017
KIGALI, Rwanda
A genocide that stunned Rwanda in 1994 was a turning point for the country's Muslim community, which led to the expansion of Islam in the East African nation, Vice-Mufti Sheikh Salih Nshimiyimana said.
The Rwandan Muslims had welcomed and protected the minority Tutsi and the peaceful people belonging to Hutu ethnic majority, who had taken refuge with them during the genocide.
The genocide, in which nearly one million people were killed, took place between hardliner Hutus and minority Tutsis after the death of Rwandan President Juvenal Habyarimana in a plane crash.
The Hutus accused the Tutsis of assassinating the president that led to an organized violence against the minority group across the country that lasted for about 100 days.
"I praise Allah for the behavior adopted by the Muslims during the genocide perpetrated against the Tutsis in 1994. The Muslims protected all these people without any religious distinction. It was not easy," he said.
"In accordance with the Quran's teachings, Muslims helped all their brothers and victims of the genocide," said Nshimiyimana.
He recalled that during the pre-genocide period, Muslims were deprived of many of their rights.
Muslims represent 10 percent of the Rwanda's 11.6 million population.
"After the genocide, Allah gave us a good leader [President Paul Kagame] … and today we have the same rights as other Rwandan citizens and we can visit our mosques in serenity," he said.
Nshimiyimana said that conversions to Islam increased exponentially after the genocide.
"They realized that the truth resided in the essence of the guidelines of Islam," he said.
The vice-mufti also noted that the Rwandan Muslims expect the support of Turkey and other Muslim countries.
"Turkey is a great country, a major country and has a special place in the history of Islam. Turkish Muslims can support their brothers here, especially in the field of education, the construction of new mosques and many more, "he added.
"We want to see better relations between Rwanda and Turkey. Our Turkish brothers help us during the month of Ramadan and during the feast of sacrifice. We pray that Allah protect Turkey because if it [Turkey] faces difficulties, it will have an impact on the entire Muslim world."
Nshimiyimana mentioned that the country has about 500 mosques currently, which he said, is insufficient to meet the need.
Reporting by Bayram Altug;Writing by Felix Nkambeh Tih
http://aa.com.tr/en/africa/genocide-changed-destiny-of-rwandan-muslims-vice-mufti/819283
--------
Nigeria: Buhari's Running Nigeria As Muslim Organization - CAN
16 MAY 2017
By Caleb Ayansina
Abuja — The Christian Association of Nigeria, CAN, Youth Wing and four other affiliated Christian unions, yesterday, accused President Muhammadu Buhari's administration of running the country as a Muslim organization and neglecting the entire Christian faith.
The Youth Wing of CAN, YOWICAN, Arewa Christians Association,Concerned Professional Christians, All Para-Church Organizations, Nigerian Christians in Diaspora, rising from their emergency meeting, yesterday, in Abuja, said the present government was not only executing Islamic agenda but also out to kill the Christian religion in the country.
In a joint statement issued by the five Christians associations and signed by the National President of YOWICAN, Mr. Daniel Kadzai, the group observed with regret the removal of Christian religious studies from primary/secondary schools, especially in the North.
They also pointed out that government was not treating Christians and Muslims on equal terms as enshrined in the constitution.
"The worse form of social injustice, terrorism and religious bias is to deny Christian children their right to practise their religion despite the role of Christian Religious Studies in helping to shape the moral character and integrity of our children as future leaders.
"Perhaps, it is in furtherance to its Islamic agenda that the APC government appointed the likes of Prof. Ishaq Oluyede, a known Islamist, who has never hidden his bias and prejudice against Christians, to head a most relevant educational institution like the Joint Admissions and Matriculation Board, JAMB.
"Despite the denial that the government is not slipping Nigeria into an Islamic country as evident from previous antecedents, Nigeria's participation at the Islamic solidarity sports federation speaks volumes and confirms the obvious," the groups said.
The group though maintained that in obedience to the biblical mandate, all Christians have been praying for the President in Churches and at home, noted that the authorities and the few cabals should stop lying concerning the health status of the president who is Nigeria's chief public servant.
He argued that Nigerians deserve to know the truth as obtainable in any civilized society.
"The recent publication attributed the sickness of Mr. President to poisoning. As sad, pathetic and serious as the allegations may be, we strongly warned that a few cabal should not contemplate any sinister plot to endanger the unity of Nigeria through any ungodly clandestine manipulation, either of persons, Constitution or the administrative procedure. We're aware of the Cabals desperation for power and replacement of their favoured candidate even at the detriment of national unity," he stated.
The CAN Youth President and the Group warned that Nigerians and particularly Christians should not be taken for granted over the recent systematic removal of Christians from sensitive position.
The joint Christian Group cautioned the Aso Villa cabal that any further attempt to cover up or justify the suspicious motives for the suspension of the duo, SGF and NIA Director without replacing them with Christians will add more salt to injury.
"We Christians resolved to resist any further form of marginalisation or persecution against Christians, the SGF was recognized as Christian by APC when he was detailed to mobilised Christians to vote Buhari 2015, we insist same Engr BD Lawal is been betrayed by APC on account of his Faith. Recent statement from the villa indicated that Buhari is aware of the funds connected to NIA Boss Amb. Oke and wondered why the man was humiliated out of office despite his untainted records. We are speaking for all affected Christians," they stated.
On the herdsmen killings they said that the security agents appear to be acting in a questionable manner, either looking the other side when Christians or indigenous people are annihilated or protecting Fulani cattle rearers and their cows.
"The question begging for answer is, "why are 99 percent and above of the perpetrators of the attacks on Christians either as cattle rearers or terrorist from one side of the religion?
"If Christian leaders can restrain their aggrieved youths from vengeance then Muslim leaders must also control and restrain the radicals and extremist among their own.
Daniel said that Christians shall no longer accept the deliberate reserve of some government agencies and parastatals of government to Muslims.
Full report at:
http://allafrica.com/stories/201705160192.html
--------
South Sudanese refugees need $1.4b this year: UN
May 16, 2017
GENEVA : The United Nations said Monday that $1.4 billion (1.3 billion euros) was needed this year alone to help the nearly two million people who have fled war and famine in South Sudan.
"The suffering of the South Sudanese people is just unimaginable," World Food Programme chief David Beasley said in a statement, adding that many are "close to the abyss".
South Sudan, the world's youngest nation, descended into civil war in December 2013, just two years after it split from the north. Tens of thousands of people have been killed since then, with 1.8 million forced to flee the country, including about one million children, to seek refuge in Uganda, Sudan, Ethiopia, Kenya, the Democratic Republic of Congo and the Central African Republic.
Another two million have been displaced inside the country, but they are not covered by Monday's appeal. The country has declared famine in some areas and has warned that a million people are on the brink of starvation.
WFP and the UN refugee agency launched a revised appeal, saying the $1.2 billion originally requested would not be enough.
The UN said people were now fleeing South Sudan at a rate that far exceeded already pessimistic estimates.
"The number of people fleeing to Sudan in March surpassed the expected figure for the entire year," it said, with about 375,000 South Sudanese refugees now in the country.
Ethiopia is hosting the same number, while the situation in Uganda is even more dire, with nearly 900,000 refugees from South Sudan there.
Kenya counts about 97,000 South Sudanese refugees, DR Congo has 76,000 and the Central African Republic 2,200.
Aid agencies are struggling to secure the funds they need to help the refugees, making it difficult to provide food, water, shelter and health services.
"Our funding situation forced us to cut food rations for many refugees in Uganda," Beasley said, a situation he called "unacceptable".
"These are families like yours and mine, our brothers and sisters, and the world must help them now - not later," he said.
Beasley, a long-standing member of the US Republican party who previously served as governor of South Carolina, was named WFP chief in March.
He said a major problem in raising money for emergencies like South Sudan was that donor nations were distracted by domestic politics.
Full report at:
http://nation.com.pk/international/16-May-2017/south-sudanese-refugees-need-14b-this-year-un
--------
20 Nigerian farmers killed in herdsman attack
May 16, 2017
KANO: Gunmen believed to be Fulani cattle herders killed 20 farmers praying inside a mosque over a land dispute in central Nigeria, a police spokesman told AFP Monday.
The attackers opened fire at the place of worship in Etogi village during morning prayers on Saturday, Niger state police spokesman Bala Elkana said.
"The gunmen opened fire on the worshippers inside the mosque during morning prayers and killed all the 20 worshippers," Elkana said. "They later shot sporadically on the village, injuring eight people." The shooting was a revenge attack after farmers killed one herder in a clash days earlier, the spokesman added. The herders, who were raising cattle and farming, had settled near Etogi village on the condition that they would give a portion of their harvest to the community every season.
But the herders reneged on the agreement this year, refusing to pay the tax and instead claiming that the land belongs to them, according to the police.
"This led to a clash in which one herder was killed. The (latest) attack was to avenge the death," Elkana explained.
Three suspects have been arrested in connection with the violence.
Deadly clashes between herders and farmers in Nigeria over land and water rights are frequent, especially in the Middle Belt region, which is considered the country's agricultural heartland.
The resource conflict has been exacerbated in some areas by ethnic and religious tensions, with farming communities often Christian and herders Muslim.
Sparse vegetation in the north along with the gradual encroachment of the desert has forced largely nomadic herders to move south in search of food for their cattle.
Full report at:
http://nation.com.pk/international/16-May-2017/20-nigerian-farmers-killed-in-herdsman-attack
--------
URL: https://www.newageislam.com/islamic-world-news/saudi-king-touts-trump-islamic/d/111167
New Age Islam, Islam Online, Islamic Website, African Muslim News, Arab World News, South Asia News, Indian Muslim News, World Muslim News, Women in Islam, Islamic Feminism, Arab Women, Women In Arab, Islamophobia in America, Muslim Women in West, Islam Women and Feminism