New Age Islam News Bureau
24 Dec 2019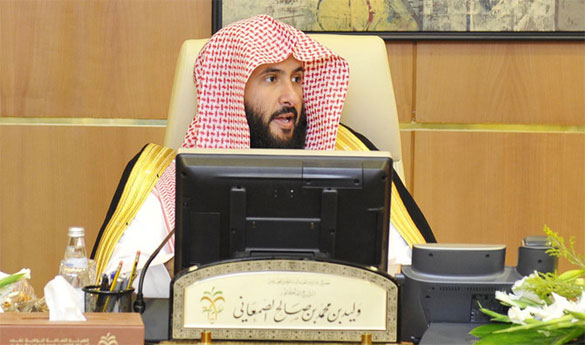 Saudi Justice Minister Dr. Walid bin Mohammed Al-Samaani. (SPA)
--------
• Saudi Justice Minister Vows Action against Underage Marriages
• Netflix's Messiah Sparks Demand for Show Ban Over 'Anti-Islamic' And 'Blasphemous' Story
• Malaysian Imam Urges Muslims to Boycott China over Uyghur Concentration Camps
• Mixing Religion with Politics Was Our Mistake: Maharashtra Chief Minister
• German Student Who Took Part in Anti-CAA Protests Told To Leave India
• Pakistan, Saudi Arabia Stress Unity among Muslim Ummah
• UK Prisons Promoting Islamist Extremism: Report
• Tunisian PM-Designate Says To Form Government Of 'Independents'
• Islamic Group Issues Warning To US, Nigerian Christian Leadership
Compiled By New Age Islam News Bureau
URL: https://www.newageislam.com/islamic-world-news/saudi-justice-minister-vows-action/d/120612
------
Arab World
• Iraq Protests Resume as Political Paralysis Deepens
• Prosecution, convicts in Khashoggi case intend to appeal ruling 'within days': sources
• Saudi Arabia and the UAE sign a cooperation agreement on disabilities-related research
• Red Sea film festival to honour late Saudi photographer
• Startup of the Week: Drones help Saudi startup map out bright future
------
North America
• Indian-Americans protest against Modi's Citizenship Act in Washington
• University Students in Philadelphia Protest Anti-Muslim Laws In India
• Canadian Muslim Convention Hosts Anti-Palestinian Politician
• Muslim comics are opening up about their faith on the U.S. standup circuit
• Judicial Willingness to Confront Islamist Antisemitism
------
Southeast Asia
• Najib: Islamic authorities had time to object Altantuya oath but didn't
• Indonesia Will Not Intervene in Uighur Muslim Issues: Govt
• Muslims in Perak urged to offer eclipse prayers this Thursday
• Malaysia's Tabung Haji inks 65 mln pounds Islamic financing with Standard Chartered Saadiq
• TİKA equips schools, medical centres for Philippines' Moro Muslims
------
India
• Bijnor Ground Report: Muslim Families Flee As UP Police Vandalise Homes, Harass Women after Clashes Over CAA
• Why not include Muslims in CAA, asks West Bengal BJP leader Chandra Kumar Bose
• If Citizenship Act not related to religion, why not include Muslims? Asks Bengal BJP leader
• Allay fears of Muslims on CAA, NRC: Mayawati
• Maharashtra won't implement CAA or NRC, no detention centre in state, Maharashtra Chief Minister tells Muslims
• Jamia Millia Islamia teachers brave cold to hold vigil at India Gate
• NO Mr. Daya Gamage and US, India Does Not Discriminate Against Muslims
• Indian police accused of widespread brutality during protests against 'anti-Muslim law'
• Cartoon Muslims in India publicity blitz after deadly protests in bid to bust 'myths' over new citizenship law
• Vajpayee-Advani imagined an all-India NRC and Modi-Shah added a Muslim filter
• Karnataka opens its 1st detention centre for illegal immigrants
• Anti-CAA violence: Mangaluru police release pictures, videos of protesters
------
Pakistan
• Pakistani scholars discuss Rumi's influence on Sufism
• Leader of Pakistan Tehreek-e-Insaf, Dr. Babar Awan Urges UN To Suspend Indian Membership Amid Its Repressive Actions Against Muslims
• KP Assembly condemns Indian oppression against Muslims
• KP govt moves Supreme Court seeking to stop FIA probe of Peshawar BRT
• Govt hints at challenging Musharraf conviction
• PTI activists block KKH in support of Pervez Musharraf
------
Europe
• France Announces First Armed Drone Strike, Killing 7 Islamic Extremists in Mali
• 'I was recruited by extreme Islamists in Woodhill jail,' claims former Milton Keynes prisoner
• UK is the best place in Europe to be a Muslim - but Johnson must not tolerate Islamophobia ǀ View
------
Mideast
• Muslims stood up repeatedly for Jews in 2019
• Muslim world can forge renaissance: Erdoğan
• Iran, India agree to speed up Chabahar port project
• Lebanon's population hits 4.8m with 20% non-Lebanese
• Carols and bells in Bethlehem as festive season draws near
• Aid group says 120,000 fleeing attacks in Idlib
• In Gaza, a somber Christmas after permits row
• Car bomb kills 8 in Turkey-controlled Syria town: ministry
• Iran unveils development at Arak reactor in face of US pressure
------
Africa
• Nigeria Cracks Down on a Critic, and a New Jersey Town Pushes Back
• Sudan to Investigate Darfur Atrocities Under Ousted Leader
• Families of Sudan protest 'martyrs' await justice
------
South Asia
• Abdullah Files More Than 4,000 Complaints over Preliminary Presidential Election Results
• Afghanistan: 100 terrorists killed, 45 injured in operations over last 24 hours
• Taliban attack on Afghan army checkpoint kills seven troops
• Afghan presidential candidates with less than 10% votes will lose AFN 1m each
• Taliban killed an 'American' soldier in northern Kunduz province
------
Saudi justice minister vows action against underage marriages
December 24, 2019
RIYADH: Saudi Justice Minister Dr. Walid bin Mohammed Al-Samaani on Monday issued a memorandum to all courts and marriage officials to refrain from concluding any marriage contract for those under the age of 18.
The minister instructed the courts and officials to refer all such cases to the competent courts to take necessary legal measures in accordance with the Child Protection Law.
The executive regulations of the Child Protection Law stipulate: "Before the conclusion of the marriage contract, it is necessary to ensure that a person marrying under the age of 18 will not be harmed, whether male or female."
The circular also stated that matchmakers found violating the rules will also be held accountable and would be referred to the ministry for necessary legal action.
Maha Al-Wabel, a Saudi opinion writer, said that stories of minor marriages are so painful.
"Minors face psychological damages and even more," she said that in a tweet. The Saudi Shoura Council voted earlier this year to ban underage marriages in the Kingdom. The council imposed the ban for both genders with the approval of two-thirds of its members.
The law was eight years in the making, and was put before the council at least five times in last year's council sessions. The members voted to approve regulations limiting marriages of those under 18 years of age and banning marriages involving children under 15 years of age. The law was effective immediately.
Commenting on the passage of the law, Shoura Council member Dr. Hoda Al-Helaissi said: "You cannot expect a girl of 10 or 12 to understand what marital relations are, or for her body to correctly carry a baby. There are a lot of health issues involved."
Child marriage is a generations-old custom still practiced today around the world in countries including India, Bangladesh, Nigeria, Indonesia and Mexico. The custom has often gone unquestioned in such places since it has been part of communities' lives and identities for a long time.
Child marriage is not just restricted to the developing world, however. It is legal — taking judicial exceptions into account — in 49 US states.
States often make exceptions to their minimum-age ruling if those below the age of 18 have parental consent, the approval of a judge, or are recognized as adults. And 25 states have no statutory minimum age for marriage to begin with, meaning that minors can legally marry other minors or adults.
https://www.arabnews.com/node/1603156/saudi-arabia
------
Netflix's Messiah sparks demand for show ban over 'anti-Islamic' and 'blasphemous' story
Tilly Pearce
Monday 23 Dec 2019
Netflix has already started receiving backlash from upcoming series Messiah – with subscribers threatening to boycott the site if the series airs. The upcoming show, which launches on 1 January, follows the story of a man who claims to be the son of God in the modern-day world. This central character, played by Belgian actor Mehdi Dehbi, is labelled Al-Massih, which is remarkably similar to the evil figure in Islamic eschatology called Al-Masih ad-Dajjal – someone branded a liar and compared to the Antichrist. As part of the show, Al-Massih aims to cross 2,000 Palestinian Syrians over the border of Israel. Michelle Monaghan plays Eva Geller, a CIA agent tasked with discovering if he's telling the truth or if he's deliberately our to cause chaos and spark a war. It aims to see how the world would react if a prophet was to stake his claim in today's society – but a petition has been launched to stop the controversial show airing.
Currently, 3,500 people have signed up to a petition calling for the show to be banned or face a boycott as a result. Viewers who have seen the trailer claim the show will be anti-Islamic and disrespectful to their beliefs. Christians also state the show is blasphemous. One petition signer wrote: 'To take a very real concept of evil and the end of times, and turn it into some thriller television series is a smack in the face. Muslims believe in the dajjal, the equivalent to the anti-christ to Christians. Disrespect all around.'
'This does not just insult one religion, but many,' added another. 'This is not a subject that can be taken as a joke and shouldn't be used for entertainment and "thrill". 'It is a reality to many and cannot be taken lightly. I will remove my account for Netflix if they continue. It's horrible that they could ever think this is okay.' But show creator Michael Petroni has defended his choice to go ahead with the show, saying they 'didn't set out to offend anyone'.
'It's not like I'm welcoming backlash,' he added. 'We expect that there's going to be a lot of noise around the show, and a lot of debate. I'm hoping for debate.' As part of the show, the team built a replica of Temple Mount and the sacred Dome Of The Rock – which according to Islamic lore, is where the prophet Mohammed ascended to heaven. It's also considered a place of holy meaning to many, with Christianity and Judaism also considering Temple Mount of importance.
The scenes shot there end up in violence between the religious factions. Petroni added: 'Obviously historically they don't meet up happily. But that is where they all meet up. And so to me as a location to a story that's about politics and religion, it was so symbolic.'
https://metro.co.uk/2019/12/23/netflixs-messiah-sparks-demand-show-ban-anti-islamic-blasphemous-story-11954239/?ito=newsnow-feed
------
Malaysian Imam Urges Muslims to Boycott China over Uyghur Concentration Camps
JOHN HAYWARD
23 Dec 2019
Mohd Asri bin Zainul Abidin, an influential cleric and top Islamic jurist in the Malaysian state of Perlis, spoke from the sidelines of an Islamic summit in Kuala Lumpur this weekend to call for a boycott of Chinese products to protest China's abuse of the Uyghur Muslims of Xinjiang province.
Mohd Asri called for a decision to be made by "the highest level of Muslim countries and the ulama," meaning Islamic religious authorities, to stand up for the Uyghurs and call out China for oppressing them.
"We should do something, because they are our brothers and sisters," he said.
"We need to go to the extent of boycotting China's products. They know the strength of our purchasing power," Mohd Asri advised.
The Uyghur issue is highly contentious in the worldwide Muslim community, and within international bodies such as the Organization of Islamic Cooperation (OIC), because many Muslim leaders have either remained silent or endorsed China's actions as reasonable steps to combat extremism in Xinjiang province.
Uyghur leaders and advocates have encouraged applying the kind of economic pressure against China that Mohd Asri called for. Before the Malaysia summit began, some observers suggested a willingness to forthrightly address the Uyghur issue could help the meeting distinguish itself from the OIC and avoid looking redundant or irrelevant.
Al-Jazeera's report on Mohd Asri's remarks included some discouraging words from participants who said Malaysia summit attendees are largely afraid of China or have been paid off by Beijing:
Malaysian Prime Minister Mahathir Mohamad explained in September that the Uyghurs cannot expect much help from Muslim nations because "China is a very powerful nation" and would retaliate economically against stern criticism.
"You don't just try and do something which would fail anyway, so it is better to find some other less violent ways not to antagonise China too much because China is beneficial for us. Of course, it is a big trading partner of ours and you do not want to do something that will fail, and in the process, also, we will suffer," he said.
Mahathir pointedly declined to mention the Uyghurs in his speech to the U.N. General Assembly in September, although he later told the Council on Foreign Relations his country granted asylum to a handful of Uyghur refugees and refused to extradite 11 of them to China.
President Recep Tayyip Erdogan of Turkey was a prime mover behind the Malaysia summit. On Friday, thousands of demonstrators marched in support of the Uyghurs in Istanbul, brandishing slogans such as "Stop the Cruelty" and "Murderer China, Get Out of East Turkestan" (the name Uyghurs commonly use for the Xinjiang region.) The issue became especially pressing in Turkey after Turkish-born soccer star Mesut Ozil voiced support for the Uyghurs last week.
https://www.breitbart.com/national-security/2019/12/23/malaysian-imam-urges-muslims-to-boycott-chinese-products-over-abuse-of-uyghur/
------
Mixing Religion With Politics Was Our Mistake: Maharashtra Chief Minister
Dec 19, 2019
NAGPUR: While taunting BJP, Maharashtra chief minister Uddhav Thackeray said that it was a mistake that his party mixed religion with politics. "Now we came to know that politics is a gamble. We suffered a lot by mixing religion with the politics. This, three-party Maha Vikas Aghadi government is our wealth. We three join hands and come together by hearts though there are three parties. This is "Auto Rickshaw wala" government and not "Bullet train wala".
Thackeray was speaking in the lower house in winter session while replying to the governors address on Thursday morning.
Replying to an allegation made by opposition BJP that his government is like a "Stagiti Sarkar" (Giving stay to all projects) Thackeray asserted that all stays will get lift soon after clarifying doubts and rectifying errors. He also assured that the government will not be vindictive as far as related to the development of the state.
Maharashtra CM Thackeray slammed estranged ally BJP over not keeping its word of implementing 50-50 formula decided by Sena-BJP alliance before the last Lok Sabha polls. "People of Maharashtra will decide our fate if we have had denied the people's mandate after the assembly polls", he said.
Thackeray termed Belgaum between Maharashtra and Karnataka as "Karnataka occupied land" of Maharashtra and appealed the opposition BJP members to meet Union government together to put Maharashtra government's views.
https://timesofindia.indiatimes.com/city/nagpur/mixing-religion-with-politics-is-our-mistake-uddhav-thackeray/articleshow/72887017.cms?utm
------
German student who took part in anti-CAA protests told to leave India
Pon Vasanth B.A.
DECEMBER 24, 2019
Sources close to the student confirmed that no written communication was given to him by the BoI officials
Jakob Lindenthal, a German student on an exchange programme at IIT-Madras who took part in a protest against the Citizenship Amendment Act here, was asked to leave India on Monday by Bureau of Immigration officials.
Sources in IIT confirmed that no written communication was given by BoI officials. He was orally informed that he had violated his visa regulations.
Though he was scheduled to board a flight in the early hours of Tuesday, he couldn't board as his Air India flight from Chennai to Delhi got delayed by nearly four hours. The Hindu confirmed that the student is waiting at Delhi airport for an alternate flight.
He was summoned to the BoI office here on Monday morning through the office of the Dean of International and Alumni Relations (IAR) in the IIT. He was questioned till afternoon on a range of topics, including his views on Indian politics and what he thought of the anti-CAA protests, the sources confirmed.
After the enquiry, he was informed that he had to leave the country immediately, and he would have to reapply if he wanted to visit again.
Though the German Consulate offered him contacts of lawyers whom he could reach out for help, he felt unsafe and decided to leave, sources in the IIT said.
Mr. Lindenthal, a student of the Technical University of Dresden, was in India since July and was part of the Department of Physics in the IIT. His exchange programme was to end by May 2020.
Students from the IIT said he took part in the anti-CAA protest on the campus and at Valluvar Kottam, during which he spoke to The Hindu.
Carrying a placard that said "1933-1945. We have been there," denoting the beginning and end of Hitler's regime in Germany, he said that though there was discrimination against Jews in 1933, it was not clearly visible then that it would eventually lead to mass deportations and genocide. "In the beginning, we never know where it will all end," he had said.
Chinta Bar, a student collective in the IIT, expressed solidarity with Mr. Lindenthal. In a statement, it extended gratitude to him for being part of the struggle to protect the rights of Indians and for his concerns towards humanity.
Meanwhile, Bhaskar Ramamurthi, Director, IIT - Madras, who was out of station, and Mahesh Panchagnula, Dean - IAR, said that they were unaware of this development.
https://www.thehindu.com/news/national/tamil-nadu/german-student-who-took-part-in-anti-caa-protests-told-to-leave-india/article30384816.ece
------
Pakistan, Saudi Arabia stress unity among Muslim Ummah
DECEMBER 24, 2019
NA-Speaker-copy-copyNational Assembly Speaker Asad Qaiser called on Saudi Shura Council chairman in Riyadh on Monday, according to a message received from Riyadh, Saudi Arabia.
The speaker was accompanied by a parliamentary delegation comprising members of the National Assembly from the treasury and the opposition.
Both sides discussed wide range of issues, including enhancing parliamentary cooperation between National Assembly of Pakistan and Saudi Shura Council. Issues confronting Muslim Ummah also came under discussion. There was a consensus between Speaker Asad Qaiser and Chairman Dr Abdullah that unity amongst ranks of Muslim Ummah is imperative to address increasing Islamophobia in the western world.
Speaker Asad Qaiser said issues in the region should be resolved through peaceful means. He said Kashmir is a flashpoint for the peace in the Asian sub-continent. He apprised his Saudi counterpart about the tyranny of Indian forces in the occupied valley. He said decisions taken by Indian government have put the minorities in India at risk. He suggested that OIC should play its role for resolution of Kashmir issue and increasing Islamophobia in the West.
Speaker Asad Qaiser apprised the Shura Council chairman about the proposed international parliamentary conference on Kashmir to be held in Islamabad early next year. He reiterated his gratitude for Saudi support for holding the conference. He said it will be an apt opportunity to draw attention of the United Nations and the international community towards the atrocities being committed by India in Kashmir.
Saudi Majlis-e-Shura Chairman Abdullah Muhammad Ibrahim Al-Sheikh told the speaker that Saudi Arabia and the Shura Council will stand by their Kashmiri brethren. He said Indian forces should end all atrocities and grant constitutional rights to the people of Kashmir.
He expressed his satisfaction on the bilateral relations between the two brotherly counties. He agreed that OIC can play an important role in putting pressure on India for resolution of Kashmir issue in accordance with the international commitments.
Later, Speaker Asad Qaiser along with parliamentary delegation visited Saudi Majlis-e-Shura and signed an MoU to further enhance collaboration between National Assembly of Pakistan and Saudi Shura Council.
https://dailytimes.com.pk/526125/pakistan-saudi-arabia-stress-unity-among-muslim-ummah/
------
UK prisons promoting Islamist extremism: Report
Dec 23, 2019
LONDON: Britain's security experts on Monday called for a fundamental review of the threat of radicalisation in the UK's prisons after a media report claimed that the system was not fully cracking down on Islamist extremism behind bars.
Extremists in some of Britain's prisons are allegedly holding makeshift Sharia trials, circulating banned books and openly grooming young Muslim inmates, 'The Times' reports.
A former prisoner who claims he took part in Sharia courts and punishment beatings has given the newspaper a detailed account of how he came to join a group of prisoners at HMP Woodhill in Milton Keynes, south-east England, who pledged allegiance to the Islamic State terrorist group.
The former prisoner, who provided an account of his radicalisation and has been given the pseudonym Jack, said those who recruited him included a follower of the convicted Pakistani-origin radical preacher Anjem Choudary, out on licence or parole under strict conditions since his release from prison last year.
Richard Walton, former head of Scotland Yard's Counter Terrorism Command, and Ian Acheson, who led a previous review of jail extremism in the UK, said that reforms to tackle the problem of extremism in jails had stalled.
"I'm disappointed that many of the recommendations I made in 2016 to robustly respond to this threat do not seem to have been adopted. This implies a continuing serious failure of leadership and will to confront terrorism that I identified," Acheson told the newspaper.
"I urge the government to return to these recommendations as a starting point to check on the reality of counter-extremism capability. If the Prison Service is not equal to the task of managing this lethal and destructive risk it should be divested of that responsibility," he said.
UK Justice Secretary Robert Buckland said the former inmate's account was "very concerning" but insisted that in the past four years "a great deal of time, effort and investment has gone into bearing down on the malign effects of extremism behind bars".
The issue of extremism in UK prisons came under scrutiny last month when Usman Khan, a 28-year-old out of parole on terrorism charges, went on a knife rampage killing two people and injuring several others on London Bridge.
Khan had been jailed in 2012 for plans to set up a terrorist training camp on his family's land in Pakistan-occupied Kashmir and it is feared he may have been further radicalised while behind bars.
https://timesofindia.indiatimes.com/world/uk/uk-prisons-promoting-islamist-extremism-report/articleshow/72941737.cms
------
Tunisian PM-designate says to form government of 'independents'
December 23, 2019
TUNIS: Tunisia's prime minister-designate Habib Jemli will form a government made up of independents who do not represent political parties, he said at a news conference on Monday.
Jemli, who was nominated as prime minister by the moderate Islamist Ennahda party last month after it took most seats in October's parliamentary election, last week asked President Kais Saied for more time to form a government.
Talks to build a ruling coalition capable of winning a vote of confidence have proved difficult because the October election produced a fractured parliament in which no party held more than a quarter of seats.
Several of the main parties have either ruled out joining the government altogether or said they would not join if one or other major party was also involved, or if they did not secure several of the most important portfolios.
Jemli told Reuters last month he was a week away from announcing the government, but then failed to do so.
Tunisia, which adopted democracy after its 2011 revolution that sparked the "Arab spring" uprisings, has faced economic difficulties over the past eight years that have at times threatened to undermine its political transition.
The next government faces a difficult task in continuing economic reforms to bring its deficits and debt under tighter control, as demanded by foreign lenders, while raising growth and delivering better public services.
https://www.arabnews.com/node/1603046/middle-east
------
Islamic group issues warning to US, Nigerian Christian leadership
December 24, 2019
Muslim Rights Concern (MURIC) on Tuesday reacted to United States' declaration of religious intolerance in Nigeria.
Condemning US inclusion of Nigeria on its watchlist as well as the endorsement of the action the Christian Association of Nigeria (CAN). MURIC called on them not to use their utterances to cause chaos in Nigeria.
In a statement by Professor Ishaq Akintola, the body faulted US democratic status and described its role in global matters as the height of double standard and also accused CAN of shedding crocodile tears.
The group said it was not bothered by the US latest ranking of Nigeria as religiously biased, noting that the world power has never seen anything good about the country.
"Some foreign powers are always eager to discredit developing nations. It is a game mastered by imperialists. We can see the signs. Instead of breaking up in 2015 as predicted, Nigeria is waxing strong. The war against corruption is on course. Infrastructure is growing at a fast rate. Therefore, a spanner must be thrown at the works to justify forceful intervention and a grip on Nigerian oil", Akintola noted.
"America should do some introspection. Those who claim to be the champion of democracy in the world cannot, in good conscience, beat their chests and say, 'We have been fair to all'. America complains to Nigeria that Christians are being killed even when it is well known that Muslims are the greatest victims of the killings. America invited former CAN president to address Congress a few years ago. But no Muslim leader has ever been invited to the same platform. Yet America has been using the lies told before Congress to judge our country. Is this fair?
"Muslims of Southern Nigeria have been complaining of persecution for decades but America turned its deaf ears. America pretends nothing is happening to Nigerian Muslims even when the Muslim girl child is locked out of school over an ordinary headscarf which is even allowed in US schools.
"US human rights record outside Nigeria is even nothing to write home about particularly regarding its attitude to issues affecting Muslim nations and Muslims in general. Sanctions are used selectively against Muslim nations in order to weaken them militarily and economically. Israel is free to kill and maim Palestinian children while America uses vetoes to frustrate resolutions of the United Nations against Israel. In fact, democracy is a sham if assessed against the backdrop of happenings in the UN where America alone can stop any decision made by the rest of the world. The US invaded Iraq without approval from the UN. So what moral right has America to judge other nations?
"If America is truly the world's champion of democracy and the chief promoter of human rights, why is that country always silent each time Muslims are at the receiving end? More than 8,000 Muslims were massacred in the Bosnia genocide, particularly in Srebrenica and Zepa in 1995. What did America say? What did America do when Muslims were being killed in their hundreds in Myanmar? Even right now hundreds of thousands of Uyghur Muslims are being detained in Western Xinjiang, China, but America cannot be bothered. Since last week, Muslim demonstrators are being killed over anti-Muslim Indian citizenry laws but the White House is only interested in bullying Nigeria.
"Our message to CAN is this, allow America to set fire to your country and we can assure you that it is not the Muslims alone who will face turmoil. Our people say that when a hen perches on a rope, neither the hen nor the rope will enjoy stability. Whether to avoid foreign interference in your country and live in peace with your Muslim neighbours while you watch your children and grandchildren play peacefully in the garden or to open the doors wide for an army of occupation which will bring general pandemonium, the choice is yours.
"CAN should remember that religion or no religion, America's national interest is America's priority. America has no permanent friends. Neither should anyone blame Americans for loving their own country. The blame goes to those who open the doors of their country for foreign forces to support them in eliminating or, at least, in undermining their perceived rivals or oppressors.
"CAN has only manifested its naivety in modern international politics. The US has thrown religious persecution as a bait. Unfortunately, CAN has swallowed it, hook, line and sinker. It is not the first time that America will fly a kite. What was America's excuse for invading Iraq? Was it not weapons of mass destruction (WMD)? Was any WMD found at the end of the day? Did America apologise? Iraq's infrastructure paid for it. It was completely demolished. But above all, Iraq's oil paid for it and that was the real target ab initio.
"The same America is now talking of religious bias in order to create tension. If nothing like religious bias is found after Nigerians have killed themselves in their thousands, America will never apologise and we will be suckers for it. CAN is free to bring in America. After all, if the heavens will fall, we are all under it. But history will remember our warning to CAN."
https://dailypost.ng/2019/12/24/islamic-group-issues-warning-to-us-nigerian-christian-leadership/
------
Arab World
Iraq protests resume as political paralysis deepens
Dec 23, 2019
DIWANIYAH, Iraq: Thousands of protesters blocked roads and bridges across southern Iraq on Monday, condemning Iranian influence and political leaders who missed another deadline to agree on a new prime minister.
Anti-government demonstrators burned tyres in major cities across the south, forcing the closure of schools and government buildings, AFP correspondents reported as political paralysis deepened in Baghdad.
Negotiations over a candidate to replace premier Adel Abdel Mahdi, who quit in November in the face of protests against corruption and unemployment, remained deadlocked as a midnight Sunday deadline expired.
While a pro-Iran camp has tried to impose a candidate, Iraqi President Barham Saleh has reportedly put up resistance.
Demonstrators announced civil disobedience campaigns in the southern cities of Diwaniyah, Nasiriyah, Hilla, Kut and Amara, closing public buildings and blocking roads "on orders of the people".
"We are upping our actions because we oppose any candidate from the political class that has been robbing us since 2003," said Ali al-Diwani, a young protester in Diwaniyah.
For Iraqis protesting since October 1, the system installed by the United States after it led a military coalition to overthrow dictator Saddam Hussein in 2003 has become dominated by Iran and is beyond reform.
An economic revival promised for 16 years never came, protesters say, while more than half of all oil revenues were syphoned off by crooked politicians and their cronies.
Rallies have continued despite a campaign of intimidation that has included targeted killings and abductions of activists, which the United Nations blames on militias.
While renewed protests risk a resumption of the violence that has already caused some 460 deaths and 25,000 injuries since October, the government remains paralysed.
Officials say Iran wants to install Qusay al-Suhail, who served as higher education minister in the government of Abdel Mahdi.
A former key member of Shiite cleric Moqtada Sadr's movement, Suhail rejoined the State of Law Alliance of former premier Nuri al-Maliki, who is close to Iran and an enemy of Sadr.
While pro-Iran factions and parliament speaker Mohammed al-Halbusi are pushing for Suhail, a source in the presidency says Saleh has vetoed his proposed appointment.
Demonstrators categorically reject Suhail's candidacy and that of anyone from the wider political establishment.
"What we want is simple: a prime minister who is competent and independent, who has never been involved with the ruling parties since 2003," said Mohammed Rahman, a protesting engineer in Diwaniyah.
Protesters say an overhaul of the political system must start with electoral reform.
Since 2003, a complicated mix of proportional representation and candidate lists has favoured major parties and the heads of those lists.
Protesters say they want a first-past-the-post system to "guarantee a new generation could enter politics to clean up everything the ruling parties have corrupted," Rahman told AFP.
Parliament has recently discussed electoral reform and was scheduled to resume talks Monday afternoon.
Lawmakers were also likely to continue negotiations to appoint a premier, the deadline for which had already been pushed back twice by Saleh before Sunday's expired.
https://timesofindia.indiatimes.com/world/middle-east/iraq-protests-resume-as-political-paralysis-deepens/articleshow/72944506.cms
------
Prosecution, convicts in Khashoggi case intend to appeal ruling 'within days': sources
RAWAN RADWAN
TARIK AL-THAQAFI
December 24, 2019
JEDDAH/MAKKAH: The Public Prosecutor and the lawyers of those convicted intend to file an appeal against the preliminary rulings in the Khashoggi case announced on Monday.
Prosecution sources confirmed to Arab News that both parties intend to challenge the rulings and will move to appeal in the coming days.
Five of the 11 on trial have been sentenced to death over the murder of Saudi journalist Jamal Khashoggi; three others sentenced to varying prison terms and the remaining three were acquitted. Afterwards the Public Prosecution stated that the investigation and due process were concluded and, those sentenced could appeal the Riyadh criminal court's ruling.
Legal experts said that Saudi Arabia's judicial procedures were conducted with full transparency and in full view of international representatives.
"Delegates from the embassies of the five permanent members of the (UN) Security Council (China, France, Russia, the UK, and the US) in addition to a representative from the Turkish embassy, attended the sessions held in the murder trial," said Shaalan Al-Shaalan, spokesperson for the Prosecutor General.
Dr. Awwad Al-Awwad, Head of the Saudi Human Rights Commission, said: "All their (the defendants) rights have been guaranteed by the Kingdom's regulations that are in line with international standards for a fair trial."
The Saudi judicial system allows 30 days from the date of sentencing for an appeal to be filed.
Dimah Al-Sharif, a lawyer and legal consultant at Garoub and Associates told Arab News that the Courts of first instance provides the Courts of Appeal with the petitioner's notice of appeal where the next stage commences with gathering the information, legal arguments, views facts and evidence from the first trial for consideration.
"The Courts of Appeals will review all the evidence and documents before referring back to the Courts of first instance if and when there are any queries or request for explanations," she said. "Inquiries could vary from questions on the legal basis of their rulings to the basis of their arguments. The Courts of Appeal's judgement on the case could go either way, either it can affirm the lower court's judgment hence ending the case and the lower court's decision stands, or reverse the judgement and send the case back to the lower court, allowing the petitioner's case to go to a new trial. Sometimes, the court ruling may be annulled partly or in its totality, and the case may be referred back for a new trial."
According to the Saudi judicial system, there is one or more courts of appeal in each region of the Kingdom. Dubbed as "Second Degree Courts", they review verdicts issued by Courts of first instance, that are subject to appeal, within their respective jurisdiction.
Meanwhile, legal consultant Dr. Muhammad Al-Mahmoud told Arab News that the issued judgements are preliminary, can be appealed and were issued by three judges. If the Prosecutor General or the lawyers request an appeal, the case will be referred to the Court of Appeals where five judges with higher ranks will look into the case.
Dr. Mishal Al-Ali, a geopolitical expert, said: "As the accused still have the right to file an appeal, their names were not mentioned because the judgments issued against them were not binding and final. The Prosecutor General proved that the Saudi judiciary system is supreme, that the law is above all and that judgments were issued after deliberations, scrutiny of evidence and investigations."
If the five judges of appeals decide unanimously to sentence the five convicted persons to death, the sentence will be referred to the Supreme Court where another five judges will look into it. Therefore, the total number of judges who reviewed the case is 13, and they must unanimously agree on the death sentence as the Kingdom views death sentence as a penalty that should not be taken lightly and therefore the Kingdom takes carefully all the circumstances into consideration before making a death sentence.
Al-Sharif explained that the new regulation of the Courts of Appeals states that the appeal can be either a pleading in the presence of the litigants or through scrutinizing the submitted memorandums only.
To avoid the long litigation period, Al-Sharif explained that the regulation clarified matters related to auditing the appeal judgments without pleading, as its provisions stressed that appeals courts must rule within 20 days of all cases, and 10 days in urgent cases.
Al-Ali said the trials took place without the Kingdom being influenced by any outside actors, parties or organizations. He added that the Kingdom's justice authorities enjoyed full independence and transparency and that the accused were made fully aware of the entire legal process.
Khalid Abu Rashed, a lawyer, said the trial reflects the Kingdom's constant position that the jurisdiction remains the Kingdom's exclusive right because the crime was committed on a Saudi territory: the Saudi Consulate in Istanbul, which is considered by international law as a Saudi territory.
Al-Awwad said the commission attended all the court sessions related to this trial and that it had followed due course, in light of the Kingdom's relevant regulations, including the basic system of government, the criminal procedure system, the Sharia appeals system, executive regulations, as well as the Kingdom's obligations under regional and international human rights agreements and other relevant international standards.
https://www.arabnews.com/node/1603286/saudi-arabia
------
Saudi Arabia and the UAE sign a cooperation agreement on disabilities-related research
24 December 2019
JEDDAH: Prince Sultan bin Salman, chairman of the board of trustees of the King Salman Center for Disability Research (KSCDR), signed a joint scientific and research cooperation agreement with Sheikh Khaled bin Zayed Al-Nahyan, chairman of the Zayed Higher Organization for People of Determination (ZHO,) in the field of disabilities-related research and development.
Prince Sultan expressed the center's pride in the cooperation with the Zayed Organization, which will contribute to supporting joint scientific research to tackle the causes of disabilities. The agreement is a natural result of the efforts exerted by the two brotherly countries, he added.
Prince Sultan said the KSCDR has achieved many accomplishments in the field through scientific research that have become national projects, including early detection and intervention, testing and early-birth screening and the National Program for Learning Disabilities, which has helped to qualify 20,000 teachers and benefit 500,000 students.
Prince Sultan said the center will be announcing in 2020 its new plan to remain a pioneer in the field for the sixth year. He extended thanks to Sheikh Khaled bin Zayed Al-Nahyan for his support for the agreement and cooperation.
ZHO Secretary-General Abdullah Al-Humaidan conveyed the greetings and appreciation of Sheikh Khaled bin Zayed Al-Nahyan, stressing that the relationships between the Kingdom and the UAE are a leading example of brotherhood, communication and solidarity with strategic cooperation in different fields and milieus, thanks to the identical visions regarding many issues the region is facing.
Al-Humaidan said this humanitarian work is one of the vital fields that require a joint efforts and an exchange of expertise to tackle the causes of disabilities by using the results of research and studies for planning and assessment in different prevention, care and rehabilitation fields.
He thanked the ZHO and the KSCDR teams for their cooperation and their success in establishing a framework of joint cooperation.
The agreement includes cooperation in the fields of research, development and training, along with the development of plans and programs to establish research projects, exchange local, regional, and international scientific information, publications and studies and build a database for trainers and specialists in all disability-related issues.
https://www.arabnews.com/node/1603201/saudi-arabia
------
Red Sea film festival to honor late Saudi photographer
December 24, 2019
JEDDAH: The Red Sea International Film Festival will honor Saudi photographer and cinematographer Safouh Naamani (1926-2016), one of the pioneers of color photography in the Kingdom.
The festival will present for the first time a rare documentary made by Naamani in 1963 on the journey to Hajj, in addition to a movie compiling never-before-seen footage of the city of Jeddah, taken by Naamani between 1954 and 1968.
The restored version of "The Pilgrimage to Makkah" (1963) and "Glimpses of Jeddah," a film composed of archival footage starting from 1954, will both premiere at the inaugural Red Sea festival from March 12-21 in Jeddah.
"The Pilgrimage to Makkah" is a 35-minute color documentary film, developed at the William Palmer laboratory in San Francisco, about the pilgrimage to Makkah, filmed during the 1963 Hajj season.
Naamani used his extensive knowledge of the holy city to deliver an authentic perspective. The documentary captures Makkah's inspiring landscapes and religious rituals while presenting the journey of pilgrims to Makkah. Previously, the film has screened in private or limited shows, and so will now be presented publicly for the first time.
"This discovery rewrites the history of national cinema in our country," festival director and CEO, Mahmoud Sabbagh, said. "Discovering a film that was made in 1963 and that is complete in all aspects and production adds an original element to the story of Saudi cinema."
The festival also presents for the first time a cinematic panorama of the city of Jeddah, captured by Naamani between 1954 to 1968 on his 16mm camera.
The rare collection of footage documents the history of urban transformation that the city went through during the 50s and 60s.
The Red Sea International Film Foundation developed and restored five reels of raw film belonging to Naamani at a film restoration lab in Munich, Germany. The restored footage has been edited into a 30-minute film, which will debut at the 2020 festival.
Scenes from the film "Glimpses of Jeddah" range from the celebrations of the return of King Saud after receiving medical treatment abroad in 1954, as well as footage of commercial life in the port of Jeddah. Naamani was also able to capture rare shots of the coastline along the ancient port of Punt (in Egypt), as well as Al-Bay'a Square, the Jeddah Palace Hotel and the Bakashab building. The film also contains rare footage of the creation of Gold Street in 1964.
Sabbagh said: "We are expanding our history with new narratives of Jeddah's metamorphoses through rare cinematic documentation captured by the late filmmaker Safouh Namaani. It's as if Namaani knew his work would be vital for generations to come."
Naamani is one of the pioneers of photography and filmmaking in Jeddah. He started selling cameras and photography equipment in 1952 at his family-run "Al Naamani Stores" on King Abdul Aziz road, before establishing "Studio Safouh" in the Abdullah Alfaisal building for portrait photography and photographic film development.
Restoring the work of Naamani and presenting it to a Saudi audience is a key component of the Red Sea foundation, which is tasked with reviving, preserving and highlighting the heritage of Saudi cinema.
https://www.arabnews.com/node/1603181/saudi-arabia
------
Startup of the Week: Drones help Saudi startup map out bright future
RUBA OBAID
December 23, 2019
JEDDAH: A Saudi startup is cashing in on the popularity and availability of drones in the Kingdom.
FalconViz, which is based at Thuwal's King Abdullah University of Science and Technology (KAUST), takes its name from the national bird of Saudi Arabia. It is also an abbreviation for the data visualization services offered to clients.
"We mainly focus on 3D surveying and mapping, inspections, construction monitoring, and the visualization of data after it is captured by the drone," Anas Dahlawi, the company's co-founder and general manager, told Arab News.
The startup uses drones and 3D software for the public, private and regulated sectors, including local government municipalities, international construction and infrastructure companies, universities, manufacturers, as well as utility, mining, oil and gas, consulting, and architecture design firms.
It was established in 2014 with the support of the KAUST Innovation and Economic Development Center. Its co-founders are Neil Smith, chief technology officer and a KAUST Visual Computing Center (VCC) research scientist; Luca Passone, chief technology officer; Mohamed Shalaby, vice president of business development and a VCC senior research scientist, and Dahlawi. The company has 22 employees, 60 percent of whom are Saudis, and 13 percent of whom are women.
The idea for the business began with a chance meeting between Smith and Passone during which they decided to create a 3D model of King Abdullah Mosque using visual data collected by drones fitted with cameras. The vice mayor of Jeddah visited their lab and saw the model they created.
"He was blown away by the quality of the reconstruction and was very keen to have the same done for the Al-Balad historical district in Jeddah," Passone told Arab News. "From that point, we took the idea and turned it from a research topic into a company. "Even before we started looking for clients, somebody came to us with ideas on how we could use these technologies we were developing for commercial purposes."
Al-Balad has been recognized as a UNESCO heritage site. FalconViz used laser-scanning technology and photogrammetry (the use of photography in surveying and mapping to measure distances) to map out Al-Balad. It was able to reach previously inaccessible areas through using drones.
Passone said that staff worked hard to push the boundaries of data visualization by using new techniques to process the large amount of data collected by drones on small computers.
"Now it is a perfect time for drones," he said. "Six years ago, they were just something for hobbyists; since then, drones have advanced in technology and abilities, allowing us to develop more practical and innovative uses and applications."
Founders received financial and training support from KAUST for a year before the company was officially registered in Saudi Arabia.
"They sent us to Turkey to a startup boot camp so that we could learn how to transform from scientists and researchers into entrepreneurs and business owners," said Passone. "Initially, this step was quite a hard transition but slowly, with the help of some of our mentors, we were able to learn (on) the job."
KAUST continued to help FalconViz with navigating government procedures, obtaining official permissions and the hiring process, he added.
The company continues to develop and grow as, with each new client, employees come up with new ideas for using drones and improving workflow. Unlike many of its competitors, the design, manufacture and performance evaluations of Falconviz's drones all happens in Saudi Arabia, and is customized to the requirements of each client.
It was a struggle to convince potential clients to change their way of doing things and try a new, advanced technology, even with the promise that it could scan and gather data without interrupting any work that was underway, Passone said. Now the company had a different challenge.
"We need to hire more people to keep up with the high demand," he said. "We have many clients coming back to us with new areas that are bigger and in zones that are harder to access."
Dahlawi said the company was contributing to "a lot of mega and giga projects happening in Saudi Arabia," but that it also aimed to make its mark internationally. He added that FalconViz measured its success by the impact it made "not just on the local but on a global level."
"We are here as part of KAUST, and part of our goal for making an impact is driven from that incubator," he added.
FalconViz has opened offices in the US and Egypt, and has collaborated with international partners as part of the company's expansion strategy.
"We would like to expand and be able to fulfil the whole pipeline in other countries, starting from the Middle East," said Passone.
FalconViz was honored by Forbes in 2016 as one of the top three innovative companies in Saudi Arabia, and in the UAE it was nominated for the Drones for Good Award, ranking fifth among 800 participants. The company's drone pilots are licensed by the Saudi General Authority of Civil Aviation.
https://www.arabnews.com/node/1603071/saudi-arabia
------
North America
Indian-Americans protest against Modi's Citizenship Act in Washington
December 24, 2019
WASHINGTON: Advocating 'one India, one people and nation', a large number of Indian-Americans gathered around the statue of Mahatma Gandhi installed in front of the Indian Embassy here and held a peaceful demonstration against the amended Citizenship Act and the proposed National Register of Citizens (NRC).
According to the Citizenship Amendment Act (CAA), members of Hindu, Sikh, Buddhist, Jain, Parsi and Christian communities who have come from Pakistan, Bangladesh and Afghanistan till December 31, 2014 following religious persecution there will get Indian citizenship. 'We are here for only a single purpose.
That purpose is civil rights and religious freedom and nothing more than that,' Indian-American Mike Ghouse from the Washington-based non-governmental organisation Centre for Pluralism told the gathering, which included women, children and students. Organised by American-Indian Muslims in association withover a dozen of similar bodies, the peaceful protestors from in and around the Washington on Sunday shouted slogans in favour of India's unity and displayed posters and banners alleging that the country was headed in a direction that was not secular in nature and violated the ethos of the Constitution. The protesters also passed a resolution requesting the Indian government to withdraw both the CAA and the NRC.
'All we want (the Indian government) is to repeal the laws that have been enacted recently, so that we all can be one India, one people and nation so that we can work together, live together and not worry and not have any tensions about who is who one people,' Ghouse said. Several Union Ministers, including Home Minister Amit Shah, have often pitched for a nationwide NRC exercise, with Shah telling Parliament recently that it will be carried out.
However, Prime Minister Narendra Modi on Sunday sought to allay apprehensions, especially among Muslims, saying his government has never discussed the NRC since coming to power for the first time in 2014. Addressing a rally in New Delhi, Modi said, 'Since my government first came to power in 2014 there has never been a discussion on this NRC', and noted that it was done only in Assam due to a Supreme Court order. The CAA, Modi said, is about giving rights to persecuted minorities from neighbouring countries and does not snatch anybody's rights, as he made an appeal for peace.
According to the resolution passed by the Indian-American protesters, both the CAA and the NRC are likely to push India backward as a nation. 'We therefore resolve that India's BJP government should withdraw both of these legislations at the earliest,' said the resolution, a copy of which was submitted to the Indian Embassy.
'The possible implementation of both of these legislations is likely to cause huge conflicts between the majority and minority communities, reducing the citizenship status of Indian Muslims and causing conflagration between the ethnically and religiously diverse states and people of India. As evidenced by the recent chaos in Assam and Kashmir, and elsewhere, these Acts are likely to cause much harm to the Indian nation and the Indian people,' it said.
According to the organisers more than 200 people joined the over two-hour protest at the Gandhi Statue in downtown Washington, in front of the Indian Embassy. 'At a time when India's economy is in much decline, unemployment is rising, lawlessness is widespread, and public corruption is rife, the BJP government instead of working to resolve these serious issues, is coming up with strange policies that are forcing Indians to prove their being citizens,' said Kaleem Kawaja, from the American-Indian Muslims and coordinators, Rally Against NRC, CAA. 'The NRC that is being applied all over the country is forcing people to show their original government issued birth certificate in a country where such certificates did not exist until a few decades ago, especially among the poor and illiterate communities who are about half of the country,' he said.
The NRC has been prepared to identify genuine Indian citizens living in Assam since March 24, 1971, or before, and identify illegal Bangladeshi migrants in the state. Out of 3.3 crore applicants, over 19 lakh people were excluded from the final NRC published on August 30.
'The current government is destroying the social fabric of India gained in 70 years of our freedom. Modi and (Union Home Minister) Amit Shah have to take the policy back,' said one of the protestors.
https://www.thenews.com.pk/print/587807-indian-americans-protest-against-modi-s-citizenship-act-in-washington
------
University students in Philadelphia protest anti-Muslim laws in India
December 23, 2019
By Joe Piette
On Dec. 19, over 60 demonstrators at the University of Pennsylvania in Philadelphia denounced India Prime Minister Narendra Modi's policies, which pose immediate threats to Muslims.
Speakers, signs and chants criticized passage of a discriminatory amendment to India's citizenship laws and the creation of a national register of citizens. Critics say the register can be used to disenfranchise, incarcerate or deport large numbers of Muslim citizens in India. The Citizenship Amendment Act, combined with the National Registry of Citizens, will effectively make millions of poor Indian Muslims stateless.
Millions have taken to the streets in India to protest Modi's latest moves. The government's response has been to try to suppress dissent by imposing curbs on public gatherings. Indians are defying bans on assembly in many cities, leading to clashes with police that have left nine protesters dead. (tinyurl.com/uww8sum/)
The Indian government has also instituted internet service outages in an attempt to stop the recent protests. India has reportedly imposed the highest number of internet blocks in the world this year — over 95. In Indian-occupied Kashmir, broadband and mobile data services have been blocked for more than four months. (tinyurl.com/r6m3zfr/)
The Philadelphia Chapter of the Coalition Against Fascism in India organized the rally. CAFI is asking South Asian students across the U.S. to sign a statement decrying the fascist acts of the Indian State: https://bre.is/5XGgmU2r/.
https://www.workers.org/2019/12/45049/
------
Canadian Muslim Convention Hosts Anti-Palestinian Politician
23 December 2019
The Reviving the Islamic Spirit (RIS) conference, one of the most important Muslim events in North America, decided for this year's assembly to invite the controversial premier of Ontario province Doug Ford, and his Progressive Conservative Party of Ontario, a decision seen by many as contradicting all the principles the event is supposed to endorse.
Several Muslim attendees who participated in the convention held over the weekend said RIS should not have hosted the Progressive Conservative Party of Ontario, nor allowed Ford to appear via video-link, especially when the latter decried a pro-Palestinian protest last month as "racist," Middle East Eye reported.
"I think that was really foolish of them," said Humaima Ashfaque, a student at York University.
"To allow him to have such a huge platform to try and get votes and claps from people is unacceptable," Khaled another student at York University who chose to be identified by his first name only told Middle East Eye.
When Ontario's Minister of Education and member of Ford's political party Stephen Lecce started speaking, some listeners came to the front of the auditorium and shouted "shame," while others walked out of the room.
Ford sparked controversy last month when he condemned a protest outside Toronto's York university organized by backers of the Boycott, Divestment, and Sanctions (BDS) non-violent movement, which aims to pressure Israel economically and politically to end its abuses against Palestinians.
Members of York University's chapter for Students Against Israeli Apartheid had organized a demonstration after former members of the Israeli Defence Force (IDF), some of them accused by several human rights groups of war crimes and serious violations against Palestinians, were invited to speak at an event on campus.
Members of the Jewish Defence League, a designated hate group by the Southern Poverty Law Center, were also present at the event.
Although members of the Toronto police later described the protest as "mostly peaceful," Ford slammed the protesters and called them racist.
"I was shocked by the vile hatred that was on display last night at York University," Ford said. "I stand with Jewish students and the Jewish community."
Other individuals also told Middle East Eye they were upset by Ford's taking part at RIS, because of other reasons including his party's rhetoric against Muslims and other minority groups.
RIS for its part justified Ford's appearance, saying its policy is to give "equal opportunity to elected officials from all parties."
"We believe in the importance of promoting civic engagement in our community across the political spectrum," the convention said.
RIS is an annual conference generally held in Toronto, Canada. It started in 2001 and has since become one of North America's largest conference on Islam, alongside the Islamic Society of North America (ISNA) convention in the United States.
Attendees and speakers attend from around the world, including the United States, Europe, and the Middle East to participate in lectures and discussions about spirituality, theology and Islamic ethics.
https://www.telesurenglish.net/news/Canadian-Muslim-Convention-Hosts-Anti-Palestinian-Politician-20191223-0009.html
------
Muslim comics are opening up about their faith on the U.S. standup circuit
By Neal Justin
Mon., Dec. 23, 2019
Did you hear the one about the Muslim who walked into a comedy club? It's no joke. These comedians are talking openly about their Islamic faith in standup routines that mine previously untapped material while shattering stereotypes about an often misunderstood religion.
At one of Acme Comedy Company's recent open-mic nights, which contrary to the title is highly selective on who gets stage time, three of the 22 acts were Muslim, including Ahmed Khalaf, whose family immigrated to Minnesota from Somalia when he was a child.
"I don't have stories about spending Christmas with a crazy uncle," he said before his performance. "My thing is Ramadan. That's an insane holiday. It's really just a diet."
Khalaf, 26, is treading into waters rarely tested by his more established peers. "The Big Sick" star Kumail Nanjiani and Aziz Ansari, who both grew up in Muslim households, identify as nonreligious and rarely talk about faith in their acts, although one of the most memorable episodes of Ansari's Emmy-winning series, "Master of None," features his agnostic character sneaking away from Eid prayer to pig out at a pork festival.
Dave Chappelle converted to Islam in 1998, but religion is one of the few things he won't discuss in his otherwise unreserved performances.
"I don't normally talk about my religion publicly because I don't want people to associate me and my flaws with this beautiful thing," the latest recipient of the Mark Twain Prize for American Humor told Time magazine in 2005.
Ramy Youssef doesn't have the same qualms. In his groundbreaking series, "Ramy," the fast-rising talent makes gentle fun of his rituals, like making time for his daily prayers, the same way a Catholic-raised comic would find the humour in going to confession. In the premiere, which debuted on Hulu in April, Youssef's character, Ramy Hassan, gets scolded at his mosque for not properly washing between his toes. Filthy feet turn out to be the least of his shortcomings. In subsequent episodes, he accepts a job with a sexist relative and initiates an affair with a married woman.
"I just want to show that we're human," Youssef said earlier this year. "This is not a How-to-Be-a-Muslim guide. This is not outtakes from the Qur'an. This is someone who is struggling and not being a good Muslim. I would have called it 'Bad Muslim' if it wasn't for the 'Bad Santa' movies. Because we are so under-represented, when people do see us, we're constantly trying to apologize or overprove that we're good. I think what really shows that someone's good is when they're a human being and they're dealing with real things. That's what this show is doing for the first time for Muslims."
https://www.thestar.com/life/2019/12/09/muslim-comics-are-opening-up-about-their-faith-on-the-us-standup-circuit.html
------
Judicial Willingness to Confront Islamist Antisemitism
DECEMBER 23, 2019
by Ben Cohen
The head of the French Jewish community on Monday expressed fear that last week's decision by prosecutors in Paris to excuse the murderer of a Jewish woman from a criminal trial symbolized a deeper reluctance to confront antisemitism among Muslims in France through legal means.
In a forthright letter to Paris Attorney General Catherine Champrenault, Francis Kalifat — the president of CRIF, the representative organization of French Jews — intimated that the decision not to try Kobili Traore for the Apr. 4, 2017 torture and murder of Sarah Halimi, a 65-year-old widow, in her Paris apartment, was ultimately political in nature.
"Did your Public Prosecutor's Office want to avoid, through the trial of Sarah Halimi's murderer, a trial at the same time of the Islamist antisemitism that kills in France?" Kalifat asked pointedly.
Kalifat said he had been left "speechless" by the decision to excuse Traore on the grounds that his intake of cannabis on the night of Halimi's murder had left him temporarily insane, and therefore not legally responsible for his crime.
"I want you to know, Madam Attorney General, that beyond my own incomprehension, it is all French Jews who are plunged into a state of collective consternation, and who now know that it is possible in our country to torture and kill Jews in cold blood without being judged," Kalifat wrote.
Advocates for the Halimi family stepped up their public criticism of the decision over the weekend. In an extensive interview on the Europe 1 network on Sunday night, Francis Szpiner — the lawyer representing Halimi's children — called it an "aberration."
He confirmed that he planned to appeal the decision before the Court of Cassation, the highest court in the French judicial system.
Several politicians also spoke out against the decision.
"Appalled by the incomprehensible decision of the Paris Court of Appeal, which concludes that the murderer of Sarah Halimi is not responsible because he was under the influence of cannabis!" tweeted the mayor of Paris, Anne Hidalgo.
"As a Christian, I worry about the lack of outrage over this affair," wrote Alain Houpert, who represents the center-right Republican Party in the French Senate. "Justice must be done for Sarah Halimi."
Some of France's leading political commentators lambasted the decision as a new low for the French judiciary.
"After having shown great cowardice during the Nazi occupation, French justice from time to time experiences major relapses," wrote columnist Franz-Olivier Giesbert in Le Point.
Journalist Françoise Laborde charged that it was the French legal system that had taken a "delusional puff" when it concluded that Traore could not be held criminally responsible because of his cannabis intake.
In a sign that French Jews remain determined to eventually bring Traore to trial, Ariel Goldmann — a lawyer and the president of the United Jewish Social Fund (FSJU) in France — urged the community to take the case to François Molins, the public prosecutor at the Court of Cassation known for his tough stance toward Islamist terrorism and violence in France during the last decade.
Among the cases tried by Molins was that of Mohammed Merah, whose 2012 shooting spree included an attack on a Jewish school in the city of Toulouse where he murdered a rabbi and three small children.
https://www.algemeiner.com/2019/12/23/amid-fury-over-sarah-halimi-murder-trial-decision-french-jewish-leader-questions-judicial-willingness-to-confront-islamist-antisemitism/
------
Southeast Asia
Najib: Islamic authorities had time to object Altantuya oath but didn't
Dec 23rd, 2019
Former prime minister Najib Abdul Razak said he had given time to Islamic authorities to object to his swearing of an oath at a Kuala Lumpur mosque but none came forward.
He said this in reference to his oath (sumpah laknat) made at Masjid Jamek Kampung Baru where he swore that he did not order the murder of Mongolian national Altantuya Shaariibuu.
"I deliberately announced the oath two days earlier. My intention was so if the religious authorities like the Federal Territories Islamic Department (Jawi) or its mufti can voice their objections or stop me.
"But two days after I made the oath Jawi and the Federal Territories' mufti issued statements concurrently," he said in a statement on Facebook.
Earlier today, Jawi warned that action can be taken against people misusing mosques for "personal and political interest".
Najib said he would not have proceeded if there were objections.
"I am easy to talk to. If there were early objections, I would not have proceeded. Unfortunately, there weren't any," he said.
Last week, former police special action unit (UTK) personnel Azilah Hadri (photo), who was convicted for Altantuya's murder, claimed he had acted on Najib's orders in a statutory declaration (SD).
He was Najib's bodyguard at the time.
Altantuya was murdered in October 2006 and her remains blown up with military-grade explosives.
Azilah and his UTK colleague Sirul Azhar Umar were found guilty and sentenced to death in April 2009.
The Court of Appeal overturned their conviction in August 2013 but the guilty verdict was reinstated by the Federal Court in January 2015.
However, prior to the Federal Court reversing the Court of Appeal's decision, Sirul had fled to Australia and is now in an immigration detention centre there.
He cannot be deported due to Australia's stance against the death penalty.
With the SD, Azilah is now applying to the Federal Court for a review of the court's decision which found him guilty of murder.
https://www.malaysiakini.com/news/504681
------
Indonesia Will Not Intervene in Uighur Muslim Issues: Govt
23 December 2019
TEMPO.CO, Jakarta - Presidential Chief of Staff Moeldoko said the Indonesian government would not intervene in the issues of Uighur Muslims in China.
"Each country has its jurisdiction to manage its own citizens. So the government will not interfere with China's home affairs," Moeldoko asserted at his office, Monday, December 23.
A few days ago, several Islamic organizations including Nahdlatul Ulama and Muhammadiyah as well as the Indonesia Ulema Council were invited to Xinjiang to directly observe the conditions of the Muslim minorities.
Muhammadiyah chairman Haedar Nashir stressed that a country must uphold justice, both in the contexts of bilateral and global ties. "We urge Indonesia to convey its firm stance," said Haedar in Yogyakarta, Sunday, December 21.
Haedar opined that Indonesia must adhere to the 1945 Constitution, especially about the principle of upholding world peace and order based on independence and social justice.
However, Moeldoko stated that the government would not meddle in other countries' affairs. "I think that these are international standards that we cannot interfere with the foreign affairs of a country," he said in response to the Uighur issues.
https://en.tempo.co/read/1287034/indonesia-will-not-intervene-in-uighur-muslim-issues-govt
------
Muslims in Perak urged to offer eclipse prayers this Thursday
24/12/2019
IPOH, Dec 24 -- Muslims in Perak are encouraged to perform the solar eclipse prayers in conjunction with the partial eclipse of the sun, expected to occur in the state this Thursday.
The Astrology Division of Perak Mufti Department in a statement said, the partial eclipse of the sun is expected to occur from 11.18am to 3.09pm, with the peak being at 1.11pm, when 85 per cent of the sun would be blocked by the moon.
"Mosques or suraus planning to organise the sunnah muakkadah solar eclipse prayers in congregation are recommended to perform the prayers after zohor prayers.
"Those wishing to perform the prayers individually may do so at anytime during the solar eclipse," it said.
http://www.bernama.com/en/general/news.php?id=1802154
------
Malaysia's Tabung Haji inks 65 mln pounds Islamic financing with Standard Chartered Saadiq
18 DEC 2019
Malaysia's pilgrims board Lembaga Tabung Haji (TH) has signed an agreement with Standard Chartered Saadiq for 65 million pounds ($85.14 million) of Islamic financing.
TH said in a statement on Wednesday (Dec 18) that the two-year Shariah-compliant financing facility is for two of its subsidiaries for the refurbishment and refinancing of office properties in the UK.
"Under the terms of the financing, TH has the flexibility to convert its financing collateral from cash to sukuk, allowing it to fully optimise its existing sukuk investment, while Standard Chartered Saadiq is given the option to extend the facility for another year," said TH.
The statement said that this is the first Islamic structured funding deal for Standard Chartered Saadiq in Southeast Asia.
https://www.salaamgateway.com/story/malaysias-tabung-haji-inks-65-mln-pounds-islamic-financing-with-standard-chartered-saadiq
------
TİKA equips schools, medical centers for Philippines' Moro Muslims
23.12.2019
The Turkish Cooperation and Coordination Agency (TİKA) has provided state-of-the-art educational materials and medical equipment to five schools and three clinics on the Philippines' Mindanao Island, which is home to Moro Muslims, a community composed of 13 indigenous tribes.
The schools and clinics were initially established by TİKA to contribute to the peace process initiated on the island and meet the Muslim communities' needs.
The association provided the necessary equipment, including chairs, bookcases, air conditioners, computers and projectors. It also provided medical equipment to the health centers, which will become fully operational soon.
With this equipment, the schools and medical centers will be the only places in the region to have such technologies. At present, the socioeconomic level of Mindanao is lower than in nearby regions.
The Muslim Mindanao (Bnagsamaoro) Autonomous Region is one of the most underdeveloped regions because of neglect and unfair practices by the central government and years of armed struggle.
There are many problems regarding maternal health in particular, and almost 33% of births take place in non-medical conditions, according to the reports. The equipment that TİKA provided to the newly-established medical centers includes equipment necessary for baby delivery and mother-child health, aiming to address the problem.
https://www.dailysabah.com/turkey/2019/12/23/tika-equips-schools-medical-centers-for-philippines-moro-muslims
------
India
Bijnor Ground Report: Muslim families flee as UP Police vandalise homes, harass women after clashes over CAA
December 24, 2019
Amid police crackdown across Uttar Pradesh over Citizenship Amendment Act protests, families in Bijnor's Nehtaur allege that vandalism by the state police has forced them to flee their homes.
Nehtaur in Uttar Pradesh's Bijnor district is barely 150 km away from the Indian parliament where the controversial amendment to the Citizenship Act was passed on December 11 allowing Hindus, Sikhs, Buddhists, Parsis, Jain and Christians, who faced religious persecution in Pakistan, Afghanistan and Bangladesh and came to India before December 2014, to apply for citizenship.
Over 10 people have been arrested by the police, 60 have been named as accused and over 3000 unknown persons have been mentioned in FIRs after clashes erupted between police and protesters in Bijnor.
The locals allege that after clashes over the CAA, the UP Police has been vandalising their homes, harassing women and threatening their children to disclose the location of the male members of their families.
India Today TV visited two such homes. Here is what we saw.
Vandalism, fear of police harassment rampant
In one of the houses, the washbasin, bathroom, bed, furniture, fridge, utensils and other items were broken and strewn all over. When we asked a neighbour what had happened, he said, "We are being targeted because we are Muslims. 8-10 policemen come to our homes asking about the men in our family. If we tell them that we are not aware, they abuse us, harass the women and threaten the children."
The neighbour, on condition of anonymity, also said, "The police have told us that FIRs have been filed against more than 3,000 unnamed people in connection with the violence on Friday. If they come to know that I have spoken, my family members will be picked, beaten up and framed by them."
Muslims abandon houses, flee
Five other houses in the same area were locked and if neighbours are to be believed, families have abandoned their homes over the fear that the police will come back and harass them.
Just a few meters away, in another house, the TV set, bathroom, utensils, furniture and other items were allegedly broken by the police.
At least eight other families, who live in the same area, have also left their homes over fear of police brutality.
"The people are scared after the recent conduct of the police -- the way the policemen have treated the women, children and vandalised homes. The police has mentioned thousands unknown in FIRs and families fear that if they speak against police they will be named and arrested," said a local resident Hamid Salmani.
https://www.indiatoday.in/india/story/bijnor-ground-report-muslim-families-flee-as-up-police-vandalise-homes-harass-women-after-clashes-over-caa-1631046-2019-12-24
------
Why not include Muslims in CAA, asks West Bengal BJP leader Chandra Kumar Bose
DECEMBER 24, 2019
West Bengal BJP vice-president Chandra Kumar Bose asked on December 23 as to why Muslims were not included in the Citizenship (Amendment) Act. Mr. Bose, who is a grand-nephew of Netaji Subhash Chandra Bose, stated in a tweet, "If #CAA2019 is not related to any religion why are we stating - Hindu, Sikh, Boudha, Christians, Parsis & Jains only! Why not include #Muslims as well? Let's be transparent."
He further said, "If Muslims are not being persecuted in their home country they would not come, so there's no harm in including them. However, this is not entirely true — what about Baluch who live in Pakistan & Afghanistan? What about Ahwadiyya in Pakistan?"
Replying to another person on the platform, Mr. Bose also said that it was impossible to prove persecution, and that it was only an assumption. "It should be open to all," he remarked.
The BJP leader also appealed to people to not equate or compare India with other nations, and that as a nation it was open to all religions and communities. His comments come on a day when BJP national working president J.P. Nadda held a rally in Kolkata in support of the CAA. He even lauded the rally, saying the people of Kolkata responded spontaneously to it and that the party needed to form pressure groups at booth levels to explain the benefits of CAA to the people.
https://www.thehindu.com/news/national/why-not-include-muslims-in-caa-asks-west-bengal-bjp-leader-chandra-kumar-bose/article30387137.ece
------
If Citizenship Act not related to religion, why not include Muslims? Asks Bengal BJP leader
24th December 2019
NEW DELHI: Chandra Kumar Bose, BJP Vice President for West Bengal, on Tuesday demanded transparency in the Citizenship Amendment Act (CAA), 2019 saying if it was not related to any religion, then Muslims should also be included.
"If CAA, 2019 is not related to any religion why are we stating - Hindu, Sikh, Buddhists, Christians, Parsis and Jains only! Why not include Muslims as well? Let's be transparent," he tweeted.
In a series of tweets, late on Monday night and on Tuesday, Bose also said that India is a nation open to all religions and communities and should not be compared to any other country.
"Don't equate India or compare it with any other nation - as it's a nation open to all religions and communities," he said.
On BJP's stand that Muslims are not being persecuted in their home countries, he said if that is the case, "they would not come, so there's no harm in including them."
However, he added, "this is not entirely true - what about Baloch who live in Pakistan and Afghanistan? What about Ahmadiyyas in Pakistan?"
Bose said the party which would follow the inclusive ideology of Subhas Chandra Bose representing all communities and work for the upliftment of all strata of the society would win Bengal in the 2021 Assembly elections. "The rest would be irrelevant."
https://www.newindianexpress.com/nation/2019/dec/24/if-citizenship-act-not-related-to-religion-why-not-include-muslims-asks-bengal-bjp-leader-2080342.html
------
Allay fears of Muslims on CAA, NRC: Mayawati
December 24, 2019
Bahujan Samaj Party (BSP) chief Mayawati has said that the government must allay the fears of Muslims on the Citizenship Amendment Act and the National Register of Citizens.
She tweeted on Tuesday that "BSP demands that the central government should allay the fears of Muslims on the CAA and NRC and satisfy them fully."
"But Muslims should also be careful that they are not politically exploited on the issue," she said.
She said that violent protests in the country, including in Uttar Pradesh, are unfortunate adding that BSP is against violence and the party stands with those arrested. She said there should be an impartial probe on all the incidents.
https://www.indiatoday.in/india/story/allay-fears-of-muslims-on-caa-nrc-mayawati-1631095-2019-12-24
------
Maharashtra won't implement CAA or NRC, no detention centre in state, Maharashtra Chief Minister tells Muslims
Maharashtra Chief Minister Uddhav Thackeray on Monday told Muslim delegations that the amendments to the Citizenship Act and the proposed National Register of Citizens will not be implemented in the state, The Hindu reported. He said the state government will not build any detention centres.
Thackeray's party, Shiv Sena, had voted for the amendments in the Lok Sabha but had abstained from voting in the Rajya Sabha. The party is a former ally of the Bharatiya Janata Party, but is now in alliance with the Congress and Nationalist Congress Party in Maharashtra.
Thackeray met two delegations of Muslim politicians and clerics on Monday and told them the community should not fear being asked to leave the state. "The chief minister assured that no decision has been taken regarding the CAA or the NRC in Maharashtra," South Mumbai MLA Amin Patel, who was present at the meeting, said. "Even if it is ever implemented, the government will ensure Muslims are made part of it, he told us."
"Several misunderstandings are being spread about detention camps," The Indian Express quoted Thackeray as saying. "That is a system is for foreign nationals who have served their sentence for the cases related to drugs or other [offences]. These foreign nationals are kept in detention camps during the time till they complete their documentation process for deportation. So, there is no need to...fear about it [detention camps]."
On NRC, Thackeray said there had been no decision on it, and if it all such a law comes, "it will not be only for Muslims, but for all religions". On the Citizenship Amendment Act, he said, "There is an atmosphere of unrest and fear in the country…We must make efforts to ensure the state's reputation and tradition of being peaceful. Nobody's rights will be taken away. The government is strong enough to protect the rights of citizens of all religions."
Meanwhile, Thackeray also scrapped his predecessor Devendra Fadnavis's decision to develop the state's first detention centre for illegal immigrants in Navi Mumbai's Nerul, Mumbai Mirror reported.
Home Minister Eknath Shinde, Industry Minister Subhash Desai, and Mumbai Police Commissioner Sanjay Barve were also present at the meeting. Thackeray said a lot of misinformation was being spread about a detention centre coming up near Mumbai.
Congress leader Balasaheb Thorat, who is part of the state Cabinet, tweeted: "Citizenship Amendment Act is divisive in nature. We will not implement it in Maharashtra."
Opposition to NRC, CAA
On the same day, Andhra Pradesh Chief Minister YS Jagan Mohan Reddy also said his government would not implement the National Register of Citizens. Reddy's party, the YSR Congress Party, had voted for the amendments to the Citizenship Act in both Houses of Parliament earlier this month.
While the Citizenship Amendment Act provides citizenship to people from six persecuted religious communities in Pakistan, Afghanistan and Bangladesh – except Muslims – the stated objective of the National Register of Citizens is to identify undocumented migrants. The register left out around 19 lakh people in Assam. Union Home Minister Amit Shah has repeatedly said the register will be made applicable throughout the country, and has linked the Citizenship Amendment Act to the National Register of Citizens.
Reddy was the third leader of a political party that does not always vehemently oppose the Bharatiya Janata Party to come out against the National Register of Citizens. National Democratic Alliance partner and Bihar Chief Minister Nitish Kumar and his Odisha counterpart Naveen Patnaik have also refused to implement it in their states.
Protests against the Citizenship Amendment Act and the National Register of Citizens have engulfed India in the past two weeks. The protests saw peaceful marches as well as intense clashes between the police and the demonstrators. At least 24 people have died so far, including 17 in Uttar Pradesh alone.
https://scroll.in/latest/947743/maharashtra-wont-implement-caa-or-nrc-no-detention-centre-in-state-uddhav-thackeray-tells-muslims
------
Jamia Millia Islamia teachers brave cold to hold vigil at India Gate
Dec 24, 2019
NEW DELHI: Taking forward their movement against Citizenship Amendment Act (CAA) and National Register of Citizens (NRC), teachers of Jamia Millia Islamia held a candlelight vigil at India Gate on Monday. Others also joined the vigil, held under the banner of Jamia Teachers' Association, shouting slogans and singing the National Anthem.
The Jamia teachers had formed a committee to decide on the plan of action against CAA and NRC after the December 15 incident in which tear gas was thrown at students and police lathicharged them. The teachers were the first to call a protest march.
Ankita, a Jamia student at the protest, said, "I have been joining the protests regularly both inside and outside the university after the December 15 violence. If we youths do not raise our voice against such discriminatory laws, then we cannot complain about it later."
The students have given a call for a protest march at Mandi House on Tuesday.
Mohammad Qasim, another protester, said, "The government can be stopped from implementing such bizarre laws if people from different faiths, caste, creed and colour come together to protest. The values of our Constitution and the idea of India are at stake."
https://timesofindia.indiatimes.com/city/delhi/jamia-teachers-brave-cold-to-hold-vigil-at-india-gate/articleshow/72945982.cms
------
NO Mr. Daya Gamage and US, India Does Not Discriminate Against Muslims
Tue, 2019-12-24
New Delhi, 24 December, (Asiantribune.com):
No Mr. Daya Gamage and US, India does not discriminate against Muslims, and the spirit of the recently introduced Citizenship Amendment Act (CAA) is very much in sync with Emma Lazarus' sonnet, New Colossus- Give me your tired, your poor, your huddled masses yearning to breathe free.
Daya or Compassion / Kindness is an integral civilizational value of India since time immemorial, and also of contemporary India's foreign policy and international relations. Though India is not a signatory to the UN's 1951 Refugee Convention which defines a refugee yet the Government of India under Prime Minister Narendra Modi has kept the promise that Mahatma Gandhi had made to persecuted people living deplorable lives in India's neighborhood through the Citizenship Amendment Act (CAA).
However, many articulations which are in circulation both in local and international media seem more like a mischievous propaganda that Citizenship Amendment Act (CAA) is an effort towards disenfranchisement of Muslims by stealth or trickery. Their conjectures are most flabbergasting, and necessitate a correct understanding of the Citizenship Amendment Act (CAA).
It is very important that people understand the Citizenship Amendment Act (CAA) as the opposition parties and mischievous elements of the society are encouraging, inciting, provoking the lumpen into the street to commit violence and damage the public property, so that soon they start lamenting violence and hold the incumbent government of India, the world's largest democracy responsible for it.
Under the Citizenship Amendment Act (CAA), people from six minority communities — Hindu, Sikh, Jain, Buddhist, Christian and Parsi — who have come to India before 31 December 2014 will be granted Indian citizenship. The government has not included Muslims, arguing that all three countries in India's neighborhood viz. Pakistan, Bangladesh and Afghanistan, are Muslim dominated and it is highly unlikely that Muslims will be persecuted there for their religious beliefs.
The Citizenship Amendment Act (CAA) does not violate Article 14, 25 and 21 of the Indian Constitution, and the bill is pro-minorities and not anti-Muslim. The most to benefit from it are the religious minorities from Pakistan and Bangladesh who mostly belong to the Dalit castes.
The Citizenship Amendment Act (CAA) is very specific in its intent and applies only in the cases of religious persecution of the above notified minorities in from Pakistan, Bangladesh and Afghanistan.
What is worth noting that unlike India's constitution, the constitution of these three countries viz. Pakistan, Bangladesh and Afghanistan are based on religion of the state, Islam. These countries have a track record of pervasive, systematic and institutionalized persecution of minority Hindus, Sikhs, Jains, Buddhists, Parses and Christians especially the perennial persecution in Pakistan. The 2018 case of Asia Bibi in Pakistan who was sentenced to death for blasphemy and refused asylum by Britain amid concerns of unrest and attacks immediately comes to mind. Moreover, one regularly keeps reading about Hindu and Sikh women in India's neighborhood who are the victims of kidnapping, rape and forced conversion to Islam.
The way Citizenship Amendment Act (CAA) benefits the Hindus, Sikhs, Jains, Buddhists, Parsis and Christians from these Pakistan, Bangladesh and Afghanistan is that the residency requirement has been reduced from 11 to 5 years. And these persecuted minorities can claim citizenship as a right under this law.
This does not mean that Muslims from Pakistan, Bangladesh and Afghanistan can "never" get Indian citizenship. They can very much apply for an Indian citizenship however they will have to go through the usual process of acquiring citizenship through naturalization rules e.g. 11 years of residence etc. Only few days back in the midst of protests against the Citizenship Amendment Act (CAA), a Muslim woman from Pakistan Hasina Ben got Indian citizenship. Following her husband's death in Pakistan, Hasina Ben decided to return to India and had, therefore, applied for Indian citizenship almost two years ago.
However, the cases of Muslims like the Shias, Baluchis, Ahmediyas in Pakistan, and Rohingayas in Myanmar will still be considered under the existing laws of the Government of India. The usual process will apply in their case and their application for naturalization as citizens will be as per the governing law and based on the merits and demerits of the case.
Sri Lankan Tamils have not been included in the Citizenship Amendment Act (CAA) because the war has been over for a decade now. Also there never was any persecution on religious lines in Sri Lanka but on ethnic faultline's. And after the decades of civil war, the Sri Lankans have put an end to institutionalized discrimination of Tamils.
It is often asked what whether India as a responsible member of the United Nations doesn't have an obligation to take care of refugees as the country is not a signatory to the UN's 1951 Refugee Convention. Yes it does, and India is not shying away from it. However, India has no obligation to offer citizenship. Each country has its own rules for naturalization. India is not going to turn away other refugees under this law. It will play host to them under the UN rules, in the implicit expectation that some day they will return to their homelands when the conditions improve. But in the case of religious minorities from Pakistan, Bangladesh and Afghanistan, Citizenship Amendment Act (CAA) acknowledges the extremely harsh reality of the environment of persecution in these three countries.
In addition, the Citizenship Amendment Act (CAA) Act does not apply to the tribal areas of Tripura, Mizoram, Assam and Meghalaya in the north eastern part of India because of being included in the Sixth Schedule of the Constitution. Also areas that fall under the Inner Limit notified under the Bengal Eastern Frontier Regulation, 1873, will also be outside the Citizenship Amendment Act's (CAA). This keeps almost entire Arunachal Pradesh, Mizoram and Nagaland out of the ambit of the Act.
The Citizenship Amendment Act's (CAA) fulfils the aspiration of Mahatma Gandhi. And ever since the failure of Liaquat-Nehru pact of 1950, at different times Dr Rajendra Prasad, Jawaharlal Nehru, Sardar Patel, Rajiv Gandhi, Manmohan Singh, Ashok Gahlaut, Mamata Banarjee, Tarun Gogoi and Indian National Congress have all demanded a Citizenship Amendment Act's (CAA). Every sensible country has laws and rules for its citizenship. Why not India?
But why fear mongering and a careful, planned, and deliberate destruction in the name of the Citizenship Amendment Act (CAA) when the act has nothing to do with the existing Citizens of the Republic of India in any way.
Does one seriously want to project that these 'intifada' style rioting was all spontaneous? Nearly all the stone-pelting, violent rioters can be communally identified, across all the states, given the plethora of visual media pouring in. The agitation seems to have much greater coordination and pattern than what a simple spontaneous stir could roil up. It's almost as if these agents were prepared with an action plan and were waiting for just the right trigger event to roll out the action plan. It seems to have all the hallmark of salami-slicing tactics. The pattern of action seems to be too similar across the board, and too organized in a sequential manner. First North East, then Bengal, and followed by Delhi.
Till date 25 people have been killed in India and millions worth of public property has been destroyed. No one burns their own cars in protest and it is always someone else's. Is that why it's called vandalism? Buses have been set on fire with people still inside. Exactly how vicious is it to burn a train? One can judge it for oneself as even ISIS has never attempted it. One must be dreaming if one thinks a blowback won't materialize? Or one can read Asterix comics- The Mansion of the Gods- which is an innocent story about a culturally homogeneous collective fighting against strategic demographic change by an inimical political force.
The protest against the Citizenship Amendment Act (CAA) is possibly the most uneducated protest of any kind. The more one inspects it, the more it can be seen to be either a 'knee jerk' or opportunistic or 'mischief mongered.'
Many also argue that the government machinery takes the decision and then strategize latter-on based on reactions like in the past as with demonetization, GST and now with the Citizenship Amendment Act (CAA). But India is a vast country. Prime Minister Narendra Modi in his address in New Delhi yesterday cleared all the doubts and apprehensions about the Citizenship Amendment Act (CAA) while calling for peace and harmony.
The Citizenship Amendment Act (CAA) is in perfect sync with the ethos of the secular constitution of India as it does not prevent any person of any religion from any country seeking Indian citizenship. It does not dilute India's commitment to the values enshrined in the Charter of the UN or change the criteria of citizenship in any way; merely providing a special expedited redress, under special circumstances, and fulfills the long pending demand of providing refuge to persecuted minorities from Pakistan, Afghanistan and Bangladesh.
*** Jainendra Karn is a senior Bharatiya Janta Party (BJP) leader in India
http://www.asiantribune.com/node/93291
------
Indian police accused of widespread brutality during protests against 'anti-Muslim law'
BY NICK BAKER
Indian police have been accused of using "unnecessary lethal force" against demonstrators who are protesting a controversial new citizenship law.
Twenty-five people have been killed around India since the law was passed earlier this month, which gives persecuted minorities from neighbouring countries an easier path to citizenship, but not if they are Muslim.
On Tuesday, Human Rights Watch called the Citizenship Amendment Act "a law that discriminates against Muslims" and demanded Indian authorities allow peaceful protests.
"Police have used excessive force only against demonstrators protesting the law, including many students ... Most of those killed have been Muslims," the group said in a statement.
"The authorities have also used a colonial-era law, internet shutdowns and limits on public transportation to prevent peaceful anti-citizenship law protests," it said.
"The police have, however, not interfered with demonstrators supporting the law, including ruling party leaders who have advocated violence."
Human Rights Watch provided media with quotes from one activist who asked not to be named.
"Many of us have gone into hiding because the police are tracking down anyone that organised or passed the word to join peaceful protest rallies ... They want to crush us into silence," the activist said.
Many police have also been injured in the protests.
South Asia director at Human Rights Watch Meenakshi Ganguly said, "the authorities should prosecute violent protesters, but they also need to hold police officers to account for using excessive force".
"The often violent repression of those critical of government undermines any claims that the authorities are responding to the situation in an impartial manner."
Critics say the law is part of Prime Minister Narendra Modi's Hindu-nationalist agenda and is "anti-Muslim", a claim his Bharatiya Janata Party (BJP) denies.
Most of India's 1.3 billion people are Hindu, about 14 per cent are Muslim and the rest are Christians, Buddhists and others.
Since being re-elected this year Mr Modi and his party have stripped Muslim-majority Kashmir of its autonomy and carried out a register of citizens in Assam, a state with a large Muslim population.
The BJP has also said it wants to conduct the National Register of Citizens (NRC) nationwide, fuelling fears that Muslims were being disenfranchised.
On the weekend, Mr Modi said, "Muslims who are sons of the soil and whose ancestors are the children of mother India need not to worry".
BJP's general secretary Bhupender Yadav told reporters Saturday that the party would "launch an awareness campaign" and hold 1,000 rallies to dispel "lies" about the law.
https://www.sbs.com.au/news/indian-police-accused-of-widespread-brutality-during-protests-against-anti-muslim-law
------
Cartoon Muslims in India publicity blitz after deadly protests in bid to bust 'myths' over new citizenship law
NEW DELHI – India's ruling party launched a video with animated Muslim characters on social media Monday in a publicity blitz aiming to bust "myths" around a new citizenship law that has sparked deadly protests.
The law has stoked concerns that Hindu nationalist Prime Minister Narendra Modi's government wants to marginalize India's Muslim minority.
The short video clip shows two bearded men in traditional Muslim clothing discussing the legislation before concluding that the country can only progress if there is "peace and brotherhood.
Twenty-five people have died in protests so far, but demonstrations took place Monday in Chennai, Bangalore and Delhi with no violence reported.
In Kolkata, demonstrators marched in favor of the law.
The video was released by Modi's Bharatiya Janata Party on its Twitter handle after Modi on Sunday said Muslims "don't need to worry" about the new law.
The ruling right-wing government also carried an advertisement across all national dailies with a "myths vs facts" explainer saying the law was not against India's 200 million Muslims.
The message also stated that there were no immediate plans to roll out a nationwide register of citizens. Muslims and others fear they could become stateless if they are unable to prove they are Indian.
Even if the register were rolled out, "the guidelines would be framed such that no Indian citizen would face any harassment whatsoever," the advertisement read.
The wave of protests across the country marks the biggest challenge to Modi's government since sweeping to power in the world's largest democracy in 2014.
Further bad news for Modi came late Monday when the Election Commission of India confirmed that a three-party alliance secured a majority to kick the BJP out of office after an election in the eastern state of Jharkhand.
In a major setback last month, the party also lost power in Maharashtra, home to Mumbai.
The citizenship law, passed by parliament earlier this month, allows people of six religions from Muslim-majority Pakistan, Bangladesh and Afghanistan an easier path to citizenship.
Muslims are excluded.
Islamic groups, the opposition and others at home and abroad fear this forms part of Modi's aim to remold the country as a Hindu nation, something his government denies.
Demonstrations have been largely peaceful but protesters have also hurled rocks and torched vehicles, while heavy-handed police tactics including the storming of a Delhi university a week ago have fueled anger.
Indian authorities have cut mobile internet access in places and imposed emergency laws banning assemblies.
In a speech on Sunday Modi sought to reassure the Muslim community, saying they "don't need to worry at all" and laying emphasis on India's diversity.
In the coming few days, his party says it will contact more than 30 million families, organize countrywide rallies and hold over 250 press conferences to dispel doubts over the new law.
The protests that first started in the northeastern state of Assam have since spread to the rest of the country. The tinderbox northern state of Uttar Pradesh has seen the most deaths.
Seventeen people have died, mostly from firearm injuries, in the state including a schoolboy who was crushed during a stampede that broke out as police tried to disperse the protesters.
https://www.japantimes.co.jp/news/2019/12/24/asia-pacific/social-issues-asia-pacific/cartoon-muslims-india-publicity-blitz-deadly-protests-bid-bust-myths-new-citizenship-law/#.XgHLgVUzbIU
------
Vajpayee-Advani imagined an all-India NRC and Modi-Shah added a Muslim filter
SHIVAM VIJ
23 December, 2019
peaking at an election rally Sunday, Prime Minister Narendra Modi said about the National Register of Citizens: "Yeh Congress ke zamane mein bana tha. Tab soye the kya? Hamne to banaya nahi. Parliament mein aaya nahi. Na cabinet mein aaya hai. Na uske koi niyam qaide bane hain. (It came in the era of the Congress. Were critics sleeping then? We didn't make it. We didn't bring it in Parliament. It hasn't come up in the cabinet. Neither have any rules or regulations been made for it.)"
He is right in blaming the Congress, if he was referring to the Assam NRC. Both the 1951 National Register of Citizens (NRC) as well as the Assam Accord that promised its update are legacies of Congress governments, for better or for worse.
But if he was referring to an all-India NRC, then it was introduced by the Atal Bihari Vajpayee government in 2003 by amending the Citizenship Act of 1955.
As per the 2003 amendment, the Indian government shall count all its citizens and create a National Population Register or NPR. The government will then verify the citizenship of the people counted. Once it does, the verified citizens will become part of another document, the "National Register of Indian Citizens".
A year from now, we may be talking about NRIC, not NRC.
NPR is the input; NRIC is the output.
NPR is step one. Verification of citizenship is step two. NRIC is step three.
NPR-NRIC have nothing to do with the Census, except that they are carried out by the same authority: the Registrar General of India.
The NPR exercise is undertaken every 10 years along with the "house-listing" phase of the Census of India. Hence, the first NPR exercise took place in 2010-11 and was updated in 2015 — under, yes, a Congress-led regime. But the Manmohan Singh government did not take the next step of creating an NRIC by verifying the citizenship claims of citizens from the NPR.
In other words, the Narendra Modi government doesn't have to carry out an all-India NRIC. But the NPR, which is the first step, begins in April 2020 and is scheduled to end by September 2020, and Home Minister Amit Shah has repeatedly said it will happen. The President of India, Ram Nath Kovind, has said it will happen "on priority". But the government still has time to mull over this.
Minister of State for Home Affairs, G. Kishan Reddy, has clearly said the Modi government intends to carry out NRIC but it has not been formally announced, and its procedures not laid out yet.
Why your passport doesn't make you an Indian citizen
A small change in the NPR exercise this time makes it clear that the government is serious about verifying the citizenship status of every person.
Unlike the 2010-11 NPR, the exercise this time will also ask you the date and place of birth of both your parents.
This small addition changes everything, given how Indian citizenship laws are.
According to the Citizenship Act of 1955, you are a citizen of India if you were born in India between 26 January 1950 and 1 July 1987. No questions asked. You only have to prove your own date and place of birth.
But if you were born between 2 July 1987 and 2 December 2004, at least one of your parents must be an Indian citizen by birth. In other words, the Modi government could ask you to prove the citizenship of at least one of your parents. If you cannot, you may be declared a non-citizen — never mind that you were born in India and have an Indian passport.
If you were born on or after 3 December 2004, you may have an even bigger problem. In that case, even if one of your parents is proven to be an "illegal immigrant" at the time of his/her birth, you are not an Indian citizen — it doesn't matter whether you were born in India, have an Indian passport or a voter ID card.
These rules make it clear that the Modi government will check the citizenship status of your parents in case you were born on or after 2 July 1987.
That is why the NPR is going to ask everyone the place and date of birth of their parents this time.
If you were born in 1987, you would be 32 years old. The median age of India is 28, meaning that half of India's population is 28 or younger. So, even if you were born before 1987, you might well be proving your Indian citizenship beyond doubt for your children. In this way, almost every Indian family might have to prove its citizenship, with family tree and ancestry.
Once the NPR process is complete, the Modi government may choose to go ahead with the NRIC (which the Manmohan Singh government did not). PM Modi did not say Sunday that the NRIC will not take place; he only said that it hasn't been initiated yet. That's because its formal announcement can wait until the NPR is over.
Should the NRIC take place, the government might process the NPR data to check the citizenship status of the parents of those born on or after 2 July 1987. No wonder the Home Ministry deleted this tweet:
NRIC as imagined by L.K. Advani
The Modi government says it is yet to take a call and decide on the rules, but the rules were already well laid out by the Vajpayee government in 2003-04, when L.K. Advani was both Home Minister and Deputy Prime Minister. It may be recalled that 'illegal Bangladeshi immigrants' were a matter of great concern for Advani as well.
The rules are known as "The Citizenship (Registration of Citizens and Issue of National Identity Cards) Rules, 2003". This is how an all-India NRIC might be carried out unless the Modi government amends these rules.
They make it compulsory for every Indian to enrol in the NPR, and state governments have to co-operate with the exercise.
The rules say, "the Local Register of Indian citizens shall contain details of persons after due verification made from the Population Register."
How will this process of verification be carried out? Paraphrasing from them:
Step 1: The local registrar (LR) shall verify the particulars of every family and individual. If the LR thinks your citizenship claim is "doubtful," s/he may mark your name "with appropriate remark… for further enquiry."
You shall be "informed in a specified proforma immediately after the verification process is over" that you have been marked 'doubtful'.
Step 2: You and other 'doubtful' members of your family "shall be given an opportunity of being heard by the Sub-district or Taluk Registrar of Citizen Registration, before a final decision is taken to include or to exclude" you from the NRIC.
If you are excluded, don't lose hope. There are many more stages for you to walk through before you might be declared 'illegal'.
Step 3: "The Sub-district or Taluk Registrar shall finalise his findings within a period of ninety days of the entry being made."
After three months of anxiety, you might find that they need more time — the rules allow them to take more time if they need it.
Step 4: After the sub-district or taluka registrar has taken a final call, s/he shall publish a Local Registrar of Indian Citizens (LRIC) for your sub-district or taluka.
Don't be too excited if your name is on it, because it may still be excluded.
Once the LRIC is published, anyone can object to your name on the list. Your neighbour might suspect you are an illegal immigrant and raise an objection before the sub-district or taluka registrar that you are 'doubtful'. You go back to proving your citizenship.
If your name was not on the LRIC anyway, you may make another claim. Got the documents? You have 30 days to submit your claim, or to object to your neighbour's claim of citizenship.
Step 5: In the last stage, "The Sub-district or Taluk Registrar shall consider such objections and summarily dispose off the same within a period of ninety days." Having done so, s/he gives his final list to the District Registrar of Indian Citizens (DRIC).
If you are still unhappy, you could go to the DRIC and make a claim for your inclusion and someone else's exclusion. You have 30 days to do so. Thereafter, the DRIC has 90 days to take a final call.
After that, the list goes to the NRIC, the National Registrar of Indian Citizens.
And that's that. Nothing happens at the state level. If you are still excluded, perhaps you have the courts to go to.
Did Darjeeling Gorkhas come from Bangladesh?
A similar exercise has just finished in Assam. Similar, but not the same. The Assam NRC is an update of the 1951 NRC and you don't have to prove your citizenship if you entered the state before 31 March 1971. The all-India NRIC proposed by the Vajpayee government has nothing to do with 1951 or 1971 NRC for Assam.
And yet, the business of proving your parent's citizenship is similar, even if it applies only to those born on or after 2 July 1987.
Since the Lok Sabha campaign this year, many BJP leaders have talked about holding an all-India NRC. Most notable has been BJP president Amit Shah, who is now the Home Minister. Even PM Modi has told Times Now that in his opinion, India needs a countrywide NRC.
In Assam, around 40 lakh people didn't make it to the draft NRC list. There was a second round of checking the claims of these 40 lakh, and eventually, in August 2019, over 19 lakh were excluded. Some of these were Hindu Gorkhas, perhaps one lakh of them.
Addressing an election rally in Darjeeling in April 2019, Amit Shah said, "Didi (Mamata Banerjee) scares you that Gorkhas will have a problem with the NRC… If there's anyone more Indian than me, it is the Gorkhas… We have brought the Citizenship Amendment Bill. Gorkhas do not need to have any fear."
Now that the CAB has become law, the Modi government insists it is not about Indian citizens. But if Gorkhas in Assam and Bengal are already Indian citizens, why was Shah telling them that the CAB is the reason they don't need to fear the NRC?
Did the Gorkhas of northeast India come from Bangladesh, Pakistan or Afghanistan?
Not that they will have to prove anything because Amit Shah has also said they won't need to show any documents:
The Modi government could have found many ways to make citizenship easier for refugees from Bangladesh, Pakistan and Afghanistan. If the government's intent is to help the religious minorities persecuted in these countries, why has it put a deadline of 31 December 2014? Have religious minorities stopped being persecuted in the three countries after 31 December 2014?
The answer is that the CAA's real intent is to give citizenship to Indian citizens who may be rendered stateless by full implementation of the NRIC according to the 2003 rules — except Muslim Indians. Amit Shah has made the link repeatedly clear:
Those who are unable to prove their citizenship may then be divided into "refugees" and "infiltrators" based on their religion.
The non-soil Muslims
After the CAA filter, we will be left with only Muslims who couldn't prove their citizenship because their parents didn't have birth certificates etc.
"Jo Hindustan ki mitti ke musalman hain, jinki purkhein Maa Bharti ki santaan hain, unhein CAA aurNRC se koi lena dena nahi hai. (The Muslims who belong to the soil of Hindustan, whose ancestors were the children of Mother India, they have nothing to do with CAA or NRC.)"
If an all-India NRIC takes place, the Muslims excluded may be told: You are not the Muslims of the soil of Hindustan. Your ancestors weren't the children of Mother India. You can appeal to prove your case, but you can fail too.
What shall be done with these 'non-soil' Muslims? They might be put in detention centres. According to a report in Mumbai Mirror, the Modi government in July asked all state governments to identify land for detention centres to hold illegal immigrants.
PM Modi said Sunday that detention centres are a figment of 'urban Naxals'' imagination. The only solution then is the Bay of Bengal, where Amit Shah suggested the "infiltrators" should be thrown into.
Since the CAB became law, we have been repeatedly told that the CAA and the NRC have nothing to do with each other. In truth, they are inextricably linked, part of the same law — the Citizenship Act of 1955. An all-India NRC was added to the Act by Vajpayee-Advani in 2003, and legalising 'refugees' on the basis of their religion was added by Modi-Shah in 2019.
Both are dangerous ideas even by themselves. Ideally, both must go.
Put together, they make the Citizenship Act of 1955 a lethal weapon to render those Indian Muslims stateless who may not have such documents that the government may decide are necessary to prove citizenship. The burden of proof will be on the Indian Muslim — alone.
https://theprint.in/opinion/vajpayee-advani-imagined-an-all-india-nrc-and-modi-shah-added-a-muslim-filter/339366/
------
Karnataka opens its 1st detention centre for illegal immigrants
Dec 24, 2019
BENGALURU: Contrary to PM Modi's statement on Sunday, Karnataka has already launched its first detention centre for illegal immigrants near Nelamangala, about 40 km from Bengaluru.
Addressing a rally at Ramlila Maidan in Delhi, Modi had said, while referring to the proposed National Register of Citizens (NRC), that there are no detention centres in India. "We've opened the centre and it's ready to house illegal immigrants," RS Peddappaiah, commissioner, social welfare department, told TOI. A top state home department official confirmed the development.
The state government had planned to open the centre in January, but advanced it reportedly following a directive from the Union government. Since the centre has been operational only for a few days, no illegal immigrant has been lodged there yet. "The Foreign Regional Registration Office identifies illegal immigrants and sends them to the detention centre. We are ready to house them with necessary infrastructure and staff," Peddappaiah said.
The government has converted a social welfare department hostel into a detention centre. The facility has six rooms, a kitchen and a security room, and it can house 24 people. Two watchtowers have been built and the compound wall is secured with barbed wire.
In November the state government had informed the Karnataka HC that it had identified 35 temporary detention centres in all districts of the state to house illegal immigrants. The submission came during a hearing of bail petitions of two illegal immigrants from Bangladesh.
The government had said 612 cases were registered under the Foreigners Act and other laws against 866 persons of different countries.
https://timesofindia.indiatimes.com/city/bengaluru/karnataka-opens-its-1st-detention-centre-for-illegal-immigrants/articleshow/72946908.cms
------
Anti-CAA violence: Mangaluru police release pictures, videos of protesters
Dec 24, 2019
MANGALURU: Hours after Mangaluru city police requested public on social media to share pictures and videos to help police in its investigation into the violence over the Citizenship (Amendment) Act (CAA) and proposed National Register of Citizens (NRC), the city police started receiving videos and pictures of the violence.
Mangaluru city police on its Facebook page thanked the citizens for their overwhelming support for sharing high quality images of rioters who formed unlawful assembly and were responsible for widespread violence. The police also posted a few photographs of rioters for identification and information about their whereabouts. The police said whoever has any information can send the same on mangalurunorthmgc@gmail.com or WhatsApp on 9480802327 .. identities of the source would be kept strictly confidential and vital informers would be suitably rewarded.
Meanwhile, as fall out of the violence, an officer who was part of the bandobast during the protest has been flooded with threat calls. Callers threatened to kill police officers and Prime Minister Narendra Modi.
Sources informed that the officer has received at least 300 threat calls. Several policemen have reportedly received calls. Messages against officers are making rounds on social media.
Meanwhile, it is learnt that the miscreants are randomly calling numbers of policemen. According to a source, the numbers of policemen are available because of the new beat system and some people had saved numbers of them when they were called for passport verification.
There have been instances where beat members have exited the group set up by the police under "My Beat My Pride", post the violence.
Sources said the calls have been made on the landlines of certain police stations as well as the commissioner's office. Some have allegedly abused and threatened the commissioner too. The department is suspected to have received threat calls from abroad also.
City police commissioner Dr PS Harsha, refusing to divulge much details stating that the incident is in a critical stage. "Lot of threat calls have come. We are registering a criminal case and investigating," said PS Harsha.
A senior officer confirmed that an inspector rank officer who was at the spot when the violence broke has been threatened by multiple calls.
In a related development, an audio clip has gone viral on WhatsApp in which a man in Tulu is abusing the entire city police and dares them to seek a transfer to the city and face the consequences.
The city police chief assured that appropriate action will be taken against it.
https://timesofindia.indiatimes.com/city/mangaluru/mangaluru-violence-police-release-pictures-videos/articleshow/72950602.cms
------
Pakistan
Pakistani scholars discuss Rumi's influence on Sufism
December 23, 2019
TEHRAN – Persian mystic Molana Jalal ad-Din Rumi's influence on Sufism was discussed during a meeting at the Cultural Center of Iran in Hyderabad, Pakistan on Saturday.
Writer Ali Akash, lecturer Noor Ahmed Janjhi and Persian literature expert Sahar Gul Bhatti were among the scholars attended the meeting, Iran's Islamic Culture and Relations Organization (ICRO) announced on Monday.
Janjhi recited a selection of poetry by Rumi and compared his poetry with compositions by Sindhi Sufi poet Shah Abdul Latif Bhittai who lived during the 17th and 18th centuries.
He said that Rumi's poems have been translated into different languages across the world, and many scholars in the West and East have strongly been influenced by him.
Sahar Gul also recited poems by Rumi and Bhittai and discussed the mystic aspects of the works.
The meeting was organized by the ICRO and the Pakistan Writers Guild.
https://www.tehrantimes.com/news/443333/Pakistani-scholars-discuss-Rumi-s-influence-on-Sufism
------
Leader Of Pakistan Tehreek-E-Insaf, Dr. Babar Awan Urges UN To Suspend Indian Membership Amid Its Repressive Actions Against Muslims
DECEMBER 24, 2019
Senior lawyer and leader of Pakistan Tehreek-e-Insaf, Dr. Babar Awan while addressing a news conference in Islamabad urged the United Nations to suspend membership of India for its government's repressive actions against Muslims and other minorities in the country.
Babar Awan said Modi government imposed a lockdown in occupied Kashmir and now a suicide attack has been carried out in the shape of controversial Citizenship Amendment Act.
Emphasizing internal harmony in Pakistan, Babar Awan said every party has to play a role for it.
He said parliament should legislative instead of serving as merely a platform of speeches by the members. He said the opposition is not cooperating with the government for legislation.
He said the government will complete its term. He said all economic indicators are positive, and the media should highlight positive image of the country.
https://dailytimes.com.pk/526402/babar-urges-un-to-suspend-indian-membership-amid-its-repressive-actions-against-muslims/
------
KP Assembly condemns Indian oppression against Muslims
December 24, 2019
Khyber Pakhtunkhwa Assembly Monday unanimously condemned the oppression of Indian security forces against Muslims in their country and demanded of the federal government to tackle the issue through diplomatic channels. A joint resolution of the opposition and treasury benches was moved by Nighat Yasmin Orakzai of PPP in the house that here with Speaker Mushtaq Ahmad Ghani in the chair. The resolution stated the legislation brought by Indian parliament against Muslims was pitiless and had also criticized by the members of the Modi's own government.
The KP Assembly demanded of the Federal Government to raise the issue with Indian government to stop brutality against Muslims. Minister for Law and Parliamentary Affairs, Sultan Muhammad said that Prime Minister Imran Khan has always raised the Kashmir issue on all internal forums. He said that on December 10, the KP government celebrated human rights day in KP.—APP
https://pakobserver.net/kp-assembly-condemns-indian-oppression-against-muslims/?utm_source=rss&utm_medium=rss&utm_campaign=kp-assembly-condemns-indian-oppression-against-muslims
------
KP govt moves Supreme Court seeking to stop FIA probe of Peshawar BRT
Haseeb Bhatti
December 24, 2019
The Khyber Pakhtunkhwa government and Peshawar Development Authority (PDA) on Tuesday moved the Supreme Court against the Peshawar High Court's order directing the Federal Investigation Agency (FIA) to probe alleged irregularities in the Peshawar Bus Rapid Transit project within 45 days.
The KP government submitted a request in the Supreme Court's Peshawar registry while the PDA submitted another petition in the apex court, challenging the high court order.
Earlier this month, a five-member special inquiry team of the FIA, KP, had started its probe into alleged irregularities in the Peshawar BRT in line with the court's directives.
On December 6, KP advocate general Shumail Ahmad Butt said the government had prepared a civil petition for leave to appeal (CPLA) against the high court judgment delivered on November 14 that would be filed in the apex court next week.
He said the CPLA had raised different legal points about the PHC order besides questioning the suo motu powers of the high court bench.
A high court bench consisting of Chief Justice Waqar Ahmad Seth and Justice Ahmad Ali had in November decided three petitions related to the BRT project affairs.
Two petitioners, including Fazal Karim Afridi and Adnan Afridi, had challenged the raising of different structures of the project adjacent to their houses in Hayatabad Township.
Another petitioner, advocate Isa Khan, had requested the court to order construction of overhead bridges or under-passes for pedestrians at a distance of not more than 100 meters.
The bench had formulated 35 points, asking the FIA to probe the mega project and act against delinquents if found in the inquiry report.
NAB proceedings halted
A high court bench headed by Justice Seth had also ordered the National Accountability Bureau on Jul 17, 2018, to conduct a proper investigation and inquiry into the BRT affairs. However, the provincial government and PDA had filed the CPLA with the Supreme Court, requesting to set aside the said order.
As a Supreme Court bench headed by the then chief justice, Mian Saqib Nisar, had suspended the high court's order on Sept 4, 2018, findings of NAB's inquiry didn't see the light of day.
https://www.dawn.com/news/1524118/kp-govt-moves-supreme-court-seeking-to-stop-fia-probe-of-peshawar-brt
------
Govt hints at challenging Musharraf conviction
Iftikhar A. Khan
December 24, 2019
ISLAMABAD: Promi­nent lawyer and Pakistan Tehreek-i-Insaf leader Babar Awan on Monday claimed that the government was examining the option of challenging the conviction of former president Pervez Musharraf.
He told a press conference that if it deemed appropriate, the government could file an appeal while the convict could also challenge the decision of the special court.
Rejecting the argument that the government being the complainant in the case could not file an appeal, Mr Awan recalled that Nawaz Sharif and Shahbaz Sharif had been disqualified on a federal government complaint and the government went in appeal after the change of regime. He said the high treason case against Musharraf had been filed by the ex-premier with the consultation of his brother, but they both were silent on the conviction.
The PTI leader said a debate was going on if an absconder sentenced in absentia had to surrender before the law first or his appeal could be heard in his absence. He cited the case of slain prime minister Benazir Bhutto who had been convicted while she was abroad. He said an appeal on her behalf was taken up by the then Chief Justice Irshad Hasan Khan who held that the appeal of a person convicted in absentia could be heard in his/her absence. He said the appeal had been taken up and the judgement set aside.
Babar Awan sees no clash between institutions, rules out in-house change
The PTI leader said talks about a clash of institutions were being linked with Para 66 of the detailed judgement against retired general Musharraf.
He also ruled out any in-house change and expressed the confidence that the government would complete its constitutional term. He said the government's decision was to adopt the constitutional and legal path. He said there were reports in the media that the opposition's Rahbar Committee had been asked to make arrangements for an in-house change. "It is not a 'haleem' cauldron that people add ingredients and it is ready," he said, adding that the opposition had already failed in its attempts to destabilize the government. He said there was neither a justification for an in-house change nor any chance of its success.
Referring to the talks of clash of institutions, Mr Awan said it had been witnessed only once in 1997 when the court of the then Chief Justice Sajjad Ali Shah had been attacked. He said several leaders and workers of the political party, who were part of the attack, were not in the country at present.
He insisted that nobody should think of a clash between institutions as the government of Prime Minister Imran Khan had a resolve to run the institutions within their constitutional and legal framework preserving their honour and dignity.
He made it clear that the Exit Control List (ECL) rules would not be relaxed on flimsy grounds for an individual. According to the ECL law, the government could not remove the name of a convict from the no-fly list, he claimed.
That was why former prime minister Nawaz Sharif had been asked to submit a bond to get the concession of travelling as 'a special case' due to his 'illness', he said, adding that the 'ailing' ex-PM had not been admitted to any hospital in London. He said those who went abroad for medical treatment recovered soon after reaching London.
In reply to a question, the PTI leader said PML-N leader Ishaq Dar and his sons as well as Nawaz Sharif's sons should return to Pakistan.
https://www.dawn.com/news/1524043/govt-hints-at-challenging-musharraf-conviction
------
PTI activists block KKH in support of Pervez Musharraf
December 24, 2019
MANSEHRA: The Pakistan Tehreek-e-Insaf (PTI) staged a rally on Monday to express solidarity with the armed forces and former president General (r) Pervez Musharraf. The PTI workers blocked Karakoram Highway to traffic for about an hour here.
"We are with our armed forces and Pervez Musharraf, who is a great hero of the Kargil war and could never be a traitor," Kamal Khan Swati, the nephew of a local PTI MPA Babar Saleem Swati, told the rally here at Ghazikot. The protesters, holding banners and placards, criticised special court's death sentence for General (r) Pervez Musharraf, and raised slogans in his support and that of the armed forces.
The passengers travelling between Mansehra and Abbottabad and rest of the country remained stranded in their vehicles. Swati said that people of the entire Mansehra district wanted the apex court to take a suo moto notice in the Pervez Musharraf case. "People have taken to the streets to express solidarity with Musharraf," said Gulfaraz Qureshi, the former naib nazim.
https://www.thenews.com.pk/print/587831-pti-activists-block-kkh-in-support-of-pervez-musharraf
------
Europe
France Announces First Armed Drone Strike, Killing 7 Islamic Extremists in Mali
DECEMBER 23, 2019
BY ANGELA CHARLTON AND KRISTA LARSON
(PARIS) — France's defense ministry announced Monday it had carried out its first armed drone strike, killing seven Islamic extremists in central Mali over the weekend.
France joins a tiny group of countries that use armed drones, including the United States.
The drone deployment came nearly one month after two French helicopters collided in Mali, killing 13 soldiers in the deadliest military loss for France in nearly four decades.
A defense ministry statement said the drone strike took place Saturday while French President Emmanuel Macron was visiting neighboring Ivory Coast, where France has a military base. Macron already had announced that French forces had killed 33 extremists that day.
The drone strike targeted jihadists in the Ouagadou forest, where a group known as the Macina Liberation Front is active. French commandos "were attacked by a group of terrorists who infiltrated on motorcycles," the ministry said.
"Working in a difficult environment, in a densely wooded region, this action was made possible by the action of ground troops supported by the air component," the ministry said.
The French military successfully tested its weaponized Reaper drone for the first time last week, and Defense Minister Florence Parly called the drones "protectors for our troops and effective against the enemy."
She said they allow French troops more discretion and flexibility, and insisted that France will respect rules of armed conflict in using the drones. She had announced in 2017 that France would arm its surveillance drones after the country suffered a string of extremist attacks.
The use of armed drones has been somewhat sensitive in France, notably because of civilians killed by U.S. drones in Afghanistan and Somalia.
France, Mali's former colonial ruler, led a 2013 military operation to oust Islamic extremists from power in northern Mali, where they had implemented a harsh version of Sharia law. Since then, however, Mali's military has failed to stem the violence despite support from the French and a United Nations peacekeeping mission.
This year has been particularly deadly for Malian forces, prompting the president to reassign some soldiers in the most remote and vulnerable desert outposts.
The French military has 4,500 personnel in West and Central Africa. Macron is set to discuss the future of France's military mission in Africa's Sahel region at a meeting in France next month with presidents from the countries taking part in the regional G5 Sahel counterterror force.
https://time.com/5754868/france-drone-attack-mali/
------
'I was recruited by extreme Islamists in Woodhill jail,' claims former Milton Keynes prisoner
SALLY MURRER
Monday 23 December 2019
The man, who has not been named, claimed Woodhill had its own own self-appointed 'emir', who oversaw the makeshift court and encouraged young Muslim inmates to become radicalised.
He told the Times newspaper he took part in the 'trial' of two prisoners who had allegedly disrespected Islam by drinking alcohol.
The men were found guilty and both received beatings as their punishment.
The informant alleged the group had access to recordings of senior al-Qaeda member Anwar al-Awlaki. They also circulated banned books to inmates, he said.
He claims he was sent messages by the Woodhill group after leaving prison, offering him a passage to Syria.
The subject of radicalisation in Britain's prisons has come under scrutiny since the recent attack at London Bridge last month, when Usman Khan, a Category A terrorist prisoner freed on parole, killed two people before being gunned down by police.
Richard Walton, former head of Scotland Yard's Counter Terrorism Command, claims reforms to tackle the problem have ground to a halt.
He said: "It is unsurprising radicalisation continues to be a significant challenge, owing to the success in recent years of convicting high numbers of Islamist terrorists for plotting attacks."
https://www.miltonkeynes.co.uk/news/crime/i-was-recruited-by-extreme-islamists-in-woodhill-jail-claims-former-milton-keynes-prisoner-1-9183866
------
UK is the best place in Europe to be a Muslim - but Johnson must not tolerate Islamophobia ǀ View
23/12/2019
By Dr Musharraf Hussain
Prime Minister Boris Johnson, as well as Conservative Party chairman, James Cleverly, have recently acknowledged and apologised for what many Muslims see as institutional and systemic Islamophobia in the Tory party. Although they have promised an open and transparent inquiry, this still hasn't happened - and many British Muslims are running out of patience.
These apologies themselves, although carefully phrased, are not insignificant. Admitting there is a problem is the first step to fixing it. Now it is time to do so with an inquiry made up of impartial external experts, as well as a broad cross-section of the Muslim communities who are on the receiving end of rising religious hate crime in what has always been, to me, one of the most tolerant and inclusive places on Earth.
In 2017, I advised Citizens UK on a report on Islamophobia which had been chaired by former Conservative MP Dominic Grieve QC. The report recommended an independent review of Prevent (I'm pleased to say that this has since been taken up to be completed by next August). The report also suggested a set of independent press standards to ensure that the Islamophobic trope of equating Islam with extremism was avoided. This unfortunately has yet to happen; similarly, neither has the report's other recommendation that the government adopt a definition of anti-Muslim prejudice.
The media is clearly part of the problem. Even the BBC, derided by parts of the right wing as a bastion of the lefty liberal elite, has come in for criticism for its ongoing platforming of controversial commentators like Melanie Phillips (who recently made a false accusation that deception is a mainstream Muslim belief - and has even derided the term "Islamophobia" itself).
The Conservative Party, however, has been the focus for much of the criticism, and understandably so. As the party of government, and now with a huge majority, they have a responsibility to set the tone for our politics and society, which must continue to reflect the tolerance that Britain is renowned around the world for. If anyone doubts that Britain is still one of the better places in the Western world to be a Muslim, let me remind them that halal slaughter has been illegal in Belgium since the start of this year. France has for some time banned headscarves in schools to say nothing of President Trump's "Muslim ban." Similar acts would be unthinkable in Britain - and rightly so.
The Tories, driven by conservative values, are understandably more vocal - or even muscular - on issues of British identity, citizenship and integration. These voices are an integral part of our political culture and should be protected - but so should the rights of all citizens to live in a country free of hatred.
So, it's time for Boris Johnson to get serious about Islamophobia. The UK's four million Muslims are a significant political force. Interestingly, most Muslims instinctively have "small c" conservative values, like hard work, entrepreneurship and traditional family values. But that has often been stopped from becoming a "capital c" vote for the Tories because of issues like Islamophobia.
So, what should Boris Johnson do? First, he must engage with Muslims. Only Muslim communities themselves can articulate their concerns, and help the party find a way out of this. Although there is no formal hierarchy in Islam that provides an equivalent figurehead to the Chief Rabbi or the Archbishop of Canterbury, there are still clear groupings of Muslims with consensus-based leadership and representation - many of whom have not crossed the threshold of Number 10's door for years, despite being important voices for inclusive citizenship and engagement.
It is also essential for this government to adopt the definition of Islamophobia. The definition was set out by the All-Party Parliamentary Group on British Muslims last year, and has cross-party support, being adopted by Labour, the Lib Dems and even the Scottish Conservatives. This proves that it is not a party-political issue, yet the government rejected its adoption last May.
It is no good acknowledging, apologising or even condemning something if we cannot even agree what it is. It is time Boris Johnson provided leadership on this - not only for the sake of his own party or the four million British Muslims who make a significant contribution to the country's economy adding an estimated £31 billion and more - but for the 70 million Britons who I believe want to live in a country free of hate.
While working on my plain English translation of the Quran, I was amazed at how many verses talk about common humanity and shared citizenship, including the verse when God tells humanity He "made you into different races and tribes so you may know each other; the most honourable in the sight of God is the most mindful." That message is addressed to us all, but perhaps is particularly relevant today in Westminster.
https://www.euronews.com/2019/12/23/uk-is-the-best-place-in-europe-to-be-a-muslim-johnson-must-not-tolerate-islamophobia-view?utm_source=feedburner&utm_medium=feed&utm_campaign=Feed%3A+euronews%2Fen%2Fnews+%28euronews+-+news+-+en%29
------
Mideast
Muslims stood up repeatedly for Jews in 2019
By MARC SCHNEIER
DECEMBER 23, 2019
The proliferation of antisemitic attacks this year in the United States and globally shook the global Jewish community to its core – the attack on the Chabad of Poway Synagogue, a synagogue in Halle, Germany, the kosher supermarket in Jersey City, New Jersey, this month, and unfortunately, the list goes on and on. However, amid our grief, fear and anger at these escalating attacks, and at increased demonization of Israel from the likes of the Boycott, Divestment and Sanctions (BDS) movement, it is important for Jews to realize that we are not alone but have allies in the Muslim community.
There is a false narrative out there that Muslims are inveterately hostile to Jews. In fact, Muslims are speaking out – and acting out – every day in defense of Jews who are under attack. Consider the following inspiring examples of Muslims standing up for Jews during the past year:
• On Holocaust Remembrance Day in January, Mohammad Al-Issa, secretary-general of the Muslim World League, backed by the government of Saudi Arabia and based in holy city of Mecca, wrote an op-ed in The Washington Post titled "Why Muslims From Around the World should Remember the Holocaust." Taking vigorous issue with those in the Muslim world who have trafficked in Holocaust denial, Al-Issa wrote, "The lessons of Holocaust are universal and Muslims around the world have a responsibility to learn them, heed the warnings and join the international commitment to ensure 'never again.'"
• In October, Al-Issa took another groundbreaking stand by issuing a strong condemnation of an antisemitic incident in Australia in which a Jewish boy was bullied into kissing the shoes of a Muslim boy. He shared, "This shameful behavior is contrary to the doctrine of Islam and they are barbaric acts.... Examples from the Holy Scriptures abound of the importance of respecting Jews. The Prophet, peace be upon him, stood solemnly at the funeral of a Jew."
• In the wake of the Poway, Halle and Jersey City attacks on Jews, leaders of local and national Muslim organizations spoke out at news conferences condemning the attacks in uncategorical terms and offered emotional succor and financial support to families of the victims and to the Jewish community. Jim Sues, executive director of the New Jersey Chapter of the Council on American-Muslim Relations said, "We stand in solidarity with our Jewish sisters and brothers and ask people of all faiths and backgrounds to repudiate the hatred that apparently motivated this heinous attack."
• Jews in Minnesota, and across America, were deeply hurt and alarmed by comments by Rep. Ilhan Omar (D-Minnesota), who suggested that US support for Israel is "all about the Benjamins," and that Jewish supporters of Israel are more loyal to that state than to the US. While Omar's ugly comments were deeply disturbing, it is important to note that many American Muslims denounced them.
In an interview with CNN, Omar Jamal and Mohammed Ahmed, hitherto strong supporters of Omar, denounced her remarks as overtly antisemitic. Jamal said, "You're supposed to bring people together, you're supposed to create a sense of unity instead of farther dividing them and pitting one group against the other."
• In November, public figures from 15 Arab countries met in London and denounced the BDS movement against Israel and called for direct person-to-person contacts between Israelis and citizens of their respective societies. This group, the Arab Council for Regional Integration, called for mending relations with Israel not only as path to peace, but a way to mend relations with Israel and also to heal some of the greatest internal problems in their own countries.
• It wasn't only prominent Muslim clerics and political leaders who drew worldwide attention by defending beleaguered Jews. Last month, a Muslim woman named Asma Shuweikh noticed a man spouting antisemitic vitriol at a Jewish family on the London Underground. As seen in a video that went viral on YouTube, the deranged man is seen haranguing the Jewish children about "synagogues of Satan," until Shuweikh steps in tells him to cut out his harassment. The man turns threateningly on her, but she stands her ground.
For my part, as someone who has been involved in Muslim-Jewish relations for more than 15 years and has come to know Muslims of all ranks of life, I am confident that there are many more Mohammed Al-Issas and Asma Shuweikhs out there who will not sit still or look away when Jews are being threatened or attacked. At a difficult moment in history that is some good news that we should never allow ourselves to forget.
The writer is president of the Foundation for Ethnic Understanding, the global address for Muslim-Jewish relations.
https://www.jpost.com/Opinion/Muslims-stood-up-repeatedly-for-Jews-in-2019-611910
------
Muslim world can forge renaissance: Erdoğan
December 23, 2019
Following on its rich history of science and culture, now the Islamic world can forge a new renaissance, said Turkey's president on Monday.
"The Islamic world, which made Istanbul, Cairo, Damascus, and Baghdad centers of science and culture for centuries, can realize a resurgence that is worthy of its history," Recep Tayyip Erdogan told a ceremony at Istanbul Airport honoring Fuat Sezgin, a Turkish scholar who documented contributions by Muslim scientists.
Saying that the history of humanity has come down to our day through scientific riches rather than wars, he said that history gives people the opportunity to embrace their past as well as build their future.
"We should never forget that we are members of a nation that has built such a great civilization from Samarkand to Cordoba," he added.
Scientific history as presented today is largely European-based and has an orientalist perspective, said Erdogan, calling a perspective placing Europe at the center of scientific development starting 500 years ago misleading.
Restricting history to the West and ignoring Muslim scholars is ignorance, perhaps intentional, he said, citing famed Muslim scholars that pioneered fields from geometry to sociology.
During his speech, Erdogan also mentioned that passenger traffic at Istanbul Airport has already reached 50 million annually.
This puts the airport on track to attract 90 million passengers a year, and then 150 million, and eventually 200 million.
Istanbul Airport, whose first phase officially opened in October 2018, took over air traffic from the former main Ataturk Airport this April.
The new facility was named Airport of the Year this November by readers of U.K.-based International Airport Review magazine, beating out London Heathrow, Sydney, (Australia) and Changi (Singapore).
- Who was Fuat Sezgin?
Born in the eastern Bitlis province in 1924, Sezgin studied at Istanbul University, where he earned his B.A. and later his Ph.D. in Arabic language and literature.
He continued his studies at Frankfurt University, Germany in 1960 following a military coup in Turkey.
He devoted considerable time to studying and listing scientific contributions made by Muslim/Arabic scholars throughout history. He wrote numerous books and articles.
The recipient of numerous international academic honors, Sezgin was also awarded Germany's order of merit.
In 2010 he founded the Research Foundation for the History of Science in Islam to support activities of the Istanbul Museum of the History of Science and Technology in Islam.
In 2013, he also founded the History of Science in Islam Institute at Fatih Sultan Mehmet Vakif University in Istanbul.
Sezgin knew over 20 languages. including Syriac, Hebrew, and German.
He died on June 30, 2018 at age 95.
https://www.yenisafak.com/en/news/muslim-world-can-forge-renaissance-erdogan-3508080
------
Iran, India agree to speed up Chabahar port project
December 24, 2019
TEHRAN: Tehran and Delhi have agreed to accelerate the development of an important Iranian port, India's foreign minister said during a visit to the sanctions-hit Islamic republic on Monday.
The Chabahar port — being jointly developed by India, Iran and Afghanistan — is on the Indian Ocean about 100 kilometres west of the Pakistan border.
But development has stalled, despite waivers to sanctions that the United States began reimposing last year after withdrawing from a landmark 2015 nuclear deal with Iran.
"Just concluded a very productive #IndiaIran Joint Commission Meeting," Indian Foreign Minister Subrahmanyam Jaishankar tweeted.
Indian foreign minister pays two-day 'very productive' visit to Tehran
"Reviewed the entire gamut of our cooperation. Agreed on accelerating our Chabahar project," he added, as he wound up a two-day visit to the Iranian capital.
Washington withdrew from the nuclear accord and reimposed sanctions on Tehran as part of a campaign of "maximum pressure" aimed at reducing its arch-enemy's regional role and missile programme.
The rare exemptions from the sanctions are due mainly to the pivotal role of the port, and a planned railway line, in breaking landlocked Afghanistan's dependence on Pakistan for trade.
Iran's President Hassan Rouhani said Monday in a joint news conference with Jaishankar that the project would boost trade in the region.
"Completing the Chabahar-Zahedan railway and connecting it to Iran's national railway can elevate the position of Chabahar port, revolutionise regional commerce and help transport goods on a cheaper and shorter route," he said.
Mr Rouhani said maintaining regional security was an important topic for Iran and India.
"In the current situation, where America stands against nations with unilateral sanctions, we have to try to continue bilateral cooperation.
"This situation certainly will not last, and America will be forced to stop its maximum pressure against Iran sooner or later," he said, without elaborating.
India stopped buying Iranian oil after the US abolished waivers for some countries in May, in a move meant to wipe out the Islamic republic's main source of revenue.
Despite tensions in their relationship, Iran and India have sought to move forward and develop partnerships.
https://www.dawn.com/news/1524050/iran-india-agree-to-speed-up-chabahar-port-project
------
Lebanon's population hits 4.8m with 20% non-Lebanese
NAJIA HOUSSARI
December 24, 2019
BEIRUT: Lebanon's first integrated labor force study and largest family living conditions survey in almost three decades has revealed an estimated population of 4.8 million, 20 percent of them foreigners.
The detailed review also showed the crisis-hit country's unemployment rate to be running at 11.4 percent, and the average size of Lebanese families to have decreased.
However, Dr. Maral Tutelian Guidanian, general director of Lebanon's Central Administration of Statistics (CAS) which gathered the data between April 2018 and March 2019, said: "The survey did not include refugee camps, neighboring communities, military barracks and nonresidential units in general."
The figures represent the first official statistics of their kind to emerge since the end of the country's civil war in 1990, except for some studies carried out during the 1990s into youth and women.
"In the absence of a recent survey, this survey constitutes a main foundation for planners and national decision-makers to promote Lebanon's development indicators and contribute to achieving sustainable prosperity for all," said the International Labor Organization's (ILO) regional director for Arab states, Dr. Ruba Jaradat.
The results of the study found that the average Lebanese family size reached 3.8 members, down from 4.3 in 2004, with women caring for 18 percent of families.
Construction
A total of 32.4 percent of the population did not reside in their place of registration and this phenomenon was most significant in the capital Beirut, running at 58.4 percent.
Beirut was also shown to have the highest level of foreigners (30.9 percent), many of them domestic workers.
Data revealed that 44.4 percent of Lebanon's residents did not have any health care cover, while 76.9 percent relied on water that was not directly delivered through household supply networks.
The survey showed a decrease in the construction of buildings, with only 2.2 percent built within the last five years and 66.2 percent of buildings being at least 25 years old.
Distribution
Around 40,000 citizens were questioned by the CAS, which Jaradat described as "an unprecedented number."
Mount Lebanon governorate had the largest number of residents with 42 percent, while the smallest percentage was in Baalbek-Hermel governorate at 5.1 percent.
Baabda district, covering Beirut's southern and eastern suburbs, topped the survey category for population distribution at 11.4 percent, with the Besharri district of northern Lebanon coming bottom (0.5 percent).
The age group 0-14 made up 24 percent of the country's residents while 11 percent were aged 65 and above, increasing the age dependency rate to 54 percent. Fifteen to 64-year-olds accounted for 65 percent of Lebanon's residents.
Figures put 55.1 percent of over-15s as being married, 36.4 percent having never been married, and 8.5 percent either widows, divorced or separated. The proportion of early marriages decreased to less than 4 percent among teens aged between 15 and 18.
Other study data highlighted that 85 percent of families were headed by a Lebanese father, with the remainder non-Lebanese.
The number of residents of working age (15 and older) was shown to be around 3,677,000 made up of a labor force of 1,794,000 and those outside of it accounting for 1,883,000.
Among those in the labor force, 1,590,000 had jobs and 203,000 were unemployed, while for those outside the labor force 66,900 were considered as potential workers.
Economic activity in Lebanon between 2018 and 2019 reached 48.8 percent, the study showed, which was equal to the ratio of the labor force to the total number of residents aged 15 and above, revealing an unemployment rate of 11.4 percent, the ratio of unemployed individuals to the total labor force.
If the unemployed category was combined with the underemployment in terms of time and potential labor force, labor underutilization scored 16.2 percent.
The percentage of people working in jobs where they did not receive any health care cover from their employer, and got no paid leave or sickness benefits, was 55 percent of the total number of workers, compared to 45 percent working in the formal sector.
The rate of illiteracy was 6.3 percent among Lebanese compared to 12.5 percent among non-Lebanese, with levels among females being twice as high as those for males.
The EU-funded survey was carried out by CAS with specialized technical support from the ILO.
The head of the governance, security, social development and civil society section of the EU Delegation to Lebanon, Rein Nieland, said: "The survey allows us to take more efficient decisions and paves the way for focused policies."
https://www.arabnews.com/node/1603236/middle-east
------
Carols and bells in Bethlehem as festive season draws near
December 24, 2019
BETHLEHEM: Christmas cheer rang out through Bethlehem's Manger Square on Monday as pilgrims and worshippers flocked to the city revered as Jesus's birthplace and locals made final preparations for this year's festivities.
Children dressed as Santa Claus sang carols and rang bells during a Christmas-themed show at the College des Freres, which sits in the biblical city's central market where holiday decorations and wooden nativity scenes line the narrow alleys.
The main attractions in Bethlehem are the 4th-century Church of the Nativity, built over a grotto where Christian tradition says Jesus was born, and the 16-meter Christmas tree in Manger Square.
On Tuesday — Christmas Eve — the acting Latin Patriarch of Jerusalem, Archbishop Pierbattista Pizzaballa, will lead a procession from Jerusalem to nearby Bethlehem and later celebrate Midnight Mass in the Church of the Nativity, squeezing through its narrow sandstone entrance.
Barrier
Bethlehem's Christmas season lasts through the Eastern Orthodox celebration on Jan. 7 to Armenian Christmas on Jan. 18.
The season offers measured cheer for Palestinians in the Israeli-occupied West Bank city, which is separated from nearby Jerusalem by a towering Israeli concrete military barrier.
Bethlehem is enjoying its busiest tourist year in two decades, with foreign pilgrims coming in large numbers, taking advantage of a relative lull in Israeli-Palestinian tension.
Israel said on Sunday it would allow Christians in the Palestinian Gaza Strip to visit Bethlehem and Jerusalem at Christmas, reversing an earlier decision not to issue them permits.
https://www.arabnews.com/node/1603241/middle-east
------
Aid group says 120,000 fleeing attacks in Idlib
December 24, 2019
ISTANBUL: The number of Syrians fleeing attacks in the country's northwestern Idlib province and heading toward Turkey has reached 120,000, a Turkish aid group said on Monday, adding it was setting up a camp for some of those uprooted.
Syrian and Russian forces have recently intensified their bombardment of targets in Idlib, which Syria's President Bashar Assad has vowed to recapture, prompting a wave of refugees toward Turkey.
President Tayyip Erdogan said on Sunday Turkey cannot handle a fresh wave of migrants, warning that European countries will feel the impact of such an influx if violence in Syria's northwest is not stopped.
"In the last week, the number of people fleeing from the southern regions (of Idlib) to the north because of the increasing attacks has reached 120,000," said Selim Tosun, the Humanitarian Relief Foundation's (IHH) media adviser in Syria.
Erdogan said on Sunday 80,000 people were currently on the move. The British-based Syrian Observatory for Human Rights, a war monitor, said 40,000 civilians had been displaced since Thursday, the start of the latest military operation.
Many of the migrants fled the city of Maraat Al-Numan, with some going to camps near the Turkish border, while others have gone to stay with relatives or to the areas of Afrin and Azaz near the Turkish border, the IHH's Tosun said.
The IHH said it had begun distributing 20,000 packages of food prepared for the migrants between the city of Idlib and the town of Sarmada. It was also preparing a tent camp in the area of Killi, a village some 13 km from the Turkish border.
Tosun said the camp for families will have 500 tents and can expand.
Turkey currently hosts some 3.7 million displaced Syrians, the largest refugee population in the world, after 8-1/2 years of civil war in Syria. Ankara fears another wave from the Idlib region, where up to 3 million Syrians live in the last significant rebel-held swathe of territory.
A Turkish delegation was traveling to Moscow on Monday for talks which were expected to focus in part on Syria and which Erdogan had said would determine Turkey's course of action in the region.
Turkey has backed Syrian insurgents fighting to oust Assad in the war, while Russia and Iran support his regime's forces.
Meanwhile, China has hit back at the US for criticizing its blocking of a UN Security Council resolution over civilian aid, accusing Washington of "politicizing humanitarian issues."
On Saturday, US Secretary of State Mike Pompeo described as "shameful" Russia and China blocking the UN resolution, which would have extended for a year cross-border humanitarian aid to four million Syrians.
"To Russia and China, who have chosen to make a political statement by opposing this resolution, you have blood on your hands," Pompeo said in a statement.
China reacted angrily on Monday, saying it voted on the basis of "right and wrong."
"We firmly reject the unjustifiable accusations made by the US side on China's voting position," Foreign Ministry spokesman Geng Shuang said at a regular press briefing in Beijing.
Geng said the US was "politicizing humanitarian issues" and "pursuing a typical double standard."
Humanitarian aid currently flows into Syria through UN-designated checkpoints in Turkey and Iraq without the formal permission of the regime in Damascus, but that authority is due to expire on Jan. 10.
Germany, Belgium and Kuwait presented a resolution extending that authority for a year, winning the support of 13 council members but drawing the vetoes of Russia and China.
A competing Russian resolution would have granted a six-month extension while reducing the number of UN crossing points, but it failed to get the minimum nine votes.
Russia — an ally and major supporter of Syrian leader Bashar Assad — has used its veto 14 times on Syrian issues since civil war broke out there in 2011.
The resolution failed as tens of thousands of civilians have been fleeing the northwestern Idlib region amid heavy bombardments by Assad's Russian-backed government, in the last bastion of the radical groups.
https://www.arabnews.com/node/1603161/middle-east
------
In Gaza, a somber Christmas after permits row
December 23, 2019
GAZA: With a shining tree, tinsel and Santa miniatures, Hanadi Missak's apartment is all ready for Christmas, yet she still feels sad about spending the holiday at home.
The 48-year-old is one of hundreds of Christian Palestinians from the Gaza Strip who applied for Israeli permission to travel to Bethlehem in the occupied West Bank to celebrate the birth of Jesus.
Church leaders say the normally straightforward process has this year been incredibly difficult, with only around one in five applications granted.
With time running out until the celebrations begin, Missak had given up on traveling.
"I was hoping to go to Bethlehem, but the circumstances did not allow it," Missak, who is deputy principal at a Christian school in Gaza, told AFP.
"There is the real celebration — the prayers, decorations in all the streets and the church," she said.
"The midnight mass is wonderful."
There are barely more than 1,000 Christians in all of Gaza, where two million people live crammed into a territory only 40 kilometers (25 miles) long and a few wide.
It is geographically separated from the West Bank — the Palestinian territory where Bethlehem is located — by Israel, and crossing between them requires hard-to-get Israeli permits.
A few hundred Gazan Christians have traditionally been granted permits to attend Christmas festivities in Bethlehem and Jerusalem each year.
This year, Israel initially didn't announce any permits, prompting criticism from church groups and media.
On Sunday, a statement from COGAT, the Israeli military body responsible for the permits, said some would be granted "in accordance with security assessments."
Gaza is ruled by the Islamist group Hamas, which Israel accuses of abusing the permit system to plan attacks against its citizens.
Wadie Abunassar, an adviser to and spokesman for church leaders in the Holy Land, told AFP Monday that out of 951 applications so far, 192 had been granted.
"We still hope there will be more to come. We were promised by many Israeli bodies... but Christmas begins tomorrow," he said.
"We are saying this is a basic human right that should be respected."
Missak said she had traveled to the West Bank multiple times before for Christmas and didn't know why the permit hadn't been granted this year.
COGAT did not respond to multiple requests for comment regarding the number of permits awarded or Missak's case.
AFP reached out to a number of Palestinians from Gaza who were able to leave the enclave, but none wished to speak out of fear they would jeopardize future chances of getting permits.
Nabil Al-Salfiti and his wife Fatten were among those lucky enough to receive permits, but ultimately decided not to travel when their son's application was denied.
They also cited financial constraints for their decision.
Israel maintains a crippling blockade of Gaza it says is necessary to isolate Hamas.
Israel and other critics of the Islamist group, which along with its allies has fought three wars with the Jewish state, accuse it of persecuting minorities.
Local authorities in Gaza used to hold a large celebration for Christmas, but it was stopped after Hamas seized control in 2007.
"People come offer us congratulations and we offer congratulations to them," Fatten said, but, he added, "There is not much joy — the real joy is in Bethlehem where Christ was born."
Despite not traveling this year, Missak is determined to enjoy Christmas.
Hanging on the wall in her apartment is a stitched "Merry Christmas" sign, while the bannisters are covered in fake holly.
Missak said Muslim friends and neighbors would pass by the house to take part in the festivities.
"Despite all the misery in Gaza, I try to make joy and celebrate Christmas."
https://www.arabnews.com/node/1603051/middle-east
------
Car bomb kills 8 in Turkey-controlled Syria town: ministry
December 23, 2019
ISTANBUL: A car bomb killed eight civilians including a woman and a child in a Turkish-held border town in northern Syria on Monday, the defense ministry said.
The bomb-laden car exploded in the village of Suluk about 20 kilometers (12 miles) southeast of the Syrian border town of Tal Abyad, the ministry said.
The Syrian Observatory for Human Rights monitoring group said the attack left five dead.
There was no immediate claim of responsibility for the bombing.
But the Turkish defense ministry put the blame on the Kurdish forces who controlled the town before Turkish troops and their Syrian proxies seized it during a military offensive in October.
Turkish forces and their proxies — former Syrian rebels hired as a ground force by Ankara — launched the deadly offensive against Kurdish forces in Syria on October 9.
The Turkish push was aimed at seizing a strip of land roughly 30 kilometers deep along the 440-kilometer border between the two countries.
The offensive saw Ankara's fighters seize a strip of land roughly 120 kilometers long and 30 kilometers deep on the Syrian side of the border.
Ankara says it wants to establish a "safe zone" there in which to resettle some of the 3.6 million Syrian refugees it hosts on its soil.
https://www.arabnews.com/node/1603041/middle-east
------
Iran unveils development at Arak reactor in face of US pressure
December 23, 2019
GENEVA: Iran said it would unveil a redevelopment of part of its Arak heavy water reactor on Monday — a move that will not breach international restrictions on its nuclear work but show it is developing the sector in the face of US pressure.
Tehran said it would switch on a secondary circuit at Arak, a plant built to produce the heavy water used as a moderator to slow down reactions in the core of nuclear reactors.
"Today we are, in truth, starting a noteworthy section of the reactor," the head of the Atomic Energy Organization of Iran (AEOI), Ali Akbar Salehi, said in remarks broadcast live on state TV.
Iran has been reactivating parts of its nuclear program in protest at the United States' withdrawal last year from an international deal meant to limit the Islamic Republic's ability to develop a nuclear bomb.
Washington says its withdrawal and decision to reimpose sanctions lifted under the 2015 deal will force Iran to agree a broader pact.
Tehran — which has always said its nuclear work is for power generation, medical work and other peaceful purposes — says it will not negotiate until sanctions are lifted.
The secondary circuit would become operational as Iran worked on a modernization of the Arak plant, the semi-official Mehr news agency reported.
"The Arak heavy water nuclear reactor ... consists of two circuits," it said.
"The first circuit is tasked with removing heat from the heart of the reactor, and the secondary circuit is responsible for transferring the heat from the first circuit to cooling towers and finally to the outside environment," Mehr added.
Iran agreed to shut down the reactor at Arak, — about 250 km southwest of Tehran — under the 2015 deal. The foreign powers that signed the pact said the plant could eventually have produced plutonium, which can also be used in atom bombs.
But Iran was allowed to produce a limited amount of heavy water and Tehran has been working on redesigning the reactor.
The control room of the reactor, named Khondab, will take about five to six months to build and the remaining systems would be completed in about one year, Salehi said at a press conference at Arak.
The reactor will be ready for initial tests in the Iranian calendar year which will begin in March 2021, Salehi said.
https://www.arabnews.com/node/1602966/middle-east
------
Africa
Nigeria Cracks Down on a Critic, and a New Jersey Town Pushes Back
By Ruth Maclean
Dec. 22, 2019
HAWORTH, N.J. — Opeyemi Sowore watched the videos on her phone in bed in her New Jersey home, the children still asleep, the Christmas tree twinkling downstairs.
The videos showed her husband — a former presidential candidate and the publisher of a website known as Africa's WikiLeaks — being wrestled to the floor in a Nigerian courtroom by a man in a black suit, as lawyers in wigs and gowns crowded around shouting.
The court had ruled that her husband, Omoyele Sowore, should be free on bail while awaiting trial on charges of treason, money laundering and, for criticizing President Muhammadu Buhari on television, cyberstalking. But on Dec. 6, while his wife slept more than 5,000 miles away, Mr. Sowore was taken from the courtroom back into detention, where he has been held for nearly all of the past five months.
Before Mr. Sowore was led away by Nigeria's equivalent of the Secret Service, he was videotaped saying that these "might be my only words on record before they kill me." His wife has had no contact with him since.
When Mr. Buhari was elected in 2015 as president of Nigeria, Africa's most populous country and largest economy, it was hailed as a triumph for democracy. Since then, however, his government has turned toward harsh authoritarianism, putting the country's thriving civic organizations and news media to the test.
Protests have been met with deadly force. The country's chief justice was summarily sacked. Humanitarian organizations that criticize the state were threatened with closure, and newspaper offices were raided. One journalist, Jones Abiri, has been in detention so long that for a time, he was thought to be dead.
One bill now making its way through Nigeria's Senate proposes the death penalty for some instances of "hate speech." A second, the Anti-Social Media Bill, modeled on a new Singaporean law, calls for government critics to spend as much as three years in prison.
Nigeria is not alone in clamping down on freedom of expression. A punitive new security law in traditionally media-friendly Burkina Faso, a proposed hate speech measure in Ethiopia, a harsh crackdown in Tanzania and routine internet and social media shutdowns across Africa point to a wider trend toward censorship.
"The people in power just don't want to have to tolerate the voices of the people," said Ayisha Osori, head of the Open Society Initiative for West Africa.
African leaders feel emboldened to strangle the news media because of a perceived global rollback in democracy, she said.
Mr. Sowore founded a website in 2006, Sahara Reporters, that specializes in exposing corruption and government malfeasance. With funding from American foundations and about 50 staff members working in Nigeria and the United States, the site's publication of leaked, often unfiltered information disrupted Nigeria's traditional media scene.
By basing his operation in New York, Mr. Sowore for years had a degree of protection from the consequences of publishing often scandalous information about Nigeria's most powerful people. He shuttled between his family home in New Jersey and Nigeria, where he is a citizen, without much interference.
Then, on Aug. 3, in the middle of the night, he was arrested by Nigeria's Department of State Services, or D.S.S., in his Lagos hotel room.
At first, Opeyemi Sowore told no one in Haworth, a well-off suburb about 20 miles from midtown Manhattan, about her husband's arrest. None of them knew much about Nigeria, or what Mr. Sowore, known as Yele, did for a living. As far as they were concerned, he was just a dad and a keen runner.
One day, though, texting with another mother with children at the local school, Ms. Sowore explained why her husband had been away so long.
Word traveled fast in Haworth, a town of 3,500 people.
"One mom told another mom, told another mom, told another mom, and next thing we knew we had assembled what really is functioning as a crisis management team," said Alanna Zahn Davis, one of the mothers in that chain.
If Mr. Buhari's government had gotten tough, so would Haworth.
A core group of 10 women raised the alarm at the State Department. Then they reached Amal Clooney, the human rights lawyer, who demanded Mr. Sowore's release. They worked with Amnesty International, which declared him a prisoner of conscience.
Sometimes they prepared meals for Ms. Sowore, a marketing executive, or looked after the couple's two children. Inspired by an American tradition of using yellow ribbons to remember hostages, they held "Yele ribbon" ceremonies in Haworth's tree-lined town center, attended by hundreds of people.
After the courtroom melee, they called members of Congress, engaging New Jersey Senators Robert Menendez and Cory Booker. Six members of Congress sent a letter on Friday to Nigeria's attorney general condemning the treatment of Mr. Sowore.
His detention "will only serve to tarnish Nigeria's international reputation and its standing as a leading African democracy," they wrote.
Before his arrest, Mr. Sowore was often accused of favoring Mr. Buhari, even helping him get elected. Sahara Reporters' relentless exposés of graft under the previous government meant Mr. Buhari's vow to sweep the country clean of corruption resonated with voters. One of Mr. Buhari's earliest interviews as president was with Sahara TV.
However, Mr. Buhari's administration turned out to have a corrupt bent, too, along with authoritarian tendencies, said Chidi Odinkalu, the former chairman of Nigeria's Human Rights Commission.
"The Buhari administration has proved to be at least as bad, if not much worse" than the prior administration that Mr. Buhari had promised not to emulate, said Mr. Odinkalu, who is facing prosecution himself after he criticized one of the president's close allies.
This was not a great surprise to those who remember how Mr. Buhari, now 77, first came to power in 1983 as a major general in the wake of a military coup. Before being overthrown in another coup, he jailed hundreds of people, made tardy civil servants do frog jumps and had three men executed.
By the time he was democratically elected three decades later, in 2015, it was on promises to tackle corruption and insecurity. Nigeria was battling Boko Haram, oil theft and violent clashes across the country. He often appeared frail, said little in public and spent many months of his first term being treated for a mysterious illness in London.
Sahara Reporters wrote about the absences and allegations of his allies' corruption, and Mr. Sowore openly condemned the government for failing to meet its promises. He ran unsuccessfully for president against Mr. Buhari in February, and was preparing to lead a protest calling for revolution when he was arrested on August 3.
At the time, La Keisha Landrum Pierre, Sahara Reporters' chief operating officer back in New York, was heavily pregnant. When she gave birth five days later, she was managing the company's biggest crisis ever. It keeps getting bigger.
She said that the Nigerian government had frozen the site's financial account.
"There have been armed D.S.S. men standing outside our offices" in Nigeria, said Ms. Landrum Pierre, in between calls and meetings in Manhattan. She had to cut the staff by 70 percent, and said that most of the remaining employees, feeling intimidated, were staying at home.
On Dec. 6, the court scheduled Mr. Sowore's trial for February, but he did not remain free on bail as previously ordered. Instead, Mr. Sowore's lawyers and family maintain, D.S.S. agents attacked Mr. Sowore while still in the courtroom and ultimately took him back into custody.
The D.S.S. said in a statement that it had rearrested Mr. Sowore because of public comments it claims he made the prior night promising to pursue his cause. A D.S.S. spokesman also claimed that Mr. Sowore's supporters had staged the courtroom attack and were trying to frame its agents.
Ms. Sowore said that watching the videos made her afraid for his life.
"The hardest part about it for me was — how do I tell my kids?" she said.
They have tried to help. For the Haworth school fair in early December, their 12-year-old daughter Ayo made and sold slime and stress balls, planning to put her profits toward her father's bail. Her mother had to explain that he had already posted bail, but still wasn't allowed out. Ayo gave her $80 to Amnesty International instead.
Ten-year-old Komi's desires are clear from his Christmas list. He wants:
1. A remote-controlled racing car that can climb walls.
2. An Apple watch.
3. His father safely home.
4. A turtle.
https://www.nytimes.com/2019/12/22/world/africa/Nigeria-Sowore-Sahara-Reporters.html
------
Sudan to Investigate Darfur Atrocities Under Ousted Leader
By Abdi Latif Dahir
Dec. 22, 2019
NAIROBI, Kenya — Sudan has kick-started investigations into the long, bloody suppression of the Darfur region under the government of President Omar Hassan al-Bashir, a move aimed at ending years of impunity and bringing perpetrators to justice amid a fragile political transition.
The Sudanese attorney general, Taj al-Sir al-Hibir, said Sunday that the government would look into atrocities committed against civilians in Darfur beginning in 2003, in the first indication that Mr. al-Bashir and some of his allies could face charges related to human rights abuses in Sudan.
Mr. al-Bashir ruled Sudan with an iron fist for almost three decades — a tenure marked by human rights abuses, economic decline, and entrenched corruption. He was indicted a decade ago by the International Criminal Court in The Hague on charges of genocide, war crimes and crimes against humanity over his government's actions in the Darfur region from around 2003 to 2008.
His rule came to an end in April after a months-long uprising and just over a week ago, the 75-year-old former leader was found guilty of corruption and illegal possession of foreign currency and sentenced to two years of detention. He faces other charges including some stemming from the crackdown that left scores of anti-government protesters dead this year and his role in the putsch that brought him to power in 1989.
Mr. al-Bashir was replaced by a transitional government that is working to put the northeast African nation on a path to a full-fledged democracy and lift it out of decades of diplomatic and economic isolation. The new government is also under pressure to redress the wrongs of the past.
After Mr. al-Bashir was sentenced last week, human rights agencies called on the transitional government to take concrete measures against perpetrators of violence in Darfur. But delivering that justice may prove easier said than done, given that some of Mr. al-Bashir's most trusted confidants continue to hold prominent positions in government.
"The transitional government of Sudan must demonstrate that the ongoing transition will not obscure past crimes and will take into account the demands of all populations in the different regions of the country, including Darfur, for long-lasting peace and justice," Arnold Tsunga, director of the Africa regional program of the International Commission of Jurists, said in a statement.
The Darfur conflict flared when ethnic minority rebels took up arms against Mr. al-Bashir's government, accusing it of economic and political marginalization. About 300,000 people were killed in the conflict and some 2.7 million were forced from their homes, according to the United Nations.
Sudan's military has said it will not hand over Mr. al-Bashir to The Hague for trial, even as human rights advocates like Amnesty International have called for his extradition. So while human rights activists have endorsed the notion of regional investigations, they have also expressed concerns.
"The victims in Darfur have the right to justice, and they will be given that justice if al-Bashir is tried in the I.C.C.," said Amir Suliman, a Sudanese human rights lawyer and co-founder of the nonprofit African Center for Justice and Peace Studies.
Prime Minister Abdalla Hamdok visited the Darfur region in November and promised that his administration would bring peace and help to the victims. Continuing violence and growing food insecurity there are affecting millions of people, the United Nations says.
Among Mr. al-Bashir's confidants who remain in power is Lt. Gen. Mohamed Hamdan, also known as Hemeti. He is a member of a prominent council tasked with the transition to democracy.
He has been accused of leading a prominent paramilitary force that left a trail of human rights abuse allegations in Darfur. He is also accused of the violent crackdown that left dozens of demonstrators dead in June.
A report released this month by the Paris-based organization International Federation for Human Rights in conjunction with the African Center for Justice said Darfuri refugees in eastern Chad still suffered physical and psychological consequences from the war. They feel "forgotten and abandoned," Mr. Suliman said.
The victims, he said, are looking to both regional and international governments for justice and humanitarian aid.
"We are closely watching to see where this investigation will go," he said.
https://www.nytimes.com/2019/12/22/world/africa/sudan-darfur-investigation.html
------
Families of Sudan protest 'martyrs' await justice
Dec 24, 2019
Sudan has celebrated one year since the start of peaceful protests that ended a dictatorship, but families of the slain "martyrs of the revolution" are still waiting for justice. The autocrat who ruled for three decades, Omar al-Bashir, is now behind bars, but many who served in his security forces have legal immunity from prosecution.
"The killers are known, we want justice," said Samah Ahmed, 27, the sister of Tarek, who was killed on December 21 last year.
"If we don't achieve justice, it means nothing happened."
Tarek, then aged 22, was among the first to take to the streets in the dusty industrial city of Atbara, the cradle of the uprising 350 kilometres (220 mile) northeast of Khartoum.
It was here on the on the banks of the River Nile that Sudanese held their first rallies in December 2018 against a government decision that tripled the price of bread. The protests swept across the African nation and by April, they had toppled Bashir -- but Tarek never witnessed that triumphant moment.
His mother, Naimat Abdel Wahab, 52, recalled seeing his bloodied body in the local hospital, a day before he had been due to sit his final engineering exam in college.
"I tried to call him, 'Tarek, Tarek', and called him by his nickname," she said. "When he didn't answer, I saw that he had passed away. "His friends who were with him at the protest saw who shot him and they are ready to testify in front of any court."
- 'Remove immunity' -
Doctors linked to the protest movement say more than 250 people were killed during the months of demonstrations. Amnesty International, which says at least 177 people were killed, has called on Sudan's new leaders to ensure that those in the security forces "who committed horrific crimes or used excessive force against protestors" must be held accountable.
However, under Sudanese law, members of the Sudanese army, police and intelligence services still enjoy immunity from prosecution. This also applies to the Rapid Support Forces (RSF), a paramilitary group that was involved in repressing Khartoum sit-in protests and is also accused of crimes in the Darfur conflict that erupted in 2003.
That immunity can only be waived if the military superiors of the accused authorise it after a specific request from the Prosecutor General's Office.
That office issued a statement last Thursday -- on the day Sudanese celebrated the first anniversary of the protests -- calling on the security forces "to remove the immunity faster". However, it did not specify whether any requests for the lifting of immunity had already been made to the various security forces.
The transitional civilian government of Prime Minister Abdalla Hamdok has stepped up measures to dismantle the former regime and to meet the aspirations of protesters.
In September, Hamdok formed a committee to investigate the crackdown on the Khartoum sit-in, which is due to report back within three months.
And days ago Sudan announced it would investigate 50 former regime figures over the Darfur conflict, for which Bashir is wanted by the International Criminal Court on charges of genocide, war crimes and crimes against humanity.
But for now, some key figures remain in the state apparatus, among them RSF chief Mohamed Hamdan Daglo, who is a member of the civilian-military council overseeing the post-Bashir transition.
- 'Through their blood' -
The Forces for Freedom and Change movement that spearheaded the protests have declared seeking justice for the slain a priority. One of its leaders, Ibrahim Al-Amin, told AFP that "this issue must not take a long time. And it has to be done in a transparent way ... Anyone who committed a crime must face accountability."
Magdi el-Gizouli, an analyst at the Rift Valley Institute, however argued that the current power-sharing arrangement presents a "barrier to a credible investigation". Another protester killed in Atbara was Mukhtar Abdallah, 28, who died on April 11, the day the army deposed Bashir.
His widow, Afaf Mahmoud -- cradling their baby, born 27 days after his death -- recalled how on that day "the people of Atbara were starting to celebrate in the streets".
After the two were separated in the crowd, she said, she tried to phone him, but another man answered and said her husband had been shot.
"We have video showing the people who shot Mukhtar in front of the national security and intelligence building," she said. But "until now the case is not ready to go to the court," Afaf added. "We want justice for all martyrs. Because this transition government came to power through their blood."
https://www.timesnownews.com/international/article/families-of-sudan-protest-martyrs-await-justice/531210
------
South Asia
Abdullah files more than 4,000 complaints over preliminary presidential election results
Monday, 23 Dec 2019
Dr. Abdullah Abdullah, the Chief Executive Officer of the National Unity Government of Afghanistan and the only serious rival of President Mohammad Ashraf Ghani in the 2019 presidential election, has filed over 4,000 complaints over the preliminary presidential election results.
The Independent Election Commission announced the preliminary election results on Sunday, in which President Mohammad Ashraf Ghani has secured the highest votes with 50.64% and Abdullah Abdullah has got 39.52% votes.
Hawa Alam Nuristani, the head of Independent Election Commission said the candidates have only 72 hours to file their complains with the Electoral Complaints Commission.
The 'Stability and Convergence' electoral team has filed over 4,000 complaints so far, most of which could be over the 300,000 controversial votes that have been counted by the IEC.
Abdullah's supporters in 20 provinces protested against the 300,000 votes earlier this month and demanded invalidation by IEC.
The Independent Electoral Complaints Commission office has said to review the complaints with full attention and high transparency and will share the results back with IEC within next five weeks.
https://www.khaama.com/abdullah-files-4000-complaints-over-preliminary-presidential-election-results/
------
Afghanistan: 100 terrorists killed, 45 injured in operations over last 24 hours
Dec 24, 2019
KABUL: Over 100 terrorists were neutralised and 45 others suffered injuries in operations conducted by the Afghan forces in the last 24 hours.
The forces conducted 18 operations in 15 different provinces of Afghanistan. In these operations, around five terrorists were also arrested.
"In the last 24 hours, 18 operations were conducted in 15 provinces of Afghanistan, as a result of which 109 terrorists were killed, 45 terrorists injured and 5 others were arrested," Afghanistan's Ministry of Defence tweeted.
In last 24 hours, 18 operations were conducted in 15 provinces of #Afghanistan, as a result of which 109 terrorists… https://t.co/LMEyCFhO9T
— Ministry of Defense, Afghanistan (@MoDAfghanistan) 1577168247000
The ministry has not clarified whether the terrorists belonged to a single group.
https://timesofindia.indiatimes.com/world/south-asia/afghanistan-100-terrorists-killed-45-injured-in-operations-over-last-24-hours/articleshow/72951687.cms
------
Taliban attack on Afghan army checkpoint kills seven troops
Dec 24, 2019
KABUL: The Taliban targeted an army checkpoint in northern Afghanistan on Tuesday, killing at least seven Afghan soldiers, the defence ministry and the insurgents said.
The ministry said in a statement that the "enemy" attack in northern Balkh province, in the district of Dawlat Abad, also wounded six other members of the security forces - three soldiers and three intelligence agents. An investigation was underway, the statement added.
Taliban spokesman Zabihullah Mujahid claimed responsibility for the attack, saying also that the insurgents captured four Afghan troops and seized weapons and ammunition form the checkpoint.
The Taliban now control or hold sway over practically half of Afghanistan but continue to stage near-daily attacks targeting Afghan and US forces, as well as government officials even as they hold peace talks with a US envoy tasked with negotiating an end to the 18-year conflict, America's longest war. Scores of Afghan civilians are also killed in the crossfire or by roadside bombs planted by militants.
On Monday, an American soldier was killed in combat in northern Kunduz province. The Taliban claimed they were behind a fatal roadside bombing that targeted American and Afghan forces in Kunduz.
https://timesofindia.indiatimes.com/world/south-asia/taliban-attack-on-afghan-army-checkpoint-kills-seven-troops/articleshow/72951602.cms
------
Afghan presidential candidates with less than 10% votes will lose AFN 1m each
Tuesday, 24 Dec 2019
Twelve out of thirteen presidential candidates who were unable to secure at least 10% votes will get fined 1m AFN each as per the procedure, Abdul Aziz Ibrahimi, an IEC spokesperson said.
Each presidential candidates deposited AFN 1,000,000.00 in a state bank as a criterial to get eligible for running the election.
Those candidates who made it to get at least 10% votes will be fully refunded, Ibrahimi told Khaama Press.
According to Ibrahimi, the five candidates who withdrew from the election process will also get refunded.
Ashraf Ghani, Abdullah Abdullah, Mohammad Hanif Atmar, Zalmay Rassoul, Ibrahim Alokozay, Noorulhaq Olumi and Shaida Mohammad Abdali will get refunded AFN 1,000,000.00 each.
The rest eleven candidates including Gulbuddin Hekmatyar, Rahmatullah Nabil, Faramarz Tamanna, Sayed Noorullah Jalili, Abdul Latif Pedram, Enayatullah Hafiz, Mohammad Hakim Torsan, Ahmad Wali Massoud, Mohammad Shahab Hakimi, Prof Ghulam Farooq Nijrabi and Noor Rahman Liwal who could not manage to secure the minimum 10% votes will get fined AFN 1m each and their deposited funds will get transferred to the national budget, Ibrahimi said.
The preliminary Afghanistan election results announced after a prolonged delay on Sunday. Mohammad Ashraf Ghani secured 50.64% votes and his main rival Abdullah Abdullah got 39.52% votes.
The final results will get announced within next five weeks after the electoral complaints commission completes reviewing the complaints.
https://www.khaama.com/afghan-presidential-candidates-with-less-than-10-votes-will-lose-1m-afn-each-89078/
------
Taliban killed an 'American' soldier in northern Kunduz province
Monday, 23 Dec 2019
A U.S soldier was killed in the northern Kunduz province by the Taliban militants, Zabihullah Mujahid, a Taliban spokesperson claimed on Monday.
"Last night we performed a heavy explosion on the U.S occupiers and their slaves in the Safarbai area of Chahar Dara district in Kunduz, as a result of which an American soldier was killed, another U.S soldier an an Afghan special force member were seriously injured.", Zabihullah Mujaheed tweeted.
The U.S forces based Afghanistan released a statement on Monday confirming the murder of an American solider in Afghanistan, but did not provide further details.
In accordance with US Department of Defense policy, the names of the service members killed in action are withheld until 24 hours after notification of next of kin is complete, the statement said.
This comes as two U.S service members were killed in a chopper crash in Charkh district of Logar province.
According to reports, 20 U.S soldiers have been killed in 2019 in Afghanistan.
https://www.khaama.com/taliban-killed-an-american-solider-in-northern-kunduz-province-45637/
------
URL: https://www.newageislam.com/islamic-world-news/saudi-justice-minister-vows-action/d/120612
New Age Islam, Islam Online, Islamic Website, African Muslim News, Arab World News, South Asia News, Indian Muslim News, World Muslim News, Women in Islam, Islamic Feminism, Arab Women, Women In Arab, Islamophobia in America, Muslim Women in West, Islam Women and Feminism