New Age Islam News Bureau
6 Feb 2014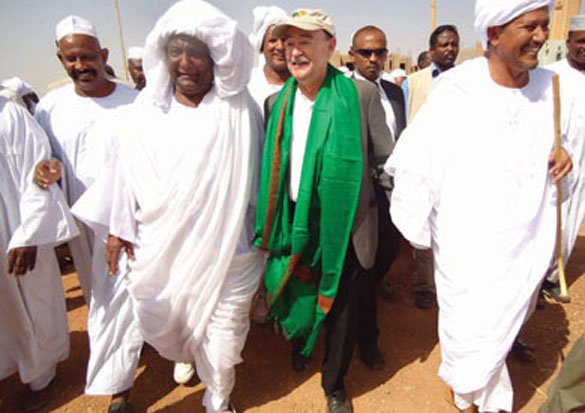 Photo: US Envoy in Sudan Forced To Resign After Accepting Islam
------------
Arab World
• Saudi Cleric Admits on TV that Saudis Form Majority of Takfiri Groups in Syria
• Six car bombs rock Baghdad, five dead: Officials
• Egyptian reports highlight alleged Morsi-al-Qaida cooperation
• Kids on Frontline: Syrian Children Study as Missiles Fall Nearby
• Syria conflict spurs growing jihadist threat in Lebanon
• Syrian rebels declare new assault on Aleppo after Assad gains
• Jihadist Return Is Said to Drive Attacks in Egypt
• Cash boost for Syrian rebels to pressure Assad
• Al-Qaeda affiliate's tactics in Syria reminiscent of Afghanistan's Taliban
Africa
• US Envoy in Sudan Forced To Resign After Accepting Islam
• Youths riot in Kenya for third time over mosque raid
• Central African Republic soldiers 'lynch Seleka rebel'
• GWU Hosts Forum on Timbuktu's Key to Peaceful Islam
North America
• Harvard Recognizes Quranic Verse as One of the Greatest Expressions of Justice
• US Official: Al-Qaida Responsible for Nearly All Suicide Attacks in Iraq
• US calls on CAR to end cycle of violence
• Obama wants US out of Afghanistan by 2017: Senators
• US designates Haqqani figures 'global terrorists'
• US backs off from endorsing Pak-Taliban talks
• US warns Russia Olympics of 'toothpaste' bomb
• CAIR Asks FBI to Probe Vandalism Targeting Calif. Mosque as Hate Crime
Pakistan
• Taliban won't accept talks without enforcement of Sharia: negotiator
• Outlawed Terrorists Make Appearance in NW Pakistan
• Taliban commander, three guards gunned down in Waziristan
• Peshawar suicide bomber was 18-20-year old: Police report
• A black hole for media in Balochistan
• Government, TTP negotiators begin talks
Mideast
• Tensions Grow Between Turkey, Radical Islamist Group Fighting in Syria
• Zionist Media Fabricate Iranian FM's Remarks on Tehran's Recognition of Israel
• Shia rebels battle loyalist tribes near Yemen capital
• Iran says it may modify Arak reactor to allay Western concerns
• Egyptian intelligence report: Israel had 36 spying stations in Sinai
Europe
• Now is not the time for UN resolution on Syria: Russia
• Germany extends troops deployment to Afghanistan
• Rights groups urge Malaysia to stop 'secretive execution'
• UN says illegal excavations in Syria are 'lethal'
South Asia
• Khaleda is leader of terrorists: Bangladesh PM's Son
• Taliban rejects secret peace talks with Karzai administration
• Massacre reports put Rohingya on the run
• Maldives and India to improve defense ties
• Jamaat-e-Islami, Bangladesh calls off Hartal for Hindu festival
• Role of Khaleda in arms haul case 'mysterious'
Southeast Asia
• Malaysian Muslim MP condemns 'un-Islamic' actions of anti-opposition protesters
• Friday sermon texts always monitored, says minister
• Interfaith forum blames education system, national schools for racial polarisation
India
• Early Conclusion of 26/11 Trial is Major CBM, India to Pakistan
• Kashmiri Youth's Astronomy Projects Get NASA's Approval
• Khurshid to visit Afghanistan, take stock of infra projects funded by India
• Swami Aseemanand's "interview" on RSS "role" in terror attacks triggers row
Compiled by New Age Islam News Bureau
URL: https://newageislam.com/islamic-world-news/saudi-cleric-admits-tv-that/d/35617
-----------
Arab World
Saudi Cleric Admits on TV that Saudis Form Majority of Takfiri Groups in Syria
Feb 6, 2014
TEHRAN (FNA)- In an episode of a Saudi show on MBC hosted by Dawoud al-Shirian, the Saudi Cleric, Ibrahim Mayman, admits that there is a huge number of Saudi young men who have gone and are still going daily to fight in Syria and that most of the leaders and members of the most extreme and radical groups, "Al-Nusra Front" and the "Islamic State of Iraq and the Levant" (ISIL), are in fact Saudi nationals.
http://english.farsnews.com/player.aspx?nn=13921116000612
------------
Six car bombs rock Baghdad, five dead: Officials
AFP | Feb 6, 2014
BAGHDAD: Six car bombs ripped through Baghdad, mostly targeting Shiite neighbourhoods, killing at least five people on Thursday, security and medical officials said.
The blasts occurred within an hour of each other from around midday (0900 GMT) onwards in various parts of the Iraqi capital, leaving dozens more wounded.
Four of the neighbourhoods hit are populated mostly by Iraq's Shiite majority, while the other two were in the commercial Karrada district of central Baghdad. Three of the blasts targeted market areas.
The bombings come a day after a spate of attacks in the Iraqi capital left 33 people dead, including 25 who were killed in a series of bombings near the heavily-fortified Green Zone, which is home to parliament, the prime minister's office and the US and British embassies.
No one immediately claimed responsibility for the bombings, but Sunni militant groups including the Islamic State of Iraq and the Levant, a powerful jihadist outfit, have in the past taken credit for bombing campaigns in the capital targeting Shiites.
http://timesofindia.indiatimes.com/world/middle-east/Six-car-bombs-rock-Baghdad-five-dead-Officials/articleshow/29954088.cms
--------
Egyptian reports highlight alleged Morsi-al-Qaida cooperation
Feb 6, 2014
An analysis of recent Egyptian media reports reveals more evidence supporting the persistent accusations that former president Mohamed Morsi was in direct contact and cooperating with al-Qaida during his time in power.
Morsi, is on trial and facing the death penalty for alleged involvement in terrorism.
The Egyptian newspaper El-Watan, which tends to support the military and oppose the Muslim Brotherhood, published supposed recorded conversations between Morsi and Muhammad al-Zawahiri, the Egyptian-based brother of al-Qaida leader Ayman al-Zawahiri.
One El-Watan report from December said the Brotherhood established a communications network using an American company in order to communicate with al-Qaida and prevent spying on their email messages.
"Much of the substance of the alleged conversations is further corroborated by events that occurred during Morsi's one-year rule, most of which were reported by a variety of Arabic media outlets, though not by Western media," said Raymond Ibrahim, a Shillman Fellow at the David Horowitz Freedom Center and an associate fellow at the Middle East Forum, in an article published on the Christian Broadcasting Network News website on Tuesday.
According to the Egyptian report, recordings revealed that Pakistani and Palestinian elements, who were in direct contact with the leader of al-Qaida, met with top Muslim Brotherhood leader Khairat al-Shater.
Ibrahim has previously written about an Egyptian media report that when Morsi visited Pakistan he had met with Ayman al-Zawahiri, in a meeting "facilitated" by Pakistan's Inter-Services Intelligence intelligence agency, and made arrangements to smuggle him back to Sinai.
Ibrahim, the son of Coptic Christian Egyptian parents, an expert on al-Qaida and the author of the book The Al Qaeda Reader, explains that Morsi's presidential palace was in regular contact with Muhammad al-Zawahiri, who in turn was the link to his brother, the leader of al-Qaida.
In one recording between them, which took place a month after Morsi became president, he told Zawahiri that the Brotherhood would support the jihadis and that in turn they should support the Brotherhood.
In one telephone call, Zawahiri told Morsi to govern according to Islamic law and, in turn, we will support you.
"This assertion comports extremely well with his brother Ayman al-Zawahiri's views. A former Muslim Brotherhood member himself, some 30 years ago, the al-Qaida leader wrote Al Hissad Al Murr ("The Bitter Harvest"), a scathing book condemning the Brotherhood for 'taking advantage of the Muslim youths' fervor by… steer[ing] their onetime passionate, Islamic zeal for jihad to conferences and elections,'" said Ibrahim.
In a subsequent phone call, reports Ibrahim, Zawahiri was upset because the Egyptian government was not implementing Shari'a, and Morsi responded: "We are currently in the stage of consolidating power and need the help of all parties – and we cannot at this time apply the Iranian model or Taliban rule in Egypt; it is impossible to do so now."
Zawahiri then sent a list to Morsi and called on him to at least release jihadists from jail. Morsi later did so.
Asked how authentic these reports are, Ibrahim told The Jerusalem Post, "Although Watan and other Arabic media are prone to exaggerate, in this case, the reports repeatedly dropped the phrase 'according to intelligence' sources, which, as others from the region confirmed to me, is especially indicative of authenticity."
Reports that refer to vague "sources" tend to be "more prone to be exaggerated," he said.
http://www.jpost.com/Middle-East/Egyptian-reports-highlight-alleged-Morsi-al-Qaida-cooperation-340556
-----------
Kids on Frontline: Syrian Children Study as Missiles Fall Nearby
Feb 6, 2014
TEHRAN (FNA)- Russia's foreign minister has urged the US to maintain contacts with all sides in the Syrian conflict, except for jihadist groups. Sergey Lavrov, speaking after talks in Moscow with Syria's opposition leaders, also welcomed the rebels' willingness to take part in the Geneva negotiations, set to resume next week. But while politicians push for a breakthrough - time is running out for people living in the warzone.
http://english.farsnews.com/player.aspx?nn=13921116000352
------------
Syria conflict spurs growing jihadist threat in Lebanon
Feb 6, 2014
A string of recent bombings in Lebanon, many of them suicide attacks, has raised fears of a homegrown jihadist threat driven by the Syrian civil war across the border.
Since July, a series of ten bomb blasts have hit Lebanon, six of them involving suicide bombers.
The attacks have been claimed by various jihadist groups, some of them linked to organisations fighting across the border in Syria, including Al-Nusra Front in Lebanon, the Abdullah Azzam Brigades and the Islamic State of Iraq and the Levant (ISIL).
The groups say they are targeting Lebanon's Shia Hezbollah movement for fighting in Syria alongside the regime.
A Lebanese military source, speaking on condition of anonymity, said the growth of jihadist groups was an inevitable result of the Syrian conflict.
"We were expecting it would spread here. If your neighbour's house is on fire, it's no surprise if your house catches on fire too," he told AFP.
Full report at:
http://english.ahram.org.eg/NewsContent/2/8/93588/World/Region/Syria-conflict-spurs-growing-jihadist-threat-in-Le.aspx
-----------
Syrian rebels declare new assault on Aleppo after Assad gains
Feb 6, 2014
Rebels announced a new military campaign in the northern Syrian province of Aleppo on Thursday, a few days after government forces stepped up air attacks in a bid to recapture territory and drive residents out of opposition-held areas.
The largest Syrian rebel coalition, known as the Islamic Front, joined forces with the Nusra Front, al Qaeda's franchise in Syria, to launch an assault dubbed "The promise of truth approaches", a reference to a Koranic verse about Judgment Day.
President Bashar al-Assad's forces recently mounted a series of attacks on Aleppo city, once Syria's business hub, using barrel bombs - oil drums or cylinders packed with explosives and metal fragments.
Full report at:
http://www.hurriyetdailynews.com/syrian-rebels-declare-new-assault-on-aleppo-after-assad-gains.aspx?pageID=238&nID=62098&NewsCatID=352
-----------
Jihadist Return Is Said to Drive Attacks in Egypt
Feb 6, 2014
CAIRO — In just the last two weeks, Islamist militants have detonated a car bomb at the gates of the capital's security headquarters, gunned down a senior Interior Ministry official in broad daylight and shot down a military helicopter over Sinai with a portable surface-to-air missile.
But perhaps most alarming to officials in Cairo and Washington are the signs that the swift increase in the scale and effectiveness of the attacks may come from a new influx of fighters: Egyptians returning from jihad abroad to join a campaign of terrorism against the military-backed government.
"Egypt is again an open front for jihad," said Brian Fishman, a researcher in counterterrorism at the New America Foundation in Washington. "The world is being turned on its head, and, for the United States, the ability to rely on Egypt as a stabilizing force in the region — rather than a source of problems — is really being challenged."
Full report at:
http://www.nytimes.com/2014/02/06/world/middleeast/jihadist-return-is-said-to-drive-attacks-in-egypt.html?_r=0
-----------
Cash boost for Syrian rebels to pressure Assad
Feb 6, 2014
BEIRUT, AMMAN // The United States has increased direct funding to rebel groups fighting in Damascus and southern Syria, ramping up pressure on president Bashar Al Assad after negotiations in Geneva ended in deadlock.
Last week, as the Syrian regime delegation in Switzerland vowed there would be "no concessions" to the opposition, US officials were handing over hundreds of thousands of dollars to Syrian rebel commanders in Jordan, according to opposition fighters.
"From now until the next round of talks in Geneva, Assad will be under real pressure — he will feel more pressure from opposition forces," a rebel field commander cited a US official as saying.
Full report at:
http://www.thenational.ae/world/syria/cash-boost-for-syrian-rebels-to-pressure-assad#page2#ixzz2sUQdTMTE
-----------
Al-Qaeda affiliate's tactics in Syria reminiscent of Afghanistan's Taliban
Feb 6, 2014
Al-Qaeda-linked "Islamic State of Iraq and the Levant" (ISIL) continues to impose unacceptable restrictions on the local population in Syria's al-Raqa province, distorting Sharia guidelines and enforcing a lifestyle that is foreign to the local culture, observers say.
On January 19th, ISIL issued four statements imposing restrictions on residents in areas under its control in al-Raqa province, the Syrian Observatory for Human Rights said.
One statement ordered women to wear niqabs, full face veils and gloves, and said they are not to raise their voices in the street or go out at night unless accompanied by a male guardian.
Full report at:
http://al-shorfa.com/en_GB/articles/meii/features/2014/02/05/feature-01
-----------
Africa
US Envoy in Sudan Forced To Resign After Accepting Islam
World Bulletin / News Desk
Feb 6, 2014
The US charge d'affaires in Khartoum, Joseph D Stafford, resigned from his post after he converted to Islam, Sudanese local media sources said.
Stafford told the foreign ministry that his resignation was made for "personal reasons" but Sudanese sources claimed that the envoy was forced to resign after he turned to Islam.
Sources said that Stafford has recorded visits to the headquarters of Ansar al-Sunnah in Sudan and established a close relationship with a number of Sudanese clerics through these visits.
The U.S. State Department has not made any statement to confirm or deny the news on Joseph Stafford.
After his resignation, Stafford published an article in the Sudan Tribune and said, "My wife and I have been very fortunate to meet so many wonderful people throughout Sudan who share a strong desire and willingness to improve their communities. We will always remember you and your compelling country, and I know you will continue your hard work for a better life, just as you say daily 'Fi Kulu Harakah Baraka' (Arabic for 'in every move there is a blessing')."
Full report at:
http://www.worldbulletin.net/headlines/128358/us-envoy-in-sudan-forced-to-resign-after-accepting-islam
-----------
Youths riot in Kenya for third time over mosque raid
World Bulletin / News Desk
Feb 6, 2014
Youths fought police in the Kenyan port of Mombasa and one person was killed on Wednesday, witnesses said, in a third day of violence over the killing of a man in a police raid on a mosque used by firebrand preachers.
On Wednesday evening, youths pelted vehicles with rocks and torched motorcycles in a third day of disturbances since the Sunday raid on the mosque, creating a major traffic snarl up on the busy highway that leads into Mombasa from the hinterland.
Witnesses said police fired teargas and bullets over the heads of crowds to scatter them, with youths shouting "killers" at the officers. A witness said one of his colleagues, an artisan, was killed by rioters on his way home from work.
Full report at:
http://www.worldbulletin.net/headlines/128339/youths-riot-in-kenya-for-third-time-over-mosque-raid
-----------
Central African Republic soldiers 'lynch Seleka rebel'
Feb 6, 2014
Central African Republic soldiers have lynched a man accused of being a rebel, eyewitnesses allege, as violence continues to afflict the nation.
The man was stabbed and beaten to death and then his body burned in the capital, Bangui.
It happened just moments after interim President Catherine Samba-Panza finished speaking at an army ceremony.
Separately, reports say rebels from the Seleka group are trying to re-group in the north-east of the country.
The militants were engaging in "a new wave of horrific attacks against civilians", Human Rights Watch said. It added that in some cases Seleka were being helped by Chadian peacekeepers.
Full report at:
http://www.bbc.co.uk/news/world-africa-26055584
------------
GWU Hosts Forum on Timbuktu's Key to Peaceful Islam
Feb 6, 2014
The whole world is watching to see if the only thing that burns in Sochi is the Olympic torch.
The suicide bomb that blasted a Volgograd train station on December 29 was deadly and foreboding. This attack's 16 fatalities and 50 injuries presaged the device that ripped apart a Volgograd bus the next day, killing 14 and wounding 28. Meanwhile, Islamofascist bombs contributed powerfully to Iraq's roughly 1,000-person sectarian death toll in January alone. Seven more explosions Monday and four more today also are making February a bloody month in Baghdad. And last Friday in Anaheim, Calif., cab driver Ahmed Nasiri Taalil Mohamud was sentenced to six years in prison for raising and transferring $11,000 to al-Shabab, the al-Qaeda franchise in his native Somalia.
Full report at:
http://www.nationalreview.com/corner/370429/gwu-hosts-forum-timbuktus-key-peaceful-islam-deroy-murdock
----------
North America
Harvard Recognizes Quranic Verse as One of the Greatest Expressions of Justice
Feb 6, 2014
Harvard Law School, one of the most prestigious institutions of its kind in the world, has posted a verse of the Holy Quran at the entrance of its faculty library, describing the verse as one of the greatest expressions of justice in history.
Verse 135 of Surah Al Nisa (The Women) has been posted at a wall facing the faculty's main entrance, dedicated to the best phrases articulating justice:
O ye who believe! stand out firmly for justice, as witnesses to Allah, even as against yourselves, or your parents, or your kin, and whether it be (against) rich or poor: for Allah can best protect both. Follow not the lusts (of your hearts), lest ye swerve, and if ye distort (justice) or decline to do justice, verily Allah is well- acquainted with all that ye do.
Established in 1817, Harvard is the oldest continually-operating law school in the United States and is home to the largest academic law library in the world. Among its alumni is US President Barack Obama and a host of influential journalists, writers, media and business leaders and even professional athletes.
Full report at:
http://www.cair.com/press-center/american-muslim-news/12359-harvard-recognizes-quranic-verse-as-one-of-the-greatest-expressions-of-justice.html
-----------
US Official: Al-Qaida Responsible for Nearly All Suicide Attacks in Iraq
Feb 6, 2014
A U.S. State Department official has highlighted the threat al-Qaida in Iraq poses to the country and its neighbors, as violence in Iraq escalates.
Brett McGurk, the deputy assistant secretary of state for Iraq and Iran, told the House Foreign Affairs Committee that the Islamic State of Iraq and the Levant has significantly increased its attacks in Iraq since early last year.
"Suicide attacks, we assess, are nearly all attributable to ISIL, and nearly all suicide bombers are foreign fighters who enter Iraq through Syria. To give one notable statistic, in November 2012, Iraq saw three suicide attacks throughout the country. In November 2013, it saw 50," said McGurk.
Full report at:
http://www.voanews.com/content/us-official-alqaida-responsible-for-nearly-all-suicide-attacks-in-iraq/1845522.html
-----------
US calls on CAR to end cycle of violence
Feb 6, 2014
The United States has called for an end to the "cycle of violence" in the Central African Republic (CAR) after soldiers publicly lynched a suspected ex-rebel following a military ceremony.
The gruesome attack, widely captured on camera, happened mere moments after Catherine Samba Panza, the new interim president, spoke of her pride in seeing the country's armed forces contribute to national security again, the AFP news agency reported.
"This sectarian violence must end," Jen Psaki, the US State Department spokeswoman, said in a statement, urging CAR to "break the cycle of violence" and halt revenge attacks between Muslims and Christians.
Full report at:
http://www.aljazeera.com/news/africa/2014/02/us-calls-car-end-cycle-violence-2014264470308424.html
-----------
Obama wants US out of Afghanistan by 2017: Senators
2014-02-06
WASHINGTON: The United States is considering a proposal to withdraw all its troops from Afghanistan by 2017, say two Republicans as official sources confirm that "the zero-option" was also discussed at a White House meeting on Tuesday.
President Barack Obama and Vice President Joe Biden met Defence Secretary Chuck Hagel and senior US generals at the White House to review their options in Afghanistan. Gen Joseph F. Dunford Jr, commander of US and allied forces in Afghanistan, came from Kabul to attend the meeting.
Gen Martin E. Dempsey, the chairman of the Joint Chiefs of Staff, and the vice chairman, Adm James A. Winnefeld Jr; Gen Lloyd J. Austin III, the head of the United States Central Command; and Adm William H. McRaven, head of the United States Special Operations Command, also participated in the discussion.
Full report at:
http://www.dawn.com/news/1085183/obama-wants-us-out-of-afghanistan-by-2017-senators
-----------
US designates Haqqani figures 'global terrorists'
February 06, 2014
WASHINGTON - As Pakistan prepares to hold peace talks with Tehrik-i-Taliban Pakistan (TTP), the United States on Wednesday added three senior Haqqani Network leaders to the list of "Specially Designated Global terrorists".
In a press release, the US Treasury said Saidullah Jan, Yahya Haqqani and Muhammad Omar Zadran are key figures in the financial and support network of the Haqqani organisation, which the US has long labelled a terror group.
Pakistani national Saidullah Jan has been a Haqqani commander in Afghanistan, a logistical coordinator and a link between the group and Al-Qaeda, the Treasury said.
Yahya Haqqani, also a Pakistani, is brother-in-law to Haqqani network leader Sirajuddin Haqqani and has stood in as group leader when others were absent, according to the Treasury.
Full report at:
http://www.nation.com.pk/national/06-Feb-2014/us-designates-haqqani-figures-global-terrorists
-----------
US backs off from endorsing Pak-Taliban talks
Feb 6, 2014
WASHINGTON - Pakistan's decision to hold talks with Tehrik-i-Taliban Pakistan (TTP) is the country's internal matter, the State Department said - without supporting the move.
"We of course are closely following the recent developments and reports. The issue of whether to negotiate with TTP is an internal matter for Pakistan," State Department Spokesperson Jen Psaki told the daily press briefing while responding to questions on Tuesday.
"More broadly, the United States and Pakistan continue to have a vital, shared strategic interest in ending extremist violence so as to build a more prosperous, stable, and peaceful region, but we'd point you to them for any details of what's happening," she added.
Asked if Washington backs Pakistan-TTP talks the same way as it does in the case of Kabul-led talks with the Afghan Taliban, the spokesperson said, "It is. The issue of whether to negotiate is a decision that the Government of Pakistan needs to make."
Full report at:
http://www.nation.com.pk/national/06-Feb-2014/us-backs-off-from-endorsing-pak-taliban-talks
-----------
US warns Russia Olympics of 'toothpaste' bomb
Feb 6, 2014
The United States has issued a warning to airports and to some airlines flying to Russia for the Olympics to watch for toothpaste tubes that could hold ingredients to make a bomb on a plane, a senior US security official said.
The official on Thursday did not say whether any specific intelligence led to the warning, which was not issued to the public, according to Reuters news agency.
ABC News first reported the warning.
Russian forces are on high alert to head off possible attacks at the Winter Olympic Games, which begin on Friday in Sochi.
Some US politicians have expressed concern about security at the Black Sea resort, but US President Barack Obama has said he believes Sochi is safe.
Full report at:
http://www.aljazeera.com/news/americas/2014/02/us-warns-russia-olympics-toothpaste-bomb-20142605237939410.html
-----------
CAIR Asks FBI to Probe Vandalism Targeting Calif. Mosque as Hate Crime
Feb 6, 2014
The Sacramento Valley chapter of the Council on American-Islamic Relations (CAIR-SV), the nation's largest Muslim civil rights and advocacy organization, today called on state and federal law enforcement authorities to investigate vandalism of a California mosque as a possible hate crime.
Law enforcement authorities in Manteca, Calif., are investigating strips of raw bacon and hate graffiti found on the grounds of the Islamic Center of Manteca last week as a possible bias-motivated crime. [NOTE: Muslims are prohibited from consuming pork products and bigots often use pigs or pork to offend Muslim sensibilities.]
Full report at:
http://www.digitaljournal.com/pr/1719606#ixzz2sUIZCRLz
-----------
Pakistan
Taliban won't accept talks without enforcement of sharia: negotiator
Feb 6, 2014
ISLAMABAD: Negotiators representing Tehreek-e-Taliban Pakistan (TTP) said Wednesday there was no chance of peace in Pakistan until the government embraces sharia law and US-led forces withdraw completely from Afghanistan.
The tough conditions appear to deal a blow to hopes that talks with the government could end the TTP insurgency that has rocked the country since 2007. Initial peace talks failed to get under way Tuesday when the government delegation refused to meet the militants' negotiators, citing confusion about the make-up of their team. The two sides are expected to try to meet again today (Thursday) or tomorrow, though no definite arrangements have yet been made.
Washington and Kabul have been deadlocked over a pact known as the Bilateral Security Agreement, which would allow some US troops to stay on in Afghanistan beyond 2014. Afghan President Hamid Karzai is refusing to sign it at present. Its supporters say the pact is crucial to Afghanistan's stability after the bulk of NATO forces pull out. But Maulana Samiul Haq, the head of the TTP's three-man talks team, told AFP there could be "no peace" in the region while there were still US troops across the border.
Full report at:
http://www.dailytimes.com.pk/islamabad/06-Feb-2014/taliban-won-t-accept-talks-without-enforcement-of-sharia-negotiator
-----------
Outlawed terrorists make appearance in NW Pakistan
MEENA MENON
Feb 6, 2014
Not long after Jaish-e-Mohammed (JeM) founder Maulana Masood Azhar addressed a rally in Muzaffarabad by telephone, another terrorist, Mast Gul, who escaped after a massive gun battle at Charar-e-Sharif, near Srinagar in 1995, surfaced on Wednesday and was photographed at a press conference in North Waziristan.
While the government has offered the Tehreek-e-Taliban Pakistan (TTP) another chance of a dialogue, the bombings have not stopped.
Yesterday, Dawn reported from Miramshah that the TTP Peshawar chief Mufti Hasan Swati claimed responsibility for the bombing of a hotel frequented by Shia travelers in Qissa Khawani bazaar in Peshawar.
A photograph with Swati flanked by Haroon Khan alias Mast Gul, the Hizbul Mujahideen commander was also carried. Swati said Mast Gul was the militant commander who was responsible for the Peshawar attacks.
The report said Gul had escaped an ambush near Peshawar in 2003 and his whereabouts were unknown since then. Swati also said the Peshawar attacks were carried out at the behest of TTP second in command Sheikh Khalid Haqqani, even as the TTP has denied that it had anything to do with the bombings in Peshawar. The suicide bombing of the hotel was to avenge the death of madrassa students in Rawalpindi during Moharram, it was stated.
Earlier on January 26, 2014, JeM addressed a huge rally and its founder Maulana Masood Azhar spoke over the telephone. News reports said the rally was held to launch a book by Azfal Guru who was convicted and hung in 2013 for his role in the 2001 attack on the Indian Parliament.
Maulana Azhar was one of the militants freed by India in exchange for the release of passengers and crew of the hijacked Indian Airlines plane which was taken to Kandahar. He formed the JeM in 2000, after
he returned to Pakistan. JeM was banned along with the Lashkar-e-Toiba and others by former president General (retd) Pervez Musharraf.
Among other things, Azhar vowed revenge for the execution of Afzal Guru in his speech. United Jihad Council head Syed Salahuddin and Azhar's younger brother Mufti Abdul Rauf Asghar also addressed
the rally. Azhar was never in custody and continued his activities as a militant, news reports said.
http://www.thehindu.com/news/international/south-asia/outlawed-terrorists-make-appearance-in-nw-pakistan/article5660994.ece
-------------
Taliban commander, three guards gunned down in Waziristan
2014-02-06
PESHAWAR: Unidentified gunmen late on Wednesday opened fire on a vehicle on MIramshah-Mirali road in Pir Kallay area of North Waziristan tribal region killing all its occupants, who were later identified as a local Taliban commander and his bodyguards.
Security sources told Dawn.com that the assailants fled from the scene after carrying out the attack.
Those killed in the attack were identified by locals as Shafiq, a Taliban commander, and his three guards, according to the security sources.
Further details regarding the incident were not available as the access of media in the region is restricted due to security worries and government restrictions.
North Waziristan is one of the seven regions in Pakistan's Federally Administered Tribal Areas (Fata) governed by tribal laws. An extremist insurgency led by the Tehrik-i-Taliban Pakistan (TTP) plagues the region and the area is known to be infested with militants, including those from Al Qaeda and other armed extremist organisations.
Full report at:
http://www.dawn.com/news/1085271/taliban-commander-three-guards-gunned-down-in-waziristan
-----------
Peshawar suicide bomber was 18-20-year old: Police report
February 06, 2014
Peshawar—Police have prepared initial investigation report of Tuesday's blast in Peshawar. A three-member committee headed by SSP Investigation Masood Khalil was formed to probe into the incident.
According to the initial report, the suicide bomber was aged between 18-20 years and he looked like a tribal person. The committee also documented the views of eyewitnesses and injured people.
Meanwhile, according to hospital administration at least 50 injured were taken to Lady Readying Hospital, of them 23 were discharged after providing them medical assistance, however, 27 were still admitted in the hospital.
Full report at:
http://pakobserver.net/detailnews.asp?id=232652
-----------
A black hole for media in Balochistan
Feb 6, 2014
London, United Kingdom - "It is, by far, Pakistan's most hermetic province, even more than several among the tribal areas," said Pau Miranda, a correspondent for Spain's EFE news agency. "Being caught in Balochistan without permission almost means being automatically expelled from the country."
Miranda, who has been based in Islamabad, the Pakistani capital, since 2009, was only able to set foot in restive Balochistan after last September's earthquake in what he described as "a very rare occasion to travel south".
Balochistan is Pakistan's biggest yet least populated province, sharing borders with Iran and Afghanistan. The territory, roughly the size of France, boasts enormous reserves of gold, gas and copper, as well as untapped sources of oil and uranium. In addition, Balochistan has enormous strategic importance as a hub for future oil and gas pipelines and for its 1,000km coast at the gates of the Gulf.
Full report at:
http://www.aljazeera.com/indepth/features/2014/02/black-hole-media-balochistan-2014238128156825.html
-----------
Government, TTP negotiators begin talks
2014-02-06
ISLAMABAD: Negotiators for the Pakistani government and the Tehreek-i-Taliban Pakistan (TTP) met Thursday for a first round of peace talks aimed at ending the militants' bloody seven-year insurgency.
The two sides gathered at the Khyber Pakhtunkhwa House in Islamabad for a preliminary meeting likely to chart a "roadmap" for future discussions, amid deep scepticism over whether dialogue can yield a lasting peace deal.
Sources said that talks were being held in a cordial atmosphere and that negotiations would now be continued on a daily basis.
Speaking to DawnNews earlier today, chief cleric of the Red Mosque and member of the three-member committee of TTP negotiators, Maulana Abdul Aziz said the two groups of negotiators would discuss preliminary parameters for peace talks.
Full report at:
http://www.dawn.com/news/1085278/government-ttp-negotiators-begin-talks
-----------
Mideast
Tensions Grow Between Turkey, Radical Islamist Group Fighting in Syria
Feb 6, 2014
ISTANBUL — Tensions between Ankara and the radical group the Islamic State in Iraq and the Levant, or ISIS, have continued to escalate. The Turkish army recently attacked an ISIS convoy and ISIS has targeted ethnic Turkmen leaders in Syria. Ankara is increasingly concerned that ISIS could now strike Turkish targets.
Turkish media reported that ISIS claimed responsibility for the killing four Turkmen leaders in Syria this week. The Turkmen, who are ethnic Turks, are supported by Ankara and engaged in heavy fighting with ISIS. The attack is the latest escalation in tensions between Ankara and the radical Islamic group. Last week, the Turkish army attacked an ISIS convoy close to its border after it said its forces came under attack.
Full report at:
http://www.voanews.com/content/tensions-grow-between-turky-radical-islamists-fighting-in-syria/1845360.html
------------
Zionist Media Fabricate Iranian FM's Remarks on Tehran's Recognition of Israel
Feb 6, 2014
The Zionist media fabricated the remarks made by Iranian Foreign Minister Mohammad Javad Zarif in response to the question of a German TV host about the recognition of Israel.
The Israeli media claimed that Zarif had stated in his Monday interview with the German Phoenix TV that recognition or non-recognition of Israel as a state is up to the Palestinians and not Iran, and that the Islamic Republic may consider recognizing Israel after a peace accord is struck with the Palestinians.
"After the problem with the Palestinians is resolved, the conditions that will enable recognition of the State of Israel will be established," Zarif was misquoted by the Times of Israel which later corrected the news (without any apology or notification) after its readers left some comments criticizing the paper for its fabricated report.
Full report at:
http://english.farsnews.com/newstext.aspx?nn=13921116001667
----------
Shia rebels battle loyalist tribes near Yemen capital
Feb 6, 2014
Shia rebels battled pro-government tribes and Sunni Islamists close to the Yemeni capital through the night before a fragile truce was restored on Thursday, tribal sources said.
The rebels have been pushing out from their stronghold in the mountains of the far north to other Zaidi Shia majority areas nearer the capital in a bid to expand their hoped-for autonomous unit in a promised federal Yemen.
But they have met resistance from Zaidi tribes loyal to the historic leading family of the huge Hashid confederation and their Sunni Islamist allies in the Islah party.
The fighting erupted late Wednesday in the Arhab district -- just 35 kilometres (20 miles) north of the capital and close to Sanaa international airport -- shattering a fledgling truce, a tribal chief said.
Full report at:
http://english.ahram.org.eg/NewsContent/2/8/93592/World/Region/Shia-rebels-battle-loyalist-tribes-near-Yemen-capi.aspx
-----------
Iran says it may modify Arak reactor to allay Western concerns
Feb 6, 2014
DUBAI - Iran is prepared to modify its planned Arak heavy water reactor to help allay Western concerns, its nuclear energy chief said in published remarks that could be the first such suggestion by a senior Iranian official.
Western powers, preparing for negotiations with Iran on a long-term deal defining the scope of its disputed nuclear program, fear Arak could provide a supply of plutonium - one of two materials, along with highly enriched uranium, that can be used for the core of a nuclear weapon - once operational.
Full report at:
http://www.jpost.com/Iranian-Threat/News/Iran-says-it-may-modify-Arak-reactor-to-allay-Western-concerns-340558
------------
Egyptian intelligence report: Israel had 36 spying stations in Sinai
Feb 6, 2014
A court trial investigating an Israeli network of nine alleged spies – three Egyptians and six Israelis - began on Wednesday in north Sinai, but was postponed until March for security reasons.
The file is known as the "Ovadia" case, named after the person leading the spy network, Danny Ovadia, reported the Egyptian newspaper Al-Youm al-Sabaa.
Six of the suspects are Israeli citizens, two of which are Israeli Arabs and the other four are suspected military intelligence officers, the report alleged.
Some of the suspects, including the Israelis, are being tried in absentia.
The Egyptian newspaper published details of an Egyptian intelligence report on the spy network that will be used as evidence in the trial.
Full report at:
http://www.jpost.com/Middle-East/Egyptian-intelligence-report-Israel-had-36-spying-stations-in-Sinai-340487
-----------
Europe
Now is not the time for UN resolution on Syria: Russia
Reuters | Feb 6, 2014
UNITED NATIONS: As Western and Arab nations prepared to push for a UN security council resolution calling for better access to aid in war-torn Syria, Russia said on Wednesday that now was not the right time for such a move.
The United Nations says some 9.3 million Syrians, nearly half the population, need help and UN aid chief Valerie Amos has repeatedly expressed frustration that violence and red tape have slowed the delivery of humanitarian assistance to a trickle.
"We're against moving to a resolution now on the Security Council. That's as clear as I can put it," Russia's UN Ambassador, Vitaly Churkin, told reporters. "It's not a good time to have any resolution discussed in the Security Council."
Western members of the 15-member security council have been considering a resolution on aid for almost a year. After months of talks, the council eventually made a non-binding statement on Oct. 2 urging more access to aid.
Full report at:
http://timesofindia.indiatimes.com/world/europe/Now-is-not-the-time-for-UN-resolution-on-Syria-Russia/articleshow/29928604.cms
-----------
Germany extends troops deployment to Afghanistan
Feb 06 2014
Chancellor Angela Merkel's cabinet endorsed a last-phase extension of Germany's 12-year-old military deployment in Afghanistan.
The extension of Germany's military deployment to Afghanistan until the end of the year was recommended to parliament on Wednesday.
The final decision regarding Germany's military deployment to Afghanistan is expected to be taken by Bundestag parliament on February 21.
Germany is one of the largest troops contributor to the NATO-led International Security Assistance Force (ISAF) mission in Afghanistan.
Full report at:
http://www.khaama.com/germany-extends-troops-deployment-to-afghanistan-3406
-----------
Rights groups urge Malaysia to stop 'secretive execution'
AFP | Feb 6, 2014
KUALA LUMPUR: Rights groups urged Malaysia on Thursday to halt the planned hanging of a condemned man, with Amnesty International calling it "yet another secretive execution".
The London-based human rights group said in a statement it had learnt that the man, Chandran Paskaran, would be executed on Friday for a murder committed more than a decade ago.
The government of Muslim-majority Malaysia does not announce executions and is generally tight-lipped about its application of the death penalty.
"Malaysian authorities must immediately halt plans to carry out yet another secretive execution," Amnesty said in a statement.
The statement quoted Hazel Galang-Folli, Amnesty's Malaysia researcher, as saying the execution would be "an enormous step backwards on human rights".
Joining Amnesty's call were New York-based Human Rights Watch, the Malaysian Bar Council and HINDRAF, a group that advocates for the rights of Malaysia's ethnic Indian minority.
Government officials did not immediately respond to queries.
Full report at:
http://timesofindia.indiatimes.com/world/rest-of-world/Rights-groups-urge-Malaysia-to-stop-secretive-execution/articleshow/29954131.cms
-----------
UN says illegal excavations in Syria are 'lethal'
Feb 6, 2014
The United Nations cultural preservation agency says illegal excavations taking place at important archaeological sites all over Syria are "extremely dangerous" and "lethal" to the country's cultural heritage.
Francesco Bandarin, UNESCO's assistant director-general for culture, said on Wednesday the illegal digging is happening from the ancient Sumerian city of Mari to the ancient cities of Ebla, Palmyra and Apamea.
"All of them have been subject to this phenomena, some of them to an extent that is unimaginable," he said. "Apamea [sic] it's completely destroyed."
Mr. Bandarin said archaeological material and cultural heritage objects are being trafficked through illegal systems into other countries and markets.
Full report at:
http://www.thehindu.com/news/international/world/un-says-illegal-excavations-in-syria-are-lethal/article5659474.ece
-----------
South Asia
Khaleda is leader of terrorists: Bangladesh PM's Son
Feb 6, 2014
The Prime Minister's son Sajeeb Ahmed Wazed has hit out at Khaleda Zia, calling her as 'a leader of terrorists'.
In a Facebook status on Wednesday night, he wrote that the BNP Chairperson in her press conference was silent about the innocent civilians killed in 'bombings and arson attacks by BNP-Jamaat activists'.
His comment came a day after the BNP chief addressed a press conference where she presented the figure of the 19-Party Alliance leaders and activists 'killed by the law enforcers and ruling party cadres'.
Khaleda had said 242 leaders and activists of the alliance were killed and 60 subject to enforced disappearance.
Referring to media reports, Sheikh Hasina's son Sajeeb, better known by his nickname Joy, said about 130 people were killed and over 200 injured in the attacks of BNP and Jamaat-e-Islami activists.
Full report at:
http://bdnews24.com/bangladesh/2014/02/05/khaleda-is-leader-of-terrorists-sajeeb
-----------
Taliban rejects secret peace talks with Karzai administration
Feb 6, 2014
The Taliban militants group in Afghanistan rejected reports which suggest that president Hamid Karzai is engaged in secret peace talks with the Taliban group.
Taliban group spokesman, Zabiullah Mujahid, following a statement, said, "The New York Times newspaper published a false report recently suggesting that talks took place and are ongoing between the Islamic Emirate and the Kabul regime in an undisclosed location."
Mujahid further added, "We reject this report by The New York Times even though we made our stance very clear to media outlets in direct contacts two days earlier."
He also added, "The Islamic Emirate does not believe in holding secret talks at undisclosed locations."
Full report at:
http://www.khaama.com/taliban-rejects-secret-peace-talks-with-karzai-administration-3405
-----------
Massacre reports put Rohingya on the run
Feb 6, 2014
Sittwe, Myanmar - In the dusty Burmese village of Thet Kay Pyin, Rosia sits tending to her elderly, disabled mother on the floor of a dark bamboo hut. Eighty-year-old Feroza cannot feed herself, speak, or even sit up. Without Rosia's care she would be utterly helpless.
The two women, both Rohingya Muslims, live together in Myanmar's western Rakhine state. In the past 18 months, Rosia and her mother have twice had to undergo the stressful ordeal of abandoning their home. In 2012, Buddhist extremists burned their house down during communal violence in Sittwe, the state capital.
Then, last month, after receiving news of an alleged massacre more than 100km north, Rosia said she feared the violence would return and fled to the countryside.
"I heard the Rakhine are coming to attack, and that many people are going to leave. I thought if we didn't come here soon, there would be nowhere left to stay," she said.
Full report at:
http://www.aljazeera.com/indepth/features/2014/02/massacre-reports-put-rohingya-run-20142374145669208.html
-----------
Maldives and India to improve defense ties
Feb 6, 2014
Discussions to improve defence cooperation between India and Maldives have been held yesterday.
According to India's Business Standard news, these discussions have been going on with Indian high officials by defense chief Major General Ahmed Shiyam during his on-going four day visit to India. Shiyam has also met with Indian defence minister A.K. Anthony.
The dominating topics in these discussions are concerning developments that can be brought to MNDF and improving the capability of Maldivian soldiers. Discussed also, were various training programmes that could be carried on by the joint militia of Maldives and India.
Maldivian defence minister Mohamed Nazim has also been to India recently and had discussed the strengthening of military relations between the two countries. The minister had also accepted the second helicopter gifted to Maldives by India.
http://www.haveeru.com.mv/news/53555
-----------
Jamaat-e-Islami, Bangladesh calls off Hartal for Hindu festival
Feb 6, 2014
A countrywide daylong Hartal called by Jamaat for today was withdrawn in the district due to Ganga Snan (holy dip) of Hindu devotees in the area.
Rafiq ul Islam, former Ameer of the district unit and member of central working committee of Jamaat-e-Islami, said local leaders of Hindu community urged them to withdraw the shutdown due to Ganga Snan to be held in Pagla River at Tartipur of Shibganj Upazila today.
Considering the issue, they withdrew the hartal in the district, said Rafiqul.
Earlier, Jamaat called Hartal for today protesting the death penalty of party's ameer Motiur Rahman Nizami in the 10 truck arms haul case.
Every year, the historic Ganga Snan, a religious ritual of Hindu community is held at Janhobi Muni Ashram of Tattipur Maha Samsan of Shibganj Upazila in the district.
http://www.thedailystar.net/country/jamaat-calls-off-hartal-for-hindu-festival-10107
-----------
Role of Khaleda in arms haul case 'mysterious'
HAROON HABIB
Feb 6, 2014
The special tribunal on the Chittagong arms haul cases has pointed to the direct involvement of the then ministers and top military and civil officials.
As per the full text of the sensational verdict released on Tuesday, the role of the then Prime Minister Khaleda Zia in the incident was termed 'mysterious.'
Four days after pronouncing the verdict, Judge S.M. Mojibur Rahman of the Chittagong Metropolitan Sessions Court and Special Tribunal-1 released the full text of the 500-plus page judgment of the two cases.
The judge said the then DGFI chief Maj. Gen. (retd.) Sadiq Hasan Rumi had informed the former Prime Minister about the situation. She did not react but said she was aware of the event.
Full report at:
http://www.thehindu.com/news/international/south-asia/role-of-khaleda-in-arms-haul-case-mysterious/article5657680.ece
----------
Southeast Asia
Malaysian Muslim MP condemns 'un-Islamic' actions of anti-opposition protesters
Feb 6, 2014
A Muslim member of parliament has described a Muslim NGO's actions in an anti-opposition protest, in Kuala Lumpur today, as an act of madness and "against the teachings of Islam".
The group, which called itself Council of Islamic NGOs, had slaughtered chickens, smeared the blood on a banner featuring pictures of opposition leaders and also offered a reward to slap an MP.
Bukit Mertajam MP Zairil Khir Johari (pic) from DAP said the group had no right to call itself an Islamic NGO.
"Their action is shameful to Islam, to the Malay community and Malaysia as a whole" he told The Malaysian Insider.
Zairil said while he respected the rights of any group to assemble and demonstrate, he was against any group which incited the public to violence.
"What they did is provocative... I don't see why they had to slaughter chickens," he said commenting on the demonstration.
Full report at:
http://www.themalaysianinsider.com/malaysia/article/muslim-mp-condemns-un-islamic-actions-of-anti-opposition-protesters
-----------
Friday sermon texts always monitored, says minister
Feb 6, 2014
The contents of the Friday sermon texts in the country is always monitored by the Malaysia Islamic Developmet Department (Jakim), says Minister in the Prime Minister's Department Datuk Seri Jamil Khir Baharom (left).
"The texts are not prepared by any mosque at whim or as it likes," he said after officially opening the Federal Territory Islamic Religious Council's Cataract Surgery Centre-Selayang Hospital today.
Jamil Khir said this in response to a report on a news portal (Roketkini.com) quoting DAP adviser Lim Kit Siang as saying that he regretted the Friday sermons of late which he claimed to be rousing religious sentiments.
Full report at:
http://www.themalaysianinsider.com/malaysia/article/friday-sermon-texts-always-monitored-says-minister-bernama
-----------
Interfaith forum blames education system, national schools for racial polarisation
Feb 6, 2014
National schools are the breeding ground for racial polarisation and the education system is the root cause of the problem plaguing the country now, an interfaith forum was told yesterday.
Parents Action Group for Education (PAGE) chairman Datin Noor Azimah Abdul Rahim told an audience of about 65 at the interfaith forum titled "A dialogue for harmony", that it was all about Malay supremacy in schools now.
PAGE was among 40 civil groups and non-governmental organisations at the forum in conjunction with World Interfaith Harmony Week, jointly organised by the Global Movement of Moderates and Promotion of Human Rights (Proham).
"The only solution is for the glory of national schools to be returned, which means we need more subjects in English in national schools, because right now, national schools are Malay schools and nothing more," said Noor Azimah.
Full report at:
http://www.themalaysianinsider.com/malaysia/article/interfaith-forum-blames-education-system-national-schools-for-racial-polari
-----------
India
Early Conclusion of 26/11 Trial is Major CBM, India to Pakistan
Feb 6, 2014
India has told Pakistan that an "expeditious and successful conclusion of the investigation and trial" of those involved in the Mumbai attacks would be a major confidence building measure.
Minister of State for External Affairs Preneet Kaur told the Lok Sabha Wednesday in response to a question that "India is committed to resolve all outstanding issues with Pakistan, through a peaceful bilateral dialogue in an environment free from violence and terror. It has also been conveyed to Pakistan that an expeditious and successful conclusion of the investigation and trial relating to those involved in the Mumbai attacks would be a major confidence building measure".
Full report at:
http://www.newindianexpress.com/nation/Early-Conclusion-of-2611-Trial-is-Major-CBM-India-to-Pakistan/2014/02/05/article2040058.ece#.UvK1w2JdUqM
-----------
Kashmiri Youth's Astronomy Projects Get NASA's Approval
Feb 6, 2014
A Kashmiri youth from a remote village of the Valley has won approval for two of his projects from NASA's Kennedy Space Centre in the United States.
Asif Ali, who comes from a humble background from a village in Mattan area of south Kashmir district, Anantnag, is studying astronomy at Indian Institute of Space Science and Technology (IIST), Kerala, a defence spokesman said here.
The two projects that Ali will work on include those on estimation of asteroids and the effect of gamma ray emissions.
"NASA is supporting his project works and accepting his research idea as a major leap forward in his career," the spokesman said.
Ali, who has done BTech from IIST and is currently doing MS in astronomy from the same college, will be headed to NASA soon to start work on his projects.
Full report at:
http://www.newindianexpress.com/nation/Kashmiri-Youths-Astronomy-Projects-Get-NASAs-Approval/2014/02/06/article2041473.ece#.UvK162JdUqM
-----------
Khurshid to visit Afghanistan, take stock of infra projects funded by India
Sachin Parashar,TNN | Feb 6, 2014
NEW DELHI: As reports about Afghan President Hamid Karzai's clandestine engagement with Taliban further queer the pitch in Afghanistan, foreign minister Salman Khurshid will visit the country next week for a meeting with him. While the government here is yet to react officially to these reports, it is learnt that South Block has taken note of the confirmation of these by Kabul and its remark that "the last two months have been very positive".
The Afghan government did not take the US into confidence before reaching out to the Taliban on its own and it is likely to further antagonize the Americans.
Full report at:
http://timesofindia.indiatimes.com/india/Khurshid-to-visit-Afghanistan-take-stock-of-infra-projects-funded-by-India/articleshow/29921029.cms
-----------
Swami Aseemanand's "interview" on RSS "role" in terror attacks triggers row
Express News Service | New Delhi | February 6, 2014
Claims by Swami Aseemanand, an accused in the blasts in the Samjhauta Express (February 2007), Hyderabad Mecca Masjid (May 2007) and Ajmer Dargah (October 2007) that RSS chief Mohan Bhagwat had "sanctioned" the attacks, have sparked off a controversy but the sangh parivar founthead has questioned the veracity of the interview.
Latching on to an "interview" of Aseemanand carried by a magazine, the Congress and other parties including BSP called it a "serious" issue and demanded that a proper probe should be ordered and action should be taken against the guilty.
A report in The Caravan magazine quoted Aseemanand as saying that Bhagwat, then RSS general secretary, told him that the blasts should not be linked to the Sangh. "Aseemanand told The Caravan that Bhagwat said of the violence, 'It is very important that it be done. But you should not link it to the Sangh'," said a press release issued by the magazine on Wednesday.
Full report at:
http://indianexpress.com/article/india/india-others/swami-aseemanands-interview-on-rss-role-in-terror-attacks-triggers-row/2/
----------
URL: https://newageislam.com/islamic-world-news/saudi-cleric-admits-tv-that/d/35617