New Age Islam News Bureau
17 Apr 2020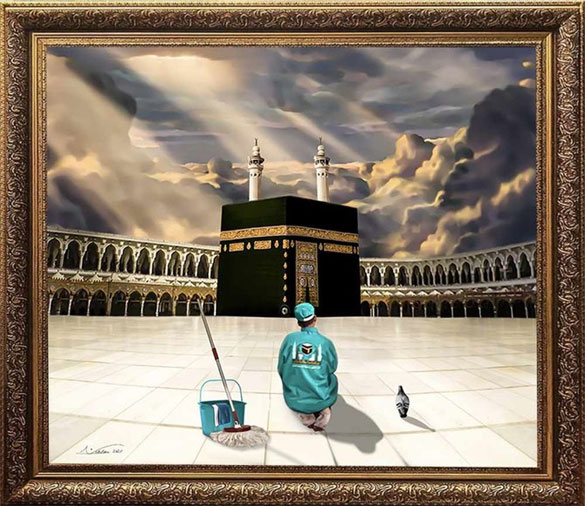 Saudi artist Nabila Abuljadayel who produced the artwork called 'Isjod wa Iqtareb' (Prostrate and Draw Near) says the idea for the painting came from reality. (Supplied)
-------
• Saudi Artist Draws on Grand Mosque's Closure for Painting Inspiration
• Amid Covid Lockdown, Azan Reverberates Across Europe: Nearly 100 Mosques In Germany And The Netherlands Recited Muslim's Call To Prayer
• Christian Publisher Announces New Edition of The Qur'an Meant for Missionaries
• 'Painful': Al-Aqsa Mosque Closed for Ramadan Amid Coronavirus
• Ulema, Muftis Urge Muslims To Observe Ramzan, offer 'Taraveeh' Prayers At Home Due To COVID-19 Lockdown
• Worries Over 'Wahhabi Outlook' Of New Federal Territories Mufti
• Pakistan Catering Launches 'IftariKhana' Service for Ramadan
• Jigawa Suspends Itikaf, Tuhajjud Prayers During Ramadan
• Islamic State Claims First Attack In Island Nation Of Maldives
--------
Arab world
• Saudi Artist Draws on Grand Mosque's Closure for Painting Inspiration
• Coronavirus: Saudi Arabia Activates Thermal Cameras in Medina's Prophet's Mosque
• Al-Azhar Grand Imam greets Pope Tawadros II, Copts on Easter
• Egypt to extend nighttime curfew through Ramadan: Govt spox
• Organization of Islamic Cooperation holds virtual symposium on COVID-19
• Iraq extends coronavirus curfew until start of Ramadan as cases increase
• Egypt's soap operas defy a deadly virus for Ramadan prime time. But at what cost?+
-----
Europe
• Amid Covid Lockdown, Azan Reverberates Across Europe: Nearly 100 Mosques In Germany And The Netherlands Recited Muslim's Call To Prayer
• Watchdog: Muslim Cleric Summoned by Security Service for Interrogation over Alleged Sabotage
• Civil rights group demands police investigation after Muslim healthcare worker was tasered for refusing to take off his protective mask while shopping at a Maryland grocery store
• Muslim population of Europe could triple in 30 years; Hungary, Poland, Czechia, and Slovakia buck the trend
• Muslim Executive announces measures for Ramadan under lockdown
------
North America
• Christian Publisher Announces New Edition of The Qur'an Meant for Missionaries
• Why the Coronavirus Poses a Unique Threat to Islamic Terrorists
• Beloved Muslim community advocate who died of COVID-19 helped thousands with volunteer work
• Muslims grapple with how to handle upcoming Ramadan rituals in coronavirus era
• US Muslim group that initially backed Bernie Sanders endorses Joe Biden
• Coronavirus: Faith groups fear US prisons may restrict right to worship during Ramadan
-----
Mideast
• 'Painful': Al-Aqsa Mosque Closed for Ramadan Amid Coronavirus
• Turkey to bring 25,000 expats home for Ramadan amid COVID-19 pandemic
• UN Yemen envoy hopeful warring parties to reach ceasefire agreement in 'immediate future'
• Senior Hamas official's daughter urges Saudi monarch for his release
• Iran celebrates Army Day with COVID-19 aid convoys
• Iran's defines minister blasts 'aggressive' US presence in Persian Gulf
• Iran's virus detection device proves its scientific capacity: IRGC spokesman
------
India
• Ulema, Muftis Urge Muslims To Observe Ramzan, offer 'Taraveeh' Prayers At Home Due To COVID-19 Lockdown
• Kashmiri Militant got away 25 yrs ago, caught with Islamic State 'Khorasan Province' chief in Afghanistan
• Fatwa Says Victims Of Virus Can Be Buried In Graveyard
• Muslim Gujjars of Punjab, Victims of Coronavirus Prejudice, Now Sell Milk with Police Protection
• Assam Congress MP Demands Removal OfForeigners' Tribunal Member For 'Anti-Muslim' Statement
• Kin refuse, Muslim friend is pall-bearer
------
Southeast Asia
• Worries Over 'Wahhabi Outlook' Of New Federal Territories Mufti
• All food delivery service providers allowed to operate during Ramadan
• COVID-19: Mercy Malaysia launches Ramadan Appeal campaign
• 60 Rohingya Muslims die, hundreds rescued from boat after weeks at sea
• Ramadan guidelines issued to combat spread of virus
• Muslims urged to stay safe in Ramadan
• Muslims grapple with Ramadan rituals in coronavirus era
-----
Pakistan
• Pakistan Catering Launches 'IftariKhana' Service for Ramadan
• Hamza Ali Abbasi Slams People Wanting to Pray in Mosques Amid Pandemic
• President to hold consultation with Ulema on Taraweeh prayers at mosques
• Muslims urged to seek Allah's mercy
• 'Islamic lifestyle vital to prevent infectious coronavirus
• SC creates 9-member ad hoc committee to run PMDC
• Imran emphasises need for reliable data to tackle Covid-19
-----
Africa
• Jigawa Suspends Itikaf, Tuhajjud Prayers During Ramadan
• Ramadan 2020: UAE Charities To Shun Mosques, Tents, Deliver Iftar Meals To Homes
• COVID-19 palliatives: Islamic group laments marginalisation of Igbo, religious sentiments
------
South Asia
• Islamic State Claims First Attack In Island Nation Of Maldives
• Khurasani's Video Emerges from The Jail as He Desperately Pleas for His Release
• Gunmen Kill 6 Workers Of The U.S.-Run Bagram Airfield In North Of Afghanistan
• Afghan population being exposed to greater dangers without consolidated govt team: EU
• Wounded Pakistani militant arrested, Taliban IED planter killed in Nangarhar
• Fashion nightmare as Bangladeshi garment makers lose jobs
• China's economy suffers historic slump due to Covid-19
• Coronavirus: China's Wuhan city revises up death toll by 1,290 - a 50% increase
• Afghanistan records 66 new positive cases of coronavirus in past 24 hours
• Afghanistan exempts over 30 organizations while extending curfew in Kabul city
• Afghan forces conduct preemptive raids against Taliban militants in Kandahar
Compiled by New Age Islam News Bureau
URL; https://www.newageislam.com/islamic-world-news/saudi-artist-draws-grand-mosques/d/121601
------
Saudi Artist Draws On Grand Mosque's Closure For Painting Inspiration
LOJIEN BEN GASSEM
April 17, 2020
RIYADH: A cleaner kneels in the courtyard of Makkah's Grand Mosque, the only worshipper in the normally bustling holy site. The moment of emptiness, stillness and contemplation is captured in a painting that has moved Muslims during the global health emergency.
The painting reflects the historic decision taken by Saudi Arabia's authorities to close the Grand Mosque for prayers to prevent the spread of coronavirus and protect people from infection.
Saudi artist Nabila Abuljadayel produced the artwork — called "IsjodwaIqtareb" (Prostrate and Draw Near) — during the Kingdom's coronavirus lockdown.
Abuljadayel, who is a Goodwill Ambassador for the King Salman Humanitarian Aid and Relief Center, said the idea for the painting came from reality.
"My inspiration for this piece was based on the unprecedented and unparalleled moment it dawned on me that, for the first time in my life, I would not be able to visit Al-Haram (Grand Mosque)," she told Arab News. "It made me realize what an honor, privilege and blessing it was to be able to do that."
My inspiration for this piece was based on the unprecedented and unparalleled moment it dawned on me that, for the first time in my life, I would not be able to visit Al-Haram (Grand Mosque). It made me realize what an honor, privilege and blessing it was to be able to do that.
She realized that the only ones who maintained such an elevated status — to visit the Grand Mosque — were those who had dedicated their lives to serve the holy site by tending to it.
"Those same nameless, faceless anonymous workers, whom we tend to take for granted, had the best opportunity in the world," she added.
The Kingdom suspended all Umrah pilgrimages last month over coronavirus fears, and authorities cleared out the Grand Mosque in preparation for disinfection and sterilization measures.
"This event embodies our faith. It reaffirms the importance of humility. It demonstrates how we are all equal in the sight of God."
The artist drew inspiration from the UK's Queen Elizabeth by saying she hoped that people would be able to take pride in how they responded to the challenge, as well as the words of King Salman to talk about the coronavirus crisis and how society was addressing it.
"This crisis will turn into a piece of history that proves man's defiance in the face of this hardship humankind is experiencing."
Mohammed Al-Qadi (@moealqadi) said that everyone was absent and "those who served this pure house" remained praying in front of the Kaaba, while Fahda Bint Saud (@fahdabntsaud) said she was touched by the artwork and described it as "one of the most beautiful paintings.
https://www.arabnews.com/node/1660191/lifestyle
--------
Amid Covid Lockdown, Azan Reverberates Across Europe: Nearly 100 Mosques In Germany And The Netherlands Recited Muslim's Call To Prayer
April 16, 2020
Berlin: Nearly 100 mosques in Germany and the Netherlands recited Adhan (Azan) - Muslim's call to prayer in a bid to support the Muslim communities amid the coronavirus (COVID-19) pandemic.
The adhan, also written as adhaan, azan, azaan or athan, also called ezan in Turkish, was recited from the mosques belonging to the Turkish-Islamic Union for Religious Affairs (DİTİB) and the Islamic Community National View, one of Germany's largest Muslim-Turkish associations.
The representative of DITIB FahrettinAlptekin said that the recitation of Azan from mosques across Germany is allowed to boost the morale of the Muslim community amid the coronavirus pandemic.
Europe seems to have slackened the restrictions on religious freedom for Muslims as it tumbles to survive against coronavirus pandemic. For them, communal cohesion is crucial to fight the pandemic, Global Village space reported.
The Muslim call to prayer, Adhan, had been banned in several European countries before, particularly, Germany where a court had ordered a local mosque to stop the reciting of Azan on the application filed by a Christian couple.
Several European countries had tightened the religious freedom of Muslims from banning Muslim women from wearing face veils and imposing heavy restrictions on wearing hijab in public spaces.
Now, the recitation of Azan from mosques in various European countries amid the coronavirus pandemic has been an unusual yet emotional event for Muslims who have been struggling to follow their religious practices under strict restrictions in foreign countries.
In a first, BBC begins the broadcast of Friday Muslim prayers on its network as mosques shut down across Britain, part of the extensive measures against coronavirus.
Hence, British-Muslims will hear the Friday sermon and prayers broadcast on BBC Radio for the first time. Different imams lead the 5:50 am broadcasts every week on Friday from 14 local radio stations of BBC.
The imam recites verses from the Holy Qur'an and quotes of Holy Prophet Muhammad (PBUH) before delivering the sermon and leading the listeners in prayers. The program is titled, 'Islamic Reflections'.
The arrangements have been made to facilitate the Muslim community to the run-up to the month of Ramadan till the end of April.
https://ummid.com/news/2020/april/16.04.2020/amid-covid-lockdown-adhan-echoes-across-europe.html
----------
Christian Publisher Announces New Edition of The Qur'an Meant for Missionaries
APRIL 16, 2020
To be clear, there's absolutely academic value in introducing the holy book of one of the world's largest religions to a new audience. It's important to understand what the Islamic text says — as well as what it doesn't say. There's certainly no shortage of Christians trying to introduce the Bible to new audiences in all kinds of ways — it's the very reason companies like Zondervan exist.
But to offer the Qur'an through a Christian lens? That seems ripe for problems.
Be Equipped to Interact More Fruitfully and Thoughtfully with Muslims
The Quran with Christian Commentary offers a unique introduction to the primary religious text of Islam. Alongside a precise modern English translation of the Quran, author Gordon D. Nickel provides in-text notes to explain the meaning of various surahs (chapters) and ayat (verses), their interpretive history and significance in Muslim thought, and similarities and differences when compared to biblical passages.
Factual, respectful of Muslims, and insightful on issues about which Muslims and Christians disagree, The Quran with Christian Commentary equips Christians to interact more fruitfully with Muslim believers. Professors and students in courses on Islam and the Quran will find this to be an invaluable resource, as will pastors and missionaries who minister among Muslims. Written at a readable level, any Christian who wants to learn more about Islam and the Quran will find it to be a rich and informative introduction.
Is it really "respectful" of Muslims, though? I imagine if a Muslim publisher released a Bible with Islamic commentary, that word wouldn't go over smoothly. Some Christians would inevitably call the book's existence a form of religious persecution (or something of the sort).
The website also points out that the author, Dr. Gordon Nickel, is "director of the Centre for Islamic Studies at South Asia Institute of Advanced Christian Studies in Bangalore, India." But there's no indication that any practicing Muslim, much less a scholar, signed off on the contents of this book.
If you want to learn more about Islam, talk to Muslims. At the very least, don't get your information from someone who's writing a playbook for Christians whose main purpose in talking to Muslims is to stop them from practicing Islam.
https://friendlyatheist.patheos.com/2020/04/16/christian-publisher-announces-new-edition-of-the-quran-meant-for-missionaries/
-----
'Painful': Al-Aqsa mosque closed for Ramadan amid coronavirus
16 April 2020
By MEE staff
Jerusalem's Al-Aqsa mosque compound will be closed to Muslim worshippers throughout the holy fasting month of Ramadan because of the coronavirus pandemic, according to the council of clerics that oversees its operations.
The council, appointed by neighbouring Jordan, announced the new measure on Thursday, extending the initial ban on prayer there that was issued late last month.
Closing the Al-Aqsa compound, considered Islam's third-holiest site, was "painful" the clerics said, but the decision is "in line with legal fatwas (clerical opinions) and medical advice".
Ramadan will begin about 23 April. Usually, the fasting month draws tens of thousands of Muslims daily to the Al-Aqsa mosque as well as to the adjoining Dome of the Rock, where Muslims believe Prophet Mohammad ascended to heaven.
Instead of traveling to Al-Aqsa to pray, the council advised Muslims to "perform prayers in their homes during the month of Ramadan, to preserve their safety".
In one sign of normalcy, the Muslim call to prayer will still take place five times daily at the site during Ramadan, and religious workers will still be allowed entry, the council's statement said.
Last week, Jews marking Passover in Jerusalem and across Israel were required to stay at home and celebrate only with immediate family.
Typically a large event, Passover prayers at Jerusalem's Western Wall, the holiest place Jews are allowed to pray in the city, were attended this year by only a handful of worshippers.
The Church of the Holy Sepulchre, believed by Christians to be the site of Jesus' crucifixion, burial and resurrection, has also been closed. The closure of the church had been particularly significant as Christians of various denominations celebrate Lent, Palm Sunday and Easter during the Spring season.
Its current closure amid the coronavirus pandemic is the first time the doors of the Holy Sepulchre have been shuttered to the public in almost 700 years.
Israel has reported at least 140 deaths and about 12,600 cases of the coronavirus. There have been two deaths and almost 300 cases in the Israeli-occupied West Bank and Gaza Strip.
Before the outbreak of the virus, Palestinians in Jerusalem already faced difficulties praying at the Al-Aqsa mosque, with Israeli soldiers attacking worshippers and settlers regularly storming the compound.
https://www.middleeasteye.net/news/coronavirus-al-aqsa-mosque-closed-muslim-month-ramadan
----
Ulema, Muftis Urge Muslims To Observe Ramzan, Offer 'Taraveeh' Prayers At Home Due To COVID-19 Lockdown
Apr 17, 2020
All the Ulema and the muftis from the Islamic community have appealed to the Muslims, urging them to offer their religious prayers at home during the ensuing month of Ramzan due to the coronavirus disease (COVID-19) pandemic outbreak, which is spreading like wildfire across India.
A press note issued by Jamia Nizamia in Hyderabad specifically appeals to the Muslim community asking them to perform the 'Taraveeh Prayers' at home in view of the nationwide lockdown due to the coronavirus pandemic outbreak, necessitated to cut the spread of the COVID-19 disease.
"...the Ulema and Muftis said that, as Sahr is done at home, all the Muslims shall also partake Iftar at home and they shall not go to mosques for Iftar. They are also requested not to host or attend Iftar parties and to give away the money so saved to the poor and needy for their basic needs," the press note details.
https://www.dnaindia.com/india/report-Ulema-muftis-urge-muslims-to-observe-ramzan-offer-taraveeh-prayers-at-home-due-to-covid-19-lockdown-2821359
-----
Worries Over 'Wahhabi Outlook' Of New Federal Territories Mufti
April 16, 2020
KUALA LUMPUR: Feathers have been ruffled within Malaysia's traditional ulama community over intense lobbying by scholars inclined to the Wahhabi doctrine, hoping to fill the vacant federal territories mufti spot with one of their own.
There are fears that the replacement for Zulkifli Mohamad Al Bakri, who left the post to accept a Cabinet position as the minister for Islamic affairs, could be "someone representing a regressive and restrictive tone of Islam", a source familiar with such appointments told FMT.
The source said although Zulkifli also carried "some pattern of Salafist views", he had been more accommodative of Islam's diverse thoughts during his time as mufti, and rarely made judgments on different schools of thought.
"But his replacement may not be as diplomatic when it comes to pushing through views, especially those which Wahhabism is known for," the source added.
It is learnt that most of the shortlisted candidates are alumni of the Islamic University of Madinah, an institution funded by the Saudi government to promote its official Wahhabi doctrine, and often seen as a rival to Egypt's Al Azhar, the seat of traditional Sunni Muslim scholarship.
The candidate must get royal consent from the Yang di-PertuanAgong, Sultan Abdullah Sultan Ahmad Shah, who is the head of Islam in the federal territories as well as in his home state of Pahang.
Sources say that one name linked to PAS, an academic from Kelantan and a Madinah alumnus, appears to be standing out as a likely candidate for the federal mufti post.
But insiders FMT spoke to said that senior leaders of the Islamist party are not comfortable with his "Wahhabi outlook", to quote one source.
"His religious views do not blend with the traditionalist position preferred by Abdul Hadi Awang," the source told FMT, referring to the PAS president who is currently the government's special envoy to the Middle East.
"He is seen as more receptive to Saudi playing a dominant role in the Muslim world, unlike Hadi who has been very critical of Riyadh's policies."
Wahhabism, sometimes used interchangeably with Salafism, has its origins in the teachings of 17th century scholar Muhammad ibn Abd Wahhab, who sought to end practices deemed "un-Islamic" and led a campaign for a return to a more austere version of Islam.
The movement colluded with the Saud family to help set up what is known today as Saudi Arabia. The ideology has been dominant in Saudi Islamic institutions ever since.
Wahhabi ideas have inspired restrictions in Saudi Arabia such as the ban on women driving and the rule that women travellers are to be accompanied by male family members, although these have been eased in recent times while met with resistance from the influential Saudi ulama establishment.
These leaders came into close engagement with Putrajaya under the Najib Razak administration, with some given advisory posts in the Prime Minister's Office.
Just how influential the Wahhabi lobby was in Putrajaya during that time could be seen in Malaysia's support of the Saudi military campaign in Yemen, as well as Islamic authorities' policies against Shia Muslims, the Wahhabis' arch-enemy in the Middle East.
The alliance was dismantled after Najib's fall from power, with Dr Mahathir Mohamad seen distancing himself from Riyadh's claim to Islamic leadership when he organised the Kuala Lumpur Summit late last year.
The names being bandied about as possible replacements for Zulkifli include Umno'sFathul Bari Mat Jahya, who heads a group of Islamic studies graduates who are virulently pro-Saudi, and Perlis mufti Mohd Asri ZainulAbidin, who himself in the past fought back allegations of promoting Wahhabism.
But a source dismissed these as speculation, saying it would be unwise for authorities to be seen "recycling" candidates from among those linked to former leaders.
"The greatest worry is that the new mufti will not be able to articulate the ethos of Malaysia's predominantly Sunni Muslims, who more or less frown upon Wahhabism and Salafism," the source added.
https://www.freemalaysiatoday.com/category/nation/2020/04/16/worries-over-wahhabi-outlook-of-new-ft-mufti/
-----
Pakistan Catering launches 'IftariKhana' service for Ramadan
2 hrs ago,2020
By Brad Deas
Pakistan Catering - which is based in Beckside Road, Bradford - has set-up "IftariKhana" to give people the chance to break their fast with a banquet from the comfort of their own home.
But, with the country still in the thick of the COVID-19 crisis and lockdown, Ramadan is set to be very different this year.
Pakistan Catering itself is usually preparing at this time of year to provide food for large "Iftari" (Iftar is the evening meal after each daily fast) celebrations across the UK.
Instead the business is offering people the chance to replicate that feeling of community and togetherness at home, by providing a collection service.
Customers will be able to order a three-course banquet box for five people, at a cost of £44.99, with the option of adding more boxes, if there are more than five people.
The new website states: "We are determined to make this Ramadan a memorable one by offering IftariKhana by Pakistan Catering available for you and your family to enjoy at home."
https://www.thetelegraphandargus.co.uk/news/18386082.pakistan-catering-launches-iftari-khana-service-ramadan/
-----
Jigawa suspends Itikaf, Tuhajjud prayers during Ramadan
April 16, 2020
By Khaleel Muhammad
Jigawa State Government has suspended performing of Ittikaf and Tuhajjud (voluntary night prayer and private devotion) in the coming month of Ramadan to prevent the spread of COVID-19.
Governor Muhammad Badaru Abubakar disclosed this after meeting with stakeholders at Sir Ahmadu Bello Hall in Dutse.
He said the meeting is aimed at reviewing some of the strategies adopted and see how best to protect the citizens against coronavirus.
He explained that some of the decisions included banning of Itikaf and Tuhajjud in the coming month of Ramadan and observation of social distancing in Juma'at prayer and use of face masks.
"We agreed that there will be Friday prayer but two metres social distancing must be observed, washing of hands before entering mosques and wearing of face masks to see the level of compliance.
"We are also looking for the possibilities of allowing Ramadan Tafsir and Tarawiy but it depends on the level of compliance.
"Our traditional rulers will also participate in protecting our borders and report anybody who sneaks into the state for possible action."
Badaru noted that a mobile court would also be constituted to punish those who violated all the directives given by the state Task Force on COVID-19.
https://dailypost.ng/2020/04/16/jigawa-suspends-itikaf-tuhajjud-prayers-during-ramadan/
-----
Islamic State claims first attack in island nation of Maldives
17-04-2020
Earlier today, the Islamic State claimed its first-ever attack in the small island nation of Maldives. While the reported operation did little in terms of damage, it does represent the further spread of the group's violence.
In its weekly Al Naba newsletter, the Islamic State reported that "an exclusive source told Al Naba that yesterday morning soldiers of the Caliphate attacked 5 boats belonging to the apostate Maldivian government."
The newsletter continued by saying that the docked boats were burned on Mahibadhoo island in the Maldives' Alif Dhaal Atoll. Little additional information is given other than repeating what Maldivian media has reported.
According to local outlets and authorities, five boats were indeed burned on the island yesterday. Local authorities have referred to the attack as "arson" and "a retaliatory attack for recent investigations into drug trafficking and religious extremism."
While today's statement is the first officially claimed attack in the country, it is not the first Islamic State-linked operation in the Maldives. Earlier this year, three people were arrested after stabbing two Chinese citizens and one Australian national on Hulhumale island.
A local cell reportedly claimed the operation in the name of the Islamic State, but the group did not pick up and amplify that claim.
While late last year, Maldivian authorities arrested an Islamic State recruiter whom the United States said "mobilized fighters for IS in Syria and Afghanistan."
In the Treasury Department's designation of Mohamad Ameen, they noted "Ameen was actively engaged in leading ISIS recruitment through his close lieutenants. Ameen's subordinates were holding roughly 10 recruitment sessions per week under the guise of Islamic classes at several Malé, Maldives-based locations."
Treasury also noted that "Ameen and his group continued to recruit on behalf of ISIS from various Maldivian criminal gangs."
Given the amount of Maldivian jihadists that travelled to Syria to join the Islamic State and the former Al Nusrah Front, the then-al Qaeda branch in the country (now known as Hay'at Tahrir al Sham) and even al Qaeda in Pakistan, it was only a matter of time before the violence returned to the island nation.
It is unclear if yesterday's attack represents a new sustained front for the Islamic State, but taken in context with additional recent events it is clear the group is trying to make inroads in the country itself.
https://www.longwarjournal.org/archives/2020/04/islamic-state-claims-first-attack-in-island-nation-of-maldives.php
-----
Arab world
Coronavirus: Saudi Arabia activates thermal cameras in Medina's Prophet's Mosque
17 April 2020
Joanne Serrieh
Saudi Arabia has activated thermal body cameras in the Prophet's Mosque in Medina as a precautionary measure to slow the spread of the new coronavirus, official Saudi Press Agency reported on Friday.
The cameras can accurately screen the temperatures of up to 25 people at the same time, according to SPA. The automated devices work at distance of nine meters and provide an immediate audio and visual reading for each individual.
Images and temperatures recorded can be stored for up to one month for reference, with the ability to remotely send them directly to specialists when needed.
The Kingdom had halter prayers in the outer courtyards of the Two Holy Mosques in Mecca and Medina last month as part of the efforts to the slow the spread of the deadly virus. Friday prayers and other main prayers were also suspended last month in mosques across the country. The only prayers permitted to continue outside the home are to be at the Two Holy Mosques in Mecca and Medina, according to an SPA report.
Saudi Arabia has so far recorded 6,380 confirmed COVID-19 cases and 83 deaths. Meanwhile, a total of 990 people recovered.
Saudi Arabia's Health Minister Dr.Tawfig al-Rabiah warned that the number of cases in the Kingdom could reach up to 200,000 within weeks, based on four different studies conducted by Saudi and foreign experts. His lower estimate was 10,000.
"There is no doubt that our commitment to the instructions and procedures, in its entirety reduces the number of cases to the minimum, while non-compliance will lead to a huge increase in the number of cases," al-Rabiah was quoted as saying by SPA.
He also said the numbers in the coming stages depend on everyone's cooperation and commitment to the instructions and precautionary measures. Many people did not take the dangers of the pandemic seriously enough, according to the health minister.
https://english.alarabiya.net/en/coronavirus/2020/04/17/Coronavirus-Saudi-Arabia-activates-thermal-cameras-in-Medina-s-Prophet-s-Mosque.html
-----
Al-Azhar Grand Imam greets Pope Tawadros II, Copts on Easter
16 Apr 2020
Al-Azhar's Grand Imam Ahmed el Tayyeb has greeted Pope Tawadros II of Alexandria and Patriarch of Saint Mark Diocese and all Copts on the the occasion of the Holy Week leading to Easter.
El Tayyeb on Thursday made a phone call to the pontiff, in which they prayed for Allah to protect Egypt and save its people and end all plights.
The imam praised the strong close bonds between the nation's Muslims and Christians who set the perfect example of solidarity, particularly amid the outbreak of the novel coronavirus worldwide.
http://english.ahram.org.eg/NewsContent/1/64/367446/-.aspx
-----
Egypt to extend nighttime curfew through Ramadan: Govt spox
16 Apr 2020
The nighttime curfew in Egypt is expected to be extended during the month of Ramadan, which starts next week, cabinet spokesman Nader Saad said in TV comments on Thursday.
The step comes in an attempt to stem the spread of the coronavirus pandemic, he added.
The country has been under a curfew since 25 March. Initially from 7pm to 6am, it currently runs from 8pm to 6am.
Ramadan is expected to begin this year on 24 April.
The Islamic holy month is normally a time of evening social and religious gatherings, following a fast-breaking meal at sunset.
The government has closed down mosques due to the crisis, one of a number of measures that included suspending schools and universities.
Saad added that all cafes, cinemas, theatres will remain closed during the month noting that Ramdan's tents in all venues, where people gather to eat the daily Iftar or sohour meals will be suspended.
The cabinet spokesman noted that the committee responsible for managing the coronavirus crisis will determine the curfew hours for this month at a later date.
Saad said that the government has taken several measures to contain the spread of the virus and "won't allow" any setbacks
http://english.ahram.org.eg/NewsContent/1/64/367453/-.aspx
-----
Organization of Islamic Cooperation holds virtual symposium on COVID-19
April 16, 2020
JEDDAH: The novel coronavirus (COVID-19) pandemic threatens everyone — regardless of location, color, ethnicity, or beliefs — the secretary-general of the Organization of Islamic Cooperation (OIC), Dr. Yousef A. Al-Othaimeen, said on Thursday.
Al-Othaimeen was speaking during a videoconference held by the OIC International Islamic Fiqh Academy (IIFA) on the COVID-19 outbreak. The symposium, in which several medical professionals and Sharia experts participated, reviewed Sharia provisions on isolating confirmed and suspected patients; social distancing; acts of worship — including congregational prayer, Friday prayer and Ramadan fasting during the lockdown; personal hygiene; and adherence to health directives issued by authorities.
Al-Othaimeen said he hoped the symposium would help reconcile the opinions of scientists and physicians with Sharia scholars in a bid to "formulate a harmonious position that supports the efforts of decision-makers in member states to address the spread of the disease and mitigate its negative effects."
"One of the five imperatives enshrined in Sharia is saving lives, especially in the face of an invisible enemy, where all components of society have the duty to fight it," the OIC secretary general said. "The participants in the symposium have a great legal and humanitarian responsibility to explain Sharia provisions regarding dealing with this pandemic, raising awareness of its seriousness, and highlighting the licenses and necessities called for in studies of Fiqh of calamities."
He added: "We also need to urge everyone to adhere to the necessary preventive measures taken by governments to confront this pandemic."
The symposium followed an extraordinary meeting of the OIC Steering Committee on Health on COVID-19 held a few days ago, which called on jurists and preachers to urge Muslims to follow the true teachings of Islam in terms of hygiene and adhering to the required preventive measures.
https://www.arabnews.com/node/1660106/saudi-arabia
------
Iraq extends coronavirus curfew until start of Ramadan as cases increase
Mina Aldroubi
April 16, 2020
Iraq's nationwide lockdown to contain the coronavirus outbreak is being extended until April 23, the government said on Thursday.
Schools, universities, shopping centres and other large gathering places will remain closed, as will the country's international airports.
The news agency was suspended from operating in Iraq for three months and fined 25 million Iraqi dinars, or about $20,800, after it reported the claims.
Reuters said it stood by the story, which "was based on multiple, well-placed medical and political sources, and fully represented the position of the Iraqi health ministry".
Mr Salih said the story had caused distress in Iraq because it implied a deliberate falsification of records by the government, which he said had not been the case.
"The WHO has also confirmed there has been absolutely no evidence of deliberate falsification of records. You cannot hide the deaths," Mr Salih said.
Meanwhile, the United Nations urged Iraq's parliament to approve a law against domestic violence law after an increase in reports of gender-based and domestic violence.
The UN said this was partly due to an "increased household tensions as a result of the confinement due to the Covid-19 pandemic."
Iraq's interior ministry has published phone numbers that women can call for help from security forces after reports surfaced of the rape of a woman with special needs, spousal abuse, immolation and self-immolation as well as self-inflicted injuries due to spousal abuse, sexual harassment of minors, and suicide due to domestic abuse among other crimes.
"Such crimes raise the alarm for the urgency to endorse the Anti-Domestic Violence Law in Iraq," the UN's office in Iraq said in a statement on Thursday, referring to a draft law awaiting passage by legislators.
"The UN in Iraq calls upon authorities to ensure that the judicial systems continue to prosecute abusers, invest more in hotline and online services, support the role of civil society organisations, keep shelter doors open for women fleeing abuse and punish perpetrators of any gender-based violence," it said.
https://www.thenational.ae/world/mena/iraq-extends-coronavirus-curfew-until-start-of-ramadan-as-cases-increase-1.1006950
-----
Egypt's soap operas defy a deadly virus for Ramadan prime time. But at what cost?+
April 17, 2020
Dozens of actors and film crew members crammed into a small hair salon in an upscale Cairo neighborhood in early April. They were racing to finish filming a TV serial scheduled to premiere during the Muslim holy month of Ramadan, which starts next week.
The narrow streets of the Egyptian capital were a beehive of activity with dozens of crew members moving up and down the road or resting on plastic chairs on the sidewalks.
In previous years, the crowd, the six trucks and 32 vehicles lining the surrounding streets would have attracted passers-by hoping to see their favorite film stars. It is a common sight in the weeks before Ramadan, a high season for TV, when crews work 16-20 hour days to meet their deadlines.
But at a time when Egypt is observing a partial curfew to stem the spread of the Covid-19 pandemic, concerned neighbors were alarmed to see a big crowd ignoring social distancing guidelines and called the police. That day officers showed up to the set seven times but everything they were doing was perfectly legal, Ahmed Yehia, a producer working on the serial, told CNN.
Egypt's government advises against activities involving crowds and only imposes fines on those violating the curfew, which was 7pm-6am initially. President Abdel-Fattah el-Sisi, who promised cash handouts to workers impacted by the virus, said in a televised speech last week that he did not want to completely "suspend work completely in all sectors."
Since the start of the outbreak, the government has suspended schools and universities, grounded most flights and closed mosques and churches in a bid to contain the spread of the novel coronavirus. It advised those who can to work from home, but encouraged production in different industries to continue, including TV which is mostly controlled by privately owned companies with ties to the state.
Insiders in the multi-million dollar TV industry warned that continuing to work in crowded sets over long hours could be deadly.
"How can we make a living if we and our loved ones are dead?" script writer Mariam Naoum said in a public appeal on Facebook to stop productions on March 22. By that date, the virus had officially claimed 14 lives, including two military generals, and the country's confirmed cases stood at 327. TV channels were pressuring producers, who were pressuring actors to continue filming, Naoum said.
Though she was able to work from home as a scriptwriter, she felt she was facilitating the work that was happening on those crowded sets, she added: "I feel that with every scene I [write and] send, I hurt people that I love very much."
Millions in Egypt and around the Arab world will be glued to the high-production period dramas and thrillers throughout the holy month of Ramadan, which begins on April 23.
Discussions of plot twists dominate the traditional family gatherings after the day-long fast. In good years, Egypt can produce up to 80 serials for that month alone, shown on local and international Arab channels selling ad slots to corporations splurging on big stars and expensive productions. "Ramadan is our Super Bowl," film director Tamer Mahdy said about the ad industry.
This struggle between protecting people from the virus without bringing the economy to a screeching halt is mirrored globally, in everything from government responses to people's daily choices.
Egypt has a population of nearly 100 million people living in densely populated cities and villages. Its fragile health care sector is reeling under budget cuts and its political leadership is widely perceived to lack transparency, and flout its own rules.
A third of the population lives in poverty and at least half of the economy is made up of workers who depend on daily wages for survival
"There is no protective gear. And that's why doctors are at high risk," Dr. Mohammed Hassan, a physician and former Egypt's doctors' union leader told CNN. But for a population the size of Egypt's, experts worry about the country's capacity, with just 346 ventilators set aside to treat coronavirus patients.
Egypt's Minister of Health, Hala Zayed, has repeatedly cited Egypt's low number of confirmed cases as a point of pride for the Egyptian government. Egypt reported 2,505 cases and 183 deaths as of Wednesday and the World Health Organization (WHO) has commended its early interventions to contain the virus.
But experts warn that the health sector is ill-equipped to handle an outbreak like the one seen in Europe, and equipment shortages are affecting hospitals across the country. "We managed to collect donations and buy the basic medical supplies," a cardiologist at a public hospital told CNN. "The health ministry is doing its best," but "a corrupt and poor system" can't be reformed during a pandemic, she added. The cardiologist spoke on condition of anonymity to avoid punitive measures.
At least three doctors have died from the novel coronavirus and 43 others health workers have tested positive, the doctors' syndicate said, leading to partial closures of public hospitals offering free healthcare to thousands of the most vulnerable. One of the hospitals that has had to reduce its capacity is the National Cancer Institute. The WHO said 13 percent of Egypt's confirmed cases are healthcare workers.
And even where the capacity still exists, some patients say they don't feel safe. Seeing how some doctors and nurses didn't use basic protective gear or observe social distancing at a public hospital, cancer patient Amr Asaad told CNN he is "reluctant to resume his chemotherapy."
"Postponing or not shooting is not an option," said Mohammed Gamaleddine, a line producer in an upcoming Ramadan drama, told CNN. "We are freelancers, not rich stars. There are hundreds of people who work in this industry and most of us may stay at home with no job or money from year to year. It could be the only gig we have," he added.
Despite these appeals and the concerns expressed by crews and actors, shooting only stopped on productions that were so behind in their schedule that they would not have been able to meet their deadlines while working under the curfew, according to several industry insiders who spoke to CNN. Those who had finished 70% of filming acquired permits to work through the curfew, scaled down the production, halved the number of crews on newly sterilized sets and brought physicians on site, they said.
Ashraf Zaki, the head of the semi-official actors' syndicate said in early April only 25% of the planned serials would make it to the screens in Ramadan.
"The government wants us to finish the series, so people can find something to entertain them during the lockdown. The production company will pay a huge fine [to TV networks] if they don't deliver before Ramadan," Yehia, the producer who worked on the shoot at the hair salon, told CNN.
A week later, Yehia's crew moved to a hotel to film a number of other scenes. A shoot at the hotel reception involved 130 people. The following scene was shot in a hotel room, with a minimum of 20 people "after cutting down all unnecessary staff," he explained. To cut costs, by paying the hotel for one day instead of two, the crew kept on working for 20 hours -- a common practice in the annual race.
"Right now, I am wearing a mask and gloves, but in a couple of hours -- like every day -- I will get too busy or get tired and will throw them away," Yehia told CNN on the phone from the hotel. "We are all crammed in one place. There is no way we can have social distancing."
"We all would rather be at home with our families. I am so scared for my family. I agreed with my wife that the kids will be safer in our hometown Alexandria and I haven't seen them or my mother for the past three weeks," Yehia added.
https://us.cnn.com/2020/04/17/middleeast/egypt-soap-operas-coronavirus-intl/index.html
------
Europe
Watchdog: Muslim Cleric Summoned by Security Service for Interrogation over Alleged Sabotage
16/04/2020
Several members of the Administration of All Georgian Muslims, the official governing body of Sunni and Shia adherents of Islam in Georgia, including MirtagAsadov, an ethnic Azerbaijani cleric, were summoned by the State Security Service for interrogation in connection with recent protests in quarantined Marneuli municipality, EMC, a local watchdog reported on April 16.
The State Security Service had launched an investigation into alleged sabotage (article 318 of the Criminal Code of Georgia) amid the state of emergency, EMC said.
EMC questioned the reasoning behind the State Security Service summoning the cleric. MirtagAsadov joined the social protest, and his action can by no means be incriminating, claimed the local watchdog.
According to the watchdog, Asadov attributes his summoning to his public comments made during an interview with MtavariArkhi TV on March 15, that "Georgia is not a theocratic country, it is a secular state, and us-versus-them cleavage is not justified."
Asked by a journalist to assess government's decision to allow Georgian Orthodox Church carry on Easter service, Asadov stated "then we should also open mosques during Ramadan and let's see how the Prime Minister reacts." Asadov later clarified that he was just hypothesizing, EMC noted.
https://civil.ge/archives/347233
------
Civil rights group demands police investigation after Muslim healthcare worker was tasered for refusing to take off his protective mask while shopping at a Maryland grocery store
16 April 2020
A Muslim rights group has called for a police probe into the actions of a grocery store security guard who allegedly tasered, pinned to the ground and restricted the wrists of a medical worker who refused to shop without his protective mask.
The father – who remains anonymous in a statement from the Council on American-Islamic Relations (CAIR) – was asked to remove his face covering when he entered LA Mart in the Oakland Mills Village Center after work on April 4.
The medical worker – whose job includes caring for COVID-19 patients – temporarily lifted up the mask so the guard could see that he was a familiar face but refused to take it off altogether.
CAIR notes that the shopper is a Muslim man of Tunisian heritage and his family shop at the store regularly as they live within walking distance.
The shopper claims he asked the guard to step away in compliance with social distancing guidelines and collected a few necessities for purchase.
But when he came to pay for the goods the guard approached him in an aggressive manner. He stepped away to leave but was tasered and fell to the ground in pain and shock, according to CAIR.
Howard County Police confirmed to the Baltimore Sun that they were called to the store 'for a report of a disorderly subject'. Representatives for the store could not be reached for comment.
'This incident is carved in my mind,' the shopper said in a statement. '[I am] still waking up in the middle of the night with nightmares screaming and crying. My family noticed the change in my behavior also.
'My daughter and my son are still crying and my daughter was crying in my arms yesterday saying, "I want my Dad back". All I want from this horrifying incident is justice for me and my family. All I want is that after me nobody and no human being should go through what I went through.'
'This individual is a hero providing an essential service during this pandemic, yet he was disrespected, attacked and humiliated as if he were a criminal,' CAIR's Director of Maryland Outreach Zainab Chaudry said.
'This ordeal has traumatized him and has had a profound effect on his wife and children. His experience underscores why too many people of color are uncomfortable or reluctant to wear personal protective gear like face masks in public for fear of being profiled and attacked.
'We urge law enforcement to promptly investigate the circumstances of this incident, restore some measure of dignity, and help deliver justice for him and his family.'
'Our client was violently attacked for simply trying to protect himself and the public from the coronavirus,' Attorney David Muncy said in a statement. 'The actions of the L.A. Mart guard were reprehensible and cannot be tolerated. We will fight to obtain justice for him and his family and look forward to holding this company responsible for the harm they have caused.'
CAIR noted it's not the first time a person of color has been treated unfairly for covering their face amid the coronavirus pandemic.
Two black men were seen on video being kicked out of Walmart last month. Video showed them wearing face coverings while a security guard ushered out of an Illinois branch.
The CDC has urged everyone to wear a face covering to help slow the spread of coronavirus, especially as some infected people are asymptomatic and don't know they may be harming others in public.
However some people of color have been reluctant to wear coverings as the image has been negatively depicted in the mainstream.
'If you're a person of color, you can't just wear a mask,' Mark Anthony Neal, chair of the department of African and African American studies at Duke University told NBC News. 'You have to be conscious of wearing a mask in a way that it will be disarming, even comforting, for some of the people you share social spaces with and I'm sure those are concerns that most of our white peers don't have to think about.'
Additionally, people of color have been considered especially at risk of contracting coronavirus and have the highest death rates in some states.
Experts have connected the disparity to socioeconomic factors, such as distrust of the medical system, lack of access to healthcare, a tendency for doctors to underprescribe for people of color, plus a higher likelihood of working on the frontline.
Experts have recommended vitamins B, C, D and Zinc, among other things to help boost the immune system and fight viruses. However, darker skinned people are less able to obtain vitamin D due to higher melanin production
However as black and Asian people hail from hotter climates they tend to have more melanin in the skin. Therefore in cooler climes, darker skinned people tend to suffer from a lack of vitamin D.
The British Medical Journal reported in 2017 that taking a vitamin D supplement reduces the chance of a chest infection from developing into pneumonia.
According to a World Health Organization study on respiratory tract infections, 'Vitamin D deficiency may affect the immune system as vitamin D plays an immunomodulation role, enhancing innate immunity by up-regulating the expression and secretion of antimicrobial peptides, which boosts mucosal defenses'.
Estelle hails the antibacterial and antimicrobial properties of D3, otherwise known as the 'sunshine vitamin'. As well as taking oral supplements, or having vitamin IVs, slow-release vitamin D adhesive skin patches are a good at-home option.
'The transdermal patches, which work like Nicotine patches, provide 12 hours of continuous D3 supplementation, delivered directly into the bloodstream,' Estelle says.
https://www.dailymail.co.uk/news/article-8226651/Muslim-medical-worker-Maryland-shocked-taser-refusing-protective-mask.html
-----
Muslim population of Europe could triple in 30 years; Hungary, Poland, Czechia, and Slovakia buck the trend
April 16, 2020
The Muslim population on the European continent is set triple to nearly 76 million in the next 30 years, according to one projection from the Pew Research Center, but such an increase will not be seen in the Visegrad Four countries of Hungary, Poland, Slovakia, and the Czech Republic.
Using the model of medium migration levels, the study predicts that the number of Muslims in the UK alone will increase from 4.1 million in 2016 to 13 million in 2050.
The research also explored what high levels of migration would look like. Under such a scenario, Sweden would have the highest share of Muslims at 30 percent of the country's population, representing 4.4 million Muslims. Germany would be in second with 19.7 percent, representing 17.4 million Muslims.
Despite the rapid increase in Muslims in many Western European countries by 2050, no such increase would be seen in many Eastern European countries that have been unwilling to embrace the migration ethos of countries like Sweden, Germany, France, and the United Kingdom.
Under a medium migration scenario, only 1.3 percent of Hungary's population will be Muslim, Slovakia's 0.6 percent, and the Czech Republic's 1.1 percent.
Poland will barely see an increase in Muslims at all, with only a possibility of 0.2 percent of Muslims living in the country by 2050. Poland would be tied with Lithuania for the lowest share of Muslim migrants in all of Europe according to Pew's research.
Poland, Hungary, the Czech Republic, and Slovakia have remained allied on the issue of migration and have roundly rejected migration quotas despite pressure from the European Union. All four leaders also remain committed to maintaining strict asylum procedures and securing their borders and Europe's external borders.
Hungary, for example, has also chosen to implement programs to ensure Hungarians have children instead of relying on mass migration, with pro-family programs showing signs of success, with a 9.4 percent increase in births seen year-on-year, pushing the fertility rate to a 20-year high.
As of 2016, Muslims make up 4.9 percent of Europe's population but that could grow to 14 percent by 2050, according to Pew Research.
The Washington D.C.-based research organization states that even if migration were to be completely halted, the share of Muslims in Europe would still grow significantly.
The Pew Research Center further states that the UK has been the main destination for economic migrants coming to Europe, while Germany has been the primary destination for refugees.
The study indicates that a record influx of "asylum seekers fleeing conflicts in Syria and other predominantly Muslim countries" in recent years have led to the substantial growth in Muslim migration to Europe.
The study also points out the differences between fertility rates of Muslims and non-Muslims. For example, Muslim women in the UK have an average of 2.9 children, while non-Muslim women have only 1.8 children.
Muslims are also 13 years younger on average than other Europeans and their much higher birth rate is set to further expand this already stark difference in coming years.
Therefore, even if migration stops completely, the Muslim population share would rise by more than 3 percent and not only in the UK, but also in France, Italy, and Belgium. In a zero migration scenario, the Muslim population in Europe still would be expected to rise from the current level of 4.9 percent to 7.4 percent by the year 2050. This is because Muslims are younger and have higher fertility rates than other Europeans.
The report also indicates that if migration continues at the same rate but migrant waves stops, the UK will have the highest population of Muslims in the EU, forming almost 17 percent of its population.
The rapid pace of demographic transformation has partly driven the rise of conservative and population parties looking to halt migration and help boost the birth rates of Europe's native populations. Given the scenarios offered by Pew, changing demographics could further fuel political polarization and increase the voting share of parties who make immigration a campaign issue.
https://rmx.news/article/article/muslim-population-of-europe-could-triple-in-30-years-but-not-in-hungary-poland-czechia-and-slovakia-report
-----
Muslim Executive announces measures for Ramadan under lockdown
16 April 2020
The Islamic fasting period of Ramadan begins this year in little over one week, on 24 April, and the Muslim Executive, the body that officially represents the country's Muslims, has been preparing rules adapted for the special circumstances of a nationwide confinement.
• Mosques are closed already and will remain closed, with no activity at all allowed to take place inside. That includes, for example, a live-stream of an imam at prayer, such as happened in many Christian churches at Easter.
"This non-compulsory, additional prayer can only be held at home in a limited circle, namely only among family members living under the same roof," the Executive said.
• To provide support for Muslims and allow them to live their spirituality in serenity, the Great Mosque of Brussels will provide various religious lectures presented on video by imams, previously recorded in the mosque itself.
• Muslims are asked not to wait until the end of the fasting day to buy supplies for their post-sundown meal, so as to prevent gatherings of people in front of shops that are practising social distancing.
"Inviting loved ones, friends and neighbours into your home is unfortunately prohibited due to social distancing obligations," the Executive said. "Gatherings of people which sometimes form after meals, are no longer allowed. Moreover, those faithful who stay awake for part of the night must be careful to maintain peace in their neighbourhood."
• Children, the elderly or frail, pregnant or breastfeeding women and the sick are exempt from fasting, according to the Executive. For this year alone, Muslims working on the front lines in the fight against the pandemic and facing difficult working conditions (severe stress and fatigue, a busy work schedule, safety clothing that aggravate thirst) may also, if they are struggling, interrupt the fast or delaying the start. This rule mainly concerns employees in hospitals, care homes and funeral parlours, the Executive said.
• Finally, with fewer staff currently working in prisons and detention centres, the distribution of meals to Muslim detainees cannot be guaranteed at the time of the evening when fasting is interrupted, as has been the case in previous years.
"If inmates experience difficulties in fasting in these circumstances, it is permissible to interrupt or delay the fast," the Executive says.
The Executive emphasised the importance of strict adherence to these recommendations by the entire Muslim community, as they are essential to safeguard public health. "Patience is the most important virtue in this context," it said.
https://www.brusselstimes.com/all-news/belgium-all-news/106642/muslim-executive-announces-measures-for-ramadan-under-lockdown/
----
North America
Why the Coronavirus Poses a Unique Threat to Islamic Terrorists
Apr 17, 2020
The shadowy alliance between Iran and the Taliban has killed countless American soldiers over the years. But Iran exported more than just IEDs and training to Afghanistan. The social problems of the Islamic dictatorship traveled along the same highways as the IEDs. But they didn't kill Americans.
Under President Trump, the United States has begun bombing Taliban meth labs as the junior Islamic terror regime in Afghanistan began imitating the meth export business of its big brother in Iran. But when Islamic republics get into the drug business, it's their own people who get addicted to the stuff.
The virus crosses Shiite-Sunni barriers as seamlessly as it does international time zones. And the estimated 500,000 infected in Iran are translating into rising infections in Afghanistan.
The first confirmed case in New York City, the epicenter of the pandemic in the United States, was a traveler who came from Iran. But Iran's shared border with Afghanistan and the millions of Afghans living in Iran, as workers, religious students, and terrorists, makes the spread impossible to stop.
Iran has a huge Afghan population. When the coronavirus pandemic hit, 200,000 Afghans fled the disease-ridden terror state for their home terror state and brought the disease along with them.
The Islamic terrorist group had famously gone after health care workers as part of a joint bid with Islamist allies in Pakistan fighting against the polio vaccine. But now the Taliban are promising not to kill health care workers and begging WHO to come back after previously banning the organization
"Our Mujahideen are helping the health workers to spread out the messages about the dangers of COVID-19," a Taliban spokesman declared.
The Taliban's General Commission for Public Health has issued bulletins advising Afghans to resist the virus by wearing masks, gloves, eating Vitamin C, and Halal foods. Taliban fighters have begun detaining and quarantining Afghans coming back from Iran. While the Taliban's official position is that the coronavirus was sent by "Allah" because of the "sins of mankind" which is to be fought by reading the Koran, its willingness to embrace western medicine, from test kits to PPEs, shows it's worried.
In an unprecedented move for an Islamic organization that had murdered vaccine aid workers and treated medicine as a conspiracy against its regime, the Taliban is telling supporters that, "safety guidelines issued by health organizations, doctors and other health experts must be observed."
In a further sign that its leadership fears that the virus might spread to its Jihadists and decimate their ranks, a Taliban spokesman announced that, "If, Allah forbid, the outbreak happens in an area where we control the situation then we will stop fighting in that area."
The Islamic terror movement has Iran as a cautionary example. Like Communist China, Iran lied to its people about the scope of the outbreak. Its death tolls and case numbers are equally unreliable.
Iran caught the pandemic from China. Both regimes chose to maintain open access as part of their alliance. Instead of protecting its people, the Iranian leadership prioritized its relations with the PRC. While the Iranian regime continued lying to its people, it was carefully taking precautions to protect its leadership, including its 80-year-old leader, even as the pandemic was quietly spreading across Iran.
China's dishonesty infected Iran and then Iran's dishonesty infected Afghanistan, Saudi Arabia (the first confirmed fatality in that country was an Afghan), Syria, and spread outward to the United States.
Religious Islamic ties were behind the spread of the coronavirus to Iran with 700 Chinese students studying in seminaries in the Islamic sacred city of Qom identified as the source of the outbreak. Afghans returning from Qom, many of them fellow Shiites, then helped spread the disease into Afghanistan.
The IRGC, Iran's terror hub, had been recruiting Afghan Shiites to fight in its wars, including in Syria. The Assad government has become an Iranian puppet and so failed to stop travel from Iran to Syria.
The IRGC had provided the Taliban with IEDs, MANPADS, and political support in any "peace deal". Despite the Taliban's hostility to Shiites, the Sunni Islamist terror group was reliant on Iran, but it also had the inside information through its IRGC contacts of just how bad the situation in Iran really was.
The pandemic has been at its worst in New York City's dense urban grid. And at 27,000 people per square mile, it's certainly dense. But Kabul, now under coronavirus lockdown, has 12,000 people per square mile. The Taliban would like to take Kabul, but they fear there may not be anything to take.
And the Taliban, like many Islamic terrorist groups, including ISIS, are worried that the virus spreading through the ranks of its fighters could be particularly deadly and cripple its terror campaign. If the virus gets into its training camps, then its entire force infrastructure could be badly compromised.
Even ISIS, which had been frantically urging foreign supporters to come and join the group to supplement its declining numbers, has asked them to stay away during the coronavirus crisis.
But the Taliban, despite being on track to take over the country from a conflicted government, can't stop the flood of Afghans fleeing Iran and can't sever its ties to the Islamic terror regime which has been training its Jihadists and providing it with weapons. And that's why the Taliban are panicking.
While Iran has been happy to supply the Taliban with weapons to kill Americans, it's not going to bail it out during a pandemic. Not when its own people are dying. If the Taliban needed any evidence of that, it comes from the Afghans in Iran who have come down with the coronavirus and been denied care.
And if the Taliban become infected, the next vector would be through the porous Pakistani border. Infected Afghans have already been detained trying to enter Pakistan, but the Taliban are interlinked with a variety of terrorist organizations, including Al Qaeda, as well as Pakistani and Chinese Islamists.
The world's Islamic terrorist pipeline begins in Iran, Qatar, Turkey, and Pakistan, and flows outward across the Middle East and Asia. Its interlinked nature, uniting unlikely allies like Iran and the Taliban, is uniquely vulnerable in a pandemic. A wide variety of Islamic terror groups have been trained in Iran, many then check into Qatari hotels, and make contacts with Islamists in Pakistani and Turkish cities.
These secret networks have proven resilient in the War on Terror, but are vulnerable to the coronavirus where every contact potentially compromises everyone whom he comes into contact with ad infinitum.
The network's very circuitousness, its dependency on human contact across different countries, makes it the best ally of the pandemic. It's no wonder that the Taliban, ISIS, and other Islamic terrorists are worried. Even as their political Islamist allies dismiss the threat, the Jihadists understand that the pandemic risks destroying the global infrastructure that makes Islamic terrorism an international threat.
Islamic terrorism is dependent on a handful of 'backer' countries, on couriers and training camps, and the coronavirus risks making the entire network of Islamic terrorism into a pandemic vector.
http://www.frontpagemag.com/fpm/2020/04/why-coronavirus-poses-unique-threat-islamic-daniel-greenfield/
-----
Beloved Muslim community advocate who died of COVID-19 helped thousands with volunteer work
Apr 16, 2020
Shanifa Nasser
A tireless volunteer, a beloved teacher, and to many more simply "Babu Uncle" — members of Muslim communities in Toronto and Halifax are grieving the loss of Husain Bhayat, a man being remembered as part of the bedrock of the community, defined by his dedication to humanitarian causes and his kind, always-smiling eyes.
Bhayat died Monday of COVID-19 at Missisauga's Credit Valley Hospital — his son and daughter, Muhammad and Zarina, unable to hold his hand in his final moments because of the no-visitors policies necessitated by the virus.
"You were not allowed to touch him at all. There was no kind of affectionate goodbye or even just hanging on to his hand," Zarina told CBC News.
Bhayat, 83, first started experiencing a fever and cough around March 23. Five days later came the news his family hoped they would never hear: He had tested positive for the virus. Bhayat was admitted to the hospital the same day and put on a ventilator three days later.
"His main concern at the end of that conversation was really to give all his love to the grandchildren," she said. ""I think he was a little afraid but he was always in good spirits; that was just his personality."
When things took a turn for the worse, the hospital called and said they would allow two visitors. The family decided Zarina and their mother would go and be with Bhayat.
Donning gowns, masks and gloves, Zarina and her mother had to remain at a distance as Bhayat slipped away. Muhammad sat outside in the hospital's parking lot on Facetime with his sister inside as they bid their father goodbye.
Muhammad Iqbal Bhayat, left, and Zarina Bhayat, right, are pictured with their father, Husain Bhayat, and mother. (Muhammad Iqbal Bhayat/Facebook)
Bhayat was a constant presence at religious functions, community events, weddings and funerals. But because of the pandemic, those who knew and loved him were forced to remain physically separate for his own funeral prayers.
Instead of the thousands who would have turned out to the mosque to honour him in ordinary circumstances, approximately 100 friends and loved ones from across Canada, the United States, South Africa and India gathered virtually for an online funeral ceremony.
They shared their grief and stories, and comforted one another through their screens —even managing a laugh or two when someone would push the wrong button or forget to unmute their mic.
As a child, Muhammad recalled his father would insist he come with him to just about every funeral. "I'd say, 'I don't even know who that person is,' and he'd say, 'No, we have to go pay our respects."
COVID-19 got in the way of all of that. Rather than undergoing the ceremonial washing and funeral preparations, Bhayat's body was released directly to the funeral home and taken straight to the cemetery.
Just 10 people were allowed to attend his burial. But having touched as many lives as he did, Muhammad said community members insisted they be able to participate. So the decision was made to livestream the burial online, where it was viewed by thousands.
In death, as in life, Bhayat was "a light," said Shireen Ahmed, a writer and sports activist who grew up in Halifax and now calls Toronto home.
Husain Ahmad Bhayat - lovingly known as Babu Uncle- wss from Gujarat, India. He was an educator, a tireless volunteer, and a doting grandfather. He died of complications of #COVID19 in Mississauga. - 1
As a child, Ahmed knew Bhayat as the owner of one of Halifax's first Indian grocery stores, where the smells of turmeric and cilantro "coupled with his beautiful grin were a staple" of her childhood.
"Babu Uncle" always set aside a few packs of her favourite double-chocolate cookies when they were shipped from South Asia — that's just the kind of man he was, she recalled.
"That store was a place of love, nourishment of our identities, and affirmation of our community bond," Ahmed wrote in a moving tribute to Bhayat on Twitter.
"When you come from a small immigrant community, these elders are all your parents. They are pillars of your life. They float in your memories, and stay embedded in your lived experience. And you miss them so much it hurts."
Born in 1937 in India while it was under British rule, Bhayat was the first in his family to receive a college education. But he wanted more opportunity for his children, and immigrated to Canada in the 1960s, settling in Nova Scotia, where he spent some four decades as a public school teacher.
After retiring, Bhayat moved to Mississauga, where he dedicated himself to building up the community. Human Concern International, Jame Masjid, the International Development and Relief Foundation (IDRF) and American Federation of Muslims of Indian Origin were just some of the institutions to which Bhayat dedicated his energy and time.
Muhammad and Zarina say they're still learning just how many causes he was involved with as people share stories about their father.
Born in 1937 in India, Bhayat, was the first in his family to receive a college education. But he wanted more opportunity for his children, and immigrated to Canada in the 1960s, settling in Nova Scotia. (Muhammad Iqbal Bhayat/Facebook)
"It was his mission and I will tell you, it energized him," said Muhammad. So much so, that when his children, by then grown, would call to talk to him, it was almost impossible to get hold of him.
"It was really a constant battle with us," Zarina said with a laugh. "We'd say, 'You need to rest.' And he'd say, 'No, you only live once and you have to make a difference and you have to help people.'"
Through his volunteer work, Bhayat touched the lives of people around the world, said an online tribute by IDRF, calling him an "indefatigable champion of charitable causes both in Canada and overseas.
On its Facebook page, IDRF highlighted just some of Bhayat's volunteer work: fundraising for the William Osler Hospital in Brampton, health and education projects in India, Pakistan and Bangladesh, clean water projects in the Middle East and Caribbean and sponsoring Syrian refugees to come to Canada.
"All of us who had the pleasure of knowing him will deeply miss his wonderful personality, his courteous demeanour and his signature friendly smile," the tribute reads.
Still, in these unusual circumstances, the novel coronavirus meant "a challenge on top of a challenge," for Bhayat's family. Relatives unable to be by his wife's side as she absorbs the reality of her loss, the familiar faces and customs so much a part of the grieving process all on hold.
Bhayat's wife, who was always in more frail health than her husband, is still trying to cope with her husband's sudden loss.
But though their father is no longer with them, Muhammad and Zarina say his lessons and example leave a legacy that will remain with them forever.
Bhayat, recalled Zarina, was always asking her to be more involved in his charity work. With a full-time job and a child, she would tell him, she just didn't have the time.
"And now when I'm looking at how he was helping over 70 charities, I can understand why he couldn't understand me," she said.
"What would really honour his memory and what he would love is if this inspires other people to go out and do the same."
https://www.cbc.ca/news/canada/toronto/hussain-bhayat-1.5535190?cmp=rss
-----
Muslims grapple with how to handle upcoming Ramadan rituals in coronavirus era
Apr 16, 2020
WINTER PARK, Fla. (AP) — Seattle resident Maggie Mohamed was looking forward to spending the Islamic holy month of Ramadan in her native Egypt.
Now, with the spread of the new coronavirus, flying is off the table. So is having friends and relatives over for a potluck iftar, the breaking of the fast. Mohamed is older than 65 and says she cannot risk it.
"It's very sad. We were very excited," she said. But, "I don't take it as a punishment. I take it as a wake-up (call)."
Ramadan, which starts later this month, unites Muslims the world over in fasting and worship. This year, it follows a string of religious holidays that have also unified the faithful from different religions in grappling with how to observe familiar rituals and celebrations in a time of unfamiliarity.
Mohamed is contemplating workarounds. She always looks forward to the special Ramadan prayers, known as "taraweeh," at the mosque. She will now pray at home with her daughter. But what about the dua, or supplication? The imam moves her to tears. As he prays for dead loved ones or those suffering in faraway lands in his "miraculous" voice, sobs rise from the faithful and intermingle with chants of "Amen" recited in unison.
"That would help us a lot," she said, even as she noted it wouldn't be the same. At her mosque, female worshippers hug and chat after the prayers as children scurry around and dates and chocolate are passed from hand to hand.
During Ramadan, the faithful abstain from food and drink from sunrise to sunset as they strive for self-purification and empathy. It's a time for prayers, introspection and charity. Normally, it's also a time for family, friends and festive feasting.
Many Muslims have been praying for the coronavirus cloud, which has already disrupted Islamic worship the world over, to lift before Ramadan. Mosque closures and modified calls for prayers urging the devout to pray at home have left many feeling emotional. They are relying on worship at home and online religious classes. This year, some are planning virtual interfaith iftars.
"How do we build ourselves to where we are more connected to Him?" asked Suleiman, who has been streaming virtual sermons and nightly reflections to more than 1.4 million Facebook followers.
"Now we have a chance to develop empathy with those that have not had access to their religious spaces due to oppressive circumstances."
Malaysia, Brunei and Singapore have banned popular Ramadan bazaars where hawkers sell food and drinks in congested open-air markets or roadside stalls. In predominantly Muslim Malaysia, vendors are now planning to bring their businesses online through mobile apps or digital platforms provided by local authorities during the fasting month.
Mohamad Fadhil, a trader in Malaysia's southern Johor state, said he was resigned to not being able to do business at the Ramadan bazaar or perform the taraweeh prayers at the mosque. "We just have to be patient and follow orders," he said.
In Iran, which is suffering one of the world's worst outbreaks, Supreme Leader Ayatollah Ali Khamenei suggested that mass gatherings may be barred through the holy month. "Remember to heed your prayers and devotions in your lonesomeness," he said.
The Islamic Waqf, which administers the Al-Aqsa Mosque in Jerusalem, Islam's third-holiest site, announced today that the mosque will continue to be closed to worshippers for Ramadan.
It's difficult, Sheikh Azzam Khateeb, the director general of the Waqf, said before the latest announcement, but "the health of the worshippers comes before anything else."
ZuherDubie, a 71-year-old mosque preacher in the West Bank city of Nablus, has been observing Ramadan and praying in mosques since he was 10. For the first time since, Dubie said, he wouldn't be able to practice some of the month's rituals.
In Egypt, the Ministry of Religious Endowments decided to suspend communal Ramadan activities, including mass charity iftars around mosques. Mosques have already closed for prayers there and the country is under a night-time curfew.
Ordinarily, worshippers fill mosques and shoppers swarm markets. Loved ones gather over scrumptious iftars. Strangers break bread together in street banquets that feed the needy. Cafes teem with patrons chatting over a cacophony of gurgling water pipes and blaring music. And Ramadan lanterns cast a colorful glow over bustling streets.
In some areas, a "mesaharati," bangs on a drum as he wakes up residents for "suhoor," the pre-dawn meal that will sustain them through another day of fasting.
Before, she would slip early to bed as many binge watch television shows produced for Ramadan entertainment. At around 3:00 a.m., she would wake up to have "suhoor" and cook up a storm. Using groceries that she and co-workers had pitched in to buy, she would prepare dozens of meals before she left for work. Before iftar, Selim and other volunteers would go outside to distribute boxes neatly packed with salad, rice, chicken or meatballs.
Now, she likely won't be able to hand out meals on the street but she's determined to send iftars to the homes of those she knows need them.
Associated Press writers Mohammed Daraghmeh in Ramallah, West Bank, Josef Federman in Jerusalem, and Eileen Ng in Kuala Lumpur, Malaysia contributed to this report.
https://www.pbs.org/newshour/world/muslims-grapple-with-how-to-handle-upcoming-ramadan-rituals-in-coronavirus-era
-----
US Muslim group that initially backed Bernie Sanders endorses Joe Biden
16 April 2020
By Ali Harb
Emgage PAC, a Muslim-American political action committee, endorsed former Vice President Joe Biden for president, throwing its weight behind him, months after it had backed Bernie Sanders in the primaries.
The endorsement, announced on Thursday, comes as Democrats and their allies have rallied around Biden. Earlier this month, the former vice president had become the last candidate standing following Sanders' decision to drop out of the race and endorse him.
Emgage cited Biden's commitment to rolling back some of President Donald Trump's policies, including the Muslim ban and mass detention of migrants, and also the presumptive Democratic nominee's "determination to protect the environment" as reasons to support him.
'As President, I will stand up for Muslim communities across the country, immediately repeal Donald Trump's Muslim Ban, and embrace diversity as a core strength of our nation'
"Beyond the immediate devastation caused by Covid-19, we are facing an all-out assault against democratic principles and values at home and abroad that we have not seen since the rise of fascism and Nazisim early in the 20th century," Emgage CEO Wa'elAlzayat said in a statement.
"We appreciate Biden's acknowledgement and support of Muslim American communities, and envision our voices being represented through his presidency."
Emgage PAC dubs itself as the "first and largest" federal political action committee in the United States and says that it endorses and financially backs candidates across the country.
"From small business owners creating jobs to health-care professionals on the front lines fighting Covid-19, Muslim Americans contribute every day to the fabric and success of our nation," Biden said in a statement.
"As president, I will stand up for Muslim communities across the country, immediately repeal Donald Trump's Muslim Ban, and embrace diversity as a core strength of our nation, not demonize it."
In a phone interview with Middle East Eye, Alzayat said Emgage made a decision early on against endorsing Trump because of his "anti-Muslim policies and rhetoric as well as mismanagement of almost every aspect of our country".
"So knowing that, we looked at the democratic field. We vetted and interviewed and surveyed the community and talked to the candidates and their campaigns, especially the top four candidates," he said.
"We ultimately decided on Bernie Sanders. But Bernie Sanders dropped out of the race, and he endorsed Joe Biden."
Alzayat, who served in the US State Department during the Obama administration, said Emgage has had a good relationship with the Biden campaign.
"Through our engagements with him, we found him to be very good on a lot of the issues that Muslim Americans care about," he said.
Muslim-American activists had overwhelmingly backed Sanders during the primaries, citing his domestic proposal advocating for universal health care and cancelling student debt as well as his foreign policy, particularly emphasising Palestinian human rights.
Biden has been a staunch supporter of Israel. And while he says he opposes the Israeli occupation and settlement expansion in Palestinian territories, last year he dismissed Sanders' call for conditioning aid to Israel as "bizarre".
Alzayat said one way to work towards a "more equitable treatment" for Palestinians from Washington is to remain "involved in the civic space" in order to be "part of the conversations about these policy issues."
"We have to vote. And we have to make it a habit," he told MEE. "And we have to be focused in our engagement and smart about how we engage."
Sanders set an example that other candidates can use as a blueprint for energising the often-ignored Muslim voters, Alzayat added.
"Senator Sanders wholeheartedly embraced the community and made Muslim and Arab engagement part and parcel of his electoral strategy, which is historic," he said.
"There are lessons for other candidates of any party, including Biden whom we endorsed, to see how a candidate can actually connect with minority communities and get them to embrace them, irrespective of the age and the ethnic and religious difference."
https://www.middleeasteye.net/news/us-muslim-group-emgage-endorses-joe-biden-initially-backed-bernie-sanders
------
Coronavirus: Faith groups fear US prisons may restrict right to worship during Ramadan
16 April 2020
By Umar A Farooq
A coalition of more than 20 faith and civil liberties groups are urging prison authorities across the United States to protect the religious rights of inmates during the Muslim holy month of Ramadan, especially in light of the current global pandemic.
"With the Muslim holy month of Ramadan approaching, it is especially important that correctional facilities allow incarcerated Muslims to fast by giving them food and medicine outside of daylight hours and also accommodating evening prayers," Muslim Advocates, which led the initative, said in a news release on Thursday.
Ramadan is set to begin at the end of next week, and the groups, including the Evangelical Lutheran Church in America, Faith in Public Life and the Muslim Anti-Racism Collaborative (MuslimARC) sent the letter fearing that social distancing measures may be used to restrict prisoners' right to worship.
According to a recent report by The Intercept, the novel coronavirus has spread across the US prison system and is causing chaos inside many correctional facilities.
During the month-long holiday, Muslims fast from dawn until dusk, abstaining from food, liquids and smoking. It is a time for prayer, reflection, atonement and charity - when rewards for good deeds are multiplied.
The letter also called for prison systems to make religious accommodations for diets, items needed for worship and spiritual leaders and counselors.
"As the Covid-19 pandemic contributes to disruptions of ordinary supply chains, prisons must ensure that they maintain the existing religious diets of incarcerated people," the letter read.
"Prisons in the past have all too often provided insufficient justifications or even false pretexts to deny prisoners their right to assemble for worship."
According to Muslim Advocates, last Ramadan there were multiple reports of Muslim prisoners being restricted from observing the holy month.
The rights group sent a letter in May 2019 warning that two state prisons in Virginia "illegally denied sufficient food and water to observant Muslim inmates who are fasting for Ramadan."
The inmates - who were fasting for roughly 16 hours a day - were not given food until an hour, sometimes two, after their fast had ended. And in some cases they were not given drinking water during non-fasting hours.
In Alaska last year, Muslim inmates sued the state's correctional system for not providing sufficient food for Muslims fasting. In both states, some inmates even reported being given pork for dinner.
The coalition of groups now fears these restrictions may be furthered as prison systems respond to the viral outbreak in the US.
"Even prior to the pandemic, many prison systems had poor records of accommodating the needs of minority religions," the letter said.
https://www.middleeasteye.net/news/coronavirus-us-muslim-prisoners-ramadan-worship-rights-covid-19
-----
Mideast
Turkey to bring 25,000 expats home for Ramadan amid COVID-19 pandemic
APR 17, 2020
Turkey is set to bring back nearly 25,000 expats from 59 countries to allow them to spend the Muslim holy month of Ramadan at home with family amid the ongoing coronavirus pandemic.
Vice President FuatOktay said Turkey had always stood by its people regardless of their location in light of the health crisis, which has claimed tens of thousands of lives across the globe.
Oktay said the Turkish nation and state were determined to face the coronavirus crisis with the help of the full solidarity of the public.
So far, the coronavirus has claimed 1,643 lives in Turkey, with registered cases topping 74,000. The country has already repatriated tens of thousands of Turkish nationals living abroad.
After originating in Wuhan, China last December, COVID-19, the disease caused by the coronavirus, has spread to at least 185 countries and regions across the world, with its epicenter shifting to Europe and the United States.
The pandemic has killed over 145,000 people and infected some 2.16 million, while more than 548,000 have recovered from the disease, according to figures compiled by U.S.-based Johns Hopkins University.
https://www.dailysabah.com/turkey/diaspora/turkey-to-bring-25000-expats-home-for-ramadan-amid-covid-19-pandemic
-----
UN Yemen envoy hopeful warring parties to reach ceasefire agreement in 'immediate future'
16 April 2020
United Nations Special Envoy for Yemen, Martin Griffiths, says he expects the warring parties to formally reach agreements "in the immediate future" on a nationwide ceasefire, practical economic and humanitarian measures as well as resumption of the political process.
Griffiths told the UN Security Council on Thursday he has been holding negotiations with the parties on the texts of his proposals for the past two weeks.
He said the "key humanitarian and economic measures may include: releases of prisoners and detainees, opening Sana'a International Airport, paying civil servant salaries, opening access roads and ensuring the entry of ships carrying essential commodities into Hudaydah ports," emphasizing that all such steps "will help directly and indirectly in the fight against COVID-19."
"The conversations we had with the two parties, and our consultations with the Saudi-led coalition ... are continuous, detailed and constructive," Griffiths said.
A senior Houthi official says a complete halt to the Saudi-led aggression and blockade are the main priorities of the Yemen nation, and the key to secure peace there.
He said "good progress" was being made and the United Nations was redoubling its efforts to bridge outstanding differences before reaching a final agreement.
"Yemen cannot face two fronts at the same time: a war and a pandemic. And the new battle that Yemen faces in confronting the virus will be all-consuming. We can do no less than stop this war and turn all our attention to this new threat", he said.
Griffiths added, "The arrival of the COVID-19 pandemic to Yemen threatens to bring deeper and more widespread suffering to the people. There cannot be a more timely moment for the two parties to commit to silencing the guns and ending the conflict through a peaceful, political solution."
Iran's top diplomat has said that a sustainable ceasefire in Yemen sets the ground for a political settlement of the Saudi-led war on the country.
Last Friday, Yemen reported its first case of infection with the novel coronavirus in the oil-producing southern province of Hadhramaut, which is under the control of Saudi-sponsored militiamen loyal to the country's former President Abd Rabbuh Mansur Hadi.
The supreme national emergency committee for COVID-19 in Yemen said the infected patient was identified in the port town of Ash Shihr, and he was in stable condition and receiving care.
Saudi Arabia and a number of its regional allies launched the devastating war on Yemen in March 2015 in order to bring Hadi back to power and crush the Houthi Ansarullah movement.
The US-based Armed Conflict Location and Event Data Project (ACLED), a nonprofit conflict-research organization, estimates that the war has claimed more than 100,000 lives over the past five years.
Ansarullah movement has called on the Saudi-led coalition to consider a mediation proposal aimed at resolving the war on the impoverished country.
Saudi Arabia and the United Arab Emirates have purchased billions of dollars' worth of weapons from the United States, France and the United Kingdom in their war on Yemen.
Riyadh and its allies have been widely criticized for the high civilian death toll resulted from their bombing campaign in Yemen.
At least 80% of the 28 million-strong population is reliant on aid to survive in what the United Nations has called the world's worst humanitarian crisis.
https://www.presstv.com/Detail/2020/04/16/623197/UN-Yemen-envoy-hopeful-warring-parties-to-reach-ceasefire-agreement-immediate-future
-----
Senior Hamas official's daughter urges Saudi monarch for his release
16 April 2020
The daughter of a high-ranking official of the Palestinian Islamic resistance movement, Hamas, has urged Saudi Arabia's King Salman to order immediate release of her father and brother amid the novel coronavirus pandemic and as the holy fasting month of Ramadan is drawing near.
Mai al-Khudari, in press remarks to the Palestinian Information Center, called on the Saudi monarch and Crown Prince Mohammed bin Salman to swiftly free the 81-year-old Mohammed al-Khudari and his son, Hani, and send them back to Palestine.
"My father and brother are innocent, and we call on Saudi Arabia to take quick steps to pardon them and other Palestinians who were arrested with no guilt," she said.
She also expressed her family's great concern over the health condition and the lives of her father and brother, especially in light of the spread of the highly contagious new coronavirus.
Saudi officials have reportedly transferred a senior official from Palestinian Hamas movement back to prison after hospitalization for an unspecified terminal disease.
Last month, Amnesty International said Khudari and his son were brought before the Specialized Criminal Court (SCC) in the capital Riyadh as part of a mass trial of 68 individuals on trumped-up charges under the so-called counter-terror law.
They were arbitrarily arrested on April 4, 2019 and remained in detention without charges until March 8 this year. Both men were forcibly disappeared for one month after their arrest, and held incommunicado and in solitary confinement for the next two months of their detention.
A month into the senior Hamas official's detention, his wife received a phone call from authorities in the maximum security Dhahban Prison near the Red Sea port city of Jeddah requesting his medical records. Two weeks prior to his arrest, Khudari had undergone surgery.
Khudari is currently being held in al-Hai'r Prison in Riyadh, while his son is detained in Dhahban Prison. Their next court session is scheduled for May 5.
The new development came after on Wednesday, Ismail Haniyeh, the head of the Hamas Political Bureau, emphasized that his movement will never forsake Palestinian detainees currently behind bars in Israeli jails as well as detention centers in some Arab countries.
During separate telephone conversations with the head of the Arab International Forum for Justice for Palestine, MaenBashour, and General Coordinator of the National Islamic Conference Khaled al-Sufyani, Haniyeh briefed the two officials on the latest developments concerning the Palestinian cause, and the main threats the nation faces as a result of the Israeli regime's occupation in addition to its Judaization and settlement expansion plots in occupied Jerusalem al-Ouds and elsewhere in the Palestinian territories.
The senior Hamas official then pointed to the situation of Palestinians at home and abroad amid the COVID-19 crisis, and the issue of Palestinian inmates being held in Israeli and Saudi jails.
Haniyeh emphasized that Hamas will never abandon the detainees, urging organizations in the Arab world to perform their duties towards Palestinian prisoners.
Bashour and Sufyani, for their parts, hailed the role that Hamas plays as regards resistance against the Israeli regime, and protection of the Palestinian cause against all fiendish plots
https://www.presstv.com/Detail/2020/04/16/623166/Senior-Hamas-official-daughter-appeals-to-Saudi-monarch-for-his-release
-----
Iran celebrates Army Day with COVID-19 aid convoys
17 April 2020
Iran has marked its annual National Army day by replacing usual parades with a COVID-19 aid march of military vehicles designed and packed with supplies to help assist the country's battle with the coronavirus.
The parades, which took place across the country on Friday, showcased some of the Army's equipment used to assist the country fight against the outbreak, including mobile hospitals, disinfection equipment and specially designed vehicles.
The convoys of military vehicles were dispatched to assist in disinfection operations and to distribute aid after leaving the premises of the march.
According to the latest numbers released by Iran's Health Ministry on Thursday, 77,995 Iranians have contracted the disease, and 4,869 others have died. Another 52,229 have also recovered.
Addressing Army Day celebrations, Iranian President Hassan Rouhani said that the usual parades were not possible due to "health protocols".
He said the Army, along with other branches of the armed forces, were standing side by side with the the country's health personnel in "protecting the lives of the people" from the outbreak.
"You were once in the frontlines and the citizens were behind it; however, it is now the health sector personnel which are on the frontlines and you who are trying to assist them from behind them," he added.
The Iranian president praised the Iranian Army's role in assisting the country in other times of need such as during natural disasters.
"Our Army is not a symbol of militarism but a manifestation of supporting the nation and upholding its national interests," he said.
Also addressing the Army Day celebrations, Chief Commander of Iran's Army, Major General Abdolrahim Mousavi said that the Army, along with the Islamic Revolution Guards Corps and the Police, were providing services in 49 cities across the country.
"I have to especially thank the more than 11,000 Army medical personnel serving alongside the country's health workers," he added.
"I assure the Iranian nation that the Armed Forces of the Islamic Republic of Iran will be a firm barrier against its enemies and will be patiently and passionately alongside the Iranian people," he added.
This year's different Army Day celebrations come as the country's annual military parades usually showcased the Army's latest equipment upgrades.
Speaking a day earlier on the occasion of the Army Day celebrations, Brigadier General KiomarsHeidari, Commander of the Iranian Army's Ground Forces, said new weapons will be supplied to the Army later this year as part of the "Labbaik 2" program.
The program will provide the force with equipment "fitting the Army's new structure", he said, including a new weapon replacing the Army's widely used G3 rifle and three new machine guns.
"In the field of armor, we are currently working on developing the T-90 tank with assistance from the Armed Forces and the Defense Ministry," he said, adding that tests were underway.
"We have added seven new upgrades on it, including stabilizers and biological defense systems, turning the tank to a future warfare weapon," he said.
https://www.presstv.com/Detail/2020/04/17/623216/Iran-Army-Day-COVID-19-aid-convoy
-----
Iran's defense minister blasts 'aggressive' US presence in Persian Gulf
17 April 2020
Iran's defense minister has dismissed US reports of harassment by Iranian vessels as "baseless" and said the "illegal and aggressive" American presence in the Persian Gulf is causing insecurity in the region.
"What leads to insecurity in the Persian Gulf region is actually the illegal and aggressive presence of the Americans who have come from the other end of the world to our borders and make such baseless claims," Defence Minister Brigadier General Amir Hatami told reporters in Tehran.
Foreign Minister Mohammad Javad Zarif also slammed the US presence, reminding Washington that its forces are "7,000 miles away from its borders" following US uproar over an encounter with Iranian patrol boats.
"US Navy can't seem to find its way around our waters... Or maybe it doesn't know what it's doing in our backyard, 7,000 miles from home," Zarif said in a tweet originally published in 2018 and reshared on Thursday.
The remarks came in response to a US Navy statement published on Wednesday claiming that 11 Iranian Islamic Revolution Guards Corps boats had closed in on up to six US naval vessels in the Persian Gulf "in dangerous and harassing approaches".
The United States Navy is claiming that 11 Iranian ships repeatedly came close to its military vessels in "dangerous and harassing approaches" in the Persian Gulf.
The statement also said the incident took place in the "northern Arabian Gulf", a historically flawed and provocative expression commonly adopted by anti-Iran groups instead of "Persian Gulf" term.
The development comes as Iranian vessels, usually belonging to the IRGC, commonly patrol the Persian Gulf to ensure the security of the vital global energy hub.
Tensions in the strategic waterway rose significantly last summer after a series of mysterious explosions targeted a number of oil tankers.
The US, which quickly blamed Iran for the incidents without providing conclusive evidence along with other countries such as Saudi Arabia, has since deployed thousands of troops and military equipment to the region.
Washington has also used the mysterious Persian Gulf explosions as a rallying call to form a so-called naval coalition in the Persian Gulf.
At the UN Security Council, Foreign Minister Zarif urges regional states to join Iran's Hormuz initiative for join efforts to guarantee peace and stability in the region.
Iran has stressed that regional cooperation and the rejection of foreign interference are key to settling tensions in the vital energy hub.
https://www.presstv.com/Detail/2020/04/17/623209/US-vessels-Persian-Gulf-7000-Zarif
----
Iran's virus detection device proves its scientific capacity: IRGC spokesman
16 April 2020
The Islamic Revolution Guards Corps (IRGC)'s spokesman hails the scientific prowess of Iranian experts in developing a smart technology for detecting and diagnosing the new coronavirus, saying the device's features are soon to be unveiled in detail at a media event.
Brigadier General Ramezan Sharif called the development of the device, which is dubbed "Mosta'an (the One Sought for Help)," a product of "Iranian resourcefulness and audacity," Tasnim news agency reported on Thursday.
The production process leading to development of the device as well as its features and technical capabilities will be announced in near future in the presence of experts and media representatives, he added.
The technology that enables detection of infected surfaces and diagnosis of those carrying the virus within a 100-meter radius in only five seconds was inaugurated in Tehran on Wednesday, in the presence of Major General Hossein Salami, the elite defenseforce's chief commander.
The Islamic Revolution Guards Corps (IRGC) unveils a new technology that can detect and diagnose the new coronavirus within a 100-meter (0.06-mile) radius in only seconds.
Speaking at the ceremony, General Salami said the "novel and singular scientific advancement" has been brought about by the scientists serving the country's Basij volunteer force.
The device, Salami explained, generates a magnetic field that screens its surroundings, and is fitted with an antenna that points in the direction of infected targets upon detecting them.
Describing its plus points, the commander said the technology eliminates the need for blood samples, can also be handled remotely from its targets, is suitable for mass screening purposes, and averts unnecessary disinfection processes.
Elsewhere in his remarks, the IRGC's spokesman said production of "Mosta'an" was owed to successful application of the knowledge-based capacities of the Iranian scientific community, adding that it also received the support of the IRGC's Basij Force.
The device enables "momentary" detection of the virus with 70- to 80-percent accuracy and has been tested throughout a 10-day-long period across at least 10 hospitals before being unveiled, Sharif said.
He called it an "indigenous Iranian" achievement that has come about in "the year designated as the year of jump in production," the title assigned to the Iranian new year by Leader of the Islamic Revolution Ayatollah Seyyed Ali Khamenei.
The official also pointed to reactions to the innovation by media outlets and networks that are associated with foreign powers.
The reactions, he said, "are majorly a result of their feelings of weakness, inferiority, and desperation in the face of the Iranians' might and will in resolving what has embroiled not only the Iranian nation, but also other nations and societies."
Since emerging in central China late last year, the novel virus that can lead to a potentially fatal respiratory infection called COVID-19 has killed above 137,000 and infected more than 2,100,000 people worldwide.
Iranian defense forces assigned all their relevant resources to the fight against the viral outbreak after its emergence in the country in February.
Among other things, the efforts manifested themselves in biological defense drills as well as the Defense Ministry's development of testing kits and diversification of its activities to include mass-production of disinfectants.
https://www.presstv.com/Detail/2020/04/16/623176/Iran-IRGC-coronavirus-technology
------
India
Kashmiri Militant got away 25 yrs ago, caught with Islamic State 'Khorasan Province' chief in Afghanistan
By WebDesk
Apr 17, 2020
HINDUSTAN TIMES REPORT
Aijaz Ahmad Ahangar from downtown Srinagar's NawaKadal had been a wanted man in Jammu and Kashmir for more than two decades. He had been arrested once for terror links, and released. This was sometime in the mid-nineties.
Aijaz Ahangar aka Abu Usman Al Kashmiri disappeared soon after his release from central jail, travelling to Bangladesh from where they took a flight to Pakistan.
Nearly 25 years later, he was arrested early this month by Afghanistan's National Directorate of Security (NDS) in Kandahar, some 500 km from capital Kabul. No one really paid much attention. No one knew.
The NDS had been far too focussed on their prize catch, Aslam Farooqui, the chief of the Islamic State 'Khorasan Province' who had claimed responsibility for the 25 March Kabul Gurdwara attack that killed nearly 27 worshippers.
In the early rounds of his questioning, Ahangar identified himself as Ali Mohammed from Islamabad. And it was taken at its face value.
The sequence of events that blew up his carefully-crafted cover is still not clear. Counter-terror operatives in Delhi and Kabul, however, told Hindustan Times that it was only much later that they discovered that the April 4 raid had also netted Aijaz Ahmad Ahangar, the 55-year-old chief recruiter of the Islamic State Jammu & Kashmir.
Aijaz Ahangar, born in Bugam on the outskirts of Srinagar city, wasn't the only one in his extended family to pick up the gun.
According to security agencies, his father-in-law Abdullah Ghazali aka Abdul Ghani Dar had been a Lashkar-e-Taiba commander and had played a role in the formation of the Tehreek-ul-Mujahideen in 1990, a group that was dominated by foreign mercenaries recruited from Pakistan and Pakistan-occupied Kashmir. Ghazali was then 50.
Abdullah Ghazali, now 80, was found murdered in February this year inside Jamia Masjid Ahl-e-Hadith at Maisuma near Lal Chowk, Srinagar's business hub. His murder has been attributed to a factional clash within the local leadership of the Islamic religious movement Ahl-e-Hadith.
That Aijaz Ahangar went to Pakistan via Bangladesh rather than undertake the treacherous and risky journey across the Line of Control, said one counter-terror official, reflected the family's links with the Pakistani deep state.
Once in Pakistan, Aijaz Ahangar was initially settled in Islamabad by Pakistan's Inter Services Intelligence. In 2008, according to intelligence reports, he also married Aiysha, a resident of Pakistan-occupied Kashmir.
At some point, the Aijaz Ahangar family was relocated to Miranshah area of Waziristan near the Afghan border. After a brief association with Al Qaeda, he joined ISIS. Aijaz Ahangar later joined the Islamic State-Khorasan Province.
His son-in-law, Huzafa-al-Bakistani, a top online recruiter of ISKP and later the IS affiliate in Jammu and Kashmir, was killed in a US drone attack in Afghanistan's Nangarhar province on July 18 2019. A Kerala man, Muhammed Muhasin, was killed in the same bombing.
https://jknewsservice.co.in/kashmiri-militant-got-away-25-yrs-ago-caught-with-iskp-chief-in-afghanistan-2/
----
Fatwa says victims of virus can be buried in graveyard
Apr 17, 2020
Lucknow: A day after locals in Aishbagh did not allow the burial of an elderly man who died of coronavirus, DarulUloomFarangi Mahal based DarulIfta issued a fatwa on Thursday clarifying that Muslims who die of the virus have to be buried in graveyards as an Islamic and WHO mandated protocol.
The clerics also condemned the protest by some locals who did not allow burial in Aishbagh graveyard on Wednesday night and termed it as "inhuman, un-Islamic and shameful".
Ahmed had asked whether the Islamic ritual of 'ghusl'(bathing the body before burial) could be followed for a person who died of coronavirus. Further, he enquired whether the body of such person can be shrouded and 'namaz-e-janaza' (prayer for the dead) be offered and whether such person can be buried in a graveyard for Muslims.
Signed by four clerics, Maulana Khalid Rasheed FarangiMahali, Maulana Nasrullah, Maulana Naeem-ur-Rahman Siddiqui and Maulana Mohammad Mushtaq, the fatwa stated that 'ghusl' can be performed but with the exception that it will be done by flowing water over the sealed body. The seal should not be opened.
The body will also not be needing a separate shroud and that the plastic in which it is wrapped by medical professionals will be enough to be considered as a shroud. Namaz-e-Janaza will also be offered for the dead.
Condemning Wednesday's incidentm, Maulana Khalid Rasheed said, "The act by such people is unIslamic, inhuman, against Shariah and absolutely atrocious. The act is defamatory of Muslims and those who die of this pandemic, should receive respect and sensitivity, not ostracization."
"In the entire world, wherever people are dying of this disease, their last rites are being performed as per their rituals and traditions. Christians and Jews are burying their dead in graveyards and the same has been clarified by WHO in its guidelines issued on March 24," he added.
https://timesofindia.indiatimes.com/city/lucknow/fatwa-says-victims-of-virus-can-be-buried-in-graveyard/articleshowprint/75190274.cms
----
Muslim Gujjars of Punjab, Victims of Coronavirus Prejudice, Now Sell Milk with Police Protection
16/APR/2020
Prabhjit Singh
Hajipur (Hoshiarpur): Baaruddin is eight years old. The nail of his index finger is broken because he lay down flat on top of his father to save him from the blows of a lathi on the Hajipur-Talwara Road 10 days back. Their family is among the few Gujjar Muslim milk sellers in the area, and as politicians and a section of the media have communalised the spread of COVID-19, they are among those who have been attacked – both verbally and physically – by people from adjoining villages.
Baaruddin's mother Jaanu was on the receiving end of both abuses and blows. "Their words were extremely dirty. They hit me on my arms and stomach and tore my shirt. It was more painful because our son was watching all this happen to his parents," she said.
The assault occurred at the meeting point of the twin villages of Ramgarh and Bhatoli, under the jurisdiction of the Talwara police station.
The Wire interviewed at least three such families who were attacked and faced communal abuse in Talwara and Hajipur towns, and had difficulty selling their milk because of rumours. Most of the attacks took place on April 5 and 6, but the social boycott has not fully gone away.
While a section of the police had been quick to label the Gujjars' claims "fake news" when they were first reported, the reality is that the situation on the ground is serious enough for district administration to order the police to stage a flag march on the morning of April 15 and invite the Gujjars to sell their milk to the local cooperative society under police protection.
Meanwhile, Baaruddin's family is still stranded in their mud-house dwelling on the outskirts of NausheraShimbli village near Hajipur. The plan is to move, along with their cattle, to Himachal Pradesh for the summer.
"We wanted to go to Himachal, where we spend two months every summer. This makes it possible to give our cattle green grass. But now we are neither being allowed to cross over nor allowed to sell our milk," said Jaanu's husband, Bali Mohammad.
The shirt that Bali had on when this correspondent met him had been torn in the attack, his eight-year-old son pointed out.
A video of two Gujjars pouring their milk into the Beas river near Bela Saryana village is equally telling of the prejudice at play.
"People are not taking our milk. A ban of sorts has been imposed on us after rumours spread that we are spitting into the milk we were selling," said the man in the video. The video was sent to this correspondent by one Jummaddin, of NausheraShimbli village, who said Gujjars have little choice but to throw the milk away.
"We are very poor and illiterate. When police saved us from the second attack near Talwara, that was enough for us," she said.
Yet, if policemen from the Hajipur police station had been around to save them, the question arises as to why no one has been booked for the attacks yet at Chaudhary Bagh village.
When contacted, Dasuya deputy superintendent of police Anil Bhanot said, "We will surely take action if they [the victims of the assault] come forward with a complaint".
When told that the victims were illiterate and scared, Bhanot said he would immediately ask the SHO of Talwara police station to visit them "to look into the matter".
A third case, that of 17-year-old Shah Wali of NausheraShimbli village, is remarkably similar. Wali was also assaulted at Ramgarh-Bhatoli.
In addition to Jaanu and Shah Wali's families, locals say a total of seven families were assaulted at Ramgarh-Bhatoli. The Dasuya sub-division deputy superintendent of police assured this correspondent that action would be taken on all of them.
The Wire also traced the family of Farman Ali, who was quoted in this correspondent's earlier story as amongst those Gujjars who had to throw away their milk. He and his family were among 7-8 such families of Gujjars who were camping on the outskirts of Hajipur without food and fodder for cattle.
"Our cattle have not had fodder for many days and we are not allowed to move around for it. How will we survive?" Ali asked.
"We still keep hearing that we are sick and we will make others sick," he said, while the women in his family showed their empty containers of wheat floor.
At another Gujjar settlement, a woman named Shaillu said that she was not allowed to reach out to a doctor in KulianLuvana village. "They (the villagers) told me that we are suffering from coronavirus and that I can't enter the village," she said.
Hoshiarpur deputy commissioner ApneetRiyait told The Wire that the SSP has been instructed to take action against any complaint.
She said the administration would act on further reports of violence, if there were any. "You must speak to the SSP also, as I have already asked him to act on this entire matter," the DC said.
SSP Gaurav Garg did not take The Wire's calls. The queries sent to him centred around the progress in investigation done, if a case has been registered in the wake of the assault on Gujjar Muslims last week and if he had replied to the DC's communique.
Similar stories have been reported from Sangrur and Ludhiana districts, said All India Gujjar Mahasabha's Punjab president Shukardeen Rana. "Gujjar Muslims are facing this problem all over Punjab, and this is a fallout of the misreporting on Delhi's Nizamuddin congregation by some TV channels," he said.
Shukardeen said he raised a hue and cry in the Gurma village of Ludhiana district when some men of the village's Milkfed Cooperative Society resisted the collection of the milk by Muslims.
We had to argue a lot and my video on our milk not being purchased by the village society went viral," he said, adding that police and administration have been very helpful.
On April 8, The Wire had reported on the plight of several Gujjar families here who had been prevented from selling milk by local vigilantes and had been forced to shift to the Swan river bed and spend one day without rations before the police came and provided them relief.
As "proof" of this claim, the official Twitter handle of the Hoshiarpur Police posted a video on April 9 in which one of the Gujjars, Sirajuddin, says he is fine, that they have received rations, and do not face any problems. The police added a curious line along with the video – "Gujjars are good. Don't spread fake news" – which seemed directed at this correspondent's story instead of those spreading rumours about them being carriers of the coronavirus.
On April 7, the Muslim Gujjar group of which Sirajuddin was a part was threatened by local vigilantes and forced to seek refuge in the river bed.
While following this story, this correspondent telephoned the deputy commissioner, ApneetRayait at 1:28 pm on April 8 to discuss the plight of the Gujjar families on the river bed and again at 2:30 pm to follow up on their urgent need for food and fodder.
The audio recordings of the phone calls are being posted here in the light of the Hoshiarpur Police's claims about "fake news" to establish that the DC herself had acknowledged the severity of the problem the Gujjar Muslims were facing.
In the first conversation, in fact, Rayait says she had received complaints from some Gujjar representatives, that the administration would not tolerate religious discrimination and that she had asked the police to identify those who had intimidated the Gujjars and file FIRs against them:
https://thewire.in/communalism/muslim-gujjars-covid-19-milk-sellers
----
Assam Congress MP Demands Removal Of Foreigners' Tribunal Member For 'Anti-Muslim' Statement
17th April 2020
By Prasanta majumdarExpress News Service
GUWAHATI: A Congress MP in Assam has demanded the removal of a member of a Foreigners' Tribunal (FT) for his alleged statement that the Tablighi Jamaat attendees who violated rules along with the members of "Jehadi and Jahil" should not be considered for COVID-19 relief.
Barpeta MP Abdul Khaleque wrote to state Health Minister to draw the attention of Chief Minister SarbanandaSonowal to a letter allegedly written by Kamalesh Kumar Gupta, a member of FT, Baksa.
"In this letter, dated April 7, he (Gupta) listed donations given by himself and other members and staff of Foreigners' Tribunal in Baksa to Assam Arogya Nidhi, to combat COVID-19 with a totally reprehensible condition at the end which read as follows: Our only prayer is that the help may not be extended to the members of violators of Tablighi Jamaat, Jehadi and Jahil," Khaleque wrote.
He said Gupta's statement was in violation of Section 153(A)(1)(a) of the IPC that criminalizes people who by words, either spoken or written or by signs or by visible representations or otherwise, promote or attempt to promote, on grounds of religion, race, place of birth, residence, language, caste or community or any other ground whatsoever, disharmony or feelings of enmity, hatred or ill-will between different religious, racial, language or regional groups or castes or communities.
He alleged the officer had stoked disharmony, ill-will, feelings of enmity and hatred between different communities and that his affirmative act in creating and signing the letter was deeply prejudicial to harmony between religious communities.
"We humbly submit that this particular officer's act is even more harmful and consequential in the current national and regional atmosphere in which COVID-19 is deeply feared and anti-Muslim sentiments have spread all over the country through communal speech linking Muslims to COVID-19. Muslims across India are living in fear of religious hatred and action against them and actions such as of this officer may increase this fear," Khaleque wrote.
He added: "It is submitted that Mr. Gupta, by directly linking his communal and anti-Muslim opinions to his work as a member of the Tribunal, and by using his official title and letterhead, has made clear that his biased opinions have entered his work persona and official role. These inflammatory opinions were made publicly and in his official capacity. His bias having been linked to his official role makes him not fit for his work as an adjudicator of citizenship."
Observing that Gupta's decisions, in matters pertaining to citizenship, will be tainted by anti-Muslim bias, Khaleque submitted he be removed from his position as a member of the FT, Baksa as there was widespread apprehension he would not decide cases on merit but with communal prejudice.
https://www.newindianexpress.com/nation/2020/apr/17/assam-congress-mp-demands-removal-of-foreigners-tribunal-member-for-anti-muslim-statement-2131415.html
-----
Kin refuse, Muslim friend is pall-bearer
By Abhijeet Chatterjee
17.04.20
Debayan Das, 18, was feeling helpless standing alone in the corridor of Durgapur sub-divisional hospital when his father Himadri Das was declared dead by doctors late on Tuesday evening.
The higher secondary examinee started making calls to inform his relatives and neighbours and seek their help to take the body to the crematorium. However, none came forward fearing that his father had died from Covid-19.
Doctors at the government hospital, however, said Himadri, a severe diabetic, had been admitted to the hospital on April 10 for uncontrolled blood sugar. They said he suffered a massive heart attack on Tuesday evening and died. Himadri owned a small restaurant in Durgapur town.
Debayan said that when all relatives refused to help, he came out of the hospital and approached strangers. It was then that Debayan chanced upon an acquaintance, Guddu Khan, who was passing by. Guddu immediately agreed to help and arranged for a vehicle to carry the body to the Birbhanpur crematorium.
"Gudduda was all along with me and called in a few more youths to shoulder my father's body. I will never forget his help," said Debayan, a commerce student.
Guddu, an electrician, said: "I do not think I have done something that has to be highlighted. It is my duty to stand by anyone during their moment of crisis."
https://www.telegraphindia.com/states/west-bengal/communal-disharmony-during-coronavirus-crisis-kin-refuse-muslim-friend-is-pall-bearer/cid/1765516
-----
Southeast Asia
All food delivery service providers allowed to operate during Ramadan
17/04/2020
PUTRAJAYA, April 17 -- Over 40 companies providing e-hailing and fast food delivery services are allowed to operate as usual during the Movement Control Order (MCO) period in Ramadan.
In fact, Senior Minister (Security Cluster) Datuk Seri Ismail Sabri Yaakob said food vendors in rural areas and small towns using the delivery service of other companies or individuals could also do the same.
However, he said all their delivery riders will be required to register with the local authority and undergo health screening at any public or private clinic to ensure a clean bill of health.
"This is among the requirements to ensure health and safety of all quarters, including the customers.
"We want to ensure their health and safety because they are the ones who will deliver the order to the customers who, of course, the will see face to face. For their own good, we asked them to undergo the screening," he told the daily press conference here today.
https://www.bernama.com/en/general/news.php?id=1833040
----
COVID-19: Mercy Malaysia launches Ramadan Appeal campaign
17/04/2020
KUALA LUMPUR, April 17 -- Mercy Malaysia has launched Ramadan Appeal campaign to raise funds for communities affected by the COVID-19 outbreak, as many families will be facing a bleak Ramadan this year.
Its executive director AmranMahzan in a statement today said funds raised would be used to purchase food parcels that are sufficient to support a family of four for iftar and sahur.
"Since the Movement Control Order (MCO) began, we have started receiving requests for food aid from families who live on daily wages, been told to go on no-pay leave or been outrightly terminated. With the MCO being further extended, far more people will be affected.
"People who are still holding regular jobs find that they have saved a significant amount of money from the daily commute. Petrol and toll aside, many are also enjoying savings from not eating out, impulse shopping or social activities," he said.
He added that the public could channel these direct and indirect savings to a good cause during the month of Ramadan by sharing the blessings with others who are hard-hit by the MCO, especially the urban poor living in cities and rural folks who have lost their source of income.
He said the donations could be directed through www.mercy.org.my or to MERCY Humanitarian Fund (5621 7950 4126) or MERCY Malaysia (CIMB 8000-7929-08) and all donations are tax-exempted.
To date, he said, Mercy Malaysia had distributed almost 15,000 food packs to families in need around the country, from the rural kampungs of Kelantan and Sabah to the urban poor in the Klang Valley.
He also said that with Ramadan starting next week, the organisation would begin to distribute its food packs tomorrow, beginning with seven locations across the country.
https://www.bernama.com/en/general/news.php?id=1833034
----
60 Rohingya Muslims die, hundreds rescued from boat after weeks at sea
April 17, 2020
Sixty Rohingya Muslims died on a boat crammed with hundreds of people stranded in the Bay of Bengal for more than two months, two survivors told AFP on Thursday.
Both said that the captain of the fishing trawler, carrying over 500 men, women and children, was also killed in a fight with those on board.
Nearly a million Rohingya live in squalid camps near Bangladesh's border with Myanmar after fleeing a military offensive in 2017. Thousands try every year to reach other countries on crowded rickety boats.
Survivor Anwarul Islam said that after the ship was denied entry by both Malaysia and Thailand it headed back to Bangladesh where they were picked up by the coastguard late on Wednesday.
"There were more than 500 people onboard, jam-packed. At least 60 of us died in the boat. We held on board their funeral prayers and dropped their bodies in the sea," Islam told AFP by phone.
"We barely had food, freshwater, and medicines," he said. "The captain tried to rape one of our women and fighting broke out," Islam said, stating the man was killed during the confrontation and his body thrown overboard.
His account was echoed by Anwar Alam, another survivor, who said the ordeal lasted two months and 18 days. "We entered Malaysia (waters) three times but they didn't let us in. Many of us died in the heat and sweat. There were too many onboard, mostly women and children," Alam told AFP in southeastern Bangladesh.
"The captain of the ship was killed when there was a quarrel between us and the crew." A Rohingya community leader in Bangladesh, who declined to be named, said there were 482 people on board the boat.
That suggests more than 50 people may have perished. "It made several attempts to land in Malaysia but was turned back. We think several boats carrying Rohingya are still at sea," he said.
The Bangladesh coast guard said that other survivors had told them that 32 people died on board and their bodies dumped in the sea, and that the boat had tried to enter Malaysia and Thailand.
Coast guard officer Shah Zia Rahman told AFP that nearly 250 women and children were among the 400 or so rescued late Wednesday from the vessel off the Cox's Bazar district in southeastern Bangladesh. "They were starving," Rahman said.
The UN's refugee agency said that they were "extremely malnourished and dehydrated". "Their bodies have become skeletal. Some grew beards on the boat," local police chief Masud Hossain told AFP.
Bangladesh media reports quoted one of those on board as saying the boat was denied entry by Malaysia because of stricter controls due to the coronavirus pandemic. "We failed to anchor in Malaysian coast despite repeated attempts," Mohammad Jubayer told the bdnews24.com news portal.
Admiral Mohamed Zubil Mat Som, director-general of the Malaysian Maritime Enforcement Agency, declined to comment on the reports. But he said the maritime border was being strengthened.
Only a few of those rescued had refugee cards from the camps and many had boarded in Arakan in Myanmar's Rakhine state, said Hamidul Islam, another coast guard officer. They were detained for illegally entering Bangladesh territory, he said, before they were handed over to the UNHCR, a United Nations spokesperson confirmed.
Since late last year, Bangladesh's law enforcement agencies have picked up some 1,000 Rohingya from coastal villages and boats as they waited to board vessels bound for Malaysia. Amnesty International's Biraj Patnaik hit out at the "callous indifference of other governments" to the plight of the Rohingya since fleeing "crimes against humanity" in Myanmar.
https://www.thenews.com.pk/print/645380-60-rohingya-muslims-die-hundreds-rescued-from-boat-after-weeks-at-sea
-----
Ramadan guidelines issued to combat spread of virus
Apr 17. 2020
The Department of Disease Control on Friday (April 17) sent guidelines to prevent Covid-19 transmission during Ramadan to governors of every province in the country. Ramadan, the Muslim month of prayer and fasting, will run from April 24 (or 25) to May 23 (or 24) this year.
During this period, Muslim families are likely to be at home together, which may increase the risk of infection spreading both within the family and in the wider community.DrSuwanchaiWattanayingcharoen, director-general of the Department of Disease Control, has requested the cooperation of Muslims during Ramadan and issued the following advice:• Avoid greeting people by touching hands, embracing, and touching cheeks. Raise hands instead.• Refrain from attending Friday prayers at the mosque and strictly follow the announcements of the Chularatchamontri (Muslim spiritual leader) in Thailand regarding measures to prevent the spread of Covid-19 by performing religious duties at home• Avoid eating together and refrain from sharing food with one another. If necessary, sit at least one or two metres apart and do not eat from a tray (buffet). Meals should be served on individual dishes with their own cutlery and glass. Importantly, wash hands thoroughly before eating.• Avoid attending large gatherings. If attendance is unavoidable, keep at least one or two metres apart. Wear a cloth or medical mask and wash hands with soap and water or alcohol gel.• In the event that it is necessary to carry out religious activities in the mosque, it is recommended that windows and curtains are left open for ventilation. Turn of air conditioners and screen everyone before entering the mosque. Those people found to have a fever (temperature above 37.5 degrees Celsius), cough or sore throat must refrain from attending mosque and should stay at home and observe their symptoms.• If you visit at-risk places or have personal contact with others outside, it is recommended that you shower, wash hair and change clothes as soon as you return home.• Choose healthy food and drink plenty of clean water. In addition to obeying fasting guidelines, this also helps the body to stay hydrated in hot weather.DrSuwanchai added that the elderly and people with chronic illnesses should stay at home to perform religious activities, as stepping outside would risk contracting Covid-19 and becoming severely ill or even dying.
https://www.nationthailand.com/news/30386239?utm_source=category&utm_medium=internal_referral
------
Muslims urged to stay safe in Ramadan
17 APR 2020
The national committee on communicable diseases is urging Muslims across the country to follow guidelines on Covid-19 prevention throughout the coming holy fasting month of Ramadan.
SuwanchaiWatthanayingcharoenchai, director-general of the Department of Disease Control in his capacity as a member and secretary-general of the national committee, said on Thursday the guideline, dated April 10, was being sent out to every provincial governor for public dissemination along with a request for cooperation from Muslims in every province.
This year's Ramandan, expected to begin either on April 24 or April 25 and end on May 23 or May 24, usually marks a period when many people get together with family in communities, which could present an opportunity for widespread transmission of the new coronavirus, said Dr Suwanchai.
Under the guideline, Muslims are advised to avoid touching, hugging and cheek kisses during the religious rite and instead switch to greeting by raising a hand, said the doctor. Muslims are also advised to avoid going out to pray at mosques where many people gather in the same place, he said, adding they should also follow an announcement by Sheikhul Islam Office regarding Covid-19 preventive measures.
On Tuesday, Chula Ratchamontri Aziz Pitakkumpol issued an announcement on how Muslims should conduct themselves during the Ramadan period with the aim of keeping themselves safe from the Covid-19 virus.
According to the announcement, spitting in public should be avoided for the sake of preventing possible transmission of the new coronavirus.
People should also refrain from attending feasts normally organised after the breaking of the daily fast at a mosque or a place where a large number of people come together, said the announcement.
Food should be handled strictly in line with hygiene standards, packed properly and distributed to neighbours or relatives in lieu of holding a feast, said the announcement. Muslims are advised to avoid sharing food containers among family members, keep at least one metre apart while eating and wash hands both before and after eating.
https://www.bangkokpost.com/thailand/general/1901380/
------
Muslims grapple with Ramadan rituals in coronavirus era
By MARIAM FAM
April 16, 2020
WINTER PARK, Fla. — (AP) — Seattle resident Maggie Mohamed was looking forward to spending the Islamic holy month of Ramadan in her native Egypt.
Now, with the spread of the new coronavirus, flying is off the table. So is having friends and relatives over for a potluck iftar, the breaking of the fast. Mohamed is older than 65 and says she cannot risk it.
Ramadan, which starts later this month, unites Muslims the world over in fasting and worship. This year, it follows a string of religious holidays that have also unified the faithful from different religions in grappling with how to observe familiar rituals and celebrations in a time of unfamiliarity.
Mohamed is contemplating workarounds. She always looks forward to the special Ramadan prayers, known as "taraweeh," at the mosque. She will now pray at home with her daughter. But what about the dua, or supplication? The imam moves her to tears. As he prays for dead loved ones or those suffering in faraway lands in his "miraculous" voice, sobs rise from the faithful and intermingle with chants of "Amen" recited in unison.
"That would help us a lot," she said, even as she noted it wouldn't be the same. At her mosque, female worshippers hug and chat after the prayers as children scurry around and dates and chocolate are passed from hand to hand.
During Ramadan, the faithful abstain from food and drink from sunrise to sunset as they strive for self-purification and empathy. It's a time for prayers, introspection and charity. Normally, it's also a time for family, friends and festive feasting.
Many Muslims have been praying for the coronavirus cloud, which has already disrupted Islamic worship the world over, to lift before Ramadan. Mosque closures and modified calls for prayers urging the devout to pray at home have left many feeling emotional. They are relying on worship at home and online religious classes. This year, some are planning virtual interfaith iftars.
"How do we build ourselves to where we are more connected to Him?" asked Suleiman, who has been streaming virtual sermons and nightly reflections to more than 1.4 million Facebook followers.
"Now we have a chance to develop empathy with those that have not had access to their religious spaces due to oppressive circumstances."
Malaysia, Brunei and Singapore have banned popular Ramadan bazaars where hawkers sell food and drinks in congested open-air markets or roadside stalls. In predominantly Muslim Malaysia, vendors are now planning to bring their businesses online through mobile apps or digital platforms provided by local authorities during the fasting month.
Mohamad Fadhil, a trader in Malaysia's southern Johor state, said he was resigned to not being able to do business at the Ramadan bazaar or perform the taraweeh prayers at the mosque. "We just have to be patient and follow orders," he said.
In Iran, which is suffering one of the world's worst outbreaks, Supreme Leader Ayatollah Ali Khamenei suggested that mass gatherings may be barred through the holy month. "Remember to heed your prayers and devotions in your lonesomeness," he said.
The Islamic Waqf, which administers the Al-Aqsa Mosque in Jerusalem, Islam's third-holiest site, announced today that the mosque will continue to be closed to worshippers for Ramadan.
It's difficult, Sheikh Azzam Khateeb, the director general of the Waqf, said before the latest announcement, but "the health of the worshippers comes before anything else."
ZuherDubie, a 71-year-old mosque preacher in the West Bank city of Nablus, has been observing Ramadan and praying in mosques since he was 10. For the first time since, Dubie said, he wouldn't be able to practice some of the month's rituals.
In Egypt, the Ministry of Religious Endowments decided to suspend communal Ramadan activities, including mass charity iftars around mosques. Mosques have already closed for prayers there and the country is under a night-time curfew.
Ordinarily, worshippers fill mosques and shoppers swarm markets. Loved ones gather over scrumptious iftars. Strangers break bread together in street banquets that feed the needy. Cafes teem with patrons chatting over a cacophony of gurgling water pipes and blaring music. And Ramadan lanterns cast a colorful glow over bustling streets.
In some areas, a "mesaharati," bangs on a drum as he wakes up residents for "suhoor," the pre-dawn meal that will sustain them through another day of fasting.
Before, she would slip early to bed as many binge watch television shows produced for Ramadan entertainment. At around 3:00 a.m., she would wake up to have "suhoor" and cook up a storm. Using groceries that she and co-workers had pitched in to buy, she would prepare dozens of meals before she left for work. Before iftar, Selim and other volunteers would go outside to distribute boxes neatly packed with salad, rice, chicken or meatballs.
Now, she likely won't be able to hand out meals on the street but she's determined to send iftars to the homes of those she knows need them.
"It's hard to describe how much goodness and blessings Ramadan brings," she said.
https://www.fox13memphis.com/news/muslims-grapple-with/ECRUV273SFDMFQEXFSP2O4ZLTA/
----
Pakistan
Hamza Ali Abbasi slams people wanting to pray in mosques amid pandemic
April 17, 2020
Popular actor Hamza Ali Abbasi tweeted at the dawn of this Friday to give a message to the people arguing about going to the mosques to attend their Friday prayers.
Abbasi started off by reiterating the leverage provided by the religion in case of certain circumstances where praying in mosques may be exempted. He said, "Allah has given ease in his prayer from Tayyamum/Qasr/praying at home in case of bad weather, let alone a deadly virus."
He then went on to blatantly make certain comparisons, "but it feels like the Clergy in my country is becoming like the Pharisees of Bani Isarel who want God to do what they say rather than surrender to what God says."
The personality then received several responses, both positive and negative as the debate surrounding the issue sparked on his thread once again.
https://tribune.com.pk/story/2200141/4-hamza-ali-abbasi-slams-people-wanting-pray-mosques-amid-pandemic/
----
President to hold consultation with Ulema on Taraweeh prayers at mosques
April 17, 2020
ISLAMABAD, Apr 17 (APP):President Dr ArifAlvi will hold a consultative meeting with Ulema on Saturday regarding offering of congregational prayers and Namaz-e-Taraweeh at mosques during the month of Ramazan.
The meeting will formulate a strategy for effective steps to control the epidemic of COVID-19, the President House said.
https://www.app.com.pk/president-to-hold-consultation-with-ulema-on-taraweeh-prayers-at-mosques/
----
Muslims urged to seek Allah's mercy
April 17, 2020
LAHORE:Pakistan Ulema Council (PUC) chairman Hafiz Muhammad Tahir Mehmood Ashrafi visited Raiwind Markaz here Thursday and held meeting with Ameer Tableeghi Jamaat Maulana Nazarur Rehman.
Ameer Tableeghi Jamaat Maulana Nazarur Rehman said that Muslims should strive to mould their lives in accordance with the teachings of Holy Prophet (PBUH) and invite human beings to believe in the oneness of Allah Almighty by seeking endeavours to correct their deeds. He also appealed to Muslims to seek forgiveness from Allah Almighty adding that with blessings of Allah Coronavirus pandemic will come to an end soon.
Pakistan Ulema Council chairman Hafiz Tahir Mehmood Ashrafi in his meeting with Majlis-e-Shura of Tableeghi Jamaat stated that Pakistan Ulema Council would continue supporting Tableeghi Jamaat at every forum. Meanwhile, Interior Minister Brig (r) Ijaz Shah talking to Hafiz Tahir Mehmood Ashrafi assured that the government was making every possible effort to bring back expatriate Pakistanis stuck abroad.
According to press release issued by PUC chief Tahir Mehmood Ashrafi, the interior minister stated that the government had neither locked down any mosque nor it intended to lock any Masjid in the country. The government with consultation of religious leadership of the country will devise mechanism on Taraveeh and Eitkaf for Ramazan. The interior minister stated that the government respected Ulema and Mashaykh and seminaries and mosques are honourable for the government.
Tahir Ashrafi thanked Federal Interior Minister Brig (R) Ijaz Shah for supporting on the issues of Tableeghi Jamaat, pilgrims and affairs of Masajid and seminaries. Hafiz Tahir Ashrafi underlined that ulema did not want confrontation with the government adding that they had no intention to violate lockdown in wake of Coronavirus pandemic.
FIRs registered: Police registered at least 1,929 FIRs against the people involved in violations of Section 144 here on Thursday. More than 159,260 citizens were checked at pickets till now since the lockdown whereas more than 149,000 were asked to contain their unnecessary movement in the city.
More than 4,176 citizens were released after taking warranty bonds as not to move again in city unnecessarily. As many as 138,368 vehicles including 78,471 motorcycles, 27,654 cars, 20,969 rickshaws, 3,867 taxis and 7,407 bigger vehicles were stopped on pickets and vehicle owners were issued warnings for unnecessary movement in the city.
https://www.thenews.com.pk/print/645524-muslims-urged-to-seek-allah-s-mercy
----
'Islamic lifestyle vital to prevent infectious coronavirus
April 17, 2020
MUZAFFARABAD: Azad Jammu and Kashmir (AJK) President Sardar Masood Khan has stressed ulema and prayer leaders to boost the morale of people in the wake of novel coronavirus outbreak to make "the crusade against the pandemic a success".
"The ulema should keep watch on the elements issuing unauthorised edicts to create dissension among the masses and harming the inter-sect unity of Muslims," he said while meeting a delegation of ulema from different school of thoughts at the Aiwan-e-Sadr in Muzaffarabad on Thursday.
President Masood said that the virus had also attracted the attention of the western intellectuals towards the golden Islamic principles and they are stressing to follow them. Therefore, he maintained, the "ulema should take its advantage and present the real Islamic teachings across the world".
He appealed to religious clerics to maintain interfaith harmony in the state and motivate philanthropists and well-off people to support the poor and vulnerable communities through Zakat, charity and donations.
"Along with discouraging the blame game against other religious parties and school of thoughts clerics, they [ulema] should guide the people in the light of golden principles of Islam and Shariah and as per directives of medical experts."
The president also said that the people should be apprised of the significance of both physical and spiritual purity, frequent exercise of hand-washing, social distancing, proper distance with others during prayer in the mosques and adopting other precautionary measures to prevent the spread of contagious disease.
Citing a recent report published in a leading US journal Newsweek, he said that renowned US intellectual and Professor Dr Craig Considine of the Rice University pointed out that Prophet Muhammad (PBUH) had narrated 1,400 years ago all the precautionary measures the world is adopting today to prevent the pandemics. "The way the world is attracting towards purity, suggests that the whole of mankind would become physically pure before the pandemic is controlled."
President Masood said that although the Azad Kashmir government has not imposed any restrictions on the five-time prayers in mosques and Traweeh prayers during Ramazan, the "ulema must ensure compliance with the directives of medical experts in letter and spirit".
While condemning the Indian government for blaming Tableeghi Jamaat for spreading coronavirus, he asked that why Covid-19 did not spread due to hundreds of Hindu festivals held across India with the participation of millions of people during the same period?
"The Indian rulers have come up with the gimmick to divert attention from the situation created by a virus and the failure of the Indian government to contain it."
About the situation in Indian Occupied Jammu and Kashmir (IOJ&K), he said that our brethren in the disputed territory are fighting both "Modivirus" and coronavirus. "The Indian government has no strategy to respond to coronavirus in IOJK."
On this occasion, the ulema stressed that implementation of the Islamic teachings in letter and spirit alone was a panacea to curb the pandemic. The Muslims should avoid dishonesty, hoarding, profiteering and other evils, and beg mercy from Almighty Allah, they added.
The delegation under the leadership of the Secretary Religious Affairs Sardar JavedAyub included Mufti Mehmoodul Hassan Ashraf, Maulana Syed Ghulam Yasin Shah, Maulana Zahid Asri, Maulana Mohammad Altaf Safi, Prof. Qazi Mohammad Ibrahim Khan, Maulana Danyal Shahab, Maulana Mufti Mohammad Ibrahim Aziz, Maulana Farid Abbas Naqvi and Maulana Nazir Qadri.
https://tribune.com.pk/story/2199549/1-islamic-lifestyle-vital-prevent-infectious-coronavirus/
-------
SC creates 9-member ad hoc committee to run PMDC
Haseeb Bhatti
April 17, 2020
The Supreme Court of Pakistan on Friday ordered for the creation of a nine-member ad hoc committee to run the Pakistan Medical and Dental Council (PMDC). The orders were given in a case pertaining to a petition filed by the government, seeking removal of the PMDC registrar.
Members of the council will include the Attorney General of Pakistan, the Surgeon General of Pakistan, vice chancellor of National University of Medical Services, vice chancellor of University of National Health Services, vice chancellor of Sindh Jinnah Medical University, vice chancellor Khyber Medical University, vice chancellor of Shaheed Zulfikar Ali Bhutto Medical University, vice chancellor of Bolan Medical University and principal of de'Montmorency College of Dentistry.
The court also discarded a contempt of court application filed by PMDC employees against the government for not following the Islamabad High Court verdict of Feb 11, in which the court had restored the PMDC and set aside the presidential ordinance that had created an alternative body called the Pakistan Medical Council (PMC).
The PMDC was dissolved by a presidential ordinance promulgated on Oct 19, 2019, which paved the way for the establishment of the PMC.
On Oct 20, the Ministry of National Health Services (NHS), despite strong opposition by PMDC employees, sealed the PMDC building and announced that the services of its 220 employees had been terminated and only class four employees would be retained.
However, on Feb 11, IHC declared the presidential ordinance null and void and restored PMDC along with the services of the sacked employees.
Rather than implementing the decision, once again the health ministry sealed the building and stopped employees from entering it.
Later, the government filed an appeal against the IHC decision with a division bench but could not succeed in getting the decision suspended or obtaining a stay order.
On March 30, a bench, comprising Justice Mohsin Akhtar Kiyani, while hearing the contempt plea in the IHC gave one hour to the government to open the PMDC.
Though the ministry issued a letter regarding de-sealing of the PMDC building, it did not allow the registrar and employees to enter the building for three days.
On April 2, the ministry filed an application in the IHC stating that the appointment of the PMDC registrar was illegal and that he should be removed, which the court refused to do so.
On the other hand, the registrar also filed an application that even after a decision on the contempt application, the government did not implement the court decision.
The ministry finally agreed to de-seal the PMDC building on April 7, but appealed to the SC against the IHC's refusal to remove the council's registrar.
https://www.dawn.com/news/1549964/sc-creates-9-member-ad-hoc-committee-to-run-pmdc
------
Imran emphasises need for reliable data to tackle Covid-19
Syed Irfan Raza
April 17, 2020
ISLAMABAD: Decision-makers need accurate data for tackling the coronavirus situation, Prime Min­ister Imran Khan said on Thursday at a meeting of the National Command and Operation Centre convened to review measures to cope with the disease during Ramazan.
The meeting decided to establish quarantine facilities in all major cities across the country to treat Covid-19 patients.
"The prime minister was concerned over media reports that a few hundred people have died in just one hospital in Karachi over the last one week and a recent statement by the Edhi Welfare Trust that it has received more than 300 bodies over the last 15 days. So he ordered compilation of accurate data about Covid-19 patients and the number of deaths," a participant told Dawn.
The prime minister said the authorities concerned should know the area-wise spread of the disease so that policy-makers, doctors and care-givers could assess the magnitude of the task on their hands.
The source quoted the prime minister as saying: "We must know the number of fatalities in a given area and the cause of death so that every death is not accounted for as that from Covid-19."
Mr Khan directed the authorities concerned to build a facility in every major city of the country on the lines of a 250-bed quarantine centre in Islamabad, established by the Frontier Works Organisation (FWO).
Dr Zafar Mirza, Special Assistant to the Prime Minister on Health, apprised the meeting about the tracking, testing and quarantine facilities. available in the country. He dwelt on the number of coronavirus patients and the number of deaths and projections about the disease.
Lt Gen Mohammad Afzal, chairman of the National Disaster Management Authority (NDMA), informed the meeting about arrangements being made for distribution of medical equipment to hospitals handling coronavirus cases.
The prime minister expressed satisfaction over reopening of some low-risk businesses, but advised the nation not to lower its guard and stick with precautionary measures. "People must maintain social distancing and in case they go to crowded places they must wear masks."
He also stressed the need for launching an awareness campaign, especially for people in remote areas, about steps they should take to protect themselves from Covid-19.
Mr Khan was briefed about a plan being prepared for educating the public about precautions to be followed while attending congregational prayers during Ramazan.
"The prime minister intends to call a meeting of leading ulema to thrash out guidelines in this regard," the source said.
He lauded the services rendered by doctors and paramedical staff to cope with the epidemic, describing them as "Mujahids in the war against coronavirus".
https://www.dawn.com/news/1549901/imran-emphasises-need-for-reliable-data-to-tackle-covid-19
-----
Africa
Ramadan 2020: UAE Charities To Shun Mosques, Tents, Deliver Iftar Meals To Homes
Apr 17, 2020
IFTAR meals will be directly delivered to those in need in the United Arab Emirates this year, rather than being served at Ramadan tents or at mosques.
The change in delivery approach was made necessary to avoid crowding in areas, which is banned as part of measures to stop the spread of coronavirus.
On Wednesday, charity organisations said food parcels containing essential groceries – including rice, sugar, flour and canned goods – would be delivered to anyone struggling to feed themselves or their families this year.
Many people around the world have taken a financial hit this year, having had their salaries slashed or been asked to go on an early or unpaid leave. Some have also been let go by companies struggling to mitigate financial losses as a result of the pandemic.
These parcels will be delivered to homes instead. This is the first time Ramadan tents that fed the low-income workers is being abandoned since the formation of the UAE.
"We are expecting a lot more since hotels too will have to donate through a charity. The target is labour accommodation where a representative will go in and deliver the meals. And then there are those whose jobs have been affected by the curfews and the pandemic such as taxi drivers," Dr Hisham Al Zahrany, deputy director of Social Services at the society, said.
President of Kerala Muslim Cultural Centre in Abu Dhabi, ShukoorKallungal, said they were expecting to distribute more than 700 food bags a day during Ramadan.
"With the current situation, it is not possible to make iftar meals, but we will be distributing groceries for the people [in need] to prepare food at home."
"We started 10 days ago, since the coronavirus difficulties started. Many people are sitting in their rooms without any salary or income, so we are trying to help them," he said.
The centre receives requests for food through their helpline. They began by distributing ready meals, but switched to groceries – with each bag containing basic foodstuff such as rice, chicken and eggs.
"In Ramadan it is going to be very necessary to increase food bags. In the past, there were many Ramadan tents set up to provide food and in mosques but now, with the current situation, it is not safe to set them up and they won't be there anymore.
On Wednesday, Emirates Red Crescent said it aimed to help more than one million people through its charitable initiatives this Ramadan.
Their annual campaign would usually involve providing iftar meals to those in need at Ramadan tents set up across the country.
This year, the organisation will also be delivering food parcels to people to avoid crowding and adhere to social-distancing rules.
Other ERC programmes include Zakat Al Fitr, a charity undertaken at the end of Ramadan, and handing out clothes to those in need ahead of Eid Al Fitr – when Muslims typically wear new clothes to celebrate the "festival of breaking the fast."
Beneficiaries of this year's campaign will include members of vulnerable families and workers, reported state news agency, Wam.
"We are preparing to start the best month of the year by strengthening the spirit of human solidarity and offering the opportunity to participate in our programmes around the country, which will benefit hundreds of thousands," said Rashid Al Mansouri, ERC deputy secretary-general for Local Affairs.
https://tribuneonlineng.com/ramadan-2020-uae-charities-to-shun-mosques-tents-deliver-iftar-meals-to-homes/
-----
COVID-19 palliatives: Islamic group laments marginalisation of Igbo, religious sentiments
April 17, 2020
By John Owen Nwachukwu
An Islamic human rights organization, the Muslim Rights Concern (MURIC) has demanded transparency in the process leading to the identification of indigent Nigerians and vulnerable people within communities at grassroots level in the Federal Government's disbursement of palliatives.
MURIC questioned the manner names of beneficiaries of relief packages were being collated.
This was revealed in a press statement signed by the director of the human rights group, Professor Ishaq Akintola, and made available to DAILY POST on Friday
"We need to monitor the modalities for selection of indigent Nigerians and vulnerable people within communities at the grassroots. Government should release the names of community leaders who supplied the names of beneficiaries. The parameters for collating names of beneficiaries should also be made public.
"Such yardsticks should be devoid of religious or partisan considerations. It is only when this is done that the system can be described as open.
"We demand transparency in the process. Already, there are allegations of marginalization of sections of Nigerian citizens and people of particular faith in the distribution of COVID-19 palliatives in some states. I think this should not be happening at a time when the whole of humanity faces this horrible monster.
"Exempli gratia, residents of Victory Estate, Iba in Iba Local Council Development Area (LCDA) of Ojo Local Government in Lagos State have alleged total marginalization in the distribution of relief materials.
"They complained that not a single pack was received by any of the residents in a heavily populated estate. Incidentally this is an area fully dominated by people of Igbo extraction. Is it ethnicity or partisan politics? The Lagos State Government needs to look into this.
"We have received damning reports from some states but we want to be mature in the way we handle the allegations. This is not the time for parochial approaches.
"We will not name names but state governments where people are being marginalized on the basis of religion should take the cue from this message otherwise they will be exposed. We should not allow the integrity of the process to be eroded by individuals who have selfish interests.
"Finally, we encourage states to set up the machinery for the registration of senior citizens (anyone who is 60 and above).
"This database can be used for the preparation of post-COVID-19 welfare packages for the elderly in each state. Such an arrangement will eject a heavy dose of humanity in our country. We must not be thinking of the present alone. We must plan for the future."
https://dailypost.ng/2020/04/17/covid-19-palliatives-islamic-group-laments-marginalisation-of-igbo-religious-sentiments/
----
South Asia
Khurasani's video emerges from the jail as he desperately pleas for his release
17 Apr 2020
Abdul Hamid Khurasani, one of the notorious crime kingpins, has vowed to sew to his lips in protest to silence of the relevant authorities, who according to him have failed to act for his release.
A new video of Khurasani emerged online earlier on Friday, almost ten months after the security forces arrested him in Kabul.
Desperate for his release, Khurasani slammed the relevant authorities as well as his supporters for failing to take necessary measures for his release, claiming that his pleas have fallen on deaf ears.
Khurasani further added that he and his fellow inmates will have no other option than sewing their lips in protest against the injustice.
He went on to claim that he has not harmed any Afghan civilian, security personnel, including members of the Afghan army, police or intelligence.
The video of Khurasani emerged amid ongoing efforts to release thousands of the prisoners for the sake of the development of peace process and the outbreak of the novel coronavirus (COVID-19).
The Afghan government has released more than 300 prisoners of the Taliban group to help the peace process besides releasing many other prisoners in a bid to prevent the outbreak of COVID-19 disease in the prisons.
https://www.khaama.com/khurasanis-video-emerges-from-the-jail-as-he-desperately-pleas-for-his-release-04677/
----
Gunmen kill 6 workers of the U.S.-run Bagram airfield in North of Afghanistan
17 Apr 2020
Armed men killed six workers of the U.S.-run Bagram airfield in northern Parwan province of Afghanistan late on Thursday night, the local officials said.
Waheeda Shahkar, a spokesperson for the provincial government, said a group of armed men, believed to be affiliated with the Taliban group, opened fire on a group of civilian workers of the U.S.-run Bagram airfield.
Shahkar further added that the workers were on their way to their home and were riding a rickshaw when they were ambushed at around 9:40 pm local time.
According to Shahkar, the attack also left at least three workers of the airfield wounded.
https://www.khaama.com/gunmen-kill-6-workers-of-the-u-s-run-bagram-airfield-in-north-of-afghanistan-04676/
------
Afghan population being exposed to greater dangers without consolidated govt team: EU
16 Apr 2020
The European Union Heads of Missions in Kabul and the Ambassador of Norway in Afghanistan has warned that the lack of a consolidated governmental team exposes the Afghan population to greater dangers.
The EU Heads of Mission and Norwegian Ambassador issued a joint statement as the peace efforts face challenges.
"The EU Delegation in agreement with EU Heads of Missions based in Kabul and the Ambassador of Norway calls on all parties to the current political negotiations to reach an agreement with the highest sense of urgency," the statement said.
It also added "There is a need to start the peace process as soon as possible. The well being of the Afghan people and the broader interest of the Nation must come first while Afghanistan is facing continued insecurity and dramatic new health risks."
Meanwhile, the EU Heads of Missions and the Norwegian Ambassador warned that "Each day that passes without a consolidated governmental team exposes the Afghan population to greater dangers, undermines the credibility of the democratic institutions and discourages European partners. Time for unity is now!"
This comes as efforts are underway to find a negotiated political settlement to end the conflict in the country.
The U.S. and Taliban representatives signed a peace deal late in February aimed at paving the way for the launch of intra-Afghan talks.
However, the peace efforts are hindered by political tensions which ensued from the controversial announcement of presidential elections.
https://www.khaama.com/afghan-population-being-exposed-to-greater-dangers-without-consolidated-govt-team-eu-04675/
-----
Wounded Pakistani militant arrested, Taliban IED planter killed in Nangarhar
16 Apr 2020
The Afghan forces arrested a wounded Pakistani militant during an operation in eastern Nangarhar province of Afghanistan, the local authorities said.
According to a statement released by the provincial government, the Afghan forces arrested Zrar Hafeez, a Pakistani national who had sustained injuries in Momand Dara district.
Meanwhile, a Taliban militant, who was attempting to plant two roadside bombs in Barikaab area of Batikot district, was killed after the explosives went off prematurely.
The provincial government also added that the security forces discovered and defused a roadside bomb in Surkh Rod district of Nangarhar province.
https://www.khaama.com/wounded-pakistani-militant-arrested-taliban-ied-planter-killed-in-nangarhar-04674/
-----
Fashion nightmare as Bangladeshi garment makers lose jobs
April 17, 2020
ASHULIA: One day Parvin was toiling to meet the fast-fashion demands of European capitals, the next she was among hundreds of thousands of Bangladeshi clothes workers made instantly jobless as the coronavirus pandemic struck.
Big-name international brands have cancelled billions of dollars in orders because of the pandemic, decimating Bangladesh's most important export industry and hurting in particular rural women who dominate the workforce.
Parvin, a 28-year-old seamstress, joined thousands of workers queueing to collect final wages from tables of banknotes set up at the Al Muslim factory, one of the biggest in the country that supplies some of the world's most famous labels.
The workers waited in long lines, each 1m apart in a bid to keep up social distancing, and the anxiety built as the towers of banknotes went down.
"We don't know when it will reopen," said Parvin, who collected her salary for March just before the giant complex closed its doors.
Making the shirts, pullovers, bras and socks for stores in wealther nations is the foundation of Bangladesh's impoverished economy.
It accounts for 80% of the South Asian nation's US$40 billion of annual exports and has played a vital role in its growth of the past two decades.
But the industry has a reputation for running sweatshops, with workers toiling in unsafe factories without labour protections or a social safety net.
The 2013 Rana Plaza disaster, when the collapse of the garment complex claimed the lives of 1,130 lives, exposed appalling safety conditions in Bangladeshi factories.
Now, with international brands walking away and a government lockdown stopped people in Bangladesh travelling, laid-off workers are complaining of being dumped without any help.
Thousands of workers – some of whom had earnt just US$100 a month – have staged multiple demonstrations over the past week complaining that factories have not paid them.
"Many of us don't have food at home now. We can't even ask for handouts on the streets because those poorer than us would mock us as we have jobs," said sewing machine operator Didarul Islam.
International brands have cancelled or held up orders worth US$3.11 billion, affecting more than two million workers, according to the Bangladesh Garment Manufacturers and Exporters Association.
The Bangladesh group and counterparts in China, Vietnam, Pakistan, Cambodia and Myanmar, have pleaded with the high street majors not to cancel orders.
"It is time for global businesses to uphold and honour their commitment to labour rights, social responsibility and sustainable supply chains," said a joint statement.
Sone of the big firms, including H&M and Inditex, which runs the Zara chain, responded by vowing not to cancel existing orders. Others have sought discounts, according to the BGMEA.
H&M chief executive Helena Helmersson said that purchasing was a key area where "forceful measures" have been taken because of the pandemic.
But the situation is already dire at Ashulia, home to 600 factories where workers live in rows of concrete slums near the plants.
Rubel Ahmed, the owner of a factory employing 250 people making apparel for Spanish retailers such as SDV, Ritchi and Vamutex, said he had lost more than 50% of his business.
Ahmed, chain smoking as he watched the empty machines in his factory, said the pandemic was "one hundred times" worse than the 2013 Rana Plaza disaster.
"People will remember when this crisis is over which brands stepped up to protect their workers and employees and which did not," said Dominique Muller of Labour Behind the Label, a British group on workers' rights in the clothing industry.
https://www.freemalaysiatoday.com/category/business/2020/04/17/fashion-nightmare-as-millions-of-bangladesh-garment-makers-lose-jobs/
------
China's economy suffers historic slump due to Covid-19
17/04/2020
China's economy shrank for the first time since at least 1992 in the first quarter, as the coronavirus outbreak paralysed production and spending, raising pressure on authorities to do more to stop mounting job losses.
Gross domestic product (GDP) fell 6.8% in January-March year-on-year, official data showed on Friday, larger than the 6.5% decline forecast by analysts in a Reuters poll and reversing a 6% expansion in the fourth quarter of last year.
The contraction is also the first in the world's second-largest economy since at least 1992 when official quarterly GDP records started.
While China has managed to get large parts of its economy up and running from a standstill in February, analysts say policymakers face an uphill battle to revive growth as the coronavirus pandemic ravages global demand.
Nomura expects Beijing to deliver a stimulus package in the near-term, which could be financed by the central bank through various channels.
"However, unlike previous easing cycles, when most of the new credit went to finance spending on infrastructure, property and consumer durable goods, this time we expect most of the new credit to be used on financial relief to help enterprises, banks and households survive the COVID-19 crisis," they said in a note.
On a quarter-on-quarter basis, GDP fell 9.8% in the first three months of the year, the National Bureau of Statistics said, just off expectations for a 9.9% contraction, and compared with 1.5% growth in the previous quarter.
Separate data showed China's industrial output falling by a less-than-expected 1.1% in March from a year earlier. Retail sales fell 15.8% in the same period. Fixed asset investment shrank 16.1% in January-March.
The pandemic has infected more than 2 million globally and killed more than 130,000. China, where the virus first emerged, has reported more than 3,000 deaths although new infections have dropped significantly from their peak.
Analysts expect nearly 30 million job losses this year due to stuttering work resumptions and plunging global demand, outpacing the 20-plus million layoffs during the 2008-09 financial crisis.
Beijing has pledged to take more steps to combat the impact of the pandemic, as mounting job losses threaten social stability.
The central bank has already loosened monetary policy to help free up the flow of credit to the economy, but its easing so far has been more measured than during the global financial crisis.
The government will also lean on fiscal stimulus to spur infrastructure investment and consumption, which could push the 2020 budget deficit to a record high.
For 2020, China's economic growth is set to stumble to its slowest annual pace in nearly half a century, a Reuters poll showed this week.
https://www.france24.com/en/20200417-china-gdp-contraction-gross-domestic-product-coronavirus-covid-19-economy
-----
Coronavirus: China's Wuhan city revises up death toll by 1,290 - a 50% increase
17 April 2020
Earlier this month, Wuhan lifted a lockdown that had paralysed the city of 11 million for more than two months in a drastic effort to contain the virus.
However, over two million cases of the disease have now been reported across the world and dozens of countries are in lockdown.
Wuhan's revised death toll of 3,869 is the most in China. Numbers of total cases in the city were also raised by 325 to 50,333, accounting for about two-thirds of China's total 82,367 announced cases.
The official Xinhua News Agency quoted an unidentified official with Wuhan's epidemic and prevention and control headquarters as saying that during the early stages of the outbreak, "due to the insufficiency in admission and treatment capability, a few medical institutions failed to connect with the disease prevention and control system in time, while hospitals were overloaded and medics were overwhelmed with patients".
China has strongly denied claims it delayed reporting on the virus outbreak in Wuhan late last year and underreported case numbers, worsening the impact on the US and other countries.
It comes as figures show China suffered its worst economic contraction since since at least the 1970s in the first quarter as it fought the coronavirus.
Weak consumer spending and factory activity also suggest the country faces a longer, harder recovery than initially expected.
The world's second-largest economy shrank 6.8% from a year ago in the three months ending in March after factories, shops and travel were shut down to contain the infection, official data showed.
Motorcyclists ride in an almost empty street in Wuhan, in China's central Hubei province on February 26, 2020. - China on February 26 reported 52 new coronavirus deaths, the lowest figure in more than three weeks, bringing the death toll to 2,715. All the new deaths were in the outbreak epicentre Hubei province, which accounted for 401 of the 406 new infections reported on February 26, the National Health Commission said. (Photo by STR / AFP) / China OUT (Photo by STR/AFP via Getty Images)
That was stronger than some forecasts that predicted a contraction of up to 16% but was still China's worst performance since before market-style economic reforms started in 1979.
The ruling Communist Party declared victory over the virus in early March and started reopening factories and offices even as the United States and Europe tightened controls.
But cinemas, hair salons and other businesses deemed non-essential but employ millions of people are still closed. Tourism is struggling to recover.
https://news.sky.com/story/coronavirus-chinas-wuhan-city-revises-up-death-toll-by-1-290-a-50-increase-11974466
----
Afghanistan records 66 new positive cases of coronavirus in past 24 hours
17 Apr 2020
Afghanistan recorded 66 new positive cases of the novel coronavirus (COVID-19) in the past 24 hours, raising the total number of positive cases to 906.
The Ministry of Public Health (MoPH) confirmed that the health officials recorded 66 new positive cases of the disease across the country in the past 24 hours.
WaheedullahMayar, a spokesperson for the Ministry of Public Health, said Friday that 26 of the new positive cases were recorded in capital Kabul.
Mayar further added that the public health authorities recorded 15 new cases in Kandahar, 6 in Balkh, 5 in Kunduz, 5 in Herat, 4 in Helmand, 3 in Laghman, 1 in Nangarhar and 1 in Kunar province.
Meanwhile, the Public Health officials said at least 100 infected people have recovered across the country while the disease has so far killed at least 30 people in various provinces.
https://www.khaama.com/afghanistan-records-66-new-positive-cases-of-coronavirus-in-past-24-hours-04680/
----
Afghanistan exempts over 30 organizations while extending curfew in Kabul city
17 Apr 2020
The Afghan government an extension in curfew in Kabul city while announcing an exemption for the employees of 30 governmental and non-governmental organizations.
Tariq Arian, a spokesperson of the Ministry of Interior, said the Cabinet of the Islamic Republic of Afghanistan extended curfew in Kabul city.
He said the Ministry of Interior instructs the residents of Kabul city to refrain from unnecessary movements within the city or otherwise they would face strict investigations by the police forces.
According to Arian, the employees of the following governmental and non-governmental organizations have been exempted from the new restrictions:
https://www.khaama.com/afghanistan-exempts-over-30-organizations-while-extending-curfew-in-kabul-city-04679/
-----
Afghan forces conduct preemptive raids against Taliban militants in Kandahar
17 Apr 2020
The Afghan forces conducted preemptive raids against Taliban militants in southern Kandahar province, killing at least 4 militants.
The Ministry of Defense (MoD) in a statement said a group of Taliban militants were looking to carry out attacks against the Afghan forces in Shorabak and Miansheen districts.
The statement further added that the Afghan forces conducted preemptive raids to thwart the attacks of the militants.
The security forces also wounded at least six militants during the raids, the statement said, adding that the security forces had earlier discovered and defused 20 roadside bombs in Miansheen, Shawalikot, Spin Boldak and Maiwand districts of Kandahar.
https://www.khaama.com/afghan-forces-conduct-preemptive-raids-against-taliban-militants-in-kandahar-04678/
----
URL: https://www.newageislam.com/islamic-world-news/saudi-artist-draws-grand-mosques/d/121601
New Age Islam, Islam Online, Islamic Website, African Muslim News, Arab World News, South Asia News, Indian Muslim News, World Muslim News, Women in Islam, Islamic Feminism, Arab Women, Women In Arab, Islamophobia in America, Muslim Women in West, Islam Women and Feminism