New Age Islam News Bureau
3 May 2018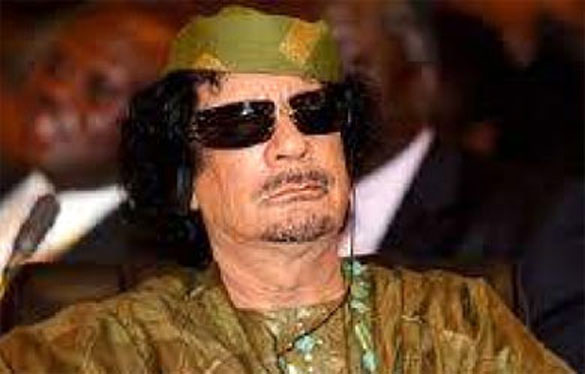 Moamer Kadhafi | AFP
----
• Saudi Arabia to Build Churches for Christian Citizens
• MMA Vows To Unite Islam Loving Forces
• ISIS in Afghanistan Has No Organic Links to Middle East: Saleh
• Libya in Chaos since Overthrow of Muammar Quaddafi
• Sunni Unity Talks on Righttrack, Says Prominent Sunni Leader
• US Judge: Iran Must Pay $6bn to Victims of 9/11 Attacks
Arab World
• Saudi Arabia to Build Churches for Christian Citizens
• These Iraqi Farmers Said No to ISIS, When Night Came They Paid the Price
• Smell of death fills Mosul nearly a year after Iraqi city freed from ISIS
• Drive-by shooting kills eight north of Baghdad
• Guantanamo inmate transferred to Saudi Arabia
• Islamic State Claims Responsibility for Gun Attack North of Baghdad
• ISIL Presence in Southern Damascus to End Soon
• Source: US-Made Missiles Fired by Israeli Fighter Jets at Syria
• How Grand Mosque and Prophet's Mosque Are Preparing For Ramadan
• Amnesty International slams 'unfair' trial of Bahraini civilians at military courts
-------
Pakistan
• MMA Vows To Unite Islam Loving Forces
• Solid Human Rights Architecture Must For a Pluralistic Society
• JI Wants Enforcement of Shariah in Country: Sirajul Haq
• JI Lawmaker Accuses PML-N of Preventing Compulsory Quran Teaching
• Those targeting Hazaras will suffer twice as much: COAS
• Pakistan: Hazara Shia Muslims end protest in Quetta over killings
-------
South Asia
• ISIS in Afghanistan Has No Organic Links to Middle East: Saleh
• OIC on Rohingya Crisis: A Unifying Cause despite Many Rifts
• Afghanistan inaugurates distribution of electronic National Identity Cards
• Taliban militants blown up by own explosives in Baghlan province
• Human traffickers targeting Rohingya refugees in Bangladeshi camps
-------
Africa
• Libya in Chaos since Overthrow of Muammar Quaddafi
• Nigeria: 60 Worshippers Killed in Twin Bomb Attacks in Mubi
• Islamic State attack Libyan election commission, 14 Killed
• Nigeria suicide blasts toll rises to 86
• Somalia: Government urged to speed army building, face Al-Shabab
• Nigeria: 11 Lake Chad Governors Meet over Boko Haram
-------
India
• Sunni Unity Talks on Righttrack, Says Prominent Sunni Leader
• Kashmir Al-Qaida Cell Threatens Journos
• J&K: Teen killed, 15 injured as forces open fire at protesters
• Pakistan raises Kashmir issue at UN Committee on Information; India objects
• Muslim Student Stabbed to Death in Kathua, Police Say He Was Not The Real Target
• Teenager killed, 10 injured during Shopian anti-terror operation
• Violent protests over Jinnah portrait at AMU, police cane students
-------
North America
• US Judge: Iran Must Pay $6bn to Victims of 9/11 Attacks
• US Public Support for Iran Nuclear Deal at Record High: Poll
• KC Muslim student was struck in the face on campus on 'Punish a Muslim day,' FBI says
• Condoleezza Rice supports Trump, says she wouldn't sign Iran deal
-------
Mideast
• Iran's FM Says Qatar 'Brought Saudi Arabia to Its Knees'
• Abbas says he rejected offer from Egypt's Mursi to settle Palestinians in Sinai
• Yemeni President: Houthi stronghold surrounded from all sides
• Saudi armed forces participate in joint military drills in Turkey
• Yemeni Ansarullah snipers kill three Saudi troops in Najran
• Jailed ex-leader of pro-Kurdish party to run for Turkish presidency
-------
Southeast Asia
• Calls for Change Reverberate In Malaysia's Sabah after Decades of BN Rule
• Malaysia PM likely to win election but opposition could win popular vote - survey
• After a former PAS leader's son broke ranks, all eyes turn to Kelantan
• No thank you: Candidates in conservative West Java reject shamans' support
-------
Europe
• Conservatives Suspend Candidate Who Said Islam Is 'Totalitarian'
• French ISIS wife goes on trial for terrorism in Iraq
• UK will stick with Iran deal despite Israeli claims: Johnson
Compiled by New Age Islam News Bureau
URL: https://www.newageislam.com/islamic-world-news/saudi-arabia-build-churches-christian/d/115134
-------
Saudi Arabia to build churches for christian citizens
Hend El-Behary
May 2, 2018
In wake of wide Saudi Arabian cultural and social global openness, for the first time in the country's history it has signed a cooperative agreement with the Vatican to build churches for Christian citizens to advocate the important role of religions and cultures in renouncing violence, extremism, terrorism and achieving security and stability in the world.
The agreement was signed by the Secretary General of the Muslim World League Sheikh Mohammed bin Abdel Karim Al-Issa and the President of the Pontifical Council for Inter-religious Dialogue in the Vatican and the French cardinal of the Catholic Church Jean-Louis Tauran to achieve mutual goals between both sides.
The agreement also states that a coordinating joint committee will be established comprising two representatives for both sides to organize future meetings. The committee is expected to be held once every two years and its meetings will be alternated between Rome and a city chosen by the Islamic World League, according to the Saudi Arabian press.
The historic visit also included a meeting with the Crown Prince of Saudi Arabia Mohamed Bin Salman in the Saudi capital Riyadh.
Tauran said that he supports equal treatment to all citizens regardless their religion, including those who do not profess any religion; he also called on setting common basis in building worship places, according to "L'osservatore romano", the Italian newspaper published by the Vatican.
In an interview with the Vatican News newspaper after the visit, Tauran said he was pleased by what he described as 'the beginning of the rapprochement'. "It is a sign that the Saudi authorities are now ready to give a new image to the country," he added. Earlier in March, Bin Salman met with Pope Tawadros II, Pope of Alexandria and Patriarch of the See of St. Mark during his visit to Egypt; Tawadros strongly praised Bin Salman, saying he represents an open and modern image of the Kingdom of Saudi Arabia.
"The visit of the Saudi Crown Prince was a great pleasure, and I was very impressed by his personality and smile, and his knowledge and understanding of history and current events," the Pope said during an interview on MBC TV satellite channel.
http://www.egyptindependent.com/saudi-arabia-build-churches-christian-citizens/
-------
MMA Vows To Unite Islam Loving Forces
May 3, 2018
Lahore
The MMA announced the biggest public meeting in Pakistan's history in Islamabad on May 13, with the resolve to redirect the country towards its Islamic ideology and unite its Islam loving forces.
MMA President Maulana Fazlur Rahman, while making this announcement at the national workers convention in the federal capital on Wednesday, said that the objectives of the creation of Pakistan had not been achieved even after seventy years of independence because the interests of the rulers had been different.
He said that even today, the hidden forces were trying that the religious forces should not come on a single platform. However, he said, he would invite all the Islam loving forces to join hands. He said if the secular elements could unite despite their differences, why could not he Ulema.
Ameer, Jamaat e Islami, Pakistan, and MMA Vice President, Senator Sirajul Haq, in his address, said that the MMA was not after power, and its destination was the Islamic system. He said the Muslims of the sub continent had offered sacrifices for the enforcement of the Shariah and the Quaid e Azam Muhammad Ali Jinnah , had on more than one hundred occasions, stated that Pakistan's constitution and manifesto had been revealed fourteen hundred years ago. However, he said that the after the Quaide Azam, the mental slaves of the British took hold of the country and state institutions and drifted the country away from its real goal.
The JI chief said politics in Pakistan meant cheating, loot and plunder. " We seek refuge from such politics" he added. He said that political leadership guided the nation towards a goal. He said that a new Pakistan could not be built by promoting vulgarity and dancing and introducing new ways of corruption.
The JI chief said that the rulers could not strengthen democratic order in the country so far. He said that establishment of the Islamic government was the biggest Jehad in the present situation.
Commenting on the slogan of "respect for the vote", he said that respect for the vote implied provision of jobs to the unemployed, medicine for the sick and food to the hungry. He said that these days, party tickets were issued on the basis of the bank balance of the candidates. However, he said, the JI and the MMA talked of merit.
Sirajul Haq said that Pakistan could not help the Kashmiris, Palestinians, the Rohangyas only because of the present system.
MMA Vice President Prof. Sajid Mir, said it was strange that the non political people seemed to be more active than the politicians in the country and state institutions thought of their own supremacy than of the country.
He said the MMA was inviting the nation towards Makkah and Madina and not towards Moscow, Washington or London. The MMA wanted to introduce the system that had been given by Allah and His Prophet and which guaranteed the success of both this world and the hereafter. He said the MMA had reminded the nation of the Pakistan ideology.
MMA vice president Allama Sajid Ali Naqvi, in his address, said that the religious alliance would protect the identity and the status of the country. He said that MMA like alliances were did not exist in any part off the world as it believed in the respect for all. He said the MMA had played its role in every challenge and even in the foreign affairs. He said the target before the MMA was to send capable and honest people to the parliament as this could help bring about reforms.
MMA vice president Pir Ejaz Hashmi commended the role of JI Ameer, Sirajul Haq in the revival of the MMA. He said it was time that the nation discarded the feudal lords and capitalists and voted for the MMA enabling it to form government.—NNI
https://pakobserver.net/mma-vows-to-unite-islam-loving-forces/
-------
ISIS in Afghanistan has no organic links to Middle East: Saleh
May 02 2018
The former director of the Afghan Intelligence, National Directorate of Security (NDS), Amrullah Saleh has said that the ISIS terrorist group in Afghanistan has no links with the terror group in the Middle East, apparently pointing to the ISIS terror group in Syria and Iraq.
Saleh made the remarks following a deadly attack in Kabul that left several people including a number of reporters and journalists.
According to Saleh, the Taliban and the notorious Haqqani terrorist network are behind the deadly attacks in the country.
He says the sleeping suicide cells of the Taliban and Haqqani network are sold for specific targets and the sellers take responsibility.
This comes as the latest coordinated suicide attacks in Kabul city left at least 25 people dead, including 9 reporters.
The incident took place at around 8 am local time on Monday after a suicide bomber detonated his explosives among the reports, following the first suicide attack near the intelligence compound.
The ISIS loyalists in Afghanistan, ISIS Khurasan, issued a statement following the attack and claimed that two suicide bombers of the group were involved in the attack.
https://www.khaama.com/isis-in-afghanistan-has-no-organic-links-to-middle-east-saleh-05053/
-------
Libya in Chaos Since Overthrow Of Muammar Quaddafi
02nd May 2018
TRIPOLI: Libya, where rival authorities and numerous militias are vying for power, fell into chaos after the ouster of strongman Muammar Quaddafi in October 2011.
Quaddafi killed -
Quaddafi, who ruled Libya for 42 years, is killed on October 20, 2011, as he tries to flee his hometown Sirte.
Three days later, the former rebel National Transitional Council declares Libya's "total liberation" after a NATO-backed uprising that began in February.
In August 2012, the NTC hands over power to the transitional General National Congress elected a month earlier.
Rise of radical groups -
US ambassador Chris Stevens and three other American staff are killed in a September 11, 2012 attack on their consulate in Libya's second city Benghazi. The jihadist group Ansar al-Sharia, linked to al-Qaeda, is accused of carrying out the attack.
A car bomb attack in April 2013 targets France's embassy in Tripoli, wounding two French guards.
Violence is widespread. Libya plunges further into chaos with foreign delegations pulling out of the country.
Rival governments -
Military strongman Khalifa Haftar, backed by Egypt and the United Arab Emirates, launches an offensive in May 2014 against Islamist groups in Benghazi.
Several military officers, including members of the air force, join his paramilitary Libyan National Army.
In June 2014, following legislative elections, the General National Congress is replaced by a parliament dominated by anti-Islamists.
In August 2014, after weeks of deadly clashes, Islamist-led militias grouped under the "Fajr Libya" (Libya Dawn) banner storm Tripoli and set up a "national salvation" government.
The government of Abdullah al-Thani and the parliament elected in June, the only ones recognised internationally, take refuge in eastern Libya.
The country finds itself with two governments and two parliaments.
IS profits from chaos -
The Islamic State group claims its first attack in Libya in December 2014. The following June it seizes Sirte to the east of Tripoli, but is driven out of the coastal town in December 2016.
Skhirat accord -
On December 17, 2015, after months of negotiations, accords signed under UN supervision in Skhirat, Morocco, designate a UN-backed Government of National Accord (GNA) as the "only legitimate government of Libya" in the eyes of the international community. On December 23, the UN Security Council endorses the accord.
In March 2016 the GNA takes up office in Tripoli headed by prime minister Fayez al-Sarraj.
The GNA is opposed by the rival administration in the east of the country, backed by Haftar, and by the parliament elected in 2014.
In December 2017, despite the failure of attempts to amend the accord, the UN says the Skhirat accord is the only viable framework for ending Libya's political crisis.
On the GNA's second anniversary, Haftar says its mandate has run out after what he says is the expiry of the Skhirat accord.
The mayor of Libya's third-largest city Misrata is abducted a day later on December 18 and killed by unidentified assailants.
Fresh violence -
In January 2018 fighting at Tripoli's only working international airport kills at least 20 people after militiamen attack it a bid to free colleagues held at a jail there.
The same month at least 37 people are killed and scores are wounded after two car bombings outside a mosque frequented by jihadist opponents in Benghazi.
On May 2 suicide attackers kill at least 12 people at Libya's electoral commission in Tripoli. IS claims responsibility
http://www.newindianexpress.com/world/2018/may/02/libya-in-chaos-since-overthrow-of-Muammar-Quaddafi-1809388.html
-------
Sunni Unity Talks on Righttrack, Says Prominent Sunni Leader
MAY 02, 2018
Prominent Sunni leader Kanthapuram A.P Aboobacker Musliyar has said the talks of Sunni unity between the two powerful factions, one led by him (All India Sunni Jamiyyathul Ulama) and the Samastha Kerala Jam'eyyath ul-Ulama, which is backed by the Indian Union Muslim League (IUML) is progressing on the right track and on a positive note.
Replying to questions at a news conference here on Wednesday, the Musliyar, who is also the general secretary of the All India Muslim Scholars Association (All India Sunni Jamiyyathul Ulama), said the two Samasthas had nominated their representatives for the unity talks.
However, the outcome of the discussion till now could not be disclosed so as not to derail the Sunni unity. The opening of the Mudikkode Juma Masjid, near Manjeri in Malappuram district was a positive development in this regard, he said.
Previously, clashes had occurred between the Sunni factions over the issue of the taking dominance of the mahal committee of the mosque. Now the State government had intervened and it had tasked the Kerala State Wakf Board to sort out the disputes between the factions over the mosques. Subsequently, the Revenue Divisional Officer had opened the Mudikkode Juma Masjid and appointed a committee involving both factions to look after its mahal.
Replying to another question, the Musliyar alleged that the non-Sunni groups such as the Salafis were trying to spread their radical religious ideology among the Muslim community in Kerala. Even the Saudi government had begun its crackdown on the activities of the Salafis on its soil and was taking steps to root out the menace of radicalism.
To another query, he claimed that he had not spoken against the interests of women but only had spoken about women ''going footloose'' which would lead to anarchy in society.
He said that Chief Minister Pinarayi Vijayan would inaugurate the two-day meeting of leaders of local Mahal committees and Muslim leaders - Kerala Umrah Conference - being organised by the Kerala Muslim Jamaath here on May 5. Mr. Vijayan had been invited to inaugurate the conference because of his status as Chief Minister and not on basis of his political party.
The two-year rule of the CPI(M)-led Left Democratic Front had several positive developments. But every government like in the past faced multiple challenges. Criticism came from various quarters were always there, the Musliyar said.
http://www.thehindu.com/news/national/kerala/sunni-unity-talks-on-righttrack-says-kanthapuram/article23750127.ece
-------
US judge: Iran must pay $6bn to victims of 9/11 attacks
May 02, 2018
Lawsuit alleges Iran trained September 11 hijackers but official investigation found no evidence of Iranian involvement
A judge in the US has issued a default judgement requiring Iran to pay more than $6bn to victims of the September 11, 2001 attacks that killed almost 3,000 people, court filings show – Al Jazeera reported.
Monday's ruling in the case – Thomas Burnett, Sr et al v. The Islamic Republic of Iran et al – finds "the Islamic Republic of Iran, the Islamic Revolutionary Guard Corps, and The Central Bank of the Islamic Republic of Iran" liable for the deaths of more than 1,000 people as a result of the September 11 attacks, Judge George B Daniels of the Southern District Court of New York wrote.
Iran is ordered to pay "$12,500,000 per spouse, $8,500,000 per parent, $8,500,000 per child, and $4,250,000 per sibling" to the families and estates of the deceased, court filings say.
A 4.96 annual interest rate will also be applied to the amount, starting from September 11, 2001 to the date of the judgement.
A default judgement is issued when a defendant does not contest the case in court.
Daniels issued other default judgements against Iran in 2011 and 2016 that ordered the Islamic Republic to pay victims and insurers billions of dollars for damages and deaths in the hijacker attacks.
Iran has not commented on the cases.
Allegations against Iran, Saudi Arabia
Though the lawsuit alleged Iran supported the hijackers with training and other assistance, any Iranian involvement in the attacks remains unclear.
The 9/11 Commission, which was tasked with preparing a "full and complete account of the circumstances surrounding" the attacks, found no evidence of direct Iranian support, other than certain 9/11 hijackers travelled through Iran on their way to Afghanistan, without having their passports stamped.
Saudi Arabia remains the main target of US citizens looking for damages in relation to the attacks.
The judgement against Iran was issued in a court case consisting of more than 40 lawsuits that have been consolidated over the years.
Plaintiffs allege that Saudi Arabia provided material support to the 19 hijackers who crashed commercial airliners into the World Trade Center in New York and the Pentagon in Washington.
Another plane, reportedly targeting the White House, crashed in a field in Pennsylvania after passengers confronted the hijackers.
Fifteen of the 19 hijackers were Saudi citizens. Plaintiffs are seeking billions of dollars in damages from Saudi Arabia.
https://www.dhakatribune.com/world/north-america/2018/05/02/us-judge-iran-must-pay-6bn-victims-911-attacks/
-------
Arab World
These Iraqi Farmers Said No to ISIS, When Night Came They Paid the Price
By Margaret Coker and Falih Hassan
May 2, 2018
TARMIYA, Iraq — Islamic State militants dressed in Iraqi military uniforms launched a brazen nighttime attack in a farming hamlet close to Baghdad, killing 21 members of a local tribe that has been a vocal opponent of the extremists, security officials and residents said Wednesday.
The hourlong gun battle late Tuesday in this rural area approximately 25 miles north of the capital threatens growing optimism among both Iraqi officials and the international coalition fighting the Islamic State that Iraqis are gaining momentum in their efforts to stabilize cities and communities devastated by violence.
Although Iraqi forces are still engaged in mopping-up operations to rid pockets of the country of sleeper cells, terrorist attacks and civilian deaths have dropped sharply since the government declared victory over the Islamic State in December. In April, only 68 Iraqi civilians were killed in acts of terrorism, violence and armed conflict, according to the United Nations, continuing a steep decline of violence in a country once plagued by almost daily suicide bombings and other terrorist attacks.
But the high death toll on Tuesday — 18 men, two women and a 5-year-old girl — and the timing of the attack are especially worrisome. Iraqi security forces were already on high alert across the nation ahead of national elections scheduled for May 12.
The authorities said they had no leads about how the attack was executed or who was responsible. The Islamic State media outlet Amaq released a statement on Wednesday claiming responsibility for the attack.
All the victims were members of the Albu Faraj tribe, known for its staunch opposition to Sunni extremists in the area, a notorious safe haven for suicide bombers and terrorists seeking to infiltrate the capital. Several prominent members of the tribe work for a local Sunni militia that is part of Iraq's popular mobilization forces, created in 2014 to help defend Iraq against the Islamic State.
Witnesses said the militants, all of whom were masked and wearing army uniforms, sneaked into the village after Tuesday evening prayers, apparently by fording a nearby river. They walked down a dirt road to the home of a local lawyer, Rahim Marzouk, who was known for his work on behalf of victims of the Islamic State.
When Mr. Marzouk answered the door, the gunmen opened fire, killing him, his wife, his teenage son and his 5-year-old daughter, said a neighbor, Khaled al-Salah, who rushed to the street when he heard the gunfire just a few feet from his home.
Mr. Salah and his son ran toward the victims, intending to try to get them medical attention. But gunmen, some perched on nearby rooftops, opened fire on them and other neighbors who were running to the scene.
"The attackers knew us — they knew we were all related here and would try to help each other," said Mr. Salah, who was hit in the shoulder. "It was like an ambush."
Mr. Salah's brother and nephew were among those killed. Thirteen other people were wounded, according to the head of the hospital in nearby Djail, where the bodies were taken.
Gen. Qassim Attiyah, the spokesman for the Baghdad Operations Command, which is responsible for security around Tarmiya, said the attackers had melted away before a nearby army unit could reach the scene on Tuesday night. An overnight search in surrounding fields and farmland yielded no immediate clues about where the militants escaped to, he said.
"We are pleading with the local residents to help us," General Attiyah said. "Someone has to know where they went."
The area around Tarmiya has long been known as a haven for jihadists, part of the so-called Baghdad belt, a notorious farmland area where Sunni extremist militants built factories for bombs that once targeted American forces in Iraq.
Since 2014, Iraqi intelligence and security forces have identified the area as a staging ground for Islamic State attempts to send suicide bombers in Baghdad. The road through Tarmiya connects the capital to three former Islamic State-held territories.
Three weeks ago a school principal in Tarmiya was arrested on suspicion of providing a safe house for a suicide bomber who set off her explosives inside the empty school building when security officials learned of her presence and started moving in on her, General Attiyah said.
On Wednesday afternoon, Tarmiya residents gathered for a funeral service for their 21 neighbors, many still shaken by the violence that tore apart their community.
Amer Al Khazraji, head of the provincial council, blamed the Baghdad Operations Command for the security breach. He requested an urgent investigation into how the attack could have happened.
Hadi Attiyah, another neighbor who witnessed the attack, said it was like seeing his worst nightmare come true.
"I had told our tribal militias that they needed to be more vigilant. I told them not to be lazy, that Daesh would be coming for us," Mr. Attiyah said, using an Arabic acronym for the Islamic State. "They didn't listen."
https://www.nytimes.com/2018/05/02/world/middleeast/islamic-state-attack-iraq.html
-------
Smell of death fills Mosul nearly a year after Iraqi city freed from ISIS
May 2, 2018
MOSUL, Iraq — Nearly a year after Iraqi Prime Minister Haider al-Abadi declared this war-devastated city liberated from the Islamic State, a putrid odor still fills the air from thousands of corpses left in the rubble.
The bodies of both civilians and Islamic State militants can be found throughout Mosul, once Iraq's second-largest city, abandoned in bombed-out buildings, tossed in roadside rubbish heaps or discarded in and around the Tigris River.
"The sight and smell of these corpses is a constant reminder of our darkest days," said Ayoub Thanoun, 26, a pharmacy assistant who now helps neighbors clear debris. "A large number of bodies are scattered in the houses, gardens, squares and even in some of our mosques."
Ahead of the May 12 parliamentary elections. candidates here plant their campaign banners atop piles of brick and stones, most from ancient buildings now destroyed.
"The politicians are holding electioneering feasts on top of the bodies," said Shihab Ahmed, 28, who lives in the Bab Lagash district, where most working-age males were tombstone engravers before the Islamic State invaded the city in June 2014.
About 100,000 people once lived in Mosul's 1-square-mile Old City before the Islamic State, also known as ISIS, occupied the neighborhood. The United Nations estimates that more than 90% of the district was demolished in the fighting.
"I've spent my whole life in the Old City. And while there are many historic buildings officials need to preserve and protect, the government should do something to help the volunteers who have been working so hard to clear the corpses out of this neighborhood," Ahmed said.
The task of removing the bodies is dangerous.
"Often the bodies of ISIS fighters are just dumped in a place. And when we come to lift and remove them, we find they're still strapped to explosive vests or there are bombs hidden in the piles of corpses," said Omar Mohammed, 30, an Old Mosul resident.
"We are all vexed with how to deal with the bodies," said Ma'an Al Jammal, 26, a physician at Nineveh Medical College in Mosul. "The residents themselves are applying some sort of quarantine, but some have been injured from hidden explosives."
The decomposing bodies also present health problems. The World Health Organization determined that those living downstream from the city are at risk of gastroenteritis from partially treated water that had been exposed to the bodies.
"We are lucky that the main supply of Mosul's drinking water from the Tigris is located far north of the city," Al Jammal said.
The United Nations held a workshop here in March with officials and residents to come up with a plan to remove what it estimates to be 8 million tons of "conflict debris." The volume of rubble is equivalent to three massive piles the size of the Great Pyramid of Giza, according to the U.N.
"Unplanned disposal of debris can create serious health and environmental risks and burdensome economic liabilities in the future," said Hassan Partow, a U.N. environment program manager working with the Mosul municipality to develop a strategy for rubble clearance.
Sroor Al-Hosayni, 23, a nurse in Mosul, isn't waiting for the government to remove the bodies left on the ground and inside demolished homes in her neighborhood. She led her team of 30 volunteers to pull out the dead from the dirt and debris and place them in white plastic sacks.
"We gathered 52 bodies here and then the municipality takes them to be dumped," Al-Hosayni said in a phone interview April 19, after spending the day retrieving the dead from a district in the Old City that saw some of the fiercest battles between government troops and ISIS militants.
Al-Hosayni's mission began after her 14-year-old sister Nibras was killed in last year's fighting. Her father died of a heart attack shortly after an airstrike.
"I promised the security forces to work for them as a nurse if they would help me bury my sister," said Al-Hosayni, who now trains others in safe removal.
The training includes the use of protective gear, including gloves and masks, and how to treat scorpion stings, a common hazard when removing bodies from the charred remains of the homes and shops of the ancient city.
"The areas smell of death. It's awful, but we have gotten used to it," Al-Hosayni said. She said city officials suggested letting stray dogs eat the bodies. "There are lots of rats and cats, but no dogs. I told them there were not enough dogs to eat the corpses. There are thousands of bodies."
The prime minister has said the civilian death toll in Mosul was almost 1,300. But that number was challenged by independent monitoring groups and The Associated Press, which estimated in December that as many as 11,000 civilians died between October 2016 and July 2017.
Al-Hosayni and her volunteers have removed 860 bodies so far.
Full report at:
https://www.usatoday.com/story/news/world/2018/05/02/mosul-iraq-smell-death-isis-islamic-state/543030002/
-------
Drive-by shooting kills eight north of Baghdad
2 May 2018
Iraqi officials say gunmen in two speeding cars opened fire on civilians near a town north of Baghdad, killing at least eight people and wounding 13.
Eyewitnesses told the police they saw the gunmen displaying the black ISIS flag.
Two police officials said Wednesday that the attack happened late the night before in a busy commercial area near Tarmiyah. The town is located about 50 kilometers north of Baghdad.
Iraq is heading into parliamentary elections on May 12 - the first balloting since the government declared ISIS defeated in Iraq. Despite the defeat, ISIS militants are still capable of launching deadly assaults.
Full report at:
https://english.alarabiya.net/en/News/middle-east/2018/05/02/Drive-by-shooting-kills-eight-north-of-Baghdad.html
-------
Guantanamo inmate transferred to Saudi Arabia
3 May 2018
A Guantanamo Bay inmate who pleaded guilty to helping plan a 2002 attack on a French oil tanker has been transferred to Saudi Arabia, a Saudi official confirmed Thursday.
The Spokesman for the State Security said that as part of the efforts to repatriate Saudis detained abroad, citizen Ahmed bin Mohammed bin Ahmed Al-Derbi has been repatriated from Guantanamo Bay and he arrived in the kingdom at 11:55 pm Wednesday. His relatives were informed of his arrival and all facilities to meet him were arranged and provided.
The spokesman explained that he will be subject to the regulations in the Kingdom, which includes the benefit from the programs of the Mohammed bin Nayef Center for Counseling and Care.
"The Department of Defense announced today the transfer of Ahmed Mohammed Ahmed Haza al-Darbi from the detention facility at Guantanamo Bay to the government of the Kingdom of Saudi Arabia," the Pentagon said in a statement.
Al-Derbi entered a plea deal in February 2014 that saw him admit to planning, aiding and supporting an attack on the MV Limburg, which killed a Bulgarian sailor, injured a dozen and caused a large oil spill in the Gulf of Aden.
Part of the plea
As part of his plea, Al-Derbi provided evidence against another Saudi Guantanamo detainee – Abd al-Rahim al-Nashiri, who faces the death penalty on charges he masterminded the MV Limburg attack and the 2000 attack against the USS Cole in Yemen that left 17 dead.
He was sentenced to 13 years in prison, starting from the date of the plea. But the deal included a provision that after four more years at Guantanamo, he could serve the remainder of his term at a rehab center in Riyadh.
The remaining population at Guantanamo is now 40, but Trump has vowed to send more detainees to the prison, which is located on a US naval base on the southeastern tip of Cuba.
First release
Al-Derbi had pled guilty in the Guantanamo Military Commission in February of 2014. He was convicted of several counts of aiding Al Qaeda affiliates commit various acts of violence in 2002.
Al Arabiya English correspondent has reported that this is the first Guantanamo release under the Trump administration. The previous release of Guantanamo detainees took place at the end of the Obama administration.
"The dedication and discipline of our Troops has led to a smooth and well-executed transfer," Joint Task Force Guantanamo Commander, John C. Ring said in a statement to the press.
Full report at:
https://english.alarabiya.net/en/News/gulf/2018/05/03/Pentagon-Guantanamo-inmate-transferred-to-Saudi-Arabia.html
-------
Islamic State Claims Responsibility for Gun Attack North of Baghdad
May 2, 2018
BAGHDAD (REUTERS) - Islamic State claimed responsibility on Wednesday for a deadly gun attack near the Iraqi town of Tarmiya.
A security source had told Reuters that militants killed eight unarmed civilians in the assault 25 km (15 miles) north of Baghdad on Tuesday.
Islamic State said it killed 22 people, describing them all as members of a government-backed Sunni Muslim tribal force called the Tribal Mobilisation Forces.
"Clashes with light and medium weapons took place and led to the death of 22 apostates and the wounding of 10 others," the Sunni militant group said in a statement.
Iraq declared victory in December over Islamic State, which had seized control of nearly a third of the country in 2014. But the group continues to carry out attacks and bombings in Baghdad and other parts of the country.
https://www.usnews.com/news/world/articles/2018-05-02/islamic-state-claims-responsibility-for-gun-attack-north-of-baghdad
-------
ISIL Presence in Southern Damascus to End Soon
May 02, 2018
The Arabic-language al-Watan newspaper quoted Secretary-General of Palestinian resistance forces Khalid Abdolmajid as saying on Wednesday that the al-Nusra Front (also known as Fatah al-Sham Front or the Levant Liberation Board) terrorists have withdrawn from the Yarmouk refugee camp and the Syrian army has advanced in areas in the center of the camp and deployed in regions earlier evacuated by the al-Nusra.
He added that the Syrian army is now advancing from several pivots in regions occupied by the ISIL, noting that the terrorist group has withdrawn from areas which were considered earlier as its defense lines.
Abdolmajid underlined that no militants will remain in Southern Damascus in the next two weeks, saying that their presence will end before the holy month of Ramadhan.
He said that residents of Southern Damascus will return to their homes after the terrorists' withdrawal, adding that Yarmouk camp has been severely damaged but the opposition media exaggerate the volume of the ruins.
Tens of militants started leaving the Yarmouk Refugee Camp for Idlib province on Tuesday after they reached an evacuation agreement with the Syrian Army.
Five buses carrying 200 militants and their family members left Yarmouk Camp for Idlib via a checkpoint near al-Batikhah square in the first phase of the evacuation plan in the region.
Also, 40 people who had been kidnapped by the militants in the town of Ashtabraq in Idlib and three ambulances carrying a number of residents of the besieged towns of Fua'a and Kafraya were transferred to al-Eis passageway in Southern Aleppo.
A sum of 1,500 residents of Fua'a and Kafraya will leave the towns for government-controlled regions in the first phase of the agreement, and 3,000 more will leave the two towns in the second phase.
On Monday, the militants based in Yarmouk Camp agreed to leave for Northern Syria after reaching an agreement with the Syrian army as the government forces tightened their noose on the terrorists.
Terrorists agreed to leave the Yarmouk Camp for Idlib according to an agreement with the militants, field source said.
Around 5,000 of the besieged residents of Fua'a and Kafraya in Idlib countryside would be freed in two phases within the framework of the agreement.
Full report at:
http://en.farsnews.com/newstext.aspx?nn=13970212000524
-------
Source: US-Made Missiles Fired by Israeli Fighter Jets at Syria
May 02, 2018
The Arabic-language Zaman al-Wasl quoted the military source as saying on Wednesday that the Israeli air force has used US-made missiles during the Sunday night raid at Aleppo and Hama.
He added that the same missiles were used in Israel's previous attacks against Syria.
Syrian state media reported on Sunday night that "enemy missiles" had struck government targets in Hama and Aleppo provinces. The reports did not mention any casualties from the missile strikes, or who was suspected of the attack.
In a news flash, state television said the missile attacks took place at 10:30 pm local time. Earlier, state television said successive blasts were heard in rural Hama province and that authorities were investigating the cause.
The Syrian army positions came under missile attacks in Hama and Aleppo provinces two weeks after the trilateral attacks by the US, the UK and France.
Several missiles hit the weapons depots in Southern Hama and al-Malekieh region North of Aleppo airport, field sources reported.
No one has yet admitted the responsibility for the attack, but militants' news outlets and social media networks said the US has fired the missiles from Al-Tanf border crossing in Eastern Syria.
Some other sources said that the missile attacks were carried out by the US and in response to the Syrian army's advances East of Euphrates against the Kurdish-dominated Syrian Democratic Forces (SDF).
Other sources said that Israel that had previously targeted the T4 airbase in Homs province where the Iranian troops had been stationed has been behind the missile attacks.
There is yet no official confirmation on the origin of the missile launches.
Syria's Tishrin website also reported that nine ballistic missiles were fired from the US and British bases in Northern Jordan at the Syrian army's military positions in Hama and Aleppo.
The Arabic-language Sputnik also reported that 12 soldiers have been killed and many more wounded during the missile attack on the arms depot of the Syrian army's Brigade 47 in Hama countryside.
Further reports this morning revealed that more than a dozen civilians who lives in a village adjacent to one of the Hama depot have been killed in the raid.
The US, France and the UK launched a series of strikes on Syria on April 14 in retaliation for the alleged chemical attack by the Syrian government in the town of Douma. The strikes came hours before the Organization for the Prohibition of Chemical Weapons (OPCW) team was scheduled to arrive in Douma to determine whether chemical weapons had indeed been used there.
Russia stated that Moscow had proof that it had been a provocation and had been staged by Western-backed NGOs, including the White Helmets. Syria has also dismissed all accusations, calling the reports merely fake news that is aimed solely at helping terrorists and justifying potential strikes against Syrian government forces.
Syrian officials have over and over again denied the allegations, arguing that the chemical attack was staged by terrorist groups, and the government did not need such measures to curb the militants.
Two Israeli fighter jets struck the T4 military base in Central Syria from the Lebanese airspace on April 8, killing and wounding over a dozen militaries, including seven Iranian military advisers. Israeli F-15 warplanes fired eight guided missiles, but Syrian air defense units shot down five before they could hit the air base. Three of the missiles reached the Western part of the military airport.
The incident came two months after an Israeli F-16 fighter crashed after Syria responded with anti-aircraft fire to Israel's operation in its territory. Damacus said its military base came under Israeli fire, and it hit multiple aircraft in response.
The Tel Aviv regime has launched sporadic attacks against various targets on Syrian soil over the past few years, in assaults slammed by Damascus as attempts to boost terrorist groups who have been suffering heavy defeats on the battlefield with President Bashar Assad forces.
Full report at:
http://en.farsnews.com/newstext.aspx?nn=13970212000467
-------
How Grand Mosque and Prophet's Mosque Are Preparing For Ramadan
3 May 2018
The General Presidency for the affairs of the Grand Mosque and the Prophet's Mosque began preparations for the holy month of Ramadan on Tuesday, the Saudi Press Agency reported.
More than 10,000 male and female employees will be available to follow up on work and monitor it during Ramadan, in addition to a large number of cleaners.
General President of Grand Mosque and Prophet's Mosque Affairs Sheik Abdul Rahman bin Abdul Aziz Al-Sudais said that the plan will be implemented on different areas related to services, administration, guidance, education, technical, financial and public relations.
The plan will be implemented by developing work, improving performance and rehabilitating human resources.
There will be 28 escalators in the Great Mosque of Mecca, four in the Prophet's Mosque, 38 entrances for people with special needs and seven entrances for women, among other facilities.
The guidance service provided by the presidency will perform several tasks such as hold workshops, distribute Qurans and religious brochures and translate Friday sermons to a number of languages as well as into sign language.
All power supply lines have been prepared to make sure there is power 24/7.
Full report at:
https://english.alarabiya.net/en/News/world/2018/05/03/How-Grand-Mosque-Prophet-s-Mosque-prepare-for-Ramadan-.html
-------
Amnesty International slams 'unfair' trial of Bahraini civilians at military courts
May 3, 2018
Amnesty International has expressed concern over "unfair" trials for civilians at military courts in Bahrain and called on King Hamad bin Issa Al Khalifah to order the retrial of four men who have recently been sentenced to life imprisonment.
In a report released on Wednesday, the UK-based rights group pointed to the death sentences issued against the four individuals, including three civilians, by the Military Court of Cassation on 25 April.
"Despite the King's commutation of the sentences to life imprisonment the following day, Amnesty International remains concerned that these sentences were issued following unfair trials," it said.
The report noted that the three convicted civilians, along with 14 others, are the first civilians to be tried by a military court in Bahrain since 2011.
"Amnesty International calls on King Hamad bin Issa Al Khalifah to quash the conviction against the four men and for them to be retried before an independent and competent ordinary court," the report said.
"Military trials of civilians are inherently unfair as all officials in military courts, including judges, are serving members of the military," the report pointed out.
On March 5, 2017, Bahrain's parliament approved the trial of civilians at military tribunals in a measure blasted by human rights campaigners as being tantamount to imposition of an undeclared martial law countrywide.
The Bahraini monarch ratified the constitutional amendment on April 3 last year.
Amnesty International also slammed the Manama regime for revoking the citizenship of the Bahraini political opponents, adding, "Stripping citizens of their nationality on the basis of vague allegations without due process protections is arbitrary and in violation of Bahrain's international human rights obligations.
The right to a nationality, which must not be deprived arbitrarily, is enshrined in Article15 of the Universal Declaration of Human Rights to which Bahrain is a state party."
Thousands of anti-regime protesters have held demonstrations in Bahrain on an almost daily basis ever since a popular uprising began in the country in mid-February 2011.
They are demanding that the Al Khalifah regime relinquish power and allow a just system representing all Bahrainis to be established.
Manama has gone to great lengths to clamp down on any sign of dissent. On March 14, 2011, troops from Saudi Arabia and the United Arab Emirates were deployed to assist Bahrain in its crackdown.
Full report at:
http://www.presstv.com/Detail/2018/05/03/560475/Bahrain-Amnesty-trial
-------
Pakistan
Solid Human Rights Architecture Must For A Pluralistic Society
May 3, 2018
ISLAMABAD: For pluralism to thrive, there is a need for a solid human rights architecture to be in place, coupled with measures to control hate speech, and misuse of laws that incite violence in the society.
Also, there is a need for responsible engagement of religious scholars, members of civil society, academia, media and political leadership to build a consensus to form a pluralistic society. Pakistani society needs to be built on the principles of mutual respect and peaceful coexistence. For that investment in the education of young generation will promote the concept of pluralism.
These views were expressed by the experts at the inaugural plenary of three-day international Citizens Roundtable titled 'Charting Pathways for Pluralism' organised by Sustainable Development Policy Institute (SDPI) here on Wednesday.
Speaking on the occasion, Centre for Global and Strategic Studies (CGSS) , Chairman Lt Gen (Retd) Zaheerul Islam said that pluralism is one of the major challenges of 21st century and it can be achieved in totality by ultimately winning hearts and minds. He said desired social integration has not been achieved so far rather the society has become more polarised than ever before, where people feel unsafe and unsure of their future. Unfortunately, our religious and political leaders have never tried to bring people on the common strand, he added.
Lt Gen Zaheer said Pakistan has a pluralistic society diverse in culture and religion, but unfortunately, the process of social integration has remained slow. He said the debate on pluralism has already begun and people have understood that it is more important to be united as a nation than to be divided. "The government should adopt multi-pronged strategy aiming to curb extremism and to bring people together of different faith and ethnic groups," he suggested.
Earlier, EU Special Envoy on Freedom of Religion or Belief Jan Figel said: "we are living in an increasingly diverse world, where widespread religious intolerance, growing social hostilities and rising inequalities are the major challenges." He said the overall picture of pluralism is grave in this region, where there is intensifying religious discrimination and increase in intolerance and extremism.
"The challenge for Pakistan and even for EU is to build a common goal and new solution to ensure mutual respect and acceptance in the society," said Figel. He said religious leaders have special influence in the society and have a larger responsibility to shape a pluralistic society. To counter the extremist narrative the religious leaders has the crucial role and can play also a preventive role for peaceful coexistence, he added.
Pakistan promotes importance of human rights: official
SDPI Executive Director Dr Abid Qaiyum Suleri said pluralism is about peaceful co-existence among the followers of different religions and beliefs with the objective of zero tolerance against incitement of hate, extremism, and violence. He said that the very basis of Pakistan's foundation lies in peaceful co-existence. "Our constitution in articles 20, 21, 25, 26, 27, 28, and 36 provides full protection and equal rights to all citizens, including minorities without any discrimination," said Dr Suleri.
He said the National Action Plan (NAP) point five, nine, 15 and 18 clearly indicate actions against promoting intolerance, sectarianism and extremism. There are constitutional foundation and clear policy for interfaith harmony, however, "we are struggling to achieve interfaith harmony despite various actions and measures."
129,534 human rights violations reported across Pakistan in past five years, say officials
Dr Suleri stressed the need for ensuring enabling environment and charting a framework for peaceful coexistence and mutual respect.
Council of Islamic Ideology (CII) Chairman Dr Qibla Ayaz on the occasion said that the entire structure of the society in Pakistan and the world is changing and that requires experience sharing and learning from one another. "It is our responsibility to ensure mutual respect, sense of living together and dignity to counter extremism."
CII Chairman said the sense of inclusive society is embedded in 1973 constitution which was signed by all schools of thoughts and accepted by all religious groups. He said this 1973 constitution is a very prestigious document and we are hoping to have the pluralism society in near future.
On paper only, human rights situation better
MNA Romina Khurshid Alam said Pakistan has the population of 207 million, which is diverse in all respect. She said this diversity seeks to develop an interfaith harmony and religious pluralism in the society so that people from a diverse range of beliefs might live in peace leading towards sustainable development as well as an inclusive society. Collective actions require from state and citizen to ensure intolerance, she added.
https://tribune.com.pk/story/1700998/1-towards-inclusive-living-solid-human-rights-architecture-must-pluralistic-society-islamabad-city/
-------
JI wants enforcement of Shariah in country: Sirajul Haq
May 02, 2018
Jamaat-e-Islami Chief Maulana Sirajul Haq says we want enforcement of Shariah in the country, reported byRadio Pakistan.
Addressing National Workers Convention of MMA in Islamabad this afternoon, he paid great homage to Quaid-e-Azam Muhammad Ali Jinnah and his colleagues for making a seperate homeland for the Muslims of sub-continent.
He said our politics is based on love not hatered.
Speaking on the occasion, JUI-F chief Maulana Fazalur Rehman said Pakistani parliament and economy are under pressure and we will have to free the country from IMF's clutches.
https://nation.com.pk/02-May-2018/ji-wants-enforcement-of-shariah-in-country-sirajul-haq
-------
JI lawmaker accuses PML-N of preventing compulsory Quran teaching
May 3, 2018
LAHORE: Jamaat-e-Islami (JI) leader Waseem Akhtar on Wednesday accused the ruling Pakistan Muslim League-Nawaz (PML-N) of deliberately preventing the adoption of Compulsory Teaching of the Holy Quran Bill, 2017.
The bill was moved by Akhtar in Punjab Assembly on January 30 and it was in the assembly's agenda on Wednesday. However, an MPA belonging to the ruling party pointed out lack of quorum upon which Speaker Punjab Assembly Rana Mohammad Iqbal Khan first adjourned the session for five minutes, then for another 20 minutes before adjourning the session till May 3.
Talking to media, Akhtar said, "They have created a hurdle in passing of the bill."
The opposition parties in Punjab Assembly termed the lack of quorum a deliberate attempt to 'sabotage' the bill.
Full report at:
https://www.pakistantoday.com.pk/2018/05/02/ji-lawmaker-accuses-pml-n-of-preventing-compulsory-quran-teaching/
-------
Those targeting Hazaras will suffer twice as much: COAS
MAY 3, 2018
QUETTA: The Hazara community announced to call off days-long protest in the provincial capital after a meeting with Chief of Army Staff General Qamar Javed Bajwa early Wednesday morning.
Gen Bajwa arrived in the city late Tuesday evening and held a meeting with representatives of the Hazara community that has been hit badly by incidents of targeted killing in the city. The beleaguered community was protesting against continued attacks on Hazaras, the most recent being the killing of two community members on Saturday.
Gen Bajwa, while meeting with the community members, assured that those who have targeted the community will 'suffer twice as much', according to Inter-Services Public Relations (ISPR). The state is responsible for the security of the citizenry, ISPR further quoted the COAS as saying.
According to ISPR, representatives shared their concerns about target killing of the community with the COAS."Each and every casualty, including from the Hazara community, is of concern to us," the COAS told them. "Through a unified national effort, we have turned the tide of terrorism; however, a lot is still being done against inimical designs to reverse the gains by exploiting various fault lines," he added.
"We are Muslims first and then anything else. Every Pakistani irrespective of religion, sect, language or caste has to stay steadfast and united to defeat hostile forces trying to create divisions," ISPR quoted the army chief as saying during the meeting. Following the meeting, the Hazara community announced to end protests and posted full trust in the Pakistan Army, pledging their full support in defeating the hostile agenda of the enemies.
In a Facebook post, lawyer and activist Jalila Haider, leading the hunger strike, said the strike was called off on the request of the army chief and the interior minister after assurances that the community will be protected.
"I expect the youth to stay focused on their positive endeavours towards self and nation-building. Trust and assist the state in taking Pakistan forward to its rightful destination," the ISPR statement quoted Gen Bajwa.
Balochistan Chief Minister Mir Abdul Quddus Bizenjo, Commander of Southern Command Lt Gen Asim Saleem Bajwa, Home Minister Sarfaraz Ahmed Bugti, Inspector General of Frontier Corps Maj Gen Nadeem Ahmed Anjum and IG of Balochistan Police Moazzam Jah Ansari were also present in meeting between the army chief and the Hazara community elders.
Officials briefed army chief and the interior minister on the security situation in Quetta and steps taken by the provincial government and law enforcement agencies after the recent wave of target killings in Quetta.
On Monday, Ahsan Iqbal had visited the protest camps across the city and reviewed the security situation with Inspector-General Balochistan Moazzam Jah Ansari and Inspector-General Frontier Corps Major General Nadeem Anjum and met with the families of the martyred policemen.
The Hazara community members staged demonstrations at three separate locations of the city, demanding protection from law enforcement agencies.
Full report at:
https://dailytimes.com.pk/235375/those-targeting-hazaras-will-suffer-twice-as-much-coas/
-------
Pakistan: Hazara Shia Muslims end protest in Quetta over killings
May 3, 2018
Islamabad, Pakistan - Dozens of Hazara Shia Muslim protesters in the southwestern city of Quetta have ended a five-day sit-in against a sustained campaign of targeted killings after meeting with the country's army chief.
The protesters dispersed on Wednesday after community leaders met with General Qamar Javed Bajwa, activist Jalila Haider told Al Jazeera.
Haider, a 30-year-old lawyer, led the protest in the provincial capital, which was sparked by the latest attack against the community - the killing of two men in an electronics shop on Friday.
At least nine members of the Hazara Shia community, an ethnic and religious minority, have been killed in a series of attacks since March.
The community has been targeted for more than a decade, with many shootings and bomb attacks claimed by armed sectarian groups such as Lashkar-e-Jhangvi. According to the government's National Commission for Human Rights (NCHR), at least 509 Hazara's have been killed in Quetta since 2013.
Haider observed a complete hunger strike for four days in protest against the latest killings, demanding the government do more to protect members of the community.
Negotiations with Interior Minister Ahsan Iqbal broke down on Monday, with protesters demanding that Army Chief Bajwa meet with them.
"I am not undermining my provincial assembly, but the army is the one who is controlling security and law and order," said Haider. "The police is not empowered."
Pakistan's powerful military has ruled the country for roughly half its 70-year history since independence from the British, and still wields power over issues of national and internal security, as well as on some elements of foreign policy.
'Identity being erased'
Quetta is home to roughly 600,000 Hazara Shias, most of whom live in two enclaves on either side of the city. The enclaves are ringed with high walls topped with barbed wire, and many checkposts are manned by paramilitary personnel.
Members of the community have long complained that security restrictions have cut them off from the rest of the city, not allowing them to effectively manage businesses or send their children to school.
"Nothing has been done to rehabilitate us. Our society and culture has been killed, our identity is being erased, and our children have no future," said Haider, likening the enclaves to "concentration camps".
Some members of the community have expressed scepticism regarding the security checkposts, saying they fear those manning them may be involved in the attacks, community leader Dawood Agha told Al Jazeera last week.
"I openly spoke to the army chief. I told him that our people are suspicious of the checkposts, that attacks sometimes occur very close to them," Haider said.
"He said that for 40 years the jihadi [religious war] agenda that Pakistan has sown, we are now reaping it. Our institutions do also have people of this mindset, and I will get a commission to investigate if anyone from the forces was involved in the attacks."
'Monumental sacrifices'
Pakistan's military issued a statement on Bajwa's meetings with members of the Hazara community, but made no mention of any possible involvement of security forces in the attacks.
"Each and every casualty, including from the Hazara community, is of concern to us and our brave security forces are performing their best and willingly offering monumental sacrifices to bring lasting peace to the country," the statement said.
At least 37 Pakistani security forces personnel have been killed in attacks in Quetta alone this year, it said.
On Wednesday, Pakistan's chief justice also took notice of the spike in violence, saying he would hold a hearing in Quetta on May 11.
Activists have warned if attacks continue, they will now hold the government responsible.
Full report at:
https://www.aljazeera.com/news/2018/05/pakistan-hazara-shia-muslims-protest-quetta-killings-180502131145156.html
-------
South Asia
OIC on Rohingya Crisis: A unifying cause despite many rifts
May 03, 2018
The Organisation of Islamic Cooperation (OIC), although facing a wide rift within, may find in the Dhaka foreign ministers conference a unifying cause to act on the Rohingya issue.
The plight of the Rohingyas had caught the attention of the OIC but not as a big challenge as much as the Saudi-Iran spat has emerged in recent times, leaving the mission of the organisation weak and vulnerable.
But as the foreign ministers will take up its own recommendations on what to do about Rohingyas on Sunday, second day of the conference, this would give the Muslim countries to focus on unifying its Ummah once again for a broad cause.
After all, when the OIC was conceived in 1969 following the arson of the Al-Aqsa mosque in Jerusalem, the goal was to form a platform of Islamic nations who would work together to solve their problems and work as a common lobby.
So as its charter was drawn up in 1972, "solidarity and cooperation" was the main cornerstone of the organisation with the aspiration that "all member states shall settle their disputes through peaceful means and refrain from use of threat or force in their relations."
Some 47 years down the line, the organisation that spans over four continents with 57 member countries, the largest inter-governmental body after the UN, finds little of that cohesion and peaceful efforts to resolve crises that today grapples the most influential geopolitical footprint of the OIC -- the Middle East.
Today, the Middle East that nestles only 5 percent of the global population and yet 50 percent of all wars and deaths, is scalded by war and death with the OIC doing little to bring peace. Rather, an age-old rivalry between the two most influential members -- Saudi Arabia and Iran -- has exacerbated the tension with both sides jockeying for leverage on regional politics.
The insidious interest of the US and Israel in the Arab world and following divisive policies have left things even worse off. While wars rage in Syria, Yemen and Iraq, more war cries are heard centering Iran and Saudi Arabia.
The 2016 execution of an influential Shia cleric by the Saudi government has specially dimmed the relationship between the two countries both of whom exhort a lot of theocratic influence on the Islamic world. Things had rolled on to such extent when a Saudi cleric, clearly under government nod, had called the Iranians "not Muslims" which consequently led to boycott of the Hajj by Iranians.
The hiatus has come to a head now regarding the Saudi-Iran spat on Syria, the new threats perceived by the Saudis over Iran's nuclear deal that has lifted partially the sanctions on it by the West and the emergence of Israel as a new axis drawing force.
The fissure in the OIC appeared raw when in January 2016, when the OIC adopted an anti-Iranian resolution obviously backed by the Saudis, accusing Iran of terrorism. OIC's tradition of remaining neutral and solving problems with solidarity was waylaid in the process making the Muslim Ummah fraternity look frayed. This was despite the initial response of OIC secretary general Iyad Madani to seek a diplomatic solution to the tension.
The Syria cauldron has just heightened the Saudi-Iran tension with Iran supporting Syrian President Assad and the Saudis funding the rebels. OIC had earlier suspended Syria from its fold in 2012 for Syrian president's fight against rebels. Syria was not even asked to defend itself and Iran was the lone voice to castigate the decision.
Things became even nastier when Russia, an observer of the OIC, took side of the Syrian government, making the land a ground for proxy war between many parties – the Saudis, Iranians, the US and the Russian.
In its bid to hold sway over the Middle East, the Saudis have gone rough on other countries as well by intervening in Bahrain to quell as Shia unrest, by ostrasising Qatar and building an ally against it on the ground that the gulf state funds terrorist outfits. Saudi Arabia has actually built a new front line against Iran and as part of it Bahrain, the UAE and Egypt have accused Qatar of threatening stability in the region.
But it is widely understood that at the back of it worked the Qatar Emir Sheikh Tamim bin Hamad Al Thani's praising of Iran's role in the region. Saudi media also reported a meeting of Qatar's foreign minister with Iran's head of Revolutionary Guard and Qatar congratulating Iranian President Hassan Rouhani on his recent electoral victory.
As part of its front building, countries like Somalia, Bahrain and Sudan received carrots of financial aid from Saudi Arabia if they cut ties with Iran.
Yemen is also burning caught in this Saudi-Iran confrontation and Saudi air strikes continue there to quell rebels backed by Iran.
Meantime, Israel which eyes Iran as its current main enemy in the region is taking new initiatives to bolster the Saudi front. Egypt has allowed Israel to bomb its own land to stamp out rebels against the Sisi government, an approval unthinkable even before the thing actually happened. Saudi Arabia has allowed air flight over it to Israel, another surprise not so big when Iran becomes a common enemy.
When so many issues thorn the OIC, the Dhaka OIC foreign ministers' conference offers the organisation a chance to show their solidarity again on the question of Rohingya which has no link to the current tensions within the Middle East.
Since the recent Rohingya crisis began, the OIC has taken up the issue and urged Myanmar and the international community to resolve it. Its view of the persecution is akin to ethnic cleansing just as the UN has observed.
The ministers of foreign affairs of OIC Contact Group on Rohingya Muslims of Myanmar held a meeting on the sideline of the UN General Assembly in 2017 and called on Myanmar to immediately stop violence on Rohingyas. It has also asked the Myanmar government to return citizenships to the Rohingyas which was scrapped in 1982.
In January this year, a OIC delegation -- Independent Permanent Human Rights Commission -- visited the Cox's Bazar camps and saw for itself the situation. The Delegation report was adopted by the commission in April and it is the same report that would be submitted with recommendations to the OIC foreign secretaries' conference to begin in Dhaka on Saturday.
The recommendations are clear and welcoming -- early, safe and dignified repatriation of the Rohingyas with guarantee to their safety and access to their livelihood.
The foreign ministers will visit the Rohingya camps again on Friday before the day of the conference and it is expected that the plight of the hapless people would be a reason around for the divided OIC to be united again round on one important point -- to help humanitarian plight of the Muslim Ummah.
After all, it had set up its Department of Humanitarian Affairs in the 2008 conference exactly to come forward in cases such as the persecution of the Rohingyas.
A united stance can lead to a meaningful engagement of the UN Security Council on the issue even at bilateral level and thereby extracting a resolution on the issue and force Myanmar to take back its citizens.
https://www.thedailystar.net/frontpage/oic-rohingya-crisis-unifying-cause-despite-many-rifts-1570717
-------
Afghanistan inaugurates distribution of electronic National Identity Cards
May 03 2018
President Mohammad Ashraf Ghani formally inaugurated the distribution of the electronic National Identity Cards (e-NIC) distribution.
The First Lady Bibi Gul Ghani also accompanied President Ghani to obtain their electronic National Identity Cards.
A ceremony was organized and was attended by senior government officials to mark the historic start of the long delayed electronic National Identity Cards distribution.
In his speech during the ceremony, President Ghani said the electronic National Identity Cards distribution kicks off today taking into consideration the recent attacks in Kabul.
President Ghani further added that the suicide bombers are mostly likely using the fake national identity cards to make it into the areas of their target.
In the meantime, President Ghani called the formal launch of the electronic National Identity Cards an important step towards to strengthen the system.
He said the distribution process is being inaugurated in line with the constitution of the country.
Full report at:
https://www.khaama.com/afghanistan-inaugurates-distribution-of-electronic-national-identity-cards-05057/
-------
Taliban militants blown up by own explosives in Baghlan province
May 02 2018
AT least two Taliban militants were killed while planting Improvised Explosive Devices on a roadside in northenr Baghlan province of Afghanistan.
The 209th Shaheen Corps of the Afghan Military in the North said the incident has taken place in the vicinity of Imam Qatiba area.
The source further added that the two militants were looking to plant IEDS on a road frequented by the Afghan security and defense forces but were killed after one of the IEDs went off prematurely.
The anti-government armed militant groups frequently use explosives materials for the roadside bombings and car bombings to target the government staff and security personnel.
However, in majority of such incidents the ordinary civilians are targeted besides such bombings incur casualties to the security personnel and in some cases the Taliban militants themselves are killed or wounded.
A total of 10,453 civilian casualties – 3,438 people killed and 7,015 injured – were documented in the 2017 Annual Report released last month by the UN Assistance Mission in Afghanistan (UNAMA) and the UN Human Rights Office.
Full report at:
https://www.khaama.com/taliban-militants-blown-up-by-own-explosives-in-baghlan-province-05054/
-------
Human traffickers targeting Rohingya refugees in Bangladeshi camps
May 03, 2018
Life in the cramped camps is tough. Many of the Rohingyas are trying to escape the camps to build a better future for themselves and their families. Human traffickers are taking advantage of this situation
The helpless Rohingya refugees who fled to Bangladesh since late August last year to escape a brutal military campaign in Myanmar's Rakhine state are now facing another threat – human trafficking.
Life in the cramped camps is tough. Many of the Rohingyas are trying to escape the camps to build a better future for themselves and their families. Human traffickers are taking advantage of this situation.
Around 40 trafficking cases have been reported in the refugee camps since the latest influx started, according to an unofficial source. The information could not be verified independently but given the sheer number of the refugees – more than a million – the number of cases seems credible.
Back in their homeland in Myanmar, the Rohingyas are denied citizenship and basic rights by the government. Members of the mainly-Muslim ethnic community often venture out of their country in desperation and end up falling prey to trafficking.
Media reports indicate that many Rohingyas are now stranded in India and Nepal after moving there illegally from Bangladesh. Their exact numbers could not be ascertained.
Rohingya refugees in India
The Dhaka Tribune met an eight-year-old Rohingya girl, who identified herself as Nuri, at an Indian safe home in southern Kolkata. Her family fled from Myanmar in mid-2017.
Nuri has been living with other Bangladeshi trafficking victims rescued by the Indian police for about a year now. She was found in Kolkata's Habra Bazar with two other Bangladeshi girls from Cox's Bazar.
She reluctantly gave her identity. Nuri said she had come to India from Bangladesh with her parents and two sisters. "Police sent me here, and put my sisters and parents in jail," she said.
When asked who had helped them cross the border, another girl Koli, who accompanied Nuri's family, said a broker did. "But we were later caught by the police," she said.
Nuri said her family stayed at a rented house in Patiya for a month after fleeing Myanmar. After her two other sisters, who were already in Hyderabad, told them to come over, one of her brothers-in-law contacted the middle-man.
Koli, 14, said she and her sister wanted to go to their aunt's house in Hyderabad. A broker took TK10,000 from the two sisters and TK40,000 from the Rohingya family.
"Nuri is from Burma. Her family was with us. The seven of us had started from Cox's Bazar on the same day last year and were caught by Indian police at Habra Bazar the next day," Koli said.
An estimated 40,000 Rohingyas are believed to living in India, according to Kiren Rijiju, state minister for home. They include 14,000 Rohingyas registered as refugees with UNHCR, media reports say.
Rohingya refugees in Nepal
Nepali travel agent Govind Shahi said Rohingyas were coming there from Bangladesh. "It is not difficult to cross the border … Rohingyas are coming here via Bangladesh and India," he said.
A report by the Diplomat on December 5, 2017, claimed that some Rohingya were moving to the Himalayan country.
It said that approximately 300 Rohingyas were living in hastily-built shelters in Kathmandu, some in Kapan while about 600 are spread across Nepal. Their exact number was impossible to determine.
"Worryingly, of the 147 Rohingya registered with UNHCR, the UN refugee agency, all arrived before August 25, the start date of the Tatmadaw's most recent brutal military actions. This means none of the most recent arrivals has been registered as the refugees they clearly are," the report said.
Risk of trafficking in the camps
Bangladeshi law enforcement agencies have prioritized preventing the risk of the Rohingya refugees being trafficked from the camps. All vehicles and exit points are under heavy security check. But the risk still remains high, experts say.
"It actually goes back several years. The grand crisis is just part of a longer story," human trafficking expert Siddharth Kara told this Dhaka Tribune correspondent in Los Angeles. "Many of them (Rohingyas) have been trafficked to Thailand for prostitution."
He said the traffickers took advantage of the recent exodus and trafficked girls to India or other parts of Bangladesh. "It is a horrible scenario," he said, adding: "I do not have that much faith in the repatriation process."
Assistant Director for Mediation in BLAST Taposhi Rabaya said that at the beginning of the influx, people took away many children from the camps.
"These Rohingya children and women are at high risk of being trafficked. People are trafficking children for domestic work. They just hold the hand of a child and take him or her with them," she said.
"No one knows what happens at the camps after sunset as outsiders (NGOs and aid workers) are not allowed to stay. Anything can happen. In fact, I did not feel that the security [in the camps] is tight enough even during the day," she added.
Women's rights activist Salma Ali said that many Rohingya women and children had already been trafficked. At the beginning of the influx, no one monitored the movement of the refugees.
"I have seen women getting on motorbikes from near the Bangladesh-Myanmar border and nobody knew where they were going. These women and children are in need. They are refugees. They are not sure whether they would be able to go back to their own houses. Living in this kind of uncertainty makes them more vulnerable to crimes or trafficking," she added.
What are the refugee camps doing to stop trafficking?
Various organizations have taken steps to raise awareness about trafficking among the refugees. The Women Friendly Space by UNFPA has two weekly sessions on trafficking.
UNFPA Case Worker Asmaul Hosna told the Dhaka Tribune that they talk about trafficking – what is trafficking? How might they aend up being a victim of trafficking? How will they understand that someone is trying to traffic them?
"Women and children are at high risk. Traffickers may entice them with offers of jobs or a better life," he said.
At times, they are swayed by such offers and flee with the swindlers, ending up as trafficking victims, he added.
Senior Manager of Child Protection, Save the Children, Mostofa Feroz said such instances were common. Save the Children is running a Child Club in the camps to raise awareness about such issues.
Full report at:
https://www.dhakatribune.com/bangladesh/2018/05/03/human-traffickers-targeting-rohingya-refugees-bangladeshi-camps/
-------
Africa
Nigeria: 60 Worshippers Killed in Twin Bomb Attacks in Mubi
2 MAY 2018
No fewer than 60 worshippers were killed and 68 others injured as twin-bomb explosions which bore the unmistaken signature of the Boko Haram terror sect on Tuesday rocked a mosque in Mubi, Adamawa State, North-east of Nigeria while the worshippers were holding the Zuhr (afternoon) prayer.
Meanwhile, President Muhammadu Buhari has approved the recruitment of 6,000 additional policemen as part of fresh measures to address the nation's security challenges including the farmers/herdsmen clashes across the country.
The president dropped the hint in a special interview session with Voice of America, Hausa service, in Washington, United States on Tuesday morning, reported the News Agency of Nigeria (NAN).
According to the accounts of two local residents who attended funerals of the victims as reported by the AFP, the deaths toll is likely to rise as more bodies could be recovered from the twin bomb blast scene.
One of them, Muhammad Hamidu, confirmed that: "I took part in the burial of 68 people. More bodies were being brought by families of the victims."
Another resident, Abdullahi Labaran, said: "We left 73 freshly dug graves where each victim was buried."
Although the police spokesperson in the state, Othman Abubakar, a superintendent of police, gave an initial figure of 24 persons who died in the first blast which occurred at about 1:00 p.m; another eyewitness who claimed to be at the scene of the rescue operations said 31 bodies were counted.
Rescue worker Sani Kakale said: "In my presence, 42 dead bodies were taken to the hospital and 68 injured."
A source at Mubi General Hospital told AFP they had "so far" received 37 bodies and dozens of the injured, many of them critically.
Although neither an individual nor group has claimed responsibility for the attacks, suspicion immediately fell on Boko Haram, the jihadist group whose quest to establish a hardline Islamic state in northeast Nigeria has left at least 20,000 dead since 2009.
"While people were evacuating the victims of the first blast, another explosion occurred," Abubakar told PREMIUM TIMES.
"As I am talking to you now, 24 persons are confirmed dead. The scene has been cordoned off by the anti-bomb squad and other security personnel," Mr Abubakar said.
Eyewitnesses had earlier reported that "many lives were lost and several persons injured".
The explosion was allegedly triggered by a teenage boy wearing a suicide vest.
Garba Habu, a local resident, said he counted over eight corpses at the scene.
"A boy of about 18-19 -years wearing a suicide vest was said to have entered the mosque along with other worshippers. Immediately after the prayers, he detonated the bomb," he said.
Another resident, Isa Danladi, said he was about to leave his house near the mosque when he heard the blast
"Many people died on the spot and several others were taken to hospital with severe injuries," he said.
"The mosque's roof was blown off. The prayer was mid-way when the bomber detonated the explosives. This is obviously the work of Boko Haram," he said.
Haruna Hamman Furo, head of Adamawa State Emergency Management Agency, described the blast as "devastating", saying there were "high casualties".
"It was a twin-blast and the detail is sketchy but we are in touch with our partners of Red Cross and others that are helping now.
"For now dead bodies are being evacuated and those injured have been taken to hospitals. Right now we are on our way to Mubi," he said.
The insurgents briefly overran Mubi in late 2014 as they rampaged across North-east Nigeria, seizing towns and villages in a quest to establish an Islamic state.
The insurgents changed the town's name to Madinatul Islam, or "City of Islam", during their brief occupation period.
But it has been peaceful since the Nigerian military and civilian militias ousted them and recovered the town, which is a commercial hub and host of the Adamawa State University.
In recent months, Boko Haram's activities had been concentrated in the far north of the state around Madagali, near the boundary with Borno State.
There have been repeated suicide bombings in the area, which lies close to the Sambisa Forest in Borno where the militants had a base.
Boko Haram fighters are also said to be hiding in the Mandara mountains in the east of Adamawa State and on the border with Cameroon.
The Adamawa State Head of Operations, National Emergency Management Agency (NEMA), Imam Ambani Garki, also confirmed the incident but said the agency has deployed personnel to ascertain the situation as the agency could not confirm the number of deaths.
He said it has been for a long time such an incident has occurred and NEMA is making effort to respond quickly to the situation.
Mubi has been repeatedly targeted in attacks blamed on Boko Haram since it was briefly overrun by the militants in late 2014.
Nigeria's government and military have long maintained that the Islamic State group affiliate is a spent force and on the verge of defeat.
But there has been no let-up in attacks in the northeast, particularly in Borno State, adjacent to Adamawa, which has been the epicentre of the violence.
Last Thursday, at least four people were killed when suicide bombers and fighters attempted to storm the Borno State capital, Maiduguri, raising fresh questions about security.
Nigerian President Muhammadu Buhari has been in the United States this week and met his US counterpart Donald Trump, who pledged more support in the fight against Boko Haram.
Nigeria has bought a dozen A-29 Super Tucano light fighter aircraft in a $496-million (413-million-euro) deal. Trump indicated a further order for attack helicopters was also in the pipeline.
"These new aircraft will improve Nigeria's ability to target terrorists and protect civilians," Trump told a joint news conference with Buhari in Washington on Monday.
In Mubi, local volunteer Habu Saleh, who was involved in the rescue effort, described the situation as "chaos all over the place".
"We have evacuated dozens of dead and injured people to the hospital and the rescue operation is still ongoing," he said.
Health workers from the hospital mobilised to attend to the victims, despite being on strike over pay and conditions.
Mubi resident Abdullahi Labaran said the first bomber mingled with worshippers who had gathered for prayers at the mosque at the edge of the market.
He detonated his explosives "five minutes before the prayer started", he added.
The second bomber blew himself up among the crowds of worshippers, traders and shoppers who fled the mosque towards the butchery section of a nearby market.
On November 21, 2017, at least 50 people were killed when a suicide bomber blew himself up in a mosque during early morning prayers in the Unguwar Shuwa area of Mubi.
In October 2012, at least 40 people were killed in an attack on students housing in Mubi that was widely blamed on Boko Haram.
In June 2014, at least 40 football supporters, including women and children, died in a bomb attack after a match in the Kabang area of the town.
Buhari Orders Recruitment of 6,000 Policemen Nationwide
President Muhammadu Buhari has approved the recruitment of 6,000 additional policemen as part of fresh measures to address the nation's security challenges including the farmers/herdsmen clashes across the country.
The president made this known in a special interview session with Voice of America, Hausa service, in Washington, United States on Tuesday morning.
President Buhari, who is in the U.S. on the invitation of the American President Donald Trump, revealed that additional security measures were being put in place to check cases of insecurity in Nigeria.
"We will put in place more measures to check insecurity in the country including increasing the number of policemen and train them.
"I have approved the recruitment of 6,000 policemen by the police authorities and I directed that those recruited must come from all the 774 local government areas of the federation.
"Even if it means recruiting one person each from the 774 they should do that instead of going to motor parks, railway stations or market for the recruitment exercise.
"I gave (Police authorities) them this directive," he said.
The president, who expressed reservation on the call for the establishment of state police as being advocated by state governors, said Nigerians must abide by constitutional provision in regard to the matter.
The Chairman, Nigeria Governors' Forum, Governor Abdulaziz Yari, had in February said creation of state police would help in addressing the spate of insecurity in the country.
Yari, who is also the Zamfara State Governor, said this at the end of a two-day summit organised by the Senate Ad hoc Committee on Review of Current Security Infrastructure in Nigeria.
He said: "Today we have reiterated the position of Vice President Yemi Osinbajo.
"And the position of the security summit we held in August, that there is a need for the state police; we can say it is the only answer."
However, President Buhari maintained that the creation of state police would not augur well for the finances of the states, adding that some of them were finding it difficult to meet their financial obligations to workers and other state needs.
"We must carefully look at the position of the nation's constitution on the issue of state police before we take final decision on the matter if the constitution allows state police so be it.
"But don't forget that many times the Federal Government gave out what we referred to as bail out to state governments for payment of workers' salaries. How many states can pay salary promptly? and you want to add more financial burden to the states.
"It is not proper to employ a person, train him on how to handle weapons and then refuse to pay him - you can imagine what would happen in such situation," he said.
Lazy Youths Controversy, Media Creation
On his purported comment on youth while in London, President Buhari dismissed the report, saying that the media only preferred to interpret and report what they like instead of concentrating on developmental journalism.
He said: "You know Nigeria's population is now between 180 and 190 million and 60 per cent of this population is youth that is 30 years down ward.
"You know in the North most youths are uneducated or school dropouts. If not because we had good harvests in the last two farming seasons the situation would have been deteriorated.
"These youths even if they travel out of the North for greener pasture they hardly make it economically because what they earn as income cannot afford them to meet their basic needs or return home.
"All these explanations I made, they refused to highlight them in their report and you know the media in Nigeria in most cases only do what they like.
"For instance the nation's achievements in the agricultural sector where millions of Nigerians benefitted financially were left unreported by the media.
"Even when the Minister of Information and Culture wanted to reply that abusive letter written by former President Olusegun Obasanjo, I had wanted Lai not to reply the letter but I said I should allow him to highlight the achievements of our administration."
President Buhari also used the opportunity to debunk the insinuation that Christians were being killed by herdsmen.
He said that clashes between farmers and herdsmen had been in existence for the past years, saying that Nigerian herdsmen were not in the habit of carrying dangerous weapons while moving their animals around the country.
On what he does during his leisure time, President Buhari said he hardly listened to music but rather always obeyed his doctors' advice on the need to eat and have enough rest.
http://allafrica.com/stories/201805020088.html
-------
Islamic State attack Libyan election commission, 14 Killed
May 03, 2018
Islamic State suicide bombers attacked Libya's election commission in the capital on Wednesday, killing at least 14 people in the worst such attack in years that aimed to disrupt a nation-wide vote planned for later this year.
The two bombers infiltrated the building in central Tripoli and fired on people inside, then detonated their explosives when their ammunition ran out, IS said in a statement circulated by its affiliated Amaq news agency. The Health Ministry earlier said the attack also set fire to the building, which could be seen in online videos showing thick black smoke billowing upward and security forces engaging in a gun battle.
IS and other Islamic extremists in Libya oppose democratic elections, which the United Nations and Libya's foreign backers are urging to take place this year despite security problems in the oil-rich North African country. Militants have often targeted elections in other countries, and IS has called for attacks on voting infrastructure in Libya.
"(It) is a clear manifestation of everything that is wrong with the current shortsighted narrative of fake security and 'progress,'" said Hanan Salah of Human Rights Watch in a post on social media. Her group has underlined how elections will be difficult while Libya remains dominated by a patchwork of armed groups who continue extra-judicial killings, property confiscation, forced disappearances, arbitrary detention and torture.
Foreign embassies, observers and other institutions promptly condemned the attack as an attempt to undermine stability in Libya as it heads toward the general election later this year. The U.N. mission to Libya said that violence "will not deter Libyans from moving forward in the process of establishing national unity and the rule of law and institutions."
Libya was plunged into chaos following the 2011 uprising that toppled and killed Moammar Gadhafi, and is now split between rival governments, each backed by an array of militias. A U.N.-backed government is based in Tripoli, which in recent years hasn't seen such brazen attacks.
U.S. State Department spokesperson Heather Nauert condemned the attack in a statement and said the U.S. is committed to working with the Government of National Accord to deny IS "safe haven in their country."
"This terrorist attack against a key pillar of Libya's fragile democracy only deepens the United States' commitment to support all Libyans as they prepare for credible and secure elections," she said.
Earlier this week, the international Quartet trying to help bring order to Libya said it supports holding presidential and parliamentary elections this year, and will provide observers and electoral assistance to ensure the voting is free and fair.
In a joint statement following a meeting in Cairo on Monday, the European Union, the African Union, the Arab League and the United Nations said Libyans must commit in advance to respect and abide by the results and avoid violence or intimidation.
The election commission said later in the day that its electoral database was safe after the attack, dispelling rumors that it had been specifically targeted and damaged. In a statement it said that it remained committed to and ready to hold the elections this year.
U.N. Secretary-General Antonio Guterres condemned the attack and reaffirmed the U.N.'s commitment to the plan to restore peace to Libya, U.N. deputy spokesman Farhan Haq said.
Full report at:
https://www.hindustantimes.com/world-news/islamic-state-attack-libyan-election-commission-14-killed/story-bigsfcuA1K1wzZaCksjS3I.html
-------
Nigeria Suicide Blasts Toll Rises To 86
May 03, 2018
KANO - Gravediggers on Wednesday said they buried 86 people from a double suicide bombing in northeast Nigeria, nearly three times more than the official toll.
Two blasts ripped through a mosque and market on Tuesday in the town of Mubi, Adamawa state, in an attack that bore all the hallmarks of Boko Haram militants. The official death toll on Wednesday rose to at least 29 but local residents, a hospital source and rescue worker told AFP that many more died.
One worker at Mubi's only cemetery said they were "shocked" to hear about the lower toll. "We worked up to 9:00 pm burying bodies. By the time we closed, we had 76 graves. We buried 76 people yesterday (Tuesday)," he said, asking to remain anonymous. "Today, as at 3:00 pm (Wednesday), 10 more bodies were brought in and buried. These people died overnight from injuries, obviously."
Another gravedigger, who also asked for his name not to be used, supported the account. "We hope we are done with the burials," he added.
Imam Garki, head of operations for Adamawa and Taraba states at the National Emergency Management Agency (NEMA), said two of the 11 people critically injured had died overnight.
"The total number of deaths is 30. The others are responding to treatment," he said.
Ahmed Sajo, information commissioner for Adamawa state who gave the lower death toll of 29, said it was "possible people could have identified their relations and taken them home without going to the hospital".
"In that case, we have no way of knowing how many of such cases there were. it's possible some people could have buried their dead without taking them to hospital."
Conflicting death tolls are not uncommon in Nigeria and the authorities have previously under-reported casualties in the Boko Haram conflict.
Tuesday's attack came a day after US President Donald Trump promised his visiting Nigerian counterpart, Muhammadu Buhari, greater support in fighting the extremists.
Full report at:
https://nation.com.pk/03-May-2018/nigeria-suicide-blasts-toll-rises-to-86
-------
Somalia: Government urged to speed army building, face Al-Shabab
02.05.2018
MOGADISHU, Somalia - Somalia should accelerate reforms of its army, its main foreign backers said on Wednesday after discussing slow progress in transforming the graft-ridden force into one capable of fighting al Qaeda-linked al Shabaab militants.
The statement from a donor summit in Brussels urged Somalia to work faster to address problems identified in a report last year by the government, the United Nations and the African Union (AU).
That report called the Somali National Army (SNA) a "fragile force with extremely weak command and control", and comes as AU peacekeepers prepare for their departure in 2020, leaving the local military in charge of Somalia's security.
The AU force began drawing down last year. It does most of the fighting against Shabaab insurgents who launch attacks in Mogadishu and elsewhere. Without strong Somali forces, Shabaab could be reinvigorated, analysts say.
Donors said the army should create biometric registration and electronic payroll systems to curb corruption.
"The SNA has to improve dramatically in a short amount of time as it is falling farther and farther behind schedule on achieving the benchmarks agreed to last year," said Joshua Meservey, at the Heritage Foundation in Washington.
"MORE TRUST"
The International Monetary Fund has been pushing for better management of public finances and says the government is implementing reforms under an agreed staff-monitored program.
The government has adopted a single public finance account to guard against theft, introduced a sales tax at the Mogadishu port and started taxing telecommunications companies, Finance Minister Abdirahman Duale Beileh said.
Federal government revenues have quadrupled since 2012.
It will soon enter a third 12-month IMF program which it hopes will be its last, paving the way toward restructuring external debt of nearly $5 billion. Somalia has not made a debt service payment since civil war broke out in 1991.
"We are open for audit. The IMF has access to our systems," Beileh said. "We are walking the walk and doing what needs to be done."
The Bank could this year offer its first grant to Mogadishu in more than 25 years if reform continues, the minister said.
Such funds could lessen Somalia's dependence on less predictable or transparent funds that often come with political conditions.
Tensions between the federal government and provincial administrations have escalated this year amid a row involving Gulf nations whose problems spiled in Somalia.
Full report at:
https://www.garoweonline.com/en/news/somalia/somalia-government-urged-to-speed-army-building-face-al-shabab
-------
Nigeria: 11 Lake Chad Governors Meet Over Boko Haram
2 MAY 2018
By Judd-Leonard Okafor
Some 11 governors from states affected by Boko Haram insurgency in the Lake Chad Region are to meet in Maiduguri this weekend in efforts to design a framework to address the crisis.
It follows after the adoption of Resolution 2349 on Boko Haram and Lake Chad following the visit of the UN Security Council in March 2017.
The Resolution calls on governments in the region-Cameroon, Chad, Niger and Nigeria-to address the root-causes of the crisis.
The United Nations Development Programme says the northeast crisis has taken on a regional dimension, nearly a decade after Boko Haram began its insurgency in the region.
Millions have been displaced and billions of naira worth of property destroyed across the region.
President Muhammadu Buhari is billed to attend the meeting, alongside Ibn Chambas, UN Special Representative of the Secretary General for West Africa and the Sahel.
Full report at:
http://allafrica.com/stories/201805030067.html
-------
India
Kashmir al-Qaida cell threatens journos
M Saleem Pandit
May 2, 2018
SRINAGAR: The Zakir Musa-led Kashmir al-Qaida cell, Ansar-Ghazwat-ul-Hind, has threatened journalists of "dire consequences" if they continue taking pictures of women who participate in the funeral of the slain terrorists.
A spokesperson of the terror group, which favours establishment of an Islamic Caliphate, threatened to "break the camera" of any photojournalist who took pictures of women participants. "Many journalists cover the funerals of our beloved Mujahideen (martyr). However, we see that most of the times they take pictures of our sisters and mothers just so their photos can fetch them a good price."
Men and women mingling at mixed gatherings did not serve their tehreek (movement), he said. "Our Tehreek is Islam and anything which is not permitted in Islam will only bring us misery and no good."
Meanwhile, a joint team of the Army and Special Operations Group cordoned off Terkiwangam village following specific information about the presence of terrorists in the area.
Police sources said the terrorists fired on the security team, triggering a gunfight.
https://timesofindia.indiatimes.com/india/kashmir-al-qaida-cell-threatens-journos/articleshow/64005297.cms
-------
J&K: Teen killed, 15 injured as forces open fire at protesters
by Bashaarat Masood
May 3, 2018
A 17-year-old boy was killed and at least 15 others injured Wednesday as security forces opened fire at protesters, who allegedly pelted security personnel with stones to allow trapped Hizbul militants escape during an encounter in south Kashmir's Shopian. The incident comes hours after a class II student suffered a head injury when the school bus carrying him was attacked by stone pelters in the district.
A joint team of Army, police and paramilitary forces had cordoned off Turkwangam village in Shopian on Wednesday evening following inputs about presence of Hizbul Mujahideen commander Zeenat-ul-Islam and his three associates in the village. A gunfight broke out between the militants and the security forces, as the latter tightened the cordon in the area.
According to sources, the security forces opened fire when a large number of youth from Turkwangam and surrounding villages reached the encounter site and started to lob stones at the security forces to help the militants escape. Umar Ahmad Kumar (17), a resident of Pinjoora village in Shopian, was killed in the firing taking the total number of civilians deaths at encounter sites to 10, since April 1.
On April 1, four civilians were killed at Shopian's Kachdora, when the villagers tried to help militants escape. Four more civilian protesters were killed at Khudwani in south Kashmir's Kulgam on April 11. On April 30, one more civilian was killed at Drabgam village of Pulwama.
"He (Umar) was brought dead to hospital," Dr Zahoor Ahmad Malik, Medical Superintendent of Shopian told The Indian Express. "We also received five injured at the hospital. They had been hit by pellets."
Another critically-injured teenager Inayat Ahmad Dar was referred to Shri Maharja Hari Singh (SMHS) hospital in Srinagar for specialized treatment, where he was operated upon. His condition is said to be stable.
Full report at:
http://indianexpress.com/article/india/teen-killed-15-injured-as-forces-open-fire-at-protesters-in-jk-5160919/
-------
Pakistan raises Kashmir issue at UN Committee on Information; India objects
May 03, 2018
Pakistan has raked up the issue of alleged human rights violation in Kashmir at the UN's Committee on Information to which India raised strong objection, saying it was irrelevant to the work of the panel.
Pakistan's delegate Masood Anwar, addressing a session of Committee on Information yesterday, raised the issue of Kashmir alleging that human rights violations are taking place against the people of Kashmir.
"The world we live today is marred with conflict and strife while we maintain unity in fighting terrorism and extremism. Countering the narrative of this twisted ideologies is imperative," Anwar said during a General Debate on Committee on Information.
He said the UN's Department of Public Information (DPI) can play an important role in defusing tensions and promoting interfaith harmony.
"Human rights violations in particular are a matter of serious concern to the international community," he said.
He urged DPI to highlight situations where "grave violations of human rights are taking place", especially against the Rohingya, Kashmiris and Palestinians.
India strongly rejected Anwar's reference to Kashmir, saying his remarks are irrelevant to the work of the Committee.
"We have seen another attempt here today to make reference to issues extraneous to the agenda of the Committee. We completely reject these remarks as they have no relevance to the work of the Committee," S Srinivas Prasad, Minister in the Indian Mission to the UN, said during the session.
In his statement, Prasad said India supports the DPI's work on counter-terrorism. "India is opposed to all forms of terrorism and believes that effective cooperation among countries is necessary to combat the threat," he said.
He referred to the production of the documentary 'Surviving Terrorism: Victim's voices' on the survivors of the Norway terror attack of 2011, saying civilians affected by terrorism is an "untold story" and hoped that the DPI will pick up more such stories from terrorist violence affected countries.
He, however, voiced concern over declining financial resources that have presented a serious constraint on the ability of the DPI to carry out its mandated tasks especially in non-official languages. DPI needs to look at innovative ways to raise resources beyond the regular budgetary allocations, including through voluntary contributions to continue and expand its global outreach activities, especially in the widely-spoken non-official languages, he said.
Prasad voiced appreciation over expansion in the number of languages in which UN guided tours are offered. He pointed out that guided tours of the world body have been very popular with Indian tourists in the city, urging the addition of a guided tour in Hindi to facilitate Indian tourists.
Prasad also noted that the Department facilitated the on-location filming of Bollywood film 'Padman' at the United Nations headquarters in November 2017.
Full report at:
https://www.hindustantimes.com/india-news/pakistan-raises-kashmir-issue-at-un-committee-on-information-india-objects/story-EnppViRARdHoseWPh3NqlO.html
-------
Muslim Student Stabbed to Death in Kathua, Police Say He Was Not The Real Target
May 2, 2018
Srinagar: A stabbing to death of a student from minority community in Jammu's Kathua district, which was caught on CCTV, has further flared up the tension in the district that is already reeling under the rape and murder of a minor Bakerwal girl.
SSP Kathua Sridar Patil told News 18 that the youth killed was not the actual target, but he happened to be a wrong person at a wrong ti
"We have arrested the suspects within hours of the crime and seized the vehicle in which they had come to carry out the attack," Patil said.
Three people have been arrested in the case.
Police said Liyaqat Ali, a student from Dher Mohalla in Billawar town of Kathua, was stabbed on Tuesday and succumbed to his wounds at a hospital in Jammu late last night.
Patil said prima facie it appears the assailants were looking for someone else but ended up stabbing Liyaqat over some love affair but clarified it certainly was not "love jehad or any inter community relationship".
"He (Liyaqat) was not their target and they were looking for someone else, as he was leaking their secrets to public which was not acceptable to one of the boys," he said.
"It was Abishek's brother-in-law (Khajuria) who stabbed the person," said Patil.
Another police officer said the slain youth and some of the assailants are students of some colleges in the same vicinity.
The officer said the accused came in a Swift Dzire car and were looking for another student Abid over some rivalry.
"It appears Liyaqat intervened to save Abid's life. Abid managed to escape, but they stabbed Liyaqat," the officer said.
"The accused claim Abid was leaking their secrets about some love affair. Abishek sought help of his brother-in-law who took out a knife to attack him."
Khajuria is posted as a medical assistant at a health centre in Billawar, while Abishek studies at a private para medical college.
Police took help of a CCTV footage to recognise the youth who had come in the car. The footage available with News18 clearly shows a car coming to a screeching halt near a youth standing there. Four men alight from the vehicle and run after him. He is caught but manages free himself from their clutches and then escapes from the spot. In between, some people, including two women are seen rushing behind, apparently pleading with the attackers not to hurt Abid.
Full report at:
https://www.news18.com/news/india/3-arrested-for-stabbing-student-to-death-in-kathua-1736485.html
-------
Teenager killed, 10 injured during Shopian anti-terror operation
M Saleem Pandit
May 2, 2018
SRINAGAR: A teenager was killed and ten youths injured, one critically, in clashes with security forces during an anti-terror operation in Shopian on Wednesday.
Police said security forces laid a cordon in Turkawangam village after receiving intelligence inputs about the presence of terrorists at a house in the area. As the security personnel approached the site, they came under fire from the terrorists, triggering a gunfight.
Soon after the news of the gunfight spread, a stone-pelting mob descended on the site to aid the terrorist. One of the youths, later identified as Omar Kumar, 17, was killed in the crossfire. Kumar, a resident of Pinjura village in Shopian, was hit by a stray bullet and died on the spot.
Full report at:
https://timesofindia.indiatimes.com/india/teenager-killed-10-injured-during-shopian-anti-terror-operation/articleshow/64006116.cms
-------
Violent protests over Jinnah portrait at AMU, police cane students
May 02, 2018
Students at the Aligarh Muslim University (AMU) are on a sit-in protest after police allegedly caned them and used tear gas while they were marching to register a police complaint against Hindu groups that had barged into campus to protest the presence of a portrait of Pakistan's founding leader Muhammad Ali Jinnah.
Students were marching towards the Civil Lines police station to register a complaint after supporters of the Hindu Yuva Vahini and the Akhil Bharatiya Vidyarthi Parishad (ABVP) entered the university at around 3pm.
The Hindu groups allegedly shouted slogans of "Jai Shri Ram" and "Jinnah Murdabad" and asked the university to remove the portrait at the Students' Union Hall in 48 hours.
A function to confer former vice president Hamid Ansari a life membership of the students' union was called off after the two protests.
The controversy began on Tuesday when Satish Gautam, the Bharatiya Janata Party (BJP) MP from Aligarh, wrote to AMU vice chancellor Tariq Mansoor and sought a justification for Jinnah's portrait, which has been hanging at the university since 1938.
Surprisingly, Uttar Pradesh minister Swami Prasad Maurya, a BJP leader, described Gautam's demand as "ghatiya" (cheap) and called Jinnah a "mahapurush" (great man).
Maurya's statement left the Rashtriya Swayamsewak Sangh and BJP red-faced. The BJP quickly rebutted Maurya through two veteran leaders: Deoria MP Kalraj Mishra and Rajya Sabha MP Harinath Singh Yadav.
Mishra supported Gautam's demand and said Jinnah's portrait should be removed. Yadav demanded Maurya's ouster as minister.
An AMU student leader said the portrait would not be removed. "The portrait came up as part of a protocol that the AMU students' union accorded to all great leaders of the then undivided India who had visited the campus," said Mashkoor Ahmad Usmani, chief of union.
A police officer, who didn't wish to be identified, rejected the allegation that the police had not done anything against the Hindu groups and targeted the protesting students instead. "In fact while we exercised restraint the students targeted us with stones," he said.
AMU spokesperson Shafey Kidwai said, "Former vice president Hamid Ansari was to be conferred the lifetime membership by AMUSU, but the ruckus caused by Hindu Yuva Vahini activists and others led to a situation of unrest because of which the event was cancelled."
Full report at:
https://www.hindustantimes.com/india-news/protests-break-out-over-jinnah-portrait-at-amu-police-cane-students/story-9ffKpYhMNTlEcY1xJyn3ZM.html
-------
North America
US public support for Iran nuclear deal at record high: Poll
May 2, 2018
According to a new poll, with 10 days to go until a deadline for US President Donald Trump to decide whether to keep the United States in the Iranian nuclear agreement, public support for the Iran deal has reached its highest point previously recorded.
Fifty-six percent of people polled in the Morning Consult/Politico survey released Wednesday morning backed the nuclear deal, while 26 percent opposed it. The poll was conducted online April 26 to May 1 among 1,991 registered voters.
Net public support is at a record level — 30 percentage points — in the most recent survey. The share of voters opposing the deal — 26 percent — is at the lowest point since Morning Consult began tracking the topic in August 2015.
Sixty-eight percent of Democrats and 51 percent of independents said they support the deal. GOP voters which usually take a more conservative approach to the issue were split on the matter. Forty-six percent backed the deal and 42 percent opposed it.
Trump has repeatedly criticized the agreement, also known as the Joint Comprehensive Plan of Action (JCPOA) and did not certify it in October.
Trump has until May 12 to decide whether to continue on with the agreement, seek changes, or abandon it. Trump on Monday seemed to indicate once again that he could leave the agreement, and said the US got "nothing" after signing the deal and giving Iran access to billions of dollars.
Iran and the five permanent members of the United Nations Security Council – the US, France, Britain, Russia and China – plus Germany signed the nuclear agreement on July 14, 2015 and started implementing it on January 16, 2016.
Tehran has said the deal, which is the result of over a decade of negotiations, is not up for renegotiation, and that it has prepared several options for responding to a possible US pullout.
The public's support for the deal comes on the heels of Israeli Prime Minister Benjamin Netanyahu's controversial news conference Monday, during which he accused Iran of lying about the country's pursuit of nuclear weapons before agreeing to the deal in 2015.
Iranian Foreign Minister Mohammad Javad Zarif responded saying Netanyahu is like the boy who cries wolf after he repeated his old allegations concerning Iran's nuclear activities.
http://www.presstv.com/Detail/2018/05/02/560449/JCPOA--President-Donald-Trump-Democrats-Republicans-poll-nuclear
-------
KC Muslim student was struck in the face on campus on 'Punish a Muslim day,' FBI says
May 02, 2018
BY MAX LONDBERG
A Muslim student leaving class last month at a Kansas City campus was insulted, struck in the face and then tumbled down stairs, the FBI announced Wednesday.
The incident occurred April 3. The culprit has not been caught, and the FBI is offering a $10,000 reward for information leading to an arrest.
The incident is a "potential hate crime," FBI spokeswoman Bridget Patton wrote.
Patton added that the FBI issues rewards after investigators have "followed all other logical leads."
The incident occurred approximately 3:15 p.m. near the humanities building stairwell. The student, a female, reported the incident to campus police and received medical attention.
She first heard a male voice say a derogatory statement, and as she turned around she was struck in the face, which caused her to fall.
The incident occurred on "Punish a Muslim day," an Islamophobic effort that began with anonymous letters arriving in communities in London.
The letters detailed a point system that awarded violence: 25 points for pulling off a head scarf, 500 points for murdering a Muslim, The New York Times reported.
The plan to encourage violence against Muslims on a specific day then spread to the U.S.
"The campaign goes directly against MCC's values," wrote Christina Medina, a spokeswoman for MCC. "As a district, MCC will not tolerate discrimination or harassment against our students, employees, and community."
MCC Chancellor Kimberly Beatty said in a statement that MCC fosters "an environment that welcomes all students, employees and community members who seek to learn in the context of our mission.
Full report at:
http://www.kansascity.com/news/local/crime/article210324019.html
-------
Condoleezza Rice supports Trump, says she wouldn't sign Iran deal
May 2, 2018
Former secretary of state in the George W. Bush administration Condoleezza Rice supports US President Donald Trump and says she would not have signed the Iran nuclear deal stating that it won't be "the end of the world" if Trump decides to pull out.
"I would not have signed this deal. I don't think it was a very good deal. I think we were in a hurry to get a deal and we left a lot on the table," Rice, a supporter of the Iraq war, said on Fox News.
"The allies love this deal, and I certainly hope that in their meeting with President Trump that [French President Emmanuel] Macron and [German Chancellor Angela] Merkel talk about ways to improve the deal if we're going to stay in it," she stated.
"But if we get out of this deal, it's going to be just fine," she said. "But I don't think it's the end of the world if the administration leaves the agreement."
"The Iranians, I think, will try and stay in because they do want that investment eventually to start flowing."
Rice added that she would not have signed the Iran deal, and that while there is an argument to be made for staying in it to maintain US alliances, there is no real argument to stay.
"I would probably have stayed in for alliance management purposes, but I have no argument," she said. "If the president decides to pull out of the deal, I have no argument with that."
Looming deadline
Trump has until May 12 to decide whether to continue on with the agreement, seek changes, or abandon it. Trump on Monday seemed to indicate once again that he could leave the agreement, and said the US got "nothing" after signing the deal and giving Iran access to billions of dollars.
Iran and the five permanent members of the United Nations Security Council – the US, France, Britain, Russia and China – plus Germany signed the nuclear agreement on July 14, 2015 and started implementing it on January 16, 2016.
Under the Joint Comprehensive Plan of Action (JCPOA), Iran undertook to put limits on its nuclear program in exchange for the removal of nuclear-related sanctions imposed against Tehran.
Trump has repeatedly described the JCPOA, which was negotiated under his predecessor, Barack Obama, as "the worst and most one-sided transaction Washington has ever entered into," a characterization he often used during his presidential campaign, and threatened to tear it up.
Trump has threatened to pull out of the JCPOA unless Congress and America's European allies help "fix" it with a follow-up agreement within a 120-day deadline that ends May 12
He has given the European signatories, namely France, Britain and Germany, until that date to fix the "flaws" in the JCPOA.
The US president argues that the nuclear deal should address Iran's domestic defense program as well as its role in the region.
Trump's ultimatum has created a rift in the European Union. Some of the bloc's states, mainly France, have been seeking to allay the US president's "concerns," while others such as Italy have warned against putting pressure on Iran.
Full report at:
http://www.presstv.com/Detail/2018/05/02/560425/Iran-nuclear-deal-Condoleezza-Rice-Donald-Trump-JCPOA
-------
Mideast
Iran's FM says Qatar 'brought Saudi Arabia to its knees'
May 2, 2018
Addressing a conference at the prestigious Amirkabir University of Technology in Tehran, Iran's foreign minister slammed the Saudi crown prince as "simple-minded" over his approach and rhetoric toward the Islamic Republic.
In a ceremony May 1 to commemorate Professors' Day at the university, Foreign Minister Mohammad Javad Zarif spoke about current developments in the world and in the region. As he entered the university's premises, a group of students believed to belong to the Basij association on campus held signs with slogans against the nuclear deal and the Foreign Ministry's emphasis on constructive engagement with the world. According to local media, a number of the students attacked Zarif's vehicle, punching and kicking it.
In reference to Saudi Crown Prince Mohammed bin Salman, Zarif stated, "The young, simple-minded Saudi comes and says, 'We aren't afraid of Iran, [and] Iran is the fifth military power of the Islamic world.' Now I wonder if this is true, then why are they moaning and shouting [about Iran] this much?"
Zarif continued, "In the past year, Saudi Arabia was the third in the world in terms of buying weapons. They spent $67 billion, and this amount of arms purchases indicates how worried they are. They are acknowledging that they aren't able to resist Iran, because the sources of power have changed. They aren't even able to overcome Qatar. Qatar has brought Saudi Arabia to its knees, because the sources of power and the tools for reaching power have changed."
In 2017, Saudi Arabia along with the United Arab Emirates, Bahrain and Egypt cut ties with Qatar and imposed a blockade on the peninsula nation.
Zarif said, "We are different from the other regional countries. Our development and progress is indigenous. Mr. [US President Donald] Trump can't tell us, 'If I don't support you for two weeks, you are going to be toppled.' When Trump said this to a number of countries in the region, the Saudi foreign minister [Adel al-Jubeir] stated that 'if America stops supporting Qatar for one week, this country would face a problem' — [he said this] in order to say that Trump didn't mean [Saudi Arabia]."
The Iranian foreign minister then urged media outlets in Iran to act in line with the national interest in an implicit reference to the hard-liners. "We shouldn't [let] a number of media [outlets] destroy our people's self-confidence every day. We should provide hope and self-confidence to the people. We should tell [our people] that Mr. Trump has been saying for two years, 'I will kill the JCPOA' [Joint Comprehensive Plan of Action]. During the presidential campaign, he repeatedly emphasized that 'the first thing I will do will be to kill the JCPOA.' But it has now been two years and he hasn't been able to do this," Zarif said.
Addressing hard-liners and domestic critics of the nuclear deal, the top Iranian diplomat stated, "Why do you tell the people, 'What madman is willing to come to Iran to invest?' Why do you prepare the ground for capital flight? Why don't you give the people self-confidence? What are the uses and values of this domestic political infighting?"
Of note, hard-line media outlets have consistently engaged in negative reporting on the nuclear deal, consistently pointing out that the promised economic dividends of the accord have not materialized in any way.
Zarif then directly addressed his critics, saying, "Our country finds itself in a special situation. Why don't you trust your diplomats and say that a certain diplomat [Zarif] has been deceived, while Mr. Trump and Mr. [Israeli Prime Minister Benjamin] Netanyahu say that it was America that was deceived in the [nuclear] negotiations, and that it was Iran that profited [from the nuclear deal]?"
The JCPOA was signed in July 2015, following two years of negotiations between Iran and the P5+1 (the United States, United Kingdom, France, Russia, China and Germany).
https://www.al-monitor.com/pulse/originals/2018/05/iran-zarif-amir-kabir-basij-attack-qatar-saudi-arabia-jcpoa.html
-------
Abbas says he rejected offer from Egypt's Mursi to settle Palestinians in Sinai
2 May 2018
Palestinian President Mahmoud Abbas said on Monday that he had rejected an offer by former Egyptian President Mohammed Mursi to get a part of Sinai to settle the Palestinians there.
"When the Brotherhood ruled during Mursi's presidential term, we were offered a part of Sinai but we turned down the offer," he said while addressing the Palestinian National Council in Ramallah.
He added that this was an Israeli project dubbed "Giora Eiland" and aims to completely put an end to the Palestinian cause.
Abbas voiced his rejection to Mursi and told him that the Palestinians will not accept such proposals as they will not leave their land and will not live on someone else's land.
The Palestinian president had revealed details of this proposal four years ago while meeting with reporters in Egypt as he said that he had refused an Israeli offer to take 1,000 kilometers of Sinai during Mursi's era.
He added that back then, Hamas and Israel were discussing taking 1000 km from Sinai to expand Gaza but he refused the plan saying: "We will not even take one centimeter from Egypt's land."
According to Abbas, Mursi reprimanded him for not accepting the offer.
Military expert Major-General Hussam Soueilam told Al Arabiya.net that the "Giora Eiland document" is named after Giora Eiland, a reserve commander who works at the Begin-Sadat Center for Strategic Studies, and it was proposed as the "best solution" for the Palestinian-Israeli conflict.
"Eiland's project stipulated that resolving the Palestinian cause is not only Israel's responsibility but the responsibility of 22 other Arab states as Egypt and Jordan in particular must positively and effectively formulate a regional and multilateral solution," he said.
According to the Israeli project, the Palestinians would be granted 720 km2 of North Sinai that extends from Rafah in the west until Arish borders and from west Kerem Shalom border crossing until the south alongside the Egyptian-Israeli borders.
Full report at:
https://english.alarabiya.net/en/News/middle-east/2018/05/02/Abbas-says-he-rejected-an-offer-by-Mursi-to-settle-Palestinians-in-Sinai.html
-------
Yemeni President: Houthi stronghold surrounded from all sides
2 May 2018
Yemeni President Abdrabbuh Mansour Hadi said on Wednesday that the army has blocked off Saada province, the major stronghold of the Houthi militia at the far north of the country, from various sides.
He underlined that "the forces of the National Army were able to recover several areas in the various districts of the Saada province, which became encircled in all directions, in order to block the militia in their main strongholds."
This came during his meeting with the governor of Saada, Tarshan al-Waeli, who briefed him of the army's victories in the province - the latest being the cutting off the route of Malahiz and Razih and the restoration of eight sites behind the area of Mandab and others, according to the official Yemeni News Agency.
Hadi applauded the consecutive victories by members of the National Army and the popular resistance with the support of the Arab coalition in several positions and battlefronts in the province of Saada.
In the same context, a Yemeni military commander stressed on Wednesday that the army emancipated large areas on the north-west of Saada in the battles against Houthi militia.
Brigadier General Diab al-Qabli, commander of the 143rd Brigade, said that the national army is approaching the Houthi stronghold, in the mountains of Maran, and is only a few kilometers away.
He added that "the national army continues to tighten its grip on the Houthi fighters on several fronts, especially north-west of Saada province."
He explained that the military operation was planned by the national army and the coalition forces have surrounded the province of Saada from five fronts.
Full report at:
https://english.alarabiya.net/en/News/gulf/2018/05/02/Yemeni-President-Houthi-stronghold-surrounded-from-all-sides.html
-------
Saudi armed forces participate in joint military drills in Turkey
2 May 2018
Joint military exercises have begun in the Turkish city of Izmir with the participation of a number of countries in addition to Saudi Arabia and host country Turkey, the Saudi Press Agency reported on Tuesday.
The Saudi armed forces participated in the EFES 2018 exercises with land, naval and marine special units and F-15 fighter jets.
The commander of the exercise, Colonel Abdullah bin Mohammed Al-Duraibi, said the Saudi armed forces participating in the exercise carried out, with the participation of friendly forces, a number of military tactics, including maritime search and rescue operations in a combat environment.
He stressed that the exercise was an important military drill for a number of participating countries to apply their diversified military techniques to which increase their combat ability.
Full report at:
https://english.alarabiya.net/en/News/gulf/2018/05/02/Saudi-armed-forces-participate-in-joint-military-drills-in-Turkey.html
-------
Yemeni Ansarullah snipers kill three Saudi troops in Najran
May 2, 2018
Snipers of Yemen's popular Houthi Ansarullah movement have killed three Saudi troops in the kingdom's southern regions.
Yemen's al-Masirah television network reported on Wednesday that the Saudi soldiers were killed during Yemeni operations in the Najran region.
A large number of Saudi forces and mercenaries were also injured in the Yemeni attack.
Earlier in the day, the Yemeni military announced that at least 82 Saudi forces were killed and 41 injured in the Saudi provinces of Jizan, Najran and Assir in April.
It also noted that 55 were killed and 53 wounded in March.
Meanwhile, the Ansarullah movement announced that it would be increasing its strikes on Saudi Arabia's oil facilities in retaliation for the kingdom's war on its impoverished neighbor.
Mohammad al-Bukhaiti, a top figure in the movement's Supreme Political Council, told The Financial Times that the fighters were manufacturing their own missiles, dismissing Riyadh's accusation that Iran was delivering the projectiles to the fighters.
On Saturday, the Houthis fired eight missiles at a number of "economic and vital targets" in the southwestern Saudi region of Jizan. Yemen's Arabic-language al-Masirah television network cited a military source as saying that the projectiles hit their targets with great precision.
Bukhaiti said the counterattack "was only the beginning of the response" to the killing of Saleh al-Samad, the head of the Supreme Political Council assassinated by Saudi forces last week.
So far, the Houthis have successfully hit facilities belonging to the Saudi state oil giant on many occasions.
The Saudi aggression was launched in March 2015 in support of Yemen's former Riyadh-friendly government and against the Houthi Ansarullah movement, which has been running state affairs in the absence of an effective administration.
The offensive has, however, achieved neither of its goals despite the spending of billions of petrodollars and the enlisting of Saudi Arabia's regional and Western allies.
The Yemeni Ministry of Human Rights announced in a statement on March 25 that the Saudi-led war had left 600,000 civilians dead and injured during the past three years.
Full report at:
http://www.presstv.com/Detail/2018/05/02/560453/yemen-sniper-saudis-najran
-------
Jailed ex-leader of pro-Kurdish party to run for Turkish presidency
May 2, 2018
Turkey's main pro-Kurdish party announces its former leader Selahattin Demirtas as its candidate for the country's June presidential elections, despite the fact that he is currently jailed and on trial in several legal cases.
The Peoples' Democratic Party (HDP) said the campaign of Demirtas would be launched in simultaneous rallies in Istanbul and the Kurdish-populated city of Diyarbakir on Friday afternoon.
Turkey will hold snap presidential and parliamentary elections in the country on June 24, previously slated to be held next year. Turkish President Recep Tayyip Erdogan started campaigning for his re-election on Saturday, saying he would certainly win the vote.
Demirtas, 45, was a candidate against Erdogan in the August 2014 presidential elections and led the HDP into parliament for the first time in the June 2015 vote.
The politician was arrested in November 2016 in a crackdown that followed the July coup attempt and put on trial in several cases, especially on charges of links to the outlawed Kurdistan Workers' Party (PKK). Turkish prosecutors have called for an imprisonment term of up to 142 years for him.
In February, the HDP replaced Demirtas as its co-leader after he indicated his political career was over while in custody.
It was not immediately clear what caused him to change his opinion and how he can register as a candidate while in prison.
The new co-leaders of the party, Pervin Buldan and Sezai Temelli, called on supporters to come out on Friday and celebrate the campaign launch.
Full report at:
http://www.presstv.com/Detail/2018/05/02/560451/Turkey-president-proKurdish-party-Demirtas
-------
Southeast Asia
Calls for change reverberate in Malaysia's Sabah after decades of BN rule
02 May 2018
SANDAKAN, Sabah: The crowd was ecstatic when the most powerful man in Malaysia emerged from a black SUV. For a moment, they forgot about the scorching heat and focused on what was probably the most high-profile visit to Batu Sapi in a long time.
Hundreds of people erupted into cheers. They waved and held out their smartphones while craning their necks for the best view of incumbent Prime Minister Najib Razak.
Sporting gold-rimmed glasses and a bright blue shirt, the 64-year-old statesman smiled at supporters who had reserved the good spots along his path hours before. Some were lucky to get a quick handshake and brief greeting. Others far behind fought for a glimpse of him moving slowly through the excited crowd at Kampung Bahagia School.
It was a rapturous welcome for the political veteran who has held on to the prime minister's chair for nine years and is doing everything in his power not to let it slip to the Opposition come May 9, when Malaysia holds its 14th general election.
"With wisdom, we'll choose the party that can change our lives," Najib told the cheering crowd on Monday (Apr 30) during his campaign in the semi-autonomous state of Sabah. In front of him were hundreds of blue-cladded supporters. Many children were holding placards with "We Love PM" printed on them.
The "party" he referred to is Barisan Nasional, the world's longest-ruling coalition which, along with its predecessor Alliance Party, has governed Malaysia for 61 years since its independence from the British. Its core member is Najib's party, the United Malays National Organisation (UMNO).
Najib is the sixth prime minister and running for his third term. This time, however, he is racing against a prominent UMNO defector and 92-year-old former Prime Minister Dr Mahathir Mohamad.
Once Najib's mentor, the nonagenarian is probably his harshest critic this election. He quit UMNO for the second time in 2016 when it faced a corruption scandal involving his own protégé, who was accused of channelling nearly US$700 million from state development fund 1MDB into his personal bank accounts – a claim he has denied.
Since the controversy broke out in 2015, Najib's popularity has taken a hit. So has his coalition's. Still, the public backlash seems incomparable to the anti-government sentiment following the implementation of the 6-per-cent Goods and Services Tax (GST) in the same year.
Today the bitter frustration is still echoed in Sabah, the country's third largest electoral bloc in terms of parliamentary seats after Sarawak and Johor. It holds 25 of the total 222 and, for decades, the majority of seats has been secured by Barisan Nasional.
A similar scenario is played out in nearby Sarawak – which holds 31 parliamentary seats. As a result, the two East Malaysian states are often viewed as the linchpin to Barisan Nasional's electoral victories. Maybe not this time.
"Barisan promises. For 50 years, they promise and promise. And now they promise again," president of the Sabah Heritage Party Shafie Apdal told Sabahan voters in Tawau on Tuesday (May 1).
Locally known as Warisan, the party is a Sabah-based opposition group. Prior to its foundation in 2016, Shafie – a Sabahan from Semporna – was serving as UMNO's vice president and federal Minister of Rural and Regional Development. He was later removed from a cabinet reshuffle by Najib.
"I advised him as a friend to take action and do something about the 1MDB scandal. And for all it was worth, he got rid of me from the Federal Cabinet just to try and shut me up," said Shafie, who is defending his Semporna seat for the sixth term.
"The UMNO of today is not the same party that I joined and promoted. Back then, they helped the people. But now they're only burdening the people and it's getting worse."
WARISAN: SABAHAN UNDERDOG
Warisan is widely perceived as an underdog against Barisan Nasional's perennial rule of the eastern state. Its support comes from Sabahans dissatisfied with Najib's administration, particularly its implementation of the GST.
A survey by Merdeka Centre last year found 52 per cent of 905 participating Sabah voters were unhappy with the state government. About 49 per cent of the respondents thought Najib's coalition was leading Malaysia the wrong way. They were mostly concerned with the cost of living and the GST.
Meanwhile, Shafie's popularity has grown in his home state, with an overall favourability rating of 42 per cent, according to Merdeka Centre's survey. He also attracted the highest level of favourability among younger Sabah voters, with 62 per cent of 20-year-olds feeling positive towards him.
"Warisan is particularly strong in the East Coast's Muslim-native areas, where, in the past, Barisan Nasional enjoyed 70-80 per cent of the support," research manager from Merdeka Centre Tan Seng Keat told Channel NewsAsia.
Calls for change are reverberating in Sabah State but based on previous elections, it is not something new.
"The Barisan Nasional's political stability has been challenged since the 2008 election Tsunami," said Regina Lim, head of capital markets research, Southeast Asia at JLL. She referred to Malaysia's 12th election when much of the ruling coalition's power was unexpectedly swept away.
In 2013, Barisan Nasional also suffered a drop in parliamentary seats from the eastern states, compared to the previous 2008 polls. While maintaining 85 seats in the peninsular, it lost two in Sabah and five in Sarawak.
Like any other Malaysian states, Lim said, Sabah will make or break the ruling party if more seats are added to the overall opposition coalition on May 9.
"Any loss this time will close the gap between Barisan Nasional and the Opposition," Tan added. "Then the federal picture will be interesting."
"DON'T BE FOOLED"
Najib is not taking any chances. He spent one full day campaigning around Sabah.
Monday morning, he met a throng of supporters at Kampung Bahagia School. At midday, he gave a speech to members of Sandakan's Chinese community. Later that afternoon, he flew south to Tawau to meet some 10,000 people from the Kalabakan and Tawau parliamentary constituencies.
"Don't be fooled. Don't risk losing all the good things we have today," Najib warned hundreds of Chinese-Malaysians gathered at a hotel in Sandakan.
During his campaign, Najib also cast doubt on his rival party Warisan while promising to develop Sabah and make it "well-known throughout the world" for tourism as well as economic and industrial development.
As proof, he cited funds worth nearly US$1 billion for various development projects in Sabah, including the Pan Borneo Highway, renovation of rundown schools, Tanjung Aru Eco Development and Sabah International Convention Centre.
Still, his promises of better lives and future prosperity fail to please sceptical Sabahans. One of them is Ramli. He cares more about the present, with his financial burdens doubled by the GST.
"The GST goes to the government. The people in Sabah get nothing," he told Channel NewsAsia in front of a small restaurant in Sandakan where he works.
"Barisan Nasional was good before. But as time goes by, it has changed. The poor have become poorer and the rich have become richer. Najib has made promises before but he did nothing. So I want change."
"LET US PROVE OUR WORTH"
Come May 9 Malaysians will find out if any dramatic change in government is on the horizon. The campaign period has already come half way. Each party has five more days to win as much support as it can.
In Sabah, Warisan's members are confident the people know how to navigate their votes. The party is contesting 16 parliamentary seats and 45 state seats. It is working with other opposition parties on an electoral pact basis and campaigning hard for a chance to prove themselves.
"Barisan Nasional has long overstayed their presence as the government or Sabah and the federation," Warisan deputy president Darell Leiking told Channel NewsAsia.
On Tuesday, Warisan chief Shafie defied his former leader Najib's warning that Sabah would suffer without Barisan Nasional. He criticised the incumbent prime minister for "repeating the same old song" each time he visited the state and "false promises".
"A Warisan government will follow up on all our promises and the people will see change for the better."
https://www.channelnewsasia.com/news/asia/ge14-election-change-in-malaysia-sabah-after-decades-of-bn-rule-10194466
-------
Malaysia PM likely to win election but opposition could win popular vote - survey
May 02, 2018
KUALA LUMPUR (Reuters) - With just a week to go to a general election, Malaysia's main opposition bloc is making gains and will likely win the popular vote, but Prime Minister Najib Razak is expected to retain power, according to a survey by pollster Merdeka Center.
Malaysians vote on May 9, with Najib going up against his former mentor turned critic Mahathir Mohamad, a former long-serving prime minister now leading the opposition.
Najib is facing his toughest election yet as he grapples with public anger over rising costs and a financial scandal at a state fund.
Mahathir's Pakatan Harapan coalition is likely to win 43.7 percent of the popular vote, as of May 1, up from a forecast of 42 percent, as of April 9, Merdeka Center director Ibrahim Suffian said on Wednesday.
Najib's Barisan Nasional (BN) coalition is expected to win 40.3 percent of the popular vote, as of May 1, down slightly from an April 9 forecast of 40.8 percent, Ibrahim said.
The Merdeka Center is one of Malaysia's few independent pollsters.
The poll was conducted in west Malaysia, which accounts for nearly 75 percent of parliamentary seats. It did not include the Malaysian part of Borneo island.
Support for Parti Islam se-Malaysia (PAS), another opposition party that is not part of Mahathir's coalition, dropped from 17.2 percent in April to 16 percent as of May 1.
"If elections were held yesterday, BN would still prevail," Ibrahim said in a presentation streamed live on Facebook, referring to the ruling coalition which has held power since independence from Britain in 1957.
Najib's coalition failed to win the popular vote in the last elections in 2013, getting 47.3 percent of the votes in what was seen as a setback for the ruling alliance even though it retained power.
Under Malaysia's first-past-the-post, or simple majority, system the party that gets the most seats in parliament wins even if it does not win the popular vote.
A worse performance for the BN coalition than in 2013, even if it retains power, would likely raise questions within the ruling bloc about Najib's leadership.
Support for Mahathir's opposition alliance among majority ethnic Malays has increased, with the gains coming at the expense of the PAS, not the BN, Ibrahim said.
"In the last two weeks, Malay numbers have started to shift," Ibrahim said.
He also said he could not predict the number of seats each party would win as the "voting patterns have gotten complex".
The opposition and other critics have said recently redrawn electoral boundaries favour the BN, which has been accused of gerrymandering.
Full report at:
https://www.firstpost.com/world/malaysia-pm-likely-to-win-election-but-opposition-could-win-popular-vote-survey-4454243.html
-------
After a former PAS leader's son broke ranks, all eyes turn to Kelantan
02 MAY, 2018
KOTA BARU — For the past month, 53-year-old religious teacher Nik Omar Nik Abdul Aziz has been spending his nights mostly sitting on the prayer mat at home, seeking guidance and enlightenment from God on what he calls the biggest decision of his life.
The guidance he received was revealed on April 28, Nomination Day for Malaysia's General Election.
Of all the surprises that were thrown up that day, Mr Nik Omar's decision to contest the Kelantan state legislative assembly seat of Chempaka under Party Amanah Negara – a component party of the opposition Pakatan Harapan (PH) coalition – drew the biggest gasp.
It also drew scorn.
The eldest son and second child of former Parti Islam Se-Malaysia (PAS) spiritual and influential leader Nik Abdul Aziz Nik Mat was still a member of the party when he broke ranks and stood as a candidate for its rival, Amanah.
Hours after filing his nomination papers, Mr Nik Omar was sacked by the party's leaders for violating its constitution, with some describing his actions as a "sin" and an insult to his father's legacy.
But that was only the beginning of a political drama that captured the attention of a nation.
In his first media interview since he announced his candidacy, Mr Nik Omar told TODAY on Tuesday (May 1) that joining politics and Amanah was not a straightforward decision.
He spent time speaking to friends, some of whom were supporters or members of other political parties, to get their views on whether he should enter politics.
He also did his research on the various political parties, to have a better understanding of their visions and values. Still, he was in two minds.
"There were instances where I thought there was no need to be politically involved. And then there were times that I felt I should get into it. So I turned to God," said Mr Nik Omar, who was speaking at Amanah's office in Kota Baru.
"And once you've decided, you have to go with it. There's no turning back."
For many, his candidacy was even more surprising considering that he had publicly stated recently that he would not contest the May 9 polls out of respect for his mother's wishes that he stay out of politics.
Explaining the change of heart, Mr Nik Omar said that it is time that he contributed to the country's development and progress in areas such as education and the economy, given that he is already in his 50s.
There is also a need to improve governance in the country, he said, alluding to the corruption scandals that have afflicted the ruling Barisan Nasional (BN) coalition.
He added: "Like citizens of any nation, I love my country. I want to see Malaysia progress."
"Politics is in my blood," he said, explaining that he was exposed to it at a young age, when he frequently followed his father to rallies, and had a front-row seat when his dad governed Kelantan.
Dressed in a white robe and skullcap, he said that despite the exposure, he chose to stay out of politics as he wanted to focus on his profession as an educator.
He is also worried that the scrutiny and criticism that comes with the territory of being a politician would not be quite his cup of tea.
"But there comes a time when you have to make a decision. Such decisions are hard, but to help a country progress and build a government that's more efficient and service oriented, you have to make sacrifices," he said.
The election for Chempaka is a three-cornered fight: Mr Nik Omar will be going up against incumbent Ahmad Fathan Mahmood of PAS and Mohamed Fareez Noor Amran of the United Malays National Organisation (Umno), a BN component party.
But why turn his back on the party his father built, and defect to Amanah?
Mr Nik Omar simply said he did not receive any requests from the party's leaders to stand as their candidate.
"And PAS already has many quality candidates," he added, declining to elaborate further.
A FAMILY DIVIDED
In abandoning PAS, Mr Nik Omar has gone against the family grain.
The rest of his family has been fiercely loyal to PAS since his father blazed a path by joining the party in 1967 and eventually led its historic charge to seize Kelantan from BN in 1990.
Little wonder, then, that the harshest criticism he has received over his decision to join Amanah has come from his own family, which had no inkling that he planned to defect.
His younger brother, Nik Abduh, a member of PAS' central executive committee who is contesting the state legislative assembly seat of Bachuk, was particularly acidic in his criticism.
In a Facebook post on Monday (April 30), Mr Nik Abduh said that his "mother has to rest for a few days to nurse her broken heart", and lamented that his elder brother had not yet met his mother.
"Mothers are the towers in our lives. Don't talk about the father if the mother is not by his side," said Mr Nik Abduh. "Who are we without mothers? Just wasted semen tossed aside."
He added that his mother had decided to exact revenge - by campaigning for the PAS candidate running in Chempaka.
Mr Nik Abduh said his mother had initially only planned to help in his campaign for Bachuk, but since "there has been some disturbance from my own family member towards the PAS campaign in Chempaka, she felt it was only right she helped the party there also".
Commenting on his brother's remarks, Mr Nik Omar refused to be drawn into trading barbs, and simply said: "As an elder, one should be loving. And those who are younger should be more respectful."
Asked about his mother's move to campaign for PAS and not him, Mr Nik Omar simply said: "Islam teaches us to love and respect our parents. But the most important thing now is to have a good and efficient government in this country."
Another brother, Nik Abdul Rahim – the fourth child in the family – said that while his family might have disagreed with Mr Nik Omar's actions, there is "no bad blood".
PAS supporters are not so sanguine.
Many felt that his defection tarnished his father's legacy.
Chempaka resident Norzaman Ismail, a 47-year-old craftsman, said that as a son, Mr Nik Omar should have defended his father's legacy, but instead "chose to turn his back on his father and the party".
Retiree Mohd Zulkifli Hussain, 52, said that he would vote PAS.
"His father is rolling in the grave right now over what Nik Omar did," he added.
PAS leaders, including secretary-general Takiyuddin Hassan, described Mr Nik Omar as a "nobody", and said his candidacy would have no impact in Chempaka.
Speaking to TODAY, the party's secretary in Kelantan, Mr Che Abdullah Mat Nawi, said Mr Nik Omar had "made a bad move" and that he is not "as influential as his father".
A refrain heard often is that the son is just riding on his father's coattails.
NOT RIDING ON HIS FATHER'S LEGACY
About half an hour away from the capital city of Kota Baru, Chempaka is a sleepy constituency, with over 24,700 residents, of whom 99 per cent are Malays.
Datuk Nik Aziz held the seat from 1995 till his death in 2015 from prostate cancer.
The death triggered a by-election, which was won by PAS' Mr Ahmad Fatthan with 96 per cent of the votes.
Mr Nik Omar said that though he had his eye on Chempaka, he had initially discarded the idea because of speculation that his brother would be fielded there.
But when the latter eventually became the candidate for Bachuk, he said it was a good opportunity for him to contest the seat and continue his father's legacy.
On criticism that he is riding on his father's coattails, Mr Nik Omar simply said: "I am not a real man if I am."
A FOCUS ON EDUCATION IN KELANTAN
Having attained a Master's in education studies from Yarmouk University in Jordan, Mr Nik Omar will make education his priority during his campaign, and if he is elected.
Currently the principal of Madrasah Darul Anuar, an Islamic school first established by his grandfather, Mr Nik Omar said he was drawn to PH's emphasis on education, and plans to help the opposition coalition build an Islamic school in Kelantan that caters to students from the nursery to university level.
Describing Malaysia's education system as a failure, Mr Nik Omar said that current institutions do not see students through from when they are children till they become young adults, and that the curriculum is not consistent.
"What I want to do is to develop Kelantan children into good human beings, who have both knowledge and good morals," he added.
Saying his approach during the campaign would be based on "explaining and not attacking", he said he is prepared to endure the criticisms and challenges that come with being a politician.
Full report at:
https://www.todayonline.com/after-former-pas-leaders-son-broke-ranks-all-eyes-turn-kelantan
-------
No thank you: Candidates in conservative West Java reject shamans' support
May 3, 2018
A group of shamans in West Java has refuted suggestions that their support for a candidate pair in the religiously conservative province was a form of negative campaign, claiming instead that their endorsement for the pair was sincere.
The Deddy Mizwar-Dedi Mulyadi pair, who apparently refused to be associated with the shamans for fear of electoral backlash from Muslim voters, has reported the group to the Election Supervisory Agency for an alleged smear campaign.
"Go ahead and file a report, they need evidence anyway. I didn't even ask for money from them," said West Java Paranormal Community head Tubagus Zunaedi as quoted by kompas.com on Wednesday.
"I never disparaged or talked about other candidates. I only talked about my support for Deddy Mizwar and Dedi Mulyadi. I know [Dedi's] track record as Purwakarta regent, and Deddy Mizwar as West Java [deputy] governor. They are very good," he said.
Dedi, a Sundanese who has a natural affinity with the Sundanese culture, has long been accused of being a syncretic Muslim, a politically damaging allegation in a region where Islamic orthodoxy is thriving.
During an election debate in March, Dedi's opponents questioned his decision to cover trees in Purwakarta with black-and-white fabric, in an apparent attack aimed at questioning his beliefs. The regent played down the allegation, arguing that he covered the trees with fabric to respect and protect the environment.
The pair has said that the shamanic group did not coordinate with them before publicly declaring their support and suggested that the move was meant to discredit them.
"The declaration [of the shamans' support] will lead the public into thinking that Deddy and Dedi are supported by supernatural beings," said the pair's lawyer, Agus Sihombing.
Full report at:
http://www.thejakartapost.com/news/2018/05/03/no-thank-you-candidates-in-conservative-west-java-reject-shamans-support.html
-------
Europe
Conservatives Suspend Candidate Who Said Islam Is 'Totalitarian'
2 May 2018
The Conservatives have suspended a candidate in London for 'Islamophobic' tweets after it emerged she had said that religion "undermines hard fought for values" like free speech in Britain.
Karen Sunderland, who was standing as the party's candidate for Crofton Park in Lewisham, was also found to have criticised the hijab and compared Islam to Nazism in messages posted from her Twitter account, which has since been made private.
Lewisham Labour mayoral candidate Damien Egan, who had called for her removal over what he described as "appalling remarks", said he welcomed her suspension — declaring the "diversity and openness" of the London region to be its "greatest strength".
"Islamophobic comments like this are deeply divisive and they have no place in our community," he added.
The Conservatives confirmed that Ms. Sunderland had been suspended from the party pending an investigation over three tweets made between October and December last year.
In one of the offending messages posted to Twitter, where she describes herself as an "unflinching Brexiteer", the London candidate wrote: "Love your optimism. The thing is, religion undermines the hard fought for values and tolerances of progressed countries…suppresses free speech and is auto immune from criticism.
"This is toxic and where the hostility comes from. Religion is totalitarian. Islam has become the new Nazism," she said.
Another tweet, apparently sent in response to a news story posted by the radio station LBC, read: "Well how else do you expect to deal with this!? Parents will simply bang on about Islam and their rights blah blah blah. It confuses me so much why people with these views live in the West."
A post from October, which "seemed to ridicule wearing the hijab", according to News Shopper, said: "Such a lame attempt you made to justify hijabs. Self indulgent to think anyone would give a toot that you showed your hair."
While Ms. Sunderland was suspended from the Conservative Party on Sunday night she will remain on the ballot for Thursday's election, reports the BBC, citing a spokesman for Lewisham Council who noted that the controversy took place three weeks after the deadline for withdrawal.
http://www.breitbart.com/london/2018/05/02/conservatives-suspend-candidate-islam-totalitarian/
-------
French ISIS wife goes on trial for terrorism in Iraq
2018-05-02
Melina Boughedir, a French citizen, was put on trial in Baghdad on Wednesday over terrorism charges for allegedly joining the Islamic State group in Iraq.
The 27-year-old mother of four faces the death penalty over her alleged membership of the jihadist organisation.
Arrested in the summer of 2017 in Mosul, ISIS's former capital in Iraq, Boughedir was sentenced last February to seven months in prison for "illegal" entry into the country and was set to be deported back to France.
But upon re-examining her file, an Iraqi court found that Boughedir knew her husband planned on joining ISIS in Iraq and that she "knowingly" followed him, a judicial source said.
On the first day of her new trial on Wednesday, the judge asked Boughedir if she knew where her husband was.
"One day he went to get water and he disappeared, I don't know anything about it," she said.
When asked if she believed in ISIS's ideology, she said: "Not at all. This is the case for many foreign women married to Daesh men," using an Arabic acronym to refer to the jihadists.
Duped by her husband
The judge showed Boughedir a series of photos, in one of which she appeared, asking whether she recognised various people.
"For someone who claims to have been forced to come to Iraq because your husband was threatening to take your children, you look very relaxed," the judge said, referring to the picture.
"I was at home and the picture was taken by my husband," Boughedir said.
The next hearing is set for June 3 at the request of Boughedir's new attorney, an Iraqi chosen by the family.
Last month, an Iraqi court sentenced another French women, Djamila Boutoutaou, to life in prison for belonging to ISIS despite her pleas that she had been duped by her husband.
Full report at:
https://www.news24.com/World/News/french-isis-wife-goes-on-trial-for-terrorism-in-iraq-20180502
-------
UK will stick with Iran deal despite Israeli claims: Johnson
May 2, 2018
British Foreign Secretary Boris Johnson has reaffirmed his country's support for the landmark nuclear deal with Iran despite Israeli claims that Tehran had violated the 2015 agreement.
Johnson said on Tuesday that the Iran nuclear deal was "based on tough verification," and London would stick with it despite Israeli Prime Minister Benjamin Netanyahu's accusations about Tehran "secretly" pursuing a nuclear weapons program before signing the agreement.
"The Iran nuclear deal is not based on trust about Iran's intentions; rather it is based on tough verification, including measures that allow inspectors from the International Atomic Energy Agency (IAEA) unprecedented access to Iran's nuclear program," the British foreign secretary said.
Johnson defended "verification provisions" in the landmark deal with Iran and "intrusive inspections" by the IAEA as good reasons to keep the agreement in place.
A British government spokesman also expressed support for the Iran nuclear pact, saying the IAEA inspection regime "is one of the most extensive and robust [ones] in the history of international nuclear accords."
"It remains a vitally important way of independently verifying that Iran is adhering to the deal and that Iran's nuclear program is exclusively peaceful," he said in a statement.
The Israeli prime minister delivered a televised address on Monday, accusing Iran of violating the multilateral nuclear agreement, officially known as the Joint Comprehensive Plan of Action (JCPOA), signed between Iran and the P5+1 group of countries in 2015.
Under the JCPOA, Iran undertook to put limits on its nuclear program in exchange for the removal of nuclear-related sanctions imposed against Tehran.
The hawkish premier claimed that he had new "proof" via captured documents that Iran had developed a nuclear weapons plan, which could be activated at any time.
The Israeli leader's fresh claims were made as numerous reports by the International Atomic Energy Agency have already verified Iran's full commitment to its side of the bargain
Netanyahu's accusations came as US President Donald Trump is considering pulling out of the 2015 nuclear accord as a May 12 deadline approaches.
Trump is a stern critic of the nuclear deal, reached under his predecessor Barack Obama, and has repeatedly warned that he might ultimately terminate the agreement.
He said on January 12 that he wanted America's European allies to use the 120-day period before sanctions relief again came up to agree on tougher measures and new conditions; otherwise Washington would pull out of the deal.
Iran has on numerous occasions asserted that its nuclear program is merely peaceful and not meant to make nukes.
Full report at:
http://www.presstv.com/Detail/2018/05/02/560343/UK-Boris-Johnson-Iran-nuclear-deal-Benjamin-Netanyahu
-------
URL: https://www.newageislam.com/islamic-world-news/saudi-arabia-build-churches-christian/d/115134
New Age Islam, Islam Online, Islamic Website, African Muslim News, Arab World News, South Asia News, Indian Muslim News, World Muslim News, Women in Islam, Islamic Feminism, Arab Women, Women In Arab, Islamophobia in America, Muslim Women in West, Islam Women and Feminism