New Age Islam News Bureau
10 May 2014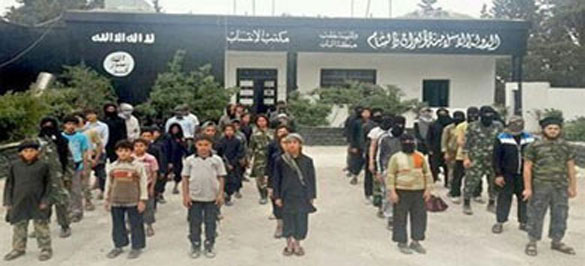 Published photo of young boys lined up in front of a "membership office" for ISIL, in the Syrian town of Al-Bab
----------
Arab World
• Saudi Arabia's Top Cleric Says Nigeria's Boko Haram Smears Islam
• ISIL Enlisting Syria Children to Defend Seized Region
• Violence kills 16 in Iraq soon after parliamentary election
• World's Largest Muslim Body, OIC, Says Girls' Kidnap Un-Islamic
• Syrian Army Discovers Mass Graves in Old Homs City
• Deadly attack launched on Iraq's Fallujah
• 12 Bahraini Protesters Sentenced over 100 Years in Prison
• Report: Saudi men exploiting Syrian refugees
• Syrian Army Only Few Steps Away from Full Control over Aleppo Central Prison
Africa
• Nigerian kidnapped schoolgirls: Boko Haram 'split girls into four groups'
• 'Boko Haram's Activities Un-Islamic': Muslim Students Society of Nigeria
• S. Sudan Signs Peace Deal With Rebels
• Rebel Prince Shines a Harsh Light on Morocco
• Senegalese Diplomat Extols Gambia's Religious Tolerance
South Asia
• Foreign rebels among 63 killed in Ghazni operations
• Afghanistan's first satellite starts formal operation
• 3 Afghan soldiers martyred in separate IED attacks
• 3 civilians die in Logar roadside bombing
• 'Bangladesh Illegal immigrant issue may end up hurting India's cause'
Pakistan
• Jamaat-e-Islami urges Muslim rulers to stop repression in Egypt and Bangladesh
• 'Islamic Shariah through armed struggle not justified in Pakistan'
• 'Democracy a threat for Imran, Tahir ul Qadri': Federal Minister
• Pakistani Taliban chief makes last-ditch bid to assert authority
• Pakistan declines to renew visas of Indian journalists
• Pakistan: CIA's Fake Vaccination Ploy to Hunt Bin Laden Sparked Polio Epidemic
• Pakistan's water crisis now at par with terrorism: report
• Those resorting to agitation are not serving cause to nation; Pak Punjab CM tells PM
• Pakistan opposes creation of new permanent seats at UNSC
• Elite class controls 95% of Pakistan's resources: Jamaat-e-Islami
• Lawyer for Pakistan doctor jailed over bin Laden hunt quits amid threats
India
• Lord Ram Imam of Muslims too, BJP tells EC
• A Diversified Muslim Vote, And Yearning for Change in Eastern UP
• Maldives seeks India's help for new naval base
• 2 Indian reporters told to leave Pak in a week
Europe
• A very French jihad: hundreds head to Syria and Paris fears their return
• Status of Chechens Rises in the Ranks of Middle East Jihadists
• Kyrgyzstan detains terrorist fighting on side of Syria's insurgents
• Death of Tatar Militant Unlikely to End Streak of Militancy in the Volga
• Nigeria military 'ignored schoolgirl kidnap warning': Amnesty
• 'Save us, Erdoğan!' Greek Cypriot businessman begs Turkish PM
• UN calls for Nigerian schoolgirl abductors to face justice
North America
• US to work with Pakistan on cross-border terrorism
• Brunei's harsh new legal code at odds with US goals
• Surveillance, discrimination stifling UT Muslim community
• U.S. hopeful to conclude Afghan-US security deal later this year: Burns
• Kerry's Mideast 'Failure' Was a Success
• 'Sharia law', education and tax cut bills reach Scott's desk
• The New York Times Whitewashes Anti-Israel Terrorism
Mideast
• Hamas MP: Jihad is the Only Way to Liberate Palestine
• Gaza Sees Islamic Jihad Popularity Increasing
• Yemen Shia community falls prey to globalisation games
• Pro-Hamas newspaper back on sale in West Bank in new unity step
• Fatah Agrees to Release All Hamas Prisoners
• Yemen: Terrorists Attack Presidential Palace, Kill 5 Guards
Southeast Asia
• Drop Islamist card if you want to be a real democracy, The Economist tells Putrajaya
• We want to focus on Hudud, says MCA on avoiding Bukit Gelugor by-election
Compiled by New Age Islam News Bureau
URL: https://newageislam.com/islamic-world-news/new-age-islam-news-bureau/saudi-arabia-s-top-cleric-says-nigeria-s-boko-haram-smears-islam/d/76961
------------
Arab World
Saudi Arabia's Top Cleric Says Nigeria's Boko Haram Smears Islam
May 10, 2014
(Reuters) - Saudi Arabia's grand mufti, the top religious authority in the birthplace of Islam, has condemned Nigeria's Boko Haram as a group "set up to smear the image of Islam" and condemned its kidnapping of over 200 schoolgirls.
Sheikh Abdulaziz Al al-Sheikh said the radical movement, which says it wants to establish a "pure" Islamic state in Nigeria, was "misguided" and should be "shown their wrong path and be made to reject it."
His remarks came as religious leaders in the Muslim world, who often do not comment on militant violence, joined in denouncing Boko Haram leader Abubakar Shekau for saying Allah had told him to sell off the kidnapped girls as forced brides.
"This is a group that has been set up to smear the image of Islam and must be offered advice, shown their wrong path and be made to reject it," he told the Arabic-language newspaper al-Hayat in an interview published on Friday.
"These groups are not on the right path because Islam is against kidnapping, killing and aggression," he said. "Marrying kidnapped girls is not permitted."
Boko Haram militants kidnapped some 250 girls on April 14 from a secondary school in Chibok village, near the Cameroon border, while they took exams. Fifty have since escaped.
Shekau's video was released on Monday, sparking a wave of revulsion in Nigeria and abroad and prompting offers of help from countries such as the United States, Britain and France to search for them.
Boko Haram has led a five-year-old insurgency with the stated aim of reviving a medieval Islamic caliphate in modern Nigeria, whose 170 million people are split roughly evenly between Christians and Muslims.
Its violent attacks have become by far the biggest security threat to Africa's top oil producer and it has spread out to menace the neighboring countries of Cameroon, Niger and Chad.
On Thursday, Islamic scholars and human rights officials of the Organization of Islamic Cooperation, the world's largest Muslim body representing 57 countries, denounced the kidnapping as "a gross misinterpretation of Islam".
This week, Al-Azhar, the prestigious Cairo-based seat of Sunni learning, also said that the kidnapping "has nothing to do with the tolerant and noble teachings of Islam."
http://www.reuters.com/article/2014/05/09/us-nigeria-girls-saudi-idUSBREA480MU20140509
------------
ISIL Enlisting Syria Children to Defend Seized Region
May 10, 2014
An Internet-based social media account that supports the Al-Qaeda-linked splinter group the Islamic State of Iraq and the Levant (ISIL) publicized a bid to recruit minors as armed insurgents in Syria's Aleppo province.
The Twitter account this week published a photo of young boys standing in front of a "membership office" for the terrorist group in the town of Al-Bab, The Daily Star reported on Saturday.
ISIL has occasionally been accused of recruiting underage boys into its ranks.
While ISIL has lost much of the territory it controlled in Aleppo province in the wake of a campaign against it since January by its Al-Qaeda rival, the al-Nusra Front, and an array of other foreign-backed insurgent groups, it continues to hold on to Al-Bab, near the Turkish border.
Britain-based opposition group, Syrian Observatory for Human Rights, said on Friday that the ISIL insurgents were engaged in fierce fighting against the alliance of armed rebels in the village of Abla in Northern rural Aleppo, in the latest bid to retake Al-Bab from ISIL.
The same Twitter account posted a photo of what it claimed to be a tank captured by ISIL, claiming that it was being used to attack rival insurgents.
http://english.farsnews.com/newstext.aspx?nn=13930220001070
------------
Violence kills 16 in Iraq soon after parliamentary election
May 10, 2014
Violence in Iraq, including shootings, a suicide attack and the shelling of a militant-held city, killed 16 people Saturday as officials continued to tally votes from last month's parliamentary election.
The bloodshed is part of the worst protracted surge in unrest since a brutal Sunni-Shiite sectarian war killed tens of thousands in 2006 and 2007, sparking fears Iraq may be slipping back into all-out conflict.
Shelling in Fallujah, which has been held by anti-government fighters for more than four months, killed 11 people and wounded 20, according to Dr Ahmed Shami of the city's main hospital, AFP reports.
The casualties come a day after Iraqi forces launched an operation to retake areas near the city, which lies just a short drive west of Baghdad, in preparation for an eventual assault.
Security forces claimed to have killed 50 militants in a series of operations around Fallujah Saturday, according to interior ministry spokesman Brigadier General Saad Maan, who added that they had also destroyed several insurgent hideouts.
For months, the authorities have trumpeted wide-ranging anti-militant operations, insisting they are making an impact, and have been quick to blame external factors such as the civil war in neighbouring Syria for the rise in bloodshed.
Elsewhere Saturday, a suicide bomber blew up a vehicle at a checkpoint in the town of Tarmiyah, north of Baghdad, killing at least three people.
And separate shootings in the northern province of Nineveh killed two others.
http://voiceofrussia.com/news/2014_05_10/Violence-kills-16-in-Iraq-soon-after-parliamentary-election-4183/
-------------
World's Largest Muslim Body, OIC, Says Girls' Kidnap Un-Islamic
May 10, 2014
Islamic scholars and human rights officials of the world's largest Muslim organisation yesterday denounced the mass kidnapping of schoolgirls by the militant group Boko Haram as "a gross misinterpretation of Islam".
The statements from a research institute and human rights committee of the Organisation of Islamic Cooperation (OIC) echoed denunciations of the radical Islamist group by religious leaders and officials in Nigeria and several Muslim countries.
Boko Haram says it wants to establish a pure Islamic state in Nigeria and its leader Abubakar Shekau declared in a video on Monday that "Allah has instructed me to sell ... on the market" the more than 200 girls abducted from their school on April 14.
That video appears to have prompted Islamic officials to speak out against Boko Haram's radical religious views.
"This crime and other crimes carried out by such extremist organisations negate all human principles and moral values and stand in contradiction to the clear teachings of the blessed Qur'an and the rightful examples set by the Prophet (Mohammad)," the OIC's International Islamic Fiqh Academy said.
"The secretariat of the academy, shocked by this ugly act, strongly demands the immediate release of these innocent girls without causing any harm to any of them," said a statement posted on the website of the academy in Jeddah, Saudi Arabia.
The OIC's human rights commission condemned "the barbaric act of abducting the innocent schoolgirls" and the "misguided claim of Boko Haram" that selling them as slaves was Islamic.
Jama'atu Nasril Islam, Nigeria's national umbrella group of Muslim organisations, denounced the kidnapping as an "act of barbarism" on April 16, shortly after it became known.
It also criticised Nigeria's security forces for allowing the abduction despite a state of emergency in force in Borno state, where it occurred, and a "huge amount of resources earmarked for security operatives."
International attention has grown as public anger mounts in Nigeria over the failure of government forces to find the girls.
Foreign countries including the United States, Britain and France have offered in recent days to help search for them.
This week, Al-Azhar, the prestigious Cairo-based seat of Sunni learning, said in a statement the kidnapping "has nothing to do with the tolerant and noble teachings of Islam." (Reuters)
http://allafrica.com/stories/201405092237.html
------------
Syrian Army Discovers Mass Graves in Old Homs City
May 10, 2014
The Syrian army has found mass graves of people killed in the old city of Homs after foreign-backed militants withdrew from there, media reports said.
The Syrian army found pile-ups of unidentified corpses in mass graves and a network of tunnels used by the terrorists in the old city of Homs to travel to different parts of the city, the Arabic-language Al-Ahd news website reported.
Meantime, the last group of militants, who declined to surrender to the Syrian army in the Old City of Homs, arrived in Al-Dar Al-Kabir according to an agreement signed between the UN and the Syrian government's reconciliation committee.
Homs is Syria's third largest city after the capital, Damascus, and Aleppo, The establishment of the city dates back to 3,000 BC and it contains many historical sites.
The Syrian army advanced in different parts of the Old City of Homs after the foreign-backed militants withdrew from there.
The army took the city on Thursday after the Militants began leaving the Old City of Homs Wednesday morning under the supervision of the UN delegation and the Syrian government's reconciliation committee.
Homs governor, the UN delegation and the reconciliation committee were in charge of the supervision room to monitor the implementation of Homs deal. The roads leading to besieged Nubbol and Zahraa towns have been opened to pave the way for the entry of aid.
The latest reports said residents of the city are now returning to their homes.
http://english.farsnews.com/newstext.aspx?nn=13930220000629
------------
Deadly attack launched on Iraq's Fallujah
10 May 2014
At least 11 people have been killed after a shelling had hit the Iraqi city of Fallujah on Saturday, Agence France-Presse reported.
Doctor Ahmed Shami of the city's main hospital told AFP 20 people were also wounded in the attack.
Security forces have launched an operation to retake areas near Fallujah, which has been held by anti-government fighters for more than four months.
But such an assault is unlikely to occur soon, as troops have struggled all year to regain territory in Anbar province from militants.
Full report at:
http://english.alarabiya.net/en/News/2014/05/10/Deadly-attack-launched-on-Iraq-s-Fallujah-.html
------------
12 Bahraini Protesters Sentenced over 100 Years in Prison
May 10, 2014
The Bahraini regime handed heavy prison sentences to 12 young protesters, a move the opposition groups described as "oppressive".
Two of the youths were sentenced to 15 years in prison, five were given 10 years and four others were handed 5 years in prison while a young protester got 3 years of imprisonment.
All young men were charged with cases related to the political crisis that has started about 3 years ago, the al-Wefaq National Islamic Society, the country's main opposition group, said on its official website.
Full report at:
http://www.tasnimnews.com/English/Home/Single/363963
-----------
Report: Saudi men exploiting Syrian refugees
May 10, 2014
As the conflict in Syria enters its fourth year, millions of displaced Syrians have sought refuge in neighboring countries, mainly Lebanon, Turkey and Iraq. Numerous reports coming out of Syrian refugee camps in Jordan have said female refugees are being courted by Saudi men who propose marriage by telling families they wish to take care of their daughters, only to disappear shortly after consummating the marriage, Makkah daily reported.
In Jordan's Al-Zaatari refugee camp, a family consultant from the settlement arranges the marriage for SR5,000 per bride and with so many Saudi men having disappeared officials at the Affairs Directory of the settlement said they were worried because "many of the women involved are of a very young age".
Full report at:
http://www.saudigazette.com.sa/index.cfm?method=home.regcon&contentid=20140510204632
------------
Syrian Army Only Few Steps Away from Full Control over Aleppo Central Prison
May 10, 2014
The Syrian army made major advances in Aleppo countryside in the last few hours and is now only a few hundred meters away from the Aleppo Central Prison.
Military observers believe that the army will soon come in control of the Aleppo Central Prison in the coming days as they are making continued advances in Aleppo countryside.
Also in the last 24 hours, a senior Syrian lawmaker announced that some major development would soon take place with regard to the army's advances in Aleppo countryside.
Syrian MP Ammar Asa'ad said that the army will soon regain full control of the different parts of Aleppo countryside.
Full report at:
http://english.farsnews.com/newstext.aspx?nn=13930220000508
------------
Africa
Nigerian kidnapped schoolgirls: Boko Haram 'split girls into four groups'
May 10, 2014
Intelligence sources believe girls kidnapped from a school in Nigeria may have been split into four groups after they were taken by militant Islamist group Boko Haram, making finding them an increasingly difficult task.
Sources claim British and American officials are using advanced eavesdropping equipment to scan the Sambisa forest where the girls are believed to be, Sky News has reported.
Fifty-three girls have managed to escape Boko Haram's clutches but over 200 remain captive after being abducted from a secondary school in Chibok in remote northeastern Nigeria on 14 April.
The terror group's leader Abubakar Shekau claimed responsibility for their abductions in a video, where he threatened to sell the girls off as slaves. A further eight school girls were abducted from a Nigerian village by the group this week.
Full report at:
http://www.independent.co.uk/news/world/africa/nigerian-kidnapped-schoolgirls-boko-haram-split-girls-into-four-groups-9348860.html
-------------
''Boko Haram's Activities Un-Islamic': Muslim Students Society of Nigeria
May 10, 2014
The Muslim Students Society of Nigeria (MSSN), said the activi­ties of the insurgent group, Boko Haram, was un-Is­lamic and devilish.
The President of the group in the North, Malam Yusuf Arrigasiyyu, made the con­demnation in an interview with the News Agency of Nigeria (NAN) in Kaduna.
He also condemned the recent bombings at Nyanya in Abuja and the abduction of over 200 students by the insurgents.
"This bombing and kill­ing of innocent souls by the Boko Haram has to stop. The teaching of Boko Haram is not Islamic and they don't represent Islam, they are not Muslims. Islam is a religion of peace.''
He expressed the belief that the present security challenges facing the coun­try has some external influ­ences, which the government must look into.
Full report at:
http://sunnewsonline.com/new/?p=62680
------------
S. Sudan Signs Peace Deal With Rebels
May 10, 2014
The government of South Sudan has signed a peace deal in Addis Ababa to end one of the longest running rebellions in the country, the insurgency in Jonglei state led by David Yau Yau.
"This agreement should end the rebellion of the South Sudan Democratic Movement/Army-Cobra faction (SSDM/A-Cobra faction)" headed by Yau Yau, Dutch peace organization PAX, which facilitated months of talks between the government and rebels, said in a statement.
The peace deal comes as South Sudanese President Salva Kiir and his former vice president Riek Machar were due to meet in Addis Ababa for talks to end five months of fighting in South Sudan that has claimed thousands of lives and displaced more than a million people.
Nico Plooijer, director of the South Sudan program at PAX, said the key feature of the agreement between Yau Yau and Juba is the establishment of "a so-called Greater Pibor administrative area... that will give some form of self-rule to the area."
Full report at:
http://www.voanews.com/content/south-sudan-government-signs-peace-deal-with-yau-yau-rebels/1911603.html
------------
Rebel Prince Shines a Harsh Light on Morocco
May 10, 2014
PARIS — HE sat in the car, frozen with fear, as gunmen pointed rifles at his pregnant mother in the driver's seat beside him. They were rushing to the king's birthday party because they had heard there was a commotion. It was the summer of 1971, and the Moroccan Army killed over 100 party guests in its attempt to overthrow the monarchy. The gunmen spared the pregnant woman and her 7-year-old son. Later that day, the coup failed.
With his monarchy preserved, King Hassan II sharply tightened his grip on his subjects, including his own family.
It was a shift that the 7-year-old, Prince Moulay Hicham El Alaoui, still remembers well. The eldest son of the late King Hassan's only brother, Moulay Abdellah, he is also the first cousin of King Mohammed VI — making him third in line to the Moroccan throne.
Full report at:
http://www.nytimes.com/2014/05/10/world/africa/moroccos-rebel-prince.html?_r=0
-----------
Senegalese Diplomat Extols Gambia's Religious Tolerance
May 10, 2014
The Senegalese ambassador to The Gambia, Baboucarr Jagne, has extolled the country's unique religious tolerance that is manifested in virtually all major programmes, describing it as 'admirable'. He said the country has such a tolerant atmosphere that priests and imams are given equal platform at occasions to say prayers.
The ambassador was speaking Tuesday evening at the Serigne Touba Mosque in Bakau Newtown during the Third Annual Islamic Conference, organised by the Federation of Mourid Daira and Talibes in The Gambia.
The Conference, where matters of Muslims and humanity are discussed, is staged annually by the Mourid Community in The Gambia. This year's sermons were delivered by the grandson of Serigne Touba, Mam Morr Mbacke, a renowned Islamic scholar, who is also in charge of the sect's external affairs worldwide.
Full report at:
http://allafrica.com/stories/201405091819.html?viewall=1
------------
South Asia
Foreign rebels among 63 killed in Ghazni operations
May 10 2014
At least 63 militants including foreign rebels were killed during military operations in eastern Ghazni province of Afghanistan.
The interior ministry of Afghanistan following a statement said the operations were launched in Gilan district during the recent days which is still being conducted in in its various parts.
The statement further added that the Afghan national police, Afghan national army, Afghan local police and Afghan intelligence operatives are jointly conducting the operations.
At least 21 foreign rebels were among 63 militants were killed during the operations conducted in Mullah Jan, Hasan Tot, Banahir adn Por Dil villages, interior ministry said, adding that at least 41 militants were also injured during the operations.
The statement by interior ministry also added that Afghan security forces confiscated various types of heavy and light weapons, ammunition and explosives during the operations.
Afghan security forces destroyed three 4×4 vehicles belonging to the militants and seized 11 improvised explosive devices (IEDs) during the operations, the statement added.
http://www.khaama.com/foreign-rebels-among-63-killed-in-ghazni-operations-8047
------------
Afghanistan's first satellite starts formal operation
May 10 2014
Afghanistan's first satellite which was deployed into the orbit earlier this year has formally started its operations.
The announcement of the formal operation of Afghansat 1 was made during a conference attended by high level government officials including first vice president Mohammad Younus Qanooni.
Qanooni said the launch of Afghanistan's first satellite was vital for the future of Afghanistan as Afghansat 1 will further pave the way to connect the Afghan people with the world.
According to the Ministry of Telecommunication and Information Technology of Afghanistan, the Afghansat-1 will provide digital broadcast services after it's formal launch.
Full report at:
http://www.khaama.com/afghanistans-first-satellite-starts-formal-operation-8049
------------
3 Afghan soldiers martyred in separate IED attacks
May 10 2014
At least three Afghan national army soldiers were killed in separate improvised explosive device (IED) attacks on Saturday.
Gen. Zahir Azimi, spokesman for the ministry of defense of Afghanistan said at least two Afghan national army soldiers were martyred in two separate IED attacks in western Ghor province of Afghanistan.
Gen. Azimi further added that four Afghan army soldiers were also injured following the attacks and their health codition has reported stable.
Full report at:
http://www.khaama.com/3-afghan-soldiers-martyred-in-separate-ied-attacks-8050
------------
3 civilians die in Logar roadside bombing
May 10 2014
At least three civilians were killed following an improvised explosive device (IED) attack in eastern Logar province of Afghanistan.
The incident took place early Saturday in Pul-e-Alam city of Logar province after a civilian vehicle struck with an improvised explosive device (IED).
Interior ministry officials said at least two civilians were also injured following the explosion which took place Pashtunabad area.
Full report at:
http://www.khaama.com/3-civilians-die-in-logar-roadside-bombing-8051
------------
'Bangladesh Illegal immigrant issue may end up hurting India's cause'
May 10, 2014
Political leaders and analysts say no matter who comes next to power in India, the leadership in New Delhi will maintain good relationship with Dhaka for its own interests.
"If India feels that it will have an unpleasant relationship with Bangladesh, it will affect New Delhi more than Dhaka," prime minister's Economic Adviser Mashi ur Rahman told the Dhaka Tribune recently.
Asked what New Delhi's policy would be if Narendra Modi became the Indian premier or any non-Congress coalition selected another person, he said: "I am not a soothsayer. We knew the BJP leadership when it formed the government last time, but we have less interaction with the current leadership.
Full report at:
http://www.dhakatribune.com/foreign-affairs/2014/may/10/%E2%80%98illegal-immigrant-issue-may-end-hurting-india%E2%80%99s-cause%E2%80%99#sthash.d9jXPRys.dpuf
-------------
Pakistan
Jamaat-e-Isami urges Muslim rulers to stop repression in Egypt and Bangladesh
May 10, 2014
LAHORE- Deputy Chief of the Jamaat e Isami Hafiz Muhammad Idrees, has impressed upon the Muslim rulers to play their role for ending state terrorism against the Islamic movements and mock trials of their leaders in Egypt and Bangladesh.
Addressing the Friday congregation at Mansoora mosque, he urged the OIC and the Rabita Alam e Islami to convene an urgent meeting of the Muslims rulers and plan a common strategy to stop the unlawful and unconstitutional measures of Egyptian General Sisi under US and Israel's patronage.
Hafiz Muhammad Idrees counseled the Pakistani rulers to abandon the idea of army operation against the Taliban and adopt a serious attitude to ensure the success of talks. He warned that another army operation would undo the headway made so far and lead to disastrous consequences.
Full report at:
http://www.nation.com.pk/national/09-May-2014/ji-urges-muslims-rulers-to-stop-repression-in-egypt-bangladesh
------------
'Islamic Shariah through armed struggle not justified in Pakistan'
May 10, 2014
PESHAWAR – Jamaat-e-Islami chief Siraj ul Haq has said that enforcement of Shariah (Islamic laws) through armed struggle is not justified because where there is democratic order in place and power corridors can be reached through ballot then bringing the change through bullet is not lawful.
"In Pakistan, dawaat and tableegh (preaching) is open. There are no restrictions on public meetings and processions and any one can reach corridor of power through ballot. So there should be no need to launch any armed movement," he told BBC here on Saturday.
When asked some time back Jamaat too believed in armed struggle but it has now spurned this policy, he said that not only Jamaat but the entire nation had jointly supported Afghan jihad against Russia. "Jihad is an ocean which has multiple meaning. Waging war against poverty, ignorance and price hike is jihad too," he said.
Full report at:
http://www.dailytimes.com.pk/national/10-May-2014/shariah-thru-armed-struggle-not-justified
------------
'Democracy a threat for Imran, Tahir ul Qadri': Federal Minister
May 10, 2014
LAHORE – Federal Minister for Information and Broadcasting Pervaiz Rashid on Saturday said that democracy has no threats from protests but democracy is a threat for Imran Khan and Tahir ul Qadri.
Speaking to journalists' here' the minister said that proposed protest by the Pakistan Tehreek-e-Insaf and Dr Tahir ul Qadri was their democratic right. He said that PTI leadership has not been matured in line with the democratic values. He said that the political parties should protest in a democratic way.
He said PTI and Dr Qadri should adopt democratic way for pressing for their demands. Rashid said that Tahir ul Qadri' the chief of Minhaj ul Quran' should return to Pakistan from Canada if he wants to serve people. He said Sheikh-ul-Islam faces difficulties when coming from Canada while another Sheikh [Shiekh Rasheed] faces difficulties when leaving for Canada, he said.
Full report at:
http://www.dailytimes.com.pk/national/10-May-2014/democracy-a-threat-for-imran-qadri
------------
Pakistani Taliban chief makes last-ditch bid to assert authority
Reuters | May 10, 2014
PESHAWAR, Pakistan: The head of the Pakistani Taliban is making a last-ditch bid to stamp his authority on the increasingly divided insurgency by ordering a top commander sacked, Taliban sources said on Saturday.
Taliban head Maulana Fazlullah moved against Khan "Sajna" Said on Friday after weeks of bloody infighting in the powerful Mehsud tribe that supplies the bulk of the Pakistani Taliban fighters, they said. Scores of men have been killed.
The risk for Fazlullah is that Said might ignore him and battle on. Said is trying to wrest control of the Mehsud tribe — with its many weapons and lucrative smuggling routes and extortion business — from rival Shehryar Mehsud.
Full report at:
http://timesofindia.indiatimes.com/world/pakistan/Pakistani-Taliban-chief-makes-last-ditch-bid-to-assert-authority/articleshow/34933618.cms?
-------------
Pakistan declines to renew visas of Indian journalists
May 10, 2014
NEW YORK: Pakistan has declined to renew the visas of the only two Indian journalists based there, The Wall Street Journal reported Friday, citing a government official. The two have been told they must leave the country within a week, the newspaper said
Meena Menon of the Hindu newspaper and Snehesh Philip of Press Trust of India were informed Thursday by the director of the External Publicity Wing, a department within the Ministry of Information that deals with foreign journalists, that their visas wouldn't be renewed, the report said.
An official at the External Publicity wing, Altaf Hussain, would say only that a statement about the visas of the two Indian journalists would be forthcoming later from the Ministry of Interior. The Ministry couldn't immediately be reached for comment.
Full report at:
http://www.nation.com.pk/national/10-May-2014/pakistan-declines-to-renew-visas-of-indian-journalists
----------
Pakistan: CIA's Fake Vaccination Ploy to Hunt Bin Laden Sparked Polio Epidemic
May 10, 2014
A Pakistani official slammed the CIA's fake vaccination drive in 2011 for fueling distrust of polio eradication campaigns and driving "attacks on polio workers" as the country grapples with an outbreak of this highly infectious disease.
Speaking to reporters at a press briefing, a spokesperson for Pakistan's Ministry of Foreign Affairs took direct aim at the CIA's false vaccination campaign, which was conducted as part of the hunt for Osama Bin Ladin and exposed by the Guardian in 2011.
Full report at:
http://www.commondreams.org/headline/2014/05/09-5
------------
Pakistan's water crisis now at par with terrorism: report
May 10, 2014
ISLAMABAD: Pakistan's water crisis is now at par with terrorism in terms of being an existential threat to the country's security.
This was the major concern raised by respondents, interviewed for Islamabad based think tank Jinnah Institute (JI)'s latest research report "Pakistan's Water Discourse: Attitudes on Water Management Practices", launched on Friday.
The Jinnah Institute report collated perceptions of a wide range of policy stakeholders on the political economy of water management practices in Pakistan.
According to the report, insufficient water storage capacity has greatly impacted the availability of water, while public debate on developing new infrastructure has stalemated in recent years.
Full report at:
http://www.dawn.com/news/1105248/pakistans-water-crisis-now-at-par-with-terrorism-report
------------
Those resorting to agitation are not serving cause to nation; Pak Punjab CM tells PM
May 10, 2014
LAHORE- Punjab Chief Minister Shahbaz Sharif called on Prime Minister Nawaz Sharif in Lahore today and discussed overall political situation.
In his remarks, Shahbaz Sharif said those resorting to agitation are not serving cause of the nation. He further added, though protest is a beauty of democracy yet nobody will be allowed to take law into his hand.
http://www.nation.com.pk/national/10-May-2014/those-resorting-to-agitation-are-not-serving-cause-to-nation-cm-tells-pm
------------
Pakistan opposes creation of new permanent seats at UNSC
May 10, 2014
Permanent representative of Pakistan at the United Nations Masood Khan said that Pakistan opposes the creation new permanent seat at the United Nations Security Council (UNSC).
"We are against the creation of permanent seats and new centers of privilege," said Khan.
Speaking at the United Nations Inter-Governmental Negotiations (IGN) on Security Council Reform, Pakistani envoy said that the G-4 countries, namely Brazil, India, Germany and Japan, are the real minority, four countries, no more no less. The G-4 wants all the other countries to support their exaltation to the Council as permanent members, as they think that they are now akin to the existing P-5.
The envoy said that the G-4 thinks that "they are now rich and powerful and therefore would want to join the rich countries' elite club".
He further alleges that, "by entering into the Council as permanent members, they also want to qualify for unwritten advantages and privileges such as overrepresentation in UN bodies, Specialised Agencies and the Secretariat."
Full report at:
http://tribune.com.pk/story/706346/pakistan-opposes-creation-of-new-permanent-seats-at-unsc/
------------
Elite class controls 95% of Pakistan's resources: Jamaat-e-Islami
May 10, 2014
PESHAWAR: The elite class has taken control of 95% of the resources of the country, claimed Jamaat-e-Islami (JI) ameer Sirajul Haq during a press conference in Peshawar on Saturday.
He also remarked that overseas Pakistanis send money to Pakistan but the elite class sends it back to the foreign banks.
Speaking about corruption prevalent in Pakistan, the JI ameer stated that the corruption needed to be stopped and if it was brought under control there will be no need to take loans from the World Bank or the International Monetary Fund.
Full report at:
http://tribune.com.pk/story/706658/handful-of-elite-class-controls-95-of-pakistans-resources-sirajul-haq/
-------------
Lawyer for Pakistan doctor jailed over bin Laden hunt quits amid threats
Reuters | May 10, 2014
ISLAMABAD: The lawyer defending a Pakistani doctor jailed after helping the CIA find Osama bin Laden is quitting the case because of death threats and alleged US interference in the trial, the lawyer said Saturday.
"I am getting threats on a regular basis. Not only is my life in danger, my family is also in danger. I have therefore decided to quit," lawyer Samiullah Afridi said.
Afridi is representing Dr Shakil Afridi, who was jailed for 33 years after helping the CIA find the al-Qaida chief. Bin Laden was hiding in Pakistan until US Navy Seals killed him in a 2011 raid.
Full report at:
http://timesofindia.indiatimes.com/world/pakistan/Lawyer-for-Pakistan-doctor-jailed-over-bin-Laden-hunt-quits-amid-threats/articleshow/34933805.cms
------------
India
Lord Ram imam of Muslims too, BJP tells EC
Arshad Afzal Khan,TNN | May 10, 2014
FAIZABAD: The famous couplet by the great Urdu poet Allama Iqbal, "Hai Ram Ke Wajood Pe Hindustan Ko Naaz, Ahle Nazar Samajhte Hain Unko Imam-e-Hind (India is proud of Ram's being and people of wisdom consider him the leader of India)", have put the Faizabad district administration in a fix.
In its reply to a show-cause notice on using Lord Ram's picture as background on the stage from where Narendra Modi addressed a rally in Faizabad, the BJP has stated that the deity is not related to any religion or caste but a historical and cultural figure. It said Ram, Sita and Lakshman were mentioned in the original Indian constitution.
The Election Commission had issued a show-cause notice to BJP's Faizabad candidate Lallu Singh for displaying the photograph of the controversial Ram temple alongside a large picture of Lord Ram in the backdrop of the stage from where Modi addressed a rally and invoked his name repeatedly.
Full report at:
http://timesofindia.indiatimes.com/home/lok-sabha-elections-2014/news/Lord-Ram-imam-of-Muslims-too-BJP-tells-EC/articleshow/34896026.cms
------------
A Diversified Muslim Vote, And Yearning for Change in Eastern UP
May 10, 2014
In the face of stereotypes of the "Hindu" and "Muslim" voter, consider the following:
* All of the 11 Muslim candidates fielded by the SP — considered the biggest party of Muslims in UP — lost in the state in 2009. Murli Manohar Joshi scraped through by just 17,000 votes in the "Hindu" seat of Varanasi. Had he not got nearly 20,000 Shia votes, he would probably have lost.
* While a majority of Muslims doubtless vote against the BJP, no party from among the SP, BSP and Congress can claim definitively that at any particular seat all Muslims had rallied for any one candidate. In Azamgarh, for example, it seems unlikely that the entire Muslim vote would choose from one among Mulayam Singh Yadav and the BSP's Guddu Jamali only to defeat the BJP's Ramashankar Yadav. And in Varanasi, Muslims are sometimes irritated when asked if they would heed the joint call of Congress and Qaumi Ekta Dal's Afzal Ansari to unite against Modi.
Full report at:
http://indianexpress.com/article/india/politics/a-diversified-muslim-vote-and-yearning-for-change-in-poorvanchal/2/
------------
Maldives seeks India's help for new naval base
Written by Manu Pubby | New Delhi | May 10, 2014
Maldives has requested for Indian cooperation in developing an ambitious new naval base near its capital city of Male, a project that is considered to be central to its defence forces.
The request for assistance in developing a new base at Uthuru Thila Falhu (UTF) is being considered by New Delhi.
The new dockyard, expected to cost more than Rs 3,000 crore, is to be located a few miles northwest of Male and would involve setting up of berthing facilities, repair stations as well as a training facility and housing complex for troops.
Full report at:
http://indianexpress.com/article/india/india-others/maldives-seeks-indias-help-for-new-naval-base/
------------
2 Indian reporters told to leave Pak in a week
Written by Shubhajit Roy | New Delhi | May 10, 2014
Two Indian journalists based in Islamabad have been asked to leave Pakistan in a week's time after their visas were not renewed for the last two months. No reasons have been given for the move.
The Pakistani High Commission in New Delhi said it had not received any communication from the foreign ministry in Islamabad on this issue. There was no official word from the Ministry of External Affairs in Delhi either.
The two journalists, Snehesh Alex Philip from the Press Trust of India and Meena Menon from The Hindu, were "verbally" told by the Pakistani foreign ministry Thursday that they should leave the country "within a week", it is learnt.
Full report at:
http://indianexpress.com/article/india/india-others/2-indian-reporters-told-to-leave-pak-in-a-week/
-----------
Europe
A very French jihad: hundreds head to Syria and Paris fears their return
May 10, 2014
To date, approximately 500 jihadi fighters in Syria have come from France, making it the leading European supplier of insurgents to the Syrian conflict. In response, the French authorities have adopted a new strategy to fight against jihadist "recruitment" – but it is likely to run aground.
French jihadism has its roots in the Algerian civil war (1992-2002), when the more radical ideas of the Algerian islamists began to spread across the Mediterranean. In 1993, the Armed Islamic Group (GIA) was formed; a year later, on Christmas Eve 1994, it hijacked Air France flight 8969. It continued its program of terror by recruiting French youths to launch terrorist attacks on home soil.
This era marked the appearance of a whole new generation of young French people and long-time residents who embraced the jihadist cause, sometimes joining the ranks of al-Qaeda, especially after 9-11. Their cause was to fight against France and its allies, and their main motive was a sense of resentment and vengeance. They wanted to "punish" France because of its military presence in Afghanistan and its support of dictatorial regimes throughout the Arab and Muslim world; then came France's "anti-veil" legislation in 2003, which attracted jihadist threats from all over the world.
Full report at:
http://theconversation.com/a-very-french-jihad-hundreds-head-to-syria-and-paris-fears-their-return-26077
------------
Status of Chechens Rises in the Ranks of Middle East Jihadists
May 10, 2014
The Russian media, citing Agence France-Presse (AFP), recently reported that Yemeni authorities killed a militant named Abu Islam al-Shizani in the south of the country. His name was probably a distortion of Shishani, which usually means Chechen in Arabic. The slain militant had allegedly earlier fought in Chechnya and was killed along with four accomplices in a counter-terrorist operation against members of al-Qaeda in the Arabian Peninsula (AQAP). The United States considers this branch of the global jihadi network particularly dangerous (http://www.gazeta.ru/politics/news/2014/05/03/n_6127297.shtml). Following tradition, the Russian media turned the militant into "a leader of al-Qaeda" even though the French news agency called him simply a militant.
Full report at:
Jamestown Foundation'
------------
Kyrgyzstan detains terrorist fighting on side of Syria's insurgents
May 10, 2014
The Osh police in southern Kyrgyzstan has apprehended a terrorist organization member who fought on the side of insurgents in Syria, Suyun Kurbanov from the southern department of the Kyrgyz Interior Ministry told Interfax on Saturday.
The police detected that the 37-year-old resident of the Kara-Sui region in the Osh region departed for Syria last October and returned home in April 2014, he said.
"We have found out that he was trained and engaged in the hostilities on the side of the organization Jabhat al-Nusra," he continued.
In the words of Kurbanov, all materials concerning the suspected terrorist were handed over to the investigative body of the State Committee for National Security department in Osh and the Osh region and a criminal case was opened.
Osh Region Prosecutor Aibek Turganbayev told Interfax the criminal case was opened under Article 375 of the Kyrgyz Criminal Code (mercenary activity).
http://voiceofrussia.com/news/2014_05_10/Kyrgyzstan-detains-terrorist-fighting-on-side-of-Syrias-insurgents-6304/
-------------
Death of Tatar Militant Unlikely to End Streak of Militancy in the Volga
May 10, 2014
On September 24, 2006, almost immediately after Doku Umarov was appointed president of Ichkeria, he started reviewing the structure of the armed jihadi insurgency in Russia. Umarov merged his few jihadi subordinates in the Volga and the Ural regions with the North Caucasian militancy, establishing new fronts—the Volga and Ural fronts—which were subordinated to him directly (http://www.kommersant.ru/doc/709250).
The selection of these areas was not arbitrary, given that both have Tatar minorities. Having established an illusory joint command with the Tatars, Umarov did not simply expand the territory of the insurgency, but united various ethnic groups on the basis of Islam. Thus, in September 2007, Ichkeria was transformed into the Caucasus Emirate. It was apparently Shamil Basaev who launched the creation of the jamaats in Tatarstan at the beginning of the second Russian-Chechen war in 1999. Basaev believed the Tatar jamaats would tie up Russia's resources, deflecting it from the North Caucasus (http://www.kazan-center.ru/osnovnye-razdely/14/163/). The jihadists of the Volga and Ural regions, formally or not, agreed to their merger with the North Caucasian armed resistance.
Full report at:
Jamestown Foundation
------------
Nigeria military 'ignored schoolgirl kidnap warning': Amnesty
May 10, 2014
ABUJA: Nigeria's military was warned of an attack on a school in which more than 200 girls were abducted by Boko Haram militants but failed to act for nearly five hours, Amnesty International said Friday.
The allegation, which the military has denied, came as US, British and French experts arrived on the ground to help trace the schoolgirls and Nigeria said a round-the-clock search was under way.
At least 10 army search teams were trying to track down the girls in the remote far northeast, border guards were on high alert and the air force had so far flown at least 250 sorties.
Nigeria is keen to demonstrate that it is finally acting to trace the 223 girls still missing, after three weeks where the teenagers' parents and families accused them of inaction and indifference.
Full report at:
http://tribune.com.pk/story/706657/nigeria-military-ignored-schoolgirl-kidnap-warning-amnesty/
------------
'Save us, Erdoğan!' Greek Cypriot businessman begs Turkish PM
May 10, 2014
A Greek Cypriot businessman has urged Turkish Prime Minister Recep Tayyip Erdoğan "to save" him from the Greek Cypriot government in the south.
Leondis Hristou, 56, who has a bus and taxi business, addressed Erdoğan as "the guarantor of the Republic of Cyprus" in a letter to the Turkish prime minister.
"I am the father of four kids. The state has been torturing me economically for years. I have two taxis and I bought 20 buses, getting into debt. I wanted to carry tourists between Limassol and Larnaca, but they won't allow it. [Greek Cypriot authorities in the south] also canceled my previous licenses," Hristou said in the letter.
Full report at:
http://www.hurriyetdailynews.com/save-us-erdogan-greek-cypriot-businessman-begs-turkish-pm.aspx?pageID=238&nID=66279&NewsCatID=351
-------------
UN calls for Nigerian schoolgirl abductors to face justice
May 10, 2014
The UN Security Council called on Friday for the Nigerian terrorist group Boko Haram, which is holding 276 schoolgirls hostage, to be held accountable for what may amount to crimes against humanity.
The statement approved by all 15 council members was the strongest by the UN's most powerful body on terrorist attacks in Nigeria.
The council expressed "profound outrage" at Boko Haram's abduction of 276 schoolgirls on April 14 and eight girls on May 5, and demanded their immediate and unconditional release. It also strongly condemned a May 5 attack that caused hundreds of deaths and injuries.
The council said terrorist attacks conducted by Boko Haram since 2009 "have caused large-scale and devastating loss of life and represent a threat to the stability and peace of west and central Africa."
Full report at:
http://www.france24.com/en/20140510-un-nigeria-schoolgirl-abductors-sanctions-obama-amnesty/
------------
North America
US to work with Pakistan on cross-border terrorism
May 10, 2014
Washington- The US has said, it will continue to work with Pakistan to combat cross-border militancy and shut down safe havens of terrorists in the country's tribal areas.
"Countering cross-border militancy and shutting down safe havens is critical not only for Pakistan's long-term peace and prosperity, but also for positive relations between Pakistan and all of its neighbours, including Afghanistan," State department spokesperson Jen Psaki said yesterday. "So we appreciate the efforts of Pakistan in this regard, but obviously this is an issue we'll continue to work on," she said.
Earlier, Deputy Secretary of State William Burns concluded his day-long visit to Pakistan, during which he met Prime Minister Nawaz Sharif and discussed a range of issues, including cross border terrorism and terrorist safe havens.
Full report at:
http://www.nation.com.pk/national/10-May-2014/us-to-work-with-pak-on-cross-border-terrorism
------------
Brunei's harsh new legal code at odds with US goals
May 10, 2014
WASHINGTON — John Kerry has gone to great lengths since becoming secretary of state to court the sultan of Brunei, the leader of a small but strategically important nation in Southeast Asia. Kerry has traveled twice to Brunei and lauded the "Abode of Peace," a reference to the country's name.
But in an awkward development, Brunei officials announced last month they will be implementing a form of strict Islamic law that could result in a gay person being stoned to death as punishment for a homosexual act. The death penalty could also be applied for getting pregnant outside marriage, drinking alcohol, or insulting Mohammed, the prophet of Islam.
Full report at:
http://www.bostonglobe.com/news/nation/2014/05/08/backlash-over-islamic-law-adopted- ------------
Surveillance, discrimination stifling UT Muslim community
May 10, 2014
Three weeks ago, the New York City Police Department curtailed its surveillance program that devoted a special task force to surveil Muslims and their communities. This program was criticized for its indiscriminate surveillance of Muslims. The news of NYPD's decision to curtail its surveillance program was commended by the general public; however, the Muslim community has little reason to celebrate since the police will continue the use of "undercover informants" to gather intelligence on Muslims deemed worthy of investigation. This breach of privacy in spaces including mosques, an intimate place of prayer for Muslims, is just another example of why fear has become commonplace in the Muslim community, including the community here at UT.
Full report at:
http://www.dailytexanonline.com/opinion/2014/05/07/surveillance-and-discrimination-stifling-the-ut-muslim-community
------------
U.S. hopeful to conclude Afghan-US security deal later this year: Burns
May 10 2014
The Deputy US Secretary of State William J. Burns said Washington remains hopeful to conclude the bilateral security agreement between Kabul and Washington later this year.
Mr. Burns made the comments during a visit to Islamabad where he met with the high level Pakistani officials including Prime Minister Nawaz Sharif.
He said the bilateral security agreement will enable Washington to to continue to train, advise, and assist Afghan forces and go after the remnants of core al-Qa'ida.
Burns said this is deeply in our interest and in the interest of Afghanistan, Pakistan, and the rest of South and Central Asia.
Full report at:
http://www.khaama.com/u-s-hopeful-to-conclude-afghan-us-security-deal-later-this-year-burns-8046
------------
Kerry's Mideast 'Failure' Was a Success
May 10, 2014
JERUSALEM — John Kerry's April 29 deadline came and went, and an Israeli-Palestinian peace accord was not reached. It's doubtful whether the two sides are any closer today to an accord than they were nine months ago, when an arbitrary deadline was set for the end of April by which something was supposed to happen — and did not. Many consider this a failure. But it's actually, in a way, a success.
Back in December, halfway into the negotiation, when it was already clear that the parties would have difficulties agreeing on much, Mr. Kerry, the architect of the talks, was still hopeful that "we can achieve that final-status agreement" between Israel and the Palestinians. Israelis and Palestinians were wondering whether they should admire Mr. Kerry for his doggedness, or consider him a fool.
Full report at:
http://www.nytimes.com/2014/05/10/opinion/rosner-kerrys-mideast-failure-was-a-success.html?partner=rss&emc=rss
------------
'Sharia law', education and tax cut bills reach Scott's desk
May 10, 2014
Legislation to allow qualified undocumented immigrants to become lawyers, allow local school districts to select textbooks and cut taxes by $105 million were among the 58 bills officially sent to Gov. Rick Scott on Thursday.
He has 15 days to make a decision on the bills. If he opts not to veto or sign a particular bill, it becomes law automatically after that deadline.
Here's a look at some of the major bills Scott received Thursday:
HB 5601 - Bail bondsmen, cement trucks, prepaid phone plans were included in the $105 tax cut package. The three-day back-to-school sales tax holiday, 12-day hurricane preparedness sales tax holiday and three-day energy-efficient appliances sales tax holiday were also part of the package.
Full report at:
http://www.thefloridacurrent.com/article.cfm?id=37560607
------------
The New York Times Whitewashes Anti-Israel Terrorism
May 10, 2014
A day before Yom Hazikaron, Israel's Memorial Day, when the country mourns its fallen soldiers and victims of terrorism, The New York Times featured a prominent article about Islamic Jihad, the notorious Palestinian terrorist organization responsible for dozens of deadly attacks on Israeli civilians.
Islamic Jihad's claim to fame is its introduction and continued use of suicide attacks against Israelis, including gruesome attacks at Jerusalem's Sbarro pizzeria, Haifa's Maxim restaurant, the central bus stations in Hadera and Tel Aviv, and numerous other bombings in shopping malls, open-air markets, restaurants, buses and train stations — attacks responsible for the deaths of hundreds of Israelis and for wounding more than 1000 others. The group's primary targets are Israeli men, women and children going about their daily lives in public areas. It therefore seemed timely to profile Islamic Jihad, responsible for so many of Israel's terror victims, just before Yom Hazikaron.
Full report at:
http://www.algemeiner.com/2014/05/07/the-new-york-times-whitewashes-anti-israel-terrorism/
-------------
Mideast
Hamas MP: Jihad is the Only Way to Liberate Palestine
May 10, 2014
A lawmaker for the Hamas terrorist group which runs Gaza recently called for jihad against Israel in a Friday sermon.
The lawmaker, Ahmad Abu Halabiya, said that jihad that this is the "one and only path" to conquer the Al-Aqsa Mosque and to liberate Jerusalem and "Palestine."
"Negotiations and concessions are futile, a waste of time," he said in the sermon, which was broadcast on the Hamas Al-Aqsa TV channel on April 18 and translated and released Thursday by the Middle East Media Research Insitute (MEMRI).
"This is the path to the conquest of the Al-Aqsa Mosque and Jerusalem. The path of liberation is the path of the Kurdish Muslim leader Saladin," Halabiya said during the sermon. "He liberated the Al-Aqsa Mosque from the Crusaders, after 90 years of occupation, during which they turned it into stables, and slaughtered tens of thousands of Muslims in its courtyard. Their pure blood was shed on the ground at the blessed Al-Aqsa Mosque. But Saladin and the Muslims who were with him liberated that blessed Al-Aqsa Mosque, just as they liberated Jerusalem and Palestine."
Full report at:
http://www.israelnationalnews.com/News/News.aspx/180431#.U26D34FdU4U
------------
Gaza Sees Islamic Jihad Popularity Increasing
May 10, 2014
Islamic Jihad has been having something of a renaissance in Gaza. Islamic Jihad is smaller and less known internationally than the militant Islamic Hamas faction, who has ruled Gaza since 2007, but the group captured global headlines last month by firing a barrage of 100 rockets toward Israel in less than an hour. According to polls taken in the region, support for Islamic Jihad among residents of Gaza has seen an uptick as the group has built health clinics, opened schools, and expanded its family-mediation services. However, its popularity still remains far below that of the leading political factions
Founded nearly a decade earlier than Hamas, Islamic Jihad has focused on military resistance to the Israeli occupation and shunned electoral politics. Islamic Jihad has maintained relations with Syria, Iran and Egypt over the years and increased its activity in Gaza substantially. The Al-Quds Brigades, the armed wing of Islamic Jihad, stand ready to respond to any Israeli incursions and protect the Palestinian people. It has been five years since an Israeli soldier has stepped on the soil of Gaza City.
Full report at:
http://www.mideasttime.com/gaza-sees-islamic-jihad-popularity-increasing/134465/
------------
Yemen Shia community falls prey to globalisation games
May 10, 2014
Although three years have passed since pro-democracy activists took to the streets of Tunis, Cairo, Manama and Sana'a to proclaim the birth of a new Middle Eastern world order, strong of the desire to see flourish modern democracy and social justice, and yet the entire region remains in the throes of unprecedented violence and bloodshed, engulfed in a cycle of savagery which seems to know no bound.
In the midst of such chaos stands Yemen, the poorest and most populous nation of the Arabian Peninsula. While Yemen has been hailed the world's over for its peaceful transition of power, branded a model of the Arab Spring movement for its political restraint and its officials' determination to bow to popular will, Yemen stands ever closer to the abyss, as nefarious political agendas could lay waste its social and religious equilibrium.
Full report at:
http://www.tehrantimes.com/component/content/article/52-guests/115605-yemen-shia-community-prey-globalization-games
------------
Pro-Hamas newspaper back on sale in West Bank in new unity step
May 10, 2014
RAMALLAH, West Bank - A pro-Islamist newspaper was sold in the West Bank on Saturday for the first time in seven years, another sign of a Palestinian unity pact that prompted Israel to suspend peace talks with Palestinian President Mahmoud Abbas.
His Palestinian Authority (PA) permitted printers to roll out the tabloid, "Falasteen", Arabic for Palestine, three days after Hamas Islamists in control of Gaza allowed a leading West Bank daily to be sold in their midst.
Abbas's Fatah movement and Hamas announced a unity pact on April 23, with the stated aim of forming a joint government in five weeks, angering Israel and spurring it to shelve already faltering peace talks soon after.
Full report at:
http://www.jpost.com/Middle-East/Pro-Hamas-newspaper-back-on-sale-in-West-Bank-in-new-unity-step-351834
------------
Fatah Agrees to Release All Hamas Prisoners
May 10, 2014
Reconciliation between Hamas and Fatah is apparently going well, despite the sharp rhetoric flying between the two groups, after Fatah agreed to release all Hamas terrorists in Palestinian Authority (PA) prisons as part of the deal.
Hamas spokesman Sami Abu Zuhri said in an interview with Palestine newspaper on Friday that Fatah had agreed to release all Hamas terrorists from prison - regardless of their crimes or current political affiliation.
Meanwhile, Hamas has allegedly jumped on board as well - allowing journalists from Fatah-backed papers Al-Quds and Al-Ayyam to enter Gaza and releasing Fatah prisoners held in Gaza over their own political affiliations.
Full report at:
http://www.israelnationalnews.com/News/News.aspx/180454#.U26FV4FdU4U
------------
Yemen: Terrorists Attack Presidential Palace, Kill 5 Guards
May 10, 2014
Suspected Al-Qaeda terrorists attacked Yemen's presidential palace on Friday, killing five guards and triggering a fierce gunfight as the jihadists hit back at an army offensive aimed at crushing them, AFP reported.
Yemen's President Abdrabuh Mansur Hadi was not at the palace in the capital when the gunmen attacked a checkpoint manned by guards outside the compound, a security source told the news agency.
Hadi, whose government has stepped up a war on the Arabian Peninsula country's Al-Qaeda offshoot, does not live in the palace and only uses it for meetings during the day.
Other guards were captured in the unprecedented attack on the checkpoint, the source added.
Full report at:
http://www.israelnationalnews.com/News/News.aspx/180463#.U26FM4FdU4U
------------
Southeast Asia
Drop Islamist card if you want to be a real democracy, The Economist tells Putrajaya
May 10, 2014
An international newsweekly has criticised Putrajaya for the escalating racial and religious tension in Malaysia, saying it has to drop the Islamist card and uphold the rule of law and human rights if it truly wants to be a democracy.
The Economist yesterday drew a comparison between Malaysia and Turkey and said while both considered themselves as moderating influences of Islam, they were rebuked for violating religious liberty by the United States Commission on International Religious Freedom.
"In the commission's latest annual report, the two countries were newly placed in 'Tier 2'. In other words, they are not quite on the list of 'countries of particular concern (CPC)' as egregious violators are described.
Full report at:
http://www.themalaysianinsider.com/malaysia/article/drop-the-islamist-card-if-you-want-to-be-a-real-democracy-economist-tells-p
------------
We want to focus on hudud, says MCA on avoiding Bukit Gelugor by-election
May 10, 2014
The MCA is not contesting the Bukit Gelugor by-election as it wants to focus on its fight to defend the Constitution, said its secretary-general Datuk Seri Ong Ka Chuan.
He said the party wanted to give full focus to the controversy sparked by PAS's push for the implementation of hudud law in Kelantan.
"We need to strive wholeheartedly to conduct activities to protect the Constitution.
"In consideration of the various issues that have arisen, MCA has decided not to contest.
"Although we will not be contesting, MCA will continue to serve the people... we hope the rakyat understands that MCA must make a correct decision at this critical time," he told a press conference in Penang today.
Ong said the decision has been relayed to Prime Minister Datuk Seri Najib Razak, who is also the Barisan Nasional chairman.
He said Najib had asked the party to state any positive factor for contesting in Bukit Gelugor but the party was hard put for an answer.
Full report at:
http://www.themalaysianinsider.com/malaysia/article/we-want-to-focus-on-hudud-says-mca-on-avoiding-bukit-gelugor-by-election
------------
URL: https://newageislam.com/islamic-world-news/new-age-islam-news-bureau/saudi-arabia-s-top-cleric-says-nigeria-s-boko-haram-smears-islam/d/76961