New Age Islam News Bureau
12 Apr 2019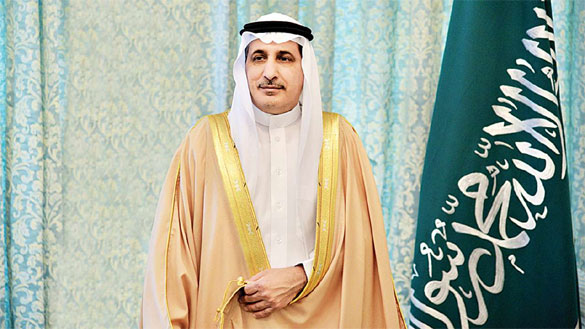 Saud bin Mohammed Al-Saty
---------
•
Saudi Arabia Never Funds Extremist Madrasas or Mosques: Saudi Ambassador to India
• 30 West Java's Young Ulema to Be Sent To Campaign for Peaceful Islam
• How Moderate Islam in Indonesia Counters the Religious Intolerance of Islamist Extremists
• Pope Kisses Feet of South Sudan Leaders, Urging Them to Keep the Peace
• Kurdish Commander: Abu Bakr Al-Baghdadi Sheltered in Turkey-Occupied Regions in Syria
• Ilhan Omar Sparks Controversy over Comments on 9/11, Muslim Civil Rights
• Good Taliban? UNSC Lifts Sanctions against Taliban Peace Negotiators
• NZ Man Admits Abusing Muslims At Christchurch Mosque
• 'Time Has Run Out': LHC Withdraws Amnesty Offered To TLP's Rizvi
India
• Saudi Arabia Never Funds Extremist Madrasas or Mosques: Saudi Ambassador to India
• BJP Minister Sanjeev Baliyan Tells Muslim Women to Remove Veil
• Inside Balakot Madrasa Struck By India: Pakistan Not Ready To Give up Secrets
--------
Southeast Asia
• 30 West Java's Young Ulema to Be Sent To Campaign for Peaceful Islam
• How Moderate Islam in Indonesia Counters the Religious Intolerance of Islamist Extremists
• China Gets Ultimatum to Lift 'Technical' Hold On Masood Azhar
• Indonesia election: in Prabowo versus Widodo, it's Islamic statehood versus tolerance
• Interfaith forum calls for peace, fraternity during election
• How Indonesia's president has tried to claw back voter support in Muslim heartland
--------
Africa
• Pope Kisses Feet of South Sudan Leaders, Urging Them to Keep the Peace
• Sudan's Security Service Announces Release of Political Prisoners
• Sudan Army Warns It Will Enforce Night-Time Curfew: State Media
• US suspends talks with Sudan after military ousts Bashir
• US, Europeans call for UN Security Council talks on Sudan
• UN chief urges ceasefire to avert 'bloody battle' for Tripoli
• Sudan: 13 protesters killed in clashes with police
• 56 killed in weeklong Libya clashes: UN health agency
--------
Arab World
• Kurdish Commander: Abu Bakr Al-Baghdadi Sheltered in Turkey-Occupied Regions in Syria
• Tahrir Al-Sham Attempting to Take Full Control of Demilitarized Zone
• Mass Grave of Several ISIL Victims Found in Eastern Syria
• US Army Terrorists Killed, Wounded in Suicide Blast in Hasaka
• Western States, US Footprints Found in Terrorists' Strongholds in Syria
• 31,000 Iraqis To Return Home Under Syrian Deal
• Sisi Keeps Watchful Eye On Al-Azhar's Growing Role Abroad
--------
North America
• Ilhan Omar Sparks Controversy over Comments on 9/11, Muslim Civil Rights
• US slaps sanctions on Lebanese 'money laundering' group
• Sudan army takes over amid growing calls for civilian rule
• US bars entry to Palestinian co-founder of BDS movement
• US: Omar attacked by Trump's son for 9/11 comments
• US sanctions 16 Saudis for Khashoggi killing
--------
South Asia
• Good Taliban? UNSC Lifts Sanctions against Taliban Peace Negotiators
• Taliban Announce Launch of Spring Offensive amid Peace Talks
• Rohingya children's school dreams hit stony ground
• Afghan forces storm major Taliban hideout, prison in Nangarhar province
• ISIS-K commander among 7 killed in U.S. drone strike in Kunar province
• Taliban ban WHO, Red Cross in Afghanistan, citing 'suspicious' activity
--------
Europe
• NZ Man Admits Abusing Muslims At Christchurch Mosque
• Germany asks Haftar to stop offensive in Libya
• EU calls on parties in Sudan to refrain violence
• Tripoli crisis highlights Libya policy rift between France and Italy
• German police raid 90 properties over suspected Hamas support
--------
Pakistan
• 'Time Has Run Out': LHC Withdraws Amnesty Offered To TLP's Rizvi
• Afridi Hints At Bar On Banned Outfits' Leaders from Contesting Polls
• Mindset needs to be changed towards gender-based violence: minister
• Pakistan government to file fresh corruption cases against Nawaz Sharif's family
• 16 people killed in Quetta blast; CM condemns attack
• Tajik defence minister lauds Pakistan Army's efforts towards regional stability
• Pakistan to skip upcoming US-Taliban talks in Doha
--------
Mideast
• Israeli Agriculture Minister, Settlers Storm Al-Aqsa Mosque Compound in Occupied Al-Quds
• Iran welcomes Egypt's 'withdrawal' from NATO-style Arab alliance
• Iraq will be no starting point for action against neighbours, Salih assures Iran
• Netanyahu looks to form right-wing government after victory
• Pro-Kurdish party slams Turkey ban on elected mayors taking office
• How the Kurdish factor had a boomerang effect in Erdogan's election defeat
Compiled by New Age Islam News Bureau
URL: https://www.newageislam.com/islamic-world-news/saudi-arabia-funds-extremist-madrasas/d/118305
--------
Saudi Arabia Never Funds Extremist Madrasas or Mosques: Saudi Ambassador to India
Apr 12, 2019
Saudi Ambassador to India HE Saud bin Mohammed Al-Saty is in Mumbai on an official visit. Yogesh Pawar speaks to him about watching the world's biggest election, gender rights in KSA, the emergent Kingdom of Saudi Arabia (KSA) — Qatar dynamic, the Khashoggi case and LGBTQIA rights
India's embarking on the world's biggest election. How keenly are these being watched by KSA?
Since I took charge in 2012, this is the second election I am seeing. There is considerable interest in the Indian elections in the KSA. After all, India is the world's largest democracy.
Charges of Saudi money funding import of extreme Wahabbi Islam to India are often thrown around during campaigning...
It will be inappropriate to react to individual comments made during election campaigning. We are with India on its concerns about security. Irrespective of the dispensation in power we work closely with the governments before donating any money to anybody. It is a complete falsehood KSA funds extremist Madrasas/mosques. Individuals too are banned from giving to any charity outside the KSA.
Whether letting women drive/opening movie theatres, the KSA is seeing sweeping changes?
Following a special decree, women are now permitted to get licences and hence drive. Overall there are efforts at improving work opportunities for women across sectors. Saudi women are in-charge at immigration desks, airline counters, hotels, shopping centres and so on. Both our stock market and our largest bank are currently headed by women. We have a woman Minister of Labour and a new woman deputy minister in the Ministry of Commerce was also appointed last week. The world's largest women's university - Princess Nourah Bint Abdulrahman University, Riyadh - is totally managed and run by women. In fact KSA has appointed its first woman ambassador to the US. Princess Reema bint Bandar two weeks ago.
But women still have to be accompanied by a male 'guardian' or have their authorisation to board a flight.
That's changing. Many women are being able to travel abroad and pursue education and careers abroad. We would like to see that grow. Only day before yesterday I met three Saudi women who are living here in Mumbai which they feel is their home. Of course, we are a traditionally conservative society just like you are. Family values and tradition are very dear to us. We respect our customs, our faith and our way of life. But we have to acknowledge women and their need for change. Today they are not only demanding it but often driving change too.
There's a big focus on infrastructure...
Yes. Upgrading of existing airports, the creation of new ones is on the anvil. A whole new tourist-cross border city Neom is being built in the far north-west Tabuk province on the Egyptian and Jordanian borders. This massive $500 billion, 26,500 sq km world-class city will extend 460 km along the Red Sea coast. A huge network of state-of-the-art roads connecting not only major cities but within them is being laid and several have become operational. We are also looking at exploring renewable energy sources in a big way and are making big investments in solar and nuclear energy. KSA wants its coming generations to continue enjoying a sustainable and prosperous future.
What does the current dynamic unfolding between KSA and Qatar say about the future of the Gulf Cooperation Council (GCC)?
The GCC was formed as a body to help all the Gulf states to work with each other in a spirit of solidairty and cooperation. But how can we countenance a member of GCC working against the interest of others? The KSA has been in touch with Qatari authorities since early 2012. On two occasions, both in 2013 and 2015 the rulers of Qatar gave written assurances and committed to prevent allowing its soil to be used by extremist groups inimical to Saudi Arabia, UAE, Egypt and Bahrain. We told them to stop fomenting trouble using the Al-Jazeera tv channel to create unrest in our countries with unwelcome interference in our internal matters. Providing refuge to groups like the Muslim Brotherhood which want to attack Saudi Arabia cannot be acceptable. Instead of handing over the terrorists to us like we asked they continue to sponsor terrorism against us. They are neighbours and we share a legacy of close societal and tribal ties that go back to hundreds of years. We want to resolve this problem but the Qataris have to do their bit too.
What's happening between KSA and Qatar sounds exactly like India's charges against Pakistan?
They are completely different and I don't think we should mix the two. We only hope both India and Pakistan engage in a dialogue to resolve differences. Since we enjoy a good rapport with both we will be happy to facilitate any such talks if both the countries feel it will help.
Iran and Qatar are not your friends. Will India have to choose between them and you?
We don't go around telling other countries about what choices they should make. As sovereign states they should decide for themselves what is in their interest. Our focus is the Indo-Saudi relationship.
India has a huge presence of expat workers in both KSA and Qatar who are concerned how heightened tensions will affect jobs and lives?
While we appreciate the concern, there's nothing on ground to suggest shrinkage/loss of jobs. On the contrary given the huge investments in infrastructure I spoke about, I think there is growing and sustained demand for human resources particularly specialised, trained professionals to build and maintain these. India has always been an integral part of KSA's growth story and will continue to do so. On the other side India's economy is also expanding and its fuel and petrochemical needs will proportionally rise. We look forward to make use that to collaborate more closely. The Saudi market is also the largest in North Africa where socio-cultural ties make Indian products more attractive. In both the near future and long term I see, stability, growth and expansion marking Indo-Saudi ties.
There are plans to further easen the Saudi visa process...
We're working to make the process entirely digital. By the end of this year people going for Haj will be able to apply for visas online without going to the embassy/consulate. We understand this is inconvenient for elderly, little children and women so we're making it easier. Eventually we want to expand this to all visas.
The US on Monday barred the entry of 16 Saudi nationals over their alleged involvement in the Jamal Khashoggi murder. Is the US-KSA equation changing?
Our ties with with US are really strong and that is not changing. As for the Jamal Khashoggi murder, our courts are seized of the matter and we are confident we will get to the bottom of the case.
There's been widespread condemnation of Brunei for introducing laws to stone homosexuals to death under Sharia. Isn't this a practice in KSA too?
I'm not concerned about what Brunei is doing and can't comment on that but in the KSA we have the Sharia law and we go by what is prescribed.
Do you see a full-fledged democracy like say Tunisia coming to KSA?
We have our own traditions, systems and our own challenges. We also have our own way of meeting these challenges while developing our country and keeping it safe, stable and prosperous. And we do this keeping the interests of our country and people above everything else. We don't do things to make us appear different to others in the world.
https://www.dnaindia.com/india/interview-saudi-arabia-never-funds-extremist-Madrasas-or-mosques-saud-bin-mohammed-al-saty-2738762
--------
30 West Java's Young Ulema to Be Sent To Campaign for Peaceful Islam
Apr 12, 2019
Bandung, West Java (ANTARA) - A total of 30 young ulemas from different parts of West Java Province passed the English Program for Ulemas, and they would be sent to campaign for a peaceful and moderate Islam at international forums in the future, West Java Governor M Ridwan Kamil said.
They were selected from 265 ulemas who registered for the program. In the first batch, 30 young ulemas passed the program, co-organized by the West Java provincial government and the United Kingdom Embassy in Jakarta, he said here on Thursday.
Speaking at the program's closing ceremony, Kamil said he would motivate the alumni of the English Program for Ulemas to use their improved proficiency in English to help their colleagues in their respective cities and towns.
"The purpose of this program is to help the ulemas in West Java become messengers of peaceful Islam to the world," he said, adding that the program was aimed at improving the English proficiency of the ulemas before sending them to overseas inter-religious forums.
The UK Embassy in Jakarta and the West Java provincial government have been studying that within three to six months from now, the alumni of this English program would be sent to the United Kingdom.
"Thus, a process for building a dialogue on peaceful Islam, as well as portraying the image of a peaceful Islam in Indonesia and West Java to those in Europe through the United Kingdom, will begin," Ridwan Kamil said.
In addition to the English Program for Ulemas, the West Java provincial government would continue its collaborative programs with the UK Embassy in the future, including the English Program for Bureaucrats.
Meanwhile, British Ambassador to Indonesia Moazzam Malik highlighted the significance of this English Program for Ulemas, especially now that the world is digitally well connected.
Indonesia was expected to play a global role in promoting interreligious peace, he said, adding that Indonesia could become a good example for both Muslims and non-Muslims all over the world in meeting the rights of minorities.
https://en.antaranews.com/news/123445/30-west-javas-young-ulemas-to-be-sent-to-campaign-for-peaceful-islam
--------
How moderate Islam in Indonesia counters the religious intolerance of Islamist extremists
Ainur Rohmah
12 Apr, 2019
The massacre of 50 Muslims at two mosques in New Zealand last month sparked an international outpouring of condemnation and grief. The horrifying demonstration of 21st-century terrorism, by an Australian national whom media have described as a white supremacist, live-streamed the attacks on Facebook, illustrating how easy it is to use social media to spread hatred.
Islamist extremists were quick to respond, taking to cyberspace to provoke Muslims into "defending" their religion. Groups known to profess their sympathies to IS declared that adherents would wreak violent revenge in the name of victims of the Christchurch slaughter. Going a step further, however, they also expressed disdain for the "peaceful actions" of Muslims offering condolences through prayer and tolerance.
"Islam calls for hayya alal jihad [holy war], not just prayers like millah kuffar [teachings of the infidel]," one member of an extremist WhatsApp group declared.
In Indonesia, the world's most populous Muslim nation, there is a real fear that such discourse could once again escalate into violence against peace loving fellow Muslims. In May 2018 in the city of Surabaya, 10 people were killed in multiple attacks on churches claimed by the Islamist group Jamaah Ansharut Daulah, a local affiliate of IS.
Although there are signs that religious intolerance is on the rise in Indonesia, and its tradition of religious plurality is looking shaky, moderate Muslims are forming networks to fight back against bigotry.
Non-profit organisations Gusdurian Network, Islamic site Islami.co, and Srikandi Lintas Iman are among the groups working to stem the tide of intolerance being pushed in the public domain – both online and offline.
"The social conflict caused by intolerance is no less dangerous than terrorism," says Alissa Wahid, founder and national coordinator of Gusdurian Network.
"Intolerance threatens democracy and can sow the seeds of violent extremism," says Wahid, daughter of late Indonesian president Abdurrahman Wahid.
Gusdurian operates in more than 100 cities across Indonesia, conducting research with the aim of bringing together different religious groups through outreach projects. The network has a growing social media footprint, including 153,000 followers on Twitter, and produces content to share on its online platforms.
Research shows that such moderate groups have their work cut out. The NGO Forum on Indonesian Development last year found that extremism is being widely perpetrated in the country via campaigns on the internet and social media. Another study, in 2016, found that at least 90,000 social media accounts were being used to spread extremist messages, based on keywords formulated by The International Centre for Counter Terrorism.
Anas Saidi, a researcher for the government-run Indonesian Institute of Sciences, says that Islamist groups such as Hizb ut-Tahrir began to spread from the Middle East to Indonesia in the 1980s, infiltrating university campuses, mosques and Islamic schools. Hizb ut-Tahrir and similar organisations preach radical interpretations of Islam, such as Wahhabism, an ultraconservative Sunni doctrine widely considered to have inspired the ideology of IS.
Saidi says this growing support for extremism views in Indonesia is a result of such puritanical groups infiltrating schools, Madrasas and colleges, and indoctrinating vulnerable students. On leaving college, such graduates may enter the state apparatus, where they exert their influence over mosques and schools.
Hamidah (who requests that her real name be withheld to protect her privacy) joined one such movement in 2008 while at college, out of a desire simply to study Islam.
"After joining the group, I became increasingly religious, from starting to dress more conservatively to avoiding friends outside my group," she says. Hamidah was indoctrinated to trust only her murabbi – an Islamic teacher-cum-guardian. Questioning the murabbi's teachings was not permitted.
In study groups she took part in, one message often repeated was an aspiration to establish an Islamic state, "because the government had failed to manage the country," Hamidah, now 32, recalls. "Everything was black and white. They would say people outside the group would go to hell," she says. "More and more, I found myself judging others."
Concerned by her experience, Hamidah distanced herself from the group in 2011 – though it was not easy.
"My friends called me an apostate [one who renounces a religious belief]. I wasn't. I just wanted to find a way to follow my religion that suited me," she says.
Hamidah made a clean break from the group, and has since completed a master's degree in England. She now researches Islamist radicalism, which she plans to make the subject of a postgraduate degree.
The vast majority of Indonesia's population of 264 million citizens are Muslim and, as moderates point out, the country was founded on the principle of inclusion. The country's pluralist motto is "Bhinneka Tunggal Ika", meaning "unity in diversity".
"Indonesia is a diverse country, designed from the beginning to be an inclusive state," Wahid says. "If it becomes a religious state, there will be only one religion, considered higher than all others."
Wahid's father, the country's president from October 1999 to July 2001, was not only a political figure. During the 1980s he was the leader of Indonesia's largest Muslim organisation, Nahdlatul Ulama.
Though it is a traditionalist Islamic movement, Nahdlatul Ulama was founded in 1926 to counter the emergence of more extreme doctrines, including Wahhabism.
During his incumbency, Wahid revoked discriminatory laws imposed during the repressive era of dictator Suharto against Chinese Indonesians, such as celebrations of the Lunar New Year.
Alissa Wahid set up the Gusdurian Network after her father's death in 2009, in that same spirit of tolerance.
"With the spread of extremist groups increasing, it is urgent that we promote tolerance, democracy and justice," says Wahid, who has spent more than 10 years campaigning on behalf of marginalised groups including the Ahmadiyya minority, a Muslim sect that has for decades faced persecution for their belief that Muhammad may not be the last prophet.
When Gusdurian was awarded the 2018 Asia Democracy and Human Rights prize by The Taiwan Foundation for Democracy in December last year, Wahid acknowledged that Indonesia faces many challenges. Quoting her father, she said: "God needs no defence … But now we see how God and religion are [used] to gain political power, to discriminate against others and to cause injustice."
Another moderate voice is that of website Islami.co. "Since the 2000s, ultraconservative Islamic websites have risen in popularity across the country," says Savic Ali, who started the website in 2017. "This hampers harmonious relations between communities in Indonesia."
Born into a moderate Muslim family in Pati, Central Java province, Savic became an activist during the 1998 reform era following the ousting of Suharto, when he developed a passion for multiculturalism and plurality.
Like Gusdurian, Islami.co campaigns for "peaceful Islam" by posting videos on social media promoting religious harmony.
The site attracts about 900,000 unique users per month, and has climbed to number 16 in a ranking of Indonesia's top 20 most popular Islamic websites, of which only four – nu.or.id, dalamislam.com, rumahfiqih.com, and islami.co itself – are pro-democracy or moderate.
Savic hopes the site will soon surpass radical websites such as Nahimunkar (ranked 12th) and Voa-islam (ranked 15th).
"It will take hard work and persistence to ensure the mainstream discourse on the internet becomes increasingly moderate, inclusive and progressive," Savic says.
Islami.co is also networking with Islamic schools and writers that share the group's concerns.
"We are encouraging our network to create similar websites and actively counter intolerant content via social media," he says, acknowledging that it will take hard work to raise the profile of websites with inclusive and progressive views.
Savic believes most Indonesians are moderate and tolerant, but that extremists have a far louder voice.
"Violence and bullying based on religious sentiment are increasing. If people don't speak out, the violence will become normalised. We don't want that," he says.
https://www.scmp.com/lifestyle/article/3005547/religious-intolerance-and-moderate-indonesian-muslims-fighting-against
--------
Pope kisses feet of South Sudan leaders, urging them to keep the peace
12 April 2019
Pope Francis, in a dramatic gesture after an unprecedented retreat at the Vatican, knelt to kiss the feet of South Sudan's previously warring leaders on Thursday as he urged them to not return to a civil war.
He appealed to President Salva Kiir, his former deputy turned rebel leader Riek Machar, and three other vice presidents to respect an armistice they signed and commit to forming a unity government next month.
"I am asking you as a brother to stay in peace. I am asking you with my heart, let us go forward. There will be many problems but they will not overcome us. Resolve your problems," Francis said in improvised remarks.
The leaders appeared to be stunned as the 82-year-old pope, who suffers from chronic leg pain, was helped by aides as he knelt with difficulty to kiss the shoes of the two main opposing leaders and several other people in the room.
His appeal was made even more pressing as anxiety grew in South Sudan that Thursday's coup in neighboring Sudan might put at risk the fragile peace deal that ended South Sudan's brutal five-year civil war.
The Vatican brought together South Sudanese leaders for 24 hours of prayer and preaching inside the pope's residence in an attempt to heal bitter divisions before the country is due to set up a unity government.
"There will be struggles, disagreements among you but keep them within you, inside the office, so to speak," Francis said in Italian as an aide translated into English. "But in front of the people, hold hands united. So, as simple citizens, you will become fathers of the nation."
Sudan, which is predominantly Muslim, and the mainly Christian south fought for decades before South Sudan became independent in 2011. South Sudan plunged into civil war two years later after Kiir, a Dinka, fired Machar, from the Nuer ethnic group, from the vice presidency.
About 400,000 people died and more than a third of the country's 12 million people were uprooted, sparking Africa's worst refugee crisis since the 1994 Rwandan genocide.
The two sides signed a power-sharing deal in September calling on the main rival factions to assemble, screen and train their respective forces to create a national army before the formation of a unity government next month.
In his prepared address earlier on Thursday, Francis said South Sudan's people were exhausted by war and the leaders had a duty to build their young nation in justice. He also repeated his wish to visit the country along with other religious leaders to solidify the peace.
Others who attended the retreat were the Archbishop of Canterbury, Justin Welby, who is spiritual leader of the worldwide Anglican community, members of the South Sudan Council of Churches, and other Catholic and Presbyterian Church leaders from Africa. Welby had proposed the idea of the retreat to the pope.
https://english.alarabiya.net/en/News/north-africa/2019/04/12/Pope-kisses-feet-of-South-Sudan-leaders-urging-them-to-keep-the-peace.html
--------
Kurdish Commander: Abu Bakr Al-Baghdadi Sheltered in Turkey-Occupied Regions in Syria
Apr 11, 2019
The Arabic-language service of RT quoted Spokesman and Commander of the Syrian Democratic Forces (SDF) Mostafa Bali as saying on Thursday that al-Baghdadi is living in the Ankara-occupied regions in Idlib province.
Bali claimed on his twitter page that the ISIL's so-called oil minister has confessed that the terrorist group has transferred nearly 40 tons of gold and a large number of valuable goods from Iraq to Syria and other places when it had occupied certain regions in Northern Iraq.
Iraqi sources claimed in February that al-Baghdadi was alive and hiding in Syria behind the borders with Iraq amid contradictory reports about his whereabouts.
"Abu Bakr al-Baghdadi is still alive and is in Syria," RT quoted an Iraqi intelligence source as saying on condition of anonymity.
The source said that al-Baghdadi had moved along Iraq-Syria border while disguising and in the absence of his armed men or security convoys.
Meantime, in March, a Turkish-language newspaper claimed that Washington was helping ISIL commanders to flee Syria by providing them fake documents, and said the terrorist group's ringleader was under the control of the US.
Yeni Shafaq published a picture of al-Baghdadi in a US armored vehicle, disclosing that the CIA spy agency is monitoring the presence of al-Baghdadi and his movements.
http://en.farsnews.com/newstext.aspx?nn=13980122000172
--------
Ilhan Omar Sparks Controversy over Comments On 9/11, Muslim Civil Rights
11/04/2019
Rep. Ilhan Omar, D-Minn., finds herself embroiled in another controversy after a comment she made about the Sept. 11, 2001, terrorist attacks and Muslim civil rights.
Speaking last month at an event hosted by the Council on American-Islamic Relations' Los Angeles chapter, Omar mistakenly said the organization was founded in response to the terrorist attacks, adding "because they recognized that some people did something" — a phrasing that conservative media have interpreted as a too-flippant reference to the attack.
"CAIR was founded after 9/11, because they recognized that some people did something and that all of us were starting to lose access to our civil liberties," Omar said.
It is unclear what Omar meant by the wording of her comment.
The remark was scorned by some on the right, including "Fox and Friends" co-host Brian Kilmeade and Rep. Dan Crenshaw, R-Texas.
Kilmeade questioned Omar's loyalty to the United States on a "Fox & Friends" segment about the freshman Democrat, saying "you have to wonder if she's an American first."
Crenshaw called Omar's remark "unbelievable" on Twitter.
Omar, who has been subjected to death threats over her past controversial comments she has made about Israel, responded to Kilmeade on Twitter, saying he was guilty of a "dangerous incitement" for questioning her loyalty to America.
Fox News had no immediate comment about Kilmeade, the second Fox personality in a month to attract attention for comments about Omar. Fox condemned and suspended Saturday host Jeanine Pirro for two weeks after she wondered aloud whether Omar's use of a Muslim head covering indicated she was a follower of Islamic religious law.
"My love and commitment to our country and that of my colleagues should never be questioned," Omar said via Twitter on Wednesday. "We are ALL Americans."
Omar, along with Rep. Rashida Tlaib, D-Mich., are the first Muslim women to serve in Congress.
https://www.euronews.com/2019/04/11/omar-sparks-controversy-over-comments-9-11-muslim-civil-rights-n993326
--------
Good taliban? UNSC lifts sanctions against Taliban peace negotiators
Tahir Khan
APRIL 12, 2019
The United Nations Security Council committee overseeing sanctions has removed Taliban negotiators from an international blacklist as part of a bid to press for reconciliation in war-torn Afghanistan, Taliban spokesman Zabihullah Mujahid said late Thursday.
Most of the Taliban leaders, including 14-member negotiation team, had been under UN sanctions and lifting of sanctions was one of the Taliban's longstanding demands. They had also raised the issue during talks with the US.
The UN decision came at a time when the Taliban and the US are involved in peace talks in Qatar. "This is true," Taliban spokesman Zabihullah Mujahid told Daily Times when a question was posted on his WhatsApp that if the UN has removed sanctions from the Taliban leaders. "I do not have more details but I can confirm removal of the names of the negotiation team from the UN black list," Mujahid further said.
There was no word from the UN and the permanent members on the issue.
Taliban officials used social media to congratulate each other on the development.
Taliban sources said the names of the negotiators have been removed 'temporarily' and that they have also been assured of lifting of sanctions permanently.
China and Russia had earlier agreed to a flexible approach to remove certain Taliban figures from the UN sanctions lists as part of efforts to foster a dialogue between Kabul and the Taliban.
Taliban political commission head Mullah Abdul Ghani Baradar is among the leaders whose names have been cleared by the UN, the sources said.
Others members of the negotiation team include: Sher Abbas Stanikzai, Mullah Amir Khan Mutaqi, Mullah Fazil Mazloom, Mullah Khairullah Khair Khwa, Mullah Noorullah Noor, Mullah Abdul Haq Waseeq, Maulvi Ziaul Rahman Madani, Maulvi Abdul Salam Hanafi, Sheikh Shahabuddin Dilawar and Abdul Latif Mansoor.
The Kabul administration raised objections at the participation of the Taliban negotiators in the intra-Afghan meeting in Moscow early February on the plea that they cannot travel due to sanctions. The Afghan government also formally complained to the UN when the Taliban announced that their political envoys would meet US envoy Khalilzad and Prime Minister Imran Khan in Islamabad in mid-February. Imran Khan later cancelled the meeting in view of opposition by the Afghan government.
The UN move is seen as a major confidence building measure at a time when the Taliban and the US are holding talks and a new round is expected most likely later this month. The decision will enable Taliban leaders to travel out of Qatar.
Both sides had made progress on the issues of withdrawal of foreign troops and to prevent Afghan soil from terrorism during their last round on Feb 25-March 12. However, they could not strike any deal.
https://dailytimes.com.pk/375803/good-taliban-unsc-lifts-sanctions-against-taliban-peace-negotiators/
--------
NZ man admits abusing Muslims at Christchurch mosque
April 12, 2019
A 33-year-old New Zealand man pleaded guilty Friday to harassing Muslims outside one of the Christchurch mosques where dozens were gunned down in a massacre last month, but said he can't remember anything about it.
Daniel Nicholas Tuapawa was said to have been shocked and did not realise what he had done until police showed him a video in which he was yelling abusive comments including "all Muslims are terrorists".
When Tuapawa appeared in court charged with disorderly behaviour that was "likely to cause violence," his lawyer said his client was ashamed of his actions and could not explain how or why it happened, local media reported.
Tuapawa was wearing a shirt emblazoned with the name of US President Donald Trump when he shouted abuse at Muslims outside the Al Noor mosque on Wednesday. He was arrested on Thursday.
Tuapawa was remanded on bail to be sentenced on July 31.
Australian Brenton Tarrant, 28, a self-avowed white supremacist, has been charged with 50 counts of murder and 39 of attempted murder after opening fire at Al Noor and a second Christchurch mosque on March 15.
https://www.thejakartapost.com/news/2019/04/12/nz-man-admits-abusing-muslims-at-christchurch-mosque.html
--------
'Time has run out': LHC withdraws amnesty offered to TLP's Rizvi
APRIL 12, 2019
The Lahore High Court on Thursday withdrew an amnesty it had earlier been willing to grant to Khadim Hussain Rizvi, saying the time to provide a written guarantee promising that Rizvi will not disrupt law and order if provided bail has now 'passed', a private TV channel reported.
During a hearing on Monday, the LHC had hinted at releasing Rizvi if he provided a written affidavit saying he would not create unrest in the society if released on bail.
As the hearing started on Thursday, a two-judge bench headed by Justice Qasim Khan asked Rizvi's counsels if they had managed to procure a written guarantee from the TLP leader that would help his application for bail. The court was told that the lawyers had so far not been able to meet their client as the day set for meetings was Friday. "Is Rizvi ready to provide a written guarantee?" asked Justice Qasim Khan. "He should state that he will never again give any such instructions [encouraging them to cause a law and order situation] to his people."
At this point, the lawyer representing Rizvi seemed to resist the demands being placed on his client. "The government arrested Rizvi despite the [Faizabad] agreement," he contended. To which Justice Khan asked, "Where is it written in the agreement that people who take the law in their own hands will not be arrested? Or are you saying that the government deceived Rizvi?" "Yes, the government deceived Rizvi. He was leading a peaceful protest," the lawyer maintained.
That line of argument did not seem to go down well with the court. Though the lawyer then said he will present a guarantee from Rizvi, the court said the time for such a guarantee had passed and the bail plea will now be decided on its merits.
The hearing was subsequently adjourned for a week.
Rizvi was taken into 'protective custody' by police in Lahore on November 23, 2018, after law enforcement agencies launched a massive crackdown against workers of TLP and Tehreek-i-Labbaik Ya Rasool Allah (TLYRA).
The crackdown came following Rizvi's call to party members to observe 'martyr's day' on November 25, the anniversary of the Faizabad sit-in. Rizvi had asked workers and supporters to gather at the Faizabad Interchange in Islamabad – the same venue where his party had staged a weeks-long sit-in in November 2017 virtually paralysing the federal capital and leading to several people losing their lives.
Rizvi's arrest also came weeks after the TLP led three-day protests across the country against the acquittal of Aasia Bibi – a Christian woman whose blasphemy conviction was overturned by the Supreme Court at the end of last month.
Meanwhile, Pakistan Tehreek-e-Insaf (PTI) and Mutahidda Qaumi Movement-Pakistan (MQM-P) have filed petitions in the Supreme Court, urging it to review its Feb 6 verdict in the case.
The PTI plea urged the court to review its order, especially its paragraph 22.
The PTI in its plea said that apex court should review its verdict as it has mentioned the party's 2014 sit-in in the decision. While MQM-P adopted a stance that paragraph 22 of Faizabad sit-in verdict has compared the sit-in with May 12 massacre, which should be reviewed.
Both the parties have requested the apex court to review its decision.
https://dailytimes.com.pk/375804/time-has-run-out-lhc-withdraws-amnesty-offered-to-tlps-rizvi/
--------
India
BJP Minister Sanjeev Baliyan Tells Muslim Women to Remove Veil
12.04.19
Union minister Sanjeev Baliyan was on Thursday accused of "insulting" Muslim women by asking them to remove their veils at a Muzaffarnagar polling station, causing a standoff that prevented them from voting for over two hours.
Eyewitnesses said the women refused the directive from the BJP minister, the sitting Muzaffarnagar MP and an accused in the 2013 communal riots that left more than 60 people dead and 50,000 families homeless.
When the presiding officer rushed to the spot, Baliyan asked him to have the women's veils removed to check for "fake voters".
Women wearing the burqa can be asked to reveal their faces, but inside polling stations and only by women officials, sources said.
Baliyan said there were no women police constables. But Uttar Pradesh chief electoral officer L. Venkateshwarlu told PTI that "wherever there are burqa-clad voters, women poll officials are posted to ascertain their identity".
The incident happened at Booth 225 in village Sujdu in the Kotwali area of Muzaffarnagar. Eyewitnesses said Baliyan's supporters gathered at the gates of the polling station and prevented the voters from entering.
They eventually left after officials assured the water resources minister that his complaint would be communicated to the poll panel.
"I have confirmed information that fake voters are active in the constituency. The burqas of the women must be removed to identify them before they are allowed to vote," Baliyan told reporters after leaving the booth. "Since the officers have ignored my demand, I shall write to the Election Commission for re-polling in the constituency."
Baliyan faces a challenge with large sections of sugarcane farmers and Muslims apparently leaning towards Ajit Singh, an ally of the Samajwadi Party and the Bahujan Samaj Party.
https://www.telegraphindia.com/india/bjp-minister-sanjeev-baliyan-tells-muslim-women-to-remove-veil/cid/1688633
--------
Inside Balakot Madrasa Struck By India: Pakistan Not Ready To Give Up Secrets
Apr 11, 2019
JABA: A madrasa, or Islamic school, on a remote hilltop in north-eastern Pakistan that was the target of the Indian air strike just over six weeks ago is still not ready to give up its secrets.
For the first time since the Indian Air Force jets targeted a Jaish-eMuhammed terrorist camp in Balakot, Pakistani authorities on Wednesday allowed a group of journalists working for foreign news organisations, and foreign diplomats based in Islamabad, access to the site.
According to BBC Urdu, the group was flown from Islamabad in a helicopter to Jabba in Balakot. The visitors trekked for about one-and-ahalf hour to reach the Madrasa on the top of a mountain surrounded by lush green trees.
The expectation among some of the visitors was that it might help settle a number of mysteries about the attack.
But the journalists and diplomats, most of whom spent well over an hour climbing steep slopes to get to the madrasa in the Jaba village area near the town of Balakot, didn't get enough time to make any kind of informed assessment.
They were mostly restricted to looking around the Madrasa's main building. They were hurried away by the Pakistani army, which organised the trip, after less than half an hour. Those arriving by vehicle had even less time.
The interactions with teachers and about 100 children at the Madrasa - from the very young to older teenagers - were also limited.
The visitors were shown a group of children learning passages from the Quran partly by rocking their heads back and forward in rhythm. One teacher said he had worked at the Madrasa for six years.
Too little, too late
At least three of the diplomats, who were mainly from Western countries and the Middle East and included some military attaches, said it was very difficult to draw any firm conclusions because of the six-week delay in gaining access and the restricted time allowed to look around.
On the trek up to the compound, past small sheep and goat farms and through pastoral scenery on a beautiful spring day, journalists and diplomats were shown craters that the allegedly wayward missiles had created on the surrounding hillsides.
Tensions had flared up between India and Pakistan after a suicide bomber of Pakistan-based JeM killed 40 CRPF personnel in Kashmir's Pulwama district on February 14.
Full report at:
https://timesofindia.indiatimes.com/india/inside-balakot-Madrasa-struck-by-india-pakistan-not-ready-to-give-up-secrets/articleshow/68833961.cms
--------
Southeast Asia
China gets ultimatum to lift 'technical' hold on Masood Azhar
Apr 12, 2019
NEW DELHI: The campaign for an international ban on Masood Azhar, the Pakistan based leader of UN-designated terror group Jaish-e-Mohammed (JeM), is gaining steam at the UN Security Council.
The proposers of the resolution to ban Azhar - US, UK and France – have asked China to lift its "technical" hold on the ban proposed in the UNSC+1267 sanctions committee in the next couple of weeks or face another resolution for the same in the Council.
Even as negotiations continue, a western diplomatic source said Beijing had been provided time tentatively until April 23 to lift the hold before a proposal for proscribing Azhar is officially and directly introduced in the Council, bypassing the 1267 committee.
This parallel resolution in the Council had been circulated informally among the 15 member states but not tabled officially, allowing for informal discussions to see if China could be persuaded to review its position on Azhar.
So far though, there has been no indication of Beijing considering lifting its hold on the ban which is necessary for imposing travel restrictions on Azhar and freezing his assets.
Efforts for a ban on Azhar were renewed by the US and France after the February 14 Pulwama attack carried out by JeM. China though for the 4th time sought to block his listing by the 1267 committee by putting the proposed ban on what it describes as a technical hold. Frustrated by Beijing's hold, the US informally circulated another draft resolution for consideration of the members in the Council.
Beijing described the US move as not constructive and as setting a bad example. This was the first time a draft resolution had been moved directly in the Council for a ban on a terrorist of interest to India.
Depending on how China responds, a decision will be taken in the 4th week of April on whether or not the draft resolution should be put formally on the table, TOI has learnt.
After the resolution is tabled, another round of consultations is likely on the specifics of the document. The resolution can then be put to vote. The US and others including India will hope that China will abstain allowing the ban to go through.
During the consultations, the Council members can also call for a public debate on the issue, forcing China to explain before the world why it continued to support a dreaded terrorist like Azhar.
China has indicated to India that it is willing to have constructive discussions on the issue of Azhar. "On the issue of listing in the 1267 Committee of the UN Security Council, China attaches importance to and understands India's concerns and is willing to strengthen communication with India to find a proper solution," said Chinese ambassador Luo Zhaohui in a newspaper article recently.
However, the issue of Azhar's ban can't also be prolonged indefinitely at the UNSC. China's hold can last for 9 months and it's perhaps in everybody's interest that the issue is resolved, either way, much earlier.
https://timesofindia.indiatimes.com/world/china/china-gets-ultimatum-to-lift-technical-hold-on-azhar/articleshow/68840398.cms
--------
Indonesia election: in Prabowo versus Widodo, it's Islamic statehood versus tolerance
12 Apr, 2019
When Indonesians head to the polls next Wednesday for what is expected to be the world's biggest direct presidential election, 70 per cent of its 193 million registered voters are expected to cast their ballots in a single day.
Indonesia, the world's fourth most populous country, wears its hard-fought democracy with ease. I witnessed this during each of its previous three presidential elections – in 2004, 2009 and 2014 – and again in recent weeks as I journeyed across rural and urban Java – the country's main island – to speak to voters, understand their views, and gauge what their choices might be, come election day.
Direct presidential elections were first held in 2004, six years after student protests and mass riots in several cities ended the 32-year rule of Indonesia's authoritarian leader Suharto.
Until this year, polling for local councils, regional assemblies and the national parliament were held three months before the presidential election.
Generally, I have emerged largely optimistic from my on-the-ground, straw-poll research expeditions. Indonesians cherish the opportunity to vote; it's something they would not readily sacrifice. Whether in east, central or west Java, an island with a population of more than 140 million, I have met people eager to discuss the merits or failings of their leaders, and conscious of the responsibility they have to register their hopes and concerns at the ballot box.
Yet, over time, I have noticed that competitive politics increasingly divides the country socially, though not so obviously along class lines, as in Europe. In Indonesia the electoral divide is, alarmingly, along religious lines – between Muslims and non-Muslims.
The story of Indonesia's 2019 election is one of two countries. In one, an aspiring, mostly urban middle class worries about the erosion of tolerance and diversity; in the other, growing numbers of pious and conservative Muslims, many of them educated in rural religious schools, want laws that put Indonesia on the road to Islamic statehood.
These divergent visions sit uneasily alongside each other, and when Indonesians go to the polls this time round, those fearing the erosion of tolerance will largely vote for the incumbent Joko Widodo, popularly known as Jokowi, a former city mayor with a common touch and an unthreatening manner; those who want the country to veer towards Islamic statehood will vote for Prabowo Subianto, a gruff former special forces commander who fought and almost won the election against Jokowi in 2014.
I saw these two Indonesias two weeks before the election in the west Java capital of Bandung, where a gathering of nervous middle-class millennials at a modern sculpture park worried about the decay of diversity; and at an Islamic teaching complex not far away, where the conviction of disciplined faith had thousands of devotees hanging on to every word of charismatic preacher Abdullah Gymnastiar. After the preaching was over, AA Gym, as he is known, sat patiently on an elevated office chair while the faithful lined up for selfies or to kiss his hand.
Such an unquestioning and disciplined following presents an obvious opportunity to politicians in search of votes. Prabowo doesn't come from a devout Muslim background: his mother was a Catholic, his brother, Hasyim Djojohadikusumo, established a charismatic Protestant church. Yet Prabowo presents himself as a champion of conservative Islam.
"They call me a radical," Prabowo told thousands of supporters at a rally in the west Java town of Ciamis on April 6. "Yet I believe in Islam as a religion of peace that tolerates other religions."
But that's not what the conservative Islamic lobby supporting him wants.
At a religious school on the outskirts of the west Java town of Purwakarta, the head of security punched the air and claimed himself to be the only person with the guts to support the incumbent president.
"Everyone around here supports Prabowo because they believe he'll promote their religious agenda of a caliphate," said Asep, a wiry man who practises a Sundanese martial art.
Outside, a large poster for the Prabowo campaign portrayed the candidate and his running mate, Sandiaga Uno, against the image of hardline Islamist Rizieq Shihab who lives in exile in Saudi Arabia to avoid facing criminal charges under the Anti-Pornography Act (Rizieq is accused of sending explicit WhatsApp messages to a woman who is not his wife).
To enhance his appeal to the conservative Islamic groups, Prabowo promises to bring Rizieq home, and presumably the charges will go away too.
"They believe Prabowo will bring [Rizieq] back, but they don't understand the law in the country," said Asep waving towards Al Artoq school, which he claims has 4,000 followers from around the area.
THE MUSLIM LOBBY
Equally alarming is President Widodo's response, which has been to try to win support from the conservative Muslim quarters by choosing a conservative Muslim cleric as his running mate.
My findings in west Java suggest this strategy has not worked. Prabowo still draws strong support from the devout Muslim population of west Java, where he won over 40 per cent more votes than Jokowi in 2014.
What is worrying, though, since Jokowi is likely to win the election at the national level, is how much leverage the Muslim lobby will now have on the president during his second term.
This makes many Indonesians who support Jokowi feel uneasy.
"Why do state schools and offices need to have mosques?" asked a Muslim mother who claims that her Buddhist son was denied promotion because he wasn't a Muslim. She was attending a discussion for millennials led by the Minister of Religion Lukman Hakim at a modern sculpture gallery in a swanky north Bandung neighbourhood. Lukman's response, to explain that the constitution and a battery of laws guarantee religious freedom, did not sound convincing.
"What about the recent incident in Bantul? Where Muslim residents refused to accept that non-Muslims could live among them?" asked another member of the audience.
The flustered minister shrugged off the incident, arguing that dialogue helped to repair these "misunderstandings".
It is hard to misunderstand the signals that Prabowo's supporters are sending. At the rally in Ciamis, a group of young men mounted the stage shortly before the candidate arrived. "We are the 'Two-One-Two mujahideen'," one of them cried. "Under our command, God willing, we will pursue our goal of the caliphate," one of the young men shouted. Two-One-Two refers to the broad coalition of conservative Islamic groups who mounted mass rallies at the end of 2017, forcing Jokowi's concession to demands to prosecute his former deputy on a charge of blasphemy.
In what many Indonesians consider a turning point for the country's respect for religious diversity, Basuki Tjahaja Purnama, popularly known as Ahok, was accused of blasphemy after a doctored video was submitted as evidence that he was insulting the Koran. A court later sentenced him to two years in jail.
The crucible of this vision of Indonesia under Islamic law can be found a few kilometres down the road from Ciamis. Set in verdant rice fields, the Miftahul Huda school is the largest of its kind in west Java. More than 4,000 students come here to study the Koran. After surrendering my ID I was permitted to drive up to the executive office, where after a while a pair of surly youths dressed in black invited me to sit on the floor.
"Who are you and where are you from?" the younger man asked suspiciously.
The conversation was sparse. No, they do not engage in politics; students are not even allowed outside the school perimeter without special permission. Yet it was from here in 2017 that the first march on Jakarta was organised to demand Ahok's arrest.
Back in Bandung, I caught up with Jalaluddin Rakhmat, a member of parliament for Jokowi's main party platform, the Indonesian Democratic Party of Struggle (PDIP).
"Both Prabowo and his Muslim supporters suffer from delusions," he said in his humble home situated just north of the regional capital. "Prabowo thinks if he wins he can dump the Muslims. The Muslims in turn are using Prabowo to come to power."
It's a bit like the way Christian evangelicals think they are using US President Donald Trump.
Jalaluddin, who is from the small Shiite minority, is among those who fear the erosion of tolerance for diversity. "We Muslims who are with Jokowi stand for a different Islam: we don't want to take Islam as the basis of the state." For people like us, he said, "if we go to Prabowo we will find monsters".
EROSION OF TOLERANCE
The problem for Jalaluddin, and like-minded Indonesians anxious to shore up pluralism, is that Jokowi is widely regarded as having failed to deliver as a moderate. He has been soft on human rights and has pandered to the Islamic right. Many young people living in the Indonesia of tolerance and pluralism are too scared to vote for Prabowo but dislike Jokowi. They might spoil their ballots, or not vote at all.
Is there a way to reconcile these two Indonesias? While canvassing views I came across an interesting experiment in social development. A group of Muslim activists at Salman Mosque, which sits next door to Bandung's Institute of Technology, were looking for ways to harness Islamic teaching to progressive change.
"We're looking for local champions," said Salim Rusli, who runs Al Wakaf, an NGO attached to the mosque, which has a long history of student activism. These can be local ulama who use Islamic teaching to promote innovative thinking about mundane issues such as marketing vegetables or who foster constructive communication with local government.
Full report at:
https://www.scmp.com/week-asia/politics/article/3005688/indonesia-election-prabowo-versus-widodo-its-islamic-statehood
--------
Interfaith forum calls for peace, fraternity during election
April 12, 2019
Ahead of next week's general election, a number of prominent religious figures have called on all Indonesians, voters and candidates alike, to uphold humanity above all other interests. At the discussion Forum Titik Temu (Meeting Point Forum), held in Jakarta on Wednesday, speakers representing all six recognized religions in Indonesia took turns expressing their take on faith, nationalism and peace. The forum was held in response to heightened tensions during the campaign period, sparked by political, religious and ethnic differences and the prospect of conflicts after the elections. Among those who spoke at the forum were former first lady and women rights activist Shinta Nuriyah Wahid, Muslim intellectual Ahmad Syafi'i Ma'arif and the wife of late Muslim scholar Nurcholis Madjid, Omi Komariah. "Within a week, we will have a celebration of democracy. An...
Full report at:
https://www.thejakartapost.com/news/2019/04/12/interfaith-forum-calls-religious-peace-fraternity-during-general-election.html
--------
How Indonesia's president has tried to claw back voter support in Muslim heartland
APRIL 12, 2019
GARUT, Indonesia (Reuters) - When Wawan Setiawan, a volunteer for Indonesian President Joko Widodo's re-election campaign, goes door-to-door in this conservative part of Java, his opening line is: "If you hear he is anti-Islam or a communist, remember, it's all lies."
The 41-year-old is one of thousands of volunteers - armed with T-shirts, stickers, pins, and other giveaways - seeking to bolster support for Widodo in the teeming villages of West Java, the most populous province and a key battleground in the April 17 vote in the world's largest Muslim-majority country.
Widodo's aides say such mobilising of grassroots support and canvassing of thousands of Islamic boarding schools in this and other conservative provinces is crucial to prevent a repeat of 2014, when a smear campaign accusing Widodo of being a bad Muslim beholden to Chinese interests nearly cost him the presidency, with the heaviest losses in West Java.
As in 2014, Widodo is running against retired general Prabowo Subianto, whose military background and strong ties with hardline Islamist groups make him a popular choice in West Java, with a voting population of 32.5 million, or about 17 percent of the electorate.
On a national level most opinion surveys give Widodo a double-digit lead, but he trails in West Java, which is known to be among the country's most conservative regions.
As conservative Islam gains greater traction in Indonesia, many politicians including Widodo have taken pains to appear "more Islamic" to appeal to Muslim voters. The worry for many investors is whether this appeal for conservative votes will translate into populist policy.
Around the hilly city of Garut, which favoured Prabowo in 2014, gigantic banners show the president dressed in a peci cap and sarong - traditional garb worn in Islamic boarding schools - saying, "let's pray".
To the disappointment of some of his more moderate and progressive supporters, Widodo also picked 76-year-old Islamic cleric Ma'ruf Amin as his running mate - part of a deliberate strategy to enhance his ticket's appeal among Muslims.
"The one thing that I really like about the Jokowi campaign is that they understand where they failed in 2014," said Achmad Sukarsono, a senior analyst at Control Risks in Singapore, using the president's nickname.
"They made a mathematical calculation that Jokowi lost in areas where the Muslim population was above 97 percent," he said.
FORGING TIES
Religious leaders say Widodo's most effective strategy has been forging closer ties with Islamic boarding schools - which hold huge cultural and social sway in many parts of Indonesia - and his decision to choose Amin as running mate, a respected Islamic scholar from the country's biggest moderate Muslim organisation, Nahdlatul Ulama.
"The key difference now is Jokowi has systematically shown his appreciation for pesantrens and santri," said a young cleric, Hilman Uman Basori, using the Indonesian words for Islamic boarding schools and their students.
Basori, who runs nine pesantrens in Garut, said Widodo has visited regularly, channelled funding, and introduced much-needed vocational training programs to complement religious education and allow graduates to find jobs.
"Picking Ma'ruf Amin as vice presidential nominee made the choice final for us...We have mobilised all the resources in our pesantrens to make sure they win," Basori added.
Aides say Widodo has also sought to appeal to more voters in opposition strongholds by making public appearances with his family and subtly drawing a contrast with his rival Prabowo, who is divorced.
DEEP SUSPICIONS
But not everyone is convinced. West Java, which has a history of bloodshed between Muslims and leftists, remains a stronghold for conservative Islamists who harbour suspicions about Widodo, a moderate Muslim hailing from Central Java whose government has sought to crack down on some hardline groups.
"Jokowi has criminalised clerics and that has been very hurtful for the Muslim public," said cleric Cecep Abdul Halim.Authorities have launched investigations into prominent Muslim figures on charges of violating pornography laws or defamation. The government also banned the hardline Hizb-ut Tahrir Indonesia group, which advocates a caliphate to replace Indonesia's secular ideology.
Halim says he also suspects that Widodo, who is the first leader to come from outside Indonesia's military and political elite, may have links to communist groups - which are illegal in Indonesia - and is allowing "millions" of Chinese workers into the country.
The president has repeatedly denied such claims and urged voters not to be taken in by such falsehoods.
In late 2016, Widodo scrambled to distance himself from a one-time ally, the popular ethnic Chinese, Christian governor of Jakarta who was accused by hardline groups of insulting Islam. As hundreds of thousands of Muslims took to the streets to oust the governor, Basuki Tjahaja Purnama, Widodo sought to reassure Islamists and the broader public that his government was not anti-Islam.
Purnama eventually lost the next election for governorship, was jailed for blasphemy and released earlier this year.
Prabowo's provincial campaign team say voter dissatisfaction over these issues and Widodo's performance on the economy are swaying voters.
"We're not just optimistic, we are sure we will win," said Yusuf Supriadi, at a campaign post piled high with banners and t-shirts, as well as a poster of Prabowo calling to "Make Indonesia Great Again".
"MORE ISLAMIC"
Surveys show that although Widodo trails in West Java, his focused campaign has narrowed a gap that in 2014 stood at 20 points. His support rose from 39 percent at the start of the campaign in September to 42 percent last month, while Prabowo's numbers have slipped from 50 to 47 percent.
"The hardest part has been changing public perception of Jokowi at the very grassroots level," said Yuda Puja Turnawan, a member of Widodo's party, the Indonesia Democratic Party of Struggle. "Our volunteers spend most of their time countering hoaxes."
According to his national campaign manager, Erick Thohir, the president's choice to reside in the presidential palace in the West Java city of Bogor, rather than in Jakarta, had also boosted his visibility in the region.
Since taking office, Widodo has also made efforts to bring religious parties into his coalition - something analysts say has provided more "tools in his arsenal to approach voters not reached in 2014".
PANDERING
Liberal supporters of Widodo have criticised him for pandering to conservatives, raising concerns over the erosion of Indonesia's reputation for religious tolerance and pluralism.
Analysts say Widodo's overtures to Islamic groups and voters point to a potential populist turn in policymaking if he wins a second term.
"There's a space opening for Islamic identity politics," political analyst Sukarsono said.
Full report at:
https://in.reuters.com/article/uk-indonesia-election-strategy-insight/how-indonesias-president-has-tried-to-claw-back-voter-support-in-muslim-heartland-idINKCN1RO0L6
--------
Africa
Sudan's security service announces release of political prisoners
11 April 2019
Sudan's National Intelligence and Security Service has announced the release of all political prisoners across the country, state news agency SUNA reported on Thursday.
Shortly after the announcement, Twitter users circulated photos showing former detainees being welcomed by protesters as they joined demonstrations against Omar al-Bashir.
Protesters have been waiting for a statement from Sudan's military, as sources said Bashir had been forced to step down from the presidency after three decades in power and moves were under way to form a transitional council.
One of those released was Mohammed Naji Elasam, a spokesman for the Sudanese Professionals Association (SPA), the main organiser of protests being held across Sudan since December, witnesses said. Elasam had been detained for more than three months.
The Sudanese army issued a televised statement following reports that president Omar al-Bashir is stepping down.
https://english.alarabiya.net/en/News/middle-east/2019/04/11/Sudan-s-security-service-announces-release-of-political-prisoners.html
--------
Sudan army warns it will enforce night-time curfew: state media
11 April 2019
Sudan's army warned on Thursday it would enforce a night-time curfew, state media reported, as protesters vowed to continue demonstrating against a military council set up after the ouster of president Omar al-Bashir.
The curfew runs "from 10:00 pm to 4:00 am, and all must adhere to it for their own safety," the army said in a statement carried by the official SUNA news agency, adding that it was "doing its duty to keep them and their properties secure."
https://english.alarabiya.net/en/News/middle-east/2019/04/11/Sudan-army-warns-it-will-enforce-night-time-curfew-state-media-.html
--------
US suspends talks with Sudan after military ousts Bashir
12 April 2019
The United States on Thursday suspended discussions with Sudan on normalizing relations between the two countries after the military ousted President Omar al-Bashir and said it would run the country for two years.
The State Department, while declining to declare the takeover a coup, said it supported a peaceful and democratic Sudan and believed the Sudanese people should be allowed a peaceful transition sooner than only in two years.
"The Sudanese people should determine who leads them in their future," spokesman Robert Palladino said at a news briefing. "The Sudanese people have been clear that they have been demanding a civilian-led transition. They should be allowed to do so sooner than two years from now."
Two-year military rule
Military leaders in Sudan said presidential elections would take place after a two-year period of military rule following the ouster of Bashir.
The so-called "Phase II" talks between the United States and Sudan were initiated after the Obama administration moved to lift a 20-year-old trade embargo against Khartoum in recognition of the country's help in fighting ISIS and progress in improving its human rights record.
The United States first imposed sanctions on Sudan in 1997, including a trade embargo and blocking the government's assets, for human rights violations and terrorism concerns. It laid on more sanctions in 2006 for what it said was complicity in the violence in Darfur.
Asked whether the United States supported Bashir being put on trial before the International Criminal Court for Darfur atrocities, Palladino said: "We believe that the victims of Darfur deserve justice, that accountability is essential for achieving lasting peace in Darfur."
Full report at:
https://english.alarabiya.net/en/News/north-africa/2019/04/12/US-suspends-talks-with-Sudan-after-military-ousts-Bashir.html
--------
US, Europeans call for UN Security Council talks on Sudan
11 April 2019
The United States and five European countries on Thursday called for a UN Security Council meeting on Sudan after president Omar al-Bashir was ousted by the army, diplomats said.
The council is expected to discuss the situation in Sudan during a closed-door meeting on Friday that was also requested by France, Britain, Germany, Belgium and Poland.
UN Secretary-General Antonio Guterres called for a transition in Sudan that will meet the "democratic aspirations" of the people, his spokesman said.
Guterres appealed for "calm and utmost restraint by all."
Egypt expressed its "complete support" on Thursday for the Sudanese people and their army in the political transition to come, following the ouster of al-Bashir.
Cairo voiced its full belief in "the ability of the brotherly Sudanese people and their loyal national army to overcome the challenges of this critical stage... in order to achieve stability, prosperity and development," a foreign ministry statement said. The foreign ministry stressed that Egypt respects Sudan's sovereignty and its national decisions, reiterating its backing of the country's march towards "stability and prosperity".
Saudi Arabia to host Sudanese Umrah performers
In accordance with the directives of King Salman bin Abdulaziz Al Saud, the Minister of Hajj and Umrah, Dr. Mohammed Saleh bin Taher Benten, has directed all Umrah companies and institutions to host Sudanese Umrah performers and provide them with all services until the return of flights to Sudan.
This came following the closure of Sudanese airspace for 24 hours.
The Saudi Press Agency (SPA) reported that the Ministry of Hajj and Umrah stressed in a circular issued by its Minister Dr. Benten that the companies and institutions of Umrah are committed to continuing to provide services and accommodation to all Sudanese Umrah performers.
African Union criticizes ouster
Meanwhile, the African Union on Thursday criticized the military ouster of Sudan's veteran president al-Bashir and called for calm and restraint.
"The military takeover is not the appropriate response to the challenges facing Sudan and the aspirations of its people," said a statement from Moussa Faki, chairman of the AU Commission, in Addis Ababa.
Erdogan calls for national reconciliation
In Ankara, Turkish President Tayyip Erdogan called on Thursday for national reconciliation in Sudan.
Erdogan, who has deepened Turkey's investments in Sudan recently, said the two countries had deep relations that Ankara wanted to maintain.
"My wish is that Sudan should succeed in this calmly ... and I believe it should start operating the normal democratic process," he told a news conference in Ankara.
"It is my most important wish that Sudan gets over this process on the basis of national reconciliation and in peace."
Full report at:
https://english.alarabiya.net/en/News/north-africa/2019/04/11/US-Europeans-call-for-UN-Security-Council-talks-on-Sudan-.html
--------
UN chief urges ceasefire to avert 'bloody battle' for Tripoli
April 11, 2019
TRIPOLI: The UN chief warned Libya is on the brink of "a very dangerous situation" as forces loyal to the internationally recognized government and a rival strongman battle for control of the capital.
Thousands of people have fled heavy fighting on the outskirts of Tripoli that has left dozens dead and prompted mounting global alarm.
UN chief Antonio Guterres on Wednesday appealed for a halt to hostilities to prevent the situation spiralling out of control.
"It's still time to stop," he told reporters after briefing the UN Security Council in a closed session in New York.
"It's still time for a cease-fire to take place, for a cessation of hostilities to take place, and to avoid the worst, which would be a dramatic, bloody battle for Tripoli."
Nearly a week of fighting on the city's doorstep has already killed 56 people and wounded 266, the World Health Organization said.
"Thousands of people have fled their homes, while others are trapped in conflict areas. Hospitals inside and outside (Tripoli) are receiving daily casualties," it said.
The UN chief was in Libya when forces loyal to military strongman Khalifa Hafta last week launched an offensive to capture the capital, which is controlled by a UN-backed government and an array of militias.
Haftar backs a rival administration based in eastern Libya that refuses to recognize the authority of the Government of National Accord (GNA) led by Fayez Al-Sarraj.
Guterres said Libya was facing a "very dangerous situation" and urged a halt to the fighting to allow political negotiations to start anew.
"It is very clear for me that we need to restart a serious political dialogue and a serious political negotiation but it is obvious that cannot take place without a full stop to the hostilities," he said.
The council met for more than two hours behind closed doors to consider how to address the fresh fighting that has derailed efforts to end instability that has been exploited by jihadists and people-smugglers.
The United Nations postponed a national conference that was to open on Sunday to draw up a roadmap to elections, meant to turn the page on years of turmoil since the NATO-backed overthrow of dictator Muammar Qaddafi in 2011.
Heavy clashes shook Ain Zara, a town dotted with farms on the southeastern outskirts of Tripoli where pro-GNA fighters managed to reverse an advance by Haftar's forces.
On the town's main street, lined with shops and houses, a sand barrier erected by pro-GNA forces separated the two camps.
"Today, the criminals of Haftar's group have advanced, but we destroyed a tank and two armored vehicles," said a pro-GNA fighter who gave his name as Youssef.
"The situation is good now," he said.
Behind him, artillery fire stirred up a cloud of sand as the sound of machine guns and anti-aircraft guns rang out.
Suddenly a shell sliced through the air and hit a nearby house.
"You see, he (Haftar) wants to destroy our houses and all of Tripoli," one of the fighters shouted.
Haftar's self-styled Libyan National Army (LNA), which controls swathes of the country's east, said on Wednesday it had seized a barracks in the Aziziya area around 50 kilometers (31 miles) south of Tripoli after "ferocious clashes."
It said several fighters loyal to the UN-backed government had been detained and their weapons seized.
"For the moment, it's still a game of cat and mouse," said a commander from a pro-GNA group.
"We're still organizing ourselves. The war hasn't truly started," he told AFP in Ain Zara.
Heavy arms fire was heard from the front line about 10 kilometers (six miles) away where the city's disused international airport has changed hands several times over the past week.
Haftar's forces appear to be advancing on two fronts, from the south and southeast of Tripoli, while coast roads to the east and west of the city are defended by fighters loyal to the GNA.
The strongman, whose key allies are the United Arab Emirates, Egypt, Saudi Arabia and Russia, is a former Qaddafi military chief who has emerged as a major player in Libya's political struggle.
NATO chief Jens Stoltenberg said the alliance was "deeply concerned by the situation in Libya."
"The current military operation and advance on Tripoli are increasing the suffering of the Libyan people and putting civilian lives at risk," he said.
The UN children's agency (UNICEF) said "nearly half a million children in Tripoli and tens of thousands more in the western areas are at a direct risk due to the intensification of fighting."
Although casualties remain limited so far, the International Crisis Group warned further escalation "could precipitate a humanitarian disaster."
Full report at:
http://www.arabnews.com/node/1481061/middle-east
--------
Sudan: 13 protesters killed in clashes with police
Omer Erdem
12.04.2019
At least 13 people were killed Thursday in Sudan when security forces intervened in protests, according to the Central Committee of Sudanese Doctors.
They included two demonstrators in the capital Khartoum, it said in a statement early Friday.
The committee said one person died outside army headquarters in the capital, where hundreds of protesters staged a sit-in for the sixth day in a row.
Since Saturday, at least 35 people have been killed in clashes with security forces, which have repeatedly tried to disperse the sit-in by force, it added.
Earlier Thursday, the Sudanese military announced the removal of President Omar al-Bashir, who had ruled the country since 1989, and the imposition of a two-year "transitional phase".
In a televised statement, Defense Minister Awad ibn Auf announced the imposition of a one-month curfew along with a three-month nationwide state of emergency.
He also announced the suspension of Sudan's 2005 Constitution and the dissolution of the Sudanese presidency, parliament and council of ministers.
He said a military council would be established to run the country's affairs during the post-Bashir interim phase.
Sudanese opposition parties and professional associations voiced their total rejection of what they called a "military coup".
Full report at:
https://www.aa.com.tr/en/africa/sudan-13-protesters-killed-in-clashes-with-police/1449971
--------
56 killed in weeklong Libya clashes: UN health agency
Walid Abdullah
11.04.2019
TRIPOLI
Clashes near Libyan capital Tripoli have left 56 people dead and scores more injured since they began late last week, according to the World Health Organization (WHO).
In a Thursday tweet, the WHO put the total number of casualties at 56 dead (including six civilians) and 275 injured (including nine civilians).
Among those killed, the health agency said, were two doctors and an ambulance driver.
The WHO is currently "rushing medical aid to the wounded [and] sending supplies and medical teams to hospitals receiving casualties", the agency tweeted.
Last Thursday, military commander Khalifa Haftar, who is affiliated with a government based in the country's east, launched a campaign to capture Tripoli, where Libya's UN-backed Government of National Accord (GNA) is headquartered.
For the past six days, Haftar's forces have continued to trade blows with pro-GNA forces on the capital's outskirts.
Libya has remained beset by turmoil since 2011, when a bloody NATO-backed uprising led to the ouster and death of President Muammar Gaddafi after four decades in power.
Full report at:
https://www.aa.com.tr/en/africa/56-killed-in-weeklong-libya-clashes-un-health-agency/1449465
--------
Arab World
Tahrir Al-Sham Attempting to Take Full Control of Demilitarized Zone
Apr 11, 2019
Dissident sources were quoted by the Arabic-language al-Watan newspaper as saying on Thursday that Tahrir al-Sham has sent a large number of military equipment to regions occupied by Ahrar al-Sham in the towns of Ariha, Ma'arat al-No'aman and Qalat al-Maziq with the aim of taking full control of Idlib province.
They added that Tahrir al-Sham is now in control of 90% of Idlib province and adjacent areas in Hama and Lattakia, saying that it will likely take full control of the demilitarized zone designated by the Sochi Agreement between Russia and Turkey.
Meantime, the Syrian army targeted the militants' movements from the town of al-Janabareh in Northern Hama and al-Tamane'ah in Southern Idlib with artillery and missile attacks after their continued offensives from the demilitarized zone, fully annihilating two terrorist groups.
Other reports also said that the terrorist groups in Northern Aleppo launched missile strikes on the residential areas in the town of al-Zahra in Western Aleppo.
In late February, Arab media reports said that the Turkish intelligence officials and commanders of Tahrir al-Sham al-Hay'at had been meeting on protecting and keeping the terrorist group in Idlib province.
Al-Watan newspaper quoted sources close to the militants as saying that Ankara had set conditions for supporting Tahrir al-Sham and its continued control over Idlib, saying that they should follow Ikhwan al-Muslimoun (Muslim Brotherhood) approach.
They added that the two sides have reached an agreement that includes a shift of approach by Tahrir al-Sham. "In return Turkey has promised the terrorist group that it will prolong the demilitarized zone agreement as long as possible, will not participate in any joint military operations against Tahrir al-Sham and will try to prevent such operations."
The paper also referred to the Syrian army's airstrikes against the terrorists in Northern and Northwestern Hama and Southeastern Idlib in response to their attacks, raising the possibility that military operations in Idlib would soon start.
The Turkish army has in recent days sent over 20 vehicles, carrying soldiers, military equipment and prefabricated houses to Northern Hama and Southern Idlib to strengthen its occupied points in Northern Syria in regions near the areas occupied by Tahrir al-Sham terrorists.
http://en.farsnews.com/newstext.aspx?nn=13980122000671
--------
Mass Grave of Several ISIL Victims Found in Eastern Syria
Apr 11, 2019
Field sources in Eastern Deir Ezzur reported on Thursday that the Syrian army has found the mass grave in the Southeastern parts of the town of al-Mayadeen in Eastern Deir Ezzur.
They added that corpses of 23 civilians, including a number of women, were found from the mass grave, noting that they had been executed by the ISIL when the town was under the terrorist group's occupation.
Corpses of civilians killed by the ISIL or the US airstrikes are found in the two Eastern provinces of Raqqa and Deir Ezzur nearly on a daily basis.
Media reports said last week that the dead bodies of over 60 victims killed in US-led coalition airstrikes and ISIL attacks had been discovered under the rubble and mass-graves in Raqqa.
Media activists in Raqqa reported that the civil teams in the city found the corpses of 13 people from a mass-grave in al-Fakhikheh region in Southern Raqqa and 4 others from the debris of al-Ta'aminat district who had been killed in the US airstrikes.
Full report at:
http://en.farsnews.com/newstext.aspx?nn=13980122000746
--------
US Army Terrorists Killed, Wounded in Suicide Blast in Hasaka
Apr 11, 2019
The Kurdish-language Hawar News reported that a bomb-laden car was detonated near the US military convoy in al-Shadadi region in Southern Hasaka on Tuesday afternoon, killing the suicide bomber.
But, other reports, including the Arabic-language Bass News, affiliated to the Kurds, reported on Wednesday that one of the US forces has also been wounded in the attack.
Meantime, MENA quoted unconfirmed reports as saying that a US soldier was killed and another was wounded during the suicide blast.
The source said that concurrent with the attack, the Kurdish fighters arrested a number of civilians in the village of al-Aziziyeh in the Western parts of Ra'as al-Ain in Northern Hasaka after creating horror among people by firing bullets.
The US army is no more welcomed in the region and attacks against them have increased recently.
Earlier this week, three US army terrorists and a civilian contractor were killed in the explosion of an improvised explosive device near Bagram Air Force Base in Afghanistan.
Three other service members were wounded and evacuated for treatment, according to a statement by Resolute Support, the NATO-led mission in Afghanistan.
The attack comes as Washington is in the process of negotiating a military exit from the Central Asian country with the Taliban, the primary military and political antagonist to the Washington-backed government in Kabul. Two rounds of negotiations have taken place so far this year and a third is expected this month.
In neighboring Iran, the top security body labeled the US CENTCOM and all the US army soldiers operating under the US Central Command in the Middle-East and Central Asia as a terrorist entity in response to a similar move by the White House against Iran's Islamic Revolution Guards Corps (IRGC).
The United States on Monday designated the IRGC as a "foreign terrorist organization", marking the first time Washington has formally labelled another country's military a "terrorist group".
Responding to Washington's move, Iran immediately declared the US as "state sponsor of terrorism" and American forces in the region "terrorist groups".
Iran's top security body, the Supreme Nationsl Security Council (SNSC), in a statement issued on Monday evening declared the United States a "terrorist government", and blacklisted the "CENTCOM and all its affiliates a terrorist group".
Full report at:
http://en.farsnews.com/newstext.aspx?nn=13980122000234
--------
Western States, US Footprints Found in Terrorists' Strongholds in Syria
Apr 11, 2019
The engineering units of the Syrian army on Thursday found weapons and equipment, including machine-guns, RPGs, missiles, different types of guns, West-made grenades and US-made anti-tank missiles in purging operations in the town of Arabayn and al-Zamir region in the Eastern Ghouta of Damascus.
Meantime, a field source in Eastern Syria reported that the Syrian army purged the ISIL terrorists during operations from Panaroma square at the Southern entrance of Deir Ezzur city to Talat Um Aboud region near the international Deir Ezzur-Palmyra road.
He added that the Syrian army forces defused and detonated a large number of anti-personnel and anti-tank mines, including the US-made ones, left behind by the ISIL terrorists.
The US, Israel and other western states have helped the terrorist groups in Syria logistically and financially.
This is not the first time that the West's footprints are found in the terrorists' strongholds in Syria.
In a relevant development earlier this month, The Syrian army discovered a cache of weapons and military equipment, including West-made arms, during cleansing operations in regions freed from terrorists' hands in Northern Dara'a.
The engineering units of the Syrian army last Monday found a large number of different types of weapons, machine-guns, RPGs, guns and ammunition left behind by the terrorists who had earlier occupied the town of Ankhal in Northern Dara'a.
Full report at:
http://en.farsnews.com/newstext.aspx?nn=13980122000333
--------
31,000 Iraqis to return home under Syrian deal
April 11, 2019
QAMISHLI: Syrian Kurds have announced a deal with Baghdad for 31,000 displaced Iraqis, mostly women and children, to return from camps in northeastern Syria to Iraq.
Tens of thousands of people live in the camps, which swelled during the months-long battle by a Kurdish-led force against the last vestige of Daesh's "caliphate."
"A delegation from the Iraqi Cabinet visited the autonomous administration to discuss the return to Iraq of displaced Iraqis, estimated to number 31,000, and an agreement was reached," said Kurdish official Mahmud Kero.
"So far 4,000 people have signed up and we are waiting for the Iraqi government to open up the Iraqi border" to begin the returns, he said. Kero said many of the displaced, including children born on Syrian soil, did not have Iraqi identity papers.
"We have asked the Iraqi government to find a solution," he said.
Those expected to return do not include suspected Daesh fighters who surrendered or were caught fleeing the terror group's last redoubt and are now held at Kurdish-run jails.
"We have asked for the return of all Iraqis including those accused of belonging to Daesh," Kero said.
He said they had called for "the trial of those accused of belonging to Daesh on Iraqi soil."
An Iraqi official said on Tuesday that Baghdad had made preparations for the return of tens of thousands of citizens, most of them "women and children."
They were mostly displaced from Nineveh and Salaheddin, two provinces north of Baghdad that were once Daesh bastions, said Ali Abbas, an official at the ministry of displacement and migration.
Full report at:
http://www.arabnews.com/node/1481281/middle-east
--------
Sisi keeps watchful eye on Al-Azhar's growing role abroad
Amr Eltohamy
April 7, 2019
CAIRO — Egypt's Al-Azhar has had a significant presence abroad in recent years, especially in its efforts to counter the effects of the Islamic State's rise in several countries. The Sunni religious and educational institution has undertaken joint programs to support Islamic countries' fight against extremism and participated in conferences held by international organizations.
All this activity, however, apparently has made President Abdel Fattah al-Sisi a bit suspicious of the motives behind it. He and Al-Azhar's Grand Imam Ahmed el-Tayeb have been known to vie for influence.
On April 2, Al-Azhar International Academy, which Tayeb established last year, began offering courses to train imams and preachers from 20 countries, including Iraq, Afghanistan and Nigeria. On its website, the academy says it shares with participants Al-Azhar's expertise in Islamic studies, "refining their skills and giving them modern experiences and methods that raise their scientific level and help them to deal with intellectual, jurisprudential and doctrinal issues."
In January, the Egyptian Ministry of Endowments (Awqaf) inaugurated the International Awqaf Academy, a training institute distinct from Tayeb's for imams and preachers in 6th of October City with the goal of drawing Egyptian and international figures together to renew Islamic discourse.
There are many branches of Al-Azhar-affiliated associations that work to strengthen its role of spreading moderate Islamic views.
In 2015, Tayeb established the Al-Azhar Observatory for Combating Extremism. Its website offers information in English, French, German, Spanish, Urdu, Swahili and Persian. Through its representatives, the observatory also participates in international forums on Muslim relations with non-Muslims.
Tariq Shaaban, head of the observatory, told Al-Monitor by phone, "We have forged several protocols of cooperation with governments of European countries and international organizations such as the United Nations and the European Union on the issue of terrorist groups and how they manage to attract and mobilize young people. We are also working to pinpoint the reasons behind the growing Islamophobia in Europe."
Shaaban said many collaboration protocols are in place between the observatory and Jordan's Royal Institute For Inter-Faith Studies.
Commenting on Al-Azhar's motives for collaborating with international agencies, Shaaban said, "Al-Azhar believes that this role is its national duty amid external circumstances and the noticeable rise of terrorist organizations. This, therefore, requires a greater presence of the most important and oldest Islamic institution to confront these fundamentalist ideas."
He stressed that international agencies such as the UN and EU and the governments of most African and Arab countries, are keen to consider the views of Al-Azhar in this regard and benefit from its long history and the confidence of millions of Muslims in it.
Hamad al-Safti, a member of the World Organization for Al-Azhar Graduates, told Al-Monitor that the group has been working to establish 10 new branches in addition to the existing 18 branches around the world, which include ones in Chad, Libya and Kenya. The organization is a non-governmental institution headed by Tayeb.
Safti explained that in the past year, the graduates association has organized training courses for imams in Libya, Russia, Nigeria and other African countries. These efforts come within the framework of renewing religious discourse and honing imams' and preachers' skills to help them rectify misconceptions about Islam. Safti was part of a delegation that visited Russia.
"We have also held debate sessions in coordination with the security authorities in several Arab countries, where people who espouse IS ideologies were invited to share their opinion. The goal was to try to dispel their misconception of Islam and provide them with correct Sharia material," Safti said.
However, researcher Islam Barakat at the Egyptian Initiative for Personal Rights, an independent think tank, has a different view of Al-Azhar's recent efforts.
"I believe all this action abroad is part of Al-Azhar's vision of itself as the guardian of Islam around the world and as a partner — rather than an affiliated institution — to the Egyptian state," Barakat told Al-Monitor. "All these activities abroad immunize the institution to criticism from the Egyptian political authorities or efforts to isolate the grand imam, especially in light of the dispute between Tayeb and Sisi," he added.
An undisclosed government source told independent Egyptian newspaper Mada Masr, "Sisi is not comfortable with the extent of independence that Al-Azhar is wielding, nor its role abroad. [The] grand imam is acting as though the institution does not operate under the umbrella of the Egyptian government. This is obviously an issue of discomfort for the president."
Full report at:
https://www.al-monitor.com/pulse/originals/2019/04/azhar-grand-imam-moderate-islam-terrorism-organizaitons.html
--------
North America
US slaps sanctions on Lebanese 'money laundering' group
11 April 2019
US officials on Thursday announced it has sanctioned a Lebanese network accused of laundering millions of dollars for "drug kingpins" and helping finance Hezbollah, the Iran-backed group that Washington labels a terrorist organization.
The US Treasury Department said it has added Lebanese national Kassem Chams to its blacklist, along with two related entities: the "Chams Money Laundering Organization" and Chams Exchange, a money service business in Lebanon.
"Kassem Chams and his international money laundering network move tens of millions of dollars a month in illicit narcotics proceeds on behalf of drug kingpins and facilitate money movements for Hezbollah," Treasury said in a statement.
The Chams network moves money to and from multiple countries including Australia, Brazil, Colombia, France, Italy, Lebanon, the Netherlands, Spain, the United States and Venezuela, according to the department.
'Unprecedented campaign'
The sanctions are part of the administration's "unprecedented campaign to prevent Hezbollah and its global terror affiliates from profiting off violence, corruption, and the drug trade," Treasury under secretary Sigal Mandelker said.
The department's Office of Foreign Assets Control said Chams Exchange operates under license and supervision of the Central Bank of Lebanon (BdL) "despite US authorities long suspecting it" of significant money laundering.
Treasury said it remains committed to working with BdL "to eliminate access to the Lebanese financial system by narcotics traffickers, money launderers, and terrorist groups such as Hezbollah."
President Donald Trump's administration has accused Iran of taking provocative measures to destabilize the Middle East.
It has increased sanctions on the Islamic republic in order to undercut its revenues and to financially squeeze regional allies like the Lebanese Hezbollah.
Earlier this week Washington designated Iran's elite Islamic Revolutionary Guard Corps as a terrorist organization.
https://english.alarabiya.net/en/News/middle-east/2019/04/11/US-slaps-sanctions-on-Lebanese-money-laundering-group-.html
--------
Sudan army takes over amid growing calls for civilian rule
Apr 12, 2019
Sudan's Defense Minister Awad Mohamed Ahmed Ibn Auf has been sworn in as the chief of the new military council that has replaced Omar al-Bashir, the country's ousted president, amid growing calls for a civilian government.
Auf took the oath to become the head of the council on Thursday night hours after announcing the news of Bashir's ouster and his detainment by the army on Thursday, state media reported.
The Sundanese army's chief of staff, Lieutenant General Kamal Abdel Marouf al-Mahi, was appointed as Auf's deputy.
State television made the announcement while also sharing images of both officers taking the oath in the presence of the chief of the country's judiciary.
Auf declared a three-month state of emergency and imposed a one-month curfew from 10 p.m. to 4 a.m. He said the country's airspace would be also closed for 24 hours and border crossings sealed until further notice.
The military council has also declared a nationwide ceasefire, which includes the war-torn regions of Darfur, Blue Nile and South Kordofan, where Bashir's government had long been battling ethnic minority rebels, Auf said.
Thousands of people, who had packed the streets of Khartoum to celebrate Bashir's removal after months of demonstrations, returned to the streets this time to demand a civilian government.
Scores of people rallied outside army headquarters late on Thursday despite a night-time curfew imposed by the military. Protesters were chanting "Peace! Justice! Freedom!" as they thronged the sprawling Khartoum complex for the sixth night in a row.
EU, US urge power transition to civilians
Later in the day, European Union diplomatic chief Federica Mogherini called on the army to quickly hand over power to a civilian government.
"Only a credible and inclusive political process can meet the aspirations of the Sudanese people and lead to the political and economic reforms the country needs," she said in a statement.
"That can only be achieved through a swift handover to a civilian transitional government," Mogherini added.
The US also took sides with the protesters and urged Sudan's army to bring civilians into government, saying the planned two-year transition timeline was simply too long.
Washington calls "on transitional authorities to exercise restraint and to allow space for civilian participation within the government," US State Department spokesman Robert Palladino told reporters.
"The Sudanese people should determine who leads them and their future and the Sudanese people have been clear and are demanding a civilian-led transition," he said.
Full report at:
https://www.presstv.com/Detail/2019/04/12/593196/Sundan-Bashir-Auf-military-council-Eu-US-civilians
--------
US bars entry to Palestinian co-founder of BDS movement
Umar Farooq
12.04.2019
WASHINGTON
The U.S. has denied entry to the co-founder of the Boycott, Divestment and Sanctions (BDS) movement, Washington-based advocacy group the Arab American Institute (AAI) said Thursday.
AAI said Omar Barghouti, a Palestinian activist, was barred from taking a flight to New York on Wednesday. He was stopped at Ben Gurion Airport in Israel, according to the institute, which had been coordinating his trip to the U.S.
Barghouti, the co-founder of the BDS movement, had a valid U.S. visa as well as the proper travel documents, AAI said.
"Omar Barghouti is a leading Palestinian voice on human rights. Omar's denial of entry into the U.S. is the latest example of the Trump administration's disregard for those rights," James Zogby, president of AAI, said in a statement.
Barghouti also released a statement, which was posted online, saying the denial of entry is part of Israel's repression of the Palestinian people.
"The U.S. entry ban against me, which is ideologically and politically motivated, is part of Israel's escalating repression against Palestinian, Israeli and international human rights defenders in the BDS movement for freedom, justice and equality," Barghouti said, according to the statement, which was posted on the BDS movement's Twitter account.
"Supporters of Israeli apartheid in the U.S. are desperately trying to deny U.S. lawmakers, media, diverse audiences at universities, a bookstore and a synagogue their right to listen, first-hand, to a Palestinian human rights advocate calling for ending U.S. complicity in Israel's crimes against our people," he added.
"But all my talks will go ahead, with me speaking online."
The BDS movement was formed in 2005 by 170 Palestinian civil society and rights groups and calls for a boycott of Israeli companies involved in violating Palestinian human rights and for institutions to withdraw their investments in those companies as a form of non-violent pressure on Israel.
It also calls for sanctions campaigns to pressure governments to fulfill their legal obligation to hold Israel to account.
The movement works to end international support for Israel's oppression of Palestinians and pressure Israel to comply with international law, according to its official website.
Full report at:
https://www.aa.com.tr/en/americas/us-bars-entry-to-palestinian-co-founder-of-bds-movement/1449967
--------
US: Omar attacked by Trump's son for 9/11 comments
Umar Farooq
11.04.2019
WASHINGTON
Congresswoman Ilhan Omar faced further attacks Thursday for comments she made about the Sept. 11, 2001 terrorist attacks, this time from U.S. President Donald Trump's son.
The younger Trump criticized the Muslim lawmaker after comments surfaced of her talking about the Islamophobia Muslims faced in the post-Sept. 11 era.
"Far too long we have lived with the discomfort of being a second-class citizen," Omar said at an event for the Council on American-Islamic Relations (CAIR). "And frankly, I'm tired of it. And every single Muslim in this country should be tired of it. CAIR was founded after 9/11 because they recognized that some people did something, and that all of us were starting to lose access to our civil liberties."
Trump Jr. called out Omar, taking the wording "some people did something" and using it to call her an "anti-Semite" and a "disgrace".
"What a disgrace that this anti-Semite is in Congress and actually gets to make decisions for Americans," Trump Jr. said in an Instagram post. "As an American and a New Yorker I couldn't be more offended by this (obscenity)."
On the front page of the New York Post, a right-wing newspaper, was a response to Omar's comments saying "Here's your something. 2,977 people dead from terrorism." Behind the headline was a photo of the Twin Towers exploding.
On Wednesday, "Fox & Friends" host Brian Kilmeade apologized after making similar comments that questioned Omar's loyalty to the U.S.
Some members of Congress came to Omar's defense, saying that she was speaking truth to power.
"They take our words out of context because they're afraid because we speak truth, we speak truth to power," Muslim congresswoman Rashida Tlaib said in an interview with MSNBC about the Post's front cover.
"She sees what terrorism can do, she sees what violence can do to a whole country, a whole people. Taking it out of context, this is just a pure racist act," Tlaib added.
Omar, a Democrat representing Minnesota's 5th district, is one of the first two Muslim lawmakers to be elected into U.S. Congress, alongside Tlaib of Michigan.
She has faced a slew of attacks and death threats in recent weeks, along with ongoing criticisms since she made scathing comments against Israel, and now with comments she made on the Sept. 11 attacks.
Last Friday, a man in New York was charged with threatening to assault and kill Omar, after he reportedly said "she's a [expletive] terrorist. I'll put a bullet in her [obscenity] skull."
Full report at:
https://www.aa.com.tr/en/americas/us-omar-attacked-by-trumps-son-for-9-11-comments/1449827
--------
US sanctions 16 Saudis for Khashoggi killing
Tugcenur Yilmaz
11.04.2019
The U.S. State Department sanctioned and issued a travel ban for 16 Saudi citizens for their alleged involvement in Saudi journalist Jamal Khashoggi's murder in Istanbul last fall.
The sanctioned Saudis include those with close links to Saudi Arabia's Crown Prince Mohammad bin Salman, who is widely held responsible for the killing, therefore they are called the "prince's men".
Director of murder: Al-Qahtani
The first name is Saud al-Qahtani, the former advisor to the crown prince.
Al-Qahtani would conduct smear campaigns on social media to target institutions or people opposing the new administration of Saudi Arabia, led by bin Salman.
He was also serving as a minister in the Saudi royal court.
His army of social media trolls threatened opponents, including Jamal Khashoggi.
Also, he is known have played a significant role in Lebanese Prime Minister Saad Hariri's detention in Saudi Arabia and forced resignation in late 2017.
He head the propaganda campaigns against Qatar following the embargo led by the United Arab Emirates and Saudi Arabia.
Al-Qahtani also interrogated dissident Saudi royal family members and businessmen, after bin Salman became the de facto leader of the country.
International media outlets repeatedly produced stories regarding Al-Qahtani's alleged communication with the hit-squad sent to Istanbul to kill Khashoggi.
The Saudi administration was forced to dismiss Al-Qahtani after Khashoggi's murder scandal came to light, he was banned from traveling abroad.
In line with the Khashoggi investigation in Istanbul, Turkish prosecutors issued an arrest warrant for Al-Qahtani, who was accused of "deliberately killing (someone)".
Meanwhile, the Saudi authorities continue to make contradictory statements regarding what happened to Al-Qahtani.
Ringleader of hit-squad: Mutreb
Another prominent figure highlighted in Washington's sanction list is Maher Mutreb, who joined bin Salman's team after serving the intelligence service of Saudi Arabia.
Mutreb, who became a colonel in the Royal Guards, has got a number of photos with the crown prince.
He allegedly received spyware training in various countries such as Italy and the U.K.
It was claimed he met Khashoggi in 2017 when he was operating as a security attaché in Saudi Arabia's Embassy in London.
Known as the head of the hit-squad who killed Khashoggi, Mutreb entered Saudi Arabia's Istanbul Consulate on Oct. 2, an hour before Khashoggi was brutally killed.
He allegedly called Riyadh right after Khashoggi was killed and said: "Tell your boss, the deed is done."
Evidence spoiler: Tubaigy
Salah Tubaigy left Saudi Arabia for the U.K. in 2004 to pursue a master's degree in Glasgow University's medical school.
For the next five years, Tubaigy operated as a forensic pathologist in Saudi Arabia's Riyadh and Dammam provinces; he got some articles published regarding murders in Saudi Arabia.
Having operated as head of Forensic Medicine Institute of Saudi Arabia's Interior Ministry, he was regarded as one of the prominent figures of forensic studies in the country.
Tubaigy was among the hit-squad of 15 people sent to kill Khashoggi, his mission was to "spoil evidence". He is also known to have dismembered Khashoggi's body.
Khashoggi's body double: Mustafa al-Madani
Mustafa al-Madani has also been named in Washington's sanction list. His mission in Istanbul was to be the body double of Khashoggi to mislead investigators.
Al-Madani is a petroleum engineer. He is known to be an advisor to bin Salman and has accompanied him to some important meetings.
After Khashoggi was killed, al-Madani left the consulate in Khashoggi's clothes. However, he forgot to wear Khashoggi's shoes, giving himself away.
He sought to give the impression that Khashoggi left the consulate by moving around the diplomatic building. He also allegedly shared intelligence within the hit-squad.
Other sanctioned Saudis
The other names included in the U.S. sanction list are as follows: Meshal al-Albostani, Naif Alarifi, Mohammed al-Alzahrani, Mansour Abahussain, Khalid al-Otaibi, Abdulaziz al-Hawsawi, Waleed al-Sehri, Thaar al-Harbi, Fahad al-Balawi, Badr al-Utaibi, Saif al-Qahtani and Turki al-Sehri.
Saudi Arabia has yet to make a statement regarding the fate of these people who were responsible for logistics, communications and intelligence of the hit-squad.
Consul general and deputy intelligence chief missing
Notably, Mohammad al-Otaibi, Saudi Arabia's consul general in Istanbul, was not included in the sanction list.
Al-Otaibi drew global outrage after he opened the consulate doors to journalists to prove that Khashoggi was not in the building; he even opened closets and electrical panels, triggering the global community with his slapdash attitude.
In addition, Ahmad al-Asiri, the former deputy intelligence chief who directed the murder along with al-Qahtani, was not included in the sanction list either.
Having been educated in Saudi Arabia's Armed Forces Command, Asiri was recognized as the spokesman of a coalition established in 2015 for military action in Yemen.
Full report at:
https://www.aa.com.tr/en/americas/us-sanctions-16-saudis-for-khashoggi-killing/1449704
--------
South Asia
Taliban announce launch of spring offensive amid peace talks
April 12, 2019
KABUL, Afghanistan: The Taliban have announced the start of their spring offensive even as they talk peace with the United States and prepare for a significant gathering to find an end to the protracted war and an eventual withdrawal of US troops from Afghanistan.
In a lengthy missive distributed in five languages, including English, the Taliban say the fighting would continue while foreign fighters are in Afghanistan and supported by Afghan security forces.
The announcement says, "mujahedeen brothers are requested to launch the jihadi operation with complete sincerity and pure intentions."
It was written to Taliban fighters on the ground. It calls for coordination, strict adherence to the Taliban's military command structure and exhorts fighters to avoid civilian casualties.
Still preparations are underway for Afghan-to-Afghan talks to begin April 19.
http://www.arabnews.com/node/1481406/world
--------
Rohingya children's school dreams hit stony ground
April 11, 2019
Abdul Noor, 16, was jubilant at being accepted by Leda High School in Teknaf of Southeast Bangladesh's now world-famous Cox's Bazar, home to hundreds of thousands of Rohingya refugees living in makeshift camps."None of my brothers got past primary school," said Noor, the youngest of five sons of a Rohingya couple who fled persecution by the military and radical Buddhists in Maungdaw town of Myanmar's Rakhine state in 1992."But I made it to secondary school, so now I can dream of a better life than my parents and siblings," added the teenager, who was born and grew up in a refugee camp in the district, which is experiencing a growing backlash against the Rohingya as their numbers swell.However, his dream hit hard a rocky patch in March after local authorities issued a directive to officials and schools in the district barring children without Bangladeshi citizenship from attending state schools there."During class about a month ago, our headmaster summoned six Rohingya students, including me, to his office and informed us that we should not come to school anymore," Noor recalled."He said the government had ordered schools not to admit Rohingya children. Since then, I had no choice but to stop going."Jamal Uddin, the headmaster of Leda High School, said his hands were also tied."At the end of February, we received a letter stating that Rohingya children should go to 'their own schools' in the camps, not Bangladeshi schools," he told ucanews.com."We identified 60 Rohingya students in various classes and asked them not to come to school anymore, but they were not officially expelled as we didn't issue a transfer certificate [TC]," added Uddin, who is also a Muslim."We have to follow the government's order," he said. "So we won't be accepting any more Rohingya students until that directive is revoked."Anandamoy Bhowmick, an education officer in Teknaf, said there had not been any official order to expel Rohingya students but admitted there was a policy of "discouraging" them from pursuing a secondary education "as they are not citizens of this country.""However, we know some local government officials have been helping Rohingya parents get fake Bangladeshi documents so they can still enroll their kids in local schools," Bhowmick said.
Stateless and deprived of an education Noor's parents settled in Leda camp as undocumented refugees after failing to enlist as official refugees in two other camps in Kutupalong and Nayapara of Cox's Bazar, both of which are co-administered by the U.N. Refugee Agency (UNHCR) and the local government.In 1992, the UNHCR granted official refugee status to some 30,000 Rohingya who refused to return to home fearing persecution, allowing them to receive aid for their daily needs and survival.Thousands more settled in informal camps with notoriously squalid conditions that sprang up near the official camps.They are among the more than 200,000 Rohingya Muslims who moved to Bangladesh to escape abuse and violence in Myanmar in recent decades.This is in addition to the estimated 740,000 Rohingya who flocked to the country amid renewed military crackdowns in neighboring Myanmar in 2016 and 2017.An informal primary-level education is available at the government-sanctioned refugee camps, but it is scarce at unregistered ones like in Leda.As a result, most parents send their children to madrasas either in or near the camps to receive a religious education.The fortunate few, like Noor, get to attend schools run by aid groups, largely against the will of the authorities, that offer a more rounded education.Due to their stateless nature, the Rohingya have been a thorn in the side of Bangladesh and Myanmar for decades.This Muslim sub-sect lived in the Arakan Kingdom, an independent territory, for centuries before it was annexed by Burma (since renamed Myanmar) following an invasion by the Burmese in 1784.The British colonized the country in 1824, and what was formerly known as Arakan is now Rakhine state — a long sliver of land that occupies most of the coastline on Myanmar's western edge on the Bay of Bengal.Since the 1970s, successive military governments started branding the Rohingya as illegal Bengali interlopers from Bangladesh.The group officially became stateless in 1982, when Myanmar's military amended the citizenship law and excluded them from a list of about 135 ethnic groups in the country.This denied the Rohingya access to all kinds of basic rights including food, health, education, and employment.In the decades that followed, they have trickled into Bangladesh, where many see them as unwelcome guests.Prior to the massive influx of refugees to Cox's Bazar in 2017, both the official stance from Dhaka and public opinion were against the Rohingya. They were billed as a security threat and a financial and resource-gobbling burden for this overpopulated and impoverished South Asian country.
The Rohingya were often denied entry to the country, where they faced harassment and the prospect of jail. With the exception of registered refugees, the government discouraged aid groups from operating at the non-sanctioned Rohingya camps that started springing up.Their fortunes have since reversed, at least to some degree, as international sympathy has been showered on their plight and Bangladesh cast in the role of savior, fending off a brutal Myanmar military and providing them with shelter.For the last two years, the country has been working on a plan to relocate the refugees on a voluntary basis to a remote island about a nine-hour drive from the camps.However, critics of the plan say Thengar Char near Hatiya Island in the Bay of Bengal is uninhabited and flood prone, and that sending them there is merely an attempt to prevent them from "intermingling with Bangladeshi citizens." Expulsion triggers criticismThe recent decision to expel Rohingya students has sparked an outcry from rights activists. On April 1, New York-based Human Rights Watch (HRW) issued a statement slamming the move."The Bangladeshi government's policy of tracking down and expelling Rohingya refugee students instead of ensuring their right to education is misguided, tragic, and unlawful," said Bill Van Esveld, a senior researcher of children's rights."Education is a basic human right. The solution to children feeling compelled to falsify their identities to go to secondary school isn't to expel them, but to let them get the education they deserve."Bangladesh is a party to the Convention on the Rights of the Child (CRC) and the International Covenant on Economic, Social and Cultural Rights (CESCR), which guarantee children's rights to free primary education, available and accessible secondary education, and higher education on the basis of capacity, regardless of their immigration or refugee status, HRW noted.Jyoti F. Gomes, secretary of the Bangladesh Catholic Education Board, has voiced similar concerns."On humanitarian grounds, it is saddening and inhumane to deprive Rohingya children of an education. Bangladesh is a signatory to the U.N. Sustainable Development Goals, so this move goes against state policy," Gomes told ucanews.com.Moreover, barring them from schools leaves them more vulnerable to engaging in criminal activity, which would produce worse results for society and the government, he added.
https://international.la-croix.com/news/rohingya-childrens-school-dreams-hit-stony-ground/9874#
--------
Afghan forces storm major Taliban hideout, prison in Nangarhar province
11 Apr 2019
The Afghan armed forces have stormed a major hideout of Taliban which was used as headquarters by group's militants and commanders to conducted terrorist related activities in Lalpur district of Nangarhar province.
The provincial government media office in a statement said a prison along with several other small and medium hideouts of the group were also discovered and destroyed during the same operation and some heavy and light weapons and munitions were confiscated.
The statement further added that Taliban militants were keeping innocent civilians as hostages inside the prison besides using the hideouts to carry out attacks in Nangarhar province.
At least ten villages have also been cleared the operations so far and new security outposts have been established, the provincial government added in its statement.
Full report at:
https://www.khaama.com/afghan-forces-storm-major-taliban-hideout-prison-in-nangarhar-province-03691/
--------
ISIS-K commander among 7 killed in U.S. drone strike in Kunar province
11 Apr 2019
At least seven militants affiliated with the Islamic State of Iraq and Syria Khurasan (ISIS-K) were killed in a U.S. drone strike in eastern Kunar province of Afghanistan.
The 201st Silab Corps of the Afghan Military in a statement said the airstrike was carried out on Wednesday in Noor Gul district.
The statement further added that a commander of ISIS-K identified as Mawlavi Khyber was killed along with six other militants in the airstrike.
The anti-government armed militants including ISIS-K loyalists have not commented regarding the airstrike so far.
Full report at:
https://www.khaama.com/isis-k-commander-among-7-killed-in-u-s-drone-strike-in-kunar-province-03694/
--------
Taliban ban WHO, Red Cross in Afghanistan, citing 'suspicious' activity
Apr 11, 2019
The Taliban have banned the World Health Organization (WHO) and the International Committee of the Red Cross (ICRC) from operating in Afghanistan, citing "suspicious" activity.
Taliban spokesman Zabihullah Mujahid was cited by Reuters as saying on Thursday that the militant group was no longer guaranteeing the security of the workers enlisted with some organizations, including the United Nations health body and the Red Cross.
Mujahid claimed the organizations had stopped complying with their agreements with the militants, while he alleged irregularities during the vaccination processes carried out by them.
"They are acting suspiciously during vaccination campaigns," he said.
Fighting across Afghanistan has created a "complex situation" and some charitable organizations are not operating in accordance with the situation, the spokesman vaguely explained.
ICRC spokesman Robin Waudo acknowledged the announcement and said they had suspended their activities in the country "due to the withdrawal of security guarantees."
"Therefore, we are now in the process of contacting the [Taliban] to initiate a bilateral and confidential dialog in view of the statement," he told AFP.
Jin Ni, a WHO spokeswoman in Afghanistan, told the agency that officials "acknowledge the reports and are working on better understanding the situation."
The Taliban had banned the ICRC from operating on the Afghan soil last August, but the aid group resumed its activity in October after talks.
Afghanistan is one of the few countries in the world, where easily-preventable polio is on the rise.
The Taliban's five-year rule over at least three quarters of Afghanistan came to an end following the US-led invasion of the country in 2001. But 18 years on, Washington is still entangled in the war and is now seeking a truce with the militants.
Full report at:
https://www.presstv.com/Detail/2019/04/11/593189/Afghanistan-Taliban-ban-WHO-ICRC
--------
Europe
Germany asks Haftar to stop offensive in Libya
Ayhan Şimşek
11.04.2019
BERLIN
Germany on Thursday called on Libya's pro-Khalifa Haftar forces to immediately stop military offensive on the capital city of Tripoli.
A spokesman for Angela Merkel said the German chancellor has condemned Haftar's military offensive on Thursday in a phone call with Fayez al-Sarraj, chairman of the Presidential Council and prime minister of the UN-backed Government of National Accord.
"The federal government asks General Haftar and his supporters to immediately stop all military operations," spokesman Steffen Seibert said in a statement.
"The Chancellor has reaffirmed her conviction that there can be no military solution in Libya," he said, adding that Germany would continue to support UN's efforts for a peaceful solution in the country.
Last Thursday, commander Haftar announced that his forces are launching a military campaign to capture Tripoli from the UN-backed government.
Libya has remained beset by turmoil since 2011, when a bloody NATO-backed uprising led to the ouster and death of President Muammar Gaddafi after four decades in power.
Since then, the country's stark political divisions have yielded two rival seats of power: one in eastern Libya, with which strongman Khalifa Haftar is associated, and another in Tripoli, which enjoys UN support.
https://www.aa.com.tr/en/africa/germany-asks-haftar-to-stop-offensive-in-libya/1449422
--------
EU calls on parties in Sudan to refrain violence
Serife Cetin
11.04.2019
BRUSSELS
The European Union on Thursday called on all the parties in Sudan to refrain from violence following President Omar al-Bashir's reported resignation.
Earlier Thursday, al-Bashir stepped down in the wake of continued calls for his resignation, according to military sources.
However, the Sudanese army has yet to release an official announcement regarding al-Bashir's reported resignation.
"We are closely monitoring the situation and following the developments on the ground and call on all parties, first of all, refrain from any violence," the EU Foreign Affairs and Security Policy spokeswoman Maja Kocijancic told a news briefing in Brussels.
The EU calls for a "peaceful, credible, legitimate and inclusive political process," in the country, Kocijancic said.
"We are currently in contact with the member states, with our partners to follow the situation. Our delegation on the ground continues to do its work," she added.
Hundreds of thousands of people flooded the streets of Khartoum and other Sudanese cities to express their joy following reports of Omar al-Bashir's resignation after 30 years in power.
Full report at:
https://www.aa.com.tr/en/africa/eu-calls-on-parties-in-sudan-to-refrain-violence/1449369
--------
Tripoli crisis highlights Libya policy rift between France and Italy
John Pearson
April 11, 2019
The rift between France and Italy over Libya policy burst into the open on Thursday as an offensive by commander Khalifa Haftar to capture the capital Tripoli stalled amid fierce fighting.
Diplomats said France, which has in the past deployed special forces to aid Field Marshal Haftar's Libyan National Army (LNA) had blocked a planned European Union resolution that would have condemned the Tripoli attack.
In Tripoli itself there were signs that the LNA offensive against forces of the UN-backed Government of National Accord (GNA) had stalled, with battles across a fluid frontline south of the city. LNA units are now 11 kilometres from the city centre, where both sides have blocked roads with earth ramparts.
French diplomatic sources told Reuters news agency that they did not object to calling on the LNA to cease its offensive, but wanted a EU statement expanded to include reference to the plight of migrants trapped in the fighting, and to the presence, among anti-LNA forces, of militant groups.
Italy, a strong supporter of the GNA, accused France of jeopardising Libya's security.
"It would be very serious if France for economic or commercial reasons had blocked an EU initiative to bring peace to Libya and would support a party that is fighting," said Italy's Deputy Prime Minister Matteo Salvini. "As minister of the interior I will not stand by and watch."
France and Italy have been at loggerheads over Libya, and several other issues including the distribution of migrants in Europe, for some time. Mr Salvini accused Paris of putting business ahead of humanity, saying: "Some think that the [2011 Nato-led military intervention] in Libya promoted by [former French President Nicolas] Sarkozy was triggered more by economic and commercial interests than by humanitarian concerns. I hope we are not seeing the same film all over again."
France and Italy had previously been at the forefront of international efforts to end Libya's four-year civil war, each holding a high-profile peace conference last year to encourage Libyan parties to hold elections.
French support for Field Marshal Haftar reflects sentiment in Paris that he is a bulwark against militancy in Libya and the wider North African region. Italian support for the GNA is motivated in part by agreements it has made with GNA forces to intercept people-smugglers, an initiative that has sharply cut the number of migrants crossing the Mediterranean to Italy. France's Total and Italy's ENI both have substantial oil interests in Libya, but there are no reports of either suffering production shortfalls as a result of the conflict.
The Paris-Rome fall-out has triggered fears among some diplomats that there will be no common front among external powers to persuade Libya's combatants to agree a ceasefire. The UN on Wednesday postponed planned Libya peace talks, the National Conference, which had been scheduled for April 14. The UN insists it will hold the conference at a later date, but diplomats know they will need international unity to make it succeed.
In New York late on Wednesday night, UN Secretary General Antonio Guterres, who was visiting Libya on April 4 when the fighting first broke out, repeated calls for calm.
He said his appeals while he was in Libya for a ceasefire had failed. "It is obvious that my appeal for an offensive not to take place and for the hostilities to stop was not heard," said Mr Guterres. "We need to restart a serious political dialogue and a serious political negotiation, but it is obvious that that cannot take place without fully stopping hostilities."
The World Health Organisation said 56 people have died since fighting began, with 8,075 people fleeing their homes. The LNA said that in addition, 28 of its soldiers had been killed and 92 wounded.
Full report at:
https://www.thenational.ae/world/mena/tripoli-crisis-highlights-libya-policy-rift-between-france-and-italy-1.847988
--------
German police raid 90 properties over suspected Hamas support
April 11, 2019
German police have raided the offices of several non-governmental organisations, alleging that they provided financial and propaganda support to the Palestinian militant group Hamas, which is on the European Union's terrorism blacklist.
Interior Minister Horst Seehofer said Germany will not allow charities to provide support to the Gaza-based group. "Whoever supports Hamas under the guise of humanitarian aid disregards fundamental values of our constitution and discredits the commitment of many aid organisations," he said on Wednesday.
The main targets of the raids, WorldWide Resistance-Help and Ansaar International, are believed to have collected funds for the blacklisted organisation.
The Dusseldorf-based Ansaar International, which has been active since 2012, describes itself on its website as an aid organization carrying out projects "for the good of Allah." By its own count, it has 600 members in Germany and around 2,000 around the globe.
It states it provides health services, water and sanitation, orphanages and education in Africa, Asia, Europe, the Middle East and Americas. In Gaza, it provides emergency food aid, water, electricity and schooling.
WWR Help claims to provide humanitarian services in Gaza and collect donations for Ramadan.
The German police believes these claims to be a cover-up for illicit funding of what the US, Israel and the EU consider a terrorist organisation. At least 90 properties across Germany were searched by the police as part of the crackdown.
The German government has been a strong supporter of Israel and often underlines its "special responsibility" for the Israeli state due to the Holocaust, which killed six million Jews.
Hamas, which has an armed and a political wing, took control of the Gaza Strip in 2007 after defeating the PLO-affiliated Fatah party in Palestinian elections.
Full report at:
https://www.thenational.ae/world/europe/german-police-raid-90-properties-over-suspected-hamas-support-1.847878
--------
Pakistan
Afridi hints at bar on banned outfits' leaders from contesting polls
Iftikhar A. Khan
April 12, 2019
KOHAT: Minister of State for Interior Shehryar Khan Afridi has hinted at developing an effective mechanism to bar leaders of proscribed organisations from taking part in polls.
"What has been happening in the past will not be allowed to continue," he said on Thursday while talking to reporters after addressing the closing ceremony of a spring festival at the Kohat garrison.
He was responding to a query about whether a mechanism was being evolved to prevent leaders of banned outfits from taking part in electoral politics and to stop fourth schedulers from travelling for Haj and Umrah.
Fourth schedulers are individuals who are members of proscribed organisations and have been placed on the fourth schedule of the Anti-Terrorism Act 1997.
The minister reiterated that the ongoing crackdown against outlawed organisations had not been initiated under any external pressure. He said the government was committed to transforming Pakistan so that nobody could point a finger at it.
"The government has taken over all religious seminaries, ambulances, dispensaries, hospitals and other assets linked to the proscribed organisations. The government has also released funds to run these assets," he added.
Referring to a report to be submitted by Pakistan to the Financial Action Task Force (FATF) next week, he ruled out the possibility of Pakistan's placement on FATF's black list.
The minister said in its last report submitted to the FATF, the federal government had pleaded its case in such a professional manner that all member states except India had lauded Pakistan's efforts, noting a reasonable improvement.
Mr Afridi said in the past, whenever the FATF delegation arrived in the country, Pakistan's case was weak because all state institutions were sending different vibes. However, this is not the case now, he added.
The minister said the Federal Investigation Agency (FIA) and other agencies had taken exemplary measures to curb human trafficking and money laundering. "Airport Security Force, Customs, FIA, Coast Guards, Rangers, FCs and Army have created effective set-ups to curb illegal movement of money, humans and drugs.
"We are erecting fences along borders with our neighbouring countries. Our message to the world is that Pakistan won't allow its soil to be used against any country. Both prime minister and army chief are monitoring these operations," he said. He also hoped for early signing of extradition treaties with the UK and Turkey.
'Peace ambassadors' of Pakistan
He also described the holding of the spring festival in Kohat as a significant development, as previously the area had been a hot spot for militancy. He pointed out that the event had been attended by over a dozen foreign diplomats.
"Now these diplomats will act as peace ambassadors on behalf of Pakistan telling the world about peace and development taking place in this part of Khyber Pakhtunkhwa which was previously known as threat to world peace," said the minister.
He said the path towards peace was not easy and Pakistan had to pay a heavy price. Mr Afridi said thousands of Pakistanis from civil and military backgrounds have laid down their lives to defeat the scourge of terrorism and now the world needs to honour their sacrifices.
"After achieving durable peace, the development process has started. By launching deep institutional reforms and a vibrant visa regime, we have opened Pakistan to the world. Now investors and tourists are welcome and all state institutions are standing ready and united to welcome investors who would enjoy maximum profits in Pakistan. We have rich reserves of oil, gas and minerals. We have a lot to offer to the world. Just come and explore Pakistan," the minister said.
https://www.dawn.com/news/1475552/afridi-hints-at-bar-on-banned-outfits-leaders-from-contesting-polls
--------
Mindset needs to be changed towards gender-based violence: minister
April 12, 2019
ISLAMABAD: Law enforcement and the judiciary need to be sensitised and society's mindset needs to be changed towards gender-based violence, Minister for Human Rights Dr Shireen Mazari said on Thursday.
At a seminar, she said the government is committed to ensuring an equal environment for all and to ending gender-based violence.
She said that in addition to effective implementation of existing laws, new legislation to protect the rights of every citizen – women and children in particular – from domestic violence is on the cards as well.
The minister also claimed the state of human rights in Pakistan is far better than many other countries.
Dr Mazari was speaking at an event titled 'Striving to Protect and Uphold Equal Rights for All: A Public-Private Drive to End Gender Based Violence' organised by the Islamabad police and Rozan.
Minister of State for Interior Shehryar Afridi was also present.
The seminar aimed to generate discourse on action required to end gender-based violence and to share steps taken by the police to deal with the issue.
Dr Mazari told participants that the government is committed to providing all possible support to survivors of violence.
"Besides implementing laws, there is a need to change the society's mindset to end the gender based violence. Our ministry is working on creating awareness about the laws, especially for sensitization of public," she said.
She said gender-based violence in a central issue and needs to be tackled as a priority. She added that increasing violence against marginalised groups requires a sensitised and professional police force, and praised the Islamabad police for professionalism and for their performance.
She said the police perform their duties for the public's safety and security and urged people to respect them.
Dr Mazari said minorities are being given their own personal laws, saying that the Hindu divorce and marriage law already exists and a Christian divorce bill will be presented in parliament soon.
She added that steps are being taken for the welfare of the transgender community and to ensure the implementation of the transgender law.
A separate ward has been set up for transgender patients at the Pakistan Institute of Medical Sciences, she said, and they are receiving treatment free of charge and without any inconvenience.
Full report at:
https://www.dawn.com/news/1475494/mindset-needs-to-be-changed-towards-gender-based-violence-minister
--------
Pakistan government to file fresh corruption cases against Nawaz Sharif's family
April 11, 2019
The Pakistan government would file fresh corruption cases against jailed former prime minister Nawaz Sharif's family members after proof of money laundering was found against them, according to media reports.
Prime Minister Imran Khan gave approval of filing cases against the Sharifs during a parliamentary meeting here on Wednesday.
The federal and provincial departments have collected data regarding the alleged corruption by the leadership of Pakistan Muslim League-Nawaz (PML-N) party, dunyanews.tv reported.
Sharif is the (PML-N) supremo, while his brother Shehbaz is the party's president.
The National Accountability Bureau (NAB) filed three corruption cases against Sharif on the orders of the Supreme Court following the publication of the Panama Papers.
Sharif, his daughter and son-in-law retired captain Mohammad Safdar were granted bail in September last year in the Avenfield properties case that involved buying of four luxury flats in London through fraudulent means.
He was acquitted in December last year in the Flagship Investments corruption case in the high-profile Panama Papers scandal.
Full report at:
https://www.business-standard.com/article/pti-stories/pakistan-government-to-file-fresh-corruption-cases-against-nawaz-sharif-s-family-119041100758_1.html
--------
16 people killed in Quetta blast; CM condemns attack
Syed Ali Shah
April 12, 2019
At least 16 people were killed and over two dozen others injured in a blast believed to be targeting members of the Hazara community in Quetta's Hazarganji area on Friday morning.
Deputy Inspector General (DIG) Abdul Razzaq Cheema confirmed the death toll and told DawnNewsTV that the blast was targeting members of the Hazara community.
Eight of those killed were Hazara, while at least one Frontier Corps soldier was martyred in the attack, DIG Cheema said. Others who lost their lives in the attack were shopkeepers, businessmen and citizens in the area.
The wounded were shifted to Bolan Medical Complex for medical treatment.
Hazarganji a repeat target
The Hazarganji area in Quetta has been targeted by such attacks in the past. Hazara shopkeepers are known to purchase vegetables and fruits at the bazaar and sell them at their own shops. They are to be provided security escorts to and from Hazarganji since they are constantly under threat of attack.
DIG Cheema, while speaking to DawnNewsTV, explained that "people from the Hazara community come here daily in convoy form from Hazara Town to buy vegetables. They are escorted by police and FC, and then they return there. It was the same today," he said.
"There were 11 cars and 55 people. Police and FC were in front of them and behind them. They brought them to Hazarganji. When they entered sabzi mandi, the police expanded their perimeter to the gates so that no one could enter, while the FC took their positions," he continued.
"Around 7:30am, they were loading at a shop during which the blast happened."
"The security forces are here, police are here. What more can we do? We secure them and travel back and forth with them. But if something is hidden in a shop, then shopkeepers will need to be probed."
He explained that the last time there had been an attack in the area, he had written to the administration and asked them to keep the area clean so that there weren't any hiding places for bombs. He added that the Safe City project for Quetta had also run into some delays, so there was a shortage of CCTV cameras in the area.
CM, PM condemn attack
Balochistan Chief Minister Jam Kamal strongly condemned the attack. He assured that the elements involved in the attack and their heads would be proceeded against and directed the provision of the best medical treatment to those wounded.
"People who have an extremist mindset are a menace to society," the chief minister asserted. "We must foil the conspiracy to disrupt peace."
Prime Minister Imran Khan also condemned the blast and sought an inquiry report into the attack, Radio Pakistan reported.
Violence against Hazaras
Hazaras are disproportionately targeted by sectarian violence as they are easily identifiable due to their distinctive physical appearance. Nearly half a million Hazaras have settled here since fleeing Afghanistan to escape violence in their homeland during the past four decades.
A report released by the National Commission for Human Rights (NCHR) last year stated that 509 members of Hazara community were killed and 627 injured in various incidents of terrorism in Quetta from January 2012 to Dec 2017.
NCHR official Fazeela Alyani had earlier said that all these lives were lost in Quetta. According to the NCHR, targeted killings, suicide attacks, and bomb blasts have inflicted harm to daily life, education, and business activities of ethnic Hazara community members in Balochistan's largest city.
Alyani had also explained that the fear and intimidation forced Hazaras to migrate to foreign countries, while target killings forced Hazara students to abandon their studies.
Balochistan has seen at least three others blasts in different areas over the last month, with varying targets.
Four policemen were targeted in an improvised explosive device (IED) blast in Quetta, while an IED blast targeting a passenger train in Balochistan's Dera Murad Jamali killed four people.
At least two people were killed and 11 others injured in a bomb blast in a Panjgur bazaar.
Full report at:
https://www.dawn.com/news/1475621/16-people-killed-in-quetta-blast-cm-condemns-attack
--------
Tajik defence minister lauds Pakistan Army's efforts towards regional stability
Apr 12, 2019
RAWALPINDI: Defence Minister of Tajikistan General Sherali Mirzo on Thursday called on Chief of Army Staff (COAS) General Qamar Javed Bajwa and expressed his appreciation for Pakistan Army's efforts towards regional stability, said a statement released by the military's media wing.
The Tajik defence minister also praised the army's professionalism as both senior defense officials discussed the regional security situation and matters of mutual interest including enhancement of bilateral defence and security cooperation.
COAS said that Tajikistan is a brotherly country and cooperation between both countries will help improve peace and stability in the region, added the ISPR statement.
Full report at:
https://www.pakistantoday.com.pk/2019/04/11/tajik-defence-minister-lauds-pakistan-armys-efforts-towards-regional-stability/
--------
Pakistan to skip upcoming US-Taliban talks in Doha
Ijaz Kakakhel
APRIL 12, 2019
Pakistan will not be a part of the upcoming round of peace talks between Taliban and the United States in Doha this month, the Foreign Office said on Thursday.
"Pakistan has always supported peace talks in the past and believes that an Afghan-led, Afghan-owned government is the only solution to the Afghan issue," Foreign Office spokesperson Dr Faisal told a weekly press briefing in Islamabad. He said Islamabad will continue to play its facilitative role for durable peace in Afghanistan. "Dialogue is a good way of resolving all outstanding conflicts," he maintained.
The spokesperson said Pakistan is still waiting for an actionable intelligence from the Indian side regarding Pulwama incident that took place in February in Indian-held Kashmir. He said a set of questions regarding the Pulwama incident has been handed over to the Indian high commission earlier in the day and their response is awaited.
Dr Faisal confirmed that Pakistan has effective intelligence about Indian likely attack in mid-April that is why it was stated by Foreign Minister Shah Mehmood Qureshi publicly. "Pakistan retaliated Indian aggression with its own strength and without involving any other force on Pulwama incident and any future threats from India will be dealt with the same intensity by Pakistan," he reaffirmed.
Dr Faisal said Pakistan doesn't want to affect Indian general election in any sense. "India has always been reluctant to come to the dialogue table because of the reasons only known to Indian side," he added.
The spokesperson said Pakistan has repeatedly raised Kashmir issue on every international forum including the United Nations Security Council (UNSC). "We impressed upon the international community to urge India, by all means possible, to immediately halt the human rights atrocities in IHK and seek their help in resolving the Jammu & Kashmir dispute," he added.
To another question, he said that the status of the occupied valley under Article 370 of the Indian constitution can't be tempered with as Kashmir is a disputed territory between India and Pakistan.
He said Prime Minister Imran Khan will be visiting Iran soon to discuss bilateral relations with the Iranian leadership.
Separately, Foreign Minister Shah Mehmood Qureshi Thursday told the Senate Standing Committee on Foreign Affairs that Pakistan is following the policy of de-escalation while at the same time, it stands vigilant to any possible aggression from the Indian side.
The committee was told in a chronological order how the incident and India's immediate allegation on Pakistan was dealt with by the Foreign Office. The foreign minister observed that the world has now seen the reality of Indian claims of killing 300 terrorists and shooting down our F-16 jet.
On questions regarding release of Abhinandan and the claims of a second pilot, Qureshi said there should be no misconception about who decided the release of the Indian pilot as it was the prime minister's decision himself. He said the initial reports of a second pilot were not true. "Pakistan captured only one Indian pilot, and speculations in the media about capture of an Israeli pilot are fake," he maintained.
Qureshi also told the committee that Prime Minister Imran Khan's recent statement regarding the outcome of the ongoing elections in India was 'taken out of context'.
The committee unanimously passed a resolution regarding the proposed amendments in Indian constitution aimed at changing the demographics of the Indian-held Kashmir.
The committee also discussed matters of providing relief to Pakistani people in jails in UAE and other countries. The committee referred the matters of disrespectful behaviour with members of parliament to the privileges committee and at the same time asked the Foreign Office to draft standard operating procedures for dealing with international visits.
Full report at:
https://dailytimes.com.pk/375806/pakistan-to-skip-upcoming-us-taliban-talks-in-doha/
--------
Mideast
Israeli agriculture minister, settlers storm al-Aqsa Mosque compound in occupied al-Quds
Apr 11, 2019
The Israeli minister of agriculture and rural development, Uri Ariel, together with a group of extremist settlers, has stormed the al-Aqsa Mosque compound in the occupied Old City of East Jerusalem al-Quds amid an escalation of violence by Israeli forces and settlers against Palestinian people.
Firas al-Dibs, spokesperson of the Islamic Waqf (Endowment) organization, which manages the compound's affairs, said the 66-year-old right-wing politician and a number of settlers forced their way into the holy site through the Moroccan Gate under tight protection of several groups of Israeli soldiers and special police forces.
Dibs pointed out that Israeli security forces escorted Ariel and the settlers as they toured the compound.
In July 2018, Israeli Prime Minister Benjamin Netanyahu decided to allow Israeli lawmakers, or Knesset members, to visit the compound once every three months and announced that ministers could also go to the site. A restriction of access to the site had been imposed since October 2015 in the wake of tensions in the occupied territories.
The number of Israeli lawmakers who have stormed the al-Aqsa Mosque compound has increased in the past few months since Netanyahu's announcement.
Most of the Knesset members are right-wing extremists, who support the demolition of the Islamic site in order to build a Jewish temple instead.
The al-Aqsa Mosque compound sits just above the Western Wall plaza and houses both the Dome of the Rock and al-Aqsa mosque.
Palestinians have repeatedly warned of Israeli attempts to change the status quo of the al-Aqsa Mosque compound. Al-Aqsa Mosque is the third holiest site in Islam.
The occupied Palestinian territories have witnessed new tensions ever since US President Donald Trump announced his decision on December 6, 2017 to recognize Jerusalem al-Quds as Israel's capital and relocate the US embassy in Israel from Tel Aviv to the occupied city.
On December 21, 2017, the United Nations General Assembly overwhelmingly voted in favor of a resolution that calls on the US to withdraw its controversial recognition of Jerusalem al-Quds as Israeli "capital."
In an attempt to prevent the passing of the resolution, Trump threatened reprisals against countries that backed the measure, which had earlier faced a US veto at the UN Security Council.
Israel, however, rejected the world body's resolution while thanking Trump for his decision to move the US embassy to Jerusalem al-Quds.
https://www.presstv.com/Detail/2019/04/11/593165/Israeli-minister-dozens-of-settlers-storm-alAqsa-Mosque-in-occupied-alQuds
--------
Iran welcomes Egypt's 'withdrawal' from NATO-style Arab alliance
Apr 11, 2019
Iran has greeted with optimism reports that Egypt has refused to join a US-led initiative for formation of a NATO-like Arab alliance primarily focusing on opposing the Islamic Republic.
"Egypt is one of the important and powerful countries of the Arab and Muslim world, which can play a notable role in creation of peace, stability, and security in the West Asia region," Foreign Ministry Spokesman Bahram Qassemi said on Thursday.
He added that the Iranian Foreign Ministry is examining the credibility of reports about withdrawal of Egypt from the so-called Arab NATO meeting, and would welcome them if verified.
Earlier in the day, four sources familiar with the matter told Reuters that Cairo had informed the United States and other participants in the proposed Middle East Strategic Alliance (MESA) of its plan for the withdrawal.
An Arab source stressed that Egypt had pulled out of the so-called "Arab NATO" because of its doubts about the seriousness of the proposal as well as fears that such an Arab front would increase tensions with Tehran.
However, two other sources emphasized that the remaining MESA members were moving ahead with the initiative and would press Egypt diplomatically to revoke its withdrawal.
"We all want them back," said one of the sources. The Arab source, however, said Cairo could not be convinced to return.
The Egyptian embassy in Washington and the White House did not respond immediately to requests for comment.
Cairo's move could be seen as a blow to US President Donald Trump administration's anti-Iran strategy, analysts say.
Elsewhere in his remarks, Qassemi said, "Egypt can play an effective and proper role in [contributing to] convergence and unity in the Muslim world through realism and understanding the sensitive situation of the present time."
He finally expressed hope that as an "undeniable Arab power," the North African country strives to perform "its historical responsibility on a realistic and rightful path" at the current critical juncture.
Full report at:
https://www.presstv.com/Detail/2019/04/11/593179/Iran-welcomes-Egypt-refusal-Arab-NATO
--------
Iraq will be no starting point for action against neighbours, Salih assures Iran
Apr 11, 2019
In a veiled warning to the US, President Barham Salih of Iraq says his country's soil will not be a "starting point" for any action against its neighbors, two days after Washington blacklisted an elite Iranian military force, which greatly contributed to the collapse of the Takfiri Daesh terror group in the Arab country.
Salih made the remarks in a meeting on Thursday with Iranian Ambassador to Iraq Iraj Masjedi in Baghdad, where the two sides exchanged views on bilateral ties and other issues of mutual interest, according to a statement by Iraq's Presidential Office.
During the talks, Salih praised Iran for backing Iraqi armed forces in their counter-terrorism battles, which led to the fall of Daesh in the Arab country in late 2017.
The Iraqi president also "stressed that Iraq would not accept to be a starting point for any action that would harm its neighbors or strain the regional situation," underlining the need for mitigating tensions in the already-troubled region.
Salih further expressed "Iraq's keenness to be an arena for convergence of interests of the countries and peoples of the region."
The Iranian envoy, in turn, said the Islamic Republic wants close Tehran-Baghdad cooperation and continues to stand by the Iraqi nation in all arenas, according to the statement.
Masjedi also briefed Salih on US President Donald Trump's hostile decision on April 8 to label Iran's Islamic Revolution Guards Corps (IRGC) as a "foreign terrorist organization."
In a swift tit-for-tat move, Iran's Supreme National Security Council (SNSC) slammed the US government as supporter of terrorism, and designated American forces in West Asia, known as the United States Central Command (CENTCOM), as a terrorist organization.
Washington's unprecedented move sparked criticism from several countries around the world, which say blacklisting another country's military runs counter to international regulations and could lead to further instability in the restive Middle East region. Inside Iraq, a number of political factions as well as the Popular Mobilization Forces, which had received advisory assistance from Iran's IRGC in the course of their fight against Daesh, denounced the designation.
Prior to talks with Masjedi, Salih had sat down with Kenneth McKenzie, CENTCOM's commander, at the Presidential Palace in Baghdad on Wednesday, where he called for efforts to reduce tensions in the region.
Military advisors with the IRGC's Quds Force -- led by Major General Qassem Soleimani -- rushed to the help of Iraqi army forces and allied volunteer fighters at Baghdad's request in 2014, when Daesh first unleashed its campaign of terror in the Arab country and made sweeping territorial gains there.
Backed by Iran, Iraqi forces managed to undo Daesh's gains and liberate the entire country from the clutches of the world's most notorious terror group three years later.
Hadi al-Ameri, the head of Iraq's Badr Organization -- a part of the Popular Mobilization Forces -- once credited Tehran and Soleimani with saving the Baghdad government when Daesh emerged in Iraq.
Baghdad had delivered similar warnings to the US earlier this year after Trump angered Iraqis by announcing that American forces must remain in Iraq despite the defeat of Daesh so Washington can keep a close eye on Iran.
Iraq 'told of Iran's expectation from friends'
Besides Salih, Masjedi also met with Chairman of the Islamic Supreme Council of Iraq Ammar Hakim and ex-president Fuad Masum.
Commenting on his discussions with Iraqi officials on Thursday, Masjedi told reporters that he took the opportunity to convey Tehran's stance on Washington's "unwise" and "stupid" move against the IRGC.
Iran is "surprised that the fate of a country like the United States has fallen into the hands of an individual who is committed to no policies or regulations."
Full report at:
https://www.presstv.com/Detail/2019/04/11/593175/Iran-Iraq-US-IRGC-Daesh
--------
Netanyahu looks to form right-wing government after victory
April 11, 2019
JERUSALEM: Prime Minister Benjamin Netanyahu sought to form a right-wing governing coalition on Thursday after securing victory in a high-stakes Israeli election despite a strong challenge from a centrist alliance.
The results from Tuesday's vote came despite corruption allegations against the 69-year-old premier and kept him on course to become Israel's longest-serving prime minister later this year.
The allegations are likely to play an important role in coalition negotiations as many analysts expect Netanyahu to demand pledges from potential partners to agree to remain in his government if he is indicted.
Nationalist bend
Netanyahu will rely in part on politicians of the nationalist right opposed to a Palestinian state to put together his government.
His current government is already seen as the most right-wing in Israel's history, and his next is expected to be similar if not even further to the right.
Netanyahu himself, in a campaign pledge just three days before polling day, pledged to begin annexing settlements in the occupied West Bank.
Applying sovereignty in the West Bank on a large scale could effectively end remaining hopes for a two-state solution with the Palestinians.
Netanyahu's pledge was widely seen as an appeal to the far right, and it appears to have worked: He boosted the number of parliamentary seats for his Likud, while smaller, far-right parties struggled.
The Likud said late on Wednesday that Netanyahu "will form a right-wing government and he is already in advanced negotiations with the national camp partners."
Throughout the campaign, Netanyahu highlighted his bond with US President Donald Trump, who has swung US policy sharply in Israel's favor and openly backed the prime minister.
On Wednesday, Trump said the incumbent's election to a fifth term gives the White House's long-awaited peace plan, expected to be released in the coming weeks, a "better chance."
It was not clear what he meant.
He also tweeted a picture of a Netanyahu supporter waving a Trump flag and telephoned the premier to offer congratulations.
The election was seen as a referendum on the veteran prime minister, who has built a reputation as guarantor of Israel's security and economic growth, but whose divisive right-wing populism and alleged corruption led to calls for change.
The results reflected his deft political skills, Israel's shift to the right and wide satisfaction with Netanyahu's achievements, but also the fact that many voters are fed up with him.
The new centrist Blue and White alliance put together by ex-military chief Benny Gantz will finish with a similar number of seats to the Likud even though it came together less than two months before the polls.
Gantz's alliance, which conceded defeat on Wednesday night, however could not peel away enough right-wing votes to unseat Netanyahu.
The results showed that the Likud together with other right-wing parties allied to the prime minister would hold around 65 seats in the 120-seat parliament.
Final official results are expected to be announced by Friday.
They leave President Reuven Rivlin, who must ask one of the candidates to form a government, with little choice but to pick Netanyahu.
Intensive coalition negotiations could drag on for days or even weeks.
Rivlin said he would begin consultations with party leaders next week ahead of making his decision.
His office said the consultations would be broadcast live in their entirety for the first time.
Gantz, a 59-year-old former paratrooper, mounted a strong challenge by brandishing his security credentials while pledging to undo damage he says Netanyahu has inflicted on the country with divisive politics.
"We respect the decision of the people," Gantz said on Wednesday night.
Former Finance Minister Yair Lapid, who co-led Blue and White, vowed to "make life bitter for the Netanyahu government."
The close race between the two main parties had led to uncertainty after polls closed Tuesday night and exit surveys were released.
Both Netanyahu and Gantz claimed victory after the initial exit polls, though even then it appeared Netanyahu was best placed to form a coalition.
Speaking in the early hours of Wednesday at the Likud's post-election party in Tel Aviv, Netanyahu called it a "magnificent victory."
The vote had been expected to be close as Netanyahu faced potential corruption charges.
Fighting for his political life, he spent the weeks ahead of the vote campaigning furiously to energise his right-wing base.
Netanyahu has been premier for a total of more than 13 years, but now faces the prospect of becoming the first sitting prime minister to be indicted.
Full report at:
http://www.arabnews.com/node/1481246/middle-east
--------
Pro-Kurdish party slams Turkey ban on elected mayors taking office
April 11, 2019
ANKARA: Turkey's main pro-Kurdish party on Thursday hit out at electoral authorities for blocking some of its successful candidates from taking office after a March 31 local vote.
The Supreme Electoral Council (YSK) on Wednesday ordered that individuals sacked by an emergency decree during purges after a 2016 failed coup could not take up their posts despite being elected, DHA news agency reported.
The candidate who came second would be able to serve in the post instead, DHA said.
President Recep Tayyip Erdogan has often accused the pro-Kurdish Peoples' Democratic Party (HDP) of ties with PKK Kurdish militants, a charge the party denies.
The HDP said the YSK decision affects many candidates who had already been authorized to stand in the ballot by the same electoral council.
"This step taken by the YSK is part of a deliberate political conspiracy, nothing else" by the ruling AKP and its coalition nationalist MHP partner, HDP spokesman Saruhan Oluc told reporters in Ankara.
The HDP cannot challenge the YSK's move or even take the council to court, Oluc said, but urged the YSK to reverse the decision.
"Show respect to the people's will," he said.
Hundreds of HDP members and around 40 of its mayors are currently in detention, accused by authorities of ties to PKK militants who are fighting a decades-long insurgency in Turkey.
An HDP official who asked not to be identified told AFP that eight of the party's candidates elected in the Kurdish-majority southeast were affected by YSK's move.
One of those was the HDP candidate for the Baglar district of Diyarbakir, who won with more than 70 percent of the vote.
The candidate who came second was from Erdogan's AKP, with 25 percent. In most of the areas affected, the second candidate is from the AKP.
More than 140,000 people were sacked or suspended from the civil service or public institutions after the 2016 failed overthrow of Erdogan, blamed by Turkey on US-based Muslim preacher Fethullah Gulen. Gulen denies Ankara's accusations.
The majority of those sacked including teachers are accused of links to Gulen but several thousand are suspected of Kurdish militant links.
After the failed coup, the government installed local administrators to replace 95 of the 102 municipalities held by pro-Kurdish mayors elected in 2014.
Full report at:
http://www.arabnews.com/node/1480986/middle-east
--------
How the Kurdish factor had a boomerang effect in Erdogan's election defeat
Kadri Gursel
April 11, 2019
The Peoples' Democratic Party (HDP) of Turkey — which has a predominantly Kurdish base and has suffered heavy government oppression since 2015 — played a decisive role in the government's loss of the big cities, including the crucial Istanbul, in the March 31 local elections. As part of its political strategy in the country's west, the HDP sat out the mayoral races in big cities such as Istanbul, Izmir, Adana and the capital city of Ankara. Paradoxically, the HDP absence from the ballots became the party's way of proving its political presence and weight.
The HDP's no-show in big cities aimed to precipitate the defeat of President Recep Tayyip Erdogan's party, but to achieve this, the HDP had to do another thing: Get its supporters out to the polls to cast strategic votes for the Nation Alliance, comprised of the main opposition Republican People's Party (CHP) and the right-wing Good Party. The election results show that the party pulled it off.
According to the vote count that emerged in Istanbul on the morning of April 1, the CHP's candidate for metropolitan mayor, Ekrem Imamoglu, placed first with 48.8% of the vote — or some 4,171,000 votes out of the total of 8,860,000 valid votes. He had a lead of some 21,000 votes over Binali Yildirim of the Justice and Development Party (AKP), who got some 4,149,000 votes or 48.55%.
The number and share of Imamoglu's votes correspond to the combined totals the CHP, the Good Party and the HDP mustered in Istanbul in the parliamentary elections nine months ago. The three parties collected 46% of the vote — or some 4,340,000 votes out of the total of 9,438,000 valid votes in the June 24 polls. In terms of shares, the CHP had 26% and the Good Party 7.8%. The HDP's share was 12%, corresponding to some 1,146,000 votes.
Similar to last year's elections, the Good Party contested the local polls under the umbrella of the Nation Alliance. It forfeited fielding a mayoral candidate in Istanbul to help the CHP, the senior partner of the alliance, win. Therefore, one could easily observe that the only factor that changed the situation for the three parties this time and made Imamoglu win was the HDP sitting out the race and managing to mobilize its voters to back the CHP candidate.
A major driver behind the Kurdish turnout that tipped the balance against the AKP was the HDP's former co-chair, Selahattin Demirtas, who remains highly influential despite being behind bars for two and a half years now. In a Twitter message sent via visitors March 29, Demirtas appealed to HDP supporters to vote strategically. "You are the direct kingmakers of these elections," he said. He added, "We have a historic opportunity at hand to show our decisive clout not only in the [southeastern] cities that we shall take back from the trustees but all around the country. The strategic votes we cast in the cities where we have not nominated candidates will demonstrate our strength."
The trustees Demirtas referred to were another key factor that drove HDP voters to the polls to punish the government. During the state of emergency that followed the 2016 coup attempt, Ankara appointed trustees to 94 local administrations in the country's east and southeast, removing their Kurdish mayors — elected on the ticket of what was then the Peace and Democracy Party — over alleged links to the Kurdistan Workers Party (PKK), a designated terrorist group. The municipalities of 10 provincial capitals, including three metropolitan ones, were among the seized administrations.
Ninety-three of the ousted mayors, all of whom had headed local administrations in provincial capitals, districts and smaller localities, ended up in jail on the same terror-related charges. As of December, 50 of them remained in prison. The emergency rule saw the arrest also of thousands of HDP members as well as 16 HDP lawmakers, nine of whom are still behind bars.
In sum, a deep sense of victimization spurred HDP voters as they went to the polls in the municipal elections. The HDP won the local administrations in 50 of the 73 provincial capitals and districts that had been handed over to trustees. The others were taken by the AKP, barring Tunceli, where the Communist Party's Fatih Mehmet Macoglu clinched the victory.
The March 31 polls marked a significant power loss for Erdogan in big cities as a result of the concord among opposition voters, in which the HDP's political initiative was highly influential. The government failed to escape this critical blow despite its high-pitch campaign rhetoric repeated day after the day by its members and media that the Nation Alliance was hand in hand with the PKK. This was due to two main reasons.
First, the issue of terrorism had fallen to the bottom of Turkey's agenda in 2018 as a result of a lull in PKK activities since 2017. While the PKK and terrorism dwindled on the public's problem-perception radar, mounting unemployment and soaring prices — the result of a bruising economic crisis — climbed to the top of concerns, outstripping other issues by far.
With things going upside down like this, the government's propaganda that the opposition was collaborating with terrorists had little effect. By failing to create a perception of threat, the government failed to convince its disgruntled voters to go to the polls and dissuade right-wing opposition voters from backing CHP candidates. Its narrative that the elections were "a matter of survival" proved a flop.
Full report at:
https://www.al-monitor.com/pulse/originals/2019/04/turkey-kurdish-factor-boomerang-effect-in-election.html
--------
URL: https://www.newageislam.com/islamic-world-news/saudi-arabia-funds-extremist-madrasas/d/118305
New Age Islam, Islam Online, Islamic Website, African Muslim News, Arab World News, South Asia News, Indian Muslim News, World Muslim News, Women in Islam, Islamic Feminism, Arab Women, Women In Arab, Islamophobia in America, Muslim Women in West, Islam Women and Feminism