New Age Islam News Bureau
8 Nov 2012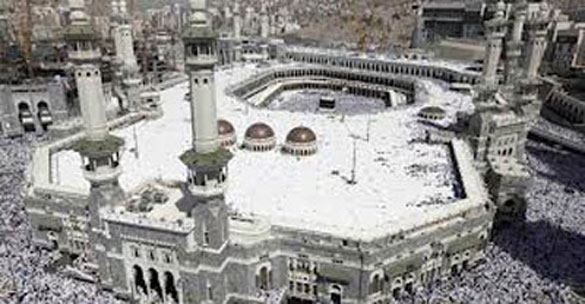 Arab World
• Saudi Arabia Nets $16.5 Billion from Haj Pilgrims: Saudi Newspaper
• Local reactions vary to Egypt's online pornography ban
• Hundreds of Egyptian over stayers in Jeddah request repatriation
• Car bomb attacks kill three people in Iraq
• Refugee crisis mounts as Syria air raids worsen
• Military forces upped in Sinai's Al-Arish in the wake of increased attacks
• Arab contribution to space science praised
• Assad's regime will not stay for long: Arab League chief
• President Assad vows to 'live and die' in Syria
• Assad Says He Does Not Foresee Foreign Intervention in Syria
• Dubai Municipality launches child safety campaign
• Syrian Man, friend get life term for murdering girlfriend
Africa
• Live TV 'coffin call' by Salafi cleric raises concerns over jihad in Tunisia
• Two dead after twin blasts in Nigeria's restive northeast
• Libya car blast hurts Gaddafi era officer: Local security
• Libya court condemns 5 army officers to death in absentia
• Libya: Former Rebel Leader Sought for questioning in General's Death
• Tunisia aims to issue $634 mln in Islamic bonds in 2013
• Homes Burned at Alleged Darfur Attack Site: Peacekeepers
Mideast Asia
• Sufi Trail Reveals Secrets of Islamic Mysticism
• Three Qaida suspects killed in Yemen drone strike
• Ahmadinejad to Join Leaders at Bali Democracy Forum
• Iran's Ahmadinejad Slams Big-Spending US Elections after Obama Win
• Gunfire From Syria Wounds Civilians in Turkey
• Israeli Left Mocks 'Bibi's Bet on Romney'
North America
• Top House Islamophobe Allen West Falls
• Tennessee Muslims Instrumental in Getting the Vote Out
• Mullah Fazlullah hiding in Afghanistan: US officials
• US Judge Jails Anti-Muslim Filmmaker for a Year
• CAIR Welcomes Voters' Rejection of Islamophobic Candidates
• After Barack Obama win, US backs new UN arms treaty talks
India
• Haji Ali Dargah ban on women a Taliban-like step
• Now, time for US to ask Pak to lay off from Kashmir: Expert
• Relieved by verdict, will work for cricket: Mohammad Azharuddin
• Some Gujarat riots papers destroyed before time: Bhatt to Nanavati panel
• Kill Godhra issue forever: ASSOCHAM to Narendra Modi govt
• India welcomes UNSC's Haqqani sanction
• India, Bangla near historic agreement on Teesta water
• 'Old temple' near Charminar, Hyderabad, fuels tension
• State refuses to intervene in Haji Ali dargah issue
• Indian delegation in Pakistan left unprotected for a short while; probe ordered
• No hasty decision on AFSPA issue in J&K: Antony
• India plans $100-mn aid to Afghanistan
Pakistan
• Taliban suicide attack in Pakistan leaves 4 killed, 28 injured
• Barack Obama victory infuriates Pakistani drone victims
• Dr A Q Khan for grand political alliance to 'save country'
• Nine, including police officer, killed in Karachi's violence
• No Taliban presence in Karachi, claims Former Minister
• Pakistan defence is purely security driven: Gen Wynne
• KP governor says: No timeframe for troop withdrawal from tribal areas
• Pak HM likely to visit India on Nov 22
• Zardari sanguine about future of Pak.-U.S. relations
• Obama win may be good news for Pakistan flag-makers to burn at protests
• Hope Obama gives peace a chance: Imran Khan to Obama
• Pakistan's minority Hindus feel under attack
• Balochistan case: Petition filed for review of SC's interim order
South Asia
• Bombings across Afghanistan Kill 20 People
• 4 Members of Afghan Police Are Found Guilty in Rape
• Be alert about plot to save war criminals: PM Sheikh Hasina
• Jamaat-Shibir violence in Bangladesh condemned
• Obama's second term: Pakistan's fate hangs on Afghan future
• Taliban urge Obama to pull troops out now
• Hatred locks Myanmar Rohingya in legal limbo: Experts
• Myanmar: Aung San Suu Kyi Calls for More Troops to Keep Peace
Southeast Asia
• Convicted Terrorist Wears Burqa to Escape Jakarta Police Custody
• Terror Camp Found in Poso, Jakarta
Europe
• Kazakh man detained for praying inside customs post building
• Violence against women, a war legacy in Bosnia and Herzegovina
• Islamophobia Awareness Month launched in Europe
• "Free speech is central to deterring hate speech" – UN expert on freedom of expression
• Abu Qatada extradition ruling on Monday: Britain
Compiled by New Age Islam News Bureau
Photo: Saudi Arabia Nets $16.5 Billion from Haj Pilgrims
URL: https://www.newageislam.com/islamic-world-news/new-age-islam-news-bureau/saudi-arabia-nets-$16.5-billion-from-haj-pilgrims--saudi-newspaper/d/9241
--------------
Arab World
Saudi Arabia Nets $16.5 Billion from Haj Pilgrims: Saudi Newspaper
8 November 2012
RIYADH: Saudi Arabia raised $16.5 billion from Muslim pilgrimages this year to Mecca and Medina in the west of the kingdom, a Saudi newspaper reported on Thursday.
Al-Hayat, citing religious tourism sources, said a total of 12 million pilgrims visited Islam's holiest sites during the annual hajj which took place this year at the end of October or for the year-long umra, or minor pilgrimage.
The pilgrims – including 3.1 million who made the hajj, including 1.7 million from abroad, according to official figures – spent 62 billion riyals ($16.5 billion), a rise of 10 percent over 2011 because of increased costs, it said.
http://dawn.com/2012/11/08/saudi-nets-16-5-bn-from-pilgrims-paper/
--------------
Local reactions vary to Egypt's online pornography ban
Islamist forces welcome, civil forces condemn prosecutor-general's decision to implement court ruling banning pornographic websites in Egypt
Zeinab El Gundy
7 Nov 2012
Reactions varied among Egypt's independent and partisan politicians to Prosecutor-General Abdel Maguid Mahmoud's Wednesday decision to implement an earlier administrative court ruling banning pornographic websites in Egypt.
Islamist politicians praised the move.
In statements to Al-Ahram's Arabic-language news website, Muslim Brotherhood spokesman Mahmoud Ghozlan described the decision as "a first step towards establishing a society based on ethics."
"The prosecutor-general's decision will serve to preserve Egypt's social norms and values," Ghozlan added, stressing that the ban would not apply to news websites critical of the Muslim Brotherhood.
Mohamed Nour, spokesperson for the Salafist Nour Party, voiced similar sentiments.
"The administrative court ruling to ban pornographic websites represents a step towards preserving traditional Egyptian values and ethics," he told Al-Ahram, going on to express hope that the ruling would be applied by the relevant government ministries.
Nour believes there is no need to fear the decision's potential impact on personal and public freedoms. "Egyptian society is conservative by nature and rejects these websites," he asserted.
Former Nour Party member and Islamist MP Ali Wanis (who was expelled from the party this summer following allegations of sexual misconduct), for his part, described the decision as "a first step towards applying Islamic Law in Egypt."
More secular-minded politicians and activists, meanwhile, slammed the decision.
"Those who are preoccupied with banning websites (which they will not be able to block for technical reasons) should be more concerned about the drafting of Egypt's new constitution," Ayman El-Sayad, a liberal journalist and advisor to President Mohamed Morsi, stated on Twitter.
Islam Lotfy, a former Muslim Brotherhood member and founder of the moderate-Islamist Egyptian Current Party, likewise criticised the move.
"Instead of focussing on pornographic websites, the prosecutor-general should focus his efforts on combating corruption," Lotfy stated on Twitter, in a reference to the many unresolved corruption cases lodged with the office of the public-prosecutor, who himself has been accused of corruption by several prominent political figures.
http://english.ahram.org.eg/NewsContent/1/64/57484/Egypt/Politics-/Local-reactions-vary-to-Egypts-online-pornography-.aspx
---------
Hundreds of Egyptian over stayers in Jeddah request repatriation
8 November 2012
Hundreds of Egyptian over stayers, men and women, continue to gather in front of the Egyptian Consulate in Jeddah, on Tuesday, demanding a facilitated and speedier repatriation back to their home country. The Egyptian over stayers, had entered the Kingdom on an Umrah visa, and then violated the permitted duration of their visas, in order to perform Haj. Now that they have performed Haj, these men and women, are requesting the help of their consulate, to return back to their country without facing any penalties.
Most of the over stayers hail from rural areas in Egypt, and have previously violated their short-term visas, to stay in the Kingdom till Haj season.
Due to strict measures taken by the Egyptian authorities, this phenomenon has drastically been reduced, in comparison to previous years. However, unfortunately, there are still some Egyptians nationals that opt for this fraudulent practice, and find themselves in a difficult situation.
The over stayers have taken over yards of land, opposite the consulate, making it increasingly difficult for residents who live close by, to move and park their cars freely.
An additional security personnel has been deployed at the Egyptian Consulate as a precautionary measure.
http://www.arabnews.com/hundreds-egyptian-overstayers-request-repatriation-0
--------------
Car bomb attacks kill three people in Iraq
8 November 2012
BAGHDAD: Iraqi officials say two car bombs have killed three people and wounded at least seven in a town south of Baghdad.
Police officials say the first bombing took place in a residential area of the predominantly Shia town of Mohmoudiya early Thursday, killing two people and wounding four.
Another car bomb exploded seconds later at a parking lot near the town's electricity directorate, killing one person and wounding three.
Full report at:
http://dawn.com/2012/11/08/car-bomb-attacks-kill-3-people-in-iraq/
--------------
Military forces upped in Sinai's Al-Arish in the wake of increased attacks
Security operations in North Sinai are being bolstered in the wake of a sharp increase in attacks on the police in the restive peninsula
8 Nov 2012
In a report published Thursday by pan-Arab daily Al-Sharq Al-Awsat, a military source in North Sinai claimed that well-planned attacks are being carried out in North Sinai against senior officers who have been leading a campaign against jihadist elements in the peninsula.
On Tuesday, the inspector of general security in North Sinai was shot in Al-Arish, sustaining injuries to his jaw and arm.
Full report at:
http://english.ahram.org.eg/NewsContent/1/64/57500/Egypt/Politics-/Military-forces-upped-in-Sinais-AlArish-in-the-wak.aspx
----------
Arab contribution to space science praised
8 November 2012
Prominent Arab-American scientist Charles Elachi, who was the brain behind the "Mars Curiosity Mission" launched by the United States recently, said the contributions of Arab scientists including space explorers have been extremely important and have enriched the political, economic and cultural life of the people. "The Mars Curiosity Mission is a humble contribution made by me and my team working at the California-based Jet Propulsion Laboratory (JPL)," said Elachi, JPL director, here yesterday.
Full report at:
http://www.arabnews.com/arab-contribution-space-science-praised
--------------
Assad's regime will not stay for long: Arab League chief
8 November 2012
DAMASCUS: Bashar Assad's regime will not stay in power for much longer, Arab League chief Nabil Al-Arabi said yesterday, urging the opposition meeting in Qatar to put aside their differences.
"It is important to unify the opposition's visions, especially because everyone knows that the regime in Syria will not remain for long and one day there will be a new situation in Syria," he told reporters in Cairo.
Full report at:
http://www.arabnews.com/middle-east/assad%E2%80%99s-regime-will-not-stay-long-arab-league-chief
---------
President Assad vows to 'live and die' in Syria
November 8, 2012
BEIRUT (AP) — Syrian President Bashar Assad vowed to "live and die" in Syria, saying in an interview broadcast Thursday that he will never flee his country despite the bloody, 19-month-old uprising against him.
The broadcast comes two days after British Prime Minister David Cameron suggested that Assad could be allowed safe passage out of the country if that would guarantee an end to the nation's civil war, which activists estimate has killed more than 36,000 people.
Full report at:
http://www.nytimes.com/aponline/2012/11/08/world/middleeast/ap-ml-
-----------
Assad Says He Does Not Foresee Foreign Intervention in Syria
November 8, 2012
BEIRUT (Reuters) - President Bashar al-Assad said he does not see the West embarking on a military intervention in Syria and warned that the cost of such action would be unbearable, Russia Today reported on Thursday, citing an interview with him.
"I think that the cost of a foreign invasion of Syria - if it happens - would be bigger than the entire world can bear ... This will have a domino effect that will affect the world from the Atlantic to the Pacific," he said.
Full report at:
http://www.nytimes.com/reuters/2012/11/08/world/europe/08reuters-syria-crisis-
---------
Dubai Municipality launches child safety campaign
Sajila Saseendran / 8 November 2012
Dirty and cramped childcare facilities are some of the almost 80 such facilities in Dubai which have been fined, this year alone. The revelations came as Dubai Municipality launched a new child safety campaign on Wednesday.
An official said 49 fines were issued to nurseries, while 27 fines were issued to kids' salons, resulting in total fines of Dh91,700.
As many as 97 warnings were also issued.
The common violations ranged from cramped conditions in nurseries due to admitting more children than allowed as per the space specifications, staff not possessing valid occupational health cards and lack of general cleanliness.
Full report at:
http://www.khaleejtimes.com/kt-article-display-
--------------
Syrian Man, friend get life term for murdering girlfriend
Marie Nammour / 8 November 2012
A Syrian man has been sentenced in absentia to life in prison on Wednesday by the Court of First Instance for the premeditated murder of his British girlfriend in her apartment in Rafaa.
Another Syrian, 26-year-old jobless, was also given life term for instigating the murder and criminal complicity. He has been referred to the Court of Misdemeanours for over-staying in the country with an expired visa.
Full report at:
http://www.khaleejtimes.com/nation/inside.asp?xfile=/data/courtroundup/2012/November/
--------------
Africa
Live TV 'coffin call' by Salafi cleric raises concerns over jihad in Tunisia
06 November 2012
Tunisian viewers were taken shocked when a Salafi cleric called upon Muslim youths to carry out jihadist acts against the government in a live TV show this week.
Tunisian analysts warned of the consequences of a growing militant discourse that has prevailed after the revolution.
Nasr al-Din al-Alawi, a Salafi cleric and imam, was shown in a TV interview (in the presence of Interior Minister Ali Larayed) brandishing a white cloth, used to represent a coffin, as a sign that he is willing to sacrifice his life.
Full report at:
http://english.alarabiya.net/articles/2012/11/06/247979.html
--------------
Two dead after twin blasts in Nigeria's restive northeast
November 07, 2012
KANO, Nigeria — Two bomb blasts targeting soldiers rocked northeast Nigeria on Wednesday, killing at least two civilians in a region hit hard by Islamist extremists, the military said.
Boko Haram Islamists have carried out scores of similar attacks in the area, repeatedly targeting the military as part of an insurgency that has killed hundreds since 2009.
Residents said children were hurt in the blast at Kashuwar Sanu (cattle market) in the town of Mubi, which went off as a convoy of military vans drove through.
Full report at: Copyright © 2012 AFP. All rights reserved.
--------------
Libya car blast hurts Gaddafi era officer: Local security
By AFP Published: November 8, 2012
BENGHAZI: A car bomb exploded in Libya's second city of Benghazi on Wednesday, wounding an officer who had served in the regime of slain leader Moamer Gaddafi, a local security official told AFP.
Hussam al Raaid, a former officer of the toppled regime's reviled internal security services, was wounded when his booby-trapped vehicle exploded outside his house, the official said on condition of anonymity.
Full report at:
http://tribune.com.pk/story/462613/libya-car-blast-hurts-gaddafi-era-officer-local-security/
--------------
Libya court condemns 5 army officers to death in absentia
8 November 2012
TRIPOLI: A Libyan military court on Wednesday ordered the execution of five army officers, who were being tried in absentia, on charges of indiscriminate shelling of civilians and of rape during the 2011 conflict.
The court in the eastern city of Benghazi also handed down 10-year prison terms to three soldiers charged with rape, who were present at the hearing, the official LANA news agency reported.
Full report at:
http://www.arabnews.com/libya-court-condemns-5-army-officers-death-absentia
----------
Libya: Former Rebel Leader Sought for Questioning in General's Death
November 8, 2012
A Libyan court on Wednesday ordered Mustafa Abdel Jalil, a former political leader of rebels who toppled Col. Muammar el-Qaddafi last year, to be questioned by military prosecutors in the killing of the insurgents' top field commander, Gen. Abdel Fattah Younes. General Younes, who was Colonel Qaddafi's interior minister before he switched to the rebel cause, was killed by gunmen on his own side in July 2011. His death revealed ideological splits in the rebel movement and was seen as the work of a faction that mistrusted any former loyalist holding a commanding position in the insurgency.
http://www.nytimes.com/2012/11/08/world/africa/libya-former-rebel-leader-sought-for-questioning-in-generals-death.html?ref=world&gwh=A3A4FF03B3B15D4842A4795E630FF122
----------
Tunisia aims to issue $634 mln in Islamic bonds in 2013
8 Nov 2012
Tunisia's moderate Islamist-led government aims to issue 1 billion dinars ($634 million) worth of Islamic bonds next year; the first time the country has used the developing sector to fund public borrowing.
"One billion dinars will be available from the Islamic bonds in the 2013 budget for the first time," Finance Minister Slim Besbes told state radio.
Central bank governor Chadli Ayari told Reuters last month that Tunisia planned to issue Islamic bonds early next year.
Full report at:
http://english.ahram.org.eg/NewsContent/3/12/57515/Business/Economy/Tunisia-aims-to-issue--mln-in-Islamic-bonds-in--.aspx
-----------
Homes Burned at Alleged Darfur Attack Site: Peacekeepers
November 8, 2012
KHARTOUM (Reuters) - Peacekeepers said they had discovered homes burned and dead animals and ammunition littering the ground in a Darfur village allegedly attacked by pro-government forces last week.
Their report gave a rare close-up description of the conflict in the remote region, where rebels demanding greater political and economic sway for their ethnic minorities took up arms in 2003.
Full report at:
http://www.nytimes.com/reuters/2012/11/08/world/africa/08reuters-sudan-
----------
Mideast Asia
Sufi Trail Reveals Secrets of Islamic Mysticism
07 November 2012
Perched high on a hilltop, this Sufi shrine was erected in the 16th century to honour the Sufi mystics.
And today a group of tourists are gathered to learn more about Sufi mysticism in the Palestinian village of Birzeit, near the West Bank city of Ramallah.
Raed Saadeh is briefing visitors before the start of the Sufi Trail.
Saadeh is one of the creators of the Sufi Trail and Chairman of "Rozana", a Birzeit-based association dedicated to the promotion of agro-tourism as well as architectural and cultural preservation in the Palestinian Territories.
Full report at:
http://english.alarabiya.net/articles/2012/11/07/248200.html
--------------
Three Qaida suspects killed in Yemen drone strike
Nov 8, 2012
SANAA: A drone strike near the Yemeni capital killed three suspected Al-Qaeda members including a militant wanted for a deadly attack on the US embassy in Sanaa, security officials said on Thursday.
They said the drone strike, believed to have been carried out by the United States, targeted a car near the village of Beit al-Ahmar in the Sanhan region, 15 kilometres (nine miles) southeast of Sanaa.
Full report at:
http://timesofindia.indiatimes.com/world/middle-east/Three-Qaida-suspects-killed-in-Yemen-drone-strike/articleshow/17142012.cms
--------------
Ahmadinejad to Join Leaders at Bali Democracy Forum
November 08, 2012
Nusa Dua, Bali. Iran's Mahmoud Ahmadinejad is among world leaders set to begin talks today at a democracy forum in Bali, but critics say Tehran will use the event as a platform to project international legitimacy.
The fifth Bali Democracy Forum has attracted record numbers of heads of state and government, including Australian Prime Minister Julia Gillard, Afghan President Hamid Karzai and South Korean President Lee Myung-Bak.
Full report at:
http://www.thejakartaglobe.com/home/ahmadinejad-to-join-leaders-at-bali-democracy-forum/554996
--------------
Iran's Ahmadinejad Slams Big-Spending US Elections After Obama Win
November 08, 2012
Nusa Dua. Iran's President Mahmoud Ahmadinejad Thursday dismissed US elections as a "battleground for the capitalists," a day after Barack Obama's re-election.
Ahmadinejad, whose own 2009 disputed re-election sparked protests that were brutally crushed, told a forum in Bali island intended to promote democracy that the Western system meant only the wealthy few held power.
At the start of the two-day Bali Democracy Forum, attended by leaders including Australian Prime Minister Julia Gillard and Afghan President Hamid Karzai, the Iranian president criticized the situation in Europe and the US.
Full report at:
http://www.thejakartaglobe.com/international/irans-ahmadinejad-slams-big-spending-us-elections-after-obama-win/555039
------------
Gunfire From Syria Wounds Civilians in Turkey
November 8, 2012
ANKARA (Reuters) - Two civilians in Turkey's Hatay province were wounded by gunfire from Syria on Thursday, a Turkish official said.
The two Turkish citizens in the border town of Ceylanpinar were struck by stray bullets fired from the Syrian town of Ras al-Ain just across the border where Syrian rebels are fighting government forces.
Full report at:
http://www.nytimes.com/reuters/2012/11/08/world/middleeast/08reuters-syria-crisis-
------------
Israeli Left Mocks 'Bibi's Bet on Romney'
By ROBERT MACKEY
November 8, 2012
As my colleague Alan Cowell reports, President Obama's re-election could prove to be awkward for Israel's prime minister, Benjamin Netanyahu, since the conservative Israeli leader "was widely perceived in Israel and the United States as having supported the Republican challenger, Mitt Romney."
Remarks by Mr. Netanyahu, in which he seemed to chastise Mr. Obama for not taking action to defend Israel from the threat of an Iranian nuclear bomb, were used in a television ad that ran in Florida during the final weeks of the campaign. That ad was produced by a Republican political operative who has worked for the Israeli prime minister. (During the secretly recorded address Mr. Romney gave to wealthy donors in Florida this year, he boasted that consultants working for his election "work for Bibi Netanyahu in his races.")
Full report at:
http://thelede.blogs.nytimes.com/2012/11/07/israeli-left-mocks-bibis-bet-on-romney/
------------
North America
Top House Islamophobe Allen West Falls
By Ali Gharib
Nov 7, 2012 5
One of Congress's top Islamophobes, Republican Rep. Allen West, lost his reelection bid to Democratic challenger Patrick Murphy early this morning. With 100 percent of votes in from South Florida's 18th District, Murphy edged out the Tea Party freshman West by less than 2,500 votes, despite lopsided fundraising. West spent more than $17 million to Murphy's $3.6 million, and both candidates poured money into ads that made the race one of the country's nastiest.
In the House, West earned a reputation as a ferocious right-wing attack dog. The unfounded accusations that dozens of Communists populate the Congress's Democratic caucus were nothing new, but his most novel legacy may be West's inflammatory rhetoric about Muslims. Along with Reps. Steve King (R-IA) and Michele Bachmann (R-MN), West used his time in Congress to press his case that Islam is "not a religion" but a "totalitarian theocratic political ideology," and that terrorism is inherent to the faith—not radical Islam, but Islam, writ large. He's accused a fellow Member of Congress, Rep. Keith Ellison (D-MN), a Muslim, of "represent(ing) the antithesis of the principles upon which this country was established."
If all that wasn't bad enough, West has shared a stage with America's foremost anti-Muslim activist, Pamela Geller (who was recently in the news again). When he was called out for his ties to bigots like Geller and asked to respect Muslims' right to worship freely, his one-word response made an apparent comparison between the request and Nazi overtures for an American surrender in World War II.
During this cycle, West took a break from campaigning to commemorate 9/11 by embracing the cause the Geller pushed to the fore in the summer of 2010: a campaign against the building of an Islamic community center near the Ground Zero site in downtown Manhattan. West used his congressional position to host a screening of a film from an Islamophobic group about the so-called Ground Zero Mosque on the eleventh anniversary of the attacks.
West's views were so far outside the mainstream that his Republican primary opponent, Martin County Sheriff Bob Crowder, endorsed the Democrat Murphy last week. "As a Republican for over 30 years, I'm embarrassed by the radical fringe that has taken over the party. Sadly, Allen West is their poster child, and the hateful, divisive comments he's made throughout this campaign make it clear to me he's the wrong choice for our district," Crowder said in a statement.
In Tuesday's election, Murphy's fate was closely tied to President Obama's winning reelection effort. Though too close to call in the presidential race, Obama won the same two of three counties in the 18th Congressional District that Murphy did. West and Obama's erstwhile opponent Mitt Romney both carried Martin Country, whereas Murphy and the president both took St. Lucie and Palm Beach Counties.
In Palm Beach County, Obama faced right-wing "pro-Israel" ads that dovetailed with West's frequent messaging that the longtime American policy pushed by the president will destroy Israel and questioning Obama's "commitment to the safety and security of the Jewish state."
Though West lost, his fellow congressional Islamophobes King and Bachmann fared better—winning and hanging on in a race too close to call, respectively. Nonetheless, given West's visibility, the Florida loss can on its own be seen as a victory for the religious tolerance and liberty, indeed, "upon which this country was established."
http://www.thedailybeast.com/articles/2012/11/07/top-house-islamophobe-allen-west-falls.html
-----------
Tennessee Muslims Instrumental in Getting the Vote Out
11/07/2012
By Remziya Suleyman
Nashville, Tennessee -- It is not easy being a Muslim woman activist in Tennessee. A bill to ban Sharia, or Islamic legal principles, was introduced in 2011 in the state legislature (and ultimately overturned). More recently, conservatives criticized the governor for appointing Samar Ali, a native Tennessean and Muslim, to a top position in the international division of the state's economic development department -- some calling her soft on sharia.
Yet as a Muslim American myself, understanding these challenges motivated me even more to be engaged in the political process.
Tennessee is home to an estimated 63,000 Muslims, the majority of whom are eligible voters. Many of them moved to the state in the 1990s. They are a diverse group, and include Kurds, Somalis, Pakistanis, Bengalis, Afghans, Turks and African Americans; some are also converts to Islam.
Late last year, I helped found the American Center for Outreach (ACO) in order to ensure that political leaders hear Muslim voices and, more broadly, to challenge misconceptions about Muslim communities in Tennessee.
ACO is a Tennessee-based, non-partisan organisation that was established to inform, educate and empower Muslims to become engaged in society by providing the assistance and guidance the community needs. Our goal at ACO is to show that the average Tennessean can take part in the democratic process regardless of religion, race, gender or economic status. To do this, ACO aims to better connect the Muslim community and Tennessee government, while also supporting individuals in becoming catalysts for positive change in their own communities.
We also hope to change the Muslim community's perception of the political system. Many believe that the system is inaccessible and their voice does not count. Our work has focused on educating them on the civic process and how they can get involved at each level. Understanding how the process works, individuals are more comfortable and empowered to speak for themselves on issues they care about. Organisations like ACO bring a proactive voice to public discourse, while at the same time peacefully defending our community in times of need.
My work at ACO has grown out of past experiences with community activism. When I was policy coordinator at the Tennessee Immigrant and Refugee Rights Coalition, together with other groups we were able to change a bill that would have banned sharia -- which, after our efforts, was later re-written to contain no references to Islam.
When the Muslim community in Murfreesboro, Tenn., wanted to add a mosque to their existing Islamic center, they were met with threats, vandalism and court action. Through the grassroots activism of ACO and other organisations, the mosque finally opened on Aug. 10 of this year.
To fulfill our mission and prepare for the state and national elections on Nov. 6, I spent the past several months travelling across the state, holding numerous forums, participating in meetings with community members and elected officials and giving presentations as well as trainings dedicated to raising the political consciousness of Muslims in Tennessee.
At times my work has been challenged by the heightened sense of fear and uncertainty caused by a climate of hate. We realize the best way to counter the trepidation in our community is to celebrate the progress that results from our work. That being said, we realize that Islamophobia is still present in our state.
However, I am in awe at how motivated and determined Muslim communities are to make an informed decision during this political season. Voting, in our community, is not just about challenging the present status quo, but is also an opportunity to improve the future, a future in which Muslims will be seen as an intricate part of the American fabric and engage freely in the civic process. As Tennesseans, it is important to remember that when one segment of our population faces discrimination it has ripple effects on us all. We are all interconnected and government policies affect the entire community.
We understand that political and civic engagement involves more than voter registration and voter participation. We at ACO are working to implement a sustained and active effort to help guide our community through the civic process, while simultaneously providing them with the voter education and empowerment that they need, regardless of their political affiliation.
ACO made a final push over the past several days to encourage all eligible Muslim Tennesseans to head to the polls this election to fulfill their civic duty. Regardless of the election results, one thing is certain: the Muslim community in Tennessee must have a continuous presence in state politics. Envisioning a better future is not enough. We, as a community, must be willing to play an active role in creating that future.
Remziya Suleyman is the Director of Policy and Administration with the American Center for Outreach. This article was written for the Common Ground News Service (CGNews) in partnership with ISLAMiCommentary.
Source: Common Ground News Service (CGNews), Nov. 6. Copyright permission is granted for publication.
http://www.huffingtonpost.com/common-ground-news-service/tennessee-muslims-instrumental-in-getting-the-vote-out_b_2088299.html
-------------
Mullah Fazlullah hiding in Afghanistan: US officials
By News DeskPublished: November 8, 2012
Fugitive Taliban commander Mullah Fazlullah has escaped retribution by hiding in a section of eastern Afghanistan, where US forces are already spread thin and focused on other targets, according to US officials.
According to The Washington Post, US military and intelligence officials said Mullah Fazlullah, the mastermind of the attack on child activist Malala Yousafzai, was operating out of a region adjoining Pakistan, where several hundred US troops are stationed. But they said finding Fazlullah was not a priority, because he is not affiliated with al Qaeda or with insurgents targeting US and Afghan interests. "Our guys just aren't tracking him," a senior Special Operations official said, requesting anonymity. "He is viewed as an "other-side-of-the-border' problem". Asked if Fazlullah was a priority, a senior intelligence official, also speaking on condition of anonymity responded, "Not with so many other potential targets" in Afghanistan. Full report at:
http://tribune.com.pk/story/462480/mullah-fazlullah-hiding-in-afghanistan-us-officials-2/
--------------
US Judge Jails Anti-Muslim Filmmaker for a Year
November 08, 2012
Los Angeles. The man behind the anti-Islam video blamed for sparking deadly protests in the Muslim world was jailed in the US for a year Wednesday for breaching the terms of his probation for a previous offense.
Mark Basseley Youssef, 55, will serve the sentence in a US federal prison after he admitted four allegations of using false identities — a violation of the terms of his probation for a bank fraud conviction in 2010.
He had faced up to two years behind bars, but four other charges were dropped as part of a plea deal.
Full report at:
http://www.thejakartaglobe.com/international/us-judge-jails-anti-muslim-filmmaker-for-a-year/555013
--------------
CAIR Welcomes Voters' Rejection of Islamophobic Candidates
11/7/12
(WASHINGTON, D.C., 11/7/12) – The Council on American-Islamic Relations (CAIR), the nation's largest Muslim civil rights and advocacy organization, today welcomed the rejection of Islamophobic candidates by voters nationwide.
In Florida, Rep. Allen West (R), who claims Islam is not a religion but is instead a "totalitarian theocratic political ideology" that is a "very vile and very vicious enemy," was defeated by a narrow margin.
Also in Florida, State Representative Adam Hasner (R) was defeated in his bid for Congress. Hasner once co-hosted an event featuring Dutch anti-Islam politician Geert Wilders that was also sponsored by Anti-Muslim hate group leader Pamela Geller. In 2009, Hasner attempted to block a "Florida Muslim Capitol Day." In 2007, he sponsored a screening of the anti-Muslim film "Obsession: Radical Islam's War Against the West" for state legislators.
Full report at:
http://www.ohchr.org/EN/NewsEvents/Pages/DisplayNews.aspx?NewsID=12743&LangID=E
----------
After Barack Obama win, US backs new UN arms treaty talks
Nov 8, 2012
UNITED NATIONS: Hours after US President Barack Obama was re-elected, the United States backed a UN committee's call on Wednesday to renew debate over a draft international treaty to regulate the $60 billion global arms trade.
UN delegates and gun control activists have complained that negotiations collapsed in July largely because Obama feared attacks from Republican rival Mitt Romney if his administration was seen as supporting the pact, a charge the United States denies.
The month-long talks at UN headquarters broke off after the United States - along with Russia and other major arms producers - said it had problems with the draft treaty and asked for more time.
Full report at:
http://timesofindia.indiatimes.com/world/us/After-Barack-Obama-win-US-backs-new-UN-arms-treaty-talks/articleshow/17137949.cms
--------------
India
Haji Ali Dargah ban on women a Taliban-like step
Nov 08 2012
New Delhi : Congress general secretary Digvijaya Singh Wednesday termed the ban on entry of women into Haji Ali Dargah in Mumbai as a "regressive step", adding that "Talibani thought" cannot be allowed in India.
"Not allowing women to visit Haji Ali is a regressive step. Liberal Muslims must rise to oppose it. Can't allow Talibani thought in India," Singh wrote on micro-blogging site Twitter.
http://www.indianexpress.com/news/digvijaya-haji-ali-dargah-ban-on-women-a-talibanlike-step/1028335/
--------------
Now, time for US to ask Pak to lay off from Kashmir: Expert
Nov 08 2012
As Obama Administration gears itself for its second term, an eminent American expert on South Asian affairs has said that it is time the US declare that Pakistan has no claim on Kashmir and that the decision of the then King of Kashmir to accede is final.
Reflecting the changing mood of think-tank and experts in US, the eminent expert in an article in the prestigious Foreign Policy magazine argued that the US should stop seeking to buy Pakistan off with civilian aid or military assistance and make it clear that it will hold Islamabad responsible for any kind of proliferation of nuclear materials that occurs.
Full report at:
http://www.indianexpress.com/news/now-time-for-us-to-ask-pak-to-lay-off-from-kashmir-expert/1028677/
--------------
Relieved by verdict, will work for cricket: Mohammad Azharuddin
Nov 8, 2012
NEW DELHI: Former captain Mohammad Azharuddin was on Thursday a relieved man after the life ban imposed on him for alleged involvement in match-fixing was set aside by the Andhra Pradesh High Court but refused to take legal action against the BCCI.
The 49-year-old, who is now a Lok Sabha MP from Moradabad in Uttar Pradesh, sought to struck a conciliatory note with the body which slapped him with the ban, saying that he would not want to blame anybody for the pain he suffered in the past 12 years.
Full report at:
http://timesofindia.indiatimes.com/sports/cricket/top-stories/Relieved-by-verdict-will-work-for-cricket-Mohammad-Azharuddin/articleshow/17142468.cms
----------
Some Gujarat riots papers destroyed before time: Bhatt to Nanavati panel
Nov 08 2012
Ahmedabad: Govt files affidavit that nine documents were destroyed in 2006 and 2010.
The state government has put it on oath that at least nine of the 47 riots-related intelligence documents sought by suspended IPS officer Sanjiv Bhatt were destroyed in 2006 and 2010 in "routine course".
Deputy Inspector General of Police (Intelligence), J K Bhatt, filed an affidavit in this regard on Wednesday pursuant to the recent order of the Nanavati Commission over the issue.
On November 2, the government had told the Commission that nine of the documents had been destroyed, following which, the Commission ordered the government to put the said statement on record.
Full report at:
http://www.indianexpress.com/news/some-riots-papers-destroyed-before-time-bhatt-to-nanavati-panel/1028565/
----------
Kill Godhra issue forever: ASSOCHAM to Narendra Modi govt
Nov 08 2012, 18:07 hrs
Ahmedabad: Ahead of the Assembly polls in Gujarat, trade body ASSOCHAM today asked political parties not to rake up the post-Godhra riots issue.
"Our emphasis has been that for once and for all this particular matter (2002 Godhra riots issue) should be settled, because every time it is raked up, it sends a wrong message for a state like Gujarat," ASSOCHAM General Secretary D S Rawat told reporters.
"The state government should look at all its aspects and settle it so that this particular issue is killed forever," he said.
Full report at:
http://www.indianexpress.com/news/kill-godhra-issue-forever-ASSOCHAM-to-narendra-modi-govt/1028820/
--------
India welcomes UNSC's Haqqani sanction
Nov 08 2012
New Delhi : India has welcomed the UN sanction on Pakistan-based Islamist insurgent group Haqqani Network and its chief of suicide operations and has called upon the international community to be united in its efforts to isolate such terror groups.
"India welcomes the move by the UN Security Council to list the Haqqani Network among the entities that now face an asset freeze, travel ban and arms embargo. This group has also targeted Indian interests in the past," said MEA spokesperson.
Full report at:
http://www.indianexpress.com/news/india-welcomes-unsc-s-haqqani-sanction/1028478/
--------------
India, Bangla near historic agreement on Teesta water
Zia Haq
November 08, 2012
India and Bangladesh could soon break a politically significant logjam to sign an interim Teesta water-sharing pact following talks between water resources minister Harish Rawat and visiting Bangladesh agriculture minister Begum Matia Chowdhury. An earlier attempt to resolve a deadlock
over how to share the waters of Teesta, which flow from India's West Bengal into Bangladesh, had been opposed by West Bengal chief minister Mamata Banerjee.
Full report at:
http://www.hindustantimes.com/India-news/NewDelhi/India-Bangla-near-historic-agreement-on-Teesta-water/Article1-956444.aspx
--------------
'Old temple' near Charminar fuels tension
A. Srinivasa Rao/ Hyderabad
November 08, 2012
THE expansion of a temple abutting Hyderabad's iconic Charminar has triggered communal tension in the Old City.
Trouble began last week when the temple authorities supported by Hindu groups such as the Vishwa Hindu Parishad, Bajrang Dal and Hindu Vahini, besides the Bharatiya Janata Party, tried to expand the Bhagya Lakshmi temple in the name of erecting a temporary structure for decorating the premises for Diwali celebrations.
They dug up the road to erect scaffoldings to construct a roof for the temple.
Local Muslims, backed by the Majlis- e- Ittehadul Muslimeen ( MIM), opposed the move, fearing that the temporary structure would pave the way for the permanent construction of a huge temple in the coming days defacing the historic Charminar.
Full report at: Mail Today
--------------
State refuses to intervene in Haji Ali dargah issue
Mugdha Variyar
November 08, 2012
State authorities shrugged off responsibility in the Haji Ali dargah issue when they were approached by members of the Bharatiya Muslim Mahila Andolan (BMMA) on Wednesday. BMMA had sought state intervention in the management of the dargah that has restricted women from entering the sanctum
sanctorum.
Members of the women's group presented a memorandum to state minorities commission chairman Munaf Hakeem and minorities minister Mohammad Arif Naseem Khan on Wednesday. However, the authorities refused to get involved, claiming that this was a "purely religious issue".
Full report at:
http://www.hindustantimes.com/India-news/Mumbai/State-refuses-to-intervene-in-Haji-Ali-dargah-issue/Article1-956491.aspx
--------------
Indian delegation in Pakistan left unprotected for a short while; probe ordered
Nov 8, 2012
LAHORE: Punjab deputy chief minister Sukhbir Singh Badal and his 45-member delegation were left unprotected for a short while when their Pakistani police guards left their duty and went off to have dinner at a club here.
The incident occurred on Wednesday night at the Royal Country Palm Club, where Pakistani businessmen had hosted a dinner for the Indian visitors.
Punjab Police chief Haji Habibur Rehman took serious note of the "security lapse" and ordered an inquiry into the incident, officials said.
Full report at:
http://timesofindia.indiatimes.com/india/Indian-delegation-in-Pakistan-left-unprotected-for-a-short-while-probe-ordered/articleshow/17139889.cms
--------------
No hasty decision on AFSPA issue in J&K: Antony
Nov 8, 2012
NEW DELHI: Infiltration from across the Line of Control (LoC) has increased and no hasty decision can be taken on the AFSPA issue in Jammu and Kashmir, defence minister A K Antony today said.
He also said there was need to be watchful though violence levels had come down in the state.
"I agree with chief minister ( Omar Abdullah) that violence level has come down but infiltration is not coming down and it has increased slightly and we have to be watchful round-the-clock. We cannot take a hasty decision. I cannot say in detail but discussions are going on," he told reporters here.
Full report at:
http://timesofindia.indiatimes.com/india/No-hasty-decision-on-AFSPA-issue-in-JK-Antony/articleshow/17140567.cms
--------------
India plans $100-mn aid to Afghanistan
Prasad Nichenametla
November 08, 2012
Ahead of Afghanistan president Hamid Karzai's visit to India, the government is extending a goodwill gesture towards the war-torn nation. The Cabinet on Thursday is expected to approve a $100-mn ( Rs. 500 crore) aid to Afghanistan. The funds will help Afghanistan build 100 small development projects (SDP).
The projects will help local communities in that country, providing them livelihood and creating infrastructure and opportunities in fields such as health, education, agriculture and rural development.
Full report at:
http://www.hindustantimes.com/India-news/NewDelhi/India-plans-100-mn-aid-to-Afghanistan/Article1-956439.aspx
--------------
Pakistan
Taliban suicide attack in Pakistan leaves 4 killed, 28 injured
Nov 8, 2012
KARACHI: A Taliban suicide bomber rammed a pickup truck filled with 180 kg of explosives into the headquarters of the paramilitary Pakistan rangers here today, leaving at least four people dead and 28 others injured.
The attacker slammed the truck into the gate of the Pakistan rangers office in the heavily-populated North Nazimabad area of Karachi at about 7am.
The impact of the blast was such that a two-storey building inside the Rangers headquarters in North Nazimabad area of Karachi was razed to the ground.
Apart from the suicide bomber, three Rangers personnel on duty at the gate were killed in the attack, which also left 28 others injured, officials said.
Full report at:
http://timesofindia.indiatimes.com/world/pakistan/Taliban-suicide-attack-in-Pakistan-leaves-4-killed-28-injured/articleshow/17143789.cms
----------
Barack Obama victory infuriates Pakistani drone victims
Nov 08 2012
Islamabad : The roars celebrating the re-election of U.S. President Barack Obama on television give Mohammad Rehman Khan a searing headache, as years of grief and anger come rushing back.
The 28-year-old Pakistani accuses the president of robbing him of his father, three brothers and a nephew, all killed in a U.S. drone aircraft attack a month after Obama first took office.
The same person who attacked my home has gotten re-elected, he told Reuters in the capital, Islamabad, where he fled after the attack on his village in South Waziristan, one of several ethnic Pashtun tribal areas on the Afghan border.
Full report at:
http://www.indianexpress.com/news/barack-obama-victory-infuriates-pakistani-drone-victims/1028727/
--------------
Dr A Q Khan for grand political alliance to 'save country'
8 November 2012
LAHORE: Dr Abdul Qadeer Khan on Wednesday stressed upon the 'patriotic political parties' to unite at one platform and set up a grand alliance to 'save the country.'
He was addressing a joint press conference with Jamaat-i-Islami (JI) chief Syed Munawar Hasan after a meeting him at Mansoora in Lahore.
He said there was no dearth of resources in the country which had successfully built the nuclear bomb and missiles making the country's defense impregnable. Dr Khan said the media has also guided the people in the right direction.
Full report at:
http://dawn.com/2012/11/08/dr-a-q-khan-for-grand-political-alliance-to-save-country/
--------------
Nine, including police officer, killed in Karachi's violence
KARACHI: At least nine people, including a policeman and a woman, were killed in different incidents of violence in Karachi on Thursday, DawnNews reported.
A man died in firing incident in Surjani town's 'Khuda ki Basti' area.
A head constable of police, Nazeer Ahmed, was killed near Karachi's Al-Aasif square area when an unidentified person opened fire at police mobile.
In another incident, an unidentified person opened fire in Orangi No. 4 area of Karachi killing two relatives Nisar Mehdi and Najam Abbas.
A man was killed in Keemari's Sikanderabad area.
Three men was shot dead in the areas of Sohrab Goth's Super Market, Dalmia and Baldia town.
A woman died of gunshot wounds in Rehri Goth situated in Landhi area of Karachi.
http://dawn.com/2012/11/08/karachi-violence-claims-four-lives-3/
--------------
No Taliban presence in Karachi, claims Former Minister
8 November 2012
PESHAWAR: President of Pakistan People's Party (Sherpao) and former federal minister Aftab Ahmed Khan Sherpao on Thursday said that the Awami National Party (ANP) and the Muttahida Qaumi Movement (MQM) wanted an operation to take place in Karachi on the pretext of the notion that the Taliban were present in the city, DawnNews reported.
Speaking at a press conference in Peshawar, the former interior minister claimed that there was no Taliban presence in Karachi, adding that, the issue in the city was one of law and order.
Full report at:
http://dawn.com/2012/11/08/no-taliban-presence-in-karachi-claims-sherpao/
--------------
Pakistan defence is purely security driven: Gen Wynne
8 November 2012
KARACHI: The security scenario at the regional and global level is undergoing a major transformation, which has strategic implications for Pakistan, said Chairman Joint Chiefs of Staff Committee General Khalid Shameem Wynne on Wednesday.
As the regional security situation becomes more complex and uncertain, Pakistan's defense industry would be compelled to develop a response that is proportionate to challenges that lie ahead, said the CJCSC.
Full report at:
http://dawn.com/2012/11/07/pakistan-defence-is-purely-security-driven-gen-wynne/
--------------
KP governor says: No timeframe for troop withdrawal from tribal areas
Zulfiqar Ali
8 November 2012
PARACHINAR: Khyber Pakhtunkhwa Governor Masood Kausar on Wednesday said no timeframe could be fixed for withdrawal of combat troops from Federally Administered Tribal Areas to peacetime position.
"I can't say anything about the timeframe to withdraw security forces from the fighting positions to peacetime positions as long as peace is not achieved in Afghanistan," he told reporters at the conclusion of his two-day visit to Kurram Agency.
The governor said security forces would remain in Fata even after restoration of peace in tribal borderlands. He said there was instability in Afghanistan and its fallout was directly affecting nearby tribal areas.
Full report at:
http://dawn.com/2012/11/08/kp-governor-says-no-timeframe-for-troop-withdrawal-from-tribal-areas/
-----------
Pak HM likely to visit India on Nov 22
Vishwa Mohan
Nov 8, 2012
NEW DELHI: Pakistani interior minister Rehman Malik is likely to visit India on November 22 when the two countries may formally operationalise the new liberalized visa agreement, signed in Islamabad in September, to facilitate more people-to-people contact and trade.
Operationalising the new visa regime almost a month before the India-Pakistan cricket series begins on December 25 may turn out to be a boon for Pakistani fans as liberalized norms will make it possible for them to visit all five match venues.
Full report at:
http://timesofindia.indiatimes.com/india/Rehman-Malik-likely-to-visit-India-on-Nov-22/articleshow/17135719.cms
--------------
Zardari sanguine about future of Pak.-U.S. relations
ANITA JOSHUA
November 08, 2012
President Asif Ali Zardari on Wednesday joined world leaders in congratulating U.S. President Barack Obama on his re-election to the White House. In his message, Mr. Zardari described Mr. Obama's election to a second term as a clear reaffirmation by the American people of their confidence in his vision.
Full report at:
http://www.thehindu.com/news/international/zardari-sanguine-about-future-of-pakus-relations/article4074849.ece
--------------
Obama win may be good news for Pakistan flag-makers to burn at protests
7 November 2012
RAWALPINDI: Many Pakistanis fear President Barack Obama's re-election will mean a surge in America's unpopular drone campaign, but for those making and selling US flags to burn at protests this could be good news.
Demonstrations against Washington's programme of missile strikes against suspected al Qaeda and Taliban militants are common in Pakistan, and no protest is complete without a Stars and Stripes being sent up in flames.
Full report at:
http://dawn.com/2012/11/07/obama-win-may-be-good-news-for-pakistan-flag-makers/
--------------
Hope Obama gives peace a chance: Imran Khan to Obama
Nov 07 201
Gurgaon : Describing Barack Obama as a man whose "natural instincts are against war", Pakistani politician Imran Khan today hoped the US President would "give peace a chance" and stop CIA-operated drone attacks now that he had been re-elected.
"What Pakistan would be hoping for is a de-escalation of violence in Afghanistan and the drone attacks in Pakistan's tribal areas," the cricketer-turned politician told reporters at the World Economic Forum conference being held here.
Full report at:
http://www.indianexpress.com/news/hope-obama-gives-peace-a-chance-imran-khan-to-obama/1028248/
--------------
Pakistan's minority Hindus feel under attack
Nov 08 2012
Karachi: They came after dusk and chanted into the night sky "Kill the Hindus, kill the children of the Hindus,'' as they smashed religious icons, ripped golden bangles off women's arms and flashed pistols. It wasn't the first time that the Hindu temple on the outskirts of Pakistan's largest city was attacked, and residents here fear it will not be the last.
"People don't consider us as equal citizens. They beat us whenever they want,'' said Mol Chand, one of the teenage boys gathered at the temple. "We have no place to worship now.''
Full report at:
http://www.indianexpress.com/news/pakistans-minority-hindus-feel-under-attack/1028726/
--------------
Balochistan case: Petition filed for review of SC's interim order
8 November 2012
ISLAMABAD: The federation on Thursday filed a petition in the Supreme Court requesting it to review its order in the Balochistan law and order case, DawnNews reported.
On Oct 12, the apex court had issued an interim order on a petition on the law and order situation and human rights violations in Balochistan, stating that the provincial government had constitutionally failed to curb human rights violations, targeted killings and kidnappings for ransom in the province.
Full report at:
http://dawn.com/2012/11/08/balochistan-case-petition-filed-for-review-of-scs-interim-order/
--------------
South Asia
Bombings Across Afghanistan Kill 20 People
November 8, 2012
KABUL, Afghanistan (AP) — Roadside bombs and a suicide bomber killed 20 people in a spate of attacks across Afghanistan on Thursday, officials said.
The deaths came even as armed clashes between insurgents and Afghan security forces have decreased as the fighting season winds down with the advent of cooler weather in the mountainous nation.
In one of the attacks, 10 civilians, including a child and four men, died as their vehicle struck a land mine in southern Helmand province. Seven other people in the group — which was heading to a wedding — were wounded in the blast, said Ismail Khan Hotak of the provincial security coordination center.
Full report at:
http://www.nytimes.com/aponline/2012/11/08/world/asia/ap-as-
-------------
4 Members of Afghan Police Are Found Guilty in Rape
By JAWAD SUKHANYAR and ALISSA J. RUBIN
November 8, 2012
KABUL, Afghanistan — Before a packed courtroom in the capital, a judicial panel on Wednesday found four members of the Afghan Local Police guilty of involvement in the rape of a sheep herder's daughter in a case that tested the judicial system's ability to hold the controversial force accountable.
The four police officers, who are from Kunduz Province in northern Afghanistan, were sentenced to 16 years in prison for the sexual assault in May of Lal Bibi, a woman of about 18.
Full report at:
http://www.nytimes.com/2012/11/08/world/asia/afghan-militia-members-found-guilty-in-
---------
Be alert about plot to save war criminals: PM Sheikh Hasina
Nov 8, 2012
Prime Minister Sheikh Hasina on Thursday called upon the countrymen to remain alert about the evil design of those who want to save the war criminals through destructive activities.
"The anti-liberation forces are out to foil the trial of war criminals through destructive politics. But I call upon the people of all strata to be vocal against the destructive activities of the anti-liberation forces," she said.
Full report at:
http://www.thedailystar.net/newDesign/latest_news.php?nid=42282
--------------
Jamaat-Shibir violence condemned
Nov 8, 2012
Different organisations yesterday condemned the violent attacks on law enforcers and vandalism carried out by Jamaat-e-Islami and pro-Jamaat student organisation Islami Chhatra Shibir around the country on Monday and Tuesday.
Forum for Secular Bangladesh and Trial for War Criminals of 1971 (Ekatturer Ghatak Dalal Nirmul Committee) said Jamaat's behaviour proved how desperate they were to save their top leaders facing war crimes charges.
Full report at:
http://www.thedailystar.net/newDesign/news-details.php?nid=256641
--------------
Obama's second term: Pakistan's fate hangs on Afghan future
Indrani Bagchi
Nov 8, 2012
NEW DELHI: If there was one thing that helped Obama's re-election campaign, it was his foreign policy — killing Osama bin Laden and a 2014 deadline for the United States pullout from Afghanistan.
As the war winds down in Afghanistan and the Taliban/al-Qaida /Islamism/terrorism/nuclear proliferation challenge is focused in Pakistan, the second Obama administration could be looking at a recalibration of its ties with both countries.
Full report at:
http://timesofindia.indiatimes.com/world/pakistan/Obamas-second-term-Pakistans-fate-hangs-on-Afghan-future/articleshow/17137643.cms
--------------
Taliban urge Obama to pull troops out now
Nov 7, 2012
KABUL: Taliban insurgents told re-elected President Barack Obama Wednesday to admit that the United States has lost the war in Afghanistan and pull its troops out now.
"Obama must by now know that they have lost the war in Afghanistan," spokesman Zabiullah Mujahid said in a statement posted on the Islamists' website.
"So, without further lying and delays, they should leave our sacred land and focus on their own country instead."
Full report at:
http://timesofindia.indiatimes.com/world/south-asia/Taliban-urge-Obama-to-pull-troops-out-now/articleshow/17131940.cms
--------------
Hatred locks Myanmar Rohingya in legal limbo: Experts
By AFP Published: November 8, 2012
BANGKOK: Rohingya Muslims' statelessness is at the heart of bloody unrest that has torn through western Myanmar, but experts say the regime is unlikely to risk public ire by lifting them from citizenship limbo.
Rakhine state remains explosively tense after being convulsed by two major outbreaks of fighting involving Buddhist and Muslim communities since June that have left 180 dead and more than 110,000, mainly Rohingya, crammed into makeshift camps.
Full report at:
http://tribune.com.pk/story/462610/hatred-locks-myanmar-rohingya-in-legal-limbo-experts/
---------
Myanmar: Aung San Suu Kyi Calls for More Troops to Keep Peace
November 8, 2012
The opposition leader Daw Aung San Suu Kyi and lawmakers from ethnic minority parties are calling on the government to deploy more troops to restore peace and stability in a western state hit by recent deadly violence between Buddhists and Muslims. The lawmakers also issued a statement Wednesday urging the government to explain its policies on handling the ethnic conflict in Rakhine state, where officials say about 90 people were killed last month and more than 2,000 homes were destroyed.
Full report at:
http://www.nytimes.com/2012/11/08/world/asia/myanmar-aung-san-suu-kyi-calls-for-more-
---------
Southeast Asia
Convicted Terrorist Wears Burqa to Escape Jakarta Police Custody
November 07, 2012
Police have launched an internal investigation after a male terrorism convict escaped from a heavily guarded Jakarta detention facility, disguising himself as a woman veiled by a burqa, officials said on Wednesday.
National Police spokesman Brig. Gen. Boy Rafli Amar identified the escapee as 29-year-old Roki Aprisdianto, who was being held in a cell at the Jakarta Metro Police headquarters . He was serving a six-year prison term for masterminding a series of bombings in Central Java between December 2009 and January 2011.
Full report at:
http://www.thejakartaglobe.com/lawandorder/convicted-terrorist-wears-burqa-to-escape-police-custody/554811
---------
Terror Camp Found in Poso, Jakarta
Zakir Hussain
November 08, 2012
Jakarta. Indonesian police and army are beefing up joint operations after a search team found what looked to be a freshly abandoned terrorist training camp on a mountain in Poso, Central Sulawesi, last Saturday.
The site is about 2 km from where the bodies of two slain policemen investigating reports of the camp were found in the middle of last month.
The training area of some 2 ha, the size of four football fields, was in a clearing deep in thick forest, which security forces had to access partly by motorbike and partly on foot.
News of the discovery broke Wednesday after three reporters accompanied a police forensics team to the scene on Tuesday, and comes as tensions mount and the authorities close in on pockets of militancy.
Full report at:
http://www.thejakartaglobe.com/news/terror-camp-found-in-poso/555035
----------
Europe
Kazakh man detained for praying inside customs post building
6 November 2012
Uralsk, 6 November: A local resident, who tried to offer a prayer in a room of the Krasnovskiy permanent customs post in West Kazakhstan Region, has been detained.
Interfax-Kazakhstan learnt from customs officers today that on 5 November a man went inside the premises of the customs post, which is considered a strategic facility, spread his prayer mat on the floor and began to offer a prayer.
Customs officers tried to force him out of the building, but they heard a torrent of threats and curses in response.
Full report at:
Source: Interfax-Kazakhstan news agency, Almaty, in Russian 0602 gmt 6 Nov 12
----------
Violence against women, a war legacy in Bosnia and Herzegovina
5 November 2012
SARAJEVO / GENEVA (5 November 2012) – United Nations human rights expert Rashida Manjoo said that heightened domestic violence in Bosnia and Herzegovina is linked in many cases to the legacy of the war, and women and men suffering from Posttraumatic Stress Disorder and other war-related mental health problems as well as unemployment, poverty or addiction.
"As the government strives to assess and address the impact that the war had on men and how to ensure they do not place women at a higher risk of domestic violence, it should also recognize the experiences that women themselves faced during the war, and their entitlement to justice, reparations, and information and assistance on the missing and the disappeared," said the UN Special Rapporteur on violence against women at the end of her official mission* to the country.
Full report at:
http://www.ohchr.org/EN/NewsEvents/Pages/DisplayNews.aspx?NewsID=12747&LangID=E
----------
Islamophobia Awareness Month launched in Europe
Nov 8, 2012
The Islamophobia Awareness Month will be hosting a series of events aiming to highlight and address issues surrounding anti-Muslim hatred. This event in East London saw the launch of the campaign that included organisations from different religious and political backgrounds.
(Ahlul Bayt News Agency) - The Islamophobia Awareness Month will be hosting a series of events aiming to highlight and address issues surrounding anti-Muslim hatred. This event in East London saw the launch of the campaign that included organisations from different religious and political backgrounds.
Full report at:
http://abna.ir/data.asp?lang=3&id=362843
----------
"Free speech is central to deterring hate speech" – UN expert on freedom of expression
5 November 2012
NEW YORK (5 November 2012) – Freedom of expression is essential to create an environment conducive to critical discussions of religious and racial issues and to promote understanding and tolerance by deconstructing negative stereotypes, the UN expert on freedom of expression, Frank La Rue said today.
In his report to the UN General Assembly,* the Special Rapporteur on Freedom of Expression highlighted the phenomena of hate speech and discussed State responses to this challenge. "The struggle against intolerance is both an urgent and permanent task. Regrettably, incitement to hatred continues to be found in all regions of the world. The question is when and how States can legitimately limit freedom of expression."
Full report at:
http://www.ohchr.org/EN/NewsEvents/Pages/DisplayNews.aspx?NewsID=12744&LangID=E
----------
Abu Qatada extradition ruling on Monday: Britain
8 November 2012
LONDON: British judges will on Monday announce their decision on an appeal by terror suspect Abu Qatada against his extradition to Jordan, the judicial office said.
The Jordanian national, a preacher who has been described as Osama Bin Laden's right-hand man in Europe, was convicted in his absence in Jordan in 1998 for involvement in terror attacks.
Full report at:
http://www.arabnews.com/abu-qatada-extradition-ruling-monday-britain
----------
URL: https://www.newageislam.com/islamic-world-news/new-age-islam-news-bureau/saudi-arabia-nets-$16.5-billion-from-haj-pilgrims--saudi-newspaper/d/9241