New Age Islam News Bureau
1 May 2015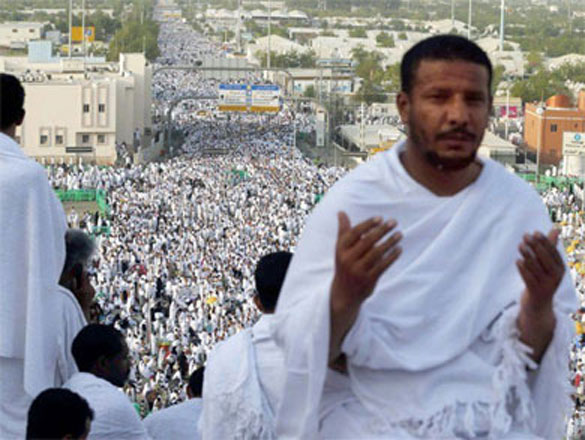 "Saudi Arabia will not entertain any Hajj application from aspirants that fail to specify whether the applicant is Shia or Sunni," said officials. PHOTO: REUTERS
-----------
Arab World
• Saudi Arabia: Hajj Application For Muslim Pilgrims Asks 'Are You Shia?'
• Five car bombs kill at least 21 people in Baghdad
• ISIS Carries out One of Its Worst Executions Yet, Heads Crushed with Concrete Blocks
• I S Claims Beheading Of 4 Soldiers
• Captured Islamic State militant still longs for martyrdom
• Shared battlefield goals trump ideology among Syria rebels - for now
• Kobane still a ghost town, months after liberation from ISIS
• 150 Syrian troops besieged in rebel Jisr al-Shughur: monitor
• Haia to launch campaign against extremism
• Syria's new rebel alliance threatens Assad's grip on power
Mideast
• Historic Hagia Sophia in a Turkish Province to Be Re-Opened As Mosque
• 20 Al-Qaeda Terrorists Killed in Aden
• IS Group Claim Killing of 15 Yemen Soldiers: SITE
• Saudi Arabia Training Tribal Ground Force in Yemen
• Iran says warships at entrance to key Yemen strait
• Turkey returns 'genocide' motion to European Parliament
• Yemen rebels attack Saudi border, dozens dead
• Israel blames Arab neighbours for stalling on nuke-free zone
Pakistan
• Five Army Personnel, 27 Militants Killed In Tirah
• SC Gives One Week to Govt for Reply over 'Bad Treatment' To Urdu
• Peshawar police arrest two suspected Afghan terrorists, seize 320kg explosives
• Peace committee member killed in Bajaur
• Altaf's remarks on army to be legally pursued: ISPR
• DSP among three cops killed in Karachi firing
South Asia
• Afghan Ulema Support Imam-e-Kaaba's Stance against Taliban and ISIS
• US Under Secretary Meets Bangladesh PM, Seeks Tips to Deal with Global Terrorism
• 65 Jamaat-Shibir men indicted for vandalism in Motijheel
• Kabul's charges of terrorists' influx from Pakistan rejected
• 'Affordable' Bangladeshi maids top choice in KSA
India
• Religious Rights of Minorities Safe under Government: Minorities Affairs Minister
• Islamic State Wing in Af-Pak Region Could Be a Threat: R&AW
• Muslims, Christians Not Eligible To Contest from Reserved SC Seats: Haryana HC
• Civil Society Leaders Seek Justice for 'Exiled' Sri Lankan Writer, Sharmila Seyyid
• U.S. asks India not to rush into business with Iran
Southeast Asia
• Indonesian Govt Mulling Third Round of Executions
• Citing lack of 'special permit', Home Ministry seizes Quran copies at Malaysian book fair
• Hadi: Political parties in Malaysia should form national unity government
Africa
• Traumatized and Brainwashed Boko Haram Captives Open Fire at Rescuers
• Boko Haram hostages were held in 'severe and inhuman conditions': Military
• Kenya admits intelligence ignored ahead of Garissa massacre
Europe
• 'Half A Million Islamists Will Arrive If the EU Agrees To "Open the Door" To Migrants' Claims Nigel
• UK Muslims to Decide 25% of Seats: Study
• Islamic Radicalization Stirs Concern in Bosnia
• Does a long, black skirt flout France's treasured secularity?
• Yemen violence kills 1,244, injures 5,044: WHO
• Britain tells UN Iran trying to buy nuclear technology
• U.N. says services on 'brink of collapse' in Yemen
North America
• Campaign Ridiculing Anti-Muslim Posters Debuts in NYC Subway
• Dutch anti-Islam lawmaker issues 'warning' to America
• US soldiers arrive at İncirlik Airbase with weapons for train-equip program
• US keeps China, Pakistan and India on intellectual rights watch list
Compiled by New Age Islam News Bureau
URL: https://www.newageislam.com/islamic-world-news/new-age-islam-news-bureau/saudi-arabia--hajj-application-for-muslim-pilgrims-asks--are-you-shia?-/d/102768
--------
Arab World
Saudi Arabia: Hajj application for Muslim pilgrims asks 'are you Shia?'
01 May, 2015
Muslims wishing to perform the Hajj pilgrimage in 2015 will have to declare whether they are Shia or Sunni on the application forms.
Hajj is an annual pilgrimage performed once a year in the Saudi city of Mecca by Muslims worldwide. It is mandatory for all Muslims to perform Hajj, one of the five pillars of Islam, at least once in their lifetime, provided they are financially and physically able to do it.
The Shia and Sunni are the two major sects in Islam.
Government officials in Pakistan confirmed the reports and said, reported The Express Tribune: "Saudi Arabia will not entertain any Hajj application from aspirants that fail to specify whether the applicant is a Shia or a Sunni."
A senior official of the Pakistan Hajj mission added his thoughts saying: "Saudis do not want a repeat of the 1987 demonstrations during the Hajj pilgrimage, which led to the deaths of over 400 people in Makkah."
A religious affairs ministry spokesperson justified the new application criteria saying Sunni women in the past have often lied of being Shia to perform Hajj without a 'mahram'.
A mahram is a male relative of a woman whom she is forbidden to marry under Islam, including one's father, brother or son.
Muslim scholars differ in their opinions on whether or not it is obligatory for a woman to travel for Hajj with a mahram.
Under the Saudi regulations, however Shia women can perform Hajj without the company of a male mahram while Sunni women require a mahram.
Meanwhile, the news of Saudi Arabia seeking 'sect' in Hajj application forms was met with criticism over social media.
"To ?Saudi Arabia, Muslim is not enough. Shame," tweeted one user.
http://www.ibtimes.co.uk/saudi-arabia-hajj-application-muslim-pilgrims-asks-are-you-shia-1499231
http://tribune.com.pk/story/878644/new-hajj-application-asks-are-you-shia/
--------
Five car bombs kill at least 21 people in Baghdad
1 May 2015
Shortly after the European Union's humanitarian aid department warned that the situation in Iraq is deteriorating, five car bombs exploded across Baghdad on Thursday evening, killing at least 21 people.
The attacks that have become more frequent in the Iraqi capital since a decade-old night time curfew was lifted earlier this year.
The deadliest of the attacks hit the western Sunni-majority district of Mansour, killing five people and wounding 12 there, security officials said.
A car bomb near an ice cream shop killed four people and wounded 14 in the Shiite neighborhood of Hurriya in northern Baghdad. Also, police said two separate car bombs killed a total of seven people and wounded 18 in two Shiite neighborhoods in eastern Baghdad. Security forces quickly sealed off the blast sites.
Also, a car bomb exploded near a number of restaurants and shops in Baghdad's eastern Shiite district of Talibiyah, killing two people and wounding 10 others.
And in Madain town just south of Baghdad, a bomb blast near a cafe killed three people and wounded 11, the officials said.
Medical officials confirmed the casualties. All officials spoke on condition of anonymity because they were not authorized to speak to the media.
Iraqi authorities lifted the curfew on Baghdad in February, seeking to restore a sense of normality to the city as security forces battle ISIS militants who overran large sections in the north and west of the country last summer.
But militants may be exploiting greater freedom of movement to carry out more attacks in the capital. Thursday was the third day of bombings in Baghdad this week.
Another of the car bombs on Thursday exploded near a children's hospital in Jamila, killing three civilians.
Four people were killed by a bomb in a commercial street in al-Hurriya, three more in the Talbiya district and two in the Ur neighborhood.
No group immediately claimed responsibility for the attacks but Baghdad and its surroundings have seen near-daily bombings, mostly targeting the country's majority Shiites or security forces even as authorities struggle to win back territory captured by ISIS.
EU warning on Iraq
The head of the European Union's humanitarian aid department warned that the situation in Iraq is worsening rapidly while the world is preoccupied with crises elsewhere.
Jean-Louis de Brouwer told The Associated Press that the number of displaced people in Iraq has quadrupled in the last year and shows no signs of decreasing.
"The worst is still to come," he said. "The situation is deteriorating, humanitarian aid is becoming even more essential than it was, the problem is funding."
Iraq is convulsed in a battle between the government, its militia allies and ISIS forces that have taken over large parts of the north and west in the country.
The fighting has displaced some 2.7 million people inside the country, including 110,000 who fled from renewed fighting in and around the city of Ramadi in the western Anbar province in the past two weeks.
Many of these are living with other families, inside mosques or in makeshift camps around the western periphery of Baghdad. Meanwhile, there are hundreds of thousands more in the Kurdish northern regions.
"This is quite a matter for concern as the needs are skyrocketing and the resources are not increasing," said de Brouwer. "I'm afraid there is also - not donor fatigue - but donor exhaustion."
An even larger refugee problem in neighboring Syria and most recently and earthquake in Nepal has drawn attention away from the slow building crisis in Iraq, he said.
In June, the EU is to co-host with the U.N. a new call for humanitarian aid for Iraq in Brussels. The EU has nearly doubled its allocation for Iraq from $22 million in 2014 to $43 million this year.
De Brouwer also criticized the practice of not allowing those displaced from Sunni areas into Baghdad or the Kurdish region without sponsorship, leaving most people stranded.
"If they keep on with this kind of practice, they will end up with the kind of ethnic division that will not be good for the country," he said.
(With Reuters and Associated Press)
http://english.alarabiya.net/en/News/middle-east/2015/05/01/Five-car-bombs-kill-at-least-21-people-in-Baghdad.html
--------
ISIS Carries out One of Its Worst Executions Yet, Heads Crushed with Concrete Blocks
01 May, 2015
Isis terrorists have carried out one of their most savage executions yet, smashing huge concrete blocks onto the heads of two men accused of murder.
Shocking pictures show militants lifting concrete blocks high above their heads as the condemned men lie at the side of the road with their hands tied.
Other images show the gruesome aftermath, the concrete blocks having been hurled onto their skulls.
The two men were bludgeoned to death in Nineveh province in northern Iraq after the Islamic police arrested them for robbing and killing three women.
It is known as a Qisas punishment - 'eye for an eye' retribution.
In the background stand bloodthirsty armed jihadists and a baying crowd.
Images of two men being behead by Isis in a Syrian village called Jarnyah, west of Raqqa, also appeared on social media this week.
It's thought that they were executed after being accused of practicing sorcery.
The blindfolded men are seen resting their heads on a wooden block, with a huge machete resting on their necks as a crowd looks on.
Last week pictures emerged of depraved Islamic State militants in Syria brutally stoning two gay men to death only seconds after they were photographed embracing and 'forgiving' them.
The shocking images were taken in ISIS-held territory in the province of Homs and show the two accused men being savagely executed by up to four jihadis.
Huge, bloodthirsty crowds were seen in the desert clearing where the group of executioners made a display of hugging the blindfolded couple and telling them they were forgiven of their 'sins', before pummeling them to death with hundreds of fist-sized rocks.
Meanwhile, Iraq is poised to deploy Shi'ite paramilitaries backed by Iran to Sunni tribal areas west of Baghdad, a move supporters say is needed to defeat Islamic State militants but opponents say could inflame more sectarian violence.
Shi'ite paramilitaries have already played a central, if controversial, role alongside regular army units in recent months in the Iraqi government's first major successful campaign against Islamic State fighters, helping to capture Saddam Hussein's home town Tikrit on the Tigris River north of Baghdad.
So far, however, the government has avoided deploying the militia in the Euphrates River valley province of Anbar west of the capital, a vast Sunni tribal homeland that strides the main routes to Jordan and Syria. Baghdad considers Anbar the next target in its campaign to retake territory from the militants.
But with the army advance having faltered, officials are now speaking openly about dispatching the militia, organised under the umbrella of 'Hashid Shaabi' - 'Popular Mobilisation'.
This could alarm the United States, which is supporting the Iraqi government from the air against Islamic State fighters but is wary of Baghdad's alliance with Shi'ite militiamen who openly receive arms, funds and strategic direction from Iran.
Some Anbar tribal figures fighting on the government side against Islamic State, also known as ISIS or ISIL, have issued calls in recent days for Baghdad to send the militia to their aid.
http://www.dailymail.co.uk/news/article-3062274/ISIS-carry-one-worst-executions-murderers-bludgeoned-women-death-heads-crushed-concrete-blocks-horrific-eye-eye-punishment.html#ixzz3YsAhZosS
--------
I S Claims Beheading Of 4 Soldiers
May 1, 2015
DUBAI: Jihadists of the self-styled Islamic State group claimed they beheaded four Yemeni soldiers and shot dead another 11 execution-style in a video posted online on Thursday, a monitoring group said.
The soldiers were shown in front of the camera before jihadists were seen sharpening their knives and killing four of them, according to SITE Intelligence Group, a US website monitor.
The heads of the four young men were then seen on the ground, in the video said to have been filmed in the southern province of Shabwa.
The footage shows 10 more soldiers, blindfolded and crouching with their hands bound, being shot once each in the forehead, while another is riddled with bullets from behind.
According to SITE, Al Qaeda in the Arabian Peninsula (AQAP) has denied responsibility for the killings which took place in mid-April.
They were instead claimed by the "Shabwa Province" militia that has declared itself as a division of IS, a Sunni extremist group that has overrun swathes of Iraq and Syria.
http://www.dawn.com/news/1179218/is-claims-beheading-4-soldiers
--------
Captured Islamic State militant still longs for martyrdom
May 1, 2015
ERBIL: The airstrike obliterated its target in northern Iraq and sent the men scattering. Four of them dived into a river and crossed to safety on the other side, but the fifth froze at the water's edge. He had never learned to swim.
The 30-year old Islamic State militant hid in the bushes on the banks of the river Tigris for two days before venturing out in search of a boat, but by that time Kurdish forces had overrun the area and he was taken prisoner.
"I wish I had been martyred," Mohanad told Reuters in an interview at the maximum security jail where he has been held since January in the capital of Iraq's Kurdistan region.
The interview, arranged by Kurdish authorities at Reuters request, took place in an office at the jail. A jail official was present most of the time but occasionally left. Mohanad appeared healthy and comfortable speaking about his past.
He wore a white polo shirt with blue stripes, instead of a prison uniform, and a few days' stubble rather than the full beard typical of jihadist fighters. His wrists were bound by handcuffs, while his feet, in plastic sandals, were loose. He was given water and tea in paper cups, but drank neither.
Full report at:
http://tribune.com.pk/story/879054/captured-islamic-state-militant-still-longs-for-martyrdom/
--------
Shared battlefield goals trump ideology among Syria rebels - for now
May 1, 2015
Hardline Islamists fighting side-by-side with groups backed by the United States have made gains in northern Syria in recent weeks while showing rare unity, which some fear may be short-lived.
An Islamist alliance calling itself Army of Fatah, a reference to the conquests that spread Islam across the Middle East from the seventh century, has seized northwestern towns including the provincial capital Idlib from government forces.
The alliance, which includes al-Qaeda's wing in Syria, known as the Nusra Front, and another hardline militant group, the Ahrar al-Sham movement, is edging closer to the coastal province of Latakia, President Bashar al-Assad's stronghold.
Fighting alongside them, although excluded from a joint command centre, are groups which reject the jihadists' anti-Western aims and say they receive covert support from the CIA. Two of these are called Division 13 and Fursan al-Haq.
Full report at:
http://english.alarabiya.net/en/perspective/analysis/2015/04/30/Shared-battlefield-goals-trump-ideology-among-Syria-rebels-for-now.html
--------
Kobane still a ghost town, months after liberation from ISIS
1 May 2015
The battle for the Syrian border town of Kobane was a watershed in the war against the Islamic State of Iraq and Syria (ISIS) group - Syrian Kurdish forces fought the militants in rubble-strewn streets for months as U.S. aircraft pounded the extremists from the skies until ultimately expelling them from the town earlier this year
It was the ISIS' bloodiest defeat to date in Syria. But now, three months since Kobane was liberated, tens of thousands of its residents are still stranded in Turkey, reluctant to return to a wasteland of collapsed buildings and at a loss as to how and where to rebuild their lives.
The Kurdish town on the Turkish-Syrian border is still a haunting, apocalyptic vista of hollowed out facades and streets littered with unexploded ordnance - a testimony to the massive price that came with the victory over ISIS.
Full report at:
http://english.alarabiya.net/en/perspective/features/2015/05/01/Kobane-still-a-ghost-town-months-after-liberation-from-ISIS.html
--------
150 Syrian troops besieged in rebel Jisr al-Shughur: monitor
May 1, 2015
Nearly 150 Syrian soldiers have been besieged inside a hospital in Jisr al-Shughur since opposition forces including an Al-Qaeda affiliate seized the town last week, a monitor said Thursday.
The Syrian Observatory for Human Rights said that separately another 200 people -- regime forces and their families, captured from Jisr al-Shughur and its surroundings in the northwestern province of Idlib -- were being held hostage.
Earlier this week, the Syrian government said a "massacre" of some 200 civilians had taken place in the region of Jisr al-Shughur, which fell Saturday to a coalition of Al-Qaeda affiliate Al-Nusra Front and other opposition groups.
Full report at:
http://english.ahram.org.eg/NewsContent/2/8/129051/World/Region/-Syrian-troops-besieged-in-rebel-Jisr-alShughur-mo.aspx
--------
Haia to launch campaign against extremism
May 1, 2015
The Commission for the Promotion of Virtue and Prevention of Vice (Haia) plans to launch a campaign against extremism.
Abdulrahman Al-Sanad, chairman of Haia, said that details of the campaign would be posted on the organization's website soon, according to a report in a local publication.
The idea is to counter the "advocates of evil" trying to misguide the country's young people, he said at a ceremony in Tabuk, which was held under the aegis of Tabuk Gov. Prince Fahd bin Sultan on the issue of solidarity. Speaking at the ceremony, Prince Fahd said the government would do everything possible to prevent extremists from convincing Saudi men and women to fight in "dangerous places."
Al-Sanad said Saudis were united against enemies of the state and supported the country's "fair and just" leaders who were governing on the principles of the Qur'an and the Sunnah of the Prophet (peace be upon him).
He said that these campaigns are vital for the security of the country because they protect young people from getting involved in activities that have "wreaked havoc in Muslim countries." Al-Sanad also said the Haia does not hire freelancers, and those working for the organization are employed full-time.
http://www.arabnews.com/saudi-arabia/news/740306
--------
Syria's new rebel alliance threatens Assad's grip on power
01 May, 2015
BEIRUT // The once-forgotten front line in north-western Syria has come to the fore again as a new rebel alliance churns out a series of major victories against the forces of president Bashar Al Assad.
In just five weeks, the success of Jaysh Al Fateh - or The Army of Conquest - in Idlib province has put the Assad regime on the back foot, demoralised government troops in distant outposts and rallied rebel momentum.
Analysts say the alliance's victories illustrate the growing dominance of Al Qaeda affiliate, Jabhat Al Nusra, and a growing consensus by regional allies of Syria's rebels to back more hardline forces.
The formation of Jaysh Al Fateh was announced on March 24 as a union of seven mostly hardline rebel militias, most notably the powerful Jabhat Al Nusra and Ahrar Al Sham groups.
Four days later, the coalition captured the provincial capital of Idlib. The only other provincial capital to have fallen from government hands is the eastern city of Raqqa, currently held by ISIL.
Full report at:
http://www.thenational.ae/world/middle-east/syrias-new-rebel-alliance-threatens-assads-grip-on-power
-------
Mideast
Historic Hagia Sophia in a Turkish province to be re-opened as mosque
May 1, 2015
A ruined Hagia Sophia dating back to the 12th century in the western border province of Edirne will be renovated as a mosque, despite former statements made about the possibility of restoring it as a museum.
Following the conversion of two Hagia Sophia into museums, which were initially built as churches and then turned into mosques and, subsequently, museums, the third Hagia Sophia in Edirne's Enez district will be reconverted into a mosque, according to Foundations General Director Adnan Ertem, despite previous debates on turning it into a museum after reconstruction.
Speaking to state-run Anadolu Agency, Ertem said the Edirne Culture Assets Protection Regional Board approved the reconstruction project of the structure, which he called a "mosque" during the interview.
Ertem said the project would start as soon as possible, adding that the Hagia Sophia has been taken into the Foundations General Directorate's investment program.
Explaining why it should be re-opened as a mosque, Erdem said the building was a "sanctuary that was consecrated as a mosque."
Full report at:
http://www.hurriyetdailynews.com/historic-hagia-sophia-in-a-turkish-province-to-be-re-opened-as-mosque-.aspx?pageID=238&nID=81776&NewsCatID=375
--------
20 Al-Qaeda Terrorists Killed in Aden
May 1, 2015
The Yemeni army and popular forces managed to kill 20 al-Qaeda terrorists in the city of Aden.
According to Yemen's Al-Maseera television, the Yemeni army and popular committees repelled an attack by the al-Qaeda militants on Aden airport, killing 20 terrorists.
Meanwhile, the army and the popular forces managed to purge 2 military bases in al-Atif area of al-Qaeda terrorists, and militants of the Saudi-backed political party, Al-ISlah.
The Ansarullah revolutionaries backed by the Yemeni army troops also purged the governorate of Ma'rib of al-Qaeda terrorists.
Saudi Arabia launched its bombing campaign against Yemen on March 26 in an attempt to restore power to fugitive President Mansour Hadi, a staunch ally of Riyadh.
Hadi stepped down in January and refused to reconsider the decision despite calls by Ansarullah revolutionaries of the Houthi movement.
Despite Riyadh's claims that it is bombing the positions of the Ansarullah fighters, Saudi warplanes are flattening residential areas and civilian infrastructures.
According to FNA tally, the Monarchy's attacks have so far claimed the lives of at least 3,024 civilians, mostly women and children.
http://english.farsnews.com/newstext.aspx?nn=13940210000451
--------
IS group claim killing of 15 Yemen soldiers: SITE
May 1, 2015
Jihadists of the Islamic State group claimed they beheaded four Yemeni soldiers and shot dead another 11 execution-style in a video posted online Thursday, a monitoring group said.
The soldiers were shown in front of the camera before jihadists were seen sharpening their knives and killing four of them, according to SITE Intelligence Group, a US website monitor.
The heads of the four young men were then seen on the ground, in the video said to have been filmed in the southern province of Shabwa.
The footage shows 10 more soldiers, blindfolded and crouching with their hands bound, being shot once each in the forehead, while another is riddled with bullets from behind.
According to SITE, Al-Qaeda in the Arabian Peninsula (AQAP) has denied responsibility for the killings which took place in mid-April.
They were instead claimed by the "Shabwa Province" militia that has declared itself as a division of IS, a Sunni extremist group that has overrun swathes of Iraq and Syria.
Shabwa was the scene of fierce fighting Thursday between loyalists of President Abedrabbo Mansour Hadi and Huthi Shiite rebels, who have captured the capital Sanaa and advanced on his southern stronghold of Aden.
http://english.ahram.org.eg/NewsContent/2/8/129075/World/Region/IS-group-claim-killing-of--Yemen-soldiers-SITE.aspx
--------
Saudi Arabia Training Tribal Ground Force in Yemen
May 1, 2015
TEHRAN (FNA)- In order to escalate the ongoing street battles in Yemen, Saudi Arabia has reportedly started training hundreds of Yemeni tribesmen and fresh Al-Qaeda terrorists to fight the Houthis on the ground, while Riyadh continues its bombardment campaign.
http://english.farsnews.com/player.aspx?nn=13940210000886
-------
Iran says warships at entrance to key Yemen strait
May 1, 2015
TEHRAN: Two Iranian destroyers, sent to the Gulf of Aden to protect commercial ships, have reached the entrance of Bab el-Mandab, a strategic strait between Yemen and Djibouti, Iran's navy said Thursday.
In another sign of tensions between Gulf rivals Iran and Saudi Arabia, meanwhile, the Saudi charge d'affaires was summoned to the foreign ministry in Tehran to hear a "strong protest" over Saudi military action which prevented an Iranian plane from landing in Sanaa.
"We are present in the Gulf of Aden in accordance with international regulations to ensure the safety of commercial ships of our country against the threat of pirates," said the head of the Iranian navy, Rear Admiral Habibollah Sayari, quoted by the official IRNA news agency.
Read: Iran Guards chief accuses Saudi of 'treachery' in Yemen
The navy has sent the Alborz and Bushehr destroyers to patrol the entrance to the strait, he added.
Full report at:
http://tribune.com.pk/story/878574/iran-says-warships-at-entrance-to-key-yemen-strait/
--------
Turkey returns 'genocide' motion to European Parliament
May 1, 2015
Turkey has returned to the European Parliament an April 15 motion describing the mass killing of Ottoman Armenians during World War I as genocide, as a senior EU official warned Ankara about the consequences of its reaction to statements made by countries and organizations labeling the mass killings genocide.
The European Parliament sent its motion to the office of the Permanent Delegation of Turkey to the EU on April 29, Turkey's state-run Anadolu Agency reported. The office returned the motion on April 30, with a statement by the Permanent Delegation of Turkey attached.
The European Parliament's motion came days after Pope Francis provoked fury in Turkey by using the same term.
Full report at:
http://www.hurriyetdailynews.com/turkey-returns-genocide-motion-to-european-parliament.aspx?pageID=238&nID=81807&NewsCatID=510
--------
Yemen rebels attack Saudi border, dozens dead
May 1, 2015
Riyadh (AFP) - Saudi Arabia said its forces killed dozens of Iran-backed rebels from Yemen who launched their first major attack on the kingdom since Saudi-led air strikes began last month.
Three Saudi soldiers also died in the battle after the rebels targeted their observation posts, the defence ministry said, as its army repelled the assault.
There have been deadly skirmishes before but this is the first time the Saudi military has reported a full-scale Huthi attack on its borders.
Gulf foreign ministers on Thursday meanwhile rejected a proposal to hold talks on neutral ground between rival Yemeni political forces, while an expert report said Iran has been shipping weapons to the Huthis since at least 2009.
The United Nations is trying to bring an end to the weeks-long air campaign and return to peace talks.
Full report at:
http://news.yahoo.com/gulf-ministers-meet-yemen-conflict-rages-135648290.html
--------
Israel blames Arab neighbors for stalling on nuke-free zone
1 May 2015
Israel is blaming its Arab neighbors for the failure of progress toward achieving a Middle East free of nuclear weapons, saying that "if a serious regional effort has not emerged in the Middle East during the last five years, it is not because of Israel."
The statement by Israel, distributed Thursday to a global conference on a landmark disarmament treaty, is the country's first public comment since it showed up as a surprise observer. Israel has never publicly declared its nuclear weapons, and it is not a party to the Nuclear Non-Proliferation Treaty.
As an observer nation, it cannot address the ongoing conference, where many countries have expressed frustration that a key meeting toward a Middle East nuclear weapons-free zone, promised for 2012, has not taken place. That goal was set the last time the conference met five years ago.
Full report at:
http://english.alarabiya.net/en/News/middle-east/2015/05/01/Israel-blames-Arab-neighbors-for-stalling-on-nuke-free-zone.html
--------
Pakistan
Five army personnel, 27 militants killed in Tirah
May 1, 2015
LANDI KOTAL: Five soldiers, a captain among them, and 27 militants were killed in clashes in Tirah valley of Khyber Agency on Thursday.
According to security sources, soldiers were entering militants' strongholds when an intense ground battle took place. They identified the officer who lost his life in the line of duty as Capt Ajmal.
With ground offensives continuing in parts of Tirah valley for the fourth consecutive day on Thursday, security forces gained control of some areas which were previously held by the banned groups.
Informed sources told Dawn that security forces had entered Garhi Kamar Khel, Nakai Malikdin Khel, Zarmanza in Sikandar Khel and Dwa Thoe, Tangu, Mehraban Kalay, Khaeyst, Tharkho Kas, Mailu, Thor Darra and Malakabad localities in Kukikhel area. All these areas had been under the control of Tariq Afridi group of the banned Tehreek-i-Taliban Pakistan (TTP) since 2010.
Full report at:
http://www.dawn.com/news/1179179/five-army-personnel-27-militants-killed-in-tirah
--------
SC Gives One Week to Govt for Reply over 'Bad Treatment' To Urdu
May 1, 2015
ISLAMABAD: The Supreme Court (SC) has given one week to the Cabinet Division for filing a detailed reply on introduction of Urdu as national and official language.
During the hearing Justice Jawwad S Khawaja remarked: "Government should tell why bad treatment is being meted out to Urdu. What sincere efforts are these which have not succeeded since 1973?"
A 3-member bench of SC presided over by Justice Jawwad S Khawaja took up the case for hearing on Thursday. The federal government filed the reply during the course of the hearing stating that an institution of national language was set up in 1979 to make Urdu as official and national language.
Full report at:
http://www.dailytimes.com.pk/national/01-May-2015/adoption-of-urdu-as-official-language-sc-gives-one-week-to-govt-for-reply-over-bad-treatment
--------
Peshawar police arrest two suspected Afghan terrorists, seize 320kg explosives
May 1, 2015
PESHAWAR: At least two suspected terrorists were arrested during a raid in Peshawar's Sethi Town, Express News reported on Friday.
According to police sources, the arrested belonged to Afghanistan and were residing in Peshawar.
The security officials also seized explosive material weighing 320kg, filled in different toys, from the hideout of the miscreants.
A large number of connectors, remote controls and suicide jackets were also recovered from the house.
The neighbours confirmed that the two had a white Suzuki van which they used for illegal activities.
http://tribune.com.pk/story/879026/peshawar-police-arrest-two-suspected-afghan-terrorists-seize-320kg-explosives/
--------
Peace committee member killed in Bajaur
May 1, 2015
PESHAWAR: A peace committed member was killed on Friday in an improvised explosive device (IED) blast in northwestern Pakistan's Bajaur tribal region, security sources said.
Khalid Khan, son of Nawagai Aman committee ameer Guldad Khan, was hit by the IED planted on the roadside around 20 metres from his residence in Bajaur's Nawagai tehsil.
The Jamatul Ahrar faction of the banned Tehreek-i-Taliban Pakistan (TTP) claimed responsibility for the killing.
Nawagai Aman committee ameer Guldad Khan has also been targeted in several similar attacks in the past.
Bajaur is one of seven districts in Pakistan's semi-autonomous tribal belt, where Taliban militants are said to have carved out strongholds.
Several attacks on polio workers, peace committee members and suicide bombings have taken place in the tribal region in the past few years.
http://www.dawn.com/news/1179344/peace-committee-member-killed-in-bajaur
--------
Altaf's remarks on army to be legally pursued: ISPR
May 1, 2015
KARACHI: Director-General Inter-Services Public Relations (ISPR) Major-General Asim Bajwa on Friday condemned the statements made by Muttahida Qaumi Movement (MQM) chief Altaf Hussain regarding the Pakistan Army and said the matter would be legally pursued.
In a series of tweets, the DG termed the MQM chief's remarks regarding the army and its leadership as "uncalled for and disgusting", adding that such references to the army and its leadership in response to the arrest of criminals who may have links with a political party would not be tolerated.
Maj-Gen Bajwa said legal action would be taken against such remarks and the use of media to incite the people of Pakistan to rise against the state.
He also tweeted that the army and law enforcement agencies would continue to carry out operations as assigned to them.
Full report at:
http://www.dawn.com/news/1179327/altafs-remarks-on-army-to-be-legally-pursued-ispr
--------
DSP among three cops killed in Karachi firing
May 1, 2015
KARACHI: At least three policemen, including a deputy superintendent of police (DSP), were killed on Friday when armed men opened fire on their vehicle in Karachi's Gulshan-i-Hadeed area.
Police sources say Bin Qasim Deputy Superintendent Police (DSP) Fateh Mohammad Sangi was on a routine patrol with his driver, constable Farooq, and a guard, constable Nazeer, when motorcycle-riding gunmen opened fire on the vehicle they were travelling in, severely injuring the three men. The unidentified assailants fled after attacking the vehicle.
Police and emergency teams reached the spot, situated near Bacha Khan Chowk in Gulshan-i-Hadeed Phase-I area within the remit of Steel Town police station of Karachi.
The injured men were shifted to a nearby hospital where all three succumbed to their wounds during treatment.
Full report at:
http://www.dawn.com/news/1179338/dsp-among-three-cops-killed-in-karachi-firing
-------
South Asia
Afghan Ulema support Imam-e-Kaaba's stance against Taliban and ISIS
01 May, 2015
Hundreds of Afghan Ulemas – religious scholars announced their support to Imam-e-Kaaba for distancing Islam from the militant groups including Islamic State of Iraq and Syria (ISIS) and Taliban, saying that the groups have no link with Islam.
The Ulemas gathered near Haji Abdul Rahman mosque and condemned the ongoing war in Afghanistan while calling on all parties involved in the conflict to immediately stop bloodshed.
The gathering was organized by the Ulema Council of Afghanistan which is seen as a step taken after the council was criticized for remaining silent regarding the ongoing savagery by the militant groups.
The Ulemas and Mullah Imams also announced their support to a statement by the Presidential Palace through which the Afghan people were urged to stand with the Afghan national security forces.
Full report at:
http://www.khaama.com/afghan-ulemas-support-imam-e-kaabas-stance-against-taliban-and-isis-1049
--------
US Under Secretary Meets Bangladesh PM, Seeks Tips to Deal with Global Terrorism
01 May, 2015
The United States yesterday sought tips from Bangladesh to deal with global terrorism and extremism saying that many countries in the world can replicate the experiences of Bangladesh in addressing the issue.
US Under Secretary of States for Political Affairs Wendy Sherman said this during a meeting with Prime Minister Sheikh Hasina at her Ganabhaban residence in the evening. PM's ICT Adviser Sajeeb Wazed Joy and US Assistant Secretary of State for South and Central Asian Affairs Nisha Desai Biswal was present.
Briefing reporters after the meeting, PM's Press Secretary AKM Shameem Chowdhuri said the USA has highly appreciated Bangladesh's success in containing terrorism and militants as well as economic and social development under Sheikh Hasina's dynamic and able leadership.
"We treat the terrorists as terrorists as they don't have any border and religion," the prime minister said adding Bangladesh is committed not to allowing its land for terrorism against any country.
Full report at:
http://www.dhakatribune.com/politics/2015/may/01/sherman-meets-pm-seeks-tips-deal-global-terrorism#sthash.3OYuiVZn.dpuf
--------
65 Jamaat-Shibir men indicted for vandalism in Motijheel
01 May, 2015
A Dhaka court has indicted 65 leaders and activists of Bangladesh Jamaat-e Islami and its student wing Islami Chhatra Shibir in a case of vandalism and arson at Motijheel area in the capital.
Metropolitan Magistrate Tariq Moinul Islam Bhuiyan framed the charges against the accused yesterday and fixed June 10 to start the trial.
The accused include Jamaat's Nayeb-e-Ameer Prof Mojubur Rahman, Central Publicity Secretary Tasnim Alam, former lawmaker Golam porwar, and three former Shibir presidents Dr Shafiquel Islam Masud, Dr Fakhruddin Manik and Delwar Hossain.
Earlier on November 13, 2012, Sub-Inspector Mofizur Rahman submitted the charge sheet against the 65 Jamaat-Shibir members at the CMM court in Dhaka.
According to the case, on November 5, 2012, activists and leaders of Jamaat-Shibir brought out a procession demanding release of their top leaders who were arrested on charges of war crimes.
An hours-long clash occurred between the Jamaat-Shibir men and police that day, where at least 50 people were injured; the Jamaat-Shibir activists attacked police and vandalised and torched a number of vehicles, including a police pickup van and BRCT bus, in the area, the case statement said.
http://www.dhakatribune.com/politics/2015/may/01/65-jamaat-shibir-men-indicted-vandalism-motijheel#sthash.44tbyihY.dpuf
--------
Kabul's charges of terrorists' influx from Pakistan rejected
May 1, 2015
ISLAMABAD: The Foreign Office rejected fresh allegations levelled by Kabul about the influx of terrorists in Afghanistan from Pakistan and called for closer cooperation to deal with the issue of cross-border terrorism.
"I do not have any information which corroborates that terrorists and militants were going from Pakistan and were involved in these acts," FO Spokesperson Tasnim Aslam said at the weekly media briefing.
She was responding to allegations levelled by the Afghan interior ministry that a large number of militants from Pakistan were joining Afghan Taliban's Spring Offensive.
Taliban had last week started their annual offensive from Kunduz province in northern Afghanistan and have vowed country-wide attacks.
The spokesperson noted that Afghanistan did not share information with Pakistan about the alleged movement of militants.
She denounced Taliban's Spring Offensive and emphasised on peace and reconciliation in war-ravaged Afghanistan.
Full report at:
http://www.dawn.com/news/1179177/kabuls-charges-of-terrorists-influx-from-pakistan-rejected
--------
'Affordable' Bangladeshi maids top choice in KSA
May 1, 2015
Saudi families intending to recruit maids have shifted their focus to Bangladesh as the Asian country offers adequate numbers of trained laborers at lower wages compared to the Philippines and Sri Lanka.
"Most Saudis have shown interest in recruiting maids from Bangladesh," said Hamid Al-Balehshi, chairman of the recruitment committee at the Madinah Chamber of Commerce and Industry.
He said Saudi authorities have set up 94 offices in Bangladesh to facilitate the recruitment procedure. "Two to three representatives have been appointed in every office in Bangladesh to expedite the process."
Many Saudi families are not interested in recruiting maids from the Philippines and Sri Lanka because of a huge difference in wages.
Market analysts said there are at least eight main reasons for giving priority to Bangladeshi maids.
Full report at:
http://www.arabnews.com/featured/news/740371
--------
India
Religious Rights of Minorities Safe under Government: Minorities Affairs Minister
Vasudha Venugopal, ET Bureau | May 1, 2015
NEW DELHI: BJP has slammed the US Commission on International Religious Freedom annual report that raised questions on safety of religious minorities in India, calling it a conspiracy to ruin the image of the country.
Minorities affairs minister Mukhtar Abbas Naqvi told ET the report looked at isolated cases of violence on churches or communal flare ups but ignored the fact that such aberrations have occurred in the past too.
"The minorities know they are safe and so are their religious rights under this government. A report like this based on stereotypical narratives or isolated incidents will not dent their confidence in us," he said.
Senior Congress leader and former Union minister Manish Tewari, however, said, "the report reiterates what is happening in the country. In the last few months there has been a serious assault on the rights on religious minorities. The PM and his ideological mentor RSS specialise in polarising society. That is what they are doing now."
Full report at:
http://timesofindia.indiatimes.com/india/Religious-rights-of-minorities-safe-under-government-Mukhtar-Abbas-Naqvi/articleshow/47118349.cms
--------
Islamic State wing in Af-Pak region could be a threat: R&AW
May 1, 2015
The Research and Analysis Wing (R&AW) has said in a report to the government that an Islamic State (IS) wing, active in Afghanistan-Pakistan region, could pose a threat to India as prominent leaders of the wing have "possible linkages with the Pakistan establishment".
In its report to the PMO, the agency has said Asmatullah Muawiya, who is said to have been appointed military leader of the group in Af-Pak region, is a Punjabi Taliban leader formerly linked to Tehrik-e-Taliban and al-Qaeda and added that he "had made peace with Pakistan Army last year and has threatened India in recent times".
A Pakistan daily reported in 2013 that Muawiya had said India will become a major target of terrorist attacks once again, especially after the allied forces withdraw from Afghanistan.
"Muawiya's statement has been released on an al-Qaeda and TTP-linked jehadi website — Jamia Hafsa Urdu Forum — in which he has also praised two terrorists — Ajmal Kasab of the Lashkar-e-Toiba and Afzal Guru of the Jaish-e-Mohammad who were sent to gallows in recent months by the Indian government for their roles in the November 2008 Mumbai terrorist attack and the December 12, 2001 fidayeen attack on the Indian Parliament in Delhi," the newspaper report read.
The R&AW report expresses concern about the activities of an Af-Pak based group, which had been accorded status of Wilayat (foreign wing) by IS in Khurasan and was being referred to as the Wilayat Khurasan group.
http://indianexpress.com/article/india/india-others/is-wing-in-af-pak-region-could-be-a-threat-raw/
--------
Muslims, Christians Not Eligible To Contest from Reserved SC Seats: Haryana HC
Raghav Ohri,ET Bureau | May 1, 2015
NEW DELHI: Haryana high court has ruled that a Muslim or a Christian cannot contest elections from a constituency reserved for Scheduled Castes, restricting eligibility to Hindus, Buddhists and Sikhs only.
However, Muslim or Christian candidates will be eligible to contest if they embrace Hinduism, Buddhism or Sikhism and prove that their forefathers originally belonged to a Scheduled Caste and had (forefathers) professed to either of the three aforesaid religions.
The historic ruling, the first on the issue of conversion by any court in the country, could trigger a debate on the larger issue of reservation in education and jobs for Muslims and Christians. Delivering the judgment, Justice NK Sanghi held that "the conversion from one religion to another would dis-entitle the person to carry his caste with him after conversion".
The court relied upon relevant clause of the Constitution to hold that Muslims and Christians cannot derive any benefit meant for the Scheduled Castes. The court passed the judgment on a petition filed by former principal secretary of Punjab, Darbara Singh Guru, who lost to popular Punjabi folk singer and Congress MLA Mohammad Sadique.
Justice Sanghi had set aside the election of Sadique, who had defeated Guru in 2012 elections while contesting from Bhadaur, a SC seat.
http://timesofindia.indiatimes.com/india/Muslims-Christians-not-eligible-to-contest-from-reserved-seats-for-scheduled-castes-Haryana-high-court/articleshow/47118316.cms
--------
Civil Society Leaders Seek Justice for 'Exiled' Sri Lankan Writer, Sharmila Seyyid
May 1, 2015
A representation of Muslim civil society leaders from India and Sri Lanka have issued a statement seeking justice for Sharmila Seyyid, a Sri Lankan Tamil writer who had to go on exile in 2012 after radical Muslim elements targeted her for arguing in favour of legalising prostitution.
In the statement issued a few days back, 57 civil society leaders have said efforts to defame, harass and intimidate a woman in the name of faith cannot be justified and have appealed to the leaders of the community, including Jamiath ul Ulema in Lanka, to uphold the rights and freedom of Seyyid.
In November 2012, Seyyid, then a journalist researching on women of northern Lanka's war-affected regions, had to go on exile after a comment she made on BBC Tamil radio kicked up a controversy. "It was a five-minute speech in which I spoke in favour of legalising prostitution in the country. My opinion was taken along with several others' after a member of parliament raised a similar demand. What I said was circulated through an SMS news service. It put my family in trouble and i had to flee," Sharmila told The Indian Express.
She said days after the news spread that a Muslim woman had taken such a stand, the local clergy sought an unconditional apology as prostitution, according to them, is a sin. She added that conservative Muslim groups threatened her father, who runs a fisheries logistics service at her native Eravur near Lanka's Batticaloa region. "I noticed people following me almost everyday. I had no other option other than leaving," she said.
Full report at:
http://indianexpress.com/article/india/india-others/civil-society-leaders-seek-justice-for-exiled-sri-lankan-writer/
--------
U.S. asks India not to rush into business with Iran
May 1, 2015
The United States Under Secretary of State for Political Affairs, Wendy Sherman, has said India and other countries should "not rush" into doing business with Iran as Washington is yet to work out its nuclear deal with Tehran.
Ms. Sherman, who is in India ahead of the strategic and commercial dialogue between the two countries later this year, was speaking at a panel discussion on bilateral and regional issues at the University of Chicago Centre here on Wednesday.
On the nuclear deal that is still being worked out, Ms. Sherman said India should "hold its horses".
Full report at:
http://www.thehindu.com/news/national/us-asks-india-not-to-rush-into-business-with-iran/article7160035.ece
----------
Southeast Asia
Indonesian Govt Mulling Third Round of Executions
01 May, 2015
The Attorney General's Office (AGO) will make an evaluation next week whether to proceed with executing more death-row convicts in the near future after the two recent batches of executions drew international outcry.
AGO spokesman Tony Spontana said convicts set to be included in the execution list would be those who had exhausted all their legal attempts to avoid the penalty.
"An evaluation of the recent executions will be thoroughly evaluated next week. After that we will determine whether to proceed with the third round of executions in the near future, and the list of convicts who will face the firing squad," he said.
More than 162 death row convicts are currently awaiting their fate. Of the figure, 73 convicts are murderers while 89 are drug traffickers. The list excludes terrorist inmates, according to the AGO.
Citizens of the UK, the Netherlands, France, Nigeria, Malaysia and China are among the death row convicts.
Early on Wednesday, the government executed eight inmates from Indonesia, Australia, Brazil, Nigeria and Ghana.
The executions were the second round after the first was carried out on Jan. 18, during which six inmates from Indonesia, the Netherlands, Brazil, Nigeria, Vietnam and Malawi were killed by firing squad.
http://www.thejakartapost.com/news/2015/04/30/govt-mulling-third-round-executions.html#sthash.260DgNXm.dpuf
--------
Citing lack of 'special permit', Home Ministry seizes Quran copies at Malaysian book fair
01 May, 2015
KUALA LUMPUR, May 1 ― The Home Ministry has seized copies of the Quran from GerakBudaya for purportedly selling the Muslim holy book without a permit, the firm's staff confirmed today.
GerakBudaya event manager Ng Yap Hwa said the ministry officers had seized the Quran along with several other books on communism, Shiite Islam and alleged timber corruption in Sarawak from the local publisher's booth at the Kuala Lumpur International Book Fair yesterday.
"They also confiscated a few al-Quran books because they say we didn't get any special permit from the KDN," he told Malay Mail Online when contacted today, using the Malay initials for the Home Ministry.
Full report at:
http://www.themalaymailonline.com/malaysia/article/citing-lack-of-special-permit-home-ministry-seizes-quran-copies-at-malaysia#sthash.6JqLX3s6.dpuf
--------
Hadi: Political parties in Malaysia should form national unity government
01 May, 2015
SINGAPORE, May 1 — With both the ruling and opposition coalitions in disarray and Malaysian politics in a state of flux, all political parties should consider forming a national unity government, said the leader of Parti Islam Se-Malaysia (PAS).
In an interview with TODAY this week, PAS president Datuk Seri Abdul Hadi Awang blamed the political uncertainties on the United Malays National Organisation (Umno), the country's largest party that leads the Barisan Nasional (BN) ruling coalition.
"What is happening is due to the weakness of Umno itself. It's not due to Mahathir, Najib, nor Abdullah Badawi," he said, referring to Prime Minister Datuk Seri Najib Razak and his two predecessors, Tun Abdullah Ahmad Badawi and Tun Dr Mahathir Mohamad.
Hadi, 67, said it was not too late for "a correction can be made" in the form of a unity government involving all major political parties and no opposition.
Full report at:
http://www.themalaymailonline.com/malaysia/article/hadi-political-parties-in-malaysia-should-form-national-unity-government#sthash.9XnIVLij.dpuf
-------
Africa
Traumatized and brainwashed Boko Haram captives open fire at rescuers
May 1, 2015
Some of the nearly 300 girls and women freed by Nigeria's military from the forest stronghold of Boko Haram were so transformed by their captivity that they opened fire on their rescuers, and experts said Wednesday they would need intensive psychological treatment.
The military was flying in medical and intelligence teams to evaluate the former captives, many of whom were severely traumatized, said army spokesman Col. Sani Usman.
He said earlier that none of the schoolgirls kidnapped from the northeastern town of Chibok a year ago appeared to be among the 200 girls and 93 women rescued Tuesday. But on Wednesday he said further screening was needed before their identities could be determined.
"The processing is continuing, it involves a lot of things because most of them are traumatized and you have got to put them in a psychological frame of mind to extract information from them," Usman said.
Full report at:
http://indianexpress.com/article/world/middle-east-africa/traumatized-boko-haram-captives-open-fire-at-rescuers/#comments
-------
Boko Haram hostages were held in 'severe and inhuman conditions': Military
May 1, 2015
Boko Haram hostages were held in atrocious conditions in the group's Sambisa Forest stronghold, Nigeria's military said on Thursday after nearly 500 women and girls were released this week.
"Whoever they may be, the important thing is that Nigerians held captive under very severe and inhuman conditions have been freed by our gallant troops," defence spokesman Chris Olukolade said.
He told reporters in Abuja the army would "comprehensively" clean out the forest, adding: "There is great hope for the recovery of more hostages of the terrorists."
http://english.ahram.org.eg/NewsContent/2/9/129064/World/International/Boko-Haram-hostages-were-held-in-severe-and-inhuma.aspx
--------
Kenya admits intelligence ignored ahead of Garissa massacre
May 1, 2015
Kenya's interior minister on Thursday admitted that intelligence was ignored and the security response botched regarding the Islamist massacre of nearly 150 people at Garissa university in April.
"There was lack of coordination on the side of the officers, there was intelligence that this place was going to be attacked," Interior Minister Joseph Nkaissery told a parliamentary committee.
Nkaissery said security should have been "beefed up" but was not, and that once the attack began a "lack of coordination" undermined the response.
Full report at:
http://english.ahram.org.eg/NewsContent/2/9/129060/World/International/Kenya-admits-intelligence-ignored-ahead-of-Garissa.aspx
--------
Europe
'Half a million Islamists will arrive if the EU agrees to "open the door" to migrants' claims Nigel
01 May, 2015
Nigel Farage told a meeting of the European Parliament in Strasbourg that allowing refugees into Europe 'could lead to half a million Islamic extremists coming to our countries and posing a direct threat to our civilisation'.
His comment was in response to a remark by Jean-Claude Juncker, who said that the European Union must 'open the door' to migrants or they 'will be climbing in through our windows'.
The European Commission called for a system of legal migration for people wanting to come to Europe in the wake of the Mediterranean boat tragedies, in which up to a thousand drowned.
The Ukip leader was immediately attacked by opposing politicans who accused him of telling 'despicable scare stories' as part of his bid to get elected.
One MEP said it was just as likely that thousands of Martians would come into Europe as jihadists.
Full report at:
http://www.dailymail.co.uk/news/article-3060995/Half-million-Islamists-arrive-EU-agrees-open-door-migrants-claims-Nigel-Farage-European-Commission-president-calls-Britain-share-fleeing-war.html#ixzz3YsAvUi3A
--------
UK Muslims To Decide 25% Of Seats: Study
01 May, 2015
CAIRO – A new analysis showed that British Muslims could decide up to 25% of the seats in the country's general election, reflecting the decisive role of the religious minority in the next week's election.
"You can suddenly see the changing patterns in terms of religious minority, majority and non-affiliation, and how that plays out on the political landscape," Alan Mendoza, president of think-tank Henry Jackson Society, told the Daily Express on Thursday, April 30.
"People don't vote solely on religious criteria but it throws up all kinds of interesting questions about the make-up and influence of constituencies.
"The findings show how dramatically things have changed when compared to what would have been seen 20 or 30 years ago."
Out of 632 seats, 159 seats have greater number of Muslims than the margin of victory in 2010, according to the research.
While Muslims will be decisive in a quarter of constituencies, Hindus, Buddhist and Jewish voters may have crucial role too.
Full report at:
http://www.onislam.net/english/news/europe/485309-uk-muslims-to-decide-25-of-seats-study.html
--------
Islamic Radicalization Stirs Concern in Bosnia
01 May, 2015
Although political tensions in Bosnia-Herzegovina, tinted with ethnic remarks in the wake of a terrorist attack on a police station in Zvornik, seem to have subsided, international and local experts and officials remain concerned about Islamic radicalization in Bosnia.
A police officer was shot dead and two others were injured in the April 27 attack.
The United States and the European Union condemned the attack. The U.S. State Department called on relevant agencies "to conduct a thorough and professional investigation" of the incident and to take all necessary measures so that the "situation is not politicized."
Daniel Serwer is an expert on Balkan affairs and the Middle East at the Center for Transatlantic Relations at Johns Hopkins University as well as the Middle East Institute in Washington. He said that although the killing was an "outrageous act against the authorities that should be condemned by everyone," one should not jump to the conclusion that Islamic radicalization in Bosnia is dangerously on the rise.
Full report at:
http://www.voanews.com/content/islamic-radicalization-stirs-concern-bosnia/2743574.html
--------
Does a long, black skirt flout France's treasured secularity?
01 May, 2015
Is a long, black skirt a "conspicuous" sign of Islam? Or is that pushing France's strict secularity laws a little too far?
The outrage over the case of a Muslim girl who was twice banned from class for wearing the offending piece of clothing highlights the headache teachers face in interpreting France's treasured ban on religion in schools, experts and officials say.
The country has a long-established secular tradition that has its roots in the anti-clericalism of the French revolution and a 1905 law enforcing a strict separation between church and state.
In 2004, spooked that the growing number of Muslim girls wearing headscarves in public schools was eroding this separation, the government brought in a controversial secularity law that banned students from wearing "conspicuous" signs of religion such as veils, Jewish skullcaps or crucifixes.
Full report at:
http://www.dawn.com/news/1178915/does-a-long-black-skirt-flout-frances-treasured-secularity
--------
Yemen violence kills 1,244, injures 5,044: WHO
May 1, 2015
GENEVA: Just over a month of fighting in Yemen has left nearly 1,250 people dead, in a conflict affecting 7.5 million people, the World Health Organization said Friday.
The UN health agency described a "deteriorating" humanitarian situation in the country, especially in Taez in the centre of the country where there have been heavy clashes.
Fighting and airstrikes by a Saudi-led coalition killed 1,244 people and injured 5,044 between March 19 and April 27, according to the latest WHO toll.
WHO receives its statistics from health facilities in Yemen, but since many people are not making it to hospitals for treatment the real numbers are probably higher.
The latest toll was published after Saudi Arabia said its forces on Thursday had killed dozens of Iran backed rebels who launched their first major attack on the kingdom since the Saudi-led airstrikes began.
Full report at:
http://tribune.com.pk/story/879084/yemen-violence-kills-1244-injures-5044-who/
--------
Britain tells UN Iran trying to buy nuclear technology
May 1, 2015
Iran is actively trying to buy nuclear technology through blacklisted companies, according to a confidential United Nations (UN) report, citing information from the British government.
The claims -- which if true would violate UN sanctions -- were made to a UN panel of experts just weeks after world powers reached a framework deal with Iran on curbing its nuclear program.
The UK government informed the panel on the 20 April 2015 that it 'is aware of an active Iranian nuclear procurement network which has been associated with Iran's Centrifuge Technology Company (TESA) and Kalay Electric Company (KEC)'," the report, seen by AFP, said.
Full report at:
http://www.hurriyetdailynews.com/britain-tells-un-iran-trying-to-buy-nuclear-technology-.aspx?pageID=238&nID=81803&NewsCatID=359
--------
U.N. says services on 'brink of collapse' in Yemen
1 May 2015
The U.N. secretary-general is raising the alarm on Yemen, saying more than 1,200 have been killed and that the country's health, water and telecommunications systems are "on the brink of collapse."
A statement Thursday from Ban Ki-moon's office repeats his call for an immediate ceasefire, or at least humanitarian pauses, as a Saudi-led coalition continues airstrikes against a rebel group that is supported by Iran.
The statement says the fighting has "severely blocked shipments of food, fuel and health care" and all airports are closed to civilian flights.
The statement warns that already challenged humanitarian operations in the Arab world's poorest country will end within days unless fuel imports return.
Ban is urging all parties to protect civilians and immediately end attacks on hospitals and health centers.
http://english.alarabiya.net/en/News/middle-east/2015/05/01/U-N-says-services-on-brink-of-collapse-in-Yemen-.html
--------
North America
Campaign Ridiculing Anti-Muslim Posters Debuts in NYC Subway
01 May, 2015
New York- In response to the growing number of islamophobic acts in the world and the anti-Islamic subway ads launched by Pamela Geller, some American Muslims have decided to launch a campaign featuring ironic and humorous messages displayed on the NYC subway.
According to New York Daily News, documentary filmmakers Negin Farsad and Dean Obeidallah said they would post 144 posters in 140 subway stations thanks to roughly $20,000 raised through crowd funding.
The posters bear messages such as: "Beware the Muslims are coming! And they shall strike with hugs so fierce you will end up calling your grandmother and telling her you love her."
Another funny message reads, "The ugly truth about Muslims: Muslims have great frittata recipes."
The campaigners also posted a message with very interesting facts highlighting the achievements of Muslims. The poster reads, "Fact about Muslims: They invented coffee, the toothbrush, and algebra."
"Oh wait, sorry about the algebra. That's a year of class you'll never get back," reads the text at the bottom.
The campaign comes in response to an anti-Islam campaign that featured a series of $100,000 ads on MTA buses with text and images likening Muslims to Hitler.
http://www.moroccoworldnews.com/2015/04/157409/campaign-ridiculing-anti-muslim-posters-debuts-nyc-subway/
--------
Dutch anti-Islam lawmaker issues 'warning' to America
1 May 2015
The far-right populist Dutch lawmaker Geert Wilders issued a "warning" to America on Thursday, saying that mass immigration from Muslim countries threatened the nation's security.
"I am warning America. Don't think that what's happening in Europe today will not happen in America tomorrow because it will," Wilders told reporters on Capitol Hill in Washington.
"Islamic immigration has proven to be a Trojan horse, the jihadists are among us," he added, warning of "enormous security problems" in the United States if Muslim immigrants are allowed to stay.
"Let them go, but never let them return," he said.
The firebrand politician, who heads the Party for Freedom in the Netherlands, has long been accused of inciting racial hatred for his outspoken and sometimes extreme views.
Wilders was invited to America by Republican Congressman Steve King of Iowa and his Texas colleague Louie Gohmert.
Keith Ellison and Andre Carson, two Democratic congressmen who are both Muslim, had tried to block Wilders from entering the United States. They wrote to Secretary of State John Kerry saying that Wilders was "known for perpetuating Islamophobia."
http://english.alarabiya.net/en/News/world/2015/05/01/Dutch-anti-Islam-lawmaker-issues-warning-to-America.html
--------
US soldiers arrive at İncirlik Airbase with weapons for train-equip program
May 1, 2015
Some 123 U.S. soldiers arrived in Turkey as part of a program to train and equip the putatively moderate Syrian opposition, along with weapons that are being transferred to İncirlik Airbase in the southern province of Adana.
Eighty-three of the U.S. soldiers have been deployed at İncirlik Airbase, while 40 of them have been transferred to the Hirfanlı base in the Central Anatolian province of Kırşehir.
A special group of U.S. personnel at İncirlik has been tasked with equipping Syrians. The program, agreed by Ankara and Washington in February, was delayed twice due to disagreements between Turkey and the U.S. on whom to train.
The Syrians who will be trained at Hirfanlı are expected to be transferred to the southern province of Hatay where they will be equipped with necessary briefing for the use of arms, including anti-tank weapons, infantry rifles and machine guns, before travelling to Syria to join fight against the Islamic State of Iraq and the Levant (ISIL), according to sources.
Concerned that radicals could infiltrate the trainees of the program, Washington chose to determine a broad group of Syrian opposition members on its own intelligence information, Full report at:
http://www.hurriyetdailynews.com/us-soldiers-arrive-at-incirlik-airbase-with-weapons-for-train-equip-program.aspx?pageID=238&nID=81796&NewsCatID=352
--------
US keeps China, Pakistan and India on intellectual rights watch list
May 1, 2015
WASHINGTON: The United States kept China and India on its Priority Watch List of trading partners that fail to protect intellectual property rights (IPR), hurting the economy.
In its annual Special 301 Report, the Commerce Department's US Trade Representative said there were now 13 trading partners on its Priority Watch List, three more than its previous report. Ecuador and Ukraine were newcomers, and Kuwait was added late last year.
Ecuador made the Priority Watch List because of its repeal last year of its criminal IPR provisions. "The current lack of criminal procedures and penalties invites transnational organised crime groups that engage in copyright piracy and trademark counterfeiting to view Ecuador as a safe haven," the USTR report said.
Ukraine's government had not resolved problems identified two years ago by the US that include widespread use of illegal software by Ukrainian government agencies and the failure to adopt effective means to combat online copyright infringement, it said.
While welcoming promising efforts by the Ukrainian authorities, the USTR said it was looking forward to seeing "tangible and lasting improvement, both in legislative reform and in practice".
Full report at:
http://www.dawn.com/news/1179340/us-keeps-china-pakistan-and-india-on-intellectual-rights-watch-list
--------
URL: https://www.newageislam.com/islamic-world-news/new-age-islam-news-bureau/saudi-arabia--hajj-application-for-muslim-pilgrims-asks--are-you-shia?-/d/102768