New Age Islam News Bureau
30 Sept 2018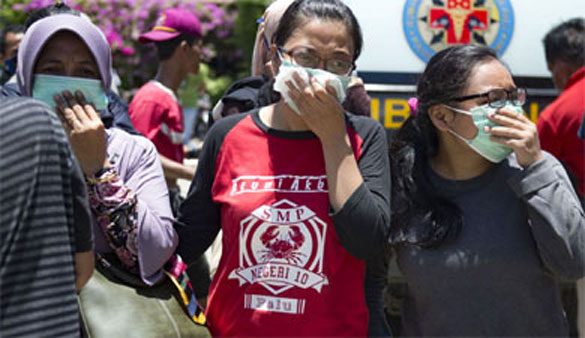 People wear masks as they attempt to identify the bodies of their relatives
------
• Saudi Arabia Embraces Yoga in Pivot towards 'Moderation'
• Muslim Scholars Should Study, Write on Hindus, Their Culture in Depth: Historians At NMML Event
• At Least 832 Die After Quake, Tsunami Hits Indonesia's Sulawesi Island
• 'Unity of Ummah Can Pull Muslim World Out Of Crises': Jamaat-e-Islami
• Taliban Urge Clerics Not to Attend 'Anti-Jihad' Meeting
Arab World
• Saudi Arabia Embraces Yoga in Pivot towards 'Moderation'
• Saudi Arabia, Allies Slam 'Biased' UN Resolution On Yemen
• ISIL Terrorists Escape from Turkey-Backed Militants' Jail in Northern Syria
• Bahrain: Iran threatens security in Straits of Hormuz and Bab el-Mandeb
• US-led coalition doing everything but fight against terror, says Syrian FM
• Regional alliance with US at risk over Persian Gulf spat, says Qatar
• First rebel group begins withdrawal from demilitarized zone in Syria's Idlib
--------
India
• Muslim Scholars Should Study, Write on Hindus, Their Culture in Depth: Historians At NMML Event
• India Rejects Pakistan's Charge That It Had A Role In 2014 Peshawar School Attack
• Policeman killed in terrorist attack in Shopian
• Sushma Swaraj at UN: No talks with Pakistan amid terror
• India issues demarche to Pakistan, wants withdrawal of Burhan Wani stamps
--------
Southeast Asia
• At Least 832 Die After Quake, Tsunami Hits Indonesia's Sulawesi Island Yemen • Conflict Rages on Because Islam 'Ignored', Dr M Claims
• Umno Pledges to Fight on For Malays and Islam
• Islam Should Lead, Says Zahid In First Policy Speech At Umno Congress
• We won't form unity govt with racist DAP, says Tajuddin
--------
Pakistan
• 'Unity of Ummah Can Pull Muslim World Out Of Crises': Jamaat-e-Islami
• OIC Calls for End to Hate Campaigns against Islam
• Pakistan warns India against LoC 'venture'
• 14 Pakistani fishermen return from India, 52 still languish in its jails
• Jamaat-e-Ahmadiyya pledges $15,000 donation for Pakistan's dams
• PM requested to appoint ETPB chairman from Sikh community
• Trump 'disappointed' over no headway with Pakistan on Taliban talks: Wells
--------
South Asia
• Taliban Urge Clerics Not to Attend 'Anti-Jihad' Meeting
• Afghanistan's Insurance Industry struggles ... But Terrorism Claims Are Paid Out
• Deadly Infighting Erupts Among the Taliban in Badakhshan Province
• Khogyani residents clash with Taliban militants in Nangarhar province
• Local Taliban group leader arrested in Nangarhar province
--------
Mideast
• Iran: S. Arabia Most Infamous Supporter of Terrorism
• Erdogan: No Difference between Daesh, PKK Terrorists
• Father Says Ahwaz Terrorist Was Mentally Ill
• Yemeni minister: Hezbollah has become mouthpiece for Houthi militias
• Yemen's legitimate government reject cooperating with UN team of experts
• Yemeni army removes 400 mines planted by Houthis in Saada
• Gazans hold funeral processions for 7 protesters killed by Israeli troops
• Turkey arrests 14 bankers over affiliation to Gulen movement
--------
North America
• US Evacuates Consulate In Southern Iraq City Of Basra Following Attacks
• Trump Calls Saudi King Salman to Discuss Oil Market, Mid-East, Strategic Ties
• US State Department approves sale of $300 million tactical missiles to Bahrain
• Racialized artists in Calgary building safe spaces for future generations
• Kuwait discounts US pullout of Patriot missiles as internal 'routine procedure'
--------
Africa
• Boko Haram Kills Commander Over Plan to Free 300 Victims
• Somalia: Al-Shabab seizes major areas near capital
• Six die as Boko Haram attacks Lake Chad
--------
Europe
• Dutch Terror Suspects 'Had 100 Kg of Fertiliser for Car Bomb'
• Russia FM says Moscow has already started delivery of S-300s to Syria
• Russia begins missile system delivery to Syria, warns West on peace talks
Compiled by New Age Islam News Bureau
URL: https://www.newageislam.com/islamic-world-news/saudi-arabia-embraces-yoga-pivot/d/116526
--------
Saudi Arabia embraces yoga in pivot towards 'moderation'
SEP 30, 2018
In a sparse, wood-floored studio, Saudi women squat, lunge and do headstands. Even a year ago, teaching these yoga postures could have rendered them outlaws in the conservative Islamic kingdom.
Widely perceived as a Hindu spiritual practice, yoga was not officially permitted for decades in Saudi Arabia, the cradle of Islam where all non-Muslim worship is banned.
But with Crown Prince Mohammed bin Salman vowing an "open, moderate Islam", the kingdom last November recognised yoga as a sport amid a new liberalisation drive that has sidelined religious hardliners.
Spearheading efforts to normalise yoga in the kingdom is Nouf Marwaai, a Saudi woman who has battled insults and threats from extremists to challenge the notion that yoga is incompatible with Islam.
"I have been harassed, (and) sent a lot of hate messages," said the 38-year-old head of the Arab Yoga Foundation, which has trained hundreds of yoga instructors in the kingdom.
"Five years ago, this (teaching yoga) would have been impossible," added Marwaai, as she began training a cluster of women students at a private studio in the Red Sea city of Jeddah. Hanging up their body-shrouding abayas and headscarves, the women stretched in unison in an arching warrior pose known as "virabhadrasana".
Arms outstretched, their bodies folded into a 180-degree backward bending posture known as "chakrasana", or wheel pose.
In a country where women have long been denied the right to exercise publicly, the students -- some of whom regularly attend yoga retreats in India -- said the exercise had transformed their lives.
Ayat Samman, a 32-year-old health educator, said yoga helped alleviate her lifelong struggle with fibromyalgia, a chronic pain disorder that often left her bedridden.
Yoga also works as therapy, the women said, helping them vent bottled up emotions and tackle a woefully common ailment --depression.
"It just opened me up like a water balloon," said Yasmin Machri, 32.
"After my first class... I started breaking down and crying."
- Religious outreach - In just a few months since yoga's recognition, a new industry of yoga studios and instructors has sprouted in various Saudi cities. That includes Mecca and Medina, Islam's holiest cities, Marwaai said.
Prince Mohammed, the de facto ruler, has sought to project a moderate image of the kingdom, long associated with a fundamentalist strain of Wahhabi Islam, with a new push for inter-religious exchange.
Saudi Arabia in recent months has hosted officials linked to the Vatican and the prince also met a group of Roman Catholic and Jewish leaders in New York earlier this year, in a rare inter-faith gesture.
"The prince's outreach to other religions is apparent in the interfaith gatherings and the new enthusiasm for Saudi Arabia's pre-Islamic heritage," said Kristin Diwan, of the Arab Gulf States Institute in Washington.
For decades, Saudi rulers derived much of their legitimacy from their alliance with a clerical establishment that pushed a puritanical vision of Islam.
But the prince appears to have upturned the system, seeking instead to tap support from the kingdom's swelling youth base through a surge of nationalism and a much-hyped modernisation drive.
Saudi columnists have openly called for abolishing the once-feared religious police as the kingdom introduces entertainment, including mixed-gender concerts, and re-opens cinemas after a decades-long ban.
Prominent hardline Salafist clerics with millions of followers on social media have been jailed, with some on death row, as the crown prince clamps down on dissent.
"The religious networks which once led campaigns against more liberal ideas appear cowed, but new practices like yoga are always subject to ad-hoc attacks," Diwan said.
- 'Nothing to do with religion' - Yoga is still regarded as a deviant practice in conservative circles, sometimes associated with witchcraft, and Marwaai's students say they often confront accusations of betraying their religion.
"I receive messages through social media asking: 'Are you a Hindu? Did you turn into a Hindu?'" said Budur al-Hamoud, a recruitment specialist.
"Yoga has nothing to do with religion. It's a sport... It does not interfere with my faith."
Yoga is seen at odds with several other faiths, but the recognition of the practice in Saudi Arabia -- the epicentre of the Islamic world --appears to have given a new impetus to Muslim yoga practitioners around the world.
Marwaai is taking on conservatives not just in the kingdom but also India, the birthplace of yoga where clerics last year slapped a fatwa, or religious edict, against a female Muslim yoga teacher just days before the kingdom recognised the sport.
In a shrill Indian television debate, Marwaai -- a lupus survivor and recently awarded the Padma Shri, one of India's highest civilian honours -- calmly sought to reason with Muslim clerics who hurled insults at her.
The clerics were particularly opposed to "Surya Namaskar", a yoga sequence designed to greet Surya, the Hindu sun god, and the chanting of Hindu mantras.
"It is not the worshipping of the sun and the moon," Marwaai responded as tempers frayed, denying they engaged in chanting.
Unconvinced, a cleric said the set of physical movements in the Muslim prayer ritual offered enough exercise.
The slow meditation does not increase the metabolic rate, Marwaai retorted. "Prophet Mohammed used to race with his wife."
https://economictimes.indiatimes.com/news/international/world-news/saudi-arabia-embraces-yoga-in-pivot-towards-moderation/articleshow/66013680.cms
--------
Muslim Scholars Should Study, Write On Hindus, Their Culture in Depth: Historians At NMML Event
September 29, 2018
Muslim scholars should study and write on Hindus and their culture in depth, historians opined at the 'All India History Summit' held at the Nehru Memorial Museum and Library here Saturday.
Prof Najaf Haider of JNU's Centre for Historical Studies emphasised that Muslims have not studied Hindus or their culture in depth, according to a statement from the event organisers.
Speaking on the topic 'Casting out Caste - Dalit Engagement with Power Politics', Prof Kancha Ilaiah said caste is a reality and it needs to be addressed by the Muslim community.
Al-Biruni is the only Muslim scholar who studied and wrote about the caste system, he said, calling the Muslim scholars and students to write on dalits and caste system, the statement said.
The two-day event organised by the Centre for Educational Research and Training (CERT) in collaboration with the Centre for Study and Research (CSR), Hyderabad, and Student Islamic Organisation of India (SIO), will conclude on Sunday.
https://www.business-standard.com/article/pti-stories/muslim-scholars-should-study-write-on-hindus-their-culture-in-depath-historians-at-nmml-event-118092900706_1.html
--------
At least 832 die after quake, tsunami hits Indonesia's Sulawesi island
29 September 2018
WARNING: This article contains graphic imagery. Reader discretion is therefore advised.
The death toll from Indonesia's quake and tsunami jumped to 832, the disaster agency said Saturday, as hospitals struggled to cope with hundreds of injured and rescuers scrambled to reach the stricken region.
So far, it said all the deaths were recorded in tsunami-struck Palu, a day after waves 1.5 meters (five feet) high slammed into the city of 350,000 in central Sulawesi island.
Strong aftershocks continued to rock the coastal city on Saturday morning after waves up to three meters high swept through the scenic tourist town, triggered by a 7.5 magnitude earthquake on land.
"Many bodies were found along the shoreline because of the tsunami, but the numbers are still unknown," said Sutopo Purwo Nugroho, spokesman of Indonesia's disaster mitigation agency BNPB said in news briefing in Jakarta.
Amateur footage shown by local TV stations, which could not immediately be authenticated by Reuters, showed waters crashing into houses along Palu's shoreline, scattering shipping containers and flooding into a mosque in the city.
Nugroho described the damage as "extensive" with thousands of houses, hospitals, shopping malls and hotels collapsed and a bridge washed away.
Bodies of victims trapped between the rubble of collapsing buildings were also found, he said, adding that more than 350 people were injured.
Dozens of injured people were being treated in makeshift medical tents set up outdoors, TV images showed.
Indonesia's meteorological and geophysics agency BMKG issued a tsunami warning after the quake, but lifted it 34 minutes later. The agency was widely criticized for not informing a tsunami had hit Palu on Saturday, though officials said waves had come within the time the warning was issued.
The quake and tsunami caused a major power outage that cut communications around Palu and on Saturday authorities were still having difficulties coordinating rescue efforts.
BNPB has not been able to get any information from the town of Donggala, closer to the epicenter of the quake 27 km (16 miles) away. More than 600,000 people live in Donggala and Palu.
Chief security minister Wiranto told TVOne the military had started sending in cargo planes from the capital Jakarta carrying relief aid.
The city's airport remained closed after its runway and air traffic control tower was damaged in the quake but officials said they were preparing to reopen to allow aid to come in.
"We hope the airport can be reopened soon for flights carrying disaster relief and aid," said Yohannes Sirait of AirNav, the air traffic management agency.
Road access to Palu from the east and the south are disconnected, making relief efforts difficult, authorities said.
"There is no evacuation yet in the disaster area," Tezar Kodongan, a Palu resident, told Metro TV.
The Palu area was hit by a less powerful quake earlier on Friday, which destroyed some houses, killed one person and injured at least 10 in the fishing town of Donggala, closest to the epicentre, authorities said.
The US Geological Survey put the magnitude of the second quake at a strong 7.5, after first saying it was 7.7.
Indonesia sits on the Pacific Ring of Fire and is regularly hit by earthquakes. In August, a series of major quakes killed over 500 people in the tourist island of Lombok and destroyed dozens of villages along its northern coast.
Palu was hit by tsunami in 1927 and 1968, according to BNPB.
https://english.alarabiya.net/en/News/world/2018/09/29/-Many-bodies-found-after-quake-tsunami-hits-Indonesia-s-Sulawesi-island.html
--------
'Unity of Ummah Can Pull Muslim World Out Of Crises': Jamaat-e-Islami
September 30, 2018
LAHORE: Jamaat-e-Islami Secretary General Liaqat Baloch on Saturday said future of country lay in the hands of youths and they should equip themselves with latest knowledge of science and technology besides best morals.
He was addressing at the inaugural session of International Youth Gathering. Youth delegates from fifteen countries including Turkey and Syria attended the ceremony.
Liaqat said peace and tolerance were the greatest force of human beings while violence, misunderstanding and extremism were the biggest enemies. He said Islam was religion of peace and love. He said the unity of Muslim ummah and the awakening of youth could pull Muslim world out of crises.
He said the companions of Holy Prophet (SAW) were youth who brought about the greatest revolution of human history. He said around 64 per cent of population in Pakistan was below 30 years of age and they had deep love for Islam and the country.
Turkish youth representative Ali Kurd, Syrian representative Sardar Behram, Ehsanullah Waqas and Mushtaq Mangat also addressed the moot.
https://www.thenews.com.pk/print/374825-unity-of-ummah-can-pull-muslim-world-out-of-crises
--------
Taliban Urge Clerics Not to Attend 'Anti-Jihad' Meeting
September 29, 2018
ISLAMABAD —
The Taliban have denounced Afghanistan and Pakistan for planning to convene a major bilateral conference of religious scholars in a bid to declare the Afghan insurgency as un-Islamic.
An Afghan delegation composed of officials and clerics is visiting Islamabad and holding talks with Pakistani counterparts to prepare ground and an agenda for the proposed conference of "ulemas," or clerics. The deputy head of the government-appointed High Peace Council (HPC), Atta-ur-Rehman Saleem, is leading the Afghan delegation.
The discussions began Friday and continued Saturday, but neither side has shared details. "Both the sides agreed not to speak to media," a senior official told VOA on condition of anonymity.
"The Islamic Emirate [the Taliban] calls on religious scholars in Afghanistan and Pakistan not to attend the meeting and fall victim to America's plots and desist from indirectly cooperating with American invaders," said a Taliban statement issued Saturday.
It alleged the United States is plotting Afghan clerics' meetings with counterparts in other countries to try to build religious opposition to the insurgent group's "ongoing jihad," or holy war, against foreign "occupation" of the country.
'Fake reports'
The Taliban asserted in their statement that the U.S. military mission had failed to defeat the Taliban on the battlefield and that "the invaders" were now resorting to such conferences and promoting "fake reports" about peace talks with insurgents to "cover up their failures" and justify their "occupation" of Afghanistan.
Some religious groups in Pakistan have long voiced support for the Taliban and publicly defended the Afghan insurgency as Islamic jihad. Kabul believes leaders of these groups could use their influence to help reduce violence and promote an Afghan political reconciliation process.
Afghan Ambassador to Pakistan Omar Zakhilwal has underscored the importance of a joint stance by religious scholars of the two countries against the insurgent violence in his country.
"That's needed. It's important and we [Afghans] are ready for it. We would want to, and I hope Pakistani ulemas join hands with us," Zakhilwal said in an interview that state-run Pakistani television aired Friday.
Saudi Arabia and Indonesia have already this year hosted, with Afghan officials, international and trilateral ulema conferences. Participants at these meetings denounced suicide bombings as "actions forbidden in Islam" and urged the Taliban to engage in direct talks with Kabul to end the war.
However, the Islamist insurgency swiftly rejected those declarations and came up with counteredicts from pro-Taliban clerics justifying the war as a religious obligation to evict foreign forces from the country.
While Pakistani scholars attended the trilateral ulema conference in Jakarta in May with Afghan and Indonesian counterparts, they stayed away from the international gathering in Saudi Arabia.
U.S. 'plot' alleged
The Taliban reportedly had sent letters to Pakistani scholars, urging them not to attend the Saudi-hosted conference because it was an "American plot to justify their military invasion of Afghanistan."
Afghan officials allege sanctuaries in Pakistan have enabled the Taliban to sustain and expand their insurgent activities. Islamabad rejects these charges as baseless.
For their part, Pakistani officials blame "ungoverned areas" in Afghanistan for encouraging fugitive militants to shelter there and plot cross-border terrorist attacks.
The allegations and counterallegations are at the center of bilateral tensions between the two countries, which share a nearly 2,600-kilometer border that is largely porous.
Pakistan maintains it has agreed to organize the joint ulema meeting to build mutual confidence and underscore Islamabad's resolve to support the Afghan government's efforts to promote peace in the country.
https://www.voanews.com/a/taliban-urge-clerics-not-to-attend-anti-jihad-meeting/4592825.html
--------
Arab World
Saudi Arabia, allies slam 'biased' UN resolution on Yemen
September 29, 2018
JEDDAH: Saudi Arabia and key allies have denounced as "biased" a resolution that renewed a UN-backed investigation of alleged war crimes in Yemen.
The condemnation was issued in a joint statement released by the Yemen government, Saudi Arabia, the UAE, Bahrain and Egypt. It comes after the UN Human Rights Council voted to extend an international probe of alleged war crimes committed in Yemen. "We are left with a resolution which is biased, and which clearly contradicts the clear mandate laid out by the UN Security Council," said the joint statement. Rights council members voted in favor of the resolution in Geneva on Friday by 21 to 8, with 18 abstentions. Saudi Arabia and its allies bemoaned what they said was the council's "failure to achieve consensus." "In particular, we are disappointed that certain member states failed to consider the real and legitimate concerns of those states who are most affected by the situation in Yemen," their joint statement said.
The resolution showed "disregard for Yemen's sovereign right to give its consent to cooperate with international resolutions that deal directly with the human rights situation on its own territory," it added. On the eve of the vote, the Yemeni government had announced it was ending its cooperation with the UN human rights mission, accusing it of bias in an August report on alleged war crimes. The report accused both government forces and the Houthi militia of violations of international law.
Earlier, Arab Coalition spokesman Col. Turki Al-Maliki criticized the inaccuracy of the information in the report.
The report "failed to mention Iran's role in Yemen, and the countless violations perpetrated by the Houthis, both against the Yemeni people and against Saudi Arabia," Al-Maliki said.
The Houthis have fired more than 200 missiles at Saudi Arabia since it intervened in Yemen in March 2015.
The coalition accuses Iran of smuggling the missiles through the rebel-held Red Sea port of Hodeida, the entry point for UN aid for millions of civilians.
http://www.arabnews.com/node/1379651/saudi-arabia
--------
ISIL Terrorists Escape from Turkey-Backed Militants' Jail in Northern Syria
Sep 29, 2018
A sum of ten ISIL terrorists and several defected members of the Ankara-led Operation Euphrates Shield forces managed to escape a prison that was under the control of the Turkey-backed Free Syrian Army in the town of al-Bab.
Field sources said that the prison guards helped the inmate escape from the jail, adding that the FSA and its allied Military Police have kept forces on alert and have set up several checkpoints in the region.
Field sources in Western Aleppo reported on Thursday that Nouralddeen al-Zinki commander Mohammad Ahmad al-Khatib was killed along with one of his aides by unknown gunmen in the town of Kafr Nasih.
Elsewhere, Turkey-backed Nouralddeen al-Zinki group affiliated to the National Liberation Front terrorist group arrested three militants for affiliation to Tahrir al-Sham in the town of Dar al-Izza in Western Aleppo.
After the development, Tahrir al-Sham terrorists sent their military equipment to the regions near Dar al-Izza, detaining a number of Nouralddeen al-Zinki militants in the village of Tal Adah in Western Aleppo.
Tahrir al-Sham militants also launched heavy attacks on the positions of Nouralddeen al-Zinki in Dar al-Izzah with mortar fire.
Full report at:
http://en.farsnews.com/newstext.aspx?nn=13970707001007
--------
Bahrain: Iran threatens security in Straits of Hormuz and Bab el-Mandeb
29 September 2018
"Iran is threatening security in the straits of Hormuz and Bab el-Mandeb," the Bahraini foreign minister told the United Nations General Assembly on Saturday, adding that "the Iranian regime supports Yemen's Houthi militias in threatening neighboring countries".
Bahrain Foreign Minister Shaikh Khalid bin Ahmed bin Mohammed Al Khalifa told the UN that the regime in Iran is adopting a policy of sabotage and supporting terrorism in the region and that achieving lasting security requires a strategic alliance between the countries of the region.
In a related context, the Bahraini foreign minister called on Iran "to stop interfering in the internal affairs of Iraq" while stressing Bahrain's support for "the efforts to restore Syria to its entire territory and expel the Iranian militias from them", reiterating the need to reach a political solution to the crisis in Syria.
https://english.alarabiya.net/en/News/gulf/2018/09/29/Bahrain-Iran-threatens-security-in-Straits-of-Hormuz-and-Bab-el-Mandeb.html
--------
US-led coalition doing everything but fight against terror, says Syrian FM
Sep 29, 2018
Syrian Foreign Minister Walid al-Muallem says the US-led coalition purportedly fighting the Daesh Takfiri terrorist group has been doing everything it could since the onset of its airstrikes but combat terrorism and militant outfits wreaking havoc in the Arab country.
Addressing world leaders at the 73rd session of the United Nations General Assembly in New York on Saturday, Muallem described the military alliance as "illegitimate" and censured the "hegemonic policies" pursued by certain countries against the Damascus government.
The US-led coalition has been conducting airstrikes against what are said to be Daesh targets inside Syria since September 2014 without any authorization from the Damascus government or a UN mandate.
The military alliance has repeatedly been accused of targeting and killing civilians. It has also been largely incapable of achieving its declared goal of destroying Daesh.
Muallem noted that thousands of displaced Syrians were returning home after government forces reclaimed previously militant-held territories.
"The Damascus government will spare no effort to provide basic commodities to refugees and ensure that their basic needs are met. Present conditions are conducive to voluntary repatriation of refugees," the top Syrian diplomat pointed out.
He added that the Syrian government supported a political solution to the ongoing foreign-sponsored conflict, emphasizing that Damascus was opposed to any initiative which paves the way for foreign inference in Syria's internal affairs.
"Syria welcomes reconstruction aid from counties not involved in the conflict. Those states which offer conditional aid are neither invited nor willing to assist," Muallem said.
The Syrian minister went on to say that his country did not a pursue a chemical weapons program, as all its chemical weapon stockpiles had been destroyed under the supervision of the Organization for the Prohibition of Chemical Weapons (OPCW) .
He also said the so-called White Helmets aid group was indeed affiliated to the Jabhat Fateh al-Sham Takfiri terrorist group, formerly known as al-Nusra Front, and was set up by Britain's secret intelligence service under a humanitarian guise.
Muallem then leveled strong criticism at neighboring Turkey, stating that it had served as a "terror hub and corridor" ever since the Syrian crisis began in March 2011.
He also called on France, the US and Turkey to immediately withdraw their troops from the Syrian soil.
"Any foreign military presence in Syria without the government's consent amounts to flagrant violation of the United Nations Charter," Muallem said.
He also condemned Israel's continued occupation of the strategic Golan Heights, and the US withdrawal from the 2015 nuclear agreement, known as the Joint Comprehensive Plan of Action (JCPOA), with Iran.
Full report at:
https://www.presstv.com/Detail/2018/09/29/575579/USled-coalition-doing-everything-except-for-fight-against-terror-Syrian-FM-says
--------
Regional alliance with US at risk over Persian Gulf spat, says Qatar
Sep 29, 2018
A high-ranking Qatari official says a proposed NATO-like regional alliance, which brings together Persian Gulf littoral states, Egypt, Jordan and the United States, is at risk of credibility if a dispute between Doha and several of its Arab neighbors is not resolved.
"Regarding the alliance and the creation of the alliance, by ignoring the GCC ([Persian] Gulf Cooperation Council) rift, we don't think that, even if it's initiated, that it will be initiated effectively," Qatari Foreign Minister Sheikh Mohammed bin Abdulrahman Al Thani said in New York.
"There is a serious challenge among the states and we need to address this challenge, in order also to prove the credibility of this alliance. And we believe there's an opportunity over here," he added.
The Qatari foreign minister further noted that there had been "no progress" in resolving the dispute with Saudi Arabia and its allies.
Al Thani, however, insisted that Doha remained "open to dialogue" with the Riyadh regime and its partners.
Saudi Arabia, the United Arab Emirates, Bahrain and Egypt all cut off diplomatic ties with Qatar on June 5 last year, after officially accusing Doha of "sponsoring terrorism."
The administration of the Saudi-backed and former Yemeni president, Abd Rabbuh Mansur Hadi, Libya, the Maldives, Djibouti, Senegal and the Comoros later joined the camp in ending diplomatic ties with Doha. Jordan downgraded its diplomatic relations as well.
Qatar's Foreign Ministry later announced that the decision to cut diplomatic ties was unjustified and based on false claims and assumptions.
On June 9, 2017, Qatar strongly dismissed allegations of supporting terrorism after the Saudi regime and its allies blacklisted dozens of individuals and entities purportedly associated with Doha.
Later that month, Saudi Arabia and its allies released a 13-point list of demands, including the closure of Al Jazeera television network and downgrade of relations with Iran, in return for the normalization of diplomatic relations with Doha.
The document containing the demands by Saudi Arabia, Egypt, the UAE and Bahrain also asked Qatar to sever all ties with the Muslim Brotherhood and the Lebanese Hezbollah resistance movement.
Qatar has rejected the demands as "unreasonable."
The ongoing Saudi-led diplomatic and trade boycott against Qatar comes as the US is making efforts to speed up forging an Arab model of NATO.
The White House has confirmed that it is working on a plan to create a NATO-like security and political alliance between Arab countries to confront Iran despite deep divisions among the Persian Gulf Arab states. The project is tentatively known as the Middle East Strategic Alliance (MESA).
"MESA will serve as a bulwark against Iran," an unnamed spokesperson for the White House's National Security Council (NSC) said in late July.
Full report at:
https://www.presstv.com/Detail/2018/09/29/575558/Regional-security-alliance-at-risk-over-Persian-Gulf-spat-Qatar-says
--------
First rebel group begins withdrawal from demilitarized zone in Syria's Idlib
September 30, 2018
BEIRUT: The Syrian Observatory for Human Rights said on Sunday that rebel group Failaq al-Sham has started withdrawing its forces and heavy arms from a demilitarised zone in northwest Syria.
The group is the first to comply with a requirement to leave a demilitarised buffer zone set up by Turkey and Russia to avert a Russian-backed Syrian army offensive, Rami Abdulrahman, head of the UK-based war monitor told Reuters.
Rebel sources could not immediately be reached for comment.
"The group is withdrawing its forces and heavy arms in small batches from southern Aleppo countryside, adjacent to Idlib province, which is part of the DMZ towards the west," Abdulrahman said.
The demilitarized zone will be 15 to 20 km (10 to 12 miles) deep, run along the contact line between rebel and government fighters, and will be patrolled by Turkish and Russian forces.
Turkey and Russia had agreed in mid-September to enforce a new demilitarized zone in Idlib province from which rebels will be required to withdraw by the middle of next month.
Failaq al-Sham is the third largest group among the rebel groups in Northwest Syria, according to the monitor.
Full report at:
http://www.arabnews.com/node/1380041/middle-east
--------
India
India rejects Pakistan's charge that it had a role in 2014 Peshawar school attack
Sep 30, 2018
UNITED NATIONS: India Sunday strongly hit back at Pakistan for the "preposterous allegation" its foreign minister Shah Mehmood Qureshi made at the UN that terrorists behind the 2014 attack on a Peshawar school were "supported" by India, saying the "despicable insinuation" dishonours the memory of the children killed in the assault.
Indian diplomat from the country's Permanent Mission to the UN, Eenam Gambhir, exercised India's Right of Reply and rejected Qureshi's baseless allegation made during his General Assembly address last night.
"Among the most outrageous was the preposterous allegation relating to the horrific terror attack on a Peshawar school four years ago," Gambhir said.
She reminded the new Pakistan government under the leadership of Prime Minister Imran Khan, that there was an outpouring of sorrow and pain in India following the massacre of children in 2014.
She said both Houses of India's Parliament had expressed solidarity while paying respects to those killed.
"Schools all over India had observed two minutes of silence in their memory. The despicable insinuation made by the foreign minister of Pakistan dishonours the memory of the innocent lives lost to terrorists that day," Gambhir said.
She said the allegation was a "desperate attempt" to look away from the monster of terror Pakistan has created in its quest to destabilise its neighbours and covet their territory.
Qureshi had said that Pakistan will never forget the mass murder of more than 150 children in the Peshawar school, the Mastung attack and many others that "have links with terrorists supported by India."
The Peshawar attack was carried out by heavily-armed 8-10 Taliban suicide bombers who stormed the army-run school and took several hostages. The attackers wearing paramilitary Frontier Corps uniforms had entered the school and started indiscriminate firing.
Gambhir also took a dig at Qureshi's emphasis on a "new Pakistan" under Khan, saying while the Indian delegation had come to listen to Pakistan's "new" foreign minister outline the vision of a new Pakistan, "what we heard is a 'New Pakistan' cast in the mold of old."
Gambhir tore into Pakistan's claim that it has turned the tide against terrorism, saying a fact-check of this claim will give a different picture.
She asked if Pakistan can deny the fact that it is the "host and patron" of 132 of the UN-designated terrorists and 22 terrorist entities listed under the UN Security Council Sanctions regimes.
"Will Pakistan deny that the UN-designated terrorist Hafiz Saeed enjoys a free run inside Pakistan and spews venom and sets up candidates for electoral offices," she said.
With Qureshi again raking up the Kashmir issue, Gambhir asserted that India is making it clear to the "new government" of Pakistan that the entire state of Jammu and Kashmir is and will remain an integral part of India.
India also ripped through efforts of the 'New Pakistan' to champion human rights.
"This is vintage verbal duplicity," Gambhir said, citing the example of Princeton economic professor Atif Mian.
The economist was appointed and removed by Khan's government from the Economic Advisory Council on the grounds that he belongs to a minority. Mian is an Ahmadi, a religious minority of Pakistan.
"Before preaching to the world, championing of human rights should begin at home," Gambhir said.
She said a report by the Office of the UN High Commissioner for Human Rights on Kashmir, which Qureshi mentioned and welcomed in his speech, is a publication that no UN member-state had asked for or supported and on which no action was taken.
India lambasted Pakistan's assertion that New Delhi had called off the proposed foreign minister-level talks on flimsy grounds.
"The new foreign minister of Pakistan chose to term the gruesome killing of our security personnel by Pakistani-sponsored terrorists as 'flimsy grounds'," she said.
She said Qureshi's speech was made up of "fake allegations and fake facts" which can only make for a "fake vision."
Qureshi had said Pakistan desires a relationship with India based on sovereign equality and mutual respect and sought resolution of disputes through a serious and comprehensive dialogue that covers all issues of concern.
He said Pakistan was to meet on the sidelines of this UNGA Session to talk about all issues with India but New Delhi called of the dialogue for the third time on flimsy grounds.
"They preferred politics over peace," he had said.
India had called off the meeting, citing the brutal killings of three policemen in Jammu and Kashmir and after Islamabad released postage stamps glorifying Kashmiri militant Burhan Wani.
"For a new vision to materialise, Pakistan must demonstrate that it has moved beyond a narrative of deception, deceit and distortion," Gambhir said.
Exercising its Right of Reply, Pakistan said the claims of religious superiority are perpetrated through state patronage all across India.
The Pakistani representative made a reference to Farook Ahmad Dar, saying he was tied to an army vehicle and used as a human shield in the Valley. He said members from India's minority communities are publicly lynched at the hands of Hindu zealots.
He said Jammu and Kashmir is an internationally-recognised dispute and the UN has called for holding of a impartial plebiscite to ascertain the wishes of the Kashmiri people.
He said Jammu and Kashmir is not a part of India, adding, "India cannot hide behind semantics anymore."
https://timesofindia.indiatimes.com/india/preposterous-allegation-india-rejects-pakistans-charge-that-it-had-a-role-in-2014-peshawar-school-attack/articleshow/66012381.cms
--------
Policeman killed in terrorist attack in Shopian
Sep 30, 2018
SRINAGAR: A policeman was killed in a militant attack on a police station in Jammu and Kashmir's Shopian district on Sunday, police said.
"Terrorists in District Shopian fired indiscriminately on Police Station Shopian. The attack was repulsed by alert jawans," a police spokesman said.
He said in this incident, constable Saqib Mir sustained injuries and was evacuated to a nearby hospital for medical treatment.
#UPDATE #jammukashmir: Policeman who was injured in terror attack on a police station in Shopian has succumbed to i… https://t.co/tdJpcQL1Ud
— ANI (@ANI) 1538275269000
However, the injured jawan succumbed to injuries, the spokesman said.
Full report at:
https://timesofindia.indiatimes.com/india/policeman-killed-in-militant-attack-in-shopian/articleshow/66013038.cms
--------
Sushma Swaraj at UN: No talks with Pakistan amid terror
Sep 30, 2018
Describing terrorism as the second existential threat to humanity after climate change, external affairs minister Sushma Swaraj on Saturday launched one of the most scathing attacks on Pakistan in recent times, saying it is an expert not just in spawning grounds for terrorism but also in its attempts to "mask malevolence with verbal duplicity".
Speaking at the 73rd session of the UN General Assembly, Swaraj said it had become something of a habit with Pakistan to throw the "dust of deceit and deception" at India in order to provide a thin cover for its own guilt. The minister said Pakistan's commitment to terrorism as an instrument of official policy had not abated one bit.
Anticipating allegations of human rights violations in J&K by her counterpart Shah M Qureshi, who was scheduled to speak later in the evening, Swaraj said there was no greater transgressor of human rights than a terrorist.
In her speech, Swaraj described Pakistan as a defender of inhuman behaviour, not of human rights.
"Those who take innocent human lives in pursuit of war by other means are defenders of inhuman behaviour, not of human rights. Pakistan glorifies killers; it refuses to see the blood of innocents,'' she said.
"The United Nations has seen this before. Last year, Pakistan's representative, using her right to reply, displayed some photographs as 'proof' of 'human rights violations' by India. The photographs turned out to be from another country. Similar false accusations have become a part of its standard rhetoric,'' she added.
Swaraj also spoke in detail on the most recent dialogue initiative describing as a lie Pakistan's contention that India was responsible for the collapse of talks. She said while India believed talks were the only rational means to resolve the most complex of disputes, it was only because of Pakistan's behaviour that these had to be stopped.
"Please explain to me how we could pursue talks in the midst of terrorist bloodshed? Even now, after the new government came to power, Prime Minister of Pakistan Imran Khan wrote to Prime Minister Modi suggesting a meeting between foreign ministers in New York. We accepted the proposal. But, within hours of our acceptance, news came that terrorists had killed three of our jawans. Does this indicate a desire for dialogue?'' said Swaraj.
The minister said there had been many governments in India, by many different parties, which had tried the peace option. She recalled how Prime Minister Modi, by inviting the heads of SAARC nations to his swearing-in ceremony, began his attempt for dialogue on his very first day in office.
"On 9th December 2016, I personally went to Islamabad and offered a comprehensive bilateral dialogue. But soon after, Paksponsored terrorists attacked our air force base in Pathankot on 2nd January,'' she said.
"The demon of terrorism now stalks the world, at a faster pace somewhere, a slower pace elsewhere, but life-threatening everywhere. In our case, terrorism is bred not in some faraway land, but across our border to the west,'' said Swaraj.
The most startling evidence of Pakistan's duplicity, Swaraj said, was the fact that Osama bin Laden, the architect and ideologue of 9/11 was given safe haven in that country. She recalled how America had declared Osama bin Laden its most dangerous enemy, and launched an exhaustive, worldwide search to bring him to justice. "What America perhaps could not comprehend was that Osama would get sanctuary in a country that claimed to be America's friend and ally: Pakistan. Eventually, America's intelligence services discovered the truth of this hypocrisy, and its special forces delivered justice. But Pakistan continued to behave as if nothing had happened,'' she said.
"The killers of 9/11 met their fate; but the mastermind of 26/11, Hafiz Saeed, still roams the streets of Pakistan with impunity," she added.
Full report at:
https://timesofindia.indiatimes.com/india/sushma-at-un-no-talks-with-pakistan-amid-terror/articleshow/66011468.cms
--------
India issues demarche to Pakistan, wants withdrawal of Burhan Wani stamps
Sep 29, 2018
NEW DELHI: After it called off talks between the foreign ministers, India last week issued a demarche to Pakistan over the issue of commemorative postage stamps glorifying Hizbul terrorist Burhan Wani whose killing in 2016 had led to another wave of unrest in the Valley.
Diplomatic sources said Pakistan was asked to immediately withdraw these stamps.
India had mentioned it as one of the reasons for cancelling talks between foreign minister Sushma Swaraj and her counterpart Shah M Qureshi on the sidelines of the UNGA. While the stamps were first issued in July this year, Indian authorities have said that the stamps were re-issued around the time India confirmed the Swaraj-Qureshi meeting after receiving a proposal for the same from Pakistan PM Imran Khan.
India had said the release of 20 postage stamps by Pakistan glorifying a terrorist had confirmed that Pakistan was not going to mend its ways. India had also blamed brutal killings of Indian security personnel by Pakistan based entities in its statement announcing cancellation of the dialogue 24 hours after it was announced.
India had blamed Pakistan for the killing of a BSF soldier along the international border but Pakistan continues to deny its role in the incident. While it had earlier been reported that the jawan's body was found mutilated, DG BSF K K Sharma denied this on Friday saying that firing by Pakistan's Border Action Team had caused his death.
Pakistan though has denied its involvement altogether citing before BSF what it calls circumstantial evidence to claim that the jawan's death was probably a case of "fratricide".
Pakistan claims to have offered a meeting to BSF between senior officers to cooperate on the issue and locate the exact spot where the incident might have taken place. Accusing India of having rejected its offer, Pakistan has continued to maintain before BSF that it wouldn't have been possible for anyone to kill an Indian soldier and mutilate his body at a place located just next to a manned Indian bunker.
The incident though is significant for India because, as Sharma had said, this was perhaps the first time that BAT action had taken place along the international border and not LoC. According to Sharma, the jawan had three bullets in his body and also had his throat slit. The rest, he said, was exaggerated.
According to Indian authorities, Pakistani forces had become more aggressive along the international border after Imran Khan became PM. The ugly spat witnessed after the cancellation of the dialogue has ruled out the possibility of any substantive talks between the two countries at least until the elections in India next year.
The engagement will be restricted to addressing humanitarian issues involving fishermen and other prisoners.
Full report at:
https://timesofindia.indiatimes.com/india/india-issues-demarche-to-pakistan-wants-withdrawal-of-burhan-wani-stamps/articleshow/66010488.cms
--------
Southeast Asia
Umno pledges to fight on for Malays and Islam
Sep 30, 2018
Umno's new president Ahmad Zahid Hamidi stuck to familiar themes of defending Malay rights and protecting Islam yesterday evening at the party's first annual assembly as an opposition party.
In a two-hour-long speech, he said Malaysia's biggest party - with more than three million members - will not open up to other races, and launched attacks on the Pakatan Harapan (PH) government and those who left Umno after the shocking electoral defeat in May.
He twice praised his predecessor Najib Razak, who was given a standing ovation from the 5,700 party delegates when his name was first announced in the cavernous hall at the Umno headquarters. Najib, who was Malaysia's prime minister, attended as an ordinary party member.
Datuk Seri Zahid, 65, said he supported the notion by enemy-turned-ally Parti Islam SeMalaysia that "Islam should lead" the country.
In short, while outsiders are keen to see whether Umno will move in a major new direction to regain the trust of voters, Mr Zahid and his party leaders seem unlikely to shift away from the race and religion card.
"Umno is not a racist party, or prejudiced, or a threat to other races. Malays have never sidelined any other races," he told the delegates.
"The fact is that today it is the Malays who are most vulnerable to the bias and prejudice by other races towards them. Malays are accused of being stupid and said to be lazy, too dependent on subsidies and government aid," he said.
"When we are challenged with Malaysian Malaysia, we will rise to defend our rights as stated in the Constitution," he said, referring to a slogan often linked to the Chinese-led Democratic Action Party.
Mr Zahid also spent a significant portion of his speech attacking five MPs and several state lawmakers who had left the party to become independents or switched to PH parties. "They no longer have the moral basis to remain as elected representatives. The seats belong to Umno. The seats belong to Barisan Nasional (BN) supporters," he said, to loud cheers from the crowd.
Mr Zahid said the party had served writs of summons to these lawmakers.
"We demand them to return the money involving costs and they should also vacate the seats that they won under the Umno and BN ticket," he said.
Under Malaysian electoral laws, lawmakers are allowed to become independents or join other parties. Umno-led BN caused the Perak state government under the then Pakatan Rakyat alliance to collapse in 2009 by luring away three lawmakers.
Mr Zahid, in his speech, did make a small move forward, by proposing a limit of two terms for Umno presidents. He wants members to deliberate on this.
And he wants a "rebranded" BN, consisting of five core parties, by allowing direct membership into the coalition.
"The main core parties will consist of Umno, MCA, MIC, MyPPP and Parti Bersatu Rakyat Sabah (PBRS), followed by the parties of other coalitions that understand the aspirations and ideals of struggling together," he said.
BN shrunk to just Umno, the Malaysian Chinese Association (MCA) and the Malaysian Indian Congress (MIC) after the May polls defeat. Mr Zahid's speech indicated that MyPPP (formerly the People's Progressive Party), which has no seats in Parliament, and PBRS, which has one MP, have rejoined BN.
https://www.straitstimes.com/asia/se-asia/umno-pledges-to-fight-on-for-malays-and-islam
--------
Islam should lead, says Zahid in first policy speech at Umno congress
September 29, 2018
KUALA LUMPUR: Ahmad Zahid Hamidi said he supported PAS' slogan that Islam should be the supreme power in governing Malaysia, as Umno welcomed top PAS leaders to its general assembly today, its first since losing federal power last May.
"Personally, I support PAS' slogan that Islam should lead," Zahid said in his presidential address at the Putra World Trade Centre tonight, his first policy speech after taking over as party president last June.
Zahid said it did not mean Umno would embrace narrow nationalism and racism.
But he said the party also rejected any call for equal treatment of all races as espoused by the "Malaysian Malaysia" concept.
"When we are challenged with 'Malaysian Malaysia', we will rise to defend our rights as stated in the constitution," he said, referring to a slogan often linked to DAP.
Zahid reserved a good part of his speech to attack Umno MPs who resigned from the party in the aftermath of the May 9 polls, and vowed to take legal action to recover money spent for their election campaigns under the Barisan Nasional (BN) banner.
"They no longer have the moral basis to remain as elected representatives. The seats belong to Umno. The seats belong to Barisan Nasional supporters," he said.
He said the party had already served writs of summons to elected representatives who switched sides or chose to become independents.
Zahid said that there was little the party could do to stop its elected representatives from leaving the party.
"We demand them to return the money involving costs and they should also vacate the seats that they won under the Umno and BN ticket," he said.
Earlier, he praised Umno MPs and assemblymen who remained with the party despite being "seduced" to switch sides.
"Stand up, those of you MPs and assemblymen who are still with Umno. Let us stand up and pay tribute to these heroes of Umno," said Zahid to thunderous applause from delegates.
Zahid opened his speech by paying tribute to his predecessor Najib Razak.
But he said he was aware of the context of the Umno meeting this time.
"I am the first president of Umno to deliver the policy speech as an opposition leader," he said.
Zahid said although Umno was today like a damaged ship "sailing in the rough seas", he was confident of the party returning to power "in the very near future".
"Or after the 15th general election," he quickly added.
He welcomed senior PAS leaders who attended the Umno assembly, including PAS deputy president Tuan Ibrahim Tuan Man and PAS Youth chief Muhammad Khalil Abdul Hadi, who is also the son of PAS president Abdul Hadi Awang.
Zahid said Umno had found an ally in PAS, and rejected suggestions that the party open its membership to non-Malays.
"Umno does not need to open its membership to others to remain relevant," he said.
Full report at:
https://www.freemalaysiatoday.com/category/nation/2018/09/29/islam-should-lead-says-zahid-in-first-policy-speech-at-umno-congress/
--------
We won't form unity govt with racist DAP, says Tajuddin
Minderjeet Kaur
September 30, 2018
KUALA LUMPUR: Umno supreme council member Tajuddin Abdul Rahman has shot down the idea of forming a unity government with DAP, stating that the party's principles are not in line with Umno's policies.
"Their policies are not consistent with our policies. We cannot agree with their thinking.
"They need to throw their 'kecinaan' (ultra-Chinese principles). They are racist but they accuse us of being racist," he said at the sideliness of the Umno General Assembly at the Putra World Trade Centre.
Tajuddin also questioned DAP's sincerity in recognising Islam as the official religion of Malaysia.
"They have their own agenda that is in line with (former Singapore prime minister) Lee Kuan Yew's agenda," he said, without elaborating further.
However, Tajuddin said Umno would keep their doors open to any political party keen on forming a unity government, as long as its policies were consistent with Umno's.
"(It is not about) backdoor entry.
"We are talking about winning the election. We don't want to close our doors. In politics, anything is possible," he said.
Umno president Ahmad Zahid Hamidi has said Umno was open to working with any party, but would not sacrifice its principles.
Full report at:
https://www.freemalaysiatoday.com/category/nation/2018/09/30/we-wont-form-unity-govt-with-racist-dap-says-tajuddin/
--------
Pakistan
OIC calls for end to hate campaigns against Islam
SEPTEMBER 30, 2018
The foreign ministers of the Organisation of Islamic Cooperation (OIC) member countries have adopted a strongly worded statement – sponsored by Pakistan and Turkey – denouncing the increasing attacks on Islam as well as its revered personalities and symbols, while calling for an immediate end to such campaigns.
Speaking at the meeting held on the margins of the 73rd session of the UN General Assembly in New York, Foreign Minister Shah Mahmood Qureshi expressed deep concern over the misrepresentation of Islam as well as at the activities that have hurt the feelings of Muslims all over the world, especially the disrespect shown to the most revered personality of Islam.
In the statement, which was approved by the ministerial meeting, serious concern was expressed on the intensification of hate campaigns which were deliberately targeting Muslims and the Islamic religious symbols. The joint statement rejected provocative acts like the holding of the caricature contest to ridicule Islam which was clearly aimed at inciting violence.
The statement takes notes of the important resolutions adopted by the OIC, the UN Human Rights Council and the UNGA condemning attacks on Islam, combating intolerance, negative stereotyping and stigmatisation and discrimination, and incitement to violence against persons based on religion and belief.
In particular, the statement points to various steps proposed by the OIC to foster an environment of peace, religious tolerance and respect as well as measures to be taken by the states in their domestic sphere.
The statement is said to be in line with Pakistan government's commitment to play its role in garnering support through OIC's joint action, building solidarity and unity among Muslim countries, standing united for the common cause of upholding the values of Islam, and engaging with other countries to promote a culture of peace and tolerance.
https://dailytimes.com.pk/304458/oic-calls-for-end-to-hate-campaigns-against-islam/
--------
Pakistan warns India against LoC 'venture'
Masoor Haider
September 30, 2018
UNITED NATIONS: Pakistan has warned India of a strong response if New Delhi tries to cross the Line of Control or acts upon its so-called 'doctrine of limited war' against Islamabad.
"To divert the world's attention from its brutalities, India frequently violates the ceasefire along the Line of Control in Kashmir. Despite numerous violations Pakistan has acted with restraint," Foreign Minister Shah Mehmood Qureshi said while addressing the 73rd UN General Assembly in New York on Saturday. "But if India does venture across the LoC, or acts upon its doctrine of 'limited' war against Pakistan, it will evoke a strong and matching response."
Speaking in Urdu, FM Qureshi presented Pakistan's viewpoint on issues ranging from terrorism, relations with India especially in the context of continuing rights violations in India-held Kashmir, war in Afghanistan, Palestine crisis, climate change, etc.
He also raised the issue of Indian spy Kulbhushan Jadhav and informed the audience that India was behind various acts of terrorism in Pakistan, including the 2014 Army Public School carnage in Peshawar.
Referring to the change of government following the July 25 general elections in the country, he said that Pakistan would not compromise on the interests of the nation, the sovereignty of the state, or the security of its people.
"Our government is keen to pursue a policy of partnership for peace, security and prosperity in our immediate neighbourhood and beyond. We seek a peaceful environment to promote our development agenda both at the national level and in our region," he said.
About New Delhi's decision to cancel talks between Pakistani and Indian foreign ministers on the sidelines of the UN General Assembly, Mr Qureshi said that the Modi government called off the dialogue for a third time on flimsy grounds. "They preferred politics over peace," he said.
"They used the pretext of stamps issued months ago, of a Kashmiri activist and depicting grave human rights violations including pellet gun victims, as an excuse to back out from the talks.
"The unresolved Jammu and Kashmir dispute hinders the realisation of the goal of a durable peace between our two countries. For over 70 years now, it has remained on the agenda of the UN Security Council and a blot on the conscience of humanity.
"For seventy years the people of occupied Jammu and Kashmir have struggled for their right to self-determination in the face of overwhelming oppression and gross violation of their fundamental human rights by the Indian occupation forces," he pointed out. The foreign minister warned that there could be no lasting peace in South Asia without a just settlement of the Kashmir dispute based on the UNSC resolutions and in accordance with the will of the Kashmiri people.
Mr Qureshi said that Pakistan welcomed the recently released report by the Office of the UN High Commissioner for Human Rights.
"Pakistan endorses the UN report and calls for early institution of a Commission of Inquiry under the UN auspices to investigate and fix responsibility," he said, adding, "We will welcome the commission to Azad Jammu and Kashmir, and hope that India too, will do the same."
Sushma addresses UNGA
Earlier, Indian External Affairs Minister Sushma Swaraj in her speech said that the biggest challenges the world currently faced were climate change and terrorism.
She claimed that India, hours after agreeing to a meeting between Pakistani and Indian foreign ministers in New York on a proposal of Prime Minister Imran Khan, had cancelled the event because "news came that terrorists had killed three of our jawans".
Full report at:
https://www.dawn.com/news/1435900/pakistan-warns-india-against-loc-venture
--------
14 Pakistani fishermen return from India, 52 still languish in its jails
Shazia Hasan
September 30, 2018
KARACHI: As the fathers, brothers, uncles and friends of the 14 Pakistani fishermen returning from Indian jails lined up on platform number eight of the Cantonment Railway Station for the Night Coach Express to arrive on Saturday afternoon, they took out fistfuls of red rose petals from plastic bags to shower on the fishermen. A few rose petals also fell to the ground, which were quickly collected by tiny hands. A toddler in brown shalwar kameez squatted on the floor to gather the fallen petals.
He was Rihal, son of Faiz Mohammad, one of the returning fishermen. Rihal had come to the train station all the way from Sujawal district with his uncle Mumtaz Ali. "He is only two-and-a-half. When his father was arrested at sea by the Indian Coast Guard after unknowingly having crossed over to that side, he was only one year old but fearing that he would not have any recollection of his father, we have been showing him his father's photographs," said the uncle.
"When we were informed that Faiz's name was also among the fishermen being released from Indian jails this time we were overjoyed. Rihal watched his mother and grandmother crying with joy and started crying too. I have told him that he will meet his father today. He just can't wait," he said.
Asked how the family had been coping financially with one earning member away, Mumtaz said that Faiz was his elder brother and with him away the responsibility of taking care of the entire family fell on his own shoulders. "Our parents don't keep well. We have younger siblings too, as well as our wives and children to take care of. I had to feed some 20 to 25 mouths, so I took on the job of driver besides fishing. Whenever there was a big fishing trawler leaving, I would take leave from my job for a week to 10 days to accompany them to make some extra money. Life has been very hectic," he said.
As the train finally chugged in, families and friends of the fishermen who had come to receive them earnestly scanned the compartments passing them by. Suddenly they heard loud cheers from inside one and started running alongside the train until it stopped. Sons were united with fathers, brothers embraced brothers but the most tearful reunion was between Faiz and his little boy. Mumtaz quickly let his brother pull the boy into his arms as the little boy came face to face with his father he had only known through his pictures until now. Faiz kissed his little boy who was crying and promised him to never leave him alone ever again. "I will work as a labourer if need be, but I won't go to fish in the sea anymore, I will be with you and see you grow big and strong," he said to him.
Among the returning fishermen were Hamid Ali, Laung Ali, Manzoor Ali, Dilbar, Imam Ali, Yaseen, Rajab Ali, Sajjad Ali, Yousuf, Niaz Hussain, Siraj, Ali Asghar and Faisal Ali. All hail from Sujawal district. All were arrested on the same night at around 2am some 13 months ago. "There were three or four of us in five small boats. The sea was rough and we didn't realise when we had drifted over to the other side," said Faisal Ali, who also told Dawn that he had only been married for a couple of months when the unfortunate incident took place.
Beatings in jail
About his time in an Indian prison, he said they enjoyed beating him and the other Pakistani prisoners with him. "We were made to work extra hard and given very little food to eat. They referred to us as 'Dushman' [enemy]," he said. "But there is one positive thing that came out of all this," he said.
"Before this I used to be a chain smoker. But when I requested the jail staff for a biri [cigarette] I would only get a tight slap in return. I have not smoked in 13 months and now when someone offered me a cigarette after crossing the Wagah Border, I didn't feel like smoking. At least my bride would be happy," he said.
The Pakistani fishermen were handed over to Pakistani authorities at Wagah in Lahore on Sept 26. After a day's stay at the Edhi Home they were brought to Karachi with the help of the Edhi Foundation. Among others, they were received at the station by chairman of the Pakistan Fisherfolk Forum Mohammad Ali Shah and his volunteers with representatives of the Fishermen's Cooperative Society Limited.
Full report at:
https://www.dawn.com/news/1435783/14-pakistani-fishermen-return-from-india-52-still-languish-in-its-jails
--------
Jamaat-e-Ahmadiyya pledges $15,000 donation for Pakistan's dams
Sep 30, 2018
In September, renowned economist and member of the Economic Advisory Council (EAC) Dr Atif Mian had resigned from his post following a request by the government after mounting pressure from religio-political groups against the appointment of a member of Ahmadiyya community.
In a series of tweets, Atif Rehman Mian said that he resigned for the sake of stability of the PTI-led government. However, he said he will always be ready to serve Pakistan – the country where he was raised and which he loves.
Meanwhile, Ahmadi Pakistanis have lashed out at the premier over the ruling party's inability to take a stand for Mian.
"I am an Ahmadi who donated to the Pakistani fund for dams. With my contribution, will the Islamic water and electricity get contaminated?" a Twitter user asked.
"I would actually request all haters that until Halal Bhasha Dam is constructed please stop using Haram waters of Mangla and Tarbela Dams as the planning, financing and construction of these was spearheaded by an Ahmadi (MM Ahmad)," another suggested.
https://www.pakistantoday.com.pk/2018/09/29/jamaat-e-ahmadiyya-pledges-15000-donation-for-pakistans-dams/
--------
PM requested to appoint ETPB chairman from Sikh community
BY SHAHAB OMER
Sep 30, 2018
LAHORE: The Sikh community living in Pakistan has voiced its concern over the reported employment of a Hindu as the chairman of the Evacuee Trust Property Board (ETPB) and wrote a letter to Prime Minister Imran Khan saying that they will not accept a Hindu as ETPB chairman, Pakistan Today has learnt.
The letter was sent to the prime minister on behalf of the entire Sikh community of Pakistan after they learnt that a minority MNA from Hindu community, Dr Ramesh Kumar Vankvani, was proposing his relative to be made the chairman of ETPB.
They have requested the premier to halt the appointment; otherwise, the Sikh community would boycott Pakistan, causing adverse economic effects for the country.
According to the letter, a copy of which is available with Pakistan Today, the Sikh community has still not forgiven the atrocities of Hindus which the Sikhs had been facing since ages. It was mentioned that from the martyrdom of Guru Arjun Dev Ji by a Hindu to the sacrifices made by Sikhs during the 1947 partition, some Hindus have been playing a malicious role.
The letter cited the brutal incident of Darbar Sahib Siri Amritsar Sahib in 1984 and the brutal episodes of where the Hindus deceived Sikhs and made them migrate from Pakistan due to which the Sikhs are still living as a minority in India.
The applicants informed the prime minister that the Sikh community respects the land of Pakistan which is pious for them as most of their Gurus were either born or cremated here and most of the Janam Asthans and Gurdawaras are here in Pakistan.
They wrote that around 90 per cent of the income ETPB generates is because of the Gurdawara land which belongs to the Sikhs. Moreover, they also generate income through the Yatras and visits of the Sikhs to their holy sites in Pakistan.
The letter mentioned that the Pakistan Sikh Gurdwara Prabandhak Committee is also the representative of the Sikh community on the international level and makes all the arrangements of Yatra with the assistance of ETPB.
The Sikh community appreciated the role and efforts of ETPB for looking after the Sikh holy sites and pilgrims, but also expressed distress over the proposal of a Hindu being proposed as the chairman of the board.
Talking to Pakistan Today, Pakistan Sikh Gurdwara Prabandhak Committee President Tara Singh confirmed the development and said, "We have no issues with the Hindu community but there are a large number of Sikh properties and holy sites here in Pakistan, therefore, we want some representation for ourselves."
"The Supreme Court has also ordered that the chairman of ETPB should be from the minorities," he added.
Singh said that a bill is going to be presented in the National Assembly by Dr Ramesh Kumar Vankvani proposing that only a Hindu should be appointed as chairman of the board. "This is not acceptable to us," he added.
"In the same context we have sent a letter to the incumbent ETPB chairman and PM Khan to convey our message," he said.
Full report at:
https://www.pakistantoday.com.pk/2018/09/29/pm-requested-to-appoint-etpb-chairman-from-sikh-community/
--------
Trump 'disappointed' over no headway with Pakistan on Taliban talks: Wells
SEPTEMBER 30, 2018
WASHINGTON: United States Principal Deputy Assistant Secretary for South and Central Asian Affairs Alice Wells has said President Donald Trump was 'disappointed' after no headway was made with Pakistan over negotiations with the Taliban.
"The US president had directed that we work together with Pakistan to bring Taliban to the negotiating table, however he was disappointed after no headway was made," she told a private TV channel. "We have still not found a way to work more closely with Pakistan to ensure Taliban come to the negotiation table," she said. "I can assure you through my own efforts that we are always looking for opportunities to strengthen our relationships," she said, but asserted, "These set of issues will continue to be important."
Regarding Foreign Minister Shah Mehmood Qureshi and US Secretary of State Mike Pompeo's scheduled meeting in Washington, Wells said, "They will discuss important points regarding strong partnership. The most important issue between the two countries is how to work on bilateral relations." Wells said, "There are investment opportunities in energy and other sectors in Pakistan and US is looking forward to strengthening its trading ties."
A day earlier, in an interview with BBC Urdu, Wells had said that US wants 'positive and constructive' relations with Pakistan. "Pakistan is an important country in the region [South Asia] with an important part to play," she had said.
Full report at:
https://dailytimes.com.pk/304420/trump-disappointed-over-no-headway-with-pakistan-on-taliban-talks-wells/
--------
South Asia
Afghanistan's insurance industry struggles ... but terrorism claims are paid out
September 29, 2018
KABUL: The insurance sector in Afghanistan, like many other sectors in the country, is gasping for much-needed reforms.
Although there are insurance services available in the country, absence of proper government policy, high insurance premiums, lack of awareness among people and mistrust of the insurance companies have left this sector underdeveloped.
The Afghan Chamber of Commerce and Industry identifies areas of health, motor, cargo and mining as high potential areas for insurance companies but in a country marred by decades of conflict, rife graft, poor economy, and sectarian divide, the highest-risk factor is terrorism.
The Afghan Global Insurance (AGI) offers a long list of insured items and, contrary to many countries, it also pays its clients' claims for acts of "terrorism" that include bomb blasts, suicide attacks, and air strikes, which have become a frequent occurrence in Afghanistan.
Since its establishment in 2010, the AGI has managed to absorb only a little over 40,000 clients — among them foreign firms, aid agencies and expatriates.
AGI is re-insured by international firms to which it cedes major projects to reduce the risk, Naweedullah Gulzad, chief operations officer at the firm, told Arab News. These firms include Lloyd's of London and the Indian-based General Insurance Company.
The government has withheld for years the draft legislation on insurance despite running a national insurance firm of its own that mainly deals with covering car accidents and arson.
Gulzad said the absence of an insurance law was the main hurdle for promotion of the industry in Afghanistan. "The other challenge has been lack of awareness among people and the public distrust. Most people think insurance may actually rob them," he added.
Lack of awareness, mistrust, political instability among other factors, have prompted many companies registered in Afghanistan to buy insurance directly from outside the country, which is a distraction for the Afghan economy and is contrary to the law, he said.
Still, recently, there has been good news for the AGI in the health sector as most NGOs have expressed interest in health insurance for their employees. One insurance sector that perhaps makes AGI more attractive to clients and is not common in many other parts of the world is covering "terrorism and political violence."
"We have an insurance policy by the name of terrorism and political violence ... airstrikes, even passive war is covered under that … and if anything happens to your car in a terrorist attack, insurance companies are paying that," Gulzad said.
As an example, he added, the AGI paid more than $900,000 to one of the Indian companies in Ghazni province, where the power transmission line was damaged in a Taliban attack.
http://www.arabnews.com/node/1379801/world
--------
Deadly infighting erupts among the Taliban in Badakhshan province
Sep 29 2018
A deadly infighting erupted among the Taliban militants in northeastern Badakhshan province of Afghanistan, leaving several militants dead, including one of their local commanders.
The 209th Shaheen Corps of the Afghan Military in the North said Saturday that the infighting erupted among the supporters of two local leaders of the Taliban group.
According to a statement released by 209th Shaheen Corps, at least 17 militants were killed during the infighting in Jurm district of Badakhshan earlier today.
The statement further added that the supporters of Qari Matiullah and Qari Ashor clashed among each other in Gharmi village.
A local commander of the group identified as Qari Hezbullah was among those killed, the 209th Shaheen Corps added in its statement.
The anti-government armed militant groups including Taliban militants have not commented regarding the report so far.
Full report at:
https://www.khaama.com/deadly-infighting-erupts-among-the-taliban-in-badakhshan-province-06057/
--------
Khogyani residents clash with Taliban militants in Nangarhar province
Sep 30 2018
A clash broke out between the local residents of Khogyani district and the Taliban militants in eastern Nangarhar province of Afghanistan, leaving a number of Taliban militants dead or wounded.
The 201st Silab Corps of the Afghan Military in the East in a statement said the clash broke out on Saturday in Arghach area of the district.
The statement further added that a Taliban militant was killed during the clash and at least two others sustained injuries.
In the meantime, a Taliban militant identified as Khanezullah surrendered to the Border Police forces in Kelgho area of the district, the 201st Silab Corps said, adding that the militant also handed over a Ak-47 rifle to the security forces.
The anti-government armed militant groups including Taliban militants have not commented regarding the report so far.
Full report at:
https://www.khaama.com/khogyani-residents-clash-with-taliban-militants-in-nangarhar-province-06059/
--------
Local Taliban group leader arrested in Nangarhar province
Sep 29 2018
A local leader of the Taliban group was arrested by the security forces shortly after he attempted to murder a soldier of the Border Police Forces.
The provincial government media office in a statement said the detained Taliban leader has been identified as Qudratullah and was arrested from Marko Bazaar area of Ghani Khel district.
The statement further added that Qudratullah was arrested by the security forces shortly after he opened fire on a soldier of the Border Police in Marko Bazaar.
The district administrative chief Haji Ghalib Mujahid said the security forces have also confiscated a gun which was used by Qudratullah in attempt to murder the Border Police soldier.
The statement by the provincial government also added that no one else was hurt during the attack by Qudratullah and the security forces encounter which led to his arrest.
Full report at:
https://www.khaama.com/local-taliban-group-leader-arrested-in-nangarhar-province-06055/
--------
Mideast
Iran: S. Arabia Most Infamous Supporter of Terrorism
Sep 29, 2018
"Undoubtedly, Saudi Arabia is the most infamous supporter of terrorism in the world, and the root cause and origin of terrorism which has entangled the entire world, specially, the Middle-East, is nowhere but in Saudi Arabia and the extremist thoughts that the regime promotes and supports financially," Foreign Ministry Spokesman Bahram Qassemi said on Saturday.
He lashed out at al-Jubeir for misusing the UN tribune to raise allegations of terrorism against Iran, and said the remarks by Saudi foreign minister, whose country has launched a catastrophic and destructive war against the Muslim country of Yemen for 5 years and supports extremism, violence and warmongering, are rooted in the thoughts promoted by him and Saudi Crown Prince Mohammed bin Salman.
Saudi Arabia has been promoting Wahhabism in the world which is the root cause of Takfiri terrorism.
In relevant remarks in June, Secretary of Iran's Supreme National Security Council (SNSC) Ali Shamkhani blamed Wahhabism, mainly promoted by Saudi Arabia, for the formation of Takfiri terrorist groups that have stirred crisis in the regional states.
"Wahhabism was the ideological bed for Takfiri terrorism and the ISIL was created based on Wahhabism, a plot hatched by certain world powers and the role played by a number of ignorant and contending regional states," Shamkhani said in a meeting with his Uzbek counterpart Viktor Makhmudov in Tehran.
He referred to the US attempts to misuse terrorism to its own benefits as well as regional concerns about the transfer of the ISIL terrorists to Afghanistan and Central Asia, and said, "The Islamic Republic of Iran is ready to share its bright and successful experiences in fighting terrorism with other regional countries."
http://en.farsnews.com/newstext.aspx?nn=13970707001141
--------
Erdogan: No difference between Daesh, PKK terrorists
29.09.2018
By Fatih Hafiz Mehmet
Turkey sees no difference between Daesh and PKK terrorist groups, the country's president said on Saturday in his final address of a three-day state visit to Germany.
"We consider identical the Daesh savagery, which killed civilians in Berlin marketplace, and the PKK murderers, who martyred 11-month-old Bedirhan and his mother two months ago," Recep Tayyip Erdogan said at the inauguration ceremony of Cologne Central Mosque.
Erdogan also called for a common stance against racism, stressing that Islamophobia, xenophobia and racism are maladies that threaten both the present and future.
"We should act together against these trends, which corrode social peace and undermine the culture of coexistence," he added.
Stating that some people try to link all Muslims, by labelling them "Islamist" or "Jihadist," with the terror groups that harmed and killed mostly the Muslims, Erdogan said they expect from political and media institutions of Europe to refrain from statements that will show Muslims as a target.
"We say that this racism must end," Erdogan stressed.
He said the youth are tried to be pulled into the trap of terrorism by groups such as Daesh, PKK and Fetullah Terrorist Organization (FETO), while the racist groups, he also said, ignore the rights of Muslims.
"Will not allow a handful of PKK and FETO sympathizer incompetents to disturb our people and harm Turkish-German friendship," Erdogan added.
"We expect a more intense effort from our European friends against terror groups," the president said.
He said the streets and squares of the European capitals should not be "polluted" anymore with the symbols of PKK.
FETO and its U.S.-based leader Fetullah Gulen orchestrated the defeated coup of July 15, 2016, which left 251 people martyred and nearly 2,200 injured.
In its more than 30-year terror campaign against Turkey, the PKK -- listed as a terrorist organization by Turkey, the U.S. and the EU -- has been responsible for the deaths of 40,000 people, including women and children.- 'Extremely fruitful and successful' visit
Erdogan described his trip to Germany an "extremely fruitful and successful visit in a critical period", adding that it also strengthened the Turkish-German friendship.
The president also stressed that the two countries need to focus on common interests and put clash of ideas aside.
"We will strengthen our cooperation in every field ranging from fight against terror groups to migrant crisis, conflict in Syria to trade wars," Erdogan said.
Erdogan also called on Germany to enable dual Turkish-German citizenship for the Turks living across Germany.
Furthermore, he thanked those who worked decisively to construct the mosque, despite many threats coming from marginal circles.
"I hope that DITIB Cologne Central Mosque and Complex will be the center of peace and security in the whole Europe," he added.
The Cologne Central Mosque, built by Turkish-Islamic Union for Religious Affairs (DITIB) after eight years of construction work, has a capacity of 1,200 people.
Following his official meetings in Berlin on Saturday, Turkish President Erdogan had arrived the federal state of North Rhine-Westphalia, which has a large Turkish immigrant population.
Germany, a country of over 81 million people, has the second-largest Muslim population in Western Europe after France.
Full report at:
https://www.aa.com.tr/en/europe/erdogan-no-difference-between-daesh-pkk-terrorists/1268466
--------
Father Says Ahwaz Terrorist Was Mentally Ill
Sep 29, 2018
Hassan Darvishi, one of the terrorists who riddled with bullets people who were watching the last Saturday military parades in Ahwaz city in Khuzestan province, was under treatment under the supervision of the Welfare Organization of Khuzestan province.
Darvishi was killed in exchange of fire with the security forces after he and four other terrorists massacred over a dozen people.
When the family members of Hassan Darvishi were summoned to the relevant intelligence bodies for investigations, Darvishi's father said his son had mental problems and was under treatment. He also presented the investigators with relevant medical documents.
According to the report, the documents showed that Hassan Darvishi was suffering from chronic and acute psychological problems when he took part in the al-Ahwaziyeh terrorist operation on Saturday.
No further detail has been released on the specifics of Darvishi's psychological problems.
26 people were killed and 69 others were wounded in an attack by al-Ahwaziya terrorist group during the nationwide military parades in Ahwaz on September 22.
The terrorists attacked the bystanders watching the annual Armed Forces' parades, marking the start of the Sacred Defense Week, commemorating Iranians' sacrifices during the 8 years of the Iraqi imposed war on Iran in 1980s, in disguise of the Islamic Revolution Guards Corps (IRGC) and Basij (volunteer) forces, killing and wounding several people, including innocent women and children.
None of the officials participating in the military parades in Ahwaz city in Khuzestan province was injured in the attack.
The number of the terrorists who carried out the attack in Ahwaz had on September 22 been put at 4 by Spokesman of the Iranian Armed Forces Brigadier-General Abolfazl Shekarchi. The general had explained that three of them were killed and the last one was captured by security forces.
He told FNA that none of the terrorists could escape, noting that other reports about the details of the attack are not confirmed.
Later the intelligence ministry put the number of terrorists at five, naming them as Ayad Mansouri, Foad Mansouri, Ahmad Mansouri, Javad Sari and Hassan Darvishi who were killed on the scene of the clashes with the Iranian security forces after riddling people with bullets.
Meantime, Head of the Islamic Revolution Guards Corps Public Relations Department and IRGC Spokesman General Ramezan Sharif said that the terrorists who attacked people during the Armed Forces' parades in Ahwaz were affiliated to al-Ahwaziya stream which is nourished by Saudi Arabia.
He added that the terrorists aimed to overshadow the magnificence of the Iranian Armed Forces' parades.
General Sharif said that people were also invited to watch the parades and the terrorists both fired at people and the Armed Forces.
Full report at:
http://en.farsnews.com/newstext.aspx?nn=13970707000680
--------
Yemeni minister: Hezbollah has become mouthpiece for Houthi militias
30 September 2018
Yemen's Information Minister Muammar al-Iryani criticized Lebanon's Hezbollah on Saturday, stating that it has turned its stronghold in Beirut into a platform and a mouthpiece for the Houthi militias, and called on the Lebanese government to abide by a policy of non-interference.
"The Lebanese Hezbollah is part of the Lebanese government and did not just stop at providing logistical support including intelligence and fighters to the Iranian Houthi militias, but has turned the southern suburb to a platform to manage the coup's propaganda machine in Yemen and attack and tarnish the coalition that supports legitimacy," Iryani said on his official Twitter account.
He called on the Lebanese government in a series of tweets to abide by a policy of non-interference, and to stop these "subversive and inciting activities."
"I call on the Lebanese government and the Lebanese minister of information to abide by a non-interference policy that it had announce it would take towards conflict in the region, and to intervene to stop the subversive and inciting activities of the Iranian Houthi militias in Lebanon under the cover of political, security and financial support from Hezbollah," Iryani said.
Full report at:
https://english.alarabiya.net/en/News/gulf/2018/09/30/Yemeni-information-minister-Hezbollah-has-become-mouthpiece-for-Houthi-militias.html
--------
Yemen's legitimate government reject cooperating with UN team of experts
29 September 2018
The Yemeni legitimate government announced on Saturday that it will "not cooperate" with the United Nations team of experts after the UN Human Rights Council voted Friday to extend the mandate of the investigative mission.
The Yemeni government said in a statement that it would "not cooperate with the group in terms of its right as a member state of the United Nations not to interfere in its internal affairs."
On Friday, Saudi Arabia, Yemen, the United Arab Emirates, Egypt and Bahrain issued a joint statement on the failure of the Human Rights Council to adopt a unified draft resolution on the situation in Yemen, stressing its commitment to put its measure under the tenth item of the agenda of the Human Rights Council.
The new joint statement stressed the failure of the Human Rights Council to adopt a unified draft resolution on the situation in Yemen despite the care and cooperation shown by the delegation of the Yemeni legitimacy and the concerned countries to reach a compromise formula that reflects the unity of the international community towards the situation in the country. Read more
The Arab allies also announced that it would invite the Office of the High Commissioner to continue to provide technical assistance and capacity building to the Yemeni government and the Yemeni National Committee for Investigation.
The allies added that the division among member states was evident during the Human Rights Council's adoption of the resolution submitted by the Netherlands, Belgium, Canada, Luxembourg and Ireland.
Full report at:
https://english.alarabiya.net/en/News/middle-east/2018/09/29/Yemen-s-legitimate-government-reject-cooperating-with-UN-experts-team.html
--------
Yemeni army removes 400 mines planted by Houthis in Saada
29 September 2018
The engineering teams of the Yemeni army were able to remove more than 400 landmines and improvised explosive devices planted by the Houthis in the district of Baqam north of the Saada province.
Brig. Gen. Aziz al-Khattabi, the commander of the third brigade of the Yemeni army, said that the engineering teams took the mines and IEDs planted by the Houthi militias in a number of villages and farms in the Baqam district.
He pointed out that the militias are laying mines in residential neighborhoods and public roads without taking into account the presence of civilians and their safety.
https://english.alarabiya.net/en/News/gulf/2018/09/29/Yemeni-army-removes-400-mines-planted-by-Houthis-in-Saada.html
--------
Gazans hold funeral processions for 7 protesters killed by Israeli troops
Sep 29, 2018
Palestinians have held funeral processions for seven people who were killed by Israeli troops during protests in the area that separates the besieged Gaza Strip from the occupied territories.
Hundreds of mourners, set off from different areas of the impoverished sliver, held funerals for Iyad al-Shaer, 18, Muhammad Haniyeh, 23, Muhammad Shakhsa, 25, Muhammad Anshahi, 18, Muhammad al-Awawdeh, 26, and the two children Muhammad al-Hum, 14, and Nasser Musbeh, 12, on Saturday afternoon.
The victims lost their lives by Israeli live fire during multiple protests held across the Gaza Strip on Friday evening.
The funerals commenced from different hospitals towards the homes of each of the seven killed Palestinians before burial processions at local cemeteries.
Another 506 protesters were also injured. A total of 210 demonstrators were admitted to hospitals and medical centers across Gaza Strip to receive medical treatment. Ninety people were struck with live bullets. Thirty-five children, four women, four medics and two journalists were among the injured Palestinians.
The Gaza Strip has been under a crippling Israeli siege since 2007, which has prevented some two million Palestinians from having free access to the remainder of Palestine and the outside world. The blockade has also undermined living conditions in the coastal enclave and fragmented its economic and social fabric.
The Tel Aviv regime carries out regular attacks on its inhabitants under the pretext of hitting positions belonging to the Hamas resistance movement, which governs the territory.
The coastal sliver has also witnessed a fresh wave of deadly tensions since March 30, which marked the start of a series of protests demanding the right to return for the Palestinians driven out of their homeland.
Full report at:
https://www.presstv.com/Detail/2018/09/29/575576/Gaza-funeral-Israel-Hamas
--------
Turkey arrests 14 bankers over affiliation to Gulen movement
Sep 29, 2018
Turkish security forces have arrested more than a dozen bankers on suspicion of affiliation to a movement led by the US-based opposition cleric Fethullah Gulen, whom the Ankara government accuses of having masterminded the July 2016 coup attempt against President Recep Tayyip Erdogan.
According to a statement by the Ankara Chief Public Prosecutor's Office, the 14 suspects used encrypted messaging application ByLock, which the Turkish government claims to be the top communication tool among members of the Gulen movement.
During the 2016 botched putsch, a faction of the Turkish military declared that it had seized control of the country and the government of Erdogan was no more in charge. The attempt was, however, suppressed a few hours later.
Ankara has since accused Gulen of having orchestrated the coup. The opposition figure is also accused of being behind a long-running campaign to topple the government via infiltrating the country's institutions, particularly the army, police and the judiciary.
Gulen has denounced the "despicable putsch" and reiterated that he had no role in it.
"Accusations against me related to the coup attempt are baseless and politically-motivated slanders," he said in a statement.
The 77-year-old cleric has also called on Ankara to end its "witch hunt" of his followers, a move he says is aimed at "weeding out anyone it deems disloyal to President Erdogan and his regime."
Turkish officials have frequently called on their US counterparts to extradite Gulen, but their demands have not been taken heed of.
Turkey, which remains in a state of emergency since the coup, has been engaged in suppressing the media and opposition groups suspected to have played a role in the failed coup.
Tens of thousands of people have been arrested in Turkey on suspicion of having links to Gulen and the failed coup. More than 110,000 others, including military staff, civil servants and journalists, have been sacked or suspended from work over the same accusations.
Full report at:
https://www.presstv.com/Detail/2018/09/29/575571/Turkey-arrests-14-bankers-over-affiliation-to-Gulen-movement
--------
North America
US evacuates consulate in southern Iraq city of Basra following attacks
29 September 2018
The United States announced on Friday it will effectively close its consulate in the southern Iraqi city of Basra and relocate diplomatic personnel assigned there following increasing threats from Iran and Iran-backed militia, including rocket fire.
US Secretary of State Mike Pompeo ordered that all but emergency staff leave Basra, with consular duties to be taken over by the embassy in Baghdad. Basra is Iraq's main port and one of its largest cities.
The decision adds to mounting tension between the United States and Iran, which is the target of increasing US economic sanctions.
Pompeo, as he explained the move, renewed a warning that the United States would hold Iran directly responsible for attacks on Americans and US diplomatic facilities.
It followed recent rocket attacks that Pompeo said were directed at the consulate in Basra.
Pompeo, who has made rolling back Iranian influence in the region a top priority, blamed militias linked to Iran's Revolutionary Guards for "indirect fire" -- which usually means rockets or artillery -- against the US consulate.
"I have advised the government of Iran that the United States will hold Iran directly responsible for any harm to Americans or to our diplomatic facilities in Iraq or elsewhere and whether perpetrated by Iranian forces directly or by associated proxy militias," he said in a statement while in New York to attend the UN General Assembly.
"I have made clear that Iran should understand that the United States will respond promptly and appropriately to any such attacks," he added.
Pompeo did not explicitly say whether a US response was imminent, however, and other US officials did not disclose potential response options.
Still, Pompeo said the threats against US personnel and facilities in Iraq were "increasing and specific" and added that Washington was working with Iraqi forces and US allies to address them.
"We look to all international parties interested in peace and stability in Iraq and the region to reinforce our message to Iran regarding the unacceptability of their behavior," he said.
Earlier this month three mortar rounds also hit the fortified Green Zone area in Baghdad, home to the US embassy, without causing injuries and with the perpetrators unclear.
Diplomatic security is a key priority for the United States and Pompeo, who as a congressman went on the offensive against former secretary of state Hillary Clinton over a deadly attack on the US consulate in the eastern Libyan city of Benghazi.
'Chaos, death and destruction'
In a statement, the US State Department said the consulate was placed on "ordered departure," which technically involves a drawdown in staff. Although some personnel could remain on the diplomatic compound, the move is believed to effectively close the consulate, at least temporarily.
The decision came days after US President Donald Trump and Iranian President Hassan Rouhani exchanged taunts at the United Nations General Assembly, with Trump vowing more sanctions and accusing Iran's leaders of sowing "chaos, death and destruction."
Trump's national security adviser, John Bolton, speaking at a nearby event in New York on Tuesday, warned "there will indeed be hell to pay" if Iran crosses the United States, its allies or harms US citizens.
In May, Trump withdrew the United States from an international deal to put curbs on Iran's nuclear program in exchange for easing sanctions.
Basra has already been rocked by violent protests seen by experts as a rejection of the Iraqi political establishment that has held on to power.
Protesters in Basra ransacked and torched Iraqi government buildings this month and the Iranian consulate was set alight by demonstrators shouting condemnation of what many see as Iran's sway over Iraq's affairs.
For the first time in several years, mortar shells also landed this month inside Baghdad's heavily fortified Green Zone, which houses parliament, government buildings and many foreign embassies.
https://english.alarabiya.net/en/News/middle-east/2018/09/29/US-evacuates-consulate-in-southern-Iraq-following-attacks.html
--------
Trump calls Saudi King Salman to discuss oil market, Mid-East, strategic ties
Sep 30, 2018
US President Donald Trump has called ruler of oil-rich Saudi Arabia to discuss "stability of the oil market" as well as "developments in the Middle East region and the world," Saudi state media reported days after Trump's harsh condemnation of OPEC over high oil prices.
According to a Saturday report by Riyadh-based official daily Arab News and other state media outlets, Trump and King Salman bin Abdulaziz also discussed mutual ties and "means of developing" their strategic partnership, efforts to "maintain the supply and stability of the oil market" and "ensuring the growth of the global economy."
The reports, however, did not elaborate on details of the discussions between leaders of the US and the leading member of the Organization of Petroleum Exporting Countries (OPEC) and the world's top oil exporter.
This is while the White House only stated that Trump and the Saudi despot discussed "issues of regional concern" without providing details, according to US press reports.
The development came days after the American president used his speech in the opening day of the 73rd session of the United Nations General Assembly to reiterate that he was not happy with OPEC, Middle East countries and oil prices, blaming the region's oil exporting nations for rising fuel prices while enjoying protection from the US military.
"OPEC and OPEC nations, are, as usual, ripping off the rest of the world, and I don't like it; nobody should like it," Trump emphasized in a harsh and undiplomatic criticism of the organization on Wednesday, insisting, "We want them to stop raising prices. We want them to start lowering prices and they must contribute substantially to military protection from now on."
He further boasted, "The United States stands ready to export our abundant affordable supply of oil, clean coal, and natural gas."
Trump's remarks at the world body came after OPEC oil ministers ignored his demand to bring down oil prices as well as increasing the output to make up for expected shortage due to the upcoming US effort to force an international boycott of Iranian oil exports.
At its latest meeting, the group – as well as leading non-OPEC producer, Russia -- snubbed Trump's call to reduce crude prices last week, ruling out any additional rise in oil output.
Trump's demand for suppressing oil prices followed his unilateral decision to leave an international nuclear deal with Iran and re-impose sanctions on the country, leading to surging international crude prices to levels not seen since 2014.
"We protect the countries of the Middle East, they would not be safe for very long without us, and yet they continue to push for higher and higher oil prices! We will remember," Trump tweeted last week.
His demand came after benchmark Brent oil reached $80 a barrel this month, despite his earlier assurances that US efforts to impose global sanctions on Iran's oil exports would not affect the market since Saudi Arabia would make up for the shortage and avert fuel price hikes ahead of the US midterm polls on November 6.
The US president aims to unleash his second wave of sanctions against the Islamic Republic on November 4, targeting the country's oil and gas exports and vowing to bring Tehran's oil exports to zero.
Meanwhile, Iran's President Hassan Rouhani insisted last week that Tehran can withstand further US economic sanctions and dismissed Washington's threats to choke off Iranian oil exports as an "empty promise."
"The United States is not capable of bringing our oil exports to zero," he told NBC News in New York on Monday.
"It's a threat that is empty of credibility. Perhaps on this path, we will sustain certain pressures but certainly the United States will not reach its objective," he added.
This is while US hedge funds are reportedly watching Trump's persisting dialogue with the Saudi kingdom for any signs that Washington might take action against its key Arab ally or other US-sponsored OPEC members in the Persian Gulf. He has repeatedly suggested that the oil-rich kingdoms cannot survive without US military protection.
The Arab kingdoms spend billions annually on purchase and maintenance of vast amounts of US-built weaponry.
Meanwhile, Brent crude, the international oil benchmark, surged to a new 4-year high of more than $83 a barrel on Friday as the market braces for the potential impact of Washington's upcoming energy sanctions against Iran.
Full report at:
https://www.presstv.com/Detail/2018/09/30/575603/US-President-Donald-Trump-Saudi-King-Salman-oil-market-Middle-East-developments-strategic-partnership
--------
US State Department approves sale of $300 million tactical missiles to Bahrain
Sep 29, 2018
The US State Department has endorsed the proposed sale of more than 800 tactical missiles to Bahrain amid the Al Khalifah regime's heavy-handed crackdown on pro-democracy campaigners and political dissidents in the tiny Persian Gulf country.
The approval includes Guided Multiple Launch Rocket System (GMLRS) Unitary Rocket Pods and Army Tactical Missiles System (ATACMS) Unitary missiles for an estimated cost of $300 million, the Arabic-language al-Khaleej al-Jadeed news website reported.
The report added that the Manama regime has requested to buy 120 Guided Multiple Launch Rocket System (GMLRS) M31 Unitary Rocket Pods (six rockets per pod for a total of 720), and 110 Army Tactical Missiles System (ATACMS) M57 T2K Unitary missiles.
Personnel training, software development, contractor engineering, technical and logistics support services in addition to other related elements of logistical and program support are also among the items included in the deal.
The M31 GMLRS is a low-cost guided rocket for use on the M270 multiple launch rocket artillery systems.
It can hit targets accurately with less chance of collateral damage as it utilizes global positioning system (GPS) technology for accuracy.
The ATACMS T2K is an all-weather, long-range unitary surface-to-surface guided missile. It is reported to have a range of up to about 300 kilometers.
Thousands of anti-regime protesters have held demonstrations in Bahrain on an almost daily basis ever since a popular uprising began in the country in mid-February 2011.
They are demanding that the Al Khalifah dynasty relinquish power and allow a just system representing all Bahrainis to be established.
Manama has gone to great lengths to clamp down on any sign of dissent. On March 14, 2011, troops from Saudi Arabia and the United Arab Emirates were deployed to assist Bahrain in its crackdown.
Scores of people have lost their lives and hundreds of others sustained injuries or got arrested as a result of the Al Khalifah regime's crackdown.
On March 5, 2017, Bahrain's parliament approved the trial of civilians at military tribunals in a measure blasted by human rights campaigners as being tantamount to imposition of an undeclared martial law countrywide.
Full report at:
https://www.presstv.com/Detail/2018/09/29/575561/US-State-Department-approves-300million-sale-of-tactical-missiles-to-Bahrain
--------
Racialized artists in Calgary building safe spaces for future generations
Sept. 29, 2018
CALGARY—Racialized artists across Calgary are using their platforms to create safe spaces for the next generation — a task that's not for the faint-hearted.
"A safe space means the opportunity to speak, to exist, to create without having to defend our humanity," said spoken word poet Uma Samari.
For Samari, platforms that prop up the collective Muslim experience "allow us to be without restrictions. They allow for us to exist."
The poet belongs to an underground community of creatives breathing life into social justice activism by paving paths for new artists.
Samari helps organize art shows tailored to Muslim artists in the city through the non-profit organization Western Muslim Initiative. In November, the group will be hosting its sixth Muslim Art Movement event.
"As Muslim (artists), our struggles, the things that we feel and the perspective we have on the world might be a little more tailored to our experiences as a collective," Samari said.
"These spaces allow us to be without restrictions. They allow for us to exist, allow for us to share."
But working to build safe spaces takes a toll on many Indigenous artists and artists of colour, who say they spend as much time supporting new talent as they do perfecting their work.
Although Mel Vee, a spoken word poet and visual artist, is passionate about her advocacy work, she said it can be "exhausting."
"So much of advocacy work is free ... That is difficult to sustain and it's not sustainable to expect advocates and activists to keep burning the candle on both ends and continue to do that indefinitely without rest," Mel Vee said.
In addition to speaking openly about the consequences of racism, Mel Vee seeks out and creates grants for racialized artists with the art collective Uproot YYC, hosts shows highlighting talented people of colour, and organizes socials for "artists of colour to connect and talk about topics like social justice and art labour."
"We're making sure we can develop ourselves professionally in a way where we are not pressured to censor ourselves," she said.
According to Mel Vee, the work never ends — but unless people of colour do it, no one will.
"It's not reasonable, but that is what happens to us because we see the need and we know we need to fight for it. But it's exhausting. It's exhausting work and it's constant."
Though it's taxing on her emotionally to be creating these spaces and it takes away from the time she spends on her art, she believes if she were to stop, there wouldn't be many more pushing for these spaces.
"There won't necessarily be a lot of other folks willing to do that work. There's a lot of financial gain to censoring your work, to going along and creating a body of work that's more mainstream," Mel Vee said.
"Knowing that, I stick to my values and create work that makes sense to me. It's also how I understand the world. I'm going to create my art regardless. It's knowing that, in a sense, I'm paving a way that helps us move forward."
The artistic director of the Making Treaty 7 Cultural Society, Justin Many Fingers, called the push to create safe spaces for other artists a "battle."
"We're the ones who take the hits, we're the ones who have to educate, we're the ones who have to take that ignorance and turn it into an educational opportunity," Many Fingers said.
At 31, Many Fingers is the youngest artistic director Making Treaty 7 has employed.
"I've been looking at power and power struggle and I've been looking at how people abuse it," Many Fingers said. "So, for me, how do I use all of those years of connections and pay it forward for other artists? That's what I'm thinking about."
He said he plans to use the power associated with his platform and experience "to give back."
According to Many Fingers, the end goal is to have Indigenous artists recognized as artists — not just "Indigenous artists."
Many Fingers organized Making Treaty 7's first visual art show on the main floor of cSPACE, which wraps up Saturday, in an effort to shine a light on Indigenous talent.
According to Many Fingers, the work is far from over, but critical.
"We can talk about how we're changing the arts scene … but once I walk out of (cSPACE), I will be followed, I will be racialized, I will be looked at as a city Indian," he said.
The brunt of this work is carried on the shoulders of racialized artists, Mel Vee said, and there needs to be more collaboration with the mainstream community to support the work racialized people do.
"Some of the work I'm seeing at the provincial level on anti-racism and having those conversations is encouraging," Mel Vee said.
"To me, white folks need to talk to each other and do some of this work, as well. It can't simply be left up to racialized artists."
Samari said despite the challenges that come with finding time and resources, the work she does for her community cultivating these spaces, is "humbling."
"I've always been super excited to partake in this art show ... I find it exhilarating," Samari said.
Full report at:
https://www.thestar.com/calgary/2018/09/29/racialized-artists-in-calgary-building-safe-spaces-for-future-generations.html
--------
Kuwait discounts US pullout of Patriot missiles as internal 'routine procedure'
Sep 30, 2018
Kuwait's top military official has said that the recent US defense department decision to withdraw two anti-air Patriot missile systems from the Persian Gulf kingdom was a "routine procedure" amid Pentagon's refusal to discuss the move.
Kuwaiti army's General Chief of staff Lt. Gen. Mohammad Al-Khuder was cited in a Saturday report by the Saudi-based Arab News English-language daily as saying that the pullout of the missile battery by the US military reflected "an interior routine procedure" in coordination with the Kuwaiti army.
"Kuwait's Patriot missile system, independently, protects and covers all its geographical borders," he added in a statement quoted in the report.
Patriot missile systems are designed to intercept ballistic and cruise missiles and other airborne threats such as war planes.
US media reported last week that the US military was pulling some of its anti-aircraft and missile batteries out of the Middle East, marking a shift that focuses away from long-lasting conflicts in the region to tensions with China, Russia and Iran.
The reports further cited American military officials as saying on Wednesday that US forces will pull out four Patriot missile systems from Jordan, Kuwait and Bahrain next month.
Two Patriot missile systems will be redeployed from Kuwait, and one each from Jordan and Bahrain, the reports further noted.
Reuters also cited a US military official as saying on Wednesday that Washington's redeployment of the missile systems was part of a shift in focus away from the battle against "extremist militants" in efforts "to address tensions with China and Russia" without elaborating.
However, US Defense Secretary Jim Mattis declined to comment on the matter when approached by Pentagon reporters on Friday.
Moreover, Pentagon spokeswoman Commander Rebecca Rebarich also refused to elaborate on the move, saying that due to operational security, "we're not going to discuss the movement of specific capabilities into and out of the US Central Command area of responsibility."
The development comes amid increasing hostile rhetoric against Iran by US President Donald Trump and his hawkish National Security Adviser John Bolton as well as the Israeli regime and US client states of Saudi Arabia and United Arab Emirates.
This is while the US is reportedly planning a high-level meeting with Arab leaders in January to speed up forging an alliance mostly aimed at confronting Iran.
US Deputy Assistant Secretary of State for Persian Gulf Affairs Tim Lenderking has been touring the region over the past weeks in a bid to muster enough support to form the Middle East Strategic Alliance (MESA), a concept similar to an Arab NATO.
Full report at:
https://www.presstv.com/Detail/2018/09/30/575606/US-Patriot-missile-system-Kuwait-Lt-Gen-Mohammad-AlKhuder
--------
Africa
Boko Haram kills commander over plan to free 300 victims
September 30, 2018
A commander in Mamman Nur, a Boko Haram faction, Ali Garga, has been assassinated for acts of treachery.
According to a source, Garga planned to lead 300 captives into freedom before his plan was exposed.
He was subsequently arrested and killed by other commanders still loyal to the Mamman Nur faction of the terrorist group.
The source said Garga also planned to surrender to the military.
The source told SUNDAY PUNCH on Saturday that Garga was killed on Thursday by other commanders loyal to Mamman Nur's faction who got wind of the plan.
Garga, a Fulani man from Taraba State, was forced to join Mamman Nur three years ago after his cows were seized by Boko Haram on the fringes of the Lake Chad.
The source added, "The terrorist group trained Garga on how to fight and engage in combat operations.
"He also possessed an extraordinary ability to know the terrain because he was a herdsman. This made him reach the level of a commanding officer at the Mamman Nur faction.
"Garga was not interested in holding captives for ransom like others. What was paramount to him was getting his livestock back and continuing the life of a herdsman and being allowed to reunite with his family."
The source said before Garga was killed, he was in touch with a foreign influencer who planned to rescue him and others.
https://punchng.com/bharam-kills-commander-over-plan-to-free-300-victims/
--------
Somalia: Al-Shabab seizes major areas near capital
Sep 30, 2018
BALAD, Somalia - Al-Shabaab militants seized small towns in the south of the country early on Saturday after they were abandoned by Somali national army [SNA] and AU troops, Garowe Online reports.
Ahmed Hussein, a local resident confirmed to Garowe Online that heavily armed fighters with a dozen battle wagons have wrested control of Yaqle, Dhagahow and Kooreebe areas without encountering resistance.
AMISOM and Somali military forces had pulled out of the towns and retreated in disarray to nearby Balad district in Middle Shabelle region, approximately 30 kilometers [18 miles] north of Mogadishu.
"That same minute of the allied troops' sudden withdrawal, al Shabaab entered to control the villages... The situation is now calm and al Shabaab fighters are in every part of the town," said Hussein.
It was not immediately clear why the military and AMISOM had withdrawn from the key areas. The move comes amid rising in Al Shabaab attacks in the region.
Al Shabaab is fighting to topple Somalia's Western-backed Federal Government based in Mogadishu which is protected by 22,000 African Union soldiers from Uganda, Burundi, Kenya, Ethiopia, and Djibouti.
The group was ejected from Mogadishu in 2011 and has since been chased from most of its other strongholds across the country.
But it remains a formidable threat, with its fighters frequently carrying out bombings against both civilian and military targets in Mogadishu and other towns in Somalia.
Full report at:
https://www.garoweonline.com/en/news/somalia/somalia-al-shabaab-seizes-areas-near-capital-after-troops-withdraw
--------
Six die as Boko Haram attacks Lake Chad
September 29, 2018
Six people, including two soldiers, died in an overnight Boko Haram attacks near Lake Chad, security and army sources said on Saturday, saying Chadian troops had killed 17 assailants in a counter-offensive.
Three forestry officials and a customs officer and two soldiers were killed in attacks on Moussarom and Ngueleya located in the Lake Chad region, south of Baga Sola, a security source told AFP.
"The attackers were later repelled," the source said.
Chadian army spokesman Colonel Azam said "17 Boko Haram members have been killed" although he put the civilian death toll at three instead of four.
The last Boko Haram attack on the Chadian side of the lake happened on July 22 in which 18 people were killed in a village south of Daboua near the border with Niger.
Boko Haram's Islamist insurgency has devastated the region since it took up arms in 2009 in Nigeria, leaving at least 20,000 people dead, displacing more than two million others and triggering a humanitarian crisis.
Full report at:
https://punchng.com/six-die-as-boko-haram-attacks-lake-chad/
--------
Europe
Dutch terror suspects 'had 100 kg of fertiliser for car bomb'
September 29, 2018
Dutch investigators said Friday they found a large quantity of bomb-making materials including fertiliser likely to be used in a car bomb following the arrest of seven terror suspects.
The seven were seized Thursday in the cities of Arnhem and Weert by elite Dutch anti-terror units and are suspected of wanting to carry out a "major" attack in the country.
The suspects briefly appeared for the first time in the Rotterdam District court on Friday on terror-related charges, where their case was remanded until next week.
The men, who range from 21 to 34 years, were not named and will remain under maximum security conditions – which means they are only allowed to talk to their lawyers.
During Thursday's search "police confiscated a substantial amount of raw materials to make bombs at the suspects' homes," the Dutch public prosecution service said Friday.
Officers also found "100 kilograms of fertiliser, possibly for use in a car bomb," the prosecutors added in a statement.
Officers had previously placed a group of people under surveillance, including a 34-year-old Dutch man of Iraqi origin who was convicted in 2017 of attempting to reach territory then controlled by ISIS.
The suspects came from Arnhem, the port city of Rotterdam and villages close to those two cities. Two others in the group also had convictions related to attempts to travel to Iraq or Syria.
The men are suspected of wanting to attack civilians at a major event in the Netherlands, the Dutch secret service (AIVD) said, but a possible target was not named.
Dutch Prime Minister Mark Rutte during his weekly press conference told journalists "a drama has been prevented in our country".
"These arrests show how important it is to remain vigilant," Mr Rutte said, adding it meant the chances of a terror attack in the Netherlands "remained a reality".
The Netherlands has been largely spared the kind of terror attacks which have rocked its closest European neighbours in the past few years, but there has been a series of recent scares.
Thursday's arrests came three months after two men were arrested in Rotterdam on suspicion of preparing attacks in France and the Netherlands.
The arrests also come a month after a 19-year-old Afghan with a German residence permit stabbed and injured two American tourists at Amsterdam's busy Central Station before being shot and wounded.
The likelihood of a terror attack in the Netherlands "remained substantial", the Dutch anti-terror agency NCTV said last week, with terror threat levels remaining at level four out of five.
https://www.thenational.ae/world/europe/dutch-terror-suspects-had-100-kg-of-fertiliser-for-car-bomb-1.775168
--------
Russia FM says Moscow has already started delivery of S-300s to Syria
29 September 2018
Russian Foreign Minister Sergei Lavrov said Friday that Russia has already begun supplying the S-300 air-defense systems to Syria.
When asked in a press conference at the United Nations about the possibility of a swap system that would allow Iran to sell its oil after the resumption of US financial sanctions in November, Lavrov replied that all ideas were on the table for discussion. He added that "the measures we will take will be devoted to ensure 100 percent safety and security of our men in Syria, and we will do this."
On Monday, Russian Defense Minister Sergei Shoigu announced that Moscow would deliver S-300 air-defense-systems to the Syrian regime within two weeks, following the downing of a Russian Il-20 military reconnaissance aircraft last week.
Shoigu claimed that Israel was responsible for the downing of the Russian plane, as quoted by Russian media.
The delivery of the systems would seem to be a message to Tel Aviv, despite a visit by an Israeli delegation to Moscow to resolve the problem.
Russia says 'misled' by Israel in plane downing over Syria
Russia's Defense Minister said that: "All radars and communication devices for forces that are striking the Syrian regime forces near the Syrian border on the Mediterranean Sea will be stopped."
He explained that the delivery of these modern systems has not been made earlier because of the Israeli reservations, noting that "these systems are able to intercept any aircraft more than 250 kilometers away and can hit several targets in the air at the same time."
No safe passage for militants
Russia on Friday warned it will not allow jihadists in Syria to be sent to Afghanistan or elsewhere under a deal reached with Turkey that averted a large-scale military assault on rebel-held Idlib province.
Under the deal, Turkey agreed to separate opposition fighters from hardline jihadists who belong to groups branded as terrorists by the United Nations, but the fate of those extremists remains uncertain.
"There is talk that they will be sent off to other hotspots, for example Afghanistan," Lavrov told a news conference at UN headquarters. "This is unacceptable."
"They have to be eliminated or there has to be a judicial process," he said.
Russia and Turkey reached the agreement after the United Nations and Western powers warned that an all-out assault on Idlib would lead to a humanitarian catastrophe in the province of three million people.
The deal calls for the creation of a buffer zone to be established by October 15 from which all fighters must withdraw to allow joint Russian-Turkish patrols.
Lavrov met with his counterparts from Iran and Turkey this week on the sidelines of the UN General Assembly to discuss next steps in the agreement on Idlib.
Iran and Russia provide vital military support for Syrian forces while Turkey supports armed groups. The three countries last year set up the Astana group, which has largely eclipsed UN efforts in Syria.
Lavrov said Turkey faced "not a simple task" in Idlib, noting that the United States had also promised to persuade moderate fighters to split from the jihadist groups but failed to deliver.
UN diplomats say the agreement between Russia and Turkey to avert an offensive on Idlib has created an opportunity to jumpstart political talks.
On Thursday, seven countries including the United States, France, Saudi Arabia, Jordan and Egypt urged UN envoy Staffan de Mistura to urgently set up a committee on drafting a post-war constitution for Syria.
But Lavrov said preparations for the committee should not be rushed.
"We know that pressure is being applied to Staffan de Mistura," said Lavrov, adding that "it would be a grave mistake" to force the warring sides to begin work without an agreement.
Full report at:
https://english.alarabiya.net/en/News/middle-east/2018/09/29/Lavrov-Russia-has-already-started-delivery-of-S-300s-to-Syria.html
--------
Russia begins missile system delivery to Syria, warns West on peace talks
September 30, 2018
Russian Foreign Minister Sergei Lavrov said on Friday Moscow had started delivering the S-300 surface-to-air missile system to Syria and warned Western powers of trying to undermine UN-led efforts to end the seven-year conflict.
Defence Minister Sergei Shoigu had said on Monday the system would be delivered to Syrian President Bashar Al Assad's forces in two weeks despite strong Israeli and United States objections. A week previously, Moscow had accused Israel of indirectly causing the downing of a Russian military jet in Syria.
"The delivery started already and as President (Vladimir) Putin said, after that incident ... the measures that we will take will be devoted to ensuring 100 per cent safety and security of our men," Mr Lavrov told a news conference at the United Nations.
Russia, along with Iran, has helped Mr Al Assad recover huge amounts of lost territory in Syria without persuading him to agree to any political reforms. It has also pushed its own talks with Iran and Turkey, known as the Astana process, as UN-led peace negotiations have stalled.
Some diplomats have said the Israeli incident and a Turkish Russian deal to suspend an offensive on the last rebel-held stronghold of Idlib could provide a window to push for the implementation of UN Security Council resolution 2254 that covers ending the conflict in Syria.
The UN Security Council, which includes Russia and the US, has mandated UN envoy Staffan de Mistura to get a deal on a new constitution, new elections and a reform of Syria's governance.
Mr de Mistura's first task is the formation of a constitutional committee to decide whom to pick. He has said he will select about 50 people, including supporters of the government, the opposition and independents to participate, but so far the Syrian government has rejected the idea.
Meeting in New York on Thursday, foreign ministers from the United States, Egypt, France, Germany, Jordan, Britain and Saudi Arabia called on Mr de Mistura to convene the constitutional committee and report back on progress by the end of October.
Mr Lavrov accused the group of trying to undermine the Astana efforts and putting pressure on Mr de Mistura so that they could impose their own resolution of the conflict, describing it as "a grave mistake."
Full report at:
https://www.thenational.ae/world/mena/russia-begins-missile-system-delivery-to-syria-warns-west-on-peace-talks-1.775197
--------
URL: https://www.newageislam.com/islamic-world-news/saudi-arabia-embraces-yoga-pivot/d/116526
New Age Islam, Islam Online, Islamic Website, African Muslim News, Arab World News, South Asia News, Indian Muslim News, World Muslim News, Women in Islam, Islamic Feminism, Arab Women, Women In Arab, Islamophobia in America, Muslim Women in West, Islam Women and Feminism