New Age Islam News Bureau
22 May 2013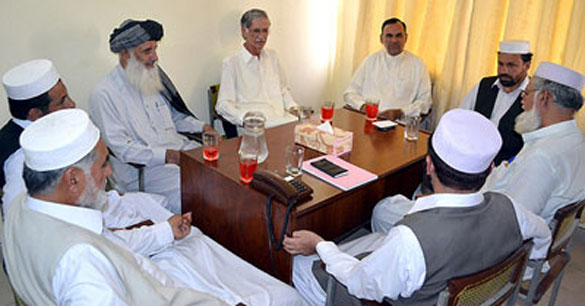 Central General Secretary of Pakistan Tehrik-i-Insaf, Parvez Khattak central leader Azam Khan Swati talking with Ameer Jamaat-i-Islami KP Professor Mohammad Ibrahim and other at Al-Markaz-e-Islami. — Photo by INP
----------
Arab World
• Saudi Arabia displays beheaded Yemenis in public
• Gunmen kill 12 at Baghdad brothel: Officials
• Salafist leader offers to negotiate with Sinai kidnappers
• Syrian Forces and Hezbollah Fighters Press Assault on Key City
• Militants release seven Egyptians kidnapped in Sinai
• Friends of Syria meet as conflict escalates
• Despite court order, Saudi in Iraq faces the gallows
• Syria opposition urges all rebels to join Qusayr fight
• 201,000 illegal workers deported in past 3 months from Saudi Arabia
• Sectarian Attacks in Iraq Stoked By Spill Over From Syrian War
Pakistan
• Jamaat-i-Islami insists it won't radicalise curriculum
• LHC moved to punish Altaf Hussain for 'anti-state speech'
• Chinese PM awarded Nishan-e-Pakistan on arrival in Islamabad
• No breakthrough on coalition with JUI-F, says Zafarul Haq
• Judges' detention case: ATC discards Musharraf's bail plea
• SC orders petitioner to name 'MQM chief' in application
• MQM Chief disbands Karachi organising committee
• PM Li Keqiang faces litmus test in Pakistan, China's 'iron brother'
• Pakhtuns expect fair share of power in Balochistan
• For the first time, PML-N may appoint opposition leader in Sindh
• 'Minimal' drone effects on Pakistan militant recruits: ICG
• Peace matters: For families of victims, hope and scepticism go hand in hand
• Mobile services shut in Pakistan ahead of Chinese PM's visit
Southeast Asia
• No Bikinis at Jakarta Miss World 2013
• Indonesia Weighs Curbs on Sex, Magic
• Muslim inter- marriages between locals in Sabah and foreigners on the rise
• 'Haram' to topple government through violence, repeats Fatwa Council
• Police probes DAP life adviser for 'Malaysian Spring' statement
Europe
• Kyrgyzstan to shut U.S. base
• EU set to brand Lebanon's Hezbollah as 'terrorists'
• William Hague seeks to change arms embargo on Syria
Mideast
• Iran and Hezbollah Support for Syria Complicates Peace-Talk Strategy
• Arabs Fly Nazi Flag near Hevron
• Iranian Legislator Blasts Violation of Human Rights in Canada
• Iran Urges Respect for Iraq's Territorial Integrity
• Turkey Shuts Syria Border Crossing After Deadly Bombings
• Ahmadinejad to challenge ally's ban from election
India
• India to explore possibility of getting uranium from Uzbekistan
• Malegaon blast: Col Purohit, Aseemanand and Sadhvi Pragya's names missing from chargesheet
• Delhi firm with MoD as client is linked to Pak cyber attacks
• Buy more oil, will re-route pipeline: Iran
• Unravelling the truth behind 7/11 Mumbai train blasts probe
• FBI to brief Shinde about Boston Marathon bombings
• Pranab promises all help to Karzai
• India raises concern over Chinese activities in PoK
• Hamid Karzai in Delhi, gives India military equipment 'wish list'
• Pak to repatriate Indian fishermen
• India seeks access to 26/11 convicts Rana and Headley from US
• NC observes Mirwaiz father's martyrdom
South Asia
• US calls for Maldives to address rights abuses, lift restrictions on religious freedom
• Torture Victim's Body Is Found near U.S. Base, Afghans Say
• Waheed calls on country to put "national stability" ahead of politics
• Afghanistan's Karzai Says 'No Circumstances' Allow Him to Seek another Term
• A Group Taking Politics and Military Strategy to the Same Extremes in Afghanistan
• America led Coalition Plays down Afghan Reports of Major Battle in Helmand
Africa
• Timbuktu's literary gems face Islamists and decay in fight for survival
• Boko Haram crisis Nigeria to free women
• Ten dead in sectarian clashes in Lebanon's Tripoli
• Abdel Hakim Belhaj torture case may be heard in secret court
North America
• Khalifa of Ahmadiya Islam inaugurates mosque in Vancouver, Canada
• Oklahoma Tornadoes Add Up to American Muslim Charities' Efforts
• Future of Syria cannot include Bashar al-Assad: US
• US, India pledge to collaborate on combating terrorism
• Text messages show NYPD knew Muslim informant would 'bring up jihad' as spying tactic
• Kerry in Muscat to help ink $ 2.1 bn defence deal
• Deal on Osama bin Laden evidence made in WikiLeaks case
• Evidence Does Not Support Fears of Islam in the West
Compiled by New Age Islam News Bureau
URL: https://newageislam.com/islamic-world-news/new-age-islam-news-bureau/saudi-arabia-displays-beheaded-yemenis-in-public/d/11688
-------------
Arab World
Saudi Arabia displays beheaded Yemenis in public
Saudi Arabia has executed five Yemenis convicted of murder and committing a series of robberies.
Their bodies were left hanging in public following the execution in the south-western town of Jizan, near the Yemen border.
Murder, armed robbery, drug trafficking, rape and apostasy are all punishable by death under Saudi Arabia's Sharia law.
At least 46 people have been executed in Saudi Arabia this year.
Executed bodies are left hanging when crimes are seen as particularly grave, the BBC's Sebastian Usher reports.
The convicts - Khaled, Adel and Qassem Saraa as well as Saif Ali al-Sahari and Khaled Showie al-Sahari - had formed a gang which committed "several crimes in various regions in the kingdom and robbed stores", the interior ministry told the AFP news agency.
The five Yeminis killed a man by beating him up and strangling him, the ministry said.
Crimes like robbery are becoming more common in Saudi Arabia, shaking its citizens' sense of security, says Sebastian Usher.
Seven men were executed by firing squad in the Saudi Arabian city of Abha in March, despite calls from UN independent experts urging authorities not to proceed with the executions.
It had been expected that the men executed in March would be beheaded. However unconfirmed reports said the authorities had been forced to resort to firing squads because of a shortage of swordsmen.
At least 69 people were executed in Saudi Arabia in 2012.
http://www.bbc.co.uk/news/world-middle-east-22609051
-----------
Gunmen kill 12 at Baghdad brothel: Officials
AFP | May 22, 2013
BAGHDAD: Unknown gunmen shot dead at least seven women and five men at a brothel in Baghdad on Wednesday, security and medical officials said.
The attack took place in the capital's eastern area of Zayouna, where a number of brothels are located.
An interior ministry official said the gunmen burst into the establishment early in the afternoon and opened fire.
Both prostitution and alcohol are prohibited by Islam, the religion of the vast majority of Iraq's population.
Zayouna is an upmarket, mixed district of Sunni and Shiite Muslims where a number of brothels opened in the relatively quiet recent years.
Violence in Iraq has fallen from its peak in 2006 and 2007, but attacks remain common. More than 200 people have been killed in each of the first five months of this year.
With the latest attack, 399 people have been killed so far this month, according to AFP figures based on reports from security and medical officials.
http://timesofindia.indiatimes.com/world/middle-east/Gunmen-kill-12-at-Baghdad-brothel-Officials/articleshow/20209425.cms
----------
Salafist leader offers to negotiate with Sinai kidnappers
Leader of Salafist Call in Alexandria says negotiated settlement to kidnap crisis is still possible, raises concerns over military buildup in Sinai Peninsula
21 May 2013
A delegation from Salafist Call – Egypt's most powerful Salafist group – is seeking to communicate with the kidnappers of seven security personnel in the Sinai Peninsula, the group's leader said on Tuesday.
Salafist Call (Al-Daawa Al-Salafiya) is willing to negotiate with the kidnappers via mediators from Bedouin tribes, Abdel-Moneim El-Shahat, who is based in Alexandria, told Turkish news agency Anadolu.
"I believe the kidnappers think they have reached a point of no-return, but we [Salafist Call] have sent them a message stating there is still an opportunity [for negotiations], as was mentioned by the presidency," El-Shahat explained.
The best solution would be for the kidnappers to release the captives, El-Shahat added.
El-Shahat also expressed concern about the military buildup in the peninsula. Egyptian troops have started combing towns and villages in the region which, according to El-Shahat, could provoke anger among the local Bedouin population.
Seven Egyptian security personnel, including a member of the armed forces, four from port security, and two from state security, have been held by unidentified kidnappers in the Sinai Peninsula since Thursday.
It is the first time Egyptian security personnel have been abducted by Sinai-based militants.
On Sunday, President Morsi said "all options" remained open to secure the release of the kidnapped security personnel, stressing that Egypt would "not be blackmailed" by the captors.
Egyptian police have been the target of several attacks by Sinai Bedouins over the past two years.
Residents of Sinai have often complained of neglect and marginalisation by the authorities, especially after the revolution, and some have sought to take revenge against the security forces after years of heavy-handed security policies.
http://english.ahram.org.eg/NewsContent/1/64/71971/Egypt/Politics-/Salafist-leader-offers-to-negotiate-with-Sinai-kid.aspx
----------
Syrian Forces and Hezbollah Fighters Press Assault on Key City
By HANIA MOURTADA and ANNE BARNARD
May 22, 2013
BEIRUT, Lebanon — In another day of fierce fighting in the strategic Syrian city of Qusayr, government forces backed by fighters from the militant Lebanese group Hezbollah continued their offensive on Tuesday against rebels who have long held the town. There were conflicting reports about the progress of the fighting.
Warplanes mounted airstrikes on the town in the morning, and government forces fired mortar shells as clashes intensified on the outskirts of the city, opposition activists said. The Local Coordinating Committees, a network of activists tracking the fighting, said at least 18 rebel fighters and civilians had been killed.
Official Syrian and Hezbollah news outlets said the government offensive was making rapid headway in retaking Qusayr, a strategically situated city in Homs Province, near the Lebanese border. The Syrian state news agency, SANA, said government troops had expanded their control from the eastern part of the city into the center and the north, destroying tunnels, weapons and explosive devices. The agency said a commander of Al Nusra Front, an extremist rebel group that the United States says is a terrorist organization, was killed in the fighting.
But the rebels, though outgunned, said they were holding their ground against the onslaught, had destroyed several armored vehicles and had inflicted heavy casualties on the army. They said they would fight on.
"The men are still standing strong on all fronts," said Ammar, an activist in Qusayr reached through Skype. "Their morale is very high, and, God willing, military reinforcements from the Free Army should arrive soon."
Ammar was dismissive of the Syrian government's claims that its troops were gaining ground. "Yes, they've been holding large swaths of Homs for a while now," he said. "They are in control there, but they haven't made any real advances in Qusayr."
Ammar added that the rebels had learned through an informer on Monday that Hezbollah fighters had decided to shift their tactics. Instead of trying to fight like conventional troops alongside the army, he said, the Hezbollah fighters now plan to move in small groups through back alleys at the edge of town and wage the guerrilla warfare for which they have been trained.
"But Hezbollah is still backed by the regime's warplanes," Amman said. "Now we have to wait and see who holds out for a longer period of time."
The combat of the past three days, including nearly continuous artillery shelling from the army, has left scores of civilians dead, he said, estimating the toll at 64 civilians killed and more than 500 wounded. "We have no way of rescuing them right now," he said. That estimate and other reports about casualties on either side could not be independently verified.
The fierce fighting in Qusayr pits mainly Alawite and Shiite fighters on the side of President Bashar al-Assad against rebels who are mostly Sunnis, further sharpening the sectarian schisms that have plagued Syria since a peaceful uprising turned into an armed rebellion. And there were reports that the violence was spilling over Syria's western and southern borders.
The Lebanese port city of Tripoli has suffered some of its sharpest clashes in months between Alawite and Sunni militants, Lebanese news outlets reported. Four people were killed there on Tuesday, after two civilians and two soldiers were killed on Monday, the reports said.
Syrian rebels near Qusayr and Hezbollah fighters just across the border in the Bekaa Valley of Lebanon have also traded artillery fire in recent days, accusing each other of endangering civilians with the imprecise weapons.
And SANA said on Tuesday that the Syrian Army had destroyed an Israeli military vehicle that entered Syrian territory near the Golan Heights. Quoting the army's general command, the agency said that the vehicle had crossed the Golan cease-fire line near the village of Bir Ajam, and that Israelis had fired two rockets into Syria, causing no casualties.
SANA said the incursion was meant to raise the "collapsed morale" of the rebels after the blows they had suffered in Qusayr. It was the second time in two days that the Syrian state news media, aiming to bolster its case that Syria's opposition was allied with Israel, claimed that it had evidence that Israel had aided the rebels. On Monday, the state news media showed pictures of what it said was an Israeli jeep found in Qusayr, but it appeared to be an old vehicle, and experts said it could have been supplied to Israeli-allied militias in southern Lebanon years ago.
Capt. Eytan Buchman, a spokesman for the Israeli military, denied the Syrian account, saying, "This is taking things way out of proportion."
Captain Buchman said an Israeli military jeep on routine patrol in the central Golan Heights had been hit from the Syrian side overnight and had responded. "There was an Israeli jeep in Israeli territory," he said. "Syrians opened fire. We returned fire. The jeep was lightly damaged, and we confirmed a direct hit on the Syrian target."
The Israeli military has struck Syrian targets near the cease-fire line about half a dozen times in recent months, after episodes in which it asserted that Syrian forces had intentionally targeted Israel. It has also counted more than two dozen episodes in which stray rounds from internal Syrian battles have landed in the Israeli-controlled Golan. Captain Buchman noted that there had also been reports in Syria on Monday that an Israeli vehicle was hit, and he said they were untrue.
The chief of the Israeli Defense Forces' general staff, Lt. Gen. Benny Gantz, said at the University of Haifa on Tuesday that Israel "will not allow the area of the Golan Heights to become convenient grounds for Assad to operate on." Saying Israel had "had enough," General Gantz added, according to news reports: "I am not a belligerent man, but we have to be prepared to defend ourselves. All in all, the situation in the Golan Heights is increasingly unstable."
As Hezbollah's role in supporting government forces in Syria has become more pronounced, the admiration that many Syrians once felt for the militant group has turned to disillusionment.
"I wasn't expecting that from them," said Qassem Tilawi, a commander in the Free Syrian Army who is fighting to unseat Mr. Assad.
Diana Rifai, a 23-year-old woman living in Beirut who volunteers at a camp for Syrian refugees in Lebanon, said about 100 Syrian families from Qusayr had sought refuge in the northern Lebanese area of Wadi Khaled during the past three days, many of them with injuries. She called the situation "devastating," saying that while some refugees were being taken in by Lebanese families, others were staying "in unfinished buildings or in storage rooms."
Ms. Rifai said that among the refugees, she had encountered a 4-year-old boy named Bashar who said he was ashamed to have the same given name as Mr. Assad and had decided to call himself Mohammed instead.
Hwaida Saad contributed reporting from Beirut; Hala Droubi from Dubai, United Arab Emirates; and Jodi Rudoren from Jerusalem.
http://www.nytimes.com/2013/05/22/world/middleeast/syria-developments.html?ref=middleeast&_r=0&gwh=4EC589E9E1743C67D66F96B09DB7ADEA
-----------
Militants release seven Egyptians kidnapped in Sinai
May 22, 2013
CAIRO: Seven members of the Egyptian security forces kidnapped by militants in Sinai last week were released on Wednesday, ending a crisis that has highlighted lawlessness in the desert peninsula bordering Israel.
Security sources said the men were freed following talks mediated by Bedouin tribal leaders. They were handed over to the army in an area south of Rafah, a town straddling the border with the Palestinian Gaza Strip.
The kidnappers had demanded the release of members of an Islamist group convicted last September of carrying out a series of attacks in North Sinai in 2011 that killed seven people.
Full report at:
http://beta.dawn.com/news/1012977/militants-release-seven-egyptians-kidnapped-in-sinai
-------------
Friends of Syria meet as conflict escalates
May 22, 2013
AMMAN - Backers of the Syrian uprising were to meet in Amman with the opposition Wednesday to discuss a US-Russian proposal for peace talks, as the two-year conflict escalated close to the border with Lebanon.
"Today's effort ... is part of a political path aimed at ending the violence and bloodshed," Jordanian Foreign Minister Nasser Judeh told a joint news conference with British Foreign Secretary William Hague before the meeting of the so-called Friends of Syria group.
Judeh said the US-Russian proposal was a "turning point."
Earlier this month, the United States and Russia, which back opposite sides in the Syrian conflict, proposed a peace conference dubbed Geneva 2 to bring together rebels and representatives of President Bashar al-Assad's regime.
Full report at:
http://www.saudigazette.com.sa/index.cfm?method=home.regcon&contentid=20130522166861
-------------
Despite court order, Saudi in Iraq faces the gallows
May 22, 2013
RIYADH — A Saudi prisoner in Iraq was twice taken to the execution area despite a court order to postpone his execution for two months, Al-Yaum newspaper reported on Tuesday.
Thamir Al-Blaiheed, a lawyer at Al-Jrais legal group who is also chairman of the committee following up on Saudi prisoners in Iraq, said Badr Oufan Al-Shammari was transferred from his prison to a cell only 100 meters away from the execution area.
The execution spot is located at the prison where former president Saddam Hussein and a number of his close aides were hanged.
Full report at:
http://www.saudigazette.com.sa/index.cfm?method=home.regcon&contentid=20130522166740
-------------
Syria opposition urges all rebels to join Qusayr fight
May 22, 2013
BEIRUT - Acting opposition chief George Sabra on Wednesday urged rebels across Syria to "rush to the rescue" of rebel stronghold Qusayr under assault by regime troops backed by Lebanon's Hezbollah fighters.
"Revolutionary battalions and Free Syrian Army, rush to the rescue of Qusayr and Homs," Sabra said in a statement, urging brigades around the country to send forces and weapons, "however small
http://www.saudigazette.com.sa/index.cfm?method=home.regcon&contentid=20130522166856
-------------
201,000 illegal workers deported in past 3 months from Saudi Arabia
22 May 2013
The Passport Department has deported 201,000 illegal workers, including Syrians, in the past three months.
"We won't force them to travel only to their country," spokesman Badr Al-Malik, told a local paper.
"Saudi Arabia will not force violating workers to travel to a certain country," he said.
He said that the campaigns conducted against illegal workers seek primarily to impose order in the market. "A worker has a choice to legalize their work status by working for the organization that brought them to the Kingdom or transferring their services to a new employer," he said. "After the July 3 deadline, workers will be deported with an exit-only visa," he said.
Full report at:
http://www.arabnews.com/news/452491
-------------
Sectarian Attacks in Iraq Stoked By Spill Over From Syrian War
Abigail Hauslohner for the Washington Post
21 May 2013
A recent tide of sectarian tensions that erupted into the worst violence seen in Iraq in five years is testing the government of Prime Minister Nouri al-Maliki, whose ability to contain the crisis could hinge on a conflict raging beyond his control in Syria.
The prospect of a regional power shift driven by the bloody civil war next door, where a mostly Sunni rebel movement is struggling to topple the Shia-dominated regime, has emboldened Iraq's Sunni minority to challenge its own Shia government and amplified fears within Maliki's administration that Iraq may soon be swept up in a spillover war.
Full report at:
http://www.guardian.co.uk/world/2013/may/21/iraq-sectarianism-syrian-war-sunni
-------------
Pakistan
Jamaat-i-Islami insists it won't radicalise curriculum
SADIA QASIM SHAH
2013-05-22
PESHAWAR: Jamaat-i-Islami, Khyber Pakhtunkhwa chief Professor Mohammad Ibrahim says the people should not fear radicalisation of curriculum if the provincial education department goes to his party as its education programme is similar to that of Pakistan Tehrik-i-Insaf.
"It is only propaganda. If other countries make their children aware of their (war) history, our children should also know about it. We need to prepare ourselves for the defence of our country," Professor Ibrahim told Dawn on Tuesday.
People holding key positions in the provincial bureaucracy feel the likely decision to assign the provincial education department to JI may cause more harm than good.
"If given the provincial education department, we will act in line with the basic principles of our Constitution," said Professor Ibrahim, rejecting fears that JI might propagate jihad in textbooks.
Full report at:
http://beta.dawn.com/news/1012840/amid-fears-jamaat-insists-it-wont-radicalise-curriculum
-------------
LHC moved to punish Altaf Hussain for 'anti-state speech'
May 22, 2013
LAHORE: A petition has been filed before the Lahore High Court asking that Altaf Hussain be removed from his position as head of the Muttahida Qaumi Movement and be punished for making remarks "against the ideology of Pakistan".
The petitioner, Advocate Fayyaz Ahmed Mehr, submitted that Hussain had made a speech on May 12 in which he had threatened the Election Commission, the establishment, the media, political workers and politicians and called for Karachi's separation from the rest of Pakistan.
Full report at:
http://tribune.com.pk/story/552564/lhc-moved-to-punish-altaf-hussain-for-anti-state-speech/
-------------
Chinese PM awarded Nishan-e-Pakistan on arrival in Islamabad
May 22, 2013
ISLAMABAD: Chinese Prime Minister Li Keqiang was awarded the Nishan-e-Pakistan by President Asif Ali Zardari on his arrival in Islamabad for a two-day trip, reported Express News on Wednesday.
It is Keqiang's first visit to Pakistan since taking office in March.
The award has been given to other foreign diplomats in the past such as the Prime Minister of Turkey in 2010 and the president of China then, Hu Jintao in 2006.
The JF-17s — a symbol of deep Sino-Pakistan friendship – guided the special Air China Boeing 747 aircraft of the Chinese dignitary to the Nur Khan Air Base.
President Asif Ali Zardari, caretaker prime minister Mir Hazar Khan Khoso, chief of naval staff, chief of air staff and other cabinet members were present at the airport to welcome the Chinese PM.
Full report at:
http://tribune.com.pk/story/552781/chinese-pm-lands-in-pakistan/
-------------
No breakthrough on coalition with JUI-F, says Zafarul Haq
May 22, 2013
ISLAMABAD: Pakistan Muslim League- Nawaz (PML-N) leader Raja Zafarul Haq on Tuesday said that his party and Jamiat Ulema-i-Islam-Fazl (JUI-F) had not yet made any breakthrough to form a coalition government at the centre.
The PML-N leader told APP that the two parties had constituted committees to continue talks on the matter.
Regarding JUI-F's demands of two federal ministries and chairmanship of the National Assembly's Committee on Kashmir Affairs, Haq said the JUI-F had already contradicted the news item in that regard.
Full report at:
http://beta.dawn.com/news/1012782/no-breakthrough-on-coalition-with-jui-f-says-zafarul-haq
-------------
Judges' detention case: ATC discards Musharraf's bail plea
May 22, 2013
ISLAMABAD: The anti-terrorist court in Islamabad on Wednesday discarded a bail plea filed by former military ruler Pervez Musharraf in the judges' detention case, DawnNews reported.
Earlier today, ATC judge Kausar Abbas Zaidi had reserved the ruling on Musharraf's bail application during a hearing of the case.
During the hearing, public prosecutor Amir Nadeem Tabish said clause 780-A pertaining to terrorism had been added to the list of charges against Musharraf, making the case against him even more strong.
In his arguments, Tabish added that judges and their family members had been detained in their homes for months and that the charges against the former army strongman were of a serious nature, who therefore should not be granted bail.
Full report at:
http://beta.dawn.com/news/1012960/judges-detention-case-atc-discards-musharrafs-bail-plea
-------------
SC orders petitioner to name 'MQM chief' in application
May 22, 2013
ISLAMABAD: The Supreme Court has ordered Barrister Zafarullah Khan to amend his application against Muttahida Qaumi Movement (MQM) chief Altaf Hussain over his controversial speech, reported Express News on Wednesday.
Chief Justice Iftikhar Muhammad Chaudhry said that the petitioner needs to name the MQM chief as a respondent in his application instead of writing "MQM chief".
Zafarullah said that it was clear that Altaf Hussain was running the party, but the chief justice stated that MQM is registered under Farooq Sattar's name in Pakistan.
Full report at:
http://tribune.com.pk/story/552807/altaf-hussain-speech-sc-orders-petitioner-to-name-mqm-chief-in-application/
-------------
MQM Chief disbands Karachi organising committee
May 22, 2013
KARACHI: In an apparent reaction to 'hooliganism' during his speech on Sunday morning, Muttahida Qaumi Movement (MQM) chief Altaf Hussain on Tuesday night disbanded his party's Karachi Tanzeemi (organising) Committee.
The decision was made following observations and recommendations made by public and party workers during a general workers meeting held at MQM's head-quarters Nine-Zero, said the party's official website.
In the wee hours of Sunday, charged workers of the MQM had roughed up members of the Rabita (coordination) Committee, some lawmakers-elect as well as some journalists, during a telephonic address by Hussain from London.
Full report at:
http://dawn.com/2013/05/22/altaf-disbands-mqms-karachi-organising-committee/
-------------
PM Li Keqiang faces litmus test in Pakistan, China's 'iron brother'
Saibal Dasgupta, TNN | May 22, 2013
BEIJING: Chinese Premier Li Keqiang faces the challenge of meeting conflicting demands for his attention and Beijing's purse when he lands in Pakistan on Wednesday at the end of his India visit, his first foreign tour after assuming office.
Li needs to pay equal attention to the aspirations of newly elected prime minister Nawaz Sharif and the armed forces led by Gen Ashfaq Pervez Kayani, sources said adding that the Chinese leader would have to tread a cautious path as there are grave differences between the two camps. On the other hand, Li is the guest of president Asif Ali Zardari whose Pakistan People's Party (PPP) got a bloody nose in the recent elections.
Full report at:
http://timesofindia.indiatimes.com/world/china/PM-Li-Keqiang-faces-litmus-test-in-Pakistan-Chinas-iron-brother/articleshow/20186701.cms
-------------
Pakhtuns expect fair share of power in Balochistan
May 22, 2013
ISLAMABAD: One of the critical issues that the next provincial set-up in Balochistan will have to face in the coming days is the appointment of an ethnic Pakhtun as governor, according to the central general secretary of Pakhtunkhwa Milli Awami Party (PkMAP) Akram Shah.
"Pakistan Muslim League-Nawaz, along with the National Party (NP) and PkMAP, which has emerged as the largest Pakhtun political party in May 11 elections, will have to address many critical issues including the fair division of political and administrative power amongst the two largest ethnic groups: Baloch and Pakhtuns," Shah told The Express Tribune.
Full report at:
http://tribune.com.pk/story/552671/delicate-balance-pakhtuns-expect-fair-share-of-power-in-balochistan/
-------------
For the first time, PML-N may appoint opposition leader in Sindh
May 22, 2013
KARACHI: The Pakistan Muslim League – Nawaz (PML-N) may be able to appoint an opposition leader in the Sindh Assembly for the first time in its political history, The Express Tribune has learnt.
The outcome of the May 11 elections revealed that PML-N emerged as the third largest party in the province after Pakistan Peoples Party (PPP) and Muttahida Qaumi Movement (MQM). Even though the party has only won four provincial seats – three in Karachi and one in Jacobabad – it has merged with the Shirazi group in Thatta and the National Peoples Party (NPP), led by the Jatoi brothers of Naushero Feroz, to sit on the opposition benches.
Full report at:
http://tribune.com.pk/story/552515/for-the-first-time-pml-n-may-appoint-opposition-leader-in-sindh/
-------------
'Minimal' drone effects on Pakistan militant recruits: ICG
May 22, 2013
ISLAMABAD: US drone strikes in Pakistan have a "minimal" impact on militant recruitment, a respected think tank said Tuesday, contrary to arguments the controversial programme creates more extremists than it kills.
The Brussels-based International Crisis Group (ICG) said however the missile strikes in Pakistan's lawless tribal zones were not a long-term solution to militancy and urged Washington to be more open about the clandestine campaign.
Washington regards the drone campaign, which has killed up to 3,587 people since 2004 according to the Britain's Bureau of Investigative Journalism, as a valuable tool in the fight against Taliban and al Qaeda.
Full report at:
http://dawn.com/2013/05/21/minimal-drone-effects-on-pakistan-militant-recruits-icg/
-------------
Peace matters: For families of victims, hope and scepticism go hand in hand
May 21, 2013
PESHAWAR: There has been a mixed response among the general public to the incoming government offering an olive branch to the Tehreek-e-Taliban Pakistan (TTP) – especially those who lost their loved ones in the ongoing wave of bomb blasts and terrorism in Khyber-Pakhtunkhwa (K-P).
Perhaps after losing nearly 50,000 people to the war on terror, fatigue is setting in and even those who have suffered personal loss seem eager to try talking with militants in order to achieve much needed stability and security in the region.
Full report at:
http://tribune.com.pk/story/552434/peace-matters-for-families-of-victims-hope-and-skepticism-go-hand-in-hand/
-------------
Mobile services shut in Pakistan ahead of Chinese PM's visit
PTI | May 22, 2013
ISLAMABAD: Pakistani authorities on Wednesday shut mobile services in Islamabad and the nearby garrison city of Rawalpindi over security concerns on the arrival of Chinese Premier Li Keqiang here.
Li will arrive here on Wednesday on a two-day visit after his official visit to India.
The state-owned Pakistan Telecommunication Authority (PTA) issued a formal notification to all cellular companies to shut the services until 1pm local time.
Full report at:
http://timesofindia.indiatimes.com/world/pakistan/Mobile-services-shut-in-Pakistan-ahead-of-Chinese-PMs-visit/articleshow/20199599.cms
----------
Southeast Asia
No Bikinis at Jakarta Miss World 2013
May 22, 2013
Following mounting criticism from conservative Muslim groups, Jakarta Governor Joko Widodo urged contestants of the upcoming Miss World pageant not to pose in bikinis.
"The event should be in line with Indonesian culture," Joko told Indonesian news portal Detik.com on Wednesday. "I think it will be better if they [contestants] do not wear bikini."
The Sentul International Convention Centre in Bogor, West Java, will host the Miss World 2013 pageant on Sept. 28.
Conservative Muslim groups have been criticizing the event as disrespectful to Indonesian values.
Full report at:
http://www.thejakartaglobe.com/news/jakarta/no-bikinis-at-miss-world-2013-joko-pleads/
-------------
Indonesia Weighs Curbs on Sex, Magic
By BEN OTTO
May 21, 2013
JAKARTA, Indonesia—Legislators here are reviewing a proposed new criminal code that would outlaw sex between unmarried people, cohabitation and black magic, among other stricter measures that would mark a significant shift for a young democracy widely viewed as a voice for moderate Islam.
The drafting of the code, commissioned by the Ministry of Justice and led by a conservative Muslim legal scholar, reflects the influence of conservatives in Indonesia, the country with the most Muslims.
The ministry has said that the 202-page draft revision, which would establish a catalog of crimes and their punishments applicable across the country with few exceptions, is still in process and open for discussion.
Full report at:
http://online.wsj.com/article/SB10001424127887324010704578414273631917186.html?mod=googlenews_wsj
-------------
Muslim inter- marriages between locals in Sabah and foreigners on the rise
May 22, 2013
KOTA KINABALU, May 22 — Muslim inter-marriages between locals in Sabah and foreigners have been increasing since 2000, numbering almost 20,000 marriages for the past 13 years, the Royal Commission of Inquiry (RCI) on illegal immigrants heard today.
Baharuddin Alwi, chief registrar of marriage from the Sabah Islamic Affairs Department, testified today that there were 8,859 Muslim marriages between foreign men and local women in Sabah from 2000 to October 2012, as well as 10,922 Muslim marriages between foreign women and local men in the same period, totalling 19,781 marriages.
Full report at:
http://www.themalaysianinsider.com/malaysia/article/muslim-inter-marriage-with-foreigners-in-sabah-on-the-rise-rci-told/
-------------
'Haram' to topple government through violence, repeats Fatwa Council
BY ZURAIRI AR
MAY 22, 2013
NILAI, May 22 – The National Fatwa Council reiterated a "fatwa" declaring demonstrations and rallies to topple government through violence as "Haram" (forbidden) yesterday, becoming the latest Islamic body to comment on the issue.
The religious edict comes just days after Muslims nationwide were told in an official Friday sermon last week that it is "Haram" to rebel and fight against the nation's leaders, including by protesting their decisions through "illegitimate channels".
"Any rallies which can break the unity of citizens are not compatible with Islam," the council's chairman Prof Emeritus Tan Sri Abdul Shukor Husin told Malay daily Sinar Harian here.
"This is forbidden. The Fatwa Council have issued a fatwa declaring such actions Haram during the Bersih 2.0 rally. So, it should not be repeated."
In July 2011, the council had declared the Bersih 2.0 rally for free and fair elections as "haram", a call which was repeated in May 2012 for the Bersih 3.0 sit-in rally in Dataran Merdeka.
Full report at:
http://www.themalaysianinsider.com/malaysia/article/haram-to-topple-government-through-violence-repeats-fatwa-council/
-------------
Police probes DAP life adviser for 'Malaysian Spring' statement
May 22, 2013
KUALA LUMPUR, May 22 – Police have opened an investigation on DAP National Chairman Dr Chen Man Hin for allegedly conspiring to create public disorder when he used the term "Malaysian Spring" in a private email correspondence, party stalwart Lim Kit Siang revealed today.
The Gelang Patah MP (picture) said Chen was now investigated under Section 112 of the Criminal Procedure Code, supposedly for plotting to overthrow the government through street demonstrations similar to those in the Arab Spring.
Full report at:
http://www.themalaysianinsider.com/malaysia/article/police-probes-dap-life-adviser-for-malaysian-spring-statement/
-------------
Europe
Kyrgyzstan to shut U.S. base
VLADIMIR RADYUHIN
May 22, 2013
Kyrgyzstan will shut a key United States airbase in July next year despite Washington's efforts to retain the facility beyond its forces drawdown in Afghanistan.
The Kyrgyz government is sending a closure motion to Parliament, said an announcement posted on the cabinet website on Tuesday.
The Pentagon has been using the airbase, which sits at Kyrgyzstan's main civilian airport Manas in the capital Bishkek, since 2001 as a major supply centre for Afghanistan. It hosts about 1,500 U.S. troops and operates round-the-clock, with planes hauling thousands of troops and hundreds of tonnes of cargo every month.
Full report at:
http://www.thehindu.com/news/international/kyrgyzstan-to-shut-us-base/article4736450.ece
-------------
EU set to brand Lebanon's Hezbollah as 'terrorists'
AFP | May 22, 2013
BRUSSELS: Ending months of hesitation, the European Union opened the door on Tuesday to adding the military wing of Lebanon's Hezbollah to its list of international terrorist groups, EU diplomats told AFP.
A formal request to blacklist Lebanon's most powerful political and military group was filed by Britain and is to be discussed at closed-door talks June 4 of a committee overseeing the EU list of people and groups subject to its asset freezing regime.
"We hope to have an agreement by the end of June on Hezbollah," said a diplomat close to the matter who spoke on condition of anonymity.
A decision to add the Shiite militia to the dozen people and score of groups currently blacklisted by the EU -- including Hamas and Colombia's FARC guerrillas -- will require unanimity from the 27 EU states.
Full report at:
http://timesofindia.indiatimes.com/world/middle-east/EU-set-to-brand-Lebanons-Hezbollah-as-terrorists/articleshow/20187281.cms
-------------
William Hague seeks to change arms embargo on Syria
British foreign secretary warns of regional 'catastrophe' as al-Qaida and Hezbollah clash in battle for Qusair
Ian Black and Martin Chulov
20 May 2013
Britain is seeking to amend the EU arms embargo on Syria to press Bashar al-Assad into holding peace talks with the rebels because the escalating conflict is threatening a regional "catastrophe", William Hague warned on Monday.
Speaking as combat raged around the strategic town of Qusair, where Lebanese Hezbollah miltiamen are now fighting alongside Syrian troops, the foreign secretary said the case for amending the embargo was "compelling". Weapons would be supplied only "under carefully controlled circumstances" and with clear commitments from the opposition, he told MPs.
Full report at:
http://www.guardian.co.uk/world/2013/may/20/william-hague-arms-embargo-syria
-------------
Mideast
Iran and Hezbollah Support for Syria Complicates Peace-Talk Strategy
By MICHAEL R. GORDON and STEVEN LEE MYERS
May 22, 2013
MUSCAT, Oman — As evidence grows of increased Iranian support for the Syrian government, the Obama administration's strategy to bring the bitter fighting there to a close faces more challenges than ever.
With White House support, Secretary of State John Kerry has pushed for an international conference in Geneva in June that would bring representatives of the Syria government together with the opposition.
The aim would be to negotiate a transitional government that would take over if President Bashar al-Assad vacates his post and to put an end to the civil war that has killed more than 80,000.
Full report at:
http://www.nytimes.com/2013/05/22/world/middleeast/iran-and-hezbollahs-support-for-syria-complicates-us-strategy-on-peace-talks.html?ref=middleeast&gwh=4002B923756C90B3D2F7ED4B3B7A924A
-------------
Arabs Fly Nazi Flag near Hevron
Residents of Gush Etzion astounded to see Nazi flag flying near the mosque of Beit Omar.
5/20/2013
Hundreds of residents of Gush Etzion, south of Jerusalem, were astounded Monday morning to see an oversized Nazi flag flying next to a mosque in the Arab town of Beit Omar.
The residents notified the IDF.
A resident, Uri Arnon, told the Tazpit News Agency: "I felt we were going back 75 years, losing our hold on the land. The Arabs no longer feel the need to hide their murderous tendencies, announcing out loud that they wish to annihilate us."
An IDF spokesman said that the flag was hung on an electrical line, and that they were waiting to professionals to come and remove it.
http://www.israelnationalnews.com/News/News.aspx/168146#.UZxcI9LfCbt
-------------
Iranian Legislator Blasts Violation of Human Rights in Canada
2013-05-21
TEHRAN (FNA)- A prominent Iranian lawmaker lashed out at Canada's hostile policies against the Islamic Republic, and advised the Ottawa government to deal with its own domestic problems instead of meddling with Tehran's internal affairs.
"The hostile positions of the Canadian government against Iran have been more evident in the past few years," Mohammad Saleh Jokar said in an interview with the parliament's news website on Tuesday.
Full report at:
http://english.farsnews.com/newstext.php?nn=9202242834
-------------
Iran Urges Respect for Iraq's Territorial Integrity
2013-05-21
TEHRAN (FNA)- Iran on Tuesday said the recent agreement between Ankara and the Kurdistan Workers' Party on the withdrawal of the PKK members from Turkey into Northern Iraq should have been okayed by Tehran and Baghdad beforehand.
"When some developments are to take place at borders and forces are to be moved, definitely they need to happen with the consent of the Central governments (of Iran and Iraq)," Iranian Foreign Ministry Spokesman Seyed Abbas Araqchi said, alluding to the PKK movement across Iraq-Turkey border, which is taking place only after the Iraqi Kurdistan Regional Government (KRG) voiced its consent and without the permission of the Baghdad government.
Full report at:
http://english.farsnews.com/newstext.php?nn=9202242810
-------------
Turkey Shuts Syria Border Crossing After Deadly Bombings
May 22, 2013
ANKARA — Turkey has shut its side of the last border crossing with Syria still controlled by President Bashar al-Assad's government, stepping up security following two deadly bombings this month.
Fifty-one people were killed when twin car bombs ripped through the Turkish border town of Reyhanli in the southern province of Hatay on May 11, heightening fears that Syria's civil war was dragging in neighboring states.
Turkey has accused Syria of involvement in the attacks. Damascus has denied any role.
Customs Minister Hayat Yazici said the Yayladagi gate, some 90 km (55 miles) from Reyhanli, would remain closed for a month, during which only Turkish citizens arriving from Syria or non-Syrians transiting through Turkey would be allowed to cross.
Full report at:
http://www.nytimes.com/reuters/2013/05/22/world/europe/22reuters-syria-crisis-turkey.html?ref=middleeast&gwh=BCD2DD94501A6B4ACC0442281D88C222
----------
Ahmadinejad to challenge ally's ban from election
Reuters | May 22, 2013
DUBAI: Iranian President Mahmoud Ahmadinejad said on Wednesday he would take up the ban of his close aide from the June 14 presidential election with Supreme Leader Ayatollah Ali Khamenei, Iranian media reported.
Iran's electoral watchdog on Tuesday disqualified Esfandiar Rahim Mashaie, Ahmadinejad's former chief of staff, and moderate ex-president Akbar Hashemi Rafsanjani from running in the vote, eliminating two powerful and potentially disruptive candidates and leaving the field dominated by hardliners loyal to Khamenei.
Full report at:
http://timesofindia.indiatimes.com/world/middle-east/Ahmadinejad-to-challenge-allys-ban-from-election/articleshow/20204684.cms
-------------
India
India to explore possibility of getting uranium from Uzbekistan
K. SRINIVAS REDDY
May 22, 2013
India is poised to play a critical role in protecting and maintaining peace and stability in Central Asia in the backdrop of developments in Afghanistan and India's strategic partnership with Afghanistan's neighbours like Uzbekistan is of critical importance, Vice-President M. Hamid Ansari has said.
In an interaction with journalists on aboard Air India-1, Mr. Ansari, who is leading a parliamentary and official delegation to Uzbekistan, said India would explore the possibility of getting uranium supplies from Uzbekistan, which has rich reserves of the heavy metal.
Mr. Ansari, who is on a four-day visit to Uzbekistan, termed relations between New Delhi and Tashkent excellent. He said both had established a strategic partnership that included a Joint Working Group on Counter Terrorism.
Full report at:
http://www.thehindu.com/news/national/india-to-explore-possibility-of-getting-uranium-from-uzbekistan/article4737022.ece
-------------
Malegaon blast: Col Purohit, Aseemanand and Sadhvi Pragya's names missing from chargesheet
PTI | May 22, 2013
MUMBAI: The National Investigation Agency (NIA) on Wednesday filed its chargesheet in the Malegaon 2006 bomb blast case against four accused Lokesh Sharma, Dhan Singh, Manohar Singh and Rajendra Choudhary. The chargesheet, running into five volumes, was filed in a Maharashtra Control of Organized Crime Act (MCOCA) court of special judge Prithviraj Chavan.
Ramji Kalsangra has been shown as absconding accused in the chargesheet. The bombings were part of a series of explosions that had taken place on September 8, 2006, in Malegaon, a communally-sensitive town in Nashik district of Maharashtra, located about 300km from Mumbai.
Full report at:
http://timesofindia.indiatimes.com/india/Malegaon-blast-Col-Purohit-Aseemanand-and-Sadhvi-Pragyas-names-missing-from-chargesheet/articleshow/20208843.cms
----------
Delhi firm with MoD as client is linked to Pak cyberattacks
Manu Pubby
May 22 2013
New Delhi : A Delhi-based IT security firm, Appin Security Group, that lists the Ministry of Defence and the three armed forces among its clients, has been named in a report by Norwegian cyber analysts who claim to have found an extensive Indian hacking network that has been targeting government and military agencies in Pakistan for the last three years.
The report by analyst firm Norman Shark says the cyber espionage network that extracted key information from Pakistani computer systems seems to have "some connection" with Appin. The report, termed 'Operation Hangover', says Appin's name came up in several codes discovered during the investigation into malware that was used to infect target computers.
Full report at:
http://www.indianexpress.com/news/delhi-firm-with-mod-as-client-is-linked-to-pak-cyberattacks/1118918/
----------
Buy more oil, will re-route pipeline: Iran
Amitav Ranjan
May 22 2013
New Delhi : Tehran is willing to re-route the natural gas pipeline from Iran to India — to avoid violence-hit Pakistan — provided New Delhi ramps up its crude oil purchases from Iran to pre-sanction levels.
Besides the offshore sub-sea pipeline from the Persian Gulf to India, Iran is also willing to offer discount on crude oil and enter into production sharing contract with India's ONGC Videsh Ltd for Farzad-B gas field, its first such contract.
The goody bag would be outlined during Oil Minister Rostam Ghasemi visit on May 27 to ascertain India's solidarity with Iran through increase in crude oil imports to volumes higher than 2011 levels, said sources.
Full report at:
http://www.indianexpress.com/news/buy-more-oil-will-reroute-pipeline-iran/1118948/
----------
Unravelling the truth behind 7/11 Mumbai train blasts probe
Muzamil Jaleel
May 22 2013
New Delhi: On July 11, 2006, seven trains in Mumbai were rocked by a series of powerful blasts, which killed 187 persons while 824 were injured. Between July 20, 2006 to October 3, 2006, the Anti-terrorist Squad of the Maharashtra Police arrested 13 people and claimed to have cracked the case.
Two terror attacks, four sets of accused, two names in common
The ATS had claimed that these men have confessed to their crime after their arrest. A charge-sheet was filed on November 29, 2006. In November, 2006 itself, all the accused had filed written submissions to the Court saying the confessions were coerced out of them under severe custodial torture and that the ATS was falsely implicating them.
Full report at:
http://www.indianexpress.com/news/unraveling-the-truth-behind-711-mumbai-train-blasts-probe/1119160/?india_top
----------
FBI to brief Shinde about Boston Marathon bombings
May 20, 2013
The FBI will share investigation details of the April 15 Boston Marathon bombing with the Indian home ministry delegation led by Sushil Shinde on the margins of the Homeland Security dialogue. Home minister Shinde, who will be meeting his counterpart Janet Napolitano, left Delhi for US on May 19 and is expected back on May 26.
A TV grab shows people at the finish line of the 2013 Boston Marathon following an explosion in Boston.
Top government sources said Shinde will be visiting Boston to be briefed about the Boston bombing by FBI and city police with a discussion on indigenous radicalisation. Shinde will also get a first-hand experience of how the National Counter Terrorism Center functions in the US.
Full report at:
http://www.hindustantimes.com/India-news/newdelhi/FBI-to-brief-Shinde-about-Boston-Marathon-bombings/Article1-1063178.aspx
-------------
Pranab promises all help to Karzai
May 22, 2013
India proud to partner Afghanistan in its reconstruction"
India will stand by the government and people of Afghanistan in the critical period of transition, development and nation-building, President Pranab Mukherjee told his Afghan counterpart Hamid Karzai on Tuesday.
The President said India was proud to partner Afghanistan in its efforts towards reconstruction.
Full report at:
http://www.thehindu.com/news/national/pranab-promises-all-help-to-karzai/article4736835.ece
-------------
India raises concern over Chinese activities in PoK
TNN | May 22, 2013
NEW DELHI: India has "flagged" its concerns regarding Chinese activities in Pakistan Occupied Kashmir (PoK) during talks held with visiting China's Premier Li Keqiang, external affairs minister Salman Khurshid said on Tuesday.
"We mentioned that Chinese activity in PoK should not become adverse to India's interest," Khurshid said.
Full report at:
http://timesofindia.indiatimes.com/india/India-raises-concern-over-Chinese-activities-in-PoK/articleshow/20189634.cms
-------------
Hamid Karzai in Delhi, gives India military equipment 'wish list'
Reuters | May 22, 2013
NEW DELHI: Afghan President Hamid Karzai said on Wednesday he had given a "wish list" of military equipment to India during his visit this week, presenting a conundrum for New Delhi as it weighs whether arming the Afghan army is in its interests.
India wants to stabilize Afghanistan and is concerned about the resurgence of militant groups after foreign combat troops leave in 2014.
However, arming Afghanistan would alarm Pakistan. It takes issue with the influence of its old rival in Afghanistan. India does not want to get drawn into a proxy war with Pakistan, which has ties to the Taliban.
Full report at:
http://timesofindia.indiatimes.com/world/south-asia/Hamid-Karzai-in-Delhi-gives-India-military-equipment-wish-list/articleshow/20209739.cms
----------
Pak to repatriate Indian fishermen
Yudhvir Rana, TNN | May 22, 2013
AMRITSAR: Pakistan government will release 49 Indian fishermen on Friday from the Malir prison, Karachi and will hand over them to Indian authorities at the Attari border on Saturday.
This was informed by Pakistan's former federal minister for human rights and chairman of Ansar Burney Trust International, Ansar Burney, while talking to TOI over phone from Karachi on Wednesday.
He said that the trust would bear all the expenses to send the fishermen to India from Karachi jail.
http://timesofindia.indiatimes.com/india/Pak-to-repatriate-Indian-fishermen/articleshow/20209835.cms
----------
India seeks access to 26/11 convicts Rana and Headley from US
PTI | May 22, 2013
WASHINGTON: India has sought access from the US to the 26/11 Mumbai terror attack convict David Headley and his accomplice Tahawwur Rana - both of whom were sentenced by a Chicago court after being found guilty of terrorism charges.
While there was no official word from either side on the issues discussed in particular those with reference to Headley and Rana, officials said it was prominently raised by home minister Sushilkumar Shinde during his meeting with US Attorney General Eric Holder here.
Full report at:
http://timesofindia.indiatimes.com/india/India-seeks-access-to-Rana-Headley/articleshow/20200985.cms
-------------
NC observes Mirwaiz father's martyrdom
Bashaarat Masood
May 22 2013
Srinagar : In an interesting development and apparently with an eye on the Assembly polls next year, members of the ruling National Conference for the first time in two decades observed the "martyrdom anniversary" of Mirwaiz Mohd Farooq and former Hurriyat chairman Abdul Gani Lone on Tuesday.
The function to observe the death anniversary of the two leaders was organised at the residence of Rural Development Minister Ali Mohammad Sagar. It was attended by several party workers.
Full report at:
http://www.indianexpress.com/news/nc-observes-mirwaiz-father-s-martyrdom/1118937/
----------
South Asia
US calls for Maldives to address rights abuses, lift restrictions on religious freedom
By Mariyath Mohamed | May 21st, 2013
The Maldivian government's respect for freedom of religion has declined in the past year, according to the US State Department's 2012 Report on International Religious Freedom.
The report highlighted "increasing reports of abuses of religious freedom, religious intolerance and governmental restriction of religious freedom and pressure to conform to a stricter interpretation of Islamic practices" in the Maldives.
The report concluded these concerns were especially relevant after the controversial transfer of power in February 2012.
The US State Department said it had emphasised during regular missions to the Maldivian government the importance of the right to religious freedom. It detailed that "the embassy advocated for the right of all residents of the country to practice the religion of their choice, and encouraged efforts to promote religious tolerance."
Full report at:
http://minivannews.com/politics/us-calls-for-maldives-to-address-rights-abuses-lift-restrictions-on-religious-freedom-58297
-------------
Torture Victim's Body Is Found Near U.S. Base, Afghans Say
By ROD NORDLAND
May 22, 2013
KABUL, Afghanistan — The footless corpse of an Afghan man missing since November was found on Tuesday near the former American Special Forces base to which he was last seen being taken, according to Afghan officials and victims' representatives.
Afghan investigators said that after his disappearance, the man, Sayid Mohammad, was seen in a video being tortured by an Afghan-American named Zakaria Kandahari, whom the officials identified as the chief interpreter for an American Army Special Forces A Team stationed at the base. The American military denies that Mr. Kandahari is an American citizen and said he was no longer working for the A Team when the video was made.
Full report at:
http://www.nytimes.com/2013/05/22/world/asia/torture-victims-body-is-found-near-us-base-afghans-say.html?ref=asia&gwh=AF8EAE8EFC7044C2ED00910133822E1B
-------------
Waheed calls on country to put "national stability" ahead of politics
By Minivan News | May 22nd, 2013
President Dr Mohamed Waheed has called on the people of the Maldives to put "national stability" ahead of political affiliations, local media has reported.
The president was quoted by newspaper Haveeru during a recent ceremony as claiming every citizen in the country presently faced the risk of being stabbed or harassed on the country's streets. He also pointed to unspecified "obstacles" over implementing law and order in the country.
Full report at:
http://minivannews.com/category/news-in-brief
-------------
Afghanistan's Karzai Says 'No Circumstances' Allow Him to Seek Another Term
By GARDINER HARRIS
May 22, 2013
NEW DELHI — Seeking to dispel widespread rumors that he would find a way to cling to power beyond the end of his second term next year, President Hamid Karzai of Afghanistan said Wednesday that there was "no circumstance that will allow me to stay as president."
"And there are two reasons for that," he said. "One is, I'm exhausted. Really, totally exhausted and I would like to be retired. And second, why would I ruin my legacy by staying on and taking an opportunity away from Afghanistan to become an institutionalized democracy?"
Elections are scheduled for April of next year, and American and European officials say privately that billions of dollars of aid on which Afghanistan depends would be jeopardized if the vote does not go ahead.
Full report at:
http://www.nytimes.com/2013/05/23/world/asia/afghanistan-karzai.html?ref=asia&_r=0&gwh=4C65BB091AD2419CBD42970EA172CB02
-------------
A Group Taking Politics and Military Strategy to the Same Extremes in Afghanistan
By MATTHEW ROSENBERG
May 22, 2013
KABUL, Afghanistan — When a militant attack devastated a busy street in Kabul last week, it was like a headline from the early days of the war: the insurgent movement Hezb-i-Islami had killed six American military advisers in a suicide bombing so powerful that it knocked a heavily armoured Chevrolet Suburban yards down a crowded street.
Yet it is a measure of how much has changed here that the attack was almost as noteworthy for its unexpectedness as for its deadliness. Hezb-i-Islami, a powerful and feared player in the fight against the Soviets and later in the country's civil war, is now widely seen as a spent insurgent force that poses little military threat to the Afghan government, the Western military or its Taliban rivals.
Full report at:
http://www.nytimes.com/2013/05/22/world/asia/in-afghanistan-hezb-i-islami-takes-its-extremism-into-politics.html?ref=asia&gwh=BE627DC25AC1B7DB8BA59DF679A797DF
-------------
America led Coalition Plays Down Afghan Reports of Major Battle in Helmand
By MATTHEW ROSENBERG and TAIMOOR SHAH
May 22, 2013
KABUL, Afghanistan — The Taliban attacked Afghan police posts in a violent and long-contested corner of southern Afghanistan, setting off two days of clashes that left at least six police officers dead, Afghan officials said Tuesday, though the American-led coalition played down the violence as little more than "drive-by shootings."
The Afghan government portrayed the fighting in the Sangin district of Helmand Province, which began Monday, as a major victory for its forces, with officials describing a massive Taliban effort to overrun the area. Omar Zwak, a spokesman for the provincial governor, put the number of attackers at 1,000 and said Arab and Chechen insurgents — that is, Al Qaeda members — were fighting alongside the Taliban.
Full report at:
http://www.nytimes.com/2013/05/22/world/asia/helmand-battle.html?ref=asia&gwh=9A64A71F2CB38927F61771E0E05A70A5
-------------
Africa
Timbuktu's literary gems face Islamists and decay in fight for survival
Ancient manuscripts on science and history are symbols of Africa's cultural heritage, say guardians of priceless library
Afua Hirsch in Timbuktu
20 May 2013
There is a proverb in Timbuktu, the legendary medieval city in Mali's desert, that says: "The ink of a scholar is more precious than the blood of a martyr."
What Ahmed Baba, the 16th-century intellectual who said it, would make of recent developments is hard to imagine. At the multimillion-dollar Timbuktu institute bearing his name, fragments of ancient texts litter the corridors. The charred remains of not just scholarly ink, but the antique leather-bound covers that protected them against the harsh desert elements are blown by the hot Saharan wind.
During the last days of the Islamist occupation of northern Mali, the al-Qaida-linked groups who seized control of the territory for almost nine months turned on the Ahmed Baba Institute. In what many people believe was a final act of revenge, and a senseless crime against some of Islam's greatest treasures, they set the manuscripts alight.
Full report at:
http://www.guardian.co.uk/world/2013/may/20/mali-literary-treasures-battle-survival
-------------
Boko Haram crisis Nigeria to free women
May 22, 2013
Nigeria's President Goodluck Jonathan has ordered the release of all women held in connection with "terrorist activity", the defence ministry says.
The decision was aimed at enhancing peace efforts in Nigeria, it added.
The army is conducting an offensive in three states, where an emergency was declared last week to fight the militant Islamist group Boko Haram.
The group had set the release of women and children as a condition for talks with the government.
More than 2,000 people have died in the conflict in Nigeria since Boko Haram launched its insurgency in 2009 to create an Islamic state.
Full report at:
http://www.bbc.co.uk/news/world-africa-22618420
---------
Ten dead in sectarian clashes in Lebanon's Tripoli
May 22, 2013
At least 10 people have died and 70 have been wounded in the latest round of sectarian violence in Tripoli in Lebanon.
Four people were killed overnight in fighting between Alawite supporters of Syrian President Bashar al-Assad and Sunnis, who back the Syrian opposition.
The death toll since fresh fighting broke out on Sunday includes two Lebanese soldiers.
Earlier this month, five people were killed in violence in the city.
The Lebanese media says that residents had to take shelter from shelling and sniper fire, as the clashes entered a fourth day.
Full report at:
http://www.bbc.co.uk/news/world-middle-east-22624389
-------------
Abdel Hakim Belhaj torture case may be heard in secret court
Claim against Jack Straw, brought by Gaddafi victim and his wife, may be heard in secret under new Justice and Security Act
Ian Cobain
21 May 2013
One of the first cases to be heard by the government's new generation of secret courts may be a claim brought by a Libyan dissident who was kidnapped along with his pregnant wife and flown to one of Muammar Gaddafi's prisons.
Abdel Hakim Belhaj is suing the former foreign secretary Jack Straw and Sir Mark Allen, former head of counter-terrorism at MI6, as well as the British government and its intelligence agencies, over the so-called extraordinary rendition operation from 2004.
Full report at:
http://www.guardian.co.uk/politics/2013/may/21/abdel-hakim-belhaj-torture-secret-court
-------------
North America
Khalifa of Ahmadiya Islam inaugurates mosque in Vancouver, Canada
MAY 19, 2013
SHAHINA BASHIR
Having completed a successful ten-day visit to Los Angeles, California, the spiritual leader and administrative head of the worldwide Ahmadiyya Muslim Community, Mirza Masroor Ahmad, travelled to Vancouver, Canada to inaugurate a new mosque. His Holiness, the fifth Khalifa, delivered the Friday Sermon at the Baitur Rahman mosque to a gathering of three thousand men, women, and children. The mosque is the largest in British Columbia. The attendees included members of the Ahmadiyya Muslim Community from across Canada and there were even some who had traveled from the US for the inauguration.
With reference to the significance of the building of mosques, His Holiness said:
"With the Grace of Allah the Ahmadiyya Muslim Jamaat is today opening a new Mosque in the Canadian Province of British Columbia. A Mosque has a special effect both on Muslims and non-Muslims alike. When a Mosque is built, new avenues of spreading the message of Islam are created and this is why the Founder of the Ahmadiyya Muslim Jamaat continually reminded his followers about the importance of constructing Mosques."
Full report at:
http://www.examiner.com/article/khalifa-of-islam-inaugurates-mosque-vancouver-canada?cid=PROD-redesign-right-next
-------------
Oklahoma Tornadoes Add Up to American Muslim Charities' Efforts
MAY 21, 2013
BY: DINA MALKI
Texas relief organizations have been busy since the West explosions and last week's tornadoes that hit North Texas, close to the Dallas-Fort Worth metroplex. Yesterday, the mile wide tornado that touched down in Oklahoma killing 24 people mobilized another round of first responders from North Texas, including Irving-based Muslim charity and relief organization, Baitulmaal.
At Baitulmaal, there are usually about half a dozen emergencies the organization is attending to. From international relief in places like Syria, India, Pakistan and East Africa, to local first responses to emergencies like Oklahoma's tornado, Baitulmaal is active round the clock providing assistance and support to the needy, refugees, and disaster victims.
Full report at:
http://www.examiner.com/article/oklahoma-tornadoes-add-up-to-american-muslim-charities-efforts
-------------
Future of Syria cannot include Bashar al-Assad: US
May 22 2013
Washington : While maintaining its earlier position on Syria, US has said the only outcome that is right for the people of west Asian country is the transition from the Assad era to a post-Assad era and strongly believed that Bashar al-Assad has no place in the country's future.
"Regardless of the options that the President is reviewing and the options that he implements, it is absolutely our position that the only outcome that is right for the Syria people is the transition in Syria from the Assad era to a post-Assad era," White House Press Secretary Jay Carney said yesterday.
Full report at:
http://www.indianexpress.com/news/future-of-syria-cannot-include-bashar-alassad-us/1119102/
----------
US, India pledge to collaborate on combating terrorism
May 22 2013
Washington : The US has pledged to collaborate with India on developing global approach to combat increasing terror threats and asked international community to take effective steps to eliminate sanctuaries and infrastructure that support terrorism.
After talks between visiting Home Minister Sushil kumar Shinde and US Secretary of Homeland Security Janet Napolitano, a joint communique said the two countries also agreed to enhance bilateral co-operation to combat terror financing and currency counterfeiting.
"Today, threats transcend national borders, impacting the security and economic prosperity of the entire international community. We will continue to collaborate with India to develop a global approach to the challenges and threats we all face," Napolitano said yesterday in a statement after the conclusion of the Second India-US Homeland Security Dialogue here.
Full report at:
http://www.indianexpress.com/news/us-india-pledge-to-collaborate-on-combating-terrorism/1119097/
----------
Text messages show NYPD knew Muslim informant would 'bring up jihad' as spying tactic
May 20, 2013
NEW YORK – A New York Police Department detective told a federal judge that he's seen no evidence that one of his informants brought up the subject of jihad as a way to bait Muslims into making incriminating remarks. But text messages obtained by The Associated Press show otherwise.
And while the detective, Stephen Hoban, described the activities in a new legal filing in U.S. District Court as narrowly focused on a few people under investigation, text messages show a wide-ranging effort. Eager to make money, Shamiur Rahman, the informant, snapped pictures during prayer sessions, rallies and a parade; recorded the names of people who signed petitions or protested; and reported fellow Muslims who volunteered to feed needy families.
Full report at:
http://www.foxnews.com/us/2013/05/20/text-messages-show-nypd-knew-muslim-informant-would-bring-up-jihad-as-spying/
-------------
Kerry in Muscat to help ink $ 2.1 bn defense deal
22 May 2013
MUSCAT: US Secretary of State John Kerry arrived in Oman yesterday aiming to help finalize an estimated $ 2.1 billion deal to supply a US-made air-defense system to the Gulf nation.
One of the main focuses of Kerry's trip was to applaud the signing of a letter of intent between Muscat and US manufacturer Raytheon ahead of talks to negotiate the final contract, officials told reporters on the flight to Oman.
Full report at:
http://www.arabnews.com/news/452422
-------------
Deal on Osama bin Laden evidence made in WikiLeaks case
AP | May 22, 2013
FORT MEADE, MARYLAND: Lawyers in the court-martial of an Army private who gave US secrets to WikiLeaks say they've reached a deal on evidence involving Osama bin Laden.
They announced the agreement at a pretrial hearing on Tuesday for Army Pfc. Bradley Manning.
It involves evidence that the slain al-Qaida leader saw some of the classified information that Manning has admitted he caused to be published on the WikiLeaks website.
Full report at:
http://timesofindia.indiatimes.com/world/us/Deal-on-Osama-bin-Laden-evidence-made-in-WikiLeaks-case/articleshow/20181858.cms
-------------
Evidence Does Not Support Fears of Islam in the West
By Jocelyne Cesari
May 22, 2013
Washington. While scholarly work has debunked the idea of incompatibility of Islam with Western values, it has not really changed this dominant perception pervading political discourse and policy making.
This notion of incompatibility between Islam and the West has actually intensified in the last 15 years, as the perception of Islam as the external enemy has combined with the fear of Islam within liberal Western democracies. The consequence is that Muslims are now seen by many as an internal and external enemy both in Europe and in the United States.
Full report at:
http://www.thejakartaglobe.com/opinion/evidence-does-not-support-fears-of-islam-in-the-west/
-------------
URL: https://newageislam.com/islamic-world-news/new-age-islam-news-bureau/saudi-arabia-displays-beheaded-yemenis-in-public/d/11688