New Age Islam News Bureau
23 Aug 2018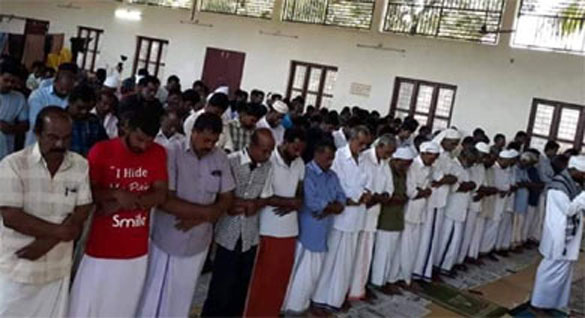 Eid prayers at Purappullikkavu Temple, Eravathur, #Thrissur
------
Arab World
• Saudi Arabia 'detains' Mecca imam who 'challenged mixed gatherings'
• 'Green hajj' slowly takes root in Mecca
• Saudi Arabia's king tells Hajj leaders of pledge to 'fight terrorism'
• Abu Bakr al-Baghdadi urges followers to wage 'jihad'
• Islamic State Video Claims to Show Boys Behind Chechnya Attacks
• Bahrain halts new visas for Qataris in Gulf feud salvo
----
India
• Mosques flooded, a Kerala temple opens its doors for Muslims to offer Eid namaz
• Eid al-Adha 2018: Sachin Tendulkar, Sania Mirza and other sportspersons wish 'Eid Mubarak'
• Muslims living here since childhood need not worry about NRC: BJP Rajya Sabha MP Roopa Ganguly Roopa Ganguly
• International Court of Justice fixes Kulbhushan case hearing for February next year: sources
----
Southeast Asia
• Fatwa issued against measles vaccine in Muslim-majority Indonesia
• Nahdlatul Ulama, Muhammadiyah criticize Meiliana blasphemy verdict
• Myanmar generals stay defiant about Rohingya ops
• Indonesian authorities remove kindergarten principal over ISIS-style outfits at parade
• Reversed sequence of photos used to spread fake news about Malaysian PM Mahathir
----
Pakistan
• Pakistan Prime Minister starts change at top
• Improved Indo-Pak ties crucial for regional peace, stability: China
• Pakistan Business Council urges Asad Umar to focus on 'Make in Pakistan'
• Govt trying to bring Aafia Siddiqui back home, says Qureshi
----
South Asia
• United Nations warns of 'lost generation' of Rohingya children
• A year on, Rohingya still fleeing Myanmar for crowded camps
• Myanmar: Aung San Suu Kyi defends policies towards Rohingya
-----
Mideast
• Israel approves plans for 1,000 settlement homes
• Top Trump aide turns the screw on Tehran
-----
North America
• Russia talks on Afghanistan 'unlikely to yield progress': US
• Expected US special envoy to Afghanistan tough on Pakistan
• US pastor's lawyer plans appeal to Turkish constitutional court
----
Europe
• The pope will meet child abuse survivors in Dublin: Is it enough?
• United Nations urges Israel not to hold Gaza aid 'hostage' to politics
----
Compiled by New Age Islam News Bureau
URL: https://www.newageislam.com/islamic-world-news/saudi-arabia-detains-mecca-imam/d/116180
--------
Saudi Arabia 'Detains' Mecca Imam Who 'Challenged Mixed Gatherings'
August 23 2018
Saudi Arabia has detained a prominent imam and preacher at the Grand Mosque in Mecca, activists said, after he reportedly delivered a sermon criticising mixed public gatherings.
The social media advocacy group Prisoners of Conscience, which monitors and documents arrests of Saudi preachers and religious scholars, said on Sunday that Sheikh Saleh al-Talib was arrested after he delivered a sermon on the duty in Islam to speak out against evil in public.
Khaleej Online reported that in his sermon, Talib, who also serves as a judge in Mecca, derided the mixing of unrelated men and women at concerts and other mixed entertainment events.
While there was no direct criticism of the Saudi royal family in his speech, the kingdom has in recent months relaxed laws on female attendance at public events.
Saudi Arabia has yet to issue an official statement on the issue.
Hours after his reported arrest, both of al-Talib's Engish and Arabic Twitter accounts were deactivated.
Prisoners of Conscie
@m3takl_en
?? We confirm the arrest of the Imam of Haram Sheikh Dr. Saleh al Taleb, and it is said that the reason for the arrest is a speech about the doing evil and the duty in Islam to deny that in public!
Speaking to Al Jazeera, Yahya Assiri, a UK-based Saudi human rights activist, said the kingdom's "authorities are looking at everyone that's influential and has a presence on the scene".
He added: "Even those that have kept quiet or pledged allegiance to the state, even those that have been drumming up the authorities and their initiatives, even these are not safe."
Wave of arrests
Since Mohammed bin Salman, also known as MBS, became the Saudi crown prince in June 2017, dozens of imams, women's rights activists and members of the ruling royal family have been detained.
Among those arrested are prominent Islamic preachers Salman al-Awdah, Awad al-Qarni, Farhan al-Malki, Mostafa Hassan and Safar al-Hawali.
Al-Awdah and al-Qarni, who have millions of followers on social media, were arrested last September and accused of having links to the Muslim Brotherhood, a group Saudi Arabia blacklisted as a "terror organisation".
Meanwhile, al-Hawali, 68, was detained after he published a 3,000-page book attacking bin Salman and the ruling family over their ties to Israel, calling it a "betrayal".
Earlier this year, bin Salman softened the kingdom's stance on Israel, telling the US-based Atlantic magazine that Israelis "have the right to their own land" and "there are a lot of interests we [Saudi Arabia] share with Israel."
In March, Riyadh granted India's national carrier permission to use its airspace to operate a direct flight between New Delhi and Tel Aviv.
Source: aljazeera.com/news/2018/08/saudi-detains-mecca-imam-challenged-mixed-gatherings-180822105619043.html
-----
Mosques Flooded, a Kerala Temple Opens Its Doors For Muslims To Offer Eid Namaz
August 23, 2018
Devastating floods may have dampened festivities in Kerala but not its spirit. Even as there were little celebrations either on Onam or Eid, the communal amity being displayed by the people of the southern state is exemplary.
In yet another such example, after a mosque at Kochukadavu was flooded, a temple in Thrissur district opened its door for Muslims to offer namaz on Eid-ul-Adha that fell on Wednseday. A special arrangement was made at a temple hall in Eravathur near Mala for the namaz.
The Muslims in the area were looking for a place to conduct the Eid prayers when the SNDP Yogam, which runs the Purappullikkavu Ratneswari temple, offered the hall to them.
In a video that is now going viral on Facebook, a man is seen saying that the temple authorities wholeheartedly offered them the place to offer Eid prayers and they are "delighted" by the gesture. "It's a heartwarming gesture as most mosques in Mala are submerged," the man said.
Many photos of Muslims cleaning flooded temples are also doing rounds on social media. Photos of nuns putting mehendi ahead of Eid at a relief camp too warmed hearts online.
Sunil Ananthapuri
@sunilupdate
📍Eid prayers at Purappullikkavu Temple, Eravathur, #Thrissur
📍Sisters get mehndi by Muslim inmates to celebrate Eid-al-Adha. #Kodungallur Snehalaya Relief Camp
📍#KeralaFloods victims belonging to Christian community holding holy mass inside a Mosque in Kakkanad.#Kerala
Salil Ravindran
@salilravindran
Muslims cleaning a Hindu temple in Kerala after floods. Eid Mubarak! #Eid #KeralaFloods #ItHappensOnlyInKerala
Many raised money during the morning prayers in various cities across the country to help the flood victims.
Source: indianexpress.com/article/trending/trending-in-india/muslims-offer-eid-namaz-inside-kerala-temple-5320655/
------
Fatwa issued against measles vaccine in Muslim-majority Indonesia
By Josh K. Elliott
Hotli Simanjuntak/EPA
Indonesia's top Muslim authority has issued a fatwa against the measles vaccine, declaring it religiously forbidden but leaving room for its use out of necessity.
The Indonesian Ulema Council (MUI) says the country's measles and rubella vaccine contains ingredients derived from pigs, which are forbidden in Islam.
However, the organization says Muslims in the country can continue to use the vaccine until a religiously acceptable, or halal, version can be developed, because of the risks involved with not being vaccinated.
"There is information from experts who are competent and trusted about the dangers caused by not being immunized," Dr. H. Hasanuddin, chair of MUI's fatwa commission, wrote in the fatwa.
A fatwa is a pronouncement on Islamic law handed down by a recognized authority.
The MUI fatwa is also calling for the Indonesian government to "guarantee the availability of halal vaccines" in the future, and to pressure its current supplier, the Serum Institute of India, to move away from using religiously prohibited ingredients.
The Serum Institute of India has not responded to a Global News request for comment.
Indonesia is home to the world's largest Muslim population, with more than 87 per cent of its citizens identifying as Muslim, according to the Pew Research Center.
The MUI holds considerable sway in Indonesia, including the power to certify halal products. Its leader, Ma'ruf Amin, is running for vice-president of Indonesia alongside the incumbent president, Joko "Jokowi" Widodo.
"If there's a MUI fatwa opposing [the vaccine], that will be a real obstacle to public health efforts," Professor Tim Lindsey, director of the Centre for Indonesian Law at the University of Melbourne, told Australia's ABC News.
Some measles vaccines contain hydrolyzed gelatin, a watered-down substance derived from pig or cow tissue. The gelatin is used to protect live viruses against temperature fluctuation, according to the University of Oxford's Vaccine Knowledge Project.
Gelatin in vaccines has occasionally been a point of contention among devout members of the Jewish and Muslim faiths, which prohibit consumption of pigs.
However, more than 100 top Islamic scholars declared in 1995 that gelatin was sufficiently purified for use in vaccines, after discussing the matter at a seminar held by the Islamic Organization for Medical Sciences in Kuwait.
Canada's provincial public health bodies often cite this seminar in explaining why it's safe for devout Muslims to use measles vaccines.
"Scholars from the Muslim and Jewish faiths have determined that receipt of gelatin in vaccines is permissible and does not constitute a violation of religious practice," British Columbia's Centre for Disease Control says on its immunization website.
Health Canada recommends all infants receive the measles, mumps and rubella vaccine after their first birthday. Some versions of the vaccine contain gelatin while others do not, according to the Canadian government's website.
Measles is a highly contagious respiratory disease that can spread through the air, and through coughing and sneezing. The virus also survives on surfaces outside the body for up to two hours.
Symptoms include a rash and fever, and in rare cases, it can be deadly, according to the U.S. Centers for Disease Control and Prevention.
Statistics from the World Health Organization show cases of measles in Indonesia have plunged significantly amid a multi-year push to vaccinate more children. Officials have confirmed 1,507 cases in the first half of this year, compared to 11,389 through all of 2017.
The government aims to reach 95 per cent immunization coverage by 2020.
© 2018 Global News, a division of Corus Entertainment Inc.
Source: globalnews.ca/news/4401414/indonesia-fatwa-measles-vaccines/
-----
Arab World
'Green Hajj' Slowly Takes Root In Mecca
Shatha Yaish
Agence France-Presse
Mina , Saudi Arabia | Thu, August 23, 2018
Thousands of cleaners are busy separating plastic from other rubbish as more than two million Muslims wrap up a pilgrimage to Mecca that presents a huge environmental challenge for Saudi Arabia.
The Mamuniya camp in Mina near the holy city is dotted with colour-coded barrels -- black for organic waste and blue for cans and plastics for recycling.
It's all part of an initiative to reduce the environmental footprint of the hajj, one of the world's largest annual gatherings.
More than 42,000 tonnes of waste are produced during the pilgrimage to Islam's holiest sites, according of Mohammed al-Saati, head of sanitation for the Mecca municipality.
"We're facing some real challenges, primarily the sheer volume of waste produced ... along with the number of pilgrims, the limited space around the holy sites, different nationalities and the weather," Saati told AFP.
"Islam as a religion does not encourage excess," he added.
"Pilgrims can be friends of the environment. It starts by raising awareness back home."
The hajj, which started on Sunday and ends on Friday, drew nearly 2.4 million Muslims from around the world this year, according to official Saudi figures.
More than 13,000 sanitation workers and supervisors were hired during the pilgrimage season, which saw temperatures rise to 44 degrees Celsius (111 Fahrenheit) this week.
- 'Green hajj' -
A handful of camps in the town of Mina, the site of the symbolic stoning of the devil ritual during hajj, have begun to implement plans to turn "green", cutting back on waste and encouraging pilgrims to do their part.
Banners hanging near the Kaaba, a black structure inside Mecca's Grand Mosque towards which Muslims around the world pray, also featured the recycle logo this year.
Authorities aim to cut waste volumes by two-thirds by 2030, Saati said, with a plan that speaks to both environmental ethics and religious belief.
Sorted waste collected from the pilgrimage sites will be sold to companies that handle recycling.
All proceeds will be given to charity in standing with the Muslim belief in "sadaqah," or voluntary donations.
Workers in bright green vests made their way across the streets and alleys, picking up soda cans and plastic water bottles as pilgrims packed their things to return home.
Signs encouraging pilgrims to sort their waste could be seen across the Mamuniya camp -- along with signs reading "Sadaqah, not litter."
"The idea of an environmentally friendly camp is really important to us, to preserve the sanctity of the site," said Hatem Mumena, the camp's general manager.
But he admits there is still far to go, as the numbers of pilgrims attending hajj is expected to rise. Saudi Arabia hopes to welcome some 30 million pilgrims per year by 2030.
"This is just the beginning," Mumena said.
Source: thejakartapost.com/news/2018/08/23/green-hajj-slowly-takes-root-in-mecca.html
-----
Saudi Arabia's King Tells Hajj Leaders Of Pledge To 'Fight Terrorism'
August 22, 2018
JEDDAH: Saudi Arabia will continue to "honor pilgrims and facilitate the Hajj rituals" and is committed to "fighting terrorism," King Salman told the heads of Hajj delegations on Wednesday.
The King held the annual reception for heads of state, Islamic dignitaries, guests of the Custodian of the Two Holy Mosques, guests of government bodies and heads of delegations and pilgrim affairs offices who performed Hajj rituals this year.
The reception was held at the Royal Court in Mina Palace in the presence of Crown Prince Mohammed bin Salman.
In his speech, the king said: "I welcome you and congratulate you on the blessed Eid Al-Adha. I pray Allah Almighty to accept the pilgrims' Hajj and I praise Allah Almighty for granting the pilgrims the ability to perform this great pillar of Islam with ease, security and comfort, as they respond to Allah's call who said in the Holy Qur'an: 'Then when you depart from Arafat, remember Allah at Al-Mash'ar Al-Haram.'
"Allah honored Saudi Arabia with serving the Two Holy Mosques, taking care of their visitors and protecting the visitors' safety and comfort. Saudi Arabia has given the Two Holy Mosques all the care and attention since it was founded by late King Abdulaziz until today. We will continue to do so, as we deeply believe that serving pilgrims, Umrah performers and visitors of the Two Holy Mosques is our duty and is a great honor of which we feel proud."
The king added: "As the Kingdom of Saudi Arabia embraces the Qiblah of Muslims as well as the Prophet's Mosque, and emanating from its Islamic position and its regional and international role, the Kingdom affirms its firm stance to fight terrorism and extremism, eradicate their forms and manifestations, adhere to the noble message of Islam and ensure security and stability in the region and the whole world."
"I ask Allah Almighty to accept the pilgrims' Hajj. Many happy returns. May Allah's peace, mercy and blessings be upon you."
Minister of Hajj and Umrah Mohammed bin Saleh Banten said that Saudi Arabia is proud to have hosted more than 150 million pilgrims belonging to more than 100 nationalities from around the world in the past 10 years.
More than 7 million pilgrims have already performed Umrah this year, in addition to nearly 2 million who are now performing their rituals, he said.
"We are working under the directives of King Salman and the crown prince to prepare for the reception and service of more than 300 million Muslims over the next 10 years," he said.
The King left Mina on Wednesday and arrived back in Jeddah after completing his tour of holy sites to oversee pilgrim services during Hajj.
King Salman was seen off by Crown Prince Mohammed bin Salman, Prince Khaled Al-Faisal, the governor of Makkah as well as Prince Alwaleed bin Talal.
Source: arabnews.com/node/1360476/saudi-arabia
------
Abu Bakr al-Baghdadi urges followers to wage 'jihad'
Reuters News Agency
22 AUGUST 2018
Islamic state leader Abu Bakr al-Baghdadi, in his first purported speech in nearly a year, has called on followers to persevere, according to a statement posted on the group's media outlet.
"For the Mujahideen (holy warriors) the scale of victory or defeat is not dependant on a city or town being stolen or subject to that who has aerial superiority, intercontinental missiles or smart bombs," Baghdadi said in a recording posted on his al-Furqan media group.
Reuters was unable to verify whether the voice on the recording was Baghdadi's.
Islamic State, which until last year controlled large areas in Syria and Iraq, has since been driven into the desert following successive defeats in separate offensives in both countries.
Baghdadi, who declared himself ruler of all Muslims in 2014 after capturing Iraq's main northern city Mosul, is now believed to be hiding in the Iraqi-Syrian border region after losing all the cities and towns of his self-proclaimed caliphate.
The secretive Islamic State leader has frequently been reported killed or wounded since leading his fighters on a sweep through northern Iraq. His whereabouts are not known but Wednesday's message appears to suggest he is still alive.
One of his sons was reported to have been killed in the city of Homs in Syria, the group's news channel reported earlier this year.
Baghdadi's last message came in the form of an undated 46-minute audio recording, released via the al-Furqan organisation in September, where he urged followers across the world to wage attacks against the West and to keep fighting in Iraq, Syria and elsewhere.
Source: telegraph.co.uk/news/2018/08/22/abu-bakr-al-baghdadi-urges-followers-wage-jihad/
-----
Islamic State Video Claims to Show Boys Behind Chechnya Attacks
Aug. 22, 2018
CAIRO/MOSCOW (REUTERS) - Islamic State's media arm released a video on Wednesday of four boys it said were behind multiple attacks on police targets in the Russian region of Chechnya two days ago which were claimed by the group.
Three of them brandished big knives and the youngest held up a phone with an Islamic State flag displayed on the screen as they pledged allegiance in Russian to Islamic State leader Abu Bakr al-Baghdadi.
The authenticity of the video and identities of the individuals could not be verified by Reuters, although the ages of the boys appeared consistent with statements by local officials who said the attackers were minors, one as young as 11.
In the attacks on Monday, which included a botched suicide bombing and a knife attack on a police station, four of the assailants were shot dead, while the fifth was hospitalized after he blew himself up but survived, Russian news agencies and officials said.
In the video released by Islamic State's media arm Amaq, the boys described themselves as the "Mujahideen of the Caucasus" and threatened attacks on infidels.
The mainly Muslim internal republic of Chechnya has been dogged by attacks and a simmering insurgency since Moscow fought two wars with separatists there following the 1991 breakup of the Soviet Union.
"The oldest one who rammed the traffic police officers was almost 17, the youngest of the criminals was 11 years old, according to the information we have," Dzhambulat Umarov, Chechnya's communications minister was quoted as saying by TASS news agency.
Parts of Russia's wider North Caucacus region are also volatile with unemployment and corruption pushing some young men to embrace radical Islam.
Chechnya is now ruled by Kremlin-backed leader Ramzan Kadyrov who has been criticized by human rights advocates for widespread abuses, but under whose helm attacks have become relatively rare.
That this attack was carried out by minors who grew up in Kadyrov's post-war Chechnya and had no personal experience of the wars themselves should be alarming for the Russian and Chechen authorities, said Ekaterina Sokirianskaia, director of the Conflict Analysis and Prevention Centre, which monitors conflicts in the former Soviet region.
It is the first time such young children have been used in an attack in Chechnya, she said.
"This is a new generation of jihadists that we're seeing now. They have not seen war. This is the post-war generation," she said.
(Reporting by Tom Balmforth in Moscow and Hesham Hajali in Cairo; Editing by Raissa Kasolowsky)
Copyright 2018 Thomson Reuters.
Source: usnews.com/news/world/articles/2018-08-22/islamic-state-video-claims-to-show-boys-behind-chechnya-attacks
-----
Bahrain halts new visas for Qataris in Gulf feud salvo
August 23, 2018
Bahrain has stopped issuing new visas to Qataris, the interior ministry said late on Tuesday, in the latest salvo in a months-long feud between the energy-rich Gulf states.
The small but strategic island kingdom severed relations with Qatar in June last year at the same time as regional kingpin Saudi Arabia and its allies Egypt and the United Arab Emirates.
But it had continued issuing some visas to citizens of the emirate, which lies just 40 kilometres (25 miles) away on the mainland of the Arabian Peninsula.
The ministry said only Qatari students studying in Bahrain would be exempt from the new measures, although visas already issued would remain valid.
The measures were a response to the "irresponsible actions of the Qatari authorities, who do not consider the rights of neighbouring countries or the principles of international law," the ministry said in a statement carried by the official BNA news agency.
Read: A year into boycott, few signs of crisis in Qatar
The two sides have exchanged repeated allegations of violations of airspace or territorial waters and have launched multiple law suits through international tribunals.
Bahrain and its allies have demanded that Qatar cut its longstanding ties to the Muslim Brotherhood and take a tougher line with Shiite Iran, which they accuse of meddling in the region's affairs.
Qatar, which is to host the finals of the next football World Cup in 2022, has insisted it has the right to conduct an independent foreign policy.
The result has been a highly fractious diplomatic and economic dispute between the Western allies that has no end in sight.
Source: dawn.com/news/1428612/bahrain-halts-new-visas-for-qataris-in-gulf-feud-salvo
-----
TV presenter Kristiane Backer praises KSA's Hajj efforts
August 22, 2018
JEDDAH: Former MTV Europe presenter Kristiane Backer has praised the Kingdom's monumental efforts to safeguard pilgrims as they perform Hajj rituals.
During her pilgrimage to perform Hajj rituals this season, Backer said she was impressed by the ability of the Kingdom accommodates more than two million pilgrims, the Saudi Press Agency (SPA) reported.
She praised the efforts exerted by its leadership to allow the pilgrims perform Hajj rituals with ease and in safety, most notably the security and medical services provided, in addition to the logistical operation involved in transporting pilgrims between the holy sites.
Backer performed Umrah in 2001 when she visited Madinah and performed Hajj rituals in 2006, after which she wrote her famous book "From MTV to Makkah: How Islam Inspired My Life."
Her book describes her spiritual journey to Islam, which began with a meeting with Imran Khan, the retired cricketer who has just become the new Prime Minister of Pakistan.
In her interview with SPA, she spoke of improvements carried out in KSA between her visit in 2006 and now, noting the improved services offered to the pilgrims.
She said that when she saw the Kaaba after 12 years, she was so impressed that she was unable to speak.
Backer now works as a fine art consultant and is based in London.
Source: arabnews.com/node/1360581/saudi-arabia
------
India
Eid Al-Adha 2018: Sachin Tendulkar, Sania Mirza And Other Sportspersons Wish 'Eid Mubarak'
By: Sports Desk | New Delhi | Updated: August 22, 2018
Batting legend Sachin Tendulkar on Twitter wished, "Eid Mubarak to everyone, in India and around the world, celebrating the festival of Eid al-Adha. May the blessings of the almighty always be with you."
Eid al-Adha 2018, popularly called Bakrid in most part of our country is being celebrated on Wednesday in India. The festival is celebrated in remembrance of Prophet Ibrahim, God's messenger in Islam, who sacrificed his son as an act of obedience to God's command.
Muslims all over the world on this day sacrifice a goat as a symbol of sacrifice made by Ibrahim. Devotees on this auspicious occasion offer prayers at the mosque and greet each other. Among those who celebrated and remembered to wish their friends and loved ones were renowned sports personalities across the globe. Batting legend Sachin Tendulkar on Twitter wished, "Eid Mubarak to everyone, in India and around the world, celebrating the festival of Eid al-Adha. May the blessings of the almighty always be with you."
Sania Mirza
✔
@MirzaSania
Eid -Ul Adha Mubarak to everyone celebrating today .. peace ,love and happiness 🙌🏽
9:18 AM - Aug 22, 2018
Pakistan cricketer Shoaib Malik, on the occasion, paid homage to victims of the floods that recently hit the coastal state of Kerala.
Shoaib Malik
✔
@realshoaibmalik
Eid Mubarak dosto. My thoughts and prayers are with the people effected by the #KeralaFloods. May Allah make their rehab easy and May we be able to have a smile like this girl in our bad days iA
10:20 AM - Aug 22, 2018
Asian Games 2018
✔
@asiangames2018
Muslim athletes conducted their prayers this morning, led by syeik Huseen Jaber, at Athlete Village to celebrate Eid Al-Adha. May everyone have a victorious day! #AsianGames2018 #EnergyOfAsia
10:00 AM - Aug 22, 2018
Mesut Özil
✔
@MesutOzil1088
Eid Mubarak to all of you celebrating today. 🙏🏼 #EidAlAdha #M1Ö
6:19 PM - Aug 21, 2018
Aakash Chopra
✔
@cricketaakash
Eid Mubarak to everyone celebrating...wishing you a lot of love and peace 😊😇
10:50 AM - Aug 22, 2018 · Mumbai, India
2,103
130 people are talking about this
zaheer khan
✔
@ImZaheer
Wishing you and your families a blessed EID-UL-ADHA ! May the blessings of almighty keep your heart and home happy and joyous .
11:21 AM - Aug 22, 2018
SunRisers Hyderabad
✔
@SunRisers
Eid al-Adha Mubarak to everyone from the SunRisers Hyderabad family 🙏
May Allah's blessing be with you on this auspicious occasion. 🌙 🕌 #EidMubarak #EidAlAdha2018
11:03 AM - Aug 22, 2018
Hassan Ali
✔
@RealHa55an
Eid Mubarak to everyone around the world
10:28 AM - Aug 22, 2018
Kerala Blasters FC
✔
@KeralaBlasters
Wishing you prosperity and well-being, this Eid al-Adha. Eid Mubarak! #Eid #KeralaBlasters
9:48 AM - Aug 22, 2018
Babar Azam
✔
@babarazam258
Eid Mubarak to the entire Muslim Ummah! Dont forget to reach out to those who are in need of your support, love & affection. Also, pledge that you will clean up after your Qurbani and will not leave any mess behind.
Ye Watan hamara hai, hum hain Paasbaan is k! #PakistanZindabad
9:20 AM - Aug 22, 2018
Mohammad Shami
✔
@MdShami11
Eid-Ul-Azhaa-Mubarak!!
May Allah always lead you towards the path of honesty and prosperity and bless you with the happiness of heaven and above. #EidAlAdha #EidulAzha
12:33 PM - Aug 22, 2018
Mohammad Shami and the rest of the Indian team did not take long to dismiss the final England wicket to claim victory in the third Test at Trent Bridge.
Source: indianexpress.com/article/sports/sport-others/eid-al-adha-2018-sachin-tendulkar-sania-mirza-and-other-sportspersons-wish-eid-mubarak-5318982/
------
Muslims living here since childhood need not worry about NRC: BJP Rajya Sabha MP Roopa Ganguly Roopa Ganguly
By: Express News Service | Kolkata | Updated: August 23, 2018
BJP Rajya Sabha MP Roopa Ganguly on Wednesday said that Muslims who have been living in West Bengal since childhood do not need to worry about the National Register of Citizens (NRC) if it ever gets implemented in the state. Speaking to reporters on the sidelines of an event, she also said that some parties were "politicising" the issue to serve their own interests.
"We may recall that Pakistan was formed after Partition on the basis that it becomes a Muslim country. Bangladesh (then East Pakistan) was mainly for Muslims. West Bengal was made part of India as it was for Hindus, who had come from (then) East Pakistan because they were driven out from there. Those living in India since their childhood, including Muslims, do not need to worry about the NRC…There are certain things which should not be politicised for the sake of national interest," Ganguly said.
The statement comes amid a war of words between TMC and BJP over NRC in Assam. State BJP leaders have many times said that NRC would be implemented in West Bengal if they come to power here. ens
Source: indianexpress.com/article/cities/kolkata/muslims-living-here-since-childhood-need-not-worry-about-nrc-roopa-ganguly/
-----
International Court of Justice fixes Kulbhushan case hearing for February next year: sources
August 22, 2018
The International Court of Justice (ICJ) has fixed hearing of convicted Indian spy Kulbhushan Jadhav's case in February 2019, sources privy to the matter said on Wednesday.
The hearing, which is scheduled to last at least a week, would be carried out on a daily basis next year, source further informed Express News.
The ICJ, a world court that sits at the Peace Palace in The Hague, is seized with an Indian complaint on the conviction of the Indian spy.
In July this year, Pakistan submitted its second counter-memorial to India's arguments on the conviction of the RAW agent before the world court in The Hague. Sources had told The Express Tribune that Pakistan rebutted Indian's allegations that Kulbhushan's wife and mother were 'mistreated' when they visited to meet him last year.
Pakistan also raised the jurisdiction issue of the ICJ that India had no case to plead because it never denied that Jadhav was travelling on a passport on a cover or the assumed Muslim name 'Mubarak Patel', the sources added.
Kulbhushan Jadhav case: Pakistan files counter-memorial in ICJ
Moreover, some international legal experts' opinions have also been referred to in the counter pleadings to justify that effective review of the decisions of military courts is potentially available before high courts of Pakistan. The reply has been submitted by Director India at the Foreign Office Dr Fareha Bugti along with Khawar Qureshi, QC, the agent representing Pakistan at the ICJ.
Commander Jadhav was captured in Balochistan in March 2016 and he later confessed to his association with Indian intelligence agency — Research and Analysis Wing (RAW) — and his involvement in espionage and fomenting terrorism in Pakistan.
In early 2017, the Field General Court Martial sentenced Jadhav to death, which was confirmed by Chief of the Army Staff Gen Qamar Bajwa on April 10 this year. On January 23, the ICJ gave a timeline to both Pakistan and India to file another round of memorials in the case.
Source: tribune.com.pk/story/1786422/1-icj-fixes-kulbhushan-case-hearing-february-next-year-sources/
-----
India decision to decline UAE, Qatar aid for flood relief draws criticism
August 23, 2018
NEW DELHI: India will not accept relief assistance from foreign governments for the flood-ravaged state of Kerala, the government has said, following offers of aid from Qatar and the United Arab Emirates.
The decision to decline foreign help drew criticism from the opposition which called for an end the suffering of the people of the southern state hit by the worst flooding in a century, which has killed hundreds of people.
Prime Minister Narendra Modi's government has announced assistance of 6 billion rupees ($85 million), compared with a request from the state for at least 20 billion rupees.
Modi has promised more aid and his government said late on Wednesday that would come through "domestic efforts."
"The government of India deeply appreciates offers from several countries, including from foreign governments, to assist in relief and rehabilitation efforts after the tragic floods in Kerala," the Ministry of External Affairs said in a statement.
"In line with the existing policy, the government is committed to meeting the requirements for relief and rehabilitation through domestic efforts."
This week, the United Arab Emirates offered assistance of $100 million while Qatar offered $5 million. Many people from Kerala live and work in the Gulf.
Torrential rain that began in Kerala on Aug. 8 killed 231 people, destroyed tens of thousands of homes, and washed away roads and bridges, leading to an estimated loss of at least 200 billion rupees ($2.85 billion).
The rain eased over the weekend as the focus of efforts turned to relief and rehabilitation from rescue.
The main opposition Congress party accused Modi of exacerbating the crisis by failing to come through with more aid and creating obstacles to foreign help.
"This decision is quite disappointing to the people of Kerala," Congress leader and former Kerala Chief Minister Oommen Chandy wrote in a public letter to Modi.
"Rules should be such (that they) eradicate the sufferings of the people. If there exist any obstacle against the acceptance of foreign aid, kindly look into the matter seriously and bring suitable modifications."
The foreign ministry said the government would welcome contributions to the Prime Minister's Relief Fund and the Chief Minister's Relief Fund from foundations, Indians living abroad and from people of Indian origin.
Kerala's Finance Minister Thomas Isaac said on Twitter the central government should compensate the state for refusing foreign aid.
Source: arabnews.com/node/1360786/world
-----
Southeast Asia
Nahdlatul Ulama, Muhammadiyah Criticize Meiliana Blasphemy Verdict
Jakarta | Wed, August 22, 2018
Executives from Nahdlatul Ulama (NU) and Muhammadiyah, Indonesia's largest Muslim organizations, have criticized the blasphemy conviction against Meliana, a resident of Tanjung Balai, North Sumatra, for complaining about the volume of adzan (a call to prayer).
NU legal division head Robikin Emhas said that saying adzan was too loud did not constitute blasphemy as defined in articles 156 and 156a of the Criminal Code.
"I do not see how saying 'adzan is too loud' is an expression of hatred or hostility toward a particular group or religion," Robikin said in a statement on Tuesday.
He added that he hoped authorities would refrain from using the blasphemy article as "an instrument to suppress freedom of expression".
"As Muslims, we should consider such opinions as constructive criticism in a plural society," he said.
Muhammadiyah secretary Abdul Mu'ti agreed, suggesting that an in-depth study should be conducted to review the blasphemy-related articles and laws. He further argued that the provisions were vague and open to interpretation.
Furthermore, one-and-a-half-year prison sentence handed down against Meiliana was "too heavy", he added.
"I assume that [Meiliana's] case is similar to that of [former Jakarta governor] Ahok […] in which [the blasphemy conviction] is more of a result of pressure from the masses instead of the trial," Abdul said.
The groups' position is in contrast to that of the Indonesian Ulema Council's (MUI) North Sumatra chapter, which issued a fatwa in January 2017 declaring Meiliana's statement as blasphemous. (ahw)
Source: http://www.thejakartapost.com/news/2018/08/22/nu-muhammadiyah-criticize-meiliana-blasphemy-verdict.html
----
Myanmar generals stay defiant about Rohingya ops
AUG 23, 2018
SINGAPORE • A year ago, the Myanmar military embarked on a massive crackdown in restive Rakhine state - driving out almost a million Rohingya to Bangladesh and creating one of the world's largest refugee camps while allegedly raping women, killing children and beheading men in the process.
Generals, however, remain defiant, even as sanctions mount and the US State Department and United Nations ready reports that are likely to detail the military's premeditated efforts at effectively ridding the state of Rohingya Muslims.
They believe they essentially eliminated a threat that was "growing bigger and bigger", according to one account of conversations top military leaders have had with counterparts from South-east Asia.
"There was a sense that their problem in Rakhine had been solved, that this was their solution," said a person familiar with the conversations, who declined to be named. The militants, the military alleged, had civilianised the conflict by embedding in villages and towns, and had to be stopped.
Interviews with a half-dozen former Myanmar generals and those familiar with their thinking say that they have also grown irritated by civilian leader Aung San Suu Kyi's efforts to quell international outrage - believing she defends them in public while working to undermine them by driving sanctions in private.
Ms Suu Kyi - who made a rare address abroad here in Singapore on Tuesday defending her government's handling of the crisis - has watched this relationship with the generals deteriorate while she grows internationally isolated, dragging her heels and fumbling in response to the crisis last August.
Her preferred tactic of outsourcing the Rohingya issue to a growing number of commissions with international representation, including one that had been led by the late UN secretary-general Kofi Annan, has been widely criticised.
The commission was to come up with recommendations on how peace would be achieved in Rakhine state, where communal violence had erupted in 2012, driving 140,000 Rohingya Muslims into squalid camps. Members of the minority group say they are native to Myanmar, but were excluded from the citizenship law and denied rights and freedom of movement.
On Aug 24 last year, the commission presented its final report in Yangon. It included 88 recommendations on issues, including citizenship for the Rohingya.
Shortly, Rohingya militants allegedly staged 30 attacks on Myanmar police posts in northern Rakhine state, according to the Myanmar military, prompting it to embark on a "clearance operation". Hundreds of Muslim villages were torched and thousands were killed, and an estimated 800,000 others fled across the border to Bangladesh.
Ms Suu Kyi, aware of international pressure in the wake of the violence, asked a new advisory board to implement the Annan commission's recommendations.
The board was "intended more as a group of friends" to help improve international views of Myanmar, rather than a strong team to push forward difficult recommendations", said Mr Richard Horsey, a Yangon-based political analyst.
Among those asked to join was Mr Bill Richardson, a former US ambassador to the UN, who quit within weeks of the board's first meeting in Naypyitaw this January.
"She's in denial, and she's not serious about dealing with this issue," he said of Ms Suu Kyi. "Anything that involves taking on the military, she won't do. She'll just do some PR moves like these commissions."
Source: straitstimes.com/asia/se-asia/myanmar-generals-stay-defiant-about-rohingya-ops
-----
Indonesian authorities remove kindergarten principal over ISIS-style outfits at parade
August 23, 2018
JAKARTA (JAKARTA POST/ASIA NEWS NETWORK) - A controversial Independence Day parade at an Indonesian Military (TNI) kindergarten in Probolinggo, East Java, has resulted in its principal being removed and transferred to a different post.
Ms Hartatik, formerly the principal of Kartika V-69 kindergarten that falls under the supervision of the 0820 Probolinggo Military Command (Kodim), took up her new position at the Probolinggo Education, Youth and Sports Agency (Disdikpora) on Thursday (Aug 23).
On Aug 17, students of the kindergarten, clad in black robes and niqabs and carrying props resembling assault rifles, marched in the school's Independence Day parade, themed "Fight with the Messenger of Allah to Increase Faith and Piety".
Photos and videos of the parade went viral on social media, generating comments accusing the school of fomenting radicalism among its students.
Disdikpora head M. Kaskur said that Ms Hartatik had admitted to neglecting her duties in connection with the parade, particularly in not consulting the agency or the 0820 Probolinggo Kodim on the Islamic State in Iraq and Syria (ISIS)-style costume parade.
"This is a strict administrative sanction. We (the agency) agreed to remove Hartatik (as principal), and she will assume the role of an agency staffer as of Thursday," Mr Kaskur said on Wednesday, as quoted by kompas.com.
"The principal's position (has not been filled). We will hold a coordination meeting to discuss the new principal," he added.
Ms Hartatik has since apologised, saying she had no intention of committing any misconduct, that the parade was solely for entertainment and that the kindergarten was just using the items it had in storage.
The military command's Army Wives Union (Persit) 35 head Yuliana Tungga Dewi also apologised to the public.
"We apologise for this (incident). We will be more careful. We have no intention of instilling radicalism (in children)," Ms Yuliana said.
Source: .straitstimes.com/asia/se-asia/indonesian-authorities-remove-kindergarten-principal-over-isis-style-outfits-at-parade
-----
Reversed sequence of photos used to spread fake news about Malaysian PM Mahathir
23 August 2018
PETALING JAYA (THE STAR/ASIA NEWS NETWORK) - Malaysia's Prime Minister Mahathir Mohamad is all right, contrary to a viral message featuring two photos which suggested that he fell during prayers at Masjid Negara on Wednesday morning (Aug 22).
The message, which is spreading on WhatsApp and Facebook, shows a picture of Tun Dr Mahathir standing while an unidentified man holds his arm, followed by another photo of him bent over on the floor, supporting himself with his hands.
The message said that the Prime Minister had tripped in the mosque as he was "stressed out over various reasons".
However, an aide close to Dr Mahathir debunked the message as "propaganda".
"He did not trip... he is doing okay," he told The Star.
In reality, the aide said that the sequence of pictures taken by blogger Minaq Jinggo was reversed, and the original sequence of photos show Dr Mahathir getting up after performing prayers.
"The photos were meant to tell the world that PM7 (the seventh prime minister, Dr Mahathir) is able to lift himself up without assistance. He is still very fit to do so even with little rest after the trip to China," said the veteran photographer to The Star.
Dr Mahathir, 93, just ended a five-day trip to China earlier this week.
Source: straitstimes.com/asia/se-asia/reversed-sequence-of-photos-used-to-spread-fake-news-about-malaysian-pm-mahathir
-----
Pakistan
Pakistan Prime Minister Starts Change At Top
August 22, 2018
Ashraf Ansari
Prime Minister Imran Khan's first address to the nation was unprecedented in Pakistan's history since the days of Father of the Nation, Quaid-i-Azam Mohammad Ali Jinnah. He became the first head of government since Quaid's departure for his eternal abode who boldly touched on nation's critical issues including woes of the deprived and helpless.
The prime minister portrayed to the nation a real picture of outgoing rulers in terms of economy, misrule, plunder and senseless lavish style. Though it was a horrible picture, Imran paused for a while to tell the people not to lose heart. He showed to them a roadmap that would lead the nation to its destined goal of a welfare state modelled on the state of Medina, founded by Prophet Mohammad (may peace be upon Him).
Imran said there will be austerity in all walks of life. He has taken a start from his own home, he will live a simple life. Austerity rule will prevail in all state institutions. Corruption will be dealt with iron hand. Accountability and audit will be permanent features of the state institutions.
The prime minister has taken steps for pressing reforms in the folds of bureaucracy and police in particular. Unfortunately baboos in this country in most cases, are dead woods and at the same time ruthless towards the ordinary people. They must be productive, efficient, suitably qualified and friendly. Maybe they would need refresher courses and positive indoctrination. They should not work as slaves of rulers but functionaries of the state in full compliance of law and human norms.
The prime minister rightly made a specific mention of delays in the dealings of court cases and his vision of pursuing prompt justice for the people. He is conscious of the need to universalise purposeful education, and health case. Only educated and healthy people can make Pakistan thrive economically and socially. The prime minister must be fully supported by the whole nation in fulfilling of his promise to take care of street children, destitutes and other less fortunate segments of the society.
The state of Medina was based on a written constitution named as Charter of Medina (Meesaq-i-Medina). The Charter of Medina rests on principles of plurality and rule of law. The Prophet (may peace be upon him) further explained features of the polity in his 'Last Hajj Sermon' namely equality of all people irrespective of their colour or creed and human dignity. In his inaugural address to the Constituent Assembly on 11 August, 1947, the Quaid-i-Azam echoed the spirit of Charter of Medina when he promised to the people of Pakistan equal and fair treatment by the state without any discrimination whatsoever.
Imran Khan has made a history by returning to the point of journey where founder of Pakistan wanted the nation to take a start. The prime minister has also made a history as he cleared the confusion created by certain ideologues about the contours of a Muslim state. Imran Khan has rightly promised to the people that the nation would come out of the current crisis by taking a start envisioned by the founder of state.
Source: pakobserver.net/prime-minister-starts-change-at-top/
----
Improved Indo-Pak ties crucial for regional peace, stability: China
August 23, 2018
China stressed on improved bilateral relations between Pakistan and India to ensure peace and stability in the region, Radio Pakistan reported.
While addressing a briefing on Thursday in Beijing, Chinese Foreign Ministry Spokesperson Lu Kang said improvement in Indo-Pak relations was crucial for the region to prosper.
As a common neighbour of both the countries, China firmly supports Pakistan and India to strengthen dialogue process, enhance mutual trust and resolve differences, he said.
Answering a question pertaining to a letter penned by Indian Prime Minister Narendra Modi to Prime Minister Imran Khan, he said China welcomed the positive attitude displayed by leaders of both countries.
Kang added that China will continue to play a constructive role in improving ties between Pakistan and India.
Pakistan, India border forces not to exchange 'sweet greetings' over ceasefire violations
In June, India had rejected a proposal by the Chinese Ambassador to New Delhi Lou Zhaohui for a trilateral summit involving Pakistan, India and China, reported Scroll.
"If Russia, China and Mongolia can have a trilateral summit, then why not India, China and Pakistan?" Lou had said at an event in New Delhi on Monday. "We cannot stand another Doklam incident. Let us make a joint effort to maintain peace along the border."
The Ministry of External Affairs of the Hindu-majority country had said that the matters concerning the relationship of Islamabad and New Delhi 'cannot' involve any third party.
Source: tribune.com.pk/story/1786467/1-improved-indo-pak-ties-crucial-regional-peace-stability-china/
----
Pakistan Business Council urges Asad Umar to focus on 'Make in Pakistan'
August 22, 2018
KARACHI: The Pakistan Business Council (PBC) has urged Finance Minister Asad Umar to unite the country behind a focused 'Make in Pakistan' drive in order to improve the economy.
The PBC, an advocacy group formed to improve the general business environment of the country, has sent a 20-point recommendation letter to the finance minister while also extending its support for the challenging task of reviving Pakistan's deteriorating economy.
PBC CEO Ehsan Malik said advocating the 'Make in Pakistan' campaign would help create jobs, promote value-added exports, encourage import substitution and broaden the tax base. The PBC has also recommended the new government to use the limited window of positive sentiment and goodwill to implement fundamental reforms.
The PBC has also advised Umar to go for a well-structured programme of the International Monetary Fund (IMF) over short-term measures to tie over the crisis. Otherwise, it said, bring much-needed discipline and rigour to economic management.
"Concurrently strengthen governance, especially in the Ministry of Finance and the FBR (Federal Board of Revenue), to implement the reforms to revive industry to help break out of the recurrent cycles of crises. This is the 13th time in 28 years that we may have to resort to an externally dictated programme," Malik wrote in his letter of recommendation.
According to the letter, PBC believes that there is a need to establish the envisaged Council of Business Leaders (CBL) to build consensus. The CBL should lead a comprehensive review of government polices to remove conflicts. It should align, in particular the trade, fiscal, energy and agriculture polices to promote domestic industry, remove the anti-manufacturing and pro-import bias.
"Anti-manufacturing and pro-import bias has made Pakistanis a nation of traders, happy to export jobs and import goods that can be made here," Malik said.
The council has further asked the finance minister to ensure regionally competitive energy tariffs for the industry to generate both employment and exports. PBC has also asked for revision of existing power agreements, privatisation of distribution companies, addressing transmission and distribution losses, consider off-grid renewable solutions and indigenise fuel to reduce imports.
In order to encourage exports, the PBC has advised the government to zero-rate exports to avoid the need for refunds and also automate rebates. It also highlighted that there is a need to address technology and talent needs of the FBR in order to enable it to broaden the tax base. The PBC has also asked to unify the multiple federal, provincial and local taxes under one national tax authority.
In order to discourage tax evaders, withholding taxes for non-filers should be increased to at least twice the tax on filers. Collections from non-filers should be used to increase both collection and widening of the tax base.
Meanwhile, the PBC has pointed that there's a need to renegotiate the Free Trade Agreement (FTA) with China. It added that the government should refrain from new agreements that undermine the local industry.
"(The government should) focus FDI to export-generating industries, technology-oriented sectors and those for which the Pakistan's private sector lacks capital and risk appetite, such as infrastructure and oil and gas exploration. Tailor concessions (should also be given) to promote joint ventures and public listing," the PBC recommended.
The PBC advised to address the distortion created by incentivising growth of sugarcane and wheat at the expense of cotton, which is required by the textile industry, and oil-seeds, deficiency of which forces the country to import $2 billion of vegetable oils annually.
PM Imran chairs first cabinet meeting
It also asked the government to accelerate the digitisation of Pakistan, especially of the government processes, to enhance ease of doing business and also make broadband more affordable by reducing the burden of taxes.
The council has also asked the government to take state-owned enterprises out of the control of line ministries, professionalise their boards and managements, restructure and then privatise those that don't make strategic sense to retain.
The PBC has also urged the Pakistan government to make costs, benefits and financial flows associated with the CPEC fully transparent and ensure that concessions in SEZs do not undermine the existing industry.
Published in The Express Tribune, August 22nd, 2018.
Like Business on Facebook, follow @TribuneBiz on Twitter to stay informed and join in the conversation.
Source: tribune.com.pk/story/1786226/2-pbc-urges-asad-umar-focus-make-pakistan/
----
Govt trying to bring Aafia Siddiqui back home, says Qureshi
August 22, 2018
Foreign Minister Shah Mehmood Qureshi has said that the government is trying its best to bring Dr Aafia Siddiqui back to Pakistan.
"Despite the fact that governments must take stock of legalities, we are trying our best to bring her [Dr Siddiqui] back," he was quoted by Express News as saying on Wednesday.
Speaking to the media in Multan, the Pakistan Tehreek-e-Insaf (PTI) leader said that the newly-elected government fully understands the despair of Dr Siddiqui's family in this protracted ordeal.
He, however, said that legal requirements for her release must also be taken into account.
'Dr Aafia subjected to physical, sexual abuse in US detention center'
Dr Aafia Siddiqui, convicted in 2010 on charges of attempted murder and mounting an assault on US military personnel, is serving an 86-year sentence at the Federal Medical Centre, Carswell, Fort Worth in Texas.
In June this year, a confidential report prepared by Pakistan's consul general in Houston of her visit to Aafia had claimed that she was subjected to physical and sexual abuse during her ongoing detention.
Consul General Aisha Farooqui had visited Aafia at the Federal Medical Center in Carswell, Texas. The report recommended diplomatic authorities to take up the case at the highest levels to find a way for her repatriation so that she can serve her remaining sentence in Pakistan, where her modesty and privacy would not be interfered with.
SC rejects petition requesting Aafia Siddiqui's repatriation
However, the Supreme Court later rejected the petition that called for repatriating Dr Siddiqui and directed the petitioner to approach a US court to address her grievances.
"We took up the matter just to know if she is alive or not. It is learnt that she is alive … We cannot do anything in this matter," Chief Justice Mian Saqib Nisar remarked during the hearing. He said there was no way they could order authorities of an independent state on the matter.
Source: tribune.com.pk/story/1786417/1-govt-trying-bring-aafia-siddiqui-back-home-says-qureshi/
------
South Asia
United Nations Warns Of 'Lost Generation' Of Rohingya Children
August 23, 2018
The United Nations warned on Thursday of what it described as a lost generation of Muslim Rohingya children, with half a million in refugee camps in Bangladesh facing dangers including disease and floods and those still in Myanmar lacking access to proper education.
One year since 700,000 Rohingyas fled a violent crackdown by Myanmar security forces in Rakhine state, the UN Children's Fund (UNICEF) gave a bleak assessment of the outlook for children on either side of the border.
"We are talking about risking the loss or the potential loss of a generation of Rohingya children," UNICEF spokesman Simon Ingram told news conference in Geneva after spending six weeks in the camps in Cox's Bazar.
"It isn't just the half a million children or so on the Bangladeshi side of border but it's also those who are still left behind in Rakhine state, whose access to education is patchy at best and highly limited," he said.
The UN estimates that 530,000 to 600,000 stateless Rohingyas remain in Rakhine state, including some 360,000 children, he said. The UN has limited access there.
The Rohingya, who regard themselves as native to Rakhine state, are widely considered as interlopers by Myanmar's Buddhist majority and are denied citizenship.
Myanmar's military launched the crackdown in northern Rakhine a year ago in response to militant attacks. The civilian administration of government leader Aung San Suu Kyi defended what it described as a legitimate counter-insurgency operation.
The administration has said it is ready to accept back refugees. Suu Kyi said on Tuesday spaces have been mapped out for the resettlement of people who fled.
Ingram said the prospects for their return to Myanmar anytime soon were bleak, despite a voluntary repatriation agreement signed by the Yangon government and U.N. agencies in June. He said conditions in Rakhine remained unsafe.
UNICEF said it was expanding education programmes in the camps in Bangladesh, currently for children up to the age of 14, to try to meet the needs of older children.
Source: indianexpress.com/article/world/united-nations-warns-of-lost-generation-of-rohingya-children-5320342/
----
A year on, Rohingya still fleeing Myanmar for crowded camps
August 23, 2018
Hamida Begum fled her home in Myanmar to neighbouring Bangladesh about two months ago with her husband, two-year-old son, and a three-month-old baby. In the weeks before she left, her husband almost never slept at home out of fear of being arrested. "He would climb on top of a tree and sit there the whole night, even if it was raining really hard," said the 18-year-old, wearing a yellow headscarf over a purple dress and sitting on the floor of her barren bamboo hut.
Hamida now lives on the edge of the world's largest refugee camp, one of the latest arrivals among some 700,000 Rohingya Muslims who have escaped an army crackdown that the United Nations has called "a textbook example of ethnic cleansing". Though Myanmar says it is ready to take back the Rohingya, the continued outflow of refugees such as Hamida and her family underlines the lack of progress in addressing the crisis, a year on from the start of the offensive on Aug. 25, 2017.
The Rohingya exodus has threatened Myanmar's tense transition to democracy and shattered the image of its leader, Nobel peace prize laureate Aung San Suu Kyi, outside the country. "The crisis has done enormous damage to Myanmar's standing in the world," said Richard Horsey, a former U.N. diplomat in the country and a political analyst.
Suu Kyi's government has rejected most allegations of atrocities made against the security forces by refugees. It has built transit centres to receive Rohingya returnees to western Rakhine state. But stories brought by Hamida and other recent arrivals in Bangladesh – at least 150 people in August and nearly 13,000 since the beginning of the year – suggest the resolution of a crisis that enters its second year on Saturday remains distant.
Around half a dozen new refugees who spoke to Reuters said that after months of struggle amid charred huts and empty villages, they were forced to abandon their homes out of fear of harassment or arrest by the security forces. They said they had been confined to their homes and pushed to the brink of starvation, unable to visit farms for work, markets and fishing ponds for food, or mosques to pray.
Myanmar says it did not provoke the crisis and its military launched a legitimate counterinsurgency operation in response to a violent campaign from within the Rohingya minority, who are mostly denied citizenship in the southeast Asian nation. "It was a systematic activity by a group in order to get a citizenship for Bengali people," said Myo Nyunt, a spokesman for Suu Kyi's National League for Democracy (NLD) party.
Many in Buddhist-majority Myanmar refer to the Rohingya as "Bengali", which most in the Muslim minority regard as a derogatory term used to suggest they are interlopers from Bangladesh.
AFRAID TO LIGHT CANDLES
The massive influx of refugees has transformed the hills in southeastern Bangladesh into an endless sea of white, orange and blue tents. Residents are settling in for the long haul.
Near Hamida's hut, Rohingya men carry bricks, dig 4 metre-deep latrines, reinforce muddy slopes with sturdy soil, and mend fences for a new NGO-run school. Bits of wood, bamboo poles and tarpaulin sheets are spread across the area where many of the new arrivals are sent to build their shelters. Hamida said around 5,000 Rohingya lived in her village in northern Rakhine until last August. When she fled about two months ago, she was among only 100 or so who had remained in the partly-burned hamlet.
Reuters was unable to independently verify Hamida's account, though relatives and neighbours present at the interview supported her version of events and offered additional details. Hamida stayed because she could not afford to pay her way into Bangladesh. Months after the initial offensive, she said, the security forces frequently patrolled her village and sometimes arrested Rohingya men or grabbed them to do unpaid work at an expanding military camp nearby.
"In Myanmar, if my children start crying at night, I can't even light a candle because there is a complete blackout, and if the military see any light they come and arrest you," she said.
The UN's refugee agency, UNHCR, said in a report last week more than half of the new arrivals, "reported that relatives remaining in Myanmar also plan to leave due to continued fears". "People tell us…they told me, that they feel like they're prisoners. They can't leave the house, the men can't go fishing, the curfew is so extreme, that there are only certain hours when you can light a fire," said Caroline Gluck, a UNHCR representative in the camps.
Suu Kyi's spokesman did not respond to repeated calls seeking comment. In a speech in Singapore on Tuesday, Myanmar's civilian leader said the country had made preparations for the repatriation of refugees, but that it was difficult to set a timeframe for when that might happen. "The returnees have to be sent back by Bangladesh," she said. "We can only welcome them at the border."
NLD spokesman Myo Nyunt acknowledged that the ethnic and religious tensions that triggered the violence in Rakhine a year ago remained stark. "The situation in the area hasn't changed within one year," he said. "It will take time to be improved, live in harmony."
Source: indianexpress.com/article/world/a-year-on-rohingya-still-fleeing-myanmar-for-crowded-camps-5320258/
------
Myanmar: Aung San Suu Kyi defends policies towards Rohingya
22 Aug 2018
Myanmar leader Aung San Suu Kyi has defended her government's actions in Rakhine state which have forced more than 700,000 Muslim-majority Rohingya to flee their homes and seek refuge in neighbouring Bangladesh.
Speaking at a lecture in Singapore in which she reviewed her first two years in power, Aung San Suu Kyi refused to recognise the atrocities committed by the Myanmar military and instead justified her government's campaign against the beleaguered Muslim community.
"We, who are living through the transition in Myanmar, view it differently than those who observe it from the outside and who will remain untouched by its outcome," she said, in an apparent response to criticism of how her government has handled the plight of the Rohingya.
The UN has described the Myanmar military's campaign in Rakhine as "textbook ethnic cleansing", and journalists and human rights groups who have reported from the region have documented widespread rape, killing, and destruction of homes by government troops.
Despite this, the Nobel Peace Prize laureate has refused to condemn the violence and even refuses to refer to the ethnic group by its name.
Many Buddhists in Myanmar believe that the Rohingya are Bengalis who migrated to the country illegally during the British rule in the subcontinent, and have rejected their claims that their roots in the region that go back centuries.
Since 2012, incidents of religious intolerance and incitement against Muslims have increased across the country, with the Rohingya frequently attacked and portrayed as a "threat to race and religion".
No timeline for return
Speaking on Tuesday, Aung San Suu Kyi also said it was difficult to say when the Rohingya would be able to return, and appeared to cast blame on Bangladesh for the delay.
"It's very difficult for us to put a timeframe on it by ourselves unilaterally, because we have to work with Bangladesh in order to do that".
Myanmar's government has signed several agreements on preparing for the return of the Rohingya, but UN agencies have accused it of dragging its feet, and human rights groups are concerned that the safety of returning Rohingya cannot be assured.
The UN, which hasn't been granted access to Rakhine since August 2017, fears the returning refugees won't be given freedom of movement if they return.
Knut Ostby, a UN resident and humanitarian coordinator in Myanmar, said the repatriation agreement had been beset by repeated delays and authorities had yet to allow them access to the region.
Source: aljazeera.com/news/2018/08/myanmar-aung-san-suu-kyi-defends-policies-rohingya-180822060114385.html
------
Mideast
Israel approves plans for 1,000 settlement homes
23 August 2018
Israel has approved plans to build more than 1,000 illegal settlement homes in the occupied West Bank, the latest in a raft of approvals since US President Donald Trump took office last year.
The Israeli government announced on Wednesday that plans for 1,004 homes have been approved by a defence ministry committee.
Peace Now NGO, which closely monitors Israeli settlement building, said that nearly 400 homes received final approval for construction to begin, while the rest await further bureaucratic approvals.
Among the approved homes are 370 housing units in the illegal Adam settlement, where three Israelis were stabbed by a Palestinian in July, one fatally, according to Peace Now.
Israeli Defence Minister Avigdor Lieberman had pledged to build 400 new homes in the settlement in response to the stabbings.
According to Peace Now, 96 percent of those approved "are in isolated settlements that Israel will likely need to evacuate within the framework of a two-state agreement".
In addition to the most recent approval and according to media reports, the government plans to promote hundreds more housing units by issuing tenders and promoting a plan for some 300 units in the illegal Beit El settlement, located north of Ramallah, Peace Now wrote in a statement.
Don't be fooled by the slightly slower pace of construction--it often begins 2-4 years after the plans/tenders receive the final approval.
Israeli settlements are considered a violation of international law and major stumbling blocks to peace efforts as they are built on land the Palestinians want for their future state including occupied East Jerusalem.
Some 600,000 Israelis live in settlements in the occupied West Bank and East Jerusalem - territories captured by Israel in the 1967 war.
The international community, along with the Palestinians, considers the settlements illegal and an impediment to peace. There have been warnings that the continuing expansion of settlements is diminishing any remaining hopes for a two-state solution to the Israeli-Palestinian conflict.
Israel dismisses those arguments, blaming Palestinian violence and "incitement" against it for stalled peace efforts.
Fast-track settlement plans
In a break from his predecessors, President Donald Trump has avoided condemning settlement construction, though he has urged Israel to show restraint.
Trump's administration has been far less critical of settlement building than his predecessor Barack Obama.
Peace Now says West Bank settlement plans increased to 6,742 units in 2017 compared with 2,629 the previous year, former US President Barack Obama's last in office.
Plans have been advanced for 3,794 units so far this year, the NGO said.
Lieberman said in May that he aimed to fast-track plans for thousands of West Bank settlement homes in 2018.
Trump's Middle East team, headed by his adviser and son-in-law, Jared Kushner, has been working on an Israeli-Palestinian peace proposal for months but has not said when it will be released.
John Bolton, Trump's national security adviser, told reporters in Jerusalem on Wednesday that a "lot of progress" has been made, but would not say when it will be publicised.
The Palestinians have already said they consider the plan a non-starter, accusing Trump of being unfairly biased towards Israel after his unilateral recognition of Jerusalem as the Israeli capital in December.
There was no immediate Palestinian reaction to the latest settlement announcement, which came in the middle of a Muslim holiday, but it was expected to draw further condemnation.
Source: .aljazeera.com/news/2018/08/israel-approves-plans-1000-settlement-homes-180822162800080.html
------
Top Trump aide turns the screw on Tehran
August 23, 2018
JEDDAH: A top aide to the US president launched a withering attack on Iran on Wednesday, ramping up the diplomatic pressure already applied by Donald Trump.
Sanctions are devastating the economy, public opinion is turning against the regime and Iranian forces need to leave Syria, National Security Adviser John Bolton said. "Regime change in Iran is not American policy, but what we want is massive change in the regime's behavior," said Bolton, who before taking office advocated regime change in Iran.
Bolton said he believed Trump's decision in May to withdraw from the 2015 nuclear deal between Iran and world powers, followed by the reimposition of sanctions, was having a stronger effect than expected on pressuring Tehran.
The nuclear deal had allowed Tehran to finance militant activity in the region after the lifting of sanctions. The return of US sanctions was having a strong effect on Iran's economy and popular opinion, Bolton said on a visit to Israel.
US sanctions reimposed this month targeted Iran's car industry, trade in gold and other precious metals, and purchases of US dollars crucial to international financing and investment and trade relations. Farther-reaching sanctions are to follow in November on Iran's banking sector and oil exports. "By bringing the hammer down again of reimposing American sanctions, we've seen a profound negative effect on Iran — I think actually more serious than we would have predicted," Bolton said.
"I think the effects, the economic effects certainly, are even stronger than we anticipated.
"But Iranian activity in the region has continued to be belligerent — what they are doing in Iraq, what they are doing in Syria, what they are doing with Hezbollah in Lebanon, what they are doing in Yemen, what they have threatened to do in the Strait of Hormuz.
"There should not be any doubt that the United States wants this resolved peacefully, but we are fully prepared for any contingency that Iran creates."
European powers have been scrambling to ensure Iran secures enough economic benefits to persuade it to stay in the deal. This has proven difficult, with many European firms keen to avoid financial penalties by the Trump administration.
"We expect that Europeans will see, as businesses all over Europe are seeing, that the choice between doing business with Iran or doing business with the United States is very clear to them," Bolton said.
"So we will see what plays out in November. But the president has made it very clear — his words — he wants maximum pressure on Iran, maximum pressure, and that is what is going on."
Source: arabnews.com/node/1360656/middle-east
-----
North America
Russia talks on Afghanistan 'unlikely to yield progress': US
August 23, 2018
The United States has rejected an invitation to join Russia-led talks on Afghanistan because they are unlikely to help bring peace, a State Department spokesman has said, as the Trump administration prepared to appoint a diplomatic veteran as a new special envoy for the war-battered nation.
Russia said that the Taliban will be joining the September 4 talks in Moscow, along with representatives of several neighbouring countries. It will be one of the insurgent group's biggest diplomatic forays since the 2001 US-led invasion of Afghanistan.
The State Department official said yesterday that as a matter of principle, the US supports Afghan-led efforts to advance a peace settlement. And, based on previous Russia-led meetings on Afghanistan, the Moscow talks are "unlikely to yield any progress toward that end." The spokesman was not authorised to be quoted by name and requested anonymity.
That decision comes as the Taliban escalates attacks across Afghanistan. It has refused direct talks with Kabul, even as it seeks to raises its diplomatic profile in the region and calls for talks with the US which it views as the real power behind the Afghan government.
The insurgent group has yet to respond to President Ashraf Ghani's offer earlier this week of a conditional ceasefire for the duration of the Eid al-Adha religious holiday that began on Tuesday.
Secretary of State Mike Pompeo intends to appoint a former US ambassador to Afghanistan, Zalmay Khalilzad, to a special envoy post that would deal with the Afghan-Taliban peace process and Afghanistan's integration into the administration's Indo-Pacific strategy, according to two US officials and a congressional aide briefed on the plan.
Khalilzad, who did not respond to queries about his potential new role, is expected to visit South Asia soon, according to the officials, who were not authorised to publicly discuss personnel matters and spoke on condition of anonymity.
A native of Afghanistan who was educated at the American University in Beirut and the University of Chicago, Khalilzad is a diplomatic veteran in Republican foreign policy circles and has also served as the US ambassador to Iraq and the United Nations.
He was considered for secretary of state by the Trump transition team, notably after introducing then-candidate Donald Trump at his first major foreign policy speech during the campaign.
Despite escalating violence in Afghanistan, the top US commander there said yesterday that the US-led coalition sees hope in Taliban statements in recent months indicating interest in a negotiations to end the 17-year war, and Afghan public and religious clerics' desire for peace. He contended that could lead to political reconciliation.
"We have an unprecedented window of opportunity for peace now," Gen. John Nicholson told Pentagon reporters from Kabul. His comments came just a day after rockets slammed into the heart of Kabul as Ghani delivered a speech for the Eid holiday, highlighting the precarious security even in the heavily protected capital. Nicholson did not address the Russia talks.
US-Russian ties are increasingly strained. Washington has eyed Russian engagement in Afghanistan and its links to the Taliban with suspicion. Moscow says it is encouraging the insurgents to abandon hostilities and engage in a dialogue with the Afghan government.
Nicholson, who is slated to turn over command of the war next month, said the Taliban launched major assaults to take control of two provincial centres this year, and after tough battles the Afghans regained control. But he also acknowledged that the military campaign led by the Afghans and backed by the coalition is largely at a stalemate, and that the Afghan government has made little progress taking back additional population centres from Taliban control.
Nicholson took over the war effort in March 2016. In May of that year, 34 per cent of Afghanistan's districts were contested or under militant control or influence, compared with 44 per cent as of May 2018, according to US military figures. He will leave as the longest-serving US commander of the coalition.
Nicholson's time in charge included a key reversal in US policy on the war — stretching from the troop drawdown ordered in the final years of the Obama administration through President Donald Trump's endorsement last summer of a new strategy to increase US and coalition presence, beef up the training and push for reconciliation.
Nicholson said the Afghan Air Force and special operations units are growing in numbers and abilities, and that progress will have an increasing impact over the coming year.
Source: indianexpress.com/article/world/russia-talks-on-afghanistan-unlikely-to-yield-progress-us-5320296/
-----
Expected US special envoy to Afghanistan tough on Pakistan
August 23, 2018
WASHINGTON: U.S. Secretary of State Mike Pompeo is expected to tap Zalmay Khalilzad as his special envoy on Afghanistan, two U.S. officials said, the latest signal to the Taliban that the United States is serious about talks to end its longest war.
Khalilzad is an Afghan-born former U.S. ambassador to Kabul and Iraq.The decision to tap a Republican foreign policy veteran, comes as U.S. military commanders acknowledge a stalemate in the fighting and follows a meeting last month between a U.S. diplomat and Taliban officials to explore possible negotiations.
The administration has not officially confirmed those talks. The two U.S. officials, speaking on condition of anonymity, said they were unsure when the announcement would be made. The White House and the State Department declined to comment, and Khalilzad did not return messages left with his office.
Halting of peace talks causes uncertainties
The outgoing U.S. commander of U.S. and international troops insisted on Wednesday that despite a recent wave of violence, Trump's strategy of an open-ended deployment of U.S. military advisers, trainers and special operations forces and increased air support for Afghan forces is succeeding.
"I believe the strategy is working. … The reconciliation progress is significant and ultimately wars end with a political ettlement," said U.S. Army General John Nicholson, commander of the NATO-led Resolute Support mission. Trump, however, has expressed frustration at the lack of progress toward a U.S. withdrawal after 17 years of conflict.
In a policy shift during a June ceasefire, Washington said it would "support, facilitate and participate" in any Kabul government-led peace talks with the Taliban. The surge in Taliban attacks, including an assault last week on the provincial capital of Ghazni that took U.S.-backed Afghan forces four days to put down, has raised questions about their interest in negotiations.
Afghanistan and the New World Order
Nicholson acknowledged the Afghan government had not significantly increased its control over territory. While he said the Taliban have not responded to an offer this week of a ceasefire from President Ashraf Ghani, two insurgent commanders told Reuters that the insurgents rejected the call.
LONG GOVERNMENT SERVICE
Khalilzad, 67, is well suited to the difficult task of persuading the insurgents to talk, according to a former senior U.S. official, who asked not to be further identified. In addition to his experience advising or working for four U.S. administrations and his knowledge of Afghanistan's main languages, culture and politics, he is from the ethnic Pashtun majority and is close to Ghani, the former official said. Pompeo's decision to tap Khalilzad shows the administration is "serious about getting a peace process going," said the former official.
One possible drawback for Khalilzad, the former official said, is that he has been publicly critical of neighboring Pakistan, which Washington accuses of providing sanctuary and support to the Taliban but whose cooperation is crucial to any peace effort. Pakistan denies supporting the Taliban.
Taliban to take part in Moscow talks on Afghanistan on Sept 4
In a possible wrinkle, the Taliban said on Wednesday it would send senior members to Russia for peace talks on Afghanistan, hours after the Afghan government declined the offer to attend. Washington has also said it would not go.
Khalilzad was born in the northern Afghan city of Mazar-i-Sharif and served in a variety of U.S. government posts. As an aide to President George W. Bush, he helped plan the U.S. invasion of Afghanistan that followed the Sept. 11, 2001, attacks by al Qaeda, which had been based in that country. That invasion also ousted the Taliban, whose Islamist government ruled the country beginning in 1996.
Khalilzad served as U.S. ambassador to Afghanistan from 2003 to 2005, and he helped draft the country's constitution. He went on to be ambassador to Iraq and then U.S. envoy to the United Nations. Nicholson, who after more than two years has become the longest-serving U.S. commander of international forces, is going to be replaced by Army Lieutenant General Scott Miller next month.
The Pentagon also nominated Marine Lieutenant General Kenneth McKenzie, director of the Joint Staff, to be the next commander of U.S. Central Command, which oversees U.S. military operations in much of the Middle East and South Asia, including Afghanistan.
Source: tribune.com.pk/story/1786480/3-expected-us-special-envoy-afghanistan-tough-pakistan/
-----
US pastor's lawyer plans appeal to Turkish constitutional court
August 23, 2018
ISTANBUL: The lawyer for the American Christian pastor on trial for terrorism charges in Turkey said on Wednesday he planned to appeal to the constitutional court to seek Andrew Brunson's release after being rejected by a lower court last week.
Brunson is at the center of a row between Turkey and the US, which has exacerbated a crisis in Turkey's lira and reverberated across global markets.
The evangelical pastor, who has lived in Turkey for two decades, has been detained for 21 months on terrorism charges, which he denies. He is under house arrest.
"Once the upper court's rejection has been confirmed in writing we will apply to the constitutional court," lawyer Ismail Cem Halavurt said in comments reported by Turkey's Hurriyet newspaper that he confirmed to Reuters.
Once domestic legal avenues are exhausted, if necessary the defense would then apply to the European Court of Human Rights (ECHR), he said.
"We are hopeful regarding the constitutional court, but if it is rejected there, we will go to the ECHR without hesitation," he said.
The court in Turkey's Izmir province which last week rejected the appeal said evidence was still being collected and the pastor posed a flight risk, according to a copy of the court ruling seen by Reuters.
Abdulkadir Selvi, a Hurriyet newspaper columnist close to the government, likened the constitutional court appeal plan to the case of journalist Mehmet Altan, who took a similar course of action and was released in June after being jailed on charges of aiding coup plotters.
Brunson is accused of terrorism charges and aiding the network of a US-based Islamic preacher blamed by Ankara for masterminding a coup attempt in July 2016 against President Tayyip Erdogan.
In an interview with Reuters on Monday, US President Donald Trump said he would give Turkey no concessions in return for the release of Brunson. Ankara has not responded to Trump's comments.
rump, who counts evangelical Christians among his core supporters, has become a vocal champion of the pastor's case.
The Turkish currency has been in freefall since Washington ordered tariffs in retaliation for the detention of Brunson.
Turkey could end its crisis with the US "instantly" by freeing the detained American pastor, US President Donald Trump's National Security Adviser John Bolton said, adding that a Qatari cash infusion would not help Ankara's economy.
"Look, the Turkish government made a big mistake in not releasing Pastor Brunson," Bolton told Reuters in an interview.
"Every day that goes by that mistake continues, this crisis could be over instantly if they did the right thing as a NATO ally, part of the West, and release pastor Brunson without condition."
Asked if the US questioned Turkey's membership in NATO given the stand-off, Bolton said: "That's not an issue at the moment. We're focused on Pastor Brunson and the other Americans that the Turkish government's holding illegitimately and we expect that to get resolved."
Qatar this month approved a package of economic projects, including a $15 billion pledge of support, for Turkey.
Bolton was skeptical about the intervention by Qatar.
"Well, I think what they pledged is utterly insufficient to have an impact on Turkey's economy. It's certainly not helpful but we'll actually see what develops from their pledge," he said.
Source: arabnews.com/node/1360681/middle-east
-----
Europe
The pope will meet child abuse survivors in Dublin: Is it enough?
by Ruairi Casey
23 August 2018
When Pope John Paul became the first pontiff to visit Ireland in 1979, almost half the island's population turned out to see him as he toured the country.
His Sunday mass in Dublin's Phoenix Park became the largest gathering Ireland had ever seen, with 1.2 million attendees.
It was an Ireland where condoms, abortion and homosexuality were banned by law, and whether unknown or not addressed, thousands of children were raped and abused by members of the Catholic clergy.
On Saturday, Pope Francis is expected to begin a 36-hour trip to Ireland, to attend the World Meeting of Families, a gathering of the Roman Catholic Church held every three years.
A crowd of half a million is expected in Dublin, but attention is expected to focus on claims of child sex abuse.
The Vatican said on Tuesday that Pope Francis will meet survivors, following demands from campaigners for action, accountability and justice for those who were affected.
The visit comes little more than a week after a grand jury report released in Pennsylvania revealed the covering up of more than 1,000 cases of children abused by over 300 priests.
The report's criticisms of Cardinal Donald Wuerl led to his withdrawal from a scheduled appearance at this weekend's event in Dublin, where he was to deliver the keynote address, "The Welfare of the Family is Decisive for the Future of the World".
The Pennsylvania news has brought further scrutiny upon Pope Francis, who is widely seen to be weak on an issue that has caused catastrophic damage to the Church's reputation worldwide.
Listing the accused
On Monday, US-based group BishopAccountability.org launched the first open database of Irish clergy accused of child sexual abuse. The website already hosts similar information on those publicly accused of abuse in the US, Chile and Argentina.
The Irish database lists dozens of clergy members who have been convicted, or whose abuses have been alleged and documented in the media or by state-led inquiries.
It includes figures such as Brendan Smyth, a priest from Belfast who sexually abused or assaulted at least 143 children over a period of 40 years.
Smyth was shuffled between parishes in Ireland and the US, his order repeatedly failing to disclose his history to local bishops, before eventually being sentenced to prison in 1994, where he died three years later.
John Kelly, right, was abused while in Daingean Industrial School between 1965 and 1967 [File: Cathal McNaughton/Reuters]
The group said in a statement that it hopes "this Irish database will encourage an open debate about how societies balance an accused person's privacy rights against a child's right to be safe and the public's right to know".
Codirector of BishopAccountability.org Anne Barrett Doyle added: "It's a very unsatisfactory list because we know from the Irish Church's own safeguarding operation has counted more than 1,300 accused clergy since 1975.
"We have a paltry 70 or 80 on our list. This represents an accountability gap, not just a gap in unnamed perpetrators ... I think it's why the abuse crisis is very much an open wound in Ireland."
Another name on the list is Henry Maloney, who was convicted in 2009. He abused boys at a Dublin secondary school between 1969 and 1973, after which he was transferred to another school in Bo, Sierra Leone where he continued to molest students.
Life after abuse
Mark Vincent Healy, who was among those abused by Maloney, now campaigns for justice.
Before the pope's visit, he gathered research from more than 140 reports into religious orders and dioceses by the Irish Catholic Church's National Board for Safeguarding Children (NBSCCCI).
According to Healy, of the 3,425 allegations raised in these reports against 1,348 people, only 82 were convicted.
"Ninety-four percent of accused walked free, and that's of the abusers," he told Al Jazeera. "This is the perpetrator population, we're not even getting near the population of those ... who concealed or colluded."
A demonstrator holds a banner during a protest against the visit of Pope Benedict XVI in London on September 18, 2010 [Stefan Wermuth/Reuters]
But there are limits to what can be achieved through the courts, Healy says.
Research has shown that survivors of child sexual abuse in Ireland face lifelong consequences.
They are more likely to be unemployed, earn less and die by suicide than the general population. Male survivors are also more likely to spend time in prison.
"We do need justice, it's absolutely fundamental, but I feel the discussion doesn't permit talking about the dysfunctional life that is the consequence of this abuse, and how can we better serve that community," says Healy.
"How do we reach out to them and offer them the sort of support for issues which they are wholly innocent of having happened to them?"
Pope Francis: We did not act in a timely manner
In a 2,000-word letter published this week and addressed to the world's Catholics, Pope Francis acknowledged the Church's history of abuse and cover-ups, including the cases in Pensylvania.
"We did not act in a timely manner, realising the magnitude and the gravity of the damage done to so many lives. We showed no care for the little ones; we abandoned them," he wrote.
But critics hit back at the lack of concrete proposals.
Former head of the NBSCCCI Ian Elliot told the Irish Times that the pope's record has been "a dismal failure" and that he should arrive in Ireland with "a mindset that it's not good enough to simply apologise".
Candles with a picture of Pope Francis on sale at a stall in Dublin [Clodagh Kilcoyne/Reuters]
Mary McAleese, the former Irish president, dismissed the World Meeting of Families as "essentially a right-wing rally", while Taoiseach Leo Varadkar suggested the Church adopt a policy of mandatory reporting, which has been in place in Ireland since last year.
In his Sunday sermon, Archbishop of Dublin Diarmiud Martin said Pope Francis should "speak frankly about our past but also our future." But he said the pontiff would not be able to provide all the answers that people ask.
For Barrett Doyle, the public database is a small step in confronting a history of neglect towards Ireland's most vulnerable.
"We are being inundated with emails from Irish people who have seen the list and are asking us to add abusers names to it," she says. "We obviously struck a nerve. There is a tremendous need for this."
Source:
-----
United Nations urges Israel not to hold Gaza aid 'hostage' to politics
August 23, 2018
The UN political chief has called on Israel to ensure that urgently needed humanitarian supplies for the Gaza Strip are not "held hostage to political and security developments".
Undersecretary-General for Political Affairs Rosemary DiCarlo told the Security Council yesterday its meeting was taking place "in the wake of yet another series of violent escalations that threatened to plunge Gaza into war".
She said the recurring violence "highlights the urgency" of UN and Egyptian-led efforts, along with regional and international partners, "to prevent another devastating outbreak of hostilities, respond to the most urgent humanitarian needs, and support intra-Palestinian reconciliation".
DiCarlo said funding for UN emergency fuel to keep about 250 hospitals, water and sanitation facilities in Gaza operating at a minimum level "has now run out". She appealed for USD 4.5 million to keep these critical facilities operating through the end of the year.
DiCarlo also expressed concern at "the dangerously short supply of essential medicines, with 40 per cent of essential drugs completely depleted".
Israel and Egypt have imposed an economically-crippling blockade on Gaza since Hamas seized control of the coastal territory from the internationally-backed Palestinian Authority in 2007. Israel says the blockade is needed to contain Hamas, a militant group that seeks its destruction.
While the closure has devastated Gaza's economy, it has failed to oust Hamas or loosen its grip on power. Since July, Israel and Hamas have engaged in three rounds of heavy fighting, with Hamas firing dozens of rockets into Israel and the Israeli military carrying out dozens of airstrikes in Gaza.
DiCarlo said in recent weeks the humanitarian situation in Gaza had "deteriorated further, due in part to additional restrictions that Israel imposed on the movement of goods through the Kerem Shalom crossing" — the primary avenue for food, fuel, construction materials and aid to enter the beleaguered territory.
Israel closed the crossing in response to the violence and Hamas' launching of incendiary kites and balloons that have burned thousands of acres of Israeli fields, forests and agricultural land. The crossing was reopened by Israel on August 15 when it also expanded the fishing zone off Gaza to nine nautical miles.
"As we work towards a full lifting of the closures on Gaza…," DiCarlo said, "I call on all parties to ensure that urgently needed humanitarian supplies reach the Strip." She said violent incidents have also continued elsewhere in the Palestinian territories and in Israel.
But, at the same time, DiCarlo cited tangible steps by ordinary Israelis and Palestinians "to promote tolerance and forge a shared future".
As the international community focuses on resolving the crisis in Gaza and returning the legitimate Palestinian government to the strip, she said, the perseverance of this individuals is a reminder of the broader goal of achieving a two-state solution where Israelis and Palestinians live side by side in peace and security.
Source: indianexpress.com/article/world/united-nations-urges-israel-not-to-hold-gaza-aid-hostage-to-politics-5320279/
-----
URL: https://www.newageislam.com/islamic-world-news/saudi-arabia-detains-mecca-imam/d/116180
New Age Islam, Islam Online, Islamic Website, African Muslim News, Arab World News, South Asia News, Indian Muslim News, World Muslim News, Women in Islam, Islamic Feminism, Arab Women, Women In Arab, Islamophobia in America, Muslim Women in West, Islam Women and Feminism