New Age Islam News Bureau
10 Aug 2014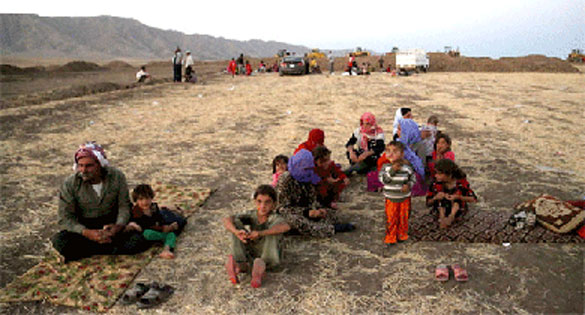 Displaced Iraqis from the Yazidi community settle outside the camp of Bajid Kandala at Feeshkhabour town near the Syria-Iraq border, Iraq. AP Photo
-------
Arab World
• Saudi Arabia Bans Sierra Leone, Guinea, Liberia Muslims from performing Hajj

• Islamic State Kills At Least 500 from Iraq's Yazidi Minority

• IS fighters repairing Mosul dam as Kurds gear up for defence

• Egypt dissolves political wing of Muslim Brotherhood

-----------
North America
• Won't let militants create caliphate in Iraq, Syria: Obama
• U.S. continues airstrikes against Islamic State, but Obama vows limited campaign
• Nagasaki marks 69th anniversary of US bombing
----------
India
• Shia Cleric, AIMPLB Member Alleges Hacking Of Email by Militant Groups
• AIDWA delegation meets Meerut gang-rape victim
• The Slippery Slope of the AFSPA Debate
-----------
Pakistan
• More 'Shahadat' On Eve of Yaum-e-Shuhadaa
• Terrorist bid to target PTI march foiled, officials claim
• Punjab blockades: Altaf Hussain warns of countrywide protests
• Not running away from Pakistan, says Pervez Musharraf
• PAT workers take to streets on 'Martyr's Day'
• PAT, police turn roads into battlefield
• Elders split over return of Waziristan people
• Dera.Ismail. Khan: Terror bid foiled
-----------
Southeast Asia
• KSA, China Sign Nuclear Energy Cooperation Deal
• Religious Affairs Minister aims to raise Indonesian Muslims awareness on ISIL
• Police Arrest Two Terror Suspects in East Java
• Police Arrest Suspected Terrorist Involved With ISIS in Bekasi
-----------
Mideast
• Israel pounds Gaza Strip with 50 air strikes
• Iran airliner crashes, at least 38 dead
• Israel continues striking Gaza, kills five more
• Three suspected militants die in Yemen airstrike
• Erdogan vows 'strong new Turkey' in final election rally
• Gaza under fire as Cairo talks face moment of truth
• Massive anti-Israel protest in London
-----------
Africa
• Somali Shebab Says 18 Dead In Attack on Government Troops
• ISIS, Hamas and Boko Haram: Believe their intentions
• Somalia: Al Shabaab Commander Shot Dead in Mogadishu
• Survivors of Boko Haram attack stranded on mountain
-----------
South Asia
• Afghan militant attack kills four in Dir
• Afghan poll rivals sign unity government deal
-----------
Europe
• UK's Cameron will lose election on ethnic minority vote: Muslim ex-minister
Compiled by New Age Islam News Bureau
URL: https://www.newageislam.com/islamic-world-news/new-age-islam-news-bureau/saudi-arabia-bans-sierra-leone,-guinea,-liberia-muslims-from-performing-hajj/d/98505
-----------
Arab World
Saudi Arabia Bans Sierra Leone, Guinea, Liberia Muslims from Performing Hajj
9 August 2014
Fez- Saudi Arabia's Ministry of Health decided to ban Muslims from West African countries from performing Hajj or Umrah (Islamic pilgrimage to Mecca) this year amid growing concerns of the spread of Ebola virus.
The spokesman of the Ministry of Health Dr. Khalid Marghalani, was quoted by Alarabiya as saying that individuals from Sierra Leone, Guinea, and Liberia, where the Ebola virus is most prevalent, are not allowed to obtain visas to perform the Hajj or Umrah.
"We have communicated the instructions to the officials of all ports of entry. We have trained our personnel on how to identify and deal with Ebola cases and control virus infection, should it happen," the spokesman said.
Despite the outbreak of the virus in Nigeria, Saleh Okenwe, from the National Hajj Commission of Nigeria, reassured the pilgrimage applicants that there are no worries of "banning Nigerians from participating in Hajj because of Ebola."
"Just a few days ago we received a password for processing the Hajj visas from the Saudi authorities," Okenwe was quoted by Voice of America as saying.
The Nigerian Health Minister Onyebuchi Chukwu said that "the government is taking extraordinary measures to stave off the spread" of the virus.
According to International Business Times, the population of Muslim community living in Sierra Leone, Guinea and Liberia is approximately 13.5 million people.
http://www.moroccoworldnews.com/2014/08/136325/saudi-arabia-bans-sierra-leone-guinea-liberia-muslims-from-performing-hajj/
-----------
Islamic State Kills At Least 500 from Iraq's Yazidi Minority
Aug 10, 2014
BAGHDAD: Islamic State militants have killed at least 500 members of Iraq's Yazidi minority in northern Iraq, burying some of their victims alive and kidnapping hundreds of women, a Baghdad government minister said on Sunday.
The insurgents' advance through northern Iraq has forced tens of thousands to flee, threatened the capital of the Kurdish autonomous region and provoked the first US air strikes in the area since Washington withdrew troops from Iraq in 2011.
Iraq's human rights minister Mohammed Shia al-Sudani told Reuters that he had evidence that the Sunni militants had thrown the Yazidi dead into mass graves, adding that some of those buried alive were women and children. About 300 women had been forced into slavery, he said.
President Barack Obama said on Saturday that US air strikes had destroyed arms that the Islamic State, which has captured swaths of northern Iraq since June, could have used against the Iraqi Kurds, but he warned that there was no quick fix for the crisis that threatens to tear Iraq apart.
US military aircraft have also dropped relief supplies to tens of thousands of Yazidis who have collected on the desert top of Mount Sinjar seeking shelter from the insurgents, who had ordered them to convert to Islam by Sunday or die.
Sudani said news of killings had come from people who had escaped from nearby Sinjar, the ancient home of the Yazidis and one of the towns captured by the Sunni militants who view the community as "devil worshipers".
"We have striking evidence obtained from Yazidis fleeing Sinjar and some who escaped death, and also crime scene images that show indisputably that the gangs of the Islamic States have executed at least 500 Yazidis after seizing Sinjar," Sudani said. "Some of the victims, including women and children were buried alive in scattered mass graves in and around Sinjar."
Speaking before US warplanes struck militant targets for the second straight day, Obama said it would take more than bombs to restore stability, and criticised Prime Minister Nuri al-Maliki's Shia-led government for failing to empower Iraq's Sunnis.
France joined the calls for Iraq's feuding leaders to form an inclusive government capable of countering the militants. "Iraq is in need of a broad unity government, and all Iraqis should feel that they are represented in this government," Foreign Minister Laurent Fabius said.
"All Iraqis should feel they are represented to take part in this battle against terrorism," he told a news conference with his Iraqi counterpart in Baghdad in comments translated into Arabic on state television. Maliki's critics say his sectarian agenda prompted heavily-armed Sunni tribes to join the insurgency.
But Maliki, serving in a caretaker capacity since an inconclusive election in April, has defied calls by Sunnis, Kurds, fellow Shias, regional power broker Iran and Iraq's top cleric to step aside for a less divisive leader.
Wake up call
The pressure from France came a day after Obama described the upheaval in the north as a "wake up call" to Iraqis who have slipped back into sectarian bloodshed not seen since a civil war peaked in 2006-2007.
Nearly every day police report kidnappings, bombings and execution-style killings in many cities, towns and villages. The Islamic State, which sees Shias as infidels who deserve to be killed, has met little resistance.
Thousands of US-trained Iraqi soldiers fled when its Arab and foreign fighters swept through northern Iraq from eastern Syria in June.
The collapse of the Iraqi army prompted Kurds and Shi'ite militias to step in, with limited success.
The Sunni militants routed Kurds in their latest advance with tanks, artillery, mortars and vehicles seized from fleeing soldiers, calling into question their reputation as fearsome "those who confront death" warriors.
Iranian-trained Shia militias may stand a better chance than the Kurds but they are accused of kidnapping and killing Sunnis, playing into the hands of the Islamic State, which also controls a large chunk of western Iraq.
After hammering Kurdish forces last week, the militants are just 30 minutes' drive from Arbil, the Iraqi Kurdish capital, which until now has been spared the sectarian bloodshed that has scarred other parts of Iraq for a decade.
The possibility of an attack on Arbil has prompted foreigners working for oil companies to leave the city and Kurds to stock up on AK-47 assault rifles at the arms bazaar.
In their latest sweep through the north, the Sunni insurgents routed Kurdish forces and seized a fifth oil field, several more villages and the biggest dam in Iraq - which could give them the ability to flood cities or cut off water and power supplies - hoisting their black flags up along the way.
After spending more than $2 trillion on its war in Iraq and losing thousands of soldiers, the United States must now find ways to tackle a group that is even more hardline than al-Qaeda and has threatened to march on Baghdad.
Iraqi security and intelligence officials told Reuters Islamic State fighters based in the western cities of Falluja and Ramadi have been using tunnels built by former dictator Saddam Hussein in the 1990s to evade UN weapons inspectors to sneak across to towns just south of the capital.
http://www.dawn.com/news/1124460/islamic-state-kills-at-least-500-from-iraqs-yazidi-minority
-----------
IS fighters repairing Mosul dam as Kurds gear up for defence
10 August 2014
BAGHDAD: Islamic State insurgents who seized Iraq's biggest dam in an offensive that has caused international consternation have brought in engineers for repairs, witnesses said on Saturday, as nervous Kurds stocked up on arms to defend their enclave nearby.
The militants have captured wide swathes of northern Iraq since June, executing captives, displacing tens of thousands of people and drawing the first US airstrikes in the region since Washington withdrew troops in 2011.
After routing Kurdish forces this week, Islamic State militants are just 30 minutes' drive from Arbil, the Kurdish regional capital which up to now has been spared the sectarian bloodshed that has scarred other parts of Iraq for a decade.
Employees of foreign oil firms in Arbil were flying out. Kurds were snapping up AK-47 assault rifles in arms markets for fear of imminent attack, although these had been ineffective against the superior firepower of the Islamic State fighters.
Given the Islamic State threat, a source in the Kurdistan Regional Government said it had received extra supplies of heavy weaponry from the Baghdad federal government "and other governments" in the past few days, but declined to elaborate.
An engineer at Mosul dam told Reuters that Islamic State fighters had brought in engineers to repair an emergency power line to the city, Iraq's biggest in the north, that had been cut off four days ago, causing power outages and water shortages.
"They are gathering people to work at the dam," he said.
A dam administrator said that militants were putting up the trademark Islamic State black flags and patrolling with flatbed trucks mounted with machine guns to protect the facility they seized from Kurdish forces earlier this week.
Almost unopposed by US-trained Iraqi government forces who fled by the thousands, the insurgents swept through the region and have threatened to march on Baghdad with Iraqi military tanks, armored personnel carriers and machine guns they seized.
In their latest offensive, they also grabbed a fifth oilfield that will help them fund operations, in addition to several towns and the dam, which could allow them to flood cities and cut off vital water and electricity supplies.
The semi-autonomous Kurdish region has until now been the only part of Iraq to survive the past decade of civil war without a serious security threat.
Its vaunted "peshmerga" fighters — those who "confront death" — also controlled wide stretches of territory outside the autonomous zone, which served as sanctuary for fleeing Christians and other minorities when Islamic State fighters stormed into the region last month.
But the past week saw the peshmerga crumble in the face of Islamic State fighters, who have heavy weapons seized from fleeing Iraqi troops and are flush with cash looted from banks.
However, oil production from Iraqi Kurdistan — estimated at some 360,000 barrels per day in June — remained unaffected by the Islamic State incursions, its Ministry of Natural Resources said on Saturday.
A UN relief spokesman said some 200,000 people fleeing the militants' advance had reached the town of Dohuk on the Tigris River in Iraqi Kurdistan. Tens of thousands had fled further north to the Turkish border, Turkish officials said.
http://www.arabnews.com/news/middle-east/614076
-----------
Egypt dissolves political wing of Muslim Brotherhood
2014-08-09
An Egyptian court on Saturday dissolved the Freedom and Justice Party (FJP), the political wing of the banned Muslim Brotherhood, dealing a crippling blow in the campaign to crush Egypt's oldest Islamist movement.
A court banned the Muslim Brotherhood itself in September, but that ruling did not mention its political wing, leaving open the possibility it could be allowed to run in parliamentary elections, due later this year.
Saturday's supreme administrative court ruling excludes the Brotherhood from formal participation in electoral politics, potentially forcing the movement underground, particularly as it has lost the sympathy of large swathes of the public.
The court's ruling called for the FJP to be dissolved and its assets seized by the state. Its decision is final and cannot be appealed, a judicial source said.
The Muslim Brotherhood, once Egypt's oldest, best organised and most successful political movement, has seen hundreds of its members killed and thousands detained since then-army chief Abdel Fattah al-Sisi overthrew elected president and Brotherhood member Mohamed Mursi 13 months ago, following weeks of protest.
Mursi, who ruled for a year, and other Brotherhood officials were rounded up in the wake of his ousting and hundreds have been sentenced to death in mass court rulings that have drawn criticism from Western governments and human rights groups.
Sisi, who went on to win a presidential election in May, vowed during his campaign that the Brotherhood would cease to exist under his rule.
The Brotherhood maintains it is a peaceful movement but attacks by militants have risen since the army overthrew Mursi.
Most of the violence has taken place in the Sinai Peninsula near the border with Israel and the Hamas-run Gaza Strip. The army has responded with air and ground attacks.
The FJP was established in June 2011, in the aftermath of the uprising that removed Hosni Mubarak from power after 30 years and inspired hopes for a more pluralistic political system in Egypt.
http://www.france24.com/en/20140809-egypt-dissolves-muslim-brotherhood-party/
-----------
North America
Won't let militants create caliphate in Iraq, Syria: Obama
August 10, 2014
NEW YORK - Emphasising United States' "strategic interest in pushing back" militants, President Barack Obama said he was willing to support a sustained effort to drive them out of Iraq, but Iraqi political leaders must first move to form a national unity government to stabilise the situation in the strife-torn country.
"We're not going to let them (ISIS militants) create some caliphate through Syria and Iraq," the president said in an hour-long interview with The New York Times, as US planes and drones began dropping bombs in Iraq. "But we can only do that if we know that we have got partners on the ground who are capable of filling the void." Obama on Thursday authorised the US military to conduct targeted strikes on Islamic State fighters in northern Iraq, a limited operation designed to prevent what he called a potential "genocide" of a religious sect and also protect American officials working in the country.
American lawmakers offered tempered support for the president's actions in Iraq, but he also drew criticism from Republicans and Democrats for a mission that some called too limited and others worried would draw the United States more deeply back into Iraq.
In the wide-ranging interview conducted on Friday, Obama also expressed regrets over not doing more to help Libya, pessimism about prospects for Middle East peace, concerns that Russia could invade Ukraine, and frustration that fellow economic superpower China has not stepped up to help.
He praised officials from Iraq's semi-autonomous Kurdish region for being "functional" and "tolerant of other sects and religions" and said the United States wanted to help. "But, more broadly, what I've indicated is that I don't want to be in the business of being the Iraqi air force," he said.
In the case of the current fighting in Iraq, he suggested that the outcome would be different than chaos in Libya because efforts to form a government that could help rebuild Iraqi society are moving forward, albeit haltingly.
"They've now elected a president, they've elected a speaker of the house," Mr Obama said. "The final step is to elect a prime minister and to allow that prime minister to form a government." He added that Iraqis are "recognising that they have to make accommodations in order to hold the country together."
In the Middle East, where fighting began Friday morning as a 72-hour ceasefire between Israel and Hamas expired, Obama said that neither Israel's prime minister, Benjamin Netanyahu, who is known as Bibi, nor the Palestinian Authority's president, Mahmoud Abbas, have the political will to come to terms on a lasting peace agreement.
In some ways Bibi's too strong, in some ways Abbas is too weak to bring them together and make the kind of bold decisions that a Sadat or a Begin or a Rabin were willing to make," Obama said, referring to Anwar el-Sadat, the former president of Egypt, and Menachem Begin and Yitzhak Rabin, two previous Israeli prime ministers. The president said his own ability to broker a peace deal was limited by the lack of desire on the part of Israeli and Palestinian leaders. "You can lead folks to water, they've got to drink," Obama said. "And so far at least, they haven't been willing." The president rejected criticism that the military advances by ISIS in Iraq could have been prevented if he had been willing months ago to provide heavy armaments to the Syrian rebels who were fighting against ISIS and the forces of President Bashar al-Assad in that country.
"It's always been a fantasy," he said, "this idea that we could provide some light arms or even more sophisticated arms to what was essentially an opposition made up of former doctors, farmers, pharmacists and so forth."
Obama, hinting at some strain from the summer's international crises, said the prospects for a diplomatic agreement that would prevent President Vladimir Putin of Russia from invading Ukraine were real, but dimming.
"A deal should be possible," Obama said. However, he added, "we are at a dangerous time, in part because the position of the separatists has weakened. I think Putin does not want to lose face, and so the window for arriving at that compromise continues to narrow."
"He could invade," Mr Obama said.
Obama has faced growing criticism for being too reluctant to intervene in thorny foreign policy issues which have piled up under his watch.
He quipped that he sometimes wished the United States was more like China: a superpower that no one expects to intervene.
"They are free riders, and they've been free riders for the last 30 years, and it's worked really well for them," Obama said.
http://www.nation.com.pk/international/10-Aug-2014/won-t-let-militants-create-caliphate-in-iraq-syria-obama
-----------
U.S. continues airstrikes against Islamic State, but Obama vows limited campaign
August 9, 2014
U.S. jets and armed drones conducted four more airstrikes against Islamic State positions in northern Iraq on Saturday as President Obama said the American air campaign would not expand beyond the limited objectives he has outlined.
All of the air attacks took place in the area of Sinjar, in the northwest part of the country, where militants have surrounded and threatened to kill as many as 40,000 members of the minority Yazidi sect. The U.S. Central Command said that the strikes, which took place in the late morning and midafternoon Eastern time, had destroyed several armored personnel carriers and armed trucks. "All aircraft safely exited the area," it said.
The ongoing strikes, which began Friday, address "immediate" concerns of protecting Americans, besieged minorities and critical infrastructure in the north, Obama said. But comprehensive aid to push back advances by the Sunni Muslim extremists through much of the country over the past two months will require a new Iraqi government, he said.
Formation of that government, already delayed beyond a constitutional deadline after elections in the spring, fell further behind as a parliamentary vote scheduled for Sunday was postponed for a day amid internal wrangling among Shiite politicians.
Obama's remarks put in sharp relief his decision in the past week to use airstrikes to keep Iraq from disintegrating and prevent "genocide" against minorities, while maintaining enough leverage to press for an inclusive government that he is convinced is the country's only long-term salvation.
Reconciliation required
The administration is pushing for Iraq's majority Shiites to choose a replacement for Prime Minister Nouri al-Maliki, whose sectarian governance has led many Iraqi Sunnis to tolerate, and sometimes support, the Sunni Muslim extremists of the Islamic State.
Asked how long the airstrikes would continue, Obama said that "the most important timetable that I'm focused on right now is the Iraqi government getting formed and finalized."
Full report at:
http://www.washingtonpost.com/world/us-expands-airstrikes-against-islamic-state-militants-in-northern-iraq/2014/08/09/1014c018-1fb7-11e4-82f9-2cd6fa8da5c4_story.html
-----------
Nagasaki marks 69th anniversary of US bombing
August 10, 2014
TOKYO: Tens of thousands marked the 69th anniversary of the US atomic bombing of Nagasaki on Saturday, as the city's pacifist mayor urged the Japanese government to listen to increasing concerns over controversial plans to expand the role of its military.
Crowds gathered to remember the more than 70,000 people who died in the initial blast or from after-effects in the months and years following the bombing, which hit Nagasaki at 11:02 am local time (0202 GMT). Bells tolled as ageing survivors, relatives, government officials and foreign delegates observed a moment of silence at the time of detonation that turned the Japanese city into a ball of flames.
The ceremony went ahead despite a powerful typhoon churning towards the region whipping up strong winds.
74-year-old survivor of the bombing said. 'Young people have interest but their opportunities to know about the history of the bombing are limited,' Yuge was quoted as saying by Jiji Press.
Another survivor, aged 71, told Jiji: 'Peace has become common and the number of stories of survivors has declined. I think we can understand each other by placing importance on peace.' In a speech at the ceremony, Nagasaki Mayor Tomihisa Taue called for a nuclear-free world and underlined concerns about the government's decision last month to allow its military to go into battle in defence of allies.
Full report at:
http://www.nation.com.pk/international/10-Aug-2014/nagasaki-marks-69th-anniversary-of-us-bombing
-----------
India
Shia Cleric, AIMPLB Member Alleges Hacking Of Email By Militant Groups
9th Aug 2014
Kalbe Oshet, a member of the All India Muslim Personal Law Board, plans to approach the Ministry of Home Affairs and Prime Minister Narendra Modi regarding the alleged hacking of his email account.
Oshet said that he had been told by certain technical experts that his email account had been hacked. "My emails have exchanged hands multiple times after they were hacked," Oshet alleged.
Full report at:
http://www.sunday-guardian.com/news/shia-cleric-alleges-hacking-of-email-by-militant-groups
-----------
AIDWA delegation meets Meerut gang-rape victim
Aug 10, 2014
NEW DELHI: A team of women activists of the All India Democratic Women's Association (AIDWA) on Saturday demanded that the UP government bear medical expenses of the Meerut gang-rape victim and ensure her rehabilitation.
After meeting the victim and her family members at the hospital, AIDWA vice-president Subhashini Ali said, "The AIDWA strongly condemns the blatant lies and half-truths being spread by the BJP and Sangh Parivar about the case registered by a young woman in Meerut alleging gang-rape and conversion. They are exploiting her distress to create communal conflict and hatred."
In a statement, however, the delegation said they found "many issues remained unexplained". "There is every possibility that the young woman is being used as a pawn by the communal forces utterly insensitive and uncaring about her condition," read the AIDWA statement.
The victim is the eldest child "of a very poor family". So, she was in need for a job, said AIDWA delegation members.
"She got a job as a Hindi teacher in a madarsa near her home last July. She left the job in February to prepare for her BA final examination. There was no complaint of any kind of harassment made by her while she taught at the madarsa," said AIDWA's Subhashini Ali.
The delegation learnt that the victim went missing on July 23 and returned on July 27. "Her family did not report this to the police," said the delegation. Her family members and the woman doctor (treating her) confirmed to the delegation that the girl had a gynaecological surgical procedure during this time.
Full report at:
http://timesofindia.indiatimes.com/city/delhi/AIDWA-delegation-meets-Meerut-gang-rape-victim/articleshow/39994179.cms
-----------
The Slippery Slope Of The AFSPA Debate
RIYAZ WANI
2014-08-09
O 25 July, Jammu & Kashmir Chief Minister Omar Abdullah once again raked up the issue of the revocation of the much-maligned, much-debated and much-defended Armed Forces (Jammu & Kashmir) Special Powers Act, 1990. While he has been plugging away at the AFSPA for years, he mentioned it to launch by far his most scathing attack on the new government at the Centre, entirely aware that the overt nationalist policy of the BJP militates against the repealing of the Act anywhere in the country.
"Some people will never find the time appropriate because they have so much liking and love for these laws," he said. "Even if we make 100 percent of the guns here silent, they will still find excuses and say the time is not appropriate. If they let us know the parameters to determine the appropriate time, then we will try to achieve those parameters. But whenever we tell them that the time is appropriate, they say not this year but next year. And then the next year, they shift the goalpost. I hope that their thinking changes and the process (of revocation of AFSPA) is started."
If there was a particular reason or occasion for Omar to have breathed into this issue at this specific time, it wasn't obvious. More than anything, though, he seemed to want to needle the Narendra Modi government, perhaps in an effort to distance himself from a bit of embarrassing history: that his party, the National Conference, was a partner in Atal Bihari Vajpayee's National Democratic Alliance government, which had promulgated the horrific Prevention of Terrorism Act that had led to an escalation of encounter killings in Kashmir.
History is not easily forgotten — or forgiven — in Kashmir. Then, again, nor is party politics, whatever the cost. There isn't much disagreement that the AFSPA is an overdone and overlong imposition, but every party has its take on why another party has it all wrong — especially if that party happens to be Omar's National Conference.
Full report at:
http://www.tehelka.com/the-slippery-slope-of-the-afspa-debate/
-----------
Pakistan
More 'Shahadat' On Eve of Yaum-e-Shuhadaa
August 10, 2014
LAHORE - The violent clashes between the government and the Pakistan Awami Tehrik (PAT) workers brought the routine life to a halt across the Punjab province on Saturday.
Amid fear and panic, many business centres were shut, petrol pumps were closed, and government machinery and educational activities were brought to a standstill.
The government had blocked almost all the major roads in the province to stop PAT workers from reaching Lahore for participating in Yaum-e-Shuhadaa activities at party's Model Town Secretariat.
At various points the PAT activists tried to break through the barriers and remove the shipping containers to clear their way. Upon resistance from police, the protesters went wild and came into bloody clashes with the police. The PAT protesters also damaged police stations, set the official record on fire, and torched police vehicles.
Three policemen were killed, 130 cops wounded and 22 were held hostage, while many police officials were still missing, a police spokesperson said. "Some cops who were held hostages by PAT workers in Sargodha district are lying on hospital beds with their broken limbs and are still in critical condition," according to a press statement issued from the Central Police Office (CPO).
On the other hand, PAT chief Tahirul Qadri claimed that at least seven workers were killed and over a thousand were critically wounded. However, he did not provide details about those killed during armed encounter with cops. Talking to reporters in Lahore, he alleged that Punjab Chief Minister Shahbaz Sharif had ordered direct firing at the participants of Youm-e-Shuhadaa arriving from other cities.
Police said that 34-year-old constable Muhammad Fayyaz was gunned down by PAT workers while 130 policemen sustained serious injuries in the clashes in the last 24 hours. Another policeman, identified as Constable Muhammad Ali Azad, was killed by unidentified gunmen near Babu Sabu interchange in Lahore. Constable Muhammad Ashraf, who was critically injured in Friday's battles in Lahore's Model Town, also succumbed to injuries at hospital.
According to police, PAT workers used nail-studded sticks, slings, stones, knives and other weapons during attacks on the on-duty police officials. Gujranwala District Police Officer Waqas Nazir and three DSPs were among over 55 policemen who sustained serious injuries. Nine policemen were wounded in Lahore, one in Okara, 25 in Bhakkar, 14 in Jhang, 13 in Rawalpindi region, nine in Sargodha and four in Toba Tek Singh district.
Full report at:
http://www.nation.com.pk/national/10-Aug-2014/more-shahadats-on-eve-of-youm-e-shuhda-3-cops-seven-pat-activists-dead-in
-----------
Terrorist bid to target PTI march foiled, officials claim
By Zahir Shah Sherazi
Aug 10, 2014
PESHAWAR: Law enforcement agencies (LEAs) claimed on Sunday to have averted a major terrorist attack that was meant to target the Pakistan Tehreek-e-Insaf's upcoming 'Azadi March'.
Police sources told Dawn.com that on a tip off about the terrorists' presence, security forces carried out a search operation in the Kulachi Tehsil of Dera Ismail Khan and arrested three terrorists.
Speaking to the media at his office, District Police Officer Dera Ismail Khan Sadiq Baloch said police acted on a tip off about the presence of TTP Commander 'Qari Ikram' and his accomplices, who were involved in an attack on Noori Shrine's care taker Faqir Jamshid a few days back.
He said during the search operation, a group of unidentified men on motorcycles opened fire on the police force. The men were chased but fled after leaving two bikes behind, he added.
Full report at:
http://www.dawn.com/news/1124457/terrorist-bid-to-target-pti-march-foiled-officials-claim
-------
Punjab blockades: Altaf Hussain warns of countrywide protests
Aug 10, 2014
KARACHI. Muttahida Qaumi Movement chief Altaf Hussain on Sunday appealed to authorities to allow food supplies to reach Pakistan Awami Tehreek (PAT) workers moving towards the Minhajul Quran secretariat in Lahore.
In a telephone address, Altaf warned that if the Punjab government did not remove containers from roads leading to Model Town "within 30 minutes", routes across the country would be blocked.
The MQM leader said that there are women and children among PAT supporters, who should not be deprived of basic food items and ration.
PAT chief Dr Qadri is observing 'Martyr's Day' today (Sunday) —a demonstration called initially to protest deadly clashes between his supporters and police in June. Later, Qadri said the day will also be observed to pay homage to the soldiers who lost their lives in the ongoing North Waziristan operation.
Qadri has condemned the government as corrupt and called for the overthrow of Prime Minister Nawaz Sharif.
A separate protest, led by opposition politician Imran Khan, is planned for the capital on Thursday to protest alleged election irregularities. Khan has also called for the government to go.
Full report at:
http://www.dawn.com/news/1124461/punjab-blockades-altaf-hussain-warns-of-countrywide-protests
-----------
Not running away from Pakistan, says Pervez Musharraf
By Mateen Haider
Aug 10, 2014
RAWALPINDI: Breaking the silence after nearly three months, former president Pervez Musharraf said he would not be running away from Pakistan.
"I am not running away from Pakistan. Rather, I will defend [myself] in all cases against me before a court of law," General (retired) Musharraf said to supporters gathered in Islamabad as he spoke via telephone.
"I have to go out of Pakistan only to see my ailing mother and will return back to you," he said to the gathering.
He said the cases against him are politically motivated and baseless.
He also lamented the current economic situation and claimed that when he resigned in 2008, the country had $18 billion reserves as compared to only $4 billion to $5billion today.
He condemned the Model Town incident and condoled with the families of those who had lost their lives.
Earlier, a convention of the All Pakistan Muslim League (APML) elected Musharraf as chairman of the party for the next term.
Govt under pressure to allow Musharraf's departure, says PML-N Senator
Earlier on Sunday, a senior government leader has admitted that the government is under immense pressure to remove the name of former military ruler General Pervez Musharraf from the Exit Control List (ECL) and let him go abroad.
"There is pressure on the government to allow General Musharraf to leave Pakistan," Leader of the House in Senate Raja Zafarul Haq told the media in Rawalpindi.
The former president is currently residing in Karachi where he is receiving treatment at PNS Shifa after undergoing a heart ailment in the midst of the treason trial initiated by the incumbent government against him.
Full report at:
http://www.dawn.com/news/1124456/not-running-away-from-pakistan-says-pervez-musharraf
-----------
PAT workers take to streets on 'Martyr's Day'
Aug 10, 2014
Pakistan Awami Tehreek (PAT) chief Dr Tahirul Qadri is observing 'Martyr's Day' today (Sunday) — a demonstration to protest against deadly clashes that took between his supporters and the Punjab police in June.
Qadri has condemned the Pakistan Muslim League Nawaz (PML-N) government as corrupt and called for the overthrow of Prime Minister Nawaz Sharif. Saturday was another day full of violence as aggressive PAT workers resisted police officials manning pickets in parts of Punjab.
Full report at:
http://www.dawn.com/news/1124452/live-pat-workers-take-to-streets-on-martyrs-day
-----------
PAT, police turn roads into battlefield
Aug 10, 2014
GUJRANWALA: Saturday was another day full of violence as aggressive workers of the Pakistan Awami Tehreek (PAT) resisted police officials manning pickets in parts of Punjab. Because of petrol pump closures and mass impounding of buses, roads remained deserted.
Up to 51 police officials, including a superintendent police (SP) and a DSP, were injured in a clash with PAT activists on GT Road near the Kamoki toll plaza.
As police tried to stop a PAT caravan of several buses coming from Eminabad Road, the baton-wielding activists were ready to take on police officials. Soon police had to retreat. By that time, SP Zeeshan Siddiqui, DSP Rashid Sundho, SHOs Sanaullah Dhillo and Mudassar Butt were among 51 injured policemen.
After the clash, the caravan resumed its journey to Lahore. Police continued raids on houses of PAT workers and arrested 16 in Mandi Bahauddin.
SARGODHA:
Bhera Interchange was another battlefield where violent clashes between police and PAT workers claimed the life of an Elite Police official, Muhammad Fiaz. Five policemen and as many injured PAT workers were shifted to the District Headquarters hospital. Five police vehicles were also set ablaze. An official handout said 2,000 PAT workers caused injuries to police officials and of them one died.
Dawn learnt some policemen were held hostage by PAT workers to bargain the release of their workers and the removal of containers on Motorway. Officials were later released after a brief detention. PAT workers alleged that the Elite Force official was killed in firing by his own colleagues.
Chief Minister Shahbaz Sharif announced Rs10 million as compensation for the heirs of Fiaz. PAT workers continued dodging police pickets and blockade in Khushab. They got across the Jhelum River through boats and managed to gather at the Bhera interchange while scores of activists held a sit-in on Sargodha Khushab Road. Police officials claimed to have arrested over three dozen workers of the PAT and Pakistan Tehreek-i-Insaf.
Several buses carrying wedding guests and ambulances were not allowed to get across the Jhelum river bridge.
Full report at:
http://www.dawn.com/news/1124431/pat-police-turn-roads-into-battlefield
-----------
Elders split over return of Waziristan people
Aug 10, 2014
BANNU: Elders of Utmanzai tribe are divided over the repatriation of internally displaced persons to North Waziristan Agency, where the military operation is underway.
The division was seen during a jirga convened at the Township Hall, Bannu on Saturday to discuss return of IDPs to their homes.
The participants split into two groups, one led by Malik Khan Marjan and the other by Maulvi Gul Ramazan.
The supporters of Malik Khan Marjan left the hall during the session and went to commissioner Mohsin Shah.
Some insist IDPs be repatriated now but others want this to happen only after restoration of peace
However, the supporters of the Maulvi Gul Ramazan group stayed put to discuss the matter.
The elders, who met the commissioner, demanded that the government send IDPs to the areas, which had been cleared by the security forces of militants.
Full report at:
http://www.dawn.com/news/1124374/elders-split-over-return-of-waziristan-people
-----------
Dera Ismail Khan: Terror bid foiled
August 10, 2014
Dera Ismail Khan- Police raided a militant hideout today in Kulachi area of the city and seized ammunition in Dera Ismail Khan.
The raid was part of a search operation that started after an attack on former MNA Faqir Jamshed who was also the Sajjada Nashin (successor) of Dera Ismail Khan's Noori Darbar Kulachi shrine, media reported. During the raid, the police seized two suicide jackets, 17 hand grenades and 13 remote control receivers. An exchange of fire also took place reportedly between the police and the terrorists – four in total – who managed to flee on two motorbikes.
Full report at:
http://www.nation.com.pk/national/10-Aug-2014/d-i-khan-terror-bid-foiled
-----------
Southeast Asia
KSA, China sign nuclear energy cooperation deal
10 August 2014
The King Abdullah City for Atomic and Renewable Energy (K.A.CARE) signed a memorandum of understanding with the Chinese National Nuclear Energy Company (CNNC) in Shanghai on Thursday on cooperation mechanisms for the peaceful use of nuclear energy.
Waleed Husain Abu Al-Faraj, vice president of K.A.CARE, and Hwan Min Gang, chief financial officer of the CNNC, signed the MoU.
The signing ceremony was attended by several K.A.CARE and Chinese officials, including Hashem Yamani, K.A.CARE president, and Wushin Ochi Shiong, minister of State Administration of Energy.
Yamani was welcomed by several Chinese officials and members of the Saudi Embassy in Shanghai at the Shanghai airport.
Yamani also met with Wen Jiabao, minister of the National Energy Commission, and several officials in Shanghai to discuss areas of mutual cooperation in the atomic and renewable energy fields between the two countries.
K.A.CARE was established through a royal decree issued by Custodian of the Two Holy Mosques King Abdullah on April 17, 2010, with the fundamental aim of building a sustainable future by developing substantial alternative energy thanks to an ever-increasing pressure on the country's nonrenewable hydrocarbon resources.
As a result, alternative, sustainable and reliable sources of energy for generating power and producing desalinated water were introduced in a bid to reduce consumption of the nation's fossil fuel reserves.
A balanced energy mix of alternative and conventional energy is strategically important for Saudi Arabia's long-term prosperity, energy security and its leading position in the global energy market, experts said.
Atomic and renewable energy will account for a significant portion of Saudi Arabia's future energy mix.
Full report at:
http://www.arabnews.com/news/saudi-arabia/614141
-----------
Religious Affairs Minister aims to raise Indonesian Muslims awareness on ISIL
August 09 2014
The Religious Affairs Ministry held on Saturday a seminar to raise people's awareness about Islamic State of Iraq and the Levant (ISIL or ISIS) movement in the country, inviting around 280 representatives from various Islamic mass organizations in Indonesia to attend.
"We need to always be ready to anticipate such a movement. It is our duty to always warn the public [all Indonesian Muslims] and to provide a thorough understanding for them," Religious Affairs Minister Lukman Hakim Syaifuddin said on the sidelines of the seminar on Saturday.
"Not only to spread information, the meeting also aims to provide a better understanding on the latest development of this radical movement," Lukman added. "So, here, we can express our perceptions [on ISIL] in order to prevent it [from spreading] by raising people's awareness."
The government recently announced a ban on support for ISIL movement, saying the group's beliefs posed a serious threat to the state ideology of Pancasila, as well as to the nation's cultural and religious diversity. He warned citizens not to join the rebel group's fight in Syria and Iraq.
Full report at:
http://www.thejakartapost.com/news/2014/08/09/religious-affairs-minister-aims-raise-indonesian-muslims-awareness-isil.html
-----------
Police Arrest Two Terror Suspects in East Java
Aug 08, 2014
Jakarta. The National Police's anti-terror unit Densus 88 on Friday arrested two suspected terrorists in Ngawi, East Java.
"Their initials are K. and G.," National Police chief Gen. Sutarman said on Friday.
"We arrested [them] at 2 p.m. and both of them are being investigated. They're members of the Santoso group, which has declared support for ISIS [Islamic State of Iraq and Syria]."
Police said the two, who were arrested in the Gedung Prasan hamlet, had supplied goods for Santoso and were involved in fundraising for his terror network.
"We confiscated a firearm and 21 bullets," Sutarman said. "We will charge them under the emergency law [on firearms]."
Full report at:
http://www.thejakartaglobe.com/news/police-arrest-two-terror-suspects-in-east-java/
-----------
Police Arrest Suspected Terrorist Involved With ISIS in Bekasi
Aug 10, 2014
Jakarta. The National Police on Saturday arrested a member of hard-line Islamic group Jamaah Ansharut Tauhid, or JAT, for his alleged involvement in funding a paramilitary training camp in Aceh, which is suspected to be a training ground for Al Qaeda-linked extremists, in 2010.
"We have taken action against Afif Abdul Majid … in Jatiasih, Bekasi [West Java] at 10:45 p.m. on Saturday," National Police spokesperson Insp. Gen. Ronny F. Sompie said on Sunday.
Ronny said that the arrest was a cooperation between the Jakarta Police and anti-terrorism agency Detachment 88 (Densus 88).
Afif, 59, is alleged to have handed money to Ubaid, alias Luthfi Hudairoh, in 2010 to fund a militant training camp in Aceh, whose members are suspected to involved in the plotting of a wave of attacks in Jakarta.
Full report at:
http://www.thejakartaglobe.com/news/police-arrest-suspected-terrorist-involved-isis-bekasi/
-----------
Mideast
Israel pounds Gaza Strip with 50 air strikes
Aug 10, 2014
GAZA CITY: Israeli warplanes pummelled Gaza with 50 air strikes that killed seven Palestinians on Saturday as militants slammed 23 rockets into Israel, defying international efforts to find a fresh ceasefire.
Britain, France and Germany called in a joint statement for Israel and Hamas to agree to a truce "immediately".
Gaza emergency services said seven men were killed in Israeli raids — two in a car driving in the southern Gaza town of Rafah, two travelling by motorcycle through Al-Maghazi refugee camp and three pulled from the rubble of Al-Qassam mosque in the middle of the enclave.
The Palestinian interior ministry said Israeli jets destroyed three mosques. At least two of them were considered close to Hamas.
Gazan Ibrahim Taweel said the Israeli military telephoned him at 3am, warning him to evacuate his nearby home five minutes before the mosque was attacked.
"I couldn't tell all my neighbours, so I evacuated myself and my neighbour and after five minutes an F-16 fired one rocket and after that a bigger rocket destroyed the mosque," he said.
The army said 23 rockets rained on Israel, bringing to 61 the number of projectiles launched at the Jewish state since a 72-hour truce ended on Friday.
One Israeli civilian and a soldier were wounded on Friday.
Israel said it had carried out more than 100 strikes in Gaza since Friday morning, 49 of them on Saturday, targeting those responsible for the rocket fire.
Full report at:
http://www.dawn.com/news/1124366/israel-pounds-gaza-strip-with-50-air-strikes
-----------
Iran airliner crashes, at least 38 dead
Aug 10, 2014
TEHRAN: An Iranian passenger plane crashed Sunday moments after takeoff from Tehran, killing at least 38 on board and narrowly avoiding many more deaths when it plummeted near a busy market.
The plane was headed to the eastern city of Tabas, the IRNA and Fars news agencies said, when it crashed at 9.18 am, after leaving Mehrabad airport.
It triggered a fireball when it smashed into the capital's Azadi neighbourhood, close to where hundreds of military families live, and only a few hundred metres from a row of shops.
Iran's deputy transport minister, Ahmad Majidi, said the Antonov An-140 turboprop plane had 40 passengers, including six children, and eight crew on board, and he put the death toll at 38.
A fire official initially said all on board had been killed but Fars later reported that 37 bodies were sent to the morgue and IRNA said nine people were hospitalised, two of them critically injured.
The aircraft was operated by Sepahan Airlines and a tailfin bearing the company's dolphin logo could be seen sticking out of the road as security forces cordoned off the crash site where firefighters had doused the flames.
Black smoke billowed from the mass of burnt out twisted metal, with officials saying the plane hit a wall and trees.
"The scene was terrible, with the back of the plane in the middle of the street," one eyewitness said.
"But we were lucky because there was a market 500 metres (yards) away and a lot of people were there.
"Another eyewitness told state television: "I was on my motorbike and I heard something behind me. I turned round and it was a plane, so I got on to the ground because it was so close.
With other people, we ran to try and save the passengers but there were two or three loud explosions and a huge fire. "Mehrabad airport is near central Tehran and it is by far the country's busiest domestic hub, serving routes to all major Iranian cities. Most international passenger flights take off from Tehran's Imam Khomeini International Airport, which is located further west of the capital.
Full report at:
http://www.dawn.com/news/1124454/iran-airliner-crashes-at-least-38-dead
-----------
Israel continues striking Gaza, kills five more
August 10, 2014
GAZA - Israel launched more than 30 aerial attacks in Gaza on Saturday, killing five Palestinians, and militants fired rockets at Israel as the conflict entered a second month, defying international efforts to negotiate an agreement for an extended ceasefire.
The violence seemed to delay any progress in talks brokered by Egypt aimed at securing another truce. Israel had no plans to send negotiators back to Cairo 'as long as the shooting goes on', an Israeli official said on condition of anonymity.
Medical officials in Gaza said two Palestinians were killed when their motorcycle was bombed and the bodies of three others were found beneath the rubble of one of three bombed mosques. Another attack reduced a security complex belonging to Gaza's dominant Hamas faction to a huge cloud of smoke, but there were no casualties. In other attacks, three houses were bombed, and fighter planes strafed open areas, medical officials said.
The Israeli military said that since midnight it had attacked more than 30 sites in the coastal enclave, without specifying the targets. Gaza militants fired 15 rockets at towns in Israel's south on Saturday setting off alarm sirens but causing no damage or injuries, a military spokeswoman said. Since the end of a 72-hour truce on Friday, Gaza militants have fired more than 65 rockets at Israel, military officials said. Two Israelis were hurt by a mortar attack on Friday.
Full report at:
http://www.nation.com.pk/international/10-Aug-2014/israel-continues-striking-gaza-kills-five-more
-----------
Erdogan vows 'strong new Turkey' in final election rally
August 10, 2014
ANKARA: Turkish Prime Minister Recep Tayyip Erdogan on Saturday roused tens of thousands of supporters with a call for a strong and new Turkey, as he held his final mass rally ahead of presidential polls he is widely expected to win.
'God willing a new Turkey will be established tomorrow. A strong Turkey will be born out of its ashes once more tomorrow,' Erdogan told cheering loyalists in the conservative central Anatolian city of Konya. Konya is known as the bastion of his Islamic-leaning Justice and Development Party (AKP) and the rally marked the culmination of almost 30 mass election meetings Erdogan has held up and down the country since early July. Turkey will for the first time vote directly for its next president on Sunday, with Erdogan looking set to continue more than a decade of domination over the country as head of state. Previous Turkish presidents, including outgoing Abdullah Gul, have performed largely ceremonial functions but Erdogan has made no secret that he would be a different kind of state who 'sweats and runs around'.
Full report at:
http://www.nation.com.pk/international/10-Aug-2014/erdogan-vows-strong-new-turkey-in-final-election-rally
-----------
Gaza under fire as Cairo talks face moment of truth
10 August 2014
GAZA CITY, Palestinian Territories: Israeli warplanes kept up their pressure on Gaza Sunday as truce talks in Cairo faced a moment of truth with the Palestinians threatening to bolt unless Israel returned to the table.
Gazans had another sleepless night as the air force struck 20 targets across the enclave. At least three people were reported killed. But the rocket fire only started at dawn, after which six mortar shells struck the south, causing no harm or damage, the army said.
Since a 72-hour truce ended on Friday, Gaza has been plunged back into an abyss of violence, with the Israeli military hitting 150 targets and killing 15 people, and Palestinian militants firing more than 100 rockets over the border.
So far, Egyptian efforts to broker an end to more than a month of fighting have led nowhere, with Israel pulling its team out of talks in Cairo on Friday after Hamas refused to extend the three-day cease-fire and resumed its rocket fire.
Prime Minister Benjamin Netanyahu told his cabinet on Sunday that Israel "will not engage in negotiations under fire."
The statement came shortly after the Palestinians warned they would leave Cairo if Israel refused to show up by 1300 GMT.
There was no let up in violence on the ground, where a 17-year-old boy was killed in an Israeli strike on central Gaza, medics said.
In Gaza City, all the shops were shuttered on Sunday with fear keeping people off the streets, but there was also a sense of deep frustration.
"We are tired. We just want to go home, but we want something in exchange for all our suffering," 27-year-old Samar Mohammad told AFP.
"I feel frustrated but I am confident that Israel will cave in and accept the demands of the resistance or Hamas will keep firing rockets until they do," said Shadi Abu Al-Heytan, 35.
In the West Bank, medics said an 11-year-old Palestinian boy was killed in a shooting that witnesses accused Israeli soldiers of carrying out. The military said it was looking into the reports.
Little chance of breakthrough
Mussa Abu Marzuq, deputy head of Hamas's exiled leadership, accused Israel of stalling over its demands and said Sunday would be crucial for deciding "the fate of the negotiations."
"We do not want an escalation, but we will not accept that there is no reply to our demands," he said late Saturday.
The Palestinian delegation, which includes Palestine Liberation Organization officials as well as senior figures from Hamas and Islamic Jihad, was holding further talks with Egyptian mediators from 0800 GMT, an official said.
But there appeared little chance of a breakthrough.
"The prospects of reaching an agreement are weak and the Palestinian delegation could leave Cairo at any moment," Izzat Al-Rishq, member of the Hamas politburo, tweeted shortly before the talks began.
Full report at:
http://www.arabnews.com/news/middle-east/614226
-----------
Massive anti-Israel protest in London
Aug 10, 2014
LONDON: Tens of thousands of pro-Palestinian demonstrators marched through central London on Saturday, urging Britain to take a tougher line against Israel over its military assault on Gaza.
The Palestinian Solidarity Campaign said 150,000 people attended the march, the third major demonstration for Gaza in London in the past four weeks.
Protesters packed the main shopping artery of Oxford Street, marching to the US embassy and on to Hyde Park, many of them chanting "Free, Free Palestine" and holding up banners saying "UK — Stop Arming Israel".
The first two protests attr­a­c­ted at least 10,000 people each, according to police, although organisers said it was more like 50,000 each time. Police declined to give a number for Saturday's event.
Lindsey German, convenor of the Stop the War Coalition, an umbrella group of NGOs, said: "The level of anger is unprecedented.
Full report at:
http://www.dawn.com/news/1124436/massive-anti-israel-protest-in-london
-----------
Africa
Somali Shebab Says 18 Dead In Attack on Government Troops
Aug 10, 2014
MOGADISHU: Somalia's hard-line Islamists reported heavy fighting Saturday in battles against government and African Union troops in the central Hiran region.
Shebab spokesman Abdulaziz Abu Musab told AFP at least 18 were killed and several others wounded after the group's fighters attacked a base of the AU force in Buloburde town, some 200 kilometres (125 miles) north of the capital Mogadishu.
The casualties could not be immediately confirmed, but the Al-Qaeda-linked extremists said the dead included five of their own men."Nine soldiers with the African Union, four of their Somali counterparts, and five mujahedeen from our Shebab were killed in the fight," Musab said.
Fighting begin around midnight Friday, lasting for about four hours into Saturday morning, he said. "Our fighters went into the camp, that is where the killing took place, "Musab added. Troops from the 22,000-strong AU force captured Buloburde from the Shebab earlier in the year, but the Islamists control large parts of the rural area surrounding the town.
The Shebab continue to launch attacks in the heart of the capital Mogadishu -- including recent brazen commando raids on the presidential palace and parliament -- in a bid to topple the internationally-backed government.
The latest fighting comes amid growing warnings of a humanitarian crisis in the war-torn country, three years after more than 250,000 people, half of them children, died in a devastating famine.
Full report at:
http://www.dawn.com/news/1124311/somali-shebab-say-18-dead-in-attack-on-government-troops
-----------
ISIS, Hamas and Boko Haram: Believe their intentions
August 9, 2014
Grim, unyielding and violent reality is beginning to confront the American political establishment with facts from which it cannot hide.
For 35 years, since Iranians seized the American Embassy on November 4, 1979, and kept the Americans in it as hostages, the United States has been at war with radical Islamists. They knew it. We hid from it.
Year after year since then, radical Islamists have grown more militant, more sophisticated and more numerous.
Now, in an arc of terror from Boko Haram in Nigeria through Hamas in Gaza to ISIS in Iraq, Syria and Lebanon, there is a clear wave of vicious religious warfare being waged against civilization by fanatics who openly promise and engage in genocidal killing.
To understand why I link ISIS, Hamas and Boko Haram, consider the language of their own statements.
Why not take them at their word?
ISIS has made its murderous intentions painfully clear. It has proven in town after town that it will force people to convert to Islam or it will kill them in numbers that are now being called genocidal.
As President Obama said in his speech Thursday night, "Many thousands of innocent civilians are faced with the danger of being wiped out."
The group has also made clear that it views its mission as a worldwide war. "I say to America that the Islamic caliphate has been established," a spokesman for the group said Thursday. He warned that the group will attack America and "will raise the flag of Allah in the White House."
"Don't be cowards and attack us with drones," he said. "Instead send your soldiers, the ones we humiliated in Iraq. We will humiliate them everywhere."
Its actions give us no choice but to acknowledge that ISIS means what it says.
Many people seem to be confused or deluded into believing that Hamas does not have similarly genocidal intentions. Its charter is a useful starting point.
"Israel will rise and will remain erect until Islam eliminates it as it had eliminated its predecessors," it says.
What does "eliminate" mean, you might ask? More from the charter:
"...[T]he Hamas has been looking forward to implement Allah's promise whatever time it might take. The prophet, prayer and peace be upon him, said: The time will not come until Muslims will fight the Jews (and kill them); until the Jews hide behind rocks and trees, which will cry: O Muslim! there is a Jew hiding behind me, come on and kill him!"
As Americans and Europeans beg for cease-fires, it is useful to see Hamas' attitude toward such arrangements. From "Article Thirteen: Peaceful Solutions, [Peace] Initiatives and International Conferences":
"[Peace] initiatives, the so-called peaceful solutions, and the international conferences to resolve the Palestinian problem, are all contrary to the beliefs of the Islamic Resistance Movement. For renouncing any part of Palestine means renouncing part of the religion...the movement educates its members to adhere to its principles and to raise the banner of Allah over their homeland as they fight their Jihad. ...
"There is no solution to the Palestinian problem except by Jihad," it concludes. "The initiatives, proposals and international conferences are but a waste of time, an exercise in futility. The Palestinian people are too noble to have their future, their right and their destiny submitted to a vain game."
Of course, the Charter of Hamas was written in 1988, so maybe they have mellowed?
During this current struggle, while Westerners were begging the Israelis to be reasonable, an imam amplified Hamas' position in a public, televised sermon.
"Our doctrine in fighting you [the Jews] is that we will totally exterminate you. We will not leave a single one of you alive, because you are alien usurpers of the land and eternal mercenaries."
Obviously the organization exists for the same genocidal mission as ISIS.
Boko Haram has its own contribution to this hateful movement. A spokesman for Boko Haram recently told a Nigerian newspaper that "the Nigerian state and Christians are our enemies and we will be launching attacks on the Nigerian state and its security apparatus as well as churches until we achieve our goal of establishing an Islamic state in place of the secular state."
Full report at:
http://www.cnn.com/2014/08/08/opinion/gingrich-isis-boko-haram-hamas/
-----------
Somalia: Al Shabaab Commander Shot Dead in Mogadishu
10 AUGUST 2014
By Maalik Som
Somali National and inelegance security services has shot and killed a senior commander of Al Shabaab militant in Mogadishu's Hiliwaa district, according to Gov't officials.
The killed commander identified as Nur Baraxow fighting with Somali National forces before he was killed in northern in Somali capital, locals told Shabelle Media in Mogadishu.
Full report at:
http://allafrica.com/stories/201408100014.html
-----------
Survivors of Boko Haram attack stranded on mountain
2014-08-10
Lagos - Hundreds of people who escaped a Boko Haram attack on their town in Nigeria's restive north and fled to a nearby mountain said on Saturday they were without any food.
"We are in distress. We need help," said Liman Ngosha, a farmer from the town of Gwoza.
"We have been starving for the past four days. We are surviving now on wild fruits," he told AFP by phone from the Mandara mountain.
Suspected Boko Haram gunmen attacked the town, some 135km from the state capital of Maidugur, on Wednesday.
The raid left dozens dead and sent others fleeing to the mountain near the Cameroonian border.
Survivors said there were no soldiers to defend the town when the gunmen attacked before dawn.
Over 100 corpses
"I cannot tell the exact number of people that were killed. Before I fled, over 100 corpses littered the streets of Gworza," Ngosha said.
The palace of the town's emir, the police headquarters and scores of other buildings were destroyed, residents said.
"Dozens of our people have been killed by the attackers. Some were slaughtered and many others shot with guns," resident James Mshelia told AFP.
Residents said the whereabouts of the Gwoza emir, Mohammad Idrissa Timta, was unknown. Timta succeeded his father, Mustapha Idrissa Timta, who was killed by Boko Haram insurgents in May.
Full report at:
http://www.news24.com/Africa/News/Survivors-of-Boko-Haram-attack-stranded-on-mountain-20140810
-----------
South Asia
Afghan militant attack kills four in Dir
August 10, 2014
PESHAWAR - Militants from Afghanistan stormed the house of a local anti-Taliban militia in troubled northwest Pakistan, killing him and three members of his family, officials said Saturday.
The incident occurred late Friday in Tenai Dara village in Upper Dir district around 250 kilometres north of Peshawar.
"Taliban militants from Afghanistan stormed the house of Nazmeen Khan, chief of a local anti-Taliban militia, in the late hours of Friday night and killed him along with his two sons and a nephew," local police official Gul Fazil Khan told AFP.
He said two other family members were wounded, including a woman who was in critical condition.
Full report at:
http://www.nation.com.pk/national/10-Aug-2014/afghan-militant-attack-kills-four-in-dir
-----------
Afghan poll rivals sign unity government deal
09 Aug 2014
Afghanistan's feuding presidential candidates have signed a deal to work on the formation of a national unity government, as an audit attempts to decide the winner of the country's fraud-tainted election.
Abdullah Abdullah, a former foreign minister, and ex-finance minister Ashraf Ghani Ahmadzai, agreed to resolve their dispute on Friday in a deal brokered by US Secretary of State John Kerry.
Abdullah said the agreement was a "step forward in the interests of strengthening national unity ... and bringing hope to the people for the future of Afghanistan".
The two rivals have been locked in a bitter dispute over who will succeed Afghan President Hamid Karzai following June's runoff election.
The breakthrough came as Kerry opened a second day of talks aimed at preventing the fragile country from collapsing into political chaos.
The joint declaration stated the candidates would agree to a timeline for the electoral process and inauguration date for the next president by the end of August.
Afghanistan's western backers hope an audit of votes will produce a legitimate president before a NATO summit in early September.
Full report at:
http://www.aljazeera.com/news/southasia/2014/08/afghan-presidential-candidates-unity-government-20148811455553354.html
-----------
Europe
UK's Cameron will lose election on ethnic minority vote: Muslim ex-minister
By William James
Aug 10, 2014
LONDON (Reuters) - Prime Minister David Cameron's Conservatives will lose next year's election because they have neglected ethnic minority voters, Britain's first Muslim cabinet minister, who last week resigned over the government's Gaza policy, warned on Sunday.
Sayeeda Warsi, a former Foreign Office minister who has played a key role in the Conservatives' appeal to Muslim voters, last week embarrassed Cameron by resigning via Twitter over what she said was the government's "morally indefensible" approach to the conflict between Israel and Hamas.
On Sunday she dominated the front pages of Britain's newspapers again, this time warning that what she called Cameron's neglect of ethnic minority voters would cost him an outright victory at next year's national election.
"The electoral reality is that we will not win outright Conservative majorities until we start attracting more of the ethnic vote," she said in an interview with the Sunday Times and Independent on Sunday newspapers.
"We've probably left it a little too late to take this part of the electorate seriously."
The criticism from Warsi, the daughter of Pakistani immigrants to Britain who speaks fluent Urdu, Punjabi and Gujarati, will hit a sore spot for Cameron.
Full report at:
http://news.yahoo.com/uks-cameron-lose-election-ethnic-minority-vote-muslim-122424220--business.html
-----------
URL: https://www.newageislam.com/islamic-world-news/new-age-islam-news-bureau/saudi-arabia-bans-sierra-leone,-guinea,-liberia-muslims-from-performing-hajj/d/98505