New Age Islam News Bureau
3 Jun 2014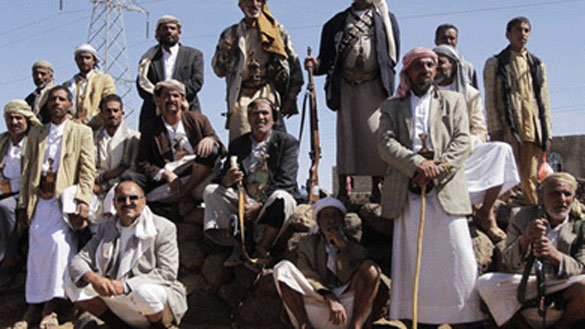 The Houthis blame elements of the Sunni Muslim Islah party within government forces. (File photo: Reuters)
----------
Arab World
• Saudi Arabia Bans Books of Pro-Muslim Brotherhood Clerics
• World Islamic Bloc Appeals for Sunni-Shiite Coexistence
• KSA slams Israeli move to build synagogue in Quds
• Violence across Iraq Kills 32
• Extremists Uprooted From Saudi Mosques: Officials Look Forward To a Calm Ramadan
• ISIL Kidnaps Tens of Kurdish Students in Aleppo
• Egypt to officially announce Sisi as president
• Islamic bloc appeals for Sunni-Shiite coexistence
• Syrian Opposition Holds Rally in London to Thank Israeli Support
• Seminar: Islamic micro-finance ideal way to eradicate poverty
Mideast
• At Least 120 Dead In Fighting Between Yemen Shi'ite Muslim, Govt Forces
• State-owned Ziraat Bank 'has an eye on' pro-Gülen Islamic Bank
• 'Hamas arms program speeding ahead'
• Turkey calls on int'l community to lend support to new Palestinian gov't
Africa
• Boko Haram Kills 85, Burns Three Villages in Borno, Adamawa
• At Least 74 Dead in Somali/Ethiopian Clash With Al-Shebab
• Kenya: KDF Kill Two Muslim Cleric in Mandera Suspected of Terrorism
• Libya: Islamist militias seize PM's office
• Tunisia president faces 'defamation' lawsuit
Pakistan
• Sunni council declares honour killing 'haraam'
• TTP shrinks in Waziristan as 'Sajna factor' brings split, desertions
• Pakistan Taliban splits over 'un-Islamic' practices
• London police arrests MQM chief Altaf Hussain
• Bodies of seven 'Taliban' found in Karachi
• 'India treated Nawaz like a schoolboy': Imran Khan
• Three killed, five injured in Karachi violence
• Tahir ul Qadri likely to announce anti-govt movement
• Pakistan lost Rs 8,264 billion in 'war on terror'
• Over half of Pakistan lives under poverty line: Finance Minister
• Hina Rabbani Khar says Modi exudes positive vibes
South Asia
• 34 Taliban militants killed in joint Afghan operations
• PM Sheikh Hasina: If alive, Zia would be sued for killing Bangabandhu
• Bangladesh lost a "good friend", says Hasina on Indian Minister's death
• 7 Taliban militants arrested in capital Kabul
India
• Kerala Sunni group against World Cup soccer frenzy
• Nothing to fear about BJP govt: Hurriyat's Syed Ali Shah Geelani
• India, Oman to better economic and defence engagement
• Hizbul using Punjab to smuggle weapons
Europe
• EU Imposes Sanctions on Boko Haram
• Global protest reads names of 100,000 Syria dead
• Potentially dangerous situation in Libya: France special envoy
• Belgians to work with World Jewish Congress on anti-hate education
• Russia lifts arms embargo to Pakistan: report
• British Sikh man gets over 18,000 pounds in racial abuse lawsuit in Scotland
• Amnesty International urges Maldives to investigate brutality at Anbaraa
North America
• Obama's State Department has joined the Islamic assault on Western liberty
• US lawmakers question aid to new Palestinian unity government
• White House defends release of Taliban detainees, Afghans upset
• Obama calls on Russia to call off militants in eastern Ukraine
• DNA tests may be needed in Sudanese Woman apostasy case: US official
• Visitors Fault Sept. 11 Museum's Portrayal of Islam
Southeast Asia
• Facing criticism, Gerindra backpedals on 'religious purification' pledge
• Hudud controversy a major factor in Teluk Intan loss, says DAP
Compiled by New Age Islam News Bureau
URL: https://newageislam.com/islamic-world-news/saudi-arabia-bans-books-pro/d/87339
------------
Arab World
Saudi Arabia Bans Books of Pro-Muslim Brotherhood Clerics
3 June 2014
Saudi authorities have banned the sale of books by two Islamist authors known to be sympathetic to the Muslim Brotherhood, the London-based daily al-Hayat reported on Monday.
The Saudi-owned paper said it has confirmed information that books authored by Saudi cleric Salman al-Odah and his Kuwaiti counterpart Tariq al-Suwaidan were ordered to be removed from the bookstores.
Hussein al-Ghamdi, manager of a bookstore in Jeddah, told al-Hayat that he received orders from the Saudi religious police to remove the books of Odah and Suwaidan from the shelves "immediately."
Ghamdi said he complied with the order, which he said could be reversed in the future.
He cited an example when religious police asked him to remove a book for containing "satanic and erroneous information," but discovered later there was nothing wrong with the book and ordered its return. "Sometimes the ban could be wrong," he said.
He described Odah and Suwaidan's books as "popular."
Both Odah and Suwaidan are popular especially in the Gulf region. On Twitter, Odah has more than 4.7 million followers while Suwaidan has almost 3 million.
In March, Saudi Arabia blacklisted the Muslim Brotherhood as terrorist group.
Suwaidan was sacked from the Islamic TV station al-Resala last August after admitting that he belonged to the Muslim Brotherhood.
Resala is owned by the Saudi billionaire Prince al-Waleed Bin Talal of Saudi Arabia, who said his TV station, has no place for Muslim Brotherhood members.
Odah has also expressed pro-Muslim Brotherhood sentiments.
http://english.alarabiya.net/en/News/2014/06/03/Report-Saudi-Arabia-bans-books-of-pro-Muslim-Brotherhood-clerics.html
------------
World Islamic Bloc Appeals for Sunni-Shiite Coexistence
The Associated Press
June 3, 2014
JIDDAH, Saudi Arabia (AP) — The newly appointed head of the world's largest bloc of Islamic countries says he is seeking greater co-existence between Sunni and Shiite Muslims at a time when multiple conflicts have inflamed sectarian hatreds as his organization grapples with the challenge of presenting a unified Muslim voice
In the Arab world, sectarian tensions between the two main branches of Islam have increased the past decade. In Syria, jihadist fighters from around the world are fighting alongside the country's Sunni majority against President Bashar Assad's Alawite, Shiite-backed minority. Meanwhile, Sunni-Shiite bloodletting in Iraq shows no sign of abating with hardliners on either side.
In both conflicts, rival regional heavyweights — Sunni-led Saudi Arabia and Shiite-led Iran — support opposing sides.
The secretary-general of the Organization of Islamic Cooperation, Iyad Madani, and said "a new (regional) paradigm is needed, one that "leads to a situation of co-existence, mutual understanding and common interests."
Madani spoke to The Associated Press in his first interview since officially taking office in January as the head of the organization, which groups 57 member nations from four continents.
"Sectarian violence is among the most important challenges the Muslim world faces," said Madani, who is the first Saudi national to head the organization. He said emphasis on the shared Islamic identity among ordinary Muslims can bring about the new paradigm.
"Sectarian religious killing has no victor and if it continues we will all be losers," he said, speaking at the OIC's headquarters in Saudi Arabia.
Madani said the organization works with religious scholars, governments and international organizations to counter sectarian ideologies and work against extremist organizations.
The organization is also concerned with the protection of Muslim minorities around the world. The OIC sent high-level delegations to Myanmar, where ultra-nationalist movements led by Buddhist monks have forced more than 140,000 Muslim Rohingya from their homes. They have also sent OIC-led teams to the Central African Republic, where Christian militias have displaced entire Muslim towns and villages.
Among the OIC's key tasks, the 68-year-old Madani said, is supporting the Palestinians and the Al-Aqsa Mosque complex in Jerusalem, which is considered Islam's third holiest site.
"We encourage all Muslims from all over the world to go to East Jerusalem and pray in Al-Aqsa and confirm that this mosque is a part of their faith," said Madani, who was recently in the West Bank holding meetings with Palestinian officials.
The idea for the creation of the international Islamic organization, which seeks to represent the worldwide Muslim community, came after a 1969 arson attack that severely destroyed part of the Al-Aqusa Mosque.
Madani criticized Israeli policies that he said are erasing East Jerusalem's Palestinian and multi-religious identity. Israel captured East Jerusalem in the 1967 Mideast war — along with the West Bank and Gaza Strip — and annexed the sector as part of its capital, though its annexation has generally not been recognized internationally. The Palestinians claim East Jerusalem as the capital of a future state.
Madani called Israel's occupation of East Jerusalem an "ugly form of apartheid" — an accusation Israel rejects. He said countries like the US have an important role to play in brokering peace, but cautioned about the influence in Washington of active pro-Israeli lobbying groups.
Muslims believe that the Prophet Muhammad made a miraculous ascension to heaven from the site of the now iconic gold-topped Dome of the Rock in the Al-Aqsa compound. The compound is one of the most sensitive sites in the conflict between Israel and its Arab neighbors. Jews revere the site as the Temple Mount and pray below the mosques at the Western Wall.
Madani's primary role is to seek consensus among the OIC's members, whose heads of state hold summit meetings every three years.
"To be part of something bigger than yourself offers… personal satisfaction and the reward of being involved in a higher mission," he said of the job.
Madani, who began as a journalist in Saudi Arabia, previously served as the kingdom's information minister and as the minister overseeing the annual hajj pilgrimage to Mecca, which put him into direct contact with Muslims around the world.
Madani was born in Mecca and raised in Islam's second holiest city of Medina. He graduated from Arizona State University with a degree in production management in 1969, when there were few universities in the kingdom.
He described the US as "a great country" and said he was influenced by the emergence of the New Left, when students and professors protested against the war in Vietnam and pushed for civil rights.
"It was an optimistic world. I think we all felt we could genuinely rewrite the script to change the world," he said.
Copyright 2014 The Associated Press.
http://www.timesofisrael.com/islamic-bloc-appeals-for-sunni-shiite-coexistence/#ixzz33dHmm5Y4
-------------
KSA slams Israeli move to build synagogue in Quds
June 3, 2014
JEDDAH – The Council of Ministers on Monday condemned Israel's decision to build a synagogue in occupied Jerusalem.
The council, chaired by Crown Prince Salman, also denounced the move to construct 50 new housing units at the Jewish settlement in Mount Abu Ghneim.
In a statement to the Saudi Press Agency following the session, Minister of Culture and Information Abdulaziz Khoja said the council called on the international community to stand firmly against Israel's violations of various laws and international conventions and its continued aggression on the occupied Palestinian territories, including Jerusalem, which Muslims call Al-Quds, and the Islamic holy sites.
Khoja said the council was briefed on the outcome of the meeting of Custodian of the Two Holy Mosques King Abdullah with King Mohammed VI of Morocco.
Their talks figured mainly on the prospects of cooperation between the two countries and ways to enhance them, besides latest developments in the Islamic, Arab and international arenas.
Commending the signing of a memorandum of understanding between the King Abdullah Interreligious Center for Interfaith and Intercultural Dialogue and UNESCO to emphasize the commitment to the principle of promoting a culture of dialogue, the council reiterated the Kingdom's assertion that dialogue is the ideal channel to address any differences with others.
The council also vowed its support for all initiatives taken in this regard.
It also welcomed the outcome of the 22nd session of the Arab League Educational, Cultural and Scientific Organization (ALECSO), held recently in Tunis, and the adoption of its action plans, programs, projects, events and activities for the next phase.
The council reiterated the Kingdom's emphasis on the importance of improving and taking care of education and its outputs.
Khoja said the council authorized Prince Salman, also minister of defense, to discuss and sign with Comoros a draft memorandum of understanding between the two countries' ministries of defense to enhance bilateral cooperation and then submit the final version for completion of statutory procedures.
It also approved a cooperation agreement between the governments of Saudi Arabia and the Republic of Gabon, signed in Riyadh last year.
The objectives of the agreement include promotion of economic, trade and investment cooperation between the two countries and their citizens, besides encouraging the exchange of visits by economic, commercial and technical representatives, delegations and missions.
The council authorized the minister of transport or his deputy to discuss and sign with South Korean a draft agreement on cooperation between the two governments in the field of maritime transport and then submit its final version for the completion of the statutory procedures.
It approved the final account of the Saudi Commission for Tourism and Antiquities (SCTA) for the fiscal year 2012-2013.
Khoja said the council approved the appointment of Abdulaziz Al-Quwaiz, Khaled Al-Rajhi and Saeed Bin Taradh Bin Garman as members of the board of Communications and Information Technology Commission (CITC) taking up the posts of representatives of the private sector for a period of three years.
http://www.saudigazette.com.sa/index.cfm?method=home.regcon&contentid=20140603207249
------------
Violence across Iraq Kills 32
June 3, 2014
Attacks across Iraq killed 32 people on Tuesday, as politicians haggle over forming a new governing coalition after an April general election.
The worst of Tuesday's bloodshed unrest was concentrated in the outskirts of Baghdad, with eight people killed in all, security and medical officials said.
In Iskandiriyah, militants killed five people -- two with guns and three with knives -- along a main road in the town before fleeing the scene. It was not clear why the victims were targeted.
On the capital's northern outskirts, two people were killed by mortar fire in Saba al-Bor, while a policeman was shot dead in Tarmiyah.
Further north, attacks in Salaheddin, Nineveh and Kirkuk provinces killed six people, four of them policemen, officials said.
Shelling of Iraqi city Fallujah killed 18 people and wounded another 43 Tuesday, according to Doctor Ahmed Shami at the city hospital.
The shelling, which hit a market, municipal offices and in the vicinity of the hospital itself, struck at around midday, said an AFP journalist in the city, just a short drive west of Baghdad.
Figures separately compiled by the United Nations and the government in Baghdad showed more than 900 people were killed last month alone.
An AFP tally puts the death toll so far this year at more than 4,000.
http://www.almanar.com.lb/english/adetails.php?eid=154614&cid=23&fromval=1&frid=23&seccatid=24&s1=1
-----------
Extremists Uprooted From Saudi Mosques: Officials Look Forward To a Calm Ramadan
June 3, 2014
RIYADH — Undersecretary of the Ministry of Islamic Affairs, Endowments, Call and Guidance Tawfiq Al-Sudairi expressed confidence that the upcoming Ramadan season will be one of the calmest in the Kingdom with all radical elements within religious establishments rooted out.
He hoped imams in mosques would strictly comply with Shariah conditions while delivering Friday sermons, organizing Iftars (fast-breaking meals) and holding the special supplications (Qunoot) in Taraweeh (special congregational prayers on Ramadan nights), according to Al-Watan newspaper.
Al-Sudairi did not rule out some form of violations in some of the biggest mosques in the country, but he expected them to be within the "expected margin".
The political turmoil and conflicts that some countries of the region are passing through are posing numerous challenges for the Ministry of Islamic Affairs, which is striving to distance sermons and prayers in local mosques from such external issues.
Full report at:
http://www.saudigazette.com.sa/index.cfm?method=home.regcon&contentid=20140603207198
------------
ISIL Kidnaps Tens of Kurdish Students in Aleppo, A Copycat of Boko Haram
June 3, 2014
The Al-Qaeda militants kidnapped dozens of Kurdish students in Aleppo province in Northern Syria.
The Kurd students were kidnapped by the Saudi-backed Al-Qaeda offshoot, the Islamic State of Iraq and the Levant (ISIL), near the city of Manbij while they were on their way to a school in a nearby city to take part in their final examinations.
The young students are currently being held in a detention center in the ISIL-held city of Manbij, North of Aleppo.
Full report at:
http://english.farsnews.com/newstext.aspx?nn=13930313000494
-----------
Egypt to officially announce Sisi as president
3 June 2014
The official results of the three-day Egyptian presidential elections last week is expected to be announced by the electoral committee on Tuesday.
Former army chief Abdel Fattah al-Sisi is already being celebrated in the country as a clear winner, according to exit polls which saw him take the lead against his sole competitor leftist politician Hamdeen Sabbahi with 93 percent of the vote.
Egypt's elections committee rejected Sabbahi's appeal against voting results that gave Sisi a landslide victory, judicial sources said.
Sabahi's campaign sent a complaint to the elections committee on Friday objecting to what it said was "the existence of campaigning inside polling stations" by Sisi supporters, among other abuses.
Full report at:
http://english.alarabiya.net/en/News/middle-east/2014/06/03/Egypt-to-officially-announce-Sisi-as-president.html
------------
Syrian Opposition Holds Rally in London to Thank Israeli Support
June 3, 2014
The UK-based Syrian opposition in a rally thanked Israel for supporting the foreign-backed militants in Syria.
The Syrian opposition in their rally in downtown London carried Israeli flags while chanting slogans in support of the Israeli regime for providing health services to Al-Qaeda militants in Israeli hospitals.
Also in the past 24 hours, Syrian army soldiers tightened grip on militants after a series of operations against their concentration camps and hideouts in several areas around Syria.
Army units killed numbers of militants and injured many others in the villages of Haddadin, Rasem Bakro, Jabal al-Saharij, al-Khanat and al-Dabbaghat in Aleppo, a military source said.
The source added that militants' concentration camps were targeted in Bustan al-Basha, al-Sakhour, Qobtan al-Jabal, Hreitan and Bani Zed, killing many of the militants, injuring others and destroying their vehicles in Handarat Camp, Hanano, Mare', Tal Jabin, al-Mislmeih, al-Hader, Ainjara and Arom.
Full report at:
http://english.farsnews.com/newstext.aspx?nn=13930313000248
-----------
Seminar: Islamic micro-finance ideal way to eradicate poverty
June 3, 2014
JEDDAH — Speakers at a recent economic seminar said that Islamic micro-finance is the best option to eradicate poverty and improve the living conditions of Muslims, especially those in poor countries.
They are of the view that the interest-free and profit sharing Islamic micro-finance will help bolster social bonds and achieve self-reliance.
The seminar was conducted by the Indian Forum for Interest-Free Banking (IFIB) at Seagulls Seaview restaurant auditorium here.
Mamoon Al-Azami, senior community development researcher at Islamic Development Bank (IDB), inaugurated the seminar.
In his speech, Al-Azami drew attention to the success of Islamic micro-finance in Bangladesh and some African countries.
Full report at:
http://www.saudigazette.com.sa/index.cfm?method=home.regcon&contentid=20140603207208
------------
Mideast
At Least 120 Dead In Fighting Between Yemen Shi'ite Muslim, Govt Forces
3 June 2014
At least 120 people were killed in northern Yemen in fighting between Shi'ite Muslim Houthi rebels and government forces before a ceasefire was agreed, a Yemeni official said on Tuesday.
Ahmed al-Bekry, deputy governor of Omran province, said that Yemeni war planes bombed positions held there by Houthi fighters and army forces clashed with the rebels, killing around 100 of them. He said about 20 government soldiers were killed as well.
He said fighting ended by Monday evening after the sides agreed a ceasefire and no clashes were reported on Tuesday.
"Things are calm (today) after mediation efforts led by the interior minister," Bekry told Reuters, adding Yemeni air force action on Monday was one of the main reasons for the Houthis' assent to a truce.
Yemen has been in turmoil since 2011, when mass protests forced long-ruling president Ali Abdullah Saleh to step down.
Full report at:
http://english.alarabiya.net/en/News/2014/06/03/At-least-120-dead-in-fighting-between-Yemen-Houthis-govt-forces.html
------------
State-owned Ziraat Bank 'has an eye on' pro-Gülen Islamic Bank
June 3, 2014
State-owned Ziraat Bank may be interested in buying Islamic bank Bank Asya, whose owner is known to have close ties with Islamic scholar Fethullah Gülen, as part of its plans to enter the Islamic banking sector, daily Hürriyet columnist Erdal Sağlam has reported.
Ziraat Bank officials told Sağlam there had not yet been any official attempt to move for Bank Asya, but they did not deny the possibility of such an acquisition either.
Ziraat is one of three state-owned banks planning to open up a participation bank to offer interest-free financial services.
Full report at:
http://www.hurriyetdailynews.com/state-owned-ziraat-bank-has-eyes-on-pro-gulen-islamic-bank.aspx?pageID=238&nID=67323&NewsCatID=345
------------
'Hamas arms program speeding ahead'
June 3, 2014
Hamas's weapons production program in Gaza is moving ahead at full speed, with local rocket production centers churning out thousands of projectiles, according to Israeli security evaluations.
As Hamas in Gaza prepares to attempt a reunification with Fatah in the West Bank, the Islamist regime today forms one of the largest armed forces in the region, and has restructured itself into a military-like combat entity, complete with territorial divisions, a senior security source told The Jerusalem Post on Monday.
"Hamas doesn't really need the Iranians for support anymore. It creates its own weapons, and is responsible for most of its own training," the source said.
At the same time, foreign trainers, from places like the battlefields of Syria, arrive in Gaza to share their military expertise with Hamas.
Full report at:
http://www.jpost.com/Middle-East/Hamas-arms-program-speeding-ahead-355202
------------
Turkey calls on int'l community to lend support to new Palestinian gov't
June 3, 2014
Ankara has voiced support for the new unified government between Palestinian President Mahmoud Abbas' Palestine Liberation Organization (PLO) and Hamas and has urged the international community to also support the move.
Ankara believes the newly formed government will eventually help build sustainable peace in the Middle East.
"The unity of the Palestinian people is indispensable for the building of a just and viable peace in the region. With this new government eliminating the rift between Palestinians, the first step toward this direction has been taken. We believe the arrangements within the PLO's structure and elections expected to take place in the upcoming period will strengthen democratic legitimacy in Palestine," the Foreign Ministry said in a written statement released late June 2 when it welcomed the new government and congratulated all Palestinian people.
"We call on the international community to support this development, which aims at uniting the national democratic will of the Palestinian people," the ministry said.
Full report at:
http://www.hurriyetdailynews.com/turkey-calls-on-intl-community-to-lend-support-to-new-palestinian-govt-.aspx?pageID=238&nID=67316&NewsCatID=510
----------
Africa
Boko Haram Kills 85, Burns Three Villages in Borno, Adamawa
June 3, 2014
Gunmen believed to be Boko Haram members yesterday killed 85 innocent Nigerians in the Borno and Adamawa, two states under emergency rule.
In the Borno attack, at least 45 people were killed and three villages burnt to ashes in separate attacks as sect members sustained their offensive on isolated towns and villages around the state, an eyewitness and officials said.
The first attack which took place at about 8pm on Friday was carried out on two villages, Wondula and Annari, all near Ngala town, while the second one occurred on Saturday morning in Warshele, another nearby hamlet.
"About 45 people died in the attacks and nothing that could be called building was spared as the gunmen set ablaze everything; they heaped food items into many of their vehicles and took away scores of livestock from the villages", said a local vigilante member, Muhammed Gavva.
Full report at:
http://allafrica.com/stories/201406020225.html?aa_source=acrdn-f0
-----------
At Least 74 Dead in Somali/Ethiopian Clash With Al-Shebab
June 3, 2014
At least 74 people were killed in fighting near Somalia's border with Ethiopia on Sunday, according to officials and witnesses. Somali and Ethiopian forces attacked the bases of Al-Shebab Islamists near the south-western town of Ato.
Local people say that this is the worst fighting they have seen in the region and it is unclear how many were killed but the government claimed victory in this gruesome battle.
Hassan Ibrahim Lugbur, the deputy governor of Bakool region where Ato locates told RFI by phone that over 74 Al-Shebab fighters were killed in the battle.
Al-Shebab - who are they?
"Somali forces along with those of the Ethiopian attacked bases manned by Al-Shebab fighters near Ato killing 74 Al-Shebab militia," Lugbur said.
He added that the assault was undoubtedly in retaliation for last week's Al-Shebab raids on bases in a village on Somalia-Ethiopia border, in which 30 Somali and Ethiopian soldiers were killed.
Full report at:
http://allafrica.com/stories/201406031386.html?aa_source=mf-hdlns
-----------
Kenya: KDF Kill Two Muslim Cleric in Mandera Suspected of Terrorism
June 3, 2014
The Kenya Defence Forces has gunned down two Kenyan Muslim clerics who are believed to be members of the Al shabaab group in Mandera town and recovered eight hand grenades.
The two were felled at Khadija Haji, Shafshafey near the border at 11pm on Sunday night.
Police at the scene say the two were planning to carry out an attack in Mandera town.
Police suspect a Somali believed to be a key member of the militia group escaped and entered Somalia on foot after the ambush.
Full report at:
http://allafrica.com/stories/201406030103.html?aa_source=sptlgt-grid
-----------
Libya: Islamist militias seize PM's office
3 June 2014
Libyan militias loyal to new Prime Minister Ahmed Maiteeq, who is backed by the Muslim Brotherhood, stormed the prime minister's office on Monday ahead of a planned Supreme Court session to adjudicate the dispute between him and interim Prime Minister Abdullah al-Thinni.
Al-Thinni last week refused to hand power to Maiteeq because of questions over his appointment, and demanded that divided lawmakers resolve the political standoff.
Thinni referred to a decision by a justice ministry legal department that ruled Maiteeq's election early this month was illegal.
The Supreme Court was due to reconsider the case on Thursday, but before it does, Maiteeq's allies moved Monday to impose a fait accompli.
Full report at:
http://english.alarabiya.net/en/News/africa/2014/06/03/Libya-Pro-government-militias-seize-PM-s-office.html
------------
Tunisia president faces 'defamation' lawsuit
3 June 2014
A group of Tunisians has filed a lawsuit against President Moncef Marzouki accusing him of referring to his own people as "ignorant", a judicial source said on Monday.
"Last week, we received a defamation complaint against President Moncef Marzouki signed by around 80 people," said the source, requesting anonymity.
One plaintiff, Moez Ali, told AFP that they had accused Marzouki of "treating Tunisians as ignorant at an official ceremony and in front of foreign ambassadors."
The case was filed with a court in Tunis three days after Marzouki's speech on May 26 to mark Africa Day, which marks the founding of the Organisation of African Unity, precursor of the African Union.
Full report at:
http://english.alarabiya.net/en/News/middle-east/2014/06/03/Tunisia-president-faces-defamation-lawsuit-.html
------------
Pakistan
Sunni council declares honour killing 'Haram'
3 June 2014
FAISALABAD: Murder in the name of honour is 'haraam' and there is no permission in Islam 'for such a callous offence', according to members of the Sunni Ittehad Council (SIC).
Some 30 muftis of the SIC issued this statement following the murder of a 25-year-old woman, Farzana, in Lahore on Tuesday last week, allegedly by members of her family including her father, brothers and cousins. "There is no justification for the killing of Farzana in such a barbaric manner," said Mufti Muhammad Shareef Rizvi, speaking after the meeting. "The accused should be punished under the law, which they violated when they stoned an innocent person to death."
A special moot was called by the SIC to consider incidents of killing of women under the guise of 'honour' on Sunday. Rizvi told the media that SIC members unanimously agreed that there is no concept of killing for honour in Islamic jurisprudence nor are there instances in which a woman can be killed on the pretext of 'honour'. "Islam allows every girl, after attaining the age of puberty, to marry or solemnize her nikkah with her own will and in the presence of two witnesses," he said. "If the girl's parents have any objection, they should file a petition in the court."
Full report at:
http://tribune.com.pk/story/716363/farzana-iqbal-case-sunni-council-declares-honour-killing-haraam/
-------------
TTP shrinks in Waziristan as 'Sajna factor' brings split, desertions
June 3, 2014
ISLAMABAD: Space is finally shrinking for the Tehreek-e-Taliban Pakistan (TTP) to freely operate out of its bastion North Waziristan as the recent split in its ranks has helped the government win over the loyalties of South Waziristan-based Mehsud clan, which has been providing the most formidable foot soldiers for the umbrella organisation since its formation in 2007.
The TTP split is slowly and gradually tilting the power equation in Waziristan in favour of pro-government forces, with southern part being ruled by Mullah Nazir group, led these days by Salahuddin Ayubi. Hafiz Gul Bahadur, meanwhile, is holding the north despite his angry response to the recent military strikes in his area. But the tilt in power equation between pro- and anti-government forces in Waziristan was actually prompted by the fact that a major faction of the Mehsud tribe led by Khalid Mehsud, aka Khan Said Sajna, had recently walked out of the TTP, accusing its leaders of being involved in un-Islamic practices, like armed robberies, extortion, bombing of public places and promotion of sectarian violence and intolerant religious ideologies.
Full report at:
http://www.dailytimes.com.pk/national/03-Jun-2014/ttp-shrinks-in-waziristan-as-sajna-factor-brings-split-desertions
------------
Pakistan Taliban splits over 'un-Islamic' practices
3 June 2014
(CNN) -- After months of infighting within the Pakistan Taliban, a major faction of the deadly militant group has apparently had enough.
The Mehsud faction has announced it's parting ways with the central leadership of the group, known formally as the Tehreek-i-Taliban Pakistan (TTP), over ideological differences.
The breakaway faction had made attempts to convince the TTP to give up what it said were "un-Islamic" practices, such as attacks in public places, extortion, and kidnappings, and decided to separate from the banned terrorist outfit after these attempts failed, a spokesperson for the newly-formed faction, Azam Tariq, said in a statement released to the media last week.
It's the first split since the TTP -- a coalition of militant groups -- was founded in 2007, seeking to establish its version of sharia law across Pakistan.
Analysts say the move has major implications for alliances among Islamist groups in the region but there's no guarantee it will lead to less violence.
Full report at:
http://www.cnn.com/2014/06/02/world/asia/pakistan-taliban-split/
------------
London police arrests MQM chief Altaf Hussain
June 3, 2014
LONDON – The police in London have arrested Altaf Hussain, a UK-based leader of the Mutahidda Qaumi Movement (MQM), on charges of money laundering, local and foreign news channels reported on Tuesday.
Scotland Yard has confirmed that the MQM chief has been arrested in connection with the money laundering case. The arrest took place at a North West London property. Altaf had confirmed in recent TV interview that all his bank accounts in the UK had been frozen by the British authorities.
MQM Rabita Committee will soon issue a statement regarding the arrest of its leader in London and will inform everyone about the situation. Journalists and political commentator Javed Chaudhry said that the London Police were investigating Altaf Hussain for three cases of money laundering, hate speech and the murder of Imran Farooq.
http://www.dailytimes.com.pk/national/03-Jun-2014/altaf-hussain-arrested-in-uk
------------
Bodies of seven 'Taliban' found in Karachi
June 3, 2014
KARACHI: Seven bullet-ridden bodies of suspected militants were found dumped among bushes in Karachi on Monday, officials said.
The deceased appeared to have been brought to the spot in Manghopir area before being executed, senior police officer Sajid Noor told AFP.
"We found blood and empty shells of the bullets around the bodies implying they were killed at the spot this morning," he said.
He added that police were investigating whether they belonged to the Taliban or another group.
"Some of them have been identified and from their appearance they looked like Taliban but we don't have any record of their affiliation to the banned group," Noor said.
Full report at:
http://www.dailytimes.com.pk/sindh/03-Jun-2014/bodies-of-seven-taliban-found-in-karachi
------------
'India treated Nawaz like a schoolboy': Imran Khan
June 3, 2014
NEW DELHI – Pakistan Tehreek-i-Insaf Chairman Imran Khan has said that Prime Minister Nawaz Sharif was treated like a 'schoolboy' when he visited India to attend Narendra Modi's swearing-in ceremony last week, Indian media reported on Tuesday.
The NDTV reported that Prime Minister Nawaz had struck a bargain on Kashmir by not meeting representatives of the Hurriyat Conference in New Delhi. Talking to the channel, Imran raised questions that if Nawaz Sharif could meet Indian leaders in Delhi, then why could he not hold a meeting with those representing the Hurriyat Conference.
Earlier, National Security and Foreign Affairs Adviser Sartaj Aziz had said that the India trip of Nawaz Sharif for the inauguration of Modi was in itself such a seismic event - the first time ever for a Pakistani leader - that it would have been unrealistic to expect any substantive breakthroughs.
Full report at:
http://www.dailytimes.com.pk/national/03-Jun-2014/india-treated-nawaz-like-a-schoolboy
------------
Three killed, five injured in Karachi violence
June 3, 2014
KARACHI: Three people, including a gang-war suspect, were killed and five others injured in different incidents of violence in Karachi, DawnNews reported on Tuesday.
On receiving a tip-off about the presence of suspects, police conducted an operation in Karachi's Musa Lane during which they came under fire, triggering an exchange of fire. Subsequently, a gang-war suspect Waseem Badshah was killed in the encounter.
According to the police, Badshah was wanted in serious incidents of crime, including attempted murder.
Full report at:
http://www.dawn.com/news/1110310/three-killed-five-injured-in-karachi-violence
------------
Tahir ul Qadri likely to announce anti-govt movement Movement
June 3, 2014
ISLAMABAD – Pakistan Awami Tehreek (PAT) Chairman Dr Tahir ul Qadri is likely to announce a movement against the PML-N government after his arrival on Thursday.
Dr Qadri will meet different opposition leaders including former prime minister Chaudhry Shujaat Hussain, Pakistan Tehreek-e-Insaf Chairman Imran Khan, former deputy prime minister Pervaiz Elahi in connection with his strategy.
The PAT leader will also meet leadership of religious parties. Following his meetings, he will start an anti-government movement, but his office here in Pakistan not confirmed media reports in this regard.
http://www.dailytimes.com.pk/national/03-Jun-2014/qadri-likely-to-announce-anti-govt-movement
------------
Pakistan lost Rs 8,264 billion in 'war on terror'
June 3, 2014
ISLAMABAD: During the last 13 years, the direct and indirect cost incurred by Pakistan on the war on terror and the losses due to terrorist attacks amounted to $102.51 billion, which is equivalent to Rs 8,264.4 billion.
This includes a loss of $24.86 billion in over two years, a government document revealed on Monday. The Economic Survey 2013-14 reveals that Pakistan suffered a mega economic loss of $28459.89 million from January 2011 to March 2013. The figures jointly compiled by the ministries of Finance, Foreign Affairs and Interior, and incorporated in the survey, suggest that of the $102.51 billion or Rs 8264.40 million loss, $23.77 billion loss was reported in 2010-11, $13.56 billion in 2009-10, $11.98 billion in 2011-12, $9.97 billion in 2012-13, Rs 701.26 million in the first three months of 2013, Rs 720.60 billion in 2008-09, and $27.36 billion from January 2001 to December 2007.
Full report at:
http://www.dailytimes.com.pk/national/03-Jun-2014/pakistan-lost-rs-8-264-billion-in-war-on-terror
------------
Over half of Pakistan lives under poverty line: Finance Minister
June 3, 2014
ISLAMABAD: If $2 is considered to be the minimum daily wage, then more than half of the country lives below the poverty line, Finance Minister Ishaq Dar said on Monday as he unveiled the Pakistan Economic Survey for 2013-14.
Mr Dar said that in the survey from 2007-08, overall poverty stood at 17.2 per cent, while the minimum wage was considered to be $1.25. "I disagree that the daily minimum wage in the country is currently $1.25."
Presenting solutions to stem rising poverty and increase employment in the country, the minister emphasised the need for drastic improvement in economic and industrial growth.
Poverty line is the threshold that separates the poor from the non-poor. The Ministry of Planning, Development and Reform measures poverty on a consumption-based approach using data from the Household Integrated Economic Survey.
Full report at:
http://www.dawn.com/news/1110248/over-half-of-pakistan-lives-under-poverty-line-dar
------------
Hina Rabbani Khar says Modi exudes positive vibes
By Mail Today Bureau in New Delhi
3 June 2014
PAKISTAN Prime Minister Nawaz Sharif's meeting with Indian Prime Minister Narendra Modi has changed the BJP leader's image in Pakistan and there are now positive vibes about him across the border, former Pakistani foreign minister Hina Rabbani Khar said on Monday.
" Modi's image has changed in Pakistan, he is looked upon as somebody who wants peace and we can do business with.
It requires leadership to take India- Pakistan relations forward and he has shown that," Khar said in an interview with Karan Thapar of H EADLINES T ODAY . " I hope Mr Modi will take the calls required to change the destiny of 1.5 billion people and not ( give in to) domestic pressures. He has created space for all those who wanted peace in region," she said.
"( Former Prime Minister) Dr Manmohan Singh genuinely wanted peace, but could never show the leadership required," she said.
Full report at:
Mail Today
------------
South Asia
34 Taliban militants killed in joint Afghan operations
Jun 03 2014
At least 34 Taliban militants were killed following joint military operations conducted by Afghan national security forces.
The operations were conducted in Nangarhar, Baghlan, Sar-e-Pul, Balkh, Uruzgan and Helmand provinces in the past 24 hours.
Ministry of Interior Affairs of Afghanistan (MOI), following a statement said Afghan national police forces conducted the operations in cooperation with the Afghan national army and Afghan intelligence – national directorate of security (NDS) operatives.
The statement further added that five Taliban militants were also injured during the operations.
Full report at:
http://www.khaama.com/34-taliban-militants-killed-in-joint-afghan-operations-8200
------------
PM Sheikh Hasina: If alive, Zia would be sued for killing Bangabandhu
June 3, 2014
Prime Minister Sheikh Hasina yesterday claimed that late president Ziaur Rahman was involved in the Bangabandhu killing.
"His death saved him or else we would have accused him and sued him for the murder," the premier said while addressing a meeting of the Awami League's Central Working Committee at her official residence Ganabhababan.
"Zia was a big conspirator, she said: "Moshtaque was Bangabandhu's killer. As Moshtaque made Zia the army chief Zia had his involvement in the Banganbandu's murder."
Bangabandhu Sheikh Mujibur Rahman, also the father of the prime minister, was assassinated by a group of disgruntled junior army officers on August 15, 1975, along with most of his family members. After the coup, Khondaker Mostaque Ahmad became his immediate successor.
Full report at:
http://www.dhakatribune.com/politics/2014/jun/03/hasina-if-alive-zia-would-be-sued-killing-bangabandhu#sthash.US1ZpZR9.dpuf
------------
Bangladesh lost a "good friend", says Hasina on Indian Minister's death
June 3, 2014
Bangladesh Prime Minister Sheikh Hasina on Tuesday paid rich tributes to Rural Development Minister Gopinath Munde, who died during a road accident here, describing him as a "distinguished" political leader who was a "good friend" of her country.
In a condolence message to Prime Minister Narendra Modi, Ms. Hasina said Munde's "untimely demise is a huge loss for your government, the country, the people, and the party.
"All would be deprived of the service that he was just about to deliver in his new capacity. You have lost a distinguished political leader and we have lost a good friend of Bangladesh", she said.
Ms. Hasina said that "in this hour of grief, on behalf of the government and the people of Bangladesh and also on my own behalf, I would like to extend to the government and the people of India and to the members of the bereaved family, our heartfelt condolences".
http://www.thehindu.com/news/national/bangladesh-lost-a-good-friend-says-hasina/article6078793.ece
------------
7 Taliban militants arrested in capital Kabul
Jun 03 2014
At least seven Taliban militants were arrested following an operation in capital Kabul.
The Afghan intelligence – National Directorate of Security (NDS), following a statement said Tuesday that the Taliban militants were arrested during an operation in Kabul city.
The statement further added that the group was involved in numerous terrorist activities in parts of Kabul city.
The detained militants have confessed that they were plotting to carry out attacks during the second round of election in capital Kabul.
NDS said that the militants were deployed to Kabul city after receiving trainings in Miranshah tribal region in Pakistan.
The statement also added that the militants were involved in attacks on Afghan security forces on Kabul-Logar highway and other terrorist activities.
The Taliban militants group has not commented regarding the report so far.
http://www.khaama.com/7-taliban-militants-arrested-in-capital-kabul-8204
---------
India
Kerala Sunni group against World Cup soccer frenzy
June 3, 2014
MALAPPURAM: An influential Sunni group in Kerala has come out in the open against World Cup soccer fever, which according to them has a degenerating effect on the youth.
"Last time we had asked the people not to be a part of this frenzy. Our stand is unchanged this time too. We are not against the game, but we do not approve the brouhaha created over the game," Nazar Faizi Koodathayi, the leader of the Samastha Kerala Sunni Students Federation, said on Tuesday.
What irked the Sunni leadership most is the ubiquitous fluttering of the flags of some western countries that have closer ties with Israel. "Imitating the style of the players also could be dangerous for our culture," Faizi said.
Full report at:
http://timesofindia.indiatimes.com/city/kozhikode/Kerala-Sunni-group-against-World-Cup-soccer-frenzy/articleshow/35649163.cms
----------------
Nothing to fear about BJP govt: Hurriyat's Syed Ali Shah Geelani
June 3, 2014
SRINAGAR: Hurriyat hawk Syed Ali Shah Geelani on Monday said there is nothing to fear about the BJP government at the Centre as there is not an iota of difference in the policies pursued by the current dispensation and the preceding regime. The only difference between the two governments is the way of talking, the hardline Hurriyat Conference chairman told a seminar at his Hyderpora residence here.
"(Former Prime Minister) Manmohan Singh was soft-spoken while the new leader (Narendra Modi) talks tough," he said.
"There is nothing to fear about the BJP government as there is not an iota of difference in the policies of the two (BJP and Congress) parties," he said.
Full report at:
http://timesofindia.indiatimes.com/india/Nothing-to-fear-about-BJP-govt-Hurriyats-Syed-Ali-Shah-Geelani/articleshow/35960247.cms
------------
India, Oman to better economic and defence engagement
June 3, 2014
NEW DELHI: Bilateral trade and defence cooperation will top the agenda when Oman foreign minister Yousuf bin Alawi bin Abdullah visits India June 3, an external affairs ministry official said on Monday.
Although the visit is to congratulate the new Indian government on behalf of Oman, the two countries are likely to draw a roadmap for future economic and defence cooperation, the official added.
Oman and India have bilateral trade of over $5 billion per annum which is likely to increase to $6 billion during the next financial year.
Full report at:
http://timesofindia.indiatimes.com/india/India-Oman-to-better-economic-and-defence-engagement/articleshow/35957259.cms
----------
Hizbul using Punjab to smuggle weapons
By Manjeet Sehgal in Chandigarh
3 June 2014
AFTER the security was tightened on the Indo- Pak border, the Kashmiri militants found a new route to smuggle ' cheap' arms from Bihar's illegal gun factories.
The railway route connecting Jammu- Kashmir and Bihar is now being used to smuggle arms into the troubled Kashmir Valley.
Punjab is being used as a transit point to smuggle weapons by the terrorist outfits, source said. The disclosure was made by a Hizbul Mujahideen arms courier who was caught with weapons in Pathankot on May 9.
Ravesh Ul- Islam, the alleged Hizbul arms courier, told his interrogators that the Kashmiri militants are now getting their arms supplies from Bihar via Punjab route. According to the Punjab police, Kashmiri militants share good relations with criminals Hizbul using Punjab to smuggle weapons running illegal arms factories in Bihar.
Full report at:
Mail Today
------------
Europe
EU Imposes Sanctions on Boko Haram
June 3, 2014
The European Union on Monday announced it has imposed sanctions on Nigeria's Boko Haram as an Al-Qaeda-linked terrorist group, AFP reports.
The decision to blacklist the group follows its designation as a terrorist movement two weeks ago by the United Nations.
Boko Haram, whose name translates loosely from the Hausa language spoken widely in northern Nigeria as "Western education is sin", was added to the EU list late last week along with Syria's jihadist Al-Nusra Front.
The move subjects Boko Haram and Al-Nusra, as well as people or entities supporting them financially or materially, to sanctions including an arms embargo, asset freeze and travel ban.
Boko Haram, which was created ten years ago, demands the creation of an Islamic state in mainly Muslim northern Nigeria. Its attacks have left thousands dead since 2009.
Boko Haram has carried out scores of attacks on targets it says are a product of Western influence, including sports venues and schools teaching a secular curriculum.
Full report at:
http://www.israelnationalnews.com/News/News.aspx/181329#.U45cBnJdU4U
------------
Global protest reads names of 100,000 Syria dead
3 June 2014
Activists began reading the names of 100,000 people killed in Syria outside U.N. headquarters on Monday, in a modest launch of what they hope will be a global protest.
A dozen Syrian-Americans opposed to President Bashar al-Assad got the event off to a slow start in New York's Dag Hammarskjold Plaza, an hour later than advertised on Facebook.
The names of 100,000 of the more than 160,000 people killed during the three-year civil war will be read during a 24-hour period in cities across North America, Europe and inside Syria, they said.
Full report at:
http://english.alarabiya.net/en/News/middle-east/2014/06/03/Global-protest-reads-names-of-100-000-Syria-dead-.html
------------
Potentially dangerous situation in Libya: France special envoy
June 3, 2014
TRIPOLI – In an exclusive meeting with Libya Herald, France's newly appointed Special Envoy to Libya, Denys Gauer said that France is "worried about the complicated and potentially dangerous situation in Libya – for Libya and for its neighbors".
Speaking alongside French ambassador Antoine Sivan in Tripoli as a show of support for Libya during these difficult political times, Gauer said that "the appointment of a special envoy shows the willingness to act in support of Libya and in order to coordinate . We are ready to support, but Libyans must solve their own problems", he stressed.
"There is a sense of urgency that is echoed by Libya's neighbours too", explained the Special Envoy who arrived Friday and left on Monday.
Full report at:
http://www.saudigazette.com.sa/index.cfm?method=home.regcon&contentid=20140603207194
------------
Belgians to work with World Jewish Congress on anti-hate education
June 3, 2014
Belgian PM Elio Di Rupo pledges to establish a joint commission with the World Jewish Congress, local Jews to strengthen communal security.
Belgian Prime Minister Elio Di Rupo pledged to establish a joint commission with the World Jewish Congress and local Jews to strengthen communal security, combat racism and strengthen Holocaust education and "facilitate the exchange of information," the WJC announced on Monday.
The announcement came following a meeting with the Premier in Brussels.
A delegation of WJC leaders met with Di Rupo and senior ministers following last week's shooting at the Brussels Jewish Museum in which four people, including two Israeli Jews, were shot to death by Islamist Mehdi Nemmouche.
Full report at:
http://www.jpost.com/Jewish-World/Jewish-News/Belgians-to-work-with-WJC-on-anti-hate-education-355194
------------
Russia lifts arms embargo to Pakistan: report
June 3, 2014
MOSCOW: Russia has lifted its embargo on arms supplies to Pakistan and is holding talks on supplying Islamabad with combat helicopters, the head of state-owned Rostec, Sergei Chemezov, said Monday, the ITAR-TASS news agency reported.
"Such a decision has been taken. We are holding talks on supplying the helicopters," Chemezov said, adding that the negotiations were about Russian Mi-35 Hind attack helicopters.
Russia has long been the largest supplier of arms to India, which is the world's top arms buyer.
But Moscow's move to supply Islamabad came as New Delhi is seeking to modernise its armed forces' ageing hardware and has recently chosen to buy arms from Israel, France, Britain and the United States.
Full report at:
http://www.dawn.com/news/1110131/russia-lifts-arms-embargo-to-pakistan-report
------------
British Sikh man gets over 18,000 pounds in racial abuse lawsuit in Scotland
Press Trust of India | London | June 3, 2014
A British Sikh man has been awarded over 18,000 pounds in compensation by a Scottish tribunal for being degraded and racially abused by his Muslim boss and colleagues at work.
Paramjit Singh, a forecourt cleaner at a garage in the town of Greenock, Scotland, was called a "lazy low-caste Sikh" and forced to repeatedly carry out demeaning tasks.
He was also abused for having a white British wife, with one co-worker saying: "I don't know how you can stay with a white woman. They're not clean and they don't know how to live," the Scottish Herald reported.
Full report at:
http://indianexpress.com/article/world/indians-abroad/british-sikh-man-gets-over-18000-pounds-in-racial-abuse-lawsuit-in-scotland/
-----------
Amnesty International urges Maldives to investigate brutality at Anbaraa
By Zaheena Rasheed | June 3rd, 2014
Amnesty International has urged the Maldives to investigate allegations of police brutality during a raid on a music festival on Anbaraa Island in April.
Although police claimed they carried out the raid on suspicion of drug abuse, their actions on Anbaraa seems to have been focused on stopping the festival and forcing women to cover themselves up, said Amnesty.
The organisation highlighted claims of unnecessary force, arbitrary arrest of 79 festival goers on alleged possession and use of drugs, ill treatment of detainees in police custody and denial of rights to freedom of assembly and freedom of expression.
Festival participants told Amnesty that the police manhandled many of them, verbally abused them, threw them to the ground, and forced them to lie face down.
Police also ransacked and looted their belongings, said festival-goers. Some detainees were beaten up while other suffered sexual harassment, Amnesty was told.
Full report at:
http://minivannews.com/politics/amnesty-international-urges-maldives-to-investigate-brutality-during-anbaraa-music-festival-86382
------------
North America
Obama's State Department has joined the Islamic assault on Western liberty
June 3, 2014
Not satisfied with expunging any reference to Islam from government documents containing the word "terrorism," the Obama administration is embarking on a wider anti-free-speech policy mapped out by the Organization of Islamic Cooperation.
Comprised of 56 countries and the Palestinian Authority, the OIC claims to speak for the world's 1.5 billion Muslims.
Clearly it does not, as Islam involves different intellectual currents. But the powerful OIC still presumes to speak for Islam in the international community.
When the UN's Universal Declaration of human rights was created in 1948, Saudi Arabia joined apartheid South Africa in rejecting it.
The Saudis found it violated Sharia, and the South Africans saw it as a threat to their racist society. Most Muslim majority states, however, supported the resolution.
Although non-binding, the UNDHR has evolved to become the foundation for international human rights. Among its basic principles are religious and gender equality.
Full report at:
http://washingtonexaminer.com/obamas-state-department-has-joined-the-islamic-assault-on-western-liberty/article/2549185
------------
US lawmakers question aid to new Palestinian unity government
June 3, 2014
WASHINGTON – Congress spoke with one voice on Monday against the formation of a unified Palestinian Authority endorsed by Hamas, threatening to discontinue US aid just as the Obama administration said it would work with the new government.
US financial aid to the PA through 2014 has already been appropriated by the US Congress.
But the funds have not been obligated: the State Department must approve requests by the PA on how the funds will be allocated.
Funding for 2015 has not yet been drafted, however, and already, members of the appropriations committees on Capitol Hill are suggesting a cut in aid because of the deal.
"As long as Hamas rejects the Quartet principles and the existence of the State of Israel, United States funding for this unity government is in jeopardy," said Congresswoman Nita Lowey (D-NY), ranking member on the House Appropriations Committee, expressing "deep disappointment" with the development.
Full report at:
http://www.jpost.com/Diplomacy-and-Politics/US-lawmakers-question-aid-to-new-Palestinian-unity-government-355156
------------
White House defends release of Taliban detainees, Afghans upset
June 3, 2014
MAZAR-I-SHARIF, Afghanistan — The White House on Monday defended the release of five Guantanamo detainees in exchange for a US soldier held by the Taliban, as many ordinary Afghans criticized the deal for emboldening the militants.
Army Sergeant Bowe Bergdahl – the only US soldier held by the Taliban after being captured in Afghanistan – was freed on Saturday in a dramatic deal brokered by Qatar.
In exchange, five Taliban prisoners were turned over to the Arab emirate where they will remain for a year, raising hopes for peace as the US prepares to leave Afghanistan.
But the deal has also sparked sparked criticism from some Republicans, who claimed they could return to the battlefield and pose a threat to Americans abroad, as well as revulsion among Afghans in those parts of the country traditionally opposed to the Islamists.
Full report at:
http://www.saudigazette.com.sa/index.cfm?method=home.regcon&contentid=20140603207235
------------
Obama calls on Russia to call off militants in eastern Ukraine
June 3, 2014
US President Barack Obama on Tuesday called on Russia to pressure separatists to stop attacking government forces in eastern Ukraine and to prevent the flow of fighters and weapons into the region.
Obama made the call in a press conference in Poland and also warned that further Russian "provocation" in Ukraine could lead to stepped-up economic sanctions.
http://english.ahram.org.eg/NewsContent/2/9/102817/World/International/Obama-calls-on-Russia-to-call-off-militants-in-eas.aspx
------------
DNA tests may be needed in Sudanese Woman apostasy case: US official
June 3, 2014
Washington - The American husband of a Sudanese woman sentenced to hang for apostasy may have to provide DNA proof that he is the father of her two children, a US official confirmed on Monday.
State Department spokeswoman Jen Psaki finally acknowledged that Daniel Wani is a US citizen after he waived his right to privacy, and said he was receiving help from the US embassy in Khartoum.
Wani met embassy officials on Monday, Psaki revealed, adding that "we have been engaged with him since June of 2013, so for the last year, and we've been in regular contact with him throughout the trial".
Full report at:
http://www.iol.co.za/news/africa/dna-tests-may-be-needed-in-apostasy-case-1.1697710#.U45fCXJdU4U
---------
Visitors Fault Sept. 11 Museum's Portrayal of Islam
By SHARON OTTERMAN
June 3, 2014
After the vivid audio recordings, diagrams and personal artifacts that take visitors minute by minute through the Sept. 11 attacks, and before the images of recovery workers combing through rubble, a small section of the National September 11 Memorial Museum is devoted to explaining Al Qaeda and terrorism.
A seven-minute video installation narrates a summarized history of Al Qaeda, opposite a series of brief explanatory panels about the group's ideology and its attacks. On a recent weekday, some visitors stopped to watch the film in its entirety, but others only paused briefly. Some read the text panels, one of which explains that Al Qaeda represents a tiny fraction of the world's Muslims; many people did not.
Full report at:
http://www.nytimes.com/2014/06/02/nyregion/sept-11-museum.html?hpw&rref=nyregion&_r=1
-------------
Southeast Asia
Facing criticism, Gerindra backpedals on 'religious purification' pledge
Jun 03, 2014
Hashim Djojohadikusumo, deputy chairman of the Gerindra Party's patron board, said his party had dropped a program of 'purification of religious teachings' in its 'Manifesto of Struggle, following a number of criticisms that the party carries a fundamentalist view toward religions and diversity of beliefs.
"We have erased the sentence from our manifesto, because we based our party principle on Pancasila. We will uphold the law if there is discrimination against any ethnic, religion or race," he said as quoted by tempo.co on Monday.
The Gerindra Party leads a coalition consisting of the Golkar Party and three Islamic parties: the National Mandate Party (PAN), the United Development Party (PPP) and the Prosperous Justice Party (PKS), which support Prabowo Subianto and Hatta Rajasa as their candidate pair, and could command a total of 45.3 percent or 292 out of a total 560 seats at the House of Representatives.
Full report at:
http://www.thejakartapost.com/news/2014/06/03/facing-criticism-gerindra-backpedals-religious-purification-pledge.html
-----------
Hudud controversy a major factor in Teluk Intan loss, says DAP
Jun 03, 2014
The proposal by PAS to implement hudud in Kelantan is a major contributing factor that prevented Dyana Sofya Mohd Daud from defending the Teluk Intan parliamentary seat in the just concluded by-election, a DAP leader said.
Puchong MP Gobind Singh Deo (pic, right) said while PAS, an ally of DAP and PKR in Pakatan Rakyat, had worked tirelessly throughout the campaign, the Islamist party had stood firm on its decision to push ahead with hudud.
"I am of the view that the controversy around the implementation of hudud by PAS contributed significantly to our loss in Teluk Intan," he said in a statement today.
He said early analysis suggested DAP had lost some 25% of the non-Malay vote, a very significant shift which called for concern.
Full report at:
http://www.themalaysianinsider.com/malaysia/article/hudud-controversy-a-major-factor-in-teluk-intan-loss-says-dap
-----------
URL: https://newageislam.com/islamic-world-news/saudi-arabia-bans-books-pro/d/87339