New Age Islam News Bureau
1 Apr 2020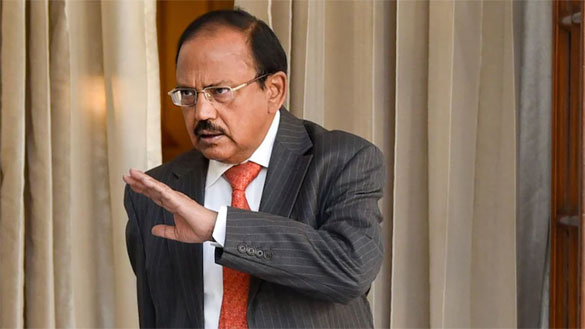 National Security Advisor Ajit Doval. (PTI File)
• Saudi Arabia Asks Muslims To Wait Before Making Haj Plans Amid Coronavirus Breakout
• Tablighi-Jamaat's Markaz Leadership Agreed to Vacate Nizamuddin Mosque After NSA Ajit Doval's Intervention
• Covid-19 Lockdown: Police File Case Against Islamic Scholars for Flouting Govt Orders in Delhi
• Coronavirus Outbreak: Only Five or Less People Can Offer Congregational Prayers in Mosques, Rules KP Government
• Saudi-Led Forces Airdropping Virus-Infected Masks In Yemen: Minister
• Indonesians Advised to Perform Idul Fitr, Ramadan Tarawih Prayers At Home Amid Coronavirus Concerns
• Afghan Religious Affairs Ministry Urges People to Avoid Mosques During Coronavirus Lockdown
• Start-Up Payment Platform Jumah Pay Seeks UK Rollout To Help Mosques And Charities Manage COVID-19
• Trump's Travel Ban Is Right: Coronavirus Won't Harm Muslims, Say Many Muslim Clerics
---------
Arab world
• Saudi Arabia Asks Muslims To Wait Before Making Haj Plans Amid Coronavirus Breakout
• Education City Mosque of Qatar: A Spiritual Place Combining Modernity And Heritage
• Abu Dhabi Islamic Bank shareholders approve lifting foreign ownership cap
------
India
• Tablighi-e-Jamaat's Markaz Leadership Agreed to Vacate Nizamuddin Mosque After NSA Ajit Doval Intervention
• Covid19 Lockdown: Police File Case Against Islamic Scholars for Flouting Govt Orders in Delhi
• Maharashtra Police Books Mosque Trustees for Hiding Foreign Nationals Who Attended Tablighi Jamaat Event in Delhi's Nizamuddin
• Tablighi Jamaat: The Core Of The Islamic Ecosystem And The Danger It Poses
• Coronavirus: Delhi SHOs told to check mosques
• Agra administration picks up over a dozen Jamaat members from a mosque
• Nizamuddin congregation participants stayed in 16 mosques in Delhi: Police to state govt
• Hunt intensifies for Delhi's Nizamuddin-linked cases as tally crosses 1600 across India
• "Excuse to Vilify Muslims": Omar Abdullah On COVID-19 Cases At Delhi Event
• 5 Trains, Thousands of Passengers Being Traced For Delhi Mosque Event
------
Pakistan
• Coronavirus Outbreak: Only Five or Less People Can Offer Congregational Prayers in Mosques, Rules KP Government
• Muslim rulers should repent: Chaudhry Shujaat
• Punjab Chief Secretary for expediting cleaning and disinfecting of roads, mosques
• After Covid-19, Karachi facing another healthcare crisis due to OPDs' closure
• Complete lockdown in Raiwind city
-------
Mideast
• Saudi-Led Forces Airdropping Virus-Infected Masks In Yemen: Minister
• Curfewed Syrians Cheer For Health Care Workers Fighting Coronavirus
• Hezbollah aims for frontline role in Lebanon's coronavirus fight
• Iran's academics call for prosecution of top US, European officials over sanctions
• US military activities in Iraq 'violation of national sovereignty': Iran
----
Southeast Asia
• Indonesians Advised to Perform Idul Fitr, Ramadan Tarawih Prayers At Home Amid Coronavirus Concerns
• Case management of Sabah church's appeal on 'Allah' ban set for April 30
• No Ramadan bazaars in Selangor this year due to Covid-19, says MB
• Penang CM: No decision yet on Ramadan bazaars
------
South Asia
• Afghan Religious Affairs Ministry Urges People to Avoid Mosques During Coronavirus Lockdown
• 10 members of a family killed, wounded in an explosion in South of Afghanistan
• Taliban delegation arrives in Kabul for the first time since 2001
• Ex-commando took own life after horrific tours of duty in Afghanistan and Iraq
• Why people in Afghanistan are not taking coronavirus seriously?
-----
Europe
• Start-Up Payment Platform Jumah Pay Seeks UK Rollout To Help Mosques And Charities Manage COVID-19
• Golden Hillock Road City Mosque Car Park To Become Temporary Mortuary During Coronavirus Crisis
• Muslim schoolboy youngest COVID-19 victim in UK
• As Easter, Passover and Ramadan near, religious leaders adapt holiday observances during the coronavirus pandemic
• Anti-Muslim fake news being circulated during coronavirus lockdown
------
North America
• Trump's Travel Ban Is Right: Coronavirus Won't Harm Muslims, Say Many Muslim Clerics
• US trying to block messages of real information from Iran: Analyst
Compiled by New Age Islam News Bureau
https://www.newageislam.com/islamic-world-news/new-age-islam-news-bureau/saudi-arabia-asks-muslims-to-wait-before-making-haj-plans-amid-coronavirus-breakout/d/121458

------
URL: https://www.newageislam.com/islamic-world-news/saudi-arabia-asks-muslims-wait/d/121458
---------
Saudi Arabia Asks Muslims To Wait Before Making Haj Plans Amid Coronavirus Breakout
April 1, 2020
ISLAMABAD: Saudi Arabia is urging Muslims to wait before making plans to attend the annual Haj pilgrimage until there is more clarity about the deadly coronavirus pandemic, the kingdom's minister for Haj and Umrah said on Tuesday.
Some 2.5 million pilgrims usually flock to the holiest sites of Islam in Makkah and Medina each year for the week-long ritual, which is a once-in-a-lifetime duty for every able-bodied Muslim and a major source of income for the kingdom.
While, the coronavirus infected cases surged to over 846,000 and over 41,500 deaths with over 3,900 new deaths reported across the world on Tuesday.
On the other hand, about three out of four Americans are now, or about to be, under some form of lockdown, as more states tighten measures to fight the coronavirus. Maryland, Virginia, Arizona and Tennessee became the latest states to order citizens to stay at home, meaning 32 of 50 states have taken such steps, reported BBC on Tuesday.
Meanwhile governors are quarrelling with President Donald Trump about the availability of testing kits. The US has more than 175,000 confirmed virus cases and over 3,400 deaths.
The US now has more COVID-19 fatalities than China, where the illness was first reported. Some 245 million people are already under orders to stay at home, or facing such orders which come into effect later on Tuesday.
Almost two-thirds of states have issued directives for their citizens to stay put, while the remaining states have localised orders in effect. In general, the "lockdowns" allow people to only go out to get essential supplies and medicines, or limited forms of exercise.
Meanwhile, a large religious gathering in New Delhi has sparked a manhunt across India for suspected coronavirus cases after being linked to dozens of infections and several deaths. The gathering emerged as one of India´s major virus hotspots after thousands flocked to an Islamic religious centre in the Nizamuddin West neighbourhood of Delhi.
Some returned home to other states after the gathering, but many remained in the vicinity, saying they were trapped because public transport had been shut down due to the virus.
More than half of the 1,800 people who participated in the Tablighi Jamaat congregation in Delhi's Nizamuddin came from two states - Tamil Nadu and Assam - officials have said. The Jamaat's headquarters in Nizamuddin area has emerged as one of the biggest coronavirus disease hotspots in India with 24 people testing positive and nearly 200 others showing symptoms of COVID-19.
Giving statewise break-up of the number of people present at the congregation held earliest this month, officials said that 510 people came from Tamil Nadu, 281 from Assam, 156 from Uttar Pradesh, 109 from Maharashtra, 107 from Madhya Pradesh, 86 from Bihar, 73 from West Bengal, 55 from Telangana, 46 from Jharkhand, 45 from Karnataka, 34 from Uttarakhand, 22 from Haryana, 21 from Andaman and Nicobar Islands, 19 from Rajasthan, 15 each from Himachal Pradesh, Kerala and Odisha, nine from Punjab and five from Meghalaya.
Late Monday and Tuesday, the warren of lanes near the religious centre -- near several prominent Sufi shrines -- were taped off by officials in hazmat suits. More than 1,000 people were taken in buses from the area by police, with 335 admitted to hospital and the rest quarantined, Delhi Health Minister Satyendar Jain told reporters Tuesday.
At least 10 attendees -- including six in southern Telangana state and three in Delhi -- have died from COVID-19 in the past few days, authorities said. The Press Trust of India said around 8,000 people took part in the event, with Telangana officials saying at least 1,000 attendees were from that state alone.
Infections in other states and territories have also been linked to the gathering. Delhi officials estimated that almost 300 foreigners attended the gathering, the Press Trust of India reported.
Once again, Spain hit a new record with 849 coronavirus deaths in 24 hours on Tuesday although health chiefs said the rate of new infections was continuing its downward trend. After Italy, Spain has suffered the world´s second most deadly outbreak which has now claimed 8,189 lives there. The latest figures came a day after the death toll fell slightly, raising hopes the epidemic could be peaking.
Over the same period, the number of confirmed cases rose to 94,417 after another 9,222 people tested positive: a nearly 11-percent increase. That figure was seen as a setback after a week in which the rate had been steadily failing, with Monday´s figures having shown a rise of just over 8.0 percent. "It´s true that today we have a slight increase in the number of cases," said Maria Jose Sierra, from the health ministry´s emergencies coordination unit. But the downward trend "is continuing", she added.
It has also ordered millions of euros worth of supplies to support its health care system, on the brink of collapse following the massive influx of seriously ill patients and a growing number of medical staff falling sick with the virus.
Meanwhile, a UN human rights expert called on Tuesday for lifting international sanctions against countries ranging from Iran to North Korea and Venezuela to ensure that food supplies reach hungry populations during the coronavirus pandemic.
Iran, under sweeping US sanctions for its nuclear and missile programmes, is among the hardest-hit by the new pathogen. Venezuela has notified 113 cases to the World Health Organization (WHO), while isolated North Korea, which borders on China and South Korea, has yet to report any. "The continued imposition of crippling economic sanctions on Syria, Venezuela, Iran, Cuba, and, to a lesser degree, Zimbabwe, to name the most prominent instances, severely undermines the ordinary citizens' fundamental right to sufficient and adequate food," Hilal Elver, UN special rapporteur on the right to food, said in a statement.
Elver, an independent expert, said that it was a matter of "humanitarian and practical urgency to lift unilateral economic sanctions immediately." France, Germany and Britain have exported medical goods to Iran in the first transaction conducted under a trade mechanism set up to barter humanitarian goods and food after the US withdrawal from a 2015 nuclear deal, Germany said on Tuesday.
Iran's death toll from coronavirus has reached 2,898, with 141 deaths in the past 24 hours, Health Ministry spokesman Kianush Jahanpur told state TV on Tuesday, adding that the total number of infections has jumped to 44,606.
The Trump administration on Tuesday unveiled a proposal for the lifting of tough Venezuela sanctions, including on the vital oil sector, in exchange for the creation of a power-sharing transitional government made up of members of the opposition and President Nicolas Maduro's Socialist Party.
https://www.thenews.com.pk/print/637728-coronavirus-breakout-ksa-asks-muslims-to-wait-before-making-haj-plans
------
Tablighi-e-Jamaat's Markaz Leadership Agreed To Vacate Nizamuddin Mosque After NSA Ajit Doval Intervention
April 1, 2020
Manjeet Negi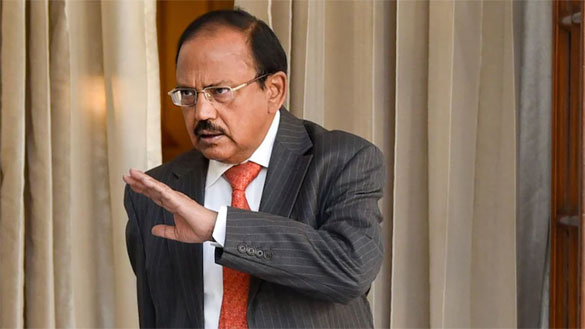 National Security Advisor Ajit Doval. (PTI File)
-----
The Tablighi-e-Jamaat's Markaz in Nizamuddin West, one of the major Covid-19 hotspots in the country, has now been cleared by the Delhi Police. Initially, however, authorities met resistance from the Markaz leadership after they refused to vacate the premises.
It was only after National Security Adviser Ajit Doval intervened that the leadership cooperated with the police and agreed to vacate the building on the intervening night of March 28-29.
According to sources in the government, NSA Ajit Doval had been in touch with representatives of the Jamaat in Nizamuddin. A delegation from Markaz also held a meeting with the NSA on March 28, during which he tried to defuse the tension amid fears of spread of novel coronavirus.
The sources added that it was after Doval's intervention that the Jamaatis cooperated and agreed to vacate the building in Nizamuddin.
The government has been using NSA's good relations with the Muslim leadership in the past as well while trying to defuse communal tensions. Most recently, Ajit Doval was roped in to diffuse communal tensions during Delhi riots.
Meanwhile, Delhi Deputy Chief Minister Manish Sisodia on Wednesday said that out of the 2,361 people who have been evacuated from the area, 617 have been admitted to hospitals while the rest quarantined.
"The medical staff, administration, police and DTC staff worked together in this 36-hour operation, putting their lives at risk. Hats off to all of them," the deputy chief minister said in a tweet.
These 120 cases include 24 people who took part in a religious congregation at the Markaz in Nizamuddin West earlier this month. Till Monday night, the number of cases of the deadly Covid-19 (coronavirus disease) stood at 97, including two deaths.
https://www.indiatoday.in/india/story/markaz-leadership-agreed-to-vacate-nizamuddin-mosque-after-nsa-ajit-doval-intervention-1662090-2020-04-01
-----
Covid19 Lockdown: Police File Case Against Islamic Scholars for Flouting Govt Orders in Delhi
31.03.2020
New Delhi (Sputnik): On 16 March, an Islamic organisation had organised a religious gathering in the national capital with participants from Malaysia, Indonesia, Saudi Arabia, and Kyrgyzstan. But around 1,400 people continued to stay at the venue even after New Delhi ordered a 21-day lockdown, risking their health in the process.
Police in Delhi have registered a case against Islamic preacher Maulana Saad and other members of Islamic movement Tableeqi Jamaat for hosting a religious event and allegedly violating Government orders in view of the national lockdown due to Covid-19.
A senior police official said, "We have registered a case under relevant sections of the Indian Penal Code (IPC) and section of Epidemic Disease Act against Maulana Saad and other of Tablighi Jamaat at Nizamuddin police station."
"The organisers had violated government directions regarding restriction of social or political or religious gathering and for taking safety measures, including social distancing for prevention and treatment of COVID-19 viral infection," the police officer said.
The Delhi Police has written to the city government to request taking immediate action with regard to persons, including foreign nationals, associated with Tableegh Jammat and those presently staying at various mosques and places in Delhi.
Action was requested against a total of 157 people, including 94 from Indonesia, 13 from Kyrgyzstan, 9 from Bangladesh, 8 from Malaysia, 7 from Algeria and one each from Tunisia, Belgium and Italy. The others are Indian nationals.
Earlier in the day, describing the congregation at the Markaz Tablighi Jamat in the Hazarat Nizamuddin area as a criminal act, Delhi State Chief Arvind Kejriwal wrote to the lieutenant governor to register a case against the Nizamuddin Jammat organisers.
Kejriwal stated that over 1,000 people have been evacuated from Nizamuddin centre. Meanwhile, local residents blame authorities for not acting on complaints against gathering at Markaz (centre).
Addressing media through video conferencing, the Delhi state chief said that 1,107 people who had attended the religious congregation in the Nizamudddin area have been quarantined.
"Out of 97 cases of coronavirus in the city, 24 were those who took part in the congregation earlier this month," said Kejriwal.
Kejriwal slammed the organisers of the religious gathering, saying it was "highly irresponsible" on their part to hold such an event at a time when thousands have died in other countries due to the pandemic.
He further said that any lapse in the performance of the officers related to the Nizamuddin case will not be tolerated and strict action will be initiated.
However, the residents of Nizamuddin area on Tuesday accused the civil and police administrations of not heeding their complaints about a large number of people converging at the Tablighi Jamaat Markaz amid the coronavirus outbreak.
Meanwhile, Markaz Nizamuddin, the international headquarters of Tabilghi Jamaat for close to 100 years, in a statement said that when Prime Minister Narendra Modi announced the public curfew on 22 March, they discontinued the ongoing programme immediately. But a large number of people could not leave the premises due to the closure of railway services.
https://sputniknews.com/india/202003311078779184-covid19-lockdown-police-file-case-against-islamic-scholars-for-flouting-govt-orders-in-delhi/
-----
Coronavirus outbreak: Only five or less people can offer congregational prayers in mosques, rules KP government
Mar 31 2020
PESHAWAR: The Khyber Pakhtunkhwa government on Tuesday issued directives on Tuesday according to which only five or less persons will be allowed to offer congregational prayers inside mosques across the province.
A notification issued by the KP government's Relief, Rehabilitation and Settlement Department said that an Emergency and Section 144 had already been imposed in the province to ensure social distancing.
Read more: Coronavirus updates, March 31: Latest news on the coronavirus pandemic from Pakistan and around the world
"Only five or less people designated for Masjid (Muazzin, Pesh Imam, Speaker) shall offer prayers by Jamaat and that the general public will offer their prayers at their respective homes and that this order shall be effective immediately and shall apply to all congregations, till further orders," read the notification.
The directives come after the Sindh government banned congregational prayers in mosques by more than five people last week and urged masses to pray at their homes.
Pakistani Ulema have appealed to the masses to offer prayers at home in the wake of the pandemic, which has killed more than 20 people in Pakistan and infected more than 1,800 persons.
Calls for social distancing have increased after the pandemic killed more than 35,000 people worldwide and infected more than 750,000. Governments around the world are scrambling to control the virus as economies and industries bear the brunt of the coronavirus.
https://www.geo.tv/latest/280165-coronavirus-outbreak-only-five-or-less-people-can-offer-congregational-prayers-in-mosques-rules-kp-government
-----
Saudi-led forces airdropping virus-infected masks in Yemen: Minister
01 April 2020
Yemen's information minister has raised the possibility of the facemasks airdropped by Saudi-led warplanes in Sana'a and other cities being infected with the new coronavirus, urging media outlets and activists to spread awareness of the danger.
Dhaifullah al-Shami said given the fact that the Saudi-led coalition has turned Yemen into the scene of the world's worst humanitarian crisis through years of lethal military aggression, it is a big surprise to see coalition forces distributing masks across the capital and several other Yemeni provinces, the Middle East Monitor press observatory organization reported on Tuesday.
The official added Yemen had not yet identified any cases of the infection in the war-torn country amid the pandemic, which has affected almost all world states and has claimed more than 42,000 lives worldwide.
Therefore, he concluded, the Saudi aggressors would be responsible for any emergence of the outbreak in Yemen. They have already displayed their intention to afflict Yemen with the virus by targeting a quarantine center in al-Salif District of the western province of Hudaydah Province, the minister added.
Also on Sunday, Yemen's official Saba Net news agency cited the country's Supreme Council for the Management and Coordination of Humanitarian Affairs as confirming the coalition's new tactic of airdropping "various supplies" across the country.
It warned that the aggressors were trying to use the outbreak "as a means of war on our people and the targeting of Yemen, which is by far one of the three countries in the world completely free of the coronavirus outbreak."
Yemen's al-Masirah news network, meanwhile, ran an article comparing the tactic to historical allegations that the British forces contributed to the genocide of Native Americans in 1763 by distributing infected blankets among them.
Tens of thousands of Yemenis have died since the beginning of the war that Saudi Arabia and its allies launched in 2015 to restore power to Yemen's former Riyadh-allied officials. The aggression has also brought entire Yemen to the edge of famine.
The United States and many of its allies have been providing political, military, logistical, and advisory support for the war.
Last Monday, United Nations Secretary-General Antonio Guterres called for "an immediate global ceasefire in all corners of the world" amid the pandemic. Guterres warned that health systems in war-torn states had collapsed and the small number of health professionals left on the ground were often targeted.
Yemen's popular Houthi Ansarullah movement, which has been defending the nation in the face of the war, has welcomed the proposal.
https://www.presstv.com/Detail/2020/04/01/622067/Yemen-Saudi-Arabia-Coronavirus-Facemasks
-----
Indonesians advised to perform Idul Fitri, Ramadan terawih prayers at home amid coronavirus concerns
3 HOURS AGO
JAKARTA (THE JAKARTA POST/ASIA NEWS NETWORK) - Indonesia's second-largest Muslim organisation, Muhammadiyah, has issued a circular advising Muslims to perform terawih (a night prayer during the fasting month of Ramadan) at home should the Covid-19 pandemic show no sign of improving in the coming month.
The organisation also suggested that the Idul Fitri prayers, usually performed in congregations at mosques or in open fields to mark the end of Ramadan, not be held during the health crisis.
Muhammadiyah highlighted in the letter that such prayers were not obligatory, but rather sunnah (a voluntary act of worship).
"If the Covid-19 situation remains (until the end of Ramadan), the string of events marking the Idul Fitri festivity shall not be organised, including the mudik (exodus)," according to the circular signed by members of the Muhammadiyah central executive board's lawmaking and reform councils on March 21.
The suggestion came a week after President Joko Widodo called on all Indonesians to engage in social distancing, by working, studying and worshipping at home to curb the spread of Covid-19.
Nahdlatul Ulama (NU), the largest Muslim organisation in Indonesia, had also suggested Muslims living in Covid-19 red zones temporarily stop engaging in mass prayers at mosques to flatten the infection curve.
The government has marked most areas across Java Island as Covid-19 red zones after than 50 positive cases were recorded. Jakarta is the hardest-hit region with 747 cases recorded as of Tuesday.
https://www.straitstimes.com/asia/se-asia/indonesians-advised-to-perform-idul-fitri-ramadan-terawih-prayers-at-home-amid
-----
Afghan religious affairs ministry urges people to avoid mosques during coronavirus lockdown
2020-03-31
Afghanistan's Haj and Religious Affairs on Tuesday issued a fatwa that advises people to avoid going to mosques for congregational prayers during coronavirus lockdown.
According to the fatwa, since fear could be a legitimate reason for not attending congregational prayers, refusing it will not carry sin.
It said that congregational prayers including weekly Friday ones could be performed with the least number of participants including those based in the mosques and their immediate surroundings.
The fatwa also says that people who have died from coronavirus could be buried without having them washed or wrapped in winding-sheet.
http://www.1tvnews.af/en/news/afghanistan/41697-afghan-religious-affairs-ministry-urges-people-to-avoid-mosques-during-coronavirus-lockdown-
-----
Start-up payment platform Jumah Pay seeks UK rollout to help mosques and charities manage COVID-19
30 MAR 2020
BY HASSAN JIVRAJ
LONDON - UK-based payment platform Jumah Pay, which enables Muslims to pay their zakat and sadaqah via their mobile phone, plans to roll out across the UK on April 6.
The national launch coincides with the COVID-19 pandemic across the UK and with less than a month to go before Ramadan. The fasting month this year is expected to start towards the end of April.
"We are aiming to help mosques cover their costs during the COVID-19 period," Siddique Esmail, Jumah Pay European CEO and co-founder, told Salaam Gateway.
"Masjids have staff and running costs," said Esmail. "On Jumah Pay a charity can register within 48 hours. It enables them to get the message out quicker and start receiving donations."
The app enables users to donate to charity through the mobile phone using QR-Code technology. It also contains a built-in Gift Aid application programme interface (API).
"We created an app with GPS, E-wallet and much more which allows you [the user] to save your favourite and historical logs, said Esmail. "It helps work out your tax and works out the tax rate. If you go to Winchester or Oxford, it will tell you of the local charitable causes."
Jumah Pay is registered as a limited company in the UK. It also has a Gift Aid agency status for all charities in the country, which stands at around 170,000. Gift Aid allows charities to claim back the basic rate tax already paid on donations by the donor.
The platform's revenue model works by charging 5% on Gift Aid made via the app. If there is no Gift Aid then Jumah Pay does not take anything, according to Esmail.
The company is regulated by the General Data Protection Regulation and by the EU as a transnational relief- EU-charity passporting organisation.
Jumah Pay works with international clearing house National Westminster to ensure payments are verified by the banks. The user's card details are stored by the bank and then the clearing house gets involved in the transaction. The app does not require a Merchant ID.
"Our system can work out the gift aid automatically as having wrote an API and we record some key details to ensure that you don't have to repeat the process, such as personal information, workplace, address and post code which can be saved for future usage," said Esmail.
He said the company is looking at developing code to gauge the feedback of charities as well provide messages and a monthly report to donors to keep them in the loop, aside from the online accounts they can view.
"The transaction is safe and secure," said Esmail. "Our own software meets all the banks' protocol as well as Apple's and Google's requirements."
Jumah Pay is open to all charities, whether Islamic or non-Islamic, that are registered and approved by the Charity Commission UK and have a charity number.
To uphold their Shariah credibility, JumahPay has their own in-house scholar to verify the charities and internal processes.
"A lot of Muslims are professionals and tech savvy. They understand the policy and procedures," he said. "Masjids are now on the path of technological advancements meaning they understand and use new technologies to their advantage."
Established in 2017, Jumah Pay relaunched and went fully live in March 2018 with an updated database. The company has made £4,500 in revenue so far, and has yet to break even, according to Esmail. He expects to break even by the end of July, with new members being signposted.
"We have bankrolled the project by ourselves, using savings and also keeping part-time posts [jobs]," he said. "The monthly costs are £1,200, with the major costing being the cloudservers."
The start-up has a modest team with three people based in Southampton in the UK. The company also works with Moftak Solutions (based in USA and Pakistan) to help with coding.
He says that £50,000 will be used for salary to hire someone and the other £50,000 will be used for other costs like marketing.
"This money will be used for marketing, hiring of staff to enrol charities and further development of software," explained Esmail. "We are looking at investment houses and potentially crowd funding, but we believe word of mouth is the best source of marketing."
Looking to the future, Jumah Pay aims to provide its application for use in different countries on a lease basis by working with governments, telecoms, and financial institutions.
"We want to scale in the UK and then take it to Europe. From there we will concentrate on the Middle East and North Africa regions whilst also start working on the USA and Canada," he said.
For example in South Africa, Jumah Pay will work with the National Zakat Foundation to be the exclusive smart payment mechanism. He said they aim to sign the memorandum of understanding (MoU) imminently.
In addition to international aspirations, Esmail said they are also looking at different forms of payment, such as cryptocurrency.
"We may consider accepting Bitcoin and other cryptocurrencies as payment," he said. "[However] we are not in a position to accept it at the moment, but this is a possibility to be considered."
https://www.salaamgateway.com/story/start-up-payment-platform-jumah-pay-seeks-uk-rollout-to-help-mosques-and-charities-manage-covid-19
-----
Trump's Travel Ban Is Right: Coronavirus Won't Harm Muslims, Say Many Muslim Clerics
BY ROBERT SPENCER
MARCH 31, 2020
Many Muslims around the world aren't worried at all about the coronavirus. While much of the Western world is in quarantine and many fear that the worst is still yet to come, some Muslim clerics and lay believers are sure that Allah will protect them from the plague. As a result, they're gathering in large numbers, thereby endangering their coreligionists and infidels alike, showing the wisdom of Trump's travel ban on several countries, including several majority-Muslim countries, that cannot or will not provide adequate information about people wanting to enter the U.S.
Even in countries not affected by the travel ban, dangerous magical thinking prevails, making a case for an expansion of the countries covered by the ban. In Iraq, Shi'ite leader Muqtada al-Sadr declared: "One of the most appalling things that have caused this epidemic is the legalization of same-sex marriage. Hence, I call on all governments to repeal this law immediately and without any hesitation." In the meantime, hundreds of his followers gathered in a mosque and chanted "coronavirus has terrified you." What could possibly go wrong?
Hundreds of Muslims also defied quarantine regulations and crowded into mosques in Cameroon; of them, a student named Koulanya Abo, declared: "This is a time people have to go to the mosque and pray ceaselessly. Anything out of that will not be tolerated by Allah, because this is a period where people are facing a lot of difficulties due to the outbreak of the pandemic COVID-19."
According to the Middle East Media Research Institute (MEMRI), Yemeni Islamic scholar Ibrahim Al-Ubeidi explained that many of these difficulties people were facing were the fault of, you guessed it, the Jews. He explained that Jews, working with Americans, had cooked up the coronavirus as part of their nefarious plan to seize control of the two holiest sites in Islam, the mosques in Mecca and Medina. This was, he said, all part of the larger scheme to "Judaize" Mecca and Medina that led the Jews to place the House of Saud on the throne of Arabia 100 years ago.
That's weapons-grade conspiracy paranoia, and it isn't al-Ubeidi's alone. In Pakistan, jihad group leader Hafiz Aakif Saeed said that the coronavirus was "the wrath of Allah Almighty, befalling largely on the developed world and their oppressor rulers who had subjected innocent Muslims to persecution and genocide over the last 50 years." And in Nigeria, a Muslim leader, Sheikh Sani Jingir, claimed that coronavirus was a Western conspiracy designed to prevent Muslims from performing the rites of their religion. Jingir "insisted that coronavirus was not real," and "said any Muslims who believed in Trump and stopped praying at the Holy Mosque in Mecca should seek for God's forgiveness."
In a similar vein, according to MEMRI, an imam in Gaza, Jamil Al-Mutawa, preached a sermon in which he said that Allah was afflicting non-Muslims with coronavirus while sparing Muslims. Allah "has sent just one soldier," he said, referring to the coronavirus. "What would happen had he sent 50 like the coronavirus? He has sent just one soldier and it has hit all 50 [American] states. An hour ago, they said on TV that in California… They said that they expect 58% of California to be infected within two months. They talk about 25 million infected people in just one of the 50 states. Allah be praised. Look how anyone who schemes against the Al-Aqsa Mosque is being shattered to smithereens by the soldiers of Allah." He spoke about Israel in the same way: "Look how empty the [Israeli] cities are. Look how empty their streets are and look how crowded this mosque is. Who is it that has given us security and terrified them? Who is it that has protected us and harmed them? It is," he said, triumphantly drawing the word
Al-Mutawa added: "The Muslims are the people who are least infected. The only country where nobody has died… When I entered this mosque, I received a text message that the 56 people who had been quarantined in Bethlehem have been completely healed by the grace of Allah. Brothers, before I entered the mosque, I contacted senior doctors, and they told me that as of this moment, there is not a single case in Gaza."
The next day, coronavirus cases were confirmed in Gaza, but that is not likely to have changed al-Mutawa's mind: he knows his dogmas are truer than the data of experience.
Also, when reality is uncomfortable, one can simply fabricate a world that is more to one's liking. India's Alt News reported Thursday that a video claiming that President Trump is participating in Islamic prayers in order to ward off coronavirus has gone viral. The text accompanying the vide says: "The world's most powerful country also acknowledged the power of the Quran and read the Quran in the White House and prayed for Crona [sic], share this, respect every religion." However, you may be surprised to learn that the President is not really turning to Islam: the video is really from an interfaith service Trump attended in 2017.
Denial and wishful thinking are terrible tools for confronting the coronavirus. The worst part of all this is that others who have been more prudent may be infected by those who have given themselves over to these fantasies. While the Muslim clerics who say that coronavirus won't infect Muslims are not in the U.S., the infections they have enabled could easily spread here. Trump's travel ban is right. More, please.
https://pjmedia.com/lifestyle/trumps-travel-ban-is-right-coronavirus-wont-harm-muslims-say-many-muslim-clerics/?singlepage=true
-----
Arab world
Education City Mosque of Qatar: A Spiritual Place Combining Modernity And Heritage
April 01 2020
Distinctive and designed in a way that connects heritage with modernity and originality, the Education City Mosque – one of the landmark buildings of Qatar Foundation, and of Doha – is a special place as well as a spiritual one.
With the fifth anniversary of the building – now named Minaretein – being marked this month, its architects Ali Mangera and Ada Yvars Bravo returned to Qatar to share their experience of designing an architectural masterpiece that has already won global acclaim.
"What is interesting is that, in Qatar, they have retained a sense of spirituality while wanting to embrace new ideas," said Mangera. "There are not many places that want to do new things when it comes to a building that must retain the essence and the core of Islam."
"The project is unlike any other we have been involved in so far. One of the things we wanted to do was to create a very contemporary building in order to illustrate that Islam is compatible with modernity, and reflect this in the building's identity.
"But we also wanted to ensure we draw in people who have a more traditional outlook, and the way we set about doing that was to use Islamic calligraphy and different verses from the Qur'an which is integrated into the fabric of the building.
The idea is to enable people to associate modernity with these verses and the architecture, to understand that this is a contemporary building, but it has at its heart a message which is at the heart of Islamic tradition.
"I felt it would be inspiring to do a project which is related to faith, but to do something different with it." Mangera – who, with Bravo, is a director of Mangera Yvars Architects – comes from an Islamic background, which gave him insight into different Muslim societies. But he says that people from all over the world, regardless of their religion and culture, have taken an interest in the idea of faith.
"A place of faith should be embraced and invite people in, and this was our goal when we worked on the Education City Mosque," he explained.
"This was always was in our minds: what we can do that goes further? How do you make this place more welcoming for people from different religions?
"I think that, as architects, we can make the world a better place, and also create a better understanding between faiths."
Speaking about the response from people who have visited the building simply to explore and admire it, Mangera says: "I'm really happy and proud of the comments we have received – someone told me it was one of the main tourist attractions in Qatar and it brings in non-Muslims as well as Muslims, enabling them to familiarise themselves with Islam and see it as a contemporary faith."
He emphasised that this wider audience helps to break down barriers and spread knowledge and understanding, saying: "I believe we can educate people about faith through architecture, and we've done a lot already to change the way society thinks.
"The way we set about doing this was to choose to incorporate elements such as calligraphy, and project messages, which are quite subtle.
At the same time, the components of the building have so many stories – such as the five pillars that it stands on, representing the five pillars of Islam. Once people understand these meanings, they will embrace them.
"It's a modern building based on very established principles: a place for learning and praying, a home for colleges where people can study Islam. The idea was to reenergise existing historical psychology. We unwrapped the learning space and put the mosque at one end, with the courtyard in the centre, and essentially this is the same layout as a historic building, But I feel it's how the spaces are sequenced which makes it a little bit contemporary."
Bravo, who is Mangera's wife and partnered with him to design the Education City Mosque, says the combination of learning and worship makes the building unique.
"It's not just about going to a mosque, it's about absorbing knowledge and interacting with people, and what we also aimed to do was design it in a way that ensured it blends it with the universities and the community that surround it.
"It has been amazing to see the building become to reality, and what we really love is how people around QF and Qatar use it, how people around Doha and beyond come here to pray, and this is one of the main achievement for us.
"Part of the architectural language of the building came from the idea of teaching. That's why the artwork explains the different facets of Islam, so everything about visiting it involves an experience – the experience of Islam."
As for the emotions the building stirs in those who created it, Bravo says: "Starting from the design and all the way through to construction, I think everyone enjoyed working on this project because it was something different and special.
"It was a mega-project for us in terms of architecture. And it taught us a lot and gave us such an experience as well."
https://www.gulf-times.com/story/659745/Education-City-Mosque-A-spiritual-place-combining-
-----
Abu Dhabi Islamic Bank shareholders approve lifting foreign ownership cap
April 1, 2020
Mary Sophia
Abu Dhabi Islamic Bank secured shareholders' approval to raise its foreign ownership limit to 40 per cent, up from the current 25 per cent, as the lender looks to expand its investor base.
Shareholders also approved a dividend of 27.38 fils per share for 2019 at its annual general meeting, the bank said in a statement on Sunday.
"2019 marked another successful year for ADIB with a healthy increase of profit and revenues across key businesses," Mazin Manna, ADIB group chief executive, said.
"This has been complemented by our discipline in managing costs across the bank by implementing a number of optimisation initiatives, resulting in a flat expense base. In addition, our investment into digital transformation has proven successful, enabling us to maintain a seamless service to customers at a time when we are all trying to limit our movement."
Net profit for the 12-month period ending December 31 reached Dh2.6 billion. Operating profit increased 4.4 per cent to Dh3.26bn, boosted by a 30.7 per cent increase in investment income. A 23.6 per cent rise in foreign exchange income also contributed to a rise in annual operating profit.
ADIB's move to increase its foreign ownership limit is in line with other financial institutions that are raising ownership caps on their stocks to attract more global investors, after the UAE eased restrictions last year.
https://www.thenational.ae/business/banking/abu-dhabi-islamic-bank-shareholders-approve-lifting-foreign-ownership-cap-1.999395
------
India
Maharashtra Police Books Mosque Trustees for Hiding Foreign Nationals Who Attended Tablighi Jamaat Event in Delhi's Nizamuddin
April 1, 2020
The Maharashtra Police on Tuesday booked two trustees of a mosque in the Nevasa area of Ahmednagar district for hiding 10 foreign nationals who had attended the Tablighi Jamaat event in Delhi's Nizamuddin and not informing the authorities about it. The 10 foreign nationals who were mostly from countries in the African continent had been inside the mosque premises.
"We had received information that some foreign nationals were present inside the mosque and so, we carried out a search and found 10 persons in the mosque premises. They were part of the same group that had attended the Tablighi Jamaat event at Nizamuddin in Delhi and then went to Tamil Nadu and then came to Ahmednagar for some religious purpose," Ahmednagar SP Sagar Patil said.
He added, "Despite an advisory and repeated appeals by the government regarding the disclosure of persons with foreign travel and details of persons visiting Maharashtra from the foreign countries, the mosque trustees did not provide the information and tried to hide the persons amidst the ongoing pandemic of Covid-19."
The Ahmednagar Police had on Sunday detained around 19 foreign nationals from two mosques in Jamkhed and Mukandnagar area and admitted them to the quarantine wards of the district hospital.
Of these, two were from Ivory Coast and France. They tested positive for coronavirus and this led to further checks being carried out by police regarding other persons who had attended the event in Delhi.
Around 10 persons in Telangana and Jammu and Kashmir (J&K) who had attended the event at Nizamuddin have died of Covid-19. More than 300 have been quarantined while several hundred are being traced by the authorities so that they could be quarantined to contain the spread of the infection.
A total of three cases have been registered by Ahmednagar Police against the trustees of the three mosques where the 29 foreign nationals were provided shelter and kept hidden from the authorities. The trustees have been booked under several sections of the IPC and Disaster Management Act.
Meanwhile, the authorities across the country are now trying to trace persons who had attended the event of Tablighi Jamaat in Delhi earlier this month so that the community spread of Covid-19 could be contained and stopped further.
According to sources, over 1,500 persons attended the event and then travelled to various states in the country.
https://www.indiatoday.in/india/story/maharashtra-police-books-mosque-trustees-for-hiding-foreign-nationals-who-attended-tablighi-jamaat-event-1661956-2020-04-01
----
Tablighi Jamaat: The core of the Islamic ecosystem and the danger it poses
April 1, 2020
By Vicky Nanjappa
New Delhi, Apr 01: Back in 2016, the National Investigation filed a chargesheet in connection with an Islamic State related case. In its chargesheet, the NIA speaks about the role played by both the Tablighi Jamaat and the Jamaat-e-Islami. The Tablighi is currently in the news after over 2,000 tested positive for coronavirus from among the 4,000 who had gathered at the Markaz Nizamuddin in Delhi. The ISIS may be a new phenomenon, but some members of the group today had taken a radical path several years ago thanks to sermons issued by the above mentioned groups. What is the Tablighi Jamaat and how does it function For several years now, the Intelligence Bureau has been warning about the role of the Tablighi Jamaat or JeI. They have played a vital role in the radicalisation of the youth. It would not be entirely correct to say that the ISIS changed the perception of these youth. The ground work was laid several years back and the ISIS only became a vehicle for them to drive across their point. The NIA chargesheet states much before the ISIS came into existence, members of the Tablighi would circulate propaganda material. At that time around the distribution of such material was not on the internet. They were sermons issued in select Mosques and pamphlets and compact discs were distributed. While going through the chargesheet it becomes clear that the ground work was laid several years back. In this context it would be interesting to explore the book written by Abhinav Pandya, " Radicalisation in India, An Exploration.Pandya, a Cornell University graduate in public affairs, is a policy analyst specialising in counterterrorism, Indian foreign policy and Afghanistan-Pakistan geopolitics. He has written for the Vivekananda International Foundation (VIF), a premier think tank of India in national security. For VIF, he has written critical papers on post-ISIS terrorism-scenario, terror- financing and the use of bitcoins in terror financing. 57 new COVID-19 cases in Tamil Nadu; 50 linked to Nizamuddin congregation Pandya through his book attempts to explore the phenomenon of radicalisation in India, where counter-terrorism approach has primarily focused on military and law-enforcement measures. The study of Islamic radicalisation has by far remained on the sidelines. While it is highly encouraging that even with the world's third-largest Muslim population, merely 104 youngsters have attempted to join ISIS from India, yet this may be a mere tip of the proverbial iceberg. Most of the research work of the Indian scholars and policy specialists are focused on those individuals who got radicalised through online channels and attempted to join ISIS. However, India and the other South Asian nations are going through a different kind of radicalisation that happens in the remote rural and urban areas of India through Tablighi activity and Wahhabi missionaries. Pandya says, The core of Islamist ecosystem of Kashmir is today, constituted by hardline religious and fundamentalist organisations such as Jamaat-i-Islami (JI), Hurriyat Conference, Jamiyat Ahle-Hadith (JAH), Tablighi Jamaat (TJ), Tahreek-ul-Mujahideen (TUM), and local-cum-Pak sponsored terrorist organizations like Hizbul Mujahideen (HM), Al Badr, Lashkar-e-Toiba (LeT), Jaish-e-Muhammad (JeM, Islamic State of Jammu and Kashmir (ISJK), Ansaar Ghazwat-ul-Hind (AGUH), transnational terrorist groups like Al Qaida (AQ), ISIS, Pak-based 'charity' groups like Jamaat-ud-Dawa (JuD) and Pakistani establishment controlled by ISI.
https://www.oneindia.com/india/tablighi-jamaat-the-core-of-the-islamic-ecosystem-and-the-danger-it-poses-3062859.html
------
Coronavirus: Delhi SHOs told to check mosques
by Mahender Singh Manral
April 1, 2020
As many as 205 foreign nationals who attended a religious gathering at a mosque in Nizamuddin West – which is now one among the 10 COVID-19 hotspots in the country — have been traced by Delhi Police's special branch unit.
"Places where they are staying are for common use. No social distancing would be possible there, causing grave danger to public health," said DCP (special branch) Suman Nalwa in her letter to the health secretary.
Delhi Police chief S N Shrivastava has also directed special branch teams to check all mosques in the capital, with help from local police, to find out if foreign nationals are still in Delhi. Police teams are also trying to identify those who attended the programme at the mosque, in order to screen them and send them into quarantine if required.
The direction came after Nalwa sent a list to Shrivastava, stating that "as per our information, persons/foreigners associated with Tablighi Jamaat are presently staying at various masjids in Delhi. They had been sent from Tablighi Jamaat headquarters situated at Masjid Banglewali, Hazrat Nizamuddin."
"We have so far traced 23 Indians; 127 Indonesians; 9 from Bangladesh; 13 from Kyrgyzstan; one each from Italy, Belgium and Tunisia; eight from Malaysia; seven Algerians; and seven others," said a senior police officer.
After identifying them, police are informing the district administration concerned and shifting them to quarantine centres for further medical help.
Meanwhile, Delhi Police have arrested two men after they found eight Kyrgyzstan nationals staying at his flat in Northwest Delhi's Bharat Nagar.
https://indianexpress.com/article/cities/delhi/delhi-shos-told-to-check-mosques-6341235/
----
Agra administration picks up over a dozen Jamaat members from a mosque
Siraj Qureshi
April 1, 2020
What happened in the Nizamuddin area of Delhi has raised questions on the sincerity of the Delhi-based Tablighi Jamaat which hosted thousands of Muslims from all over the world and kept them hidden despite developing symptoms of novel coronavirus, while allowing several others to leave and carry Covid-19 infection to as far as Andaman and Nicobar Islands.
Tablighi Jamaat sends hundreds of Islamic preachers in groups to a mosque in Kotwali area of Agra, from where they spread out all over the district, making the local mosques as their temporary abode. Every Sunday, meetings of these preachers are held, but the district administration has always turned a blind eye to this activity.
But now, after Nizamuddin event made national headlines, local administration is cracking down on those preachers who are still in Agra.
A large group of these people is suspected to have arrived in Agra before the Janata Curfew announced by Prime Minister Narendra Modi and they are suspected to be living in various mosques of the district.
Already, three local members of the Jamaat have been identified who had attended the conclave in Nizamuddin and could be infected with the deadly virus.
In the Masjid Taal Habibullah of Hing Ki Mandi area of Agra, over a dozen Jamaat preachers were taken into custody by the police and sent for medical tests.
These preachers had arrived here from Bengaluru and were hiding in the mosque. There were unconfirmed reports of several other preachers being taken into custody from several other prominent mosques of Agra and its border villages.
https://www.indiatoday.in/india/story/agra-dozen-jamaat-members-mosque-coronavirus-nizamuddin-tabligh-1661940-2020-04-01
-----
Nizamuddin congregation participants stayed in 16 mosques in Delhi: Police to state govt
April 1, 2020
The Delhi Police Special Branch on Tuesday wrote to the city government for taking immediate action with regard to people, including foreign nationals, who stayed in 16 mosques in the national capital after taking part in a religious congregation at Nizamuddin which has turned out to be a Covid-19 hotspot, officials said.
The communique said there were 157 such people -- 94 from Indonesia, 13 from Kyrgyzstan, 9 from Bangladesh, 8 from Malaysia, 7 from Algeria and one each from Tunisia, Belgium and Italy. Remaining are Indian nationals.
"A team of district administration, police and health department is visiting mosques and evacuating foreign nationals and shifting them to quarantine. They were part of Markaz and to decongest the building they had been shifted to various mosques in the national capital," said a police officer.
No social distancing would be possible at those places. It may cause grave danger to public health and the objective of containing Covid-19, the communique said.
Chief Minister Arvind Kejriwal said 24 people who attended the religious congregation at Tabligh-e-Jamaat's Markaz earlier this month have tested positive for coronavirus, while 1,548 have been evacuated and 441 hospitalised after they showed its symptoms.
https://www.indiatoday.in/india/story/coronavirus-nizamuddin-congregation-participants-stayed-mosques-delhi-police-government-1661939-2020-04-01
-----
Hunt intensifies for Delhi's Nizamuddin-linked cases as tally crosses 1600 across India
April 1, 2020
Authorities launched a nationwide search on Tuesday for participants of a huge religious gathering held earlier this month in Delhi's Nizamuddin area, which has become the new epicentre of the deadly coronavirus pandemic amid fears that thousands present there could have carried the infection to the length and breadth of the country.
Thousands of participants of the Tablighi Jamaat held in mid-March in Nizamuddin, which also is home to a famous Dargah, are known to have returned to their homes in virtually every state including Telangana, West Bengal, Karnataka and Gujarat. Many of these states have reported Covid-19 cases linked to this congregation.
Several fresh cases of infection were reported on Tuesday from Delhi, Maharashtra, Kerala, Uttar Pradesh, Tamil Nadu, Gujarat, Jammu and Kashmir and Bihar, among other places, taking the nationwide tally well past 1,600 with at least 47 deaths.
A consolidated official tally marked an increase of over 282 positive cases and five deaths since Monday night -- two in Punjab and one each in Maharashtra, Kerala and Madhya Pradesh. The total number of cases stood at 1,611.
However, this apparently did not include six deaths reported by the Telangana government last night, all of who had attended the Nizamuddin congregation.
On Tuesday, Tamil Nadu saw the biggest one-day spike in Covid-19 cases, with 57 fresh cases. The Tamil Nadu state government put its aggregate number at 124, with at least 77 of them having links to the Tablighi Jamaat.
Centre officials have been saying that some mismatch in daily tallies occurs due to delay in assigning certain cases to a particular state after doing necessary checks.
According to the Indiatoday.in daily tracker data, active Covid-19 cases in the country stand at 1,445, while 150 people have been either cured or discharged and one had migrated.
Kerala also reported 7 new cases, taking the total number of those affected in the state to 241. The state also reported its second death from Covid-19.
The Union Health Ministry lamented that the number of hotspots has risen due to "lack of people's support and delay in timely detection" of the cases.
Health Ministry Joint Secretary Lav Agarwal said the government is using cluster containment strategies and doing rigorous contact tracing in these hotspots to check the virus from further spreading.
Union Health Ministry lamented that the number of hotspots has risen due to "lack of people's support and delay in timely detection" of the cases. (Photo: PTI)
Within the national capital, more than 1,100 people who attended the congregation have been quarantined while at least 441 have been hospitalised. The government is screening all those who participated in the event, officials said.
In the national capital alone, at least 24 people who took part in the religious congregation, Tablighi Jamaat, have tested positive for the novel coronavirus, Delhi Chief Minister Arvind Kejriwal said, as he slammed the organisers for being "highly irresponsible" on their part to hold such an event at a time when thousands have died in other countries due to the pandemic.
The Union Home Ministry said approximately 2,100 foreigners visited India for 'tablighi' activities this year, including those from Indonesia, Malaysia, Thailand, Nepal, Myanmar, Bangladesh, Sri Lanka and Kyrgyzstan.
It also said that all state police have been asked to locate Indian Tabligh Jamaat workers from local coordinators, followed by their medical screening and quarantine.
So far, 2137 such people have been identified and are being medically examined and quarantined, while more would be located, the Ministry said.
Several state governments, including in West Bengal, Assam and Manipur, said they are taking steps to locate participants of the Nizamuddin event.
Karnataka government said 54 people from the state had attended the event, out of which 13 have been identified but they have tested negative for the Covid-19.
Gujarat police also launched a probe to identify all the attendees from the state and said primary investigations have revealed that some persons from Bhavnagar had attended the congregation.
A Srinagar-based businessman is being seen as the "super-spreader" in this entire case as he travelled by air, train and road to Delhi, Uttar Pradesh and back to Jammu and Kashmir before he died of Covid-19 on March 26, raising fears he may have infected many others along the way, officials said on Tuesday.
According to officials, other states from where the attendees had come include Tamil Nadu, Uttar Pradesh, Maharashtra, Madhya Pradesh, Bihar, Jharkhand, Uttarakhand, Haryana, Andaman Nicobar Islands, Rajasthan, Kerala, Odisha, Punjab and Meghalaya.
In Andhra Pradesh, officials said more than half of the 40 people who have tested positive for coronavirus in the state were linked to the Nizamuddin event.
The police registered an FIR against Maulana Saad of the Nizamuddin centre under sections of Epidemic Disease Act and other sections of the Indian Penal Code for violating government orders on the management of the Markaz in relation to a social, political or religious gathering.
Jharkhand reported its first confirmed case of COVID-19 after a Malaysian woman who came to Ranchi on March 17 by train tested positive for the virus, an official said Tuesday.
The 22-year-old woman was traced to a mosque at Hindpiri on Monday, where she was staying with 23 others. All of them have been sent to a quarantine facility.
A 52-year-old man tested positive for COVID-19 in Assam's Silchar on Tuesday, making it the first case of the novel coronavirus pandemic in the state, Health Minister Himanta Biswa Sarma said.
He is undergoing treatment at the Silchar Medical College and Hospital. There is no need to panic as the patient's condition is stable, Sarma tweeted.
The central government separately told the Supreme Court it has taken "proactive and preemptive timely steps" to deal with the coronavirus pandemic, but termed fake news as the biggest hindrance and sought a direction for the media not to publish any Covid-19 information without ascertaining facts with authorities.
The apex court asked the Centre to prevent migration of people due to coronavirus and to set up within 24 hours a portal for disseminating real-time information on the pandemic to counter the panic being spread through fake news.
It also said, "panic will destroy more lives than the virus" and asked the Centre to get trained counsellors and community leaders of all faiths to calm down the migrants, rather than the police to avoid the use of force and intimidation.
The government, however, asserted that there is no shortage of medicines to combat the deadly virus outbreak and the Department of Pharmaceuticals is regularly monitoring the distribution and addressing issues with the help of other departments, states and Union Territories.
Seeking cooperation from the public to fight the pandemic, the Union Health Ministry officials said there was no need to panic. They also said not everyone needs to wear masks and that following social distancing is more important to prevent the spread of Covid-19.
Separately, a petition was filed in the Supreme Court seeking a direction to the Centre and authorities concerned to provide free of cost testing facility for Covid-19 to all citizens in the country.
The plea has also sought a direction to the authorities for ramping up the testing facilities for Covid-19 at the earliest "given the escalating mortality and morbidity rate across the country".
Globally, the Covid-19 tally has crossed 8 lakh confirmed cases, while more than 37,000 people have died.
https://www.indiatoday.in/india/story/coronavirus-hunt-intensifies-for-delhi-s-nizamuddin-linked-cases-as-tally-crosses-1-550-across-india-1661936-2020-04-01
-----
"Excuse To Vilify Muslims": Omar Abdullah On COVID-19 Cases At Delhi Event
April 01, 2020
New Delhi: National Conference leader Omar Abdullah on Tuesday claimed the detection of coronavirus in scores of people who attended a weeks-long event organised by Tablighi Jamaat at a famous Delhi mosque has provided an opportunity to "some to vilify Muslims". The former Jammu and Kashmir chief minister said those tweeting with hashtags like "Tablighi virus" are "more dangerous" that any virus nature can conjure up.
"Now the #TablighiJamat will become a convenient excuse for some to vilify Muslims everywhere as if we created & spread #COVID around the world," he said in a series of tweets.
"At first glance it would appear the #TablighiJamat were nothing if not irresponsible in the way they went about things but that's not unique to them. The majority of Muslims in India have heeded government guidelines and advice the same as anyone else," he added.
Important to read the statement that was put out by #TablighiJamat clarifying all the steps they took to implement the government guidelines. I tried to get it in a format I could share directly here but that wasn't possible so sharing this tweet instead. https://twitter.com/umarganie1/status/1244923974024228865 …
The management at #NizamuddinMarkaz , Delhi issued a detailed statement about the linking of several cases to the recent #TableeghiJamaat congregation at the centre, says it had kept authorities informed from Day 1 of lockdown. https://www.thekashmirmonitor.net/tableeghi-markaz-issues-official-statement-says-had-kept-authorities-informed-from-day-1-of-lockdown/ …
For the record this was the statement put out by them clarifying their position & the steps taken by them. The stink of communalism in a lot of the criticism is nauseating.
Now the #TablighiJamat will become a convenient excuse for some to vilify Muslims everywhere as if we created & spread #COVID around the world.
People tweeting stuff with hash tags like Tablighi virus are more dangerous than any virus nature could ever conjure up because their minds are sick while their bodies may very well be healthy.
Ninety-one people who attended the event at Delhi's Nizamuddin from March 1-15 have tested positive for the virus. Seven people have died because of the disease contracted at the function.
Over 2,000 delegates, including from Indonesia and Malaysia, attended the congregation and stayed at a building adjacent to the religious place. 1100 have been evacuated and quarantined in the national capital. A massive manhunt is on to trace those who have gone back.
In a statement, Markaz Nizamuddin defended itself saying the event was cancelled when Prime Minister Narendra Modi announced the "Janata Curfew" for March 22. Members could not leave, it said, because trains were suddenly stopped.
PM Modi last week said social distancing was the only option to fight the virus; he also announced a 3-week nationwide lockdown to check the spread.
https://www.ndtv.com/india-news/coronavirus-omar-abdullah-on-covid-19-cases-at-nizamuddin-event-excuse-to-vilify-muslims-2203857
-----
5 Trains, Thousands Of Passengers Being Traced For Delhi Mosque Event
April 01, 2020
New Delhi: Railways is scrambling to provide information regarding thousands of passengers who travelled on five trains with people who participated in the Tablighi Jamaat congregation in Delhi, many of whom have tested positive.
All these trains began from Delhi between March 13 and March 19 - the Duronto Express to Guntur in Andhra Pradesh, the Grand Trunk Express to Chennai, the Tamil Nadu Express to Chennai, New Delhi-Ranchi Rajdhani Express and the AP Sampark Kranti Express.
While there are yet no definite numbers with the railways on the actual number of people who could have come in contact with the participants of this event, sources told news agency Press Trust of India that each train carried around 1000-1200 passengers and other staff members which could put them all at risk.
State officials said that the railways is providing lists of passengers to the district authorities which are being compared to the list of participants of the event to ensure contact tracing.
Of the contacts being traced, one is the case of 10 Indonesians who took the AP Sampark Kranti Express back to Karimnagar district after the event on March 13, and subsequently reported positive for coronavirus.
Around 60 passengers who travelled on the New Delhi-Ranchi Rajdhani Express in the same B1 coach as a Malaysian woman who tested positive for the virus, believed to be part of the Nizamuddin Tablighi cluster, are under the scanner with the district authorities scrambling to find their whereabouts.
The woman who travelled on the train on March 16 with 23 others tested positive and is Jharkhands first confirmed case of COVID-19.
According to inputs from states, two people who attended the congregation and later tested positive travelled by the Duronto on March 18 in the S8 coach along with "two companions", two of them travelled by the Grand Trunk Express in the S3 coach with two minors, while a couple of others took the Tamil Nadu Express.
What is making the contact tracing of these individuals a herculean task for both the railway and district authorities is the fact that they moved around freely at that time as it was before any restrictions were imposed.
Both Hazrat Nizamuddin stations and the New Delhi railway station are one of the busiest railway stations in the country.
While Hazrat Nizamuddin station in Delhi, sees 56 long-distance trains departing every day and 130 trains from other sources halt here, 62 trains originate and 76 trains halt at the New Delhi railway station every day.
While the former has a footfall of about two lakh every day, the latter has a daily footfall of around 5 lakh.
https://www.ndtv.com/india-news/coronavirus-5-trains-thousands-of-passengers-being-traced-for-delhi-mosque-event-2204142
----
Pakistan
Muslim rulers should repent: Chaudhry Shujaat
LAHORE:Pakistan Muslim League (PML-Q) president and former Prime Minister Ch Shujaat Hussain in his video statement issued here on Tuesday advised all the Muslim rulers to visit Khana-e-Kaaba and Roza-e-Rasool (PBUH) for protection against coronavirus.
He said Prime Minister Imran Khan and Army Chief General Qamar Javed Bajwa should take all leaders of Muslim Ummah to Khan-e-Kaaba and Roza-e-Rasool (PBUH) and while paying their respects there, all the rulers should seek forgiveness then hopefully their prayers will be granted.
He said until love of Almighty Allah and Holy Prophet (PBUH) is near till then no work will be done, the conquerors of the world through atom bomb and missiles do not know that the planner is someone else, planning of all the big planners of the world is nothing before the planning of Almighty Allah. He said pandemic of corona proves that Almighty Allah is annoyed and He will be appeased only with tearful forgiveness only then 'we will get rid of this epidemic and Almighty Allah's creatures will have a breath of comfort'.
checked: Operations wing checked 57,912 citizens at more than 229 pickets and contained unnecessary movement of 51,000 citizens. Similarly, 1,157 FIRs were registered as 2,252 people were arrested over violations of Section-144 during the partial lockdown.
https://www.thenews.com.pk/print/637640-muslim-rulers-should-repent-chaudhry-shujaat
-----
Punjab Chief Secretary for expediting cleaning and disinfecting of roads, mosques
April 1, 2020
Punjab Chief Secretary Azam Suleman Khan has directed that the ongoing disinfection campaign should be divided into two zones and the process of cleaning and disinfecting roads, mosques and public places be completed at the earliest.
The CS issued these directions while presiding over a meeting on Tuesday to review coronavirus situation, establishment of field hospitals and available stock position of wheat, flour, rice, disinfection drive and administrative matters in the province. Provincial Law Minister Raja Basharat, IG Police Shoaib Dastgir, Commissioner Lahore Division, CCPO Zulfiqar Hameed and officers concerned were also present in the meeting.
The meeting decided that strict implementation of SOPs regarding social distancing would be ensured at banks, offices, trucking points and grocery stores. The commissioner briefed that spray at 372 places and washing of 236km roads has been completed in Lahore. It was also decided that disinfection cabins would be set up at all public places and fruits and vegetable markets across the province. The chief secretary further ordered the officers to keep a strict check on flour stocks in mills and on prices of commodities in big grocery stores. He said that donations from philanthropists must be documented to help the poor in a transparent manner.
He also issued instructions to the field officers to conduct visits to jails along with police officers as part of measures to contain spread of coronavirus.
IG Police Shoaib Dastgir said that in order to get required results, checkpoints all over the province would be made more effective. CCPO Zulfiqar Hameed told the meeting that so far 229 checkpoints have been set up where almost 56,000 persons, 45,183 cars, motorcycles, rickshaws and other vehicles were checked and issued warnings to 53,000 persons. He said they also registered 529 cases over violation of section 144.
https://www.brecorder.com/2020/04/01/585459/cs-for-expediting-cleaning-and-disinfecting-of-roads-mosques/
-----
After Covid-19, Karachi facing another healthcare crisis due to OPDs' closure
April 01, 2020
Imran Ayub
KARACHI: With authorities trying to confront the coronavirus challenge, Karachi is facing another health crisis as hundreds of thousands of patients suffering from other ailments have been left without regular treatment due to the closure of outpatient departments (OPDs) of both public and private hospitals, it emerged on Tuesday.
Even many emergency departments are reluctant to give treatment to patients out of fear, panic and severe shortage of personal protective equipment (PPE) among doctors and health staff.
The situation emerged almost two weeks ago when the Sindh government announced its social-distancing campaign with orders to close educational institutions for the next two months as well as shutting shopping malls, markets, major business centres, parks, cinemas and other public places. This had pushed the hospitals both in public and private sector to reduce their regular operations, which later on finally came to almost a complete closure.
When contacted, a health department official said that there was no advisory from the government to hospitals to suspend their regular operations. However, the official agreed that the practice was going unchecked resulting in hardship of hundreds of thousands of people suffering from several other diseases and many of them were high-risk patients, who required frequent medical consultation and examination.
"Hospitals are only advised to follow the guidelines for their doctors and health workers to keep their regular business as usual but unfortunately the situation is not what we expected," said the official without mentioning any particular reason for such a negative trend.
Health experts and professionals have shown concern and advise immediate measures both from the government and the institutions as well.
"Unfortunately, the situation [emerging in the wake of Covid-19 pandemic] has stirred a state of panic among healthcare professionals and hospitals across the country," Dr M. Shamvil Ashraf of the Indus Health Network told Dawn. "Almost all outpatient departments are closed and many emergency departments are reluctant to give treatment out of fear that a patient maybe a Covid-positive one.
"There is a widespread fear among healthcare professionals of contracting the coronavirus infection. This concern is genuine to a large extent but there are guidelines for protection to prevent transmission," he added.
He said that doctors and health workers needed to take all possible measures to protect themselves while dealing with suspected cases but hospitals could not deny care because of panic and fear.
"Who will be responsible for the health deterioration or complications, which can be fixed through a simple regular treatment, in a patient of diabetes or hypertension when not entertained just because of fear?" Dr Ashraf asked.
Major public and private hospitals in the city have even closed their emergencies and those hospitals operating their emergency departments have not been taking patients or providing them any other treatment.
The regular appointments of senior consultants and physicians have been cancelled and the patients are told to contact later without giving any specific time period.
A large number of people, who are showing respect for doctors and health workers for playing a front-line role, also question the professional approach of those avoiding seeing their regular patients out of fear.
The people suffering from the current situation and the health professionals find the government role crucial in the emerging crisis for the patients of other diseases, urging the authorities to provide the doctors all due PPE and then make sure they are doing their jobs.
"The health workers who are treating or handling coronavirus patients are doing an extremely great service and they need to be protected," said Dr Qaiser Sajjad of the Pakistan Medical Association. "We have been appealing both the provincial and federal governments to provide PPE to all those health workers exposed to the virus due to their professional contribution. Once they are equipped and protected, they would not show any fear to meet the challenge."
https://www.dawn.com/news/1545418/after-covid-19-karachi-facing-another-healthcare-crisis-due-to-opds-closure
-----
Complete lockdown in Raiwind city
April 01, 2020
Asif Chaudhry
LAHORE: Apprehending outbreak of coronavirus, the law enforcement agencies completely locked down the entire Raiwind City on Tuesday.
The entire 0.2 million population of Raiwind City has been restricted to their residences by shutting down all kinds of commercial activities and placing a strict ban on all public and private transport movement.
"An extraordinary situation has been declared here due to high possibility of more new confirmed cases from the Tableeghi Jamaat Markaz", a senior police official told Dawn.
He said an alert was generated on Sunday when 27 out of 33 Jamaat preachers had tested positive. As this situation had the potential to spread the virus, health teams were dispatched to the Markaz.
He said no body could leave home unless he/she required healthcare. The security would be relaxed for a couple of hours for grocery shops everyday.
The Rangers and the police personnel have been deployed on main roads while patrolling of armed officials has also been intensified in the streets to ensure security guidelines
Meanwhile, a statement issued by Home department said the decision was taken by the Punjab government during today's cabinet meeting for health after multiple cases of the virus were reported in Raiwind.
Assistant commissioner Adnan Rashid told media that action has been taken in light of the worsening situation in the area. "Initially, this complete lockdown will be in force for three days," he said.
https://www.dawn.com/news/1545369/complete-lockdown-in-raiwind-city
-----
Mideast
Hezbollah aims for frontline role in Lebanon's coronavirus fight
31 March 2020
Lebanon's Hezbollah showed its preparedness on Tuesday (March 31) to combat the outbreak of coroanvirus in the southern suburbs of the capital Beirut.
Hezbollah has dispatched its frontline medics and scaled up hospitals and facilities around Lebanon, a country where economic crisis has threatened the capacity to respond.
The Lebanese group has mobilized some 25,000 people as part of a plan to help confront the coronavirus in Lebanon, the head of the Shia group's executive council Sayyed Hashem Safieddine said last week.
Hezbollah is deploying 1,500 doctors, 3,000 nurses and paramedics and 20,000 more activists in its plan, Safieddine said. It had dedicated a Beirut hospital it owns to treating coronavirus patients, rented four disused hospitals, prepared 32 medical centers across Lebanon and laid plans for three field hospitals if needed. It has also rented hotels to be used for quarantine, Safieddine added.
The plan includes monitoring those confirmed to be infected with the virus to ensure compliance with guidelines and following up on those in quarantine or isolated at home.
Lebanon has recorded 463 coronavirus cases so far, out of which 35 cases had recovered by Tuesday (March 31) and twelve people that have died from the respiratory disease. The government, formed with backing from Hezbollah and its allies, has declared a medical emergency.
https://www.presstv.com/Detail/2020/03/31/622042/Hezbollah-Lebanon-coronavirus-fight
-----
Iran's academics call for prosecution of top US, European officials over sanctions
01 April 2020
A group of Iranian university lecturers has called for the prosecution of top US and European officials for committing crimes against humanity even as the Islamic country battles the new coronavirus pandemic despite Washington's unilateral sanctions.
In a letter to the United Nations chief, the heads of the UN General Assembly, and the UN human rights council on Tuesday, the academics called for the trial of US President Donald Trump and his predecessor, Barack Obama, and their cabinet ministers among others.
The group blasted the US's anti-Iran sanctions as a "blatant violation of the international law," arguing that the restrictions deprived Iranians of medicines and protective equipment they need to fight the deadly virus outbreak.
The Iranian university lecturers said the bans have posed serious risks to chronic patients in the country and have led to the death of many others. The letter also blamed some European countries for collaborating with the US and following in Washington's footsteps in imposing illegal sanctions on Tehran.
Grappling with the coronavirus outbreak, Iran is facing sweeping American and European Union sanctions targeting every aspect of the Iranian economy.
Eight countries call on the United Nations chief to ask for the lifting of unilateral sanctions on various countries that are hindering the global fight against the new coronavirus.
Iran has sought to counter the US bans restricting much needed aid by stepping up the development of its own necessary medical equipment and supplies.
On March 7, Iran's Foreign Minister Mohammad Javad Zarif lashed out at US President Donald Trump for tightening "illegal" sanctions against Iran, saying such a move is aimed at draining the Islamic Republic's resources required in the fight against the novel coronavirus.
The new coronavirus, a respiratory disease known as Covid-19, initially emerged in China late last year and is now spreading across the globe. Worldwide, there have been more than 856,000 confirmed cases of the virus and over 42,000 deaths.
Iran's Health Ministry spokesman Kianoush Jahanpour reported on Tuesday 3,111 new infections and 141 more deaths from the virus over the past 24 hours.
In total, 44,606 Iranian have contracted the disease and 2,898 have died, he pointed out, saying 14,656 patients have recovered so far.
In a related development on Tuesday, the United Nations called for the lifting of sanctions on such countries such as Iran and Venezuela amid the coronavirus pandemic.
Hilal Elver, the UN Special Rapporteur on the right to food, said the continued imposition of economic sanctions "severely undermines the ordinary citizens' fundamental right to sufficient and adequate food" as the two countries struggle to contain the flu-like pathogen.
"These countries are already under stress and cannot handle the additional burden of sanctions. As the world exhibits new bonds of solidarity in response to the pandemic, it is now a matter of humanitarian and practical urgency to lift unilateral economic sanctions immediately," Elver added.
Iran has time and again blamed the US for hampering its efforts to import medicine and other medical supplies to confront Covid-19. Venezuela also says US sanctions have caused fuel shortages and hindered the delivery of food amid the coronavirus outbreak.
https://www.presstv.com/Detail/2020/04/01/622047/Iranian-university-lecturers-prosecution-top-US-European-officials-coronavirus-pandemic
------
US military activities in Iraq 'violation of national sovereignty': Iran
31 March 2020
Iran has censured the recent US military movements in Iraq as a violation of the Arab country's national sovereignty, raising the alarm that the actions could precipitate insecurity and danger in the entire West Asia region.
"We regard the military activities that the Americans carry out in Iraq as contrary to the will of the Iraqi nation, government and parliamentarians, also against a bill passed by the Iraqi parliament," Seyyed Abbas Mousavi, Iran's Foreign Ministry spokesman, said on Tuesday.
"We consider the activities in violation of Iraq's national sovereignty and regard them as a cause for insecurity and danger in the whole region," Mousavi added.
On Sunday, Iraqi security sources said new US troops had been deployed to Ain al-Asad in the western Iraqi province of Anbar amid reports that the Pentagon was preparing for a new escalation.
Iraqi security sources say new US troops have been deployed to Ain al-Asad in the western Iraqi province of Anbar amid reports that the Pentagon is preparing for a new escalation.
Arabic-language Almaalomah news agency cited a security source as saying that planes carrying American soldiers and military advisers had landed at the base.
The reported deployment came after the New York Times said last week that the Pentagon had ordered military commanders to plan for an escalation of American combat in Iraq.
Several American officials told the paper that the Pentagon had ordered planners at the Central Command and in Iraq to draw up a strategy to dismantle Kata'ib Hezbollah, which is part of the anti-terror Popular Mobilization Units (PMU) or Hashd al-Sha'abi.
The US has time and again targeted PMU's positions, blaming the major anti-terror force for rocket attacks against American troops based in Iraq over the past few months, a charge the popular group has strongly denied.
Iraqi lawmakers unanimously approved a bill on January 5, demanding the withdrawal of all foreign military forces led by the United States from the country following the assassination of Lieutenant General Qassem Soleimani, the commander of the Quds Force of the Islamic Revolution Guards Corps, along with Abu Mahdi al-Muhandis, the deputy head of the PMU, and their companions in a US airstrike authorized by President Donald Trump near Baghdad International Airport two days earlier.
Later on January 9, Adel Abdul-Mahdi, the former Iraqi prime minister, called on the United States to dispatch a delegation to Baghdad tasked with formulating a mechanism for the move.
According to a statement released by his office at the time, Abdul-Mahdi "requested that delegates be sent to Iraq to set the mechanisms to implement the parliament's decision for the secure withdrawal of (foreign) forces from Iraq" in a phone call with US Secretary of State Mike Pompeo.
The 78-year-old politician said Iraq rejects any violation of its sovereignty, particularly the US military's violation of Iraqi airspace in the assassination airstrike.
https://www.presstv.com/Detail/2020/03/31/622044/Iran-Seyyed-Abbas-Mousavi-US-military-movements-Iraq-national-sovereignty
-----
Southeast Asia
Case management of Sabah church's appeal on 'Allah' ban set for April 30
01 Apr 2020
KUALA LUMPUR, April 1 — The case management for Sidang Injil Borneo (SIB) Church's appeal on the discovery of documents pertaining to the Cabinet's decision in 1986 which prohibited the use of the word "Allah" in non-Muslim publications, has been rescheduled to April 30.
Senior federal counsel Shamsul Bolhassan, when contacted by Bernama today, said it was earlier fixed for today before Court of Appeal deputy registrar Jalidah Hamid, but it was vacated.
"We received an email from the court notifying that the case management for SIB's appeal which was scheduled today, has been vacated. The next case management has been fixed on April 30 at the Court of Appeal," he said.
On Oct 16, 2017, the High Court in Kuala Lumpur dismissed the church's application for the documents, ruling that the documents were classified under the Official Secrets Act (OSA) and could not be released.
The documents were requested by the church and its president, Datuk Jerry WA Dusing @ Jerry W. Pate, in a judicial review application filed on Dec 10, 2007 against the Home Ministry and the government over their right to use the word Allah to refer to God in their religious publications.
The application was also filed to challenge the decision of the Royal Malaysian Customs to seize religious books brought in from Surabaya, Indonesia, which contained the word Allah, at the low cost carrier terminal in Sepang on Aug 15, 2007.
They are seeking a declaration that they have a constitutional right to use the word Allah in their Bahasa Malaysia and Bahasa Indonesia-translated Christian bibles and in all their religious publications and materials.
On Oct 1, 2014, the Court of Appeal gave the nod to the church to initiate a judicial review application over the right to use the word "Allah" in all its religious publications and materials after Kuala Lumpur High Court on May 5, 2014 dismissed the SIB church's leave application to commence a judicial review.
Following the Court of Appeal's decision, the matter was remitted to the High Court for hearing on the merits of the church's judicial review.
However, the merits of the judicial review have yet to be heard at the High Court as SIB had first applied to obtain documents.
https://www.malaymail.com/news/malaysia/2020/04/01/case-management-of-sabah-churchs-appeal-on-allah-ban-set-for-april-30/1852438
-----
No Ramadan bazaars in Selangor this year due to Covid-19, says MB
01 Apr 2020
SHAH ALAM, April 1 — Ramadan bazaars throughout Selangor will be cancelled until further notice due to the Covid-19 pandemic, said Mentri Besar Datuk Seri Amirudin Shari today.
"It will be cancelled until further notice, or until the Health Ministry gives the green light for it to be held, subject to stringent policies including social distancing and the like," Amirudin said during a press conference at his official residence in Seksyen 7.
Selangor follows in the steps of Melaka, Negri Sembilan, and Terengganu — all who have cancelled this year's Ramadan bazaars as part of their efforts to stem the number of Covid-19 positive cases from increasing.
https://www.malaymail.com/news/malaysia/2020/04/01/no-ramadan-bazaars-in-selangor-this-year-due-to-covid-19-mb-says/1852450
------
Penang CM: No decision yet on Ramadan bazaars
01 Apr 2020
GEORGE TOWN, April 1 — The Penang state government is still undecided on whether to allow the operation of Ramadan bazaars when the fasting month starts later this month.
"We will continue to monitor the situation before a decision on it is made," he said, referring to the movement control order (MCO) until April 14 which was implemented following the novel coronavirus (Covid-19) outbreak.
On the quarantine procedures for returning Malaysians from overseas at the Penang International Airport, Chow said the state health department is still awaiting instructions from the National Security Council (NSC).
"Most of those arriving back from overseas will arrive at KLIA but if those arrive direct to Penang and the order to send them to immediate quarantine is implemented, then we will prepare a quarantine centre to comply," he said.
Yesterday, Senior Minister Datuk Seri Ismail Sabri said all Malaysians returning to the country will be immediately quarantined for 14 days at government quarantine centres effective from April 3 onwards.
Chow, who attended the NSC meeting chaired by the Prime Minister Tan Sri Muhyiddin Yassin, said he had raised the proposal of operation hours for wet markets to be limited from 6am to 12pm and for wholesale markets from 4am to 10am and this was agreed by the council members.
"These operation hours are also applicable in Penang but I understand that some wholesale markets in Penang face challenges in operating within these hours as they have to wait for supplies coming in from other states," he said.
He said these wholesale markets can submit their proposals to the city councils and a decision will be made after considering their proposals.
He added that the Economic Action Council (EAC) will study the proposals by small and medium enterprises (SMEs) and assist this sector in facing the challenges caused by the Covid-19 pandemic.
"In regard to this, the state government will also look into the suggestions raised by the representatives of the Penang SMEs and I will make an announcement on our decision the soonest possible," he said.
He called on all to be strong and to remain indoors, reduce outdoor activities, practice social distancing and obey the instructions given by the authorities so that the MCO can end after April 14.
https://www.malaymail.com/news/malaysia/2020/04/01/penang-cm-no-decision-yet-on-ramadan-bazaars/1852417
------
South Asia
10 members of a family killed, wounded in an explosion in South of Afghanistan
01 Apr 2020
A roadside bomb explosion killed or wounded at least ten members of a single family in southern Helmand province of Afghanistan.
The Helmand Police Headquarters in a statement said a roadside bomb exploded in Nahr-e Saraj district of Helmand, killing at least 8 civilians and wounding 2 others.
Several women and children were among those killed or wounded in the explosion, the Helmand Police Headquarters added in it statement.
https://www.khaama.com/10-members-of-a-family-killed-wounded-in-an-explosion-in-south-of-afghanistan-04592/
-----
Taliban delegation arrives in Kabul for the first time since 2001
31 Mar 2020
A delegation of Taliban representatives arrived in Kabul for the first time since 2001 to follow up on the release of prisoners.
Zabiullah Mujahid, a Taliban spokesperson, said the delegation consists of three representatives who arrived in Kabul on Tuesday.
Mujahid further added that the delegation will follow the release of the prisoners and take necessary steps in this regard.
The Office of the National Security Council had earlier confirmed that the Afghan government will host the Taliban delegation in Bagram prison to discuss the release of prisoners.
This comes as efforts are underway to release at least 5,000 Taliban prisoners from the Afghan jails following the signing of peace deal between the United States and Taliban.
The release of the prisoners is expected to pave the way for the launch of intra-Afghan peace negotiations aimed at finding a negotiated political settlement to resolve the conflict in Afghanistan.
https://www.khaama.com/taliban-delegation-arrives-in-kabul-for-the-first-time-since-2001-04590/
-----
Ex-commando took own life after horrific tours of duty in Afghanistan and Iraq
31 Mar 2020
A former commando of the Royal Marine took his own life after horrific tours of duty in Afghanistan and Iraq, it has been reported.
The 39-year-old Stu McBrearty shot himself and his dead body was found in his room in Kabul in October 2019, an inquest was heard.
Sophie Hughes, McBreary's wife, told Hampshire Coroner's court the trigger was the death of his close friend, Luke Griffin, according to BBC.
Griffin and four other security workers of G4S security workers lost their lives when Taliban gunmen stormed their base.
https://www.khaama.com/ex-commando-took-own-life-after-horrific-tours-of-duty-in-afghanistan-and-iraq-04588/
-----
Why people in Afghanistan are not taking coronavirus seriously?
31 Mar 2020
Coronavirus was confirmed to have spread to Afghanistan when its first case, in Herat was confirmed on 24 February 2020. According to the Ministry of Public Health Afghanistan, until now 174 cases are confirmed across the country.
Lockdowns and Self-quarantine are some of the measures undertaken by the Afghan government and most of the countries across the world to slow down the spread of the virus.
The World Health Organization (WHO) outlined the bellow six steps that each country should implement to stop the spread of the Coronavirus.
Steps were taken by the Afghan government for slowing down the spread of the coronavirus. On 14 March, President of Afghanistan, Ashraf Ghani, told the public to avoid large public gatherings and to pay attention to hygiene to prevent the spread of the disease. On 18 March, the Ministry of Interior Affairs banned all large gatherings, including the closure of venues that attract large crowds such as entertainment places, sports grounds, swimming pools, fitness clubs and wedding halls.
Herat, Khandahar, Logar and Kabul provinces are lockdown, the Afghan government began to limit the movement of residents in Farah, Nangarhar and Nimruz provinces, praying in mosques was suspended to prevent any possible spread of the virus, On 26 March, the government announced the release of 10,000 prisoners that were aged over 55 to slow the spread of COVID-19 in the country.
Even on the 3rd day of the lockdown in the capital Kabul, you can see the streets are full of people doing their daily work, below are some of the reasons that why people are not taking the precautions seriously.
Afghanistan is one amongst the poorest countries in the world and according to the Afghan government, 42% of the people are living under the poverty line. Currently, the poverty line is defined as an income of 70 afghanis a day, which is equivalent to about 1 U.S. dollar. The Afghanistan Living Conditions Survey (ALCS) reported that the national poverty rate has risen from 38% in 2011-12 to 55% in 2016-2017, with the slowing economic growth and a deteriorating security situation as two causes. Over half of the population is living off less than a dollar a day and this is why you can see the streets are still crowded, people are out to find food for their families.
Afghanistan has gone through wars and internal conflicts for more than three decades. As a result of war, the education system collapsed and several generations of Afghans became illiterate. The education system restored after the Taliban regime (2002) but we are far from the rest of the world. More than half of the population is illiterate.
Public awareness is the public's level of understanding of the importance and implications of Coronavirus safety precautions in cities and communities. Raising public awareness is not the same as telling the public what to do – it is explaining issues and disseminating knowledge to people so that they can make their own decisions and to take precautions seriously. The Afghan government has already stepped in for public awareness through press conferences, TV, social media Facebook, Twitter, the lockdown of the cities and etc. but the most important is that the message should be delivered to the people by the language they know so they can understand the message better.
Pashto and Dari are official languages of Afghanistan and from the beginning of the public awareness program the high officials are only presenting the message to the people in Dari which can cause misunderstanding between the people who don't understand Dari, for example, the Minister of Health visited Nangarhar Province on 29 March 2020, where more than 90% people are Pashtuns and speak Pashto, in a Press Conference he delivered the message to the people only in Dari, for the better understanding of the people the message should be delivered in both languages and even in Uzbeki, Pashai and Nuristani.
The gradual and unchecked rise in prices of common use products has created serious problems for the poor where more than half of the population lives under the poverty line. Differences and fluctuations in prices of different commodities are very strange and cannot be compared to any country in the world. It is necessary that the government body responsible for setting up the prices should establish prices of different commodities in a rational manner because very low prices can drive the shopkeepers into losses. It is also necessary that the government body should work incessantly and vigilantly on the shopkeepers and sellers of commodities so that the things should be sold on the permitted prices.
During the start of the outbreak of the Coronavirus in the capital one bag of 50 KG flour rose from 1500 Afghani to 2500 Afghani and in some areas to 3000 Afghani, 1 KG of Lemon rose from 50 Afghani to 300 Afghani and the same with other commodities. Therefore it is very important that strict steps should be taken by the government to control the prices and if such steps are not taken, the life of the public would get more difficult with every passing day.
https://www.khaama.com/why-people-in-afghanistan-are-not-taking-coronavirus-serious-768969/
-----
Europe
Golden Hillock Road City Mosque Car Park To Become Temporary Mortuary During Coronavirus Crisis
1 APR 2020
Work is underway to install five specialist refrigerated units at the Central Jamia Mosque Ghamkol Sharif in Golden Hillock Road.
Trained volunteers will bring bodies to the mosque, where they will be prepared for burial in accordance with the Islamic faith.
Mr Hussain, a 58-year-old funeral director, said: "We have a large car park and we are converting that for a large-scale funeral service operation to cater for 50 to 70 deceased at any one time.
"We are hoping to do the funeral prayer at the cemetery and not at the mosque to keep smaller numbers of mourners, in accordance with social distancing."
Mr Hussain, who was the first Islamic funeral service in the city, said volunteers will be assigned specific defined roles to prevent the spread of infection.
Only one or two relatives will be allowed on to gated secure sites with their loved ones with half a dozen mourners at the cemetery, in accordance with guidelines.
Mr Hussain said: "We've started the recruitment process for volunteers and we will be needing about 60 to 70 at the peak. If it does get worse, we will need more."
A spokesman from Zia ul Quran Funeral Services said: "Early preparations have been made by the funeral services setting up cold storage facilities, purchasing personal protective equipment and implementing the necessary education and training in accordance with government guidance.
"The funeral services are working tirelessly behind the scenes and working collectively so adequate preparations are in place to cover any eventuality.
https://www.birminghammail.co.uk/news/midlands-news/city-mosque-car-park-become-18015801
----
Muslim schoolboy youngest COVID-19 victim in UK
01.04.2020
Ahmet Gürhan Karta
Ismail Mohamed Abdulwahab from Brixton, south London died at King's College Hospital early Monday after testing positive for COVID-19 last Friday.
"Ismail started showing symptoms and had difficulties breathing and was admitted to King's College Hospital. He was put on a ventilator and then put into an induced coma but sadly died yesterday morning," his family said in a statement.
"It is with great sadness to announce that the younger brother of one of our teachers at Madinah College has sadly passed away this morning (Monday 30th March 2020) due to being infected with COVID-19," the page read.
"Ismael was only 13 years old without any pre-existing health conditions and sadly he died without any family members close by due to the highly infectious nature of COVID-19," it said.
More than 1,800 people have died in the U.K. from the coronavirus, 393 of them within the past 24 hours, according to official figures from health officials.
After first appearing in Wuhan, China last December, the virus has spread to at least 179 countries and regions, according to U.S-based Johns Hopkins University.
Its data shows the confirmed number of cases worldwide have surpassed 850,000 with the death toll over 41,600 and more than 176,000 recoveries.
https://www.aa.com.tr/en/europe/muslim-schoolboy-youngest-covid-19-victim-in-uk/1787213
-----
As Easter, Passover and Ramadan near, religious leaders adapt holiday observances during the coronavirus pandemic
April 1, 2020
Churches, synagogues and mosques are closing to contain the coronavirus global pandemic, and religion is traversing a new virtual world without roadmaps for prayer and celebration. As such, religious leaders are employing artistic license and bending holy rules while families create new rituals that respect social distancing.
Last week, Pope Francis was depicted praying alone in a haunting photograph captured in Rome's St. Peter's Square while public celebrations for Holy Week festivities (Palm Sunday, Holy Thursday and Good Friday) will pivot to livestream, per the Vatican website. And "considering the rapidly evolving situation" of the pandemic, a decree called "In time of COVID-19" outlines resources to amend April holidays, including Easter.
Churches are holding "drive-thru" services, and a New Jersey bishop has eased rules for the remainder of Lent (until April 9), permitting the consumption of meat on Fridays, except on Good Friday, "given the difficulties of obtaining some types of food and the many other sacrifices which we are suddenly experiencing given the coronavirus," according to a tweet from the Diocese of Metuchen.
Meanwhile, bar and bat mitzvahs, large Jewish coming-of-age ceremonies which demand years of vigorous studying and preparation, have been moved online or postponed. And Israeli Prime Minister Benjamin Netanyahu has encouraged Jewish, Christian and Muslim citizens to "avoid family visits" during respective April holidays.
In Georgia, St. Anne Catholic Church in Columbus provides virtual-only services on social media (an option since January 2019 to include elderly, homebound or military members), but speaking to empty naves, not friendly faces, got lonely. So last week, leaders taped photographs of congregant faces onto their pews.
"From the altar, there's now a sea of photos," Rev. Emanuel Vasconcelos tells Yahoo Lifestyle. "It's a way to stay united in prayer, not look out into an empty space."
Designing a fair seating chart for 650 photos was hard, as regulars have their preferred places, but the church did its best. "This has been a challenge for everyone — we've never faced anything like this in our lifetime," he says. When pandemic restrictions are eventually lifted, there may be a ceremonial photo removal.
On March 15, the Clackamas United Church of Christ (UCC) in Milwaukie, Ore. closed for the first time since its inception in 1895. "This is a political, economical and spiritual crises and everyone is anxious," Pastor Adam Ericksen tells Yahoo Lifestyle. "It brings up a lot of questions about where God is in all this."
Bible study and prayer meetings via Zoom haven't been easy for everyone, so Ericksen has personally counseled his 70 communicants over the phone and created a phone tree pairing "buddies" together for spiritual support. There are plans to organize a multi-church online Easter service and possibly a 72-hour "Easter Triduum" from the evening of Holy Thursday to Easter morning with pastors taking shifts to lead continuous prayers.
And the church posted an outdoor sign displaying the phone number for a "senior loneliness line" during isolation. "Nothing will go smoothly but we have to embrace the mess and go with the flow," says Ericksen, who is planning an at-home Easter egg hunt for his three children.
Rabbi Josh Stanton of the East End Temple in Manhattan has brought his entire synagogue online, including bat-and-bar mitzvah tutoring and Shabbat services. "Judaism is 4,000 years old and records that date back to plagues and quarantines have guided us," he tells Yahoo Lifestyle. "We've had this in our religious discourse for generations."
Ahead of Passover, which falls between April 8 and 16 and observes the freeing of Israelites from slavery in Egypt, Stanton says "we're trying to host the world's largest virtual seder that's open to the world — singing, eating and reflecting together, even if it's not at the same table. This Passover could be holier than any other time in our lives."
Families traditionally abstain from or donate leavened bread (which contains yeast) and avoid technology, but Stanton dismisses perfectionism. "What matters is intention and in circumstances like this, creativity." When food is scarce, he says, there's little reason to discard bread, and technology is permissible for online seders provided cameras are activated one hour before sundown.
"Why not have a virtual seder with someone in Israel or South America?" says Stanton. "This might forever change Passover."
For the holy month of Ramadan, this year from April 23 to May 23, Muslims self-reflect and perform good deeds, and pray and fast from dawn to sunset. "This is done in groups, however while living in our comfort zones, we can rely on online services," Imam Tahir Kukaj, vice president of the Albanian Islamic Cultural Center in Long Island, N.Y. and chaplain of the New York Police Department, tells Yahoo Lifestyle.
At the end of the month, a celebration called Eid al-Fitr breaks the month-long fast. Typically held in mosques or outdoor areas, it's marked by a feast with lamb, desserts and other dishes. "We have to play by the rules in isolation," says Kukaj. "This year, how about we celebrate modestly and donate any money toward finding a cure for this virus? Why not invest in science?" says Kukaj, adding that celebrators can "eat whatever is available to you."
https://www.yahoo.com/lifestyle/celebrating-easter-passover-ramadan-during-coronavirus-223233564.html
-------
Anti-Muslim fake news being circulated during coronavirus lockdown
31st March
A series of posts shared on social media this week have claimed that Muslims are 'breaking the lockdown' and they are 'getting special treatment from authorities'.
West Midlands police said a mosque in Small Heath, Birmingham was closed despite a video claiming to show 'worshippers entering the building'.
A statement from West Midlands Police read, "We're aware of a video circulating that appears to show a group of people leaving a mosque in Small Heath since the government introduced restrictions last week.
"Although we can confirm the footage was filmed in Small Heath, our officers have conducted enquiries and are satisfied that the mosque is currently closed.
"The neighbourhood team have spoken to many residents living on the street, who all confirmed that the mosque has not been open since the restrictions were announced last Monday (23 March)."
After Neil Russell (@russ634) asked, "Called my local Mosque in Shrewsbury to see if it was closed as per the new law and government guidance. Horrified to discover that they are still open and allowing people in!! These idiots will be super spreaders of the Virus! @ShropCops why are you not closing them down?"
Shropshire Police replied, "Probably because there is no Mosque in Shrewsbury. There is a prayer centre & it has been checked and is fully compliant with the current government requirements."
This user suggests that Muslims are roaming the streets, "Can anyone in office explain to me why MUSLIMS are roaming the streets, attending mosques and gathering . I thought we were in lockdown ?"
To which user @offshorelegal99 replied, "A very wide sweeping assumption how do you not know they're not on the way to work for the NHS or essential workers volunteers for the Muslim UK community. Many British Muslims have volunteered to help the NHS we stand united during these times all faiths as one. NHS as one.
https://www.asianimage.co.uk/news/18347098.anti-muslim-fake-news-circulated-coronavirus-lockdown/
------
North America
US trying to block messages of real information from Iran: Analyst
31 March 2020
The US social networking service Twitter's temporary suspension of the account of the Leader of the Islamic Revolution of Iran Ayatollah Seyyed Ali Khamenei aims "to block messages of real information," says an American author and radio host.
Stephen Lendman told Press TV that the incident was no "mistake" and it was part of the efforts of US President Donald Trump and his lackeys to stop the "real information" from getting to the people.
"The Trump regime's aim to block messages from anybody, especially leaders of nations, that the US does not want to have heard by ordinary people, whether in the US, or in Iran, or anywhere else," Lendman said.
The American author and radio host said blocking the leader and other top Iranian officials was part of the Trump administration's orchestrated efforts to suppress free speech of the Iranian nation.
He said the new outlets that try to spread the message of truth and the voice of the oppressed nations, such as Press TV, were also placed under limitations and restrictions by the US government.
"They only want the information they want broadcast and put out [by] themselves through established media in the US and other western countries ... and Israel," Lendman noted.
A group of Republican senators in the US Congress sent a letter to Twitter last month, urging the American social media platform to suspend the accounts of Ayatollah Khamenei and Iranian Foreign Minister Mohammad Javad Zarif.
In the letter signed by Senator Ted Cruz (R – Texas) and others, the senators claimed that allowing the message of Iranian leaders' to get through to the people of the world was providing the leaders with "assistance".
Twitter, which states its company's mission as the promotion of "free and global conversation ... to give everyone the power to create and share ideas and information instantly without barriers," has said in its blog that it would not remove accounts of world leaders.
"Blocking a world leader from Twitter or removing their controversial tweets would hide important information people should be able to see and debate," it said previously in a blog post in 2018.
The recent incident suggests that Twitter has has given in to the political pressure and violated its own stated mission.
https://www.presstv.com/Detail/2020/03/31/622036/Twitter-blocks-Iran-Leader:-US-suppresses-free-speech
-----
URL: https://www.newageislam.com/islamic-world-news/saudi-arabia-asks-muslims-wait/d/121458
New Age Islam, Islam Online, Islamic Website, African Muslim News, Arab World News, South Asia News, Indian Muslim News, World Muslim News, Women in Islam, Islamic Feminism, Arab Women, Women In Arab, Islamophobia in America, Muslim Women in West, Islam Women and Feminism