New Age Islam News Bureau
16 Nov 2019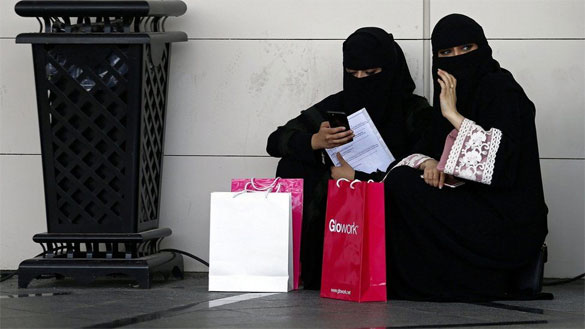 The video comes after Saudi Arabia introduced reforms on women's rights
-------
• Saudi Arabia Apologises For Video Labelling Feminism as Extremism
• Building Bridges of Understanding Helps Create A More Solid World, Prince Badr Bin Abdullah Tells UN Conference
• Ahead Of Sri Lanka Elections, Gunmen Attack Convoy Carrying Muslim Voters
• France Closes 12 Worship Sites Due To 'Political Islamism'
• Denver Mosque's Imam Encourages Peace, Brotherhood After Bias-Motivated Threat: 'From this… We Become Stronger'
• Khamenei Says Iran Wants Removal of Israel State Not People
• Malaysia's Minister for Islamic Affairs: Malaysia Needs A New Narrative Of Islam
• Tunisia's Ennahda Names Habib Jemli as Choice for PM
• Banaras Hindu University Controversy: What's The Problem with a Muslim Scholar Teaching Sanskrit?
• Economic Progress Due To Security Forces' Work: General Qamar Bajwa
-----
Arab World
• Iraq protests: Top Shia cleric gives support to protests, At least 319 people have been
• Saudi Human Rights Commission participates in conference on migrant workers
• Iraq 'will never be the same' after protests, says Ali Sistani
• Five Saudi officials accused of corruption sentenced to jail, fined SR9m
• Pope Francis, Al-Azhar's Grand Imam Confirm Continued Cooperation to Achieve 'Human
• Fraternity'
-----
South Asia
• Muslims in Hong Kong: 300,000 Followers, Six Mosques and Tasty Halal Dim Sum In Wan Chai
• Myanmar Rejects ICC Probe Into War Crimes Against Rohingya
• President Ghani Unveils Higher Education Curriculums for Political & Sharia Faculties
• Trump issues pardons to 2 U.S. military officers accused of war crimes in Afghanistan
• UN mission in Afghanistan accused of interfering in presidential elections
• 615 ISIS militants, their family members have surrendered to Afghan forces so far: MoD
• 2 Taliban militants killed, detained; weapons caches destroyed in Special Forces raids
• 10 Taliban militants killed, detained in Special Forces raids and airstrikes
-----
Europe
• Germany Set To Take Charge of Imam Education Locally
• Russia's New Base in Qamishli Is a Message. But For Whom?
• British Muslims targeted in OneCoin scam
• Ukraine arrests Islamic State's deputy 'minister of war'
-----
North America
• Chicago Gang Leader Accused of Trying to Help Islamic State
• Trump to attend NATO summit in London, days before UK vote
• US Senate unanimously passes resolution honouring Sikh community
• Man accused of threatening people at Denver mosque was armed with airsoft rifle, police say
-----
Mideast
• Islamic Jihad Used New Rocket with Huge 300kg Warhead during Fighting
• Israel-Gaza: Israel vows to investigate civilian death claims
• Protesters reject Carlos Ghosn as possible Lebanese politician
• Amid Gaza fighting, Israel could face questions on tactics
• Medics protest economic crisis in Lebanon
• Israel carries out fresh strikes on Gaza after rocket fire: Army
• Turkey pressures Australia to accept Islamic State fighters as repatriation push begins
-----
Southeast Asia
• Dad's name can't be used for Muslim illegitimate child, says govt lawyer
• Malaysia again tops Global Islamic Economy Indicator for 2019/20
• Indonesian students condemn Israeli attacks in Gaza
-----
Africa
• Sudan is a partner, sanctions will end after process: US official
• Miyetti Allah warns HURIWA for calling herdsmen terrorists
-----
India
• #Mosquesofindia Trends on Twitter after Babri Mosque Verdict
• Former Muslim Law Board Member to Visit Ayodhya, To Hold Talks with Madrasa Students, Mahants
• Ex-Army doctor held in Hyderabad by UP ATS for Kushinagar mosque blast
------
Pakistan
• Pakistan President Urges Muslim Countries To Pool Up Resources
• Shehbaz assures Nawaz's return in draft undertaking submitted to LHC
• Price hike conspiracy against govt: PM Imran Khan
• Fazlur Rehman ended March after understanding with govt, claims Pervaiz Elahi
• 'Country to have fresh polls, new PM next year'
• Providing jobs not govt's mandate: Hafeez Shaikh
• Roadside bomb kills 3 paramilitary troops in Pakistan
• Pak air traffic controller saves Jaipur-Muscat flight after pilot sounds alert
• Buzdar seeks compilation of non-Muslim employees' data
• No truth to reports regarding amendment in PAA to implement ICJ verdict on Kulbhushan:
• ISPR
• 2 FC personnel martyred, 5 injured in Quetta IED blast
• In Sindh, mystery and controversy surround the marriages of Hindu women with Muslim
men
• Muslim scholars to attend Int'l moot at AIOU on Nov 21
Compiled By New Age Islam News Bureau
URL: https://www.newageislam.com/islamic-world-news/saudi-arabia-apologises-video-labelling/d/120283
------
Saudi Arabia Apologises For Video Labelling Feminism As Extremism
13 November 2019
Saudi Arabia's state security agency says a social media post on one of its accounts that categorised feminism as extremism was a mistake.
The promotional video categorised feminism, homosexuality and atheism as dangerous ideas and warned Saudis to be vigilant against them.
The security agency says it is investigating the video.
Saudi Arabia is trying to shake off its image as one of the most repressive countries in the world for women.
The animated clip was posted to the Twitter account of the State Security Presidency over the weekend. The agency reports directly to King Salman.
The agency said in a statement that the video contained multiple mistakes and the makers of the video did not do their job properly.
The Saudi Human Rights Commission also released a statement saying that feminism was not a crime. However, it did not make reference to homosexuality or atheism.
Saudi Arabia has no written laws concerning sexual orientation or gender identity, but judges use principles of Islamic law to sanction people suspected of extra-marital sexual relations, homosexual sex or other "immoral" acts, according to US-based Human Rights Watch.
The video has been criticised by human rights groups including Amnesty International.
Heba Morayef, Amnesty International's Middle East and North Africa Director, said: "This announcement is extremely dangerous and has serious implications for the rights to freedom of expression and life, liberty and security in the country."
The video comes as Saudi Arabia continues a programme of reforms, many of which focus on women's rights.
The government lifted a long-standing ban on women driving in 2018 and made changes to the male guardianship system this August, allowing women to apply for passports and travel independently without permission from a man.
They were also given the right to register births, marriage or divorce.
However, women continue to face numerous restrictions on their lives, and several women's rights activists who campaigned for the changes have been detained and put on trial. Some of them alleged to have been tortured in prison.
Men who had supported the activists' cause or defended them in court were also arrested.
https://www.bbc.com/news/world-middle-east-50401311
------
Building bridges of understanding helps create a more solid world, Prince Badr bin Abdullah tells UN conference
SPA
November 16, 2019
RIYADH: Science, culture, and arts are key pillars to promoting dialogue and communication among nations, Saudi Arabia's culture minister told a UN meeting on Friday.
Addressing the 40th UNESCO General Conference, in Paris, Prince Badr bin Abdullah bin Farhan Al-Saud said the success and prosperity of future generations relied on the strength of cultural links between countries.
Heading the Kingdom's delegation in France, the prince told the gathering that under the guidance of King Salman and Crown Prince Mohammed bin Salman his country regarded culture in general as one of the most important foundations of human development.
He pointed out that building bridges of understanding between societies helped to create a more solid world where people of different cultures became interdependent, and he noted the Kingdom's push for joint action within UNESCO.
"Culture and arts in the Kingdom are among the pillars of the National Transformational Program of the Kingdom's Vision 2030, and its objective to building a vibrant society, prosperous economy, and ambitious nation," added Prince Badr.
The minister told delegates that through Vision 2030 the Kingdom was heading "with confident steps" toward a better future and that the reform plan's effects had "started to positively impact several sectors including education, culture, and arts."
He reiterated Saudi Arabia's determination to continue promoting joint action at UNESCO to achieve the goals of the UN's 2030 Agenda for Sustainable Development, which were in line with the Kingdom's own objectives.
"As part of its responsible position as a founding state, the Kingdom had made a big contribution to the UNESCO 1984 budget, and had allocated $25 million (SR93.7 million) to fund UNESCO's strategic heritage programs and its actions related to protecting heritage through the signing of the letter of intent last July."
In his speech, Prince Badr said the Kingdom believed that educating and rehabilitating young people formed the basis of any process of building, developing, and promoting culture in societies, coupled with nurturing them with human values.
"This we emphasize on in our work, through a more developed system that is open to different cultures; for this contributes to strengthening social ties and opens wide the doors for peace among nations.
"In Saudi Arabia, we have sought to achieve this, in line with the UN's sustainable development goals, as part of our strong belief in the importance of partnerships between the nonprofit sector with other sectors, which we consider as a key partner in development," he added.
The establishment of the National Center for the Development of the Nonprofit Sector aimed to activate and expand the role of culture-sector organizations, particularly in developmental fields, the minister said.
He noted the Saudi Ministry of Culture's comprehensive plan to boost societal contribution in developing culture and heritage "in order to open the opportunity for the whole world to have an in-depth outlook onto the treasures of humanity's civilizations and its secrets that have formed societies, and have contributed in this cultural richness that we are proud of, in our country and worldwide."
Prince Badr stressed the importance of youth and its huge potential in helping to translate the aspirations and hopes of societies and said the Kingdom had launched numerous initiatives to support their creativity and involvement in constructing their country's future.
Saudi Arabia was keen to back the plans and activities of UNESCO's Executive Strategy for Youth 2014-2021, he added, noting that artificial intelligence was at the core of future development.
In March 2020, the Kingdom will host the Global Artificial Intelligence Summit, which the prince said was "an annual global forum for exchanging expertise between various local and international actors and companies in the field of data and artificial intelligence, for the benefit of all mankind."
Prince Badr concluded by encouraging member states to transform their visions into reality. "We are getting prepared, and we intend to elaborate the objectives of this organization for everybody's benefit, and cooperate hand in hand for a better world."
https://www.arabnews.com/node/1584691/saudi-arabia
------
Ahead of Sri Lanka elections, gunmen attack convoy carrying Muslim voters
November 16, 2019
Ahead of the presidential polls in Sri Lanka Saturday, gunmen opened fire at a convoy of more than 100 buses carrying Mulsim voters in Anuradhapura. The voters, traveling from Puttalam to Mannar, escaped unhurt while a few buses were damaged.
According to a report in news agency AFP, attackers had burnt tires on the road and set up makeshift roadblocks to ambush the convoy. "The gunmen opened fire and also pelted stones. At least two buses were hit, but we have no reports of casualties," a police official was quoted as saying by the agency.
The elections come seven months after the deadly Easter Sunday bombings left more than 250 people dead in the country. Muslims, who make up nearly 10 per cent of Sri Lanka's 22 million population, say they have faced hostility ever since the April attacks.
Sri Lanka's minority Tamils and Muslims are seen as crucial to deciding a winner in a close contest between the two front runners — Sajith Premadasa of the ruling UNP and the opposition's Gotabaya Rajapaksa. Over 15 million Sri Lankans will head to polls today and pick one of 35 candidates — the longest-ever ballot paper in the country. The results are expected by Monday.
According to about a dozen Tamil voters who spoke to The Indian Express on the eve of polling, the situation has changed in the last five years of the Sirisena regime. There is voter unhappiness against the Tamil National Alliance (TNA), a party that represents Tamils, and there have been calls to boycott elections.
https://indianexpress.com/article/world/ahead-of-sri-lanka-elections-gunmen-attack-convoy-carrying-muslim-voters-6122349/
------
France closes 12 worship sites due to 'political Islamism'
15 NOVEMBER, 15:30
PARIS - French Secretary of State to the Interior Minister Laurent Nunez said Friday that France has closed various businesses, schools, places of worship and associations in about 15 neighbourhoods in the country "hit by political Islamism and communitarianism".
"We are fighting against political Islamism, which believes that the law of God is higher than that of the Republic," Nunez said on France 2, highlighting that "political Islamism" shouldn't be "confused with Islam".
Nunez said that in about 15 neighbourhoods in French cities, "a bit fewer than 130 beverage shops were closed, 12 places of worship, four schools, and nine associations".
http://www.ansamed.info/ansamed/en/news/sections/generalnews/2019/11/15/france-closes-12-worship-sites-due-to-political-islamism_b131c65d-14d2-4bde-8ac9-d16f95d47be0.html
------
Denver Mosque's Imam Encourages Peace, Brotherhood After Bias-Motivated Threat: 'From this… We Become Stronger'
November 15, 2019
DENVER (CBS4) – Newly-released surveillance video obtained by CBS4 seems to show Benjamin Casillas-Rocha the moments before he was arrested for a potential hate crime. Casillas-Rocha, 24, is being held on investigation of felony menacing after reportedly waving a gun and making threats outside of a Denver mosque.
Investigators said Casillas-Rocha was the man who was on some sort of drug when he approached four people late Thursday afternoon, who were standing outside Masjid Al-Shuhada Downtown Denver Islamic Centre at 2952 North Downing Street, and pointed a weapon at them.
Denver Police Division Chief Ron Thomas said the suspect made anti-Muslim comments "in a bias motivated fashion." Casillas-Rocha pointed, but didn't fire the gun, and ran away before officers took him into custody.
Denver police say while executing a search warrant, an airsoft assault rifle matching the description of the weapon used in the incident was recovered. Final charges will come from the Denver District Attorney's Office.
Worship resumed as normal at the Downtown Denver Islamic Center on Friday, which is a holy day for Muslims, a day filled with prayer.
"From this disturbance we become stronger," said the mosque's Imam, Muhammad Kolila.
"I grant you the most significant thing that any person can have, is safety," he said.
In his message to followers, the Imam encouraged them to come together in peace and brotherhood with all worshipers, regardless of their faith.
"Our job as Muslims is to protect other places of worship and to stand out for any place of worship because a place of worship is dedicated mainly to bring the people closer to Allah," he said.
Outside, Denver police provided added security and a group representing many faiths rallied to show support.
"I see a lot of people coming here, a lot of community and police officers, they are coming to support us, that is so awesome, to see all people come together is awesome," said worshipper Amadou Deh.
"It's wonderful to see so many people from different faith traditions who came here to support us and to show solidarity," said Ismail Akbulut, from the Multicultural Mosaic Foundation.
"We hope that we can get together as people of different faith traditions and live in peaceful coexistence in our State," said Akbulut.
The Denver Jewish Community released a statement saying they are deeply disturbed by the alleged threats made by Casillas-Rocha and the Colorado Attorney General's Office said they will be announcing a new public-private partnership with the Colorado Coalition Against Hate on Monday to address hate crimes in Colorado.
No one was hurt during Thursday's encounter, but the Mosque's Imam told CBS4 the incident left people there totally shaken.
The Denver Police Department increased patrols at mosques around Denver as a precaution.
https://denver.cbslocal.com/2019/11/15/benjamin-casillas-rocha-denver-mosque-threat-hate-crime-imam/
------
Khamenei says Iran wants removal of Israel state not people
15 November 2019
AFP
The Iranian government refers to Israel as the "Zionist regime"
TEHRAN: Iran's supreme leader said Friday that calls for the abolition of Israel which have sparked outrage in the West target the "imposed state" not the Jewish people.
Ayatollah Ali Khamenei said the future of the land should be decided by Palestinians of all faiths, Jewish as well as Christian and Muslim.
"The 'abolition of the Israeli regime' ... does not mean the abolition of Jewish people; we have no problem with them," Khamenei told a meeting of Islamic countries in Tehran, according to his official website.
It means "abolition of the imposed regime and state, that the Palestinian people, whether Muslim, Christian or Jewish... choose their own government and oust thugs like (Benjamin) Netanyahu," he added, referring to Israel's prime minister.
The Iranian government does not recognize Israel, referring to it as the "Zionist regime," and support for the Palestinian cause has been a constant feature of its foreign policy since the Islamic revolution of 1979.
Iran openly supports Israeli foes like Hamas and Islamic Jihad in the occupied Palestinian territories and Hezbollah in Lebanon.
"We are not anti-semitic. Jews are living in utmost safety in our country. We only support the people of Palestine and their independence," he said.
Khamenei said that the "enemies of Islam," including Israel and the United States, seek to sow discord between Islamic countries and called for unity in the face of the "common enemy."
Tensions between Tehran and Washington have soared since President Donald Trump unilaterally withdrew from a landmark 2015 nuclear deal last year and reimposed crippling sanctions as part of a policy of "maximum pressure."
Since then the arch-foes have come to the brink of military confrontation after drones were downed and tankers and Saudi oil installations mysteriously attacked.
https://www.arabnews.com/node/1584476/middle-east
-----
Malaysia's Minister For Islamic Affairs: Malaysia Needs A New Narrative Of Islam
Malaysia's Minister for Islamic affairs Mujahid Yusof Rawa has said his government is proposing "a new narrative" of "compassionate Islam".
Malaysia has one of Asia's most vibrant economies and is also a multi-ethnic, multi-religious federation - but the majority ethnic Muslim Malays dominate the country politically.
The minister told Hardtalk's Zeinab Badawi: "We are now proposing or advocating Islam as a very progressive religion and role that it can play and we have come with a new narrative of Islam in Malaysia with a new government of what we call 'the compassionate Islam'."
The aim was to "trigger the national unity," he said.
You can see the Hardtalk interview on Wednesday 13 November on BBC World News and the BBC News Channel and after on BBCiPlayer (UK only).
https://www.bbc.com/news/av/world-asia-50410901/mujahid-yusof-rawa-malaysia-needs-a-new-narrative-of-islam
------
Tunisia's Ennahda names Habib Jemli as choice for PM
REUTERS
November 15, 2019
Jemli, 60, an agricultural engineer, served as a junior minister in the first post-revolutionary government formed in late 2011, which was also led by Ennahda
Jemli has two months to build a governing coalition from a fractured parliament
TUNIS: Tunisia's moderate Islamist Ennahda, which came first in last month's parliamentary elections, has named Habib Jemli, a former junior agriculture minister, as its choice to become prime minister, party spokesman Imed Khemiri said on Friday.
President Kais Saied is expected to officially ask him to form a new government later on Friday.
Jemli has two months to build a governing coalition from a fractured parliament in which Ennahda, the largest party, holds only a quarter of the seats.
On Wednesday, its election foe Heart of Tunisia supported Ennahda's veteran leader Rached Ghannouchi as parliament speaker, a sign the two might put aside their earlier hostility and join together in coalition.
Any new government that Jemli is able to muster would need the support of at least one other party to command even the slender parliamentary majority of 109 seats needed to pass legislation.
Jemli, 60, an agricultural engineer, served as a junior minister in the first post-revolutionary government formed in late 2011, which was also led by Ennahda.
Analysts say the new government will need clear political will and strong backing in parliament to push through economic reforms started by the outgoing prime minister, Youssef Chahed, who is acting as caretaker during coalition talks.
His cabinet has focused on spending cuts backed by the International Monetary Fund to bring Tunisia's hefty deficit and public debt under control while raising spending on security to woo back tourists.
Economic woes - unemployment of 15% nationally and 30% in some cities, inflation of nearly 7% and a weak dinar - have plagued Tunisia since its 2011 revolution ended autocratic rule, introduced democracy and sparked the "Arab Spring".
Those problems, alongside deteriorating public services and a public perception of widespread government corruption, drove voters to reject the political establishment in this autumn's elections.
That public anger may make it harder for a new prime minister to continue to cut spending, and he will be buffeted by the same competing demands to control the deficit while improving services.
President Saied, an independent retired law professor, has already pushed anti-corruption proposals since his inauguration, a programme that diplomats have said could win enough public support to buy time for new economic reforms.
Heart of Tunisia, which came second in the parliamentary election, is headed by media mogul Nabil Karoui who was detained for much of the election period on corruption charges, which he denies.
Ennahda, whose own candidate lost to Saied and Karoui in the first round of a separate presidential election, had sworn not to enter into coalition with his Heart of Tunisia party, painting it as part of a corrupt elite.
https://www.arabnews.com/node/1584531/middle-east
-----
Banaras Hindu University Controversy: What's The Problem with a Muslim Scholar Teaching Sanskrit?
15 November, 2019
ThePrint asks: BHU controversy: What's the problem with a Muslim scholar teaching Sanskrit?
Just like a Hindu can't teach in a Madrasa, a Muslim can't teach in a Gurukul
Shubham Tiwari
Student, BHU
Just like a Hindu can't teach in a Madrasa, a Muslim cannot teach in a Gurukul either. Every university has one department for Sanskrit. But Banaras Hindu University has two departments; it differentiates between the Gurukul and the Sanskrit faculty within the Arts department. The Sanskrit Vidya Dharm Vigyaan department does not allow entry to a non-Hindu.
Our Gurukul follows the guru-shishya parampara, where we touch our guru's feet and participate in havan. We can't touch professor Feroz Khan's feet because he is a Muslim. It is very important for us to follow the traditions.
We, however, have no issues with Feroz Khan teaching Sanskrit in the Arts department at BHU. Another reason why students are protesting is that the Head of Department, Umakant Chaturvedi, was Feroz Khan's teacher at a previous institution. He is the one who brought professor Khan to our college. This is a clear sign of corruption. The whole issue has been given a Hindu-Muslim angle only to distract from the alleged corruption. Hindus are being maligned unnecessarily.
Dismiss BHU professor by judging his command over Sanskrit, not as per the name on his Aadhaar card
Mohammed Aslam Parvez
Urdu writer
It is important for us to understand that things are changing. India's culture and traditions are evolving. A different kind of branding is going on. In TV shows, we see Muslims who we will only see on TV and never in real life. Every language is being branded. Names, flowers, appearances are all being tied down and seen through the lens of religion. Social media is taking advantage of this, and differences are becoming stark.
A Muslim professor teaching Sanskrit should have been accepted with open arms. I don't understand why we are getting bothered. Can only a Hindu study and teach Sanskrit? There are so many Hindus who are experts in Arabic and Urdu. What does that say about them?
If one engages with another culture, it will only benefit them. If I am someone who speaks Urdu, but I also write in Marathi, it will add value to the language and not damage it.
We are living in a time when we are all tied down. Why are the BHU students looking at the professor's religion and not at his capabilities? Feroz Khan is an Indian. He has the freedom to learn and teach any language. You can dismiss him by judging his command over the Sanskrit language, but not on the basis of the name written on his Aadhaar card.
Globally, academics of all religions have devoted their lives to studying and teaching Sanskrit
Rohini Bakshi
Sanskrit, Vedic Chanting & Hindi teacher City Lit, Holborn London
Mohammad Hanif Khan Shastri, a Sanskrit scholar, was awarded Padma Shri (for Literature & Education) by President Ram Nath Kovind in March this year. He is closely associated with the Rashtriya Sanskrit Sansthan. Globally, academics of all religions have devoted their lives to studying and teaching the language — Sanskrit poetics (David Shulman), Sanskrit dharma (Patrick Olivelle), Sanskrit Grammar/Pāṇini (George Cardona), Śaivism (Alexis Sanderson); historian Daud Ali's study and translations of ancient Sanskrit texts inform his areas of expertise.
The idea that someone should not be allowed to study or teach Sanskrit because of their religion is absurd.
As much as Sanskrit has been the language of the Vedas, it has belonged to nāstika (rejecting the authority of the Veda) belief systems like Buddhism, Jainism, and heterodox materialists like the Ājīvikas – all of whom were outside Vedic orthodoxy. Manuals were written in Sanskrit, which were not related to dharma in anyway — for instance, Mataṅgalīlā (how to rear and train elephants) and Śilpa-śāstras that covered art and craft. To confine Sanskrit to the history and orthopraxy of one religion is to do the language an injustice.
At a time when we are trying to revive Sanskrit, we need to be as inclusive as possible. Professor Feroz Khan of Banaras Hindu University is a celebrated Sanskritist, who received the Sanskrit Yuva Pratibha Samman by Rajasthan Chief Minister Ashok Gehlot in August.
Anybody who is keen to learn Sanskrit ought to be concerned with the depth of knowledge and with the expertise of the proposed teacher.
Narrowness of Brahmins, the self-proclaimed custodians of Sanskrit, has turned it into a dead language
Apoorvanand
Professor, DU
There should be no problem with a Muslim or a Christian teaching Sanskrit. In fact, Brahmins who think that Sanskrit is their prerogative should know that the greatest service done to the language is by Christians. Had it not been for German scholars, the modern world would have remained ignorant of the contributions of Sanskrit literature.
It's not your religious affiliation, but the love and labour you put in learning a language that makes you qualified to teach that language.
The narrowness practised by the self-proclaimed custodians of Sanskrit has turned it into a dead language. Scheduled Castes, Dalits, and women in the past were not allowed to learn Sanskrit. What this did to Sanskrit is for all of us to see today.
The greatest tragedy of India is that scholarship in Sanskrit is growing in other parts of the world, not here. One of the greatest scholars of Sanskrit is Sheldon Pollock.
The most disturbing aspect of this BHU episode is that it shows Hindus have allowed bigots to turn into their leaders and the only thing that largely defines them is their hatred towards other religions — mainly Islam and Christianity — and their perverse desire to dominate religions like Sikhism, which they refer to as a sect of Hinduism.
Lastly, no voice from the Sanskrit academia has been heard condemning BHU students who have been hounding the Muslim professor.
https://theprint.in/talk-point/bhu-controversy-whats-the-problem-with-a-muslim-scholar-teaching-sanskrit/321677/
------
Economic progress due to security forces' work: General Qamar Bajwa
Muhammad Saleh Zaafir
November 16, 2019
ISLAMABAD: Chief of the Army Staff General Qamar Javed Bajwa Friday said that it's because of efforts of the security forces that now socio-economic development phase is in motion to carry forward gains of kinetic operations towards enduring peace and stability.
General Bajwa said this during his visit to headquarters of Frontier Corps (FC) KP (North). According to theISPR, the COAS laid floral wreath on Shuhada monument. The COAS also visited Frontier Corps Museum and Fort Gallery which has been opened for public.
While talking to the officers and men of Frontier Corps, the COAS lauded their contributions to bring stability in the province including erstwhile Fata. The army chief paid rich tribute to the Shuhada and their families who made great sacrifices for the sake of motherland.
General Bajwa said that it's because of efforts of the security forces that now socio-economic development phase is in motion to carry forward gains of kinetic operations towards enduring peace and stability. Commander Peshawar Corps accompanied the COAS during the visit.
General Bajwa also had an important meeting with Prime Minister Imran Khan at the Prime Minister's House. The 57-word release about the meeting states that the two had discussions on the security situation of the country including the situation in the Indian Occupied Kashmir (IOK), western border and internal security.
The prime minister hailed continued efforts of the Army in defending the frontiers, while also ensuring internal security stability facilitating ongoing socio-economic development. Meanwhile, sources indicated that the meeting that took place 13 days before the start of second stint of General Bajwa in the office after fresh appointment by the prime minister had conspicuous significance as the two had discussion about the internal security of the country.
The Azadi March and now the countrywide lockdown call made by the JUI-F chief Fazlur Rehman as 'Plan-B' of the march and health issues of former prime minister Nawaz Sharif would have figured in the discussions.
The recent incidents of terrorism in various parts the country and developments in Afghanistan are believed to have been deliberated upon by the prime minister and COAS.
https://www.thenews.com.pk/print/569460-economic-progress-due-to-security-forces-work-coas
------
Arab World
Iraq protests: Top Shia cleric gives support to protests, At least 319 people have been killed during six weeks of mass anti-government protests
16 November 2019
Iraq's top Shia cleric has given his support to protests calling for an end to rampant corruption and mass unemployment.
Grand Ayatollah Ali Sistani, 89, said the government was deluded if it believed it could avoid real reform through stalling and delaying tactics.
Iraqi security officials said the blast happened near Tahrir square, the centre of the anti-government demonstrations. More than a dozen others were injured.
At least 319 people have been killed at the protests, where security forces have fired live rounds and tear gas.
Protesters are demanding more jobs, an end to corruption, and better public services.
The UN and US have urged the Iraqi government to stop using violence against protesters, pass electoral reforms and hold early elections.
What did the cleric say?
Grand Ayatollah Ali Sistani, Iraq's most influential Shia Muslim cleric, gave a significant boost to the protesters on Friday.
"If those in power think that they can evade the benefits of real reform by stalling and procrastination, they are delusional," he said in his weekly sermon, delivered by a representative in the holy city of Karbala.
"What comes after these protests will not be the same as before, and they should be aware of that."
Media captionHow tuk-tuks are saving lives in the Iraq protests
Large numbers then took the streets in Najaf, south of Baghdad, where the cleric, who never appears in public, is based.
Protesters also flocked to the streets of Baghdad although panic set in when the bomb went off.
https://www.bbc.com/news/world-middle-east-50440110
-----
Saudi Human Rights Commission participates in conference on migrant workers
16 November 2019
Al-Dukkan said the HRC is an independent body whose role is to protect and promote human rights in accordance with international standards
RIYADH: The Saudi Human Rights Commission (HRC) participated in the International Conference on Protecting the Rights of Migrant Workers, which was held in Katmandu and was organized by the National Committee for Human Rights of Nepal, the Saudi Press Agency reported on Friday.
HRC member Dr. Zaid bin Ali Al-Dukkan delivered a speech in which he affirmed that Saudi Arabia, under King Salman and the crown prince, is witnessing a renaissance and comprehensive, continuous development.
Al-Dukkan said the HRC is an independent body whose role is to protect and promote human rights in accordance with international standards, and to ensure that they are implemented within the provisions of Islamic law.
https://www.arabnews.com/node/1584666/saudi-arabia
-----
Iraq 'will never be the same' after protests, says Ali Sistani
16 November 2019
KARBALA, BAGHDAD: Iraq will be deeply marked by weeks of demonstrations demanding sweeping reform, its top Shiite cleric said on Friday in some of his strongest remarks yet on the protest movement. In his weekly sermon delivered by a representative in the city of Karbala, Grand Ayatollah Ali Sistani piled pressure on authorities to enact sweeping reforms in response to the deadly demonstrations.
"If those in power think that they can evade the benefits of real reform by stalling and procrastination, they are delusional," Sistani said.
"What comes after these protests will not be the same as before, and they should be aware of that."
New election law
Sistani also called for a new election law that would restore public confidence in the system and give voters the opportunity to bring "new faces" to power.
The grand ayatollah emphasized support for the demonstrators in his sermon, saying none of their demands have been met so far and that electoral reform should be a priority.
His comments came as protesters called for large protests to take place on Friday after one protester was killed and over 40 were wounded in renewed clashes overnight in central Baghdad.
At least 320 people have been killed and thousands have been wounded since the unrest began on Oct. 1, when protesters took to the streets in the tens of thousands outraged by what they said was widespread corruption, lack of job opportunities and poor basic services despite the country's oil wealth.
The latest clashes broke out late on Thursday in Baghdad's Khilani Square, according to Iraqi medical and security officials who spoke on condition of anonymity in line with regulations. The violence erupted hours after demonstrators celebrated Iraq's 2-1 World Cup qualifier win over Iran.
Demonstrations have mostly been taking place in Baghdad's Tahrir and Khilani squares and the predominantly Shiite southern provinces, following tough measures by Iraqi security forces to calm down on protests.
The powerful cleric, who's opinion holds major sway over Iraqis, said a fair electoral law should give voters the ability to replace current political leaders with "new faces."
"Passing a law that does not give such an opportunity to voters would be unacceptable and useless," he said in his weekly sermon Friday.
"If those in power think they can evade dealing with real reform by procrastination, they are mistaken," Al-Sistani said. "What comes after the protests is not the same as before, so be careful," he warned.
He said corruption among the ruling elite has reached "unbearable limits" while large segments of the population are finding it increasingly impossible to have their basic needs met while top leaders "share the country's wealth among themselves and disregard each other's corruption."
"People did not go out to demonstrations calling for reform in this unprecedented way, and do not continue to do so despite the heavy price and grave sacrifices it requires, except because they found no other way to revolt against the corruption which is getting worse day after day, and the rampant deterioration on all fronts," he said.
On Monday, Al-Sistani said he backed a roadmap by the UN mission in Iraq aimed at meeting the demands of the protesters, but expressed concern that political parties were not serious about carrying out the proposed reforms.
https://www.arabnews.com/node/1584481/middle-east
-----
Five Saudi officials accused of corruption sentenced to jail, fined SR9m
ARAB NEWS
November 15, 2019
The prosecution found 300 items of evidence against the defendants
Funds in their personal bank accounts were seized
RIYADH: Five officials accused of financial and administrative corruption in Saudi Arabia have been given a 32 year collective prison sentence by the Kingdom's public prosecution office and were fined a total of SR9 million, Saudi Press Agency (SPA) reported on Friday.
The prosecution found 300 items of evidence against the defendants and funds in their personal bank accounts were seized.
One of the officials was accused of receiving bribes, committing forgery, and exploiting his position to achieve personal favors. He was given a 12 year jail sentence and fined more than SR1 million.
Charges against the defendants included wasting public funds, unjust enrichment, and selling government property.
https://www.arabnews.com/node/1584506/saudi-arabia
------
Pope Francis, Al-Azhar's Grand Imam Confirm Continued Cooperation to Achieve 'Human Fraternity'
Saturday, 16 November, 2019
Pope Francis on Friday received in the Vatican the Grand Imam Ahmed Al-Tayeb of Al-Azhar of Egypt and his retinue. The two leaders confirmed the continuation of cooperation to achieve human fraternity, and spread the values of brotherhood and coexistence.
The Pontiff said that major religious institutions are responsible for spreading good principles and values of love and peace.
In February, the pope and the grand imam signed a joint declaration in Abu Dhabi, condemning "acts of murder, exile, terrorism and oppression" carried out in God's name.
Titled "Declaration on Human Fraternity for world peace and living together," the joint declaration was signed during a global conference on the same topic.
Al-Tayeb, for his part, stressed that his meeting with Pope Francis "is a true call to followers of religions around the world about the necessity of adhering to human brotherhood and rejecting hatred."
He also underscored the importance of spreading values of brotherhood and coexistence.
Al-Azhar released a statement saying that both Al-Tayeb and Pope Francis had affirmed their appreciation for the global interest in the document.
The two leaders expressed their appreciation for the support of Egyptian President Abdel Fattah al-Sisi for the efforts of Al-Azhar in working towards achieving fraternity.
They also voiced their appreciation for the patronage and support of Sheikh Mohammed bin Zayed Al Nahyan, Crown Prince of Abu Dhabi, given to the document and the international committee tasked with achieving the joint declaration's objectives.
During the talks, the Vatican said the issue of the protection of minors in the digital world was discussed.
Al-Tayeb stressed the need to hasten the protection of children from the dangers of the Internet and to search seriously for a way out of the dangers facing children today.
https://aawsat.com/english/home/article/1994016/pope-francis-al-azhar%E2%80%99s-grand-imam-confirm-continued-cooperation-achieve-%E2%80%98human
------
South Asia
Muslims in Hong Kong: 300,000 followers, six mosques and tasty halal dim sum in Wan Chai
16 Nov, 2019
Hong Kong's usually low-profile Muslim community found itself thrust in the spotlight recently, amid anti-government protests now in their sixth month. Violent clashes between radical protesters and police in Tsim Sha Tsui on October 20 spilled over to affect the landmark Kowloon Masjid and Islamic Centre on Nathan Road.
As police tried to clear protesters from the area, their water cannon sprayed blue dye on the mosque's entrance, splashing its steps, fence and a handful of people outside. The incident sparked immediate criticism of police for their alleged insensitivity towards a place of worship.
Police said it was an accidental dousing. Muslim leaders accepted that the mosque was not targeted by police and urged calm among the community. Following the incident, volunteers from various religions, and even masked protesters, joined the Muslims in helping to clean the mosque premises.
Soon after, Chief Executive Carrie Lam Cheng Yuet-ngor and police chief Stephen Lo Wai-chung visited the mosque and apologised to the community.
Volunteers help clean up the Kowloon Mosque after a police water cannon accidentally sprayed its premises with blue dye. Photo: Handout
Volunteers help clean up the Kowloon Mosque after a police water cannon accidentally sprayed its premises with blue dye. Photo: Handout
The incident urged government officials and the wider community to do more to get to know the Muslims who call Hong Kong home.
How large is the Muslim community?
There are 300,000 Muslims in Hong Kong, or just more than four per cent of the city's population of 7.5 million. They are part of Islam's 1.6 billion followers worldwide.
Muslims in Hong Kong include about 150,000 Indonesians, many of whom are women working as foreign domestic workers. About 50,000 are ethnic Chinese, 30,000 are Pakistanis, and the rest are from other parts of the world. The vast majority are Sunni Muslims.
Mufti Muhammad Arshad is the city's chief Islamic cleric. Born in Pakistan, he was the imam of the Pakistani armed forces for eight years before moving to Hong Kong with his family in 2001. He has been engaged in Islamic religious affairs as well as social services for various communities.
How did Islam arrive?
The religion arrived in Hong Kong in the early 19th century with Muslim seamen from South Asia, mainly India. After Hong Kong became a British colony, Muslim soldiers arrived here from South Asia as part of the British Army's Muslim garrisons. Some of these seamen and soldiers ended up remaining in Hong Kong permanently.
Peace be with you: 175 years of Islam in Hong Kong
[1]
According to the Incorporated Trustees of the Islamic Community Fund of Hong Kong, many Muslim seamen who stayed did not have proper accommodation and moved into a compact street in Sheung Wan called Lascar Row. Gradually, the place was packed with hundreds of Muslim families who held their religious gatherings in the open street.
It is said that the local Chinese were aware of the Muslims' religious practices and would avoid passing by the street while returning from the market, worried that the pork they bought would hurt the Muslims' feelings, especially during prayer times.
In 1911, a fire broke out in the Muslim quarter, destroying 16 houses and damaging another 24. Many Muslim families moved out after that to settle elsewhere in Hong Kong.
Chief Executive Carrie Lam apologised to Hong Kong's Islamic community for police's accidental spraying of blue dye at the entrance of the Kowloon Mosque while dispersing anti-government protesters. Photo: Dickson Lee
Chief Executive Carrie Lam apologised to Hong Kong's Islamic community for police's accidental spraying of blue dye at the entrance of the Kowloon Mosque while dispersing anti-government protesters. Photo: Dickson Lee
Who are the Chinese Muslims in Hong Kong?
Chinese Muslims first arrived in Hong Kong in the late 19th and early 20th century from southern Chinese coastal areas. They established a community around Wan Chai – home to Ammar Mosque and Osman Ramju Sadick Islamic Centre. Some South Asian immigrants who married Chinese Hongkongers raised their children as Muslims.
Kasim Wilson Tuet Wai-sin, an entrepreneur born in the mainland city of Guangzhou, arrived in Hong Kong as a boy and played a major role in the development of Islam in the city. A pioneer of Chinese Muslim education, he was the chairman of the Chinese Muslim Cultural and Fraternal Association for 40 years from 1950 until his death in 1990, aged 71. The Islamic Kasim Tuet Memorial College in Chai Wan is named after him.
How many mosques are there?
There are six, the largest being the Kowloon Masjid and Islamic Centre on Nathan Road. The current complex replaced the original mosque which was built in 1896 for Indian Muslim soldiers in a British Army regiment.
The original building had to be demolished in 1980 because of the damage caused by the construction of underground rail network. The new mosque cost HK$25 million, with funds coming from the MTR Corporation and public donations.
Muslims feel free in Hong Kong but left out
[2]
The new mosque was opened for worship in 1984, and can hold up to 3,500 worshippers. Designed by architect I.M. Kadri, its prominent features are the four 11-metre-high minarets and the extensive use of white marble. There are three prayer halls, a community hall, a clinic and a library.
Prayer services are held five times a day, attended mostly by South Asians and Indonesians, many of whom live in Tsim Sha Tsui.
Hong Kong's oldest mosque is Jamia Mosque, built in the 1840s in the Mid-Levels area of Hong Kong Island. The others are Ammar Mosque in Wan Chai, Chai Wan Mosque at Cape Collinson Muslim Cemetery, Stanley Mosque in Stanley Prison and Ibrahim Mosque in Yau Ma Tei.
There are six mosques in Hong Kong. Photo: Felix Wong
There are six mosques in Hong Kong. Photo: Felix Wong
Is it easy to practise Islam in Hong Kong?
Hong Kong-born Adeel Malik, 35, a Muslim of Pakistani origin, says Hong Kong provides a harmonious environment for the Muslims to practise their religion.
Among other things, Islam requires believers to pray five times a day, with mosques holding a main weekly prayer at midafternoon on Friday. They are expected to dress modestly, which for some Muslim women means wearing the hijab or headscarf.
Malik, a secondary school English language teacher, says: "We go to mosques. Men can keep a beard and women can wear the hijab in public. Our daughters can go to school and they can request to wear a hijab without much problem. There's a lot of harmony and understanding in Hong Kong that give us the freedom to practise our religion."
Thousands of Indonesian Muslims attend an event at Victoria Park in Causeway Bay marking the end of Ramadan. Photo: Dickson Lee
Thousands of Indonesian Muslims attend an event at Victoria Park in Causeway Bay marking the end of Ramadan. Photo: Dickson Lee
But he adds that the Muslims in Hong Kong do face discrimination occasionally, due to a lack of understanding and the fact that many Muslims do not speak Cantonese. "I have had some students say to me, 'Mr Malik, you have a beard. Are you like Bin Laden?'" he says, referring to the late terrorist leader Osama bin Laden. "Because of the cultural differences and the language barrier, we kind of find it difficult to express our teachings, our morals and our ethics to the people in Hong Kong."
Malik is the chairman of the Muslim Council of Hong Kong, an organisation he founded in 2015 to help educate Hongkongers about Islam and clear misconceptions about the religion. He says there is a lot to be done to show the public what Islam is. Council members hand out materials every Saturday in Tsim Sha Tsui to raise public awareness of Islam, he says.
The Jamia Mosque in Mid-Levels is Hong Kong's oldest mosque. Photo: SCMP
The Jamia Mosque in Mid-Levels is Hong Kong's oldest mosque. Photo: SCMP
How do Muslims observe halal rules?
Followers of Islam observe restrictions regarding food and drink, and what is allowed is referred to as halal. They are forbidden from eating pork and drinking alcohol. Halal rules also require that the meat they consume comes from animals which have been slaughtered humanely according to specified rituals. During the Islamic month of Ramadan, many Muslims observe a fast from dawn till dusk.
The Hong Kong Tourism Board says there are more than 80 certified halal food outlets in the city. They include the Islamic Centre Canteen in Wan Chai, above the Ammar Mosque, which has gained an international following and rave reviews online for its halal Cantonese food, including dim sum.
Hong Kong equality watchdog calls for more cultural sensitivity
[3]
Ma's Restaurant in Sham Shui Po serves Xinjiang-style cuisine, while over in Causeway Bay, Aladin Mess serves Indian food and a cluster of Indonesian-style eateries dish out spicy Southeast Asian fare.
Malik feels the halal choices are not wide enough, and Muslims sometimes feel sceptical about halal food offered at non-Muslim establishments because they wonder if the meat is from halal suppliers. Some restaurants are certified as halal food outlets but also serve alcohol, and Muslims might feel uncomfortable there, he adds.
"For the Muslim community, we have very strict guidelines. That's why, sometimes we find it difficult to trust the food we get from Chinese or non-Muslim places, even if they have halal food," he says.
Followers of Islam generally observe some restrictions regarding food and drink. Photo: Nora Tam
Followers of Islam generally observe some restrictions regarding food and drink. Photo: Nora Tam
A row over Lascar Row
The early Muslim settlers lived on Lascar Row in Sheung Wan. The word "lascar" is said to have been derived from the Arab-Persian lashkar, which means a military camp, and the British used the word to refer to the South Asian seamen who congregated in the area. The local Chinese referred to the dark-skinned residents somewhat pejoratively as "mo lo" in Cantonese, and Lascar Row's Chinese name became Mo Lo Street.
In 2010, eight district officers from the Central and Western District asked the government to change the Chinese name after some South Asians found the term insulting and racist. But the Lands Department ruled against it, stressing it did not find the term offensive to South Asians. Insisting the word is neutral, the government also explained that changing the name would wipe off the historical and cultural value of the alley, and create inconvenience and confusion.
The controversy did not end there. In 2015, Hong Kong television station TVB came under fire for using the term "mo lo cha" to describe an Indian character in a historical drama set in 1930s Hong Kong.
https://www.scmp.com/print/news/hong-kong/society/article/3037878/muslims-hong-kong-300000-followers-six-mosques-and-tasty
------
Myanmar rejects ICC probe into war crimes against Rohingya
Nov 16, 2019
NAYPYITAW : Myanmar has rejected an International Criminal Court (ICC) investigation into alleged crimes against the Rohingya, as the country faces mounting international pressure over its treatment of the minority ethnic group.
The Hague-based court on Thursday approved a full probe into Myanmar's 2017 military crackdown against the majority-Muslim community, Al Jazeera reported.
"The investigation over Myanmar by the ICC is not in accordance with international law," government spokesman Zaw Htay was quoted as saying at a news conference on Friday.
Zaw Htay repeated that Myanmar's own committees would investigate any abuses and ensure accountability if needed.
A brutal army campaign in August 2017 forced more than 740,000 Rohingya to flee Myanmar's Rakhine State, most seeking refuge in overcrowded camps across the border in Bangladesh.
During its crackdown, which was launched in response to attacks by an armed group, the military carried out mass killings and gang rapes with "genocidal intent", the United Nations had said in a report.
Even though the country has not signed up to the court, the ICC ruled last year it has jurisdiction over crimes against the Rohingya because Bangladesh, where they are now refugees, is a member of the organisation.
The ICC decision came after The Gambia, in West Africa, on Monday launched a separate case at the Hague-based International Court of Justice (ICJ).
The Gambia, acting on behalf of the 57-nation Organisation of Islamic Cooperation (OIC), accused Myanmar of genocide. The first hearings of the case are scheduled to take place in December.
Meanwhile, Myanmar's State Counsellor Aung San Suu Kyi was among several top Myanmar officials named in a case filed in Argentina on Wednesday for crimes against Rohingya. This is the first time when the Nobel peace laureate has been targeted in legal action over the issue.
https://timesofindia.indiatimes.com/world/south-asia/myanmar-rejects-icc-probe-into-war-crimes-against-rohingya/articleshowprint/72081541.cms
------
President Ghani Unveils Higher Education Curriculums for Political & Sharia Faculties
Saturday November 16, 2019
Kabul (BNA) President Mohammad Ashraf Ghani in a ceremony unveiled higher education curriculums of universities' political and Sharia faculties the other day. In the ceremony, the country's President praised institutions which have engaged in reviewing the country's higher education curriculum, saying that creation of human investment was one of the country's principle issue. "The country's constitution is the covenant that has linked us to each other and professional cadres who are graduating from the country's universities should have basic perception from the country's constitution," President Ghani said. The country's President added that there would be no place for prejudice and discrimination and the country's academic institutions should be example of national unity. Stressing on enhancement of quality at the country's universities and all other academic centers, President Ghani said sources in the respective curriculum are weak; therefore, the ministry of higher education, along with other ministries and institutions, should start a construction debate to strengthen the higher education curriculum. The country's President asserted that capacity building center should be shifted to universities in order to have a single resource for training professional cadres. "There is a clear consensus in which technology specify the future path and we should take practical step towards equipment of universities with technology," President Ghani said. The country's President instructed officials of the ministry of higher education to increase their suggestions in connection with enhancement of quality, adding that further discussions in connection with priorities of the MoHE would be made in the meeting of high council of rule of law and high council of human resources. In the ceremony, acting minister of higher education Abdul Tawab Bala Karzai spoke and briefed related to work on reviewing the higher education curriculum, setting priorities, enhancement of quality in higher education institutions, reforms in structures, reviewing legislative documents, E-learning and attention to balanced development. Meanwhile, the country's general attorney Farid Hamidi spoke and by expressing happiness over meaningful relation between the MoHE and the country's judicial organs considered role and importance of higher education institutions as valuable in delivering judicial services. At the end of the ceremony, President Ghani, accompanied by a number of government officials, unveiled higher education curriculums of political science and Sharia faculties of the country's universities.
http://www.bakhtarnews.com.af/eng/tech/item/40975-president-ghani-unveils-higher-education-curriculums-for-political--sharia-faculties.html
------
Trump issues pardons to 2 U.S. military officers accused of war crimes in Afghanistan
Saturday, 16 Nov 2019
The U.S. President Donald Trump has issued pardons to U.S. military officers accused of war crimes in Afghanistan, the White House confirmed.
According to a statement released White House "Today, President Donald J. Trump signed an Executive Grant of Clemency (Full Pardon) for Army First Lieutenant Clint Lorance, an Executive Grant of Clemency (Full Pardon) for Army Major Mathew Golsteyn."
Lieutenant Lorance was jailed for 19 years after he ordered his men to open fire on three men in 2012 in which two people were killed. He had served more than six years of the 19-year sentenced he received.
Major Mathew Golsteyn was set to stand trial for an allegedly unlawful killing of a suspected Taliban bomb maker in Marjah district of Helmand province.
"As our forces cleared the Taliban from the city of Marjah, an Improvised Explosive Device detonated, killing two Marines. The terrorist bombmaker, as identified by an Afghan informant, who had killed our troops, was detained and questioned."
"Golsteyn was compelled to release him, however, due in part to deficiencies within the fledgling Afghan detention system," the White House said in its statement, adding that "Golsteyn has said he later shot the terrorist because he was certain that the terrorist's bombmaking activities would continue to threaten American troops and their Afghan partners, including Afghan civilians who had helped identify him."
Meanwhile, the White House said President Trump has signed an order directing the promotion of Special Warfare Operator First Class Edward R. Gallagher to the grade of E-7, the rank he held before he was tried and found not guilty of nearly all of the charges against him.
https://www.khaama.com/trump-issues-pardons-to-2-u-s-military-officers-accused-of-war-crimes-in-afghanistan-04346/
------
UN mission in Afghanistan accused of interfering in presidential elections
Saturday, 16 Nov 2019
The Council of Presidential Runners has accused the United Nations Assistance Mission in Afghanistan of interfering in presidential elections.
According to a statement released by Council of Presidential Runners, the UN mission in Afghanistan has adopted a 'biased' approach while dealing with the issues of presidential elections.
The statement specifically pointed towards the recent letter of UNAMA in which it complained regarding the behavior of one of the election commissioners, calling it a biased approach.
Meanwhile, some social media users and activists have complained that the UN mission in Afghanistan has not only removed their critical comments regarding the mission's recent statement and Tweets but has blocked them from accessing its social media pages.
On the other hand, Asadullah Saadati, the running mate of Abdullah Abdullah in presidential election has said that he does not think UNAMA is solely responsible for the issue.
Saadati blamed certain active 'channels' within UNAMA for the issue, claiming that the channels are actively operating in other areas as well.
This comes as an audio clip of lawmaker Shinkai Karokhail who is also a member of the electoral team of President Ashraf Ghani recently went viral on social media websites in which she talks about a specific channel in UNAMA that operates in favor of State Builder team led by the President.
https://www.khaama.com/un-mission-in-afghanistan-accused-of-interfering-in-presidential-elections-04345/
------
615 ISIS militants, their family members have surrendered to Afghan forces so far: MoD
Saturday, 16 Nov 2019
At least 615 ISIS militants have surrendered to the Afghan forces together with their family members in eastern Nangarhar province so far, the Ministry of Defense (MoD) said.
According to a statement released by MoD, 18 ISIS fighters recently surrendered to the Afghan forces in Nangahar together with family members including 24 women and 31 children.
The statement further added that the ISIS militants are surrendering to the Afghan forces amid growing pressures by the Afghan forces to suppress the terror group in Nangarhar.
Calling the military operations and pressures by Afghan forces against the terror group as unprecedented, the defense ministry at least 615 militants and family members of the terror group have so far surrendered to the Afghan forces in Nangarhar.
The Ministry of Defense also added that the security forces would deal with the militants in the light of enforced laws of the country.
https://www.khaama.com/615-isis-militants-their-family-members-have-surrendered-to-afghan-forces-so-far-mod-04344/
------
2 Taliban militants killed, detained; weapons caches destroyed in Special Forces raids
Saturday, 16 Nov 2019
The Afghan Special Forces killed a Taliban militant, detained another militant and destroyed three caches of weapons in three provinces in the past 24 hours.
The military officials said Saturday the Special Forces destroyed a small cache of weapons during a raid in Farah district of Farah province in the West.
The officials further added the Special Forces detained a Taliban militant and destroyed a cache of weapons during a separate raid in Chimtal district of Balkh,
The Special Forces killed a Taliban militant during a separate raid in Nad'Ali district of Helmand, the officials said, adding that they also destroyed a small cache of weapons during the operation.
The Taliban group has not commented regarding the operations so far.
https://www.khaama.com/2-taliban-militants-killed-detained-weapons-caches-destroyed-in-special-forces-raids-04343/
------
10 Taliban militants killed, detained in Special Forces raids and airstrikes
Friday, 15 Nov 2019
A series of airstrikes of killed 6 Taliban militants in southern Kandahar and Helmand provinces of Afghanistan, the military officials said Friday.
The officials further added an airstrike killed 4 Taliban militants and destroyed a small cache of weapons in Maiwand district of Kandahar.
A similar airstrike killed 2 Taliban militants in Nahr-e Saraj district of Helmand province, the officials said, adding that an airstrike in Rodat district of Nangarhar destroyed a small cache of weapons of ISIS Khurasan group.
Meanwhile, the Special Forces arrested 4 Taliban militants during a raid in Pashtun Zarghun district of Herat province.
The officials also added that the Special Forces destroyed a small cache of weapons of Taliban in Maiwand district of Kandahar province.
https://www.khaama.com/10-taliban-militants-killed-detained-in-special-forces-raids-and-airstrikes-04342/
------
Europe
Germany set to take charge of imam education locally
The government has long struggled with foreign involvement when it comes to the education of imams who lead Muslim communities across Germany. Now, a new educational association, with start-up funding from Germany's interior ministry, is set to launch on November 21.
Even though some Muslim organizations have been training imams for their own communities in Germany, the majority of imams working in the country are affiliated with the Turkish-Islamic Union for Religious Affairs (DITIB).
Among Germany's nearly 4.5 million Muslims, around 3 million are of Turkish origin.
It was precisely this influence that moved the German government to take such a bold step, Green party parliamentarian Filiz Polat told DW. It was a measure her party "had long been asking for," she added.
DITIB is Germany's largest Islamic umbrella group, with 900 affiliated mosques. Its imams are educated, financed and sent from Turkey. So the language and cultural barrier together with many of these imams' loyalty to the Turkish government, has pushed the German government to deal intensively with the issue in recent years.
One of the major obstacles to approaching the issue was that of securing funding. That now has a temporary solution, with the government's planned investment.
Polat told DW that in response to her official inquiry on the subject, the interior ministry had already confirmed its plans for the start-up financing.
The "Day of Open Mosques" has taken place since 1997 on the Day of German Unity – Germany's national holiday. The date was deliberately chosen to express Muslims' connection to the German people and how they consider themselves part of German Unity, the Central Council of Muslims explains. About 100,000 visitors are expected – here, some are seen standing in front of Berlin's Sehitlik Mosque.
One of the organizations that will take part in the new association will be the Central Council of Muslims in Germany (ZMD), confirmed its chairman, Aiman Mazyek.
"We can't just always complain that there are foreign imams," he told DW. But the establishment of the association is a concrete step and " a positive development, but it should have been introduced decades ago."
Constitutionally, the German state is required to stay out of religious community affairs. However, according to parliamentarian Polat, the neutrality of the state is safeguarded through the founding of an independent association, which will be located in the state of Lower Saxony.
"The rabbinical seminar in Potsdam has received state start-up funding and this strategy has paid off," she said, referring to the state-supported Abraham Geiger Kolleg. "Such a way would also be constitutionally unobjectionable," she told DW.
Currently, Islamic theology is taught at academic institutions in the cities of Münster, Tübingen, Osnabrück, Giessen and Erlangen-Nuremberg. In October this year, Humboldt University of Berlin also opened an Islamic theology institute.
However, students of theology cannot simply work as imams in Germany, since reading of the Koran, how to perform a prayer and other practical tasks are not taught at these institutes. To do so, a separate and practical education is needed.
In a response to DW's inquiry, the Lower Saxony Ministry for Science and Culture said the plan includes the "establishment of a registered association in cooperation with Muslim organizations and mosque communities that are interested." Islamic theology experts will a part of this new association, the statement underlined. The ministry also suggested that the method could "function as a model" for the education of imams elsewhere.
DW spoke to Professor Rauf Ceylan of Osnabrück University, who had previously drafted a "road map" on how education for imams in Germany should be built. He sees the new initiative as "putting a foot in the door."
However, he cautioned that the pilot project should not begin with "high expectations." But "we just need to start, and I think when the quality shows itself, in the long run it will gain acceptance."
https://www.dw.com/en/germany-set-to-take-charge-of-imam-education-locally/a-51271908
------
Russia's new base in Qamishli is a message. But for whom?
MENEKSE TOKYAY
November 16, 2019
ANKARA: The strategic significance of Russia's new base in Syria's northeastern city of Qamishli is currently being debated. As is the question of whether it is intended as a message from Moscow to Ankara.
Russia already has bases in Crimea, Armenia, Tartus and Khmeimim. This new addition — in a Kurdish-populated area on Turkey's southern flank — means Russia now has a ring of bases around Turkey.
Oytun Orhan, coordinator of Syria studies at the Ankara-based think tank ORSAM, said Russia's move is significant for both Ankara and Washington, coming as it does less than a month after the abrupt withdrawal of US forces from some parts of Syria.
The Qamishli base was previously used by American troops until last month, when Turkey launched its two-week-long incursion into northern Syria.
"With this new base, Russia makes a stride to the eastern flank of Syria. The zone where Qamishli is located is very strategic in geographic terms," Orhan said, explaining that it is close to oil and gas fields and the main transit route between Iraq and Syria.
Russia recently called America's move to protect Syrian oil fields "banditry," and Russian Foreign Minister Sergei Lavrov stated that Syrian forces must take back control of the country's oil fields.
Russia will reportedly use the new base, located within a civilian airport, to host military helicopters. Defense will be provided by surface-to-air missile systems, helicopters and gunships. It will also help Russia protect its military police personnel working on the Turkey-Syria border.
According to Orhan, Russia commandeering the Qamishli base is a statement of intent that it will fill the power vacuum created by the withdrawal of US forces and consolidate its presence in the eastern flank. "And it will be a message given to Turkey and the US, with the control of airspace in the region," he said.
There are two ways for Ankara to view Russia's latest move: As a threat to its regional footprint, or as a boon for its attempts to oust the Kurdish YPG militia, which Turkey considers a terror group.
If Moscow's move ends up shielding the YPG, intentionally or otherwise, then it will inevitably irritate Ankara.
"This move (means) Qamishli is not a legitimate target for Ankara, and that could be a concern for Turkey," said Orhan. "But, on the other hand, as long as the Syrian regime and Russia take a hold here, it could also be an opportunity for weakening YPG. It all depends on Moscow's preference."
Navvar Saban, a military analyst at the Omran Center for Strategic Studies in Istanbul, said that if the move is intended as a show of Moscow's strength, the intended audience is not Washington.
"This base shouldn't be read as a challenge to the US," he told Arab News. "The Americans don't have any intention of deploying their forces in the cities. They care about the suburbs. The Russians having more military equipment won't cause them any problems."
According to Saban, the base will likely be used to facilitate joint Russian-Turkish patrols of the area, which began in northeast Syria on Nov. 1.
"Despite some claims, I don't think that this (is a bid) for full control of the area, because the Russians wouldn't need (to make such a bid)," Saban said. "It is obvious that this area is run through specific international agreements, and it is not about the power of certain countries."
Analyzing the move from a Russian perspective, Dr. Kerim Has, a Moscow-based analyst of Russian- Turkish relations, said he thinks Moscow's decision to set up a helicopter base in Qamishli seems to have long-term goals in terms of Russia's influence in the region.
"First, the Qamishli base will most likely mean that there is a second permanent Russian air base in Syria in the near future, as the town has a strategically important location so close to Turkey and Iraq. Russia can benefit from observing not only Syrian but Turkish and Iraqi airspace," he told Arab News.
Has also noted that Russian military began to operate out of Khmeimim in 2015, while the deal with Damascus to use Khmeimim airport as a permanent military base came about 18 months later. He foresees a similar situation unfolding in Qamishli.
According to Has, Russia's takeover of the base may also reflect its growing engagement in the Kurdish issue.
"It is no coincidence that Qamishli was excluded from the areas of joint Turkish-Russian land patrols along Syria-Turkey border in the Sochi deal between Presidents Erdogan and Putin," he said. "An emerging Russian air base in Qamishli would also definitely and foremost aim to prevent a possible military clash between not only Turkish and YPG forces, but also the Turkish and Syrian armies."
Speaking to reporters in Brazil following the BRICS Summit on Thursday, Putin underlined Russia's interest in solving the problems in Syria's Idlib province, as well as along the eastern bank of the Euphrates and in the southeastern Al-Tanf area.
https://www.arabnews.com/node/1584731/middle-east
------
British Muslims targeted in OneCoin scam
A BBC investigation has found that British Muslims were targeted in one of the world's biggest "get-rich-quick" money scams – the OneCoin fraud.
Journalist Jamie Bartlett received leaked OneCoin documents which listed all the user names of UK investors over a six month period. A significant proportion seemed to be British South Asians and particularly Muslims.
A whistle-blower later told him that British Asians were one of the main groups that had invested, and that several of the top UK recruiters were British South Asians.
The investigation concluded that millions of pounds have been lost by British Asians to OneCoin, and victims told the BBC of the untold harm the fraud had caused friends and families. But people were too ashamed to talk about it.
Ever since Bitcoin appeared, Islamic scholars have debated whether cryptocurrencies are permitted under Islamic Law. Mindful of this, OneCoin publicised a Shariah-compliant certificate, issued by the Pakistan-based Al-Huda Center of Islamic Banking and Economics.
Yet a Bradford-based scholar, Mufti Amjad Mohammed, who has looked into OneCoin, issued a fatwa saying that Muslims should not invest in it. The Al-Huda Center has since published a press release clarifying that it did not certify OneCoin as Shariah compliant.
OneCoin was rumoured to be the next Bitcoin – that digital currency that had been shooting up in value and minting millionaires. OneCoin's founder, a Bulgarian-German businesswoman called Dr Ruja Ignatova, said it was the "Bitcoin Killer," heralding a financial revolution and a unique new investment opportunity.
OneCoin reached 175 countries around the world, and over €4bn was poured in from hopeful investors. The BBC estimates as much as €100m was invested between 2014 and 2017 from people in the UK.
While investigating the company for the BBC Sounds podcast The Missing Cryptoqueen, the BBC found that OneCoin has no value outside its own eco-system; and its market price is just a made up number, not a reflection of any real demand and supply.
Two years ago, Dr Ruja herself was charged in absentia by the U.S. authorities for wire fraud, vanished and hasn't been seen since. Her brother was arrested in the United States and has admitted his role in the fraud.
Yet OneCoin continues to operate from Bulgaria and in its responses to the BBC OneCoin rejects the allegations, saying "OneCoin verifiably fulfils all criteria of the definition of a cryptocurrency," and "Our wish and aim is the [OneCoin] is to be traded to much further extent," but that trading of their currency is "being slowed down by authorities, regulators and haters."
https://5pillarsuk.com/2019/11/15/british-muslims-targeted-in-onecoin-scam/
------
Ukraine arrests Islamic State's deputy 'minister of war'
The Ukrainian Security Service (SBU) on Friday said it had arrested a Georgian national, Al-Bar Shishani, after he was identified in a photograph as a leading "Islamic State" (IS) commander.
Shishani was arrested in the Kyiv region near a private home where he lived, the service said in a statement without giving the date the arrest took place.
"A portrait examination has proved that the detained foreigner is indeed a wanted leader of the IS," the SBU said in a statement.
Ukrainian officials said Shishani was detained at the end of a joint operation with the US Central Intelligence Agency and the Georgian Interior Ministry.
Shishani, whose birth name was Cezar Tokhosashvili, joined IS in 2015. He became deputy to Abu Omar al-Shishahi, known to the Pentagon as the IS "minister of war," who was killed in combat in 2016.
Both men were born in the mountainous Pankisi region of Georgia home to most of Georgia's ethnic Chechens, known as Kists. Shishani is an Arabic transliteration of Chechen.
After Abu Omar al-Shishahi's death, Al Bara Shishani was said to have crossed into Turkey and crossed last year into Ukraine on a false passport. From there, he continued to coordinate the activities of Islamic State, the SBU said.
"Currently, the terrorist is under extradition arrest. His involvement in crimes committed on the territory of Ukraine is currently being verified," the SBU said, without verifying
https://www.dw.com/en/ukraine-arrests-islamic-states-deputy-minister-of-war/a-51272883
------
North America
Chicago Gang Leader Accused of Trying to Help Islamic State
By Associated Press, Wire Service Content Nov. 15, 2019
BY MICHAEL TARM, AP Legal Affairs Writer
CHICAGO (AP) — A purported street-gang leader from suburban Chicago who became radicalized in prison faces federal charges accusing him of seeking to provide money to Islamic State militants in Syria, according to a complaint unsealed Friday in U.S. District Court in Chicago.
Jason Brown, the 37-year-old leader of the AHK gang, could be heard on secret FBI recordings speaking admiringly about beheadings by the Islamic State group, the 27-page complaint says. If someone insults the Prophet Mohammed, "his head gotta go," he is cited as saying.
AHK, which prosecutors say traffics drugs throughout the Chicago area, is comprised of former members of the Black P-Stone, Gangster Disciples and Four Corner Hustlers who converted to Islam, the court filings say. The gang requires all new members to convert.
Brown, who goes by Abdul Ja'Me, handed over $500 on three occasions this year to someone he believed would wire it to an Islamic State fighter, the complaint says. But the middleman was cooperating with authorities and the supposed militant was an undercover officer.
Brown also talked about traveling to territory controlled by the Islamic State group, the filings allege.
Arrested on Thursday, Brown is charged with attempting to provide material support and resources to a foreign terrorist organization. If convicted, he faces a maximum sentence of 20 years behind bars. His detention hearing is scheduled for Nov. 21. Brown's attorney, Nicholas Grapsas, declined comment Friday.
While in prison in Georgia on a gun conviction, Brown became an ardent follower of an Islamic scholar who called for Muslims to fight nonbelievers, the complaint says. After his release in 2018, he sought to persuade gang recruits to also back the Islamic State group.
The gang is based in suburban Bellwood, west of Chicago. Brown's home address is in nearby Lombard.
Six other alleged members or associates of the AHK gang were also arrested Thursday. They face federal drugs charges.
https://www.usnews.com/news/us/articles/2019-11-15/gang-leader-accused-of-trying-to-send-money-to-islamic-state
-------
Trump to attend NATO summit in London, days before UK vote
Nov 16, 2019
WASHINGTON: US President Donald Trump will visit Britain for NATO's 70th-anniversary summit next month, the White House said Friday, in a trip falling days before the country votes in a general election.
British Prime Minister Boris Johnson is seeking to retain power in the December 12 election that has been dominated by Brexit- a hugely divisive plan for which Trump has voiced strong support.
The president, who backs Brexit, even in a "no-deal" scenario with the European Union, has already roiled the election campaign by suggesting last month that the terms of Johnson's current EU divorce deal mean London could struggle to continue to trade with the US.
The White House said in a statement that Trump and First Lady Melania would visit Britain from December 2 to 4, attending the NATO gathering and a reception hosted by Queen Elizabeth II.
Trump has repeatedly expressed criticism of NATO- unprecedented for a US president. In addition, the summit will take place at a time of turmoil within the Western alliance.
French President Emmanuel Macron this week said the bloc was undergoing "brain death," a claim that prompted a fierce response from German Chancellor Angela Merkel and others.
Merkel said his comments were "drastic" and US secretary of state Mike Pompeo insisted NATO was "important, critical."
In a meeting with Trump at the White House on Wednesday, Turkish President Recep Tayyip Erdogan called Macron's statements "unacceptable."
Erdogan's visit to Washington also highlighted one of the many challenges facing the alliance: Turkey's purchase of Russian anti-aircraft missiles.
The United States has ejected Turkey from the F-35 advanced stealth warplane program in retaliation.
Fireworks can also be expected over Trump's sometimes bruising campaign to get other NATO members to increase defense budgets. The president complains bitterly that allies are too reliant on the US military's security umbrella.
The White House said Trump would use the summit "to review the Alliance's unprecedented progress on burden-sharing, including adding more than $100 billion in new defense spending since 2016."
He will also emphasize NATO's need to combat "the threats of tomorrow, including those emanating from cyberspace, those affecting our critical infrastructure and telecommunications networks, and those posed by terrorism," the White House said.
Following a meeting the day before between Trump and NATO chief Jens Stoltenberg, the White House said in a Friday statement the two leaders "agreed that all Allies should reach a defense spending target of 2 percent of gross domestic product."
And in a reference to US concerns that Chinese companies could use 5G telecommunications infrastructure to spy, the two leaders also concurred that NATO members should ensure "that only trusted and reliable telecommunications providers and equipment are allowed into 5G networks."
https://timesofindia.indiatimes.com/world/us/trump-to-attend-nato-summit-in-london-days-before-uk-vote/articleshowprint/72080863.cms
------
US Senate unanimously passes resolution honouring Sikh community
Nov 16, 2019
WASHINGTON: The United States Senate has unanimously passed a resolution recognising the historical, cultural and religious significance of the 550th birth anniversary of Sikhism founder Guru Nanak Dev, besides the Sikhs' contributions in the US' growth.
Introduced by Republican Senator Todd Young from Indiana and Democratic Senator Ben Cardin from Maryland, the first of its kind resolution on Sikhism was passed by the US Senate on Thursday.
The resolution said Sikhs in the US and around the world live as per the values and ideals of equality, service, and devotion to God, first preached by Guru Nanak.
The Senate resolution also mentioned four eminent Sikhs for their contribution to the US.
The Sikhs figured in the resolution included Dalip Singh Saund, the first Asian-American Congressman, elected to the office in 1957; Dr Narinder Kapany, the inventor of fiber optics; Dinar Singh Bains, the largest peach grower in the United States; and Gurinder Singh Khalsa, the recipient of the prestigious Rosa Parks Trailblazer Award.
The resolution also recognized the contribution of Sikh women Grammy-winning artist Snatam Kaur; New York Police Department police officer Gursoach Kaur; and University of California, Berkeley professor Supreet Kaur.
Indiana-based Khalsa welcomed the passage of the resolution.
"This is a historic moment for the global Sikh community. We Sikhs of America are grateful to the United States Senate and Senator Young for introducing the resolution," he said.
A similar resolution introduced in the US House of Representatives too is likely to be passed soon.
The two different House resolutions said Sikhs have been living in the United States for more than 120 years, and during the early 20th century thousands of Sikh Americans worked on farms, in lumber mills and mines, and on the Oregon, Pacific, and Eastern Railroad.
Congressman Greg Pence from Indiana, elder brother of US vice-president Mike Pence, is one of the sponsors of the resolution on Sikh.
https://timesofindia.indiatimes.com/world/us/us-senate-unanimously-passes-resolution-honouring-sikh-community/articleshowprint/72080955.cms
------
Man accused of threatening people at Denver mosque was armed with airsoft rifle, police say
Nov 16, 2019
DENVER – A man accused of threatening congregants outside a Denver mosque was armed with an airsoft rifle, according to a probable cause statement released by police Friday.
Police were searching the home of 24-year-old Benjamin Casillas-Rocha after he reportedly pointed what appeared to be a long gun at four congregants outside the Masjid Al-Shuhadaa mosque, when they found an airsoft assault rifle matching the weapon described by witnesses, the statement reads.
Casillas-Rocha had apparently been at the mosque earlier in the day and was upset about losing his phone, which he believed was inside the building, police documents state.
The investigation revealed he returned to the mosque later in the day, under the influence of an unknown narcotic, and started yelling anti-Muslim remarks at the congregants while pointing the rifle at the four victims. He left the vicinity after hearing police had been called to the area.
No one was injured.
Casillas-Rocha was being held at the Denver Downtown Detention Center on suspicion of felony menacing, according to police. It's unclear if the suspect has been assigned a public defender or if he has hired an attorney.
Police are investigating the incident as a bias-motivated crime. The Denver District Attorney's Office will be deciding what charges he'll face.
The incident led to increased patrols across Denver-area mosques.
https://www.thedenverchannel.com/news/crime/man-accused-of-threatening-people-at-denver-mosque-was-armed-with-airsoft-rifle-police-say
------
Mideast
Islamic Jihad used new rocket with huge 300kg warhead during fighting
The Palestinian Islamic Jihad fired a new kind of rocket at Israel with a massive 300 kilogram (660 lb) warhead that left a huge crater where it exploded in southern Israel, Channel 12 reported Friday.
The rocket, which carried significantly more explosives than most of the missiles fired by the terror group, landed in an open area in an Israeli community on the outskirts of Gaza and left a crater with a diameter of 16 meters (52 feet) and 2 meters (6 feet) deep.
Channel 12 said the size of the rocket surprised Israel and noted that it was developed locally with the assistance of Iranian engineers.
The report said Islamic Jihad had managed, in some aspects, to surpass the technical capabilities of the much larger Hamas terror group. However, it noted that Hezbollah in Lebanon has rockets of this size and larger aimed at Israel, some with precision-guided systems.
Islamic Jihad received hundreds of millions of dollars in assistance from Iran, which hopes to use its proxies in Gaza and Lebanon to fire thousands of missiles at Israel in the event of a conflict.
From predawn Tuesday to Thursday morning, Israel and Islamic Jihad fought a battle in which over 450 rockets and mortar shells were fired at Israel from Gaza. The Israel Defense Forces responded with dozens of airstrikes on Islamic Jihad bases and weapons facilities and on the terror cells as they were firing and preparing to launch rockets.
Palestinian sources said 34 Gazans were killed. Israel said 25 of the fatalities were terrorists; human rights officials said 16 civilians were among the dead.
Hamas's military wing said Friday that one of its members was killed during the flare-up, but did not specify if he was involved in the fighting.
Fifty-eight Israelis were lightly and moderately injured or treated for anxiety.
On Friday schools remained closed in the Gaza periphery, but at noon local councils announced a return to normal life.
https://www.timesofisrael.com/islamic-jihad-used-new-rocket-with-300kg-warhead-during-fighting-report/
------
Israel-Gaza: Israel vows to investigate civilian death claims
16 November 2019
Israel's military has said it is investigating "harm caused to civilians" from an air strike it launched in Gaza.
Palestinian medics said eight members of one family died in the strike, among them five children.
Israel said the attack targeted the home of Rasmi Abu Malhous, who it called a militant commander from the group Palestinian Islamic Jihad (PIJ).
It said no civilians were expected to be in harm's way.
The attack in Deir al-Balah, in central Gaza, was the deadliest episode in a two-day exchange of fire between Israel and the Palestinian group.
The missiles hit an open sandy area, obliterating what neighbours and relatives described to the BBC as flimsy tin-roofed buildings inhabited by 22 people - the families of two brothers.
There were conflicting local accounts about whether one of them may have been linked to Islamic Jihad.
The Israeli military originally insisted that the head of the family, who it said was killed, was a commander of a PIJ rocket-launching unit.
Israel now says the information about his identity is not certain and is being reviewed, the BBC's UN correspondent Barbara Plett Usher reports from Gaza.
Islamic Jihad did not comment on whether Abu Malhous was a member.
What caused the fighting?
Fighting flared after Israel killed a PIJ commander in the early hours of Tuesday.
Israel said the commander, Baha Abu al-Ata, was a "ticking bomb" who was behind a planned imminent attack and responsible for recent rocket-fire from Gaza.
More than 450 rockets and mortars were fired at Israel, and several waves of air strikes carried out on Gaza in two days of violence.
The fighting left 34 Palestinians dead and 111 injured, while 63 Israelis needed medical treatment.
Israel said 25 of the Palestinians killed were militants, including those hit while preparing to launch rockets.
https://www.bbc.com/news/world-middle-east-50441642
------
Protesters reject Carlos Ghosn as possible Lebanese politician
16 November 2019
BASSAM ZAAZAA
BEIRUT: While Carlos Ghosn battles corruption cases in Japan, men and women on the streets of his country of origin, Lebanon, are up in arms against the malaise over misconduct by those in power.
As the Brazil-born French businessman faces legal action over alleged corruption during his tenure as a former CEO of Nissan and Renault, Lebanese citizens are into their fourth week of anti-government demonstrations against the country's political elite.
Which is why they do not see a fallen figure such as Ghosn as a future political leader in Lebanon. Arab News spoke to a cross-section of protesters to get their views on the possibility of Ghosn being part of a future Lebanese administration.
Some pointed out that the 65-year-old's political affiliation to Lebanon's Foreign Minister Gebran Bassil would be a major impediment to him succeeding in domestic politics.
Architect Karl Osta said Ghosn may have been "successful" with Nissan but the case against him changed everything. "Even like talking about labor rights, he wasn't good at it with his employees. I am not proud of him being of Lebanese origin."
If Ghosn was acquitted in Japan, 26-year-old Osta felt he would still not want him as a politician, believing that he would "try to regain from the Lebanese people what he lost in Japan."
Lebanese chef, Ali Daher, 27, said: "The only thing I know is that he held a top managerial position at a famous car company. He never submitted any political agenda to judge whether he would make a successful politician. I don't know if he has any political vision."
The Brazil-born French businessman faces legal action over alleged corruption during his tenure as a former CEO of Nissan and Renault.
Hanadi Gerjess, 29, said Ghosn's links with Bassil, the head of the Free Patriotic Movement and son-in-law of Lebanon's President Michel Aoun, would make him an unpopular choice for many.
"Prior to his impeachment process in Japan, Ghosn was known to be a very successful businessman. Following his detention, Lebanon's most hated political figure (Bassil) supported Ghosn and intervened in an attempt to have him released," added the post-graduate student.
Retired photographer, Nawal Maroun, 64, has joined protests in Lebanon since day one calling for an end to corruption in the existing regime. "Ghosn accumulated huge wealth. Driven by greed, he continued making money … and ended up facing legal action in Japan. Even if he is acquitted, I believe that he'd still be the same."
Housewife Sabah Baghdo said she had taken part in demonstrations in Lebanon because she strongly believed that anyone involved in corruption should face justice.
"I didn't know much about Ghosn except recently when he got apprehended over embezzlement and corruption charges and is being tried. Every person is prone to commit a mistake … but mistakes differ in terms of gravity," she added. "I wouldn't trust him as a politician in Lebanon."
Retired businessman, Sam Ballout, 65, said he would prefer Ghosn to stay out of Lebanese politics. "Nissan's former CEO proved to be a greatly successful businessman who lost his credibility once he became affiliated with Bassil.
"I trust that the Japanese judiciary will find the truth. I had great respect for him as a credible and prosperous businessman … once he starts dealing with politicians, he loses that credibility."
Abbas Hammoud, a 27-year-old Lebanese engineer, anticipated that Ghosn would fail in politics. "I might regard him on a personal level, but he hasn't offered anything to Lebanon that would make me proud of him."
https://www.arabnews.com/node/1584706/middle-east
-----
Amid Gaza fighting, Israel could face questions on tactics
AP
November 16, 2019
Since Hamas seized power in Gaza in 2007, Israel has fought three wars and dozens of skirmishes against militant groups
GAZA CITY: Residents say the airstrike came without warning: With fighting raging between Israel and Islamic Jihad (IJ) militants throughout Gaza, two loud blasts shook the night, destroying the Abu Malhous home and killing eight members of the family in a split second.
As Israel claims victory in its latest battle against Gaza militants, its tactics of carrying out airstrikes on private homes suspected of harboring militants could once again come under scrutiny over the civilian death toll. Among the 34 people killed in the two-day flareup were 16 civilians, including two 7-year-old boys and two toddlers, according to human rights investigators.
A truce announced early on Thursday appeared to be breaking down less than 24 hours later, as Israel resumed airstrikes on Gaza overnight Friday after a series of Palestinian rocket attacks.
AbdelHajj Musleh, a neighbor, said many children lived in the house in the central Gaza town of Deir El-Balah. "If there had been a warning, no one would have waited for this death and destruction," he said.
Since Hamas seized power in Gaza in 2007, Israel has fought three wars and dozens of skirmishes against militant groups. While the wars have inflicted heavy damage on Hamas and the smaller IJ group, hundreds of civilians have also died in Israeli airstrikes.
The high civilian death toll has drawn heavy international criticism, and the International Criminal Court in The Hague has opened a preliminary investigation into Israel's battlefield tactics.
Lt. Col. Jonathan Conricus, an Israeli military spokesman, told reporters its targets are based on sophisticated intelligence and cleared by legal advisers and other experts, and that it often warns inhabitants to evacuate before their homes are struck. It says it has fine-tuned its guided missiles, delivering small payloads that minimize damage beyond the precise target.
The latest round of fighting began early Tuesday when an Israeli airstrike killed Bahaa Abu Al-Ata, a senior IJ commander who Israel said was responsible for numerous rocket attacks and was planning a deadly infiltration operation into Israel. The airstrike hit the top-floor apartment in Gaza City where he was sleeping, killing him and his wife.
Conricus said Israel had been following Abu Al-Ata for 10 days but had held off attacking him sooner because he routinely surrounded himself with crowds of civilians for protection.
Prime Minister Benjamin Netanyahu visited a group of Israeli soldiers to congratulate them on what he called a successful mission. "Our enemies got the message," he said. "We can reach anyone, even in their beds."
Such airstrikes can be permissible under international law, depending on the threat posed by the target and whether the damage to civilians is "proportional" to the military gain, said Omar Shakir, the country director of Human Rights Watch.
"Too often civilians pay the price for political brinkmanship by states and armed group," Shakir said. "We've seen several rounds of fighting now in Gaza where civilians have lost their lives or had their property damaged and faced harrowing circumstances as the result of unlawful attacks by both parties."
Palestinian militants also have come under international criticism for firing rockets indiscriminately at Israeli civilian areas. The Israeli military said dozens of the rockets this week were misfired and landed inside Gaza, with one believed to have damaged the offices of the International Commission for Human Rights, a Palestinian watchdog group. The group stopped short of criticizing the militants and called for an investigation of the incident.
In the case of Thursday's airstrike in Deir El-Balah, neighbors said an IJ commander lived in the home that was destroyed. However, the commander wasn't home and had apparently gone into hiding.
Instead, his brother, Rasmi Abu Malhous was killed, along with both of their wives and five children under the age of 13. They including his 7-year-old son and two nephews, ages 2 and 3.
The neighbors, speaking on condition of anonymity because they did not want to anger the family, said Rasmi Abu Malhous, 45, was not involved in any militant activity.
The home was virtually disintegrated by the blast, leaving a large crater with kitchenware, pillows and mattresses strewn about. Neighbors dug out eight bodies and tried to salvage some school backpacks and clothes.
"When we came, we did not recognize where the house was standing," said Musleh, the neighbor. "The airstrike intentionally targeted civilians."
Israel argues that civilian casualties are inevitable in Gaza's densely populated urban environment. Militants often fire rockets from crowded residential areas, drawing Israeli retaliatory strikes, and Israel accuses the militants of using civilians, including their own families, as human shields.
Conricus, the military spokesman, said he had no information about the particular airstrike. But he defended the attacks on private homes, saying IJ commanders used their residences to store weapons or as command and control centers, making them legitimate military targets.
"All of our operations were measured, proportionate and focused only on military assets" belonging to the IJ, he said.
While the Israeli military said as many as 25 militants were killed, Palestinian human rights monitors said the dead included 18 militants and 16 civilians. They included three women and eight minors.
It was the deadliest round of fighting since a devastating 50-day war in 2014. Since then, the bitter enemies have fought a number of smaller rounds, each lasting a few days.
The policy of attacking militants' homes became a common tactic in that war, in which a tally by The Associated Press found that 508 civilians were killed in airstrikes.
In this week's fighting, IJ fired some 450 rockets toward Israel, with most landing in open areas or being intercepted by Israel's Iron Dome defense system.
But the nonstop rocket fire crippled life across southern and central Israel as far away as Tel Aviv, some 80 km away. Three Israelis were slightly wounded by shrapnel or shattered glass.
IJ said the cease-fire went into effect at 5:30 a.m. and claimed it was based on three conditions: An end to targeted killings, a halt in Israeli shootings of protesters at weekly demonstrations along the Israeli frontier and easing a 12-year Israeli blockade that has devastated Gaza's economy. Israeli officials insisted they had made no concessions.
Supporters of IJ held scattered protests across Gaza late Thursday to express anger at the truce. Renewed rocket fire overnight drew Israeli retaliatory strikes. There were no immediate reports of new casualties.
Israel imposed the blockade after Hamas violently seized control of Gaza from the internationally backed Palestinian Authority. Israel considers Hamas and IJ, which both seek its destruction, to be terrorist groups.
Residents of hard-hit southern Israeli towns welcomed the quiet on Thursday, but said Israel had to keep the pressure on militants.
"We need to hit them hard, that's what needs to be done until they say, 'Enough, we want a cease-fire,'" said Yosef Itach, a resident of Sderot. "This is the way to show them who's the strong one."
https://www.arabnews.com/node/1584686/middle-east
-----
Medics protest economic crisis in Lebanon
NAJIA HOUSSARI
November 16, 2019
BEIRUT: Protesting over Lebanon's economic crisis, doctors and nurses on Friday raised placards that read "we are on the verge of collapse and our situation is critical" in front of hospital entrances.
Medical staff were protesting to warn of "a health nightmare that the country has never seen before, even in the most heinous days of the civil war," said the president of the Syndicate of Private Hospitals, Suleiman Haroun.
"Importers can't import medical supplies due to the lack of liquidity, as hospitals are facing a financial crisis and banks continue to impose restrictions on dollar transfers abroad, even for importation."
Lebanese authorities are "facing a real crisis as a result of their failure to find solutions or to form a government to save the country," Haroun said.
Ziad Abdel Samad, a civil society activist, told Arab News: "We're still not sure how serious the leaks are about nominating … Mohammed Safadi as prime minister."
His name circulated in the media on Thursday after caretaker Prime Minister Saad Hariri received a response from representatives of the alliance of the president, Hezbollah and the Amal Movement approving of Safadi.
Safadi is a supporter of Hariri, who resigned on Oct. 29 amid mass protests in Lebanon. In the 2018 parliamentary elections, votes for Safadi were in favor of Hariri's electoral list. Safadi's wife, Minister Violette Khairallah, is among the ministers who supported Hariri in the government.
The country is facing a real crisis. People in power must come up with a solution, but not one political party is capable of doing so, including Hezbollah.
Ziad Abdel Samad, civil society activist
Following the news about Safadi potentially becoming the next prime minister, protesters in his hometown Tripoli gathered in front of his house and social center to chant against him.
Abdel Samad said: "The country is facing a real crisis. People in power must come up with a solution, but not one political party is capable of doing so, including Hezbollah."
During the past 24 hours, the army arrested protesters in various regions for trying to block roads.
Ghassan Hajjar, managing editor at An-Nahar newspaper, tweeted: "It seems like the authority has become an expert in turning people against it."
Released protesters said they were severely beaten. Lawyers gathered in front of the Palace of Justice to object to the arrests and the prevention of those arrested from contacting a lawyer before the interrogations.
State Prosecutor Judge Ghassan Oueidat met with a delegation of lawyers and told them that those still under arrest will be released.
https://www.arabnews.com/node/1584711/middle-east
-----
Israel carries out fresh strikes on Gaza after rocket fire: Army
Nov 16, 2019
GAZA CITY: Israel carried out fresh strikes on Gaza targeting Hamas early Saturday after rockets were fired towards it from the Palestinian enclave, the army said, despite a ceasefire that began two days ago.
Unlike earlier operations, the army said the strikes did not target Islamic Jihad, but Hamas, which has de facto control over Gaza and so far has kept out of the violence that erupted this week.
"Two rockets were fired from the Gaza Strip towards Israeli territory" and were intercepted by air defences, the Israel Defence Forces (IDF) said.
The army added that it was "currently striking Hamas terror targets" in Gaza.
Palestinian security sources said the Israeli strikes were aimed at two Hamas sites in the north of the territory.
On Tuesday, Israel carried out an operation that killed a top commander of Islamic Jihad, the second most powerful Palestinian militant group in the Gaza Strip after Hamas.
That strike triggered almost immediate retaliatory rocket fire from Islamic Jihad at Israel, setting off air-raid sirens and sending Israelis rushing to bomb shelters in the country's southern and central regions.
Israel's military said around 450 rockets were fired at its territory in the fighting and air defences had intercepted dozens of them in fireballs high in the sky.
It then responded with its own air strikes, saying it targeted more Islamic Jihad militant sites and rocket- and missile-launching squads.
After two days of violence- which left 34 Palestinians dead in exchanges of fire, with no Israeli casualties- a ceasefire was agreed that was put in place on Thursday morning.
But the ceasefire has so far been precarious, with Israel launching fresh air strikes on Gaza and rocket fire coming from the enclave after it went into effect.
https://timesofindia.indiatimes.com/world/middle-east/israel-carries-out-fresh-strikes-on-gaza-after-rocket-fire-army/articleshow/72081129.cms
------
Turkey pressures Australia to accept Islamic State fighters as repatriation push begins
Sat 16 Nov 2019
Australia may be forced to accept three Islamic State fighters in Turkish custody as Ankara begins repatriating foreign fighters to their homelands.
Turkey has so far sent up to 10 fighters back to Britain, the US and Germany, saying it cannot continue to house them, even as the governments have rejected taking their fighters back and have cancelled passports.
The Australians are among 959 foreign IS fighters and families in Turkish custody in northern Syria.
Turkey's ambassador to Australia, Korhan Karakoc, told News Corp that Ankara wants Canberra to co-ordinate the return of the men.
Australian families trapped in Isis camp in Syria plead with government to rescue them
Efforts were under way to repatriate "a few" suspected Australian Isis prisoners, whom Karakoc was unable to identify. But he said Turkey wants the Australian government to co-ordinate their return.
"Turkey, at this stage, is not in a position to take a unilateral step because we have to co-ordinate, at the end of the day," he said. "It really requires some formalities. The Australian side should be willing to accept them.
"We certainly want to send them away so you can handle them here in their country. But it would take some time."
He said the Australian government was reluctant to take the men back.
Karakoc's comments came as the ABC reported the United States was offering to rescue the Australian families of Islamic State fighters trapped in Syria.
US counter-terrorism official Nathan Sales said "military assets" could be involved in rescuing the Australian families.
"We need to get these kids, their parents and the fighters out of Syria and back to their countries of origin," he said. "Our offer to other countries is 'we are prepared to help and we hope you'll accept that offer'.
"Leaving these folks in camps in the desert or in ad-hoc prison facilities is not going to solve the problem, it's going to kick the can down the road."
The Australian government has consistently opposed any operation to rescue Australians trapped by the worsening conflict, saying it would not jeopardise further Australian lives in any rescue mission.
The home affairs minister, Peter Dutton, has said some of the Australians in the camp were "hardcore" and "have the potential and capacity to come back here and cause a mass casualty event".
"So I don't think it should come as a surprise when we say we're not going to send our soldiers to rescue people of this nature."
Sales said the US had repatriated six adults who had since been charged, and 14 children who had begun rehabilitation.
There are around 60 Australian women and children being held in camps in northern Syria.
Save the Children's director of policy and international programs, Mat Tinkler, welcomed the US offer.
"The Australian government should take responsibility, immediately accept this offer and bring the Australian women and children home," Tinkler said. "The Australian government has run out of excuses not to repatriate its citizens."
More people in India...
… like you, are reading and supporting the Guardian's independent, investigative journalism than ever before. And unlike many news organisations, we made the choice to keep our reporting open for all, regardless of where they live or what they can afford to pay.
The Guardian will engage with the most critical issues of our time – from the escalating climate catastrophe to widespread inequality to the influence of big tech on our lives. At a time when factual information is a necessity, we believe that each of us, around the world, deserves access to accurate reporting with integrity at its heart.
Our editorial independence means we set our own agenda and voice our own opinions. Guardian journalism is free from commercial and political bias and not influenced by billionaire owners or shareholders. This means we can give a voice to those less heard, explore where others turn away, and rigorously challenge those in power.
https://www.theguardian.com/world/2019/nov/16/turkey-pressures-australia-to-accept-islamic-state-fighters-as-repatriation-push-begins
------
Southeast Asia
Dad's name can't be used for Muslim illegitimate child, says govt lawyer
November 14, 2019
PUTRAJAYA: A father of a Muslim illegitimate child cannot register his personal name under the Births and Deaths Registration Act (BDRA) as a provision in the law only allows for a surname, the Federal Court heard today.
Federal counsel Suzana Atan said the inclusion of a surname under Section 13A of the BDRA was only applicable to the Chinese and Eurasian communities as they went by family names.
"However, this provision cannot be applied to Muslims and Hindus," she said in her submission before a seven-member bench chaired by Chief Judge of Malaya Azahar Mohamed.
Others are Chief Judge of Sabah and Sarawak David Wong Dak Wah, and Federal Court judges Mohamed Zawawi Salleh, Rohana Yusof, Abang Iskandar Abang Hashim, Idrus Harun and Nallini Pathmanathan.
Suzana is appearing for the National Registration Department (JPN), its director-general and the government, which are appealing against a 2017 Court of Appeal (COA) ruling which held that a fatwa has no force of law and cannot form the legal basis for the agency to decide on the surname of an illegitimate Muslim child.
Today, she identified the father, a Malay Muslim from Johor, only as ME. She said ME is not a surname unlike those for the Chinese and Eurasians.
She said it was also reasonable for the JPN to rely on a fatwa from Johor to refuse an illegitimate child from carrying the father's name.
Suzana said there was no definition of an illegitimate child under the BDRA although the legislation applied to Muslims and non-Muslims.
"In the circumstances, JPN can rely on a fatwa that a Muslim child conceived out of wedlock is prohibited from carrying the name of the biological father," she said.
Suzana said there was no dispute on the illegitimacy of the child born to Muslim parents.
In any event, she said even without relying on the fatwa, the child was born less than six months after the parents were married, which is deemed illegitimate under shariah law.
In this case, the child's birth was registered two years later in 2011 under Section 12 of the BDRA.
Both parents applied to the JPN to register the father's name on the birth certificate under Section 13 of the BDRA but it carried the "bin Abdullah" instead.
JPN refused to substitute it with the father's name, despite an application made to remove the "bin Abdullah", on the grounds that the child was illegitimate.
This resulted in the parents, whose identity is being withheld, filing an application for a judicial review in the High Court in 2016.
The couple lost their case in the High Court but the Court of Appeal reversed the decision.
Justice Abdul Rahman Sebli, who delivered the judgment, said the JPN director-general's jurisdiction was a civil one and was confined to determining whether the child's parents had fulfilled the requirements under the BDRA.
He said the BDRA, being a federal law, covered all illegitimate Muslim or non-Muslim children.
K Shanmuga.
Lawyer K Shanmuga, who represented the couple, said the BDRA, which was amended in 1975, did not discriminate between Muslim children or parents and the Hansard revealed this from the speeches of MPs who participated in the debate.
He said JPN had no business to identify the father as Abdullah when both the parents agreed to use ME (the father's name).
"We consider JPN's conduct as being unreasonable and irrational as it does not consider the best interests of the child," he said.
Shanmuga said fatwas (religious decree) from Perlis and Terengganu allowed an illegitimate child to use the father's name.
He said Johor accepted two fatwas issued by the National Fatwa Council in 1981 and 2003 but these were not gazetted by the state religious authorities.
"In any event, our case in this civil court is about the paternity of the child and not legitimacy," he said.
He said legitimacy only comes into play when it involved marriage and the distribution of property under the Faraid principle.
Lawyer Sulaiman Abdullah appeared for the Johor Islamic Religious Council.
Lawyer Sulaiman Abdullah, who appeared for the Johor Islamic Religious Council, said the shariah court in Johor was the avenue to settle the matter as it involved legitimacy.
"This case was wrongly brought to the civil court, which has acted emotionally without considering the Islamic law," he said.
He said the best interests of the child and his parents must conform with Islamic law and everything else is secondary.
"The best interests of the nation and sanctity of Islam must be protected as the religion is very clear on the position of a child born out of wedlock."
He said the parents should have thought of the consequences to the child before they entered into a sexual relationship.
The court has reserved judgment.
https://www.freemalaysiatoday.com/category/nation/2019/11/14/dads-name-cant-be-used-for-muslim-illegitimate-child-says-govt-lawyer/
------
Malaysia again tops Global Islamic Economy Indicator for 2019/20
November 14, 2019
KUALA LUMPUR (Nov 14): Malaysia continues to lead in the Global Islamic Economy Indicator (GIEI) this year, according to the State of the Global Islamic Economy Report (SGIE) 2019/20.
Now in its seventh edition, the report, published by DinarStandard in partnership with the Malaysia Digital Economy Corporation (MDEC), SalaamGateway.com, and Dubai Islamic Economy Development Center (DIEDC), focuses solely on the continued global growth of the Islamic economy, encompassing halal products, Islamic finance, and related lifestyle sectors.
Other countries in the Top 5 of the GIEI — out of 73 countries — are United Arab Emirates, Bahrain, Saudi Arabia and Indonesia. Malaysia's top scoring in the GIEI is attributed to its strength in global Islamic finance development and continuous focus on the Halal products ecosystem, according to MDEC in a statement today.
MDEC chief executive officer Surina Shukri said the agency actively engages with regulators like Department of Islamic Development Malaysia or JAKIM, Bank Negara Malaysia, and the Securities Commission Malaysia to ensure there is a collective commitment into efforts to develop the Islamic economy in the country.
These efforts include bringing together industry players, such as capital drivers, venture builders/accelerators and Shariah advisors to proactively engage and contribute towards the development of Malaysia's Islamic Digital Economy.
"Malaysia continues to lead and drive forward the development of Islamic finance, especially the Islamic Digital Economy. Beyond topping the GIEI for this year, other accolades include obtaining the third place for Muslim Digital Commerce Spending in 2014, investing an estimated US$521 billion and producing 394 prominent consumer-facing Digital Islamic Services, as per the Digital Islamic Economy Report 2015 that Thomson Reuters produced in collaboration with DinarStandard," she said.
MDEC, meanwhile, went on to say that there are still major opportunities to consider for increased real marketplace impact.
"To date, there are no Malaysia brands from the Halal products and services space operating on a global scale," it said.
"Malaysia's strong technology ecosystem within OIC-member countries can provide a strong platform to become the hub of the Islamic digital economy," MDEC added.
https://www.theedgemarkets.com/article/malaysia-again-tops-global-islamic-economy-indicator-201920
------
Indonesian students condemn Israeli attacks in Gaza
15.11.2019
JAKARTA, Indonesia
An Indonesian Muslim student organization on Friday condemned this week's Israeli attacks in Gaza.
The Action Unity of Indonesia Muslim Students (KAMMI) issued a three-pronged statement on the issue.
"First, we insist that the Israeli government stop attacks on civilians."
Secondly, Arab nations, particularly Egypt which is Palestine's neighbor, should mediate a cease-fire.
"[Thirdly] we call on the people of Indonesia to participate in praying and supporting the people of Gaza by donations through trustworthy NGOs," it concluded.
Two days of Israeli violence left 32 people dead and 111 injured. The casualties included women and children.
The situation escalated in Gaza early Tuesday after an Israeli airstrike killed Bahaa Abu al-Atta, a senior military commander of Islamic Jihad, and his wife Asmaa.
------
Africa
Sudan is a partner, sanctions will end after process: US official
REUTERS
November 15, 2019
Nagy: Rremoving Sudan from a list of state sponsors of terrorism is a process
The US sees Sudan as a partner, he said
WASHINGTON: The United States no longer has an adversarial relationship with the Sudanese government and sees it as a partner, but removing it from a list of state sponsors of terrorism is a process, Tibor Nagy, assistant secretary for African affairs at the State Department said on Friday.
"It's not an event, it's not flipping a light switch. It's a process and we are heavily, continuously engaged with our Sudanese interlocutors on how we can go about doing that," he told reporters in a briefing. "It will happen when it happens, as quickly as possible," he added.
https://www.arabnews.com/node/1584606/middle-east
-----
Miyetti Allah warns HURIWA for calling herdsmen terrorists
November 16, 2019
The umbrella body of herders insisted that it was different from Miyetti Allah Kautal Hore and warned the rights group to stop ascribing the actions and comments of the latter to it.
MACBAN noted that HURIWA coordinator, Emmanuel Onuwbiko, also recently advised ethnic groups in the country to defend their rights over "terrorism unleashed on the Nigeria space by armed Fulani herdsmen and Miyetti Allah Cattle Owners Association".
National Secretary, Baba Othman Ngelzarma, in a statement Friday night stated that HURIWA has been issuing provocative statements capable of stigmatizing every Fulani who owns cattle in the country as a terrorist or a potential one.
He said: "The people HURIWA quoted to have made statements on Ruga have nothing to do with MACBAN and neither did MACBAN say anything to warrant being tagged "Supporter of Terrorism". It amounts to reckless mischief by a group who ought to know better that their writings have the power to cause genocide. Rwanda is an example on how writers caused the genocide of Tutsis and moderate Hutus in which over a million people were killed.
"For the avoidance of doubt the MIYETTI ALLAH KAUTAL HORE is a different entity from Miyetti Allah Cattle Breeders Association of Nigeria (MACBAN) which is a duly registered association. If HURIWA feels strongly about their statements and wishes to react, it should not drag MACBAN into such.
"MACBAN has held engagements with renowned bodies such as USAID, Mercy Corps, Search for Common Ground, Interfaith Mediation Centre and Centre for Humanitarian Dialogue. It has met with the leadership of Southern Christians, Traditional Rulers, South West and South East Governors, among others.
"We also had fruitful engagements with various security agencies to mitigate conflict affecting our members who have lost many lives, properties and over 2 million cows as a result of insurgency in the North East, cattle rustling, banditry, kidnapping and in the various Farmers/Herders conflicts.
"MACBAN also went ahead to sign collaboration documents with the National leadership of all Farmers Association of Nigeria (AFAN) to jointly work together at all levels of government to ensure peaceful co-existence between Herders and farmers.
"We are committed to peace and security for all and our doors are always open to those who want to move this country forward. Crime should be associated to criminals only. We will not tolerate any organization to jeopardize the lives of an entire race for crimes perpetrated by a few criminal elements. Each and every ethnic group has its own criminals and they should be dealt with decisively.
"If HURIWA truly cares about Human Rights, let it condemn the killing of Fulanis by thugs at the Gboko Motor Park and Daudu in the outskirts of Makurdi; the murder of 724 pastoralist at Gembu in Taraba on the 18th – 22nd of June, 2017; the murder of 126 women and children at Numan in Adamawa on 17th November, 2017; the killing of 131 people at Kajuru in Kaduna on 11th February, 2019 (mostly women and children); the extra judicial killing of 20 pastoralists at Keana in Nasarawa by overzealous security men on the 2nd and 3rd of April, 2014, among others.
"These were crimes against humanity and to date no one is being prosecuted, even where the alleged culprits are well known to authorities and these are just the tip of the iceberg. In this era of social media, we must restrain ourselves from fanning embers of hatred and division but instead strive to build a united country", the MACBAN scribe added.
https://dailypost.ng/2019/11/16/miyetti-allah-warns-huriwa-for-calling-herdsmen-terrorists/
------
India
#MosquesofIndia trends on Twitter after Babri Mosque verdict
Social media users in India took to Twitter on Friday to raise awareness of the country's Islamic heritage using the hashtag #MosquesofIndia, a week after India's Supreme Court awarded a bitterly contested religious site to Hindus, dealing a defeat to Muslims who also claim the land that has sparked some of the ­country's bloodiest riots since independence.
On November 9, the top court ruled the site in Ayodhya in northern India, where Hindu mobs destroyed a 460-year-old Babri Mosque in 1992, must be managed by a trust to oversee the construction of a Hindu temple.
The court gave a separate piece of land in the same city to a Muslim group to build a "prominent" new mosque.
Some users made reference to their longing for the Babri Mosque, while others celebrated the country's historic Islamic sites.
https://www.trtworld.com/art-culture/mosquesofindia-trends-on-twitter-after-babri-mosque-verdict-31406
------
Former Muslim Law Board member to visit Ayodhya, to hold talks with Madrasa students, Mahants
November 16, 2019
Kumar Abhishek
Maulana Salman Husaini Nadwi, former member of All India Muslim Personal Law Board (AIMPLB), will visit Ayodhya on Saturday and meet Madrasa students and teachers.
He is also likely to hold a meeting with the Mahants and the former parties in the Ayodhya case to discuss about the 5-acre land allocated for building a mosque under the Supreme Court verdict in the Ram Janmabhoomi-Babri Masjid dispute.
Maulana Nadwi's visit to Ayodhya comes after he and other top clerics met Uttar Pradesh Chief Minister Yogi Adityanath on Monday after the Supreme Court verdict on Ram Janmabhoomi-Babri Masjid dispute case. Adityanath had then discussed the steps taken by the Uttar Pradesh government for "the modernisation of madrasas and how to improve the education system".
Nadwi had earlier said that he "believed a university along with a mosque" should be constructed on the 5-acre land which the Supreme Court has ordered the government to provide to the Muslim community in Ayodhya.
"Our meeting with CM Yogi was very positive. He pitched for communal harmony and peace across the state. I believe that a university along with a mosque should be constructed on the 5-acre land which the Supreme Court has ordered the government to provide to the Muslim community in Ayodhya. This will send a good message to society," Nadwi said.
https://www.indiatoday.in/india/story/former-muslim-law-board-member-to-visit-ayodhya-to-hold-talks-with-madrasa-students-mahants-1619594-2019-11-16
------
Ex-Army doctor held in Hyderabad by UP ATS for Kushinagar mosque blast
Nov 16, 2019
HYDERABAD/LUCKNOW/GORAKHPUR: Three days after stacked explosives went off in a mosque in Kushinagar district of Uttar Pradesh, a former army major, Dr Ashfaq Alam, was picked up by UP Anti-Terrorist Squad (ATS) from Hyderabad's Old City area and flown to Lucknow on Friday for interrogation. Dr Alam has been arrested, taking the arrest count in the case to six.
Dr Alam, who was present in Kushinagar at the time of the blast, is accused of tampering with evidence and criminal conspiracy. The doctor is the grandson of one of the key accused in the case, Haji Qutubuddin, who would frequent the mosque to offer namaz. Qutubuddin is charged with stashing explosives in the mosque in a bag. ATS officials privy to the probe said Dr Alam had come to his hometown Kushinagar to attend a relative's wedding on Nov 8.
Dr Alam served in the Army Medical Corps till 2017 before taking voluntary retirement to prepare for Civil Services examination.
He was picked up around 9am on Thursday in a joint operation of UP ATS and Counter-Intelligence, Telangana Police, from his East Janaki Nagar residence in Golconda. Dr Alam's wife too is a doctor in the Army and is posted in Hyderabad.
UP additional DGP (ATS) Dhruva Kant Thakur told TOI: "Dr Alam called up police about an explosion in a mosque, citing short-circuit in the invertor's battery. By the time police arrived, the doctor had fled along with Qutubuddin."
UP police personnel, who were on high alert in the aftermath of the Ayodhya verdict, swiftly arrested five, including the mosque's cleric Azimuddin.
During interrogation of the accused, Dr Alam's antecedents were confirmed and a team was quickly sent to Hyderabad to nab him.
Thakur said, "Dr Alam was unable to give a convincing reply on why he fled the blast site after calling police. He was confronted with the other accused during quizzing. Cleric Azimuddin, who was brought from West Bengal at a salary of Rs 6,000 to serve as the muezzin, kept changing his statements. First, he said the bag with explosives was kept in the mosque even before he became imam. Later, he blamed Qutubuddin for keeping the bag."
Besides Azimuddin, Dr Alam and Qutubuddin, the three others in police net are Javed Ansari, Izhar and Ashiq Ansari. They have been booked for rioting, defiling place of worship with intent to insult religion, criminal conspiracy and under the Explosives Act. Another accused, Salauddin Ansari aka Munna, is on the run.
https://timesofindia.indiatimes.com/city/hyderabad/ex-army-doc-held-in-city-by-up-ats-for-kushinagar-mosque-blast/articleshowprint/72078570.cms
------
URL: https://www.newageislam.com/islamic-world-news/saudi-arabia-apologises-video-labelling/d/120283
New Age Islam, Islam Online, Islamic Website, African Muslim News, Arab World News, South Asia News, Indian Muslim News, World Muslim News, Women in Islam, Islamic Feminism, Arab Women, Women In Arab, Islamophobia in America, Muslim Women in West, Islam Women and Feminism