New Age Islam News Bureau
20 Oct 2013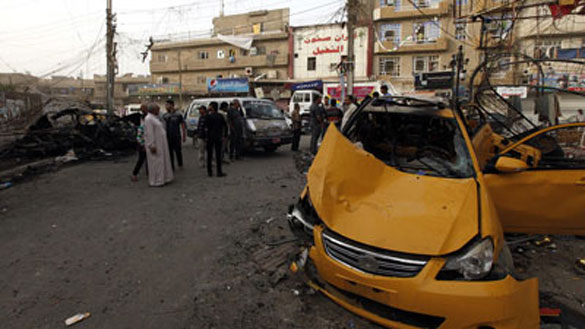 People gather at the site of a car bomb attack outside an ice cream parlor in the Al-Mashtal district in Baghdad, October 19, 2013. (Reuters)
-----------
Arab World
• Saudi Arabia: Abuses in International Spotlight
• Suicide bomber kills 31 in Syria's Hama: NGO
• Iraq attacks including eight suicide bombings kill 15
• 'Friends of Syria' talks to push peace efforts
• Arab states urge Saudi rethink over Security Council seat
• Shunned by Egypt, Hamas reaches out to Palestinian rival Abbas
• Egyptian family rejects Israel honour for hero doctor
• Al-Qaeda strikes fear into Iraq's govt-backed militia
Europe
• International support for India's stance on Maldives
• U.N. urges 'lifesaving' aid for people trapped in Syria town
• No Syria conference without 'credible' opposition presence: Brahimi
Africa
• Tunisia says nine 'terrorists' killed, bombs seized
South Asia
• "We should be angry, not disheartened": Nasheed
• Maldives election chaos fuels 'banana republic' fears
• Bangladesh bans rallies, street protests; BNP to defy
• China making N-reactor copies to sell to Pakistan
• Hasina hopes to return to power with people's mandate
• Nasheed calls for Waheed to resign, transitional government to oversee elections
Mideast
• Hamas PM Calls for 'big Al Aqusa intifada,' demands Israel release prisoners
• Israel to get US briefing on Iran nuclear talks
• Turk, Lebanese hostages free after Syrian war deal
• Turkey's first 'Halal' online sex shop opens
North America
• US sought Pakistan's help in 1998 to avert al-Qaida attack: Document
• Saudi students in US defy stereotypes
Pakistan
• Army in Balochistan for relief work, not for operation: Pakistan
• Improvised Explosive Device: Terrorists' weapon of choice
• Two terrorists arrested with rocket launchers
• Pakistan 'cannot get any worse': President Mamnoon Hussain
• Anti-peace elements behind blasts in K-P not TTP: Imran Khan
• UN report speaks Pakistan's mind: FO
Southeast Asia
• Attorney-General cautions against statements criticising Allah ruling
• It's just another ordinary Sunday as Sarawak churches sound with the echo of Allah
India
• 8 suspected Pak nationals held
• Army's claim over Keran operations in Jammu & Kashmir under cloud
• Deal on 2 new reactors in Kudankulam unlikely during PM's tour to Russia
• Pakistan should be declared a terrorist nation, says AIATF chairman
Compiled by New Age Islam News Bureau
URL: https://www.newageislam.com/islamic-world-news/new-age-islam-news-bureau/saudi-arabia--abuses-in-international-spotlight/d/14059
----------
Arab World
Saudi Arabia: Abuses in International Spotlight
OCTOBER 20, 2013
(Geneva) – Other countries should use the rare opportunity for scrutiny of Saudi Arabia's human rights record on October 21, 2013, to press for concrete steps to end abuses. Country representatives gathering in Geneva for the United Nations Human Rights Council's periodic review of Saudi Arabia should press for actions that include the immediate release of Saudi activists jailed over the past year solely for peacefully advocating reform.
Saudi Arabia has convicted seven prominent human rights and civil society activists since the beginning of 2013 – including Abdullah al-Hamid, Mohammed al-Qahtani, Mikhlif al-Shammari, and Wajeha al-Huwaider – on broad, catch-all charges, such as "trying to distort the reputation of the kingdom," "breaking allegiance with the ruler," and "setting up an unlicensed organization." Saudi courts are currently trying others, including the human rights lawyer Waleed Abu al-Khair, on similar charges and authorities have harassed and placed travel bans on dozens more.
"Many countries have problematic records, but Saudi Arabia stands out for its extraordinarily high levels of repression and its failure to carry out its promises to the Human Rights Council," said Joe Stork, deputy Middle East director. "Countries should use this opportunity to send a strong, unified message that Saudi Arabia needs to make critical human rights reforms."
Despite longstanding reform promises, the government of Saudi Arabia has failed to make substantive changes, Human Rights Watch said. In particular, it should improve its arbitrary criminal justice system, abolish the system of male guardianship over women, and throw out discriminatory aspects of its sponsorship system for foreign workers, which leave workers vulnerable to abuses including forced labor. Saudi Arabia also stands out for its failure to heed the recommendations of its most recent Human Rights Council review, in February 2009.
Human Rights Watch submitted its own human rights assessment of Saudi Arabia to the Human Rights Council in advance of the Universal Periodic Review (UPR), highlighting key concerns and necessary steps to address them.
The UPR comes just weeks before Saudi Arabia's bid for a three-year seat on the Human Rights Council. States will choose 14 countries to replace the ones scheduled to rotate off.
One other immediate step that countries should urge is for Saudi Arabia to immediately end its longstanding denial of access for the UN's own rights monitors. Seven UN rapporteurs have requested access to the kingdom since 2009, but none have been allowed to visit.
Saudi Arabia should also sign and ratify core UN human rights treaties and agreements such as the International Covenant on Civil and Political Rights, the International Covenant on Economic, Social, and Cultural Rights, the International Convention on the Elimination of All Forms of Racial Discrimination, and the Convention on the Protection of the Rights of All Migrant Workers and Members of Their Families.
"Saudi Arabia's exceptionally poor record of cooperation with the UN and its refusal to ratify major human rights legislation should be key features of the Universal Periodic Review," Stork said.
Other key concerns include:
An arbitrary criminal justice system, which violates the most basic international human rights standards through systematic violations of due process and lack of fair trial rights. Since 2009, authorities have convicted and jailed scores of men and women under vague politicized charges that place impermissible limits on the right to free expression, association, and assembly for expressing their peaceful political and religious opinions. Saudi Arabia lacks a criminal penal code, leaving individual judges and prosecutors with wide latitude to define and punish alleged criminal behavior based on individual interpretations of Islamic law.
An associations law that does not comply with international standards, forcing independent non-charity organizations to operate illegally and leaving activists liable for criminal prosecution for "setting up an unlicensed organization."
Despite some improvements on women's rights, the failure to abolish fully the male guardianship over women, as Saudi Arabia promised during its 2009 human rights review. Women are required to get permission from male guardians for basic life functions such as to conduct official business with the government agencies, leave the country, or have certain medical procedures. Women remain barred from driving in Saudi Arabia.
A discriminatory foreign worker sponsorship system, which gives employers inordinate power over workers and leads to abuses including non-payment of salaries, physical and emotional abuse, and even forced labor and slavery. Workers remain barred from switching employers without permission, even to escape abusive situations, and every worker must obtain an exit visa signed by their employer to leave the country.
The UN General Assembly resolution that established the Human Rights Council says that member states should "uphold the highest standards in the promotion and protection of human rights" and "shall fully cooperate with the Council."
"Saudi Arabia's record of repression and of breaking its promises to improve its human rights practices raises serious questions about its fitness for membership in the Human Rights Council," Stork said. "Saudi Arabia needs to take concrete, visible steps before the council elections to show it's willing to improve its abysmal rights record, including freeing the jailed activists."
http://www.hrw.org/news/2013/10/20/saudi-arabia-abuses-international-spotlight
--------
Suicide bomber kills 31 in Syria's Hama: NGO
Oct 20, 2013
A suicide bomber blew up a truck laden with explosives at an army checkpoint in Syria's central city of Hama Sunday killing at least 31 people, a monitoring group said.
"At least 31 people, including regime troops, were killed when a man detonated a truck laden with explosives at a checkpoint near an agricultural vehicles company on the road linking Hama to Salamiyeh," the Syrian Observatory for Human Rights said.
The Britain-based watchdog said the death toll was likely to rise, as "there are dozens of wounded, some of them in critical condition".
State television had earlier reported multiple casualties from a bombing in Hama without giving a more precise casualty toll.
In the first months after the uprising against President Bashar al-Assad's regime erupted in March 2011, Hama saw some of the largest demonstrations against his rule.
But in late summer of that year, security forces stormed the city, killing scores of people. They have held a tight grip on the city ever since.
While several other Syrian cities have been engulfed by fighting, Hama has seen only sporadic violence in recent months.
However, the surrounding province has seen some major clashes between troops and rebels.
http://www.hurriyetdailynews.com/suicide-bomber-kills-31-in-syrias-hama-ngo.aspx?pageID=238&nID=56491&NewsCatID=352
----------
Iraq attacks including eight suicide bombings kill 15
Oct 20, 2013
Eight suicide bombers targeted police and local officials in Rawa, northwest of Baghdad, killing eight people on Sunday, while seven died in other attacks in Iraq, officials said.
The attacks come as Iraq witnesses its worst violence since 2008 -- when the country was just emerging from a brutal sectarian conflict -- and amid mounting fears that the civil war in neighbouring Syria could spill across the border.
The dead from the Sunday suicide bombings included three members of the local council for the Rawa area of Anbar province, three police, a child and another person, while 28 people were wounded, Doctor Wael Fawzi told AFP.
Police Captain Mohammed Ahmed al-Rawi said two suicide bombers on foot and another driving a vehicle rigged with explosives attacked the police headquarters for the area, while another driving a vehicle hit an army checkpoint at the town's entrance.
Another three bombers on foot and a fourth in a vehicle attacked the local administrative headquarters. Local council member Suhaib al-Rawi said officials were meeting at the building when the bombers struck.
Militants, including those linked to Al-Qaeda, frequently target Iraqi security forces and other government employees.
It was the second attack in less than a month to hit Rawa, which is located about 75 kilometres (45 miles) from the border with war-racked Syria.
On September 24, militants attacked two police stations and a local official's house in Rawa and the nearby town of Aana, killing seven police and the official's brother.
Deputy Interior Minister Adnan al-Assadi told journalists a large group of militants had attacked Aana that day, seeking to take control of security force positions, and that six of the militants were killed.
Also on Sunday, a roadside bomb and a car bomb exploded near a police lieutenant colonel's convoy south of Samarra, to the north of Baghdad, killing six people and wounding seven.
A man who sold meat from a stand south of Baghdad was shot dead, while a roadside bomb in the capital itself wounded six people.
The surge in violence this year, which has included sectarian attacks, has raised fears of a relapse into the intense bloodshed that peaked in 2006-2007 and killed tens of thousands of people.
Analysts say the Shiite-led government's failure to address the grievances of Iraq's Sunni Arab minority -- which complains of political exclusion and abuses by security forces -- has driven the surge in unrest this year.
Violence worsened sharply after security forces stormed a Sunni protest camp in northern Iraq on April 23, sparking clashes in which dozens died.
The authorities have made some concessions aimed at placating the protesters and Sunnis in general, such as freeing prisoners and raising the salaries of Sunni anti-Al-Qaeda fighters, but the underlying issues remain unaddressed.
With the latest attacks, more than 450 people have been killed so far this month, and over 5,150 since the beginning of the year, according to AFP figures based on security and medical sources.
A study released this month by academics based in Canada, Iraq and the United States said nearly half a million people have died from war-related causes in Iraq since the US-led invasion of 2003.
http://english.ahram.org.eg/NewsContent/2/8/84325/World/Region/UPDATE-Iraq-attacks-including-eight-suicide-bombin.aspx
----------
'Friends of Syria' talks to push peace efforts
Oct 20, 2013
Western and Arab powers will meet with Syria's opposition on Tuesday in a bid to push for long-delayed peace talks in Geneva with President Bashar al-Assad's regime.
The conference in London will bring together representatives of the Syrian opposition and the foreign ministers of the so-called London 11, the core group of the Friends of Syria, including the United States, France and Saudi Arabia.
British Foreign Secretary William Hague said the nations would "discuss preparations for the Geneva Conference, support for the (opposition) Syrian National Coalition, and our efforts to achieve a political settlement to this tragic conflict." Lakhdar Brahimi, the joint envoy of the UN and the Arab League, was meanwhile Sunday pushing for the peace negotiations by preparing to meet the head of the pan-Arab bloc in Cairo before heading for talks in Damascus and a visit to its key regional ally Iran.
World powers are focusing on a political solution to the war in Syria after Washington dropped plans for US-led strikes in response to an alleged chemical attack by the Assad regime.
Russia and Western nations are pushing for new talks between the Syrian regime and rebels on a negotiated solution to the conflict, which has killed more than 115,000 people since March 2011.
But the opposition's Western and Arab backers are facing resistance from some among the rebels to attending the so-called Geneva 2 talks -- proposed for November -- as long as Assad remains in power.
The opposition Coalition has agreed to attend the London conference, saying it would focus on "these countries' understandings about Geneva 2 and what it should result in." The peace talks aim to map a path forward toward a political transition in Syria, and put in place a transitional government.
US Secretary of State John Kerry, who has led efforts with Moscow to find a political resolution to the war, was returning to Europe for the talks in his 16th trip since taking office in February.
Kerry told National Public Radio the talks in London are aimed at "trying to move the process forward".
"We're working towards this Geneva conference, not that we know what the outcome is," Kerry said.
Syrian officials have repeatedly said they are willing to take part in the Geneva peace talks, but not with any preconditions such as Assad's resignation.
The opposition Coalition is also to hold internal discussions in Istanbul this week that should culminate with votes on whether to attend the Geneva talks and on the formation of a transitional government.
In a sign of the deep divisions over the Geneva talks, the Syrian National Council, a key member of the Coalition, has already said it opposes the conference and threatened to quit the grouping if it takes part.
French Foreign Ministry spokesman Romain Nadal said Paris was working with the opposition ahead of the talks in London on building a united front for the Geneva conference.
"We want the opposition to be united at this conference. It is important that it be united and strong to influence the outcome," he said.
Britain believes the Coalition's fresh leadership -- Ahmad Jarba was elected its new chief in July -- could make progress on ending internal debates.
London will also be keen at the talks to support moderate elements in the opposition, so Assad cannot present himself as the only alternative to the radical Islamists who have taken on an increasingly prominent role among Syria's rebels.
Syria's close ally Russia, which helped to avert the US-led military action by brokering a deal to dispose of the Assad regime's chemical weapons, is not attending the London meeting.
The "London 11" consists of Britain, Egypt, France, Germany, Italy, Jordan, Qatar, Saudi Arabia, Turkey, the United Arab Emirates and the United States.
http://www.hurriyetdailynews.com/friends-of-syria-talks-to-push-peace-efforts.aspx?pageID=238&nID=56492&NewsCatID=359
----------
Arab states urge Saudi rethink over Security Council seat
20 October 2013
Arab nations on Saturday appealed to Saudi Arabia to reverse a decision to reject a seat on the U.N. Security Council.
Arab U.N. ambassadors made the appeal after an emergency meeting on Saudi Arabia's surprise announcement Friday that it would not take up a Security Council seat to protest the body's handling of the Syria war and other conflicts.
Saudi Arabia's leaders should "maintain their membership in the Security Council and continue their brave role in defending our issues specifically at the rostrum of the Security Council," said a statement released by Arab states at the U.N..
The statement expressed "respect and understanding" for the Saudi position.
It added however that it was crucial for Saudi Arabia to represent the Arab and Muslim world on the council "at this important and historical stage, specifically for the Middle East region."
Saudi Arabia won a prized two year seat on the 15 nation Security Council in a U.N. General Assembly election on Thursday.
Full report at:
http://english.alarabiya.net/en/News/middle-east/2013/10/19/Arab-states-call-for-Saudi-rethink-on-U-N-protest-.html
----------
Shunned by Egypt, Hamas reaches out to Palestinian rival Abbas
Oct 20, 2013
Hamas, its Gaza Strip stronghold cut off by the new government in Egypt, called upon rival Palestinian President Mahmoud Abbas to end their six-year schism and form a unity government.
Abbas's secular, US-backed Fatah faction lost a 2006 ballot to Islamist Hamas. They sat in an uneasy alliance until a civil war the following year left Hamas ruling Gaza while Abbas's authority was limited to the Israeli-occupied West Bank.
Egypt brokered a Palestinian reconciliation deal in 2011 but it was never implemented. In Cairo, meanwhile, Islamist President Mohamed Morsi was toppled. The Army treats Egypt's Hamas neighbours as security threats.
Full report at:
http://english.ahram.org.eg/NewsContent/2/8/84287/World/Region/Shunned-by-Egypt,-Hamas-reaches-out-to-Palestinian.aspx
----------
Egyptian family rejects Israel honour for hero doctor
Oct 20, 2013
A member of the family of the first Arab honoured by Israel for risking his life to save Jews during the Holocaust says the family isn't interested in the recognition.
Egyptian doctor Mohamed Helmy was honoured posthumously last month by Israel's Holocaust memorial for hiding Jews in Berlin during the Nazi genocide. However, a family member tracked down by the Associated Press (AP) this week in Cairo said her relatives wouldn't accept the award, one of Israel's most prestigious.
"If any other country offered to honour Helmy, we would have been happy with it," Mervat Hassan, the wife of Helmy's great-nephew, told AP during an interview at her home in Cairo this week.
Full report at:
http://english.ahram.org.eg/NewsContent/1/64/84306/Egypt/Politics-/Egyptian-family-rejects-Israel-honour-for-hero-doc.aspx
----------
Al-Qaeda strikes fear into Iraq's govt-backed militia
Oct 20, 2013
BAGHDAD — Ahmed froze as he opened the small white envelope left on his doorstep in the Iraqi town of Latifiya. Shaking, he looked around before reading the words scrawled on the envelope. Inside was a bullet.
"The message was clear: I must leave or I will be slaughtered," said Ahmed, who immediately left home with his family and is now living with relatives in another town.
Ahmed, who did not want his full name used, was targeted for belonging to a government-backed Sunni militia formed at the height of Iraq's sectarian conflict in late 2006, when Sunni tribesmen joined forces with US troops and rebelled against Al-Qaeda in what came to be known as the "Sahwa" (Awakening).
Full report at:
http://www.saudigazette.com.sa/index.cfm?method=home.regcon&contentid=20131020184051
----------
Europe
International support for India's stance on Maldives
Oct 20, 2013
India sought and received the support of major powers and some of its neighbours on insisting that the election process in Maldives be completed by November 11.
Having returned from Male on Thursday in what turned out to be a failed mission to get the entire political spectrum in Maldives to agree on holding elections while doubts were being raised on the voters' list, Foreign Secretary Sujatha Singh met envoys or their deputies from a number of countries on Saturday, all of whom endorsed India's stand which was reflected in a Foreign Office statement earlier in the day.
Full report at:
http://www.thehindu.com/news/international/south-asia/international-support-for-indias-stance-on-maldives/article5252866.ece
--------
U.N. urges 'lifesaving' aid for people trapped in Syria town
19 October 2013
The U.N.'s humanitarian chief called Saturday for a cessation of hostilities in a Damascus suburb besieged for months by the Syrian army, so that food and vital medical aid can be delivered, Agence France-Presse reported.
Some 3,000 people were evacuated from the area of Moadamiyet al-Sham last week, however, the U.N.'s Valerie Amos says that "the same number or more remain trapped."
She noted that continued shelling and fighting hinder aid workers from reaching the suburb, southwest of the main city.
Full report at:
http://english.alarabiya.net/en/News/middle-east/2013/10/19/U-N-urges-lifesaving-aid-for-people-trapped-in-Syria-town.html
----------
No Syria conference without 'credible' opposition presence: Brahimi
Oct 20, 2013
A Syria peace conference scheduled for next month in Geneva cannot be convened in the absence of "credible" opposition representation, international peace envoy Lakhdar Brahimi said on Sunday.
"The conference will not convene without a credible opposition representing an important segment of the Syrian people opposed (to President Bashar al-Assad)," Brahimi told reporters in Cairo.
http://english.ahram.org.eg/NewsContent/2/8/84307/World/Region/No-Syria-conference-without-credible-opposition-pr.aspx
----------
Africa
Tunisia says nine 'terrorists' killed, bombs seized
19 October 2013
AFP, Tunis
Tunisian forces have killed nine "terrorists" and seized two tonnes of explosives in the north of the country where policemen died this week in a jihadist attack, officials said Saturday.
The suspected "terrorists" were killed in the Mount Taouyer area of the Beja region, 70 kilometers (40 miles) west of Tunis, defense ministry spokesman Taoufik Rahmouni was quoted as saying by the official TAP news agency.
Another spokesman said troops had captured a member of the group during the military operation to hunt down a cell of some 20 suspected jihadists blamed for Thursday's killing of the policemen.
Full report at:
http://english.alarabiya.net/en/News/middle-east/2013/10/19/Tunisia-says-nine-terrorists-killed-bombs-seized-.html
--------
South Asia
"We should be angry, not disheartened": Nasheed
By Minivan News | October 19th, 2013
At 6:30am ahead of its second press conference on Saturday, the Elections Commission issued a statement advising that police had moved to prevent the election from taking place.
"As we continued with [preparation for] voting, the Maldives Police Services have said no document relating to the election can leave the commission's offices, stopping the election," the statement read.
"The Elections Commission has carried out all preparations to hold the first round of the presidential election on 19 October 2013 as per the Supreme Court verdict no 2013/SC-C/42.
"When we are informed of the next date for the election, we will announce the election," the EC's statement read.
Full report at:
http://minivannews.com/politics/live-police-move-to-halt-election-ec-69017
----------
Maldives election chaos fuels 'banana republic' fears
Oct 20, 2013
COLOMBO, Oct 20, 2013 (AFP) - The Maldives embraced multi-party democracy in 2008 hoping to emerge a modern nation. Five years on, there are fears the honeymoon islands are becoming a "banana republic" ready to implode.
The political crisis came to a head Saturday when police blocked elections designed to restore stability after the first democratically elected leader, Mohamed Nasheed, was toppled 20 months ago.
But observers say there should no surprise at the turmoil as key institutions are still run by followers of the country's long-time dictator who never accepted Nasheed's 2008 victory.
"After a long tradition of one-party rule, the Maldives is now fast becoming a banana republic," said regional defence analyst Iqbal Athas.
Full report at:
http://www.haveeru.com.mv/feature/51863
--------
Bangladesh bans rallies, street protests; BNP to defy
Oct 20 2013
Dhaka : Bangladeshi authorities have banned rallies and street protests in the capital city Dhaka for an indefinite period, just days ahead of main opposition Bangladesh Nationalist Party's grand rally to mount pressure on the government to accept its demand for polls under a non-party caretaker government.
The BNP overnight decided to defy the ban on rallies, prompting the authorities to deploy riot police to prevent any untoward incident.
BNP said a high-level party meeting on Saturday night decided to defy the ban while its leader ex-prime minister Khaleda Zia would join later on Sunday a scheduled convention of professionals at the Bangabandhu International Conference Centre (BICC) here.
Full report at:
http://www.indianexpress.com/news/bangladesh-bans-rallies-street-protests--bnp-to-defy/1184954/
----------
China making N-reactor copies to sell to Pakistan
Indrani Bagchi, TNN | Oct 20, 2013
NEW DELHI: China will be able to sidestep global nuclear commerce rules when it sells its third generation nuclear reactors to Pakistan, making its sale a win-win deal for both countries.
China has reverse-engineered Westinghouse's AP-1000 reactor to build an indigenous reactor, which, officials said, is a clever copy of the original. With Pakistani nuclear officials travelling several times this year to China as they work on a contract, the "indigenized" Chinese reactor will help Beijing overcome a key objection by the Nuclear Suppliers Group (NSG) that forbids sale of nuclear reactors or components to third countries without NSG approval and without an NPT signature.
Full report at:
http://timesofindia.indiatimes.com/world/china/China-making-N-reactor-copies-to-sell-to-Pakistan/articleshow/24410783.cms
----------
Hasina hopes to return to power with people's mandate
Oct 20, 2013
Prime Minister Sheikh Hasina Saturday expressed her optimism that her party would be able to win people's mandate and return to power once again.
"The government carried out massive development work and earned public trust and confidence. So Awami League will be able to win people's mandate in the next election," she said.
Hasina called upon her party men to work together to facilitate AL's comeback to state power again for continuation of the ongoing development activities and finishing the unfinished tasks.
Full report at:
http://www.dhakatribune.com/politics/2013/oct/20/hasina-hopes-return-power-people%E2%80%99s-mandate#sthash.6K7535y4.dpuf
----------
Nasheed calls for Waheed to resign, transitional government to oversee elections under Speaker before Nov 11
By JJ Robinson | October 20th, 2013
Former President Mohamed Nasheed and the Maldivian Democratic Party (MDP) have called for President Dr Mohamed Waheed to resign, allowing a transitional government under the Speaker of Parliament to oversee elections.
Police yesterday surrounded the Elections Commission in the early hours of the morning and forcibly prevented it from proceeding with the scheduled election, in the apparent absence of explicit orders to do so from either the courts or the executive. Police had previously obstructed run-off elections due to be held on September 28.
Full report at:
http://minivannews.com/politics/nasheed-calls-for-waheed-to-resign-transitional-government-to-oversee-elections-under-speaker-before-nov-11-69281
----------
Mideast
Hamas PM Calls for 'big Al Aqusa intifada,' demands Israel release prisoners
Oct 20, 2013
Hamas Prime Minister Ismail Haniyeh has called on Arabs and Muslims to prepare for the "big Al Aqusa intifada" against Israel and hailing the recent terror attacks in the West Bank.
In a speech marking the two-year anniversary of the Gilad Schalit prisoner exchange, he also called for an end to peace talks between the Palestinian Authority and Israel in the Gaza Strip on Saturday.
Haniyeh accused Israel of taking advantage of the peace talks, security coordination with the PA, divisions among the Palestinians and the turmoil in a number of Arab countries to "Judaize" Jerusalem and the Aqsa Mosque.
"The Aqusa Mosque is part of the Muslims' faith and it will always be purely Islamic," Haniyeh said, referring to visits by Jewish groups to the Temple Mount. He warned Israel that it would not be able to bear the "fire and rage" that could erupt as a result of its "crimes" against Jerusalem and the mosque.
Full report at:
http://www.jpost.com/Middle-East/Haniyeh-calls-for-popular-uprising-demands-Israel-release-prisoners-329138
----------
Israel to get US briefing on Iran nuclear talks
Oct 20, 2013
Israeli Prime Minister Benjamin Netanyahu said Sunday world pressure on Iran must be maintained, as an Israeli delegation travelled to Washington to be briefed on talks on Iran's nuclear programme.
Israel has been alarmed by the mounting emphasis on diplomacy with the new Iranian government of President Hassan Rouhani to allay concerns about Tehran's nuclear ambitions, fearing that Western governments may ease crippling sanctions before securing any real policy change.
Full report at:
http://www.hurriyetdailynews.com/israel-to-get-us-briefing-on-iran-nuclear-talks.aspx?pageID=238&nID=56498&NewsCatID=359
----------
Turk, Lebanese hostages free after Syrian war deal
AP | Oct 20, 2013
BEIRUT: Nine Lebanese pilgrims abducted in Syria and two Turkish pilots held hostage in Lebanon returned home Saturday night, part of an ambitious three-way deal cutting across the Syrian civil war.
Thousands of well-wishers greeted the Shia pilgrims in Beirut, with one man being carried out of the airport on the shoulders of a crowd. Meanwhile, a plane carrying the two freed Turkish Airlines pilots landed in Istanbul, where Prime Minister Recep Tayyip Erdogan and other officials greeted them.
Full report at:
http://timesofindia.indiatimes.com/world/middle-east/Turk-Lebanese-hostages-free-after-Syrian-war-deal/articleshow/24428268.cms
--------
Turkey's first 'Halal' online sex shop opens
Oct 20, 2013
An online sex shop has been launched to sell "Halal" products to Muslims in Turkey, becoming the first of its kind in the country.
The website describes its products as completely safe and Halal according to Islamic rules.
When Internet users enter the online shopping site, there are two different links for men and women that lead visitors to separate sections for male and female products.
There are also other sections on the website that discuss sexual intercourse in terms of Islam.
http://www.hurriyetdailynews.com/turkeys-first-halal-online-sex-shop-opens.aspx?pageID=238&nID=56503&NewsCatID=341
----------
North America
US sought Pakistan's help in 1998 to avert al-Qaida attack: Document
PTI | Oct 20, 2013
WASHINGTON: The US sought Pakistan's help in 1998 to prevent Osama bin Laden from launching an al-Qaida attack against it, with then President Bill Clinton asking Prime Minister Nawaz Sharif to personally use his influence to prevail over the Taliban in averting the imminent strike.
Clinton called up Sharif from his Oval office and asked for his personal help after an intelligence input about an imminent al-Qaida attack, according to the declassified memorandum of the telephonic conversation made available by the Clinton presidential library in Little Rock, Arkansas.
Sharif told Clinton that the Taliban are "very stubborn" and "very uncooperative", according to the document.
Clinton sought Sharif's help in prevailing over the Taliban to prevent Osama bin Laden from an imminent al-Qaida attack against American targets and bring him to justice.
"I need your personal help," Clinton told Sharif on December 18, 1998, after he received intelligence information about the possible al-Qaida attack.
Full report at:
http://timesofindia.indiatimes.com/world/us/US-sought-Pakistans-help-in-1998-to-avert-al-Qaida-attack-Document/articleshow/24431660.cms
----------
Saudi students in US defy stereotypes
Oct 20, 2013
Saudi students studying in the United States are defying stereotypes by adjusting quickly to university and community life.
Their presence on American campuses has grown significantly over the past seven years, amounting to 4.5 percent of international students in the country, according to The Arab American News publication.
Saudis rank fifth in the number of international students at universities throughout Michigan. They make up 5 percent of the state's foreign student body.
They are the beneficiaries of the Saudi Higher Education Ministry's scholarship program set up in 2006.
Full report at:
http://www.arabnews.com/news/468153
----------
Pakistan
Army in Balochistan for relief work, not for operation: Pakistan
Oct 20 2013
Islamabad : Amidst reports that a military operation was imminent in earthquake-hit Balochistan, Pakistan army on Sunday said it was there only for relief work in the restive province.
"Security forces are in Awaran and Mushke, only for relief operation," ISPR chief Maj Gen Asim Bajwa said in a statement.
Dispelling a 'misperception' which has been created by some media reports, Bajwa said security forces are committed in relief operation only, despite repeated attacks by miscreants on troops busy in relief work.
Full report at:
http://www.indianexpress.com/news/army-in-balochistan-for-relief-work-not-for-operation-pakistan/1184979/
----------
Improvised Explosive Device: Terrorists' weapon of choice
October 20, 2013
LAHORE: It is the perfect weapon for asymmetric warfare and urban militant groups. The Improvised Explosive Device (IED), or crudely homemade bomb, has increasingly been used by insurgents on both sides of the Durand Line. Reason: It's cheap and easy to make.
More than 51,000 people have lost their lives as a result of IED blasts since the war against terrorism began, said Director-General Military Operations Major General Ishfaq Nadeem Ahmad at the C-IED symposium in Rawalpindi on May 20.
At the same symposium, army chief Ashfaq Parvez Kayani said, "The threat and impact of these weapons is not [just] Pakistan-specific. These have been used with unfortunate consistency in Iraq and Afghanistan. The recent Boston bombings involving the use of an IED manifest the international dimension of this threat and serves as a stark reminder that even the most developed nations of the world remain vulnerable to this threat."
Full report at:
http://tribune.com.pk/story/619899/terrorists-weapon-of-choice/
----------
Two terrorists arrested with rocket launchers
Oct 20, 2013
MANSEHRA: The Mansehra police on Saturday arrested two suspected militants with a huge cache of explosives including seven rockets launchers. According to police sources, intelligence agencies and police, in a joint raid, arrested the terrorists from Bakrial village in tehsil Balakot. Besides seven rocket launchers, two rifles, one pressure cooker, fuses and a huge quantity of explosives were recovered from the suspects.
http://www.dailytimes.com.pk/default.asp?page=2013\10\20\story_20-10-2013_pg7_6
----------
Pakistan 'cannot get any worse': President Mamnoon Hussain
October 20, 2013
KARACHI: President Mamnoon Hussain said on Sunday he is hopeful that Pakistan will improve as the country "is in such a bad state that it cannot get any worse".
Speaking to the media after visiting Mazar-e-Quaid, he said that "all (political) parties need to play a role" to enact positive change in the country, and identified an improvement in the law and order situation in Karachi as a prerequisite for economic development in Pakistan.
He added that the Pakistani people need to be patient as it will take time to control issues such as inflation and load shedding, stating that prices have increased due in large to the amount of money that was printed by the former government.
Full report at:
http://tribune.com.pk/story/619997/pakistan-cannot-get-worse-president-mamnoon-hussain/
----------
Anti-peace elements behind blasts in K-P not TTP: Imran Khan
October 20, 2013
DI KHAN: Tehreek-e-Taliban Pakistan (TTP) has not taken responsibility for the three major attacks in Peshawar, stated Pakistan Tehreek-e-Insaf (PTI) Chairman Imran Khan during his visit to DI Khan on Saturday.
Imran was there to offer condolences for slain lawmaker Israrullah Gandapur who was killed alongside nine others in a suicide blast in his hujra in Kulachi, 45 kilometres from DI Khan, on Wednesday.
Full report at:
http://tribune.com.pk/story/619860/deflecting-blame-anti-peace-elements-behind-bomb-blasts-in-k-p-not-ttp/
----------
UN report speaks Pakistan's mind: FO
October 20, 2013
ISLAMABAD: Pakistan has said that a UN report on growing civilian casualties in US drone strikes largely vindicates its stance vis-a-vis the controversial use of deadly remotely-piloted aircraft in the tribal regions.
The report by the UN special rapporteur on human rights and counter-terrorism was published ahead of a debate on the use of drones, at the UN General Assembly in New York next Friday.
Emmerson, who travelled to Islamabad for his investigation, said the country's foreign ministry has records of as many as 330 drone strikes in the tribal regions since 2004. Up to 2,200 people have been killed – of whom at least 400 were civilians.
Full report at:
http://tribune.com.pk/story/619896/un-report-speaks-pakistans-mind-fo/
--------
Southeast Asia
Attorney-General cautions against statements criticising Allah ruling
OCTOBER 20, 2013
The public should respect and abide by the decision of the appellate court on the issue of the word Allah and refrain from making any statements which could lead to contempt of court, Attorney-General Tan Sri Abdul Gani Patail (pic) said in a statement today.
Netizens have been vocal in voicing their sentiments and thoughts on social media about the decision by the Court of Appeal to allow the Home Ministry to ban the use of the word Allah in the Catholic weekly Herald.
However, even former Attorney-General Tan Sri Abu Talib Othman cautioned Malaysians against making statements as the appellate court's decision was binding. Whether Malaysians agreed or disagreed with the decision, it had a binding precedent.
Full report at:
http://www.themalaysianinsider.com/malaysia/article/attorney-general-cautions-against-statements-criticising-allah-ruling-by-le
----------
It's just another ordinary Sunday as Sarawak churches sound with the echo of Allah
Oct 20, 2013
Christian worshippers recited the word Allah as they fulfilled their Sunday obligation across churches in Sarawak today, shrugging off a court ruling that said the Arabic word for God was not central to their faith.
At the St Columbas Anglican church in Miri this morning, the native faithful intoned the words Allah Taala in Iban, God Almighty in English, as they have been doing all their life.
Parishioners who attended the 7am Iban service were reminded during sermon that there would be no change in the way prayers are said and that the church would continue using the word Allah.
Full report at:
http://www.themalaysianinsider.com/malaysia/article/its-just-another-ordinary-sunday-as-sarawak-churches-sound-with-the-echo-of
----------
India
8 suspected Pak nationals held
Oct 20, 2013
Some may have terror links, says Sashastra Seema Bal
Eight suspected Pakistani nationals, with some of them involved in terror activities, were detained by security forces here when they allegedly tried to cross Indo-Nepal border, official sources said on Sunday.
"Some of them have been involved in terrorist activities. They had reached Kathmandu from Pakistan and from there crossed over into India at Sonauli," Commandant Sashastra Seema Bal (SSB) B.K. Bankhoti told PTI.
Full report at:
http://www.thehindu.com/news/national/8-suspected-pak-nationals-held/article5254223.ece
----------
Army's claim over Keran operations in Jammu & Kashmir under cloud
PTI | Oct 20, 2013
SRINAGAR: Nearly a fortnight after the Army operations were called off in Keran sector, questions have cropped up over what happened during the long intrusion by infiltrators from Pakistan believed to be from its special forces.
The Army operations, which were said to have been stopped on October 8, continued even five days later till a joint team of BSF and Army managed to reach the three border posts located in Shalabhatu, a village divided between Jammu and Kashmir and Pakistan-occupied-Kashmir, official sources say.
Full report at:
http://timesofindia.indiatimes.com/india/Armys-claim-over-Keran-operations-in-Jammu-Kashmir-under-cloud/articleshow/24430888.cms
----------
Deal on 2 new reactors in Kudankulam unlikely during PM's tour to Russia
Oct 20 2013
Moscow: Legal hitches appear to have cropped up in the plans to set up two new reactors in the Kudankulam Nuclear Power Project (KNPP) and a commercial agreement on it is unlikely to be signed at the Annual Summit between Prime Minister Manmohan Singh and Russian President Vladimir Putin in Moscow on Monday.
Government sources said all issues except one on the liability clause is yet to be resolved and lawyers on both sides are working on it.
"In any case it (agreement) won't be signed during the visit because it is a commercial agreement between NPCIL and Rosatom. They would like to do it separately," they said.
Russia, with whose collaboration the KNPP has been set up, is opposed to the project coming under the ambit of the Nuclear Civil Liability Law of India and wants it to be covered under the Inter-governmental agreement on the issue.
Full report at:
http://www.indianexpress.com/news/deal-on-2-new-reactors-in-kudankulam-unlikely-during-pm-s-tour/1184975/
----------
Pakistan should be declared a terrorist nation, says AIATF chairman
Oct 20 2013
Chennai: In the light of continuous ceasefire violations along the western border of the country, All India Anti Terrorism Front (AIATF) on Sunday said India should produce documents in the United Nations to declare Pakistan a "terrorist country".
"We would collect documents on the December 13 Parliament attack, 26/11 terror attack in Mumbai, beheading of Indian soldiers and every day ceasefire violations along the border and produce them to the UN and declare Pakistan a terrorist country," AIATF chairman M S Bitta told PTI in Chennai.
Full report at:
http://www.indianexpress.com/news/pakistan-should-be-declared-a-terrorist-nation-says-bitta/1184968/
---------
URL: https://www.newageislam.com/islamic-world-news/new-age-islam-news-bureau/saudi-arabia--abuses-in-international-spotlight/d/14059