New Age Islam News Bureau
28 April 2022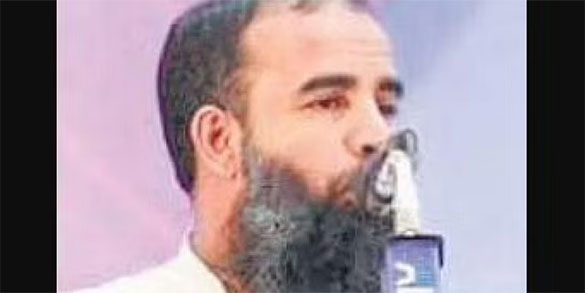 Mujahid Balussery
-------
• Torn Pages Of Sacred Text, Raw Meat, And Threats And Abuses Written On Paper Dumped Outside Four Ayodhya Mosques
• UAE Mars Mission Discovers New Aurora On Red Planet, Scientists Share Excitement
• Federal Shariat Court Declares Interest-Based Banking System As Against Shariah
• Terrorism In Prisons: UK Report Warns Of Impact Of Extremist Groups In Prisons
India
• Newly-Wed Hindu Youth Hosts Iftar Party At Mosque In Karnataka
• Kerala Muslim Man's Dedicated Work At Church, A Lesson In True Piety
• This Ramadan, No Friday Prayers Allowed AtSrinagar's Historic Jamia Masjid
• Ethnic Group Slams Bid To Notify Them As Indigenous Assamese Muslims
• BJP Says Uniform Civil Code Will Benefit All After Muslim Personal Law Board Calls It 'Unconstitutional'
• Assam's Latest ID Proposal, For Assamese Muslims, Raises Fresh Questions
• UP: Day Before Eid, Hindu Group To Hold A Jagran In Muslim Locality in Meerut
--------
Arab World
• Saudi Arabia renews call for independent Palestinian state
• Egyptian MPs Say Muslim Brotherhood Cannot Be Invited To Proposed Political Dialogue
• Syria says reserves right to respond to Israel, Turkey, US aggression
• Saudi Arabia condemns terrorist bombing at Pakistan's Karachi University
• Middle East helps Europe fill diesel void as Russian flows slump amid war, sanctions
--------
Pakistan
• Investigators Say Varsity Blast Intended To Sabotage Pak-China Ties
• Man picked up from Punjab University hostel for KU blast connections
• KU attack 'final wake-up call' on crisis in Balochistan
• Bilawal Bhutto Zardari takes oath as Pakistan's foreign minister
• Pakistan Court To Indict PM Shehbaz Sharif, Son Hamza In Money Laundering Case
• Pakistan cannot afford 'enmity with US at all': PM Shehbaz Sharif
• ECP seeks recording of Imran's April 26 address from Pemra
• IMF, Pakistan technical-level talks begin
• Centre, Sindh team up for security audit after KU blast
--------
Europe
• Defending UK's Counter-Extremism Strategy, David Cameron Fuels Anti-Muslim Hostility
• Tensions over race, religion in France's presidential race
• Pakistan calls for greater responsibility in using veto
• Afghan refugees in Germany moved from govt housing amid Ukrainian influx
--------
South Asia
• Bangladesh Communal Harmony: A Hindu Donates Land For Mosque And A Muslim For Crematorium
• Bangladeshi Scientists Launch IsDB-Funded Eco-Friendly Homes In Rohingya Camps
• EU Delivers 34 Tonnes of Humanitarian Aid to Afghanistan
• US Left $7bn worth of Military Equipment in Afghanistan: DoD
• Former Afghan president Karzai urges Taliban to reopen schools for girls
--------
Mideast
• Thousands of Palestinians pray at al-Aqsa Mosque ahead of Intl. Quds Day
• Erdogan says Turkish courts proved independence by convicting Osman Kavala
• Turkey prevents Hamas members from entering its territory: Report
• Iranian Deputy FM: Any Initiative in Palestine Should End Zionists' Occupation
• Iranian Interior Minister Dismisses Clash with Taliban Forces at Borders
• Iranian DM: Escalation of Crisis in World Result of West's Hegemonic Policies
• Human Rights Official Raps European States for Failure to Protect Iranian Missions
• Minister: Iran to End Flare Burning to Produce Petrochemical Feedstock
• Iran, China agree to expand military cooperation: Iranian military chief
• Maqloubah, a tasty Palestinian food and a 'symbol of Israel downfall'
--------
Southeast Asia
• Bukit Aman Confirms Viralled Statement On Prohibition For Use Of Loudspeakers For Azan Not In Malaysia
• July 25 hearing for PM's injunction application over 'begged for support' article
• 'Sudden death' used as catch-all for many migrant worker fatalities, says analyst
• Bersatu 'will work with anyone' for straight fight against BN
--------
Africa
• Jordan Pushing To Restore Jerusalem Mosque Status Quo - Sources
• Ethiopia: 21 Muslims killed in "planned massacre" in Gonder
• Clashes in Sudan's West Darfur killed over 210: Governor
• Former top Sudanese official Suleiman says he's released from detention
• French army watches for bombs and potholes as it withdraws from Mali base
--------
North America
• Irish Member Of The European Parliament Slams US Sanctions On Iran, Others As 'Crime Against Humanity'
• Vast majority of Afghans turned away by US entry program
• Biden, Clintons herald Madeleine Albright as force for good at Washington funeral
• Moscow swaps ex-US marine Reed for Russian pilot jailed in US
Compiled by New Age Islam News Bureau
URL: https://www.newageislam.com/islamic-world-news/mujahid-attacks-pfi-justifying-killings-quran/d/126887
--------
Salafi Preacher Mujahid Balussery Attacks PFI For For Justifying Its Killings Invoking Quran
27th April 2022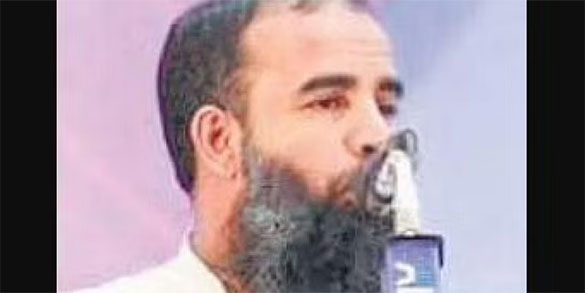 Mujahid Balussery
--------
KOZHIKODE: Salafi preacher Mujahid Balussery has launched a scathing attack on the Popular Front of India (PFI) for justifying its killings invoking the Islamic scriptures. He asserted that emotional approach is not beneficial to the community at a time when the enemies are waiting for an opportunity to put the Muslims on the defensive.
"If Prophet Muhammad were alive, he would have slapped the NDF (PFI) leaders. I have decided to launch a campaign against NDF for the coming two years even if they mount a physical attack on me," Balussery said in a video that appeared on social media.
"A person who loves the religion of Allah cannot love the NDF for even a fraction of a second. I have accessed the inside details of the NDF and have understood the paths they have taken in various places in Kerala," he said.
Balussery said the PFI leaders exhort its workers to flee the scene of action and go into hiding in other states, leaving their families to the mercy of the police. "Then, they claim that this is Islam," he said. The Salafi preacher said the PFI will swing into action only when its cadre members are attacked.
"Will the organisation avenge the murder of an IUML or PDP worker or an innocent CPM cadre? This revenge killing is the Jewish tradition, not the Islamic one," he added. Balussery asked whether the PFI would implement the Islamic punishment in all aspects of life. "Would you chop off the hands of those who stole something from your house? Would you stone to death those who indulge in adultery? Why Quranic law is applicable only in chopping off the heads?" he asked.
Punishing a person who is in no way connected to violence is not the justice envisaged in Islam. "In fact, PFI is not opposing the RSS; it is actually helping it. The RSS has an agenda of killing a Muslim in Holy Ramzan in front of mosque and those who help the RSS in achieving its goal is not the ally of Muslims," said Balussery.
Source:New Indian Express
Please click the following URL to read the text of the original story:
https://www.newindianexpress.com/states/kerala/2022/apr/27/salafi-preachermujahid-balussery-attacks-pfi-for-invoking-quran-2446891.html
--------
Torn Pages Of Sacred Text, Raw Meat, And Threats And Abuses Written On Paper Dumped Outside Four Ayodhya Mosques
Apr 28, 2022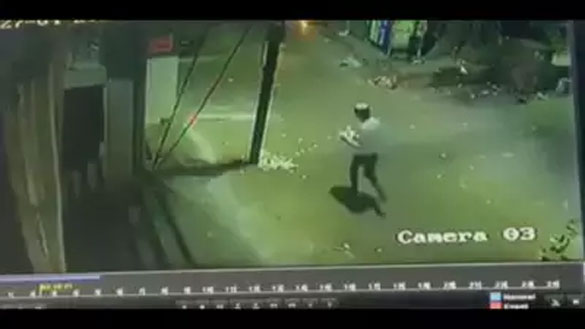 Pandey said that the accused were arrested on the basis of CCTV footage.
----------
AYODHYA: In an alleged attempt to disrupt peace and harmony in the temple town of Ayodhya, unidentified persons dumped some objectionable items, including torn pages of sacred text, raw meat, and threats and abuses written on paper, outside mosques in the district during the early hours of Wednesday.
Senior police officials described the incident as an attempt by mischief-mongers to disrupt communal harmony and added that the Muslim community exercised restraint which helped in maintaining peace in the district.
Four FIRs were lodged against unidentified persons for dumping objectionable material at four religious spots -Taatshah Jama Masjid, Masjid Ghosiyana, Kashmiri Mohalla mosque and the Mazar of Gulab Shah Baba. All these religious places fall under the jurisdiction of Kotwali City police station of Ayodhya.
Commissioner NavdivRinwa, IG KP Singh, DM Nitish Kumar and SSP Shailesh Pandey rushed to the spots to take stock of the situation. Taking to the TOI, DM Nitish Kumar and SSP Shailesh Pandey said it was an attempt to trigger communal riots in Ayodhya but the Muslim community kept patience and reposed faith in the Ayodhya district administration to foil the nefarious designs of the anti-social elements.
"Some people are trying to defame the state government by creating an atmosphere of communalism. I strongly condemn this act and no such activity should be carried out as it can disturb communal harmony," BJP MP from Faizabad, Lallu Singh, said.
The priest of Hanumangarhi Temple, Mahant Dharam Das, said: "I condemn this act on behalf of the Hindu community. People belonging to both the communities are peace loving and everything is normal. I appeal to Muslims to remain patient and firmly believe in Hindu-Muslim amity."
The district administration officials held multiple meetings with Muslim clerics and assured them that strict action would be taken against the accused persons.
Source: Times Of India
Please click the following URL to read the text of the original story:
https://timesofindia.indiatimes.com/city/lucknow/objectionable-items-dumped-outside-four-ayodhya-mosques/articleshow/91138419.cms
--------
UAE Mars mission discovers new aurora on red planet, scientists share excitement
28 April ,2022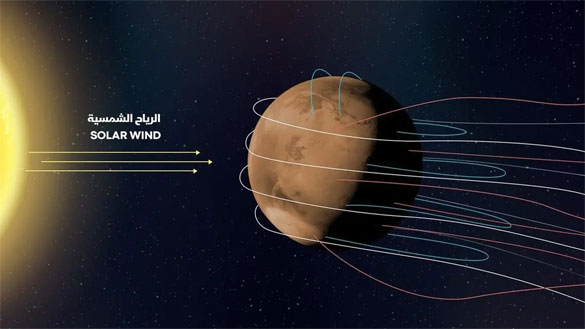 Visualization showing the occurrence of the newly found aurora on Mars by the Emirates Mars Mission. (Twitter)
----------
The United Arab Emirates' Mars mission (EMM) has identified a mysterious-looking aurora in the planet's atmosphere that has opened up various avenues to further explore the newly found phenomena, the Emirates news agency WAM reported on Wednesday.
Experts are dubbing the occurrence "sinuous discrete aurora" and described it as "a huge worm-like aurora" that extends halfway around the planet, according to WAM.
It's reportedly carried around the planet by a solar wind combined with the magnetism in the Martian crust, and it extends from the dayside and into night.
Aurora light displays can be seen on earth's sky in high-altitude regions, and are a result of an interaction with charged particles from the sun with atoms in the upper atmosphere. These are commonly found on the north and south poles of Earth.
While auroras look similar on Mars, the cause of the phenomenon is different from that of the Earth.
"When we first imaged Mars' discrete aurora shortly after the Hope probe arrived at Mars in 2021, we knew we had unveiled a new potential to make observations never before possible on this scale, and we took the decision to increase our focus on these auroras," Emirates Mars Mission Science Lead, Hessa al-Matroushi said, according to WAM.
"We can obtain nearly whole-disk, synoptic snapshots of the atmosphere to investigate atmospheric phenomena and interactions. It means we are seeing discrete auroral effects on a massive scale and in ways we never anticipated."
The discovery has piqued the interest of the science community. Dr. Rob Lillis, EMUS team member at the University of California, Berkeley was quoted by WAM as saying that it has left scientists "scratching their heads," and called it a "shocking" discovery.
EMM project director Omran Sharaf said that the discovery "opened up whole new avenues of investigation into these transient and dynamic phenomena. Novel science was a core mission objective and this is certainly novel."
The Hope probe arrived at the red planet coinciding with the UAE's Golden Jubilee in 2021. All images and data captured by the probe have been made available free of charge online.
Space technology is a key part of the Gulf state's plans to reduce its dependence on oil. The Emirates Mars Mission is the first interplanetary exploration undertaken by an Arab nation.
The country entered the space race last year when it launched the first Arab mission to Mars. It established a space agency in 2014 and sent its first astronaut to the International Space Station five years later.
Earlier in February, the UAE and Bahrain co-launched a terrestrial gamma-ray flashes monitoring nano-satellite from the international space station.
Source: Al Arabiya
Please click the following URL to read the text of the original story:
https://english.alarabiya.net/News/gulf/2022/04/28/UAE-Mars-mission-discovers-new-aurora-on-red-planet-scientists-share-excitement
--------
Federal Shariat Court Declares Interest-Based Banking System As Against Shariah
Haseeb Bhatti
April 28, 2022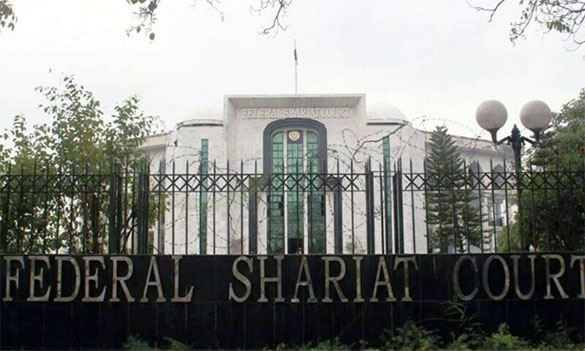 A file photo of the Federal Shariat Court building in Islamabad. — Photo courtesy Radio Pakistan
----------
The Federal Shariat Court (FSC) on Thursday announced a verdict in a long-pending case on Riba (interest), declaring the prevailing interest-based banking system as against the Shariah and directed the government to facilitate all loans under an interest-free system.
In its long-awaited verdict, the court ruled that the federal government and provincial governments must amend relevant laws and issued directives that the country's banking system should be free of interest by December 2027.
The court observed that banks were receiving more than the loan amount when fell under the category of usury. "Islamic banking system is risk-free and against exploitation," Justice Dr Syed Muhammad Anwar remarked.
"Almost two decades have elapsed but the governments have not taken any decisions against the interest system," Justice Anwar said.
The court also declared all the provisions of the Interest Act 1839, which facilitate interest, as unlawful.
The FSC had reserved its verdict in the case on April 12.
The full FSC bench comprising Chief Justice Muhammad Noor Meskanzai, Justice Dr Syed Muhammad Anwar, and Justice Khadim Hussain M Shaikh had heard a number of constitutional petitions filed against the interest-based banking system in the country and reserved the decision of the case after the completion of arguments of the lawyers of the parties.
In the hearing today, Justice Anwar said an interest-free banking system is possible the world over.
He emphasised that the elimination of interest from the economic system is a shariah and legal obligation.
"I disagree with the federal government in its reply stating negative effects of interest-free banking," the judge noted.
The case
The first petition for the abolition of the interest-based banking system in the country was filed in the FSC on June 30, 1990.
The then chief justice of the FSC, Dr Tanzeelur Rehman, had constituted a three-member bench that delivered judgment in the case on November 14, 1991, and sought its implementation by April 30, 1992. The then PML-N government had challenged the decision in the apex court.
Years later on December 23, 1999, the Supreme Court upheld the decision of the FSC and directed authorities to ensure its implementation by June 30, 2000.
Subsequently, a review appeal was filed in 2002 with the top court, and on June 24, 2002, the decision of the Shariah Court was suspended and the case was referred back to the FSC for interpretation of Riba.
The case against the interest rate system had been pending in the Shariat Court for the last 19 years. Around nine chief justices of the FSC have completed their terms since then, but the case remained undecided until its verdict was announced today.
Source: Dawn
Please click the following URL to read the text of the original story:
https://www.dawn.com/news/1687237/federal-shariat-court-declares-interest-based-banking-system-as-against-shariah
--------
Terrorism In Prisons: UK Report Warns Of Impact Of Extremist Groups In Prisons
April 27, 2022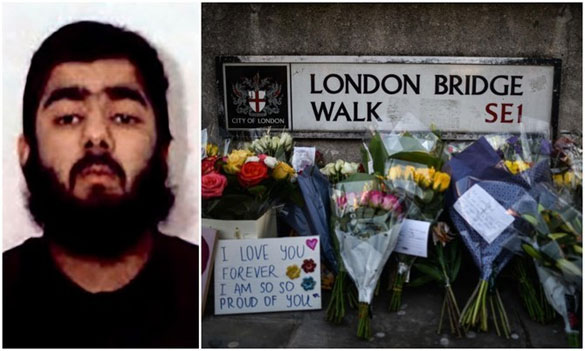 Usman Khan killed two in a knife attack in central London in 2019. (AP/Reuters/File photos)
--------
LONDON: Britain's prisons have failed to recognize the dangers of extremist "gang-type activity" and the impact of those groups has been underestimated for too long by authorities, an independent report into the prison service said.
The landmark review on "Terrorism in Prisons" said that for the last 15 years groups of prisoners had adopted "an anti-state Islamist stance" that condones or encourages violence toward non-Muslim prisoners, prison officers and the general public.
The review was commissioned after a 2019 attack near London Bridge in which Usman Khan, a convicted militant who had been released early from prison, killed two people.
The report said there was a clear strand of prison behavior that could be illustrated by referring to Khan's time there. "Much but not all of it is related to Usman Khan's role in extremist groups within the prison," the review said.
Extremist group behaviour had come to be seen as part of the prison landscape, the report said, and warned that militants who have been convicted of serious offenses tended to exert influence within groups of prisoners.
The report said there was an understandable fear of discriminating against Muslim prisoners generally by focusing on a particular "flavour of gang-type behaviour."
It cited a tendency to regard Islam as a "no-go area" leading both to a reluctance to focus on extremist group behaviour and an overloading of responsibility on prison imams.
"The point is to ensure that terrorist-risk behaviour...is nipped in the bud, and take action to ensure that extremist groups are not the dominant source of prisoner power and that prisoners do not feel the need to adopt particular pro-terrorist identities in order to fit in," the review said.
After the review, justice minister Dominic Raab announced a raft of measures on Wednesday including the use of "Separation Centres" in prisons to target what the government said were "influential and charismatic terrorists" to keep them away from the main prison population.
Source: ArabNews
Please click the following URL to read the text of the original story:
https://www.arabnews.com/node/2071951/world
--------
India
Newly-wed Hindu youth hosts Iftar party at mosque in Karnataka
Apr 28, 2022
Setting an example in communally sensitive Dakshina Kannada district of Karnataka, a newly married Hindu youth hosted an Iftar party at a mosque in Vittal in Bantwal taluk.
Amid the outcry over hijab, halal, azaan and the call for boycotting shops belonging to Muslims, the youth emerged as a symbol of communal harmony through his action.
J Chandrashekar of Byrikatte in Vittal got married on April 24. As Muslims are celebrating Ramzan this month, many of his friends in the community could not enjoy the feast at the wedding ceremony.
He then decided to host an Iftar party for his Muslim friends at a mosque to mark his wedding celebration.
Later, the newly wed man was felicitated by the Imam and office-bearers of JalaliyaJuma Masjid and all the people who attended the Iftar blessed the newly-wed couple.
The controversial dominos fell one after the other without break in the state, after the outbreak of the hijab ban row. From the ban on Muslim traders at local fairs and annual festivals in various parts of Karnataka, the killing of Bajrang Dal activist Harsha by a Muslim gang in Shivamogga, RSS leader Kalladka Prabhakar Bhat's statements that 'Saffron flag can replace the Tricolour,' and demands for ban on madrasas and halal meat during Ugadi all came later, owing to heightened communal tension in the state.
Source: Hindustan Times
Please click the following URL to read the full text of the original story:
https://www.hindustantimes.com/cities/bengaluru-news/newlywed-hindu-youth-hosts-iftar-party-at-mosque-in-karnataka-101651119044367.html
--------
Kerala Muslim man's dedicated work at church, a lesson in true piety
28th April 2022
By NejmaSulaiman
IDUKKI: In what could be perceived as an example of devotion with no boundaries, a 58-year-old Muslim man has been cleaning and taking care of a church in Thodupuzha in Idukki for more than 30 years. Nazar Hameed, a resident of Karikode in Thodupuzha, has been a vital part in the day-today activities of St Mary's Jacobite Syrian Church since the time the church was built in the late 1980s.
From ringing the church bell to organising wedding ceremonies, funerals and the annual church feast procession, Nazar plays a key role. "I started with doing small jobs at the church at the age of 20. Then, I did it to earn whatever pocket money I could to avoid disturbing my father for cash. After I started doing it, it turned a habitual work that gave me peace of mind," Nazar said.
As years passed, Nazar got married and the couple had three children. No one including his wife objected to his work. Seeing the dedication of Nazar, the church authorities also gave him the permission to set up a temporary vegetable stall in front of the 'kappela' of the church situated inside the Thodupuzha market, which gives him an income in addition to the monthly salary given by the church authorities. People in the area appreciate his work.
Source:New Indian Express
Please click the following URL to read the full text of the original story:
https://www.newindianexpress.com/good-news/2022/apr/28/kerala-muslim-mans-dedicated-work-at-church-a-lesson-in-true-piety-2447286.html
--------
This Ramadan, no Friday prayers allowed at Srinagar's historic Jamia Masjid
by Bashaarat Masood
April 28, 2022
The Jammu and Kashmir government has decided not to allow the last congregational Friday prayers of Ramadan at the historic Jamia Masjid in Srinagar.
"It has been conveyed that the Jumat-ul-Vida (the last Friday prayers of Ramadan) and Shab-e-Qadr (night prayers on the 27th night of Ramadan) would not be allowed at the grand mosque," secretary of AnjumanAuqaf Jamia Masjid, Altaf Ahmad Bhat, said.
A team of officials led by the tehsildar and police officials conveyed the decision late on Wednesday evening.
While the Shab-e-Qadr – the night on which Muslims stay awake and pray – falls on Thursday, the Jumat-ul-Vida prayers fall on Friday. The Jumat-ul-Vida prayers are traditionally the largest congregation of the year at the grand mosque and over 1 lakh worshippers attend.
Police sources said the decision to disallow the prayers was taken as police did not want to take any chances. "Traditionally, it is a huge congregation and it can easily spiral into an Azadi protest," a police officer said. "It would be difficult for us to manage such a huge congregation."
Friday prayers at the grand mosque were allowed in March after almost two and a half years. While the mosque was closed for worshippers after the abrogation of Jammu and Kashmir's special status on August 5, 2019, Friday congregational prayers were not allowed due to the pandemic till March this year.
A religious seat of Hurriyat leader Mirwaiz Umar Farooq, the grand mosque in the old Srinagar city has traditionally been the stronghold of separatists. Since August 2019, Mirwaiz has been under house detention and has not been allowed to give a sermon at the mosque.
The mosque was opened for Friday prayers on March 4 this year after a meeting between the management and a team of government officials led by Divisional Commissioner Pandurag Pole and Inspector General of Police (IGP) Kashmir, Vijay Kumar.
Source: Indian Express
Please click the following URL to read the full text of the original story:
https://indianexpress.com/article/cities/srinagar/ramadan-friday-prayer-srinagar-jamia-masjid-7891271/'
--------
Ethnic group slams bid to notify them as indigenous Assamese Muslims
Rahul Karmakar
APRIL 28, 2022
Calls out panel recommendation by the BJP-led government as bid to sift Assamese-speaking Muslims from Bengali-speaking Muslims
A mostly Muslim ethnic group has slammed the BJP-led Assam government's decision to notify Assamese Muslims as a distinct indigenous community.
The move, based on the recommendations of a panel that the State government set up in July 2021, seeks to identify a section of the Assamese by their religion and not by their ethnicity, the Sadou Asom GoriaJatiya Parishad (SAGJP) said on Wednesday.
Goria is one of the sub-groups of people generalised as Assamese Muslims. The others are Syed, Moria, Deshi and Julha.
These communities have been classified according to those Muslims, who have either settled down in Assam or converted from other communities since the 13 th century. The Deshi and Julha people, for instance, converted from the Rajbongshi and the Adivasi or "tea tribes" communities.
"The panel on indigenous Assamese Muslims comprising seven sub-committees, in its July 21 report submitted to the government, suggested notification of the community. This is essentially flawed and divisive since our history has no reference to Assamese Muslims," SAGJP president Moinul Islam said.
The Assamese society was not established on the basis of religion, he said.
"There is no such thing as Assamese Muslims, just as there is no Assamese Hindu or Assamese Christian community. The government is trying to erase the ethnic identity of the Goria-Moria people and impose the religious identity on them, which is unconstitutional," Mir Arif Iqbal Hussain, the organisation's general secretary said.
The SAGJP said the 'Assamese Muslim' tag will lead to some members of the Goria community, who follow other faiths, to lose their ethnic identity. It cited the example of Azizul Haque, a priest at a Baptist Church in Guwahati.
Critics of the plan to notify the Assamese Muslims say it is a bid to sift Assamese-speaking Muslims from the Bengali-speaking or Bengal-origin Muslims, viewed as "Bangladeshis" or "illegal migrants" in Assam. The Assamese-speaking Muslims are about 4% of the total Muslim population in Assam.
Source:TheHindu
Please click the following URL to read the full text of the original story:
https://www.thehindu.com/news/national/other-states/ethnic-group-slams-bid-to-notify-them-as-indigenous-assamese-muslims/article65360234.ece
--------
BJP says Uniform Civil Code will benefit all after Muslim Personal Law Board calls it 'unconstitutional'
Abhishek Mishra
April 27, 2022
The recent Hanuman Chalisa and hijab controversies have sparked a discussion on the possibility of the Uniform Civil Code being implemented in India.
The All India Muslim Personal Law Board (AIMPLB) has termed the Uniform Civil Code as unconstitutional and anti-minority.
In this context, AIMPLB general secretary Hazrat Maulana Khalid Saifullah Rahmani stated that the Constitution of the country allows every citizen to live life according to their religion and this has been included in the fundamental rights.
However, Uttar Pradesh minority welfare minister and BJP leader Dharmpal Singh told India Today that the Uniform Civil Code would benefit every community and opposition to it is not justified.
WHAT AIMPLB SAID
According to AIMPLB general secretary Hazrat Maulana Khalid Saifullah Rahmani, personal laws were made for minority groups as per their wishes under the fundamental rights in the Constitution and these must be continued.
He said that this has helped to maintain unity and trust between majority and minority communities in the nation and has not caused any harm.
Mohammad Suleman, founding member of the All India Muslim Personal Law Board, alleged that the issue of Uniform Civil Code had been brought up to divert attention from real issues and called the BJP government's policies divisive.
Echoing these sentiments, Darul Uloom Deoband spokesperson Maulana Sufiyan Nizami told India Today that the Uniform Civil Code is not in the interest of Muslims, whose religious practices, education and rules and regulations are different from other religions.
He added that Muslims, like tribal communities, have their own culture. "All Muslims support the stand of the personal law board and if this bill comes in, it will be legally opposed," he said.
WHAT BJP SAID
Responding to these statements, BJP leader Mohsin Raza questioned the significance of AIMPLB. He said that if the organisation wants Sharia laws to be imposed, they should go to countries where such laws already exist.
"In India, UCC will work," he said.
Source:IndiaToday
Please click the following URL to read the full text of the original story:
https://www.indiatoday.in/india/story/bjp-uniform-civil-code-muslim-personal-law-board-unconstitutional-1942720-2022-04-27
--------
Assam's latest ID proposal, for Assamese Muslims, raises fresh questions
by Tora Agarwala
April 28, 2022
An Assam government panel's recommendation to identify Assamese Muslims as a distinct group has given rise to questions about whether it will benefit the community or fuel further division among Muslims, and what indigenous means in a state whose demography has been shaped by waves of migration over the decades.
Last week, the panel recommended the issuance of a notification and identity cards or certificates, and a census to "identify and document" the Assamese Muslim community. Considered distinct from Bengali-speaking Muslims who migrated from present-day Bangladesh, the "indigenous" Muslim community is divided into four main groups that claim to trace their origins in Assam to several centuries ago. These groups are the Goriyas and the Moriyas (from Upper Assam), the Deshis (from Lower Assam), and the Julha Muslims (from the tea gardens).
The panel was set up last July after Chief Minister HimantaBiswaSarma's meeting with Assamese Muslims from various fields — writers, doctors, cultural workers, lecturers, historians, and musicians, among others — to discuss socio-economic challenges confronting the community. The stated aim of Sarma's outreach was the community's welfare. In the meeting, he emphasised that the "uniqueness of the indigenous Assamese Muslims should be protected and preserved".
Divided into seven sub-committees, the panel submitted its report on April 21. It also made suggestions on matters related to education, political representation, health, skill development, and women's empowerment. Accepting the recommendations, the chief minister said they were "implementable" and added that the committee had also defined Assamese Muslims. "We have accepted the definition … now the target group will be clearer, and what work needs to be done for them," he added.
Some in the community see official recognition as a way to end their "identity crisis" as they are often confused with Bengali-speaking Muslims. BJP member Syed MuminulAowal who heads the JanagosthiyaSamannay Parishad (JSPA), an umbrella body of more than 30 "indigenous" organisations, said Assamese Muslims had the "same names as Bengali Muslims and are often clubbed with them".
"Among the 1.3 core Muslims in Assam, Assamese Muslims are a minority. We barely have any political representation. A step like this will help indigenous Assamese Muslims benefit not just from Clause 6 but other schemes too," said Aowal, who was earlier the chairperson of the Assam Minorities Development Board. He was referring to Clause 6 of the Assam Accord that grants "constitutional, legislative, and administrative safeguards" to the "Assamese people".
Pointing out the fraught nature of an attempt to define "indigenous" in a state such as Assam, and the ambiguity of the term, All India United Democratic Front (AIUDF) legislator Aminul Islam said the panel's proposals were part of a "political rhetoric" to "isolate Bengali Muslims further".
"They want to bring yet another division among Muslims, that is why they are doing this. Till now, we do not have a base year to define who is an Assamese. More than that, there are many marriages between Assamese and Bengali Muslims. How does one identify such families?" he asked.
A Congress legislator, who did not wish to be named, agreed that the step was not good news for Bengali Muslims. "But it is also true that Assamese Muslims have long felt deprived of benefits and for them it is a good step. But yes, this will create a division and isolate Bengali Muslims even further," he added.
Push for a census
A census for Assamese Muslims was first proposed in February 2020. After a meeting with the community's members, then state Minorities Minister Ranjit Dutta confirmed plans to hold the census based on the 2019 Budget that had provisions for a "Development Corporation for Indigenous Muslims" for "holistic development" of the community as well as a "socio-economic census".
There was no movement on the matter till April 2021 when Aowal's JSPA, independent of the government, launched a website to conduct a census of Assamese Muslims "modelled on the lines of the National Register of Citizens (NRC)". But the exercise did not take off.
Last week's development shows the census may indeed be taken forward. The Congress legislator said there had been noise about various such efforts but it was a topic "no one wanted to touch, considering it was a hot potato". "However, the chief minister is a shrewd politician and he knows this will help him politically," he added.
Aowal said the recommendations were good but added they need to be reviewed. He added, "In its current form, the recommendations refer to identification for the 'Assamese Muslim' — but it is important that specific groups such as Goriyas, Moriyas, Deshis, and Julas are identified, considering the definition of indigenous is not clear."
Islam said it would "ultimately not be implemented" since it was not "constitutionally legal" and warned that "damage would be done and further marginalise the Bengali Muslim community".
Source: Indian Express
Please click the following URL to read the full text of the original story:
https://indianexpress.com/article/india/political-pulse/assam-latest-id-proposal-assamese-muslims-fresh-questions-7890371/
--------
UP: Day Before Eid, Hindu Group To Hold A Jagran In Muslim Locality in Meerut
27th April 2022
Amidst communal tensions in the country, a Hindu group plans to hold a night-long ritual (also known as a Jagran), in a Muslim locality on the eve of Eid al-Fitr in Meerut. This is despite the police stating clearly that permission would not be granted.
In a video that surfaced on Twitter, a Hindu priest was seen threatening a police officer, demanding that the Jagran be given permission.
In a video that surfaced on Twitter, a Hindu priest, surrounded by a group of his followers, can be seen arguing with the police.
Although the inspector tries reasoning with the priest, the latter remained adamant. The inspector said, "No permission is given for you to hold the Jagran. However, you are free to do as you wish."
The priest replies, "I will conduct the Jagran regardless of whether permission is granted or not."
This incident is accompanied by a series of anti-muslim crimes and charges of discrimination that have gravely affected the community.
Source:Siasat Daily
Please click the following URL to read the full text of the original story:
https://www.siasat.com/up-day-before-eid-hindu-group-to-hold-a-jagran-in-muslim-locality-2316774/
--------
Arab World
Saudi Arabia renews call for independent Palestinian state
April 27, 2022
NEW YORK: Saudi Arabia on Wednesday reaffirmed to the UN its stance over Palestine calling for end to the Israeli occupation, the establishment of an independent Palestinian state with Jerusalem as its capital, and the guaranteed right of return for refugees.
The message came during a speech to a UN Security Council session — to discuss the Middle East and Palestinian situation — by Counselor Mohammed Al-Ateeq, charge d'affaires of the permanent mission of Saudi Arabia to the UN.
He highlighted the importance of comprehensive and lasting peace in the Middle East as a strategic option to end the conflict, on the basis of the two-state solution, in accordance with international references, the 2002 Arab Peace Initiative, return of refugees, and putting an end to Israel's occupation of all Arab territories.
Al-Ateeq said: "The Muslims' holy month of Ramadan has witnessed the Israeli occupation forces storming Al-Aqsa Mosque, closing its gates, and attacking defenseless worshippers inside the mosque and in its outer courtyards."
He noted that the Kingdom strongly condemned the Israeli actions describing them as a blatant attack on the Islamic nation and a violation of international resolutions.
The Saudi diplomat called on the international community, and the UN Security Council in particular, to hold Israel fully responsible for its continued violations against Palestinian people and their territories which, he pointed out, would only lead to more violence and security tensions in the region.
Addressing delegates, Al-Ateeq also reiterated Saudi Arabia's condemnation of recent attacks by the Iran-backed Houthis on civilian targets in the Kingdom. He told the session that it was his country's sovereign right to take all necessary measures to defend its territories and citizens, in accordance with its obligations under international law.
Source: Arab News
Please click the following URL to read the full text of the original story:
https://www.arabnews.com/node/2072061/saudi-arabia
--------
Egyptian MPs say Muslim Brotherhood cannot be invited to proposed political dialogue
27 Apr 2022
Gamal Essam El-Din
El-Sisi's made the call at a Ramadan Iftar attended by representatives of most of the country's political forces, business associations, ministers, leading MPs and senators, opposition figures, media people, journalists and youth leaders.
El-Sisi said that recommendations for this dialogue will be referred to the House and Senate for further discussion.
Egyptian MPs agreed that the outlawed Muslim Brotherhood cannot be invited to any expected political dialogue.
MP Mahmoud Badr said in a statement that he believes that President El-Sisi's call for a political dialogue is directed to civilian forces only.
"Those who have blood on their hands or were implicated in terror-related crimes cannot be invited to such a national political dialogue," said Badr, adding that "the Muslim Brotherhood was designated a terrorist organisation in 2013, and so nobody can expect that members of such a terrorist organisation can be invited to such national dialogues."
Badr said that during the iftar ceremony, President El-Sisi referred to the TV series El-Ikhtiar 3, which documents the years of confrontation between the Muslim Brotherhood and civilian forces.
"According to the president during the Iftar ceremony, El-Ikhtiar 3 is showing exactly what happened on the ground in Egypt between 2012 and 2013," said Badr, adding that "these words clearly mean that the Muslim Brotherhood is a terrorist organisation and can't be part of any national dialogue."
In his statement before the Iftar ceremony on Tuesday evening, President El-Sisi said Egypt lost $38 billion in its war against terrorist organisations after the year 2011.
Badr also indicated that President El-Sisi's support for releasing activists does not apply to the Muslim Brotherhood.
"This applies to civilian activists and not to members of terrorist organisations with blood on their hands," said Badr.
On 24 April, the prosecutor-general announced a decision to release 41 pretrial detainees, mostly lawyers, human rights activists and journalists. President El-Sisi said on Tuesday that he was happy that they had been released, noting that "the homeland should be wide open for all and differences of opinion should not harm the nation."
Moushira Khattab, president of the National Council for Human Rights, indicated that most of the released detainees were political activists or journalists.
"We are hopeful that others who are not involved in terror-related cases will be released," she said.
Most of the 41 released detainees were in custody pending trial in political or freedom of speech cases.
Tarek Radwan, chairman of the House of Representatives' Human Rights Committee, said in a statement that the release of activists and journalists would help pave the way for a successful political dialogue.
"Those released are civilian activists and not members of terrorist organisations," said Radwan, also agreeing that "the Muslim Brotherhood can't be invited to any proposed national dialogue."
In a statement issued on Wednesday, the leftist Tagammu Party said it strongly supports El-Sisi's call for a political dialogue as it reflects a national need.
"But this dialogue should be confined to civilian forces only, including recognised political parties and civil society organisations, with the objective of drawing up a new political roadmap for the coming years," said El-Tagammu's statement.
MP Faridi El-Biaddi, a member of the leftist Egyptian Socialist Democratic Party, also said in a statement on Wednesday that El-Sisi's call for political dialogue is directed to all civilian political and social forces.
"We saw symbols of some of these forces attending the iftar ceremony and I think they are the only ones who will be invited to the proposed dialogue," said El-Biaddi.
El-Biaddi also agreed that civilian activists serving prison sentences or are in custody pending trial are the ones expected to be released in the future.
"But we do not expect that members of terrorist-designated organisations who were implicated in terror-related crimes will be released," said El-Biaddi, concluding that "we want a nation for all – Muslims and Christians, majority and opposition – but not for radical and terrorist forces."
Former MP Kamal Ahmed also warned in a press interview on Wednesday against inviting the Muslim Brotherhood to the proposed political dialogue.
"Inviting this organisation to such a dialogue means that they could be integrated into the political process again and this will be quite a dangerous development," said Ahmed, wondering "how, while we are watching the anti-Brotherhood TV serial El-Ikhtiar, can we open the door for this terrorist organisation to come back to political life?"
Ahmed, a founder of the Arab Nasserist Party, said "the call for a national political dialogue should not be directed only to gather support from political forces for a new loan deal with the IMF or satisfy the American who are openly exerting political pressure on Egypt."
Independent MP Mostafa Bakri also tweeted on Wednesday that he has high hopes that "the call for a wide-ranging dialogue will put an end to the state of political sclerosis in Egypt."
Bakri also agreed that the call for political dialogue should be directed to all civilian forces without exception.
Source: Ahram
Please click the following URL to read the full text of the original story:
https://english.ahram.org.eg/News/465374.aspx
--------
Syria says reserves right to respond to Israel, Turkey, US aggression
27 April 2022
Syria says it reserves the right to respond "by appropriate means" to occasionally-deadly attacks by the Israeli, Turkish, and American forces against the Arab country's territory and citizens.
The Syrian foreign ministry made the remarks on Wednesday in a letter to United Nations Secretary-General Antonio Guterres and the UN Security Council, the official Syrian Arab News Agency (SANA) reported.
Earlier in the day, the Israeli military conducted a missile attack against the Syrian capital of Damascus' countryside, killing four soldiers, wounding three others, and causing some material damage.
The ministry denounced the attack as "blatant and cowardly aggression," calling on the UN General Secretariat and Security Council "to condemn the Israeli crimes and demand their cessation and respect [for] the relevant Security Council resolutions," the agency reported.
The attack "coincided with the continuous attacks perpetrated by the US and Turkish occupation forces on Syrian citizens and Syrian lands."
These attacks, it added, were being conducted "in support of terrorist groups," and were therefore threatening to "prolong the war in Syria."
he Israeli regime's attacks on Syria started to grow significantly in scale and frequency after 2011, when Syria found itself in the grip of rampant foreign-backed terrorism.
The regime would, meanwhile, provide safe passage and medical treatment to the Takfiri terrorists that could flee the Syrian military's operations into Syria's Golan Heights that has been under Tel Aviv's occupation since 1967.
Turkey has been conducting an incursion against Syria's northern parts since 2016 under the pretext of fighting back against Kurdish militants known as the People's Protection Units (YPG). Turkey associates the YPG with the Kurdistan Workers' Party (PKK), which has been fighting against Ankara for decades in an effort to carve out a separatist state in southeastern Turkey.
So far, Turkey has deployed thousands of troops in the areas, in what Damascus has decried as, outright violation of its sovereignty.
Source:PressTV
Please click the following URL to read the full text of the original story:
https://www.presstv.ir/Detail/2022/04/27/681111/Syria-letter-United-Nations-Israel-Turkey-United-States
--------
Saudi Arabia condemns terrorist bombing at Pakistan's Karachi University
April 28, 2022
RIYADH: Saudi Arabia strongly condemned the terrorist bombing that took place near a Chinese institute at Pakistan's Karachi university killing a number of people.
The Saudi Ministry of Foreign Affairs renewed in a statement the Kingdom's solidarity and stand with Pakistan against violence, extremism and terrorism. It also stressed Saudi Arabia's rejection of these criminal acts that are incompatible with all religious principles and morals and human values, the Saudi Press Agency said.
The ministry offered condolences to the families of the victims, and the Pakistani government and people.
A Pakistan separatist group warned Wednesday of more deadly attacks on Chinese targets, a day after a woman suicide bomber killed four people — including three teachers posted from Beijing.
Three Chinese teachers and a Pakistani driver were killed near the gate of the Confucius Institute at Karachi University, when the bomber detonated explosives next to their minibus.
China's Ministry of Foreign Affairs urged Pakistan to ensure the safety of all Chinese citizens and interests in the country and to launch a full investigation.
It also advised citizens to "take strict precautions, and do not go out unless necessary."
Source: Arab News
Please click the following URL to read the full text of the original story:
https://www.arabnews.com/node/2072181/saudi-arabia
--------
Middle East helps Europe fill diesel void as Russian flows slump amid war, sanctions
28 April ,2022
Middle Eastern petrostates are helping Europe make up for a drop in diesel supplies from Russia.
Flows of the transport fuel from the Arabian Gulf to Europe are set to rise almost 130 percent this month to 379,000 barrels a day, according to fixture reports and tanker tracking data compiled by Bloomberg.
That's the highest figure since October 2020 and will be bigger than the 166,000 barrel-a-day fall in European imports from Russia, according to the provisional bookings data.
The shift comes as the Europe Union tries to isolate Moscow for its attack on Ukraine with far-reaching sanctions. Energy exports are yet to be penalized by the bloc but traders, shippers and insurers are increasingly wary of taking on Russian barrels.
On Wednesday, Moscow escalated its standoff with Europe by cutting natural gas to Poland and Bulgaria.
In Europe, prices of diesel, used to power trucks, heavy machinery and ships, have surged around 70 percent this year. That's even more than crude, which jumped above $100 a barrel in the wake of Russia's attack.
The so-called crack spread for diesel - a measure of the profitability for refining crude - has increased from $11 a barrel at the start of 2022 to more than $40.
That's giving countries such as Saudi Arabia and the United Arab Emirates an incentive to increase exports of diesel. The two OPEC members are known as swing producers for their ability to ramp up crude output.
But after more than a decade of expanding refining capacity and building their trading arms, they're now playing a similar role in refined fuel markets. The diesel flows may generate Middle Eastern producers around $1.5 billion in revenue over the course of this month based on current prices, according to Bloomberg calculations.
Diesel stockpiles around the world fell heavily last year as demand recovered from the worst of the coronavirus pandemic, and the trend's accelerated since the Ukraine war started. The problem could worsen in the coming months as more long-term Russian supply contracts expire and traders refuse to extend them, said Matt Stanley, a Dubai-based broker at Star Fuels.
Russia will still be the biggest diesel supplier to Europe this month, with flows averaging 618,000 barrels a day, according to the data.
Shippers and traders have booked 19 vessels to take refined products to Europe from the Gulf for potential delivery in May, almost three times as many as were reserved for April delivery at the same point last month.
Middle Eastern refiners have the capacity to raise diesel production further as they're coming out of their traditional winter maintenance period, when demand is lower.
Companies such Saudi Aramco and Abu Dhabi National Oil Co. are among those most likely to benefit from diesel's rise, said Stanley. That's because their integrated production, refining and trading businesses allow them to react quickly to market swings.
Aramco's largest refinery of Ras Tanura, capable of handling 550,000 barrels a day of crude, is back to capacity after shutting diesel units for maintenance in March, traders said. The company's new 400,000 barrel-a-day refinery at Jazan on the Red Sea is still ramping up, they said.
Source: Al Arabiya
Please click the following URL to read the full text of the original story:
https://english.alarabiya.net/News/gulf/2022/04/28/Middle-East-helps-Europe-fill-diesel-void-as-Russian-flows-slump-amid-war-sanctions
--------
Pakistan
Investigators say varsity blast intended to sabotage Pak-China ties
Imtiaz Ali
April 28, 2022
KARACHI: Police on Wednesday launched an investigation into the suicide bombing at Karachi University Confucius Institute that claimed lives of three Chinese academics and their local van driver and caused injuries to four others, including one Chinese teacher, on Tuesday.
The Counter-Terrorism Depart­ment registered a case on behalf of the state at the Mobina Town police station on murder and terrorism charges against two commanders of the outlawed Balochistan Liberation Army (BLA).
Officials believed that the motive of the attack was to sabotage Pakistan and China relations. They suspected the involvement of a foreign hostile agency.
CTD official Raja Umar Khattab said that the suicide bomber, identified as Shari Baloch alias Brimash, was born in Turbat in 1991. She was married and had two children.
Missing husband
He said that her husband, Dr Haibatan, originally hailed from Kech, was currently doing a public health course at the Jinnah Postgraduate Medical Centre (JPMC) and was staying at a nearby five-star hotel. However, his wife lived in Gulistan-i-Jauhar with her children.
He said that she and her husband had left their places a week before the attack and the husband's whereabouts were not known. Raids were being carried out to find the husband and other facilitators, he said.
The CTD official also clarified that the suicide bomber was not a student of KU. He said she got all her education up to university level in Balochistan and later she was employed as a government schoolteacher.
The officer added that the outlawed BLA had claimed responsibility for the attack and shared details about the attacker on their social media platforms.
Injured out of danger
Separately, SSP-East Syed Abdul Rahim Sherazi said the condition of all four injured persons, including one Chinese, was out of danger.
He said two Rangers personnel escorting the van of the Chinese faculty members suffered minor injuries. One private guard, Hamid, suffered injuries in the leg and face. Chinese teacher Wang Yuqing underwent surgery.
Additional Police Surgeon at the JPMC Dr Summaiya Syed said that four charred bodies and remains of a fifth person were brought to the hospital on Tuesday evening for a post-mortem examination.
She said that four bodies — two males and two females — were beyond recognition and 100pc burnt. Their multiple samples for DNA profiling were taken.
The police surgeon said that the "remains of the alleged suicide bomber included both lower legs (below knee), scalp with hair attached and some other body parts (muscles and skin)". The DNA samples were collected from all parts.
The post-mortem reports were prepared and DNA samples dispatched to a Karachi University laboratory and they were waiting for results.
FIR lodged
According to the FIR lodged on the complaint of SHO Basharat Husain, he was performing his duty when he got information about an explosion inside the KU on Tuesday at 2pm. He rushed to the scene and saw that one van near the Confucius Institute and one motorbike of Rangers were completely destroyed in the blast.
He called fire brigade, bomb disposal squad, crime scene unit and ambulances. One completely burnt body was lying on the driver's seat while three other burnt bodies were lying on rear seats of the van. At some distance, body pieces of woman, including two legs, one with ladies shoe, were also found, which were sent to the JPMC for autopsy.
The BDS team examined the place and collected four parcels of samples and came to the conclusion that it was a suicide bombing.
The complainant said through intelligence sources, he came to know that the banned BLA Majeed Brigade had claimed responsibility for the blast.
The SHO said BLA Majeed Brigade militant commanders Bashir Zaib and Rehman Gul and others were involved in the attack.
The BLA wanted to undermine relations between Pakistan and China and get publicity for their outlawed outfit through terrorist acts, the FIR added.
Furthermore, there was a strong possibility that a hostile foreign agency was also involved in it, it said.
Source: Dawn
Please click the following URL to read the full text of the original story:
https://www.dawn.com/news/1687154/investigators-say-varsity-blast-intended-to-sabotage-pak-china-ties
--------
Man picked up from Punjab University hostel for KU blast connections
Imran Gabol
April 28, 2022
LAHORE: Security agencies picked up a man from the hostel of the Punjab University on Wednesday, purportedly in connection with the Karachi University (KU) suicide blast case.
BebgarImdad, a student of the seventh semester of English Literature in Numl, Islamabad, and a native of Kech, was visiting his relative in Hostel No 7.
On Wednesday morning, PU security guards and other security agencies bundled him into a truck.
A video of the incident was also circulating on social media in which the security agency officials covering their faces are seen bundling him in the back of a Vigo vehicle.
One of the students on the condition of anonymity told Dawn that the security agencies suspected that Imdad might be involved in the recent attack in which three Chinese nationals were killed while four others injured outside the KU's Confucius Institute.
He said they tried to resist the arrest of Imdad but the personnel told them to stay away and that if the suspect did not have any involvement in the blast, he would be released by evening. By the evening, he said, the security agencies did not release the student.
"Imdad was visiting his cousin and with him, he was to travel to their home town for Eid together," he said.
The Baloch Student Council strongly protested the "abduction of a Baloch student from the PU" and called it "a continuation of the enforced disappearances and harassment of the Baloch students in the country".
The council said the Baloch students were being picked up from educational institutes and the profiling of the Baloch students was being done so that the Baloch stopped taking education.
They said the university administration was also harassing the Baloch students in the name of data and details.
A spokesperson for the council said that picking up students was harassment of the Baloch people and students, which is creating an environment of fear among them.
He said the PU administration and agencies would be held responsible if something happened to the student.
He appealed to human rights organisation, and social activists to help them recover Imdad safely and raise their voices against the injustice within the Baloch nation.
Source: Dawn
Please click the following URL to read the full text of the original story:
https://www.dawn.com/news/1687141/man-picked-up-from-punjab-university-hostel-for-ku-blast-connections
--------
KU attack 'final wake-up call' on crisis in Balochistan
Amir Wasim
April 28, 2022
ISLAMABAD: Describing the suicide attack by an educated woman on Chinese nationals in Karachi as a "new and dangerous trend", the country's mainstream and nationalist political parties on Wednesday asked the authorities concerned to take the incident as a "final wake-up call" and resolve the issue of missing persons at the earliest as a major confidence-building measure to end the sense of deprivation among the Baloch people.
Key political figures belonging to the Pakistan Muslim League-Nawaz (PML-N), the Pakistan Peoples Party (PPP) and the National Party were unanimous in saying that the solution to Balochistan's woes lies in political dialogue and not military operations.
Several political leaders also expressed their displeasure over the recent statement of Prime Minister Shehbaz Sharif during his visit to Balochistan, where he had reportedly said he would raise the issue of missing persons with "powerful quarters".
"Mr Sharif should not have uttered these words, as by doing so he has actually proved that there are some other quarters that are more powerful than the government," said a senior politician now in the government. He then added that though the prime minister was right in saying so, he should not have at least said it publicly.
Mainstream political parties express concern over new trend in terrorist attacks on Chinese; call for recovery of missing persons
A female suicide bomber targeted a vehicle carrying faculty members of Karachi University's Confucius Institute, killing three Chinese nationals and their local driver on Tuesday. The attack was later claimed by the banned Majeed Brigade of Baloch Liberation Army (BLA), which stated that this was the first time they had employed a female suicide bomber. The group also shared a photo of the bomber, referred to as Shari Baloch alias Bramsh.
Talking to Dawn, PML-N Senator Mushahid Hussain said the way forward, according to him, was to "stop treating Balochistan as a political plaything, frequently picking, choosing and changing favourites, end the shameful crime of missing persons, ensure benefits of development for local communities and end border harassment and corruption".
He believed that Tuesday's terrorist attack was not a normal one, as the involvement of an educated woman proved how deep the sense of alienation had been penetrated among the Baloch people. He stressed the need for continuing the local political process instead of controlling the province through remote control while sitting in Islamabad.
He said the missing persons' issue must be resolved immediately. He questioned the utility of the commission on the missing persons and termed it a "joke" with the nation.
Mr Hussain said that after the Karachi incident, alarm bells should be ringing not in the government circles in Islamabad but in the "military establishment" as well.
The PML-N senator, who is also the chairman of the Senate Standing Committee on Defence, described the Karachi incident as a "monumental failure and breach of security." He regretted that there were some 26 intelligence agencies operating in the country, but it seemed there was no coordination among them at all.
He said it was the same old story that the security warnings went unheeded and the system of security was outmoded and the end result was that "the terror groups can strike at will at a time and target of their choosing whether its Karachi, Dasu, Gwadar or anywhere in Khyber Pakhtunkhwa".
The senator also drew attention to the alleged harassment and corruption by the security officials deployed at the border. He said the Baloch people recently protested when the law enforcement agencies resorted to firing on the people who were accused of smuggling oil.
Similarly, PPP Senator Raza Rabbani, in a statement, condemned the suicide attack within the precincts of the Karachi University, saying these attacks were aimed at destabilising the strategic relations between Pakistan and China.
"What is alarming is the fact that these terrorist organisations are recruiting women as suicide bombers, who belong to the educated middle class and have a family background of academics," he said, adding that the state must realise the significance of this fault line.
"Extreme nationalism has permeated to such an extent that educated women are willing to lay down their lives," Mr Rabbani said. "This means that the seeds of oppression, suppression, alienation and the sense of deprivation are so deep that it motivates violent reaction against the state and its strategic interests."
The state, he said, must realise that the question of missing persons, particularly in Balochistan, was a mistrust of the state in the judicial system.
Mr Rabbani, who had previously served as the Senate chairman, said a national consensus of all political parties and stakeholders had to be achieved, as was done by the PPP when it announced the Aghaz-i-HaqooqBalochistanprogramme.
Meanwhile, National Party Punjab president Ayub Malik also urged the new federal government to take urgent steps to resolve the issue of enforced disappearances, as it was vital to restore permanent peace in Balochistan.
He said that in the past, the party's president and former Balochistan chief minister, Abdul Malik, had initiated talks with the groups sittings abroad after consulting all the stakeholders and some of them were amenable to the idea of solving the problem through dialogue. He regretted that those talks were abruptly discontinued and insisted that the use of force or military action would only exacerbate the situation.
"Efforts should be made to solve the problem through political dialogue within the parameters of the Constitution," he said but added that some confidence-building measures must be taken before that happens, such as the recovery of missing persons.
Talking to Dawn, a senior PML-N leader from Balochistan and a member of the party's central working committee Sydaal Nasar disclosed that the woman who had carried out the suicide attack in Karachi had been sitting outside the Quetta Press Club for the past over four years, as many of her family members were among the missing persons.
The PML-N leader suggested that the gravity of the situation demanded that the country's top political leadership, including the prime minister, should immediately reach Balochistan and stay in the province for at least two weeks.
During their stay, he said the leaders should hold talks with the Baloch people, including students, lawyers, labourers, traders, businessmen, fishermen and others, and listen to their grievances.
Mr Nasar was of the view that those sitting abroad should also be approached. He also suggested setting up a "powerful grand jirga" comprising elders of all the tribes to engage the dissidents. This jirga, he said, must be on the pattern of Shahi Jirga, which existed at the time of the partition of the subcontinent.
Source: Dawn
Please click the following URL to read the full text of the original story:
https://www.dawn.com/news/1687196/ku-attack-final-wake-up-call-on-crisis-in-balochistan
--------
Pakistan court to indict PM Shehbaz Sharif, son Hamza in money laundering case
Apr 28, 2022
ISLAMABAD: A special court of Pakistan's Federal Investigation Agency on Wednesday issued an order that it will indict Prime Minister Shehbaz Sharif and his son and Punjab Chief Minister-elect Hamza Shahbaz in a money laundering case, reported local media.
Notably, the court had to indict the duo and others allegedly involved in the case earlier this month but the process was delayed due to the absence of the premier, reported Geo News.
However, Shehbaz Sharif did not appear before the court even on Wednesday, following which, the court, in its written order, summoned him, Hamza Shahbaz and all the other suspects on May 14.
"It is being made clear to all the parties that on the next hearing, we will indict them [...] all the suspects should ensure their attendance," the media outlet quoted the special court as saying while noting that the indictment could not take place on Wednesday due to the premier's absence.
Source: Times Of India
Please click the following URL to read the full text of the original story:
https://timesofindia.indiatimes.com/world/pakistan/pakistan-court-to-indict-pm-shehbaz-sharif-son-hamza-in-money-laundering-case/articleshow/91140800.cms
--------
Pakistan cannot afford 'enmity with US at all': PM Shehbaz Sharif
Apr 27, 2022
ISLAMABAD: Pakistan cannot afford to have "enmity with the US at all," Prime Minister Shehbaz Sharif has said, as he vowed to mend fences with all allies and friends of the country who have been estranged from Islamabad due to the faulty foreign policies of the previous government of Imran Khan.
Sharif, who assumed office on April 11, regretted that the previous government led by the Pakistan Tehreek-e-Insaf (PTI) party led by Khan had annoyed all those countries that had always helped Pakistan in difficult times, especially China, Saudi Arabia, Qatar and the United States.
He said there was a need to end the mistrust between Pakistan and the United States, and both countries needed to see if they had committed any mistakes in the past, the Dawn newspaper reported on Wednesday.
"Pakistan cannot afford to have enmity with the US at all," Sharif, also the President of Pakistan Muslim League-Nawaz (PML-N) said while responding to a volley of questions from senior journalists during an Iftar reception at the Prime Minister House on Tuesday.
Khan was ousted from power after losing a no-confidence vote in his leadership, which he alleged was part of a US-led conspiracy targeting him because of his independent foreign policy decisions on Russia, China and Afghanistan.
The cricketer-turned-politician has repeatedly alleged that his political opponents colluded with the US to bring about regime in Pakistan. But he provided no credible evidence of this and Washington has strongly denied any foreign interference.
Though Sharif touched on all the issues during his nearly hour-long conversation with journalists, his main emphasis remained on the country's foreign policy, the report said.
He spoke about his forthcoming visit to Saudi Arabia and also expressed his concerns over the suicide attack on the Chinese nationals in Karachi earlier on Tuesday.
The prime minister said he was expected to have a discussion on bilateral issues and cooperation with the Saudi leadership during his upcoming visit to Riyadh from Thursday.
Hitting out at the previous government over its flawed foreign policy, Sharif said first the PTI government annoyed Qatar royal family by raising fingers at the contract signed by Pakistan for the purchase of gas in 2016, and then they did the same thing with China when they cried foul and corruption in Chinese projects launched in Pakistan under the ambitious China-Pakistan Economic Corridor.
Criticising the previous government's foreign policy, he said that Saudi Arabia had given oil on deferred payment to Pakistan, as well as deposited money with the central bank to help the country's economy; the PTI government had told Saudi Arabia "we can raise the issue of Kashmir without you".
On his government's Afghan policy, Sharif said: "What is good for Afghanistan, it is good for Pakistan and vice versa."
Prime Minister Sharif's media interaction was also attended by Interior Minister Rana Sanaullah, Planning Minister Ahsan Iqbal, Musaddiq Malik and other senior PML-N leaders.
Commenting on Khan-led Pakistan Tehreek-e-Insaf party's planned marches and rallies, he said that his government did not believe in politics of revenge, but he would also not tolerate anarchy in the country.
Source: Times Of India
Please click the following URL to read the full text of the original story:
https://timesofindia.indiatimes.com/world/pakistan/pakistan-cannot-afford-enmity-with-us-at-all-pm-shehbaz-sharif/articleshow/91127975.cms
--------
ECP seeks recording of Imran's April 26 address from Pemra
Fahad Chaudhry
April 28, 2022
The Election Commission of Pakistan (ECP) has sought from the Pakistan Electronic Media Regulatory Authority (Pemra) a soft copy of Pakistan Tehreek-i-Insaf (PTI) chairperson Imran Khan's address to supporters on Tuesday (April 26) where the PTI chief had lashed out at Chief Election Commissioner (CEC) Sikandar Sultan Raja, calling him a "planted agent" of the PML-N.
"Raja has lost all his credibility and should immediately resign," Imran had said in a speech to party leaders and lawmakers at the Chief Minister House in Peshawar. "He has no reason to remain as the CEC anymore. An umpire is always independent. When the country's biggest party doesn't have confidence in him, it's time for him to resign," he added.
The PTI chief had warned of country-wide protests if Raja did not step down as CEC and urged supporters to start a campaign to collect signatures on an online petition against him.
On Wednesday, ECP Additional Director General Haroon Khan Shinwari wrote to the Pemra chairperson, seeking a soft copy of Imran's address which was aired on television.
He also sought soft copies of speeches made by PTI leaders Khurram Sher Zaman, Haleem Adil Sheikh and Ejaz Ahmed Chaudhry the day Imran's remarks were broadcast.
In the letter, a copy of which is available with Dawn.com, Shinwari communicated to the Pemra chairperson that he had been directed to seek the footage and requested him to "provide recordings of the aforementioned addresses immediately for placing before the Hon'able Commission (ECP)".
PTI's criticism of ECP, CEC
The ECP's request to the Pemra has been made in the wake of growing PTI criticism of the ECP, and particularly CEC Raja, over what Imran and his cohorts allege is his biased conduct. During this period, the ECP has also been conducting hearings into the PTI's foreign funding case.
Last Saturday, Imran had demanded the CEC's resignation, saying the party believed him to be "biased". Addressing a press conference at his Bani Gala residence, Imran had said the PTI did not trust the CEC, claiming all his decisions were against the party.
On Sunday, PTI leader Fawad Chaudhry had announced that the party would begin staging country-wide protests outside ECP offices from April 26 against the CEC's alleged biased behaviour. He, too, had accused the CEC of being "partisan and dishonest" and alleged that a declaration to de-seat the PTI's dissident assembly members had still not been issued by the ECP.
On Tuesday, PTI supporters had staged demonstrations outside ECP offices in different cities and raised slogans against the commission.
In response to the demonstrations, the ECP, however, maintained that it had been impartially discharging its legal and constitutional obligations, and would keep on doing so without any fear or favour.
CEC Sikander Sultan Raja has also said that he had no intention to resign, and would continue to work in the "best interests of the country".
Source: Dawn
Please click the following URL to read the full text of the original story:
https://www.dawn.com/news/1687236/ecp-seeks-recording-of-imrans-april-26-address-from-pemra
--------
IMF, Pakistan technical-level talks begin
Anwar Iqbal
April 28, 2022
WASHINGTON: Minister of State for Finance Aisha Ghaus Pasha said on Wednesday that Pakistan and the International Monetary Fund (IMF) have started their technical level talks for an enhanced financial package from the fund.
In Dubai, a senior IMF officials told journalists that the fund has urged Pakistan to bring its current account deficit under control as the country's new government seeks an increase in the size and duration of the current programme.
In 2019, the IMF approved a $6 billion loan for Pakistan but concerns about the pace of IMF-mandated reforms have delayed its disbursements, although half of this amount has been disbursed.
The IMF completed the 6th review of the programme in February, which led to the disbursement of $1bn. Pakistan has asked the IMF to enhance its bailout package from the remaining $3bn to $5bn.
"Yes, the talks have started," Ms Pasha told Dawn from New York. "We are holding virtual talks, which will continue as the two sides are discussing various aspects of the enhanced package." The staff level talks will also start soon, she added.
Ms Pasha, who accompanied Finance Minister Miftah Ismail to Washington to participate in the spring meetings of the IMF and the World Banks, leaves for Pakistan on Friday.
Ms Pasha said their talks with IMF officials focused on the subsidies given by the PTI government as the Fund felt those were not sustainable, but they also showed concern about Pakistan's increasing current account deficit.
In Dubai, Jihad Azour, director of IMF's Middle East and Central Asia Department, told Reuters they also discussed the country's huge current account deficit with Pakistani officials in Washington.
Pakistan's current account deficit ballooned to $13.2 billion in the nine months of its fiscal year from a gap of $275 million a year earlier on the back of soaring oil import costs, the agency reported.
Source: Dawn
Please click the following URL to read the full text of the original story:
https://www.dawn.com/news/1687185/imf-pakistan-technical-level-talks-begin
--------
Centre, Sindh team up for security audit after KU blast
Tahir Siddiqui
April 28, 2022
KARACHI: Interior Minister Rana Sanaullah and Sindh Chief Minister Syed Murad Ali Shah on Wednesday sat together with the head of the provincial top security agencies and Chinese diplomats to conduct security audit of the principal institutions in general and foreign nationals, especially Chinese, in particular.
Acting Chinese Ambassador Ms Pang Chunxue and Consul General Mr Li Bijian attended the meeting, held at CM House in the backdrop of the suicide attack on Chinese nationals at Karachi University (KU).
The interior minister, who had earlier held a one-to-one meeting with the chief minister, assured the Sindh government of full cooperation for security.
The meeting was given a detailed briefing. The Chinese diplomats were also apprised that the details of the Chinese nationals associated with China-Pakistan Economic Corridor (CPEC) were available with the relevant agencies but details of other Chinese nationals were not.
China strongly condemns attack, seeks arrest of culprits
At a hurriedly called joint presser with CM Shah, MrSanaullah later said security of life and property of Chinese nationals would be ensured with effective measures, adding that China had always stood with Pakistan in difficult times. He said he had offered to enhance the security of the Chinese embassy, but the Chinese diplomats seemed to be satisfied with the arrangements.
"The security of those working with the CPEC will be ensured at all costs," he declared.
Investigators did not rule out the involvement of a hostile foreign agency in the suicide bombing and believed sabotaging China-Pakistan relations was the motive for the attack, as a case was registered against the proscribed Baloch Liberation Army on murder and terrorism charges.
"Those who are fighting for people's rights are not involved in terrorism," he said referring to the coalition partners from Balochistan.
Responding to another question, he said people had rejected the narrative of former premier Imran Khan against the election commission and did not pay any heed to his calls that was also evident from the fact that out of the entire population of Punjab, only 2,345 people managed to come out for demonstrations.
Also, the federal minister along with the CM visited the home of the van driver, Khalid Nawaz, who died in the blast, in Gulshan-i-Maymar where he along with his wife and their seven children resided. They met the brothers of the late Nawaz, offered condolence and announced compensation of Rs2 million — Rs1 million each from the provincial and federal governments — for the legal heirs of the victim.
Meanwhile, China expressed its strong condemnation over the attack and extended deep condolences to the victims and sympathies to the injured and bereaved families, adds APP.
"The Chinese side expresses strong condemnation and indignation over this major terrorist attack and extends deep condolences to the victims and sympathies to the injured and bereaved families," a spokesperson said on Wednesday.
The spokesperson said the Chinese foreign ministry and diplomatic missions in Pakistan had activated the emergency response mechanism immediately after the incident.
Source: Dawn
Please click the following URL to read the full text of the original story:
https://www.dawn.com/news/1687195/centre-sindh-team-up-for-security-audit-after-ku-blast
--------
Europe
Defending UK's counter-extremism strategy, David Cameron fuels anti-Muslim hostility
April 27, 2022
Nasim Ahmed
Former British Prime Minister, David Cameron, issued a robust defence yesterday of UK's counter-terrorism strategy, known as "Prevent". Writing in the Times, the 55-year old took-aim at mainstream Muslim organisations critical of the so-called de-radicalisationprogramme. In the article, Cameron endorsed a new report by the Policy Exchange think tank which calls for the "de-legitimisation" of Muslim voices critical of the government and also funding cuts to Muslim groups campaigning to "undermine" the scheme.
Cameron's intervention comes as the UK Tory government is about to release details for the overhaul of the "Prevent" strategy in the wake of the murder of the Conservative MP, Sir David Amess. Ali Harbi Ali, who was found guilty of the murder, had been referred to "Prevent" seven years earlier. He is not the only one who, despite going through the government's de-radicalisation scheme, went on to commit horrific acts of terrorism.
The timing of Cameron's article and his exclusive focus on Muslims would suggest that his broadside in the Times is a precursor for likely reforms that will further push "Prevent" towards a more anti-Muslim direction. Some on the right of politics are not pleased at the fact that "Prevent" has become more preoccupied with neo-Nazis and white supremacists instead of Muslims. Cameron himself admits that "In 2020-21, 46 per cent of referrals to "Prevent's" Channel deradicalisationprogramme related to far-right extremism and only 22 per cent to Islamist extremism." With the Tories moving further to the right, are we about to see an overhaul of "Prevent", which will tilt the balance to make sure the focus returns to Muslims even though the threat of terrorism from the far-right is a bigger concern?
Though we can only speculate about the direction of "Prevent", there is little doubt over the fact that Cameron's piece further legitimises Islamophobic tropes that are now dangerously pervasive in our society. The former Prime Minister's baseless claim that Muslim groups critical of "Prevent" are "enabling terrorism" is as clear an indication as any that his robust defence of the de-radicalisationprogramme is intended to fuel moral panic about Muslims.
The United Nation, human rights group Amnesty International, Liberty and many others have major misgiving with "Prevent". Why then single out Muslim groups, as Cameron does, if not to further vilify the Muslim community?
Few have been more scathing than the UN. The UK government risks "promoting extremism, rather than countering it" and is creating a "Big Brother" culture reminiscent of the Soviet Union, is how the UN Special Rapporteur on the rights to freedom of peaceful assembly and of association, Kenyan lawyer, MainaKiai, chose to describe UK's de-radicalisation policy.
Kiai offered this conclusion in 2016 after "Prevent" was extended into schools, universities, hospitals and other public sector settings a year earlier, placing a legal obligation on teachers, doctors and other staff to have "due regard to the need to prevent people from being drawn into terrorism". Kiai said the feedback he had received on the implementation of "Prevent" had been "overwhelmingly negative", and he had heard "countless anecdotes of the programme being implemented in a way that translates simply into crude racial, ideological, cultural and religious profiling".
"This lack of definitional clarity, combined with the encouragement of people to report suspicious activity, have created unease and uncertainty around what can legitimately be discussed in public," he said. "It appears that "Prevent" is having the opposite of its intended effect: by dividing, stigmatising and alienating segments of the population."
In their condemnation, Amnesty International said that "Prevent is a highly dubious scheme built on shaky, almost evidence-free, foundations – it's sorely in need of a proper review. Peers need to ensure that "Prevent" is rigorously and independently assessed, with all the human rights impacts of the scheme fully investigated." Reacting to Cameron's defence of the "Prevent" programme, the rights groups said that the article is "shockingly misplaced."
Similar concerns were raised by (UK)'s Legal and Policy Director, Human Rights Watch, Adriana Edmeades Jones. "In the face of mounting evidence that "Prevent" is undermining relationships of trust and chilling expression in classrooms and consultation rooms across the country, it is clear that "Prevent" is simply not fit for purpose. It is in everyone's interests – the communities who are targeted, the teachers, doctors and social workers tasked with implementing it, and the Government itself – that "Prevent" is subject to an independent review." Though the Tory government launched a review, the choice of anti-Muslim William Shawcross to lead the investigation is seen as a stitch up.
Shawcross, who was also previously a board member of the anti-Muslim Henry Jackson Society (HJS), is known for his derogatory remarks about Islam in British society and Europe as a whole. Back in 2012, he stated that "Europe and Islam is one of the greatest, most terrifying problems of our future. I think all European countries have vastly, very quickly growing Islamic populations."
Unsurprisingly, Cameron's decision to ignore these concerns and single out Muslim critics as "enablers of terrorism" while endorsing the anti-Muslim agenda of a right-wing think tank, which BBC Newsnight accused of fabricating evidence about mosques disseminating extremist literature, has been met with strong condemnation.
"It is very telling that in its attempt to defend "Prevent", Policy Exchange has completely ignored the vast body of critique from beyond the Muslim community. This underlines their open Islamophobic agenda" said Muhammad Rabbani, Managing Director of CAGE, one of the groups mentioned in the Policy Exchange report. "It's indicative of Islamophobia in the UK when former PM's give their name to such open hostility to Muslim civil society."
Dr Layla Aitlhadj, Director at Prevent Watch and co-chair of the People's Review of Prevent, said: "The Policy Exchange report offers little in terms of research or academic criticism but presents a series of attacks on Muslim civil society organisations and individuals who are critical of the government's toxic "Prevent" programme and its impact on Muslims and wider society."
A spokesperson for the Muslim Council of Britain (MCB) – also singled out by Cameron – said that Policy Exchange has consistently led efforts to discourage cooperation between the authorities and the Muslim Council of Britain. The right-wing think tank recommended the UK government in 2007 to cut ties with the MCB, following an investigation which, as mentioned, was found to have fabricated evidence according to BBC Newsnight. "It is therefore laughable that the Policy Exchange should now claim that we are the ones discouraging cooperation because we are exercising our democratic responsibility to scrutinise bad policy," said the MCB spokesperson. "The MCB has always repeatedly and loudly opposed all forms of terrorism, but the Policy Exchange's amnesia fails to acknowledge this."
Source: MiddleEastMonitor
Please click the following URL to read the full text of the original story:
https://www.middleeastmonitor.com/20220427-defending-uks-counter-extremism-strategy-david-cameron-fuels-anti-muslim-hostility/
--------
Tensions over race, religion in France's presidential race
April 21, 2022
By Arno Pedram
PARIS (AP) — From attacks on "wokeism" to crackdowns on mosques, France's presidential campaign has been especially challenging for voters of immigrant heritage and religious minorities, as discourse painting them as "the other" has gained ground across a swath of French society.
French voters head to polls on Sunday in a runoff vote between centrist incumbent Emmanuel Macron and nationalist rival Marine Le Pen, wrapping up a campaign that experts have seen as unusually dominated by discriminatory discourse and proposals targeting immigration and Islam.
With Le Pen proposing to ban women from wearing Muslim headscarves in public, women like 19-year-old student NailaOuazarf are in a bind.
"I want a president who accepts me as a person," said Ouazarf, clad in a beige robe and matching head covering. She said she would defy the promised law should Le Pen become president, and pay the eventual fine.
Macron attacked Le Pen on the headscarf issue in their presidential debate Wednesday, warning it could stoke "civil war." But polls put Le Pen closer to Macron than she was in their last runoff five years ago. And in the first round, far-right candidates Le Pen and Eric Zemmour together collected nearly a third of votes.
France has no hard data on voters' race or religion because of its doctrine of colorblindness, which sees all citizens as universally French and encourages assimilation.
Le Pen's National Rally party, formerly called the National Front, has a history of ties with neo-Nazis, Holocaust deniers and militias who opposed Algeria's war for independence from colonial France. Le Pen has distanced herself from that past and softened her public image, but a top priority of her program is to prioritize French citizens over immigrants for welfare benefits, which critics see as institutionalizing discrimination. She also hopes to ban Muslim women from wearing a headscarf in public, toughen asylum rules and sharply curtail immigration.
She has gained ground among voters since 2017, when she lost badly to Macron. This time around, Le Pen has put a greater emphasis on policies to help the working poor.
Le Pen can also thank the rabble-rousing Zemmour, who came in fourth in the first-round vote, for boosting her popularity by making her seem softer. Zemmour has been repeatedly convicted of inciting racial or religious hatred, and has promoted the baseless "great replacement" conspiracy theory, used as justification by white supremacists who committed massacres in New Zealand's Christchurch, in El Paso, Texas, and on a California synagogue.
"Eric Zemmour's presence placed the issue (of Islam and immigration) on the side of aggressive and violent stigmatization," Cecile Alduy, a Stanford semiologist who has studied Zemmour's language, told The Associated Press. "Meanwhile, there is a decline in humanist values: words such as equality, human rights, fight against discrimination, or gender are qualified as politically correct or 'wokeism' by a large swath of media, public intellectuals, and ministers of the current government."
For some experts and anti-racist groups in France, Macron too is at fault for the current climate, as his administration has adopted legislation and language that echoes some far-right mottos, in hopes of eating into Le Pen's support.
Racial profiling and police violence targeting people of color, which activists in France have long decried, have also remained a concern under Macron's presidency, which saw repeated protests in the wake of George Floyd's death in the U.S. over France's own cases of police violence.
Also under Macron's watch, France passed a law against terrorism enshrining the state of emergency started after the 2015 attacks on the Bataclan theater, Paris cafes and Charlie Hebdo newspaper into common law. This extended the government's right to search people and conduct surveillance, control movement and shut down some schools and religious sites in the name of the fight against extremism.
Human rights watchdogs warned the law was discriminatory. Amnesty International wrote "in some cases Muslims may have been targeted because of their religious practice, considered to be 'radical,' by authorities, without substantiating why they constituted a threat for public order or security."
Then in 2021, the government passed a law targeting what Macron labeled "separatism" by Muslim radicals, extending the state's oversight over associations and religious sites. The government's own watchdog argued that the law's scope is too broad.
AbdourahmaneRidouane has seen this first hand. In February, he was visited by two police officers who handed him a notice of closure for the mosque he manages in the southwestern town of Pessac in Bordeaux wine country. Authorities argued that his mosque's criticism of "state Islamophobia" encourages and justifies what they called Muslim rebellion and terrorism, and criticized political and anti-Israel, pro-Palestinian posts on their social media page.
"I felt deeply saddened by a process I deemed unworthy of a democratic state," Ridouane told the AP. He challenged the state's decision and won on appeal. The appeals court found the closure was a "grave and manifest illegal infringement on religious liberty." The state took the case to France's highest court, expected to rule Thursday in the case.
France has also seen the rise of criticism of "Islamo-leftism" and "wokeism" reminiscent of attacks on critical race theory in the U.S. Macron's government has commissioned a study into its presence in French universities.
Yet race or colonial studies research departments don't exist in French universities, because they are seen as contrary to French universalism. Critics say this doctrine allows authorities to turn a blind eye to deep-seated discrimination, both on the French mainland and in overseas French territories where most voters aren't white.
"The election comes in this climate, the increasing right-wing and conservative discourse, a retreat into a white, universalist, colorblind discourse blind to all discriminations and systemic racism in French society," said NaciraGuénif, an anthropology and sociology professor at Paris VIII University focusing on race and gender.
On the left, meanwhile, "denial prevails," Guénif said, because many left-wing French voters are "profoundly uncomfortable with the question of race because they think that talking about race makes you racist."
Despite concerns over measures under Macron, the Pessac mosque director is not hesitant as to whom he will vote for in the second round.
Source:ReligionNews
Please click the following URL to read the full text of the original story:
https://religionnews.com/2022/04/21/tensions-over-race-religion-in-frances-presidential-race/
--------
Pakistan calls for greater responsibility in using veto
Anwar Iqbal
April 28, 2022
UNITED NATIONS: Pakistan said on Wednesday it hoped a UN General Assembly veto initiative would bring greater responsibility in the conduct of five permanent members of the United Nations Security Council.
The General Assembly decided on Tuesday to automatically meet within 10 days, if any of the five members used a veto to block a move in the Security Council.
The initiative also requires the veto user to defend its conduct in the General Assembly. The move would allow other members to debate it as well. The five veto wielders are Britain, China, France, Russia and the United States.
The resolution containing the veto initiative was co-sponsored by 83 member states. Introduced by Liechtenstein, the resolution was adopted by consensus.
Explaining its position after the vote, Pakistan said it agreed with the overall objective of the resolution, which "is to bring greater responsibility in the conduct of the permanent members of the United Nations Security Council".
Pakistan appreciated the co-sponsors' assurance that the resolution and its provisions would not prejudice the intergovernmental negotiations on Security Council reform. Pakistan opposes adding more permanent members to the council on the current pattern.
Pakistan noted that the trigger for holding the General Assembly session in the wake of a veto from a permanent member "is a situation where the Council is prevented from acting on questions relating to maintenance of international peace and security".
Source: Dawn
Please click the following URL to read the full text of the original story:
https://www.dawn.com/news/1687180/pakistan-calls-for-greater-responsibility-in-using-veto
--------
Afghan refugees in Germany moved from govt housing amid Ukrainian influx
April 27, 2022
LONDON: Germany has moved hundreds of Afghans from temporary government housing to accommodate Ukrainian refugees, The Independent reported on Wednesday.
Over the past decade, about 630,000 Afghans applied for EU asylum, with Germany accepting some of the highest refugee numbers in Europe.
The German government said the evictions in Berlin were taking place because the Afghan families had been using short-term arrival centers.
But TareqAlaows, a board member of the Berlin Refugee Council, said some of the Afghans had been evicted from housing that they had used for years.
"The evictions purposefully weren't publicized," he added. "Some people had lived in their homes for years and were ripped out of their social structures, including children who were moved to locations far from their respective schools."
Alaows told Foreign Policy magazine: "Few people's living conditions improved, but most were afraid to speak up, afraid it could impact their immigration status."
He said the blame does not lie with Ukrainian refugees, but there is a difference in their treatment and how authorities handled the Afghan refugee influx.
"The last months showed that different treatment of refugees is possible, and this needs to be systematically anchored in our society," he added.
Berlin's Senate Department for Integration, Labor and Social Services cited "operationally necessary and difficult considerations" as a basis for the evictions, and said there was "no alternative" due to Ukrainian arrivals needing immediate shelter.
Stefan Strauss, the department's press secretary, said: "We regret that this caused additional hardships to the Afghan families and that the affected people had to move out of their familiar surroundings, and now possibly have to keep up with their social connections with great difficulty."
He added that the German capital hosts about 22,000 refugees in 83 accommodation centers, but that Ukrainian arrivals need to be housed together for processing purposes. He said the evicted Afghans were provided with equivalent housing elsewhere.
Germany has officially admitted 160,000 Ukrainian refugees since the start of the conflict on Feb. 24.
Source: Arab News
Please click the following URL to read the full text of the original story:
https://www.arabnews.com/node/2071931/world
--------
South Asia
Bangladesh Communal Harmony: A Hindu Donates Land For Mosque And A Muslim For Crematorium
28 Apr 2022
Over the last few years, there have been a smattering of unsavoury incidents stemming from religion being used by fundamentalists to sow discord and division that threatened to tear apart the secular fabric of Bangladesh.
However, in Bagerhat, two men of different faiths -- one a Hindu teacher and the other a Muslim politician -- are earning plaudits for delivering a lesson in communal harmony through their acts of charity.
Pranab Kumar Ghosh, an assistant professor at FakirhatAzahar Ali Degree College, donated land for the construction of a mosque while Sheikh Mizanur Rahman, a local Awami League leader, gave away a piece of his land to be used as a cremation ground in FakirhatUpazila.
The issue was widely publicised at a recent event marking communal harmony in the district.
When the Khulna-Mawa highway opened a few years ago, the junction at the Attaki village in FakirhatSadar Union gained prominence. It would go on to be called 'Biswa Roader Mor'.
People from 18 districts now regularly travel through the Upazila. A bus stand and many shops line the junction.
As there was no mosque in the area, locals sought the help of Pranab, a landowner in the area. He agreed and subsequently donated land for the mosque.
Initially, a small prayer house was built there. It was later replaced by a two-storey building constructed on 16 hectares of land.
Meanwhile, the central crematorium of the followers of Sanatan Dharma on the banks of the river Bhairab in FakirhatSadar was washed away. Sheikh Mizanur Rahman, who owned land next to the crematorium, gave it to the Hindus to build a new crematorium.
Addressing the matter, Pranab said, "A lot of shops have cropped up here after Biswa Road was built. There are about 50 shops on my land. The shopkeepers here were having trouble finding a place to offer prayers. When they came and asked me, I gave them a place behind the market."
"We are moving forward in harmony with each other. The harmony here is still the same as it was before the mosque was built. It will never be lost. "
Gaus Sheikh, an official at the mosque said Pranab made the decision after his childhood friend, MoniruzzamanBablu, spoke about the problem facing locals.
"Pranab sir did not just give us land. Think about this mosque -- look into the pros and cons. When he was invited to the mosque, he came and we ate together. He has given as much land as needed for an Eidgah [open air enclosure] and a separate space for women to pray."
Mizanur, a former vice chairman of Fakirhat Union Council, said he was deeply moved by the thought that a community of people did not have any land to conduct the funeral rites for their dead.
"People from different communities, including Hindus and Muslims, live here. When the central cremation ground was swallowed by the river, the Hindu devotees had some problems performing their funeral rites. I owned land next to the cremation ground. When local Hindus asked for it, I gave it to them."
"We want to live in harmony in the days to come," he said.
Recently, The Hunger Project, an international organisation, arranged a gathering to celebrate communal harmony in Attaki village. The issue of the land donations made by the two men came up during the event.
Khan Mahmud Ariful Haque, coordinator of The Hunger Project, said, "We have been working for a long time on religious and political harmony. Two people of two religions in the area have set a unique example by donating land for each other's religious institutions."
Source: Bdnews24
Please click the following URL to read the full text of the original story:
https://bdnews24.com/people/2022/04/28/in-bagerhat-a-lesson-in-communal-harmony-as-a-hindu-donates-land-for-mosque-and-a-muslim-for-crematorium
--------
Bangladeshi scientists launch IsDB-funded eco-friendly homes in Rohingya camps
April 27, 2022
DHAKA: Bangladeshi scientists have introduced eco-friendly housing to Rohingya refugee camps in Cox's Bazar using a new durable material developed in a project financed by the Jeddah-based Islamic Development Bank.
Bangladesh hosts more than 1.1 million Rohingya who fled neighboring Myanmar during a military crackdown in 2017. Most of them live in Cox's Bazar district, a coastal region in the country's east, which with the arrival of Rohingya, became the world's largest refugee settlement.
The location, climate and topography of Cox's Bazar make it vulnerable to natural hazards and extreme weather events such as cyclones, landslides and flash floods. The Rohingya crisis has increased the size of the population, creating new environmental risks due to deforestation and infrastructure pressure.
The construction of sustainable housing based on jutin — a combination of jute fiber and resin — has been spearheaded in Cox's Bazar by the Dhaka-based ICDDR,B (formerly known as the International Centre for Diarrhoeal Disease Research, Bangladesh), one of the world's leading global health research institutes that also undertakes environmental intervention work.
"The houses made of jutin are heat resistant, which means people will feel significantly cooler temperatures while living in these houses compared with outside temperatures," project coordinator Dr. Mohammad Mahbubur Rahman told Arab News earlier this week.
In a pilot project, the ICDDR,B has built six jutin houses in Cox's Bazar. Two of them are expected to be handed over to Rohingya refugees and another four will host communities in the area next month.
"Our research is still underway," Rahman added. "We are now collecting data on these houses in different conditions, like the changes of temperature between day and night, and in different seasons."
Jutin was invented by Bangladeshi scientist Dr. Mubarak Ahmad Khan, who patented the material in 2008.
Lightweight, durable, bio-acceptable, heat and saline water-resistant, jutin has been developed as an alternative housing material in disaster-prone coastal areas of Bangladesh. According to Khan, it is four times stronger than tin, which is traditionally used in small house construction.
"Jutin is mainly a housing material which can be used instead of wood. It also has uses in the electric appliance and car-making industry," Khan said. "In the cyclone-prone areas, sometimes people get injured when tin from the roofs flies away due to gusty winds."
ICDDR,B research on introducing jutin to the camp areas of Cox's Bazar was financed with an $100,000 grant under IsDB's "Transform Innovation" initiative.
It costs about $1,000 to build one 14-square-meter jutin house measuring 2.6 meters in height.
Dr. Farjana Jahan, principal investigator of the jutin house pilot project, said that makeshift houses for Rohingya refugees are mainly made from plastic that is replaced every six months.
"Jutin houses are much more durable and last up to 60 years," she told Arab News. "Jutin can be considered as a climate smart solution for addressing the shelter issues in the Rohingya camps.
Source: Arab News
Please click the following URL to read the full text of the original story:
https://www.arabnews.com/node/2072091/world
--------
EU Delivers 34 Tonnes of Humanitarian Aid to Afghanistan
28 Apr 2022
European Commissioner for Crisis Management JenezLenarcic on Wednesday, April 27, 2022, said that the European Union has delivered 34 tonnes of food and medical supplies to Afghanistan in a bid to help medicated the Afghan humanitarian crisis.
JenezLenacic in a Twitter post said that the Air Brigade landed at Kabul International Airport on Wednesday and the assistance will soon be distributed to people in need.
"Today, another Humanitarian Air Brigade landed in Kabul, carrying 34 tonnes of nutritional items and medical supplies." Reads the Tweet.
As per the European Commissioner that was the 15th air brigade operation carried out since August 2021 which is a sign of the European Union's continued commitment to support the Afghan people in these challenging times.
It comes as the Netherlands has also allocated EUR 20 million in humanitarian aid to Afghanistan.
Source: Khaama Press
Please click the following URL to read the full text of the original story:
https://www.khaama.com/eu-delivers-34-tonnes-of-humanitarian-aid-to-afghanistan-67578576/
--------
US Left $7bn worth of Military Equipment in Afghanistan: DoD
28 Apr 2022
Department of Defense of the United States said that they have left behind $7.12 billion worth of military hardware in Afghanistan as the Taliban has taken over the country.
The DoD reports that are obtained by CNN indicate that the military equipment includes aircraft, vehicles, weapons, ammunition, and communication hardware that were once given to the previous Afghan National Defense and Security Forces (ANDSF).
CNN further reports that the US army does not intend to destroy or retrieve the military hardware adding that most of them will go out of function as they need special maintenance.
This comes as the US military destroyed 170 pieces of military equipment including vehicles and aircraft before they conclude the withdrawal in August last year.
Source: Khaama Press
Please click the following URL to read the full text of the original story:
https://www.khaama.com/us-left-7bn-worth-of-military-equipment-in-afghanistan-dod-56785756/
--------
Former Afghan president Karzai urges Taliban to reopen schools for girls
April 26, 2022
Afghanistan's former President Hamid Karzai has raised concerns over the closure of schools for girls, above grade 6, by the Taliban regime, stating that the people of Afghanistan want their girls to return to schools.
"There is no way... that the country can live without our girls going to school. It can't be. The Afghan people will not allow that and I am sure the schools for girls will reopen because that is what the Afghan people want and want clearly," Karzai said as cited by Tolo News.
The Taliban has received constant backlash from other countries as well owing to its decision to shut schools for girls from grades 7 to 12 and it has been about 120 days since Afghan girls have been barred from going to school.
Several Afghan clerics, notable politicians and members of the civil society have urged the Taliban to consider the reopening of schools for the female students and grant them access to education, reported Tolo News.
Further, Human Rights Watch has expressed concerns that banning girls from going to school will lead to a rise in early marriages for them.
Associate Director of the Women's Rights Division at Human Rights Watch, Heather Barr said that thousands of Afghan girls have been denied education for almost a year, emphasizing that blocking them from receiving education will become the cause of child marriage and forced marriage.
"They are imposing a new law with each passing day, but there is a serious will to reopen the schools," said NaveedaKhurasani, a women's rights activist as reported by Tolo News.
Earlier, the United Nations International Children Emergency Fund (UNICEF) said that the closing of secondary and high schools for girl students is a serious issue.
Source: BusinessStandard
Please click the following URL to read the full text of the original story:
https://www.business-standard.com/article/international/former-afghan-president-karzai-urges-taliban-to-reopen-schools-for-girls-122042600403_1.html
--------
Mideast
Thousands of Palestinians pray at al-Aqsa Mosque ahead of Intl. Quds Day
28 April 2022
Palestinians have turned out en masse for prayers at al-Aqsa Mosque as a portrayal of national solidarity against the occupying Israeli regime, as freedom seekers worldwide prepare to mark the International Quds Day.
At least 250,000 Palestinian worshipers congregated at the mosque in the Old City of occupied al-Quds to perform prayers on Wednesday night, defying Israeli threats against such gatherings, Palestinian sources reported.
The large turnout came ahead of International Quds Day, which falls on last Friday of holy month of Ramadan, whereby people rally across the world in support of the Palestinian cause of liberation from Israeli aggression and occupation. The occasion has been designated by Imam Khomeini, the late founder of the Islamic Republic in Iran.
Following the great assembly, Twitter users widely shared videos and photos of the prayers on their accounts.
One of the users posted touching footage of the event, wishing to be among the crowd.
The user also shared the story of a group of young men who used to get arrested every year upon attempting to enter the mosque for 10 years, but eventually succeeded this year.
Another user also shared photos of worshipers offering taraweeh prayers inside al-Aqsa Mosque.
As in previous years, tensions between Palestinians and Israel have ramped up since the beginning of Ramadan, with Israeli forces stepping up raids of al-Aqsa Mosque, assaulting Muslim worshipers inside prayer halls, and providing protection to the Israeli settlers desecrating Islam's third holiest site.
Last Friday, at least 150,000 Palestinians thronged al-Aqsa Mosque to attend prayers, despite restrictions imposed on the entry of worshipers to the holy site.
On the same day, Israeli forces raided the mosque after dawn prayers and fired rubber-coated bullets, stun grenades and tear gas at the Palestinian worshipers at the Dome of the Rock inside the compound.
On Tuesday, during the multinational "Al-Quds Podium" event, Ismail Haniyeh, head of the Gaza-based resistance movement of Hamas' Political Bureau, among other resistance leaders, encouraged Palestinians in their brave resistance campaign against Israel.
The latest wave of Israeli crimes has sparked widespread condemnation from Muslims and other supporters of the Palestinian cause across the world. Large anti-Israeli rallies were held in many European cities and Canada on Tuesday.
The persisting violence has also fueled fears among Israelis of an outbreak of a new war with Gaza.
Jordan intensifying efforts to restore Aqsa status quo
In an effort to ease tensions in al-Aqsa Mosque, Jordan is reported to have stepped up efforts to push Israel to respect the historic status quo of Islam's third holiest site.
According to a report by Reuters, citing Jordanian officials and Western diplomats, the country is ready to discuss the issue in a joint committee with Washington, which could convene after the holy month of Ramadan next week, in a bid to reach an agreement on how to end tensions and avoid violent incidents that could give rise to a wider conflict.
Jordan, which oversees the flashpoint site via its control of the Waqf Islamic religious endowment that manages the compound, accuses Israel of having gradually changed restrictions on worship at the mosque since 2000, undermining a centuries-old tradition under which non-Muslims do not worship in the mosque compound.
The committee aims to identify steps that Israel could take to return conditions at the mosque to those of 22 years ago.
The new diplomatic effort is "to address the roots of the tension and ensure that issues do not flare up again," said a Jordanian official who requested anonymity, adding that Washington had recently been handed a document "clearly" stating the position of the kingdom.
Source: Press TV
Please click the following URL to read the full text of the original story:
https://www.presstv.ir/Detail/2022/04/28/681121/Thousands-pray-at-al-Aqsa-Mosque-ahead-of-Intl-Quds-Day
--------
Erdogan says Turkish courts proved independence by convicting Osman Kavala
28 April ,2022
President Recep Tayyip Erdogan said a decision to jail philanthropist Osman Kavala for life over anti-government protests in 2013 showed that Turkey's courts were independent.
Erdogan said the European Court of Human Rights (ECHR) - which had called for an end to Kavala's detention without a conviction - as well as Ankara's Western allies would have to abide by the court's verdict.
After being detained without a conviction for four and a half years, he was convicted and sentenced to life in prison without parole on Monday for allegedly organizing and financing nationwide protests in 2013.
Seven others were handed sentences of 18 years. All denied the charges. They say the protests erupted spontaneously and were protected by constitutional rights, denying that they organized them.
Ankara's Western allies, rights groups and the ECHR say Monday's decision was politically motivated and meant to intimidate Erdogan's opponents. Opposition parties also criticized the verdict.
Critics say Turkish courts are under the influence of Erdogan and his AK Party, claims they deny.
Erdogan dismissed this again on Wednesday.
"Our judiciary has proved their independence by not bowing down to blackmail by those outside Turkey and their spokespeople," he said.
He also targeted Kavala personally, comparing him to billionaire George Soros and saying that he was the "behind-the-scenes coordinator" of the protests.
"The decision regarding one person made some circles uncomfortable. This man was the Soros of Turkey and the behind-the-scenes coordinator of the Gezi events," he said.
Rights groups say the case was aimed at criminalizing the so-called Gezi protests and creating the perception they were funded by foreign powers.
Turkey now faces suspension from the Council of Europe rights watchdog.
Source: Al Arabiya
Please click the following URL to read the full text of the original story:
https://english.alarabiya.net/News/world/2022/04/28/Erdogan-says-Turkish-courts-proved-independence-by-convicting-Osman-Kavala
--------
Turkey prevents Hamas members from entering its territory: Report
April 28, 2022
A few months after the normalization of relations between Ankara and Tel Aviv, media are reporting that Turkish officials have prevented Hamas members to enter Turkish territory at the request of Tel Aviv.
A Hebrew language newspaper reported that Ankara had barred dozens of the Palestinian Islamic Resistance Movement (Hamas) members from entering Turkey at Tel Aviv's request.
According to the source, Turkish officials have told Hamas leaders that they have economic interests with Israel and that there are new signs that their political relations are improving.
The Zionist newspaper added that Hamas knows that Israel has an influence on Turkey's security affairs saying that in this regard some representatives of the Israeli security agency have traveled to Turkey.
About two weeks ago, Hamas spokesman Hazem Qassem condemned Turkey and Bahrain for supporting Tel Aviv. The Hamas spokesman stressed that the Palestinian martyrdom-seeking operations in the occupied territories were a "resistance" act that "is guaranteed by all international law."
Source: ABNA24
Please click the following URL to read the full text of the original story:
https://en.abna24.com/news//turkey-prevents-hamas-members-from-entering-its-territory-report_1252493.html
--------
Iranian Deputy FM: Any Initiative in Palestine Should End Zionists' Occupation
2022-April-27
Baqeri Kani made the remarks on Wednesday, addressing the first Conference on Referendum in Palestine at Imam Sadeq University in Tehran on Wednesday.
He noted that the cause of Palestine is an issue in which values of the Islamic Revolution, including justice-seeking, freedom-loving and counter-hegemony fighting, are remarkably reflected.
Baqeri Kani referred to the Abraham Accords, warning that the Palestinians' rights have been traded with politics, economy, and temporary security profits of certain governments, while the maximum usage of the project is to give artificial respiration to the occupying regime.
Among all important issues related to Palestine, the topic of humans' life and human rights is of the most importance, he noted.
For seven decades, the Zionist regime has had the biggest compilation of human rights violation, the official said, noting that the issue of Palestine is not limited to the dispute over a part of land because the regime is the systemic violator of human rights in recent history and at international level.
Only a peace based of justice can be sustainable in Palestine, Baqeri Kani said, stipulating that fairness has nothing to do with occupation and incursion by Zionists.
The westerners' support for the occupying Zionist regime has challenged their claims on backing human rights and democracy, he added.
He went on to say that any initiative, which does not end occupation and incursion of Zionists in Palestine, is not a solution, and that the hard solution is resistance and the soft solution would be a referendum; thus, each of the solutions, which help end occupation sooner and pave the way for return of Palestinians to their homeland, can bring about sustainable peace in the region and the world.
Resistance and referendum are two sides of one coin, Baqeri Kani said, adding that all those who claim that they are backing human rights should support resistance.
The Zionist regime and its western allies hatch plots for "eradication of Palestine", without knowing that resistance has its roots in hearts of regional nations, he underlined.
The regime is still facing lack of legitimacy after 70 years of occupation; therefor, along-term program for the Israeli regime is nothing but a mirage, Baqeri Kani said, adding that the Zionists are of the opinion that they can find legitimacy by the use of force and crime while the continuation of incursion and occupation has been threatening the existence of the regime internally.
In relevant remarks on Tuesday, Supreme Leader of the Islamic Revolution Ayatollah Seyed Ali Khamenei warned the Muslims governments that normalization of relations with the Zionists is not the way to help the Palestinians.
"Unfortunately, Muslim governments are acting very badly [vis-à-vis Palestine] and are not even willing to talk about the Palestinian issue. Some of them imagine that establishing relations with the Zionists is the way to help Palestine, while this is a big mistake," Ayatollah Khamenei said, addressing a meeting with a group of university students and representatives of student associations in Tehran ahead of the upcoming International Quds Day.
He added that such normalization would bear no fruit even for the Tel Aviv regime, expressing the hope that the Palestinian people would soon regain their territories and liberate the al-Aqsa Mosque from Israeli occupation.
Source: Fars News Agency
Please click the following URL to read the full text of the original story:
https://www.farsnews.ir/en/news/14010207000766/Iranian-Depy-FM-Any-Iniiaive-in-Palesine-Shld-End-Ziniss'-Occpain
--------
Iranian Interior Minister Dismisses Clash with Taliban Forces at Borders
2022-April-27
"No clashes erupted between Iranian forces and the Taliban on the country's borders; what happened was only a misunderstanding," Vahidi said on Wednesday.
The Taliban thought that some border areas should be under their control, he added, noting that the Iranian border guards could convince that they are wrong.
The presence of the Taliban armed forces in border areas increased the alertness of the Iranian forces but no clashes have taken place, Vahidi said.
Iranian authorities announced on Sunday that the country's main border with Afghanistan which had been temporarily shut down due to a dispute over unauthorized construction of a road along the bordering areas has reopened.
Doqaroun crossing located 18 kilometers off the Eastern Iranian border with Afghanistan was closed on Saturday.
Reports said that the decision had come after some border disputes emerged between Iranian and Afghan authorities.
They added that trucks waiting for border clearance at Doqaroun had been transferred to parking spaces at a safe distance from the frontier.
Other reports said that customs services had been suspended temporarily and staff would only respond to emergency calls at the crossing.
The closure came after reports suggested that Iranian border guards had entered the Afghan territory to stop the construction of a road that authorities said had not been coordinated with the Iranian side.
Doqaroun is the main trade gateway between Iran and Afghanistan. It has seen a surge in shipments crossing from Iran into Afghanistan in recent months.
Government figures show that Afghanistan has remained one of five main importers of Iranian goods even after the rise of the Taliban in August.
Iranian president's special envoy to Afghanistan Hassan KazzemiQomi said that Iran had submitted a protest to the Taliban's ministry of interior to inform the group that any construction project near the border needed the approval of a joint border committee.
Source: Fars News Agency
Please click the following URL to read the full text of the original story:
https://www.farsnews.ir/en/news/14010207000799/Iranian-Inerir-Miniser-Dismisses-Clash-wih-Taliban-Frces-a-Brders
--------
Iranian DM: Escalation of Crisis in World Result of West's Hegemonic Policies
2022-April-27
History shows that the military presence of the US in any part of the world has brought nothing but a wave of insecurity, instability, war, destruction, and displacement in the world, General Ashtiani said in a meeting with his Chinese counterpart Wei Fenghe in Tehran on Wednesday.
He expressed concern over the escalation of security crises in the world, saying that these crises are rooted in the hegemonic policies of the West and the US.
Stressing the need to counter US hegemony in the world by strengthening multilateralism, General Ashtiani said that with the cooperation among independent countries, common security challenges and threats can be addressed.
He referred to the policy of Iran in developing relations with neighboring and Asian countries, and said that holding such bilateral meetings will help to deepen relations between Iran and China and ultimately to maintain peace and security in the region and the world.
General Ashtiani said that the formation of indigenous and endogenous security in the Persian Gulf region is the strategic policy of Iran, and stressed the need for holding security talks between the countries of the region.
Elsewhere, he referred to the outstanding services of Iran in the fight against terrorism, hailing the constructive role of Lieutenant General Qassem Soleimani in this regard.
The Chinese defense minister, for his part, hailed the historical background of Iran-China relations, emphasizing that boosting the level of strategic defense cooperation between the two countries is the purpose of his visit to Tehran.
Many of the world's wars and insecurities are rooted in the US hegemonic and unilateral actions, Wei Fenghe said, adding, "The cooperation of the Armed Forces of Iran and China will play an important role in thwarting such moves."
Iranian Foreign Minister Hossein Amir Abdollahian and his Chinese counterpart Wang Yi in a telephone conversation in September underlined the need to implement the strategic partnership agreement that has already been signed between the two countries.
During the phone conversation, the two sides stressed the implementation of the 25-year comprehensive strategic partnership agreement that was signed by Tehran and Beijing back in March 2021.
Source: Fars News Agency
Please click the following URL to read the full text of the original story:
https://www.farsnews.ir/en/news/14010207000858/Iranian-DM-Escalain-f-Crisis-in-Wrld-Resl-f-Wes's-Hegemnic-Plicies
--------
Human Rights Official Raps European States for Failure to Protect Iranian Missions
2022-April-27
Qaribabadi made the remarks on Tuesday, addressing a conference on "investigating attacks on Iran's diplomatic missions from the perspective of international law" on the occasion of the anniversary of the 1980 attack on the Iranian embassy in London.
He that immunity of diplomatic missions is the absolute right of any country and the host country cannot waive this immunity.
According to Qaribabadi, under international law, representatives of the host country cannot enter an embassy without permission — even to put out a fire.
Most of the attacks on Iran's diplomatic missions have occurred in European countries, he also said, the governments of European countries had a hand in supporting such moves.
Meantime, addressing the conference, Iranian Foreign Ministry Spokesman Saeed Khatibzadeh said that the immunity of diplomatic missions is an obvious right, adding that unfortunately, over the past few years, the employees of the Iranian Foreign Ministry in different countries have been martyred while performing their diplomatic missions.
The Iranian Embassy siege took place from 30 April to 5 May 1980, after a group of six armed men stormed the Iranian embassy on Prince's Gate in South Kensington, London.
Source: Fars News Agency
Please click the following URL to read the full text of the original story:
https://www.farsnews.ir/en/news/14010207000404/Hman-Righs-Official-Raps-Erpean-Saes-fr-Failre-Prec-Iranian-Missins
--------
Minister: Iran to End Flare Burning to Produce Petrochemical Feedstock
2022-April-27
Iran has signed 28 contracts worth one billion euros (1.065 billion dollars) to end flare burning at its industrial plants, Owji said.
He added that the contracts would see all flare stacks removed in two to three years and "these rich gases, which would have been burned into smoke and contaminate the environment, will be used as petrochemical feedstock".
Owji did not specify what partners the contracts had been signed with.
The Iranian minister said the country was also planning to build eight new petrochemical plants and one petrochemical unit in the southern province of Hormozgan that would have a production output of 300,000 barrels per day.
He said Iran needed to increase its refinery output capacity to end the import of petroleum products over the next three to four years.
Earlier this month, Owji said that the country's production of petrochemical products will increase to 140mln tons in the next 3 years.
Based on the schedule, the capacity of petrochemical products will reach 140mln tons by the end of the tenure of the new Iranian government and the figure will show 50 percent growth, he said.
The minister added that the country has signed $16.5bln of new deals in oil industry, which is worth several times the deal with reneging Total.
Due to the sanctions, Owji did not refer to the names of domestic and foreign companies with which Iran has signed agreements in the past seven months.
Source: Fars News Agency
Please click the following URL to read the full text of the original story:
https://www.farsnews.ir/en/news/14010207000642/Miniser-Iran-End-Flare-Brning-Prdce-Perchemical-Feedsck
--------
Iran, China agree to expand military cooperation: Iranian military chief
27 April ,2022
Iran and China have agreed to expand their military cooperation, Iran's top military commander said on Wednesday during a visit by the Chinese defense minister to Tehran.
China's Minister of National Defense Wei Fenghe met with senior Iranian officials in Tehran, including President Ebrahim Raisi.
"In [Wednesday's] meeting with the Chinese minister of defense, we agreed to expand bilateral cooperation in joint military drills, exchange of strategies, training issues and other common fields between the two countries' armed forces so that we can provide better security for the two countries' territories," Maj. Gen. Mohammad Bagheri, chief of staff of Iran's armed forces, told reporters in Tehran after meeting with Wei.
For the latest headlines, follow our Google News channel online or via the app.
Military ties between Iran and China have deepened in recent years. In January, the two countries, along with Russia, held their third joint naval drills since 2019 in the northern Indian Ocean.
Raisi described Tehran-Beijing ties as "strategic" in his meeting with Wei.
"We pursue these strategic relations [with China] regardless of international developments and based on mutual political trust, and the successful implementation of the 25-year comprehensive cooperation agreement is a priority in this regard," state news agency IRNA quoted Raisi as saying.
In 2021, Iran and China signed a 25-year cooperation agreement to strengthen economic and political relations.
Source: Al Arabiya
Please click the following URL to read the full text of the original story:
https://english.alarabiya.net/News/middle-east/2022/04/27/Iran-China-agree-to-expand-military-cooperation-Iranian-military-chief-
--------
Maqloubah, a tasty Palestinian food and a 'symbol of Israel downfall'
28 April 2022
Yusef Jalali
Iran has hosted an Iftar dinner in support of Palestine amid a rise in Israel's violence against Palestinian worshippers at the al-Aqsa Mosque during the holy month of Ramadan.
Maqloubah is a Palestinian upside-down rice, usually cooked with chicken or lamb. Now the Iranian and Lebanese women have taken part in a group cooking of Maqloubah as a solidarity gesture with Palestinian women, amid the escalation of the Israeli violence against Palestinian worshippers at al-Aqsa mosque.
They say Maqloubah is not just a delicious food, but a symbol of the downfall of Israel.
Since the start of the month of Ramadan, Israeli forces have been assaulting Muslim worshippers at the al-Aqsa Mosque compound, injuring scores of people. The escalation in tensions has drawn worldwide condemnation, with protesters calling on the UN to take action to end the regime's crackdown against Palestinians.
This humanitarian move is one of tens of solidarity gestures staged in Iran and worldwide in support of Palestinians. The event also comes ahead of the international Quds Day, a global pro Palestine rally that takes place every year on the last Friday of the month of Ramadan.
Source: Press TV
Please click the following URL to read the full text of the original story:
https://www.presstv.ir/Detail/2022/04/28/681125/Maqloubah-Palestine-Israel-downfall-iftar-
--------


Southeast Asia
Bukit Aman confirms viralled statement on prohibition for use of loudspeakers for azan not in Malaysia
27 Apr 2022
KUALA LUMPUR, April 27 ― The police have confirmed that a statement, which has been viralled on the social media, on the prohibition of the use of loudspeakers for "azan" (Muslim call to prayer) was not issued in Malaysia, but in Pune, India.
Bukit Aman Criminal Investigation Department director Datuk Seri Abd Jalil Hassan said the order was made by Maharashtra Navnirman Sena president Raj Thackeray and was reported by a portal, The New Indian Express, on April 17.
He said Thackeray also ordered the removal of all loudspeakers from the mosque before May 3 and threatened to play the Hanuman Chalisa (Hindu devotional hymn) on loudspeakers of mosques that did not comply with the order.
The police are also investigating the owner of a TikTok account known as 'Syierabahari' for the provocative comment as it could threaten peace and racial harmony in the country," he said in a statement today.
He said the investigation was conducted under Section 505 (c) of the Penal Code for issuing a statement with the intent of inciting certain group or race and Section 233 of the Communications and Multimedia Act 1998, for improper use of network facilities or network services.
Abd Jalil advised the public against making any speculation that could affect the investigation and to be vigilant on issues that affect religious and racial sensitivities.
Source: MalayMail
Please click the following URL to read the full text of the original story:
https://www.malaymail.com/news/malaysia/2022/04/27/bukit-aman-confirms-viralled-statement-on-prohibition-for-use-of-loudspeake/2055908
--------
July 25 hearing for PM's injunction application over 'begged for support' article
April 27, 2022
KUALA LUMPUR: The High Court has fixed July 25 to hear Prime Minister Ismail Sabri Yaakob's application to restrain the owner of a news portal from publishing or repeating an article until the disposal of a defamation suit.
Ismail is suing Agenda Daily and its owner, IzwanMohdZubit, for its article titled "Ismail Sabri bimbangjadi PM paling singkat, 'rayu' jangantariksokongan", saying it implied that he had begged his Perikatan Nasional (PN) allies for their continued support.
Lawyer Joshua Tan, representing Ismail, said the court wrote to parties last week to vacate today's hearing.
"Today's proceeding was converted into case management before deputy registrar IdamaslizaMaarof, and July 25 was set to hear the injunction application," he told FMT.
Tan said an ad interim injunction obtained by Ismail against Agenda Daily on March 4 will remain in force.
The ad interim injunction serves to temporarily protect the plaintiff (Ismail), who filed the application to preserve the status quo, pending the hearing of the interim injunction.
Lawyer Asiah Abdul Jalil represented Izwan, the owner of Agenda Daily Media Enterprise, a business enterprise that operates the news portal.
In his statement of claim, Ismail said the posting, in its ordinary meaning and by inference, meant that he was concerned about ending up as the prime minister with the shortest tenure in Malaysian history.
He said it was also implied that he was desperate to hold on to the office at any cost and was willing to "beg" a certain political party not to withdraw support for him.
He said the posting also gave the impression that he was concerned only about his position and did not care for the people.
He is seeking a permanent injunction, damages and an apology to be published in Agenda Daily and two other local papers.
Agenda Daily, in its defence, said it had practised responsible journalism and the report was not published with malicious intent.
Source:Free Malaysia Today
Please click the following URL to read the full text of the original story:
https://www.freemalaysiatoday.com/category/nation/2022/04/27/july-25-hearing-for-pms-injunction-application-over-begged-for-support-article/
--------
'Sudden death' used as catch-all for many migrant worker fatalities, says analyst
Reshna Reem Ganesan
April 28, 2022
PETALING JAYA: "Sudden death" has been used as a catch-all term for many migrant worker deaths over the past two years, says a senior analyst at the Institute of Strategic and International Studies (ISIS) Malaysia.
Tashny Sukumaran said based on the preliminary findings in the Labour Law Reform Coalition's (LLRC) Occupational Health and Safety Report 2022, migrant community leaders had raised concerns about the catch-all term.
"During the pandemic, 64.2% of deaths were categorised as 'sudden deaths' without further details," she said at a press conference today.
Tashny said union leaders had claimed that employers often paid off the authorities to classify deaths stemming from exhaustion and other work-related maladies as "sudden death" to avoid scrutiny and accountability.
"The government must assume greater responsibility in record-keeping of migrant worker fatalities and injuries, and conduct thorough investigations into claims of sudden deaths to ensure their veracity," she said.
She said migrant community leaders had also claimed that in some cases murders were made to appear as suicides.
"While there is no evidence for this, photographic documentation of alleged suicides allegedly carried out via implausible methods gives credence to this theory," she said.
FMT has reached out to the police for comment on these allegations.
The other key takeaways from the report include a lack of Covid-19 protective measures for migrant workers, poor occupational safety and health standards, and increased vulnerability of female migrant workers.
To address these issues, Tashny suggested that the government develop a programme for migrant workers' families to receive fair and just compensation for past deaths, and the implementation of a cross-border system to verify the payment of compensation to families in the country of origin.
"A Corporate Manslaughter Act should also be enacted that will treat companies as corporate persons and sentence them for criminal offences," she said.
Source:Free Malaysia Today
Please click the following URL to read the full text of the original story:
https://www.freemalaysiatoday.com/category/nation/2022/04/28/sudden-death-used-as-catch-all-for-many-migrant-worker-fatalities-says-analyst/
--------
Bersatu 'will work with anyone' for straight fight against BN
April 24, 2022
KUALA LUMPUR: Bersatu is prepared to cooperate with any political party to ensure straight fights against Barisan Nasional in the coming 15th general election.
Bersatu president Muhyiddin Yassin said the party was currently in the initial stage of discussions to offer a "win-win" formula to achieve that objective.
Muhyiddin, who is also Perikatan Nasional chairman, said an understanding among political parties was important to avoid split votes, as demonstrated by the results of the Melaka and Johor state elections.
He said the initial meetings showed encouraging signs "but we haven't finalised the type of understanding to avoid clashes".
"If our objective is important for the country, then leaders of other parties should be on the same page and they have shown a rather positive reaction but we haven't fine-tuned what would be implemented," he told reporters after Bersatu's breaking of fast event here tonight.
On Friday, Pakatan Harapan secretary-general Saifuddin Nasution Ismail said the coalition was prepared to negotiate and discuss with any political party about electoral cooperation.
Source:Free Malaysia Today
Please click the following URL to read the full text of the original story:
https://www.freemalaysiatoday.com/category/nation/2022/04/24/bersatu-will-work-with-anyone-for-straight-fight-against-bn/
--------
Africa
Jordan pushing to restore Jerusalem mosque status quo - sources
By Suleiman Al-Khalidi
April 28, 2022
AMMAN, April 28 (Reuters) - Jordan has intensified efforts to push Israel to respect the historic status quo of Jerusalem's Al Aqsa mosque and avoid violent confrontations that could threaten a wider conflict, Jordanian officials and Western diplomats said on Thursday.
The officials said Jordan had notified Washington it was ready to discuss the issue with Israel after the end of the holy month of Ramadan next week. The aim would be to identify steps that Israel could take to return conditions at the mosque to those of 22 years ago.
Jordan accuses Israel of having gradually changed restrictions on worship at the mosque since 2000.
The new diplomatic effort is "to deal with the roots of the tension and ensure that matters don't explode again," a Jordanian official who requested anonymity said, adding that Washington had recently been given a paper that "clearly" stated the kingdom's position.
Clashes over the past two weeks between Palestinians and Israeli police at the mosque compound have stoked Arab anger and international concern about a slide back to a wider Israeli-Palestinian conflict.
A tinder-box for Israeli-Arab antagonism, the compound, known as the Noble Sanctuary, is the third holiest site in Islam. Jews refer to it as the Temple Mount and regard it as the holiest site in Judaism.
A Western diplomat said Jordan's proposal did not include convening a joint committee with Israel concerning Muslim and Christian shrines in the Old City of Jerusalem. Several Israeli media outlets said it did, but Jordan is unwilling to concede a such a formal role for Israel.
Jordan, whose ruling Hashemite family has custodianship of the Muslim and Christian sites, says that since 2000 Israel has undermined a centuries-old tradition under which non-Muslims do not worship in the mosque compound.
Amman told Washington that Israel should end restrictions on staffing of Jordan's religious Waqf administration and let it manage all visits by non-Muslims and prevent worship by them, the sources said.
Israel denies accusations by Jordan and Arab states it has tried to change the status quo of Muslim holy sites in the Old City of Jerusalem, which it occupied in the 1967 Arab-Israeli War. It also says it is enforcing a long-standing ban on Jewish prayer at the compound.
Jordan says Israel is restricting access by Muslim worshippers and not restraining Israeli far-right nationalists whose rituals violate the former status quo and, from an Islamic point of view, desecrate the holy site.
"Jordan is continuing its contacts directly with the Israelis and Washington and other international parties to demand that Israel respects the historic situation that existed before 2000," another Jordanian official said.
Source:Reuters
Please click the following URL to read the full text of the original story:
https://www.reuters.com/world/middle-east/jordan-pushing-restore-jerusalem-mosque-status-quo-sources-2022-04-28/?rpc=401&
--------
Ethiopia: 21 Muslims killed in "planned massacre" in Gonder
27th April 2022
At least twenty one people were killed after a group of people attacked mourners at the funeral of Sheik Kamal Legas, a prominent local Sheik in the city who passed away on Tuesday after a short illness. Several reports also indicate mosques were targeted in the attack.
"The number of our brothers killed in Gonder has risen to three. Mosques are currently being attacked; We have heard from residents that homes are being looted in broad daylight and Muslim property is being destroyed. If the state does not respond immediately to the government or the federal government intervenes, it will not be easy to stop," wrote a well know Muslim scholar, Ustaz BediruHussien on his Facebook page.
The Addis Abeba Islamic Affairs' High Council said in a statement on Wednesday that the attack was a "planned massacre". The Council also said that mosques and Qur'ans were burned down, women were raped and properties belonging to Muslims in the city were destroyed.
Source:Siasat Daily
Please click the following URL to read the full text of the original story:
https://www.siasat.com/ethiopia-21-muslims-killed-in-planned-massacre-in-gonder-2316831/'
--------
Clashes in Sudan's West Darfur killed over 210: Governor
27 April ,2022
At least 213 people were killed in three days of violence between Arab and non-Arab groups in Sudan's West Darfur, the state governor said, giving the first official toll for recent clashes.
West Darfur has been gripped by days of deadly fighting largely centered in Krink, a locality of nearly 500,000 people and mostly inhabited by the African Massalit tribe.
"This massive crime left around 201 killed and 103 wounded" on Sunday alone, said West Darfur governor Khamees Abkar in a video published late Tuesday.
The violence first broke out on Friday and escalated when armed men attacked villages of the non-Arab Massalit in retaliation for the killing of two tribesmen, according to the General Coordination for Refugees and Displaced in Darfur, an independent aid group.
At least eight people were killed on Friday, Abkar said, confirming a death toll for that day already reported by the aid group.
The state governor blamed government forces tasked with securing Krink and its environs for "withdrawing without any justification" as the main attacks began early Sunday.
Krink town "was completely destroyed including government institutions," Abkar said. "It is a crime against humanity."
The fighting on Monday spread to Geneina, the provincial capital of West Darfur.
Witnesses have accused the Janjaweed militia of orchestrating the violence.
The Janjaweed was an Arab militia which gained notoriety for its role in the repression of an ethnic minority rebellion in Darfur in the early 2000s under then President Omar al-Bashir.
According to rights groups, many of its members were later integrated into the feared paramilitary Rapid Support Forces, commanded by General Mohamed Hamdan Daglo.
The General Coordination for Refugees and Displaced in Darfur on Monday reported a combined death toll of 180 for the fighting around Krink and in Geneina, including four killed in the state capital on Monday.
Abkar on Wednesday confirmed to AFP that four were killed on Monday, taking the total toll to at least 213.
On Tuesday, Doctors Without Borders, known by the French acronym MSF, said several medical workers were killed in the fighting as hospitals were attacked.
Consequently, "MSF teams have not been able to reach the health facilities we support nor conduct mobile clinic activities" in Geneina and cannot return to Krink, the aid group said in a statement.
The conflict in Darfur that began in 2003 killed more than 300,000 people and displaced 2.5 million, according to the UN.
Source: Al Arabiya
Please click the following URL to read the full text of the original story:
https://english.alarabiya.net/News/middle-east/2022/04/27/Clashes-in-Sudan-s-West-Darfur-killed-over-210-Governor
--------
Former top Sudanese official Suleiman says he's released from detention
27 April ,2022
Former Sudanese Sovereign Council member Mohamed al-Faki Suleiman has been released from detention on bail, he told Reuters by phone on Wednesday.
Suleiman, along with several other top civilian politicians and former officials, was arrested in February on corruption charges stemming from their work on a committee working to dismantle the country's former regime.
Their arrests came after an October coup that ended a power-sharing arrangement between the military and the civilian coalition they represented.
On Tuesday, former cabinet minister Khalid Omer Yousif was released on bail, while Suleiman and another member, Wagdi Salih, saw their detention extended on separate charges, according to lawyers.
Other members of the committee were asked to pay what lawyers described as exorbitant bail.
Suleiman, however, confirmed to Reuters by phone on Wednesday that he had been released.
Source: Al Arabiya
Please click the following URL to read the full text of the original story:
https://english.alarabiya.net/News/middle-east/2022/04/27/Former-top-Sudanese-official-Suleiman-says-he-s-released-from-detention-
--------
French army watches for bombs and potholes as it withdraws from Mali base
27 April ,2022
The French military left a remote base in northern Mali before dawn last week for the last time, one hundred vehicles forming a miles-long convoy across the barren desert terrain.
Helicopters whirred above, air support for hundreds of troops in trucks and armored cars leaving the camp near the town of Gossi. A team of sappers led the way, looking for explosives hidden on the sandy floor.
"We are in the middle of the desert, on a road with big potholes and with a real direct risk from enemies who can lay mines or attack us with a car bomb," said Lieutenant Imran, part of a tactical team charged with protecting the convoy.
This is what France's withdrawal from northern Mali looks like: painstaking and slow, through hostile territory that its forces have failed to secure in ten years of conflict.
The departure from Gossi, which follows similar withdrawals from bases in Timbuktu and Kidal, is part of a staggered pullout announced by France in February, prompted by worsening violence and a breakdown in relations between the two countries.
It marks the end to a mission that began in 2013 with quick successes against extremists who had taken over parts of the north, but which became a quagmire, sucking in thousands of troops and billions of dollars.
Over 50 French soldiers have died in Mali. As the conflict dragged on, anti-French sentiment grew and relations with Mali's military junta, which took power in 2020, frayed beyond repair.
Now a shift in the international fight against terrorists in the region is underway. As France moves out of Mali, Russian mercenaries from Wagner Group have moved in, rights groups and sources say, raising concern among Western powers of a potential spike in violence.
Mali and Russia have previously said that there are no mercenaries in Mali, only Russian trainers helping local troops.
Packing up
The Gossi base, which housed between 300 and 400 troops, is little more than a walled compound surrounded by scrubland. Soldiers slept on cots under the stars. It was abuzz last week as they packed up generators and other kit and loaded them onto trucks.
The journey north to the city of Gao is 160 kilometers (100 miles), but it took the slow-moving convoy a day and half to get there. The soldiers know the route well: miles of thorny scrub, rocky outcrops and the occasional camel. Breakdowns are common.
Before leaving on April 19, the French soldiers handed the base over to the Malian army. As saluting soldiers looked on, the French flag was lowered and removed and replaced with the Malian one.
The base has since been in the headlines. A day after leaving, the French military released drone footage of what it said was men burying bodies close to the base. The army said it was an attempt by Russian mercenaries to discredit French soldiers.
Source: Al Arabiya
Please click the following URL to read the full text of the original story:
https://english.alarabiya.net/News/north-africa/2022/04/27/French-army-watches-for-bombs-and-potholes-as-it-withdraws-from-Mali-base
--------
North America
Irish Member Of The European Parliament Slams US Sanctions On Iran, Others As 'Crime Against Humanity'
28 April 2022
An independent Irish Member of the European Parliament (MEP) has criticized the US government for imposing sanctions on various countries around the world, including Iran, denouncing the move as "a crime against humanity."
Mick Wallace made the remarks in a post on his Twitter account on Thursday, while referring to the recent death of former US secretary of state Madeleine Albright, whom he called a "war criminal."
"Sanctions on Iraq, which war criminal Madeleine Albright thought 'were worth it' were a collective punishment against people of Iraq that killed 500,00 children," Wallace tweeted.
He added that those sanctions amounted to "a crime against humanity," just like the ones imposed on Iran, Venezuela, Syria, Cuba, and Afghanistan.
The US, under former president Donald Trump, launched what it called a maximum pressure campaign against Iran at the time, targeting the Iranian nation with the "toughest ever" sanctions.
Although Trump failed to reach its professed goals with his maximum pressure campaign, the bans have badly hurt the Iranian population.
Albright died on March 23 at the age of 84. She served as America's top diplomat during the administration of former US president Bill Clinton. Albright is widely held responsible for the death of countless Iraqi kids.
Source: Press TV
Please click the following URL to read the full text of the original story:
https://www.presstv.ir/Detail/2022/04/28/681134/US-sanctions-Iran-Iraq-crime-against-humanity-Madeleine-Albright-Mick-Wallace
--------
Vast majority of Afghans turned away by US entry program
28 April 2022
The administration of President Joe Biden has denied nearly 85 percent of the applications it has processed from Afghans who want to enter the US through a program which allows for temporarily waiving immigration requirements.
A new report by The Hill shows the administration has only processed around 2,600 applications from those Afghans who seek to come to the US through the humanitarian parole process. And 2,250 of those applicants have been denied.
Immigrant advocates argue the Biden administration has failed to honor its pledge to assist Afghans who were left behind after the US military's hasty pullout from the war-torn country in August following a swift takeover by the Taliban.
The latest figures put into question the administration's ability to process applications from some 45,000 Afghans now scattershot across the world, as well as the possibility that their applications will be granted.
Although 76,000 Afghans entered the US following its troops' withdrawal, those who left through private charters remain abroad.
Additionally, an estimated over 100,000 made vulnerable because of their ties to the US are still in Afghanistan and have limited options for entering the US.
By February, US Citizenship and Immigration Services (USCIS) had processed fewer than 2,000 of the applications of the more than 43,000 submitted since July 1.
The applications of 1,500 Afghans were denied, while just 170 had been given the green light to come to the US. The new figures indicate 340 have now been granted conditional approval to come to the United States.
Immigrant advocates in the US began filing humanitarian parole applications for Afghans in August in a last-ditch effort to get them on American evacuation flights out of the country before the withdrawal.
By November, however, the agency had posted a list of narrow criteria for Afghan applicants and held a webinar telling attorneys that parole is typically granted only if there's evidence someone faces "imminent severe harm."
The new data shows that the majority of Afghans whose humanitarian parole applications have been reviewed are being denied.
"The administration should immediately create a functioning Afghan parole program, a lifeline for Afghans whom we have left behind. The United States has demonstrated that we have the capacity to implement novel and innovative solutions for vulnerable populations in need of protection. Everyone deserves a safe place to call home," Meredith Owen, director of policy and advocacy at Church World Service, a refugee resettlement agency, told The Hill.
Source: Press TV
Please click the following URL to read the full text of the original story:
https://www.presstv.ir/Detail/2022/04/28/681133/US-Afghans-immigrants-US-withdrawal-
--------
Biden, Clintons herald Madeleine Albright as force for good at Washington funeral
April 27, 2022
WASHINGTON: US leaders past and present praised former Secretary of State Madeleine Albright as a fighter against fascism and a champion of women on Wednesday at a funeral service honoring her life and legacy as the first woman to serve as the United States' top diplomat.
President Joe Biden called Albright a "force of nature" who changed the tide of history and said she was a big reason why the NATO alliance — which he has rallied to support Ukraine against Russia's invasion — is strong and galvanized today.
Albright, who served as secretary of state from 1997 to 2001, died last month of cancer at age 84. The professor, businesswoman, mother and grandmother was heralded as a trailblazer after her death.
"Her name is still synonymous with America as a force for good in the world," Biden told mourners at the Washington National Cathedral.
"She loved to speak about America as the indispensable nation. ... It was about gratitude for all this country made possible for her. It was a testament to her belief in the endless possibilities that only America could help unlock around the world."
Albright and her family fled the Nazis in her native Czechoslovakia during World War Two. They eventually settled in the United States, where Albright grew to become a tough-talking diplomat, famous for a sometimes-sharp tongue and a collection of pins she would wear to send political messages.
Former Secretary of State Hillary Clinton, who as first lady urged her husband, then President Bill Clinton, to choose Albright to be secretary of state, said it was important to heed the lessons of Albright's life experience.
"Once again, we must heed the wisdom of her life and the cause of her public service: Stand up to dictators and demagogues — from the battlefields of Ukraine to the halls of our own Capitol," she said, referring to the Jan. 6, 2021, Capitol attack by supporters of then-President Donald Trump, who was not present at the funeral.
Clinton noted Albright's support of other women.
"She didn't just help other women; she spent her entire life counseling and cajoling, inspiring and lifting up so many of us who are here today," Clinton said.
As US ambassador to the United Nations from 1993 to 1997, Albright raised eyebrows with her response to a 1996 incident in which Cuban jet fighters downed two unarmed US-based planes, saying: "This is not cojones, this is cowardice," using a Spanish vulgarity meaning "testicles."
Former President Clinton said he told her afterwards that it was the best line anyone had used in his administration until then. "I called her and I said, 'I'm just jealous,'" he recalled.
More than 1,400 people were expected to attend Albright's service, according to a spokesperson for the family, including foreign ministers, ambassadors and members of Congress.
The family requested that attendees wear masks inside the cathedral; Washington has experienced a dramatic uptick in COVID-19 cases in recent weeks.
Albright's three daughters gave tributes and former Secretary of State Condoleezza Rice gave a reading from the Bible.
Source: Arab News
Please click the following URL to read the full text of the original story:
https://www.arabnews.com/node/2072031/world
--------
Moscow swaps ex-US marine Reed for Russian pilot jailed in US
April 27, 2022
MOSCOW: Moscow said Wednesday it has exchanged former US marine Trevor Reed, jailed in Russia for assaulting police, for Russian pilot Konstantin Yaroshenko, who was convicted of drug smuggling in the United States.
The prisoner swap comes at a time of soaring tensions between Moscow and Washington over Russia's military operation in Ukraine.
"As a result of a lengthy negotiations process, on April 27, 2022, US citizen Trevor Reed, previously convicted in the Russian Federation, was exchanged for Russian citizen Konstantin Yaroshenko, who was sentenced to 20 years in prison by an American court," Russian foreign ministry spokeswoman Maria Zakharova said on Telegram.
Images released by Russian state TV showed Reed — dressed all in black and carrying a large bag — escorted onto a plane at Moscow's Vnukovo airport by men in military uniform.
Reed, a student and former marine from Texas, was in July 2020 sentenced to nine years in prison by a Russian court after allegedly attacking police officers while drunk.
While being driven to a police station, he allegedly grabbed the arm of a police officer, causing the car they were in to swerve, and elbowed another officer in the abdomen.
He pleaded not guilty to the charges, saying he remembers nothing of the incident.
Source: Arab News
Please click the following URL to read the full text of the original story:
https://www.arabnews.com/node/2071791/world
--------
URL: https://www.newageislam.com/islamic-world-news/mujahid-attacks-pfi-justifying-killings-quran/d/126887
New Age Islam Islam Online, Islamic Website, African Muslim News, Arab World News, South Asia News, Indian Muslim News, World Muslim News, Women in Islam, Islamic Feminism, Arab Women, Women In Arab, Islamophobia in America, Muslim Women in West, Islam Women and Feminism