New Age Islam News Bureau
27 Dec 2018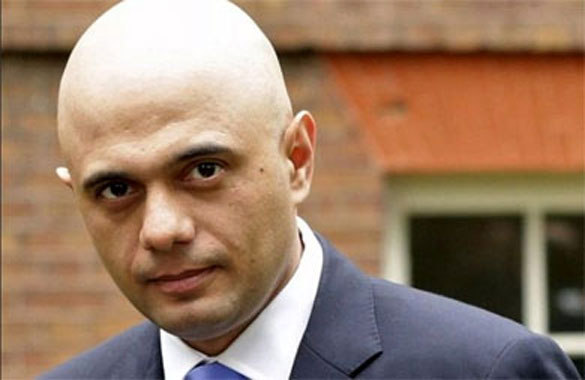 UK Home Secretary Sajid Javid
----
• Sajid Javid, UK Home Secretary Says Most Paedophiles in Country Are Of Pakistani Descent
• The Indonesian Ulema Council Asks To Visit Xinjiang to See Uighurs
• Canadian Imam: Muslims Saying 'Merry Christmas' Worse Than Murder
• NIA Anti-Terror Raids: Islamic State Might Be Dead Abroad, But Hate Politics Is Fuelling Its Resurrection in India
• Journalist's Self-Immolation Sparks Uprising In Tunisian City
• This Pakistani Christmas Song Highlighting Muslim-Christian Harmony Is Winning Hearts Online
Europe
• Sajid Javid, UK Home Secretary Says Most Paedophiles in Country Are Of Pakistani Descent
• See Differences as Asset, Not Danger, Pope Says in Christmas Message
• Germany Mulls 'Mosque Tax' To Help Distract Muslims from 'Foreign Influence'
• Belgian judge orders repatriation of six children of ISIS militants to Syria
• Russia backs bin Salman, warns US not to interfere with Saudi throne succession
• Russia says Syria's Assad is popular in spite of overseeing 7 year war
--------
Southeast Asia
• The Indonesian Ulema Council Asks To Visit Xinjiang to See Uighurs
• 'C For Crescent': Isma Launches Campaign To Recognise Malaysia As 'Islamic State'
• When privileged elites lack empathy for angry minorities
• Mastermind of Chinese Consulate attack killed in Afghanistan
--------
North America
• Canadian Imam: Muslims Saying 'Merry Christmas' Worse Than Murder
• Trump Blunder Reveals Identity of US Navy SEALs in Iraq
• President Erdoğan Has Invited Trump to Visit Turkey in 2019: White House
• Trump defends Syria pullout plan in Baghdad, says US troops to stay in Iraq
• Donald Trump stops at Ramstein base in Germany after Iraq visit
• Russia: The US should transfer its territory in Syria to Assad
--------
India
• NIA Anti-Terror Raids: Islamic State Might Be Dead Abroad, But Hate Politics Is Fuelling Its Resurrection in India
• Ban on Namaz in UP Parks: Here's What Intellectuals Say
• Noida Namaz Row: Muslim Workers Say Park Was A Convenient Place To Offer Prayers
• Muslim Man Holds Goga Maharaj Yagna for the Gesture for Communal Amity
• Muslim Couple Donate 100 Sqyd Land for Temple in Uttar Pradesh
• Will move court, if ordinance is brought on Babri Masjid: AIMPLB
• NIA arrests 10 IS suspects for planning terror attacks in Delhi
• From engineering student to welders: The men who were part of ISIS-inspired group busted by NIA
• Terrorists using hideouts away from habitations indicate dwindling of their support base: Officials
• Kerala youth arrested by NIA in two-year-old ISIS case
--------
Africa
• Journalist's Self-Immolation Sparks Uprising In Tunisian City
• Nigeria says 14 military, police killed in Boko Haram ambush
• 18 arrested in Tunisia amid violent protests
• Saudi Arabia condemns terrorist attacks in Libya, Afghanistan, Iraq
• Boko Haram kills 13 soldiers, a policeman in Nigeria
• Sudan Islamist party urges probe into killing of protesters
--------
Pakistan
• This Pakistani Christmas Song Highlighting Muslim-Christian Harmony Is Winning Hearts Online
• Pakistan claims it foiled al-Qaeda attack at Christmas ceremony
• Banned BLA leader killed in Kandahar suicide attack
• Two Pakistani nationals return home after release from Indian jails
• Afghan peace process: Pakistan takes friends on board
• Beijing, Islamabad discuss 'new changes' in Afghanistan issue
--------
South Asia
• Afghanistan postpones next year's presidential election
• Iran launches separate talks with Taliban in response to UAE, Saudi Arabia, US
• Confirmed: Iran talking to Taliban 'to aid Afghan security'
• Rohingya find barriers to return to Myanmar
• NSA Hamdullah Mohib says ISIS has been defeated in Afghanistan
• Afghan forces repulse coordinated Taiban attack on Almar district
--------
Arab World
• Calgary's Syrian, Muslim Communities Donate Blood Over The Holidays
• Trump Defends Syria Pullout While On Surprise Visit To Iraq
• German parliamentary report: Turkey has already invaded Syria
• In first, former Egyptian presidents Mubarak and Morsi face-to-face in court
• Iranian people, officials attend funeral service for late Ayatollah Shahroudi
• US support emboldens Israel to attack Syria: Foreign Ministry
• Former Iraqi premier responds to Bahrain's criticism of his remarks
• Russia: Eastern Syria must return to govt. control after US exit
• Muslim World League chief receives Japanese scholars in Riyadh
--------
Mideast
• Palestine to Apply For Full UN Membership Early Next Year, Foreign Minister Says
• Sporadic clashes reported in Hudaydah ahead of truce committee meeting
• Iran held talks with Afghan Taliban amid peace push
• Israeli parliament approves early elections
• Yemeni army liberates new fronts in heart of Houthi stronghold Saada
• Palestinian security forces block press conference by parliament speaker
Compiled by New Age Islam News Bureau
URL: https://www.newageislam.com/islamic-world-news/sajid-javid-uk-home-secretary/d/117284
--------
Sajid Javid, UK Home Secretary Says Most Paedophiles in Country Are Of Pakistani Descent
December 27, 2018
UK Home Secretary Sajid Javid on Wednesday said that a high proportion of men involved in gang-based child exploitation in the country are of Pakistani descent.
Speaking on BBC Radio 4 Today, Javid – who has Pakistani heritage – said that ignoring the ethnicity of abusers gives "oxygen" to extremists.
The home secretary had faced backlash for a tweet earlier this year referring to "sick Asian paedophiles". He said that he wanted officials researching the causes of gang-based exploitation to leave "no stone unturned".
When asked by the British-Pakistani novelist Kamila Shamsie, who was guest-editing the programme, whether he was concerned that his comments may have fuelled hate crimes, he said that he was "very much aware of the need for politicians to be careful with their language".
Grooming gangs have recently been convicted in Huddersfield, Oxford, and Rotherham.
"There could be – I'm not saying that there are – there could be some cultural reasons from the communities that these men came from that could lead to this kind of behaviour," Javid said.
The home secretary has called for research into the "characteristics and contexts" of gangs abusing children, arguing that ignoring issues such as ethnicity is more likely to fuel the far-right.
"When I am asking my officials to go away and do research to look into the causes of gang-based child exploitation, then I want them to leave no stone unturned and to look at everything," he added.
"For me to rule something out just because it would be considered sensitive would be wrong," he said.
"If I had ignored it, or been seen to ignore it, that is exactly what I think extremists would like to see in this country. It would give them oxygen and I refuse to do that," he said.
https://www.pakistantoday.com.pk/2018/12/26/uk-home-secretary-says-most-pedophiles-in-country-are-of-pakistani-descent/
--------
The Indonesian Ulema Council Asks To Visit Xinjiang to See Uighurs
December 27 2018
The Indonesian Ulema Council (MUI) has expressed hope that the Chinese government will give access to its representatives to Xinjiang autonomous region to see with their own eyes what is really happening to the Uighur Muslim minority.
Speculation was rife that the Chinese government had sent around a million Uighur Muslims to a special camp where they were being tortured.
However, the Chinese government denied the reports, saying that the people were sent to what they called a reeducation camp to receive training on China's common language, legal knowledge, vocational skills and other things.
In a statement made available to The Jakarta Post, a Chinese Embassy spokesperson said some Xinjiang residents had struggled to find jobs because of their poor command o
https://www.thejakartapost.com/news/2018/12/27/ulema-council-asks-visit-xinjiang-see-uighurs.html
--------
Canadian Imam: Muslims Saying 'Merry Christmas' Worse Than Murder
26 Dec 2018
Islamic cleric Younus Kathrada has told young Muslims that wishing fellow Canadians a Merry Christmas is a worse sin than adultery, lying, and murder.
Footage published on social media by the Washington D.C.-based Middle East Media Research Institute shows Imam Kathrada delivering the sermon to the Muslim Youth of Victoria, British Columbia, saying that "with great sadness" he has witnessed Muslims wishing non-Muslims a Merry Christmas and lamented that some "may take party in their holiday as well."
"Do you know that you and I must be offended when people say they worship Jesus? Or when they say that Jesus is the son of God?" the sheikh asked.
"There are those who will say to them 'Merry Christmas.' What are you congratulating them on?" he asked.
"Congratulations on the birth of your Lord? Is that acceptable to a Muslim? Are you now approving of their beliefs? By saying that you are approving of it."
Sheikh Kathrada, whose profile on the Muslims in Calgary website describe him as a South African born "community and youth activist," then said, "If a person were to commit every major sin — committing adultery, dealing with interest, lying, murder…
"If a person were to do all of those major sins, they are nothing compared to the sin of congratulating and greeting the non-Muslims on their false festivals."
The fundamentalist Islamic preacher caveated his statements by saying that Muslims should not "treat the non-Muslims in a bad way," clarifying, ""I'm not saying, and I've never said, go out and just kill them, and do this to them.
"No! Because Allah tells us not to allow the enmity that may exist between you and a people to cause you to be unjust towards them. Rather, be just."
Iranian-born Australian Shia Muslim scholar Mohammad Tawhidi, an Islamic reformer who celebrates Western culture, promotes Muslim integration, and a keen wisher of Merry Christmases, called Kathrada a "fanatic fundamentalist cleric" and urged his Twitter followers to go to the cleric's Facebook page "to wish him a Merry Christmas."
While Kathrada was telling young, Western-born Muslims to refrain from wishing a Merry Christmas to their fellow countrymen, the government of Muslim-majority Iraq declared Christmas day a national holiday and gave their "warmest wishes to Christians in Iraq and around the world."
And for the first time since 2011 in conflict-stricken Syria, Christians and Muslims celebrated Christmas in Damascus, Aleppo, Latakia, Tartus, Homs, and Hama.
https://www.breitbart.com/europe/2018/12/26/canadian-imam-muslims-saying-merry-christmas-worse-murder/
--------
NIA anti-terror raids: Islamic State might be dead abroad, but hate politics is fuelling its resurrection in India
Praveen Swami
Dec 26, 2018
In the summer of 2016, with the spectacular ravines of the Euphrates stretching out in the background, a soft-spoken eye-hospital technician from Mumbai spoke to India from the Islamic State's capital at al-Raqqa.
"Do you not remember the serial blasts on the trains in Bombay?"
"Have you forgotten the serial blasts in Gujarat? Have you forgotten the destruction in Delhi and in Jaipur?
"We will deliver unto you a reckoning far more terrible than these... and will wage war upon you until polytheism is destroyed in India, and Allah's rule is established," he warned.
Like most of the 70-odd Indians who went to fight among the ranks of the Islamic State, Abu Rashid is almost certainly interred under the ruins of Raqqa or Mosul. But their dystopia didn't.
Wednesday's arrests by the National Investigations Agency in Delhi and Uttar Pradesh, preempting what officials say were plans to stage bombings in New Delhi over the New Year, demonstrate the Islamic State's jihadist call is seducing some young Muslims in a time of deepening communal fractures.
Ever since 2009, over 91 jihadist cells have been dismantled by the NIA, which deals mainly with cases having pan-India significance; 63 of those have come since 2015. The Islamic State has been the biggest single contributor to this basket with 24 cases. Twenty-three of these cells were from Kashmir while 43 included other jihadist groups put together.
Wednesday's arrests have provided some important insights into the nature of the threat. Incensed by what he perceived to be growing state-abetted violence against Muslims, NIA sources say, Delhi-born cleric Mufti Muhammad Suhail — code-named Hazrat or Prophet — mobilised young men and recruited them through his mosque in Amroha.
The cell, the NIA believes, was mentored by an Islamic State supporter overseas, likely in Pakistan — though they have so far been unable to dig out evidence of his identity through the mass of encrypted messaging the group used to communicate.
Earlier Islamic State cells in India have had little operational success. Barring a 17 March, 2017, bombing on board a Bhopal-Ujjain bus, there has been no operation of significant scale.
But this time, the cell meant business. Helped by nothing but internet research, NIA investigators believed, the men had gathered 25 kilogrammes of potassium nitrate, ammonium nitrate, sugar and sulphur — easily turned into low-grade explosives — meant to be packed inside metal lunch-boxes, and detonated using simple remote-controlled devices. The cell had gathered 12 pistols, 150 rounds of ammunition, and even assembled a simple rocket-launcher.
Put simply, this the first Islamic State group that had acquired the necessary elements for true lethality. Had the Telangana Police's counter-terrorism unit, regarded as the most sophisticated operational unit of its kind in India, not broken into their digital conversations, this New Year would have looked very different.
Muhammad Suhail may have been a cleric, as was his aide and alleged weapons-procurer Saqib Iftekar, but the men the two recruited weren't. Delhi resident Anas Yunus, alleged to have purchased the electrical components for the bombs, studies civil engineering at a university in Noida; Zubair Malik, who allegedly bought SIM cards for the plot is in the final year of a Bachelor's programme in a New Delhi university. His brother, Zaid Malik, also accused of purchasing SIM cards and components, also has a university education.
The brothers Saeed Ahmed and Raees Ahmed, accused of purchasing the explosive material and fabricating the rocket-launcher, run a welding workshop in Islam Nagar.
Also accused are: garments business owner Rashid Zafar Raq, auto-rickshaw driver Muhammad Irshad, and medical-store owner Mohammad Azam. According to investigators, the group even included a middle-aged woman, who was given the charge of safely keeping the ₹7.5 lakh in cash that the group raised among themselves and from their supporters. However, it is unclear if she knew what it was intended for.
From the government's data, it's clear that those drawn to the Islamic State's ideology aren't the stereotypical madrasa-educated fanatics. Instead, they are members of the Muslim middle class, who the government says are deeply attached to the Indian democracy.
Estimates based on government data show that almost three in four Islamic State suspects arrested on terrorism charges — 68 percent — came from middle-class backgrounds while a similar percentage had a university or post-graduate degree. Eleven percent, a small sub-set, had some kind of religious education.
In interrogations by the NIA, half the suspects said communalism — ranging from riots to compulsory yoga practice — led them to join the Islamic State. Barely half of them cited the global Islamist project that underpins the Islamic State.
Counter-terrorism experts around the world have learned that it doesn't take more than an internet connection and some common sense to turn those ideas into dead bodies.
His face masked with a white handkerchief, an assault rifle cradled in his lap, and wearing the combat fatigues in which he would be buried, Muhammad Taufiq delivered his only testament in the rolling accent of the Deccan:
"Twenty-five years ago, our enemies destroyed a mosque, but their eyes were not only on the Babri Masjid. These perfidious Hindus will keep changing their tactics until their mission is accomplished — and that mission is the elimination of every last Muslim."
Three months later, Taufiq was dead, killed in a shootout with an al-Qaeda cell in Jammu and Kashmir. He'd been twice caught trawling Islamic State websites, and counselled by the police in Hyderabad. Failing to make it to Syria, he chose to die in Kashmir.
Like so many other young jihadists, Taufiq wasn't even born when the Babri Masjid was demolished — and could have chosen a different kind of future. His father works at the Department of Atomic Energy's heavy water plant in Manuguru, a key part of India's nuclear programme. Like his two other sons, Taufiq's father has no connection to Islamist politics or jihadism.
Back in 2016, the Indian jihadists who appeared in the Islamic State video made much the same point. Aman Tandel, one of four Thane men who joined the jihad in Iraq, vowed to return home "with a sword in hand, to avenge the Babri Masjid, and the killings of Muslims in Kashmir, in Gujarat, and in Muzaffarnagar".
The language is designed to provoke rage among Indians — but it should also be a reason for reflection, on why these young men ended up where they did.
Ever since December 1993, there have been successive waves of jihadist recruitment. That tragedy saw the rise of jihadists lead by Abdul Karim Tunda heading into the Lashkar-e-Taiba. Following 2002, another generation formed the Indian Mujahideen. And following the Indian Mujahideen's collapse, many of its members — among them, Mumbai eye-hospital worker Ahmed — fled for the Afghanistan-Pakistan borderlands, and then Syria.
The small numbers involved in these violent groups, given India's giant Muslim population, demonstrate their cause has no wide appeal. Yet, communal violence enables and legitimises the operations of successive waves of jihadist groups, drawing in young recruits who believe democracy has betrayed them. That, in turn, feeds and empowers the Hindu-nationalist range.
Each successive cycle of hatred makes the process more powerful, increasing the risk of large-scale violence that could tear the country apart. India's police and intelligence services can take a bow— but the country needs to find a way to dismantle this perpetual motion machine of hatred if their efforts are to have meaning.
https://www.firstpost.com/india/nia-anti-terror-raids-islamic-state-might-be-dead-abroad-but-hate-politics-is-fuelling-its-resurrection-in-india-5794631.html
--------
Journalist's self-immolation sparks uprising in Tunisian city
Dec 26, 2018
Clashes have erupted between protesters and security forces in a city in Tunisia following the funeral of a journalist who had set himself on fire over harsh living conditions.
Police fired tear gas at protesters, who had taken to the streets of Kasserine City, 270 kilometers from the capital, Tunis, on Tuesday following the tragic death of Abdel Razaq Zorgi, a 32-year-old journalist, late Monday.
According to Interior Ministry spokesperson Sofiane al-Zaq, six members of the security forces were injured and nine protesters were detained.
'Today, I start a revolution'
Authorities also deployed reinforcements on the main streets of the city, which after a brief calm on Tuesday morning, again turned into a scene of protests and clashes.
People scuffled with police outside the governor's office.
"For the sons of Kasserine, who have no means of subsistence, today I start a revolution. I am going to set myself on fire," Zorgi said in a video published before his death.
The National Union of Tunisian Journalists, which confirmed his death, said Zorgi died protesting "difficult social conditions... and a lack of hope," and that it was considering organizing a general strike in the media sector.
The incident was a reminiscent of the self-immolation of a 26-year-old street vendor in protest at economic hardship in Tunisia in late 2010, which sparked an uprising across the country and led to the overthrow of long-time dictator Zine el-Abidine Ben Ali in January 2011.
That revolution then set off revolts in Arab dictatorships across the Middle East and North Africa — in what became known in the West as the Arab Spring.
Kasserine was one of the first cities to rise up after the street vendor's death back then. Seven years on, Tunisians say they are still struggling with corruption and poverty as inflation hit its highest level in 28 years in June this year.
With unemployment hitting 36 percent last year, the level of anger and frustration among the younger generation remains high as it was during the pre-revolution days.
The authorities, who have taken over after Ben Ali's ouster in 2011, have since attempted to portray the Tunisian revolution as successful and the country on the right path.
https://www.presstv.com/Detail/2018/12/26/583992/Tunisia--Kasserine-journalist-selfimmolation-Abdel-Razaq-Zorgi
--------
This Pakistani Christmas song highlighting Muslim-Christian harmony is winning hearts online
December 26, 2018
Festivals are all about celebrations and spreading joy. So this year, celebrating Christmas, two singers in Pakistan got together to spread the message of unity and communal harmony. The song depicts the beautiful amalgamation of both the communities in Pakistan, with a poignant message, "Let us unite, let's be one" and "one God, one world".
Popular singers Haider Ali Chao and Michelle Sebastain joined hands to present music lovers in the country with its "first Muslim Christian Christmas song". With music arranged by Aamir Qureshi, the video of the song featured people from both the faith donning red and white Santa hats and singing the song happily.
Talking to Mangobaaz, Chao said that "the main aim of the song was to promote inter-religious peace and unity, especially between Muslims and Christians."
"No religion teaches hatred and both the Holy Bible and the Holy Quran teach us to be nothing but virtuous, to love one another and do nothing to hurt a soul. That's the message we want to get across with our song." the report quoted him as saying.
The song was shared widely on social media and many lauded the singers for their beautiful endeavour.
https://indianexpress.com/article/trending/viral-videos-trending/this-pakistani-christmas-song-highlighting-muslim-christian-harmony-is-winning-hearts-online-5510658/
--------
Europe
See Differences as Asset, Not Danger, Pope Says in Christmas Message
December 26, 2018
Vatican City. Pope Francis, in his Christmas message to the world, urged people on Tuesday to see differences as a source of richness instead of danger and called for reconciliation in places torn apart by conflict.
Francis delivered the traditional papal "Urbi et Orbi" (to the city and the world) message to tens of thousands of people in a sunny St. Peter's Square from the same basilica balcony where he first appeared as pontiff shortly after his election on March 13, 2013.
Security has been tight around the Vatican for the Christmas season, with military jeeps stationed at key access routes and tourists undergoing metal detector and bag searches.
Last week police in southern Italy arrested a Somali man suspected of having been a member of Islamic State and who had threatened to bomb churches in Italy, including St. Peter's.
In his address, in what appeared to be a reference to the shrill political climate in a number of countries, Francis called for "fraternity among people with different ideas, yet capable of respecting and listening to one another."
Francis, the first pope from Latin America, alluded to polarization over migration, saying God wanted "love, acceptance, respect for this poor humanity of ours, which we all share in a great variety of races, languages, and cultures."
"Our differences, then, are not a detriment or a danger; they are a source of richness," he said.
Francis, 82, called for the resumption of dialogue between Israelis and Palestinians to "undertake a journey of peace that can put an end to a conflict that for over 70 years has lacerated the land chosen by the Lord to show his face of love."
He urged the international community to work for a political solution in Syria and said he hoped a truce brokered in Yemen's civil war could bring relief to a population exhausted by violence and famine.
The Argentinian-born pope also called for social harmony in Nicaragua and Venezuela, both racked by internal political conflicts.
The millions of refugees or displaced people in Africa who are in need of humanitarian assistance and food security should not be forgotten, he said.
In Ukraine, he called for "a peace respectful of the rights of every nation." Ukraine's relations with Russia have been locked in a downwards spiral since Moscow annexed Crimea 2014 and backed pro-Russian separatists in eastern Ukraine.
https://jakartaglobe.id/international/see-differences-asset-not-danger-pope-says-christmas-message/
--------
Germany mulls 'Mosque tax' to help distract Muslims from 'foreign influence'
26 Dec, 2018
In a bid to curb a potentially radicalizing foreign influence on its Muslim residents, German lawmakers are considering a new "mosque tax," intended to make Muslim communities self-reliant and under more control.
Many German mosques are sponsored and are de-facto controlled from abroad, leaving local authorities in the dark about what happens inside. Now, several MPs have come up with an idea that they call a "solution" for a problem that has become increasingly unnerving for Berlin in recent years.
The MPs' proposal involves the introduction of a special tax to be paid by all practicing Muslims in Germany, which would then be redistributed by the state among all officially registered Islamic religious institutions. A similar tax already exists in Germany and some other European countries for Catholic and Evangelical Christians.
The initiative is aimed at helping "Islam in Germany free itself from the influence of foreign states and get a stronger domestic orientation," Thorsten Frei, the deputy head of Chancellor Angela Merkel's Christian Democratic Union (CDU) faction in the German Parliament, said, calling the proposed tax "an important step in that direction."
Frei's idea immediately received support from other members of the ruling Grand Coalition. "Independent financing" would make the communities congregating in mosques in Germany more "transparent," Michael Frieser, a legal expert and a member of the Bavarian Christian Social Union – a long-time CDU ally, said. A prominent member of the Social Democratic Party, Burkhard Lischka, called the suggestion "worthy of discussion."
Other suggestions voiced by MPs include legally obliging the imams preaching in Germany to upload their sermons on the internet uncut. "The mosques must be open and transparent," said Frieser.
However, any potential legislation on that matter has a long way to go before it could be implemented. Any draft bill should be first discussed with the German states as it falls within their jurisdiction, Lischka explained. So far, no detailed account of the future legislation has been presented.
Still, the idea also seemingly received backing from the Interior Ministry, which said "it can be a solution." However, the ministry also said that the initiative would mostly rely on grassroots support from the Muslim communities themselves as it would still require a great deal of self-organization on their part.
The German Muslim community has so far remained conspicuously tight-lipped about the initiative. An outspoken unorthodox female preacher, Seyran Ates, founder of the first "liberal" mosque in Berlin, has been the only one to comment on the initiative so far. Ates backed the proposal by saying that "in the future everything that the community needs could be paid-for by its members themselves."
For now, most Muslim religious institutions in Germany rely on foreign aid in some form. The Turkish-Islamic Union for Religious Affairs (DITIB), directly controlled by Ankara, is considered to be one of the largest organizations contributing to German mosques as it exerts influence over 896 Muslim communities across the country. Turkish President Recep Tayyip Erdogan personally opened one of the newly built mosques in the German city of Cologne during his visit in September.
DITIB might be one of the most influential Muslim organizations in Germany but the authorities are apparently more concerned about some other forces, which also seek to gain influence over German Muslims and which are much more radical. In 2017, German security forces warned that extremists from the Muslim Brotherhood –a radical Salafist organization established in 1928– were seeking to gain a "monopoly" over mosques in the eastern German state of Saxony and were even planning to "establish Sharia law in Germany."
Earlier reports in the German media also suggested that Islamic religious groups from Gulf States such as Kuwait, Qatar and Saudi Arabia are supporting the radical Salafist movement in Germany with the suspected approval of their governments. The activities of the foreign-funded Islamic NGOs have caught the attention of the German authorities following the 2015 refugee crisis, as Berlin grew increasingly concerned that their actions would lead to further radicalization of German Muslims as well as refugees, who arrived there in large numbers.
The German domestic intelligence service, the BfV, has also warned that the Salafist movement became one of the most rapidly growing extremist groups in Germany. In late 2017, the then-head of the agency, Hans-Georg Maassen, said that there is now a record number of Islamists in Germany, putting their number at roughly 11,000.
Full report at:
https://www.rt.com/news/447468-germany-mull-mosque-tax/
--------
Belgian judge orders repatriation of six children of ISIS militants to Syria
26 December 2018
A Belgian judge has ordered the government to repatriate six children of ISIS militants and their mothers who have been detained in a camp in Kurdish-controlled Syria, the national news agency Belga said on Wednesday.
Tatiana Wielandt, 26, and Bouchra Abouallal, 25, both Belgian citizens, and their children have been held in the Al-Hol camp in since the defeat of IS in nearly all territory it once held in Syria and Iraq.
Belga quoted the court ruling as ordering the Brussels government to take all necessary and possible measures to ensure the six children and their mothers can return to Belgium.
It must do so within 40 days after being notified of the decision or pay a daily penalty of 5,000 euros for each child, up to a maximum 1 million euros, newspaper De Tijd said. The Belgian government can appeal the ruling.
No comment was available from the court on Wednesday due to a public holiday. A lawyer for the two women was not immediately available for comment. A spokesman for the foreign ministry said it would "analyze the situation together" with the justice and interior ministries.
Kurdish militias
Hundreds of European citizens, many of them babies, are being kept by US-backed Kurdish militias in three camps since ISIS was ousted last year from almost all the large swathes of territory it seized in 2014-15, according to Kurdish sources.
European nations have been reluctant to take them back, regarding children of militants both as victims and threats - difficult to reintegrate into schools and homes.
European diplomats say they cannot act in a region where Kurdish control is not internationally recognized. Moreover, there is little popular sympathy for militants' families after a spate of deadly ISIS attacks across western Europe.
The Kurd say it is not their job to prosecute or hold them indefinitely, leaving the women and children in legal limbo.
Full report at:
https://english.alarabiya.net/en/News/world/2018/12/26/Belgian-judge-orders-repatriation-of-six-children-of-ISIS-militants-to-Syria.html
--------
Russia backs bin Salman, warns US not to interfere with Saudi throne succession
Dec 26, 2018
Saudi Arabia Crown Prince Mohammed bin Salman has "every right" to succeed his ailing father into power, says Russian Deputy Prime Minister Mikhail Bogdanov, warning the United States against interfering with the embattled prince's right to rule the kingdom.
Bogdanov, who is also President Vladimir Putin's envoy to the Middle East, said Tuesday it was up to Riyadh to decide what was next for bin Salman when King Salman, 82, dies.
"Of course we are against interference. The Saudi people and leadership must decide such questions themselves," Mikhail Bogdanov said in an interview in Moscow, according to Bloomberg.
Bin Salman became Saudi Arabia's de facto ruler last year in an untraditional manner, replacing Prince Mohammed bin Nayef, the late Saudi king's son.
Wary of getting bogged down in a power struggle, bin Salman soon launched a widespread crackdown against other royals to cement his grip on power.
However, his actions went mostly unanswered until October this year, when Riyadh admitted to murdering dissident journalist Jamal Khashoggi inside the Saudi consulate in the Turkish city of Istanbul.
The crown prince has also faced worldwide criticism for leading the ongoing deadly war against Yemen, which has killed thousands of civilians.
US President Donald Trump's reluctance to hold the crown prince responsible for his actions has prompted angry bipartisan calls in Washington to remove MbS from power.
Prominent senators have publicly blasted the crown prince, with Lindsey Graham, Trump's staunch ally, calling him "crazy" and "dangerous."
Bogdanov said Tuesday that Americans were in no positions to make such calls.
"The king made a decision and I can't even imagine on what grounds someone in America will interfere in such an issue and think about who should rule Saudi Arabia, now or in the future. This is a Saudi matter."
Russia and Saudi Arabia have established increasingly close ties since bin Salman's appointment. Despite receiving cold shoulders from most world leaders during the G20 summit in Argentina last month, Putin and bin Salman were seen greeting each other with broad smiles and a high five handshake.
The Russian head of state is scheduled to visit Riyadh in 2019.
Some US officials have indicated that they would support bin Salman's uncle, Prince Ahmed, as the next Saudi king, Reuters reported last month, citing unnamed sources.
Full report at:
https://www.presstv.com/Detail/2018/12/26/584058/Bogdanov-Russia-support-bin-Salman-Saudi-Arabia-US
--------
Russia says Syria's Assad is popular in spite of overseeing 7 year war
December 27, 2018
Russia believes Syrian President Bashar Al Assad is a popular leader who could win a re-election, Moscow's envoy to the Middle East has said, in an interview promoting a supposed thaw in ties between Syria's once-pariah regime and Arab nations.
"He's fairly popular, if he wasn't, the results of the last few years would have been different," President Vladimir Putin's envoy to the Middle East, Mikhail Bogdanov, said in an interview with Bloomberg in Moscow this week. "Of course, I think so," he added, when asked whether the Syrian leader can triumph in the next presidential vote.
The interview highlighted efforts by Moscow to rehabilitate Assad and facilitate his return to the world stage. Assad has become a global pariah for his conduct during the civil war but has remained Russia's key ally in the Middle East. His regime's survival, now all but assured, is attributable largely to Russian and Iranian military and economic support.
Work is scheduled to start early next year on a new constitution for Syria ahead of UN-supervised elections. Assad won a 2014 presidential election in which voting did not take place in rebel-held areas and was boycotted by opposition groups. After almost seven years of civil war, the Syrian government is stepping up control of the country, with the planned withdrawal of US forces expected to hand back a key oil-rich region to the central authorities.
Russia expects the Arab League, which suspended Syria's membership in 2011, to readmit the country, said Mr Bogdanov, who is also deputy foreign minister.
"Many Arab countries have understood that this decision wasn't thought through and even counterproductive," he said. "It's very important for the Syrians and Arabs to re-establish ties."
Sudanese President Omar Al Bashir last week made the first visit by an Arab leader to Damascus since the revolt against Assad's rule began in 2011, traveling on a Russian plane, Mr Bogdanov said. That trip followed a friendly greeting between the foreign ministers of Syria and Bahrain at the United Nations in New York in September.
In October, Assad told a little-known Kuwait newspaper that he had reached a "major understanding" with Arab states following years of hostility over his killing of civilians during the civil war. His interview with Al Shahed was his first with a Gulf publication since the Syrian war began in 2011.
Turkey, which for years has demanded Assad's ouster, said earlier this month it would consider working with the Syrian leader if he won a democratic vote.
"These are very important developments and we welcome them," said Mr Bogdanov.
The senior Russian diplomat downplayed concerns about the growing role of Iran in Syria, saying that Iranian-backed forces would leave the country once the government re-establishes full control of all territory.
"If Syrian sovereignty and territorial unity is re-established then there will be no reason for them to be there," he said, referring to pro-Iran militias and Iranian military forces.
Full report at:
https://www.thenational.ae/world/mena/russia-says-syria-s-assad-is-popular-in-spite-of-overseeing-7-year-war-1.806783
--------
Southeast Asia
'C for crescent': Isma launches campaign to recognise Malaysia as 'Islamic state'
27 December 2018
KUALA LUMPUR, Dec 27 — Islamist group Ikatan Muslimin Malaysia (Isma) is initiating a campaign for Malaysia to be recognised as an "Islamic state", citing among others the position of Islam in the Federal Constitution and influence of the religion here.
It is employing the handsign of letter "C" to symbolise the crescent moon, one of Islam's symbol.
The five-month campaign called "Malaysia Negara Islam" (Malay for "Malaysia an Islamic State") aims to gather one million signatures to support its claim, which will then be presented to the Yang di-Pertuan Agong.
Promotional materials for the campaign also employs the Jawi script — where Arabic alphabet is used to spell Malay words ― rather than the Roman script, ostensibly to direct it exclusively to those who can read it and are most likely to be Malays.
A thread on Isma's Twitter account listed eight items on its agenda, most notably the rejection of Malaysia as a secular country, and to stress that Malaysia is "Tanah Melayu" or "land of the Malays" with the Malays its native citizens.
In addition, it called for stronger role for Islamic jurisprudence in the national justice system. Currently, Shariah jurisprudence is under state jurisdiction instead of federal.
The campaign urged Malaysians to fight in implementing Islamic obligations in the national context.
It also wishes to promote the assimilation of Islam into the Malay culture, among others in its language, tradition, clothing and food.
In a promotional video of the campaign, Isma listed the Putrajaya Mosque, the Islamic architecture of the Prime Minister's Department, congregational prayers, the Malay martial arts of silat, daily calls to prayer and Muslim women covering their heads as "proof" of Islam's influence in the country.
Malaysia continues to debate whether the country is secular or Islamic as the Federal Constitution does not explicitly state either, but the Malaysian Bar and Attorney-General Tommy Thomas have both previously affirmed the country's status as secular.
Article 3(1) of the Constitution states that Islam is the religion of the federation, but the Reid Commission that drafted the document wrote that the Article "...shall not imply that the State is not a secular state".
At the launch in Kuala Lumpur International Hotel yesterday, Isma president Aminuddin Yahaya claimed there is a concerted effort to declare Malaysia as a secular country following Pakatan Harapan's (PH) win on May 9.
"We see these evil attempts still continue, and more dangerously when those who believe in that are among the country's leadership," he said.
Aminuddin also leads Gerakan Pembela Ummah, a coalition of Malay-Muslim groups that have held several rallies against the PH administration this month — on December 8 against an anti-racial discrimination convention, and last Friday over the death of firefighter Muhammad Adib Muhammad Kassim.
"Islamic state" is a modern Muslim political concept that can be defined as a government that base itself on the Shariah code, with Islamic scriptures as the ideological foundation of the state and its constitution.
Modern Islamic states include Saudi Arabia, Iran and Afghanistan.
https://www.malaymail.com/s/1706715/c-for-crescent-isma-launches-campaign-to-recognise-malaysia-as-islamic-stat
--------
When privileged elites lack empathy for angry minorities
Abdar Rahman Koya
December 27, 2018
When racially charged protests in our country upset us, we can perhaps find consolation in the knowledge that one of Europe's most advanced countries too would now and then explode with similar scenes of anger and rioting.
In 2005, a suburb of Paris was torn apart by violence that followed angry protests by minority youths who were mostly of North African origin.
Cars and public buildings were set ablaze, forcing authorities to declare a state of emergency.
But there is a big difference between the Malaysian and French cases in the mainstream narratives that have shaped the national debates in the aftermath of angry protests tied to minorities.
We remember of course that the 2005 violence sparked calls for a rethink on French citizenship policies. There were loud demands for the expulsion of the Muslim minorities, but these came largely from right-wing groups that had long campaigned for tougher immigration laws and a more fanatical approach to secularising French society.
But a good many who represented the French intelligentsia frowned on such a vengeful attitude, and the mainstream discourse became infused with empathy and self-evaluation. There were calls to look into the neglect of these urban youths, and there were attempts to explain their anti-social behaviour, with the blame often pinned on their lack of employment, their subjection to police harassment and the poor conditions in their residential districts.
Indeed, weeks after the Versailles riots, Paris saw a major demonstration in solidarity with minorities, attended by tens of thousands who were not North African and not Muslim, but who were as French as snails in garlic.
There were also calls for a relook into a national drive towards assimilation, with many admitting that restrictive laws touching on religious identities, for example, had only resulted in the exact opposite.
Two years after the Paris violence, trouble erupted in Kuala Lumpur. Thousands of ethnic Indian youths travelled from their working-class neighbourhoods to gather in the city's well paved roads to demand greater rights, with punches thrown in the air to make known their desperation. It was a cry of help that had taken decades to get its voice out.
Like the minority French youths, these minority Malaysian youths too were angry. They too uttered questionable slogans against the dominant group. They too threw missiles that had been kept hidden in clenched fists, perhaps since their forefathers were forcibly brought to Malaya by the British to work in plantations.
And they too, left with no choice, believed that change was possible through some form of violence.
What was the reaction of the Malay and Muslim intelligentsia, the backbone of the majority of this country whose views shape policies and politics?
The mainstream picture painted then, as now, was that the protesting youths were a bunch of uncivilised troublemakers out to create trouble, to challenge the Malays and the national identity.
Without the right voices to back them, many ethnic Indian leaders had to flee. Some got arrested and detained without trial, taking a huge toll on their personal and economic lives.
More than 10 years later, that empathy is still missing from the Malay and Muslim elites. Video clips of the 2007 angry Hindraf protests are distributed by none other than those who are supposed to show some level of empathy. We still see influential leaders trying to rouse a community that has for decades benefited from quotas and privileges, the same things that could have also transformed the lives of the underclass Indians for the better.
The absence of magnanimity from the majority is stark enough. We hear continuous calls for the head of a minister, because, as the claim goes, he caused the temple violence and must therefore take blame for the death of a fireman in the line of duty.
There is a need for Muslim scholars and intellectuals to display greatness of mind and bigness of heart when it comes to minorities. There is a need for them to rein in people of their own kind, many of whom could never relate to the plight of this country's minorities other than through stereotypes and religious cosmetics.
It is pathetic and somewhat amusing that some of those from the privileged majority could think they could be threatened by a minister who once represented the voice of a ragtag ethnic minority, people who suffer from economic alienation and lack of educational opportunities.
Full report at:
https://www.freemalaysiatoday.com/category/opinion/2018/12/27/when-privileged-elites-lack-empathy-for-angry-minorities/
--------
Mastermind of Chinese Consulate attack killed in Afghanistan
December 27, 2018
QUETTA, Pakistan: Pakistani officials and a spokesman for a separatist group say a separatist leader authorities blamed for masterminding last month's attack on China's consulate in the southern city of Karachi has been killed in Afghanistan.
Baluch Liberation Army spokesman Jeeyand Baloch said in a statement Wednesday that their top leader Aslam Baloch and five of his associates were "martyred" in a blast. He did not say where the men were killed.
But an Afghan official says six people were killed when a suicide bomber attacked a house Tuesday in the southern city of Kandahar.
Full report at:
Pakistan accuses Kabul of sheltering Baluch separatists.
http://www.arabnews.com/node/1426391/world
--------
North America
Trump blunder reveals identity of US Navy SEALs in Iraq
Dec 27, 2018
US President Donald Trump has come under fire for accidentally revealing the identity of US Navy SEALs during his surprise trip to Iraq.
The embarrassing gaffe came Wednesday, when the American president posted a video on Twitter that showed him talking and taking selfies with members of a California-based SEAL team during an unannounced trip to Baghdad.
Trump flew to Iraq on Tuesday hoping to score positive news headlines over the holiday season amid a partial government shutdown and a series of other serious issues.
After touchdown in Baghdad's Al Asad air base, the president and his wife, Melania, talked to US service members before posing for pictures with them.
According to pool reports, the trip's details were kept a secret until Trump finished giving a speech before a group of about 100 troops, mostly US special operation forces engaged in combat operations in Iraq and Syria.
The reports said Trump then paused to take a selfie with US Navy Lieutenant Commander Kyu Lee, who identified himself as the chaplain for SEAL Team Five, based out of Coronado, California.
Trump told him in response: "Hey, in that case, let's take a picture."
After leaving Iraq's airspace, the American head of state posted a video to his Twitter account that shows the Trumps taking pictures with troops that appeared to be from the US Navy SEAL Team Five.
In the video, the special warfare forces are seen dressed in full battle gear and wearing night vision goggles.
The reports said Trump's video revealed more "special operations personnel and support troops" were featured in the video as well, which was still available at the time of this writing.
"The real names, faces and identities of personnel involved in special operations or activities are usually a closely held secret in a combat zone," Malcolm Nance, a former US Navy intelligence specialist with experience in Iraq told Newsweek. "Revealing them casually, through an unusual media exposure even if it's the commander in chief, would prove a propaganda boom if any of this personnel are detained by a hostile government or captured by a terrorist group. There would be no denying who you are and what you do."
An unknown Pentagon official also acknowledged on condition of anonymity it was unusual to post video revealing the special ops troops' faces without blurring or otherwise censoring them was unusual.
"Even during special operation demonstrations for congressional delegations or for the president or vice president, personnel either have their faces covered or their face is digitally blurred prior to a release to the general public," the unnamed official said.
"I don't recall another time where special operation forces had to pose with their faces visible while serving in a war zone," the official added.
The blunder set the social media on fire, as expected.
https://www.presstv.com/Detail/2018/12/27/584065/US-Trump-Iraq-trip-NAVY-SEALs-blunder-video
--------
President Erdoğan Has Invited Trump to Visit Turkey in 2019: White House
December 26, 2018
Washington. Turkish President Recep Tayyip Erdoğan has invited US President Donald Trump to visit Turkey in 2019, a White House spokesman said on Monday.
"While nothing definite is being planned, the President is open to a potential meeting in the future," White House spokesman Hogan Gidley said in a statement.
The conflict in Syria following Trump's announcement of a US pullout, the fallout from the murder of a US-based Saudi journalist in the Saudi consulate in Istanbul, and Turkey's demand for the extradition of a Muslim cleric from the United States are among the main issues occupying the two NATO allies.
The Turkish presidency said Trump and Erdoğan agreed during a phone call on Sunday to coordinate to prevent an authority vacuum from developing as the United States withdraws from Syria.
Erdogan welcomed Trump's abrupt decision last week to withdraw American troops from Syria, which has upended US policy in the region and would remove a source of friction between the two countries.
Washington has backed Syrian Kurdish YPG fighters while Turkey brands the group a terrorist organization.
A senior US official said Trump had not discussed the pullout decision with Erdoğan in advance.
US military officials will visit Turkey this week to discuss the details of the Syria pullout with their counterparts, an Erdoğan spokesman said on Monday.
Trump and Erdoğan have taken different tacks in their response to the Oct. 2 killing of journalist Jamal Khashoggi.
Trump has said he wants Washington to stand by the Saudi government and its de facto ruler, Crown Prince Mohammed bin Salman, despite a CIA assessment it was likely the prince had ordered the killing.
Erdoğan has pushed to keep international attention on Khashoggi's killing and put the spotlight on the prince. Saudi Arabia has said the prince had no prior knowledge of the murder.
Trump said last month he was not considering extraditing Muslim cleric Fethullah Gülen, whom Turkey blames for a failed 2016 coup, as part of efforts to ease Turkish pressure on Saudi Arabia over the killing of Khashoggi.
Turkey's foreign minister said last week that during a meeting with Erdoğan in Buenos Aires several weeks ago, Trump said he was working on extraditing Gülen.
Full report at:
https://jakartaglobe.id/international/president-erdogan-has-invited-trump-to-visit-turkey-in-2019-white-house/
--------
Trump defends Syria pullout plan in Baghdad, says US troops to stay in Iraq
Dec 26, 2018
US President Donald Trump and his wife, Melania, have made a surprise visit to Iraq, meeting American troops fighting one of the many wars that he has mocked in the past as costly blunders.
Fifteen years into America's invasion of Iraq, the unstable security situation in the country forced the Trump to depart Washington on a clandestine flight that landed at the Al Asad Air Base in west of Baghdad on Wednesday.
The trip came amid Trump's many problems in Washington, ranging from a partial government shutdown over the funding of his border wall to an unsteady economy and a controversial decision to end US military presence in Syria.
The American head of state has in the past sought to distance himself from the Iraq War and other foreign conflicts left behind by his predecessors.
In a surprise decision that put his security team at odds and prompted Secretary of Defense Jim Mattis to quit, the president ordered a complete withdrawal of 2,000 American troops from Syria and a substantial reduction of the 14,000 US troops in Afghanistan.
For Iraq, however, the president said he had no such plans for the 5,000 or so American troops in Iraq, who have been redployed to the country since 2014 to aide a US-led campaign against Daesh.
"In fact we could use this as the base if we wanted to do something in Syria," he told troops at the Al Asad base.
Talking to reporters, Trump defended his Syria decision and said people were going to eventually understand his reasoning.
"I think a lot of people are going to come around to my way of thinking. It's time for us to start using our head," said the president.
"The United States cannot continue to be the policeman of the world," he added, saying his his generals have had "enough time" to fight the war and that they have been told to leave Syria without any delays.
Trump admits security concerns over trip
Iraq trips by US presidents and other high-level Western officials to Iraq are usually shrouded in mystery.
Bush made only four trips to Iraq after ordering his forces to invade the country in 2003. His successor, Barack Obama, visited the war-torn country only once.
Trump admitted that he had security concerns about the trip and certain measures had to be taken to ensure nothing would go wrong.
"I mean, look, I had concerns for the institution of the presidency, not for myself personally. I had concerns for the First Lady, I will tell you," he said. "But if you had seen what we had to go through with the darkened plane, with all windows closed, with no lights on whatsoever, anywhere, pitch black."
A decade-and-a-half later, the US-led war on the false pretext of finding Iraq's weapons of mass destruction has killed hundreds of thousands of Iraqis and some 5,000 American troops without yielding any meaningful results.
Trump said Obama's rushed decision in 2013 to leave Iraq paved the way for Daesh terrorists to gain power.
Faced with growing criticism on his failure to build his anti-immigration wall on the border with Mexico, Trump wants to score positive headlines and buy himself more time by delivering on his other key campaign promises, including returning troops back home.
Trump-Iraqi PM meeting canceled
Meanwhile, Iraqi Prime Minister Adil Abdul-Mahdi's office announced that a scheduled meeting between him and Trump was scrapped over disagreements in how to conduct it.
"A disagreement over how to conduct the meeting led to the meeting being replaced by a telephone conversation," the office announced in a statement.
Iraqi lawmakers criticize Trump visit
The trip did not go down well with Iraqi lawmakers and militia leaders, who condemned it as a violation of Iraq's sovereignty.
Qais al-Khazali, the leader of the Asaib Ahl al-Haq fighters, said on Twitter, "Iraqis will respond with a parliamentary decision to oust your (US) military forces. And if they do not leave, we have the experience and the ability to remove them by other means that your forces are familiar with."
Sabah al Saadi, the leader of the Iraqi' parliament's Islah bloc, called for an emergency session of parliament "to discuss this blatant violation of Iraq's sovereignty and to stop these aggressive actions by Trump who should know his limits."
"The US occupation of Iraq is over," he asserted.
The Bina bloc, Islah's rival faction, also took issue with the surprise visit, calling it "a flagrant and clear violation of diplomatic norms."
It also said Trump's visit raises questions about "the nature of the US military presence and its real objectives, and what these objectives could pose to the security of Iraq."
Falih Khazali, a politician allied with Bina, said Washington wanted to increase its presence in Iraq.
Full report at:
https://www.presstv.com/Detail/2018/12/26/584052/US-Trump-Melania-secret-trip-Iraq
--------
Donald Trump stops at Ramstein base in Germany after Iraq visit
December 27, 2018
President Donald Trump and his wife Melania have greeted US troops in Germany, his second visit to troops abroad in the past day.
Air Force One stopped at Ramstein Air Force Base in south-west Germany on his way back from Iraq, where he had visited US troops in harm's way for the first time, two years into his presidency.
Mr Trump walked along a rope line at the US base in German state Rhineland-Palatinate, shaking hands, posing for selfies, and autographing "Make America Great Again" hats for servicemen.
He also met Air Force generals aboard his aircraft at the base.
His earlier visit to Al Asad base in Al Anbar, Iraq, was his first to US forces in harm's way overseas. The base was once on the front line of the war against ISIS, facing suicide bombers and experiencing regular mortar attacks in 2015. Mr Trump has claimed responsibility for defeating ISIS.
During a speech to troops at Al Asad base, he said that unlike in Syria, he had no plans to bring home the roughly 5,000 troops stationed in Iraq. The 2,000 US troops in Syria could return home because of military gains against ISIS, he said.
Full report at:
https://www.thenational.ae/world/europe/donald-trump-stops-at-ramstein-base-in-germany-after-iraq-visit-1.806781
--------
Russia: The US should transfer its territory in Syria to Assad
Hashem Osseiran
December 26, 2018
Washington should transfer control of the territories it is vacating in Syria to President Bashar Al Assad, Russia's foreign ministry said on Wednesday, after Syrian troops backed by Russian forces sent reinforcement towards the city of Manbij in co-ordination with a Kurdish group controlling the area.
Meanwhile in eastern Syria, clashes between the US-backed Syrian Democratic Forces (SDF) and ISIS intensified overnight, as the Kurdish-led alliance and coalition forces continue an operation to drive militants out of their last toe-hold in the country.
"An essential question arises: who will inherit control over the territories vacated by the Americans? Obviously, that should be the Syrian government, in accordance with international law," Russian Foreign Ministry spokesman Maria Zakharova said, reported the state-run Sputnik news agency.
"However, right now we have no information on contacts between Washington and Damascus on the issue."
US President Donald Trump last week said he will begin pulling out nearly 2,000 American soldiers from Syria. It remains unclear how long the exit will take but officials estimate that US forces may begin withdrawing in 60 to 100 days.
Mr Trump's decision has emboldened Turkey to press ahead with plans to clear Manbij of Kurdish forces. Now, Turkey-backed rebels say they are preparing to launch an assault once US troops withdraw.
Syrian troops were positioned in areas to the west of Manbij on Tuesday, in anticipation of a potential offensive.
The deployment was co-ordinated with the US-backed Kurdish militia in Manbij, the spokesman for the Manbij Military Council said.
"The Russian army has restored the Syrian-Russian coordination centre to Arima village to the west of Manbij city, after its withdrawal from there a while ago," said Sharfan Darwish, spokesman for the Manbij Military Council.
The head of the MMC, Mohammed Abu Adel, told the Kurdish-run Kurdistan24 news website that Syrian troops have been in Arima since last year but they have recently sent reinforcements as Russian soldiers arrived in the town.
"Recent developments led to a reinforcement and increase of forces that were stationed there," said a separate statement by the MMC.
Manbij was seized in 2016 from ISIS by Syrian militia allied to the SDF, which controls roughly a quarter of Syria. Its capture was a milestone in the US-backed campaign against the militant group.
Manbij has been one area of friction between the US and Turkey, which has vowed to clear the area of the People's Protection Units. The Nato allies reached an agreement in June for the YPG to leave but Turkey says its implementation has been delayed.
President Recep Tayyip Erdogan said earlier this month that Turkish forces would enter the town if the US does not remove the Kurdish fighters.
Mr Abu Adel, on Tuesday said there is no sign of an imminent Turkish attack on Manbij, despite claims by Turkish-backed rebels that they are pressing ahead with an assault.
"There is nothing going on, the situation is normal, the coalition forces are on the front line together with the MMC and there are no clashes," he told Kurdistan24 on Tuesday. "There is a lot of propaganda and provocations of future attacks on Manbij, but nothing is going on right now."
US forces are still patrolling Manbij. Videos posted on social media networks showed armoured vehicles stationed in the town.
The Syrian Observatory for Human Rights on Wednesday said that joint US-Turkish patrols have been dispatched to frontlines between Manbij and adjacent territory controlled by Ankara-backed rebels to prevent clashes.
The SOHR said that Turkey has instructed its rebel allies to temporarily hold-off on launching a planned attack.
A delegation representing Syria's Kurds arrived in Moscow this week where they are meeting with Russian officials to discuss a possible plan to stop a Turkish offensive on Manbij.
Meanwhile, on the eastern banks of the Euphrates River clashes continued between ISIS militants and SDF fighters. The SOHR says clashes have intensified since Tuesday evening.
The war monitor says at least 44 ISIS militants have been killed in the area over the past 48 hours, including 19 militants who were killed by coalition airstrikes and 25 others who were killed in ground battles with the SDF.
At least eight SDF fighters also died in clashes, the SOHR said.
ISIS militants have stepped-up attacks on SDF forces in Syria's east since the US announced plans to withdraw, Europe-based activist Omar Abu Layla of the DeirEzzor 24 monitoring group told The National on Wednesday.
The SDF has been battling ISIS around the town of Hajin since September.
The Kurdish-led force liberated the town from militants earlier this month. Current battles are now taking place on the eastern flanks of Hajin in areas near the Iraqi border.
Full report at:
https://www.thenational.ae/world/mena/russia-the-us-should-transfer-its-territory-in-syria-to-assad-1.806626
--------
India
Ban on namaz in UP parks: Here's what intellectuals say
by Rasia Hashmi
Dec 26, 2018
New Delhi: Imam and Khateeb of Shahi Jama Masjid Fatehpuri Mufti Mukarram Ahmed said that according to Shariah if the owner of the land is not permitting then offering namaz there is illegal. He said though the park is a public place, it is not made for namaz; hence if the authorities do not permit then it is not fair to offer namaz there. The political motive behind the ban is a different matter but according to shariah offering namaz on the place without owner's permission is not permitted, he said.
On the other hand, vice president Jamiat Ulama-e-Hind Uttar Pradesh Mufti Ashfaq Ahmed Azmi told that public places where coming and going, eating and drinking, playing and sitting etc. are allowed, Namaz is also allowed there. But government's permission is compulsory for that as well. If the government imposes ban then prayer should not be offered. We cannot establish namaz by fighting. As far as UP government is concerned its attitude is prejudiced because when a man can roam about in the park, eat and sit there, then why he cannot offer namaz.
According to Inquilab, member of All India Muslim Personal Law Board Dr Qasim Rasool Ilyas said the government's decision is wrong. If the government stops from offering namaz it should provide space for that. He said it should not be made a communal issue but the government should think over it and provide space for namaz.
https://www.siasat.com/news/ban-namaz-parks-heres-what-intellectuals-say-1450130/
--------
Noida namaz row: Muslim workers say park was a convenient place to offer prayers
Dec 26, 2018
Noida Muslim employees working at offices in Noida's Sector 58 on Tuesday said it was convenience that led them to offer namaz at a public park in the area.
Police had on Monday issued a notice to companies in the industrial hub, asking them to stop their Muslim employees from offering namaz at the park.
Even as the district magistrate and senior superintendent of police said the police's move was not discriminatory towards any religion, the matter assumed a political twist with the Samajwadi Party alleging government officials were helping the ruling Bharatiya Janata Party (BJP) to create an atmosphere of divide and rule before the 2019 general elections.
On Monday, a letter written by Pankaj Rai, station house officer of the Sector 58 police station, to companies located in the sector surfaced. The letter said it was the responsibility of the companies to inform their Muslim employees not to offer namaz in the sector 58 public park, failing which they would be held "liable" for the violation.
Sector 58 is lined with offices of BPOs, IT firms and export-import companies where thousands of people work.
The workers said that for the past five years, the public park in the middle of Sector 58 is visited by over 300 men every afternoon to offer namaz. On Fridays, over 800 people turn up for the 'juma ki namaz'.
"The nearest mosques from my office are in Khoda and Labour chowk. These are usually congested and to offer namaz, one has to climb on the rooftop. The namaz usually lasts for 15-30 minutes. But travelling to and from the mosque takes more than an hour's time. No company allows this kind of break during work hours and so I had been offering namaz in the park, which saves time," Taqweem Ahmed, a quality analyst in a firm, said.
Similarly, 41-year-old Sadre Alam, a native of Araria in Bihar, said there are risks in offering namaz in the congested masjid at Khoda in Ghaziabad.
"If 500 more people decide to offer namaz on the rooftop of the congested masjid, it can cause a stampede. The park has an open space where we can offer namaz peacefully," Alam who works in a sewing factory said.
"We have been offering namaz here for the past two months but if the administration has asked us to not to, we have to respect the decision. It takes quite a lot of time to reach the masjid in Khoda and that is why we prefer the park," Mohammad Naseem, a native of Bhagalpur in Bihar, who works in a sewing factory, said.
Political parties criticised the Noida Police letter. They said a dialogue with Muslim workers was needed instead of an obscure order.
"This is pure politicisation of the police and the administrative machinery and unfortunately, officials are helping the ruling party create an atmosphere of divide just before the 2019 general elections. The BJP has not done anything worthwhile in Noida when it comes to development. Therefore, they have resorted to such tactics with help of the police," Surendra Singh Nagar, Member of Parliament, GB Nagar, said.
Full report at:
https://www.hindustantimes.com/noida/muslim-workers-say-it-was-a-convenient-place-to-offer-prayers/story-ingMBeS3XHFh6ZsvgXkZIM.html
--------
Muslim Man Holds Goga Maharaj Yagna for the Gesture for Communal Amity
Dec 27, 2018
AHMEDABAD: Ibrahim Khan Pathan (57) held a religious ritual for snake worship in his village Thalwada in Banaskantha district in north Gujarat evoking mixed response – criticism from puritans of his community and accolades for the gesture for communal amity.
Pathan held the yagna on Sunday and invited all villagers and leaders of the community from surrounding villages to participate in the ritual offering prayers to the snake god held by a Muslim for the first time in this area. The snake god is worshiped in this part by members of pastoralist communities, mainly Rabaris.
Pathan said that he held the rituals as votive for his wife's health. "My wife was not keeping well. We consulted various doctors in different cities, but it was no good. My business partner is a Rabari, who insisted on a votive of Goga Maharaj (snake god).
My wife's health improved, and we decided to hold the yagna in the village," Pathan said.
The villagers participated enthusiastically in the function. A social worker in the village, Hasmukh Rathod, said, "It was good to see a Muslim man holding such a ritual. This is a great gesture on part of Ibrahimbhai and all villagers look at it as a symbol of communal harmony."
Pathan received calls from BJP leaders congratulating him for performing the ritual. "I got calls from many leaders including the BJP's Gujarat president Jitubhai Vaghani, who appreciated my gesture. Everybody in my village is happy."
However, Pathan has been plagued by criticism for subscribing to a ritual that many puritans amongst Muslims do not approve.
"Ever since the news about the programme spread, I have been getting calls condemning my action. I had to keep my phone switched off for a day. I am being criticized by members of my community. What wrong have I committed? I have not renounced my faith. I have not done anything wrong. The religious leaders and extremists are after me," Pathan said.
Full report at:
https://timesofindia.indiatimes.com/city/ahmedabad/muslim-man-holds-goga-maharaj-yagna/articleshow/67262966.cms
--------
Muslim Couple Donate 100 Sqyd Land for Temple in Uttar Pradesh
by Rasia Hashmi
Dec 26, 2018
Meerut: A Muslim family in Uttar Pradesh donated 100 sqyd land for construction of a temple. Retired teacher Aas Mohammed and his wife Akbari donated 100 sqyd land. They are not landlords but own just 2 beegha land. On the issue of Ayodhya, the couple urged the people to put their trust on Court not on leaders.
Construction has begun on the land donated by the couple. The town Sewal where the land is located has Muslim dominated Nagar Panchayat, but Hindu brothers also live there.
One year ago, Hindus in the Harijan Basti undertook the task of constructing a temple. The Hindu brothers reached the house of Aas Mohammed to collect cash donation. Aas Mohammed's wife Akbari (67 years) expressed her wish to donate 100 sqyd land as a donation for construction of the temple.
Full report at:
https://www.siasat.com/news/muslim-couple-donate-100-sqyd-land-temple-1450042/
--------
Will move court, if ordinance is brought on Babri Masjid: AIMPLB
by Rasia Hashmi
Dec 26, 2018
Lucknow: If an ordinance is brought on Babri Masjid issue it will be challenged in the court. However, Muslims need to continue showing patience as they were doing so far. These views were expressed in a meeting of Babri Masjid Action Committee which was held here at Islamia inter college. Babri Masjid case whose hearing is scheduled in January was discussed and future strategy was finalised.
According to Inquilab, speaking to its correspondent after the meeting, convener of the committee Zafaryab Jilani said Supreme Court will fix the date of hearing on January 4, till then if the opposite party or political persons try to provoke us, we need not worry and should not get provoked.
Full report at:
https://www.siasat.com/news/will-move-court-if-ordinance-brought-babri-masjid-aimplb-1450179/
--------
NIA arrests 10 IS suspects for planning terror attacks in Delhi
Dec 26, 2018
New Delhi: The NIA on Wednesday claimed that it has arrested 10 people, including a group leader of a newly-traced Islamic State module, "Harkat-ul-Harb-e-Islam", that was allegedly planning terror attacks on some political personalities and the security establishment as well as crowded places in Delhi and the national capital region.
The arrest was made after the National Investigation Agency (NIA) carried out searches at 17 places, including six places in East Delhi's Jafarabad area, six places in Uttar Pradesh's Amroha, two places each in Lucknow and Hapur and one place in Meerut.
The agency had registered a case on December 20 under several sections of the Indian Penal Code, the Explosive Substances Act and the Unlawful Activities (Prevention) Act.
Addressing a press conference, NIA spokesperson and Inspector General of Police (NIA) Alok Mittal said that the suspects were planning attacks in Delhi but he refused to share when they were planning those attacks.
He said the agency arrested the head of the Harkat-ul-Harb-e-Islam, Mufti Suhail, a resident of Amroha from his house, who is also a Maulvi in a mosque.
The official said the module was planning attacks on important political and security offices in Delhi as well as crowded places.
"They were planning to detonate a remote-controlled bomb or a fidayeen kind of attack," he said.
Asked about the handler of the Harkat-ul-Harb-e-Islam, Mittal said the agency was trying to ascertain his identity and his country.
He said the arrested suspects also tried making a bullet-proof fidayeen vest. It was recovered from Amroha. A country-made rocket launcher, 12 pistols, 112 alarm clocks, 100 mobile phones, 135 SIM cards, many laptops and various electronic gadgets, besides 150 rounds of ammunition were also recovered during the searches.
The NIA also seized 25 kg of explosive material, such as potassium nitrate, ammonium nitrate, sulphur, sugar material paste, mobile phone circuits, batteries, 51 pipes, remote control car triggering switch, wireless digital doorbell for remote switch, steel containers, electric wires, knife, sword, IS-related literature and Rs 7.5 lakh in cash.
The official said the group was a self-funded one and a few of the members stole gold ornaments from their homes and sold them to fund their activities. "During questioning two brothers confessed that they sold gold jewellery worth Rs 5 to 6 lakh," the official said.
He said that the group came on the NIA's radar after credible information that a group of pro-IS individuals have formed a terrorist gang and are preparing to carry out terrorist attacks targeting vital installations, sensitive locations and crowded places in and around Delhi and the national capital region (NCR).
"The inputs were further developed and field verifications were done. It was ascertained that Suhail alias Hazrath and his associates have mobilized funds and have procured weapons, ammunition and explosive material to prepare IEDs and bombs and they plan to carry out explosions and fidayeen attacks at places of importance in and around Delhi and also target crowded places," the IG said.
Mittal said that all the arrested people are in the age group of 20 to 29 years. Besides Suhail, the agency arrested Saeed, 28, Raees Ahmed, Saqib Iftekar, 26 and Mohammad Irshad from Amroha.
It arrested Anas Yunus, 24, a B. Tech student of Amity University in Noida, Rashid Zafar Raq, 23, Zubair Malik, 20 and his brother Zaid Malik, 22 and Mohammad Azam, 35, from Delhi's Jafarabad area of Delhi.
According to NIA officials, Yunus was instrumental in procuring electrical items, alarm clocks and batteries etc. in furtherance of their terror conspiracy. The two brothers Saeed and Raees arrested from Amroha had procured a huge quantity of explosive material for preparing IEDs and pipe bombs and were instrumental in fabricating a rocket launcher to carry out terrorist attacks.
Mittal also said that Azam, who runs a medical shop in Seelampur area of Delhi and Saqib Iftekar in Amroha helped Suhail in arranging the weapons.
He said that the two brothers Zaid and Zubair were also part of the terror conspiracy and were instrumental in procuring batteries, connectors, SIM cards on fake documents and mobilising funds for buying bomb-making material.
Asked how these people made bombs and the rocket launcher, the officer said that they took the help of the Internet to make bombs and the rocket launcher.
He said that after the questioning of the six other accused more arrests will be made in the case.
Full report at:
https://www.siasat.com/news/nia-arrests-10-suspects-planning-terror-attacks-delhi-1450161/
--------
From engineering student to welders: The men who were part of ISIS-inspired group busted by NIA
Dec 26, 2018
NEW DELHI: The National Investigation Agency on Wednesday arrested 10 suspected members of a newly formed ISIS-inspired terror outfit+ that was allegedly planning to carry out a series of suicide attacks in Delhi and north India targeting important political personalities, vital installations and crowded places.
The group comprises youths in the 20-35 age group who hail from middle income group families.
The members were radicalised by a UP-based Mufti, who is also the alleged mastermind and founder of 'Harkat-ul-Harb-e-Islam', which can be loosely translated as 'war for the cause of Islam', the NIA has alleged.
These are the ten men who plotted to carry out attacks in the country: 1. Mufti Mohammed Suhail alias Hazrath (29): The alleged founder of the group is a native of Amroha in West Uttar Pradesh where he works as a Mufti in a madrasa at Hakim Mahtab Uddin Hashmi Road. Presently residing in Jafrabad in northeast Delhi, he allegedly founded the group three-four months back and indoctrinated its members using online resources linked to the ISIS. A video has been seized by the agency where Suhail can be heard telling how to assemble bomb using a circuit.
It is alleged that he had tasked other team members to procure arms, explosives and other accessories to prepare remotecontrolled bombs and pipe-bombs.
2. Anas Yunus (24): A resident of Jafrabad. He is a student of civil engineering at a private university in Noida. He procured electrical items, alarm clocks and batteries, etc to be used in assembling bombs in furtherance of their terror conspiracy.
3. Rashid Zafar Raq alias Zafar (23): Also a resident of Jafrabad. He is involved in garments business and was part of the group.
4. Saeed alias Sayeed (28): A resident of Saidapur Imma, Amroha, Sayeed runs a welding shop where some pistols and rocket launcher were fabricated.
5. Saeed's brother Raees Ahmad: A resident of Saidapur Imma, Amroha, UP. He owns a welding shop at Islam Nagar, near Idgah, Amroha, Uttar Pradesh. The brothers had allegedly procured 25 kilogram of explosive material and gun powder for preparing IEDs and pipe bombs and were instrumental in fabricating a rocket launcher to carry out terrorist attacks.
6. Zubair Malik (20): A resident of Jafrabad. He is a third-year BA student in Delhi.
7. Zubair's brother Zaid (22): A resident of Jafrabad. Both the brothers were part of the terror conspiracy and were instrumental in procuring batteries, connectors, SIM cards (135 recovered during searches) on fake documents and mobilising funds for buying bomb-making material. Both allegedly stole family gold to arrange the money.
8. Saqib Iftekar (26): A resident of Hapur, Uttar Pradesh. He works as an Imam in Jama Masjid, Baksar, Uttar Pradesh and helped Mohammed Suhail in procuring weapons. The agency has recovered 12 pistols, 150 rounds of live ammunition, knives and swords during searches.
9. Mohammed Irshad (in late 20s): A resident of Mohalla Qazi Zada, Amroha. An auto-rickshaw driver who was helping Mohammed Suhail in arranging a hideout for keeping the material for making IEDs and bombs. The agency has recovered 25 kg of explosive material, such as potassium nitrate, ammonium nitrate, sulphur, sugar material paste, 112 alarm clocks, mobile phone circuits, batteries, 51 pipes, remote control toys, wireless digital doorbell, steel containers, electric wires.
Full report at:
https://timesofindia.indiatimes.com/india/from-engineering-student-to-welders-the-men-who-were-part-of-isis-inspired-group-busted-by-nia/articleshow/67261313.cms
--------
Terrorists using hideouts away from habitations indicate dwindling of their support base: Officials
Dec 26, 2018
SRINAGAR: In an indication of further shrinkage of the terrorists' support base in the valley, more and more cases of outlaws using cave-like hideouts away from the human habitations are surfacing, say security personnel.
A police official made this remark on Wednesday after security forces busted an underground hideout of terrorists in Awantipora area of Pulwama district where some of the top Hizbul Mujahideen commanders were believed to be hiding.
The official said a search operation was launched in the area on early Wednesday on a tip off about the presence of terrorists in the hideout – a cave-like structure made in a hillock. Though nothing incriminating could by found by the security forces, there were tell-tale signs of the hideout having been used recently by terrorists, the official said.
The ultras appeared to have deserted it hours before the security forces launched the search operation.
This cave-like hideout, away from the human habitations, was detected Wednesday, barely days after discovery of another similar hideout in Arampora area of Awantipora.
The busting of the second cave-like hideout came four days after six terrorists of Ansar Ghazwatul Hind, an offshoot of ISIS, were killed in an encounter in Arampora area of Awantipora on Saturday.
"The terrorists killed in the operation on Saturday were also avoiding residential areas for quite sometime and hiding in a cavelike hideout," the official said.
He said six terrorists including some wanted Hizbul Mujahideen terrorists were killed in Saktipora operation in Anantnag district on November 23 while three others were gunned down in Pulwama district this month.
"In both the cases, the terrorists had built underground hideouts near orchards," he added.
The security officials said the terrorists have been left looking for alternative hideouts due to the fact that atrocities committed by them against civilians have led to disaffection among the masses and shrinkage of their support base.
"More than 50 civilians were killed by terrorists this year while some of the brutal executions were captured on camera and later circulated on social media. This has further reduced their already shrinking support base," the official said.
He said the other factor for this new trend was the continuous flow of human intelligence to the security forces, which has helped them neutralise a large number of ultras during the year.
Full report at:
https://timesofindia.indiatimes.com/india/terrorists-using-hideouts-away-from-habitations-indicate-dwindling-of-their-support-base-officials/articleshow/67260187.cms
--------
Kerala youth arrested by NIA in two-year-old ISIS case
December 26, 2018
The National Investigation Agency on Wednesday arrested a 25-year-old man who was absconding in connection with a case of ISIS-inspired youths from Kerala joining the West Asia-based terror group, officials said. Habeeb Rahman, from Wayanad in Kerala, was arrested in the two-year old ISIS Kasaragod Module case, the agency said in a statement.
"The case relates to the criminal conspiracy hatched by the accused persons from Kasaragod district of Kerala and their associates since Ramadan, 2015, with the intention of joining and furthering the objectives of ISIS Daish," it said.
The agency said that as part of the conspiracy, 14 accused from Kasaragod district had left India or their workplaces in Middle-East Asia between mid-May and early July, 2016, before travelling to Afghanistan or Syria, where they joined the ISIS (Daish).
It said that accused Nashidul Hamzafar and Habeeb Rehman remained in touch, over encrypted social media platforms, with other absconding accused persons in this case like Abdul Rashid Abdulla and Ashfak Majeed.
Full report at:
https://indianexpress.com/article/india/kerala-youth-arrested-by-nia-in-two-year-old-isis-case-5510914/
--------
Africa
Nigeria says 14 military, police killed in Boko Haram ambush
2018-12-26
Nigeria's military says 14 military and police personnel have been killed in an ambush by Boko Haram extremists.
An army statement says the security forces were on escort duty when they were attacked on Monday just outside Damaturu town in Yobe state in the north of the country.
The statement signed by army spokesperson Colonel Onyema Nwachukwu says efforts to pursue and "eliminate" the Boko Haram extremists are ongoing.
Nigeria's military has been fighting Boko Haram's Islamic insurgency for nearly a decade. The continued threat is a major issue for President Muhammadu Buhari as he seeks a second term in February's election.
After a recent series of deadly attacks on Nigeria's military, Buhari and others have warned that the extremists have begun using drones to as part of a resurgence.
https://www.news24.com/Africa/News/nigeria-says-14-military-police-killed-in-boko-haram-ambush-20181226
--------
18 arrested in Tunisia amid violent protests
27 December 2018
Tunisian authorities have arrested 18 people during protests that erupted after the death of a journalist who set himself on fire to protest economic problems in the North African nation, officials said Wednesday.
Thirteen were arrested in the provincial city of Kasserine and five others in Tebourba, near Tunis, Interior Ministry spokesman Sofiane Zaag said.
Clashes between police and Tunisian authorities took place in several regions over the past two days after journalist Abderrazak Zorgui posted a video online before his self-immolation in Kasserine describing his desperation and calling for revolt. He expressed frustration at unemployment and the unfulfilled promises of Tunisia's 2011 Arab Spring revolution.
The most violent protests took place in Kasserine, in west central Tunisia, where police used tear gas to disperse stone-throwing demonstrators. According to ShemsFM radio, the military was deployed to help police tackle the protests and secure state buildings.
In Tunis, dozens of protesters gathered on Bourguiba Avenue - the capital city's main road - to protest costs of living increases and chanted slogans hostile to the regime.
Meanwhile, Kasserine tribunal spokesman Achref Youssefi said an investigation "for failure to assist a person in danger" has been opened following the death of Zorgui. He said a suspect has been arrested.
Full report at:
https://english.alarabiya.net/en/News/north-africa/2018/12/27/18-arrested-in-Tunisia-amid-violent-protests.html
--------
Saudi Arabia condemns terrorist attacks in Libya, Afghanistan, Iraq
26 December 2018
An official source at the Saudi foreign ministry said that the kingdom strongly condemns the attack on the foreign ministry building in Libya's Tripoli, and the attack on a government building in the Afghan capital Kabul, and the car bomb terrorist attack in Tal Afar in Iraq.
The source confirmed the kingdom's rejection of these terrorist acts and considers them a flagrant violation of international norms, legislation and laws.
The source offered condolences to the families of the victims and to the governments and peoples of the brotherly countries, wishing the injured a speedy recovery.
https://english.alarabiya.net/en/News/gulf/2018/12/26/Saudi-Arabia-condemns-terrorist-attacks-in-Libya-Afghanistan-Iraq.html
--------
Boko Haram kills 13 soldiers, a policeman in Nigeria
Dec 26, 2018
Boko Haram Takfiri terrorists ambushed a military convoy in northeastern Nigeria, killing 13 soldiers and a policeman, the army said Wednesday.
But an officer, speaking on condition of anonymity, said the militants had overrun an army base, and put the death toll at 18.
An army statement said the attackers ambushed a military convoy late Monday on a highway linking Maiduguri, the capital of Borno state, with Damaturu in neighboring Yobe state.
"Sadly, 13 military and a police personnel... paid the supreme price while extricating themselves from the ambush," said the statement, signed by local military spokesman Colonel Onyema Nwachukwu.
The attack followed an attempted raid on a nearby military base along the highway in Kukareta village, 20 kilometers (12 miles) from Damaturu, Nwachukwu said.
That attack was "repelled" by troops who "engaged and overpowered the terrorists, killing several of them", Nwachukwu said, adding that a soldier was injured.
Other security sources said fighters travelling in eight trucks fitted with anti-aircraft guns had overrun the base.
"The terrorists killed 17 soldiers in the attack, which lasted for more than an hour," an officer told AFP on condition of anonymity.
"They took over the military base after overpowering troops and burnt it down. A policeman was killed when their vehicle which was heading to Damaturu ran into crossfire but the driver escaped unhurt," the military source said.
A medic in Damaturu hospital said 18 bodies were taken to the morgue late Monday.
A civilian militiaman in the area gave a similar account and said the fighters withdrew after torching the base.
"They burnt the base and two military vehicles. They also burnt two primary schools in Kukareta and neighboring Ngaurawa village," said the militiaman.
Boko Haram extremists have carried out dozens of attacks on military bases in recent months. Scores of soldiers have been killed or listed as missing.
The 120-kilometre (75-mile) Maiduguri-Damaturu highway has seen repeated attacks, including raids on military bases and markets.
In September 2013, Boko Haram fighters disguised as soldiers barricaded the highway and killed 167 people, in the worst attack targeting motorists.
Full report at:
The conflict has spilled over into Nigeria's northern neighbors Chad, Niger and Cameroon.
https://www.presstv.com/Detail/2018/12/26/584023/Nigeria-Boko-Haram-Deaths
--------
Sudan Islamist party urges probe into killing of protesters
December 26, 2018
KHARTOUM: Sudan's top Islamist party, a member of President Omar Al-Bashir's government, called Wednesday for a probe into the killings of protesters in demonstrations that have rocked the economically troubled country.
Angry crowds have taken to the streets in Khartoum and several other cities since December 19 when the government tripled the price of bread
Sudanese authorities say eight protesters have been killed in clashes, but Amnesty International has put the death toll at 37.
At a press conference in Khartoum, Popular Congress Party senior official Idris Suleman said his party's own reports indicated that 17 people "were martyred" and 88 wounded in the demonstrations.
Condemning the killings, the party, founded by late Islamist leader Hassan Turabi, urged the authorities to find those responsible.
"We call on the government to launch an investigation into the killings," Suleman said.
"Those who committed these killings must be held accountable."
Popular Congress Party is part of Bashir's government and has two ministers of state in the cabinet and seven lawmakers in parliament.
Turabi, who died in March 2016, was a leading force behind the 1989 coup that brought Bashir to power, ushering in an Islamist regime that hosted Al-Qaeda leader Osama bin Laden from 1992 to 1996 in Sudan.
Turabi founded Popular Congress Party after he was dismissed from Bashir's National Congress Party amid a power struggle a decade after the coup.
Police and security officers remained deployed in several parts of the Sudanese capital on Wednesday, but no new demonstration had been staged so far.
Bashir has sought to tamp down the discontent by vowing to "take real reforms" to solve Sudan's economic woes.
But his statements appear to have done little to appease protesters angered by financial hardships.
Sudan is mired in economic difficulties including an acute foreign currency shortage and soaring inflation.
The crisis has worsened despite the lifting of an economic embargo by the United States in October 2017.
Inflation is running at close to 70 percent and the Sudanese pound has plunged in value, while shortages in bread and fuel have been reported across several cities including Khartoum.
Full report at:
http://www.arabnews.com/node/1426186/middle-east
--------
Pakistan
Pakistan claims it foiled al-Qaeda attack at Christmas ceremony
Dec 26, 2018
LAHORE: Pakistani authorities on Wednesday claimed to have foiled a terrorist attack at a Christmas ceremony in Punjab province and arrested four al-Qaeda terrorists.
According to the Counter Terrorism Department (CTD), it got a credible information that four terrorists belonging to al-Qaeda were present near Francis Abad, Sheikhupura road Gujranwala, some 80-km from Lahore.
"They were planning to attack a Christmas function in Gujranwala city on December 25," a CTD spokesman said in a statement on Wednesday.
A CTD team along with police raided their hideout and arrested the four terrorists identified as Muhammad Tua Seen, Muhammad Junaid, Muneer Ahmed and Taaj Muhammad Shah.
"The terrorists have made important disclosures regarding other plans of the al-Qaeda in Pakistan. Raids are being conducted to arrest their accomplices," the spokesman said.
Explosive material and ammunition have been recovered from them. They have been shifted to an undisclosed location for further investigation.
The CTD recently arrested a member of the al-Qaeda from Lahore.
https://timesofindia.indiatimes.com/world/pakistan/pakistan-claims-it-foiled-al-qaeda-attack-at-christmas-ceremony/articleshow/67256195.cms
--------
Banned BLA leader killed in Kandahar suicide attack
Saleem Shahid
December 27, 2018
QUETTA: Aslam Baloch alias Achhu, a key leader of the banned Baloch Liberation Army (BLA) and the mastermind of the recent attack on the Chinese consulate in Karachi, has been killed along with five other leaders of the organisation in a suicide attack in Kandahar, Afghanistan.
According to reports, the suicide attack was carried out at a house in the Aino Maina area, an upscale locality of Kandahar, on Tuesday where the BLA leaders had gathered for a meeting.
A spokesman for the BLA, Jeeyand Baloch, on Wednesday confirmed the killing of Aslam along with five other leaders of the militant organisation. He said in a statement issued from an undisclosed place: "Aslam Baloch alias Achhu has been killed along with five other key leaders of the BLA in an attack."
He identified the five slain militants as Sangat Sardaro alias Tajo, Karim Marri alias Rahim Baloch, Sangat Akhtar Baloch alias Rustam, Freed Baloch and Sadiq Baloch.
Officials believe that Aslam alias Achhu was the mastermind of the attack on the Chinese consulate in Karachi and another suicide attack on a bus in the Dalbandin area of Chagai district which was carrying Chinese engineers and other staff to Quetta from Saindak this year.
Afghan Media reports said that the suicide bomber detonated his explosives in a house where Aslam and other BLA leaders were present. Aslam was injured in the attack and taken to hospital where he died.
Full report at:
https://www.dawn.com/news/1453853/banned-bla-leader-killed-in-kandahar-suicide-attack
--------
Two Pakistani nationals return home after release from Indian jails
December 27, 2018
LAHORE/AMRITSAR: Two Pakistani nationals, Abdullah and Mohammed Imran Qureshi Warsi, returned to Pakistan after the Indian authorities on Wednesday released them through the Attari-Wagah border.
Abdullah was detained from Attari in 2017 while Warsi spent 10 years in Bhopal Jail on charges of "forgery and spying" after going to India in 2004. Warsi, on the other hand, had gone to India to meet his Kolkata based relatives. He stayed in India for four years despite the expiry of his visa. Furthermore, he also got a ration card and a PAN card made during his stay. In fact, he was on his way to Bhopal to get a passport made when he was arrested by the police.
Warsi told Indian media that he could not be happier to see his mother, father and siblings who all reside in Karachi's Gulshan Iqbal area. He has an Indian wife and two children, whom he plans on taking to Pakistan through proper legal recourse, he added.
Full report at:
https://www.pakistantoday.com.pk/2018/12/26/two-pakistani-nationals-return-home-after-release-from-indian-jails/
--------
Afghan peace process: Pakistan takes friends on board
BY MIAN ABRAR
ISLAMABAD: Pakistan has taken its regional partners and neighbours on board regarding the outcome of the recently held dialogue between Washington and Afghan Taliban for the political settlement of the Afghan conflict.
According to sources in the federal government, Foreign Minister Shah Mahmood Qureshi briefed his Chinese, Iranian, Afghan and Russian counterparts over the recently concluded Afghan peace dialogue and sought their support for a peaceful resolution of the conflict.
"The biggest question for Pakistan was to ensure that all its neighbours were on board for a negotiated settlement of the Afghanistan mess. For this purpose, Pakistan is mustering political and diplomatic support for the Afghanistan solution. The biggest question, however, would remain that if the US leaves Afghanistan in the lurch again, who would provide funding to develop war-torn Afghanistan," sources said.
When asked if Qureshi had discussed with the four neighbours funding for Afghan development, sources said that funding would be discussed once the US negotiators spoke their mind on Afghanistan settlement. "It would be premature to discuss funding at this juncture. But all the issues would be on the table now."
Meanwhile, Foreign Minister Makhdoom Shah Mahmood Qureshi on Wednesday met Russian Foreign Minister Sergie Lavrov in Moscow as part of the government's policy of outreach in the neighbouring countries.
He was accompanied by Foreign Secretary Tehmina Janjua and senior officials of the Ministry of Foreign Affairs (MoFA).
The FM led detailed talks with Russian Foreign Minister Sergey Lavrov in the MoFA of the Russian Federation, on various bilateral and regional issues.
"Both the ministers agreed to continue efforts, including through Moscow Format of Consultations, for supporting reconciliation under an Afghan-led and Afghan-owned peace process. Recent developments concerning Afghan peace process were also discussed," an official handout issued here said.
"It was underlined that being the most important stakeholders, Pakistan and Russia had shared interests and concerns in Afghanistan and had the common goal of supporting all efforts to restore peace and stability in the country," said the statement.
The handout quoted Foreign Minister Sergey Lavrov as acknowledging Pakistan's efforts in the Afghan settlement and offered Russia's support to bring stability in the region.
"Both leaders also underscored the need to harmonise various regional approaches for developing a regional consensus on various issues," the statement added.
Qureshi also expressed government of Pakistan's desire to forge a long-term, multidimensional partnership and friendship with Russia. Both sides expressed satisfaction on the upward trajectory of bilateral relations.
The first meeting between Prime Minister Imran Khan and Prime Minister Dimitry Medvedev in Shanghai in November 2018 had set the tone to deepen cooperation in all areas. Views were also exchanged to support each other's position in multilateral forums. It was also decided to maintain close and regular contact for strengthening understanding of important issues.
It merits mention that prior to visiting Moscow, Shah Mahmood Qureshi visited Kabul, Tehran and Beijing and took his three counterparts into confidence on Afghan peace dialogue.
Qureshi had arrived in Moscow on the final leg of his four-nation tour Wednesday.
Earlier, during these meetings, Qureshi renewed Pakistan's commitment to assist in furthering peace in Afghanistan and the region.
The visit is part of promoting various initiatives and ideas for regional cooperation, especially in promoting economic and people-to-people linkages.
OUTREACH PLAN:
During his earlier visits to the four nations, the foreign minister discussed Pakistan's bilateral relations with the senior leadership of these countries, to strengthen cooperation in various areas.
"Implementing the vision of Prime Minister Imran Khan, Pakistan is eager to strengthen ties with neighbours and regional partners. Such cooperation is the key to unleashing Pakistan's considerable potential and expanding mutually beneficial economic cooperation and development," the official statement issued on Monday said.
Besides detailed exchange of views on important areas of bilateral cooperation, views will also be exchanged on the fast-changing regional and international environment. Recent developments concerning peace and reconciliation in Afghanistan would also be discussed during these meetings.
"Pakistan has always maintained that the solution to the conflict in Afghanistan lies in an Afghan-led and Afghan-owned peace process. International community's recent consensus to adopt this as the guiding principle to resolve the 40-years old Afghan conflict vindicates Pakistan's long-held view," the release added.
Full report at:
https://www.pakistantoday.com.pk/2018/12/26/fm-qureshi-lavrov-discuss-afghan-peace-process-in-moscow/
--------
Beijing, Islamabad discuss 'new changes' in Afghanistan issue
DECEMBER 26, 2018
Senior Chinese and Pakistani diplomats discussed on Tuesday "new changes" to the situation in Afghanistan, China's Foreign Ministry said, amid plans by the United States to withdraw about half of the 14,000 U.S. troops based in the country.
US officials have told Reuters that President Donald Trump has issued verbal orders to plan for a drawdown of close to 7,000 U.S. troops. The White House and the Pentagon have not yet commented publicly.
China, a close ally of Pakistan, has been deepening its economic and political ties with Kabul and is using its influence to try to bring the two neighbours closer.
Meeting in Beijing, the Chinese government's top diplomat State Councillor Wang Yi and Pakistani Foreign Minister Shah Mahmood Qureshi had a "deep discussion about new changes to the situation in Afghanistan and reached a broad consensus", China's Foreign Ministry said.
"Both sides believe that military means cannot resolve the Afghanistan issue, and promoting political reconciliation is the only realistic way," the ministry said in its short statement.
"The two sides welcome the various efforts made by all parties and are willing to maintain close communication and strategic coordination."
There was no direct mention of the planned US troop drawdown.
Chinese Foreign Ministry spokeswoman Hua Chunying, speaking at a daily news briefing, reiterated the statement and did not answer a question on whether the meeting was connected to the US troop withdrawal.
Full report at:
https://dailytimes.com.pk/337375/beijing-islamabad-discuss-new-changes-in-afghanistan-issue/
--------
South Asia
Afghanistan postpones next year's presidential election
26 December 2018
Afghanistan's election commission says the presidential vote scheduled for April will be postponed for several months to allow time to fix technical problems that surfaced during October's parliamentary elections.
Abdul Aziz Ibrahimi, deputy spokesman for the Independent Election Commission, said Wednesday that more time is needed to train staff on a biometric identification system designed to reduce fraud. He says additional verification of voter lists also requires more time.
Parliamentary elections were fraught with delays after the few staff trained on the biometric system did not show up at the polling booths and countless registered voters could not find their names on voter lists. Scores of challenges to the parliamentary election results have surfaced.
No new date for presidential polls has been set.
https://english.alarabiya.net/en/News/world/2018/12/26/Afghanistan-postpones-next-year-s-presidential-election.html
--------
Iran launches separate talks with Taliban in response to UAE, Saudi Arabia, US
26 December 2018
Iran and the Taliban are engaged in negotiations, Secretary of Iran's Supreme National Security Council Ali Shamkhani said in a meeting held in Kabul on Wednesday with Hamdullah Mohib, the National Security Advisor to Afghanistan's president.
"The series of (Iran's) connections and negotiations with the Taliban have been held with the knowledge of the Afghan government, and this process will proceed," Shamkhani was quoted by Tasnim news.
While there is much talk of Iran's influence in Iraq, Syria and Lebanon, little is known about Tehran's growing role in Afghanistan.
Iran has been maneuvering boldly to shape Afghanistan for its own good, over the years, when the United States disbanded the Taliban government in Afghanistan.
As in Iraq, Iran is using it for its own interest relentlessly to spread its influence.
Accompanied by a number of senior Iranian security, military and political officials, Shamkhani arrived in Kabul on Wednesday morning for an official visit.
Full report at:
https://english.alarabiya.net/en/News/world/2018/12/26/Iran-launches-separate-talks-with-Taliban-in-response-to-UAE-Saudi-Arabia-US.html
--------
Confirmed: Iran talking to Taliban 'to aid Afghan security'
Dec 26, 2018
Iran's top security official has confirmed that the country has been holding talks with the Afghan Taliban in coordination with Kabul to help relieve rampant insecurity in Afghanistan.
"The series of contacts and talks with the Taliban group have taken place with the knowledge of the Afghan government," Ali Shamkhani, the Secretary of Iran's Supreme National Security Council (SNSC), said on Wednesday. "That trend will continue."
Shamkhani made the announcement during a one-day visit to Afghanistan at the invitation of Hamdullah Mohib, the Afghan president's national security adviser.
Addressing the Geneva Conference on Afghanistan on November 28, Iranian Foreign Minister Mohammad Javad Zarif called on the international community to facilitate "inclusive" dialog between the Afghan Taliban and the Afghan government in a bid to restore peace to the war-torn country.
The United States led an invasion of Afghanistan in 2001. The invasion toppled a Taliban government that ruled over much of the country at the time; and while US-led forces continue to occupy Afghanistan, they have failed to restore security.
Zarif, who in a previous capacity famously helped with the establishment of a post-invasion government in Afghanistan in the Bonn conference in 2001, said in the Geneva conference that there was no military solution for Afghanistan and that the time had come for national reconciliation.
Elsewhere in his remarks, Shamkhani emphasized the need to establish "mechanisms based on constant consultations" and "the active participation of regional countries in security processes" to guarantee sustainable stability and growth for regional nations.
Shamkhani also hailed the constructive agreements arrived at during a one-day security conference among Iranian, Russian, Chinese, Indian, and Afghan security chiefs and advisers in Tehran in September. The security chief voiced Iran's support for the holding of the summit's next edition in Afghanistan.
'Daesh expansion a serious threat'
Shamkhani also described the threat of the expansion of the Takfiri terrorist group of Daesh in Afghanistan as "serious." He called for practical measures to stop that from happening.
The SNSC chief, who is being accompanied by a delegation of ranking political, military, and security officials, will be meeting with various Afghan authorities, including President Ashraf Ghani, during his stay in Afghanistan.
US officials said last Thursday that President Donald Trump had ordered a withdrawal of nearly half of the American forces stationed in Afghanistan, although the US commander in Afghanistan later said no order had been officially received to begin such a withdrawal.
'Iran pillar of security'
Mohib, the Afghan presidential national security adviser, said the Islamic Republic had always been "one of the main pillars of security in the region."
"The cooperation of the two countries will undoubtedly be very effectual in resolving Afghanistan's current security problems," he said.
Full report at:
https://www.presstv.com/Detail/2018/12/26/584007/Iran-Taliban-Afghanistan-Shamkhani
--------
Rohingya find barriers to return to Myanmar
December 27, 2018
Ethnic cleansing, phase two, confronts the Rohingya Muslims of Myanmar who were victims of a brutal uprooting beginning in August 2017.
Myanmar soldiers forced hundreds of thousands from their homes in Rakhine state. The Rohingya fled to tent camps across the border in Bangladesh, frightened and stripped of everything. Now comes a report that Myanmar, also known as Burma, is taking steps to make the exodus irreversible.
On Dec. 18, Reuters published a special report including satellite photos, interviews and a government map showing how authorities in Myanmar, despite promises that the Rohingya could return, are in fact making that increasingly unlikely. Many of the villages were burned at the time of the assault, then bulldozed. New homes are being built and occupied mainly by Buddhists, some from other parts of Rakhine state; the Buddhist majority in Myanmar has long persecuted the Rohingya minority.
Reuters discovered that the Myanmar government is building some of the new homes and helping the Buddhist resettlement, led by nationalists who want to establish a Buddhist majority in the area. Reuters was shown a resettlement map drafted by the government that reveals many returning Rohingya would be housed in several dozen Rohingya-only settlements, isolating them from the rest of the population. It all adds up to a new round of ethnic cleansing, creating permanent facts on the ground to erase the Rohingya presence, also conveniently paving over evidence of the original atrocity.
The Reuters report includes striking satellite photographs showing what has happened to the village of Inn Din, the scene of a massacre of 10 Muslim men during the 2017 offensive, a horror documented earlier by Reuters.
The photographs show how the brown-roofed Rohingya homes in the village have been systematically destroyed. Buddhist houses are still standing, and 100 new homes for Buddhists are being built, according to the report.
The government's resettlement map shows that no site for Rohingya is planned in the village, according to Reuters.
Two Reuters reporters, Wa Lone and Kyaw Soe Oo, who were investigating the killing by the security forces of Rohingya villagers, have been unjustly sentenced to prison terms on trumped-up charges by the Myanmar authorities.
Myanmar's de facto leader, Aung San Suu Kyi, has said the government is pursuing "the voluntary, safe and dignified return" of the Rohingya. But, so far, it is not happening.
In November, plans to repatriate about 2,200 collapsed when Rohingya in the camps protested that they would not go unless granted citizenship and allowed back to their original homes. Myanmar wants the refugees to accept national verification cards, known as NVCs, residency documents short of citizenship.
The Rohingya vehemently oppose the card, saying it depicts them as new arrivals undeserving of citizenship in lands where they were born and have lived for generations.
Full report at:
http://www.journalgazette.net/opinion/20181227/rohingya-find-barriers-to-returnto-myanmar
--------
NSA Hamdullah Mohib says ISIS has been defeated in Afghanistan
27 Dec 2018
The Afghan National Security Advisor Dr. Hamdullah Mohib has said that the Islamic State of Iraq and Syria (ISIS) terrorist group has been defeated in Afghanistan as he informed regarding the growwing capabilities of the Afghan National Defense and Security Forces capabilities as compared to the militants and terrorist groups.
Dr. Mohib made the remarks during a meeting with Ali Shamkhani, the Secretary of the National Security Council of Iran.
Pointing towards the ongoing efforts to revive the Afghan-led peace process, Dr. Mohib said the people of Afghanistan want a lasting peace with dignity as he emphasized that the regional countries should assist Afghanistan in this regard.
He said a national consensus exists regarding peace process in Afghanistan and regional consensus is also needed to bring peace and stability in Afghanistan, a consensus which should be based on government to government relations.
According to Dr. Mohib, terrorism is an ominous phenomenon which threatens both countries, emphasizing that instability in one country would destabilize the whole region.
Full report at:
https://www.khaama.com/nsa-hamdullah-mohib-says-isis-has-been-defeated-in-afghanistan-03007/
--------
Afghan forces repulse coordinated Taiban attack on Almar district
26 Dec 2018
The Afghan National Defense and Security Forces have repulsed a coordinated attack by Taliban militants on Almar district of northern Faryab province.
The 209th Shaheen Corps of the Afghan Military in the North in a statement said a group of Taliban militants launched coordinated attack on Almar district at around 6pm on Tuesday which continued until 12 am.
The statement further added that the clashes left at least eight militants dead and five others wounded.
According to 209th Shaheen Corps of the Afghan army, the dead bodies of a number of militants were also left in the area after the attack was repulsed.
In the meantime, the 209th Shaheen Corps said two shops also caught fire after in a rocket attack by the militants.
The anti-government armed militant groups including Taliban have not commented regarding the clashes so far.
Full report at:
https://www.khaama.com/afghan-forces-repulse-coordinated-taiban-attack-on-almar-district-03004/
--------
Arab World
Calgary's Syrian, Muslim communities donate blood over the holidays
Dec. 26, 2018
CALGARY—As many Calgarians kick up their feet and relax for the holidays, others — including members of the city's Muslim and Syrian communities — are rolling up their sleeves to donate blood.
Relatively few people think to donate blood during the last few days of the year, especially between Christmas Day and New Year's Day. Yet Canadian Blood Services (CBS) said there's still an acute need for it.
Leukemia patients, for instance, require around eight pints of blood per week. The average amount needed for a car crash victim hovers around 50 pints. According to Jhoanna Del Rosario, territory manager with CBS in Calgary, around a thousand blood donors will be needed in the city between Boxing Day and Jan. 6.
"The need for blood doesn't stop, and it doesn't take a holiday or vacation," she said in an interview on Wednesday.
Members of the Syrian community in Calgary, as well as the Muslim Association of Canada's Calgary chapter, are stepping in to fill the void. On Boxing Day, 23 Syrians showed up at CBS's blood donor clinic in Eau Claire to give blood. The clinic only had the capacity for 20 donations, according to Sam Nammoura, co-founder of the Syrian Refugee Support Group Calgary.
"The reason we did the Boxing Day (blood drive) is because everybody's busy on these days — whether it's Christmas Day, Boxing Day, or New Year's Day," Nammoura said. "So, we want to show up when everybody's busy."
Last January, CBS reached out and asked for donors to drop by on New Year's Day. According to Nammoura, the service had a shortage of blood and no scheduled donors lined up on that day. Members of Calgary's Syrian communities, even those unable to speak English at the time, showed up.
Starting in 2018, Syrians across the country also made a point of donating blood on April 14, and plan to make it an annual tradition.
Nammoura said that for the community, donating blood isn't just an expression of charity.
"Donating blood in Syrian culture and throughout the Middle East is a really symbolic way of devotion and commitment to the cause," he explained. "Donating blood, it means that I'm willing to sacrifice everything that I have — including my blood — for that cause … whether it's love of a country or appreciation of the people."
The Muslim Association of Canada's (MAC) Calgary chapter is also running a blood drive on Thursday out of the Four Points by Sheraton Hotel and Suites in northwest Calgary. Arshiya Shareef, who helped organize Thursday's drive, said they're expecting just over a hundred people.
Organizers took to social media, put out press releases, and spread the word at mosques to go and donate blood. In the future, she said, MAC would love to set up their own blood clinic to help offset the constant need for blood.
Blood drives aren't just a way to give back, they're also a way to build bridges with other cultures within Calgary, Shareef said. With Islamophobia "on the rise like never before," she feels it's important for MAC to let others in Calgary know that the Muslim community is doing this work.
"When you're on the surgeon's table, there's nobody who's going to ask your religion or your background or your ethnicity. That's probably the last thing on your mind. On the outside, you might have … so many superficial differences," she said. "But on the inside, basically, we're all the same."
https://www.thestar.com/calgary/2018/12/26/calgarys-syrian-muslim-communities-donate-blood-over-the-holidays.html
--------
Trump defends Syria pullout while on surprise visit to Iraq
26 December 2018
President Donald Trump on Wednesday defended his decision to withdraw US troops from Syria during an unannounced visit to Iraq, saying, "A lot of people are going to come around to my way of thinking."
Trump abruptly made the decision on Syria last week, against the advice of top aides and commanders, including Defense Secretary James Mattis, who resigned the next day. Trump said he had told his advisers "let's get out of Syria," but was then persuaded to stay, before deciding to bring the 2,000 troops home.
"I think a lot of people are going to come around to my way of thinking. It's time for us to start using our head," the president told reporters at the al-Asad Air Base west of Baghdad where he and first lady Melania Trump spent three hours on the ground visiting US troops.
Trump also said the United States had no plans to withdraw its troops from Iraq, adding, "In fact we could use this as the base if we wanted to do something in Syria." Trump indicated he would not rush to nominate a new secretary to replace Mattis, the first defense chief in decades to resign over policy differences with the president.
Trump said Deputy Defense Secretary Patrick Shanahan, whom he named on Sunday to replace Mattis in an acting capacity starting on Jan. 1, "could be there for a long time."
Trump has come under withering criticism from fellow Republicans, Democrats and international allies over his decision to pull out of Syria because he believed ISIS militants have been defeated.
Critics argue that the decision could undercut US leverage in the region and undermine diplomatic efforts to the end the Syrian civil war, now in its eighth year.
Ankara is threatening a new offensive in Syria. To date, US forces in Syria have been seen as a stabilizing factor and have somewhat restrained Turkey's actions against Syrian Kurdish forces.
On Sunday, Trump said in a tweet that he had spoken with Turkish President Tayyip Erdogan about a "slow and highly coordinated" withdrawal of the US troops, suggesting that he might slow down the process after the barrage of criticism.
Full report at:
https://english.alarabiya.net/en/News/middle-east/2018/12/26/Trump-defends-Syria-pullout-while-on-surprise-visit-to-Iraq.html
--------
German parliamentary report: Turkey has already invaded Syria
26 December 2018
An expert report prepared for German parliament said Turkey's military presence in Syria "fulfills the criteria of an invasion" according to international law, Deutche Welle Turkish reported on Wednesday.
The report, prepared by the parliament's Research Services at the request of the German Left Party (Die Linke), examined Turkey's military presence in northern Syria.
Turkey currently controls a large swathe of territory in northwestern Syria consisting of Al-Bab and the border cities of Jarablus and Azaz, captured from the Islamic State (ISIS) in the Euphrates Shield operation launched in August 2016.
Turkey also seized control of the northwestern province of Afrin this year, formerly controlled by the Kurdish People Protection Units (YPG), which Turkey sees as an extension of the Kurdistan Workers Party (PKK), an armed group which has been fighting inside Turkey since 1984.
GRAPHIC: Alleged Turkish-backed faction tortures Syrian man using Assad methods
"When Turkey's military presence in Afrin, Azaz, Al-Bab, and Jarablus regions in northern Syria is examined, it is seen that it fulfils the criteria of an invasion set in international law," the report said.
Sevim Dagdelen, deputy chairman of the Left party in the German Bundestag, criticized the German government for declining to evaluate Turkey's military activities in Syria as a violation of international law.
Full report at:
https://english.alarabiya.net/en/News/middle-east/2018/12/26/German-parliamentary-report-Turkey-has-already-invaded-Syria-.html
--------
In first, former Egyptian presidents Mubarak and Morsi face-to-face in court
26 December 2018
Former Egyptian President Mohamed Hosni Mubarak testified against former Egyptian President Mohamed Morsi who is charged with damaging and setting fire to prison buildings, murder and attempted murder, and looting prison weapons depots while allowing prisoners from Hamas, Hezbollah, and other criminals to escape.
Mubarak said that 800 people from different nationalities stormed through the eastern border of Egypt during the January 25 revolution, through Gaza tunnels.
"They entered Egyptian land through Gaza and had weapons… They headed toward the prisons to release prisoners belonging to Hezbollah, Hamas and the Muslim Brotherhood," Mubarak said.
Mubarak added that they broke into the Wadi el-Natrun prisons as it held prisoners belonging to the Muslim Brotherhood and Hamas.
He said that the perpetrators killed police officers north of Sinai, adding that he has more information but would need permission from the presidency to reveal more.
"The issue of Gaza tunnels is complex and we destroyed many of them before the revolution… We were exposed to attacks from Gaza while destroying the tunnels," Mubarak said.
Mubarak was accompanied by his two sons, Gamal and Alaa Mubarak.
Egyptians await an extraordinary moment on Wednesday, when the two former Egyptian presidents appeared together before the Criminal Court in Cairo in the case of storming prisons during Egypt's January 25 revolution.
The former President Mubarak was due to testify during the last hearing in early December but was absent as he refused to fulfill the civilian request, because he still enjoys military status, according to defense lawyer Farid al-Deeb.
The case brings together Mubarak and Morsi in one hall, the first as witness and the second as defendant for the first time in the history of Egypt.
Mubarak is closely associated to the case which looks into the issue of the border intrusion.
Full report at:
https://english.alarabiya.net/en/News/middle-east/2018/12/26/For-the-first-time-Mubarak-and-Morsi-face-to-face-in-court-.html
--------
Iranian people, officials attend funeral service for late Ayatollah Shahroudi
Dec 26, 2018
A funeral procession for the Chairman of Iran's Expediency Council Ayatollah Seyyed Mahmoud Hashemi-Shahroudi has seen a massive turnout, with a large number of Iranian people and government officials paying their last respects to the senior cleric.
The mourning ceremony began on Wednesday morning at Tehran's Imam Khomeini Grand Prayer Grounds (Mosalla), where Leader of the Islamic Revolution Ayatollah Seyyed Ali Khamenei performed the funeral prayer.
The heads of the three branches of Iran's government, namely President Hassan Rouhani, Parliament Speaker Ali Larijani and Judiciary Chief Sadeq Amoli Larijani, were all present.
Among other participants were government ministers, lawmakers, military top brass as well as members of the Expediency Council and the Assembly of Experts.
After the ceremony in Tehran, the body of Ayatollah Shahroudi will be transferred to the city of Qom, where he will be laid to rest at Hazrat Masoumeh's holy shrine later in the day.
Wednesday has been declared a national day of mourning in honor of Ayatollah Shahroudi, who passed away at the age of 70 after months of battling illness on Monday.
During his lifetime, Ayatollah Shahroudi served in many crucial positions in the Islamic Republic. He was born in 1948 in the Iraqi city of Najaf, which has hosted many Muslim scholars.
In Iraq, he attended classes held by the late founder of the Islamic Republic, Imam Khomeini.
He fought against the dictatorial rule of Iraq's Saddam Hussein and was jailed and tortured by his Baathist forces.
Ayatollah Shahroudi traveled to Iran in the wake of the Islamic Revolution to serve as an intermediary between Imam Khomeini and Iraqi scholars and leaders.
He took the helm of the Expediency Council in 2017 to succeed the late Ayatollah Ali Akbar Hashemi-Rafsanjani. The Expediency Council is mainly responsible for arbitrating between the Iranian Parliament and the Guardian Council, which itself supervises the Parliament.
Ayatollah Shahroudi also served as the head of Iran's Judiciary for 10 years. His attempts for speeding up due processes and establishing close contact with ordinary people were among the achievements he was credited for.
He also served in the capacity of the vice president of Iran's Assembly of Experts, which elects and oversees the performance of the Leader of the Islamic Revolution.
Full report at:
https://www.presstv.com/Detail/2018/12/26/583990/Ayatollah-HashemiShahroudi-funeral-Tehran-Leader-Ayatollah-Khamenei
--------
US support emboldens Israel to attack Syria: Foreign Ministry
Dec 26, 2018
Syria has strongly condemned Israel's recent missile strike near the capital Damascus as a blatant violation of a United Nations resolution, adding that Tel Aviv would not have been able to carry out such attacks without support from the United States.
In two separate letters addressed to the UN Secretary General Antonio Guterres and the head of the UN Security Council, the Syrian Foreign Ministry on Wednesday condemned the attack as a violation of UN Security Council Resolution 350, which called for a ceasefire between Israel and Syria in the wake of the Yom Kippur War.
The Foreign Ministry accused Israel of seeking to prolong the crisis in Syria, noting that such strikes are tantamount to what Daesh and other terrorist groups are doing in Syria.
Syria once again asks the Security Council to fulfill its responsibilities in keeping international peace and security and adopting firm measures to prevent the repetition of the Israeli attacks, the ministry concluded.
Meanwhile, Lebanon's Foreign Ministry also condemned the airstrike and affirmed Syria's right to defend its sovereignty.
In a statement issued on Wednesday, the ministry asked the international community to denounce the aggression and counter the Israeli violation of Lebanon's airspace to conduct strikes against its neighbor, Syria.
On Tuesday, Syrian air defense systems intercepted several missiles fired by Israeli warplanes, nearly a month after government forces foiled another Israeli act of aggression against the country.
The Israeli missiles were launched from the Lebanese airspace and most of them were downed before reaching their targets.
Israeli officials argue that Iran's presence in Syria, which is part of an advisory mission requested by the Damascus government, poses a threat to the Tel Aviv regime's security.
The Israeli military, using this pretext, has pounded alleged positions of Iranian and Iran-backed forces across Syria over the course of the seven-year conflict.
Full report at:
https://www.presstv.com/Detail/2018/12/26/584055/Syria-Israel-airstrike-UNSC-resolutions-Separation-of-Forces-Agreement
--------
Former Iraqi premier responds to Bahrain's criticism of his remarks
Dec 26, 2018
Former Iraqi Prime Minister Nouri al-Maliki has responded to the Bahraini regime's recent criticism of his latest remarks, where he had censured the ruling Al Khalifah dynasty over crackdown on political dissidents and pro-democracy campaigners in the tiny Persian Gulf kingdom.
"We did not demand interference in the affairs of Bahrain or any other country, as the others interfere in our affairs. We did not allow violence and we do not encourage anyone to do so," Maliki, who now heads the State of Law Coalition in the Iraqi parliament, wrote in a post published on his official Twitter page on Wednesday.
He then called for "dialogue and rejection of marginalization and the exercise of political tyranny."
Maliki also stressed "respect for people and their right to freedom and the use of constitutional mechanisms and democracy in dealing with crises."
On Monday, Bahrain's Foreign Ministry summoned the deputy charge d'affaires of the Iraqi embassy to condemn Maliki's comments regarding the Manama regime's crackdown on dissent.
The ministry described the remarks as "blatant and unacceptable interference in the internal affairs of Bahrain."
"(A Bahraini official) described Maliki's attitude as a clear solidarity with those who seek to spread chaos, violence and terrorism and exhibit hatred," Bahrain's state-run news agency BNA reported.
Thousands of anti-regime protesters have held demonstrations in Bahrain on an almost daily basis ever since a popular uprising began in the country in mid-February 2011.
They are demanding that the Al Khalifah regime relinquish power and allow a just system representing all Bahrainis to be established.
Manama has gone to great lengths to clamp down on any sign of dissent. On March 14, 2011, troops from Saudi Arabia and the United Arab Emirates were deployed to assist Bahrain in its crackdown.
Scores of people have lost their lives and hundreds of others sustained injuries or got arrested as a result of the Al Khalifah regime's crackdown.
On March 5, 2017, Bahrain's parliament approved the trial of civilians at military tribunals in a measure blasted by human rights campaigners as being tantamount to imposition of an undeclared martial law countrywide.
Full report at:
https://www.presstv.com/Detail/2018/12/26/584026/Former-Iraqi-premier-responds-to-Bahrains-criticism-of-his-remarks
--------
Russia: Eastern Syria must return to govt. control after US exit
Dec 27, 2018
Russia says the territories currently occupied by American troops in eastern Syria should return to government control following Washington's planned withdrawal of its military forces from the Arab country.
Russian Foreign Ministry spokeswoman Maria Zakharova said on Wednesday that Moscow has no information about the pullout schedule or contact between Washington and Damascus on the matter.
However, she added, Moscow understands the importance of US President Donald Trump's decision and is closely monitoring its implementation, which would "contribute to a comprehensive settlement of the situation."
"The question emerges — who will receive control over the US-held Syrian territories? Obviously, in accordance with international law and taking into consideration what Syria and its people have been through, it should be the Syrian government," she said. "If the troop withdrawal happens, it would have a positive impact on the situation," she added.
Last week, Trump ordered a quick withdrawal of all 2,000 US forces from Syria claiming victory over the Daesh Takfiri terrorist group in the war-torn country.
Analysts described US forces' pullout from Syria as a victory for Damascus and its allies, which was made possible through the resistance of the Syrian nation and government during the foreign-sponsored militancy there.
Elsewhere in her remarks, Zakharova stressed that "the question is still open" about whether the Americans would "continue airstrikes and restricted land operations" in Syria.
"Official American representatives make it clear that the withdrawal of the army from Syrian territory does not mean an end to the activity by the so-called US-led international coalition," she pointed out.
The US and its allies have been bombarding what they call Daesh positions inside Syria since September 2014 without any authorization from the Damascus government or a UN mandate.
The aerial assaults have failed to fulfill their declared aim of countering terrorism, but destroyed much of Syria's infrastructure and left many civilian casualties.
Turkey prepares to launch an operation against Kurdish militants in parts of northern Syria that lie east of the Euphrates River. The anti-Damascus Kurdish militants have long enjoyed US support despite Ankara's fury.
Full report at:
https://www.presstv.com/Detail/2018/12/27/584072/Russia-Syria-withdrwal
--------
Muslim World League chief receives Japanese scholars in Riyadh
December 26, 2018
JEDDAH: The secretary-general of the Muslim World League (MWL), Dr. Mohammed bin Abdul Karim Al-Issa, on Wednesday received a delegation of senior oriental studies scholars from Japan.
The delegation, led by Prof. Hiroshi Nawata, discussed a number of issues related to cooperation among cultures and civilizations with the MWL chief.
The two sides stressed the need for a meaningful dialogue to build a peaceful world for the good of the entire humanity.
It would be pertinent to mention that the Conference on Peace in Revealed Religions, held at Oxford University in the UK in May, adopted an MWL initiative on positive national integration of religious and cultural minorities.
The conference — attended by a large number of religious, political and intellectual leaders — also adopted the MWL's call to replace the term "minorities" with "religious and cultural special category."
Full report at:
http://www.arabnews.com/node/1426286/saudi-arabia
--------
Mideast
Palestine to apply for full UN membership early next year, foreign minister says
Dec 26, 2018
Palestinian Foreign Minister Riyad al-Maliki says Palestine would "lodge an application to gain full state membership at the United Nations" in January.
Speaking in an interview with Ramallah-based Voice of Palestine radio station on Wednesday, Maliki said he would file the application upon Palestinian President Mahmoud Abbas' instructions in a bid to upgrade Palestine's status from an observer state to a full-member state to the UN Security Council (UNSC), when he visits New York next month.
Palestinians need support from at least nine of the UNSC's 15 member states to secure full state membership.
Maliki further noted that he would demand the implementation of the UN Security Council Resolution 2334, and ask the International Criminal Court (ICC) to open an official inquiry into Israeli settlement construction.
Less than a month before US President Donald Trump took office, the UNSC adopted Resolution 2334, calling on Israel to "immediately and completely cease all settlement activities in the occupied Palestinian territories, including East Jerusalem" al-Quds.
About 600,000 Israelis live in over 230 illegal settlements built since the 1967 Israeli occupation of the Palestinian territories of the West Bank and East Jerusalem al-Quds.
Palestinians want the West Bank as part of a future independent Palestinian state with East Jerusalem al-Quds as its capital.
The last round of Israeli-Palestinian talks collapsed in 2014. Among the major sticking points in those negotiations was Israel's continued settlement expansion on Palestinian territories.
Trump backtracked on Washington's support for a "two-state solution" earlier this year, saying he would support any solution favored by both sides.
"Looking at two-state or one-state, I like the one that both parties like. I'm very happy with the one both parties like. I can live with either one," the US president said during a joint press conference with Israeli Prime Minister Benjamin Netanyahu in Washington on February 15.
https://www.presstv.com/Detail/2018/12/26/584019/Palestine-pply-for-full-UN-membership-early-next-year-foreign-minister-says
--------
Sporadic clashes reported in Hudaydah ahead of truce committee meeting
Dec 26, 2018
Fresh clashes have been reported between Yemen's Houthi fighters and militants loyal to the country's former Saudi-backed regime in Hudaydah ahead of a UN-organized joint committee meeting meant to monitor the ceasefire in the strategic Red Sea port city. An AFP correspondent said Yemen's rival parties had exchanged gunfire on Wednesday and that the sound of heavy artillery could be heard to the east of Hudaydah.
The skirmishes come as retired Dutch Major General Patrick Cammaert is expected to chair a joint committee, including representatives from Yemen's warring factions, to monitor the Hudaydah truce that entered into force on December 18.
Cammaert arrived in Hudaydah on Sunday from the Houthi-held capital, Sana'a, after holding talks with officials from Yemen's former Saudi-allied regime in the city of Aden.
The ceasefire was reached recently in Sweden during peace talks between delegations from the Houthis and the Saudi-backed former government.
The opposite sides agreed to the withdrawal of their forces and the deployment of UN monitors to the port, the entry point for most of Yemen's commercial goods and vital aid.
The UN monitoring team is tasked with securing the functioning of Hudaydah and supervising the pullout of forces from the city.
On Tuesday alone, the Houthis recorded at least 31 violations of the Hudaydah truce by the aggressors.
However, an official for the Saudi-led coalition accused the Houthi fighters of 183 violations, saying 10 militants had been killed since the ceasefire went into force.
Hudaydah, a lifeline for millions of Yemenis, has seen some of the heaviest fighting in the Saudi-led aggression, which began in March 2015.
Saudi Arabia and the United Arab Emirates launched the Hudaydah offensive in June but have been facing strong resistance from Yemeni armed forces — led by the Houthis — as well as the city's residents.
The Saudi war has killed tens of thousands of Yemeni people and made the country the world's worst humanitarian disaster.
Full report at:
https://www.presstv.com/Detail/2018/12/26/584006/Yemen-Hudaydah-truce
--------
Iran held talks with Afghan Taliban amid peace push
DECEMBER 27, 2018
Iran has met with the Afghan Taliban, a top Iranian security official said Wednesday according to the Tasnim news agency, just days after the militants attended reconciliation talks in the UAE. Ali Shamkhani, secretary of Iran's Supreme National Security Council, made the announcement while on a visit to the Afghan capital Kabul, several Iranian agencies reported.
"The Afghan government has been informed of the communications and talks carried out with the Taliban, and this process will continue," he said, quoted by Tasnim. No details on where the talks took place were given by the news agency, which is considered close to Iran's Revolutionary Guards. "The Islamic Republic has always been one of the primary pillars of stability in the region and cooperation between the two countries will certainly help in fixing Afghanistan's security issues of today," Shamkhani said. Abas Aslani, a reporter for Tasnim, tweeted that it was the first time talks had been confirmed between Iran and the Taliban.
The announcement follows reconciliation talks last week between the United States and Taliban officials in the United Arab Emirates.
The Taliban said they also held meetings with officials from the UAE, Pakistan and Saudi Arabia, but the militants refused to meet a delegation from Afghanistan. The renewed diplomatic efforts come as Washington seeks a way out of the 17-year conflict. An American official told AFP last week that President Donald Trump had decided to pull out "roughly half" of the 14,000 US forces, but the White House has yet to confirm the widely-publicised move.
Complex history
Iran and Afghanistan share a nearly 600-mile border, and have a had a complex relationship in recent years.
Tehran has long supported its co-religionists in Afghanistan, the Shia Hazara minority, who were violently persecuted by the Taliban during its rule in the 1990s. Iran worked alongside the United States and Western powers to help drive out the Taliban after the US-led invasion in 2001. But there have been allegations, from Western and Afghan sources, that Iran's Revolutionary Guards have in recent years established ties with the Taliban aimed at driving out US forces from Afghanistan. Iran hosted Pakistani Foreign Minister Shah Mehmood Qureshi on Monday in Tehran. No details were given of the discussions.
Full report at:
https://dailytimes.com.pk/337721/iran-held-talks-with-afghan-taliban-amid-peace-push/
--------
Israeli parliament approves early elections
27 December 2018
Israeli lawmakers on Wednesday voted overwhelmingly to dissolve parliament and hold snap elections on April 9.
Legislators backed the move 102 for and two against after Prime Minister Benjamin Netanyahu's coalition agreed Monday on early polls.
The premier's coalition was left with a one-seat majority after defense minister Avigdor Lieberman stepped down in November over a controversial Gaza ceasefire deal.
Party leaders have failed to agree on a key bill regulating drafting ultra-Orthodox Jews to the army, and that was the immediate reason to move toward elections.
Analysts, however, say that Netanyahu wanted the polls before Attorney General Avichai Mandelblit announces his decision on whether to indict the premier in three different corruption cases.
While no official timeframe has been given, reports say such an announcement could come in mid-April.
With politicians now entering campaign mode, Netanyahu met in Jerusalem on Wednesday with leaders of Israeli settlements in the occupied West Bank and made his pitch for why they should stick with him.
Netanyahu's current coalition is seen as the most right-wing in Israel's history.
"We'll see an attempt by the left-wing to overthrow our rule with the help of the media and others," he said.
"They can't succeed, because if they do -- that will pose a clear danger to the settlement movement."
Calling on their support in the elections, Netanyahu told the settler leaders they should not take the fate of their enterprise for granted.
"We had to work hard, with the current American administration as well, for the great achievements we brought the settlements," he said in remarks relayed by his office.
While Netanyahu portrays himself as the champion of the settlements, settler leaders say he has not done enough, with three prominent heads of West Bank settlements boycotting the Wednesday meeting in protest.
Full report at:
https://english.alarabiya.net/en/News/middle-east/2018/12/27/Israeli-parliament-approves-early-elections-.html
--------
Yemeni army liberates new fronts in heart of Houthi stronghold Saada
26 December 2018
In a new military operation on Tuesday, the Yemeni army with support from the Arab Coalition liberated new fronts lying between the regions of Maran and Alab northwest of Yemen's Saada.
The commander of the army's Third Brigade, Brigadier Aziz al-Khattabi, said that liberating these fronts in the heart of the Houthi stronghold in Saada came after a strategic study by the commanders of the battles who aim to end the militias control in the area.
Khattabi confirmed that through the operation, the army was able to liberate a series of mountains, and the al-Baha souq, which stretches over about 35 kilometers.
He added that the battles caused losses in Houthi militiamen and equipment, as the attack took them by surprise.
Full report at:
https://english.alarabiya.net/en/News/gulf/2018/12/26/Yemeni-army-liberates-new-fronts-in-heart-of-Houthi-stronghold-Saada.html
--------
Palestinian security forces block press conference by parliament speaker
December 26, 2018
RAMALLAH: Palestinian security forces on Wednesday prevented a press conference by the speaker of the Hamas-controlled Palestinian parliament after a court ordered the largely defunct body dissolved.
Security forces in Ramallah in the occupied West Bank deployed in the area outside the Palestinian Legislative Council building ahead of a scheduled press conference by speaker Aziz Dweik, a Hamas member, AFP journalists saw.
A spokesman for the Palestinian security services said they were enforcing the court decision and that former members of parliament no longer have the right to use the building since the body has been dissolved.
In comments to Hamas's Al Aqsa television, Dweik said he had been detained at a checkpoint and denounced the actions of the security forces, calling the court's decision illegal.
Hamas official Sami Abu Zuhri called the security forces' actions a "serious escalation."
It was the latest controversy over Palestinian president Mahmud Abbas's move to dissolve the parliament, which has not met since 2007.
Dissolving the parliament allows Abbas to further pressure his rivals Hamas, which runs the Gaza Strip.
While the parliament has been largely defunct, Palestinian law allows for its speaker to act as interim president should 83-year-old Abbas die in office.
The ruling to dissolve parliament was made by the Palestinian Constitutional Court in Ramallah, and Hamas has said it rejects the move by a court created by Abbas "to legitimize his arbitrary decisions."
The ruling also called for elections within six months.
Hamas won the last parliamentary elections in 2006 in a landslide, resulting in an electoral dispute with Fatah.
The Islamists seized control of the Gaza Strip the following year, and the split between them and Abbas's Fatah has persisted.
A range of issues have kept the two sides apart, including Hamas's refusal to disarm its military wing.
Abbas, whose Fatah is based in the West Bank, has sought to pressure Hamas in recent months by reducing salaries in the Gaza Strip, which is under an Israeli blockade, among other moves.
Full report at:
http://www.arabnews.com/node/1426126/middle-east
--------
URL: https://www.newageislam.com/islamic-world-news/sajid-javid-uk-home-secretary/d/117284
New Age Islam, Islam Online, Islamic Website, African Muslim News, Arab World News, South Asia News, Indian Muslim News, World Muslim News, Women in Islam, Islamic Feminism, Arab Women, Women In Arab, Islamophobia in America, Muslim Women in West, Islam Women and Feminism