New Age Islam News Bureau
24 Dec 2018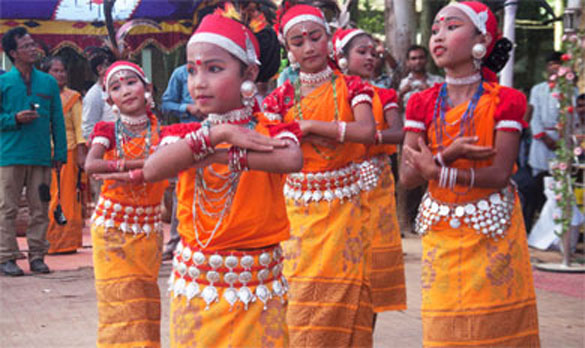 Ethnic Garo Catholic girls perform a traditional dance during harvest festival in 2015 at Tangail district. Ethnic groups have blended their culture and tradition with Christmas celebrations. (Photo by Stephan Uttom/ucanews.com)
-----
• Sabah PAS Cleric Urges Muslims to Celebrate Festivals Together With Non-Muslims
• Tradition and Spirituality Grace Bangladesh at Christmas
• Exonerated but Not Free: Asia Bibi to Spend Christmas In Custody
• Between 'Too Muslim' and 'Not Muslim Enough', a Lonely Naseeruddin Shah
• Christmas Joy Missing In Rubble of Syria Town
• Iran Urges United Muslim Front in Support of Palestine
Southeast Asia
• Sabah PAS Cleric Urges Muslims to Celebrate Festivals Together With Non-Muslims
• PAS Youth Chief Warns Muslims Not To Celebrate Christmas
• Sarawak CM 'Gifts' Non-Muslim Houses Of Worship RM50m for Christmas
• PAS MP offers 'unity government' amid Pakatan squabbles
• Report: Civil marriage matters can only be settled in civil court
• Hunt for survivors as Indonesian tsunami death toll tops 280
--------
South Asia
• Tradition and Spirituality Grace Bangladesh at Christmas
• Nearly Fifty Years On, Scars of Liberation Movement Yet To Heal In Bangladesh
• Taliban Attach Conditions to Talks with Kabul, Doubt US Peace Move
• Experts favour robust diplomatic initiatives to fix Rohingya crisis
• Role of pro-Pakistan Jamaat in focus as Bangladesh heads to polls on Dec 30
• Iran funding construction of 'Persian Language' faculty in Kabul University
--------
Pakistan
• Exonerated but Not Free: Asia Bibi to Spend Christmas In Custody
• Pakistan Army Chief Backs Imran Khan's Peace Initiatives towards India
• Don't take peace offer as our weakness, COAS tells India
• Disbursement delays force closure of WB education project
• Pakistani national Imran Warsi released after serving 10 years in Indian prison
• Paktika drone strike kills senior Taliban commander
• UK govt funding Pakistan's special courts prosecuting terror suspects: report
--------
India
• Between 'Too Muslim' and 'Not Muslim Enough', a Lonely Naseeruddin Shah
• UAE-Based Alumni of India's Aligarh Muslim University Win Awards
• Pakistan a Land Of Atrocities against Minorities: Mukhtar Abbas Naqvi
• Politicians, social media slam Pak PM Imran Khan for 'preaching' tolerance to India
• Arms-looter Musa group was looted by Hizbul Mujahideen men
--------
Arab World
• Christmas Joy Missing In Rubble of Syria Town
• UN adopts resolution in favour of Syria sovereignty over occupied Golan Heights
• Syrian army finds US arms, Israeli medicine in militant depots in Quneitra
• Egyptian forces kill 14 militants in Sinai Peninsula
• Syrian Army Preparing for Major Operation against ISIL in Deir Ezzur
• Military Expert: Syrian Army to Deploy in Al-Tanf as Soon as US Forces Pull out
• US Army's Long Convoy Dispatched to Kurdish-Held Regions in Northeastern Syria
• UAE best place for religious tourism: Sikh leader
--------
Mideast
• Iran Urges United Muslim Front in Support of Palestine
• Israeli Knesset member, over 100 settlers storm al-Aqsa Mosque
• KSrelief project extracts total of 26,600 Houthi mines in Yemen
• Israeli forces detain Palestinian agriculture minister
• Great March of Return protests to continue until end of Gaza siege: Hamas
• Yemeni forces shoot down Saudi-led combat drone in Sa'ada
• Saudis step up attacks, violate Hudaydah truce 223 times: Yemen army
--------
Africa
• Islamic State fights with Al Shabaab near Kenyan border town
• Boko Haram mastermind of deadly Nigeria blasts arrested: police
• As protests continue in Sudan, opposition leaders detained
--------
North America
• Pentagon Opposes Trump's Troop Withdrawal Plan
• Pentagon: Order for US Military Withdrawal From Syria Signed
• Washington Post reveals how Qatar Foundation shaped their pieces by Khashoggi
• US top envoy in anti-Daesh fight resigns: Reports
• Palestinians can expect another year of Trump betrayal in 2019
--------
Europe
• UK Says Al-Qaeda Is Resurgent, Plans To Target Airports And Airliners
• Disgraced reporter faces investigation over Syria donations
• Saudi Arabia praises Albania's expulsion of Iranian diplomats
Compiled by New Age Islam News Bureau
URL: https://www.newageislam.com/urdu-section/hindi-book-ayodhya-dispute-/d/117240
--------
Sabah PAS cleric urges Muslims to celebrate festivals together with non-Muslims
23 Dec 2018
KOTA KINABALU: With Christmas around the corner, Muslims, especially converts, are reminded to keep up the good relations with their friends and family of different religions.
Sabah PAS Dewan Ulama chief Mustaqim Aling said Islam does not teach its believers to break off their ties with families, even if their families do not share the same religion.
"In Sabah, I hope we can all celebrate the festival together, and for those who have converted from Christianity to Islam, you should still visit, respect and spend time with your parents and family," he said.
He said if everyone is aware of this, and respects one another, there would not be chaos in the society.
Mustaqim also urged everyone to keep up the spirit of open houses and visiting one another during festive seasons or celebrations to strengthen ties as a community.
"We want to ensure that Sabah continues to prosper and its people live happily as one big family," he said in a statement on Sunday (Dec 23).
https://www.thestar.com.my/news/nation/2018/12/23/sabah-pas-cleric-urges-muslims-to-celebrate-festivals-together-with-nonmuslims/
--------
Tradition And Spirituality Grace Bangladesh At Christmas
December 24, 2018
Christmas is a time of relaxation and joy for Susmita Ruga, a Catholic from the Garo tribe of predominantly indigenous Mymensingh Diocese in northeast Bangladesh.
The Garo are a matrilineal minority, in which children take the surnames of their mothers, living in the Indian states of Assam and Meghalaya as well as in Bangladesh.
Susmita, a university graduate based in Mymensingh city, gets a week or so break from her studies during the Christmas period.
"I go home and join my family and friends in decorating the church and our home," Susmita told ucanews.com. "We practice and participate in our choir, prayer and caroling."
Besides a spiritual renewal for the faithful, Christmas boosts fraternity among Garo villagers, she said.
Every village hosts a traditional get-together in one house, where a cultural program and shared meal strengthens community bonds. At both tribal and religious festivals, pork and a rice beer called Chu is consumed.
"Chu consumption is purely traditional for Garo people, so no one takes it for addiction and no unpleasant incident occurs — Garo people respect their culture and traditions more than their lives," Susmita said.
During festivals, most Garo women wear dokmanda (a traditional Garo dress) and both men and women use ethnic ornaments including a headdress made of bird feathers.
Garo, who are ethnically mongoloid, make up majority of the more than 80,000 Catholics in Mymensingh Diocese.
Christmas for minority Christians
In Muslim-majority Bangladesh, Christians make up less than half a percent of the country's more than 160 million people.
Most of the estimated 600,000 Christians are Catholics, spread over eight Catholic dioceses. Apart from majority Bengali Christians, nearly half of the country's Christians hail from various ethnic minority groups such as the Garo.
Christmas has an added significance for Bangladeshi Christians as it is the only Christian feast that enjoys a public holiday and is popular with all faiths and ethnic groups.
The capital, Dhaka, is home to the largest number of Christians, both Bengali and indigenous peoples. Most moved to the bustling city from the provinces to study, find jobs or engage in business.
However, during Christmas holidays, many head back to their provinces to celebrate with family and friends.
Hotels, restaurants and convention centers in Dhaka hold numerous Christmas parties that attract both Bangladeshis and foreigners, including state officials and members of the diplomatic community.
Christian groups organize Christmas fairs, carol competitions and other events. In cities and villages alike, Christians put up decorations and lights, and there are midnight Masses on Christmas Eve.
Father Paul Gomes, vicar-general of Rajshahi Diocese, told ucanews.com that seasonal reunions and festivities lift people's spirits.
"Christmas means putting behind the old and welcoming new," he said. "People wear new clothes, prepare good food and share their joy with others."
Christmas for the poor
Oblate Bishop Bejoy N. D'Cruze of Sylhet says Christmas festivities help many poor local people, including ethnic Khasia Catholics and tea plantation workers, to forget their pain and reinvigorate themselves.
"Poor Christians put aside their life of suffering to celebrate the birth of Jesus," Bishop D'Cruze told ucanews.com.
A shortage of priests meant that about 30 percent of Catholics would not be able to attend a Mass on Christmas Day, so they would have special prayers instead, the bishop added.
To help cope with the winter chill, blankets had been distributed.
For Catholics in Chittagong Archdiocese, Christmas is overlapping with preparations for the celebration early in 2019 of 500 years since the arrival of the Catholic faith in what was then East Bengal, now Bangladesh.
This jubilee will be a special occasion to renew faith in Christ by thanking early missionaries and others who were martyred, said Archbishop Moses M. Costa of Chittagong.
Bishop Sourav Folia of the Protestant Church of Bangladesh said for both Bengali and indigenous Christians, Christmas blended cultural and religious fervor.
Subodh Baskey, an ethnic Santal Catholic from Dinajpur Diocese, echoed this sentiment.
"Since Vatican Council II, Churches had made efforts towards 'inculturization' of traditional customs," Baskey told ucanews.com. "As a result, Santals have Sohorai and Baha — harvest and spring festivals — merged with Christmas and Easter Sunday."
However, he laments that due to merging, some traditional festivals have lost their original character.
Bangladesh is to hold a parliamentary election on Dec. 30. Campaigning has already triggered political violence, including deaths, and sparked panic among minorities, including Christians.
Jibon D. Das, regional director of Catholic charity Caritas Khulna in southern Bangladesh, told ucanews.com that security fears meant many people would be less likely to engage in Christmas-related travel.
https://www.ucanews.com/news/tradition-and-spirituality-grace-bangladesh-at-christmas/84173
--------
Exonerated but not free: Asia Bibi to spend Christmas in custody
DECEMBER 24, 2018
Pakistani Christian Asia Bibi will celebrate Christmas under guard, despite being cleared of the blasphemy charges that kept her in jail since 2010.
Bibi – a former labourer who was on death row for eight years — remains a prime target, with extremists calling for her blood and the government refusing to reveal her location out of fear for her safety.
"It's too dangerous… People want to kill her," said Yousaf Hadayat, a resident from one of Islamabad's impoverished Christian ghetto, littered this week by a smattering of Santa hats and Christmas trees.
Security this Christmas, like many before it, will be tight with the government set to deploy armed forces to the Christian colonies.
The Supreme Court overturned Bibi's death sentence for blasphemy in October, and she has legally been a free woman ever since.
But the ruling ignited days of violent demonstrations that paralysed large swathes of the country, with enraged religious groups calling for her beheading.
The government has since launched a crackdown on the Tehreek-e-Labaik Pakistan (TLP) party — the party driving the protests.
But authorities also struck a deal with the protesters to end the violence, forming an agreement which included allowing a final review of the Supreme Court's judgement.
Bibi, who is seeking asylum abroad, is believed to be in protective custody inside Pakistan as the review continues.
But there is no clear timeline for when it will be completed.
A government spokesman refused to comment on its status, saying only that the matter is with the court.
Analyst Fasi Zaka warned that the longer Bibi remains in limbo, the greater the danger. "For some elements if they don't have access to Asia Bibi they'll find stand-ins for their vengeance," he told AFP.
Blasphemy continues to be a massively inflammatory issue in Pakistan, where even unproven accusations can spark lynchings.
"This is a lighting rod issue that affects a whole community," said Zaka.
The allegations against Bibi date back to 2009, when a fight erupted between her and fellow Muslim labourers, who later accused Bibi of blasphemy. She was convicted under Pakistan's anti-blasphemy laws and in 2010 sentenced to death.
Since her acquittal speculation has been rife that an asylum deal with a European or North American country may be in the works.
Many residents of the 100 Quarters Colony in Islamabad cautioned against Bibi's release, saying her safety would only be guaranteed once she was granted asylum in a foreign country.
"No, no. She cannot stay," said resident Hadayat.
Polio campaign worker Shahnaz Arif argued against Bibi's ongoing custody. "We should get the same freedom that others enjoy," she said.
Christians — who make up around two percent of the population — occupy one of the lowest rungs in Pakistani society, largely living in slums and working menial jobs as street sweepers, cleaners and cooks.
"Christmas is celebrated with near and dear ones, and not in custody," said Christmas decoration seller Amjab Burgkat.
"There are security fears, but she should celebrate Christmas with her family."
https://dailytimes.com.pk/336677/exonerated-but-not-free-asia-bibi-to-spend-christmas-in-custody/
--------
Between 'too Muslim' and 'not Muslim enough', a lonely Naseeruddin Shah
December 24, 2018
The script is now nauseatingly familiar. A prominent public figure expresses his disquiet about the growing intolerance in India. All hell immediately breaks loose. Polite commentary labels him a Congress stooge or challenges him to prove his patriotism equating Modi with the idea of Indian nationhood; the excitable immediately warn of that well trodden threat of shipping him across the western borders.
True to form, India's cacophony of news channels organised platitudinous debates where all extremist voices were amplified. One particularly enterprising network even managed to assemble members of Mr. Shah's extended family as they have some special insight on his comments!
Lost amidst this din is the actual import of the original comments. There is nothing which Mr. Shah said which was particularly exceptional or surprising. Let's look at the extant case. A mob assembled and led by local Bajrang Dal sympathisers—euphemistically known as the sword arm of the ruling BJP—-ambushed a police officer in Bulandshahar. Three weeks later, under the watch of a chief minister touted by BJP sympathisers as 'no nonsense' and tough on crime, the prime accused have still managed to evade arrest. The UP police which has been accused of stage managing encounters appears helpless in catching those credibly accused of killing one of their own. The rabble rousing UP chief minister has made it amply clear to anyone paying attention that he views the cow slaughter which allegedly provoked the incident as a much higher priority. The local BJP leaders including elected MLAs have been even more forthright: repeatedly equating the life of a cow with that of human life. And despite all attempts at obfuscation by the usual suspects, there is little doubt that this is part of a larger pattern: the cow which is venerated by large sections of the Hindu population has been cynically used to encourage religious cleavages and often to openly justify mob violence.
Therefore, Mr. Shah is entirely correct in his argument that a cow is being placed at a higher pedestal than that of a slain police officer. That this otherwise anodyne point is somehow controversial vividly illustrates the distance India has traveled in the last few years. The only amusing aspect of this entire sordid tale is the immense sensitivity of those who have encouraged this climate of insouciance and impunity to any criticism of the natural denouement of their rhetoric and actions.
But here's what makes Mr. Shah a tremendously tragic figure in Modi's India. He is not only being criticised and ridiculed by one aspect of the political spectrum but the opposite as well.
His simple argument that his children have had no particular religious education in a very liberal household is taken as a convenient rejection of his faith to curry favor with the prevailing majoritarian climate. Mr. Shah's heartfelt lament that his children, if accosted by a murderous mob, would be hard pressed to reveal their religion is dismissed as a convenient fig leaf and not a genuine discomfort with faith itself. You are either a fully practicing Muslim or someone who has no business voicing 'Muslim' concerns: a right which is exclusively available to those who embrace all aspects of the faith. Even though Mr. Shah spoke as a concerned Indian and not as a Muslim.
Mr. Shah is too Muslim for the Hindu Right and not enough of a Muslim for their ideological counterparts. This is a space sadly familiar to those who may identify themselves as cultural Hindus or heavens forbid as liberals with a Hindu name. They have apparently lost all right to comment upon Hindu issues as they may reject the visible trappings of their faith. And yet, unless they are prepared to label Hinduism as the greatest affliction in the history of humanity, they are viewed suspiciously by the other side as well. They are either deracinated fifth columnists or subtle enablers, and not citizens deeply invested in the idea of a pluralistic India. In India's polarised politics, they are caught in the no man's land. That the rejection of extremist positions can be a considered choice and not necessarily a cop out is an argument which is increasingly impossible to make. Mr. Shah is the latest victim of the same discourse; he just happens to carry a Muslim name.
This rejection of the middle liberal space has dangerous portends for India. The liberals may have been insignificant in India's raucous electoral democracy; yet, they carried the aspirations of a more hopeful future. Reducing them to their identities despite all their protestations is another marker of the rise of a more illiberal India. For one of the most diverse countries in the world, that is surely not a sign of a more sanguine and successful future.
In his eponymous character in Saeed Akhtar Mirza's 'Albert Pinto ko guess kyon aata hai', Mr. Shah plays an increasingly disillusioned and angry motor mechanic raging against the system and the unfairness it enables. Why are we not more angry he asks in his latest intervention; one can only hope that his renewed outrage is not the last vestiges of a more liberal India but a flame which can still burn bright.
https://www.business-standard.com/article/current-affairs/between-too-muslim-and-not-muslim-enough-a-lonely-naseeruddin-shah-118122400049_1.html
--------
Christmas joy missing in rubble of Syria town
December 24, 2018
ARBIN, Syria: With Christmas approaching, Nabil Al-Aash dusts off religious books as he attempts to tidy up the war-scarred Saint George Church in the town of Arbin, northeast of the Syrian capital Damascus.
Retaken in the spring by forces loyal to President Bashar Assad during a brutal offensive to capture the rebel stronghold of Eastern Ghouta, Arbin is anything but festive.
Rubble from razed buildings spills out into deserted streets lined with burned-out cars and twisted scraps of metal. The town looks more apocalyptic than merry.
Arbin's only church, Saint George's flame-scorched walls and empty nave are a testament to the seven-year conflict that has left more than 360,000 people dead and displaced millions.
"There's no celebration here. Christian homes are destroyed and their church is destroyed," says Aash.
The restoration of the Greek Orthodox church, built in 1873, "will take a lot of time, money and effort," he adds.
"There's not a single icon left — all of them were either burned or stolen," said the 55-year-old, approaching the altar.
"We also found broken crosses."
Aash fled Arbin in 2012 as fighting engulfed the town, plagued afterwards for years by violence and a crippling siege imposed by Damascus.
But after regime forces retook the area, he decided to return home.
"I grew up in this church, I spent all of my Christmases here... it was once overflowing with joy," he remembers.
"I almost collapsed when I saw it."
For him, the festive spirit "won't return until the residents and parishioners do."
After a blistering offensive backed by Russian air power, government forces in April retook Eastern Ghouta, a key rebel foothold at the gates of Damascus.
The military push and years of shelling flattened large swathes of the area and forced most of its pre-war population to flee.
Before the war, Arbin was home to some 3,000 Christian residents, according to Mayor Khalil Tohme.
But despite the return of relative calm to the capital and its surroundings, Arbin residents are still hesitant to come back.
"We are only five Christians who regularly visit the town, the others go from time to time... most of their homes are destroyed," says Aash.
A few dozen meters away from the church, Joseph Hakimeh directs a worker on a ladder as he puts the final touches to a freshly painted wall of a restored home.
The contractor is getting ready to hand the keys back to the owner, and is working on three other homes in addition to his own.
"We're preparing to return as soon as services and infrastructure are ready, but that needs time," he says.
Sitting on a can of paint, the 39-year-old yearns for the way things once were.
"I hope that next year everything will return to the way it was before — Christmas trees, decorations, carols and prayers," he says.
The mood is gloomy is Arbin, but just a few kilometers away, bright colored lights illuminate the streets of Damascus.
A giant tree decorates Abbasiyyin Square, long avoided due to its proximity to the frontline with the former rebel stronghold.
Festive lights and garlands also decorate homes in the predominantly Christian neighborhood of Kassaa in eastern Damascus.
But not everyone is in the Christmas spirit.
Since Riad Rajiha's family arrived to the area after fleeing Arbin in 2012, they have not had the heart to celebrate.
"We left our Christmas tree behind, so we missed out on decorating," says Rajiha, his eyes brimming with tears.
"What's the meaning of decorating a tree in a house that's not yours?"
Leafing through an old photo album, he revisits pictures of the Saint George Church in all its former glory.
Large chandeliers hang from its high ceilings, its wooden pews packed with parishioners.
"Our roots are there and our memories are there," says the 66-year-old, who dreams of celebrating the holiday in Arbin with his grandchildren.
"I was born in Arbin, I lived in Arbin, and I hope to be die and be buried there."
http://www.arabnews.com/node/1424936/middle-east
--------
Iran Urges United Muslim Front in Support of Palestine
Dec 23, 2018
"Despite some differences, the Islamic world should come together around the pivot of support for Palestine to prevent a mistreatment of the issue," Zarif said in a meeting with senior Hamas official Mahmoud al-Zahar in Tehran on Sunday.
"Support for Palestine is one of the principled policies of the Islamic Republic and we hope that some Islamic governments which are delighted with the Zionists and US support turn around and come to realize that the Zionists are not a reliable friend and partner for anyone," he added.
Zarif expressed displeasure in some Muslim states' confrontational approach towards resistance, noting that such an attitude lays pressure on all Muslim states and streams.
Iran has always supported the Palestinian people and denounced Israeli occupation of their lands.
In relevant remarks on Saturday, Iranian Parliament Speaker Ali Larijani said the criminal acts of Israel against Palestinians must be heard by the entire world, denouncing the brutalities of Tel Aviv to crack down on the oppressed Palestinian nation.
"Supporting the deprived people of Palestine is a responsibility for every conscientious human," Larijani said in a meeting with a visiting group of Palestinian MPs.
Referring to the crimes committed by the "Zionist regime", specially in the Gaza Strip, Larijani pointed out "the criminal acts of this regime must be heard by the entire world".
He added that disclosing and revealing the regime's crimes against the deprived people of Palestine would provide more support to the Palestinian cause.
"I hope that all regional countries and the whole world would further increase their support for Palestinian resistance in order for them to be strengthened," the Iranian top legislator underlined.
In the meeting, the head of the Palestinian parliamentary group, Mahmoud al-Zahar, lauded the Islamic Republic of Iran, saying "al-Quds issue brings together the freedom-seeking people of the whole world, and I must thank the Islamic Republic's positions towards the Palestinian people here".
"Iran's stances at the United Nations on US-drafted anti-Palestinian resolutions is also praiseworthy," al-Zahar pointed out.
http://en.farsnews.com/newstext.aspx?nn=13971002000899
--------
Southeast Asia
PAS Youth chief warns Muslims not to celebrate Christmas
24 December 2018
PETALING JAYA, Dec 24 — Pas Youth chief Muhammad Khalil Abdul Hadi yesterday warned Muslims not to celebrate Christmas as it is against the teachings of Islam.
Sinar Harian reported Muhammad Khalil as reminding Muslims not to be part of the celebrations tomorrow because it was an acknowledgement of the Christian religion.
"Christmas has an element of syirik (idoltary) which is against Islam's teaching. They claim that God had a child, which is against our beliefs as Muslims.
"They celebrate Christmas with such elements and claim that Prophet Isa (Jesus) is the son of God," he reportedly said during a lecture in Kuala Terrengganu last night.
Khalil is Batu Burok state assemblyman and son of PAS president Datuk Seri Abdul Hadi Awang.
Khalil reportedly said any non-Muslim celebration should not be celebrated by Muslims as it involves the belief of a wrong religion.
However, he said if it involves culture of a certain religion it was fine for Muslims to be part of the celebration.
"For example the Chinese New Year celebration is a culture and not something that involves religion, but Deepavali is something to do with religion so we (Muslims) can't celebrate," he said.
Meanwhile Sabah PAS Dewan Ulama chief Mustaqim Aling urged Muslims, especially converts, to keep ties with friends and family of different religions.
"In Sabah, I hope we can all celebrate the festival together, and for those who have converted from Christianity to Islam, you should still visit, respect and spend time with your parents and family," he said in a statement yesterday.
Similarly, Sarawak Chief Minister Abang Johari Abang Openg in his Christmas message today said Sarawakians of all faith share joy and festivities together.
"Sarawakians are like brothers and sisters who have much respect for each other's culture and religion," he said in a statement.
Deputy Prime Minister Dr Wan Azizah Wan Ismail also urged Malaysians to cherish the understanding and respect between all Malaysians this Christmas.
"In Islam, it is compulsory for us to tolerate one another.
"Surah al-Mumtahanah verses 8 to 9 encourages Muslims to be just and kind to non-Muslims who are not the enemies of Muslims.
"This Christmas, I call upon all Malaysians to continue to uphold the peaceful coexistence and bonds of friendship between people of all races and religions in this country," she said in a statement.
Dr Wan Azizah also urged all Malaysians to care for the poor, sick, marginalised and those in need of shelter.
https://www.malaymail.com/s/1705858/pas-youth-chief-warns-muslims-not-to-celebrate-christmas
--------
Sarawak CM 'gifts' non-Muslim houses of worship RM50m for Christmas
24 December 2018
KUCHING, Dec 24 — Chief Minister Datuk Patinggi Abang Johari Openg in his Christmas message today said the state government remains committed to foster religious unity and understanding among people of different religions and races.
He said the commitment is not merely in words but also in deeds, as more funds have been allocated to other religions through the Unit for Other Religions (Unifor) to assist them in building or carrying out repairs to their houses of worship.
Abang Johari said the state government has allocated RM20 million this year and RM30 million next year to Unifor.
"The state government will continue to provide the funds so that everyone can benefit from it in the future," he said in his Christmas message.
Abang Johari said festive celebrations started a few weeks ago when Christmas parades were held in various towns and cities in Sarawak.
"The beauty of it for us in Sarawak is that people of other religions also share in the joy and festivities as this has been our practice all the while," he said, adding that Sarawakians are like brothers and sisters who have much respect for one another's culture and religion.
Abang Johari said in some parts of Sarawak, there are Christian and Muslim families that stay together under the same roof without any issue.
"There are also Muslim and Christian places of worship that happen to be neighbours, and even share car parks on Fridays and Sundays, staying true to the spirit of brotherhood and camaraderie among us Sarawakians.
"We are able to stay together and religions do not create walls between us because we believe that based on the belief that your religion is your religion and my religion is my religion," he said.
The chief minister expressed hope that in the spirit of Christmas that Christians will continue to pray that the people of Sarawak will have the strength and courage to be people who are free to decide their own destiny and not to be too dependent on the assistance of others.
Full report at:
https://www.malaymail.com/s/1705845/in-christmas-message-sarawak-cm-says-rm50m-allocated-to-unifor
--------
PAS MP offers 'unity government' amid Pakatan squabbles
23 December 2018
By Syed Jaymal Zahiid
KUALA LUMPUR, Dec 23 — A PAS lawmaker reiterated today his party's offer to form a so-called unity government with any party willing to cooperate in what it described as a viable political platform that could offer stability.
Kuala Nerus MP Datuk Mohd Khairuddin Aman Razali said the idea of a new political bloc comprising PAS was timely in light of the growing disquiet within Pakatan Harapan, which has come under fire because its leaders continue to bicker openly.
He added that the political crisis dogging the ruling coalition have affected the economy and prevented effective governance.
"Political instability begets economic instability," he said in a statement.
"Maybe it's time to look at an alternative political platform to solve the instability, one of a unity government proposed by the PAS president in 2008.
"PAS is ready to help!"
The Islamists secretly negotiated with Umno just after the 12th general election results were announced in 2008 to form a "unity government" in a bid to safeguard Malay-Muslim political dominance, after the opposition at the time made significant electoral gains.
Umno is no longer in power and had its federal seat tally greatly reduced after over a dozen of its MPs quit the party; Umno now has 37 parliament seats, down from 54 won in the 14th general election.
PAS won 19 federal seats in the May 9 polls.
So it is uncertain as to who Khairuddin was referring to when he suggested the unity government today, but it could be an offer to Parti Pribumi Bersatu Malaysia, which he said PAS had no qualms co-operating with in the name of Muslim interest and unity.
"Ties with Umno as opposition must be strengthened," he said.
Full report at:
https://www.malaymail.com/s/1705732/pas-mp-offers-unity-government-amid-pakatan-squabbles
--------
Report: Civil marriage matters can only be settled in civil court
24 December 2018
By Danial Dzulkifly
PETALING JAYA, Dec 24 — The amendments made to the Law Reform (Marriage and Divorce) (Amendment) Act, which came into effect on December 15, mean any divorce of a marriage solemnised in a civil registry must be resolved in the civil court even if one of the spouses has converted to Islam.
The Star reported that the latest amendments clearly outline that civil marriages must be settled in the civil court.
Family law practitioner Goh Siu Lin told the paper that the amendments to the law ensure that the civil court will have sole jurisdiction if a marriage was solemnised under civil law.
"Matters ancillary to the divorce must also be resolved there," she said.
Goh explained that other reforms in the law include more clarity under Section 51A, which relates to the distribution of the assets of a spouse after he or she has converted before the non-Muslim marriage of said person is dissolved.
Section 51 (A1) states that when a person who has converted to Islam dies before the non-Muslim marriage has been dissolved that person's matrimonial assets shall be distributed by the court among interested parties in accordance with the provisions under the section upon application by any interested party.
"Interested party or parties are defined as the surviving spouse and children of the marriage if any, and the parents of the deceased converted spouse," she reportedly said.
Goh also said extending the legal obligation to maintain a child beyond 18 years old until the completion of their higher education was a much-needed reform.
Reforms to the law also acknowledged the non-financial contribution of a spouse in looking after the home or caring for the family and will be a factor in determining a fair division of matrimonial assets under Section 76 of the Act, which details the court's power to order a division of matrimonial assets.
Senior family law practitioner Honey Tan told The Star that children and wives are the biggest beneficiaries of the reforms.
She added that wives, who were awarded custody of their children after their divorces, faced financial difficulties in providing education for their children after they had turned 18.
"It ensures parents, especially fathers, will have to maintain their children until they complete their further or higher education or training.
"As the amendments are retrospective, it is important for parties of ongoing divorces to know that these amendments apply to their cases.
Full report at:
https://www.malaymail.com/s/1705867/report-civil-marriage-matters-can-only-be-settled-in-civil-courts
--------
Hunt for survivors as Indonesian tsunami death toll tops 280
December 24, 2018
Indonesian rescuers raced to find survivors Monday after a volcano-triggered tsunami killed at least 281 people, with experts warning the devastated region could be slammed by more deadly waves.
Rescue teams used their bare hands, diggers and other heavy equipment to haul debris from the stricken area around the Sunda Strait, as thousands were evacuated to higher ground.
The powerful tsunami struck without any warning on Saturday night, sweeping over popular beaches of southern Sumatra and the western tip of Java and inundating tourist hotels and coastal settlements.
More than 1,000 people were injured and the death toll "will continue to rise", said disaster agency spokesman Sutopo Purwo Nugroho.
Hundreds of buildings were destroyed by the wave that left a tangled mess of corrugated steel roofing, timber and rubble at Carita beach, a popular spot for day-trippers on the west coast of Java.
"The military and police are searching the ruins to see if we can find more victims," said Dody Ruswandi, a senior official at the disaster agency, adding that the rescue effort was likely to last a week.
In devastated Sukarame village, Sunarti waded through knee-deep water as she searched for belongings outside her destroyed house — and waited for aid to arrive.
"There's been no help at all so far," the 61-year-told AFP from the flattened hamlet. "Some people are starving."
Indonesian president Joko Widodo visited the area Monday.
It was the third major natural disaster to strike Indonesia in the space of six months, following a series of powerful earthquakes on the island of Lombok in July and August and a quake-tsunami in September that killed around 2,200 people in Palu on Sulawesi island, with thousands more missing and presumed dead.
The vast archipelago nation is one of the most disaster-prone nations on Earth due to its position straddling the so-called Pacific Ring of Fire, where tectonic plates collide.
'Saw the water coming'
Experts say Saturday's tsunami was likely triggered by a massive underwater landslide following an eruption of the Anak Krakatoa volcano in the Sunda Strait.
Unlike those caused by earthquakes, which trigger alert systems, such tsunamis give authorities very little time to warn residents of the impending threat.
"It happened very quickly," said survivor Ade Junaedi. "I was chatting with a guest at our place when my wife opened the door and she suddenly screamed in panic. I thought there was a fire, but when I walked to the door I saw the water coming."
Richard Teeuw, a geohazard expert from the University of Portsmouth in England, said the eruption and landslide may well have destabilised the volcano, heightening the risk of another tsunami.
"The likelihood of further tsunamis in the Sunda Strait will remain high while Anak Krakatoa volcano is going through its current active phase because that might trigger further submarine landslides,"
Teeuw said. Dramatic video posted on social media showed a wall of water suddenly crashing into a concert by pop group "Seventeen" — hurling band members off the stage and then flooding into the audience.
Two band members were killed along with its manager, while three others, including the lead singer's wife, are missing.
Front man Riefian Fajarsyah posted a picture online of he and his wife kissing in Paris with the Eiffel Tower in the background.
"Today is your birthday — I want wish you a happy birthday in person. Come home soon, honey," he wrote in the caption of the photo, which was posted Sunday.
Anak Krakatoa, which forms a small island in the Sunda Strait between Java and Sumatra, emerged around 1928 in the crater left by Krakatoa, whose massive eruption in 1883 killed at least 36,000 people and affected global weather patterns for years.
The International Federation of Red Cross and Red Crescent Societies said the "powerful waves" reached a height of 30-90 centimetres (1-3 feet).
Full report at:
https://www.dawn.com/news/1453338/hunt-for-survivors-as-indonesian-tsunami-death-toll-tops-280
--------
South Asia
Nearly fifty years on, scars of liberation movement yet to heal in Bangladesh
Dec 23, 2018
BANCHARAMPUR (Bangladesh): Captain Tajul Islam was one of the Pakistani army officers to join the Mukti Bahini before the Bangladesh liberation war. Today, he is seeking re-election from Brahmanbaria 6, a rural constituency where he says most people dream of government jobs.
"The BNP candidate lost to me by 54,000 votes in 2008. This time, I want to win by over 1 lakh," he said.
Crossing the mighty Meghna in a packed ferry, we are greeted by election rallies in the hamlets of Bancharampur and Jagannathpur. The people have been waiting for the Captain who has promised to avoid the traffic jams on the roads to take a helicopter to these areas. But other Awami League leaders are there to lead the crowds, build the chorus of "nowka, nowka" and roar with approval when the speaker from the podium asks them whether they would support a Mukti Bahini man or a Razakar.
The people are poor, you can think of numerous local issues that should be on top of their minds — certainly a bridge over the Meghna, better roads to nearby Narayanganj would be up there — yet the main election issue harks back to the war of liberation.
Bangladesh will turn 50 in 2021, but the scars of its bloody independence movement have not yet healed. "It is the unfinished business of our liberation," said an activist. In elegant drawing rooms, even think tank scholars think nothing of entertaining guests with home-made documentaries of 1971. As PM Sheikh Hasina said, after the assassination of Sheikh Mujibur Rehman, Bangladesh saw 19 coups, military dictatorships and martial law, until 1996.
The Awami League's understanding of that period, the genocide, the massacres are different from the BNP's version, which casts the late Gen Ziaur Rehman in the stellar role, downgrading the actions of Sheikh Mujib. in the past five years, Hasina has doggedly pursued war crimes trials, sending to the gallows many of the worst perpetrators and collaborators (called Razakars),
despite courting some controversy in the west.
In fact, her government has been asking Pakistan to apologise for its army's excesses during that period. Even in today's Bangladesh, Pakistan and its deadly intelligence agency, ISI, are regarded as the bad guys. "Before the elections, ISI has upped its activities, trying to influence our elections," said a journalist who has been following these events. "We expect more violence in the days before the elections." Officials said there have been over 100 violent incidents in the past few weeks.
The BNP years, on the other hand, saw a very different reading of Bangladesh's history. Even recently, Jamaat-e-Islami, the extremist core of the BNP, openly advocates re-alignment with Pakistan. However, in a sign that perceptions about India may be changing, BNP officials said they had "toned down" criticism of India during the campaigns this time. BNP leaders allege attacks by Awami League activists at their rallies and offices, forcing them off the streets in many areas. Despite that, their exhortation to their supporters is to stage a "vote revolution" on December 30 to remove Hasina from power.
However, election analysts in Dhaka reckon the BNP — despite the general sense that they have not got their act together —will do well in the border areas where they are stronger, particularly in Chittagong, Khulna, Rangpur, Sylhet etc. Awami League is hoping that its pan-Bangladesh presence, which has improved vastly in the past decade when BNP was out of the equation, will stand them in good stead.
Awami League leaders acknowledge an anti-incumbency sentiment. Therefore, the focus on the liberation war helps them to focus on existential issues rather than answer on bread-and-butter concerns.
"Growing up, our history books never told us about the war of liberation and what our country and our people actually went through," said Kalyan, who grew up when Ziaur Rehman and Hussain Muhammad Ershad strode the Bangladesh stage. History books have changed since then, but it will be a while before closure is achieved. This uncertainty hovers over Bangladesh's otherwise impressive growth in almost all economic and social indicators, in many respects ahead of India.
Meanwhile, in Brahmanbaria, Tajul Islam is reminding his voters that he was one of the earliest to come into Bangladesh via Sri Lanka, the first to host a Vijay Diwas to celebrate Bangladesh's victory. And the speaker from the podium shouts, "And we are grateful to our Indian friends for helping us during our war of liberation." In a district bordering Tripura, this is significant — Hasina recently allowed India to ship the heavy components of the Palatana power plant from Kolkata to Tripura via Ashuganj river port on the Meghna river, cutting time and costs.
https://timesofindia.indiatimes.com/world/south-asia/nearly-fifty-years-on-scars-of-liberation-movement-yet-to-heal-in-bangladesh/articleshow/67219621.cms
--------
Taliban Attach Conditions to Talks with Kabul, Doubt US Peace Move
Tahir Khan
DECEMBER 24, 2018
Afghan Taliban have attached conditions to talks with the Kabul government that also include cancellation of a security agreement signed with United States to keep a limited number of troops in the country.
Afghanistan and the US had signed the Bilateral Security Agreement or BSA to allow around 10,000 military service members in Afghanistan to train and advise Afghan security forces.
Taliban had long been refusing to hold talks with the Kabul administration on the plea that it is a party to the conflict and has no powers to make decisions.
"The US is the real party to the war and the Kabul regime is part of the American side and has no separate status. The power centre is the US embassy and command of the foreign forces and not the presidential palace and that is why the Islamic Emirate held talks with the US and asked them to quit Afghanistan," a Taliban commentary said.
"If the Kabul administration wants to reach an understanding with the Islamic Emirate, it should first immediately scrap the bilateral security agreement with the US, and tell the Americans to leave Afghanistan, tender apology for the crimes committed by foreigners and their local allies since their invasion and signing the BSA and hand over the cases to the Islamic court of national traitors for their crimes against humanity," the commentary said.
US special envoy Zalmay Khalilzad, who led the US side in two-day talks with the Taliban leaders in the United Arab Emirate on December 17-18, also slammed the Taliban for refusing to meet Afghan negotiators, which were also attended by security, military and intelligence officials from Pakistan, Saudi Arabia and the UAE.
Prime Minister Imran Khan and other officials had taken credit for facilitating the talks in UAE but could not succeed to convince the Taliban meet Afghans. Pakistani officials insist reconciliation is an Afghan affair and bringing the Taliban to the table is a shared responsibility of all countries, which have contacts with the Taliban political office.
The Taliban on Sunday expressed doubts about the US move to hold talks with the Taliban leaders.
"The US role, to a large extent, is seemed to be dubious and contradictory as on one side Zalmay Khalilzad had been involved in talks with the Islamic Emirate over the past few months and also paid visits to different countries, but on the other the US has intensified the war with airstrikes and ground operations. The NATO chief and the US chairman of the joint chiefs of the staff committee are saying they will not withdraw troops and to extend invasion," the Taliban said on website on Sunday.
The Taliban commentary said the US coming to the table is their political success and that end to the on-going war through political debate and negotiations will not be easy as it is expected but it needs deep thinking and detailed discussions. Defence experts in Afghanistan say Taliban cannot win the war even if the US withdraw most of the remaining troops as Afghan security forces are capable of resisting the Taliban. Shah Nawaz Tanai, who briefly served as defence minister during the communist regime, told Daily Times that the Afghan army and other forces can defend the present system despite the fact that the US and its NATO allies have not given heavy weapons to the Afghan forces.
"A vast majority of Afghans also favour the democratic system and political governments and majority do not accept the Taliban," he said from Kabul where has leads a political party. Talking about the US decision to withdraw half of the troops, Tanai said the move could be an attempt to encourage the Taliban strike a peace deal. He however said if the Taliban did not reach a deal then war could be intensified in Afghanistan.
Full report at:
https://dailytimes.com.pk/336711/taliban-attach-conditions-to-talks-with-kabul-doubt-us-peace-move/
--------
Experts favour robust diplomatic initiatives to fix Rohingya crisis
December 24th, 2018
To achieve real results, diplomatic initiatives must be taken with great urgency and a clear strategy given Myanmar's continued non-cooperation in this regard, said experts
Urgent diplomatic initiatives are essential for speedy resolution of the ongoing Rohingya issue, experts said.
To achieve real results, diplomatic initiatives must be taken with great urgency and a clear strategy given Myanmar's continued non-cooperation in this regard, said experts.
Experts made the call at a round-table on the "Rohingya Crisis: Bangladesh and Global Response," organized by the Dhaka Tribune at a hotel in Dhaka on Sunday.
Asif Munier, a migration and refugee affairs specialist, said: "We're just talking about a local solution, but the role of the regional forces, including Malaysia and Indonesia, is questionable."
Muslim majority countries also need to step forward to help end the crisis, he recommended.
"Only appraisal of Bangladesh for handling the Rohingya crisis is not enough since there is a massive demand for international cooperation to address it," he observed.
The political initiatives too, in this case are not satisfactory, Asif said, adding there are no international talks concerning the matter.
Security analyst Maj Gen (retd) Abdur Rashid said the issue is getting more complicated with each passing day.
China and Russia are pressuring Bangladesh to settle the issue bilaterally with Myanmar, he said.
"On the other hand, Bangladesh would prefer to fix it multi-laterally, leading to a confusion regarding which path to take," he said.
China is showing reluctance in helping to resolve the problem since Myanmar is one of its major economic partners, the former army official said.
Bangladesh is not the only country to be affected by the problem. It will become a threat to other South Asian countries as well, he warned.
All of South Asia must engage in the process as diplomatic efforts to end the crisis are becoming a failure he said, questioning: "How long will Bangladesh face the problem?"
Dhaka University Professor Abul Mansur Ahmed said the Rohingya issue is no longer a problem for Bangladesh alone. "It is a global issue now."
"The country has tried solving the crisis both bilaterally and multi-laterally, but challenges keep surfacing. Russia and China defending Myanmar is making things tougher," he said.
"What are Saudi Arabia and the OIC doing to this end?" he asked, calling for mounting international pressure on Myanmar for a judicious repatriation of the Rohingya.
He warned that the problem may turn so severe that India, Asean, and other bodies and countries backing Myanmar will one day realize that it is their problem too.
Farhan Masud Khan, head of programs of UK-based Channel STV, said Myanmar's de facto leader, Aung San Suu Kyi, can still help resolve the problem.
"But she has no intention to do so," he said.
Duncan Bartlett, editor of Asian Affairs magazine, said the US, UK, EU, and aid agencies, are regularly keeping the issue on their agenda.
Full report at:
https://www.dhakatribune.com/bangladesh/rohingya-crisis/2018/12/24/experts-favour-robust-diplomatic-initiatives-to-fix-rohingya-crisis
--------
Role of pro-Pakistan Jamaat in focus as Bangladesh heads to polls on Dec 30
DEC 24, 2018
NEW DELHI: Bangladesh observed 47th anniversary of 'Martyred Intellectuals Day' on December 14 by paying tribute to the intellectuals and professionals who were massacred on this day in 1971 by the Pakistani occupation forces with the help of local collaborators,mainly Jamaat, reminding horrors ahead of December 30 elections.
On December 14, 1971 as the liberation war was nearing its end and victory of Bangladesh became imminent, leading Bengali intellectuals and professionals including professors, doctors, engineers, journalists, writers, artists, teachers and other eminent personalities were picked up from their houses and blindfolded before being taken to torture cells where they were executed en masse in brush fire at Rayerbazar and Mirpur.
The horrors of December 14, 1971 are the main focus of the ongoing trial of war crimes and crimes against humanity in Bangladesh. Leading Jamaat figures now stand accused of masterminding brutal killing of intellectuals that occurred only two days before the Pakistani occupation forces surrendered on December 16, 1971.
December 14 is a day that marks not only one of the darkest chapters in the history of Bangladesh but the world's as well. It is hard to think of a similar incident anywhere in the world where intellectuals were systematically rounded up and methodically annihilated to crush the backbone of a nation. In recent times a few among the known collaborators have been tried and executed, but the people of the country are yet to see any signs of guilt or remorse in them.
In fact intellectuals and professionals were killed throughout nine months of the liberation war, but the largest number of execution of intellectuals in one daytook place on December 14. This is why the day is observed as 'Martyred Intellectuals Day' in Bangladesh.
The recently executed Jamaat leaders including its chief Matiur Rahman Nizami who was then President of Jamaat student front Islami Chhatra Sangha andAli Ahsan Muhammad Mojahid, then chief of East Pakistan Islami Chhatra Sangha along with their Razakar/alBadr/al Shams cohorts committed the most horrendous crimes and murders to crush the liberation war. The motive was to intellectually cripple the yet-to-be born Bengali nation and deprive it of able leadership. Ali Ahsan Mohammad Mojahid was second in command of the infamous al Badr, an auxiliary force of the Pak army. It was he who orchestrated massacre of the front line intellectuals and professionals, hours from the independence in 1971. According to a report published in the vernacular daily Purbodesh of January 9, 1972 Ashrafuzzaman Khan, a Jamaat leader and Commander of al Badr militia and killer of intellectuals of Bangladesh, fled the country in 1972. He went to Pakistan and worked for Radio Pakistan for quite some time before taking shelter in US. After the liberation, Ashrafuzzaman's personal diary was recovered from his residence. Two pages of his diary registered names and residential addresses of some teachers and medical officers of Dhaka University who were killed by him. He has been tried in absentia and sentenced to death for the war crimes committed in 1971. Now he is living inNew York for more than three decades and presently he heads the Islamic Circle of North America (ICNA).
Another al Badr commander who played a key role in killing of intellectuals in Dhaka in 1971 was Chaudhury Mueen Uddin who is now Vice Chairman of East London Mosque and presently heads the British charity 'Muslim Aid' which has an annualbudget of over 20 million Pound. Mueen Uddin, who was a journalist of the daily Purbodesh in Dhaka, was at the forefront of anti-liberation activities perpetrating atrocities on the freedom fighters. He rounded up, tortured and killed many prominent citizens to deprive the soon-to-beborn state of its intellectual and cultural elite.
Full report at:
https://economictimes.indiatimes.com/news/international/world-news/role-of-pro-pakistan-jamaat-in-focus-as-bangladesh-heads-to-polls-on-dec-30/articleshow/67224067.cms
--------
Iran funding construction of 'Persian Language' faculty in Kabul University
Dec 23 2018
The government of Iran is funding the construction of a faculty in Kabul University dedicated mainly to the studies of 'Persian Language', it has been reported.
A Memorandum of Understanding (MoU) was signed in this regarding between Cultural attaché at the Iranian embassy in Kabul Mohammadreza Maleki and the Chancellor of Kabul University and Adviser Minister to President Mohammad Ashraf Ghani on Higher Education Hamidullah Farooqi.
The construction of the faculty of Persian Language and Literature is planned to start from March 2019, according to Iran's Fars News Agency.
The source further added that during the signing ceremony, the Iranian cultural attaché donated 2,300 textbook titles to Kabul University, stressing that the cooperation will continue in the future.
The books are related to studies on humanities, anthropology, literature, social sciences, economics, management, and computers, the report stated.
Earlier in November, Iranian Foreign Minister Mohammad Javad Zarif underlined that his country will make its utmost efforts to help the Afghan government to successfully hold peace talks in the country.
Full report at:
https://www.khaama.com/iran-funding-construction-of-persian-language-faculty-in-kabul-university-02987/
--------
Pakistan
Pakistan Army Chief Backs Imran Khan's Peace Initiatives Towards India
Dec 23, 2018
KARACHI: Pakistan Army chief General Qamar Javed Bajwa has backed Prime Minister Imran Khan's peace initiatives, saying the new government has extended a hand of peace and friendship towards India with utmost sincerity but it should not be taken as Islamabad's weakness.
Addressing the passing out parade of Midshipmen and Short Service Course at the Naval Academy in Karachi on Saturday, Bajwa said that Pakistan was "a peace loving country and believes in peace".
Lauding the efforts of Prime Minister Khan's government to achieve peace between Pakistan and India, the army chief said peace benefits everyone and it is time to fight disease, poverty and illiteracy instead of fighting against each other.
"Our new government has extended a hand of peace and friendship towards India with utmost sincerity but it should not be taken as our weakness," Bajwa said.
The powerful army, which has ruled Pakistan for more than half of its 71 years, has always wielded considerable power in the matters of foreign policy.
The India-Pak ties strained after the terror attacks by Pakistan-based terrorists in 2016 and India's surgical strikes inside Pakistan-occupied Kashmir. The ties further nose-dived in 2017 with no bilateral talks talking place between them.
Amidst deadly skirmishes along the Line of Control and diplomatic bickering for better part of 2018, the consensus on both sides to open the Kartarpur corridor for Indian Sikh pilgrims has created a ray of hope for improvement in India-Pak ties.
"Wars bring death, destruction and misery for the people. Ultimately all issues are resolved on the table through negotiations that is why we are trying very hard to help bring a lasting peace in Afghanistan by supporting Afghan-led and Afghan-owned peace plan," Bajwa said.
He also warned that Pakistan is yet to get out from terrorism or sabotage phase of an unannounced war against it.
"Like the terrorists before; the protagonists of the new threats are at times, our own people. Mostly misguided by ambitions, blinded by hate, ethnicity or religion or simply overawed by social media onslaught, some of our own boys and girls readily fall victim to such dangerous or hostile narratives," Bajwa said.
Referring to hybrid warfare, the army chief said information and modern technology has changed the nature of warfare now being waged and has tilted the balance in favour of those nations that have embraced the change readily.
"But frankly speaking, even that will not be sufficient as the ever-increasing threat of hybrid war, to which we are subjected to, will need a totally new approach and change of traditional mindset," he said.
Advising future military leaders to prepare themselves for the threats they will face, Bajwa said that they should be able to "gauge the enemies latest moves and be ready to respond, even when a surgical strike exists only in cognitive domain or media or even when the attack comes, not in the battlefield but in cyber space, or against country's ideological frontiers."
"The response to such onslaughts or threats cannot always be kinetic in nature," he said, adding that a superior narrative needs to be propagated to deal with attacks in the cognitive domain.
https://timesofindia.indiatimes.com/world/pakistan/pakistan-army-chief-backs-imran-khans-peace-initiatives/articleshow/67216418.cms
--------
Don't take peace offer as our weakness, COAS tells India
DECEMBER 23, 2018
Chief of Army Staff (COAS) General Qamar Javed Bajwa Saturday said India should not take Pakistan's hand of friendship as its weakness.
"New government has extended a hand of peace and friendship towards India with utmost sincerity but it should not be taken as our weakness … peace benefits everybody," the COAS said while speaking at the passing out parade of 110th Midshipmen and 19th Short Service Course held at the Naval Academy Karachi. "It is time to fight hunger, disease and illiteracy, not to fight with each other," he asserted.
Gen Bajwa said wars bring death, destruction and misery for the people. "Ultimately, all issues are resolved on the table through negotiations," he said, adding that the relative peace present in the country today has been achieved after tremendous sacrifices. "It is now our duty to honour those sacrifices through display of unity, faith and discipline in everything that we do. Let us all start the transition from conflict to progress, through commitment to the ideals of Allama Iqbal and Quaid-e-Azam. This is the minimum that we can do for our beautiful country," he said.
The army chief said that the country's young cadets should take the country along the lines of developmental perspective rather than a security perspective. "Survival in the difficult times has given us the confidence that we have the will and capacity to endure. Nobody can threaten us or our freedom. It is time we fulfill our dreams and make Pakistan a great country," he remarked.
The COAS reminded the cadets that the country is yet to get out from terrorism and an unannounced war. "Like the terrorists before, the protagonists of the new threats are, at times, our own people. Mostly misguided by ambitions, blinded by hate, ethnicity or religion or simply overawed by social media onslaught, some of our own boys and girls readily fall victim to such dangerous or hostile narratives," he added.
"The response to such onslaughts or threats cannot always be kinetic in nature. You will have to deal with them in cognitive domain by producing or propagating a superior narrative, but this can only happen if you have developed the ability to handle unwarranted criticism with patience and possess better intellectual skills to respond to such threats with logic and reasoning," he remarked.
Advising the future military leaders to prepare themselves for the threats they will face, Gen Bajwa added that they should be able to gauge the enemy's latest moves and be ready to respond even when a 'surgical strike' exists only in the enemy's imagination or when threats appear in cyberspace and not the traditional battlefield or threaten the 'country's ideological frontiers'.
Referring to hybrid warfare, the army chief stated that information and modern technology has changed the nature of warfare now being waged and has tilted the balance in favour of those nations that have embraced the change readily. "But frankly speaking, even that will not be sufficient as the ever increasing threat of hybrid war, to which we are subjected to, will need a totally new approach and change of traditional mindset."
Addressing the parade, the army chief emphasised that "your behaviour must be exemplary at all times as one lapse may lead to embarrassment for the whole unit." Speaking on leadership, he said the "armed forces are meant to lead." "You will be required to lead your troops into the battlefield with full zeal and confidence," he said, adding that their values will be echoed by those who follow.
He said learning is a continuous process and "this is just the beginning, so be mentally ready for much more rigorous training ahead." "As defenders of Pakistan's maritime frontiers, you are expected, not only to live up to its glorious traditions but also set much higher standards for your successors," he added.
On the occasion, Gen Bajwa also reiterated that Pakistan is trying hard to achieve lasting peace in Afghanistan and lauded the government's efforts of achieving peace between Pakistan and bordering India. He said Pakistan supports Afghan-led peace efforts to help bring lasting stability to the neighbouring state.
Earlier, the COAS reviewed the parade and gave away prizes to the distinguished performers. The prestigious 'Quaid-e-Azam Gold Medal' was conferred upon Lieutenant Haris Ali Khan PN. Midshipman Tauqeer Hussain was awarded the coveted 'Sword of Honour' for his overall best performance, whereas Midshipman Haroon Khan won the 'Academy's Dirk'.
Officer Cadet Talha Masood was awarded 'Chairman Joint Chiefs of Staff Committee Gold Medal', Officer Cadet Ahmed Mohammed Alamri from Kingdom of Saudi Arabia earned 'Chief of the Naval Staff Gold Medal' and Officer Cadet Ahmed Naveed Malik from SSC Course clinched the 'Commandant Gold Medal'. 'Proficiency Banner' was re-claimed by the Forecastle Squadron.
Full report at:
https://dailytimes.com.pk/336288/dont-take-peace-offer-as-our-weakness-coas-tells-india/
--------
Disbursement delays force closure of WB education project
Amin Ahmed
December 24, 2018
ISLAMABAD: The federal government has asked the World Bank to close an education project in Sindh since it suffered from delays in disbursement and had partially achieved its objective of increasing enrolment in schools.
Following the federal government's request, the World Bank has initiated the process for cancellation of the project that was to support the second phase of the Sindh government's 'Second Sindh Education Sector Reform Programme'.
The development objective was to raise school participation by improving sector governance and accountability and strengthening administrative systems, and measure student achievement.
A World Bank report said that the overall progress towards project development objectives was moderately satisfactory, that reflected an increased number of basic quality standard schools from 992 in 2015-16 to 1,336 by November 2018, and increased annual transition rate from Class V to VI from 58.1 per cent to 69.2pc in 2017. The increased annual transition rate was targeted to be from Class I to II before the project closing.
The report said implementation had accelerated since mid-2018 and the disbursement linked indicator (DLI) amounting to $10.4m was achieved in September 2018. However, it added, since the project suffered from delays in disbursement, the government decided to close it without seeking further extension. The closing date for the project was Dec 31, 2018, whereas the project was due to be completed during 2013-17 period.
The International Development Association (IDA) of the World Bank group had approved a soft loan of $400m for the project in March 2013. So far, $321.4m had been disbursed while the undisbursed amount remained to be $49.7m. The total cost of the project was $2,600, including the IDA loan of $400 million.
The indicators set for the project were to increase net enrolment rate for primary school children aged between six and 10 years; middle school children aged 11 to 13 years; high school students aged 14 to 15 years; and annual administration of the students' achievement test in Class V and VIII in government schools.
Full report at:
https://www.dawn.com/news/1453281/disbursement-delays-force-closure-of-wb-education-project
--------
Pakistani national Imran Warsi released after serving 10 years in Indian prison
Dec 24, 2018
NEW DELHI: A Pakistani national Imran Warsi, who was imprisoned in India, has been released after serving 10 years in Bhopal jail over suspicion of forging documents and spying for the Inter-Services Intelligence (ISI), the premier intelligence agency of Pakistan, according to diplomatic sources.
Reportedly, the Pakistan High Commission in New Delhi has been informed ahead of final arrangements for his repatriation to Pakistan on December 26 at Wagah Border, where he will be handed over to Pakistani authorities.
Moreover, his jail time ended in January this year, however, he was not released as he could not clear his outstanding fine.
According to sources, Warsi travelled from Karachi to Kolkata in 2004 to marry the girl he loved, his cousin. In a video released, he said that his wife and children have been residing in India and he would seek assistance from Pakistani authorities for their immigration to his homeland.
Full report at:
https://www.pakistantoday.com.pk/2018/12/23/pakistani-national-imran-warsi-released-after-serving-10-years-in-indian-prison/
--------
Paktika drone strike kills senior Taliban commander
Dec 24, 2018
PESHAWAR: A senior Taliban was killed in the aftermath of a United States (US) drone strike in Afghanistan's Pakita province on Sunday.
According to a local media outlet, terrorist Saifullah, along with two of his close aides, was killed as a drone strike targeted his hideout in Paktika province's Barmal district.
Earlier on Saturday, at least four militants were killed in a drone strike in the western Farah province of Afghanistan, Khaama Press reported.
The Afghan Military released a statement stating that a vehicle, a PKM machine gun, a sniper rifle, and 3 Ak-47 rifles were also destroyed in the drone strike which was carried out in the vicinity of Bakwa district.
Furthermore, a joint operation by Afghan and US Special Forces at the Sargardan Chowk in Orgon Bazaar of Helmand province in the early days of December this year had killed another senior Taliban commander and two of his deputy commanders along with 27 others.
Full report at:
https://www.pakistantoday.com.pk/2018/12/23/paktika-drone-strike-kills-senior-taliban-commander/
--------
UK govt funding Pakistan's special courts prosecuting terror suspects: report
Dec 24, 2018
British taxpayers are funding prosecutions in Pakistan that have led to dozens of death sentences, according to newly disclosed details of a secretive UK aid programme, The Guardian reported.
The documents reveal that the UK Foreign Office is supporting specialist civilian courts that prosecute terrorist suspects in what the UK government's global security strategy calls a "rule of law" programme in Pakistan.
They reveal that the UK government has supported the project since 2016, during which time the courts have handed down 59 death sentences, some of which are likely to be unsafe convictions.
A parliamentary response last week said the UK government had spent £10.39 million on the Pakistan programme, the bulk of the money – £9.32m – coming from the overseas aid budget.
One strand of the project, the "counter terrorism associated prosecutorial reforms initiative" (Capri) "aims to increase Pakistan's civilian capacity to investigate, detain, prosecute and try terrorists in line with international standards and human rights norms". However legal charity Reprieve says it is impossible for the UK support civilian terrorism courts in Pakistan in accordance with international law because the courts do not meet recognised standards.
Campaigners for Reprieve say death sentences are imposed for offences such as kidnapping, despite international law prohibiting the death sentence for anything but murder.
Pakistan's anti-terrorism act defines terrorism as any crime or threat designed to create a "sense of fear or insecurity in society" – leading to prosecutions of people who have no connection with extremism.
The UN Human Rights Committee said last year that it "remains concerned by the very broad definition of terrorism" and "absence of procedural safeguards". Critics also say Pakistan's civilian courts do not meet due-process safeguards for issuing death sentences that are required by international law.
Since the Foreign Office began funding Capri, the Human Rights Commission of Pakistan's death penalty database shows courts sentenced 31 people to death in 2016, 18 in 2017 and so far 10 this year.
The case of Asia Bibi, a Christian woman who spent eight years on death row for blasphemy before being acquitted in October, has provoked fresh scrutiny on Pakistan's human rights record. Harriet McCulloch, the deputy director of Reprieve, said: "It is deeply troubling that Britain is assisting in the investigation and prosecution of crimes that carry the death penalty in Pakistan, particularly as those crimes are being tried in courts that do not uphold basic standards of due process and where the rates of wrongful conviction are alarmingly high.
"In the last three years, British taxpayers have spent £10m supporting a legal system that convicts and sentences people to death for alleged crimes that often have nothing to do with terrorism."
Another UN report, by its Committee against Torture, has criticised Pakistan's anti-terror laws for allowing confessions made in police custody to be admitted as evidence.
Analysis by Reprieve and the Islamabad-based Foundation for Fundamental Rights of nearly 300 reported Pakistan supreme court judgments handed down between 2010 and 2017 found that death sentences were overturned in 77 per cent of cases. From 2015 to the end of 2017, this increased to 81 per cent.
Last year the Supreme Court upheld the death penalty in 8 per cent of its reported capital cases, overturning the capital conviction or ordering a review in 92 per cent of capital cases.
Despite growing pressure for the UK government to disclose more details about work carried out under its global security programme it remains reluctant to comment on the issue. On Tuesday the Pakistan rule-of-law programme was raised in the House of Commons by shadow foreign minister Helen Goodman who asked if a human-rights risk assessment had been carried out on the project.
The government's response was redacted on "security grounds".
The UK's rule-of-law programme in Pakistan is a joint project of the Department for International Development, Foreign Office, the Ministry of Defence, National Crime Agency, Home Office and the Crown Prosecution Service.
McCulloch added: "The UK government has said this programme is compliant with human rights. It's difficult to see how that can be, and as ministers refuse to publish the human-rights risk assessments behind this funding, it is impossible to be sure that Britain is not complicit in grave abuses."
A Foreign Office spokesman said: "Our programmes in Pakistan have supported the reform of the criminal justice system and we are confident it has been delivered in a way that is consistent with our opposition to the death penalty.
Full report at:
https://www.pakistantoday.com.pk/2018/12/23/uk-govt-funding-pakistans-special-courts-prosecuting-terror-suspects-report/
--------
India
UAE-based alumni of India's Aligarh Muslim University win awards
December 23, 2018
Dubai: UAE-based alumni of India's prestigious Aligarh Muslim University (AMU) were among the winners in the first-ever global awards for AMU alumni, held in Dubai on Saturday.
Ten of the total 17 winners in the Sir Syed Global Excellence and Leadership Awards 2018 were AMU graduates based in the UAE, including Tariq Chauhan, Group CEO of EFS Facilities Services Group, who won the 'CEO Global Award' category.
The awards are named after AMU founder Sir Syed Ahmad Khan.
The ceremony was organised by UAE-based Vertex Events, which plans to hold the awards every year in various international locations.
Pushkin Agha, managing director of Vertex Events, told Gulf News: "This is the first event held to recognise AMU alumni who have excelled in their field. Leading establishments such as Forbes and Harvard University have awards for their alumni. AMU is a prestigious institution that is almost 100 years old, but our alumni are mostly spread around the world. So this event will bring them together and recognise their achievements on an international platform."
Agha, himself an AMU engineering alumni from the 1998 graduating batch, added that alumni flew in from the US, UK, Saudi Arabia, Kuwait, Oman and India for Saturday's event.
Around 500 alumni and guests attended the event, which included a panel discussion on education and gala dinner.
Among Saturday's winners were Hamid Ansari, former vice-president of India (administration excellence); US businessman Dr Frank Islam (philanthropist excellence); and Indian filmmaker Anubhav Sinha (filmmaker award).
Dr Islam, who is of Indian origin, recently donated $3 million (around Dh11 million) to AMU for a new complex for business management studies, Agha said.
The lifetime achievement award went to AMU chancellor Syedna Mufaddal Saifuddin, whose representative from India collected the award on his behalf. The AMU chancellor and vice-chancellor are appointed by the President of India.
Special guests included AMU vice-chancellor Professor Tariq Mansoor, who presented a keynote address at the gathering. Mansoor said he was pleased with the grants support extended to AMU by the central government in India, adding that new courses and a new building would be added to AMU. Mansoor also plans to discuss AMU's agreements with American University in UAE and University of Sharjah during his visit.
Other special guests included former AMU vice-chancellor Zameer Uddin Shah, a retired lieutenant general of the Indian Arm. He was among the panellists in a discussion on education at the event, moderated by senior India journalist Rifat Jawaid. Other panellists included Chauhan and Syed Ali Rizvi from the US tech firm Resolv corporation.
https://gulfnews.com/uae/education/uae-based-alumni-of-indias-aligarh-muslim-university-win-awards-1.61090183
--------
Pakistan a land of atrocities against minorities: Mukhtar Abbas Naqvi
December 23, 2018
The BJP Sunday lashed out at Pakistan Prime Minster Imran Khan over his barb at India on treatment of minorities, terming his country "a land of atrocities against minorities" who have been "persecuted" there since its birth in 1947.
Minorities Affairs Minister Mukhtar Abbas Naqvi used a Hindi proverb and described Khan's comments as a case of a cat going on a pilgrimage after eating 100 mice (Sau chuhe khake bill Haj ko chali).
In hard-hitting remarks against Pakistan, Naqvi said that number of minorities like Hindus, Sikhs and Christians have fallen by almost 90 per cent in that country since its birth in 1947 as they were hounded by Islamic fundamentalists in collusion with its government..
Unlike Pakistan, where minorities were killed, forced to convert or persecuted out of the country, in India they have grown and are an equal partner in development, Naqvi asserted. In the neighbouring country, minorities are barely two to three per cent of its population, he said.
Targeting Khan, Naqvi named a number of popular Indian artists, including Yusuf Khan better known as Dilip Kumar, and Aamir Khan, Salman Khan and Shahrukh Khan, and noted that generations of Indians have admired them.
"Can Imran Khan name a single Pakistani artiste who has come from a minority community and been liked as much as these actors are in India," Naqvi said.
The Union minister also had a word of advice for veteran Indian actor Naseeruddin Shah, whose comments expressing concern over mob violence in the country were seized upon by Imran Khan to claim on Saturday that he will show the Indian government how to treat minorities.
"Naseeruddin Shah should also consider that such a sweeping statement that is also factually incorrect causes a lot of harm and is used by anti-India forces to target our country," Naqvi said.
Shah had cited the murder of a police inspector in Uttar Pradesh's Bulandshahr by a mob protesting alleged slaughter of cow to express his concern.
Slamming Pakistan, Naqvi said, "It is a land of atrocities against minorities. It is a land where the blood of minorities have been spilled over the decades. For it to lecture us on minority rights is a case of a cat going on a pilgrimage after eating 100 mice."
Full report at:
https://indianexpress.com/article/india/pakistan-a-land-of-atrocities-against-minorities-mukhtar-abbas-naqvi-5506190/
--------
Politicians, social media slam Pak PM Imran Khan for 'preaching' tolerance to India
Dec 23, 2018
NEW DELHI: Pakistan Prime Minister Imran Khan's recent statement on "showing" the Narendra Modi government "how to treat minorities" has evoked stern reactions from various political leaders in India.
Leaders from across political parties lashed out at Imran Khan, saying that the Pakistan PM should first mend the affairs of his own country before sermonizing India.
Minister of state Giriraj Singh reminded Pakistan about its declining Hindu population and asked Islamabad to mind its own affairs.
आज़ादी के बाद पािकान मिहंदू23% सेघट के
2% हो गए और िहंदुान म
मुसलमान 8% सेबढ़कर 20% हो गए ....अब पा… https://t.co/XMPKS5R3rc
— Shandilya Giriraj Singh (@girirajsinghbjp) 1545537864000
Addressing a press conference, BJP national spokesperson Sambit Patra also slammed Khan, saying that he can "surely teach Congress a lot. After all, the party considers the nation angelic".
"Pakistan is 'terroristan'. It gave shelter to (Osama Bin) Laden. It need not teach us anything," he said.
AIMIM chief Asaduddin Owaisi too had a word of advice for the Pakistan premier.
"According to the Pakistani Constitution, only a Muslim is qualified to be President. India has seen multiple Presidents from oppressed communities. It is high time Khan sahab learns something from us about inclusive politics & minority rights," he wrote in a tweet.
Minority affairs minister Mukhtar Abbas Naqvi, in a hard-hitting reply, said that number of minorities like Hindus, Sikhs and Christians have fallen by almost 90 per cent in that country since its birth in 1947 as they were hounded by Islamic fundamentalists in collusion with its government.
Unlike Pakistan, where minorities were killed, forced to convert or persecuted out of the country, in India, they have grown and are an equal partners in development, Naqvi asserted. In the neighbouring country, minorities are barely two to three per cent of its population, he said.
"Can Imran Khan name a single Pakistani artiste who has come from a minority community and been liked as much as these actors are in India," Naqvi said.
Rajya Sabha MP Rakesh Sinha termed Khan's remark a case of "pot calling the kettle black".
Yes @ImranKhanPTI ,entire world knows Hindus have been reduced from 23 percent to less than 1 percent in a span of… https://t.co/oy7PhEfHeU
— Prof Rakesh Sinha (@RakeshSinha01) 1545542832000
SAD leader and Delhi MLA, Majinder Singh Sirsa, tweeted a news report on atrocities committed against the Sikh community in Pakistan and said that Khan should first read the report before "preaching".
"Sikh community in Pakistan fears its life in your country, Imran Khan. Kindly read the news link before you preach," he tweeted.
Khan's comment was heavily panned on social media as well.
"Someone please send a big mirror to Imran Khan. Persecuting Ahmadis, Hindus, Shias, Balochs...for decades. Stop that first. If some of us are concerned about certain happenings here doesn't mean we are persecuting and killing minorities like you have been doing," a Twitter user wrote.
A Twitter user asked Khan to rectify his country's notorious blasphemy law, which carries a death sentence for the accused.
#ImranKhan should first abolish blasphemy laws in his own country #Pakistan then start preaching.
— Ritesh Kumar (@Riteshkumar3112) 1545573208000
On Saturday, addressing an event in Lahore, Khan referred to actor Naseeruddin Shah's remarks on mob violence in India and said, "We will show the Modi government how to treat minorities. Even in India, people are saying that minorities are not being treated as equal citizens."
In a video interview with Karwan-e-Mohabbat India, the veteran actor had said the death of a cow was being given importance in the country than the killing of a policeman.
Full report at:
https://timesofindia.indiatimes.com/india/politicians-social-media-slam-pak-pm-imran-khan-for-preaching-tolerance-to-india/articleshow/67219032.cms
--------
Arms-looter Musa group was looted by Hizbul Mujahideen men
Dec 24, 2018
NEW DELHI: A few months ago, some Hizbul Mujahideen commanders sought a meeting with terrorists associated with Zakir Musa's Ansar Ghazwat-ul-Hind (AGuH), an Al Qaida affiliate active in south Kashmir. Four AGuH terrorists, though circumspect, turned up for the meeting in Pulwama, only to learn that they had been tricked. Hizbul terrorists ended up looting all the weapons Musa's men were carrying.
Ever since, AGuH, strapped by a funds and weapons crunch, has been struggling to stay relevant and make an impact on the terror scene in Kashmir. Though Musa continues to have significant leverage among young Kashmiris, given his popularity on social media and backing by Islamic State-linked networks, his attempts to gain a foothold in the Valley by getting more youth to join his outfit have failed to make much headway as AGuH does not have enough weapons to offer them, said an intelligence functionary.
Hizbul Mujahideen, as well as Pakistan-based terror outfits Lashkar-e-Taiba and Jaish-e-Mohammad, have been opposing Musa's attempts to gain relevance in Kashmir. "While there is potential for Musa's outfit to grow in popularity and attract a large number of Kashmiri youth, lack of funding and source of weapons has prevented it from growing into a major threat," said an officer of the central security establishment.
The strength of Musa's outfit was estimated at no more than 10-15 armed cadres until Saturday, who as per sources in the central security establishment held some 8-10 weapons between them. After the killing of six AGuH cadres, including Musa's deputy Soliha alias Rehaan, in an encounter with security forces in Pulwama on Saturday, the outfit, a senior official claimed, stood decimated but for Musa and "a couple of others". Weapons were recovered from the slain terrorists, further limiting AGuH's firepower.
"Musa possibly realises that with little financial backing and weapons, his men cannot make much of an impact on the terror/militancy scene in J&K. He is believed to be lying low, is possibly not using a phone to communicate for fear of being tracked and may have also disguised his appearance to escape detection by human intelligence assets of Jammu & Kashmir police," said an officer.
Full report at:
https://timesofindia.indiatimes.com/india/arms-looter-musa-group-was-looted-by-hizbul-mujahideen-men/articleshow/67223234.cms
--------
Arab World
UN adopts resolution in favour of Syria sovereignty over occupied Golan Heights
Dec 23, 2018
The United Nations General Assembly has overwhelmingly voted in favor of a resolution on the permanent sovereignty of Syria over natural resources of the Israeli-occupied Syrian Golan Heights.
According to Syria's official news agency SANA, the resolution, which was based on the recommendations of the Second Committee -- Economic and Financial Committee – was adopted by a record vote of 159 in favor, 7 against and 13 abstentions in a Sunday session of the 193-member assembly.
The resolution reaffirmed the inalienable rights of the Syrians in the occupied Syrian Golan to sovereign over its natural resources, including land, water and energy. It also demands that Israeli occupation authorities stop from exploiting, damaging, depleting and endangering natural resources in the strategically-important territory.
The assembly on Sunday also called on UN Secretary-General Antonio Guterres to submit a report during the next session on the implementation of the resolution, including issues related to the increasing impact of exploiting, damaging and depleting natural resources in the region by Israeli forces.
Furthermore, the Syrian delegation to the UN called on Guterres to denounce and stop some "dangerous" practices of Israel in the occupied Golan Heights that "violate" the international law.
They specifically pointed to one of "most dangerous" of these practices which is holding a so-called "local council' elections" for the first time in the villages of the region.
On December 1, the majority of the assembly adopted a resolution urging the Israeli regime to withdraw from the entirety of the Syrian Golan Heights it occupied some half a century ago.
In 1967, the Israeli regime waged a full-scale war against Arab territories, including those of Syria, and occupied a large swathe of Syria's Golan Heights.
In 1973, another war, known as the Arab-Israeli War or the Yom Kippur War, broke out between the Israeli regime and a coalition of Arab states led by Egypt and Syria. A year later, a UN-brokered ceasefire came into force, according to which the Israeli regime and the Syrian government agreed to separate their troops, and create a buffer zone patrolled by the UN Disengagement and Observer Force (UNDOF).
In late 1981, Israel passed the Golan Heights Law that extended the regime's "laws, jurisdiction and administration" to the Golan Heights, effectively annexing the territory to Israel.
A few days after the law's passage in Israel's Knesset, UN Security Council Resolution 497 determined the law as "null and void and without international legal effect."
Early this month, the UN General Assembly once again denounced Israel's non-compliance with the UNSC 1981 resolution. The so-called Israeli law is not recognized by the international community.
The fact that most UN member states continue to support these resolutions shows that they are committed to the goals and purposes of the UN Charter, and that they reject foreign occupation and support Syria's right to reclaim the entirety of its Israeli-occupied lands, Munzer added.
Back in July, the Israeli military said that it had deployed artillery and armored reinforcements to the occupied mountainous plateau, claiming that the move was the result of a situation assessment "in light of developments on the Syrian Golan Heights."
https://www.presstv.com/Detail/2018/12/23/583769/Syria-UN-golan
--------
Syrian army finds US arms, Israeli medicine in militant depots in Quneitra
Dec 23, 2018
Syrian government forces have carried out a string of clean-up operations in the country's southwestern province of Quneitra near Israeli-occupied Golan Heights, discovering a substantial amount of US-built munitions and Israeli-made medicine from a former stronghold of foreign-backed Takfiri terrorists.
An unnamed military source told Syria's official news agency SANA that Syrian soldiers launched the operations in the town of Jubata al-Khashab to clear the area of hidden explosive devices and ordnance left behind by the militants.
The source added that the weapons were hidden inside dens dug by terrorists underground, and included anti-tank missiles, mortar launchers, assault rifles, various types of machine guns and landmines in addition to a large number of protective masks and satellite communication devices.
Syrian troops also discovered large stocks of Israeli- and Western-made medicine and medical equipment for surgical operations.
Separately, Syrian army units foiled attempts by terrorist groups to infiltrate and attack military posts in the country's west-central province of Hama.
Syrian soldiers conducted concentrated strikes against positions of the so-called Turkistan Islamic Party in Syria Salafist terrorist group in the villages of al-Mashik, Tal Wassit and al-Ziyarah, killing and injuring a number of the terrorists in the process.
Militant hideouts, their fortified positions and a number of launchers, which Takfiri terrorists had been using in their attacks against army positions, were also destroyed.
Full report at:
https://www.presstv.com/Detail/2018/12/23/583755/Syrian-army-finds-US-arms-Israeli-medicine-in-militant-depots-in-Quneitra
--------
Egyptian forces kill 14 militants in Sinai Peninsula
Dec 23, 2018
Egyptian security forces have killed 14 suspected Takfiri terrorists in an exchange of fire in the country's restive Sinai Peninsula amid an ongoing military campaign against the Daesh terrorist group.
The Egyptian Interior Ministry said in a statement Sunday that the militants had been under surveillance prior to the raid by security forces on their hideout in the town of el-Arish.
The ministry stated that an exchange of fire lasting several hours killed eight militants. The other six attempted to flee but were killed in a police chase.
According to the statement, the militants were suspected of planning attacks on "important and vital facilities," armed forces and police personnel.
The army launched the campaign on February 9 after President Abdel Fattah el-Sisi gave it a three-month deadline to crush Daesh in Sinai.
Sisi has said setbacks by Daesh in Syria were driving its terrorists to try to relocate to Libya and Sinai. The group has killed hundreds of soldiers, policemen and civilians, mainly in its North Sinai stronghold but also elsewhere in Egypt.
The Sinai Peninsula has been under a state of emergency since October 2014, after a deadly terrorist attack left 33 Egyptian soldiers dead.
Over the past few years, terrorists have been carrying out anti-government activities and fatal attacks, taking advantage of the turmoil in Egypt that erupted after the country's first democratically-elected president, Mohamed Morsi, was ousted in a military coup in July 2013.
Full report at:
https://www.presstv.com/Detail/2018/12/23/583765/Egypt-Sinai-Daesh
--------
Syrian Army Preparing for Major Operation against ISIL in Deir Ezzur
Dec 23, 2018
The Arabic-language website of RT reported that the army has moved towards Eastern Deir Ezzur to kick off a major operation against ISIL.
It further said that the army has dispatched a part of its forces in Eastern Idlib and Northern Hama to Eastern Deir Ezzur.
The last bases of the ISIL are in the town of Hajin and its surrounding villages on the Eastern bank of the Euphrates River, the Arabic RT said.
In the meantime, the London-based Syrian Observatory for Human Rights said that the army's movements in Eastern Deir Ezzur were sped up following the US president's decision to pull forces out of the war-hit country, mainly deployed on the Eastern bank of the Euphrates River.
In a relevant development on Saturday, the Army sent 2 convoys of military vehicles to regions near the town of Albu Kamal in Southeastern Deir Ezzur near border with Iraq.
The convoys included a large number of forces from the 5th Division along with a large volume of arms and ammunition and armored vehicles.
The army's decision to reinvigorate positions in Southeastern Deir Ezzur came after ISIL intensified attacks on the Western bank of the Euphrates River.
In the meantime, a number of Russian and Syrian forces were sent by military planes to Deir Ezzur airport.
Full report at:
http://en.farsnews.com/newstext.aspx?nn=13971002001016
--------
Military Expert: Syrian Army to Deploy in Al-Tanf as Soon as US Forces Pull out
Dec 23, 2018
The official pointed to the unknown fate of the US-backed militants after US forces' withdrawal from al-Tanf base, and said that the US president's decision to pull forces out of Syria is an important turning point in favor of Damascus and its allies, the Lebanese al-Ahd news website reported.
He further was quoted by the news website as saying that the militants, deployed in 55 sq-km radius region around the US-run al-Tanf base, will have no way but to surrender to the Syrian Army as they will lose their main supporter after withdrawal of the US forces from the region.
It went on to say that the militants, including Maqawir al-Thowra, who agree to surrender to the Syrian Army will hand over their arms to the Syrian Army and those who do not agree to do so will apply for relocation to militant-held regions in Northern Syria.
The military official underscored that the Syrian army is resolved to enter the region as soon as US troops retreat.
The head of the US-backed Maghawir al-Thawra group in Syria, Muhanad al Talaa said earlier today that American troops' presence at the al-Tanf camp remains at the same level so far, despite the recent announcement about the US contingent's withdrawal from Syria.
"American troops plan to withdraw completely from Syria but I don't have details and things are as they are up until this moment", al Talaa said, Sputnik reported.
Earlier, Muhanad al Talaa told BuzzFeed that US troops were preparing to leave the al-Tanf base, whose presence there have been criticized by Russia. The chief of the Russian General Staff announced on 5 December that Moscow had offered to establish a joint Russian-US control over the zone instead.
The al-Tanf garrison is situated at a strategic point close to Syria's borders with Jordan and Iraq, on a crossroads with the Baghdad-Damascus highway. This is the only point of major US troop presence in Syria's south with the rest of the American troops located in the north along with Kurdish forces.
Damascus earlier slammed the US presence in al-Tanf as illegal and demanded Washington withdraw its troops from there, since they were not invited by the Syrian authorities and do not have a UN mandate.
Full report at:
http://en.farsnews.com/newstext.aspx?nn=13971002000974
--------
US Army's Long Convoy Dispatched to Kurdish-Held Regions in Northeastern Syria
Dec 23, 2018
Yeni Safak claimed that 150 trucks, carrying arms and ammunition, have been sent by the US army to Kurdistan's People Protection Units (PKK), a military branch of the Democratic Unity Party in Northeastern Syria.
The US army's move came after the US presidents' decision to pullout forces from Syria, the paper said, adding that the convoy crossed Iraqi border into the border towns of Qamishlit and Drik 24 hours after Trump called for the troops pullout.
The daily went on to say that a sum of 500 US' trucks of arms and ammunitions have been forwarded to bases of the PKK and other People's Protection Units during the past week.
The London-based pro-opposition Syrian Observatory for Human Rights (SOHR) said earlier this month that the US-led coalition forwarded a sum of 150 vehicles carrying military-logistic equipment to the SDF-held regions on the Eastern bank of the Euphrates River via Simalka passageway at Iraq-Syria border.
Full report at:
http://en.farsnews.com/newstext.aspx?nn=13971002000530
--------
UAE best place for religious tourism: Sikh leader
December 23, 2018
DUBAI: The UAE is the best place for religious tourism given the diversity and beauty of its places of worship, said the chairman of the Gurdwara Guru Nanak Darbar in Dubai, the largest Sikh temple in the Gulf.
Be it mosques, churches, or Sikh or Hindu temples, "all these places of worship showcase the beauty of peace and tolerance in the UAE," Surender Singh Kandhari, who has been living in the country since 1975, told Arab News.
The UAE has declared 2019 the Year of Tolerance. Kandhari said the country is a living example of tolerance and being a bridge between peoples of different cultures in a respectful environment that rejects extremism and emphasizes acceptance of the other. "It's the only country where more than 180 different nationalities live together in harmony. You can't find such an example anywhere in the world," he added.
"This is perhaps the only country where followers of every faith will find their places of worship. These places aren't meant for worship only. They're gorgeous pieces of art and architecture," he said.
"Every building has its own story to share, and everyone is welcome to find solace in any place of worship. Everyone is allowed to go to any place of worship. This kind of peace and tolerance one can't find in any other part of the world."
Visionary leadership
The multi-story gurdwara was opened in January 2012 at a cost of more than $20 million.
Praising the UAE's construction of a Sikh temple "in the heart of an Islamic state," Kandhari said: "To add to the joy and sense of wellbeing, Sheikh Mohammed bin Rashid Al-Maktoum, vice president and prime minister of the UAE, bestowed a piece of land free of charge for the Sikhs to build their temple."
Full report at:
ttp://www.arabnews.com/node/1424766/middle-east
--------
Mideast
Israeli Knesset member, over 100 settlers storm al-Aqsa Mosque
Dec 23, 2018
An ultra-Orthodox Israeli lawmaker and more than a hundred settlers have stormed the al-Aqsa Mosque compound in the occupied Old City of East Jerusalem al-Quds amid frequent acts of violence committed by Israeli forces and settlers against the Palestinian people.
Yehudah Glick, 53, said on his Facebook account on Sunday that he toured the compound to say prayers on the anniversary of his wife's death.
The Palestinian Ma'an news agency, citing Sheikh Omar al-Kiswani, the Imam and director of al-Aqsa Mosque, said some 112 Israeli settlers and Glick entered the compound through the Moroccans Gate in large consecutive groups.
Heavily armed Israeli troops were deployed across the compound and provided protection to the legislator and other settlers as they toured the compound, Kisawni said.
On December 3, Glick, who is a member of the ruling party of Likud-National Liberal Movement, also stormed the compound along with dozens of other Israeli settlers.
The number of Israeli lawmakers, or members of the Knesset, who storm the sacred compound, has increased in the past few months after Prime Minister Benjamin Netanyahu decided in July to allow the legislators to visit the compound once every three months following a restriction of access that has been in place since October 2015.
Plenty of the Knesset members are right-wing extremists, who support the demolition of the Islamic site in order to build a Jewish temple instead, on what is known among settlers as the Temple Mount.
On November 18, Uri Ariel, the minister of agriculture and rural development in the occupied territories, and dozens of other Israeli settlers stormed the compound. The Israeli minister had previously stormed the compound in September.
The al-Aqsa Mosque compound sits just above the Western Wall plaza and houses both the Dome of the Rock and the al-Aqsa mosque.
Tensions continue in the occupied Palestinian territories as part of the aftermath of US President Donald Trump's recognition of Jerusalem al-Quds as Israel's "capital" and relocation of the US embassy to the occupied city.
On December 21, 2017, the United Nations General Assembly overwhelmingly voted in favor of a resolution that calls on the US to withdraw its controversial policy shift.
Despite the vote, the US went ahead with the embassy transfer on May 14, triggering demonstrations in the occupied Palestinian territories, Iran, Turkey, Egypt, Jordan, Tunisia, Algeria, Iraq, Morocco and other Muslim countries.
Infuriated by Trump's move, Palestinian President Mahmoud Abbas boycotted his administration, saying Washington is no longer qualified to serve as the sole mediator in the decades-long conflict with Israel, and that an international mechanism should be devised to replace the US in the so-called peace process.
https://www.presstv.com/Detail/2018/12/23/583744/Quds-Aqsa-Mosque
--------
KSrelief project extracts total of 26,600 Houthi mines in Yemen
23 December 2018
In the second week of December 2018, the King Salman Humanitarian Aid and Relief Center landmine clearance project (MASAM) in Yemen extracted 64 anti-personnel mines, 1,430 anti-vehicle mines, 85 improvised explosive devices and 955 unexploded ordnances, which is a total of 2,534 mines.
An SPA report stated that a total of 26,609 mines planted by the Houthi militias have been removed by MASAM from land, schools and homes in Yemen. They added that the Houthis have tried to hide the mines in different locations and using camouflage, killing a large number of children, women and elderly, whether by death or due to serious injuries caused by them.
https://english.alarabiya.net/en/News/gulf/2018/12/23/KSrelief-project-extracts-total-of-26-600-Houthi-mines-in-Yemen.html
--------
Israeli forces detain Palestinian agriculture minister
Dec 24, 2018
Israeli forces on Sunday arrested Palestinian Agriculture Minister Sufian Sultan, as he was heading to the city of al-Khalil (Hebron) from Ramallah, the center of the occupied West Bank.
The Israeli regime's forces stopped the minister's car and forced him out of it at gunpoint while deliberately assaulting him, before proceeding to thoroughly search his vehicle. Forces also seized the car's alarm system, the ministry of agriculture said in a statement.
The ministry condemned Israel's move against the minister, noting that such a measure violates the international humanitarian law and is part of Israel's escalated attacks against the Palestinian people.
Various Palestinian cities and towns in the West Bank, especially Ramallah, al-Bireh, and Jerusalem al-Quds have been scene to clashes between Palestinian people and Zionist military forces.
Tensions have been running high in the occupied region as the Israeli military regularly opens fatal fire on Palestinians, accusing them of seeking to attack its personnel.
Human rights groups have repeatedly slammed the Tel Aviv regime for its shoot-to-kill policy as a large number of the Palestinians killed at the scene of attacks did not pose any serious threat to Israelis.
Israeli troops have on numerous occasions been caught on camera brutally killing Palestinians, with the videos going viral online and sparking condemnations of the regime's military.
Since the beginning of 2018, Israeli forces have killed at least 310 Palestinians, including 54 children, and arrested over 900 others, according to a Palestinian human rights center.
Tensions have also been running high near the fence separating Gaza Strip from the occupied territories since March 30, the day when Gaza protesters started their "Great March of Return" protests.
Palestinian protesters demand the right to return for those driven out of their homeland.
The clashes in Gaza reached their peak on May 14, the eve of the 70th anniversary of Nakba Day, or the Day of Catastrophe, which coincided this year with Washington's relocation of the US embassy from Tel Aviv to occupied Jerusalem al-Quds.
More than 220 Palestinians have so far been killed and over 20,000 others wounded in the renewed Gaza clashes, according to the latest figures released by the Gaza Health Ministry.
Full report at:
https://www.presstv.com/Detail/2018/12/24/583790/Israel-arrest-Palestine-agriculture-minister-Ramallah-West-Bank
--------
Great March of Return protests to continue until end of Gaza siege: Hamas
Dec 23, 2018
A senior official of the Islamic resistance movement, Hamas, says Palestinians will continue the Great March of Return rallies until the end of the Israeli siege on the Gaza Strip.
Mahmoud al-Zahar, a co-founder of Hamas and a member of its leadership in the Gaza Strip, made the remarks in a Sunday interview with Iran's Al-Alam News Network in Tehran.
He said the anti-occupation rallies, known as the "Great March of Return," have produced important results, and will not be stopped before the Israeli regime's siege on the enclave is lifted.
Tensions have been running high near the fence separating Gaza from the occupied territories since March 30, which marked the start of the protests.
Palestinian protesters demand the right to return for those driven out of their homeland.
The clashes in Gaza reached their peak on May 14, the eve of the 70th anniversary of Nakba Day, or the Day of Catastrophe, which coincided this year with Washington's relocation of the US embassy from Tel Aviv to occupied Jerusalem al-Quds.
More than 220 Palestinians have so far been killed and over 20,000 others wounded in the renewed Gaza clashes, according to the latest figures released by the Gaza Health Ministry.
Gaza has been under Israeli siege since June 2007, causing a decline in living standards as well as unprecedented unemployment and poverty.
Friday to be decisive day for Israel
The military wings of Hamas warned in a joint statement on Sunday that the coming Friday will be "decisive" in determining their response to the killing of four people during recent border protests.
The groups declared they had prepared retaliation steps, and that their use will be dependent upon Israel's policy.
It will be "a decisive day in examining the Zionist enemy's behavior and intentions toward our people in the March of Return," the Sunday statement said.
The deaths were "a total crime and clear recklessness by the Zionist enemy," which has "crossed red lines," they continued, as reported by Israeli media.
"Regarding these crimes, the resistance will not act lightly with the enemy and stand by idly," the statement warned.
The statement came after several Palestinians, including a teenage, were shot dead by Israeli fire and nearly fifty others sustained injuries during the latest Great March of Return protests in Gaza.
Iran main backer of Palestinians
In his interview with Al-Alam, al-Zahar further described Iran as the main supporter of Palestinians, and said Hamas does not do anything without consulting with Iran over the issue.
Al-Zahar made the remarks during his visit to Tehran at the head of a delegation of the Hamas faction in the Palestinian Parliament.
He earlier held talks with Iranian Foreign Minister Mohammad Javad Zarif, Secretary of Supreme National Security Council Ali Shamkhani, Parliament Speaker Ali Larijani as well as Ali Akbar Velayati a senior advisor to the Leader of the Islamic Revolution Ayatollah Seyyed Ali Khamenei.
In the meeting with al-Zahar, Zarif once again reiterated the Islamic Republic's principled policy to support Palestine, urging all countries in the Muslim world to boost their unity to defend the Palestinian cause.
"We hope that some Muslim countries that have pinned their hopes on the support of the Zionists and the US will return to the Muslim world and realize that Zionists are not a trustworthy friend or partner for anybody," Zarif said.
The Iranian foreign minister added that efforts to counter the Palestinian resistance are unfortunately being made from inside the Muslim world, saying that all countries and Islamic movements are also under such pressure.
For his part, Zahar hailed Iran's real support for Palestine and expressed hope that the Palestinian people's resistance and the Muslim world's support would put an end to the Zionist project as soon as possible.
Back in May, Ayatollah Khamenei said resistance is the sole way to save the oppressed Palestinian nation.
Full report at:
https://www.presstv.com/Detail/2018/12/23/583787/Hamas-march-return-Israel-Gaza-siege
--------
Yemeni forces shoot down Saudi-led combat drone in Sa'ada
Dec 23, 2018
Yemeni army forces, supported by allied fighters from Popular Committees, have intercepted and targeted an unmanned aerial vehicle belonging to the Saudi-led military coalition, as it was flying in the skies over a mountainous region in the country's northwestern province of Sa'ada.
An unnamed Yemeni military source told Arabic-language al-Masirah television network that Yemeni air defense forces and their allies shot down the Chinese-made CH-4 combat drone with a surface-to-air missile on Sunday afternoon.
The CH-4 drone has a 3,500- to 5,000-kilometer range and a 30- to 40-hour endurance. It is also capable of carrying six missiles and a payload of up to 250 to 345 kilogram.
The unmanned aerial vehicle can fire air-to-ground missile from altitude of 5,000 meters, therefore it can stay outside of effective range of most anti-aircraft guns.
Also on Sunday, Yemeni soldiers and Popular Committees fighters thwarted an infiltration attempt by Saudi troops and their troops, killing and wounding scores of them in Saudi Arabia's southwestern border region of Jizan.
A Yemeni military official, requesting not to be named, said Yemeni troopers and their allies also managed to advance in the al-Maslub district of Yemen's northern province of al-Jawf. A number of Saudi-backed militiamen loyal to former Yemeni president Abd Rabbuh Mansur Hadi were killed and wounded in the process.
The development came a day after Yemeni missile defense units launched a domestically-developed Zelzal-1 (Earthquake-1) ballistic missile at a position of Saudi mercenaries east of al-Khobe district of Jizan, located 966 kilometers (600 miles) south of the Saudi capital Riyadh, killing and wounding many of them.
Yemeni soldiers and allied fighters from Popular Committees also fired a salvo of Katyusha rockets at Holom military base in the Naqil al-Kashabeh district of Yemen's southwestern province of Dhale. Several Saudi mercenaries were killed and wounded as a result.
Saudi Arabia and a number of its regional allies launched a devastating military campaign against Yemen in March 2015, with the aim of bringing the government of Hadi back to power and crushing Ansarullah movement.
According to a new report by the Armed Conflict Location and Event Data Project (ACLED), a nonprofit conflict-research organization, the Saudi-led war has so far claimed the lives of around 56,000 Yemenis.
The Saudi-led war has also taken a heavy toll on the country's infrastructure, destroying hospitals, schools, and factories. The UN has already said that a record 22.2 million Yemenis are in dire need of food, including 8.4 million threatened by severe hunger. According to the world body, Yemen is suffering from the most severe famine in more than 100 years.
Full report at:
https://www.presstv.com/Detail/2018/12/23/583738/Yemeni-army-soldiers-allies-intercept-shoot-down-Saudiled-combat-drone-in-Saada
--------
Saudis step up attacks, violate Hudaydah truce 223 times: Yemen army
Dec 23, 2018
Yemen's army, which alongside the Houthi movement has been defending the country, says Saudi Arabia has increased its attacks in breach of a UN-brokered truce in the port city of Hudaydah.
Army spokesman Brigadier Yahya Sariyah told al-Masirah TV that the Saudis have violated the Hudaydah ceasefire 223 times since December 17, when the truce took effect.
The ceasefire violations included 51 missile attacks, 155 cases of artillery fire and shelling as well as infiltration attempts, he added.
Saudi warplanes, Sariyah said, continue to fly intensely over Hudaydah. Over the past 48 hours, they have conducted 42 air raids on the provinces of Sa'ada, al-Jawf and Ma'rib.
Yemeni fighters, meanwhile, have clashed with Saudi mercenaries, killing and injuring dozens of them.
The Hudaydah truce was reached recently in Sweden during peace talks between delegations from the Houthis and Yemen's former Saudi-allied regime.
The warring sides agreed to the withdrawal of their forces and the deployment of UN monitors to the port, the entry point for most of Yemen's commercial goods and vital aid.
UN monitors arrived in Yemen on Saturday to oversee the fragile truce.
On Sunday, retired Dutch Major General Patrick Cammaert, who heads the UN team, arrived in the Houthi-held Yemeni capital, Sana'a, before heading to Hudaydah.
Separately on Sunday, the Yemeni air defense shot down a drone belonging to the Saudi-led coalition.
The CH4-type drone was brought down in Sa'ada by a surface-to-air missile, said the Yemeni army spokesman.
The Chinese-made advanced drone has the capability to carry a variety of munitions, such as four AR-1 missiles at a height of 7,200 meters.
Hudaydah has seen some of the heaviest fighting in the Saudi-led war on Yemen.
Full report at:
https://www.presstv.com/Detail/2018/12/23/583720/Yemen-Hudaydah-Saudi-Arabia
--------
Africa
Islamic State fights with Al Shabaab near Kenyan border town
23rd December 2018
John Snow
MOGADISHU, Somalia – Heavy fighting broke out between Al Qaeda linked Al Shabaab fighters and Islamic State militants near Somali border along Kenya.
The fighting flared up last night after heavily armed Al Shabaab fighters launched an ambush attack on small targets held by Islamic State militants in El Adde town, some 550 km west of Somali capital Mogadishu.
El Adde, a town close to Kenyan border along Somalia.
Radio Risaala, a local FM based in Mogadishu reported that several militants from both warring sides had been killed in the latest clash in Somalia.
Neither Al Shabaab nor Islamic State commented on the fighting.
Last week, Al-Shabab leadership has broadcast a 42-minute statement accusing Islamic State (IS) group fighters of "spoiling the ongoing jihad in Somalia".
Through their spokesperson, Ali Mohamud – alias Ali Rage, the group called on its fighters to carry out attacks to wipe out IS fighters.
Mohamud said the IS fighters were "a deadly disease" and "a cancer".
The Islamic State has been mounting noticeably more attacks in Somalia in recent months, following the group's loss of its "caliphate" heartlands in Syria and Iraq late last year.
https://mareeg.com/islamic-state-fights-with-al-shabaab-near-kenyan-border-town/
--------
Boko Haram mastermind of deadly Nigeria blasts arrested: police
2018-12-22
A top Boko Haram leader accused of organising deadly twin blasts in the Nigerian capital Abuja that killed 18 people has been arrested, police said Friday.
A police statement said Umar Abdulmalik and seven other jihadists were arrested, without giving details.
Forty-one people were also injured in the October 2, 2015 blasts which simultaneously ripped through the suburbs of Kuje and Nyanya outlying the federal capital.
The explosions happened near a police station in Kuje and at a bus stop in Nyanya.
Kuje, near Abuja's airport, is 40km west of the city centre and seat of government. Its prison at the time held dozens of Boko Haram prisoners captured by troops.
The same bus station in Nyanya, to the east, was hit twice in 2014. The first attack, on 14 April 2014, left at least 75 dead and was claimed by the Islamists; the second, on 1 May, left at least 16 dead.
In the latest attack, the jihadists ambushed a military convoy in the northeastern state of Borno killing at least two soldiers, military sources told AFP on Friday.
Thursday's attack saw them attacking with guns and rocket-propelled grenades on a convoy of troops near Bongori village in Damboa district, two military officers said, speaking on condition of anonymity.
The troops from the state capital Maiduguri, the cradle of the Boko Haram movement, were heading to the town of Damboa, about 90km away.
Three soldiers were injured and an armoured vehicle was damaged, a military officer said. The second officer confirmed the information.
Boko Haram has intensified attacks on military targets in Borno and neighbouring Yobe state, killing dozens.
Last week, two Nigerian soldiers were killed in a roadside mine explosion outside the town of Gamboru near the border with Cameroon blamed on the jihadists troops.
Full report at:
https://www.news24.com/Africa/News/boko-haram-mastermind-of-deadly-nigeria-blasts-arrested-police-20181222-2
--------
As protests continue in Sudan, opposition leaders detained
23 December 2018
Sudanese authorities arrested 14 leaders of an opposition coalition on Saturday, a spokesman for the grouping said, as anti-government protests driven by an economic crisis continued for a fourth day in several cities.
Farouk Abu Issa, the 85-year-old head of the National Consensus Forces, one of the country's two main opposition groupings, was among those detained after an opposition meeting in the capital Khartoum, said spokesman Sadiq Youssef.
"We demand their immediate release, and their arrest is an attempt by the regime to stop the street movements," Youssef said, adding that Abu Issa was in poor health and had been transferred to hospital after his detention. Officials could not immediately be reached for comment.
The arrests came on the fourth day of demonstrations, fueled by deteriorating economic conditions in cities across Sudan, in which protesters have voiced anger over corruption and some have called for an end to President Omar al-Bashir's rule.
On Saturday, students protesting in the city of al-Rahad set fire to the ruling party's office and other official buildings and briefly closed the main road to the capital Khartoum, about 370km to the north east, witnesses said.
Protesters dispersed
Police used teargas to disperse protesters, witnesses said. Protesters also gathered in several eastern neighborhoods of Khartoum and in the southern city of Madani, witnesses said.
Faisal Hassan Ibrahim, an assistant to Bashir and deputy head of the ruling party, said the protests were "coordinated and organized" and that two of those killed in demonstrations in the city of al-Qadarif were from the armed forces.
"Now the Sudanese armed forces are guarding strategic locations in all Sudanese regions," he added. At least nine people have been killed in protests this week, according to officials and witnesses, though casualty numbers are hard to confirm.
Internet service has slowed and activists have accused the government of blocking social media to stop protesters communicating. Authorities have blamed the protests on "infiltrators".
Full report at:
https://english.alarabiya.net/en/News/north-africa/2018/12/23/As-protests-continue-in-Sudan-opposition-leaders-detained.html
--------
North America
Pentagon opposes Trump's troop withdrawal plan
December 24, 2018
WASHINGTON: The US Department of Defence has informed Congress that it wants to continue to apply direct and indirect military pressure on the Taliban, while supporting nascent efforts for peace in war-ravaged Afghanistan.
The Pentagon's strategy paper, submitted to Congress this week, clearly differs with President Donald Trump's plan to withdraw roughly half of the more than 14,000 of US troops stationed in Afghanistan by the end of 2019.
Defence Secretary James Mattis also disagreed with the Trump plan and resigned earlier this week when the president rejected his advice to keep troops in Syria and Afghanistan.
Pakistan has welcomed the Trump plan, calling it "good" for the ongoing peace process.
But Marvin Weinbaum, Washington's senior-most expert of South Asian affairs, warned that the United States should not give the impression that it was ready to leave Afghanistan.
"Without Pakistan's belief that the US is prepared to be in Afghanistan for the long haul, any likelihood we can gain its cooperation on the Taliban evaporates," he said. "Instead, it reinforces Pakistan's determination to hold on to the Taliban as a proxy Pashtun force."
The Pentagon goes a step ahead and tells Congress that the US should not only keep troops in Afghanistan, but the troops should also continue to engage the insurgents.
"DoD (Department of Defence) will continue to apply direct and indirect military pressure on the Taliban, while supporting nascent efforts by the Afghan government to facilitate local peace initiatives, including de-escalation, defections, and declarations of neutrality," the Pentagon strategy paper said.
The Pentagon said that while it could not "forecast with precision the timing of a breakthrough on reconciliation", it believed that the continued US military engagement in Afghanistan forced the militants to participate in peace talks. "US efforts to assist the Afghan government are likely to increase the stress on the Taliban movement inside and outside of Afghanistan," it argued.
https://www.dawn.com/news/1453289/pentagon-opposes-trumps-troop-withdrawal-plan
--------
Pentagon: Order for US military withdrawal from Syria signed
24 December 2018
The order has been signed for the withdrawal of American troops from Syria, where they have been deployed to assist in the war against ISIS, a US military spokesperson said on Sunday.
"The execute order for Syria has been signed," the spokesperson told AFP, without providing further details.
US President Donald Trump has declared the extremist group "largely defeated," and made the surprise decision to bring US forces home -- a move that many US politicians and international allies fear is premature and would further destabilize the already devastated region.
Full report at:
https://english.alarabiya.net/en/News/middle-east/2018/12/24/Two-Kurdish-Syrian-Democratic-Council-delegations-reach-Moscow.html
--------
Washington Post reveals how Qatar Foundation shaped their pieces by Khashoggi
23 December 2018
A Washington Post article has revealed that Qatar had involved Jamal Khashoggi in supporting the country's agenda, which explains why Doha's media is working hard to politicize his death.
The details mentioned in the newspaper reveal the background to Qatar imposing its perspective while covering the incident. The report is based on 200 documents that reveal how Qatar directed ideas and contents contained in Khashoggi's articles.
The newspaper admitted clearly that it was not aware of the suspicious relationship between its writer Jamal Khashoggi and Qatar, as the documents show how Jamal Khashoggi's articles were influenced and even commissioned by Qatar Foundation International.
The American newspaper asserted that, Maggie Mitchell Salem, a senior executive official of Qatar Foundation, was drafting and proposing Khashoggi's articles.
The newspaper also asserted that text messages were found, between Khashoggi and Maggie Mitchell Salem. These messages revealed that Salem sometimes used to dictate to Khashoggi the articles he presented to Washington post.
According to the Washington Post, Salem, a former US diplomat who tried to defend her relationship with Khashoggi, said her help was based on her feeling that this aid was for a friend seeking success in the United States.
The report quoted the Executive Director of Qatar Foundation International as saying that Khashoggi's limited capabilities in English had led to comments on his articles.
According to the media reports, Salem had proposed topics for Khashoggi's articles, drafted articles and pushed him to take a tougher line against the Saudi government. According to the newspaper, the Qatari organization also provided Khashoggi with a translator, who relied on him in his articles.
The controversial Washington Post report indicates that some of Khashoggi's friends in the United States belong to or sympathize with the Muslim Brotherhood.
Khashoggi had relations with two actors at the Center for American-Islamic Relations, who did not hide their support for the so-called "Arab spring" uprising. He also had relations with senior officials in the Turkish government, whose relations were frigid with Saudi Arabia.
The Washington-based Qatar Foundation International (QFI), a branch of the larger Qatar Foundation organization operating within Qatari territory, could not deny the relationship it had with Khashoggi.
The Washington Post reports that the organization has explicitly admitted that it has a relationship with Jamal Khashoggi in recognition of its exploitation of a suspicious national agenda against Saudi Arabia.
In one of the WhatsApp messages exchanged between Khashoggi and Maggie Salem, the latter asked him to distort the image of Saudi Arabia by mentioning its relations with Washington and the file of Jerusalem and the right-wing parties.
However Khashoggi was somewhat apprehensive about putting these ideas in his article, asking her to write the article. She only replied that she would try to do so, and asked him to write a preliminary draft, says the report.
The relationship between Khashoggi and Maggie Salem was consolidated during his tenure at the Saudi Embassy in Washington in 2005, and following the outbreak of the Qatari crisis with its neighbors.
According to the report, they held several meetings in and outside Doha and Maggie helped Khashoggi obtain permanent residence status within the United States after he decided to move there.
Maggie arranged for him to attend a conference organized by the Brookings Institution, which is funded by Qatar, and facilitated his appearance on the British BBC channel in the presence of Qataris.
Another surprising part of the report reveals that Khashoggi, even when he was writing articles in The Washington Post criticizing Saudi Arabia and Saudi's reformist approach, asked for $2 million in funding from Saudi Arabia's Ministry of Information to set up a research center.
Washington Post, in the report entitled "The Last Months of Jamal Khashoggi," also stated that the late journalist was looking for a source to fund an information institution whose primary objective was to monitor the performance of Arab governments in terms of rights and freedoms.
To achieve this; he was looking for a main sponsor for this project.
The revelations raised alarm among Washington Post editors, and triggered a tussle within the newspaper. As they tried to distance themselves from the scandal, opinion-page officials maintained that they were not aware of these links or else they would not have allowed these pieces to be published.
Though the newspaper insisted that its opinion section is separate from the newsroom, the page officials said that they were unaware of his efforts to secure Saudi funding or a think tank, or his arrangements that explain how his views seemed closer to Qatar than his country's positions, especially on the Gulf crisis.
The disclosure would prompt analysts to review the reasons for the large media campaign led by Qatar and Turkey's outlets on Saudi Arabia after Khashoggi's death and whose campaign against Riyadh was far from being a defense of press freedom.
Full report at:
https://english.alarabiya.net/en/features/2018/12/23/Washington-Post-reveals-how-Qatar-Foundation-shaped-their-pieces-by-Khashoggi.html
--------
US top envoy in anti-Daesh fight resigns: Reports
22.12.2018
By Umar Farooq
WASHINGTON
The U.S. special presidential envoy for the global coalition to defeat Daesh has submitted his resignation, CBS News reported Saturday.
Brett McGurk's resignation will take effect Dec. 31. He has served the post for three years.
McGurk worked under the past three administrations, becoming one of the few persons appointed by former President Barack Obama to keep his post under U.S. President Donald Trump. He also served under the Bush administration.
The envoy had originally planned to leave his post in 2019 but decided to accelerate his resignation over strong disagreements with Trump over the withdrawal of U.S. troops from Syria, the news channel reported quoting anonymous sources.
The decision to remove 2,000 American troops out of Syria came from a telephone call with Turkish President Recep Tayyip Erdogan, according to The Associated Press, and Trump made the decision without consulting his top national security officials or any of the U.S.'s key allies.
McGurk's resignation comes as a surprise because the envoy had told reporters at the State Department that the U.S. was going to remain committed to the fight against Daesh terrorist forces last week.
"Nobody is declaring a mission accomplished. Defeating a physical caliphate is one phase of a much longer-term campaign," McGurk told reporters.
McGurk sent in his resignation on Friday, a day after Secretary of Defense James Mattis quit saying his views were not aligned with the president. Mattis will end his post in February.
Mattis noted that the most important part of the U.S.'s defense strategy is maintaining alliances with other nations, while Trump has been calling for increasing isolationism during his presidency as part of his "America First" agenda.
Full report at:
https://www.aa.com.tr/en/americas/us-top-envoy-in-anti-daesh-fight-resigns-reports/1346142
--------
Palestinians can expect another year of Trump betrayal in 2019
Jack Moore
December 24, 2018
In 2017, US President Donald Trump drew the knife on the Palestinian cause and historic US-Palestinian ties. This year he lunged at both, slashing at their very foundations and bloodying them beyond recognition.
After announcing the relocation of the American embassy to Jerusalem in December 2017, the American leader embarked on a series of moves that would deal blow after blow to Palestinian aspirations of a sovereign state living side-by-side with Israel.
There is shock in Ramallah at the speed at which Mr Trump has reversed decades of long-held US foreign policy and his team's willingness to broaden the already-wide gap between both sides in the decades-long conflict.
He and his key aides – son-in-law Jared Kushner, Middle East envoy Jason Greenblatt, and ambassador to Israel David Friedman – have cancelled all funding to the United Nations agency for Palestinian refugees (UNRWA) and slashed aid to East Jerusalem hospitals that serve sick Palestinians. They have failed to condemn continued Israeli settlement building in the West Bank and East Jerusalem, viewed widely in the global community as illegal under international law, but rather emboldened the enterprise.
Most offensive to the Palestinians, the billionaire friend of Mr Netanyahu moved the US embassy to Jerusalem in May, at a ceremony held on the 60th anniversary of the Nakba, the day of catastrophe in which 750,000 Palestinians were displaced from their homes at the birth of Israel in 1948.
"Without a doubt relations between the US and the Palestinians have reached a low point; their lowest since at least the Second Intifada when the administration of George W Bush turned its back on then Palestinian president Arafat and stood by as Israel bulldozed his Muqata' compound in Ramallah," says Hugh Lovatt, policy fellow at the European Council on Foreign Relations' Middle East and North Africa Programme.
"But while ties were fully reestablished following Arafat's death; the damage this time round may be more enduring."
Palestinians no longer view the US administration as an impartial or acceptable mediator in the conflict, and public ties have been cut completely, but Washington still plans to release its parameters anyway, ones the Palestinians say they could never accept.
The much-delayed peace plan is set to leave the status of Jerusalem, where Palestinians seek East Jerusalem as its future capital, and the right of return of Palestinians to lands they were displaced from when Israel was founded, completely off of the negotiating table.
Instead, the designs of the hard-right US-Israel alliance appear to be aimed at coercing the Palestinians into submitting to an occupation that is diminishing not only their land, but their hopes too.
The Palestinians' hopes now rest on the help of the international community to counter the US-Israel push against them. But while the EU, Russia and China have sided with the Palestinians, they have done little in terms of concrete action to act against the American president's policies. Gulf countries, Britain and other EU states stepped up to meet most of the UNRWA's budget shortfall. But overall, Mr Trump has felt emboldened to continue on this path regardless of international censure and apparently without care that he is undermining Washington's role as a peace broker.
"A future US peace plan that goes against long standing international consensus positions on how to resolve conflict will, in all likelihood, further undermine US ownership and credibility relating to this file," says Mr Lovatt.
Another speculated aspect of the Trump peace plan is a "Gaza-plus" plan that will see the besieged coastal enclave ruled by Hamas extended into Egypt's northern Sinai. In the West Bank, there are fears that Israel seeks to annex the entire territory for its "Greater Israel" project, propped up by hundreds of thousands of settlers and a powerful military.
Any hopes of moves towards a Palestinian state in the deal will be limited to what Israeli Prime Minister Benjamin Netanyahu has famously termed a "state-minus," that is a nation state without the primary functions of one.
Such pro-Israel policy has only served to embolden Mr Netanyahu and his far-right coalition partners at home. In July, they passed a controversial nation-state law that defines Israel as "the nation-state of the Jewish people," effectively defining its Arab, Druze and Christian residents as second-class citizens.
This year has not only been defined by Team Trump but by the gruesome public spectacle in Gaza of protesters, many of them peaceful, being shot dead or maimed at the border with Israel in weekly rallies since March.
The lives of the territory's residents have been rendered even more desperate by three wars in just over a decade. Now, thousands of Palestinians have lost loved ones – at least 220 Gazans have been killed since March – and thousands more have been left disfigured by Israeli bullets and face the prospect of amputation or death because of the enclave's overwhelmed healthcare system.
Another issue for the Palestinians is their own leadership, an entrenched elite that is increasingly out of touch with its own populace. A September poll found more than 60 per cent of Palestinians want Palestinian President Mahmoud Abbas to resign. But the reality is that Mr Abbas, bar further health issues, is not going to relinquish power, but rather seek to consolidate it. On the other hand, Hamas remains a pariah in the international community, viewed by many as a terrorist organisation rather than a resistance movement.
"On the Palestinian side, matters are unlikely to improve in 2019. The ageing Palestinian leadership is out of vision, strategy, and belief," says Mr Lovatt.
"For its part, Hamas remains caught between its need to be seen as a responsible actor in Gaza that can engage with the international community, and its DNA as a resistance group fighting Israel and undermining Fatah rule in the West Bank. All in all, this represents a profound moment of Palestinian weakness and division, at home and abroad."
At the start of 2018, former US Secretary of State John Kerry reportedly warned close Abbas associate Hussein that the Palestinian leader must "hold on and be strong," to "play for time" and to "not yield" to the American president's demands as he believed he would not last long in the Oval Office.
With Mr Trump unlikely to go any time soon, the Israeli government increasingly emboldened and the Palestinians increasingly isolated, the leadership in Ramallah needs to take heed of the American diplomat's words more than ever.
Mr Trump's foreign policy is outlined simply in Michael Wolff's Fire and Fury. His doctrine, the book says, is "to reduce the board to three elements: powers we can work with, powers we cannot work with, and those without enough power whom we can functionally disregard or sacrifice."
As the Syrian Kurds recently found out, that policy is holding true, after he turned on the longstanding US allies against ISIS, withdrawing US forces and leaving them open to attacks from Turkish forces and militant groups.
Full report at:
https://www.thenational.ae/world/mena/palestinians-can-expect-another-year-of-trump-betrayal-in-2019-1.805868
--------
Europe
UK says al-Qaeda is resurgent, plans to target airports and airliners
23 December 2018
Al-Qaeda is resurgent and is planning new terrorist activity targeting airports and airlines, the UK's security minister ben Wallace said on Saturday.
Wallace added that the government is putting £25 mln into a research program for defense from "insider threats" and new kinds of explosions, including "explosive-packed drones".
"The aviation threat is real. Aviation is still a blue riband event for these terrorists. Al-Qaeda are resurgent. They have reorganized. They are pushing more and more plots towards Europe and have become familiar with new methods and still aspire to aviation attacks," he said in an interview with The Sunday Times.
He added that the decline of ISIS has given the terrorist group a renewed space.
"In 2019, we should be alert to al-Qaeda. They are re-energizing some previous links and support and their ambition towards aviation is real. We saw in Australia that terrorists do what works and they don't give up," he said referring to a failed attack against an Australian airliner in 2017.
The minister also said that he was concerned with US President Donald Trump's decision to pull out of Syria, which he says will give the terrorists a safe haven there.
https://english.alarabiya.net/en/News/world/2018/12/23/UK-says-al-Qaeda-is-resurgent-plans-to-target-airports-and-airliners.html
--------
Disgraced reporter faces investigation over Syria donations
December 23, 2018
A German journalist who was found to have made up information for numerous articles may be charged with allegedly soliciting donations for Syrian orphans from his readers.
The German magazine Der Spiegel said its award-winning former reporter Claas Relotius asked readers by email from his private account for donations to be transferred to his personal bank account. Readers were moved by the tale of two Syrian siblings described in one of Mr Relotius stories. According to a photographer who worked by Mr Relotius, the children were not siblings and the boy was not an orphan.
But the disgraced freelancer "collected the readers' money under false pretenses, which he apparently has not, as pormised passed on" Der Spiegel editors wrote on the magazine's website.
Der Spiegel said it is not clear how many people donated money, how much the reporter collected or what happened to the money. The magazine said it would press charges and work with prosecutors to find out the details.
Full report at:
https://www.thenational.ae/world/europe/disgraced-reporter-faces-investigation-over-syria-donations-1.805817
--------
Saudi Arabia praises Albania's expulsion of Iranian diplomats
December 23, 2018
Saudi Arabia has commended Albania's decision to expel two Iranian diplomats from the country due to their alleged "involvement in terrorist activities".
Albania's Foreign Ministry on Wednesday said the two diplomats were expelled for "violating their diplomatic status" following talks with other countries. Further information about what the diplomats were accused of was not immediately available.
A source in the Saudi Arabian foreign ministry said the Kingdom supported the decision by Albania to "expel the Iranian diplomats, one of whom was the ambassador, for their involvement in terrorist activities against Albania".
The Albanian minister of foreign affairs spoke to United States Secretary of State Mike Pompeo shortly after the announcement to expel the diplomats. Mr Pompeo thanked the leadership for "taking up action against unacceptable diplomatic practice".
The source told the state-run Saudi Press Agency that Saudi Arabia "has repeatedly stressed the seriousness of Iranian support for terrorism and the need of the international community to deal with it firmly."
US President Donald Trump sent a letter thanking the President of Albania for the move.
Mr Trump's letter said the expulsion "exemplifies our joint efforts to show the Iranian government that its terrorist activities in Europe and around the world will have severe consequences."
Iran blamed the US and Israel for the expulsions. The Iranian state news agency, IRNA, quoted foreign ministry spokesman Bahram Ghasemi as saying that "Albania has become an unintentional victim of the United States, Israel and some terrorist groups".
Private Albanian television station Top Channel reported that the Iranians were suspected of "illegal activities" relating to a World Cup qualifying match between Albania and Israel two years ago.
Full report at:
https://www.thenational.ae/world/saudi-arabia-praises-albania-s-expulsion-of-iranian-diplomats-1.805708
--------
URL: https://www.newageislam.com/urdu-section/hindi-book-ayodhya-dispute-/d/117240
New Age Islam, Islam Online, Islamic Website, African Muslim News, Arab World News, South Asia News, Indian Muslim News, World Muslim News, Women in Islam, Islamic Feminism, Arab Women, Women In Arab, Islamophobia in America, Muslim Women in West, Islam Women and Feminism