New Age Islam News Bureau
18 Oct 2015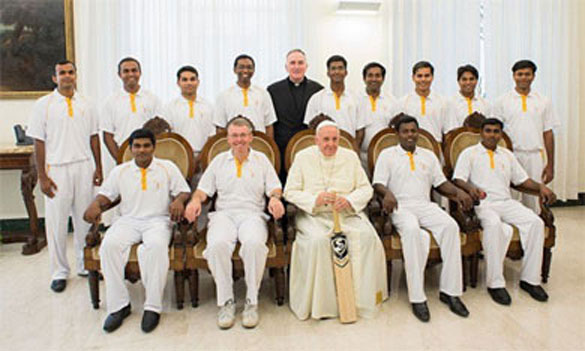 Priests and seminarians of the St Peter's cricket club with Pope Francis ahead of their tour to England. PHOTO: Pontifical Council for Culture PR
---------
Arab World
• Russian Strike 'Kills 48 from Single Family' In Syria
• At Least 300 Takfiris Killed in Lattakia
• Over 50 ISIL Militants Killed in Syrian Airstrikes in Homs Province
• 45 ISIL Terrorists Killed in Army Operation in Syrian Hama Province
• ISIL Suicide-Bombing Training Camp Destroyed by Russian Airstrikes in Syria
• Saudi Troops Crushed in Battle in Jizan Province
• Senior Al-Qaeda Leader Killed in Syria
• Large Munitions Depot of Militants Targeted in Syrian Army Operation in Dara'a
• Syrian Army Wins Back Aleppo's Al-Nasiriya with Russian Air Backup
• Syrian Army Marching on Terrorist-Held Regions in Homs Province
• IRGC Commander: 100,000 Volunteer Forces Organized in Syria
• Syrian Warplanes Hit Militant Positions Hard in Eastern, Western Flanks of Aleppo
• In crowded Mediterranean, NATO showcases military force
--------
South Asia
• Heavy Clashes Underway Between Security Forces and Taliban in Helmand
• Taliban Launch Coordinated Attack on Faryab's Ghormach District
• German aid worker kidnapped from Kabul has been released
• Karzai: 'Foreign forces presence only resulted to worsening situation in Afghanistan'
• CEO Abdullah Abdullah acknowledges shortcomings
-------
Pakistan
• Pakistan Won't Play By Rules for Civil N-Deal with US: Experts
• Eight 'TTP Terrorists' Shot Dead In Karachi
• US should refrain from fanning S. Asian instability: Sartaj
• Inviting Arabs to hunt is pillar of foreign policy: govt
• Joint exercises with Saudi Arabia begin tomorrow
• Pakistan needs reforms to harness its potential: WTO
• ADB to provide Pakistan $1.2 billion annual aid for infrastructure
--------
Mideast
• 12 Migrants Including Afghans Drowned Off Turkish Coast
• Israeli Soldiers and Settler Kill Three Palestinians
• East Jerusalem, bubbling over with despair
• Iran says to boost military support for Syria
• Yemen govt invited to U.N.-brokered peace talks
--------
Africa
• US Helps Cameroon in Fight against Boko Haram
• When a Catholic Bishop Baptized his Muslim Father
• U.N. threatens sanctions over Libya
--------
Europe
• Vatican Cricket Team Plays All-Muslim Side in Interfaith Relations Win
• Pope to Meet Poor, Muslims and Evangelicals in Africa
• Valencia Muslim Player Fails to Remove Beer
• UN Condemns Death of Afghan Refugee
• Thousands of migrants surge into Slovenia in new route
--------
North America
• Restore World Kindness: Makkah Imam in US
• Canadian Muslims Urged to Report Attacks
• Parliament of World's Religions Opens in US
India
• RSS Mouthpiece Defends Dadri: Vedas Order Killing Of Sinners Who Kill Cows
• Geeta, Deaf-Mute Girl Stranded in Pakistan, Denies She Is Married
--------
Southeast Asia
• Son of Bali bomber dies in Syria
---------
Compiled by New Age Islam News Bureau
URL: https://www.newageislam.com/islamic-world-news/new-age-islam-news-bureau/russian-strike--kills-48-from-single-family--in-syria/d/104961
----------
Arab World
Russian Strike 'Kills 48 from Single Family' In Syria
18 Oct 2015
A suspected Russian air strike on a home in the countryside near the central city of Homs has killed 48 people from a single family, Syrian activists said.
The bomb shelter where the family was hiding was hit by a rocket in the western city of Homs, activists told Al Jazeera on Sunday.
Moscow has been launching air strikes in the area in addition to various other regions of the country.
In a statement on Saturday, the Russian military said its air force made 36 sorties, hitting 49 Islamic State of Iraq and the Levant (ISIL) group targets in Syria in the last 24 hours.
The targets were hit in Hama, Idlib, Latakia, Damascus, and Aleppo regions, the statement said.
In another development on Saturday, Syrian government forces edged forward in the northern province of Aleppo with air cover from Russian warplanes, but faced fierce resistance from rebel forces in the country's centre.
Since Moscow began its air campaign in support of its Damascus ally on September 30, the army and its allies have launched four ground offensives against rebel forces in northern and central Syria.
The assaults were part of the latest push forward in the conflict that has killed more than 250,000 people, according to rights groups.
Syrian troops have gone on the attack in Aleppo, Hama, Homs and Latakia provinces, taking advantage of Russian air strikes against al-Nusra Front, an al-Qaeda affiliate, and other rebel groups.
Control of Aleppo city - Syria's prewar economic hub - has been divided since mid-2012, with government forces controlling the western part of the city while much of the surrounding province is held by rebel groups, ranging from Nusra and others in the west to ISIL in the east.
aljazeera.com/news/2015/10/russian-strike-kills-48-single-family-syria-151018080911182.html
-----
At Least 300 Takfiris Killed in Lattakia
Oct 18, 2015
TEHRAN (FNA) - At least 300 Takfiri militants were killed in Syrian military operations in the coastal province of Lattakia on Saturday.
The army targeted terrorists' positions in Salma and the mountains surrounding it in the Northern countryside of Lattakia, a military source said, adding at least 300 terrorists were killed in the operations.
On Friday, the Syrian army launched a full-scale offensive in Lattakia province, killing at least 34 terrorists, including foreign mercenaries, in the early stage of the operations, a Syrian army spokesman said.
"As a result of the offensive, we have established control over the towns of Job al-Ahmar, Rabia, and Salma. A total of 34 terrorists, most of them foreign nationals including Chechens, Turks, and Tunisians, have been eliminated," Brigade General Ali Maihoub said.
"In the morning of October 15, parts of our armed forces began a military operation in the North of the Homs province… The names of field commanders killed here are known: Omar Al Khadr, Khalid Abu Anas and Abu Bakr al-Shishani," he went on to say. The latter two are of Chechen origin.
"Our forces […] have managed to seize partial control of the villages of Ter-Maalya, Jawalik, Sunaysil, and also encircled the village of Dar al-Kabira," Maihoub added.
According to the Syrian army spokesman, airstrikes killed and injured dozens of ISIL militants East of the Deir Ezzur Airport.
"In the Eastern Raqqa province about 30 ISIL militants have been killed", Ali Maihoub said.
Earlier on Friday, Colonel-General Andrei Kartapolov, head of the Main Operations Directorate of the Russian General Staff, told journalists during a briefing that the large-scale Syrian offensive was enabled by the Russian air operation.
Russia started precision airstrikes against ISIL targets in Syria on September 30, following a request from Syria's internationally recognized government. The Russian airstrikes hit targets that are chosen based on intelligence collected by Russia, Syria, Iraq and Iran.
english.farsnews.com/newstext.aspx?nn=13940725000717
--------
Over 50 ISIL Militants Killed in Syrian Airstrikes in Homs Province
Oct 18, 2015
TEHRAN (FNA)- The Syrian fighter jets' air raid on militant positions in Central Syria left at least 50 ISIL terrorists dead and scores more injured, the Syrian army announced on Saturday.
The army said that the ISIL hideouts and gathering centers in al-Qaryatain, al-Tafha and the surroundings of Shaer field in the Eastern countryside of Homs province were massively bombed by the Syrian warplanes, which resulted in the killing of at least 50 ISIL members.
On Friday, the Syrian Army identified an important supply convoy of the militant groups in the Northern parts of the Central Homs province and destroyed it in an attack.
The sources said that a long convoy of the militants' vehicles, loaded with weapons and ammunition, were targeted and destroyed in the Syrian army troops' offensive in Dar al-Kabira.
The sources further added that tens of terrorists were also killed in the Syrian soldiers' attack.
english.farsnews.com/newstext.aspx?nn=13940725000567
--------
45 ISIL Terrorists Killed in Army Operation in Syrian Hama Province
TEHRAN, Oct 18, 2015
A long convoy of ISIL vehicles was targeted by the Syrian army on Sunday, local officials said, and added that the attack left more than 45 terrorists dead and scores of others wounded.
The sources said that more than 23 ISIL vehicles were destroyed in the Syrian army offensive in al-Raheel farms at Um Khedeij in the Eastern countryside of Hama province.
They further added that 45 members of the ISIL were killed by the army when the convoy was attacked.
On Saturday, Syrian fighter jets pounded more ISIL positions in the province of Hama, inflicting heavy losses on them.
The Syrian air raids hit the terrorists' positions in the villages of Abo Khanadeq, Qasr Shawi, al-Hazm and Arafa in the Eastern and Northeastern countryside of Hama.
Dozens of ISIL terrorists were killed and injured in the air attacks. Militants' vehicles transporting weapons and ammunition were also destroyed.
english.farsnews.com/newstext.aspx?nn=13940726000717
--------
ISIL Suicide-Bombing Training Camp Destroyed by Russian Airstrikes in Syria
Oct 18, 2015
TEHRAN (FNA)- The Russian warplanes bombed a training camp in Syria where foreign instructors trained potential suicide bombers, the Russian defense ministry said, and added the camp was one of 49 terrorist targets hit by the Russian Air Forces over the day.
"Not far from Salma in Lattakia province, a Su-24M bomber delivered a strike at a building, which was used as a terrorist training ground. According to intelligence, there were ISIL foreign instructors, who were training people, including suicide bombers, for guerrilla warfare in areas liberated by the Syrian army," Russian Defense Ministry spokesman Major General Igor Konashenkov said, RT reported.
He added that the facility had its own explosives workshop, which was also destroyed by an airstrike.
Russian warplanes conducted 36 combat sorties on Saturday and attacked 49 militant targets in Syria, including command points, weapons workshops, firing positions, depots and fortified bunkers, Konashenkov added.
The general said that the terrorist group of ISIL, which suffered serious damage from Russian bombings, is working to rebuild its infrastructure.
"The militants' new tactics is to spread their supply and command facilities, but it does not work. All their new infrastructure objects are being identified and destroyed," he said.
Konashenkov said the civilian population in the areas under terrorist group's control is aiding the Russian airstrikes by providing intelligence about the ISIL to the Syrian government.
"This information is double-checked by our aviation group with various technical means of reconnaissance. Following this, a decision is made on which objects we should target," he said.
Russia is providing air support to Syrian government troops, which are currently undertaking an offensive to retake villages and cities captured by terrorist groups. Moscow says its goal is to stabilize the situation in the country enough to allow political dialogue between Damascus and moderate opposition to start.
english.farsnews.com/newstext.aspx?nn=13940725001220
--------
Saudi Troops Crushed in Battle in Jizan Province
Oct 18, 2015
TEHRAN (FNA)- The Yemeni Army and popular forces defended their positions against an un-proportionally large attack of the Saudi army in the geographically strategic village of Al-Khobe in Saudi Arabia's Southern Jizan province.
Early reports said the Saudi forces sustained heavy casualties in fierce clashes with the Yemeni army and Ansarullah forces in Al-Khobe village which has been captured by the latter troops recently.
The Yemeni fighters pushed the Saudi forces back, killed and wounded tens of them and also destroyed a number of their armored vehicle and tanks.
Al-Khobe is home to a strategic Saudi military base and has been captured by the Yemeni forces in recent weeks.
The Yemeni Army and popular forces continue their attacks against the Saudi targets in retaliation for the Riyadh-led coalition aggression against Yemen.
On Saturday the Yemeni forces continued pounding the strategic military bases in Saudi Arabia's provinces and pushed for capturing more villages in the kingdom's border regions.
On Friday, the army and Ansarullah forces hit a strategic military air base in Asir province in Southern Saudi Arabia with Scud missiles, killing tens of high-ranking Saudi officers and commanders and destroying over two dozen F-15 fighter jets and Apache helicopters. About 300 Saudi officers were also injured in the Yemeni missile attack on Khamis Mushait air base.
On Thursday, Yemen's army fired a Scud missile at Khalid bin Abdulaziz air base in the Saudi region of Asir.
Saudi Arabia has been striking Yemen for 206 days now to restore power to fugitive president Mansour Hadi, a close ally of Riyadh. The Saudi-led aggression has so far killed at least 6,659 Yemenis, including hundreds of women and children.
Hadi stepped down in January and refused to reconsider the decision despite calls by Ansarullah revolutionaries of the Houthi movement.
Despite Riyadh's claims that it is bombing the positions of the Ansarullah fighters, Saudi warplanes are flattening residential areas and civilian infrastructures.
english.farsnews.com/newstext.aspx?nn=13940725001538
--------
Senior Al-Qaeda Leader Killed in Syria
Oct 18, 2015
TEHRAN (FNA)- Saudi-born Sanafi al-Nasr, senior al-Qaeda leader and strategist, was killed in an airstrike in Aleppo province in Syria.
A source revealed that al-Nasr along with two other Takfiri terorist group's members, Saudi Abdul Malik al-Jazrawi and Moroccan Abu Yasir al-Maghrebi, was reportedly killed by an airstrike in Aleppo province in Syria.
Al-Nusrah Front has released a photo showing a car struck by an airstrike in Al-Dana, West of Aleppo. The terrorist group has also published a picture of the bodies of the dead Takfiri militants, but has not verified their identities.
Full Report here:
english.farsnews.com/newstext.aspx?nn=13940725000783
--------
Large Munitions Depot of Militants Targeted in Syrian Army Operation in Dara'a
Oct 18, 2015
TEHRAN (FNA)- Sources in the Southern battlefields said that a large ammunition depot of the militant groups in Dara'a al-Balad was set ablaze in a Syrian Army attack, leaving several militants dead.
The sources said that the depot, which contained large amount of ammunition, was identified by the army intelligence and was targeted by the army's special forces.
The sources said that most of the militant forces in Dara'a al-Balad were supplied with the depot, that was completely destroyed in the army operations.
On Friday, the al-Qaeda-affiliated al-Nusra Front sustained heavy losses in the Syrian Armed Forces' operations in various parts of Dara'a province.
The sources said that Basel Khairo al-Jawaberah, Kaser Median al-jinadi, Jarrah Naser abu Halaweh and Hamzeh Ghassan al-Hariri were among the Nusra Front's killed members in the Syrian soldiers' attacks.
The sources further added that the militants' military equipment, vehicles, and munitions depot were also destroyed in the Syrian forces' raids.
http://english.farsnews.com/newstext.aspx?nn=13940725001035
--------
Syrian Army Wins Back Aleppo's Al-Nasiriya with Russian Air Backup
Oct 18, 2015
TEHRAN (FNA) - The Syrian Army troops seized back al-Nasiriya area form the militant groups in the Northern province of Aleppo, informed sources said on Saturday, adding that the army is advancing towards Barayjeh with the Russian jets' backup.
The sources said that the Syrian army, with the Russian fighter jets' backup, is advancing step by step to break the over-two-year siege of Kuweires airbase in Aleppo province.
The sources added that recapture of al-Nasiriya area will lay the way for liberation of remaining areas around Kuweires.
Full Report here:
english.farsnews.com/newstext.aspx?nn=13940725000362
--------
Syrian Army Marching on Terrorist-Held Regions in Homs Province
Oct 18, 2015
TEHRAN (FNA)- The Syrian Army announced on Saturday that its forces have recaptured more territories from the militant groups in the Central province of Homs, leaving tens of the terrorists dead or injured.
Army sources said that the North-western parts of Homs city were the scenes of heavy clashes between the Syrian army troops and the terrorist groups, who were pushed back from three blocks of buildings at the train station in Jawalak area and three more blocks near Snaisel village.
Full Report here:
english.farsnews.com/newstext.aspx?nn=13940725000493
--------
IRGC Commander: 100,000 Volunteer Forces Organized in Syria
Oct 18, 2015
TEHRAN (FNA)- Commander of the Islamic Revolution Guards Corps Major General Mohammad Ali Jafari announced that 100,000 popular forces have been prepared in Syria to fight against the terrorist groups, highlighting martyred IRGC Commander Brigadier General Hossein Hamadani's role in mobilizing these troops.
"Martyred Brigadier General Hamadani played an important role in convincing the Syrian officials, including President Bashar al-Assad, of the importance of organizing people as the only way to save Syria," Jafari said in an interview with the state TV on Saturday.
"Today, we are witnessing the organization of 100,000 Syrian people to fight against insecurities and Brigadier General Hamadani played an effective role in this regard," he added.
In relevant remarks on Wednesday, Iranian Defense Minister Brigadier General Hossein Dehqan stressed that the country's military experts and advisors were taking preparatory actions that would end up in the complete annihilation of the Takfiri groups, including the ISIL terrorists, in Syria.
Full Report here:
english.farsnews.com/newstext.aspx?nn=13940725000756
--------
Syrian Warplanes Hit Militant Positions Hard in Eastern, Western Flanks of Aleppo
Oct 18, 2015
TEHRAN (FNA)- The Syrian Air Force announced on Saturday that its fighter jets targeted at least three positions of the militant groups in Eastern parts of Aleppo and another one in the Western side of the city.
The sources said that the terrorist strongholds in Sab'een hill, Jdaidet Tal Sab'een and al-Buqjiye in the Eastern countryside of the Northern city of Aleppo were massively bombed by the Syrian warplanes, in which the militant groups sustained heavy casualties.
In the meantime, the Syrian air fleet raided Kafr Karmin in the Western territories of Aleppo.
Full Report here:
english.farsnews.com/newstext.aspx?nn=13940725000296
--------
In crowded Mediterranean, Nato showcases military force
Reuters | Oct 18, 2015
BRUSSELS: Nato and its allies will open their biggest military exercise in more than a decade on Monday in a show of strength in the central Mediterranean that takes place as Russia seeks to reassert itself across the water in the Levant.
While the exercises were planned long before Russia's build-up in Syria and are independent of events, the escalation of conflicts across North Africa and the Middle East are challenging Nato to react to multiple threats on its borders.
Committing 36,000 troops, 230 military units, 140 aircraft and more than 60 ships over five weeks, Nato and its allies want to show they can act in what British defence minister Michael Fallon has called "a darker and more dangerous world".
Full Report here:
timesofindia.indiatimes.com/world/europe/In-crowded-Mediterranean-Nato-showcases-military-force/articleshow/49438466.cms
--------
South Asia
Heavy clashes underway between security forces and Taliban in Helmand
By KHAAMA PRESS - Sun Oct 18 2015
Heavy clashes have been underway between security forces and Taliban insurgents in southern Helmand province.
Local officials say that Taliban launched coordinated attacks on a number of security posts in Kofka and Loy Manda areas of Nad Ali District and Babaji area, located between the provincial capital and Nad Ali District, this morning.
General Nabi Jan Mullahkhil, Police chief of Helmand province said that Taliban have suffered heavy casualties, however, he did not have a number of them.
Omar Zwak, spokesman for the governor of Helmand province also confirmed the clashes but said that details would be announced later.
Meanwhile, officer of the public relations of 215th Maiwand Corps says that air strikes killed 18 Taliban in Babaji area.
A Taliban commander was among those killed in the air strikes, Colonel Mohammad Rasoul Zazai said. Taliban in a message claim severe casualties to government forces.
khaama.com/heavy-clashes-underway-between-security-forces-and-taliban-in-helmand-4006
--------
Taliban launch coordinated attack on Faryab's Ghormach District
Sun Oct 18 2015
Faryab-Ghormach DistrictTaliban militants have launched a coordinated attack on Ghormach District of northern Faryab province.
A source said on condition of anonymity that Taliban have captured several security posts after heavy clashes with security forces.
He added that officials from the governor's office and police HQ have been moved to a safer location.
Urgent air support is needed to rebuff the attack, he said.
Taliban have claimed capturing the governor's office and police HQ of Ghormach.
khaama.com/breaking-news-taliban-launch-coordinated-attack-on-faryabs-ghormach-district-4005
--------
German aid worker kidnapped from Kabul has been released
Sun Oct 18 2015
A German aid worker who was abducted from Kabul city has been released after two months in captivity, it has been reported.
Germany's international broadcaster, Deutsche Welle, citing the country's Minister Frank-Walter Steinmeier, confirmed on Saturday that the aid worker was released.
Steinmeier confirmed the release of the hostage during a visit to Tehran, saying "She was doing considering the circumstances."
There are no reports regarding the circumstance surrounding the release of the abducted air worker.
Full Report here:
khaama.com/german-aid-worker-kidnapped-from-kabul-has-been-released-1639
--------
Karzai: 'Foreign forces presence only resulted to worsening situation in Afghanistan'
Oct 17 2015
KarzaiThe former Afghan President Hamid Karzai reacted towards the US President Barack Obama's decision to extend the presence of US forces in Afghanistan, saying the presence of foreign forces only resulted to worsening situation in the country.
The statement by the former president is in contrast with the statement of the Afghan government officials who welcomed decision by Obama to keep more troops in Afghanistan.
"The Afghan people agreed with the sustained presence of foreign forces 14 years ago with a hope to eliminate terrorism and maintain peace in the country," Karzai said in a statement.
Full Report here:
khaama.com/karzai-foreign-forces-presence-only-resulted-to-worsening-situation-in-afghanistan-1636
-----------
CEO Abdullah Abdullah acknowledges shortcomings
By ZABIHULLAH MOOSAKHAIL - Sun Oct 18 2015
Abdullah Abdullah, the Chief Executive Officer (CEO) of the government said during a press conference in Presidential Palace that people have not been delivered with what they expected from the National Unity Government.
Acknowledging the shortcomings, he said that they are working for the improvement.
"We acknowledge our shortcomings but working to improve. Meanwhile, we need national unity. We must not allow the enemy to penetrate our minds."
He said people are not satisfied by the efforts made for reform so far, adding that a good government's performance must be acceptable for people.
Full Report here:
khaama.com/ceo-abdullah-acknowledges-shortcomings-4007
-----------
Pakistan
Pakistan won't play by rules for civil N-deal with US: Experts
PTI | Oct 18, 2015
WASHINGTON: Strongly of the view that Pakistan must restrain the development of its growing nuclear arsenal, eminent experts at top American think-tanks believe that given the country's past record it is unlikely to "play by any rules" to agree to a civil nuclear deal with the US.
"I simply don't believe that Pakistan will be willing to play by any rules or with any transparency on nuclear issues, since it has not done so to date," Alyssa Ayres of American think tank Council on Foreign Relations said.
"Count me among the pessimists about any civil nuclear deal that has been the subject of a couple press reports," the top American expert said.
Full Report here:
timesofindia.indiatimes.com/world/pakistan/Pakistan-wont-play-by-rules-for-civil-N-deal-with-US-Experts/articleshow/49438303.cms
-----------
Eight 'TTP terrorists' shot dead in Karachi
October 18, 2015
KARACHI: Police on Saturday claimed to have killed eight suspected terrorists in an 'encounter' on the outskirts of Karachi.
According to initial reports, the suspected terrorists gunned down in Manghopir area belonged to the Tehreek-i-Taliban Pakistan (TTP) and were allegedly involved in killing of a number of police officials in the city.
Contingents of police, on a tip off provided by an arrested militant, raided an alleged hideout off the Northern Bypass. On seeing the policemen, the suspects resorted to firing, injuring Manghopir SHO Ghulam Hussain Korai and constable Altaf, said SSP Rao Anwar, who led the police party.
Full Report here:
dailytimes.com.pk/national/18-Oct-2015/eight-ttp-terrorists-shot-dead-in-karachi
--------
US should refrain from fanning S. Asian instability: Sartaj
Oct 18, 2015
Advisor to the Prime Minister on National Security and Foreign Affairs Sartaj Aziz while speaking to BBC Urdu on Saturday said the United States (US) should refrain from fanning instability in South Asia.
The National Security Advisor's (NSA) statement follows international media reports which claim the US is ready to help Pakistan join the Nuclear Suppliers Group if it accepts certain restrictions on its nuclear programme.
Additionally, a US media report last Thursday claimed that American special operations analysts ─ just days before the Oct 3 US air attack on a Doctors Without Borders (MSF) hospital in Kunduz ─ were gathering intelligence on the facility because they believed it was being used by a Pakistani operative to coordinate Taliban activity.
The reports have surfaced just days before Prime Minister Nawaz Sharif's October 20 visit to Washington, where he is expected to discuss the nuclear issue with US President Barack Obama.
Full Report here:
dawn.com/news/1213915/us-should-refrain-from-fanning-s-asian-instability-sartaj
--------
Inviting Arabs to hunt is pillar of foreign policy: govt
NASIR IQBAL — October 18th , 2015
ISLAMABAD: The federal government has asked the Supreme Court to reconsider a ban on hunting houbara bustard by foreign dignitaries, saying the restriction was adversely affecting the country's already-weakened relations with the Gulf states in the wake of turmoil in the region.
"The petition involved a question of fundamental importance having direct bearing upon foreign relations of the federation with the Gulf states," the Ministry of Foreign Affairs pleaded in a petition seeking a review of the Aug 19 verdict.
A three-judge Supreme Court bench, headed by then Chief Justice Jawwad S Khawaja, had ordered the federal and provincial governments not to grant licences or permits to hunt the endangered bird in the future.
Full Report here:
http://www.dawn.com/news/1213909/inviting-arabs-to-hunt-is-pillar-of-foreign-policy-govt
--------
Joint exercises with Saudi Arabia begin tomorrow
BAQIR SAJJAD SYED — October 18th , 2015
ISLAMABAD: Pakistani and Saudi special forces will begin 12-day counter-terrorism exercises on Monday.
The exercises, codenamed Al-Shahab I, will be held at the National Counter-terrorism Training Centre (NCTC), near Kharian.
A contingent of 57 Saudi personnel arrived here on Saturday to take part in the exercises which would conclude on Oct 31.
Full Report here:
dawn.com/news/1213852/joint-exercises-with-saudi-arabia-begin-tomorrow
--------
Pakistan needs reforms to harness its potential: WTO
MUBARAK ZEB KHAN — October 18th , 2015
ISLAMABAD: In what appears to be a big challenge, Pakistan has to harness its potential through appropriate policies and reforms, said Deputy Director General of World Trade Organisation (WTO) Frederick Yonov Agah.
He referred to a vast pool of natural resources, a strategic geographical position and a large, willing and young labour force as potential, but considered its utilisation a challenge because it requires reforms.
He suggested that the reforms should be broad based, like improving business climate, liberalising trade regime and greater integration into the world economy.
While talking to Dawn during a visit to review country's trade policy, Agah said that Pakistan faces a myriad of adverse circumstances such as security environment and recurring natural disasters.
Full Report here:
dawn.com/news/1213803/pakistan-needs-reforms-to-harness-its-potential-wto
--------
ADB to provide Pakistan $1.2 billion annual aid for infrastructure
Oct 17, 2015
ISLAMABAD: The Asian Development Bank will provide about $1.2 billion as aid to Pakistan annually for infrastructure development and institutional reforms, a media report said on Saturday.
The bank in collaboration with other development partners will support rehabilitation of power transmission and distribution systems, construction and rehabilitation of highways and provincial roads connecting to the national trade corridor.
"According to bank's new five year partnership strategy with Pakistan, the bulk of the financial assistance will be earmarked for improvement in power, transport, agriculture and urban services sectors," Radio Pakistan reported.
The bank will also help rehabilitate the Indus Basin Irrigation System and invest in bus rapid transit systems in Karachi, Peshawar and Punjab.
It will also assist the Benazir Income Support Program to expand its outreach to an additional 2.4 million women beneficiaries. It provides monthly stipend to poor families as part of targeted subsidy.
The bank will help establish a government-owned disaster risk fund to mitigate risks and enhance resilience to natural disasters.
timesofindia.indiatimes.com/business/india-business/ADB-to-provide-Pakistan-1-2-billion-annual-aid-for-infrastructure/articleshow/49432929.cms
----------
Mideast
12 migrants including Afghans drowned off Turkish Coast
By ZABIHULLAH MOOSAKHAIL - Sun Oct 18 2015
12 migrants, believed to be from Afghanistan and Syria, have been drowned off the Turkish coast near the town of Ayvacik which is a few kilometers from the Greek island of Lesbos.
Turkish coastguard officials said on Saturday that the refugees were trying to reach to Lesbos Island but their boat sunk.
The boat was carrying a total of about 35 people but others were rescued, said a coastguard official.
"The coastguard made an announcement saying a boat carrying Syrian migrants had sunk … and we went to the area to help them. We pulled out six bodies," fisherman Sezer Simsek said, adding that his boat had been able to rescue four people.
Thousands of Afghans flee the country because of increasing insecurity, poverty and unemployment every month.
They take dangerous routes in order to reach to Europe for a better life but sometimes they face tragic incident and die on the way.
www.khaama.com/12-migrants-including-afghans-drowned-off-turkish-coast-4007
-------
Israeli soldiers and settler kill three Palestinians
Saturday, 17 October 2015
Israeli soldiers and a settler shot dead three Palestinians in separate incidents in annexed east Jerusalem and the occupied West Bank on Saturday, the army and police said.
In the first attack at just before 0600 GMT, a Palestinian tried to stab an Israeli settler in the center of the West Bank city of Hebron near a Jewish enclave where 500 settlers live under army protection surrounded by nearly 200,000 Palestinians.
The settler responded by opening fire on his assailant, the army said, adding that the Palestinian had tried but failed to wound the Jewish man.
Palestinian sources identified the alleged assailant as 18-year-old Fadel al-Kawatsmi and confirmed his death. Police spokeswoman Louba Samri said the Palestinian, who was not immediately identified, was killed on the spot after he tried to stab the soldier in the Israeli settlement neighborhood of Armon Hanetsiv, also known as East Talpiot.
Full Report here:
english.alarabiya.net/en/News/middle-east/2015/10/17/Washington-concern-over-surge-in-Mideast-violence-.html
-------
East Jerusalem, bubbling over with despair
Jodi Rudoren,The Independent | Oct 18, 2015
JERUSALEM: East Jerusalem, long the emotional heart of Palestinian life, is now the fiery soul of its discontent.
It is not just that most of the young people suspected in this month's spate of stabbing attacks came from within the city borders, like the 18-year-old college student whose residency is being revoked by Israel after the police said she stabbed a Jewish man in the back.
It is that her neighborhood of 18,000, Sur Baher, is also home to people like Fuad Abu Hamed, a successful businessman who condemns the wave of violence but shares the frustration and alienation underlying this new uprising.
Mr Abu Hamed, 44, is a lecturer at Hebrew University who runs two clinics in Israel's health system, and lives in a comfortable home among Sur Baher's tangle of crowded hills. The view from his balcony is of sprawling Jewish enclaves that he said were "built on our lands," and the ugly barrier Israel erected that splits Sur Baher from the occupied West Bank.
Full Report here:
timesofindia.indiatimes.com/world/middle-east/East-Jerusalem-bubbling-over-with-despair/articleshow/49438464.cms
--------
Iran says to boost military support for Syria
Sunday, 18 October 2015
Iran is to step up its military support for the Syrian regime in the form of advice on fighting terrorism, Deputy Foreign Minister Hossein Amir Abdollahian said Saturday.
Abdollahian, quoted by state television, denied that his country had fighters on the ground in the Syrian conflict.
"We have military advisers in Iraq and Syria at the request of the governments of the two countries ... We are going to step up our aid to Syria in the form of advice on the fight against terrorism," he said.
Full Report here:
english.alarabiya.net/en/News/middle-east/2015/10/18/Iran-says-to-boost-military-support-for-Syria-.html
--------
Yemen govt invited to U.N.-brokered peace talks
Saturday, 17 October 2015
The Yemeni government has been invited to take part in a new round of U.N.-brokered talks with rebels to end the country's seven-month-old conflict, spokesman Rajih Badi said Saturday.
"We have received an invitation from U.N. Secretary General Ban Ki-moon, via his envoy Ismail Ould Cheikh Ahmed, to hold a new round of consultations with the Houthis and (rebel-allied former strongman) Ali Abdullah Saleh to implement U.N. Resolution 2216," Badi told AFP.
The announcement comes two days after U.N. Deputy Secretary General Jan Eliasson said he hoped new talks between the Yemeni government and Iran-backed Houthi rebels could start this month despite "deep distrust" between the warring parties.
Badi said that "until now, there has been no agreement on the venue or a specific date" for the consultations.
Full Report here:
english.alarabiya.net/en/News/middle-east/2015/10/17/Yemen-govt-invited-to-U-N-brokered-peace-talks.html
----------
Africa
US Helps Cameroon in Fight against Boko Haram
The United States has sent military equipment and a small contingent of troops to Cameroon to fight Boko Haram terrorism. General David Rodriguez, commander of the U.S. Africa Command, AFRICOM, said about 90 of the 300 promised U.S. troops were already on their way to Cameroon.
Among the military equipment being supplied by the United States are armoured vehicles with a capacity to detect land mines. Colonel Jean Jacques Fouda, in charge of Cameroon military equipment, did not disclose the total content of the materiel, but says the armored vehicles are some of the best Cameroon has ever had.
"These cars protect the soldiers to do patrol missions, long range [operations] fight against mines," he said.
Full Report here:
voanews.com/content/us-provides-cameroon-military-equipment-troops-to-fight-boko-haram/3011730.html
---------
When a Catholic Bishop Baptized his Muslim Father
DIANE MONTAGNA OCTOBER 16, 2015
VATICAN CITY — Forty-eight prelates from Africa are currently in Rome for the Synod on the Family.
In speaking with the bishops of Africa about the synod, sometimes surprising and beautiful stories emerge about their countries, their culture, and even their own family lives.
One such story is that of Archbishop Thomas Luke Msusa of the Blantyre archdiocese in Malawi, who is a convert from Islam to Catholicism.
Archbishop Msusa, 53, serves as vice-chairman of the eight-country association of member Episcopal Conferences in Eastern Africa. He was ordained a priest of the Missionaries of the Company of Mary, commonly known as the Montfort Missionaries.
The archdiocese of Blantyre is located near Malawi's southern border with Mozambique.
Earlier this week Aleteia sat down with Archbishop Msusa, who shared the story of his own conversion — and that of his father who was a Muslim Imam.
Full Report here:
aleteia.org/2015/10/16/when-a-catholic-bishop-baptized-his-muslim-father/
---------
U.N. threatens sanctions over Libya
Saturday, 17 October 2015
The U.N. Security Council on Saturday threatened to impose sanctions on those who block a peace deal for Libya that has run into hurdles over the formation of a unity government.
U.N. envoy Bernardino Leon has put forward proposals for the power-sharing government, but both Libya's internationally recognized parliament and the Islamist-backed assembly have balked at the appointments.
Libya has had two administrations since August 2014, when a militia alliance that includes Islamists overran the capital, forcing the internationally recognized government to take refuge in the east of the country.
Full Report here:
english.alarabiya.net/en/News/middle-east/2015/10/17/U-N-threatens-sanctions-over-Libya-.html
--------
Europe
Vatican cricket team plays all-Muslim side in interfaith relations win
AFP | Oct 18, 2015
ROME: In a first for world sport, the Vatican cricket team took on an all-Muslim side from England Saturday with the home squad clinching narrow win in the final minutes.
"It is not about who wins or loses," priest Eamonn O'Higgins, manager of the Vatican team told AFP, after leading the enthusiastic players in a prayer and rousing hymn on the bus journey to the match.
"It is about building bridges between different faiths through cricket," he said as they arrived at Rome's Capanelle cricket ground.
The Muslim Mount CC team landed in the Italian capital Thursday and were treated to a tour of St. Peter's Basilica and the Vatican Museums prior to the match in hot Roman sunshine.
The two teams were also set to dine together and attend mass at the Vatican on Sunday.
"The hospitality has been outstanding and it is such a honour to be here," said Hanif Mayet, Mount CC's chair.
Full Report here:
timesofindia.indiatimes.com/sports/toi-cri/top-stories/Vatican-cricket-team-plays-all-Muslim-side-in-interfaith-relations-win/articleshow/49437030.cms
--------
Pope to meet poor, Muslims and evangelicals in Africa
18 October 2015
VATICAN CITY (AP) — Pope Francis will tour a Kenyan slum, meet with Muslims and evangelical Christians and visit a refugee camp in the conflict-torn Central African Republic during his first trip to Africa next month, the Vatican said Saturday.
Francis will also pay tribute to Uganda's martyrs during the three-nation trip Nov. 25-30 that will bring him face to face for the first time with the effects of Islamic extremism and Christian-Muslim violence on the continent.
The Vatican on Saturday unveiled the itinerary of the whirlwind trip that will pose security risks that have largely been absent on Francis' foreign trips to date.
Full Report here:
businessinsider.com/ap-pope-to-meet-poor-muslims-and-evangelicals-in-africa-2015-10?IR=T
--------
Valencia Muslim Player Fails to Remove Beer
Friday, 17 October 2015
MADRID – A German Muslim player in Valencia, a club in the Spanish league, failed to remove a bottle of beer placed in front of him in a press conference for promotional purposes.
"I don't want the beer," Valencia defender Shkodran Mustafi said as he removed the beer bottle placed on the table in front of him, Bleacher Report reported on Thursday, October 15.
The bottle was placed in front of Mustafi as he sat down to take part in a press conference ahead of his side's La Liga clash with Malaga.
As a Muslim, he is prohibited from drinking or endorsing alcohol.
Yet, his objections were disregarded after the press officer put the bottle back, saying it had to be there.
Full Report here:
onislam.net/english/news/europe/495163-valencia-muslim-player-fails-to-remove-beer-bottle.html
--------
UN Condemns Death of Afghan Refugee
17 October 2015
SOFIA – The United Nations refugee agency has vehemently condemned the death of a refugee, who was shot by border guards near the Bulgarian town of Sredets, calling for immediate and transparent investigations into the incident.
Describing the incident as the "first of its kind in the current migration crisis", the UN refugee agency condemned the use of power against migrants.
According to the interior ministry, the man was among a large group of refugees traveling from Afghanistan.
Full Report here:
onislam.net/english/news/europe/495167-un-condemns-death-of-afghan-refugee.html
--------
Thousands of migrants' surge into Slovenia in new route
18 October 2015
Thousands of migrants surged into tiny Slovenia on Saturday as an alternative route opened in Europe for them after Hungary sealed its border for their free flow, adding another hurdle in their frantic flight from wars and poverty toward what they hope is a better life in Western Europe.
The closure of Hungary's border with Croatia early Saturday caused redirection of thousands of people — including women and small children soaked in cold rain — further west toward Croatia's border with Slovenia.
The small European Union-member state has limited capacity to process large numbers wishing to head toward richer European Union countries such as Germany, Austria or Sweden.
This could leave thousands stranded in Croatia and further east and south in Serbia and Macedonia — the countries on the so-called Balkan migrant corridor. The Hungarian border closure is the latest demonstration of EU's uncoordinated response to the flow of people reaching its borders.
Full Report here:
thejakartapost.com/news/2015/10/18/thousands-migrants-surge-slovenia-new-route.html#sthash.3afvVoVS.dpuf
--------
North America
Restore World Kindness: Makkah Imam in US
By Muneeb Nasir
Saturday, 17 October 2015
SALT LAKE - The Imam of the Grand Mosque of Makkah, Dr. Shaikh Salih Abdullah Humaid, called on the weekly Friday congregational prayers held at the Parliament of the World's Religions in Salt Lake City to partake of kindness and ease in all matters.
"Kindness is everything," said Shaikh Abdullah Humaid in his sermon.
"May Allah bless you to take matters by its best and ease. It is the true wisdom and proof of maturity of the mind."
Full Report here:
onislam.net/english/news/americas/495179-restore-world-kindness-makkah-imam-in-us.html
--------
Canadian Muslims Urged to Report Attacks
17 October 2015
OTTAWA – Tackling the soaring anti-Muslim sentiment in Canada, Ottawa police have urged the religious minority to report "all forms of abuses" they face in everyday life, in a bid to protect Muslims from being "victimized."
"We're ensuring that these types of incidents are reported so we have a clear picture of what's happening and if there is a crime committed we need to investigate those incidents," Staff-Sgt. David M. Zackrias, of the diversity and race relations, told CBC News on Friday, October 16.
"If people are feeling intimidated and threatened, they should be reporting those incidents to police.
Citing three separate Islamophobic incidents, in which veiled women were targeted recently, Zackrias called on Muslim groups to encourage those who are "being victimized" to reach out to police.
Full Report here:
onislam.net/english/news/americas/495165-canadian-muslims-urged-to-report-attacks.html
--------
Parliament of World's Religions Opens in US
By Muneeb Nasir
17 October 2015 00:00
SALT LAKE - Thousands of people from around the world filled the Salt Palace Convention Center in Salt Lake City, Utah on Thursday evening for the opening ceremonies of the Parliament of the World's Religions.
"Welcome, welcome, welcome," said Imam Abdul Malik Mujahid, Chair of the Board of Trustees of the Parliament of the World's Religions to thunderous applause from the audience.
"With the permission of the great indigenous people of this land who are the original owners of this place, with love in my heart and compassion in my mind and with smiles on our faces to reclaim the heart of our humanity, I declare the sixth Parliament of the World's Religions open."
World's Largest Interfaith Gathering in Utah
A Meeting Point of All Faiths- Council for a Parliament of the World's Religions
From the Parliament of the World's Religions - Concept of God in Different Faiths
Full Report here:
onislam.net/english/news/americas/495161-parliament-of-worlds-religions-opens-in-us.html
-------
India
RSS mouthpiece defends Dadri: Vedas order killing of sinners who kill cows
Written by Ashutosh Bhardwaj | New Delhi | Updated: October 18, 2015
Slamming writers who have returned their awards in the wake of the incident in Dadri where a man was lynched over beef rumours, RSS mouthpiece Panchjanya, in its latest edition, has carried a cover story saying the Vedas order the killing of "sinners" who slaughter cows.
It alleges that madrasas and the Muslim leadership teach Indian Muslims to hate the country's traditions. "Akhlaq (the Dadri victim) perhaps slaughtered a cow under the influence of such bad deeds," it states. Questioning the silence of writers, it asks them why they have been quiet on this issue.
Full Report here:
indianexpress.com/article/india/india-news-india/rss-mouthpiece-defends-dadri-vedas-order-killing-of-sinners-who-kill-cows/#sthash.RsGzOG4t.dpuf
-----------
Geeta, deaf-mute girl stranded in Pakistan, denies she is married
Oct 18, 2015
KARACHI: Amid reports that Geeta, a deaf-mute Indian girl who accidentally crossed over to Pakistan 14 years ago, has a husband and a son waiting for her at her native village, the 23-year-old has denied that she ever got married.
Media reports in India had cited residents of Geeta's native village in Bihar's Saharsa district saying she was married to Umesh Mahto when she was a minor. The reports said they have a son, who is now 12 years old.
Faisal Edhi — son of philanthropist Abdul Sattar Edhi — said that they talked to Geeta following the reports.
Full Report here:
timesofindia.indiatimes.com/india/Geeta-deaf-mute-girl-stranded-in-Pakistan-denies-she-is-married/articleshow/49438983.cms
--------
Southeast Asia
Son of Bali bomber dies in Syria
The National Police confirmed on Friday that the son of notorious Bali bombing terror convict Imam Samudra was killed while fighting in war-torn Syria.
Sources within the police force said the information they received stated that Umar Jundul Haq, 19, had been killed on Wednesday at Deir ez-Zor Airport.
"Yes, [he died] two days ago," the source told The Jakarta Post.
Umar was the oldest child of Imam, who was convicted of masterminding the first Bali bombing in late 2002 that killed 202 people, mostly foreign tourists.
Imam, born in Lopang Gede in Serang, Banten, quickly became immersed in Islamic teachings during his formative years and was nurtured by Abu Bakar Ba'asyir, the leader of terrorist network Jamaah Islamiyah (JI).
During a court hearing, Imam admitted that he felt he had a moral obligation to plant the bombs used in the Bali attack.
Full Report here:
thejakartapost.com/news/2015/10/17/son-bali-bomber-dies-syria.html#sthash.9Gnia98l.dpuf
------------
URL: https://www.newageislam.com/islamic-world-news/new-age-islam-news-bureau/russian-strike--kills-48-from-single-family--in-syria/d/104961