New Age Islam News Bureau
4 Dec 2015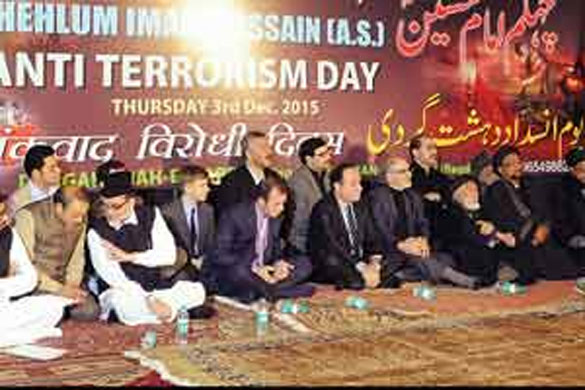 Photo: Participants at the Anti-terrorism Day function in New Delhi on Thursday Manit dna
------------
India
• Russia-led alliance tells India's Muslims to back its fight against Islamic State
• Take the fight to IS: Diplomats, religious leaders in Delhi on Anti-Terrorism Day
• Islamic State a threat to humanity, says Indian Shia Muslim body
• Will help curb ISIS but stop anti-Muslim rant by BJP leaders, Shia body to Modi
• India not immediately vulnerable to IS threat, say experts at HTLS
• 'PM supports Sufism, ignores other schools of Islam'
• Pakistani high commissioner Abdul Basit met NSA Ajit Doval before PM Modi-Sharif meet
• Religious leaders, diplomats condemn IS at Delhi meet
• Rajya Sabha MP demands probe into allegations of child sexual abuse in Kerala madrassas
---------
Africa
• Migrant dies in Greek border clash; 2,000 rescued off Libya
• Nigerian Army detains 11-yr-old 'potential suicide bomber'
---------
North America
• Obama says: not going to do an 'Iraq-style invasion' in Syria
• US, Israel orchestrate mass shootings to spread Islamophobia: Activist
• US charges man over Muslim cab driver shooting
• California Shooting: US Muslim and Arab communities fear backlash
• Local Muslim leader responds to California attacks
• California gunman Syed Farook 'was in touch' with Islamic extremists
• New York may host next Syria talks
---------
Arab World
• Retrial of Muslim Brotherhood head, 36 others on death row
• I'm part of ISIS: Dutch arrest Syrian teen asylum seeker
• Syria: Army Intensifies Clashes with Terrorists in 5 Provinces
• Popular Forces' Commanders: Ramadi Liberation Operation Blocked by US
• Plea for ban on teachers supporting Brotherhood
• Iraq dubs foreign ground troops as 'act of aggression'
• Iraq hosts over 26 million pilgrims for Arba'een
• Army Capturing More Strategic Heights in Aleppo
• Syrian Troops Marching on Militants' Positions West of Hama
• Deadly molotov attack hits Cairo restaurant
• Russia 'expands air base' near Homs in Syria
• Saudi says it hopes Lebanese presidency filled soon
---------
Australia
• Australia passes anti-terrorism law to strip citizenship
---------
Pakistan
• Pakistan condemns terrorism in all forms: Rabbani
• State of minorities in Pakistan
• PIA flight cleared for takeoff in China after bomb hoax
• Minister stresses need for raising awareness about emergencies
• Yemeni Nobel laureate calls for dissemination of peace
• Pakistan, EU fall out again on deportees
• Imam Hussain Chehlum observed
• Spiritual enrichment during Hajj
---------
South Asia
• Islamist leader asks Bangladesh court to commute death sentence | Reuters
• Afghanistan seeks to establish fate of 'injured' Taliban chief
• Jamaat leaders to run independently
• Haqqani terrorist network holds American hostage, report
• RU pro-Jamaat teacher sent to jail
• Haqqani weapons depot seized in Logar, three suspects arrested
---------
Southeast Asia
• Islamic State a New Worry for Indonesia's Beleaguered Christian
• Landslide buries 18 in western Indonesia
---------
Mideast
• Iran condemns Saudi airstrike on MSF clinic in Yemen
• Israel arrests alleged Jewish extremists over deadly arson
• Yemeni Army Declares Rapid Advance in 3 Saudi Border Provinces
• Iranian Source Strongly Rejects Erdogan's Claims about Warning Rouhani over Russia
---------
Europe
• Pray outside, British school tells Muslim students
• Putin calls for broad international anti-terror front
• Allah decided to punish ruling clique in Turkey: Putin
• Germans protest govt. plans for military involvement in Syria
• EU's Tusk suggests detention for refugees
• MSF, Greenpeace begin refugee rescue op off Turkey
Compiled by New Age Islam News Bureau
URL: https://newageislam.com/islamic-world-news/new-age-islam-news-bureau/russia-led-alliance-tells-india-s-muslims-to-back-its-fight-against-islamic-state/d/105508
---------
India
Russia-led alliance tells India's Muslims to back its fight against Islamic State
4 December 2015
Three decades ago when Russia invaded Afghanistan, it triggered a mobilisation in the Islamist world leading to the first modern jihad and initiating the birth of al Qaeda. Now with its military intervention in the conflict in Syria threatening to once again stoke Islamic extremism, Moscow is presenting its involvement as an effective and necessary step to fight the Islamic State group, whose trail of terror is threatening the whole world. The Russia-led alliance comprising Syria and Iran made a case in front of a gathering of Indian Muslim community to support its intervention against terrorism.
Speaking at an event labelled as "Anti-terrorism Day" organised by Anjuman-e-Haideri, a Shiite religious organisation based in Delhi, diplomats and ambassador from Russia, Syria, Iraq and Iran came together on one platform to vow to fight the militant extremist group of Islamic State of Daiesh. Both Iraq and Syria, which is currently fragmented with parts of its countries captured by the extremist group, also blamed the United States for its actions in fuelling the growth of IS.
The militant group which came in power in June 2014 and declared a Caliphate thereafter became a target of airstrikes by the United States in Iraq. Since then more than seven countries have attacked the IS held territory, the latest being the United Kingdom.
Since October, Russia aligned with the Syrian government in power headed by President Bashar al Assad to begin air strikes against rebel opposition groups and the IS. The Russian Air force is supported on the ground by pro-government alliance of the Syrian Armed Force and Iran backed foreign Shiite militias.
Evgeny Bezeka, second secretary, Russian embassy said that Russia's decision to fight against IS was followed after the invitation of the Bashar government. ``We are fighting under the aegis of the international law with allies who understand the threat of IS.'' Russia's actions have been 100 per cent more effective in two months to contain IS, than the international coalition's strikes from last one and half years.
Syria's ambassador Riaz Kamel Abbas and Iraq's charge d'affairs Mohammad Sabri Rashid claimed that the US was not serious in its intervention to rid the region of IS. ``Two decades ago, there was no terrorism in Iraq, after 9/11 and the invasion by US things changed. Even when IS infiltrated to capture parts of northern Iraq and began killing civilians, the US army stood with folded hands.''
Abbas added that the US coalition strikes has helped the militant group grow in size and capture more terrorism. "It is important to fight Daiesh but before that it's important to know who is the power behind the group.''
India's Muslims cannot be terrorists
The event had religious heads and representatives from the Christian, Hindu and even Sunni Muslim community. All the speakers condemned terrorism being fought under the guise of religion. "IS should first prove they are Muslims and then talk about Islam,'' said Maulana Tauqeer Raza Khan from Bareilly. He also said that terrorism attacks in India had no involvement of Muslims and it has added a blot on the community. Acharya Pramod Krishnam said India's Muslims were targeted as terrorists and told to go to Pakistan. "They are here in India not by chance but by choice.''
http://www.dnaindia.com/india/report-russia-led-alliance-tells-india-s-muslims-to-back-its-fight-against-islamic-state-2151809
---------
Take the fight to IS: Diplomats, religious leaders in Delhi on Anti-Terrorism Day
by Kaunain Sheriff M
New Delhi
Dec 4, 2015
At an event to mark Anti-Terrorism Day in Delhi Thursday, diplomats from Russia, Iran, Syria and Iraq shared the dais with religious leaders and vowed to fight terror together.
The event, held in Karbala at Jor Bagh, was attended by thousands of members of the Muslim community, who also marked the 40th day to the martyrdom of Imam Hussain, grandson of Prophet Muhammad.
The diplomats unequivocally condemned the recent terror attack on Paris by Islamic State (IS) terrorists and urged the international community to step up its efforts to fight global terror.
Evegeny Bezeka, second secretary in the Embassy of Russian Federation, spoke about his country's fight against the terror outfit.
"We are fighting the Islamic State in Syria in accordance with international law and in partnership with the legitimate Syrian government. What the international coalition could not achieve in years, in its fight against IS in Syria, we have been able to do in just three months," said Bezeka.
"However, we have been attacked by Turkey. This is a stab on the back. There should be international partnership in fighting terror. Russia cannot be bullied, we are not afraid," he said. The Russian diplomat also stressed on the importance of providing stability in the region.
"Who are these terrorists? They are the ones who lost their jobs in the US war against Iraq. We all need to provide stability in the region. That is the only solution," he said.
Echoing Russia's sentiment, Syrian Ambassador Dr Riad Kamel Abbas said Moscow's efforts against Islamic State "have been more effective than the international alliance".
Mohammed Sabri, Charge D'Affairs of the Republic of Iraq, said the US should be subjected to "international pressure" to convince it to fight the Islamic State.
"Only the US can completely eliminate the IS. But the US just does the talking. Only with international pressure on the US can one can fight the IS. Only America has the resources to fight them," he said.
Religious leaders also condemned the IS and urged the international community to delink terror from Islam.
Among those present at the event were Maulana Kalbe Jawad, general secretary of the All India Majlis Ulema Hind, Acharya Pramod Krishnam, John Dyal, general secretary of the All India Christian Council and Yayhya Bukhari, president, Jama Masjid United Forum.
http://indianexpress.com/article/cities/delhi/take-the-fight-to-is-diplomats-religious-leaders-in-delhi-on-anti-terrorism-day/
---------
Islamic State a threat to humanity, says Indian Shia Muslim body
By Wires English
December 4, 2015
Bengaluru, December 3, ANI: A prominent body of Shias on Thursday said the community is prepared to fight against ISIS, which is a threat to humanity, and questioned the double standard of countries like the United States and Saudi Arabia's in fight against terrorism.
"Islam has nothing to do with terrorism. As many as 40 countries are funding to ISIS all over the world. On the one side, the countries are funding the ISIS, while on the other side, they are saying that international law is against terrorism," Anjuman-E-Imamia president Syed Zamin Raza told a press conference here. (Also Read: US to send special forces to Iraq to fight ISIS)
Raza also asserted that Islam has nothing to do with terrorism and talked about their awareness programmes to curb ISIS activities in the countries.
"We are encouraging awareness programmes in both the communities – Shia and Sunni – to fight against ISIS. ISIS is a threat to humanity and it cannot be defeated unless all work together with the help of technology at people's disposal," Raza said.
Raza also accused the US and some sections of Wahabi cult in Saudi Arabia of supporting global terrorism.
"There is a lot of difference between Indian Muslims and Saudi Muslims. It is some section of Wahabi cult in Saudi, who are spreading terrorism," he added.
http://www.india.com/news/india/islamic-state-a-threat-to-humanity-says-indian-shia-muslim-body-756967/
---------
Will help curb ISIS but stop anti-Muslim rant by BJP leaders, Shia body to Modi
Dec 3, 2015
BENGALURU: A prominent body of Shias on Thursday said the community is prepared to give all support to the government to help curb ISIS activities in the country but asked Prime Minister Narendra Modi to rein in BJP MPs and leaders from making statements against Muslims.
"We are with central government. We will support and give any information to curb ISIS and terrorist activities in India.
"At the same time, we would like the Prime Minister to rein in his MPs and leaders from making any ugly statements against Muslims," Anjuman-E-Imamia President Syed Zamin Raza told PTI here.
Raza said there is nothing Islamic about ISIS - the Islamic State - and their actions are evil and outside the boundaries set by Islam. Speaking on the sidelines of the commemoration of martyrs of the Battle of Karbala, Raza said a provocative and an emotive speech against Muslims has the potential to spoil the good work done to check ISIS activities in India.
"A minute's speech against Muslims will spoil the good work of curbing ISIS activities in the country," he said. Raza also accused USA and some sections of Wahabi cult in Saudi Arabia of supporting global terrorism.
"It is the US and some section of Wahabi cult in Saudi, who are spreading terrorism. Sunnis, however, are not terrorists. Why does the US does not take any action against such cult but are out to dismantle kingdoms of other Muslim countries. Why this double standard?" he asked.
Asked whether AEI has chalked out any strategy to stop Muslims from joining ISIS, Raza said an event will be held next month where all important leaders of Islamic communities will be present and discuss terrorism perpetrated by ISIS and other terrorist outfits including Taliban and al-Qaida.
Raza said ISIS is a threat to humanity and it cannot be defeated unless all work together with the help of technology at people's disposal.
He said the terrorist attacks in Paris, Beirut and Turkey are against divine and human laws. "We the Shia Muslim community join the nation in calling for swift apprehension and stiff punishment of the perpetrators," he said.
http://timesofindia.indiatimes.com/india/Will-help-curb-ISIS-but-stop-anti-Muslim-rant-by-BJP-leaders-Shia-body-to-Modi/articleshow/50030144.cms
---------
India not immediately vulnerable to IS threat, say experts at HTLS
Dec 04, 2015
India is not immediately vulnerable to a threat from the Islamic State though the country's increasing dependence on energy supplies from the Middle East could force it to take on a greater role in ensuring stability in the volatile region, experts said at the Hindustan Times Leadership Summit on Friday.
Speaking at a session on the theme "ISIS - How to fight the beast", the experts noted that India has traditionally not been a major recruiting area for groups such as al Qaeda and the IS but the situation could change if the dreaded group led by Abu Bakr al-Baghdadi shifted its focus to the country.
"India has not contributed much to the IS or al Qaeda," said Cole Bunzel of the department of near eastern studies at Princeton University.
However, IS propaganda has described Indians leaders as "infidels" who oppress Muslims and any shift of focus to the country by the terrorist group "would make me worry", he added.
Soli Özel, professor of international relations at the Kadir Has University in Istanbul, said India is expected to get 75% of its energy supplies from the Middle East by 2035 while the figure for China is likely to be 90%. This, he remarked, could lead to the two countries having a greater stake in the stability of the Middle East and make the region much more of a concern for both.
India was the world's fourth-largest consumer and net importer of crude oil and petroleum products in 2013 and the Middle East was a major source of crude oil supplies.
Journalist Jason Burke, who moderated the session, said the nature of the threat from the IS to South Asia is "not very grave" though that could change if "radical Muslims" in the country pledged allegiance to Baghdadi and his caliphate.
"It is difficult to say what the chances of that happening are, (but it is not likely) to happen soon," he said. Individual or lone wolf attacks too were more likely in the US or Europe than India, he added.
Responding to a question from the audience, Burke discounted the possibility of Pakistan's Inter-Services Intelligence using the IS to target India, saying the agency had its "own people more amenable to influence than the IS".
Full report at:
http://www.hindustantimes.com/india/india-not-immediately-vulnerable-to-is-threat-say-experts-at-htls/story-ElsMIfM25nSjEx2EytKwlN.html
---------
'PM supports Sufism, ignores other schools of Islam'
Dec 4, 2015
HYDERABAD: Members of the All Indian Muslim Personal Law Board (AIMPLB) on Thursday said that Prime Minister (PM) Narendra Modi is seeking to divide the Muslim community as he has expressed his support for the Sufi strain of Islam at various platforms but ignored other interpretations of the religion.
Speaking on the sidelines of "Iman Bachayein", a programme organised to protect Muslim family laws, at the exhibition grounds in Nampally , AIMPLB member Maulana Khalid Saifullah Rahmani criticised PM's remarks. "To exclude other interpretations of Islam reflects the anti-Muslim agenda of the PM. This is an attempt to divide the community . Sufism lays emphasis on tolerance and love, but these are teachings of Islam which includes all sects and strains and not just the Sufi school of thought." The scholar of Islam also claimed that the PM's rhetoric is an attempt to lead "people away from the true message of Islam".
Reacting to a question on the rise of the so-called Islamic State, the AIMPLB member said that the ter ror outfit has nothing to do with Islam. The IS has done tremendous damage by stigmatising the entire Muslim community . He also said that the origin of the outfit must be looked into. "The rise of the IS is a result of military interventions in the Middle East.The Western nations have indirectly created the IS with their incessant bombings of Arab countries.The IS is doing damage to the Muslim of the world. It is demonising the entire community ," he said. He urged Muslims not to break the fabric of unity within the community
Full report at:
http://timesofindia.indiatimes.com/city/hyderabad/PM-supports-Sufism-ignores-other-schools-of-Islam/articleshow/50035906.cms
---------
Pakistani high commissioner Abdul Basit met NSA Ajit Doval before PM Modi-Sharif meet
Dec 4, 2015
NEW DELHI: The brief tete-a-tete between Narendra Modi and Nawaz Sharif in Paris last Monday may not have been a chance meeting - it appears that the grounds for the chat were laid about a fortnight ago, when Pakistani high commissioner Abdul Basit met National Security Advisor Ajit Doval here. Basit and Doval are understood to have explored the possibility of a meeting between the two prime ministers in the French capital, the venue of the climate conference.
While details of the threeminute meeting in Paris are not known, the leaders are understood to have discussed the possibility of external affairs minister Sushma Swaraj travelling to Islamabad for the Heart of Asia conference on December 8 and 9. If Swaraj goes, she will be the first minister from India to visit Pakistan since Modi came to power.
However, a formal decision is yet to be taken on this, even as Pakistan hopes for a result-oriented dialogue in the future on all issues. Sources said that dates in the minister's calendar have been blocked for the Heart of Asia conference, although a final decision is awaited. The Heart of Asia conference - aimed at bringing peace and prosperity in Afghanistan - will focus on 'Countering Security Threats and Promoting Economic Connectivity.' Swaraj would also be able to meet the Pakistani leadership, if she attends.
Full report at:
http://timesofindia.indiatimes.com/india/Pakistani-high-commissioner-Abdul-Basit-met-NSA-Ajit-Doval-before-PM-Modi-Sharif-meet/articleshow/50037997.cms
---------
Religious leaders, diplomats condemn IS at Delhi meet
Mayank Manohar
Dec 4, 2015
NEW DELHI: Religious, social leaders and diplomats from several countries condemned Islamic State (IS) terror at an All-Religion Conference here on Thursday.
The conference coincided with remembrance of the Prophet Muhammad's grandson, Imam Hussain, whose death in the epic battle of Karbala signifies victory of good over evil.
"Religion has nothing to do with the terrorists. We request the international community to take necessary measures to suppress the attacks in Syria and Iraq," said Iranian diplomat Mohammad Sabri.
Hindu leader Acharya Pramod Krishnan called IS a threat to international peace and security. "To fight this extremist group, the entire world should come together; only then we will achieve a solution.''
South Delhi resident Imran Rizvi regretted the Muslim community was blamed for every terrorist attack.
"I want to tell the world that our religion has nothing to do with terrorism. The extremists group, which has emerged in past few years, is killing Muslims in Syria,'' said Rizvi, who attended the conference.
"They are not fighting for religion. They are fighting because they are evil. Every country should come together to suppress IS. They should take action immediately before it is too late.''
Full report at:
http://timesofindia.indiatimes.com/india/Religious-leaders-diplomats-condemn-IS-at-Delhi-meet/articleshow/50036469.cms
---------
Rajya Sabha MP demands probe into allegations of child sexual abuse in Kerala madrassas
Dec 3, 2015
NEW DELHI: Rajya Sabha MP Rajeev Chandrasekhar on Thursday said threatened to move a court if Kerala government fails to order probe into allegations of sexual assault of children in 'madrassas'.
"The sexual assault charges made by journalist VP Rajeena and filmmaker Ali Akbar in Kerala are very serious. The Kerala state government must immediately order investigations into these charges and determine if crimes against children are being committed in certain educational institutions, failing which I will hold the government negligent and approach the courts on behalf of these children," Chandrasekhar said in a statement.
Last week, V P Rajeena, a journalist working with a Malayalam newspaper in Kozhikode, had come under severe online attack from the members of her community following her disclosure on Facebook about alleged sexual exploitation of children in madrassas.
As the online attack got intense, she was supported in her stand by filmmaker Ali Akbar, who said he was also a victim of sexual harassment as a young student in one of the madrassas in Kerala.
Full report at:
http://timesofindia.indiatimes.com/india/Rajya-Sabha-MP-demands-probe-into-allegations-of-child-sexual-abuse-in-Kerala-madrassas/articleshow/50029793.cms
---------
Africa
Migrant dies in Greek border clash; 2,000 rescued off Libya
December 04, 2015
IDOMENI, Greece : "We will all die here. We are not leaving." Abdul points to the lifeless body of a fellow Moroccan who electrocuted himself to death on Thursday by grabbing high-voltage train cables on the Greek border with Macedonia.
Police believe he did it intentionally, growing increasingly desperate after days trapped on the border. Holding the man's body, a group of Moroccan men moved towards the border crossing with cries of "Allahu akbar" ("God is greatest"). Greek police fired tear gas to push them back.
Another Moroccan had been badly burned in a similar incident on Saturday. "We have been here for five days," says Mohammed, also Moroccan. "We have no food and we are cold. Why won't they let us through? Aren't we human? We are not terrorists," he told AFP. With Macedonian authorities only letting through refugees from Syria, Iraq and Afghanistan, migrants from other countries have been blocked on the border with Greece for days or even weeks.
Their anger boiled over early Thursday. Groups of migrants seized communal tents operated by humanitarian agencies and destroyed some prefab houses set up by the UN refugee agency.
Meanwhile, nearly 2,000 migrants have been rescued off the Libyan coast in 11 separate operations, the Italian navy said Thursday, after a break in bad weather sparked fresh attempts at the perilous Mediterranean crossing.
The migrants were plucked from eight dinghies and three boats by the Italian coastguard, the navy, a Doctors Without Borders (MSF) boat and two vessels taking part in the EU's Operation Sophia, which patrols the sea for people smugglers.
The rescue followed a lull in arrivals caused by bad weather, during which only around 400 migrants were picked up in over 10 days - a startlingly low number compared to the summer months, when an average of 760 people a day were rescued.
The Italian coastguard said the rescues took place after the command centre in Rome received calls for help by satellite phone from the migrant vessels.
Four dinghies with a total of 458 migrants on board were intercepted by the coast guard, while another 300 migrants were picked up from three other dinghies by the Italian navy.
Spanish frigate Canarias and Britain's Enterprise, both deployed in the Sophia operation, picked up 286 and 416 migrants respectively from two boats, while MSF's Bourbon Argos saved 428 migrants from a boat and 96 from a dinghy.
MSF also said Thursday they had launched a joint operation with environmental group Greenpeace to rescue people risking their lives on the crossing between Turkey and Greece.
The operation will use three boats based on Greece's Lesbos island, in cooperation with the Greek coastguard.
Full report at:
http://nation.com.pk/international/04-Dec-2015/migrant-dies-in-greek-border-clash-2-000-rescued-off-libya
---------
Nigerian Army detains 11-yr-old 'potential suicide bomber'
December 04, 2015
LAGOS:- An 11-year-old boy has been arrested as a "potential suicide bomber" at a camp for people displaced by the Boko Haram conflict, according to Nigeria's military. Army spokesman Colonel Sani Usman said troops detained the youngster at the Dalori camp near the Borno state capital, Maiduguri, on Tuesday. "Preliminary investigation revealed that the suspect was from Bama town and is among four children trained for suicide bombing by the Boko Haram terrorists," he said in a statement on Wednesday night.–AFP
http://nation.com.pk/international/04-Dec-2015/nigerian-army-detains-11-yr-old-potential-suicide-bomber
---------
North America
Obama says: not going to do an 'Iraq-style invasion' in Syria
December 04, 2015
WASHINGTON - US President Barack Obama on Thursday said that while the United States is sending more forces to combat Islamic State in Iraq, it is not following the model of its 2003 invasion of the country that locked it in violent conflict there for many years.
"We're not going to do an Iraq-style invasion of Iraq or Syria with battalions that are moving across the desert," he said in an interview with CBS, using a common acronym for the militant group, ISIL.
"But what I've been very clear about is that we are going to systematically squeeze and ultimately destroy ISIL and that requires us having a military component to that.
Meanwhile, US Secretary of State John Kerry said on Thursday Syrian and Arab ground forces must be found to take on Islamic State, warning the militant group would not be defeated by air strikes alone.
Kerry was speaking hours after Britain launched bombing raids against Islamic State targets in Syria, joining forces with France and the United States nearly three weeks after the jihadist group killed 130 people in attacks across Paris.
British Prime Minister David Cameron says there are as many as 70,000 moderate opposition fighters in Syria ready to take on Islamic State with the help of foreign air strikes, an assertion opponents of the bombing campaign have questioned.
"I think we know that without the ability to find some ground forces that are prepared to take on Daesh, this will not be won completely from the air," Kerry said at a meeting in Belgrade of the Organisation for Security and Cooperation in Europe (OSCE).
Daesh is an Arabic name for the jihadist group commonly known as Islamic State.
Asked later if he meant Western ground forces, Kerry said: "(I'm) talking about Syrian and Arab, as we have been consistently.
In a policy reversal, the United States on Oct.
30 said it would deploy up to 50 US special forces to Syria to coordinate on the ground with US-backed rebels.
Full report at:
http://nation.com.pk/international/04-Dec-2015/obama-says-not-going-to-do-an-iraq-style-invasion-in-syria
---------
US, Israel orchestrate mass shootings to spread Islamophobia: Activist
Dec 3, 2015
Nearly all the massacres and mass shooting that occur in Western countries are planned by US and Israeli elements in order to spread Islamophobia and justify attacking Muslims, an African American activist and speaker says.
The recent mass shooting in San Bernardino, California, where 14 people were killed and over a dozen others were injured is a "sad event" that is very similar to the terror attacks in Paris and 9/11, which were orchestrated by US and Israeli intelligence agencies, said Abdul Alim Musa, director of Masjid Al-Islam in Washington, DC and member of the Institute of Contemporary Islamic Thought.
The US is on the path of disintegration and decline and is losing control of its citizens, Musa said Thursday during an interview with Press TV.
"The other thing that people don't realize is that the United States is falling apart, the United Sates is weakening economically and politically and in every way," he said.
"There are many groups inside the United States that would be uncontrollable in the very near future, that is not black groups, but mostly white [militia] groups."
On Wednesday, a "Muslim" couple armed with rifles and handguns attacked a center for people with developmental disabilities in San Bernardino, California, killing at least 14 people and wounding 17, the deadliest mass shooting in the United States in three years.
Syed Rizwan Farook, 28, and his wife, Tashfeen Malik, 27, were killed in a shootout with police after Wednesday's mass shooting.
Full report at:
http://www.presstv.ir/Detail/2015/12/03/440202/US-mass-shooting-war-Islam
---------
US charges man over Muslim cab driver shooting
December 04, 2015
NEW YORK : US police in Pittsburgh have arrested and charged a 26-year-old man with shooting a Muslim cab driver in the back in the early hours of Thanksgiving, officials have said.
Muslim activists allege the shooting was a hate crime, but police told AFP those charges were still under investigation.
Anthony Mohamed, 26, from Hazelwood, a neighborhood in Pittsburgh, in the state of Pennsylvania, is charged with aggravated assault, criminal attempt homicide and recklessly endangering another person, police said.
The victim was identified by a local newspaper as a 38-year-old Moroccan immigrant.
His name has not been released and officials say he wishes to remain anonymous for fear of safety.
The driver told the Pittsburgh Post-Gazette that the passenger asked whether he was from Pakistan and then talked about the extremist Islamic State group killing people.
"I noticed that he changed his tone and he began blasphemy," he was quoted as saying by the paper.
Police said Mohamed got into the taxi outside a casino at 1:13 am (0613 GMT) on November 26.
Full report at:
http://nation.com.pk/international/04-Dec-2015/us-charges-man-over-muslim-cab-driver-shooting
---------
California Shooting: US Muslim and Arab communities fear backlash
Dec 4, 2015
Members of the Arab and Muslim communities in the US has said they feared a backlash, as details emerged of the Muslim couple who shot dead 14 people in California.
One organisation will meet officials with the Department of Homeland Security today to assess safety measures after the attack that left 14 dead and 21 injured in San Bernardino, a city about an hour's drive east of Los Angeles with a large Arab and Muslim population.
"There absolutely is a fear that there could be a backlash and that's the reality we live in," said Abed Ayoub, legal and policy director for the American-Arab Anti-Discrimination Committee, a civil rights group that will hold the talks.
Ayoub said that while there had been no reports of attacks in retaliation for the armed assault Wednesday by Syed Farook, 28, and his wife Tashfeen Malik, 27, it was essential for the community to remain vigilant.
"We need to stay cautious given the atmosphere and what happened in Paris a few weeks ago and the fallout from that," he said, referring to the terror attacks in France that left 130 people dead and were claimed by the extremist Islamic State group.
Muslim leaders and residents in San Bernardino reacted to Wednesday's shootings at a disabled center in the city with shock and disbelief.
Full report at:
http://indianexpress.com/article/world/world-news/california-shooting-us-muslim-and-arab-communities-fear-backlash/
---------
Local Muslim leader responds to California attacks
Nelson Garcia
December 3, 2015
DENVER - For Imam Abdur-Rahim Ali, everything about the shootings in San Bernadino, California is horrible -- including the identity of the shooters.
"When I heard his name, I said, okay, here we go again," Ali said.
Ali is the leader of the Northeast Denver Islamic Center. The man and wife accused of killing 14 people and wounding 21 others are both Muslims.
"Anytime you have someone behave in that manner that claims to be a Muslim, then we have to be more vigilant," Ali said.
Over the past few weeks and months, Ali says local Islamic leaders have reached out the community to improve relations and educate people about the true message of Islam, which is peace.
Full report at:
http://www.9news.com/story/news/local/2015/12/03/local-muslim-leader-responds-ca-attacks/76752080/
---------
California gunman Syed Farook 'was in touch' with Islamic extremists
Dec 04, 2015
California gunman Syed Rizwan Farook had been in contact with known Islamic extremists on social media, a US intelligence official said on Thursday, and police said he and his wife had enough bullets and bombs to slaughter hundreds when they launched their deadly attack on a holiday party.
The details emerged as investigators tried to determine whether the rampage that left 14 people dead was terrorism, a workplace grudge or some combination.
The husband-and-wife killers were not under FBI scrutiny before the massacre, said a second US official, who likewise was not authorized to discuss the investigation and spoke on condition of anonymity.
Wearing black tactical gear and wielding assault rifles, Farook, a 28-year-old county restaurant inspector, and his wife, Tashfeen Malik, 27, sprayed as many as 75 rounds into a room at a social service center for the disabled, where about 75 of Farook's co-workers had gathered Wednesday morning. Farook had attended the event but slipped out and returned in battle dress.
Four hours later and two miles away, the couple died in a furious gunbattle in which they fired 76 rounds, while 23 law officers unleashed about 380, police said.
On Thursday, Police Chief Jarrod Burguan offered a grim inventory that suggested Wednesday's bloodbath could have been far worse.
Read: Obama says it's possible California shooting was terror-related
At the social service center, the couple left three rigged-together pipe bombs with a remote-control detonating device that apparently malfunctioned, and they had more than 1,600 rounds of ammunition remaining when police killed them in their rented SUV, Burguan said.
At a family home in the nearby town of Redlands, they had 12 pipe bombs, tools for making more, and over 3,000 additional rounds of ammunition, the chief said.
"We don't know if this was workplace rage or something larger or a combination of both," Attorney General Loretta Lynch said in Washington, echoing President Barack Obama. "We don't know the motivation."
Investigators are trying to determine whether Farook, who was Muslim, became radicalized - and, if so, how - as well as whether he was in contact with any foreign terrorist organisation, said the US intelligence official, who was not authorized to discuss the matter publicly and spoke on condition of anonymity.
http://www.hindustantimes.com/world/california-gunman-syed-farook-was-in-touch-with-islamic-extremists/story-MpwCaLK9IMvQQZ9Y5EYVzN.html
The same official said Farook had been in touch on social media with extremists who were under FBI scrutiny.
The second US official said the FBI was treating the attack as a potential act of terror but had reached no conclusion that it was. The official said Farook's contacts online did not involve any significant players the FBI knew of and dated back some time, with there was no immediate indication of a recent surge in communication.
The official cautioned that such contact by itself doesn't mean someone is a terrorist.
Rita Katz, director of SITE Intelligence Group, an organization that tracks and analyses extremists, said it hasn't found any connection between Farook and jihadi groups. But she also said that some of Farook's social media posts seem to have been deleted before the attack.
Full report at:
http://www.hindustantimes.com/world/california-gunman-syed-farook-was-in-touch-with-islamic-extremists/story-MpwCaLK9IMvQQZ9Y5EYVzN.html
---------
New York may host next Syria talks
04 December 2015
World powers attempting to hammer out a plan to end the Syria civil war may hold their next meeting in New York, UN Secretary-General Ban Ki-moon said Thursday.
"It's my understanding that member states are very closely coordinating to have a third Vienna process meeting here in New York. I'm looking forward to that," Ban said during a news conference at UN headquarters.
The first two rounds of talks were held in Vienna where ministers from nearly 20 nations agreed to establish a UN-backed cease-fire and begin peace talks by Jan. 1.
Ban did not announce a date for the prospective meeting that is said to have been provisionally scheduled to take place later this month.
"The Vienna peace process has created new momentum," Ban said. "We are working to launch an initiative in early January that would involve both intra-Syrian political talks and a nationwide cease-fire."
Full report at:
http://www.worldbulletin.net/america-canada/167025/new-york-may-host-next-syria-talks
---------
Arab World
Retrial of Muslim Brotherhood head, 36 others on death row
Dec 03, 2015
Egypt's top court on Thursday ordered a retrial of Muslim Brotherhood leader Mohamed Badie, overturning a death sentence for Islamist protest violence, a judicial official and a lawyer said.
Thirty-six co-defendants who were condemned to death or life in prison by a lower court will be retried along with Badie, who has also been sentenced to death in a different case.
They had been found guilty of plotting unrest from an "operations room" in a Cairo protest camp in the months after the army ousted Islamist president Mohamed Morsi in July 2013.
The convictions were appealed before the Court of Cassation, which on Thursday overturned them and ordered a retrial.
"The ruling concerns all 37 defendants who are behind bars. Twelve of them including Badie had been sentenced to death" by the lower court, defence lawyer Abdel Moneim Abdel Maqsud told AFP.
Badie's co-defendants include US-Egyptian citizen Mohamed Soltan, who had been sentenced to life in prison.
Soltan was deported in May under a presidential decree stipulating that foreigners convicted in Egypt can be sent back to their home countries.
The lower court had accused the group of organising unrest and protests backing Morsi, a senior Brotherhood figure who was himself sentenced to death in a separate case.
The sprawling Rabaa al-Adawiya protest camp in Cairo was dispersed by police on August 14, 2013 in a 12-hour operation that left hundreds of pro-Morsi protesters and about 10 policemen dead.
Full report at:
http://www.hindustantimes.com/world/retrial-of-muslim-brotherhood-head-36-others-on-death-row/story-qkSmDWw73bgL8fHrkA1b7N.html
---------
I'm part of ISIS: Dutch arrest Syrian teen asylum seeker
4 December 2015
Dutch police have arrested a Syrian teen on suspicion of being member of a terror organisation while looking for asylum in the Netherlands, public prosecutors said on Thursday.
"An 18-year-old man was arrested in The Hague on Monday after telling fellow asylum seekers that he was a member of ISIS and al-Qaeda," the public prosecutor's office said in a statement.
The Syrian teen arrived in the Netherlands in October and was living on a boat housing asylum seekers in Zaandam, outside Amsterdam, the statement added.
More than 100 Dutch citizens have left the country to join the Islamic State of Iraq and Syria (ISIS) group, but Monday's arrest will be one of the first cases of a refugee being a suspected militant.
The teen has appeared in court on terror charges and remains in custody until his next hearing in two weeks' time, the statement said.
Last week, the Netherlands announced it would double the number of beds and shelters for tens of thousands of asylum seekers.
Full report at:
http://english.alarabiya.net/en/News/middle-east/2015/12/04/Dutch-arrest-Syrian-teen-suspected-of-ISIS-support-.html
---------
Syria: Army Intensifies Clashes with Terrorists in 5 Provinces
Dec 03, 2015
According to the Arabic-language al-Alam news channel, the army engaged in heavy clashes with the terrorists in the provinces of Damascus, Quneitra, Aleppo, Homs and Lattakia.
Reports said a large group of terrorists have been killed and injured in the clashes so far.
There are no more details available.
On Wednesday, vast areas to the North of Marj al-Sultan village in Damascus countryside were liberated from the control of the terrorists after the army destroyed militants' positions.
Field sources said on Wednesday that the army directed heavy blow at terrorists from the so-called Ajnad al-Sham Islamic Union and al-Nusra Front, and regained control of more farms to the North of Marj al-Sultan village.
The sources added that the Syrian troops advanced towards Harasta al-Qantara and Noulah in the South of the Eastern Ghouta.
A large group of terrorists, including senior commander, were killed during the military operations.
Full report at:
http://en.farsnews.com/newstext.aspx?nn=13940912000434
---------
Popular Forces' Commanders: Ramadi Liberation Operation Blocked by US
Dec 03, 2015
"The US bargains and pressures on the Baghdad government have prevented accomplishment of Ramadi liberation operation," Abu Yousef al-Khazali, a commander of Seyed al-Shohada battalion, told FNA on Thursday.
"The US has long been seeking to force the government to stop using the popular forces in military operations against ISIL, specially in the liberation operations conducted in different Iraqi regions," he added.
Also, Karim al-Nouri, the spokesman of Iraq's popular forces, told FNA that the "the Americans' interference has distorted plans to free Ramadi".
He added that "the Americans are not serious about bringing the battles to an end".
A commander of Iraq's volunteer forces (Hashd al-Shaabi) complained in similar remarks that the US meddling in the fight against the ISIL has impeded their victory over the Takfiri terrorist group and prevented them from winning back the strategic cities of Ramadi and Fallujah.
"The US meddling prevents the Iraqi army and popular forces from concluding their battles against the ISIL in Ramadi and Fallujah cities," Commander of Imam Khamenei Battalion Haidar al-Hosseini al-Ardavi told FNA on Sunday.
He noted that the US is doing its best to prevent mop-up operations by the popular forces in Anbar province.
Al-Ardavi underlined that prolonging the Anbar battle will also negatively influence the Iraqi army's battles against the terrorists in other provinces.
In September, an Iraqi analyst said that the US is using some tribesmen in the Western province of Anbar to pressure the government in Baghdad to keep the popular forces away from the battle against terrorists in the volatile region.
Mohammad Na'na expressed regret that Washington has succeeded in persuading certain tribal leaders in Anbar to join its so-called war on the ISIL.
"Washington is pressuring the Iraqi government to exclude the popular forces from the Anbar province mop-up operations," he told FNA.
Na'na, meantime, warned against the United States' negative role in the war on ISIL, saying field reports show that the US ground troops have played no role in the operations that led to the liberation of Anbar.
Iraqi Foreign Ministry Spokesman Ahmad Jamal announced in September that Baghdad had rejected Washington's demand for the deployment of the US ground force to Iraq's war against the ISIL.
Full report at:
http://en.farsnews.com/newstext.aspx?nn=13940912000428
---------
Plea for ban on teachers supporting Brotherhood
4 December 2015
JEDDAH: Teachers supporting ideas advocated by the outlawed Muslim Brotherhood must be banned from teaching in the Kingdom, say several academics and teachers.
They welcomed the Education Ministry's recent announcement that it has banned schools from using 80 books of writers linked to the organization, but said more should be done to counter the ideology being propagated, a local publication reported Thursday.
Sheikh Mohammed Al-Fifi, faculty head and member of the advisory committee at Imam Mohammed ibn Saud Islamic University in Riyadh, said officials should think beyond banning books but also ensure they prevent teachers from being employed who support the organization.
"Banning schools from having textbooks or material of the Brotherhood or those that promote their ideology, is a positive step," he said. "Students and the youth are our responsibility and should be properly guided and educated."
He said this move by the ministry comes at a critical time. "What we are seeing around us is a result of the poisonous information spread by these books, notably the direct and indirect messages of violence and deviancy."
Sheikh Ghazi bin Ghazi Al-Muteiri, professor of the Prince Naif bin Abdulaziz Chair for the Study of the Promotion of Virtue and Prevention of Vice, said that while he supported the ban on the books, this was not enough. This is because many of these books could be bought easily through foreign bookstores and online, he said.
Al-Muteiri said that there should be a greater emphasis on education suited to all age levels to strengthen awareness of these issues. This should include discussion on the ideas being propagated by these books. An outright ban could have adverse consequences, he said.
Abdulrahman Al-Nami, press adviser and general supervisor of the media department at Imam Mohammed ibn Saud Islamic University in Riyadh, agreed that there should be education focused on young people, to challenge extremist ideas.
"The Internet and social media are capable of circulating these books, but the Ministry of Education can protect the youth and guide them in the right direction." Families and youth organizations also play a critical role in education and awareness, he said.
Full report at:
http://www.arabnews.com/saudi-arabia/news/845226
---------
Iraq dubs foreign ground troops as 'act of aggression'
4 December 2015
No foreign ground troops had been requested from any country, Iraqi Prime Minister Haider al-Abadi said on Thursday, describing such deployment as an "act of aggression."
The statement on Abadi's official Facebook page came after U.S. Army Colonel Steve Warren said a new force of around 100 special operations troops would be deployed to assist in the military campaign against ISIS militants in Iraq.
U.S. Secretary of State John Kerry said on Wednesday that the Iraqi government was fully briefed on U.S. plans to deploy American special forces to Iraq, a day after Abadi said that his country did not need foreign ground troops.
Kerry added that the Iraqi government was fully briefed on the U.S. plans to send an elite unit to help combat ISIS as announced early this week.
In a related story, Russian President Vladimir Putin called Thursday for "one powerful fist" to fight terrorism and accused Western powers of creating "a zone of chaos."
Speaking in his live state-of-the-nation address, Putin called for an end to what he called double standards that hampered uniting global efforts in fighting terrorism. Without naming the United States, he accused Washington and its allies of turning Iraq, Syria and Libya into a "zone of chaos and anarchy threatening the entire world" by supporting change of regimes in those countries.
Full report at:
http://english.alarabiya.net/en/News/2015/12/04/Iraq-PM-says-would-consider-foreign-troop-deployment-act-of-aggression-.html
---------
Iraq hosts over 26 million pilgrims for Arba'een
Dec 4, 2015
More than 26 million pilgrims are taking part in the mourning rituals of Arba'een in Iraq, Transport Minister Baqir Jabr al-Zubeidi says.
Zubeidi said the number of pilgrims is on course to hit 27 million on the culmination of the grand event on Friday. Some 60 percent of the pilgrims are women, according to the Iraqi minister.
Arba'een rituals take place in Karbala and mark the 40th day after the martyrdom anniversary of the third Shia Imam, Imam Hussein. Imam Hussein and 72 of his loyal companions, including family members, were martyred on Ashura, the tenth day of the lunar month of Muharram, in the battle of Karbala against the second Umayyad caliph, Yazid I, in 680 A.D. Imam Hussein was martyred after he refused to pledge allegiance to the tyrant ruler.
Pilgrims from over 100 countries, including Iran, have been gathering in Karbala for over a week to mark Arba'een, defying threats by Takfiri terrorists to attack them. Many of the mourners have reached the city on foot to show their devotion to the Shia Imam.
Iraqi officials also said they had adopted special security measures this year to protect pilgrims against possible terrorist attacks.
Full report at:
http://www.presstv.ir/Detail/2015/12/04/440270/Iraq-Arbaeen-Karbala-Imam-Hussein
---------
Army Capturing More Strategic Heights in Aleppo
Dec 03, 2015
Following the destruction of the last remaining positions of the terrorists, the Syrian forces won back Ja'eiri hill to the South of Dadin hills in the Southern countryside of Aleppo.
The Syrian army captured the strategic Dadin hilltops only a few hours ago. The Syrian forces killed and wounded scores of Takfiri terrorists during the operation.
Reports had informed earlier today that terrorists were retreating from strategic areas in Aleppo province following the Syrian army attacks that started at dawn on Thursday.
Full report at:
http://en.farsnews.com/newstext.aspx?nn=13940912000456
---------
Syrian Troops Marching on Militants' Positions West of Hama
Dec 03, 2015
The Syrian army advanced in the West of Tal Zajram village in al-Ghab Plain West of Hama city, informed sources said.
The army also shelled terrorists' concentration centers in the towns of al-Qahera and al-Safa, killing and injuring scores of Jeish al-Fateh terrorists and destroying a number of their vehicles.
On Wednesday, scores of terrorists from "Jaish al-Fateh", "Ahrar al-Sham Islamic Movement" and "The Islamic Union of Ajnad al-Sham" were killed in intensified operations across the province of Hama.
The Syrian army targeted concentration centers of Jaish al-Fateh terrorists in Latmin village in Hama on Wednesday, killing scores of the Takfiri militants.
The terrorists' vehicles and weapons were also annihilated.
The army also conducted military operations against positions of terrorists from "Ahrar al-Sham Islamic Movement" and "The Islamic Union of Ajnad al-Sham" in Kafr Zita and Morek.
Full report at:
http://en.farsnews.com/newstext.aspx?nn=13940912000410
---------
Deadly molotov attack hits Cairo restaurant
4 December 2015
A Molotov cocktail hurled at a Cairo restaurant has killed 16 people and wounded two on Friday, Egyptian security officials said.
Victims of the blast were burned to death or died from smoke inhalation in the establishment. The restaurant, which also acts as a nightclub according to several media reports, was located in a basement and offered no escape routes, officials said.
One of the officials said the attacker was an employee who had been fired from the restaurant in the Agouza area in the center of the Egyptian capital, Reuters reported.
Full report at:
http://english.alarabiya.net/en/News/middle-east/2015/12/04/Molotov-explosive-kills-18-people-at-a-Cairo-restaurant.html
---------
Russia 'expands air base' near Homs in Syria
3 December 2015
Russian troops are expanding a military base in central Syria, adding fortifications and developing its runways in a sign they intend to use it as their second air base in the country, Syrian activists said Thursday.
The work underway in the Shaayrat air base, about 40 kilometers (25 miles) southeast of the city of Homs, could also signal Moscow's intention to step up airstrikes in the country's central region where the Islamic State of Iraq and Syria (ISIS) group is active.
Russia has been conducting airstrikes in Syria since Sept. 30, using the Syrian government's Basel al-Assad air base in the coastal province of Latakia. Su-24 bombers and helicopters take off on daily basis from that base, known by its old name of Hemeimeem, to bomb targets in areas in northern Syria.
A base in Homs province would facilitate Russian airstrikes in central Syria.
Bebars al-Talawi, a Homs-based activist, and Rami Abdurrahman, director of the Britain-based Syrian Observatory for Human Rights, both reported on Thursday major Russian activity in Shaayrat. However, they said there was no signs yet of any fixed-wing aircraft in the facility.
Al-Talawi said there were reports that Russian weapons, including artillery, have been brought into the base in recent days. He said runways at the base were being expanded, but so far only regime warplanes were using it.
Abdurrahman said work has been underway in Shaayrat for several weeks, with Russian troops working on building fortifications and working on the runways. In addition, Russian troops have begun using the T4 military air base, also in Homs province, for Russian helicopters conducting military operations around the ISIS-held towns of Palmyra and Qaraytan in the province.
Full report at:
http://english.alarabiya.net/en/News/middle-east/2015/12/03/Syria-activists-Russians-expanding-2nd-air-base-in-country.html
---------
Saudi says it hopes Lebanese presidency filled soon
3 December 2015
Saudi Arabia backs a Lebanese proposal that would result in Suleiman Franjieh becoming president of Lebanon after an 18-month presidential vacuum, and hopes it will happen soon, the Saudi ambassador to Lebanon said on Thursday.
"The initiative is a Lebanese one, not a Saudi one, and we bless it and we encourage a result from the dialogue underway among the Christian leaders," Ali Awad Asiri said in a televised news conference.
Full report at:
http://english.alarabiya.net/en/News/2015/12/03/Saudi-ambassador-congratulates-initiative-to-solve-Lebanon-s-presidency-impasse.html
---------
Australia
Australia passes anti-terrorism law to strip citizenship
Dec 4, 2015
SYDNEY: Australia's parliament has passed legislation to strip dual nationals of their citizenship if they are convicted of terrorism offences or found to have fought with banned groups overseas, despite concerns about deporting 'jihadists.'
Attorney-General George Brandis said the Australian Citizenship Amendment Allegiance to Australia Bill, passed late Thursday, updated existing law to reflect "the new age of terrorism."
"The legislation will strip Australian citizenship from dual citizens who are involved in terrorist conduct overseas or convicted of a terrorism offence in Australia," he said Friday.
"It will also ensure terrorists who are dual nationals are prevented from returning to Australia and dual nationals who engage in terrorism within Australia can be removed where possible."
Brandis said the changes were necessary given the current threat around the world and in Australia — where the risk of a terror attack is deemed by officials to be "probable."
Canberra has been increasingly concerned about the flow of fighters to Iraq and Syria to join extremist groups such as the militant Islamic State (IS), with some 110 Australians currently fighting in the region. As many as 45 have died in the conflict.
The Attorney-General said the new laws, which will not render individuals stateless, will apply in "very limited circumstances."
They cover people who engage in terrorist acts, including training, recruitment and finance, and are convicted of a terrorist offence and sentenced to at least six years in jail.
Those who fight for a declared terrorist group also automatically lose their citizenship.
"Dual nationals who engage in terrorism are betraying their allegiance to this country and do not deserve to be Australian citizens," Brandis said.
Full report at:
http://www.dawn.com/news/1224181/australia-passes-anti-terrorism-law-to-strip-citizenship
---------
Pakistan
Pakistan condemns terrorism in all forms: Rabbani
December 04, 2015
ISLAMABAD - Chairman Senate Mian Raza Rabbani has said that Pakistan condemns terrorism in all its forms and manifestations, urging the West not to link terrorism with one particular religion as the menace cannot be linked with one geographic area, religion or ethnicity.
Chairman Senate Mian Raza Rabbani gave these remarks in his meeting with Tawakkol Abdel-Salam Karman, Yemeni journalist, politician and senior member of Al-Islah Political Party, and human rights activist who along with Yemeni delegation visited Parliament House yesterday.
In a statement issued by Senate Secretariat, Mian Raza Rabbani said that the western countries need to eliminate the rise of various racial and other discriminatory practices against Muslims and also need to review their selective implications of human rights' violations and double standards for Palestine and Kashmir which have aggravated some of the underlying ingredients of terrorism.
Chairman Senate also observed that situation in Middle East is worrisome because structure of some of the states has been destroyed which has led to chaos and terrorism.
He informed to Yemeni Nobel Peace Prize Laureate that how Pakistan is passing through an in transitional phase of consolidating the democratic roots after a long and audacious journey.
Mian Raza Rabbani termed the 18th Constitutional Amendment a break through in the constitutional history of Pakistan, which has led Pakistan to practising participatory federalism.
Full report at:
http://nation.com.pk/national/04-Dec-2015/pakistan-condemns-terrorism-in-all-forms-rabbani
---------
State of minorities in Pakistan
December 04, 2015
Maiza Hameed, MNA - The loved and the rich needs no shelter, it is the poor who is hungry, naked and homeless.
It is said that Governments are to take care and protect minorities, but again, not every government is able to safeguard the rights of minorities and empower them to fight for their rights and for a better life.
We all human beings have the tendency of self-destruction and intolerance.
Why is it so? Why do we have so much hatred in our hearts for each other, for other religions, people and sects? Why we are letting devils to use scriptures for their own purposes? Knowing the fact that we all are creation of the same God and have to die, making us all equal.
Living in this world, where few of us for their own nefarious designs manipulate the beliefs of minorities.
It is now time to realise the significance of giving respect and love to each other and not to consider minorities' pariah but an indispensible part of this society and economy instead.
It is to serve the basic concept of "Humanity", which is vital and transcends all religions and boundaries.
Full report at:
http://nation.com.pk/international/04-Dec-2015/state-of-minorities-in-pakistan
---------
PIA flight cleared for takeoff in China after bomb hoax
IRFAN HAIDER
Dec 4, 2015
TIANJIN: A Pakistan International Airlines (PIA) flight made an emergency landing at China's Tianjin airport Friday, following a bomb hoax.
After taking off from Beijing, flight PK-852 was en route Tokyo when it made the emergency landing in Tianjin amid a bomb scare, PIA spokesman Danial Gilani told Dawn.com.
The information about the presence of the bomb originated in China, said Gilani. The source of the bomb threat is being probed by Chinese authorities.
Full report at:
http://www.dawn.com/news/1224182/pia-flight-cleared-for-take-off-in-china-after-bomb-hoax
---------
Minister stresses need for raising awareness about emergencies
AMIN AHMED
Dec 4, 2015
ISLAMABAD: The struggles to eliminate terrorism and reduce poverty have hampered government efforts to protect vulnerable people, particularly women and children, against calamities, said federal Minister for National Health Services Saira Afzal Tarar here on Thursday.
Speaking at the launching ceremony of the State of World Population Report 2015, she stressed the need for initiatives aimed at raising awareness among all stakeholders, particularly the communities, about prevention of and preparedness for dealing with catastrophic emergencies.
Also read: Looking back to look forward
Since the demand for humanitarian assistance outstripped supply, she said, the federal and provincial governments were working in collaboration with the stakeholders to explore and strengthen mechanisms for humanitarian relief operations.
Ms Tarar said there were opportunities for adoption of a more coordinated approach aimed at addressing the life-saving needs of vulnerable and affected communities in the event of a disaster.
She said the government was committed to providing basic facilities for family planning, reproductive healthcare and safe childbirth. The federal government was coordinating with the provincial governments to provide maximum support to fulfil needs of women and girls, she added.
About the assessment of the report that 1.2 million people across the world were migrating to cities every week, the minister said that urbanisation was increasing in Pakistan as well. Coupled with population growth, urbanisation was adversely affecting resource planning for the cities.
The government's 'Vision 2025' was focused on such issues, she said and added that the government was trying to meet all the requirements needed to solve the problems.
The report, released by the United Nations Population Fund and sub-titled "Shelter from the Storm", reveals that more than 100m people in the world need humanitarian assistance, more than at any time since the end of the Second World War.
Among those displaced by conflict or uprooted by disaster are tens of millions of women and adolescent girls. More than a billion people have seen their lives upended by crises. War, instability, epidemics and disasters have left a long trail of turmoil and destruction, it says.
In Pakistan, the report estimates that 1,900,000 people were internally displaced by conflict and violence in 2014.
It says that sexual and reproductive health services, which are critical to health and survival of women and adolescents, are scarcest at the time when they are needed the most. About three-fifths of maternal deaths occur in countries that are considered fragile because of conflict or disaster. Pregnancy and childbirth kill 507 women every day in these settings.
The report says: "Today about three-fifths of all maternal deaths take place in humanitarian and fragile contexts. Each day 507 women and adolescent girls die from complications of pregnancy and childbirth in emergency situations and in fragile states. And gender-based violence continues to take a brutal toll, shattering lives and prospects for peace and recovery."
Full report at:
http://www.dawn.com/news/1224154/minister-stresses-need-for-raising-awareness-about-emergencies
---------
Yemeni Nobel laureate calls for dissemination of peace
December 04, 2015
Islamabad - Nobel Peace Laureate Tawakkol Abdel-Salam Karman said Thursday that terrorism can be beaten with love and women would have to play integral role in peace dissemination.
The first Arab woman Nobel Peace Laureate expressed these views on the occasion of her visit to the International Islamic University, Islamabad (IIUI) here at Faisal Masjid. "Muslim women must be given due opportunities of leadership as they are integral part of the society," Tawakkol Abdel-Salam said. She added that Islam has nothing to do with terrorism as it is a religion of moderation and peace. Tawakkol Karman is a Yemeni journalist and human rights activist. She is a co-recipient of the 2011 Nobel Peace Prize, becoming the first Yemeni, the first Arab woman, and the second Muslim woman to win a Nobel Prize and the second youngest Nobel Peace Laureate to date.
Full report at:
http://nation.com.pk/islamabad/04-Dec-2015/yemeni-nobel-laureate-calls-for-dissemination-of-peace
---------
Pakistan, EU fall out again on deportees
December 04, 2015
Imran Mukhtar
ISLAMABAD: Pakistan yesterday refused to accept 30 migrant deportees from three European Union (EU) states, causing escalating the tension between Islamabad and EU with both sides making contradictory claims. Pakistan refused to re-admit these migrant deportees from Greece, Bulgaria and Austria saying they were sent to the country illegally and in violation of international laws. This has happened only a week after the EU Commissioner held high level talks with Interior Minister Chaudhry Nisar Ali to settle a dispute over forced deportations to Pakistan.
The country few weeks ago had suspended re-admission (deportation) treaty with the EU (excluding UK), signed in 2010, claiming that some EU countries were deporting migrants illegally to Pakistan – without proper verification of their citizenship from local authorities and in some case falsely accusing people of involvement in terrorism. The interior ministry in a statement said Federal Investigation Agency (FIA) on the directions of Interior Minister Chaudhry Nisar Ali Khan on Thursday (yesterday) refused to disembark 30 deportees from a chartered plane of Greece after Pakistani authorities could not verify their citizenship and credentials.
But the European Union Delegation to Pakistan rebutted the claim saying that "an authorisation of landing was given by the Pakistani authorities for December 3" and Pakistanis embassies in the three EU countries had issued them travelling documents. In a statement it said that it was the duty of Pakistani authorities to verify the CNIC numbers of those illegal migrants who received travel documents from the Pakistani embassies as "EU member states do not have access to this (Pakistan's) internal information". The FIA initially did not allow disembarking all 49 deportees and the crew on board the chartered flight at the Benazir Bhutto International Airport (BBIP). The latter verified the credentials of 19 individuals and allowed them to get down the plane. The remaining 30 deportees were sent back to the Greece through the same flight, the interior ministry statement said. Out of these 49 deportees, 39 were deported from Greece and10 from Austria and Bulgaria. While almost all (29) of the 30 people who were sent back were sent from Greece.
The statement quoting interior minister said, "Any person deported to Pakistan without verification of his/her credentials from Pakistani authorities would not be re-admitted and sent back through the same flight." The minister said that an EU country (Greece) violated Pakistani laws after the finalisation of all issues with the EU Commissioner in this regard. He said such violation by any state would not be allowed at any cost. Some countries have unfortunately failed to understand our resolve to stop this immoral, inhuman and illegal method of deportation, he concluded.
Initially, the names of 61 persons from the three concerned countries were transmitted to the Pakistani authorities having been identified and given travel documents by the respective Pakistani embassies in the three European countries, she said in a statement issued for media. After reception of the full list of names and passport numbers, the interior ministry informed that only the ones for which the CNIC number was additionally known would be admitted, the statement of EU Delegation to Pakistan said, claiming that this requirement is not part of the EU-Pakistan Readmission Agreement, which refers to travel documents issued by Pakistani authorities.
It was hoped that the Pakistani authorities will verify the CNIC numbers of the illegal migrants who received travel documents from the Pakistan embassies. "Obviously, EU member states do not have access to this internal information - only Pakistan has," the statement said. "50 persons were finally onboard of the flight, but only 19 have been admitted (those for which Pakistani passport and CNIC number were available). The others are the ones labelled as "unverified", but those persons have been provided with a travel document by the Embassy of Pakistan and the list of names had been sent to the Pakistani authorities earlier, providing sufficient time to the relevant Pakistani authorities to find the missing CNIC numbers for the returnees," the EU delegation said.
Full report at:
http://nation.com.pk/national/04-Dec-2015/pakistan-eu-fall-out-again-on-deportees
---------
Imam Hussain Chehlum observed
December 04, 2015
LAHORE - The Chehlum of Imam Hussain (RA) and other martyrs of Karbala concluded peacefully on Thursday evening with several Zuljinah and Tazia processions.
Strict security measures were made on the occasion as thousands of policemen were deployed along the routes of the processions and at Majalis sites.
Cellular service also remained blocked in the surrounding areas of the processions.
Every year, the 20th of Safar is observed as Chehlum of Imam Hussain and his family and companions who died in the battle of Karbala in 61AH.
Scholars and orators, in their speeches, stressed the need for religious and interfaith harmony, as this was the basic message of Karbala.
Small and large processions of Zuljinah and Tazia were taken out from Mochi Gate, Model Town, Islampura, Dharampura, Thokar Niaz Baig, Baghbanpura, Imamia Colony, Jafria Colony and Nawab Town.
The main and historical procession was taken out from the Heveli Alif Shah located in the Walled City, which concluded at Karbala Gamay Shah.
The procession passed through its traditional route of Masjid Wazir Khan, Pani Wala Talab, Rang Mehal, Bazar-e-Hakeeman, and Bhati Gate.
Meanwhile, police and other law enforcement agencies made foolproof security arrangement as mourners were allowed to enter the routes and Majalis after being checked thrice by policemen and volunteers.
CCTV cameras were also installed along the procession routes, which were monitored at special control room set up at DCO office.
The roads leading to Majalis and routes were also closed by barbed wires.
DIG Operations Haider Ashraf also visited the main procession and monitored the security arrangements.
Full report at:
http://nation.com.pk/lahore/04-Dec-2015/imam-hussain-chehlum-observed
---------
Spiritual enrichment during Hajj
December 04, 2015
Amaliha Mansoor
Islamabad - There are a hundred visions, a hundred images pulsating and appearing endlessly in my mind's eye, tugging at my heart. There's that night in Muzdalfa, under the open sky.
I look up at the 10th night moon hovering above in a murky dark sky and think to myself, "So, this is the night I had been envisioning for so long, wondering if I'd really make it." And, now I had made it there. All around me I see countless people clad in Ahraams, lying down on the bare earth, indifferent to the congregated mass of people from different nooks of the world. It's one truly humbling experience; nothing less, nothing more.
Behind my closed lids, surfaces another vision. A vision of graceful gray arches and cool marble floors of the Masjid-e-Nabwi (the mosque of my Prophet Muhammad (SAW), bedecked with glittering grand chandeliers in bronze and gold hues. And the green, green tomb beneath which, in the Hujra of Bibi Ayesha, my Prophet (SAW) rests.
I say Salaam every time I see it (physically or mentally) and somehow tears well up in my eyes. On the cool marbled stairs, inside the Grand Masjid, beneath the arches, outside in the huge courtyard under huge white umbrellas, I try to imagine the bygone times, the lost eras. Peace, serenity, kindness and a profound sense of security is in the air; so discernible; almost physical. And ever so soothing!
And then there is the grandeur of Haram, the grand, grand House of Allah in Mecca!
The air is filled with a sense of splendor as people passionately throng around the Kaaba. It is a fully charged atmosphere; almost electrifying, giving me goose bumps every time I enter the surroundings.
There is an overwhelming frenzy everywhere, a time bound urgency to deliver, to put forth all that is storming inside out.
And, it is not just the tongue but the eyes, body, mind, heart and soul that seem to cry out simultaneously.
"Here we are, our Lord, with all our shortcomings and worthlessness; You are Matchless; You are the Greatest; please help us, forgive us, accept our prayers, and show us the right way."
The day long stay at Arafaat, with temperature soaring to 47 degrees Celsius, the "Grand Finale" of Hajj, promising the granting of all prayers of the pilgrims assembled.
We bow down. We pray.
It is also here that I realise what "Allah-o-Akbar" (God is Great) truly symbolises.
Here are believers from every corner of this mortal world, featuring different colors, languages, cultures, ages, social status, thoughts, perspectives, issues, fears, dreams and hopes, turning desperately to our Ultimate Master.
Full report at:
http://nation.com.pk/islamabad/04-Dec-2015/spiritual-enrichment-during-hajj
---------
South Asia
Islamist leader asks Bangladesh court to commute death sentence | Reuters
Dec 3, 2015
DHAKA The lawyer representing the head of Bangladesh's Islamist Jamaat-e-Islami party appealed on Wednesday to the Supreme Court to commute his death penalty for war crimes to life in prison.
The country's war crimes tribunal, set up in 2010 to investigate abuses during the independence war in 1971, handed down the sentence in October last year.
"Considering his age and physical condition, we appealed to reduce the gravity of the punishment," Motiur Rahman Nizami's defence lawyer Khandaker Mahbub Hossain told Reuters.
"According to official documents he is 73 years old, but his real age is more than that and he has been suffering for four months from different (health) complications, because of which the trial has been suspended for that period," he said.
The prosecution will resume arguments in the case on Dec. 7.
Attorney General Mahbubey Alam told a news briefing that, for the first time, a Jamaat member had confessed to committing war crimes during the 1971 conflict, but Hossain denied Nizami had made any such admission.
Bangladesh executed two opposition leaders last month for war crimes.
Islamist leader Ali Ahsan Mohammad Mujahid and Salauddin Quader Chowdhury, from the Bangladesh Nationalist Party (BNP), were hanged shortly after President Abdul Hamid rejected their appeals for clemency.
Muslim-majority Bangladesh, until 1971 East Pakistan, has seen a rise in Islamist militant violence in recent months, with two foreigners and four secular writers and a publisher killed this year.
Full report at:
http://www.firstpost.com/world/islamist-leader-asks-bangladesh-court-to-commute-death-sentence-reuters-2530674.html
---------
Afghanistan seeks to establish fate of 'injured' Taliban chief
December 04, 2015
KANDAHAR - Afghan officials scrambled Thursday to establish whether Taliban supremo Mullah Akhtar Mansour was still alive, after sources said he was 'critically' wounded in a firefight following a bitter argument with commanders in the divided militant movement.
It remains unclear whether Mansour survived the gunfight, which threatens to derail a renewed regional push to jump-start peace talks with the Taliban.
The clash broke out just four months after Mansour was appointed Taliban leader in an acrimonious leadership succession soon after the group belatedly confirmed longtime chief Mullah Omar's death. The Taliban officially rejected as "absolutely baseless" the reports of the firefight, which officials and militant sources said was triggered by an altercation at an insurgent gathering that cascaded out of control. "We are trying to establish whether Mansour is dead or alive," said Sultan Faizi, the spokesman for the Afghan first vice president. "His situation is critical," Faizi said, citing credible information. A senior Pakistani intelligence official told AFP that Mansour had been "very seriously injured" in what he described as a "heavy exchange of fire" at a gathering of militant commanders near Quetta.
An Afghan intelligence official and multiple insurgent sources close to Mansour's group confirmed the account to AFP, adding that the gunfight left at least four Taliban members dead and several others wounded. The firefight exposes deepening divisions within the fractious militant movement, which saw its first formal split last month after a breakaway faction surfaced.
The rifts increase the risk of internecine clashes within the Taliban, which has lately seen a new resurgence under Mansour even as it confronts the rise of the rival Islamic State group in Afghanistan. There was conflicting information on the location of the confrontation, with some sources claiming that it took place near the southern Afghan city of Kandahar, the spiritual birthplace of the Taliban. But they all agreed the meeting was at the home of Abdullah Sarhadi, a commander in Mansour's group and a former Guantanamo Bay detainee.
"There were differences on some points which later turned into harsh words, then Sarhadi opened fire and the others returned fire," a Taliban source said.
Full report at:
http://nation.com.pk/national/04-Dec-2015/afghanistan-seeks-to-establish-fate-of-injured-taliban-chief
---------
Jamaat leaders to run independently
Mohammad Al-Masum Molla
december 4, 2015
For the upcoming municipality elections, several leaders of Jamaat-e-Islami, who does not have a working registration with the Election Commission, have filed nominations as independent candidates.
Yesterday, the last day for submitting and withdrawing party nominations, at least 15 local leaders have dropped their papers as independent candidates.
Jamaat, often blamed for committing crimes against humanity as a party in 1971, is the second biggest partner in the BNP-led 20-party alliance.
Although BNP has left two mayoral posts to two of its smaller partners in the alliance, the party has yet to make any decision regarding leaving seats to Jamaat.
Advocate Abdul Majid, Khulna district assistant general secretary of Jamaat, submitted nomination for the Paikgachha municipality.
Full report at:
http://www.dhakatribune.com/bangladesh/2015/dec/04/jamaat-leaders-run-independently
---------
Haqqani terrorist network holds American hostage, report
Dec 03 2015
The Haqqani terrorist network that is allied with the Taliban holds an American national as a hostage.
The Daily Beast, an American-based news reporting and opinion website quotes a top congressman, Duncan Hunter, as revealing that 'There are still Americans in captivity in the Afghanistan-Pakistan region.'
According The Daily Beast, Rep. Duncan Hunter (R-CA), a leading critic in Congress of the Obama administration's hostage rescue and recovery policies, has written this in a public letter to President Obama.
No specific number of the hostages has been mentioned in the report but citing U.S. officials and others familiar with the case it does talk about a specific individual that has been in captivity of militants for over a year and left unreported.
The Daily Beast is not publishing the man's name or many details about him at the request of his family and administration and law enforcement officials, who are concerned for his safety. The man is said to be held by the Haqqani network, a Taliban-aligned group that operates along the border of Afghanistan and Pakistan.
The report further states that the only other American known to be held in that region is Caitlin Coleman, who was kidnapped along with her husband, Joshua Boyle, a Canadian citizen, while traveling in Afghanistan in 2012. Coleman had a child while in captivity, multiple U.S. officials have said.
Full report at:
http://www.khaama.com/haqqani-terrorist-network-holds-american-hostage-4383
---------
RU pro-Jamaat teacher sent to jail
December 04, 2015
A pro-Jamaat-e-Islami teacher of Rajshahi University was sent to jail today for his alleged involvement in an attack on police during BNP-led 20-party alliance's anti-government agitation this year.
Amirul Islam, an associate professor of Islamic History and Culture department of the RU, was detained around 8:30pm yesterday from his residence in the city's Binodpur area, our Rajshahi University correspondent reports.
A Rajshahi court sent Amirul to jail this morning after police produced him before the court showing him arrested in a case, said Humayun Kabir, officer-in-charge of Motihar Police Station.
Full report at:
http://www.thedailystar.net/country/ru-pro-jamaat-teacher-sent-jail-182281
---------
Haqqani weapons depot seized in Logar, three suspects arrested
Dec 03 2015
The National Directorate of Security (NDS) – Afghanistan's intelligence agency has seized a weapons depot of Haqqani terrorist network, responsible for Afghanistan's some deadly bombings and attacks, in central Logar province.
A statement released by NDS on Thursday states that the cache was discovered during a raid in Kharwar District.
A Vehicle-borne Improvised Explosive Device (VBIED), different types of weapons, including Dushka (DSHK) heavy machinegun, Kalashnikov, artillery rounds, thousands of bullets, 15 kilograms of explosive materials, eight home-made bombs, military suits and two trucks were confiscated from the depot.
The press release further states that three suspects have been arrested in this connection.
Full report at:
http://www.khaama.com/haqqani-weapons-depot-seized-in-logar-three-suspects-arrested-4381
---------
Southeast Asia
Islamic State a New Worry for Indonesia's Beleaguered Christian
December 3, 2015
By Martin Roth
JAKARTA, INDONESIA (BosNewsLife Columns)-- Fears that Islamic State supporters may be planning attacks in Indonesia are a further concern to the country's Christian minority, who are already suffering from the growing Islamist presence in their nation.
Australia's Sydney Morning Herald daily newspaper reported that Indonesian police stepped up security at places of worship, along with embassies and shopping malls, following the recent Paris attacks.
Terrorism expert Sidney Jones, Director of the Jakarta-based Institute for Policy Analysis of Conflict, told the paper that the risk of violence in the country was rising, with Islamic State calling especially for more kidnappings.
Earlier, on November 18, ones told a gathering of ambassadors at a special briefing at the Jakarta Police headquarters that anti-Western propaganda was increasing in Indonesia. She noted that videos celebrating the Paris attacks were widespread.
Indonesia has long been seen as a moderate Muslim nation, a place where the constitution guarantees freedom of religion and where Christians comprise more than 10 per cent of the population.
ISLAM'S STRENGTH
Yet, writing back in January, I quoted from the "Operation World" prayer guide: "Islam's strength and influence in numbers and power allow it to exert itself on the religious scene, giving itself preferential treatment and limiting Christian activities and public presence."
Since that time, conditions have certainly worsened. For example, last month, as reported by BosNewsLife (October 30), authorities in Indonesia's conservative Aceh province began tearing down church buildings.
This followed complaints from Islamists that the churches lacked the necessary building permits, even though it is notoriously difficult in Indonesia for Christian groups to obtain permissions for new churches.
In fact, Christianity Today magazine reported that more than 1,000 churches have been closed in the past nine years, and others have never been built, as a consequence of the building permit regulations.
Full report at:
http://www.bosnewslife.com/35996-islamic-state-a-new-worry-for-indonesias-beleaguered-christians-column
---------
Landslide buries 18 in western Indonesia
Dec 4, 2015
A village in western Indonesia has been hit by a rainfall-triggered landslide, which has buried 18 people.
The victims fell prey to descending earth and rocks, which slid down a hill in Lebong Tandai village on Sumatra Island on Thursday.
Rescuers have so far retrieved the bodies of three victims and a search operation is underway for the remaining 15 bodies.
National Disaster Mitigation Agency spokesman, Sutopo Purwo Nugroho, said efforts to recover bodies from the site had been hampered as a result of difficulty to have access to the area.
He said another landslide earlier this week had killed two people and injured nine others in the town of Pematang Siantar in North Sumatra Province, which is likewise located on Sumatra Island.
Full report at:
http://www.presstv.ir/Detail/2015/12/04/440225/Indonesia-Sumatra-Lebong-Tandai
---------
Mideast
Iran condemns Saudi airstrike on MSF clinic in Yemen
Dec 4, 2015
Iran has strongly condemned a recent Saudi aerial attack against a medical facility run by the international charity organization Médecins Sans Frontières (MSF), or Doctors Without Borders, in Yemen's southwestern province of Ta'izz.
"Foreign military attacks against residential areas and civilian targets in Yemen so far have pulled thousands of civilians through blood and dirt and produced no achievement for the aggressors other than destruction and mass murder," Iran's Foreign Ministry spokesman Hossein Jaber-Ansari said on Friday.
He called on the United Nations (UN) as well as influential regional states to "intensify their efforts and stop foreign aggression" against Yemen, and adopt swift measures to safeguard the security and safety of Yemeni civilians, including women and children.
On Thursday, the MSF slammed "violation of international law" in the latest Saudi airstrike that left nine people, including medical staff, wounded at its clinic in Ta'izz.
According to the MSF, Saudi warplanes on Wednesday launched three airstrikes on a park in al-Houban district of Ta'izz, prompting the MSF staff at the nearby hospital to inform Riyadh of the incidents in order to prevent further attacks.
Nevertheless, the MSF hospital came under attack shortly after the three raids. The medical group says two of the wounded are now in critical condition.
"The health structure's GPS coordinates were regularly shared with the Saudi-led coalition, most recently on 29 November, when we informed them about this specific activity in the al-Houban" district of Ta'izz, said Jerome Alin, the MSF's head of mission in Yemen, adding, "There is no way that the Saudi-led coalition could have been unaware of the presence of MSF activities in this location."
Full report at:
http://www.presstv.ir/Detail/2015/12/04/440259/Iran-Saudi-airstrike-MSF-clinic-Taizz
---------
Israel arrests alleged Jewish extremists over deadly arson
Dec 4, 2015
LOD: Israeli authorities said on Thursday they had arrested a number of alleged Jewish extremists over the firebombing of a Palestinian home that killed a toddler and his parents in an attack that drew international condemnation.
Israel faces mounting pressure to bring the perpetrators of the July attack in the occupied West Bank to justice, with a UN envoy on Wednesday expressing concern over the "slow progress" in the probe.
"We have confirmed that a number of suspects have be­ en arrested in connection wi­ th the incident that took place in Duma," Israeli police spok­esman Micky Ros­ enfeld said.
The Shin Bet domestic security agency said arrests had been made in recent days of young men "suspected of belonging to a Jewish terror organisation and carrying out terror attacks".
It said in a statement that the detainees were being questioned over the July 31 firebombing in the West Bank village of Duma, located near the Jordan Valley and close to wildcat Jewish settlements.
Full report at:
http://www.dawn.com/news/1224094/israel-arrests-alleged-jewish-extremists-over-deadly-arson
---------
Yemeni Army Declares Rapid Advance in 3 Saudi Border Provinces
Dec 03, 2015
Sharaf Loqman, the spokesman of the Yemeni army, told the Arabic-language al-Mayadeen news channel on Thursday that the massive operations by the country's forces in the three Southern provinces started with rapid progress.
He said in case of an order by the top brass in the army, "we will capture the entire Najran province".
His remarks came after reports disclosed on Wednesday that the Saudi Arabia's warplanes were targeting the Southern parts of the kingdom with cluster bombs in a bid to stop the Yemeni army and popular forces' continued and rapid advance deep into their territories.
Saudi Arabia has used cluster bombs many times before, but this is the first time that it is using it against its own population in a desperate move to stop the huge advances made by the Yemeni forces inside the kingdom in recent days.
The Yemeni army and popular forces have frequently crossed the border captured the Saudi military bases and outpost, ruined the military sites and returned home in the last few months and after the Riyadh-led coalition refrained from stopping its air raids on residential areas in Yemen's cities.
But, after months of coalition intensified air raids on civilian areas, the Yemeni forces changed strategy and warned that they would start ground assaults on Saudi territories to force Riyadh stop the massacre.
The new strategy was put into effect on Sunday, when Yemen's army and popular forces crossed the border and captured several key military bases in three provinces in Southern Saudi Arabia near the border.
The Yemeni forces seized Malhama, al-Radif and al-Mamoud military bases in Jizan, al-Rabou'a military base in Asir and Nahouqa military base in Najran provinces.
Then on Monday, the Yemeni forces took control of three more Saudi military bases in al-Shurfa region in Najran.
They also captured a military camp in Najran, and destroyed the military vehicles in there.
On Tuesday, the Saudi warplanes used banned cluster bombs against civilians in 5 airstrikes on residential areas in Yemen's Hajjah province. Tens of people were killed and wounded in the air raids.
Full report at:
http://en.farsnews.com/newstext.aspx?nn=13940912000364
---------
Iranian Source Strongly Rejects Erdogan's Claims about Warning Rouhani over Russia
Dec 03, 2015
Following Russian President Vladimir Putin's accusations about Turkey's oil trade with the ISIL, the Turkish president claimed that he has held talks with his Iranian counterpart, Hassan Rouhani, cautioning him to avoid repeating or throwing his weight behind the Russian accusations about Turkey's close ties and purchase of Iraq's and Syria's stolen crude from the ISIL that has also involved members of his family, including his son and son-in-law.
"I have spoken to the Iranian president and warned them against partnering in Russia's wrong accusations against Turkey," Erdogan claimed, and continued, "It was from then on that such allegations were removed from the literature used by Iranian officials and certain news outlets (in Iran)."
In response, sources in the Iranian government on Thursday evening strongly denied Erdogan's claim as "baseless" and "untrue", and told FNA that "this claim is untrue and such issues have never been raised in any of the meetings or phone talks between Erdogan and Rouhani."
Iran had long been complaining about ISIL's oil deals with Turkey months before the Russian president raised the issue.
The Russian president in recent remarks accused Turkey of purchasing Iraq and Syria's stolen crude from ISIL.
The Russian defense ministry announced on Wednesday that Erdogan and his family members are directly involved in illegal oil deliveries from ISIL oil fields in Syria.
Turkey's leadership, including President Erdogan and his family, is involved in illegal oil trade with ISIL militants, the Russian Defense Ministry said, stressing that Turkey is the final destination for oil smuggled from Syria and Iraq.
In response, President Erdogan dramatically vowed to leave office if any proof is provided that Ankara has been buying oil from the terrorist group Daesh (ISIL).
Hours later, the Russian defense ministry presented the first batch of hard evidence to show Turkey's involvement in the ISIL crude scandal. The Russian Defense Ministry held a major briefing on new findings concerning ISIL funding in Moscow on Wednesday. At the briefing the ministry presented photos of oil trucks, videos of airstrikes on ISIL oil storage facilities and maps detailing the movement of smuggled oil. More evidence is to be published on the ministry's website in the coming says, Rudskoy said.
"Today, we are presenting only some of the facts that confirm that a whole team of bandits and Turkish elites stealing oil from their neighbors is operating in the region," Antonov said, adding that this oil "in large quantities" enters the territory of Turkey via "live oil pipelines," consisting of thousands of oil trucks.
Antonov added that Turkey is the main buyer of smuggled oil coming from Iraq and Syria.
"According to our data, the top political leadership of the country - President Erdogan and his family – is involved in this criminal business."
The Turkish president's son, Bilal Erdogan, also has extensive ties and runs transactions with ISIL barbars. Bilal owns several maritime companies. He has allegedly signed contracts with European operating companies to carry Iraqi stolen oil to different Asian countries. The Turkish government buys Iraqi plundered oil which is being produced from the Iraqi seized oil wells. Bilal Erdogan's maritime companies own special wharfs in Beirut and Ceyhan ports that are transporting ISIS' smuggled crude oil in Japan-bound oil tankers.
Senior Member of Turkish Republican People's Party (CHP) Aran Erdam disclosed that President Recep Tayyip Erdogan and his relatives have purchased oil from the ISIL terrorist group.
Full report at:
http://en.farsnews.com/newstext.aspx?nn=13940912000707
---------
Europe
Pray outside, British school tells Muslim students
Dec 3, 2015
LONDON: Muslim parents were considering taking legal action against a school which, they claim, forced their children to pray outside in rain and freezing temperatures.
Dozens of Muslim youngsters claim they have been left soaking wet and cold after Mirfield Free Grammar School and Sixth Form in Mirfield, West Yorkshire, refused to give them permission to offer their daily prayers indoors, a report published in Daily Mail said.
Pictures appear to show the children praying on grass verges and even the concrete playground, and the pupils claim they were being punished for praying, some having been given "final warnings".
The families said the "degrading" issue was ongoing since October 2014, when the use of a school hall for prayers was withdrawn. Legal action was "a last resort", they said.
The school claims the hall was never used as a prayer room for the pupils.
Solicitor Yunus Lunat, from Leeds law firm Ison Harrison, said he has taken up the case on behalf of "a number of families" and that the situation should not have reached this stage.
"The parents and students are keen to stress that they wish to act within the law and are anxious to avoid any negative ramifications or reporting," the daily quoted Lunat as saying.
"The families have tried to solve this amicably with the school for over a year now. They have come to me as a last resort."
Full report at:
http://timesofindia.indiatimes.com/world/uk/Pray-outside-British-school-tells-Muslim-students/articleshow/50029554.cms
---------
Putin calls for broad international anti-terror front
Dec 4, 2015
MOSCOW: Russian President Vladimir Putin called on Thursday for "one powerful fist" to fight terrorism, hinted at more sanctions against Turkey and accused Western powers of creating "a zone of chaos".
Speaking in his state-of-the-nation address televised live, Putin called for an end to what he called double standards that hampered uniting global efforts in fighting terrorism. Without naming the United States, he accused Washington and its allies of turning Iraq, Syria and Libya into a "zone of chaos and anarchy threatening the entire world" by supporting change of regimes in those countries.
Putin didn't address efforts to start a peace process in Syria in his speech, focusing on the need to pool global efforts in the fight against terrorism following the attacks in Paris and the downing of a Russian passenger plane in Egypt.
The the militant Islamic State group (IS) has claimed responsibility for both.
"We must leave all arguments and disagreements behind and make one powerful fist, a single anti-terror front, which would work on the basis of international law under the aegis of the United Nations," he said, addressing lawmakers and top officials who had gathered in an ornate Kremlin hall.
"That means no shelter to bandits, no double standards, no contacts whatsoever with any terrorist organisations, no attempts to use them for some selfish goals, no criminal, bloody business with terrorists." Putin specifically targeted Turkey, accusing it of "allowing terrorists to earn money by selling oil stolen from Syria".
"For that money the bandits are recruiting mercenaries, buying weapons and staging cruel terror attacks aimed against our citizens, as well as citizens of France, Lebanon, Mali and other countries," he said.
Full report at:
http://www.dawn.com/news/1224099/putin-calls-for-broad-international-anti-terror-front
---------
Allah decided to punish ruling clique in Turkey: Putin
December 04, 2015
MOSCOW - Russian President Vladimir Putin on Thursday vowed Turkey's leadership would be made to regret the downing of one of Moscow's warplanes as the top diplomats from both countries held their first high-level meeting since the incident.
Moscow announced a halt to talks on a major gas pipeline with NATO member Ankara as Putin fired another salvo in their war of words, while Turkish leader Recep Tayyip Erdogan shot back by claiming he had "proof" Russia was involved in illegal oil trading with the Islamic State group.
Turkey has become Moscow's prime international sparring partner after it shot down a Russian jet on its border with Syria on November 24 - sparking fury and economic sanctions from the Kremlin.
"Only Allah, most likely, knows why they did this.
And evidently Allah decided to punish the ruling clique in Turkey by depriving them of their intelligence and reason," Putin said.
Erdogan's claims of Russian complicity with IS mirror allegations made by Moscow against Turkey and its leader in recent days.
"We will not forget this complicity with terrorists.
We always considered and will always consider treachery to be the ultimate and lowest act.
Let those in Turkey who shot our pilots in the back know this," Putin told lawmakers in his annual state of the nation speech, which also focused on Russia's air strikes in Syria.
Russia has accused Erdogan and his family of personally profiting from the oil trade with IS, which controls a large chunk of Syrian territory including many oil fields.
"We know for example who in Turkey fills their pockets and allows terrorists to make money from the stolen oil in Syria," Putin said.
"It is precisely with this money that the bandits recruit mercenaries, buy arms and organise inhuman terrorist acts aimed against our citizens, the citizens of France, Lebanon, Mali and other countries.
Erdogan has furiously denied the accusations against him and his family and said Turkey had proof that Russia was, in fact, involved in trading oil with IS.
"We have the proof in our hands.
We will reveal it to the world," the Turkish leader said in a televised speech in Ankara.
Putin, whose administration has already announced sanctions against Ankara including a ban on the import of some Turkish foods, and reintroduced visas for visitors from the country, insisted Turkey would be made to regret its actions.
"We will not rattle our sabres.
But if someone thinks that after committing heinous war crimes, the murder of our people, it will end with (an embargo on) tomatoes and limitations in construction and other fields then they are deeply mistaken," Putin said.
"We will not stop reminding them of what they did and they will not stop regretting their actions.
Immediately after the speech Russia's energy minister Alexander Novak announced the suspension of talks between Ankara and Moscow over the major TurkStream pipeline project.
Negotiations over the project to pipe Russian gas to Turkey under the Black Sea have been floundering since Moscow launched air strikes in Syria in late September in support of the regime of President Bashar al-Assad, which Ankara fiercely opposes.
But the official announcement of the break-off in the talks dealt another blow to floundering Russian-Turkish ties, as Putin lamented the damage to a relationship that he has spent years nurturing.
Full report at:
http://nation.com.pk/international/04-Dec-2015/allah-decided-to-punish-ruling-clique-in-turkey-putin
---------
Germans protest govt. plans for military involvement in Syria
Dec 4, 2015
Thousands of people have taken to the streets in the German capital, Berlin, to voice their anger at the German government's plans for further involvement – including through committing forces – in a US-led coalition purportedly fighting the Takfiri Daesh terrorist group in Syria.
According to organizers of the event, about 3,000 people protested at the Pariser Platz in Berlin on Thursday to denounce Germany's plans for further military assistance to the US-led coalition in Syria.
The protest came days after the German cabinet endorsed a mandate offering more military assistance to the US-led coalition allegedly fighting Daesh in Syria. The German government recently confirmed that the plan covered deployment of Tornado reconnaissance aircraft, a naval frigate and as many as 1,200 soldiers.
"The German contribution serves the fight against terrorism under the auspices of the alliance against IS and is aimed at supporting in particular France, Iraq and the international alliance in its fight against IS," the government said in a statement on Tuesday, using a different acronym for Daesh.
The one-year mandate, which still needs parliamentary approval, would cost 134 million euros (142 million dollars) and can be prolonged in 2016.
The German government's decision came following recent talks between German Chancellor Angela Merkel and French President Francois Hollande, which saw the latter urging a broad coalition against Daesh. Hollande has been actively calling for such a coalition shortly after the November 13 terrorist attacks in the French capital city of Paris, which killed some 130 people and were claimed by Daesh.
Germany is a member of the US-led coalition that has been targeting what it says are Daesh targets in Iraq and Syria since last year; Berlin has only been providing logistical and technical assistance, though.
Full report at:
http://www.presstv.ir/Detail/2015/12/04/440246/Germany-USled-coalition-Syria
---------
EU's Tusk suggests detention for refugees
04 December 2015
European Council President Donald Tusk has suggested that refugees arriving in Europe should be detained for up to 18 months to be screened for security and terrorism risks.
Speaking to reporters working for European newspapers in Brussels on Wednesday, Tusk said: "It is often said that we must be open to Syrian refugees. But these are only 30 percent of the inflow. Seventy percent are [economic] migrants. Also for this reason we need more effective controls."
Full report at:
http://www.worldbulletin.net/europe/167022/uks-eu-talks-to-last-until-feb
---------
MSF, Greenpeace begin refugee rescue op off Turkey
04 December 2015
The Doctors Without Borders charity and environmental group Greenpeace have launched a joint operation to rescue migrants crossing the Aegean Sea from Turkey to Greece, they said Thursday.
The two organisations said that since November 28 they have been using three rigid hulled inflatable boats (RHIBs) based on the northern coast of Lesbos to help hundreds of people on the move, rescuing many of them from boats in obvious distress.
"Horrified by the unabated refugee crisis in the Mediterranean, we were compelled to act in whatever way we could," Alexandra Messare, Greenpeace Greece's programme director, said in a statement.
"We have brought our maritime experience to this collaboration ... in the hope of saving lives," she added.
Doctors Without Borders, which goes by its French acronym MSF, said that in addition to the boats it also had medical teams on standby at landing sites on the Greek islands to provide emergency care for people in critical condition, and sending those in need to hospital using three of its ambulances.
MSF said that in coming days it planned to add three more boats to help expand rescue capacity on other islands.
Marietta Provopolu, head of MSF's Greece division, said that "our activities in the Aegean are only a temporary solution to mitigate the suffering and loss of life we have seen in recent months."
Full report at:
http://www.worldbulletin.net/europe/167026/uks-eu-talks-to-last-until-feb
URL: https://newageislam.com/islamic-world-news/new-age-islam-news-bureau/russia-led-alliance-tells-india-s-muslims-to-back-its-fight-against-islamic-state/d/105508
New Age Islam, Middle East, ISIL, ISIS, Syria, Iraq, Islamic World News, African Muslim News, Arab World News, South Asia News, Indian Muslim News, World Muslim News, Islamic Website, Online Islam