New Age Islam News Bureau
9 Oct 2015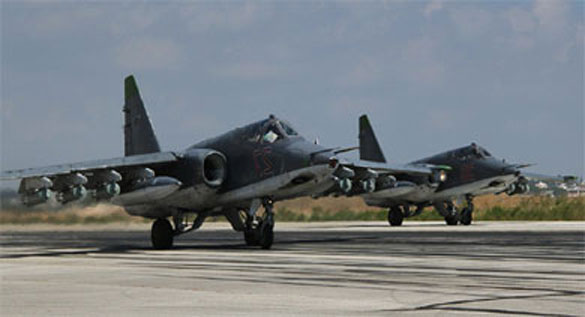 Russian military air group at Khmeimim airbase in Syria. © Sputnik/ Dmitriy Vinogradov
--------
South Asia
• Russia Estimates Some 3,500 ISIS Militants Operate In Afghanistan
• Afghan Agents Shoot 2 Suicide Bombers in Kabul
• 2 militants killed after attacking a restaurant in Kabul city
• Exclusive: Hekmatyar proposes intra-Afghan talks without foreign mediation
• Afghanistan fighting season report due to NATO at the end of this month
• Blogger killings: Bangladesh on CPJ Global Impunity Index
-----
Arab World
• Russian Airstrikes Destroy 40% of ISIL's Infrastructure in Week
• Russia Reportedly Uses Infrared-Guided Smart Bombs Against ISIL in Syria
• Syrian Army Kills ISIL Terrorists in Homs
• Syrian General Staff: Syrian Armed Forces Launch Large-Scale Offensive against ISIL
• ISIL Terrorists Hiding from Russian Airstrikes in Syrian Residential Areas
• Mortar Attacks Kill 27 in Baquba, Iraq
• Syria army in 'vast offensive' backed by Russian strikes
• More than 70 percent of Russians support Moscow's bombing campaign in Syria
• Syrian Army Advances 70km in Hama
• Military Source Dismisses Reports on Destruction of 20 Syrian Tanks in Hama
• Russian, Syrian Airstrikes Target ISIL in Aleppo
------
Pakistan
• 25 Ulema, 10 from the Sunni and 5 from Shia Sect to Be Banned In Muharram
• Religious Groups Rap Qadri's Death Decision
• 89 Pakistani pilgrims dead, 43 still missing, says minister
• Siraj wants GST on agriculture inputs withdrawn
• Sharif optimistic about winning US support against India
• The Kasuri effect: India acknowledges secret Kashmir draft, Balochistan link
• COAS, PM Sharif discuss internal security, Pak-Afghan border situation
• War of words between PML-N, PTI intensifies
-------
Mideast
• Yemeni Forces Fire Rockets at Saudi Warship in Bab Al-Mandab
• No Request for NATO Forces in Turkey: Ankara
• Intelligence Minister: Several Suicide Attempts Foiled in Iran
• Turkey bans TV channels close to Erdogan foe
• Airstrike kills 28 at Yemen wedding
• Israeli forces kill Palestinian in Jerusalem clashes; 3 stabbed
• Jewish suspect stabs four Arabs in southern Israel
• Russia: missiles hit Syria, did not crash in Iran
• Yemeni Forces Kill 160 Saudi-Led Forces in 2 Days
-------
India
• In Muzaffarnagar, Hindu-Muslim Couples Are New Poll Flavour
• 7/11 Serial Train Blasts: 'Being A Muslim Does Not Mean They Will Speak Urdu'
• 'Muslims, Please Leave My Rally, We Don't Want Your Votes': Meet This Challenger To The BJP
• Pakistan likely to present detailed document on ties with India to Obama
• Ghulam Ali a 'dengue artist' from 'terrorist country': Singer Abhijeet Bhattacharya
• Mosque was attacked in Gujarat, uneasy calm
• Hajj stampede: Death toll of Indians crosses 100, 32 still missing
-------
Australia
• Australian Mosque Leader Tells Violent Muslims to Leave Country
• Malcolm Turnbull Defends Multicultural Australia As Anti-Islam Protests Gear Up
-------
Europe
• Muslim Winner of Baking Contest Defies Prejudice in Britain
• France's Muslim Men Suffer CV Discrimination
• Don't Look Happy To Meet Hamas, Tory Tells Muslim UK Charity Bosses In Gaza
• How Islamic State's Black Flag Became the Symbol of Modern Jihad
• Europe's test of tolerance over Muslim influx
--------
Southeast Asia
• Malaysian Muslims Pray For Forest Fires to End in Southeast Asia
• Malaysia court upholds ban on cross dressing by transgender Muslims
• Waytha: Sack college head for insulting non-Muslims
• Federal Court sets aside ruling on Shariah law
--------
North America
• UN Accused of Killing Five Civilians in DR Congo Copter Attack
• Clinton opposes TPP in break with Obama
• Rights groups warn of anti-Muslim rallies this weekend
• Global Rally for Humanity is anti-American
-------
Africa
• Nobel Peace Prize for Tunisian Civil Organizations
• Jordan king speaks on al-Aqsa mosque crisis
• Tunisia lawmaker escapes assassination bid
• UN mission in Libya proposes unity government
Compiled by New Age Islam News Bureau
URL: https://www.newageislam.com/islamic-world-news/new-age-islam-news-bureau/russia-estimates-some-3,500-isis-militants-operate-in-afghanistan/d/104856
--------
South Asia
Russia estimates some 3,500 ISIS militants operate in Afghanistan
Oct 08 2015
The Russian intelligence estimates some 3,500 militants loyal to the Islamic State of Iraq and Syria (ISIS) terrorist group are operating in Afghanistan.
Speaking to a security conference in Moscow, a senior Russian diplomat, has said militants from Russia are also trained by ISIS instructors in Afghanistan.
Zamir Kabulov, President Putin's special representative for Afghanistan, quoted by Russia Today, said "There are several camps operated by [Islamic State, previously ISIS/ISIL, in Afghanistan] that train people from Central Asia and some regions of Russia. They speak Russian there."
He said instructors including Arabs, Pakistanis and even people with US and British citizenship are busy training militants in those camps.
"The rise of [Islamic State] in Afghanistan is a high-priority threat. Just think about it: [ISIS] showed up in Afghanistan for real just a year ago, and now it has 3,500 fighters plus supporters who may be recruited into the ranks of the militants," Kabulov added.
A Russian General Valery Gerasimov, who heads the Russian General Staff, said overall there are some 50,000 fighters belonging to more than 4,000 militant groups in Afghanistan.
According to gerasimov, Afghan Taliban is by far the strongest militant movement in the country, with some 40,000 fighters in their ranks.
However, Colonel General Igor Sergun, the head of the Main Intelligence Directorate, Russia's military intelligence agency, said Taliban's dominant position is being challenged by Islamic State, which sees Afghanistan as a recruiting ground, a source of income and a foothold for further expansion over Central Asia.
"ISIL [a former name for Islamic State, along with ISIS] uses the worsening of the situation in Afghanistan to strengthen its position," he said, adding that such development poses a real threat to Russia's security.
"We estimate that ISIL gets new troops by bribing field commanders of Taliban, the Islamic movement of Uzbekistan and other radical religious organizations operating on Afghan territory," Sergun said.
This comes as the United Nations released a report late last month warning that the terror group is making inroads in Afghanistan with the number of sympathizers and followers growing across the country.
According to the report around 70 militants of the terror group are busy in forming the core of the group's branch in Afghanistan.
The report further added that the group is recruiting followers in at least 25 provinces of Afghanistan with 10 percent of the sympathizers belonging to the Taliban group.
http://www.khaama.com/russia-estimates-some-3500-isis-militants-operate-in-afghanistan-1610
-----------
Afghan agents shoot 2 suicide bombers in Kabul
October 09, 2015
KABUL : Afghan security officers shot dead two would-be suicide bombers in a Kabul restaurant before they were able to launch an attack, a senior government official said on Thursday.
Deputy Interior Minister General Ayoub Salangi said two gunmen, wearing explosive vests, entered the restaurant but were immediately shot by two agents from the National Directorate of Security, the Afghan intelligence agency, who were on the premises.
NATO Secretary-General Jens Stoltenberg told reporters flatly: "I sense that many allies are willing to stay longer if needed.
" Although Afghan forces have recaptured the strategic northern city of Kunduz, its brief fall to the Taliban last month underscored concerns about the capabilities of Afghanistan's security forces.
U.
S.
President Barack Obama had aimed to withdraw all but a small U.
S.
force before leaving office, pinning his hopes on training and equipping local forces to contain Taliban militants fighting to return to power.
Washington has spent around $65 billion on preparing the fledgling Afghan security forces of about 350,000 personnel.
But that is still very far from complete.
Carter said he was preparing a U.
S.
funding request to sustain Afghan troops at their target peak levels of around 350,000 in 2017 "and beyond".
http://nation.com.pk/international/09-Oct-2015/afghan-agents-shoot-2-suicide-bombers-in-kabul
2 militants killed after attacking a restaurant in Kabul city
Oct 09 2015
Two militants were killed after attacking a restaurant in 3rd police district of Kabul city on Thursday night, the security officials said.
Gen. Ayub Salangi, deputy interior minister for security, said the attack was carried out on Kolba-e-Solh restaurant located in Deh Bori area of the city.
The Afghan intelligence – National Directorate of Security (NDS), said the two militants were shot dead by the Afghan intelligence operatives.
NDS said the two militants were armed with weapons and hand grenades and were shot dead as soon as they started firing.
In the meantime, Kabul police chief, Gen. Abdul Rahman Rahimi, said at least three others were also injured during the attack.
This comes as the Afghan intelligence earlier thwarted a coordinated attack on the Ministry of Defense compound in Kabul.
A statement by NDS said a group of five insurgents belonging to Haqqani terrorist network were arrested in connection to the attack plot.
The statement further added that the militants were looking to launch the attack by detonating a Vehicle-borne Improvised Explosive Device (VBIED) in front of the MoD compound.
The anti-government armed militant groups have not commented regarding the reports so far.
http://www.khaama.com/2-militants-killed-after-attacking-a-restaurant-in-kabul-city-1611
-----------
2 militants killed after attacking a restaurant in Kabul city
Oct 09 2015
Two militants were killed after attacking a restaurant in 3rd police district of Kabul city on Thursday night, the security officials said.
Gen. Ayub Salangi, deputy interior minister for security, said the attack was carried out on Kolba-e-Solh restaurant located in Deh Bori area of the city.
The Afghan intelligence – National Directorate of Security (NDS), said the two militants were shot dead by the Afghan intelligence operatives.
NDS said the two militants were armed with weapons and hand grenades and were shot dead as soon as they started firing.
In the meantime, Kabul police chief, Gen. Abdul Rahman Rahimi, said at least three others were also injured during the attack.
This comes as the Afghan intelligence earlier thwarted a coordinated attack on the Ministry of Defense compound in Kabul.
A statement by NDS said a group of five insurgents belonging to Haqqani terrorist network were arrested in connection to the attack plot.
The statement further added that the militants were looking to launch the attack by detonating a Vehicle-borne Improvised Explosive Device (VBIED) in front of the MoD compound.
The anti-government armed militant groups have not commented regarding the reports so far.
http://www.khaama.com/2-militants-killed-after-attacking-a-restaurant-in-kabul-city-1611
-----------
Exclusive: Hekmatyar proposes intra-Afghan talks without foreign mediation
October 09, 2015
Ashraf Mumtaz
LAHORE: Hizb-i-Islami Afghanistan chief Gulbuddin Hekmatyar has proposed intra-Afghan talks, "without mediation from any foreign power".
In a written interview to The Nation, he also gave a formula for peace in his war-ravaged country, an end to war across the country being an important component of it. If any group tries to continue war on being incited, all other parties should try to address its reservations and persuade it to bury the hatchet. But if it doesn't, the entire nation should fight against it, said the former prime minister of Afghanistan.
Mr Hekmatyar's peace plan, ostensibly, leaves no mediatory role for Pakistan although it has been doing its best to bring the Afghan government and the Taliban to the negotiating table. The two sides have already held a round of talks and the second was due to be held in Murree some weeks ago when the belated news of Mullah Omar's death a few years ago led to an indefinite postponement. After that the fighting in Afghanistan has intensified, with the Afghan president alleging that "message of war is coming from Pakistan", which leaves little hope for resumption of talks in the near future.
The HIA chief said talks should be comprehensive and their agenda be decided keeping in sight the ground realities. He did not identify the parties that should take part in the negotiations. He said all parties should agree that foreign troops leave Afghanistan by the end of the current year; all security agencies should continue to function as usual, and a powerful commission be set up to bring all institutions into the mainstream. Anybody who had supported the Soviet Union or NATO forces or wants the foreign forces to stay on in Afghanistan should be removed as head of any security institution.
Such changes should be brought about in the government as are acceptable to all and the governor, police chief or head of any security agency should not be from their native provinces, said Mr Hekmatyar. He said election for the president, national and provincial assemblies should be held in 2016. These elections should be free and fair, held on the basis of proportional representation. Only the national level parties should contest the elections, he said, highlighting the divisive role of the smaller parties. Every Afghan national should serve the army for at least a year to strengthen national defence with a smaller army. The country cannot afford to have a 350,000 strong army, he maintained.
In response to a question, Hekmatyar said there would be no difference in the policies of former president Hamid Karzai and incumbent Ashraf Ghani in the presence of foreign troops.
Q: Pakistan has been providing shelter to millions of Afghan refugees for more than three decades. Despite this great sacrifice the relations between the two countries have never been tension-free except during the brief period of the Taliban rule. Why is it so? Who doesn't want the bilateral ties to normalise? Why Afghanistan feels closer to India than to Pakistan in spite of all that Islamabad did for Afghanistan?
A: After occupation, the US handed over power to those who have links to the enemies of Pakistan. To justify the occupation, the US shows an invisible enemy as a threat to Afghanistan so the latter takes the US as a well-wisher and considers the presence of foreign troops on its soil necessary. Today the print and electronic media of Afghanistan are projecting Pakistan as the biggest enemy of their country. All these media institutions were either set up or are controlled and funded by the US or they belong to the pro-US elements fiercely opposed to Pakistan. Pakistan is suffering because of its own mistakes. Sibghatullah Mujaddadi, Burhanuddin Rabbani and Hamid Karzai were appointed presidents of Afghanistan either in Pakistan or with its backing, despite the fact that they were friends of the enemies of Pakistan.
Q: What should both the countries do to be good neighbours? Who should take what first step for the purpose?
A: In the presence of the US troops and the incumbent Afghan government neither Islamabad nor Kabul can take any initiative that can improve bilateral ties. Answering a question, the HIA chief said the messages of war were coming from Washington. He made it clear that peace in Afghanistan would not be possible in presence of foreign troops and the incumbent Afghan government. He said the US could not restore peace despite the presence of 150,000 troops and support from 48 countries of the world, including Pakistan and Iran.
"Had Pakistan and Iran not supported, American forces could not occupy Afghanistan so easily and sustain the occupation till today". He claimed the present Afghan govt would not stay for long after the foreign troops left. According to him, US President Obama wanted to pull out his forces from Afghanistan by the end of 2016, but Russia wanted the US troops engaged there for its own interests in Ukraine and Syria. He alleged that Russia had played a role even in the recent conflict in northern Afghanistan. This conflict reinforced the US thinking that it should not pull out its troops from
Afghanistan in haste. Even Berlin and other European countries believed that Moscow's interests would be served if the US and NATO forces made the mistake of taking out troops. Hekmatyar said in categorical terms that his party was neither in contact with the ISIS nor had it issued any statement in its support. He said the HIA believed that the emergence of Al-Qaeda and ISIS was in reaction to the atrocities being perpetrated in Iraq and Palestine. In case the two organisations were eliminated, they would resurface with some new nomenclature.
http://nation.com.pk/national/09-Oct-2015/hekmatyar-proposes-intra-afghan-talks-without-foreign-mediation
-----------
Afghanistan fighting season report due to NATO at the end of this month
Oct 08 2015
The North Atlantic Treaty Organization (NATO) is expecting to receive a report regarding the fighting season in Afghanistan at the end of this month.
The United States Ambassador to NATO, Douglas Lute, told reporters in Brussels that NATO is expecting to take a decision in the coming weeks regarding the alliance's posture in Afghanistan next year.
"NATO itself is on a decision timeline with regard to next year. So NATO's posture in Afghanistan next year. And basically we're awaiting a report that's due to us from John Campbell's headquarters at the end of the fighting season. I think it actually arrives here near the end of October," ambassador Lute said.
He also added "That mission review, as it's called, periodic mission review which is an annual process, will inform NATO decision-making in terms of how we want to posture next year and beyond."
Full Report at:
http://www.khaama.com/afghanistan-fighting-season-report-due-to-nato-at-the-end-of-this-month-1608
-----------
Blogger killings: Bangladesh on CPJ Global Impunity Index
October 09, 2015
The killing of bloggers in Bangladesh propelled the country onto Global Impunity Index of Community to Protect Journalists (CPJ).
"The ambush of a convoy in South Sudan and the hacking deaths of bloggers in Bangladesh this year propelled the two nations onto CPJ's Global Impunity Index, which spotlights countries where journalists are murdered and their killers go unpunished," CPJ said in a report published yesterday.
Colombia exited the index as fatal violence against journalists receded further into that country's past.
For the first time since CPJ began compiling the index in 2008, Iraq did not claim the title of worst offender, as Somalia edged into that spot.
The shift reflects a steady death toll in Somalia, where one or more journalists have been murdered every year over the past decade, and the government has proved unable or unwilling to investigate the attacks.
A wave of violence against bloggers has landed Bangladesh back onto the index for the first time since 2011, the reports said.
Full Report at:
http://www.thedailystar.net/country/blogger-killings-bangladesh-cpj-global-impunity-index-154378
-----------
Arab World
Russian Airstrikes Destroy 40% of ISIL's Infrastructure in Week
Oct 08, 2015
"According to our data, about 40 percent (was destroyed). In addition, a lot of terrorists have been killed. Now, they are retreating toward the Turkish border, as this country has traditionally provided them with protection," Haddad said Wednesday, RIA Novosti reported.
http://english.farsnews.com/newstext.aspx?nn=13940716000288
-----------
Russia Reportedly Uses Infrared-Guided Smart Bombs Against ISIL in Syria
Oct 08, 2015
Russia has recently carried out operations destroying ISIL vehicles, in one case as many as 50, and in another instance 20 tanks. This may be evidence that Russia has been deploying SPBE smart munitions, RIA Novosti reported.
The SPBE is a self-guided bomb that uses infrared guidance and is able to strike tanks and other military equipment with great precision. Unlike its US counterparts, it does so at a relatively low cost. The bomb was developed from the more advanced and expensive KAB-500Kr guided bomb, which is effective for destroying high-value targets such as bridges and command posts, but less effective for multiple targets such as military equipment.
Images of unexploded SPBE bombs dropped in Syria have also appeared in social networks. The submunitions are similar to the US' BLU-108 submunitions, developed at around the same time as the SBPE and used during the 2003 Iraq War.
Full Report at:
http://english.farsnews.com/newstext.aspx?nn=13940716000560
-----------
Syrian Army Kills ISIL Terrorists in Homs
Oct 08, 2015
The army killed ISIL terrorists, and destroyed a vehicle equipped with a machinegun in the military operations in the villages of Be'r Hafar and al-Hadath in the Eastern countryside of Homs.
Full Report at:
http://english.farsnews.com/newstext.aspx?nn=13940716000466
-----------
Syrian General Staff: Syrian Armed Forces Launch Large-Scale Offensive against ISIL
Oct 08, 2015
The offensive was made possible by the effort made by Russia in supporting the Syrian government militarily, Ayyoub said, RT reported.
"The airstrikes of the Russian Air Force have damaged the capabilities of the international terrorist organization Islamic State (of Iraq and the Levant) and other groups," the general said.
Russian warplanes began attacking terrorist targets in Syria last week, hitting over 100 targets throughout the country. According to Syrian Deputy Foreign Minister Faisal Mekdad, Russia "has produced significant results in several days that greatly surpass those achieved by the (US-led anti-ISIL) coalition in over a year".
Full Report at:
http://english.farsnews.com/newstext.aspx?nn=13940716000547
-----------
ISIL Terrorists Hiding from Russian Airstrikes in Syrian Residential Areas
Oct 08, 2015
The ISIL terrorists suffered a significant loss of life and equipment due to the airstrikes conducted by the Russian Air Force; this has forced many of the terrorist group's militants to move their families to safer quarters inside the Iraqi provinces of Anbar and Nineveh in order to evade the swarming fighter jets.
Recently, the terrorist group has taken an old approach to evading the relentless Russian airstrikes – they have chosen to find shelter in residential apartments because the Russian Air Force does not target these buildings.
This information was provided to the Shaytat Tribesmen by the local civilians in Deir Ezzur City; more specifically, the residents of the Al-Husseiniyeh District, who have been harassed by the terrorist group for a number of months now.
Full Report at:
http://english.farsnews.com/newstext.aspx?nn=13940716000453
-----------
Mortar Attacks Kill 27 in Baquba, Iraq
October 09, 2015
BAGHDAD: Twenty seven people were killed in Iraq on Thursday when mortars landed in the provincial capital of Baquba, police and medics said.
It was not clear who fired the mortars at the northern town.
Iraq is facing a multitude of security challenges, including ultra-hardline Sunni Islamic State militants who control a third of the country and have fueled sectarian tensions.
"During the attack on Gweyr and Makhmur, Daesh (IS) launched around 50 mortar rounds," a statement said, referring to two frontline towns southwest of the regional capital of Arbil.
The ministry said 37 of them released white dust and black liquid when they exploded.
Thirty-five Peshmerga fighters were exposed and some taken abroad for treatment.
The Kurdish authorities did not say how seriously the affected peshmerga were wounded in the August 11 attack.
Full Report at:
http://nation.com.pk/international/09-Oct-2015/mortar-attacks-kill-27-in-iraq
-----------
Syria army in 'vast offensive' backed by Russian strikes
October 09, 2015
BEIRUT - Regime forces advanced Thursday in western Syria in a "vast offensive" against armed opposition groups, as NATO voiced alarm at escalating Russian military activity in the war-torn country.
Moscow has dramatically stepped up its nine-day-old air war against foes of President Bashar al-Assad, with heavy bombing by warplanes and cruise missile strikes from the Caspian Sea.
A Syrian military source told AFP on Thursday that the army, backed by Russian raids and allied militia including the powerful Lebanese group Hezbollah, had advanced in a key mountain range.
"They have seized most of the hilly region of Jeb al-Ahmar" which overlooks the strategic Sahl al-Ghab plain to the east and Assad's coastal stronghold of Latakia to the west, the source said.
The plain has been the focus of a months-long offensive by a rebel alliance including Al-Qaeda's Syrian affiliate, Al-Nusra Front. The Syrian Observatory for Human Rights, a British-based monitoring group, confirmed that regime forces had advanced in the area. Moscow says it is striking the Islamic State jihadist organisation and "other terrorists". But Washington has accused Russia of targeting groups other than IS or Al-Nusra in more than 90 percent of its raids. US Defence Secretary Ashton Carter said Thursday Russia would soon begin to suffer casualties.
"This will have consequences for Russia itself which is rightly fearful of attacks ... in coming days, the Russians will begin to suffer from casualties," Carter said at a NATO defence ministers meeting in Brussels. Nato said it was prepared to send troops to Turkey to defend its ally after violations of Turkish airspace by Russian jets bombing Syria and Britain scolded Moscow for escalating a civil war that has already killed 250,000 people.
Officials at the US-led alliance are still smarting from Russia's weekend incursions into Turkey's airspace near northern Syria and Nato defence ministers are meeting in Brussels with the agenda likely to be dominated by the Syria crisis.
"Nato is ready and able to defend all allies, including Turkey against any threats," Nato's Secretary-General Jens Stoltenberg told reporters as he arrived for the meeting.
"Nato has already responded by increasing our capacity, our ability, our preparedness to deploy forces including to the south, including in Turkey," he said, noting that Russia's air and cruise missile strikes were "reasons for concern".
Turkish President Recep Tayyip Erdogan on Thursday warned Russia risked losing a deal to build his country's first nuclear power plant and its status as its main gas supplier, as the diplomatic row intensified.
The Russian air war has provided cover for Assad's ground troops, who have lost swathes of the north, east and south of the country to jihadists and rebel groups since the conflict erupted in 2011.
Full Report at:
http://nation.com.pk/international/09-Oct-2015/syria-army-in-vast-offensive-backed-by-russian-strikes
-----------
More than 70 percent of Russians support Moscow's bombing campaign in Syria
8 October 2015
More than 70 percent of Russians support Moscow's bombing campaign against Islamic State of Iraq and Syria (ISIS) in Syria but the danger of getting sucked into a protracted war is not lost on the public, a new poll showed Thursday.
The study conducted just days after President Vladimir Putin secured permission from parliament to launch air strikes in Syria found that most Russians approve of his latest decision to use force abroad.
The launch of strikes in Syria is Russia's first major military involvement outside former Soviet Union territory since the invasion of Afghanistan in 1979.
Seventy two percent of respondents said they approved of the bombing campaign and 46 percent said they agreed with the decision of the rubber stamp parliament's upper house to allow Putin to use force abroad, said the independent Levada Centre.
But the pollster cautioned that those figures likely reflected public attitude to Moscow's latest salvo of television propaganda more than genuine support for involvement in a protracted conflict.
"Support for actions of the Russian military in Syria is an approval rating of a television programme rather than an indicator of the mobilisation of Russian society," said Levada Centre researcher Denis Volkov.
"Declaring one's readiness for war reflects perceptions about the might of the Russian military machine and the army's symbolic authority rather than one's readiness to take up arms."
Full Report at:
http://english.alarabiya.net/en/News/middle-east/2015/10/08/More-than-70-percent-of-Russians-support-Moscow-s-bombing-campaign-in-Syria.html
-----------
Syrian Army Advances 70km in Hama
Oct 08, 2015
Some 50km deep into the freed areas were under the occupation of Jaish al-Fatah terrorist group which is supported by Saudi Arabia.
The Syrian forces managed to advance in the Northern countryside of Hama with the support of the Russian airstrikes against the terrorists' positions.
They could retake control of Kafr Naboudat town, Markabat, Atshan, and al-Moghayr villages and Sakik, al-Havir, al-Sakhar and Tal Othman hills.
Also, military sources informed on Wednesday that the Syrian Army, with the aerial support of the Russian fighter jets, stormed the militant groups' defense lines in the Northern flank of Hama and retook full control over three key towns.
The sources further added this has been the first major operation in the province since the summer of 2014.
The Syrian army's 87th Brigade announced the recapture of Al-Mughayr, Ahaya, and Markabat towns after fierce clashes with the militant forces earlier this morning.
Following the capture of Al-Mughayr, Ahaya, Markabat, the Syrian Armed Forces stormed the towns of Morek, Qala'at Madayq, Latmeen, Al-Lataminah, Kafr Naboudat, and Kafr Zita, where they are currently engaging the terrorist groups in a series of intense firefights for control.
Full Report at:
http://english.farsnews.com/newstext.aspx?nn=13940716000353
-----------
Military Source Dismisses Reports on Destruction of 20 Syrian Tanks in Hama
Oct 08, 2015
"The media which support the terrorists release such lies to boost the morale of their forces and weaken the morale of the Syrian people and army and they claimed that tens of Syrian forces were killed and 20 tanks were destroyed by the terrorists which are lies," the source told FNA on Thursday.
The source said that during the mop-up operations in the Northern outskirts of Hama only three army tanks were destroyed which is not so much important given the vast area of under operation.
The Syrian army forces, supported by the Russian fighter jets and helicopters, advanced 70km inside the Western province of Hama.
Some 50km deep into the freed areas were under the occupation of Jaish al-Fatah terrorist group which is supported by Saudi Arabia.
The Syrian forces managed to advance in the Northern countryside of Hama with the support of the Russian airstrikes against the terrorists' positions.
They could retake control of Kafr Naboudat town, Markabat, Atshan, and al-Moghayr villages and Sakik, al-Havir, al-Sakhar and Tal Othman hills.
Also, military sources informed on Wednesday that the Syrian Army, with the aerial support of the Russian fighter jets, stormed the militant groups' defense lines in the Northern flank of Hama and retook full control over three key towns.
The sources further added this has been the first major operation in the province since the summer of 2014.
The Syrian army's 87th Brigade announced the recapture of Al-Mughayr, Ahaya, and Markabat towns after fierce clashes with the militant forces earlier this morning.
Following the capture of Al-Mughayr, Ahaya, Markabat, the Syrian Armed Forces stormed the towns of Morek, Qala'at Madayq, Latmeen, Al-Lataminah, Kafr Naboudat, and Kafr Zita, where they are currently engaging the terrorist groups in a series of intense firefights for control.
Full Report at:
http://english.farsnews.com/newstext.aspx?nn=13940716000670
-----------
Russian, Syrian Airstrikes Target ISIL in Aleppo
Oct 08, 2015
A military source said that the airstrikes ISIL positions in Anadan, al-Atareb, Deir Hafer, West of Mansoura and al-Bab city in the countryside of Aleppo, killing hundreds of terrorists.
Dozens of armored vehicles, two Grad rocket launchers and a big ammunition depot were also destroyed in the air raids.
Full Report at:
http://english.farsnews.com/newstext.aspx?nn=13940716000478
-----------
Pakistan
25 Ulema, 10 from the Sunni and 5 from Shia Sect to Be Banned In Muharram
Oct 9, 2015
ISLAMABAD: The Islamabad police have proposed that the entry of 25 ulema into the city in Muharram be banned by the local administration. Seven ulema may also be banned from delivering speeches during the month, sources told Dawn.
They said that out of the 25 Ulema, 10 were from the Sunni sect and five were from Shia sect.
Most come from Punjab and frequently visit the capital during Muharram. Officials said that many are invited by local Ulema from their respective sects.
Many of the Ulema and their hosts were previously warned not to deliver heated sermons, but they did not comply with.
Seven local Ulema members from both sects may also be barred from delivering sermons during Muharram. The ban would also prevent them from speaking publicly about religion or sects.
Full Report at:
http://www.dawn.com/news/1211863/25-ulema-to-be-banned-in-muharram
-----------
Religious groups rap Qadri's death decision
October 09, 2015
LAHORE - Different religious parties have condemned the decision of Supreme Court for upholding the death sentence to the killer of Punjab governor Salman Taseer, saying the verdict clashed with the Islamic laws.
During a meeting held under the aegis of Milli Majlis-e-Shari here on Thursday, they announced a meeting of religious parties belonging to all school of thoughts on the issue. They also warned to launch a countrywide protest movement against the death sentence to Mumtaz Qadri.
Various small parties mainly belong to Brelvi school of thought have chalked a plan to hold protest demonstrations today in different cities including Lahore. However, the main bodies like Jamaat-e-Islami, Jamiat Ulama-e-Islam, Jamiat Ulama-e-Pakistan, Jamiat Ehlehadith and Jamaatud Dawa have not announced to stage demonstrations against the apex court order.
Jamaat-e-Islami spokesperson Ameerul Azeem said his party does not accept the decision of Supreme Court. The religio-political parties must sit together to chalk out protest demonstrations against the death sentence to Mumtaz Qadri, he said.
"We will not accept the Supreme Court order. It is against the Sharia (Islamic laws)," said a statement issued by the Majlis quoting the representatives of almost all known religious parties of the country.
Full Report at:
http://nation.com.pk/lahore/09-Oct-2015/religious-groups-rap-qadri-s-death-decision
-----------
89 Pakistani pilgrims dead, 43 still missing, says minister
Oct 9, 2015
ISLAMABAD: Federal Minister for Religious Affairs and Interfaith Harmony Sardar Mohammad Yousaf said on Thursday that the number of Pakistani pilgrims killed in the Mina stampede had reached 89. He said 43 people were still missing.
Addressing a news conference here after his return from Saudi Arabia, the minister said that of the 89 Pakistanis 48 had been identified by Saudi authorities and 41 by their relatives.
Sardar Yousaf was accompanied by Minister of State for Religious Affairs Pir Aminul Hasnat, Secretary Sohail Amir and MNA Dr Tariq Fazl Chaudhry.
Sardar Yousaf said that carelessness by pilgrims had contributed to delay in the identification of bodies. "Pilgrims are given ribbons and lockets for their identification in case of emergencies, but majority of them do not wear them."
Full Report at:
http://www.dawn.com/news/1211821/89-pakistani-pilgrims-dead-43-still-missing-says-minister
-----------
Siraj wants GST on agriculture inputs withdrawn
Oct 9, 2015
OKARA: Jamaat-i-Islami (JI) Emir Senator Sirajul Haq has called upon the government to withdraw general sales tax on all kinds of agri inputs so that farmers are able to meet expenditures.
He was addressing a public gathering at Deepalpur Chowk here while leading a Kissan Long March from Sahiwal to Islamabad on Thursday.
The march was organised by the Kissan Raj Tehrik (KRT) under the Pakistan Kissan Board (PKB). KRT President Arslan Khan Khakwani and PKB President Sadiq Khan Khakwani were also present.
Sirajul Haq also demanded of the government to provide interest-free loans to farmers and fix flat rates for tubewells.
He urged the government to ensure clearance of dues of framers by sugar mills till Oct 30 as the new crushing season would start from Nov 1.
He asked the government to fix rate of basmati paddy at Rs4,000 per 40kg, sugarcane at Rs250 per 40kg, maize at Rs1,200 per 40kg and potato at Rs1,800 per 40kg.
Later talking to the media persons, Mr Haq said the KP government did not consult with the JI about taking back Aftab Ahmad Sherpao's Qaumi Watan Party in the government.
He said that complaints were being received against the government for interfering in the local body elections in provinces, particularly in Sindh, where the poor candidates were being harassed.
Full Report at:
http://www.dawn.com/news/1211852/siraj-wants-gst-on-agriculture-inputs-withdrawn
-----------
Sharif optimistic about winning US support against India
October 09, 2015
SHAFQAT ALI
ISLAMABAD: Prime Minister Nawaz Sharif is optimistic about winning US support against India when he meets President Barrack Obama on October 22 at the Oval Office. Obama had invited Nawaz for a meeting in August. The invitation came at a meeting between the premier and US National Security Adviser Susan Rice in Islamabad. A US National Security Council statement later said the meeting was intended to "advance our mutual interests and address areas of concern, particularly terrorist and militant attacks emanating from Pakistani soil."
Officials at Pakistan's foreign ministry said the meeting will give Nawaz a chance to rebut India's claims that Islamabad is disturbing regional peace and sponsoring terrorism. Pakistan was also disappointed last month when the US and India agreed to deepen cooperation in fighting terrorism and asked Pakistan to bring to justice the 2008 Mumbai attack perpetrators. The joint statement after India-US Strategic and Commercial Dialogue ahead of the United Nations General Assembly last month prompted Prime Minister Nawaz Sharif to point the finger at India during his UNGA address. Pakistan's envoy to UN Dr Maleeha Lodhi also presented three dossiers accusing India of sponsoring terrorism in Karachi, Balochistan and the tribal areas. The Premier proposed a four-point "new peace initiative" calling for demilitarising Kashmir and Siachen, and formalising the 2003 ceasefire. The formula was rejected by India who insisted Pakistan "must stop supporting terrorism" before talks can be held.
At a meeting here yesterday with Advisor on National Security and Foreign Affairs Sartaj Aziz, Special Assistant to the Prime Minister Tariq Fatemi, Finance Minister Ishaq Dar and Interior Minister Chaudhry Nisar Ali Khan, the prime minister expressed the confidence that his upcoming visit to the US will improve relationship between the two countries. "The prime minister expressed the hope that the visit will also help in providing Pakistan with an opportunity to highlight the matchless sacrifices and huge losses against the war on terror," said an official statement.
Full Report at:
http://nation.com.pk/national/09-Oct-2015/nawaz-upbeat-to-win-over-obama
-----------
The Kasuri effect: India acknowledges secret Kashmir draft, Balochistan link
JAWED NAQVI
Oct 9, 2015
NEW DELHI: The Indian Express reported on Thursday the handing over of a secret draft agreement on Jammu and Kashmir by the outgoing Indian prime minister to the current one in May last year. The Hindu flashed the picture of a man who claims to be the representative in Delhi of the Baloch Liberation Organisation.
Both stories seem spurred by the memoirs of former foreign minister Khurshid Mahmud Kasuri released in New Delhi this week.
Former prime minister Manmohan Singh and Pakistani military ruler General Pervez Musharraf had hammered out the draft framework agreement on Jammu and Kashmir in secret talks, a senior Indian diplomat familiar with the negotiations has told The Indian Express.
Take a look: Kasuri claims India had planned air strikes in Pakistan after Mumbai attacks
The report follows Mr Kasuri's identical claim at his book release function here on Wednesday where Dr Singh was present along with Bharatiya Janata Party stalwarts L.K. Advani and Yashwant Sinha.
Paper says India plans to highlight 'human rights issues in Balochistan' just as it has begun highlighting alleged excesses in Azad Kashmir
The Baloch issue with India has also figured in Mr Kasuri's book, though not quite as dramatically as The Hindu report states.
"I want to say here that Indian and Pakistani intelligence agencies have a full measure of each other's strengths and weaknesses. There's no gainsaying that it is a futile and self-defeating motive to hurt the other side, because both are capable of destabilising each other or wreaking havoc. There is no substitute to good sense and for talks at every possible level," he told this correspondent in a conversation.
Files recording the unsigned documents, exchanged by both sides, were personally handed over to Prime Minister Narendra Modi by his predecessor at a May 27, 2014 meeting, the Indian diplomat told the Express.
The paper confirmed that the Indian official was speaking even as Mr Kasuri was in New Delhi to release the Indian edition of his book, 'Neither a hawk nor a dove'. The Express described the book as the first insider account of India-Pakistan secret diplomacy on Kashmir.
Mr Kasuri's book quotes General Musharraf as stating that the secret Kashmir agreement envisaged joint management of the state by India and Pakistan, as well as demilitarisation of the territory.
Full Report at:
http://www.dawn.com/news/1211813/the-kasuri-effect-india-acknowledges-secret-kashmir-draft-balochistan-link
-----------
COAS, PM Sharif discuss internal security, Pak-Afghan border situation
MATEEN HAIDER
Oct 9, 2015
ISLAMABAD: Chief of Army Staff (COAS) General Raheel Sharif today called on Prime Minister Nawaz Sharif and discussed internal and regional security.
Army chief Raheel Sharif also briefed Premier Nawaz regarding his visit to Germany where he spoke about regional security and Pak-Afghan ties while addressing a conference, and met with security officials.
The meeting with Nawaz comes just a day after the premier decided to take up the matter of Indian ceasefire violations along the Line of Control and working boundary with US leadership during his trip to Washington scheduled for later this month.
Read: Nawaz to take up Indian ceasefire violations issue with US leadership
Last month, during his address to the United Nations General Assembly (UNGA), Nawaz proposed a four-point plan for resolution of the Kashmir issue.
The Foreign Office spokesman Qazi Khalilullah had yesterday said Pakistan is ready for talks with India but its pre-conditions are not acceptable.
Full Report at:
http://www.dawn.com/news/1211943/coas-pm-sharif-discuss-internal-security-pak-afghan-border-situation
-----------
War of words between PML-N, PTI intensifies
Oct 9, 2015
ISLAMABAD: With the ruling PML-N and opposition Pakistan Tehreek-i-Insaf (PTI) set to flex their political muscles in the by-election for NA-122 constituency on Sunday, the war of allegations between them has intensified.
Responding to PTI chief Imran Khan's press conference in Lahore, at which he accused Prime Minister Nawaz Sharif of making money through business deals in India, Information Minister Pervez Rashid alleged that the PTI leadership had received funds from US-based "Jewish and Hindu lobbies for anti-state activities".
According to analysts, the by-election has triggered a harsh blame game because it has turned into a high-stakes battle between the two parties.
Also read: Campaigning for crucial by-elections reaches its peak in Lahore
"Although it is just one constituency, it carries huge symbolic importance for both the sides," said a political commentator. "If the PTI wins the by-poll, Imran Khan will breathe more fire down the neck of Prime Minister Sharif and repeat his allegations about rigging in the 2013 general elections.
PTI accused of obtaining funds from Jewish, Hindu lobbies to topple elected govt; Arif Alvi rejects allegation
"If Ayaz Sadiq emerges victorious, the PML-N will vehemently reiterate that the general elections were held in a free and fair manner."
Talking to reporters at the Press Information Department in Islamabad, Mr Rashid repeatedly referred to a petition filed with the Election Commission of Pakistan (ECP) by Akbar S. Babar, a founding member of the PTI who later developed differences with the party leadership.
Mr Babar has claimed in his petition that the PTI received funds from Jewish and Indian lobbies based in the US.
Making the petition the basis of his arguments, the minister termed the PTI chief an "anti-state actor and a traitor involved in conspiracies with foreign agents to overthrow an elected government and create chaos in the country".
"Had Mr Khan managed to win the general elections and form government with the help of financial assistance from Jews, Hindus and other anti-Pakistan lobbies, what would have happened to the country," he asked.
The minister also criticised the ECP and the media for not taking the former senior member of the PTI seriously. "The ECP takes no time to cancel our Kisaan package, but is sleeping on Mr Babar's petition over the past 13 months. Likewise, the media relishes criticising the government, but does not pay attention to what the founding member of the PTI has been saying about foreign funding of his own party."
Full Report at:
http://www.dawn.com/news/1211838/war-of-words-between-pml-n-pti-intensifies
-----------
Mideast
Yemeni Forces Fire Rockets at Saudi Warship in Bab al-Mandab
Oct 08, 2015
The warship was wrecked off the Southwestern coast of Yemen, in the Bab al-Mandab Strait, which connects the Red Sea to the Gulf of Aden.
Other Saudi battleships fled the area following the attack.
The sunken ship had repeatedly fired rockets on residential areas in Ta'iz province, inflicting casualties and destruction there.
Earlier, the Yemeni forces attacked a Saudi military base in the kingdom's province of Jizan, killing a soldier in retaliation for Riyadh's aggression against their nation. The Saudi Interior Ministry has confirmed the death of the trooper.
Full Report at:
http://english.farsnews.com/newstext.aspx?nn=13940716000270
-----------
No request for NATO forces in Turkey: Ankara
Oct 9, 2015
Ankara says it has not made any request for NATO military forces to be sent to Turkey, as a row with Russia over reported Turkish air space violations by Russian jets seems to cool down.
http://www.presstv.ir/Detail/2015/10/09/432655/Turkey-Russia-NATO-forces-airspace-violations
-----------
Intelligence Minister: Several Suicide Attempts Foiled in Iran
Oct 08, 2015
"The arrogant powers' spy agencies have stated that suicidal moves are run (by them) in 5 regions of the world, one of which was Iran, but this enemy's move proved futile thanks to the efforts of the Iranian security and intelligence forces," Alavi said, addressing a gathering in the Central city of Qom on Thursday.
He also underlined that Iran's intelligence apparatus doesn't have any blind spots and it enjoys superiority over other country's intelligence agencies.
In relevant remarks last month, Alavi announced that the country's security forces had defused many plots hatched by enemies to incite insecurity and chaos across the country.
"Thanks God, the enemies' plots to carry out sabotage acts in the country were foiled with the measures and round-the-clock efforts of the Iranian security forces," Alavi said, addressing the 18th meeting of Iran's Assembly of Experts in Tehran.
He also said that members of several teams which aimed to fulfill sabotage missions in different parts of Iran were identified and arrested or were killed.
Full Report at:
http://english.farsnews.com/newstext.aspx?nn=13940716000451
-----------
Turkey bans TV channels close to Erdogan foe
October 09, 2015
ANKARA : A state prosecutor has banned Turkey's largest pay-TV platform from broadcasting channels close to an arch-enemy of President Tayyip Erdogan, heightening concern about press freedom weeks ahead of an election.
Digiturk is the third platform to ditch channels close to US-based cleric Fethullah Gulen on the orders of the Ankara prosecutor, including news services Bugun TV and S Haber, a children's channel, and four other general interest stations.
Erdogan, who wants the ruling AK Party to win back a majority in a snap Nov.
1 election, accuses Gulen of seeking to overthrow him by means of a "parallel structure" of supporters in the judiciary, police, the media and other institutions.
Gulen has denied such charges and Erdogan's opponents say the moves are an attempt to silence opposition before the polls.
"An official court document regarding crimes against the constitutional order was sent by the Ankara chief prosecutor's office," Digiturk said in a statement on Thursday.
"As the document's content ordered, Kanalturk, Samanyolu TV, Mehtap TV, S Haber, Bugun TV, Yumurcak TV and Irmak TV have been removed from the platform.
"
Asked about media outlets close to Gulen, Erdogan was quoted by the Turkish daily Sabah as telling reporters as he flew to Japan on an official visit that "all necessary steps within the law should be taken in this subject.
Full Report at:
http://nation.com.pk/international/09-Oct-2015/turkey-bans-tv-channels-close-to-erdogan-foe
-----------
Airstrike kills 28 at Yemen wedding
October 09, 2015
SANAA - A suspected Saudi-led air strike killed at least 28 people at a wedding in a rebel-held town in Yemen, witnesses and rebels said Thursday, even as UN peace efforts made headway.
The Saudi-led coalition, under mounting criticism over the civilian death toll of its bombing campaign against Iran-backed rebels, denied any involvement in the latest attack.
It was the second alleged coalition air strike on a Yemeni wedding party in just over a week.
The new raid hit a house where dozens of people were celebrating on Wednesday evening in the town of Sanban in Dhamar province, 100 kilometres (60 miles) south of the capital Sanaa, residents said.
"Coalition warplanes launched the attack. The house was completely destroyed," said resident Taha al-Zuba. "Warplanes were heard in the area ahead of the attack."
The rebels' Almasirah television said on Twitter that the wedding was hit by "aggression warplanes", referring to the coalition. Medical sources said 28 people were killed, raising an earlier toll of 13 dead. Another 10 people were wounded, the sources said.
Coalition spokesman Brigadier General Ahmed al-Assiri said the allies did not launch any air strikes in the vicinity. "We did not conduct any operation in Dhamar... No strikes there, definitely," he told AFP.
A suspected coalition strike killed at least 131 civilians at a wedding last month near the Red Sea city of Mokha, which the UN said may have been the deadliest single attack since March. The coalition denied involvement.
The latest strike came as the United Nations announced that Huthi rebels, who control the capital and much of central and northern Yemen, had accepted a UN Security Council resolution calling for an end to the seven-month conflict.
The Huthis' refusal to agree to abide by Resolution 2216 passed in April — demanding their withdrawal from territory they seized since overrunning the capital in September 2013 — had stymied previous peace efforts.
President Abedrabbo Mansour Hadi, who fled to neighbouring Saudi Arabia in March but whose forces have since recaptured southern provinces with the support of coalition ground troops, had refused to join UN-brokered peace talks until the rebels signed up. But UN spokesman Stephane Dujarric announced late on Wednesday that both the rebels and their allies confirmed they were willing to enter talks based on the UN resolution. "This is an important step," he said. The Huthi rebels, whose heartland is in the mountains of the far north, have been backed by renegade troops still loyal to Hadi's ousted predecessor Ali Abdullah Saleh.
Saleh's political party also announced that it had accepted the UN peace plan following secret talks with UN envoy Ismail Ould Cheikh Ahmed.
But a member of Hadi's delegation, Abdulwahab al-Homayqani, said the rebels "did not announce their commitment to implement UN Resolution 2216" demanding their withdrawal.
Rights groups have repeatedly criticised the coalition's strikes in Yemen, saying they have hit areas that don't contain military targets.
In late August, an air strike hit a bottled water factory in the northern province of Hajja, killing 17 civilians and 14 rebels.
Warplanes in July struck staff residences at a power plant in the Red Sea port of Mokha, killing 65 civilians, while an April raid on a dairy plant in Hodeida further north left 35 civilians dead.
Full Report at:
http://nation.com.pk/international/09-Oct-2015/airstrike-kills-28-at-yemen-wedding
-----------
Israeli forces kill Palestinian in Jerusalem clashes; 3 stabbed
October 09, 2015
JERUSALEM - Israeli security forces shot dead a Palestinian during clashes in east Jerusalem Thursday on their way to the home of a man accused of an earlier stabbing attack, medics said.
The Palestinian was shot in the chest and fatally wounded at the Shuafat refugee camp in annexed east Jerusalem, according to the Red Crescent and hospital sources.
The incident followed days of unrest, including rioting in east Jerusalem and the West Bank as well as a spate of stabbing attacks targeting Israelis.
Four of the Palestinians were killed after they allegedly attacked Israelis.
Three others were killed during clashes with Israeli security forces, including a 13-year-old near Bethlehem.
Meanwhile, an Israeli soldier and three passers-by were stabbed Thursday in Tel Aviv and the attacker was killed, officials said, the latest in a series of assaults spreading fear among Israelis.
The suspect stabbed the four with a screwdriver, and another soldier who was in the area shot him dead, police said.
All of the victims were lightly wounded.
Earlier Thursday, a Palestinian stabbed a 25-year-old Jewish man in Jerusalem, leaving him in serious condition, and the attacker was arrested.
In the meantime, UN High Commissioner for Human Rights Zeid Ra'ad Al Hussein said Thursday he was extremely concerned about increased tensions and violence in Occupied Palestinian Territory, saying the turn for the worse in the situation was the result of prolonged occupation and calm can only be restored on the basis of respect for human rights.
"The security situation has deteriorated dramatically over the past week in the West Bank, including East Jerusalem.
Four Israelis and five Palestinians have already lost their lives, while hundreds of others have been injured.
More bloodshed will only lead to more hatred on both sides, and offer no solution in the long run," Zeid warned.
"The violence is spreading rapidly across the entire West Bank.
In the past week, violent clashes between Palestinians and Israeli security forces have been reported in more than 50 different locations, including in East Jerusalem, Ramallah, Hebron, Bethlehem, Jenin, Tulkarm and Nablus," he said.
On October 1, an Israeli family was reportedly attacked by Palestinians in a drive-by shooting in the northern West Bank, causing the deaths of both parents.
Two days later, a Palestinian youth allegedly attacked an Israeli family in the Old City in East Jerusalem, killing two men and injuring a woman and a toddler, following which he was shot and killed by Israeli security forces.
On October 4 and 5, two Palestinians, including a 13-year-old boy from Aida Refugee camp, were reportedly killed during clashes with Israeli security forces.
On October 4, a young Palestinian was reported killed by Israeli policemen near the Old City, in circumstances that remain unclear.
Yesterday, a Palestinian was reportedly shot by police in Kiryat Gat, in Israel, after attempting an attack.
Full Report at:
http://nation.com.pk/international/09-Oct-2015/israeli-forces-kill-palestinian-in-jerusalem-clashes-3-stabbed
-----------
Jewish suspect stabs four Arabs in southern Israel
9 October 2015
Four Arabs were stabbed in a town in southern Israel on Friday and a Jewish suspect was arrested, police said. The attacks follow a surge in knife violence by Palestinians against Israelis.
The stabbings took place in the town of Dimona and were all were believed to have been carried out by the same suspect, police said.
"As of now there are four stabbings," spokeswoman Luba Samri said, adding that the motive appeared to be "nationalistic."
The first man stabbed was a municipal worker who was moderately wounded by the assailant. Another Arab was stabbed near a school, she said.
Details of the other two stabbings and the condition of the victims were not immediately clear.
The mayor of Dimona, Benny Biton, told Israel Radio the suspect was a resident of the town who was "known to police."
Full Report at:
http://english.alarabiya.net/en/News/middle-east/2015/10/09/Jew-stabs-four-Arabs-stabbed-in-southern-Israel.html
-----------
Russia: missiles hit Syria, did not crash in Iran
8 October 2015
Missiles launched from a Russian ship in the Caspian Sea reached their targets in Syria and did not crash in Iran, Russia's Defence Ministry said on Thursday.
The Defence Ministry's comment came after U.S. officials said four Russian cruise missiles had crashed in Iran. U.S. officials said the missiles had been fired at Syria from a Russian ship in the Caspian Sea on Wednesday.
A U.S. official, who spoke on condition of anonymity, also told AFP that the missiles landed in Iran on Wednesday. The official was confirming a story first reported by CNN.
Moscow launched its bombing campaign in Syria last week, firing missiles from fighter jets and warships in the Caspian Sea, at targets it says belong to ISIS and other "terrorist" groups.
"Any professional knows that during these operations we always fix the target before and after impact. All our cruise missiles hit their target," ministry spokesman General Igor Konashenkov said in a statement.
Full Report at:
http://english.alarabiya.net/en/News/middle-east/2015/10/08/Four-Russian-cruise-missiles-targeting-Syria-crashed-in-Iran-U-S-official.html
-----------
Yemeni Forces Kill 160 Saudi-Led Forces in 2 Days
Oct 08, 2015
A military source said on Thursday that the Yemeni forces have inflicted heavy losses on the Saudi-led military contingent in the Sirwah district in Ma'rib, which lies about 120 kilometers (75 miles) East of the capital, Sana'a.
The source added that the Saudi-led forces were killed when Yemeni army troopers and their allies engaged them near the Kofel military camp.
The source also told Yemen's Saba news agency that Saudi warplanes have conducted a number of sorties over Kofel district, Sirwah market as well as Jebel Hilan, and purportedly dropped a number of phosphorus bombs across Sirwah.
The source said Yemeni army and Popular Committees are making further headway in the fight against the Saudi forces, praising tribesmen from Ma'rib for their support for the Yemeni forces.
Full Report at:
http://english.farsnews.com/newstext.aspx?nn=13940716000637
-----------
India
In Muzaffarnagar, Hindu-Muslim couples are new poll flavour
October 9, 2015
About a dozen couples are flaunting their Hindu-Muslim marriages on election posters pasted across walls in Muzaffarnagar, a bustling city in west UP which in 2013 suffered India's worst riots in a decade.
Muslim men have taken their Hindu Dalit wives out of household chores into local politics after the Uttar Pradesh election commission reserved the post of the Zilla Panchayat chairperson for a Scheduled Caste (SC) woman.
This novel appeal, which inverts the idea of love jihad (fears of Muslim men marrying Hindu women to convert them) goes out to both communities still living in the shadow of riots. This may help heal a few wounds two years after violence ripped through the lanes, markets and fields of Muzaffarnagar, 130 km from Delhi, in which 65 were killed and thousands displaced.
Polling to elect zila panchayat members in Uttar Pradesh are taking place in four phases: October 9, 13, 17 and 29. These members - 43 in case of Muzaffarnagar - will elect one chairperson in each of the 70-odd districts of the state to carry out development works in rural areas.
In the narrow lanes of Purkaji, 25 km from the main city, 40-year-old Chhoti Devi is campaigning in ward No. 2 (reserved for SC women candidates).
While she talks about the poor and the need to build toilets for them, her family seeks vote for her. And so do brick supplier Amir Ali (50), who married her in 1995, and his family members. Her name on campaign posters is 'Chhoti Begum'.
A fragile peace holds sway in the whole of western UP following a spurt in clashes over issues like cow slaughter and religious conversion - linked by some to the installation of a BJP-led government at the Centre. Nasim Ahmed (50) who runs a milk dairy is Ali's childhood friend. He says, "Ours is not a political move. Aman kaayam kare mein ye ek alag nazeer banegi."
And it's not only about the zila panchayat chairperson's seat. Eight of the 43 seats are reserved for SC women, where a Muslim cannot contest. These Hindu Dalit women are those who did not have 'nikaah' but opted for court marriage, and are eligible to contest.
"In some cases, Hindu women who had converted filed nominations. We're rejecting those," said an election officer.
All three key players - ruling Samajwadi Party, BJP and BSP - are taking the these polls seriously, hoping that positive results will enthuse their cadres to go all out for the all-important Assembly elections in 2017.
Back in her home, 'Chhoti Begum', clad in a white Shalwar Kurta, is cooking for her husband. How did they get married? "You don't know your fate. Khuda na jaane kab kis-se mila de," she blushes. Her husband chips in. "She used to work at my jaggery plant. I quite liked her. It wasn't a tough decision," he says.
Supported by Asaduddin Owaisi's party AIMIM, Reena Singh, wife of Md Kaleem, is contesting from ward No. 7. In ward No. 32, SP-supported Anita can be seen campaigning with husband Hasibur Rahman. Most such couples are reluctant to come on record, fearing publicity may lead to rejection of candidature.
Full Report at:
http://indiatoday.intoday.in/story/in-muzaffarnagar-hindu-muslim-couples-are-new-poll-flavour/1/494217.html
-----------
7/11 serial train blasts: 'Being a Muslim does not mean they will speak Urdu'
By Aamir Khan
Mumbai
Oct 9, 2015
"Just being a Muslim does not mean they will speak Urdu," the special court has said in its judgment while discarding one of the arguments put up by the defence that the mother tongue of all the accused in the 7/11 serial blasts was Urdu. The defence argued that use of pure Hindi words in the confessional statements was an indication of a dictation or drafting by a person well acquainted with Hindi, stressing that the language used in the statements was not of any of the accused. Additionally, the defence argued, the confessions were not only extracted under duress but also fabricated. The court upheld the authenticity of the confessions while discarding factors such as torture, recording of statement before police officer instead of the magistrate and common oddities in the confessional statements, as pointed out by the defense.
"To my mind, what the learned advocate is saying is impossible in Mumbai. There is no evidence by the accused except their words that their mother tongue is Urdu. Except the A1 (Kamal Ansari), A5 (Majid Mohammed Shafi) , A10 (Suhail Shaikh) and A13 (Asif Khan), remaining accused are Mumbaikars. Just being a Muslim, does not mean that they will speak pure Urdu," observed special judge Y D Shinde. Further, it observed, "One does not talk as per perfect dictionary Urdu words."On the point of custodial torture being meted out to the accused, it was argued that all accused made complaints of third degree torture, threat and forced signatures at the hands of the DCPs and ATS officers on November 9, 2006. It was argued by the defence, said the court, that the record of the magistrate court or the special court did not show that they had asked the accused about their complaints against the police, though at some places it was written that there was no complaint against the police. "This is nothing but casting aspersions on the magistrates or the special judge," said the court. Shinde added that invariably every accused was asked by all the judicial officers about ill-treatment, if any, in police custody when produced in court. Such type of allegations, he said, were baseless and just made for the "sake of making it". Considering the extent and nature of the alleged torture that led to signing of confessional statements on blank papers, the court observed that it was not probable that the accused would have remained quiet till they submitted their retraction applications after over two months. On the argument of common mistakes in the confessional statements, the court observed, "That merely on the basis of such commonality, it would be preposterous to draw the conclusion that the confessional statements themselves are fabricated and were dictated or prepared by a single authority.""Positive statements," said the court, emerged from the examination of a senior police officer, who was briefed by officers who were handling the interrogation of the accused. The court accepted the statement of this officer, who said all accused confessed as the "entire story" behind the conspiracy had been revealed to the police. The judge said the officer said it voluntarily when probed about it during cross examination. Therefore, he said, the statement "closes the issue" of the reason why the accused expressed willingness to give their confessional statements."Though, he (officer) admitted that he did not record statements of those officers and there is no evidence before the court about the accused having expressed their desire before the said officers, he emphatically denied the suggestion that he is unable to tell what type of interrogation the officers carried on," the court added. It was argued that the accused were not produced before the magistrate, which was close to the Bhoiwada lock-up where they were lodged, but were taken to the DCPs who were located at greater distances. "I am afraid, but the submissions are totally unacceptable and no such inference as submitted can be drawn only because the confessional statements have been recorded under Section 18 of the MCOC Act," reasoned Shinde. The provision allows for certain confessions made to the police officer taken into consideration. aamir.khan@expressindia.com
http://indianexpress.com/article/cities/mumbai/711-serial-train-blasts-being-a-muslim-does-not-mean-they-will-speak-urdu/
-----------
'Muslims, please leave my rally, we don't want your votes': Meet this challenger to the BJP
By Muzamil Jaleel
Oct 9, 2015
When Narendra Modi touches down at the Suara airstrip in Rohtas Friday, Pradeep Joshi will be listening carefully. "It's good that Modiji has come to this battlefield. The ground for this Mahabharata is ready. People will tell him about me," he said. Joshi is not a BJP leader or from the grand alliance or even an NDA rebel. In Dehri, Joshi presents a unique political challenge. An independent candidate, he is more saffron than anybody around — even local BJP leaders accuse him of communal politics. A cloth merchant, Joshi burst into the scene in October 2005 by stunning former RJD minister Iliyas Hussain by 43,000 votes. In 2010, after he was convicted in a case, he propped his wife Jyoti Rashmi, who won. "In the last 10 years, there hasn't been a contest here. We will win again," said Joshi. At each campaign, Joshi and his wife, who is contesting from Sasaram, begin by asking whether there are any Muslims in the audience. "If so, please leave because we don't want Muslim votes,'' they say. Joshi has his own political outfit, which was initially named Hindu Seva Dal and is now called Rashtriya Seva Dal. The local BJP finds his politics "too extreme". "He got votes only because he would emotionally blackmail people. Such slogans won't work now,'' said BJP district general secretary Ajay Kumar Singh. "It is the misfortune of this constituency that Joshi gets votes because he talks communal. He took advantage of a communal incident here in 2005 and won… We are seeking votes for vikas." It's a triangular contest in Dehri. The NDA had allotted the seat to the RLSP, whose chief Upendra Kushwaha was elected to the Lok Sabha from here. The RSLP, in turn, has given the ticket to a young BJP worker and ward counsellor Jatendra Kumar, a.k.a. Rinku Soni, after he switched to Kushwaha's party. The grand alliance has again fielded the RJD's Hussain, a five-time MLA from here. Soni, a 31-year-old gold trader, says he is working "above the Hindu-Muslim divide". "People no longer like Joshi's communal talk. This constituency has a large Kushwaha population who will vote for me, apart from BJP voters. I have been elected president of the Dehri Chamber of Commerce and won two ward polls. The fight is NDA versus grand alliance. Joshi isn't in the race," said Soni. However, in a recorded speech blared from a loudspeaker fitted on a jeep, Soni's focus is on Joshi. Soni calls Joshi "Natwar Lal". "The wife is the legislator and the husband a contractor,'' Soni says in the speech. Soni can't bank on the Kushwaha vote either. "He is a sonar (goldsmith) and the Kushwaha community wanted one among them to get a ticket. They aren't very happy,'' said Ganesh Singh, an RLSP supporter. In fact, the business community here — traditionally BJP supporters — has called a meeting Friday to decide whom to vote for. "This time we think Hussain should win so that the focus returns to development," said Mukesh Gupta, a shopkeeper. If the NDA vote is divided between Joshi and Soni, Hussain will have a good chance, said Gupta. "It seems like 1990 again. For the first time after years, the backward castes are rallying behind the grand alliance,'' he said. "In 2005, during a communal situation, a large section of people, including Yadavs, didn't vote for the RJD's Muslim candidate. Joshi took advantage of this and won. He kept on pushing his communal card." Full Report at:
http://indianexpress.com/article/india/india-news-india/muslims-please-leave-my-rally-for-we-dont-want-your-votes-meet-this-challenger-to-bjp/
-----------
Pakistan likely to present detailed document on ties with India to Obama
October 9, 2015
Karachi: The Pakistan Government is reportedly preparing a comprehensive and detailed document on its relations with India, and the issues bedeviling the relationship, which it is likely to present to President Barack Obama.
The document is in addition to the three-volume dossier presented last week to UN Secretary General Ban Ki-moon by Pakistan's ambassador to the UN, Maleeha Lodhi, reports The Nation.
Pakistan Prime Minister Nawaz Sharif will present this document along with dossiers to US President Barrack Obama at the White House on 23rd October during his visit to Washington.
According to informed sources, the meeting would be highly crucial as other issues and challenges being faced by Pakistan would be discussed as well. The other main issues are stated to be taken into stock are Pakistan's nuclear programme and volatile situation at Pak-Afghan border and trust-deficit ties between the two countries.
Sharif has expressed confidence that his upcoming visit to the US would help further promote the bilateral relationship between the two countries.
He was chairing a meeting in Islamabad on Thursday to discuss his visit to the US.
It was attended by Finance Minister Ishaq Dar, Interior Minister Chaudhry Nisar Ali Khan, Advisor on National Security and Foreign Affairs Sartaj Aziz and Special Assistant to the Prime Minister Tariq Fatemi, along with others.
Full Report at:
http://www.siasat.com/news/pakistan-likely-present-detailed-document-ties-india-obama-849392/
-----------
Ghulam Ali a 'dengue artist' from 'terrorist country': Singer Abhijeet Bhattacharya
October 9, 2015
Singer Abhijeet Bhattacharya on Friday tweeted supporting the ban of Pakistani Ghazal Singer, Ghulam Ali from performing in Mumbai. He said that nation and patriotism are priority over music and branded.
"These shameless people have no self respect, no work except terrorism. So called Hindu political parties jst shout 4 mileage bt never tk action agnst these Dengu Artists from terrorist country.These qawwals don't come here on their merit but due to paki Dalals #prestitute and @MaheshNBhatt," Abhijeet tweeted.
Full Report at:
http://www.siasat.com/news/ghulam-ali-dengue-artist-terrorist-country-singer-abhijeet-bhattacharya-849364/
-----------
Mosque was attacked in Gujarat, uneasy calm
October 9, 2015
By Abdul Hafiz Lakhani, MM News,
Ahmedabad: Close on the heels of a "diktat" issued by Hindu outfit barring entry of Muslims at Garba events during the upcoming Navratri festival in Gujarat' to prevent "love jihad" incidents, tension was seen in Navsari District as a Masjid was attacked by some unidentified persons last night.
Security has been tightened at Surkhai, a remote village in Navsari's Chikhli taluka, after unidentified persons tried to set a mosque afire, police said Wednesday. According to a complaint filed by Surkhai resident Ilyas Shaikh, unidentified persons tried to set the mosque ablaze from outside on Wednesday night, but the fire was immediately doused by villagers after a cleric raised alarm.
Three parts of the mosque, including the outer wall, were set ablaze, stated the complaint registered with Rankuva police outpost. Chikhli police inspector D K Patel, who reached the spot with additional police force, found empty water bottles, probably used to carry petrol to the spot. Police also held a meeting with both Hindu and Muslim communities at the village, and requested people to maintain peace and communal harmony
Patel said: "After talking to the Hindus and the Muslims, we have found that there is communal harmony in the village. No clash took place after the incident, but still we have deployed policemen in the village. We have also asked for CCTV recordings from the nearest petrol pump. We have recovered empty water bottles in which the accused may have brought petrol. According to the mosque cleric, he saw three youths fleeing on a bike late in the night after the incident."
Full Report at:
http://www.siasat.com/news/mosque-was-attacked-gujarat-uneasy-calm-849183/
-----------
Hajj stampede: Death toll of Indians crosses 100, 32 still missing
October 9, 2015
The death toll of Indians in the Hajjj stampede has risen to 101 even as 32 nationals still remain missing after the last month's tragedy.
"Saudi authorities have identified more pilgrims who died in Hajj stampede. The toll of Indian pilgrims is now 101. We have 32 missing," External Affairs Minister Sushma Swaraj said on twitter on Friday.
Minister of State for External Affairs VK Singh was in Saudi Arabia for the identification process of the missing Indians by the Saudi authorities, MEA Spokesperson Vikas Swarup had said on Thursday.
Full Report at:
http://www.siasat.com/news/hajj-stampede-death-toll-indians-crosses-100-32-still-missing-849341/
-----------
Australia
Australian mosque leader tells violent Muslims to leave country
October 9, 2015
SYDNEY: The leader of the Sydney mosque attended by a 15-year-old who killed a police worker has called for an end to violent extremism, saying Friday that Muslims who reject Australian values should leave the country.
Radicalised Farhad Jabar, who shot dead the 58-year-old last week while reportedly shouting religious slogans before dying in a gunbattle with police, was a regular at the mosque in the western multi-cultural Parramatta district.
Mosque chairman Neil El-Kadomi explained to reporters what he had told the faithful at morning prayers and ahead of a planned evening protest by right-wingers to close the building down.
"I said you waited long time to come to this country. You should not abuse the privilege you are Australian, which is very important.
"Get out. We do not need scumbags in the community.
"We reject terrorism."
Kadomi said Muslim youth needed education, adding that Jabar was too young "to know what he was doing".
CCTV footage from Parramatta mosque reportedly shows Jabar meeting several men there on the day of the killing, although police have not confirmed this.
Prime Minister Malcolm Turnbull also advised people to leave if Australian values were "unpalatable".
"It is not compulsory to live in Australia," he told a press conference urging Australians not to go down the path of violent extremism.
"If you find Australian values, you know, unpalatable, then there's a big wide world out there and people have got freedom of movement."
Turnbull, who met earlier in the day with figures from the Muslim community, asked his countrymen to "call out hatred" saying "violent extremism is a challenge to the most fundamental Australian values".
"The success of our society is founded on mutual respect and we have to recognise that people who preach hatred, preach extremism, are undermining the success of this extraordinary country," he said.
Friday also saw the Grand Mufti of Australia, Ibrahim Abu Mohamed, and other community and religious leaders address the media amid rising community tensions.
Mohamed said violent religious extremism was a rare but serious issue threatening the whole community.
Full Report at:
http://www.freemalaysiatoday.com/category/world/2015/10/09/australian-mosque-leader-tells-violent-muslims-to-leave-country/
-----------
Malcolm Turnbull Defends Multicultural Australia As Anti-Islam Protests Gear Up
By Alex McKinnon
9/10/2015
Australia's experiment in multiculturalism has had a rough week. In the aftermath of the Parramatta Police Station shooting last Friday, elements looking to capitalise on people's fear and distrust have grown bolder, more vocal and more virulent in their actions.
Far-right group the Party For Freedom is planning a rally outside Parramatta Mosque this afternoon, demanding the mosque refudiate terrorism and extremism (conveniently ignoring that the Grand Mufti of Australia, Dr Ibrahim Abu Mohamed, and Parramatta Mosque chairman Neil El-Kadomi, did exactly that this morning). Meanwhile, prominent NSW Muslims like state upper house MP Mehreen Faruqi have been receiving disturbing messages like these:
It's not just in NSW where tensions are high. In Bendigo, where a proposed mosque has been the focal point of domestic and international anti-Islam groups for several years now, far-right groups and counter-protesters intent on opposing them are set to rally on the weekend.
Smelling opportunity, perennial fringe candidate Pauline Hanson has resurfaced on morning TV and online, calling for mosques to be shut down and halal food to be outlawed. Last night on Channel Nine's new talk show The Verdict, former Labor leader Mark Latham claimed western Sydney has "a Muslim problem".
But there is hope for cautious optimism in a growing boldness on the part of our political leadership to challenge and refute these ways of thinking. In an address this afternoon, Prime Minister Malcolm Turnbull had harsh words for extremists of all kinds, giving a forceful defence of Australian multiculturalism and questioning the kind of narrow-mindedness that blames all Muslims over the actions of a few.
"Australia is the most successful and most harmonious multicultural society in the world. These is no comparable country with its citizens and residents born from outside its shores with such a diverse cultural mix of peoples," Turnbull said.
"None of us, no one of us, can look in the mirror and say: 'All Australians look like me'. Australians look like every race, like every culture, like every ethnic group in the world.
"How have we been able to be so successful? It is because of a fundamental Australian value, and that is mutual respect. I want to say to you that mutual respect is the glue that binds this very diverse country together. It is what enables us to be so successful. Mutual respect is fundamental to our harmony as a multicultural society, and it is fundamental to our success. It is fundamental to our future prosperity, it's fundamental to our national security.
"Now, the key to that mutual respect is that it is a two-way street. Every religion, every faith, every moral doctrine, understands the Golden Rule: Do unto others as you would have them do unto you. So if we want to be respected, if we want our faith, our cultural background to be respected, we have to respect others. That is a fundamental part of the Australian project.
Full Report at:
http://junkee.com/malcolm-turnbull-defends-multicultural-australia-as-anti-islam-protests-gear-up-2/66961
-----------
Europe
Muslim Winner of Baking Contest Defies Prejudice in Britain
By DAN BILEFSKY
OCT. 8, 2015
LONDON — Prime Minister David Cameron praised her coolness under pressure. Bookmakers monitored her performance as they do election candidates. Television watchers admired her raspberry mille-feuille and soda-flavored cheesecakes — along with her blue chocolate peacock, and a mountain of éclairs in the form of a nun.
The victory of Nadiya Jamir Hussain, a petite 30-year-old, head-scarf-wearing mother of three from northern England, in a wildly popular reality show called "The Great British Bake Off" on Wednesday has been greeted by many in Britain as a symbol of immigration success, at a moment when the country's leaders, Mr. Cameron included, have expressed concerns that it has too many newcomers.
Ms. Hussain's popularity, bolstered by her self-deprecating humor and telling facial expressions, helped the final episodes of the baking program, in which contestants vie with one another to make a variety of desserts, attracting well over 10 million viewers per show, according to news reports. She has also become a darling of social media, with more than 63,000 followers on Twitter as of Thursday afternoon.
In a country where baking stodgy desserts has a history dating back centuries and where the preparation of sweet treats is considered a quintessential part of homespun culture, the success of Ms. Hussain, an observant Muslim, spurred debate about national identity.
The popular embrace of Ms. Hussain, the daughter of Bangladeshi immigrants, seemed like an immediate and conspicuous counterpoint to a widely noted speech on Tuesday in which the home secretary, Theresa May, told a conference of Conservative Party members: "When immigration is too high, when the pace of change is too fast, it's impossible to build a cohesive society."
News media across the ideological spectrum greeted Ms. Hussain's win as a seminal cultural moment. "Never before has a Muslim woman wearing a hijab been so clutched to the nation's bosom," wrote The Telegraph, a conservative daily newspaper.
Ms. Hussain's newfound status as a national role model was also seen by many as a powerful riposte to some of the anti-Muslim sentiment fueled by lurid reports of dozens of young Muslim Britons, including young women, who have gone to Syria to fight for the Islamic State.
Even Ms. Hussain's triumphant final dessert, a "big fat British wedding cake," offered a multicultural message of sorts by fusing her Bangladeshi and British identities. The lemon drizzle cake was decorated with jewels from her own wedding day in Bangladesh and was perched on a stand covered with material from a sari in red, blue and white, the colors of the Union Jack.
Shelina Janmohamed, a cultural commentator and author of "Love in a Headscarf," a memoir about growing up as a British Muslim woman, noted that Ms. Hussain had managed to defy prejudice through her honesty, her cheeky sense of humor — and her baking prowess. In one particularly stressful episode, Ms. Hussain said she would rather brave childbirth again than try to bake another chocolate soufflé.
"I love Nadiya," Ms. Janmohamed wrote in The Telegraph. "Millions of people up and down the country love Nadiya. She doesn't even need a surname anymore."
She added: "She's the face of today's Britain: authentic, honest, creative, emotional, heartfelt and honest. Oh. And she's Muslim. And she just happens to wear a head scarf."
"But this newly discovered baking genius," Ms. Janmohamed said, "despite being Muslim, isn't cooking up any kind of Shariah-flavored sponge or jihadi cupcakes."
Others celebrated her as an example of female empowerment. Her husband, Abdul, a technical manager at a computer company, had encouraged her to apply to the show and to pursue her passion. Her dessert recipes, which include cardamom and cumin, beat her rivals, including one who baked a bread that depicted Cecil, the black-maned lion killed by an American big-game hunter in Zimbabwe.
Full Report at:
http://www.nytimes.com/2015/10/09/world/europe/muslim-winner-of-baking-contest-defies-prejudice-in-britain.html?_r=0
-----------
France's Muslim men suffer CV discrimination
Published: 09 Oct 2015
A practising Muslim man is four times less likely to get a job interview in France than a Catholic counterpart, according to a study published on Thursday.
The research was carried out by the Montaigne Institute think tank which sent out thousands of responses to job adverts using fictional characters.
The study found that men who identified as practising Muslims had a 4.7 percent chance of being asked for a job interview, compared to 17.9 percent of practising Catholics.
The overall figure for men and women showed Catholics were twice as likely as Muslims to get a callback for a job interview.
The job application discrimination against Jews was apparent but not as pronounced, with a 15.8-percent chance of landing an interview.
The study was carried out by Marie-Anne Valfort, a senior lecturer at Sorbonne University in Paris, who sent 6,231 responses to job adverts between 2013 and 2014.
All of her "candidates" were Lebanese, born in Beirut in 1988 with the last name Haddad.
But they had different first names depending on the religion they represented: Dov and Esther for Jews, Michel and Nathalie for Catholics, and Mohammed and Samira for Muslims.
They were also listed as having attended faith schools and scout groups linked to their religion.
The results were overwhelming: "the results reveal a strong discrimination against Muslims and Jews in France", the study concluded.
In the case of Muslims, it is even worse than the discrimination faced by African-Americans compared with whites in the United States.
Valfort said the study only caught a small portion of the discrimination faced by job applicants since it did not continue to the interview stage.
"It probably under-estimates the level of discrimination: all studies show that discrimination is present at each step of recruitment," she said.
'Risk of insubordination'
Islam's image has been badly damaged in France, Valfort told AFP.
"Studies show that the French automatically associate Islam with religious extremism and oppression of women," she said.
"These two stereotypes feed a very strong discrimination, particularly regarding male Muslims. The recruiter perceives an increased risk of transgressive religious practice in the workplace and associates it with a risk of insubordination," she added.
Valfort also created a "non-religious" set of candidates to see how that affected the results.
When "Mohammed" said he belonged to a secular association, he almost doubled his chances of getting a job interview compared with the "Mohammed"
who identified as a practising Muslim.
In a twist, the Catholic candidates almost halved their chances if they identified as secular instead of religious.
Full Report at:
http://www.thelocal.fr/20151009/muslim-men-in-france-see-cv-discrimination-study
-----------
Don't look happy to meet Hamas, Tory tells Muslim UK charity bosses in Gaza
8 October 2015
British Muslim aid workers in Gaza should make sure they "look miserable" if they are asked to pose for photographs with Hamas or risk accusations of being extremists, the head of the Conservatives' Muslim outreach organisation has warned.
Mohammed Amin, the chair of the Tories' Muslim Forum, said that Islamic charities raising money in Britain to provide aid overseas needed to be smarter and anticipate being attacked by their critics.
He was speaking at a fringe event that had to be re-arranged after the Conservatives banned it from taking place at their conference because two of the agreed speakers were alleged to have links with the Palestinian party, the armed wing of which is designated a terrorist group by the UK.
Mr Amin said he understood that it was impossible to deliver aid in Gaza without co-operating with Hamas but he added that charity leaders did not have to look like they enjoyed such interactions.
"I know that Hamas normally want to take a picture of you when you give aid to Gaza and you don't have a choice but to do this, but you should make sure you look miserable in the photos – not as if they are your best buddies," he said.
He also advised Muslim charities operating in such areas to work with other faith groups to avoid criticism. He said: "If you can say you were there alongside the Roman Catholic Church, it helps."
Mr Amin was speaking at an event organised by the Association of Chief Executives of Voluntary Organisations (Acevo), alongside the Muslim Charities Forum and Human Appeal International.
The event, called "Friend or Foe? Faith and British Values: the Muslim Charities Question", was due to be held inside the conference venue but was cancelled by the party without an explanation.
Full Report at:
http://www.independent.co.uk/news/uk/home-news/don-t-look-happy-to-meet-hamas-tory-tells-muslim-uk-charity-bosses-in-gaza-a6686896.html
-----------
How Islamic State's Black Flag Became the Symbol of Modern Jihad
October 09, 2015
PARIS: Whether fluttering over the ruins of a captured city in Iraq or Syria, or in the background of gruesome execution videos, the black flag used by the Islamic State group has become an instantly recognisable symbol of modern global jihad.
Along with its slick Hollywood-style propaganda videos, experts say IS has harnessed bygone apocalyptic prophecies and Islamic symbols to carve out a brand even more potent than Al-Qaeda at the height of its notoriety.
The black standard has become so recognisable that "in the public's mind, any Muslim militant who waves a 'black flag' is ISIS," said William McCants, author of "The ISIS Apocalypse", which uses an alternative name for the group.
"Like other jihadist groups, ISIS designed its flag based on written reports about the Prophet Muhammad's flag. But its interpretation of those reports is unique," he told AFP.
Unlike other Islamic banners that militant groups have used throughout the years, the flag has also become popular with jihadists in different parts of the world such as Libya, Somalia and Yemen.
The flag first appeared online in January 2007, used by IS's predecessor in Iraq when it was allied to Al-Qaeda to "gather believers under one banner to unite them".
McCants said the group, which announced the formation of a "caliphate" in 2014 after seizing large parts of Syria and Iraq, "wants to present itself as a state, and states have flags."
'Kidnapping a symbol'
The white text on a black background at the top of the flag is the beginning of the shahada -- the Muslim profession of faith -- "there is no god but God".
In the centre of the flag is the prophet's seal in white containing three words in black: "Allah, Rasul (prophet), Mohammed", which is meant to be read from the bottom up as the last part of the shahada: Mohammed is the messenger of God.
Some claim Mohammed used the seal on centuries-old letters urging the kings of Ethiopia, Persia, Byzantium, Bahrein and Egypt to embrace Islam, though their authenticity is disputed.
"The Islamic State has succeeded in kidnapping, appropriating a symbol that belongs to all of Islam," said Asiem El Difraoui, author of the book "The Jihad of Images".
"They created a logo with an insanely powerful force, and completely trivialised it," he said.
The shahada figures on several national flags -- such as that of Saudi Arabia -- but never on a black background and always in elaborate calligraphy.
Several experts say the deliberately basic scrawl on the IS standard is an effort to make the writing look old, instead of designed on a computer.
Full Report at:
http://www.ndtv.com/world-news/how-islamic-states-black-flag-became-the-symbol-of-modern-jihad-1230093
-----------
Europe's test of tolerance over Muslim influx
OCTOBER 8, 2015
Europe, which has long had a Muslim minority, was not prepared for this summer's wave of asylum seekers, mainly from Syria. Now with Russian military strikes escalating the war in Syria, Europe anticipates millions more fleeing toward its borders. Finding them shelter and a job is only one concern. European leaders also debate if the Continent will be challenged by a rise of religious intolerance, either by Muslims or against them.
Germany, which is accepting nearly a million new entrants, is facing a test more severe than its post-cold-war reunification 25 years ago, says President Joachim Gauck. He says Germans must better unite with the Muslims in their society.
Viktor Orbán, the Hungarian conservative leader, questions the open-arms strategy of Germany and other nations, claiming that taking in more Muslims will alter Europe's Christian culture. Other critics say radical Muslims will not accept Europe's pluralistic society based on democratic citizenship and insist on Islamic law.
One example of this debate was a political dust-up this week after comments by British Prime Minister David Cameron. He asked that children taught in Muslim schools, or madrasas, not have "their heads filled with poison and their hearts filled with hate." An estimated 200,000 Muslim children attend such schools in Britain. The Muslim Council of Britain responded by saying it is not Islamic to be isolationist or to teach hatred of other faiths.
PHOTOS OF THE DAY Photos of the day 10/08
German Chancellor Angela Merkel was also adamant that Europe not be afraid of welcoming more Muslims.
"When someone says: 'This is not my Europe, I won't accept Muslims....' Then I have to say, this is not negotiable," Politico quoted her as saying.
"Who are we to defend Christians around the world if we say we won't accept a Muslim or a mosque in our country? That won't do."
Full Report at:
http://www.csmonitor.com/Commentary/the-monitors-view/2015/1008/Europe-s-test-of-tolerance-over-Muslim-influx
-----------
Southeast Asia
Malaysian Muslims Pray For Forest Fires To End In Southeast Asia
By Julia Glum
October 08 2015
As a thick haze continued to blanket Southeast Asia this week, religious leaders were asking their followers to pray for relief, even scheduling dedicated worship sessions in hopes of attracting divine intervention. Muslims in Malaysia were encouraged to pray for the haze, which has canceled school and presented health concerns for residents, to stop soon, Agence France-Presse reported Thursday.
"Our country is facing a continuing haze phenomenon. It has created fear and concern among the people due to its health impact," Dato 'Hj Othman Bin Mustapha, the director of the country's department of Islamic development, reportedly wrote on Facebook. "The aim is to pray that the haze we are facing will end quickly."
The haze began threatening countries like Malaysia and Singapore last month after Indonesia began burning forests as part of its slash-and-burn agriculture system, which involves clearing large swaths of land for palm oil and rubber plantations. Thousands of firefighters have been called in to help battle the flames, but the smoke persisted. Scientists estimated the hazy conditions would extend into November, according to previous International Business Times reporting.
Full Report at:
http://www.ibtimes.com/indonesia-haze-update-malaysian-muslims-pray-forest-fires-end-southeast-asia-2132736
-----------
Malaysia court upholds ban on cross dressing by transgender Muslims
KUALA LUMPUR
Oct 8, 2015
Malaysia's highest court on Thursday dismissed a challenge to a ban on cross-dressing, dealing a major setback to the battle for the rights of the country's transgender community, as Islamic conservatism grows in the Southeast Asian country.
Muslim-majority Malaysia's image as a promoter of moderate Islam has eroded in recent years as authorities and political figures push for stricter measures, with cases challenging religious law in civil courts being quashed.
"After today, we are concerned over the safety and security of the transgender community," said Thilaga Sulathireh, an activist representing the transgender appellants.
"Of course we are disappointed," she added. "We sort of expected this, so we were quite prepared for this decision."
Thursday's verdict reversed a lower court's decision that gave transgender Muslims the right to cross-dress, which is prohibited by state Islamic law.
The Federal Court said it was rejecting the case on the basis of "procedural non-compliance", as proper channels had not been followed in filing it.
"The issue here is not whether the appellants were in any way prejudiced," said Judge Raus Sharif, referring to the arrests of three men for cross dressing.
"It is about the jurisdiction of the courts," Raus said, adding that other courts had no right to hear the case as it involved a state's right to enact a law.
Two years ago the country's highest court barred a Christian publication from using the word 'Allah' for Malay-speaking congregants, effectively denying use of the word to non-Muslims.
In another high-profile illustration of harsher actions, opposition leader Anwar Ibrahim is serving a five-year prison term for sodomy, which is illegal in Malaysia, in a case he has called politically motivated.
Full Report at:
http://www.reuters.com/article/2015/10/08/us-malaysia-verdict-crossdressing-idUSKCN0S21CE20151008
-----------
Waytha: Sack college head for insulting non-Muslims
Lin KayKay
October 9, 2015
SEREMBAN: Hindraf Makkal Sakthi has demanded that the Education Minister immediately suspend the Head of Raja Melewar Teachers Training College in Seremban pending investigations, if not sack him summarily, on apparent attempts to convert non-Muslim students who were forced to attend a religious talk. "Legal action must be taken against those responsible for arranging the talk."
"We abhor any attempt to disparage any religion and portray the supremacy of any particular religion."
Briefly, said Hindraf Chairman P. Waythamoorthy, the NGO received complaints that non-Muslim students at the Raja Melewar Teachers Training College were compelled to attend a "multi faith" talk dubbed "Dialog Harmoni" with the theme, "keterbukaan minda siswa pendidik" (open-mindedness of under graduate trainee teachers) at the college on September 30.
"During the talk, the Hindu and Buddhist religions were ridiculed and portrayed as inferior religions as compared to Islam," added Waytha. "The Hindu and Buddhist speakers selected to speak and explain their respective religions were actually Hindu and Buddhist converts to Islam."
"The Buddhist religion was represented by Ng Kah Hin and the Hindu religion by Anani Nala, both Muslim converts."
Waytha warned that this attempt to get converts to teach and explain their former religion was a clear attempt to insult and degrade the teachings of their previous faiths. "The undergraduates complained to the Hindraf hotline about the distorted picture of the teachings of Hinduism and Buddhism."
"At the same time, the speakers portrayed the so-called supremacy and greatness of Islam."
Speakers from the Islamic faith were invited and pamphlets explaining Islam prepared by PERKIM (Muslim Welfare Association of Malaysia) were distributed, noted Hindraf. "However no literature from the Hindu or the Buddhist faith was given out to participants."
The attempt by the college was done mala fide and clearly intended and planned to demean and create a feeling of being inferior humans in the Hindu and Buddhist undergraduates and downgrade the greatness of the ancient Hindu teachings and Buddhism, lamented the Hindraf Chief.
Full Report at:
http://www.freemalaysiatoday.com/category/nation/2015/10/09/waytha-sack-college-head-for-insulting-non-muslims/
-----------
Federal Court sets aside ruling on Syariah law
Ho Kit Yen
October 8, 2015
PUTRAJAYA: The Federal Court has set aside, on a technicality, a declaration by the Court of Appeal that Section 66 of the Negeri Sembilan Syariah Offences Enactment was unconstitutional.
The Court ruled that the application by three transgenders against the law should not have been by way of Judicial Review but by referral to the High Court and taken up directly at the Federal Court.
Court of Appeal President Justice Raus Sharif, chairing the five-member panel of judges comprising Justices Hasan Lah, Ahmad Maarop, Zaharah Ibrahim, and Azahar Mohamed, unanimously ruled that the initial Judicial Review taken by the three respondents, make-up artists who have gender identity disorder (GID), on Section 66 of the Negeri Sembilan Syariah Enactment 1992 was "incompetent".
"It is a procedure of non-compliance, we agree with the appellants (state religious department) on this point," he said.
Justice Raus also said it must be done in accordance with Clauses 3 and 4 of the Article 4 of the Federal Constitution, which is the proper way. "The High Court and Court of Appeal erred in entertaining the Judicial Review," he said.
No cost was ordered.
Counsel Aston Paiva, who said that he will seek further instructions from his clients, added that "what's important is the substantive Court of Appeal judgment regarding transgender community stands."
Full Report at:
http://www.freemalaysiatoday.com/category/nation/2015/10/08/federal-court-sets-aside-ruling-on-syariah-law/
-----------
Indonesia hopes for an Islamic banking boom
October 9, 2015
Indonesian teacher Nina Ramadhaniah hopes for "blessings from Allah" by opening a sharia bank account - the sort of pious customer the world's most-populous Muslim-majority country is praying for as it launches an Islamic finance drive. Indonesia, Southeast Asia's biggest economy, has a Muslim population of around 225 million but this huge number of faithful has not translated into success for sharia banks, institutions required to do business in line with Islamic principles.
Full Report at:
http://www.dailysabah.com/money/2015/10/09/indonesia-hopes-for-an-islamic-banking-boom
-----------
North America
UN accused of killing five civilians in DR Congo copter attack
Oct 9, 2015
KINSHASA: The governor of North Kivu province in the troubled eastern Democratic Republic of Congo said on Thursday that five civilians had been killed in a UN helicopter attack against rebel fighters this week.
The MONUSCO force, the United Nations' largest peacekeeping mission worldwide, on Tuesday announced it had carried out a helicopter-backed raid on rebels on Monday under "its mandate to protect civilians" in the central Pinga region.
The raids were targeted at the Nduma Defence of Congo group, blamed for setting villages on fire in the region in recent days.
Governor Julien Paluku said that he had met with "a delegation" that had visited the scene.
"The delegation confirms that MONUSCO pounded a village essentially made up of civilians" and "as of today... five civilians were killed," he said.
A member of the delegation, Rumbo Buna Theophile, who heads a local organisation, said that the residents of Musanga village reported eight men hit by shrapnel, with four of them dead.
He said MONUSCO had provided no explanation for the attack "in this place where there were no... combattants".
MONUSCO did not "give an exact reason" and was "very reserved", he said.
Governor Paluku said he was calling urgent talks between MONUSCO and regional authorities to clarify why the village had been hit given that local authorities said there had been no violence by rebels in the area.
Full Report at:
http://www.dawn.com/news/1211779/un-accused-of-killing-five-civilians-in-dr-congo-copter-attack
-----------
Clinton opposes TPP in break with Obama
Oct 9, 2015
WASHINGTON: US Demo­cratic presidential candidate Hillary Clinton said on Wednesday she does not support the 12-nation Trans-Pacific Partnership (TPP), rejecting a central tenet of President Barack Obama's strategic pivot to Asia.
Clinton, who backed the developing trade pact when she was secretary of state during Obama's first term, said she was worried it would not do enough to crack down on currency manipulation or protect consumers from excessively high drug prices.
"The bar here is very high and, based on what I have seen, I don't believe the agreement has met it," Clinton said in a statement issued during a campaign swing through Iowa. "I don't believe we can afford to keep giving new agreements the benefit of the doubt. The risks are too high that, despite our best efforts, they will end up doing more harm than good."
The TPP deal, reached on Monday after marathon talks between the US and 11 Pacific Rim nations, aims to liberalise commerce in 40pc of the world's economy and would be a legacy-defining victory for Obama.
Clinton's opposition, however, could help her shore up support from labour groups and liberal Democrats who oppose the pact fearing it job losses and weaken ing environmental laws.
It is the latest in a series of moves by Clinton to distance herself from key administration policies as she tries to hold off a challenge from the left by Bernie Sanders, a US senator from Vermont, and prepare for a possible presidential run by Vice President Joe Biden.
Clinton's once-commanding lead in polls of Democratic voters has diminished amid a lingering controversy about her use of a private e-mail server when she was secretary of state, giving rise to speculation that Biden could enter the race.
Her announcement on the TPP comes just a week ahead of the first televised debate of the Democratic presidential contenders. Obama and Biden have pushed for the trade deal, arguing it would help the United States increase influence in East Asia and counter the rise of China.
Full Report at:
http://www.dawn.com/news/1211784/clinton-opposes-tpp-in-break-with-obama
-----------
Rights groups warn of anti-Muslim rallies this weekend
October 8, 2015
Civil rights groups called Thursday for vigilance in the face of planned rallies Friday and Saturday at mosques in Dearborn and other U.S. cities by anti-Muslim demonstrators, saying that rhetoric on the presidential campaign trail is stirring up prejudice.
"We have presidential candidates who are willing to say absolutely outrageous statements that are anti-Muslim," Heidi Beirich, director of the Intelligence Project at the Southern Poverty Law Center, said Thursday during a conference call. "We also have the highest level of political candidates that are saying things that are blatantly unconstitutional."
The Council of Islamic-American Relations urged mosques earlier this week to "consider instituting additional safety measures in response to hate rallies by possibly armed anti-Muslim extremists targeting mosques nationwide on Oct. 10."
In an email statement Thursday, CAIR-Michigan urged residents to participate Saturday in community service projects and said people "are discouraged from engaging the armed protesters."
The "Global Rally for Humanity" is being promoted in numerous cities on Facebook, including Atlanta, Huntsville, Alabama; Louisville, Kentucky, and Ocala, Florida. The Facebook postings urge those attending rallies to open carry guns where local laws allow; Michigan permits open carry.
The Dearborn rally is scheduled for 1 p.m. Saturday at the Islamic Center of America, 19500 Ford Road. A Facebook page for the event references Louis Farrakhan, whose Nation of Islam plans a rally Saturday in Washington, D.C., to mark the 20th anniversary of the "Million Man March."
"As this invasion of Muslim colonization continues unchecked on American soil, we can only expect the same suffering now endured by EUROPE," reads the Dearborn event notice. "Farrakhan's hate and promotion of inter-ethnic strife is a wake up call. Now is the time to act. Now is the time to save our Republic. #tentenfifteen #OpenCarry"
Farrakhan has been accused of using anti-Semitic language in speeches and urging violence.
As of Thursday, the Dearborn Police Department said it did not have plans for additional patrols on Saturday. Officers regularly drive by all houses of worship in the city, police said.
Besides the SPLC, which tracks hate groups, representatives of the Center for New Community, a Chicago-based civil rights group, and the American Center for Outreach, a Muslim advocacy group based in Nashville, participated in the conference call.
Kalia Abiade, advocacy director at Center for New Community, said her group has tracked more than 35 demonstrations planned Friday and Saturday.
"All of the events have been advertised on Facebook, but as with most Facebook events it's difficult to gauge the turnout, but it would be a mistake to dismiss these anti-Muslim protests," she said.
Abiade said mosques and Muslim leaders should communicate with local police agencies to ensure safety during the rallies.
"We encourage local groups to keep a line of communication open with local law enforcement in order to coordinate additional support," she said. "Local Muslim groups have put out safety tips within the community in order to keep everyone safe. When people know ahead of time, they can prepare."
Full Report at:
http://www.detroitnews.com/story/news/local/wayne-county/2015/10/08/anti-muslim-rallies-dearborn-civil-rights/73608114/
-----------
Global Rally for Humanity is anti-American
October 8, 2015
This Sunday, millions of devout Americans in cities across the country will go to church. But what would happen if instead of entering peaceful places of worship, they encountered hundreds of hostile protesters, some armed with assault rifles, surrounding their churches screaming profanity-laced anti-Christian slurs?
Americans would rightly be outraged, because such hatred and intimidation offends our bedrock principle of religious freedom. Sadly, this is not a hypothetical scenario. It is a reality some Muslims worshipers will be facing.
This weekend, a hate group named the Oath Keepers has organized events in 20 cities called the Global Rally for Humanity. Thousands are predicted to gather to stoke public prejudice, even as some Republican presidential candidates add fuel to the fire with their own rhetoric.
This will not have been the first time these protests have happened. In May, protesters, some armed with AK-47s, surrounded a Mosque in Phoenix, spewing hate speech and intimidating worshipers. After the protest, Christian and Jewish religious leaders gathered at the Islamic Community Center for a solidarity vigil to reject the message of hatred and build interfaith understanding. Neighborhood churches provided a safe place for Phoenix's Muslim Americans to pray until the hateful protests ended.
This unity and moral courage truly reflects who we really are as a country.
The bigotry and hatred championed by groups like the Oath Keepers does not represent the majority of Americans, who believe in a pluralistic and democratic society. But it is incumbent upon the majority to speak truth to hate. To paraphrase the Rev. Martin Luther King Jr.: An attack on religious freedom anywhere is a threat to religious freedom everywhere.
These protests are designed to generate fear. And they are harmful. Using hate speech and misinformation to exploit fears and secure authority has long been a danger to the freedom and safety of minorities.
Neuroscience teaches something about why bigots try to induce fear: Fear makes us more accepting of authoritarianism, conformity and prejudice. When we are afraid, we are less likely to think critically, challenge authority or judge objectively -- all critical components of an informed citizenry participating in a representative democracy. Fear works for demagogues who want to control people.
Anti-Islamic rhetoric is a political tactic to divide Americans and win elections. Many blame terrorism in the name of Islam for anti-Muslim sentiment, however polling data over the past 14 years suggests that fear of Muslims and Islam is linked more to election cycles than terrorist acts, especially among Republicans. For example, the percentage of Americans who believe there is a link between Islam and violence did not change after the Boston bombing in 2013. That number, however, rose 10 percentage points among Republicans during the 2008 and 2012 election cycles.
This campaign season is no different. A September poll of North Carolina Republican primary voters, for example, found that 72% believed a Muslim could not be president. Forty percent of this group was also as likely to say Islam should be illegal.
Full Report at:
http://edition.cnn.com/2015/10/08/opinions/ellison-islam-america/
-----------
Africa
Nobel Peace Prize for Tunisian civil organizations
9 October 2015
Tunisia's National Dialogue Quartet on Friday won the Nobel Peace Prize for building democracy after the 2011 revolution which unleashed a wave of popular uprisings across the Arab world.
The award was given "for its decisive contribution to the building of a pluralistic democracy in Tunisia in the wake of the Jasmine Revolution of 2011."
The quartet include: Tunisian general union for labor UGTT, Tunisian Union for Industry and Commerce (Union of Investors), Tunisian League for Human Rights Defense and Tunisian Union for Lawyers.
Full Report at:
http://english.alarabiya.net/en/News/middle-east/2015/10/09/Tunisian-national-dialogue-mediators-win-Nobel-Peace-Prize.html
-----------
Jordan king speaks on al-Aqsa mosque crisis
8 October 2015
Jordan's King Abdullah II on Wednesday said that Jordan has legal and diplomatic options at its disposal regarding Israel's recent moves on the al-Aqsa mosque and surrounding compound in Jerusalem, the local daily Jordan Times reported.
"We are performing our duties towards Jerusalem in all possible ways and we will not be dissuaded from doing so by regional problems and crises," said the king to an audience of senior officials and delegates from a Jordan Islamic body.
The al-Aqsa compound is the third-holiest site in Islam and the most sacred for Jews, who refer to it as the Temple Mount. Over the last few weeks, the site has seen repeated clashes between Israeli police and Palestinian youths.
Muslims fear Israel will seek to change rules governing the site, which allow Jews to visit but not pray to avoid provoking tensions. Netanyahu has said repeatedly he is committed to the status quo.
The monarch "highlighted several challenges and methods to deal with extremists, terrorism and radicals," according to the daily. He also stressed the need for coordinated efforts against radicalism and to solve the issue of Syrian refugees who have sought refuge in Jordan.
According to the U.N., over 620,000 refugees who have fled the four-year-long conflict in Syria live in Jordan, making up around 10 percent of the population.
Meanwhile, Arab Israeli lawmakers vowed to defy Prime Minister Benjamin Netanyahu's decision to bar parliament members from entering a sensitive Jerusalem holy site, pledging to visit it on Friday.
Full Report at:
http://english.alarabiya.net/en/News/middle-east/2015/10/08/Jordan-king-speaks-on-al-Aqsa-mosque-crisis.html
-----------
Tunisia lawmaker escapes assassination bid
8 October 2015
An official from Tunisia's main political party said he escaped an assassination bid unharmed while driving to work in the coastal city of Sousse on Thursday, AFP reported.
"At around 9:45, on my way to work, a car on the road shot at me," Ridha Charfeddine, who survived without injury, told the radio station Jawhara FM.
"I wasn't able to see the shooter sitting in the back seat," added the legislator with Nidaa Tounes, the anti-Islamist party of President Beji Caid Essebsi.
"It's a miracle that I'm still alive," said Charfeddine, who is also president of a first division football club, Etoile Sportive de Sahel.
There was no immediate comment on the incident from the interior ministry, whose spokesman was unavailable to AFP.
Full Report at:
http://english.alarabiya.net/en/News/africa/2015/10/08/Tunisia-lawmaker-escapes-assassination-bid-.html
-----------
UN mission in Libya proposes unity government
Oct 9, 2015
The head of the UN Support Mission to Libya (UNSMIL) has proposed the formation of a unity government in the North African country.
Bernardino Leon made the announcement at a press conference in the Moroccan city of Skhirat on Thursday, adding that a list of the proposed candidates for the national unity government has been also prepared.
Since August 2014, when militias seized the capital, Tripoli, Libya has had two parliaments and two governments with one, the General National Congress, run by the rebels in the capital and the other, which is internationally-recognized, based in the northeastern city of Tobruk.
Fayez Sarraj (pictured below), a member of the Tripoli-based parliament, will be nominated as the Libyan prime minister, the UN envoy said.
"After a year of work in this process, after working with more than 150 Libyan personalities from all the regions, finally the moment has come in which we can propose a national unity government," Leon said.
Three deputies for the prime minister, representing the country's east, west and south, and two ministers to complete a presidential council are among the posts in the proposed government.
Full Report at:
http://www.presstv.ir/Detail/2015/10/09/432612/Libya-UN-UNSMIL-Bernardino-Leon-Fayez-Sarraj
-----------
URL: https://www.newageislam.com/islamic-world-news/new-age-islam-news-bureau/russia-estimates-some-3,500-isis-militants-operate-in-afghanistan/d/104856