New Age Islam News Bureau
23 August 2022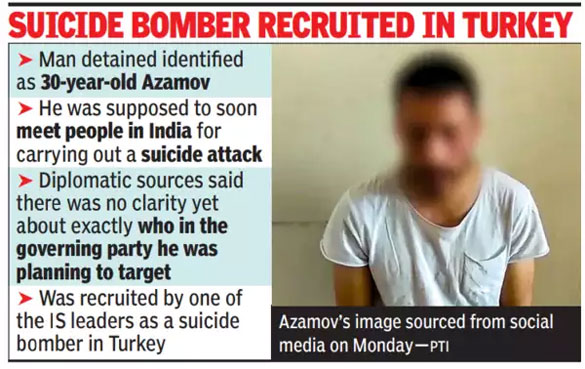 • Azan on Loudspeakers Does Not Violate Fundamental Rights of Others: Karnataka HC
• Taliban Official's Travel Ban Waiver to Be Reviewed by UNSC Today In Light Of the Disagreements among UNSC Member States
• Court Grants Imran Khan Interim Protective Bail in 'Terrorism' Case
• Former Al-Qaeda Member, Aimen Dean, Accuses Daughter's Edinburgh School of Discrimination
India
• 'There Is Fear': Muslim Families Flee Gujarat Village, Take Shelter in Relief Colony
• Imams Coming To Assam Need To Inform Police, Register on Government Portal, Says CM
• Bilkis Bano Case: Ex-CBI Chief Points at Government's 'Double Standard'
• Hyderabad: BJP MLA Raja Singh arrested over remarks on Prophet Muhammad
• Hyderabad Police take BJP MLA Raja Singh into custody for video against Munawar Faruqui
• Mosque committee presents rejoinder in Gyanvapi-Shringar Gauri complex case
• AMU 'cold-shouldering' plan to shoot series on Sir Syed: Filmmaker
• Hyderabad: IMCR calls for unity against persecution of minorities
• Sheikh Hasina to visit Delhi; Dhaka, India to hold talks on Islamic terror
--------
South Asia
• Terrorism Continues to Strike Afghanistan: Afghan Envoy to UN
• UN agency to build 2,300 earthquake-resilient houses in Afghanistan
--------
Pakistan
• Islamabad Advocate General Seeks Permission to Display Imran's Statements 'Against Institutions' In IHC
• 'Abduction' Of Pakistani Sikh Woman: Accused Sent To Jail, 'Victim' Rescued But Not Allowed To Meet Family
• Fazl says can't overlook 'Imran mischief'
• Pakistan secures $4bn from Qatar, Saudi Arabia and UAE
• Traders say chances for increase in trade with Afghanistan bleak
• Pakistan approves agreement draft to provide troops for World Cup security in Qatar
--------
Europe
• EU says Iran nuclear deal meeting possible 'this week'
• UN Split over Ban on Taliban Officials' Travel
• EU says Iran's response to nuclear deal proposal is 'reasonable'
--------
North America
• Despite Frustration with Taliban, US Agrees To Asset Talks
• U.S. to Discuss Frozen Funds with Kabul: Sources
• Albuquerque Murders: Afghan Refugee Indicted On Third Murder Count in Muslim Murders
• US says gaps remain in Iran nuclear deal but pact closer than before
• Afghan refugee charged with murder of 3 Muslim men in New Mexico
--------
Arab World
• Supporters of Iraq's Muqtada Al-Sadr Launch Sit-In Outside Highest Judicial Body
• Seven dead as rescue workers pull two more bodies from rubble at Shia shrine in Iraq
• Egypt's al-Sisi to host five-state Arab summit
• KSrelief General Supervisor, Germany's Ambassador to Saudi Arabia discuss joint cooperation
• Family struck by grief after it loses 6 in Egypt church fire
--------
Mideast
• Hamas, Islamic Jihad Vow Resistance to Israeli Occupation
• Palestinian Prisoners Stage Mass Hunger Strike In Israeli Jails
• Spokesman Reiterates Iran's Unchangeable Policy of Revenge for Assassination of Gen. Soleimani
• Army Commander: Several Countries Favouring Iranian Military Equipment
• Iran: No Response from US on EU Proposal, Key Issues Still Unresolved
• Gov't Spokesman Describes Iran as Victim of Terrorism
• IRGC Deputy Commander: Hezbollah Forces Can Annihilate Israeli Regime's Army
• Lebanon's Hezbollah attack on gas field may spark war: Israeli defence minister
• Israel Launches Flights for West Bank Palestinians, First Flight Departs For Cyprus
• Israeli prime minister says not obligated by Iran nuclear deal
• Israeli defence minister confirms crisis with Egypt over Gaza
• Islamic Jihad missiles shattered Israel's invincibility myth during latest Gaza war: Cmdr.
--------
Southeast Asia
• G25: Root of Corruption Are Political Lobbyists, Not Non-Muslims
• Ensure straight fights in Penang, PAS tells Malay-Muslim parties
• PBM will give BN headache on seat sharing, says Umno veteran
• Johor ruler in no hurry to decide on state's weekend
--------
Africa
• MURIC Makes Demand As Police Nab Two Soldiers for Allegedly Killing Islamic Cleric
• Somalia PM Vows Accountability over Deadly Hotel Siege
Compiled by New Age Islam News Bureau
URL: https://newageislam.com/islamic-world-news/russia-islamic-state-mashrabkhon-azanov-prophet/d/127781
--------
Russia Detains Islamic State Man, Mashrabkhon Azanov, Planning Strike on Indian Politician for "Insult to the Prophet Muhammad"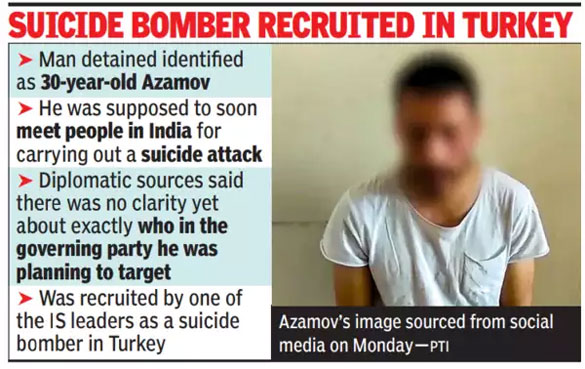 Aug 23, 2022
NEW DELHI: The Federal Security Service (FSB) of Russia has detained an Islamic State bomber who, it said, was planning to travel to India to carry out a suicide attack on a governing party "representative" for "insult to the Prophet Muhammad".
In a video confession shared here by the Russian authorities, the alleged terrorist, Mashrabkhon Azanov, who is an Uzbek national, said he arrived in Russia after training in Turkey and was supposed to soon meet people in India for carrying out a suicide attack at the behest of the terrorist group.
There was no immediate reaction from the MEA although official sources here said they were closely following the case.
FSB was recruited as a suicide bomber in Turkey, Russia's top counter-intelligence agency said in a statement, according to a report in Sputnik. "In Turkey, the would-be terrorist was conditioned both online on Telegram and during in-person meetings in Istanbul over several months from April to June, the FSB said in a statement," said the report.
"I, Azanov, born in 1992, in April 2022 made a vow to the Emir of the ISIS named Yusuf Tajiki. In 2022, I underwent special training in Turkey. In 2022, by the command of Yusuf Tajiki. I arrived in Russia from where I was supposed to leave for India. In India, I was supposed to be met and given everything necessary to commit a terrorist attack by the command of ISIS for insulting the Prophet Muhammad," said Azanov, as per the English translation of his confession.
It is not clear at this point if Tajiki is the same Tajik-speaking IS operative who was reported to have been killed by the Taliban in July this year in a factional fight among the jihadi groups.
"The FSB in Russia identified and detained a member of the international terrorist organisation Islamic State banned in the country, a native of a country in the Central Asian region, who planned to commit a terrorist act by self-detonation against one of the representatives of the ruling circles of India," it said in a release.
The arrest comes barely three months after the Islamic State in Khorasan Province released a 50-page document on the same issue.
The 10-minute video titled "The polytheists are the brothers of the polytheists" featuring Sharma was released in June and also mentioned the demolition drive in Delhi's Jahangirpuri, where a part of a mosque had been demolished by the civic authorities.
The development should lead the agencies to further heighten the security of Nupur Sharma even as they try to figure out who exactly the Uzbek IS terrorist had planned to target. A special team of intelligence officials from India are likely to interrogate him at the earliest. Agencies have already launched an investigation to find out who was the "India contact" of this terrorist who was to supply him with explosives as claimed by him during interrogation, said sources.
The Indian intelligence sleuths see the development as a desperate attempt by the IS to counter the efforts of al-Qaida's effort to enhance its appeal in India by wading into issues such as the hijab controversy. Qaida's slain leader, Ayman Al Zawahiri, who was recently killed in Afghanistan, had released videos denouncing Nupur Sharma. He even remarked on the hijab row and praised the girl who took on a group of boys.
Source: Times Of India
Please click the following URL to read the text of the original story:
https://timesofindia.indiatimes.com/india/russia-detains-is-man-planning-strike-on-indian-politician-bomber-says-he-was-to-get-help-in-india/articleshow/93717401.cms
--------
Azan on Loudspeakers Does Not Violate Fundamental Rights of Others: Karnataka HC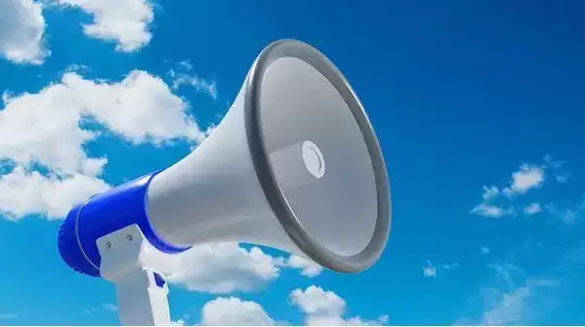 Loudspeaker/ Times Now
----
Aug 23, 2022
The Karnataka high court has said Azan (Muslim call to prayer) on loudspeakers does not violate the fundamental right of people of other faiths. The court, therefore, refused to order mosques to stop playing Azan on loudspeakers.
However, the court directed authorities to implement the "noise pollution rules" related to loudspeakers and file a compliance report.
A public interest litigation (PIL) by Bengaluru resident Manjunath S Halawar was heard by a division bench headed by acting chief justice Alok Aradhe.
The petition stated that the "calling for Azan/adan is an essential religious practice of Muslims, however the contents of the Azan/adan are hurting the believers of other religious states."
The HC, in its order, said, "Article 25 and 26 of the Constitution of India embodies the principle of toleration which is the characteristic of Indian civilisation. Article 25(1) of the constitution confers the fundamental rights on persons to freely profess, practice and propagate their own religion."
"However, the aforesaid right is not an absolute right but is subject to the restrictions on the grounds of public order, morality, health as well as subject to other provisions in Part III of the Constitution of India," the court said.
The "contention that the contents of Azan violate the fundamental right guaranteed to the petitioner as well the persons of other faith cannot be accepted", it said.
The court, however, directed the authorities to implement rules about noise pollution and restriction on using loudspeakers.
It directed authorities to "ensure that loudspeakers and public address systems and sound producing instruments and other musical instruments shall not be permitted to be used of the permissible decibel during the night between 10 pm to 6 am."
Another division bench of the HC had on June 17, 2022 directed authorities "to carry out a drive to prevent the misuse of loudspeakers and public address systems." The high court now directed the officials to "file compliance report before this court within a period of eight weeks".
Source: Hindustan Times
Please click the following URL to read the text of the original story:
https://www.hindustantimes.com/cities/bengaluru-news/ktaka-hc-Azan-on-loudspeakers-does-not-violate-fundamental-rights-of-others-101661194027375.html
--------
Taliban Official's Travel Ban Waiver to Be Reviewed by UNSC Today In Light Of the Disagreements among UNSC Member States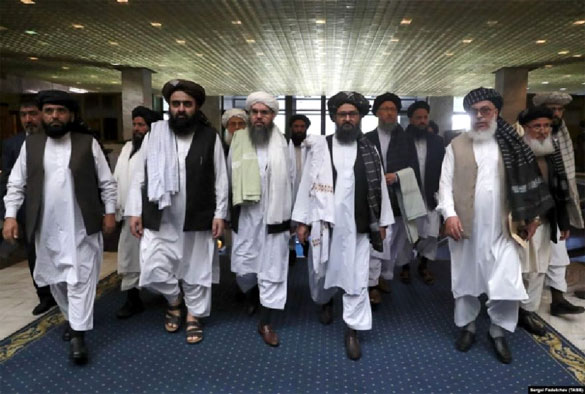 Representative image/ Khaama Press
----
By Saqalain Eqb
22 Aug 2022
The UN Security Council (UNSC) will vote today on whether to extend the 13 Taliban officials' travel exemptions or to rescind their waivers in light of the disagreements among UNSC member states.
The travel exemptions for the Afghan Taliban officials were set to expire on Friday, August 19, and the UNSC is reportedly stalemated over whether to extend them.
The United States, the United Kingdom, and France—the three permanent members of the UNSC—want to impose travel restrictions on Taliban officials.
Russia and China, the other two permanent members of this council, however, are in favor of waiving up to 13 Taliban officials from their travel bans.
The spokesman for the Taliban's Ministry of Foreign Affairs, Abdul Qahar Balkhi, tweeted on Saturday that under the Doha Agreement all the sanctions against the Taliban should be rescinded.
The Taliban official wrote that the specific clause of the Doha Agreement "should be implemented in full."
The Taliban official warned that had the UNSC refused to extend the travel ban waiver, the decision would provoke them to maintain a "stern stance" that is not "in the interest of anyone."
As UNSC members are "deadlocked", rights groups, on the other hand, argue that the measures should be reinstated owing to the Taliban's mistreatment of Afghan women since taking control last year.
Even though 13 other Taliban officials had their travel ban waivers extended earlier for at least two months, which expired on August 19, two Taliban education officials had their travel rights revoked because the Taliban restricted women's and girls' access to education, last time.
Source: Khaama Press
Please click the following URL to read the text of the original story:
https://www.khaama.com/revocation-or-extension-taliban-officials-travel-ban-waiver-to-be-reviewed-by-unsc-today-67689/
--------
Court Grants Imran Khan Interim Protective Bail In 'Terrorism' Case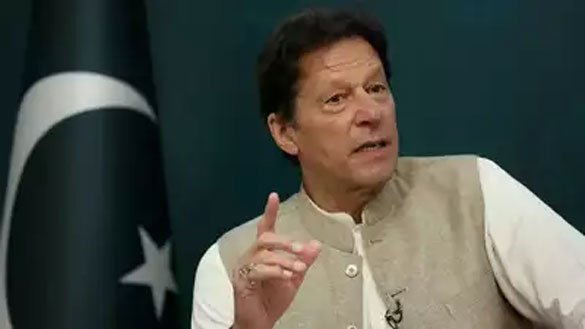 Former Pakistan PM Imran Khan
-----
Aug 23, 2022
ISLAMABAD: The Islamabad high court Monday granted former Pakistan PM Imran Khan protective bail till Thursday in a terrorism case registered against him for allegedly threatening a woman judge and senior police officers at a public rally in the capital city last weekend.
Based on a separate petition filed by the government, the court decided to initiate contempt proceedings against Imran for his controversial remarks against sessions court judge Zeba Chaudhry.
At another rally on Sunday night in the garrison city of Rawalpindi, the Pakistan Tehreek-i-Insaaf (PTI) chief launched into the "neutrals", his oft-used euphemism for the powerful military establishment. Imran's show of strength was at Liaquat Bagh, close to the army's general headquarters and the place where two former PMs – Liaquat Ali Khan and Benazir Bhutto – were assassinated in the midst of large political gatherings.
Soon after the rally, speculation was rife about Imran's possible arrest since a non-bailable case had already been registered against him for his remarks against the judge and police officers at the Islamabad event the previous day. "Imran Khan is our red line. If he is arrested, we will take over Islamabad with people's power," Murad Saeed, who was a minister in the erstwhile government, said standing outside the ex-PM's residence.
PTI called for a mass uprising, posting videos online showing supporters purportedly surrounding Imran's home to stop the police from reaching it.
"You (Islamabad's top police officials and a female sessions judge) also get ready for it, we will also take action against you. All of you must be ashamed," Imran had said at the rally in Islamabad to show solidarity with his incarcerated chief of staff Shahbaz Gill, who was arrested earlier this month on treason charges after urging soldiers and officers to defy "illegal orders" from the military leadership.
Under Pakistani law, the charge of treason can invite the death penalty.
According to the former PM, Gill was mentally, physically and sexually tortured during his two-day police remand in a sedition case. News channel ARY, which broadcast the speech, has been off air since.
At Liaquat Bagh, the cricketer-turned-politician picked up from where he had left off in Islamabad, alleging that the "neutrals" were responsible for a crackdown on his party, the arrest and torture of his aide, the alleged abduction of social media activists and multiple decisions by the election commission against him and PTI.
"They (the police and others) are pointing fingers at you (army)…Whenever anything wrong happens in Pakistan, you are blamed for it," Imran said, seeking to question the powers-that-be "if they are neutral or not".
Imran had filed a plea for pre-arrest bail in the high court, maintaining that he had no past criminal record. His counsels told the court that the former PM was ready for any investigation.
While granting protective bail for four days, the court directed him to approach the anti-terrorism court by then.
Since his removal from government in April through a suspenseful no-confidence vote, Imran has been organising large rallies across the country in a bid to return to office, alleging his ouster was the result of "a foreign conspiracy".
Source: Times Of India
Please click the following URL to read the text of the original story:
https://timesofindia.indiatimes.com/world/pakistan/court-grants-imran-khan-interim-protective-bail-in-terrorism-case/articleshow/93718502.cms
--------
Former Al-Qaeda Member, Aimen Dean, Accuses Daughter's Edinburgh School of Discrimination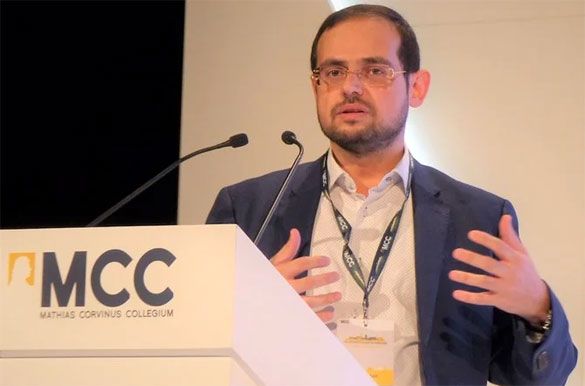 Aimen Dean 'saved thousands' spying for British intelligence
-----
August 22, 2022
LONDON: A private school in the UK is being investigated for allegedly discriminating against the daughter of an important Western anti-Al-Qaeda spy.
Aimen Dean, a former bomb-maker for the terror group, who supplied British intelligence with vital information about the organization, and saved thousands of lives, lodged a complaint against St. George's School in the Scottish capital of Edinburgh, according to reports.
He claims the school created a "toxic environment" while singling out his five-year-old daughter amid parents' complaints of him being a security risk after a documentary aired which revealed his identity as a former member of Al-Qaeda.
Dean told reporters in a documentary produced by British TV network Channel 4 he was a former member of Al-Qaeda and offered up insights about the Sept. 11, 2001, attacks in New York City. He told the school in 2019, following assurances from MI5 that he posed no security risk.
An investigation has been launched by the Registrar of Independent Schools, which could impose orders on the school to improve its governance and subject it to a formal inspection if it finds the institution's actions to be "objectionable."
St George's School has "strongly disputed" Dean's account, and said it was confident that the investigating officers would find his allegations to be baseless.
Source: Arab News
Please click the following URL to read the text of the original story:
https://www.arabnews.com/node/2147911/world
--------
India
'There Is Fear': Muslim Families Flee Gujarat Village, Take Shelter In Relief Colony
By Aditi Raja
August 23, 2022
A week after the Gujarat government released 11 convicts serving life sentence in the Bilkis Bano case, several Muslim families from Randhikpur (Singwad) have started leaving their homes and have taken shelter in Rahimabad Relief Colony of Devgarh Baria taluka in Dahod district, where Bilkis has been living since 2017.
Bilkis was gang-raped in Randhikpur during the communal violence that followed the Godhra train-burning incident in 2002. She was 21 years old then and five months pregnant. Seven members of her family were killed by rioters.
On Monday, when The Indian Express visited the relief colony, loaded tempo rickshaws were bringing in residents of Randhikpur into the relief colony along with their luggages where they decided to stay until "a decision is made" regarding the release of the convicts.
The convicts were released from Godhra sub-jail on August 15, following a recommendation of the Jail Advisory Committee (JAC), set up by the Gujarat government, approved their application for remission of sentence.
Sultana, 24, who arrived at the colony with her mother and sister on Sunday said, "There is fear among the community since last week… There have been no direct threats but the welcome they received and the sense of jubilation in the village… We grew anxious and left as we did not feel safe there. It was different when they came out on parole as we knew they were ultimately prisoners but now they have been released."
On Monday, members of the Muslim community in Dahod submitted a memorandum to the District Collector seeking reconsideration of the state government decision to grant remission to the convicts, stating that the decision had "dented the image and respect of the judicial system" and should be "reversed to restore faith in justice". The community is also seeking permission to organise a rally in protest of the remission, members of the community said.
Sultana and her mother are daily wage labourers. Her mother recalls fleeing Randhikpur in 2002, with a four-year-old Sultana in tow. She says, "The images of the horror are flashing in memory… Although we were lucky to have escaped then, we can't trust the process now… None of us has the kind of courage that Bilkis has shown in the past two decades to fight. On our way here, we came across a huge convoy of the ruling party near Kesharpura and were petrified. I held on to my daughter tight."
While Bilkis has moved out of the colony, mainly for safety and to also avoid being interrupted by visitors, her husband Yaqub Rasool Patel said, "She has gathered herself and is preparing to fight on. She is recalling the courage that it took to come this far and resolving that she will not give up. We have sought advice of our well wishers and lawyers and a decision will be taken soon on the appeal."
Events were held at multiple locations within a distance of about eight kilometres from Randhikpur Sunday with BJP MP of Dahod Jaswantsinh Bhabhor inaugurating health centres. According to district officials, the events were in Patangdi and Chhapvad villages and not in Randhikpur.
Another villager, a maternal cousin of Bilkis, fights back tears and says, "Despite what they did to my sisters, aunt and others, they have been released… They have been roaming in the village and market areas and it is intimidating… I had no choice but to leave my house and shift to the relief colony with my wife and infant as I cannot take a chance."
Abdul Razzak, another resident of Randhikpur, who has been making petitions on behalf of the witnesses in the Bilkis Bano case since the convicts sought frequent paroles, says, "Most of these children were born here… We shifted to this colony of 74 houses in 2004. A few years later, as things settled and the accused were convicted, many returned, confident that they would be able to rebuild a life… They all look up to Bilkis and her courage. But now, as the convicts are released, they are shattered… No one wants to go through the horror if a riot breaks out."
Another villager Sabera Patel- Ghanchi, who had filed an FIR against convicts Radheshyam Shah and Mitesh Bhatt along with Shah's brother after they were involved in a fight in June 2017 when Radheshyam was on parole, has also left her home and arrived in Devgadh Baria.
"I have a daughter and four grand daughters. If they have been released, what is the guarantee that they won't be emboldened to repeat the crimes? We do not have any security," said Sabera.
Sabera's 2017 FIR resulted in a cross complaint from the convicts against her. The case is on trial at the local court, according to her advocate Vajesinh Labana.
On Monday, some of the 11 convicts, too, were not at their residence according to their family members. Radheshyam Shah's brother Ashish said that his brother left for an outstation tour. "Ever since their release, the 11 people, including my brother, have been peacefully staying in the village, without interfering in anyone's activities… My brother is currently out on a tour. If certain people feel threatened by those released, they are free to approach the authorities."
Family members of co-convict Shailesh Bhatt and his brother Mitesh also claimed that the two were on tour. Sub-inspector of Randhikpur police station DG Vohania, said, "No law and order situation happened since the convicts returned to the village on August 15." He added that police have been carrying out extensive patrolling in the village for one week.
Source: Indian Express
Please click the following URL to read the full text of the original story:
https://indianexpress.com/article/cities/ahmedabad/there-is-fear-muslim-families-flee-village-take-shelter-in-relief-colony-8105878/
--------
Imams coming to Assam need to inform police, register on government portal, says CM
August 23, 2022
Assam Chief Minister Himanta Biswa Sarma said on Monday that imams, or Islamic clerics, coming from other states need to inform the local police and register themselves on a government portal, ANI reported.
"We have made some SOP [standard operating procedure] that if any imam comes to your village and you do not know him, immediately inform the police station...They will verify, only after that, they can stay," Chief Minister Himanta Biswa Sarma told reporters. "Our Muslim community of Assam is helping us in this work."
The chief minister also said that the state government was setting up a portal to record details of clerics and other persons joining madrassas from outside Assam.
"Those who are from Assam, do not need to register their names in that portal, people from outside will have to register their names in the portal," Sarma said.
The development came after two Islamic clerics were arrested on Saturday from the state's Goalpara district on allegations of having links with terror outfit Al-Qaeda in the Indian Sub-Continent, or AQIS.
"Two days ago, people linked with jihadis were arrested," the chief minister said on Monday. "One of them was an Imam in a masjid, but was a kingpin. Five are yet to be arrested."
Superintendent of Police VV Rakesh Reddy said that the clerics were associated with Bangladesh-based outfits and were "engaged in radicalising youths", PTI reported.
Abdus Sobahun, a cleric of Tinkonia Shantipur Masjid, and Jalaluddin of Tilapur Masjid have been booked under provisions of the Unlawful Activities (Prevention) Act.
On August 4, Sarma had said that Assam has become a "hotbed of jihadi activities".
Source: Scroll
Please click the following URL to read the full text of the original story:
https://scroll.in/latest/1031061/imams-coming-to-assam-need-to-inform-police-register-on-government-portal-says-cm
--------
Bilkis Bano Case: Ex-CBI Chief Points at Government's 'Double Standard'
Imran Ahmed Siddiqui | New Delhi
23.08.22
A former CBI director on Monday said the Centre should petition the Supreme Court against the Gujarat government's release of 11 convicts in the Bilkis Bano gang rape and murder case, and alleged that the Union government's continuing silence smacked of a "double standard".
He cited how the Narendra Modi government had in 2015 successfully opposed in the Supreme Court a Tamil Nadu decision to release one of the Rajiv Gandhi assassination convicts. The Centre had claimed sole right of remission in cases investigated by federal agencies, and the apex court had upheld the argument.
"Why this double standard in the Bilkis Bano case? The Modi government had in 2015 vehemently opposed the Tamil Nadu decision to release the Rajiv assassination convict. Why is a different yardstick being applied to the Bilkis case?" the retired director of the CBI told The Telegraph.
The Centre has so far stonewalled the question whether the Gujarat government had taken its permission to release the 11 lifers in the Bilkis Bano case, investigated by the CBI.
"The agency must clear its stand: if it was consulted, it should make this official.
If not, what is preventing it from petitioning the apex court?" the former CBI director said.
Senior officers of the CBI, which reports to the Prime Minister's Office, declined comment when asked whether the Gujarat government had consulted the agency before remitting the sentences.
Asked whether the CBI planned to challenge the release of the convicts in the Supreme Court, in case it was not consulted by the state authorities, the agency spokesperson said: "I have no knowledge about the issue."
The former CBI director said the Union government's continuing silence on whether the Gujarat authorities had consulted it raised questions.
"If the Centre was not consulted and the Gujarat government acted surreptitiously, it (the Centre) should start an inquiry," he said.
The subject has been partly complicated by a judgment delivered last May by a two-judge apex court bench that said the power of remission in the Bilkis Bano case was vested with the Gujarat government as the crime had been committed in that state.
This judgment did not refer to the 2015 verdict, passed by a five-judge constitution bench, which said the Centre's permission was mandatory to remit sentences in cases investigated by central agencies.
Bilkis Bano is herself free to challenge the remissions citing the Supreme Court's 2015 judgment, legal experts have said.
A pregnant Bilkis was gang-raped and seven of her family members, including her three-year-old child, were murdered during the 2002 riots.
Source: Telegraph India
Please click the following URL to read the full text of the original story:
https://www.telegraphindia.com/india/ex-cbi-director-why-this-double-standard-in-the-bilkis-bano-case/cid/1881823
--------
Hyderabad: BJP MLA Raja Singh arrested over remarks on Prophet Muhammad
23rd August 2022
Hyderabad: Goshamahal MLA from BJP T Raja Singh was arrested on Tuesday morning following protests against him over his remarks on Prophet Muhammad. Scores of people were protesting and demanding his arrest outside city police commissioner CV Anand's office and in other parts of town since Monday night.
Raja Singh had released a video on Jai Shree Ram channel on youtube, in which he passed derogatory comments about Prophet Muhammad. The BJP MLA called it "comedy", also abused comedian Munawar Faruqui and his mother two days after the comedian's show was held in Hyderabad. The Telangana unit of the BJP has also disassociated with his statements.
BJP chief spokesperson for Telangana Krishna Saagar Rao told Siasat.com that his party respects all religions and faiths. "We are a national party and we don't support the statements of Raja Singh or hate speech," he stated.
His comments lead to scores of people protesting on the streets demanding his arrest. Following his video, the BJP MLA was booked by the Dabeerpura police for his remarks. Many people were also taken into custody by the police on Tuesday after protests broke out.
A huge number of cops have been deployed outside the offices of the Hyderabad police commissioner, the Director General of Police office at Lakdikapul, and the old police commissioner office at Purani Haveli and other important places in the city after protests erupted against BJP MLA Raja Singh for his remarks against Prophet Muhammad.
"….I thought to myself, He ( referring to comedian Munawar Faruqui) is abusing Lord Ram and Sita so I should research about this almighty of his and people who wear round caps (Muslims). The moment I did it, I found something very shocking in the video. In that, it says that the man married a six-year-old (referring to the Prophet Muhammad)," said the Bharatiya Janata Party (BJP) MLA Raja Singh in the 10 minute-27-second video.
At the end of the video, after making derogatory comments, Raja Singh said that whatever he uttered was "comedy" and that he himself didn't like what he said. The video has been uploaded on Shree Ram Channel Telangana. Singh in fact repeated some of the things that now suspended BJP spokesperson Nupur Sharma said on TV recently, which became an international row after Muslim countries condemned it.
Telangana police on high alert across state
Meanwhile, police have also increased security in and around Mangalhat and Dhoolpet fearing attacks on Raja Singh. Police officials said that security is being heightened, as a 'Chalo Goshamahal' protest is being planned as seen on social media. Moreover, there will also be a higher vigil at the inauguration of the new Chandrayangutta flyover by IT and industries minister KT Rama Rao (KTR) on Tuesday.
Rapid Action Force and police forces from reserve wings of Telangana State Special Police, GreyHounds, and neighboring districts have also been deployed. Police pickets have also been posted at communally sensitive areas of Hyderabad and in the old city, it has been learned. Senior officials said they are also reviewing Raja Singh's security (he has a bullet-resistant vehicle, plus two gunmen round the clock).
Senior police officials held a meeting in the morning and put the entire state police machinery on a tight vigil. A high alert has been unofficially declared in the erstwhile districts of Adilabad, Karimnagar, Nizamabad, Vikarabad, and Mahbubnagar, said senior officials.
Reports on social media also suggest that more protests against Raja Singh may be held during the day at different police stations in Hyderabad.
Several references to Prophet Muhammad
The BJP MLA, in his attempt to do "comedy", passed several derogatory comments against Muslims and Prophet Muhammad in the process. "How unfortunate is it that he married the girl? After that, he let the girl grow until nine years old. Then, he has sex with the nine-year-old," said Raja Singh.
Raja Singh was essentially unwilling to let go of the fact that standup comic Munawar Faruqui was allowed to hold a show in the city last week. Faruqui performed at the Shilpakala Vedika with full police protection on August 20. The venue was turned into a fortress by the cops, who also put the BJP MLA under house arrest to prevent him from disrupting it.
On Monday, as soon as news of this video spread, protests broke out in front of the Hyderabad police commissionerate office at Basheerbagh at around midnight. People reportedly also protested in different parts of the city demanding the arrest of Raja Singh.
Congress leader Rashed Khan filed a complaint at the Nampally police station. MIM MLA Ahmed Balala arrived at Dabeerpura police station to lodge a complaint with his supporters. According to sources, around 300 people protested at the Hyderabad police commissionerate against Raja Singh.
BJP MLA abuses IT minister KTR for over Munawar row
The BJP MLA also took a shot at TRS working president and Telangana IT minister KT Rama Rao, who had invited Munawar Faruqui to perform in Hyderabad (last year). "If you had the guts, you should have let me go. I would have showed you. Raja Singh does not get scared to kill, nor do I get scared to die," Raja Singh said in his new video.
Source: Siasat Daily
Please click the following URL to read the full text of the original story:
https://www.siasat.com/breaking-protests-break-out-in-hyderabad-as-raja-singh-publishes-hate-video-2396041/
--------
Hyderabad Police take BJP MLA Raja Singh into custody for video against Munawar Faruqui
Aug 23, 2022
HYDERABAD: Hyderabad Police on Tuesday arrested BJP MLA Raja Singh for his derogatory remarks against a community. A criminal case was registered against the MLA after continuous protests at Dabeerpura police station and also at Hyderabad CP office.
Singh allegedly made an objectionable video in reaction to the recent show by stand-up comedian Munawar Faruqui in Hyderabad.
In the video, he spoke against members of a community besides using foul language against Munawar, accusing him of making blasphemous comedy in the past.
A day prior to Munawar's show in Hyderabad on August 20, Raja Singh was taken into preventive custody by police.
It was at this time, he declared that if Munawar's show was allowed in Hyderabad by the government then there will be another show in reaction to it and he will organise it and DGP will be responsible for any communal fallout.
Source: Times Of India
Please click the following URL to read the full text of the original story:
https://timesofindia.indiatimes.com/city/hyderabad/telangana-bjp-mla-raja-singh-taken-into-custody-for-objectionable-video-against-stand-up-comedian-munawar-faruqui/articleshow/93721958.cms
--------
Mosque committee presents rejoinder in Gyanvapi-Shringar Gauri complex case
AUGUST 23, 2022
The Gyanvapi-Shringar Gauri complex case in the Varanasi district court will continue till Tuesday
The Anjuman Intezamia Masjid Committee on Monday presented its rejoinder in the Gyanvapi-Shringar Gauri complex case in the district court and the arguments will continue till Tuesday, according to a government counsel.
District government counsel Rana Sanjeev Singh said advocate Shamim Ahmed presented the rejoinder in the court of District Judge A K Vishvesh following arguments from the Hindu side.
Mr. Ahmed presented the evidence in support of the claim that the Gyanvapi Masjid is a Waqf property, Singh said, adding the mosque committee will continue arguments on Tuesday.
Following the death of Anjuman Intezamia Masjid Committee's advocate Abhay Nath Yadav, two lawyers were appointed in his place. One of them, Yogendra Prasad Singh, was not present at the hearing.
Advocate of the Hindu side Madan Mohan Yadav on Monday said that Yogendra Prasad Singh has decided "not to fight the case against Baba Vishwanath" after being advised by his family.
Abhay Nath Yadav, the lawyer representing the mosque committee in the Gyanvapi-Shringar Gauri complex case died due to cardiac arrest on July 31, his family had said. He was 62.
Source: The Hindu
Please click the following URL to read the full text of the original story:
https://www.thehindu.com/news/national/other-states/mosque-committee-presents-rejoinder-in-gyanvapi-shringar-gauri-complex-case/article65799285.ece
--------
AMU 'cold-shouldering' plan to shoot series on Sir Syed: Filmmaker
Aug 23, 2022
LUCKNOW Film and TV serial producer Shoaib Hussain Chaudhari alleged that the Aligarh Muslim University (AMU) has "cold-shouldered" his plan to shoot a web series on the university's founder Sir Syed Ahmed Khan. The filmmaker said he has not been granted permission to shoot the series on the university campus.
"I want to shoot the web series on the AMU campus because Sir Syed, who was supported by the Hindus to start a university, began his reforms for the Muslim community from this place. I have been seeking permission since December 2019 and have written to authorities in this regard several times, but there has been no response. If I don't get a response within this week, I will be forced to shoot the web series in Lucknow or at buildings that look similar to AMU," he said.
"A response is awaited from the V-C's office since the time I wrote the first letter on December 16, 2019. But I feel hurt when I see the university cold shouldering a proposal, which would have propagated the name of its founder. I am ready to share the script in advance so that they can be assured that facts are not twisted. To depict Sir Syed's struggle for educating the downtrodden, we have researched the subject for eight years," said Chaudhari.
Meanwhile, an official of AMU said, "The university has formed a committee to frame guidelines for proposals of shooting of films. There have been a few meetings and the committee is studying policies of other universities over the issue."
Source: Hindustan Times
Please click the following URL to read the full text of the original story:
https://www.hindustantimes.com/cities/lucknow-news/amu-cold-shouldering-plan-to-shoot-series-on-sir-syed-filmmaker-101661194745320.html
--------
Hyderabad: IMCR calls for unity against persecution of minorities
Syed Qamar Hasan
22nd August 2022
It was a noisy and boisterous Q& A session at the concluding moments of the inaugural meeting of the Indian Muslim Civil Rights(IMCR) in Hyderabad held at the Sultan Uloom Education society on Saturday, reflecting heavily on what well-known political researcher Asim Ali claims, that all models of Muslim accommodation are shaped by the political elites of the community rather than by the common of the community.
A posse of in-office and out-of-office lawmakers, politicians retired government officers and officials on the stage were hit with a barrage of suggestions instead of questions and had to give ear to a litany of grievances, complaints, and issues that mattered more to hoi polloi like the regular social and religious harassment ( hijab, curriculums, job discrimination, judicial imbalances, Babri Masjid and other mosques ).
Hyderabad and its noble traditions of hospitality, rich cultural heritage and vibrant politically aware society were applauded by several speakers.
The speakers stressed that IMCR is a non-political organization open to all irrespective of any ideology and that lawmakers and politicians on board will not bring in their political loyalties when dealing with the larger issues of rejuvenating the "idea of India" which was under grave threat under the Modi government. Representatives of several political and non-political Muslim organizations were available.
Conspicuously absent was the AIMIM.
And when questioned why the X-factor was missing, Former Union Minister Dr Salman Khursheed, with several outstanding books to his credit said that he was a good friend of Asaduddin Owaisi, but, "is not Asad's cup of tea".
The opening call made from IMCR's maiden session to mark its birth in Hyderabad was, "hit the streets if you want to be heard and addressed. Conferences and resolutions will take you nowhere".
This lone jingoist challenge was later watered down by a prominent X-Parliamentarian (Rajya Sabha) Mohammed Adeeb, Chairman and founder trustee of IMCR, who in his inimitable calm and controlled style cautioned that the IMCR mission was one of building bridges and seeking the trust and support of the secular Hindu friends.
He dared the men of the cloth to shed their opinionated verdicts and come out for the persecuted and persecution of the innocent irrespective of their faith if the idea of India was to prevail and the shallowness of the Hindutva narrative exposed.
He lamented the silent acquiescence of the community's seminaries and Madrassas hoisting the national flag whereas other institutions belonging to the majority community did not respond so fervently in the 75th Azadi ka Amrit Mahotsav.
"Our loyalty to the country is beyond doubt, we stayed back by choice, burned the boats to stay back and stay the course," he said.
Salman Khursheed called upon Hyderabad to play a stellar role in promoting the IMCR. Retired Police officer Nisar Ahmed, who has mastered the voting algorithm, assured that all was not lost at the husting. "We can still make the best in the coming two years to oust the present dispensation and vote to power a secular government if the community use its electoral power accordingly," he said.
He lamented the lethargy and nonchalance of the community towards the electoral process by not taking part in the voter's list revision and staying back on the polling day.
Source: Siasat Daily
Please click the following URL to read the full text of the original story:
https://www.siasat.com/hyderabad-imcr-calls-for-unity-against-persecution-of-minorities-2395783/
--------
Sheikh Hasina to visit Delhi; Dhaka, India to hold talks on Islamic terror
23rd August 2022
NEW DELHI: Bangladesh PM Hasina's September 5-8 visit here is expected to be dominated by her growing concern over the deepening cross-border movement and activities of suspected Islamic fundamentalists, especially at a time when parliamentary elections are scheduled to be held slightly over a year from now.
India too is likely to express similar anxieties in the backdrop of the arrest of several suspected members of the banned Al-Qaeda in the Indian Sub-continent (AQIS) and Bangladeshi outfits, in West Bengal and Assam over the last three weeks.
While the West Bengal police's STF nabbed two AQIS members in North 24 Parganas on August 18, the Assam police arrested seven alleged Bangladeshi nationals, suspected to have links with Bangladeshi terror group Ansarullah Bangla Team (ABT), from Barpeta and Guwahati in the last week of July.
Five others arrested in the same operation had allegedly been recruited by the ABT which, subsequent investigations revealed, were responsible for targeting Bangladeshi bloggers in the past.
Assam CM Himanta Biswa Sarma indicated that the IB played a significant role in tracking the ABT members who, state police sources revealed, "had entered India illegally" and had travelled to parts of UP, MP, West Bengal and Tripura for the "sole purpose of recruiting and indoctrinating" potential cadres for jihadi and other fundamentalist activities in Bangladesh.
Source: New Indian Express
Please click the following URL to read the full text of the original story:
https://www.newindianexpress.com/nation/2022/aug/23/sheikh-hasina-to-visit-delhi-dhaka-india-to-hold-talks-on-islamic-terror-2490435.html
--------
South Asia
Terrorism Continues to Strike Afghanistan: Afghan Envoy to UN
By Saqalain Eqbal
22 Aug 2022
On the International Day of Remembrance and Tribute to the Victims of Terrorism, August 21, Naseer Ahmad Faiq, Chargé d'Affaires of Afghanistan Permanent Mission to the United Nations, stated that Afghanistan is still a victim of terrorism and that the people of Afghanistan suffer from the presence of terrorist organizations.
Five years ago, Afghanistan's Permanent Mission to the United Nations tabled a resolution to the United Nations General Assembly with the support of 95 other nations calling for the establishment of a day to remember terrorist victims, the Afghan official tweeted.
The proposed resolution was adopted, and the 21st of August was designated as the International Day of Remembrance and Tribute to the Victims of Terrorism.
According to Faiq, the group Friends of Victims of Terrorism was formed on the initiative of Afghanistan's Permanent Mission, and the second resolution was passed to increase and attract international aid for terrorist victims.
"Despite these efforts," Faiq continued, "Afghanistan is still a victim of terrorism, and its people are subjected to terrorist acts and threats as a result of the presence of terrorist groups."
The Friends of Terrorism Victims Group aspires to advocate a comprehensive approach to the advancement and protection of the human rights of terrorism victims, as well as to actively support their different needs in the short, medium, and long term.
Source: Khaama Press
Please click the following URL to read the full text of the original story:
https://www.khaama.com/terrorism-continues-to-strike-afghanistan-afghan-envoy-to-un-58697/
--------
UN agency to build 2,300 earthquake-resilient houses in Afghanistan
Aug 23, 2022
KABUL: UNHCR, the UN Refugee Agency announced the start of a more than USD 14 million community-based construction effort to build 2,300 earthquake-resilient houses to help residents in the southeastern Afghanistan region devastated by the deadly June 22 earthquake.
Under the plan, UNHCR is providing materials and supporting building costs for the construction of 2,000 winterized homes in both Giyan and Barmal districts of Paktika Province and 300 homes in Spera District of Khost Province.
"This initiative demonstrates UNHCR's sustained solidarity and support to people affected by the disaster -- in the coming months 2,300 families will have new, resilient, winterized homes," said UNHCR Representative Leonard Zulu during an assessment mission in Barmal, Paktika Province. "UNHCR started distributing emergency shelter two days after the earthquake, and we are now aiming to meet urgent shelter needs to build back better."
Earthmoving equipment contracted by UNHCR has started site clearance in Barmal and trucks are delivering construction materials as snows are expected by mid-November.
"The Khost and Paktika areas have generously hosted thousands of refugees in recent years, some of whom were also affected by the earthquake," Zulu said. "UNHCR's shelter initiative will ensure homes for the most-affected households."
Over recent weeks, UNHCR teams have met with communities to present the project, identify the worst-affected families, and organize community groups to implement the community-based scheme.
In addition to building materials, households participating in the project will receive US$700 for labour. Engineers working with UNHCR's partners will monitor construction so relevant guidance is followed. Each family will be provided with solar panels for lighting and a bukhari space heater for burning wood during winter months, as well as materials to construct an outdoor latrine.
Bahrain's Royal Humanitarian Foundation recently signed a USD 1 million agreement with UNHCR to support the housing scheme. Additionally, UNHCR and the United Nations Development Programme have launched a joint programme to improve access to community services like health centres, schools, and water systems in the three districts.
"UNHCR has included the three districts in its Priority Areas of Return and Reintegration (PARRs) project since refugees as well as returned IDPs reside in the areas. The PARR initiative will ensure sustained support to enhance sustainable returns, reintegration and community resilience," the UN agency said in a statement.
In the wake of the 5.9 earthquakes that reportedly killed more than 1,000 people and injured many others, UNHCR distributed 3,592 family tents to provide emergency shelter for more than 25,000 people alongside household supplies and hygiene items for more than 11,200 people, complementing emergency assistance delivered by partner agencies.
Over the past four decades, Afghanistan has been battered by conflicts and natural disasters that have left millions facing famine and starvation. The latest estimates indicate that some 24 million Afghans, more than half the country's population, are in need of humanitarian assistance.
Source: Times Of India
Please click the following URL to read the full text of the original story:
https://timesofindia.indiatimes.com/world/south-asia/un-agency-to-build-2300-earthquake-resilient-houses-in-afghanistan/articleshow/93722553.cms
--------
Pakistan
Islamabad advocate general seeks permission to display Imran's statements 'against institutions' in IHC
Tahir Naseer
August 23, 2022
With the Islamabad High Court (IHC) set to initiate contempt proceedings against PTI chief Imran Khan today for passing controversial remarks regarding a female judge, the capital's advocate general, Jahangir Jadoon, has sought permission to display the former prime minister's statements allegedly against the judiciary and other institutions in court.
In his application, a copy of which is available with Dawn.com, Jadoon said he wanted to place relevant material "like videos, clips and previous statements of the respondents (Imran) on electronic and digital media on record, which are helpful" for the case.
The Islamabad advocate general said he wanted to seek permission to "display different statement of the respondents on different occasion against the judiciary and other institution (sic) .
"In these circumstances, it is humbly prayed that [the court] allow to display the aforementioned material in this honourable court via USB or other digital gadgets, and consider this material as part of the case," he said in his application.
The advocate general has filed the application on the state's behalf.
3-member bench to start contempt proceedings
A three-member IHC bench, headed by Justice Mohsin Akhtar Kayani and also comprising Justice Babar Sattar and Justice Miangul Hassan Aurangzeb, will today initiate contempt proceedings against Imran over his remarks about additional district and sessions judge Zeba Chaudhry.
The IHC had constituted the bench on Monday, after the decision to start contempt proceedings against the PTI chief was taken by Acting IHC Chief Justice Aamer Farooq during the hearing of a petition challenging incarcerated PTI member Shahbaz Gill's police remand in a sedition case.
Imran, who has alleged that Gill has been subjected to "sexual abuse" and "physical and mental torture" in custody, had lambasted police over the accusation and judge Chaudhry for allowing Gill's remand at a rally in Islamabad on Saturday.
He had threatened to file cases against Islamabad's inspector general of police and deputy inspector general of police and declared: "We won't spare you." He had then warned the judiciary against its "biased" attitude towards his party, saying that it should brace itself for the consequences.
Source: Dawn
Please click the following URL to read the full text of the original story:
https://www.dawn.com/news/1706388/islamabad-advocate-general-seeks-permission-to-display-imrans-statements-against-institutions-in-ihc
--------
'Abduction' of Pakistani Sikh woman: Accused sent to jail, 'victim' rescued but not allowed to meet family
Aug 22, 2022
AMRITSAR: After protests by the Sikh and Hindu communities, Pakistan Police has sent a Muslim man to jail on the charges of abducting a Sikh woman and marrying her forcefully.
It rescued Deena Kaur, a resident of Pir Baba town in Buner district of Khyber Pakhtunkhwa province, and her alleged Muslim husband, Hesbullah, even as her parents are yet to meet her.
Ajay Soran Singh, a local youth leader, confirmed on Monday that the police had found both Kaur and Hesbullah.
"Police have sent the woman to Dar ul Aman in the adjoining city, Mingora, in Swat district and Hesbullah to jail but the administration has not arranged any meeting of Kaur with her family members," said Soran who is Buner president of Pakistan Tehereek-e-Insaf (PTI) .
According to sources, Kaur, a teacher, allegedly eloped with Hesbullah but the local police in Buner district refused to lodge the family's complaint of abduction, which triggered protests in a number of districts of KPK by Sikh, Hindu and Muslim community members alike, demanding to allow the family members to meet her.
Parents Gurcharan Lal Gandhi and Asha Kaur claimed that Deena was abducted, converted to Islam forcibly and forced to marry Hesbullah against her wishes.
"She was engaged to another man, Munish Kumar, and was about to get married to him," the father said.
Sant Singh, granthi of the local Gurdwara, alleged that the Buner district administration was behind the "abduction of Kaur who was forced to sign a 'nikahnama' and other documents".
Confirming that no meeting has been arranged between Deena and her parents, a member of the National Commission for Minorities (NCM), Pakistan, Dr Jaipal Chhabaria, termed it unfortunate.
Sensing foul play behind the conversion of Deena, he said the minorities didn't mind their members embracing Islam or any other religion but the conversion should take place only in front of a magistrate and only of a person over 18 years of age.
"The NCM had demanded from the Pakistan government that anyone embracing other religions should be allowed to meet their parents or family members before doing so," he said.
Source: Times Of India
Please click the following URL to read the full text of the original story:
https://timesofindia.indiatimes.com/world/pakistan/abduction-of-pakistani-sikh-woman-accused-sent-to-jail-victim-rescued-but-not-allowed-to-meet-family/articleshow/93712872.cms
--------
Fazl says can't overlook 'Imran mischief'
August 23, 2022
Jamiat Ulema-e-Islam-F chief Maulana Fazlur Rehman has alleged that the government in Khyber Pakhtunkhwa has been given to Imran Khan Niazi to root out religion but his party cannot shut its eyes over 'Niazi mischief'.
He said that the Ulema from all schools of thought were united for the cause of protecting the overall political and democratic norms.
Addressing the concluding session of Central Majlis-e-Umoomi of his party in Peshawar, Fazl accused PTI chief Imran Khan of spreading anarchy. Fazl claimed that his party had practically fought against 'fitnas' rather than mere verbal condemnation.
The JUI chief said that a state was ruled with the support of its people; however, the mode of governance should be devised in the light of teachings of the Holy Quran and the Sunnah of Prophet Muhammad (PBUH).
He said the recent incident of Salman Rushdie's stabbing in the US was due to a reaction to his blasphemous work, which his party had condemned in 1988.
Pakistan was an Islamic state, he said and urged the bureaucracy to take
Sharia's affairs seriously. Regarding legislations, he said the basic target of the present coalition government was making electoral and NAB reforms.
He said that an unnecessary hype was created in the name of right of votes to overseas Pakistanis, as there was no appropriate procedure for it. There was 90% chance of rigging in it. "Our proposal was granting appropriate representation to overseas Pakistanis," he said.
The National Accountability Bureau was a gift of former president Pervez Musharraf, and in its (NAB's) eyes every Pakistani was apparently a convict, he added. He said that NAB was working against corruption since its establishment but no concrete result was produced and only politicians were maligned in corruption related cases.
Source: Pak Observer
Please click the following URL to read the full text of the original story:
https://pakobserver.net/fazl-says-cant-overlook-imran-mischief/
--------
Pakistan secures $4bn from Qatar, Saudi Arabia and UAE
Shahid Iqbal
August 23, 2022
KARACHI: The State Bank of Pakistan (SBP) on Monday left its policy rate unchanged at 15 per cent for the next two months to cool down the economy and control inflation.
"To cool the overheating economy and contain the current account deficit (CAD), the policy rate has been raised by a cumulative 800 basis points since last September, some temporary administrative steps have recently been taken to curtail imports, and strong fiscal consolidation is planned for FY23," said the central bank in its Monetary Policy Statement.
With recent inflation developments in line with expectations, domestic demand beginning to moderate and the external position showing some improvement, the SBP felt that it was prudent to pause rate hikes at this stage, said the SBP.
Since the last meeting, the SBP noted headline inflation rose further to 24.9pc in July, with core inflation also ticking up, it said.
The SBP said that the withdrawal of the subsidy package on energy will continue to manifest in inflation out-turns throughout the rest of the fiscal year—as well as momentum in the prices of essential food items and exchange rate weakness last month.
The central bank believes the expected inflow of $1.2bn from IMF will work as a catalyst for financing from multilateral and bilateral lenders.
The SBP confirmed that Pakistan has successfully secured an additional $4bn from friendly countries over and above its external financing needs in FY23.
On balance, the SBP noted that some greater slowdown in global growth would not be as harmful to Pakistan as for most other emerging economies, given the relatively small share of exports and foreign private inflows in the economy.
As a result, both inflation and the CAD should fall as global commodity prices ease, while growth would not be as badly affected, said the SBP.
The headline inflation is projected to peak in the first quarter before declining gradually through the rest of the fiscal year. Thereafter, it is expected to decline sharply and fall to the 5-7pc target range by the end of FY24, supported by the lagged effects of tight monetary and fiscal policies, the normalisation of global commodity prices, and beneficial base effects.
"As expected, economic activity has moderated since the last MPC. Most demand indicators have softened—sales of cement, POL, fertilisers and automobiles fell month-on-month in July—and year-on-year growth in LSM almost halved in June," said the SBP.
Recent flooding caused by unusually heavy and prolonged monsoon rains creates downside risks for agricultural production, especially cotton and seasonal crops, and could weigh on growth this year.
"The SBP continues to expect growth to moderate to 3-4pc in FY23, on account of the tightening of fiscal and monetary policies," it added.
The trade deficit halved to $2.7bn in July, imports fell sharply by 36.6pc (month-on-month) and 10.4pc (year-on-year) while exports also declined by 22.7pc month-on-month, it added.
Through administrative measures imports declined and the rupee gained due to diminished uncertainty about the IMF programme but the administrative measures are not sustainable and will need to be eased in the coming months, said the SBP.
It will be critical that the envisaged fiscal consolidation in FY23 is delivered and that strong measures are taken to curtail energy imports. Such measures include early closure of markets, reduced electricity use by residential and commercial customers, and greater encouragement of work from home and car pooling, said the SBP.
With the expected completion of the upcoming IMF review and the additional assistance secured from friendly countries, foreign exchange reserves are projected to rise to around $16bn during FY23, said the SBP, adding that to ensure this and to support the rupee, it will be important to contain the CAD to around 3pc of GDP by moderating domestic demand and energy imports.
The SBP said that for the first time in seven years, the FY23 budget targets a primary surplus, on the back of significantly higher tax revenue. It envisages a strong fiscal consolidation of around 3pc of GDP, which is appropriate to cool the economy and ensure a reduction in inflation and the CAD throughout the year.
Exporters and manufacturers
The manufacturers and exporters were extremely worried about high-interest rates that made the cost of doing business much higher making them uncompetitive on the global market.
"While we are not getting fresh orders from Europe and USA, the increasing cost of our products has made it more difficult to remain within the market," said Amir Aziz, an exporter of readymade garments to Europe and the USA. "If we lose the market, it will be highly difficult to re-capture the market space currently we have," he added.
Inflows from friendly countries
While meeting with brokerage analysts on Monday, SBP Acting Governor Murtaza Syed said Pakistan has arranged $4bn in financing from friendly countries.
"Pakistan will get $2bn from Qatar, $1bn from Saudi Arabia under the umbrella of deferred oil facility and $1bn investments from the UAE in various sectors," he said.
Pakistan's gross financing needs would be around $30bn for FY23 including the amount required for CAD and debt repayments.
Source: Dawn
Please click the following URL to read the full text of the original story:
https://www.dawn.com/news/1706320/sbp-leaves-policy-rate-unchanged-at-15pc-to-fight-inflation
--------
Traders say chances for increase in trade with Afghanistan bleak
August 23, 2022
KHYBER: The local traders have termed reciprocal visa relaxation to Pakistani and Afghan transporters for promotion of bilateral trade between the two neighbouring countries as 'too little and too late'.
They said that currently the facility would not provide substantial financial benefits to traders.
Reacting to the federal government's recent agreement with Kabul about the grant of six months reciprocal visas to transporters to facilitate cross-border movement of goods, Zahidullah Shinwari, the former president of Sarhad Chamber of Commerce and Industry, said that it was 'wishful thinking' on part of government that the relaxation could either expedite bilateral trade or could bring about positive changes in the existing trading relations between Pakistan and Afghanistan.
"Unfortunately successive governments failed to accept our demands in the recent past about bringing about prompt, timely and productive changes in the trading relations with Afghanistan," he said.
Term agreement on visa relaxation to transporters 'too little too late'
He said that their demands were met only when the appropriate time for taking such steps already passed and demand for prompt supply of Pakistani goods reduced considerably.
"Now when the present Taliban government in Afghanistan is faced with acute economic problems and their banking system has almost collapsed, appeasing transporters with six months visa facility could fetch us little financial gains," said Mr Shinwari.
He said that development activities in Afghanistan were almost at a standstill while there was a serious shortage of funds and the urge for enhancing bilateral trade from the Afghan side had also diminished.
"We need to think big and act big if we are serious in multiplying our existing dwindling trade with Afghanistan," he said. He added that both the neighbouring countries should facilitate traders by granting them quick visa facilities. He said that traders should be granted visas on their arrival at the border rather than subjecting them to three to four months of frustrated wait.
Sabir Khan, a clearing agent at Torkham, said that businessmen from both sides could accelerate the pace of trade and enhance its quantum rather than the transporters, who were acting only as carriers and not the actual trading party.
"Transport could only move when traders are active in business on both sides of the border," said Mr Khan. He said that traders needed relaxation in grant of visas by both the countries.
Haji Azeemullah Shinwari, a representative of local transporters, welcomed the decision and said that it would help to resolve their longstanding issues.
Source: Dawn
Please click the following URL to read the full text of the original story:
https://www.dawn.com/news/1706258/traders-say-chances-for-increase-in-trade-with-afghanistan-bleak
--------
Pakistan approves agreement draft to provide troops for World Cup security in Qatar
22 August, 2022
Pakistan's cabinet has approved a draft agreement that allows the government to provide troops for security at the FIFA soccer World Cup in Qatar later this year, Pakistan's information minister said on Monday.
A summary outlining the agreement, to be signed between Doha and Islamabad, was approved by the cabinet, minister Marriyum Aurangzeb told Reuters, ahead of Pakistani Prime Minister Shehbaz Sharif's visit to Qatar starting Tuesday.
It was not immediately clear when the agreement would be signed between the two countries.
The cabinet summary, reviewed by Reuters, said the government of Qatar had requested assistance in security-related aspects of the World Cup between Nov. 21 and Dec. 18 2022, and that Pakistan's military had proposed the signing of an agreement between both states for the purpose.
"The agreement aims to define the obligations of the two parties, the specific specializations, and the number of security personnel to be sent by Pakistan to participate in the security and safety operations," the summary read.
Qatar's government media office did not immediately confirm or respond to a request to explain why Doha has requested the Pakistani troops or what they will be doing during the tournament.
There was also no immediate response from the Supreme Committee for Delivery and Legacy, which is overseeing the organisation of the World Cup, including security.
The summary did not provide any details of the agreement such as how many personnel could be sent.
The approval of the agreement comes a day before Prime Minister Sharif departs for Doha on a two-day visit starting Tuesday.
Sharif will be accompanied by his cabinet ministers, according to a government handout on Monday.
"The two sides will discuss bilateral relations between the two countries, especially to move forward cooperation in energy, trade, and investment opportunities," the handout said.
Source: Al Arabiya
Please click the following URL to read the full text of the original story:
https://english.alarabiya.net/sports/2022/08/22/Pakistan-approves-agreement-draft-to-provide-troops-for-World-Cup-security-in-Qatar
--------
Europe
EU says Iran nuclear deal meeting possible 'this week'
22 August, 2022
A possible meeting on resurrecting the Iran nuclear deal could be held "this week" after Tehran submitted its response to an EU proposal, the European Union's top diplomat said Monday.
Efforts to revive the so-called JCPOA -- the 2015 agreement between world powers and Tehran aimed at curbing Iran's nuclear ambitions -- are at a critical juncture.
"A meeting was scheduled to take place in Vienna at the end of last week, but it was not possible," EU foreign policy chief Josep Borrell told a news conference in Santander, Spain.
"It is possible that it could take place this week."
Earlier this month, after more than a year of talks coordinated by Borrell and his team, the EU submitted what it called a "final" text.
The document aims at fully restoring the nuclear deal by bringing the United States back into it, after then-president Donald Trump had Washington withdraw in 2018.
That move prompted Iran to roll back its commitments under the JCPOA and steadily enrich its stock of uranium to close to weapons-grade levels.
Borrell said the negotiations had gone as far as they could go and "this is the inflection point".
"There was an Iranian response that I considered reasonable to transmit to the United States.
"The United States has not formally replied yet. But we are waiting for their response and I hope that response will allow us to finish the negotiation -- I hope so, but I can't assure you of it."
The other parties to the JCPOA are Britain, China, France, Germany and Russia.
French President Emmanuel Macron on Monday spoke by phone to Israeli Prime Minister Yair Lapid, who claimed the new terms "go beyond the limits of the original JCPOA".
Tehran is Israel's arch foe and Lapid warned that reviving the landmark accord could boost funding to Iran's regional proxies.
Source: Al Arabiya
Please click the following URL to read the full text of the original story:
https://english.alarabiya.net/News/middle-east/2022/08/22/EU-says-Iran-nuclear-deal-meeting-possible-this-week-
--------
UN split over ban on Taliban officials' travel
23 August, 2022
Members of the United Nations Security Council remained divided Monday over whether to exempt some of Afghanistan's Taliban officials from a travel ban, diplomatic sources said.
Under a 2011 Security Council resolution, 135 Taliban leaders are subject to a sanctions regime that includes asset freezes and travel bans.
Thirteen of them benefited from an exemption from the travel ban, renewed regularly, to allow them to meet officials from other countries abroad.
But this exemption ended last Friday, after Ireland objected to its automatic renewal for another month.
In June, the Sanctions Committee in charge of Afghanistan, comprised of the Security Council's 15 members, had already removed from the exemptions list two Taliban ministers responsible for education, in retaliation for the drastic reduction in the rights of women and girls that was imposed by the hardline Islamist regime.
Several Western countries would like to further reduce the list, according to diplomatic sources.
They highlight the failure to respect the commitments to uphold human rights or fight terrorism that were made by the Taliban when they returned to power a year ago.
Early this month the US announced the killing of Al-Qaeda leader Ayman al-Zawahiri in a drone strike on Kabul, calling into question the Taliban's promise not to harbor militant groups.
China and Russia, however, supported a regular extension of exemptions list.
"These exemptions are still just as necessary," the Chinese presidency of the Security Council said last week, deeming it "counterproductive" to link human rights to travel issues for Taliban officials.
Since last week, and again Monday, several compromise proposals that would more or less shrink the list of officials concerned, or the number of authorized destinations, have been rejected on both sides, according to diplomatic sources.
Discussions are expected to continue.
Pending a possible decision, none of the Taliban officials on the sanctions list can travel.
That was of particular concern to the Taliban's foreign minister, Amir Khan Muttaqi, who has visited Qatar several times in recent months for diplomatic discussions and who was among the 13 exemptions.
In a statement posted Saturday on Twitter, a foreign ministry spokesman called on the Security Council "not to use sanctions as pressure tool" and said all sanctions against Taliban officials should be lifted.
Source: Al Arabiya
Please click the following URL to read the full text of the original story:
https://english.alarabiya.net/News/world/2022/08/23/UN-split-over-ban-on-Taliban-officials-travel
--------
EU says Iran's response to nuclear deal proposal is 'reasonable'
Alyssa McMurtry
22.08.2022
European Union's foreign policy chief Josep Borrell said on Monday that Iran's response to the proposal to revive the 2015 nuclear deal was "reasonable."
Earlier this month, the EU submitted the "final text" for the deal aimed at unfreezing sanctions on Iran funds and oil exports in exchange for the country scaling back its nuclear ambitions.
"This is the current situation: I made a proposal that I believe was as balanced as possible. It was communicated to all parties, including the US and Iran. There was a response from Iran, which I considered reasonable. It was shared with the US. The US still hasn't formally replied, but we're awaiting that response. And we hope the US response will help us finish up the negotiation," he said.
The American response has arrived late, as there was supposed to be a meeting in Vienna last week to discuss the Iran deal.
Borrell said "it's possible," however, that the US position will be revealed this week.
"The world would be a lot safer if we could make this deal work again," said Borrell. "This deal worked well until President Trump unilaterally decided to abandon it. Iran was fulfilling the agreement."
On Monday, Iran's Foreign Ministry spokesperson Nasser Kanani accused the US of "procrastination" in terms of responding to its comments on the deal.
Source: Anadolu Agency
Please click the following URL to read the full text of the original story:
https://www.aa.com.tr/en/europe/eu-says-iran-s-response-to-nuclear-deal-proposal-is-reasonable-/2666774
--------
North America
Despite frustration with Taliban, US agrees to asset talks
August 23, 2022
WASHINGTON: US President Joe Biden's administration will press ahead with talks on releasing billions of dollars in Afghanistan's foreign-held assets despite the late Al Qaeda leader's presence in Kabul and foot-dragging by the Taliban and Afghan central bank, according to three sources with knowledge of the situation.
The decision to pursue the initiative to help stabilise Afghanistan's collapsed economy underscores growing concern in Washington over a humanitarian crisis as the United Nations warns that nearly half the country's 40 million people face "acute hunger" as winter approaches.
At the core of the US-led effort, as Reu­ters reported last month, is a plan to transfer billions in foreign-held Afghan central bank assets into a proposed Swiss-based trust fund. Disbursements would be made with the help of an international board and bypass the Taliban, many of whose leaders are under US and UN sanctions.
The Taliban presented a counterproposal in talks in Doha in late June.
US State Department and Treasury officials told independent analysts at an Aug 11 briefing — 12 days after a CIA drone strike killed al Qaeda leader Ayman al Zawahiri on a balcony of his Kabul safe house — they will pursue the talks despite frustration with the pace, two sources said on condition of anonymity.
The Taliban and Afghan central bank known by the initials DAB — are not acting swiftly, a US official said, according to one source. "The Taliban sit on their hands and it's infuriating."
The State Department declined to comment on the briefing. A knowledgeable US source who requested anonymity confirmed the briefing's substance.
"The strike did not change the US government's commitment to setting up the international trust fund" and it is "working with the same speed and alacrity as before the strike," said the US source.
The Taliban-run foreign and information ministries and DAB did not immediately respond to requests for comment. US officials also have discussed the trust fund plan with Switzerland and other parties.
Afghanistan's economic and humanitarian crises deepened when Washington and other donors halted aid that funded 70 per cent of the government budget following the Taliban's seizure of Kabul on Aug 15, 2021, as the last US-led foreign troops departed after 20 years of war.
Washington also stopped flying in hard currency, effectively paralysing Afgha­nistan's banking system, and froze $7 billion in Afghan assets in the US Federal Reserve Bank of New York. In February, Biden ordered half the sum set aside "for the benefit of the Afghan people".
Other countries hold some $2bn of Afghan reserves.
Initially, the $3.5bn Biden sequestered would be released into the proposed trust fund and potentially could be used to pay Afghanistan's World Bank arrears and for printing Afghanis, the national currency, and passports, both in short supply.
The other $3.5bn is being contested in lawsuits against the Taliban stemming from the Sept 11, 2001, attacks on the United States, but courts could decide to release those funds too.
The assets also eventually could go to recapitalising DAB, bolstering its ability to regulate the Afghani's value, fight inflation, and provide hard currency for imports.
But after Zawahiri was killed, the State Department excluded recapitalising DAB as "a near-term option," saying that by harboring the Al Qaeda leader in breach of the 2020 US troop pullout deal, the Taliban had fueled concerns "regarding diversion of funds to terrorist groups."
Two sources quoted the US officials as telling the briefing that proceeding with the talks has become more difficult because of Taliban resistance to several internationally backed demands.
One calls for replacing the two senior militants heading DAB — one is under US and UN sanctions — with experienced professionals to help build confidence that the bank was insulated from Taliban interference.
The Taliban and DAB also have not formally agreed to installing independent anti-money laundering monitors at the bank although they have consented in principle, the officials said, according to the sources.
The officials, the sources said, presented examples of what they described as Taliban and DAB intransigence.
They included refusing to cooperate with a UN-administered scheme to funnel badly needed international aid funds held by the World Bank to humanitarian agencies in Kabul.
The officials also told the briefing that Washington in March asked other governments to encourage private banks to restore "correspondent" relationships with Afghanistan by which international transactions are facilitated, the sources said.
Source: Dawn
Please click the following URL to read the full text of the original story:
https://www.dawn.com/news/1706339/despite-frustration-with-taliban-us-agrees-to-asset-talks
--------
U.S. to Discuss Frozen Funds with Kabul: Sources
By Arif Ahmadi
22 Aug 2022
KABUL, Afghanistan – United States President Joe Biden's administration will press ahead with talks on releasing billions of dollars in Afghanistan's foreign-held assets, according to sources, after continued pressures by the international community.
The decision to pursue the initiative to help stabilize Afghanistan's collapsed economy underscores growing concern in Washington over a humanitarian crisis, as the United Nations warns that nearly half the country's 40 million people face "acute hunger".
At the core of the US-led effort, as Reuters reported last month, is a plan to transfer billions in foreign-held Afghan central bank assets into a proposed Swiss-based trust fund. Disbursements would be made with the help of an international board and bypass the Taliban, many of whose leaders are under US and UN sanctions.
Earlier this month the US State Department and Treasury officials they will pursue the talks despite frustration with the pace, saying US government is committed to setting up the international trust fund and it is "working with the same speed and alacrity".
Afghanistan's economic and humanitarian crises deepened when Washington and other donors halted aid that funded 70% of the government budget following the Taliban's seizure of Kabul on Aug. 15, 2021, as the last U.S.-led foreign troops departed after 20 years of war, as Reuters reported.
Washington also stopped flying in hard currency, effectively paralyzing Afghanistan's banking system, and froze $7 billion in Afghan assets in the US Federal Reserve Bank of New York. In February, Biden ordered half the sum set aside "for the benefit of the Afghan people."
Last week, at least 77 family members of victims of 9/11 in a letter to United States President Joe Biden wrote "the Afghanistan central bank funds currently being kept in New York belong to the Afghan people," arguing the pending court's decision is "morally wrong" if decided otherwise.
The letter wrote that any use of the $7 billion to pay off 9/11 family member judgments is "legally suspect" and "morally wrong."
"We ask you to use your executive power to modify your recent order and commit to the only legally and morally correct approach – affirming that all $7 billion of the Afghan central bank funds being kept in New York belong to the Afghan people," the letter reads, as TOLOnews quoted.
The US State Department spokesman Ned Price at a recent press conference said that $3.5 billion in Afghan central bank reserves were preserved for the benefit of the Afghan people, seeking a mechanism that will ensure transparency throughout the process.
"What we are focused on right now are the ongoing efforts to enable those funds, the $3.5 billion in licensed Afghan central bank reserves, to be used for the benefit of the Afghan people," Price told the press conference.
"And we're seeking to find the best mechanism to ensure that those funds can go to the Afghan people in a way that doesn't risk their diversion from the Taliban or other forces, including to potentially terrorist groups or terrorist actors."
In February, President Biden signed an executive order to free $7 billion in Afghan assets now frozen in the US, splitting the money between humanitarian aid for poverty-stricken Afghanistan and a fund for families of 9/11 victims still seeking relief for the attacks that killed thousands.
Source: Khaama Press
Please click the following URL to read the full text of the original story:
https://www.khaama.com/u-s-to-discuss-afghan-frozen-funds-with-kabul-sources/
--------
Albuquerque murders: Afghan refugee indicted on third murder count in Muslim murders
August 22, 2022
An Afghan refugee who was already facing two murder charges for the recent slayings of two Muslim men in Albuquerque, New Mexico, was indicted on a third count Friday for allegedly killing another man who had just attended funeral services for the other two victims on Aug. 5.
Muhammad Syed, a 51-year-old man who has lived in Albuquerque for about five years, is also suspected in a fourth murder that occurred in November 2021.
A grand jury indicted him Friday on three counts of first-degree murder and four counts of tampering with evidence.
Aftab Hussein, 41, was shot and killed on July 26 after parking his car near his home. Syed is accused of waiting "behind a bush" for Hussein to park his car before ambushing him, according to court documents. A ShotSpotter activation showed 13 gunshots were fired.
Muhammad Afzaal Hussain, a 27-year-old local city planner, was shot and killed on Aug. 1.
In the most recent murder, 25-year-old Naeem Hussain was shot and killed in the parking lot of Lutheran Family Services, a resettlement agency. He had just attended the funerals for the two other recent victims.
Before those three shootings, 62-year-old Mohammad Ahmadi was discovered shot and killed in the rear parking lot of a halal café he owned with his brother in November 2021.
Syed, the suspect, has "denied having any involvement in the murders in this case," according to a criminal complaint.
An attorney for Syed did not immediately respond to a request for comment on Monday.
He was originally arrested on Aug. 9. A motive has not been offered by prosecutors, but police said an "interpersonal conflict" may have led to the shootings.
A reporter asked at a press conference earlier this month if Syed, a Sunni Muslim, could have been driven by anger that his daughter married a Shiite Muslim. Albuquerque Police Deputy Commander Kyle Hartsock said at the time that "the motives are still being explored fully to understand what they are."
Source: Fox News
Please click the following URL to read the full text of the original story:
https://www.foxnews.com/us/albuquerque-murders-afghan-refugee-indicted-third-murder-count-muslim-murders
--------
US says gaps remain in Iran nuclear deal but pact closer than before
22 August, 2022
The US continues to review the European Union's latest proposed deal to curb Iran's nuclear program, saying it's encouraged that some key demands have been dropped.
The Biden administration will respond at an appropriate time, a US official said Monday, adding that delays by Iran have stretched on for months, and any suggestion the US is now delaying the process is false.
The official said the US sees it as a positive sign that Iran appears to have dropped some of its demands, such as lifting the Islamic Revolutionary Guard Corps' designation by the US as a foreign terrorist organization.
The EU proposal is the latest in the back-and forth over talks for a new deal, after the previous pact collapsed in the aftermath of former President Donald Trump's decision in 2018 to pull the US out.
Stakeholders have been watching closely for a US response to the EU since Iran delivered its comments a week ago. World powers have spent almost 18 months trying a broker an agreement that would reinstate strict limits on Iran's atomic activity in exchange for the easing of US sanctions on the Islamic Republic's economy, including its oil exports.
The US is still studying the revised text, according to the official, who spoke on condition of anonymity as the review continues. A deal is closer than it was two weeks ago, but the outcome remains uncertain as some gaps remain and some outstanding issues must still be resolved, the US official said.
NSC Spokeswoman Adrienne Watson said in a statement that the US is not considering new offers to sweeten the pot for Iran.
"Reports that we have accepted or are considering new concessions to Iran as part of reentering the 2015 nuclear deal are categorically false," Watson said in a statement.
Iran sent a "reasonable response to the EU's latest proposal for saving the 2015 nuclear accord, and diplomats might meet this week in Vienna to discuss the next steps," the bloc's foreign-policy chief, Josep Borrell, said Monday. The bloc is awaiting the US response.
"I hope that this response allows us to end the negotiations," Borrell said of the anticipated comments from Washington, without elaborating on the remaining gaps that had to be bridged. "That's my hope, but I cannot assure you that this will happen."
President Joe Biden spoke with counterparts in France, Germany and the UK on Sunday about the talks. All four countries were signatories to the original deal, known as the JCPOA. The leaders discussed "the need to strengthen support for partners in the Middle East region," according to a US summary of the call.
Source: Al Arabiya
Please click the following URL to read the full text of the original story:
https://english.alarabiya.net/News/middle-east/2022/08/22/US-says-gaps-remain-in-Iran-nuclear-deal-but-pact-closer-than-before
--------
Afghan refugee charged with murder of 3 Muslim men in New Mexico
23 August, 2022
A New Mexico grand jury on Monday charged an Afghan refugee with the murder of three Muslim men in ambush shootings that have shaken the immigrant community in the state's largest city.
Police on Aug. 9 charged Muhammad Syed, 51, with two of the killings and evidence from cell phones allowed prosecutors to link Syed to a third murder, that of trucking business owner Naeem Hussain on Aug.5.
Syed was charged with the murder Hussain and the killings of cafe employee Aftab Hussein on July 26 and city planning director Muhammad Afzaal Hussain on Aug. 1, according to the grand jury indictment.
Police said Syed was the primary suspect in a fourth murder of grocery store and cafe owner Mohammad Ahmadi, 62.
The office of Bernalillo District Attorney Raul Torrez said in a statement it was working with police "to investigate any involvement Mr. Syed might have had with the November 2021 homicide."
Grand juries operate in secrecy and are often used by prosecutors to allow witnesses to speak freely without fear of retaliation.
Source: Al Arabiya
Please click the following URL to read the full text of the original story:
https://english.alarabiya.net/News/world/2022/08/23/Afghan-refugee-charged-with-murder-of-3-Muslim-men-in-New-Mexico
--------
Arab World
Supporters of Iraq's Muqtada al-Sadr launch sit-in outside highest judicial body
23 August, 2022
Several hundred supporters of Shia cleric Muqtada al-Sadr launched a sit-in outside Iraq's highest judicial body Tuesday, his bloc said, ratcheting up tensions in a showdown with a rival Shia alliance.
The Sadrists, who have already been camping outside parliament for the past three weeks, pitched tents outside the gates of the body's Baghdad headquarters with placards demanding the dissolution of parliament and new elections, images released by his bloc showed.
Source: Al Arabiya
Please click the following URL to read the full text of the original story:
https://english.alarabiya.net/News/middle-east/2022/08/23/Supporters-of-Iraq-s-Muqtada-al-Sadr-launch-sit-in-outside-highest-judicial-body
--------
Seven dead as rescue workers pull two more bodies from rubble at Shia shrine in Iraq
22 August, 2022
Two more bodies were recovered on Monday from a shrine in Iraq's Karbala province after a landslide caused it to partially collapse, bringing the overall toll to seven dead, rescue services said.
"Unfortunately, we found this morning [Monday] two bodies, a man and a woman," under the rubble of Qattarat al-Imam Ali, Jawdat Abdelrahman, director of the civil defense media department, told AFP.
So far, the bodies retrieved from the site were a child, four women and two men, while three children had been rescued and rushed to hospital.
"We are continuing the search for other victims," Abdelrahman said, adding that eyewitnesses said that the body of another woman was still under the rubble.
Civil defense spokesman Nawas Sabah Shaker had said on Sunday that between six and eight pilgrims had been reported trapped under the debris of the shrine, near the Shiite holy city of Karbala.
Rescue workers had searched for two days after the shrine, which sits at the base of high, bare rock walls, was partially buried when earthen embankments collapsed due to saturation from humidity, according to the civil defense.
It is the latest tragedy to befall oil-rich but poverty-stricken Iraq, which is trying to move past decades of war but is hobbled by political paralysis, endemic corruption and other challenges.
Source: Al Arabiya
Please click the following URL to read the full text of the original story:
https://english.alarabiya.net/News/middle-east/2022/08/22/Rescue-workers-pull-two-more-bodies-from-rubble-at-Shia-shrine-in-Iraq
--------
Egypt's al-Sisi to host five-state Arab summit
22 August, 2022
Egyptian President Abdel Fattah al-Sisi is to host a five-nation Arab summit on Monday with the Ukraine war-related energy and food crisis on the agenda, a government newspaper said.
Al-Sisi, UAE's President Sheikh Mohammed bin Zayed Al Nahyan, Iraqi Prime Minister Mustafa al-Kadhemi and the kings of Jordan and Bahrain, Abdullah II and Hamad, respectively, are to meet in El-Alamein, northwest of Cairo on the Mediterranean coast, Al-Ahram said.
Al-Ahram, which cited a diplomatic source, said the dispute pitting Egypt and Sudan against Ethiopia over its Renaissance Dam on the Nile would also be up for discussion, as well as the conflicts in Yemen, Syria and Libya, and the latest Israel-Gaza round of fighting earlier this month
Source: Al Arabiya
Please click the following URL to read the full text of the original story:
https://english.alarabiya.net/News/middle-east/2022/08/22/Egypt-s-sisi-to-host-five-state-Arab-summit
--------
KSrelief General Supervisor, Germany's Ambassador to Saudi Arabia discuss joint cooperation
August 23, 2022
RIYADH: Abdullah bin Abdulaziz Al Rabeeah, Advisor at the Royal Court and General Supervisor of King Salman Humanitarian Aid and Relief Center (KSrelief), discussed ways to enhance joint cooperation with Germany's Ambassador to the Kingdom Dieter Lamle on Monday, the Saudi Press Agency (SPA) reported.
The two officials reviewed joint aid projects launched in countries in need, SPA said.
Source: Arab News
Please click the following URL to read the full text of the original story:
https://www.arabnews.com/node/2148216/saudi-arabia
--------
Family struck by grief after it loses 6 in Egypt church fire
August 23, 2022
IMBABA, Egypt: For Mariam Habeib, the grief seems never ending: She lost her older sister, two nieces and a niece's three young children in an intense fire that engulfed a church in Egypt's capital during a recent service and killed 41 people.
The Coptic Christian community is one of the world's oldest, and no stranger to sadness. A minority in Egypt, Coptic Orthodox Christians have faced deadly attacks by Islamic extremists, restrictions on church building and outbursts of sectarian-motivated violence in recent decades. The most recent tragedy brought a flood of sympathy from around the country.
"Our solace is that they went to heaven together as they liked to be together in life," Habeib said of her relatives, tears streaming down her face.
Nineteen of those killed in the Aug. 14 fire were children. The blaze erupted at the Martyr Abu Sefein Coptic Christian Orthodox Church in the neighborhood of Imbaba, one of Egypt's most densely populated areas. Sixteen people were also injured, including four police officers and residents involved in the rescue effort. Health authorities said the casualties were a result of smoke inhalation and a stampede as people tried to escape.
According to prosecutors, the fire was ignited by a short-circuit in the building's generator, a backup source of power, which the church used during regular outages. The generator, they said, caught fire when the current returned after a blackout that morning.
Habeib lives in Shubra, another densely populated, working-class district in Cairo. On the morning of the fire, she said she was on her way to work when she received a phone call from her brother. He told her that he had heard there was a fire at Abu Sefein and that their oldest sister, Magda Habeib, and her daughters were there. She soon learned that victims were being brought to a nearby hospital.
By the time she arrived, Mariam Habeib found herself facing what she had dreaded during the half-hour drive to the hospital.
Her nephew, Mina Atif, had recognized the bodies of his mother, Magda, two sisters, Irine and Mirna, and Irine's 5-year-old twin daughters, Barcina and Mariam. They roamed the halls looking for the still-missing 3-year-old boy. Then they saw hospital workers carrying a small body wrapped in a white sheet. It turned out to be the body of Irine's toddler, Ibram.
"All of them were lying motionless before our eyes," she said. "The kids had been very lively ones, as if they knew that their end would be soon."
Habeib and her nephew collapsed in disbelief, two among the dozens of weeping grief-stricken relatives at the hospital's morgue.
Although officials ruled out arson, the fire — one of the deadliest in Egypt in many years — raised a barrage of questions about the emergency response system, fire safety codes and restrictions on building houses of worship for one of the Middle East's largest Christian communities.
The Martyr Abu Sefein Church was in a 120 square-meter (1,290 square-foot) space in a four-story converted apartment building that looks like other residential buildings in the crowded neighborhood constructed largely without planning or permits. It was recognizable as a church only by a sign above its front door, and an iron cross on its roof.
Coptic Christian Pope Tawadros II said the church, like many others, is too small for the number of congregants it serves. He blamed government restrictions on new church construction and urged authorities in Muslim-majority Egypt to move existing small churches to new locations or allow them to expand to accommodate growing numbers.
The limits on new church construction have led many congregations to convert residential buildings into places of worship. In 2016, President Abdel Fattah El-Sisi's government issued the country's first law spelling out the rules for building a church. Critics argued the law did nothing to ease previous restrictions.
Just a day before the fire, on Saturday, the entire family had been together for their weekly family gathering, steps away from the church.
"It was a very beautiful day, as if they were saying goodbye," said Michael Ayad, who is married to Nermin, one of Magda's two surviving children. Also present was the fiancé of Magda's youngest daughter, Mirna, 22, a university student. The two were meant to have been married this year.
Days later, Mina, Magda's son, was receiving hundreds of mourners at the same home where his family had been happy days before. Dozens of neighbors and relatives came to remember the dead, many speaking through tears.
A neighbor of 40 years who identified herself as Um Azza, recalled how Magda Habeib was among the first to try to settle disputes between neighbors no matter their religion, even marital problems.
"Everyone in the street is in debt to her for her generosity," she said, fighting back tears.
Magda's husband had died a decade ago, but the 61-year-old continued to live in the same apartment the family had inhabited for 30 years. Her two younger children Mina and Mirna, lived with her. Her two married daughters, Nermin and Irine, lived in the same neighborhood. Irine's husband had died last year of a heart attack, leaving her a single mother to three young children. Irine and her children stayed the night on Saturday, to go to church with her mother the next morning.
Source: Arab News
Please click the following URL to read the full text of the original story:
https://www.arabnews.com/node/2148311/middle-east
--------
Mideast
Hamas, Islamic Jihad vow resistance to Israeli occupation
Aug 23, 2022
GAZA: Militant groups Hamas and the Palestinian Islamic Jihad (PIJ) held a joint meeting in the Gaza Strip weeks after deadly Israeli strikes against the PIJ in the besieged enclave, vowing to support each other's resistance against the Israeli occupation.
The meeting, attended by members of the two factions' political and military leaders, was "positive and important", Khader Habib, a senior PIJ leader, told Xinhua news agency.
He added that the Hamas and PIJ agreed to strengthen ties to support "the two groups' strategy of resisting the Israeli occupation".
A joint statement issued after the meeting described "armed resistance" as "the choice of the two movements", warning Israel against "any future assaults against the Palestinian people and the members of the armed resistance".
"There is no retreat, no hesitation, and it will continue under high coordination between the two movements and all other factions," the statement said, adding "our response will be firm, decisive, and united".
On August 5, Israeli fighter jets carried out intensive airstrikes on PIJ targets for three days, killing two of its top militants.
In response, the Gaza militants fired barrages of rockets at Israel.
Hamas didn't join the round of fighting, which ended after Egypt brokered a ceasefire between Israel and PIJ on August 7.
The PIJ, which is closely linked to Iran, is classified as a terrorist organisation by the EU and the US.
Source: Times Of India
Please click the following URL to read the full text of the original story:
https://timesofindia.indiatimes.com/world/middle-east/hamas-islamic-jihad-vow-resistance-to-israeli-occupation/articleshow/93722422.cms
--------
Palestinian prisoners stage mass hunger strike in Israeli jails
22 August 2022
Palestinian prisoners have staged a mass hunger strike in Israeli prisons to protest crackdowns and mistreatment by prison officials.
The prisoners, who began their strikes on Monday, also refused to leave their cells for the routine so-called "security checks".
They say their strike, which will last two weeks, aims to protest repeated inspection of cells by Israeli prison guards.
The decision to begin the hunger strike was made by a "supreme emergency committee" which made up of prisoners from all factions.
It comes after Israeli prison authorities announced a set of repressive measures against long-term prisoners in violation of an agreement reached with prisoners.
In March, the prisoners agreed to suspend their pressure measures after the regime decided to put an end to the retaliatory actions taken by the Israeli Prison Service (IPS).
There are thousands of Palestinians held at Israeli jails. Hundreds of the inmates have been apparently incarcerated under the practice of the so-called administrative detention. Some prisoners have been held in administrative detention for up to 11 years.
Israeli jail authorities keep Palestinian prisoners under deplorable conditions without proper hygienic standards.
Palestinian inmates have also been subjected to systematic torture, harassment, and repression.
The new strike action also comes after the Israeli regime's Supreme Court tossed out an appeal request submitted for the release of a Palestinian prisoner, who has been on hunger strike for 172 days in protest at his illegal detention.
The court nixed the request lodged by Khalil Awawda's lawyer on Sunday, despite severe deterioration in his health conditions, the official Palestinian Wafa news agency reported.
Source: Press TV
Please click the following URL to read the full text of the original story:
https://www.presstv.ir/Detail/2022/08/22/687822/Palestinians-prisoners-reject-food-Israeli-prisons
--------
Spokesman Reiterates Iran's Unchangeable Policy of Revenge for Assassination of Gen. Soleimani
2022-August-22
Kana'ani ruled out rumors about Iran's stance related to taking revenge for the former Islamic Revolutionary Guard Corps (IRGC) Quds Force Commander assassination.
"The Iranian nation and government will never forget the coward assassination of Lt. Gen. Soleimani and that Tehran is determined to use all possible means to bring the murderers to justice," he said.
"Revenge is not forgettable," he stated, adding that this case will never be settled by compromise and has nothing to do with sanctions removal talks.
Tehran says Americans and Zionists rest assured that it is serious about revenge for the assassination of Martyr Soleimani, and they continue to live under the shadow of Iran's reprisal since they don't know when and where they come under attack.
Lieutenant General Soleimani, his Iraqi trenchmate Abu Mahdi Al-Muhandis, the second-in-command of Iraq's PMU, and ten of their deputies were martyred by an armed drone strike that was directly ordered by the White House as their convoy left Baghdad International Airport in January 2020.
Both commanders were highly revered across the Middle East because of their key role in fighting the Daesh (ISIL or ISIS) Takfiri terrorist group in the region, particularly in Iraq and Syria.
Days later, the the IRGC targeted the US-run Ein Al-Assad in Iraq's Western province of Al-Anbar by launching a volley of missiles in retaliation. According to the Pentagon, at least 110 American forces suffered "traumatic brain injuries" during the counterstrike on the base. Iran has described the missile attack as a "first slap".
Source: Fars News Agency
Please click the following URL to read the full text of the original story:
https://www.farsnews.ir/en/news/14010531000594/Spkesman-Reieraes-Iran's-Unchangeable-Plicy-f-Revenge-fr-Assassinain-f
--------
Army Commander: Several Countries Favouring Iranian Military Equipment
2022-August-22
"The valuable achievements of the defense industry in various sectors have been welcomed and requested by many countries," Maj. Gen. Mousavi stated in a message on the occasion of National Day of Defense Industry.
He noted that the Iranian Armed Forces' deterrent power dissuades enemies from implementing its threats against the country.
"With the support of tireless efforts and indefatigable endeavors of committed experts of the country's defense industry as well as taking advantage of the high capability of committed scientists and elites in the defense industry, a safe and reliable deterrence has been created against the enemies," the top commander added.
"The ministry of defense has created the power of 'deterrence' and 'defense authority' in spite of threats and sanctions waged by enemies against the country, the military official stressed.
"Despite the full-scale hostility of the arrogant powers, the defense industry of the country benefited from the existing capacities and capabilities of its creative forces and has been able to pave suitable ways for the development of the country and safeguard all-out independence and territorial integrity after the glorious victory of the Islamic Revolution of Iran," Major General Mousavi noted.
Iranian DM: Defense Equipment Production Rises by 125%https://t.co/pY3SLfO0Q0 pic.twitter.com/UfQQnwNj2J
— Fars News Agency (@EnglishFars) August 20, 2022
The Islamic Republic's military doctrine holds that the country's armed capability solely serves defensive purposes.
Iranian military experts and technicians have in recent years made substantial headway in manufacturing a broad range of indigenous equipment, making the armed forces self-sufficient in the weaponry sphere.
Source: Fars News Agency
Please click the following URL to read the full text of the original story:
https://www.farsnews.ir/en/news/14010531000675/Army-Cmmander-Several-Cnries-Favring-Iranian-Miliary-Eipmen
--------
Iran: No Response from US on EU Proposal, Key Issues Still Unresolved
2022-August-22
Kana'ani told reporters at his weekly press conference that the United States has not yet responded to the Europeans' suggestions on the revival of the 2015 nuclear deal.
The spokesperson lashed out at the US officials for delaying to respond to EU proposals, saying, "We can talk about the success of this phase of negotiations when the European side announces that it has received a response from Washington."
"In the last round of the Vienna talks, proposals were presented by the European Union coordinator to the negotiation parties, including Tehran. The Iranian side based on its own constructive and responsible approach, gave its own response to the European side's proposal at the appointed time," he stated.
"We have made relatively good progress, but the negotiations are a series, and we must agree on all the issues related to the talks, and until it is done, we cannot say that we have reached an agreement and move forward or welcome the next stage. The remaining issues are important and should be decided and agreed upon," the spokesman continued.
Last Monday, Iran announced it had provided the EU with its final conclusion on the negotiations, emphasizing that it was now the US turn to show realism and flexibility if it really wanted a final agreement to be reached. The United States and the EU have both announced they are studying Iran's response and will announce their own responses in the coming days.
Elsewhere in his remarks, the diplomat noted that his country participated seriously, constructively and responsibly in the negotiations in the past and recent rounds.
"Iran responded to the proposals of the European side in a timely manner, acted innovatively, and showed the necessary flexibility to reach an agreement," the official said.
"However, what is important is the delay of the American side in providing an answer, otherwise, we acted on time in this regard and showed that we acted responsibly. The US administration is responsible for the current situation of the JCPOA and the non-implementation of the agreement so far, and in the current process, the US administration is also responsible for the current situation, and if it shows serious will in action and acts responsibly in its promises and actions, we can move to the next direction," the official added.
Kana'ani stated that "Iran's negotiating team attended the talks to secure the nation's interests and realize the legitimate interests of the government and the nation, and acted seriously and professionally in the course of negotiations and is standing by this path".
He, however, stressed that Tehran will not tie the process of people's livelihood and Iran's economy to the process of talks. The diplomat added that in the field of the development of relations with neighbors and the expansion of economic and trade ties with different countries, both neighbors and non-neighbors, Tehran will not wait for an answer from the other side.
Kana'ani also talked about Iran's readiness for prisoner swap with the US, noting that this was discussed with the Americans indirectly and outside the framework of the JCPOA.
"The swap was possible. But, unfortunately what we saw in the other party was lack of action and sheer media comments," he said.
Tehran has recently called on Washington to free the Iranian nationals held in the US jails, and urged the White House to act instead of performing theatrical shows.
Some Iranians are in US jails just because of ignoring Washington's illegal sanctions on Tehran.
Senior Analyst: US to Blame If Talks Fail to End in Dealhttps://t.co/IjjnqIrKPS pic.twitter.com/Tb2UJSXqYs
— Fars News Agency (@EnglishFars) August 16, 2022
Before submiting the final conclusion to the EU, Iranian Foreign Minister Hossein Amir Abdollahian urged the United States to be flexible and realistic to let the negotiations yield fruit, and warned that Tehran has its own "Plan B" and it will go into effect if Washington fails to make a political decision to revive the 2015 nuclear deal.
"We also have our own Plan B, but this issue must be resolved through talks," he stated, referred to the US claim that it has a Plan B in case the talks fail.
The foreign minister noted that if the US acts realistically and flexibly, Tehran and the other sides will reach a deal in the coming days.
Iran and the five remaining parties to the nuclear deal have held several rounds of negotiations since April last year to restore the agreement, which was unilaterally abandoned by Donald Trump in May 2018.
In quitting the agreement, Trump restored sanctions on Iran as part of what he called the "maximum pressure" campaign against the country. Those sanctions are being enforced to this day by the Joe Biden administration, even though it has repeatedly acknowledged that the policy has been a mistake and a failure.
Iranian officials say the ball is in the US' court, and the Biden administration should assure Tehran that it will not repeat Trump's past mistakes.
Source: Fars News Agency
Please click the following URL to read the full text of the original story:
https://www.farsnews.ir/en/news/14010531000430/Iran-N-Respnse-frm-US-n-EU-Prpsal-Key-Isses-Sill-Unreslved
--------
Gov't Spokesman Describes Iran as Victim of Terrorism
2022-August-22
"More than 18,000 Iranians have fallen victims to terrorist acts; We have lost the president, prime minister and scientists," the spokesman wrote on Twitter on Saturday, commemorating Day of Remembrance of and Tribute to the Victims of Terrorism.
He further pointed to the US assassination of Iran's anti-terror commander Lieutenant General Qassem Soleimani, and recalled that his martyrdom proved that Tehran spearheads the fight against terrorism.
International Day of Remembrance and Tribute to the Victims of Terrorism is to honor and support the victims and survivors of terrorism and to promote and protect the full enjoyment of their human rights and fundamental freedoms.
Iran calls terrorism and extremism as result of the inefficiency of the current international situation, and stresses it wants a world free from violence and extremism. Iranian officials say Tehran has lost more people than any other country in the fight against terrorism. Iran has been the target of terrorist attacks in the past few decades and thousands of its citizens have been martyred by the terrorist groups.
Families of Victims Ask EU Int'l Bodies to Prosecute MKO Terrorist Grouplethttps://t.co/BzcVBdCYZe pic.twitter.com/luuqHgu0xj
— Fars News Agency (@EnglishFars) March 14, 2021
Earlier on Saturday, Deputy Chief of Iran's Judiciary and head of the country's Human Rights Headquarters Kazzem Qaribabadi said that Tehran is extremely serious about confronting terrorist groups and their actions.
During a meeting with the families of terrorism martyrs in the city of Sanandaj, the capital city of the Western province of Kurdistan, Qaribabadi stated Iran's top priorities in the international level are to fight sanctions, protect the rights of the victims of sanctions and also bring members of terrorist groups to justice and put them on trial.
The official added Iran is serious about fighting terrorist groups and their actions.
After the Islamic Revolution in 1979, the anti-Tehran Mojahedin-e-Khalq Organization (MKO) terrorist group began its enmity against Iran by killing thousands of Iranians and terrorist activities. Several members of the terrorist group and its leaders are living in European countries now, freely conducting terrorist activities.
The MKO terrorist group has martyred 17,161 Iranian citizens and officials, including late president Mohammad Ali Rajayee, former Prime Minister Mohammad Javad Bahonar, late Head of Supreme Judicial Council Ayatollah Mohammad Beheshti, late Deputy Chief of the Iranian Armed Forces General Staff Ali Sayyad Shirazi, and 27 legislators, as well as four nuclear scientists, some on itself and some others through collusion with Israeli Mossad and other notorious spy agencies like CIA.
The MKO terrorist group has publicly specified targets as martyred Lieutenant General Qassem Soleimani, who commanded the Quds Force of the Islamic Revolution Guards Corps (IRGC), and Iranian President Seyed Ebrahim Rayeesi.
The terrorist organization said it would "welcome" their assassination, adding that it desired for the ranking officials to "join" Asadollah Lajevardi, Tehran's former chief prosecutor, and Ali Sayyad-Shirazi, a former commander of the Iranian Army's Ground Forces during Iraq's 1980-88 war against Iran, who have both been assassinated by the terror outfit.
The MKO is currently based in Albania, where it enjoys freedom of activity after being delisted by the European Union and the United States in 2009 and 2012, respectively.
Source: Fars News Agency
Please click the following URL to read the full text of the original story:
https://www.farsnews.ir/en/news/14010531000235/Gv'-Spkesman-Describes-Iran-as-Vicim-f-Terrrism
--------
IRGC Deputy Commander: Hezbollah Forces Can Annihilate Israeli Regime's Army
2022-August-21
Felicitating the 40th anniversary of the formation of the Lebanon Hezbollah Resistance Movement to Seyyed Hassan Nasrallah, General Naqdi reiterated that the Resistance Movement has always defeated enemies and their allies.
Underlining the need for liberating the Holy Quds and Al-Aqsa Mosque, Brigadier General Naghdi called for expelling the occupying Zionists from Palestine.
"Today, Hezbollah and the Islamic Resistance are at the peak of greatness and power, and the strength of the Resistance today cannot be compared with the previous decades," he noted.
General Naqdi pointed out that today, Hezbollah has the most powerful ground force in the region "which can destroy the Zionist army".
In relevant remarks in October 2020, General Naqdi had said that Iran has many popular military allies around the world who come into operation in case of war and when the country's interests are endangered.
"If war breaks out, we do not have a few military allies. The force which has been formed and the same people who are in different corners of the world, are considered as our military allies," General Naqdi said in an interview with the state TV.
He explained that Iran's military allies are more dangerous to the enemies than an official army as they are unknown and unidentified and come to Iran's assistance when in need and in case of war.
Source: Fars News Agency
Please click the following URL to read the full text of the original story:
https://www.farsnews.ir/en/news/14010530000511/IRGC-Depy-Cmmander-Hezbllah-Frces-Can-Annihilae-Israeli-Regime's-Army
--------
Lebanon's Hezbollah attack on gas field may spark war: Israeli defence minister
22 August, 2022
Israel on Monday warned Lebanon's Hezbollah any attack on its gas assets could spark war, after the terrorist organization threatened to "sever" Israel's hands if it taps a disputed offshore field.
The warning from Defense Minister Benny Gantz comes amid lengthy negotiations between the eastern Mediterranean neighbors to settle a dispute over their maritime border.
Tensions spiked in June when a production vessel chartered by Israel arrived near the Karish offshore gas field, which Lebanon claims is within contested waters.
Israel said on July 2 that it had downed three drones launched by Hezbollah towards Karish.
Hezbollah leader Hassan Nasrallah said on August 9 that "the hand that reaches for any of this wealth will be severed."
Asked if any attack by Hezbollah against an Israeli gas field could lead to war, Gantz said: "Yes, that could trigger a reaction."
"Leading to several days of fighting and to a military campaign. We are strong and prepared for this scenario, but we don't want it," the minister told Israel's 103 FM radio station.
Gantz said extraction from the gas field would begin "when it is ready to produce," reaffirming Israel's claim to Karish.
"The State of Israel is both ready to protect its assets and ready to reach a deal with the Lebanese government, via American mediation, on the Sidon deposit," he said in reference to another gas field known in Lebanon as Qana.
"I believe that in the future, there will be two gas platforms. One on our side, one on theirs. And I hope that we do not have to go through another round of confrontations before then."
Israel and Lebanon last fought a devastating conflict in 2006 and remain officially at war, with UN peacekeepers patrolling the land border.
Negotiations on the maritime border resumed in 2020, with the talks stalling before being revived in June.
The initial discussions focused on a disputed area of 860 square kilometers (332 square miles), in accordance with Lebanon's claims registered at the UN in 2011.
Source: Al Arabiya
Please click the following URL to read the full text of the original story:
https://english.alarabiya.net/News/middle-east/2022/08/22/Hezbollah-attack-on-gas-field-may-spark-war-Israeli-defense-minister-
--------
Israel launches flights for West Bank Palestinians, first flight departs for Cyprus
22 August, 2022
Israel on Monday launched a scheme allowing Palestinians from the occupied West Bank to fly abroad from an airport in the Negev desert.
Forty Palestinians were aboard the first flight from Ramon airport near the southern Israeli resort city of Eilat, a spokeswoman for the Israel Airports Authority told AFP.
The flight operated by Israeli airline Arkia is expected to land in Larnaca, Cyprus, at 12:45 pm (0945 GMT) on Monday.
While residents of Israeli settlements in the West Bank can travel abroad from Israel's main international airport near Tel Aviv, the vast majority of Palestinians from the territory are banned from doing so.
Palestinians must instead make an overland crossing from the West Bank to Jordan, before boarding a flight in the country's capital Amman.
The King Hussein (Allenby) crossing between Jordan and the West Bank last month saw "an unprecedented rise in the number of travelers," a Jordanian official said.
A spokesperson from COGAT, the Israeli defense ministry body responsible for civil affairs in the Palestinian territories, confirmed Palestinians were aboard Monday's flight to Larnaca.
Rather than permit Palestinians to fly from Ramon, some 180 kilometres (112 miles) south of the West Bank, Palestinian prime minister Mohammad Shtayyeh called on Israel to instead reopen Jerusalem airport.
"He demanded these authorities open Jerusalem airport in the Qalandia area, and remove obstacles to the movement of individuals and goods to and from Palestine," a cabinet meeting statement said last month.
The airport in east Jerusalem was used by Palestinians until the 1967 Six-Day War, when Israel captured the area and other Palestinian territories.
Israelis operated the Jerusalem airport until 2001 and it has since been deserted, though there are plans to build a settlement on the site.
The first flights in the Ramon pilot program were expected to be operated by Turkish airlines.
The Israel Airports Authority said Sunday that the involvement of foreign firms in the scheme had been postponed.
Source: Al Arabiya
Please click the following URL to read the full text of the original story:
https://english.alarabiya.net/News/middle-east/2022/08/22/Israel-launches-flights-for-West-Bank-Palestinians-first-flight-departs-for-Cyprus
--------
Israeli prime minister says not obligated by Iran nuclear deal
Abdel-Rauf Arnaut
22.08.2022
JERUSALEM
Israeli Prime Minister Yair Lapid said Monday Israel opposes a return to the nuclear deal with Iran.
Lapid spoke over the phone with French President Emmanuel Macron during which he said Israel would not be obligated by the deal, according to a statement issued by his office.
"Israel will continue to do everything to prevent Iran from attaining a nuclear capability," Lapid said.
The Israeli premier said Iran is still negotiating on an offer which was presented as "take it or leave it."
He claimed that there are new elements in the offer that go beyond the limits of the original nuclear deal, adding that it will "pave the significant investment to flow into Iran's terrorist network and to strengthening the Iranian military."
According to the statement, Macron emphasized his commitment to preventing Iran from acquiring a nuclear weapon.
Israeli Defense Minister Benny Gantz said early Monday that Israel opposes a forthcoming nuclear deal between the West and Iran and will "work to bring it down."
Israel accuses Iran of seeking to build a nuclear bomb, a claim denied by Tehran, which says its program is designed for peaceful purposes.
On Monday, Iran cited "good progress" in talks aimed at reviving the 2015 nuclear agreement with the West.
Former US President Donald Trump unilaterally withdrew the US from the Iran nuclear deal in 2018 and reimposed sanctions as part of a "maximum pressure campaign" on Tehran.
Source: Anadolu Agency
Please click the following URL to read the full text of the original story:
https://www.aa.com.tr/en/middle-east/israeli-prime-minister-says-not-obligated-by-iran-nuclear-deal/2666970
--------
Israeli defence minister confirms crisis with Egypt over Gaza
Abdel Raouf Arnaout
22.08.2022
JERUSALEM
Israeli Defense Minister Benny Gantz has confirmed a crisis with Egypt over a recent Israeli military offensive in the Gaza Strip.
"We have constant contact with Egypt, and in the last two years, there have been ups and downs," Gantz said in statements.
"In the last few days, there has been a slight down, but we're sorting it out," he added.
Tension arose between the two sides after Israel refused to rein in its raids in the occupied West Bank.
According to Israeli media, Cairo was angry at Israel's handling of the Gaza offensive and the assassination of Palestinian activist Ibrahim al-Nabulsi one day following the Gaza cease-fire.
Al-Nabulsi was killed along two other Palestinians in an Israeli raid in Nablus city one day after Egypt managed to broker a cease-fire to end a 3-day Israeli offensive on Gaza.
At least 49 Palestinians were killed and hundreds injured in the onslaught.
Source: Anadolu Agency
Please click the following URL to read the full text of the original story:
https://www.aa.com.tr/en/middle-east/israeli-defense-minister-confirms-crisis-with-egypt-over-gaza/2666659
--------
Islamic Jihad missiles shattered Israel's invincibility myth during latest Gaza war: Cmdr.
22 August 2022
A high-ranking commander of the Palestinian Islamic Jihad resistance movement says the intense barrages of missiles fired by his comrades in retaliation for the latest Israeli military onslaught on the besieged Gaza Strip put an end to the regime's so-called myth of invincibility.
Ahmed al-Modallal said on Monday the missiles launched by the al-Quds Brigades, the military wing of the Islamic Jihad, gave Israel a considerable shock, and showed that the resistance front will not be defeated.
He underlined the importance of maintaining national solidarity and steadfastness in order to terminate the oppressive and brutal siege against the Gaza Strip.
Modallal highlighted that Zionists continue to desecrate the holy al-Aqsa Mosque compound in the occupied Old City of al-Quds, conduct excavations beneath the sacred site, and suppress Palestinian worshippers.
The senior Islamic Jihad commander emphasized that the Palestinian resistance front will continue confronting the Israeli occupation, adding that Palestinians have embraced the struggle.
The Israeli regime carried out new massacre in the besieged Gaza Strip on August 5, killing nearly 50 people, including Taysir al-Jabari, a senior commander of the Palestinian Islamic Jihad resistance movement.
The Israeli airstrikes prompted the al-Quds Brigades, the Islamic Jihad's military wing, to respond by firing hundreds of rockets toward the occupied territories, pushing the regime forces on the back foot.
The strong retaliation, as was pledged by the resistance group, forced Tel Aviv to accept an Egyptian-mediated ceasefire, which took effect late on August 7.
Secretary General of the Islamic Jihad resistance movement Ziad al-Nakhala says the movement has made "a great achievement" in the face of Israel, lauding Palestinian people's resistance against the regime's aggression.
Ziad al-Nakhala made the remarks after the movement agreed to a truce with the Tel Aviv regime following three days of strikes on the Gaza Strip by the Israeli forces.
"Fifty-eight Zionist-populated settlements were simultaneously brought under the al-Quds Brigades' rocket fire," Nakhala said during a press conference in Tehran.
"The occupiers failed to impose any of their conditions on us," he added. The Islamic Jihad, on the other hand, conditioned the truce on the release of two of its prisoners, who have been detained by the Israeli regime, he added.
Source: Press TV
Please click the following URL to read the full text of the original story:
https://www.presstv.ir/Detail/2022/08/22/687846/Islamic-Jihad-missiles-shattered-Israel-s-myth-of-invincibility-during-latest-Gaza-war--Cmdr-
--------
Southeast Asia
G25: Root of corruption are political lobbyists, not non-Muslims
By Ashley Yeong
22 Aug 2022
KUALA LUMPUR, Aug 22 — The G25 group of prominent retired civil servants today called PAS president Datuk Seri Abdul Hadi Awang "irresponsible" for his statement on non-Muslims and non-Bumiputera being the "root of corruption".
In a statement, the group said turning corruption into a racial issue will not mesh well with voters of all races and does not benefit his own party members.
"His statement has caused distress among non-Malays that they are being made the scapegoat for the institutional weaknesses that make it possible for corruption to spread like a cancer.
"A more responsible way is to take a non-racial approach by recognising the truth, whether in Malaysia or in any country in any part of the world, that when bureaucracy becomes too difficult to get things done, corruption starts to rear its ugly head," G25 said in the statement.
The group said that Malaysia's slow service in administrative paperwork like passports and licences paved the way for businesses and institutions to accept "duit kopi" as a favour to speed up processes but has since gone down after operations became more digitalised.
"While petty corruption has gone down because of greater administrative efficiency, high level corruption has been increasing at an alarming rate, mainly because of the need for political funds to build a war chest for elections and also because of personal greed among politicians and civil servants.
"The spread of high-level corruption has no racial divide among givers and takers," G25 said.
The group refuted Abdul Hadi's sentiments and said that political leaders were more susceptible to corruption because of a lack of accountability and transparency in awarding contracts to government purchases and procurements.
"When the ministers show they have the power to make their own decisions, the political lobbyists will know who to bribe to get the approvals, and the best lobbyists are those who are family friends and relatives of those in power.
"This 'I scratch your back, you scratch my back' syndrome applies to all races because money knows no race," the group said.
It added that Abdul Hadi, as the leader of PAS, should be familiar with the syndrome as evident in the issue of illegal logging of forest reserves in Kelantan when it allegedly involved bribery and corruption and cross-border smuggling along the Thai border.
"The attempt by the PAS leader to blame the non-Malays shows his lack of knowledge about the root causes of corruption.
"He ignores the truth that the frontliners who act as lobbyists for business owners to reach to the top are members of the ruling party in power at federal or state level.
"The lobbyists go for whoever can offer them the best deal such as a success fee or a partnership in the non-Malay company.
"It is therefore not right to blame the non-Malays as the big players in the corruption scandals because as the saying goes, it takes two to tango," G25 said.
Describing political lobbyists as "rent collectors", the group said that high-level contracts are usually given in exchange for benefits like cash incentives.
"With so many 'rent collectors' to pay, the costs of corruption make government expenditures unnecessarily high for the country.
"The PAS president should have mentioned how money is used to make the political lobbyist job so attractive to party officials. They are the real shakers and movers of corruption at the highest levels of government," it added.
On Saturday, Abdul Hadi reportedly accused non-Muslims and non-Bumiputera of being the detriment to the country's economy and politics.
Source: Malay Mail
Please click the following URL to read the full text of the original story:
https://www.malaymail.com/news/malaysia/2022/08/22/g25-root-of-corruption-are-political-lobbyists-not-non-muslims/24114
--------
Ensure straight fights in Penang, PAS tells Malay-Muslim parties
August 22, 2022
PETALING JAYA: Penang PAS has urged Malay parties to put up a united front and ensure one on one fights in the state in the next general election (GE15).
Penang PAS committee member Abdul Razib Abd Rahim said the state committee supported the central committee's ummah unification agenda.
"Penang is well known for being the heartland of Pakatan Harapan (PH)-DAP, so the agenda of unifying Malay parties is even more important here to prevent PH from taking advantage of any split in Malay-Muslim votes," he said.
"The slogan 'Islam unites the ummah' should be backed by all PAS supporters, so that efforts to unite Malay political parties are successful and in line with shariah and party policy."
Razib said the parties, which he did not name, must be committed towards this cause to ensure Malay-Muslim interests were not denied and neglected in Penang.
"Penang PAS calls for all parties to forgo their personal interests in GE15, and ensure that the Malay-Muslim vote can be united for the well-being and harmony of the people," he said.
Previously, PAS secretary-general Takiyuddin Hassan said some divisions had proposed to strengthen the ummah and Muafakat Nasional (MN) in line with the party's stance.
"We have 197 divisions nationwide submitting their motions to PAS central for debate at the party's 68th annual assembly on Sept 3 and 4. Among the motions raised were regarding MN but they were nothing more than stressing the need to unite the ummah," Takiyuddin said, referring to the troubled alliance with Umno.
Source: Free Malaysia Today
Please click the following URL to read the full text of the original story:
https://www.freemalaysiatoday.com/category/nation/2022/08/22/ensure-straight-fights-in-penang-pas-tells-malay-muslim-parties/
--------
PBM will give BN headache on seat sharing, says Umno veteran
Faiz Zainudin
August 23, 2022
PETALING JAYA: An Umno veteran has warned the Barisan Nasional leadership that accepting Parti Bangsa Malaysia (PBM) into the coalition will only make seat distribution among component parties more difficult.
Mustapha Yaakub, secretary-general of the Umno Veterans' Club, pointed out that seat negotiations were still an issue yet to be resolved among the current BN component parties.
He claimed that PBM, led by former PKR vice-president Zuraida Kamaruddin, merely wanted to make use of BN's strength with the 15th general election looming.
"There's no need for BN to be in a hurry in accepting (PBM), especially with GE15 just around the corner.
"Even giving up some (seats) to Friends of BN, who have been with us for a long time, is hard enough. It will be much harder with a new party added," he said.
The Friends of BN grouping comprises Makkal Sakti, Parti Cinta Malaysia, the All Malaysian Indian Progressive Front, Malaysian Indian Muslim Congress, Malaysian Indian United Party and Parti Punjabi Malaysia.
Beruas Umno chief Azhar Ahmad said BN should accept these six "friends" into the coalition first before allowing PBM to join the fold.
Since it would make seat negotiations difficult, he said, parties should not be seeking to join the bloc just to field candidates in the elections. "If they're just joining BN to contest seats, then there's no need to accept them," he said.
PBM had applied to join BN in July but there has been no response yet. BN deputy chairman Mohamad Hasan had said the component parties must reach a consensus on PBM's application.
Source: Free Malaysia Today
Please click the following URL to read the full text of the original story:
https://www.freemalaysiatoday.com/category/nation/2022/08/23/pbm-will-give-bn-headache-on-seat-sharing-says-umno-veteran/
--------
Johor ruler in no hurry to decide on state's weekend
August 23, 2022
PETALING JAYA: Johor's Sultan Ibrahim Sultan Iskandar says he will not be rushed into making a decision to change the state's weekend back to Saturday and Sunday.
Sultan Ibrahim said he wanted the government to focus on the state's economic growth for the benefit of the people while he deliberated the decision, adding that there was "no need for any hullabaloo or politicising on the issue".
"I do not want to be rushed into this decision as I need to think this through thoroughly," he said in a Facebook post.
He said an announcement would be made once he was "completely sure and confident that it would be the best decision for the good of Johor".
Sultan Ibrahim said the state government may send him proposals which he will review thoroughly.
"I will consider all the positives and negatives of the state government's proposals, while also considering and perusing all (other) viewpoints on the matter," he said.
He also asked all parties to stop speculating on the issue or urge him to make a quick announcement.
On June 14, menteri besar Onn Hafiz Ghazi said the state government would review the weekend rest days. He said a decision would be announced after a comprehensive study.
In 2014, Sultan Ibrahim had changed the state's weekend to Friday and Saturday as a mark of respect for Friday's importance to Muslims and as recognition of Islam as the state's religion.
He had said this was a reversion of the state's original weekend, which had been in effect since the time Johor was an unfederated Malay state.
Source: Free Malaysia Today
Please click the following URL to read the full text of the original story:
https://www.freemalaysiatoday.com/category/nation/2022/08/23/johor-ruler-in-no-hurry-to-decide-on-states-weekend/
--------
Africa
MURIC makes demand as police nab two soldiers for allegedly killing Islamic cleric
August 22, 2022
By Don Silas
Muslim Rights Concern (MURIC) has called for swift justice in the killing of Shaykh Goni Aisami by two soldiers last Friday in Yobe State.
MURIC described the killing as brutal, callous and cold-blooded.
This was contained in a statement issued on Monday by the director of the Islamic human rights organisation, Professor Ishaq Akintola.
This is coming after the Yobe Police Command had already arrested the suspects.
The statement read in part, "The most popular Islamic scholar in Gashua, Yobe State, Shaykh Goni Aisami, was killed on Friday, 19th August 2022 by a soldier who claimed to be on duty and begged for a lift from Nguru to Jajimaji town. On their way, the soldier ordered him to stop the car, shot him three times and dumped his body.
"The soldier called an accomplice who is another soldier for assistance because the car failed to start. But all efforts to restart the car failed until local residents saw the Shaykh's body and noticed them fiddling with the car. They notified the police immediately.
"While we commend the Yobe Police Command for arresting the suspects, we call for swift justice in this matter. The killing is brutal, callous and cold-blooded. The suspects must be arraigned in a court of competent jurisdiction as soon as the police complete their investigations. We warn against any hanky-panky.
"These two soldiers are a disgrace to the Nigerian Army. They are bad eggs. While our gallant soldiers have been having sleepless nights so that Nigerians can sleep with their two eyes closed, criminal elements among them have been robbing and killing innocent people.
"These two soldiers, Lance Corporal John Gabriel and Lance Corporal Adamu Gideon of 241 Recce Battalion Nguru, who have confessed to their crimes, are bad examples, and the law must take its due course.
"MURIC calls for a full investigation into the crime. There may be other accomplices apart from the soldier who came to assist him. We are interested in knowing how a soldier who is not on duty travelled from Nguru to Jajimaji with a rifle.
Source: Daily Post Ngeria
Please click the following URL to read the full text of the original story:
https://dailypost.ng/2022/08/22/muric-makes-demand-as-police-nab-two-soldiers-for-allegedly-killing-islamic-cleric/
--------
Somalia PM vows accountability over deadly hotel siege
August 22, 2022
MOGADISHU: Somalia's prime minister pledged that the government will be held accountable over the deadly Mogadishu hotel siege by Al-Shabab militants whom he branded "children of hell."
Hamza Abdi Barre also called on Somalis to unite in the fight against the Al-Qaeda-linked group which has been waging a bloody insurgency in the impoverished Horn of Africa nation for more than 15 years.
"There will be accountability in the government ... anyone who neglected the responsibility he was entrusted with will be held accountable," Barre told reporters late Sunday.
He was speaking after visiting a hospital treating wounded victims of the bomb and gun attack on the Hayat Hotel that the Health Ministry says claimed the lives of 21 people and wounded 117.
The 30-hour siege was the deadliest attack in Mogadishu since the new President Hassan Sheikh Mohamud was elected in May after a protracted political crisis.
Police said more than 100 people, including women and children, had been rescued during the siege, which began on Friday evening and finally ended around midnight Saturday after security forces bombarded the hotel.
"There is only one of two choices here, we either allow Al-Shabab — the children of hell — to live, or we live. We cannot live together," said Barre, who was appointed prime minister in June.
"I call on the Somali people to unite to fight against the enemy ... so that what they did now will never happen again.
"The fight against them has already started taking place around several locations," he said, without elaborating.
The Hayat was a favored meeting spot for government officials and scores of people were inside when a suicide bomber triggered a massive blast, forcing his way onto the premises along with heavily armed gunmen.
Minutes later, a second explosion struck as rescuers, security forces and civilians rushed to help the injured, witnesses said.
Al-Shabab has carried out several attacks in the mainly Muslim country since Mohamud took office, and last month launched an incursion into neighboring Ethiopia and raided a military base on the border.
Former Al-Shabab commander Mukhtar Robow, who is now religion minister in Barre's Cabinet, condemned the attack and called on fighters to abandon the group.
"I call on them to repent ... I say to them 'you know that this is not right so repent and abandon (Al-Shabab)'," he said.
"Society everywhere should know that their interest lies in uniting to fight against them," he added.
Somalia's allies, including the US, Britain, the EU and Turkey, as well as the UN, strongly condemned the attack, as did ATMIS, the African Union force tasked with helping Somali forces take over primary responsibility for security by the end of 2024.
Earlier this month, Washington announced its forces had killed 13 Al-Shabab operatives in an air strike, the latest since President Joe Biden ordered the re-establishment of a US troop presence in Somalia, reversing a decision by his predecessor Donald Trump.
The militants were driven out of Mogadishu by an African Union force in 2011.
Source: Arab News
Please click the following URL to read the full text of the original story:
https://www.arabnews.com/node/2148071/world
--------
URL: https://newageislam.com/islamic-world-news/russia-islamic-state-mashrabkhon-azanov-prophet/d/127781
New Age Islam, Islam Online, Islamic Website, African Muslim News, Arab World News, South Asia News, Indian Muslim News, World Muslim News, Women in Islam, Islamic Feminism, Arab Women, Women In Arab, Islamophobia in America, Muslim Women in West, Islam Women and Feminism