New Age Islam News Bureau
19 Jan 2018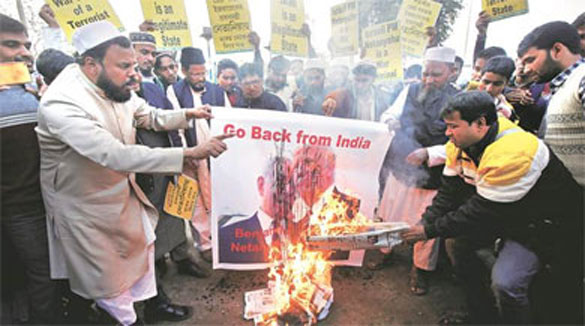 Protesters burn a banner of Israeli Prime Minister Benjamin Netanyahu and US President Donald Trump in Kolkata on Thursday. (Source: AP)
-----
• Rulers Promoting Nudity, Obscenity Responsible For the Molestation and Murder of Minor Girls: Ameer, Jamaat e Islami, Pakistan
• Kolkata: Muslim Groups Hit Streets against Israel PM's Visit
• Muslims and Christians Meet In Cairo for Jerusalem, 'The Cause of Causes'
• 'We Believe Hafiz Saeed Should Be Prosecuted, We've Made That Very Clear to Pakistan,' Says US
• Top Sunni Islam Cleric Says Meeting Pence Would 'Tear Up My Identity'
Pakistan
• Rulers Promoting Nudity, Obscenity Responsible For the Molestation and Murder of Minor Girls: Ameer, Jamaat e Islami, Pakistan
• Taliban Chief Approved Islamabad Meeting On Afghan Peace Talks
• Philippines appreciates Pakistan's role in fight against terrorism
• Haqqani factor complicates troubled US-Pakistan relations
• Eight terrorists apprehended in Balochistan IBOs: ISPR
• Haibatullah had approved Islamabad meeting on Afghan peace talks: sources
--------
India
• Kolkata: Muslim Groups Hit Streets against Israel PM's Visit
• NIA Charges Hafiz Saeed, Salahuddin, Hurriyat Leaders with Sedition
• Saeed, Salahuddin, Geelani's Son-In-Law Funding Terror: NIA
• No Ordinance on Triple Talaq: Minster
• Netanyahu backs India's right to hit terror hideouts across LoC
• Rahul Gandhi meets US envoy, top official; discusses ties, terror
• Netanyahu pays tributes to 26/11 terror attack victims
• Police confirm death of ISIS fighter from Kerala
--------
Mideast
• Muslims and Christians Meet In Cairo for Jerusalem, 'The Cause of Causes'
• After UN Snub, Netanyahu Trying To Woo India
• Hamas Lauds Iran's Support for Palestine
• Jordan says Israel apologizes for deaths of two Jordanians at embassy
• Yemeni snipers kill four Saudi troopers in retaliatory attacks
• Turkey faces diplomatic minefield over new Syria operation
• Yemeni army liberates new areas in Al-Jouf from Houthi control
--------
North America
• 'We Believe Hafiz Saeed Should Be Prosecuted, We've Made That Very Clear to Pakistan,' Says US
• Diversity Award Winner Says Islamophobia Still Exists In Waterloo Region
• US Wary of Islamic Extremism Growth in Africa
• US to Turkey: Stay focused on Daesh, don't attack Syria's Afrin
• Charges unsealed against man linked to bin Laden, Al-Qaeda
• Muslim Americans Sue FBI for Being Put On A Terror Watch List For No Reason
• US administration approves $500mn missile system deal with Saudi Arabia
--------
Arab World
• Top Sunni Islam Cleric Says Meeting Pence Would 'Tear Up My Identity'
• HRW: UAE Violating Human Rights At Home, Aboard
• HRW: Bahrain's tolerance for dissent approaching vanishing point
• Saudis wasting billions by buying outdated weapons from US: Analyst
• Egypt: Al Azhar International Conference in Support of Al Quds
• Tens of Al-Nusra Terrorists Join ISIL in Syria's Aleppo
• US Plans to Recognize Kurdish-Held Regions in Syria
• Militants in More Regions Endorse Peace Agreement with Syrian Army
• Syrian Army Frees Over 1,000 sq-km of Territories in Idlib
• Turkey-Backed Militants Intensify Attacks on Kurds in Northern Syria
• Syrian Army Imposes Heavy Defeat on Terrorists in Homs Province
• UAE Armed Forces destroy Houthi command center in Yemen
--------
South Asia
• Taliban Suffer Casualties in Pamir-17 Operations in Kunduz
• More Rohingya Muslims Flee Myanmar As Bangladesh Prepares To Start Repatriation
• Plenty of Evidence against Hafiz Saeed, Says Former Afghanistan PM Hamid Karzai
• Myanmar arrests MP after Rakhine riot
• Bangladeshis suffer abuses when Rohingyas given shelter: HRW
• Myanmar Buddhists do not hate Muslims; majority of Rohingyas remain in the country: Retired general
• Noor mulling to set deadline for uprising if talks with govt fails
• Pakistani officials says Taliban delegation refuse talks with Afghan govt
--------
Southeast Asia
• Philippines' Duterte Urges Congress to Pass Bill for Self-Rule in Muslim Region
• Sportswear Retailer Sacks Supervisor for Barring Muslims from Prayer
• Global Rights Group Fears Malaysia's Continuous Shift towards Conservative Islam
• Muslim couples, single parents seek to intervene in 'Abdullah' appeal
• Duterte warns of fresh terror threat in the Philippines
--------
Africa
• Boko Haram Terrorists Kill Five People in Southeastern Niger
• HRW raps Europe's forced return of refugees to Libya
• Nigeria: Herdsmen Are Not Terrorists - Sultan
--------
Europe
• Two Reports Show Fewer Incidents of Muslim Extremism In 2017
• Former UK boxing champ charged with encouraging extremism
• US unveil charges against Al-Qaeda convict in France
• Merkel defends EU-Turkey refugee agreement
Compiled by New Age Islam News Bureau
URL: https://www.newageislam.com/islamic-world-news/rulers-promoting-nudity-obscenity-responsible/d/113993
--------
Rulers Promoting Nudity, Obscenity Responsible For the Molestation and Murder of Minor Girls: Ameer, Jamaat e Islami, Pakistan
January 19, 2018
LAHORE - Ameer, Jamaat e Islami, Pakistan, Senator Sirajul Haq, has said that the rulers promoting nudity and obscenity in the country at the behest of the west were responsible for the molestation and murder of minor girls like Zainab.
Addressing the concluding session of the JI central Shoora at Mansoora, he said that the country was confronted with serious challenges on all sides but the rulers, instead of seeking pardon from Allah, were behaving as Pharaohs.
He said that the government was the root cause of all evils besides socio- economic problems such as poverty, illiteracy and unemployment.
Sirajul Haq said that there was a wide gap between the rulers and the ruled. The ruling elite considered themselves as of divine origin and the masses as insects. Had the rulers considered Zainab, Sharifan Bibi and Attya, as their own daughters, these poor girls would not have been molested.
He said the rulers wanted to distance the nation from the Quran and the Sunnah at the behest of world colonialism. However, he said that if the banner of the Kalima goes above Islamabad, nobody would be able to stop an Islamic revolution in the east and the west.
Sirajul Haq said that the JI would go to any extent to shake the status quo but its struggle was within the constitution and the law. The JI did not believe in the use of force for the enforcement of Deen but would bring about Islamic revolution through public opinion and through vote. He said the country was not short of resources and corruption was the sole ailment that had to e controlled to improve the lot of the masses.
Also, the central Shoora of the Jamaat e Islami has reiterated that any supra constitutional dispensation would be a serious threat to the country's existence and has called for holding elections on schedule in a free, fair and impartial atmosphere.
The Shoora, through a resolution noted with concern that the aggrieved parties were looking towards the armed forces and the judiciary for justice and rumours of some extra constitutional measures were ripe in the country. Ameer, JIP, Senator Siraul Haq, presided over the three day moot.
Through another resolution, the JI central consultative body made it clear to the US and India that in spite of internal differences, the Pakistani nation stood united against any foreign aggression and any Indian adventure would be effectively countered with the spirit of Jehad
The JI central body said that the attitude of the ruling junta practically not accepting the decisions of the Supreme Court, ridiculing the courts, and promoting confrontation with the state institutions was highly detrimental to the vital national interests.
It noted that despite the completion of the constitutional requirements for fresh delimitation of constituencies, the Election Commission was not giving due attention to the holding of elections on schedule and in a fair, free and transparent manner.
The JI Shoora slated the government's stubbornness in delaying the publication of Raja Zafrul Haq Committees report on the Khatme Nubuwwat issue and punishing those hatching a conspiracy against the sentiments of the nation in this respect.
It deplored that the culprits involved in the Model Town killings were still at large even after the publication of judicial enquiry report.
The Shoora noted that the elements involved in the Kasur children video scandal about two years ago had not been brought to justice due to political pressure and the brutes involved in the rape and murder of Zainab besides a dozen such other cases were still untraced. On the other hand, three of the protesters were shot dead by the police.
The Shoora noted with deep anguish that the incidents of molestation of minor girls and women were occurring in all parts of the country and the governments had failed to provide justice to the aggrieved. In Karachi, the police was killing innocent people at pickets and the general public felt insecure at the hands of the police.
It condemned India's interference in Pakistan's internal affairs and its conspiracies and intelligence net work like the one run by RAW spy Kalboshan Yado. It called upon the government to taker strict notice of persistent cross border firing from India and Indian army chief's threats to this country. It called upon the government to highlight India's increasing crimes in Held Kashmir at the world level.
While appreciating the grant of basic rights to the FTA people, the Shoora commended the efforts of the JI chief in this respect. It however, expressed concern over the delay in the FATA's merger with Khyber P. despite the government's commitment in this regard.
The JI Shoora was worried over the deteriorating economic condition of the country with increasing financial deficit and the burden of additional foreign loans to the tune of forty billion dollars, besides the continuous fall in exports and the fall of the rupees value.
It also deplored the exploitation of the sugar cane growers at the hands of sugar mills owners with the connivance of the rulers .
It resolved to its drive for a corruption free Pakistan and to keep contact with the religious parties to ensure fair, free and transparent elections.
https://nation.com.pk/19-Jan-2018/rulers-promoting-nudity-obscenity-sirajul-haq
--------
Kolkata: Muslim Groups Hit Streets against Israel PM's Visit
January 19, 2018
Muslim groups in the state on Thursday hit the streets of Kolkata, protesting against Israeli Prime Minister Benjamin Netanyahu's visit to India. Protesters chanted slogans against Netanyahu and Modi, sprinkled ink on posters of Netanyahu and US President Donald Trump and later burned their posters. The protest meeting was held near the statue of Mahatma Gandhi in Maidan.
Protesters said while the Israeli government is terrorising Muslims in Palestine, India is welcoming their prime minister. "Muslims in Palestine are being attacked, their lands and property being encroached upon. It is sad to see Prime Minister Narendra Modi welcoming Netanyahu with open arms," said Md Kamruzzaman, general secretary, All Bengal Minority Youth Federation.
The general secretary was referring to the ongoing conflict between Israel and Palestine over East Jerusalem, with both nations insisting the city is their capital. US President Donald Trump had in December 2017 officially recognised Jerusalem as the capital of Israel, provoking condemnation from Palestinian leaders, Muslim countries and the global community at large.
Kamruzzaman also said Netanyahu's visit to Mahatma Gandhi's ashram at Sabarmati in Ahmedabad was unfortunate.
"Gandhiji never approved of Israel's policies. Why has Modi brought him to Sabarmati? The pious place has been insulted," he added. Kamruzzaman also demanded that India should sever all business ties with Israel and appreciated Chief Minister Mamata Banerjee for "not allowing" Netanyahu in the state.
"We welcome the role played by Mamata because people like Netanyahu, while he is welcomed to places like UP and Gujarat, is not allowed in Bengal," he said.
http://indianexpress.com/article/india/kolkata-muslim-groups-hit-streets-against-israel-pms-visit-5030643/
--------
Muslims and Christians meet in Cairo for Jerusalem, 'the cause of causes'
Jan 19, 2018
EGYPT: A two-day international Islamic-Christian conference was held in Cairo (16-17 January) on the initiative of Ahmad el-Tayyeb, the great Imam of the great Sunni institution of al-Azhar, on the topic of Arab identity of the Holy City (al-Quds, Jerusalem) and its message in the presence of Coptic Orthodox Pope Tawadros III. A final declaration will be issued.An important number of prominent lay and religious figures from Lebanon took part in the conference. They include former Lebanese Prime Minister Fouad Siniora, who chaired a session. Maronite patriarch, Cardinal Bechara Al-Rahi, and Tarek Mitri, a former Minister of Culture, poke at the meeting.Other important Lebanese leaders present were former President Amin Gemayel, Interior Minister Nouhad Machnouk, the Mufti of the Republic Abdel-Latif Derian, the Metropolitan of Beirut Elias Audi, Maronite Archbishop of Beirut Boulos Matar, a representative of Catholicos Aram I, as well as former MP Fares Souaid, and the Secretary General of the National Committee for Christian-Muslim Dialogue Mohammad Sammak.At the opening of the conference in Al-Azhar, Fouad Siniora warned against drifting towards terrorism, whilst the Maronite patriarch, Card al-Rahi, pleaded the cause of "spiritual solidarity" and a well thought out lobbying strategy."What to do after the recognition of Jerusalem by the United States as the capital of Israel?" could be the title of Fouad Siniora's address, as well as that of all the others, since it is on this issue that Arabs are questioning today themselves, caught between complicit passivity and noisy but ineffective speeches.It must be stressed, moreover, that the conference on Jerusalem in Cairo is held in parallel, not to say in competition, with the 13th session of the Conference of the Parliamentary Union of the Organisation for Islamic Cooperation, which opened yesterday in Tehran, and which also made Jerusalem the "cause of causes" of the Muslim world, a coincidence that highlights the Sunni-Shia cleavage that is tearing apart the Arab and Muslim worlds.Siniora: Do not capitulate
What to do, indeed? "Do not surrender, do not give in to despair or discouragement, refuse to see the will of the Islamic Ummah broken," said the former prime minister. At the same time, "refuse to resort to negative actions, to take the path of intolerance and slide into deadly violence that would lead to terrorism."Between these two extremes, Siniora called for realism. "It is not true that words will just remain words," he said, thus encouraging Arab regimes to "learn from their past wars and negotiations," and to set their eyes on "the tireless struggle "of the Palestinian people."We have strengths that we must not neglect," Siniora added. "Let us not use as an excuse their insufficiency or immediate inefficacy, to give it up. Let us focus on one goal: building a Palestinian state with Jerusalem as its capital. Let us hold fast to our Muslim, Arab and Christian faith, and to the national rights of the Palestinian people (...) Let us support the resolutions of international legality (...) and coordinate our actions for greater efficacy" on behalf of Jerusalem's "pluralistic identity" and "religious freedom"."Christians and Muslims, let us consolidate the identity and message of al-Quds, the capital of the Palestinian state, by highlighting the importance and the sublime character of our long past and present experience of living together as a model of life," Siniora noted in his final plea.The two-state solution
For his part, Patriarch Bechara Al-Rahi described the history of the Zionist movement and the creation of the State of Israel, then reviewed the Vatican's position on Jerusalem. The head of the Maronite Church noted that the Holy See, through the voice of Pope Francis, has most recently (8 January 2018) defended the right of Palestinians to have their own state, by advocating the so-called two-state solution.The Holy See, he explained, has made it a rule never to intervene in the territorial disputes between states, but it does not recognise Israel's annexation of East Jerusalem, upholding the United Nations Security Council resolution of 20 August 1980 condemning Israel's proclamation of Jerusalem as its "one and indivisible" capital.Prayer and interfaith solidarity
What to do? To this initial question the Patriarch answered by pleading for joint prayers, Islamic-Christian interfaith solidarity throughout the Arab world, support for the Palestinian demographic presence through the creation of families, attachment to property and land estates and the freezing of any exodus or migratory movement, the strengthening of the sense of belonging and education to love the Holy City in homes, schools and places of worship, intelligent use of media, and finally persistent and long-term lobbying.For his part, Tarek Mitri mentioned a subject he knows very well, since he devoted a book – Au nom de la Bible, au nom de l'Amérique (In the name of the Bible, in the name of America), namely Christian Zionists. It is under their influence, he said, since they represent nearly a quarter of his electorate, that President Trump made his decision to transfer the US Embassy to the Holy City. These evangelical movements support the political project of the Jewish state in the name of a millenarian vision of history, on the belief that they are hastening the second coming of Christ.
http://www.heraldmalaysia.com/news/muslims-and-christians-meet-in-cairo-for-jerusalem-the-cause-of-causes/40467/1
--------
'We believe Hafiz Saeed should be prosecuted, we've made that very clear to Pakistan,' says US
Jan 19, 2018
NEW DELHI: The US firmly believes Pakistan needs to prosecute terrorist Hafiz Saeed and it has made this "very clear" to Islamabad, which recently said there is no case against 26/11 Mumbai terror mastermind.
A US state department spokeswoman today reiterated and underlined Washington's view on Saeed, saying she's aware that Pakistan's prime minister said two days ago that Saeed can't be prosecuted because there is no case against him.
"We have made our points and our concerns to the Pakistani Government very clear. We believe that this individual should be prosecuted.... We believe that he should be prosecuted to the fullest extent of the law," said Heather Nauert, a spokeswoman at the US State Department.
Two days ago, Pakistan's prime minister Shahid Khaqan Abbasi referred to Saeed as 'sahib', or 'sir', and said there is no case against him in Pakistan, therefore no action can be taken against him. However, earlier in the month, Pakistan's interior ministry 'blacklisted' Saeed and his group the Jamaat-ud-Dawa (JuD).
Pakistan may be confused about Saeed, but the US is not. To make it very clear what Washington's view is, Nauert further said todat the US regards Saeed a terrorist and part of a foreign terror group. The US has a $10 million reward for information on Saeed.
"He was the mastermind, we believe, of the 2008 Mumbai attacks which killed many people, including Americans as well," said Nauert of Saeed.
Not only the US, the United Nations (UN) too considers him a terrorist, Nauert said. And the Lashkar-e-Toiba (LeT), a terror group Saeed's affiliated too, is also designated a foreign terror organisation by the UN.
"He (Saeed) is listed by the UN Security Council 1267, the al-Qaida Sanctions Committee for targeted sanctions due to his affiliation with Lashkar-e Toiba, which is a designated foreign terror organization. So, I just want to remind people of that, of who this individual is, and make it clear that we have addressed our concerns with the Pakistani Government," said Nauert.
Days after Saeed was released from house arrest following a Lahore high court order - in late November - the US State Department said it hopes Pakistan "does the right thing" and takes action against him.
"I can tell you that his organization - his organization that was responsible for those attacks - is considered a foreign terror organization. It's considered a foreign terror organization by the U.S. Government for a reason and for a good reason...I hope they'll do the right thing," said Nauert last month, referring to the Pakistan government.
Even then, she sought to remind everyone that the US considers Saeed a terrorist and his LeT a terror organisation.
"I can tell you that his organization - his organization that was responsible for those attacks - is considered a foreign terror organization. It's considered a foreign terror organization by the U.S. Government for a reason and for a good reason," said Nauert last month.
https://timesofindia.indiatimes.com/world/pakistan/we-believe-hafiz-saeed-should-be-prosecuted-weve-made-that-very-clear-to-pakistan-says-us/articleshow/62563905.cms
--------
Top Sunni Islam cleric says meeting Pence would 'tear up my identity'
January 18, 2018
President Donald Trump's decision to move the US Embassy in Israel to Jerusalem was "rash and uncalculated" and represented "aggression toward people, countries, cultures and civilizations," one of Sunni Islam's highest authorities said Thursday.
Sheikh Ahmed El-Tayyeb, the grand imam of Al Azhar, recently canceled a meeting scheduled with Vice President Mike Pence during the latter's upcoming visit to Egypt.
In an exclusive interview with CNN, Tayyeb said receiving Pence would "tear up my identity" and appear "contradictory in front of people."
Tayyeb is one of several officials who have refused to host Pence during the vice president's Mideast tour, which is set to start Friday. Tawadros II, the head of Egypt's Coptic Orthodox Church, and Palestinian Authority President Mahmoud Abbas also scrapped their meetings with the vice president after Trump's Jerusalem announcement.
The imam said he welcomed Pence's visit before Trump announced that the United States would move its embassy to Jerusalem and recognize the city as Israel's capital. The move upended seven decades of US foreign policy that has resisted a recognition of Jerusalem as Israel's capital before the Israeli-Palestinian conflict is resolved.
Tayyeb said the decision would "feed terrorism in the region" but said the Muslim world was not "in a position for confrontation."
"Decisions like this one nurture terrorism, create it and propel it forward to act and express itself in methods we all reject," he said.
"When terrorism rises again, the East and West will drown in seas of blood."
The sheikh, who is considered a leading figure in some schools of Sunni Islam, is one of many prominent Muslim and Arab leaders who condemned Trump on Jerusalem
Last month, leaders from the 57-member Organization of Islamic Cooperation recognized East Jerusalem as the "occupied capital" of a Palestinian state in response to Trump's announcement.
The group rejected Trump's move as "null and void" and said the "dangerous declaration" marked the US withdrawal from the Israeli-Palestinian peace process.
http://edition.cnn.com/2018/01/18/middleeast/sunni-imam-pence-visit-egypt-intl/index.html
--------
Pakistan
Taliban chief approved Islamabad meeting on Afghan peace talks
January 19, 2018
ISLAMABAD - A delegation approved by the Taliban's supreme leader visited Islamabad this week for exploratory talks on restarting peace negotiations to end Afghanistan's 16-year war, two senior officials in the movement said.
It was unclear if any progress was made in the unofficial meetings with a representative of a prominent Afghan politician. Many previous attempts have failed to revive direct talks that ended nearly as soon as they started in 2015.
The Islamabad talks on Monday followed another back-channel meeting over the weekend in Turkey between individuals with Taliban connections and representatives of Hizb-e-Islami, the party of a former Taliban-allied commander who last year laid down arms to join Afghan politics.
A spokesperson for Afghan President Ashraf Ghani said Wednesday he was not aware of the Islamabad talks, while the Taliban did not respond to queries. Both sides on Monday denied participating in the Turkey talks.
However, two senior Taliban officials said that supreme leader Haibatullah Akhundzada had approved Monday's exploratory meeting in Islamabad on restarting talks to end the war. Meanwhile, Taliban spokesperson Zabihullah Mujahid said the Turkey meeting had no legitimate Taliban representatives in attendance.
Washington has piled pressure on to Pakistan to persuade the insurgents' leaders to negotiate as well as crack down on alleged Taliban safe havens inside the country – tactics that Pakistan has said are incompatible.
The three-member Taliban delegation from Qatar included Shababuddin Dilawar and Jan Mohammad Madani from the Taliban's political office in Qatari capital as well as the brother-in-law of Mullah Jacoob, son of the late Taliban founder Mullah Mohammad Omar, the sources said.
They met representatives of Afghan politician Pir Syed Hamid Gilani, head of the National Islamic Front of Afghanistan and the son former High Peace Council chief who died last July, a senior aide to Gilani confirmed on condition of anonymity. Gilani's office did not respond to queries.
The Taliban's Haqqani network last week released 14 Afghan army soldiers in the eastern province of Paktia as a goodwill gesture ahead of the talks, according to both the Taliban officials and the aide to Gilani.
In his latest report to the United Nations Security Council last month, the UN secretary general said there had been "no meaningful progress towards a peace settlement".
Under a new strategy announced last year, the United States has stepped up air strikes and boosted assistance to Afghan government forces fighting the Taliban to try to break a stalemate and force the insurgents to the negotiating table.
Though the Afghan government still controls less than two-thirds of the country, US Ambassador to the United Nations Nikki Haley on Wednesday touted the new strategy as a success and specifically mentioned possible future direct talks with the Taliban . "The US policy on Afghanistan is working," Haley told reporters in New York on Wednesday after travelling to Kabul at the weekend with the UN Security Council. "We are seeing that we're closer to talks with the Taliban and the peace process than we've seen before."
She said Afghan officials had told the envoys that since the US strategy was put in place "they're starting to see the Taliban concede, they are starting to see them move towards coming to the table". Haley said that the entire peace process was Afghan-led and owned, adding, "We don't think that we need to facilitate the peace process, we think we need to support the peace process."
https://nation.com.pk/19-Jan-2018/taliban-chief-approved-islamabad-meeting-on-afghan-peace-talks
--------
Philippines appreciates Pakistan's role in fight against terrorism
Jan 19, 2018
ISLAMABAD: The 5th round of the Pakistan-Philippines Bilateral Policy Consultations was held in Islamabad today, where the Philippines appreciated Pakistan's role in the fight against terrorism and sacrifices rendered by it in this regard.
According to a press release issued by the Foreign Office, Pakistan side was led by Foreign Secretary Tehmina Janjua, while the Philippines was represented by its Department of Foreign Affairs' (DFA) Undersecretary Enrique Manalo.
The two sides reviewed the entire spectrum of bilateral relations and identified opportunities and possibilities for further cooperation, including in the fields of security, counterterrorism, economic development and trade, education, science and technology and agriculture.
Both sides expressed satisfaction at their ongoing collaboration at the UN and other multilateral fora, especially through support to each other's candidatures.
The two sides discussed the evolving peace and security situations in Asia-Pacific region.
The foreign secretary briefed the Philippines side on Islamabad's efforts aimed at promoting peace and security in Afghanistan, Indo-Pak relations, human rights violations in the India-held Jammu and Kashmir, as well as on China-Pakistan Economic Corridor (CPEC).
The Philippines side briefed the foreign secretary on regional situation in the Asia-Pacific region and the security situation in the Philippines.
International issues of mutual interest, including terrorism and Pakistan's bid for Full Dialogue Partnership (FDP) status with ASEAN, also came under discussion.
Besides appreciating Pakistan's role in the fight against terrorism, the Philippines also pledged to continue to support Pakistan's bid for FDP status with ASEAN.
Islamabad considers Manila an important country in the region, and enjoys cordial relations with it.
Full report at:
https://www.pakistantoday.com.pk/2018/01/18/philippines-appreciates-pakistans-role-in-fight-against-terrorism/
--------
Haqqani factor complicates troubled US-Pakistan relations
By WILLIAM HOLLAND
JANUARY 18, 2018
The current US administration's denial of foreign aid to Pakistan has patrimony with the presidency of Barack Obama, when Jalaluddin Haqqani's network remained untouched by Inter-Services Intelligence (ISI) in 2011 and 2016.
Both times the Obama administration expected Pakistan's security establishment to crack down on domestic jihadist networks that operated on both sides of the Durand Line separating Pakistan and Afghanistan. The Northern Waziristan home of the Haqqani Network was firmly entrenched within Pakistan's own security apparatus while ensconced within regions that have no formal political governing structures. None of Obama's policy admonitions succeeded.
Pakistan's ISI pushed the Haqqani Network from the northern capital of Waziristan, Miran Shah, further toward a lightly monitored frontier. Even today, ISI in collaboration with the Pakistan' Army remains reluctant to move openly against the network.
Harsh domestic violence in the form of open terror is a real possibility, as the US administration reluctantly admits. Pakistan has lost more than 30,000 soldiers and civilians to public acts of terrorism since 2003. Openly serving US policy has not gained Pakistan anything of strategic value.
While Pakistan openly permits the US Central Command to conduct operations in Waziristan selecting and eliminating terrorists, an opening chasm remains that hinders the sine qua non of war aims, namely effective public diplomacy.
Islamabad believes that the Americans will eventually quit Afghanistan, and that Pakistan needs the Haqqani Network to serve its regional rivalry with India. Having a useful auxiliary to supplant the army's geopolitical ambitions has always been a determining calculus for Pakistan. It remains so today.
Ironically, witnessing the Americans openly embrace India has hardened Pakistani support for Haqqani while openly poisoning US-Pakistani relations. Pakistan's generals remain strongly focused on their regional ambitions to the detriment of a badly needed reset of bilateral relations.
What the Americans know isn't useful regarding Pakistan; it is what they don't know that can secure US interests. Pakistan's security establishment has an exceedingly high pain threshold, matched only by widely held anti-American public sentiment that easily fortifies Islamabad's own domestic interests.
If US regional aims were to have Islamabad openly recalculate the components of its bilateral relations with Washington, it failed, for Pakistan continues to service jihadist leadership publicly, subjugating US interests to Pakistani domestic imperatives. How does this end?
The current trajectory remains unsustainable, but Pakistan's long-term interests aren't secured by blackballing US security needs. This is evidenced in Islamabad's willingness to permit US drones to operate within Pakistan, even as they kill high-valued targets allied to Haqqani.
Islamabad has openly sought to envelop jihadist networks in its domestic political establishment; seeking to ameliorate an incessant need to identify and control a metastasizing threat, Pakistan's security establishment seeks to remove partial opacity in its social or governing relations with Islamists. Time will tell if this works.
Politically, Pakistan's security threats are growing beyond state capacity to handle them. Islamabad worries about its fragile relations with China, while its unreformed political economy hinges on International Monetary Fund bailouts sucking vital capital away from army leadership while domestic threats grow.
Badly needed multilateral lending and international finance remain subject to Pakistani domestic reform. Beijing's investments are crucial for the Pakistan Muslim League's electoral pledge to end crippling electrical shortages.
In reality, the ruling Punjabis seek permanent subsidies from China instead of openly reforming major Pakistani industries. Just as India's senate, the Rajya Sabha, remains feudal and oligarchic, this ethos characterizes the ruling Punjabi class throughout Pakistan and its subsequent need to derail all efforts toward liberalization.
For Pakistan to progress, it must openly confront and replace feudalism with Mohammad Ali Jinnah's secular vision of an open, liberal, secular Muslim federalism.
Full report at:
http://www.atimes.com/crux-called-pakistan-limits-american-warcraft/
--------
Eight terrorists apprehended in Balochistan IBOs: ISPR
Jan 19, 2018
RAWALPINDI: At least eight terrorists, including an illegal Afghan national, were apprehended in Balochistan on Thursday, the military's media wing said.
According to a statement released by the Inter-Services Public Relations (ISPR), eight terrorists were apprehended by the Balochistan Frontier Constabulary (FC) in intelligence based operations (IBOs) in Gulistan, Pishin, Kanack, Dera Bugti, Uch, Sambaza, Dera Murad Jamali and Sibbi areas.
Full report at:
https://www.pakistantoday.com.pk/2018/01/18/eight-terrorists-apprehended-in-balochistan-ibos-ispr/
--------
Haibatullah had approved Islamabad meeting on Afghan peace talks: sources
JANUARY 19, 2018
ISLAMABAD: A delegation approved by the Taliban's supreme leader visited Islamabad this week for exploratory talks on restarting peace negotiations to end Afghanistan's 16-year war, two senior officials in the movement said.
It was unclear if any progress was made in the unofficial meetings with a representative of a prominent Afghan politician. Many previous attempts have failed to revive direct talks that ended nearly as soon as they started in 2015.
The Islamabad talks on Monday followed another back-channel meeting over the weekend in Turkey between individuals with Taliban connections and representatives of Hizb-e-Islami, the party of a former Taliban-allied commander who last year laid down arms to join Afghan politics.
A spokesperson for Afghan President Ashraf Ghani said on Wednesday he was not aware of the Islamabad talks, while the Taliban did not respond to queries. Both sides on Monday denied participating in the Turkey talks.
However, two senior Taliban officials said on condition of anonymity that supreme leader Haibatullah Akhundzada had approved Monday's exploratory meeting in Islamabad on restarting talks to end the war that kills thousands of Afghans each year.
Meanwhile, Taliban spokesperson Zabihullah Mujahid said the Turkey meeting had no legitimate Taliban representatives in attendance.
Washington has piled pressure on to Pakistan to persuade the insurgents' leaders to negotiate as well as crack down on alleged Taliban safe havens inside the country – tactics that Pakistan has said are incompatible.
The three-member Taliban delegation from Qatar included Shababuddin Dilawar and Jan Mohammad Madani from the Taliban's political office in Qatari capital as well as the brother-in-law of Mullah Jacoob, son of the late Taliban founder Mullah Mohammad Omar, the sources said.
They met representatives of Afghan politician Pir Syed Hamid Gilani, head of the National Islamic Front of Afghanistan and the son former High Peace Council chief who died last July, a senior aide to Gilani confirmed on condition of anonymity. Gilani's office did not respond to queries.
The Taliban's Haqqani network last week released 14 Afghan army soldiers in the eastern province of Paktia as a goodwill gesture ahead of the talks, according to both the Taliban officials and the aide to Gilani.
In his latest report to the United Nations Security Council last month, the UN secretary general said there had been "no meaningful progress towards a peace settlement".
Under a new strategy announced last year, the United States has stepped up air strikes and boosted assistance to Afghan government forces fighting the Taliban to try to break a stalemate and force the insurgents to the negotiating table.
Though the Afghan government still controls less than two-thirds of the country, US Ambassador to the United Nations Nikki Haley on Wednesday touted the new strategy as a success and specifically mentioned possible future direct talks with the Taliban.
"The US policy on Afghanistan is working," Haley told reporters in New York on Wednesday after travelling to Kabul at the weekend with the UN Security Council. "We are seeing that we're closer to talks with the Taliban and the peace process than we've seen before."
Full report at:
https://dailytimes.com.pk/184177/haibatullah-approved-islamabad-meeting-afghan-peace-talks-sources/
--------
India
NIA charges HafIz Saeed, Salahuddin, Hurriyat leaders with sedition
Jan 18, 2018
NEW DELHI: A charge sheet was filed today against 12 people by the NIA including Lashkar-e-Taiba chief Hafiz Saeed and Hizbul Mujahideen head Syed Salahuddin for "conspiring to wage war against the government" and fomenting trouble in the Kashmir Valley.
The charge sheet also alleged that officials of Pakistan High Commission here were passing on money through now- arrested businessman Zahoor Watali to separatists who would hand it over to them after deducting his cut.
The National Investigation Agency (NIA) filed the 12,794- page charge sheet, along with annexure, before a designated NIA court here and sought permission to continue its probe related to terror funding in Jammu and Kashmir, the agency said in a statement here today.
Additional Sessions Judge Tarun Sherawat, after hearing arguments on the charge sheet, posted the matter for January 30 when it will decide on the point of taking cognisance of the document.
The 10 arrested accused persons urged the court not to take cognisance citing lack of jurisdiction.
Saeed is accused of using the services of Watali for passing money to separatists and some individuals who were actively indulging in stone pelting in various areas of the Valley, the NIA said.
The agency charged Pakistan-based terrorists Saeed and Salahuddin along with 10 others for criminal conspiracy, sedition, and under stringent provisions of the Unlawful Activities (Prevention) Act.
NIA officials said they had gathered substantial material and technical evidence during the probe.
They said 60 locations were raided and 950 incriminating documents seized. There are 300 witnesses in the case.
Besides Saeed, Salahuddin and Watali, the agency has also named hardline pro-Pakistan separatist Syed Ali Shah Geelani's son-in-law Altaf Shah alias Altaf Fantoosh, Bashir Ahmad Bhat and photo journalist Kamran Yusuf, who has been identified along with Javed Ahmad Bhat as a stone pelter.
Hurriyat Conference leaders Nayeem Ahmad Khan, Farooq Ahmad Dar alias Bitta Karate, Mohammad Akbar Khanday and Raja Mehrajuddin Kalwal have also been charged by the agency.
All the 10 arrested accused are currently in judicial custody and were produced before the court.
After the NIA filed the documents, the advocates appearing for the jailed accused questioned the jurisdiction of the case.
"Why the case is filed here while the everything relates to Jammu & Kashmir? The cognisance should not be taken," the defence counsel said.
Senior advocate Sidharth Luthra, appearing for the NIA, opposed the contention of the accused persons, saying that the NIA is a premier agency and has rightly filed the charge sheet in Delhi.
The court, meanwhile, rejected the demand of the accused persons to supply them the charge sheet.
"Let me first go through it first and decide on the point of taking cognisance," the court said.
The agency has charged the Hurriyat leaders with acting under the overall guidance of and instructions from Saeed and Salahuddin and their "Pakistani handlers" and plotting strategies to launch violent protests.
They communicated these to the people in the form of "protest calendars" released through newspapers, social media and religious leaders, it said.
These acts aimed at creating an atmosphere of terror and fear in Jammu and Kashmir, the NIA alleged.
The NIA claimed a "threadbare scrutiny and analysis" of documents and digital devices seized by it established that the Hurriyat leaders, terrorists and stone pelters were carrying out "terrorist attacks, orchestrating violence, stone pelting and other subversive and secessionist activities" in the state.
These actions were a "part of their well-planned criminal conspiracy hatched with the active support, connivance and funding from terrorist organisations based in Pakistan and its agencies to achieve their objective of secession of the state of Jammu and Kashmir by waging war against the government of India," the agency alleged.
"... The gang of the accused persons is receiving funds from Pakistani agencies through hawala conduits such as accused Watali and others and also raising funds by generating illegal profits from LoC barter trade by doing under-invoicing and cash-dealings," it alleged.
It claimed money was also routed through fake and bogus companies floated abroad and remitted to the Hurriyat leaders in Jammu and Kashmir.
"All these funds are then pumped by them into fuelling mass violence and terrorist activities so as to cause damage to public property, disrupt essential services, throwing normal life in the state into chaos with an intention to threaten the unity, integrity and sovereignty of India by striking terror in the minds of the public and by waging war against the government of India," the agency said.
The judicial custody of 10 accused people arrested in connection with the case ended today.
Under the anti-terror law -- the Unlawful Activities (Prevention) Act -- the prosecuting agency has to file a charge sheet within six months, failing which an accused is eligible for bail.
The NIA also recorded confessional statements on the flow of money, especially from Pakistan, from four people accused in a case related to the funding of terror activities in Kashmir.
The statements given before a judicial magistrate had tightened the case against the separatists who allegedly funded stone pelters and spread unrest in Kashmir, the officials said.
While three of them have been formally arrested, the fourth one was detained and subsequently let off after he said he would become an approver, the officials said, declining to divulge their names.
https://timesofindia.indiatimes.com/india/nia-charges-hafiz-saeed-salahuddin-hurriyat-leaders-with-sedition/articleshow/62557850.cms
--------
Saeed, Salahuddin, Geelani's son-in-law funding terror: NIA
Neeraj Chauhan
Jan 19, 2018
NEW DELHI: NIA on Thursday filed chargesheet against 26/11 Mumbai attacks mastermind and Lashkar-e-Taiba chief Hafiz Saeed, Hizbul Mujahideen head Syed Salahuddin, seven separatists and two persons who led stone-pelting mobs in the Kashmir Valley, accusing them of funding and carrying out terror attacks and violence besides subversive activities on the directions of their "Pakistani handlers".
Without naming them as accused in the chargesheet, NIA has also termed some senior Hurriyat leaders - Syed Ali Shah Geelani, Mirwaiz Umar Farooq, Asiya Andrabi, Yasin Malik and Shabbir Shah - as the "main organisers" of subversive activities in Kashmir, sources said.
Probe against the five Hurriyat leaders is continuing and their names would be added in the supplementary chargesheet, sources said. However, Geelani's son-in-law, Altaf Ahmad Shah 'Funtoosh', is among those named in the chargesheet.
In its 12,794- page chargesheet, NIA has cited as 'crucial evidence' like video recordings of Saeed and Salahuddin's speeches instigating youths in Kashmir to take up arms, indulge in stone pelting and support the separatist leaders; and letters written by LeT and Hizbul terrorists to Geelani and others.
Full report at:
https://timesofindia.indiatimes.com/india/saeed-salahuddin-geelani-damaad-funding-terror-nia/articleshow/62562244.cms
--------
No Ordinance on Triple Talaq: Minster
Pravin Kumar
Jan 18, 2018
LUCKNOW: The Union government will not bring an ordinance on triple talaq, said Union minister for minority affairs Mukhtar Abbas Naqvi on Thursday. The government is in favour of a discussion on the bill banning instant triple talaq in the upcoming Budget Session, added Naqvi while responding to a question on the sidelines of development coordination meeting in Lucknow on Thursday.
The Muslim Women (Protection of Rights on Marriage) Bill seeks to outlaw talaq-e-biddat or instant triple talaq and punish offenders with a jail term.
The triple talaq bill was passed by the Lok Sabha through a voice vote in the Winter Session of Parliament but it could not scrape through the Upper House with the opposition demanding that it be sent to a select committee for scrutiny.
Replying to opposition's criticism on scrapping of Haj subsidy, Naqvi said that instead of doing any good the subsidy was actually bringing a bad name to the Muslim community and moreover, the subsidy amount was very less now.
The subsidy amount would be utilised for the upliftment of the Muslim community, especially girls, he added.
Full report at:
https://timesofindia.indiatimes.com/india/no-ordinance-on-triple-talaq-mukhtar-abbas-naqvi/articleshow/62559783.cms
--------
Netanyahu backs India's right to hit terror hideouts across LoC
Jan 19, 2018
Israel Prime Minister Benjamin Netanyahu has said his country and India "have some understanding" should India decide to unilaterally carry out combative action across the Line of Control against UN-designated terrorists, a statement that is indicative of an endorsement of India's right to defend itself.
In an exclusive interview with Times Now, when specifically asked if Israel would back such an action, Netanyahu said, "Well, let's say this, we have some understanding and I don't think I have to add beyond that," before adding that the Indo-Israeli partnership is not directed against any specific country.
"We (Israel) are not enemies of Pakistan and Pakistan should not be our enemy either," he said.
Asked about the Palestine issue, he said, "Israel does not claim to be a perfect country. I don't know any country which is without problems. But, we extend our hands in peace to our neighbhours. It is unfortunate that at least on the Palestinian side, we haven't seen a reciprocal response." He also claimed, "Israel is no longer viewed by most Arab countries as an enemy, but as an indispensible ally in their battle against radicalism."
Full report at:
https://timesofindia.indiatimes.com/india/bibi-backs-indias-right-to-hit-terror-hideouts-across-loc/articleshow/62561271.cms
--------
Rahul Gandhi meets US envoy, top official; discusses ties, terror
Jan 18, 2018
NEW DELHI: Congress President Rahul Gandhi today met the American ambassador to India and the US' Acting Assistant Secretary of State for South and Central Asia, and discussed bilateral ties and global issues, including terrorism, sources said.
Gandhi met Acting Assistant Secretary of State for South and Central Asia Alice Wells and US envoy Kenneth Juster here and posted a photograph with the two US officials on his Twitter account.
"Met acting Assistant Secretary of State for South and Central Asia, Ambassador Alice Wells and US Ambassador to India, Kenneth Juster for a wide-ranging exchange of views on issues of bilateral interest, regional and global affairs," he tweeted after the meeting.
Sources said that shared concerns over terrorism and the challenge it poses were also discussed during the meeting.
Gandhi reaffirmed Congress party's commitment to resist and fight the forces of violence and terror, as also its commitment to promote regional peace and stability, they said.
Sources also said that Gandhi discussed India and America's multi-dimensional partnership and strategic engagement.
Full report at:
https://timesofindia.indiatimes.com/india/rahul-gandhi-meets-us-envoy-top-official-discusses-ties-terror/articleshow/62560503.cms
--------
Netanyahu pays tributes to 26/11 terror attack victims
Jan 18, 2018
MUMBAI: Israeli Prime Minister Benjamin Netanyahu on Thursday paid tributes to the victims of the 26/11 Mumbai terror attacks.
Netanyahu, along with Maharashtra chief minister Devendra Fadnavis, laid wreath at the memorial of the terror attack victims, that claimed 166 lives, at the iconic Taj Mahal Palace Hotel in south Mumbai under a heavy security blanket.
The Israeli prime minister also wrote a message in the visitor's book at the place.
Netanyahu will later visit the nearby Nariman House, where he will meet 11-year-old Israeli boy Moshe Holtzberg.
Moshe's father Rabbi Gavriel Holtzberg and mother Rivka were killed at the Nariman House during the 2008 attacks.
The Jewish couple ran a cultural and outreach centre for the Chabad-Lubavitch movement at the Nariman House in south Mumbai's Colaba area.
Full report at:
https://timesofindia.indiatimes.com/india/netanyahu-pays-tributes-to-26/11-terror-attack-victims/articleshow/62554277.cms
--------
Police confirm death of ISIS fighter from Kerala
by Vishnu Varma
January 18, 2018
A man from Kerala who left the country to allegedly fight for the Islamic State terror group in Syria has been killed, police confirmed.
Abdul Manaf (30), a resident of Valapattanam in Kannur district of Kerala, died while fighting in the war-torn country in November last year, said Deputy Superintendent of Police, PP Sadanandan. The information was reportedly relayed to Manaf's family by Abdul Khayyum, another youth from Kannur fighting for the terrorist group in Syria.
"It's been 2-3 years since he left the country," the police official said.
Manaf is reported to have travelled to Syria on a fake passport and had connections with Valluva Kandy Shajahan, who was deported from Turkey when he tried to sneak into Syria. Shajahan was later arrested by the Delhi Police in July last year.
Full report at:
http://indianexpress.com/article/india/police-confirm-death-of-isis-fighter-from-kerala-5030417/
--------
Mideast
After UN snub, Netanyahu trying to woo India
Jan 18, 2018
By: Syed Zafar Mehdi
As the clamor for his resignation grows louder at home over large-scale corruption and hideous family scandals, Israeli Prime Minister Benjamin Netanyahu decided to board the flight for India, where his "friend" Indian Prime Minister NarendraModi was waiting to welcome him with a bear hug. The growing proximity between New Delhi and Tel Aviv in recent years, especially since the BJP government came to power in India, is intriguing considering India's historical ties with Tehran and many Arab states.
Modi became the first sitting Indian premier to visit Israel in July last year and Netanyahu is the first Israeli premier to visit India in 15 years. This bonhomie between Modi and Netanyahu, whom a leftist newspaper in India described as "ideological twins," has raised many eyebrows in India's intelligentsia circles who consider it a departure from Nehruvian foreign policy principles.
Jawaharlal Nehru, considered the architect of modern India, was a strong proponent of anti-colonialism and non-violence. He believed that the foreign policy must be rooted in principles of solidarity with the oppressed and that is what informed India's foreign policy for decades. So, in line with Nehruvian-era foreign policy principles, India has traditionally been an advocate of Palestinian cause. Even though New Delhi recognized the so-called 'state' of Israel in 1950, diplomatic ties between them were established only 42 years later – in 1992 – during the Narsimha Rao government.
Despite diplomatic ties, the successive governments in New Delhi have appeared reticent in embracing the Zionist regime openly owing to India's historical ties with many Muslim countries and a sizeable domestic Muslim population. India's strong cultural and commercial ties with Iran – the bête noire of Israel – is a case in point. Iran has traditionally enjoyed tremendous amount of goodwill, respect and support in India, particularly among the burgeoning Muslim community.
For the political parties in India, it has also been a smart move to keep Muslims – who constitute 15 percent of the country's population – in good humor. The issue of Palestine touches the emotional chord of Indian Muslims; hence it is directly linked with 'vote-bank' politics for these parties. That perhaps explains why New Delhi for all these years chose to keep its ties with Tel Aviv covert for the fear of losing important allies in the Muslim world and upsetting Muslims at home.
Since Modi took office in 2014, much to the chagrin of Indian Muslims and to the astonishment of regional observers, the cooperation between India and Israel has become more overt and visible. In recent years, India has sought to de-hyphenate its policies toward Israel, which is today one of the major suppliers of arms to India, selling almost $1 billion worth of military equipment to New Delhi each year. In April last year, the two countries signed a lucrative $2 billion deal for surface-to-air missiles, launchers and communication technology. The overall trade between them is estimated to be around $4 billion annually.
Netanyahu's India business
Despite the deepening commercial ties beyond their longstanding covert defense partnership, the build-up to Netanyahu's visit to India was soured when New Delhi last month cancelled a $500 million deal to buy anti-tank guided missiles from Israel's defense contractor, Rafael. India's Defense Ministry chose to offer the lucrative contract to a local company, leaving Tel Aviv fuming. It was followed by New Delhi's vote at the UN against the US move to recognize Jerusalem as the capital of Israel, which compounded the matters further.
Speaking to media in New Delhi, Netanyahu admitted that Israel was "disappointed" by India's snub at the UN, but went on to describe India-Israel relationship as a "match made in heaven." He said his visit to India will "strengthen cooperation in areas like technology and agriculture and other spheres that are changing the world." Clearly, he sounded like a jilted lover complaining about the heartbreak and desperately trying to woo back the beloved. And Modi responded with his famously infamous bear hug.
During his six-day visit, Netanyahu, who was accompanied by a 130-member entourage, repeatedly spoke about the "dawn of a new era" in India-Israel ties. At least nine MoUs were signed in the areas of gas and oil, renewable energy, aviation, industrial research and development, cyber-security, reciprocal investments, supplementary medicine, space research and joint movie productions. The business honchos accompanying Netanyahu, Israeli newspaper Haaretz reported, included senior executives of an Israeli drone maker under criminal investigation by the police's international crimes division. That is something no media outlet in India highlighted.
In their wide-ranging talks, Modi and Netanyahu explored possibilities of enhancing cooperation in various fields, while vowing to strengthen their defense partnership. Looking back, Israel and India had a difficult defense relationship until 1992. After the collapse of Soviet Union, India looked for an alternative source of arms and Israel raised its hand. Since then, many agreements have been signed between them rather clandestinely.
The fact that Israel is one of the top arms suppliers to India is a difficult pill to swallow for many in India. While the country aspires to be an economic superpower and a military giant, it has the dubious distinction of being the world's top defense importer. The growing defense partnership with Israel also raises concerns of arms race in the region that could possibly lead to tensions with neighboring nuclear-armed countries like Pakistan and China.
India's relations with Pakistan continue to be marked with acrimony and relations with China continue to fluctuate from good to bad. The deepening defense cooperation between New Delhi and Tel Aviv, strategic affairs analysts warn, might force countries like China and Pakistan or even Japan to have similar arms deals, which could have dangerous ramifications for peace and security in the region.
Shadow of US/Israel on Iran-India relations
Iran and India have had long, time-tested historical, commercial and cultural ties, often bracketed under "civilizational relationship." New Delhi has been a major importer of Iranian crude oil, even at the height of draconian Western sanctions on Iran. Since last year, the crude exports to India have increased significantly and now Iran happens to be its third largest supplier. In 2015, the trade volume was estimated to be $16 billion dollar, and during Modi's visit to Tehran in May 2016, New Delhi and Tehran reaffirmed their commitment to renew business ties and inked many deals.
India's geographical closeness to Iran makes it an important customer for Iran's oil and gas reserves. And as energy experts have forecasted, India will become the world's second-largest consumer of hydrocarbons in next three decades when Iran's oil and gas reserves will be extremely important to India.
Even though India's investment in Iran's Farzad B offshore gas field, which contains up to 12.5 trillion cubic feet of natural gas, has hit a roadblock, the plan to make operational Chabahar Port in Iran's Sistan and Baluchistan province has taken India-Iran relations to another level. India has pledged to pump $500 million into the project in addition to a $16-billion investment in Chabahar free trade zone. In May 2016, when the deal to develop the port was signed, Iranian President Hassan Rouhani said it was not only an economic document, but also a political and regional one, emphasizing the importance of enhancing ties with India and other regional players.
The U.S., which has considered Iran an adversary since the 1979 Islamic revolution and which has developed close ties with India since the 2005 Indo-US civilian nuclear deal, has tried hard to put a spanner in relations between Tehran and New Delhi, but it has proved counterproductive. Observers believe the growing proximity between Israel and India should not pose any threat to India's relations with Iran since the popular mood in India is strongly in favor of India's friendship with Iran and fiercely against India's relationship with Israel. Ultimately, in a democracy, people hold the mandate.
What Netanyahu calls a "match made in heaven" is actually a "marriage of inconvenience" that is most likely to end in a rancorous divorce. India's relations with Tehran and some Arab countries have stood the test of time and the overwhelming sentiment in India favors close ties with them. The writing on the wall is that the warm handshake with Tel Aviv can have good short-term results but in the long-term would prove counterproductive to India's long-term strategic goals and interests.
Mass murderer not welcome
When a country's foreign policy disregards popular public sentiment, it cannot produce the desired results. Thousands of people who poured into the streets this week in different cities of India made a resounding statement that a 'mass murderer' cannot be welcomed in the land of 'the messiah of non-violence'. Protesters in New Delhi, Kashmir, Kargil, Lucknow, Hyderabad, Kolkatta and Mumbai burnt effigies with pictures of Netanyahu and raised slogans against the Zionist regime's horrendous atrocities in the occupied territories of Palestine.
The leaders and workers of CPI and CPIM leftist parties in India also took to streets to condemn Netanyahu's visit to India. An editorial published in People's Democracy newspaper launched a scathing attack on both Modi and Netanyahu. "One represents right-wing ultra-Jewish nationalism while the other is an advocate of right-wing Hindutva nationalism," it said, echoing the popular sentiment in India.
Senior CPI leader D. Raja said they don't approve the policies of the Israel regime. "Unless we resolve the Palestinian question there cannot be peace and security in West Asia. It is better to address the Palestinian question in a proper historic perspective," he added.
On Wednesday, quite ironically, Modi escorted Netanyahu to his home province Gujarat where more than a thousand Muslims were killed in one of the worst anti-Muslim pogroms in 2002. Modi was the province's chief minister at that time and he is yet to apologize for the massacre. That perhaps explains why the leftist newspaper called them "ideological twins."
Writing on the wall
Modi government, which has faced blistering criticism over the cases of mob lynching and cow vigilantism in different parts of India in recent months, is under attack now – at home and abroad – for hosting a man who presides over the genocide of Palestinians. The growing partnership between India and Israel, the popular opinion suggests, subverts India's traditional position on Palestine at a time when the global consensus is building against the Jewish regime, especially after the UN vote.
India, which aspires to be a global economic giant and permanent member of the UN Security Council, should not be playing into the hands of Western powers and subscribing to their foreign policies. The growing defense partnership with Israel also goes against the principles of India's founding fathers and makes arms race in the region inevitable. The resounding cry on the streets makes it clear that India's deepening defense ties with the Zionist state is not in India's interest and not in the region's interest.
Netanyahu, implicated in a number of corruption cases in Israel, is feeling increasingly isolated at home. And after the embarrassment at the UN, he feels more frustrated. The timing of his visit to India, just after the UN vote, is significant, because India is an important player in the region where Israel has few friends. By trying to court India, he wants to stage a comeback of sorts. But, the people in India and people in this region have already announced their verdict: Zionists cannot be anyone's friend.
http://www.presstv.com/Detail/2018/01/18/549360/Netanyahu-india-visit-arms-race-chabahar
--------
Hamas Lauds Iran's Support for Palestine
January, 18, 2018
In the letter to Ayatollah Khamenei, Haniyeh pointed to a major plot that the arrogant powers have hatched against al-Quds (Jerusalem) and the Palestinian nation with the purpose of wiping out the Gaza Strip as the bastion of resistance, ending the fight against the Zionist regime, and normalizing the relations between Israel and the dependent rulers of regional countries.
He also praised the popular Intifada (uprising) in the West Bank and the city Quds as a phenomenon foiling the plots by the US and the "rulers of hypocrisy" who seek to terminate the issue of Palestine.
Hailing Iran as a stable and resisting nation that has stood against arrogance, Haniyeh expressed gratitude to Imam Khamenei and the Iranian nation for providing the popular Palestinian resistance movement with various kinds of support.
Denouncing the blockade of Gaza and the economic and medical embargo on Palestinian people in the coastal enclave with the aim of creating a humanitarian crisis and undermining the main bastion of resistance, Haniyeh said Washington is trying to put an end to the Palestinian fight against the Israeli regime.
In that case, he added, the rulers impatient to appease the US and Israel could normalize and make public their ties with the Zionist regime, and then the hostile ploys could be targeted on Iran.
Haniyeh also highlighted the significant role of Ayatollah Khamenei in leading the efforts to counter a project on termination of the Palestinian issue.
Iran, under expert guidance of Ayatollah Khamenei, has played and keeps playing a major role in strengthening the Palestinian resistance, he added.
The Hamas official finally refereed to the massive Intifada in the West Bank and Quds as the practical approach to thwarting the new plot against Palestine in the wake of US President Donald Trump's move to harm the religious nature of Palestine by recognizing Quds as the capital of the Israeli regime.
The US president's announcement of Quds as the capital of Israel has drawn widespread international condemnation and sparked protests in the Palestinian territories.
Ayatollah Khamenei has described the US controversial move as a sign of "weakness and incompetence", saying, "The Islamic world will definitely stand against this plot and the Zionists will receive a bigger blow."
Full report at:
https://www.tasnimnews.com/en/news/2018/01/18/1631563/hamas-lauds-iran-s-support-for-palestine
--------
Jordan says Israel apologizes for deaths of two Jordanians at embassy
19 January 2018
Jordan said on Thursday that Israel had formally apologized for the deaths of two of its citizens killed by an Israeli security guard last July in an incident that soured ties and led to the closure of the Israeli embassy in Amman, state media said.
Government spokesman Mohammad al Momani was quoted by state news agency Petra as saying the Israeli foreign ministry had sent a memorandum expressing "deep regrets and apologies" over the incident at the embassy and pledging to take legal action in the case.
Jordan had said it would not allow Israel to reopen its embassy in Amman until it launched legal proceedings against the security guard.
The Israeli prime minister's office said on Thursday that the embassy in Amman would resume full operations immediately.
The handling of the shooting had tested ties between Israel and Jordan, one of only two Arab states that has a peace treaty with Israel. The two have a long history of close security ties.
The embassy was closed shortly after Israel hastily repatriated the guard under diplomatic immunity to prevent Jordanian authorities interrogating him and taking any legal action against him. The Israeli ambassador and embassy staff were pulled out.
Jordan maintained that even if the guard had diplomatic immunity that did not mean he could not be punished.
Israel has now pledged to "implement and follow up legal measures" in the case and also take action in the shooting of an unarmed Jordanian judge by an Israeli soldier in an incident in 2014, Momani said.
Israel would pay compensation to the three families, he said.
Israel said at the time the armed guard opened fire after being attacked and lightly wounded by the workman, who was delivering furniture at his home within the embassy compound, and acted in self-defense in what Israeli officials called a "terrorist attack".
Israel then said it was highly unlikely it would prosecute the security guard.
Jordanian officials have treated the shooting as a criminal case and say the two unarmed Jordanians - the other was a bystander - were killed in cold blood by the armed guard.
The government statement said the Israeli government had met all of Jordan's demands for the return of the ambassador and the reopening of the embassy.
Many Jordanians, in a country where the peace treaty with Israel is unpopular and pro-Palestinian sentiment widespread, were outraged that the guard was allowed to leave and staged protests calling on the authorities to scrap the 1994 treaty.
Full report at:
https://english.alarabiya.net/en/News/middle-east/2018/01/19/Jordan-says-Israel-apologizes-for-deaths-of-two-Jordanians-at-embassy.html
--------
Yemeni snipers kill four Saudi troopers in retaliatory attacks
Jan 18, 2018
Yemeni army soldiers, backed by fighters from allied Popular Committees, have shot dead four Saudi soldiers in the kingdom's southwestern border region of Jizan, in retaliation for the Riyadh regime's military campaign against the crisis-hit country.
A military source, speaking on condition of anonymity, told Yemen's Arabic-language al-Masirah television network that Yemeni forces shot and killed four Saudi troopers in Quwa and Hamezah villages of the region, located 967 kilometers southwest of the capital Riyadh, on Thursday afternoon.
Earlier in the day, Yemeni army soldiers and fighters from the popular committees fired a short-range ballistic missile at a Saudi air defense camp in Najran, causing substantial damage at the site.
Separately, a civilian lost his life and another sustained injuries when Saudi military aircraft carried out two airstrikes against a highway in the As Safra district of Yemen's northwestern province of Sa'ada.
Two people were also injured when Saudi warplanes launched two aerial attacks against a truck belonging to Sama al-Yemen Development Foundation in the Bart al-Anan district of Yemen's northern province of al-Jawf.
Moreover, Yemeni snipers fatally shot two Saudi-sponsored militiamen loyal to former president Abd Rabbuh Mansur Hadi in the Osaifrah district of Yemen's southwestern province of Ta'izz.
At least 13,600 people have been killed since the onset of Saudi Arabia's military campaign against Yemen in 2015. Much of the Arabian Peninsula country's infrastructure, including hospitals, schools and factories, has been reduced to rubble due to the war.
The Saudi-led war has also triggered a deadly cholera epidemic across Yemen.
According to the World Health Organization's latest count, the cholera outbreak has killed 2,167 people since the end of April and is suspected to have infected 841,906.
On November 26, the United Nations children's agency (UNICEF) said that more than 11 million children in Yemen were in acute need of aid, stressing that it was estimated that every 10 minutes a child died of a preventable disease there.
Additionally, the UN has described the current level of hunger in Yemen as "unprecedented," emphasizing that 17 million people are now food insecure in the country.
Full report at:
http://www.presstv.com/Detail/2018/01/18/549379/Yemeni-snipers-kill-four-Saudi-troopers-in-retaliatory-attacks
--------
Turkey faces diplomatic minefield over new Syria operation
19 January 2018
ISTANBUL: Turkey has ramped up its rhetoric to threaten an imminent cross-border incursion against Kurdish militia in Syria but the attitude of Russia and to a lesser extent the US will determine the nature of the operation, analysts say.
The Kurdish People's Protection Units (YPG) militia controls key northern Syrian towns including Manbij and Afrin, and is an ally of the US but Ankara accuses the group of being a terror organization.
Tensions have risen to a new peak in the last days after the US announced plans for a new 30,000-strong border security force in northern Syria that would be composed partly of YPG fighters.
President Recep Tayyip Erdogan threatened to destroy the force, describing it as an "army of terror."
"The preparations have been completed, the operation could start at any moment," Erdogan said this week, as the Turkish army sent dozens of military vehicles and hundreds of additional personnel to the border area.
Yet executing the operation on the ground — especially against a well-populated urban center such as Afrin — could prove much harder than making threats in fiery language.
Crucial will be the attitude of Russia, which has worked increasingly closely with Turkey on Syria in the last year but has a military presence in the area where it cooperates with the YPG.
"Can Ankara dare to attack Afrin without getting a green light from Russia? It's a sure 'no' for me," said Metin Gurcan, security analyst at Istanbul Policy Center and Al Monitor columnist.
He said that despite the increasingly inflammatory language from Erdogan, a full operation would require that Russia open Afrin's air space to Turkey and withdraw its soldiers from the area.
Tensions between Moscow and Ankara have grown in the last days as Russia seeks wide attendance at a peace conference on Syria at the end of the month. But Turkey insists it will not attend if the YPG is there.
In a potentially decisive meeting, Turkey's Army Chief Gen. Hulusi Akar and spy supremo Hakan Fidan held talks in Moscow on Thursday with Russian counterparts on Syria.
"The only external power that can stop an invasion at this point is Russia," said Aaron Stein, resident senior fellow at the Atlantic Council's Rafik Hariri Center.
He said Erdogan had threatened incursions inside Syria "once a week, every week" for the past year since the Euphrates Shield incursion Turkey launched in August 2016, which ended the following spring.
"What makes this different is that the rhetoric is far more specific, pointed and hostile toward the US. I assume that he will carry out his threat, but the scale of the operation is still an unanswered question," he said.
Turkish Foreign Minister Mevlut Cavusoglu insisted Thursday that Russia would not oppose an Afrin operation, saying that Ankara needed to coordinate with Moscow to ensure its military observers on the ground were not harmed.
Aaron Lund, a fellow with The Century Foundation, said that "it would be hard for Erdogan to back down at this point" following such "loud and persistent" threats.
He said if the operation turned into full-out combat, much of the actual fighting would be done by Turkey-backed Syrian rebel forces like in the Euphrates Shield operation.
But he added that Afrin has tough terrain and was well fortified while the "YPG is a disciplined and effective force."
Moreover, any Turkish intervention may not find the warmest of receptions in Washington, which has closely cooperated with the YPG as its main ally on the ground in the fight against the Islamic State extremist group.
Yet Afrin — which lies to the west of the main Kurdish zone of influence in Syria — may not be a prime concern of Washington which is more interested in the Kurdish-controlled areas stretching east to the Iraqi border.
"As far as I can tell, the Americans do not view Afrin as being their problem," said Lund, saying the American military was in Syria on a "fairly narrow counter-terrorism mandate."
"That said, they must be worried that this could create trouble for them" especially if Turkey fired on YPG-controlled areas to the east with a US presence, he said.
Full report at:
http://www.arabnews.com/node/1228791/middle-east
--------
Yemeni army liberates new areas in Al-Jouf from Houthi control
19 January 2018
The Yemeni army continued to make progress for a second day on Thursday in ongoing battles with Houthi militia in the Burt Al-Anan area of Al-Jouf governorate.
Brig. Gen. Heikal Hantaf said Yemeni Armed Forces liberated the Afi, Al-Qaeef and Al-Tamr regions, as well as taking the "strategic" Habash mountain, according to a statement on the Yemeni Armed Forces website.
Full report at:
http://www.arabnews.com/node/1228756/middle-east
--------
North America
Diversity award winner says Islamophobia still exists in Waterloo region
Jan 18, 2018
Less than a month after the shooting in a Quebec mosque last year, Fauzia Baig set up shop in Carl Zehr Square to hand out cookies to strangers and engaged them in conversation about Muslim faith and culture.
An event that won her the provincial Champions of Diversity award.
"I felt very overwhelmed by the recognition," Baig told CBC News. "The outcome [of the event] was rewarding enough."
Baig won in the category of "cross-cultural understanding." She is the director of community programs at the Coalition of Muslim Women Kitchener-Waterloo.
Handing out cookies was part of a week-long "Salaams Canada" campaign she ran with volunteers as an attempt to bridge different communities in Waterloo Region.
"We really opened ourselves up to the community and they responded with the same warmth and kindness that we shared with them," Baig said.
Baig and the volunteers' response to the shootings was inspiring for Sarah Anderson.
Anderson had worked with Baig to secure the use of Carl Zehr Square in her role as a neighbourhood liaison for the City of Kitchener.
"For me to be able to, as a city staff, find ways to support this kind of leadership is what makes my role satisfying," Anderson told CBC News, "Their gesture was so disarming and so full of friendship and love that I think it was just the right thing."
The Coalition of Muslim Women Kitchener-Waterloo will be hosting an anniversary vigil on Sunday Jan. 28 to remember the victims of the mosque shooting at the Kitchener City Hall.
Islamophobia still 'prevalent'
Recently outside the region there was an alleged attack against a Muslim girl that turned out to be false. Some people have been using that to suggest Islamophobia doesn't exist.
Baig said that isn't the case.
"We know that incidences are still occurring in our community," she said. "You can't evaluate an entire issue on one event."
In June 2017, Statistics Canada reported the number of hate crimes against Muslims have increased by 60 per cent in 2015 compared to 2014.
And in the cities of Cambridge, Kitchener and Waterloo, they rank third in the country for reported hate crimes.
Islamophobia is not a thing of the past, Baig said, but things have been changing since Baig moved to the region two decades ago. A resident of Waterloo, Baig has moved through her milestones from school to becoming a mother to finding her first job.
"Not only has [the city] grown in terms of tech and industry and business, but it's really grown in terms of being open to change and being open to differences and accepting," she said.
But she still sees Islamophobia in the region as "prevalent" through her work with the Hate Crime Initiative in Waterloo Region.
"We keep our ears to the ground in this community and we know that our work here isn't done."
http://www.cbc.ca/news/canada/kitchener-waterloo/champions-of-diversity-fauzia-baig-1.4493034
--------
US Wary of Islamic Extremism Growth in Africa
January 18, 2018
PENTAGON —
With the Islamic State's so-called caliphate almost completely retaken in Iraq and Syria, many American leaders are concerned the group might try to create a new hub elsewhere.
Islamic extremism creeps up in impoverished, politically disillusioned populations with masses of young, unemployed Muslims, and these conditions can be seen across the African continent.
"Africa is going to be the spot; it's going to be the hot spot," Congressman Michael McCaul, chair of the House Homeland Security Committee, said in a hearing last month.
In a letter sent to congressional leaders detailing counter-extremism efforts, President Donald Trump said his administration had placed a "particular focus" on the U.S. Central and Africa Commands' areas of responsibility.
While tens of thousands of American troops are deployed to the Middle East and Southeast Asia, where U.S. Central Command oversees military operations, the entire African continent has less than half the number of American troops deployed in the single country of Afghanistan.
But increases in terrorist activity are among the reasons why American military presence has grown rapidly on the continent, from 3,200 military personnel in 2009 to some 6,500 military personnel today.
The bulk of U.S. military personnel in Africa, some 4,000 Americans, are based in Djibouti, home to the United States' only military base on the continent. The second-largest concentration is in the Lake Chad Basin, where some 1,300 U.S. military personnel work in Niger, Nigeria, Cameroon and Chad to help strengthen local militaries and counter Boko Haram, al-Qaida, Islamic State and other extremist groups. About 500 U.S. military personnel are based in Somalia, where al-Shabaab terrorists are battling the U.N.-backed Somali government and Islamic State operates in mountainous areas of Puntland.
John Campbell, who served as the U.S. ambassador to Nigeria from 2004 to 2007, is critical of the United States' policy toward Africa.
"There is African concern that the U.S. approach is becoming rather more militarized, or more concerned with military and security issues than had been the case in the past," he told VOA.
Campbell said he believes that the main thrust of American effort on the continent should be on the "root causes" of extremism — poor governance and lack of economic development. But this effort will likely prove more difficult if the State Department's budget is slashed, as proposed by the Trump administration.
Ripe for recruitment
Africa's growing young, male population is ripe for recruitment, Africa Command's senior enlisted leader, Command Chief Master Sergeant Ramon Colon-Lopez told VOA in an exclusive interview.
"When you have no options and here comes an extremist that is offering you a motorbike and a bride, what do you think you're going to do? Your family's starving, you can't provide for them and somebody's giving you an option," he said.
The Trump administration this year changed rules governing U.Smilitary operations in the area, expanding the ability to strike al-Shabab and IS fighters in the war-torn country of Somalia. The change allowed offensive strikes against the terrorists rather than limiting attacks to defending African allies and their American advisers on the ground. This matches a similar expansion of strike authorities this year against the Taliban in Afghanistan, where under President Barack Obama, the Taliban had to be in close proximity to Afghan National Security Forces before they could be targeted.
The new authorities have led to an increase in strikes in Somalia. The latest of the more than 30 U.S. strikes across theWest African country this year came on Tuesday, taking out what U.S. military officials said was an al-Shabab car bomb planned for use in an attack in the capital, Mogadishu.
Colon-Lopez said the new authorities have "definitely" helped the counter-terrorism mission in Africa.
The U.S. has also used air strikes this year to target IS militants in Libya. Just last month, the U.S. and Niger reached an agreement permitting armed American military drones for use against jihadist terrorist groups in the African nation, according to a U.S. official. It is still unclear whether the drones in Niger will be used to carry out targeted strikes or solely as a defensive measure.
Special operations forces
In the past decade, Africa has also seen a vast expansion of U.S. Special Operations Forces (SOF), elite military units that are specifically trained and use special weapons, and tactics.
In 2006, Special Operations Forces made up just 1 percent of U.S. military personnel. Today, there are about 1,200 Special Operations Forces deployed to Africa, or about 15 percent of the total deployed force, a U.S. military official told VOA on the condition of anonymity.
Their jobs range from short-term training to long-term partnering with African military units that place American troops in potentially dangerous locations.
That's what happened in Niger in October, when four American soldiers died in an IS ambush, and in May, when a U.S. Navy SEAL died aiding Somali security forces against al-Shabaab.
"I worry about the outposts that have U.S. military members that are getting after this threat," Colon-Lopez said. "I worry about them because we can see what happened out there when the enemy decides to overpower the United States of America."
The number of times that U.S. troops are exposed to danger in Africa are rare, a U.S. military official told VOA, adding that Special Operations Forces limit their involvement with local partners because of the strong desire to find "African solutions to African problems."
"Our role is more like preventative medicine in Africa than emergency surgery," the military official said.
Full report at:
https://www.voanews.com/a/us-wary-of-islamic-extremism-growth-in-africa/4213425.html
--------
US to Turkey: Stay focused on Daesh, don't attack Syria's Afrin
Jan 18, 2018
The US State Department has called on Turkey not to take any military action in Syria's northwestern region of Afrin.
State Department spokeswoman Heather Nauert on Thursday urged Ankara to remain focused on fighting Daesh terrorists in the region.
Asked about reports that Turkey was making preparations to launch military strikes in Afrin, Nauert told reporters, "We would call ... on the Turks to not take any actions of that sort. ... We don't want them to engage in violence but we want them to keep focused on ISIS [Daesh]."
The comments came after Ankara said Turkish forces will intervene in Afrin to counter Kurdish People's Protection Units (YPG) militants.
Ankara views the YPG as the Syrian branch of the militant Kurdistan Workers' Party (PKK) that has been fighting for an autonomous region inside Turkey since 1984.
Turkish Foreign Minister Mevlut Cavusoglu said earlier in the day that the recent statements from the United States regarding plans to create a 30,000-strong "terror army" on Syria's northern borders with Turkey were not satisfactory for the Ankara government.
Cavusoglu told Turkish-language CNN Turk television news network that Turkey would intervene in Afrin and Manbij to counter YPG militants, and that its mistrust of Washington continues.
The top Turkish diplomat noted that the United States must retake the weapons given to the terrorists, and completely end its cooperation with them.
Meanwhile, Syria warned Turkey that any combat operation inside the war-torn country would be considered an act of aggression by the Turkish army.
Syrian Deputy Foreign Minister Faisal Meqdad told reporters in Damascus on Thursday that his country's forces are prepared to repel such an attack.
"We warn the Turkish leadership that if they initiate combat operations in the Afrin area, that will be considered an act of aggression by the Turkish army," he said.
However, Turkey's Justice Minister Abdulhamit Gul said on Thursday that his country "could never remain silent" in the face of developments that threatened its borders and security.
Turkish President Recep Tayyip Erdogan has repeatedly said that Afrin should be cleared of "terrorists," and demanded the deployment of Turkish troops there during a speech back in November 2016.
Full report at:
http://www.presstv.com/Detail/2018/01/18/549401/US-to-Turkey-Stay-focused-on-Daesh-dont-attack-Syrias-Afrin
--------
Charges unsealed against man linked to bin Laden, Al-Qaeda
18 January 2018
NEW YORK: New terrorism charges await a German man who provided critical support to Osama bin Laden before the Sept. 11 attacks and will face trial in the US after serving most of a terrorism-related prison sentence in France, authorities said Wednesday.
Christian Ganczarski, 51, was charged in a newly unsealed indictment in Manhattan federal court with conspiring to kill Americans and supporting terrorists.
Top US law enforcement officials portray Ganczarski as a key Al-Qaeda supporter in the two years before the Sept. 11 attacks, saying he provided technological guidance and software, knew at least one of the 9/11 hijackers and sat in the front row of a bin Laden speech in January 2000 with the son of one of Al-Qaeda's top operatives on his lap.
In a release, Manhattan US Attorney Geoffrey S. Berman said Ganczarski "provided critical support to the most prolific terrorists of our time."
He added that Ganczarski participated in the planning of plots to kill Americans with high-level Al-Qaeda terrorists, including bin Laden and Khalid Sheik Mohammed, the self-described architect of the 9/11 attacks.
The US seeks Ganczarski's extradition from France, where he has been imprisoned for the last 15 years after he was convicted and sentenced to 18 years in prison for his role in a 2002 attack on a synagogue in Tunisia that killed 21 people.
Last week, he was charged with stabbing three prison guards, leading to his transfer to another prison in northern France and sparking protests by French prison guards outside scores of jails across France.
William F. Sweeney Jr., head of New York's FBI office, said Ganczarski arranged meetings between senior officials in Al-Qaeda and other like-minded individuals who wanted to attack US interests.
"While he's spent the past fifteen years behind bars in France, we haven't forgotten his allegiance to those who have threatened our interests both at home and abroad," he said.
New York Police Commissioner James P. O'Neill said Ganczarski lived in Al-Qaeda's camps and guest houses while he worked with bin Laden and men who planned and executed plots to bomb US embassies in Africa, killing 225 people.
After the Sept. 11 attacks, Ganczarski helped Al-Qaeda maintain weapons systems that would be used to attack US soldiers and their aircraft, O'Neill said.
Full report at:
http://www.arabnews.com/node/1228316/world
--------
Muslim Americans Sue Fbi For Being Put On A Terror Watch List For No Reason
By Cristina Maza
1/18/18
Five American Muslims filed a lawsuit against FBI Director Christopher Wray and other members of the government because they believe they were put on a terrorist watch list without due process.
The complaint, filed Wednesday to the district court for the Northern District of Texas, says that the plaintiffs are victims of racial profiling and have suffered negative consequences due to their inclusion on the list.
The Terrorist Screening Database, a federal list of terror suspects, is a secret list compiled by the FBI, and it's impossible for people to verify whether or not they have been included on it. But lawyers from the Council on American-Islamic Relations (CAIR), who filed the lawsuit on behalf of the plaintiffs, say people who are on the list know they were included because they are frequently harassed by law enforcement officials and consistently have their rights violated. Often they are singled out at airports by having the letters SSSS stamped on their boarding passes.
"There is no confirmation, but it's something that we gather from these individuals' experiences," Nikiya Natale, a legal director for CAIR in Texas, told Newsweek. "At CAIR we encourage people to report anti-Muslim bias and any sort of hate or bias they experience, and we respond to cases of discrimination or harassment."
Abraham Sbyti, a 45-year-old based in Texas, told Newsweek he has been stopped and questioned by law enforcement officials in airports 24 times since 2014. Sbyti, who is employed as an air-conditioning technician, is originally from Iraq and was re-settled in the U.S. as a refugee in 2000. He obtained citizenship in 2005 and lives with his wife in Texas, but he visits his mother in Lebanon a few times a year.
"All of a sudden, after November 2014, I found myself getting randomly searched at the airport. In 2014 they started searching me; I went through the search. They said it was a random check. They started asking me if I go to the mosque, and I answered all of their questions," Sbyti explained to Newsweek.
"This has happened 24 times—every time I leave the country. They are so nice in America, honestly, they are nice. But my wife and I have to wait hours while they ask questions."
Lawyers for CAIR say Sbyti and many others like him are victims of racial profiling.
"Many Americans, including children, end up on the secret federal terror watch list…based on mere guesses, hunches, and conjecture and even simply based on matters of race, ethnicity, national origin, religion or the exercise of their constitutional rights," the lawsuit reads.
"Through extrajudicial and secret means, the federal government is ensnaring individuals into an invisible web of consequences that are imposed indefinitely and without recourse as a result of the shockingly large federal terror watch list that now includes hundreds of thousands of individuals."
FBI Director Wray, Director of the National Counterterrorism Center Nicholas Rasmussen and the Director of the Terrorist Screening Center Charles Kable are all named in the lawsuit, among others.
Full report at:
http://www.newsweek.com/muslim-americans-sue-fbi-being-put-terror-watch-list-without-due-process-784739
--------
US administration approves $500mn missile system deal with Saudi Arabia
Jan 18, 2018
The US State Department has approved a possible $500-million sale of missile system support services to Saudi Arabia in defiance of global calls for Washington to stop providing Riyadh with military support due to the regime's war crimes in Yemen.
The Defense Security Cooperation Agency made the announcement in a statement on Wednesday, saying Congress had been notified of the decision.
Congress now has 30 days to review the proposed sale, but it is not required to take any action.
The potential sale follows a request by Saudi Arabia for continued technical assistance for Patriot Legacy Field Surveillance Program (FSP), the Patriot Advanced Capability 3 (PAC-3) and the Patriot Engineering Services Program (ESP).
The package also includes spare parts and logistical support for Patriot and Hawk missile systems.
Last week, the US Army awarded Sikorsky, a leading American aircraft manufacturer, a contract worth nearly $200 million to supply 17 Black Hawk helicopters to Saudi Arabia.
The deals come as the US is under pressure to suspend its arms sales to the Saudi regime, which has been waging a deadly military aggression against Yemen since 2015.
At least 13,600 people have been killed since the start of the war.
During his first trip to Saudi Arabia last year, President Donald Trump signed a $110 billion arms deal with the Saudis, with options to sell up to $350 billion over a decade.
Facilitated by Trump's son-in-law and senior adviser Jared Kushner, the massive package includes missiles, bombs, armored personnel carriers, combat ships, terminal high altitude area defense (THAAD) missile systems and munitions.
The announcement generated backlash in Congress, with Republican Senator Rand Paul promising to work to block at least parts of the package.
The Trump administration is looking to loosen restrictions on American arms sales to boost the country's weapons industry.
Full report at:
http://www.presstv.com/Detail/2018/01/18/549321/saudi-us-missile
--------
Arab World
HRW: UAE violating human rights at home, aboard
Jan 18, 2018
Human Rights Watch (HRW) has blasted the United Arab Emirates for violating human rights by suppressing dissent and discriminating against citizens at home while committing war crimes in Yemen.
In its World Report 2018 published on Thursday, the New York-based rights organization accused the UAE of "arbitrarily detaining or rounding up in its routine crackdowns on dissent," citing the case of Ahmed Mansoor.
The award-winning Emirati rights activist has been in detention since March 2017, facing speech-related charges that include using social media to "publish false information that harms national unity."
"The government and the many public relations firms it pays try to paint the UAE as a modern, reform-oriented country," said Sarah Leah Whitson, Middle East and North Africa division of Human Rights Watch.
"This rosy vision will remain fiction so long as the UAE refuses to release the activists, journalists, and critics it has unjustly jailed, like Ahmed Mansoor," she added.
Elsewhere, the HRW report highlighted persistent labor abuses and the exploitation of migrant construction workers in the Persian Gulf country.
It also said that the UAE is discriminating against its people based on their sex, gender and identity.
The rights group further touched on the UAE's complicity in torture and disappearances across Yemen.
The UAE is a key ally of Saudi Arabia in its military campaign on Yemen, which has claimed around 13,600 lives since its onset in March 2015.
Besides playing a significant part in aerial assaults and deploying troops to Yemen, Abu Dhabi has been training the pro-Saudi militants fighting on the ground against the Yemeni army and its allied forces.
The UAE has further come under scrutiny for running secret prisons in Yemen, where hundreds of inmates suffer mistreatment and torture.
In November 2017, the Arab Organization for Human Rights (AOHR), a UK-based NGO, filed a complaint against the Emirates with the International Criminal Court (ICC) over its "indiscriminate attacks against civilians" in Yemen.
The HRW said Abu Dhabi operates at least two informal detention facilities in Yemen, where prisoners face forcible disappearance and continued detention despite release orders.
Former detainees and their families have reported abuse or torture inside the UAE-run facilities, it noted.
"Whenever the US and others praise the UAE for its critical counterterrorism support in places like Yemen, they paper over a much darker reality – of disappearances, torture, and detainee abuse, and their own potential complicity in these abuses," Whitson said.
The Saudi aggression on Yemen was launched to reinstate a former Riyadh-friendly government and to eliminate the Houthi Ansarullah movement, which has been running state affairs in the absence of an effective administration.
The offensive has, however, achieved neither of its goals despite the spending of billions of petrodollars and the enlisting of the cooperation of Saudi Arabia's regional and Western allies.
http://www.presstv.com/Detail/2018/01/18/549357/UAE-HRW-Yemen-Saudi-Arabia
--------
HRW: Bahrain's tolerance for dissent approaching vanishing point
Jan 18, 2018
Human Rights Watch has warned about the deterioration of human rights situation in Bahrain, saying the ruling Al Khalifah regime used fabricated charges last year to harass, intimidate, and imprison human rights advocates and their relatives.
The international non-governmental organization said in a report on Thursday that the tiny Persian Gulf kingdom continued its "downward spiral on human rights."
"Bahrain's tolerance for dissent is approaching [a] vanishing point, erasing whatever progress it made after promising to make reforms following the unrest in 2011," HRW's Middle East Director Sarah Leah Whitson said.
The report further shed light on flagrant human rights violations in Bahrain in 2017.
They include the execution of three Shia activists Abbas al-Samea, 27, Sami Mushaima, 42, and Ali al-Singace, 21, in January following unfair trials, sentencing 14 political dissidents to death, ratification of a constitutional amendment giving military courts jurisdiction over civilians, and using excessive deadly force in a raid on a sit-in protest in the village of Diraz, which left five demonstrators killed and dozens wounded. The sit-in had been in place in support of the country's most prominent Shia cleric Sheikh Isa Qassim.
Manama regime authorities also stripped 105 persons of Bahraini citizenship since late October, effectively placed more than 20 rights activists, lawyers, and political opposition figures under a travel ban, ordered dissolution of the opposition National Democratic Action Society (Wa'ad) and closure of the country's only independent newspaper al-Wasat, and upheld a two-year prison sentence against distinguished human rights activist Nabeel Rajab over TV interviews between 2015 and 2016.
Moreover, a criminal court in Manama on October 30 sentenced three relatives of human rights defender Sayed al-Wadaei to three years in prison on dubious terrorism-related charges in a bid to punish the exiled activist.
Thousands of anti-regime protesters have been holding demonstrations in Bahrain on an almost daily basis ever since a popular uprising began in the country in mid-February 2011.
They are demanding that the Al Khalifah dynasty relinquish power and allow a just system representing all Bahrainis to be established.
Manama has gone to great lengths to clamp down on any sign of dissent. On March 14, 2011, troops from Saudi Arabia and the United Arab Emirates were deployed to assist Bahrain in its crackdown.
Scores of people have lost their lives and hundreds of others sustained injuries or got arrested as a result of the Al Khalifah regime's crackdown.
Full report at:
http://www.presstv.com/Detail/2018/01/18/549363/HRW-Bahrain-opposition-Al-Khalifah-
--------
Saudis wasting billions by buying outdated weapons from US: Analyst
Jan 19, 2018
The United States is selling useless, outdated weapons to Saudi Arabia which is thus wasting billions of dollars on these purchases, according to E. Michael Jones, an American political analyst in Indiana.
Jones, a writer, former professor, media commentator and the current editor of the Culture Wars magazine, made the remarks in a phone interview with Press TV on Thursday.
The US State Department has approved a possible $500-million sale of missile system support services to Saudi Arabia in defiance of global calls for Washington to stop providing Riyadh with military support due to the regime's war crimes in Yemen.
"The State Department has made a determination approving a possible foreign military sale to Saudi Arabia of continuation of missile system support services for an estimated cost of $500 million" read a statement from the Defense Security Cooperation Agency, which is part of the United States Department of Defense.
This came following a request by Saudi Arabia for continued technical assistance for Patriot Legacy Field Surveillance Program (FSP), the Patriot Advanced Capability 3 (PAC-3) and the Patriot Engineering Services Program (ESP). The package also includes spare parts and logistical support for Patriot and Hawk missile systems.
"The United States has a lot of expensive weapons to sell, the Saudis have lots of money. So they come to a deal. The only problem here is the weapons are not going to solve the problem," Jones said.
"This is not the first time that the Saudis have bought weapons from the United States. They have already spent billions of dollars in weapons and those weapons cannot prevent simple things like the fact that the Yemenis have fired two missiles which had landed in Riyadh," he stated.
"These missiles are not anything sophisticated. They are basically the re-worked Scud missiles of the sort that Iraqis, Saddam Husain, fired in Israel during the Iraqi war," the analyst noted.
"They had been welded together with bigger gas tanks but they are the same missiles. This is a primitive missile. The patriot missile system cannot block them. So why are they buying more patriot missiles?" he asked. "Well, because this is what they do. They buy, the United States sells, and that's the whole story here."
"Now, this is not going to stop the war. If these weapons could have stopped the war, they would have stopped it a long time ago. The Saudis cannot find mobile missile launchers. They cannot deal with the Yemeni fighting techniques," Jones said.
"And they are showing no indication of changing their tactics to fight the war that's actually going on. So as a result they are going to lose the war," he noted.
"In addition to this, the United States by continuing to sell these missiles is alienating public opinion across the world every bit as much as the recognition of that Jerusalem [al-Quds] as the capital of Israel," the commentator observed.
The proposed deal comes as the US is under pressure to suspend its arms sales to the Saudi regime, which has been waging a deadly military aggression against Yemen since 2015. At least 13,600 people have been killed since the start of the war.
Full report at:
http://www.presstv.com/Detail/2018/01/19/549407/Saudis-wasting-billions-by-buying-outdated-weapons-from-US
--------
Egypt: Al Azhar International Conference in Support of Al Quds
18 JANUARY 2018
The activities of Al Azhar Conference in Support of Al Quds (Jerusalem) will launch on 17-18 January 2018 at the Al Azhar Conference Center in Cairo under the auspices of President Abdel Fattah El Sisi, with a high-level Arab, Islamic and international participation. About 86 countries' representatives are going to attend the conference, topped by Palestinian President Mahmoud Abbas, Secretary General of Organization of Islamic Cooperation Yusuf Bin Ahmed Al Uthaymeen, Secretary-General of the Arab League Ahmed Aboul Gheit, Speaker of the Kuwaiti National Assembly Marzouq Al-Ghanim, Minister of Islamic Affairs of Saudi Arabia Saleh bin Abdul-Aziz Al ash-Sheikh, General Secretary of World Council of Churches Olav Fykse Tveit and President of Muslim World League Mohammad bin Abdul Karim bin Abdulaziz Al-Issa.
Among the guests are Secretary General of the Muslim Council of Elders (MCE) Dr. Ali Rashid Al Nuaimi and Director General of Abu Dhabi Media Company Ali bin Tamim; in addition to, a number of Egyptian and Arab press and media figures.
Al-Azhar International Conference in Support of Jerusalem comes within the framework of a series of decisions taken by the Grand Imam Dr. Ahmad Al-Tayeb, Sheikh of Al-Azhar Al-Sharif, in response to Trump's decision to move U.S Embassy to occupied East Jerusalem. Noteworthy, Al-Azhar will organize the conference in collaboration with Council of Muslim Elders.
The conference will be emphasizing its Arab-Islamic identity and reviewing the international responsibility for the Holy City (Jerusalem) .
The conference is reviewing three topics:
The first topic is entitled "The Arab identity of Jerusalem and its message". It includes several sub-headings tackling "the universal religious position of Jerusalem ، Jerusalem and its civilization in history and in the present ، the impact of changing identity in spreading hatred and refuting Zionist claims about Jerusalem and Palestine ."
The second topic is entitled "Raising awareness on the issue of Jerusalem" which addresses "the international legal status of Jerusalem ، the political role in restoring awareness ، the cultural and educational role in the issue of Jerusalem ، and the important role media could play in restoring awareness ."
Full report at:
http://allafrica.com/stories/201801180687.html
--------
Tens of Al-Nusra Terrorists Join ISIL in Syria's Aleppo
Jan 18, 2018
The news websites reported that a sum of 60 terrorists of Al-Nusra have joined ISIL after the Al-Nusra suffered heavy defeats in recent clashes with the army men in Southern Aleppo.
The websites further said that most of the defected members were Al-Nusra fighters in Badiyeh (desert) or former members of Jund al-Aqsa that came under siege of the army men in Southern Aleppo.
In the meantime, a large number of Al-Nusra terrorists have escaped from their positions in Southern Aleppo and joined their comrades near the Abu al-Dhohour airbase in Southeastern Idlib.
Relevant reports said on Wednesday that the army troops stormed terrorists' positions in Southern Aleppo and managed to impose control over 2 more regions in their push towards Abu al-Dhohour airbase in Southeastern Idlib.
The army men pushed the Al-Nusra Front and its militant allies back from the village of Maseh and Tal (hill) Maseh West of the small town of al-Zaman in Southern Aleppo.
The army's engineering units have started defusing bombs and landmines in the newly-freed regions.
Full report at:
http://en.farsnews.com/newstext.aspx?nn=13961028000693
--------
US Plans to Recognize Kurdish-Held Regions in Syria
Jan 18, 2018
The Arabic-language al-Hadath news quoted the SDF source as reporting that the US-led coalition plans to remain in Syria and back up a Federal Structure in the Northern part of the country.
Arab media reports claimed early January that Washington is planning 'concrete steps' toward providing a Syrian Democratic Forces-controlled area in Northern Syria's Eastern Euphrates region three times the size of Lebanon with diplomatic recognition.
An unnamed senior Western official was quoted by Asharq Al-Awsat newspaper as saying that the 28,000 square km territory, controlled by the Syrian Democratic Forces (SDF), a collection of predominantly Kurdish militias including the YPG People's Protection Units, took its first step toward US recognition after US Defense Secretary Jim Mattis promised to send US diplomats to SDF-controlled areas to work alongside US troops operating in the region.
Full report at:
http://en.farsnews.com/newstext.aspx?nn=13961028000673
--------
Militants in More Regions Endorse Peace Agreement with Syrian Army
Jan 18, 2018
The ministry reported that militants in the village of Taljabin in Aleppo province laid down arms and joined the nationwide reconciliation plan with the army, adding that the total number of towns, regions and villages that have thus far ended battle against the army stands at 2,330.
Field sources confirmed last month that over 160 gunmen that had laid down their weapons and joined peace with the Syrian army in Aleppo and Deir Ezzur provinces received government amnesty.
The sources reported that 164 militants in Aleppo and the Eastern and Southern parts of Deir Ezzur had handed over their arms to the army soldiers and were pardoned by the Damascus government.
Full report at:
http://en.farsnews.com/newstext.aspx?nn=13961028000703
--------
Syrian Army Frees Over 1,000 sq-km of Territories in Idlib
Jan 18, 2018
The sources said that the army men have liberated 90 villages and towns in Southeastern Idlib in their anti-terrorism operation in recent weeks, killing a large number of terrorists, including several high-ranking commanders.
The sources further said that the army has cleaned over 1,000 sq-km of land in Sinjar, al-Tamanna and Abu al-Dhohour regions of terrorists, adding that the army's control over 1,000 sq-km of territories will help it launch fresh operations in Ma'arat al-Nu'aman region and the town of Saraqib that is the second defense line of the terrorists towards Idlib city.
The sources added that the army inflicted major losses on the terrorists and seized over 50 armored vehicles, several tanks and a large volume of arms and ammunitions in the operation in Southeastern Idlib.
Well-informed sources reported on Wednesday that newly-appointed Chief Commander of Tahrir al-Sham Hayat (the Levant Liberation Board or Al-Nusra Front) Abu Mohammad al-Joulani urged terrorist groups to be united to face the Syrian Army troops rapid advances in Southeastern Idlib.
Al-Joulan, in an audio file, called on all the terrorist groups in Northwestern Syria to be united to confront the army's devastating advances in Southeastern Idlib.
Full report at:
http://en.farsnews.com/newstext.aspx?nn=13961028000436
--------
Turkey-Backed Militants Intensify Attacks on Kurds in Northern Syria
Jan 18, 2018
The Kurdish-language Hawar news reported that the Turkish forces deployed in Sejiyeh border checkpoint targeted Kurdish forces' positions near the village of Marwaniyeh in Shi'eh area in Jajdariseh region in the town of Afrin.
In the meantime, the mortar and missile units of the Turkish army and its affiliated militant groups deployed in Qala Sam'an pounded the village of Karzileh in Shirwa region, the villages of Shadireh and Iska, nearby regions of the village of Jomleh in Shirwa, Hawar news further said.
On the other hand, forces of the Euphrates Shield targeted Kurdish forces' positions near the village of al-Mohsenli Northwest of Manbij, fueling fierce clashes between two sides.
Field sources reported on Wednesday that another military column of the Turkish troops, including elite forces, arrived at the border region with Syria within the framework of Ankara's plan to kick off imminent attack on Kurds in the town of Afrin.
The sources said that a convoy of Turkish military vehicles, including modern missile and artillery systems and armored and military vehicles has arrived at the border with Afrin in Northern Aleppo.
Full report at:
http://en.farsnews.com/newstext.aspx?nn=13961028000659
--------
Syrian Army Imposes Heavy Defeat on Terrorists in Homs Province
Jan 18, 2018
The army men carried out an ambush operation against a group of terrorists that intended to prevail over the army positions near Maktab al-Emad near the town of al-Rastan, killing and wounding a number of terrorists.
In the meantime, the army's artillery and missile units targeted terrorists' strongholds in response to the militants' attack in the Northern Farms of al-Rastan.
The missile units further hit terrorists' movements hard between the villages of Kafr Laha and al-Tayebeh Qarbi in Northern Homs, killing a number of terrorists.
Relevant reports said last week that the army and Air Force targeted ISIL's strongholds in Southeastern Homs, killing and wounding a number of terrorists.
The army men exchanged fire with ISIL in a mountainous region near the town of al-Quaryatayn.
Also, the army aircraft bombed heavily the positions and movements of terrorists in al-Quaryatayn mountain, killing and wounding several terrorists.
Full report at:
http://en.farsnews.com/newstext.aspx?nn=13961028000251
--------
UAE Armed Forces destroy Houthi command center in Yemen
18 January 2018
HAIS, Yemen: UAE jets have destroyed a Houthi rebel command and communication center in western Yemen.
The aircraft struck the "strategically located" base that was used to store weapons and ammunitions in Hais district of Taiz province, the UAE state new agency WAM reported.
Hais is about 15 miles from the Red Sea coast and 45 miles north of Mocha, which has seen some of the fiercest fighting between the Iran-backed rebels and Yemeni government forces.
The UAE is part of the Saudi-led coalition supporting the internationally recognized government against the rebels, who seized the capital Sanaa in 2014.
The destruction of the Houthi center will "severely impact communication among the Houthi militia fighters who are stationed in different parts of the district", the WAM report said.
The bombing raids provided fire support to the advancing Yemeni government forces in Hais.
Images from the UAE military show the explosions at the targets. It was not clear on which date the airstrikes took place.
Full report at:
http://www.arabnews.com/node/1228451/middle-east
--------
South Asia
Taliban suffer casualties in Pamir-17 operations in Kunduz
Jan 18 2018
The Taliban insurgent suffered casualties during the ongoing Pamir-17 operations in northern Kunduz province of Afghanistan as the military officials are saying that hundreds of rounds of Ak-47 ammunition were also confiscated along with an Improvised Explosive Device.
The 209th Shaheen Corps officials said at least five Taliban insurgents were killed and five others were wounded during the operations in the past 24 hours.
The officials further added that the Afghan armed forces also confiscated an Improvised Explosive Device and 300 rounds of Ak-47 ammunition during the operations.
The anti-government armed militant groups including the Taliban insurgents have not commented regarding the report so far.
The officials also added that two Taliban insurgents were critically wounded during a clash with the security forces in Qaflatoon village in Sayad district of Sar-e-Pul province.
The Pamir-17 operations are underway in the restive parts of the country in the North to suppress the insurgency activities of the militants who are attempting to expand foothold in the key provinces.
In the meantime, the hundreds of the Afghan Special Forces are expected to join the Afghan armed forces in the fight against the militant groups in the restive parts in the North as efforts are underway to launch more offensive operations with the start of the fighting season in coming months.
https://www.khaama.com/taliban-suffer-casualties-in-pamir-17-operations-in-kunduz-04290
--------
More Rohingya Muslims flee Myanmar as Bangladesh prepares to start repatriation
Jan 18, 2018
More than 100 persecuted Rohingya Muslims have crossed into Bangladesh from Myanmar over the past 24 hours, raising doubts about plans to send back thousands of refugees who have already fled a brutal crackdown.
A Bangladeshi intelligence official in the capital Dhaka said on Thursday that scores more were waiting to cross the Naf river that forms the border between Bangladesh and Myanmar.
One boat crossed the river carrying 53 people early Wednesday, and another boat arrived from the Bay of Bengal with 60 people Thursday morning, he added.
The new refugees said they paid between $20-$30 a person for the night-time trips on rickety boats to Teknaf, in the southernmost part of Bangladesh.
Those waiting on the Myanmar side to cross were stuck there because they did not have enough money to pay the boatmen.
The latest refugees say army operations are continuing in troubled Rakhine State. They said they came from Sein Yin Pyin village in Buthidaung district, and escaped because they feared to be picked up by Myanmar soldiers if they left their homes for work. The refugees also said a group of soldiers caught around 200 of them sleeping in the forest on their journey to Bangladesh and looted them of their belongings and money.
"First their men looted us, and then they stopped us again to ask why we were leaving," said Umme Habiba. "Day by day, things were getting worse," he added.
Fayazur Rahman, a 33-year-old laborer from southern Buthidaung, said a dozen soldiers barged into his home two weeks ago and sexually assaulted his 18-year-old sister. "We left because we were scared."
Mohammad Ismail and four others said two weeks ago they saw a dead body hanging by a rope in a forest where Ismail used to collect wood to sell at the market.
"After this I never went to the forest again, and all my money was gone, so my family had nothing to eat for three days," he said.
Over two dozen refugees that media outlets interviewed recounted a similar version of events.
This comes as Bangladeshi authorities prepare to start repatriating next week some of the Rohingya who have escaped the Myanmar military crackdown since late August.
Bangladesh and Myanmar said on Tuesday they had agreed to complete the return of the refugees within two years but rights groups and the UN have voiced serious reservations about starting the process.
The UN says nearly 655,000 Rohingya Muslims have fled Rakhine for Bangladesh since violence intensified last August.
Since August 25, 2017, Myanmar's troops have been committing killings and rapes, making arbitrary arrests, and carrying out mass arson attacks to destroy houses in Rakhine.
Only in its first month, the military clampdown killed some 6,700 Rohingya Muslims, including more than 700 children, according to the international medical charity Doctors Without Borders.
Myanmar brands more than one million Rohingya Muslims in the country as "illegal immigrants" from Bangladesh, refusing to accept them as citizens despite the fact that they have lived in the country for many generations.
Full report at:
http://www.presstv.com/Detail/2018/01/18/549364/Myanmar-Rohingya-Muslims-Bangladesh-Naf
--------
Plenty of evidence against Hafiz Saeed, says former Afghanistan PM Hamid Karzai
January 18, 2018
Former Afghanistan president Hamid Karzai said on Thursday that there was "plenty of evidence" against UN-designated terrorist Hafiz Saeed, days after Pakistan Prime Minister Shahid Khaqan Abbasi gave a clean chit to the 2008 Mumbai attack mastermind. The Jamaat-ud-Dawah (JuD) is believed to be the front organisation for the Lashkar-e-Taiba (LeT) which is responsible for carrying out the 26/11 Mumbai attack that killed 166 people. It has been declared as a foreign terrorist organisation by the US in June 2014.
"Oh, there is plenty of evidence. And, everyone knows that," Karzai told reporters on the sidelines of the 'Raisina Dialogue' here, when asked about the clean chit given to Saeed by the Pakistan prime minister as no evidence was found against him. Abbasi, during an interview to Geo TV on Tuesday, had referred to Saeed, the chief of the JuD, as 'sahib' or 'sir'.
"There is no case against Hafiz Saeed sahib in Pakistan. Only when there is a case can there be action," the prime minister had said when asked why there was no action against Saeed. The JuD chief was released from house arrest in Pakistan in November. After his release, Saeed had confirmed that the JuD will contest the 2018 general elections under the banner of the Milli Muslim League (MML), which is yet to be registered with Pakistan's Election Commission.
Karzai, when asked how the current Afghan government was dealing with Taliban extremism in that country, he said, "They are doing their best." Earlier taking part in a panel discussion on a topic 'Afghan Poser', he asserted that Afghanistan is a "deeply cultured society" and not what the western media portrays it to be. "They show us (Afghanistan) as savages. If I lived in America, I will be very pessimistic about Afghanistan," he rued.
On Taliban extremism, he said, "Part of the problem in Afghanistan is foreign-born and part is our own. The Daesh is not our product, Taliban is from our villages and we have to bring these extremists to peace. We can't ignore them." Minister of State for External Affairs Gen (retd) V K Singh said, "India's interest lies in ensuring that Afghanistan becomes a prosperous country again, as it historically, geographically and culturally, has been as a trade route."
"And, the way ahead is through development and improvement in economy," he said. Karzai also said the Russia-Pakistan relationship is "very new" as against the US-Pakistan relationship, saying the "Russian military is not that close to Pakistan military as say the US military is". "We want the best relationship with Pakistan. On Balochistan, I had endorsed Prime Minister Narendra Modi's views earlier and I still hold that," he added.
Full report at:
http://indianexpress.com/article/india/plenty-of-evidence-against-hafiz-saeed-says-former-afghanistan-pm-hamid-karzai-5030536/
--------
Myanmar arrests MP after Rakhine riot
January 19, 2018
YANGON - Myanmar police on Thursday arrested a prominent Rakhine Buddhist MP for allegedly provoking ethnic violence, state media and his party said, after a deadly riot highlighted simmering tensions in the troubled state.
The arrest came after seven people were killed and a dozen injured when police opened fire on a crowd of ethnic Rakhine Buddhists trying to seize a government office late Tuesday.
The violence erupted as anger boiled over after the cancellation of a local ceremony in Mrauk U, a town just a few dozen kilometres from the epicentre of a military crackdown against the country's Rohingya Muslim community.
State-backed media reported that charges have been filed against lower house MP Aye Maung following a speech on Monday in which the nationalist politican attacked the government for thinking the Rakhine are "slaves" and said it was the "right time" for the community to launch an armed struggle.
"Dr Aye Maung was arrested and taken from his house about 1:00 pm (0630 GMT) this afternoon," Arakan National Party general secretary Tun Aung Kyaw, told AFP.
Arakan is another name for Rakhine .
Police have blamed the protesters for starting Tuesday's violence by throwing stones, barging into an administrative office and hoisting the Rakhine State flag.
Myanmar's civilian leader Aung San Suu Kyi expressed her condolences and has pledged to "probe the incident".
Aye Maung, the first MP to be arrested since Myanmar's military-backed constitution was adopted in 2008, was charged under the Unlawful Associations act, which carries a maximum sentence of three years.
The violence prompted an ethnic Rakhine rebel group in the state to promise "serious" retaliation for the deaths of the protesters.
Unlike the Rohingya Muslims, the Rakhine are recognised by the government as an ethnic group but are often marginalised under a system that favours the dominant Bamar (Burmese).
Rakhine mobs stand accused of aiding the military in using murder, rape and arson against the Rohingya - 655,000 of whom have fled to Bangladesh since August - in violence the UN and US have condemned as ethnic cleansing.
Tuesday's riot came on the same day that a heavily-criticised repatriation agreement was signed between Myanmar and Bangladesh to start sending the refugees back.
Observers are now concerned the conflict could now enter a new phase.
Full report at:
https://nation.com.pk/19-Jan-2018/myanmar-arrests-mp-after-rakhine-riot
--------
Bangladeshis suffer abuses when Rohingyas given shelter: HRW
Jan 18, 2018
The moment Dhaka gave shelter to Myanmar's Rohingyas, the Bangladeshi citizens themselves saw no reprieve in their quest for justice, observed the Human Rights Watch (HRW).
The rights group alleged that the authorities failed to respond to repeated and serious allegations of secret detentions, enforced disappearances and extrajudicial killings.
An HRW report pointed out that the government of Bangladesh denied the abuses instead of holding perpetrators accountable - a state that demonstrated a culture of impunity.
"In domestic rights concerns, scores of Bangladeshis remained victims of enforced disappearances, even as law enforcement authorities continued to target both opposition supporters and militant suspects," the HRW said in the 28th edition of 'World Report' released on Thursday.
It mentioned that civil society groups, including the media, continued to face pressure from both state and non-state actors, while dozens of Bangladeshis were arrested for criticising the government or the political leadership on Facebook.
The group, however, appreciated Bangladesh for hosting over 655,000 Rohingyas from Myanmar although the country does not recognise most of them as refugees.
"Bangladesh deserves credit for not forcibly returning Rohingya refugees, and for doing what it can with strained resources to provide safety for them for the time being," said Brad Adams, HRW's Asia director.
Full report at:
http://en.prothomalo.com/bangladesh/news/169718/Bangladeshis-suffer-abuses-when-Rohingyas-given
--------
Myanmar Buddhists do not hate Muslims; majority of Rohingyas remain in the country: Retired general
19 Jan 2018
YANGON: Buddhists in Myanmar do not hate the country's Muslim Rohingyas, with the majority of them continuing to live peacefully there, a retired 4-star general and current Member of Parliament has told Channel NewsAsia.
In a rare interview with Myanmar's reclusive military, Hla Htay Win, a former Chief of General Staff for the Army, Navy and Air Force who maintains close links with the armed forces, said that the majority of the Rohingyas have not fled.
Referring to them as "Bengalis", which is how most people in Myanmar describe the Rohingya community since the government banned the term in 2016, he said: "Sixty per cent of the Bengali people are living closely with our ethnic Rakhine people in peace. They have not left the country."
The claim cannot be independently verified, and the general, who is currently a Member of Parliament from the military-backed Union Solidarity and Development Party (USDP), did not elaborate on how he arrived at this figure.
His comments come after an estimated 650,000 Rohingyas fled from Myanmar's Rakhine state to Bangladesh to escape a massive military crackdown triggered by attacks from the militant Arakan Rohinga Solidarity Army (ARSA) against government security forces last August.
ARSA's attacks on 30 police posts and one army base saw the military respond with "clearance operations" that resulted in the deaths of more than 300 militants and thousands of civilian Rohingyas, according to human rights groups.
The United Nations has since accused Myanmar of carrying out ethnic cleansing against the Rohingyas.
Hla Htay Win firmly rejected these accusations, adding that the military stands ready to take action against wrongful killings if those cases are reported and are found to be true.
He also denied that systematic rapes of Rohingya women and killings of civilians had occurred.
"In general, we are not against Muslims and we have lived peacefully together. Most Bengalis just want to live peacefully," said Hla Htay Win.
Still, large segments of Myanmar society see the country's 1.1 million Rohingyas in the 54-million population as illegal immigrants from Bangladesh seeking to occupy their land.
Anti-Rohingya sentiment has also been stoked by extremist Buddhist monk, Ashin Wirathu, who refers to the Rohingyas as "sub-human". In 2003, he was sentenced to 25 years' imprisonment for his anti-Islamic sermons but was released after serving nine years.
Asked whether the description of "sub-human" went against Buddhist teachings, Hla Htay Win said: "There is no such saying in Lord Buddha's teachings. I guess it is just a wrong interpretation."
MILITARY WILL TAKE ACTION AGAINST CLAIMS OF WRONGFUL KILLINGS
Soft-spoken with a friendly demeanour, Hla Htay Win was conversant in both economic and security matters. But sitting down with him for a long and wide-ranging conversation, it was clear that the way Myanmar has been portrayed internationally is a source of concern and frustration. Still, despite challenging and detailed questioning about the way the authorities have dealt with the Rohingyas, he remained calm and measured as he laid out the Myanmar perspective on recent events.
He expressed frustration the foreign press "did not believe" what his government was trying to tell the world.
"For example, we still have Bengalis living peacefully here or that there are terrorist Bengalis who attack fellow Bengalis if they are accused of collaborating with the government. But nobody believes us," he said.
Hla Htay Win, who stepped down from the military in 2015 to contest in the country's first democratic elections,went on to say that action will be taken if wrongful killings and rapes are reported to the authorities.
In a rare admission on Jan 10, the military said its soldiers had murdered 10 Rohingya Muslims whose bodies were found in a mass grave in Rakhine state's Inn Din village, the military's commander-in-chief, Min Aung Hlaing, said in a statement on Facebook.
The military said legal action would be taken against members of the security forces, who violated the rules of engagement in the killings, as well as ethnic Rakhine Buddhist villagers who were also involved.
The US ambassador to Myanmar, Scot Marciel, welcomed the move, calling it "an important step".
Nonetheless, while the military will take action when such reports are made, the former general also claimed that the figures for civilian casualties are not accurate.
MEDECINS SANS FRONTIERE DATA IS "UNRELIABLE"
According to Medecins Sans Frontieres, an estimated 6,700 Rohingyas have been killed since violence erupted in Rakhine last August, a figure which the Hla Htay Win rejected.
He said Rohingyas have been ordered by their Muslim clerics to inflate the casualty figures.
"It is impossible. The media usually exaggerates the news about the Muslims. I understand that they (Medecins Sans Frontiere) gathered those data from the displaced people and I believe that this data is not reliable," said Hla Htay Win.
"The Bengalis are always under the constant threat of the militants and imams (Muslim clerics). They will say whatever the imams ordered them to say," he added.
Pressed further with the point that doctors in refugee camps in Cox's Bazar in Bangladesh had treated Rohingyas suffering from gunshot wounds, he said: "It is questionable. What kind of solid proof are the doctors in Cox's Bazar holding on to, (to) tell such things?
"The unreasonable killings and the rapes by the military are just impossible. The military has zero tolerance of rape cases. The military takes serious action on such cases if they happen."
Hla Htay Win added that some Rohingya civilians may have been accidentally shot last August when security forces opened fire to defend themselves when ARSA attacked.
"Our security forces had to defend themselves and shot back at ARSA ... so there were some injuries and deaths (of civilians) from it. But they were not deliberately targeting civilians," he said.
ROHINGYAS FORCED TO JOIN ARSA WHO THREATENED THEM WITH TORTURE
According to Hla Htay Win, ARSA gained momentum by coming to Rohingya-populated villages in Rakhine and forcing people to join the group by threatening to cut their throats if they did not do so.
"Bengalis call ARSA the 'people in black'. Those 'people in black' came to the villages, threatened the villagers that they would cut their throats or torture them if they did not become their recruits. The Bengali villagers were forced to join them," said Hla Htay Win.
He also alleged that ARSA had killed 80 Rohingya who they suspected of giving information to the media and the government during last August's attacks.
Hla Htay Win said the UN, the US, the EU and international organizations are "unfair and biased" against his government in relation to the Rohingya crisis.
"I believe that they should think fairly and act fairly based on the data that we are providing," he added.
ARSA "APPLIED" TACTICS USED BY AL QAEDA AND IS
On Jan 5 this year, ARSA launched another attack in Rakhine after a hiatus of four months, ambushing a lone civilian truck with lightly armed engineers which was transporting border fencing material.
According to Hla Htay Win, ARSA employed military tactics used by Al Qaeda and Islamic State (IS) in this incident.
"During the recent ambush … ARSA applied military tactics and used landmines that international terrorist groups (Al Qaeda and IS) utilise. That's why I believe that ARSA and those groups are connected, one way or another," he said.
Hla Htay Win also rejected ARSA's justification for its attacks.
The group has said it has no choice but to launch offensives as the Myanmar army has continued to kill Rohingyas, rape women, loot their property and starve the local population.
"This is just a fabricated reason from them (ARSA). They are giving those excuses because they are afraid of being labelled a terrorist group … (and then) they will not gain the sympathy of the international community and will be eliminated," said Hla Htay Win.
"ARSA are just a group of terrorists."
ARSA ALLEGEDLY RECEIVED MILLIONS FROM AL QAEDA AND ISLAMIC STATE
According to the retired general, ARSA politicised the term Rohingya to get support from international Islamic organisations.
"I understand that is how they (ARSA) got millions of dollars.... However, it is difficult to say the exact amount of money they received from Al Qaeda and IS," said General Hla.
The killings of Rohingyas led to Al Qaeda and Islamic State calling on Muslims to wage jihad against Myanmar to avenge their deaths.
Malaysia arrested one Malaysian and one Indonesian for planning to go to Myanmar to wage jihad last year.
ARSA HAS TRAINED OVER 7,000 MILITANTS
According to Hla Htay Win, the threat from ARSA is growing with training camps in Bangladesh and in Rakhine state.
"The training camps in Rakhine are located in villages as well as in jungle hideouts," he said. "They are trained by experienced veterans who have fought in the wars in Afghanistan and Iraq."
Hla Htay Win also alleged that village Muslim clerics in Rakhine are also involved in the training of militants.
"Each camp is capable of training around 200 militants," he suggested. "They are given basic para-military training in small arms and battlefield tactics. They are also trained to use mines and handmade bombs.
"Over time, they also learned to produce handmade mines and bombs and they have recruited and trained over 7000 militants."
According to Hla Htay Win, ARSA's longer term goal is to set up an Islamic State in Northern Rakhine as part of the wider plan by Al Qaeda, Islamic State and other miltant groups to establish a caliphate in Greater Bangladesh.
Full report at:
https://www.channelnewsasia.com/news/asiapacific/myanmar-buddhists-do-not-hate-muslims-majority-of-rohingyas-9869248
--------
Noor mulling to set deadline for uprising if talks with govt fails
Jan 18 2018
The chief executive of Jamiat-e-Islami Ata Mohammad Noor says he will set a deadline for the widespread uprising if the ongoing talks between Jamiat-e-Islami and the Afghan government fails over the deadlock regarding the Balkh provincial political leadership.
Speaking during a gathering in Mazar-e-Sharif city, Noor warned the government that he and his supporters launch a widespread uprising and civil movements if the talks end without positive outcomes.
Noor harshly criticized the government officials for their failure in ensuring security, preventing expansion of ISIS activities, and corruption.
Insisting that he is standing to ensure political and social justice and ensure the rights of the people, Noor said a deadline will be set for the uprising in coordination with the Jamiat-e-Islami leader if the talks fail.
Tensions remain high between Jamiat-e-Islami and the government after President Mohammad Ashraf Ghani approved the resignation of Ata Mohammad Noor as the Balkh governor.
Noor says he had submitted his resignation as a guarantee to the government that he will step down if the demands of Jamiat-e-Islami are met by the government.
Full report at:
https://www.khaama.com/noor-mulling-to-set-deadline-for-uprising-if-talks-with-govt-fails-04289
--------
Pakistani officials says Taliban delegation refuse talks with Afghan govt
Jan 18 2018
The Pakistani officials have said the Taliban group is not prepared to hold talks with the government as reports indicate that the Taliban supreme leader Mullah Hebatullah Akhundzada has sent a delegation to Islamabad to explore ways for reviving peace talks.
Pakistani officials privy of the development have confirmed to Dawn News that a delegation of the Taliban including Shababuddin Dilawar and Malawi Rasool, came from Qatar to explore prospects of resuming talks.
However, they have said the Taliban remained unmoved. "They are sticking to their past stance. They want to negotiate with the US through the Qatar Office, but refused to negotiate with the Afghan government."
The officials have also added that Islamabad has proposed to the Taliban delegation to hold direct talks with the Afghan government which has been turned down by the group.
This comes as sources privy of the development within the Taliban ranks had earlier told Reuters that supreme leader Haibatullah Akhundzada had approved Monday's exploratory meeting in Islamabad on restarting talks to end the war that kills thousands of Afghans each year.
However, a Taliban group spokesman Zabiullah Mujahid had earlier rejected the participation of the group's representatives in the unofficial talks that took place in Turkey.
"This is an intelligence game that aims at defaming and damaging the real peace process in Afghanistan," he had said in a statement.
Full report at:
https://www.khaama.com/pakistani-officials-says-taliban-delegation-refuse-talks-with-afghan-govt-04294
--------
Southeast Asia
Philippines' Duterte urges Congress to pass bill for self-rule in Muslim region
18 Jan 2018
MANILA: Philippine President Rodrigo Duterte on Thursday urged Congress to pass a bill granting self-rule to the country's Muslim minority, warning that its collapse would see separatist rebels abandon a peace process and declare war again.
The largest Muslim rebel group, Moro Islamic Liberation Front (MILF), signed a peace deal with the government in 2014 to end nearly 50 years of conflict that has killed more than 120,000 people and displaced 2 million.
Central to resolving that is the passage of the Bangsamoro Basic Law (BBL), which would create a new autonomous area in the Mindanao region offering more political and economic power. Duterte is a staunch supporter of the plan.
"I am urging everybody to understand, it's about time the historical injustices committed to them corrected," Duterte said during the launch of a bank for Filipino overseas workers.
"If nothing happens to the BBL, there will be war in Mindanao."
He said he could not control rebel groups if they take up arms again and seek an independent state in the south.
The Muslim parts of Mindanao are already fraught with security problems and a collapse of the peace process with the MILF would be one of the biggest setbacks of Duterte's presidency.
Martial law is in place in Mindanao until the end of the year to allow the military to tackle rebel groups loyal to Islamic State, some of which held parts of southern Marawi City through five months of war with the government last year.
The MILF is bitterly opposed to Islamic extremists and has been collaborating with government troops to fight a radical faction of the Bangsamoro Islamic Freedom Fighters, which has pledged allegiance to Islamic State.
He said he wanted the BBL passed before Congress focuses its attention on changing the constitution to create a federal system, one of his key election platforms.
https://www.channelnewsasia.com/news/asiapacific/philippines--duterte-urges-congress-to-pass-bill-for-self-rule-in-muslim-region-9873492
--------
Sportswear retailer sacks supervisor for barring Muslims from prayer
January 19, 2018
KUALA LUMPUR, Jan 19 — JD Sports Malaysia said a Pavilion outlet supervisor acted wrongly in barring Muslim employees from prayers and has been fired.
In a message posted on Instagram, the sportswear retailer insisted that the incident was isolated and not part of a larger company guideline.
"We would like to inform and assure all our Muslim customers, friends and partners that this is not a policy that we practice [sic], and it is solely an action of one individual that went against the essence of JD Sports as a brand and company. We do not condone such disrespectful behaviour.
"We have investigated this incident and identified the irresponsible staff involved. The said staff has also been terminated with immediate effect as JD Sports treats this matter with utmost seriousness," it said.
The firm added that it supported all forms of religious and cultural beliefs, and was against any type of discrimination.
An Instagram user previously contacted the firm about an allegation that the outlet was barring its Muslim workers from performing their daily prayers.
He appended a screen capture purportedly of a WhatsApp group for the store, in which a user tagged as a supervisor warns workers that "In JD there is no solat or prayer! If you cannot take this send in ur resignation will do!"
This incident is the latest case of workplace discrimination in Malaysia, following complaints by some front-line hotel workers that they were barred from wearing headscarves by employers.
Full report at:
http://www.themalaymailonline.com/malaysia/article/sportswear-retailer-sacks-supervisor-for-barring-muslims-from-prayer#dqsQW3zXJSjxzyVh.97
--------
Global Rights Group Fears Malaysia's Continuous Shift Towards Conservative Islam
19 January 2018
PETALING JAYA: A global human rights organisation is urging Malaysian government officials to speak out against religious intolerance rather than contribute to it.
In its 2018 World Report released in New York, Human Rights Watch (HRW) yesterday said Putrajaya is continuing to shift toward a more conservative Islam.
HRW Asia deputy director Phil Robertson urged Prime Minister Datuk Seri Najib Razak to speak out for all Malaysians.
"In a multi-ethnic, multi-religious country, Najib should defend the rights of everyone in the country to speak freely and practise their religion without fear," he said.
The group also questioned the claim by Najib that freedom of speech was "thriving" in Malaysia, saying the reality did not reflect this.
"With corruption allegations still casting a long shadow over Najib and national elections scheduled for 2018, the government tightened repressive laws while lashing out against and criminally charging peaceful critics," it said in the 643-page report, which reviews human rights practices in more than 90 countries.
It warned that fear of further repression against activists "will only increase" as the general election approaches, adding that critics had been charged under the Communications and Multimedia Act for voicing out on social media.
The report questioned Malaysia's commitment to protect refugees, in the wake of tens of thousands of Rohingya Muslims fleeing to the country.
It said although over 150,000 refugees and asylum seekers were registered with the United Nations' refugee agency UNHCR, they could not work, travel, or enroll in government schools.
"Asylum seekers arrested by authorities are treated as 'illegal migrants' and locked up in overcrowded and unhealthy immigration detention centres," the report said.
HRW further questioned the absence of any action over the discovery of some 100 bodies in Wang Kelian, Perlis in 2015, believed to be victims of human trafficking.
"The 12 policemen initially charged in the case were all exonerated and released in March 2017," said HRW.
It said despite this, the US State Department had upgraded Malaysia to Tier 2 in its annual Trafficking in Persons (TIP) Report.
"The Malaysian government has failed to effectively implement amendments passed in 2014 to Malaysia's 2007 anti-trafficking law, in particular by taking the necessary administrative steps to provide assistance and work authorisation to all trafficking victims who desire it, while ensuring their freedom of movement."
Free Malaysia Report reported that the group cited Islamist party PAS's plans to introduce amendments to the Syariah Courts (Criminal Jurisdiction) Act 1965, allowing shariah courts to impose stiffer punishments on Muslim offenders.
Full report at:
http://www.malaysiandigest.com/news/718884-global-rights-group-fears-malaysia-s-continuous-shift-towards-conservative-islam.html
--------
Muslim couples, single parents seek to intervene in 'Abdullah' appeal
January 19, 2018
PETALING JAYA: Twenty couples and two single parents have filed an intervener application to be made parties in a Federal Court appeal that will decide whether a Muslim child conceived out of wedlock can take his or her father's surname instead of "Abdullah".
The applicants, who are from Johor, Melaka, Selangor, Perlis and Pahang, filed their legal papers on Dec 14 but their identities could not be revealed due to the sensitivity of the issue.
Lawyer Lokman Hakim, who is appearing for the applicants, said they wanted to participate in the case as the court's outcome would have an effect on their children.
He said a 2003 fatwa issued by the National Fatwa Committee that an illegitimate child ("anak tak sah taraf") should not be given the surname ("tidak boleh dinasabkan") of the father or the person claiming to be the father was invalid.
"A total of 23 people are supposed to deliberate on the matter. However, only four decided, with one dissenting," he told FMT.
Since Islam is a state matter, Perlis did not follow the fatwa, he added.
He said although the Sunni Islam of the Shafi'i school of thought is the official legal form in Malaysia, it was not strictly adhered to.
"In a number of Arab Muslim nations which follow the Shafi'i school, the illegitimate child can use the name of the biological father."
The Federal Court has fixed Jan 23 to hear the application. The appeal hearing will be on Feb 7.
On Sept 8 last year, a three-man bench led by Chief Justice Raus Sharif allowed the government leave to appeal the application.
The three questions to be answered by the bench during the appeal are:
Whether in the true interpretation under Islamic jurisprudence, the term "bin" or "binti" in the name of a Muslim person refers to ascription of paternity;
Whether a civil court may determine questions on the legitimacy of Muslim children in respect to naming and ascription of paternity; and
Whether Section 13A of the Births and Deaths Registration Act 1957 (BDRA) applies to the registration of birth for Muslim children that enables them to be given the personal name of a person acknowledging himself as the father.
The court also allowed the Selangor and Federal Territories Islamic Religious Councils to hold a watching brief.
On Aug 21, the Federal Court allowed the Johor Islamic Religious Council to be made an intervener, meaning that the council can make submissions to the judges.
The application was allowed as the parents in the case, whose identities are being withheld, are from Johor.
The federal government had appealed against the Court of Appeal ruling on the couple and their son, who wanted the National Registration Department (NRD) and its director-general to replace the child's surname "Abdullah" with the name of the child's father in the birth certificate.
In a written judgment released on July 25, Justice Abdul Rahman Sebli said the NRD director-general was not bound by the fatwa or religious edict issued by the National Fatwa Committee to decide on the surname of a Muslim child born out of wedlock.
The court said the director-general's jurisdiction was a civil one and was confined to determining whether the child's parents had fulfilled the requirements under the BDRA, which covers all illegitimate children, Muslim and non-Muslim.
The court held that a fatwa had no force of law and could not form the legal basis for the NRD director-general to decide on the surname of an illegitimate child under Section 13A (2) of the BDRA.
Full report at:
http://www.freemalaysiatoday.com/category/nation/2018/01/19/muslim-couples-single-parents-seek-to-intervene-in-abdullah-appeal/
--------
Duterte warns of fresh terror threat in the Philippines
18 January 2018
MANILA: Philippine President Rodrigo Duterte has warned of a fresh terror threat against his country.
"Maybe it's good to anticipate that there's going to be (a terror attack) in the coming days," Duterte said in a speech this week, amid reports that an increasing number of foreign fighters are now in the Philippines.
"They'd like to blow up (places where) people converge: In airports, seaports, and parks, because of what happened in the Mindanao provinces," Duterte added, referring to the defeat of Daesh-backed militants who laid siege to Marawi City in Mindanao for five months last year.
"As I have said, the threat remains," the president continued, adding: "My advice to our security forces, the AFP (Armed Forces of the Philippines) and PNP (Philippine National Police), in this matter of security against terrorism, is that no quarter should be asked, and no quarter given."
Earlier, Secretary of National Defense Delfin Lorenzana told the country's elite special forces to prepare for a possible repeat of the Marawi siege in another city.
Lorenzana admitted authorities are looking into the reported entry of a number of foreign terrorists into the southern Philippines.
Mohaquer Iqbal, chief negotiator of the Moro Islamic Liberation Front (MILF), had previously warned that the defeat of the Maute group in Marawi City does not mean the defeat of Daesh-oriented groups in Mindanao.
"Expect that they will surface once again," he said.
Talking to Arab News, Iqbal reiterated his statement on the increasing number of foreign fighters in the southern Philippines.
"What has been validated by our side is that there is a continuous inflow of foreign elements that are suspected to be Daesh-connected individuals," Iqbal said.
The army recently reported they have identified 48 foreign terrorists currently in the Philippines and told the Supreme Court on Wednesday that a number of terrorists had entered the southern Philippines posing as businessmen or tourists.
Iqbal confirmed that MILF's intelligence backs up the army's figures, saying, "We have around 90 percent validated (the presence of foreign terrorists). We have reliable reports to that effect."
Some of those foreign terrorists arrived in the country after the Marawi siege ended in October, he said. Many arrived via the island provinces of Sulu and Basilan, and a number of them are "Caucasian-looking."
Early this week, an article released by the Asian think tank Rajaratnam School of International Studies (RSIS) said that the deaths of Filipino militant leaders Isnilon Hapilon — the Daesh-designated emir in Southeast Asia — and Omarkhayam Maute, "have not fundamentally reduced or removed the jihadi threat in the region."
The article said that there are still four "key leaders" of Southeast Asian extremists: Amin Baco, Bahrumsyah, Abu Turaifie and Bahrun Naim."
Baco, a Malaysian born in Sabah who built his jihadi credentials fighting in Basilan and Sulu, was reported to have been killed during the Marawi siege. But, on Wednesday, Joint Task Force Sulu commander Brig. Gen. Cirilito Sobejana said the military was trying to verify information that, although wounded, Baco had managed to escape the Marawi siege and is now in Sulu with the Abu Sayyaf Group (ASG).
Iqbal said he has no information about Baco's whereabouts, but that Toraife — commander of the Bangsamoro Islamic Freedom Fighters (BIFF) — has been regularly moving his location because of a series of military operations against his group.
"Recently he (Toraife) was in North Cotabato," Iqbal claimed. "But he seems to have transferred from there already. They seem to be on the move constantly."
Full report at:
http://www.arabnews.com/node/1228586/world
--------
Africa
Boko Haram terrorists kill five people in southeastern Niger
Jan 18, 2018
Suspected militants from the Boko Haram Takfiri terrorist group have killed at least four troops and a civilian in an attack on a military post in southeast Niger.
Local officials and security sources said on Thursday that the attack took place on Wednesday evening in the village of Toumour, near Lake Chad and the Nigerian border.
Four others were missing following the ambush in the troubled village, which is located in the militancy-riddled Diffa region.
The bodies of four militants were found at the scene. A hospital official said eight soldiers were also injured in the assault.
The casualties were caused after heavily-armed attackers entered the village on motorcycles and other vehicles, one of which was painted in the colors of Niger's military.
Soldiers were reportedly taken by surprise and abandoned their position, allowing the militants to confiscate 10 armored vehicles.
Residents said that assailants stripped villagers of their mobile phones to prevent them from alerting the authorities. Air force and other troops have since reached the area and allowed soldiers to regain control of the position.
Niger has been one of the countries affected by more than seven years of Boko Haram militancy in Nigeria.
In June 2016, an assault on the nearby town of Bosso killed over 30 soldiers, prompting Chad to send 2,000 troops to help Niger counter the militants. Those troops were withdrawn in October last year, raising renewed concern about security in the Diffa region.
According to UN Office for the Coordination of Humanitarian Affairs (OCHA), the toll from attacks carried out by Boko Haram terrorists fell in Niger last year.
A total of 141 civilians in Niger were killed, kidnapped or wounded by the terrorist group in 2017, showing a sharp decrease compared to 2016, the OCHA said earlier this month.
The Takfiri terrorist group has routinely launched attacks across Nigerian borders into Niger, Chad and Cameroon.
Boko Haram terrorists have so far killed more than 20,000 people and forced over 2.7 million others from their homes.
http://www.presstv.com/Detail/2018/01/18/549387/Boko-Haram-Niger-Diffa-Toumour-Nigeria
--------
HRW raps Europe's forced return of refugees to Libya
Jan 18, 2018
An international rights group has criticized European authorities for sending refugees trying to reach the continent back to Libya.
Executive Director of Human Rights Watch (HRW) Kenneth Roth on Thursday lashed out at a Brussels-backed deal that helps Libya block refugees from trying to reach Europe.
"The way migrants are treated in Libya is horrendous, where we hear over and over stories of forced labor, forced sexual abuse, torture," he said.
Shocking footage late last year showed black Africans being sold in a Libyan market.
According to the International Organization for Migration (IOM), at least 3,100 migrants died or disappeared trying to cross to Europe last year.
Roth described the EU-Libya deal as "the evil that governments can do".
The IOM "has said that more migrants are dying inside Libya than die once they get in a boat to cross the Mediterranean. So that gives you a sense of how bad things are," Roth said.
The HRW chief criticized the forceful return of the asylum-seekers who had succeeded in reaching the EU and did not want to be returned.
"You can help them return home if that's what they want, but nobody should be forcibly returned to Libya," he said.
EU officials revealed in October that Brussels had been training Libyan coastguards to stop the flow of asylum-seekers.
Full report at:
http://www.presstv.com/Detail/2018/01/18/549361/EU-Libya-Immigration-HRW
--------
Nigeria: Herdsmen Are Not Terrorists - Sultan
19 JANUARY 2018
By Ruth Tene Natsa and Jonathan Nda- Isaiah
The Sultan of Sokoto, His Eminence, Alhaji Sa'ad Abubakar III yesterday declared that Miyetti Allah Cattle Breeders Association of Nigeria (MACBAN) and other Fulani groups are not terrorist organisations.
Abubakar, who is a grand patron of the Miyetti Allah, added that just like other tribal associations in the country, Miyetti Allah protects the interests of the Fulanis.
The Sultan further explained that despite insinuations from different quarters, there was no time the group asked Fulani herdsmen to kill other Nigerians, even as he put the blame for the wanton killings on the inaction by security agencies.
"Government at all levels and security agencies should be blamed for the senseless killings," the Sultan said during his remark at the General Assembly of Interfaith Dialogue Forum for Peace (IDFP) held in Abuja.
The forum, an initiative of KAICIID Dialogue Centre, is aimed at bringing Christians and Muslims together to foster unity and peace.
While reacting to the recent killings in the country, the Sultan said the leadership of Miyetti Allah did not ask herdsmen to kill.
"There is no war going on between Christian and Muslims," he said. "There is no war between Christianity and Islam. What is happening is a disagreement which is common to every family.
"As an elder statesman, as a religious and traditional leader, I will say things the way they are. Only the truth can set Nigeria free. This is a period of great challenges but it should make Nigeria stronger. Nigerians should not cook up stories that are not true. The comments that followed the Benue killings were not good. Innocent people's lives are being taken and people think it's normal.
"In Islam, if anyone takes a life unjustly, it is like taking the lives of all humanity. You can't kill yourself and others thinking you will get 70 virgins. No one can fight for God."
The Sultan stated that it was not a time to trade blames, but that people should be enlightened to stop the killings.
"Both Christians and Muslims are one family under God and no one can protect his or her religion by killing. Stop fighting for God. People who kill others and kill themselves thinking they will get 70 virgins in heaven are deceiving themselves," he noted, describing the killings as senseless.
"Even yesterday (Wednesday) I heard that six people were killed in Benue. What are the security agencies doing? These killings must stop. We must speak the truth. You can't form your opinion on something you don't know," he said.
While responding to calls from various quarters for the Miyetti Allah group to be proscribed as a terrorist organisation, the Sultan said: "Miyetti Allah does not have control of Fulani herdsmen. I am a patron of Miyetti Allah. It was formed 32 years ago. It was for the cattle breeders to help themselves. Those who are killing are criminals. Let the security agencies do their job. Just like other groups in Nigeria, Miyetti Allah is just an association.
"Miyetti Allah has never sat down and planned on how to kill people. They have never sat down and planned Jihad. Jihad is an Arabic word which is to strive. We strive on living our daily lives."
Speaking further, the Sultan explained that the actions of the group have no religious connotation and warned religious leaders to be cautious of what they tell their adherents in order not to mislead them and cause more confusion.
"Some Fulani herdsmen don't even care about religion and not every Fulani is bad. A majority of Nigerians are good. It's not a religious problem. It's economic problem between herdsmen and farmers. When they fight, so many lives are lost.
"I was watching a highly revered cleric holding a paper and telling his congregation how Fulanis are planning to take over Nigeria. How can that happen? It's impossible, just like the issue of Islamising Nigeria. As religious leaders, we have to be mindful about what we tell our followers. So, all these allegations are impossible and baseless," he said.
Sultan Abubakar, who is the leader of the Supreme Council for Islamic Affairs in Nigeria, noted that Nigerians cannot live together if there is no love.
"It is important not to label everyone a criminal because his brother is a criminal. Miyetti Allah cannot join terrorism. We will never support terrorism. We are not a terrorist organisation. Believe us," he added.
According to him, the governments of Nasarawa and Benue states know the efforts made on peace building which started eight years ago, but he lamented that Nasarawa and Benue states failed to implement recommendations towards solving the problem.
The Islamic leader lamented that innocent people are bearing the brunt of the clashes, noting that "children of the downtrodden are the ones being killed while the children of the rich are living abroad."
According to him, the security agencies need to provide answers to salient questions.
"The questions Nigerians should be asking are: "Where do the Fulanis get the weapons from? How can they attack a village and disappear?
"We must challenge the security agencies, the LGA, states and the federal governments if we are to do the right thing. And once we are doing the right thing, let's leave the rest to God," he said.
The Sultan declared that "we will never condone or protect anybody that takes arm to kill people," adding CAN and JNI will resume their regular meetings on February 20.
On his part, the national president of the Christian Association of Nigeria (CAN), Rev Ayokunle Samson, said due to the security challenges, both Christians and Muslims must come together and speak with one voice.
The CAN president, who was represented at the occasion by Bishop Steven Dani Mamza, said CAN is an advocate of peace with every religion.
"What leaders say means a lot to the followers. For Nigeria to achieve peace, Nigerians must be sincere. Many religious leaders say things which mean different things.
"If we must move forward, Nigeria must be put at heart first by Nigerians before anything else. If someone is killed in Sokoto, Kano, Benue, Enugu, all religious leaders must rise and condemn it," he said.
The Catholic Bishop of Abuja Diocese, John Cardinal Onaiyekan, noted that there is tension in the country and if the government did not act on time, it might consume everyone.
"But what is happening is not beyond Nigerians to handle. We can handle all the crisis if we are sincere. It's useless praying about peace when you are not working towards peace," Onayekan said, adding that since it was the truth that killed Jesus, Nigerians should stand on the side of truth even at the expense of their lives.
"The more you talk, the more there is war. If our talking is not centred on truth, we can't achieve peace. Jesus say, by their fruit we shall know them. History is not good on our side. We have to tear some pages in our books. Let's pray that our religions pour cold water on the fire of hatred. We must take the risk of trusting one another because the atmosphere is full by hate speeches in the social media. We are in the same boat. If we continue fighting under that boat, our future will sink," Onayekan warned.
The head of the KAICIID delegation to Nigeria, Mr Abderrahmen El Yessa, said the group would continue to support social cohesion in Nigeria.
Govs Vow To Prosecute Perpetrators Of Benue Killings
The governors of the 36 states of the federation yesterday set up a committee to end the incessant farmers /herders' clashes in the country, vowing to punish the killers of Benue people.
This was disclosed by the Kano State governor, Abdullahi Ganduje, after the National Economic Council ( NEC) meeting presided over by Vice President Yemi Osinbajo at the presidential villa, Abuja.
The committee, which is to be headed by Osinbajo, and has the governors of Zamfara, Kaduna, Adamawa, Benue, Taraba, Edo, Plateau, Ebonyi and Oyo states as members, has the mandate to bring all perpetrators of violence in the country to justice.
He said, "On the farmers and herdsmen crisis, council constituted a working group to collaborate with the federal government in addressing the issues of impunity regarding killings and violence.
"The committee, consisting of nine governors under the chairmanship of the vice president, will work in accordance with commensurate commitment to ensure that all perpetrators of violence are brought to book. The committee has started its meeting right after this NEC meeting."
LEADESHIP Friday recalls that suspected herdsmen have killed over 100 persons in Benue following the introduction of the anti-grazing bill to stem the tide of farmers/ herders' clashes in the state.
Also in Taraba, over 70 persons were reportedly killed in another round of violence between farmers and herdsmen.
President Muhammadu Buhari had vowed that killer herdsmen will not escape justice and had ordered the Inspector General of Police, Ibrahim Idris, to relocate to Benue to forestall further killings in the state and arrest the killers.
Full report at:
http://allafrica.com/stories/201801190065.html
--------
Europe
Two reports show fewer incidents of Muslim extremism in 2017
By Yonat Shimron
Jan 19, 2018
To hear it from the Trump administration, Muslim extremists pose the greatest risk to Americans today.
Shortly after a judge blocked his ban on travelers from mostly Muslim countries, President Trump tweeted that "many very bad and dangerous people may be pouring into our country."
The president's National Security Strategy, issued last month, identifies "jihadi terrorists as the primary transnational threats Americans face."
And just this week, the administration released a report attempting to link immigrants to terrorism, a report The New York Times, the Daily Beast, the Intercept and others called "misleading."
But two new independent studies issued this week show that the number of Muslim Americans associated with violent extremism in 2017 continued to fall, and the number of Americans killed by white supremacists in the U.S. last year was far higher than those killed by Muslim extremists. More specifically, over the last decade 71 percent of all terrorism-related fatalities have been linked to domestic right-wing extremists, while 26 percent of the killings were committed by Islamic extremists.
The studies come as news that Zulfi Hoxha, an American from New Jersey, has become a senior commander of the so-called Islamic State group and one of the faces of the group's recruitment efforts, according to federal court records. Hoxha, whose father is Albanian, left the U.S. in 2015 and was recently seen in a gruesome video beheading a person.
"There's a great deal of concern about all kinds of extremism, but we need to be concerned about the reality that right-wing extremism is simply the larger share of the murder and the greatest source of the violence."– Jonathan Greenblatt, CEO and national director for the ADL
He would not have been featured in two new reports detailing Muslim extremism in the U.S. in 2017 because he was not in the country.
Both reports suggest the level of anxiety about Islamic extremism has far outpaced the actual scale of the threat.
One report, issued by the North Carolina-based Triangle Center on Terrorism and Homeland Security, finds that 33 Muslim Americans were associated with violent extremism in 2017, a 25 percent drop from 2016. Of those, just over half traveled or attempted to travel to join militant groups overseas. Fourteen were associated with plots against targets in the United States, and two cases involved unknown targets.
"We have not seen hundreds, much less thousands, of Muslims in the United States responding to the call of militant organizations each year," said Charles Kurzman, the report's author, a professor of sociology at the University of North Carolina, Chapel Hill, and a specialist on Islamic movements.
The other study, by the Anti-Defamation League, found 34 extremist-related killings in the United States in 2017.
Muslim extremists have been accused in nine of those killings: According to authorities, eight people died after Sayfullo Saipov, an Uzbek native, rammed a rental truck down a New York City bike path in October; the ninth fatality, a Denver Regional Transportation District security officer, was shot dead by Joshua Andrew Cummings, a convert to Islam, in February.
The remaining 25 extremist killings in 2017 were at the hands of white supremacists, black nationalists and other radical groups. The victims included Heather Heyer, an anti-racism activist, killed when white supremacist James Alex Fields Jr. drove his car into a crowd of protesters in Charlottesville, Va.
"There's a great deal of concern about all kinds of extremism, but we need to be concerned about the reality that right-wing extremism is simply the larger share of the murder and the greatest source of the violence," said Jonathan Greenblatt, CEO and national director for the ADL.
Greenblatt suggested a raft of policy changes, including federal and state programs to counter violent extremism in addition to adequate legal protections for victims of online harassment, cyberbullying and cyberstalking.
Deaths at the hands of violent extremists accounted for a small slice of the overall killings in 2107. Compared with the 34 fatalities from violent extremism, there were 272 fatalities from mass shootings in 2017.
Still, in many ways Muslim extremism gets a disproportionate amount of attention. Since the coordinated terrorist attacks of Sept. 11, 2001, 140 Americans have been killed by Muslim extremists in the U.S.
One of Trump's earliest and most controversial actions in office was to block travelers from a handful of countries — most of them predominantly Muslim — from coming to the United States.
Courts had effectively halted three iterations of that executive order until the Supreme Court allowed the latest version to go into effect last month while legal challenges continue. In the current order, the mostly Muslim countries on the list include Chad, Syria, Iran, Libya, Somalia and Yemen.
"You have a tremendous perception gap," said Ibrahim Hooper, national communications director for the Council on American-Islamic Relations. "It creates a situation where all violence is viewed from a prism of immigration or Islam."
Hooper said narrowing that gap is a challenge, especially since many Americans don't view non-Muslim violence as terrorism.
"All we can do is point to the facts," he added. "But when you have an administration that isn't truth- or data-driven, it makes it difficult."
http://religionnews.com/2018/01/18/two-reports-show-fewer-incidents-of-muslim-extremism-in-2017/
--------
Former UK boxing champ charged with encouraging extremism
January 18, 2018
LONDON — A former British boxing champion has been charged with encouraging extremist violence.
Police said Thursday that 36-year-old Anthony Small has been charged with encouraging acts of terrorism.
They say the London native, a convert to Islam, posted a video on social media in 2016 that violated terrorism laws.
Small is scheduled to appear in Westminster Magistrates Court on Wednesday.
The former professional boxer, who adopted Sugar Ray Clay Jones Jr. as a nickname for a time, won the British and Commonwealth light middleweight titles in 2009. He is now known as Abdul Haqq.
Full report at:
https://www.washingtonpost.com/world/europe/former-uk-boxing-champ-charged-with-encouraging-extremism/2018/01/18/6e77c85e-fc80-11e7-9b5d-bbf0da31214d_story.html?utm_term=.6e9273b9180d
--------
US unveil charges against Al-Qaeda convict in France
January 18, 2018
NEW YORK: New York prosecutors announced Wednesday they are seeking the extradition of a German Al-Qaeda convict , who last week attacked prison guards in France , unveiling US charges against him in connection with the 9/11 investigations.
Christian Ganczarski, 51, is charged with conspiracy to kill US citizens, providing material support to terrorists and conspiring to provide material support to Al-Qaeda, announced Donald Trump's recently appointed interim US attorney for Manhattan.
Geoffrey Berman accused the Polish-born German of providing critical support to "the most prolific terrorists of our time" including Osama bin Laden.
"Today we publicly announce charges against Ganczarski alleging that he participated in the planning of plots to kill Americans with high-level Al-Qaeda terrorists," Berman said.
"Ganczarski allegedly provided Al-Qaeda with expertise in logistics, computers, radio communications and the maintenance of weapons systems that would be used against Americans soldiers after the 9/11 attacks," said New York police chief James O'Neill.
Ganczarski, who is serving an 18-year prison sentence in France for orchestrating a deadly 2002 suicide attack at a synagogue in Tunisia, last week injured three guards at a prison in northern France .
Armed with scissors and a razor blade, Ganczarski lunged at the guards after hearing he may face extradition to the United States.
The incident, at the Vendin-le-Vieil prison in northern France , prompted strikes by officers around the country, demanding better security.
US prosecutors said Wednesday that Ganczarski travelled from Germany to Afghanistan and Pakistan at least five times between 1999 and 2001, developing personal ties with bin Laden and other Al-Qaeda members.
He is accused of attending a January 2000 Bin Laden speech alongside at least one of the plotters of the 1998 East Africa US embassy bombings and one of the future hijackers in the September 11, 2001, attacks.
US prosecutors said he was in Germany during the 9/11 assault on the United States, and indicated that he had been aware a significant event was about to occur.
They also accused him of allegedly helping to try and repair Al-Qaeda anti-aircraft missiles in November 2001 to fire at US military aircraft.
Full report at:
https://nation.com.pk/18-Jan-2018/us-unveil-charges-against-al-qaeda-convict-in-france
--------
Merkel defends EU-Turkey refugee agreement
18 January 2018
German Chancellor Angela Merkel on Wednesday defended the EU-Turkey refugee agreement and called for more efforts regarding the resettlement of refugees.
Speaking at a joint press conference with Austrian counterpart Sebastian Kurz in Berlin, she said protecting EU's external borders and providing support to countries hosting millions of refugees were important pillars in addressing the crisis.
"I was very surprised to see a lot of criticism directed at the EU-Turkey agreement when we concluded it," she said, referring to criticism by several EU members, including Austria, two years ago.
Kurz, who was the Austrian foreign minister in 2016, had criticized the deal, arguing it would make EU dependent on Turkey.
Merkel added that the agreement proved successful in protecting EU's external borders.
"I don't think that we can leave it to human traffickers and smugglers to decide who can arrive in Europe and who cannot," she added.
She also called for more efforts in overcoming current problems in the resettlement of refugees from Turkey and other countries hosting millions of refugees from conflict regions.
"We must achieve more through resettlement, through cooperation with the UNHCR, and agreements with the respective countries," she said.
Merkel has long been a key supporter of the EU-Turkey agreement clinched in March 2016, which aimed at discouraging the irregular migration through the Aegean Sea by establishing stricter measures against human traffickers and improving the conditions of nearly 3 million Syrian refugees in Turkey.
Although the plan has successfully reduced irregular migration flows and came as a significant relief for Merkel in domestic politics, the EU has failed to timely deliver the promised funding for refugees in Turkey.
The EU's plans for the resettlement of refugees have largely stalled, due to reluctance among member states.
Full report at:
http://www.worldbulletin.net/europe/197964/merkel-defends-eu-turkey-refugee-agreement
--------
URL: https://www.newageislam.com/islamic-world-news/rulers-promoting-nudity-obscenity-responsible/d/113993
New Age Islam, Islam Online, Islamic Website, African Muslim News, Arab World News, South Asia News, Indian Muslim News, World Muslim News, Women in Islam, Islamic Feminism, Arab Women, Women In Arab, Islamophobia in America, Muslim Women in West, Islam Women and Feminism