New Age Islam News Bureau
11 Feb 2020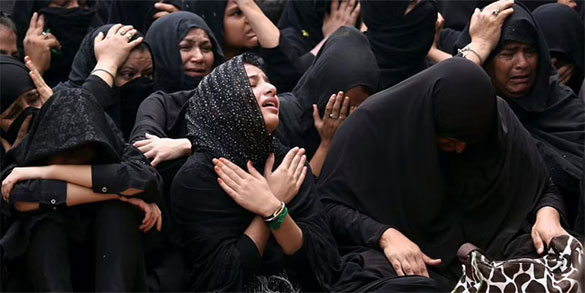 For representational purposes (Photo | PTI)
--------
• Muslim Lawmaker in Telangana Secures Funds for Hindu Temple
• Jinnah Lacked Vision, Pakistan Was Born In State Of Confusion: Pak Nuke Scientist
• Islamic State''s South Asia Branch Poses Security Threat To Nations Neighbouring Afghnaistan: UN Report
• Indonesian Opposition Grows To Bringing IS Fighters Home
• Palestinians Withdraw Request for UNSC Vote on US Mideast Plan: Sources
• Malian Leader Seeks Dialogue with Extremist Insurgents
• US City Appoints Its First Muslim Police Chief
• EU Wriggles Out Of Pakistan's Islamist Clutch
• Egyptian Mediators In Gaza To Ease Tensions After Latest Exchange Of Fire
India
• RSS Outfit Devises Plans to Connect With Muslims in Kerala
• Muslim Lawmaker in Telangana Secures Funds for Hindu Temple
• Muslims Voting For AAP Shows They Are Desperate and Congress Is Too Passive, Apologetic
• Muslim Outfits in Assam Fume Over 'Indigenous' Survey in State
• PSA detentions in J&K: One High Court judge quashes orders, another upholds
• Omar Abdullah's sister moves Supreme Court to quash PSA on him
• Had four-month-old child gone to Shaheen Bagh to protest, asks SC on infant's death
• SC to define scope and ambit of right to religion
• Can protesters block a road indefinitely: SC on Shaheen Bagh
• Whoever drafted grounds of detention for Abdullah, Mufti needs to be sacked: Chidambaram
• NIA takes over probe into Jan 31 encounter with JeM terrorists on outskirts of Jammu
• RSS is deceiving Hindus also: Zafaryab Jilani
--------
Pakistan
• Jinnah Lacked Vision, Pakistan Was Born In State Of Confusion: Pak Nuke Scientist
• ATC to Hear Plea For Halting Verdict Till Completion Of All Trials Against Hafiz Saeed, Others
• World will take Pakistan seriously once it is economically stable: Foreign minister
• Kashmir, Palestine issues raise questions at OIC leadership: PUC chief
• 'Targeted' subsidy for poor to be okayed by cabinet today
• MoU signed for electronic data exchange with Iran
• IHC gives last chance to NAB to contest bail petitions of Abbasi, Ahsan
• Senate panel seeks report about TTP spokesman's 'escape'
• Kifayatullah gets pre-arrest bail in assault case
--------
South Asia
• Islamic State''s South Asia Branch Poses Security Threat To Nations Neighbouring Afghnaistan: UN Report
• 18 Killed, Wounded In Kabul Suicide Attack
• Fourteen Rohingya refugees die on boat off Bangladesh: Official
• 172 Taliban militants surrender to Afghan forces in Herat and Ghor, claims MoD
• Portuguese saint triggers devotion in Bangladesh
• Pentagon to procure 10 Chinook helicopters for Afghan Special Forces
• Restricting access to information: MOI orders officials not to speak to Media
• Afghan Special Forces kill; detain 7 militants during the raids in Kabul, 2 other provinces
• Deadly bomb blast hits military academy in Afghan capital
--------
Southeast Asia
• Indonesian Opposition Grows To Bringing IS Fighters Home
• Singapore Student, 17, Held Under ISA for Supporting Islamic State
• Maybank Islamic establishes regional footprint with Dubai branch
• SRC trial: I was told Saudi's King Abdullah donation given to Najib directly to ease ex-PM's political manoeuvring, former minister testifies
• Five Urgent Issues for Indonesia's President to Address
• Muslim Group Rebrands Valentine's Day 'Indonesia Without Dating Day'
• Major homework for Indonesia and Australia to implement IA-CEPA
--------
Mideast
• Palestinians Withdraw Request for UNSC Vote on US Mideast Plan: Sources
• Iran watching online if imported meat comes from halal slaughter
• Israel sentences prominent Muslim cleric to 28 months in prison
• Turkey says it hit 115 Syrian posts in retaliation for killing five soldiers
• Iran says 'counter-revolutionary' figure faces death sentence
• French academic jailed in Iran 'very weakened' by hunger strike: Committee
• Israeli jets bomb Hamas targets in Gaza: Israeli army
• Islamic Revolution turns 41: Iranians mark anniversary nationwide
• Israeli interrogators 'brutally tortured' Palestinian detainees: AP
• Sudan reconsidering role in Saudi war on Yemen: Minister
• Houthis confiscate properties of 35 Yemeni lawmakers
--------
Africa
• Malian Leader Seeks Dialogue with Extremist Insurgents
• Egyptian President Abdel Fattah El Sisi calls for African anti-terrorism force
• 30 killed, women and children abducted in Nigeria's Borno
• Africa holds 'Silencing the Guns' summit with focus on Libya, South Sudan
• Turkey condemns terrorist attack in Nigeria
• Somalia: 5 killed in separate bomb blasts
• African Union summit: Libya cease-fire needed now
• 'Militants killing civilians with impunity in Mali'
• S. Sudan leader gets 5 days to decide on state borders
--------
North America
• US City Appoints Its First Muslim Police Chief
• Trump's new plan for Mideast only serves Israel's interests: Analyst
• Over 100 US forces diagnosed with brain injuries from Iran strikes: US officials
• Nigerians outraged over US immigration ban
• Libya's Haftar sued in US for alleged war crimes
--------
Europe
• EU Wriggles Out Of Pakistan's Islamist Clutch
• UNHCR in Lebanon under fire for not addressing Syrian refugees demands
• Turkish forces 'neutralise' 101 Syrian troops in retaliation
• Issa calls for lessons of Srebrenica to be learnt
• Greece aims to send 200 migrants a week back to Turkey
• Turkey to fight until all terrorists cleared: FM
• Germany condemns Syrian regime attacks in Idlib
• Ex-UK minister lobbied Bahrain for suspect oil company
• Turkish foreign minister to visit Montenegro on Tuesday
• Extremist convicted of terror plot after sting operation
--------
Arab World
• Egyptian Mediators In Gaza To Ease Tensions After Latest Exchange Of Fire
• Clashes erupt between protesters, Lebanese security forces in downtown Beirut
• Iraqi protester killed after security guards open fire at university sit-in
• Five Turkish soldiers killed in Syria's Idlib: Ministry of Defense
• Five civilians killed in Russian air strikes in Syria: Monitor
• Turkey says 5 soldiers killed as Syrian army advances in Idlib
• US to exempt Iraq from sanctions against Iran, Iraqi officials say
• Turkey hits Syrian govt targets after five soldiers killed
• Egyptian mediators in Gaza after latest exchange of fire
Compiled By New Age Islam News Bureau
URL: https://www.newageislam.com/islamic-world-news/rss-outfit-devises-plans-connect/d/121037
--------
RSS Outfit Devises Plans to Connect With Muslims in Kerala
11th February 2020
KOCHI: In A strategic move aimed at countering the anti-Citizenship (Amendment) Act campaign in the state, the Muslim Rashtriya Manch (MRM) has devised plans to reach out to the Muslim community in Kerala. MRM is an independent organisation under the Rashtriya Swayamsevak Sangh (RSS).
Though MRM leadership has denied any political motive behind its community-outreach programme, sources said the organisation has chalked out various programmes to connect with the Muslims who have been voting for the LDF or the UDF.
Writer, political observer and social critic M N Karassery said the MRM's heightened activities could possibly create an impact in the state.
"Let us wait and watch. However, we should not forget that many prominent Muslims are already associating with BJP at various levels in the state," he said.
Sources in the BJP said MRM national leaders were in Kerala and had interacted with the state-level leaders to chalk out a detailed action plan to win over the community and counter the propaganda that the BJP and the RSS were anti-Muslim.
"We will work as a charity and welfare organisation among the Muslim community in Kerala. Our focus will be to dispel negative campaigns being spread by the LDF and the UDF on CAA. We will undertake a door-to-door campaign to clear Muslims' concerns on CAA. Rather than organising public functions, we will focus on person-to-person interaction so that we can really get to know the concerns of our community members," said MRM state president Ummer Farooq.
He said a 200-member core team has been formed for the campaign. "We will be interacting with the community to understand the real issues and take up their concerns with the national leadership," said Farooq.
https://www.newindianexpress.com/states/kerala/2020/feb/11/rss-outfit-devises-plans-to-connect-with-muslims-in-kerala-2101710.html
--------
Muslim lawmaker in Telangana secures funds for Hindu temple
February 10, 2020
Mohammad Siddique
Hyderabad: Telangana Chief Minister K Chandrasekhar Rao has conceded to the demand of All India Majlis-e-Ittehadul Muslimeen (AIMIM) to release the funds for the development of a historic temple in the heart of Muslim dominated old Hyderabad.
MIM Floor leader in the state assembly Akbaruddin Owaisi met the Chief Minister with a detailed memorandum to demand the much delayed development of Mahankali temple in his constituency Chandrayangutta as well as the beautification of an old mosque in Afzal Gunj. He demanded Rs10 crore (Rs100 million) for the temple development and Rs30 million (Dh1.53 million) for the beautification of the mosque.
Pointing out that the more than 100 year old temple was situated on a small area of 100 square yards causing a lot of difficulties to the devotees, Owaisi told the Chief Minister that the proposal for its development was pending for the last 30 years. He said that as the adjoining properties will have to be acquired for the expansion of the temple, the government should provide alternative land to the residents in nearby areas.
The Chief Minister responded positively to both the demands and directed the Chief Secretary Somesh Kumar to take necessary measures for the development of both the places of worship.
The representation by a Majlis leader, often at the receiving end of allegations of hate speeches, caused a pleasant surprise in political circles. According to party sources he decided to personally raise the issue of Mahankali temple with the Chief Minister after the temple management committee made a representation to Akbaruddin Owaisi.
A delegation of the members of Mahankali temple management committee visited MIM headquarter Daurssalam on Monday to thank Owaisi for his representation. In the absence of Akbauddin Owaisi, the delegation met party general secretary Syed Ahmad Pasha Quadri and formally thanked the MLA and the chief minister.
"This reflects the Ganga Jamuni Tehzeeb [composite culture of Hyderabad]. It shows Akbaruddin Owaisi treats both the communities equally", he said.
Meanwhile the lone BJP MLA from Hyderabad Raja Singh reacted strongly to Akbaruddin Owaisi taking up the issue of the temple and said that this was a pre planned move by the Chief Minister to hoodwink the Hindus. "Everybody knows in the country that ruling Telangana Rashtra Samiti and the MIM are hand in gloves. As per his plan the Chief Mnister met Owaisi and sanctioned the funds on his demand".
Expressing his surprise over the change in Akbaruddin Owaisi, Raja Singh demanded that he should first tender an apology to the Hindus for his provocative remarks against Hindus in the past. "Then only we will believe that the change in him was genuine but he will not do it", Raja Singh said.
https://gulfnews.com/world/asia/india/muslim-lawmaker-in-telangana-secures-funds-for-hindu-temple-1.69624766
--------
Jinnah lacked vision, Pakistan was born in state of confusion: Pak nuke scientist
Feb 11, 2020
KARACHI: A renowned Pakistani nuclear physicist has termed his country's founder Mohammed Ali Jinnah as a confused man, who had no idea and vision for the nation he founded as Pakistan.
"Jinnah, who we hold in such great regard, is the founder of Pakistan. But he never was able to put down what that Pakistan was to be. He never wrote a single research paper, he never wrote an essay. He gave a lot of speeches which are different times said very differently," Pervez Hoodbhoy said.
The nuclear scientist elucidated his statement with historical evidence, quoting an excerpt made by Jinnah at the Bar Council at Karachi in 1948.
"In 1948, while addressing the Bar Council at Karachi, he said that this (Pakistan) will be a land where Islamic law will be applied. He (Jinnah) did not have an idea of Pakistan...When he was asked in 1945 that what will Pakistan be, he (Jinnah) said we have plenty of time. When we achieve Pakistan, we will see what is going to be," Hoodbhoy said.
He continued, "There was nothing about how you would get rid of the jagidaris. There was absolutely no mention at all that Pakistan would be a federation or a non-federation. There's nothing on that. How would Pakistan survive in a world where science and technology makes one country strong. We have no plans for that. So, Pakistan was born in a state of confusion."
The nuclear physicist, who in 2017 had said that his country was becoming a 'fascist religious state', made the comments in Karachi during "Adab Festival" recently. Speaking at the fest, he went on to poke holes in the two-nation theory, terming it as "nonsense" and admitted that Pakistan "mistreated" and "exploited" Bengalis.
"We have not been honest with ourselves in the last 73 years. We are not being honest now. Pakistan is in a state of confusion because it was born in a state of confusion. The basis of Pakistan as articulated by Muhammad Ali Jinnah was that there only two nations that live on this subcontinent. They are mutually hostile, they cannot ever live in peace. That was the first part. The second part is Muslims formed a nation," Hoodbhoy said.
"...This is completely nonsensical. If Muslims formed a nation that could live at peace with every part of that nation, we would not have Bangladesh. We mistreated Bengalis. We thought of them as lesser people. We exploited them and we massacred them," he said.
Hoodbhoy outlined that the confusion should have ended in 1971 when the two-nation theory "went into the Bay of Bengal".
"We should have got rid of the two-nation theory then. It makes absolutely no sense today. It is nonsense today," he said while taking a jibe at the ruling establishment, challenging it to arrest him.
https://timesofindia.indiatimes.com/world/pakistan/jinnah-lacked-vision-pakistan-was-born-in-state-of-confusion-pak-nuke-scientist/articleshow/74075965.cms
--------
Islamic State''s South Asia Branch Poses Security Threat To Nations Neighbouring Afghnaistan: UN Report
11 FEBRUARY 2020
By Yoshita Singh
United Nations, Feb 11 (PTI) The dreaded Islamic State''s South Asia branch remains active, ambitious and threatening, and has established contacts with other terror groups like Tehreek-e-Taliban Pakistan and has the potential to exacerbate the security threat to countries neighbouring Afghanistan, a UN report has warned.
The 10th report of the Secretary-General on the threat posed by ISIL (Da''esh) to international peace and security and the range of United Nations efforts in support of Member States in countering the threat said that the Islamic State in Iraq and the Levant-Khorasan (ISIL-K) came under severe military pressure from the security forces of Afghanistan and Taliban fighters towards the end of 2019, leading to its virtual expulsion from what had been its Afghan headquarters in Nangarhar Province.
The report said that even though the Afghan authorities took custody of more than 1,400 people, including ISIL-K fighters and their dependants, the terror group remains a threat to regional security.
"…Islamic State in Iraq and the Levant-Khorasan remains active, ambitious and threatening. It continues its online recruitment and propaganda, for which it also conducts outreach activities in religious and academic institutions in Afghanistan, including Kabul University," it said.
"It has established informal contact with other terrorist groups, including Jamaat-ul-Ahrar, Tehrik-e-Taliban Pakistan and Lashkar-e-Islam, which regularly mount attacks on border posts of Pakistan. The approach of Islamic State in Iraq and the Levant-Khorasan has the potential to exacerbate the security threat to countries neighbouring Afghanistan," the report said.
The report added that most of the ISIL-K fighters taken into custody by the Afghan authorities were Afghan nationals but also included foreigners from Azerbaijan, Canada, France, India, Maldives, Pakistan, Tajikistan, Turkey and Uzbekistan.
It said the impact on the number and geographic distribution of the group''s fighters is assessed as significant.
Some 2,100 fighters are now in Kunar Province, which has effectively become the group''s new Afghan core area, whereas the number of fighters elsewhere in Afghanistan may now be as low as 400, giving a total estimate of 2,500 for the whole country.
Up to 25 of them constitute a covert Islamic State in Iraq and the Levant-Khorasan presence in Faryab Province, led by a former Taliban member Qari Salahuddin, the report said.
The Security Council''s 1267 Al Qaeda Sanctions Committee had in May last year blacklisted ISIL-K, which is also known as ''ISIL''s South Asia Branch'', ''ISIL Khorasan'', ''Islamic State''s Khorasan Province'' and ''South Asian Chapter of ISIL''.
ISIL-K was formed on January 10, 2015 by a former Tehreek-e-Taliban Pakistan (TTP) commander and was established by former Taliban faction commanders "who swore an oath of allegiance" to IS and its slain leader Abu Bakr al-Baghdadi.
The group has claimed responsibility for numerous attacks in both Afghanistan and Pakistan.
According to the terrorism backgrounder of ISIL -K on the website of Washington-based nonprofit policy research organisation Centre for Strategic and International Studies (CSIS), in 2014, Pakistani national Hafiz Saeed Khan was chosen to spearhead IS-K province as its first emir.
Khan, a veteran Tehrik-e Taliban Pakistan (TTP) commander, brought along other prominent TTP members — including the group''s spokesman Sheikh Maqbool and many district chiefs — when he initially pledged allegiance to al-Baghdadi in October 2014.
IS-K''s early membership included a contingent of Pakistani militants who emerged in Afghanistan''s Nangarhar province around 2010, just across the border from the former Federally Administered Tribal Areas (FATA) of Pakistan. Many of these militants were estranged members of TTP and Lashkar-e Islam, who had fled Pakistan to escape pressure from security forces, the organisation said. PTI YAS MRJ MRJ
https://www.outlookindia.com/newsscroll/islamic-states-south-asia-branch-poses-security-threat-to-nations-neighbouring-afghnaistanun-report/1731219
--------
Indonesian opposition grows to bringing IS fighters home
February 11, 2020
Opposition is growing in Indonesia to repatriating about 600 Islamic State fighters and their families from the Middle East, with many saying their return will endanger the country.
Most of the would-be returnees are women and children who want to return to Indonesia because their husbands had either been killed in the war or imprisoned in Iraq and Syria.
The wives and children of dead fighters are facing an uncertain future in Syrian camps following the Islamic group's defeat last year.
The National Counterterrorism Agency said the government has not yet decided whether to bring the women and children home but was looking at the possibility of doing so.
President Joko Widodo said last week that he is still discussing the idea of repatriating them with various ministries and institutions including the counterterrosim agency, although personally he does not want them to return.
"We must look at this very carefully, then I will make a decision," he said, adding that he would decide no later than April.
However, there is a groundswell of opposition to any such move, including from Muslim leaders.
"They left this country, burned their passports. They consider us allies of Satan," Said Aqil Siradj, chairman of Nahdlatul Ulama (NU), the biggest Islamic organization in Indonesia, told reporters on Jan 8.
"They are killers, slaughterers, rapists. Why are they to be repatriated?" he said, adding that they had committed serious crimes against humanity.
Azumardy Azra, a prominent Muslim scholar, expressed fears of an upsurge of terrorism in Indonesia if they return. "The government must be careful. Their return won't be good for Indonesia," he told UCA News.
Stanislaus Riyanta, an intelligence analyst at the University of Indonesia, said Islamic State fighters forfeited their right to Indonesian citizenship when they agreed to support another cause in the Middle East.
"Islamic State ideology has been instilled in them and it would be difficult for them to change [their ideology]," he told UCA News.
"If the government has a sense of humanity and is serious about protecting millions of Indonesian people, it has to scrap any plan to bring them back here."
According to Article 23 of the Indonesian Citizenship Law, any citizen who professes loyalty to foreign powers will be rendered stateless.
https://www.ucanews.com/news/indonesian-opposition-grows-to-bringing-is-fighters-home/87194
--------
Palestinians withdraw request for UNSC vote on US Mideast plan: Sources
10 February 2020
The Palestinians have abandoned their request for a vote at the UN Security Council Tuesday on rejecting the US Mideast peace plan, over a lack of international support, diplomats said Monday.
Introduced by Indonesia and Tunisia, the resolution risked not having nine out of 15 votes in its favor, the minimum required for adoption provided there is no veto by a permanent member, the diplomats told AFP.
Last month US President Donald Trump unveiled a Middle East plan for peace between Israel and the Palestinians which the Palestinians have rejected saying it is biased in favor of Israel.
Under the plan, Israel would retain control of the disputed city of Jerusalem as its "undivided capital," and annex settlements on Palestinian lands. Palestinians however want all of east Jerusalem to be the capital of any future state.
The plan has also been rejected by the Arab League and the Organization of Islamic Cooperation.
On Friday, Tunisia fired its ambassador to the UN accusing him of failing to consult the foreign ministry on key issues that diplomatic sources said included Washington's controversial Middle East peace plan.
"Tunisia's ambassador to the United Nations has been dismissed for purely professional reasons concerning his weak performance and lack of coordination with the ministry on important matters under discussion at the UN," a foreign ministry statement said.
https://english.alarabiya.net/en/News/middle-east/2020/02/10/Palestinians-withdraw-request-for-UNSC-vote-on-US-Mideast-plan-Sources.html
--------
Malian leader seeks dialogue with extremist insurgents
James Tasamba
11.02.2020
KIGALI, Rwanda
Mali's President Ibrahim Boubacar Keita said Monday his government is seeking talks with extremist groups in an effort to end an insurgency that has engulfed the country, French media reported.
At least 456 civilians were killed and hundreds more wounded last year in central Mali alone, Human Rights Watch said in a report released earlier in the day.
"The number of dead in the Sahel [region] is becoming exponential. It's time for certain avenues to be explored," Keita said in an interview published by French media.
"Why not try to contact those who we know are pulling the strings?"
The media report indicated that Keita had sent former President Dioncounda Traore -- the government's representative in central Mali -- on a mission to find people who "could be sensitive to a discourse of reason."
In 2017, a national conference gathering of the ruling party and opposition parties called for direct talks with armed groups, but the government was reluctant.
"We are ready to build bridges for dialogue with everyone at some point. We have to sit around a table and talk," Keita said.
The Sahel countries of Mali, Burkina Faso and Niger are particularly targeted by recurrent attacks attributed to al-Qaeda in the Islamic Maghreb (AQIM) and Daesh/ISIS.
Armed groups are killing, maiming and terrorizing communities throughout central Mali with no apparent fear of being held to account, the Human Rights Watch report said.
Many villagers were burned alive, while others were blown up by explosive devices, the report said, urging Malian authorities to urgently step up investigations and prosecutions of those responsible.
Last week, the UN's top humanitarian official in Mali, Ute Kollies, called for political engagement in the Sahel conflict, noting that extra troops would not resolve the crisis.
The remarks came after France announced that an additional 600 troops would be deployed in the African Sahel region, which would bring the number to about 5,100.
https://www.aa.com.tr/en/africa/malian-leader-seeks-dialogue-with-extremist-insurgents/1730174
--------
US city appoints its first Muslim police chief
February 11, 2020
NEW JERSEY: The city of Paterson in the US state of New Jersey appointed its first Turkish-American and Muslim police chief the other day, foreign media reported.
Ibrahim "Mike" Baycora was sworn in with his left hand on a copy of the Holy Quran as Paterson's 17th police chief during a ceremony at city hall. He has been serving at the city's police department for more than three decades, .
The ceremony began with the national anthem and prayers and was attended by members of the Turkish community in New York and New Jersey, senior officials from Paterson's local government and Baycora's family and relatives.
Speaking at the ceremony, Paterson Mayor Andre Sayegh said "Merhaba," "Hosgeldiniz" and "Nas ls n?" in the Turkish language, meaning 'Hello,' 'Welcome' and 'How are you?'
Sayegh said Baycora "will be the first Turkish police chief in the history of the United States of America. He will be the first Muslim police chief in the city of Paterson."
The United States has made history, he added. Baycora, for his part, said he was proud of his nationality and origin.
"As a kid from the east side of Paterson who grew up here attending school, Paterson has been my home for the better part of half a century," he said. "Paterson has been in my blood my whole life, and now to be its police chief after a 32-year career -- what an honor."
Speaking to Anadolu Agency following the ceremony, Baycora said: "I am so happy, so blessed." "In this country, there is opportunity. It does not matter where you come from." Baycora, 60, came to the United States as an infant and grew up in Paterson.
https://www.thenews.com.pk/print/612080-us-city-appoints-its-first-muslim-police-chief
--------
EU Wriggles Out Of Pakistan's Islamist Clutch
By NDT EU Bureau
February 10, 2020
The dying week of January witnessed the Islamists, especially Pakistan-born British Members in European Parliament (MEPs), misleading Europe that India's Citizenship Amendment Act (CAA) has discriminated against Muslims. Around 560 MEPs in the 751-strong European Parliament introduced a damning resolution against the CAA.
Pakistan had orchestrated the heinous move through British MEPs of Pakistani origin from Pakistan-Occupied-Kashmir region. The bought-over MEPs cried hoarse over the European Union "capitulating and crumbling" under India's diplomatic pressure. The European Free Alliance-the Greens party-was "heartbroken" that the EU prioritised "trade summit with India" over human rights on "this Islamophobic policy". All major groups in the EU Parliament, including the largest European People's Party (EPP) of 184 members that had "co-signed" the resolution, postponed the vote to March. Four largest parties– EPP, Progressive Alliance of Socialists and Democrats (S&D), the Renew Europe Group and the European United Left/Nordic Green Left (GUE/NGL) – were signatories to the joint resolution but supported the CAA openly.
Some appreciated the CAA as a positive discrimination for integration of refugees from Pakistan, Afghanistan and Bangladesh staying in India for years. Had the EU Parliament paid attention to the persecution of minorities there, CAA would not be necessary in the first place. Indian concerns had "fallen on deaf ears". They praised India as "the good guys" for taking in persecuted refugees, and blamed non-censure of these Muslim countries that created refugees. Rohingyas-the "economic migrants", not a religious minority-were pushed from a "majority Muslim state". India's NRC couldn't be faulted for documenting people living inside its boundaries. The Renew Europe Group admitted discrimination and persecution of Ahmadis but dared not criticise Pakistan. The EU rightly decided to wait until Supreme Court's judgement to the disappointment of Islamist British-Pakistani MEPs.
The EPP said India was an important economic and political partner of the EU and sought to understand the issue before a vote. CAA is "positive discrimination" and a "kind of a selective privilege". The far-right Identity and Democracy Group (I&D) – not a signatory – supported deferment "letting India deal with the issue using due democratic processes". It advised the Parliament to see "the hand of Pakistan pulling the strings behind this campaign," allow India to make its own laws, the EU not to decide its constitutionality and avoid conflict with India.
The Parliament session was the last for 70 Brexit British MEPs; many had played active roles in drafting and pushing the damning resolution. Six separate resolutions on CAA were submitted for debate and vote but the anti-CAA groups clubbed five resolutions into one joint resolution and tabled, expressing concerns over the NRC, the violence against CAA, and denial of internet access; Kashmir was not mentioned. European Commission sought dialogue with India regarding democracy, rule of law and human rights.
Pakistan is the biggest violator of human rights in South Asia but cries vociferously against India. The EU has no business to interfere in India's sovereign matters nor any locus standi on CAA. Discussing internal matters of India in such forums puts many countries in the dock and broadens the understanding of human rights violations, discriminations, serious persecutions and forced conversions of non-Muslims in Islamic countries creating refugee problem for India. Vested interests unilaterally criticizing another Parliament's deliberated and passed laws is unethical.
It is a big diplomatic win for India and a setback for Pakistan. Hard luck again. CAA constantly reminds Islamic Pakistan of its rampant religious conversions and persecutions. Educated Europeans were unwittingly and foolishly taken on a ride by illiterate Pakistanis who have neither read nor understood CAA. Common sense and pragmatism prevailed at last to not antagonize India.
The EU should worry about Europe first. Its sympathy and concerns, if genuine, should extend to Muslim refugees not covered by CAA-Rohingyas and Pakistan Muslims – by offering citizenship, not mere lip service. Sweden is now lost to Islamic radicals. Too much democracy has cost Europe dearly, corroding its liberal roots.
Evolved religions like Hinduism and Zoroastrianism pre-existed Islam by three-to-four millennia contributing immensely to civilizational growth. Visceral hatred for other religions has brought Islam to such sorry pass. Sans rational thinking, self-reflection or self-correction, Muslims are feared, hated and despised. Blaming others for Islamophobia won't help. Political Islam-the most violent doctrine on earth-is dated and heads towards extinction.
https://www.newdelhitimes.com/eu-wriggles-out-of-pakistans-islamist-clutch/
--------
Egyptian mediators in Gaza to ease tensions after latest exchange of fire
11 February 2020
An Egyptian delegation arrived in Gaza on Monday seeking to ease tensions, a Hamas security source said, after Israel again attacked the enclave with air strikes in response to projectiles fired by militants.
Egypt has long served as a mediator between Israel and the Palestinian Islamist group Hamas that controls the Gaza Strip, but further details on the latest visit were not immediately available.
Israel's army said in a statement that early on Monday its "aircraft and fighter jets targeted a number of Hamas terror targets in the southern Gaza Strip."
A Hamas "training compound and military infrastructures" were among the targets, the army added.
There were no reports from Gaza of casualties or damage.
On Sunday night, a projectile was launched from Gaza at southern Israel, triggering air raid sirens and sending thousands to bomb shelters.
A spokeswoman for the regional council in Shaar Hanegev, northeast of Gaza, said the projectile apparently hit an open field.
At least eight rockets or mortars have been fired from the Gaza Strip towards Israel since January 28 when US President Donald Trump released his plan for resolving the Israeli-Palestinian conflict, according to the Israeli army.
Israel has struck back each time, with no Israelis or Palestinians so far reported injured.
Israel and Hamas have fought three wars since 2008 and the tit-for-tat fire has raised fear of another conflict.
On Sunday, Prime Minister Benjamin Netanyahu warned that Israel would "not accept any aggression from Gaza."
"I will not go into detail about all of our actions and plans in front of the media, but we are prepared to take devastating action against the terrorist organizations in Gaza," he said.
"Our actions are very strong and they have not yet ended, to put it mildly."
Trump's controversial plan would grant Israel a number of its long-held goals, including full control of disputed Jerusalem and a green light to annex all settlements and other parts of the West Bank.
In exchange the Palestinians would be offered a state in the remaining parts of the West Bank and Gaza.
The Trump proposals were angrily rejected by all Palestinian factions as biased towards Israel.
https://english.alarabiya.net/en/News/middle-east/2020/02/11/Egyptian-mediators-in-Gaza-to-ease-tensions-after-latest-exchange-of-fire-.html
--------
India
Muslims voting for AAP shows they are desperate and Congress is too passive, apologetic
ZAINAB SIKANDER
10 February, 2020
Ifeel like crying, a friend's father whom I met Saturday afternoon told me as votes were being cast in the Delhi election. "For the first time in 40 years, I have not voted for the Congress." The gentleman is a Muslim and the reason he did not vote for the Congress was simple. "My vote would have been wasted. AAP still has a chance to win against BJP."
According to the India Today-Axis My India exit poll, 69 per cent of Muslims have voted for the Aam Aadmi Party (AAP).
The shifting of the Muslim vote from the Congress to the AAP has made many "almost Sanghi" folks in the Congress grumblingly suggest ditching the Muslim community and pursuing only the majority — Hindus — for electoral gains, much like the Bharatiya Janata Party (BJP).
Why the shift
But the logic behind the Muslim community's shift is not only simple but practical. The Muslim voter remains vulnerable in times of the CAA-NRC-NPR, which drives her choice to elect a party that will give her anything but divisiveness.
AAP convener and Delhi Chief Minister Arvind Kejriwal, in every speech and interview, has insisted that there was no need to amend the Citizenship Act. He has also continuously spoken of education, development and building infrastructure as part of his election promises.
On the other hand, the so-called alternative to the BJP — the Congress — has not only been passive in its support to Shaheen Bagh but maintained a safe distance from the protests while issuing the caveat that the movement shouldn't be politicised.
But the truth remains — the protests are very much political. They are very clearly anti-BJP, but only because it's a BJP project to identify certain Muslim citizens whom it can later call "illegal".
While Congress leaders Shashi Tharoor and Digvijaya Singh have, the holy trinity of the party — Sonia Gandhi, Rahul Gandhi and Priyanka Gandhi — have not quite bothered to extend direct support to Shaheen Bagh.
The same could be said about Arvind Kejriwal, whose Hanuman Chalisa recitation might have earned him brownie points among sensitive RSS-inclined Hindus who also care about development. But the leading Muslim face of the AAP, Amanatullah Khan, has been upfront in showing solidarity with the people of Shaheen Bagh and the anti-CAA protesters.
Congress vs AAP
Muslim leaders from the Congress have remained conspicuously absent from the scene. There is no Muslim leader in the Congress today who holds any sway over the community. Delhi similarly sees no representation whatsoever. There are some regional leaders in Uttar Pradesh — Salim Shervani or Naseeruddin Siddiqui, who fought from Badaun and Bijnor, respectively, in the 2019 Lok Sabha election — but they are as good as non-existent nationally. In that election, the Congress fielded six Muslim candidates in Uttar Pradesh, and all of them lost.
Compare this with the AAP's outreach to the Muslim community. Last year, Arvind Kejriwal hiked the salaries of imams from Rs 10,000 to Rs 18,000 per month. The salaries of helpers in mosques was also increased from Rs 9,000 to Rs 16,000 a month. These will be paid by the Delhi Waqf Board in 185 mosques that come under it. In fact, Kejriwal went a step ahead and increased the salaries of imams and helpers of mosques that don't come under the Delhi Waqf Board.
The Congress is slowly and steadily losing its clout over the Muslim community. The BJP's constant propaganda of calling the opposition party the "Muslim League Congress" has seemingly worked and made the Congress passive when it comes to taking unapologetic stands on policies that are clearly anti-Muslim and communally divisive.
Although the Congress' initial official stand on the scrapping of Jammu and Kashmir's special status was to be against it, its prominent leaders like Jyotiraditya Scindia, Janardan Dwivedi, Deepender Singh Hooda and a few others were seen siding with the "nationalistic" view of this move.
Not just Muslims
The bad news for the Congress is that it no longer appears to be ruling the roost when it comes to minority votes. And the Delhi election is only going to add another chapter to it. According to India Today-Axis My India exit poll, along with Muslims, the Congress is set to score poorly even among the Other Backward Classes (OBC), the Scheduled Castes (SC) and the Balmikis.
What also hasn't helped the Congress is that Hyderabad MP and AIMIM chief Asaduddin Owaisi has repeatedly called out the party as being the torch-bearer of draconian anti-Muslim laws — whether it's the Unlawful Activities (Prevention) Act or the severely abused sedition law — that the BJP is now using against the community or anyone against its views.
After speaking to many Muslim citizens Saturday, my biggest takeaway was this: The overwhelming sentiment driving the voting pattern of the community was to choose someone who was most likely to defeat the BJP. It is desperate, survival time. And one look at the Congress and the AAP makes it clear which of the two can fulfil this basic requirement of the community.
https://theprint.in/opinion/muslims-voting-for-aap-shows-they-are-desperate-and-congress-is-too-passive-apologetic/362300/
--------
Muslim Outfits in Assam Fume Over 'Indigenous' Survey in State
11th February 2020
GUWAHATI: The Assam government's move to carry out a survey to identify the state's "indigenous Muslims" has ruffled the feathers of several Muslim organisations.
The organisations, particularly opposition party All India United Democratic Front (AIUDF) and All Assam Minority Students' Union (AAMSU), are enraged that the Welfare of Minorities and Development Department convened a meeting on the "socio-economic census" of the state's indigenous Muslims such as Goria, Moria, Ujani, Deshi, Jola, Maimal and Syed.
Leaders from these communities and other stakeholders will sit along with government officials to finalise the plan.
"This is nothing but an attempt to divide the Muslims in Assam. I warn the government to refrain from indulging in such divisive politics," AIUDF spokesman Aminul Islam told people at a programme at Dhing in Nagaon.
Full report at:
https://www.newindianexpress.com/nation/2020/feb/11/muslim-outfits-in-assam-fume-over-indigenous-survey-in-state-2101718.html
--------
PSA detentions in J&K: One High Court judge quashes orders, another upholds
by Kaunain Sheriff M
February 11, 2020
Last Friday, a single-judge bench of the Jammu & Kashmir High Court, while rejecting the petition filed by J&K HC Bar Association president Mian Qayoom challenging his detention under the stringent Public Safety Act, observed that a court is not a "proper forum to scrutinise the merits of administrative decision to detain a person" and that such a detention is "not based on proof".
But two earlier judgments related to the PSA, passed by another single-judge bench of the same High Court, had quashed administrative orders, underlining that preventive detention "cannot be used as an instrument to keep a person in perpetual custody without trial".
Incidentally, Justice Sanjeev Kumar, while scrutinising the detention orders which he subsequently quashed, said though preventive detention involves the detaining of a person without trial in order to prevent him from committing certain types of offences, such "detention cannot be made a substitute for the ordinary law and absolve the investigating authorities".
This was in stark contrast to observations made by Justice Tashi Rabstan who last Friday said that the executive has "necessary powers to order preventive detention" and the "subjective satisfaction of a detaining authority to detain a person or not, is not open to objective assessment by a court".
Justice Rabstan also made three other broad observations — that a High Court does not sit in appeal over the decision of the detaining authority and cannot substitute its own opinion over that of the detaining authority; that the courts do not even go into the question whether the facts mentioned in grounds of detention are correct or false; and that the High Court "cannot interfere on the ground that in view of the fact that times have changed, further detention would be unjustified".
But Justice Kumar, in orders passed on December 27 and December 31 last year, held a different view on two separate habeas corpus petitions.
In the habeas corpus petition filed by the family of the detained Tariq Ahmed Parray, Justice Kumar, while quashing the detention order passed by the Baramulla District Magistrate, observed that "preventive detention cannot be resorted to when sufficient remedies are available under general laws of the land for any omission or commission under such laws, the Supreme Court observed".
Citing SC orders on the issue, Justice Kumar reiterated that preventive detention of a person "by a State after branding him a 'goonda' merely because the normal legal process is ineffective and time-consuming in 'curbing the evil he spreads', is illegal".
These observations had come in the backdrop of arguments made by Parray's family that the allegations made in the grounds of detention were vague, non-existent and that the government had not spelt out any compelling reasons to pass the detention order.
A similar argument was put forward in Qayoom's case. But Justice Rabstan said that a High Court has "limited scope to scrutinising whether detention order has been passed on the material placed before it" and "it cannot go further and examine sufficiency of material".
"This court can only examine grounds disclosed by the government in order to see whether they are relevant to the object which the legislation has in view, that is, to prevent detenu from engaging in activities prejudicial to security of the State or maintenance of public order," Justice Rabstan said.
In the habeas corpus petition filed by the family of the detained Asif Ahmed Bhat, Justice Kumar said Bhat's defence was that the detention on "the selfsame grounds on which earlier detention order had been passed and subsequently quashed by this Court, was sheer abuse of police power by the State".
It was pointed out that the detention order of September 18, 2018 was quashed by the High Court on April 17, 2019. But a fresh detention order was passed on April 30, 2019. "What prompted the Detaining Authority to pass a fresh order of detention, impugned in the petition, is anybody's guess. There is, however, bald assertion in the grounds of detention suggesting that normal law of the land has not deterred the detenu from indulging in subversive activities prejudicial to the maintenance of public order. There is absolutely no mention in the grounds of the detention with regard to any activity the detenu has indulged in or continued with after quashment of his earlier detention order dated 17.04.2019," Justice Kumar said.
He said "the fresh order of detention on the selfsame grounds is vitiated in the law and, therefore, cannot sustain… It is, thus, seen that the detaining authority while arriving at subjective satisfaction has not only taken into consideration the future prospectus of the detenu indulging in similar activities but has also taken into consideration the grounds on which the earlier order of detention dated 18.09.2018 had been passed. The judgment referred to above lends support to the contention of the learned counsel for the petitioner that the detention order without fresh material, is not sustainable".
A similar argument was put forward by Qayoom. He had argued that the government relied upon FIRs registered in 2008 and 2010, for which he had already been detained in 2010. Qayoom also said such material cannot be relied upon for repeating the order of detention.
Full report at:
https://indianexpress.com/article/india/jammu-kashmir-psa-detentions-article-370-6261541/
--------
Omar Abdullah's sister moves Supreme Court to quash PSA on him
February 11, 2020
Terming former J&K chief minister Omar Abdullah's detention under the Public Safety Act (PSA) as "ex-facie mala fide, for entirely political considerations", his sister Sarah Abdullah Pilot on Monday approached the Supreme Court, urging it to quash the same.
Senior advocate Kapil Sibal, appearing for Sarah, mentioned the plea for urgent listing before a bench headed by Justice N V Ramana. Sibal said a Habeas Corpus petition had been filed challenging Omar's detention and the matter should be listed this week. The court agreed to list it for hearing.
The petition said, "It is rare that those who have served the nation as Members of Parliament, chief ministers, ministers in the Union, and have always stood by the national aspirations of India are now perceived as a threat to the state."
Grounds on which the detention has been ordered are "false and illusory to the extent of being non-existent and are not grounds within the contemplation" of the PSA, it added.
"Apart from the obvious fact that disagreement with policies of the Central government is a lawful right of a citizen in a democracy (especially to an Opposition member), it is submitted that all such observations were not supported by any material – whether in the form of social media posts or otherwise," the petition stated. It added that at no point in his "prolific political career" has Omar resorted to or indulged in conduct unbecoming of a "conscientious public figure".
She submitted that Omar had already been detained since August 5, 2019.
Sarah said that a "reference to all public statements and messages posted" by her brother "during the period up to his first detention would reveal that he has kept calling for peace and co-operation — messages which in Gandhi's India cannot remotely affect public order".
Initially he was placed under house arrest and later provision of CrPC was invoked, she said, adding the "exercise of powers under CrPC…was clearly mala fide to ensure that the opposition to the abrogation of Article 370 of the Constitution is silenced".
The plea contended that the "intent" was to "incarcerate not just him, but the entire leadership of the National Conference, as well as the leadership of other political parties, who were similarly dealt with including Farooq Abdullah, who has served the state and the union over several years and who has stood by India whenever the situation so demanded."
Alleging "grave violation of Articles 14, 21 and 22 of the Constitution," the plea said similar detention order have been also been issued to other detenues too in a "mechanical manner…which suggest that there has been a consistent and concerted effort to muzzle all political rivals".
PSA slapped on J&K MP's son Hilal Lone
Srinagar: The J&K administration has booked Hilal Lone, son of National Conference leader and Lok Sabha member Mohammad Akbar Lone under PSA.
Full report at:
https://indianexpress.com/article/india/omar-abdullah-detention-public-safety-act-kashmir-supreme-court-6261479/
--------
Had four-month-old child gone to Shaheen Bagh to protest, asks SC on infant's death
by Ananthakrishnan G
February 11, 2020
Taking suo motu cognizance of the death of a four-month-old infant, allegedly because of exposure to the cold at the Shaheen Bagh protest, the Supreme Court — responding to the counsel who contended that children too have a right to protest — asked if the infant had gone for the protest.
"A four-month-old child had gone there to protest? Did the four-month-old child go there to protest?"Chief Justice of India S A Bobde exclaimed as advocate Nandita Rao, appearing for rights activist John Dayal, said that the United Nations Charter on the Rights of the Child, which has been ratified by India, guarantees a child's right to protest.
The bench, also comprising Justice B R Gavai and Justice Surya Kant, cut short advocate Shahrukh Alam, who was representing some mothers from Shaheen Bagh and had sought to submit that their children were being called Pakistani and gaddar in school.
"Don't bring in issues. We will not hear… We don't want people to use this platform to further create a problem. Whether in school somebody called a child Pakistani is not the subject matter of this," remarked the CJI.
As the counsel kept up their objections, the CJI added: "We are not considering CAA, NRC or rude behaviour in school. We are not considering use of words like Pakistani… so don't make such submissions… We have the highest respect for motherhood. We have the highest respect for social peace. We want those children to be at peace…"
"We are not stifling any voice. We know what we are doing. This is a properly constituted proceeding, so don't make irrelevant arguments," the CJI added.
Solicitor General Tushar Mehta, appearing for the Centre, termed the death of the infant "really unfortunate".
Intervening, Rao cited the case of youth activist Greta Thunberg leading the fight against climate change, and said Prime Minister Narendra Modi had applauded her and exhorted children to take the lead on issues of global warming. The court, however, said this was not relevant to the proceedings.
Rao said the child had not died in Shaheen Bagh, but in the shanty behind Jamia where the family lived, and added that the condition of children living in poverty should be looked into. She said children are taken to fairs and jagratas too, where too they are susceptible to cold, and that no one can be blamed for this.
The bench said it will look into their prayer for impleadment.
The court also said it will look into the request of 12-year-old National Bravery Award winner Zen Gunratan Sadavarte, seeking permission to submit arguments in the matter.
Following the death of the infant, Sadavarte had written to the CJI's office, urging the court to intervene to protect the rights of children, saying that making them attend protest demonstrations "amounts to cruelty".
Sadavarte, recipient of the 2019 Indian Council for Child Welfare (ICCW) National Bravery Award, said in her letter that the infant's parents and organisers of protests at Shaheen Bagh had "failed" to protect the rights of the child, resulting in his death.
Full report at:
https://indianexpress.com/article/india/sc-on-infant-death-shaheen-bagh-6261393/
--------
SC to define scope and ambit of right to religion
Feb 11, 2020
NEW DELHI: For the first time in 70 years, the SC on Monday decided to take up the sensitive task of defining the scope of right to freedom of religion guaranteed under Article 25.
A bench of CJI S A Bobde and Justices R Banumathi, Ashok Bhushan, L Nageswara Rao, Mohan M Shantanagoudar, S Abdul Nazeer, R Subhash Reddy, B R Gavai and Surya Kant framed seven questions on fundamental right to religion and its interplay with right of every religious denomination to establish and manage religious institutions. It will also decide whether a person, not belonging to a religious denomination, can file a PIL questioning validity of practices of that religion.
In the process, SC rejected resistance from lawyers led by senior advocate Fali S Nariman, who argued against SC undertaking the exercise of laying down guidelines for courts to deal with cases involving a clash between faith and fundamental rights.
Nariman had argued that the issues arose in petitions seeking review of the SC's judgment allowing the entry of women of all ages into the Sabarimala Ayyappa temple and a five-judge bench could not have in a review jurisdiction referred unconnected religious customs - curbs on entry of women into mosques, entry of Parsi women married outside the community into agiyaris and practice of female genital mutilation among Dawoodi Bohras - to a larger bench. The court, however, agreed with Solicitor General Tushar Mehta and said, "We hold that this court can refer questions of law to a larger bench in a review petition."
Apart from defining the ambit of right to rel igion, and examining the implications of Articles 25 and 26, the SC will decide whether a person, not belonging to a religious denomination, can file a PIL questioning validity of customs and practices of that religion. Article 25, while guaranteeing freedom of conscience and free profession, practise and propagation of religion, subjects this to "public order, morality and health". It also allows the government to regulate or restrict by a law the economic, financial, political and other secular activities associated with religious practices. It also allows the government to pass a law to provide social welfare and reform or throw open public religious institutions belonging to Hindus, Jains, Sikhs and Buddhists to all classes of persons belonging to these religious denominations.
Full report at:
https://timesofindia.indiatimes.com/india/sc-to-define-scope-and-ambit-of-right-to-religion/articleshow/74072365.cms
--------
Can protesters block a road indefinitely: SC on Shaheen Bagh
Feb 11, 2020
NEW DELHI: The Supreme Court on Monday took a critical view of protests blocking public spaces and sought responses from the Centre and Delhi Police on a plea seeking removal of agitators from Shaheen Bagh. The petition said lakhs of commuters were being harassed due to blockage of the main road connecting Noida-Delhi-Faridabad for nearly two months.
Entertaining petitioner Amit Sahni's appeal against the Delhi high court order dismissing his plea, a bench of Justices Sanjay Kishan Kaul and K M Joseph said, "The protests have been on for a long time. There cannot be an indefinite period of protest in a common area. It could be done at an area identified for protests. Can someone block the public road?"
When the petitioner sought interim relief, the bench posted the matter for further hearing on February 17 and said it would consider the plea only after hearing the other side. The SC asked, "If this (Shaheen Bagh type protests) happens in other places, what will happen?"
The HC had refused to pass any order on Sahni's plea while asking the authorities to look into the problem. He had asked if protesters had an unfettered right to stage demonstrations for an indefinite period at a public place of their choice?
Full report at:
https://timesofindia.indiatimes.com/india/can-protesters-block-a-road-indefinitely-sc-on-shaheen-bagh/articleshow/74072345.cms
--------
Whoever drafted grounds of detention for Abdullah, Mufti needs to be sacked: Chidambaram
Feb 10, 2020
NEW DELHI: Senior Congress leader P Chidambaram on Monday took a dig at the dossiers prepared by the J&K Police for applying the stringent Public Safety Act (PSA) against Kashmiri leaders Omar Abdullah and Mehbooba Mufti, saying whoever drafted those documents deserved to be sacked and sent to law school.
Former Jammu and Kashmir chief minister Omar Abdullah's "considerable influence" over people, including the ability to attract voters to polling booths despite poll boycott calls and the potential for channelling energies of public for any cause, has been cited in support of his detention under the PSA.
His political opponent and Peoples Democratic Party (PDP) leader Mehbooba Mufti has been accused of making anti-national statements and extending support to organisations such as the Jamaat-e-Islamia of the state, which has been banned under the Unlawful Activities (Prevention) Act (UAPA).
The former finance minister on Twitter said, "Whoever drafted the grounds of detention of Omar Abdullah and Mehbooba Mufti deserves to be sacked — and sent to law school."
Full report at:
https://timesofindia.indiatimes.com/india/whoever-drafted-grounds-of-detention-for-abdullah-mufti-needs-to-be-sacked-chidambaram/articleshow/74070148.cms
--------
NIA takes over probe into Jan 31 encounter with JeM terrorists on outskirts of Jammu
Feb 10, 2020
SRINAGAR: The National Investigation Agency has taken up the investigation into the January 31 encounter in which three Jaish-e-Mohammed terrorists were killed on the outskirts of the city, officials said on Monday.
The Union Ministry of Home Affairs issued a notification on Monday directing the agency to carry out a thorough probe into the circumstances in which the three terrorists had sneaked into Jammu and Kashmir through International Border at Sambha.
Jammu and Kashmir Police has arrested five people, including a cousin of the suicide bomber who killed 40 CRPF personnel in a deadly attack last year in Pulwama.
Full report at:
https://timesofindia.indiatimes.com/india/nia-takes-over-probe-into-jan-31-encounter-with-jem-terrorists-on-outskirts-of-jammu/articleshow/74069159.cms
--------
RSS is deceiving Hindus also: Zafaryab Jilani
BY QAYAM
FEBRUARY 10, 202
The Muslims of India will continue their protest till CAA, NRC and NPR are revoked even if the agitation gets prolonged, it should continue.
This view was expressed by Mr. Zafaryab Jilani, member of Muslim Personal Law Board while addressing a public meeting held at TNR Garden, Dharmabad, Nanded (M.S.)
He told that as soon as a law is passed in Assembly and Parliament, our movement should affect the proceeding of these law-making institutions.
Mr. Jilani pointed out that the sacrifices offered by the Mulsim in freedom struggle are no less than any other group.
Freedom Movement was started by Tipu Sultan.
Mr. Jilani mentioned with the implementation of NPR, the Hindus will also be in a disadvantageous position.
He pointed out that the Muslims got the Hindus included in the freedom movement. They accepted non-Muslims as their leaders and participated in the struggle.
The women who are protesting at Shaheen Bagh have set an example. They are tolerating extreme cold and other conditions of weather.
Those who used to tell that the Muslim men suppress their women are now tight-lipped.
If CAA is declared constitutional, our protest will continue, he said.
RSS is deceiving the Hindus by spreading false propaganda that the Hindus won't be affected.
It is the responsibility of the Muslims to make the Hindus that they would also be affected by these black laws.
Mufti Ismail Qasimi, MLA of Malegaon told that those who had come to rule India for 50 years, have started "Ghar Wapasi".
He pointed out that Govt. wants to deprive 40 crore people from the right to vote. This includes Muslims, Dalits and poor sections.
Full report at:
https://www.siasat.com/rss-deceiving-hindus-also-zafaryab-jilani-1821751/
--------
Pakistan
ATC to hear plea for halting verdict till completion of all trials against Hafiz Saeed, others
Rana Bilal
February 11, 2020
An anti-terrorism court (ATC) in Lahore is expected to announce today its verdict in two cases of alleged terror financing against the chief of the proscribed Jamaatud Dawa (JuD) Hafiz Saeed and his associates.
As the ATC takes up the terror financing cases against the JuD chief around noon, the court will also record the testimonies in other cases against him.
Saeed is nominated in about 29 cases pertaining to terror financing, money laundering as well as illegal land grabbing. The verdict was reserved against him in two cases on Feb 6.
On Saturday, the ATC had delayed announcing its verdict in the terror financing cases and had decided to hear arguments on February 11 (today) on the application to hear all cases first before announcing the verdict. The application, filed by the suspects' counsel, demands that collective verdicts be issued after the completion of trials in all the cases pending against them.
A prosecutor had opposed the application and argued that the court could announce its verdict in cases for which arguments had been closed. The court, however, had deferred the decision and sought arguments on the application from both sides.
The terror financing cases were filed by the Counter-Terrorism Department's (CTD) Lahore and Gujranwala chapters. The case filed by CTD's Gujranwala chapter was initially being heard in a Gujranwala ATC but was shifted to Lahore on the directions of the Lahore High Court.
During the trial of both cases, the court recorded the statements of 23 witnesses.
The JuD chief was arrested by CTD in July last year, while he was travelling from Lahore to Gujranwala. Prior to his arrest, 23 first information reports had been registered against JuD leaders, including Saeed and JuD Naib Emir Abdul Rehman Makki, at CTD police stations of Lahore, Gujranwala, Multan, Faisalabad and Sargodha in July 2019.
According to the CTD, JuD was financing terrorism from the massive funds collected through non-profit organisations and trusts including Al-Anfaal Trust, Dawatul Irshad Trust, Muaz Bin Jabal Trust, etc. These non-profit organisations were banned in April last year as the CTD, during detailed investigations, found that they had links with the JuD and its top leadership.
The crackdown on JuD last year followed a warning by Paris-based Financial Action Task Force (FATF) to Pakistan to deliver on its commitments to curb terror financing and money laundering.
The government had announced a ban on JuD and Falah-e-Insanyat Foundation (FIF) to partially address the concerns raised by India that Pakistan supported these and six similar organisations, including Jaish-e-Mohammad (JeM) or at least considered them low-risk entities.
Full report at:
https://www.dawn.com/news/1533797/atc-to-hear-plea-for-halting-verdict-till-completion-of-all-trials-against-hafiz-saeed-others
--------
World will take Pakistan seriously once it is economically stable: Foreign minister
Feb 10, 2020
KARACHI: Pakistan's foreign minister Shah Mahmood Qureshi on Monday said the world will take his country seriously once it is economically stable.
He made this comment while lamenting that the world was not taking the Kashmir issue seriously though Pakistan was raking it up at international meetings.
"The world will take Pakistan seriously when we are financially stable," the minister said.
The Pakistan foreign minister conceded that many countries were reluctant to speak on the Kashmir issue and the Citizenship Amendment Act because of their economic interests as India was a big trade market for them.
"The thing is that while everyone speaks of ethics and doing the right thing, their actions are always in line with safeguarding their own economic interests," he said.
Qureshi said his ministry would facilitate other ministries to establish stronger commercial ties with other nations, which would help introduce better trade practices in the country, Dawn News reported.
Qureshi said "de-industrialisation" in Pakistan in recent years had led to closing down of many factories.
"The question is about when this process (de-industrialisation) started. If industries are shutting down now, something must have happened in the past few years to have triggered the process," the minister was quoted as saying by the Dawn News.
He said placing blame or playing politics on the economy would serve no purpose but a solution must be found.
The cash-strapped Pakistan government has been implementing austerity measures to improve the country's finances. In July last year, Pakistan registered a currency reserve of less than $8 billion - enough to cover only 1.7 months of imports.
Full report at:
https://timesofindia.indiatimes.com/world/pakistan/world-will-take-pakistan-seriously-once-it-is-economically-stable-foreign-minister/articleshow/74067473.cms
--------
Kashmir, Palestine issues raise questions at OIC leadership: PUC chief
February 11, 2020
ISLAMABAD: Pakistan Ulema Council (PUC) Chairman Hafiz Muhammad Tahir Mehmood Ashraf said that burning issues of Muslim Ummah--Kashmir and Palestine--have raised questions at leadership of Organisation of Islamic Cooperation (OIC).
While addressing a forum in Riyadh, Saudi Arabia, on Monday, Hafiz Tahir Ashrafi stated that prevailing differences within Islamic World will be settled with talks instead of hurling allegations against one another.
He stated that why leadership of OIC failing to resolve burning issues of Muslim world, including Kashmir and Palestine. He also underlined that Pakistan and Saudi Arabia are knotted in relationship of faith and belief adding that Kingdom of Saudi Arabia has always supported Pakistan's stance on Kashmir.
He also urged the leadership of Muslim world to take practical steps against India and Israel to relieve people of Kashmir and Palestine from tyranny of occupied forces.
Hafiz Tahir Ashrafi also added that children of Muslim world from Syria to Iraq, Kashmir to Palestine and Yemen to Libya are being butchered. "Daughters of Muslims are being raped in occupied states, but Muslim Ummah is being engaged in differences against one another," he said.
He also stated that Harmain Al- Sharifain is center of Muslim unity adding that leadership of Saudi Arabia playing very effective and positive role for Muslims world. He urged the OIC leadership to come forward by raising voice for oppressed people of Kashmir and Palestine.
He stated that leadership of Muslim world should settle differences through talks. "The cities of Makkah and Medina could not be declared as open cities," he said.
He also pointed out that if any Muslim ruler aims at maintaing Khilafat-e-Rashida, they have to ensure practices as prevalent during the era of Khilafate Rashida.
Responding to a query, Hafiz Tahir Ashrafi stated that elements who are allowing embassies of Israel in Muslim countries, how could they justify representation of Muslim Ummah.
He also added that foreign interference in affairs of Muslim and Arab countries is real cause of anarchy and chaos in Muslim world.
Full report at:
https://www.thenews.com.pk/print/612195-kashmir-palestine-issues-raise-questions-at-oic-leadership-puc-chief
--------
'Targeted' subsidy for poor to be okayed by cabinet today
Syed Irfan Raza
February 11, 2020
ISLAMABAD: In a bid to provide some relief to the common man amid an unusual price hike in the country, the government has decided to give "targeted" subsidy to the low income group.
Prime Minister Imran Khan on Monday held a meeting with his economic team and high-ups of social safety nets. The meeting discussed several plans to give relief to the poor through the targeted subsidy.
The economic team and relevant officers kept finalising the "relief plan" till late in the night. The plan will be unveiled by the prime minister on Tuesday in the cabinet meeting.
A source privy to the meeting told Dawn that under the plan an additional subsidy of Rs10 billion would be given to the Utility Stores Corporation (USC) for its over 5,000 outlets for giving relief to people whose monthly income ranged between Rs25,000 and Rs30,000. The source said the Rs10bn subsidy would be in addition to the already provided Rs7bn subsidy to the USC.
Issuance of ration cards to the low income group was one of the options discussed at the meeting. The cards will enable the holders to purchase basic consumer items like wheat flour, pulses, rice, sugar, ghee/edible oil on subsidised rates.
Asked how the government will identify genuine and deserving people for the subsidy, the source said the data of the National Database and Registration Authority (Nadra), Benazir Income Support Programme (BISP) and grade1-6 government employees would be obtained and a list of deserving people would be prepared. He said the computerised data of deserving people would be available at all utility stores across the country and whenever a genuine person would go for shopping at these outlets, his thumb impression would be taken and his name would automatically be displayed on the cash counter as a deserving buyer.
The source said that according to one of the options, funds already given to the government flagship programme called Ehsaas could be used to provide subsidy to the USC. Soft loans could also be given to the youth to establish their small grocery shops at the union council level where they would be supplied essential food items directly through mills or USC so that they could match the rates of essential commodities being sold at utility stores.
Interestingly, the Prime Minister's Adviser on Finance Dr Hafeez Shaikh was not present at the meeting, which was attended by Special Assistant to the PM on Social Welfare Sania Nishtar, USC chairman Zulfikar Ali Khan and federal secretaries of different ministries. However, Dr Hafeez was seen at another meeting chaired by the prime minister on arrangements for the visit of Turkish President Tayyip Erdogan who is due in the country on Feb 14 to address a joint sitting of the parliament.
Earlier, a press release issued by the Prime Minister Office said the announcement regarding PM Khan's decision to provide relief to the common man would made in a meeting of the federal cabinet.
It said the prime minister was of the view in the Monday's meeting that the government would provide relief to the low income group at every cost. He was quoted as saying: "The government cannot act like a silent spectator on the pain and sufferings of the people."
Meanwhile, Pakistan Tehreek-i-Insaf (PTI) parliamentarians on Monday said that the government would take special steps to curtail prices of essential commodities to provide relief to the people.
Talking to reports outside the Parliament House, Special Assistant to the Prime Minister on Capital Development Authority (CDA) Affairs Ali Nawaz Awan said inflation was a great challenge for the present government which inherited because of previous governments' wrong policies and corruption.
"The present government is making efforts to provide maximum relief to the common man," he added.
Senator Seemi Ezdi said poor people were very close to the heart of PM Khan, adding that prices of essential commodities would come down soon.
MNA Sadaqat Ali Abbasi said the government was taking steps to overcome the inflation and providing special relief to the poor people. He said the government would also expose the mafia behind the wheat and sugar crises in the country. "All this inflation is due to wrong policies of previous governments," he added.
MNA Sheikh Rashid Shafique said the government would announce special relief package in the cabinet meeting soon. He said the present government was committed to overcome inflation in the country. "Relief stores would be established at each union council," he revealed.
Govt's economic team
In a separate meeting with the government's spokespersons, the prime minister revealed that a number of new USC outlets would be established in the country under the public-private-partnership to overcome the persisting food inflation in the country.
A participant of the meeting, who did not want to be named in the story, told Dawn that the prime minister revealed that people would be given incentives for establishing more utility stores where essential food items will be available at lower rates.
The prime minister, he said, was unhappy with the government's economic team and stressed the need for its more interaction with the media so that the government fiscal policies could be highlighted more and more in the media.
Shabbar won't return
The prime minister revealed that Federal Board of Revenue (FBR) Chairman Shabbar Zaidi could not continue his job due to illness and he would not return. Mr Zaidi is presently on leave on medical grounds.
Full report at:
https://www.dawn.com/news/1533705/targeted-subsidy-for-poor-to-be-okayed-by-cabinet-today
--------
MoU signed for electronic data exchange with Iran
Mubarak Zeb Khan
February 11, 2020
ISLAMABAD: Pakistan and Iran on Monday signed a Memorandum of Understanding (MoU) for electronic data exchange between the Customs authorities of the two countries on real time basis to control under and over-invoicing on goods.
Pakistan Member Customs Javed Ghani and Iran's Director General of Information Technology Depar­tment Haideh Bagheripour signed the MoU on behalf of their respective countries. Acting Chairperson Federal Board of Revenue (FBR) Nausheen Javaid Amjad and Ambassador of Iran in Pakistan, Moh­ammad Ali Hosseini were also present on the occasion.
The much-awaited MoU is the outcome of the Customs Mutual Assistance Agreement that was signed between the two countries on March 4, 2004. Before signing the MoU, the customs authorities of the two countries already held two rounds of meetings in 2019.
Under the agreement, it was also emphasised to exchange values/documents on real time basis in case of the goods to be imported/exported and to roll-out a fully automated clearance system, having advance information, about goods/passengers at the Taftan-Mirjaveh Border stations (as a pilot project) and at other border stations in a phased manner.
Ms Amjad said the implementation of this MoU will have a number of benefits for both Iran Customs and the FBR including the availability of advance information about values, descriptions and quality of the goods to be imported into Pakistan from Iran and reduced costs on clearance of goods at the borders.
Moreover, accurate valuation of the imported goods will lead to realisation of greater revenues, she said.
Mr Ghani said the proposed cooperation through the MoU would go a long way in fostering a long-term relationship between both customs administrations and would enable them to successfully cope with the challenges that they are facing.
Implementation of the MoU would ensure optimum trade facilitation through quick examination/assessment of the imported goods and more transparency and lesser human interface, he said. He assured the Iranian Customs of full cooperation from Pakistan on any area pertaining to mutual assistance and collaboration.
Full report at:
https://www.dawn.com/news/1533775/mou-signed-for-electronic-data-exchange-with-iran
--------
IHC gives last chance to NAB to contest bail petitions of Abbasi, Ahsan
Malik Asad
February 11, 2020
ISLAMABAD: The Islamabad High Court on Monday gave a last chance to the National Accountability Bureau (NAB) for formally contesting the bail petitions filed by former prime minister Shahid Khaqan Abbasi and former interior minister Ahsan Iqbal.
Barrister Zaffarullah Khan, the counsel for Mr Abbasi, argued before an IHC bench comprising Chief Justice Athar Minallah and Justice Lubna Saleem Pervez that it had been over a week but NAB had not prepared a reply to the petition filed by his client.
Mr Abbasi has been behind bars for over 200 days. He was arrested by NAB in connection with an inquiry into the LNG terminal contract.
Jahanzeb Khan Bharwana, additional prosecutor general of NAB, informed the court that the reply could not be prepared because some papers of the petition's copy provided to him by the court staff were missing.
Barrister Rizwan, special prosecutor of NAB, informed the court that his team had reconstructed the file from the original copy of the court and sought time to submit the reply.
Regarding the filing of reply to the petition of Ahsan Iqbal, Barrister Rizwan requested the court to grant some time to file parawise comments.
Advocate Tariq Mehmood Jahangiri, the counsel for Mr Iqbal, informed the court that NAB could not file the reply despite the fact that the IHC chief justice had directed the bureau to file it seven days back.
The bench, however, adjourned the hearing till Thursday (Feb 13) and made it clear that "any request for further adjournment will not be entertained on the next date".
Mr Iqbal is currently detained at Adiala jail in connection with an investigation into the Narowal Sports City project.
The same bench also took up the petition of Mustafa Kamal, a brother of Ahsan Iqbal, seeking pre-arrest bail in the Rawalpindi/Islamabad Metro Bus beautification case.
NAB prosecutor Rizwan informed the court that the petition was premature as no arrest warrants had so far been issued by the NAB chairman.
Advocate Jahangiri requested the court to issue a directive that in case NAB decides to arrest Mr Kamal it will seek a prior approval from the IHC.
He alleged that the NAB chairman had misused his discretionary powers of arrest of an accused in some cases where the arrest warrants were issued soon after the disposal of pre-arrest bail petitions.
IHC Chief Justice Minallah pointed out that the Supreme Court had recently issued a judgement according to which a detainee might seek claim in such circumstances.
"If they [NAB people] misuse powers of arrest, detenu may claim damages," observed Justice Minallah.
The court then asked the inquiry officer to give an undertaking in this regard.
The inquiry officer replied that since the inquiry was in the initial stage, there was no need for arresting the accused.
Full report at:
https://www.dawn.com/news/1533717/ihc-gives-last-chance-to-nab-to-contest-bail-petitions-of-abbasi-ahsan
--------
Senate panel seeks report about TTP spokesman's 'escape'
February 11, 2020
ISLAMABAD: The Senate Standing Com­­mittee on Interior has sought a detailed report about the escape from the country of spokesman for the banned Tehreek-i-Taliban Pakistan (TTP) Ehsanullah Ehsan.
Senator Javed Abbasi raised the issue during a meeting of the committee presided over by its chairman Rehman Malik on Monday. He wondered how such a high-profile person who was said to be in prison could escape.
The committee directed the interior ministry to submit a report within three days on Ehsanullah Ehsan's escape and his audio message.
A couple of days ago it was reported in the media that the TTP leader had managed to escape from jail and later issued a video message.
The committee passed the National Cou­nter Terrorism Authority (Amend­ment) Bill, 2019. The meeting proposed that one member each from treasury and opposition benches in the Senate and National Assembly to be nominated by the Senate chairman and NA speaker, respectively, for the board of governors of the National Counter Terrorism Authority.
The bill was proposed by Minister for Parliamentary Affairs Azam Khan Swati.
The committee deferred the Islamabad Prevention of Beggary Bill, 2019 and the Rights of Persons Arrested, Detained or under Custodial Investigation Bill, 2019.
The meeting condemned the ongoing curfew in India-held Kashmir and urged the international community to take notice of the gross human rights violations and humanitarian crisis in the occupied valley.
The committee observed one-minute silence for the victims of coronavirus and expressed solidarity with the people and government of China.
The committee regretted that the passengers arriving from China were not being checked properly for coronavirus as there was no such arrangement at airports.
The committee discussed the matter relating to grabbing of money through anonymous and fraudulent calls on the pretext of Jazz Cash and other illegal online transfer of money. It directed the Federal Investigation Agency to take action against those involved in these illegal activities.
The committee asked the Pakistan Telecommunication Authority (PTA) to apprise the committee under what law cellular companies were dealing with monetary matters and under what law they were issued licences.
The committee directed that guidelines be sought from the State Bank of Pakistan (SBP) to regulate all these activities and stop misuse of these services.
Mr Malik told the meeting that he had talked to the SBP governor who assured full assistance to the authorities concerned in regulating the online transfer of money.
He expressed displeasure over the absence of the Jazz representative and directed the PTA to issue a show-cause notice to the company.
Mr Malik said representatives of all
Full report at:
https://www.dawn.com/news/1533716/senate-panel-seeks-report-about-ttp-spokesmans-escape
--------
Kifayatullah gets pre-arrest bail in assault case
February 11, 2020
MANSEHRA: Jamiat Ulema-i-Islam-Fazl leader Mufti Kifayatullah obtained on Monday pre-arrest bail from a local court in a seminary student's sexual assault case.
The police had booked Mr Kifayatullah for harbouring a cleric, Qari Shamsuddin, who had sexually assaulted a 10-year-old student of his seminary on Dec 24, last year.
"I was in Karachi when the Mansehra police booked me under the trumped up charges of harbouring a cleric, but I got a transit bail from the Lahore High Court's Rawalpindi circuit bench on Feb 3," Mr Kifayatullah told reporters after submitting his bail papers to the SHO Pulrah police station.
He said that he was also part of the system and accepted courts and their jurisdictions. He claimed that he was innocent and never harboured anyone in the sexual assault case.
The Mansehra police had raided possible hideouts of Mr Kifayatullah following registration of an FIR against him last week but he got a transit bail from Rawalpindi bench of the Lahore High Court.
The police had lodged the FIR against Kifayatullah under section 225/34 of the Pakistan Penal Code.
District police officer Sadiq Baloch had disclosed to mediapersons that Qari Shamsuddin during police interrogation had confessed that he wanted to surrender to the police, but the JUI-F leader, Mufti Kifayatullah, had barred him not to do so.
"Mufti Kifayatullah and Abdul Malik, another suspect also booked under the same section of the law, provided Qari Shamsuddin a safe haven to escape arrest," Mr Baloch told mediapersons.
Full report at:
https://www.dawn.com/news/1533738/kifayatullah-gets-pre-arrest-bail-in-assault-case
--------
South Asia
18 Killed, Wounded In Kabul Suicide Attack
11 Feb 2020
An explosion took place close to Marshal Mohammad Qasim Military Academy in West of Kabul city.
According to reports, the explosion took place at around 7 am local time.
Nasrat Rahimi, a spokesman of the Ministry of Interior confirmed that a suicide bomber detonated his explosives in Qambar Square.
Rahimi further added that the attack killed 6 people including 2 civilians and 4 security personnel.
He also also added that the attack wounded at least 12 other people including 5 civilians.
https://www.khaama.com/explosion-close-to-military-academy-in-west-of-kabul-city-casualties-feared-04443/
--------
Fourteen Rohingya refugees die on boat off Bangladesh: Official
11 February 2020
At least 14 people drowned early Tuesday and 70 people were rescued when a boat carrying Rohingya refugees sank off southern Bangladesh, officials said.
"So far we have recovered 14 bodies and 70 people alive," coast guard commander Naim ul Haq told AFP, adding that navy and coast guard boats were still searching near St Martin's island in the Bay of Bengal.
Many of the 700,000-plus Rohingya who fled a military crackdown in Myanmar in 2017 have tried to leave refugee camps in Bangladesh on boats headed for Malaysia.
https://english.alarabiya.net/en/News/world/2020/02/11/Fourteen-Rohingya-refugees-die-on-boat-off-Bangladesh-Official.html
--------
172 Taliban militants surrender to Afghan forces in Herat and Ghor, claims MoD
11 Feb 2020
A group of 172 Taliban militants surrendered to Afghan National Defense and Security Forces in Herat and Ghor provinces.
The Ministry of Defense (MoD) said in a statement, 160 of the militants surrendered in Shahrak district of Ghor.
The statement further added that three commanders of the group – Abdullah, Mohammad Yousuf and Mullah Sarwar also surrendered to Afghan forces. The militants surrendered in Jam, Sher Bacha and Astora Villages of the district.
The Defense Ministry also added that 12 other Taliban militants led by Nasruddin surrendered to Afghan forces in Takht Valley of Chest-e Sharif district of Herat.
The militants also handed over some heavy and light weapons to the Afghan forces, the Defense Ministry of added.
According to Ministry of Defense, at least 582 Taliban militants have surrendered in the two provinces in past one month.
Full report at:
https://www.khaama.com/172-taliban-militants-surrender-to-afghan-forces-in-herat-and-ghor-claims-mod-04445/
--------
Portuguese saint triggers devotion in Bangladesh
February 11, 2020
For the past three years, Badhon Gomes has started preparing several weeks in advance for the annual pilgrimage at St. Anthony of Padua shrine in Panjora village in Bangladesh's Gazipur district.
Gomes, 30, is a Catholic from Parowan, one of 16 villages including Panjora that make up St. Nicholas of Tolentino Church (1695) of Nagari, one of the oldest Catholic churches in the country.
For the fourth consecutive year, Gomes coordinated distribution of free lunches to hundreds of devotees of the Portuguese saint during the annual feast day, celebrated on Feb. 7.
"We offered free meals to 500 devotees, but our target was more than 1,000. Due to restrictions on vehicle movements around the shrine, many devotees missed out," the father of one told UCA News.
Christian and Hindu villagers from Parowan and neighboring Bhasania, under St. Augustine of Hippo Catholic Church, have been supporting the initiative. Between 800 and 1,200 people have received free food from Gomes' group in the past three years.
"It is a matter of pride that we have St. Anthony shrine in our area. People believe they can receive special blessings from the great saint by serving his devotees," Gomes added.
Panjora village houses a chapel with a small but extremely popular centuries-old statue of St. Anthony that is believed to have miraculous power to fulfil any wish of devotees.
The shrine, under Dhaka Archdiocese, is the most popular among about the dozen Catholic shrines in Muslim-majority Bangladesh. Other shrines are mostly dedicated to Mother Mary, barely attracting 5,000 to 7,000 devotees during annual pilgrimages.
This year two Masses at St. Anthony shrine drew more than 70,000 devotees including Hindus and Muslims. About 6,000 devotees attended every day during the nine-day novena preceding the feast day, church officials said.
As a feast day liturgy ended, thousands lined up before the chapel and replica statues of the saint to pray and to pay their respects. Devotees touched, kissed and garlanded the statue in an emotional display of popular devotion.
Hundreds of devotees also offered various types of manots (gifts) as a gesture of thanksgiving and to place their wishes before the saint.
"I heard a lot about St. Anthony from my friends, so I came here for the first time with my wife and four-year-old son. We prayed for the well-being of our family. I wish to come here every year," Sri Trinath, 26, a Hindu from Dhaka, told UCA News.
As devotion to St. Anthony continues to swell, in 2018 Dhaka Archdiocese appointed a senior priest as a full-time rector to oversee the shrine and cater to the spiritual needs of devotees.
Opening hearts with love
Like Badhon Gomes, a group of young Catholics from St. Don Bosco Club in Nagari village started distributing free food to pilgrims last year.
"We served 200 pilgrims in 2019 as we started on a small scale. This year we served more than 500, and next year's target is over 1,000. Local villagers and former club members at home and abroad donate generously to support our initiative," Pranto Rozario, 24, vice-president of the club, told UCA News.
Rozario noted that their target pilgrims are mostly those coming from faraway places, especially indigenous Catholics from Mymensingh Diocese.
"Usually, on the feast day, pilgrims meet up with relatives and have lunch. But many don't have relatives and feel shy approaching anyone for lunch, while food prices in hotels are extremely high on the day. We want to ease their suffering by doing this small service," Rozario added.
Mighty Sampson, 36, a Catholic from Chittagong Archdiocese, has been visiting the shrine for the past 14 years. He and several others have been arranging two buses with donations from local Catholics to bring in 80-100 pilgrims to the shrine
"To be honest, I am not very religious, but I am a very spiritual person. Due to my busy work schedule, I cannot go to church and attend religious functions regularly. But I have been doing it as a social service to the community," Sampson, a coordinator of engineers at GPH Steel company, told UCA News.
In addition to bringing in Catholics for the pilgrimage, the Chittagong group also sponsor expenses for pilgrims who cannot afford it.
Sampson says he seeks no favor from St. Anthony or God in return. "I believe that by helping people I can connect to God more closely. By helping people to attend a religious feast, I may receive God's blessings directly or indirectly. I don't expect anything, but God will provide in the way that is best for me," he added.
Many local Catholics offer pilgrims snacks, water and resting places at their houses.
The local Church also receives huge donations in the form of money and logistical support from both Christians and non-Christians, both individual and organizational, said Father Joyanto S. Gomes of the parish of Nagari Catholic Church.
The flowers used in the liturgy on the feast day came from a Catholic family, while the decoration of canopies, a sound system and LED screens were sponsored by individuals and organizations, Father Gomes said. In addition, several Catholics donated 650 lunch parcels for pilgrims.
With donations from devotees, the site has been expanded to accommodate more people during the pilgrimage in recent years.
"In the future, the Church wants the shrine to be elevated to a basilica. We hope devotees of St. Anthony will continue to support us," Father Gomes added.
A call to holiness and humility
It is not known exactly when devotion to St. Anthony started and gained momentum, but it is widely believed to be a centuries-old tradition.
Locals say a small statue of St. Anthony appeared and reappeared at Panjora several times. People found this mysterious and miraculous, so many started to flock there to pray.
Soon, many people started claiming that their prayers to the saint, including having babies, finding lost objects and overcoming challenging situations, had been fulfilled miraculously. Word spread and the legend of St. Anthony grew and the shrine became a religious hotspot.
A local Catholic woman, Catherine Peries, later donated land to set up a chapel dedicated to the saint, where the miraculous statue has been kept ever since.
In 2016, the Vatican sponsored a tour of an 800-year-old relic of St. Anthony including his uncorrupted tongue in Bangladesh. It was also displayed at St. Anthony shrine in Panjora in recognition of the saint's huge popularity in the country.
On the feast day this year, Holy Cross Cardinal Patrick D'Rozario of Dhaka officiated two Masses and called devotees to be holy and humble like St. Anthony.
"St. Anthony was a wise and holy man but he was also very humble and simple. His great accomplishments draw us close to him. As his devotees, we have been baptized in the same faith and called to preach the Good News like him in thoughts, words and deeds," Cardinal D'Rozario said in his sermon.
Full report at:
https://www.ucanews.com/news/portuguese-saint-triggers-devotion-in-bangladesh/87188
--------
Pentagon to procure 10 Chinook helicopters for Afghan Special Forces
11 Feb 2020
The Department of Defense (Pentagon) disclosed its latest budget request for Afghanistan which includes the funding request to support the Afghan National Defense and Security Forces, specifically the Afghan Special Mission Wing (SMW).
The budget request for Afghanistan, titled Justification for FY 2021 Overseas Contingency Operations (OCO) Afghanistan Security Forces Fund, confirms the procurement of 10 CH-47 Chinook helicopters for the Afghan Special Forces, Special Mission Wing (WMW).
"The SMW is critical for air assault operations, as the SMW is the only unit that operates helicopters at night enabling the ANASOC and the GCPSU to operate during periods of darkness," the budget request reads. "This request funds procurement of CH-47 helicopters to transition the SMW from Russian-made Mi-17s helicopters to US-made, interoperable helicopters, solidifying the SMW's role as a key counterterrorism partner force."
It also added "The equipment and transportation request includes equipment that is essential for the continued development and maturation of the ASSF. The request procures 10 CH-47 rotary wing aircraft as well as supporting parts, supplies, and equipment."
According to Pentagon the CH-47 provides the ASSF the ability to continue Counterterrorism Operations as the SMW transitions away from Russian manufactured rotary wing aircraft. "As the SMW transitions away from Russian manufactured rotary wing aircraft, the procurement of CH-47 aircraft fills a medium/heavy-lift capability gap."
"The CH-47 medium/heavy lift aircraft provides an interoperable capability that enables helicopter assaults of Afghan special forces into remote areas, and is the most cost effective and sustainable solution to solve the capability gap," the budget request concludes, adding that this procurement enables DoD to end funding of Afghanistan's Russian-made Mi-17 helicopters once the CH-47s are integrated into the fleet.
Full report at:
https://www.khaama.com/pentagon-to-procure-10-chinook-helicopters-for-afghan-special-forces-04442/
--------
Restricting access to information: MOI orders officials not to speak to Media
10 Feb 2020
Afghanistan's Ministry of Interior Affairs published a statement on Monday ordering security officials not to speak to the media.
Massoud Andarabi, the acting Minister of Interior has issued a letter to the security authorities, commanding them not to speak to the media outlets, only the information must go out through the spokesperson's office, he said in the statement published on MOI's Facebook page.
According to the MOI's statement, the aim of the new directive is to avoid scattering information through different channels but providing information through a single source which is the spokesperson's office.
"No government officials are authorized to speak to the media, however, in case of the need, they can do it after receiving permission from the Minister's office", the MOI statement said.
The statement further added that no one can leak or share any documents in relation to the employment, promotions, and photos of the police in official uniforms or vehicles.
"The only channel to give information out is the communications department at MOI", the statement added.
Any information in regards to the achievements of the ANP, including information about the military operations must be shared after receiving directions from the Minister's office, said in the statement.
This comes as last week over 30 media outlets collectively criticized the break of 'access to information' law by the government.
Ahmad Saeedi, a political expert and analyst also criticizes the government for playing a double standard role.
In a conversation with Khaama Press, Saeedi said that the Afghan government emphasizes law enforcement on the paper only, but when it comes to the real implementation and real law enforcement it is in contrast to what the government promises on the paper. "I believe the freedom of speech and criticism can help the government work better, but it is unfortunate that the current Afghan government never listen to the public and media and such type of governance is called dictatorship", Saeedi said.
Full report at:
https://www.khaama.com/restricting-access-to-information-moi-orders-officials-not-to-speak-to-media-9870897/
--------

Afghan Special Forces kill; detain 7 militants during the raids in Kabul, 2 other provinces
11 Feb 2020
The Special Forces killed 3 Taliban militants and arrested 4 others during the operations in the past 24 hours.
The military officials said Tuesday, the Special Forces killed 3 Taliban militants during a raid in Tarin Kot district of Uruzgan.
The officials further added that the Special Forces also destroyed a small cache of weapons during the same operation.
The Special Forces arrested 3 Taliban militants during a separate operation in Deh Bala district of Nangarhar, the officials said.
The officials also added that the Special Forces arrested a Taliban militant during a separate raid in Kabul province.
Meanwhile, the officials said an airstrike killed 5 Taliban militants in Sang district of southern Helmand province.
Full report at:
https://www.khaama.com/afghan-special-forces-kill-detain-7-militants-during-the-raids-in-kabul-2-other-provinces-04444/
--------
Deadly bomb blast hits military academy in Afghan capital
11 February 2020
A huge bomb blast has hit Afghanistan's capital of Kabul, in what appears to be the first deadly major assault in the city in months.
The blast took place at the entrance to the Marshal Fahim Military Academy, a government-run defense university, early on Tuesday.
The Afghan Interior Ministry said the attack had claimed the lives of five people, including both civilians and military personnel.
"This morning at around 7 am, a suicide bomber detonated his explosives... killing five people including two civilians and three military personnel. Twelve were wounded, including five civilians," said the ministry's spokesman Nasrat Rahimi.
"It was a big explosion that rocked our house. We also heard gunfire afterwards. Ambulances rushed to the area quickly," resident Samiullah, who goes by one name, told AFP.
The Kabul police chief confirmed the location, according to a local broadcaster.
No group immediately claimed responsibility for the attack, which comes after nearly three months of relative calm in the Afghan capital.
Recent weeks have brought frequent but small-scale attacks on police and US security forces in Afghanistan, even as the United States and Taliban militants pursue talks to finalize a peace pact. They have been negotiating on and off for a year.
Six people were killed and at least a dozen wounded last year in a Taliban bombing attack outside the Marshal Fahim academy, which is modeled after European war colleges to train Afghan cadets to become officers.
The academy was also the scene of a Daesh assault last May.
The Taliban have refrained from attacking major urban centers in an effort to keep talks with the US on track, but violence continues elsewhere.
Full report at:
https://www.presstv.com/Detail/2020/02/11/618379/Afghanistan-Kabul-bomb-blast-casualties
--------
Southeast Asia
Singapore student, 17, held under ISA for supporting Islamic State
February 10, 2020
SINGAPORE: A 17-year-old male school student has been detained under the Internal Security Act for supporting the extremist group Islamic State of Iraq and Syria (ISIS), according to the republic's home ministry.
He was detained last month, the ministry said, after being first investigated in September 2017 when he was only 15, for posting defaced images of President Halimah Yacob on social media. He had also called on Islamic State to behead her for supporting Singapore, which he viewed as an "infidel" state.
"He had been radicalised by a foreign online contact who introduced him to pro-ISIS social media groups in 2017," the ministry said on its website.
Through these groups, he gained access to what he believed was exclusive ISIS content.
"In his eyes, ISIS was a powerful group that was fighting for Islam and its use of violence against its opponents was therefore justified," it said.
The ministry said despite its efforts since 2017 to steer him away from the radical path, he remained a staunch supporter of ISIS.
"He was willing to assist ISIS in its online propaganda efforts, and undertake other activities if called upon by ISIS to do so. Even with the demise of ISIS's so-called caliphate in Syria and Iraq, he still believed in the terrorist group and its violent cause," it said.
However, there were no signs that he had spread his pro-ISIS views to others around him, the ministry said.
https://www.freemalaysiatoday.com/category/nation/2020/02/10/singapore-student-17-held-under-isa-for-supporting-islamic-state/
--------
Maybank Islamic establishes regional footprint with Dubai branch
By Ahmad Kushairi Mohd Darus
February 10, 2020
DUBAI: Maybank Islamic Berhad has officially opened its first overseas branch in Dubai International Financial Centre (DIFC), offering wholesale banking services and facilities, with emphasis in corporate financing, treasury, and capital market and trade finance.
According to Maybank Islamic's CEO Datuk Mohamad Rafique Marican, the move would facilitate the bank's expansion into the region, as DIFC had established a highly-developed and dynamic financial ecosystem, and offers a ready platform to reach a Muslim population of more than 3 billion people in the Middle East, Africa and South Asia (MEASA).
Rafique said the DIFC branch was a significant milestone for Maybank Islamic, as it not only marks its first overseas branch but also Malaysia's first Islamic bank to have a presence outside local shores.
"With Dubai being a leading Islamic economic centre, it was timely for Maybank Islamic to set up base here to tap into the increasing demand for financing in the global halal economy and becomes a link between the Gulf Cooperation Countries (GCC) and the Asean community," he said, at the official launch of the Maybank Islamic's Dubai office here earlier today (Dubai time).
The regional office is headed by its country manager Nik Joharris Nik Ahmad, who has over 20 years experience in the financial services industry, having worked in Kuwait, Bahrain, and Saudi Arabia - apart from Malaysia – particularly in Islamic corporate debt financing.
Maybank Islamic offers a range of Islamic financial products and services across 354 Maybank touch points in Malaysia, as well as international operations in international operations in Indonesia, Singapore, Hong Kong, London, Labuan, and Dubai.
As of Sept 30, 2019, its total assets stood more than US$57.35 billion (RM273.53 billion), a growth of 7 per cent year-on-year.
Full report at:
https://www.nst.com.my/business/2020/02/564377/maybank-islamic-establishes-regional-footprint-dubai-branch
--------
SRC trial: I was told Saudi's King Abdullah donation given to Najib directly to ease ex-PM's political manoeuvring, former minister testifies
BY KENNETH TEE
11 Feb 2020
KUALA LUMPUR, Feb 11 ― The monetary assistance offered by then Saudi ruler King Abdullah Abdulaziz Al-Saud in January 2010 had to be channelled into Datuk Seri Najib Razak's personal bank accounts to ensure "smooth political manoeuvring" for the former premier, a former Cabinet minister testified today.
Former minister in the Prime Minister's Department Datuk Seri Jamil Khir Baharom said he was also made to understand the need for the funds to be channeled to Najib's personal accounts because King Abdullah was worried that a direct transaction to any political entity would complicate the expenditures of the donation fund.
"If I am not mistaken, King Abdullah also mentioned he would deliver the contributions not long after the said meeting date and stated that the channeling of said funds would be made into one of Najib's personal bank accounts for specific reasons," he said in his witness statement at the High Court as the fifth defence witness in Najib's RM42 million SRC International Sdn Bhd corruption trial.
He earlier affirmed that an informal meeting between the two heads of state had taken place at King Abdullah's palace in Riyadh, Saudi Arabia on January 11, 2010, which he attended in his capacity as minister in charge of Islamic affairs.
Najib has maintained throughout his trial that multiple transactions amounting to RM3.2 billion from 2011 to 2013 in his personal bank accounts were Saudi royal family donations.
He said he believed the funds, which originated from senders identified as Prince Faisal Turki, Blackstone Real Estate Partner and Tanore Finance Corp, were part of donations from King Abdullah.
Jamil Khir said the matter on financial donations was part of the meeting's agenda among others including Haj quotas and discussions on political upheavals taking place in the Middle East.
At the end of the meeting, Jamil Khir said Najib signalled him to join King Abdullah and the monarch's interpreter at the centre of the meeting hall for a confidential dialogue between both head of states.
"I realise I was invited to the discussion because I was a minister in charge of Islamic affairs responsible for overseeing Haj and religion matters.
"I was also sure the discussion would include internal Malaysian politics and promise of financial donation from King Abdullah in which both matters were confidential," he said, adding that the discussions were conducted in both Arabic and English.
To curb the spread of Shiah Islam and ensuring political continuity
To his knowledge, Jamil Khir told the court of the several reasons why King Abdullah may have wanted to help Najib with the promised financial donations.
"First, King Abdullah wanted Najib to ensure Malaysia's stability as a 'moderate' Islamic nation and thus needed to consolidate his position in the upcoming general election in 2013.
"Second, to deter the influence of 'Shiah' and eradication of widespread religious extremism in Malaysia," he said.
Shiahs are a minority in Sunni Muslim-majority Malaysia, with some estimating their numbers in only the tens of thousands.
Shiah is Islam's second-largest denomination and practised by an estimated 15 per cent of the 1.5 billion Muslims worldwide, but is regarded as deviant here.
Najib is currently on trial over seven charges related to SRC International.
Full report at:
https://www.malaymail.com/news/malaysia/2020/02/11/src-trial-i-was-told-saudis-king-abdullah-donation-given-to-najib-directly/1836420
--------
Five Urgent Issues for Indonesia's President to Address
February 9, 2020
On February 10, Indonesian President Joko Widodo (known as Jokowi) will address Australia's parliament. Indonesia is often referred to as the democratic success story of Southeast Asia and a model of Muslim democracy, yet it has been responsible for significant backsliding on human rights in recent years. This backsliding is serious enough that Australian leaders should ask Jokowi some hard questions during his Canberra visit. Here are five current human rights concerns that should be included:
1. Indonesia's draconian new Criminal Code
Indonesia has been working on updating its colonial-era Criminal Code for decades. Now Indonesia's parliament is discussing a new draft code with a raft of problematic provisions that would be disastrous for women and minorities, and for many Indonesians in general.
The new code proposes to punish extramarital sex with up to one year in jail and unmarried couples who live together with six months. Consensual sex between adults should never be a crime, and this law would disproportionately affect lesbian, gay, bisexual and transgender (LGBT) people. While it does not mention same-sex conduct, same-sex relationships are not legally recognized in Indonesia, so it would effectively criminalize all same-sex conduct.
The code also would criminalize disseminating information about contraception as well as criminalizing some abortions. It would expand the toxic blasphemy law, which has been used to target religious minorities.
While Jokowi delayed the vote following mass protests against the proposed code last year, he should show leadership in ensuring that abusive provisions are removed. These provisions not only violate Indonesia's human rights obligations but will help foment hatred and discrimination against certain groups.
2. Rising discrimination and attacks against LGBT people
While some gay and lesbian Australians might not think twice about visiting Bali for a holiday, they should be concerned about the rise in hateful rhetoric, discrimination and violence against LGBT people in Indonesia. Since early 2016, Indonesian politicians, government officials, and state offices have issued anti-LGBT statements – calling for everything from criminalization to "cures" for homosexuality, to censorship of information about LGBT people and of positive reporting on their activities.
The government's failure to halt arbitrary and unlawful raids by police and militant Islamists on private LGBT gatherings has effectively derailed public health outreach efforts to vulnerable populations. Last November, Indonesia's ombudsman revealed that a number of ministries openly discriminate against LGBT people in job postings, saying that applicants "must not be mentally disabled and not show sexual orientation or behavioral deviations."
3. No UN access for West Papua
The 2019 Pacific Island Forum Leaders' statement, signed by all Pacific nations including Australia, expressed concern about "reported escalation in violence and continued allegations of human rights abuses in West Papua (Papua)" and urged the Indonesian government to honor Jokowi's 2018 promise to allow the UN Human Rights Office to visit the two provinces and report on the situation before the next Pacific Island Forum's leaders meeting this year.
But the UN Human Rights Office has still had no access to West Papua. And last year's protests and violence, in which at least 53 people – both Papuans and migrants from other parts of Indonesia – were killed and hundreds more wounded, make the visit even more urgent. Precise estimates on deaths are difficult because access to Papua is limited.
Indonesian authorities have detained and charged at least 22 people for peaceful acts of free expression – mainly for raising the pro-Papuan independence Morning Star flag or speaking about "West Papua independence" in public. They are charged with treason (makar) and face up to 20 years in prison.
4. Rising religious intolerance
Indonesia's blasphemy law punishes deviations from the central tenets of Indonesia's six officially recognized religions – Islam, Protestantism, Catholicism, Hinduism, Buddhism and Confucianism – with up to five years in prison. The blasphemy law is alarmingly used for political purposes and to target religious minorities.
The highest-profile victim of the law was the former Jakarta governor, Basuki Purnama (Ahok), sentenced in 2017 to two years in prison for allegedly defaming Islam in a speech to fishermen on Seribu Islands, near Jakarta. More recently, a woman was sentenced to 18 months in prison for complaining about the level of a mosque's loudspeaker.
These are among a number of worrying signs of growing efforts by the government to impose religious conservatism. Local and provincial-level governments in at least five provinces have introduced decrees mandating that women and girls must wear the hijab in civic buildings, universities and schools. Schools have enforced these regulations in more than a dozen provinces, even on non-Muslim students.
5. Defence Minister implicated in abuses
Imagine what would happen if an Australian soldier discharged from the military for human rights abuses and disobeying orders became our Defence Minister. That is exactly what has happened in Indonesia, when last year Jokowi appointed his presidential opponent, Prabowo Subianto, to the post.
The Indonesian army dismissed Prabowo in 1998 over allegations of kidnapping of more than two dozen activists in 1997-98 during the fall of Suharto. He has also been accused of abuses in East Timor during his time there as a Kopassus commander. Indonesia's military has a long record of impunity for killings and enforced disappearances. That is sadly unlikely to improve under Prabowo's leadership of one of Indonesia's most powerful institutions.
Full report at:
https://www.hrw.org/news/2020/02/09/five-urgent-issues-indonesias-president-address
--------
Muslim Group Rebrands Valentine's Day 'Indonesia Without Dating Day'
10 Feb 2020
An Indonesian Muslim group named Indonesia Tanpa Pacaran ("Indonesia without dating") has declared February 14 "Indonesia Without Dating Day," organizing rallies, talks, popular events to stamp out both the holiday and the practice of dating before marriage.
The Asian outlet Coconuts reported on Monday that the group organized a rally over the weekend to promote their new Sharia-compliant replacement for Valentine's Day and will continue to organize promotional events throughout the week in anticipation of the holiday.
Indonesia is the world's most populous Muslim country. Hardline Muslims in the country have spent years campaigning against Valentine's Day, accusing it of being a depraved foreign ritual, a violation of Sharia, the Islamic law, both for being the feast day of a Catholic saint and a holiday associated with romance and sexuality. Multiple towns in the country ban celebrating the event locally, often to the detriment of local businesses accustomed to profits from couples' gifts. Other Muslim countries in the region, like Malaysia and Pakistan, have birthed similar movements against the gifting of flowers and chocolates for Valentine's Day.
The Indonesia Tanpa Pacaran campaign against the holiday is unique in that the group advocates against any romantic dating all year round. Instead, the group's leaders urge young people to remain single and immediately marry someone if they are interested in a relationship, with no period of dating prior to marriage in which the two would get to know each other. A profile published by PRI last year described the group as "a movement to eliminate premarital dating, derided as a sinful, Western ritual that will ruin your life. These young Muslims instead want to push their island nation, long branded as religiously moderate, toward practices that more closely resemble norms in, say, Saudi Arabia."
The group's February 14 campaign will aim at convincing young Muslims to never date another person, or immediately either break up with or marry the person they are currently dating. According to Coconuts, the group is organizing talks on relationships, sexual health, and religion for their "Indonesia Without Dating Day" on Friday.
The group will also reportedly use the occasion to sell books and other merchandise, which Coconuts explained encompasses a significant portion of the group's reason for being:
In all seriousness though, Indonesia Tanpa Pacaran has been heavily criticized in the past by people accusing the movement of being a cash grab taking advantage of gullible young conservatives. There are also concerns that the movement, which has members predominantly in their teens and early 20s, would normalize young and underage marriage involving people who may not be mentally, economically, and/or physically ready for a serious life commitment.
The group, which claims 20,000 members, invests heavily in its social media presence, both to expand membership and sell branded products. Membership in the group costs a $13 fee. Its website features a subsection for buying group-related products, much of which is clothing. Specialty hijabs appear to be high on the list of marketed products; the page links to an Instagram account full of fashion images showcasing hijabs for sale.
"The movement swirls around a profit-seeking business, Indonesia Tanpa Pacaran, which sells a variety of branded accessories: T-shirts, hijabs, keychains and trucker hats," the PRI profile of the group published in July 2019 detailed, highlighting that its marketers are proficient in using memes and online attention to expand membership. The group also has ties to social media "influencers" who regularly post about the horrors of dating and encourage followers to lead conservative Islamic lives – also while selling sponsors' products.
Paying for membership in the group allows for access to services, as well, such as chat rooms to meet members of the opposite sex and marry them without dating. A reporter quoted in the PRI article described the chat rooms as "militaristic."
While Indonesia Tanpa Pacaran's tactics may be novel, Indonesian Muslim groups' war on Valentine's Day has become an annual tradition. In 2013, for example, Nahdlatul Ulama, Indonesia's largest Muslim group, urged a limit on teenagers exchanging gifts on Valentine's Day, arguing that doing so results in teens joining special Valentine's Day "sex parties," which they alleged are a common occurrence in Western countries.
"We don't want to completely ban Valentine's Day but it's not for teenagers," a Nahdlatul Ulama secretary said at the time. "Teenagers see it as a time to express love and affection and they often end up in sex parties, like in the West."
The Islamic Defenders Front went a step further, calling the entire celebration "immoral," with or without sex parties.
In 2016, the city of Banda Aceh banned the holiday entirely.
"Our society and the Muslim youth should certainly not be celebrating non-Islamic holidays," said Mayor Illiza Saaduddin Djamal. "The law says it is haram. The government is obliged to protect the public and younger generation from unlawful acts."
The mayor ordered police to "re-educate" anyone caught exchanging gifts, decorating homes or businesses with hearts or other related imagery, or otherwise appearing to observe the holiday. Several other cities joined the ban in 2018.
Full report at:
https://www.breitbart.com/asia/2020/02/10/muslim-group-rebrands-valentines-day-indonesia-without-dating-day/
--------
Major homework for Indonesia and Australia to implement IA-CEPA
Hangga Fathana and Dr Priyambudi Sulistiyanto
February 10, 2020
President Joko "Jokowi" Widodo's visit to Canberra marked a new milestone in Australia-Indonesia's relations.
Not only did he address Australia's parliament on Monday, Jokowi also launched a plan of actions for Indonesia-Australia Comprehensive Economic Partnership Agreement (IA-CEPA), which finally has been ratified by Indonesia's parliament last week.
This visit also commemorates the 70th years of Australia-Indonesia relations. It is also a sign that the two country relations are in the best shape.
IA-CEPA, as claimed by both countries, will open up more economic partnerships and thus complement the current strategic relations. Jokowi's visit disproves the observation that unlike his predecessor Susilo Bambang Yudhoyono Jokowi disregards Australia as one of Indonesia's good friends.
However, we should not get overly excited over the IA-CEPA yet. Even though the partnership has received positive responses from each country, IA-CEPA has some apparent implementation challenges.
Challenges to Indonesia …
That the agreement will further liberalise Australia-Indonesia trade and broaden economic relations is indeed inevitable. Indonesia will enjoy the benefit of zero tariffs for all exports to Australia, while it is also cutting 94% tariff for Australia's exports to Indonesia.
Some may argue that this opportunity will boost Indonesia's export to Australia. But, our recent discussions with some of Indonesia's parliament members, owners of small/medium enterprises, and trade unions indicated that they are not aware of the benefits of IA-CEPA.
Instead, there are growing anxieties that they will not be able to take advantage of the agreement, given Indonesia's current trade deficits with Australia. This trade deficit, exacerbated by the competing trade structure of the two countries on mining sectors have left them clueless about the initiatives to increase Indonesia's export to Australia.
On the other hand, in the context of investment, this agreement is also momentum for Indonesia's government to ease its bureaucracy. Our colleague, a junior Australia's diplomat, finds it surprising that despite Indonesia's reputation as a democratic country, its administration for investment is still too much a hassle.
This can limit Indonesia's attractiveness to foreign direct investment. And it may restrain Australia's investors from working more closely with Indonesia.
To mitigate the risks above, Indonesia's government should engage more proactively with civil societies and small/medium enterprises to promote the trade deal in more details.
The government should inform beneficiaries of the IA-CEPA on how to seize the advantage of the agreement.
… and to Australia
For Australia, this trade deal provides a significant opportunity to enhance its export to Indonesia. Australia's current agricultural products export can be further optimised, given Indonesia's large population of 270 million.
However, this agreement may still result in a sub-optimal outcome given the current Australian business practitioners' low awareness of Indonesia's culture and society.
Export is not simply about producing and selling high-quality products. Australian corporations need to understand Indonesia's daily norms and social structure.
To anticipate these issues, intensive course for business practitioners on Indonesian language, culture, and business best practices should be widely provided in Australia.
It will help Australians to grasp the opportunities being offered by Indonesia through IA-CEPA. It will allow them to be more adaptive in creating businesses with the world's largest Muslim population.
The need to response Indonesia's concern of halal certification on Australian products, for example, can be empowered through an in-depth understanding of Indonesia's society.
More broadly, amidst the declining Indonesian studies in Australia, Australian society's engagement with Indonesian people should also be revived. High school and universities can do this by providing lessons in Indonesian language, culture and political studies.
Indonesia should also address the same urgency, as the centres on Australian studies in the country are also scarce.
Challenges outside trade
IA-CEPA is a milestone for Australia-Indonesia relations, but it is not a panacea for all the challenges the two countries face.
The current bushfires in Australia and recent floods in Indonesia show that both countries are vulnerable to climate change. Thus, there is an urgent need for shared initiatives to mitigate the climate change impact.
Some preexisting programs such as collaborative research, bilateral dialogues, and financing scheme for sustainable landscape management have set a solid ground for further and stronger engagement.
These initiatives can be extended through collaborative work on improving policymaking to address climate change and strengthening environmental law enforcement.
Full report at:
https://www.thejakartapost.com/academia/2020/02/10/major-homework-for-indonesia-and-australia-to-implement-ia-cepa.html
--------
Mideast
Iran watching online if imported meat comes from halal slaughter
10 February 2020
Iran's agriculture ministry has boosted its halal supervision system for imported meat by watching online operations at the slaughterhouses outside of the country.
A senior ministry official said on Monday that cameras for online watching of slaughter practices had been installed in slaughterhouses in at least eight countries who export beef and mutton to Iran.
Reza Taghavi, a cleric who is also in charge of broader religious issues in the agriculture sector, said the new system would accompany at least 50 experts who supervise how sheep and cows are slaughtered, deboned, chopped and packed in various countries for the purpose of export to Iran.
The new online monitoring system is part of a broader initiative launched on Monday which seeks to coordinate plans and programs related to halal food in various Iranian government departments.
Authorities said the Integrated Halal System would expedite administrative steps needed to authorize halal food production while it would reduce costs existing in the field.
On installation of online CCTV cameras in slaughterhouses in other countries, officials rejected reports that the new scheme had created extra costs for the Iranian agriculture ministry.
Behrouz Tahayi, who represents Iran on halal food issues in Brazil, a country with a sizable meat export to Iran, said that slaughterhouses in the South American country were supposed to incur the costs.
Tahayi said, however, that it had been Iran's request that the cameras be installed in the slaughterhouses to ensure that they are in full compliance with Islamic laws on the issue.
Full report at:
https://www.presstv.com/Detail/2020/02/10/618362/Iran-meat-imports-online-halal-supervision
--------
Israel sentences prominent Muslim cleric to 28 months in prison
10 February 2020
An Israeli court has sentenced the head of the northern branch of the Palestinian Islamic Movement, Sheikh Raed Salah, to 28 months in prison on trumped-up charges of "fomenting incitement against Israelis and advocating violence."
On Monday, the Haifa magistrate's court passed the verdict against the 61-year-old cleric.
Israeli judge Shlomo Banjo said in his verdict statement that Salah is "dangerous."
"In light of Sheikh Raed Salah's previous violations and his clear ideological motives, his activities have worsened with time," Banjo said, adding, "Today, as in the past, he uses troubling speech to incite terrorism."
Sheikh Salah, in return, dismissed the charges, and said following his sentencing that all the proceedings in the case were "far from the truth."
وكالة شهاب
✔
@ShehabAgency
#عاجل| محكمة الاحتلال بحيفا تحكم على الشيخ رائد صلاح بالسجن لمدة 28 شهرا بتهم "التحريض على العنف والإرهاب"
View image on Twitter
16
1:59 PM - Feb 10, 2020
Twitter Ads info and privacy
See وكالة شهاب's other Tweets
His defense team announced in a statement that "since 2017, restrictions have been imposed on the Sheikh by preventing him from communicating with the public and the media because the occupation is fully aware that every word that comes out of it has significant implications and impact."
Sheikh Salah was arrested and charged two years ago for praising three Palestinians who shot dead two Israeli police officers in a gun battle at the entrance to al-Aqsa Mosque on July 14, 2017.
He had been released from prison in 2017 after serving a nine-month sentence for "inciting violence."
The prominent Palestinian cleric has repeatedly expressed support for "resistance" and warned his followers that the Israel regime is seeking to destroy al-Aqsa Mosque.
Hamas: Salah's ruling aims to target defenders of al-Quds, al-Aqsa Mosque
Meanwhile, the Palestinian Islamic resistance movement, Hamas, has strongly condemned the Israeli court ruling against the head of the northern branch of the Islamic Movement, emphasizing that the verdict is meant to silence all free voices defending the Palestinian nation, Jerusalem al-Quds and al-Aqsa Mosque in the face of the Tel Aviv regime's schemes.
وكالة صفا
✔
@SafaPs
"سيشكل حافزًا لاستمرار كل أشكال الكفاح"
حماس: الحكم على الشيخ صلاح استهداف لكل المدافعين عن القدس والأقصىhttp://www.safaps.com/post/276666
حماس: الحكم على الشيخ صلاح استهداف لكل المدافعين عن القدس والأقصى
قالت حركة المقاومة الإسلامية "حماس" إن الحكم الإسرائيلي على شيخ الأقصى رائد صلاح استهداف لكل الأصوات الوطنية الحرة المدافعة عن الشعب الفلسطيني والقدس والمسجد الأقصى في وجه المخططات والمشاريع التي...
safaps.com
1
6:00 PM - Feb 10, 2020
Twitter Ads info and privacy
See وكالة صفا's other Tweets
Hamas said in a statement on Monday that the ruling "reflects the extremist and racist mentality that governs Israeli institutions, particularly Israeli courts and its judiciary."
"Such unjust rulings against the Sheikh of al-Aqsa and many of our people in al-Quds, the West Bank and the occupied territories will not stop our people as well as national leaders and scholars from carrying on their struggle, and performing their duties as regards Palestine, its people and its sanctities," the statement read.
Dozens of Israeli settlers storm al-Aqsa Mosque
Separately, dozens of Israeli settlers have stormed the al-Aqsa Mosque compound in the occupied Old City of East Jerusalem al-Quds amid frequent acts of violence committed by Israeli forces and settlers against the Palestinian people.
The Department of Islamic Endowments in Jerusalem al-Quds said in a statement that 79 settlers, including 30 Jewish seminary students, broke into the compound on Monday morning, and toured the sacred site "provocatively."
A large number of Israeli forces had been deployed across the compound for their protection.
Wafa News Agency
@WAFA_PS
عشرات المستوطنين يقتحمون الأقصى
https://bit.ly/31NZkn2
View image on Twitter
5:11 PM - Feb 10, 2020
Twitter Ads info and privacy
See Wafa News Agency's other Tweets
The al-Aqsa Mosque compound is a flashpoint, highly respected by Muslims, Jews, and Christians alike. The mosque is Islam's third holiest site.
Palestinians have long been wary of Israeli attempts to change the status quo of al-Aqsa Mosque, where only Muslim prayers are allowed under the status quo reaffirmed in 1967.
The holy compound is administered by the Islamic Waqf endowment on behalf of Jordan and Palestine. Non-Muslims can visit the site, but cannot pray there.
This coincided with the chief rabbinate of Israel's declaration in 1967 that Jews were not allowed to the compound as it would desecrate the site's holiness.
Full report at:
https://www.presstv.com/Detail/2020/02/10/618336/Israel-sentences-prominent-Muslim-cleric-to-28-months-in-prison
--------
Turkey says it hit 115 Syrian posts in retaliation for killing five soldiers
10 February 2020
Turkish forces have hit 115 Syrian government targets and destroyed 101 of them in retaliation for an attack that killed five Turkish soldiers in Syria's opposition-held northwest, the Turkish Defense Ministry said on Monday.
"According to our sources, 101 regime troops were neutralized, three tanks and two cannons were destroyed and a helicopter was hit," the Turkish ministry statement said.
The Turkish defense ministry said its troops were pushing on with bombardments on Syrian positions in the area on Monday evening.
The ministry said Turkish forces would continue to retaliate any attacks on its troops, which have observation posts in the far northwest of Syria.
Full report at:
https://english.alarabiya.net/en/News/middle-east/2020/02/10/Turkey-says-it-hit-115-Syrian-posts-in-retaliation-for-killing-five-soldiers.html
--------
Iran says 'counter-revolutionary' figure faces death sentence
10 February 2020
An Iranian opposition figure who had been living in exile before being arrested faces the death sentence, the opening day of his trial heard on Monday, according to the judiciary's website.
Ruhollah Zam, 41, went on trial "behind closed doors and in the absence of the media," according to Fars news agency.
The Islamic Revolutionary Guard Corps announced the arrest of Zam in October last year, describing him as a "counter-revolutionary" who was "directed by France's intelligence service."
It did not specify where he was arrested.
Zam, who reportedly lived in Paris, ran a channel on the Telegram messaging app called Amadnews.
At the time, he was accused by authorities of playing an active role in anti-government protests sparked by economic hardship during the winter of 2017-18.
Telegram shut down Amadnews in 2018 after Iran demanded it remove the account for inciting an "armed uprising."
At Monday's court hearing, the prosecution read Zam's indictment containing 15 counts, said Fars, which is close to ultra-conservatives.
Zam's indictment, published later on the judiciary's Mizan Online website, said he was accused of "corruption on earth" - a crime punishable by death.
Among the other charges, he was suspected of having "committed offences against the country's internal and external security" and "espionage for the French intelligence service."
He was also accused of having insulted "the sanctity of Islam."
Iranian state television announced meanwhile that it would broadcast a "documentary" about Zam on Monday evening.
Full report at:
https://english.alarabiya.net/en/News/middle-east/2020/02/10/Iran-says-counter-revolutionary-figure-faces-death-sentence-.html
--------
French academic jailed in Iran 'very weakened' by hunger strike: Committee
10 February 2020
A French-Iranian academic jailed in Iran in a case that has raised tensions between Paris and Tehran is very weakened by a hunger strike that she began in late December and refuses to halt, a support committee said on Monday.
Fariba Adelkhah, who was detained in June, has been on hunger strike since December 24 in Evin prison in Tehran as she awaits her trial.
"She is very weakened and is finding it hard to keep her balance," the Paris-based support committee seeking her release said in a statement.
"Despite calls by us and pressure from the prison and judicial authorities, she has still not stopped her hunger strike."
Fellow researcher Roland Marchal, who was detained at the same time as Adelkhah, is "distraught" and dealing with health problems that are being worsened by his incarceration, the committee said.
Both were summoned for separate hearings on February 5 at the Revolutionary Court that is handling the case without their lawyers present.
The hearings were overseen by the hardline judge Abolqasem Salavati, who has presided over several controversial cases in recent years.
They are both charged with "colluding to commit acts against national security." Initial espionage charges against Adelkhah have been dropped.
"They consider they are now facing a long judicial procedure without end," the support committee said, adding that it appeared a trial should begin before Iran's New Year holidays start on March 20.
Dual national Adelkhah, an expert on Shiite Islam, and East Africa expert Marchal, a French citizen, are both researchers with Sciences Po University in Paris.
Iran is holding numerous Western citizens in prison, adding to tensions between Tehran and the West following the unilateral rejection by the US of the 2015 deal on the Iranian nuclear program.
Australian Kylie Moore-Gilbert of the University of Melbourne is serving a 10-year sentence on espionage charges and British-Iranian Nazanin Zaghari-Ratcliffe was jailed for five years.
According to rights groups outside Iran, at least 11 foreign or dual nationals are currently being held in Iranian prisons following arrest by the Revolutionary Guards or intelligence ministry.
Also jailed and serving a 10-year sentence is Iranian American businessman Siamak Namazi, who has been held since 2015.
Full report at:
https://english.alarabiya.net/en/News/middle-east/2020/02/10/French-academic-jailed-in-Iran-very-weakened-by-hunger-strike-Committee-.html
--------
Israeli jets bomb Hamas targets in Gaza: Israeli army
10 February 2020
Israeli forces attacked Hamas positions from the air early Monday, the army said, after militants in the Palestinian enclave fired a projectile at southern Israel.
The "aircraft and fighter jets targeted a number of Hamas terror targets in the southern Gaza Strip," a statement from the Israeli army said, noting a Hamas "training compound and military infrastructures" were included in the attack.
There were no reports from Gaza of casualties or damage.
On Sunday night, a projectile was launched from Gaza at southern Israel, triggering air raid sirens and sending thousands to bomb shelters.
A spokeswoman for the regional council in Shaar Hanegev, just northeast of Gaza, said the projectile apparently hit an open field.
Palestinian attacks have increased since January 28 when US President Donald Trump released his vision for resolving the Israeli-Palestinian conflict - a plan firmly rejected by the Palestinian leadership in both the West Bank and Gaza.
It would grant Israel a number of its long-held goals, including full control of disputed Jerusalem and a green light to annex all settlements and other parts of the West Bank. Experts have also warned against the move.
In exchange the Palestinians would be offered a state in the remaining parts of the West Bank and Gaza.
Palestinians in Gaza, an enclave ruled by the militant group Hamas, have launched rockets, mortar shells and balloons rigged with explosives at southern Israel on a near-daily basis since the plan was unveiled.
Full report at:
https://english.alarabiya.net/en/News/middle-east/2020/02/10/Israeli-jets-bomb-Hamas-targets-in-Gaza-Israeli-army.html
--------
Islamic Revolution turns 41: Iranians mark anniversary nationwide
11 February 2020
Millions of Iranians from all walks of life have thronged the streets across the country to celebrate the 41st anniversary of the Islamic Revolution, which toppled the US-backed Pahlavi regime in 1979.
In Tehran, large groups of people, braving freezing temperatures, are taking 12 major routes across the capital leading to the iconic Azadi (freedom) Square, which played host to many of the anti-Pahlavi protests in the run-up to the Revolution.
Press TV
✔
@PressTV
Iran celebrates 41 years after victory of Islamic Revolution against U.S.-backed Pahlavi regime https://www.pscp.tv/w/cRJGdjF6dkVOV0RMQVd5UWV8MVJER2xRWFFZV2xKTG-PUVGx15ytVHLuvhGgDZJuO-spSU141NOoHJUgzvVf …
Press TV @PressTV
Iran celebrates 41 years after victory of Islamic Revolution against U.S.-backed Pahlavi regime
pscp.tv
94
12:21 PM - Feb 11, 2020
Twitter Ads info and privacy
46 people are talking about this
President Hassan Rouhani is slated to deliver a speech to the demonstrators at the venue later in the day.
President Rouhani joins the crowd of people commemorating the anniversary of Islamic Revolution in Tehran on Feb. 11, 2020.
Iranians in other cities, towns and villages are also attending similar rallies en masse to renew their allegiance to the ideals of Imam Khomeini, the late architect of the Revolution and founder of the Islamic Republic.
Every year, the demonstrators chant slogans against the US and burn American flags to condemn the highly hostile agenda that Washington has been pursuing against the Iranian nation over the past four decades.
This year's mass rallies are especially significant as they coincide with the 40th-day memorial for Lieutenant General Qassem Soleimani, the former commander of the Quds Force of Iran's Islamic Revolution Guards Corps (IRGC), who was assassinated together with his comrades in a US drone strike in Baghdad in early January.
Full report at:
https://www.presstv.com/Detail/2020/02/11/618376/Iran-Islamic-Revolution-anniversary
--------
Israeli interrogators 'brutally tortured' Palestinian detainees: AP
10 February 2020
Interrogators with Israel's internal security agency Shin Bet brutally tortured three Palestinians whom the regime rounded up after a reported explosion, the Associated Pres reveals.
Their lawyers and relatives said the prisoners were tortured to the point of needing hospitalization, the news agency reported on Monday.
Shin Bet has identified the trio as the main suspects in an explosion that took place in the occupied West Bank last August. Tel Aviv claims the incident killed a 17-year-old Israeli female and wounded her father and brother.
One of the men was hospitalized with kidney failure and 11 broken ribs. Another was nearly unrecognizable to his wife when he was wheeled into a courtroom, and a third was stitched up after being attacked by a security dog, the news agency said.
Last September, The Times of Israel said one of the detainees had been hospitalized in "critical condition." He had been arrested earlier that month, but released due to a lack of evidence before being nabbed again, the paper wrote.
According to Israel's Ha'aretz daily, Shin Bet was given "legal permission" to employ "extraordinary measures" against the suspect.
Tel Aviv already uses the "administrative detention" which enables it to arrest Palestinians without any charge.
Several other Palestinians swept up by the Israeli agency say they were threatened, beaten, forced into painful stress positions, and denied sleep, the AP added.
The Public Committee Against Torture, an Israeli body, says more than 1,200 complaints have been filed against Shin Bet since 2001, without even one going to trial. Only one criminal investigation has been launched, over a 2017 case involving alleged rape, and it is still open.
The report revealing indications of the use of torture against the three detainees came as Palestinians in the occupied territories and the Gaza Strip are already enraged over a heavily pro-occupation plan outlined by the United States late last month.
US President Donald Trump unveiled the outlines of the plot on January 28 after withholding any details for years.
It featured annexation of the settlements that Israel has illegally built in the West Bank since occupying the Palestinian territory in 1967. The scheme also endorsed US recognition of Jerusalem al-Quds in the West Bank as Israel's "capital," although Palestinians want the holy occupied city's eastern part as the capital of their future state.
The plan, which has been rejected by all Palestinian sides as a treacherous scheme, has been inciting daily protests across the Palestinian territories ever since Trump's announcement.
Most recently, the Gaza-based Palestinian resistance movement Hamas called for the formation of a united front against the plan, hailing "our compatriots in the West Bank and Jerusalem al-Quds" for their opposition to the scheme.
Full report at:
https://www.presstv.com/Detail/2020/02/10/618322/Israel-Palestine-brutal-torture-detainees
--------
Sudan reconsidering role in Saudi war on Yemen: Minister
10 February 2020
Sudan says it is reconsidering its participation in Saudi Arabia's war on Yemen and drawing down its forces.
"Currently, there is a revision of the whole war in Yemen, even among the coalition's principal countries, and there is an opinion that military activities will not solve the problem, and will likely to compound it," Information Minister Faisal Mohamed Salih said Sunday.
Khartoum, however, would not be able to suddenly pull out of the six-year-old war and would instead be gradually reducing troops, he told an African Union summit in the Ethiopian capital Addis Ababa.
"We think that the current efforts will soon lead to a decrease in combat activities, which will be replaced by negotiations," Salih added.
Late last year, Sudan's Prime Minister Abdalla Hamdok announced that his country had cut the number of troops participating in the conflict from 15,000 to 5,000.
Earlier this month, a report revealed that a security company based in the United Arab Emirates, which is Saudi Arabia's second partner in the war, had lured thousands of Sudanese youths to the Emirates before sending them to wars in Yemen and Libya.
They were promised to work as security guards in the UAE on high salaries, but were instead sent to hostile areas.
Full report at:
https://www.presstv.com/Detail/2020/02/10/618299/Yemen-war-Sudan-Saudi-Arabia-coalition
--------
Houthis confiscate properties of 35 Yemeni lawmakers
February 11, 2020
AL-MUKALLA: The Iran-backed Houthi militia has attacked and confiscated properties of 35 Yemeni MPs who back the internationally recognized government, the head of Parliament said on Sunday.
Sultan Al-Barakani added that the Houthis have prosecuted dozens of MPs and raided their homes in Sanaa and other areas in northern Yemen.
During a meeting in Riyadh with Martin Griffiths, the UN envoy to Yemen, Al-Barakani urged him to persuade the Houthis to stop their "absurd" trials of their opponents and to return confiscated properties, the official Yemen News Agency reported.
Since seizing Sanaa in late 2014, the Houthis have put on trial in absentia many senior government officials who have challenged their rule, including President Abed Rabbo Mansour Hadi, former and current Cabinet ministers, and MPs.
After the trials, the Houthis storm the homes of the prosecuted figures, confiscate their properties and seize their bank accounts.
The Yemen News Agency said Al-Barakani submitted a file to Griffiths containing information about Houthi abuses, including attacks on MPs' homes, muzzling freedom of expression, looting humanitarian aid, confiscating newly printed bank notes and shelling densely populated areas.
Hundreds of civilians have been killed since late 2018, when the government and the Houthis signed the Stockholm Agreement, which was designed to end hostilities in Yemen's western province of Hodeida.
Yemeni Foreign Minister Mohammed Al-Hadhrami told ambassadors of five members of the UN Security Council that the Houthis have used the cease-fire in Hodeida to mobilize forces on other battlefields.
He repeated the government's threat to withdraw from the agreement if the Houthis do not stop attacking government forces and civilians.
Last month, a Houthi missile and drone attack killed more than 110 soldiers and civilians in the city of Marib.
Al-Hadhrami described the Stockholm Agreement as "useless," saying it is only encouraging the Houthis to press ahead with their military activities.
Meanwhile, government forces have recaptured mountains in the district of Nehim near Sanaa after fierce clashes with the Houthis.
Fighting also broke out in the southern city of Taiz, the northern province of Jouf and Marib's Serwah district.UN envoy to persuade Houthis to stop their "absurd" trials of their opponents and to return their confiscated properties, according to a statement carried on the official Saba news agency.
Since seizing power in late 2014, Houthis have put on trial in absentia many senior government officials who challenged their rule including the president Abed Rabbo Mansour Hadi, former and current cabinet ministers and members of parliament. After the trial, Houthi armed men storm houses of the prosecuted figures, confiscate their properties and seize their bank accounts.
Government officials have long stressed that the attacks on their houses would not deter them from opposing Houthi coup against the internationally recognized government and backing military operations by the Saudi-led coalition. The official news agency said Al-Barakani submitted a file to the UN envoy containing information about Houthi abuses including attacks on houses of members of the parliament, muzzling freedom of expression, looting humanitarian aid, confiscating newly–printed bank notes and shelling densely populated areas in Marib and Jawf.
Similarly, Yemeni Foreign Minister Mohammed Al-Hadhrami has repeated government's threat to pull out of Stockholm Agreement if the Houthis did not de-escalate their attacks on government forces or civilians gatherings across Yemen.
Al-Hadhrami told ambassadors of five members of the Security Council that the internationally –recognized government honors its commitments to the peace deal with Houthis, but it might think the other way if the Houthis did not stop attacking camps of displaced people and cities under government cities.
The minister said that the Houthis have used the cease-fire in Hodeida to mobilize forces on other battlefields. Hundreds of civilians have been killed since late 2018 when the government and Houthis signed Stockholm Agreement that was designed to end hostilities in Yemen's western province of Hodeida. The government harshly criticized the agreement last month when a Houthi missile and drone attack killed more than 110 soldiers and civilians at a military base mosque in the city of Marib. Al-Hadhrami described the deal as "useless" and only encourages Houthis to press ahead with their military activities.
Full report at:
https://www.arabnews.com/node/1626076/middle-east
--------
Africa
Egyptian President Abdel Fattah El Sisi calls for African anti-terrorism force
Hamza Hendawi
Feb 10, 2020
Egyptian President Abdel Fattah El Sisi has called for a special summit to discuss a pan-African counter-terrorism force, his latest bid to create an international coalition to fight extremists.
Mr El Sisi addressed leaders gathered for the African Union summit in Addis Ababa on Sunday, at which he also handed over the rotating one-year presidency to South African President Cyril Ramaphosa.
"Egypt is ready to host this special African summit out of its sense of responsibility and its belief in the importance of such a force in establishing peace and security in Africa," he said.
Mr El Sisi said the summit should lay down a "comprehensive vision" for counter-terrorism and establishing peace and security across the continent.
A former general who took office in 2014, he has called repeatedly for the international community to pool its resources in a fight against terrorism, arguing that single nations may not be a match for rapidly growing militant groups that could operate across borders.
Egypt has been co-operating closely with fellow Arab nations and western allies in the fight against extremist groups such as Al Qaeda and ISIS.
A pan-African force could move against such groups based in Libya, which Egypt blames for cross-border raids on security forces and its Coptic Christian minority in recent years.
It could also assist in the fight against militants in the Sahel region who have staged increasingly frequent and deadly attacks.
Egypt is dealing with a years-long insurgency by militants centred in the northern part of the Sinai Peninsula.
The insurgency has proved to be resilient despite the superior firepower and numbers of security forces, but the militants have been denied control of large amounts of territory.
Mr El Sisi, as defence minister, led the military's removal in 2013 of Mohammed Morsi, a member of the Muslim Brotherhood whose one year in office was divisive.
Morsi died in prison last year.
https://www.thenational.ae/world/africa/egyptian-president-abdel-fattah-el-sisi-calls-for-african-anti-terrorism-force-1.977259
--------
30 killed, women and children abducted in Nigeria's Borno
10 February 2020
Takfiri terrorists have killed at least 30 people and abducted women and children in a raid in Nigeria's northeastern state of Borno.
A regional government spokesman said on Monday that the attack Sunday evening was carried out in the village of Auno on a key highway to the regional capital Maiduguri.
State government spokesman Ahmad Abdurrahman Bundi confirmed in a statement that the militants stormed in on trucks mounted with heavy weapons, killing, burning and looting before kidnapping women and children.
They went for travelers who had stopped for the night and torched vehicles.
The attackers "killed not less than 30 people who are mostly motorists and destroyed 18 vehicles," Bundi said after visiting the scene.
Witnesses said militants set alight 30 vehicles in the raid.
"Many of the drivers and their assistants who were sleeping the vehicles were burnt alive," media outlets quoted civilian militia fighter, Babakura Kolo, as saying.
The attack occurred in an area where members of a faction which calls itself the West Africa Province (ISWAP) branch of the Daesh Takfiri terrorist group have been active. The faction made an alliance with Boko Haram in 2015 before separating in 2016.
Auno lies on the 120-kilometer highway linking Maiduguri to Damaturu, a major regional city in neighboring Yobe state. The highway has been increasingly targeted by ISWAP militants in recent months.
Full report at:
https://www.presstv.com/Detail/2020/02/10/618342/Nigeria-Borno-
--------
Africa holds 'Silencing the Guns' summit with focus on Libya, South Sudan
10 February 2020
Leaders from across Africa have gathered in Ethiopia for the annual African Union (AU) summit to discuss ways to end the conflicts gripping the continent, with the situation in Libya and South Sudan topping the agenda.
The 33rd summit of the union opened on Sunday in the capital Addis Ababa, with South African President Cyril Ramaphosa chairing the session.
The two-day summit is being held under the theme "Silencing the Guns: Creating conducive conditions for Africa's development."
In his opening remarks on Sunday, AU Commission Chairman Moussa Faki Mahamat raised concern over the security situation in the continent, which is suffering from "terrorism, inter-communal conflict and pre- and post-election crises."
He also stressed the conflicts unfolding in Libya and South Sudan, saying it would take more than military action to address the "root causes" of African conflicts.
Faki reiterated the AU's determination to find "African solutions to African problems."
He warned that "the persistence of terrorism threatens the collapse of some member states and must be eradicated."
This is while several leaders from the continent have already admitted that the AU failed to achieve the goal adopted in 2013 of ending "all wars in Africa by 2020."
Ramaphosa said during the Sunday session that he planned to host two summits in May on Libya and South Sudan.
"We will focus our efforts on conflict resolution across the African continent, especially those experiencing protracted conflict," said Ramaphosa.
Crisis in South Sudan
Ramaphosa met South Sudanese President Salva Kiir and rebel leader Riek Machar, separately on Saturday night, to jumpstart mediation efforts to form a power-sharing government in the country.
South Sudan, the youngest country in Africa, has been gripped by a bloody civil war since December 2013, when Kiir accused Machar, his former aide, of plotting a coup.
The two sides were then involved in a cycle of retaliatory killings that have split the impoverished country along the ethnic lines.
Machar and Kiir have already missed two previous designated dates to settle their differences and reach peace. They are now facing a February 22 deadline to form a government.
After meeting Ramaphosa, separately, the pair met face-to-face on Sunday, but they made no progress on the question of the number of regional states in South Sudan and their borders, according to South Sudanese Information Minister Michael Makuei.
UN, AU partnership on Libya of 'paramount importance'
Meanwhile, UN Secretary General Antonio Guterres said at the summit on Sunday that the world body's partnership on Libya with the AU was "of paramount importance."
The UN chief said the world body supports the African bloc in its efforts to end the crisis plaguing the North African state.
"There are a number of players and military equipment and armies in Libya that made peace between Libyans impossible. This is unacceptable; it is a violation the UN arms embargo," he said.
"Critical to (the resolution of the) Libyan crisis is to increase international cooperation with African countries. We need international cooperation with the U.N. Security Council," he urged.
The African union has constantly complained that it was sidelined by the UN over the conflict in Libya.
Since 2014, the country has been divided between two rival camps; the internationally-recognized government in Tripoli of National Accord (GNA) in the capital Tripoli and the rebel militia groups commanded by renegade General Khalifa Haftar in the eastern city of Tobruk.
Haftar's forces have launched an offensive since April to wrest control of the capital. The offensive has so far killed at least 200 civilians and displaced some 146,000 people, according to United Nations figures.
Full report at:
https://www.presstv.com/Detail/2020/02/10/618308/African-Union-summit-Libya-South-Sudan
--------
Turkey condemns terrorist attack in Nigeria
Dilara Hamit
11.02.2020
Turkey's Foreign Ministry offered condolences Monday to the families of those who were killed or injured in a terrorist attack in Nigeria's Borno state.
"We are saddened by the terrorist attack that took place in Nigeria's Borno state on Feb. 9 which claimed many lives and left several people injured," the ministry said in a statement.
The ministry condemned the heinous attack and wished Allah's mercy upon those who lost their lives and a speedy recovery to the injured.
It conveyed its condolences to both the people and government of Nigeria.
At least 30 people were killed and a dozen others injured in the attack late Sunday by suspected Boko Haram militants, including a pregnant woman and a baby.
https://www.aa.com.tr/en/africa/turkey-condemns-terrorist-attack-in-nigeria/1730173
--------
Somalia: 5 killed in separate bomb blasts
Mohammed Dhaysane
10.02.2020
MOGADISHU, Somalia
At least two government soldiers were killed and more than four wounded when a bomb blast targeted a military vehicle on the edge of the Somali capital Mogadishu on Monday, in the wake of an IED which claimed three civilians, officials said.
Mohamed Bulle, a police official in Mogadishu, told Anadolu Agency over the phone that the blast took place in Sinka Dheer, on the capital's outskirts.
"Three civilians were also wounded in the bomb blast. Police officials reached the crime scene and transported the wounded to hospitals," he said.
Earlier on Monday, at least three civilians were killed after a roadside bomb blast hit a minibus in Lower Shabelle, in the southern part of the Horn of Africa country.
Ibrahim Adan, Lower Shabelle's governor, confirmed the blast and the civilian casualties to Anadolu Agency over the phone.
No group has yet claimed responsibility for either attack, but al-Qaeda-affiliated group al-Shabaab has claimed responsibility for recent attacks in Somalia over the years.
Full report at:
https://www.aa.com.tr/en/africa/somalia-5-killed-in-separate-bomb-blasts-/1729986
--------
African Union summit: Libya cease-fire needed now
10.02.2020
ADDIS ABABA, Ethiopia
The African Union's top official for peace and security on Monday called for hostilities in Libya to halt at once.
"In Libya, we want an immediate cessation of hostilities and external interference. The arms embargo must be respected," Smail Chergui told reporters in Addis Ababa, Ethiopia after making a closed-door report to African leaders meeting at the union's 33rd ordinary summit.
The union will "deploy observers and move its mission to Tripoli," Libya's capital and the seat of its UN-recognized Government of National Accord (GNA), he said.
The parties to the conflict, he said, "should respect the cessation of hostilities as well as the UN arms embargo."
"The African Union welcomed the Berlin conference as it reflects our position, and we will work on expanding African Union and global cooperation," he added, referring to a meeting in Germany last month to find a lasting cease-fire and solution in Libya.
Finding African solutions for African problems will remain a cornerstone of resolving conflicts on the continent, he said.
Chergui also said the conflict in Libya is growing more complicated, with "sophisticated" arms being smuggled to the Sahel region from Libya.
Since the ouster of late ruler Muammar Gaddafi in 2011, two seats of power have emerged in Libya: warlord Khalifa Haftar in eastern Libya, supported mainly by Egypt and the UAE, and the Government of National Accord (GNA) in Tripoli, which enjoys UN and international recognition.
Heads of state and government have been meeting since yesterday for the African Union meeting, mostly focusing on Africa's security situation under the theme "Silencing the Guns."
Full report at:
https://www.aa.com.tr/en/africa/african-union-summit-libya-cease-fire-needed-now/1729724
--------
'Militants killing civilians with impunity in Mali'
Felıx Tıh
10.02.2020
Armed groups are killing, maiming and terrorizing communities throughout central Mali with impunity, Human Rights Watch said in a report on Monday.
The rights watchdog said many villagers have been burned alive "while others were blown up by explosive devices".
It urged the Malian authorities to urgently open an investigation and prosecute those responsible.
The report is based on witness accounts from dozens of attacks by armed groups in 2019, during which at least 456 civilians were reportedly killed, and hundreds wounded, according to the rights watchdog.
"Armed groups are killing, maiming and terrorizing communities throughout central Mali with no apparent fear of being held to account," said Corinne Dufka, West Africa director at Human Rights Watch and author of the report.
"The human toll in shattered lives is mounting as the deadly cycles of violence and revenge continue.
"The Malian government's failure to punish armed groups on all sides is emboldening them to commit further atrocities.
"The government, with the help of its international partners, needs to do much more to prosecute those responsible for crimes and dismantle abusive armed groups," Dufka said.
Tensions erupted in Mali in 2012 following a failed coup and a Tuareg rebellion that ultimately allowed al-Qaeda-linked militant groups to take over the northern half of the country.
In 2015, a peace deal was signed between the government and some insurgent groups.
Political and community disputes continue to fuel tensions in northern Mali, thus undermining the implementation of the peace agreement.
The UN Office for West Africa and the Sahel (UNOWAS) said recently that the Sahel region was in the midst of a devastating surge in terrorist attacks against civilian and military targets.
Full report at:
https://www.aa.com.tr/en/africa/militants-killing-civilians-with-impunity-in-mali/1729582
--------
S. Sudan leader gets 5 days to decide on state borders
Addis Getachew
10.02.2020
ADDIS ABABA, Ethiopia
South Sudan's President Salva Kiir Mayardit on Sunday received a five-day deadline from a leading East Africa nation bloc to decide on state boundaries in the country.
The number and boundaries of regional states have been a major sticking point in the long drawn out disagreement between South Sudan government and opposition forces on forming a transitional government of national unity.
With a looming deadline to form a transitional government by Feb. 22, Kiir asked the Intergovernmental Authority on Development (IGAD) leaders for some time for consultations with his constituents on the matter.
The IGAD leaders met on the sidelines of the ongoing African Union Summit in the Ethiopian capital, Addis Ababa.
Sudanese Prime Minister Abdalla Hamdock presided over the tripartite meeting with Kiir, his main rival Riek Machar and the IGAD secretariat.
Earlier, IGAD foreign ministers proposed that the transitional government of national unity -- to be formed soon in line with a 2018 Addis Ababa agreement -- encompass 27 federal regional states, five less from what Kiir would like to have.
The proposal for 27 federal regional states in South Sudan was initially met with stiff opposition from Kiir and Ugandan President Yoweri Museveni.
The communique the IGAD leaders issued on Monday said that Kiir will "report back to the IGAD Chair on the 15th of February 2020".
Full report at:
https://www.aa.com.tr/en/africa/s-sudan-leader-gets-5-days-to-decide-on-state-borders/1729414
--------
North America
Trump's new plan for Mideast only serves Israel's interests: Analyst
10 February 2020
US President Donald Trump's so-called peace plan for the Middle East that was unveiled last month is an "annexation scheme" that only serves Israel's interests and offers nothing for Palestinians, says an author and political commentator in Chicago.
The so-called Trump peace plan, which Zionists describe as the "deal of the century", was announced by the US president on January 28. It is a brainchild of Trump's son-in-law and advisor Jared Kushner and other key pro-Israeli figures in the US.
The deal "was designed by Israel; it was accepted by the Trump regime; it has everything that complies with Israel's wish list; it has nothing for Palestinians but continued occupation under a new name," Stephen Lendman told Press TV on Monday.
"They can call it by any name they wish, but the plan has nothing to do with peace; nothing to do with creating a Palestinian state," Lendman said.
"It's an annexation plan; it's against peace; the last thing the US and Israel want in the occupied territories and the region is peace," he added. "It's dead before arrival."
The controversial plan, which has been rejected by Palestinian leaders, has prompted much anger and protest across Palestine, with Israeli soldiers being attacked on numerous occasions.
Palestinian leaders say the deal is a colonial plan to unilaterally control historic Palestine in its entirety and remove Palestinians from their homeland, adding that it heavily favors Israel and would deny them a viable independent state.
The plan recognizes Jerusalem al-Quds as "Israel's undivided capital" and allows the regime to annex settlements in the occupied West Bank and the Jordan Valley, among other controversial terms.
It also amounts to violation of the fundamental rights of the Palestinians by disregarding UN resolutions and international law.
https://www.presstv.com/Detail/2020/02/10/618363/US-Trump-deal-of-the-century-Israel-Stephen-Lendman
--------
Over 100 US forces diagnosed with brain injuries from Iran strikes: US officials
10 February 2020
The US military is reportedly planning to announce a more than 50-percent rise in the number of cases of traumatic brain injury (TBI) among its soldiers following Iran's retaliatory strikes on an American military base in Iraq last month.
The officials, who spoke on condition of anonymity ahead of the announcement, told Reuters on Monday that there were over 100 cases of TBI after the attacks, up from the 64 previously reported last month.
The Pentagon had stated weeks after the strikes that the numbers were expected to increase because the TBI symptoms could take time to manifest.
On January 8, Iran's Islamic Revolution Guards Corps (IRGC) fired volleys of ballistic missiles at the Ain al-Assad airbase in the western Iraqi province of Anbar.
The missile operation was in response to the January 3 assassination by US terrorists of Lieutenant General Qassem Soleimani, commander of the IRGC's Quds Force, and Abu Mahdi al-Muhandis, the second-in-command of Iraq's Popular Mobilization Units (PMU), and a group of their companions in Baghdad. The cowardly operation was conducted under US President Donald Trump's direction and the US Department of Defense took full responsibility for the assassination.
Both commanders enjoyed deep reverence among Muslim nations over their endeavors in eliminating the US-sponsored Daesh Takfiri terrorist group in the region, particularly in Iraq and Syria.
At the White House, Trump adamantly denied the Iranian missiles left any casualties. But Tehran said the US military conducted at least nine sorties after the operation, taking the wounded to Jordan and the Israeli-occupied territories, while Chinook helicopters transferred the injured to a US hospital in Baghdad.
Out of despair and under pressure from Congress, the Trump administration has gradually announced casualties from the Iranian attack, most recently claiming that 64 US troops have been diagnosed with traumatic brain injuries.
About 408,000 service members have been diagnosed with the injury since the year 2000, according to Pentagon data.
Full report at:
https://www.presstv.com/Detail/2020/02/10/618358/US-military-traumatic-brain-injury-Ain-al-Assad-base
--------
Nigerians outraged over US immigration ban
Olarewaju Kola
11.02.2020
MAIDUGURI, Nigeria
Condemnation and outrage reverberated in most parts of Nigeria after the U.S. President Donald Trump signed a proclamation that suspended issuance of immigrant visa to Nigerians and nationals of several other countries.
In a statement issued Jan. 31, the White House said: "President Donald J Trump has issued a proclamation maintaining entry restrictions on certain nationals of Iran, Libya, North Korea, Syria, Venezuela, Yemen, and Somalia ."
The proclamation also suspended overseas issuance of immigrant visas for certain nationals of Myanmar, Eritrea and Kyrgyzstan and Nigeria.
"It is unfair. It's condemnable and unwarranted," Collins Agada, a college graduate in Nigeria's capital, Abuja told Anadolu Agency.
Collins, 30, said his plan to join his brother in the U.S. later in the year has been ruined by the new restriction order.
"I'm angry, frustrated! My hope dashed. I have been preparing for my visa. What should I do now?" he asked. He said he sold his electronics, computers and laptop to raise money for the U.S. visa process.
The U.S. government said it slammed immigrant visa ban on Nigeria for failure to "provide information necessary to comply with basic national security requirements—including sharing terrorist, criminal, or other identity information."
Over a dozen young men gathered at a newspapers' stand in the northeast Maiduguri city early Friday morning, debating the new U.S. ban on Nigerians. While some blamed the Nigerian government for the security lapses in the country, others criticized Trump's relations with African nations.
"It is anti-Muslim," Salihu Mohammed, 27, said.
"Not so at all!," another interjected as tension rose between them.
"Our government should be blamed," said 28-year-old Mamman Musa. The cacophonous voice coming from the scene drew more attention and interest from other locals nearby.
Single largest African immigrants
Nigerians account for the single largest African immigrants in the U.S. with a population of about 400,000 people, according to the 2016 American Community Survey.
Hundreds of young Nigerians are regularly seen at the U.S. visa departments in Nigeria's commercial hub Lagos or the capital Abuja, seeking U.S. visa.
Samson Nwagwu of the Say No Campaign -- an anti-corruption campaign initiative in the country -- attributed the increasing urge of Nigerian youths to migrate to the U.S. to limited opportunity, poor economy, unemployment, and poor governance fueled by corruption.
"More people are now desperate to seek residency in the U.S. and other western nations due to unemployment, systemic failure, incessant conflicts, and poor governance caused by corruption in the system," he said.
Olabosun Awoniyi, a young entrepreneur based in Lagos, said the ban would break family ties. He cited cases of some Nigerians seeking to join other members of their families already residing in the U.S.
"The ban could affect relationship between Americans and Nigerians," he argued. He said it would also affect ties between the U.S. and Nigeria.
But some Nigerians think otherwise.
Damian Okeke-Ogene, president of Ohaneze Ndigbo, a social cultural group in the country's southeastern states, want Nigerian president to find an "urgent solutions to some of the U.S. concerns."
He said the visa restriction only validated some of the challenges in the country. "We shouldn't blame the U.S. government. We should tackle our problems," he said.
'Productive relations'
President Muhammadu Buhari, however, said Nigeria is committed to fix security challenges.
"Nigeria will remain committed to maintaining productive relations with the U.S. and its international allies, especially on global security," Buhari's spokesman Femi Adesina said in a statement.
Adesina said Buhari has formed a committee, headed by the interior minister, to "study and address the updated U.S. requirements." He said the committee will work with the U.S. government, Interpol and other stakeholders to ensure the new requirement are implemented.
The visa restriction would not include tourists, students and business class, Adesina explained.
Last week, Nigeria had announced reduction in its visa application fee for visiting Americans from $180 to $160 to further strengthen its relations with the U.S.
A Nigerian delegation led by Foreign Minister Geoffrey Onyema also held discussions last week with the U.S. officials in Washington on the restriction order.
U.S. State Secretary Mike Pompeo said the discussion was centered on economic and security ties between the two countries.
Full report at:
https://www.aa.com.tr/en/africa/nigerians-outraged-over-us-immigration-ban/1730316
--------
Libya's Haftar sued in US for alleged war crimes
Servet Gunerigok
11.02.2020
WASHINGTON
Six Libyan families sued Libyan renegade commander Khalifa Haftar and the United Arab Emirates government in a federal U.S. court Monday for their alleged roles in committing war crimes in Libya.
In a lawsuit filed in the Federal District Court of the District of Columbia, the families -- whose relatives were murdered, injured or faced attempted killings -- are seeking $1 billion in damages, according to a news release by the plaintiffs' attorneys, Martin F. McMahon & Associates.
"By filing the lawsuit in Washington, the plaintiffs will bring to light the serious human rights abuses, extrajudicial killings and torture which the defendants have engaged in with absolute impunity and without fear of accountability," said the release. Haftar is "not just a war criminal, but also a U.S. citizen with assets and family members" in the U.S. and "he can and will be held accountable for his illegal and barbaric acts," said McMahon in the release.
Forces loyal to Haftar launched a campaign in early April last year to topple the Tripoli-based Libyan government recognized by the UN.
Clashes between the two sides since then have left more than 1,000 people dead and about 5,500 wounded, according to the World Health Organization.
Libya has remained beset by turmoil since 2011, when long-time ruler Muammar Gaddafi was ousted and killed in a bloody NATO-backed uprising after four decades in power.
Full report at:
https://www.aa.com.tr/en/africa/libyas-haftar-sued-in-us-for-alleged-war-crimes/1730177
--------
Europe
UNHCR in Lebanon under fire for not addressing Syrian refugees demands
10 February 2020
The UN Commissioner for refugees is failing Syrian refugees in Lebanon, according to civil society organizations in the country, amid growing protests over their poor treatment.
Nearly 1.5 million Syrian refugees are currently living in Lebanon, 916,000 of whom are registered with the United Nations High Commissioner for Refugees (UNHCR).
Refugees accuse the UN body of mistreatment, failing to provide medical care, injustice in distributing aid and failing to provide protection in their protests in front of the commissioner's offices.
One activist reported that a UNHCR official told a 16-year-old to work to feed her family after her mother asked for aid because her husband, the family's breadwinner, could not join her in Lebanon.
Twenty-five civil society organizations have issued "recommendations" for the UNHCR, requesting that it "develops a practical plan to provide refugees with legal protection and improve their living conditions."
Mohammad Hasan, founder and director of Access Center for Human Rights, said: "Lebanon's political leaders are threatening [refugees] with forced deportations and random arrests, and the new government is one aligned with the Syrian regime. So we are very concerned about the status of Syrian refugees in Lebanon."
Following nearly four months of Lebanese protests, a new government headed by Prime Minister Hassan Diab was appointed in mid-January.
Forced deportations
"Many Syrians [in Lebanon] live in extremely dire and vulnerable conditions," stated a field report by Sahar Atrache, a senior advocate for the Middle East at Refugees International, published last month.
In 2019, the Lebanese Higher Defense Council announced that refugees who entered Lebanon illegally after April 24, 2019, would be deported. As a result, more than 2,700 Syrians were deported by Lebanon's General Security Organization between May 21 and August 29, 2019, without being referred to a judge.
Human rights institutions and civil society organizations argue that there are no means of knowing when a refugee entered Lebanon, making the process of deportation a random one.
"There are people that have received death threats, people who defected from the Syrian regime, people who have problems with political parties here in Lebanon, these people are not protected [from deportation] although they are registered by the UNHCR under the protection cases," said Syrian activist Nawar Baksarawi.
Often, refugees, especially males, have limited their movement drastically for fear of random identity checks, arrest or deportation by security forces, according to the field report by Atrache.
The UNHCR says it is "engaging with all concerned institutions" regarding the deportations "to ensure that people are able to express any concern they may have with regards to returning to their country of origin, and for their case to be duly assessed through an independent judicial review before a decision of deportation is taken," the UNHCR's Senior Strategic Communication and Advocacy Officer Omer Elnaiem said.
Civil society organizations say the UNHCR's response is not enough.
"The UNHCR bears the responsibility of protecting Syrian refugees in Lebanon, and when such huge violations are happening and going unnoticed without the least form of defense such as a condemnation, the UNHCR should be held accountable," Hasan whose center organized the signing of the recommendations, told Al Arabiya English.
'We just want justice in aid distribution'
The UNHCR's system of providing aid to the refugees is through a red card, and those who qualify for aid can withdraw $170 every month. Through an annual re-evaluation of the refugees' situation, the commissioner distributes aid among those who need it.
"While we are working hard to further expand assistance, we remain severely constrained by funding limitations. This is forcing us and other humanitarian agencies to prioritize the most vulnerable refugees," said Mireille Girard, UNHCR's Representative in Lebanon, in a statement issued regarding the protests.
The UNHCR has received 50 percent of the funding it has requested through the Lebanon Crisis Response Plan, an inter-agency humanitarian effort, according to a UNCHR statement.
However, the Syrian protesters blame the UNHCR for "inefficiency in reevaluating the conditions of the refugees." Some who have the red card and have left Lebanon have given the aid card to others who may not need it.
"I personally know people who went back to Syria or traveled elsewhere like Sweden and still receive aid because the UNHCR hasn't tracked their cases," Baksarawi, who is one of the organizers of the protests in front of the commissioner's offices said.
In other cases, the Syrian refugees complain about not being "qualified" for aid.
"Some people are living in tents in the camp and they still don't qualify for aid. We demand transparency in the criterion of people who 'deserve' aid and we want to know what they base their decisions on," Baksarawi added. "We just want justice in distribution."
https://english.alarabiya.net/en/features/2020/02/10/UNHCR-in-Lebanon-under-fire-for-not-addressing-Syrian-refugees-demands.html
--------
Turkish forces 'neutralise' 101 Syrian troops in retaliation
Feb 10, 2020
Turkish troops "neutralised" 101 Syrian soldiers, Ankara said, in retaliation for the regime killing at least five Turkish soldiers and wounding five more in an attack in Idlib province on Monday.
The ministry said its artillery immediately responded to the attack in the Taftanaz area, where its forces were posted to stem advances by Syrian government forces.
It said three tanks and two cannon were destroyed and a Syrian government helicopter hit.
The exchange came a week after seven Turkish soldiers and a civilian were killed in Idlib, prompting Ankara to send more troops and heavy weaponry into the last contested area of Syria after nine years of civil war.
The latest incident took place as Turkish and Russian officials held a second round of talks in Ankara to discuss the fighting in Idlib, which has uprooted almost 600,000 civilians in the past two months. No statement was issued at the end of the meetings.
Turkey supports some of the armed opposition groups in Idlib, while Russia provides military backing to President Bashar Al Assad's forces.
The two countries reached a deal for a ceasefire in 2018 under which Turkey set up military observer outposts in the rebel-held province.
Ankara has sent hundreds of tanks, armoured personnel carriers and commandos across the border in response to the siege of some of its outposts by Mr Al Assad's advancing forces.
The build-up over the weekend included field guns, rocket launchers, ambulances and lorries loaded with munitions, the Turkish state-run Anadolu agency reported on Monday.
Syria's government is using its military and that of ts allies to try to defeat former Al Qaeda affiliates and Ankara-backed rebels in Idlib and adjacent areas of Aleppo, Hama and Latakia provinces.
Turkish President Recep Tayyip Erdogan last week threatened to use force to break the siege of the outposts unless Syrian forces withdraw before the end of February.
At least three of the 12 outposts were confirmed to be cut off by Syrian forces.
Turkish Defence Minister Hulusi Akar has said that plans are in place in case Syria refuses to comply.
"We on every occasion say 'Do not force us, otherwise our Plan B and Plan C are ready'," he told the Hurriyet newspaper in an interview on Sunday.
"We're trying to reach a ceasefire and stop the bloodshed."
The escalation between Ankara and Damascus came as intense bombardment by the regime killed 29 civilians in less than 24 hours.
The Syrian Observatory for Human Rights, a UK-based war monitor, said six children were among nine civilians killed early on Monday in raids on the village of Abin Semaan in Aleppo,
Full report at:
https://www.thenational.ae/world/mena/turkish-forces-neutralise-101-syrian-troops-in-retaliation-1.977121
--------
Issa calls for lessons of Srebrenica to be learnt
February 10, 2020
SREBRENICA: Dr. Mohammed bin Abdul Karim Al-Issa, secretary-general of the Muslim World League (MWL) and president of the Association of Muslim Scholars, led a delegation of Muslim scholars and other religious leaders to the town of Srebrenica, the site of a massacre in Bosnia and Herzegovina, where Muslims were subjected to a genocide in the 1990s.
Al-Issa stressed that all members of the delegation condemned the dreadful crimes that took place in the town.
"The Srebrenica Museum should be a center radiating peace, where one can learn from the past. The women who lost their husbands and children in that massacre told me that they've known great sorrow, but they do not bear hatred," he said.
"We are certain that this duty of solidarity, which gathered leading Muslim scholars, thinkers and academics with many other religious leaders to visit the massacre sites in Bosnia, Herzegovina and Poland, reflects a form of brotherhood and a just attitude towards these horrific crimes," he added.
Full report at:
https://www.arabnews.com/node/1625866/saudi-arabia
--------
Greece aims to send 200 migrants a week back to Turkey
Ayhan Mehmet
11.02.2020
ATHENS
Greece announced Monday that it will begin building closed camps for migrants on its Aegean islands in March and is aiming to send 200 rejected asylum seekers back to Turkey each week.
Migration Minister Notis Mitarachi said the camps will be able to host up to 20,000 migrants for three months at a time.
Mitarachi told Greek radio station Skai that the camps would be ready by the summer and construction will begin on five islands in the eastern Aegean Sea -- Lesbos, Chios, Samos, Kos and Leros.
He noted that the entry and exit of migrants will be limited in the camps and they will be allowed to go out during the day depending on certain rules, while the camps will be closed at night.
Mitarachi said Turkey has fully cooperated with the return of migrants.
The UN High Commissioner for Refugees (UNHCR) put the number of migrants entering Greece in 2019 at 74,613.
In 2019, Turkish authorities held nearly 455,000 irregular migrants across the country, including about 60,000 trying to cross the Mediterranean.
Full report at:
https://www.aa.com.tr/en/europe/greece-aims-to-send-200-migrants-a-week-back-to-turkey/1730179
--------
Turkey to fight until all terrorists cleared: FM
Kayhan Gul and Talha Ozturk
11.02.2020
BELGRADE, Serbia
Turkey will continue its fight until it clears out all terrorists wherever they are, just as it has done domestically, Foreign Minister Mevlut Cavusoglu said Monday.
Cavusoglu's made the remarks after arriving in Montenegro's capital Podgorica for a two-day official visit.
"We had five martyrs today. I wish mercy from Allah to our martyrs and urgent healing to our wounded soldiers. We will continue our fight until we clean out all the terrorists, no matter where they are," he said.
At least five Turkish troops were martyred and five wounded in an attack earlier in the day by forces of the Bashar al-Assad regime in Idlib, northwestern Syria.
Rifat Fejzic, president of the Islamic Union of Montenegro, emphasized Turkey's determination to root out terrorism.
"Turkey is about to get rid of the scourge of terrorism. In the past, these terrorists were in Turkey, but now they are nearly extinct. Turkey not only clears out the scourge of terrorism inside but also outside its territory. May Allah help them," said Fejzic.
He noted that Turkey is a very important country for Montenegro for the Muslims in the Balkans.
"We have a common history and religion. We are also very happy because of the very good relations between Turkey and Montenegro," said Fejzic.
He also wished God's mercy on the Turkish soldiers who were martyred in today's attack.
Meanwhile, a prayer was recited for the martyrs at the historical Nizam Mosque in the city of Tuzi during Cavusoglu's visit.
The Turkish troops are in Idlib as part of an anti-terror and peace mission.
Idlib has been a stronghold of the opposition and anti-government armed groups since the outbreak of the Syrian civil war in 2011.
In September 2018, Turkey and Russia agreed to turn Idlib into a de-escalation zone in which acts of aggression are expressly prohibited.
Full report at:
https://www.aa.com.tr/en/europe/turkey-to-fight-until-all-terrorists-cleared-fm/1730172
--------
Germany condemns Syrian regime attacks in Idlib
Ayhan Simsek
10.02.2020
BERLIN
Germany on Monday strongly condemned the Syrian regime for its aerial bombardments and ground attacks in Idlib, a northwestern province under a nominal cease-fire.
Speaking at a news conference in Berlin, German Foreign Ministry deputy spokesman Rainer Breul expressed grave concerns over the escalating situation in the region.
"We condemn in the strongest possible terms the regime's military offensive, and call for an immediate cease-fire," he said.
Breul urged all conflicting parties to contribute to de-escalation, and expressed hope that recent talks between Turkey and Russia could help ease the conflict.
He underlined Russia's special responsibility as one of the main supporters of the Assad regime.
The regime's recent military offensive on Idlib has led to fears of a humanitarian crisis and another refugee influx towards Turkey and Europe.
Located in northwestern Syria, the province has been a stronghold of the opposition and anti-regime armed groups since the start of the civil war in 2011.
It is currently home to some 4 million civilians, including hundreds of thousands displaced in recent years by regime forces across the country.
On Monday, at least five Turkish soldiers were martyred and several injured in an attack by Assad regime forces on troops stationed in Idlib to monitor a cease-fire and fight terrorist groups.
Ankara said it launched immediate retaliation, hitting regime targets.
Berlin's statement came before the Assad regime attack.
Turkey and Russia agreed in September 2018 to turn Idlib into a de-escalation zone where acts of aggression are expressly prohibited.
But more than 1,800 civilians have been killed in attacks by regime and Russian forces since then, flouting both the 2018 cease-fire and a new one that started on Jan. 12.
Almost 1.5 million Syrians have moved near the Turkish border due to intense attacks in recent months.
Full report at:
https://www.aa.com.tr/en/europe/germany-condemns-syrian-regime-attacks-in-idlib-/1729975
--------
Ex-UK minister lobbied Bahrain for suspect oil company
Karim El-Bar
10.02.2020
LONDON
A former British international trade secretary lobbied the royal family of Bahrain to award a $5 billion contract to a British firm under investigation for bribery whose owner is a key donor to the U.K.'s ruling party, reported The Guardian daily on Monday.
Liam Fox, a Conservative Party MP and former government minister, was lobbying on behalf of Petrofac, an oil and gas infrastructure company.
Petrofac's co-owner and chief executive Ayman Asfari, and his wife donated £800,000 (over $1.03 million) to the Conservatives in 2009-2017 in their names, and not the company's.
Fox lobbied Bahrain four months after the U.K.'s Serious Fraud Office announced its investigation into the corruption at the firm. Asfari was arrested and interviewed as part of the investigation. Former company executive David Lufkin pled guilty to 11 counts of bribery and is currently awaiting sentencing.
The investigation is still ongoing. Bahrain ultimately awarded the contract to another company.
A spokesperson for the Department for International Trade defended the government's actions, but side-stepped questions over conflicts of interest: "The government supports British business at home and abroad, including backing companies when they bid for international opportunities. This was the case for Petrofac. The then-trade secretary followed the correct processes, carried out with due propriety throughout."
Full report at:
https://www.aa.com.tr/en/economy/ex-uk-minister-lobbied-bahrain-for-suspect-oil-company/1729842
--------
Turkish foreign minister to visit Montenegro on Tuesday
Sibel Morrow
10.02.2020
Turkey's Foreign Minister Mevlut Cavusoglu will pay an official visit to Montenegro on Tuesday, according to the country's Foreign Ministry.
"During the visit, all aspects of our bilateral relations as well as opportunities for further enhancement of cooperation between Turkey and Montenegro will be elaborated on and views on EU accession processes of both candidate countries, regional and international issues will be exchanged," the ministry said in a statement on Monday.
Turkey, which supports Montenegro's membership in the EU and NATO, was one of the first countries to recognize its independence in accordance with the importance it attaches to the peace and stability in the region.
Turkey considers Montenegro a friendly country, and the two states have a good bilateral relationship in terms of trade and cultural ties.
Full report at:
https://www.aa.com.tr/en/europe/turkish-foreign-minister-to-visit-montenegro-on-tuesday/1729263
--------
Extremist convicted of terror plot after sting operation
Paul Peachey
Feb 10, 2020
An extremist who boasted of tricking a jury into acquitting him of a samurai sword attack on police outside Buckingham Palace has been convicted of plotting a terrorist strike against London targets.
Mohiussunnath Chowdhury was found to have posted extremist messages online just six days after being cleared of the terrorist attack outside the palace in August 2017, when he cut two officers with a 100-centimetre sword.
British police feared that Chowdhury posed such a threat after his acquittal that four undercover officers spent five months winning the trust of the 28-year-old until he detailed his deadly plans.
He talked about using guns, knives or even a van as a weapon – a tactic used by other terrorists including in 2017 when three attackers mowed down pedestrians on London Bridge before random knife attacks.
The three were shot dead by police.
The undercover officers discovered that the former Uber driver was driven by a desire to die for his extremist ideology.
Chowdhury, who worked in a chicken shop, confided his plans to kill members of the public on an open-top bus tour, at waxwork museum Madame Tussauds or the Gay Pride parade in the city.
He obtained a replica gun and tried to persuade one of the undercover officers, who he thought was preparing his own terrorist attack, to get him a real firearm.
At his trial over the samurai sword attack, he claimed he had not intended to kill anyone but wanted police to shoot him because he was depressed about the war in Yemen.
But he told a different story to the undercover officers after his acquittal, saying that he wanted to kill soldiers.
"I'm doing another attack, bruv. I'm serious bro, it's about time now," he said in a secretly recorded conversation.
He was proud of having deceived a jury into thinking he was not an extremist, including by shaving off his beard for the second of two trials into the sword attack. The first jury had not been able to reach a verdict.
Chowdhury practised knife attacks and with his sister Sneha rehearsed how he would behead people.
Sneha Chowdhury, 25, who gave evidence against him at the trial over the samurai sword attack, was also convicted of failing to alert police that her brother was preparing a terrorist attack.
He was arrested more than seven months after he was released from detention. and three days before the Gay Pride parade in London.
During initial interviews with detectives, he appeared happy to talk and police believed he was stalling for time until his "accomplice" launched his own terrorist attack.
But on the day of the parade, when police told him that the would-be terrorist was an undercover officer, Chowdhury declined to answer further questions.
In a search of his home, detectives found a list on the back of his bedroom door detailing his plans for paradise after achieving "martyrdom". They included choosing wives and a palace.
The case has raised further questions about the effectiveness of the criminal justice system to keep people safe from the most dangerous extremists.
It emerged that while awaiting trial at a top-security prison for the sword attack, he drew a sketch of an extremist in a suicide vest shooting a police officer outside 10 Downing Street, home of the British Prime Minister.
The UK government is urgently trying to create new legislation after two attacks by men soon after they were released from prison for terrorism offences.
Full report at:
https://www.thenational.ae/world/europe/extremist-convicted-of-terror-plot-after-sting-operation-1.977333
--------
Arab World
Clashes erupt between protesters, Lebanese security forces in downtown Beirut
11 February 2020
Clashes erupted between protesters and Lebanese security forces when demonstrators attempted Tuesday morning to break through the cement barriers placed by the government around the Parliament.
Security forces fired tear gas and water canons at the stone-throwing protesters, who were seeking to prevent MPs and government officials from reaching the parliament for a vote of confidence in the new cabinet of Prime Minister Hassan Diab.
The government erected concrete barriers in downtown Beirut to try and contain the protesters, which had previously taken over parts of the city center as their own.
Government officials reportedly spent the night in the surrounding area overnight Monday to avoid any delays in reaching the parliament due to protests, according to an Al Arabiya correspondent.
During the clashes, the Lebanese army tweeted that riots and violations of public and private properties are damaging the protesters' demands.
Full report at:
https://english.alarabiya.net/en/News/middle-east/2020/02/11/Protesters-attempt-to-break-through-barriers-in-Lebanon-s-downtown-Beirut.html
--------
Iraqi protester killed after security guards open fire at university sit-in
10 February 2020
One protester was killed on Monday in Iraq's southern city of Nasiriyah after university security guards opened fire on demonstrators trying to block the campus entrance, medical sources told AFP.
Desperate to keep up their anti-government movement, which appears to be fading after more than four months, a group of protesters had briefly shut down several campuses in the city.
More than 540 Iraqis have been killed in protest-related violence since the rallies erupted, according to a recent toll by the Iraqi Human Rights Commission.
Last week, Iraq's interior minister ordered reinforcements to deploy at schools, universities and public offices to ensure they re-open in full after prolonged sit-ins by protesters.
Their rallies demanding the ouster of the entire governing class broke out in October and have mainly relied on civil disobedience tactics to put pressure on authorities, which have however resisted any profound reforms.
As schools and roads reopen, the numbers in protest squares across the country have dwindled but students have sought to maintain momentum with regular marches.
They have opposed the nomination of Mohammad Allawi as Iraq's new premier, slamming the two-time communications minister as too close to the political elite they have been demonstrating against for months.
Full report at:
https://english.alarabiya.net/en/News/middle-east/2020/02/10/Iraqi-protester-killed-after-security-guards-open-fire-at-university-sit-in.html
--------
Five Turkish soldiers killed in Syria's Idlib: Ministry of Defense
10 February 2020
Syrian government forces killed five Turkish soldiers and wounded five more on Monday in an attack on a Turkish military post in the Taftanaz area of northwest Syria, broadcaster NTV cited the Turkish Defense Ministry as saying.
Ankara has sent major reinforcements to Syria's Idlib region where the attack occurred, as Ankara tries to stem rapid advances by Syrian government forces. Turkish officials told Reuters Turkish forces were retaliating after the latest strike.
The Syrian government offensive in Idlib, the last major enclave of opposition to President Bashar al-Assad, has driven more than half a million people from their homes towards the closed Turkish border, threatening a new humanitarian crisis.
An opposition forces source said Syrian government forces had shelled the military base at Taftanaz, and witnesses said Turkish helicopters flew into northwest Syria to evacuate the wounded.
Full report at:
https://english.alarabiya.net/en/News/middle-east/2020/02/10/Five-Turkish-soldiers-killed-in-Syria-s-Idlib-Ministry-of-Defense.html
--------
Five civilians killed in Russian air strikes in Syria: Monitor
10 February 2020
Russian air strikes Monday killed at least five civilians in the last major opposition bastion in northwestern Syria bringing the death toll to 25 in less than 24 hours, a monitor said.
The early morning raids hit a populous village in Aleppo province where battles between Russia-backed regime forces and their opponents have raged for weeks, said the Syrian Observatory for Human Rights.
The victims include at least one child and a number of internally displaced Syrians, the Britain-based monitor said.
It follows a night of heavy bombardment by Russia and the regime that left at least 20 civilians dead in the neighboring provinces of Idlib and Aleppo, according to the Observatory.
Since December, Syrian government forces backed by Moscow have pressed a blistering assault against the Idlib region in the country's northwest and recaptured town after town.
The Idlib region, including slivers of neighboring Aleppo and Latakia provinces, is the last major opposition bastion and dominated by opposition forces and extremists.
The violence has killed more than 300 civilians and sent some 586,000 fleeing towards relative safety near the Turkish border.
Some three million people, half of them already displaced by Syria's devastating war, live in the opposition bastion.
Some 50,000 fighters are also in the shrinking pocket, many of them extremists but the majority allied rebels, according to the Observatory.
On Sunday raids by regime ally Russia left 14 people dead, including nine in the village of Kar Nuran in southwestern Aleppo province, the monitor said.
Syrian air raids with crude barrel bombs also killed four civilians in the Atareb district east of Aleppo, while another died in artillery fire near the city of Jisr Al-Shughur and one in Ketian village in southern Idlib.
Regime and Russian forces have intensified their attacks on Aleppo in recent days as government forces close in on a two-kilometer section of the M5 highway that remains outside of their control.
Full report at:
https://english.alarabiya.net/en/News/middle-east/2020/02/10/Five-civilians-killed-in-Russian-air-strikes-in-Syria-Monitor-.html
--------
Turkey says 5 soldiers killed as Syrian army advances in Idlib
10 February 2020
Five Turkish soldiers have been killed in an attack by advancing Syrian government forces against a Turkish military post in northwest Syria, Turkey's Defense Ministry says.
According to a statement by Turkey's Ministry of National Defense on Monday, the attack on the base in the Taftanaz area in the volatile Idlib province also wounded five Turkish soldiers.
Taftanaz is situated some 17 kilometers northeast of the eponymous provincial capital.
Reuters quoted an unnamed source from a Turkish-backed militant group as saying that the Syrian army troops had shelled the Turkish base. It also cited some witnesses that Turkish choppers flew into the area to evacuate the wounded.
Last week, seven more Turkish troopers were killed in Idlib after their position came under shelling from Syrian government forces.
The Syrian army, backed by Russian air cover, has already regained almost all territories once controlled by terrorists, except portions of Aleppo and large swaths of Idlib, the last stronghold of Takfiri militants.
Turkey claims 115 Syrian govt. targets hit, 101 destroyed
Later on Monday, Ankara claimed that its forces have hit 115 Syrian government targets and destroyed 101 of them in retaliation for the attack on Turkish soldiers in Syria's militant-held northwest.
Issuing a statement, Turkey's Defense Ministry said its forces will continue to retaliate any attacks on its troops, who are manning observation posts in the far northwest of Syria.
"Up to now, 115 (Syrian) … targets were immediately fired upon, and 101 … elements were neutralized according to initial information from various sources," the ministry added.
The statement then said, "It was found that three tanks and two mortar positions were destroyed, while one helicopter was also hit."
In August last year, Syrian troops commenced an ongoing full-scale offensive to flush terrorists out of these two regions and so far have made significant advances. The Syrian army says it is resolute to crush militants in these two regions and pave the way for the safe return of the displaced to their homes.
However, Turkey, which supports some militant groups in Idlib, has recently boosted its military presence in the flashpoint province to impede increasing advances by the Syrian army troops.
An unnamed militant commander told Reuters that militants had launched an attack against the Syrian army troops near the recently-liberated Saraqib city with the help of Turkish military earlier on Monday. The news agency also cited witnesses as saying that Turkish troops had shelled Syrian military positions in the region.
Turkey, which currently hosts some 3.6 million Syrian refugees, claims that the Syrian government's operation in Idlib will send more refugees to the Anatolian country and that it cannot absorb any more.
Ankara has also called on Damascus to pull back in Idlib by the end of the month or face Turkish action.
Over the past four years, the Turkish military has staged at least two unauthorized invasions into northern Syria to push back against Kurdish militants, which Ankara accuses of harboring subversive intentions against the Turkish administration.
Syria has denounced the offensives, saying it would respond in kind if the need arose.
Full report at:
https://www.presstv.com/Detail/2020/02/10/618337/Turkey-Syria-Idlib-Taftanaz-Russia-Saraqib
--------
US to exempt Iraq from sanctions against Iran, Iraqi officials say
10 February 2020
The United States has announced to Iraq its readiness to renew sanctions waivers allowing the country to continue importing gas and electricity from Iran, Iraqi officials say.
The Associated Press cited what it called three senior members of Iraq's government as saying that the US State Department has conveyed its willingness to extend the waiver.
Baghdad, however, must be able to formulate a timeline by the end of the week, detailing a plan to wean itself off the Iranian gas, the report said.
The demand has long been in the US government's itinerary in a bid to to pry Baghdad away from Tehran's perceived orbit, but Iraqi officials have time and again asserted that the call is unviable, at least for the foreseeable future.
The last such waiver was granted in October and is set to expire on February 13.
US President Donald Trump reimposed unilateral sanctions on Iran's energy and finance sectors in November 2018 following his decision to withdraw from a landmark 2015 nuclear deal signed between Tehran and six major world powers.
"The American side has announced to us their readiness" to extend the exemptions, said one of the three officials, who reportedly spoke on condition of anonymity.
The Iraqi officials said the new waiver would be a test of Baghdad-Washington relations after the US assassinated top Iranian general Qassem Soleimani and Iraq's anti-terror commander Abu Mahdi al-Muhandis in a drone strike last month.
Following the attack, Iraqi lawmakers unanimously approved a bill, demanding the withdrawal of all foreign military forces led by the United States from the country. In response, the Trump administration threatened to shut off Iraq's access to its oil money in a bank account in New York.
Gas imports from Iran generate as much as 45 percent of Iraq's 14,000 megawatts of electricity consumed daily. Iran transmits another 1,000 megawatts directly, making itself an indispensable energy source for its Arab neighbor.
Iraq and Iran share a 1,400-kilometer-long border. For their run-of-the-mill maintenance, Iraqis depend on Iranian companies for many things from food to machinery, electricity, natural gas, fruits and vegetables.
The administration of Trump is pressing Iraq to stop buying natural gas and electricity from Iran or at least show signs that it is reducing the imports. The US has also urged Iraq to establish contracts with US companies.
The Iraqi cabinet reportedly moved toward placating US conditions to extend the sanctions waiver in late January by approving six oil contracts awarded by the Oil Ministry in April 2018 that would increase domestic gas supply in over two years.
Full report at:
https://www.presstv.com/Detail/2020/02/10/618316/US-exempt-Iraq-sanctions-Iran
--------
Turkey hits Syrian govt targets after five soldiers killed
February 10, 2020
ANKARA: A direct confrontation between Turkish forces and the Assad regime drew closer on Monday when five Turkish soldiers were killed in a regime attack in northwest Syria.
The assault on a newly established Turkish military base in Taftanaz in Idlib province came a week after eight Turkish troops were killed by regime bombardment.
The rapid offensive by regime forces in Idlib has driven nearly 700,000 people from their homes toward the Turkish border. Turkey, which already hosts 3.6 million Syrian refugees, says it can take no more and is ready for military action to halt the regime advance.
"The Assad regime's attacks against our posts have made an operation necessary," said Omer Celik, spokesman for President Recep Tayyip Erdogan's political party, the AKP.
Turkey has poured 5,000 troops across the border with convoys of at least 1,000 tactical vehicles equipped with aerial defense and fire capabilities. However, it has no good options, said Aaron Stein, Middle East program director at the Foreign Policy Research Institute.
"Ankara can basically choose to annex the territory it governs in Syria and defend it, or surrender as part of a dialogue with Moscow," he told Arab News.
"It isn't going to march to Damascus, even a new defensive line it establishes in consultations with Russia won't ease the pressure to agree to some mechanism that Russia can live with to end the war."
Turkey could take further military action in Idlib but at the risk of ending its accord with Moscow, Stein said. "It is a losing bet."
Navvar Saban, a military expert from the Omran Center for Strategic Studies in Istanbul, said he expected further bloodshed in Idlib.
"There is no going back. I'm very concerned for the safety of the civilians in the region," he told Arab News.
Saban said only contacts between Russian and Turkish delegations or their presidents may come up with a positive plan.
As the conflict escalated in Idlib, Turkish and Russian officials met in Ankara for talks. The two countries back opposing sides in Syria. "This is a war of attrition between Moscow and Ankara in which they are testing limits," said Galip Dalay, a visiting scholar at Oxford University.
Alexey Khlebnikov, an expert at the Russian International Affairs Council, said the Russia-Turkey talks were preparatory ones and they did not intend to reach a deal.
Full report at:
https://www.arabnews.com/node/1625616/middle-east
--------
Egyptian mediators in Gaza after latest exchange of fire
February 10, 2020
GAZA: An Egyptian delegation arrived in Gaza on Monday seeking to ease tensions, a Hamas security source said, after Israel again attacked the enclave with air strikes in response to projectiles fired by militants.
Egypt has long served as a mediator between Israel and the Palestinian Islamist group Hamas that controls the Gaza Strip, but further details on the latest visit were not immediately available.
Israel's army said in a statement that early on Monday its "aircraft and fighter jets targeted a number of Hamas terror targets in the southern Gaza Strip."
A Hamas "training compound and military infrastructures" were among the targets, the army added.
There were no reports from Gaza of casualties or damage.
On Sunday night, a projectile was launched from Gaza at southern Israel, triggering air raid sirens and sending thousands to bomb shelters.
A spokeswoman for the regional council in Shaar Hanegev, northeast of Gaza, said the projectile apparently hit an open field.
At least eight rockets or mortars have been fired from the Gaza Strip toward Israel since January 28 when US President Donald Trump released his vision for resolving the Israeli-Palestinian conflict, according to the Israeli army.
Israel has struck back each time, with no Israelis or Palestinians so far reported injured.
Israel and Hamas have fought three wars since 2008 and the tit-for-tat fire has raised fear of another conflict.
On Sunday, Prime Minister Benjamin Netanyahu warned that Israel would "not accept any aggression from Gaza."
"I will not go into detail about all of our actions and plans in front of the media, but we are prepared to take devastating action against the terrorist organizations in Gaza," he said.
"Our actions are very strong and they have not yet ended, to put it mildly."
Trump's controversial plan would grant Israel a number of its long-held goals, including full control of disputed Jerusalem and a green light to annex all settlements and other parts of the West Bank.
In exchange the Palestinians would be offered a state in the remaining parts of the West Bank and Gaza.
Full report at:
https://www.arabnews.com/node/1625986/middle-east
--------
URL: https://www.newageislam.com/islamic-world-news/rss-outfit-devises-plans-connect/d/121037
New Age Islam, Islam Online, Islamic Website, African Muslim News, Arab World News, South Asia News, Indian Muslim News, World Muslim News, Women in Islam, Islamic Feminism, Arab Women, Women In Arab, Islamophobia in America, Muslim Women in West, Islam Women and Feminism