New Age Islam News Bureau
5 Feb 2015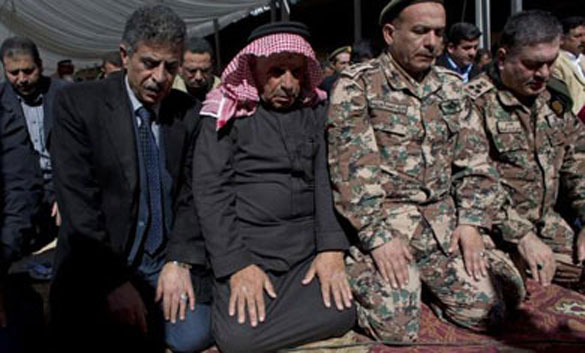 Safi al-Kaseasbeh, third right, father of slain Jordanian pilot, Lt. Muath al-Kaseasbeh attends a mass funeral at the Kaseasbeh tribe's gathering divan at their home village of Ai, near Karak, Jordan, Wednesday, Feb. 4, 2015. Outrage and condemnation poured across the Middle East on Wednesday as horrified people learned of the video purportedly showing the Islamic State group burn a Jordanian pilot to death. (AP Photo/Nasser Nasser)
---------
South Asia
• Root Causes of Extremism Should Be Identified Along With Counter-Terrorism for Complete Elimination of This Global Concern
• The Taliban Comeback in Afghanistan's Strategic Kunar Province
• Bangladesh charges Khaleda Zia over firebomb deaths
• 100 most influential British-Bangladeshis get place in new book
• Indian police detain three Bangladeshis
• Report: U.S. Prepared To Rely Upon Iran for Regional Stability in Afghanistan, Iraq & Syria
• Defense Nominee Would Reconsider Afghanistan Withdrawal Plan If Needed
• Bangladeshi ambassador completes Riyadh duty
Arab World
• Clerics denounce burning alive of pilot as un-Islamic
• ISIL assault on Iraqi town leaves several soldiers dead
• ISIL executes Iraq clerics for slamming pilot torching
• A Jordan's fellow Arab states react in anger to killing of pilot
• Egyptian court sentences 230 people en masse to life in prison
• Islamic State's burning of Jordanian pilot draws Arab condemnation
• Top Muslim body calls for 'crucifixion' of ISIS jihadists
• Syria Kurds advance, face 'no resistance' near Kobani: monitor
• Jordan vows to step up assault against ISIL
Europe
• Anti-Islam group's first British march could attract thousands of protesters
• French soldiers wounded in Nice Jewish centre attack
• French comedian to go on trial for condoning terrorism
• Russia denies report of Saudi offer over Syria support
Pakistan
• How could Qadri declare Taseer a blasphemer, IHC asks defence
• Pakistan to continue supporting Kashmiris' freedom struggle: Nawaz
• More terror attacks feared, Nisar tells NA
• Security forces kill 25 suspected terrorists in Pakistan
• Pakistan will continue to face internal threats, Congress told
• Pakistani diplomat expelled from Dhaka
• 'N' MP's name 'dropped' from Fourth Schedule list
• LEAs flout PM's orders, MQM tells Nisar
• 'EU scholarships' raise hopes and confusion
Southeast Asia
• A Sydney Jew and an Indonesian Muslim walk into an Israeli synagogue...
• AFA's Wildmon: Obama Might Be A Secret Muslim Since He Grew Up 'In Indonesia Or Somewhere'
• 'Second-class' ethnic Chinese controlling Malaysia's economy, Swiss Muslim academic told
• Human rights lawyer Eric Paulsen charged with sedition
• Drinking petrol is cheaper, says Muslim consumer group
• Indonesian plane skids off runway on Holiday Island
Mideast
• Hezbollah slams ISIL killing of Jordan pilot
• 151 Palestinian children in Israeli jails illegally: Report
• Turkey embraces Muslim Uighurs who made perilous escape from China
• 8 people killed, dozens injured in bus crash in southern Israel
• Rouhani berates nuclear-armed states
• Yemen talks continue despite expired deadline
• US drone strikes resume in Yemen despite power vacuum
• 1,000 Israeli settlers invade al-Aqsa Mosque in January
India
• Ishrat encounter case: Suspended IPS officer PP Pandey gets bail
• Pakistan violates ceasefire along IB in Samba sector
• Muzaffarnagar riots: Commission records statements of officials
• Reservations for Muslims need of the hour: Asaduddin Owaisi
• Bangladeshi kingpin of Burdwan blast in NIA net
Africa
• Senior Shabab leader killed in U.S. drone strike, Pentagon says
• Boko Haram massacre reported in Cameroon town
• Mugabe falls down steps from podium
• US strike kills senior Shabaab leader in Somalia
North America
• Former Al Qaeda operative says network was helped by some royals
• Obama, Abdullah vow no let-up in fight against IS
• US, allies carry out 11 air strikes against IS in Kobane
Compiled by New Age Islam News Bureau
URL: https://newageislam.com/islamic-world-news/ch-nisar-ali-khan,-pak-minister/root-causes-of-extremism-should-be-identified-along-with-counter-terrorism-for-complete-elimination-of-this-global-concern/d/101389
------------
South Asia
Root Causes of Extremism Should Be Identified Along With Counter-Terrorism for Complete Elimination of This Global Concern
February 05, 2015
Root causes of extremism should be identified along with counter-terrorism for complete elimination of this global concern, observed security experts at a programme in the capital yesterday.
It requires a global effort to develop the skills and capabilities of the public and private sectors to support local, community-based initiatives to strengthen resilience against violent extremist agendas, said Dr Khalid Koser, executive director of the Interim Secretariat of the Global Community Engagement and Resilience Fund (GCERF).
He was delivering a lecture on "Countering Violent Extremism (CVE): The Global Experience" in the Bangladesh Institute of International and Strategic Studies (BIISS) auditorium.
"The challenge is to translate domestic concern into transnational actions. What's happening here must have international implications," Koser added.
He also said the organisation has taken up pilot projects in Bangladesh, Mali, Morocco and Nigeria where local government and non-government organisations will benefit.
The GCERF is a not-for-profit Swiss foundation to support local community-level initiatives aimed at strengthening resilience against violent extremist agendas.
Expressing his concern, Foreign Secretary Shahidul Haque said, "Two phenomena can wipe out whatever development we have made in Bangladesh--one is climate change and the other is radicalism."
Shahidul emphasised some remedies including reduction of inequality, mitigation of deprivation, inclusion of excluded people and acceleration of human development.
Unemployed youths are the main targets of militant organisations, said the speakers, laying stress on support systems for vulnerable groups as well as rehabilitation, socioeconomic development, fairness and equality.
In Bangladesh's perspectives, the speakers observed that poverty and hunger were no longer the root causes of radicalism and terrorism, it was community leaders not playing their proper roles.
So emphasis must be put on the community-based approach in eradicating the global concern, they said.
Senior civil and military officials including current and former ambassadors, members of the academia, representatives of think-tanks, scholars, policymakers and media personalities participated in the open discussion.
BIISS Director General Maj Gen AKM Abdur Rahman, Bangladesh Enterprise Institute Vice President Humayun Kabir, and Institute of Conflict, Law and Development Studies Executive Director Maj Gen (retd) Abdur Rashid also spoke with BIISS Board of Governors Chairman Munshi Faiz Ahmad in the chair.
http://www.thedailystar.net/city/find-extremisms-cause-while-fighting-terrorism-63326
------------
The Taliban Comeback in Afghanistan's Strategic Kunar Province
04 Feb 2015
Ganjgal Valley, Afghanistan - The Taliban has made a comeback in Afghanistan's strategic Kunar province since the drawdown and departure late last year of US-led coalition troops.
"When the Americans were here, we had fighter jets bomb Taliban hideouts, we had drones patrol Kunar's night skies," said Haji Pacha, an Afghan local police commander. "This kept the Taliban on their toes. They were not as bold as they are today."
The tranquillity of northeastern Kunar's lush, green mountains and crystal-clear rivers belies a more violent reality. The province borders Pakistan's lawless tribal areas, was one of the first places in Afghanistan to have an al-Qaeda presence, and saw some of the fiercest clashes between US forces and the Taliban.
Over the past decade, the US invested heavily in Kunar, building schools and constructing bridges that connected isolated communities cut off by rugged, mountainous terrain. But already, the province's limited infrastructure has begun to crumble because of a lack of maintenance and fresh investment. Its schools have few students, and clinics lack medicine and doctors.
Taliban 'justice'
The Taliban's regrouping has emboldened the armed group to set up makeshift courts in Kunar province, which operate according to strict interpretations of Islamic law.
Haji Zarjaan, a tribal leader in Kunar's remote Ganjgal Valley, begins to sob every time he hears the name Abida.
"It's been more than three months, but the pain just refuses to die," said the 52-year-old, staring blankly ahead at the terraced fields dotting the mountainside.
Zarjaan is mourning his beloved daughter who, he said, became a victim of the Taliban's brutal justice.
A group of black-turbaned Taliban fighters descended on his village one hazy morning, accompanied by a bearded man, who the villagers later realised was a Taliban "judge".
The judge, sitting on a plastic chair in the village square, ordered the fighters to bring 22-year-old Abida before him. Two men dragged a wailing Abida from her husband's house, and also brought a man whom, Zarjaan claimed, was not from the village.
The charge sheet, which the Taliban judge read aloud before the gathered crowd, accused 23-year-old Bakhtyar of disclosing the position of a Taliban commander to US forces, which led to the commander's death in a drone strike.
The charge sheet also named Abida, claiming she was guilty of providing shelter to the accused man.
Zarjaan said the entire proceeding lasted less than 10 minutes, after which the judge handed down death sentences to the two accused.
"The man was shot dead, and so was Abida - three times in the head at point-blank range," said Zarjaan, his voice quavering as he wiped away streams of tears with the tail of his turban.
Zarjaan said his daughter was targeted because he was perceived to be opposed to the Taliban. According to the tribal chief, many Taliban judges are now openly operating in remote areas of Kunar.
Reconstruction
"The US presence did change Kunar for the better," said Farid Mamundzay, deputy minister of policy and technical affairs at the Afghan government's Independent Directorate of Local Governance.
"There was growth in agriculture, several hydroelectric power projects were completed under their watch, schools across Kunar registered 182,000 students - even a university was opened."
A senior Afghan official in Kunar province, who requested anonymity for fear of Taliban retribution, said many clinics set up are now without doctors, and the schools lack students because parents are afraid to send their children. Three of the five hydroelectric plants, the official said, have stopped working for want of maintenance.
Many roads paved have seen the asphalt wear off, making it more difficult for farmers to bring their produce to market. And other roads that are still in good shape have turned into no-go zones because they have been booby-trapped with bombs.
As a result, economic activity in Kunar has come to a standstill. With farmers and traders scared to travel, Kunar is unable to export its abundant agricultural produce, which includes rice, maize, wheat, grapes, and opium poppies.
Instead, much of the produce has rotted in the fields.
Guerrilla radio
Pacha, the Afghan local police commander, is stationed with 30 of his men near the Afghan-Pakistani border.
"The Taliban are crossing the border right under the nose of the Pakistan military," Pacha said. "During the night, dozens of them come. They know the American jets and drones are gone."
As foreign forces left Kunar, the Taliban began entering the vacated areas with one of its most potent weapons - a radio station run by transmitters loaded on the backs of donkeys.
The fighters use the radio station, called The Voice of Sharia, to undermine the government and indoctrinate and recruit youths. It is also used to threaten Afghan officials such as Pacha.
"The radio has named me dozens of times, describing me as a friend of the infidels who deserves to be killed," Pacha told Al Jazeera.
"The radio is a huge propaganda tool, which works well on villagers. It scares them into submission. After one such broadcast last week, I told a group of scared villagers from Nawlay not to pay heed to such propaganda. But one man from the crowd shouted, 'You can say this because you have a gun. We don't."
"I shouted back, 'Yes, but I have picked this gun only to defend you.'"
Neither the governor of Kunar province, Shuja ul-Mulk Jalala, nor Taliban representatives responded to requests for comment.
http://www.aljazeera.com/indepth/features/2015/01/taliban-comeback-150128092123970.html
------------
Bangladesh charges Khaleda Zia over firebomb deaths
February 5th, 2015
DHAKA: Bangladesh police Wednesday charged opposition leader Khaleda Zia with "instigating" a firebombing of a bus that killed seven people in spiralling political unrest aimed at toppling the prime minister.
Police laid initial charges against the former two-time premier over Tuesday's attack, the deadliest incidence of violence since the month-long protests started.
Take a look: Seven killed in Bangladesh after petrol bombs thrown at bus
"She has been named as an instigator of the attack. At least 56 other people were also charged in the case," district police chief Tutul Chakrabarty told AFP.
Police also arrested around a dozen protesters, accusing them of carrying out the attack as part of an opposition-led nationwide transport blockade.
The charges are the latest for 69-year-old Zia, whom police said last week was also under investigation for "abetting" and "instigating" other recent firebombings.
There is no immediate comment from Zia or her Bangladesh Nationalist Party (BNP) which has condemned Tuesday's attack and denied its supporters were responsible.
Authorities have stepped up pressure on Zia, who has been holed up in her office since January 3, in a bid to halt the violence.
At least 54 people have been killed — most victims of firebombings of buses, cars and lorries — as activists try to enforce the blockade of roads, railways and waterways.
Zia called the protests early last month to force Prime Minister Sheikh Hasina to call a fresh election.
The BNP and its allies boycotted the January 2014 poll on the grounds they believed the result would be rigged.
Security forces have launched a nationwide crackdown, arresting more than 10,000 opposition activists since the blockade began.
Hasina has accused Zia of trying to trigger "anarchy" and ordered security agencies to hunt down the protesters.
The EU, the nation's biggest export destination, has urged Hasina's government and the opposition to hold talks to resolve the crisis.
http://www.dawn.com/news/1161456/bangladesh-charges-khaleda-zia-over-firebomb-deaths
------------
100 most influential British-Bangladeshis get place in new book
February 05, 2015
Outstanding success of many Bangladeshis deserves celebration despite the fact that the country still struggles in some areas, said some influential British Bangladeshis at a publication ceremony in the capital Tuesday.
Some inspiring figures, who have been featured in this year's list of British Bangladeshi Power and Inspiration (BBPI), include a full time judge Khatun Sapnara, the first ever winner of the category "the first person of British Bangladeshi origin in a senior judicial position"; renowned oncologist Prof Nazneen Rahman; Dr Irene Zubaida Khan, chancellor of the University of Salford; Baroness Pola Uddin; diplomat Anwar Chudhury; executive mayor of London Lutfur Rahman; lawmaker Rushanara Ali; author Tahmima Anam and captain Naveen Rahman of British Army.
BBPI is an initiative to celebrate the outstanding contribution of the British Bangladeshi community in various professional fields of the British society like business entrepreneurship, politics, administration, legal and judicial service, culture, sport and politics.
BBPI launched the fourth annual list of 100 most powerful and influential persons of Bangladeshi origin in the UK.
Bangladeshi nationals who are aspiring for successes can be inspired by the achievements of the British Bangladeshi community, said BBPI's founder Abdal Ullah, adding that they would also organise similar celebration for such Bangladeshis for their outstanding leadership and achievements.
Acting British High Commissioner in Bangladesh Mark Clayton and Syed Nahas Pasha, a member of the adjudicators' panel for listing the persons, also spoke at the ceremony.
http://www.thedailystar.net/city/100-most-influential-british-bangladeshis-get-place-in-new-book-63335
------------
Indian police detain three Bangladeshis
February 05, 2015
Uttar Dinajpur police in the Indian state of Paschimbanga arrested three Bangladeshi nationals from near Nagorvita border in the Indian territory yesterday on charge of intrusion.
The arrestees were identified as Bhutto, 28, of Biharipara village in Baliadangi upazila of Thakurgaon, and Md Ripon, 40, and Enamul Haque, 25, of Jahibad Check-Post Colony in Ranishankoil upazila of the district.
Major Touhid-Bin-Ishaq, intelligence officer of BGB 30 Battalion, said Indian police of Goalpukur Police Station detained the three Bangladeshis from Dharmapur village, about 17 kilometres inside India, for not having valid documents. They were later sent to jail.
Away in Naogaon, Indian Border Security Force (BSF) picked up a Bangladeshi youth from near Patari border in Sapahar upazila early Wednesday, reports UNB.
The victim is Yousuf Ali, 35, son of late Israil Ali of Dakkhin Patari village.
Lt Col Rafiqul Hasan, commanding officer (CO) of BGB 14 Battalion in Naogaon, quoted locals as saying that the BSF troops from Rangamati Camp picked up Yousuf when he went near the border around 12:15am.
http://www.thedailystar.net/country/indian-police-detain-three-bangladeshis-63260
------------
REPORT: U.S. PREPARED TO RELY UPON IRAN FOR REGIONAL STABILITY IN AFGHANISTAN, IRAQ & SYRIA
by JORDAN SCHACHTEL
4 Feb 2015
European officials have reportedly relayed a message to Israeli officials about the Obama administration's plans concerning the ongoing nuclear negotiations with Iran. The U.S. and Iran are reportedly closing in on a deal that would allow the Ayatollah's regime to keep the vast majority of its centrifuges running, while also allowing for Iran to be in charge of stabilizing its surrounding region.
Israeli Army Radio reports that the deal is being brokered between U.S. Secretary of State John Kerry and Iranian Foreign Minister Mohammad Javad Zarif. The Iranians would purportedly have to make sure that there are no flare-ups in Iraq, Afghanistan, and Syria. It remains unclear how Iran would rein in the three countries, all of which remain hotbeds of sectarian violence. In exchange for Iran agreeing to terms that appear to very much empower its regime, the United States will also agree to lift its economic sanctions against Iran, according to reports.
Iran has in the past contributed to the regional strife by arming and fighting alongside Shiite sects in Iraq, Lebanon, and Syria. The Iranian regime has aligned itself behind Syria's brutal Assad regime, its Hezbollah proxy in Lebanon, and the upper echelons of Iraq's Shiite leadership. It allies in the region have been responsible for even more death and destruction than Sunni jihadist groups such as Al Qaeda and the Islamic State, according to some estimates.
Full report at:
http://www.breitbart.com/national-security/2015/02/04/report-u-s-prepared-to-rely-upon-iran-for-regional-stability-in-afghanistan-iraq-syria/
------------
Defense Nominee Would Reconsider Afghanistan Withdrawal Plan If Needed
Leah Barkoukis
Feb 03, 2015
If Defense nominee Ashton Carter gets confirmed, as he's expected to, Afghanistan's new president may get exactly what he wished for: a reexamination of the U.S.'s troop withdrawal deadline.
With the war in Afghanistan officially coming to a close at the end of the year, only 10,800 troops remained in the country, serving a supportive role for Afghanistan's military. Obama planned to gradually reduce that number so that by 2017, we'd have only an embassy presence.
But amid a deteriorating security situation, Ghani suggested last month that the U.S. reconsider this timetable.
And now, Carter seems to be in agreement if security there worsens.
The president's nominee to be the next Pentagon chief says he would consider changing the current plans for withdrawing all U.S. troops from Afghanistan by the end of next year if security conditions worsen.
Full report at:
http://townhall.com/tipsheet/leahbarkoukis/2015/02/03/defense-nominee-would-reconsider-us-troop-withdrawal-from-afghanistan-n1952304
------------
Bangladeshi ambassador completes Riyadh duty
5 February 2015
Bangladesh Ambassador Mohamed Shahidul Islam is slated to bid the Kingdom farewell on completion of his tenure on Monday.
Islam who was posted in Saudi Arabia as ambassador following his assignment in South Africa, completed more than four years of service in Riyadh despite his three-year contract period.
The Saudi Foreign Ministry accorded a farewell to Islam recently in the presence of a number of foreign ambassadors.
Full report at:
http://www.arabnews.com/saudi-arabia/news/699821
------------
Arab World
Clerics denounce burning alive of pilot as un-Islamic
4 February 2015
DUBAI/AMMAN: Muslim clerics widely condemned the burning to death of a Jordanian pilot by Islamic State, saying such a form of killing was considered despicable by Islam, no matter the context.
Islamic State militants released a video on Tuesday appearing to show captured pilot Mouath Al-Kasaesbeh being burnt alive in a cage. Jordan, which has participated in a US-led military campaign to bomb Islamic State positions, responded overnight by executing two Al-Qaeda convicts on death row.
Egypt's top Muslim authority, the 1,000 year old Al-Azhar university revered by Sunni Muslims around the world, issued a statement expressing "deep anger over the lowly terrorist act" by what it called a "Satanic, terrorist" group.
The Grand Sheikh of Al-Azhar, Ahmed Al-Tayeb, said the killers themselves deserved to be "killed, crucified or to have their limbs amputated."
Saudi cleric Salman Al-Odah wrote on his Twitter account: "Burning is an abominable crime rejected by Islamic law regardless of its causes."
"It is rejected whether it falls on an individual or a group or a people. Only God tortures by fire," he added.
The Islamic State posted a religious edict on Twitter, which ruled that it is permissible in Islam to burn an infidel to death.
Shocking
But even clerics sympathetic to the jihadist cause said the act of burning a man alive and filming the killing would damage Islamic State, an Al-Qaeda offshoot which controls wide territory in Syria and Iraq, and is also known as ISIL or ISIS.
Full report at:
http://www.arabnews.com/news/699436
------------
ISIL assault on Iraqi town leaves several soldiers dead
04 Feb 2015
The Islamic State of Iraq and the Levant (ISIL) has launched an assault from two fronts, targeting the Iraqi military's 10th Brigade in town of Ishaqi, 95km north of Baghdad, killing at least 11 Iraqi soldiers.
Clashes broke out between the Iraqi army and ISIL fighters on Wednesday morning in the town of Ishaqi in the Balad District of the Salaheddin Governorate of Iraq. About 20 others were injured.
ISIL fighters retreated after hours of fighting in an area that was liberated by the Iraqi forces two months ago.
Elsewhere, Iraqi forces, with the help of Peshmerga forces were able to recapture the Khabbaz oil field in Kirkuk, which ISIL had seized last week.
Meanwhile, Fouad Hussein, chief of staff to Kurdish President Massoud Barzani, called for greater support in the battle against ISIL, including foreign troops, saying the Kurds are "alone" in the fight.
Hussein said the US-led coalition airstrikes are helpful but "to finish ISIS ... you need to finish it on the ground. And on the ground, we are most of the time alone. So we need partners".
"It means advisers, it means special forces, it means a collective fight against ISIS, it means equipment, it means munitions," Hussein added.
Full report at:
http://www.aljazeera.com/news/middleeast/2015/02/isil-assault-iraqi-town-leaves-soldiers-dead-150204161850421.html
------------
ISIL executes Iraq clerics for slamming pilot torching
Feb 5, 2015
The ISIL Takfiri group has executed a number of Iraqi clerics and civilians for condemning the terrorist group's torching of a Jordanian pilot.
According to an Iraqi security source and a human rights group on Wednesday, the terrorist group beheaded four Iraqi civilians and executed two Muslim clerics in the Iraqi city of Mosul for denouncing the Takfiri group's setting fire to the Jordanian pilot, Moaz al-Kassasbeh.
"ISIS (ISIL) executed the Imam of Nabi Yunis mosque, Sheikh Abdullah Fahad and the Imam of Kabir Mosque, Sheikh Ayub Abdul Wahab in Mosul," Kurdish broadcaster Rudaw quoted a security source as saying.
The security source further said that both of the clerics were targeted by a firing squad of the terrorist group.
ISIL also beheaded four people for condemning the torching of the Jordanian pilot, according to the Iraqi observatory group for human rights.
Full report at:
http://www.presstv.ir/Detail/2015/02/05/396233/ISIL-kills-clerics-rapping-pilot-torching
-------------
A Jordan's fellow Arab states react in anger to killing of pilot
February 5th, 2015
ordanian pilot's brutal immolation at the hands of the militants of Islamic State drew condemnation from across the Arab world, but the grim outcome of his capture was already testing the will of regional allies taking part in the U.S.-led air war in Iraq and Syria.
The burning alive of Lt. Moaz Kasasbeh, whose plane went down Dec. 24 near Raqqa, Syria -- the self-declared capital of the Islamic State's "caliphate" -- was denounced by Jordan's neighbors as barbaric and un-Islamic. Virtually all of them offered expressions of sympathy and solidarity to the pilot's family and the Hashemite kingdom.
But the horrifying online footage of Kasasbeh trapped in a cage and enveloped in flames – an execution that took place a month ago, according to Jordan, but was only disclosed Tuesday -- represents a complicated new juncture in the military campaign against Islamic State, in which the participation of Arab allies is regarded as a crucial element.
Five Arab countries – Jordan, the United Arab Emirates, Bahrain, Qatar and Saudi Arabia – have taken a publicly acknowledged part in the air campaign targeting militants' positions in Iraq and Syria. But the UAE, which had originally touted its role, suspended its bombing runs after Kasasbeh's capture, citing an insufficiency of search-and-rescue infrastructure to save any downed pilots, according to a report in Wednesday's editions of the New York Times.
Other regional powers, including Egypt, have endorsed the fight against Islamic State but have not taken part in the military campaign, and showed no inclination to join in. Egyptian President Abdel Fattah Sisi, who has likened the struggle to his own battle with homegrown Islamic militants, called Islamic State a "savage, cowardly organization that violates all the doctrines of heaven," state media reported.
Saudi Arabia, still weathering a power transition following last month's death of King Abdullah, called for a stepping up of the fight against "terror in all its forms," according to the official news agency, which cited an unnamed Saudi official. Referring to Islamic State's fanaticism, the statement reaffirmed Saudi "determination to continue fighting against this deluded thought."
Full report at:
http://www.latimes.com/world/middleeast/la-fg-arab-nations-islamic-state-20150204-story.html\
------------
Egyptian court sentences 230 people en masse to life in prison
February 5th, 2015
In the second harsh verdict this week to arise from a mass tribunal, a Cairo court Wednesday sentenced a prominent rights activist and 229 others to life in prison.
The sentences, which can be appealed, are by far the longest jail terms handed down to non-Islamist opponents of the government. The case also points to what amounts to a systematic crushing of mainly secular figures who played key roles in Egypt's 2011 revolution that toppled longtime dictator Hosni Mubarak.
A parallel crackdown on Islamist supporters of ousted President Mohamed Morsi has left hundreds of people dead and tens of thousands imprisoned.
The best-known of the defendants in Wednesday's case was Ahmed Douma, who was one of the leaders of the revolt that became a centerpiece of the regional Arab Spring uprisings four years ago. He was arrested in connection with what witnesses and the defendants described as a peaceful protest against the military council that had replaced Mubarak, but authorities accused the defendants of various acts of violence after police moved in to break up the demonstration.
In Wednesday's case, nearly 40 minors were also sentenced in absentia to 10 years in prison. Douma was ordered to pay a fine of more than $2 million.
Human rights groups and Western governments have denounced mass tribunals as a disgraceful miscarriage of justice. Defense lawyers say there is no way they can adequately plead their clients' case when dozens or even hundreds of people are put on trial at once.
The judge in Wednesday's proceedings, Nagy Shehata, had days earlier presided over the sentencing of 183 people to death in connection with a deadly attack on a police post in 2013. Shehata was also the judge who last year sentenced three journalists for the news channel Al Jazeera English to prison terms of up to 10 years.
Full report at:
http://www.latimes.com/world/middleeast/la-fg-egypt-activists-sentencing-20150204-story.html
------------
Islamic State's burning of Jordanian pilot draws Arab condemnation
February 5th, 2015
King Abdullah II of Jordan vowed Wednesday that his country would exact "relentless" retribution against Islamic State militants, as many in the Arab world united in revulsion after learning that a captive pilot had been burned alive in a metal cage.
"This terrorist organization does not just fight us, but it also fights good Islam and its values," the monarch said in a nationally televised speech.
The killing of Lt. Moaz Kasasbeh, 26, whose immolation last month drew global condemnation after the video was posted on the Internet this week, has sparked outrage and demands for revenge in Jordan, a key U.S. ally in counter-terrorism efforts.
The kingdom has vowed an "earth-shaking" response to the pilot's killing. But officials have not detailed new steps the nation is prepared to take, beyond the execution early Wednesday of a pair of Al Qaeda militants who had long been on death row.
Islamic State militants captured Kasasbeh in December when his F-16 fighter jet crashed in northern Syria while he was on a mission as part of the U.S.-led bombing campaign against Islamic State.
Full report at:
http://www.latimes.com/world/middleeast/la-fg-jordan-pilot-20150204-story.html
------------
Top Muslim body calls for 'crucifixion' of ISIS jihadists
February 05, 2015
Al-Azhar, Sunni Islam's most prestigious centre of learning, expressed outrage at the Islamic State group for burning to death a captive Jordanian pilot, saying its militants deserve to be killed or crucified.
After a video was released showing the caged fighter pilot, Maaz al-Kassasbeh, dying engulfed in flames, the Cairo-based authority's head, Ahmed al-Tayib, expressed his "strong dismay at this cowardly act".
This "requires the punishment mentioned in the Koran for these corrupt oppressors who fight against God and his prophet: killing, crucifixion or chopping of the limbs."
"Islam forbids killing of the innocent human soul... It forbids mutilating the human soul by burning or in any other way even during wars against an enemy that attacks you," Tayib added in a statement.
Full report at:
http://www.thedailystar.net/world/top-muslim-body-calls-for-crucifixion-of-isis-jihadists-63285
------------
Syria Kurds advance, face 'no resistance' near Kobani: monitor
5 February 2015
BEIRUT: Syrian Kurdish forces made fresh advances Wednesday near the flashpoint town of Kobani, bringing the number of villages they have recaptured from the Islamic State group to 50, a monitor said.
The Syrian Observatory for Human Rights said the Kurdish People's Protection Units (YPG), backed by rebel fighters, "are continuing to advance in the countryside of Kobani, facing no resistance from the IS."
Speaking to AFP, Observatory director Rami Abdel Rahman said the YPG's advance over the past week has been "speedy."
"As soon as the YPG enters into a village, the IS withdraws its fighters."
After nearly five months of fighting for Kobani, which is strategically located on the Turkish border, the YPG recaptured the town on January 26.
Full report at:
http://www.arabnews.com/middle-east/news/699796
------------
Jordan vows to step up assault against ISIL
05 Feb 2015
Jordan has pledged to step up its role in the international coalition fighting the Islamic State of Iraq and the Levant (ISIL), after the armed group killed a captured Jordanian pilot.
King Abdullah II vowed on Wednesday that his country will take more retaliatory action, after hanging two convicted Iraqis on death row - female would-be suicide bomber Sajida al-Rishawi and al-Qaeda operative Ziad al-Karbouli.
The execution by burning of airman Moaz al-Kassasbeh prompted international condemnation and widespread anger in Jordan.
Abdullah cut short a visit to the US and flew back to Amman, where he was greeted by large crowds at the airport before meeting with his security chiefs.
"The blood of martyr Moaz al-Kassasbeh will not be in vain and the response of Jordan and its army after what happened to our dear son will be severe," he said afterwards, quoted by the royal court.
Al Jazeera's Rula Amin, reporting from Amman, said that the killing of the pilot has united public opinion in Jordan against ISIL.
Our correspondent said that Jordanians are "very adamant" that the country "intensify its role" against ISIL.
"They want to retaliate, to respond and punish ISIL," she said, adding that Jordan could send special ground troops against ISIL.
Full report at:
http://www.aljazeera.com/news/2015/02/jordan-vows-wider-role-war-isil-150204142118372.html
------------
Europe
Anti-Islam group's first British march could attract thousands of protesters
4 February 2015
By Jeremy Armstrong
A notorious 'anti-Islam' movement is coming to Britain with its first ever demo and a march likely to attract thousands.
Pegida has sparked huge controversy in Germany.
Under the banner of 'Patriotic Europeans against the Islamisation of the West', it claims it is trying to defend countries from the spread of extremism at the hands of Muslim immigrants.
It brought 25,000 to the streets of Dresden in demos backing its cause.
But it also sparked huge counter demos, with 100,000 protesting against its stance.
German Chancellor Angela Merkel has described it as racist, and Pegida's leadership was said to be in crisis with "massive hostility, threats and career disadvantages" causing five of its senior members to step down after its founder was pictured dressed as Adolf Hitler.
It is advertising its first ever UK demo for Newcastle upon Tyne on February 28, however, with a Facebook campaign expected to attract 'thousands'.
It is the first of a series of demos planned for the UK, with others due to take place in Manchester, Birmingham and London.
Northumbria Police has yet to be notified about the event.
Pegida's UK spokesman told the Mirror: "We do not want to attract extremists to this rally.
"We are against radical Islam, hate preachers and believe Muslims need to adapt to our way of life in the West instead of us adapting to them.
"We do not want to do anything illegal and we will liaise with the police over this even if it means delaying the march by a week or two.
"We expect anywhere from 500 to 3,000 people for our first rally, and could then move on to London, Manchester and Birmingham.
Full report at:
http://www.mirror.co.uk/news/uk-news/anti-islam-groups-first-british-march-5107059
------------
French soldiers wounded in Nice Jewish centre attack
3 February 2015
A man wielding a knife has attacked three soldiers patrolling outside a Jewish community centre in Nice, in the south of France.
The soldiers were wounded and police said the assailant was captured.
Nice Mayor Christian Estrosi told French TV that a second man had been arrested in connection with the stabbing.
The attacker was expelled from Turkey last week and questioned upon his return, French media reported.
France has been on high alert since last month's terror attacks in Paris by three Islamist gunmen, in which 17 people were killed.
After the attacks, 10,500 soldiers were deployed outside sensitive sites including Jewish and Muslim centres as well as media buildings.
The soldiers attacked in Nice were guarding a building in the city's Massena square which houses the Jewish community centre and a Jewish radio station.
The attacker had been travelling on the tram without a ticket, but left the tram when ticket collectors approached him and he then targeted the soldiers.
He slashed one soldier in the cheek, injured another in the leg and a third on the chin, reports said.
Full report at:
http://www.bbc.com/news/world-europe-31118020
------------
French comedian to go on trial for condoning terrorism
05 Feb 2015
A French comedian charged with condoning terrorism is set to go on trial over a Facebook comment, in which he is accused of expressing support for Ahmedy Coulibaly, a gunman who killed four hostages and a policewoman in January.
Dieudonne Mbala told a Paris court on Wednesday that he condemned last month's deadly Paris attacks "without any ambiguity" as he stood trial.
"Of course I condemn the attacks without any restraint and without any ambiguity," Dieudonne said.
The controversial comedian angered French authorities after posting a statement online saying "Je Suis Charlie Coulibaly" (I am Charlie Coulibaly), after thousands marched in the French capital with the slogan "Je Suis Charlie" in solidarity with the satirical newspaper Charlie Hebdo.
Two gunmen stormed through Charlie Hebdo's office, killing 11 people on January 7, a day before Coulibaly attacked a kosher shop killing four hostages.
Dieudonne was arrested on January 14.
Full report at:
http://www.aljazeera.com/news/europe/2015/02/french-comedian-face-trial-condoning-terrorism-150204144625010.html
------------
Russia denies report of Saudi offer over Syria support
Feb 5, 2015
Russia has rejected claims that Saudi Arabia had tried to pressure Moscow to abandon its support for Syria in exchange for cooperation in the oil market.
The denial came after the New York Times quoted anonymous Saudi and US diplomatic sources as claiming that Saudi Arabia "has been trying to pressure President Vladimir V. Putin of Russia to abandon his support for President Bashar al-Assad of Syria, using its dominance of the global oil markets at a time when the Russian government is reeling from the effects of plummeting oil prices."
Aleksey Pushkov, the head of the Foreign Affairs Committee in the Russian State Duma, however, denied the report, saying, "The New York Times distorted information so many times, especially since the Ukrainian crisis started. I wouldn't advise you taking it as a reliable source. There were no talks of such exchange."
The official told RSN radio station that Russian Prime Minister Dmitry Medvedev, who recently visited Riyadh for the funeral of deceased King Abdullah, had held no Syria-related talks with Saudi officials.
Full report at:
http://www.presstv.ir/Detail/2015/02/05/396210/Russia-denies-report-of-Saudi-Syria-offer
------------
Pakistan
How could Qadri declare Taseer a blasphemer, IHC asks defence
Malik Asad
February 5th, 2015
ISLAMABAD: The bench hearing Mumtaz Qadri's appeal against his conviction in the Salmaan Taseer murder case asked the defence counsel whether a police constable could pronounce judgment or carry out the sentence against an individual, on the basis of his or her beliefs.
The Islamabad High Court (IHC) division bench consisting of Justice Noorul Haq N. Qureshi and Justice Shaukat Aziz Siddiqui put this question to Mumtaz Qadri's counsel during a hearing on Wednesday.
Qadri, a former Elite Force commando, gunned down former Punjab governor Salmaan Taseer on January 4, 2011 in Islamabad's Kohsar Market. An Anti-Terrorism Court (ATC) in Rawalpindi convicted him in Oct 2011 and awarded him the death penalty on two counts. Also read: Qadri's appeal: IHC re-issues notice to Salman Taseer's legal heirs
On Wednesday, Justice Siddiqui asked Qadri's defence team to explain to the court how a policeman could "determine whether an individual was an apostate or not".
Overlooking this murder would give everyone a licence to kill in the name of religion, says judge
"In the presence of the blasphemy laws, how can we justify a person taking the law into his own hands," he asked.
He asked the counsel why Qadri didn't ever try to file a complaint against Taseer at any forum if he was sure that the governor had done something wrong.
"If this state of affairs persists, tomorrow one can be end up being punished for not reciting religious verses or wearing green turbans," he remarked.
Full report at:
http://www.dawn.com/news/1161650/how-could-qadri-declare-taseer-a-blasphemer-ihc-asks-defence
------------
Pakistan to continue supporting Kashmiris' freedom struggle: Nawaz
February 5th, 2015
MUZAFFARABAD: Prime Minister Nawaz Sharif on Thursday vowed that Pakistan would continue its political and diplomatic support for the Kashmiri people in their struggle for freedom and right to self-determination.
Nawaz was addressing the Azad Kashmir legislative assembly on the occasion of Kashmir Day.
The premier said only a fair resolution of the dispute would ensure lasting peace in the region and urged the international community to play its part in the matter.
http://www.dawn.com/news/1161673/pakistan-to-continue-supporting-kashmiris-freedom-struggle-nawaz
------------
More terror attacks feared, Nisar tells NA
February 05, 2015
ISLAMABAD - The federal government on Wednesday once again warned there could be more terror attacks in the country because of action against terrorists on account of the National Action Plan and the military operation in North Waziristan.
Interior Minister Ch Nisar Ali Khan, responding to sharp criticism by opposition parties in the National Assembly, said reaction of terrorists could be witnessed in other parts of the country, adding national unity was required to root out the menace of terrorism from the country.
The government came under sharp criticism, both from the opposition and its allies, for its alleged apathy towards the Shikarpur terrorist attack victims.
The interior minister said the terrorists might target other places, so the nation should not be divided at this juncture, as creating divisions was the main agenda of these nefarious elements.
"Personal enmity should not be expressed in the Parliament and it is inappropriate to do politics on terrorism," he said, in response to back-to-back attacks on the government from the opposition lawmakers.
Citing the example of developed countries' reaction after such kinds of attacks, Nisar said unanimous message should be given to the terrorists.
"There is no short-term solution to this problem.
It could take weeks, months and even years to root out the menace of terrorism.
This is an uneven and difficult war," he said, adding they would fight coward terrorists till their eradication from the country.
About the Shikarpur incident, the minister informed the house that district had a sectarian strife in its surrounding areas.
"It is a hub of the elements that use the Afghanistan and Fata route for their terror activities in Karachi and Quetta," he said, adding one finger of a terrorist had been found and was lying with Nadra for verification.
Full report at:
http://nation.com.pk/national/05-Feb-2015/more-terror-attacks-feared-nisar-tells-na
------------
Pakistan will continue to face internal threats, Congress told
Anwar Iqbal
February 5th, 2015
WASHINGTON: The US Defence Intelligence Agency has informed Congress that Pakistani military and paramilitary forces have succeeded in driving militants out of most population centres in North Waziristan.
In his annual report to the House Armed Services Com­mittee, Director Defence Intelligence Agency, Lt Gen Vincent R. Stewart, also said the Pakistani forces, which launched a military operation in Fata last summer, remained deployed in the tribal and settled areas of KP.
Also read: Operation Zarb-i-Azb disrupted Haqqani network: US general
"Army ground operations in North Waziristan Agency have cleared anti-state militants from most population centres, and we expect the military will continue targeting remaining militant strongholds in 2015," he said.
The report notes that the Dec 26 TTP attack on a Peshawar school had "embol­dened military efforts against anti-state militants, including intensified air strikes against TTP leadership and fighters".
'Forces have driven militants out of most population centres in North Waziristan'
It also notes that the government and military "are working together to implement a national action plan against terrorism, which includes the establishment of military courts."
But the report warns that despite ongoing military operations, "Pakistan will continue to face internal security threats from militant, sectarian, and separatist groups".
Additionally, Pakistan remains concerned about ISIS outreach and propaganda in South Asia.
Gen Stewart informed lawmakers that Pakistan also continued to take steps to improve security of its nuclear arsenal.
"We anticipate that Pakistan will continue deve­lopment of new delivery systems, including cruise missiles and close-range 'battlefield' nuclear weapons to augment its existing ballistic missiles," he added.
Full report at:
http://www.dawn.com/news/1161638/pakistan-will-continue-to-face-internal-threats-congress-told
------------
Pakistani diplomat expelled from Dhaka
Mateen Haider
February 5th, 2015
ISLAMABAD: In a fresh diplomatic row between Pakistan and Bangladesh, a Pakistani High Commission official based in Dhaka was declared persona non grata by the Bangladeshi government and was asked to leave the country.
"Diplomatic official Mazhar Khan was charged by Bangladesh's foreign ministry of running an illegal Indian currency business in Dhaka beside alleged links with militants," a diplomatic source told Dawn.com.
Foreign Office Spokesperson Tasneem Aslam also confirmed the incident and said the official has reached Islamabad.
"Allegations against him are baseless and the incident is unfortunate," she told Dawn.com.
The Pakistan High Commission in Dhaka sent Mazhar Khan immediately home after getting orders from Bangladesh's ministry of foreign affairs.
Sources also said the high commission in Dhaka has not only been under pressure due to the incident but is also being closely watched by Bangladeshi secret services.
Relations between the two countries have recently been at a low point.
In January, Bangladeshi police arrested four suspected members of Islamic State in Dhaka including a regional coordinator for the militant group who told police they had been trained in Pakistan.
Full report at:
http://www.dawn.com/news/1161488/pakistani-diplomat-expelled-from-dhaka
------------
'N' MP's name 'dropped' from Fourth Schedule list
February 5th, 2015
GUJRAT: Ignoring the recommendations of intelligence and law enforcement agencies, the district government has finally dropped the name of a ruling party lawmaker from the proposed Fourth Schedule list under the Anti-Terrorism Act (ATA) who allegedly has links with some banned sectarian outfits.
The district intelligence committee, in a meeting held here on Tuesday revised the list containing the names recommended by the agencies, sources told Dawn on Wednesday.
According to the sources in the district government, the revised list, which did not carry the name of the ruling PML-N lawmaker, had been sent to the Punjab home department as well as the Gujranwala commissioner. Now the list carried 22 names instead of the 23, they said.
Take a look: LEAs want 'N' lawmaker on fourth schedule of ATA
The earlier list was approved by the participants in a previous meeting of the district intelligence committee held here on Saturday last.
The sources said the revision of the list became "necessary" because inclusion of the ruling party lawmaker in it caused embarrassment to the government after the media highlighted the issue.
Full report at:
http://www.dawn.com/news/1161619/n-mps-name-dropped-from-fourth-schedule-list
------------
LEAs flout PM's orders, MQM tells Nisar
February 5th, 2015
ISLAMABAD: A delegation of the Muttahida Qaumi Movement (MQM) met Interior Minister Chaudhry Nisar Ali Khan on Wednesday and complained about what they called victimisation of the party by law-enforcement agencies in Karachi.
"We told Chaudhry sahib that the prime minister's directives that plainclothes men would not be allowed to arrest anyone are openly being flouted in Karachi," said MQM's parliamentary leader in the Senate Babar Ghouri, who was part of the delegation.
Also read: Nawaz orders judicial inquiry into MQM worker killing
Talking to Dawn, he said the meeting was a follow-up of Prime Minister Nawaz Sharif's visit to Karachi that the latter paid on Jan 30 in the wake of the custodial death of an MQM worker.
MQM's parliamentary leader in the National Assembly Dr Farooq Sattar, Khalid Maqbool Siddiqui and MNA Abdul Rashid Godil were other members of the delegation which called on Chaudhry Nisar at the Punjab House.
Mr Ghouri said the prime minister had categorically stated that he had issued directives that law-enforcement personnel in civvies would not raid any place or make any arrest. The prime minister, he added, had also said that the personnel were required to give reasons for carrying out raids or making arrests to the family members of the suspects.
But, he alleged, people wearing "black clothes" were still raiding houses and picking up people in various parts of Karachi in clear violation of the PM's directives.
Mr Ghouri said the interior minister had assured them that he would look into the matter and ensure complete implementation of the prime minister's directives.
The minister also assured the delegation that the passport office in North Nazimabad would be opened soon to facilitate the people of Karachi. The office, Mr Ghouri said, had been closed down by then interior minister Rehman Malik without any justification.
Other issues raised at the meeting with Chaudhry Nisar, according to the MQM leader, related to problems being faced by the people of Gilgit-Baltistan and non-payment of compensation to the people displaced because of the Diamer-Bhasha dam project.
Answering a question, Mr Ghouri said his party was "satisfied" with the assurances given by the interior minister.
Full report at:
http://www.dawn.com/news/1161646/leas-flout-pms-orders-mqm-tells-nisar
------------
'EU scholarships' raise hopes and confusion
February 5th, 2015
ISLAMABAD: It was too good a news for a city university professor to believe when his students told him that purportedly the European Union is offering 10,000 scholarships to Pakistani students in 2015.
"I opened my laptop to check the fact and discovered that some mysterious EU Education Foundation (EUEF) is behind the offer," Prof Dr Muhammad Irfan, Chairman Department of Environmental Sciences of the International Islamic University Islamabad, told Dawn.
"Though the EUEF website displayed the EU emblem, I knew the EU does not offer scholarships, at least not directly," he said.
A private company with an EU emblem on its website is offering 'scholarships'
Inquiries revealed that the European Education Foundation Ltd was a private company registered in the United Kingdom last year.
"No one should object to our using EU in our company name. A disclaimer on our website mentions that we are an independent group," said Azfar Bukhari answering a call to the Pakistan office of the company. He introduced himself as the Project Manager Scholarships.
Indeed, the last line of the website www.eueducationfoundation.eu says in fine print; disclaimer: EUEF has no association with EU or EC. It is an independent organisation registered in England.
But the most surprising statement that Mr Bukhari made to Dawn was that "the EUEF has no funds of its own" to finance the scholarships. "We have signed MoUs (memorandums of understanding) with 23 universities across Europe, which offer scholarships," he said.
"We had intimated the Foreign Office about our worthy activities. In response to our letter, they endorsed our view points and directed PID (the Press Information Department) and the HEC (Higher Education Commission) to facilitate us by spreading information," said Mr Bukhari.
Full report at:
http://www.dawn.com/news/1161598/eu-scholarships-raise-hopes-and-confusion
------------
Southeast Asia
A Sydney Jew and an Indonesian Muslim walk into an Israeli synagogue...
4 February 2015
Gus Dur is the nickname of Abdurrahman Wahid, former President of Indonesia who died in 2009, leaving a legacy of commitment to interreligious dialogue, particularly between people of faith in Indonesia and Israel.
Full report at:
http://www.abc.net.au/radionational/programs/religionandethicsreport/a-sydney-jew-and-indonesian-muslim-walk-into-an-israeli-synagog/6070504
------------
AFA's Wildmon: Obama Might Be A Secret Muslim Since He Grew Up 'In Indonesia Or Somewhere'
SUBMITTED BY Brian Tashman
2/3/2015
American Family Association President Tim Wildmon said on his radio program today that while he doesn't "know" whether President Obama is secretly Muslim, the president "does sympathize with Muslims and the Islamic religion," perhaps "because he grew up in it over there in Indonesia or somewhere."
After interviewing Newt Gingrich about his recent claim that "the United States is losing the war with radical Islamists," Wildmon pointed to a poll showing that 17 percent of voters, and 34 percent of conservative Republican voters, falsely believe that the President is a Muslim.
"I don't know if he is or not, I don't think he gets on his prayer rug five times a day but surely it's obvious that he does sympathize with Muslims and the Islamic religion," Wildmon said. "Maybe that's because he grew up in it over there in Indonesia or somewhere"
If Wildmon wonders why some people wrongly think that Obama is a Muslim, he can look no further than his own talk radio network.
Full report at:
http://www.rightwingwatch.org/content/afas-wildmon-obama-might-be-secret-muslim-he-grew-indonesia-or-somewhere
------------
'Second-class' ethnic Chinese controlling Malaysia's economy, Swiss Muslim academic told
February 4, 2015
KUALA LUMPUR, Feb 4 — Malaysia's ethnic Chinese are far from being discriminated as "second-class citizens" when so many of them have become millionaires through their firm hold on the country's economy, some Malaysians have said in a public tirade against prominent Muslim scholar Dr Tariq Ramadan.
The bulk of the Swiss academic's critics appear to be Malaysian Malays who rained sarcasm on the comments section of Ramadan's Facebook page over the latter's allegations of racial discrimination against Malaysia's minorities during a recent talk.
Calling Ramadan "judgmental" and "unfair", his detractors accused him of not doing his research before making his remarks.
"The 'second class' citizen refers to the richest in the country.. 48 of the richest Malaysian are in fact second class citizen.. Not just that.. second class citizen controls malaysia's economy.. Yes, it's an awful world for them," said a Facebook user named Fina Ibrahim, referring to the ethnic Chinese.
Her comment drew the most number of "likes" on the page.
When asked by another Facebook user to back her claim, Fina said that "It's a well known fact.. The malaysian Chinese controls the Malaysia's economy."
Her remark was backed by another user called Abid Ali who posted a list of top 40 millionaires in Malaysia — dominated by the ethnic Chinese — and labelled them as "so-called 2nd class".
Another Facebooker named Juliana Zulhijah Zulkifli claimed that Ramadan should have listened to all sides before openly criticising another country's political affairs.
"Islam might by the official religion of Malaysia, but it doesn't stop the Muslims here from being discriminated against too, and it's happening a lot. The fact that most of the richest people here are non-muslim should be enough proof that we're not as unfair as you make us sound," said Juliana.
Full report at:
http://www.themalaymailonline.com/malaysia/article/second-class-ethnic-chinese-controlling-malaysias-economy-swiss-muslim-acad
------------
Human rights lawyer Eric Paulsen charged with sedition
5 February 2015
Human rights lawyer Eric Paulsen was today charged with sedition over his Twitter post which allegedly criticised the Malaysian Islamic Development Department (Jakim) for spreading extremism via Friday sermons.
Paulsen, who is executive director of civil society movement Lawyers for Liberty, posted the remark on January 9.
He was arrested by police the following night, with Inspector-General of Police Tan Sri Khalid Abu Bakar tweeting about the lawyer's arrest.
Paulsen pleaded not guilty at the Kuala Lumpur Sessions Court to the charge under Section 4(1)(c) of the colonial era law.
In an immediate reaction, Phil Robertson, Human Rights Watch deputy director for Asia, said there appeared to be no limits to Prime Minister Datuk Seri Najib Razak's pursuit of critics of his government, given that almost any utterance could be twisted into a violation of the vague terms under the Sedition Act.
"By proceeding to charge Eric Paulsen with sedition for a single tweet, the Malaysian government is again demonstrating the depths of its outrageous crackdown on free speech and its willingness to attack human rights activists to try and silence them.
"Instead of prosecuting lawyers like him, the government should be asking for their help to bring Malaysia's antiquated laws into line with international human rights standards, starting with dumping the rights-abusing Sedition Act," he said in a statement.
Following Paulsen's tweet, Umno Youth made a report against the lawyer at the Putrajaya district police headquarters.
Paulsen had also lodged a police report after receiving death threats from netizens over his tweet on Jakim.
He said he had not meant to insult Islam.
Full report at:
http://www.themalaysianinsider.com/malaysia/article/human-rights-lawyer-eric-paulsen-charged-with-sedition
------------
Drinking petrol is cheaper, says Muslim consumer group
BY MAYURI MEI LIN
FEBRUARY 5, 2015
KUALA LUMPUR, Feb 5 — Consumers might as well drink petrol instead of water now that fuel prices have dropped, the Muslims Consumers Association of Malaysia (PPIM) said today.
Comparing the price of mineral water to the price of petrol at the pumps, PPIM president Datuk Nadzim Johari said the price of a 500ml bottle of RON97 petrol was 20 sen to 50 sen cheaper.
"A campaign to drink petrol because it's cheaper must be launched," he told reporters here after announcing the set-up of a Consumer Boycott Centre.
He also lashed out at giant mineral water manufacturer Spritzer for selling expensive bottled water priced above RM1 for a RM500ml and called on consumers to boycott its products.
"Based on research, we recommend to boycott Spritzer. Because when we go out we saw Spritzer is the biggest, in more petrol stations, everywhere.
"They are so monopolistic, they should be more friendly to others," Nadzim said.
He urged the authorities to cap the retail price of 500ml bottles of mineral water at RM1.
Nadzim also compared bottles of Spritzer's mineral water sold at cafe chain stores Old Town White Coffee and Pappa Rich to bottled drinking water sold at the 1Malaysia government-backed retail outlets, which he said priced at RM3.50 and RM0.39 respectively.
"How much does it cost to process water?" he asked, before saying "The cost is unreasonable".
Full report at:
http://www.themalaymailonline.com/malaysia/article/drinking-petrol-is-cheaper-says-muslim-consumer-group
------------
Indonesian plane skids off runway on holiday island
February 05, 2015
JAKARTA - A passenger jet skidded off the runway as it landed at a holiday island in central Indonesia, a spokesman said Wednesday, just weeks after the deadly crash of an AirAsia jet in the archipelago.
None of the 33 people on board were hurt when the turboprop jet belonging to Indonesian flag carrier Garuda slid about 10 metres (33 feet) off the runway into the grass at the airport on Lombok island, said the spokesman.
Full report at:
http://nation.com.pk/international/05-Feb-2015/indonesian-plane-skids-off-runway-on-holiday-island
-------------
Mideast
Hezbollah slams ISIL killing of Jordan pilot
Feb 5, 2015
The Lebanese resistance movement Hezbollah has deprecated the "despicable" killing of a Jordanian pilot by the ISIL Takfiri group.
"Hizbullah condemns the brutal, heinous crime that was committed by the IS (ISIL) gang against the Jordanian pilot," the resistance movement said in a statement on Wednesday.
On Tuesday, ISIL released a video online showing the Takfiri terrorists set alight Jordanian pilot Moaz al-Kassasbeh who had been taken hostage in December.
The video showed Kassasbeh dressed in an orange jumpsuit and surrounded by flames of fire inside a metal cage.
Hezbollah sympathized with the family of the pilot, saying, "The despicable method used by the IS (ISIL) gang is usually used by the most vicious of butchers."
The Lebanese resistance movement further called on the Western and regional countries, which provide support for the Takfiri group, to give their policies toward the terrorist group a second thought.
"It has become necessary for a lot of countries in the region and the world to reconsider their policies which are based on supporting terrorist groups in Syria and Iraq," Hezbollah added.
The resistance movement also said that the brutalities of the Takfiri group has nothing to do with Islam and is aimed at tarnishing the image of Islam.
"Through their massacres and atrocities, these groups are deliberately distorting the image of Islam and Muslims and pushing people away from religion through endorsing bizarre and condemned fatwas," Hezbollah said.
Full report at:
http://www.presstv.ir/Detail/2015/02/05/396223/Hezbollah-raps-ISIL-killing-of-Jordan-pilot
------------
151 Palestinian children in Israeli jails illegally: Report
Feb 5, 2015
A Palestinian legal monitoring group says at least 151 Palestinian children are currently being held in Israeli jails in violation of the Geneva Conventions.
In a recently released report, the Military Court Watch said 47 percent of the children imprisoned in Israeli jails are currently being held in violation of the Geneva Conventions, which forbid the transfer of detainees outside of occupied Palestinian territories.
The lawyers and family members of the children, who are being held as "security prisoners" in Israeli jails, have limited access to the prisoners.
The Military Court Watch added that the Israel Prison Service does not provide accurate figures on the Palestinian prisoners.
Earlier, an Israeli court sentenced Malak al-Khatib, a 14-year-old girl, to two months in jail for allegedly throwing stones at Israeli soldiers, a charge that Khatib's parents have denied.
On February 4, the Palestinian Prisoners Society (PPS) said 11 Palestinian teenagers were detained when Israeli forces carried out a raid against their homes in the occupied West Bank and East Jerusalem (al-Quds).
Full report at:
http://www.presstv.ir/Detail/2015/02/05/396228/Israel-jailing-Palestine-kids-against-law
------------
Turkey embraces Muslim Uighurs who made perilous escape from China
By JULIE MAKINEN AND GLEN JOHNSON
February 5th, 2015
Wearing woolen hats pulled down tight against the winter chill, the newly arrived youngsters from western China scurried around the ramshackle, low-rise apartment complex chasing after soccer balls and drifting balloons. They scampered into tents brimming with donated items, making off with lollipops and teddy bears.
The children are among 600 ethnic Uighurs from China's violence-torn Xinjiang province who have come to this central Turkish city in recent months. Embraced by sympathetic locals who regard the Muslim migrants as ethnic and religious brethren, they are viewed askance by Chinese authorities who contend the exodus is fueled by radicals who want to use Turkey as a way station to join Islamic State militants in Iraq and Syria.
These newcomers, including many full families, are part of a growing tide of Uighurs making risky attempts to leave China as authorities step up efforts to stamp out separatism and Islamic extremism in Xinjiang, on China's western edge. Chinese authorities have made mass arrests, banned certain kinds of head coverings, and forbidden minors to enter mosques, but bombings and stabbings have persisted. Some say the crackdown is fueling more discontent and bloodshed.
Since early 2014, hundreds of Uighurs have been arrested in Thailand for lacking valid passports; 11 were shot to death after crossing illegally into Kyrgyzstan, and at least seven have been killed in clashes with guards along the Vietnam border — including two last month.
Many of the migrants say they're en route to Turkey, a country whose similar language and religious traditions make it easy for Uighurs to assimilate. Over the years, students, academics and other Uighurs from Xinjiang — also known as East Turkestan — have been attracted to Turkey.
Full report at:
http://www.latimes.com/world/asia/la-fg-uighurs-turkey-20150203-story.html#page=2
------------
8 people killed, dozens injured in bus crash in southern Israel
February 5th, 2015
A day of prayer ended in mourning for members of Israel's Negev desert Bedouin community Tuesday when eight women returning from a trip to Al Aqsa mosque in Jerusalem were killed in a road accident.
The accident occurred when a truck transporting farm machinery collided with a bus carrying about 50 women from several Bedouin communities on a road in southern Israel, police officials said. The metal-clawed equipment raked the length of the bus, killing eight passengers and injuring dozens of others.
The women were making their way home after a day trip to Jerusalem for prayers at the Muslim holy site.
Full report at:
http://www.latimes.com/world/middleeast/la-fg-israel-bus-crash-20150203-story.html
------------
Rouhani berates nuclear-armed states
February 5th, 2015
TEHRAN: Iran's President Hassan Rouhani berated the world's nuclear powers on Wednesday, saying atomic weapons had not kept them safe and reiterating that his country was not seeking the bomb.
Rouhani, in an unusually fiery speech, avoided explicit mention of ongoing nuclear talks between the West and Iran but accused atomic-armed states of hypocrisy.
"They tell us 'we don't want Iran to make atomic bombs', you who have made atomic bombs," Rouhani said in Isfahan, a city 400 kilometres south of the capital Tehran.
He then took aim at Israel, which has never acknowledged that it has nuclear weapons, dubbing the Jewish state a "criminal".
"Have you managed to bring about security for yourselves with atomic bombs? Have you managed to create security for the usurper Israel?" Rouhani said.
"We don't need an atomic bomb. We have a great, self-sacrificing and unified nation," he said, referring to Monday's launch of an observation satellite into space by Iran.
"Despite pressures and sanctions, this nation sent a new satellite into space," added Rouhani, who personally ordered the launch — Iran's first since 2012.
Full report at:
http://www.dawn.com/news/1161561/rouhani-berates-nuclear-armed-states
------------
Yemen talks continue despite expired deadline
05 Feb 2015
Warring factions in Yemen are still discussing a possible solution to the country's political crisis in UN-brokered talks after a deadline set by Houthi forces in control of the capital expired.
The Houthis did not make a statement after the expiration of the deadline on Wednesday afternoon, likely waiting for an announcement from the UN.
They had previously said if an agreement was not reached in the three days of talks, they would seize power.
The Houthis had demanded the formation of a presidential council - a proposal now favoured by the General People's Congress (GPC), the party of ousted president Ali Abdullah Saleh, who is an ally of the Houthis.
The GPC has called for Saleh loyalist and parliament speaker Yahia al-Rai to fulfil his constitutional responsibilities and assume the presidency until a transition deal is reached.
The Mushtarak party, on the other hand, is trying to convince Abd Rabbuh Mansour Hadi, who stepped down as president under pressure, to return to his post, with the appointment of one or two vice presidents.
Hadi quit on January 22 after Houthi fighters seized the presidential palace in the capital of Sanaa.
The "Southern Movement", another party to the negotiations, suspended its participation in talks at the beginning of the month, saying they were taking place "under intimidation and a siege of legitimate authorities".
The group demands a return to the full independence that the southern region enjoyed from 1967 to 1990.
Full report at:
http://www.aljazeera.com/news/2015/02/yemen-talks-continue-expired-deadline-150205050204085.html
------------
US drone strikes resume in Yemen despite power vacuum
05 Feb 2015
Yemen - On a road flanked by mountains and dusty plains, sixth-grader Mohammed Taeiman was travelling with a family friend to the Hareeb region of Marib province, east of the capital Sanaa, when the car was targeted in a drone strike.
It wasn't long before the news broke out locally.
The younger Taeiman had been killed in a CIA drone strike, the first since the prime minister and president resigned amid a standoff with the Houthi rebels on January 26.
When Mikdad Taeiman, Mohammed's older brother, saw the charred black Suzuki Vitara, he knew his brother was inside. By then, pictures of the incident were circulating on mobile phones.
"My brother was going to school. He was a good student. He knew nothing," said the older brother, vehemently denying suggestions that his brother was involved with al-Qaeda in the Arabian Peninsula (AQAP).
On hearing the news, Mahla Aamer Saila, Mohammed's mother, fainted, and was taken to hospital. She blamed the president and the minister of defence for "cooperating with America".
Mohammed's father and older brother were killed in a drone strike in 2011. A third brother was wounded in another drone attack.
Three days prior to the strike, Taeiman travelled to Sanaa for medical treatment. "If he was an AQAP suspect, why didn't they arrest him, try him in the court, prove he is AQAP?" Mikdad furiously shouted down the phone line.
"How can a 12-year-old be trained by al-Qaeda? They are liars. America said this to justify their actions," he insisted.
Yemen is without a government, but this hasn't slowed down Washington's counterterrorism operations in the country. In fact, the strikes have intensified.
In the last week alone, two more strikes were carried out in counterterrorism and Dhamar killing three suspected al-Qaeda militants.
Former President Abd-Rabbu Mansour Hadi once stated that he individually approved each drone strike. But in his absence, questions have been raised about US intelligence-gathering and actual operations in the country.
Full report at:
http://www.aljazeera.com/news/2015/02/drone-strikes-resume-yemen-power-vacuum-150204091536626.html
------------
1,000 Israeli settlers invade al-Aqsa Mosque in January
Feb 4, 2015
Approximately one thousand Israeli settlers in January alone have invaded the holy al-Aqsa Mosque Compound in East Jerusalem al-Quds.
Some 965 Israeli settlers accompanied by Israeli security forces stormed the holy Islamic site in January, said the al-Aqsa Foundation for Endowment and Heritage.
Israel continues to restrict the movement of Palestinian worshipers to the al-Aqsa Mosque. The invasion has led to many conflicts between Palestinian worshipers and Israelis.
Nearly 90 percent of Palestinians believe that Israel is going to destroy the al-Aqsa Mosque and replace it with a temple, a new survey shows.
Full report at:
http://www.presstv.ir/Detail/2015/02/04/396078/1000-Israelis-invade-alAqsa-Mosque
------------
India
Ishrat encounter case: Suspended IPS officer PP Pandey gets bail
Feb 5, 2015
AHMEDABAD: Suspended IPS officer PP Pandey was on Thursday granted bail by a special CBI court here in the 2004 case of fake encounter of Ishrat Jahan and three others after remaining in jail for 18 months.
Special Judge K R Upadhyaya granted bail to additional director general of police Pandey on executing a personal bond of Rs one lakh with two surety bonds. He was in jail since July 2013 when he surrendered before the court.
The CBI court also directed Pandey, who was the joint police commissioner of the city at the time of offence in 2004, to submit his passport and asked him not to leave the country without its prior permission.
The court has also put a condition that Pandey will not make any attempt which can hamper the investigation of the case and also will not try to influence any witness associated with the case.
Pandey has to appear before the CBI court on every Thursday and he has to remain present during the trial, the court order said.
Pandey was the joint commissioner of police when Mumbra-based 19-year-old college girl Ishrat Jahan, Pranesh Pillai alias Javed Sheikh, Amjad Ali Rana and Zeeshan Johar were killed by Ahmedabad crime branch sleuths in an encounter on the outskirts of the city on June 15, 2004.
Full report at:
http://timesofindia.indiatimes.com/india/Ishrat-encounter-case-Suspended-IPS-officer-PP-Pandey-gets-bail/articleshow/46131564.cms
------------
Pakistan violates ceasefire along IB in Samba sector
February 4, 2015
Pakistan Rangers on Wednesday violated the ceasefire by resorting to firing by small arms on two Border Out Posts (BoPs) along the International Border in Samba sector of Jammu district.
"Pakistani Rangers resorted to brief firing by small arms on Border Out Posts (BoPs) of Khora and Nawa Pind in Samba sector this afternoon," a BSF officer said.
There was no loss of life or injury to anyone in the firing, he said.
As per reports from intelligence agencies, the firing was aimed at stopping the BSF personnel working with a JCB in front of the post. The work was halted immediately as the firing started.
Full report at:
http://indianexpress.com/article/india/india-others/pakistan-violates-ceasefire-along-ib-in-samba-sector/
------------
Muzaffarnagar riots: Commission records statements of officials
February 5, 2015
The one-man commission probing the Muzaffarnagar riots has recorded the statements of officials who were serving during the riots in 2013, police said on Thursday.
The commission on Wednesday recorded the statements of then Commissioner of Sahranpur division Bhuneshwar Singh, then IG (Meerut Zone) Brij Bhushan and then DIG of Saharanpur Ashok Mutha Jain.
The inquiry commission will continue to record statements of top officials who were posted during the riots, police said.
Full report at:
http://indianexpress.com/article/india/india-others/muzaffarnagar-riots-commission-records-statements-of-officials-2/
------------
Reservations for Muslims need of the hour: Asaduddin Owaisi
Feb 5, 2015
PUNE: The Muslim community in Maharashtra should be given reservations not on religious but based on social backwardness, said Hyderabad MP Asaduddin Owaisi here on Wednesday.
Owaisi, president of All India Majlis-e-Ittehadul Muslimeen was speaking at a public function organized by Mulnivasi Manch and Maharashtra Action Committee on the issue of reservation at Kausarbaugh hall in Kondhwa.
Aurangabad MLA Imtiaz Jaleel, Mumbai MLA Waris Yusuf Pathan, justice (retd) B G Kolse-Patil among others were present on the occasion.
Owaisi said the BJP and Shiv Sena were opposed to reservation and that the Devendra Fadnavis-led Maharashtra government had refused to introduce a bill to replace the ordinance that was brought by the Congress-NCP government on Muslim reservation. He said that MIM wasn't opposing Maratha reservation, but only pointing out the "double standards" of BJP, which tabled the Maratha reservation bill, but withheld the Muslim reservation bill on flimsy grounds.
Full report at:
http://timesofindia.indiatimes.com/city/pune/Reservations-for-Muslims-need-of-the-hour-Asaduddin-Owaisi/articleshow/46126599.cms
------------
Bangladeshi kingpin of Burdwan blast in NIA net
Feb 5, 2015
NEW DELHI: NIA on Wednesday arrested a core member of Jamaat-ul-Mujahideen Bangladesh (JMB) in connection with October 2, 2014 Burdwan blast. Mufazzil Haque was arrested from Mukimnagar in Murshidabad (West Bengal) on Tuesday night.
According to NIA, Haque used to own the Lalgola madrasa in Mukimnagar which was one of the two important training centres for JMB's anti-national activities. He was also among the chief trainers and recruiters of the outfit.
He was so dedicated to the cause of jihad that he styled himself on Osama Bin Laden, said sources.
"Sporting a long beard and dressing up like the dreaded slain terrorist, he would keep his women in strict purdah forbidding them from going out of the house and force his family to live by the Sharia. His lifestyle had already earned him the moniker of 'bin Laden' in his village even before his name cropped up in Burdwan blast," said an NIA officer.
Sources said Haque was also a close associate of Sheikh Sajid alias Rehmatullah who headed the India chapter of JMB. Sajid has already been arrested by NIA. "They together ran the madrasa. Since Haque was a resident of the Lalgola area, he was instrumental in getting recruits for the outfit. He also arranged for hideouts for those who came to Mukimnagar," said the officer.
Full report at:
http://timesofindia.indiatimes.com/india/Bangladeshi-kingpin-of-Burdwan-blast-in-NIA-net/articleshow/46126070.cms
------------
Africa
Senior Shabab leader killed in U.S. drone strike, Pentagon says
February 5th, 2015
A.U.S. drone strike has killed a senior Shabab leader near Mogadishu, the Somalia capital, according to Pentagon officials, the third U.S. attack against the Al Qaeda-linked militia since last fall.
Yusuf Dheeq, Shabab's chief of intelligence and external operations, was killed Jan. 31 by a drone-launched Hellfire missile, said U.S. defense officials who were not authorized to speak on the record.
The Obama administration has directed drone strikes and other counter-terrorism operations against Shabab for years. The group has threatened the U.S.-allied government in Mogadishu and has spilled over into neighboring Kenya.
The Pentagon spokesman, Rear Adm. John Kirby, confirmed that Dheeq was the target of the latest drone strike. He said analysts are still assessing results of the attack, but had determined that no civilians were injured.
"If [Dheeq] no longer breathes, then this is a significant, another significant blow to al Shabab," Kirby said.
Shabab, which controls a large swath of rural Somalia, has been trying to regain power since it was driven out of Mogadishu and the port city of Kismayo by U.S.-backed African Union troops in 2011 and 2012.
Full report at:
http://www.latimes.com/world/africa/la-fg-shabab-leader-killed-20150203-story.html
------------
Boko Haram massacre reported in Cameroon town
05 Feb 2015
Boko Haram fighters have killed more than 100 people in the north Cameroon town of Fotokol, murdering residents inside their homes and a mosque, according to a local civic leader.
The attack comes a day after Chad sent troops across the border to flush the armed group out of the Nigerian town of Gamboru, which lies about offensive from Fotokol on the other side of a bridge.
The massacre also comes amid a major regional offensive against Boko Haram, which has kidnapped hundreds and killed thousands in neighbouring northern Nigeria and has mounted increasingly bloody cross-border raids.
Many of the dead were found with their throats slit, according to Cameroon's L'Oeil du Sahel newspaper.
"Boko Haram entered Fotokol through Gambaru early in the morning and they killed more than 100 people in the mosque, in the houses and they burned property," Abatchou Abatcha, the civic leader, told Reuters news agency over the telephone on Wednesday.
The fighters shot and killed one of his sons during the raid, he said.
"There are many [dead] civilians, nearly 70. The toll for the soldiers stands at six," a source in Fotokol told AFP news agency on Wednesday, adding that there were also Boko Haram bodies "everywhere".
Issa Tchiroma, Cameroon's information minister, said the Cameroon army pushed Boko Haram out of Fotokol after heavy fighting.
Main security threat
Boko Haram - whose literal translation is "Western education is forbidden" - has been fighting for five years to create an emirate governed by Islamic law.
Full report at:
http://www.aljazeera.com/news/2015/02/dozens-reported-killed-boko-haram-raid-cameroon-150204204704396.html
------------
Mugabe falls down steps from podium
February 5th, 2015
HARARE: Witnesses say Zimbabwe President Robert Mugabe, 90, fell down steps from a podium after speaking to supporters upon his return from Ethiopia.
Mugabe appeared to miss a step and toppled when he left the raised lectern at the airport on Wednesday afternoon, according to several witnesses, who insisted on anonymity because of security concerns.
Full report at:
http://www.dawn.com/news/1161603/mugabe-falls-down-steps-from-podium
------------
US strike kills senior Shabaab leader in Somalia
February 05, 2015
MOGADISHU - A US missile strike launched in Somalia last week killed Islamist group al Shabaab's mastermind behind attacks at home and abroad, the Somali government said on Wednesday.
The United States said on Tuesday it had launched the drone strike to kill Yusef Dheeq, al Shabaab's chief of external operations and planning for intelligence and security, adding that if it was successful it would be a major blow to the group. Al Shabaab has not commented on the attack.
The strike was the latest in an ongoing campaign against al Shabaab. In September, a US drone killed the group's main leader, Ahmed Abdi Godane, while a drone hit on Dec. 29 killed another senior al Shabaab militant.
Full report at:
http://nation.com.pk/international/05-Feb-2015/us-strike-kills-senior-shabaab-leader-in-somalia
------------
North America
Former Al Qaeda operative says network was helped by some royals
February 5th, 2015
NEW YORK: A former Al Qaeda operative imprisoned for life for his role in the Sept 11 attacks has told lawyers for victims of the attacks that members of the Saudi royal family supported the militant group.
Zacarias Moussaoui made the statements in testimony filed in Manhattan federal court on Tuesday by lawyers for attack victims who accuse Saudi Arabia in a suit of providing material support to Al Qaeda.
Also read: Nayef: the prince who fought Al Qaeda
He said a list of donors from the late 1990s that he drafted during Al Qaeda leader Osama bin Laden's tenure included some "extremely famous" Saudi officials, including Prince Turki al-Faisal Al Saud, a former Saudi intelligence chief.
"Shaykh Osama wanted to keep a record who give money because ... who is to be listened to or who contribute to the jihad," said Moussaoui, a 46-year-old French native who pleaded guilty to terrorism charges in 2005.
Moussaoui said he met in Kandahar an official from Saudi Arabia's Washington embassy. Moussaoui said they were supposed to go to Washington together to find a location "suitable to launch a stinger attack" on the US presidential plane, Air Force One.
In Washington, the Saudi embassy said on Wednesday that Moussaoui's claims appeared aimed at undermining Saudi-US relations and contradicted findings of the 9/11 Commission in 2004 that there was no evidence of Saudi funding of Al Qaeda.
"Moussaoui is a deranged criminal whose own lawyers presented evidence that he was mentally incompetent," the Saudi embassy said. "His words have no credibility." The testimony was filed in opposition to Saudi Arabia's latest bid to dismiss lawsuits that began more than a decade ago.
Full report at:
http://www.dawn.com/news/1161636/former-al-qaeda-operative-says-network-was-helped-by-some-royals
------------
Obama, Abdullah vow no let-up in fight against IS
February 5th, 2015
WASHINGTON: Presi­dent Barack Obama and Jordanian King Abdullah II vowed not to let up in the fight against the Islamic State group, as Jordanians mourned the death of a military pilot held captive by the militants.
Obama hosted Abdullah at the White House on Tuesday for a hastily arranged meeting, hours after a video emerged online purportedly showing 26-year-old Lt. Muath Al-Kaseasbeh being burned to death by the militant group.
Abdullah, who was on a previously scheduled trip to Washington, arrived after nightfall and made no remarks to reporters as he and Obama sat side by side in the Oval Office.
In the meeting, Obama offered "his deepest condolences" to the king over the pilot's death, the White House said.
Full report at:
http://www.dawn.com/news/1161549/obama-abdullah-vow-no-let-up-in-fight-against-is
------------
US, allies carry out 11 air strikes against IS in Kobane
February 5th, 2015
WASHINGTON: The United States and its allies staged 11 airstrikes on Tuesday near the Syrian city of Kobane , where Kurdish militia have been pushing back Islamic State forces, and also targeted the insurgent group with six strikes in Iraq, according to the Combined Joint Task Force.
The strikes near Kobane hit 10 Islamic State tactical units, destroyed three staging positions and a fighting position, the task force said in a statement on Wednesday.
In Iraq, the strikes hit tactical units, a facility that made improvised explosive devices and checkpoints near the cities of Bayji, Tal Afar, Al Asad, Rawa, Al Huwayja and Mosul.
Syrian Kurdish forces, bolstered by the airstrikes, made fresh advances on Wednesday near Kobane, bringing the number of villages they have recaptured from the Islamic State group to 50, a monitor said.
Full report at:
http://www.dawn.com/news/1161554/us-allies-carry-out-11-air-strikes-against-is-in-kobane
------------
URL: https://newageislam.com/islamic-world-news/ch-nisar-ali-khan,-pak-minister/root-causes-of-extremism-should-be-identified-along-with-counter-terrorism-for-complete-elimination-of-this-global-concern/d/101389