New Age Islam News Bureau
05 October 2020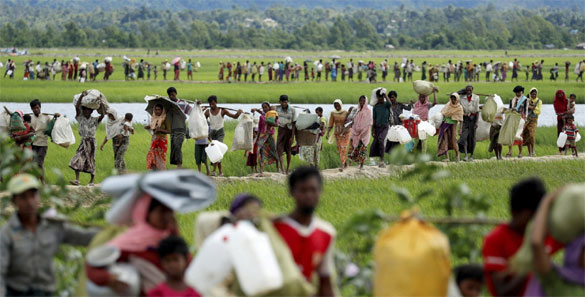 Rohingya refugees, who crossed the border from Myanmar two days before, walk after they received permission from the Bangladeshi army to continue on to the refugee camps, in Palang Khali, Bangladesh, Oct. 19, 2017. (Reuters Photo)
-----
• Hezbollah Chief Orders Fighters to Protect Civilians While Fighting Terrorists In Syria
• Palestinians Will Only Accept Talks That End Occupation, Establish Independent State: Fatah Official
• Goddess Mariyamman Temple Built By a Muslim Army Commander under Hyder Ali
• Most Pakistanis Fear Country Headed In Wrong Direction: Survey
• G25 Supports Perak Ruler's Call for Fatwas to Consider Views of All Stakeholders
• Port Sudan Container Terminal, Major Road Blocked In Peace Deal Protest
South Asia
• Rohingya Refugees in Bangladesh Have Donated Funds to Help Buddhists Displaced in Myanmar's Rakhine
• Taliban Show No Intention of Stopping Deadly Operations
• Afghan President Ghani off to Doha, but will not meet with Taliban officials
• At least 15 killed in east Afghanistan car bomb attack
• Tribal Chief Killed in a Magnetic Bomb Blast
--------
Arab world
• Hezbollah Chief Orders Fighters to Protect Civilians While Fighting Terrorists In Syria
• Saudi Arabia Calls Upon Citizens to 'Boycott Everything Turkish' Following Erdogan's Statement
• Senior Analyst: Trump's Fever Worries Arab Rulers
• Iraqi MP: US Embassy Closure Threat Aimed at Provoking Public Opinion against Hashd Al-Shaabi
• Shia Muslims flock to Iraq's Karbala to mark Arba'een amid virus curbs
• Turkish artillery strikes Syrian military positions in Idlib, no casualties reported
--------
Mideast
• Palestinians Will Only Accept Talks That End Occupation, Establish Independent State: Fatah Official
• Shrugging off global outcry, Israel moves to build 4,500 settler units
• Palestinian prisoner on 70th day of hunger strike as his wife calls for help
• Yemeni protesters censure Saudi aggression, blockade
• Iranian Mission Condemns Killing of Civilians in Azerbaijan, Armenia Clashes
• Envoy: Russia Ready to Supply Iran with S-400 Defence Shield
• Israelis kidnap 22 Palestinians including police officers in West Bank
• Rouhani felicitates Kuwait's new emir, hopes for 'fraternal' ties
--------
India
• Goddess Mariyamman Temple Built By a Muslim Army Commander under Hyder Ali
• Aalami Tabhligi Ijtima-Global Muslim Congregation in Bhopal Deferred For First Time Due To COVID-19
• Babri Masjid Demolition judgement Reminds These Are Hindutva Days: Prof. Saifuddin Soz
• Terrorist hideout busted in Poonch
• Pakistan violates ceasefire along LoC in Poonch
• 6 SIMI members on hunger strike in Bhopal jail moved to hospital
--------
Pakistan
• Most Pakistanis Fear Country Headed In Wrong Direction: Survey
• Gilgit-Baltistan: A hostile opposition makes Imran's job difficult
• Pakistan Most Vibrant Members of Islamic World: Sindh Governor
• Opposition takes exception to 'traitor' charge
• Case against Khadim Rizvi, 6 others for flouting ban in Faisalabad
• Pakistan court to hear petition for banning Nawaz Sharif's speech on Monday
--------
Southeast Asia
• G25 Supports Perak Ruler's Call for Fatwas to Consider Views of All Stakeholders
• National Unity Ministry postpones all events involving public gatherings
• Will he or won't he? Dr Mahathir now says supporters 'want me not to say I won't contest' GE15
• Indonesian parliamentary committee finishes deliberating contentious jobs bill
--------
Africa
• Port Sudan Container Terminal, Major Road Blocked In Peace Deal Protest
• Turkey's Erdogan, Libya's Sarraj reaffirm bilateral cooperation in Istanbul meeting
• Pentagon's chief inks 10-year military aid deal with Morocco in regional tour
• Jordan king accepts PM's resignation ahead of November elections
• Mali frees over 100 jailed militants
--------
North America
• Trump Criticised For Leaving Hospital to Greet Supporters
• UAE, Israel officials meet in Los Angeles for first bilateral West Coast meeting
• 2,500 US troops out of Iraq as part of full withdrawal plan: Al-Kadhimi
• US push for Arab-Israel ties divides Sudanese leaders
• Gunman Storms Afghan Market in Sacramento, California
--------
Europe
• 'Daesh Brides' Look To Escape Syria Camps with Help of UK Crowd Funders
• Nagorno-Karabakh conflict enters week 2: Armenia, Azerbaijan still trading fire
• Baku suburbs struck by Armenian missiles: Azeri govt.
• Ilham Aliyev vows to return Nagorno-Karabakh to Azerbaijan, demands Armenian pullout timetable
• Turkey lambastes Armenia for 'attacks' on civilians in Azerbaijan's Ganja
Compiled by New Age Islam News Bureau
URL: https://www.newageislam.com/islamic-world-news/rohingya-refugees-bangladesh-donated-funds/d/123047
--------
Rohingya Refugees in Bangladesh Have Donated Funds to Help Buddhists Displaced in Myanmar's Rakhine
3rd Oct 2020
By Md. Kamruzzaman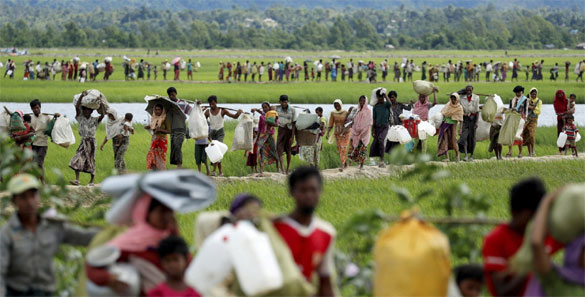 Rohingya refugees, who crossed the border from Myanmar two days before, walk after they received permission from the Bangladeshi army to continue on to the refugee camps, in Palang Khali, Bangladesh, Oct. 19, 2017. (Reuters Photo)
-----
DHAKA, Bangladesh (AA): Despite their own hardships, Rohingya refugees in Bangladesh have donated funds to help Buddhists displaced due to the ongoing conflict in Myanmar's Rakhine State, Rohingya community leaders said on Friday.
Nearly 200,000 people, mostly Buddhist civilians, have been displaced across Rakhine state since late 2018 when clashes started between the Myanmar army and the Arakan Army, a Buddhist rebel group, according to media reports and rights groups.
"We all are human beings, and we and those Buddhists in Arakan [Rakhine] all belong to the same country, irrespective of our ethnic identities," Mohammad Kamal Hossain, a Rohingya youth living at the Kutupalong refugee camp in Bangladesh's southeastern Cox's Bazar district, told Anadolu Agency.
"They once shared our sorrows and helped us during the 2017 massacre [by the Myanmar military]. Now we are doing what we can to support them in their time of need."
He said 152 Rohingya youths, mostly students, collected donations from refugees in the Cox's Bazar refugee settlement, home to more than a million Rohingya refugees, over a period of two months.
Operating under the banner of the Arakan Altruism Society and Educational Network, they managed to raise 500,000 Myanmar Kyat [$383] and the money was sent to the displaced Buddhists through their relatives, according to Hossain.
"We are always in contact with our friends in Rakhine and will always stand by our countrymen, regardless of our religious or ethnic identities," he said.
Earlier in July, Rohingya students in Sittwe, the capital of Rakhine State, donated 300,000 Myanmar Kyat [$230] to help the displaced population in the conflict zone.
– Together for peace
Another Rohingya youth leader spoke of the community's desire to help their Buddhist friends who came to their aid during the Myanmar army's brutal crackdown in 2017.
In August that year, Myanmar launched a military onslaught against Rohingya Muslims in the name of a clearance operation against a Rohingya rebel group, the Arakan Rohingya Salvation Army.
"Our Buddhist neighbors helped us during that harrowing time and allowed many of us to take shelter in their homes. Now, seeing them being forced from their homes, we can feel their pain," Khin Maung, founder and executive director of the Rohingya Youth Association, told Anadolu Agency.
According to Amnesty International, the offensive forced more than 750,000 Rohingya, mostly women and children, to flee Myanmar and cross into Bangladesh, pushing the number of Rohingya refugees in Bangladesh to over 1.2 million.
Since Aug. 25, 2017, nearly 24,000 Rohingya Muslims have been killed by Myanmar's state forces, according to a report by the Ontario International Development Agency (OIDA).
Maung called for the international community to help restore peace in Rakhine and rehabilitate all displaced people, including Rohingya and Buddhists.
"For centuries, we [Rohingya and Buddhists] lived together peacefully in Arakan [Rakhine]. We are determined to return to our homeland and bring back those days of peace and harmony," he said.
http://muslimnews.co.uk/news/south-east-asia/rohingya-muslims-raise-funds-buddhists-displaced-myanmar-army/
--------
Hezbollah Chief Orders Fighters to Protect Civilians While Fighting Terrorists In Syria
03 October 2020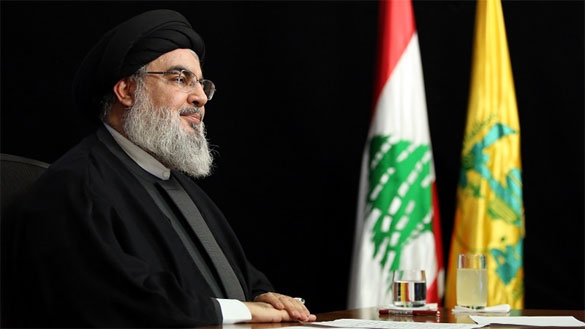 Hezbollah ordering commanders and fighters of his group to properly protect civilians and local population while fighting foreign-sponsored Takfiri terrorists in neighboring Syria.
-----
A new documentary has shown secretary general of the Lebanese Hezbollah resistance movement ordering commanders and fighters of his group to properly protect civilians and local population while fighting foreign-sponsored Takfiri terrorists in neighboring Syria.
The documentary, aired by Lebanon's Arabic-language al-Manar television network on Friday evening, shows Sayyed Hassan Nasrallah commanding his comrades to observe religious commitments and adequately protect civilian lives during their anti-terror offensive in the western Syrian city of al-Qusayr, located about 35 kilometers (22 miles) south of Homs, back in 2013.
Nasrallah said, "Hezbollah is characterized by the fact that fear runs ahead of it. The (al-Qusayr) battle is imperative and a game changer."
He added, "I hope you would not forget to inform all brethren that we will be fighting for the sake of God. Taking religious abstinence into consideration is the key to success.
"If we come across a civilian [during the offensive], we have to protect them. We are fighting armed groups. Therefore, killing, harming, beating or injuring women, children and the elderly are religiously forbidden.
"Even though, we are religiously allowed to wipe out militants, we cannot seize locals' properties," Nasrallah underlined.
On June 5, 2013, Syrian government forces, backed by Hezbollah fighters, retook al-Qusayr from the Takfiri terrorists and liberated the strategic city.
Since 2011, Syria has been fighting foreign-backed terrorist groups in its territory, including near the Lebanese border.
Hezbollah has dispatched fighters to help the Syrian military eradicate the terrorists, including the Daesh Takfir terrorists and has prevented the spill over of terrorist activity into Lebanon.
The Israeli regime has, meanwhile, frequently conducted airstrikes against positions in Syria.
While the Tel Aviv regime has often refused to confirm or deny specific strikes, it has claimed that it has been hitting Hezbollah forces in Syria.
https://www.presstv.com/Detail/2020/10/03/635544/Hezbollah-chief-orders-fighters-to-protect-civilians-while-fighting-militants-in-Syria-battle
--------
Palestinians Will Only Accept Talks That End Occupation, Establish Independent State: Fatah Official
03 October 2020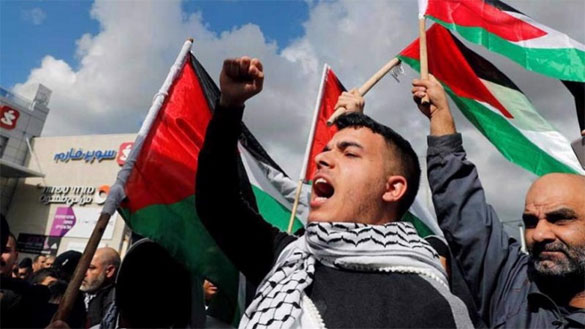 The Palestinian Fatah movement has stressed Palestine's sovereignty even though it is under occupation, hitting out at US Secretary of State Mike Pompeo
-----
The Palestinian Fatah movement has stressed Palestine's sovereignty even though it is under occupation, hitting out at US Secretary of State Mike Pompeo, after he said Palestinians must commit to negotiations with Israel, .
"Mr. Pompeo, when will you realize that our people always choose their leadership and that Palestine, although it is a state under occupation, is not a banana republic?" Munir Jaghoub, head of Fatah's Information Department in the Office of Mobilization and Organization, said in a post on Facebook on Saturday.
In an interview with the Italian daily La Repubblica on Friday, Pompeo expressed hope that the Palestinians would join the US and commit to serious negotiations with Israel following Tel Aviv's normalization agreements with some Arab states.
When asked what was needed to do so, given that the Palestinian Authority (PA) considered the agreements between Israel, the United Arab Emirates and Bahrain void, Pompeo said, "(The Palestinians) must commit to dialogue."
"You have to realize that dignity, self-pride and confidence in the future is an authentic Palestinian commodity," the Fatah leader added.
He reaffirmed the Palestinians' rejection of all US-mediated plans, including the so-called Middle East peace plan, aimed at liquidating the Palestinian cause, saying that peace in the region is only possible after Israel's withdrawal from the occupied territories and recognition of Palestine's right to establish a state on the basis of the 1967 borders, with East Jerusalem al-Quds as its capital.
"We will not talk to anyone on the ground of the so-called deal of the century, and the only dialogue we will accept must be based on international legitimacy and aims to end the occupation and establish an independent Palestinian state with East al-Quds as its capital on the borders of June 4, 1967," he said.
The Fatah official advised Pompeo "not to compromise the Palestinian right," adding, "Many foreign ministers and presidents came and went before you, but Palestine remained and its people maintained steadfastness in their homeland."
In response to the US call for the replacement of the Palestinian leadership, which has strongly rejected US-sponsored agreements in favor of the Israeli regime, Jaghoub said that "the Palestinian leadership remains because it derives its legitimacy from the trust of the people, and you, your president and your administration will leave soon by the decision of the American people."
Israeli Prime Minister Benjamin Netanyahu signed agreements with Emirati Foreign Minister Sheikh Abdullah bin Zayed Al Nahyan and Bahrain's Foreign Minister Abdullatif Al Zayani in a US-brokered event hosted by President Donald Trump at the White House on September 15.
Palestinians, who seek an independent state in the occupied West Bank and Gaza, with East Jerusalem as its capital view the deals as betrayal of their cause.
Palestinian President Mahmoud Abbas protested the normalization deals with Israel, saying they will be fruitless as long as the United States and the Israeli regime do not recognize the rights of the Palestinian nation and refuse to resolve the issue of Palestinian refugees.
https://www.presstv.com/Detail/2020/10/03/635558/Palestine-Fatah-Israel-US-Secretary-of-State-Pompeo-Arab-normalization
--------
Goddess Mariyamman Temple Built By a Muslim Army Commander under Hyder Ali
05th October 2020
TIRUPUR: Villagers of Ravutharpalayam are aware of the Hindu temple built by a Muslim army commander under Hyder Ali in their locality and worshipping Goddess Mariyamman. The temple is located 5 kilometres from Avinashi city in Neduvacheri village in Tirupur district.
Speaking to TNIE, Neduvacheri Panchayat President TG Varadarajan said, "Oral tradition point out the Mariyamman temple was built by a Muslim man. The small temple was built with Hindu style of architecture but has small dome on the top. The small dome instead of Gopuram was very unique." Kumravel a local resident said, 'Earlier I never believed that the temple was built by a Muslim man. Later, I got to know the facts from the local historians.
Goddess Mariamman is invoked several times a year to regenerate soil, fertility and protect the community against disease and death. Apart from the local villagers, residents from Coimbatore and Erode also visit the temple to get the blessings of the Goddess. According to Virarajendran Archaeological and Historical Research Centre, Director S Ravikumar, "The temple structure is similar village style Hindu temple. It is built in square type 8 feet by 8 feet.
Historical evidences point out, that Hyder Ali a powerful ruler of Mysore Kingdom, had the big influence over Kongu region such as Coimbatore and Erode in 18th Century. These places were ruled by several army commanders who were also in charge of revenue collection and administration. One such officer named Ravuthar was in charge of this region.
His daughter reportedly fell ill with chicken pox. Despite medical treatment the infection couldn't be cured. Villagers told him the idea of worshipping Goddess Mariyamman. After he made offering and prayers, his daughter was cured. He immediately built a temple dedicated to the Goddess. Currently the temple is more than 250 years old. The entire locality is known by his name Ravutharpalayam." Neduvacheri Panchayat secretary Kannan said, "The temple attracts quiet a following in the village. Donors have donated several tracts of the land."
https://www.newindianexpress.com/states/tamil-nadu/2020/oct/05/ravutharpalayam-villagers-recall-hindu-temple-made-by-muslim-commander-2205868.html
--------
Most Pakistanis fear country headed in wrong direction: survey
05 Oct 2020
ISLAMABAD: Majority of Pakistanis continue to fear that the country is heading in the wrong direction since last year, claims a survey.
France-based organisation lpsos, in its survey titled "Consumer Confidence Survey in Pakistan", released on Sunday claimed that four in five Pakistanis continued to fear that the country was heading in the wrong direction since last year.
It also revealed that three in four Pakistanis expressed dissatisfaction with the way things are going in Pakistan today, while the same proportion of Pakistanis described as bad the current economic situation in the country.
Three out of four people describe economic situation as bad
The survey, which the organisation asserted was based on 1,000 samples collected from urban and rural areas of the country from people aged 18-plus years with (male and female 50:50pc) in September this year, said that unemployment was a worrying issue which got amplified by 11 per cent people since last year, followed by increasing inflation and poverty.
The survey report, while clubbing various stated responses by theme stated that 75pc of the most worrying issues related to economic despair of the masses. It also stated that significant increase in inflation and poverty are at the top since August last year.
While high cost of living is the most important worrying issue across all provinces, followed by unemployment and increasing poverty, corruption was among top five worries in Punjab and in KP and power loadshedding was prominent only in Sindh. The survey also revealed that only one in 20 Pakistanis rated the current local economy as strong.
"Looking ahead six months from now, 4 in 5 Pakistanis foresee the economy getting deteriorated," the survey said, adding that two in five Pakistanis considered their personal financial situation as weak while over 50pc Pakistanis expected this to be even weaker in the next six months.
The survey also revealed that four in five Pakistanis continued to feel less confident about their job security since August 2018.
"One out of two Pakistanis reported experiencing themselves or witnessing people known to them personally, who lost their jobs in last year. This proportion was 31 per cent from Aug 2018 to Aug 2019," it said, adding that one out of 10 Pakistanis feared they would lose their jobs in the next six months.
"In comparison to one year ago, 9 out of 10 Pakistanis are feeling less comfortable while purchasing general household items as well as major ones like cars, homes etc," the survey said and claimed that in comparison one year ago, more than 8 out of 10 people were feeling less confident about their ability to save and invest in the future.
The survey claimed that Global Consumer Confidence Index for Pakistan stood at 28.9 in September 2020 against global average of 41.8.
https://www.dawn.com/news/1583287/most-pakistanis-fear-country-headed-in-wrong-direction-survey
--------
G25 supports Perak ruler's call for fatwas to consider views of all stakeholders
October 4, 2020
We the members of G25 Malaysia would like to record our appreciation to the Sultan of Perak, Sultan Nazrin Shah, for his speech at the recent nationwide convention of fatwa committees, which was held in Sepang, Selangor, on Sept 22. 2020.
It was a well-written and progressive speech in which the ruler advised that fatwas which are formulated should take into account the views of all stakeholders in society. This is because, when fatwas are issued after receiving the royal consent in the respective states, they are expected to be well-received, due to their practical application in the daily lives of every Muslim.
We are most impressed that the Sultan's advice is based on reference to the Holy Quran and the Hadiths which clearly state that fatwas are essential for guiding Muslims to conduct their lives according to Islamic values.
Fatwas in Malaysia are statements issued by the state mufti, who heads the fatwa committee. In each state, the muftis will then refer to the Majlis Kebangsaan Islam (MKI) where discussions and deliberations are heard, by members of a committee consisting of religious scholars.
These scholars are supposed to be knowledgeable in a wide range of subjects, such as Islamic history, the spiritual and temporal aspects of Islam, as well as how Islam evolved through various stages of economic, social, cultural and political development.
Since the days of Prophet Mohammad, SAW, Islam as a religion and polity has come into contact with different civilisations. As a result, our muftis and Muslim scholars must derive their knowledge of Islam, not only from the holy texts but also from the various sources of Islamic interpretations, which are tied closely to their historical context from which they emerged.
There are always new trends in society which may raise doubts among Muslims, of whether they can apply these new approaches to their lives or not. It is here that the role of the mufti is vital, in order to explain and clarify what is acceptable, what is oppressive and what is culturally and religiously inappropriate.
Diversified analyses of issues
G25 also supports the Perak sultan's statement about the ummah being increasingly exposed to a diverse corpus of educational resources.
Muslims around the world are more critical, curious and intelligent. Likewise, our muftis are equally exposed and find themselves in need of more thorough and diversified analyses of issues that affect various levels of our society.
Under Malaysia's constitutional provisions, although Islam is the religion of the Federation, it is not the basis for law in the country. Fatwas, therefore, fall under the jurisdiction of each individual state.
At the state level, after fatwas are gazetted with the consent of the Ruler, they become the official authority for the religious department to enforce.
Some examples of actions that a state may wish to issue a fatwa on are eating in public places during the fasting month, cross-dressing by men, giving lectures on Islam without a permit or publishing a book that is deemed offensive to the religion.
Some of the fatwas may be at odds with modern lifestyles such as prohibiting an unmarried woman to be riding in the same car as a man or the close physical proximity of male and female co-workers in an office.
Fatwas vary from state to state as each state has its own shariah system of law. Some states are progressive while some are extreme in their punishments for shariah offenses (as stipulated by certain fatwas).
The institution of the mufti must be further developed in the states, to be in line with both religious (Islamic) and secular viewpoints because Malaysia is a multi-religious, multi-ethnic and multi-racial society.
Islam and "the right path" is premised on the acceptance of differences and maqasid l'il alamin. It would be an asset for our muftis to understand the secular aspects of society and how Islam can accommodate non-Islamic aspects of societal organisation.
After all, Islam supports the co-existence of differences in order to promote harmony within society. Fatwas, therefore, are not meant to be oppressive and unjust.
Realistic view of modern trends
G25 agrees with the Perak sultan that fatwas should take into account the changing times as each generation will face different challenges in their private as well as public lives. As the world becomes more competitive and modern, the lifestyles of society are bound to change to suit the prevailing circumstances.
Sultan Nazrin said that state fatwa committees should take a realistic view of modern trends by consulting with various groups, in order to take into account their expert views before issuing a fatwa on a particular aspect of life.
This will ensure that when the fatwa is issued, there will be no dispute as to its application by Muslims, especially in Malaysia's multi-racial and multi-cultural setting.
The ruler gave the advice based on the teachings of various scholars who saw the wisdom of being practical when advising Muslims in their fatwas. These scholars lived centuries ago.
As new discoveries in science, engineering and technology made the old world seem obsolete, these Muslim scholars were courageous enough to take the progressive view towards adapting to the political, economic and social changes around them.
Unfortunately, there are conservative scholars today, even in Malaysia, who claim that while the world may change, Islamic doctrines cannot be interpreted through the use of reason and intellect, in order to adapt to current circumstances.
The fatwas made by such conservative ulama are bound to create confusion and divisions among Muslims and also, complicate their relationship with other races, cultures and religions.
G25 has been criticised by the religious establishment for taking the view that fatwas issued by state governments should be advisory, in form and substance, and should not have the authority to criminalise religious offences.
Crime is a federal matter and not a state responsibility under the Constitution. As one state mufti rightly said, let the sins of Allah be punished by Allah. And let the worldly crimes be punished by man-made laws under the Constitution, which is the Supreme Law of the country.
This shows that there are muftis and ulama who have similar views as G25, about the role of religious edicts or fatwas in guiding Muslims.
On reading the Sultan's speech, G25 is pleased that his view is similar to ours. While fatwas are part of Islamic tradition and are useful guides to Muslims, they should be relevant to present day realities.
As G25 stated in our Open Letter to the People of Malaysia in December 2014, fatwas should be made in full consultation with all stakeholders so that they are consistent with the laws of the country in protecting the rights and freedoms of all Malaysians, including women and girls, as guaranteed under the Constitution and further, are consistent with the demands of modern living.
https://www.freemalaysiatoday.com/category/opinion/2020/10/04/g25-supports-perak-rulers-call-for-fatwas-to-consider-views-of-all-stakeholders/
--------
Port Sudan container terminal, major road blocked in peace deal protest
05 October 2020
Protesters blocked Port Sudan's container terminal and a road between the eastern city and the capital Khartoum on Sunday to protest against a peace deal signed by the government and groups from across the country, a union official and residents said.
The deal, ratified on Saturday in the South Sudanese capital, Juba, was focused on resolving conflicts in the western Darfur region and southern states of Blue Nile and South Kordofan.
Groups from other regions also signed, but some in the east say the two factions that participated in the "eastern track" of the peace process do not represent political forces on the ground.
The deal is aimed at ending decades of conflict in Sudan and uniting the country behind a political transition following the ouster of former leader Omar al-Bashir in April 2019.
However, the two most active groups in the west and the south did not sign, and analysts say that during negotiations, local communities were not widely consulted by military and civilian authorities now sharing power.
Politics in eastern Sudan are volatile because of violent tribal tensions that affected Port Sudan and Kassala recently, positioning by regional powers including wealthy Gulf states, and anger over a long-running economic crisis and the failure of public services.
Workers at the southern port, Sudan's main sea terminal for containers, and at Suakin port to the south, were on strike over the peace deal, said Aboud el-Sherbiny, head of the Port Sudan Workers Union.
"We demand the cancellation of the 'eastern track' and the agreement that was signed yesterday in Juba because this track expresses an external agenda," he said.
"We will take escalatory steps if this demand is not met."
https://english.alarabiya.net/en/News/middle-east/2020/10/05/Port-Sudan-container-terminal-major-road-blocked-in-peace-deal-protest
--------
South Asia
Taliban show no intention of stopping deadly operations
04 October 2020
Amin Alemi
The Taliban militant group does not appear intent on stopping deadly operations in Afghanistan. Latest attacks by the militants have claimed the lives of more than 40 military personnel and civilians.
On Saturday alone, car bombings in the east and south also injured 60 people.
Despite ongoing talks between Kabul and the militant group in Doha, heavy blasts in the provinces of Nangarhar and Kandahar once again showed the fragility of the situation in the war-torn country.
Some says the Taliban seek to dial up pressure on the government by rejecting ceasefire, and at the same time stepping up their campaign of violence. The strategy is seen as a stunt to gain the upper hand in peace negotiations.
Reports coming out of Doha show the Taliban have set new preconditions for the talks. The militants now want certain details already agreed in their earlier deal with the United States to be renegotiated.
https://www.presstv.com/Detail/2020/10/04/635630/Taliban-Afghanistan
--------
Afghan President Ghani off to Doha, but will not meet with Taliban officials
October 05, 2020
KABUL: Afghanistan's President Ashraf Ghani is traveling to Qatar for a bilateral meeting with Qatari leaders but will not hold a meeting with Taliban officials even as peace talks are underway in the country's capital city Doha, officials said on Monday.
Negotiations between the Afghan government and Afghan Taliban that started last month are aimed at the warring sides agreeing to a reduction of violence and a possible new power-sharing agreement in Afghanistan.
Violence, however, has not abated even as Afghan negotiators have been engaged in direct talks for the first time ever.
Scores of Afghan soldiers and Taliban fighters have been killed in intensive clashes and suicide attacks have left dozens of civilians dead in recent weeks across the war-torn country.
Ghani and his team will be stopping first in Kuwait to attend the funeral ceremony of the late Emir of Kuwait Sheikh Sabah Al-Ahmad Al-Jaber Al-Sabah before traveling to Qatar on Monday, a close aide to Ghani told Reuters.
"Several meetings are planned to discuss efforts for deepening Afghanistan-Qatar ties and mutual cooperation in various areas," said the official adding that Ghani will also meet the Afghan representatives who are holding talks with Taliban.
"But it is clear that Ghani will not meet the Taliban officials as there has been no reduction of violence and they continue to kill innocent civilians," said a senior western diplomat overseeing the ongoing peace process.
The intra-Afghan talks are part of a February deal between the militants and the United States that has cleared the way for US forces to withdraw from their longest war.
But so far there has been no progress as the warring Afghans have become bogged down on processes and procedures, diplomatic sources said.
https://www.arabnews.com/node/1744336/world
--------
At least 15 killed in east Afghanistan car bomb attack
Oct 3, 2020
JALALABAD: At least 15 people were killed and more than 30 others wounded in a car bomb attack that targeted a government building in eastern Afghanistan on Saturday, officials said.
The explosion occurred at an administrative building that also housed some military facilities in the Ghani Khel district of Nangarhar province, the governor's spokesman Attaullah Khogyani told AFP.
"The car bomb detonated at the entrance of the district headquarters building. Several armed attackers tried to enter the building after the attack but were killed by security forces," he said.
Provincial police spokesman Farid Khan confirmed the details.
He said most of the victims were Afghan security force members but several civilians were also among the dead.
No one had so far claimed responsibility for the attack but Khan blamed the Taliban.
Both the Taliban and the Islamic State group are active in the region.
The Taliban have stepped up attacks across the country even as the group is meeting for peace talks with Afghan government negotiators in Doha.
A roadside blast in central Afghanistan on Tuesday killed at least 14 civilians, mostly women and children, the interior ministry said.
https://timesofindia.indiatimes.com/world/south-asia/at-least-15-killed-in-east-afghanistan-car-bomb-attack/articleshow/78461834.cms
--------
Tribal Chief Killed in a Magnetic Bomb Blast
By Mohammad Haroon Alim
05 Oct 2020
Officials in Paktia province say a tribal elder has been killed in a magnetic mine explosion in the provincial capital.
Paktia police spokesman Hayatullah Nezami told Khaama Press that the blast occurred at around 4:30 a.m. Sunday on Salukhil Road in Gardez.
According to Nezami, this tribal elder was named "Haji Fazel", who was the elder of the "Shakarkhil" tribe.
The spokesman said the "terrorists" have planted a mine in Haji Fazel's vehicle.
No group or individual has claimed responsibility for the blast.
https://www.khaama.com/tribal-chief-killed-in-a-magnetic-bomb-blast-987678/
--------
Arab world
Saudi Arabia calls upon citizens to 'boycott everything Turkish' following Erdogan's statement
05 Oct 2020
Saudi authorities called upon citizens to "boycott everything Turkish" following a statement by Turkish President Recep Tayyip Erdogan where he accused some Gulf countries of pursuing policies that were destabilising the region, Gulf News reported on Saturday.
"The boycott of everything Turkish, whether on the level of import, investment or tourism, is the responsibility of every Saudi — trader and consumer — in response to the continued hostility of the Turkish government against our leadership, our country and our citizens," Saudi Arabia's Chamber of Commerce head Ajlan Al Ajlan said in a tweet.
In addition to accusing some Gulf countries of targeting Turkey and following policies that led to instability, the Turkish president had, during an address to the country's General Assembly, also said: "It should not be forgotten that the countries in question did not exist yesterday, and probably will not exist tomorrow; however, we will continue to keep our flag flying in this region forever, with the permission of Allah."
Relations between Saudi Arabia and Turkey have been thorny especially since the brutal murder of Washington Post columnist Jamal Khashoggi that took place in the Saudi consulate in Istanbul in 2018.
Erdogan has said the order to murder Khashoggi came from "the highest levels" of the Saudi government but has never directly blamed Crown Prince Mohammed bin Salman, who is widely believed to be behind the gruesome murder.
Earlier this week, Turkey indicted six Saudi suspects in Khashoggi's murder case. None of the suspects are in Turkey and will be tried in absentia. Twenty Saudi nationals are already on trial in an Istanbul court for Khashoggi's killing.
The indictment came weeks after a Saudi court overturned five death sentences issued after a closed-door trial in Saudi Arabia that ended last year, sentencing them to 20 years in prison instead.
Recently, Erdogan also condemned the United Arab Emirates and Bahrain's decision to normalise ties with Israel. After the announcement of normalisation of ties between UAE and Israel, Erdogan had warned Turkey could suspend diplomatic relations with the Gulf state in response.
Turkey has had diplomatic relations with Israel for decades, but under President Erdogan, has positioned itself as a champion of the Palestinians.
https://www.dawn.com/news/1583215/saudi-arabia-calls-upon-citizens-to-boycott-everything-turkish-following-erdogans-statement
--------
Senior Analyst: Trump's Fever Worries Arab Rulers
Oct 04, 2020
"The Arab followers of Trump show symptoms of a fever out of fear any time that Trump's body temperature goes high," Atwan wrote on his twitter page on Sunday.
He said Arab rulers fear that Trump's death of the coronavirus will challenge them with bigger problems, and then there would be no one to prevent their collapse.
A spate of White House statements about President Donald Trump's health spurred a wave of confusion and criticism about his path ahead, when he was first diagnosed and the true severity of his symptoms.
The baffling back-and-forth began Saturday morning when Trump's physician, Dr. Sean Conley, briefed the press outside Walter Reed National Military Medical Center, where the 74-year-old president has been since Friday night.
Conley proclaimed Trump was "doing very well", that his fever had subsided, that his symptoms were improving and that he wasn't receiving supplemental oxygen.
But only minutes after Conley left the microphone, the White House press pool reporter conveyed a statement from "a source familiar with the president's health" that appeared to directly contradict the rosy portrait.
"The president's vitals over the last 24 hours were very concerning and the next 48 hours will be critical in terms of his care," the statement said, adding, "We're still not on a clear path to a full recovery."
The remark was later revealed to have come from White House Chief of Staff Mark Meadows, who was caught on camera after the briefing asking to speak with a handful of reporters away from the cameras.
A White House official later noted that Trump's vitals had become concerning Friday morning, hours before he was moved to the hospital.
Meanwhile, numerous indications emerged that Trump had received oxygen at the White House during that time period — a step frequently needed for patients with serious coronavirus cases. The revelations swiftly cast a harsh spotlight on Conley's carefully phrased denials about Trump needing oxygen assistance.
Conley and Trump's medical team also sent shockwaves through the White House and political landscape with their timeline of Trump's first positive coronavirus test. During the briefing, Conley stated it had been 72 hours since Trump was diagnosed with COVID-19, suggesting Trump knew about his status on Wednesday, well before he revealed it overnight Thursday into Friday. That would mean Trump had gone on with his normal schedule, traveling and working in close proximity to aides and staffers, for well over a full day.
Yet again, though, the White House scrambled minutes after the briefing to clarify the timeline from the medical team. Another White House aide said the doctor had meant to say "day 3" instead of "72 hours", since Trump had been diagnosed Thursday night. Conley made the clarification official a few hours later, releasing what amounted to the fourth statement of the day from the White House.
Still, questions lingered about Conley's wording that Trump's medical team had "repeated testing" on "Thursday afternoon", perhaps indicating an earlier initial test before firm confirmation that evening.
It was a head-spinning sequence reflective of a White House — and president — not always known for transparency on health matters. As a candidate, Trump infamously had his doctor declare he would be the "healthiest individual ever elected to the presidency". And as president, Trump's former physician triggered eyerolls when he claimed the president could have lived to "200 years old" with a better diet. The White House has also given head-scratching explanations for an unusual trip to Walter Reed last year.
"The world has to know whether the president of the United States is in good health," noted Scott Jennings, who worked for President George W. Bush and is close to the Trump White House, adding, "You cannot have inconsistent reports about the president's health."
"I am stunned that the White House put the president's doctor out there and then issued a contradictory statement," he added, saying, "You can't do that. This just invites questions about what's going on there."
Since the coronavirus hit the US, the White House has similarly been coy at times about staffers testing positive, with some of the more notable infections only being confirmed after leaks to the press.
Trump's case has been no different. One former senior administration official said only a few people, like the president's family, actually know the full truth about Trump's condition. As a result, conflicting rumors about Trump's health have been flying around the presidential orbit.
In a four-minute video released Saturday evening, Trump contradicted Meadows and other top officials who had framed his health status as worrisome before he left the White House. Instead, the president stated he was told he'd have to stay in the White House residence, but chose Walter Reed instead.
"I just didn't want to stay in the White House. I was given that alternative," Trump said in the video he tweeted, adding, "Stay in the White House, lock yourself in, don't ever leave, don't even go to the Oval Office, just stay upstairs and enjoy it. Don't see people, don't talk to people and just be done with it, and I can't do that."
Saturday's roundabout information release left some in the White House bewildered, capping off days of minimal communication between White House leaders and their staff.
One White House official announced that most officials were receiving the same updates as the press — no more, no less. Another White House aide complained about being perpetually in the dark about not just the president's health, but about coronavirus infections among the staff.
"I might as well be a member of the public," the aide stated, adding that officials felt nervous and upset about the lack of information.
Still, Saturday's briefing marked the most thorough update on Trump's health since the diagnosis was revealed early Friday.
Conley noted he was "extremely happy with the progress the president has made", but warned an "inflammatory phase" that sets in seven to 10 days after the virus takes root will be critical to determining how Trump's infection unfolds.
For the first time, Conley did reveal specifics on some of Trump's vitals, noting that his blood pressure and heart rate were both within Trump's normal range. Conley also announced that Trump's oxygen saturation — the level of the gas in his blood — was 96 percent, squarely within the normal range.
Yet when pressed about whether Trump had received oxygen at any point, Conley obfuscated. At one point, he ruled out that Trump had gotten oxygen on Friday or Saturday. But later, he appeared to indicate the president may have may have been on supplemental oxygen while he was at the White House on Friday, before leaving for the hospital.
Conley appeared in front of a Walter Reed building flanked by nine masked members of the medical team, part of a large team of experts positioned to monitor the president closely.
At least a couple of them appeared to be playing to the cameras — perhaps for Trump watching closely inside — with their framing of his condition.
At the end of his prepared remarks, Conley looked toward Meadows and smiled as he conveyed a message.
"One other note: It should be clear that he's got plenty of work to get done from the chief of staff," Conley announced.
Another physician, Dr. Sean Dooley, said Trump was in "exceptionally good spirits" and added Trump told them, "I feel like I could walk out of here today".
Still, the medical team acknowledged that the five-day treatment Trump is receiving could keep him in the hospital into Tuesday or Wednesday. And Conley was hesitant to indicate how soon the president might be discharged.
"I don't want to put a hard date on that," he said.
Trump, for his part, made his own effort to establish his narrative a few hours after the medical team briefing.
"Doctors, Nurses and ALL at the GREAT Walter Reed Medical Center, and others from likewise incredible institutions who have joined them, are AMAZING!!!Tremendous progress has been made over the last 6 months in fighting this PLAGUE. With their help, I am feeling well!" he tweeted.
The president has been largely silent since announcing he had COVID-19 — dropping his obsessive tweeting habit and not making any appearances. Throughout Friday, it was left to aides and allies to provide insight into his "mild symptoms". Then, early Friday evening, the White House announced it was taking Trump to Walter Reed hospital out of an "abundance of caution" for "a few days". In a memo before the trip, Conley described the president as "fatigued but in good spirits".
The sudden disappearance on Friday started to worry aides and allies, who fretted about the president's status as they waited for guidance on how to message the situation.
Trump surrogates were told to cancel media appearances as everyone went into a holding pattern. By Friday evening, that ban appeared to be lifted — Trump advisers David Bossie and Corey Lewandowski were both back on the air.
That same night, Conley revealed the president had started taking the antiviral drug remdesivir and was "doing very well". Preliminary data has shown the drug can help reduce recovery time for hospitalized coronavirus patients. But research has been inconclusive on whether the drug lowers the risk of death.
Trump has also completed an infusion of an experimental antibody drug produced by Regeneron — receiving the highest dosage being tested in the ongoing clinical trial — and is taking aspirin, zinc and vitamin D.
Notably, before Saturday there had been no significant information released on Trump's vitals, such as his oxygen levels or blood pressure. Conley did say late Friday that Trump was not receiving supplemental oxygen.
To this point, Trump's only public appearance related to his condition has been a brief, 18-second video he released before going to Walter Reed, thanking his supporters and proclaiming, "I think I'm doing very well". He reiterated the message in a late-night tweet: "Going welI, I think! Thank you to all. LOVE!!!"
With Trump in the hospital, Vice President Mike Pence has remained in his residence, even as the Trump campaign on Saturday announced Pence would headline a MAGA rally in Arizona on Thursday. Pence tested negative for COVID-19 on Friday and stepped in for Trump to host a scheduled conference call on the coronavirus that afternoon. Pence's schedule for Saturday indicated he would remain at home.
If Trump's condition worsens, the 25th Amendment allows for the president to transfer his powers to the vice president.
On Saturday, Pence convened campaign staffers across the country on a conference call for a pep talk. Pence stated he had spoken to a Trump who was in "great spirits", and implored staffers to not let up in the campaign's waning days.
"I want to encourage you to stay in the fight," Pence continued, adding, "Let's continue to carry our message across this country."
Trump's infection is part of an outbreak that has raced through the White House, the Trump campaign and Republican senators on Capitol Hill.
The first indication of a viral spread appeared Thursday evening when the White House confirmed that Hope Hicks, a close Trump aide who travels regularly with the president, had contracted the disease. Then a cascade of positive tests were revealed over the next 36 hours — Trump's campaign manager, the head of the Republican National Committee and three GOP senators were just a few of people affected.
The infections are likely linked to several Republican gatherings over the last week.
Last Saturday, the White House held a Rose Garden ceremony to introduce Amy Coney Barrett, Trump's pick to replace Ruth Bader Ginsburg on the Supreme Court. Attendees at the event were largely maskless, and there were indoor receptions before and after the outdoor ceremony.
In the days that followed, the president traveled to several rallies and the first presidential debate, repeatedly putting him and his top aides in close proximity on helicopters and planes.
https://en.farsnews.ir/newstext.aspx?nn=13990713000559
--------
Iraqi MP: US Embassy Closure Threat Aimed at Provoking Public Opinion against Hashd Al-Shaabi
Oct 04, 2020
"Washington's threats of closing its embassy in Baghdad is aimed at provoking the public opinion about the suspicious insecurities in the country and pave the ground for targeting Hashd al-Shaabi within the framework of the US new scenario," Mahdi Amarli told the Arabic-language Baghdad al-Youm news website on Sunday.
He dismissed any involvement of Hash al-Shaabi in violation of security of diplomatic places, saying, "Actually, if they were after a war, they would declare it officially."
His remarks came after US Secretary of State Mike Pompeo threatened to close the American Embassy in Baghdad within weeks if Iraqi leaders fail to prevent firing rockets at the compound. He tried to accuse Hashd al-Shaabi for the attacks.
Hashd al-Shaabi officials have blamed the US for the recent rocket attacks in Baghdad.
Earlier this week, Kataeb Hezbollah group, affiliated to Hashd al-Shaabi, blamed the US spy agency, CIA, for the Monday rocket attack on residential areas in Baghdad.
"The CIA's footsteps is seen in the criminal operations in al-Radwaniyah and scientific evidence and proofs confirm it," Kataeb Hezbollah said.
It called for the formation of a joint committee by Hashd al-Shaabi and the Iraqi interior ministry to investigate about the attack.
Five civilians, including two women and three children, were killed in a rocket attack near Baghdad airport last Monday, the Iraqi Defense Ministry said.
The ministry's Joint Operations Command said in a statement that two Katyusha rockets landed on a house in the Radwaniyah area.
Two other children were injured in the attack, the ministry said, adding that the rockets were launched from Jihad neighborhood in Baghdad.
https://en.farsnews.ir/newstext.aspx?nn=13990713000308
--------
Shia Muslims flock to Iraq's Karbala to mark Arba'een amid virus curbs
05 October 2020
Tens of thousands of Shia Muslims have been heading to Iraq's holy city of Karbala to mark Arba'een, the 40th day after the martyrdom anniversary of Imam Hussein (AS), the third Shia Imam, amid tightened measures to curb the spread of the coronavirus.
The martyrdom anniversary of the grandson of Prophet Muhammad (Peace be upon Him) was mourned this year in August.
This year's commemoration of the martyrdom anniversary was subdued due to the coronavirus pandemic as Iraq had closed its borders to non-residents, allowing only residents to take part in Ashura, the culmination of a 10-day annual mourning period in the Islamic lunar calendar month of Muharram.
Iraq, which has over 375,000 coronavirus cases and almost 9,500 deaths, opened its borders to pilgrims to commemorate the Day of Arba'een, which falls on Thursday this year, but with restrictions on arrivals in an attempt to prevent the spread of the COVID-19 respiratory disease.
Every year on Arba'een, millions of people from around the world flock to Karbala. Large groups of mourners travel on foot toward the holy city of Karbala to take part in the largest annual Islamic gathering on earth.
This year, only 1,500 pilgrims per country are being allowed to fly into Iraq, while Iran has been authorized to send an additional 2,500 overland.
"Every day, between six and 10 planes land and more are coming in the days ahead," said Issa al-Shemmari, airport director in Najaf, another holy city south of Karbala.
Imam Hussein (AS) and his 72 companions were martyred in the Battle of Karbala in southern Iraq in 680 AD after fighting courageously for justice against the much larger army of the Umayyad caliph, Yazid I.
https://www.presstv.com/Detail/2020/10/05/635670/Shia-Muslims-Karbala-Arba%E2%80%99een-virus-curbs
--------
Turkish artillery strikes Syrian military positions in Idlib, no casualties reported
04 October 2020
A London-based war monitoring group says Turkish military units have hit the positions of Syrian government troops in the eastern part of the country's northwestern province of Idlib with no immediate report of casualties.
The so-called Syrian Observatory for Human Rights (SOHR), citing reliable sources requesting anonymity, reported on Sunday that Turkish forces targeted Syrian military positions in the city of Saraqib.
The development took place shortly after Syrian government forces shelled positions of Turkish-backed militants in the mountainous Jabal Zawiya region of the same province.
Earlier in the day, Turkish-sponsored Takfiri militants had targeted the positions of Syrian army forces in a number of villages in southern Idlib, including Kansafra and Sufuhon.
Ankara has been providing support to militants operating to topple the Damascus government since early 2011.
Last year, Turkey seized control of the border town of Ra's al-Ayn after it launched a cross-border invasion of northeastern Syria with the help of its allied armed groups to push Kurdish militants affiliated with the so-called People's Protection Units (YPG) away from border areas.
Ankara views YPG as a terrorist organization tied to the homegrown Kurdistan Workers' Party (PKK).
US forces block Russian patrol in northeast Syria
Separately, US military forces stopped a convoy of Russian troops as they were on patrol in Syria's northeastern province of Hasakah.
The Russian patrol was intercepted and prevented from proceeding in the town of Rmelan on Saturday, according to the monitoring group.
Senior US officials have on occasions complained about Washington's policies in Syria, arguing that the approaches of President Donald Trump's administration have stuck American troops fighting a 'forgotten war' and guarding oil and gas resources there, while Russian troops are making advances and help the Damascus government recover after nearly a decade of militancy.
"It's a clusterf**k in Syria," one top US intelligence official, who requested anonymity, told American weekly news magazine Newsweek last month, adding, "We don't have a strategy."
Malcolm Nance, a former US Navy intelligence and counter-terrorism specialist, also compared the situation to another bloody quagmire for the Pentagon, and said the presence of US troops on the Syrian soil is a political game with little payoff.
"A few special forces supported by artillery and armor units are very much akin to 2002 in Afghanistan. It is now a forgotten war," Nance said.
Moreover, Russian and Syrian joint coordination committees on the repatriation of Syrian refugees have denounced the presence of US troops on the Syrian soil, stating that such an illegal military deployment stokes new tensions in the Middle East.
The committees, in a statement released on September 3, cited the unlawful presence of US forces and militants affiliated with the so-called Syrian Democratic Forces (SDF) as one of the serious matters of concern in northeastern part of the Arab country, Syria's official news agency SANA reported at the time.
https://www.presstv.com/Detail/2020/10/04/635631/Turkish-artillery-units-strike-Syrian-military-positions-in-Idlib-no-casualties-reported
--------
Mideast
Shrugging off global outcry, Israel moves to build 4,500 settler units
04 October 2020
Despite international outcry against the Tel Aviv regime's policies of land grab and illegal settlement expansion, Israel will build yet another 4,500 settler units in the occupied West Bank.
The Israeli Haaretz daily newspaper reported on Sunday that formal sessions on the construction of the units will commence as of October 12, and at the behest of Prime Minister Benjamin Netanyahu.
Earlier, the Israeli Hebrew-language Israel Hayom daily newspaper reported that more than 2,000 housing units within the construction plans would be built in the Beitar Illit settlement, about 10 kilometers south of Jerusalem al-Quds, 629 in the Elieh settlement and 560 others in the Gilo settlement in southwestern al-Quds.
Despite international outcry against the Tel Aviv regime's policies of land grab and illegal settlement expansion, Israel will build yet another 4,500 settler units in the occupied West Bank.
The Israeli Haaretz daily newspaper reported on Sunday that formal sessions on the construction of the units will commence as of October 12, and at the behest of Prime Minister Benjamin Netanyahu.
Earlier, the Israeli Hebrew-language Israel Hayom daily newspaper reported that more than 2,000 housing units within the construction plans would be built in the Beitar Illit settlement, about 10 kilometers south of Jerusalem al-Quds, 629 in the Elieh settlement and 560 others in the Gilo settlement in southwestern al-Quds.
The Israeli prime minister has underlined that annexation is not off the table, but has simply been delayed.
The Palestinian resistance movement Hamas has also rejected UAE officials' claim that Israel had stopped settlement annexation following a full normalization of diplomatic relations.
Hamas spokesman Hazem Qasem said in a statement on September 30 that the constant expansion of the Israeli settlements in the West Bank has exposed the false claims of the Arab country.
"These [UAE] claims [that normalization with Israel has stopped settlement construction] are meant to mislead the Arab public opinion and to cover up the normalization crime."
UAE Minister of Foreign Affairs and International Cooperation Sheikh Abdullah bin Zayed bin Sultan Al Nahyan had claimed that the deal had forced Tel Aviv to scrap its annexation plan.
Netanyahu signed agreements with Abdullah bin Zayed Al Nahyan and Bahrain's Foreign Minister Abdullatif Al Zayani during an official ceremony hosted by US President Donald Trump at the White House on September 15.
Palestinians, who seek an independent state in the West Bank and the besieged Gaza Strip with East Jerusalem as its capital, view the deals as betrayal of their cause.
Emboldened by President Trump, Israel has stepped up its settlement construction activities in defiance of United Nations Security Council Resolution 2334, which pronounced settlements in the West Bank and East Jerusalem al-Quds "a flagrant violation under international law."
https://www.presstv.com/Detail/2020/10/04/635621/Israel-settler-units
--------
Palestinian prisoner on 70th day of hunger strike as his wife calls for help
04 October 2020
Palestinian prisoner Maher al-Akhras has entered the 70th consecutive day of his open-ended hunger strike against Israel's administrative detention while his wife has launched an international appeal for his life.
The Palestinian Commission for Detainees and Ex-Detainees Affairs said on Sunday that his health condition was now at a life-threatening stage.
The commission said Akhras would only end his strike if he was released immediately.
His wife said in a press statement on Saturday that his condition is extremely dangerous, he loses consciousness from time to time and cannot move.
She added that her husband has constant seizures, and sometimes he does not know who is standing before him.
"His only condition for ending his hunger strike is freedom and he keeps saying from his bed at Kaplan Hospital 'either freedom or martyrdom'," she emphasized.
Hundreds of detainees are under administrative detention, in which Israel keeps the detainees for up to six months, a period which can be extended an infinite number of times. Women and minors are also among these detainees.
Such detentions take place on orders from a military commander and on the basis of what the Israeli regime describes as 'secret' evidence.
Palestinian detainees have continuously resorted to open-ended hunger strikes in an attempt to express their outrage at the detention.
More than 7,000 Palestinians are reportedly held in Israeli jails.
In May 2019, a study revealed that Israel had arrested some 16,500 Palestinian children since the outbreak of the Second Intifada (uprising) in late-2000.
In recent months and in the wake of the novel coronavirus, several Palestinian prisoners have been infected in an Israeli detention center amid mounting concerns about medical negligence by Israeli authorities.
https://www.presstv.com/Detail/2020/10/04/635629/Palestinian-prisoner-hunger-strike
--------
Yemeni protesters censure Saudi aggression, blockade
03 October 2020
Yemenis have demonstrated against the Saudi all-out blockade and atrocities committed by the Riyadh regime and a number of its regional allies in the impoverished Arab country.
The employees and workers of Yemen Petroleum Company (YPC) gathered outside the United Nations office in the capital Sana'a on Friday, decrying deadly Saudi airstrikes and the Saudi-led blockade that has left thousands struggling to survive.
"The suffocating blockade and continued detention of vessels loaded with oil derivatives endanger the lives of more than 26 million Yemeni citizens and threaten the collapse of vital sectors. Such actions are in contravention of the international law and humanitarian principles," the YPC said in a final communiqué.
The statement pointed out that the Saudi-led coalition is currently holding up 19 oil tankers, of which nine have been impounded for more than half a year.
It added that the total fines resulting from the seizure of the vessels amounts to nearly 121 million dollars, noting that some 90 million dollars have been levied since the beginning of the current year alone.
The YPC finally held the Saudi-led military coalition and the UN responsible for the dire consequences of the seizure of oil tankers on Yemen's vital sectors, namely healthcare, communications, transportation, electricity and agriculture.
Elsewhere in Yemen's western coastal city of Hudaydah, people took to streets following Friday noon prayers in protest at closure of Yemen's ports by the Saudi-led military coalition and the continuing acts of aggression by the alliance.
The protesters condemned the dangerous escalation in the number of crimes being perpetrated by Saudi-led forces and their mercenaries in the cities of Hudaydah and al-Durayhimi, which has left many people, mostly women and children, dead and injured.
The demonstrators called upon the UN and international human rights organizations to intervene and stop the Saudi acts of aggression.
They also categorically rejected normalization with Israel and US President Donald Trump's so-called deal of the century on Israeli-Palestinian conflict, arguing that the purported "peace" plan is being promoted by treacherous Arab rulers and "preachers of disbelief and delusion" who wish to serve Washington and the Tel Aviv regime.
The so-called deal of century enshrines Jerusalem al-Quds as "Israel's undivided capital" and allows the regime to annex settlements in the occupied West Bank and the Jordan Valley. The plan also denies the right of return for Palestinian refugees to their homeland, among other controversial terms.
All Palestinian groups have unanimously rejected Trump's highly controversial plan. The initiative has triggered waves of protest rallies both across the occupied Palestinian territories and around the globe as well.
Saudi Arabia and a number of its regional allies launched the war on Yemen in March 2015, with the goal of bringing the government of former Yemeni president Abd Rabbuh Mansur Hadi back to power.
The US-based Armed Conflict Location and Event Data Project (ACLED), a nonprofit conflict-research organization, estimates that the war has claimed more than 100,000 lives for more than the past five years.
The popular Houthi movement, backed by the armed forces, has been defending Yemen against the Saudi-led alliance, preventing the aggressors from fulfilling their objectives.
https://www.presstv.com/Detail/2020/10/03/635538/Dozens-of-people-protest-against-Saudi-led-aggression-blockade-on-Yemen
--------
Iranian Mission Condemns Killing of Civilians in Azerbaijan, Armenia Clashes
Oct 04, 2020
"The office of the Republic of Azerbaijan' prosecutor general reported that as of the morning of October 3, 19 innocent people have been killed, 63 wounded and 44 civilian places and facilities as well as 181 houses have been destroyed," the statement said on Sunday.
The Embassy of the Islamic Republic of Iran in the Republic of Azerbaijan emphasized the need for respect for human rights and international humanitarian laws, recalling the international norms, principles and rules of the armed conflict, including the Geneva Conventions (1949) and its Additional Protocols (1977) and in particular The Fourth Geneva Convention on the Protection of Civilian Persons.
"The Iranian embassy strongly condemns any violation of the rights of innocent people and the killing and wounding of civilians, as well as the destruction and damage to civilian premises, facilities and properties, and extends its condolences to the bereaved families," the statement concluded.
Iran has invited the neighboring countries of Azerbaijan Republic and Armenia to avoid tensions and adhere to self-restraint to resolve Nagorno-Karabakh conflict, stressing the need for regional peace.
Iranian Foreign Minister Mohammad Javad Zarif called on his Azeri and Armenian counterparts to refrain from military ways as tensions have risen between the two countries over Nagorno-Karabakh region.
During phone conversations with Armenian Foreign Minister Zohrab Mnatsakanyan and Azeri Foreign Minister Jeyhoun Bayramov, Zarif voiced concern over the situation and called on both sides to declare ceasefire and end hostilities.
He called for negotiations according to the international law and expressed Iran's readiness to use all its capacities to help settle disputes.
Clashes in the contested region of Nagorno-Karabakh broke out last Sunday morning, with each side accusing the other of sparking the hostilities.
The conflict first began over three decades ago, in 1988, when radical nationalist sentiments in both Armenia and Azerbaijan unleashed by Soviet leader Mikhail Gorbachev's perestroika and glasnost reforms prompted authorities in the majority ethnic Armenian Nagorno-Karabakh autonomous region within the Azerbaijani Soviet Republic to try to secede and join Armenia proper. Baku attempted to prevent this, and in late 1991 abolished the region's autonomous status. Between 1992 and 1994, Armenian and Azeri forces waged a full-scale war for the region, with the conflict killing as many as 42,000 soldiers, militiamen and civilians, and displacing over a million Armenians and Azerbaijanis, both within Nagorno-Karabakh and in other areas of both countries.
https://en.farsnews.ir/newstext.aspx?nn=13990713000728
--------
Envoy: Russia Ready to Supply Iran with S-400 Defence Shield
Oct 03, 2020
"We have said since the very first day that there will be no problem for selling weapons to Iran from October 19," Dzhagaryan said in an interview with the Persian-language Resalat newspaper on Saturday.
He underlined that Russia does not fear the US threats and will remain committed to its undertakings, adding that Moscow is ready to study the Iranian side's proposals on purchasing weapons from Russia after October 18.
"As you know we have provided Iran with S-300. Russia does not have any problem to deliver S-400 to Iran and it did not have any problem before either," Dzhagaryan said.
After the removal of pre-nuclear-deal sanctions against Iran, Russia delivered S-300 air defense systems to the country under the existing contract.
Iran designed and developed its own version of the S-300 missile shield, named Bavar 373, after the Russians shrugged off delivery of their advanced missile defense system to Iran on the pretext of the UN Security Council sanctions.
The Iranian version has superior features over the original Russian model as it enjoys increased mobility, agility and reduced launch-preparation time.
Iranian commanders had earlier said that Bavar 373 is similar to its original Russian model and traces and intercepts high-altitude targets.
https://en.farsnews.ir/newstext.aspx?nn=13990712000852
--------
Israelis kidnap 22 Palestinians including police officers in West Bank
04 October 2020
The Palestinian Information Center says undercover Israeli agents and regime forces have kidnapped 22 Palestinians including police officers in a series of raids across the occupied West Bank.
Twelve officers were forcibly taken away in the town of Ni'lin near the city of Ramallah on Sunday.
Nine citizens were also abducted in the cities of Ramallah, Bethlehem and al-Khalil (Hebron). Another Palestinian was taken away In the Issawiya neighborhood of East Jerusalem al-Quds.
The circumstances surrounding the kidnappings remain unknown, although Israelis carry out such swoops customarily.
Tensions have been mounting between Israelis and Palestinians in the wake of Israeli Prime Minister Benjamin Netanyahu's plan to annex parts of the West Bank.
The occupied territories are already reeling from US President Donald Trump's announcement of his decision on December 6, 2017 to recognize Jerusalem al-Quds as Israel's 'capital' and relocate the US Embassy from Tel Aviv to the city.
https://www.presstv.com/Detail/2020/10/04/635644/Israel-Palestinians-West-Bank
--------
Rouhani felicitates Kuwait's new emir, hopes for 'fraternal' ties
04 October 2020
Iranian President Hassan Rouhani has extended felicitations to Kuwait's new emir, expressing hope for the boosting of 'friendly' and 'fraternal' ties between the two countries.
In a congratulatory message to Emir Sheikh Nawaf al-Ahmad Al Sabah on Sunday, Rouhani voiced confidence that thanks to the continuation of the new emir's wise leadership, the two countries will see the expansion bilateral ties as well as the development of stability and security in the region.
"I sincerely congratulate you on the Emirship of the friendly and brother country of Kuwait," the Iranian president said.
"I am confident that, as in the past, we will witness further expansion of friendly and fraternal relations between the two countries and the development of stability and security in the region in the light of His Excellency's wise leadership," the Iranian president stated.
Rouhani also wished health and success for the new Kuwaiti emir as well as dignity and well-being for the Muslim people of Kuwait.
Sheikh Nawaf al-Ahmad Al Sabah has taken the reins of the tiny Persian Gulf state since the demise of his predecessor Sheikh Sabah.
Earlier in the day, Iranian Foreign Minister Mohammad Javad Zarif traveled to Kuwait City on an official visit directed by Rouhani and sat down with Kuwait's new emir.
Asserting the Islamic Republic's support for Kuwait, the top Iranian diplomat condoled with the Kuwaiti state and people on behalf of Tehran over the demise of Sheikh Sabah al-Ahmad Al Sabah, who passed away Tuesday at the age of 91.
The late emir had been in hospital in the United States since July, when he underwent surgery for an unspecified condition.
Sheikh Sabah had ruled the country since 2006. He had also acted as the architect of the kingdom's foreign policy for more than half a century in his capacity as foreign minister.
His tenure and influence over Kuwait's policies was most notably marked by constant attempts at brokering Arab and regional peace besides balancing Kuwait's relations with its neighbors.
https://www.presstv.com/Detail/2020/10/04/635639/Iran-Rouhani-Kuwait
--------
India
Aalami Tabhligi Ijtima-Global Muslim Congregation in Bhopal Deferred For First Time Due To COVID-19
By Sravani Sarkar
October 04, 2020
The Aalami Tabhligi Ijtima—the annual global congregation of the Muslim devotees held in Bhopal—has been deferred for the first time since its inception 73 years ago, due to the COVID-19 pandemic.
The 73rd Ijtima was scheduled to be held from November 27 to 30 at Eintkhedi just on the outskirts of the capital city of Madhya Pradesh. Since the past few years, 12-14 lakh Muslims from across the world attend the spiritual congregation every year.
Atiq ul Islam, a spokesperson of the Ijtima Committee, confirmed to THE WEEK that the annual event has been deferred and the next dates will be decided only when the situation on the COVID-19 front is normal.
"It does not seem probable that the congregation might be held this year," he said.
Islam said that the decision to defer the global congregation—one of the signature events of Bhopal—was taken after detailed discussion among the organising committee members. "It was felt that it will be difficult to follow the COVID-19 related protocols mainly due to the sheer number of attendees that we have from across the world. Also we did not want to attract any controversy related to the event," he said.
The Tabhlighi Ijtima began in Bhopal in 1948 just after independence and was first held at the Masjid Shakur Khan within the city. Later, the venue was shifted to the historic Tajul Masajid, where it continued to be held till the year 2002 when it had to be shifted out of the city limits to open grounds in Eintkhedi mainly due to the swelling number of participants that crossed the 10-million mark a few years ago.
Devotees from around 30 countries and nearly two dozen Indian states normally assemble at the Ijtima with an objective to inculcate spiritual values so as to balance it with materialism to lead an upright life, according to the organisers.
Groups of people from 30 countries including Kyrgyzstan, Indonesia, Malaysia, Bangladesh, Sri Lanka, Afghanistan, Saudi Arabia, Tunisia, Iran, Kuwait, Bahrain, Oman, Jordan, Egypt, South Africa, Somalia, Tanzania, Kenya, Thailand, Philippines, France, Australia, the United Kingdom, Canada, the USA, Brazil, Russia and others are regular participants.
https://www.theweek.in/news/india/2020/10/04/covid-19-global-muslim-congregation-in-bhopal-deferred-for-the-first-time.html
--------
Babri Masjid Demolition judgement Reminds These Are Hindutva Days: Prof. Saifuddin Soz
04 Oct 2020
Prof. Saifuddin Soz, Former Union Minister has issued the following statement on 1st Oct 2020: "In a travesty of justice, a Special CBI Court Judge Shri. S.K. Yadav on 30th September, 2020 acquitted all 32 main accused BJP leaders involved in the demolition of Babri Masjid that took place on 6th December, 1992.
The Special Judge S.K. Yadav, just one day before his retirement, observed that evidence against the accused was not strong enough and the Babri Mosque demolition incident was not pre-planned!
He further observed that the people who demolished the mosque were anti-national elements and the accused people were, in fact, trying to control the crowds from the demolition of Babri Mosque.
As against this, the Librahan Commission set up in 1992 to probe the Babri Masjid demolition, had submitted its report on 30th June, 2009 before the then Prime Minister. The Commission had pointed to the involvement of Senior RSS-BJP leaders including L.K. Advani, Murli Manohar Joshi, Uma Bharti with connivance of the then Uttar Pradesh Govt. and said that they either actively or passively supported the demolition!
The fact of the matter is that the RSS/BJP combine wants courts to rule what is acceptable to it!
It is during circumstances like this that it will be appropriate to recite Faiz's verse:
Bane Hain Ahle Hawas Mudda'ee Bhee Munsif Bhee / Kise Wakeel Karein, Kis Se Munsifi Chahen (Criminals are now both petitioners and judges; whom to employ as counsel and whom to go to for justice)
https://www.milligazette.com/news/14-babri-masjid-issue/33702-babri-masjid-demolition-judgement-reminds-these-are-hindutva-days-prof-saifuddin-soz/
--------
Terrorist hideout busted in Poonch
Oct 4, 2020
JAMMU: In a joint anti-terror operation on Sunday, security forces busted a terrorist hideout in Behermgala-Surankote area of J&K's Poonch district and recovered a huge cache of arms and ammunition, including a Pakistan-made pistol and 150 AK rounds.
Poonch SSP Ramesh Angral said, "On specific inputs about suspicious movement in Behermgala, a joint search operation was launched by the Army and police late Saturday night. The targeted area was cordoned and a search commenced early Sunday. A hideout was busted in an unoccupied temporary hutment of nomads in the higher reaches."
The recovery included one AK rifle, three AK magazines, one Pakistan-made pistol, one pistol magazine and 150 AK rounds. This is the sixth terrorist hideout busted in Poonch district since April 22.
Earlier, on September 1, a terrorist hideout was busted in Poonch's Khenatar village and security forces recovered two Chinese-made pistols, 5 pistol magazines, 50 pistol rounds, 5 AK magazines, 270 AK rounds, 2 wireless sets and 4 Chinese grenades.
In a similar anti-terror operation on August 7, Army and J&K Police had busted a terrorist hideout in Poonch's Shashitar forest area and recovered two AK-47 rifles and four magazines. On July 26, a terrorist hideout was busted in the district's Doriyaa Dhok in Loran and two improvised explosive devices (IEDs) and grenades were recovered.
Earlier on June 23, a joint team of Army and J&K Police's SOG busted a terrorist hideout in the district's Murrah locality in Surankote and recovered a universal machine gun and 222 bullets. On April 22, a terrorist hideout was busted in upper reaches of Surankote and one AK-47 rifle was recovered.
Security forces on September 19 had also arrested three Lashkar–e-Taiba terrorists in Rajouri district who had come from Kashmir valley to receive weapons air-dropped by Pakistan on the Indian side of the LoC using a drone. Security forces had recovered two AK-56 rifles, two pistols, four grenades and Rs 1 lakh cash from them.
https://timesofindia.indiatimes.com/india/terrorist-hideout-busted-in-poonch/articleshow/78481065.cms
--------
Pakistan violates ceasefire along LoC in Poonch
Oct 4, 2020
JAMMU: Pakistani troops violated ceasefire along the Line of Control (LoC) in Jammu and Kashmir's Poonch district on Sunday, and attracted prompt and equal retaliation from the Indian forces.
"Around 3.20am, Pakistan initiated unprovoked firing and mortar shelling along the LoC in Poonch's Mankote sector. The Indian Army retaliated befittingly," Jammu-based defence spokesperson Lt Col Devender Anand said.
On October 1, a soldier was killed in a similar breach of truce by Pakistani along the LoC in forward areas of Poonch's Krishna Ghati sector. Amid repeated ceasefire violations, the security forces have also thwarted several infiltration bids along the border by armed intruders.
Pakistan has been regularly targeting the forward areas along the LoC — especially in the twin frontier districts of Rajouri and Poonch — following the nullification of Articles 370 and 35A on August 5 last year.
https://timesofindia.indiatimes.com/india/pakistan-violates-ceasefire-along-loc-in-poonch/articleshow/78481019.cms
--------
6 SIMI members on hunger strike in Bhopal jail moved to hospital
Oct 05, 2020
Six members of the banned Students' Islamic Movement of India (SIMI) who began a hunger strike in the Bhopal central jail a week ago were shifted to the jail hospital late Saturday night, the prison's superintendent said Sunday.
Saduli PA and Shibily from Kerala, Qammruddin Nagori, Mohammad Ansar, Hafij Hussain and Safdar from Madhya Pradesh, were found guilty of sedition, collecting arms and waging war against the government of India, bomb blast and being a member of terrorist gang and organisation three years back. Different courts including NIA special court and CBI special court sentenced them life imprisonment in 2017 and 2018.
Bhopal central jail superintendent Dinesh Nargave said, "They are demanding better food, opposing regular frisking and freedom from high-security block. In all 28 SIMI members are lodged in the Bhopal central Jail. Out of them, 18 had been shifted to solitary confinement to avoid a recurrence of the jailbreak incident that happened in October 2016."
On the intervening night of October 30-31 in 2016, eight SIMI operatives escaped the jail by killing a guard and later on October 31, they were killed in an encounter in a village near Bhopal, said Nargave.
"They are not allowed to come out of the special cell as they shout anti-national slogans and also disrespect the Constitution of India that led to tension among jail inmates. We had been convincing them to end the fast for the past one week but they didn't listen to us. Hence, they were shifted to the jail hospital where doctors are treating them," said Nargave.
The six prisoners were lodged in Ahmedabad jail but in 2017, they were shifted to Bhopal central jail.
"Since then, they are being harassed by jail authorities. Not only them, but all SIMI members are facing inhuman treatment after the October 2016 jailbreak," said a family member.
"The SIMI members have been harassed by jail authorities for the past three years. Recently Qammaruddin moved an application in Ahmedabad court, where he and other five are facing a trial for Sabarmati jailbreak, against physical and mental torture on him," said Madhuri, a human rights activist.
"Even, National Human Rights Commission (NHRC) in its report submitted in March 2018 clearly said that SIMI operatives were being tortured physically and mentally in the Bhopal central jail. But the state government and jail authorities did not improve the condition. The jail authorities have only custodial rights and they don't have any right to torture them," she added.
https://www.hindustantimes.com/india-news/6-simi-members-on-hunger-strike-in-bhopal-jail-moved-to-hospital/story-FtEFrrtzgi22XnhNhOxtEJ.html
--------
Pakistan
Gilgit-Baltistan: A hostile opposition makes Imran's job difficult
Oct 3, 2020
ISLAMABAD: Faced with an unfriendly opposition and having a thin majority in the National Assembly, the turning of Gilgit-Baltistan into Pakistan's fifth province seems to be an uphill task for the Imran Khan-led government.
To elevate Gilgit-Baltistan (GB) to a full-fledged province with all constitutional rights, including representation in the National Assembly and Senate, will require an amendment in Pakistan's constitution that can only be achieved with a two-thirds majority in parliament.
In an attempt to convince the opposition, army chief Gen Qamar Javed Bajwa and ISI chief Lt Gen Faiz Hameed last month met 15 senior opposition leaders, including incarcerated PML-N president Shahbaz Sharif and PPP chairman Bilawal Bhutto Zardari, to convince them to support the government on the merger of GB, a disputed region between India and Pakistan, which was formerly a part of Jammu & Kashmir.
Initial information about the meeting revealed that the opposition had assured the military authorities it would take up the issue for discussion after the election for GB's "legislative assembly", which Pakistan has scheduled for November 15.
Minister Sheikh Rasheed Ahmed said the opposition used the opportunity to flag its concerns about other matters, especially the military's interference in politics and allegations of persecution of its leaders on the pretext of accountability.
The government's move, apparently with the military's approval, pushed the opposition parties into offensive mode. The opposition PML-N warned its members against meeting with military authorities in future while Jamiat-e-Ulema Islam-F (JUI-F) chief Maulana Fazlur Rehman took a firm position against making GB a province.
According to Rehman, turning GB into a province would not only validate India's move to turn J&K into two UTs but would also deprive the people of the Himalayan region of their autonomy.
https://timesofindia.indiatimes.com/world/pakistan/gilgit-baltistan-a-hostile-opposition-makes-imrans-job-difficult/articleshow/78456270.cms
--------
Pakistan Most Vibrant Members of Islamic World: Sindh Governor
05 Oct 2020
KARACHI: Sindh Governor Imran Ismail has said that Pakistan is a nuclear power and termed as fort of Islam and one of the most vibrant members of the Islamic world.
He expressed these views during a visit to Jamiat-ur-Rasheed, said a spokesperson of the Sindh Governor on Sunday.
Federal Minister for Religious Affairs Pir Noor-ul-Haq Qadri, eader of the house in Senate, Senator Dr Shahzad Waseem, Member National Assembly Saifullah Mehsud, Members Sindh Assembly Haleem Adil Sheikh and Rabistan Khan were also present on the occasion.
Imran Ismail said that we have to show our unity, solidarity, harmony and exemplary mutual coordination in accordance with the Islamic Ideology, during the current situation in the region. The role of the scholars in this regard is also very important, he added.
He said that the eyes of the enemy are on our Armed forces and they are afraid of this great force. Now, once again, they are trying to create misunderstandings between the armed forces and the people, he added.
Governor Sindh also inspected various departments of Jamiat-ur-Rasheed.
On this occasion, Governor was briefed in detail about the education imparted in Jamiat-ur-Rasheed.
He said that no other Islamic country in the world has the Armed forces like Pakistan and Pakistan Army is the guarantor of survival and security of Pakistan.
Speaking on the occasion, Federal Minister for Religious Affairs Pir Noor-ul-Haq Qadri said that Jamiat ur Rasheed is an institution of world class and we need to have a broad mind for development and progress.
Patron of Jamiat-ur-Rasheed Mufti Abdul Rahim said that the Ulema are with the government and we want them to work for the elimination of all kinds of differences in the country. In this regard, the challenges which are being faced by the country can be successfully met with the consultation of scholars, he said.
He said that Jamiat-ur-Rasheed has always supported the initiatives of state institutions and the government.
Meanwhile, while talking to media, the Sindh Governor said that this is not the right time to hold rallies as coronavirus standard operating procedures (SOPs) cannot be followed in the rallies.
He said that the whole world has adopted the Prime Minister's formula and keeping the hotspots closed, is the smart lockdown.
To a questioner about the Karachi package, the Sindh Governor said that the federal and provincial governments were working together in this regard.
https://www.brecorder.com/news/40023558/pakistan-most-vibrant-members-of-islamic-world-governor
--------
Opposition takes exception to 'traitor' charge
Amir Wasim
05 Oct 2020
ISLAMABAD: The country's major opposition parties — the Pakistan Muslim League-Nawaz (PML-N) and the Pakistan Peoples Party (PPP) — have criticised the government's "latest policy" of labelling its opponents as traitors and said such tactics had never worked in the past.
"For democratic political workers being labelled rebellious is a medal," declared Senator Mustafa Nawaz Khokhar, the official spokesman for PPP chairman Bilawal Bhutto-Zar­dari, in a statement. He also welcomed the rise of "anti-establishment voices from Punjab for the first time".
Similarly, president of the PML-N's Punjab chapter and MNA Rana Sanaullah, in a statement, said that by labelling the opposition leaders as "traitor and Indian agents", the government had admitted the failure of its earlier narrative that its opponents were corrupt.
The PPP senator said that this 70-year-old "exhausted stance" had now been rejected by Punjab too, after three other provinces, adding that "the whole country is against the hybrid system". He said that such labels and charges had been pressed against the founding father's sister Fatima Jinnah, then Zulfikar Ali Bhutto and Benazir Bhutto in the past.
"Those who have been labeled traitors are real heroes of the country while those labeling them traitors are themselves losing," Mr Khokhar said.
"Habib Jalib's dream has come true. Punjab too is now awake, and is standing just like Khyber Pakhtunkhwa, Sindh and Balochistan," he said, adding that like the politicians of other three provinces, the political leaders and workers of Punjab were also now facing treason charges.
Mr Khokhar said that supremacy of parliament, rule of constitution, basic human rights, freedom of the people and that of the media could not be compromised at any cost.
The statements from the leaders of the two parties came a day after registration of a sedition case against the PML-N's retired Captain Mohammad Safdar in Gujranwala on Saturday and in the backdrop of recent remarks of Prime Minister Imran Khan and his aides in which they had alleged that PML-N supremo Nawaz Sharif was targeting the Army at India's behest.
In a TV interview last week, the prime minister had alleged that Mr Sharif was playing a dangerous game by maligning the Army at the behest of India.
"This is a dangerous game Nawaz is playing; Altaf Hussain played the same game, and I am 100 per cent sure that India is helping Nawaz," the prime minister had said in the interview.
Later, speaking at a news conference in Lahore on Saturday, Special Assistant to the PM on Political Communication Dr Shahbaz Gill had also alleged that Mr Sharif was targeting the Army because it questioned him for what he called his anti-state activities in league with Indian premier Narendra Modi and his "business partnership" with Indian businessman Sajjan Jindal, whom he secretly met in Murree.
Mr Gill had also alleged that Mr Sharif and his government were not immediately inclined to announce that Pakistan had apprehended Indian spy Kulbhushan Jadhav and it was retired Lt-Gen Asim Saleem Bajwa who made frantic efforts to convince the Sharif government to announce Jadhav's arrest because such an announcement by the Army would have been seen as if Pakistan's political government didn't own it.
He had also said that Mr Sharif had held secret one-on-one meetings with Mr Modi and Mr Jindal while keeping the defence institutions at bay — in sheer violation of state protocols being observed the world over.
Responding to Mr Gill's press conference and recent statements of Railways Minister Sheikh Rashid Ahmed, PML-N's Rana Sanaullah asked Director General of the Inter-Service Public Relations (ISPR) Maj-Gen Babar Iftikhar to clarify if the Railways minister and the SAPM had become official spokespersons for the Army.
"The institution will have to clarify whether these rented spokespersons represent it or not," he said.
The PML-N leader said that the allegations of being traitor and Indian agent based on the "rejected narrative" meant nothing for Mr Sharif.
He alleged that the prime minister was making the national institutions controversial for political gains. He said that through the statements that the government and the army were on the same page, "these self-proclaimed spokespersons for the army are dragging those institutions into politics whose impartiality is required under the constitution and for national security".
Mr Sanaullah asked the army leadership to take notice of the efforts of making the armed forces controversial through a "dangerous game".
Meanwhile, speaking at a news conference for the second consecutive day, PML-N information secretary Marriyum Aurangzeb said that the opposition was not scared of the government's narrative of labelling it as traitor. She said that the nation knew that it was Nawaz Sharif who made the country a nuclear power.
https://www.dawn.com/news/1583297
--------
Case against Khadim Rizvi, 6 others for flouting ban in Faisalabad
05 Oct 2020
FAISALABAD: The chief of Tehreek-e-Labbaik Ya Rasoolallah and six others have been booked on charges of organising a public gathering at Chak 124-GB on Sunday.
The district administration banned the entry of Maulana Khadim Hussain Rizvi in Faisalabad and issued an order back in August last.
Submitting an application, Jaranwala Saddar inspector Riazuddin said security constable Shahid Ali informed him that Maulana Rizvi was coming to Chak 124-GB in connection with the annual Urs of Syed Kifayat Shah Bukhari. He said the organiser, Asifullah, had been issued a notice regarding ban on the entry of Maulana Rizvi in Faisalabad.
He said police reached Chak 58-GB bridge where they tried to stop the caravan by showing them the order of the deputy commissioner issued on Aug 21 last. However, he said, they put up resistance and marched towards Chak 124-GB.
Despite restrictions, he said, Maulana Khadim Rizvi addressed a gathering. Police registered a case against him and six others under sections 186, 188 and 353 of the Pakistan Penal Code and section 13 of The Punjab Maintenance of Public Order 1960.
https://www.dawn.com/news/1583349/case-against-khadim-rizvi-6-others-for-flouting-ban-in-faisalabad
--------
Pakistan court to hear petition for banning Nawaz Sharif's speech on Monday
Oct 4, 2020
ISLAMABAD: A Pakistani court will on Monday hear a petition seeking a ban on airing speeches of former prime minister Nawaz Sharif on television channels, days after the top PML-N leader made blistering remarks from London targeting the country's powerful Army.
A citizen, Amir Aziz, filed the petition in the Islamabad High Court (IHC) and made 70-year-old Sharif, his brother Shehbaz Sharif, the Pakistan Electronic Media Regulatory Authority (Pemra) chairman and others as respondents, the Express Tribune reported.
IHC Chief Justice Athar Minallah fixed October 5 as the date for hearing the petition, the paper said.
In his plea, the petitioner contended that the convicted former premier during his recent speeches, especially the one delivered via video link during the all parties conference on September 20, had maligned the state institutions and a "convict's speech cannot be allowed to be broadcast on media".
"His [Sharif's] speech tarnished the image of national institutions."
The petitioner said that Sharif is a convicted criminal from the court and he cannot speak to the media, pleading the court to ban Sharif's "hate speech".
The petitioner pleaded the court to instruct PEMRA that Sharif's next speech should not be aired on any TV channel.
On Thursday, PEMRA banned broadcast and rebroadcast of any speech, interview or public address of absconders or proclaimed offenders. The move came after Sharif latest attack on the Pakistan Army, in which he alleged that the military had rigged the 2018 vote that brought Imran Khan to power.
The powerful Army, which has ruled Pakistan for more than half of its 70 plus years of existence, has hitherto wielded considerable power in the matters of security and foreign policy.
The regulatory body prohibited the broadcasting of content including commentary, opinions or suggestions about the potential fate of sub-judice matter which tends to prejudice the determination by a court and a tribunal in compliance with the order passed by the Supreme Court.
"If licensee fails to comply with the aforementioned directives, the authority shall take action under Sections 29 and 30 of the PEMRA Ordinance which may result in imposition of fine and suspension/revocation of licence," it added.
Sharif - who left for London late last year after securing bail for medical treatment in the Chaudhry Sugar Mills case and the Al Azizia reference - has been targeting the Pakistan Tehreek-e-Insaf-led government as well as many state institutions, including the judiciary and the military.
He served as Pakistan's prime minister three times, first removed by a president in 1993, then by military ruler Pervez Musharraf in 1999.
A court in 2017 ousted him from power over corruption allegations. Khan, a former cricketer, came to power in 2018.
Sharif spoke from London, where he has been since last November when he was released on bail to seek medical treatment abroad. At the time, a court permitted Sharif to leave the country for four weeks, but he did not return.
A court last month issued arrest warrants for Sharif, previously sentenced to seven years in prison on corruption and money laundering charges stemming from disclosures in the Panama Papers.
https://timesofindia.indiatimes.com/world/pakistan/pakistan-court-to-hear-petition-for-banning-nawaz-sharifs-speech-on-monday/articleshow/78478489.cms
--------
Southeast Asia
National Unity Ministry postpones all events involving public gatherings
04 Oct 2020
PUTRAJAYA, Oct 4 — The Ministry of National Unity has ordered all agencies and machinery under the ministry to postpone programmes that involve public gatherings following the increase in Covid-19 cases in the country since the past few days.
Its minister, Datuk Halimah Mohamed Sadique in a statement today, reminded staff of all the ministry's agencies and machinery to comply with the health protocols and standard operating procedures (SOP) set by the Ministry of Health (MOH), the National Security Council (NSC) and the relevant state governments.
"This includes the 8,274 Rukun Tetangga (KRT) neighbourhood watch, 5321 voluntary patrol schemes 1,874 Perpaduan nurseries and 41 Genius kindergartens," she said.
Halimah said that during the recovery movement control order (RMCO), the ministry would also monitor religious activities at more than 10,000 non-Muslim houses of worship in the green and yellow zones.
"The Ministry advises all staff, unity machinery and the public to always abide by the SOP.
"Practise the new norms such as wearing face mask, physical distancing and to always wash your hands, especially when in public places," she added. — Bernama
https://www.malaymail.com/news/malaysia/2020/10/04/national-unity-ministry-postpones-all-events-involving-public-gathering/1909333
--------
Will he or won't he? Dr Mahathir now says supporters 'want me not to say I won't contest' GE15
05 Oct 2020
BY ASHMAN ADAM
KUALA LUMPUR, Oct 5 — Tun Dr Mahathir Mohamad appears to have walked back his claim that he would not be contesting the 15th general election (GE15).
Instead, the former prime minister now says he may consider leading his newly formed Parti Pejuang Tanah Air (Pejuang) into the next general election, because his supporters "want me not to say that I won't contest".
In an interview with Singapore daily The Straits Times published today, Dr Mahathir explained that his initial decision not to stand "had caused a lot of unhappiness among his supporters".
"They still want me to say that I want to contest," he was quoted as saying.
"It is true that most people at 95 would not be functional. I am more fortunate, I am still able to be active. But they don't seem to think I will deteriorate when I grow older.
"They see me as I am now. So they want me, at least, not to say that I won't contest."
On September 26, Dr Mahathir told national news agency Bernama that he won't be contesting GE15 if it were held in 2023, as he would be 98 years old then.
His comments, however, appeared to leave open the possibility that he may choose to do otherwise if a snap general election were to be called earlier.
https://www.malaymail.com/news/malaysia/2020/10/05/will-he-or-wont-he-dr-mahathir-now-says-supporters-want-me-not-to-say-i-won/1909606
--------
Indonesian parliamentary committee finishes deliberating contentious jobs bill
October 04, 2020
JAKARTA: Indonesia moved a step closer to passing President Joko Widodo's contentious "Job Creation" bill after parliament's legislation committee and government ministers on Saturday approved the latest version for a vote next week.
A coalition of fifteen activist groups, including several trade unions, condemned the move in a statement on Sunday, accusing the government and parliamentarians of completing the deliberations in secret during an unusual hearing late at night over a weekend.
The coalition called on all workers to join their planned national strike on Oct. 6 to 8 to protest the bill, which organizers had said would involve 5 million workers.
The so-called "omnibus" bill, aimed at revising over 70 existing laws in a single vote, is the president's flagship measure to speed up the pace of economic reform and improve the country's investment climate.
Global investors have been watching closely to see if the bill gets watered down in parliamentary debates, as Southeast Asia's largest economy tries to compete for manufacturing investment relocating from China.
In a hearing on Saturday, which ended a few hours before midnight, representatives from seven out of nine factions in the legislation committee approved the bill to be brought to a parliamentary vote, while two factions rejected.
Several ministers led by chief economic minister Airlangga Hartarto also approved the final version of the bill, which contained some changes to the government's original proposal, such as a different scheme for a cut in mandatory severance benefits.
"This bill will support de-bureaucratization and efficiency," Airlangga said in the televised hearing.
Workers opposing the bill argued the legislation would be a "red carpet for investors, widening the power of the oligarchy" by not only hurting labor protection, but also taking away lands from farmers and indigenous communities, according to the coalition's statement.
Greenpeace campaigner Arie Rompas, addressing a separate news briefing on Sunday, said his group was reviewing legal actions it could take if parliament passes the bill into law. Green groups have criticized the bill's provisions that relax environmental study requirements for investors, which they said could lead to ecological disasters.
Government officials have insisted the bill would not hurt labor protection nor the environment and that it is necessary to attract investment and create jobs.
https://www.arabnews.com/node/1743956/world
--------
Africa
Turkey's Erdogan, Libya's Sarraj reaffirm bilateral cooperation in Istanbul meeting
05 October 2020
Turkish President Recep Tayyip Erdogan has met with Libya's outgoing Prime Minister Fayez al-Sarraj, who heads the UN-recognized Government of National Accord (GNA) in the North African country.
The two leaders' accompanied by high-level officials from both sides, including foreign, defense, interior and finance ministers as well as top advisors, held talks at the Vahdettin Mansion in the Turkish main city of Istanbul on Sunday.
No details of the talks were disclosed other than the two sides were planning to further strengthen bilateral relations.
Back in September, another meeting was held in Istanbul between Erdogan and Sarraj, who is planning to step down this month and transfer power to a new executive authority.
Turkey and Libya have previously signed a military deal alongside a maritime demarcation agreement in the Mediterranean Sea.
Since the NATO-driven ouster of late ruler Muammar Gaddafi in 2011, Libya has been torn by civil war and is practically split between two governments, the GNA in the country's west with its headquarters in Tripoli, and its Tobruk-based rival in the east, which is linked to the Libyan National Army (LNA) headed by renegade general Khalifa Haftar.
With Turkey's help, Haftar's military offensive has failed and efforts have been underway to resolve the conflict peacefully, prompting Sarraj to call on Haftar's forces to lay down their arms and respect the Aug. 21 ceasefire that aims to stop violence and help resume oil production in the country.
Under UN auspices, the GNA was established in 2015 to restore peace in the conflict-ridden North African country.
However, previous efforts for a long-term political settlement have failed due to the offensives launched by Haftar's forces supported by the Tobruk-based government, backed in turn, by Egypt, the United Arab Emirates and Russia.
https://www.presstv.com/Detail/2020/10/05/635667/Turkey-Erdogan-Istanbul-Libya-Sarraj-GNA-
--------
Pentagon's chief inks 10-year military aid deal with Morocco in regional tour
03 October 2020
The US has signed a 10-year military accord with the North African Kingdom of Morocco in a bid to boost cooperation among their armed forces and strengthen military readiness of the despotic Arab state.
US Defense Secretary Mark Esper inked the agreement Friday during a two-day visit to Morocco, his last stop on his tour of three North African countries that began last week in Tunisia -- where he signed another military deal – and Algeria, according to an AP report.
The military deal "serves as a road map for defense cooperation and aims to strengthen the strategic partnership between the two countries and support shared security goals," said a statement issued by Morocco's Foreign Ministry.
The agreement centers on "consolidating common security objectives, especially improving the degree of military readiness," added a separate statement released by the General Command of the Moroccan Royal Armed Forces.
Upon his Friday arrival to Morocco – Washington's major non-NATO ally in the region -- Esper met with the country's Foreign Minister Nasser Bourita, the deputy minister for national defense, Abdeltif Loudiyi, and the Inspector General of the Moroccan Royal Armed Forces, Gen. Abdelfettah Louarak.
However, full details of his plans during the visit were not immediately disclosed. The Pentagon has not released details about Esper's discussions in Tunisia and Algeria either.
The two officials expressed their "satisfaction with the durability, distinction, continuity and dynamism of the bilateral cooperation," the statement from the General Command further noted.
This is while the US remains the largest supplier of weapons to Morocco's authoritarian regime, which hosts the annual US-led war games called "African Lion" — canceled this year due to the coronavirus pandemic.
Esper's visit to Algeria marked the first time a US military chief met with the country's leaders since 2006. He held talks with Algerian President Abdelmadjid Tebboune and the nation's Army Chief Gen. Saïd Chengriha.
While no deals were known to be signed with Algeria, the US defense secretary reportedly discussed expanding security cooperation and security issues in the restive Sahel region just south of Algeria, where the American military has repeatedly raised concerns about persisting anti-US militancy.
Washington claims Algeria is its major ally in what it often proclaims as its "war on terror."
https://www.presstv.com/Detail/2020/10/03/635583/US-Defense-Secretary-Mark-Esper-Morocco-military-deal-North-Africa-tour
--------
Jordan king accepts PM's resignation ahead of November elections
04 October 2020
Jordan's King Abdullah II has accepted the resignation of Prime Minister Omar al-Razzaz ahead of parliamentary elections next month as the country grapples with its worst economic crisis.
The Jordanian monarch in a letter to Razaaz on Saturday asked him to stay on in caretaker capacity until he designates a successor to oversee the November 10 polls.
King Abdullah also noted in his letter that mistakes were made in the handling of the coronavirus pandemic, which has so far infected 14,749 Jordanians and killed 88.
"As I accept your resignation, I instruct you and the government to continue working until a prime minister is chosen and the new government is formed," the al-Ghad news outlet quoted the king as saying.
He also stressed "the need to work with vigor, determination and perseverance during this period because of the coronavirus pandemic," adding, "Dealing with the virus means taking continuous action and making decisions [regarding it] without delay."
The development came a few days after King Abdullah dissolved the Jordanian parliament at the end of its four-year term in a move that under constitutional rules meant the government had to step down within a week.
A new government in the Middle Eastern state will pave the way for the November vote amid popular discontent over economic woes, worsened by the coronavirus outbreak, and curbs on public freedoms under emergency laws.
Liberal and independent politicians say the government has used virus-related restrictions to limit civil and political rights.
In July, hundreds of teacher activists were arrested after dissolving their opposition-led elected union while scores of dissidents were detained for criticism on social media.
Jordan's economy is expected to shrink by 6 percent this year, with unemployment and poverty aggravated by the COVID-19 outbreak.
Razzaz was appointed by King Abdullah in the summer of 2018 to defuse the biggest protests in years over tax increases pushed by the International Monetary Fund (IMF) to reduce Jordan's large public debt.
https://www.presstv.com/Detail/2020/10/04/635606/Jordan-King-Abdullah-Prime-Minister-Razzaz-resign
--------
Mali frees over 100 jailed militants
October 05, 2020
BAMAKO: Mali has freed more than 100 suspected or convicted militants as part of negotiations for the release of a prominent Malian politician and a kidnapped French charity worker, sources close to the talks said Monday.
"As part of the negotiations to obtain the release of Soumaila Cisse and Sophie Petronin, more than one hundred jihadist prisoners were released this weekend," one of those in charge of the negotiations, who asked not to be named, said.
An official at the security services confirmed the information.
The prisoners were released in the central region of Niono and in Tessalit in the north after arriving by plane, the official said.
A lawmaker in Tessalit, who also requested anonymity, confirmed to AFP that "large numbers of jihadist prisoners" arrived there on Sunday.
Sophie Petronin, a French charity worker, was abducted by gunmen on December 24, 2016, in the northern city of Gao.
The last video in which she appeared was received in June 2018. She appeared tired and emaciated, and appealed to French President Emmanuel Macron. In another video, in November 2018, in which she did not appear, her kidnappers said her health had deteriorated.
Soumaila Cisse is a former opposition leader and three-time presidential candidate. He was seized on March 25 while campaigning in his home region of Niafounke ahead of legislative elections.
Mali, supported by France and UN peacekeepers, is struggling with an eight-year-old Islamist insurgency that has claimed thousands of lives.
A military junta overthrew president Ibrahim Boubacar Keita in August, before taking over leadership of the West African nation.
https://www.arabnews.com/node/1744436/world
--------
North America
Trump criticised for leaving hospital to greet supporters
05 Oct 2020
US President Donald Trump sparked an angry backlash from the medical community on Sunday with a protocol-breaking visit to his supporters outside the hospital where he is being treated for the highly infectious, potentially deadly new coronavirus.
He was masked as he waved from inside his bulletproof vehicle during the short trip outside Walter Reed military medical centre near Washington, which appeared designed to take back the narrative on his improving health after a weekend of muddled messaging from his doctors.
The last-minute limousine outing came with Trump's doctors satisfied enough about his progress to suggest the possibility of his being discharged on Monday.
But experts complained that the outing broke his own government's public health guidelines requiring patients to isolate while they are in treatment and still shedding virus — and endangered his Secret Service protection.
Trump, who has been repeatedly rebuked for flouting public health guidelines and spreading misinformation on the pandemic, said in a video that dropped on Twitter just before the appearance that he had "learned a lot about Covid" by "really going to school" as he has battled the virus.
But health experts took to the airwaves and social media to criticise the "stunt", which they said demonstrated that he had learned nothing at all.
"Every single person in the vehicle during that completely unnecessary presidential 'drive-by' just now has to be quarantined for 14 days," said James Phillips, chief of disaster medicine at George Washington University.
"They might get sick. They may die. For political theatre. Commanded by Trump to put their lives at risk for theatre. This is insanity."
White House spokesman Judd Deere said "appropriate" precautions had been taken to protect Trump and his support staff, including protective gear.
"The movement was cleared by the medical team as safe to do," he added.
But Zeke Emanuel, chair of the Department of Medical Ethics and Health Policy at the University of Pennsylvania and regular TV pundit, described the appearance as "shameful".
"Making his Secret Service agents drive with a Covid-19 patient, with windows up no less, put them needlessly at risk for infection. And for what? A PR stunt," he tweeted.
Confused messaging
The episode came hours after a briefing by Trump's medical team, who said he had "continued to improve" and could be returned to the White House, which has the facilities to treat and isolate the president, as early as Monday.
The president was flown to Walter Reed with a high fever on Friday after a "rapid progression" of his illness, with his oxygen levels dropping worryingly low, Trump's physician Sean Conley said in a Sunday briefing.
Health experts have complained that the messaging from the administration — and particularly Trump's medical team — has caused widespread confusion.
Conley admitted on Sunday that he had kept from the public the fact that the president had been given extra oxygen, in a bid to reflect an "upbeat attitude".
And he gave a rosy account of Trump's progress on Saturday, only for White House chief of staff Mark Meadows to tell reporters immediately after that Trump's condition had been "very concerning" and that he was "still not on a clear path to a full recovery".
'White House Cluster'
With his tough reelection campaign in its final month against Democratic rival Joe Biden, Trump's diagnosis and hospitalisation have left him sidelined from what he does best — campaigning.
Meanwhile, Biden — who announced on Sunday his latest negative test for the virus — will start the week with a trip on Monday to key swing state Florida.
But Trump and his advisers have done their best to project a sense of continuity.
His deputy campaign manager Jason Miller told ABC on Sunday he had spoken to Trump for a half and hour on Saturday and that the president was "cracking jokes".
But controversy has been mounting over the possibility that Trump might have exposed numerous others to Covid-19 even after a close aide tested positive.
A timeline provided by his advisers and doctors suggested he met more than 30 donors on Thursday in Bedminster, New Jersey, even after learning that Hope Hicks had the virus — and just hours before he announced his own positive test.
There were more than 200 people at the fundraiser, and a contact tracing operation under way in New Jersey was looking at potentially thousands of people who may have been exposed.
All this came in a week when a Wall Street Journal/NBC poll — taken in the two days after a bruising presidential debate with Biden but before news emerged of Trump's illness — gave Biden a significant 53-39 per cent lead among registered voters.
As well as Trump and Hicks, numerous White House insiders and at least three Republican senators have contracted Covid-19, along with First Lady Melania Trump, who has not experienced severe symptoms.
Public health experts have expressed alarm at the "White House cluster" that has been linked to the September 26 Rose Garden celebration of conservative judge Amy Coney Barrett's nomination to the Supreme Court.
https://www.dawn.com/news/1583370/trump-criticised-for-leaving-hospital-to-greet-supporters
--------
UAE, Israel officials meet in Los Angeles for first bilateral West Coast meeting
Emily Judd
04 October 2020
UAE and Israeli officials held a bilateral meeting in Los Angeles on Sunday, believed to be the first diplomatic meeting between the two countries on America's West Coast.
Emirati Consul General of Los Angeles Hazza Alkaabi met in-person with Israeli Consul General Hillel Newman at the UAE office in California.
The two discussed opportunities for cooperation and partnership, according to a statement by the UAE consulate.
Alkaabi also met virtually with Israel's Consul General to the Pacific Northwest Shlomi Kofman, according to the consulate.
The UAE and Israel announced plans to normalize ties on August 13 and an official signing ceremony took place at the White House on September 15.
One week after the ceremony, ambassadors of the UAE and Israel made history when they held a meeting in Arabic, a native language of both officials.
Israel's ambassador to Azerbaijan George Deek and the acting Emirati ambassador to Azerbaijan met September 22 in the capital city of Baku.
Deek, an Israeli Arab, told Al Arabiya English that holding the meeting with his Emirati counterpart in the Arabic language demonstrated "that we are neighbors."
"The fact that we spoke in Arabic demonstrated that we are neighbors, part of the same space, and that Israel and the Arab world can, and will work together, in dialogue and mutual respect, towards promoting a world that is safer, more prosperous, and more peaceful," said Deek.
Foreign envoys of the UAE and Israel in Nigeria also made history last month when they met, marking the first public meeting between diplomats of the two countries in Africa.
Israeli Ambassador to Nigeria Shimon Ben-Shoshan received UAE Charge d'Affaires in Nigeria Khalifa Al Mehrizi.
Ben-Shoshan greeted Al Mehrizi with the Arabic salutation "salaam alaykum," translated as "peace be upon you" in English.
The two officials were photographed in discussion with Emirati and Israeli flags on a nearby table.
https://english.alarabiya.net/en/News/world/2020/10/04/UAE-and-Israel-officials-meet-in-Los-Angeles-believed-to-be-first-West-Coast-meeting
--------
2,500 US troops out of Iraq as part of full withdrawal plan: Al-Kadhimi
04 October 2020
The Iraqi prime minister says as many as 2,500 US troops have left the country as part of agreements reached with Washington to enable a full withdrawal of American troops.
Mustafa al-Kadhimi made the announcement on Saturday in an interview with the state al-Iraqiya television.
He called the development a great success that had come by as a result of strategic talks with the United States.
Al-Kadhimi traveled to Washington at the head of a ranking delegation on August 20 to hold talks with American officials.
US President Donald Trump announced back then that the two sides had agreed that American forces would leave Iraq over a three-year period.
Al-Kadhimi said, before going on the trip, he had met with all of Iraq's political officials and that some of them had urged him to negotiate an eight-year withdrawal plan.
The premier then expressed delight that he had been able to negotiate a shorter timetable.
The US invaded Iraq in 2003 opening a second major front in its so-called war on terror that had seen it attacking Afghanistan two years earlier. The invasion toppled Iraqi dictator Saddam Hussein, but was followed by rampant instability as well as deadly and ruinous ethnic violence.
In 2014, the Arab country was overrun by the terror group Daesh that emerged amid the chaos resulting from the invasion. The United States and scores of its allies then reinforced their presence in Iraq, this time under the pretext of seeking to uproot the terrorists.
Despite its sheer size, the coalition was, however, surprisingly slow in making advances against Daesh.
Baghdad eventually defeated the terrorist outfit in late 2017, with military advisory support from its closest regional ally Iran playing a central role in the victory.
In early January, the US assassinated Lieutenant General Qassem Soleimani, former commander of the Quds Force of Iran's Islamic Revolution Guards Corps (IRGC), who steered the provision of advisory assistance to both Iraq and Syria.
The Iraqi parliament voted overwhelmingly soon afterwards in favor of legislation that ordered the full withdrawal of all US-led forces from the country.
Threat of US embassy closure
Al-Kadhimi, meanwhile, addressed Washington's threat of closing down its embassy in Baghdad in response to rocket attacks that sporadically target the diplomatic mission's compound and its vicinity.
He said Baghdad realized Washington's unease with the situation, but added that threatening to isolate Iraq would directly impact its economy, most of whose overseas deposits are held in the United States.
https://www.presstv.com/Detail/2020/10/04/635604/Iraq-United-States-forces-withdrawal
--------
US push for Arab-Israel ties divides Sudanese leaders
October 05, 2020
CAIRO: Sudan's fragile interim government is sharply divided over normalizing relations with Israel, as it finds itself under intense pressure from the Trump administration to become the third Arab country to do so in short order — after the UAE and Bahrain.
Washington's push for Sudan-Israel ties is part of a campaign to score foreign policy achievements ahead of the US presidential election in November.
Sudan seemed like a natural target for the pressure campaign because of US leverage — Khartoum's desperate efforts to be removed from a US list of states sponsoring terrorism. Sudan can only get the international loans and aid that are essential for reviving its battered economy once that stain is removed.
While Sudan's transitional government has been negotiating the terms of removing the country from the list for more than a year, US officials introduced the linkage to normalization with Israel more recently.
Top Sudanese military leaders, who govern jointly with civilian technocrats in a Sovereign Council, have become increasingly vocal in their support for normalization with Israel as part of a quick deal with Washington ahead of the US election.
"Now, whether we like it or not, the removal (of Sudan from the terror list) is tied to (normalization) with Israel," the deputy head of the council, Gen. Mohammed Dagalo, told a local television station on Friday.
"We need Israel ... Israel is a developed country and the whole world is working with it," he said. "We will have benefits from such relations ... We hope all look at Sudan's interests."
Such comments would have been unthinkable until recently in a country where public hostility toward Israel remains strong.
The top civilian official in the coalition, Prime Minister Abdalla Hamdok, has argued that the transitional government does not have the mandate to decide on foreign policy issues of this magnitude.
When US Secretary of State Mike Pompeo visited Sudan last month, Hamdok urged him to move forward with removing Sudan from the list of state sponsors of terrorism and not link it to recognizing Israel.
"It needs a deep discussion within our society," Hamdok told reporters earlier this week.
Several Sudanese officials, who spoke on condition of anonymity because they were not authorized to brief the media, said civilian leaders prefer to wait with any deal until after the US election.
The officials said military leaders seek a quick US-Sudan deal, including normalization with Israel, in exchange for an aid package. The officials said the military fears incentives being offered now could be withdrawn after the US election.
One sticking point is the size of future aid to Sudan. A meeting in Abu Dhabi last month — attended by Sudanese, US and Emirati officials — ended without agreement.
Less than $1 billion in cash was being offered, mostly to be paid by the Emirates, said a Sudanese official who took part in the meetings. The Sudanese team, had asked for $3 billion to help rescue Sudan's economy.
Dagalo, the military official, tweeted Friday, after meeting with the US envoy to Sudan, Donald Booth, in South Sudan that he received a promise to remove Sudan from the terror list "as soon as possible."
An Israeli official said the talks on normalization remain purely between the US and Sudan.
"We're still not there," said the official, who spoke on condition of anonymity because he was discussing a confidential diplomatic matter. He said the Israeli government hopes a deal can be wrapped up before the US election on Nov. 3.
For Israel, a cordial relationship with Sudan would be a symbolic victory.
Sudan, a Muslim-majority African country, has long said it supports the Palestinian people in their calls for an independent state. Khartoum hosted the historic Arab League summit after the 1967 Mideast War in which Israel captured the West Bank, Gaza Strip and East Jerusalem — lands the Palestinians seek for that state. The conference approved a resolution that became known as the "three no's" — no peace with Israel, no recognition of Israel and no negotiations.
The designation of Sudan as a "state sponsor of terrorism" dates to the 1990s, when the nation briefly hosted Osama bin Laden and other wanted militants. Sudan was also believed to have served as a pipeline for Iran to supply weapons to Palestinian militants in the Gaza Strip.
Osman Mirghani, a Sudanese analyst and editor of the daily newspaper Al-Tayar, said Sudanese leaders don't have unlimited time to decide.
"The US offer of incentives ... will not last too long. It is related to the US presidential election on one side, and the number of Arab states that normalize," he said.
With Sudan's long-time leader Omar Bashir deposed and facing war crimes and other charges, Sudan's transitional authorities believe that the reasons behind the terrorism listing have evaporated.
But many in the US maintain Sudan should atone for its previous government's actions.
Sudan has already agreed with the US State Department, in theory, to a compensation deal for victims of the 1998 bombings of the American embassies in Kenya and Tanzania, which were orchestrated by bin Laden's Al-Qaeda network while he was living in Sudan.
However, questions about the fairness of the proposed compensation deal to non-American victims, including those who were working for the embassies and have subsequently become US citizens, have stalled its consideration in Congress which must approve the agreement.
Meanwhile, some families of the victims of the Sept. 11 attacks have also started procedures to claim compensation from Sudan, though the country's links to that terror plot are less clear. Their complaint has complicated the embassy bombing compensation deal and could further deter the US Congress from removing Sudan from the list.
In the meantime, Sudan's government realizes it has only so many cards to play.
"We should get ourselves off that list, which the US is using as leverage to get some benefits out of the relationship that it has with Sudan, which is completely legitimate," Sudan's acting Foreign Minister Omar Qamar Al-Din told reporters in Geneva last month.
https://www.arabnews.com/node/1744266/middle-east
--------
Gunman Storms Afghan Market in Sacramento, California
By Mohammad Haroon Alim
05 Oct 2020
A gunman burst inside an Afghan market in Arden Arcade, shooting and injuring several shoppers, then died after turning the gun on himself, according to the Sacramento Sheriff's Department in California, United States.
Sacramento Sheriff's Deputy Zaheem Buksh said they received multiple calls of an active shooter around 3:10 p.m. October 3rd in the East Market and Restaurant, known as the first Afghan market to open in Sacramento.
Three people were injured and were taken to a local hospital, but the gunman's identity was not released by the Sheriff's department.
The incident is not being investigated as a hate crime, and it doesn't seem to be a targeted shooting, the police said.
"I want the public to be assured that there is not someone out there in this community, that's a part of this incident, out there going to cause harm to them," Buksh said.
Some bystanders say it was an act of "terror", and it felt like they were in Afghanistan trapped in a shootout.
Reports indicate that everybody was scared and were trying to run away from the scene, a kid and a woman were stranded inside the shop before being rescued.
The Sacramento Sheriff department said, they "don't know" if there is a relation between the victims and the suspect.
Recent reports indicate that one of the wounded Afghan victims has died of bearing heavy wounds.
https://www.khaama.com/gunman-storms-afghan-market-in-sacramento-california-997767/
--------
Europe
'Daesh Brides' Look To Escape Syria Camps with Help of UK Crowd Funders
October 04, 2020
LONDON: So-called "Daesh brides" are receiving funding from supporters in Britain and other European countries to help them escape detention camps in Syria, an investigation by the Sunday Times has revealed.
Daesh sympathizers in the UK are using an international crowdfunding operation and encrypted messaging app to funnel money to people-smugglers in Syria as part of a concerted campaign to free women and children in the camps, the newspaper reported.
While thousands of inmates endure harsh conditions in the detention centers, some have access to mobile phones, which they use to plead for funding on social media in a bid to escape. The messages are then spread worldwide by Daesh supporters, including many in the UK.
One Muslim woman in northern England shared a post dozens of times asking for funds to free "sisters" in Syria.
Several hundred European women, many of them wives of killed or imprisoned Daesh fighters, are among those held in the camps.
These include dozens of British women and children, among them Shamima Begum, who left the UK aged 15 to become a Daesh bride and has since been stripped of her British citizenship.
Donations travel through an encrypted "cyberspace circuit" by way of intermediaries before ending up in the hands of Daesh women or smugglers helping them.
Would-be escapees mimic professional humanitarian campaigns to post testimonies on Facebook complaining of abuse, strip searches and inhumane camp conditions.
Testimonies are followed by a "how to help" guide, including account details on the encrypted Telegram messaging app.
Potential donors are encouraged to add the account. Once connected, they are invited to transfer whatever amount they can afford.
Funds are then transferred to a middleman who either passes it to a "broker" in the camp — who gives it to the women hoping to escape — or sends it directly to a smuggler in Idlib province.
Smugglers then bribe camp guards and organize transport to Idlib or another rebel-held part of Syria.
The women often have to change cars — and even smugglers — several times before reaching their destination.
This may help to explain the exorbitant going rate: Between $10,000 and $15,000 for a woman and three children.
"So if 10 people send $1,000 each, we will reach the goal. Or if 20 people give $500 each, we will reach it as well," wrote one Facebook user, apparently a woman in one of the camps. "Free your sisters from the camps — spread the word."
But relying on people smugglers can be risky. Some women complained on social media of being scammed.
A reporter who contacted several Telegram accounts was urged to transfer funds using the untraceable bitcoin cryptocurrency.
"It's easy," wrote the intermediary. "You buy the bitcoins and once you have them, you send them. This way the authorities have no proof against you."
One donor recommended sending money via PayPal and labeling the transaction "something stupid like a birthday gift."
Camp inmates from Europe regularly post pictures of handmade signs encouraging donations. They also publish photos of food that they say was bought with foreign help.
At least one British woman claimed to have been smuggled out of a camp. In a recent Facebook video, a woman calling herself Maryam Al-Britaniya begs followers to send donations.
Most of the Europeans, including British women and about 60 children, are held in two camps run by a Kurdish-led militia.
One of the camps, Roj, where Begum is held, is tightly guarded, but the other, Hol, is too big to police properly, guards say.
Few of the British women are thought to hold out much hope of being allowed to return home through legal channels.
While some inmates have been smuggled out, others are caught trying to flee. British sisters Salma and Zahra Halane — nicknamed the "terror twins" after dropping out of school near Manchester to join Daesh in 2014 — were intercepted by Kurdish-led forces while trying to escape the more heavily guarded Roj camp.
Successful escapes from Hol are more common. "You can bribe the guards there," said a researcher who is in close contact with women in the camps. "There are so many women fundraising to get out."
Some of those who escape make their way across the border to Turkey, and from there to other countries under false identities. "Some of them buy documents in Istanbul and go," the researcher said.
https://www.arabnews.com/node/1744046/middle-east
--------
Nagorno-Karabakh conflict enters week 2: Armenia, Azerbaijan still trading fire
05 October 2020
A military confrontation between Azerbaijan and Armenia that erupted over the South Caucasus region of Karabakh more than a week ago, has now expanded to cities outside the conflict zone with no signs of abating, despite international calls for immediate ceasefire.
Nagorno-Karabakh is internationally recognized as part of the Republic of Azerbaijan, but it has been under Armenia's control since the early 1990s. The territory declared independence from Azerbaijan in 1991.
The recent clashes — the worst in decades — erupted on September 27, with both Yerevan and Baku accusing each other of provocation.
Azerbaijan radars register missile launch from Armenia
The Azerbaijani Defense Ministry said the radar systems of its air defense force had registered the launch of missiles towards the territory of Azerbaijan in the early hours of Monday.
It said the missiles were allegedly launched from positions located in the Jermuk, Kafan, and Berd regions of Armenia.
Earlier in the day, the separatist government in Khankendi (Stepanakert), the capital of the self-proclaimed republic of Karabakh, said the Azerbaijani military was preparing for an offensive.
Khankendi under artillery strikes
Meanwhile, Russia's Sputnik reported that four explosions were heard outside Karabakh main city of Khankendi, which has been under shelling since Friday.
It said about 20 artillery strikes targeted Khankendi. The explosions sounded close to the city center and there were artillery shells from multiple rocket launchers.
The separatist government said that "at the moment the Azerbaijani Armed Forces are carrying out high-intensity missile strikes on Stepanakert."
Local residents, according to Sputnik, were hiding in basements. It is not known where the shells landed exactly.
Armenia vows adequate response
Armenia has vowed adequate response to any "provocation" from Baku.
Armenia's Foreign Ministry accused Azerbaijani forces of "the deliberate targeting of the civilian population."
"The enemy has resumed its offensive in the southern direction of the Artsakh [Karabakh] front line," the Armenian Defense Ministry's spokeswoman, Shushan Stepanyan, wrote on Facebook.
"Fierce fighting is ongoing. Units of the [Karabakh] Defense Army are engaged in a considerable counterattack on the enemy forces," he added.
The separatist government's press secretary Vahram Poghosyan said that their response will not be long in coming, and threatened that the forces will target Azerbaijani military facilities.
"We once again urge the civilian population living in these cities to leave their homes immediately to avoid possible casualties," Poghosyan said.
He said unlike Baku, the Armenian-backed forces were not targeting the civilian population.
This is while Azerbaijan Defense Ministry said late on Sunday that Ganja, a city of more than 330,000 in the country's west, had come under fire.
It said one civilian was killed and four wounded in the attack on Ganja.
Armenia-backed forces claimed to have destroyed an airbase in the city. Baku, however, denied it as a "provocation."
Authorities in both countries have reported nearly 250 dead, including almost 40 civilians over the past week,
Leader of the self-proclaimed republic of Karabakh, Arayik Harutyunyan, also threatened to consider "military facilities in Azerbaijan's big cities" as legitimate targets.
"I call on the residents of these cities to immediately leave," he said in a Facebook post on Sunday.
Azerbaijani officials, however, claimed that Harutyunyan had been seriously wounded while in a bunker hit by bombing. His office denied.
Turkey, an ally to Azerbaijan, accused Armenia of "targeting civilians" in Ganja, reiterating it will fully support Baku in the conflict.
Armenia previously said it "stands ready to engage" with Russia, France and the US — who co-chair the Minsk group —on halting the conflict.
Azerbaijan President Ilham Aliyev, however, said the Minsk group had failed for the past three decades to make progress in resolving the dispute.
The president, who said peace could only be achieved if Armenian-backed forces "fully" withdraw from Karabakh, gave Yerevan an ultimatum late on Sunday to set a timetable for withdrawal from the disputed region.
"Nagorno-Karabakh is Azeri territory; we must return and we will return," Aliyev said in a televised address.
Russia, which has close ties with Armenia, expressed concern over "the increase of casualties" among civilians.
Armenian separatists seized Karabakh in a move supported by Yerevan after the collapse of the Soviet Union in 1992. Some 30,000 people were killed in a conflict that ensued, which ended with a fragile ceasefire in 1994, with about 20 percent of Azerbaijani territory remaining under the control of Armenian forces.
The latest clashes follow a flare-up along the two counties' border in July, which claimed the lives of 17 soldiers from both sides. In April 2016, some 110 people were killed in the most serious fighting in years.
While Azerbaijan has promised to take back the area, by the use of force if necessary, Armenia says it will do all it can to hold on to the territory.
https://www.presstv.com/Detail/2020/10/05/635671/Armeia-Azaijan-conflict-Nagorno-Karabakh
--------
Baku suburbs struck by Armenian missiles: Azeri govt.
05 October 2020
The Azerbaijan Republic says its Armenian enemy has launched missile attacks against an area near the Azeri capital of Baku.
Azerbaijan's presidential aide, Hikmet Hajiyev, tweeted on Sunday that the Armenian military has targeted the Absheron rayon in the suburbs of Baku as well as the Xızı town located 104km north of the capital.
"The Armenian forces fired two medium-range missiles (300km) against Absheron and Xızı on Sunday at 23:10 (local time)," he said in his tweet.
Azerbaijan's prosecutor general says the city of Mingecevir, located 308km west of Baku, has also been targeted by three Armenian missiles.
In this attack, five civilians have been wounded and transferred to the hospital, the Azeri official said.
The prosecutor general's office says a total of 19 civilians were killed on October 3 and 63 others were injured while 44 nonmilitary sites and 181 houses were destroyed as a result of attacks by Armenian forces.
These include rocket attacks against Azerbaijan's second biggest city Ganja, which killed one civilian and wounded four.
Armenia, on the other side, says Nagorno-Karabakh's main city Stepanakert, which has been under artillery fire since Friday, was hit again on Sunday and AFP journalists said there were regular explosions and clouds of black smoke rising in parts of the city.
EU calls for immediate ceasefire
Josep Borrell, the High Representative of the European Union for Foreign Affairs and Security Policy, said on Sunday that "the increase of civilian casualties is unacceptable" and that "fighting should stop immediately".
"Negotiations should start as soon as possible under the Minsk Group Co-chairs," he said.
Spoke to ministers of Armenia and Azerbaijan over the weekend. The increase of civilian casualties is unacceptable. Fighting should stop immediately. Negotiations should start as soon as possible under @OSCE Minsk Group Co-chairs
— Josep Borrell Fontelles (@JosepBorrellF) October 4, 2020
The Organization for Security and Cooperation in Europe (OSCE) Minsk Group, a body led by France, the US and Russia, has so far organized numerous rounds of negotiations between Baku and Yerevan, but to no avail.
Azerbaijani President Ilham Aliyev says Nagorno-Karabakh region is an inalienable part of Azerbaijan and that it must return to the country, demanding that neighboring Armenia set a timetable for a swift pullout from the disputed enclave.
"Azerbaijan has one condition, and that is the liberation of its territories," said Aliyev, in a televised address to the nation on Sunday, stressing that "Nagorno-Karabakh is the territory of Azerbaijan. We must return and we shall return."
The Azerbaijani leader's tone made clear that he would not welcome calls for an immediate ceasefire as Russia, the United States, and the European Union (EU), among others, have already urged Baku several times to hold a truce.
Aliyev also said Baku in the past had repeatedly called for sanctions against Armenia, but all to no avail, blaming Yerevan and some European leaders for the current situation.
So far, the main clashes have been between Azerbaijani forces and Armenian-backed separatist forces of Nagorno-Karabakh, an ethnic Armenian enclave inside Azerbaijan.
However, as fighting escalates, concern is that it will turn into a direct war with Armenia, which has so far denied that it had directed fire "of any kind" toward Azerbaijan.
Aliyev further vowed on Sunday that Baku would not cease military action until Yerevan set a timetable for withdrawing from Nagorno-Karabakh and acknowledge that the enclave is part of Azerbaijan.
"The Azeri soldier is chasing them like a dog, the Azeri soldier is standing at their posts, we have taken their weaponry, we are carrying out the mission of liberation," he added.
Karabakh is internationally recognized as part of Azerbaijan, but it has an Armenian population because ethnic Azeris fled the territory in 1992 when separatists seized it in a move supported by Yerevan after the collapse of the Soviet Union.
Firefight began between the two sides on Sep. 27 after Armenian separatists began waging battles against Azerbaijani forces. More than 100 have reportedly died amid the situation that is the worst one to afflict the region since war in early 1990s.
Now intense fighting rages on between Azerbaijan and Armenia, with Baku claiming to have captured the city of Jebrayil – which was under the Armenian control for 30 years – in heavy clashes over the mountain enclave.
As fierce clashes between the two South Caucasus neighbors entered the eighth day on Sunday, local sources reported new strikes followed by several explosions in Khankendi, the main city of the breakaway region of Karabakh.
https://www.presstv.com/Detail/2020/10/05/635657/Baku-suburb-hit-armenia-missile-azerbaijan
--------
Ilham Aliyev vows to return Nagorno-Karabakh to Azerbaijan, demands Armenian pullout timetable
04 October 2020
Azerbaijani President Ilham Aliyev says Nagorno-Karabakh region is an inalienable part of Azerbaijan and that it must return to the country, demanding that neighboring Armenia set a timetable for a swift pullout from the disputed enclave.
"Azerbaijan has one condition, and that is the liberation of its territories," said Aliyev, in a televised address to the nation on Sunday, stressing that "Nagorno-Karabakh is the territory of Azerbaijan. We must return and we shall return."
The Azerbaijani leader's tone made clear that he would not welcome calls for an immediate ceasefire as Russia, the United States, and the European Union (EU), among others, have already urged Baku several times to hold a truce.
Aliyev also said Baku in the past had repeatedly called for sanctions against Armenia, but all to no avail, blaming Yerevan and some European leaders for the current situation.
Nagorno-Karabakh is internationally recognized as part of the Republic of Azerbaijan; it has been under Armenia's control since the early 1990s. The territory declared independence from Azerbaijan in 1991.
The recent clashes between Azerbaijan and Armenian-backed separatist forces from the contested region – the worst in decades – erupted on September 27, with both Yerevan and Baku accusing each other of provocation.
During the past week, hundreds of people have reportedly been killed in the fighting between Azerbaijani troops and ethnic Armenian forces, including more than 40 civilians.
So far, the main clashes have been between Azerbaijani forces and Armenian-backed separatist forces of Nagorno-Karabakh, an ethnic Armenian enclave inside Azerbaijan.
However, as fighting escalates, concern is that it will turn into a direct war with Armenia, which has so far denied that it had directed fire "of any kind" toward Azerbaijan.
Aliyev further vowed on Sunday that Baku would not cease military action until Yerevan set a timetable for withdrawing from Nagorno-Karabakh and acknowledge that the enclave is part of Azerbaijan.
"The Azeri soldier is chasing them like a dog, the Azeri soldier is standing at their posts, we have taken their weaponry, we are carrying out the mission of liberation," he added.
Earlier on Sunday, Turkey denounced Armenia for "attacks" on civilians in Ganja, Azerbaijan's second-largest city. The condemnation came shortly after Baku confirmed that the "enemy forces" from "Armenia" had placed Ganja "under fire" earlier in the day.
The city of more than 330,000 inhabitants is in western Azerbaijan.
Ankara backs Baku in the decades-long dispute over the ethnic Armenian breakaway region, which Azerbaijan considers under Armenian occupation. Turkey and Azerbaijan have strong relations and both consider themselves "one nation, two states."
Azerbaijan's presidential aide Hikmet Hajiyev, for his part, vowed on Sunday that his country would "destroy military targets directly inside Armenia from which shelling of its population centers is taking place."
The intensifying conflict also threatens to drag in other regional powers as Azerbaijan is fully supported by Turkey, while Armenia has signed a defense deal with Russia.
The growing clashes have also aroused international concern over stability in the South Caucasus, where pipelines carry Azerbaijan's oil and gas to world markets.
https://www.presstv.com/Detail/2020/10/04/635648/Azerbaijan-Aliyev-Armenia-Karabakh
--------
Turkey lambastes Armenia for 'attacks' on civilians in Azerbaijan's Ganja
04 October 2020
Turkey says Armenia's 'attacks' on civilians in the Azerbaijani city of Ganja constitute disregard for laws and regulations amid a recent flare-up of clashes in the disputed region of Nagorno-Karabakh.
"Armenia's attacks today targeting civilians in Azerbaijan's second-largest city Ganja are a new indicator of its stance that does not recognize the law. We condemn those attacks," said the Turkish Foreign Ministry in a statement on Sunday.
It also accused Armenian forces of "violating all principles of humanitarian law and attacking civilian settlement areas besides the occupied regions, the scene of clashes."
Ankara backs Baku in the decades-long dispute over the ethnic Armenian breakaway region, which Azerbaijan considers under Armenian occupation. Turkey and Azerbaijan have strong relations and both consider themselves "one nation, two states."
Azerbaijan's Defense Ministry has said Armenian forces have been firing rockets in Fizuli in the contested region and that they are also pouring artillery shells from the "occupied territories" on Aghdam and Terter regions.
It also claimed that the "enemy forces" from Armenia had placed Ganja "under fire." The city of more than 330,000 inhabitants is in western Azerbaijan.
Separately, Azerbaijan's presidential aide Hikmet Hajiyev said his country would "destroy military targets directly inside Armenia from which shelling of its population centers is taking place."
He said there were also civilian casualties in another Azeri region, Beylagan, which borders Nagorno-Karabakh.
Armenian-backed separatist forces claimed to have destroyed an airbase in Ganja. Yerevan claims that Azerbaijani warplanes have used the base to conduct raiding sorties on Nagorno-Karabakh.
Nagorno-Karabakh is internationally recognized as part of the Republic of Azerbaijan; it has been under Armenia's control since the early 1990s. The territory declared independence from Azerbaijan in 1991.
The recent clashes – the worst in decades – erupted on September 27, with both Yerevan and Baku accusing each other of provocation. Both sides have suffered fatalities, civilians included.
So far, the main clashes have been between Azerbaijani forces and Armenian-backed separatist forces of Nagorno-Karabakh, an ethnic Armenian enclave inside Azerbaijan.
However, as fighting escalates, concern is that it will turn into a direct war with Armenia.
The intensifying conflict also threatens to drag in other regional powers as Azerbaijan is fully supported by Turkey, while Armenia has signed a defense deal with Russia.
"Those attacks show... Armenia will not hesitate to commit a crime of humanity in order to continue its illegal occupation," the Turkish Foreign Ministry further said in its statement on Sunday, accusing Armenia of being "the biggest obstacle to peace and stability in the region."
Armenia has so far denied that it had directed fire "of any kind" towards Azerbaijan.
https://www.presstv.com/Detail/2020/10/04/635626/Turkey-Armenia-Azerbaijan-Ganja
--------
URL: https://www.newageislam.com/islamic-world-news/rohingya-refugees-bangladesh-donated-funds/d/123047
New Age Islam, Islam Online, Islamic Website, African Muslim News, Arab World News, South Asia News, Indian Muslim News, World Muslim News, Women in Islam, Islamic Feminism, Arab Women, Women In Arab, Islamophobia in America, Muslim Women in West, Islam Women and Feminism