New Age Islam News Bureau
12 Jun 2018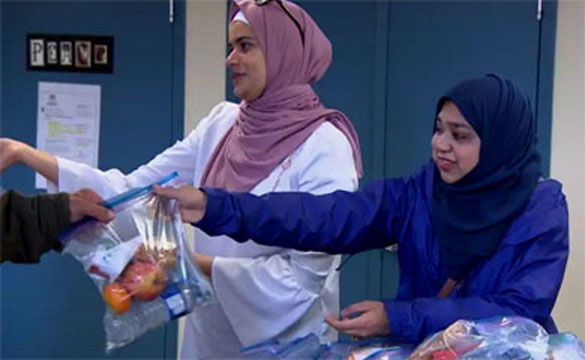 The volunteers gave out several hundred packed meals. (CBC)
------
• Returning From Travih Prayers, Clerics Assaulted For Refusing to Chant 'Jai Shri Ram'
• Muslims in St. John's Mark Ramadan Fast By Feeding Others
• Turkish Forces, Allied Militants Looting Historical Artifacts in Northern Syria
• Tiny Ancient Quran on Display in Israel for Ramadan
• Jamiat-e-Islami Asks Taliban to Join Political Process by Seizing the Ceasefire Opportunity
India
• Returning From Travih Prayers, Clerics Assaulted For Refusing to Chant 'Jai Shri Ram'
• Ancient Hindu Temple in Lucknow, UP, Hosts Iftar Party for Muslims
• Priyanka Chopra, 'Quantico' Star, Apologizes for Show's Terrorism Plotline
• India lodges strong protest over the amendments to 'Azad Jammu and Kashmir Interim Constitution'
• Building Sealed After UP MLA Complains About 'Illegal' Mosque, Madrasa
• J&K terror attack: 2 policemen killed in Pulwama
• Indian Muslims not falling prey to Islamist violence because of democracy: MJ Akbar
• Pakistan linked India to terror outfit in UNSC ban, get it deleted: Delhi to London
--------
North America
• Muslims in St. John's Mark Ramadan Fast By Feeding Others
• Judge Orders Washington Prison to Provide Ramadan Meals
• America First! It's Not Just the G7, its Also About Radical Islam
• US aiding false flag chemical attacks in Syria: Russia Defense Ministry
--------
Arab World
• Turkish Forces, Allied Militants Looting Historical Artifacts in Northern Syria
• Iraqi Cleric Sadr Rejects Election Rerun, Warns Of Civil War After Ballots Burned
• 920,000 displaced in Syria in 2018, highest since conflict began: UN
• Hezbollah Official: S. Arabia Troubling Gov't Formation in Lebanon
• Countdown Starts for Syrian Army Operation after Terrorists Refuse to Leave Southern Regions
• US-Backed Militias in Fear for Unknown Attackers' Operations in Eastern Syria
• Saudi Arabia denounces deadly suicide attack in Kabul
• Over dozen Iraqi refugees killed as US-led warplanes hit northeastern Syria
--------
Mideast
• Tiny Ancient Quran on Display in Israel for Ramadan
• How Al-Qaeda's 'Historian' Mustafa Hamed Spreads Propaganda From Iran
• Heavy fighting on Yemen's west coast kills 250 Houthi militants
• Iran: Time Running Out for Europe to Save N. Deal
• Israeli forces arrest Palestinian man over alleged stabbing attack
• Iran-backed fighters dress in Syrian uniforms to avoid Israeli strikes
--------
South Asia
• Jamiat-e-Islami Asks Taliban to Join Political Process by Seizing the Ceasefire Opportunity
• Prominent Secular Writer, Shahzahan Bachchu, 60, Shot Dead In Bangladesh
• At least 13 people killed in Daesh bomb attack in Kabul
• 6 civilians killed, several injured in separate attacks in Afghanistan
• B'desh to issue special visa for relief workers in Rohingya camps
• Taliban launch coordinated attack on Moqor district on first day of ceasefire
• PM: Govt to issue special visa for relief workers in Rohingya camps
--------
Southeast Asia
• In Israel, Indonesian Muslim Leader Risks Backlash At Home
• Zakir Naik Greets Dr M at Putrajaya Mosque
• Ramadhan events promote religious harmony, tolerance
• Five Muslims shot dead in southern Thailand
• Popular Islamic app to grow regional presence starting with Malaysia
• High demand for symbols drive 'Islamic' black market
• Start of 2018 FIFA World Cup Set to Make Idul Fitri Holiday Extra Special for Indonesians
• No Idul Fitri eve convoys in Jakarta: Sandiaga
--------
Africa
• Deadly Attacks by Shadowy Band of Young Muslims Leave Mozambique Shaken
• Islamic Fundamentalists Sow Terror In Northern Mozambique
• Haftar forces almost fully control Libya's Derna: LNA spokesman
• Mozambique's own version of Boko Haram is tightening its deadly grip
• Boko Haram: Two killed, others injured in fresh Maiduguri suicide attack
--------
Pakistan
• Pakistan's Council of Scholars Denounces Attempts to Politicize Hajj and Umrah
• SC directs Nadra to unblock Musharraf's CNIC
• Azerbaijan ambassador lauds Pak Army's role in regional peace
• Pakistan, China to enhance anti-terrorism cooperation: spokesperson
--------
Europe
• Muslims serve food and friendship in Ramadan to beat far right
• Local Muslims set to mark Ramadan's end
• Muslim Community Center looks to launch high school in Morton Grove
• Muslim legal professionals on faith, justice and why they're proud to work in a tolerant Britain
• How the seven Muslim-majority teams have tackled Ramadan ahead of the World Cup
• Tajikistan's Banned Islamic Party Claims Former Members Hit By 'Wave Of Arrests'
• Muslim rapper stirs up controversy in France for Bataclan gig
• Why Salah's meeting with Chechen leader has stirred controversy
• Over mosque closure, Turkey to spurn Austria's EU helm
• Austria to shut seven mosques, expel imams in 'crackdown on political Islam'; Turkey slams move
• Belgium hands suspect in Paris attacks to France for a day
• The Islamophobia scandal in the Conservative party goes 'right up to the top'
Compiled by New Age Islam News Bureau
URL: https://www.newageislam.com/islamic-world-news/returning-travih-prayers-clerics-assaulted/d/115523
--------
Returning From Travih Prayers, Clerics Assaulted For Refusing to Chant 'Jai Shri Ram'
June 12, 2018
Ranchi (Jharkhand), June 12: While returning home from the evening Travih prayers late Sunday night, two cleric brothers were brutally beaten up by some unidentified assailants under Nagri police station area in Ranchi, the police said. An FIR has been registered by the victims' relatives against some 20 men. The complaint alleges that the men, armed with sticks and rods, asked the clerics to chant 'Jai Shri Ram'. The accused assaulted the two brothers when they refused to do so.
The incident was reported on Sunday, June 10, when the Maulanas were returning from the Travih prayers from a nearby mosque in Agru village at around 10 PM. The complaint said that Maulana Azharul Islam and his brother Maulana Imran were on the way to their home in Naya Sarai village when some 20 bike-borne men stopped them mid-way and asked them to chant 'Jai Shri Ram'. When the brothers refused, they assaulted the brothers while hurling casteist, communal abuses at them.
"They asked them to chant Jai Shri Ram. When they refused to do so, they were assaulted with lathi and hockey sticks. One brother, Maulana Imran, managed to flee but Maulana Mazharul Islam was brutally assaulted by the mob," local human rights lawyer Shadab Ansari said.
"As per the complaint, the group asked him (Azhar) to chant (a religious slogan). This led to an argument and the subsequent assault. The injured was rushed to hospital. He is out of danger now," Officer-in-charge (Nagri) Ram Narayan Singh was quoted as saying by The Indian Express. He said that a case has been registered. "The allegation that the victim was beaten up after being asked to chant a particular (God's) name is yet to be substantiated," he said.
This is not the first such case reported during the month of Ramadan. On May 25, around 20 Muslim families were forced to flee after they were attacked by some unidentified men around Iftar.
http://www.india.com/news/india/returning-from-travih-prayers-ranchi-clerics-assaulted-for-refusing-to-chant-jai-shri-ram-3105277/
--------
Muslims in St. John's mark Ramadan fast by feeding others
June 12, 2018
A group of Muslim volunteers took a social media campaign to the streets of St. John's on Monday, feeding homeless people in the city as part of an Instagram charity known as Feed a Homie.
The concept began with the Instagram account "feedahomie," which states it provides $100 US to help an organization from every province and state in Canada and the U.S. feed someone.
A few friends in St. John's saw the account and were inspired to create a local chapter during Ramadan.
"Every year we try to do something to give back, because Ramadan's a reflection to be thankful for what God has given us throughout the year," said volunteer Boshra Mohamed.
The team contacted the Gathering Place, a non-profit organization in St. John's dedicated to helping the homeless.
"When we gave them a call, we were actually shocked at how willing they were not to only work with us, but how grateful they were that we even called," said Mohamed, who said a Gathering Place organizer told her a lot of people forget the homeless.
"They kind of remember them at Christmas, and then it kind of tapers off."
It's about gratitude
The group spent Monday afternoon at the Gathering Place delivering the packages they had put together through their fundraising, which included food plus a few toiletries.
Volunteer Raahyma Ahmed said her Feed a Homie experience has taught her about the extent of St. John's homeless problem.
"It doesn't mean you live out on the streets. People can be homeless because they don't have their own house, but they could be staying with their friends. And they're still needy, but it's not obvious to the rest of the world," she said.
Ahmed also said it helped put the dawn-to-dusk fasting of Ramadan into perspective.
"When people say, 'Oh, it's such a challenge, it must be so hard' — it's not really. What we're doing is very easy. It could be much worse," she said.
"What I learned personally, is just to be grateful for what I have, because lots of people don't have a home to go to."
Mohamed agreed.
"At the end of the night, you have a huge meal, we're all fed. So we're kind of thinking, 'We have this, but lots of people don't.' So we just want to give back."
'Effortless' fundraising
Giving back turned out to be easier than organizers expected.
Mohamed described their fundraising work as "effortless"— after placing a donation box at the local mosque, the team quickly raised close to $1,700.
"The community really rallied up behind us and they were an amazing support," said volunteer Nasser Ali, who added that after buying the necessities for Monday's lunch, the leftover cash was donated to the Gathering Place.
http://www.cbc.ca/news/canada/newfoundland-labrador/st-johns-muslims-feed-a-homie-1.4701101
--------
Turkish Forces, Allied Militants Looting Historical Artifacts in Northern Syria
Jun 11, 2018
Kurdish-language Hawar news quoted Salahuddin Sino, a member of Afrin Artifact Department, as saying that the army and Ankara-backed militants are now looting historical artifacts of Roza Site in the village of Tarmisha in Shih region in Afrin.
He further told Hawar news that the Ankara forces have forced the villagers to leave the region and do not allow anyone to return to the region.
Sino said that the Turkish forces have embarked on excavation operation in the entire historical areas in Roza Site and have stolen valuable artifacts.
Sino further pointed to the destruction of tens of historical sites in Afrin, adding that the army destroyed has fifty percent of Tal Ayndara Temple, which is one of the most important historical sites in Afrin listed in the UNESCO list, in the early days of aggression against the Kurds in Northwestern Aleppo.
In the meantime, local sources reported that Turkey-backed militants captured a sum of ten civilians in the villages of Shirawa region in Afrin and asked their families to pay $1,000 for their release.
Hawar news reported last week that a sum of 3,295 civilians were captured by the Ankara forces in Afrin region in May amid growing unrests and spreading insecurity following occupation of Afrin region by the Turkish troops.
Hawar news went on to say that the Ankara forces have been blackmailing and torturing the captured people, adding that the Turkish troops and their allied militants turned a school in the village of Hikjeh in Shih region into a large detention center to jail the captured civilians.
Hawar news further said that the Turkish army accommodated over 1,200 terrorists of Southern Damascus and Northern Homs in Afrin.
The Ankara forces looted fruits and crops of over 50 hectares of farms in Afrin and cut over 500 olive trees.
http://en.farsnews.com/newstext.aspx?nn=13970321000849
--------
Tiny ancient Quran on display in Israel for Ramadan
Jun 11, 2018
JERUSALEM: A tiny 10th century Quran is on display for the first time as part of a collection of Islamic texts being shown at Israel's National Library to mark the Muslim holy month of Ramadan.
Curator Raquel Ukeles said this week that the exhibition is aimed at drawing attention to Islam and minority cultures in the Jewish state. Ukeles says the Quran is "fragile, but well-preserved'' and is special because it was written without punctuation. She says it likely served as "a religious talisman.''
The Quran is only 68 by 37 millimeters (2.5 inches by 1.5 inches) in size.
Islam is the dominant faith of Israel's Arab minority, which makes up around a fifth of its population, and of Palestinians in the occupied West Bank and the Gaza Strip.
https://timesofindia.indiatimes.com/world/middle-east/tiny-ancient-quran-on-display-in-israel-for-ramadan/articleshow/64544472.cms
--------
Jamiat-e-Islami Asks Taliban To Join Political Process By Seizing The Ceasefire Opportunity
Jun 11 2018
The Chief Executive of Jamiat-e-Islami and former governor of Balkh province Ata Mohammad Noor welcomed the announcement of ceasefire by the Taliban group.
In a statement released online after the declaration of temporary ceasefire by the Taliban, Noor said "Taliban should seize the opportunity & join the political process to help us realise the people's wish for lasting peace in Afghanistan."
The Taliban group announced earlier on Saturday that the leadership of the group has decided to declared ceasefire during the three days of Eid-ul-Fitr during which no attack will be carried out on Afghan forces.
The announcement by the Taliban group apparently followed the declaration of the ceasefire by the Afghan government.
Earlier on Thursday last week, President Ghani announced a ceasefire with the Taliban group and said the Afghan forces will not conduct offensive operations against the group from 27th of the holy month of Ramadan until the 5th day of Eid.
The declaration of ceasefire by the Afghan government and the Taliban group has been widely welcomed on domestic and international level as efforts are underway to end the ongoing violence through reconciliation.
https://www.khaama.com/noor-asks-taliban-to-join-political-process-by-seizing-the-ceasefire-opportunity-05352/
--------
India
Ancient Hindu Temple in Lucknow, UP, Hosts Iftar Party for Muslims
Jun 12, 2018
Lucknow: The ancient temple on the banks of Gomti River in Lucknow rubbed off the dividing lines on Sunday night when its Mahant Divyagiri hosted an iftar party on the temple Ghats.
Temple priests, clad in saffron, welcomed Muslim guests and served food after the prayers. The delicacies offered at the Iftar included purely vegetarian fare.
The temple committee had made separate arrangements for men and women and what was important was the presence of several leading Muslim clerics at the event.
Well known Sunni cleric Maulana Khalid Rashid Firangi Mahali, Imam of the Teeley Wali Masjid Maulana Fazlur Manna Rehmani, Maulana Sufiyan Nizami, spokesperson of Darul Uloom Farangi Mahali and Nawab Jafar Mir Abdullah and Nawab Masood Abdullah were among the distinguished guests.
Mahant Divyagiri, one of the youngest women mahants, said, "It has been the Indian tradition for centuries that Hindus celebrate Muslim festivals and Muslims celebrate Hindu festivals.
These months for Hindus too are auspicious when we are observing nine bada mangals. This is the time that a good deed is rewarded 70 times more than its reward. And what better way to earn reward than serve those who have fasted from dawn to dusk in Ramzan".
Interestingly, the Mankameshwar temple in Lucknow, said to be around 1,000 years old, is situated adjacent to the Darul Uloom Nadwatul Ulama, an Islamic seminary, but both have co-existed in peace even in most troubled times.
https://www.deccanchronicle.com/nation/current-affairs/120618/ancient-hindu-uttar-pradesh-temple-hosts-iftar-party-for-muslims.html
--------
Priyanka Chopra, 'Quantico' Star, Apologizes for Show's Terrorism Plotline
By Kai Schultz
June 11, 2018
NEW DELHI — Priyanka Chopra, one of India's most famous actresses, who found crossover appeal playing an F.B.I. recruit on the ABC drama "Quantico," has apologized for a plotline involving terrorism by Indian nationalists ahead of a summit meeting about Kashmir.
"I'm extremely saddened and sorry that some sentiments have been hurt by a recent episode of Quantico," she wrote on Twitter on Sunday. "That was not and would never be my intention. I sincerely apologize. I'm a proud Indian and that will never change."
ABC Studios also apologized for wading into a delicate political situation, emphasizing in a statement that the episode was fictional and that much of the backlash had been unfairly directed toward Ms. Chopra, "who didn't create the show."
"The show has featured antagonists of many different ethnicities and backgrounds, but in this case we inadvertently and regrettably stepped into a complex political issue," the statement said.
For decades, the mountainous region of Jammu and Kashmir has been a flash point for India, which is predominantly Hindu, and Pakistan, which is mostly Muslim. Violence has ebbed and flowed for years, with thousands of people killed and wounded during shelling, skirmishes and several wars along the roughly 1,200-mile border.
But in recent months, fighting has intensified. And in India, polarization has grown between Hindus and Muslims who feel that Prime Minister Narendra Modi's governing Bharatiya Janata Party, a Hindu nationalist party, does not speak for them.
Ms. Chopra, 35, one of Bollywood's most popular celebrities, has found recent success in the American entertainment industry, where she starred alongside Dwayne Johnson and Zac Efron in last year's film version of "Baywatch." In 2015, she scored the starring role in "Quantico," now in its third season.
Ms. Chopra plays Alex Parrish, a bright F.B.I. recruit who becomes a central suspect in a terrorist attack at Grand Central Terminal in New York City and must race to prove her innocence.
But the episode that aired on June 1 enraged some Indians. In the episode, Indian nationalists plan to frame Pakistanis before an international summit meeting on Kashmir by orchestrating a nuclear attack in Manhattan. Ms. Chopra's character foils the plot after she notices that one of the terrorists is wearing rudraksha, seeds used as prayer beads in Hinduism.
On Twitter, Indian observers described the episode as nonsensical, ridiculous and peddling the "myth of Hindu terror." Some commenters questioned Ms. Chopra's loyalty to India and Hinduism.
In the past, Ms. Chopra has been criticized in India for showing her legs during a meeting with Mr. Modi, exposing her armpits in a photo spread for Maxim magazine and visiting Rohingya refugee camps in Bangladesh.
This year, when Ms. Chopra, who is a Unicef good-will ambassador for child rights, spent time with the Rohingya, a Muslim minority, Vinay Katiyar, a right-wing figure with the Bharatiya Janata Party, lashed out.
Full report at:
https://www.nytimes.com/2018/06/11/world/asia/priyanka-chopra-quantico-apology.html
--------
India lodges strong protest over the amendments to 'Azad Jammu and Kashmir Interim Constitution'
11th June 2018
NEW DELHI: India today said it has lodged a strong protest with Islamabad over any "action to alter the status" of territories illegally occupied by Pakistan in Jammu and Kashmir and asked it to vacate all such areas.
It was reacting to the changes to the Azad Jammu and Kashmir Interim Constitution (13th Amendment) Act, 2018, which abolished the AJK Councils's administrative and financial powers, reducing it to an advisory body.
It was clearly conveyed that the entire state of Jammu and Kashmir, which also includes the "so-called Azad Jammu and Kashmir" is an integral part of India by virtue of its accession in 1947, the Ministry of External Affairs (MEA) said in a a statement here.
"Any action to alter the status of any part of the territory under forcible and illegal occupation of Pakistan has no legal basis whatsoever, and is completely unacceptable. Instead of seeking to alter the status of the occupied territories, Pakistan should immediately vacate all areas under its illegal occupation," the statement said.
Early this month, the Pakistan Muslim League-Nawaz (PML-N) dominated joint sitting of the Azad Jammu and Kashmir Legislative Assembly and the Azad Jammu and Kashmir (AJK) Council approved the amendments to the AJK Constitution.
Last month, India had summoned Pakistan's Deputy High Commissioner Syed Haider Shah and lodged a strong protest over Islamabad's latest move relating to administrative authority over the Gilgit-Baltistan region, saying any action to alter the status of any part of the territory under its "forcible and illegal occupation" has no legal basis.
The MEA had said it conveyed to Shah that the entire state of Jammu and Kashmir, which also includes the so-called 'Gilgit-Baltistan' areas, is an integral part of India by virtue of its accession in 1947.
Full report at:
http://www.newindianexpress.com/nation/2018/jun/11/india-lodges-strong-protest-over-the-amendments-to-azad-jammu-and-kashmir-interim-constitution-1826732.html
--------
Building Sealed After UP MLA Complains About 'Illegal' Mosque, Madrasa
by Manish Sahu
June 12, 2018
TENSION prevailed in a Muslim-dominated area of Uttar Pradesh's Siddharth Nagar district Monday after the administration sealed a building from where a mosque and madrasa were running for over a month. The administration claims to have acted after an inquiry into a complaint lodged by Kapilvastu BJP MLA Shyam Dhani 'Rahi', in which he alleged that the owner of the building only had permission for a house and not the madrasa on the ground floor and the mosque on the first.
The owner's grandson, however, denied that the building was used as a public mosque and said that the madrasa was affiliated to the UP Madrasa Board.
Following the MLA's complaint, an FIR was lodged against building owner Hasmullah and his grandsons Saifudeen and Kamrudeen at Sadar police station, said SHO Shamsher Bahadur Singh. "During preliminary inquiry, it was found that Hasmullah had procured power connection at the building mentioning it as a mosque. Last month, three loudspeakers were installed and an announcement was made that local residents can pray there."
"Hindus too live in the area. We invoked IPC sections 295 and 295-A as it was alleged that actions of the accused could disturb communal harmony," Singh said.
MLA Dhani said, "On May 17, an announcement was made that the mosque is 'Jama Masjid' of the district and all Muslims of the district can offer prayers there."
Full report at:
http://indianexpress.com/article/india/uttar-pradesh-building-sealed-after-mla-complains-about-illegal-mosque-madrasa/
--------
J&K terror attack: 2 policemen killed in Pulwama
Jun 12, 2018
SRINAGAR: Two policemen guarding the court complex in Jammu and Kashmir's Pulwama district were killed on Tuesday in a terror attack.
The terrorists opened fire at the police picket guarding the district court complex in Pulwama town in the early hours, a police spokesman said.
He said the cops retaliated the firing. In the ensuing exchange of gunfire, two cops were killed.
Following the incident, the area has been cordoned off and further details are awaited.
https://timesofindia.indiatimes.com/india/jk-terror-attack-2-policemen-killed-in-pulwama/articleshow/64551259.cms
--------
Indian Muslims not falling prey to Islamist violence because of democracy: MJ Akbar
June 12, 2018
Sustained democracy over the past seven decades is the reason behind Indian Muslims not falling to the "temptations" of Islamist violence, Union minister MJ Akbar said on Monday. The ideas of democracy, gender equality, gender empowerment and economic equity, are going to be the substantial answers to the ideology of terrorism, the Minister of State for External Affairs said.
"Today, the reason why Indian Muslims are not falling victim to the temptation of Islamist violence is because, and I hope I am not wrong in saying, that Indian Muslims are the only Muslims in the world who have enjoyed seven decades of sustained democracy," Akbar said.
Full report at:
http://indianexpress.com/article/india/indian-muslims-not-falling-prey-to-islamist-violence-because-of-democracy-mj-akbar-5213683/
--------
Pakistan linked India to terror outfit in UNSC ban, get it deleted: Delhi to London
by Rahul Tripathi
June 12, 2018
India wants the United Nations to drop the reference to Indian agencies in its declaration of Pakistan-based Jamaat-ur-Ahrar (JuA) as a terrorist organisation.
This was conveyed to the UK, a permanent member of the United Nations Security Council (UNSC), during a meeting between India's Minister of State for Home Kiren Rijiju and UK Minister of State for Countering Extremism, Baroness Williams, in New Delhi Monday.
According to officials, India objected to UNSC admitting Pakistan's case for banning JuA that "falsely" links the terror outfit to Indian intelligence agencies — it said it did not object to the ban, but was against the India link that Pakistan was claiming.
A splinter group of Tehrik-i-Taliban, JuA has claimed responsibility for a number of attacks in Pakistan in recent times, particularly those targeting military and law enforcement personnel, government buildings, politicians, minority groups and lawyers, officials said.
Sanctions on JuA were slapped last year by UNSC on Islamabad's request which claimed it was linked to intelligence agencies in India. In May this year, US blocked Pakistan's bid to have JuA commander, Umer Khalid Khurasani, listed as a terrorist by the UNSC's sanctions committee. Khurasani is alleged to be the mastermind of the attack on the Army Public School in Peshawar in December 2014 that killed nearly 150 people and the Easter Sunday suicide bombing in Lahore in March 2016 that left 75 people dead.
While New Delhi said it had no objection in imposing of ban on the JuA, it is disappointed over UNSC accepting Pakistan's proposal for the ban, that wrongly claims JuA links to Indian agencies. New Delhi sought UK's intervention to immediately "delete" any reference to India, both in the narrative summary and statement of case submitted by Islamabad before the UNSC, officials said.
JuA reportedly operates from Afghanistan's Nangarhar province and first came to prominence when it claimed responsibility for the 2014 Wagah attack, targeting security forces protecting the Shia community — that attack left 61 dead and over 100 injured. In 2016, US put JuA in the list of Specially Designated Global Terrorists (SDGTs). It was also banned by Pakistan, where it has been blamed for more than 100 terrorist attacks since 2014.
India also raised concerns over the use of UK's soil for anti-India propaganda by Kashmiri and Sikh separatists and pointed to the desecration of the Indian flag in London ahead of Prime Minister Narendra Modi's visit in April 2018. No arrest has been made till date despite video evidence available with the Metropolitan Police, Indian officials said.
Full report at:
http://indianexpress.com/article/india/pakistan-linked-india-to-terror-outfit-jamaat-ur-ahrar-in-unsc-ban-get-it-deleted-delhi-to-london-5213644/
--------
North America
Judge orders Washington prison to provide Ramadan meals
June 11, 2018
SEATTLE: A federal judge has ordered the Washington Department of Corrections to provide nighttime meals to all Muslim inmates who have been fasting during the month of Ramadan, after several said prison officials refused to do so.
The Council on American-Islamic Relations sued the department Sunday on behalf of four prisoners at the Washington State Reformatory in Monroe, saying the men had lost an average of more than 20 pounds ( about 9 kilograms) since Ramadan began in mid-May.
US District Judge Ronald Leighton in Tacoma issued his order just hours after the lawsuit was filed, echoing a similar ruling from a federal judge in Alaska last month.
"Muslim inmates have been starved and their health is in danger as a result of the Monroe Correctional Complex's shameful starvation policy," Lena Masri, CAIR's national litigation director, said in a news release. "We welcome the federal court's swift intervention, which will bring this health crisis to an end and ensure that Muslim inmates are not starved and brutalized for practicing the fundamental principles of their faith."
Ramadan is the ninth month of the Islamic calendar. Muslims observe it by fasting — neither eating nor drinking — between dawn and sunset.
The lawsuit said the prison's policy was generally to require inmates to sign up for Ramadan meals by the end of January, with those who failed to do so allowed to receive the meals at the discretion of prison chaplains. Some said they tried to get the food, only to find out after Ramadan began that they weren't on the list to receive nighttime meals.
Jeremy Livingston, who is serving 22 months for hit-and-run and vehicular assault, said he entered the prison in March, after the deadline, and was denied Ramadan meals despite requesting them upon arrival.
"The Washington Department of Corrections takes very seriously the health and welfare of those sentenced to incarceration in the state's correctional facilities and was immediately responsive to the court order," Corrections spokesman Jeremy Barclay said in an email Monday.
One of the plaintiffs, Naim Lao, who is serving three years for vehicular homicide, said he was added to the list and began receiving Ramadan meals after eight days — but not before he lost 14 pounds (6.4 kilograms), became ill and had guards threaten to force-feed him.
Some of the inmates said they had been able to hide breakfast trays in their cell, but that the trays had occasionally been discovered and confiscated. They also said some prisoners who were on the Ramadan list had tried to share their own nighttime meals with them, but that food too had sometimes been seized.
Leighton said the prisoners had shown that the department was likely violating their constitutional right to be free from cruel and unusual punishment, as well as federal law concerning inmates' rights to free exercise of religion.
Last month, the Council on American-Islamic Relations sued Alaska prison officials on behalf of two Muslim inmates, arguing that bagged meals the men received each evening were inadequate or inappropriately contained pork, which Muslims do not eat. The meals ranged from about 500 to 1,100 calories, when health guidelines suggest 2,600 to 2,800 calories per day.
US District Judge H. Russel Holland said in a written order that fasting Muslim inmates must be given daily meals containing at least 2,600 calories.
Ramadan ends Friday.
http://www.arabnews.com/node/1319946/world
--------
America First! It's Not Just the G7, its Also About Radical Islam
June 11, 2018
U.S. President Donald Trump raised the hackles of American's allies when he refused to sign the G7 trade agreement last week. He blamed Justin Trudeau for his rejection of the pact, saying the Canadian prime minister made "false statements" and was "very dishonest."
Before the conference, Trump warned America's allies he would cut them off from U.S. markets if they didn't lower their trade barriers. "The gig is up." he said.
Trump, who was elected on an "America First" platform has shown he is serious not only about putting the interests of the U.S. first, but in restoring the moral leadership of the U.S. in the world. Nowhere is this more prominent than in the fight against Islamist extremism, where his actions have made it clear to extremists that "the gig is up."
Here are five global fronts Trump has opened where he is leading the way in the fight against radical Islam:
Immigration Pause
Against cries of racism and Islamophobia, Trump stuck to his guns in an effort to protect America from infiltration by Islamist terrorists. His immigration pause – which was eventually certified as legal by the Supreme Court – stopped the flow of immigrants from problematic countries so America could get its act together regarding vetting. Contrast Trump's immigration policy to the problematic flow of immigrants to Europe, where the unregulated influx of immigrants has caused massive culture-related problems and terror attacks.
Pullout From the Iran Nuclear Deal
Trump not only put America first when he singularly pulled out from the flawed Iran deal, he did a favor to the entire world. Forcing European and Asian companies to abide by American sanctions or be sanctioned themselves puts less money into the mullahs hands to be used for international terrorism when these companies realize they would rather remain in good standing with the U.S. than do business with Iran. The U.S. is already seeing the fruits of this strategy: A recent article in Forbes named the 10 largest companies which have announce their withdrawal from Iran. The companies include leading oil firms Total (from France), Lukoil (from Russia) and Reliance Petroleum (from India).
Moving the US Embassy in Israel to Jerusalem
Recognizing – and celebrating — Jerusalem as the capital of Israel puts Palestinian terrorists, as well as their European enablers, on record that the U.S. will not be intimidated by them or back down in the face of scare tactics. Although previous administrations declared their support of Israel, many of their actions proved otherwise. By moving the U.S. embassy to Jerusalem, Trump put these terrorist thugs on notice that the era of appeasement is over. As history has shown many times over, appeasement only breeds more blood lust. Trump is on the right path on this one and the world should thank him.
Building a Wall Between Mexico and the US
Since he was elected, Trump has been progressing with the building of a barrier between the U.S. and Mexico. While, he might not get Mexico to pay for it as was his initial proposal, prototypes involving different materials have now all passed inspection and special forces have been involved in testing its effectiveness. The Trump administration requested $1.6 billion in its 2019 budget for Homeland Security to build 65 miles of the wall, mainly in Texas.
While the amount of money (and hence the amount of wall) that gets built will eventually rest in the hands of Congress which allocate the funds, the fact is that the wall is not just a barrier for economic and cultural migrants from Mexico. Iran and its proxy Hezbollah have moved into Central and South America in a serious way, with their terror cells attempting to infiltrate the U.S. from its southern borders. The wall will help stop that.
Defanging North Korea
Full report at:
https://clarionproject.org/america-first-its-not-just-the-g7-its-also-about-radical-islam/
--------
US aiding false flag chemical attacks in Syria: Russia Defense Ministry
Jun 11, 2018
US Special Forces are aiding Syrian militants to engage in "chemical attack provocation" via chlorine gas to provoke Western airstrikes on Syrian forces, says the Russian Defense Ministry.
"Our intelligence confirmed by three independent Syrian sources says that commanders of the so-called 'Free Syrian Army', backed by the American Special Forces operators, are preparing a serious provocation involving chemical warfare agents in Dayr al-Zawr province," said a statement released by the ministry on Monday.
It added that the FSA militants are would probably use chlorine to launch a chemical attack.
"To imitate yet another 'chemical attack by the regime against peaceful civilians', the rebels brought canisters filled with chlorine," it added.
It noted that reports of such a move would be distributed in Western media and used as a pretext for further coalition airstrikes against Syrian forces.
In Mar, a high-ranking Russian military commander has warned that the United States is training foreign-sponsored Takfiri terrorists in the hope that they would launch false flag chemical attacks in southern Syria to provide a pretext for Washington to carry out airstrikes on Syrian government troops and infrastructure.
"We have reliable information at our disposal that US instructors have trained a number of militant groups in the vicinity of the town of At-Tanf to stage provocations involving chemical warfare agents in southern Syria," Russian General Staff spokesman General Sergey Rudskoy said at a news briefing in Moscow.
The Syrian government surrendered its stockpiles of chemical weapons in 2014 to a joint mission led by the UN and the Organization for the Prohibition of Chemical Weapons (OPCW), which oversaw the destruction of the weaponry.
Western governments and their allies, however, have never stopped pointing the finger at Damascus whenever an apparent chemical attack has taken place.
Also in Mar, a Russian defense ministry official said that militant groups have abandoned chemical arms production facilities and over 40 tons of chemical weapons after retreating from different conflict zones in Syria.
Full report at:
http://www.presstv.com/Detail/2018/06/11/564701/russia-syria-chemical-attack-provocation
--------
Arab World
Iraqi cleric Sadr rejects election rerun, warns of civil war after ballots burned
Jun 11, 2018
Iraqi cleric, Muqtada al-Sadr, whose coalition won the largest number of seats in the country's recent parliamentary elections, has rejected calls for an election rerun, warning Iraqis about breaking out of a possible "civil war" just a day after a storage site in Baghdad, which housed ballot boxes, was purportedly torched ahead of a recount.
"Stop fighting for seats, posts, gains, influence, power, and rulership," the 44-year-old cleric addressed the entire Iraqi nation in a statement published by his office on Monday, adding, "Is it now time to stand as one for building and reconstruction instead of burning ballot boxes or repeating elections just for one seat or two?"
Sadr's plea made a day after a big fire broke out in a warehouse located in Russafa, one of the largest voting districts in eastern Baghdad, sending a thick column of black smoke to the sky that could be seen across the capital. Several hours after the blaze erupted, firefighters, backed by 10 trucks, managed to extinguish the raging fire at the storage site, holding half of the ballot boxes from Baghdad.
Shortly after the news of the fire spread across the Arab country, Iraqi Prime Minister Haider al-Abadi described the incident as a "plot to harm the nation and its democracy."
Outgoing speaker of parliament, Salim al-Jabouri, also said on Sunday the incident proved that the recent parliamentary elections should be repeated.
The authorities say the ballot boxes were saved and the blaze, whose cause is currently under investigation, will not affect the recount. However, it has added to fears that disputes over the elections' result could turn violent, prompting Sadr on Monday to warn about breaking out of a possible "civil war" in the crisis-hit country if growing disputes over the vote are not settled.
"I will not sell the nation for seats and will not sell the people for power. Iraq is my concern, positions for me do not mean much," Sadr further said in the statement, urging the Iraqi nation not to pursue a recount.
On Wednesday, the Iraqi parliament voted in favor of a manual recount of votes in the country's May 12 parliamentary elections, in which a number of political parties alleged fraud. The announcement came a few days after Abadi ordered the creation of a high-powered commission to look into the alleged irregularities in the parliamentary elections.
Earlier in the day, top aide to Sadr, Dhiaa al-Asadi, said the blaze had been a plot aimed at forcing a repeat of the election and hiding fraud.
"Whoever burned the election equipment and document storage site had two goals: either cancelling the election or destroying the stuffed ballots counted amongst the results," he tweeted.
Meanwhile, Saad al-Hadithi, Abadi's spokesman, said only Iraq's Supreme Federal Court had the right to decide if the vote needed to be repeated.
"This is a matter for the Federal Court and not for the executive branch or any other entity," he said at a press conference when asked whether the premier had a comment on Jabouri's call for another election.
http://www.presstv.com/Detail/2018/06/11/564684/Iraq-Muqtada-alSadr-parliamentary-elections-fire-recount-Abadi
--------
920,000 displaced in Syria in 2018, highest since conflict began: UN
June 11, 2018
GENEVA: More than 920,000 people were displaced inside Syria during the first four months of 2018, the highest level in the seven-year conflict, the United Nations said on Monday.
"We are seeing a massive displacement inside Syria from January to April, there were over 920,000 newly displaced people," Panos Moumtzis, the UN regional humanitarian coordinator for Syria, told reporters in Geneva.
"This was the highest displacement in that short period of time we have seen since the conflict started," he said.
It brings the number of people internally displaced in the war-ravaged country to 6.2 million, while there are still some 5.6 million Syrian refugees in neighbouring countries, according to UN figures.
Moumtzis said most of the newly displaced had been forced on the move by escalations in fighting in the former rebel bastion of Eastern Ghouta and within the northwestern province of Idlib, which is almost entirely controlled by various extremists and hardline rebels.
His comments came after several deadly air strikes in recent days in Idlib that have left dozens of people dead, including children.
He said Idlib is part of the "de-escalation" agreement for Syria reached between Turkey, Russia and Iran, and warned of the dire consequences if the province, which has some 2.5 million inhabitants, sinks into full-blown conflict.
More than 350,000 people have been killed since the Syrian conflict erupted in 2011 with the brutal repression of anti-government protests.
But Moumtzis said, "our worry is that with the Idlib situation, we may not have seen the worst of the crisis in Syria".
He said the world must "make sure that we don't see a similar scenario as we saw in Eastern Ghouta," which was recaptured in April by the Syrian government after a blistering two-month offensive.
"We worry about seeing really 2.5 million people becoming displaced," he said, adding that the UN was currently drawing up a range of contingency plans in case the situation escalates.
"We are on high alert," he said.
Following the Eastern Ghouta offensive, and the previous offensive to retake Syria's second city Aleppo, rebels and civilians were forcibly evacuated to Idlib.
But for the people of Idlib, "there is no other Idlib to take them out to," Moumtzis said.
"Really, this is the last location. There is no other location to further move them."
At the same time, the mishmash of armed groups in the province are increasingly fighting amongst themselves.
"The current composition makes (the situation) highly explosive," Moumtzis warned.
Elsewhere in Syria, he said the numbers of people stuck in besieged or other areas humanitarian workers cannot easily access has shrunk dramatically since last year to just over two million people.
But he said far too few aid convoys were making it through to such areas, with only nine succeeding since January.
The UN, he said, has the capacity to send in at least three convoys a week, so it has made only 11 percent of possible deliveries this year "the lowest ever" since the start of the conflict.
A convoy carrying food aid for 60,000 people finally made it to Douma in Eastern Ghouta on Sunday, he said, the first UN aid delivery there since March 14.
Elsewhere, access is easier and the UN is currently providing aid to some 5.5 million people across the country each month.
But Moumtzis voiced deep concern over the lack of funds for the massive aid operation, with only 26 percent of the $3.5 billion needed inside Syria this year materialising to date.
Full report at:
https://nation.com.pk/11-Jun-2018/920-000-displaced-in-syria-in-2018-highest-since-conflict-began-un
--------
Hezbollah Official: S. Arabia Troubling Gov't Formation in Lebanon
Jun 11, 2018
"Today, Saudi Arabia is interfering in the formation of the cabinet to achieve its goal to weaken the role of the resistance," Qaouq was quoted as saying by the Arabic-language al-Ahd news website on Monday.
He warned that Riyadh seeks to turn Lebanon into a part of its political project in the region, adding, "The Lebanese people should know that its threats to national consensus and delaying the formation of the cabinet are the biggest danger posed by Saudi Arabia's interference in the formation of the cabinet."
Lebanese Prime Minister-designate Saad Hariri announced in Beirut earlier this month that the government to be formed will be comprised of 30 ministers.
"The government that we will form hopefully will be of 30 ministers, this is the maximum that I can announce, and cooperation is ongoing with all parties to accomplish this task," Hariri said.
Full report at:
http://en.farsnews.com/newstext.aspx?nn=13970321000820
--------
Countdown Starts for Syrian Army Operation after Terrorists Refuse to Leave Southern Regions
Jun 11, 2018
The Arabic-language al-Watan daily reported that the army has dispatched more troops and military equipment to Dara'a province.
It further said that the army is to launch a large-scale operation in Southern Syria after talks with militants to hand over control of the region failed due to terrorist commanders' opposition to the reconciliation plan.
Al-Watan went on to say that the army's operation in Northeastern Sweida has been conducted in line with military operation in Dara'a.
It said that, however, the army is ready to kick off the assault in the region, and has opened humanitarian corridors to evacuate civilians.
The army had also dispatched a long convoy of forces and military equipment to Dara'a on Saturday.
The army sent tens of tanks, military vehicles, missile launchers, trucks carrying heavy weapons and military hardware along with a large number of elite forces to Dara'a province.
Local sources, meantime, said that thousands of army men have left their positions in Eastern Qalamoun and Damascus for Dara'a and Quneitra provinces in the last two days.
The army plans to launch a large-scale operation in Southern Syria to free the entire Dara'a province and impose full control over the border with Jordan and the key Nasib border-crossing.
Also, Northern Sweida that is under the control of the Al-Nusra front (also known as Fatah al-Sham Front or the Levant Liberation Board) and its affiliated terrorists will be freed if the army scores victory in the operation.
Full report at:
http://en.farsnews.com/newstext.aspx?nn=13970321000748
--------
US-Backed Militias in Fear for Unknown Attackers' Operations in Eastern Syria
Jun 11, 2018
Two SDF militias were killed and several more were wounded after unknown attackers stormed a patrolling unit near the town of Sweidan in Jazeerah region.
In the meantime, a number of SDF gunmen were injured after a bomb went off in front of a base of the US-backed militias in the small town of Granij in Southeastern Deir Ezzur.
The SDF, following the attacks, cut off a road connecting Sweidan to other region and kept its gunmen on alert after declaring curfew in the region.
The SDF also started to crackdown on tens of houses, arresting people in the villages of Bakarah and Jadid Akaydat in Southeastern Deir Ezzur.
In a similar development but in Raqqa province in Northeastern Syria on Sunday, the Washington-backed SDF started using children from 7 to 14 years of age for stealing assets of civilians from houses in Raqqa.
Full report at:
http://en.farsnews.com/newstext.aspx?nn=13970321000513
--------
Saudi Arabia denounces deadly suicide attack in Kabul
12 June 2018
An official source of the Saudi Ministry of Foreign Affairs expressed the Kingdom's strong denunciation and condemnation of the suicide explosion which took place at the gate of the ministry of rural development, west of capital, Kabul.
"The source reiterated the Kingdom's firm stance and solidarity with the Islamic Republic of Afghanistan against extremism and terrorism, extending its condolence and sympathy to the families of the victims and to the government and people of the Islamic Republic of Afghanistan, wishing the injured a quick recovery," a statement on Saudi Press Agency read.
A suicide bomber struck outside a government ministry in the Afghan capital on Monday, killing at least 12 people and wounding 31 others days before the start of a holiday cease-fire with the Taliban.
The director of Kabul's Isteqlal hospital, Mohammad Saber Nassib, said 13 bodies had been brought to the hospital and a further 26 injured persons.
"From the wounded victims ten of them are in a critical condition and the rest are in a stable condition," he said.
Relatives of victims gathered at the hospital to receive the bodies of their loved ones.
Full report at:
https://english.alarabiya.net/en/News/gulf/2018/06/12/Saudi-Arabia-denounces-suicide-attack-in-Kabul.html
--------
Over dozen Iraqi refugees killed as US-led warplanes hit northeastern Syria
Jun 11, 2018
More than a dozen Iraqi refugees have lost their lives when the so-called US-led coalition purportedly fighting Daesh Takfiri terrorist group carried out an aerial assault in Syria's northeastern province of Hasakah.
Local sources, speaking on condition of anonymity, told Syria's official news agency SANA that the US-led aerial attack targeted a school in Khuweibra village, leaving 18 people dead.
The sources added that the fallen victims had escaped violence and Daesh acts of terror in neighboring Iraq. There were women and children among the deceased.
The US-led coalition has been conducting airstrikes against what are said to be Daesh targets inside Syria since September 2014 without any authorization from the Damascus government or a UN mandate.
The military alliance has repeatedly been accused of targeting and killing civilians. It has also been largely incapable of achieving its declared goal of destroying Daesh.
Syria's Ministry of Foreign Affairs and Expatriates, in two separate letters addressed to United Nations Secretary General Antonio Guterres and the rotating President of the UN Security Council Vasily Nebenzya on June 5, condemned the continuing attacks by the US-led coalition against innocent Syrians, and its assaults on the sovereignty, unity and territorial integrity of the conflict-plagued Arab country.
The letters further noted that the "illegal" US-led coalition continues to perpetrate massacres against Syrian civilians, leaving scores of people, including elderly people, women and children, dead over the past few days and destroying homes as well as civilian properties and infrastructure in targeted villages.
The Syrian foreign ministry added that the US-led coalition is devoid of any international legitimacy, and has bombarded people in the provinces of Hasakah, Raqqah and Dayr al-Zawr after they did not agree to support US-backed Syrian Democratic Forces (SDF) militants.
"The United States has organized these militants in a bid to target the positions of the Syrian army, and recapture areas liberated by the Syrian army soldiers and their allies from the menace of terrorism," the letters pointed out.
They noted, "The United States has on occasions offered direct support to Daesh Takfiri terrorist group – the latest of which was on May 24 when US-led fighter aircraft struck Syrian army military sites between Albu Kamal border town and Hmeimim Air Base less than 24 hours after government forces thwarted Daesh assaults on its positions."
Full report at:
http://www.presstv.com/Detail/2018/06/11/564676/Over-dozen-Iraqi-refugees-killed-as-USled-warplanes-hit-northeastern-Syria
--------
Mideast
How Al-Qaeda's 'historian' Mustafa Hamed spreads propaganda from Iran
11 June 2018
Afghan-Arab Mustafa Hamed, is Al-Qaeda's most prominent historian and is blacklisted by the US Treasury.
Also known as Abu al-Walid al-Masri, he emerged from Tehran to resume his activity in lecturing radical groups through his website named "Mafa" earlier this year.
Back to Tehran from Qatar
Abu al-Walid, a friend of Osama bin Laden and Ayman al-Zawahiri friend, willingly left Qatar in 2016 and went to Tehran to live there with his children.
Abu al-Walid, who is the father-in-law of Saif al-Adel and who was Al-Jazeera's correspondent in Kandahar between 1998 and 2001, went to Iran with his family in 2002 after the 9/11 attacks to live there with a group of al-Qaeda commanders and Bin Laden's family members.
There were allegations that Iran released Abu al-Walid, Saif al-Adel and Mohammed Islambouli, the brother of Khaled Islambouli who assassinated Egyptian President Anwar al-Sadat, from house arrest in 2010.
Abu al-Walid, Saif al-Adel and Islambouli returned to Egypt during the military rule following the January 25 revolution and later when the Muslim Brotherhood assumed power in the country. Then they left again to Turkey, Qatar and Iran.
Commenting on resuming Mafa's activity, Abu al-Walid explained that the website was established in 2009 to publish six books about Afghanistan and the Arabs' history during the phase of jihad against the Soviets. The books had a unified headline "Literature of the outcast, narratives of Arab Mujahideen in Afghanistan."
"I resumed Mafa's activity after returning to Iran because I have plenty to say about public matters. My opinions can only be voiced on Mafa as it's not under the control of international powers which globalized people's economies and which want to globalize people's minds," he said, adding that Iran's "atmosphere for freedom" allows him to publish on Mafa.
"The website has set the priorities straight. The religion comes first because it's the origin and before the sect which is the branch. The nation comes first because it's the origin, before organizations, parties and groups which are branches and in many times obstacles," he added.
"The Arab Spring did not allow for saying anything different but this was not the case in Tehran. Mafa is now here in Tehran, right where it began, to resume singing outside the flock."
Abu al-Walid had lived in Afghanistan since 1993 and until he left his residence in Herat crossing the borders towards Iran with a group of fighters from the Islamic Renaissance Party of Tajikistan.
He currently resides in Tehran and writes with the website of Al-Samoud Magazine linked to the so-called Islamic emirate in Afghanistan. He also finished writing his book "The Islamic Movement and the water war" in Tehran.
Shiite clerics and harboring Arabs
Despite claims by Wafaa Ali al-Shami, Abu al-Walid's wife, that her family was under pressure in Iran, Abu al-Walid confirmed through Mafa that Iran helped al-Qaeda members after the 9/11 attacks. This is confirmed by the fact that they returned to live in Iran.
"The Iranians let the Arabs and their families enter Iran and offered help to some of them. Some Shiite clerics were enthusiastic about harboring Arabs and protecting them in Iran and they were confronted with opposition. Some graffiti in Tehran called for expelling Taliban's Shiite clerics to Afghanistan because they provided significant support to Arabs in Zahedan and Tehran," he added.
Al-Qaeda, Iran and random relations
"Of course there are relations between Iran and al-Qaeda. They were imposed by the circumstances of America's war on Afghanistan. However, they were random and were not planned thus they did not have any positive effects on either. Before the war, al-Qaeda ignored the fact that Iran is a large neighbor to the west of Afghanistan. Meanwhile the Arabs' situation in Afghanistan was bad due to international siege and the Islamic emirate suffered from the siege and from internal conflicts. All this called for good neighborly relations and cooperation with Iran to resolve misunderstandings. Al-Qaeda could have been a mediator but it was based on the Salafist approach that was hostile to Shiites to the extent of accusing them of infidelity sometimes. If it hadn't been for Bin Laden's moderate character, al-Qaeda would have resembled ISIS," he added.
He noted that relations eventually developed between the Islamist radicals and Tehran.
"A Salafist jihadist category began to understand facts and put things in order. It was very late but better late than never."
Al-Qaeda and co-existing with Shiites
The website Mafa and Abu al-Walid's writings reflect the theory of joint cooperation and what the mullahs' regime of Tehran has in common with armed radical political Islam groups and which is based on the points of convergence between Navvab Safavi, a cleric who was close to Khomeini and the founder of Fada'iyan-e Islam group, with Sayyid Qutb in 1954. This Safavi-Qutb convergence was under the excuse of rapprochement between Islamic sects to fulfill caliphate and imamite-related aims.
Battle against Jews and Crusaders
On co-existence, Abu al-Walid said: "Of course I meant co-existence with the Shiites, and I mean much more. I mean unifying the wings of the nation that consist of Sunni and Shiite in one battle against Jews and Crusaders, as Bin Laden's famous expression puts it. And before that, I mean co-existing between Salafism and Sunnis."
In his article "ISIS and another emotional talk," he said: "Wahhabism's hostility is against the four Sunni sects rather than against Shiism or Sufism. Wahhabism has been specifically hostile to the duty of jihad because it wants to sabotage its path via a loud bid on sharia, jihad and doctrine. Wahhabi jihad harms the nation's real jihad and obstructs its emergence while replacing it with a fake jihad which it manages, funds and nurtures."
Staunch defense of the mullahs' regime
Abu al-Walid once staunchly defended Iran saying: "The Revolutionary Guards, the Quds Brigade and the missiles' program cannot be discussed at all because this would be an attempt to disarm Iran thus leading to its complete surrender. So why does Israel and the US keep bringing this up? It's to exert psychological pressure and justify economic sanctions and international isolation that force Iran to freeze its reaction to developments in Arab neighbors from the ocean to the Gulf by turning them into citizens of a Zionist empire that has international ambitions. What they want is Iran's retreat, and they want to force it to adopt a policy that isolates it from its Islamic surrounding and Zionized Arab neighborhood."
Iran's support to Hezbollah, Houthis
Abu al-Walid also defended Iran's support of Hezbollah in Lebanon and the Houthi Movement in Yemen and said: "It is a humanitarian, Islamic and security matter. I am afraid Arabs and Muslims will not realize the importance of Yemen on the Islamic, strategic and Arab level except after losing it. The problem is that Iran is taking up the responsibilities abandoned by others at a time when the sect is more important than religion and the organization is more important than the nation."
"As for Iran's support of Hezbollah in Lebanon, this increases Iran's pride as Hezbollah is the only Islamic front that directly confronts Israel. This would not have been possible if it had not been for the support which Iran provides and which the latter views as an Islamic responsibility and a positive support for its national security."
"Iran's support of the Houthis is a responsibility which every Muslim and Arab must assume to support the people of Yemen who are being exterminated at the hands of the Gulf's Zionists and Arab Zionists."
Commenting on Iranian President Hassan Rouhani's remarks about US President Donald Trump once, Abu al-Walid said: "Rouhani was calm and confident while he was criticizing and disciplining Trump. Rouhani's suavity may not benefit a lot or it may require a stick that supports this calm rhetoric as without this Iranian stick, the US will resume its policies."
Background
Born in Egypt, Abu al-Walid joined the Muslim Brotherhood cubs in his hometown in Egypt when he was just six years old.
He graduated from the engineering faculty in 1969 from Alexandria University and worked as a journalist during the 1970's. He wrote about Afghan jihad and had participated in it since 1979 before the Soviet invasion.
He met Mawlawi Jalaluddin Haqqani, a leader of a fighting group in Afghanistan in June 1979, and he later worked with him from 1992 until 1980.
In 1980, he became friends with Afghan leader Abdul Rasul Sayyaf but the friendship ended in a severe dispute due to Sayyad's approach in leading his armed group.
Abu al-Walid met Abdullah Yusuf Azzam for the first time in Peshawar in 1984, and they became friends' however this friendship was somehow affected following disagreements over the role of Sayyaf and other Afghan groups' leaders.
In 1988, he met Bin Laden and they remained friends until the latter was killed in 2011.
In 1986, he met Ayman al-Zawahiri in Peshawar, and before that in 1979, he met Kamal al-Sananiri.
In 1993, he went to Khost and lived in al-Qaeda camps and also supervised a training program for fighters in Uzbekistan. These fighters later formed the Islamic Movement of Uzbekistan led by Mohammed Tohir Yoʻldoshev.
In the winter of 1996, he went to Sudan and stayed there for few a months but later left Khartoum in May with Bin Laden and other al-Qaeda commanders, including Saif al-Adel, and went to Jalalabad.
He met Taliban leader Mullah Mohammed Omar in Kandahar several times and he was among the first Arabs to pledge allegiance to him as commander of the faithful in 1997.
https://english.alarabiya.net/en/features/2018/06/11/How-Al-Qaeda-s-historian-Mustafa-Hamed-spreads-propaganda-from-Iran.html
--------
Heavy fighting on Yemen's west coast kills 250 Houthi militants
June 11, 2018
SANAA: Heavy fighting in Yemen between pro-government forces and Iran backed Houthi militia left more than 250 Houthi militants killed, among them 20 senior field commanders.
Yemeni defense sources quoted by Saudi Press Agency said that heavy fighting on Yemen western coast line south of Hodeidah port killed 250 Houthi militants. The defense source added that 140 Iran backed Houthi militiamen were captured by the advancing units of the Yemeni army supported by the Saudi led Arab coalition airforce.
The fighting has escalated as government forces close in on the Red Sea port of Hodeida, a vital lifeline through which most of Yemen's food and medicine enters.
The United States urged all parties of the conflict to ensure humanitarian access to the Yemeni people, Secretary of State Mike Pompeo said Monday. The US, he said, is closely following developments in Hodeidah and urged Emirati leaders to preserve "the free flow of humanitarian aid and life-saving commercial imports."
The United Nations warned Friday that a military attack or siege on Hodeida would affect hundreds of thousands of civilians. Some 600,000 people live in and around the city.
UN Secretary-General Antonio Guterres said Monday that there has been a recent lull in the fighting and that Martin Griffiths, the UN envoy for Yemen, "is shuttling between Sana'a and also the UAE and Saudi Arabia to hope that there will be a way to avoid the military confrontation in Hodeidah."
Yemen has been embroiled in a civil war pitting the coalition against the Iran-backed Houthis since March 2015. The coalition aims to restore the government of exiled President Abed Rabbo Mansour Hadi to0 Sanaa.
The three-year stalemated war has killed more than 10,000 people and displaced more than 3 million according to the UN.
Full report at:
http://www.arabnews.com/node/1319721/middle-east
--------
Iran: Time Running Out for Europe to Save N. Deal
Jun 11, 2018
"We hope that Europe will not miss the opportunity as we do not have much time and I hope that we will witness the necessary developments. The EU will not have much time and we should adopt the appropriate decisions," Foreign Ministry Spokesman Bahram Qassemi told reporters in a press conference in Tehran today.
"If the EU is interested that Iran remains in the nuclear deal, it should enforce mechanisms which produce results by complying with its obligations under the nuclear deal alongside Russia and China immediately and in the least time," he added.
In relevant remarks on Sunday, Iranian Parliament Speaker Ali Larijani warned the European states that time was running out for their show of power to protect the 2015 nuclear deal after the US withdrawal.
"Certainly, Iran will pursue the nation's demand with its prudence but it should be clarified that the Islamic Republic of Iran's officials will not wait for Europe's timeless promises. The time for negotiations is running out," Larijani said, addressing an open session of the parliament in Tehran.
"If Europe considers itself powerful enough to maintain the nuclear deal, it should declare its decision more clearly and rapidly, otherwise, the Islamic Republic will take next steps in the nuclear field or other issues," he added.
Larijani also called on Head of the Atomic Energy Organization of Iran (AEOI) Ali Akbar Salehi to take serious steps to implement the orders of Supreme Leader of the Islamic Revolution Ayatollah Seyed Ali Khamenei to develop 190 thousand of SWUs (Seperate Working Units of uranium enrichment).
Ayatollah Khamenei reiterated last Monday that Tehran would never take part in any negotiations over its missile and regional power, and warned that Europeans should comply with his earlier stated conditions or Iran would discard the nuclear deal.
Addressing thousands of Iranian people and officials at a ceremony at the Mausoleum of the late founder of the Islamic Republic, Imam Khomeini, in Southern Tehran, the Iranian Leader said the EU should avoid miscalculations that Iran would continue fulfilling its undertakings under the Joint Comprehensive Plan of Action (JCPOA) if the European states do not stand against the US sanctions in practice.
"The words uttered by some European states indicate that they expect the Iranian nation to both agree to comply with the nuclear deal undertakings and live under sanction. I tell the European states that have undigested thoughts in their minds that this dream of yours will not come true," Ayatollah Khamenei said.
"The Iranian nation will not tolerate to be under both sanctions and nuclear restrictions," he reiterated.
Ayatollah Khamenei further dismissed the US-led moves to cause misperception among Iranians that discarding the nuclear deal would end in war, saying some wrongly mention that Iran's opposition to continued compliance with "an impaired version of the JCPOA would result in war, but this is a lie," and a part of the enemies' psychological war against Iran.
He said Tehran would never agree to negotiate over its power components, specially its missile and regional power, and warned that Iran has developed such a robust missile power that it would retaliate any enemy strike with ten-fold missile attacks.
The Leader further warned the EU to avoid playing with Iran over the nuclear deal, and ordered the country's nuclear officials to take the needed measures to be completely prepared for any decision by the Islamic Republic.
"The Atomic Energy Organization of Iran is duty-bound to prepare the ground for achieving 190 thousand of SWUs (Seperate Working Units of uranium enrichment), but within the framework of the JCPOA for the time being," he said in warning remarks, implying that if the EU proves disloyalty to its undertakings Tehran will resume nuclear fuel operations to maximum levels that it needs to fuel its power plants.
"The Atomic Energy Organization of Iran should also take the introductory measures for the execution of the President's order from tomorrow," the Iranian Leader added.
His remarks came as Iran and the EU are in talks on how to preserve the nuclear deal after the US discarded the agreement in a blatant violation of its endorsed undertakings and despite international warnings and as time is clicking for the Europeans to declare their final decision on how they intend to ensure Iran of their compliance with their duties under the nuclear deal.
US President Donald Trump announced on May 8 that the US would no longer remain part of the JCPOA and promised to re-impose the highest level of economic sanctions against Iran in response to Tehran's development of its nuclear program.
Almost two weeks later, the Iranian Supreme Leader declared five prerequisites for the EU to keep Tehran under the nuclear deal, underlining that the three European nations are necessitated to prove their trustworthiness after their disloyalty to a similar deal in 2005.
Addressing a meeting with former and present Iranian officials here in Tehran on May 24, the Iranian Leader reminded defiance of undertakings by Britain, France and Germany back in 2005 when Iran embarked on a voluntary implementation of the additional protocol to the NPT and halted nuclear activities, and said the European trio "showed a major disloyalty; they made a promise in 2004-2005, but defied. Now they should prove that today they won't show the dishonesty and disloyalty of that day".
Ayatollah Khamenei asked officials not to repeat a single mistake twice, and cautioned, "Europe has displayed that it accompanies the US in most sensitive cases."
He further blasted the Europeans for keeping mum about the US frequent violations of the 2015 nuclear deal in the last two years, and said "the EU is required to make up for this silence".
Ayatollah Khamenei reminded that the US has violated UN Security Council Resolution 2231 that accompanies the nuclear deal, and said hence "Europe should issue a resolution against the US violation" of the agreement.
He said "the EU should also undertake to avoid a discussion of Iran's missile and regional power".
The Iranian Leader reminded that the nuclear talks were aimed at the removal of the sanctions, "many of which were not lifted, while they have been recently threatening to revive the sanctions desipte the emphasis of the UN Security Council resolution" to the otherwise.
The Leader further underlined that the EU should also pledge "to take action against any kind of sanction against the Islamic Republic and stand against the US sanctions on the basis of a clear-cut position".
"Europe is also needed to ensure Iran's full crude sales," he said, and explained, "In case the Americans manage to strike a blow at our oil sales, (we) should be able to sell whatever volume of oil that we want. The Europeans should compensate (for the loss in crude sales) in a guaranteed manner and buy Iran's crude."
Ayatollah Khamenei also underscored that the EU banks should also ensure trade with Iran, and said, "We don't want a fight with these three countries, but (we) don't trust them either because of their past record."
He further warned that "if Europeans delay in complying with our demands, then Iran would preserve its right for resuming nuclear activities". "Once we observe that the JCPOA (Joint Comprehensive Plan of Action) produces no fruit, then one way would be reviving the operations that have been shut down."
After Trump's declaration, the Iranian government issued a statement, calling the US withdrawal as "unlawful". The statement underlined Iran's prerequisites for continuing the deal with the five world powers after the US pullout of the agreement.
"Iran, as a country that has remained committed to its legal obligations, will pursue the US Government's decision to withdraw from the JCPOA as provided by the mechanisms and provisions of the accord, and if the US withdrawal is not fully compensated and the full interests of the Iranian people are not met and guaranteed – as stated in the accord and as outlined by Iran's Leader on 9 May – it will exercise its legal right to take whatever reciprocal measures it deems expedient. Other parties to the JCPOA, and especially its three European signatories, must take necessary action to safeguard the accord and to implement their commitments – which they proved incapable of fully performing even while the US was nominally a party to the deal, due to the obstructions by the Trump Administration – and to proceed from giving pledges to taking practical action without any preconditions," it said.
"None of the provisions or timeframes within the JCPOA, which were the subject of twelve years of negotiations, are negotiable in any manner. The US, which has through its meddling and erroneous policies ignited extremism, terrorism, destruction, war and child killing in our region, is in no position to issue any diktat about the Islamic Republic of Iran's lawful presence within its own region nor its effective support for the peoples of Syria and Iraq in their endeavor to fight extremists. The US and its allies, which through their support for the regime of Saddam Hussein, including equipping it with chemical weapons and the most advanced military equipment while blocking Iran's access to any means of defense victimized the Iranian people for eight years, and currently turning our region into a powder keg through their sale of hundreds of billions of dollars of useless advanced weaponry devouring the financial resources of the region, are in no position to impose restrictions on the Islamic Republic of Iran's lawful means of defense, including defensive ballistic missiles which have been designed to carry conventional weapons based on the bitter experiences of the war with the regime of Saddam Hussein. Indeed, such efforts explicitly violate the principles of international law, and the Islamic Republic of Iran's legitimate right to self-defense under Article 51 of the United Nations Charter," it added.
"As announced by the President of the Islamic Republic of Iran on 8 May, the Foreign Minister has been tasked with the duty of taking the necessary measures to obtain required guarantees from the remaining parties to the JCPOA as well as Iran's other economic partners, and to immediately report the results of this mission. Meanwhile, the President of the Atomic Energy Organization of Iran has been tasked with taking all necessary steps in preparation for Iran to pursue industrial-scale enrichment without any restrictions, using the results of the latest research and development of Iran's brave nuclear scientists."
"The people of Iran will with calm and confidence continue their path towards progress and development and the Government of the Islamic Republic of Iran has foreseen all necessary measures to facilitate this under any circumstances," the statement continued.
Full report at:
http://en.farsnews.com/newstext.aspx?nn=13970321000852
--------
Israeli forces arrest Palestinian man over alleged stabbing attack
Jun 11, 2018
Israeli military forces have arrested a Palestinian man in the northern part of the occupied territories as tensions continue to simmer between Israeli soldiers and Palestinians protesting against the Tel Aviv regime's expropriation of their lands.
Israeli media outlets asserted that an 18-year-old woman sustained serious wounds on Monday afternoon, when an unidentified Palestinian from the occupied West Bank city of Jenin stabbed her in the city of Afula.
The woman, a resident of Afula, purportedly managed to walk a few steps and collapsed next to an Aroma coffee shop. She told people at the scene that a Palestinian man had stabbed her.
"Police shot the suspect in the leg after calling upon him to stop. The suspect was arrested with a knife in his possession," an unnamed Israeli police spokesperson said.
Israel's Magen David Adom Emergency Medical services said the 18-year-old woman was evacuated to Haemek Hospital in the city with several severe stab wounds to her upper body.
The occupied territories have witnessed new tensions ever since US President Donald Trump on December 6, 2017 announced Washington's recognition of Jerusalem al-Quds as Israel's "capital" and said the US would move its embassy to the city.
The dramatic decision triggered demonstrations in the occupied Palestinian territories and elsewhere in the world.
The status of Jerusalem al-Quds is the thorniest issue in the decades-long Israeli-Palestinian conflict.
The Palestinians see East Jerusalem al-Quds as the capital of their future state.
Moreover, at least 129 Palestinians have been killed by Israeli forces since the "Great March of Return" began in the Gaza Strip on March 30. Fourteen children are among the fallen Palestinians.
About 13,300 Palestinians also sustained injuries, of whom 300 are in a critical condition.
In a final communiqué issued following an emergency meeting in Istanbul on May 18, the Organization of Islamic Cooperation (OIC) condemned the May 14 massacre of dozens of Gazans as "savage crimes committed by the Israeli forces with the backing of the US administration."
It also urged the UN to "form an international investigation committee into the recent atrocities in the Gaza Strip, and enable the committee to initiate field investigation."
Full report at:
http://www.presstv.com/Detail/2018/06/11/564649/Israeli-forces-arrest-Palestinian-man-over-alleged-stabbing-attack
--------
Iran-backed fighters dress in Syrian uniforms to avoid Israeli strikes
June 11, 2018
LONDON: The Syrian regime is disguising Iran-allied militias as its own fighters, a battlefield feint that appears calculated to try to avoid further Israeli air strikes against Iranian targets in Syria, according to a report by the Wall Street Journal.
According to rebels, the Syrian regime is disguising convoys of Lebanese Hezbollah fighters and other Iran-backed militias as its own fighters, to avoid further Israeli airstrikes against Iranian targets in Syria.
Israel, which has said it won't allow forces loyal to Iran to entrench near its border, has watched closely as the regime and its allies appear to be preparing a military assault on rebels in southwestern Syria.
After initially appearing to withdraw from the border, forces loyal to Iran returned to both Daraa and Quneitra provinces in southwest Syria, near the border with Israel, with rockets and missiles, a rebel commander said.
Full report at:
http://www.arabnews.com/node/1319716/middle-east
--------
South Asia
Prominent Secular Writer, Shahzahan Bachchu, 60, Shot Dead In Bangladesh
June 12, 2018
A prominent Bangladeshi writer and publisher was dragged out of a shop and shot dead by unidentified attackers in central Bangladesh, ending a lull in the killings of secular bloggers and activists in the Muslim-majority country.
Shahzahan Bachchu, 60, an outspoken proponent of secular principles and owner of a publishing house 'Bishaka Prokashoni' that specialised in publishing poetry, was gunned down in his ancestral village Kakaldi in Munshiganj district last evening by five assailants.
Bachchu had gone to meet friends at a pharmacy shop near his home before iftar, when the five attackers on two motorcycles came into the area. They blasted a crude bomb outside the pharmacy, creating panic, the Dhaka Tribune reported.
They then dragged Shahzahan out of the shop and shot him, a senior superintendent of police was quoted as saying by the daily.
Although no group has claimed responsibility, police officials from the counter-terrorism department are investigating the murder as a possible targeted attack by Islamist extremists.
Bachchu had previously received threats from extremist groups due to his outspoken support for secularism
Bachchu was a former district general secretary of the Communist Party of Bangladesh and was known as a free-thinking writer,. His publishing house Bishaka is based in Dhaka's Banglabazar area.
Deaths of secular writers, bloggers, online activists and a publisher in attacks by suspected Islamist militants shook Bangladesh for months after the murder of atheist writer and blogger Avijit Roy in Dhaka on February 26, 2015.
Avijit's publisher Faisal Arefin Dipan was also hacked to death on October 31 the same year.
Militant groups claimed responsibility for most of these attacks and the law enforcers arrested many radical Islamists in connection with the attacks.
https://www.business-standard.com/article/pti-stories/prominent-secular-writer-publisher-shot-dead-in-bangladesh-118061200284_1.html
--------
At least 13 people killed in Daesh bomb attack in Kabul
Jun 11, 2018
At least 13 people, including women and children, have lost their lives and dozens more sustained injuries after a member of the Daesh Takfiri terrorist group detonated an explosive vest outside a government ministry in Afghanistan's capital of Kabul, officials say.
According to Waheed Majroh, a spokesman for the Ministry of Public Health, the explosion, which also wounded at least 31 people, occurred at the main gate of the Ministry of Rural Rehabilitation and Development in Darulaman area on Monday.
Meanwhile, Faridoon Azhand, a spokesman for the targeted ministry, said that the terrorist blew himself up among a crowd of people, who had gathered there, waiting for a bus to take them home. "Unfortunately we have lost some colleagues," added Azhand, who was inside the compound at the time.
Employees were leaving their offices earlier at 01:00 p.m. (0830 GMT) due to the holy month of Ramadan, when Muslims fast from dawn to dusk, when the blast occurred.
In a statement issued a few hours after the terror attack and carried by the Daesh-affiliated Amaq news portal, the terror group claimed responsibility for the explosion.
Since late last year, the Daesh terror group, which has already lost all its urban strongholds in Syria and Iraq, has taken advantage of the chaos in Afghanistan and established a foothold in the eastern and northern regions, launching deadly bomb attacks against civilians and security forces alike.
The Monday attack also occurred just two days after the Taliban militant group, which is also responsible for scores of deadly attacks across the crisis-hit country during the last 17 years, announced in a statement that it had agreed to a three-day ceasefire with Afghan security forces for Eid al-Fitr, which marks the end of Ramadan, in the middle of June, following a truce deal already proposed by Afghan President Ashraf Ghani.
Ghani had declared an unconditional week-long ceasefire with the Taliban on Thursday, but the offer excluded Daesh and other terrorist outfits.
The truce would last "from the 27th of Ramadan until the fifth day of Eid al-Fitr," Ghani tweeted from an official account, indicating it could run from June 12 to 19.
The Taliban's five-year rule over at least three quarters of Afghanistan came to an end when the US and its allies invaded the country on October 7, 2001 as part of Washington's so-called war on terror.
Full report at:
http://www.presstv.com/Detail/2018/06/11/564659/Afghanistan-Daesh-bomb-attack-Kabul-Taliban
--------
6 civilians killed, several injured in separate attacks in Afghanistan
Jun 11, 2018
KABUL: A roadside bomb struck a microbus in eastern Afghanistan on Monday, killing six people, an Afghan official said.
Arif Noori, a spokesman for the governor of the Ghazni province, said women and children were among those killed in the blast, which also wounded three people.
He said the bomb was planted by the Taliban. The insurgents mostly target security forces and government officials, but their roadside bombs often kill civilians.
Elsewhere in Ghazni, at least three local police and 10 Taliban fighters were killed in clashes, Noori said.
The Taliban have agreed to a three-day cease-fire to coincide with a Muslim holiday later this week.
Elsewhere in Afghanistan, a suicide bomber wounded at least 10 civilians when he struck near the education department in the eastern city of Jalalabad, said Attahullah Khogyani, spokesman for the provincial governor of Nangarhar province. He said three other suicide bombers were shot and killed by security forces as they tried to enter the building. He said a vehicle filled with explosives was found near the scene of the attack.
In a separate attack in the same province, a sticky bomb wounded 14 civilians in the Chaparhar district, according to hospital spokesman Inamullah Miakhail.
General Ghulam Sanayee Stanekzai, provincial police chief in Nangarhar, said the bomb went off as people were shopping in a market.
Full report at:
https://timesofindia.indiatimes.com/world/south-asia/roadside-bomb-kills-6-civilians-in-afghanistan/articleshow/64538280.cms
--------
B'desh to issue special visa for relief workers in Rohingya camps
12 JUNE 2018
Dhaka [Bangladesh], June 12 : Prime Minister Sheikh Hasina, met with Canada's Special Envoy to Myanmar Bob Rae and assured him of addressing the visa issue pertaining to foreign relief workers working in Rohingya shelter camps in Bangladesh.
"The government is cautiously dealing with the matter as many foreign nationals are working in the Rohingya camps after coming to Bangladesh with tourist visa," Hasina's press secretary Ehsanul Karim quoted Hasina as saying, as per The Dhaka Tribune.
Hasina further underscored that her government is aware that many foreign nationals in the guise of relief workers are trying to infiltrate in Bangladesh.
"This may lead to child and women trafficking, sexual abuse, terrorism," she added.
She further asserted that to resolve the issue a special category visa will be issued to the relief workers.
The Bangladeshi PM later recalled historical relations between Bangladesh and Canada since Bangladesh's independence, adding that the two countries can further work on strengthening cooperation.
Rohingyas are a Muslim minority ethnic group in Myanmar, who are considered as illegal immigrants as opposed to citizens of the country.
Full report at:
https://www.outlookindia.com/newsscroll/bdesh-to-issue-special-visa-for-relief-workers-in-rohingya-camps/1328008
--------
Taliban launch coordinated attack on Moqor district on first day of ceasefire
Jun 12 2018
The Taliban militants have launched a coordinated attack on Moqor district in southeastern Ghazni province of Afghanistan on the first day of the cesaefire announced by the Afghan government.
Provincial governor's spokesman Arif Noori confirmed that the militants launched a coordinated attack on Moqor districts in the early hours of Tuesday morning.
In the meantime, a security official said the militants have detonated a Humvee armored personnel carrier packed with the explosives near the district security commandment compound.
The source further added that the attack has left at least 5 policemen dead while more than 10 Taliban insurgents were also killed during the clashes.
According to the official, the clashes between the two sides still continue in the vicinity of the district.
The anti-government armed militant groups including Taliban insurgents have not commented regarding the report so far.
Full report at:
https://www.khaama.com/taliban-launch-coordinated-attack-on-moqor-district-on-first-day-of-ceasefire-05354/
--------
PM: Govt to issue special visa for relief workers in Rohingya camps
June 12th, 2018
Prime Minister Sheikh Hasina on Monday assured Canada's Special Envoy on Myanmar Bob Rae of addressing the problems of issuing visa for foreign relief workers in Rohingya shelter camps in Bangladesh.
"The government is cautiously dealing with the matter as many foreign nationals are working in the Rohingya camps after coming to Bangladesh with tourist visa," PM's press secretary Ehsanul Karim quoted the premier as saying while briefing reporters after the meeting.
Sheikh Hasina said the government is conscious about the intrusion of many foreign nationals in the guise of relief workers which may lead to child and women trafficking, sexual abuse, terrorism and many other social problems.
"We're issuing special category visa for relief workers to address the problem," she said, requesting the envoy to bring it to the notice of the government in case of any difficulties.
Bob Rae informed the prime minister that he has prepared a report on his visit to the Rohingya camps in Bangladesh in November, 2017.
During the visit, Bob said, he himself has seen the situation and conditions facing Rohingya Muslims fleeing violence in Myanmar.
"Hosting more than one million people is a big challenge," Bob Rae observed, saying they are closely working with Bangladesh government to address the Rohingya issue.
The press secretary said the prime minister and Bob Rae discussed the possible sufferings of Rohingyas during coming monsoon as the area is posed to natural calamities including mudslide, flood and other disasters.
The prime minister apprised the envoy of Bangladesh disaster management preparedness saying a trained group of people is ready to tackle any situation along with law enforcement agencies, border guards, army and party workers.
Later, Deputy Premier of Saskatchewan and Minister for Trade and Export Development Gordon Wyant, QC, and Minister for immigration and Career Training Jeremy Harrison made a courtesy call on Prime Minister Sheikh Hasina at her hotel room.
They discussed the matters relating to trade and investment and recalled very special trade relations of Canada with Bangladesh for many years.
They congratulated the prime minister for Bangladesh economic successes in recent years under her dynamic leadership, showing keen interest in boosting the trade ties and technology transfer, particularly green technology.
Sheikh Hasina recalled historical relations between Bangladesh and Canada since Bangladesh's independence and said that the two countries have many scopes to further strengthen cooperation in various areas, particularly in education and nursing sectors.
Later, a business delegation led by President and CEO of Commercial Corporation of Canada Martin Zablocki made a courtesy call on the prime minister.
The delegation included a number Bangladeshi origin Canadian businesspeople.
The premier urged them to invest in Bangladesh taking the opportunities of the country's very liberal trade regime.
A trade team from Bangladesh will soon visit Canada to explore the trade and investment potentialities, she said.
Full report at:
https://www.dhakatribune.com/bangladesh/foreign-affairs/2018/06/12/pm-govt-to-issue-special-visa-for-relief-workers-in-rohingya-camps
--------
Southeast Asia
In Israel, Indonesian Muslim leader risks backlash at home
Jun 11, 2018
JERUSALEM (AP) — A leader of Indonesia's largest Muslim organization is visiting Israel this week, braving angry protests at home in order to spread what he calls a message of interfaith compassion.
Yahya Staquf, secretary general of the 60 million member Nahdlatul Ulama, is in Israel as a guest of the American Jewish Committee, a U.S. advocacy group holding a major conference in Jerusalem.
Indonesia, the world's largest Muslim country, does not have diplomatic relations with Israel, and support for the Palestinians there is strong. Staquf's presence has triggered angry reactions, as seen on Indonesian social media.
But in an interview, Staquf said he remains committed to the visit and hopes the controversy can bring more attention to his message of tolerance.
"Some people here are amazed by my decision to come, because they think it must be dangerous for this man to come, thinking that many, many Muslims must be threatening him with death or something," Staquf told the Associated Press on Monday.
Earlier this week, Staquf addressed the American Jewish Committee's conference, appearing alongside a rabbi in his discussion. His schedule also includes meetings at Israel's Hebrew University, and talks with local Jewish, Christian and Muslim leaders as well. There were no meetings with Israeli politicians listed on his schedule.
Staquf said the Israeli-Palestinian conflict is not the sole focus of his trip. Instead, he looks at interfaith cooperation as a basis for solving many conflicts, including in Myanmar, where 700,000 Rohingya Muslims have fled persecution by the country's security forces to Bangladesh.
But Staquf remains aware of the "magnitude" of the Israeli-Palestinian conflict.
"We are facing a civilizational problem here, and it is related to religions," Staquf said. "As Muslims, we want to do our part related to our religion."
Staquf says he has identified portions of Islam that he considers problematic, including how Muslims interact with non-Muslims. He says there needs to be "a new discourse" to recognize that Muslims and non-Muslims are equal and should be able to coexist peacefully.
"These elements are problematic because they are not compatible anymore with the current reality of our civilization," he said.
In Indonesia, Twitter and Facebook have been filled with negative comments about the visit. Many are upset about the situation in Gaza, where over 120 Palestinians have been killed during protests along the Israeli border over the past two months. Israel accuses Gaza's militant Hamas rulers of using demonstrators as human shields while trying to carry out attacks and says it is defending its sovereign border and communities nearby.
A montage of Staquf's photo, and the Israeli and NU flags, has gone viral online. It is captioned: "When Muslims are wounded by an Israeli attack, the NU representative goes to Israel. This visit is a form of recognition of the state of Israel, hurting the hearts of Muslims and Palestinians."
Taufiqulhadi, a member of parliament from the National Democratic Party, one of the parties in the government coalition, said "the majority of Indonesians" do not want diplomatic relations with Israel.
In a letter to Indonesia's foreign minister that was published online, Staquf said the government could "deny" his actions if deemed harmful to state interests. "But if there is a 'benefit,' let's follow it up to be a real advantage."
https://www.chronicleonline.com/news/world/in-israel-indonesian-muslim-leader-risks-backlash-at-home/article_372dc34e-6e0f-5bed-88de-0d445803200f.html
--------
Zakir Naik greets Dr M at Putrajaya mosque
Faiz Zainudin
June 8, 2018
PUTRAJAYA: Controversial Indian Muslim preacher Dr Zakir Naik was among hundreds of people who jostled to greet Prime Minister Dr Mahathir Mohamad after Friday prayers outside Putrajaya Mosque here today.
"Assalamualaikum, Tun," Naik was heard making the Muslim salutation as he approached Mahathir, before speaking a few words to the prime minister.
Naik was accompanied by four bodyguards.
Naik, who has Malaysian permanent resident status given to him by the Najib Razak administration, lives at Tamara Residence, a middle-class condominium not far from the Prime Minister's Office.
Full report at:
http://www.freemalaysiatoday.com/category/nation/2018/06/08/zakir-naik-greets-dr-m-at-putrajaya-mosque/
--------
Ramadhan events promote religious harmony, tolerance
June 12, 2018
Hundreds of people flocked to a bazaar selling basic commodities held by congregation members of the St.Theresia Bongsari Church in Semarang, Central Java, on Sunday, or five days before Idul Fitri. At least 400 packages of basic commodities were offered at an affordable price at the bazaar.
Each package, which contained 5 kilograms of rice, 1 kg of sugar, 1 kg of wheat flour, 1 liter of cooking oil, tea and soy sauce, cost only Rp 50,000 (US$3.60). Other items were also sold at low prices, such as school equipment and 267 kg of eggs.
Catholic priest Eduardus Didik Chahyono said all the goods were being sold far below market price because the Bongsari parish wanted to share happiness.
"The bazaar was held by congregation members of the Bongsari parish. We hold bazaars like this every Christmas and Idul Fitri," he said.
The bazaar was one of two events held by the church during Ramadhan this year. A breaking-of-the-fast event was also held at the St. Maria Park in Bojongsalaman subdistrict, West Semarang, on June 1.
Members of Jami'atul Quro wal Huffadh, a rebana (tambourine) musical group, sang Islamic songs. A qori performed a Quranic recitation before they broke the fasting.
"A breaking-of-the fast event is held routinely. The Bongsari church is part of this neighborhood unit. We have always been involved in the dynamics of this community. With this event, we want to give testimony that at the grassroots level, our people live in peace and harmony," said Priest Didik. He said people must always be critical of views that tended to besmirch other religions
Full report at:
http://www.thejakartapost.com/news/2018/06/12/ramadhan-events-promote-religious-harmony-tolerance.html
--------
Five Muslims shot dead in southern Thailand
June 11, 2018
Unknown attackers with M16 assault rifles shot dead five men who were chatting on a verandah on June 11 in a village of the restive southern Thai province of Yala.
The men, who were identified by police as local Muslims, were shot at about 1am by attackers who wore hoodies and rode on two motorcycles. The men might have been targeted in a revenge attack by Islamist separatists or by other villagers over a personal feud, according to police.
It is the latest atrocity in an unending series of shootings, bombings and beheadings in Thailand's three Muslim-majority southernmost provinces of Yala, Pattani and Narathiwat where a bloody separatist insurgency by separatists against Buddhist rule from Bangkok has been ongoing since 2004.
An estimated 7,000 people, mostly Buddhist and Muslim villagers, have died in tit-for-tat attacks in the violence-plagued provinces. In addition to police officers and soldiers, Buddhist monks, teachers and government officials have been regularly targeted by members of shadowy Islamist separatist groups like Barisan Revolusi Nasional (National Revolutionary Front) in Pattani.
"We live in fear," a Muslim man from a prominent local family in Pattani told ucanews.com. He asked to remain anonymous for fear of being labelled a collaborator by separatists. "Muslims and Buddhists, we used to live peacefully side by side," he added. "We would go to weddings and funerals together. We can't do that now."
For many locals, even engaging in mundane activities can carry dangers. Numerous motorists have been gunned down in seemingly random attacks around the three troubled provinces. A few days ago, four men panning for gold in a stream on a rubber plantation in Narathiwat were discovered with their bodies riddled by bullets fired from assault weapons. The men, who belonged to a local Muslim family, included a father with his two teenage sons.
"We don't yet know the exact motive," Manus Sixsamat, commander of Narathiwat's police force, was quoted as saying by local media. The men, the police chief added, might have been murdered by Muslim insurgents or else by a rival team of local gold panners in a turf war.
The line between acts of violence by insurgents and those of criminal gangs is often blurred in the troubled provinces.
"People smugglers, drug traffickers, local kingpins, rogue officers — they are all involved," a Bangkok-based forensics expert who works for the government told ucanews.com, asking to remain unnamed because of the sensitivity of the issue.
Many murders and bombings in the restive region remain unsolved. The country's ruling military regime has pledged to pacify the troubled region but has made little headway. Insurgents remain capable of pulling off coordinated attacks at will.
On a Sunday evening in late May, suspected insurgents set off homemade bombs at 20 locations, mainly ATM booths, in the three restive provinces and in adjacent Songkhla province. Two women were injured.
Full report at:
https://www.ucanews.com/news/five-muslims-shot-dead-in-southern-thailand/82534
--------
Popular Islamic app to grow regional presence starting with Malaysia
11 June, 2018
A popular Islamic app plans to grow its regional presence, starting with Malaysia.
Apps are a good mechanism to help Muslims perform their religious duties, especially during Ramadan.
One such app is Muslim Pro, used by Muslims in over 200 countries, with downloads reaching 53 million globally.
Malaysia is currently among the top five key markets for the app. This has encouraged Muslim Pro to incorporate a local Malaysian entity and set up its first-ever dedicated team to grow its presence in Malaysia.
Muslim Pro Malaysia's country manager Nik Emir Din says that when its parent company, Singapore-based Bitsmedia decided to accelerate the growth of the product last year, they also inked partnerships with two big companies.
Affin Hwang Asset Management and CMIA Capital Partners of Singapore jointly acquired a controlling stake in Bitsmedia, while founder Erwan Mace, a French national and former member of the Google team, continues to hold a minority stake in the company.
"As one of the major shareholders is based in Malaysia, it is also timely for Muslim Pro to execute its regional expansion strategy, starting with a local entity here," Nik Emir says.
FEATURES
Muslim Pro is an all-in-one application. It features accurate prayer times, qiblat directions, various translations and recitals of the Quran, halal restaurants and mosques locator, zakat calculator and a host of other useful community and lifestyle features.
Ramadan is a very important month for Muslim Pro, not only in Malaysia but globally, as the app will see a big spike in activities from downloads to usage as more users log in to check the sahur and break fast time.
Nik Emir says that although there are no features that are unique for Malaysians, the content and language have included Bahasa Malaysia to make it more accessible.
Another interesting feature, he says, is the Duas, which allows users to ask others in the community for support.
"For example, if a person is about to sit for an examination or someone in their family is not well, that person can ask others to pray for them.
Other users who see it can click a Love button once they have set a prayer for that person.
"It is a way for us to empower the community in spreading positivity. Another well-received feature is the Fasting Tracker.
"We just rolled out the feature this Ramadan, and interestingly, it is something that was requested by our users, especially women, who often lose track of their missed days of fasting."
LOCAL PARTNERSHIPS
Muslim Pro Malaysia recently partnered with Celcom to launch a special offer for Celcom subscribers to enjoy the app's premium version.
"Being a Premium user means having no ads, and no data will be used when listening to the Quran recitation. Users can also customise their own tasbih beads, colour of the app or the qiblat indicator," says Nik Emir.
Muslim Pro Malaysia also signed a memorandum of understanding with Malaysia Airlines under Project Amal, its wholly-owned pilgrimage charter business catering to passengers wishing to perform their haj and umrah.
The partnership, according to Nik Emir, is aimed at enhancing Project Amal's passenger experience through the Muslim Pro mobile app.
"For a start, we hope to see pilgrims, who are travelling with Malaysia Airline, to be able to use Muslim Pro either on their phone or in the plane.
"At the same time, the agreement allows both Muslim Pro and Malaysia Airlines under Project Amal to tap on each other's global brand presence and international reach to expand and improve their existing product offerings as well as grow their respective customer base," he adds.
FUTURE PLAN
Moving forward, Nik Emir says Muslim Pro aimed to provide additional value to users.
"Now that we have a database of halal restaurant nearby, we plan to add a feature where users can give reviews and suggestions on places, something like a TripAdvisor of the halal food industry."
Malaysia, being the first to have a local presence of Muslim Pro, will be a pilot and test project.
"The company will focus on two things: understanding the local market better, and find the right partnership opportunities like Islamic Development Department or Malaysia Digital Economy Corporation.
"If this model proves to be successful, then there's no reason why we can't replicate it in other key markets such as Indonesia," says Nik Emir.
As the local face to a global brand, Nik Emir has the responsibility to grow Muslim Pro's brand and market presence in Malaysia.
There is a significant opportunity for Muslim Pro to play a leading role in the development of the Islamic Digital Economy, which has been built on the growing demands of the Muslim lifestyle.
Macroeconomic and demographic trends strongly favour continued growth in the medium and long term both in the region and globally.
Full report at:
https://www.salaamgateway.com/en/story/popular_islamic_app_to_grow_regional_presence_starting_with_malaysia-SALAAM11062018080656/
--------
High demand for symbols drive 'Islamic' black market
June 12, 2018
The Islamic black market is spreading in various forms. By playing around with Islamic symbols in separate cases, First Travel, Abu Tours and Kanjeng Dimas (the cleric who many believed could magically multiply their money) scammed trillions of rupiah over the years out of consumers across the country.
There have also been unqualified Muslim preachers arbitrarily offering troubling interpretations of Islamic teachings on television, like the claim that heavenly pleasure is nothing more than an orgy. A popular female Muslim TV preacher turned out to be incapable of writing Quranic verses in proper Arabic script. Muslim hard-line groups such as Jama'ah Ansharut Daulah (JAD), Majelis Mujahidin Indonesia, Hizbut Tahrir Indonesia and others aggressively propagate the necessity of sharia through the establishment of an Islamic state.
Recently, a series of terrorist attacks took dozens of lives in Depok, Pekanbaru in Riau and Surabaya; the horror in the last city was even committed by parents as suicide bombers and their children. These are tips of a bigger "Islamic black market" iceberg. Why is it spreading?
Obviously, religion is a symbolic system, as the anthropologist Clifford Geertz explained. However, the need of religious symbols among Indonesian Muslims today is much bigger than ever. The striking contrast between the present situation and the past is stunning.
Until the mid-1980s, due to the New Order's hostile political stance, Indonesian Muslims were marginalized and often seen as obstacles, if not the government enemy. In the scholar Nurcholish Madjid's terms, Muslims were known as "a majority with a minority mentality". When possible, most Muslims tended to avoid using Islamic symbols in public spaces, let alone go to work in headscarves (for women). Even saying assalamu'alaikum (peace be upon you) to greet a mixed audience made many Muslims feel awkward.
Since Suharto reached out to Muslims in the late 1980s, we have seen the surge of the "Islamic wave" along with new freedoms.
Today, it is even "normal" for non-Muslims to say assalamu'alaikum in official meetings. Many public schools unofficially require female Muslim students to wear the headscarf as part of their school uniform. To gain public sympathy, more female Muslims, from street beggars to mega-graft convicts, wear the hijab. Only recently, the government of Aceh Besar regency issued a bylaw requiring all flight attendants to wear the hijab whenever their plane landed there.
Unlike in the past, since the 1990s Islam has become a powerful presence. When everyone uses a smartphone, not using it will make you look stupid. When most Muslims take on all kind of Islamic attributes and symbols, those who do not participate look ugly, even despicable and alienated.
Today there is greater social pressure requiring Muslims to demonstrate their religious identity. Therefore, "Islamic" fashion, cuisine, school, media, forums, associations, groups, banking, business etc are growing everywhere. Islamic symbols have become valuable resources, precious capital, marketable commodities and a defining identity readily available for different purposes.
Besides spirituality, religion is a social practice, as observed by the scholar Pierre Bourdieu. Hence, the growing demand for religious symbols has opened up greater opportunities for political, economic and social interests.
Meanwhile, due to rapid change, "religious providers" cannot always properly cater to all the demands. For instance, during Ramadhan, religious events are held simultaneously across mosques, institutions and forums, dramatically increasing the demand for Muslim preachers or speakers. So does the demand for various needs supposedly required for a proper "Islamic" life style.
When social pressure for religious symbols is so high compared to limited capacity of "religious providers" — especially when combined with insufficient religious literacy — the essence and quality of religious practice become secondary. People just need to look normal by participating in the common practice of "going Islamic" to avoid being alienated from their group. This thirst for religious symbols eventually invites new actors, many without proper training, some even with dark motives.
It is exactly this big gap between the supply and demand of Islamic symbols that has helped created the Islamic black market, a free space for quasireligiosity, pseudo-Muslim preachers, fake Islamic business and religious fraud like the one committed by First Travel and Abu Tours, as well as teaching hoaxes, including radicalism and terrorism.
Illegal and fake products are exchanged and unregulated in this space called the Islamic black market. What looks convincing and real on the surface to uninformed eyes can be totally bogus, even poisonous.
This black market mostly provides "selfie religiosity" — attributes for exclusive personal piety that serve the interest of politicians, businesses or other profit seekers who have nothing to do with spiritual matters. Even worse, the Islamic black market is also fertile ground for religious radicalism and terrorism.
The wide reach of the Islamic black market explains the puzzling discrepancy between over-religionization of public life, where Islamic symbols and attributes are strongly visible on the one hand, and the pervasive ethical problems on the other, such as the increasing numbers of graft cases, frequent violations of human rights, poor interreligious relations and even violence in the name of religion.
Although reality has shifted fundamentally in comparison to the 1980s, and with Islam predominant on every level, some Muslims are still entrapped in the old "minority mentality". They are always anxious to have a bigger share and worried about being marginalized. As a result, some Muslims are hypersensitive when their group's interests are at stake. Any minor issue, like the case of Sukmawati Soekarnoputri's poem, is perceived as religious blasphemy.
Sadly, when it is about the rights of others, these grumpy Muslims are very insensitive. In addition to the Aceh local regulation on headscarves for all flight attendants, the banning of community service to be held by St. Paul church of Yogyakarta and persecution against the Shiites and the Ahmadis are among notable examples.
It's as if it is taken for granted that the majority has the privilege to define the other, but not vice versa. Whenever people pay too much attention to religious symbols, they will easily misrecognize the true meaning of religion.
Since religion is a symbolic system, obviously religious symbols are very important. However, religion should not be locked up into symbolism. If religion is to play a significant role in taking up the challenge faced by the people, we should stop making religion part of the problem.
Religion should be part of the solution. We should bring back religion to its primary function, namely as moral guidance and ethical foundation for its adherents.
In fact, Islam encourages Muslims to embrace and to cooperate with all human beings in creating a just and peaceful world for all. Therefore, exclusive symbolic personal piety should be transformed into liberating social ethics and inclusive public morality.
Full report at:
http://www.thejakartapost.com/academia/2018/06/12/high-demand-for-symbols-drive-islamic-black-market.html
--------
Start of 2018 FIFA World Cup Set to Make Idul Fitri Holiday Extra Special for Indonesians
June 11, 2018
Jakarta. The start of this year's FIFA World Cup in Russia will coincide with the Idul Fitri holiday this week, which will give many Indonesians even more to look forward to as they head back to their hometowns to spend time with family.
The 2018 World Cup will open on Thursday (14/06) when Russia plays against Saudi Arabia at Luzhniki Stadium in Moscow. The competition, contested by 32 nations, will end on July 15.
"I'll be watching the World Cup [opening] in Garut, West Java, where I will gather with relatives of my fiancée," said Muhammad Taufan, 26, an employee of a bus transportation company in Jakarta. He has been following football since 1996.
"A World Cup that takes place during the Idul Fitri festivities will be such a special occasion as we will now get to watch it with our relatives," he said, adding that he mostly watched the World Cup with friends previously.
According to the Ministry of Transportation, around 19.5 million Indonesians will be traveling to their hometowns during the Idul Fitri holidays this year, up 5.17 percent from last year.
Free-to-air television channels Trans7 and Trans TV, both part of Transmedia, owned by Indonesian tycoon Chairul Tanjung, have exclusive rights to air this year's World Cup in the archipelago.
The World Cup broadcasting rights for Southeast Asia vary in price from $7 million to $18 million, depending on the selected package and the number of matches, according to a report by Singapore-based online media company Mothership.
Transmedia announced in December that it will air all 64 World Cup matches.
Equal Enthusiasm in Malaysia
In Malaysia, where Islam is also the majority religion like in Indonesia, state-owned broadcaster Radio Televisyen Malaysia spent around $7.5 million for the rights to air 41 of this year's matches.
"Malaysians are more excited about the World Cup than Idul Fitri because the World Cup is only held every four years. So there will no problem at all, especially if you think that preparations for Idul Fitri have mostly been done earlier during Ramadan," Kuala Lumpur-based sports journalist Mohd Khairul Nizam told the Jakarta Globe on Monday.
Nizam said Malaysians traditionally also return to their hometowns during the Idul Fitri holiday, but that it is unlikely to dampen their excitement for the World Cup.
"Usually, when the World Cup enters the knockout round, some companies will organize special events at a few venues," he said.
Full report at:
http://jakartaglobe.id/sports/start-of-2018-fifa-world-cup-set-to-make-idul-fitri-holiday-extra-special-for-indonesians/
--------
No Idul Fitri eve convoys in Jakarta: Sandiaga
June 12, 2018
The Jakarta authorities will ban takbiran (recitation of Allah is great) convoys from the streets on the eve of Idul Fitri, as well as not holding a celebration at the National Monument (Monas) area in Central Jakarta, an official has stated.
Jakarta Deputy Governor Sandiaga Uno said on Monday that takbiran "will be split into five areas [municipalities], so as to avoid traffic congestion in the city center."
Several mosques and city administration facilities were among the planned sites for takbiran, Sandiaga said, but he had yet to specify the five locations.
Sandiaga has forbidden the community from holding convoys and takbiran events that could disturb public order. He added that the city administration would prepare security measures to ensure safety.
"The city administration wants to convey that it wants to keep the takbiran night well-organized, so those who want to hold an event should coordinate with the Jakarta Transportation Agency," he added.
A number of interest points for takbiran would be determined by the transportation agency, which would coordinate with other security institutions such as the police, the Indonesian Military and the Jakarta Public Order Agency (Satpol PP).
Meanwhile, National Police deputy chief Syafruddin said it would be better if takbiran were held at big mosques such as Istiqlal Grand Mosque in Central Jakarta.
Full report at:
http://www.thejakartapost.com/news/2018/06/11/no-idul-fitri-eve-convoys-in-jakarta-sandiaga.html
--------
Africa
Deadly attacks by shadowy band of young Muslims leave Mozambique shaken
2018-06-11
Mozambique's government has been shaken by beheadings and other deadly attacks by suspected Islamic extremists in a northeastern region touted internationally for its offshore reserves of natural gas.
Since last month, men with machetes have spread terror in several villages in Cabo Delgado province on the border with Tanzania, beheading 10 people in one attack, hacking others to death and burning vehicles and homes. At least 24 people have died and security forces have killed 11 suspected militants, the Portuguese news agency Lusa reported.
The violence started last year and included a deadly attack on police in Mocimboa da Praia town in October, prompting the Mozambican government to launch counterterrorism operations in Muslim communities where some have complained of official neglect.
Local residents call the attackers "al-Shabaab," although the extremists have no known formal link to the Islamic extremists of that name in Somalia. The Mozambican insurgency by a shadowy band of young Muslims has intensified worries that Islamic extremism has found a beachhead in southern Africa, which has been free of the kind of attacks seen in other parts of the continent. Even so, the killings in Cabo Delgado appear localised and the attackers, whose fundamentalist ideology seems undeveloped to some observers, could also be driven by ethnic and economic resentments, as well as the interests of criminal syndicates.
Likelihood attacks on government
Right now, the group is a mystery because it hasn't made any public declarations about its motives or loyalties, making it hard to "infer what their objectives are," said Ryan Cummings, director at Signal Risk, a risk management firm that focuses on Africa.
Although Mozambique's population of 30 million is predominantly Christian, Muslims make up a minority of nearly 20 percent, many of whom live in northern coastal areas. There has been more development in southern areas, which include the capital of Maputo. The ruling Frelimo party suppressed Islamic and other religious activities early in Mozambique's civil war decades ago, but later officially welcomed freedom of religion in a move away from Marxist policies.
The US Embassy on Friday warned of information indicating the likelihood of attacks on government and commercial centers in Palma, a district headquarters in Cabo Delgado that would be a base for the natural gas industry that could boost Mozambique's economy but has also raised questions about how any windfall would be distributed in an impoverished, corruption-prone country. The embassy urged Americans to consider leaving the area or postpone any plans to travel there.
Some international oil and gas operators, including Eni of Italy and the U.S. firm Anadarko, are setting up facilities in Cabo Delgado. Last week, Wentworth Resources, a Canada-based company, said security problems in the Mocimboa da Praia and Palma regions had prevented safe access for workers and that the situation remains "challenging".
* Sign up to News24's top Africa news in your inbox: SUBSCRIBE TO THE HELLO AFRICA NEWSLETTER
FOLLOW News24 Africa on Twitter and Facebook
Natural gas facilities or companies have so far not been attacked in the violence, which initially concentrated on security or state interests but has shifted to civilians in horrific fashion. Mozambican officials said the militants are attacking villagers instead of security forces because they have been weakened by a security crackdown; analysts speculated that suspected collaborators with the government are now being targeted, or that the victims are ethnic Makondes under assault from ethnic Mwanis who feel marginalised.
Many militants are disaffected by poverty and unemployment, and some have reportedly traveled to regional countries, including Kenya, Tanzania and Somalia, for religious or military training, according to a study released last month in Maputo. It said they are influenced by followers of Sheik Aboud Rogo, a Muslim cleric in Kenya with alleged links to al-Shabaab in Somalia. He was shot dead in 2012 by suspected government agents in Kenya, triggering violent protests by supporters.
The group in Mozambique numbers in the hundreds, operates in largely autonomous cells and has tapped into the thriving illegal trade in ivory, timber and rubies in the border area, according to the study authors, who include Joao Pereira of Eduardo Mondlane University in Maputo.
The Mozambican government cannot stamp out the problem with just security crackdowns and should address the root social causes of the bloody unrest before a "Pandora's box" of extremism fully takes hold, said Liazzat Bonate, an academic who has studied Islam in Mozambique.
"They have to work hard now," Bonate said. "They have to show local populations that they're being more supportive and understanding."
https://www.news24.com/Africa/News/deadly-attacks-by-shadowy-band-of-young-muslims-leave-mozambique-shaken-20180611
--------
Islamic fundamentalists sow terror in northern Mozambique
11th June 2018
VILLAGERS in northern Mozambique have been under siege from alleged Muslim militants who have decapitated 23 civilians and burnt at least 230 houses in the past three weeks.
Thousands have now fled to the city of Pemba, the capital of Cabo Delgado Province.
The militants, who started the insurgency in October, are called al-Sunna or al-Shabaab and are believed to be behind the beheading of five villagers on Wednesday in the Quissanga district.
Yussuf Adam, contemporary history professor at Eduardo Mondlane University in Maputo, and one of three authors of a study by the African Centre for Strategic Studies released in March, said there were massive human rights violations on the side of both the militants and the Mozambican defence force fighting them.
He said the militants' "actions have changed – first they were not killing people, but now they are doing that".
"The state is reacting in the same manner – killing, flaying, burning and closing mosques."
More than 70 civilians are reported to have been killed since the beginning of the insurgency eight months ago; 16 militants and three soldiers were also killed.
About 470 people – including 314 Mozambicans, 50 Tanzanians, three Ugandans, one Somali and more than 100 unidentified people allegedly linked to the militants – have been detained.
At the beginning of the insurgency, the militants mainly targeted Mozambique Defence Force units, police stations and state buildings.
But in the past three weeks, small bands consisting of about six men and women have been focusing on targeting civilians.
Although the Mozambican military says the insurgents are weakening because their groups have reduced in size, a study released last month in Maputo by academics Salvador Forquilha, João Pereira and Sheik Saide Habibe states that they are reducing the size of their units to reduce losses if they come under attack by the army.
Reports last week, confirmed by the government, stated that Democratic Republic of Congo forces were on the ground providing support to Mozambique. In January, Mozambique and neighbouring Tanzania signed a memorandum of understanding to collaborate in the fight against the militants.
Research suggests the militants either have ties to or are inspired by international terrorism, and holding similar aims and goals, such as "establishing an Islamic state following sharia law and eschewing the government's secular education system".
Mainstream imams contacted by the African Centre for Strategic Studies in two northern districts reported that one of the leaders of the insurgents was a Gambian by the name of Musa and the other was a Mozambican named Nuro Adremane, who is said to have received a scholarship to train in Somalia.
The group, researchers found, capitalises on local grievances against the government, which they use to drum up local support. Researchers state that the fundamentalist interpretation of Islam, which the militants espouse, reinforces an ideology introduced in the region in recent years, apparently by young men who received scholarships to study in Sudan, Saudi Arabia and other Gulf states.
Sheik Bakar, of the Islamic Council of the district of Montepuez, is cited by the African Centre for Strategic Studies as saying the group's leaders were influenced by Mombasa-based imam Sheik Aboud Rogo, who was assassinated in 2012 after being placed on the US and UN sanctions list for allegedly supporting Somalia's
al-Shabaab militants.
One of the group's several names, Swahili Sunna, "suggests a goal of establishing a Swahili state among the Swahili-speaking populations".
"The reference appears to harken back to an earlier period when a series of Swahili city-states dotted the east African coast from southern Somalia to Mozambique," the research found.
Swahili is spoken in three African regions: the Great Lakes, east Africa and in southeast Africa, which includes Mozambique.
Full report at:
https://www.newzimbabwe.com/islamic-fundamentalists-sow-terror-in-northern-mozambique/
--------
Haftar forces almost fully control Libya's Derna: LNA spokesman
Jun 11, 2018
The Libyan National Army (LNA), which is opposed to the country's internationally-recognized government, says it is in the final stages of a battle to fully take the control of the city of Derna in eastern Libya.
The LNA, led by General Khalifah Haftar, said on the weekend that the fight for Derna, a city of around 125,000 people, which started a month ago, was nearing its end.
LNA spokesman Ahmed al-Mismar said only one neighborhood of the city, which lies on the Mediterranean and is over 265 kilometers to the west of the border with Egypt, remained to be captured.
"The operations are in their final stages and the fighting is very heavy," Mismar said, adding, "What remains outside the control of our forces is considered a small combat zone, less than just 10 km squared."
Derna is the only major city in eastern Libyan that has remained alien to Haftar's LNA. It has been under LNA siege for almost two years and a militia group called the Derna Protection Force (DPF) has been mostly in control.
To gain more support for its massive ground offensive, the LNA has labeled the DPF as a group linked to al-Qaeda, saying the Derna operation is aimed at purging it of terrorists. The DPF, however, has brushed aside those claims and says it is resisting Haftar's push to dominate the entire Libya through military assistance from certain countries.
Haftar, a general under former dictator Muammar Gaddafi, has been mostly opposed to United Nations efforts to establish a unity government in Libya. He has openly opposed the rule of one such administration in the capital Tripoli since it was established in 2015 and continues to remain close to the rival government and parliament in the east of Libya.
Full report at:
http://www.presstv.com/Detail/2018/06/11/564681/Libya-LNA-Haftar-Derna-battle
--------
Mozambique's own version of Boko Haram is tightening its deadly grip
11.6.2018
Islamist guerillas in SA's neighbour are creating mayhem with machetes, and could grow into an even more perilous threat.
Mozambique's Cabo Delgado province is being held to ransom by an Islamist guerrilla movement. After months of skirmishes between police and members of the Al Sunnah wa Jama'ah, the region has now erupted into full violence.
Since mid-May, 35 people have died in a series of brutal attacks. Various people have been beheaded, hundreds of houses have been burned and residents have been advised to be cautious. On 8 June local staff at Anadarko, an international oil and gas company, refused to go to work because they feared an attack. The company then asked its foreign staff not to leave their compound. The US embassy also asked its nationals to leave the province immediately.
The state has in recent months responded forcefully to the emergence of this threat. Hundreds of men and women have been arrested. Some mosques have been closed and others have been destroyed. In some areas, Muslims have been discouraged from wearing religious garb. This has prompted some sheikhs to warn that Mozambique's government must not alienate all Muslims because of a fringe group's activities.
There are economic as well as religious and security issues at play. Cabo Delgado province borders Tanzania and is home to 2.3 million people, 58% of whom are Muslim. In the past few years massive oil and gas reserves have been discovered. These resources are set to lead to the development of a multibillion-dollar industry in Cabo Delgado, and a rosier future for Mozambique's economy as a whole.
The prospect of a full-scale war has alarmed many people. The state, civil society and oil explorers are worried about what the violence will mean.
How did it reach this point? Several factors – social, economic and political – have allowed an Islamist insurgency to develop in the north of Mozambique. Most are local issues rather than the outcome of an international, cross-border conspiracy.
The group's evolution
The birth of Al Sunnah wa Jama'ah is very similar to what was seen with Boko Haram in Nigeria. It started as a religious sect which transformed into a guerrilla group.
Al Sunnah wa Jama'ah is Arabic for "people of the Sunnah community". The group is also known as Al-Shabaab (The Youth), even though it has no connections with the Somali movement of the same name.
It is estimated that the movement now has between about 350 and 1,500 members who are organised in tens of small cells along the coast of northern Mozambique.
The sect's initial goal was to enforce sharia law (Islamic law). It tried to do so by withdrawing from society and the state, whose schooling, health system and laws it rejected. Such posture led to much tension.
Some suggest that the movement also calls itself "[Swahili Sunna]" (Swahili path) to reflect a dream to restore the Swahili grandeur of the 19th century when sheikdoms and sultanates dominated the area.
Despite the movement's lofty ideals, some analysts still argue that it is motivated by greed rather than grievance. The group is even said to have become involved in illegal mining, logging, poaching, and contraband, making millions of dollars a week through these criminal activities.
But these assertions are not backed by hard evidence and it's difficult to imagine that a guerrilla group that makes 3 million US dollars a week still fights with only machetes and very few guns.
A developing crisis
The genesis of the current crisis has its roots in the militarisation of the Al Sunnah wa Jama'ah in 2016. In that year, tensions with other Muslims and the state increased and the movement began to prepare for armed action.
In October 2017 a group of 30 men attacked three police stations in Mocimboa da Praia. They killed two policemen, stole arms and ammunition, and occupied the town. Promising not to harm the residents, the guerrillas eventually withdrew to set up military bases in the forest.
Some scholars have suggested that the group is part of a broader international Islamic terrorist network. It is true that there are cross-border linkages at play: Mozambique's police have said that the guerrillas received military training in Tanzania and the Democratic Republic of Congo.
But I would argue that Mozambique's new guerrilla movement is primarily a local phenomenon with very specific historical and social dynamics. The movement emerged within a particular religious, social and ethnic group known as the Mwani. They feel they have been marginalised for decades by migration into their area, a lack of economic development, and their neighbours' political clout.
Possible solutions
Ultimately, if the movement sustains its current levels of violence, oil and gas majors might move oil and gas processing plants offshore. This would probably lead to a loss of jobs locally. Ongoing violence could also lead to a displacement crisis as hundreds flee the area to escape the violence.
The Mozambican state has responded to the latest crisis by entering into security agreements with the governments of Tanzania, DRC and Uganda; by setting up a regional military command; and by moving more troops into the north.
Full report at:
https://citizen.co.za/news/news-africa/1950901/mozambiques-own-version-of-boko-haram-is-tightening-its-deadly-grip/
--------
Boko Haram: Two killed, others injured in fresh Maiduguri suicide attack
June 11, 2018
By Don Silas
One person, including a suicide bomber, has been killed and four others injured in a fresh bomb attack in Maiduguri, Borno State, in the early hours of Monday.
The Public Relations Officer (PPRO), Borno State Police Command, Edet Okon confirmed the incident to newsmen but did not disclose whether or not the injured victims were soldiers and CJTF.
According to him, a male suicide bomber detonated explosives at a shop along Baga road, Maiduguri in the early hours of today, killing himself and one other person.
"At about 01:25 hrs, a male suicide bomber detonated an IED strapped to his body in a shop along Baga Road by Maikore Junction in Maiduguri Metropolis. The resulting explosion killed the bomber and one other person while four other persons were injured," the police spokesman said in a statement.
Okon, however, said the command immediately deployed men of the Explosives Ordinance Department (EOD) to "sanitize the scene and render the area safe."
Full report at:
http://dailypost.ng/2018/06/11/boko-haram-two-killed-others-injured-fresh-maiduguri-suicide-attack/
--------
Pakistan
Pakistan's Council of Scholars denounces attempts to politicize Hajj and Umrah
11 June 2018
The Council of Pakistani Scholars (Ulema) has denounced new attempts to politicize the Muslim Hajj and Umrah pilgrimages in a statement on Monday.
According to a Saudi Press Agency statement, the Council praised "the pioneering role being played by the Kingdom of Saudi Arabia, led by the Custodian of the Two Holy Mosques King Salman bin Abdulaziz Al Saud; and His Royal Highness Prince Mohammed bin Salman bin Abdulaziz, the Crown Prince, Vice President of the Council of Ministers and Minister of Defense, in support of Muslim countries and defense of Muslims and Islamic issues as well as its steadfast in preserving the security and stability in the region."
The statement came at a Conference on the Protection of the three holy mosques of Makkah, Madinah and Al-Aqsa of Jerusalem Al-Quds held in the Pakistani city of Lahore in the Punjab enclave, in which a host of Islamic Ulema, media representatives and intellectuals took part.
The conferees also vowed support for the kingdom in its quest to protect the country from the attacks by the Iran-backed Houthi militias.
They rejected calls for politicizing Hajj and Umrah, affirming the ability of the kingdom to efficiently run the holy pilgrimages throughout the year.
https://english.alarabiya.net/en/News/gulf/2018/06/11/Pakistan-s-Council-of-Scholars-denounces-attempts-to-politicize-Hajj-and-Umrah.html
--------
SC directs Nadra to unblock Musharraf's CNIC
Nasir Iqbal | Wajih Ahmad Sheikh
June 12, 2018
LAHORE/ISLAMABAD: While the Supreme Court has directed the National Database and Registration Authority (Nadra) to unblock the computerised national identity card (CNIC) of former president retired Gen Pervez Musharraf, controversy surrounds his participation in the coming general elections as Attorney General (AG) Ashtar Ausaf pleaded before the apex court that the former military ruler is not entitled to any relief until he submits himself to the jurisdiction of the courts.
In a related development, Mr Musharraf has sought absolute guarantee from the SC that if he returns to the country he will not be arrested or barred from travelling abroad.
The SC on Monday directed Nadra to unblock Mr Musharraf's CNIC so that he would have no excuse for not returning to the country.
A three-judge bench headed by Chief Justice of Pakistan (CJP) Mian Saqib Nisar passed the order on a verbal request made by Nadra chairman Usman Mobin.
Planning to contest polls, ex-president seeks apex court guarantee he will not be arrested on return and barred from travelling abroad
The Nadra chief stated that a previous direction by the court for the return of Mr Musharraf could not be implemented due to the blocking of his identity card.
When asked by the court, he said the process for blocking the CNIC of Mr Musharraf had already been in progress when the apex court asked him to return to the country and face the law.
"If Musharraf is still a citizen of Pakistan, let him come," the chief justice told the Nadra chairman and allowed him to restore the CNIC and passport of the former president, who is also facing treason proceedings for abrogating the Constitution twice.
CJP Nisar observed that Mr Musharraf should not have any excuse for not returning to the country and facing the cases against him. He observed that the court had already assured him (Mr Musharraf) of protection from the airport to the court.
The chief justice also expressed concern over delay in reconstitution of a special trial court seized with the treason trial of Mr Musharraf. "It seems that the government wants to benefit someone," the chief justice observed.
The chief justice directed the federal government to notify the special court within two days so that the treason trial against Mr Musharraf could resume.
In March this year, one of the members of a three-judge special trial court had recused himself from the treason trial after the counsel for Mr Musharraf raised an objection.
The trial court comprised Peshawar High Court Chief Justice Yahya Afridi, Lahore High Court Chief Justice Muhammad Yawar Ali and Balochistan High Court Justice Tahira Safdar. The lawyer for Mr Musharraf had raised an objection against Justice Afridi's inclusion in the court.
CJP Nisar had on June 8 conditionally allowed Mr Musharraf to file his nomination papers to contest July 25 general elections directing him to appear before the court on June 13. The former president had challenged a 2013 verdict by the Peshawar High Court for his disqualification.
Fundamental rights
In Islamabad, AG Ausaf took a plea before the apex court on Monday that a fugitive from justice had no right to an audience before courts; therefore, Mr Musharraf was not entitled to any relief until he submitted himself to the jurisdiction and due process of the law.
Mr Musharraf could not make a case for the infringement of his fundamental rights that could result in the setting aside of the April 2013 verdict of the Peshawar High Court (PHC) which had disqualified him (Musharraf) for life after holding him ineligible to contest the elections, said the AG in a reply submitted before the SC.
The reply was filed on behalf of the AG before the SC which is seized with an appeal of Mr Musharraf against the PHC order in which the appellant has requested the top court to graciously set aside the high court order because no citizen can be condemned unheard without due process of law.
The high court in April 2013 had disqualified Mr Musharraf for life after holding him ineligible to contest the 2013 elections in view of the July 31, 2009 judgement in which the apex court had declared the Nov 3, 2007 emergency illegal. As a consequence Mr Musharraf's nomination papers for constituencies from Karachi, Islamabad and Chitral were rejected by returning officers.
Subsequently he moved an appeal against the decision in the election tribunal, but that too was dismissed.
In his reply the AG stated that the allegations against Mr Musharraf were manifold and included the placement of judges under house arrest, suppression of media, and demolition of the judicial set-up.
Meanwhile, Mr Musharraf's nomination papers for the sole constituency of the National Assembly from Chitral were filed on Monday.
Absolute guarantee
Mr Musharraf has made his return to the country conditional on an absolute guarantee from the SC that he will not be arrested or barred from travelling abroad, reported Arab News on Monday.
"Gen Musharraf is ready to return to Pakistan but only if the Supreme Court gives an absolute guarantee that he would not be arrested in any case and allowed to run an election campaign for his party," said Shahzad Arbi, joint secretary information of the Musharraf-led All Pakistan Muslim League.
"Nawaz Sharif and his party still have influence in the bureaucracy and we can't trust them," said Mr Arbi. "If the Supreme Court does not give an absolute guarantee, then there is no use in Musharraf returning to Pakistan, at least at this point."
Full report at:
https://www.dawn.com/news/1413568/sc-directs-nadra-to-unblock-musharrafs-cnic
--------
Azerbaijan ambassador lauds Pak Army's role in regional peace
Farooq Awan
JUNE 11, 2018
ISLAMABAD: Azerbaijan Ambassador to Pakistan Ali Alizada met Chief of Army Staff (COAS) General Qamar Javed Bajwa at General Headquarters in Rawalpindi on Monday.
During the meeting, matters of mutual interest including regional peace and stability were discussed.
Ambassador acknowledged Pakistan Army's contributions towards regional peace and stability and expressed the desire that his country wishes to play a significant role for regional peace and prosperity.
https://dailytimes.com.pk/252202/azerbaijan-ambassador-lauds-pak-armys-role-in-regional-peace/
--------
Pakistan, China to enhance anti-terrorism cooperation: spokesperson
June 12, 2018
BEIJING: Pakistan and China have decided to enhance anti-terrorism cooperation, as well as pushing forward their bilateral interaction under the Belt and Road's initiative, said spokesperson of the Chinese Foreign Ministry Yan Shuang here at a regular news briefing.
Commenting on President Xi Jinping's bilateral talks with President Mamnoon Hussain held at Qingdao on the sideline of the 18th SCO's summit, he said the two parties conducted in-depth and friendly exchanges.
During the meeting, Xi Jinping pointed out that China attaches great importance to Pak-China relations and is willing to work closely with Pakistan on high-level exchanges and strategic communications to strengthen friendly exchanges in various fields and steadily push forward the construction of the China-Pakistan Economic Corridor and the energy and transportation infrastructure under the "Belt and Road" framework.
Cooperation in other areas will enhance the level of anti-terrorism security cooperation and promote greater development of bilateral relations, he said.
According to the spokesperson, President Xi Jinping emphasized that China will continue to firmly support Pakistan in safeguarding national independence, sovereignty, and territorial integrity and support Pakistan's choice of development path. The Chinese side will, as always, firmly support each other with Pakistan on issues related to each other's core interests.
President Mamnonn stated that China is a reliable friend and a firm partner of Pakistan and Pakistan-China relations must not be shaken. Pakistan adheres to the one-China policy and firmly supports China's core interests, he added.
Pakistan, he said, is willing to continue to maintain high-level exchanges with China and deepen cooperation in various fields such as economy, trade and security, enhancing the construction of CPEC and closely coordinating on international and regional issues. Pakistan supports China's greater role in international affairs and believes that this is crucial to maintaining global security and stability.
Replying to a question about the outcome of the 18th SCO summit, the spokesperson said, "The Qingdao Summit formulated a new action guide for future cooperation. At the Qingdao summit, the leaders of member states signed, approved and published 17 documents, and witnessed the signing of 6 cooperation documents."
Full report at:
https://www.pakistantoday.com.pk/2018/06/11/pakistan-china-to-enhance-anti-terrorism-cooperation-spokesperson/
--------
Europe
Muslims serve food and friendship in Ramadan to beat far right
by Yermi Brenner
June 12, 2018
Brunswick, Germany - In the early evening, before the daily fast was broken, Sadiqu Almousllie, a 47-year-old with an inviting smile, held a large sign that read: "I am Muslim. What would you like to know?"
Islamic music played from inside the nearby tent and comfortable chairs were offered to tempt Brunswick residents to join the festivities.
The city's Muslim community set up the Ramadan event in the centre of the city beside a large 12th-century Lutheran church, and only a few metres away from the spot where Almousllie and his family were verbally attacked last year.
"We are giving people the possibility to get to know Muslims, to get in a conversation," said Almousllie, who arrived in Germany almost 30 years ago as a university student.
Last year, a stranger shouted at him and his family: "Go home!"
He had replied: "This is our home. My children were born in this country, and this is their home."
But on this Ramadan evening, he approached passersby and encouraged them to ask him anything about Islam - with no topic off limits.
As the fast-breaking hour of 9:30pm (20:30 GMT) got closer, dozens of Brunswick's Muslims filled the tent.
This was the seventh consecutive year that the community set up a Ramadan tent to encourage inter-religious communication.
"I have actually never been to one of these events and I wanted to learn a little bit more about it," said Lisa-Marie Jalyschko, a member of the Brunswick City Council who works in the Volkswagen headquarters in nearby Wolfsburg.
"It is important to include different cultures and different cultural events in our city life. It is important to give publicity to these events to show that [Muslims] are also part of [our] society."
Izzat, a Syrian in his 20s who arrived in Germany 18 months ago and is studying German, was busy serving the food - lentil soup, chicken, kibbeh and bread.
"Germany is a Christian land. The majority of people don't know really about Islam and what Islam means," said Izzat, who requested anonymity because he has family members in Syria.
"Therefore, we should introduce ourselves to the community we live in."
Brunswick is 300km from Dresden, where the Patriotic Europeans Against the Islamisation of Europe (Pegida) is popular, and only 20km away from Salzgitter, a city that last October decided to ban refugees.
Almousllie, who serves as the head of the Central Council of Muslims in Lower Saxony, has noticed a significant increase in verbal and physical attacks against Muslims in the past two years.
Hate-mail insulting the Prophet Muhammad was delivered to the Brunswick mosque last year, and one afternoon, following communal prayers, a man opened the mosque door, yelled "dirty Muslims" and fled.
"It is a situation that is getting worse and worse," he said.
According to the German Federal Ministry of the Interior, more than 1,000 Islamophobic attacks were registered in 2017, the first year in which such data was recorded.
At least 33 Muslims were injured in attacks, which included assaults against Muslim women wearing headscarves and the vandalism of mosques and other Muslim institutions, the interior ministry said.
Germany's largest minority
Muslims are the largest minority in Germany.
They comprised 4.1 percent of the population in 2010, and 6.1 percent in 2016, mainly due to the arrival of refugees from Syria, Iraq and Afghanistan.
As the number of Muslims increased, the far right expanded with the growth of the Pegida movement and as the Alternative for Germany (AfD) party surged into third place in the last federal election.
But Islamophobia in Germany did not start recently, according to Professor Kai Hafez from the University of Erfurt, who has authored several books about Islam in the West.
Hafez explained that negative stereotypes about Muslims became more visible in the public discourse as Pegida and AfD politicised an agenda around Islamophobia.
Germany is now at the point where it must fight Islamophobia as it fought anti-Semitism in the middle of the previous century, according to Hafez.
"In the early 60s, a large of part of the German population was highly anti-Semitic, and it was only when we started programmes through education, through the mass media, through films that many people started to understand what anti-Semitism really means, and from that point on - let's say the mid-60s - that the situation really changed," he said.
"We should think about creating now large-scale societal initiatives along the same line," Hafez added.
"It requires a collaboration of the education system, academic, the mass media and the political parties to really change Islamophobia in society. Islamophobia is not something that will vanish without a concerted effort."
https://www.aljazeera.com/indepth/features/muslims-serve-food-friendship-ramadan-beat-180610204152366.html
--------
Local Muslims set to mark Ramadan's end
June 11, 2018
The holy month of Ramadan is nearing its end.
Thousands of London's Muslim faithful will gather for prayers and a sermon Thursday to mark the final day of the yearly observance, called Eid al-Fitr.
The day caps off a month of fasting and charity work to commemorate when the Qur'an was first revealed to the Prophet Muhammad.
Ramadan, the ninth month in the Muslim calendar, is considered to be the most holy month of the year in Islam.
During Ramadan, which began May 16, Muslims do not eat or drink during the day, instead eating a meal before dawn and breaking their fast after sunset. Devout often gather at mosques daily to break their fasts together.
Ramadan is observed by some 1.8 billion faithful worldwide and more than 35,000 Muslims in the London area.
Full report at:
http://lfpress.com/news/local-news/local-muslims-set-to-mark-ramadans-end
--------
Muslim Community Center looks to launch high school in Morton Grove
June 12, 2018
The Muslim Community Center is looking to create the first private Muslim high school in the area and the first high school in Morton Grove by expanding its current junior high school to admit secondary education students, officials said.
The Morton Grove Plan Commission voted May 21 to recommend a change to the MCC's special use permit, which currently restricts the school to students from pre-kindergarten through eighth grade.
The Morton Grove Village Board is scheduled to vote on this latest special use request at an upcoming meeting, officials said.
The change will be phased in gradually and is not expected to result in an influx of students, Principal Habeeb Quadri said.
Since the MCC's special use permit was granted in 2004, pre-kindergarten through fifth grade students were moved to a school the MCC purchased in Skokie, leaving the original school strictly for middle school kids.
"We're excited," Quadri said. "It's going to be the first (Muslim) North Side high school in the Chicago area and the first [of its kind] high school in Morton Grove."
Quadri said plans call for moving the current sixth graders to the Skokie school when the first year of high school is launched in the 2018-2019 school year.
For the first year, he said, the school will educate only ninth-graders and be limited to 25 students. Then, as those students advance to their sophomore year the following year, up to 25 new students will come in as freshmen. In four years, the MCC would have all four high school years in place, Quadri said.
For the first year, however, seventh- through ninth-graders would be taught at the school, Quadri said.
"We're taking a maximum of 25 for ninth grade next year so not every child in our middle school is going to be able to get to our high school," he said. "It will be a more rigorous program. The entrance requirements will be a little bit tougher."
Quadri said he anticipates fewer than 25 ninth-grade students enrolled for the first year although the school has received about a dozen applications already, he said.
"It's going to be a slow progression," he said. "We want to keep the quality and have checks and balances. By progressing slowly, that will help us out in creating a high school culture."
Under the MCC's plans, some 10th- through 12th-grade students would attend weekly classes at Oakton Community College as part of the college's and academy's dual credit program. Quadri said Oakton has partnered with the MCC.
According to Morton Grove Community and Economic Development Director Nancy Radzevich, the building in the 8600 block of Menard Avenue — the mosque and the junior high school, which is called the Muslim Community Center Academy — occupies about 26,035 square feet.
"From the approval of the special use permit through the 2013-14 academic year, the MCC Academy taught pre-kindergarten through eighth grade and the MCC's Hitz program," Radzevich said in a report she co-wrote with village land use planner Dominick Argumedo. "The Hifz program teaches children 10 to 14 years old to memorize the Quran."
At its peak in the 2013-2014 school year, prior to the move to Skokie, the MCC Academy taught 476 students with a staff of 50 members, according to the report.
The MCC purchased property in the 9300 block of Gross Point Road in Skokie and began educating its younger students at the long-abandoned Kenton School. The current Morton Grove school has 169 students — 129 junior high schoolers and 40 students in the Hifz program, officials said.
MCC officials said the peak enrollment under the new plan is likely to be 240 students once all four high school years are in place. Staff levels would increase from 25 to a maximum of 30 at any given time, they said.
Quadri said minimal changes are needed inside the school. Many of the academy's staff members are already qualified to teach high school, he said.
The Morton Grove building has more than 200 parking spaces, which should accommodate the new students — especially since the site once had more than 475 students, Quadri said.
In its report to the commission, however, Morton Grove staff raised some concerns about parking because of the potential of adding student drivers. The village conducted a traffic study at the site, officials said.
The biggest concern, village officials said, is during Friday services when the parking lot can fill up.
"Staff suggests that if the special use permit amendment is approved as a condition, the MCC does not begin enrolling any high school students until they have provided the village a complete parking management plan," the report states.
MCC officials say some students in grades 10 through 12th will leave Friday before prayer services to attend classes at Oakton, which should help the parking situation.
Full report at:
http://www.chicagotribune.com/suburbs/morton-grove/news/ct-mgc-muslim-high-school-expansion-tl-0614-story.html
--------
Muslim legal professionals on faith, justice and why they're proud to work in a tolerant Britain
12th June 2018
TOP judge Tan Ikram said sitting in court during the 2011 London riots made him proud to work in our legal system.
He heard up to 60 cases a day as the courts dealt with 3,443 crimes committed in five days of chaos.
Mr Ikram, 51, said: "Our legal system is the envy of the world."
The son of Pakistani-born postman dad and factory-worker mum who moved to the UK in the 1960s — Mr Ikram was brought up in Slough, Berks, and studied law at Wolverhampton University.
Last year he was made the Deputy Chief Magistrate of England and Wales, overseeing 250 judges.
He said: "My dad put a lot of emphasis on education. It was about getting away from the life we had.
"I'm proud to be a Muslim and I'm proud to be British. There is a British moral compass, they are not separate Muslim, Hindu and Christian moral compasses, we all have the same values. My view of the world is as a Brit.
"I've never felt that I've been held back because I studied in Wolverhampton, even though many of my colleagues went to Oxford or Cambridge.
"Those different experiences have helped me as a judge, no question."
But he added: "We are acutely aware as a judiciary that we want more judges from diverse backgrounds."
Barrister Emma Edhem would agree. When she first set foot in court in the 1990s she was hit by a sea of white faces.
Now the mum-of-two is the deputy head of international law at one of the country's biggest chambers and hopes to be the first female, Muslim Lord Mayor of the City of London.
Emma, 51, who was born to Turkish Cypriot parents in the UK, said: "When I was nine we had to stand up and read to the class.
"I was born in the UK and didn't sound like I was from another country but the teacher still said, 'the only foreigner reads better than everyone else'. I didn't know I was a foreigner but it stayed with me.
"Britain has come on leaps and bounds since.
"I'm a British person, my culture is British, but my faith is Islam. They all compliment each other and I'm proud of all three.
"When I started 25 years ago I would go into court and be the only person of ethnicity and the only woman. Now it is a lot better. There are lots more women and people from ethnic groups.
Full report at:
https://www.thesun.co.uk/news/6506135/muslim-lawyers-tan-ikram-emma-edhem-faith-justice/
--------
How the seven Muslim-majority teams have tackled Ramadan ahead of the World Cup
June 11, 2018
MOSCOW: For Muslims around the world, Thursday is expected to be the last day of Ramadan, yet for players of Saudi Arabia's national team, the date takes on added significance. The Green Falcons will kick off the World Cup against hosts Russia in front of 80,000 fans in Moscow, watched by an estimated 200 million TV viewers worldwide. It is the country's first appearance at football's grandest showpiece since 2006.
Yet while the coming of Eid will be a day of celebration across the Muslim world regardless of the result at Luzhniki Stadium, for Saudi Arabia and the other six majority-Muslim nations competing at the tournament, their preparations this past month have proved challenging. Players, staff and coaches have had to find a balance between the religious obligations associated with Ramadan and the high-intensity training required to arrive at the pinnacle of their careers in peak condition.
With the holy month obligating Muslims to abstain from eating and drinking between daylight hours, teams have had to be creative in their approach to training and friendly matches.
Hector Cuper, the Argentinian coach in charge of Egypt's national team, last month aired concerns about his team fasting, saying he was "afraid that it could badly affect the players at the World Cup." His concerns are justified.
A 2007 study by the British Journal of Sports Medicine found that players' performances "declined significantly for speed, agility, dribbling and endurance" while fasting. In addition, the "shift of food intake and disruption of sleep patterns affect actual and perceived physical performance." Yet, as Algeria showed at the 2014 World Cup when they reached the knock-out stages despite the entire squad fasting, sometimes it can actually raise levels of performance.
Egyptian team manager Ehab Leheta insists his players are trusted to make their own decision as to whether to fast or not. While some have elected to observe their duties throughout the entire month, even match days, Islam allows for exceptions, either for health reasons or for those who are traveling.
"It's a very important issue," said Leheta, who added everything is being done to ensure the holy month and the weeks thereafter go as smoothly as possible for the Egyptian team. "We've been planning it since the start of year. We have a nutritional program courtesy of a guy from England who we have brought on board. He has brought great value to the team, starting in Zurich (at our training camp in March) and will continue until the end of the World Cup."
Mohamed Salah, the Egyptian forward who plays his domestic football with Liverpool in England, elected to break his fast last month after travelling to Kiev for the Uefa Champions League final. However, other players — including those in the Tunisia national team — have fasted the entire month, including during days in which they played World Cup warm-up matches. Ingenuity is required.
Against Portugal and later Turkey, Tunisia's goalkeeper Mouez Hassen appeared to feign injury when the sun set, lying down on the pitch to receive medical treatment. With the referee immediately calling a halt to the game, Hassen's teammates were able to rush to the sidelines to quickly drink water and eat dates. The fast-breaking maneuver seemed to work — against Portugal, Tunisia rallied to draw 2-2, while they also tied 2-2 against Turkey. Their opening game at the World Cup is not scheduled until next Monday, by which time Ramadan will be over.
Midfielder Wahbi Kazri conceded fasting has made Tunisia's preparations tougher than usual. "It is very difficult," the 27-year-old told Spanish newspaper Marca. "We cannot eat or drink. It is very complicated to prepare as we want."
The majority of the Saudi Arabia team and staff have delayed their fast until after the tournament. No more than seven of the 20 Muslim staff are fasting, while four players, including vice-captain Tayser Al-Jassem and striker Mohammed Al-Sahlawi, have abstained from food and liquids on all but match days and the day directly before. Since Friday night's 2-1 defeat to world champions Germany, however, even the quartet have elected to delay in order to be in peak condition for Thursday's curtain-raiser.
"When you travel, you can delay the fast — you are not obligated," Omar Bakhashwain, the Saudi team manager, said recently. "We have played during Ramadan before, it is not a problem. Our qualification was during Ramadan — when we played Japan and Australia — so we know how to deal with it. Also, our league in Saudi has been played throughout the holy month. We can manage these things."
Mohammed Abdul-Fatah, the Saudi team chef, has worked with various age groups at the country's football federation for more than a decade. Although the players' hunger means they desire high-fat foods such as fried potatoes, Abdul-Fatah sticks to staples such as lamb, fish and pasta with boiled potatoes. Occasionally he makes saleeg, the traditional Saudi plate of chicken, served on a bed of white rice, cooked in a milk broth.
The Saudi delegation arrived on Saturday at their World Cup base in Saint Petersburg, where they will be stationed throughout the tournament. They will fly by private jet to each of their three games, in Moscow, Rostov and Volgograd. Yet while day-length in Riyadh this week is around 13 hours and 38 minutes, St Petersburg is celebrating "White Nights", a month-long festival in which the sun barely sets. Today's official day-length is recorded at 18 hours 41 minutes, although the sky remains off-white at 3 a.m.
If it sounds like Russia's second-largest city might be one of the worst places on earth to be based during fasting hours, it should be noted the city is home to a sizeable Muslim population. There are a reported 20 million Muslims living in Russia and 50,000 sites of Islamic worship, but most pale in comparison to the St Petersburg Mosque, the largest in Europe when it opened its doors in 1921.
A grand building cast in turquoise and located a short walk from the famous Peter and Paul Fortress, it is a hive of activity during the holy month. During Ramadan last year, it welcomed between 1,500 and 2,000 Muslims for iftar each night. Players from Saudi Arabia, Morocco, Iran and
Nigeria are all expected to visit during their time in the city.
"For us, fasting is never a problem, no matter how many hours per day are required," said Shagimardanov Idar, president of the Association of Muslim Businessmen in Russia. "Muslims who fast don't have discomfort with this."
Full report at:
http://www.arabnews.com/node/1319286/sport
--------
Tajikistan's Banned Islamic Party Claims Former Members Hit By 'Wave Of Arrests'
June 11, 2018
The Islamic Renaissance Party (IRPT) says it halted its activities in Tajikistan nearly three years ago, when it was outlawed by the Supreme Court. What hasn't stopped, the Islam-rooted party claims, is the government's persecution of its followers.
In a statement released on June 11, the IRPT accused Tajik authorities of targeting "the opposition and especially the IRPT members" with a "new wave of arrests and retaliation," a claim swiftly rejected by Dushanbe.
The IRPT statement said that more than 100 former party members have been detained since the beginning of 2017 -- two of them, it added, died in custody "due to pressure and torture."
A list provided by the IRPT identified the two men as Komil Khojanazarov and Hoji Ghaybullo, residents of the northern Tajik districts of Asht and Istaravshan, respectively.
According to the statement, 27 of the detained were given prison sentences ranging from three to 25 years. Most were charged with affiliation with the outlawed Salafi movement or for having links to the IRPT, which was banned in 2015, the statement said.
Among the 27 listed was Alijon Sharipov, a 32-year-old man with no party affiliation who in May was sentenced to nine-and-half years in prison for watching, liking, and sharing information about IRPT gatherings on social media.
Sharipov was found guilty of "calling for extremism, calling for the overthrow of the government, and working for banned political parties."
Most of the more than 100 allegedly detained were released, the IRPT statement said, and five remain in custody in Dushanbe's police detention center while their cases are being processed.
The party accused Tajik authorities of "systematic mistreatment, insult, beating, and harassing the relatives of the detainees." It also claims that officials "extorted money from the relatives."
The Interior Ministry dismissed the party's accusations as "baseless," although spokesman Umarjon Emomali told RFE/RL's Tajik Service on June 11 that the ministry would withhold further comment until it could review the list.
An official at Dushanbe police detention center countered the claim that it was housing detainees, telling RFE/RL that there were no IRPT members or relatives of IRPT members in custody. Speaking on condition of anonymity because he was not authorized to speak to the media, the official said that no one at the facility was being held for having a connection to the IRPT.
The Supreme Court in 2015 outlawed the IRPT, which was the only legally recognized Islamic party in Central Asia, as a "terrorist organization." The decision came after deadly violence in Dushanbe that the government claimed was a coup attempt carried out by Abduhalim Nazarzoda, a former deputy defense minister.
Authorities promptly arrested dozens of party officials on charges including terrorism and plotting to overthrow the government.
Amid widespread criticism by human rights defenders, several lawyers who represented IRPT officials in court cases were also arrested and handed long-term prison sentences.
Full report at:
https://www.rferl.org/a/tajikistan-s-banned-islamic-irpt-party--members-hit-by-wave-arrests/29283941.html
--------
Muslim rapper stirs up controversy in France for Bataclan gig
June 11, 2018
Right-wing French leaders have condemned as "sacrilege" a decision to allow a provocative Muslim rapper to play the Bataclan concert hall in Paris where jihadists massacred 90 people three years ago.
Medine -- who caused an outcry when he attacked hardline secularists in a controversial 2015 song, "Don't Laik", a week before the Charlie Hebdo killings -- is to play the Bataclan for two nights in October.
French opposition leader Laurent Wauquiez said he was shocked that "someone who sings about 'crucifying securalists' and calls himself 'Islamo-scum'" should appear at the venue "less than three years after Islamist barbarism cost the lives of 90 of our compatriots.
"It is sacrilege and dishonours France," the leader of the Republicans party tweeted.
Far-right leader Marine Le Pen said that "no French person can accept that this guy spew out his rubbish at the Bataclan.
"We have had enough of complacency and worse, of this incitement to Islamist fundamentalism," she added in a tweet.
An online petition organised by her National Front party calling for the concerts to be banned had over 15,000 signatures by Monday morning.
Neither the Bataclan's co-director Jules Frutos nor the rapper responded to AFP requests for comment.
Fatwa lyric
But a former leader of one of the Bataclan's victims' groups, Emmanuel Domenach, sent stinging replies to both Wauquiez and Le Pen's tweets: "It's crazy as you use the victims of terrorism for your sterile controversy.
"What level of dishonour does that put you in?" he asked.
The bearded Medine, who comes from the northern port of Le Havre and is of Algerian descent, has denied that he was an Islamist.
But he became the bete noire of hardline secularists after 11 people were killed in the jihadist attack on the Charlie Hebdo satirical magazine in January 2015 only a week after his "Don't Laik" song was released, a play on the French word for secular.
In it he said, "Let's crucify the secularists like at Calvary... put fatwas on the heads of these idiots."
Medine said later that the song was to "secular fundamentalists what Charlie Hebdo cartoons were to religious fundamentalists."
The rapper has also admitted that "he went too far" in the song.
"Provocation is only useful when it provokes a debate, not when it triggers an iron curtain," he told an academic conference on rap, the music magazine Les Inrocks reported.
However, Aurore Berge, an MP from French President Emmanuel Macron's ruling Republic on the Move party, said having him headline a concert at the Bataclan was an "insult" to the victims of the slaughter.
Full report at:
http://www.thejakartapost.com/life/2018/06/11/muslim-rapper-stirs-up-controversy-in-france.html
--------
Why Salah's meeting with Chechen leader has stirred controversy
11 June 2018
Mohamed Salah was relaxing in his hotel room in Grozny when he was informed an important guest dropped in unexpectedly and was waiting for him in the lobby. When the Egypt star forward went down, he found Chechen leader Ramzan Kadyrov.
The Moscow-backed former rebel had a favor to ask of Salah: Could he accompany him for the short drive to the stadium where the rest of Egypt's World Cup squad was training and several thousand local fans were in attendance?
Salah obliged, and the two showed up at the stadium named after Kadyrov's assassinated father to a standing ovation and loud cheers by the fans. Salah wore a white Egypt jersey, and his host was in a green-and-white tracksuit.
The Sunday evening episode sparked uproar on social media given the poor human rights record of the leader of Chechnya, and what was perceived as Kadyrov's use of Salah to score a public relations boon. Additionally, the episode may be well remembered for a long time as a textbook PR blunder on the part of the Egyptians.
"This is Kadyrov trying to capitalize on Chechnya being a team base to boost his own profile ... it was 100 percent predictable," said Rachel Denber, the Human Rights Watch deputy director for Europe and central Asia. "He revels in the spotlight. He also has a ruthless grip on Chechnya. He has sought to obliterate any kind of political advocacy or human rights work."
Former rebel
Kadyrov is a former rebel who switched his loyalties to Moscow. He has been the dominant figure in Chechnya since the 2004 assassination of his father, President Akhmad Kadyrov. He has enforced strict Islamic rules in Chechnya.
Moreover, his rule has been marred by numerous reports of extrajudicial killings and torture in the republic which saw two devastating separatist wars in the 1990s. Recently, Kadyrov came under pressure when widespread reports surfaced of a broad crackdown on gays in his region. He insists, however, there are no gay people in the region.
While Kadyrov likely bolstered his standing among supporters by appearing with Salah, the latter may have diminished his as a kind of ambassador of moderate Islam. Social media critics of the meeting said Salah was morally obliged to issue a statement on human rights in Chechnya. Others said Salah may have had no choice but to humor Kadyrov and pose for photos with him.
The Egyptian government shows zero tolerance for political Islam and has for years been fighting an insurgency led by Islamist militants and centered in the Sinai Peninsula. So the government and football officials should have known better when they allowed Egypt to make Grozny its World Cup base, to the surprise of many.
Eihab Leheita, the squad's executive director, has been the chief defender of the decision to select Grozny, a mostly Muslim city. Speaking to The Associated Press in Grozny on Monday, Leheita said he has "no regrets whatsoever" about the choice of Grozny as a base for the all-Muslim squad.
Full report at:
https://english.alarabiya.net/en/News/middle-east/2018/06/11/Why-Salah-s-meeting-with-Chechen-leader-has-stirred-controversy.html
--------
Over mosque closure, Turkey to spurn Austria's EU helm
11.06.2018
Turkey's EU Ministry will not visit Austria before or during its upcoming EU Presidency, in protest of its decision last week to shut down seven mosques, Turkey's EU Minister said on Monday.
Due to its decision, including the expulsion of 40 imams, Turkey will ignore Austria's six-month turn at the EU helm, set to start on July 1, Omer Celik told news channel Haber Turk.
"The Austrian government is a bomb ready to explode for the future of the Europe," Celik said of the decision.
Celik stressed: "Austria does not have an approach that represents EU values. In addition, Turkey will take serious steps against Austria's decision."
Accusing Austrian Chancellor Sebastian Kurz of adopting far-right rhetoric, Celik said: "He is not taken seriously in Europe."
"There was a wish to normalize relations with Austria, but at this point, the Austrian chancellor became a representative of Islamophobia and racism," Celik said.
Kurz said last week the move came as part of a crackdown on so-called "political Islam."
Under the move, seven mosques are to be shut down -- one of them belonging to the Turkish-Islamic Cultural Association (ATIB) -- and 40 imams expelled on the grounds of being foreign funded.
In 2015, when Kurz was minister for Europe, integration and foreign affairs, he backed Austria's "law on Islam" (Islamgesetz) -- legislation that, among other things, banned the foreign funding of mosques and imams. The controversial law was intended to develop an Islam of "European character," according to Kurz.
"We act decisively and actively against undesirable developments and the formation of parallel societies -- and will continue to do so if there are violations of the law on Islam," Kurz wrote on Twitter.
Fugitive soldiers in Greece
On the Turkish soldiers who fled to Greece, accused of involvement in the 2016 defeated coup by the Fetullah Terrorist Group (FETO), Celik said: "Greece has become a country that protects coup-plotters. These plotters are the enemies of Turkey."
"The protection of these coup-plotters is an issue which will always be remembered as a central point in Turkish-Greek relations," Celik stressed.
In January, the Greek Supreme Court ruled against extraditing the former soldiers -- a move Turkey called "politically motivated".
Turkey has repeatedly called for the extradition of the suspected coup-plotters, including during President Recep Tayyip Erdogan's official visit to Greece last December.
Full report at:
https://www.aa.com.tr/en/europe/over-mosque-closure-turkey-to-spurn-austrias-eu-helm/1171910
--------
Austria to shut seven mosques, expel imams in 'crackdown on political Islam'; Turkey slams move
Jun 12, 2018
Austria said on Friday that it could expel up to 60 Turkish-funded imams and their families and would shut down seven mosques as part of a crackdown on "political Islam", triggering fury in Ankara.
"The circle of people possibly affected by these measures — the pool that we're talking about — comprises around 60 imams," said Interior Minister Herbert Kickl of the far-right Freedom Party (FPOe), the junior partner in Austria's coalition government.
Kickl was referring to imams with alleged links to the Turkish-Islamic Cultural Associations (ATIB) organisation, a branch of Turkey's religious affairs agency Diyanet.
Kickl added the government suspects them of contravening a ban on foreign funding of religious office holders.
The ministry said 40 of them had an active application for extending their residency and that a number of these had already been referred to immigration authorities, where a process for expelling them was underway.
Once family members were taken into account, a total of 150 people risked losing their right to residence, Kickl told a Vienna press conference.
Meanwhile, Austria's main federation of Muslim residents (IGGiOe) voiced its "indignation" on Sunday after Vienna announced the closure of the mosques. Ankara also quickly denounced the move.
"Austria's decision to close down seven mosques and deport imams with a lame excuse is a reflection of the anti-Islam, racist and discriminatory populist wave in this country," presidential spokesman Ibrahim Kalin said on Twitter.
However, other European far-Right leaders welcomed the announcement. Marine le Pen, the leader of the French Front National, said on Twitter, "Austria is taking things in hand and showing that 'when you want to, you can'."
Matteo Salvini, head of Italy's League and interior minister in the new government, also tweeted his approval, saying, "Those who exploit their faith to endanger a country's security should be expelled!"
'Laughable' claims
An investigation by Austria's religious affairs authority sparked by images which emerged in April of children in a Turkish-backed mosque playing dead and re-enacting the World War I battle of Gallipoli.
The photos of children, published by the Falter weekly, showed young boys in camouflage uniforms marching, saluting, waving Turkish flags and then playing dead. Their "corpses" were then lined up and draped in the flags.
The mosque in question was run by ATIB. ATIB itself condemned the photos at the time, calling the event "highly regrettable" and saying it was "called off before it had even ended".
Asked to address the question of foreign funding of imams on Austria's O1 radio station, ATIB spokesman Yasar Ersoy confirmed on Friday its imams were paid by Turkish authorities but said that this was made necessary by a lack of training and funding for imams in Austria.
One of the mosques targeted by Friday's measure was in the Favoriten district of Vienna.
The government said it had been operating illegally and that it was under the influence of the far-right Turkish political movement, the Grey Wolves. Worshippers arriving for Friday prayers were met with a sign on the door reading "closed" in Turkish and German.
Kursant, a 26-year-old, told AFP, "I've been coming to this mosque since I was a child. I've never heard anyone at the mosque... express any Salafist opinions. That's laughable." He also denied the mosque had any links to Turkish political parties.
Six other mosques are being closed down, three in Vienna, two in Upper Austria and one in Carinthia. All but one of the mosques affected belong to the 'Arab Religious Association', according to the government.
Strained relations
Even Austria's Opposition parties were broadly supportive of Friday's announcement, with the Centre-Left Social Democrats calling it the "first sensible thing this government's done". However, the Green Party pointed out it could serve as a propaganda victory for the Turkish government.
Turkey's relations with Austria have long been strained, most recently when Chancellor Sebastian Kurz said he would ban Turkish politicians from campaigning in Austria for upcoming elections.
Around 360,000 people of Turkish origin live in Austria, including 117,000 Turkish nationals. Last week Turkish president Recep Tayyip Erdogan attacked Kurz, saying, "This immoral chancellor has a problem with us."
Both Kurz, of the centre-right People's Party (OeVP), and the FPOe made immigration and integration major themes in their election campaigns last year.
The topic had been pushed up the political agenda by the migrant crisis of 2015-16, which saw more than 150,000 people seek asylum in the country of 8.7 million.
In Friday's press conference, Kurz was keen to emphasise that the action was being taken under legislation to regulate Islamic associations that he himself brought in as a minister in the previous government and which had so far – in his opinion – not been used often enough.
IGGiOe voices indignation
IGGiOe voiced its "indignation" after Vienna announced the closure of seven mosques. Turkish president Recep Tayyip Erdogan had Saturday strongly criticised the move as anti-Islamic and promised a response and the Muslim federation launched a broadside.
Vienna wants to "discredit the religious community," the group's president Ibrahim Olgun said.
Olgun said the policy was not "appropriate to control political Islam" and "will lead ultimately to a weakening of structures within the Muslim community in Austria".
The Austrian government has not produced any "objective justification" for the closures, four of which apply to mosques in Vienna, he added.
Full report at:
https://www.firstpost.com/world/austria-to-shut-seven-mosques-expel-imams-in-crackdown-on-political-islam-turkey-slams-move-4506645.html
--------
Belgium hands suspect in Paris attacks to France for a day
11 June 2018
BRUSSELS, Belgium — Belgian authorities on Monday handed a key suspect in the 2015 Paris attacks and 2016 Brussels bombings over to France for questioning, ahead of possible terror charges by French prosecutors.
Osama Krayem, a Swede of Syrian origin, was transferred "for one day to the French judicial authorities on the subject of his hearing and possible indictment by the investigating judge in Paris," Belgian prosecutors said in a statement.
Investigators suspect the 25-year-old of playing a key role in the jihadist cell behind the attacks in Paris, which killed 130 people, and in Brussels, which left 32 people dead. Both were claimed by the Islamic State group.
Krayem is suspected of buying the bags used for the Brussels attacks and was caught on CCTV with suicide bomber Khalid El Bakraoui, both carrying huge backpacks, minutes before one of the blasts. Krayem failed to go through with his suicide attack.
Like other members of the cell, Krayem traveled to Syria after 2014, before apparently hiding himself among migrants in order to return to Europe from Syria in 2015.
He was arrested in Brussels in April 2016, yet two years later, questions remain over Krayem's true role in the attacks. Questioned repeatedly in Belgium, he has denied any role in the Paris attacks and in making bombs.
According to the terms of the arrest warrant issued by France in 2016, Krayem faces questioning and possible charges for "involvement in terrorist murders," "associating with terrorist criminals," and for producing explosive devices.
Full report at:
https://www.timesofisrael.com/belgium-hands-suspect-in-paris-attacks-to-france-for-day/
--------
The Islamophobia scandal in the Conservative party goes 'right up to the top'
JUN 11, 2018
LONDON - Islamophobia is now "very widespread" in the Conservative party but is being deliberately ignored at the highest levels for electoral reasons, the former Co-chair of the party has told Business Insider.
Baroness Warsi, who served as Minister without Portfolio in David Cameron's coalition Cabinet, told BI that the "poison" of Islamophobia had now affected all levels of the party.
"It's very widespread [in the Conservative party]. It exists right from the grassroots, all the way up to the top," she said.
"I don't think it's something that Theresa is a part of, but I do believe it is something the leadership feels can be easily ignored."
Warsi spoke to BI in the wake of a series of stories about Conservative politicians making and sharing Islamophobic messages on social media.
These have included a Conservative MP accused of sharing Islamophobic messages on social media, a Conservative councillor sharing a post about "Muslim parasites" and a Conservative candidate suggesting people hang bacon from their door handles to protect their homes from terrorists.
The party has suspended several people from the party following the allegations and insists that it takes all such incidents seriously.
However, Warsi said that the Conservative leadership were tolerating continued Islamophobia in the party as "they don't think it is going to damage them because that community doesn't vote for them in any great numbers."
She added: "I think that there is a general sense in the country that Muslims are fair game and it is not the kind of community where you can treat really badly and have many consequences. You can get any with it".
'The politics of fear'
Warsi, who has written the book "The Enemy Within" about the history of Muslims in Britain and the prejudice they face, said her party had cynically used the "politics of fear" about Muslims to win over the votes of other minority groups.
"It has been a classic case of 'we're not racist - we like brown people but we like this kind of brown people as opposed to this kind of brown people," she said.
It has been a classic case of 'we're not racist - we like brown people but we like these kind of brown people as opposed to these kind of brown people.
"It's saying 'these are the acceptable brown people and those are the unacceptable brown people' and I think that is really dangerous."
She cited the example of the 2016 London mayoral election, where the party was condemned for targeting Hindu voters with leaflets suggesting that the Labour candidate Sadiq Khan, who is a Muslim, was attempting to take away their jewellery.
"We specifically went out for Hindu voters saying Sadiq's after your jewellery and I love Modi and by the way, Sadiq is an extremist. It was really amateur dog whistle politics," Warsi told BI.
She said the campaign had caused lasting damage to the party's relations with the Muslim community.
"I just feel that somebody in campaign took a decision that if we throw enough dirt at him tied to the fact that he's a Muslim then people will say this man can't be trusted and he won't vote for him. Terrible, terrible campaign which I think still has an effect.
"People always go back to it. People who were Conservative candidates and members couldn't bring themselves to vote for us."
If you run toxic campaigns then you eventually poison the nation.
She said the party, under the campaign advice of former campaign manager Lynton Crosby, had deliberately sought to trash Muslim people.
"There is a sense of only caring about what wins us the next election and if trashing the Muslim community wins us the next election then who cares," she said.
She warned that such "toxic" campaigns risked poisoning political discourse.
"If you campaign without a conscience then you're going to run toxic campaigns," she said.
"And if you run toxic campaigns then you eventually poison the nation."
The 'enemy at the table'
Warsi, who served in several ministerial roles under Cameron, said she had been made to feel, in the words of commentator Douglas Murray, like "the enemy at the table".
"Things would be held back and I wouldn't be informed about things," she said.
"There was always a sense that there were people in the party who questioned 'where do her loyalties lie?'"
There was always a sense that there were people in the party who questioned 'where do her loyalties lie?'
She said that even her routine actions were often under scrutiny.
"I remember being told once in Cabinet 'colleagues are uncomfortable with the amount of notes you're taking around the cabinet table. You seem to take a lot more notes than anybody else'."
When Warsi became a minister at the Department for Communities and Local Government, one of her aides was taken aside by an official working for the Conservative party and told to "keep an eye" on her due to unspecified concerns the party had about her.
She jokes that she was off treated by the party as a "sleeper cell".
"I didn't hide my views, I didn't hide what I was or what I thought. It was all on the record. If anything the reason my political journey was so difficult was that I didn't play the game. I didn't smile sweetly and act like a sleeper cell."
Michael Gove 'radicalised' David Cameron
She said the "Ukipification" of the party's attitude towards Muslims had been triggered in large by the current Environment Secretary Michael Gove.
Gove, who wrote the book 'Celcius 7/7' about Islamic terrorism, was a close ally of Cameron and Warsi believes his "extreme views" caused the former prime minister to shift the government's attitudes towards Muslims.
"I sometimes joke that Michael Gove radicalised David Cameron," Warsi tells me.
"In private conversations [I know that David] had some concerns about some of the extreme views that Michael had but over time he influenced a lot of his views."
Frightened to speak out
The Conservative party has so far resisted calls for an inquiry into Islamophobia in the party. Warsi says the party is "in denial" about the problem with those affected frightened to speak out.
"There was a radio phone-in this morning [on the issue] and the number of people who came on and I recognised their voices and they said their name was Raj or Dave, but they wouldn't say their real names, and I actually recognised two of the people from the party.
"And one of them was asked why they don't reveal their name and they said 'because I would be finished because they're so far down the food chain we would be finished."
She added: "Isn't it outrageous that people feel they can't even own these concerns?
The Conservative party have been contacted for comment.
Full report at:
https://www.businessinsider.in/The-Islamophobia-scandal-in-the-Conservative-party-goes-right-up-to-the-top/articleshow/64539627.cms
--------
URL: https://www.newageislam.com/islamic-world-news/returning-travih-prayers-clerics-assaulted/d/115523
New Age Islam, Islam Online, Islamic Website, African Muslim News, Arab World News, South Asia News, Indian Muslim News, World Muslim News, Women in Islam, Islamic Feminism, Arab Women, Women In Arab, Islamophobia in America, Muslim Women in West, Islam Women and Feminism