New Age Islam News Bureau
9 Oct 2017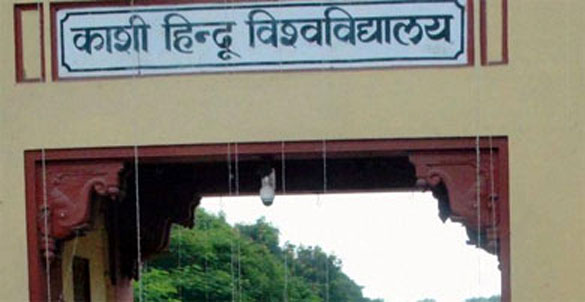 Banaras Hindu University in Varanasi: A UGC panel says the universities can be simply called Banaras University and Aligarh University or be renamed after their founders.(PTI File Photo)
----
• Remove 'M' From AMU, 'H' From BHU, Says UGC Panel
• We Are an Asset, Not a Liability: Rohingya Leader in Pakistan
• Thousands of 'Extremist Imams' Fired In Saudi Arabia: Foreign Minister Adel Al-Jubeir
• Muslim Scholars Call For Unity to Support the Palestine Cause
• 180 Terrorists Killed In Fresh Russian Airstrikes in Syria
India
• Remove 'M' From AMU, 'H' From BHU, Says UGC Panel
• 2002 Godhra Train Burning Case: Gujarat HC Commutes Death Sentence of 11 • Convicts to Rigorous Life Imprisonment
• Mother of another 'love jihad' victim moves SC
• Indian government restricts travel to Yemen
• India to snub Pakistan court on examining 26/11 attack witnesses
• Pakistan violates ceasefire in Poonch district of J&K
• Indian soldiers killing five-six terrorists every day: Rajnath Singh
--------
Pakistan
• We Are an Asset, Not a Liability: Rohingya Leader in Pakistan
• Centre Asked To End Its 'Unfair Treatment' Of Pakhtuns
• Saudi Arabia is like another home to us: PM Abbasi
• No Muslim can compromise on Khatm-e-Nubawwat
• Need to understand conspiracy behind Panama: Fazl-ur-Rehman
• 5 Hazaras shot dead on Quetta's Kasi road
--------
Arab World
• Thousands of 'Extremist Imams' Fired In Saudi Arabia: Foreign Minister Adel Al-Jubeir
• Syrian Army Encircles Daesh Terrorists in Mayadin
• Egypt court sentences 13 from militant group to death
• Gunman kills two guards at Saudi royal palace
• At least 11 dead in Syria market airstrike
• Final assault on ISIS in Raqqa to start on Sunday: commander
• Turkish military vehicles enter Syria's Idlib
• Syrian Soldiers Keep Rolling on Terrorists' Positions in Al-Mayadeen
• Syria: SDF Fighters Impose Control over 85 Percent of Raqqa City
• Arab Media: US Competing with Russia for Economic Interests in Syria
• Hashd Al-Shaabi Repels ISIL Offensive at Borders with Syria
• Saudi minister says 'international alliance needed' to confront Hezbollah
• Iraqi parliament speaker meets with Kurdish leader
--------
Mideast
• Muslim Scholars Call For Unity to Support the Palestine Cause
• Hamas: Armed Wing Not Up For Negotiation with Fatah
• Dozens Killed As Saudi Forces Pound Houthi Militias
• Drone kills five Qaeda suspects in Yemen
• Gulf states, Muslim bloc reject UN report on violation of children's rights in Yemen
• Trump says will not move US embassy to Jerusalem for now
• Zarif Vows Iran's Harsh Reaction to US Designation of IRGC as Terrorist Group
• Israel forces target Hamas positions in Gaza Strip
--------
Europe
• 180 Terrorists Killed In Fresh Russian Airstrikes in Syria
• Srebrenica's Muslim Defender Naser Oric Acquitted Of Crimes against Serbs
• Mufti of Chechnya: Saudi King's visit opens new horizons for Russia's Muslims
• Turkish, French presidents discuss Syria, Iraq
• Hate crimes targeting Muslim places of worship more than double over a year
--------
Southeast Asia
• Selective Religious Prosecution Is Shameful — Wan Saiful Wan Jan
• Philippines a 'Breeding Ground For Terrorists', Says Suspect Who Funded IS In Malaysia
• Seeds of fundamentalism, extremism planted by Dr M, says analyst
• Indonesia mustn't botch the endgame
--------
South Asia
• 4 ISIS Militants Killed In Latest Airstrike on ISIS Hideouts In Nangarhar
• Taliban Chief Attempting For Cease Fire with ISIS Group
• Bangladesh police hunt man who married Rohingya refugee
• At least 12 Rohingya, mainly children, drown in latest boat disaster - police
• Deadly airstrike targets Taliban compound in Sar-e-Pul province
--------
Africa
• More Than 3,000 Migrants Arrested In Libya Smuggling Hub
• Nigeria to try 2,300 Boko Haram militants
• Restructuring Of Nigeria: Muslims Make Six Demands
• Somalia: Kenya Puts Bounty in Hunt for Suspected Al Shabaab Members
--------
North America
• Why 2 Greenville Groups Are Raising Awareness about Islam, Muslims
• Muslim enclave near the Catskills copes with rumors, threats
Compiled by New Age Islam News Bureau
URL: https://www.newageislam.com/islamic-world-news/remove-m-amu-h-bhu/d/112819
--------
Remove 'M' from AMU, 'H' from BHU, says UGC panel
October 9, 2017
A government audit of central universities has suggested that the words 'Muslim' and 'Hindu' be dropped from the names of Aligarh Muslim University (AMU) and Banaras Hindu University (BHU), respectively, to reflect their secular character, The Indian Express has learnt.
The suggestion is contained in an audit of AMU by one of five committees set up by the University Grants Commission (UGC) on April 25 at the behest of the HRD Ministry to probe complaints of irregularities against 10 central universities. The AMU audit did not cover BHU but referred to the institution's name in its report.
Apart from AMU, the institutions that were subjected to an "academic, research, financial and infrastructure audit" by the committees include: Pondicherry University, Allahabad University, Hemwati Nandan Bahuguna Garhwal University in Uttarakhand, Central University of Jharkhand, Central University of Rajasthan, Central University of Jammu, Mahatma Gandhi Antarrashtriya Hindi Vishwavidyalaya in Wardha, University of Tripura and Hari Singh Gour University in Madhya Pradesh.
AMU and Pondicherry University were inspected by a committee comprising IIT-Madras professor Shripad Karmalkar, Maharshi Dayanand Saraswati University V-C Kailash Sodani, Guwahati University professor Mazhar Asif and IIM-Bangalore professor Sankarshan Basu.
The panel's mandate was limited to infrastructure and its academic, research and financial operations in these universities.
In its audit of AMU, the committee suggested that the institution should either be called just 'Aligarh University' or be named after its founder, Sir Syed Ahmed Khan. It cited the same reason to recommend that BHU's name be amended, too.
According to panel members, who did not wish to be identified, the suggestion stems from the logic that AMU, being a centrally-funded university, is a secular institution.
The committee has also described AMU as "feudal" in nature and called for measures to uplift poor Muslims on campus. The report, however, refrained from commenting on the institutions' minority status as the matter is sub-judice.
The committee, as first reported by The Indian Express on October 1, has also recommended that the selection process of AMU's vice-chancellor should be tweaked to align it with the appointment procedure followed by other central universities. Currently, AMU has a greater say in appointment process.
The report has also flagged the culture of "inbreeding" in the university, in which a majority of faculty appointments are of its former students. The panel recommended a five-year gap for all ex-students before they can be recruited as teachers in AMU.
The audit said that the university's tuition fee be increased to help raise more resources internally and the alumni representation on different AMU bodies, such as the university court, should be reduced.
The report has raised concerns over complaints regarding teachers being promoted even when there are no vacant posts and asked UGC to look into such cases.
http://indianexpress.com/article/education/remove-m-from-aligarh-muslim-university-h-from-banaras-hindu-university-says-ugc-panel-4881226/
--------
We are an asset, not a liability: Rohingya leader in Pakistan
Amna Ehtesham Khaishgi
9 October 2017
KARACHI: Noor Hussain Arkani, president of the Burmese Muslim Welfare Organization in Pakistan, represents the 300,000-strong Rohingya community, one of the oldest refugee populations in the country, having arrived more than 50 years ago.
"Just because we're immigrants who took refuge in Pakistan, doesn't mean we're a liability to the country," Arkani, who has seen three generations of Rohingya living in the city of Karachi, told Arab News.
"We provide cheap and efficient labor to factories. We export fish. We're the backbone of the carpet industry. Around 200,000 Rohingya work in the Gulf, especially Saudi Arabia, and send millions in remittances. We're part of the national economy. Pakistan's government shouldn't see us as a liability. We're an asset."
Ghost population
Rohingya refugees first came to Pakistan upon the invitation of then-President Ayub Khan in 1962, Arkani said.
"He gave us refuge and helped us settle down with whatever resources we brought with us. Now this is our third generation living in Karachi, with a population of about 300,000." Most of them live in the largely slum area of Korangi.
"Rohingya Muslims are mainly a fishing community in Karachi. We also work in textile factories, we sell vegetables, and our women weave beautiful carpets at home," Arkani said.
"Pakistan has always had a huge heart," but "we're becoming a ghost population. Our national ID cards aren't renewed. Our legal status in the county is at stake," he added.
"It's a major crisis, especially for the second and third generations, who were born and raised here. For them, Pakistan is their country, but Pakistan isn't ready to own us anymore," he said.
"I'm running after government officials and pleading with them to restore our legal identification. Without that, we can't do anything. We can't get jobs, go to hospital, open bank accounts or send our children to school."
Arkani said the refugee influx stopped about two decades ago, and it is no longer easy to cross the border.
Responsibility
"The British, while leaving Burma (Myanmar), gave our state to the Burmese, whereas we wanted to be annexed to East Pakistan (present-day Bangladesh)," he said.
"Like most of South Asia, the British left us (Rohingya) in an unacceptable situation. Our struggle isn't new, but the world has woken up to it now," he added.
"We're attacked because our Rakhine state in Myanmar is rich in natural resources," including oil and gas, Arkani said.
"It's a fight to capture our resources, which are a goldmine for Myanmar's government and the outside world."
Ending the crisis
The only solution to the ongoing crisis in Rakhine is to "either give us independence, or the UN should protect us from Myanmar," Arkani said.
"We should be taken care of under UN supervision. We've suffered a lot. The world should find a solution for us, otherwise we'll continue hearing heart-wrenching stories."
Arkani denied that Rohingya are involved in terrorist activities. "We started our struggle against the Burmese because they were killing us for refusing to be part of their country."
Arkani urged the Organization for Islamic Cooperation (OIC) and Muslim countries to come to the aid of the Rohingya, "otherwise we'll be wiped out soon."
He added: "This is our third generation running and hiding from Myanmar's Army. We've had enough."
http://www.arabnews.com/node/1174656/world
--------
Thousands of 'extremist imams' fired in Saudi Arabia: Foreign Minister Adel Al-Jubeir
MOSCOW: Saudi Arabia has dismissed several thousand imams from mosques for spreading extremism, Foreign Minister Adel Al-Jubeir told Russian journalists in Moscow on Sunday, reported Arab News.
"We will not let anyone spread the ideology of hatred, to finance that kind of ideology or terrorism," he said.
"Our approach to this problem has been very strict: We … modernize our educational system in order to rule out the possibility of misinterpretation of texts."
Al-Jubeir said Riyadh would cooperate with Moscow in the fight against terrorism, and many militants from both countries were fighting with Daesh.
"They pose a threat to our countries and to other states, where they come from. So we have a strong interest in cooperation."
The foreign minister also accused Qatar of financing terrorism in an attempt to intervene in the internal affairs of other countries.
"We are convinced that there are certain principles that all countries must stick to: Say 'no' to terrorism, the financing of terrorism, extremism and propaganda of hatred, and attempts to interfere in the domestic affairs of other states," he said.
"We expect those demands to be met by Qatar."
http://nation.com.pk/international/09-Oct-2017/thousands-of-extremist-imams-fired-in-saudi-arabia-foreign-minister-adel-al-jubeir
--------
Muslim Scholars Call For Unity to Support The Palestine Cause
Oct 9, 2017
Prominent Muslim scholars urged the international community to unity for the Palestinian cause at an Islamic Arts Festival in South African capital Cape Town.
The festival, intended to foster youth interest in current events in the Muslim world and history of Islam, was attended by Muslim leaders from multiple countries.
Riad Walls, an author at Imam Suyuti Institute of Learning, drew attention to divisions facing Muslims in Afghanistan, Myanmar, Palestine, Yemen, and Syria, calling Muslims to help one another, not only inter-personally but also persecuted groups around the world.
Palestine was a focus of the event, with attention given to both its history and its current situation.
Jerusalem Imam Abdurrahman Alexander compared the oppression of Palestinians to the apartheid regime in South Africa, saying, "The people living in Palestine should have the support of the whole world as it is a matter of humanity rather than just a Muslim issue."
Zaid Fataar, a theologian from the Cape Town Medina Institute, praised President Recep Tayyip Erdoğan's clear and strong stance on Palestine's situation, repeating the leader's statement that "we must all stand together for the victory of the Palestinians."
The Islamic Art Festival, October 6-8, spotlighted Islamic art, culture, and heritage, with over 400 youth participants.
https://www.dailysabah.com/mideast/2017/10/08/muslim-scholars-call-for-unity-to-support-the-palestine-cause
--------
180 Terrorists Killed In Fresh Russian Airstrikes In Syria
Oct 7, 2017
Russia says its counter-terrorism airstrikes in Syria have killed a total of 180 militants — among them dozens of foreign mercenaries — over the past 24 hours.
Russian Defense Ministry spokesman Major General Igor Konashenkov said in a statement on Saturday that an air raid near the city of Abu Kamal in the eastern Dayr al-Zawr Province had targeted a Daesh outpost, leaving some 40 militants from Tajikistan and Iraq dead and destroying 7 vehicles with machine guns mounted on them.
A separate strike close to the city of Mayadin, also situated in Dayr al-Zawr, killed up to 80 terrorists, including nine from the Northern Caucasus, and demolished 18 vehicles and three ammunition depots, he said.
Another Russian aerial attack south of Dayr al-Zawr killed "a group of over 60 foreign mercenaries originating from CIS (Commonwealth of Independent States) countries, Tunisia, and the Arab Republic of Egypt," he added.
Russia has been conducting air raids against Daesh and other terrorist groups inside Syria at the Damascus government's request since September 2015.
"After additional reconnaissance and confirmation of the objectives by the Russian command in Syria, we planned an operation to destroy Daesh command posts, manpower, and armored vehicles of in this area by the missile and airstrikes," Konashenkov said.
He further warned that a "large numbers of foreign mercenaries" were infiltrating into the Syrian territory from the Iraqi border.
Russia, he said, had obtained information that "influential Daesh field commanders, natives of the North Caucasus: Abu Omar al-Shishani, Alyauddin Al-Shishani and Salahuddin al-Shishani" were among the fatalities of the latest strikes.
On Wednesday, Konashenkov said a Russian air raid had critically injured one of the leaders of the so-called Tahrir al-Sham militant group and killed a dozen of his field commanders as well as around 50 of his bodyguards.
Abu Mohamad al-Golani was targeted in an intelligence-led special operation while he was meeting his commanders, he said.
Golani was the head of the Nusra Front terrorist group before it merged with other militant outfits to form the so-called Tahrir al-Sham in January 2017. He is now said to have fallen into a coma.
http://www.presstv.com/Detail/2017/10/07/537768/Russia-Syria-Dayr-alZawr-Igor-Konashenkov
--------
India
2002 Godhra Train Burning Case: Gujarat HC Commutes Death Sentence of 11 Convicts to Rigorous Life Imprisonment
October 9, 2017
More than two years after hearing had concluded in the Godhra train burning case, the Gujarat High Court on Monday pronounced the judgment on a clutch of appeal petitions challenging the special trial court's sentencing.
The division bench of Gujarat High Court, while upholding the findings of special trial court, commuted the capital punishment to rigorous life imprisonment for 11 convicts and upheld the life sentence to 20 others. The high court also confirmed the acquittal of 63 other accused, including one of the main accused Maulana Umarji, who passed away in 2013.
The trial court, presided over then additional sessions judge P R Patel, currently posted as registrar, high court, in 2011 had held the case as "rarest of rare". The court accepted the findings of the Supreme Court appointed-Special Investigation Team (SIT), which claimed that a conspiracy was hatched by the accused a day before the arrival of Sabarmati Express train.
Pronouncing the judgment, the division bench of Justice Anant S Dave and Justice G R Udhwani held that the state government failed in discharging its duty in maintaining law and order during the incident, and directed it to pay compensation of Rs 10 lakh each to the families of 59 persons who were killed in the train fire. The bench said that the trial court judgment did not address this aspect and said that compensation to those who suffered injuries should be decided the government.
Before reading out its verdict the bench led by justice Dave said, "We regret for the delay in pronouncing the judgment…we understand the difficulties of victims and convicts…there are certain things which are not in our control." The bench said that they arrived at their conclusion after going through the records, the statements of injured, passengers, railway employees, railway police, Godhra town police, fire brigade and forensic reports.
On February 27, 2002 coach number S-6 of Sabarmati Express train was torched by a mob at Godhra railway station in which 59 people, mostly karsevaks, were burned burnt to death. A day later, the incident triggered widespread communal riots in various parts of Gujarat.
Initially, the accused were charged under Prevention of Terrorism Act (POTA), but later the high court revoked the charges following the recommendations of the Central POTA Review Committee.
http://indianexpress.com/article/india/2002-godhra-train-burning-carnage-case-riots-gujarat-high-court-sit-commutes-death-sentence-of-11-convicts-to-life-imprisonment-4881586/
--------
Mother of another 'love jihad' victim moves SC
OCTOBER 08, 2017
The mother of a girl from Kerala who allegedly converted to Islam, got married to a Muslim and is now believed to be in the Islamic State-controlled Khorasan province of Afghanistan has moved the Supreme Court, seeking an "extensive investigation" into the phenomenon of 'love jihad' in the southern State.
Bindu Sampath, whose daughter Fatima alias Nimisha is believed to have fled to Afghanistan when she was seven months pregnant to join the jihad of the IS, wants to be impleaded in the Hadiya case.
Ms. Sampath said the case of Hadiya, which concerns that of a 24-year-old girl who converted and subsequently married a Muslim, is that of indoctrination and transforming vulnerable girls from other religious communities into "radicalised jihadis."
"The situation in Kerala seems to be grim — the most number of people joining IS from India are so far from Kerala," Ms. Sampath alleged.
However, the Kerala government has filed an affidavit denying any need for an NIA investigation.
Her application for impleadment was mentioned by her advocate Aishwarya Bhati before a Bench led by Chief Justice of India Dipak Misra. The court allowed Ms. Bhati to file the application.
'Sinister mission'
"There are multiple reports coming from across India reporting a similar tactic being used — the Jihad Romeos are given cell phones, bikes and fashionable clothes to accomplish their sinister mission. They have two weeks to find a girl of another religion and six months to convert her to Islam. If the girl shows no interest within two weeks, they are to leave her and find another," the application alleged.
"For every conversion, the men receive a monetary reward — usually ₹5 to 7 lakh — with the money for love jihad coming from a variety of organisations, many foreign-based. If a recruiter does marry his convert, he is encouraged to have four children with her," it said.
The application said it was imperative that national security agencies like the NIA and the Intelligence Bureau are tasked at the earliest with investigating these incidents, identifying culprits, drawing out trends and addressing the issue quickly before any serious damage occurs.
"Truly, no one wants another Mumbai-like terror attack," the application said.
Ms. Sampath rejected the argument that cases like that of her daughter or Hadiya are "isolated, independent and individual instances of crime." She said they are rather a "motivated scheme of operation."
She described herself as a "hapless mother… who has not been able to get any relief or respite in her crusade to secure the well-being of her daughter."
Full report at:
http://www.thehindu.com/news/national/mother-of-kerala-girl-seeks-nia-probe-into-love-jihad/article19823664.ece
--------
Indian government restricts travel to Yemen
Aman Sharma
Oct 9, 2017
NEW DELHI: After the long effort that led to rescue of abducted Father Tom Uzhunnalil from Yemen, the Indian government has now restricted all travel of Indian nationals to Yemen and made Indian passports and travel documents invalid for travel to Yemen.
Father Tom was abducted on March 4, 2016 in an incident of terrorist attack in Aden by an unidentified group and was finally rescued and brought to India on September 28 this year and met Prime Minister Narendra Modi and the external affairs minister.
Father Tom travelled to Yemen in 2015 despite the government's advisory to not travel due to adverse security situation there. The government now in an order says despite these advisories, some Indians have continued to travel to Yemen.
"It is necessary and expedient in the public interest so to do, hereby the following directions, namely: the passport or travel document issued by the Central Government is invalid for the travel of holder to Yemen as the travel of the holder to Yemen would seriously impair the conduct of foreign affairs of the Government of India; any Indian national who travels to Yemen in violation of this notification, shall be liable for action and the passport shall be liable for impounding or revocation," the latest order says.
The order says that any violation of the direction by any passport holder shall be liable for refusal of passport for a period of seven years from the date of revocation of such passport. "Any Recruiting Agent or a Company sending Indian nationals to Yemen shall be individually or collectively held responsible, and all such Agents or Company, including all its Directors, shall personally be liable to be prosecuted under the relevant provisions of the Indian Penal Code, if the Indian nationals so sent are killed or kidnapped or come to any harm, while travelling to Yemen. Criminal proceedings also may be initiated against owners of the foreign ships carrying Indian nationals to Yemen and visas shall be denied to them for any future travel to India," the order further says.
Full report at:
https://timesofindia.indiatimes.com/india/indian-government-restricts-travel-to-yemen/articleshow/61000388.cms
--------
India to snub Pakistan court on examining 26/11 attack witnesses
Oct 9, 2017
NEW DELHI: Following incessant delays owing mostly to the lackadaisical manner in which Islamabad handled it, the ongoing Mumbai attacks trial+ in Pakistan seems to have reached a dead end.
The Pakistani court seems to have decided that progress can't be made in the trial until the 24 Indian witnesses in the case are examined by Pakistani authorities.
India, however, is unlikely to agree to send the witnesses to Pakistan as it is not convinced Islamabad is serious about taking the trial to its logical conclusion.
In its joint statement with the EU on terrorism last week, the government reiterated that the accused in the attacks, commonly known as 26/11, be brought to justice soon.
"Hafiz Saeed was one of the masterminds of 26/11 and look how he continues to flourish under state patronage despite the evidence provided to Pakistan about his involvement," an Indian official said.
While India could consider examining of the witnesses through video conferencing, no such proposal has yet been made by Pakistan.
The Pakistani court conducting the trial of the seven suspects, including LeT commander Zakiur Rehman Lakhvi, late last month ordered the Federal Investigation Agency (FIA) to appoint a "focal person" to press for getting the Indian witnesses to Pakistan to record their statements in the case.
Apart from Lakhvi, Abdul Wajid, Mazhar Iqbal, Hamad Amin Sadiq, Shahid Jameel Riaz, Jamil Ahmed and Younis Anjum have been facing charges of abetment to murder, attempted murder, planning and executing the 2008 Mumbai attacks.
The court took the decision to press for examination of Indian witnesses after the prosecution claimed that this was necessary to conclude the trial.
India, however, has repeatedly said that all evidence against the accused has already been provided and that it is enough to bring to justice the perpetrators of one of the worst terror attacks on Indian soil.
One reason why India is not convinced about Pakistan's intentions is Islamabad's refusal to put Saeed on trial. Pakistan continues to claim that there's not enough evidence against him.
The trial has dragged for over eight years also because of repeated transfer of judges hearing the case. As many as nine judges have heard the case in the past eight years.
A court official was recently quoted as having said that the FIA's focal person will ask Pakistan's foreign and interior ministries to take up the matter with the Indian government to send the Indian witnesses here.
Full report at:
https://timesofindia.indiatimes.com/india/india-to-snub-pakistan-court-on-examining-26/11-attack-witnesses/articleshow/60998682.cms
--------
Pakistan violates ceasefire in Poonch district of J&K
October 9, 2017
Pakistani troops on Sunday night resorted to unprovoked mortar shelling and small arms fire at forward Indian positions at various places along the Line of Control in border Poonch district of Jammu and Kashmir. Sources said that shelling from Pakistan side first started around 10.20 pm in Karmara area adjoining Chakkan Da Bagh on Poonch-Rawalakote road on which cross LoC travel and trade has been suspended for the last over two months following escalation along the border.
After sometime, small arms fire started in Digwar sector. The Indian troops retaliated at both the places and the exchange of fire continued till midnight. However, there have been no reports of casualty or damage on the Indian side.
http://indianexpress.com/article/india/pakistan-violates-ceasefire-in-poonch-district-of-jammu-kashmir-4881585/
--------
Indian soldiers killing five-six terrorists every day: Rajnath Singh
October 9, 2017
Union Home Minister Rajnath Singh today said Indian soldiers along the Indo-Pakistan border had been gunning down at least five-six terrorists every day and that he had told them to give a fitting reply if Pakistan opened fire. He said the neighbouring country had been sending terrorists to India with nefarious designs and the Indian soldiers had been gunning down at least five-six of them every day. Singh said he had ordered the soldiers not to fire at their Pakistani counterparts first, but give a fitting reply by "firing countless bullets" if Pakistan opened fire.
"I have told my soldiers deployed at the border not to fire first at Pakistan, but give a fitting reply by firing countless bullets if they fire first," he said. On the Dokalam issue, he said India was not a weak country anymore, but a strong one, which was in a position to resolve the contentious matter with its neighbour China.
Full report at:
http://indianexpress.com/article/india/indian-soldiers-killing-five-six-terrorists-every-day-rajnath-singh-4881330/
--------
Pakistan
Centre asked to end its 'unfair treatment' of Pakhtuns
October 09, 2017
SWABI: Speakers at a function here on Sunday demanded of the federal government to end its 'unfair treatment' of Khyber Pakhtunkhwa and give the province right over its resources to help end economic backwardness of the people.
Organised by Pakhtunkhwa Ulasi Tehreek (PUT), the function was attended by intellectuals, members of Islahi Jirga and welfare bodies, local government representatives and leaders of political parties.
On the occasion, the PUT leaders declared that they planned to organise the youth, intellectuals, writers and leaders of political parties to fight for the Pakhtuns' rights from a single platform.
The speakers noted that Pakhtuns had been deprived of due rights under a well-planned strategy, and urged the Pakhtun leaders to shun their differences and work with devotion for people's welfare.
They noted that KP produced 6,500 megawatt of electricity, but it remained in darkness, especially in summer, due to excessive power loadshedding.
They said Tarbela and Ghazi Barotha dams, which were considered the power lifeline of the country, were also located in the province, adding quality tobacco was cultivated in the province but the federal government was not giving it the crop status.
Dr Said Alam Masood, central chief of PUT, accused the federal government of giving free hand to the multinational and national companies to exploit the tobacco growers.
He demanded the federal commerce ministry relinquish its control over the crop and hand it over to the provincial government.
SOCIAL BOYCOTT OF MAN: A jirga unanimously announced here the other day social boycott of a Maina village resident for hiring two contract killers to take the life of his sister-in-law and her only son.
The district police produced villager Munsif Khan and killers Zahoor Khan and Tayyab Zaman during a news conference, where they all confessed to their crime.
Zahoor and Tayyab, both residents of Pabbini village, confessed that they had killed Saleema Banat and her son, Zeeshan Khan, after being paid by Munsif Khan, and threw the bodies on Swabi-Mardan Road.
The jirga members said they and other local residents would socially boycott Munsif and his family.
They said they had decided to build a mosque and seminary on the 15-20 kanals of land owned by the deceased's family.
Meanwhile, Swabi DSP Zahir Shah told reporters that the police after registering a case of the murders waited for the end of three days mourning to interrogate Munsif.
https://www.dawn.com/news/1362669/centre-asked-to-end-its-unfair-treatment-of-pakhtuns
--------
Saudi Arabia is like another home to us: PM Abbasi
October 09, 2017
ISLAMABAD: Relations with Saudi Arabia are "as old as Pakistan is," Prime Minister Shahid Khaqan Abbasi told Arab News.
As such, it was "natural" for him to make his first visit after assuming office on Aug. 1 to the Kingdom, he said, describing Saudi Arabia as "our oldest friend."
Abbasi said that during his visit to Riyadh on Aug. 23, he told Crown Prince Mohammed bin Salman that in Pakistan "we have a lot of differences on every issue," but "we only agree on only one thing: Saudi Arabia."
Abbasi described the visit as "very cordial," adding that they discussed Crown Prince Mohammed's Vision 2030 reform plan.
The prime minister said Saudi Arabia also feels a deep and strong bond with Pakistan. He said Crown Prince Mohammed bin Salman told him that a quarter of last year's Umrah visitors to the Kingdom were from Pakistan. "They had 8 million Umrah visitors and 2 million came from Pakistan. So, 25 percent of the Umrah visitors were from Pakistan," he said.
"There are more than 2.5 million Pakistanis working in Saudi Arabia," said Abbasi. "I also worked there, and visited on and off for almost six years in the mid-1980s."
The Kingdom "is like another home to us," he added.
Full report at:
http://nation.com.pk/national/09-Oct-2017/saudi-arabia-is-like-another-home-to-us-pm-abbasi
--------
No Muslim can compromise on Khatm-e-Nubawwat
Oct 9, 2017
Salim Ahmed
Lahore
A delegation headed by Naib Ameer Majils Ahrar-ul-Islam Syed Muhammad Kafeel Bokhari called on Pakistan Muslim League (PML) President and former Prime Minister Ch Shujat Hussain and senior central leader and former Deputy Prime Minister Ch Parvez Elahi at their residence here Sunday. Maulana Syed Attaullah Shah Bokhari's grandson Syed Muhammad Kafeel Bokhari said that in safeguarding Khatm-e-Nubawwat (?) role of their family is very important and deserves felicitations.
Ch Shujat Hussain and Ch Parvez Elahi said that no Muslim can compromise on Khatm-e-Nubawwat, this is an old habit of Nawaz Sharif and Shehbaz Sharif that they always try to put debris of their sin on someone else, irrespective of whether it is Khatam-e-Nubawwat or any other matter, they also want to do that now. They said for law of Tahaffuz-e-Khatm-e-Nubawwat will have to be guarded because they are completing their agenda of 2013. They said that the purpose of recent conspiracy to change the oath was to please the foreign masters.
Full report at:
https://pakobserver.net/no-muslim-can-compromise-khatm-e-nubawwat/
--------
Need to understand conspiracy behind Panama: Fazl-ur-Rehman
Oct 08 2017
SWAT: Jamiat Ulema-e-Islam (JUI-F) President Maulana Fazl-ur-Rehman said that people in Pakistan need to understand the conspiracy behind the Panama case.
While addressing a rally in Mingora on Sunday, he said that Panama case is not merely about corruption rather it is an international conspiracy against Pakistan.
He explained that Pakistan is the process of building economic relations with China. But, United States issued a strong statement against China Pakistan Economic Corridor and India is also being encouraged just to increase pressure on Pakistan.
Choas is being created in the country, which wants to progress. "This is all an international conspiracy," he added.
"The US turned Pakistan into a scapegoat and then threatened us," he claimed.
He demanded autonomy for the people of FATA and remarked: "The problems of FATA are not as serious as they are being depicted."
"The country cannot progress until we all try to stop defeating one another." He urged the need to finish illiteracy and poverty from the country.
The JUI chief also criticised Pakistan Tehreek-e-Insaf Chairperson Imran Khan and remarked that he has "destroyed all institutions" in Khyber Pakhtunkhwa.
Full report at:
https://www.geo.tv/latest/161707-need-to-understand-conspiracy-behind-panama-fazl-ur-rehman
--------
5 Hazaras shot dead on Quetta's Kasi road
Syed Ali Shah
October 09, 2017
At least five members of the ethnic Hazara Shia community were killed and one other was seriously injured on Quetta's Kasi road on Monday morning as unidentified armed men opened fire at their vehicle, police said.
According to the police, armed motorcyclists sprayed bullets at the vehicle and fled the scene unhurt.
Police reached the spot and started an investigation into the incident.
Balochistan has been experiencing incidents of violence and targeted killings since more than a decade. More than 1,400 incidents targeting the minority Shia and Hazara community have taken place in the province during the past 15 years.
Full report at:
https://www.dawn.com/news/1362674/5-hazaras-shot-dead-on-quettas-kasi-road
--------
Arab World
Syrian Army encircles Daesh terrorists in Mayadin
Oct 8, 2017
Syria's Army and its allies have encircled the Takfiri terror group of Daesh in the city of al-Mayadin in the country's northeastern Dayr al-Zawr Province.
The Takfiri group maintains pockets in the province, and is said to be fighting a losing battle to retain the provincial capital of the same name, which is its last major stronghold in the Arab country.
"Units of our armed forces with the allied forces continue their advance on a number of fronts and axes in Dayr al-Zawr and its countryside...and encircle Daesh terrorists in the city of al-Mayadin," a military source told Reuters.
The Army and its allies reached Dayr al-Zawr in September after a months-long offensive across the country's central desert area.
Separately, Syria's War Media released a video on Monday showing the Army advancing against terrorist positions in the sprawling central Homs Province, while Syrian jets were carrying out umbrella operations overhead.
Turkey, HTS firefight
Also on Sunday, the so-called Syrian Observatory for Human Rights monitoring group said Turkish forces had exchanged fire with the Hayat Tahrir al-Sham (HTS) Takfiri group on the border with Syria's Idlib Province.
The HTS is dominated by Jabhat Fateh al-Sham, which has renamed itself from al-Nusra Front -- the al-Qaeda's Syria offshoot.
Turkish President Recep Tayyip Erdogan announced on Saturday that militants supported by his country would be leading a military campaign against the HTS in the northwestern province.
Speaking of the pending operation, a commander with the militants said, "The aim of the operation is to implement the Astana agreement by setting up Turkish observation posts similar to those of Russia."
"This cannot be achieved without confronting the Nusra Front," said Fares al-Bayoush in an exchange of text messages with The Associated Press, noting, "The aim is to finish Nusra Front."
Turkey, who sides with the militants, and Russia and Iran, who back the Syrian government, have been mediating talks between Damascus and Syria's political and armed opposition in the Kazakh capital of Astana since early 2017.
The talks have led to establishment of four de-escalation zones in the Arab country towards curtailing violence.
The fourth zone is located in Idlib, with its perimeter marked out only on paper.
The aim of the Turkish operation on Sunday still remains unclear, with the country's officials not indicating whether it is part of their preparation for de-escalation activities.
http://www.presstv.com/Detail/2017/10/08/537882/Syria-Mayadin-Daesh-Dayr-alZawr-Russia-Homs-Turkey-Idlib
--------
Egypt court sentences 13 from militant group to death
Oct 8, 2017
Egypt has sentenced 13 more people to death on charges of involvement in militant activity as authorities struggle to contain the insecurity across the North African country.
In a ruling issued by a Cairo criminal court on Sunday, the 13 members of the Ajnad Misr, or Soldiers of Egypt, were recommended to the country's top religious authority to face the death penalty over their involvement in attacks that targeted security forces in and around the Egyptian capital since 2014.
Egypt launched a sweeping operation in 2015 to hunt Ajnad members. Security forces managed to kill the leader of the group while many of its members have remained in custody since then.
The Sunday ruling should now be examined by Egypt's Grand Mufti, a procedural, non-binding opinion which is needed before the sentences could be carried after a December 7 final verdict.
Egypt has been battling a number of major militant groups since a military-led coup led to the ouster of Mohamed Morsi, Egypt's first democratically-elected president, in 2013. A branch of Daesh, a Takfiri terrorist group which began its operations in Iraq and Syria, has been launching attacks in the volatile Sinai peninsula while other groups continue targeting security forces and civilians on the mainland.
In their broad definition of terrorism, Egyptian courts also continue to prosecute many members of the Muslim Brotherhood, the most dominant opposition party in Egypt. Senior leaders of the party, including Morsi, face death or life sentences while tens of thousands of others remain behind bars.
Full report at:
http://www.presstv.com/Detail/2017/10/08/537907/Egypt-Ajnad-prosecution
--------
Gunman kills two guards at Saudi royal palace
Oct 9, 2017
RIYADH - A gunman shot dead two Saudi guards and wounded three others at the gate of the royal palace in the Red Sea city of Jeddah on Saturday, the interior ministry said. Royal guards killed the gunman, identified by the ministry as a 28-year-old Saudi national armed with a Kalashnikov and three grenades.
"An outpost of the royal guard came under fire by a person who got out of a Hyundai car," the ministry said in a statement carried by the official Saudi Press Agency. "He was immediately dealt with and his cowardly act also resulted in the martyrdom" of two royal guards, it added. The US embassy in Saudi Arabia had earlier cautioned its citizens over reports of the attack.
"Due to the possibility of ongoing police activity, American citizens are advised to exercise caution when travelling through the area," the embassy said in a brief statement.
The warning comes after the Saudi police raided hideouts of a "terror" cell linked to the Islamic State group this week, killing two people and arresting five others, according to the national security agency.
Full report at:
http://nation.com.pk/international/09-Oct-2017/gunman-kills-two-guards-at-saudi-royal-palace
--------
At least 11 dead in Syria market airstrike
Oct 9, 2017
BEIRUT - At least 11 civilians including two children were killed on Sunday in air strikes on a market in northwestern Syria, a monitor said. The Syrian Observatory for Human Rights said the strikes on the market in Idlib province's Maaret al-Numan were probably carried out by regime forces.
Much of Idlib province, including Maaret al-Numan, is controlled by Hayat Tahrir al-Sham (HTS), a group led by Al-Qaeda's former Syria affiliate. Idlib is one of four so-called "de-escalation" zones under a deal brokered by Russia, Turkey and Iran in May. However, the HTS is not party to the agreement. Observatory head Rami Abdel Rahman said "military aircraft" had targeted the market in Maaret al-Numan, blaming the regime for the strike. "At least 11 people were killed including two children," he said. "There are around 20 wounded and the toll of victims could rise." The Observatory relies on a network of sources inside Syria, and says it determines whose planes carry out raids according to type, location, flight patterns and munitions used.
Full report at:
http://nation.com.pk/international/09-Oct-2017/at-least-11-dead-in-syria-market-airstrike
--------
Final assault on ISIS in Raqqa to start on Sunday: commander
Oct 9, 2017
A final assault on Islamic State's last line of defense in its former Syrian capital Raqqa should begin on Sunday night, a field commander for the U.S.-backed forces operating there said.
The loss of Islamic State's remaining streets and buildings in Raqqa following its defeat in Iraq's Mosul this year and its retreat from swathes of territory in both countries, would mark a major milestone in the battle to destroy the jihadist group.
The assault on militants in the center of the northern city will focus on surrounding the sports stadium there, said a field commander in the Syrian Democratic Forces (SDF) in western Raqqa, who gave his name as Ardal Raqqa.
"Daesh is massing there because this is the last stage. They will resist, or they will surrender or die," he said. "This their last stand to the death."
Islamic State declared a caliphate in 2014 and at the height of its power ruled over millions of people, from northern Syria to the outskirts of Iraq's capital Baghdad, but it has since endured a series of losses under attack from many sides.
Raqqa was the group's de facto Syrian capital, a center of operations where it oversaw the management of much of eastern, central and northern Syria and planned attacks abroad.
Now it is hemmed into a small area in the city center that includes the stadium, the National Hospital and a roundabout where Islamic State once displayed the heads of its enemies.
In the hours before the expected launch of the final assault, which the commander said could take up to a week, the sound of gunfire sporadically rattled around the area near the hospital.
The district had been flattened, with buildings completely gone. Coalition jets soared overhead and air strikes pounded at a higher rate than in recent days.
RIVAL OFFENSIVES
Islamic State has lost most of its territory to the SDF, spearheaded by the Kurdish YPG militia, and to a rival offensive by Syria's army and allied forces this year, and has fallen back on the fertile Euphrates valley area downstream of Raqqa.
The army and its allies reached the city of Deir al-Zor in September after a months-long offensive across the Syrian desert, and have since then pushed down the Euphrates towards the border with Iraq.
On Sunday a Syrian military source said they had encircled Islamic State fighters in the city of al-Mayadin, one of the jihadists' last strongholds in the area.
"Units of our armed forces with the allied forces continue their advance on a number of fronts and axes in Deir al-Zor and its countryside... and encircle Daesh terrorists in the city of al-Mayadin," the military source said.
However, the group has still been able to launch a series of effective counter attacks against the Syrian army in the central desert region over the past week, putting pressure on the main supply road to Deir al-Zor from the west.
RUSSIA, US
Syrian President Bashar al-Assad is backed in the war by Russia, Iran and Shi'ite militias including Lebanon's Hezbollah, and its campaign against Islamic State has mostly been on the west bank of the river.
The US-backed SDF campaign has mostly been on the east bank, where Raqqa is located, and has also advanced downstream to hold areas opposite Deir al-Zor. The United States and Russia have put in place channels to lessen the risk of fighting between the rival offensives they back.
US officials have previously said that Islamic State had relocated some of its diminished command and propaganda structures to al-Mayadin as it was forced from territory elsewhere.
The spokeswoman for the SDF campaign in Raqqa, Jihan Sheikh Ahmad, said in a statement on a website for the campaign that it would announce the liberation of Raqqa "in the coming few days" after having captured 85 percent of the city.
Commanders directing the battle in Raqqa have said that Islamic State fighters have taken civilian hostages and are using sniper fire, booby traps and tunnels to slow the SDF advance.
The SDF began its campaign to isolate Raqqa early this year, pushing along several fronts to enclose the city against the Euphrates backed by coalition air strikes and special forces.
Full report at:
http://nation.com.pk/international/08-Oct-2017/final-assault-on-isis-in-raqqa-to-start-on-sunday-commander
--------
Turkish military vehicles enter Syria's Idlib
Oct 9, 2017
Turkish military vehicles crossed the Syrian border into Idlib on Sunday, a local resident and a local rebel said, after Ankara announced an operation by rebel groups in the area, which is controlled by rival jihadist alliance Tahrir al-Sham.
Both sources said the vehicles travelled under escort from Tahrir al-Sham, whose fighters accompanied them along a road. However, the jihadists and the Turkish military had earlier exchanged fire in a nearby area.
Turkish President Tayyip Erdogan said on Saturday that Syrian rebels backed by Turkish forces would launch an operation in Idlib and warned that Turkey would not allow "a terrorist corridor" near its borders.
The operation follows a deal between Turkey and Syrian President Bashar al-Assad's allies Russia and Iran to impose a "de-escalation" zone in Idlib and surrounding areas to reduce warfare there, an agreement that did not include Tahrir al-Sham.
Reuters witnesses, the local resident and local rebel, and the Syrian Observatory for Human Rights, a Britain-based war monitor, said the Turkish military and Tahrir al-Sham exchanged fire near the village of Kafr Lusin in Idlib early on Sunday.
The clashes involved Tahrir al-Sham firing on a Turkish bulldozer removing sections of a border wall and Turkish artillery returning fire, the local resident and rebel and the Reuters witness said.
Idlib and neighbouring parts of northwest Syria represent the country's biggest and most populous rebel stronghold, home to more than two million people, many of them refugees from other regions.
Rebel groups taking part in the operation -- part of the Euphrates Shield campaign that Turkey has backed with armour and troops in another part of Syria to the east of Idlib since last year -- said on Saturday they expected it to start very soon.
Tahrir al-Sham said any incursion into Idlib would "not be a picnic" for its enemies.
Tahrir al-Sham is spearheaded by the former Nusra Front, which was al Qaeda's Syrian branch until last year, when it changed its name and broke formal allegiance to the global movement founded by Osama bin Laden.
It has been a formidable military force since early in the conflict, often fighting alongside other rebel groups, but since early this year it has battled them as it tried to gain control over areas including Idlib.
Full report at:
http://nation.com.pk/international/08-Oct-2017/turkish-military-vehicles-enter-syria-s-idlib
--------
Syrian Soldiers Keep Rolling on Terrorists' Positions in Al-Mayadeen
Oct 08, 2017
The army soldiers continued advancing against ISIL in al-Mayadeen in Southeastern Deir Ezzur and captured the industrial zone and several neighborhoods in the Western part of the town.
The army units also captured Makef al-Qanam region at the Southeastern entrance of al-Mayadeen.
A field sources said that the army men continue to hunt ISIL terrorists and destroy their bomb-laden vehicles.
Local sources confirmed earlier today that a number of notorious commanders of the ISIL terrorist group have escaped from different battlefields in the Eastern province of Deir Ezzur as the Syrian Army troops continued their anti-terrorism operations in the region.
The sources said that the army's rapid advances in Deir Ezzur province have caused a number of ISIL's commanders to escape the battlefields.
ISIL's senior Mufti (religious leader) in Western Deir Ezzur Bashar al-Hanish nom de guerre Abu Mo'aviyeh and Hassaan al-Orwah, one of the notorious financial men of the terrorist group have escaped.
Full report at:
http://en.farsnews.com/newstext.aspx?nn=13960716001525
--------
Syria: SDF Fighters Impose Control over 85 Percent of Raqqa City
Oct 08, 2017
Jeihan Sheikh Ahmad stated that the SDF has seized control over 85 percent of the districts in the ISIL-held Raqqa city.
He further added that the SDF fighters will take full control over the city in the next coming days.
The SDF general command said in a statement last month that the SDF fighters stormed ISIL's positions from the Sugar Company North of Raqqa city and captured the 17th Brigade base and silos.
Also, the SDF pushed ISIL back from the neighborhoods of Tishrin, al-Ramileh, al-Rowzeh and al-Mat'haneh.
http://en.farsnews.com/newstext.aspx?nn=13960716001148
--------
Arab Media: US Competing with Russia for Economic Interests in Syria
Oct 08, 2017
According to the Arabic-language Lebanese al-Nashrah news website, the US is increasing its military aid to the Syrian Democratic Forces (SDF) to further advance in the Northern and Eastern parts of Syria.
In the view of the Americans, Syria shouldn't be left for the Russians without the US share of influence in the country and Washington should find its share in the economic projects in the war-torn country, it added.
According to the Arab website, the American forces are deployed in many regions in Syria which is not limited to the al-Tanf border crossing and support and supervise the SDF forces in the anti-ISIL fight to establish a foothold in more areas in Syria.
Meantime, the Russian Defense Ministry spokesman said on Friday that refugees living in the Rukban desert camp in Southeast Syria are being used by the United States to shield its military base near the town of al-Tanf.
"Rukban refugees are de facto hostages, effectively a 'human shield' for the US base. Think about it, other than by Americans such 'protection' barriers are used in Syria only by those who they came here to fight, the terrorists," Maj. Gen. Igor Konashenkov said in a statement.
The Russian Defense Ministry also added that the US base in Syria's Southeastern al-Tanf area has turned this strip of the border with Jordan into a black hole generating waves of insurgency.
The Pentagon has claimed the base is used by US, UK and Norwegian instructors to train Free Syrian Army militants, Konashenkov said in a statement, adding the outpost was protected by tactical aviation and HIMARS multiple-launch rocket systems.
"In reality, al-Tanf has turned into a 100-kilometer 'black hole' on the Syrian-Jordanian state border. And, instead of the Free Syrian Army, it is spewing ISIL mobile groups who make inroads to launch subversive terrorist operations against Syrian troops and civilians," he said.
The Russian Defense Ministry spokesman also questioned the claim by the United States that its base near al-Tanf was used for attacks on terrorists.
"The illegal establishment of the US military base on the Syrian-Jordanian border in April 2017 was publicly justified by the 'need to conduct counter-ISIL [Daesh] operations.' But we know of no US operation that was launched against the ISIL in the past six months of its existence," Maj. Gen. Igor Konashenkov said.
Full report at:
http://en.farsnews.com/newstext.aspx?nn=13960716001185
--------
Hashd Al-Shaabi Repels ISIL Offensive at Borders with Syria
Oct 08, 2017
According to Hashd al-Shaabi news website, Division 25 of Hashd al-Shaabi warded off the ISIL attack in Tal Safouk passageway in the Northwestern parts of al-Anbar province.
The report added that all ISIL militants were killed in clashes with Hashd al-Shaabi forces.
In relevant remarks on Saturday, Head of Hashd al-Shaabi Committee Faleh al-Fayyad announced that his forces will cooperate with the Syrian army in taking back the bordering areas occupied by the terrorists.
"Hashd al-Shaabi is the (Iraqi) government's arm and plays an important role in the liberation operations," al-Fayyad was quoted as saying by al-Forat news website in a press conference.
"Merely, al-Qanem region at borders with Syria is under the terrorists' occupation and Iraq will soon cooperate with the Syrian military forces to liberate and regain control of common borders," he added.
Reports also said on Saturday that the Iraqi Air Force bombed the venue of a meeting of ISIL commanders near the border with Syria, killing 20 terrorists including emir (military commander) of the so-called Baghdad velayah (governorate) of the self-proclaimed Caliphate.
Twenty terrorists, including emir of Baghdad velayah nom de guerre Abu Tariq, were killed in the air assault on the venue of a meeting of ISIL's senior commanders in one of al-Jamahir neighborhood of the town of al-Qa'em at border with Syria.
Full report at:
http://en.farsnews.com/newstext.aspx?nn=13960716001059
--------
Saudi minister says 'international alliance needed' to confront Hezbollah
8 October 2017
The Saudi Minister of State for Gulf Affairs Thamer al-Sabhan on Sunday commended US sanctions against Lebanon's Hezbollah but proposed another way to confront the group.
"US sanctions against the terrorist militia in Lebanon are good, but the solution for achieving regional peace and security is an international alliance to confront them and their allies," Sabhan said in a tweet.
The US House of Representatives Foreign Relations Committee passed two bills Thursday that tighten sanctions on the Hezbollah organization.
The first bill targets any foreign person that provides support to any number of key Hezbollah financial, security, foreign relations, and media institutions.
Full report at:
https://english.alarabiya.net/en/News/gulf/2017/10/08/Saudi-minister-says-international-alliance-needed-to-confront-Hezbollah.html
--------
Iraqi parliament speaker meets with Kurdish leader
Oct 8, 2017
The speaker of Iraq's parliament has met with Kurdish leader Masoud Barzani, two weeks after the Kurdistan region held a controversial referendum on secession from the mainland.
The office of Salim al-Jabouri confirmed that he met with Barzani in the Kurdish capital, Erbil, a day after the parliament in Baghdad adjourned to allow more time to resolve the referendum issue.
The meeting comes as the two sides remain at an impasse over the Kurdish independence.
Barzani's office earlier said he and two of Iraq's three vice presidents agreed on Saturday to restore relations with Baghdad after a meeting in Erbil. The office of the vice presidents have denied the account.
In response to the referendum, the Iraqi government has cut Kurdistan's direct air links with the outside world, partially isolating the northern region. Baghdad has also called on the Kurdistan Regional Government (KRG) to either cancel the result of the plebiscite or face potential sanctions, international isolation, and military intervention.
Iraqi Prime Minister Haider al-Abadi has already demanded the annulment of the results.
During a recent press conference in the French capital, Paris, the Iraqi premier said his government was not after confrontation with Iraqi Kurds, but reiterated Baghdad's position that the referendum was illegal, and that problems should be solved within the framework of Iraq's constitution.
The referendum was largely opposed by the region's Arabs and other minorities.
Iraq's landlocked Kurdish region is heavily dependent on the central government and other regional countries for its economic survival.
Full report at:
http://www.presstv.com/Detail/2017/10/08/537900/Iraq-SalimalJabouri--Haidar-alAbadi---Masoud-Barzani-Turkey-Iran
--------
Mideast
Hamas: Armed wing not up for negotiation with Fatah
Oct 8, 2017
The Palestinian resistance movement Hamas says the fate of its military wing, the Ezzedeen al-Qassam Brigades, is not up for discussion during the upcoming reconciliation talks with its rival party, Fatah.
"The resistance's weapons are legal. They are here to protect Palestinians and free their lands (from Israeli occupation) -- therefore, this should not be an issue to discuss," Hamas spokesman Hazem Qassem told the Palestinian Ma'an news agency on Saturday.
What should be raised in the talks is the "enhancement" of Hamas' power and all the subjects that are "obstructing the reconciliation," he added.
Fatah and Hamas representatives are scheduled to meet in the Egyptian capital, Cairo, next week as part of efforts aimed at ending a decade-long split between the two sides.
Fatah and Hamas have been at odds ever since the latter scored a landslide victory in Palestinian parliamentary elections in 2006. Hamas governs the Gaza Strip while Fatah has set up offices in the West Bank.
The two rival Palestinian factions finally agreed on a unity government in April 2014, but it fell apart months later.
Last month, Hamas announced that it had agreed to dissolve its administrative committee in Gaza, invite the Fatah-led Palestinian Authority (PA) to return to Gaza and hold new elections in the West Bank and the Gaza Strip.
The Palestinian cabinet, headed by Palestinian Authority Prime Minister Rami Hamdallah, met in Gaza on October 3 for the first time in three years.
"We are here to turn the page on division, restore the national project to its correct direction and establish the (Palestinian) state," Hamdallah told the meeting.
Hamas chief Ismail Haniyeh also expressed his satisfaction with a potential Palestinian rapprochement, saying, "There might be some difficulties on the road, but we will conclude reconciliation, regardless of the cost."
The Fatah-Hamas reconciliation efforts have enraged Israeli Prime Minister Benjamin Netanyahu, who stressed that the regime would not accept "imaginary appeasement where the Palestinian side is reconciling at the expense of our existence."
http://www.presstv.com/Detail/2017/10/08/537884/Palestine-Hamas-Fatah-Cairo
--------
Dozens killed as Saudi forces pound Houthi militias
9 October 2017
JEDDAH: New video footage shot near the Najran region shows Saudi forces striking strongholds of Houthi militias and those of ousted Yemeni President Ali Abdullah Saleh after discovering an attempt to infiltrate the Kingdom.
Saudi tanks and military vehicles can be seen carrying heavy weapons and targeting gatherings of the rebels after they tried to sneak toward Saudi military posts, Al Arabiya reported.
Al Arabiya also reported that the Saudi forces killed at least 40 rebels who tried to approach Saudi borders, while others fled. Furthermore, Saudi forces destroyed strongholds in which the rebel militias holed up in addition to four-wheeled military vehicles.
The Arab coalition also released a video last Thursday which showed their forces striking rebel militias off the Saudi border. Coalition drones documented the targeting of rebel strongholds in various areas near the border where the coalition's air forces destroyed military vehicles which carried rebels in their attempts to plant land mines and advance toward the Kingdom's borders.
Full report at:
http://www.arabnews.com/node/1174686/saudi-arabia
--------
Drone kills five Qaeda suspects in Yemen
Oct 9, 2017
ADEN - A drone strike on Sunday killed five suspected Al-Qaeda militants in the Yemeni province of Marib, east of the capital Sanaa, security officials said. One official said a US drone had probably carried out the strike, which targeted a car in the province's Saoud district. The United States considers the Yemen-based Al-Qaeda in the Arabian Peninsula to be the radical group's most dangerous branch. AQAP has flourished in the chaos of the country's civil war, which pits the Saudi-backed government of President Abedrabbo Mansour Hadi against the Huthi rebels.
http://nation.com.pk/international/09-Oct-2017/drone-kills-five-qaeda-suspects-in-yemen
--------
Gulf states, Muslim bloc reject UN report on violation of children's rights in Yemen
8 October 2017
The Gulf Cooperation Council and the Organization of Islamic Cooperation rejected the UN's annual report issued Thursday which included the Saudi-led coalition among the violators of children's rights in war-torn Yemen.
GCC Secretary General Abdullatif Al Zayani said he rejects the statistics included in the UN report and which are based on unreliable sources that support the Houthis' militias and Saleh's forces.
Zayani also voiced hope that the UN bases its reports on credible sources.
https://english.alarabiya.net/en/News/gulf/2017/10/08/Gulf-states-Muslim-bloc-reject-UN-report-on-violation-of-children-s-rights-in-Yemen.html
--------
Trump says will not move US embassy to Jerusalem for now
8 October 2017
US President Donald Trump said Saturday he will not go ahead with his controversial pledge to move the American embassy to Jerusalem until after pushing for an Israeli-Palestinian peace deal.
"I wanna give that a shot before I even think about moving the embassy to Jerusalem," Trump said on former governor Mike Huckabee's TV show, referring to efforts to forge a peace between the two sides that has eluded career diplomats for decades.
"We're gonna make a decision in the not too distant future," Trump said, but for now, the peace push comes first.
That push is one of the various portfolios Trump gave his son-in-law Jared Kushner, a 36-year-old with no prior government experience who became one of the most powerful men in Washington by virtue of his family connection to the president.
Foreign countries currently have their embassies in the Israeli commercial capital Tel Aviv since they do not recognize Israel's unilateral claim of control over all of Jerusalem.
Israel occupied east Jerusalem and the West Bank in 1967 and annexed east Jerusalem in a move never recognized by the international community.
It claims all of Jerusalem as its united capital, while the Palestinians see the eastern sector as the capital of their future state.
Full report at:
https://english.alarabiya.net/en/News/middle-east/2017/10/08/Trump-says-will-not-move-US-embassy-to-Jerusalem-for-now-.html
--------
Zarif Vows Iran's Harsh Reaction to US Designation of IRGC as Terrorist Group
Oct 08, 2017
"It will certainly be a very harsh reaction," Zarif said in response to a question asked by reporters in Tehran on Sunday on how Iran would react if the US president designates the IRGC as a terrorist group in his new strategy.
He declined to elaborate on the details of Iran's response, and said, "God willing, you will come to see (Iran's reaction)."
His remarks came few hours after IRGC top Commander Major General Mohammad Ali Jafari said imposition of new sanctions by Washington against Iran means a US withdrawal from the nuclear deal, and warned that the US should leave the region and stay 2,000km away from Iran if the Countering America's Adversaries Through Sanctions Act (CAATSA) comes into effect.
"The Islamic Republic (of Iran) sees implementation of the Countering America's Adversaries Through Sanctions Act (CAATSA) as the US unilateral withdrawal from the nuclear deal and as we have declared in the past too, if the US new sanctions act comes into action, the country (the US) should transfer its regional bases to 2,000km away, that is as far as the range of Iranian missiles," General Jafari said on Sunday.
Away from CAATSA that puts Iran under presidential executive order 13224 and considers the IRGC as an entity supporting terrorist groups, Gen. Jafari noted reports coming from Washington that the US president's new strategy intends to designate the IRGC itself as a terrorist organization, and issued a tough warning to Donald Trump, saying, "If reports prove to be true that the stupid US administration intends to designate the IRGC as a terrorist organization, then the IRGC will also specify the US army as a group (and target) like ISIL in all parts of the world, specially the Middle-East."
He further noted the US objective behind its growing hostilities towards Iran, saying the US is wrong to think that threatening Iran and imposing new sanctions on the country can force Tehran to sit to the negotiating table on the regional issues.
"The Islamic Republic of Iran intends to solve the regional issues somewhere else other than the negotiating table; (the US should know that) there is (absolutely) nothing and no one to negotiate about or with," the IRGC chief commander stressed.
He said any new US sanctions would ruin the chances for any kind of interaction "forever". "These sanctions accomplish the experience of the nuclear deal for us. An experience that showed that the US makes use of talks as a means of pressure and hostility rather than interaction or problem solving."
"The Americans should know that the Islamic Republic of Iran will use the opportunity provided by the Trump administration's stupid behavior towards the nuclear deal to make a leap in its conventional defense, missile and regional programs," he added.
CAATSA is a United States federal law that imposed sanctions on Iran, North Korea and Russia. The bill was passed during the 115th Congress, 98–2 in the Senate. In the part that pertains to Iran (also known as Countering Iran's Destabilizing Actions Act or CIDAA), the sanctions act focuses on punishments specifically addressed at the IRGC.
Full report at:
http://en.farsnews.com/newstext.aspx?nn=13960716001632
--------
Israel forces target Hamas positions in Gaza Strip
Oct 8, 2017
Israeli forces have launched artillery attacks on alleged Hamas positions in the Gaza Strip.
No casualties have been reported from the Sunday night attacks.
Israel claims that the attacks were launched is response to rocket fire from the Gaza Strip that landed without causing any injuries.
The Israeli military frequently targets the Gaza Strip, with civilians being the main victims of such attacks.
Israel has launched several wars on the Palestinian coastal sliver, the last of which began in early July 2014. The military aggression, which ended on August 26, 2014, killed nearly 2,200 Palestinians. Over 11,100 others were also wounded in the war. The Gaza Strip has been under an Israeli siege since June 2007. The blockade has caused a decline in living standards as well as unprecedented unemployment and poverty.
http://www.presstv.com/Detail/2017/10/08/537940/israel-hamas-artillery-gaza-strip
--------
Europe
Srebrenica's Muslim defender Naser Oric acquitted of crimes against Serbs
Oct 9, 2017
SARAJEVO (Reuters) - Bosnian Muslim commander Naser Oric, who led the defence of Srebrenica during the 1992-95 war, was acquitted of war crimes against Serbs on Monday (Oct 9), a ruling that is set to deepen ethnic divisions 22 years after the conflict ended.
Serbia and the Bosnian Serbs had accused Oric's men of killing Serb civilians in and around Srebrenica earlier in the war.
Srebrenica eventually fell to Bosnian Serb forces in 1995 - the ensuing killing of more than 8,000 Muslim men and boys was seen as Europe's worst atrocity since World War II.
"The accused Naser Oric and Sabahudin Muhic have been acquitted of charges of violating provisions of the Geneva Conventions," judge Saban Maksumic told the Bosnian war crimes court, referring to one of Oric's fellow soldiers.
Families of the Serb victims walked out the courtroom protesting against the verdict.
Bosnian Muslims or Bosniaks view Oric as a national hero for defending the doomed eastern enclave.
http://www.straitstimes.com/world/europe/srebrenicas-muslim-defender-naser-oric-acquitted-of-crimes-against-serbs
--------
Mufti of Chechnya: Saudi King's visit opens new horizons for Russia's Muslims
8 October 2017
Chechnya's grand mufti and head of the religious administration of Chechen Muslims has described the visit of Saudi King Salman al-Saud to Russia as both historic and important.
Sheikh Salah Megiev has pointed out that it has drawn great attention from all political leaders in Russia.
"I was honored with the meeting of the Custodian of the Two Holy Mosques with the Islamic leaders of Russia," Megiev said.
"We, as Muslims of Russia, are proud of this visit and we look forward to opening a new horizon for the Muslims of Russia in cooperation with the Kingdom and the entire Islamic world," he added.
The Mufti of Chechnya also thanked the King for his great interest in Russia's Muslims and the joint Islamic work being done. He said that the visit comes within the framework of strengthening bilateral relationships between the two countries, noting that the signing of a number of agreements will strengthen relations between the two countries.
He also praised Saudi Arabia's efforts under the leadership of King Salman in "fighting terrorism and drying its sources through a solid policy that has been and continues to be appreciated by all politicians around the world".
He pointed out that these visits between the two countries will deepen the relationship between the religious institutions in Saudi Arabia and Russia for "a successful cooperation in spreading the tolerance and moderation of Islam, benefiting from the accumulated experience to promote the moderate religious discourse, which recognizes the principle of moderation and establishes the real concepts of Islam and fights extremism".
Full report at:
https://english.alarabiya.net/en/News/gulf/2017/10/08/Mufti-of-Chechnya-Saudi-King-s-visit-opens-new-horizons-for-Russia-s-Muslims.html
--------
Turkish, French presidents discuss Syria, Iraq
08 October 2017
President Recep Tayyip Erdogan discussed Syria and Iraq's territorial integrity with his French counterpart Emmanuel Macron over the phone Saturday, according to a Turkish Presidency source.
The two leaders discussed developments in Iraq and Syria as well as bilateral relations between France and Turkey, and regional issues, the source, who spoke on condition of anonymity due to restrictions on talking to the media, said.
Syria has been locked in a vicious civil war since 2011, when the Bashar al-Assad regime cracked down on pro-democracy protests with unexpected ferocity. Since then, hundreds of thousands of people have been killed in the conflict, according to the UN.
On Sept. 25, Iraqis in Kurdish Regional Government-held areas -- and in several areas disputed between Baghdad and Erbil -- voted on whether to declare independence from Iraq.
According to results announced by the KRG, almost 93 percent of registered voters cast ballots in favor of independence.
Full report at:
http://www.worldbulletin.net/europe/194752/turkish-french-presidents-discuss-syria-iraq
--------
Hate crimes targeting Muslim places of worship more than double over a year
Oct 9, 2017
Hate crimes targeting mosques and other Muslim places of worship across the UK more than doubled between 2016 and 2017, a Press Association investigation has found.
Police forces recorded 110 hate crimes directed at mosques between March and July this year, up from just 47 over the same period in 2016.
Racist abuse and threats to "bomb the mosque" feature heavily among the hate crimes, as do incidents of offenders smashing windows on buildings and parked cars.
Other records include offensive graffiti sprayed on to buildings, violent assaults on worshippers, two cases of arson and two cases of individuals leaving bacon on door handles at mosques.
Shadow home secretary Diane Abbott called the figures "deeply troubling".
"Attacks on any religious group or minority are abominable," she said, adding: "These anti-Muslim attacks will be condemned by all decent people."
The data was obtained by the Press Association through Freedom of Information requests to UK police forces. The figures, based on 42 responses from 45 forces, also show:
:: 25 forces saw a year-on-year increase in hate crimes directed at mosques, with the biggest rise reported by Greater Manchester Police (nine crimes, up from zero) and London's Metropolitan Police (17 crimes, up from eight).
:: Threats, harassment or other intimidating behaviour more than tripled, from 14 crimes in 2016 to 49 in 2017.
:: Violent crime against individuals more than doubled from five recorded crimes against worshippers at mosques in 2016 to 11 crimes in 2017.
:: Crimes recorded as vandalism or criminal damage increased from 12 in 2016 to 15 in 2017.
Due to differences in how police forces record their statistics and the fact that not all forces are included in the figures, the true number of hate crimes directed at mosques is likely to be higher still (Dominic Lipinski/PA)
Britain endured a number of terror attacks claimed by Islamic State over the period in which the crimes were recorded, at London Bridge, Westminster and Manchester.
The figures come to light within weeks of separate incidents in which an imam and surgeon who treated Manchester bombing victims was stabbed outside a mosque in Cheshire and a 14-year-old boy was stabbed multiple times in the face and neck outside a mosque in Birmingham.
Other high-profile cases of hate crime at mosques this year include the Finsbury Park terror attack in June, a Manchester mosque gutted by fire in an arson attack in July and the sending of a white powder and bomb threats to three mosques across London in July.
More than 50 places of worship, almost half of them mosques, applied for the most recent round of anti-hate crime funding from the Government, which ended in June.
Applications for funding, intended to provide security measures, were made available to all places of worship in April and May but extended into June after terror attacks at the start of the summer.
Ms Abbott called on the Home Office to publish data on hate crimes against all places of worship "as a matter of course" after "worrying reports of attacks on synagogues as well as mosques".
She said: "Politicians have a particular responsibility in the language they use, the policies they advocate and the climate they create.
"There should be a unanimous message that violence against any section of our society is unacceptable."
Full report at:
https://jerseyeveningpost.com/news/uk-news/2017/10/09/hate-crimes-targeting-muslim-places-of-worship-more-than-double-over-a-year/
--------
Southeast Asia
Selective religious prosecution is shameful — Wan Saiful Wan Jan
October 9, 2017
OCTOBER 9 — A friend of mine was recently stopped at the Kuala Lumpur International Airport by the immigration authority, and he was then passed to the police for detention.
He was supposed to take a flight back to his wife and two young children in Boston, USA, on Monday, 25 September. He just completed his lecture tour in Kuala Lumpur, and was excited to get back to his family.
Nobody expected that he would be stopped at KLIA and then forced to spend one night in police detention. But that was exactly what happened.
Apparently, the Department of Federal Territory Islamic Affairs (JAWI) accused him of breaching the law for teaching about Islam without firstly obtaining a permit from them.
Mustafa Akyol is a well-known Turkish writer and journalist. He is a regular contributor to the New York Times, and his two latest books are Islam Without Extremes and The Muslim Jesus.
In Islam Without Extremes he wrote, among others, about the experience of Islamic movements worldwide. He argued that Islam is indeed a religion of peace that respects individual rights.
He also documented his visit to Malaysia in May 2009, during which he spoke on a panel with Dzulkefly Ahmad, formerly a PAS MP and currently Director of Strategy for Parti Amanah Negara.
That event was Mustafa's first exposure to the dynamics between conservative and progressive Muslims in Malaysia, and he wrote about it in one of the chapters in the book.
The 2009 trip was the first time Mustafa came to Malaysia and I was his host. But my acquaintance with Mustafa actually started well before that.
I have been reading his writings since mid-2000s and have been wanting to bring him to a Malaysian audience since then.
That eventually happened in November 2007. I was still living in the United Kingdom at that time, and I managed to bring Mustafa from Istanbul to Dublin, Ireland, to speak at his very first event targeted at a Malaysian audience. At that time, the participants were Malaysian students studying in Ireland.
I am really glad that after introducing him to Malaysians twice, once in Ireland in 2007 and then in Kuala Lumpur in 2009, the baton was picked up by Datuk Dr Farouk Musa of the Islamic Renaissance Front, who continued to invite Mustafa to Malaysia until now.
But I am deeply disappointed that his latest visit ended on a sour note. The irony is, just two nights before his ordeal at the hands of Malaysia's religious police, he was telling me how much he enjoyed coming to this country, over a sumptuous Nasi Padang dinner in Kampung Baru.
Mustafa was joking about perhaps applying for a Malaysian citizenship because he has been coming to Malaysia so many times and he greatly enjoyed every visit.
We also discussed about how the Malaysian government is championing the moderation agenda globally. Clearly there are elements within our government who are working very hard to sabotage the moderation agenda. By arresting someone who is a staunch champion of Islamic moderation at the global stage, our religious police are basically rubbishing the moderation agenda that we keep hearing about.
I should say here that there is indeed a law that enables our Islamic religious police to act on people who deliver talks about Islam without official permission. If we want to strictly go by the book, then, yes, the religious police was indeed acting within the law when they detained Mustafa. The problem however is the inconsistency in how they apply the law.
In this particular instance, Mustafa was speaking in hotel conference halls and he was also scheduled to speak at a university. Previously, the religious police has taken actions against speakers who speak in mosques without a permit. But, Mustafa was not speaking in a mosque. Is the religious police saying that you need a permit to discuss Islam outside of mosques too?
Many Islamic authorities own Islamic primary and secondary schools. Their teachers almost certainly teach Islam on daily basis. Have the authorities issued permits to all the teachers? In fact, there are Islamic Studies teachers in all schools across the country. Will the religious police be arresting them too?
Is it now compulsory for all lecturers in all universities to have a permit before they can deliver the module on Islamic studies? Will all lecturers be facing actions if they don't have a permit?
Will a father be arrested for teaching his children Islam in their own houses? Or, what about when our politicians quote the Quran and the hadith in their many public talks?
Where exactly does the religious police draw the line?
I don't want to discuss whether or not we need the said law. That is a discussion for another time. My focus now is on how the religious police behave in implementing the law.
The case of Mustafa Akyol illustrates yet another case of selective prosecution, this time by our religious police. If this is a picture of how Islam will be implemented in Malaysia, then we have a lot of soul searching to do. — Sin Chew Daily
http://www.themalaymailonline.com/what-you-think/article/selective-religious-prosecution-is-shameful-wan-saiful-wan-jan#Xy0M1AC6L4W8mkzX.97
--------
Philippines a 'breeding ground for terrorists', says suspect who funded IS in Malaysia
9 Oct 2017
MANILA: A Filipino doctor suspected of funding the Islamic State network in Malaysia has boasted that his country is "a breeding ground for terrorists", the US Justice Department said Saturday.
Russell Salic and two others have been charged with involvement in the plan to carry out the attacks in the name of the Islamic State group during the Muslim holy month of Ramadan in 2016.
A Justice Department statement said Salic, 37, transferred money to the other suspects for the operation, saying he could safely do this from the Philippines without attracting attention.
It reported that Salic had sent money to Jasanizam Rosni in Johor on June 24, 2016, just days before the attack at the Movida pub in Puchong in Malaysia.
According to a report based on court filings, the FBI concluded that Salic had provided the funding for the Movida pub bombing, the first IS-linked attack in Malaysia, where eight people were injured.
Salic was arrested in the Philippines in April 2017 and the US had requested his extradition, the US Department of Justice said.
Multiple locations including New York's subway, Times Square and some concert venues were also identified as targets in the plot that was foiled by an undercover FBI agent, US authorities announced Friday.
The agent posed as an IS supporter and communicated with Salic and his two alleged accomplices Abdulrahman El Bahnasawy, a 19-year-old Canadian who purchased bombmaking materials, and Talha Haroon, a 19-year-old American citizen living in Pakistan.
El Bahnasawy told the undercover FBI agent that Salic was a trusted IS supporter who had provided funding to help the group on prior occasions, according to the Justice Department statement.
The statement quoted messages sent by Salic to others involved in the plot in which he described terror laws in the Philippines as "not strict" in comparison to countries such as Australia and the UK.
"Terrorists from all over the world usually come here as a breeding ground for terrorists... hahahaha... But no worry here in Philippines. They dont care bout IS... Only in west," he added, according to the statement.
It added that El Bahnasawy, who authorities say has pled guilty to "terrorism charges", was arrested in New Jersey in May 2016 and Haroon was arrested in Pakistan around September 2016.
The extradition of Haroon and Salic to the US is pending, according to prosecutors. Philippine officials could not be contacted for comment.
US authorities said Friday that Salic had sent "approximately $423" to fund the attacks and had promised to send more.
The largely-Roman Catholic Philippines has been struggling for years with armed insurgencies arising from the Muslim minority in the country's restive south.
Various Muslim militant groups have publicly pledged allegiance to IS in the past.
Armed militants flying the black IS flag have been besieging the southern city of Marawi since May, leaving at least 955 people dead.
Full report at:
http://www.thestar.com.my/news/nation/2017/10/09/philippines-a-breeding-ground-for-terrorists-says-suspect/
--------
Seeds of fundamentalism, extremism planted by Dr M, says analyst
October 9, 2017
PETALING JAYA: There is no escaping the fact that former prime minister Dr Mahathir Mohamad must shoulder some of the blame for the current climate of intolerance in the country, says a Singapore think tank.
Rashaad Ali, who is a political researcher with the S Rajaratnam School of International Studies, said the former prime minister had planted the seeds that has now grown into the fundamentalism and extremism taking place in the country, the South China Morning Post reported.
He was alluding to the fact that Mahathir had overseen the setting up of federal religious department, Jakim, as well as Biro Tata Negara (BTN) under the prime minister's department in the 1980s, laying the foundation for religion and race to be the focus as Umno rallied Malay voters to their side in all general elections since.
"Considering the climate that has been fostered over the last 20 to 30 years, and accelerated in the last 10 years, it would be political suicide for Najib to take a middle path and speak out against hardline groups, let alone curb the powers of the religious bureaucracy.
"Hence, path dependency dictates that this strategy is unlikely to change any time soon, making a strong case for Najib taking 'Islamisation' much further than his predecessors," Rashaad told the Hong Kong-based daily.
He added that Najib has to use Islam to shore up floundering Malay support, "a tactic first masterminded by Mahathir when he was in power from 1981 to 2003″.
"The Najib administration has repeatedly used religion to galvanise Malays, positioning themselves as the defenders of Islam in Malaysia and reinforcing a siege mentality," Rashaad was quoted as saying.
The recent controversy over the banning of "beer fests" to commemorate the famous Oktoberfest celebration held annually in Germany, as well as the emergence of two Muslims-only laundry (in Johor and Perlis) have given rise to already existing tensions over infringement of non-Muslim rights by conservative Muslim groups as well as PAS.
According to SCMP, while Najib has come under fire for years over his supposed appeasement of Islamic fundamentalists, the ban on the beer fests raised questions on whether the Mahathir-helmed Pakatan Harapan is in the pocket of religious conservatives as well, despite its public brand as a champion of secularism.
This follows online petitions and other statements by Pakatan Harapan components PPBM and Amanah also calling for an end to beer festivals. Both PPBM and Amanah are splinter parties comprising a majority of members from Umno and PAS, respectively.
"The beer festival bans are tricky for both leaders as, with a general election looming, they are each battling for the support of the country's largest vote bank: rural Malay Muslims for whom religious conservatism is a way of life," SCMP said.
The Better Beer Festival, scheduled to be held over the weekend at Publika in Kuala Lumpur, had been cancelled, after the Kuala Lumpur City Hall (DBKL) had not given it the relevant authorisation.
Later, the Inspector-General of Police Mohd Fuzi Harun said the reason for the cancellation was that police had received reports of an imminent militant threat in the popular mall and nightlife location.
Critics denounced both over what they called pressure from conservative groups as a leader from PAS had just days earlier demanded that authorities ban the event, or risk the national capital turning into "the largest vice centre in Asia".
Meanwhile, an analyst with the BowerGroupAsia political risk consultancy, told SCMP that the wishes of urban voters are likely to be overlooked by both political coalitions as they fight for the hearts and minds of rural Malays.
Full report at:
http://www.freemalaysiatoday.com/category/nation/2017/10/09/seeds-of-fundamentalism-extremism-planted-by-dr-m-says-analyst/
--------
Indonesia mustn't botch the endgame
October 9, 2017
Of all the things Indonesia's Joko Widodo thought might be preoccupying him 1,085 days into his presidency, credit default swaps and currency forwards probably were not among them.
Two recent news items explain why market gyrations are at the top of his inbox. First, the World Bank listing the rupiah among currencies most at risk as global credit conditions tighten. Second, data suggesting foreign investors are declaring their own warning, dumping more than $2 billion of Indonesian stocks in the third quarter. This exodus tops the previous high in 2013 amid the Federal Reserve "taper tantrum."
Is Indonesia on the verge of another crisis? Doubtful, though it is easy to forget that Southeast Asia's biggest economy is still largely a good-news story. Ten years under Susilo Bambang Yudhoyono, president from 2004 to 2014, essentially resurrected the place from economic death. In the aftermath of the 1997-1998 Asian crisis, more observers bet on Indonesia going the way of a Soviet-style breakup than becoming an investment-grade growth darling.
A former general, Yudhoyono reduced the military's role in Jakarta, modernized institutions and surrounded himself with competent deputies to dismantle the corruption machine which dictator Suharto built over 30 years in power (he was ousted in 1998 by giant protests). In 2014, Widodo, who is known as Jokowi, was elected to take Yudhoyono's reforms to the next level. The Fed scare of the previous year, when the rupiah plunged, reminded investors that much heavy lifting remained.
It took Jokowi a while to find his reformist mojo, but he is implementing a $350 billion infrastructure program, increasing public accountability and transparency, putting more tax collection and procurement processes online and leading an amnesty tax push to increase investments at home. The proof: a big gain in the World Economic Forum's latest global competitiveness index -- to 36th from 41st a year ago. He also has maintained Jakarta's improvement in Transparency International's corruption rankings -- to 90th from 133rd in 2004.
Markets seem more doubtful. Topping the list of letdowns, says Callum Henderson of Eurasia Group, is disappointment over the 5% growth rate, the slow execution of infrastructure projects and the tax amnesty scheme not yet translating into a property boom. Others worry about militant groups and Islamic-based opposition parties: The latter are using their clout with Indonesia's 263 million people to stymie Jokowi's agenda. Running an archipelago of nearly 18,000 islands that is home to the world's largest Muslim population is no simple matter.
Capital outflows are a wakeup call. McKinsey's prediction that Indonesia will be a Group of Seven power by 2030 hinges on how assertively Jokowi retools the economy in the last two years of his term. He can break through the complacency by getting back to basics.
Jokowi is the first Indonesian leader independent of the military or dynastic families, bestowing an outsider halo. Before his two years as Jakarta's governor (2012-2014), Jokowi was a community organizer who took a hands-on role addressing the most menial of problems and proved himself beyond reproach -- known interchangeably as "Mr. Fix It" and "Mr. Clean." It is time he got back in touch with those attributes.
Full report at:
https://asia.nikkei.com/Viewpoints/William-Pesek/Indonesia-mustn-t-botch-the-endgame
--------
South Asia
4 ISIS militants killed in latest airstrike on ISIS hideouts in Nangarhar
Oct 09 2017
At least four militants affiliated with the Islamic State of Iraq and Syria (ISIS) terrorist group were killed in the latest airstrike on ISIS hideouts in eastern Nangarhar province of Afghanistan.
The provincial government media office in a statement said the latest airstrike was carried out late on Saturday night in Achin district.
The statement further added that a hideout of the terror group as hit in Mamand Dara area of Achin, leaving four of them dead.
Several weapons, ammunition, and explosives belonging to the terror group were also destroyed in the airstrike, the statement added.
According to the provincial government, the local residents and security personnel did not suffer any casualties in the airstrike.
Nangarhar is among the relatively calm provinces in East of Afghanistan but the anti-government armed militants have increased their insurgency activities in some districts of the province during the recent years.
At least eleven militants affiliated with the terror group were killed in the airstrikes of the US forces last week.
The airstrikes were carried out in Achin district on Tuesday targeting the militants in Mamand Dara and Dab village areas of the district.
http://www.khaama.com/4-isis-militants-killed-in-latest-airstrike-on-isis-hideouts-in-nangarhar-03606
--------
Taliban chief attempting for cease fire with ISIS group
Oct 08 2017
The Taliban supreme leader Mullah Hebatullah Akhundzada has reportedly started efforts to end the conflict with the Islamic State of Iraq and Syria (ISIS) terrorist group.
A source in South of Afghanistan privy of the development has said the leader of the Taliban group has instructed his fighters to end the war with the terror group.
The source further added that the leader of the group has instructed his fighters not to attack the militants of the terror group in a meeting with his commanders during the recent days.
Akhundzada has also told his fighters and commanders that the cause of the Taliban and ISIS-led insurgency are similar and therefore the conflict between the groups should end.
This comes as bloody clashes continue in some parts of the country between the Taliban group and ISIS militants.
The loyalists of the Islamic State of Iraq and Syria (ISIS) terrorist group called on the Taliban militants to surrender and join their ranks as soon as they started their operations in Afghanistan some years ago.
However, the Taliban group rejected the call by the ISIS terrorist group, a move which sparked bloody clashes between the two sides.
Full report at:
http://www.khaama.com/taliban-chief-attempting-for-seize-fire-with-isis-group-03596
--------
Bangladesh police hunt man who married Rohingya refugee
Oct 9, 2017
COX'S BAZAR - Bangladesh police were Sunday searching for a man who defied a ban and married a Rohingya refugee, hundreds of thousands of whom have fled across the border to escape violence in Myanmar.
More than half a million Rohingya refugees have flocked to Bangladesh since an army crackdown began on August 25 in Myanmar's Rakhine state, a process the UN has described as ethnic cleansing.
Shoaib Hossain Jewel, 25, and his 18-year-old Rohingya bride Rafiza have been on the run since marrying last month, said police in Jewel's home town of Singair. "We heard he married a Rohingya woman. We went to his home at Charigram village to look for him," Singair police chief Khandaker Imam Hossain told AFP. "But we did not find him there and his parents don't know where he has gone," he said, adding they were investigating the case.
In 2014 Dhaka banned marriages between Bangladeshis and Myanmar's Rohingya Muslim refugees following claims that members of the persecuted community were attempting to wed to gain citizenship in the mainly Muslim nation. Jewel's father Babul Hossain said citizenship was not the motive this time and defended his son's marriage to Rafiza. "If Bangladeshis can marry Christians and people of other religions, what's wrong in my son's marriage to a Rohingya?" Hossain told AFP. "He married a Muslim who took shelter in Bangladesh." The Dhaka Tribune newspaper said Jewel, a teacher in a madrassa or religious school, fell in love with Rafiza after her family fled the latest bout of violence in Myanmar and took refuge at a cleric's house in Singair.
In a police crackdown, the family was forced to move back to the main refugee camp in the southeastern district of Cox's Bazar -- some 265 miles from Singair. A lovestruck Jewel rushed to Cox's Bazar, running from one camp to another in search of Rafiza. He finally found her and asker her parents for their daughter's hand in marriage.
Their wedding in Cox's Bazar was the first known one between a Bangladeshi and a Rohingya refugee since the August flare-up, the newspaper reported.
Many Bangladeshi men have travelled to the refugee camps since the influx began in hopes of marrying young Rohingya women, according to local media reports.
An AFP correspondent met a Bangladeshi man at Balukhali makeshift camp who came from a neighbouring village to find a bride for his elder brother. "My brother wants to marry a Rohingya woman just to help her. He thinks marrying a girl from the distressed Muslim community will be treated as an act of charity," he said.
A senior police officer said they have stepped up surveillance in the camps to stop any such marriages and to combat trafficking of refugee girls or children, many of whom fled to Bangladesh unaccompanied by parents. "We are taking all preventive actions to ensure there are no marriages between Bangladeshis and Rohingya," Cox's Bazar's deputy police chief Mohammad Kazi Humayun Rashid told AFP.
Full report at:
http://nation.com.pk/international/09-Oct-2017/bangladesh-police-hunt-man-who-married-rohingya-refugee
--------
At least 12 Rohingya, mainly children, drown in latest boat disaster - police
Oct 9, 2017
At least 12 Rohingya Muslim refugees, mainly children, drowned when their boats capsized on the way to Bangladesh, police said on Monday, the latest victims of violence in Myanmar that has forced more than half a million people from their homes.
The boat sank near Shah Porir Dwip, on the southern tip of Bangladesh, late on Sunday, Bangladesh authorities said.
It was not known how many people were on board but the boats operated by fishermen often cram in dozens of desperate Rohingya fleeing a Myanmar security operation that the United Nations has denounced as ethnic cleansing.
Bangladeshi police officer Mohammed Mainuddin told Reuters that 12 bodies - 10 children, one woman and a man - had been recovered.
A Reuters photographer earlier saw the bodies of four children, two women and a man washed up on a beach.
Authorities said earlier at least eight people had been rescued.
Some 519,000 Rohingya have fled Myanmar since Aug. 25, when attacks by Rohingya militants on police and military posts in Rakhine State sparked a ferocious response from Myanmar's security forces.
Myanmar rejects accusations of ethnic cleansing and has labeled the militants from the Arakan Rohingya Salvation Army, who launched the initial attacks, as terrorists.
The insurgents declared a one-month ceasefire from Sept. 10, which is due to end at midnight on Monday.
The ability of the group, which only surfaced in October last year, to mount any sort of challenge to the Myanmar army is not known but it does not appear to have been able to put up resistance to the military offensive unleashed in August.
It would be very difficult for the insurgents to operate in areas where the military has flooded in and driven out Rohingya civilians, in the north of Rakhine Sate, near the border with Bangladesh.
The insurgents said in a statement on Saturday they were ready to respond to any peace move by the Myanmar government, but also noted that the ceasefire was about to end.
More than six weeks after the violence erupted, Rohingya continue to arrive in Bangladesh, which was already home to 400,000 members of the Myanmar Muslim minority before the latest crisis.
Mostly Buddhist Myanmar does not recognize the Rohingya as citizens, even though many have lived in Rakhine for generations.
Sunday's accident was the latest involving refugees. On Sept. 28, a boat carrying about 80 refugees overturned with only 17 survivors.
Full report at:
http://nation.com.pk/international/09-Oct-2017/at-least-12-rohingya-mainly-children-drown-in-latest-boat-disaster-police
--------
Deadly airstrike targets Taliban compound in Sar-e-Pul province
Oct 08 2017
A deadly airstrike targeted a compound of the Taliban insurgents in northern Sar-e-Pul province of Afghanistan, leaving several people dead or wounded.
According to the local security officials, the airstrike was carried out late on Saturday afternoon.
Provincial police chief Khalilullah Dastyar confirmed that a compound of the Taliban insurgents was targeted in Dara-e-Alf Safi area.
He said at least seven Taliban insurgents were killed in the airstrike and at least eleven others were wounded.
Dastyar further added that the airstrike was carried out as the Taliban insurgents were busy training their militants for an attack.
According to the police chief, the Taliban insurgents were using the compound as their main training facility in this province.
The Taliban insurgents have not commented regarding the report so far.
The security situation in Sar-e-Pul province has started to deteriorate during the recent years amid rampant insurgency led by the Taliban and other insurgent groups.
The loyalists of the Islamic State of Iraq and Syria (ISIS) terrorist group also conduct insurgency activities in some parts of the province.
Full report at:
http://www.khaama.com/deadly-airstrike-targets-taliban-compound-in-sar-e-pul-province-03602
--------
Africa
More than 3,000 migrants arrested in Libya smuggling hub
Oct 8, 2017
More than 3,000 illegal migrants have been arrested in Libya's northwestern city of Sabratha, as the country's unity government authorities push a crackdown on human trafficking to Europe.
"We arrested 3,150 illegal immigrants of different Asian, Arab, and African nationalities," Bassem Ghrabli, the commander of a force loyal to Libya's unity government, said on Saturday.
Ghrabli said his forces had also driven a rival militia, led by the head of a former people-smuggling network, out of Sabratha after three weeks of fighting.
The unity government's health ministry said the clashes left 39 people dead and 300 others wounded, adding that the fighting also damaged schools, hospitals, and UNESCO-listed archaeological sites in the city, which is located 70 kilometers west of the Libyan capital of Tripoli.
Sabratha became a major hub for migrants seeking a chance to head to Europe after the ouster and death of long-time dictator Muammar Gaddafi in 2011. Local smugglers took advantage of a security vacuum in the conflict-plagued country and took over whole sections of the city, building their own piers equipped to launch dozens of migrant boats a day.
Refugees and asylum seekers are packed onto unseaworthy boats and dinghies by smugglers in the hope of crossing the Mediterranean and reaching Europe. If they don't capsize en route, the boats are usually intercepted by European vessels once they enter international waters.
Half a million people, mainly sub-Saharan Africans, have managed to make the perilous sea journey from Libya and reach Italy over the past four years. About 13,000 others have drowned. Over 106,000 refugees and asylum seekers have arrived in Italy from Libya since last August. More than 2,700 also died en route, according to the International Organization for Migration.
http://www.presstv.com/Detail/2017/10/08/537885/Libya-migrants-Sabratha-Bassem-Ghrabli
--------
Nigeria to try 2,300 Boko Haram militants
Oct 8, 2017
Nigeria is going to try more than 2,300 suspected members of the Takfiri Boko Haram militant group in unprecedented mass trials behind closed doors.
The defendants, whose trials are to begin on Monday, have all been picked up and held in detention since the start of Boko Haram militancy eight years ago.
To date, just 13 people have been put on trial and only nine convicted for their links to the Takfiri group, according to official figures.
The most high-profile current case is that of Khalid Al-Barnawi, a leader of Boko Haram offshoot Ansaru, who is charged with the abduction and murder of 10 foreign nationals.
Nigeria's Justice Ministry announced the start of the trials at the end of last month, saying four judges had been assigned and that defendants would have legal representation.
Some 1,670 detainees at a military base in Kainji, in the central state of Niger, will be tried first and will be followed by 651 others held at the Giwa barracks in the capital of the northeastern state of Borno State, Maiduguri.
The trials are seen as a positive step, as many of the detainees had been held in custody for years, without access to a lawyer or ever having appeared before a judge. Amnesty International said in a June 2015 report that more than 20,000 people had been arbitrarily arrested as part of the fight against Boko Haram.
President Muhammadu Buhari, who was elected in 2015, has promised to look into repeated accusations of human rights violations, including by high-ranking officers.
At least two commissions of inquiry have been established but the army announced in June this year that no action would be taken against top brass accused by Amnesty.
Full report at:
http://www.presstv.com/Detail/2017/10/08/537857/Nigeria-Boko-Haram-mass-trials
--------
Restructuring Of Nigeria: Muslims Make Six Demands
Oct 9, 2017
The Muslim community in Nigeria has joined the debate for the restructuring of Nigeria, making six demands.
In a statement in the early hours of Monday, the Muslim Rights Concern stated the demands of the community, adding that the time to do so was now since the Federal Government and the ruling party at the federal level, the All Progressives Congress, now appear serious about the issue.
The statement, which was signed by the Director of MURIC, Prof. Ishaq Akintola, however, restated the belief of the Muslim community in the oneness of Nigeria.
It reads in full:
The Federal Government appears set for restructuring particularly with the setting up of a committee on this crucial matter by the ruling party, the All Peoples' Congress (APC). Restructuring became popular after the South East, South South and a section of the South West complained about marginalization. Several politicians from both the opposition and the ruling party have since spoken in support of this clamour.
However, we of the Muslim Rights Concern (MURIC) dissociate ourselves from all agitations for secession. We condemn all irredentist movements rearing their ugly heads in Southern Nigeria, particularly the agitation for the creation of Oduduwa Republic. We affirm clearly, unambiguously and unequivocally, that Muslim leaders in Yorubaland were not carried along before those demands were tabled. Nonetheless, just as some ethnic groups have complained of disaffections, we contend that Nigerian Muslims also nurse serious grudges bordering on marginalization against the Nigerian state.
We must start from the lanes of history because today was born from the wombs of yesterday. Islam has been in Nigeria since the 11th century and the British met Islam on ground when they arrived in the 19th century (800 years later). The British did not deem it fit to observe the rules of natural justice when they colonized the country as all Islamic landmarks were eliminated and supplanted with a wholly Christian system.
This injustice may have been at the root of frequent religious crisis in Nigeria because successive governments after independence refused to listen to the agitations of Muslims for a review of the status quo. The issues being raised by Muslims are listed in the following paragraphs so that the authorities may address them when restructuring eventually begins.
One: Nigerians enjoy a total of eight (8) public holidays in a year. These are Christmas Day, Boxing Day, New Year Day, Good Friday, Easter Monday, Id al-Kabir, Id al-Fitr and Maulud an-Nabiyy. Five (5) of the eight holidays belong to Christians (Christmas Day, Boxing Day, 1st January, i.e, New Year Day, Good Friday and Easter Monday). Only three (3) holidays belong to Muslims, viz, Id al-Kabir, Id al-Fitr and Maulud an-Nabiyy.
Restructuring should give Muslims 1st Muharram. This will bring the total number of Muslim holidays to four while Christian holidays remain five.
Two: Christian marriages contracted inside churches or registries are held sacrosanct everywhere in Nigeria whereas Muslim marriages (nikah) are not recognized for any official purpose. Muslim couples find themselves in a cul de sac each time they presented their Islamic marriage certificates for official purposes. It is paradoxical that in a democracy, one marriage conducted by a religious group is acceptable while the other is not. What kind of constitution is Nigeria using?
Islamic marriages should be recognized in all official circles where Christian marriages are recognized. The Nigerian Marriage Act (1990) should therefore be revisited.
Three: Nigeria has a two-day weekend, viz, Saturday and Sunday. Saturday was a half day during the colonial era and Sunday was the only full day at the weekend. However, Saturday was made a full day to favour the Seventh Day Adventists, a Christian denomination during the regime of General Yakubu Gowon, a Christian military ruler. It is very clear, therefore, that the two weekend days recognized in Nigeria belong to Christians while Muslims have none since Friday, the Muslim day of worship, remains a working day.
It is pertinent to note that Friday was a work-free day until the British brought Christianity and stopped Muslims from enjoying their Allah-given fundamental human right. The relief we are seeking through restructuring is that Friday should be declared free to assume parity with the Christians' Sunday. While we are not seeking anarchy, we are confident that the Federal Government (FG) has all the paraphernalia of administration to work out the modalities.
Four: Immigration officials engage in regular stereotyping of Muslims who apply for international passports. They intimidate Muslims particularly at the point of taking pictures. Muslim males are ordered to remove their caps; Imams are coerced into removing their turbans; bearded Muslims are compelled to shave or trim their beards; hijab-wearing Muslim women are made to remove their hijabs or ordered to draw their hijab backwards to reveal their ears. The same scenario plays itself out in driving licence, national identity card offices and during registration for elections.
In the process, thousands of Muslims have been denied international passports, driving licences and national identity cards while millions have been disenfranchised during elections. The authorities must find a way of stopping the persecution and profiling of Muslims.
Five: Uniformed groups in Nigeria, including the army, police, uniformed voluntary groups, nurses, the National Youth Service Corps (NYSC), students of primary and secondary schools, etc, use uniforms designed by the Christian colonialists. These uniforms should have been reviewed after independence because they only suit the Christians. Some of them constitute breaches to Islamic dress code and offend the sensibility of Muslims who are compelled to wear the uniforms regardless of their inner feeling of resentment.
In view of the fact that Western countries like Britain, Canada and the United States have designed uniforms with hijab for their female Muslim police, soldiers, students, etc, Nigeria's restructuring authorities should borrow a leaf from those countries. Six: There is no single Shari'ah court in South Western Nigeria where Muslims constitute the majority. This is contrary to what obtained in Yorubaland before the advent of the British. There were Shariah courts in Ede, Iwo, Ikirun, Ibadan, etc. Yoruba Muslims are now compelled to take their civil matters like inheritance, marriage, etc to Christo-Western courts. This is preposterous and unacceptable.
We demand the establishment of Shariah courts in all South Western states including Edo State where there is a significant percentage of Muslims.
We call the attention of FG and the restructuring committee of the APC to the above six reliefs. Muslims are in bondage in this country and we believe that restructuring should emancipate people in captivity. APC promised change. This change can only be meaningful to us if it breaks the shackles around our necks. We have begged enough for the restoration of our Allah-given and fundamental human rights. We are tired of begging. Restructuring is about reapportioning the dividends of democracy such that it goes round and it is not restricted to one section.
Colonial administration was grossly unfair to Muslims. Nigeria was Christianised by Britain and Muslims bore the brunt. We suffered forceful conversion, denial of rightful employment and even worse forms of persecution. But what is most disappointing is the policy of exclusion adopted by post-independence governments.
Full report at:
https://theeagleonline.com.ng/restructuring-of-nigeria-muslims-make-six-demands/
--------
Somalia: Kenya Puts Bounty in Hunt for Suspected Al Shabaab Members
8 OCTOBER 2017
The Government has in the last two years placed over Sh100 million bounty on heads of about 35 wanted terror suspects. The money is for reward on information leading to arrest of most wanted Al Shabaab militia.
While some suspects have either been arrested or killed by security agents in Kenya and neighbouring Somalia, many still remain in hiding.
A senior security official privy to the Anti-terrorism operations told Sunday Standard that the bounties have had a great impact in tracking some terrorists.
Mohamed Mohamud alias Mohamed Kuno, a Kenyan Al-Shabaab leader is said to have led the heinous Garissa University College massacre in which 147 people were killed in April 2015. He holds the highest bounty at Sh20 million.
The suspect, also known as Dulyadin Gamadhere, hails from the Ogaden tribe in Garissa County.
He has been linked to several terror attacks in the country, including the September 2013 Westgate Shopping Mall raid in which 67 people were killed.
Mohamud was born in Garissa in 1966 and studied Sharia in Sudan. He was a former Islamic teacher in Garissa between 1997 and 2000, after which he is believed to have joined Al-Shabaab.Gamadere on the other hand was killed in June 2016 in a US airstrike in Bardhere near Kismayu alongside three other senior Al-Shabaab commanders. Kenyan born Ahmed Iman Ali aka Abu Zinira, who is believed to lead between 300 to 500 Kenyan fighters in Jaysh Ayman unit is another terrorist leader with a Sh2 million bounty on his head.
There is another US $ 3million reward by the US government. The Jomo Kenyatta University of Agriculture and Technology (JKUAT) Engineering graduate is accused of spearheading successful recruitment of youth into the militia group. Imam, the former head of the Pumwani Riyadh Mosque committee and Muslim Youth Council (MYC) is believed to be running businesses including boutiques and kiosks in Gikomba Market whose proceeds continue funding terrorist activities.
He has climbed ranks and is believed to be the senior most foreign fighter within Al Shabaab. Others with Sh2 million each on their heads include Hamisi Swleh Abdallah, who is wanted for abductions and terror attacks in North Eastern.
Marsabit born Abdullahi Jarso Kotola aka Seyfdeen of Jaysh Ayman and his brother Hassan Jarso Kotola are also on the most wanted terror list. Climbed ranks According to intelligence reports, the Jarso brothers, described as members of the Jaysh Ayman, are believed to have been involved, in among others, the Mpeketoni attacks in June 2014.
Security agents continue to urge for public support even as they hunt down James Kimanthi Masai aka Rafat from Mutomo in Kitui, Rama Mbwana Mbwega aka Junia who comes from Coast.
He is wanted for recruiting youth into terror networks in North Eastern and Coast. Also on the police radar is Hassan Mushi aka Hassa Kuku from Kibirigwi in Kirnyaga East. He previously worked for Avenue Rescue and Emergency Medical Services as driver and first aid responder.
Abdikadir Mohamed Ikrima, Suleiman Irungu Mwangi, Gufu Tari Gufu, Mohamed Ebrahim Mohamed, described as an Al Shabaab recruiter, all have a Sh2 million each placed on their heads.
Police are also hunting down Anwear Yogan Mwok, Abdikadir Haret Mohamed Yussuf Kuno, Ahmed Maalim Bashir, Idris Ismael Issack, Sharif Sheikh Arab, Ahmed Mahat Mohamed aka Jerry, Abdullahi Issack Diyat aka Ubeyd, Suleiman Mohamed Awadh, Abdifatah Abubakar Abdi, Mohamed Osman Aliow aka Isack Okola who was involved in the December 21 2015 Marka bus attack .
Full report at:
http://allafrica.com/stories/201710080076.html
--------
North America
Why 2 Greenville groups are raising awareness about Islam, Muslims
Oct. 8, 2017
Akan Malici was asked to apologize for the Sept. 11, 2001, terrorist attacks.
His wife, Johnna, was told to "go back to home, sand (N-word)," he said.
Zafar Mohiuddin drew a suspicious stare from a stranger in an airport who overheard him say "As-Salaam-Alaikum" (an Arabic greeting meaning "Peace be unto you") on a phone.
Those kinds of reactions, sparked by a negative limelight shining on Islam and Muslims, inspired groups at Furman University to hold Islam Awareness Week.
The observance, which is underway through Oct. 12, is a collaboration of Furman's Middle East and Islamic Studies Minor and its Muslim Student Association.
Both the religion of Islam and its followers, known as Muslims, have been in the limelight a lot since the 9/11 attacks in New York and the Pentagon, said Akan Malici, a professor in Furman's department of politics and international affairs.
The Islam religion has been stereotyped," said Malici. "It has been equated with a host of negative things, whether this would be violence, oppression, extremism or terrorism."
It's reached a point to where there's now a phenomenon called, "Islamophobia," undue fear of Muslims, he said.
"This is not bad only for Muslims experiencing this ugliness, exclusion and this prejudice towards them, it is bad for the American fabric," Malici said.
Politics in the last few years hasn't helped the situation, said Mohiuddin, president of the Islamic Center of Greenville's executive council.
Islam Awareness Week aims to educate the public about Islam and Muslims, Malici said.
Because people don't know about Islam, they're going to be influenced by what other people say about it, said Mohiuddin, "so we need to teach the general population about Islam."
Making people more knowledgeable about Islam, the religion of more than a billion people in the world, is how they're going to know there's nothing to be afraid of, he said.
Among the billion-plus Muslims are "a handful" who've done crazy things and nobody supports those crazy things, Mohiuddin said.
Militant groups such as Al-Qaida and ISIS have killed far more Muslims than they have killed Americans or non-Muslims in the West, Malici said.
"At this very moment, we have family and friends who are running away either from ISIS or from brutal dictators in the region," he said. "What this shows is that the likes of Osama bin Laden or Abu Bakr al-Baghadidi, the leader of ISIS, are not enemies of America or the west. They are enemies of humanity, of all of us."
It's because of bad deeds by some Muslims that others are experiencing the kinds of things that like Malici, his wife, and Mohiuddin have.
It was hurtful to be asked to apologize for 9/11, said Malici, especially when "I had nothing to do with 9/11, of course."
"I've spent my entire adult life speaking clearly against those who commit the slightest violence and the slightest aggression in the name of religion," said Malici, who grew up in Germany.
His wife is from Kansas. She was wearing a headscarf when someone yelled at her in the parking lot of a grocery store, telling her to go back to her country, Malici said.
"People mistake her for an Arab woman," he said. "That happened once or twice."
Rather than succumb to it, Muslims here are using it as fuel to do good, he said.
So while there are some negative experiences there are also many "wonderful, positive" experiences such various churches reaching out to Muslims and Muslims reaching out to them, Malici said.
Muslims are being invited to partner in charity events with other churches, he said. There is also much outreach and support for Muslims, as well, Malici said.
"That is very encouraging for us when we see that," he said. "We want to transform this from being episodes into permanency and we'll keep working on that."
Muhammad Shafqut, president of the Muslim Student Association, is one of seven Muslim students on a campus of roughly 2,900 students at Furman.
He said most students are reluctant to take the one class and the one minor that explores Islam and Muslims.
"So, we find it (Islam Awareness Week) a necessity, for educational purposes, to tell them that, 'yes, we are completely like any other human being, we are open to talking, open to discussion, and to clear up the misconceptions about the religion and the people," Shafqut said.
Using the count from the attendance of the Islamic Center's two major annual festivals, Mohiuddin estimates there are approximately 1,500 Muslims in the greater Greenville area.
Many, Malici said, are in the engineering and medical fields. They're coming to Greenville due to international companies like Michelin, GE and BMW.
Many are attracted to the growing medical field here, Malici said.
'"They're contributing in significant ways to internationalism in Greenville and to more cosmopolitanism," he said. "That is something good for the Upstate and for South Carolina.
"People will see that more as they're gradually overcoming their false thinking on these issues."
http://www.greenvilleonline.com/story/news/2017/10/08/islam-awareness-week-furman-university/729148001/
--------
Muslim enclave near the Catskills copes with rumors, threats
Oct 9, 2017
ISLAMBERG — If Islamberg truly is a hotbed of jihad, a heavily armed terrorist training ground hidden in the woods of upstate New York, it's hard to see along the rutted dirt road winding through the Muslim community.
On a recent day, women in hijabs carried babies on their shoulders, and two visiting state troopers passing through the front gate were greeted warmly.
Teenage boys in brimless caps walked by modest homes, and stray chickens pecked at the grass. The scene is more country road than backwoods bunker.
But this enclave, just west of the Catskill Mountains and 20 miles from Sullivan County, is dogged by terror accusations, many spread on right-wing websites.
Bikers "against jihad" have rumbled by in protest, and one Tennessee man was imprisoned after plotting to burn down the mosque.
Police and analysts dismiss the terror-camp claims, but their persistence frustrates people in this insular community of several hundred residents 120 miles northwest of New York City.
"It's a bunch of nonsense," said Hussein Adams, chief executive of The Muslims of America, which operates this community and 21 others in North America.
"For the last 30-plus years, we've been training for this jihad? So why hasn't this jihad taken place?"
Followers of Pakistani cleric Sheikh Mubarik Gilani settled Islamberg in the 1980s, fleeing crime and crowding in New York City.
The mostly African-American settlers wanted a better place to raise their children.
"You can have them come outside and play without fear or worry that someone will bother them or attack them," said Khadijah Smith, 47, who came here 26 years ago to raise her three children.
They work locally as contractors, paralegals, welders, doctors, engineers and plumbers.
Many live in manufactured homes on more than 60 acres of property owned by the group.
Children are home-schooled, but some play organized sports with other local children.
People in this overwhelmingly white area are used to seeing women with head coverings pushing carts at the market. If there's a prevailing attitude here, it seems to be live and let live.
"They don't bother anybody. And that's the No. 1 rule in the country," said Sally Zegers, editor and publisher of the local Hancock Herald.
The Muslims are mindful about security, especially since Robert Doggart, of Chattanooga, Tennessee, was convicted this year on federal charges for what authorities called plans to burn down the mosque here in 2015. "We will be cruel to them," Doggart said, according to the criminal complaint.
"Up until Robert Doggart, I would leave my door open," Smith said. "I don't do that anymore. I lock my door."
Two Associated Press reporters who were given limited access to Islamberg for several hours recently were allowed to observe prayers at the cinder-block mosque, talk to selected residents and watch the scant midday activity along the main dirt road.
Islamberg leaders unambiguously reject violent ideology, but that has done little to stem claims on the internet that it is a terror compound.
The arrest this summer of a man named Ramadan Abdullah 40 miles away with a major weapons cache inspired a bogus headline that a federal raid here uncovered "America's WORST Nightmare."
Police say they have no indication that Abdullah ever lived here.
Spreading fear
Many of the claims center on the group's spiritual leader, Gilani, and what was described as his pivotal role with Jamaat al-Fuqra, a group linked by the U.S. government in 1999 to violent criminal activity in the '80s.
Analysts describe The Muslims of America, which is headquartered in Islamberg, as an outgrowth or a successor to al-Fuqra, though members say they have never had an affiliation with al-Fuqra.
Still, there is a lack of evidence linking The Muslims of America to violence, said Oren Segal, director of the Anti-Defamation League's Center on Extremism.
Segal said some of Gilani's past rhetoric has been a concern, such as repeating the conspiracy theory that 4,000 Jews employed at the World Trade Center were "conveniently absent" on the day of the Sept. 11 attacks.
But he notes that none of the more than 500 people arrested on terror charges since the attacks have a known affiliation with The Muslims of America.
"I think the predominant narrative of terrorist training camps is one that is, first of all, unproven," Segal said. "But ... I think is used to create broader fear against Muslim communities."
New York State Police Maj. James Barnes said his troopers have a good relationship with the community.
Officers have even been invited here to give talks to youths about law enforcement careers and other issues.
His concern is outside groups coming here to protest, requiring a sizable police presence to keep the peace.
Full report at:
http://www.recordonline.com/news/20171008/muslim-enclave-near-catskills-copes-with-rumors-threats
--------
URL: https://www.newageislam.com/islamic-world-news/remove-m-amu-h-bhu/d/112819
New Age Islam, Islam Online, Islamic Website, African Muslim News, Arab World News, South Asia News, Indian Muslim News, World Muslim News, Women in Islam, Islamic Feminism, Arab Women, Women In Arab, Islamophobia in America, Muslim Women in West, Islam Women and Feminism