New Age Islam News Bureau
13 March 2021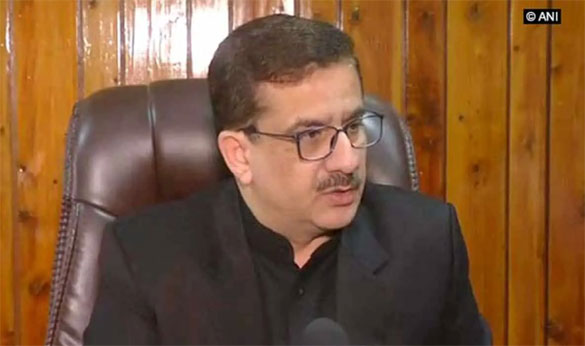 Wasim Rizvi/File Photo
----
• Duty To Support Muslims, Says New Zealand Prime Minister Marking 2 Yrs Of Christchurch Mosque Attack
• Pakistani Taliban Threaten Women's Rights Activists, Organisers Of Women's Day March
• Religions Other Than Islam Will Be Further Limited In Propagating Their Beliefs To Muslims, Says Deputy Minister
• Dozens Of Countries Urge Egypt To End Crackdown On Critics
• Islamophobia On The Rise, According To United Nations Report
• Quds Force Commander: Sound of Israeli, US Broken Bones to Be Heard Later
• UN Urges Foreign Troops, Mercenaries To Withdraw From Libya
India
• Remove 26 Verses From Quran, Says Wasim Rizvi PIL; Raza Academy Reaches SC With A Petition Seeking Dismissal Of The PIL
• Arrest Former Shia Waqf Chief For Demanding Change In Quran: Senior Shia-Sunni Clerics, Maulana Kalbe Jawad and Maulana Khalid Rasheed Farangimahali
• Twelve Select Mosques In Hyderabad Imparting Lessons In Basic Skills, English, Science And Math
• Viral Clip Shows Ghaziabad Man Thrashing Muslim Boy For Drinking Water At Temple, Arrested After Twitter Storm
• Muslim Woman's Marriage With Hindu Man Invalid Till She Converts to Hinduism, Observes Punjab And Haryana High Court
• 'Keep Hardcore Islamists Out Of Urdu Academy', Requests Sahitya Akademi Award-Winning Urdu Novelist to Maharashtra CM
• Varanasi Court Issues Notice to Centre and UP Government in Suit Seeking Removal of Gyanvapi Mosque
--------
New Zealand
• Duty To Support Muslims, Says New Zealand Prime Minister Marking 2 Yrs Of Christchurch Mosque Attack
• New Zealand marks two years since Christchurch mosque killings
-------
Pakistan
• Pakistani Taliban Threaten Women's Rights Activists, Organisers Of Women's Day March
• Women March Slogans Against Ideology Of Pakistan: Special Aide To Prime Minister
• Mirza Mohammad Afridi First Member From Tribal Areas To Win Top Senate Position
• Pakistan PM Imran Khan, military generals to be responsible if anything happens to Maryam: Nawaz Sharif
• Fazlur Rehman accused of changing JUI-F constitution
• Iranian Ambassador to Pakistan: Scholars must spread real message of Mab'ath
--------
Southeast Asia
• Religions Other Than Islam Will Be Further Limited In Propagating Their Beliefs To Muslims, Says Deputy Minister
• Malaysia's Police Chief Warns Against Street Protests On 'Allah' Issue
• Sabah party condemns attempts to reverse High Court decision allowing non-Muslims to use the word 'Allah'
• The Pope's meeting with al-Sistani inspires Indonesians to tolerate
--------
Arab World
• Dozens Of Countries Urge Egypt To End Crackdown On Critics
• Lebanon Approves $246 Million Safety Net, But Seeks Oversight Cuts To Ease Impact
• Thousands march in central Beirut as Lebanon political deadlock persists
• EU Ends Sanctions Against Family Of Egypt's Hosni Mubarak
• Arab Coalition destroys Houthi air defence system in Yemen's Marib
• Biden clearly ramping up military presence in Mideast: Analyst
--------
Europe
• Islamophobia On The Rise, According To United Nations Report
• Religion or an education? How British Muslims are forced to decide
• British-Iranian Zaghari-Ratcliffe needs urgent care for PTSD
• Tehran, Moscow hail 'stronger than ever' ties, extend 20-year-old treaty
• Turkey: Greece is safe haven for FETO terrorists
--------
Mideast
• Quds Force Commander: Sound of Israeli, US Broken Bones to Be Heard Later
• Israeli forces attack Palestinian worshipers at al-Aqsa Mosque
• Jordan rips into Israel PM for 'toying with region for electoral gains'
• Zarif: US New Administration Pursuing Trump's Failed Policy
• Iran's Envoy: Sanctions as Destructive as Terrorism
• Protesters in Iran attack coast guard station after fuel smuggler shot: Report
• US 'ceasefire plan' meant to prolong Yemen's descent into turmoil: Ansarullah
--------
Africa
• UN Urges Foreign Troops, Mercenaries To Withdraw From Libya
• Several COVID-19 patients dead after oxygen failure at Jordan hospital: Reports
• Tunisia issues national wanted notice for convicted TV boss Sami Fehri
• Gunmen abduct about 30 students in Nigeria
--------
North America
• US Communicating With Iran Through 'Indirect Diplomacy,' White House Says
• Houthis reject US ceasefire proposal for Yemen after Lenderking returns to Washington
• US says Uyghur 'genocide' to be 'topic' at China talks
--------
South Asia
• Taliban Should Be Included In Interim Afghan Administration: Russia
• Prosecutor Shot Dead As Taliban Murdered School Headmaster: Afghanistan
• ANA, AAF operations claim 28 Taliban in Kandahar
• Afghan bomb kills at least 8; UN slams high civilian deaths
• UNSC calls for violence reduction, an immediate end to targeted murders
• Afghan bomb kills at least eight; UN slams high civilian deaths
Compiled by New Age Islam News Bureau
URL: https://www.newageislam.com/islamic-world-news/remove-26-verses-quran-says/d/124534
--------
Remove 26 Verses From Quran, Says Wasim Rizvi PIL; Raza Academy Reaches SC With A Petition Seeking Dismissal Of The PIL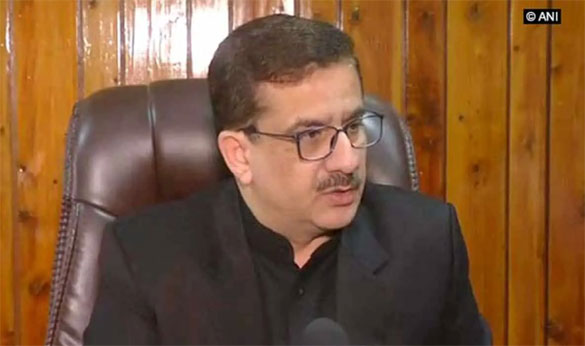 Wasim Rizvi/File Photo
----
Mar 13, 2021
MUMBAI: A day after former chairman of the Shia Central Wakf Board in Uttar Pradesh Wasim Rizvi filed a PIL in Supreme Court seeking removal of 26 verses from the Quran, the Mumbai-based Raza Academy reached the apex court on Friday with a petition seeking dismissal of the PIL.
The academy has also requested the court to pass strictures against Rizvi for hurting people's sentiments. Rizvi in his petition has said that these 26 verses were allegedly inserted by three Caliphs (Abu Bakr, Umar and Usman) to enlarge their power and that these verses provoke violence and incite people to jihad. The SC is yet to admit the petition.
The All-India Shia Personal Law Board and many other Muslim organisations have condemned Rizvi's action and appealed to SC to dismiss the PIL as "Muslims will not accept any debate on authenticity and truthfulness of the Quranic verses." "Nobody from Hazrat Imam Ali, the first imam of the Shias, to Imam Hussain or any other imam ever raised doubts over the veracity of the Quranic verses.
"He is quoting out of context and trying to spread discord. The Supreme Court should throw out the PIL immediately," said Shia Personal Law Board's general secretary and spokesperson Maulana Yasoob Abbas.
General secretary of All India Muslim Personal Law Board Maulana Mahmood Daryabadi said not a single word of the Quran has been changed over the last 14 centuries. "The Supreme Court should dismiss the PIL immediately. No verse of the Quran provokes people to violence. Wasim Rizvi is quoting the verses out of context," said Daryabadi.
Activist Abbas Kazmi said Wasim Rizvi has done it to create a rift between the Shias and Sunnis. "No Shia has ever said that there was any interpolation in the Quran. We believe it is a revealed book," said Kazmi.
https://timesofindia.indiatimes.com/india/remove-26-verses-from-quran-says-pil-draws-backlash/articleshow/81477452.cms
--------
Duty To Support Muslims, Says New Zealand Prime Minister Marking 2 Yrs Of Christchurch Mosque Attack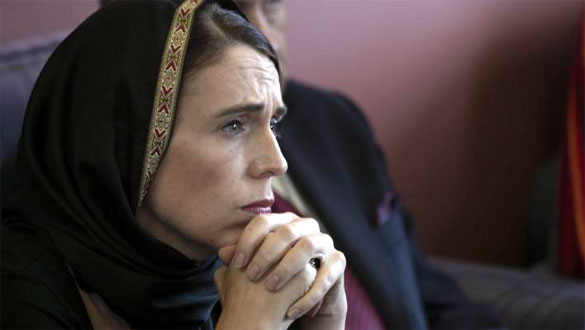 Ardern, who was widely praised for the compassion shown to survivors and the families of the victims of the shooting and her swift move to tighten firearms control in New Zealand, said words "despite their healing power" would never change what happened.(AFP) Fir Photo
------
MAR 13, 2021
New Zealand Prime Minister Jacinda Ardern told an emotional memorial service marking two years since the Christchurch mosque attacks that the country had "a duty" to support its Muslim community.
Hundreds of people turned out for the service, held amid tight security, to remember the 51 people killed and dozens wounded when a heavily armed gunman opened fire in two mosques on March 15, 2019.
Temel Atacocugu, who was shot nine times in the face, arms and legs, wept as he recalled waiting to be treated with the father of three-year-old Mucaad Ibrahim when they learned the toddler had died.
"Suddenly, my pain seemed insignificant," he said.
Ardern, who was widely praised for the compassion shown to survivors and the families of the victims of the shooting and her swift move to tighten firearms control in New Zealand, said words "despite their healing power" would never change what happened.
"Men, women and children ... were taken in an act of terror. Words will not remove the fear that descended over the Muslim community," she said, adding the legacy should be "a more inclusive nation, one that stands proud of our diversity and embraces it and, if called to, defends it staunchly."
Atacocugu said it was a miracle he was still alive.
"I have since had seven major surgeries and there are more to come. I will carry lots of shrapnels in my body for the rest of my life. Every time I have an X-ray it lights up like a Christmas tree."
Kiran Munir, whose husband Shaheed Haroon Mahmood was killed in the attack, told the service that the best revenge was to "not be like the enemy. We are learning to rise up again with dignity and move forward as best we can."
The gunman, self-proclaimed white supremacist Brenton Tarrant, was arrested minutes after the attacks on the Al Noor mosque and Linwood Islamic Centre.
He pleaded guilty to 51 charges of murder, 40 of attempted murder and one of terrorism, and was sentenced last year to life imprisonment without parole, the first time a whole life term has been handed down in New Zealand.
Last week, police arrested a 27-year-old man in Christchurch and charged him with threatening to kill following online threats to the same two mosques.
During the memorial service, armed police were stationed outside the venue and a sniffer dog checked the bags of people entering the building.
https://www.hindustantimes.com/world-news/duty-to-support-muslims-says-ardern-marking-2-yrs-of-christchurch-mosque-attack-101615614150310.html
--------
Pakistani Taliban Threaten Women's Rights Activists, Organisers Of Women's Day March
A participant at the Aurat March in Karachi on March 8, 2018. | Akhtar Soomro/Reuters
----
Mar 13, 2021
The Pakistani Taliban has threatened women's rights activists who organised demonstrations to mark International Women's Day in the country, accusing them of blasphemy and obscenity.
The Taliban's Friday statement followed a flurry of falsified images and video clips on social media that suggested participants in the March 8 protests had insulted Islam.
The women have, however, strongly denied the allegations.
"We want to send a message to those organisations who are actively spreading obscenity and vulgarity in our beloved Pakistan," the statement said, addressing the marchers. "Fix your ways, there are still many young Muslims here who know how to protect Islam and the boundaries set by Allah."
Islamist groups held demonstrations on Friday in several Pakistani cities to demand that the government prosecute the march organisers for blasphemy, and they threatened vigilante action.
Blasphemy carries the death penalty in Pakistan. Although Pakistan has never carried out such a sentence, vigilantes often kill suspects before they are brought before a court.
Messages spread on social media, in some cases shared by journalists and politicians with millions of followers, included false allegations that the French flag was waved at the Women's Day march, while doctored video and audio showed participants chanting slogans viewed as blasphemous against Islamic figures.
"Each and every one of these allegations is completely false and part of a malicious campaign to silence women from speaking out about their rights," the march organisers said in a statement.
The Women's Democratic Front, a leftist group founded in 2018 and one of the organisers of the march, said their flag - with red, white and purple stripes - had been misrepresented as the French flag, which has blue, white and red stripes.
https://www.wionews.com/south-asia/pakistani-taliban-threaten-organisers-of-womens-day-march-370091
--------
Religions Other Than Islam Will Be Further Limited In Propagating Their Beliefs To Muslims, Says Deputy Minister
12 Mar 2021
BY JERRY CHOONG
KUALA LUMPUR, March 12 — Deputy Religious Affairs Minister Datuk Ahmad Marzuk Shaary said the respective state governments will take steps to ensure that religions other than Islam will be further limited in propagating their beliefs to Muslims.
The minister in the Prime Minister's Department said the Federal Constitution already empowers the states and the Federal Territories to amend their laws to control and curb the propagation of non-Muslim religions.
"This power is derived from Article 11(4) of the Constitution, which stipulates that everyone has the right to worship and practise their faith as they see fit, but may not propagate or influence others into practising their religion," he said in a Facebook post.
To this, Ahmad Marzuk said Putrajaya will request the states which already have enactments to control the propagation of non-Islamic religions to Muslims in place to further enhance their enforcement activities.
"We are also in the process of tabling the enactment for the Federal Territories, which I informed Parliament on November 26 last year," he said.
Ahmad Marzuk also sought to allay the concerns of the wider Muslim public, in wake of the High Court's ruling on Wednesday that the 1986 ban on the usage of the word 'Allah' in Christian publications is unconstitutional and invalid.
"Many are concerned as to what will be the fate of the Muslim ummah following this decision. From a legal perspective, there are differing views on the usage of the word 'Allah', with some permitting it while others forbidding it.
"In this, I am in agreement with Marang MP Datuk Seri Abdul Hadi Awang, who said we should not forbid its usage altogether by non-Muslims but that there should be a limit. Indeed our main concern is the attempts by some non-Muslims to use the word 'Allah' to spread their teachings to Muslims," he said.
The Pengkalan Chepa MP said the intent of using the word 'Allah' should be scrutinised, not just as a matter of faith but to determine the intent of its usage.
"If the purpose of using the word 'Allah' is to confuse or offend Muslims, then there must be boundaries set on how the word is to be used.
"Everyone has a role to play in ensuring the harmony and unity of the country. We should respect the basis that has been laid down in the Federal Constitution," Ahmad Marzuk said.
Wednesday's ruling also saw the High Court rule in favour of Sarawakian Bumiputera Christian Jill Ireland Lawrence Bill, affirming her constitutional rights to not be discriminated against in the practise of her faith.
https://www.malaymail.com/news/malaysia/2021/03/12/more-steps-to-be-taken-to-prevent-spread-of-non-muslim-religions-to-muslims/1957370
--------
Dozens of countries urge Egypt to end crackdown on critics
12 March 2021
Dozens of countries have told the United Nations (UN) that Egypt must stop using anti-terror laws to gag human rights and civil society activism.
In a joint statement issued on Friday at the United Nations Human Rights Council (UNHRC), 31 Western countries expressed concern about the restrictions on political opponents, rights activists, and journalists in Egypt.
The statement — whose signatories were mainly European countries in addition to the United States, Canada, Australia, and New Zealand — marked a rare oral rebuke of Egypt since 2014.
They expressed alarm at "the application of terrorism legislation against peaceful critics," urging Cairo to stop using terrorism charges to keep activists in pre-trial detention indefinitely.
"We urge Egypt to guarantee space for civil society — including human rights defenders — to work without fear of intimidation, harassment, arrest, detention or any other form of reprisal," Finland's Ambassador to the UN in Geneva Kirsti Kauppi said via video link, reading out the joint statement.
"That includes lifting travel bans and asset freezes against human rights defenders — including EIPR staff," she added, referring to the case of the Egyptian Initiative for Personal Rights (EIPR), a rights organization that saw three staffers arrested last November and was charged with terrorism after a meeting with foreign diplomats in Cairo.
The EIPR's activists were released following a global outcry.
The countries also called on Egyptian authorities to "lift restrictions on media and digital freedom," and to release all the journalists who have been detained in the course of practicing their profession.
The statement was welcomed by rights groups, which described it as long overdue.
The statement "ends years of a lack of collective action at the UN Human Rights Council on Egypt, despite the sharply deteriorating human rights situation," Bahey Hassan, head of the Cairo Institute for Human Rights Studies, said in a joint statement with nine other national and international rights groups.
Egyptian President Abdel Fattah el-Sisi came to power in June 2014, one year after he led the military to oust President Mohamed Morsi in a coup. He served as the defense minister in Morsi's government before orchestrating the coup.
Human rights groups and activists have constantly accused Sisi of violating public freedoms and suppressing opponents.
According to rights groups, an estimated 60,000 political prisoners are being held in Egyptian jails.
Despite Sisi's bleak human rights record, France awarded the Egyptian president with the Grand Cross of the Legion of Honor last year, and the administration of US President Joe Biden approved an arms sale worth nearly $200 million to the North African country.
https://www.presstv.com/Detail/2021/03/12/647153/Egypt-urged-end-crackdown-rights-activists
--------
Islamophobia on the rise, according to United Nations report
March 11, 2021
By Joseph Hammond
(RNS) — A new report from the United Nations highlights growing Islamophobia and excessive surveillance of Muslims in countries around the world. The United Nations Human Rights Council report, which was released last week, is unsparing in its critique that governments around the world, including in the United States and China, should do more to combat Islamophobia.
The U.N. special rapporteur on freedom of religion or belief, Ahmed Shaheed, announced the report's release at a news conference last week. The report, officially titled "Countering Islamophobia/Anti-Muslim Hatred to Eliminate Discrimination and Intolerance Based on Religion or Belief," notes an overall rise in Islamophobic incidents around the globe. The U.N. report used the terms "Islamophobia" and "anti-Muslim hate" interchangeably to avoid "condemning all critiques of Islam," which it said could endanger academic freedom.
Opinion polling shows Muslims are increasingly seen in an unfavorable light. Citing data from other sources, the report notes that almost 4 in 10 Europeans held unfavorable views of Muslims in surveys conducted between 2018 and 2019. A survey of Americans conducted in 2017 found 30% held Muslims "in a negative light." Yet, the report compiled at least one piece of potentially good news, according to a study conducted by the Organization for Security and Co-operation in Europe: Anti-Islamic attacks peaked in 2017 and have somewhat declined since then, though it was unclear if the sampling size was similar year to year.
The rise of Islamophobia has been driven in part by local conditions in individual countries and regions in which underlying issues such as class and ethnicity often also played a role. The rise of far-right groups is another factor driving an increase in hate toward Muslims. "We welcome the recent report by the United Nations describing Islamophobia as reaching epidemic proportions," said Erum Ikramullah, a research project manager at the Institute for Social Policy and Understanding. "These new U.N. findings are in line with ISPU data, which consistently find that American Muslims are the most likely faith group to report facing religious discrimination, at about 60% over the past five years."
Around the globe, negative and one-sided portrayals of Muslims in the media have contributed to the rise of Islamophobia, according to the report. The U.N. report noted a European Commission against Racism and Intolerance study which found that of 600,000 Dutch news items in 2016 and 2017, the adjectives most used to describe Muslims were "radical," "extremist" and "terrorist"; in contrast, Dutch people are often described as "known," "average" and "beautiful."
The U.N. report's sharpest critiques were for the policies of particular member states, including United Nations Security Council member states. The report noted that many states around the world sought to "restrict the right to freedom of religion or belief of Muslims; curtail the enjoyment of freedom of religion or belief by limiting Muslims' other fundamental rights; and securitize Muslim communities and/or their organizations."
Around the world, Muslim women are more likely to be victims of Islamophobic attacks than men. The report offered strong rebukes to the United Nations Security Council permanent members such as China and the United States. "In China, allegations have emerged that Uighur women are systematically raped, sexually abused, and tortured in so-called 're-education' camps in Xinjiang Province."
Nearly half a million children, most of them Uyghurs, have been forcibly placed in boarding schools and many Islamic scholars have been imprisoned, according to the report.
In the U.S., the government's Controlled Application Review and Resolution Program was applied to immigrants from "Arab, Middle-Eastern and South-Asian countries" in a manner that discriminated against Muslims, said the report. It also criticized the program for allegedly using Muslim immigrants as de facto spies against their communities.
The document calls for governments around the world to fight discriminatory practices against Muslims across all settings — from police enforcement to the filtering of Islamophobic content on social media. Further interfaith dialogue between communities and outreach programs at various levels are strongly encouraged. The paper also calls for more intergovernmental efforts to combat Islamophobia through partnerships across various U.N. organizations.
Anti-Muslim hate "has inspired harmful policies like the Muslim ban and discriminatory surveillance on American Muslim communities," said Madihha Ahussain, Muslim Advocates' special counsel for anti-Muslim bigotry. "This hate has led to threats, violence and worse. That's why it's so important that everyone heed this report's conclusion that all necessary steps must be taken to stamp out anti-Muslim discrimination and bigotry."
The report was built off a number of roundtable consultations and bilateral meetings as well as engagements with civil society groups, human rights organizations, government institutions and intergovernmental organizations.
The United States withdrew its membership from the United Nations Human Rights Council under the administration of President Donald Trump. Last month, U.S. Secretary of State Antony Blinken vowed to return the United States to the organization as an observer later this year.
https://religionnews.com/2021/03/11/islamophobia-on-the-rise-according-to-united-nations-report/
--------
Quds Force Commander: Sound of Israeli, US Broken Bones to Be Heard Later
2021-March-12
"When I tell them (US and Israel) that we will break their bones, you will hear the sound later," Qaani said in a ceremony in Mashhad in commemoration of martyrs of the Iraqi imposed war in 1980s.
He added, "Palestine, which has undergone great changes today, has learned [lessons] from our martyrs."
"The ruthless and corrupt Arab countries, led by Saudi regime and the Global Arrogance (US), have attacked the innocent people of Yemen," the commander noted, stressing that in the 6th year of the invasion, the Yemeni people are defending their country against the aggressors.
"Despite the problems that the enemies are creating for the Islamic Revolution, our establishment is moving forward every day and the US and Israel that are ranting and raving are not the same Israel and America on the first day," he added.
"Today, Israel has built 6-meter high walls around itself that will collapse," Qaani stressed.
In relevant remarks on Monday, IRGC Commander Major General Hossein Salami said that the enemies have bowed down before the Iranian nation and have been defeated, adding that people's constant presence on the scene has always forced the enemies to escape.
"The enemies have bowed down to the grandeur of this nation and been defeated," Salami said in Sanandaj city of Kurdistan province on Monday, adding, "Iranian people have always been in the scene while the enemies escape the scene."
"In Iran, it is the people who are the rulers and have formed the most exceptional ruling system in history," he said, adding, "The rulers are the servants of people."
https://www.farsnews.ir/en/news/13991222000479/Qds-Frce-Cmmander-Snd-f-Israeli-US-Brken-Bnes-Be-Heard-Laer
--------
UN urges foreign troops, mercenaries to withdraw from Libya
13 March ,2021
The United Nations Security Council called on Friday for the withdrawal of all foreign forces and mercenaries from Libya "without further delay" in an unanimously approved declaration.
It also welcomed the Libyan parliament's approval of a new unified government on Wednesday, which is set to lead the oil-rich country to December elections after a decade of conflict following the removal of dictator Moammar Gaddafi.
"The Security Council calls on all parties to implement the ceasefire agreement in full and urges Member States to respect and support the full implementation of the agreement," the statement approved by all 15 council members said.
According to the global body, around 20,000 foreign troops and mercenaries remained in Libya at the end of 2020, and no withdrawals have been observed since.
"The Security Council calls for full compliance with the UN arms embargo by all Member States, in line with the relevant Security Council resolutions," the text said.
The arms embargo imposed since the NATO-led mission to overthrow Gaddafi has been violated regularly for years, according to UN experts responsible for its implementation.
Their annual report is expected in the coming days.
The experts have previously denounced the presence in Libya of Russian mercenaries, Turkish troops and armed groups made up of Syrians, Chadians and Sudanese.
"The Security Council recognizes the need to plan for the disarmament, demobilization and reintegration of armed groups, security sector reform and to establish an inclusive, civilian-led security architecture for Libya as a whole," the statement added.
https://english.alarabiya.net/News/north-africa/2021/03/13/UN-urges-foreign-troops-mercenaries-to-withdraw-from-Libya-
--------
India
Arrest Former Shia Waqf Chief For Demanding Change In Quran: Senior Shia-Sunni Clerics, Maulana Kalbe Jawad and Maulana Khalid Rasheed Farangimahali
Mar 12, 2021
LUCKNOW: General secretary of Majlis-e-Ulama-e-Hind Maulana Kalbe Jawad and Imam of Aishbagh Eidgah Maulana Khalid Rasheed Farangimahali on Friday condemned former Shia Waqf board chairperson Waseem Rizvi for making controversial statements against the Quran.
Both the senior Shia and Sunni clerics unanimously demanded that Rizvi be arrested for insinuating unwanted inter-community sentiments between the two communities. Rizvi, recently approached the Supreme Court for elimination of 26 verses of the Quran.
As per Rizvi's petition, these verses incite violence and were allegedly added on in the Quran later in the period of the first three Caliphs.
However, both Shia and Sunni clerics have said that not a single word has been altered or tampered with in the original Quran in the last 1400 years.
"Rizvi should be arrested immediately for rabble rousing. He is an agent of anti-Muslim forces and with the CBI investigating corruption in the waqf board, he is doing all in his imagination to hold on to their support," said Maulana Kalbe Jawad.
"If the government does not arrest him, it will be clear that it wants chaos and rioting too. Rizvi is neither a Shia nor a Muslim," he added.
Addressing people before Friday prayers at the Eidgah, Maulana KHalid Rasheed Farangimahali said that the court should dispose of Rizvi's petition which has hurt Muslims across the world.
"Allah has taken responsibility of his Holy book and said that not even a letter or punctuation in it will change till Qayamat. Who is Rizvi then to make such tall claims? His petition should not be entertained, strict legal action be taken against him and the government arrest him for breaching peace," he said.
https://timesofindia.indiatimes.com/city/lucknow/arrest-former-shia-waqf-chief-for-demanding-change-in-quran-breach-of-peace-shia-sunni-clerics/articleshow/81470528.cms
--------
Twelve Select Mosques In Hyderabad Imparting Lessons In Basic Skills, English, Science And Math
13th March 2021
HYDERABAD: AS many as 12 select mosques in the city are now providing lessons in English, Science and Maths to boys, in addition to religious teachings. The initiative was started at Masjid-e-Chowk and 20 other mosques in Hyderabad. The students are also being imparted lessons in basic skills.
Masjid-e-Chowk was chosen for this initiative amongst the 20 other mosques for its huge library and its central location on the city's map. This initiative can come as a major boost to students from economically under-privileged sections, who had faced a major setback with the closure of schools due to the pandemic.
Another mosque chosen for the programme is the three-storeyed Alamgir Masjid. This mosque, which was once fully used for prayers, is now occupied for coaching. The organisers of the programme include MS Educational Society Director MM Hussain, educationalist Zakir Hussain and others.
Earlier, several such measures were taken up by NGOs like Helping Hand Foundation (HHF) and so on. HHF had set up a free wellness centre for women at Masjid-e-Mustafa in Rajendranagar. The programme was initiated to control non-communicable disease. A total of 350 women were screened for NCDs at the clinic.
https://www.newindianexpress.com/cities/hyderabad/2021/mar/13/select-mosques-imparting-lessons-in-basic-skills-english-science-math-2275978.html
--------
Viral clip shows Ghaziabad man thrashing Muslim boy for drinking water at temple, arrested after Twitter storm
Tanseem Haider
March 13, 2021
In a horrific video doing the rounds on social media, a man in Uttar Pradesh's Ghaziabad was seen asking a boy his name and then thrashing him mercilessly upon learning that the Muslim boy had gone to a temple to drink water.
Ghaziabad Police have now arrested the accused who was seen in the video and an FIR has also been registered based on the clip. The man has been identified as Shringi Nandan Yadav, son Ashwani Kumar Yadav, a native of Bihar.
Ghaziabad SP Iraj Raja said, "The accused who was seen assaulting the boy in the video is a resident of Bhagalpur in Bihar. He has been arrested and an FIR has been registered. A probe has been launched."
In the video, the accused is seen asking the boy for his name and also his father's name. Even as he keeps holding on to the boy who looks visibly scared, the accused goes on to ask what was he doing at the temple.
The boy replied saying he went to the temple to drink water and immediately after the answer the man mercilessly starts slapping and kicking him while his accomplice records the beating.
The clip has since been doing the rounds on social media, calling on the police to take immediate action.
https://www.indiatoday.in/india/story/viral-clip-ghaziabad-man-thrashing-muslim-boy-water-at-temple-1778832-2021-03-13
--------
Muslim Woman's Marriage With Hindu Man Invalid Till She Converts to Hinduism, Observes Punjab And Haryana High Court
Manjeet Sehgal
March 13, 2021
The Punjab and Haryana High Court has observed that the marriage between a Muslim woman and a Hindu man is invalid till the bride converts to Hinduism.
The Punjab and Haryana High Court bench was hearing a petition moved by an 18-year-old Muslim woman and a 25-year-old Hindu man who recently solemnized their marriage in a Hindu temple on January 15. The bench observed that their marriage is invalid till the bride converts to Hinduism.
The court however said that as they are adults, they can have a consensual relationship.
This couple had approached the court for a security cover as they were allegedly being threatened by their family members.
The couple told the court that they had also approached Superintendent of Police, Ambala for providing security but no action was taken and finally they were compelled to move the High Court.
The court has directed SP Ambala to take immediate action on the security of the couple.
Last month, The Punjab and Haryana High Court had validated a minor Muslim girl's marriage saying that Muslim law allows girls to marry after attaining puberty.
https://www.indiatoday.in/india/story/muslim-woman-s-marriage-hindu-man-invalid-till-she-converts-rules-punjab-haryana-high-court-1778827-2021-03-13
--------
'Keep Hardcore Islamists Out Of Urdu Academy', Requests Sahitya Akademi Award-Winning Urdu Novelist to Maharashtra CM
Mar 13, 2021
Mumbai: Sahitya Akademi Award-winning Urdu novelist Rahman Abbas requested chief minister Uddhav Thackeray that Maharashtra State Urdu Sahitya Academy should not appoint "hardcore Islamists" as academy members. The academy may be reconstituted soon. "Secular values will be promoted and defended only when the academy's secretary/president and executive body comprises of people devoted to literature," he said. He discouraged appointment of politically-affiliated people having no understanding of literature as members, "as they don't work for literature, but promote nepotism". He said, "People of hardcore religious organizations or having links in promotion of ideology of religion in literature should not be included in the academy, as that would be against the fight you and your team have continued. It will be disastrous for free-thinking in the state and approach to literature." Mohammed Wajihuddin
https://timesofindia.indiatimes.com/city/mumbai/mumbai-keep-hardcore-islamists-out-of-urdu-academy/articleshow/81475451.cms
--------
Varanasi Court Issues Notice to Centre and UP Government in Suit Seeking Removal of Gyanvapi Mosque
March 13, 2021
New Delhi: A district court in Varanasi has issued notice in a case filed seeking the "restoration" of a temple at the site of the Gyanvapi Mosque in the city, Bar and Bench has reported.
The suit was filed on behalf of deities, Shiva, Maa Shringar Gauri and Ganesh. Sabrang has reported that that ten individuals who have filed the suit have alleged that the temple was destroyed on orders of Aurangzeb in 1699.
The court has sought responses from the Centre, the Uttar Pradesh government, Varanasi District Magistrate, Varanasi Senior Superintendent of Police, the managers of the mosque, the board of trustees of the adjoining Kashi Vishawanath Temple and the Uttar Pradesh Muslim Personal Law Board.
The suit asks for "restoration of performance of rituals at the principal seat of an Ancient Temple at the Gyanvapi mosque area," according to the Sabrang report.
The suit reportedly cites Article 25 of the constitution that offers freedom of conscience and free profession, practice and propagation of religion.
Noting that the mosque is an "obstacle" to this, it argues that Article 13(1), which notes that all laws existing before the constitution came into force are null void, should ensure that this obstacle no longer exists to prevent the "idol worshipper" from carrying out rituals there.
The removal of the mosque has long since been a demand of the far right Hindutva movement in India and grew into the slogan, "Ayodhya-Babri sirf jhaanki hai, Kashi-Mathura ab baaqi hai." It translates to, "Ayodhya and Babri were just trailers, Kashi and Mathura are still left."
In 1992, the Babri mosque at Ayodhya was demolished by kar sevaks. In judgments in 2019 and 2020, a Supreme Court bench allotted the disputed land to the temple trust and a special CBI court acquitted all 32 accused of the crime, respectively.
In 2020, a group of individuals moved a Mathura civil court claiming that the Idgah mosque at Mathura, built during the rule of Mughal emperor Aurangzeb, in 1669-70, is the exact birthplace of Krishna. In language similar to the Gyanvapi Mosque plea, the petition sought the "removal of encroachment and superstructure illegally raised".
https://thewire.in/law/varanasi-court-issues-notice-in-suit-seeking-removal-of-gyanvapi-mosque
--------
New Zealand
New Zealand marks two years since Christchurch mosque killings
13 March ,2021
New Zealand on Saturday marked the second anniversary of one of its most traumatic days, when 51 worshippers were killed at two Christchurch mosques by a white supremacist gunman.
Several hundred people gathered at the Christchurch Arena for the remembrance service, which was also livestreamed. A similar service planned for last year was canceled at short notice due to the sudden spread of the coronavirus.
Kiran Munir, whose husband Haroon Mahmood was killed in the attacks, told the crowd she had lost the love of her life and her soulmate. She said her husband was a loving father of their two children. He'd just finished a doctoral degree and was looking forward to his graduation ceremony when she last saw his smiling face.
"Little did I know that the next time I would see him the body and soul would not be together," she said. "Little did I know that the darkest day in New Zealand's history had dawned. That day my heart broke into a thousand pieces, just like the hearts of the 50 other families."
Temel Atacocugu, who survived being shot nine times during the attack on the Al Noor mosque, said the slaughter was caused by racism and ignorance.
"They were attacks on all of humanity," he said.
He said the survivors would never be able to erase the pain in their hearts and would never be the same.
"However, the future is in our hands," he said. "We will go on and we will be positive together."
In the March 15, 2019, attacks, Australian Brenton Tarrant killed 44 people at the Al Noor mosque during Friday prayers before driving to the Linwood mosque, where he killed seven more.
Last year Tarrant, 30, pleaded guilty to 51 counts of murder, 40 counts of attempted murder and one count of terrorism, He was sentenced to life in prison without the possibility of parole.
After the attacks, New Zealand quickly passed new laws banning the deadliest types of semiautomatic weapons.
During the service, the names of each of the 51 people who were killed were read out. The efforts of first responders, including police and medics, were also acknowledged.
Prime Minister Jacinda Ardern told the crowd that when preparing her speech, she had been at a loss for what to say because words would never change what happened.
"But while words cannot perform miracles, they do have the power to heal," she said.
The Muslim community had experienced hatred and racism even before the attacks, she said, and words should be used for change.
"There will be an unquestionable legacy from March 15," Ardern said. "Much of it will be heartbreaking. But it is never too early or too late for the legacy to be a more inclusive nation."
https://english.alarabiya.net/News/world/2021/03/13/New-Zealand-marks-two-years-since-Christchurch-mosque-killings
--------
Pakistan
Women March Slogans Against Ideology Of Pakistan: Special Aide To Prime Minister
Sher Ali Khalti
March 13, 2021
LAHORE: Slogans in the Women March were raised against the ideology and Constitution of Pakistan, said Tahir Mehmood Ashrafi, special aide to prime minister on Religious Harmony and Middle East.
There is a need for a thorough investigation into some videos of the Women March. Endeavours are being made to keep check on misuse of the blasphemy law, he said.
Addressing the Pakistan Stability Conference held at the Cathedral Church here, Ashrafi said the minorities' role is imperative for the stability of Pakistan. He said Pakistan's Constitution is supreme and no one is above the law and Constitution. All Pakistanis must work together to make Pakistan a strong Islamic welfare state.
He said without electoral reforms, Pakistan's electoral system cannot be right. He said the Constitution of Pakistan is the protector of the rights given by Islam to women and minorities. The government has taken immediate action on the issues relating to underage marriages and forceful conversions. A letter has been dispatched to the Interior Ministry and the FIA to probe the videos of the Women March. The organizers of the Women March should not have allowed those who crossed the line of Pakistan's Constitution and law.
Ashrafi was accompanied by leading representatives of the minorities community and office-bearers of the Pakistan Ulema Council.
https://www.thenews.com.pk/print/803618-women-march-slogans-against-ideology-of-pakistan-ashrafi
--------
Mirza Mohammad Afridi First Member From Tribal Areas To Win Top Senate Position
March 13, 2021
PESHAWAR: The newly-elected deputy chairman of the Senate, Mirza Mohammad Afridi, is the first parliamentarian from the erstwhile Federally Administered Tribal Areas to occupy the coveted post in parliament.
Hailing from Khyber tribal district, Mirza Afridi was elected member of the Senate as an independent candidate in 2018 elections. After the polls, he joined the Pakistan Muslim League-Nawaz, but later switched over to the Pakistan Tehreek-i-Insaf (PTI) the same year.
Mirza Afridi, who belongs to Sepah clan, a sub-tribe of Afridi tribe, is a Lahore-based business tycoon who has investment in textile and electronics.
Mirza Afridi's family had been taking part in electoral politics and remained associated with all major political parties. His uncle Mohammad Shah Afridi was elected senator during the Benazir Bhutto era. One of his close relatives, Mohammad Ayub Afridi, was elected senator on the PTI ticket in 2018, while another close relative Manzoor Afridi is considered close to Jamiat Ulema-i-Islam-Fazl chief Maulana Fazlur Rehman. Mr Manzoor had also been considered for the post of caretaker chief minister in 2018.
Mirza Afridi is an amateur chess player and he was elected president of the Chess Federation of Pakistan in January.
Javed Afridi, owner of the Peshawar Zalmi franchise and a cousin of Mirza Afridi, termed his election as Senate deputy chairman a big win for the people of the tribal districts.
Talking to Dawn, Mr Javed said that Mirza Afridi was a highly educated person who also earned a master's in business administration from Singapore. He would play his role on the legislation side for the welfare of the deprived people, Mr Javed said.
https://www.dawn.com/news/1612230/afridi-first-member-from-tribal-areas-to-win-top-senate-position
--------
Pakistan PM Imran Khan, military generals to be responsible if anything happens to Maryam: Nawaz Sharif
Mar 12, 2021
LAHORE: Pakistan's deposed prime minister Nawaz Sharif has accused the country's powerful military establishment of threatening his daughter Maryam Nawaz, warning that if anything happens to her, Prime Minister Imran Khan and the three top generals would be responsible for it.
In a video message from London, the PML-N supremo said that they (military establishment) have threatened to 'smash' Maryam if she does not stop against them (the military).
"You have stooped so low. First you broke open the Karachi hotel room door where Maryam was staying. Now you are threatening her that if she does not stop, she will be smashed. If anything happens to her Prime Minister Imran Khan, Army chief General Qamar Javed Bajwa, ISI head Lt Gen Faiz Hameed and Gen Irfan Malik will be responsible," 71-year-old Sharif said in the video which he posted on his Twitter account on Thursday.
Sharif has been in London since November 2019. The Khan government had allowed him to leave the country after the Lahore High Court granted him bail for four weeks on medical grounds.
He was serving a seven-year imprisonment in Lahore's Kot Lakhpat jail in Al-Azizia Mills corruption case.
Taunting the military for requesting politicians not to drag it in politics, Sharif said: "You (generals) rigged 2018 polls to impose inept Imran Khan on the nation and after the defeat in the Senate you helped your selected (PM Khan) to get vote of confidence and it is no more a secret".
Addressing the generals, Sharif said: "What you have done is a grave crime and you will be answerable to your deeds."
Meanwhile, Maryam, a senior functionary of the PML-N party said in a tweet that she had not only been threatened but those issuing the threat had also used abusive language.
Earlier, Maryam, 47, named the intelligence agencies being used to pressure PML-N senators to vote for the government candidate in the senate chairman election being held on Friday.
Since September last year Sharif had started taking on the Pakistan Army and ISI chiefs for their alleged interference in politics and installing their 'puppet' government of Khan by "stealing" the 2018 polls.
Maryam has also been targeting the military establishment.
https://timesofindia.indiatimes.com/world/pakistan/pakistan-pm-imran-khan-military-generals-to-be-responsible-if-anything-happens-to-maryam-nawaz-sharif/articleshow/81467143.cms
--------
Fazlur Rehman accused of changing JUI-F constitution
March 13, 2021
MARDAN: Jamiat Ulema-e-Islam-F (JUI-F) former provincial general secretary Maulana Shujaul Mulk on Friday accused the party head Maulana Fazlur Rahman of changing the party's constitution.
Speaking at a press conference here, he said the Jamiat Ulema-e-Islam of Pakistan (JUI-P) would arrange a huge rally in Mardan on 28 March. Maulana Shujaul Mulk recalled that in the past Maulana Fazlur Rahman had criticized late Qazi Hussain Ahmad of Jamaat-e-Islami for staging sit-ins, but now he (Maulana Fazlur Rahman) himself had started the politics of sit-ins.
He claimed that staging sit-ins and long marches were not part of the constitution of Jamiat Ulema-e-Islam-Pakistan. The Maulana accused Maulana Fazlur Rahman of changing the name of JUI-P to JUI-F and taking the party hostage.
He said Jamiat Ulema-e-Islam-Pakistan had been in politics for a 100 years but it never staged a sit-in or a long march against the elected government. The Maulana believed there were differences in the component parties of Pakistan Democratic Movement.
Replying to a question, he said that he had been expelled from the party without any notice for pointing out anomalies in the intraparty election. He said that the party would decide its course of action in a grand meeting on March 28.
https://www.thenews.com.pk/print/803426-fazlur-rehman-accused-of-changing-jui-f-constitution
--------
Iranian Ambassador to Pakistan: Scholars must spread real message of Mab'ath
March 11, 2021
The ambassador of the Islamic Republic of Iran to Pakistan says Muslims, especially the scholars and intellectuals of the Islamic world, must confront the evil anti-Islam strategy through unity and spreading the message of Mab'ath.
Seyyed Mohammad Ali Hosseini made the remarks at a gathering to celebrate Eid al-Mab'ath at the Embassy of the Islamic Republic of Iran in Islamabad.
He congratulated the Muslims of the world especially the people of Pakistan and the scholars on the auspicious occasion.
He added today, more than ever, humanity has distanced itself from the main goals of prophets and has drowned in modern ignorance, immorality, captivity to lust, hypocrisy and irrationality.
Hosseini stated as a result the people of the present age, in spite of amazing scientific and industrial progress are suffering from endless suffering and deep wounds, and are ruthlessly and wandering in all directions to find a cure for their hidden and obvious pains.
He said Hazrat Muhammad (Peace be upon Him) has always focused on humanity and the liberation of human beings from the captivity of ignorance.
The Iranian ambassador to Pakistan added even today, the explicit enmity of the oppressive system of domination and the international Zionist media is trying to paint a distorted and ugly image of the Holy Prophet.
He emphasized this ominous phenomenon doubles the duty of the Muslims, especially the proclaimed and educated scholars of the Islamic world, to confront the evil strategy.
He added the members of the Muslim Ummah should follow the teachings of the Holy Prophet to be aware and enlightened, and rely on Allah Almighty to be successful.
Pakistan's Minister of Religious Affairs Pir Noor-ul-Haq Qadri, speaking as a special guest said events such as the birth of Hazrat Muhammad (PBUH) and Eid al-Mab'ath are the axis of common values of the Islamic society
He added all these happy and blessed events should be used as a pure opportunity to explain the goals of Islam. "Let us use the religion of Islam and the true spirit of the teachings of the Holy Prophet of Islam (PBUH)," he said.
He added Muslims must know their real challenges, fight against common enemies, be vigilant against conspiracies and the efforts of elements, both inside and outside, to destroy the peaceful image of Islam.
Emphasizing the need for Muslim unity to address the current problems of the Islamic world, he referred to the issue of Palestine and added: "The Pakistani government and its people are strong supporters of Palestine and will not recognize the illegitimate and occupying Zionist regime at any cost."
Appreciating the Iranian ambassador's initiative to bring scholars of different Islamic sects together the Pakistani minister expressed hope that other Muslim countries would take similar steps to unite and find common solutions to the challenges.
https://en.abna24.com/news//iranian-ambassador-to-pakistan-scholars-must-spread-real-message-of-mab%E2%80%99ath_1122423.html
--------
Southeast Asia
Malaysia's police chief warns against street protests on 'Allah' issue
MAR 12, 2021
KUALA LUMPUR - Malaysian police chief Abdul Hamid Bador on Friday (March 12) warned against organising street protests following a court decision on the "Allah" issue.
He said this after Umno supreme council member Razlan Rafii remarked that Muslims were ready to go to the streets if the government does not file an appeal against Wednesday's High Court ruling on the use of the "Allah" word by Christians in Malaysia.
"Muslims are ready to go to the streets to 'teach' this government if the government fails to act. Muslims are ready to take to the streets to protect this sacred word," Mr Razlan was quoted as telling Malayskini news site on Thursday.
Inspector-General of Police Abdul Hamid was quoted as saying by Free Malaysia Today news site: "If we do not respect the court's decision, our country will be destroyed. We must remember that the court is free to come to a decision in line with the (federal) Constitution.
"We cannot expect the court to rule according to our whims and fancies as it would be unfair. If you are not satisfied with the decision, file an appeal or raise the matter in Parliament.
"Don't take to the streets."
High Court Justice Nor Bee Ariffin on Wednesday affirmed the constitutional right of Ms Jill Ireland Lawrence Bill, a Sarawakian Christian, to use the word "Allah" for her religious practice, some 13 years after the latter first filed a legal challenge on the matter.
The ruling quashed a three-decade government ban on Christians using the word "Allah" in their religious publications.
The court also allowed three words to be used in Christian publications for educational purposes: Kaabah (Islam's holiest shrine in Mecca), Baitullah (House of God) and solat (prayer).
Malaysia's two biggest Malay-Muslim parties, Umno and Parti Islam SeMalaysia (PAS), have asked the government to appeal against the court's decision.
"We want the government to appeal the matter at the Court of Appeal," Muafakat Nasional (MN) said in a statement after its monthly meeting on Thursday.
MN is an umbrella platform for political cooperation between Umno and PAS.
Both parties are also members of the governing Perikatan Nasional alliance, with Umno often at odds against the government, which is led by Prime Minister Muhyiddin Yassin's Parti Pribumi Bersatu Malaysia.
https://www.straitstimes.com/asia/se-asia/malaysias-police-chief-warns-against-street-protests-on-allah-issue
--------
Sabah party condemns attempts to reverse High Court decision allowing non-Muslims to use the word 'Allah'
13 Mar 2021
BY R. LOHESWAR
KUALA LUMPUR, Mac 13 — Attempts to reverse the High Court's decision to allow non-Muslims to use the word "Allah" for God is racist and an attempt to fan racist fanaticism, United Progressive Kinabalu Organisation (Upko) said today.
The Sabah party appealed to all Muslim-led parties, Bersatu, Umno, PAS, PKR, Amanah, Parti Pesaka Bumiputra Bersatu, Warisan and Pejuang to explain to their support base that the High Court's decision is not an encroachment on or threat to Muslims but rather a return to the status quo pre-1986 where no laws existed.
"The verdict is not an encroachment on the Muslims, as some Malayan political entrepreneurs are attempting to frame it as such.
"It is a restoration of the pre-1986 status quo, part of the Original Malaysia promised to Sabah and Sarawak in 1963," Upko president Datuk Wilfred Madius Tangau said in a statement.
"All parties should come together to seize the golden opportunity given by the High Court's decision to close an ugly chapter in the playbook of identity politics in Malaysia. This polemic has hurt for decades so many Bornean and Orang Asli Christians, and their Muslim families and friends who share the pain."
Madius welcomed PAS president Datuk Seri Abdul Hadi Awang's sentiments that there were no prohibitions in Islam, but only limits to non-Muslims in using the term "Allah".
He also urged the Sabah and Sarawak chief ministers to sit down and work together in the off chance the verdict gives rise to more religious fanaticism, while adding that the Borneo based parties should not be afraid to cut ties with parties fanning fanaticism.
"Regardless which side of the divide, Borneo-based parties must be prepared to cut ties, now and even after the next general election, with any parties irresponsibly fanning public discontent against the High Court's decision. Borneo parties must not accept anti-Borneo Malayans as government partners.
"Upko urges Sabah's Chief Minister, Datuk Seri Panglima Haji Hajiji Noor, and the Chief Minister of Sarawak, Datuk Patinggi Abang Johari Abang Openg, to invite the top leaders of all Borneo-based parties to discuss forming a united front to defend the partial restoration of the Original Malaysia if the agitation by some extremist Malayans gains momentum," he added.
Last Wednesday, the High Court ruled that the Malaysian government's directive issued in 1986 with a total ban on the use of the word "Allah" in Christian publications is unconstitutional and invalid, and also declared orders to affirm Sarawakian Bumiputera Christian Jill Ireland Lawrence Bill's constitutional rights to not be discriminated against and practise her faith.
https://www.malaymail.com/news/malaysia/2021/03/13/sabah-party-condemns-attempts-to-reverse-high-court-decision-allowing-non-m/1957475
--------
The Pope's meeting with al-Sistani inspires Indonesians to tolerate
by Mathias Hariyadi
03/12/2021
Jakarta (AsiaNews) - For Prof Siti Musdah Mulia, a leading women's right activist and now the incumbent President of ICRP (Indonesian Conference on Religion and Peace), last week's meetings between Pope Francis and his Iraqi Counterpart Ayatollah Ali al-Sistani have resonated the strong urgency for most Indonesians to enact the same spirit.
Nothing else than the spirit of tolerance with others, despite their different religious beliefs.
Their meeting is more than just a symbolic gesture of the two prominent figures from the two big religions: Christianity and Islam.
The true spirit that Pope Francis exercised in meeting al-Sistani was undoubtedly the highest point to date in recent Holy See policy in outreach to others – in particular Muslims.
"I look at those kind of gestures. Despite their fragile years of age, both figures have shown their strong commitment to reduce acts of violence based on religion fundamentalism. And at the same time to boost the spirit of tolerance and peace among different religious community," shares Prof. Mulia with AsiaNews.
She adds "their presence representing different religious partiers has also shown to us that these both international figures shared something in common i.e., ending sectarian violence and regional conflict in Iraq."
"Despite all kind of differences between the Pontiff and the Ayatollah in terms of ethnicity, religion, and others, such a historic meeting has convinced me as activist of interfaith dialogue that peace is our main mission," she says, citing that such meeting would only bolster the freedom of religion but mostly for non- community in Iraq.
"What has surprised me is al-Sistani's remarks that all non-Muslim Iraqis should be respected in terms of their civil rights by all parties in Iraq."
Another image that gained her attention was the banner displayed in the house of the Ayatollah which read "We are all brothers. If not brothers in religious faith, we are determined to become brothers based on our common humanity."
"This popular phrase comes from Ali bin Abi Thalib, the core figure of the Shiites community. Thalib is one of best friend of the Great Prophet," she explains.
"That spirit should bolster our common interests to declare and disseminate the same spirit i.e., tolerance and peace," she concludes.
Strengthening the fraternal brotherhood
For Prof. Azyumardi Azra, Muslim scholar and former the dean of National Islamic University Syarif Hidayatullah Jakarta from 1998-2006, said that the historic meeting in Najaf has once again resonated the stronger appeal initiated by the Holy See to promote the fraternal brotherhood among Christians and the Muslim community.
"Last week's meeting between Pope Francis and Ayatollah Ali al-Sistani has echoed the previous historic meeting in Abu Dhabi where the Pontiff and Grand Shaykh al-Azhar Ahmed al-Tayyeb signed the Abu Dhabi Document on 4 February 2019," says Prof. Azra.
The fraternal brotherhood is our common value to respect and to exercise in our daily life as social human-beings.
"And thanks to Pope Francis and Grand Shaykh al-Azhar Ahmed al-Tayyeb from the two different religious groups who initiated such a humanity in spirit at an international level in efforts to build much more qualified religious life and more peaceful and harmonic civilization," he concludes.
Faith in action
For Father Heri Wibowo, the executive secretary of KWI's Interfaith Commission (Komisi HAK-KWI), Pope Francis' gesture toward Ayatollah Ali al-Sistani is an act of faith in action.
"No more fear and worries but showing love and respect to others as both religious top figures show the world in the images of the meeting," says Father Wibowo who is also a lawyer by professional job.
Speaking with AsiaNews on certain interfaith programs implemented by Komisi HAK-KWI, this Jakarta Archdiocese's diocesan priest says that a variety of programs to promote the freedom of religion are underway.
"We have also designed some programs in cooperation with the nation's BNPT (Badan Nasional Penanggulangan Terorisme- the National Agency of Preventing Terrorism) to foster efforts to promote the spirit of fraternal brotherhood.
No single religion and nation promote acts of violence and terrorism based on religion. In Indonesia, such initiatives are crucial and important as we have Pancasila of which our 'Bhinneka Tunggal Ika' (Unity in Diversity) spirit should be our way of life as a society," the priest says.
"The fraternal brotherhood as declared by Abu Dhabi Document will be the key point where all different religious parties may encounter and enact the same spirit," concludes Father Wibowo.
http://www.asianews.it/news-en/The-Pope's-meeting-with-al-Sistani-inspires-Indonesians-to-tolerate-52587.html
--------
Arab World
Lebanon approves $246 million safety net, but seeks oversight cuts to ease impact
Timour Azhari
12 March ,2021
Nearly 150,000 of Lebanon's poorest families could soon start receiving monthly cash handouts after lawmakers gave approval on Friday to a $246-million World Bank loan to ease the impact of the country's financial meltdown.
But in a nation where many people blame the crisis on corruption and mismanagement, some analysts questioned MPs' decision to cut at least $5 million from allocations for oversight and so-called capacity building to prepare for future shocks.
The World Bank, which agreed the loan in January, could not immediately be reached to comment.
The financing aims to cut extreme poverty by half through household aid payments of up to 800,000 Lebanese pounds, equivalent to less than $100 per month, as well as boost social services and fund the education costs of 87,000 students.
Parliamentarians who backed the changes to the loan's spending structure said more poor families would be able to benefit as a result.
Ibrahim Kanaan, chair of parliament's finance and budget committee, said the alterations would reduce running costs and make the program "much better than it was before".
Kanaan told the Thomson Reuters Foundation he had lobbied to slash spending on capacity-building because "in the past this never did its job. Large portions where mis-spent ... there is a big margin for corruption."
Other changes voted by parliament included cutting funding for an independent third-party monitor by half and reducing the timespan of an external financial audit to one year from three.
Instead of hiring companies to verify the eligibility of families for the handouts and oversee the payments, parliament voted to hand that task to the social affairs ministry and volunteers.
Some financial analysts questioned the oversight cuts.
"What does Lebanon gain by slashing the budget for oversight and governance by a few million dollars while putting at risk the effective management of the $246 million program?" said Mike Azar, a senior financial adviser based in Beirut.
He said such costs were often high for governments with weak institutions, but "the solution is to fix the institutions, governance and transparency, not slash the oversight costs which may end up costing the country much more in the long run."
Few people in Lebanon trust government, and - citing the risk of corruption - rights groups and donors have said aid should be disbursed directly to people reeling from the economic crisis, COVID-19 and a massive August 2020 blast in Beirut.
The World Bank, which is partly financing the country's COVID-19 vaccine rollout, threatened last month to suspend its support after some lawmakers got their vaccinations early.
They received the jabs during a February session discussing the loan endorsed on Friday.
https://english.alarabiya.net/News/middle-east/2021/03/12/Lebanon-economy-Lebanon-approves-246-million-safety-net-but-seeks-oversight-cuts-to-ease-impact
--------
Thousands march in central Beirut as Lebanon political deadlock persists
12 March ,2021
Thousands marched in central Beirut on Friday demanding a new independent government to lift Lebanon out of its deepening crisis as frustration over the country's financial meltdown grew.
Lebanon's economic crisis is posing the biggest threat to its stability since the 1975-1990 civil war.
Erupting in late 2019, it has since wiped out jobs, locked people out of their bank deposits, slashed 85% of the value of its currency and raised the risk of widespread hunger.
"In light of the terrible failure of those in power socially and politically we are going to the streets to ask for a new independent government and an alternative to the current system," a statement by one group of protesters said.
Lebanon's problems were compounded after a port explosion in August devastated whole tracts of Beirut, killing 200 people and prompting the government to resign, leaving the country rudderless as it sinks deeper into financial collapse.
Prime Minister Hassan Diab's cabinet has stayed on in a caretaker capacity until a new cabinet is formed.
But prime minister-designate Saad al-Hariri, nominated in October, is at loggerheads with President Michel Aoun and has been unable to form a new government to carry out much needed reforms to unlock international aid.
The protest comes after two days of relative calm since nationwide roadblocks persisted for more than a week as groups of demonstrators, angry at the currency's tumble to a new low, burnt tires to block streets.
Several caretaker ministers have made alarming public remarks in the past week about the state of Lebanon's security and finances.
Interior minister Mohammed Fahmy said security had all but broken down with "all possibilities open", while energy minister Raymond Ghajar warned that cash for power generation was running out fast and Lebanon could be in total darkness by end of month.
https://english.alarabiya.net/News/middle-east/2021/03/12/Lebanon-protests-Thousands-march-in-central-Beirut-as-Lebanon-political-deadlock-persists
--------
EU Ends Sanctions Against Family Of Egypt's Hosni Mubarak
12 March ,2021
The European Union announced Friday it was ending sanctions imposed in 2011 against nine Egyptians, including the family of former leader Hosni Mubarak, over the alleged stealing of state funds.
"Restrictive measures were initially adopted in 2011 and aimed notably at assisting the Egyptian authorities with the recovery of misappropriated state assets," the member states said in a statement.
"Following the most recent review of the nine listings still in force, the Council concluded that the regime had served its purpose."
The EU slapped asset freezes on senior figures, including Mubarak, his wife, two sons and their wives, after he was toppled in the Arab Spring uprisings following thirty years in charge.
The deposed president died in February of last year at the age of 91.
The sanctions – which were reviewed annually – included asset freezes on holdings located in the EU and a ban on any citizens or entities from the 27-nation bloc making funding available to those on the blacklist.
EU member countries imposed the sanctions on Mubarak and his family in March 2011 based on lawsuits filed against them in Egypt for alleged embezzlement of state funds.
Mubarak and his family had challenged the punitive measures in court.
Egypt suffered years of instability in the wake of Mubarak's ouster.
Islamist president Mohamed Morsi took power in 2012 before the military toppled him in 2013 following mass protests against Morsi's rule.
Former military chief Abdel Fatah al-Sisi became president later that year.
https://english.alarabiya.net/News/middle-east/2021/03/12/EU-ends-sanctions-against-family-of-Egypt-s-Hosni-Mubarak
--------
Arab Coalition destroys Houthi air defence system in Yemen's Marib
12 March ,2021
The Arab Coalition said on Friday it had destroyed a Houthi air defense system belonging to the Iran-backed militia on Yemen's Marib front.
The announcement comes a day after the Houthis fired a ballistic missile towards civilians in Yemen's Marib, according to Al Arabiya sources.
Heavy clashes on Friday between the internationally-recognized Yemeni army and the Iran-backed Houthi militia broke out in Hodeidah, a source from the Yemeni army told Al Arabiya.
The army has been making great advancements in the area and in their last northern stronghold Marib in recent days, the source added.
https://english.alarabiya.net/News/gulf/2021/03/12/Arab-Coalition-destroys-Houthi-air-defense-system-in-Yemen-s-Marib
--------
Biden clearly ramping up military presence in Mideast: Analyst
13 March 2021
President Joe Biden appears to be ramping up US military involvement in the Middle East and targeting anti-terror groups, fearing that groups such as Iraq's Hashd al-Sha'abi might soon eliminate Daesh, a political analyst says.
Hashd al-Sha'abi positions were recently bombed by US warplanes on the Iraqi-Syrian border came as they pushed on with a campaign to purge the vast desert area of the last Daesh remnants, Julia Kassem told Press TV on Friday.
"The fact that the US keeps attacking the PMU as it eradicates Daesh is very telling," she said, referring to the group by its formal name as Popular Mobilization Forces.
Kassem warned that an increase in the number of US occupation troops in Iraq would exacerbate the situation, with Hashd al-Sha'abi forces having pledged that they would put up greater resistance against such a measure.
The political analyst said she does not expect a significant change in the US foreign policy toward Iraq.
"We should not expect any kind of change regarding the overall objectives of the United States."
The US, she said, invaded and plundered Iraq under former president George W. Bush, facilitated the conditions for a reoccupation of Iraq and the rise of Daesh years ago under Barack Obama, and under Donald Trump last year openly refused to leave Iraq.
Biden is "clearly ramping up involvement in the region, having bombed Syria days ago and prepping for more troop deployment in the neighboring country," she said.
Anti-US sentiments have been running high in Iraq since the US carried out a drone strike in breach of the Arab country's sovereignty.
The attack on January 3, 2020 targeted Iran's top anti-terror commander General Qassem Soleimani who was visiting Iraq on an official invitation.
Iraqi lawmakers approved a bill two days later, demanding the withdrawal of all foreign military forces led by the United States from the country.
On January 8, 2020, Iran launched a missile attack on the US-run Ain al-Assad air base in retaliation.
Kassem touched on Iran's missile power and PMU's capabilities, saying they are far superior to the United States' anti-missile systems on which it relies to retain its military presence in the region.
"This is a testament to the resistance front's increasing capabilities against Israeli-made and American systems," she said.
https://www.presstv.com/Detail/2021/03/13/647196/Iraqi-Hashd-Shaabi-forces-consistently-fighting-off-US-occupation-troops-Commentator
--------
Europe
Religion or an education? How British Muslims are forced to decide
March 12, 2021
LONDON: A member of the UK's House of Lords has challenged the government over its "shameful" disregard for British Muslims, who he said are being systematically deprived of a university education because of a refusal to introduce a student loan system that Muslims can access.
In a debate this week, Lord Sharkey highlighted a seven-year-old promise made by former UK Prime Minister David Cameron: "Never again should a Muslim in Britain feel unable to go to university because they cannot get a student loan — simply because of their religion," which he told a World Economic Forum conference in Davos in 2013.
But Lord Sharkey said this promise has gone unfulfilled, and the government's failure to act is excluding British Muslims.
"Lords will know that Islam forbids interest-bearing loans. This prohibition can be and is a barrier to Muslim students going on to attend our universities," Lord Sharkey said.
The UK provides interest-bearing loans to help students pay for university. In 2014, the government committed to providing an alternative that would allow Muslims to take loans that do not compromise their religion. Specifically, they pledged "the introduction of a Sharia-compliant Takaful Alternative Finance product" available to everyone.
"That was six years ago … there is still no Sharia compliant student product available," Lord Sharkey said.
"It is shameful that the government have allowed so much time to elapse and that they display such a casual neglect of and disregard for our Muslim community."
A senior British politician with direct knowledge of the issue told Arab News that the government's failure to introduce an alternative financing system was, in his view, inexplicable.
"I genuinely do not understand why the government has taken seven years to do something about this. Six years ago the government not only recognized a problem, but recognized a solution: Takaful," they said.
Takaful is a common Islamic finance mechanism that allows lenders to provide credit in a Sharia-compliant manner.
The government, the politician told Arab News, has already introduced a Takaful system to assist with buying houses — and that was rolled out in under a year.
"I have no idea how we got ourselves into this mess in the first place — it's obviously discrimination. I remain very unhappy, but also completely bewildered as to why they would choose to treat the Muslim communtiy in this way."
Estelle Clarke, a student finance campaigner, told Arab News that she attributes the government's failure to it being "indifferent" to the plight of students.
"Further, and unfortunately, their inaction does suggest a systemic discrimination against certain students on the grounds of their religion, and that the government is indifferent to this discrimination," she added.
As it stands, Clarke explained, the astronomical price of university education in the UK means that British Muslims have no good options when it comes to deciding their future after finishing school.
"When you look at the cost of a university education, as a rough figure, every year costs you around £20,000 ($27,800) — which student can afford to come up with £60,000 upfront to pay for their degree without taking loans?
"On the assumption that you will not compromise your religion — and nobody should be forced to — a Muslim student has the choice between paying for the entirety of their education up front, or not going to university."
She added: "That's no choice at all."
This is the predicament that thousands of young and ambitious Muslims have suddenly been confronted with, with teenagers across the UK preparing their university applications,.
Four years ago Ayesha Dar was one of those students. She told Arab News: "I knew I had to fund university in some way, and that the standard method is to take a loan.
"For our non-Muslim peers there's no other implications of taking those loans for them," Dar said. "That was a big eye-opener as to how stark the difference might be for me growing up in the UK, as opposed to a Muslim country. That was a turning point for me.
"I knew that in order to succeed in this country I needed a degree — but the loan presented a huge obstacle to my progress if I didn't go for it."
In the end Dar decided to take the loan, but explained that she is now committed to paying it off in full as soon as possible.
"For myself and most of my Muslim friends, getting rid of that debt is the number one priority — we want to get rid of it as quickly as we can," she said. "We're very focused on getting rid of that debt, put simply: We find it sinful. It's horrible, to be honest."
https://www.arabnews.com/node/1824431/world
--------
British-Iranian Zaghari-Ratcliffe needs urgent care for PTSD
12 March ,2021
A British-Iranian woman needs urgent treatment for post-traumatic stress disorder and depression, a rights group said Friday, as she faces a fresh Tehran court appearance.
Nazanin Zaghari-Ratcliffe, 42, a project manager for the Thomson Reuters Foundation, was arrested while visiting family in 2016 and jailed for five years on a sedition charge that she strenuously denies.
She had been under house arrest since the pandemic and her electronic ankle tag was removed last weekend but the summons means she cannot return home and has raised fears she could face a new sentence.
A remote medical evaluation by International Rehabilitation Council for Torture Victims found Zaghari-Ratcliffe suffers from "serious and chronic post-traumatic stress disorder, major depression and obsessive-compulsive disorder", according to rights group Redress.
It says the former detainee's mental health problems are "due to her treatment in prison and under house arrest", as well as the ongoing legal uncertainty and separation from her family.
She spent long periods in solitary confinement, has physical problems including pain in her neck, shoulder and arm, tooth pain and lumps in her breast that have not been properly checked, Redress said.
Zaghari-Ratcliffe works for the Thomson Reuters Foundation, the philanthropic arm of the media organisation.
Her husband and supporters have said she and other dual nationals were being held as political hostages because of a long-standing dispute between London and Tehran over a failed arms deal.
Redress sent Britain's Foreign Secretary Dominic Raab the report, concluding Zaghari-Ratcliffe "is in urgent need" of psychiatric treatment and psychotherapy in the UK.
It urged the government to recognize her "as a victim of torture in Iran".
Britain has repeatedly urged Iran to allow her to return home, where her husband, Richard Ratcliffe, and their six-year-old daughter live.
On Friday, the foreign ministry said Iran "continues to put Nazanin Zaghari-Ratcliffe through a cruel and intolerable ordeal".
"Nazanin must be allowed to return permanently to her family in the UK and we will continue to do all we can to achieve this," it added.
https://english.alarabiya.net/News/middle-east/2021/03/12/British-Iranian-Zaghari-Ratcliffe-needs-urgent-care-for-PTSD
--------
Tehran, Moscow hail 'stronger than ever' ties, extend 20-year-old treaty
12 March 2021
Iran's Foreign Ministry has hailed Tehran-Moscow relations as "stronger than ever," expressing willingness to further expand bilateral ties with the Russian Federation in all areas based on mutual cooperation and respect.
"In the light of the will of the leaders and high-ranking officials of Iran and Russia, cooperation between the two countries in pursuit of common interests has gone beyond the borders of bilateral relations and entered the areas of regional and international security assistance and is stronger than ever," the ministry said in a statement on Friday.
The statement came on the 20th anniversary of the conclusion of the "treaty on the basis for mutual relations and the principles of cooperation between the Islamic Republic of Iran and the Russian Federation."
It pointed out that the 20th anniversary of the treaty coincided with a recent correspondence between Leader of the Islamic Revolution Ayatollah Seyyed Ali Khamenei and Russian President Vladimir Putin. The statement also noted that Iran sees Russia as a "powerful, friendly neighbor."
"Iran and Russia are unanimous against unilateral and inhumane sanctions, Western interference in the affairs of other countries, preventing third parties from playing a role in their relations and the necessity of respecting the international law," the Foreign Ministry added.
Iran and Russia signed the treaty in Moscow on March 12, 2001.
According to the treaty, the two countries agree to "build relations with each other on the basis of sovereign equality, cooperation, mutual trust, respect for sovereignty, territorial integrity and independence, and non-interference in each other's internal affairs."
Iran's Ambassador to Moscow Kazem Jalali said on Friday the 20-year-old treaty will be extended for five more years automatically, as agreed by the two sides.
Jalali told IRNA that the Russian and Iranian foreign ministers have agreed upon preparing a draft by Tehran for an inclusive cooperation program that would be finalized by the parliaments of the two countries.
Meanwhile, the Russian Foreign Ministry also issued a statement on the anniversary, describing the treaty as a "historic milestone" in relations between Iran and Russia.
The statement said Russia and Iran agreed to build relations on the principles of sovereign equality, mutual trust, respect for sovereignty, territorial integrity and independence, and non-interference in each other's internal affairs.
"The traditions of friendship and good-neighborliness between Russia and Iran are strengthening every year for the benefit of the citizens of the two states, as well as stability and security in the region and beyond," it said.
The Russian ministry added that the two sides approached the anniversary of the treaty with a "solid portfolio of achievements" in all spheres, expressing hope for further deepening and expanding multifaceted ties between the two countries.
https://www.presstv.com/Detail/2021/03/12/647146/Tehran-Moscow-hail-historic-treaty-stronger-than-ever-ties
--------
Turkey: Greece is safe haven for FETO terrorists
Gozde Bayar, Mehmet Hatipoglu
13.03.2021
It is observed that Greece has become a haven for the members of the Fetullah Terrorist Organization (FETO), the group behind the 2016 defeated coup in Turkey, a Turkish Foreign Ministry spokesman said on Friday.
Hami Aksoy responded to a question in a written statement and said FETO propaganda was made public in an online event held in Greece.
"It is a grave development that broadcasting the video message of the FETO ringleader [Fetullah Gulen] making terrorist propaganda, which could not be explained by freedom of press and expression," Aksoy stressed.
"It is observed that Greece has become a safe haven for FETO members. FETO members can roam freely in this country, and so-called NGOs affiliated with FETO can carry out aid activities for fugitive FETO members in Greece," Aksoy said.
He said the YPG/PKK and DHKP-C terror organizations also continue activities in Greece.
Underlining that FETO is a putschist international terror organization, he said FETO is a threat to countries where it carries out activities.
"Turkey expects cooperation from all countries in the fight against this criminal organization," he said.
He urged Greece to meet Turkey's demands for the return of FETO members, freeze assets, prevent making its propaganda, financing and recruitment activities and end activities of terror organizations in Greece.
Gulen sent a video message to an online promotional event in Athens for a book written about him.
"Greece is a sister country," Gulen said. "Thanks to this brotherhood, we remember them with gratitude and appreciation. [What Greece did] will be written on the glorious pages of history with gold and silver."
The book, Fethullah Gulen: A Life of Service, was written by US historian Jon Pahl and translated into Greek by Papazisis Publishers in Greece.
FETO and Gulen orchestrated the defeated coup of July 15, 2016, which left 251 people martyred and 2,734 injured.
Ankara accuses FETO of being behind a long-running campaign to overthrow the state through the infiltration of Turkish institutions, particularly the military, police and judiciary.
Thousands of FETO members fled to Greece after the coup attempt.
https://www.aa.com.tr/en/europe/turkey-greece-is-safe-haven-for-feto-terrorists/2174558
--------
Mideast
Israeli forces attack Palestinian worshipers at al-Aqsa Mosque
12 March 2021
Israeli forces have attacked Palestinian worshipers at the al-Aqsa Mosque compound in the occupied Old City of Jerusalem al-Quds, detaining five people.
According to Palestinian sources, the Israeli forces attacked the Muslim worshipers and fired stun grenades at them after Friday prayers, forcing the Palestinians to leave the al-Aqsa Mosque through al-Asbat Gate.
The Israeli troops had also prevented 321 people from the West Bank from performing the Friday prayers at al-Aqsa, arresting four of them.
Separately, Israeli forces continued to suppress anti-settlement weekly protests across the occupied West Bank on Friday.
In the village of Beit Dajan, Israeli forces opened live fire on anti-settlement protesters, leaving three people injured. Two others were hit with rubber bullets fired by the Israeli troops, who also used tear gas against the demonstrators, leaving tens of them suffering breathing difficulties.
A settlement outpost has recently been established in the village.
Clashes also erupted between Palestinian protesters and Israeli forces in Kafr Qaddum, east of Qalqilya City.
Dozens of people suffered breathing difficulties due to inhaling tear gas during the clashes, which also saw Israeli forces using sound bombs and rubber bullets against the protesters.
More than 600,000 Israelis live in over 230 settlements built since the 1967 Israeli occupation of the Palestinian territories of the West Bank and East Jerusalem al-Quds.
Emboldened by the anti-Palestine policies of former US president Donald Trump, Israel stepped up its settlement expansion in defiance of United Nations Security Council Resolution 2334, which pronounces settlements in the West Bank and East Jerusalem al-Quds "a flagrant violation under international law."
All Israeli settlements are illegal under international law as they are built on occupied land.
https://www.presstv.com/Detail/2021/03/12/647173/Israeli-forces-attack-Palestinian-worshipers-at-al-Aqsa-Mosque
--------
Jordan rips into Israel PM for 'toying with region for electoral gains'
12 March 2021
Jordan's top diplomat has made a scathing, indirect attack on Israel's embattled Prime Minister Benjamin Netanyahu for what he described as "toying with" the region for the sake of his own electoral gains, amid an escalating diplomatic row between Tel Aviv and Amman.
Israeli officials said Thursday that Netanyahu had been forced to call off a visit to the United Arab Emirates (UAE) for a fourth time, citing a delay in Jordan's approval of the premier's flight path over the kingdom.
Tel Aviv said this appeared to be a tit-for-tat move for Jordanian Crown Prince Hussein bin Abdullah's canceled trip to the al-Aqsa compound a day earlier amid a dispute with the Israeli regime over entry permits for his security detail.
Speaking at a presser later on Thursday, Jordanian Foreign Minister Ayman Safadi — whose country is the custodian of holy sites in occupied Jerusalem al-Quds — blamed Israel for the cancelation of Prince Hussein's visit, saying the regime was breaching agreed terms for the trip.
In remarks apparently directed at Netanyahu, Safadi said the dispute had in fact something to do with Israel's upcoming elections, in which chances for the premier's win are estimated to have diminished.
"What makes things worse those who are toying with the region and its peoples' right to live in peace for the sake of electoral and populist concerns… destroying the trust which is the basis for ending the conflict," Safadi said.
The foreign minister said arrangements had been made with the Israeli side for Prince Hussein's trip, expressing surprise that the regime had suddenly sought to change the plans.
"Al-Aqsa Mosque is entirely a place of worship for Muslims. Israel has no sovereignty upon it… nor do we accept any Israeli intervention in its affairs," he said.
Netanyahu is preparing to run in the general elections set for March 23, the regime's fourth round of polls in two years, amid a political standoff among the main parties in Tel Aviv.
Latest polls suggest that Netanyahu's Likud Party is expected to gain less votes in the elections, amid a public outcry over the premier's corruption charges and mishandling of the coronavirus crisis.
'A slap in Netanyahu's face'
Experts say Netanyahu sought to use the trip to the UAE as a PR stunt to boost his chances in the election.
In an analysis piece on the dispute, Rai al-Youm, an Arab world digital news and opinion website, described the cancelation of the Israeli premier's trip to the UAE as a "slap in the face" of Netanyahu.
Under Netanyahu, political relations between Jordan and Israeli have soured in recent years over Tel Aviv's policies toward occupied Jerusalem al-Quds.
Citing informed sources, Rai al-Youm said ties between Netanyahu and Jordanian King Abdullah II are "very bad."
The news website referred to reports of a secret meeting in Amman between King Abdullah and Benny Gants, the leader of Israel's Blue and White and Netanyahu's main political rival, in February, saying such a meeting is indicative of the monarch's strained relations with the incumbent Israeli prime minister.
In 2019, King Abdullah said ties with the Israeli regime were "at an all-time low," after a series of incidents that prompted Amman to recall its ambassador to Israel.
https://www.presstv.com/Detail/2021/03/12/647162/Jordan-slams-Netanyahu
--------
Zarif: US New Administration Pursuing Trump's Failed Policy
2021-March-12
Zarif tweeted on Thursday that the Biden administration is moving in the same path of the former administration's failed policy against Iran, adding that Secretary of State Antony Blinken shouldn't relate the release of Iran's blocked assets in Seoul to the issue of the Joint Comprehensive Plan of Action.
He explained that the frozen funds will be used only for medical purposes.
Zarif's remarks came after Blinken's anti-Iran statements raised at the US House's Foreign Affairs Committee.
Blinken on Thursday at a meeting of the House's Foreign Affairs Committee once again called on Tehran to "adhere to nuclear deal first", ignoring Washington's illegal withdrawal, saying, "If Iran returns to its commitments, we do the same."
He claimed that Iran's blocked money in South Korea will not be released until it returns to the nuclear deal.
In relevant remarks in early March, Iranian Foreign Minister Mohammad Javad Zarif said that South Korea has not unblocked Tehran's revenues because of Washington's pressure, adding that consultations are underway with the East Asian country's officials to ease the process.
"Iran thinks that it is not necessary to obtain a license from the Americans, but the Korean side is still trying to obtain it from the US to release Iranian blocked assets," Zarif said, noting that the mechanism for returning Iranian assets from South Korea has been agreed upon by the parties.
"Last week, I talked to the South Korean foreign minister at his request. He stated that they are doing their best to reach a conclusion, and we are following up on our part."
"Mechanisms have been agreed, but apparently the Koreans have not yet received the necessary permits, so they say they are pursuing the issue," he added.
https://www.farsnews.ir/en/news/13991222000140/Zarif-US-New-Adminisrain-Prsing-Trmp%E2%80%99s-Failed-Plicy
--------
Iran's Envoy: Sanctions as Destructive as Terrorism
2021-March-12
Sanctions are as much destructive as terrorism and they are tantamount to war crimes, Takht Ravanchi said in an address to a UN Security Council meeting on hunger and famine in conflicts, stressing the need for lifting sanctions and sieges to stop food insecurity.
"The UN Security Council should oblige all warring sides to observe rights to access food supply," he said, noting that the body should not impose sanctions on humanitarian trade ties in particular for food and medicine under any circumstances.
"No issue is more urgent than the immediate lifting of inhumane siege of the Yemeni people as well as illegal siege of the Gaza Strip," Takht Ravanchi continued.
He also noted that the US illegal sanctions hamper Iran's access to food, medicine and medical equipment amid coronavirus pandemic.
In late January, thousands of Iranian patients with special needs in a letter to UN Secretary-General Antonio Guterres called for his efforts to lift the US unilateral sanctions against Iran which have blocked the country's access to drugs and medical equipment.
"The illegal US economic sanctions have prevented our access to health care, medicine and medical supplies. In the last two years, we have repeatedly pursued supply of drugs and medical equipment with the Iranian government and even pharmaceutical companies or companies supplying drugs and medical equipment for a wide range of patients with special needs, mostly children and minors. But due to the implementation of the US illegal sanctions and, especially the obstacles posed by Washington to financial exchanges, the imports of drugs and medical equipment for these patients is not possible," the letter said.
It added that the US sanctions have led to the loss of a significant number of patients, some of them have suffered serious physical injuries, and in general, the patients have suffered and sustained severe physical and psychological harms.
"We are still suffering from this shortage of medicine and medical equipment," the letter noted.
It warned that dozens of thalassemia and epidermolysis bullosa patients, especially children, etc. have lost their lives due to the lack of their special-need medicine and medical equipment due to the US systematic and organized policy called comprehensive crippling sanctions against Iran.
The letter called on Guterres to take all necessary measures to prevent continued criminal sanctions against the oppressed and defenseless patients who are under the support of non-governmental organizations, and take necessary measures to implement human rights and humanitarian law in UN member states.
The letter was written by the heads of Iranian Thalassemia" Association, Iranian MS Association, EB House of Iran, Iranian Kidney Patients Support Association, Hemophilia Center of Iran and Iranian Autism Association, representing thousands of Iranian patients with special needs.
https://www.farsnews.ir/en/news/13991222000100/Iran%E2%80%99s-Envy-Sancins-as-Desrcive-as-Terrrism
--------
Protesters in Iran attack coast guard station after fuel smuggler shot: Report
13 March ,2021
Protesters attacked a coast guard station in southern Iran after a patrol from the force shot and killed a fuel smuggler, the semiofficial Fars news agency reported Saturday.
The report said the attack happened Friday when coast guard patrols shot at vessels smuggling fuel to neighboring countries, killing at least one smuggler.
Fars didn't identify the person killed but said he was a 31-year-old man aboard one of the vessels allegedly smuggling fuel.
Gen. Hossein Dehaki, chief of the coast guard in southern Hormozgan province, was quoted in the Fars report as saying an undetermined number of people later attacked the coast guard station in the Kouhestak district. He said several coast guard members were injured and the crowd damaged cars, vessels and equipment.
Dehaki said calm was restored to the district, located some 1,120 km (694 miles) south of the capital Tehran, by late Friday afternoon.
The violence came some two weeks after at least three alleged fuel smugglers in neighboring Sistan and Baluchestan province were killed in clashes and a crowd of people attacked the local governor's office in the town of Saravan near the border with Pakistan.
The area is one of the least developed parts of Iran. The relationship between the predominantly Sunni residents and Iran's Shia theocracy has long been fraught with tensions.
Dehaki said the coast guard has confiscated more than 10 million liters (2.6 million gallons) of fuel from smugglers over the past 11 months.
https://english.alarabiya.net/News/middle-east/2021/03/13/Protesters-in-Iran-attack-coast-guard-station-after-fuel-smuggler-shot-Report
--------
US 'ceasefire plan' meant to prolong Yemen's descent into turmoil: Ansarullah
13 March 2021
The spokesman for Yemen's popular Houthi Ansarullah movement has dismissed the US proposal for a nationwide ceasefire in the war-torn country, saying the plan would plunge Yemen further into turmoil.
"The US plan doesn't include breaking the siege or ceasing fire. It is actually a detour which would lead to a resumption of a (Saudi) blockade diplomatically," Mohammed Abdul-Salam said in an interview with Yemen's al-Masirah television Friday evening.
"One of the conditions presented in the initiative is to determine the destinations of flights departing Sana'a airport, and for the coalition of aggression to issue flight permits. This means they are not licensed here in Sana'a," he said.
"If they were serious to stop the aggression and siege, they would have declared a complete end to hostilities and blockade. We would then welcome the measure. Aggression and siege against Yemen have not stopped even for a single day over the past six years, so what is the US concept of ceasing fire or breaking the siege?" Abdul-Salam added.
The Ansarullah spokesman said the US presentation of Saudi conditions as a so-called peace plan once again proved that Washington explicitly supports the Saudi war and blockade against Yemen.
He further noted that what the US special envoy on Yemen, Tim Lenderking, presented was a plot to plunge the Arab state further into turmoil.
"It is unacceptable for an American envoy to present a plan which is inferior to that of the United Nations special envoy for Yemen (Martin Griffiths)," Abdul-Salam said.
He said there is no real change towards ending the Saudi war and lifting the siege, stressing that such matters lie in the hands of the other side.
"They want us to respond through dialogue to what they have not achieved by means of war and siege. Everyone must realize such a fact," the senior Ansarullah official added.
Abdul-Salam also rejected as "a big lie" the US envoy's allegations that humanitarian aid deliveries have not been distributed among the needy Yemenis, stating that the coalition of aggression illegally impounds Yemen-bound oil vessels irrespective of the fact they all have acquired international permits beforehand.
"We have accepted all conditions proposed by other parties to ensure the delivery of humanitarian assistance. Having found no excuse to continue the blockade, they are alleging aid deliveries have not reached those in need," the Ansarullah spokesman said.
Houthi: Trust in US comes from actions, not words
A member of Yemen's Supreme Political Council said Ansarullah is ready to return to the negotiating table with a serious goal of ending the conflict, but it must first see concrete steps from the administration of US President Joe Biden.
"Trust is built by actions, not words," Mohammed Ali al-Houthi told CNN on Friday.
"Trust must be achieved through decision-making. So far, we have not seen any concrete decisions being made," he added.
He noted that President Biden was a member of former US president Barack Obama's administration, which declared at the time that Washington was joining the Saudi-led coalition against Yemen.
"They also gave the green light to the coalition to continue massacre in our country and agreed to it," Houthi added.
'Washington must drop Saudi conditions'
Abdul-Malik al-Ajri, a member of Ansarullah's political bureau, said on Friday that his movement views the US ceasefire proposal in favor of Saudi Arabia, and would not accept it.
"The US special envoy on Yemen [Tim] Lenderking has presented proposals to end the war and has called on Ansarullah to respond," Ajri wrote in a post published on his Twitter page.
"The truth is what he has offered is the same as Saudi Arabia's conditions for a ceasefire. Linderking should know in case such suggestions were acceptable, we would have directly received them from Saudi Arabia. There was then no need for the US envoy to repeat Saudis' narrative."
Lenderking: Ansarullah's ability is undeniable fact
The top US diplomat for Yemen on Friday touched on the role of Ansarullah and said its ability is a straightforward fact.
Lenderking said during a webinar with the Atlantic Council think tank that the movement is a "significant player" in Yemen and it needs to be acknowledged.
"I don't think you can operate by denying that reality," he said, claiming that the US "never said the Houthis have no role in Yemen."
Lenderking, who recently returned from a three-week trip to the region, added that Washington is looking for the Ansarullah's response to its peace plan.
"I will return immediately when the Houthis are prepared to talk," Lenderking noted.
https://www.presstv.com/Detail/2021/03/13/647189/US-ceasefire-plan-meant-to-prolong-Yemen-s-descent-into-turmoil-Ansarullah
--------
Africa
Several COVID-19 patients dead after oxygen failure at Jordan hospital: Reports
Tamara Abueish
13 March ,2021
At least four coronavirus patients have died in a government hospital in Jordan after oxygen supplies were cut off, Al Arabiya sources said on Saturday.
The oxygen system at the Salt General Hospital in the town of As-Sat near the capital Amman failed, according to Jordanian media reports.
A state of panic erupted in the hospital following the incident, as family members of COVID-19 patients rushed to the facility to check on their sick relatives, local media reported.
A large number of security officials were stationed outside the hospital to prevent any chaos, the reports said.
The Minister of Health is currently holding a meeting with officials in the hospital to determine what caused the system failure, local media reported.
Jordan's Prime Minister Bisher al-Khasawneh ordered authorities to open an investigation immediately, the Jordan News Agency (Petra) said.
The investigation will be transparent and comprehensive, and all its details will be made public, Petra cited the prime minister as saying.
Al-Khasawneh requested the President of the Judicial Council to conduct an investigation through the Public Prosecution, and to issue the results of its investigations in an independent and clear manner to ensure the integrity and integrity of the investigations, according to Petra.
Everyone who is responsible for the failure will bear the consequences in accordance with the provisions of the law, the prime minister said.
https://english.alarabiya.net/coronavirus/2021/03/13/Coronavirus-Multiple-people-die-in-Jordan-hospital-after-oxygen-system-fails-Reports
--------
Tunisia issues national wanted notice for convicted tv boss Sami Fehri
13 March ,2021
Tunisian authorities have issued a national wanted notice for a television chief who disappeared after being sentenced to eight years in jail for misappropriation of funds, the prosecution said Friday.
Sami Fehri, owner of one of Tunisia's main private television stations, was on trial over the illegal use of state television funds in connection with his production company Cactus Prod, under the regime of former autocrat Zine El Abidine Ben Ali.
His associate at the time, Ben Ali's brother-in-law Belhassen Trabelsi, was also sentenced in absentia to 10 years in prison, judicial official Mohsen Dali told AFP.
Fehri and Trabelsi were prosecuted as accomplices to Ben Ali, who was toppled in Tunisia's 2011 uprising and died in 2019, for financial damage to the country's public television.
Police were unable to locate Fehri to take him into custody, and authorities issued a national search notice.
Rumours circulated that he might have fled the country on a private boat, but Dali said that "for the moment, there is no concrete proof that he has fled abroad."
Fehri had already spent several months in custody in connection to the inquiry in 2013 and also 2019, when authorities banned him from leaving the country.
Ben Ali's in-laws ran a mafia-like empire that once pocketed a fifth of national private sector profits.
Few have faced justice.
A fabulously wealthy businessman described in a leaked 2008 US diplomatic cable as Ben Ali's "most notorious family member", Trabelsi initially fled by yacht to Italy in 2011.
He has been accused of fraud, embezzlement and laundering criminal proceeds.
After three years on the run, he was arrested in March 2019 in the south of France.
In January, a French court rejected Tunisia's request for his extradition, citing a "real risk of inhumane and degrading treatment."
Trabelsi had held 51 percent of the shares in Cactus Prod, but authorities seized his stake after the uprising.
https://english.alarabiya.net/News/north-africa/2021/03/13/Tunisia-issues-national-wanted-notice-for-convicted-tv-boss-Sami-Fehri
--------
Gunmen abduct about 30 students in Nigeria
12 March 202
About 30 students have been kidnapped by gunmen in a raid on a college in Nigeria's northwestern state of Kaduna.
A suspected gang broke into the Federal College of Forestry Mechanization in the area of Mando in Kaduna — located in a region notorious for banditry and armed robbery — on Thursday night, opening fire indiscriminately before taking students hostage.
After a distress call, the army headed to the area and engaged in a fierce battle with the assailants.
"The troops successfully rescued 180 citizens; 42 female students, eight staff, and 130 male students," Kaduna State's security commissioner, Samuel Aruwan, said in a statement on Friday. "However, about 30 students, a mix of males and females, are yet to be accounted for."
"A combined team of army, air force, police, and DSS (Department of State Services) troops are conducting an operation to track the missing students," he added.
In recent years, gangs have been kidnapping students for ransom or sexual exploitation.
The Thursday attack was the fourth of its kind since December last year.
The last such attack took place on Saturday, when criminal gangs stormed the staff quarters of Kaduna Airport, kidnapping 12 people, according to airport officials.
The trend of abducting students from boarding schools was started by the Takfiri militant group of Boko Haram, which kidnapped 270 schoolgirls from a school at the northeastern town of Chibok in 2014. Almost 100 of them have not been found to date.
Nigerian President Muhammadu Buhari has faced growing criticism over the abductions as well as the increasing violence by militants.
Buhari has said state governments are in collusion with the gangs, and has called on state authorities to "review their policy of rewarding bandits with money and vehicles, warning that the policy might boomerang disastrously."
Hours before the Thursday raid, Nigerian national security adviser Babagana Monguno said the government was determined to take out the criminal gangs, after the president held talks with security officials and traditional leaders to discuss security challenges.
https://www.presstv.com/Detail/2021/03/12/647164/Gunmen-abduct-about-30-students-in-Nigeria
--------
North America
US communicating with Iran through 'indirect diplomacy,' White House says
12 March ,2021
The US is communicating with Iran using "indirect diplomacy" methods, a senior White House official told reporters on Friday.
"At the moment, there are communications through the Europeans and through others that enable us to explain to the Iranians what our position is with respect to the compliance-for-compliance approach and to hear what their position is," National Security Advisor Jake Sullivan said.
Since becoming president, Joe Biden has repeatedly tried to get the Iranians to the table to discuss the now-defunct Iran nuclear deal. Iran has so far rejected the US offer for direct dialogue, mediated by the European Union.
While the State Department has said it does not have "unlimited patience," Sullivan said Friday: "We're waiting at this point to hear further from the Iranians how they would like to proceed. But from our perspective, you know, this is not going to be easy."
He added: "We believe that we are in a diplomatic process now that we can move forward on and ultimately secure our objective, which is to prevent Iran from getting a nuclear weapon."
The JCPOA, an acronym for the 2015 nuclear deal, has been the center of focus between renewed efforts by the US to re-engage Iran after former President Donald Trump withdrew from it in 2018.
Last month, Biden and Secretary of State Antony Blinken announced Washington's readiness to sit down with the Iranians to discuss the deal signed under Barack Obama. The decision was reportedly announced after the EU extended the offer to Tehran.
But Tehran is demanding that the US lift all economic sanctions before Iran comes back into full compliance with the JCPOA. Biden has, so far, stood firm in rejecting Iran's demands.
https://english.alarabiya.net/News/middle-east/2021/03/13/Iran-nuclear-deal-US-communicating-with-Iran-through-indirect-diplomacy-White-House-says
--------
Houthis reject US ceasefire proposal for Yemen after Lenderking returns to Washington
Joseph Haboush
12 March ,2021
The Iran-backed Houthis Friday rejected a US proposal for a ceasefire in Yemen, while the State Department slammed the group for blocking the flow of goods and money to civilians.
Washington has been engaged in diplomatic efforts to reach a political solution to the yearslong war in Yemen, with the Biden administration taking an aggressive stance on Saudi Arabia since taking office.
President Joe Biden appointed Tim Lenderking as his special envoy for Yemen. Lenderking returned from a three-week trip to the region recently, where he met with regional officials, including Houthi representatives.
On Friday, he said the US had presented a proposal to the Houthis for a ceasefire "a number of days" ago.
But the Houthis quickly rejected what they called the "US proposal."
A Houthi spokesman told a Yemen TV channel based in Beirut that there was no "real change" toward ending the war. "What has been referred to as the American proposal doesn't include lifting the siege or a ceasefire," the Houthi official claimed.
Houthis block flow of money, goods
State Department Spokesman Ned Price slammed the Houthis for continuing to "impede" the flow of money and goods into Yemen.
"Unfortunately, we know that the Houthis continue to impede that flow, including diverting money from imports that were intended for civil service salaries, in direct violation of their obligations under a UN-brokered agreement," Price told reporters in a phone briefing.
Fuel imports are being diverted by the Houthis and this "one of the many ways they are exacerbating the humanitarian crisis," Price added.
https://english.alarabiya.net/News/gulf/2021/03/12/Terrorism-Houthis-reject-US-ceasefire-proposal-for-Yemen-after-Lenderking-returns-to-Washington
--------
US says Uyghur 'genocide' to be 'topic' at China talks
Servet Günerigok
12.03.2021
WASHINGTON
The US said Thursday that the Uyghur "genocide" in China's northwestern Xinjiang autonomous region will be one of the issues discussed by top US and Chinese diplomats next week.
"I know that addressing the genocide against Uyghur Muslims is something that will be a topic of discussion with the Chinese directly next week," White House Press Secretary Jen Psaki told a press conference.
"Certainly the position of the United States is that what is happening is genocide, and we will look for opportunities to work with other partners on putting additional pressure on the Chinese.
"But we'll also raise it directly and it will be a topic of discussion next week," she added.
US Secretary of State Antony Blinken and National Security Advisor Jake Sullivan will meet with China's Director of the Office of the Central Commission for Foreign Affairs Yang Jiechi and State Councilor Wang Yi on March 18 in Alaska.
On Tuesday, State Department Spokesman Ned Price said the US has not changed its judgment that there is a genocide against Muslim Uyghurs and other ethnic minorities in Xinjiang.
When asked if the "genocide" is ongoing, Price responded: "We have seen nothing that would change our assessment."
The Xinjiang region is home to around 10 million Uighurs. The Turkic Muslim group, which makes up around 45% of Xinjiang's population, has long accused China's authorities of cultural, religious and economic discrimination.
Up to 1 million people, or about 7% of the Muslim population in Xinjiang, have been incarcerated in an expanding network of "political re-education" camps, according to US officials and UN experts.
A 2018 Human Rights Watch report detailed a Chinese government campaign of "mass arbitrary detention, torture, forced political indoctrination, and mass surveillance of Xinjiang's Muslims."
China, however, has repeatedly denied allegations that it is operating detention camps in its northwestern autonomous region, claiming instead that they are "re-educating" Uighurs.
https://www.aa.com.tr/en/americas/us-says-uyghur-genocide-to-be-topic-at-china-talks/2173249
--------
South Asia
Taliban Should Be Included In Interim Afghan Administration: Russia
March 12, 2021
Moscow: Russia said on Friday that the Taliban should be included in any Afghan interim administration, ahead of a conference in Moscow aimed at supporting peace talks between the Islamist group and Afghanistan's government.
Moscow is set to host a conference on Afghanistan on March 18 and has invited several regional players, including Taliban representatives. It comes at a crucial time for the peace process ahead of a May 1 deadline for foreign troops to withdraw from Afghanistan.
The United States has drafted a peace plan calling for the current Afghan government to be replaced with an interim administration until a new constitution is agreed and elections held, but Afghan President Ashraf Ghani has refused to step aside for a transitional government.
"The formation of an interim coalition government should be decided by the Afghans themselves during national reconciliation negotiations," Russian Foreign Ministry spokeswoman Maria Zakharova told reporters at her weekly briefing.
"At the same time we have noted that the formation of an interim, inclusive administration would be a logical solution to the problem of integrating the Taliban into Afghanistan's peaceful political life."
The US-drafted peace plans suggests that under the interim Afghan administration, the national parliament could either be expanded to include members of the Taliban or suspended until after the election.
Moscow has said its conference next week is meant to support peace talks held in Doha, which have struggled to yield any breakthroughs.
A source close to the Taliban told Reuters on condition of anonymity that a team of four or five members of the Taliban's political office in Doha would attend the Moscow conference.
PromotedListen to the latest songs, only on JioSaavn.com
Earlier on Friday, Turkey said it would also host Afghan peace talks in April in Istanbul.
https://www.ndtv.com/world-news/taliban-should-be-included-in-interim-afghan-administration-russia-2389496
--------
Prosecutor shot dead as Taliban murdered school headmaster: Afghanistan
12 Mar 2021
Mohammad Hassyar, an appellate court prosecutor was shot dead by unidentified gunmen in central Gardez district of Paktia province on Thursday night.
According to local officials, the attack happened near the prosecutor's home in the center of the province.
Hassanyar reportedly worked for the appellate court in AGO's office in Paktia province.
An investigation is ongoing to determine the motive behind the attack.
No group or individual have yet claimed responsibility for the murder.
This comes as Taliban insurgents murdered a school's principal in Ghor province.
Maulana Abdul Ghafoor, who was a headmaster and a religious scholar was killed alongside his brother in the Paikamar area, west of the provincial capital Firuzkuh.
According to the provincial police chief, Abdul Qader Walizada, the schoolmaster and his brother killed in a Taliban ambush as they were traveling from the Paikamar area to Barah Khana in the west of Firuzkuh, the provincial capital
Walizada told Khaama press that the brother of Ghafoor was leading a public uprising unit in the region.
Taliban have not yet commented on the incident.
Meanwhile in Kandahar, one civilian was killed and another was wounded in an explosive device planted in a motorbike that exploded close to a public bath in Dand district of Kandahar province, security officials told media.
This incident happened on Thursday and no group or individual has claimed responsibility for the blast.
https://www.khaama.com/prosecutor-shot-dead-as-taliban-murdered-school-headmaster-afghanistan-42425555/
--------
ANA, AAF operations claim 28 Taliban in Kandahar
13 Mar 2021
The Ministry of Defense said Saturday that 28 Taliban insurgents were killed in attacks conducted by security forces and the Afghan Air Force in Kandahar province.
MoD stated that Afghan national defense and security forces backed by air support launched a clearance operation in Arghandab and Zherai districts of Kandahar province.
The operation led to the death of 28 Taliban militants, seven of the group's members are also injured during the skirmish, MoD reported.
During the operation 13 motorbikes, 13 bags of explosives, and 50 Taliban positions were targeted and destroyed by the ANA, according to the Ministry of defense.
The statement indicated that a large number of weapons and ammunition were also destroyed.
MoD added that 11 mines planted by the Taliban were also discovered and the bombs were later neutralized and many were saved from harm.
Meanwhile, six security force members are reported killed in a Taliban attack on an outpost in the Khanabad district of Kunduz province.
Local sources told the media that the incident happened on Friday night, and five Taliban insurgents were also killed in the attack.
Reports indicate that the outpost fell to the Taliban militants and five Afghan security force members were also captured by the insurgent group.
Both the government officials and the Taliban have not yet commented on the clash.
Media outlets in the country reported that within 48 hours 30 civilians were either killed or wounded in security incidents in Maidan Wardak, Balkh, Herat, Kandahar, Ghor, Badghis, Kabul, Paktia, and Nangarhar.
https://www.khaama.com/ana-aaf-operations-claim-28-taliban-in-kandahar-654333/
--------
Afghan bomb kills at least 8; UN slams high civilian deaths
March 13, 2021
A powerful car bomb killed at least eight people and injured 47 in Afghanistan's western Herat province, officials said on Saturday.
The death toll in the explosion, late on Friday, that also destroyed 14 houses is expected to rise because several of the injured were critical, said Rafiq Sherzai, a spokesman for the provincial hospital.
One among the dead and 11 of the injured were Afghan security forces personnel while the remainder were civilians, including women and children, said interior ministry spokesman Tariq Arian.
No one has yet claimed responsibility for the attack.
Within hours of the attack, the UN Security Council at a press briefing in New York condemned an "alarming" increase in attacks in Afghanistan targeting civilians even as the Taliban and the Afghan government hold on-again-off-again talks in Qatar.
"These heinous attacks have targeted civil servants, the judiciary, the media, health care and humanitarian workers, including women in prominent positions, those who protect and promote human rights, and ethnic and religious minorities," the council said.
The Islamic State group has claimed responsibility for many of the targeted killings while the Taliban and the government have blamed each other for trying to sabotage efforts to reach a peace agreement.
The slow pace of talks and the increasing violence has prompted the United States to cobble together a peace proposal, which was delivered last weekend. Both sides are expected to review and revise the eight-page plan ahead of a far-reaching meeting the US has proposed to be held in Turkey within weeks, when Washington hopes to see an agreement.
The US meanwhile is reviewing a peace deal the Trump administration signed with the Taliban, which calls for the final withdrawal of the remaining 2,500 US troops from Afghanistan by May 1.
The growing consensus is for a delay but in a sternly worded letter to Afghan President Ashraf Ghani last weekend pressing for progress on making peace with the Taliban, US Secretary of State Antony Blinken said all options, including the withdrawal, were still on the table.
The proposed peace deal offered by the US calls for an interim "peace government" to shepherd a post-war Afghanistan to elections and constitutional reforms. It also calls for the protection of equal rights for women and minorities.
The UN Security Council also called for "full, equal and meaningful participation of women", and a quick move towards a reduction in violence.
https://www.dawn.com/news/1612283/afghan-bomb-kills-at-least-8-un-slams-high-civilian-deaths
--------
UNSC calls for violence reduction, an immediate end to targeted murders
13 Mar 2021
United Nations Security Council in a statement condemned the attacks targeting civilians in Afghanistan, and called it "heinous".
UNSC stated, "These heinous attacks have targeted civil servants, the judiciary, the media, healthcare and humanitarian workers, including women in prominent positions, those who protect and promote human rights, and ethnic and religious minorities,".
UNSC also called for an immediate end to the targeted attacks and stressed bringing the perpetrators to justice.
According to UNSC all of the warring parties must respect their obligation under the international humanitarian law in all circumstances and protect civilians, underlining that deliberate attacks on civilians may constitute war crimes.
The members of the Security Council expressed their deep concern regarding the increase of these targeted attacks in the months following the start of the Afghanistan peace negotiations on 12 September 2020.
The UN security council expressed concern regarding intensified and raged targeted attacks by the extremists despite the Afghan peace process.
The statement reiterated the recognition of sustainable peace that can only be achieved through a comprehensive and inclusive Afghan-led and owned process, that aims for a ceasefire and political settlement.
Members of the UN security council asked the involved parties to reduce the violence and continue the peace process in good faith because UNSC is concerned about threats posed by terrorism to Afghanistan and the region.
This comes as Heela Najibullah daughter of former President. Dr. Najbullah in an interview with Radio Nowruz said that Afghan politicians should mobilize and be united during the peace-building process.
According to Heela, the Afghan government has lost control over the peace process and only former Jihadist leaders can explain the requirements of the Taliban.
"It should be clarified who supports the Taliban. The former mujahedeen should say it loud that who provoked them to opt for such a game to overturn the system," she said.
Najibullah's daughter recalled the history that just like Mujahideen during the 90s, the Taliban has no sovereignty while talking peace.
She also called on women to raise their voices for peace and a durable peace without the participation of women is impossible.
https://www.khaama.com/unsc-calls-for-violence-reduction-an-immediate-end-to-targeted-murders-5435425/
--------
Afghan bomb kills at least eight; UN slams high civilian deaths
13 March ,2021
A powerful car bomb killed at least eight people and injured 47 in Afghanistan's western Herat province, officials said Saturday.
The death toll in the explosion late Friday that also destroyed 14 houses is expected to rise because several of the injured were critical, said Rafiq Sherzai, a spokesman for the provincial hospital.
One among the dead and 11 of the injured were Afghan Security Forces personnel while the remainder were civilians, including women and children, said Interior Ministry spokesman Tariq Arian.
No one has claimed responsibility.
Within hours of the attack, the UN Security Council at a press briefing in New York condemned an "alarming" increase in attacks in Afghanistan targeting civilians even as the Taliban and the Afghan government hold on-again-off-again talks in Qatar.
"These heinous attacks have targeted civil servants, the judiciary, the media, health care and humanitarian workers, including women in prominent positions, those who protect and promote human rights, and ethnic and religious minorities," the council said.
The Islamic State group has claimed responsibility for many of the targeted killings while the Taliban and the government have blamed each other for trying to sabotage efforts to reach a peace agreement.
The slow pace of talks and the increasing violence has prompted the US to cobble together a peace proposal, which was delivered last weekend. Both sides are expected to review and revise the eight-page plan ahead of a far-reaching meeting the US has proposed to be held in Turkey within weeks, when Washington hopes to see an agreement.
The US meanwhile is reviewing a peace deal the Trump administration signed with the Taliban, which calls for the final withdrawal of the remaining 2,500 US troops from Afghanistan by May 1.
The growing consensus is for a delay but in a sternly worded letter to Afghan President Ashraf Ghani last weekend pressing for progress on making peace with the Taliban, US Secretary of State Antony Blinken said all options, including the withdrawal, are still on the table.
The proposed peace deal offered by the US calls for an interim "peace government" to shepherd a post-war Afghanistan to elections and constitutional reforms. It also calls for the protection of equal rights for women and minorities.
The UN Security Council also called for "full, equal and meaningful participation of women," and a quick move toward a reduction in violence.
https://english.alarabiya.net/News/middle-east/2021/03/13/Afghan-bomb-kills-at-least-eight-UN-slams-high-civilian-deaths
--------
URL: https://www.newageislam.com/islamic-world-news/remove-26-verses-quran-says/d/124534
New Age Islam, Islam Online, Islamic Website, African Muslim News, Arab World News, South Asia News, Indian Muslim News, World Muslim News, Women in Islam, Islamic Feminism, Arab Women, Women In Arab, Islamophobia in America, Muslim Women in West,Islam Women and Feminism