New Age Islam News Bureau
02 February 2022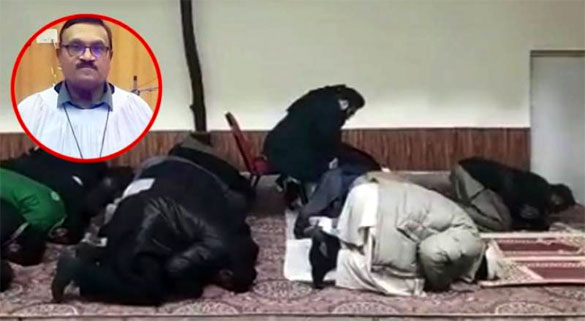 Photo: Daily Pakistan
-----
• Saudi Arabia Moves To Redefine Islam-Bearing Green Flag With A Sword And Inscribed With Islam's Creed As The Birthplace Of The Faith
• Video Of Group Dancing Atop Lucknow's Bada Imambada Raises Hackles; All-India Shia Muslim Personal Law Board Protests
• Timothy Weeks, Now Jibra'il Omar, Taliban's Former Captive Who Converted To Islam Longs To Return To Afghanistan
• Republican Mayoral Candidate, Carol Hefner, in Oklahoma Calls for Islam to Be 'Eradicated'
Pakistan
• Maulana Fazlur Rehman Urges Pakistan, Afghanistan To Avoid Confrontation
• Priest's killing reignites fear in Christian community
• Hindu Businessman Shot Dead In Pakistan, Protesters Block Highway
• Militant attacks declined slightly in January: report
--------
Arab World
• US to send warship, fighter jets to UAE after Yemen attacks: statement
• Casualties after Turkish air raids target PKK: Iraqi Kurds
• South Korea says it has reached $1.6 billion arms deal with Egypt
• Cash-strapped Lebanon tells diplomats to find donors to fund embassies
• Chlorine used in attack on Syrian opposition-held area in 2016: Watchdog
• Remains of over 600 missing soldiers from Iran-Iraq war found
• New rocket attack targets Baghdad airport
• Islamic Scholar Dubbed 'Syrian Gandhi' For Non-Violent Activism Dies At 90
--------
India
• Budget 2022: India Allocates Rs 200 Crore To Taliban-Ruled Afghanistan
• Pak accuses 'India lobby' of trying to scuttle its US envoy appointment
--------
South Asia
• Bangladesh scrambles to save disappearing indigenous languages
• Qatar-Taliban agreed upon resuming evacuation from Kabul
• Two journalists disappeared in Kabul, UNAMA reacted
• Children heart surgery ward opens in Kabul, first time in Afghanistan
• No Recognition Of Taliban Government Yet: Russian Deputy Foreign Minister
--------
North America
• US: Justice Department urged to probe anti-Muslim group's alleged spying
• US Muslim ban: Biden has failed to address lasting harms
• US, Turkish presidential advisers discuss 'Russian aggression' in Ukraine
--------
Europe
• France Will Not End Fight Against Terrorism Due To Mali's 'Irresponsible' Government: Minister
• French journalist gets police protection after controversial documentary on radical Islam
• Extremists target mosque in Greece, hang anti-Islam banners
• Muslims targeted in two separate attacks in southwestern France
• Time running out to save Afghans from starvation, charities tell UK government
• Germany contributes US$140 million to support UNICEF in Afghanistan
--------
Southeast Asia
• Indonesia: Muslim Groups Demand Closure Of Newly Opened Holocaust Museum
• Global Imams Council takes on China
• China promotes new book on atheism targeting religions
• Indonesian Church denies bishop is in critical condition
--------
Mideast
• Rights Group Accuses Israel Of Enforcing 'Apartheid' On Palestinians
• Sunni Islam Heavily Criticised For First Time In Turkey – Gökhan Bacık
• Iran Blasts European Diplomats over Fake Human Rights Concerns
• Commander: Joint Naval Drill by Iran, Russia, China Meant to Strengthen Regional Security
• Iranian supertanker carrying condensate docks in Venezuela
• Iran teachers in new day of protests over pay: Media
--------
Africa
• Hijab: Issue Circular To Stop Crisis In Lagos Schools – Muslims Tell Sanwo-Olu
• US Prepared To Impose Additional Costs On Sudan's Military If Violence Continues
• 63 migrants rescued off Morocco: Activists
• Libyan premier says government to continue to function until elections
Compiled by New Age Islam News Bureau
URL: https://www.newageislam.com/islamic-world-news/religious-scholars-peshawar-church-christians-pastor/d/126286
--------
Religious Scholars Pray Inside Peshawar Church In Solidarity With Christians In Wake Of The Killing Of Pastor William Siraj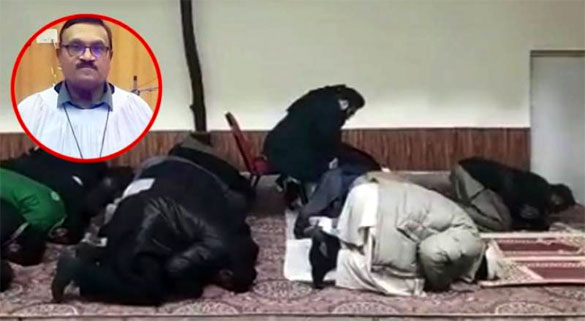 Photo: Daily Pakistan
-----
1 Feb, 2022
PESHAWAR – A group of Muslim scholars including PM's aide on religious harmony prayed inside a church in the KP capital to show solidarity with the Christian community in wake of the killing of Pastor William Siraj.
Reports in local media said religious scholars gathered inside a church of Peshawar in a show of solidarity, days after assailants killed a Christian priest and wounded another in the northwestern city of Peshawar.
Special Representative to PM on Religious Affairs Tahir Ashrafi said Imran Khan was personally overseeing the incident and the Pakistani Christian community will not be left alone in this hard time.
Commenting on praying in the Christian worship place, he said the state believes that a positive message in the form of today's prayers should be conveyed. "We want to send out a message to the world that we are united", he opined.
Ashrafi termed the attack on a member of a minority, an attack on a Pakistani citizen. He also revealed that the attack on the Cristian priest was a nefarious attempt to stir unrest on the basis of faith.
Meanwhile, the deceased was laid to rest after the last rites at the All Saints Church located inside the Kohati Gate in Peshawar. Christian community members attended the funeral.
Earlier, opposition leaders condemned the daylight killing, terming the event painful and alarming. Several members of the Christian community, provincial minister Kamran Bangash and police chief Moazzam Jah Ansari visited the Chamkani church to condole with the victims' families.
Source: Daily Pakistan
Please click the following URL to read the text of the original story:
https://en.dailypakistan.com.pk/01-Feb-2022/religious-scholars-pray-inside-peshawar-church-in-solidarity-with-christians-video
--------
Saudi Arabia Moves To Redefine Islam-Bearing Green Flag With A Sword And Inscribed With Islam's Creed As The Birthplace Of The Faith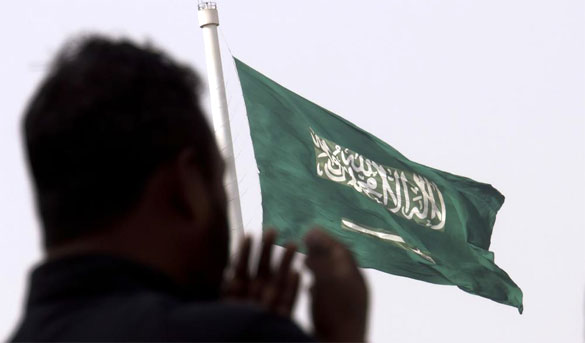 FILE - A man prays at an open air makeshift mosque in front of a giant Saudi Flag in Jeddah, Saudi Arabia, June 21, 2017. (AP Photo/Amr Nabil, File)
-----
2nd February 2022
Dubai: Saudi Arabia is inching toward changes that govern its national anthem and green flag, which is emblazoned with a sword and inscribed with Islam's creed as the birthplace of the faith.
Late on Monday, the kingdom's unelected consultative Shura Council voted in favour of changes, state-run media reported. It comes as the country's young crown prince emphasises Saudi nationality and national pride.
While decisions by the council have no bearing on existing laws or structures, the vote is significant because its members are appointed by the king and their decisions often move in lockstep with leadership.
Other state-linked media reported that the changes favour amending the system governing the flag, the slogan and the national anthem, but not its contents. The council has not disclosed further details.
Local media outlets also reported the proposed changes to aim to more clearly define the proper uses of the state emblem, raise awareness about the importance of the flag and anthem and protect the flag from infringement or neglect.
Last week, Saudi police arrested four Bangladeshi men for violating the Saudi flag, which carries the Islamic creed, after they were alleged to have dumped it in the garbage.
The state-run Saudi Press Agency reported only that the Shura Council voted to approve a draft amendment to a nearly 50-year-old royal decree governing the flag. The amendment was proposed by council member Saad al-Otaibi and studied by a subcommittee before it was discussed among council members.
The proposal comes amid rapid reforms that have transformed the once ultraconservative country. With backing from his octogenarian father, King Salman, Crown Prince Mohammed bin Salman has been striving to redefine Saudi identity, supplanting pan-Islamism with a national-cultural identity that is not solely defined by religion.
In one such example, a royal decree was recently issued that marks Feb 22 as Saudi Arabia's Founding Day. The national holiday is meant to commemorate the 18th-century attempt by Imam Muhammad bin Saud to found the first Saudi state before its demise at the hands of the Ottomans.
Also this week, the government ordered restaurants and coffee shops in Saudi Arabia to rename Arabic coffee as Saudi coffee in the latest effort to raise awareness about a cultural element that expresses the Saudi identity and its traditions, state media reported.
Since 1973, the green Saudi flag has featured the Islamic proclamation of faith in white Arabic calligraphy that states: "There is no god but Allah; Muhammad is the Messenger of Allah. Under those words is a sword.
The kingdom hosts Muslim pilgrims from around the world in the birthplace of Islam in Mecca, where the Prophet Muhammad was born and received the first commandments of the Quran.
In the absence of a free press, state-linked media outlets provided further insights into the Shura Council's proposal on codes governing the flag and anthem, which will be submitted to King Salman for official consideration.
In Saudi Arabia, there is no local independent media and repression has intensified under the crown prince, according to groups like Reporters Without Borders.
The daily Ashraq Al-Awsat and Sabq news site reported the idea came about as a result of the rapid changes the kingdom has undergone in recent years. Those include changes to existing legislation to support the goals and initiatives of Vision 2030 the crown prince's ambitious national project to overhaul the Saudi economy and make it more resilient in the face of fluctuating oil prices and sustainable energy.
Source: Siasat Daily
Please click the following URL to read the text of the original story:
https://www.siasat.com/saudi-arabia-moves-to-redefine-islam-bearing-green-flag-2268130/
--------
Video Of Group Dancing Atop Lucknow's Bada Imambada Raises Hackles; All-India Shia Muslim Personal Law Board Protests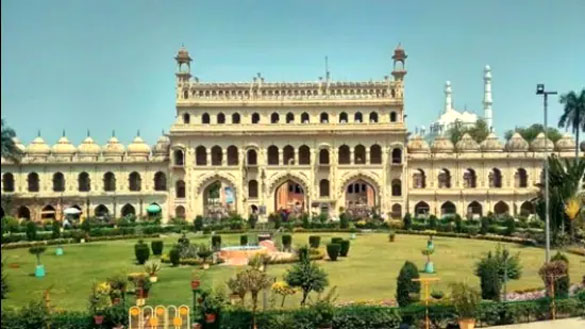 Bada Imambada (HT File Photo)
-----
Feb 02, 2022
A 15-second video clip of a group of girls dancing on the roof of Bada Imambada has drawn strong protests from the All-India Shia Muslim Personal Law Board (AISMPLB), Shia clerics and Shia youth.
Calling the act 'un-Islamic' and 'breach of sanctity' of the religious structure, the protestors condemned the act and demanded an FIR be registered in the matter. A group from the community has also approached the Lucknow police commissioner and district magistrate in this context.
"The only question is why is the Bada Imambada always the target? Why do no such videos of a girl or a group performing inside the Golden Temple or any other religious place surface? Why can't the Hussainabad and Allied Trust (HAT) Board, which has no dearth of funds, install CCTV cameras or the board highlighting the fact that Bada Imambada is a religious structure and visiting this structure demands appropriate behaviour," said S Mohammed Haider, mutwalli Sibtainabad Imambada and a lawyer who had approached the authorities demanding an FIR against the group.
Maulana Yasoob Abbas, senior Shia cleric and a AISMPLB general secretary, said, "We strongly oppose the act as it is a breach of the sanctity of the religious structure. We demand immediate intervention of district magistrate, the chairman of the HAT that owns the structure, and demand a ban on the entry of tourists into Bada Imambada. One must not forget that it is not a tourist place, it is a religious structure and such acts hurt our religious sentiments."
Maulana Saif Abbas, president, Shia Chand Committee, also raised objections to the video clip and said it is not for the first time that such videos have emerged. "We strongly oppose the act and demand action against the group. We have written several letters to the administration demanding a ban on such acts which hurt our sentiments. The sanctity of Imambadas should be maintained," said Abbas.
A similar incident was reported in October 2021, where a video of a girl who was dancing inside the Bada Imambada, emerged.
Shia youth said an FIR should be lodged against the group. "Such acts should be banned immediately. We are going to lodge an FIR into the matter, against the group and the person who was shooting the video," said Shamil Shamsi, convener of 'Hussaini Tigers'—a group of Shia youths. Besides, he said that they have also written to the ASI and HAT to make all possible arrangements and install CCTV cameras in order to keep a check on such acts.
It is not for the first time that objections on such acts have been raised. In 2019, the ban on pre and post-wedding shoots inside the Bada Imambada was imposed after Shias raised objections to a video shoot at the Imambada. The objection was raised by Shia cleric Maulana Kalbe Jawad. In 2020, Shias demanded a ban on the shooting of 'Tik Tok' videos at the Bada Imambada. A Shia group also demanded a dress code and said that tourists only in decent attire should be allowed to enter the Imambada.
Source: Hindustan Times
Please click the following URL to read the text of the original story:
https://www.hindustantimes.com/cities/lucknow-news/video-of-group-dancing-atop-lucknow-s-bada-imambada-raises-hackles-101643741924919.html
--------
Timothy Weeks, Now Jibra'il Omar, Taliban's Former Captive Who Converted To Islam Longs To Return To Afghanistan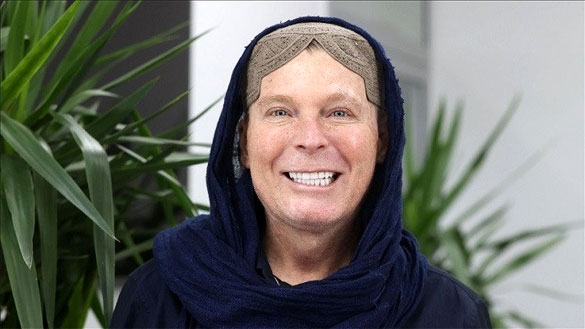 Timothy Weeks. Photo: Anadolu Agency
-----
1st February 2022
Timothy Weeks, now Jibra'il Omar, an Australian teacher, in Afghanistan, was kidnapped by the Taliban in 2016 while returning from work with his colleague Kevin. They were long-time captives under the Taliban for around 3 years or 1,192 days until the US exchanged two or three Taliban leaders, for the two of them.
Weeks who was from an evangelistic church sect of Christianity, with the knowledge he received through books which were given to him by the Taliban, decided to change his religion to Islam, in his second year of captivity, reported Anadolu Agency.
He changed his name to Baar Muad Jibra'il and even updated his Australian passport with the same. However, his family felt that he was going through Stockholm's syndrome, although, it was his personal choice.
Jibra'il said that he wants to spread the word that Islam is not what media presents, but it is a religion of peace.
When asked about whether he received criticism in his home country over his conversion, he said, "I do face them but that's okay. Even my family isn't happy with this decision but I'm happy with it," Anadolu Agency quoted Jibra'il.
Jibra'il, although being tortured thrashed by the Taliban, feels that they can be a great government and he urges the world to support them. Even on a holiday in Turkey he tried to get support for the government but failed in his attempt.
Although he faced many health issues like skin disease, prostate cancer, etc., he said that his passion for writing poetry kept him going. He has written over 33 poems while in captivity.
Jibra'il said that the people who tortured him, in captivity, pleaded with him to stay in touch as he left to board his plane to the US. He said that he would go back to Afghanistan in another three months to teach children. "For me, those young Afghan children are important who's future is bright," he added.
Source: Siasat Daily
Please click the following URL to read the text of the original story:
https://www.siasat.com/talibans-former-captive-who-converted-to-islam-longs-to-return-to-afghanistan-2267823/
--------
Republican Mayoral Candidate, Carol Hefner, in Oklahoma Calls for Islam to Be 'Eradicated'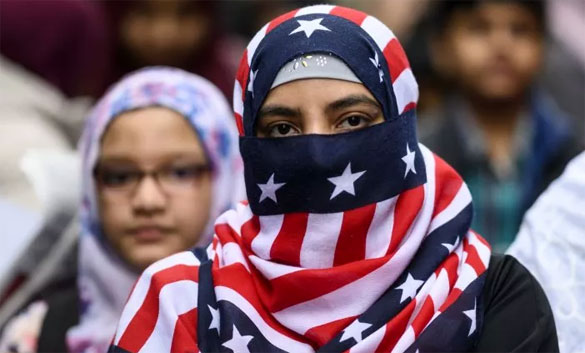 Republican Oklahoma City mayoral candidate Carol Hefner/ Johannes Eisele / Afp/Getty
----
By Daniel Villarreal
2/1/22
Republican Oklahoma City mayoral candidate Carol Hefner proclaimed during a debate that she thinks Islam should be "eradicated" from the globe.
Hefner defended her past Islamophobic social media posts during the debate, as well. The candidate had previously called Islam "an evil culture and not a religion," debate moderator Storme Jones pointed out. Hefner responded by doubling down, saying the "insipid" religion must come to an end.
"Yes, [Muslim culture] is a very negative culture," Hefner said. "And it does things that are oppressive and I don't agree with that. It's just like slavery. Don't agree with that. It's insipid, it should be eradicated from our culture, from our world and unfortunately, it has been here since the beginning of time."
OKC mayoral candidate Carol Hefner compares my religion to being similar to slavery, says it should be eradicated.
And of course, she will get away with it. Shame on her. pic.twitter.com/LSYGXdGLhu
— Kamran M. Riaz (@kr156) January 26, 2022
"I personally don't know how I'm going to get rid of it, but I would like to have those conversations," she added. "I would like to sit down and have healing conversations... it's very important to me that we heal our community."
Over 30,000 Muslims live in Oklahoma, according to the Council on American-Islamic Relations in Oklahoma (CAIR OK).
Later explaining her comments, Hefner said, "I was talking about the opportunities here and how it differs here because we don't have that hate and oppression and people can rise and I want to offer that opportunity to everybody."
Hefner, who was the co-chair of former President Donald Trump's 2016 campaign in Oklahoma and also a former fundraiser for the Republican Party, has a history of prejudiced social media posts.
In 2015, she shared a news article on Facebook about protesters in Oklahoma meeting then-President Barack Obama with Confederate flags. "This happened - love it," she wrote above the story. The Confederate flag is widely understood as a symbol of anti-Black racism.
Republican Oklahoma City mayoral candidate Carol Hefner recently said that she thinks Islam should be "eradicated" from the globe. In this photo, Muslim demonstrators take part in a protest against growing Islamophobia, white supremacy, and anti-immigrant bigotry following the attacks at Christchurch New Zealand on March 24, 2019, in New York City. Johannes Eisele / AFP/Getty
In 2014, she wrote on Facebook: "Blacks have perpetrated and promoted slavery on their own for generations." She later said that she was commenting on the fact that non-white people historically continue U.S. slavery.
Dr. Imam Imad Enchassi, the senior imam for the Islamic Society of Greater Oklahoma City warned of the magnitude of Hefner's comments. "She is talking about 1.9 billion Muslims. When she used the word 'eradicated' she is talking about eradicating 1.9 billion Muslims," he told Oklahoma City news station KWTV. "Those comments are more than problematic those comments are plain dangerous and Islamophobic, to say the least."
Enchassi and Adam Soltani, the executive director for CAIR-OK, told KWTV that they offered to talk to Hefner. Hefner reportedly said she would welcome such a talk, the news station reported.
She told the news station of Enchassi and Soltani, "I think that they took it personally and they were looking for a reason to not like my comment."
Hefner is a 60-year-old real estate developer who has never held an elected office. She launched an unsuccessful bid for her state senate in 2011.
In her current campaign, she said that Oklahoma City is overrun with crime and homeless people who have been bussed in from California. She made this unfounded claim, she said, based on informal conversations she said she had with nearly 100 local homeless people.
Nearly 75 percent of Oklahoma City's homeless residents are from Oklahoma, according to the Homeless Alliance, a city-based nonprofit.
Hefner has also claimed that medical professionals aren't sure that face masks and vaccines prevent the spread of COVID-19. That is untrue.
The Oklahoma City mayoral election is on February 8. The candidates will face off against the current mayor, moderate Republican David Holt. If no candidate wins a majority of the vote, the two most popular candidates will compete in an April 5 runoff election.
Source: News Week
Please click the following URL to read the text of the original story:
https://www.newsweek.com/republican-mayoral-candidate-oklahoma-calls-islam-eradicated-1675195?piano_t=1
--------
Pakistan
Maulana Fazlur Rehman Urges Pakistan, Afghanistan To Avoid Confrontation
Saleem Shahid
February 2, 2022
QUETTA: Pakistan Democratic Movement president Maulana Fazlur Rehman has urged Pakistan and Afghanistan to avoid confrontation and war-like situation to foil the nefarious designs of the United States which wanted to pit them against each other on the issue of Durand Line.
Speaking at a public meeting in the border town of Chaman on Tuesday, the chief of the Jamiat Ulema-i-Islam-Fazl (JUI-F) said the US wanted that Pakistan and Afghanistan should not remain friends.
Hundreds of security personnel were deployed in and around the venue of public meeting in view of terror threat.
Maulana Fazl said: "If Pakistan and Taliban governments indulged in fighting it would be the success of Americans who left Afghanistan with the issue of Durand Line unresolved.
"If anyone is a friend of Pakistan, it is the Afghan Taliban," he said, adding that Afghan Taliban were the real friends of Pakistan. He said the countries could have different stands on the border issue but it could be resolved through negotiations.
He said that under a pre-planned conspiracy, the United Kingdom had also left the Subcontinent without resolving Kashmir and other issues.
Source: Dawn
Please click the following URL to read the full text of the original story:
https://www.dawn.com/news/1672738
--------
Priest's killing reignites fear in Christian community
February 1, 2022
PESHAWAR: The killing of a Christian priest in Peshawar has reignited fear amongst local parishioners and brought back painful memories of one of the nation's bloodiest attacks on the community in the Khyber Pakhtunkhwa capital.
Gunmen shot and killed Pastor William Siraj and wounded another Christian cleric, Naeem Patrick, as they drove home from Sunday service at a small church located on the outskirts of Peshawar.
"We felt insecure [even] before this. The feeling of insecurity increases when these kinds of incidents take place," Naqqash Bhatti, a relative of Siraj, told Reuters at the funeral service for the slain priest on Monday.
The service, attended by hundreds of mourners, was held at the colonial era All Saints Church in Peshawar — the site of a twin suicide bombing that killed scores of worshippers in 2013.
Following the bombing, a small Christian community set up a smaller discreet church on the outskirts of Peshawar in 2014 — and named it the "Martyrs of the All Saints Church" in memory of the attack.
Siraj was targeted just after he had attended Sunday mass at the memorial church, which is nestled in a crammed brick-walled lane surrounded by the modest houses of the local Christian community — many of whom shifted there after the 2013 suicide attack.
The intimate community and the memorial church served as a comfort zone for many who lost friends and family in the suicide attack, and struggled to get on with their lives.
"We are poor people and work till late night in the city and then return home quite late at night," said Waheed Masih, 36, who lives across from the church, where Siraj was a regular.
"The killing […] has created panic and nobody wants to leave their homes due to fear and terror," he added.
No one has claimed responsibility for the attack on Siraj yet, but it comes amidst a resurgence in militant attacks in Pakistan, particularly along the western border with Afghanistan.
Protestant Bishop Humphrey Sarfaraz, who also attended Siraj's funeral service, told Reuters he had requested the region's top police official to arrange more security for the Christian clergy and enhanced patrolling for Sunday services.
The police have widened their manhunt for two unidentified assailants after the provincial police chief, Moazzam Jah Ansari, ordered investigators to use all available resources to ensure the arrest of the perpetrators.
Source: Pakistan Today
Please click the following URL to read the full text of the original story:
https://www.pakistantoday.com.pk/2022/02/01/priests-killing-reignites-fear-in-christian-community/
--------
Hindu Businessman Shot Dead In Pakistan, Protesters Block Highway
February 02, 2022
Karachi: A Hindu businessman was shot dead in Pakistan's Sindh province on Monday by influential elements allegedly belonging to the Dahar community, living 2 km away from the Daharki town of Ghotki district, reported local media.
Satan Lal, the businessman, was shot dead on Monday over a piece of land in Ghotki district, reported The Express Tribune.
"There was an inauguration of a cotton factory and flour mill on the land of Satan Lal where some people shot and killed him," The Express Tribune quoted Lal's friend Mukhi Anil Kumar, who was present at the scene, as saying over the phone.
"We initially thought that it was the aerial firing to welcome Saen Sadhram Saheb, spiritual leader of the community," he added.
"They are threatening to kill me, smash my eyes and cut my hands and feet. They are asking me to leave Pakistan. I belong to this country and will prefer to die here but will not surrender," said Satan Lal in a video that went viral a few months ago.
"The roadside land belongs to me and why should I give it up," he was further quoted as saying. Lal had requested the chief justice of Pakistan and other authorities to provide him justice, naming those who were threatening to kill him.
On Tuesday, a large number of protesters blocked the National Highway to protest the killing of the Hindu businessman.
Following the sit-in, police arrested ring leader Bachal Dahar and his accomplices accused of killing Lal. Earlier, in an attempt to press the law enforcement agency to apprehend the culprits, the locals had staged a protest in front of the Daharki police.
The culprits involved in the incident have been arrested and protesters have now cleared the highway, said Deputy Inspector General (DIG) police Sukkur.
A two-acre land triggered the dispute. Around eight years ago, some people had shot and injured Satan Lal who also came under attack a few months ago, claimed local journalists from the area.
Efforts were afoot to tarnish the image of co-existence in Sindh where Hindus and Muslims live peacefully for centuries, said Khehal Das Kohistani, a lawmaker of the Pakistan Muslim League-Nawaz (PML-N).
Girls of the Hindu community were forcibly converted and people were being kidnapped and killed, claimed the PML-N leader.
Stressing that the situation will spiral out of control if protection is not given to the minorities living in the province, Mr Kohistani urged the Chief Minister, IG police and others to take notice of the situation and provide justice and protection to the aggrieved Hindu families facing threats, according to The Express Tribune.
The incident came after a 44-year-old Hindu businessman Sunil Kumar was shot dead by unidentified persons at Anaj Mandi in Sindh Province of Pakistan in early January.
Source: ND TV
Please click the following URL to read the full text of the original story:
https://www.ndtv.com/world-news/hindu-businessman-shot-dead-in-pakistan-protesters-block-highway-2744221
--------
Militant attacks declined slightly in January: report
Ikram Junaidi
February 2, 2022
ISLAMABAD: The first month of the year 2022 could not see any improvement in the security situation of the country as the number of causalities increased despite a slight decrease in the attacks.
According to statistics released by an Islamabad-based independent think-tank, Pakistan Institute for Conflict and Security Studies (PICSS), the number of violent attacks decreased from 28 to 24 during the month, the deaths and injuries rate increased by 15 per cent and 37 per cent, respectively, compared to December 2021.
The report claimed that militants had carried out 28 attacks across the country in December 2021 in which 36 people were killed, including 13 security forces personnel, while 47 people were injured, including 37 civilians.
In January, the militants carried out 24 attacks in which 42 people were killed — 22 security forces personnel,16 civilians and four militants — and 79 others were injured, including 62 civilians.
In January 2022, the majority of the attacks took place in Khyber Pakhtunkhwa (KP) followed by Balochistan and erstwhile Fata. PICSS recorded 12 militant attacks in KP in which 15 people were killed, including five security forces personnel and nine civilians, while seven people were injured including four security forces personnel.
In Balochistan, militants carried out six attacks in which 17 people were killed — 14 security forces personnel and two civilians — while 32 people got injured of which 26 were civilians and six were security forces personnel.
In the erstwhile Fata, four militant attacks were witnessed in which two civilians and two security forces personnel were killed.
Source: Dawn
Please click the following URL to read the full text of the original story:
https://www.dawn.com/news/1672833/militant-attacks-declined-slightly-in-january-report
--------
Arab World
US to send warship, fighter jets to UAE after Yemen attacks: statement
Feb 2, 2022
DUBAI: The United States will deploy a guided missile destroyer and state-of-the-art fighter jets to help defend the United Arab Emirates after a series of missile attacks by Yemeni rebels, a US statement said Wednesday.
The deployment, to "assist the UAE against the current threat", follows a phone call between Defence Secretary Lloyd Austin and Abu Dhabi Crown Prince Mohammed bin Zayed Al-Nahyan, the US embassy in the UAE said.
The UAE, part of the Saudi-led coalition fighting Yemen's Iran-backed Huthi rebels, suffered three missile attacks last month with the first killing three oil workers.
The second targeted Al Dhafra air base, where US forces are stationed, prompting them to fire Patriot interceptors to help shoot down the missiles as air crews scrambled to bunkers.
Source: Times Of India
Please click the following URL to read the full text of the original story:
https://timesofindia.indiatimes.com/world/middle-east/us-to-send-warship-fighter-jets-to-uae-after-yemen-attacks-statement/articleshow/89292592.cms
--------
Casualties after Turkish air raids target PKK: Iraqi Kurds
02 February ,2022
Turkey carried out air strikes Tuesday in northern Iraq against rebel Kurdistan Workers' Party (PKK) positions, causing casualties, authorities in Iraq's autonomous Kurdistan region said.
"Turkish warplanes targeted several positions of Kurdistan Workers' Party fighters," particularly in the Makhmur and Sinjar regions, Kurdish counter-terrorism services said in a statement.
"Turkish military aircraft bombed six PKK positions in the Karjokh mountains," said the statement.
It also referred to strikes on two positions in the Sinjar mountains and an adjacent area in neighbouring Syria, as well as two raids in the Shila area near Iraq's border with Syria.
"According to reports, the bombings caused human and material losses," the statement said, without specifying the number of dead or wounded.
The PKK, blacklisted as a terrorist group by Ankara and its Western allies, has been waging an insurgency against the Turkish state since 1984.
Turkish President Recep Tayyip Erdogan, who has threatened to "clean up" parts of northern Iraq, accuses the PKK of using the mountainous border area as a springboard for its insurgency.
Turkish forces routinely conduct military strikes against PKK hideouts in the area, causing strains in its relations with the central Iraqi government in Baghdad.
Source: Al Arabiya
Please click the following URL to read the full text of the original story:
https://english.alarabiya.net/News/middle-east/2022/02/02/Casualties-after-Turkish-air-raids-target-PKK-Iraqi-Kurds-
--------
South Korea says it has reached $1.6 billion arms deal with Egypt
01 February ,2022
South Korea on Tuesday said it reached a $1.6 billion arms deal with Egypt a week after President Joe Biden's administration approved another massive arms sale to the Middle Eastern nation.
The office of President Moon Jae-in in Seoul said the deal to provide K9 self-propelled howitzers to Egypt is the country's biggest export contract for the weapon. It is manufactured by Hanwha Defense.
Moon's office did not provide further details on the deal, including how many of the howitzers Egypt will acquire. There was no immediate comment from Egypt.
Tuesday's announcement came two weeks after Egyptian President Abdel Fattah al-Sisi met with Moon in Cairo. It was the first visit by a South Korean president to Egypt in 16 years, according to the state-run al-Ahram daily.
Al-Sisi also met with Hanwha Defense CEO Kim Seung Mo in Cairo in November when Egypt organized its second international weapons fair.
Last week, the Department of State announced a $2.5 billion arms sale to Egypt. That deal included 12 Super Hercules C-130 transport aircraft and related equipment worth $2.2 billion and air defense radar systems worth an estimated $355 million.
Source: Al Arabiya
Please click the following URL to read the full text of the original story:
https://english.alarabiya.net/News/middle-east/2022/02/01/South-Korea-says-it-has-reached-1-6-billion-arms-deal-with-Egypt
--------
Cash-strapped Lebanon tells diplomats to find donors to fund embassies
01 February ,2022
Cash-strapped Lebanon has told embassies to look for donors to help cover their running costs, as it falls behind on paying diplomats' salaries and contemplates shutting missions abroad.
A foreign ministry circular, dated January 25 and reviewed by Reuters, asks foreign missions to seek donations from the Lebanese diaspora, and respond to its request within two weeks.
The ministry is studying closing down a number of missions "as an urgent financial measure adopted by a large number of states swept by similar financial crises," the circular said.
The foreign ministry did not immediately respond to a request for additional information about the document and the financial situation at its embassies.
Two Lebanese diplomatic sources told Reuters that employees of foreign missions had not been paid their salaries for the month of January. One source said they had been told they would receive them in the next week.
Lebanon is in the throes of what the World Bank has described as one of the worst financial collapses in world history. Since 2019 it has burned through most of its reserves of hard currency, leading to a dollar shortage that has seen the national currency lose more than 90 percent of its value.
Source: Al Arabiya
Please click the following URL to read the full text of the original story:
https://english.alarabiya.net/News/middle-east/2022/02/01/Cash-strapped-Lebanon-tells-diplomats-to-find-donors-to-fund-embassies
--------
Chlorine used in attack on Syrian opposition-held area in 2016: Watchdog
01 February ,2022
Chlorine was used in an attack on an area in Syria held by opposition forces in 2016 in which at least 20 people suffered breathing difficulties, the world's chemical weapons watchdog concluded Tuesday.
The incident near a field hospital outside the town of Kafr Zeita came shortly after witnesses reported a helicopter dropping at least one object, the Organization for the Prohibition of Chemical Weapons (OPCW) said.
Inspectors obtained an industrial chlorine cylinder retrieved from the site and were able to "positively link" it to the October 1, 2016 attack, helped by digital evidence and witness interviews, it said.
"The report concluded there are reasonable grounds to believe that the industrial chlorine cylinder was used as a weapon," the OPCW said in a statement, based on a report by its Fact-Finding Mission which probes chemical attacks in Syria.
Witnesses reported a helicopter taking off from regime-held Hama airport before the attack, on an agricultural area where a number of opposition groups were sheltering in caves.
"Shortly afterwards, the helicopter dropped two barrels, according to a number of witnesses, while others reported being aware of one barrel only," the report said.
"Approximately 20 individuals suffered from suffocation and breathing difficulties."
The inspectors found that "the cylinder ruptured as a result of mechanical force and released a toxic irritant substance," said the report.
The report by the Hague-based OPCW will add to pressure on Syrian President Bashar-al Assad's regime from Western countries to come clean over its alleged chemical weapons use.
Syria denies the use of chemical weapons and insists it has handed over its weapons stockpiles under a 2013 agreement with the US and Russia, prompted by a suspected sarin gas attack that killed 1,400 in the Damascus suburb of Ghouta.
Source: Al Arabiya
Please click the following URL to read the full text of the original story:
https://english.alarabiya.net/News/middle-east/2022/02/01/Chlorine-used-in-attack-on-Syrian-rebel-held-area-in-2016-Watchdog
--------
Remains of over 600 missing soldiers from Iran-Iraq war found
Ali Cevad
02.02.2022
BAGHDAD
The Iraqi Red Crescent Society announced Tuesday that the remains of 629 soldiers who went missing during the 1980-1988 Iran-Iraq war have been discovered.
Publishing the list of the names in coordination with the Prisoners and Missing Persons Department, the organization also called on their families to receive the remains.
It did not mention when or where the remains were found.
Iran and Iraq occasionally exchange remains and bodies of soldiers based on a joint agreement they signed in Geneva in 2008.
Source: Anadolu Agency
Please click the following URL to read the full text of the original story:
https://www.aa.com.tr/en/middle-east/remains-of-over-600-missing-soldiers-from-iran-iraq-war-found/2491440
--------
New rocket attack targets Baghdad airport
Haydar Karaalp
02.02.2022
BAGHDAD
Baghdad International Airport came under a new rocket attack on Wednesday, a local security official told Anadolu Agency.
No casualties or damage were reported in the attack, for which no group has claimed responsibility.
Source: Anadolu Agency
Please click the following URL to read the full text of the original story:
https://www.aa.com.tr/en/middle-east/new-rocket-attack-targets-baghdad-airport/2491576
--------
Islamic scholar dubbed 'Syrian Gandhi' for non-violent activism dies at 90
01 February, 2022
A prominent Syrian Islamic scholar and advocate for non-violence has died in Istanbul, Syrian media reported on Monday.
Jawdat Said, a 90-year-old critic of Syria's Assad regime who graduated from Egypt's Al-Azhar university, dedicated much of his life to advocating for what he called "non-violent Islam", rejecting extremism and the use of violence even in self defence.
Many activists referred to him as "the Arab Gandhi" for his peaceful activism.
Said held lectures and seminars in universities and cultural centres across the world - including in Iran, Turkey, Canada, and the United States - stressing that Islam was a religion of peace.
Among Said's most famous works were 'The Problem of Violence in the Islamic World', which was published in 1966 and his 2002 publication 'Non-violence, the basis of settling disputes in Islam'.
He was arrested several times for his peaceful opposition activism.
People across the globe were influenced by Said's work and paid tribute to him online after he died, including Ali al-Qaradaghi, the Secretary General of the International Union of Muslim Scholars, who called him "one of the founders of civil resistance, who was faithful to his principles while rejecting oppression".
Reem Assil, one of the founders of the Syrian Non-Violence Movement, said that while she only met him once, she got to know his ideas by meeting many people who "were raised in his thought".
"It wasn't just non-violence which distinguished him, it was his capacity to accept modernity and open-mindedness and make it an original product of Islamic culture," she wrote on Facebook.
Source: The New Arab
Please click the following URL to read the full text of the original story:
https://english.alaraby.co.uk/news/islamic-scholar-dubbed-syrian-gandhi-dies-aged-90
--------
India
Budget 2022: India Allocates Rs 200 Crore To Taliban-Ruled Afghanistan
Feb 01, 2022
Rs 200 crore has been allocated as aid to Afghanistan in India's Budget for financial year 2022-23.
Afghanistan witnessed the Taliban's takeover in August last year and since then India has sent humanitarian aid to the country in form of medicines.
February is expected to see India sending the much-awaited aid of wheat as New Delhi and Islamabad formalise modalities of the plan as it uses Pakistan's territory.
Since 2001 after the US invasion, India had emerged as Afghanistan's biggest aid supporter in the region and has been involved in mega infrastructure projects in the country including the Afghan parliament and the India-Afghanistan friendship dam in Herat.
However, at Rs 200 crore it's a decrease as compared to Rs 350 crore allocated in the ongoing financial year of which Rs 200 crore has been the revised allocation. The Indian allocation comes even as New Delhi has not recognized the Taliban regime in Afghanistan
The Maldives at Rs 360 crore (versus Rs 250 crore), Myanmar at Rs 600 crore (versus Rs 400 crore), Mongolia at Rs 12 crore (versus Rs 2 crore), Bangladesh at Rs 300 crore (versus Rs 200 crore) saw an increase in aid provision in the Budget document.
Bhutan at Rs 2266.24 crore (versus Rs 3004.95 crore), Nepal at Rs 750 crore (versus Rs 992 crore), Seychelles at Rs 14.06 crore (versus Rs 160 crore) saw a decrease in aid by New Delhi in the next financial year. Sri Lanka at Rs 200 crore and Mauritius at Rs 900 crore saw no change in Budget support.
Chabahar Port, India's key connectivity project to the west saw no change in Budget allocation with the allocation of Rs 100 crore continuing. Allocation to Africa stood at Rs 250 crore (versus 300 crore), Eurasian countries at Rs 140 crore (versus Rs 100 crore), Latin America at Rs 40 crore (no change) in the Budget announced on Monday.
Overall the Budget of the ministry of external affairs has been increased to Rs 17250 crore for FY 2022-2023 (vs Rs 14329 crore in FY 2020-21).
The Budget for the Indian Council of Cultural Relations (ICCR), an autonomous body under the MEA saw an increase of Rs 20 crore in the next financial year at Rs 320 crore (versus Rs 300 crore in the current financial year).
When it comes to budget allocation on Maintenance cost of Aircraft of Air India for VVIP travel, no information has been given.
Source: WIO News
Please click the following URL to read the full text of the original story:
https://www.wionews.com/south-asia/budget-2022-india-allocates-rs-200-crore-to-taliban-ruled-afghanistan-449499
--------
Pak accuses 'India lobby' of trying to scuttle its US envoy appointment
Chidanand Rajghatta
Feb 1, 2022
WASHINGTON: Pakistan has blamed the "Indian lobby" in America for a diplomatic train wreck in Washington that has resulted in the Biden administration holding up the acceptance of Islamabad's ambassador-designate to the United States, purportedly for his dodgy stance on terrorism.
Previously Pakistan's envoy to the United Nations and ambassador to China, Sardar Masood Khan's nomination has hit a wall in Washington after a prominent US lawmaker said he is a "jihadist who espouses terrorist causes", including inciting the youth in Kashmir. Congressman Scott Perry also urged the state department to convert its pause on the credentialing into an outright rejection, saying his nomination demonstrated Islamabad's "unmitigated contempt for the United States".
A Pakistani government source maintained that the credentialing was under process and accused New Delhi of trying to scuttle the appointment, ostensibly because of Khan's "expertise" on the Kashmir issue.
"His agrément is being processed in the US system. This (reports of a pause) is a part of the wider Indian disinformation campaign to malign Pakistan and those who represent the country, by using fake news to make scandalous claims and baseless allegations," spokesperson Asim Iftikhar Ahmad said in Islamabad.
The Biden administration declined to confirm or deny reports on the matter, whether it was a procedural delay or a pause because of Khan's controversial statements. "As a matter of standard diplomatic practice, we do not comment on the status of agrément requests from foreign governments," a state department spokesperson told ToI.
Led by Prime Minister Imran Khan himself, Masood Khan has been part of Pakistan's shrill campaign against New Delhi, including calling the Modi government "fascist" and "extremist". While the Modi government has its critics in the US, by no stretch of imagination is it equated to the Republic of India, which has solid bipartisan support in Washington.
In contrast, Pakistan's stock has plummeted sharply, with even its regular Congressional torchbearers appearing to have given up on Islamabad because of its extremist rhetoric. Among other issues, Islamabad has officially demanded the US release a convicted Pakistani-origin scientist Aafia Siddiqui, associated with Al Qaeda and its terrorist attacks on the US homeland.
Source: Times Of India
Please click the following URL to read the full text of the original story:
https://timesofindia.indiatimes.com/world/us/pak-accuses-india-lobby-of-trying-to-scuttle-its-us-envoy-appointment/articleshow/89281520.cms
--------
South Asia
Bangladesh scrambles to save disappearing indigenous languages
February 01, 2022
DHAKA: Bangladesh has been scrambling to save its endangered languages with new school books for indigenous communities, but the groups say too few of them are included in the program as authorities struggle to find appropriate teachers.
Most people in Bengali-majority Bangladesh, which has a population of more than 167 million, speak Bangla, the official language, as their first tongue. But there are also 39 ethnic Indigenous groups in the country, with an estimated population of 4 million, who have distinct cultures and languages.
According to a 2019 survey by the International Mother Language Institute, 14 of these Indigenous languages are about to disappear.
The government in 2017 launched textbooks for five of the biggest groups — Chakma, Marma, Tripura, Garo and Sadri — to teach students in the first three classes of primary school in the mother tongues. The initiative was welcomed by indigenous communities, but they fear it is too little to stop their languages from dying.
"The government has to date only launched textbooks for five ethnic groups. What will happen to the other languages?" rights activist Sanjeev Drang, who also serves as secretary-general of the Bangladesh Indigenous People's Forum, told Arab News earlier this week.
"If immediate initiatives are not taken by the authorities, many of the other languages will also disappear from the country."
Authorities say they have been struggling to find teachers who both speak and write in indigenous languages as, in most of these communities, users are no longer familiar with their writing systems. To introduce textbooks in five of them, the National Curriculum and Textbook Board had sought the help of linguists to restore their respective alphabets.
"We are facing a challenge in providing lessons through these ethnic mother languages because we don't have enough trained teachers. Some of the teachers from the ethnic groups can only speak in their languages, but they don't know how to write in them, which is a challenge we have to overcome," Prof. Dr. A. K. M. Riajul Hasan from the curriculum board's primary education section told Arab News.
He said the board has been trying to identify the shortcomings in the introduction of the first five languages, but the process has been stalled by the pandemic and school closures.
"Once we complete this research, the initiative will be gradually expanded for other ethnic languages also," he said.
The country's Department of Primary Education is planning to train more instructors for Indigenous schools, but its training director, Uttam Kumar Das, said it may only start next year, together with a planned rehaul of the country's curriculum scheduled for the school year 2023.
Representatives of the groups whose children have already started classes in their mother tongues say it makes a great difference.
Rony Chakma, a resident of Rangamati, a predominantly Chakma town in the Chittagong Hill Tracts in southeastern Bangladesh, said the use of his native language has been decreasing as people do not use it in their professional lives. With official tuition, children could internalize it better.
"It's always nice if our children learn the letters of our own languages," he said.
For Nelson Marma from Bandarban, a predominantly Marma community, learning his language at school had been "like a dream," which he is glad is now coming true for the younger generation.
"The use of mother languages has been decreasing day by day," he said. "With this initiative, our languages will be now saved from extinction."
But the initiative needs to be expanded as soon as possible to save other indigenous tongues.
Source: Arab News
Please click the following URL to read the full text of the original story:
https://www.arabnews.com/node/2016436/world
--------
Qatar-Taliban agreed upon resuming evacuation from Kabul
02 Feb 2022
The Foreign Ministry of Qatar said that they have agreed with the Islamic Emirate of Afghanistan to evacuate foreign nationals who are in danger in the country.
In an interview in the US, the visiting Emir of Qatar Shiekh Tamim bin Al Thani said that they have agreed on two flights every week that will be conducted through Qatar Airlines.
The flights will facilitate the evacuation of not only American citizens in Afghanistan but also the nationals of other countries.
Following the completion of the chaotic evacuation of Kabul on August 30, Qatar Airlines conducted the mission that stalled early in December last year that will be resumed now.
The flights were all chartered ones.
In the meantime, talks over a weekly flight of Ariana Airline-Afghanistan's Airline- to Qatar are reportedly ongoing between the country and IEA.
Source: Khaama Press
Please click the following URL to read the full text of the original story:
https://www.khaama.com/qatar-taliban-agreed-upon-resuming-evacuation-from-kabul-74457/
--------
Two journalists disappeared in Kabul, UNAMA reacted
01 Feb 2022
United Nations Assistant Mission in Afghanistan (UNAMA) has reacted to the disappearance of two Afghan journalists in the Afghan capital Kabul and has asked the Islamic Emirate of Afghanistan to make public why they detained the journalists.
Two journalists of Ariana News named Waris Hasrat and Aslam Ejab went missing on Monday evening, January 31 and no one has claimed responsibility for the disappearance yet.
"Mounting concern about the restriction on media and free expression. UN urges the Taliban to make public why they detained these Ariana News reporters and to respect the Afghan's rights." Reads the Twitter post of UNAMA.
UNAMA mentions the Taliban as the IEA has not commented on the disappearance of the Afghan journalists.
The UN mission in Afghanistan has also reiterated the call on the Taliban to make clear the whereabouts of women activists who went missing two weeks ago.
Source: Khaama Press
Please click the following URL to read the full text of the original story:
https://www.khaama.com/two-journalists-disappeared-in-kabul-unama-reacted-8769786/
--------
Children heart surgery ward opens in Kabul, first time in Afghanistan
01 Feb 2022
Ministry of Public health of the Islamic Emirate of Afghanistan opened an exclusive ward for heart surgeries of children in Kabul which is also the first one in the public health sector of the country.
The ward was inaugurated in Indira Gandhi hospital based in Kabul and doctors of the ward have been trained in India.
Officials of the Ministry said that the ward was supposed to be inaugurated in 2012 but it did not happen due to vas corruption in the previous government.
Deputy Minister of public health Abdul Bari Omar said that the IEA is committed to strengthening the public health system that was forgotten during the previous government.
Abdul Bari Omar added that the rest of the problems of the public health sector will also be resolved in the coming months.
Source: Khaama Press
Please click the following URL to read the full text of the original story:
https://www.khaama.com/children-heart-surgery-ward-opens-in-kabul-first-time-in-afghanistan-457457/
--------
No Recognition Of Taliban Government Yet: Russian Deputy Foreign Minister
February 01, 2022
Moscow: Russia's Deputy Foreign Minister Sergey Vershnin, after Monday's consultations on UNSC issues between him and Reenat Sandhu, Secretary West in the Ministry of External Affairs, said 'it is premature to talk about recognizing the current government in Kabul'.
Vershnin said, "Russian and Indian stances [on Afghanistan] are similar and identical in many respects. They boil down to the fact that now it is premature to talk about recognizing the current government in Kabul."
"We expect the current Afghan leadership to fulfil the obligations they have assumed, especially with regard to the inclusivity of the government and with regard to other measures, including in the human rights area," he added.
He also mentioned that it is clear that humanitarian assistance to the Afghan people should be provided, and it is being provided by both us and India.
Vershnin said that the aid to Afghan people "should be continued, for reasons including that the 20-year presence of the Americans and their allies in Afghanistan that has caused the situation to become so deplorable these days, including from a humanitarian perspective."
"India has been in the UN Security Council as a non-permanent member for the second year, and it was interesting and important for us to compare our notes following the results of their first year in the UNSC with regard to all issues on the agenda of the Security Council. The consultations were business-like, detailed and friendly.", said Vershnin.
He further added that both India and Russia strengthen coordination and interaction on major international issues, including on international platforms - in New York, Geneva and Paris, within the UNESCO.
During the consultations, the Russian side informed the Indian Side about their point of view about what is going on around Ukraine and on the tensions fanned by the Western nations, NATO and the United States.
Source: ND TV
Please click the following URL to read the full text of the original story:
https://www.ndtv.com/world-news/afghanistan-taliban-takeover-no-recognition-of-taliban-government-yet-russian-deputy-foreign-minister-sergey-vershnin-2741903
--------
North America
US: Justice Department urged to probe anti-Muslim group's alleged spying
By Umar A Farooq
1 February 2022
More than 80 Muslim organisations, including rights groups, mosques and charities, have sent a letter to the US Department of Justice, calling on the administration to launch an investigation into whether an anti-Muslim group violated federal laws by allegedly spying on several Muslim groups in the US.
The groups, including the Council on American-Islamic Relations (Cair), Muslim Advocates, and the Islamic Society of North America said that the "conspiracy to spy on American mosques and Muslim organisations was not surprising.
"Civil rights advocates have been targeted by infiltrators and saboteurs for decades. It is long past time for this behaviour to come to an end.
"To protect the civil rights of American Muslims, we ask the Department of Justice to launch an investigation to determine whether Steve Emerson or IPT broke any federal civil rights statutes or criminal laws."
The Investigative Project on Terrorism (IPT) has been labelled an anti-Muslim group by the Islamophobia Network, a project of the Center for American Progress that tracks anti-Muslim groups and donors. The IPT was founded by Steve Emerson, who has a "history of promoting falsified information and conspiracy theories about Islam and Muslims", according to Georgetown University's Bridge Initiative.
In December, Cair claimed its organisation's chapter in the state of Ohio had a spy in its ranks.
Following an internal investigation, the group alleged that the chapter's executive director Romin Iqbal had been recording meetings and conversations and then sending those materials to the IPT.
IPT denied that it was spying on Muslim communities but has previously told Middle East Eye it would not hesitate to report on groups it claims are conducting "radical Islamist activity".
Cair subsequently claimed that there was a second spy. However, this person had been a member of Dar al-Hijrah, a prominent mosque in the suburbs of northern Virginia.
The individual, Tariq Nelson, allegedly confessed and claimed he was paid $3,000 a month by IPT over four years for a total of $100,000 to spy on the mosque and "record prominent Muslim leaders".
'An Israel lobbying organisation'
The news of the alleged espionage, which Cair claimed had infiltrated nearly every major Muslim organisation in the United States, came as a shock to the faith community even though for two decades it faced a barrage of surveillance in the aftermath of the 9/11 attacks.
The Muslim rights group also claimed that one of IPT's goals was "protecting the Israeli government by undermining Muslims engaged in political and human rights activism".
Cair released a series of emails it claimed were exchanged between Israeli officials and the IPT. In one, an official asked the group whether it had information regarding Students for Justice in Palestine, a student advocacy group with chapters in universities across the country.
"I came to realise that IPT's main concern was not protecting our nation from legitimate threats, but protecting a foreign government - Israel - from legitimate criticism. We were essentially being used as an Israel lobbying organisation," an IPT whistleblower told Cair.
The IPT told MEE it was an organisation that "supports Israel's right to exist", but that it was fully independent and did not receive foreign funding.
The groups' letter called on the Department of Justice to investigate whether the IPT had provided information, obtained through alleged spying on Muslim groups, to the Israeli government or any other foreign entities, and whether this violated US law.
Source: Middle East Eye
Please click the following URL to read the full text of the original story:
https://www.middleeasteye.net/news/us-muslim-groups-urge-justice-department-probe-anti-muslim-alleged-spying
--------
US Muslim ban: Biden has failed to address lasting harms
Donna Farvard , Azadeh Shahshahani
1 February 2022
Ramin Raghifar won the lottery when he was selected to receive a diversity visa in 2019. His dream was to come to the US and build his career in medical research. But despite having numerous job offers, that was all torn away from him because of his Iranian origin - thanks to the Trump-era Muslim ban.
It has been a year since President Joe Biden lifted former President Donald Trump's ban, and while the move originally fostered optimism, Raghifar and others like him have yet to see relief. The ban has caused acute and ongoing harm to Muslim communities.
Islamophobia and xenophobia were central to the Trump ideology, continuing a long legacy of white supremacist violence in the US. During his presidential campaign in 2015, Trump called for "a total and complete shutdown of Muslims entering the United States".
Upon becoming president, one of his first moves was to issue an executive order prohibiting travel into the US for people from Iran, Iraq, Libya, Somalia, Sudan, Yemen and Syria. Trump later expanded the ban to target a number of other states in Africa and Asia.
Upon taking office in January 2021, Biden swiftly repealed the Muslim ban - but families and individuals continue to face barriers. Many are now stuck in the immigration visa backlog, worsened by Covid-19 travel restrictions and embassy closures. In February 2021, there were 473,000 immigrant visa cases pending for interviews - a number that does not include individuals at different stages of the process.
Many Muslim immigrants from previously banned countries are still waiting to receive updates from the government on the status of their applications and to finally be reunited with their families.
No clear guidance
There is still no clear guidance on steps for those who were denied visas under the ban. During the course of the ban, the State Department denied more than 40,000 visa applications. Today, many of these individuals are resorting to reapplying for a visa under the same process they used the first time - an extremely lengthy, costly and emotionally exhausting endeavour. Many wonder if it's even worth it, with no assurances of success.
According to the State Department, the Muslim ban kept more than 1,500 children from their American parents, more than 3,000 parents from their American children, and nearly 4,000 people from their partners. People also missed important life events, such as marriages, graduations and funerals. The ban caused families to keep their lives on hold, causing unnecessary stress and uncertainty.
After years of heartbreak, the Biden administration must do more to reassure these applicants that they will not have to go through this pain again. At the same time, some are being denied relief altogether: diversity visa winners barred from entering the US under the ban, such as Raghifar, cannot reapply for a visa as the Biden administration did not include them in the group of denied visa selectees invited to reapply. Instead, the Biden administration has indicated it needs Congress to act to make visas available to those who were selected but unable to secure their visas.
In addition, Iranian men who did compulsory military service are also still banned from entering the US, regardless of how long ago they served. Many have wives, children and parents living in the US whom they have not been able to see in years.
Severe impacts
Consular services also have yet to be fully restored for visa applicants from banned countries. For Iranian nationals, this is especially difficult because there is no US embassy in Iran, leaving Iranian students with very few opportunities to secure their appointments. Some have had to defer enrolment or miss out on admission altogether.
Meanwhile, those lucky enough to secure a visa still worry about potential deportation. Between August 2019 and January 2020, more than a dozen Iranian students with valid visas who came to pursue higher education in the US were sent back to Iran, after facing lengthy detentions, extensive questioning and humiliating treatment, such as having candy thrown at them or being forced to wear cuffs and chains. Their visas were revoked, despite a notoriously difficult initial vetting process.
Iranian and Iranian American communities were also severely impacted after the US assassination of Iranian military leader Qassem Soleimani in January 2020. US border officers subsequently detained and subjected dozens of Iranians and Iranian Americans returning from Canada to additional scrutiny.
Source: Middle East Eye
Please click the following URL to read the full text of the original story:
https://www.middleeasteye.net/opinion/us-muslim-ban-biden-failed-lasting-harms
--------
US, Turkish presidential advisers discuss 'Russian aggression' in Ukraine
02 February ,2022
US national security adviser Jake Sullivan and Ibrahim Kalin, chief adviser to the president of Turkey, spoke on Tuesday and discussed their commitment to "deter further Russian aggression against Ukraine," the White House said in a statement.
Both Russia and Ukraine are open to the idea of Turkey playing a role to ease tension between the two countries, as proposed by Ankara in November, Turkish diplomatic sources said last month.
Source: Al Arabiya
Please click the following URL to read the full text of the original story:
https://english.alarabiya.net/News/middle-east/2022/02/02/Turkish-warplanes-hit-Kurdish-militant-targets-in-Iraq-Syria-Ministry
--------
Europe
France will not end fight against terrorism due to Mali's 'irresponsible' government: Minister
Shweta Desai
02.02.2022
PARIS
France will not give up the fight against terrorism in the Sahel region due to the "irresponsible" actions of the military junta in Mali, the country's foreign minister said Tuesday.
Jean-Yves Le Drian defended France's military engagement in Mali before lawmakers, who rebuked the Macron government for the humiliating blow to the country's diplomatic mission after Mali's transitional government expelled French ambassador Joel Meyer.
The fight against terrorism will continue in the Sahel, as it is not an event that will stop due to the "irresponsibility of a coup government," he declared.
Tensions have escalated in recent weeks between the two countries following heated exchanges. The Malian government lambasted the former colonial power, asking it to get rid of its "colonial reflexes" and expelled the envoy in response to Le Drian's remarks that the military authority was "out of control."
The transitional government led by the military junta that seized power last May announced its plans to stay in power for up to five years after rejecting a February 2022 deadline set by the Economic Community of West African States (ECOWAS).
Pointing to the "political and military rupture," Le Drian said "the subject we have before us is not a Franco-Malian subject but a subject between the international community and Mali, between Africans and Mali...a subject for our own collective security."
He maintained that France's military presence, which is being strongly opposed in Mali, is validated every year by the international community.
Several European countries are concerned over the worsening political situation and the Malian government's decisions, including deploying mercenaries from the Russian paramilitary organization Wagner Group while demanding that European military forces withdraw from the country.
The French-led Takuba Task Force, a group of elite soldiers from several European countries assigned to accompany Malian soldiers in fighting extremist jihadist groups in the Sahel region, is at serious risk after Bamako refused permission to the Danish troops for deployment and Sweden announced that its forces will leave in March. Norway has also said that it will not send its troops after failing to secure their safety.
Source: Anadolu Agency
Please click the following URL to read the full text of the original story:
https://www.aa.com.tr/en/africa/france-will-not-end-fight-against-terrorism-due-to-mali-s-irresponsible-government-minister/2491429
--------
French journalist gets police protection after controversial documentary on radical Islam
01 February, 2022
A French journalist and a lawyer have been placed under police protection after receiving death threats over a controversial documentary about radicalisation, Nicolas de Tavernost, the CEO of the TV channel that aired the documentary announced on Friday.
Ophélie Meunier, a 34-year old journalist, reportedly received the death threats after presenting a controversial episode of "Zone Interdite", an investigative show.
Amine Elbahi, 26, a Muslim lawyer from Roubaix who spoke on record in the documentary, was also reportedly threatened.
"The journalists and witnesses who testified in the documentary have been supported, their complaints have been filed," Gérald Darmanin, the French Minister of Interior, said on Monday.
"I have given important means to find those responsible for the death threats."
The report aired in France on January 23 and focused on the spread of 'radical Islam' in the French town of Roubaix, at the border with Belgium.
The documentary immediately sparked controversy in France. It featured scenes filmed in a gender-segregated restaurant and in a toy shop selling faceless dolls, which had their faces removed allegedly to comply with strict interpretations of Islam that forbid depicting facial features.
Within a few days, dozens of journalists and politicians expressed support for Meunier.
"The newsroom fully supports [Meunier and Elbahi] and stresses the importance of freedom of information," the M6 TV channel tweeted.
"In France in 2022, freedom of expression for journalists keeps being threatened," Christophe Deloire, secretary general of the Paris-based Reporters Across Borders (RSF), told the French daily Le Figaro.
"Levels of violence and threats are increasing, fuelled by the rise of cyberbullying on social media."
While freedom of expression is considered a fundamental right in France, critics argue it has often been abused to discriminate against the country's ethnic and religious minorities.
Source: The New Arab
Please click the following URL to read the full text of the original story:
https://english.alaraby.co.uk/news/french-journalist-gets-death-threats-islam-documentary
--------
Extremists target mosque in Greece, hang anti-Islam banners
FEB 01, 2022
Agroup of Greek extremists targeted a mosque in Dimetoka (Didymoteicho), a town near the Turkish-Greek border, in an Islamophobic attack, media reports said Tuesday.
The extremists on Monday hung anti-Islam banners across the Çelebi Sultan Mehmet Mosque. "The Islamization of Meriç (Evros) must be stopped immediately" read the banners.
The Friendship, Equality and Peace Party (DEB) – a party popular among Greece's Turkish minority – condemned the attack.
"They (the attackers) are trying to shape our minority according to their own perspectives by ignoring the religion of the Western Thrace Muslim Turkish minority, whose race is unjustly denied in our country," said DEB in a written statement and added that the incident was regrettable.
The statement said that it is imperative that Turks of Western Thrace, who live in peace in the region without discriminating against people, language, religion or race, are treated as they deserve and should be taken as an example, and added, "We strongly condemn (the attack) and such fascist thoughts, and also wish them to end as soon as possible."
The country's unwelcoming stance toward its Muslim population is not a new phenomenon. For instance, up until recently, Athens was known as the only European capital without a mosque, even though there are an estimated 300,000 Muslims in the greater Athens area. Back in November 2020, for the first time since the 19th century, Athens witnessed the inauguration of an official mosque, as years of efforts by the Muslim community finally paid off.
Turkey has long decried Greek violations of the rights of its Muslim and Turkish minority, from closing down mosques and historic mosques crumbling away, denying to recognize Muslims' election of their own muftis. These actions violate the 1923 Treaty of Lausanne as well as the European Court of Human Rights (ECtHR) verdicts, making Greece a state that flouts the law, Turkish officials say.
Similarly, the election of muftis, or Islamic clerics, by Muslims in Greece has become yet another point of contention that caused trouble for the Muslims in the country. Even though it is regulated by the 1913 Treaty of Athens – a Greek-Ottoman Empire pact that Athens implemented in 1920 – that gives the community the right to elect their own muftis, however, in 1991, in violation of international law, Greece annulled the treaty and unlawfully started to appoint the muftis itself.
Source: Daily Sabah
Please click the following URL to read the full text of the original story:
https://www.dailysabah.com/politics/eu-affairs/extremists-target-mosque-in-greece-hang-anti-islam-banners
--------
Muslims targeted in two separate attacks in southwestern France
1 February 2022
Islamophobic attacks have continued across France with two separate incidents reported last week.
A Muslim butcher and grocery store that sells halal products in the southwestern province of Lot-et-Garonne was targeted on Sunday night.
Setting the store in Bon-Encontre town on fire, arsonists drew two swastika on the wall.
The town fire brigade reported that the store was completely burnt, but no one was harmed.
The public prosecutor initiated an investigation on the attack.
Rising Islamophobic attacks
In the other attack that took place in the southwestern province of Toulouse, a pig head and skin was left in front of an Islamic community centre.
Speaking to local media, Abdellatif Mellouki, a Muslim community leader, drew attention to rising Islamophobic attacks across the country.
Source: Trt World
Please click the following URL to read the full text of the original story:
https://www.trtworld.com/europe/muslims-targeted-in-two-separate-attacks-in-southwestern-france-54286
--------
Time running out to save Afghans from starvation, charities tell UK government
February 01, 2022
LONDON: The British government is being urged by charities to do more to help Afghans who are at risk of starvation in Afghanistan amid an economic collapse in the country.
Groups including Save the Children UK, International Rescue Committee, and Concern Worldwide have called on Prime Minister Boris Johnson and his government to provide more money to tackle the humanitarian crisis, the Metro reported on Tuesday.
They said that Afghans, some of whom they claimed had been forced to sell their children or their organs just to buy food, would die if no action was taken.
Many Afghans are facing crippling poverty during a harsh winter in Afghanistan, a country in the grip of economic chaos after the Taliban swept to power in August last year.
The charities wrote an open letter to Foreign Secretary Liz Truss, telling her that the "window to save lives is closing fast" and that "there isn't a moment to lose."
They also said that the £286 million ($386.3 million) of aid announced so far by the UK government for Afghanistan was not enough, highlighting how the figure equated to just £7.15 for each of the 40 million people at risk in Afghanistan.
"Five million Afghan children are on the brink of famine. Every day, more people are succumbing to illness and starvation," the letter said. "With 98 percent of families not having enough to eat, some are resorting to desperate coping strategies – even selling their children.
"Our staff and partners on the ground report suffering on a scale that most of us cannot comprehend. The UN has launched its largest ever single country appeal – $4.4 billion – and needs wealthy countries like the UK to step up now."
"The government must urgently provide additional humanitarian funding that reflects this level of desperate need, it should also use its diplomatic influence to bring other donor countries around the table to meet the UN's call for life-saving funds.
"As well as supporting the emergency response, (Foreign Office) must also prioritize international efforts to ensure essential public services are restored and to keep the Afghan state and economy from collapsing."
Source: Arab News
Please click the following URL to read the full text of the original story:
https://www.arabnews.com/node/2016401/world
--------
Germany contributes US$140 million to support UNICEF in Afghanistan
02 Feb 2022
United Nations International Children Emergency Fund (UNICEF) has announced that Germany Federal Ministry of Economic Cooperation has announced US$140 million to their programs for children and women in Afghanistan.
UNICEF representative to Afghanistan Alice Akunga expressed gratitude to Germany's announcement of fund and added that the support will help a generation of children in Afghanistan in this critical situation.
"This unprecedented contribution in flexible funding will allow UNICEF to be more agile and give us the ability to steer resources to the most critical programs in the country." Said Akunga.
As per the information of UNICEF, 35 million people in Afghanistan are expected to rely on basic primary health care services for life-saving care.
The UN children's program has elaborated that the money will help them provide children with routine vaccinations, health services, and treatment for severe acute malnutrition.
Source: Khaama Press
Please click the following URL to read the full text of the original story:
https://www.khaama.com/germany-contributes-us140-million-to-support-unicef-in-afghanistan-9876986/
--------
Southeast Asia
Indonesia: Muslim Groups Demand Closure Of Newly Opened Holocaust Museum
February 2, 2022
By Ronna Nirmala
Indonesian Muslim groups, including an influential scholars' body, are demanding the closure of a Holocaust museum that opened last week, with some saying it is part of Israel's attempts to normalize relations with Jakarta and its occupation of Palestinian lands.
The first permanent exhibition and museum in Indonesia devoted to the memory of victims of the Holocaust opened in North Sulawesi province on Jan. 27, and is housed inside Indonesia's lone synagogue.
The opening occurred amid reported Israeli overtures to establish ties with the world's largest Muslim-majority nation. Indonesia, a staunch supporter of the Palestinian cause, has long refused to open diplomatic ties with the Jewish State.
"We demand any exhibition be stopped and the museum be cancelled discontinued," said Sudarnoto Abdul Hakim, the head of foreign relations and international cooperation at the Indonesian Ulema Council (MUI), the country's semi-official Islamic authority.
According to reports in the Israeli press, the museum-cum-exhibition is curated by the Jerusalem-based Yad Vashem – also known as the World Holocaust Remembrance Center – and one of its representatives attended the opening virtually.
The decision to allow the museum in Indonesia was "not wise" and could cause "communal friction" at a time when Israel is still occupying Palestinian lands and mistreating Palestinians, Sudarnoto said.
The exhibition at the synagogue in West Tondano regency was inaugurated in the presence of North Sulawesi Dep. Gov. Steven Kandouw and the German ambassador to Indonesia, Ina Lepel. Its opening was timed to coincide with International Holocaust Remembrance Day.
Hidayat Nur Wahid, deputy speaker of the People's Consultative Assembly (MPR) and a lawmaker with the faith-based Prosperous Justice Party (PKS), said the museum was an attempt by Israel to whitewash its occupation of East Jerusalem and the blockade of the Gaza Strip.
He described Israel's treatment of Palestinians as a form of "apartheid" and "racism."
"It turns out that the museum in Tondano is the result of a collaboration with the Yad Vashem Israel Museum, whose director is a major figure in Israel's illegal settlements in the West Bank," Hidayat told BenarNews.
"I suspect it is part of manoeuvres to pave the way for the normalization of diplomatic relations between Israel and Indonesia."
Yaakov Baruch, an Indonesian businessman of Dutch Jewish descent who is the rabbi at the synagogue, said the museum was created in part to defy growing anti-Jewish sentiment in Indonesia, and claims by some people that the Holocaust never happened.
"I want to emphasize that this is not true. Indonesian people may hate Israel but they must not deny the bitter and dark history of a nation (Jews). With this Holocaust Museum, I want to show that racism and hatred cannot be tolerated at all," a news report quoted him as saying.
Officials at the North Sulawesi provincial government could not be reached immediately for comment.
'Indonesia will side with the Palestinian people'
Indonesia's Ministry of Foreign Affairs, meanwhile, has confirmed reports that U.S. Secretary of State Antony Blinken, during meetings with officials in Jakarta in December, had discussed the prospect of Indonesia normalizing ties with Israel.
Indonesia has insisted it will not establish diplomatic ties with Israel until there is a solution to the Israeli-Palestinian conflict acceptable to both sides.
"The Indonesian Minister of Foreign Affairs Retno Marsudi conveyed Indonesia's consistent position on Palestine, that Indonesia will side with the Palestinian people in their struggle for justice and independence," Teuku Faizasyah, spokesman for the foreign ministry, told BenarNews last month.
Last month, Israeli media reported that a delegation of Indonesian health officials visited Israel and met there with Israeli officials in an effort "to learn how to deal with the coronavirus pandemic."
Indonesia's COVID-19 task force and the health ministry denied that their officials had gone to Israel, while the Foreign Ministry said it was not aware of such a trip.
'Prevent things that are not desirable'
MUI's Sudarnoto said Indonesia's Jewish community should understand the objection to the museum.
Source: Eurasia Review
Please click the following URL to read the full text of the original story:
https://www.eurasiareview.com/02022022-indonesia-muslim-groups-demand-closure-of-newly-opened-holocaust-museum/
--------
Global Imams Council takes on China
2nd February 2022
New Delhi: The Chinese government has launched a defamatory and libellous campaign to discredit the Global Imams Council (GIC) and to character assassinate whoever advocates for the freedom of the Uyghur people, the GIC has said.
"We are China's latest victims. We consider these false allegations, manipulations, and accusations a provocation by the Chinese government," the GIC said.
"Through our Imams, which exceed 1,300 members, we oversee the affairs of over 800 centres, mosques and organisations globally. We will not be intimidated, and we shall multiply our efforts by ensuring that the most leading Grand Ayatollahs, Muftis and Islamic Authorities in the Muslim world, Sunni and Shia, issue independent statements against the Chinese government's violations of human rights," the body said.
On January 28, Chinese state media Global Times published an article titled "NGO of Muslims fooled by anti-China WUC to call for 'boycott' of Beijing Games", containing lies and fabrications with the sole intention of distracting the public from its violations of human rights, and to defame this Council, the GIC said.
This statement is not a response to Global Times, as their agenda, ownership and history of justifying injustice are clear, it said.
Instead, these clarifications are for the vulnerable readers they may have deceived, the GIC statement said.
The first claim was that the Global Imams Council was "fooled" by the World Uyghur Congress (WUC) to ban Muslim participation in the 2022 Beijing Winter Olympics.
"This is a lie, as we have an active Memorandum of Understanding (MoU) with the WUC, and we share the concerns of the Uyghur people that the Chinese government is persecuting. The statement was our initiative and was not requested by the WUC," it said.
The second claim was that the Muslim leaders carbon copied onto our statement had opposed our statement.
"This is also a lie. Chinese Embassies threatened and pressured two of the mentioned Muftis to deny signing the statement, despite the fact that a 'CC' does not mean 'signature'. We then clarified this matter and personally contacted those Islamic authorities. Furthermore, we issued a separate statement assuring Muslims that we supported sporting activities but were only opposed to an event that served the interests of the Chinese government," the statement said.
Source: Siasat Daily
Please click the following URL to read the full text of the original story:
https://www.siasat.com/global-imams-council-takes-on-china-2268037/
--------
China promotes new book on atheism targeting religions
February 02, 2022
China's officially atheist government is promoting a new textbook on atheism in colleges and among Chinese Communist Party (CCP) cadres in order to target organized religions and strictly implement Marxist policies.
The Chinese-language book, The Principles of Scientific Atheism by author Li Shen, is part of a CCP campaign for a "full and faithful" execution of the decisions of its National Conference on Religious Affairs last December, reported Bitter Winter.
The book, which reportedly took six years to write, promotes President Xi Jinping's theory that Chinese culture has been always non-religious and his insistence that Karl Marx's views on religion should be thoroughly studied within the CCP.
During the December conference, Xi also instructed the CCP leadership to increase surveillance of online religious affairs and tighten control of religions to ensure national security.
Li Shen's book includes an appendix on the "Main Theological Knowledge and Criticism of Religion" and four chapters titled "What is God," "Proof of the Non-Existence of God," "The Gods and Their Effects" and "The Communist Party's Religious Theory and Religious Policy."
Zhu Xiaoming, former secretary of the CCP Leadership Group of China Tibetology Research Center, wrote a preface for the book.
In the book, the author presents arguments offerng scientific explanations for "the non-existence of God" and "the harmful effect of religion." It also argues that Marx and the CCP in China have definitively demonstrated the principles of atheism as described in Western and Chinese philosophy.
Author Li, 76, who earlier penned books including History of Chinese Science and History of Chinese Atheism, is known as an intellectual and advocate of state-sponsored atheism in China. He supports the CCP's promotion of "Confucianism as a form of atheism."
Li has worked at the Institute of World Religions of the Chinese Academy of Social Sciences and was the director of its Confucianism Research Office. He then was a professor in the department of philosophy at Shanghai Normal University and vice-chairman of the Chinese Atheism Society. He is also an academic committee member of the International Confucian Federation.
His new book aims to assist the CCP in achieving its long-term goal of ensuring Chinese universities shift from "neutral" study and education to active propaganda to promote atheism as advised by Marx, who famously said: "Religion is the opium of the people."
Officially, communist China recognizes five organized religions — Buddhism, Taoism, Catholicism, Protestantism and Islam. The state requires all religions and religious activities to be strictly controlled by official religious bodies and to abide by Chinese laws.
Religions and religious groups have face increased repression since Xi Jinping became president in 2013. Under his rule, the CCP has adopted draconian polices and legislation to intensify crackdown on religions.
Source: UCA News
Please click the following URL to read the full text of the original story:
https://www.ucanews.com/news/china-promotes-new-book-on-atheism-targeting-religions/95956
--------
Indonesian Church denies bishop is in critical condition
Katharina Reny Lestari
February 02, 2022
Church officials in Indonesia's East Java province have denied rumors that Bishop Vincentius Sutikno Wisaksono of Surabaya has cancer and is in a critical condition in hospital.
A message went viral on Feb. 1 on WhatsApp among Catholics saying the bishop was critical with prostate cancer.
According to the message, the prelate was taken that day to the intensive care unit of the Catholic-run St. Vincentius a Paulo Hospital in the city and had received the Sacrament of the Anointing of the Sick. "Your prayers please," the message said.
Speaking to UCA News on Feb. 2, the diocese's secretary Father Paulus Febrianto said Bishop Wisaksono had been admitted to the hospital late last year.
"He was taken to the St. Vincentius a Paulo Hospital on Dec. 26. But he is not in critical condition. It is common for a patient to be sometimes placed in an intensive care unit," he said.
However, he refused to reveal the prelate's illness.
"I would say he has been under medical treatment in the hospital because of his health condition. I cannot tell you more yet because I have to check with the doctor," he said.
Referring to the Sacrament of the Anointing of the Sick already received by Bishop Wisaksono, he said Catholics should not jump to the conclusion that "receiving it means that he is in a critical condition."
"Every Catholic can receive the sacrament in whatever condition. Sometimes Catholics take things the wrong way," he said.
Source: UCA News
Please click the following URL to read the full text of the original story:
https://www.ucanews.com/news/indonesian-church-denies-bishop-is-in-critical-condition/95952
--------
Mideast
Rights group accuses Israel of enforcing 'apartheid' on Palestinians
01 February ,2022
Amnesty International accused Israel on Tuesday of subjecting Palestinians to a system of apartheid founded on policies of "segregation, dispossession and exclusion" that it said amounted to crimes against humanity.
The London-based rights group said its findings were based on research and legal analysis in a 211-page report into Israeli seizure of Palestinian land and property, unlawful killings, forcible transfer of people and denial of citizenship.
For the latest headlines, follow our Google News channel online or via the app.
Israel said the report, the second by an international rights group in less than a year to accuse it of pursuing a policy of apartheid, "consolidates and recycles lies" from hate groups and was designed to "pour fuel onto the fire of antisemitism".
It accused Amnesty UK of using "double standards and demonization in order to delegitimize Israel."
Palestinians praised the report.
"The United Nations Security Council and the General Assembly are obliged to heed the compelling evidence presented by Amnesty and other leading human rights organizations and hold Israel accountable for its crimes against the Palestinian people, including through sanctions," the Palestinian foreign ministry said in a statement.
Amnesty said Israel was enforcing a system of oppression and domination against Palestinians "wherever it has control over their rights," including Arab citizens of Israel, Palestinians in Israeli-occupied territory and refugees living abroad.
The measures included restrictions on Palestinian movement in territory occupied in the 1967 Middle East war, underinvestment in Palestinian communities in Israel, and preventing the return of Palestinian refugees.
Alongside forcible transfers, torture and unlawful killings, which Amnesty said were intended to maintain a system of "oppression and domination," they constitute "the crime against humanity of apartheid".
Israeli Foreign Minister Yair Lapid said: "Israel is not perfect, but it is a democracy committed to international law and open to scrutiny" with a free press and a strong Supreme Court.
Israel has cited security concerns in imposing travel restrictions on Palestinians, whose uprising in the early 2000s included suicide bombings in Israeli cities.
Shock and Disturb
Palestinians seek a state of their own in the West Bank and Gaza, with East Jerusalem as its capital. Gaza, a coastal strip that Israel also seized in the 1967 war but left in 2005, is run by Hamas, considered by the West to be a terrorist group.
The last round of Israeli-Palestinian peace talks collapsed in 2014.
"Our conclusions may shock and disturb - and they should," Amnesty Secretary General Agnes Callamard said at a news conference in Jerusalem.
"Some within the government of Israel may seek to deflect from them by falsely accusing Amnesty of attempting to destabilize Israel or being antisemitic, or unfairly singling out Israel," Callamard said, adding that such criticism was "baseless."
The Jewish Federations of North America denounced the report it described as "irresponsibly distorts international law, and advances hateful and disparaging rhetoric associated with age-old antisemitic tropes, while ignoring or whitewashing violence, terror and incitement committed by Palestinians."
The Central Council of Jews in Germany echoed those remarks and called on Amnesty International's German section to distance itself from the report, which it called antisemitic.
Source: Al Arabiya
Please click the following URL to read the full text of the original story:
https://english.alarabiya.net/News/middle-east/2022/02/01/Amnesty-International-accuses-Israel-of-enforcing-apartheid-on-Palestinians
--------
Sunni Islam heavily criticised for first time in Turkey – Gökhan Bacık
Feb 01 2022
Sunni Islam is coming under heavy criticism for the first time in Turkey's modern history because of the government's use of religion in politics, political scientist Gökhan Bacık said.
"There's a growing intellectual criticism on Sunni Islam because it's very much pro-government, it's silent on human rights abuses, it's silent on labour rights, it's silent on gender problems," Bacık told Nervana Mahmoud for Ahval podcast series, Turkish Trends.
"Sunni scholars, who are blamed for that, are acting just to legitimise Islamist politics, mainly the government," the analyst said.
While some Turks are becoming much more radical because of Erdoğan's strategy to maximise Islamisation, others are gradually abandoning a traditional Sunni narrative, said Bacık, who teaches political science at Palacky University in the Czech Republic.
Last month, Erdoğan accused Turkish popstar Sezen Aksu on insulting Adam and Eve in a 2017 song, without mentioning the singer's name, in what was seen as another attempt to intersperse national politics with religious rhetoric. Turkey was founded almost a century ago as a secular republic. Later in January, Erdoğan backtracked from his criticism of Aksu.
"One reason why Erdoğan stepped back on Sezen Aksu and clarified his position as saying that he was not directly targeting her, was mainly for that even among his young supporters, there is a kind of growing criticism against Sunni Islam in Turkey," Bacık said.
Erdoğan dominates Islamic politics in Turkey and is the de-facto leader of a large league of Islamic groups, Bacık said. "But despite so, there are some groups, that somehow try to protect their autonomy against Erdoğan," he said.
The groups are trying to challenge Erdoğan with religious arguments, Bacık said. Even staunch followers of Turkey's founder Mustafa Kemal Atatürk have started to believe that, given Turkish people are now more religious, it might be better to challenge Erdoğan by using religious arguments, he said.
Turkey is now a divided society, Bacık said.
"If I may metaphorically speak, we have two active volcanoes in Turkey. One of them is Islam vs secularism and the other one is Kurdish vs Turkish nationalism. And Erdoğan is the master of surfing over them," he said.
Many groups who support Erdoğan are ready to buy his religious arguments but there are others who oppose the way he uses religion in political discourse, Bacık said.
"They don't find it morally correct. They don't even find it epistemologically correct. So, we see more intellectuals, more Sunni scholars writing and speaking against traditional Sunnism," he said.
This is the first time we see Sunni Islam on the defensive, Bacık said, adding, "We should wait to understand it's impact on the long term."
Sunni Islam in Turkey has historically had no capacity to criticise government or to propagate morality in business ethics, rather it promotes morality in rituals, such as attending mosques, fasting or praying, according to Bacık.
"Many people don't get it but Islamism in Turkey is a copy of Islamism in Egypt. Islamism is not an original Turkish paradigm in the Turkish case. Especially after the 1960s and 1970s, Islamism in Turkey is growing in the direction of as we know it in Egypt. That's why it's not surprising to see that Erdoğan is very close to the Muslim Brotherhood," he said.
Source: Ahval News
Please click the following URL to read the full text of the original story:
https://ahvalnews.com/islamisation/sunni-islam-heavily-criticised-first-time-turkey-gokhan-bacik?1F86FFDB-60A7-3F48-8D1B-C64055209DA5_kis_cup_C6FA3ED5_6D17_47D1_B6E2_F4B02CC905E0_
--------
Iran Blasts European Diplomats over Fake Human Rights Concerns
2022-January-31
Qaribabadi strongly criticized two European diplomats after they called for the release of a convicted prisoner in Iran.
"If these two French and German officials feel a concern for human rights, instead of defending a convict, they should adopt a stance on the victims of Monafeqin (hypocrites) in Iran who are operating freely in their countries," Qaribabadi tweeted while responding to the European diplomats' remarks.
Source: Fars News Agency
Please click the following URL to read the full text of the original story:
https://www.farsnews.ir/en/news/14001111000465/Iran-Blass-Erpean-Diplmas-ver-Fake-Hman-Righs-Cncerns
--------
Commander: Joint Naval Drill by Iran, Russia, China Meant to Strengthen Regional Security
2022-January-31
"The recent naval drills by Russia, Iran an China set a new model for ensuring safety and security of maritime in international waters," Rear Admiral Irani said.
He reiterated that the continuous and effective presence of Iran's Navy in the world's water zones is very significant to promote sustainable maritime security.
In a relevant development earlier this month, Naval forces from China, Russia, and Iran launched the Marine Security Belt 2022 Exercise.
After holding explanatory meetings the Iranian armed forces along with Russian and Chinese maritime forces initiated the military drills in the northern Indian Ocean.
Source: Fars News Agency
Please click the following URL to read the full text of the original story:
https://www.farsnews.ir/en/news/14001110000865/Cmmander-Jin-Naval-Drill-by-Iran-Rssia-China-Mean-Srenghen-Reginal
--------
Iranian supertanker carrying condensate docks in Venezuela
02 February ,2022
An Iran-flagged supertanker carrying more than 2 million barrels of condensate has docked at a Venezuelan port, with both countries facing US sanctions, according to analysts and satellite images analyzed by The Associated Press.
The arrival of the oil tanker Starla comes as negotiations continue in Vienna over the Islamic Republic's tattered nuclear deal with world powers, which allowed for oil sales. In 2018, the US unilaterally withdrew from the accord under then President Donald Trump, sparking years of tensions across the wider Mideast that continue today.
The Starla arrived off the coast of Barcelona, Venezuela, in late January. A satellite photo analyzed by AP from Planet Labs PBC showed the vessel there Sunday and corresponded to other images of the vessel and its helipad.
Its dimensions also matched those of the Starla, which is owned by National Iranian Tanker Co. The U.S. Treasury sanctioned the company in October 2020, saying it helped fund the expeditionary Quds Force of Iran's paramilitary Revolutionary Guard.
The Starla represents the first known condensate shipment of 2022 from Iran to arrive in Venezuela as part of a relationship between the two oil-exporting nations that are both under American sanctions.
Iranian state media has not acknowledged the Starla's arrival in Venezuela after earlier trumpeting other shipments. Iran's mission to the United Nations did not respond to a request for comment.
Samir Madani, co-founder of TankerTrackers.com, said the ship is carrying 2.1 million barrels of a very light form of oil based on natural gas that Venezuela's state-owned company uses to dilute its heavy crude oil to turn into an exportable blend.
Madani said the vessel departed Iran on Dec. 11 and turned off its mandatory Automated Identification System for more than a month and a half. The system is used to prevent collisions, but companies in recent years have adopted a number of techniques, including turning it off, to evade detection as the US has expanded economic sanctions.
Iran maintains close ties to Venezuelan President Nicolas Maduro and has shipped gasoline and other products to the country amid a US sanctions campaign. Madani said vessels carried condensate from Iran to Venezuela four other times since 2020, bringing in more than 8.3 million barrels.
Source: Al Arabiya
Please click the following URL to read the full text of the original story:
https://english.alarabiya.net/News/middle-east/2022/02/02/Iranian-supertanker-carrying-condensate-docks-in-Venezuela
--------
Iran teachers in new day of protests over pay: Media
01 February ,2022
Thousands of Iranian school teachers have protested and staged a one-day strike over the slow implementation of salary and pension reforms, local media reported Tuesday.
The teachers' stoppage Monday was the latest in a string of protests by public sector employees in recent weeks over the impact of soaring inflation on incomes.
Reformist newspaper Arman Melli said the teachers demonstrated outside parliament in Tehran and education ministry offices in provincial cities including Isfahan and Shiraz.
The paper said it was the third day of protests by teachers in recent weeks.
Iran's ILNA news agency reported that striking teachers in Alborz province, west of the capital, carried placards demanding "Free the imprisoned teachers."
It was an apparent reference to colleagues detained at previous rallies.
Protesters called for the alignment of teachers' salaries with those of other public sector employees among other demands, ILNA said.
"Unfortunately, our salary with a master's degree and sometimes a doctorate is about 4.5 million tomans (160 dollars)" per month, it quoted a protesting teacher in the city of Yazd as saying.
Iran's public finances have been badly hit by US sanctions reimposed by then president Donald Trump in 2018, which reduced key oil exports to a trickle.
Inflation has soared to more than 40 percent, sapping the purchasing power of those on fixed incomes.
Source: Al Arabiya
Please click the following URL to read the full text of the original story:
https://english.alarabiya.net/News/middle-east/2022/02/01/Iran-teachers-in-new-day-of-protests-over-pay-Media
--------
Africa
Hijab: Issue circular to stop crisis in Lagos schools – Muslims tell Sanwo-Olu
February 1, 2022
By Musliudeen Adebayo
The Muslim Students' Society of Nigeria (MSSN) has said that the refusal of the Lagos State Government to issue a circular on the usage of hijab is to blame for the crisis in the state.
The female president of the Lagos chapter of the society in Lagos, Basheerah Majekodunmi, made this disclosure while addressing a press conference on Tuesday.
The press conference had in attendance Islamic organizations among whom are; Nasrul-lahi-li Fathi Society of Nigeria (NASFAT), Al Muminaat (The Believing Women) Organisation, Hijab Rights Advocacy Initiative, Federation of Muslim Women Association of Nigeria (FOMWAN Lagos), Muslim Public Affairs Centre (MPAC) and Guild of Muslim Professionals (GMP).
Majekodunmi, while speaking at the press briefing as part of the activities for this year's World Hijab Day, urged the Lagos State Government to issue a circular reminding school administrators of the court ruling which allows Muslim students to use hijab in schools.
Hijab is the veil or headscarf usually worn by female Muslims in order to cover their heads and other parts of their body in public.
She urged Governor Babajide Sanwo-Olu and Speaker of the House of Assembly, Mudashiru Obasa, to order the issuance of a circular in compliance with the Court of Appeal judgment.
She insisted that the appeal court judgment granted the usage of the hijab in public schools in the state.
She lamented that there was a case of two female Muslim students of Igboye Community High School, Igboye, Epe, who were made to stand outside the classroom in the sun while their classmates were writing an examination because they were wearing hijab.
"Ignorance is no excuse before the law. These teachers and principals who either feign ignorance or turn a deaf ear to justice and morality have made it difficult and fearful for students to use their hijab as prescribed by their creator!
"It is high time the Lagos State Government issued another circular that will be well-publicised. We enjoin peace in Lagos State and we don't want a crisis. Some principals and teachers are acting unlawfully and in a manner that could cause outrage without quick intervention.
Source: Daily Post Nigeria
Please click the following URL to read the full text of the original story:
https://dailypost.ng/2022/02/01/hijab-issue-circular-to-stop-crisis-in-lagos-schools-muslims-tell-sanwo-olu/
--------
US prepared to impose additional costs on Sudan's military if violence continues
01 February ,2022
The US has made clear to Sudan's military leaders that Washington is prepared to impose additional costs if violence against protesters continues, US Assistant Secretary of State for African Affairs Molly Phee said on Tuesday.
Phee told the Senate Foreign Relations Committee that the United States is reviewing the full range of traditional and non-traditional tools at its disposal to reduce funds available to Sudan's military leadership and isolate its military-controlled companies.
Washington is also looking at tools to increase the reputational risk for those that choose to continue to engage in "business-as-usual" with Sudanese security services, Phee said.
"I have made clear publicly and privately that violence against peaceful protesters perpetrated by security services since Oct. 25 must end," Phee said.
An October coup halted a power sharing arrangement between the military and civilians negotiated in 2019 after former president Omar al-Bashir was overthrown in an uprising.
At least 79 civilians have been killed and more than 2,000 injured in crackdowns on the protests, mainly by gunshots and teargas canisters, according to the Central Committee of Sudanese Doctors.
Asked by Senator Bob Menendez, the Democratic chairman of the Senate Foreign Relations Committee, if there was progress on persuading the Sudanese military to end its practice of using lethal force, arbitrary arrests and sexual violence against civil society activists and protesters, Phee said she thinks it's "too soon to tell."
Source: Al Arabiya
Please click the following URL to read the full text of the original story:
https://english.alarabiya.net/News/middle-east/2022/02/01/US-prepared-to-impose-additional-costs-on-Sudan-s-military-if-violence-continues
--------
63 migrants rescued off Morocco: Activists
01 February ,2022
The Moroccan navy on Tuesday rescued 63 migrants including 15 women and three children after their vessel started to sink as they tried to reach the Canary Islands, activists said.
Alarm Phone, which provides an emergency hotline for migrants in trouble at sea, said on Twitter that "63 people in severe distress close to the Moroccan coast were found by the Moroccan navy and safely brought to shore."
The Moroccan authorities did not immediately confirm the operation.
Helena Maleno Garzon of rights group Caminando Fronteras had earlier warned that dozens of people were sinking in an inflatable boat off Tarfaya, on Morocco's southern coast, and would "die if they are not rescued soon."
Migrants, mostly from sub-Saharan Africa, regularly use Morocco as a launchpad for attempts to reach European shores.
Last year more than 4,000 migrants died or went missing in such attempts, mostly as they tried to reach the Canary Islands, according to Caminando Fronteras.
Source: Al Arabiya
Please click the following URL to read the full text of the original story:
https://english.alarabiya.net/News/north-africa/2022/02/01/63-migrants-rescued-off-Morocco-Activists
--------
Libyan premier says government to continue to function until elections
Walid Abdullah, Mohamed Artimah
01.02.2022
TRIPOLI, Libya
Libyan Prime Minister Abdul Hamid Dbeibeh said Monday that the government will continue to carry out its duties until elections are held in June, amid a bid by parliament to replace him.
Dbeibeh's remarks came in response to Parliament Speaker Aguila Saleh, who said the chamber would choose a new interim prime minister on Feb. 8.
Speaking to the Libya Al-Ahrar TV channel, Dbeibeh said that what Saleh is doing is a "desperate attempt to renew division."
He said the government will continue to perform its duties until the completion of the elections and has fulfilled all its entitlements towards the elections without negligence.
Libya's polls were scheduled to take place on Dec. 24, 2021 but were postponed over disagreements among the country's political rivals. No new date for the vote been agreed on so far.
The Libyan Political Dialogue Forum, which concluded in Tunisia in mid-November 2020, set the term of the transitional executive authority at 18 months, extending until June 2022, according to the UN mission to Libya.
Earlier Monday, Saleh announced the start of receiving the names of the candidates for the prime minister's post.
He said at a session for parliament's roadmap committee that parliament shall start receiving the applications of the candidates.
"In the upcoming session, the House of Representatives will look into nominating a prime minister," he added.
Parliament spokesman Abdullah Belhaiq said parliament's session on Feb. 8 will be for assigning the country's prime minister, while a day before, there will be a session to hear from the candidates.
So far, no one has announced their candidacy for prime minister.
Last week, a group of 62 lawmakers reiterated their support for the unity government of Prime Minister Dbeibeh after introducing a Cabinet reshuffle "in order to enable the government to impose its authority on all Libyan territories."
Source: Anadolu Agency
Please click the following URL to read the full text of the original story:
https://www.aa.com.tr/en/africa/libyan-premier-says-government-to-continue-to-function-until-elections/2490481
--------
URL: https://www.newageislam.com/islamic-world-news/religious-scholars-peshawar-church-christians-pastor/d/126286
New Age Islam, Islam Online, Islamic Website, African Muslim News, Arab World News, South Asia News, Indian Muslim News, World Muslim News, Women in Islam, Islamic Feminism, Arab Women, Women In Arab, Islamophobia in America, Muslim Women in West, Islam Women and Feminism