New Age Islam News Bureau
10 Apr 2014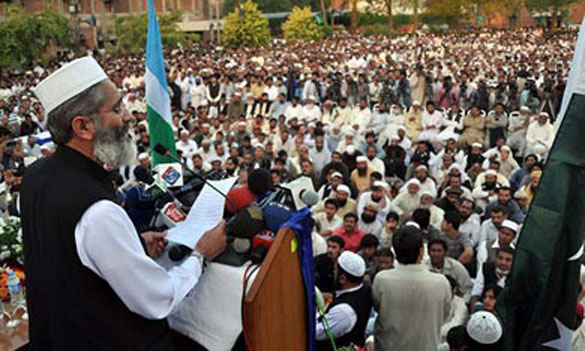 The fifth emir of Jamaat-i-Islami addressing after taking oath of his office at the party headquarters in Mansoora . — Photo by INP/Ijaz Mehmood
-----------
Pakistan
• Religious Rhetoric Takes Backseat as Fifth Emir of Jamaat-i-Islami Takes Oath
• Shia doctor, madrassa students among 12 killed in Karachi
• Attacks on civilians un-Islamic, says TTP
• Sunni hardliner declared winner in Pakistan election dispute in Punjab
• Even Nawaz may become victim of PPO, warns Bilawal
• PML-N lawyer shot dead in Karachi
• Cross-border Taliban alliance growing stronger
• Blasphemy case lawyer threatened inside Pakistan court
• Governor, CM asked to open talks with Baloch militants
• Peace in region linked to resolution of Pak-India disputes
• Taliban ban on vaccination in Waziristan poses threat to children
• Faith healer turns woe dealer
Arab World
• Egyptian government to implement terrorist ruling against Brotherhood
• Twin car bombs kill 25 in Syria's Homs: State media
• Egypt welcomes US designation of Ansar Beit Al-Maqdis as terrorist
• Saudis fighting abroad are still turning themselves in
• Nusra Front Loses Ground to ISIL on Iraq Border
• 299 Syrians starve to death in civil war
• Egypt steps up campaign to control mosques
• Hezbollah: West resigned to Syria stalemate, Assad to keep power
• Arabs urge U.S. to keep up Mideast peace push, blames Israel
• 30 executed bodies found in Syrian city
• Syria's Al-Assad receives Syriac Orthodox Church's new patriarch
• Grand Mosque's lost children center 'hard to locate'
Mideast
• Turkish FM denies ordering closure of schools run by Gülen movement abroad
• Abbas says willing to extend peace talks past April 29
• Hamas calls on Abbas to terminate Israel talks
• Israeli court convicts Muslim leader Salah
• Turkey's FM denies plan to go to war with Syria
• Israel 'deeply disappointed' with Kerry's 'poof speech'
• Nuclear talks: Iran may compromise on plutonium at Arak
Africa
• Central Africa clashes kill 30, 'mainly civilians': Police
India
• Hindu converted to Islam doesn't lose backward class status: Madras HC
• Pakistan eager to resume talks with new Indian govt, says envoy
South Asia
• Afghan forces foiled 262 suicide attacks aimed at disrupting elections
• Hefazat to hold 'Islamic conference' on April 11-12
• Afghan peace talks with Taliban leaders to resume in UAE
North America
• U.S. denounces Israeli ban on Palestinian contact
• Russia didn't share all details on Boston bombing suspect, report says
Southeast Asia
• Philippines' Moro Muslims form political party
• With Minor Exceptions, Peace at the Polls in Indonesia
• Moderation move proves government's commitment to justice and harmony, says academician
Europe
• Ukraine not a barrier for Turkey-Russia ties, Russian ambassador says
• Russia gives $1.39 bln for Turkey's first nuclear plant
• Malaysian Plane Hijacked to Kandahar: Russian Paper
• UN Chief deplores deadly terrorist attacks in Pakistan
• Arabic calligraphy flourishing in the West
Compiled by New Age Islam News Bureau
URL: https://www.newageislam.com/islamic-world-news/new-age-islam-news-bureau/religious-rhetoric-takes-backseat-as-fifth-emir-of-jamaat-i-islami-takes-oath/d/66484
----------
Pakistan
Religious Rhetoric Takes Backseat as Fifth Emir of Jamaat-i-Islami Takes Oath
2014-04-10
LAHORE: Khyber Pakhtunkhwa's Senior Minister Siraj ul Haq took oath as the fifth emir of the Jamaat-i-Islami here on Wednesday.
According to those present on the occasion, never was such enthusiasm witnessed in an otherwise solemn ceremony which was electrified by the presence of young activists who had come from across the country, particularly from Khyber Pakhtunkhwa.
Cabinet colleagues of Mr Haq and the speaker of the Khyber Pakhtunkhwa Assembly were prominent among the participants.
A large number of participants kept raising slogans, prompting secretary general Liaquat Baloch, who acted as stage secretary, to disallow use of the podium by the enthusiastic activists.
In his speech, Mr Haq said that a tiny elite class was exploiting all economic and political resources to the disadvantage of the masses. "This class is responsible for all the economic, social and political ills plaguing the country," the JI chief observed.
Unlike his predecessors, in his maiden speech as his party's chief, he talked of problems like poverty, load shedding, lawlessness and unemployment instead of focusing on religious subjects.
He urged the masses to stand up for snatching their rights from the usurpers.
However, he reiterated his party's stance that any change in the country would be brought through peaceful and constitutional means. "The JI does not believe in underground politics and intrigues."
In another first, Siraj ul Haq publicly demanded that the Saudi Arabian government reconsider its policy towards the Muslim Brotherhood of Egypt and Hamas of Palestine.
Sources told Dawn that the JI had earlier arranged a meeting of representatives of the two organisations with Saudi diplomats.
Mr Haq also stressed the need for rehabilitation of people displaced from the Federally Administered Tribal Areas and an end to all injustice done to the Baloch people.
Although he held the electoral system responsible for all deficiencies of governance, Mr Haq declared that the Jamaat would take part in local bodies' elections as well as other polls.
The war against the prevalent system could not be fought alone and other parties would have to be taken along while keeping the JI's ideological identity intact, the JI chief said.
Praising the services of the army and police in protecting the lives of people, he opposed an army operation in North Waziristan even if talks with the Taliban failed.
Highlighting his leanings by declaring himself as son of 'Maulvi' Ehsan ul Haq, he talked of Jihad but instead of urging the people to join an armed struggle, asked them to launch a struggle against lawlessness, corruption, load shedding and forces of exploitation.
Siraj ul Haq said his party believed in friendly relations with all neighbouring countries, but linked normalisation with India to resolution of the Kashmir issue.
http://www.dawn.com/news/1098867/religious-rhetoric-takes-backseat-as-new-ji-chief-takes-oath
----------
Shia doctor, madressa students among 12 killed in Karachi
2014-04-10
KARACHI: At least 12 people including a Shia doctor and three madressa students were killed and several others injured in different incidents of violence in the port city, DawnNews reported on Wednesday.
The latest incident took place near Continental Bakery in Gulistan-i-Jauhar neighbourhood when unidentified attackers killed three students of an Islamic seminary. Two students sustained bullets wounds also. They are reportedly in critical condition at Jinnah Postgraduate Medical Centre (JPMC).
Enraged people took to the streets after the incident. They set ablaze push carts and forced local shop keepers to shut their businesses.
Police and Rangers personnel reached the site to disperse the angry mob.
The incident followed yet another high-profile Shia killing in the same area when Doctor Haider Raza was gunned down by unidentified attackers in front of Darul Sehat Hospital. Another man accompanying Raza in his car was injured in the attack. His identity is yet not known.
Jafaria Alliance and Pakistan Shia Ulema Council condemning the attack demanded an early arrest of the culprits.
Earlier during the day, a bomb weighing 13 kilograms was defused near Khalid Bin Waleed road in Karachi's PECHS area.
Karachi, the largest metropolitan city of Pakistan, is riddled with targeted killings, gang wars, kidnappings for ransom, extortion and sectarian violence. Targeted operations led by Rangers' forces with the support of police are ongoing in the city under a directive issued by the federal government against criminals already identified by federal, military and civilian agencies.
http://www.dawn.com/news/1098781/shia-doctor-madressa-students-among-12-killed-in-karachi
----------
Attacks on civilians un-Islamic, says TTP
April 10, 2014
PESHAWAR: The Tehreek-e-Taliban Pakistan (TTP) on Wednesday condemned the Sibi train bombing and the Islamabad Sabzi Mandi blast calling such attacks on innocent civilians 'un-Islamic and unjustified'.
The United Baloch Army, a banned Baloch insurgents group, claimed responsibility for both attacks.
"The suppressed people of Sindh and Balochistan are our brethren and the atrocities committed by state elements against them are the worst chapters of human history, but targeting innocent civilians in retaliation is also unjustified," TTP central spokesman Shahidullah Shahid said in a statement.
He added that the involvement of the 'secret hand' in such attacks could not be ignored. "When they [secret forces] fail to control any militant organisation, they try to malign it by carrying out attacks [in its name]," Shahid said. "Unknown forces have carried out many such attacks in Lahore, Peshawar and other cities using the name of the TTP."
The Taliban spokesman said that the media acknowledged the effective implementation of a ceasefire by the TTP and "now the people of Pakistan might have known which elements are behind attacks on public places".
http://tribune.com.pk/story/693659/condemnation-attacks-on-civilians-un-islamic-says-ttp/
----------
Sunni hardliner declared winner in Pakistan election dispute in Punjab
Apr 10, 2014
The head of a group banned by the Pakistani government as a terrorist organization has won a seat in parliament following an election tribunal's decision, officials said Thursday.
Maulana Ahmad Ludhianvi, who leads the sectarian Ahle Sunnat Wal Jamaat (ASWJ), won an appeal after losing the seat at Jhang in Punjab, Pakistan's most populous province, during last May's general election.
The hard-line Sunni Muslim ASWJ is widely seen as a front for Sipah-e-Sahaba Pakistan, a group formed in the 1980s and responsible for murdering hundreds of Shiite Muslims whom they consider heretics.
The interior ministry banned ASWJ as a terrorist group in 2012, but it operates freely in Pakistan and its banners are frequently seen at rallies.
Ludhianvi ran on the ticket of the six-party religious alliance Muttahida Deeni Mahaz (United Religious Front), which did not win a seat in the May 2013 vote.
Shaikh Mohammad Akram of the Pakistan Muslim League-N party, which came to power nationally in the election, won the ballot in Jhang. But the tribunal disqualified him for rigging the vote and defaulting on a loan.
"A tribunal gave its decision yesterday and de-seated the winner Shaikh Mohammad Akram and declared Maulana Ludhianvi the winner, who was the runner up in the election," Mehboob Anwer, election commissioner for Punjab province, told AFP.
Younas Qasmi, a close aide to Ludhianvi, said the workers of his organization were elated after hearing the decision and distributed sweets in the city to celebrate the victory.
He said Ludhianvi had appealed against Akram because he was a loan defaulter who cannot contest elections under Pakistani laws and had also rigged the election.
Akram told AFP he would challenge the tribunal's ruling in the Supreme Court.
ASWJ is known as the political arm of Lashkar-e-Jhangvi, one of the most active terror groups in Pakistan and responsible for a string of bloody attacks on Shiites.
There has been a rise in sectarian violence in Pakistan after several deadly clashes between Sunni and Shiite Muslim groups near Islamabad in November last year.
Ahead of last year's election Ludhianvi said he wanted to be elected so he could spread what he called his "anti-Shiite mission" to a national audience.
Shiites make up around 20 percent of Pakistan's population, which is largely Sunni.
http://english.alarabiya.net/en/News/2014/04/10/Sunni-hardliner-declared-winner-in-Pakistan-election-dispute.html
----------
Even Nawaz may become victim of PPO, warns Bilawal
Apr 10, 2014
Pakistan People's Party chairman Bilawal Bhutto Zardari warned Thursday that Prime Minister Nawaz Sharif may himself one day become a victim of the Protection of Pakistan Ordinance if it is passed in its current form.
The controversial anti-terror law has become the topic of much debate in Pakistan, with critics and opposition members saying it gives sweeping powers to security agencies to infringe the fundamental rights of the citizens guaranteed under the constitution.
Opposition parties have vowed to stop the legislation from being passed into law without significant amendments.
Full report at:
http://www.dawn.com/news/1098987/even-nawaz-may-become-victim-of-ppo-warns-bilawal/print
----------
PML-N lawyer shot dead in Karachi
2014-04-10
KARACHI: A lawyer was shot dead on Thursday when unidentified armed men opened fire on his car in Karachi's Gulshan-i-Iqbal area, DawnNews reported.
The deceased, identified as Advocate Waqar Shah, was the vice president of Pakistan Muslim League - Nawaz's lawyers' wing.
Shah was gunned down while he was on his way to a court after leaving his house.
His body was immediately shifted to Jinnah Hospital.
According to hospital sources, Shah had been shot in the head as well as in the chest.
Waqar Shah was targeted after reconnaissance, the police personnel said.
The Sindh High Court Bar Association boycotted court proceedings for the day in protest against the advocate's killing.
Moreover, Sindh High Court (SHC) Chief Justice Maqbool Baqar took notice of Shah's killing and directed the inspector general of Sindh police to submit a report of the incident.
A day earlier, at least 12 people including a Shia doctor and three students of a religious seminary were killed and several others injured in different incidents of violence in Karachi's Gulistan-i-Jauhar area.
Full report at:
http://www.dawn.com/news/1098952/pml-n-lawyer-shot-dead-in-karachi
----------
Cross-border Taliban alliance growing stronger
April 10, 2014
CAMP THUNDER, Afghanistan : Taliban militants in Pakistan have established an increasingly close relationship with insurgents from across the border in Afghanistan, supplying them with explosives and well-trained fighters, a senior Afghan army commander said on Wednesday.
But in recent weeks the two groups have secretly agreed to work together, with Pakistani militants announcing a ceasefire with their government in order to preserve militant bases used to stage cross-border attacks. Maj Genl M Shareef Yaftali, in charge of several eastern provinces on or near the Afghan border with Pakistan, said this relationship was growing stronger. "They are working together now. They are going to hold this relationship. It helps them," Yaftali, commander of the 203rd Corps, said.
Full report at:
http://www.nation.com.pk/international/10-Apr-2014/cross-border-taliban-alliance-growing-stronger
----------
Blasphemy case lawyer threatened inside Pakistan court
MEENA MENON
Apr 10, 2014
The Human Rights Commission of Pakistan (HRCP) has voiced serious concern over threats extended to a senior lawyer representing a blasphemy accused inside a courtroom in the Multan Central Prison.
In a statement issued on Thursday, the HRCP said it was extremely concerned about threats in open court to the lawyers of an accused in a blasphemy case, Junaid Hafeez. His lawyers Rashid Rehman and Allah Dad had appeared for a hearing on Wednesday. The case is being heard in Multan Central Jail in view of security concerns.
"During arguments for acquittal of the accused, three persons addressed defence lawyer Rashid Rehman, in the judge's presence and said: 'You will not come to court next time because you will not exist anymore.' Mr. Rehman drew the judge's attention to the threat but the judge is reported to have remained silent.
Full report at:
http://www.thehindu.com/news/international/south-asia/blasphemy-case-lawyer-threatened-inside-pakistan-court/article5896727.ece
----------
Governor, CM asked to open talks with Baloch militants
2014-04-10
QUETA: President Mamnoon Hussain has said that the governor and chief minister of Balochistan have been assigned the task of opening peace talks with Baloch militant leaders.
Talking to journalists at Governor House here on Wednesday, Mr Hussain expressed the hope that ongoing talks between the government and the Taliban would succeed.
"The government has opted for talks to bring an end to militancy as most conflicts in the world have been resolved through dialogue," he said, adding that the use of force always remained the last option which was adopted after talks failed.
"We hope that Baloch militants will shun militancy and join mainstream politics because protection of people's rights and their well-being can be only ensured in a peaceful atmosphere."
Full report at:
http://www.dawn.com/news/1098874/governor-cm-asked-to-open-talks-with-baloch-militants
----------
Peace in region linked to resolution of Pak-India disputes
April 10, 2014
ISLAMABAD- Pakistan has once again reiterated that durable peace in the region is linked to resolution of all issues and disputes between Pakistan and India.
Responding to questions at the weekly news briefing in Islamabad today, foreign office spokesperson Tasnim Aslam pointed out that the two countries had a framework to discuss an eight point agenda, but the process stands disrupted for the last three years. She said, Pakistan looks forward to resumption of that process for the sake of regional peace and in order to allow the two countries to focus on economic development. To another question the spokesperson said Pakistan is a recognized and legitimate party to Jammu and Kashmir dispute. Asked what kind of relations Pakistan will have with India if Narendra Modi wins elections, she said we deal with countries and it is for people of India to elect whoever they seem fit.
Full report at:
http://www.nation.com.pk/national/10-Apr-2014/peace-in-region-linked-to-resolution-of-pak-india-disputes
----------
Taliban ban on vaccination in Waziristan poses threat to children
2014-04-10
PESHAWAR: The government's failure to persuade Taliban to lift ban on administration of anti-polio vaccine in North Waziristan Agency has put children at risk of polio in the whole country.
In June 2012, a militant group led Hafiz Gul Bahadar banned anti-polio in the area, saying drive against polio was a ploy by the US to spy on Taliban and kill them in drone attacks.
Since then, there has been no vaccination and about 160,000 children remained unimmunised in the tribal region. Several cases of polio have been reported in the area.
The vaccinators argue that Hafiz Gul Bahadar is regarded as 'good Taliban' and close to the government. He has not been attacked by the government because he is not part of Tehreek-i-Taliban Pakistan (TTP).
Full report at:
http://www.dawn.com/news/1098905/taliban-ban-on-vaccination-in-waziristan-poses-threat-to-children
----------
Faith healer turns woe dealer
2014-04-10
SAHIWAL: The police have arrested a self-acclaimed faith healer who inflicted burns on a 13-year-old girl on the pretext of ridding her of 'possession'.
The police also registered a case against Sarfraz Jutt, a resident of 167/9-L, Ghaziabad, on the compliant of girl's father Amanullah.
On March 15 last, labourer Amanullah and his wife took their ailing daughter 'M' to Sarfraz Jutt who claimed the girl was under the possession of evil spirit. He convinced her poor parents to have the girl cured by walking barefoot on burning coal.
Accordingly, Sarfraz made the girl walk on the burning coal (on March 19) and her parents rescued her the moment she started screaming with pain.
Full report at:
http://www.dawn.com/news/1098868/faith-healer-turns-woe-dealer
----------
Arab World
Egyptian government to implement terrorist ruling against Brotherhood
Apr 10, 2014
The Egyptian cabinet has said that it will implement penalties for engaging in terrorism on members of the Muslim Brotherhood or anyone supporting them starting this week, four months after it designated the group a terrorist organisation.
The government's decision to label the Brotherhood a terrorist organisation was upheld by a decision by the Court of Urgent Matters in February.
According to the cabinet, following the court ruling, members of the group will be liable for terrorism offences according to the Egyptian penal code.
Penalties according to the law will be exacted on anyone who is a member of the Muslim Brotherhood, any person who supports it verbally or in writing or in "other ways" and any person who funds its activities.
Full report at:
http://english.ahram.org.eg/NewsContent/1/64/98735/Egypt/Politics-/Egyptian-government-to-implement-terrorist-ruling-.aspx
----------
Twin car bombs kill 25 in Syria's Homs: State media
Apr 10, 2014
Two car bombs killed at least 25 people, including women and children, in a government-held neighbourhood of Syria's central city of Homs Wednesday, state news agency SANA reported.
Another 100 people were wounded in Karam al-Luz, in attacks SANA blamed on "terrorists," the government's term for people fighting to overthrow President Bashar al-Assad.
"Twenty-five people fell as martyrs, including women and children, and more than 107 others were wounded after the explosion of the two car bombs" a half-hour apart, SANA said.
The Syrian Observatory for Human Rights said the bombings killed 21 people in a mostly Alawite neighbourhood, referring to the Shiite Muslim offshoot sect to which the Assad family belongs.
Full report at:
http://english.ahram.org.eg/NewsContent/2/8/98695/World/Region/Twin-car-bombs-kill--in-Syrias-Homs-State-media.aspx
----------
Egypt welcomes US designation of Ansar Beit Al-Maqdis as terrorist
Apr 10, 2014
The Egyptian foreign ministry "welcomes" the designation of Ansar Beit Al-Maqdis by the US as a "foreign terrorist organisation" and will legally prove the link between the group and the Muslim Brotherhood, a foreign ministry spokesman told Ahram Online.
On Wednesday, the Obama administration imposed sanctions on Ansar Beit Al-Maqdis, a militant group that has claimed responsibility for a number of deadly bombings in Egypt that have taken place since the ouster of Brotherhood president Mohamed Morsi last summer.
The Egyptian government has said that the Muslim Brotherhood is involved in supporting militant attacks, and last year declared the group a terrorist organisation. The designation was upheld by a court in February.
Full report at:
http://english.ahram.org.eg/NewsContent/1/64/98727/Egypt/Politics-/Egypt-welcomes-US-designation-of-Ansar-Beit-AlMaqd.aspx
----------
Saudis fighting abroad are still turning themselves in
Apr 10, 2014
RIYADH — Saudis fighting in conflict areas abroad are still approaching embassies to facilitate their return home, even though about 20 days have passed since the expiry of the grace period granted by the Interior Ministry to them, Al-Watan newspaper reported on Wednesday quoting a Saudi diplomat.
"Many of the Saudi fighters who came to us were aged between 15 and 20 years of age," said Adel Mirdad, Saudi ambassador to Turkey.
He said after the expiry of the grace period the embassy received a number of the Saudi fighters wishing to return home.
"Our doors will always remain open for all Saudis coming from conflict regions or any other area," he said.
Full report at:
http://www.saudigazette.com.sa/index.cfm?method=home.regcon&contentid=20140410201431
----------
Nusra Front Loses Ground to ISIL on Iraq Border
Apr 10, 2014
Al-Qaeda affiliated group operating in Syria, Nusra Front, lost ground to its terrorist rivals around a town on the Iraqi border on Thursday in heavy fighting that left 24 people dead, reports said.
The so-called Syrian Observatory for Human Rights, said insurgents of the "the Islamic State of Iraq and the Levant" (ISIL) launched a three-pronged assault on positions held by Nusra Front and its allies.Terrorists fighting within ranks of Nusra Front in Syria
ISIL militants were driven out of Albu Kamal in heavy fighting earlier this year and are seeking to link up with their comrades over the border in Iraq, the monitoring group chief Rami Abdel Rahman told AFP.
Full report at:
http://www.almanar.com.lb/english/adetails.php?eid=145308&cid=23&fromval=1&frid=23&seccatid=20&s1=1
----------
299 Syrians starve to death in civil war
World Bulletin / News Desk
Apr 10, 2014
A report on Wednesday from the Syrian Network for Human Rights has claimed that at least 299 Syrians have died from starvation because Bashar al Assad's regime is purposely starving those in opposition controlled areas.
It is estimated that at least 200,000 Syrians are under-siege in government controlled areas while 45,000 are considered to be under siege in opposition controlled areas.
Meanwhile, the UN believes that 6.5 million people have been internally displaced and 2.5 million have sought refuge in neighboring countries such as Turkey and Jordan since the conflict erupted more than three years ago.
Syria has been in turmoil since 2011 when a peaceful uprising against President Bashar al-Assad escalated into civil war following a violent regime crackdown.
http://www.worldbulletin.net/headlines/133371/299-syrians-starve-to-death-in-civil-war
----------
Egypt steps up campaign to control mosques
Apr 10, 2014
The Egyptian government has stepped up a campaign to curb Muslim Brotherhood influence over mosques, saying it has licensed more than 17,000 state-approved clerics to give Friday sermons to stop places of worship falling
"into the hands of extremists."
The military-backed authorities have been trying to bring mosques under tighter control since the army toppled Mohammed Mursi of the Islamist Muslim Brotherhood last July after mass protests against his rule.
All of the newly-approved clerics had been trained at Al-Azhar University, which is a respected center of Sunni Islamic learning, and institutions run by the ministry of religious endowments, according to a statement issued by the prime minister's office on Thursday.
Full report at:
http://english.alarabiya.net/en/News/middle-east/2014/04/10/Egypt-steps-up-campaign-to-control-mosques.html
----------
Hezbollah: West resigned to Syria stalemate, Assad to keep power
World Bulletin/News Desk
Apr 10, 2014
Bashar al-Assad's Lebanese ally Hezbollah said his Western foes must now accept he will go on ruling Syria after fighting rebels to a standstill - a "reality" to which his foreign enemies seem increasingly resigned.
Echoing recent bullish talk coming out of Damascus, Sheikh Naim Qassem, deputy leader of the group which is supporting Assad in combat, told Reuters that the president retained popular support among many of Syria's diverse religious communities and would shortly be re-elected.
"There is a practical Syrian reality that the West should deal with - not with its wishes and dreams, which proved to be false," Qassem said during a meeting with Reuters journalists at a Hezbollah office in the group's southern Beirut stronghold.
Full report at:
http://www.worldbulletin.net/headlines/133361/hezbollah-west-resigned-to-syria-stalemate-assad-to-keep-power
----------
Arabs urge U.S. to keep up Mideast peace push, blames Israel
World Bulletin/News Desk
Apr 10, 2014
The Arab League called on the United States on Wednesday to keep up efforts to salvage Middle East peace talks that are on the brink of collapse, blaming Israel for a crisis that has led Washington to evaluate its role in the negotiations.
At a meeting of Arab foreign ministers in Cairo, the Arab League said Israel was responsible for the "serious predicament" facing the negotiations, citing its failure to release about two dozen Palestinian prisoners as one of the major causes.
"(The ministers) called on America to continue its efforts for the resumption of the negotiation track that obliges Israel to implement its commitments ... according to the agreed time frame," a League statement said.
Full report at:
http://www.worldbulletin.net/headlines/133359/arabs-urge-us-to-keep-up-mideast-peace-push-blames-israel
----------
30 executed bodies found in Syrian city
World Bulletin/News Desk
Apr 10, 2014
Syrian opposition forces have found the bodies of at least 30 executed men near the eastern city of Deir'z Zor, activists said on Thursday.
According to a statement from the London based the Local Coordination Committees of Syria , the men had been summarily executed by Islamic State of Iraq and the Levant (ISIL) militants on an oil field in Deir'z Zor.
The LCC described the killings as a massacre, carried out by the ISIL.
Meanwhile, another activist group, Syria General Revolutionary Council (SGRC), reported that ISIL was in nominal control of a district of Deir'z Zor.
The group reported clashes between ISIL militants and Free Syrian Army (FSA) fighters going on in the Abul Kemal district.
Full report at:
http://www.worldbulletin.net/todays-news/133421/30-bodies-found-in-syrian-city
----------
Syria's Al-Assad receives Syriac Orthodox Church's new patriarch
Apr 10, 2014
Embattled Syrian president Bashar Al-Assad recently received Moran Ignatius Aphrem II Karim, the elected patriarch of the Syriac Orthodox Church, at the presidential palace in Damascus.
The new patriarch and his accompanying patriarchate delegation were given a warm welcome and cordial reception by the Syrian president.
Al-Assad congratulated the new patriarch, wishing him luck in his new post and affirming the patriarchate's vital role in spreading the culture of love and fraternity amidst the jihadist threat affecting the region and the world.
Full report at:
http://english.ahram.org.eg/NewsContent/2/8/98698/World/Region/Syrias-AlAssad-receives-Syriac-Orthodox-Churchs-ne.aspx
----------
Grand Mosque's lost children center 'hard to locate'
Apr 10, 2014
MAKKAH - The lost children center in the Grand Mosque cannot handle the daily number of lost children and is located in a remote corner that is difficult to reach, Makkah daily reported.
The center is located on the third floor of Makkah Commercial Center, west of the Grand Mosque, and children feel scared in the center, especially if it is late, parents say.
Parents are complaining that they have to follow a maze of directions to reach the center, as it is the only center of its kind in the central area of Makkah.
The center receives large numbers of lost children, especially during the Ramadan and Haj seasons, and its location has been questioned.
Full report at:
http://www.saudigazette.com.sa/index.cfm?method=home.regcon&contentid=20140410201518
---------
Mideast
Turkish FM denies ordering closure of schools run by Gülen movement abroad
Apr 10, 2014
Turkish Foreign Minister Ahmet Davutoğlu has strictly ruled out news reports suggesting he has recently ordered for the closure of the schools run abroad by the Hizmet (Service) network.
The schools are backed by U.S.-based Islamic scholar Fethullah Gülen, who is in a severe rift with the Turkish government.
"No, there has been no such order [pertaining to closing schools abroad]," Davutoğlu said late on April 9, while speaking in an interview with news channel Kanal 24, expressing surprise at such claims.
"The Foreign Ministry has made no such decision. There is an open and clear order that says: What's required of it [the Foreign Ministry] will be carried out in the case of any insult or activity against the Republic of Turkey, -- no matter by whom and no matter how," Davutoğlu said.
Full report at:
http://www.hurriyetdailynews.com/turkish-fm-denies-ordering-closure-of-schools-run-by-gulen-movement-abroad.aspx?pageID=238&nID=64847&NewsCatID=338
----------
Abbas says willing to extend peace talks past April 29
Apr 10, 2014
The president of the Palestinian Authority, Mahmoud Abbas, expressed on Thursday his willingness to extend peace talks with Israel past the end of April on "the basis that the fundamentals bring to the founding of a Palestinian state whose capital is east Jerusalem."
In an interview with the London based newspaper Asharq al-Awsat, Abbas said that his application to join 15 international bodies and treaties was in the interest of the Palestinian people and had nothing to do with Israel.
Abbas added that he updated the Arab league foreign ministers about recent developments in the peace talks on Wednesday in Cairo.
In the meeting with the foreign ministers, Abbas also laid out how he envisioned how the negotiations with Israel should continue.
Full report at:
http://www.jpost.com/Diplomacy-and-Politics/Abbas-says-willing-to-extend-peace-talks-348129
----------
Hamas calls on Abbas to terminate Israel talks
World Bulletin / News Desk
Apr 10, 2014
Palestinian resistance faction Hamas on Wednesday called on the Palestinian Authority (PA) to terminate its ongoing talks with Israel after Israeli Prime Minister Benjamin Netanyahu ordered his government to halt civilian and economic cooperation with the PA.
"[Hamas] urges the PA not to return to negotiations under any circumstances," Fawzi Barhoum said in a press statement.
He went on to voice hope that Netanyahu's move would provide the "impetus for reviving resistance in the West Bank."
An Israeli government official was quoted by Israeli daily The Jerusalem Post as saying that Netanyahu's decision had come in response to "Palestinian violations."
According to the paper, Israeli government ministers had been asked to refrain from meeting their Palestinian counterparts.
Full report at:
http://www.worldbulletin.net/headlines/133379/hamas-calls-on-abbas-to-terminate-israel-talks
----------
Israeli court convicts Muslim leader Salah
World Bulletin/News Desk
Apr 10, 2014
An Israeli court on Thursday convicted Raed Salah, head of the Islamic Movement inside Israel, of "hindering police" on the border between Jordan and the West Bank in 2011, a movement spokesman said.
The court has set May 12 for sentencing Salah, Zahi Nujida, who attended Thursday's court session, told Anadolu Agency.
The incident occurred in April of 2011, when Salah objected after Israeli authorities tried to subject his wife to a strip search at the Al-Karama border crossing, according to the movement's website.
Full report at:
http://www.worldbulletin.net/todays-news/133424/israeli-court-convicts-muslim-leader-salah
----------
Turkey's FM denies plan to go to war with Syria
World Bulletin / News Desk
Apr 10, 2014
Turkey's Foreign Minister Ahmet Davutoglu said an investigation is ongoing into a leaked conversation between him and top security officials who were recorded discussing a possible military operation in Syria.
The story made headlines just days before Turkey's March 30 local elections after the secret discussion was uploaded to YouTube.
"We will find the perpetrators no matter what," said Davutoglu.
The Foreign Minister said they were discussing every possibility about a possible threat to the Suleyman Shah Tomb in Syria - Turkey's only exclave - and searched for a peaceful option.
Claiming that the recordings had later been tampered with, Davutoglu said "we would have started a war if we wanted," he said, adding that Turkey's airspace is not a stop-by and Turkey had responded rightfully.
Full report at:
http://www.worldbulletin.net/turkeys-fm-denies-plan-to-go-to-war-with-syria/133395/turkeys-fm-denies-plan-to-go-to-war-with-syria
---------
Israel 'deeply disappointed' with Kerry's 'poof speech'
Apr 10, 2014
Israel was "deeply disappointed" in US Secretary of State John Kerry's placing the bulk of the blame for the breakdown on talks at Israel's doorstep, an official in the Prime Minister's Office said Wednesday.
The anonymous official, speaking to the New York Times, said that it was the Palestinians who "violated their fundamental commitments" to the diplomatic process by applying last week to join 15 international conventions and treaties.
The official was responding to Kerry's "poof speech" a day earlier in the Senate Foreign relations Committee in which he said that the diplomatic process blew up following Israel's failure to meet the March 29 deadline for releasing the final batch of 26 Palestinian prisoners, and then the announcement of new tenders for 700 units in Gilo.
Full report at:
http://www.hurriyetdailynews.com/turkish-parliament-urges-egypt-not-execute-mass-death-penalty-sentences.aspx?pageID=238&nID=64846&NewsCatID=510
----------
Nuclear talks: Iran may compromise on plutonium at Arak
Apr 10, 2014
Iran has made a proposal that would significantly lower plutonium production at a planned reactor, a senior Iranian official was quoted as saying, signalling flexibility on a key issue in talks to end the nuclear dispute with world powers.
The comment by Ali Akbar Salehi, head of Iran's atomic energy organization, was the latest sign that a compromise may be possible over the Arak research reactor, which the West fears could yield weapons-usable material. Iran denies any such aim.
The fate of the heavy-water plant, which has not yet been completed, is one of the central issues in negotiations between Iran and six major powers aimed at reaching a long-term deal on Tehran's nuclear program by an agreed July 20 deadline.
Full report at:
http://www.jpost.com/Iranian-Threat/News/Nuclear-talks-Iran-may-compromise-on-Plutonium-at-Arak-348157
----------
Africa
Central Africa clashes kill 30, 'mainly civilians': Police
Apr 10, 2014
At least 30 people, mostly civilians, were killed in fighting between mainly Christian militia and predominantly Muslim rebels in the strife-torn Central African Republic, police said Wednesday.
The victims, "the majority of them civilians" caught in the crossfire, died during clashes Tuesday that also left more than 10 people wounded in the central town of Dekoa, police said.
The fighting pitted so-called "anti-balaka" militia against members of the mainly Muslim Seleka rebel group that seized power for 10 months in March 2013, unleashing a wave of brutal tit-for-tat killings.
Police said the "anti-balaka" -- which means "anti-machete" in the local Sango language, referring to the weapon of choice used by the largely Christian militia -- attacked the Seleka positions early in the morning on Wednesday.
Full report at:
http://english.ahram.org.eg/NewsContent/2/9/98690/World/International/Central-Africa-clashes-kill-,-mainly-civilians-Pol.aspx
----------
India
Hindu converted to Islam doesn't lose backward class status: Madras HC
A Subramani,TNN | Apr 10, 2014
CHENNAI: The Madras high court has ordered the Tamil Nadu government to instruct its officials to issue backward class (BC) community certificates to people who embrace Islam, categorically saying that a BC member would get all the benefits meant for BCs even after conversion to Islam.
"I have no hesitation to come to the conclusion that a person belonging to Hindu backward class community, on conversion to Islam, would get the benefit of backward class status if the person is covered under List III of the government order no. 85," said Justice D Hariparanthaman on Wednesday. The list contains seven sects of 'backward class' Muslims. They are: Ansar, Dekkani Muslims, Dudekula, Labbais (including Rawthar and Marakayar speaking Tamil or Urdu), Mapilla, Sheik and Syed, the judge pointed out.
In his 88-page order tracing the origin of caste-resistance movements by various communities and the prevalence of two-tumbler system in several parts of the state, Justice Hariparanthaman trashed two government communications sent in February 2010 and August 2012 asking collectors not to issue BC certificates to converted Muslims. Describing it as persecution of Muslim brothers and akin to 'untouchability' practised on dalits, the judge said, "Denial of BC community certificate to converted Muslims amounts to deprivation of fundamental rights."
Full report at:
http://timesofindia.indiatimes.com/india/Hindu-converted-to-Islam-doesnt-lose-backward-class-status-Madras-HC/articleshow/33528384.cms
----------
Pakistan eager to resume talks with new Indian govt, says envoy
Apr 10, 2014
Pakistan is looking forward to engaging with India's next prime minster and any government which comes to power, and hopes the two countries do not lose much time in this process, Islamabad's new envoy to New Delhi said Wednesday.
Asked if that would include BJP's prime ministerial candidate Narendra Modi, high commissioner Abdul Basit stressed that Pakistan will do business with any government that comes to power as a result of the elections.
Asked if Pakistan would give a visa to Modi — since the US had denied him a visa — Basit said: "Pakistan (has) never denied visa to anyone, so let's hope our engagement will be resumed as quickly as possible."
Full report at:
http://indianexpress.com/article/india/politics/pakistan-eager-to-resume-talks-with-new-indian-govt-says-envoy/
--------
South Asia
Afghan forces foiled 262 suicide attacks aimed at disrupting elections
Apr 10 2014
The Afghan intelligence – National Directorate of Security (NDS) said Thursday that the Afghan security forces arrested foiled 262 suicide attacks aimed at disrupting the elections.
NDS officials told reporters that the Afghan security forces arrested 262 suicide bombers during the military operations over the past one month.
Afghan security forces also discovered and seized 65 vehicles packed with explosives, NDS officials said.
According to the NDS officials, militant groups including the Taliban group, Haqqani Network and Jindullah militants group were looking to disrupt the elections.
The officials also added that foreign spy agencies also attempted to disrupt the elections, however the Afghan security forces managed to successful ensure security due to increased cooperation and coordination among the security institutions, and cooperation of the Afghan people with the security forces.
Full report at:
http://www.khaama.com/afghan-forces-foiled-262-suicide-attacks-aimed-at-disrupting-elections-3554
----------
Hefazat to hold 'Islamic conference' on April 11-12
Apr 10, 2014
The Hefazat-e-Islam is going to hold a two-day Shane Resalat Sommelan – a Muslim religious conference – in Chittagong city's Laldighi ground on April 11-12 apparently to jolt its rank and file out of depression.
The two-day religious conference will put inspiration into the leaders and activists and help them to get united again, said Hefazat insiders.
According to sources in Chittagong Metropolitan Police (CMP), a total of 24 Hefazat leaders including its secretary general and scores of others are accused in 42 cases lodged with different police stations across the country including the capital following the mayhem in Dhaka on May 5-6 in 2013.
Full report at:
http://www.dhakatribune.com/bangladesh/2014/apr/10/hefazat-hold-%E2%80%98islamic-conference%E2%80%99-april-11-12#sthash.mI89GyqA.dpuf
----------
Afghan peace talks with Taliban leaders to resume in UAE
Apr 10 2014
Afghan high peace council (HPC) officials said Thursday that peace talks between the Afghan officials and former Taliban leaders will resume soon in United Arab Emirates (UAE).
The Afghan high peace council chief executive Mohammad Amin Waqad said the negotiations will resume in the near future.
Without disclosing further information regarding the exact date of peace talks, Mr. Waqad said Afghan officials will urge the Taliban leaders to sit in for peace negotiations.
The Afghan peace delegation will meet with Mutasهm Agha Jan and other Taliban leaders and will urge the Taliban figures close to Mullah Mohammad Omar to assist the Afghan peace process, Waqad quoted by Radio Free Europe (RFE) said.
Full report at:
http://www.khaama.com/afghan-peace-talks-with-taliban-leaders-to-resume-in-uae-2983
----------
North America
U.S. denounces Israeli ban on Palestinian contact
Apr 10, 2014
Washington on Wednesday denounced an order from Israeli Prime Minister Benjamin Netanyahu to limit his cabinet's contacts with their Palestinian counterparts as "unfortunate," Agence France-Presse reported.
"We are certainly aware of the announcement. We regard it as unfortunate," AFP quoted State Department spokeswoman Jen Psaki as saying, as her boss John Kerry met with Israeli Foreign Minister Avigdor Lieberman.
Netanyahu ordered ministers to limit contact with their Palestinian counterparts in response to "the Palestinian violation of their commitments under peace talks," an Israeli official told AFP.
But Psaki shot back: "We believe that cooperation between Israel and the Palestinian Authority has provided benefits to both sides."
"We continue to urge both sides to take steps that contribute to a conducive environment for peace."
Secretary of State Kerry met with Lieberman at the State Department as on the ground U.S. negotiators seek to rescue the fragile Israeli-Palestinian peace talks which ran into a stalemate last week.
Full report at:
http://english.alarabiya.net/en/News/middle-east/2014/04/10/U-S-denounces-Israeli-ban-on-Palestinian-contact.html
----------
Russia didn't share all details on Boston bombing suspect, report says
Michael S Schmidt & Eric Schmitt,NYT News Service | Apr 10, 2014
WASHINGTON: The Russian government declined to provide the FBI with information about one of the Boston Marathon bombing suspects that would most likely have led to more extensive scrutiny of him at least two years before the attack, according to an inspector general's report.
Russian officials had told the FBI in 2011 that the suspect, Tamerlan Tsarnaev, "was a follower of radical Islam and a strong believer" and that Mr. Tsarnaev "had changed drastically since 2010 as he prepared to leave the United States for travel to the country's region to join unspecified underground groups."
But after an initial investigation by the FBI, the Russians declined several requests for additional information about Mr. Tsarnaev, according to the report, a review of how intelligence and law enforcement agencies could have thwarted the bombing.
At the time, American law enforcement officials believed that Mr. Tsarnaev posed a far greater threat to Russia.
Full report at:
http://timesofindia.indiatimes.com/world/us/Russia-didnt-share-all-details-on-Boston-bombing-suspect-report-says/articleshow/33544308.cms
----------
Southeast Asia
Philippines' Moro Muslims form political party
World Bulletin / News Desk
Apr 10, 2014
The Moro Islamic Liberation Front (MILF) in the Philippines yesterday announced it had formed its own political party just two weeks after signing a peace deal with the government.
Naming the party the United Bangsamoro Justice Party, the 11,000-strong MILF will field a number of candidates to contest leadership in the future Bangsamoro autonomous region in Mindanao.
"We have already named chairs in Basilan, Sulu, Tawi-Tawi, Lanao del Sur and Maguindanao and other areas," political affairs chief Ghadzali Jaafar said.
Chief MILF negotiator Mohagher Iqbal told Philippines Daily Inquirer the group would welcome all candidates so long as "he or she is for the good of the Bangsamoro."
Full report at:
http://www.worldbulletin.net/headlines/133339/philippines-moro-muslims-form-political-party
----------
With Minor Exceptions, Peace at the Polls in Indonesia
Apr 10, 2014
Banda Aceh/Denpasar/Jakarta/Jayapura. President Susilo Bambang Yudhoyono has lauded poll organizers for a largely peaceful election on Wednesday, with few incidents of irregularities or violence reported from across the country.
Speaking at his private residence in Cikeas, Bogor, after casting his ballot, Yudhoyono declared this year's legislative election a successful one in terms of how smoothly and incident-free it ran.
"As the head of state, I would like to express my deepest thanks and appreciation to all those involved in organizing the election: the KPU [General Elections Commission], Bawaslu [Elections Supervisory Body] and the security forces, who together helped ensure the success of today's election," he said.
Full report at:
http://www.thejakartaglobe.com/news/minor-exceptions-peace-polls/
----------
Moderation move proves government's commitment to justice and harmony, says academician
Apr 10, 2014
The concept of wasatiyyah (moderation) introduced by Prime Minister Datuk Seri Najib Razak into the structure of syariah objectives reflects his commitment to uphold justice and harmony in Malaysia, said the Deputy Rector (Development) of the Islamic University of Madinah, Prof Dr Mahmoud Abdul Rahman Qadah.
He said wasatiyyah was the platform to combat ignorance, injustice and extremism.
Linguistically, wasatiyyah referred to justice, good, and the middle ground between the two, which were extremism and excess, he said.
"Wasatiyyah is clearly the middle ground between extremism and deviant, and is consistent with the practices of the Sunnah Wal Jamaah.
"As in Saudi Arabia, the management of the country is centred around wasatiyyah, which follows the Quran and hadith in all aspects," he said when presenting a paper on the Wasatiyyah Approach and its Implementation in Saudi Arabia at the Application of the Wasattiyah in the Maqasid Syariah Structure International Seminar in Kuala Lumpur today.
Meanwhile, the director of the Centre for Islamic Moderation and Revival of the Al-Qaradhawi in Doha, Prof Dr Muhammad Khalifa Hasan Ahmad Khalifa, said more countries realised the importance of wasatiyyah in their country's administration.
Full report at:
http://www.themalaysianinsider.com/malaysia/article/moderation-move-proves-governments-commitment-to-justice-and-harmony-says-a
----------
Europe
Ukraine not a barrier for Turkey-Russia ties, Russian ambassador says
Apr 10, 2014
Turkey has stressed the importance of a joint attitude from NATO and EU countries on the political crisis in Ukraine, but this is not an obstacle to enhance bilateral ties between the two countries, Russian Ambassador to Turkey Andrey Karlov has said.
"Turkey embraced the attitude of NATO and EU countries. We respect Turkey's attitude on this issue, as we do in other attitudes. Our differences on international issues will not negatively influence our bilateral relations, primarily economic ties," the Russian ambassador said, speaking at a conference on April 9.
Asked for further elaboration on recent Russian claim that U.S. ships have stayed in the Black Sea on a number of occasions beyond the terms of the Montreux Convention, which regulates the transit of naval warships, Karlov reiterated Russian Foreign Minister Sergei Lavrov's remarks and declined to comment on details of the alleged violations.
"Warships from states without a Black Sea coast can remain in the Black Sea for a limited time. U.S. warships have extended their deployment beyond the set terms and broke the regulations set within the Montreux Convention," he said.
Full report at:
http://www.hurriyetdailynews.com/ukraine-not-a-barrier-for-turkey-russia-ties-russian-ambassador-says--.aspx?pageID=238&nID=64825&NewsCatID=510
----------
Russia gives $1.39 bln for Turkey's first nuclear plant
Apr 10, 2014
Turkey has received $1.39 billion from Russia for the construction of Turkey's first nuclear power plant in Akkuyu for the first quarter of 2014.
Akkuyu NGS, Russia's state-run nuclear company Rosatom's subsidiary in Turkey, has started increasing its investments. According to company officials, once the environmental evaluation report (ÇED) is approved, ground preparations and infrastructural investments will speed up in the construction of Turkey's first nuclear plant.
The Akkuyu NPP project is estimated to cost around $20 billion and total of $3.5 billion worth of equipment is expected to be used in the construction process, of which $1.8 billion will be spent this year alone.
Full report at:
http://www.hurriyetdailynews.com/russia-gives-139-bln-for-turkeys-first-nuclear-plant-.aspx?pageID=238&nID=64867&NewsCatID=348
----------
Malaysian Plane Hijacked to Kandahar: Russian Paper
Apr 10, 2014
Russian daily, Moskovsky Komsomolets, reported that the missing Malaysian plane was hijacked to the Afghan province of Kandahar and that the pilots were "not guilty".
The paper cited an "anonymous source in the intelligence agencies" in Russia. Malaysian plane
"Flight MH 370 Malaysia Airlines missing on March 8th with 239 passengers was hijacked. Pilots are not guilty, the plane was hijacked by unknown terrorists."
"We know that the name of the terrorist who gave instructions to pilots is 'Hitch'. The plane is in Afghanistan not far from Kandahar near the border with Pakistan," claimed the newspaper–which has a circulation of about 1.1 million.
Full report at:
http://www.almanar.com.lb/english/adetails.php?eid=145330&cid=31&fromval=1&frid=31&seccatid=91&s1=1
----------
UN Chief deplores deadly terrorist attacks in Pakistan
April 10, 2014
UNITED NATIONS- UN Secretary-General Ban Ki-moon has deplored recent deadly terrorist attacks in Pakistan, including bombing of a market in the capital of Islamabad.
"The secretary-general deplores the recent terrorist attacks in Pakistan, including Tuesday's bombing of a market in Islamabad and attack on a train in Baluchistan, incidents that led to killing and wounding of many people," said a statement issued by Ban's spokesman. Ban extended "his deep condolences" to the families of the victims and the government of Pakistan, the statement said. At least 24 people were killed and more than 70 others were injured when a bomb went off inside a fruit market in Islamabad on Wednesday morning. Both Prime Minister Nawaz Sharif and President Mamnoon Hussain condemned the blast, the second serious one that hit Pakistan's capital in a month. In another terrorist attack, an explosion ripped through a train in Pakistan's restive southwestern province of Baluchistan, killing at least 14 people. Banned militant outfit United Baloch Army (UBA) has claimed responsibility for the blast.
http://www.nation.com.pk/national/10-Apr-2014/un-chief-deplores-deadly-terrorist-attacks-in-pakistan
----------
Arabic calligraphy flourishing in the West
Apr 10, 2014
Even non-Muslims can't help but fall madly in love with the beautiful Islamic culture and let it be part of their lives. After all, this great faith has so much enriching to offer to the world. And one such person keen to make it happen is Josh Berer, an impassioned American calligrapher whose heart and soul simply beats for Arabic calligraphy.
He believes that the Arabic script of all scripts brought into being, is by far the most flexible, versatile and capable of the greatest degree of creativity one can ever think of. As a matter of fact, it was a predestined journey for him that he would later stumble upon and find out what he really wanted out of life.
So what made him become a true devotee of Arabic calligraphy in the first place? "I first fell in love with this beautiful handwriting art as a 19-year-old graffiti artist who had just started learning Arabic. When I moved to college, I continued with my lessons in Arabic language and encountered Arabic calligraphy."
Full report at:
http://www.arabnews.com/news/552786
----------
URL: https://www.newageislam.com/islamic-world-news/new-age-islam-news-bureau/religious-rhetoric-takes-backseat-as-fifth-emir-of-jamaat-i-islami-takes-oath/d/66484