Age Islam News Bureau
11 Nov 2012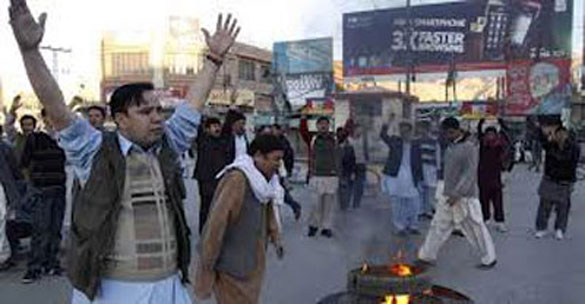 Southeast Asia
• Religious Persecution a Prime Topic at Islamic Forum Held In Indonesia
• PKI purge not a gross violation of human rights, says Indonesian Attorney General
South Asia
• Nasheed's trial and Maldives' human rights record debated in Westminster
• Children Testify In Afghan's Robert Bales Massacre Case
• Karzai pledges to 'hunt' for Malala's attackers
• Bangladesh PM accuses Khaleda of fanning Ramu violence
• 'Past regime protected 2004 attackers who targeted Sheikh Hasina'
• Landmines kill 9 civilians in Afghanistan
• Two Afghan soldiers attack US-led NATO forces
• Talks due on status of US troops in Afghanistan: Official
• Don't be shy to invest in Afghanistan: Hamid Karzai
• PM took temples attacker to Hanoi: Khaleda
Arab World
• Syrian opposition groups agree in principle on unity plan
• Shoura to tackle problem of 5 million illegal expatriates in Kingdom
• Islamic veil on board Egypt Air flights for first time
• The growing importance of the Islamic finance market
• Syria warplanes strike near Iraq border, clashes near Turkey
• Hundreds of Emirati debtors freed from prison
• Five Egyptian films take part in the International Arabic Film Festival in Zurich
• Jordan sentences ex-intelligence chief to prison
• Crown Prince receives chief of general staff and commanders of armed forces branches
India
• India-Pakistan war veterans: Once enemies, now peace messengers
• Maldives apologetic over intemperate anti-India remarks
• Violence erupts again in Kokrajhar, two killed
• Diplomatic row erupts between India, Maldives
• India changes tack to get 26/11 Mumbai terror attack plotters' voice samples
• 5 prosecution witnesses in Mumbai attacks case cross-examined
• Ahead of Pak visit, Hurriyat leader to meet Pak High Commissioner
• Communal Tension in Hyderabad over rumours of expansion work near Charminar
• Sarabjit expresses gratitude towards Indian people and politicians
Pakistan
• Pakistan urges all Afghan insurgents to pursue peace
• Three Shia Muslims shot dead in Quetta: police
• Fears blight 'Malala Day' in schoolgirl's hometown
• Upsurge in violence: PM orders strict action as Karachi bleeds anew
• Pakistani officials reveal Mumbai attackers' training
• At least five more gunned down in Karachi in a fresh spate of violence
• Targeted: Two journalists shot dead in Karachi
• Taliban's Pakistan or Jinnah's Pakistan: MQM puts off referendum
• Democracy is here to stay: Pak CJ
• Pak marks 'Malala Day' with education aid for poor kids
• Asghar Khan case verdict: Let bygones be bygones, says Pervez Musharraf
• TV anchor Malick unhurt in attack on Lahore residence
Africa
• Algeria warns against international military intervention in Mali
• At least seven Kenyan police killed in ambush in country's north
Mideast Asia
• Six Palestinians killed after militants hit Israeli jeep
• Yemen tribal chief with 'Qaeda ties' under house arrest
• Israel says ready to escalate as Hamas joins Gaza clashes
• Two die in Yemen clash
• Iran parliament to probe blogger's death
Europe
• Russia helping on Arafat exhumation: Abbas
• UN envoy warns on human trafficking in Philippines
Compiled by New Age Islam News Bureau
Photo: Three Shia Muslims shot dead in Quetta: police
URL: https://www.newageislam.com/islamic-world-news/new-age-islam-news-bureau/religious-persecution-a-prime-topic-at-islamic-forum-held-in-indonesia/d/9271
--------------
Southeast Asia
Religious Persecution a Prime Topic at Islamic Forum Held In Indonesia
Amir Tejo
November 10, 2012
Religious minorities are still at risk in Indonesia, facing restrictions from the government as well as social hostilities including threats and intimidation by individuals and members of the community, according to a recent international survey.
Islamic studies experts met on Friday for the 2012 Annual International Conference on Islamic Studies, and the Pew Research Centre's September report, "Rising Tide of Restrictions on Religion," was a major topic of concern for conference participants.
"Indonesia along with Israel, Turkey, Pakistan, Algeria, Russia, India and Singapore are still categorized as countries with high GRI and SHI," said AICIS steering committee member Prof. Amin Abdullah, referring to the government restrictions index and social restrictions index, two measures used in the report to rank religious freedom, or the lack thereof, in countries throughout the world.
The report covers the period from 2006-10, and showed an increase in religious restrictions in 66 percent of the 197 countries covered.
And a democratic government, Amin said, doesn't necessarily lead to tolerance and equality in terms of religious practice.
Israel and Turkey are two examples. In Israel, Amin said, GRI remains high because of government polices restricting access to religious sites. In Turkey, the Sunni majority still forces the Alawi minority to accept Sunni values in state-run schools.
"In Indonesia, we often still see, and it's very sad to see, hatred, hostilities, intimidations, threats and violence against our fellow citizens," he said.
AICIS issued several important recommendations for Islamic universities (PTAI) and AICIS for the future.
Amin, the former rector of the Sunan Kalijaga Islamic State University in Yogyakarta, said that universities should use a more scientifically-integrated curriculum.
"From here, PTAIs in Indonesia will be able to produce many progressive ijtihadist Muslims, or contemporary [progressive] Muslim scholars, who have sufficient knowledge about classical Islamic periods and who will try to reinterpret religious values through fresh ijtihad and through modern science, social sciences and the humanities to answer the needs of the contemporary Muslim community."
Prof. Abd A'la, the rector of the State Institute for the Islamic Studies Sunan Ampel, said that the AICIS forum is an opportunity for Indonesian Muslim intellects to contribute to spreading moderate Islamic teachings to the world.
"Therefore the AICIS forum recommends that the works of Indonesian Muslim intellects be translated into Arabic and English so that the experiences of Indonesian Muslims can be shared and consumed by the world community," he said.
Prof. Dede Rosyada, from the Ministry of Religious Affairs, and Prof. Azyumardi Azra, head of the postgraduate school of the Syarif Hidayatullah State Islamic University, are both confident about PTAI's future role in Indonesia.
Azyumardi said that PTAIs can become the world's Islamic education barometer, because Indonesia has the highest number of Islamic universities in the world. Malaysia only has two Islamic universities, Egypt has six and Indonesia has more than 100.
Dede, the ministry's head of the Directorate of Islamic Higher Education (Diktis), said that Diktis sent 522 lecturers to get postgraduate and doctoral degrees last year and 230 more this year. Diktis is also currently processing study permits for 1,114 lecturers in the country and 30 more to study overseas.
http://www.thejakartaglobe.com/news/religious-persecution-a-prime-topic-at-islamic-forum/555383
--------------
PKI purge not a gross violation of human rights, says Indonesian Attorney General
November 11 2012
Attorney General Basrief Arief said the systematic persecution of alleged members of the Indonesian Communist Party (PKI) after the failed 1965 coup was not a gross human rights violation.
Speaking after taking part in a ceremony to mark the National Heroes Day at the Kalibata Heroes Cemetery on Saturday, Basrief repeated his statement saying that the Attorney General's Office (AGO) rejected the earlier claim by the National Commission on Human Rights (Komnas HAM) and had returned the latter's extensive report to the rights body.
Basrief made a similar comment on Friday, saying the evidence gathered by Komnas HAM was insufficient to justify a legal investigation.
"As I said yesterday, we have returned the report to Komnas HAM because it does not meet several requirements. In principle it [anti-communist purge] does not meet the requirement to be considered a gross violation of human rights," he told reporters.
In late July, Komnas HAM declared that the persecution of alleged PKI members following the aborted coup did in fact constitute a gross human rights violation.
Komnas HAM said that state officials under the Operational Command for the Restoration of Security and Order (Kopkamtib), which was led by former president Soeharto from 1965 to 1967 and between 1977 and 1978, should be prosecuted for various crimes, including mass rape, torture and killings.
Komnas HAM also handed over a copy of its 850-page report to the AGO to form the basis for a possible criminal investigation.
After the Sept. 30, 1965 movement, thousands of people — some estimate as many as 500,000 — who were suspected of being PKI members, were killed. Many more were imprisoned for years without charge.
Two days after the report was published, President Susilo Bambang Yudhoyono ordered the AGO to study the report.
In October, Coordinating Political, Legal and Security Affairs Minister Djoko Suyanto claimed the mass killings were justified to save the country from communism.
Soon after the ceremony, President Yudhoyono, the First Lady Ani Yudhoyono and Boediono and his wife Herawati spread flower petals on the graves of the heroes, who include former vice presidents during the New Order, Umar Wirahadikusumah and Sudharmono.
Earlier this week, Yudhoyono had bestowed the honorary title of National Hero on the country's first president and vice president, Sukarno and Mohammad Hatta.
Also present at the ceremony was Jakarta's new Governor Joko "Jokowi" Widodo, whose presence caused a ruckus near the cemetery when well-wishers tried to catch a glimpse of their new leader, ignoring more senior officials and politicians, including Yudhoyono himself.
Jokowi, who was wearing a black suit, greeted them with his typical wide smile and shook hands with those who participated in the ceremony as well as soldiers, police personnel and their families.
Historian J.J. Rizal said the adulation toward Jokowi could indicate that the public had a new definition of what constituted a modern-day hero.
"Most of the National Hero titles are bestowed upon individuals with a military background and soldiers who died on the battlefield. Citizens now, however, found their heroes among those individuals who can address current problems," he said.
http://www.thejakartapost.com/news/2012/11/11/pki-purge-not-a-gross-violation-human-rights-says-ago.html
------------
South Asia
Nasheed's trial and Maldives' human rights record debated in Westminster
By Daniel Bosley | November 10th, 2012
The ongoing trial of former President Mohamed Nasheed was again the subject of debate in London this week, as well as the current human rights situation in the country.
On Tuesday night, the Conservative Party's Human Rights Commission convened to discuss the Maldives, inviting speakers from the government, the opposition, and civil society to participate in the event titled "Human rights and Democracy in the Maldives: Where do we go from here?"
The following day, a private members debate was secured by Karen Lumley MP in the House of Commons to discuss the role of the UK government and the Commonwealth in ensuring a fair trial for Nasheed, whose case was postponed on Sunday following a high court injunction.
Tuesday's meeting was attended by former High Commissioner to the United Kingdom Dr Farahanaz Faizal, former Foreign Minister and current UN Special Rapporteur Dr Ahmed Shaheed, barrister – and current member of Nasheed's legal team – Sir Ivan Lawrence QC, as well as Amnesty International's South Asia specialist Abbas Faiz.
Invitations were also extended to the Acting High Commissioner to the United Kingdom Ahmed Shiaan and Minister for Tourism Ahmed Adheeb.
However, after queries from panel members in attendance as to the whereabouts of the government's representatives, the committee's Chair Robert Buckland MP informed those present that, despite having initially accepted the invitation, the government representatives had withdrawn.
A Foreign Office spokesperson said that Adheeb had been unable to attend the meeting as it had clashed with a ministerial dinner. He had also been busy with duties related to the 2012 World Travel Market, which had been the primary purpose of his visit to London.
Where do we go from here?
Shaheed was the first to speak at the Conservative's meeting, urging the government to uphold the commitments made via its international commitments as well as the pledges made this summer at the United Nations Human Rights Commission (UNHRC).
Farah was the next to speak, choosing to focus in particular on the issues of gender based violence and rising religious extremism in the country.
She argued that the treatment of female protesters in the aftermath of the February 7 transfer of power had highlighted this endemic abuse.
Farah deviated from her prepared testimony to mention the recent incident of the 11 year old girl who gave birth in Seenu atoll last week.
"The silence of the authorities is disturbing," she added, before chastising President Mohamed Waheed Hassan for failing to speak out, despite his history of working with UNICEF.
Abbas Faiz spoke next, taking time – after distributing a copy of the recent Amnesty International publication, 'The other side of paradise' – to assert the independence of his organisation: "Some still believe we are not. We do not take sides."
After the release of the report in the summer, Amnesty was accused by Home Minister Mohamed Jameel Ahmed of acting with bias towards anti government supporters.
Faiz pointed out that Amnesty also condemned any acts of violence by protesters and stated that it still considered the detention of Judge Abdulla Mohamed in January this year to have been "arbitrary".
Sir Ivan Lawrence QC contended that the "arbitrary" arrest of Abdulla Mohamed was yet to be proven in a court of law.
The member of Nasheed's current defense team recalled his previous work in the country in 2005, noting the proven gains to be made from garnering global attention on human rights abuses.
He did acknowledge the difficulty of this task, with far greater human rights atrocities occurring elsewhere in the world, and expressed his belief that the Commonwealth was best placed to help solve the country's current problems.
When taking questions from the floor, Farah expressed her concern that international observers were often sheltered from the real Maldives when visiting the country, arguing that this must change if observers are to assist with free and fair elections.
Buckland, the Chair, concluded the meeting by saying that he would pass on the details of the forum to the Foreign Secretary William Hague as well as the Under Secretary Alistair Burt.
Private members' debate
Burt was unable to attend the private member's debate the following day, sending Mark Simmonds to represent the Foreign Office on his behalf.
Lumley described the 2008 election victory as a "political fairy tale", but argued that Nasheed had been left with a "constitutional time bomb" regarding the unreformed judiciary, which the Commonwealth ought to have offered greater assistance with.
Robert Buckland, also present at this debate, remarked that the "current government is in a supremely ironic situation."
"They criticised the former president for interfering in the judiciary and now it seems they are using judicial processes to frustrate a free and fair election," he said.
"Is not the message we need to send to them that the guarantee of a true democracy is an independent judiciary, and that they had better make sure that is so," he asked.
Both Karen Lumley and John Glen MP both stated their firm belief that the events of February 7 amounted to a coup.
On behalf of the Foreign and Commonwealth Office (FCO), Simmonds said that he disagreed with the assertion that the Commonwealth had "taken its eye off the ball" in the Maldives.
"I do not think that is an entirely accurate reflection of matters," he said.
He said that the Commonwealth Ministerial Action Group (CMAG) was concerned about the situation – noting that the recent meeting in New York went on for five hours, despite being scheduled for 45 minutes – and that it had pledged additional support for civil society and judicial reform.
Simmonds was keen to stress that, after the Commission of National Inquiry (CNI), "we fully accept the legitimacy of the current president and his government."
He described the current legal proceeding as a "significant test" which was being "watched closely" by the international community before noting that the government had previously sought and received assurances from President Waheed that the trial would be free from political influence.
"At this stage of proceedings, we have no reason to believe that this will not be the case," said Simmonds.
"I have no doubt that the Maldives government and judiciary will feel the eyes of the world on them, and that they realise that a fair and impartial trial is most evidently in the national interest," he added.
The second hearing in Nasheed's trial had been scheduled for last Sunday but was postponed pending a High Court ruling on the procedural points raised by his legal team.
A High Court decision had been expected on the day after the private members debate, but the Supreme Court was reported to have instructed the lower court to halt its hearings on Wednesday afternoon.
http://minivannews.com/politics/nasheeds-trial-and-maldives-human-rights-record-debated-in-westminster-47042
--------------
Children Testify In Afghan's Robert Bales Massacre Case
November 11, 2012
Stories of the March 11 massacre came, one by one, over live video link from Afghanistan into a military courtroom outside Seattle — torched bodies; a son finding his wounded father; boys cowering behind a curtain while others screamed "We are children! We are children!"
As the Afghans recounted the horror that left 16 dead in the darkness early on March 11, Staff Sergeant Robert Bales, the U.S. soldier accused of carrying out the rampage, sat quietly in the courtroom. He gave no discernible reaction to the stories he heard.
At one point, Staff Sgt. Sergeant Robert Bales moved closer to a large monitor showing the testimony. At other times, he watched as it played on a laptop screen in front of him. Either way, Staff Sergeant Robert Bales he gave no discernible reaction to the stories he heard.
Speaking through an interpreter, one Afghan closed his remarks with the words — "My request is to get justice."
The hearing at Joint Base Lewis-McChord is meant to help determine whether Bales (39), will face a court-martial in the deaths of the seven adults and nine children. He could face the death penalty if he is convicted.
Bales, an Ohio native and father of two from Lake Tapps, Washington, has not entered a plea and was not expected to testify. His attorneys have not discussed the evidence, but say he has Post-Traumatic Stress Disorder (PTSD) and suffered a concussive head injury while serving in Iraq.
The hearing, which began on Monday, was held overnight on Friday to accommodate the Afghan witnesses.
Lives lost
They recounted the villagers who lived in the attacked compounds and listed the names of those killed, to provide a record of the lives lost. The youngest witness was Sadiquallah, a slight boy of about 13 or 14who described being awakened screaming that an American had "killed our men".
The other child was hit in the thigh and also survived. He is scheduled to testify on Saturday night.
As those two were hiding, Sadiquallah's older brother, Quadratullah, sought refuge with other children in a different part of the house. When the gunman found them, Quadratullah testified, the children scrambled, yelling "We are children! We are children!"
The boys' father, Haji Mohammed Naim, was the first person shot at the home. He testified that he was awoken by shots and dogs barking. He asked his wife to light a lantern, and saw the shooter climb over a compound wall.
"He jumped from the wall, and I just saw the light on his head," Mr. Naim said. "He just started shooting me."
One older son, Faizullah, recalled being awoken by someone telling him there had been a shooting at his father's compound. He rushed there to find him with a gunshot wound to the throat. One of Mr. Naim's daughters was also wounded, as were two neighbour siblings.
Faizullah said he loaded the wounded into a car, using a blanket to lift some of them. They were treated at a nearby base, and then flown to a bigger military hospital in Kandahar. All five survived.
http://www.thehindu.com/news/international/children-testify-in-afghan-massacre-case/article4085654.ece
--------------
Karzai pledges to 'hunt' for Malala's attackers
November 11, 2012
MUMBAI: Afghan President Hamid Karzai on Saturday promised to hunt for the Taliban attackers who shot Pakistani teenage activist Malala Yousafzai for speaking up for girls' rights to education.
The Pakistani Taliban has admitted shooting Malala in the head on a school bus a month ago to punish her for the "crime" of campaigning for girls' rights to go to school in the militants' former Pakistani stronghold of Swat.
Full report at:
http://dawn.com/2012/11/10/karzai-pledges-to-hunt-for-malalas-attackers/
--------------
Bangladesh PM accuses Khaleda of fanning Ramu violence
November 11 2012
Prime Minister Sheikh Hasina on Sunday lambasted the opposition leader for her delayed visit to Ramu and accused her of fanning the mayhem from behind the scene.
"You are now blaming others after doing everything from behind," said the premier. "But the government will not allow anyone to play games with the lives of people. The government and democracy will continue in the country."
She was addressing a programme organised to mark the 40th founding anniversary of Bangladesh Awami Jubo League, the youth wing of the ruling party, at the Bangabandhu International Conference Centre in the city.
Full report at:
http://www.thedailystar.net/newDesign/latest_news.php?nid=42354
------------
'Past regime protected 2004 attackers who targeted Sheikh Hasina'
Nov 11 2012
Dhaka : A former chief of Bangladesh's main spy agency today claimed perpetrators of the 2004 grenade attack, which mainly targeted the then leader of Opposition and current Prime Minister Sheikh Hasina, were protected under directives of the higher political authority.
"I was asked not to catch (arrest) them (culprits)," former Director General of Directorate General of Forces Intelligence (DGFI) Maj Gen (retd) Sadik Hassan Rumi told a court here as the belated trial of several high-profile suspects of the attack were underway.
"There was no dearth of efforts on my part to unearth the plot (of the attack) but I was repeatedly obstructed," he said.
Full report at:
http://www.indianexpress.com/news/past-regime-protected-2004-attackers-who-targeted-sheikh-hasina/1030080/
-----------
Landmines kill 9 civilians in Afghanistan
November 11, 2012
Officials said landmines have killed nine civilians in separate incidents in eastern and southern Afghanistan.
Youqib Khan, who is deputy police chief for the eastern Khost province, said three men, two women and a baby died when their vehicle ran over a mine as they were returning home from hospital on Sunday morning.
In the south, three civilians were killed when their vehicle detonated a landmine on Sunday on the road between Helmand and Kandahar provinces, a government statement said.
Meanwhile, a US soldier was killed by an improvised explosive device in southern Afghanistan on Saturday, a military statement said.
http://www.thehindu.com/news/international/landmines-kill-9-civilians-in-afghanistan/article4087795.ece
--------------
Two Afghan soldiers attack US-led NATO forces
November 11, 2012
HERAT: Two Afghan soldiers attacked US-led NATO forces (Isaf) in western Afghanistan on Saturday, injuring a Spanish soldier, in the latest "insider" attack in the country, officials said.
An Isaf spokesman in Kabul said that the attack by two Afghan National Army (ANA) soldiers, one of whom was seriously wounded, occurred in Muqur district of Badghis province in the early hours of Saturday.
Full report at:
http://dawn.com/2012/11/11/two-afghan-soldiers-attack-us-led-nato-forces/
--------------
Talks due on status of US troops in Afghanistan: Official
By AFP Published: November 11, 2012
KABUL: Crucial negotiations on the status of US forces remaining in Afghanistan after the NATO withdrawal in 2014 will begin in Kabul this week, the foreign ministry said Sunday.
A key element of any agreement will be the question of immunity for US troops from prosecution in local courts.
In Iraq, Washington pulled out all of its troops after failing to get Baghdad to grant its soldiers immunity, and President Hamid Karzai has warned there could be similar problems in Afghanistan.
Full report at:
http://tribune.com.pk/story/464099/talks-due-on-status-of-us-troops-in-afghanistan-official/
---------
Don't be shy to invest in Afghanistan: Hamid Karzai
Sanjay Hadkar
Nov 11, 2012
MUMBAI: Afghanistan President Hamid Karzai on Saturday told India Inc not to be "shy" when it comes to investing in his mineral-rich country and pointed out the gains reaped by the Chinese who invested early in the war-ravaged country.
"Indian businesses need not be shy when thinking of Afghanistan. Chinese businesses were there long before you came, five or six years ago. And they have now taken two or three major contracts," he said, addressing captains of the industry here.
Full report at:
http://timesofindia.indiatimes.com/world/south-asia/Dont-be-shy-to-invest-in-Afghanistan-Hamid-Karzai/articleshow/17175303.cms
--------------
PM took temples attacker to Hanoi: Khaleda
November 11 2012
BNP Chairperson Khaleda Zia on Sunday alleged that Prime Minister Sheikh Hasina visited Vietnam taking the local Awami League leader who was involved with the September vandalism at Ukhia.
Pointing finger at the premier, the opposition leader said, "Arrest the murderer and try him, whom (Hamidul Haque Chowdhury) you took with your delegation abroad (Vietnam)".
"Then everything will be revealed," she said adding, "Don't implicate BNP people with fake cases in this connection."
Full report at:
http://www.thedailystar.net/newDesign/latest_news.php?nid=42355
-----------
Arab World
Syrian opposition groups agree in principle on unity plan
Unity framework between Assad opposition includes a transitional government, military council and judiciary for rebel-held areas; further details will be discussed Sunday
11 Nov 2012
Syrian opposition groups meeting in Doha agreed in principle Sunday on a plan to unite against President Bashar Al-Assad following marathon talks and pressure from international backers.
The putative deal is based on an initiative that envisages the formation of a transitional government, a military council to oversee rebel groups on the ground and a judiciary to operate in rebel-held areas.
It came as forces loyal to President Assad suffered a fresh blow, with two suicide car bombings tearing through an officers' club in the southern city of Daraa, cradle of the nearly 20-month uprising.
Full report at:
http://english.ahram.org.eg/NewsContent/2/8/57764/World/Region/Syrian-opposition-groups-agree-in-principle-on-uni.aspx
--------------
Shoura to tackle problem of 5 million illegal expatriates in Kingdom
11 November 2012
There are about five million illegal expatriates in the Kingdom who are, according to police reports, allegedly behind 60 percent crimes in the country.
The Shoura Council will discuss the issue of growing illegal expatriates during a regular session next week, press reports said.
Most of these undocumented foreigners have either overstayed their Haj and Umrah visas or entered the Kingdom illegally.
Full report at:
http://www.arabnews.com/shoura-tackle-problem-5-million-illegals-kingdom
--------------
Islamic veil on board Egypt Air flights for first time
Egypt Air allows its flight attendants to wear the Islamic veil until a customised uniform is available; men are still waiting for ruling on growing a beard
11 Nov 2012
Some of EgyptAir's flight attendants started wearing the veil for the first time in the company's history on Saturday, following approval by the minister of aviation.
On 14 September Aviation Minister Samir Imbaby approved flight attendants' demand to wear the Islamic veil after almost a year of protests and lawsuits.
They will be temporarily allowed to wear a head scarf until they can replace it with a uniform cap to be released in December.
Full report at:
http://english.ahram.org.eg/NewsContent/1/64/57780/Egypt/Politics-/Islamic-veil-on-board-EgyptAir-flights-for-first-t.aspx
--------------
The growing importance of the Islamic finance market
11 November 2012
The General Authority of Civil Aviation of Saudi Arabia achieved the distinction to issue the single largest Sukuk worth $ 4 billion in January 2012. The Kingdom's Sukuk market is now considered the third largest in the world, after Malaysia and the UAE, and is expected to continue to climb up the issuance ladder moving forward.
The growing importance of the Islamic finance market will be the subject of a two-day event on Monday Nov.12 at the Four Seasons Hotel in Riyadh which will feature an Issuers Day and an Investors Day. The event will also address key issues concerning Saudi Arabia and the Gulf's current economic climate and follow up on the latest developments within the region's Islamic financial market. They will include recent governmental efforts, issuer and investor interest, potential capital market issuances, as well as tax and regulatory updates.
Full report at:
http://www.arabnews.com/growing-importance-islamic-finance-market
--------------
Syria warplanes strike near Iraq border, clashes near Turkey
Assad regime warplanes strike near Iraqi border, fighting in northeast near Turkey on Sunday; 121 were killed in violence on Saturday
11 Nov 2012
Syrian warplanes on Sunday launched air strikes on the eastern town of Albu Kamal near the Iraqi border and pounded rebel lines near Damascus and in the northern city of Aleppo, a watchdog said.
Fighting meanwhile raged early morning around the northeast town of Ras al-Ain on the border with Turkey, the Syrian Observatory for Human Rights said.
Full report at:
http://english.ahram.org.eg/NewsContent/2/8/57784/World/Region/Syria-warplanes-strike-near-Iraq-border,-clashes-n.aspx
--------------
Hundreds of Emirati debtors freed from prison
11 November 2012
DUBAI: The UAE has released from prison around 290 people convicted of bouncing checks, the state news agency said yesterday, the latest step by one of the world's richest countries to help its citizens deal with their debts.
The drive to help debtors underlines moves by the government to expand its support to the population, as the UAE and other countries across the region boost welfare spending in the wake of last year's Arab Spring uprisings in the Middle East.
Full report at:
http://www.arabnews.com/hundreds-emirati-debtors-freed
--------------
Five Egyptian films take part in the International Arabic Film Festival in Zurich
The festival in November will screen films from a number of Arab countries, and is focused on the Arab Spring
11 Nov 2012
Five Egyptian films, Microphone, Ahasees (Senses), 678, Ahmar Bahet (Pale Red), and the four-minute animation Thakar we Ontha (Male and Female) are to be screened at the first annual International Arabic Film Festival (IAFF) in Zurich, to be held from 16 November to 25 November.
Full report at:
http://english.ahram.org.eg/NewsContent/5/32/57793/Arts--Culture/Film/Five-Egyptian-films-take-part-in-the-International.aspx
--------------
Jordan sentences ex-intelligence chief to prison
November 11, 2012
A Jordanian criminal court sentenced the kingdom's ex-intelligence chief on Sunday to 13 years and three months in prison for embezzlement of public funds, money laundering and abuse of office.
It was the harshest sentence in years against such a high-profile personality in Jordan.
Presiding judge Nashaat Akhras also demanded in court that defendant Mohammed al-Dahabi pay 21 million Jordanian dinars ($29.6 million) in fines to the state and return money he allegedly laundered and embezzled during his 2005-2008 tenure as head of Jordanian intelligence. The judge said the amount is estimated at 24 million dinars ($34 million).
"You deserve the harshest punishment for being a traitor to the people who trusted you with a government position and state funds," judge Akhras told the ex-official. An anxious-looking Mr Al-Dahabi stood silently in the dock, wearing a dark blue suit, as the verdict was read out.
Full report at:
http://www.thehindu.com/news/international/jordan-sentences-exintelligence-chief-to-prison/article4087825.ece
---------
Crown Prince receives chief of general staff and commanders of armed forces branches
11 November 2012
Riyadh: Crown Prince Salman bin Abdulaziz Al Saud, Deputy Premier and Minister of Defence, received here today Chief of General Staff, Hussein bin Abdullah Al-Qabil; Deputy Chief of General Staff, Lt. Gen. Abdulaziz bin Mohammed Al-Hussein; Commanders of Branches of Armed Forces; and commanders and senior officers of the Armed Forces, who came to greet and congratulate him on the blessed Eid Al-Adha.
Full report at:
http://www.arabnews.com/crown-prince-receives-chief-general-staff-and-commanders-armed-forces-branches
--------------
India
India-Pakistan war veterans: Once enemies, now peace messengers
Jayashree Nandi
Nov 11, 2012
NEW DELHI: Most of them have faced each other several times at the Indo-Pak frontier. They have experienced the most ghastly moments of war. However, now they can hardly hold back the excitement of meeting each other again, this time, beyond the frontier.
A team of about 160 Indian war veterans under the banner of India-Pakistan Soldiers' Initiative for Peace (IPSI) has been invited by their Pakistan counterparts for a peace meeting in Pakistan. A majority of these war veterans fought the 1965, 1971 and the Kargil war in 1999 but soon after retirement they joined IPSI, which was launched by late Gandhian Nirmala Deshpande in 1993. War veterans from Pakistan had made similar visits to India earlier. It's the second time the Indian team will be going across.
Full report at:
http://timesofindia.indiatimes.com/india/India-Pakistan-war-veterans-Once-enemies-now-peace-messengers/articleshow/17177051.cms
--------------
Maldives apologetic over intemperate anti-India remarks
Nov 11, 2012
MALE: Seeking to mollify New Delhi after intemperate anti-India remarks by a key presidential aide, Maldives has given profound apology as a $514-million airport project carried out by Indian company GMR became a target of political football here.
Immediately after the remarks were made by Abbas Adil Riza at a rally here, Maldives President Mohamed Waheed told the Indian high commissioner that he will take steps to "rectify" the wrong, official sources said today.
Riza, at the rally on Friday night, called Indian envoy Dnyaneshwar Mulay a "traitor" and "an enemy of Maldives".
Full report at:
http://timesofindia.indiatimes.com/india/Maldives-apologetic-over-intemperate-anti-India-remarks/articleshow/17180245.cms
--------------
Violence erupts again in Kokrajhar, two killed
Nov 11, 2012
KOKRAJHAR: The killing of two people in the Bodoland Territorial Council (BTC) on Saturday is a grim reminder of the violence that engulfed the region about three months ago. The authorities must take notice and contain the possibility of a spillover, a relapse. The wounds are still raw and the area is like a highly-combustible gas station with a suspicious killing having the potential to provide the spark.
Full report at:
http://timesofindia.indiatimes.com/india/Violence-erupts-again-in-Kokrajhar-two-killed/articleshow/17176898.cms
--------------
Diplomatic row erupts between India, Maldives
Nov 11, 2012
MALE: India and Maldives were involved in a diplomatic row over intemperate remarks made against the Indian high commissioner by the spokesperson to the Maldivian president which was described by the envoy as against diplomatic protocol.
In a damage-control exercise later, a statement posted on the official website of Maldivian president Mohamed Waheed said the government of Maldives disassociates itself from the remarks made by Abbas Adil Riza and some other government officials, saying they did not reflect the views of the government.
Full report at:
http://timesofindia.indiatimes.com/india/Diplomatic-row-erupts-between-India-Maldives/articleshow/17178561.cms
--------------
India changes tack to get 26/11 Mumbai terror attack plotters' voice samples
Bharti Jain
Nov 11, 2012
NEW DELHI: As the fourth anniversary of 26/11 approaches, India is mulling a fresh move to obtain voice samples of the Mumbai attack accused in Pakistan's custody. Agencies here are discussing the option of seeking pre-recorded speeches or conversations of accused such as Lashker-e-Taiba (LeT) commander Zaki ur Rehman Lakhvi, rather than insisting on collection of their voice samples. This is essentially to work around a lower court order that had earlier rejected the request of voice samples citing a Pakistani law that makes consent of an accused mandatory for collection of his voice sample.
Full report at:
http://timesofindia.indiatimes.com/india/India-changes-tack-to-get-26/11-Mumbai-terror-attack-plotters-voice-samples/articleshow/17176727.cms
--------------
5 prosecution witnesses in Mumbai attacks case cross-examined
November 10, 2012
Lawyers of LeT commander Zakiur Rehman Lakhvi and six other Pakistanis charged with involvement in the Mumbai attacks today cross-examined five prosecution witnesses who had testified against the accused. The five prosecution witnesses, including officials of the Federal Investigation and
operatives of intelligence agencies, were cross-examined for several hours during a hearing behind closed doors at the high security Adiala Jail in the garrison city of Rawalpindi, officials told PTI.
Full report at:
http://www.hindustantimes.com/world-news/Pakistan/5-prosecution-witnesses-in-Mumbai-attacks-case-cross-examined/Article1-957703.aspx
------------
Ahead of Pak visit, Hurriyat leader to meet Pak High Commissioner
Nov 11 2012
Srinagar: Ahead of their Pakistan visit, Hurriyat leader Mirwaiz Umar Farooq and other executive members of the moderate amalgam will meet Pakistan High Commissioner Salman Bashir.
On Saturday, the Hurriyat team comprising Mirwaiz, Abdul Gani Bhat, Bilal Lone, Abass Ansari and Aga Syed Hassan, left for New Delhi.
"The Hurriyat leaders will discuss (Hurriyat's) upcoming visit to Pakistan with Salman Bashir," a Hurriyat statement said. "They will also inform him (Bashir) about the sentiments and feelings of Kashmiris with respect to recent positive outcomes of the India and Pakistan dialogue."
http://www.indianexpress.com/news/ahead-of-pak-visit-mirwaiz-to-meet-bashir/1029921/
--------------
Communal Tension in Hyderabad over rumours of expansion work near Charminar
Nov 11, 2012
HYDERABAD: Tension prevailed in old city on Sunday following rumours that the management of a religious structure had taken up its expansion work near the Charminar.
As tension mounted in some parts of old city over the rumours, the area was cordoned off and some leaders of MIM party were prevented from trying to proceed towards Charminar, violating prohibitory orders banning assembly of five or more persons, police said.
"Six MIM legislators and its two councillors were taken into custody as a precautionary measure for not allowing police to maintain status quo orders of the Andhra Pradesh high court, a senior police officer said.
Full report at:
http://timesofindia.indiatimes.com/city/hyderabad/Tension-in-Hyderabad-over-rumours-of-expansion-work-near-Charminar/articleshow/17181389.cms
-----------
Sarabjit expresses gratitude towards Indian people and politicians
Yudhvir Rana
Nov 11, 2012
AMRITSAR: While expressing gratitude towards Indian people and political leadership for taking up his case, Indian condemned prisoner in Pakistan's Kot Lakhpat jail Sarabajit Singh has said that his deteriorating health was improving following medical treatment by jail authorities.
Written by Sarabjit Singh in Hindi, Punjabi and using few Urdu and English words, the letter, a copy of which is with TOI, is addressed to UPA Chairperson Sonia Gandhi . Sarabjit Singh had handed over this letter to his counsel Awaish Sheikh during his personal meeting with him in Kot Lakhpat jail on Saturday. Sarabjit Singh wrote "I am thankful to Indian people, ruling and opposition political parties and want to inform that now I am feeling better in jail".
Full report at:
http://timesofindia.indiatimes.com/india/Sarabjit-expresses-gratitude-towards-Indian-people-and-politicians/articleshow/17180562.cms
--------------
Pakistan
Pakistan urges all Afghan insurgents to pursue peace
November 11, 2012
KABUL: Pakistan hopes to persuade Afghan insurgent groups, including the Haqqani network, to pursue peace but worries resistance from political factions opposed to the Taliban could undermine reconciliation efforts, Islamabad's ambassador to Kabul said.
Mohammad Sadiq, speaking in an interview, also suggested US efforts would be better directed at engaging insurgent groups – rather than attempting to defeat them by launching military strikes against their leaders.
Sadiq was speaking just ahead of an expected visit to Pakistan by an Afghan peace council due to give Islamabad a road map of how it wants its influential neighbour to help end the war with the Afghan Taliban, now in its 11th year.
Full report at:
http://dawn.com/2012/11/11/pakistan-urges-all-afghan-insurgents-to-pursue-peace-ambassador/
--------------
Three Shia Muslims shot dead in Quetta: police
November 11, 2012
QUETTA: Gunmen shot dead three Shia Muslims and wounded three others on Saturday in a fresh sectarian attack in Quetta, police said.
"Six persons from the Shia Hazara community were passing from the Jinnah road in a taxicab when they were targeted by two gunmen waiting for them at a traffic signal," Anwar Ali, a senior police official, told AFP.
Full report at:
http://dawn.com/2012/11/10/three-shia-muslims-shot-dead-in-quetta-police/
--------------
Fears blight 'Malala Day' in schoolgirl's hometown
November 11, 2012
MINGORA: Pakistan marked "Malala Day" Saturday on a global day of support for the teenager shot by the Taliban for promoting girls' education, but in her home town security fears meant her schoolmates could not honour her in public.
Taliban hitmen shot Malala Yousufzai on her school bus a month ago in Mingora in Pakistan's northwestern Swat Valley, in a cold-blooded murder attempt for the "crime" of campaigning for girls' rights to go to school.
Full report at:
http://dawn.com/2012/11/11/fears-blight-malala-day-in-schoolgirls-hometown/
--------------
Upsurge in violence: PM orders strict action as Karachi bleeds anew
By Faraz Khan / Hafeez TunioPublished: November 11, 2012
KARACHI:
An upsurge of sectarian and political violence swept through Karachi on Saturday, despite the prime minister's presence in the city, as 20 people, including seven people belonging to the Deobandi school of thought, became the latest victims of targeted killings.
Six students of the Jamia Arabia Ahsanul Uloom seminary were shot dead in Gulshan-e-Iqbal by at least four men on two motorcycles. The armed men drove up to a teashop where the seminary students had gathered and sprayed them with bullets.
The killings caused the law and order situation in Gulshan-e-Iqbal to soon deteriorate as people took to the streets to protest against the incident. This was the second attack on seminary students within a month.
Full report at:
http://tribune.com.pk/story/464012/upsurge-in-violence-pm-orders-strict-action-as-karachi-bleeds-anew/
--------------
Pakistani officials reveal Mumbai attackers' training
November 11, 2012
Pakistani officials have informed an anti-terrorism court in Rawalpindi the details of training received at Lashkar-e-Taiba camps by the perpetrators of the Mumbai terror attacks.
Judge Chaudhry Habibur Rehman on Saturday recorded the statements of five inspectors of crime investigation department who are prosecution witnesses, the daily Dawn reported on Sunday.
They informed him about the training received by the accused, including Zakiur Rehman Lakhvi, alleged mastermind, at LeT camps in Karachi, Mansehra, Thatta and Muzaffarabad.
Lakhvi, a resident of Okara district, is an expert in using improvised explosive devices.
He also served as LeT commander in Pakistani Kashmir, the court heard.
Full report at:
http://www.hindustantimes.com/world-news/Pakistan/Pakistani-officials-reveal-Mumbai-attackers-training/Article1-958031.aspx
---------
At least five more gunned down in Karachi in a fresh spate of violence
November 11, 2012
KARACHI: At least five people were killed and several injured in Karachi in a fresh spate of violence on Sunday, a day after 20 people lost their lives in similar incidents in the port city, DawnNews reported.
Unidentified gunmen on motorcycles opened fire at an automobile workshop in Karachi's Orangi Town area, killing three people – a father and his two sons – on the spot.
Another man was gunned down in the city SITE industrial area, while a a bullet-riddled body was found early Sunday from Meethadar's Sarafa Market area.
Full report at:
http://dawn.com/2012/11/11/at-least-five-more-gunned-down-in-karachi/
-------------
Targeted: Two journalists shot dead in Karachi
November 11, 2012
KARACHI: Two journalists belonging to a local weekly newspaper were killed in a targeted attack on Saturday, JournalismPakistan reported.
The journalists, identified as Syed Tariq Hussain and Aslam Raja, were killed when unidentified men on a motorcycle opened fire on them near Saifee College.
Police reached the scene and the men were shifted to Abbasi Shaheed Hospital where they were pronounced dead on arrival.
Full report at:
http://tribune.com.pk/story/464092/targeted-two-journalists-shot-dead-in-karachi/
--------------
Taliban's Pakistan or Jinnah's Pakistan: MQM puts off referendum
November 11, 2012
KARACHI: Muttahida Qaumi Movement (MQM) Rabita Committee has announced that the public referendum which was announced to be held throughout the country on November 14 has been postponed in respect to Muslim holy month of Muharram.
The decision to put off the referendum has been taken in a joint meeting of the Rabita Committee in London and Pakistan, said a statement issued by the MQM on Saturday.
"Our co-ordination committee has decided to further extend the date of the referendum in respect of the month of Muharram," said the statement after the referendum was postponed for a second time.
Full report at:
http://dawn.com/2012/11/10/talibans-pakistan-or-jinnahs-pakistan-mqm-puts-off-referendum/
--------------
Democracy is here to stay: CJ
November 11, 2012
ABBOTTABAD: Momentous decisions taken by the judiciary and the parliament over the past five years had changed the country's political landscape, Chief Justice Iftikhar Mohammad Chaudhry said on Saturday.
Speaking at an event organised by the Peshawar High Court's Abbottabad circuit bench, he said the superior judiciary had been taking difficult decisions and the parliament had purged the Constitution of provisions inserted by dictators. "The change has come."
The chief justice said in the past all players were guilty of violating the Constitution, but now the time had come when constitutionalism would prevail, leading to rule of democracy.
"We are bound to fully implement the Constitution in its true spirit and Article 5 demands of every citizen to act according to the law."
Full report at:
http://dawn.com/2012/11/11/democracy-is-here-to-stay-cj/
--------------
Pak marks 'Malala Day' with education aid for poor kids
Nov 11, 2012
ISLAMABAD: The families of 3 over million poor children in Pakistan will receive cash stipends if their children go to school, the government said as officials prepared to mark "Malala Day" on Saturday in support of a schoolgirl shot by the Taliban.
United Nations officials declared Malala Day one month after 15-year-old Malala Yousufzai and two of her classmates were shot by the Pakistan Taliban. She had been targeted for speaking out against the insurgency.
In the days following the shooting, Yousufzai became an international icon and world leaders pledged to support her campaign for girls' education. She is now recovering in a British hospital.
Full report at:
http://timesofindia.indiatimes.com/world/pakistan/Pak-marks-Malala-Day-with-education-aid-for-poor-kids/articleshow/17177243.cms
--------------
Asghar Khan case verdict: Let bygones be bygones, says Pervez Musharraf
By Our CorrespondentPublished: November 11, 2012
KARACHI:
Former president Gen (retd) Pervez Musharraf, commenting on recently renewed tensions between state institutions, said these were the pillars of the state and a clash would shake the very foundation of Pakistan.
In an exclusive interview on Express News' To the Point with Shahzeb Khanzada, he refused to comment on the political fallout of the Supreme Court judgement on the Asghar Khan case and the demand to put retired generals on trial for poll rigging and conspiring against people's mandate.
Full report at:
http://tribune.com.pk/story/464025/asghar-khan-case-verdict-let-bygones-be-bygones-says-pervez-musharraf/
--------------
TV anchor Malick unhurt in attack on Lahore residence
By Web DeskPublished: November 11, 2012
LAHORE: Dunya News' anchor Muhammad Malick remained unhurt in an attack on his residence in Lahore on Saturday, JournalismPakistan reported.
A few hours after the attack in which his car was reportedly damaged, Malick tweeted saying:
"Grateful to friends for expressing concern over the firing incident at my house a few hours back. Everyone was safe. God bless you all."
Malick anchors a popular talk show which he recently announced will be going off air.
http://tribune.com.pk/story/464097/tv-anchor-malick-unhurt-in-attack-on-lahore-residence/
---------
Africa
Algeria warns against international military intervention in Mali
Nov 11, 2012
ALGIERS: An international military intervention into Mali at this time would be useless, a top advisor to Algeria's president said on Saturday.
The remarks by Kamal Rezzag Bara, terrorism and security advisor to President Abdelaziz Bouteflika, underline Algeria's deep-seated unease with international plans to invade northern Mali.
There have been several international efforts to persuade Algeria, which is the strongest military power bordering Mali, to support the intervention, which would be spearheaded by West African nations with French support.
Full report at:
http://timesofindia.indiatimes.com/world/rest-of-world/Algeria-warns-against-international-military-intervention-in-Mali/articleshow/17176505.cms
--------------
At least seven Kenyan police killed in ambush in country's north
Nov 11, 2012
NAIROBI: At least seven Kenyan police officers were killed and 21 more were wounded Saturday as they pursued cattle rustlers in the north of the country, a police official told AFP.
"The officers were in a team pursuing stolen cattle when they were ambushed," said a senior officer, who did not wish to be named.
"Some of the bandits were wounded in the attack and others killed," during the gun battle, he added, without being able to give precise numbers.
Some of the wounded officers were airlifted by plane or by helicopter to Nairobi for treatment.
Full report at:
http://timesofindia.indiatimes.com/world/rest-of-world/At-least-seven-Kenyan-police-killed-in-ambush-in-countrys-north/articleshow/17176110.cms
------
Mideast Asia
Six Palestinians killed after militants hit Israeli jeep
November 11, 2012
GAZA CITY: Six Palestinians were killed and 30 injured by Israeli shelling and air strikes after militants fired on an Israeli jeep, wounding four soldiers, medics and witnesses said on Sunday.
The flare-up, which began on Saturday, was one of the most serious clashes in a single day since Israel's devastating 22-day operation in the Gaza Strip over New Year 2009.
In the latest in a spate of attacks and counter-attacks between the army and Palestinians, a militant was killed and two other people wounded in an Israeli air strike near the northern town of Jabaliya just before midnight, medics said.
Full report at:
http://dawn.com/2012/11/11/six-palestinians-killed-after-militants-hit-israeli-jeep/
--------------
Yemen tribal chief with 'Qaeda ties' under house arrest
November 11, 2012
ADEN: Yemeni tribal chief Tareq al-Fadhli, in the spotlight for his alleged ties to al Qaeda, has been placed under house arrest in the port city of Aden, according to a local official and a tribal leader.
The announcement came late Saturday just hours after two of Fadhli's aides were killed in clashes with pro-army militiamen who have been surrounding his home in the southern province of Abyan since last week.
Full report at:
http://dawn.com/2012/11/11/yemen-tribal-chief-with-qaeda-ties-under-house-arrest/
--------------
Israel says ready to escalate as Hamas joins Gaza clashes
11 November 2012
GAZA/JERUSALEM: Israel said it was poised to escalate attacks on the Gaza Strip on Sunday following a surge of rocket and mortar salvoes by Hamas and other factions in the Palestinian enclave.
A missile strike wounded four Israeli troops on jeep patrol along the Gaza boundary on Saturday, triggering army shelling that killed four Palestinian civilians and, in turn, dozens of short-range rocket launches out of Gaza that paralyzed Israel's southern border towns.
Two Gaza militants died in the ensuing Israeli air strikes.
Full report at:
http://www.arabnews.com/israel-says-ready-escalate-hamas-joins-gaza-clashes
--------------
Two die in Yemen clash
11 November 2012
ADEN: Two aides to a tribal chief with alleged Al-Qaeda links were killed in a clash with pro-army militiamen in the troubled southern province of Abyan yesterday, a local militia official said.
"Two aides of (Tareq Al-Fadhli) were killed and another man was wounded" when the militiamen fired on Fadhli's house in Abyan's capital Zinjibar, the official said on condition of anonymity.
On Nov. 5, hundreds of the militiamen, known as the Popular Resistance Committees and who fought alongside the Yemeni army to oust Al-Qaeda from southern towns last May, surrounded Fadhli's home. They want the known warlord, who has fought in Afghanistan, to turn himself into the police.
Full report at:
http://www.arabnews.com/two-die-yemen-clash
--------------
Iran parliament to probe blogger's death
Nov 11, 2012
DUBAI: A parliamentary committee will look into the death of an Iranian blogger in police custody, an Iranian lawmaker said on Sunday, following international condemnation of the incident.
Sattar Beheshti, 35, was arrested in his home on October 30, rights groups said, after receiving death threats due to his anti-government blog. He died in custody, possibly as a result of torture, Amnesty International said in a statement last week.
On Sunday, deputy parliament speaker Mohammad Hassan Abu-Torabi Fard said a special committee would investigate Beheshti's death, according to the Mehr news agency.
Full report at:
http://timesofindia.indiatimes.com/world/middle-east/Iran-parliament-to-probe-bloggers-death/articleshow/17181354.cms
--------------
Europe
Russia helping on Arafat exhumation: Abbas
Palestinian President Mahmoud Abbas admits for first time that Russia, alongside France and Switzerland, is part of team to exhume late president Yasser Arafat
11 Nov 2012
The Palestinians are coordinating with Russia, as well as Swiss and French experts, on the exhumation of late president Yasser Arafat, Palestinian president Mahmoud Abbas said Sunday.
Arafat died in a French military hospital near Paris on November 11, 2004 and French experts were unable to say what had killed him, with many Palestinians convinced he was poisoned by Israel.
Full report at:
http://english.ahram.org.eg/NewsContent/2/8/57786/World/Region/Russia-helping-on-Arafat-exhumation-Abbas.aspx
--------
UN envoy warns on human trafficking in Philippines
November 11, 2012
MANILA — The Philippines has failed to curb the huge problem of human trafficking in recent years, despite high-profile government efforts and the country's removal from a US watch list, a UN envoy said late Friday.
Poor law enforcement and crushing poverty meant many men, women and children were still being trafficked, both internally and overseas, said Joy Ngozi Ezeilo, the UN's Special Rapporteur on Trafficking in Persons.
"The Philippines is a source country (of trafficked persons) and the problem is not declining," Ezeilo told reporters at the end of a five-day visit.
Full report at:
http://www.saudigazette.com.sa/index.cfm?method=home.regcon&contentid=201211111424
--------------
URL: https://www.newageislam.com/islamic-world-news/new-age-islam-news-bureau/religious-persecution-a-prime-topic-at-islamic-forum-held-in-indonesia/d/9271