New Age Islam News Bureau
1 Apr 2019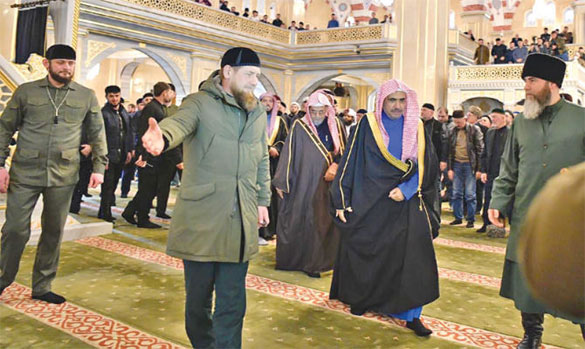 Muslim World League (MWL) Secretary-General Dr. Mohammed bin Abdulkarim Al-Issa and Chechen President Ramzan Kadyrov arrive at the Grand Mosque in Grozny, Chechnya. (Photo/Supplied)
----------
• Religious Misconceptions: Islamic Nation Has Endured the Negative and Dangerous Impact of Classification and Exclusion, Including Takfir
• Arab Leaders to Seek UNSC Resolution against US Decision on Golan Heights
• Before Pulwama, CRPF Officer Wrote To HQ about Holes in Anti-Terror Training
• Former General Backs 'Soft Power' To Fight Pak's 'Proxy Hybrid War' In J&K
• Pakistan Ulema Say Islam Doesn't Allow Forced Conversions
• UK Tax Fraud Funded al-Qaida in Pakistan, Afghanistan: Report
• Despite Setbacks, Hamas' Grip on Gaza Has Never Been Tighter
Arab World
• Religious Misconceptions: Islamic Nation Has Endured The Negative And Dangerous Impact Of Classification And Exclusion, Including Takfir
• Arab Leaders to Seek UNSC Resolution against US Decision On Golan Heights
• Turkish soldier killed in attack in northwest Syria
• Saudi children abducted by their ISIS father rescued
• US Sends Military Equipment to ISIL Terrorists in Western Iraq
• Residents of Golan Heights Hold Protest Rallies to Condemn Trump's Decision
--------
India
• Before Pulwama, CRPF Officer Wrote To HQ about Holes in Anti-Terror Training
• Former General Backs 'Soft Power' To Fight Pak's 'Proxy Hybrid War' In J&K
• J-K: Car Hits CRPF Bus and Explodes On Jammu-Srinagar Highway, Driver Missing
• Tie-Ups and Loose Ends
• 4 militants killed in gun battle security forces in Jammu and Kashmir's Pulwama
• Ideological conflict takes centre stage at Aligarh Muslim University
• India hands over to US evidence of Pakistan's F-16 misuse: Report
--------
Pakistan
• Pakistan Ulema Say Islam Doesn't Allow Forced Conversions
• Second Marriage Lands Muslim Man in Pakistani Prison
• Pakistan moving towards debt trap, cautions Nisar
• Qureshi invites opposition for dialogue on national security
• Appreciate Pakistan's support to peace process, says Khalilzad
• Pakistan, China Warn Against Politicising UN Anti-Terrorism Regime
• Fazl musters support for Islamabad sit-in
--------
Europe
• UK Tax Fraud Funded al-Qaida in Pakistan, Afghanistan: Report
• Pope urges Catholics in Morocco to dialogue, not proselytize
• Any resolution of Syria conflict must guarantee its territorial integrity: UN
• New Zealand shooters back gun control after massacre
--------
Mideast
• Despite Setbacks, Hamas' Grip on Gaza Has Never Been Tighter
• Hamas, Israel Take First Steps toward Gaza Cease-Fire Deal
• Yemeni forces target Saudi bases in Jizan, Asir with 7 missiles, causing casualties
• Israel to approve over 1,400 settler units in West Bank: Report
• Yemen's army shoots down another Houthi drone
--------
South Asia
• Cold Homecoming for Afghans Paid By Iran to Fight in Syria
• Qatar Reacts to Taliban Militants Attack on Afghan Vice President's Convoy In Balkh
• Gen. Miller reaffirms support to Afghan forces, reiterates continued war against terrorism
• 17 Taliban militants killed, wounded in coalition airstrikes in Helmand province
• Taliban militants suffer heavy casualties during the latest counter-terrorism operations
• 11 ISIS Khurasan militants killed, wounded in Nangarhar airstrikes
• Afghan official: Taliban strike checkpoints in north, kill 5
--------
Southeast Asia
• Saudi Ambassador: Saudi Arabia and Malaysia Agree On How to Fight Extremism
• Daesh-linked men arrested far from Philippine militant bases
• Nurul Izzah: Govt's first year performance vital to show political change commitment
--------
Africa
• Al-Shabab says it executed 4 accused spies in Somalia
• Somalia: Car bomb blast by Al-Shabaab in Mogadishu, 16 dead
• African Union to host Libya 'reconciliation' conference
• Tunisians protest against 30th Arab Summit
--------
North America
• A Jewish New York Councilman Said 'Palestine Does Not Exist.' Now He May Be Punished
• Facebook Calls for New Internet Regulations after New Zealand Massacre
Compiled by New Age Islam News Bureau
URL: https://www.newageislam.com/islamic-world-news/religious-misconceptions-islamic-nation-endured/d/118193
--------
Religious Misconceptions: Islamic Nation Has Endured The Negative And Dangerous Impact Of Classification And Exclusion, Including Takfir
March 31, 2019
GROZNY: The Islamic nation has endured the negative and dangerous impact of classification and exclusion, including Takfir, said Dr. Mohammed bin Abdulkarim Al-Issa, secretary-general of the Muslim World League (MWL), during the Friday sermon at the Grand Mosque in Grozny, Chechnya.
In a first in the history of Russia, the Muslim World League (MWL) launched an international conference in Moscow on religious peace and coexistence.
The MWL conference promoted values of coexistence and peace, and emphasized the importance of "working in the common humanitarian and national circle."
The sermon delivered by the MWL chief was attended by the president of Chechnya, Ramzan Kadyrov, senior muftis and scholars, and a large gathering of worshipers.
Al-Issa highlighted that "there are young men who, in their diversion, got caught up in the illusion of their superficial knowledge, which is neither firm nor based on the teachings of scholars and, thus, had the nerve to declare other believers as non-believers (takfir), fuelling great sedition."
He added: "Every time one sedition dies, another rises, revealing its horns in the name of Islam. It believes no one is right except its prodigal followers. Not only that, but it took upon itself to fight all others after having declared all the people on Earth as non-believers."
"And similar to those are the people who monopolized righteousness in place of discretion and claimed that people were denied access to the truth except through them."
Al-Issa pointed out that monopolizing righteousness in the place of discretion is a systematic error and an intellectual danger that jeopardizes the harmony and unity of the (Islamic) nation.
"The problem is not limited to the narrative of this tragedy, which has damaged the reputation of the Islamic nation, but extends to every person who was privileged with extensive knowledge in Islamic sciences yet did not fulfill his duty in combating the wrongful ideology, especially in dismantling its structure," he continued. "This ideology was not based on a military or political entity, as you know, but on misguided concepts that exploited the passion for religion in the youth that lack knowledge and wisdom."
Al-Issa said: "We do not exaggerate when we say the amount of carelessness, sedition and misguidance is proportionate to the amount of the scholars' failure, and part of this failure is a lack of addressing the misconceptions and fabricated concepts about Islam."
Al-Issa stressed in his sermon that good behavior and common decency are instinctively well-received by all people, and that convenience and tolerance with positive open-mindedness are in the core of our Islamic concepts, highlighting that Shariah's purpose is to establish mercy and tolerance, not difficulty and hardship.
"Prophet Muhammad (PBUH) had delivered the message, fulfilled his mandate, advised the (Islamic) nation, strived for God as he ought to, invited (mankind) to the way of God with wisdom and fair preaching, did not assault anyone, and did not force anyone to follow his religion," he said and quoted a verse from the Qur'an: "There is no compulsion in religion." [2:256]
Russia was chosen as the site of the summit because it has been a model of religious and ethnic harmony in recent years, according to the MWL.
http://www.arabnews.com/node/1475596/saudi-arabia
--------
Arab leaders to seek UNSC resolution against US decision on Golan Heights
31 March 2019
Arab leaders warned on Sunday any country from following in the US footsteps in recognizing Israel sovereignty over the Golan Heights.
In a statement agreed by the 22 member states at the closing session of the Sunday's summit of the Arab League in the Tunisian capital Tunis, the Arab leaders said they will seek a UN Security Council resolution against the US decision on the Golan Heights.
"We, the leaders of the Arab countries gathered in Tunisia ... express our rejection and condemnation of the United States decision to recognize Israel's sovereignty over the Golan," Arab League Secretary General Ahmed Aboul Gheit said.
He said Arab countries would present a draft resolution to the UN Security Council and seek a legal opinion from the International Court of Justice on the US decision. It warned other countries away from following Washington's lead.
Trump signed a proclamation last week recognizing the Golan Heights as part of Israel, which annexed the area in 1981 after capturing it from Syria in 1967.
Trump's earlier decision to recognize Jerusalem as Israel's capital also drew Arab condemnation. Palestinians want East Jerusalem as the capital of a future state.
The Arab leaders also invited non-Arab Iran to work with Arab countries on the basis of good neighborly ties and without interfering in each others' internal affairs, according to Reuters.
"We affirm that cooperative relations between Arab countries and the Islamic Republic of Iran be based on good neighborliness," they said in the statement at the end of the 30th summit held in Tunis.
But the statement stopped short from naming the hosting country for the upcoming summit of the Arab League.
Tunisian President Beji Caid Essebsi said Arab nations needed to ensure the international community understood the centrality of the Palestinian cause to Arab nations.
In the final statement, Arab states renewed support for an Arab peace initiative that offers Israel peace in exchange for withdrawal from all lands occupied in the 1967 war and said they would seek to revive peace talks with the Jewish state.
UN Secretary-General Antonio Guterres, who also addressed the meeting in Tunis, said any resolution to the Syrian conflict must guarantee the territorial integrity of Syria "including the occupied Golan Heights."
Earlier, Saudi Arabia's King Salman bin Abdulaziz said that he "absolutely rejects" any measures that undermine Syrian sovereignty over the Golan Heights.
Addressing the summit, he also reiterated Saudi Arabia's position supporting the establishment of a Palestinian state in the West Bank and the Gaza Strip, with East Jerusalem as its capital.
It is worth mentioning that the leaders of Sudan and Algeria were not at Sunday's meeting as both nations have been roiled by anti-government protests.
While Syria's seat at the summit was vacant. Damascus as been suspended from the League since 2011 over its crackdown on protesters at the start of its civil war. The League has said no consensus has yet been reached to allow Syria's reinstatement.
https://english.alarabiya.net/en/News/middle-east/2019/03/31/Arab-leaders-to-seek-UNSC-resolution-against-US-decision-on-Golan-Heights.html
--------
Before Pulwama, CRPF Officer Wrote To HQ about Holes in Anti-Terror Training
Written by Deeptiman Tiwary
April 1, 2019
It is a key training centre for the largest force fighting insurgency and terrorism in the country. But it has no permanent structure, no firing range, no boundary wall. In the last four years, over 150 training and administrative staff have been posted there "to merely fill the vacancies". And, it does "not offer a single CIAT (Counter Insurgency and Anti Terrorism) related course".
This is the essence of a report and a series of letters sent between January and November 2018 by a senior officer to the CRPF headquarters in New Delhi highlighting the poor condition of its counter-terror training apparatus.
The last of these letters was sent by CRPF IG Rajnish Rai on November 22, 2018, less than two months before the Pulwama terror attack on February 14 this year when 40 CRPF men lost their lives.
Rai was in charge of the CRPF's 175-acre CIAT school in Andhra Pradesh's Chittoor, one of the three such schools allotted to the force by the Union Home Ministry, which envisaged 21 such facilities in 2007 for various forces.
A 1992-batch IPS officer of the Gujarat cadre, Rai was serving as CRPF IG (Northeast Sector) till June 2017, when he was asked to take charge of the CIAT school in Chittoor. The transfer came three months after he had called for a probe into what he alleged was a fake encounter — by a joint team of Army, CRPF, SSB and police — in Assam's Chirang on March 30.
Last December, Rai was suspended by the Home Ministry for "unauthorised handing over of charge" after he quit the service citing an application for voluntary retirement in August, which had been rejected. In January, the Central Administrative Tribunal (CAT) stayed the Centre's action; Rai has since moved the Gujarat High Court.
In his letters, Rai pointed out that the CRPF schools only provide theatre-specific, short-term pre-induction (PI) training to personnel headed for Kashmir, the Northeast or LWE areas.
Rai was not available for comment. But a senior CRPF officer, speaking on condition of anonymity, said that "some kind of training" could have been started in Chittoor by Rai despite the drawbacks.
"It is true that the Chittoor school has no infrastructure. There is no proper infrastructure at the Silchar and Shivpuri schools, either. Bureaucracy has its own pace. But as officers we have to learn to use the resources available to us in the best possible way. Some kind of training could have been started at Chittoor. After all, PI training is also a form of counter-terror training," the officer said.
In his letter on February 5, 2018, Rai wrote: "Presently, CRPF has three CIAT Schools in the country; yet, contrary to what the name suggests, we do not offer a single CIAT related course in any of these locations. This is even more surprising since we know very well that CRPF is in the forefront of facing three internal security challenges: terrorism in Kashmir Valley, the insurgency in Northeast, and left-wing extremism (LWE) in Central India."
On November 22, 2018, Rai wrote: "…even when no training was conducted… almost full strength of officers/men were posted at CIAT School, Chittoor since its inception, and salaries and allowances were paid to the CRPF personnel posted here."
The Chittoor school, spread over 175 acres, was set up in 2014 — the other two CRPF schools are in Assam's Silchar and Madhya Pradesh's Shivpuri.
When contacted by The Indian Express, the CRPF did not respond specifically to the contents of Rai's report and letters. However, it said that through "multiple centres across the country", it provides training to soldiers and officers in "over 20 different courses ranging from basic training for recruits to jungle warfare and IED training to those being deployed in LWE area, Kashmir and the Northeast".
It said training of 15,256 personnel is envisaged in 2019 at its four Central Training Colleges while 6,903 personnel would be trained at CIAT schools. It also said that a CIAT course for a Quick Action Team (QAT) has been started in Chittoor, and 1,274 personnel were being trained.
"These schools impart theatre-specific specialised training on CIAT operations. NE-theatre specific training is imparted at CIAT Silchar. LWE theatre specific training is imparted as CIAT Shivpuri," the CRPF said.
In his letters, Rai pointed to the difference between PI and CIAT training. "PI training introduces participants to the new operational theatres… whereas, CIAT training are essential for understanding the geographical and cultural terrain, operational tactics, and the psychological profiles of insurgents/terrorists. While PI training provides perspectives on challenges facing an operational theatre, strategic insights on how to deal with insurgents/terrorists in specific contexts can be acquired only through in-depth CIAT training," he wrote.
"Lack of truthful and transparent analysis of operations has meant the CRPF has little institutional ability to learn from its mistakes," he wrote. Read | Script same as after 26/11, Pathankot attacks: MEA on Pakistan Pulwama report
In 2016, when Rai was posted in the Northeast, he had pointed out that no CIAT training was being conducted at the Silchar school since September 2015. Sources told The Indian Express the CRPF has recently been holding QAT training there while a similar course focused on LWE areas was started in Shivpuri this year.
Incidentally, Rai was the supervising officer with Gujarat's CID-Crime probing the Sohrabuddin Sheikh fake encounter case – in 2007, he had arrested three top officers, D G Vanzara, M N Dinesh, Rajkumar Pandiyan.
Rai's CIAT letters red-flagged a number of issues at the Chittoor school:
* It was operating out of 44 pre-fabricated (PF) huts with no permanent structure. There are plans to construct 26 more PF huts.
* Only 39 training staff have been sanctioned for around 800 personnel. Out of 15 sanctioned officers in supervisory roles, only four are "physically present".
* It has not conducted a training needs analysis and there is "no clear direction" for providing counter-terror training.
* No boundary wall or fencing, Battle Obstacle Assault Course infrastructure, running track and IED lane for IED-related training.
* No firing range. The 169 acres allotted for the range is stuck in a land dispute, and the state police range, 70 km away, is subject to availability. There is also lack of access to a jungle, and no indoor classrooms for elaborate training on jungle survival, or sand-model tutorials.
* Only one of the five sanctioned borewells has been set up, which is not adequate for the three storage tanks of 8 lakh litres each.
* The 25 KVA transformer is "grossly inadequate" — an audit had shown that the school needs a 100 KV transformer and two generator sets.
https://indianexpress.com/article/india/before-pulwama-crpf-officer-wrote-to-hq-about-holes-in-anti-terror-training-5652008/
--------
Former general backs 'soft power' to fight Pak's 'proxy hybrid war' in J&K
Mar 31, 2019
Syed Ata Hasnain, former general-officer-commanding of the Indian army's Srinagar–based 15 Corps, wants the government to balance its hard approach in Jammu and Kashmir with 'adequate doses of soft power', without pulling back from its ground operations.
Lt General (Retd) Hasnain told officials, diplomats and researchers at the International Institute for Strategic Studies (IISS) that Pakistan's 'proxy hybrid war' in the state could not be met only by conventional force or a counter-terror response.
The situation, he said, needs a comprehensive 'all-of-government' response that includes the political, social, economic and psychological domains, not only military. India also needs what he called 'a mature information strategy' to counter Pakistan.
According to him, Pakistan's Inter Services Public Relations has developed a cogent information strategy, mixing doses of radicalisation and creating alienation among the Kashmiri people. With radicalisation rife, more IEDs and suicide bombings in Kashmir can be expected, he warned.
Shabir Choudhry of the United Kashmir Peoples National Party, who is also one of the founders and former president of the recently-banned Jammu & Kashmir Liberation Front, wants India and Pakistan to focus on conflict resolution, rather than a conflict management strategy.
No party to the dispute could impose a solution, it has to be negotiated, and the people of Jammu and Kashmir must be made part of that process, Choudhry told the event titled 'Civil society in Jammu and Kashmir: democracy versus terrorism' last week.
Strategic analyst Nitin Gokhale believed that the recent Balakot air-strike was the manifestation of India's new approach, by which the Narendra Modi government has decided to respond militarily to an outrageous or spectacular terrorist attack.
The event was chaired by Rahul Roy-Chaudhury, senior fellow for South Asia at IISS, who noted that a coordinated focus on governance, radicalisation, separatism, terrorism and the media provides an opportunity to 'look forward', not 'backwards', and towards political and regional stability.
https://www.hindustantimes.com/india-news/former-general-backs-soft-power-to-fight-pak-s-proxy-hybrid-war-in-j-k/story-llrBwDcB1iSYasuFffhAoN.html
--------
Pakistan Ulema Say Islam Doesn't Allow Forced Conversions
March 31, 2019
ISLAMABAD: A joint sitting of the representatives of different religions and religious sects on Sunday said Islam doesn't allow forced conversion of non-Muslims and prevailing Hindu-girls and other subsequent issues should be settled in accordance with the law and justice.
The joint sitting was arranged by Punjab Muttahida Ulema Board in collaboration with Pakistan Ulema Council which was presided over by Muttahida Ulema Board and Pakistan Ulema Council Chairman Hafiz Muhammad Tahir Mehmood Ashrafi, said a press release.
The joint declaration pointed out that Islam is a religion of peace, harmony, stability and that teachings of Islam and Quran-o-Sunnah have categorically defined rights for non-Muslim communities residing in Muslim country.
The sitting demanded of the government to ensure implementation on National Action Plan by initiating the consultative process for formal legislation of 'Paigham-e-Pakistan Draft'.
The declaration condemned terrorist activities being carried out on account of Islamphobia.
The sitting also demanded constitution of a judicial commission to probe the killing of Bhawalpur professor to avert such extremist incidents in the future.
The joint sitting pointed out that 'Paigham-e-Pakistan Draft' has been unanimously endorsed by all the religious sections of Pakistan and the formal consultative process should be ensured for formal legislation of 'Paigham-e-Pakistan Draft'.
The joint sitting condemned the prevailing western rhetoric of Islamphobia stating that Islam is a religion of peace and harmony, adding that prevailing move relating targeted attacks on mosques in US and European countries is a planned bid to sabotage the process of peace, harmony and Interfaith dialogue.
The joint sitting lauded efforts on part of Mutahida Ulema Board to keep a check on hateful content being propagated through social media and also lauded endeavours of Punjab Chief Minister Usman Buzdar for taking immediate action against elements fanning hatred and violence in society.
The joint sitting also lauded the efforts of Muttahida Ulema Board for reinforcing coordination relating interfaith harmony and for constituting the coordination committees at Divisional, district and Tensil level to ensure implementation on decisions of Punjab Muttahida Ulema Board.
The joint declaration of the meeting also lauded role of Prime Minister of New Zealand Jacinda Ardern on terrorism incident stating that world leadership should learn from PM New Zealand Jacinda Ardern, how to eradicate the menace of terrorism and extremism.
The joint sitting lauded endeavours of Pakistani forces and people of Pakistan in defeating the menace of terrorism stating that 2019 will be observed as the year to mark the eradication of terrorism and extremism from Pakistan.
It was also also announced in the joint sitting that peace awards will be conferred to all those political and religious personalities who played a heroic role in eradicating the menace of terrorism and extremism on April 14 at 4th International Message of Islam Conference in Islamabad.
Religious scholars from all over the Muslim world and Pakistan will attend the 4th International Message of Islam Conference.
Among notable clerics and representatives of the joint sitting include Maulana Muhammad Hussain Akbar, Professor Zakirur Rehman, Mufti Muhammad Naqshbandi, Maulana AsadUllah Farooq, Hafiz Kazim Raza, Father James, Father Shahzad, Maulana Aseed ur Rehman, Amarnath Randhawa, Pastor Imanuel Khokhar and Pastor Shahid Miraj.
https://www.pakistantoday.com.pk/2019/03/31/ulema-say-islam-doesnt-allow-forced-conversions/
--------
UK tax fraud funded al-Qaida in Pakistan, Afghanistan: Report
Mar 31, 2019
LONDON: A British Asian gang of fraudsters may have been involved in misusing billions of pounds of British tax-payers money to fund terrorist networks in Pakistan and Afghanistan, claims a UK media investigation based on police and intelligence files.
The gang, based in London, Buckinghamshire, Birmingham, north-west England and Scotland, is alleged to have sent 1 per cent of its gains from their elaborate tax fraud to al-Qaida in Pakistan and Afghanistan, where it funded madrasas, training camps and other terrorist activities, according to the leaked files seen by 'The Sunday Times'.
An estimated 80 million pounds is believed to have been funneled out by the fraudsters as part of an elaborate VAT and benefits fraud against the UK's revenue department over the past two decades, with further gains made through mortgage and credit card fraud targeting banks and individuals.
"Secret intelligence held by MI5 states that some of the money reached the Pakistani compound that housed the al-Qaida mastermind Osama bin Laden before US forces stormed it in 2011," the newspaper reports as part of a two-year investigation.
The gang, made up of British men of Asian-origin who cannot be named due to court orders, reportedly infiltrated multiple UK government agencies and even corrupted local politicians.
Mid-ranking gang members have been sentenced to more than 100 years in prison for fraud and money laundering in a series of linked trials.
Their crimes have reportedly cost the UK taxpayer an estimated 100 million pounds.
Reporting restrictions imposed at the start of the first trial prevent the identification of any of the gang because several kingpins fled the UK before they could be arrested and are now thought to be based in the Middle East.
The UK's Crown Prosecution Service (CPS) insists that details cannot be reported until the masterminds have been returned to the UK to face trial.
According to evidence pieced together so far, the gang was using a network of factories and companies and exploiting their workers for identity and benefit frauds, the sale of counterfeit goods, car crash scams and mortgage and credit card frauds.
Her Majesty's Revenue and Customs (HMRC) inquiries found the gang used "hijacked or altered National Insurance numbers to create false records" and exploited "illegal immigrant labour" before laundering the cash "through bogus offshore companies".
"Those involved in the investigation say the gang was extremely difficult to penetrate. Undercover agents eventually resorted to attaching a camera to a dog and encouraging it to run around inside one of the network's factories to find out how many people worked there," the newspaper reports.
"A large proportion of these frauds originated from just a few families (covering several generations) perpetrating serious, organised and sustained attacks against any agency with apparently weak systems," the report said, adding that the money was sent mainly to Pakistan but also Hong Kong and Dubai and "is most likely to be linked to terrorism".
The files reportedly also show that the gang enjoyed links with a top politician in Pakistan.
https://timesofindia.indiatimes.com/world/pakistan/uk-tax-fraud-funded-al-qaida-in-pakistan-afghanistan-report/articleshow/68660346.cms
--------
Despite setbacks, Hamas' grip on Gaza has never been tighter
April 01, 2019
GAZA CITY, Gaza Strip: Over the weekend, Gaza's Hamas rulers marked a year of bloody, weekly protests that have failed to break the Israeli blockade. Rocket attacks brought a wave of Israeli airstrikes and unprecedented protests broke out against the Islamic militants' increasingly unpopular rule.
And yet Hamas' control over Gaza is tighter than ever.
The militants' rule has been strengthened by an unlikely overlap of interests with Israel's right-wing government. Neither wants to see an independent state established in all the West Bank, Gaza Strip and east Jerusalem, as the resolution of the Israeli-Palestinian conflict. And Hamas' refusal to give up power — the asking price of its West Bank-based Palestinian rival for reconciliation — aligns with Israel's long-standing policy of maintaining a separation between the West Bank and Gaza.
So even though Israel and Hamas have fought three wars and dozens of skirmishes, and even though Hamas remains committed to Israel's eventual destruction, the two are once again meeting with Egyptian mediators and working to keep things quiet.
Under an emerging arrangement, Hamas would halt rocket fire and keep border protests peaceful in exchange for Israel easing its border blockade and allowing $30 million a month in Qatari aid into the territory. On Sunday, Israel reopened Gaza crossings to limited traffic.
Egypt has brokered short-lived deals in the past, and it is not clear if the current arrangements will last beyond Israel's April 9 election. In a close race, Prime Minister Benjamin Netanyahu has come under fire for what his challengers say is a Gaza policy that exposes Israel to Hamas blackmail.
For Gaza residents, open-ended Hamas rule is a bleak prospect. Gaza's 2 million people have endured rising poverty and unemployment, undrinkable ground water and frequent electricity outages since Israel and Egypt closed Gaza's borders after Hamas seized power in 2007.
In recent weeks, hundreds dared to protest Hamas policies, such as new tax hikes, chanting "We want to live." Many were jailed and beaten. Protester Amer Balousha, a 27-year-old unemployed law school graduate, said he and others were mistreated in Hamas detention but will not be deterred.
"If the situation does not improve, the protests will continue," he said.
Hamas over Abbas
Hamas has demonstrated that it prefers an understanding with Netanyahu over reconciling with its Palestinian rival, President Mahmoud Abbas.
A deal with Israel would help keep Hamas in power. By contrast, Abbas — who presides over autonomous enclaves in the Israeli-occupied West Bank — wants Hamas to hand control of Gaza to him, a demand the group has repeatedly rejected.
Hamas and Netanyahu both oppose Abbas' goal of Palestinian statehood in the West Bank, Gaza and east Jerusalem, lands Israel captured in 1967. Hamas seeks to establish an Islamic state in the area encompassing Israel and the war-won lands, while a majority in Netanyahu's Cabinet and Likud Party reject a two-state solution along the 1967 lines.
Last month, Netanyahu was quoted as saying that those who oppose Palestinian statehood should back his policy of allowing Qatari aid into Gaza and maintaining the separation between the rival Palestinian governments.
"There is a great confluence of interests" between Israel and Hamas, said Tareq Baconi, an analyst at the International Crisis Group think tank. "Netanyahu prefers to deal with Hamas because clear dynamics have been established and Hamas will not seek a final resolution (of the Israeli-Palestinian conflict) from Israel."
Managing the conflict
Israel and Hamas have fought three wars, most recently in 2014. In between, there have been repeated cross-border skirmishes and periods of calm brokered by Egypt, which has close security ties with Israel and controls part of the Gaza border.
Israel's stated reason for the blockade is to contain Hamas and prevent it from rearming, while rights groups denounce the restrictions as collective punishment.
Last summer, amid weekly mass protests along the frontier in which scores of Palestinians were killed by Israeli fire and thousands wounded, Egypt started new cease-fire talks. Hamas hoped they would lead to an easing of the blockade.
Early on, Israel consented to Qatari cash shipments and Hamas pledged to halt rocket fire, but then the talks stalled. In March, with Israel's election campaign heating up, Hamas sensed an opportunity to apply pressure on Netanyahu to resume negotiations, twice firing rockets into central Israel.
It worked. Two Hamas officials, speaking Sunday on condition of anonymity because of the delicate nature of the renewed truce talks, relished in the group's apparent leverage. But they also expressed concern any new deal could quickly unravel.
A new Gaza policy?
Netanyahu's main challenger, former army chief Benny Gantz, has said he would handle Gaza differently. His party's platform pledges a "powerful response to any provocation and violence," while improving the lives of Gaza civilians and driving a wedge between them and Hamas.
But the plan is short on specifics.
Gantz and two other ex-military chiefs in his team held top command roles in the last three wars with Hamas, exacting a heavy price for rocket fire but coming up against the limits of military action. A consensus has emerged in Israel that Hamas cannot be brought down by force, short of a bloody reoccupation of Gaza.
Yet any easing of the blockade, meant to bring relief to Gaza's residents, would also prolong Hamas rule.
Odd man out
Abbas has given up on reconciliation with Hamas after years of failed efforts. He has stepped up financial pressure on Gaza, including cutting in half salaries for tens of thousands of ex-civil servants who were replaced by Hamas in 2007 but remained on the Abbas government payroll.
Such cutbacks worsened Gaza's economic deterioration. But instead of stoking a popular uprising against Hamas, anger turned toward Abbas.
Abbas is also suspicious of multi-million-dollar Gaza development projects proposed by the UN and Qatar, with US and Israeli backing. He fears it's a plot to turn the territory into a Palestinian mini-state and undercut Palestinian political claims to the West Bank and east Jerusalem.
Baconi, the analyst, said that Abbas' policies are counterproductive, even if his concerns are understandable. "Putting more sanctions on Gaza or trying to break the Hamas government will further entrench the division," he said.
http://www.arabnews.com/node/1475786/middle-east
--------
Arab World
Turkish soldier killed in attack in northwest Syria
1 April 2019
A Turkish soldier was killed in a mortar attack on Sunday near the northern Syrian town of Afrin, the Turkish ministry of defense said, blaming the attack on "terrorists" and responding with a barrage of shelling.
The ministry said another soldier was wounded in the attack, and that Turkish forces had struck back against "terrorist targets."
The Britain-based Syrian Observatory for Human Rights, a war monitor, said Turkey shelled at least three villages north of the town of Afrin, mainly causing material damage.
Turkey and allied Syrian fighters took control of Afrin last year, expelling local Kurdish fighters that Ankara considers terrorists.
The Turkish takeover set off a series of attacks against Turkey's presence in the originally Kurdish-dominated areas.
The Observatory said at least 140 Turkish shells hit the villages. The area north of Afrin is controlled by the Syrian government, but Kurdish militia fighters have maintained some presence there.
The Kurdish-run Hawar news agency also reported the shelling but gave no details on casualties.
https://english.alarabiya.net/en/News/middle-east/2019/04/01/Turkish-soldier-killed-in-attack-in-northwest-Syria.html
--------
Saudi children abducted by their ISIS father rescued
31 March 2019
Saudi authorities succeeded in returning two young siblings home after their father abducted them to join ISIS in Syria.
The kidnapping of Saudi citizens Abdallah and Ahmed took place five years ago, under the pretense that they were going on holiday to Turkey, from where they were then taken to Syria. A month after their arrival, the father handed his children to ISIS and proceeded to commit a suicide bomb attack.
The boys' mother told Al Arabiya that she could not stop the abduction because she had been divorced from her husband years before they traveled.
"My problem is that I was not around my children nor their father. We got divorced way before they traveled," she said.
The return of Abdullah, 16, and Ahmed, 113, to their hometown of Riyadh was made possible by a strategic and dangerous mission by Saudi authorities who helped them escape from Syria to Turkey.
"If you are in Saudi Arabia, you are in bliss, safety, and comfort. You are in God's mercy," says older sibling Abdullah as he expresses his relief to be back home. Pointing at his younger brother's eye, he adds: "Ahmed doesn't see with this eye."
Ahmed injured his eye during a blast during the last few days he spent in Syria. "We experienced an attack that caused a piece of metal to cut my eye. They (ISIS) did not treat it; they just sewed it up and told me to go. If anything, they kicked me out and told me to be on my way," he said.
The mother of the kidnapped boys warned other parents to keep an eye on their children and take note of any odd behavior because "if you remain silent, you are causing them more harm than good," she said.
Al Arabiya captured the moment Abdullah and Ahmed reunited with their family at the King Khalid International Airport in Riyadh. The entire family was present to receive the children, in a reunion mixed with joy and pain.
Full report at:
https://english.alarabiya.net/en/features/2019/03/31/Saudi-children-abducted-by-their-ISIS-father-rescued.html
--------
US Sends Military Equipment to ISIL Terrorists in Western Iraq
Mar 31, 2019
The Arabic-language al-Ma'aloumeh news website quoted an informed source in al-Anbar province as saying on Saturday that the US forces have supplied tens of ISIL terrorists in al-Anbar desert with weapons and military equipment.
He added that the measure is aimed at assisting the terrorist group to launch attacks against the bordering towns of the province with Syria and occupy the region.
The source also warned that the US wants to prepare a shelter in al-Anbar province for the terrorists who have left Baqouz region in Syria.
The head of Badr organization's office in al-Anbar province had earlier this month warned of the American forces' suspicious moves in the Western deserts of the province, saying that the US was aiding the terrorists stationed in the region.
Al-Ma'aloumeh news website quoted Qusai al-Anbari as saying that the Americans were assisting a terrorist group called Ghosts of Desert in desert areas of al-Anbar, adding that they had been airdropping foodstuff packages for the ISIL from helicopters hovering over the region in the past few days.
Meantime, Hassan Salem, a representative of Iraq's al-Fatah coalition in the parliament, referred to the American forces' illegal deployment in Iraq and Washington's attempts to revive the terrorist groups in the country, and stressed the legislature's firm determination to expel them and close Ain al-Assad base which is under the US occupation.
Full report at:
http://en.farsnews.com/newstext.aspx?nn=13980111000128
--------
Residents of Golan Heights Hold Protest Rallies to Condemn Trump's Decision
Mar 31, 2019
SANA news agency reported that the residents of the villages of Majdal al-Shams, Baqa'atha, Mas'adeh, Ain Qineh in occupied Golan rallied in Baqa'atha to blast Trump's measure.
They carried Syria's flag, chanting slogans against Trump's "illegal" remarks and stressing the Arab nature of Golan.
The protestors underlined continued resistance against the US-Israeli plots and measures, saying that occupied Golan should be liberated and return to Syria.
Trump last Monday formally recognized Israeli sovereignty over the occupied Golan Heights, reversing decades of United State's policy. The announcement came as Prime Minister Benjamin Netanyahu visited the White House in a trip.
World nations and prominent international rights groups condemned the recent decision by Trump to recognize Israel's "sovereignty" over the Golan Heights, which has been under the Tel Aviv regime's occupation for more than 50 years but belongs to Syria.
Last Thursday, large groups of people in different Syrian provinces continued rallies for several consecutive days to protest at Trump's recognition of Israeli occupation over Syria's Golan Heights.
The Arabic-language service of SANA news agency reported that a large number of people and civil activists in different parts of Syria, including Hasaka, Quneitra, Aleppo and Sweida, held protest rallies to condemn Trump's decision.
Protestors slammed Trump for declaring Israel's sovereignty over the occupied Golan Heights, stressing that the Syrian nation may never compromise its sovereignty right over the region.
Full report at:
http://en.farsnews.com/newstext.aspx?nn=13980111000108
--------
India
J-K: Car hits CRPF bus and explodes on Jammu-Srinagar highway, driver missing
Written by Arun Sharma
March 31, 2019
A car hit a bus carrying CRPF personnel, burst into flames, and exploded at Banihal near the Jawahar Tunnel on the Jammu-Srinagar national highway on Saturday morning. The car was destroyed, but no one on the bus or the road was injured. The rear of the bus, where the car hit it around 10.30 am, was slightly damaged, police said.
A full 12 hours after the incident, the fate or whereabouts of the driver of the car, a Hyundai Santro coming from the Kashmir side, was not known. In the evening, PTI quoted Jammu and Kashmir Governor Satya Pal Malik as saying it was yet to be established whether the incident was a terror attack, or why the car caught fire.
IGP Jammu Zone M K Sinha told The Sunday Express that an IED and some detonators were found inside the wrecked car.
The officer also said that a note in English, written on plain paper apparently by the driver of the Santro, had been found at the site, which raised questions about the incident.
The writer of the note claimed that he was a member of the Hizbul Mujahideen, and that he was "taking the extreme step in view of continued atrocities on Kashmiris since 1947", Sinha said. "We are verifying the authenticity of the letter," he added.
A month and a half ago, a Jaish-e-Mohammad suicide bomber had rammed his explosives-laden vehicle into a bus carrying CRPF personnel in Pulwama. Forty men had died in the attack on February 14, and India had responded by striking a Jaish terror camp in Balakot deep inside Pakistan.
jammu and kashmir, car blast jammu-srinagar highway, jammu-srinagar highway blast, crpf bus attacked, crpf convoy attacked, crpf, car blast jammu-srinagar highway, pulwama attack, pulwama crpf attacks, india news
Security personnel inspect the mangled remains of a car which exploded near a CRPF convoy on the Jammu-Srinagar highway at Banihal, in Ramban district of Jammu and Kashmir Saturday. (Source: PTI)
"It has not been established whether it (Saturday's incident) was a (terror) attack or not. It has also not been established why the vehicle caught fire," Governor Malik told reporters in Jammu, PTI said. "No explosive of sorts, but nothing can be said (at the moment)," Malik said.
The car appeared to have been carrying two LPG cylinders, one of which exploded. The other cylinder was found at the site of the incident, police said.
"There is an exploded cylinder along with an unexploded one found at the blast site," IGP Sinha said. Nothing could be said about the cause of the blast until experts gave their report after examining the blast site, he added.
While traffic was restored on the highway a few hours after the incident, police parties were searching the forests on either side of the incident site at Tethar village, 7 km from Banihal town in the Jammu region, until evening.
PTI quoted Banihal Sub-Divisional Police Officer Sajad Sarwar as saying the driver of the Santro was believed to have escaped. "Efforts are on to identify the driver of the vehicle for questioning," he said.
Sarwar did not rule out a terror angle, PTI said. Earlier in the day, a CRPF spokesperson had said that the incident was being investigated "in respect of all possible angles".
https://indianexpress.com/article/india/j-k-car-hits-crpf-bus-and-explodes-on-jammu-srinagar-highway-driver-missing-5650941/
--------
Tie-ups and loose ends
Written by Apurva
March 31, 2019
Ikramu Abdul Aziz stares hard at the house he has just been given. It has a room, a small yard, a bathroom next to the gate. His wife Dilshan pulls him to a corner and they whisper as she points to the thin steel doors, the single window and the non-functional toilet.
Aziz's was among 85 families who fled their homes during the Muzaffarnagar riots in 2013 and were on March 28 given new houses by the Jamiat Ulema-e-Hind, the Delhi-based organisations of imams, at Bhagonwali village, some 10 km from Muzaffarnagar city. Click for more election news
"She is relieved but not very happy, I think," says Aziz, "The house that we abandoned in 2013 was at least twice this size and had windows all around. But we live in a world where I cannot even get a house on rent, forget buying my own."
That year, as a wave of violence spread across the region, Aziz, Dilshan and their two children escaped in the dead of night from Sisauli village in Muzaffarnagar, leaving behind everything: school books, ID cards and, most importantly, newly stitched clothes.
"I am a tailor and all I know is stitching clothes. All my clients were in Sisauli and they drove me out. I had to start afresh," he says, adding that the family moved to a relative's house in Muzaffarnagar for a few weeks before shifting to rented homes across the district. "During the 2014 elections, I was shifting from one house to another and could not vote. This election, I will make it count. We all will."
But while Aziz will still vote in Muzaffarnagar, the 2013 violence displaced thousands, many who still cannot vote in their original constituencies.
Like brothers Qayyum and Shakeel Basheer. They are originally from Phogana village in Muzaffarnagar but after fleeing their homes, shifted to a rehabilitation colony in Nahid Colony, which falls under Kairana seat, where they are now voters.
The Muzaffarnagar violence and its aftermath may have changed the demographics of the region forever but six years on, the shadow of the riots still looms over all eight seats in western UP — Saharanpur, Muzaffarnagar, Baghpat, Bijnore, Kairana, Ghaziabad, Meerut and Gautam Budh Nagar. But added to political mix now is a slew of new issues that have emerged since 2014, when the BJP won all eight seats — from a sluggish farm economy that stems from sugarcane arrears to the stray cattle menace which has wiped out crops, the SP and BSP joining forces, the Congress refusing to back the SP-BSP gathbandhan, and the BJP attracting young and first-time voters.
The first phase of polling across Western UP on April 11 may well set the trend for the remaining 72 seats in the state, all of which will arguably decide who forms the government. The significance of this region can be gauged from the election blitzkrieg in the region — the PM kicked off the Phase 1 campaign with his rally in Meerut on March 29 and the gathbandhan will launch theirs in Deoband on April 7, with the Samajwadi Party's (SP) Akhilesh Yadav, Bahujan Samaj Party's (BSP) Mayawati and the RLD's Ajit Singh addressing their first joint rally.
A Supporter of Samajwadi Party, Bahujan Samajwadi Party and Rashtriya Lok Dal Alliance waves party flags in Muzaffarnagar, Western Uttar Pradesh. (Express photo: Praveen Khanna)
When UP Chief Minister Yogi Adityanath addressed a rally in Saharanpur on March 24, he scornfully called Congress candidate Imran Masood "son-in-law" of Jaish-e-Mohammad chief Masood Azhar.
"Azhar Masood's son-in-law comes to Saharanpur and speaks his language. Should someone who speaks Masood's language be allowed to win from Saharanpur or should the symbol of development and security, Raghav Lakhanpal (the BJP candidate), win?" Adityanath had said without naming Imran.
His remarks drew widespread criticism from Opposition parties but a BSP leader from Saharanpur calls it "tactical". Explaining that the BJP stands to benefit, he says that the Muslim votes, which would have gone to the "winnable" Muslim gathbandhan candidate of the BSP who would have anyway got the Dalit votes, will now, after Yogi's comment, be split. "See, Imran is locked in a three-way contest with Lakhanpal and the gathbandhan candidate Fazlur Rahman. Yogi's remarks against Imran will now move some Muslims towards the Congress," he says.
He also admits the tactic has worked in the past. He points to the 2014 campaign, when Imran had threatened to "chop" then prime ministerial candidate Narendra Modi "into pieces" and ended up polling more than 4 lakh of the seat's 12 lakh votes, eventually losing to Lakhanpal by more than 60,000 votes. The BSP's Jagdish Singh Rana came third with around 2.3 lakh votes.
Muslims in Saharanpur account for close to 6 lakh votes and Dalits for around half of that. Without support from both communities, Saharanpur, leaders admit, is impossible to win for any of the non-BJP candidates.
According to a Congress leader, the party — and Imran Masood — still enjoy the support they got in 2014. "It is clear that Imran has the support of the Muslim community. The smart thing for the gathbandhan would have been to give us BSP support. But instead, the gathbandhan has nominated a Muslim candidate who is bound to split votes," he says.
Also in Saharanpur is the Harora Assembly seat, from where BSP chief Mayawati made her debut in 1986. She lost that year only to win the seat in 1996 and again in 2002. Almost two decades later, the BSP is still strong in the region but amid a challenger. Bhim Army founder Chandrashekhar Azad is from Chutmalpur, just a few kilometres from Harora. Here, locals say the Bhim Army has thrown its weight behind Imran.
Devi, a sanitation worker, says, "A few days ago, some men came to the village and said we must make our vote count and that maybe BSP was not the correct choice. I have always voted for Behenji, I don't know what they were talking about."
The Bhim Army did not confirm or deny the tacit support to the Congress. The organisation's national president Vinay Ratan Singh told The Sunday Express, "Our mission is to stop the BJP and Modi. We will support candidates who can defeat the BJP."
Incidentally, the Bhim Army's tilt towards the Congress came days after Congress's East UP general secretary Priyanka Gandhi Vadra met Chandrashekhar in a Meerut hospital.
SP BSP gathbandhan up lok sabha elections
According to a BSP functionary, the Bhim Army's influence is limited. "Nobody is stronger than Behenji here. We will wipe out the BJP," he says.
But in Saharanpur and elsewhere, this fight to "wipe out the BJP" repeatedly comes up against the fact that the non-BJP votes face a certain split, given that the Congress is not part of the gathbandhan and is fighting on its own in all seats in the region, except two — Muzaffarnagar and Baghpat, where RLD leader and a partner in the BSP-SP alliance, Ajit Singh, and his son Jayant are contesting.
In Bijnore, for instance, the Congress has nominated former BSP strongman Naseemuddin Siddiqui against the gathbandhan's Malook Nagar, a Gujjar leader, and BJP's sitting MP Bhartendra Singh, a Jat.
Considering Muslims account for around 30 per cent of Bijnore's electorate, the BSP believes the Congress is out to sabotage its campaign. "The Congress has fielded strong candidates where the gathbandhan candidate is from the BSP — in Saharanpur and in Bijnore. With a Dalit and Muslim combination in these seats, we would have been unbeatable. But now it is an uphill battle," he says.
Congress leaders deny the charge. "In constituencies where we can win, we will nominate our own. This is not about sabotaging the BSP, but defeating the BJP," says a Congress leader in Muzaffarnagar.
But there's more. The Congress's recent announcement that if voted to power, they would initiate a minimum income scheme, giving Rs 72,000 a year to the poorest 20 per cent of households, has fired up its cadre.
Across Muzaffarnagar, Bijnore and Saharanpur, the scheme has sparked interest, particularly among BPL families. While Monu Jatav in Muzaffarnagar's Bopa village wonders if such a scheme is even possible and if she will be eligible for it, Khurshida Begum in Badwana and Ravindra Nishad in Shamli town say Rs 6,000 a month, in addition to work under the MGNREGA, will only help their households.
The SP, however, believes the Congress's presence will help the gathbandhan by splitting the BJP vote. "In Kairana, both the Congress's Harendra Malik and the BJP's Pradeep Choudhary, are Jats. So the Congress will split the BJP's Jat votes," says an SP leader. In Kairana, Tabassum Hasan, the sitting MP who defeated Mriganka Singh in a bypoll in 2018 after the death of BJP MP Hukum Singh, is contesting on an RLD ticket for the gathbandhan.
People take part in an election meeting of Samajwadi Party, Bahujan Samajwadi Party and Rashtriya Lok Dal Alliance in Muzaffarnagar, Western Uttar Pradesh. (Express photo: Praveen Khanna)
The complex theories, calculations and mud-slinging have the BJP elated that the Opposition narrative of jobs, demonetisation and the economy — which had started gaining momentum — have had to make way for the tried and tested formulae of caste, community and religion.
A BJP district leader says, "We already have the development plank with PM Narendra Modi. This infighting will only help. And with the Balakot air strike, our cadre is energised and vote base is strong."
But on the ground, particularly among farmers, the BJP's Balakot air strike narrative is a double-edged sword. Take Om Pal Singh in Bijnore's Raipur Berisal village. "I will not keep quiet if I am told about this air strike, armed forces or Pakistan again. The Army's job is to protect the borders and give Pakistan a fitting reply and they are doing that well. Who are you to crow about it?" he says, adding that many of his relatives serve in the armed forces. "It is our sons who serve in the Army and defend the country; not politicians. Their children are in air conditioned rooms. We give food and our sons protect the land. Do not tell us about the military, it is demeaning to us and to the Army," he says.
A Jat sugarcane farmer, Om Pal says the government has let the farmers down. "We voted for this government. But for five years we have not been paid our dues. The government pays the sugar mills but not us," he says.
Asked about this anger among its traditional voters, many of them Jats who form about 15 per cent of the population in Western UP, a BJP leader says they are not worried. "It is true that some farmers are angry, but not all. Moreover, it's not about community or caste votes. This time, the voters are different," he says, indicating that the party's poll plank of development and national security will counter other biases.
According to latest data compiled by the Cane Commissioner's Office in Lucknow, dues that sugar mills in UP owe farmers now totals Rs 10,074.98 crore. As The Indian Express reported, of this, Rs 4,547.97 crore or over 45 per cent is due from mills in six of the eight constituencies going to the polls on April 11.
Such is the sentiment in the region that PM Modi referred to cane payments in his Meerut rally. "I assure you that CM Yogi Adityanath will get all your payments done very soon," he said, accusing the earlier BSP and SP governments of misrule.
A few km away, in Bhokaredi village, Kripal Singh, also a Jat cane farmer, echoes Om Pal. As Kripal complains about not being paid dues from mills for several weeks now, his son Manoj, who is travelling with him to the main market to buy new water pipes, disagrees. "But papa, this election is not about sugarcane; it is about the nation and security," he chimes in.
His father raises his hand as if to land him a mock blow, "You are young, you know little of these matters…."
"But I voted last time and I will vote again. My vote is for the PM. See how he handled Pakistan, which is encroaching on our land. He has stamped out corruption. Desh ke hith mein vote dena hain, desh ke liye (We have to vote for the country's interest, for India)," says Manoj, dressed in jeans and T-shirt.
Kripal says his son knows little, particularly since he does not work on the field. "He works in a mobile shop. He does not know about the realities of farming. But he will vote with his heart. I cannot stop him," he says.
According to Manoj, most of his final-year BCom classmates think like him. "We now have 24-hour electricity compared to just eight hours during the previous SP government. This is the development we need. We know what we have to do. I may be only 23, but this will be our country soon. We must decide the course," he says.
His father shakes his head. "We have 24-hour electricity but the power tariff for our irrigation pumps and tubewells have almost doubled. Between the two, I prefer cheaper power for the farm. But you only want to charge your mobile phone," he says.
In UP — like elsewhere where an analysis of Election Commission data by The Indian Express showed that the average number of new eligible voters is over 1.15 lakh per constituency — this 2019 election might just upend all traditional wisdom of election politics, which has until now sworn by the sure-shot formulae of caste and community. Like in the case of Kripal and Manoj, this election might even cleave through generations and their loyalties.
In Malhendi village of neighbouring Kairana constituency, Suresh, who wants to be identified only by his first name, says his father has not spoken to him for days.
"My father says we are Dalits and must vote for Mayawati. Why? What has she done? I will vote for anyone I want," he says.
A farm labourer, Suresh, 25, says he is yet to make up his mind on voting, but indicates that "desh hith (welfare of the country)" and "vikas (development)" will help him decide.
But there's something that's gnawing away at Suresh's mind. Last year, his 23-year-old neighbour was arrested for social media posts against Modi and Adityanath. "Last year, my friend was angry that stray cattle had eaten away all his crop. He went to the field one morning and realised it was all gone. He was so angry that he made a video criticising Modi and Adityanath, and was arrested. These arrests are bad, par yeh toh UP sarkar ke galti hain, Modi ki thodi hain (but this is the UP government's fault, not Modi's)," he says.
The 23-year-old's uncle says the younger generation has little patience. "They are all hotheads. My son will not listen to me anymore. When they are happy, they are very happy and when they are angry, they are very angry. We had a meeting last night and decided the Dalit basti must vote for BSP, my son though refuses," he says.
Just a few km away from Malhendi, in Kudana, the same demographic group believes otherwise. Vipin, 21, who has cleared all the tests to join the UP police, says, "Only Behenji speaks up for us. Any Dalit who thinks otherwise is either uneducated or watches too much TV. They only show lies on news these days. In our village, go and survey and you will find that most people have given up their cable connections."
His neighbour Naveen agrees. "How can anybody forget April 2 (the Bharat bandh called by Dalit groups against the alleged dilution of the SC/ST Atrocities Act). We were attacked brutally by all those who are BJP voters. That was unforgivable. Dalits will show their power this time," he says.
Both have come to attend a public meeting in the village that includes Kairana's RLD candidate Tabassum Hasan's son Nahid Hasan. Yogendra Singh, a campaign coordination functionary, says, "Nahid is an MLA and everybody knows him well. We have split the constituency in such a way that between the mother and son, they will cover most villages in the constituency."
Asked about the Congress fielding a candidate in Kairana, Singh is not concerned. "There is a Congress candidate but the question is who will he help and who will he hurt? Maybe he will take away Muslim votes, but then again he is a Jat, maybe he will attract that BJP vote base," says Singh.
Hasan also refers to the Muzaffarnagar riots and reclaiming "honour". "In 2013, the world heard about Muzaffarnagar in horror. In this election, we must reclaim our name. You must help by voting out those who caused the riots. This will send a message across the country," he says.
About 150 km away in Dadri — Gautam Budh Nagar constituency — another village fights to reclaim its own honour. There were no riots here, but in 2015, 50-year-old Mohammad Akhlaq was beaten to death in Bisara village on September 28 on suspicion of cow slaughter.
Niranjan, a former Armyman, says the village is yet to recover from that lynching. "If only elders were around, we would have stopped those boys. Now Bisara is spoken of as a curse," he says.
According to a shopkeeper, who requested anonymity, young men and women from Bisara have found it difficult to find jobs. "There are many private companies around this area where all our youth were employed. Once this happened, slowly they were sacked. The companies said they did not want trouble-makers in their midst," he says.
Akhlaq's house stands abandoned in Bisara as is his brother's. They moved out in 2016 and vowed never to return. "See, people mix a lot of issues. We are not happy at all with the BJP candidate here (Union Minister Mahesh Sharma) but will vote for Modi. He will bring people in line. If not for Modi, maybe we would not have voted at all. Why should this Akhlaq incident be tied to politics? That has nothing to do with elections," says a farmer, requesting anonymity.
Full report at:
https://indianexpress.com/elections/tie-ups-and-loose-ends-uttar-pradesh-lok-sabha-polls-sp-bsp-gathbandhan-bjp-congress-5650802/
--------
4 militants killed in gun battle security forces in Jammu and Kashmir's Pulwama
Apr 01, 2019
Four militants have been killed by security forces in an ongoing gun battle in Jammu and Kashmir's Pulwama district, an Indian Army spokesperson said.
Colonel Rajesh Kalia said several weapons and "warlike stores" have been recovered from the encounter site in Lassipora area of Pulwama.
The army did not confirm whether security personnel were also injured in the encounter.
More details are awaited.
https://www.hindustantimes.com/india-news/4-terrorists-killed-in-gun-battle-security-forces-in-jammu-and-kashmir-s-pulwama/story-RL1sd71PPTfmjtM09xIV2K.html
--------
Ideological conflict takes centre stage at Aligarh Muslim University
Apr 01, 2019
It's a university of world repute; it's a university in decline. It's a progressive centre as any; it is a conservative university. Its founder was a proponent of the two-nation theory; its founder was a votary of Hindu-Muslim unity. It has failed its founder's vision of providing Indian Muslims with a modern education; it has given India, and the subcontinent, Muslim intellectuals. It's doomed beyond repair; it's the only hope.
Aligarh Muslim University (AMU) is many things to many people, but for now, the only certainty is that it's walking a thin line. Talk to students, teachers, or other staff in the largely residential campus of more than 30,000 and the consensus is that the university is under attack for political gains of a few.
DIFFICULT DAYS
At a time when the 2019 general elections are set to begin, the past few months have been particularly eventful.
Some students have been asked to sign bonds of ?500,000 against protesting; sedition charges have been slapped against three Kashmiri students for allegedly offering funeral prayers for a militant, a former student of the university; and charges of discrimination against Hindu students have been made.
"It's only a group of five or six students that creates controversies," said Salman Imtiaz, the president of the university's student union. "It's not a coincidence that it's always the Bharatiya Janata Party (BJP) and its youth wing," added Ambreen Fatima, the president of university's women's college.
Complaints are directed primarily towards Ajay Singh, a student of law at the university, and the grandson of a BJP MLA from Aligarh district. Among his demands is building a temple on the campus. He was a presidential candidate of the university student union in 2017 but lost.
On January 26, he insisted that he will bring out a tiranga rally in the campus even though the university organises its own Republic Day function. Within a week of that incident, Aligarh MP Satish Gautam demanded that the word Muslim be removed from the university's name. "The word 'Muslim' makes a large section of the society uncomfortable," Gautam said. Asked if Banaras Hindu University should also be renamed, the BJP MP said, "India is a Hindu Rashtra and there is no point in removing 'Hindu' from BHU."
Frequency, and predictability, of issues raised clouds motives. "There are 5,000-6,000 Hindu students in the university. Why do only these five-six always have problems?" asked Nishant Bhardwaj, a leader of the students' union. Does the university discriminate against Hindu students as these "five-six" allege? "I am here since 2007. If that was so I would have left long ago," said the student leader. To re-empahise the point, Imtiaz said, "Nishant got more votes than I did."
Ajay Singh dismisses the allegations. "The union and student leaders communalise everything. They blame everything on us."
The university has seen difficult days but nothing of this sort. Sajjad Ahmad, professor of history, sees the "vilification of the university" as a reflection of majoritarian politics across the country. "Elections or no elections, it will continue to happen... [because] "once you pit two communities against each other all other significant demands are pushed aside."
BACK TO HISTORY
The institution was established in 1875 as Anglo-Mohammedan College to impart western education to Muslims. By the time the founder, Sir Syed Ahmed Khan, died, Gandhi was still in his teens, so was Jinnah – and a mainstreamed anti-British discourse led by Indian nationalists was still some years away. But as it emerged across the country, AMU turned into an important centre for Muslims opposing the British rule. A major rift appeared, when, in 1920, the British decided to fund institutions such as AMU and BHU. To protest that, the nationalists decided to establish Jamia Millia Islamia - the National Islamic University.
As the national discourse turned increasingly communitarian, many in AMU rallied around Jinnah. But it was Gandhi who was given the first lifetime membership of the university students' union, in 1925. Ambedkar, Azad, and others followed. Jinnah's turn came in 1938, by the time he was undeniably a prominent leader besides being a frequent donor to the university.
Jinnah's continued presence in the AMU discourse eight decades later is a testimony to the twists and turns the region's shared history has taken. Partition cocooned the Indian Muslim community, but it weakened it as well. To challenge that, the AMU community tried to safeguard what it had and demanded minority status for the university. It was eventually granted one in 1981 by an act of Parliament – it has since been challenged in court – but the political developments in recent years seem to have converted even the staunchest critics of the original approach. "It was a parochial idea in the 1960s. But this debate is now happening in a different context," said Irfan Habib, prof emeritus at AMU, who had earlier opposed the minority status of the university. NEW DAY, NEW SCANDAL
Snowballing of small events in the recent past doesn't help either. On February 12, a TV correspondent entered the campus to report, as she claimed, "on a story that had nothing to do with AMU". Students claim that she called it a university of terrorists (she denies that). Soon it turned ugly, and AMU was back in Delhi's TV studios as it had been many times in last few months.
On the same morning, a meeting of the country's Muslim leaders, called by some student leaders of the university, was scheduled. Their advertised motive was to chalk out a political alternative, and Hyderabad MP Asaduddin Owaisi was rumoured to attend.
Days before the scheduled meeting, Nishit Sharma, a former student of the university and now a BJP leader in the university town ,wrote to Union human resources development minister Prakash Javadekar: "These students are trying to hurt the sentiments of the Hindus by inviting Owaisi." He further wrote, "Though we will not allow him to enter Aligarh, if he comes then he will not be able to go back."
On the morning of the meeting, a group of students led by Ajay Singh, the former presidential candidate, entered the union hall. There was no sign of Owaisi. They took their protest to the V-C's office. Counter protests happened. Soon, the two cases – the protest over the TV reporter and Owaisi – got mixed. Allegations flew that Singh's alleged accomplice fired at a student union leader; photos were circulated on social media that showed him with a pistol. Singh has denied any wrong doing.
By the evening, the police filed a case of sedition against 14 students of the university based on an FIR filed by a BJP youth wing leader, Mukesh Lodhi. "But the police chose not to turn the students' complaint into an FIR," said Sharjeel Usmani, a student of the university.
The BJP leader's FIR mentioned that he saw a few AMU students assaulting the TV journalist and Hindu students from the university and shouting "Hindustan Murdabad, Pakistan Zindabad." Lodhi also alleged that he was fired at. The police later dropped the sedition charges.
It was in many ways a continuation of previous events – such as the Jinnah controversy last May. Gautam, the MP, had written to the university to explain Jinnah's picture in the student union hall, which is accompanied by those of Gandhi, Ambedkar, Azad. The letter was timed to coincide with the visit of Hamid Ansari, the former vice-president of India, the former V-C of the university, and an alumnus as well. He was scheduled to be given the lifetime membership of the students' union, but after the protests, he returned without being honoured.
The university community saw these events as a design to whip up emotion before state elections in four states. Prof Sajjad asked, "Jinnah was discussed on one TV channel for five hours. Why not the enactment of Godse shooting Mahatma Gandhi?" –which was organised by Aligarh-based members of Hindu Mahasabha, on January 30, the date on which he was assassinated in 1948.
DEMONS WITHIN
Beyond the animosities drawn out of the Hindu-Muslim shared past, the university community is also challenged by the demons within - some unique, some generic. The AMU founder's vision to become the Oxford of the East is challenged, in part, because of nepotism in the hiring of its faculty members. It still produces a vast number of first-generation learners and non-metro aspirants to the educated class – but a bitter regionalism prevails, and continues to affect the university. It continues to extract a little too much discipline from women students in the name of "tehzeeb" (manners).
Full report at:
https://www.hindustantimes.com/lok-sabha-elections/ideological-conflict-takes-centre-stage-at-aligarh-muslim-university/story-70hVdVW1HwOATL8YibHV4N.html
--------
India hands over to US evidence of Pakistan's F-16 misuse: Report
Mar 31, 2019
India has purportedly shared critical evidence with the United States that indicates Pakistan's Air Force used American-made fighter jets to attack Indian military positions during the recent flare-up between the two nuclear neighbors over the disputed region of Kashmir, a move that runs against existing military agreements between Washington and Islamabad.
Indian officials, speaking on condition of anonymity, told local media on Saturday that the Pakistan Air Force (PAF) had indeed used F-16 fighters in its February 27 strikes in Jammu and Kashmir's Nowshera sector as part of attempts to retaliate an Indian Air Force (IAF) strike on a militant training camp in Pakistan's Balakot the previous day.
The Indian officials said the evidence of their claim, including call signs associated with PAF F-16 jets and specific details of the AIM-120 Advanced Medium Range Air To Air Missile (AMRAAM) used by the PAF jets, had been shared with the US through intelligence channels.
The details in missile debris from the February 27 strikes correspond to the consignment lot sold by the US to Pakistan, the officials added.
Indian and Pakistani fighter jets staged tit-for-tat cross-border raids last month as they wrangled over a bomb attack in the Indian-controlled Kashmir that New Delhi said was conducted by the Pakistani Jaish-e-Mohammed militant group and left at least 40 Indian paramilitary forces dead.
Pakistan said it had shot down two Indian MiG-21 Bison fighter jets and captured one of their pilots during the dogfight. Islamabad later handed over the pilot, identified in reports as Wing Commander Abhinandan Varthaman, to India.
India also said that it had downed a Pakistani F-16, a claim dismissed by Islamabad.
The unnamed Indian government officials doubled down on Delhi's claim, saying inspections of a recovered engine cowling found in Kashmir showed that it had nothing to do with Varthaman's MiG-21 Bison and most certainly belonged to a PAF F-16 Fighting Falcon.
Photographs of the wreckage show a part without rivets while the MiG-21 engine cowling has rivets at multiple places, they said.
Major General Asif Ghafoor, chief spokesperson of the Pakistan Armed Forces, who had initially denied the use of F-16s in the Nowshera fight on February 27, contradicted his own remarks in a March 24 interview with Sputnik in Islamabad, where he implied that the F-16 had been scrambled at the time and that his country was discussing the matter with Washington.
"As regards to how to use F-16, in what context (they) were used or not — because at that point of time our entire Air Force was airborne — it remains between Pakistan and the US to see how the MoUs (memorandums of understanding) regarding the use of F-16 have been adhered to or otherwise," General Ghafoor was quoted as saying.
The alleged move by the Pakistani Air Force could amount to a violation of US agreements since Washington sold F-16 fighters to Islamabad on condition that they will not be used in aggression against any other country but only in the war against terrorist outfits.
Pakistan bought several batches of the Lockheed Martin F-16s from Washington before relations between the two sides soured over the fight against the Taliban and then US President Barack Obama cut off subsidized sales to Islamabad in 2016.
India investigating possible friendly fire in chopper crash
Meanwhile, Indian media reported on Friday that investigators had found that an Indian air defense missile had been fired shortly before the crash of a Mi-17 V5 helicopter at Budgam, near Srinagar in the disputed region of Kashmir on February 27, which left six air force personnel and a civilian dead.
The Indian daily newspaper Economic Times said the investigators were examining the sequence of events which preceded the crash.
The final moments prior to the crash, including whether the IFF (Identity, Friend or Foe) systems were switched on or not, are being carefully looked at to determine what went wrong, according to ET sources.
Based the report, the investigation is seeking to determine "if multiple layers of safeguards meant to protect assets from friendly fire failed and how systems need to be improved to prevent any such incident in the future".
Sources told the daily that the missile, which is believed to be of Israeli origin, was activated after an air defense alert was issued, signalling presence of Pakistan Air Force jets along the border.
Unnamed sources claimed that the alert meant Pakistani jets may have breached the border. "A slow moving target like the Mi-17 helicopter could potentially be mistaken for a low flying armed UAV homing into an air base."
Eyewitnesses have reported that a loud explosion was heard in the air before the chopper crashed in a trail of smoke, indicating that a possible catastrophic external event contributed to the incident.
The Russian-made Mil Mi-17 is one of the world's sturdiest military helicopters in service and is not usually prone to technical faults of catastrophic nature.
Sources in the air force told ET they have made it clear that the military would not shy away from initiating court-martial proceedings against personnel if they were found blameworthy in the inquiry.
The incident took place on the same day that the Pakistan's military shot down two Indian aircraft in the Islamabad-administered side of Kashmir and arrested one of the pilots on the ground.
Kashmir has been split between India and Pakistan since partition in 1947. Both countries claim all of Kashmir and have fought three wars over the territory.
Indian troops are in constant clashes with armed groups seeking Kashmir's independence or its merger with Pakistan.
Full report at:
https://www.presstv.com/Detail/2019/03/31/592252/India-F16-fighters-Kashmir-Nowshera
--------
Pakistan
Second marriage lands Muslim man in Pakistani prison
March 31, 2019
LAHORE – A man has been sentenced to three-month jail and Rs 5,000 fine for contracting second marriage without mandatory permission of first wife, according to local media.
Rabia Younas had filed a complaint against her husband Shoaib Zahid in Lahore's Cantonment Courts, pleading that he contracted second marriage without obtaining her consent required under section 6 of Muslim Family Law Ordinance 1961.
After the woman's counsel produced verbal and documentary evidence to prove the offence of the respondent, the Dawn reported, Magistrate Kashif Abbas handed down three-month imprisonment to the respondent and Rs5,000 fine.
Last December, in a similar case of second marriage without first wife's permission, a man was sentenced to three months imprisonment and fined Rs 30,000 by a Rawalpindi's civil court.
The convicted man's wife Sajida Bibi had filed a petition in district civil court under Section 6 of Muslim family law, claiming that her husband Liaqat Khan had contracted a second marriage without her permission. However, Liaqat's lawyer presented a divorce deed and other documents in the court as evidence and two witnesses who testified about his divorce before the judge.
According to the divorce deed, Liaqat had divorced Sajida on June 1, 2017, and got married again on July 9, 2017, but Sajida rejected the divorce claim and said that Liaqat had fabricated the document. Upon this, the judge sent Liaqat to jail for three months.
But it was two years ago when for the first time a court in Pakistan had sided with the woman under a 2015 family law, and followed a petition by Ayesha Bibi, who said her husband, Shahzad Saqib, had wed for a second time without her approval.
On November 2, 2017, Judicial magistrate Ali Jawwad Naqvi announced the verdict in a Lahore lower court, ordering the man to serve a six-month jail term and pay a fine of Rs200,000.
The court rejected the man's argument that he did not need her permission because his religion allowed him four marriages.
The Council of Islamic Ideology (CII), a body that advises the government on the compatibility of laws with Islam, has often criticised the demand for a wife's written approval if her husband wants to remarry. But the CII's recommendations are not legally binding.
https://en.dailypakistan.com.pk/pakistan/second-marriage-lands-muslim-man-in-pakistani-prison/
--------
Pakistan moving towards debt trap, cautions Nisar
Amjad Iqbal
April 01, 2019
TAXILA: Former interior minister and disgruntled Pakistan Muslim League-N leader Chaudhry Nisar Ali Khan said on Sunday that the country was moving towards a "debt trap".
Talking to journalists, he said the future of Pakistan would be bleak if its economy was run through loans, adding the country needed years to get rid of these loans and to achieve these goals there was dire need of political stability in the country responsibility for which rested with the government.
In reply to a question, Mr Khan said that the Financial Action Task Force was apparently a political institution adding that some international powers were hatching conspiracies to blacklist Pakistan for their own interests and that had nothing to do with terrorism or terror financing.
Former interior minister asks govt to ensure political stability
In reply to a question about recent steps taken by the current government regarding crackdown against some religious groups and taking control of some seminaries, he said the government's actions were dubious as on the one hand it claimed there was no non-state actors involved in the Pulwama attack or other activities and on the other hand it had launched a crackdown against some religious groups and was taking control of some seminaries.
He urged political leaders to restrain from delivering such statements which weakened Pakistan's stance on international forums just for some political gains.
In reply to a question about leaving the PML-N or joining another party, he said he would make a decision in this regard at an "appropriate time".
The PML-N leader said that he was in contact with the PTI but said that he would announce his future political strategy at an appropriate time in consultation with his supporters.
Full report at:
https://www.dawn.com/news/1473172/pakistan-moving-towards-debt-trap-cautions-nisar
--------
Qureshi invites opposition for dialogue on national security
April 01, 2019
MULTAN: Foreign Minister Shah Mehmood Qureshi said on Sunday that he had invited leaders of all opposition parties, including Pakistan Peoples Party (PPP) chairman Bilawal Bhutto-Zardari and Pakistan Muslim League-Nawaz (PML-N) president Shahbaz Sharif, for a dialogue on national security.
Talking to reporters here, he said he had asked political leaders of the country that they should be united for the sake of national security.
"All political parties should be united on national security and I have invited all of them," he said, adding that keeping in view the challenges the country was facing today the unity of the political leadership was the need of the hour.
The foreign minister said that the devaluation of Pakistani rupee against US dollar would cause price hike in the country. But there was a need to determine who had stopped the dollar from "reaching its actual value," he said in reference to claims by some Pakistan Tehreek-i-Insaf's (PTI) leaders that the previous PML-N government had artificially stopped the devaluation of the local currency.
Promises all-out efforts for creation of south Punjab province
Mr Qureshi said that creation of a south Punjab province was not merely a slogan, rather it was the need of hour.
"We have made a promise for the creation of south Punjab province and we will make all-out efforts to achieve this goal. The PTI leadership is making sincere efforts in this regard as running a province of 120 million people is not any easy task," he added.
He said the PPP and PML-N, which were traditional rivals in Multan for long, were in cahoots with each other in a bid to defeat the PTI in the Sunday's by-election for provincial assembly's constituency PP-218 (Multan).
"People are raising the voice against these cahoots. Voters are more mature as compare to politicians," he added.
Praising Foreign Secretary Tehmina Janjua who is going to retire on April 16, Mr Qureshi said that she was a person full of wisdom. "I have been working with her for seven months and I have learnt a lot from her," he said, adding that everyone in the Foreign Office appreciated the performance of Ms Janjua.
He said the National Account­ability Bureau (NAB) was an independent institution and the government neither interfered in its affairs today, nor it would do so ever in future.
He said that Prime Minister Imran Khan was not in favour of a "deal or dheel", rather he wanted accountability of all those who had looted the nation's wealth.
Mr Qureshi said that during a meeting with the prime minister recently, leaders of opposition parties in the Sindh Assembly had expressed reservations over the performance of the provincial government. They had requested PM Khan to ask the Sindh chief secretary and the inspector general of police to decide matters on merit, he added.
The foreign minister claimed that the PPP government in Sindh had released development funds of Rs200 million to each of its provincial legislators. He said the PTI allies in Sindh had accused the provincial government of misusing of the funds for the Benazir Income Support Programme.
Full report at:
https://www.dawn.com/news/1473173/qureshi-invites-opposition-for-dialogue-on-national-security
--------
Appreciate Pakistan's support to peace process, says Khalilzad
Anwar Iqbal
April 01, 2019
WASHINGTON: US special envoy Zalmay Khalilzad, while recognising Pakistan's neutrality in the Afghan peace process, has urged all Afghans to app­roach the forthcoming elections and the ongoing talks with the Taliban with equal seriousness.
"Enter negotiations as if there were no elections, united as a country, and do elections as if there were no negotiations," he wrote in a tweet, pointing out that the suggestion came from EU's High Representative for Foreign Affairs Federica Mogherini at a meeting in Brussels earlier this week.
Earlier this month, Afghan­is­tan delayed its presidential election for a second time. Ori­ginally scheduled for April 20, the elections were first delayed to July 20, because of security concerns. And then to Sept 28, apparently to gain time for talks with the Taliban, who are refusing to hold direct talks with Kabul.
"I particularly appreciated Federica Mogherini's thoughts for Afghans concerned about potential overlap in timing of elections and the Afghan peace process," he wrote.
Mr Khalilzad, on a multi-nation trip for his efforts of facilitating intra-Afghan talks, also noted that Pakistan has assured Afghanistan it has no intention to interfere in its internal affairs.
"Appreciate Pakistan's and other regional support for Afghan Peace Process and agree that Afghans have the right to live in peace after a long period of war," he wrote.
A media outlet reported last week that Prime Minister Imran Khan believes an interim setup in Afghanistan will be better placed to hold direct talks with the Taliban. Later, the Ministry for Foreign Affairs clarified that the media had 'misinterpreted' Mr Khan's comments as he never implied interference in Afghanistan's internal affairs.
The clarification satisfied the Afghan government as well, which sent back its ambassador to Islamabad who had been recalled to Kabul for consultations after the media report.
Ambassador Khalilzad began his latest peace mission on March 25 with visits to London and Brussels and will also travel to Afghanistan, Pakistan, Uzbekistan, Jordan and Qatar before returning to Washington on April 10.
Mr Khalilzad said that in Brussels, US, EU and Nato officials talked about "the meaningful political and social gains" in Afghanistan over the last 18 years, especially for women and children, and agreed that those gains "must be prioritised" in the peace process.
"Our shared goal is to reach a peace agreement worthy of the sacrifices made over decades of war. Together we're committed to achieving genuine intra-Afghan dialogue on a political settlement that ends the conflict," he wrote.
In a separate tweet, US Permanent Representative to Nato Kay Hutchison also endorsed Mr Khalilzad's views, indicating that the Trump administration continues to support its special envoy in his dispute with Kabul.
Full report at:
https://www.dawn.com/news/1473174/appreciate-pakistans-support-to-peace-process-says-khalilzad
--------
Pakistan, China warn against politicising UN anti-terrorism regime
Anwar Iqbal
March 30, 2019
WASHINGTON: Pakistan has warned that politicising the UN counterterrorism machinery would only compromise the integrity of the regime, as China also warned against "forcefully moving" a resolution in the UN Security Council.
Speaking in a Security Council debate on "Preventing and Combating the Financing of Terrorism" on Thursday afternoon, Pakistan's Ambassador Maleeha Lodhi said that current structures like FATF and the 1267 Sanctions regimes should not be used as political tools by some to advance their geopolitical goals.
"There is also a need to make these institutions more inclusive of the wider membership in their decision-making processes," she added.
Caution follows tabling in Security Council of resolution by US, seeking to list JeM chief as global terrorist
On Thursday, Chinese Foreign Ministry spokesman Geng Shuang told a media briefing in Beijing that "forcefully moving" a resolution directly in the UNSC undermined the authority of the UN anti-terrorism committee.
"This is not in line with resolution of the issue through dialogue and negotiations. This has reduced the authority of the Committee as a main anti-terrorism body of the UNSC and this is not conducive to the solidarity and only complicates the issue," he said.
On Wednesday, the United States directly moved a resolution in the UNSC, seeking to list Jaish-e-Mohammad chief Masood Azhar as a UN-designated global terrorist.
On March 13, the US, Britain and France had moved a similar resolution in a forum known as the 1267 or the Islamic State and Al Qaeda Sanctions Committee. Since members of this committee are the same as those of the UN Security Council, China used its discretionary powers to put a technical hold on the resolution. China also promised to review the situation, including Indian allegations against Masood Azhar, and reconsider its position on the resolution.
But instead of waiting for the final Chinese decision, the United States moved the resolution in the Security Council. China, as one of the Permanent Five, can veto the resolution but this will put Beijing in a direct confrontation with the other four. Both Washington and New Delhi hope that China will avoid a direct confrontation and let the resolution pass.
Speaking in the general debate, Ambassador Lodhi pointed to the several gaps that existed in the international community's counterterrorism strategy.
She identified the lack of international attention given to foreign intervention and foreign occupation, denial of the right to self-determination to peoples living under foreign occupation and continued violations of international law and the UN Charter as examples of such gaps.
She pointed out that continued and persistent violations of human rights contributed to violent extremism. Yet killings continue in India-held Kashmir and Palestine.
Ambassador Lodhi said that brutalisation and oppression of people struggling for their legitimate right to self-determination constituted state terrorism, which should also be the focus of international attention.
"Pakistan has been the principal victim of terrorism, including that supported, sponsored and financed from abroad," she said. "But this has not diminished my country's resolve to eliminate this scourge."
Ambassador Lodhi also told the Security Council that Pakistan had criminalised terrorist financing in accordance with the Terrorism Financing Convention and had enacted laws to eliminate terrorism financing risks and implement its international obligations, including those arising from FATF recommendations and 1267 Sanction Regime.
In Beijing, Chinese Foreign Ministry spokesman Geng said China put a technical hold on the US move because it wanted to conduct an in-depth assessment and was "in communication with all parties to seek a settlement through dialogue. We hope this will be a common goal of all the members of the UNSC."
Asked about Pakistan rejecting the evidence put forward by India on the Pulwama terrorist attack, he said, the 1267 committee had detailed and clear stipulation and requirements on the listing issue.
"What China has done is in line with the requirement of the UNSC and rules and procedures of the committee. We are always working in a constructive manner and stay in communication with the relevant parties and seek a proper solution," he said.
Mr Geng said that moving a resolution directly in the UNSC undermined the authority of the UN's anti-terrorism committee.
Full report at:
https://www.dawn.com/news/1472766/pakistan-china-warn-against-politicising-un-anti-terrorism-regime
--------
Fazl musters support for Islamabad sit-in
April 01, 2019
SARGODHA: Jamiat Ulema-e-Islam chief Maulana Fazalur Rehman has launched a campaign to motivate his supporters for the `million march' he has planned against the government.
"The present regime is a product of rigging. It is following the agenda of foreign lobby and destroying cultural heritage and religious assets of the nation. Therefore, we have decided to launch a million march to get rid of this fascist government," he told a news conference on Sunday.
He said the JUI-F was motivating all opposition parties to join its proposed sit-in in Islamabad. He said PPP Co-Chairperson Asif Ali Zardari will support the move.
He said that those who had been abusing the parliament in the past were fooling the nation by their false statements and had not given up the style of abusing opposition. "Therefore, people have realised the fact that this party will rather ruin the entire set-up through its foul play."
Fazl said that his party's move against the present regime was to make it to enforce Islamic Shariah in the country and frustrate the evil agenda of Jewish lobby. He said present regime was promoting nepotism and obscenity beside fooling the nation on oil and gas reserves. .
He said Prime Minister Imran Khan was misusing his authority by doing the politics of revenge. He regretted that he planned to unite all parties against rigging and malpractices in general elections but none bothered to join hands but now those who brought Imran Khan into power had realised their mistake.
"I will convince all political parties to unite and join him at the Islamabad sit-in to save the country from collapse and for revival of true democracy."
After his press conference, Fazl addressed a gathering at Fatima Jinnah Road and sounded optimism for a considerable support for the sit-in which he said would remain peaceful.He said the 18th Amendment was introduced for the best interest of provinces and all political parties would resist government move to scrap it.
He said the JUI-F would gather at Bab-e-Khyber on April 21 and in Mansehra on April 28 before moving to Islamabad for a "historic million march."
Full report at:
https://www.dawn.com/news/1473113/fazl-musters-support-for-islamabad-sit-in
--------
Europe
Pope urges Catholics in Morocco to dialogue, not proselytize
March 31, 2019
RABAT: Pope Francis sought to encourage greater Christian-Muslim dialogue on Sunday, telling his flock that showing the country's Muslim majority they are part of the same human family will help stamp out extremism.
On his second and final day in Morocco, Francis told Catholic priests and sisters that even though they are few in number, they shouldn't seek to convert others but rather engage in dialogue and charity.
"In this way, you will unmask and lay bare every attempt to exploit differences and ignorance in order to sow fear, hatred and conflict," he said. "For we know that fear and hatred, nurtured and manipulated, destabilize our communities and leave them spiritually defenseless."
Francis has stressed a message of Christian-Muslim fraternity during his first trip to Morocco, a majority Muslim nation of 36 million. Proselytism is a prominent issue in religious discourse in the north African country, even though Christians, Muslims and Jews have coexisted peacefully here for centuries.
After reaching out to the Sunni majority and Morocco's ever growing community of migrants from countries in sub-Saharan Africa on Saturday, Francis turned his attention Sunday to Christian minorities. His aim was to highlight their constructive presence in Moroccan life.
Francis visited a social center run by Catholic religious sisters that serves a poor Muslim community south of the capital, Rabat, with medical, educational and vocational services. The Temara center operates a pre-school, treats burn victims, trains women in tailoring and provides meals for 150 children a day.
Catholic catechism isn't taught at the pre-school.
"Their teachers are all Muslims and speak in Arabic and they prepare them on Muslim religion," said sister Gloria Carrillero. "We did not come here with the purpose of doing proselytism. We came here just to help."
Catholics represent less than 1 percent of Morocco's population and most are foreign-born migrants. Morocco also has between 2,000 and 6,000 homegrown converts to Christianity who are obliged to practice their faith privately because Morocco prohibits Muslim conversions.
These Moroccan converts often celebrate Masses in their homes and hide their religious affiliations for fear of prosecution and arrest. Yet many flocked to Francis' afternoon Mass in a Rabat sports stadium with the hope the pope's visit would compel Moroccan authorities to be more tolerant of religious diversity.
"With this visit, we want to tell the pope and the Moroccan society that we are proud to be Christians," said Moroccan Christian Adam Rbati, who was attending the Mass with his Christian wife and newborn son. "It might not change much, but it will certainly create the space for future positive change."
Francis touched on the issue of religious freedom in his opening speech to King Mohammed VI on Saturday, urging Morocco to move beyond just freedom of worship to true respect for an individual's faith.
Catholics represent less than 1 percent of Morocco's population and most are foreign-born migrants. Morocco also has between 2,000 and 6,000 homegrown converts to Christianity who are obliged to practice their faith privately because Morocco prohibits Muslim conversions.
These Moroccan converts often celebrate Masses in their homes and hide their religious affiliations for fear of prosecution and arrest. Yet many flocked to Francis' afternoon Mass in a Rabat sports stadium with the hope the pope's visit would compel Moroccan authorities to be more tolerant of religious diversity.
"With this visit, we want to tell the pope and the Moroccan society that we are proud to be Christians," said Moroccan Christian Adam Rbati, who was attending the Mass with his Christian wife and newborn son. "It might not change much, but it will certainly create the space for future positive change."
Francis touched on the issue of religious freedom in his opening speech to King Mohammed VI on Saturday, urging Morocco to move beyond just freedom of worship to true respect for an individual's faith.
http://www.arabnews.com/node/1475426/middle-east
--------
Any resolution of Syria conflict must guarantee its territorial integrity: UN
Mar 31, 2019
Secretary General of the United Nations Antonio Guterres has stressed the importance of guaranteeing Syria's sovereignty and territorial integrity in any resolution on the conflict in the Arab country.
"Any resolution of the Syrian conflict must guarantee the unity, [and] the territorial integrity of Syria, including the occupied Golan," he said in an address to an Arab League summit in the Tunisian capital of Tunis on Sunday.
As "millions of Syrians remain displaced and in need, and tens of thousands are arbitrarily detained…we must keep working to forge a political path to a sustainable peace in which all Syrians are heard, grievances are addressed, and needs are met," he added.
Guterres' remarks came days after US President Donald Trump broke decades of international consensus and formally recognized Israeli "sovereignty" over the occupied Golan Heights, a border area the Tel Aviv regime seized from Syria in 1967.
"This was a long time in the making. Should have taken place decades ago," Trump said while signing the proclamation in the presence of Israeli Prime Minister Benjamin Netanyahu and Trump's Jewish son-in-law and adviser, Jared Kushner, in the White House in Washington, DC.
However, a Wednesday meeting of the UN Security Council turned into another stage for the isolation of the US, as other countries on the council opposed Trump's move on Golan.
Addressing the meeting, Syria's Ambassador to the United Nations Bashar Jaafari lashed out at President Trump's recognition, describing the move as part of a "criminal project" aimed at prolonging chaos and destruction in the region.
"This is a criminal project or plan for which the US government and its allies have used all tools at their disposal," Jaafari said, adding that the plan is aimed at guaranteeing chaos and destruction in the region, and dividing the people of the region on religious and ethnic basis in order to "build a new reality."
Syria has repeatedly reaffirmed its sovereignty over Golan, saying the territory must be completely restored to its control.
Elsewhere in his Sunday address, the UN chief said the Middle East faces "turbulent winds" from "the wars in Yemen and Syria," to "the rise and fall of Daesh" and "the persistent denial of the right to self-determination for the Palestinian people."
"I strongly appeal for the unity of the Arab world as a fundamental condition for peace and prosperity in the region, and to avoid leaving the region vulnerable to interference by foreign parties with destabilizing effects," Guterres said, calling for a regional vision rooted in cooperation, respect and mutual interest.
He recognized the need to "untangle the Gordian knot of insecurity, allow no space for sectarianism, and deliver the peace, stability and effective, responsive governance that the people of the region deserve."
Guterres further pointed to the Stockholm agreement aimed at solving the conflict in Yemen and said, "Following last December's breakthrough in Stockholm, we continue to work closely with the parties to achieve progress towards the redeployment of forces in Hudaydah and the opening of humanitarian corridors on the way to a political solution for Yemen."
Back in December, representatives from the Houthi Ansarullah movement and the Riyadh-sponsored government of ex-president, Abd Rabbuh Mansur Hadi, reached the truce deal during UN-mediated peace talks in Sweden.
Under the deal, they agreed to the withdrawal of their troops and the deployment of UN monitors to the port city, a lifeline for millions of Yemenis.
Lebanese President Michel Aoun told the Arab League summit that Beirut was threatened by Trump's decision to recognize Israel's illegal annexation because the Tel Aviv regime was still occupying some Lebanese lands.
"This decision does not only threaten the sovereignty of a brotherly state [Syria], but rather threatens as well the sovereignty of the Lebanese state, which owns lands that were gradually bitten off by Israel," Aoun said.
"How can we, small countries, feel reassured anymore when international charters and rights are being undermined, and when the international legitimacy which governs the UN-recognized borders between states is being challenged?"
Tel Aviv considers Shebaa Farms part of the occupied Golan while both Damascus and Beirut say the area is Lebanese.
US Golan move raises alarm in Lebanon over Shebaa Farms
King Salman: Saudi rejects Trump's move
Also speaking at the summit, Saudi King Salman rejected any measures that undermine Syrian sovereignty over the Golan Heights.
"We reaffirm our absolute rejection of any measures that encroach upon Syrian sovereignty over the Golan, and we stress the importance of reaching a political solution to the Syrian crisis that will guarantee Syria's security, unity and sovereignty and prevent foreign intervention."
Salman said the Riyadh regime still supported the establishment of a Palestinian state in the West Bank and the Gaza Strip, with East Jerusalem as its capital.
Mogherini: Ignoring UN resolutions on Golan Heights 'not a solution'
Addressing the Arab League summit, European Union foreign policy chief, Federica Mogherini, said that ignoring United Nations Security Council resolutions on the Golan Heights was "not a solution."
She also said a two state solution for Israel and Palestine was "the only viable and realistic solution ... we have a responsibility to prevent the two state solution from being irreversibly dismantled."
"Any future plan will have to recognize the internationally agreed parameters including on the 1967 lines with mutually agreed swaps, and the status of Jerusalem [al-Quds] as the future capital of the two states," she pointed out.
US trying to sabotage Arab Peace Initiative for Palestine: Abbas
Palestinian President Mahmoud Abbas warned Arab leaders that the Trump administration was going to "destroy" the Arab Peace Initiative by letting Israel annex portions of the West Bank.
"The US will tell Israel, annex part of the Palestinian lands and grant self-rule to what's left of the land, and give the Gaza Strip a state so that Hamas can play there," he said.
"The US administration's decision is to destroy the Arab Peace Plan and constitutes a dramatic change from the positions of previous US administrations," Abbas continued.
The Arab Peace Initiative, proposed by Saudi Arabia in 2002, calls on Israel to agree to a two-state solution along the 1967 lines and a "just" solution to the Palestinian refugee issue. The initiative has been repeatedly endorsed by the Arab League in 2002, 2007, and 2017.
Trump ended a two-decade US commitment to the establishment of a Palestinian state in February 2017, when he said the two-state solution was only one of Washington's options for resolving the conflict.
"I'm looking at two-state and one-state and I like the one that both parties like. I'm very happy with the one that both parties like," he said at a joint press conference with Israeli Prime Minister Benjamin Netanyahu at the White House.
The Trump administration has been promoting what it refers to as the "deal of the century," which Palestinians say is a collection of tried and failed ideas that ultimately serve Israel's interests.
Trump can't solve Israel-Palestine issue: Bolton
Arab League summit must send message on Palestinian state: Tunisia
Tunisian President Beji Caid Essebsi, for his part, said the Arab League summit in Tunis must send a message on the importance of establishing a Palestinian state.
He added that regional and international stability should come through "a just and comprehensive settlement that includes the rights of the Palestinian people and leads to the establishment of a Palestinian state with [East] Jerusalem [al-Quds] as its capital."
Qatari Emir walks out of summit
Meanwhile, Qatari Emir Tamim bin Hamad Al Thani abruptly left the opening session of the summit without delivering his welcoming remarks, Qatar News Agency reported.
According to the report, the emir headed to the airport and sent a message to Essebsi, thanking him for Tunisia's hospitality during his stay.
The emir is said to have left the summit after Arab League Secretary-General Ahmed Abul Gheit lauded Saudi Arabia for its handling of the League's rotating presidency last year.
Full report at:
https://www.presstv.com/Detail/2019/03/31/592279/Arab-League-Tunis-Guterres-Mogherini-Golan-Heights-Beji-Caid-Essebsi-Palestine
--------
New Zealand shooters back gun control after massacre
April 01, 2019
WELLINGTON: New Zealand will crack down on firearms ownership this week after the Christchurch mosques massacre that claimed 50 lives — and the Kiwi gun lobby, for the most part, is okay with that.
In stark contrast to the United States, where even the most minor curbs on gun ownership meet ferocious opposition led by the National Rifle Association, New Zealand gun owners agree action is needed.
The March 15 rampage by a white supremacist gunman has been a shock to the collective system.
"We want to support our government in any changes to prevent a terrorist attack from happening in New Zealand again," Nicole McKee, secretary of the Council of Licensed Firearm Owners said.
Prime Minister Jacinda Ardern's government announced an immediate ban on military-style semi-automatic rifles (MSSAs) after the shooting and will put laws to parliament formalising its action on Tuesday.
Finalizing such legislation can often take months but Ardern says the matter is so urgent it will be done by April 11.
Further curbs — potentially including a gun register, tighter vetting and stricter gun storage rules — are set to be passed by the end of the year.
In a move that would be unthinkable in the United States, one of New Zealand's largest gun retailers, Hunting & Fishing, voluntarily stopped selling MSSAs and halted online firearms sales.
"Such weapons of war have no place in our business — or our country," chief executive Darren Jacobs said.
New Zealand has its own National Rifle Association, but since the shooting, it has been at pains to point out it is a small sporting organization, not a wealthy political lobby group like its American counterpart.
"Our members shoot with single-shot bolt action rifles at paper targets," president Malcolm Dodson said.
Another office holder has told media the New Zealand NRA is considering changing its name to avoid any association with the American body.
On the surface, New Zealand and the United States share many historical similarities, but they have a fundamentally different attitude toward firearms.
Both are former British colonies that fought bitter wars against indigenous populations and forged an individualistic frontier mentality.
However, statistics highlight the difference.
In 2016, New Zealand, with a population of about 4.7 million, had nine firearms-related homicides.
In the United States, population approximately 327 million, there were 14,415, more than two hundred times the per capita rate as New Zealand.
There are approximately 393 million guns in private hands in the United States, or 1.2 for every person, whereas New Zealand has about 1.5 million, or 0.3 per person.
The New Zealand government believes there are 13,500 MSSAs in the country, while estimates put the number in the US at 15 million.
Philip Alperts, a gun policy researcher at the University of Sydney, said the crucial difference between New Zealand and the United States was the US Constitution's Second Amendment, which guarantees the right to keep and bear arms.
Alperts, himself a Kiwi, said countries such as New Zealand viewed gun ownership as a privilege, while in America it was seen as an inalienable right.
"We have a population who, when they traveled to America would get off the plane and be absolutely horrified to see people walking around with a gun," he said, adding that safety was at the center of New Zealand gun culture.
Journalist Dawn Picken covered scores of shooting deaths in the United States and once had bullets lodged in her bedroom when a random gunman opened fire on her apartment building in Spokane, Washington state.
She said she had found a different mindset since moving to New Zealand in 2011.
"It was quite refreshing as an American to come here and hear Kiwis who own guns say 'I don't think they should be easy to get and it's not my right, they should check I'm not predisposed to violence or going to go off the rails," she said.
However, like anywhere, New Zealand has a vocal fringe element.
"Tyrant Prime Minister Kills Sports Shooting," screams the headline on one prominent pro-gun website.
But former police minister Judith Collins had a blunt message for the US NRA and any other gun lobbyists who tried to inject themselves into New Zealand's gun control debate: "Bugger off."
The difference in gun cultures has played out on social media since the Christchurch shooting.
When a right-wing US website tweeted that "armed government thugs" were carrying out door-to-door gun confiscations in New Zealand, dozens of Kiwis left mocking replies.
Full report at:
http://www.arabnews.com/node/1475721/world
--------
Mideast
Hamas, Israel take first steps toward Gaza cease-fire deal
1 April 2019
A cease-fire deal appeared to take hold between Israel and Gaza's Hamas rulers on Sunday, with Israel expanding the permitted fishing zone and easing some tight restrictions on movement through its two main crossings with the Palestinian enclave.
Egyptian mediators have worked in recent days to broker a cease-fire agreement, but talks have been repeatedly interrupted by Palestinian rocket attacks and Israeli military reprisals.
The violence has heightened tensions just over a week before Israeli national elections.
In a sign that Egyptian efforts have made progress, the Gaza fishermen's committee said Israel would be extending the permitted fishing zone along the Mediterranean coast to a maximum of 15 nautical miles (28 kilometers), up from the previous limit of nine nautical miles (17 kilometers). Fishing had been off-limits since Gaza militants launched a rocket toward Tel Aviv
last week, touching off rounds of short but intense cross-border fighting between the bitter enemies.
Israeli officials confirmed that the reopening of the fishing zone would go into effect Monday.
The lifting of some restrictions on the passage of people and cargo in and out of Gaza further indicated a strengthening of the cease-fire, which Hamas officials say would see Israel easing its blockade in exchange for guarantees of quiet.
Israeli and Hamas officials confirmed that the Erez and Kerem Shalom border crossings were re-opened, in a very restricted fashion, for the first time since violence flared up last Monday.
The first steps toward the restoration of calm were nonetheless punctuated by exchanges of fire along the border. Just hours after Israel announced the re-opening of its main Gaza crossings Sunday, a mortar shell was launched from the Gaza Strip toward Israel, the army said.
The projectile did not cross into Israeli territory but did set off air-raid sirens in the country's south.
There was no immediate claim of responsibility, and no immediate Israeli response.
https://english.alarabiya.net/en/News/middle-east/2019/04/01/Hamas-Israel-take-first-steps-toward-Gaza-cease-fire-deal.html
--------
Yemeni forces target Saudi bases in Jizan, Asir with 7 missiles, causing casualties
Apr 1, 2019
The Yemeni army and fighters from allied Popular Committees have launched several missiles at Saudi military positions in the kingdom's southern regions in retaliation for Riyadh's deadly military campaign against their country.
The Yemeni forces fired five Zelzal-1 (Earthquake-1) missiles at Saudi military positions near Alab border crossing in the kingdom's southwestern region of Asir on Sunday, Yemen's al-Masirah news website reported.
A military source said that the attack left an unspecified number of Saudi troops dead and injured, the report added. Saudi authorities usually keep the number of their war casualties a secret.
The Yemeni forces fired two more missiles at military positions east of al-Nar Mountain in Jizan.
Just days earlier, they foiled a massive Saudi offensive in the city of Sa'ada, killing at least 90 mercenaries and injuring over 100 others.
Riyadh, under the order of its de-facto ruler Crown Prince Mohammed bin Salman, leads a coalition of Arab nations -- including the United Arab Emirates (UAE) -- that began indiscriminately pounding targets across Yemen in March 2015, with the aim of crushing the Houthi Ansarullah movement and bringing former president Abd Rabbuh Mansur Hadi's government back to power.
According to a new report by the Armed Conflict Location and Event Data Project (ACLED), a nonprofit conflict-research organization, the Saudi-led war has so far claimed the lives of about 56,000 Yemenis.
The Saudi-led war has also taken a heavy toll on the country's infrastructure, destroying hospitals, schools, and factories. The UN has warned that a record 22.2 million Yemenis are in dire need of food, including 8.4 million threatened by severe hunger. According to the world body, Yemen is suffering from the most severe famine in more than 100 years.
A number of Western countries, the US and Britain in particular, are also accused of being complicit in the ongoing aggression as they supply Riyadh with advanced weapons and military equipment as well as logistical and intelligence assistance.
Houthis and their allies, however, remain steadfast in their resolve to fight off the enemy with a powerful arsenal of domestically-developed missiles that have struck as far as the Saudi capital.
UAE building military base in Yemen's Socotra
According to Al-Quds Al-Arabi newspaper, a video circulating on social media shows Emirati forces constructing a private port inside a military base they have been building near Socotra Island's main port, which is run by Hadi loyalists.
Socotra, located near Somalia in the Gulf of Aden, is protected by the United Nations cultural agency UNESCO as a world heritage site, meaning that even the Yemeni government is not allowed to interfere in the natural habitats and places of natural beauty in the area.
In May, UAE forces landed in Socotra along with tanks, armored transports and heavy equipment in a move that sparked the anger of the island's residents.
Yemeni websites also reported that the Emirati troops operate a private port in Yemen's Mukalla to transport detainees and unknown materials to and from the city. The port in Mukalla is also used to transport the American investigators who are interrogating Yemeni detainees held in secret prisons run by the UAE, the sources added.
Full report at:
https://www.presstv.com/Detail/2019/04/01/592316/Yemeni-missiles-hit-Saudi-force
--------
Israel to approve over 1,400 settler units in West Bank: Report
Mar 31, 2019
Israeli officials were expected to approve more than 1,400 new settlement units on Sunday and to announce plans to build thousands more next week in the occupied West Bank, a report says.
The Palestinian Ma'an news agency, citing a report by the Israeli daily Haaretz, said on Sunday that an Israeli body overseeing settlement construction was expected to approve the building of 1,427 settler units across the West bank later in the day.
Ma'an also quoted some unnamed sources as saying that the Israeli body would also announce plans to construct 3,500 other settler units and possibly approve an additional 1,500 ones in the region in the coming week.
Since 1967, the Israeli regime has been uprooting Palestinians from their homes under various pretexts, grabbing more and more land.
According to Peace Now, an Israeli anti-settlement NGO that monitors settlement activity in the West Bank, since US President Donald Trump came to power in early 2017, more than 14,450 settler units in the West Bank have been approved. That figure is over three times the number of units approved in the year and a half before his inauguration — some 4,475 units.
Less than a month before Trump took office, the United Nations Security Council (UNSC) adopted Resolution 2334, calling on Israel to "immediately and completely cease all settlement activities in the occupied Palestinian territories, including East Jerusalem" al-Quds.
About 600,000 Israelis live in over 230 illegal settlements built since the 1967 Israeli occupation of the Palestinian territories of the West Bank and East Jerusalem al-Quds.
Under Israeli Prime Minister Benjamin Netanyahu, the Israeli regime has been building settlements more deeply into Palestinian lands, in an attempt to diminish chances of the establishment of a Palestinian state.
Full report at:
https://www.presstv.com/Detail/2019/03/31/592280/Palestine-Israel-West-Bank-settler-units-Trump
--------
Yemen's army shoots down another Houthi drone
March 31, 2019
DUBAI: Yemen's army shot down the fourth Houthi drone in March while it was in Nihm district of the Sanaa governorate airspace, Saudi news agency SPA reported on Saturday.
This is the seventh drone the army shoots down in Nihm since the start of the year, sources said.
Earlier this month, the Saudi-led Arab coalition raided two caves in Sanaa used by Houthi militants to store drones.
Coalition spokesperson Colonel Turki Al-Malki said the militia was planning to use the drones hidden in the caves for "terrorist operations."
Last week's raid was part of previous military operations which started in January and targeted Houthi drone networks and foreign experts helping the militants.
Full report at:
http://www.arabnews.com/node/1475346/middle-east
--------
South Asia
Cold homecoming for Afghans paid by Iran to fight in Syria
31 March 2019
Too poor to even buy pens and notebooks for school, Mehdi left his home in Afghanistan soon after his 17th birthday and headed to Iran, hoping to make his way to Europe and find work.
Instead, Mehdi ended up fighting in Syria's civil war, a conflict he had nothing to do with, 2,000 km from home. He was one of tens of thousands of Afghans recruited, paid and trained by Iran to fight in support of Tehran's ally, Syrian President Bashar Assad.
There, he found himself thrown into one of the war's bloodiest front lines, surrounded by the bodies of his comrades, under fire from ISIS extremist group so close he could hear their shouts of "Allahu akbar" ("God is greatest") before each mortar blast.
Iran ran an extensive drive to bring Shiites from across the region and create a network of militias to help save Assad from the uprising against his rule - not only Afghans but also Pakistanis, Iraqis and Lebanese.
Now with the 8-year war in Syria winding down, the question is what will Tehran do with those well-trained, well-armed forces.
Mehdi and other soldiers-for-hire from Afghanistan's impoverished Shiite Muslim communities are returning to their homeland, where they are met with suspicion. Afghan security officials believe Iran is still organizing them, this time as a secret army to spread Tehran's influence amid Afghanistan's unending conflicts.
"Here in Afghanistan we are afraid. They say we are all terrorists," said Mehdi, now 21 and back in his home city of Herat. He spoke on condition he not be fully identified for fear of retaliation.
He wouldn't meet The Associated Press at home or in public - only in a car parked in a remote, mostly Shiite neighborhood. Even there, Mehdi kept his face obscured with a scarf, glancing suspiciously at every passing car.
Afghans return to Afghanistan at the Islam Qala border with Iran, in the western Herat Province. (AP)
Afghan veterans returning from Syria are threatened from multiple sides. They face arrest by security agencies that view them as traitors. And they face violence from the brutal ISIS affiliate in Afghanistan, which views Shiites as heretics and vows to kill them.
Last May, ISIS gunmen burst into Herat's Jawadia Shiite mosque, opening fire and setting off their suicide belt explosives among worshippers, killing 38 people.
Just knowing people who fought in Syria can land someone in jail, said a local elder in a village near Herat. He spoke on condition of anonymity for that reason.
Eight men from his village were killed fighting in Syria, but there are no graves for them here. All were buried in Iran, he said.
Iran intensified its role in Syria when Assad appeared to be losing the fight against rebels in 2013 and 2014.
Tehran sent hundreds of Revolutionary Guard troops and began bringing in allied militias. The most well-known and most powerful was Lebanon's Hezbollah.
But the largest was the force made up of Afghans, known as the Fatimiyoun Brigade, which experts have estimated numbered up to 15,000 fighters at any one time.
Over the years, tens of thousands of Afghans likely trained and fought in it. Most of them are from Afghanistan's ethnic Hazara minority, who are among the country's poorest.
Roughly 10,000 veterans of the brigade have returned to Afghanistan, says a senior official in Afghanistan's Interior Ministry who is familiar with government intelligence. The official was not authorized to brief reporters and spoke on condition of anonymity.
Afghan intelligence agencies
The Afghan government and many experts believe Iran could mobilize these ex-fighters once more to assert its influence in Afghanistan, particularly as the United States accelerates its efforts to end its nearly 18-year military intervention.
"Expect the Iranians to reconstitute their militias inside Afghanistan at some point," warned Bill Roggio, editor of the Long War Journal, a site devoted to coverage of the US war on terror.
He added: "Iran does not discard assets in which it invests time, treasure and expertise."
Afghanistan is already tormented by an overabundance of armed groups, many divided on ethnic lines.
They include militias loyal to several warlords, who are aligned with the government but often at odds with each other.
There are also the Sunni militants: Taliban insurgents rule in nearly half the country, and ISIS affiliate has proven to be a stubborn enemy, even in the face of relentless US bombing raids.
All those factions could turn their massive arsenals on each other after a US and NATO withdrawal.
It has happened before. In the early 1990s, factions of the US-backed mujahedeen who took power after the Soviet withdrawal turned on each other in fighting that leveled large parts of the capital, Kabul, and killed an estimated 50,000 people.
Iran will likely seize on any turmoil to mobilize the Fatimiyoun with the very real pretext that Afghan Shiites need a defender, said Michael Kugelman, Asia Program deputy director at the Washington-based Wilson Center.
If Afghanistan is plunged into more unrest, "the Iranians would have a strong motivation to help a Shia force that would face intensified threats from the Taliban and especially ISIS," he said.
Iran is already supporting Syria war veterans living in Kabul and in central Afghanistan's Hazara-dominated region of Bamiyan, said the Interior Ministry official.
He said Afghan intelligence agencies have identified senior Iranian government officials who are "managing the activities" of returning fighters, including providing them arms and money and building a structure for quick re-mobilization if needed.
Afghan warlord Abdul Gani Alipur, an ethnic Hazara, is also implicated in aiding Iran, he said.
Alipur was arrested late last year on charges of having an illegal militia, but he was released after thousands of Hazaras protested.
Reza Kasimi, a researcher with the independent Kabul-based research group, Afghanistan Analysts Network, speaks during the interview. (AP)
Most of those who joined the Fatimiyoun Brigade were driven by hopelessness and poverty, not loyalty to Iran, said Reza Kasimi, a researcher with the independent Kabul-based research group, Afghanistan Analysts Network.
"The first thing is that most of these people don't see a future for themselves in Afghanistan," he said.
When Mehdi went to Iran in 2015, he worked, mostly on construction sites, to earn enough money to make a run for Europe. But by the time he did, Europe's borders had closed.
"I was very disappointed. I had come to Iran to go to Europe, to study, to have a better life, but I was still there, with nothing," Mehdi said.
An Afghan friend suggested they enlist for Syria. As a fighter for Iran, they could earn the equivalent of $900 a month. At the time Mehdi was making barely $150 a month.
'Live or die'
"I thought about it and I made my heart strong, like a raging river," Mehdi said. "I decided, 'Live or die, I'll go."
They reported to a recruitment center in Tehran. There, officials gathered his personal details - the names of his parents and relatives and the street where he lived in Herat. "I understood they wanted all that information if I died," he said.
He and other Afghan recruits were flown the next day to Iran's southern Yazd province, where they underwent 27 days of training under the Revolutionary Guard. Mehdi's marksmanship impressed the trainers, and he was made a sniper.
When it was over, Mehdi was flown to Damascus with around 1,600 other new recruits.
In Damascus, the recruits opened bank accounts where their salary would be deposited. They were taken to the shrine of Sayeda Zeinab, a site outside Damascus revered by Shiites, for final blessings before battle. The next day, they were taken by bus to the northern city of Aleppo and sent immediately to the front.
There, Mehdi was thrown into one of the fiercest battles of the war - a campaign that began in the spring of 2016 against extremist militant factions, including the al-Qaeda-linked al-Nusra Front, over the town of Khan Toman and nearby villages on Aleppo's edge.
It was a fight that showed the international nature of the war. Among the militants were Syrians, Iraqis, Chechens, Turkmens, Uzbeks and other foreign fighters; on the other side were Syrian government troops, Iranian soldiers, Lebanese Hezbollah fighters, Iraqi Shiites and Afghans, backed by Russian warplanes - all battling for a piece of Syrian land.
The fighting went on for months and it is estimated hundreds on both sides were killed or wounded. On a single day, militants killed an estimated 80 pro-government fighters, including at least 13 Iranians and dozens of Afghans, Iraqis and Lebanese. In the end, the militants held Khan Toman, as they do to this day.
Mehdi described terrifying bloodshed. He said in one battle, 800 Afghans were sent to the front line and only 200 returned alive and unwounded. "Often in the morning I saw seven, eight dead bodies." he said.
He added: "For the first couple of days I was very scared. The explosions were so loud."
Another Afghan veteran of the same battle, Abdullah, said he still has nightmares of the dead, their limbs missing.
He said the Afghans were sent as cannon fodder. "I saw Afghan fighters rolled over by tanks the way someone steps on ants," he told the AP in Kabul.
He added: "Dead bodies were scattered everywhere."
Mehdi returned to Afghanistan a year ago, and his life has changed little from when he left. He remains poor and unable to find a job.
After nearly 18 years and more than $1 trillion spent by the United States, Afghans are only getting poorer.
According to a 2016-17 Afghanistan Living Conditions Survey, co-sponsored by the European Union, 55 percent of Afghans live below the poverty level, compared to 38 percent in 2011-12.
Mehdi spoke bitterly of his lack of options. He's considering re-enlisting for Syria. The brigade is still operating there, and some Afghan veterans stayed in Syria to find jobs, mostly in construction.
He said: "I don't know what my future brings. Maybe I become a thief or maybe I go back to Syria."
https://english.alarabiya.net/en/features/2019/03/31/Cold-homecoming-for-Afghans-paid-by-Iran-to-fight-in-Syria.html
--------
Qatar reacts to Taliban militants attack on Afghan Vice President's convoy in Balkh
31 Mar 2019
The government of Qatar has reacted to Taliban militants attack on convoy of First Vice President General Abdul Rashid Dostum in northern Balkh province.
"The State of Qatar expressed its strong condemnation and denunciation of the assassination attempt against First Vice-President of Afghanistan Abdul Rashid Dostum, in which four of his bodyguards were killed and six others were injured," the Foreign Ministry of Qatar said in a statement.
The statement further added that the Ministry of Foreign Affairs expresses the State of Qatar's firm stance on rejecting violence and terrorism regardless of the motives and causes. "It considered the attempt an unaccepted criminal act, stressed the importance of arresting those involved in it and bringing them to justice."
The 209th Shaheen Corps had earlier issued a statement, stating that the Taliban militants had laid an ambush against the convoy of Gen. Dostum at around 5:00pm local time on Saturday in Alam Khel, Margin Tapa, Sharsharak, Khanabad, Slaiman Khel, Joi Uzbek, Timorak, and Choba villages of Chahar Bolak district.
The statement further added that the Afghan Special Forces who were conducting operations in the area were deployed to support the security guards of Gen. Dostum.
According to 209th Shaheen Corps, at least 4 Taliban militants including their commander Zalmai alias Sangari were killed and 7 others were wounded
Full report at:
https://www.khaama.com/qatar-reacts-to-taliban-militants-attack-on-afghan-vice-presidents-convoy-in-balkh-03614/
--------
Gen. Miller reaffirms support to Afghan forces, reiterates continued war against terrorism
01 Apr 2019
The Commander of the NATO-led Resolute Support Mission and the U.S. Forces in Afghanistan Gen. Scott Miller reaffirmed the alliance's support to Afghan armed forces while reiterating continued war against terrorism.
The Office of Chief Executive of the Government of National Unity in a statement said Chief Executive Abdullah Abdullah met with the Commander of the Resolute Support Mission and U.S. Forces in Afghanistan Gen. Scott Miller in Spidar Palace this afternoon.
The statement further added that Gen. Miller the coalition supports ongoing peace efforts, emphasizing that the coalition will continue supporting the Afghan armed forces and will maintain counter-terrorism operations besides supporting reconciliation efforts, describing a fair and lasting peace agreement as the main demand of the Afghan nation.
Gen. Miller also added that Afghanistan, the United States, and NATO maintain a strong relationship based on joint values and interests.
Full report at:
https://www.khaama.com/gen-miller-reaffirms-support-to-afghan-forces-reiterates-continued-war-against-terrorism-03616/
--------
17 Taliban militants killed, wounded in coalition airstrikes in Helmand province
31 Mar 2019
At least 17 Taliban militants were killed or wounded in separate airstrikes conducted by coalition forces in Nad-e-Ali and Nahr-e-Saraj districts of Helmand province.
The provincial government media office in a statement said the first airstrike was carried out at around 12am local time on Sunday, targeting a Taliban compound which left 4 militants dead and another militant wounded.
The statement further added that the second airstrike was carried out at around 2am local time in Nahr-e-Saraj district which also targeted a Taliban compound.
At least 10 militants were killed and two others were wounded in the second airstrike, the provincial government added in its statement.
Full report at:
https://www.khaama.com/17-taliban-militants-killed-wounded-in-coalition-airstrikes-in-helmand-province-03615/
--------
Taliban militants suffer heavy casualties during the latest counter-terrorism operations
31 Mar 2019
The Taliban militants have suffered heavy casualties during the latest operations of the Afghan Special Forces and airstrikes which were conducted in Ghazni, Uruzgan, Kandahar, and Helmand provinces in past 24 hours.
According to informed military sources, at least 3 Taliban militants including one of their senior commanders were killed in Special Forces operations and airstrikes which were conducted in Jaji and Qarabagha districts of Ghazni province.
Similar operations were conducted in Tainkot city of Uruzgan province leaving at least 30 militants dead, 1 wounded. The soldiers also found and destroyed 13 IEDs and IED making material.
Afghan Special Forces conducted a raid on a suspected Taliban IED-making facility in Maywand district of Kandahar province killing 3 Taliban fighters, the sources said, adding that Afghan Special Forces conducted a raid in Sangin district of Helmand province and arrested 4 Taliban fighters and leaders.
Full report at:
https://www.khaama.com/taliban-militants-suffer-heavy-casualties-during-the-latest-counter-terrorism-operations-03612/
--------
11 ISIS Khurasan militants killed, wounded in Nangarhar airstrikes
28 Mar 2019
At least eleven militants affiliated with the Islamic State of Iraq and Syria Khurasan (ISIS-K) were killed or wounded in separate airstrikes conducted in eastern Nangarhar province of Afghanistan.
According to informed military sources, the airstrikes were carried out in Achin and Deh Bala districts of Nangarhar province in past 24 hours.
The sources further added that five of the militants were killed in Achin while 4 others were killed in Deh Bala district.
"Airstrikes in Achin district of Nangarhar killed 5 ISIS-K fighters and wounded another," the sources said, adding that similar airstrikes in Deh Bala district killed 4 ISIS-K fighters and wounded another.
Full report at:
https://www.khaama.com/11-isis-khurasan-militants-killed-wounded-in-nangarhar-airstrikes-03594/
--------
Afghan official: Taliban strike checkpoints in north, kill 5
April 01, 2019
KABUL, Afghanistan: An Afghan official says the Taliban stormed two checkpoints in northern Sari Pul province, killing at least five members of the security forces and setting of an hours-long gunbattle.
Zabihullah Amani, spokesman for the provincial governor, say the attack in the province's Sozma Qala district started late on Sunday night. The fighting lasted until Monday morning and also left two troops wounded.
Amani says the insurgents captured six soldiers before fleeing the scene. Their fate remains unknown. The checkpoints were retaken and the area was brought under control once reinforcements arrived.
Full report at:
http://www.arabnews.com/node/1475811/world
--------
Southeast Asia
Saudi Ambassador: Saudi Arabia and Malaysia Agree On How to Fight Extremism
April 01, 2019
RIYADH: The Saudi ambassador to Malaysia, Mahmoud Qattan, attended the opening ceremony of the Kingdom's pavilion at the 38th Kuala Lumpur International Book Fair on Sunday.
The fair, at the World Trade Centre in the Malaysian capital, will run until April 8.
Qattan was received by Dr. Khalid Al-Mutlaq, the cultural attache at the Saudi Embassy and the pavilion's supervisor. He touched upon the historical relations between the Kingdom and Malaysia, which were solidified by the visit of the late King Faisal bin Abdul Aziz to the country in 1974, and the subsequent joint work between the two that eventually led to the establishment of the Organization of Islamic Cooperation.
He added that the Kingdom and Malaysia hold a shared view on the future of Islam, based on moderation, tolerance and the rejection of extremism. He also praised the work of the Saudi Ministry of Islamic Affairs, Dawah and Guidance, represented by the religious attaché in Malaysia, which has helped to fund and provide moderate preachers to work in Malaysian universities and religious institutions for several years.
After the opening ceremony, Qattan toured the exhibition and discussed the selection of books on moderate Islam and rejecting extremism, praising the wide range of subjects and that multiple texts in different languages were also available.
http://www.arabnews.com/node/1475646/saudi-arabia
--------
Daesh-linked men arrested far from Philippine militant bases
April 01, 2019
MANILA: Philippine police say two extremist have been arrested with guns, explosives and Daesh group-style black flags in a northern province far from the traditional lairs of militants in the volatile south.
National police chief Gen. Oscar Albayalde said Monday the arrest last week of the two militants in Baggao town in Cagayan province in the northern tip of the main Luzon island was not an indication that Daesh-linked militants have been able to expand their presence far beyond their traditional southern bases.
Full report at:
http://www.arabnews.com/node/1475826/world
--------
Nurul Izzah: Govt's first year performance vital to show political change commitment
31 March 2019
By Emmanuel Santa Maria Chi
KUALA LUMPUR, March 31 — The first year in power for any new government is the most vital as it sets the tone for the administration's commitment towards political change and reforms, said Nurul Izzah Anwar today.
"We have to understand the first year in any transition of power is a very important year.
"That is the year that we can see their political commitment to make sure changes actually happen," said the Permatang Pauh MP when asked for her view on the reforms undertaken by the Pakatan Harapan (PH) administration
She was speaking to reporters after the launch of six books published by Angkatan Belia Islam Malaysia (Abim) at the Putra World Trade Centre today.
Among the six included one titled Anwar Ibrahim: Semangat Darah Muda, a memoir of reform aspirations published by Abim in collaboration with Datuk Seri Anwar Ibrahim.
Nurul Izzah and her opinions on reforms have made headlines the past week, after she announced her resignation from all government and political party positions, citing her dissatisfaction at the sluggish pace of reforms as one of her reasons.
Nurul Izzah had said she would also not seek re-election at the next general elections.
She also caused another stir last week when she labelled Prime Minister Tun Dr Mahathir Mohamad a 'former dictator' during an interview with a Singaporean daily, later defending her position as saying the moniker given to the nonagenarian was factually correct.
Nurul Izzah today also touched on her fight for prison reforms, saying those within the entire institution, including the incarcerated, wardens, and the labour that goes into maintaining the prisons must always be championed.
She said dialogues between her and the affected agencies had agreed that financial allocation for the prison systems must not be solely to sustain inmates and those working there, but should instead be spent on making the rehabilitation system more effective.
"The agencies have shared their ideas with me that allocations should not be used to sustain more and more inmates in jails.
"It is to make sure the inmates are more effective to be absorbed back into the society and given a second chance in line with their levels of preparations towards rehabilitation," she said.
Full report at:
https://www.malaymail.com/news/malaysia/2019/03/31/nurul-izzah-govts-first-year-performance-vital-to-show-political-change-com/1738308
--------
Africa
Al-Shabab says it executed 4 accused spies in Somalia
By Abdi Guled 
March 31, 2019
NAIROBI, Kenya — Somalia's al-Shabab Islamic extremist group says it has executed four men accused of spying for the British, Djibouti and Somali intelligence agencies.
Al-Shabab announced the killings on its Andalus radio station on Sunday, saying they were carried out by a firing squad in a public square in Kamsuma, a town in the Lower Jubba region.
The group's spokesman said its recent spate of attacks on hotels in the capital, Mogadishu, have been part of its drive against Somali intelligence agents and other government officials who he said were staying at the hotels.
"We don't attack every hotel in Mogadishu, but those specific ones (hotels) attacked by Mujahideen fighters have got specific features meriting them for attacks," said Sheikh Ali Mohamud Rage, on the rebels' radio station.
"A standard public hotel that civilians stay in is not protected by blast walls and soldiers. These apostates have got no distinct offices, and most of those men were killed at hotels they use as their offices," he said, apparently referring to Somali government officials.
Mogadishu has seen series of attacks by al-Shabab in recent weeks, highlighting challenges facing the Somali government, which said recently that it is considering imposing a state of emergency in Mogadishu to try to contain the attacks.
Rage also said that the recent withdrawal of Kenyan forces, who are part of the multinational African Union forces in Somalia, from villages were made as result of increased attacks and deaths and budget constraints faced by the Kenyan government.
Al-Shabab, which is al-Qaida's East Africa affiliate, has fought for years to impose a strict version of Islam in the Horn of Africa nation. Despite losing territory in recent years, the extremist group continues to carry out deadly attacks in many parts of the country, especially in Mogadishu. A truck bomb there in October 2017 killed more than 500 people.
https://www.washingtonpost.com/world/africa/al-shabab-says-it-executes-4-suspected-spies-in-somalia/2019/03/31/80d707d6-5390-11e9-aa83-504f086bf5d6_story.html
--------
Somalia: Car bomb blast by Al-Shabaab in Mogadishu, 16 dead
1st Apr 2019
By Mohammed Dhaysane
MOGADISHU, Somalia (AA) – At least 16 people were killed, 17 others wounded in a car bomb blast in the Somali capital Mogadishu on Thursday, officials said.
Mohamed Bulle, a police officer, told Anadolu Agency over the phone that the attack targeted a busy restaurant on the Maka al-Mukarama road in Mogadishu.
"A huge car bomb blast exploded in front of the Filsan Restaurant near Dabka junction at the Maka al-Mukarama road, killing at least 11 people" Bulle said.
Since Thursday, the death toll has increased to 17, according to the police.
Terrorist group Al-Shabaab has claimed responsibility for the deadly blast in Mogadishu.
http://muslimnews.co.uk/news/campaign-on-terror/somalia-car-bomb-blast-al-shabaab-mogadishu-16-dead/
--------
African Union to host Libya 'reconciliation' conference
31 March 2019
The African Union will host a "reconciliation" conference in July aimed at uniting Libya's political rivals, AU commission chief Moussa Faki said late Saturday.
"It's an opportunity for the Libyans," Faki said during a press conference in Tunis, on the sidelines of an Arab League summit in the Tunisian capital.
The announcement of the July talks in Addis Ababa followed a meeting on Libya which included Faki, UN chief Antonio Guterres and the EU's top diplomat Federica Mogherini.
"It's high time that the (political) actors discuss the fate of their country," Faki said.
Libya has been mired in chaos since the 2011 ouster of dictator Muammar Qaddafi and a series of international efforts have so far failed to unite the country.
The United Nations is due to hold another conference next month in the central Libyan city of Ghadames, which is aimed at drawing up a "roadmap" to lead to elections.
Between 120 and 150 delegates are expected to attend the forum from April 14-16, UN envoy Ghassan Salame said earlier this month.
The UN backs a Government of National Accord in the capital Tripoli, while a rival administration in the east is supported by Khalifa Haftar and his self-styled Libyan National Army.
Full report at:
https://english.alarabiya.net/en/News/north-africa/2019/03/31/African-Union-to-host-Libya-reconciliation-conference.html
--------
Tunisians protest against 30th Arab Summit
Saif al-Din Mahjoub
31.03.2019
TUNIS
Dozens of Tunisians protested in the Tunisian capital Tunis against the Arab summit being held on Sunday.
Earlier on Sunday, the 30th Arab Summit kicked off in Tunis amid absence of almost half of the Arab leaders.
The demonstration -- called by Tunisian Network to Address Normalization, a non-governmental organization -- saw banners reading "no normalization deals on Tunisian territory" and "the liberation of Palestine is a duty of the nation".
The protesters were reportedly trying to stage their protest close to the building, where the Arab Summit was convened, before the Tunisian security forces banned them.
Ahmed al-Kahlawi, chairman of the Tunisian Organization for the Support of the Arab Resistance, told Anadolu Agency that their move comes as "such summits are ways for surrender and normalization."
He went on to say that this summit came to normalize with Israel.
Only 13 Arab leaders are attending the one-day summit, including Qatar's emir Tamim bin Hamad and Egypt's President Abdel-Fattah al-Sisi.
Other attending leaders include Sheikh Sabah Al-Ahmad of Kuwait and King Abdullah II of Jordan as well as the leaders of Iraq, Lebanon, Palestine, Yemen, Mauritania and Djibouti.
Libya is also represented by the head of the country's presidential council Fayez al-Sarraj.
Meanwhile, eight leaders are absent from the summit; most notably Sudanese President Omar al-Bashir, Algeria's Abdelaziz Bouteflika, Omani Sultan Qaboos bin Said and Moroccan King Mohammed VI.
War-torn Syria is not represented by any official at the summit as the country's Arab League membership has been frozen since 2011.
Full report at:
https://www.aa.com.tr/en/africa/tunisians-protest-against-30th-arab-summit/1438441
--------
North America
A Jewish New York councilman said 'Palestine does not exist.' Now he may be punished
April 1, 2019
New York City, home to the largest Jewish population outside Israel, has often served as a proxy battleground for the Israeli-Palestinian conflict. Mayors, dating to Robert Wagner, who in 1957 barred a welcome for a Saudi king he deemed anti-Jewish, to Bill de Blasio, who in 2015 canceled a plan to meet Palestinians in the occupied West Bank, have been forced to confront the highly charged issue.
But as more Palestinian immigrants have settled in New York, the political calculus has grown slightly more complicated, as seen last week, when Councilman Kalman Yeger, D-Brooklyn, who represents the Orthodox Jewish community of Borough Park, took to Twitter on Wednesday to state that "Palestine does not exist."
Yeger's remarks came after Zainab Iqbal, a journalist for Bklyner, reported that Yeger had referred to "so-called Palestinians" in a tweet. Yeger responded by calling U.S. Rep. Ilhan Omar, D-Minn., anti-Semitic. The councilman's pronouncements led to a cascade of criticism calling his comments "hateful" and "Islamophobic," and prompted demands for an apology and his removal from the City Council's immigration committee.
The latest such call came from de Blasio, who said Friday that if Yeger is "not going to apologize, he shouldn't be on that committee."
Yeger was unapologetic about his comments during a news conference Thursday. "There is no state by that name. There is no place by that name. That's a fact. I didn't make it up, I didn't invent it," Yeger said.
According to the United Nations, 137 states bilaterally recognize Palestine.
Yeger's earlier remarks led to a small protest by pro-Palestinian groups outside his office in Borough Park, which was met with a much larger counterprotest from Yeger's supporters, including one incident where a protester asked a Muslim woman whether her young daughter had "any bombs on her to blow us up."
Linda Sarsour, a Palestinian-American activist from New York, also found herself caught up in the controversy when her name was used to draw counterprotesters to Yeger's office.
"This is a lot more complicated than a councilman makes a comment," Sarsour said. "It's on a deeper level and represents a bubbling up of long-standing conflicts around the Palestinian and Israeli conflict."
Indeed, the city's politics have frequently been roiled by the Israeli-Palestinian conflict.
In 1966, Mayor John Lindsay canceled a dinner for a Saudi king who said that any friends of Israel were his enemies. Mayor Abraham Beame rescinded giving President Anwar Sadat of Egypt a key to the city after a United Nations committee labeled Zionism a form of racial discrimination.
Mayor Ed Koch had an argument at City Hall with the Austrian foreign minister in 1984 about whether the Palestine Liberation Organization served as the voice of Palestinian people. Mayor David Dinkins took criticism from his black constituents for not scheduling any meetings with Palestinians during a 1991 trip to Israel. Mayor Rudy Giuliani expelled Yasser Arafat, chairman of the Palestine Liberation Organization, from a concert for world leaders at Lincoln Center.
And in 2016, the City Council passed a resolution condemning the call for a boycott of Israel over its treatment of Palestinians.
The reaction to Yeger's remarks suggests that things are changing.
Corey Johnson, the City Council speaker, called Yeger's remarks "dehumanizing" during a news conference Thursday and said that he would be "uncomfortable" having someone with Yeger's point of view serve on a committee designed to "welcome" all immigrants. "I very vigorously condemn his comments in no uncertain terms. They have no place in New York City," Johnson said. "The best thing about our city is our diversity, and that includes our Jewish community and it includes our amazing Palestinian community as well who live here."
The mayor, who is considering a run for president, has come under criticism recently for speaking at the American Israel Public Affairs Committee, a pro-Israel lobbying group, even as other declared Democratic presidential candidates declined to do so this year.
And some saw de Blasio's initial response to Yeger's comments as inadequate, especially given the strong criticism of Omar's remarks about Israel.
The mayor sought to fortify his comments Friday during his weekly radio appearance on "The Brian Lehrer Show" on WNYC: "I made very clear that the councilman was wrong. I made very clear that there has to be a Palestinian homeland," said de Blasio, who went on to call Yeger's comments "destructive and divisive."
"He should apologize. Look, people in public life should be about unifying people and finding ways to work together. What he is doing is the opposite, he should stop," the mayor added.
Dov Hikind, a former Democratic assemblyman from Brooklyn who helped organize the counterprotest outside Yeger's office, was disheartened by the criticism of Yeger.
"Progressive Democrats, liberals, have unfortunately moved away from the kind of support for Israel that we are used to," said Hikind, who said he saw nothing wrong with Yeger's remarks.
"Are there Palestinians? Yes, of course. Palestine doesn't exist," Hikind said. "It may exist in the future if the Israelis and Palestinians come to an agreement. If they negotiate and one day there are two states, so be it."
Hikind characterized the person who made the bomb remark to the young Muslim woman as an individual who said "terrible things," but who did not represent the majority of counterprotesters. "The people that came out did not come out of hate," he said. "They came out of love for the people of Israel."
Sarsour and Hikind do agree that the unequivocal political support for Israel that used to exist in New York among the city's politicians is no more. The response to Yeger's comments prove that, she said.
"It's been a long time coming for elected officials to say anti-Palestinian things with any sort of consequences," Sarsour said. "We are in a new era."
https://indianexpress.com/article/world/a-jewish-councilman-said-palestine-does-not-exist-now-he-may-be-punished-5652129/
--------
Facebook calls for new internet regulations after New Zealand massacre
Mar 31, 2019
Facebook has called on governments to play a "more active role" in establishing new rules and regulations that govern the internet and protect people from harmful content.
The social media company's director Mark Zuckerberg made the appeal in an article published by the Washington Post on Saturday.
"I believe we need a more active role for governments and regulators," Zuckerberg said. "By updating the rules for the internet, we can preserve what's best about it — the freedom for people to express themselves and for entrepreneurs to build new things — while also protecting society from broader harms."
The Facebook chief proposed that new regulations were needed in four areas, including harmful content, election integrity, privacy and data portability.
"It's impossible to remove all harmful content from the internet, but when people use dozens of different sharing services — all with their own policies and processes — we need a more standardized approach," Zuckerberg said.
"External regulations, however, could help establish baselines for what content is harmful rather than leaving various social media platforms and services to set their own different standards," he added.
The CEO of the tech giant also stressed that there should be "clear rules" set "about who's responsible for protecting information when it moves between services."
The mechanism "shouldn't require data to be stored locally, which would make it more vulnerable to unwarranted access," Zuckerberg said. "And it should establish a way to hold companies such as Facebook accountable by imposing sanctions when we make mistakes."
"The rules governing the Internet allowed a generation of entrepreneurs to build services that changed the world and created a lot of value in people's lives. It's time to update these rules to define clear responsibilities for people, companies and governments going forward," Zuckerberg concluded.
Facebook announced earlier this week a ban on "praise, support and representation of white nationalism and white separatism," which the social media giant said would be enforced over the next few days.
The statement came after Facebook live-streaming was used during the 15 March attacks on two Muslim mosques in New Zealand, which claimed the lives of 50 worshipers.
Full report at:
https://www.presstv.com/Detail/2019/03/31/592301/Facebook-Mark-Zuckerberg-internet-regulations-New-Zealand-mosque-massacre-
--------
URL: https://www.newageislam.com/islamic-world-news/religious-misconceptions-islamic-nation-endured/d/118193
New Age Islam, Islam Online, Islamic Website, African Muslim News, Arab World News, South Asia News, Indian Muslim News, World Muslim News, Women in Islam, Islamic Feminism, Arab Women, Women In Arab, Islamophobia in America, Muslim Women in West, Islam Women and Feminism