New Age Islam News Bureau
15 Jul 2014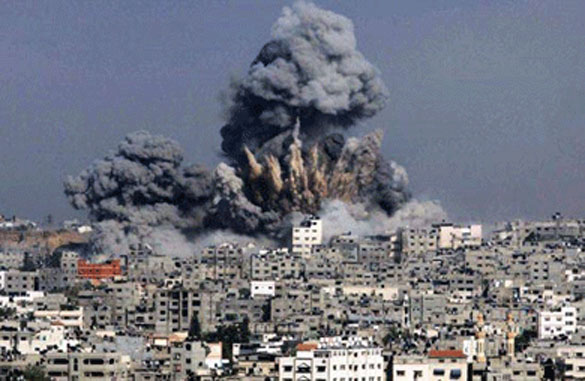 Relatives of three Palestinian members of Abu Muamar family mourn during their funeral in Rafah in the southern Gaza Strip. Reuters
---------
Afghan Market Car Bomb 'Kills 89' in Paktika Province
Arab World
• Religious Militias Blamed For 31 Deaths at Brothel in Baghdad
• Prisoners killed in Iraq 'to stop them joining jihad'
• IS jihadists seize more territory in Syria from rivals
• Clashes on Syria-Lebanon border kill several
• Jihadists execute four Syrian 'spies' in Iraq
• Iraq forces advance into militant-held Tikrit: officials
• Saudi doctor who cured ISIL leaders killed in air strike
• Arab League urges 'all parties' to back Egypt's Gaza truce plan
• Saudi Arabia names scholar as head of dialogue centre's board
South Asia
• Afghan Market Car Bomb 'Kills 89' in Paktika Province
• 17 Taliban militants killed in counter-terrorism operations
• Xinjiang: Muslim students forced to eat during Ramadan
• NHRC boss criticises global community's double role
• 3 Afghan soldiers martyred in separate roadside bombings
• Maldives to hold Free Palestine rally
Mideast
• Iran's Sunni Clerics Blast Int'l Silence on Massacre of Palestinians
• Turkey's religious head warns against Sunni bias
• Turkey PM accuses Israel of 'state terrorism' over Gaza campaign
• Gaza toll hits 192 on eighth day of Israel's assault
• Gaza conflict: Israel shoots down Hamas unmanned drone with US-built patriot missile
• Hamas rejects Egypt proposal for truce with Israel
• Turkey increases security on Rojava border as ISIL offensive on Kobane intensifies
• Netanyahu: If Hamas does not hold fire, Israel will have broad legitimacy to hit back hard
• Peres: Hamas rocket fire serves no purpose at all
India
• Won't protest Modi's visit to Pakistan: Hafiz Saeed
• Grand Mufti of Kashmir Urges Boycott of Israeli Goods
• Israeli attack in Gaza strip generates heat in Lok Sabha
• 'Diplomatic misadventure of private man': Govt on Vaidik-Saeed meet
Africa
• Nigerian leader tells Malala missing girls to be home soon
• Release My Warriors and Get Back Your Girls- Boko Haram Leader
• Tripoli clashes claim 15 lives; destroy 90 per cent of planes
• Nigerian schools remain closed amid Boko Haram threats
• Libya weighs international help after surge in violence
Pakistan
• Over 400 terrorists killed in N Waziristan operation: ISPR
• 6 terrorists killed in encounter with security forces early Tuesday: ISPR
• Blasphemy accused sentenced to death
• Taliban return to Swat as target killers
• Five militant killed during operation in Karachi's Landhi area
• PM Nawaz criticises Imran, Qadri for becoming hindrance to country's progress
• Government doesn't want Musharraf to face long jail term: Saad Rafiq
• Pakistan and India likely to reach trade deal this year: Dastgir
• Displaced tribesmen from Waziristan living in misery
• Faisalabad: young Christians and Muslims for social peace, starting with traffic
Southeast Asia
• Muslim group says Negara-Ku in line with Quranic teachings
• Indonesians Vent Anger over Gaza Attacks
North America
• US warns Israel against Gaza ground assault
• Obama hosts Iftar marking Ramadan
• Iran nuclear talks uncertain after Kerry push
• American claims kingdom in Africa
• Qatar to buy Patriot missiles in $11 bln arms deal: US
Europe
• France sets up anti-Islamist force in Africa's Sahel
• All-party conference In Pakistan asks UN to revoke Israel's membership
• Evidence of spiralling sectarian killings and abductions in Iraq: Amnesty International
• Dutch urge PA: Stop funding convicted terrorists' salaries
• Greek Cypriots file war crimes complaint against Turkey
Compiled by New Age Islam News Bureau
URL: https://www.newageislam.com/islamic-world-news/new-age-islam-news-bureau/religious-militias-blamed-for-31-deaths-at-brothel-in-baghdad/d/98120
-----------
Arab World
Religious Militias Blamed For 31 Deaths at Brothel in Baghdad
July 15, 2014
RELIGIOUS militias are suspected of carrying out a massacre in a brothel in Baghdad in which 29 women and two men were killed.
Gunmen stormed a compound in the upmarket suburb of Zayouna, which is known in the Iraqi capital as a red-light area.
Reports say their target on Saturday night was a notorious brothel-keeper known only as 'Aws', who was known to bribe police and soldiers in return for them turning a blind eye to his rackets. The side street where the compound was located was routinely guarded by armed members of the security forces.
Grisly photographs, obtained by the AFP news agency, showed the crouching bodies of five women huddled together in a corner of a bathroom with blood-spattered tiled walls and floor.
It appeared that the women had made a desperate attempt to hide from their attackers.
Other pictures showed corpses, some dressed in bright colours, others in black, lined up in a living room, the floor of which was drenched with blood.
A further photograph showed the brothel-keeper lying dead in a pool of blood alongside one of his presumed henchmen.
The two men appeared to have had their hands tied behind their backs before being executed.
"This is the fate of any (person practising) prostitution," read an inscription on the front door of one of the raided buildings. There has been no claim of responsibility.
It is thought that it may have been the work of one of Baghdad's many religious militias, who are known for attacking illicit sex establishments and alcohol shops. (© Daily Telegraph, London)
http://www.independent.ie/world-news/middle-east/militias-blamed-for-31-deaths-at-brothel-30431197.html#sthash.eDLxlfRd.dpuf
-----------
Prisoners killed in Iraq 'to stop them joining jihad'
July 15, 2014
Abdullah Hamid al-Hayali is a man waging a campaign that he knows could end in his murder. The mayor of the Iraqi town of Baquba has taken it upon himself to reveal the truth about the fate of 46 prisoners, his nephew among them, who were killed in their cells.
Government officials have blamed the deaths on the Sunni jihadists who swept through northern Iraq last month, claiming that an insurgent mortar destroyed the police station in which the prisoners were held.
But photographs of the dead on Mr Hayali's phone, plus the thick pile of hospital death certificates that sit on his lap, tell a much darker story, in which security forces from Iraq's Shia government, fearing that the prisoners would join the jihadists, massacred them.
The pictures show that far from dying from mortar fire, most were killed at close range with a bullet to the head.
"They murdered the prisoners," said Mr Hayali. "There were two rooms full of men; in one they put the prisoners in a line and shot them in the head. They sprayed the other cell with bullets and then they threw in hand grenades."
As mayor, Mr Hayali is one of the most powerful Sunnis in Baquba. Now, though, he lives in fear of his life for speaking out, thanks to the presence of the Shia militias that Nouri al-Maliki, the prime minister, has brought in to bolster the presence of troops.
Mr Hayali claims to know the names of the police commander who oversaw the killings in the police station. The town's governor, Amer al-Mujamai, who is backing the mayor's campaign to speak out, said he had written to Mr Maliki appealing for the police commander to be sacked, but had had no reply.
Interrogated
Mr Hayali showed a photograph of Yasser Ali Ahmed (22), his nephew. He had been taken to the police station to be interrogated. "They told him that I was being 'loose with my tongue', in speaking out against the presence of militias in Baquba," Mr Hayali said. "They tortured him, all just to get to me."
There was originally one survivor of the massacre, Ahmed Zaidan, who was badly wounded but still alive when Mr Hayali visited him in hospital. Two hours later, Mr Zaidan was taken from his bed, killed and dumped behind the hospital. (© Daily Telegraph, London)
http://www.independent.ie/world-news/middle-east/prisoners-killed-in-iraq-to-stop-them-joining-jihad-30428730.html#sthash.RsCh9A1z.dpuf
-----------
IS jihadists seize more territory in Syria from rivals
July 15, 2014
BEIRUT: Islamic State jihadists in Syria took over opposition-held areas of a provincial capital near the border with Iraq on Monday after expelling rival fighters from an Al-Qaeda-linked group, activists said.
The march by IS militants on the city of Deir el-Zour brings them closer to a showdown with President Bashar Assad's forces. They recently captured cities and towns in northern Iraq and merged them with much of the territory under its control in eastern Syria.
The Britain-based Syrian Observatory for Human rights said militants from IS took over the area from fighters of the rival Nusra Front group, who withdrew after clashes.
The new developments effectively expand and consolidate areas held by fighters from the Islamic State group in territory straddling the border between the two conflict-ridden countries of Syria and Iraq.
The group, which now controls large parts of northern Syria, is almost in full control of oil-rich Deir el-Zour province in the east, stretching from the Syrian border town of Boukamal to the provincial capital to the northwest. Assad's forces still control half of Deir el-Zour city, and no fighting between his troops and the extremist group was reported there.
Led by an ambitious Iraqi militant known as Abu Bakr Al-Baghdadi, the Islamic State group unilaterally declared the establishment of an Islamic state, or caliphate, in the lands it has seized in Syria and Iraq. It proclaimed Al-Baghdadi the head of its new self-styled state and demanded that all Muslims pledge allegiance to him.
Most significant Syrian rebel groups that have been fighting to overthrow Assad have rejected Al-Baghdadi's declaration. The rebel groups, including the Nusra Front, have fought the extremist group since the beginning of the year. Nearly 7,000 people, mostly fighters, have died in the infighting, and tens of thousands of civilians have been forced from their homes.
However, Nusra Front appears to be losing the war within a war in Syria as fighters allied with powerful tribes in the country's east defect to Al-Baghdadi's group.
The Syrian conflict began in March 2011 as largely peaceful protests against Assad's rule, but turned into an armed revolt after some opposition supporters took up weapons to fight a brutal government crackdown on dissent. It deteriorated into civil war in which Islamic extremists, including foreign fighters and Syrian rebels, who have adopted hard-line Al-Qaeda-style ideologies, have played an increasingly prominent role among the fighters, dampening the West's support for the rebellion.
UN approves cross-border aid
Also Monday, the UN Security Council unanimously approved a resolution authorizing cross-border delivery of desperately needed food and aid to Syrians in rebel-held areas, without government approval.
The resolution expressed "grave alarm at the significant and rapid deterioration of the humanitarian situation in Syria" and deplored the fact that its previous demands for humanitarian access "have not been heeded" by the Syrian government and opposition fighters.
The council adopted a resolution in February demanding that all sides in the conflict allow immediate access for aid, lift the sieges of populated areas, stop depriving civilians of food and halt attacks against civilians. But monthly reports to the council since then by UN Secretary-General Ban Ki-moon on its implementation have described an increasingly dire situation.
Just hours before the resolution was adopted, some 13 Syrian Red Crescent trucks loaded with 1,000 food parcels crossed into the rebel-held Damascus suburb of Moadamiyeh, which has been besieged by government troops for more than two years, causing widespread hunger-related illness and death among its residents.
In Yarmouk, a Palestinian refugee camp in Damascus that has been under government siege for over a year, UN aid workers were not allowed to distribute aid on Monday, UNRWA spokesman Chris Gunness said in a statement, adding that 18,000 civilians remain trapped there in desperate need of food and medicine.
The interruption follows a week of sustained food distribution in Yarmouk during which the UN agency that helps Palestinian refugees in the Middle East distributed food parcels to 3,316 families, Gunness said.
http://www.arabnews.com/news/601756
-----------
Clashes on Syria-Lebanon border kill several
July 15, 2014
BEIRUT — Heavy clashes along the Syria-Lebanon border killed several people, including a number of Hezbollah fighters and Syrian rebels, Lebanese officials and a Syrian activist group said.
The area has long been a flashpoint in the Syrian civil war. Since November, Syrian government troops, backed by Lebanese Hezbollah militants, have been on the offensive in Syria's mountainous Qalamoun region, trying to clear it of opposition fighters. The government side has so far captured most towns and villages there but hundreds of rebels are still active in the rugged region.
The latest clashes broke out on Sunday after Syrian rebels tried to infiltrate into Lebanon and clashed with Hezbollah fighters, said officials in eastern Lebanon, speaking on condition of anonymity in line with regulations.They said the fighting, which took place near the Lebanese village of Youneen, ended at dawn on Monday after Hezbollah took control of the nearby hills.
The Britain-based Syrian Observatory for Human Rights said the fighting left seven Hezbollah fighters dead and 31 wounded. The activist group said 17 rebels were killed and 23 wounded, and that Hezbollah fighters captured 14 rebels.
The Lebanese officials confirmed that a number of Hezbollah fighters were killed in the battles, without giving a figure. Facebook pages close to the Lebanese Shiite group said six Hezbollah fighters were killed, listing their names and hometowns.
Qassem Al-Zein, a Syrian doctor who works at a makeshift hospital in the Lebanese border town of Arsal, said they received the bodies of three people killed in Syria on Sunday as well as 15 wounded. Syrian rebels enjoy wide support in Arsal, which is predominantly Sunni — as are most opposition fighters. "It was a very intense night," said a resident of the Lebanese city of Baalbek, which is close to the area of the fighting. The man, speaking on condition of anonymity for fear for his own safety, said Lebanese soldiers and policemen were took measures around Baalbek on Sunday night, setting up checkpoints, stopping cars and asking for people's identity cards.
http://www.saudigazette.com.sa/index.cfm?method=home.regcon&contentid=20140715211567
-----------
Jihadists execute four Syrian 'spies' in Iraq
14 July 2014
Jihadist militants publicly executed four Syrian men in a western Iraqi town for allegedly spying for President Bashar al-Assad's regime, witnesses and a doctor said on Monday.
Militants flying the flag of the jihadist Islamic State (IS) group brought the men to a main street in al-Qaim, near Iraq's border with Syria, in a convoy of trucks on Sunday, witnesses said.
One militant then announced that they were spies for Assad's regime, which the IS is fighting in Syria, and the men, their hands bound, were shot dead one by one.
Their bodies were taken away by ambulance, and Dr Mustafa Shawqi from the Al-Qaim hospital confirmed the deaths.
Full report at:
http://english.alarabiya.net/en/News/middle-east/2014/07/14/Jihadists-execute-four-Syrian-spies-in-Iraq-.html
-----------
Iraq forces advance into militant-held Tikrit: officials
July 15, 2014
KIRKUK: Iraqi security forces advanced into militant-held Tikrit on Tuesday in an assault aimed at revitalising flagging efforts to retake the city, officials said.
Security forces began the attack in morning and have succeeded in retaking government facilities in the city's south.
"Iraqi forces began a military operation to liberate the city of Tikrit and our forces were able to control the southern part of the city," Ahmed Abdullah Juburi, the governor of Salaheddin province of which Tikrit is the capital, said.
An army colonel said the police academy and a hospital had been retaken, and Juburi confirmed those facilities were in government hands, along with the governorate headquarters.
Full report at:
http://www.dawn.com/news/1119391/iraq-forces-advance-into-militant-held-tikrit-officials
-----------
Saudi doctor who cured ISIL leaders killed in air strike
July 15, 2014
DAMMAM — A 25-year-old Saudi doctor who joined the Islamic State in Iraq and the Levant (ISIL) and treated the militant organization's senior leaders has recently been killed in an airstrike, Al-Hayat daily reported.
Dr. Faisal Shaman Al-Eneizi, who studied medicine abroad for seven years, joined ISIL and then moved to Iraq where he was killed.
Iraqi TV said the airstrike, carried out by Iraqi forces, killed the doctor while an ISIL spokesman in Kirkuk claimed that Abu Shaman Al-Jazrawi, Al-Eneizi's nickname, died as a martyr.
The spokesman said the Saudi drove a car strapped with bombs into a checkpoint, killing and injuring over 30 armed Kurdish fighters.
The Iraqi TV report said Al-Eneizi was able to treat many ISIL senior leaders who were injured in various battles.
Iraqi forces zeroes in on the Saudi doctor's clinic in Mosul and bombarded it, killing him and others.
Full report at:
http://www.saudigazette.com.sa/index.cfm?method=home.regcon&contentid=20140715211586
-----------
Arab League urges 'all parties' to back Egypt's Gaza truce plan
July 15, 2014
CAIRO: Arab foreign ministers in Cairo early Tuesday called on "all parties" to accept an Egyptian proposal to end the raging conflict between Israel and Hamas, after the Palestinian militant group signalled its rejection of the truce.
The ministers, meeting for an extraordinary Arab League session, also backed a Palestinian demand for "international protection."
Hours before the meeting, Cairo announced a proposal for a cease-fire that would begin Tuesday, saying it was willing to host high-level Israeli and Palestinian delegations for talks after a truce went into effect.
At least 186 Palestinians have been killed in Israeli bombardment of the Gaza Strip as the conflict entered its eighth day.
Israel says its air strikes are in response to Hamas rocket fire on its cities, which have mostly been blown out of the sky by Israeli interceptor missiles without causing any deaths.
The Arab foreign ministers "demand all parties concerned accept the Egyptian initiative" and commit to its terms, they said in a statement after the meeting.
Full report at:
http://www.arabnews.com/news/602176
-----------
Saudi Arabia names scholar as head of dialogue center's board
15 July 2014
Custodian of the Two Holy Mosques King Abdullah on Monday approved constitution of new board of trustees for the King Abdulaziz Center for National Dialogue, aimed at strengthening channels of dialogue between Saudi citizens.
Renowned scholar Sheikh Abdullah al-Mutlaq has been appointed president of the board. Faisal al-Muammar was named vice president. He will continue to hold his current position as secretary general of the center, the Saudi Press Agency reported.
According to the Royal Order, the board of trustees will replace the center's presidential commission. The board has nine members: Suhail Bin Muhammad Qadi, Sheikh Qais Bin Muhammad Mubarak, Hassan al-Howaimel, Suhair Bint Muhammad al-Qurashi, Abdul Aziz Bin Othman, Sheikh Muhammad Bin Saleh al-Dohaim, Mansour al-Hazmi, Nadmi al-Nasr and Nawal Bint Muhammad al-Eid.
Full report at:
http://english.alarabiya.net/en/News/middle-east/2014/07/15/Saudi-Arabia-names-renowned-scholar-head-of-dialogue-center-s-board.html
-----------
South Asia
Afghan Market Car Bomb 'Kills 89' in Paktika Province
July 15, 2014
At least 89 people have been killed in a car bomb explosion at a busy market in eastern Afghanistan's Paktika province, the defence ministry says.
Officials say the attacker drove a 4x4 vehicle into the market in Orgun district and detonated the explosives.
The market was crowded, full of people doing their shopping at the time of the attack.
The eastern province of Paktika shares a border with Pakistan's restive and volatile tribal areas.
There have been no claims yet for Tuesday's attack.
Orgun is one of Paktika's safest areas, though members of the Haqqani militant network are thought to have a presence there.
A spokesman for Afghanistan's defence ministry told the BBC that most of the 89 bodies recovered from the rubble were women and children.
"ANA [Afghan National Army] soldiers are continuing their work of clearing rubbles to look for possible survivors and victims," Gen Zahir Azimi said.
Full report at:
http://www.bbc.co.uk/news/world-asia-28307857
----------
17 Taliban militants killed in counter-terrorism operations
Jul 15 2014
At least 17 Taliban militants were killed following counter-terrorism operations in various provinces of Afghanistan in the past 24 hours.
The ministry of interior of Afghanistan (MoI) following a statement said the operations were jointly conducted by Afghan national police, Afghan national army and Afghan intelligence – national directorate of security (NDS) operatives.
The statement further added that the operations were conducted in Kapisa, Faryab, Ghazni and Paktika provinces.
Interior said at least 10 militants were also injured and another militant was detained during the operations.
Full report at:
http://www.khaama.com/17-taliban-militants-killed-in-counter-terrorism-operations-8318
-----------
Xinjiang: Muslim students forced to eat during Ramadan
July 15, 2014
Beijing (AsiaNews) - Teachers in Xinjiang are forcing many Muslim students to eat during the month of Ramadan. If they refuse, they are threatened with expulsion or lost career opportunities.
A month ago, the central government issued directives to stop Muslim government employees and young people under the age of 18 from fasting.
Several days later, even universities like the one in Kashgar did the same. Students are forced to eat in front of their teachers and those who refuse are expelled or denied their diplomas.
Ramadan is one of the five pillars of Islam; it involves not eating or drinking from dawn to dusk.
According to students, the university administration hands out water bottles and food during the day, noting which students refuse to take them.
At the same time, the authorities have ordered restaurants to close during the evenings, threatening fines for those who do not obey.
Full report at:
http://www.asianews.it/news-en/Xinjiang:-Muslim-students-forced-to-eat-during-Ramadan-31606.html
-----------
NHRC boss criticises global community's double role
July 15, 2014
Criticising the "double role" of the International community, National Human Rights Commission(NHRC) Chairman Mizanur Rahman said many countries those who supported human rights violation by Israel, preach countries like Bangladesh about upholding human rights.
"Israel violates all human rights norms and rules but some countries always support it. This is a double standard of certain countries," he said.
The NHRC chief made the statement while speaking at a programme on Bangladesh's Engagement with the UN Special Procedures organised by Ain O Salish Kendra (ASK) in the city on Tuesday.
Full report at:
http://www.dhakatribune.com/law-rights/2014/jul/15/nhrc-boss-crticisies-global-communitys-double-role#sthash.mBZ90iaw.dpuf
-----------
3 Afghan soldiers martyred in separate roadside bombings
Jul 15 2014
At least three Afghan national army soldiers were martyred following separate improvised explosive device (IED) attacks.
The ministry of defense of Afghanistan (MoD) said Tuesday that the soldiers were martyred in the past 24 hours.
No further details regarding the exact locations of the incidents were disclosed by defense officials.
In the meantime, MoD following a statement said at least 15 militants were killed and a number of others were injured during operations by Afghan national army soldiers.
The statement further added that Afghan soldiers also confiscated 59 improvised explosive devices (IEDs) during the operations.
The statement also added that various types of weapons and ammunition along with explosives were discovered and seized during the operatins.
The anti-government armed militant groups have not commented regarding the report so far.
http://www.khaama.com/3-afghan-soldiers-martyred-in-separate-roadside-bombings-8316
-----------
Maldives to hold Free Palestine rally
By Ahmed Rilwan | July 15th, 2014
The Maldives has condemned Israel's continuing offensive on Gaza and called for an immediate cease-fire as Malé prepares for a Free Palestine Rally today.
"Israel must stop the invasion of Gaza, it should stop the killing, the airstrikes, and declare a cease-fire, and start dialogue with Palestine," Minister of Foreign Affairs Dunya Maumoon said on Saturday.
Meanwhile, over 12,000 Maldivians have pledged to attend a Free Palestine Rally in Malé tonight. The event has received support from across the political spectrum.
Youth leaders of the ruling Progressive Party of Maldives (PPM), coalition partner Maldives Development Alliance (MDA), pro-government Jumhooree Party and Adhaalath Party and opposition Maldivian Democratic Party (MDP) held a joint press conference on Monday and called on supporters to attend the rally.
Full report at:
http://minivannews.com/politics/maldives-to-hold-free-palestine-rally-88411
-----------
Mideast
Iran's Sunni Clerics Blast Int'l Silence on Massacre of Palestinians
July 15, 2014
Several Sunni Iranian clerics condemned the Zionist regime's crimes against the innocent Palestinians, and lashed out at the international bodies' silence on Israel's slaughtering of the people in Gaza.
"The international bodies' silence on the crimes in Gaza shows the support for the genocide of the innocent human beings by those who falsely claim to be a supporter of human rights," Orumiya city Sunnis' Friday Prayers Leader Molla Abdolqader Beizavi said on Monday.
He called on all Muslims across the globe to make their utmost efforts to save the Gaza people.
Also, the Sunnis' Friday Prayers Leader of the city of Piranshahr, Mamousta Mostafa Mahmoudi, described the massacre of the Gaza women and children as a clear instance of Israel's barbarism, and said the Zionist regime is committing such crimes in light of the support provided by the US and Britain.
He also lambasted the international circles, including the Arab League, for its deadly silence on the Israeli aggression.
Full report at:
http://english.farsnews.com/newstext.aspx?nn=13930423000673
-----------
Turkey's religious head warns against Sunni bias
July 15, 2014
The head of Turkey's top religious body said Turkey should 'stay out of sectarian conflict' in the Middle East and preserve its position as a 'mediator' between groups
Mehmet Görmez, the head of the Directorate General for Religious Affairs (Diyanet), said July 14 that Turkey should "stay out of sectarian conflict in the Middle East" and preserve its position as an unbiased mediator between Sunnis and Shias.
"Turkey shouldn't become a party in the conflict between Sunnis and Shias by engaging in Sunnism. It shouldn't abandon its role as a mediator," Görmez told journalists during a fast breaking iftar meal in Ankara.
Stressing that the conflicts in the region throughout the past decade "separated Muslims," Görmez described the Nigerian group Boko Haram and the Islamic State of Iraq and the Levant (ISIL) as symptoms of "a wrong religious understanding in lands that have experienced social traumas."
Full report at:
http://www.hurriyetdailynews.com/turkeys-religious-head-warns-against-sunni-bias.aspx?pageID=238&nID=69138&NewsCatID=393
-----------
Turkey PM accuses Israel of 'state terrorism' over Gaza campaign
July 15, 2014
Turkish Prime Minister Recep Tayyip Erdogan on Tuesday accused Israel of committing "state terrorism" in its deadly air offensive on Gaza, his latest tirade of criticism against the policies of the Jewish state.
"Israel is continuing to carry out state terrorism in the region. Nobody, except us, tells it to stop," Erdogan told members of his ruling party in parliament, accusing Israel of perpetrating a "massacre" of Palestinians. "To what extent will the world remain silent to this state terrorism?"
http://english.ahram.org.eg/NewsContent/2/8/106299/World/Region/Turkey-PM-accuses-Israel-of-state-terrorism-over-G.aspx
-----------
Gaza toll hits 192 on eighth day of Israel's assault
July 15, 2014
The death toll from Israel's week-long attack on Gaza rose Tuesday to 192, after another six Palestinians died, four of them in strikes .
Emergency services spokesman Ashraf al-Qudra said three people were killed in two separate air strikes on the southern city of Khan Yunis.
And two other men in the city succumbed to injuries sustained in earlier raids, he said.
Also in the south, a woman was killed in an earlier strike on Rafah, taking Tuesday's toll to six dead, he said.
Full report at:
http://english.ahram.org.eg/NewsContent/2/8/106282/World/Region/Gaza-toll-hits--on-eighth-day-of-Israels-assault-.aspx
--------
Gaza conflict: Israel shoots down Hamas unmanned drone with US-built patriot missile
July 15, 2014
A drone deployed for the first time by Hamas fighters was shot down over Israel today.
The Israeli Defence Force spotted the unmanned plane with its Iron Dome defence system and intercepted it with a Patriot missile close to the port of Ashdod.
It was later being examined to see whether it was carrying explosives, or was being used as a spy plane.
Israel launched 204 rockets at targets in Gaza overnight, while Hamas fired 20 as the seventh day of the latest conflict took the death toll to 177, with 1,200 wounded.
Around 80% of the casualties are believed to be Palestinian civilians.
Gaza militants Hamas boasted they had deployed more unmanned planes.
The aircraft was blown out of the sky close to the Israeli port of Ashdod by a US-built Patriot missile as it flew over an unpopulated area.
Full report at:
http://www.mirror.co.uk/news/world-news/gaza-conflict-israel-shoots-down-3861103#ixzz37TgsmkdL
-----------
Hamas rejects Egypt proposal for truce with Israel
July 15, 2014
GAZA CITY: Hamas rejected an Egyptian proposal for a cease-fire with Israel on Tuesday, moments after the Israeli Cabinet accepted the plan, throwing into disarray international efforts to end a week of fighting that has killed 192 Palestinians.
A senior Israeli government official warned that Israel would strike Gaza even harder if Hamas does not accept the truce.
Israel has carried out hundreds of air strikes against targets in Gaza in the past week and amassed troops on the border of the coastal strip, but has so far refrained from a ground offensive that could quickly drive up the casualty count on both sides.
Israel had approved the Egyptian-proposed deal that would halt the week-old Gaza shelling war but the Palestinian territory's dominant Hamas responded suspiciously, saying they had not been consulted by Cairo.
Full report at:
http://www.dawn.com/news/1119370/hamas-rejects-egypt-proposal-for-truce-with-israel
-----------
Turkey increases security on Rojava border as ISIL offensive on Kobane intensifies
July 15, 2014
The Turkish army has increased the number of troops along its border with northeastern Syria – the pre-dominantly Kurdish region known as Rojava – as the Islamic State of Iraq and the Levant (ISIL) continues to attack villages close to the border in an attempt to capture Kobane.
ISIL, which is in control of the Syrian districts of Tal Abyad and Jarablus west of Rojava, has been fighting for more than two weeks with Kurdish forces of the Democratic Union Party (PYD).
Numerous security measures have been implemented to monitor the situation, with scores of tanks and armored vehicles being dispatched next to areas where intense fighting across the border is taking place. Patrols by Turkish forces along the border have also been ramped up.
Meanwhile, the population of Kobane has reportedly soared to 400,000 due to a large influx of refugees fleeing ISIL militants and settling in the border town, prompting new concerns of a new refugee inflow to Turkey. The crossing point between Kobane and Mürşitpınar, in the Şanlıurfa province, is usually opened two days a week for humanitarian aid to be transported into Syria.
Full report at:
http://www.hurriyetdailynews.com/turkey-increases-security-on-rojava-border-as-isil-offensive-on-kobane-intensifies.aspx?pageID=238&nID=69143&NewsCatID=341
-----------
Netanyahu: If Hamas does not hold fire, Israel will have broad legitimacy to hit back hard
July 15, 2014
Kerry welcomes ceasefire, urges "all other parties to accept the proposal," saying that it "provides an opportunity to end the violence and restore calm."
As Hamas rockets continued to fall on Israel even after Jerusalem accepted the Egyptian ceasefire proposal at 9 A.M., Prime Minister Binyamin Netanyahu said that if Hamas does not accept the ceasefire than Israel will "have all international legitimacy to broaden the military operation to achieve the required quiet."
Netanyahu, speaking at the beginning of a meeting in Tel Aviv with German Foreign Minister Frank-Walter Steinmeier, said that Israel "agreed to the Egyptian proposal in order to give an opportunity for the demilitarization of the Strip - from missiles, from rockets and from tunnels - through diplomatic means."
Full report at:
http://www.jpost.com/Operation-Protective-Edge/Netanyahu-If-Hamas-does-not-hold-fire-Israel-will-have-broad-legitimacy-to-hit-back-hard-362851
-----------
Peres: Hamas rocket fire serves no purpose at all
July 15, 2014
President hosts 'summer camp' for kids from South.
After hosting some 50 children from the Gaza Strip region at what was dubbed the "Peres Summer Camp," President Shimon Peres turned to local and foreign journalists querying what he was supposed to tell these children when they asked why Hamas was shooting at them.
He had no explanation, he said.
"The best I can tell them is that we're trying to get a cease-fire."
Peres said he could see no purpose in what Hamas is doing, and stated that Hamas is perpetrating greater harm upon its own people than on Israel.
"We must put an end to it and open a new page," he said.
However, the situation is complex, he acknowledged, because there are just too many elements on both sides that must be considered.
The way to bring about a cease-fire is not clear, he said, "but the only fruitful process is peace."
Full report at:
http://www.jpost.com/National-News/Peres-Hamas-rocket-fire-serves-no-purpose-at-all-362802
-----------
India
Won't protest Modi's visit to Pakistan: Hafiz Saeed
TNN | Jul 15, 2014
NEW DELHI: Pakistani terror organization Jamaat-ud-Dawa leader Hafiz Saeed has said they won't protest Narendra Modi's visit to Pakistan, as the organization doesn't "participate in such 'politics & protests'". Saeed was responding to the furore that followed his meeting with journalist Ved Pratap Vaidik, also aide to yoga guru Ramdev, who is close to BJP.
Saeed also pointed to the two discussing the 26/11 Mumbai attacks. "We discussed how all 26/11 evidences provided by India have been rejected & asked Mr.Vaidik, why India does not respect Pakistani courts?" tweeted Saeed.
As for the controversy the meeting created, Saeed attempted to play it down. "Row in Indian parliament over a journalist's meeting with us shows the extremism, narrow mindedness of their politicians. Utterly Shameful," he wrote, adding, "Sadly,So called 'Secular' India is unable to bear an informal meeting of her journalist, Mr.Vaidik, another eg of Indian narrow mindedness."
Full report at:
http://timesofindia.indiatimes.com/india/Wont-protest-Modis-visit-to-Pakistan-Hafiz-Saeed/articleshow/38402303.cms
-----------
Grand Mufti of Kashmir Urges Boycott of Israeli Goods
By Fayaz Wani
15th July 2014
SRINAGAR: Following the massive loss of lives in the ongoing operation by the Israeli Defence Forces (IDF) against Palestinians in Gaza, the Grand Mufti of Kashmir and other religious leaders have called for a boycott of Israeli products in the Valley and appealed to traders not to import such goods. He also called for an end to the bloodshed in Gaza.
"Israeli troops are committing genocide of Palestinians in Gaza. Not only Kashmiri people but people across the world, especially those in Muslim countries should boycott Israel made products and items," Grand Mufti, Bashir-ud-Din, said.
In a related development, Opposition Peoples Democratic Party (PDP) members in Parliament on Monday staged a walkout to protest against the Centre's silence over the continuing bloodbath. According to the PDP members, as the largest democracy in the world, India can't remain a mute spectator to the military aggression by the Jewish state, which has already claimed over 170 Palestinian lives.
Full report at:
http://www.newindianexpress.com/nation/Grand-Mufti-Urges-Boycott-of-Israeli-Goods/2014/07/15/article2330515.ece
-----------
Israeli attack in Gaza strip generates heat in Lok Sabha
Press Trust of India | New Delhi | July 15, 2014
The Israeli attack on Palestinians in the Gaza strip generated much heat in the Lok Sabha, on Tuesday, with Opposition members demanding that India should immediately condemn the assault.
"Government of India should respond," shouted agitated members of Left parties, Congress, Trinamool Congress, IUML and AIMIM, who trooped into the Well asking the government to make a statement and condemn the attacks.
Rahul Gandhi too was seen in the aisle along with some of his Congress colleagues. PDP member Mehbooba Mufti, who had given a notice for adjournment motion on the issue, was allowed to raise the matter during Zero Hour.
Speaker Sumitra Mahajan, however, disapproved of her action of showing placards observing that no member should resort to such action in the House. "World leaders are meeting in Brazil and they include Prime Minister Narendra Modi. They should pass a resolution seeking immediate ceasefire in the one-sided attack on the Gaza strip," Mehbooba said.
Full report at:
http://indianexpress.com/article/india/india-others/israeli-attack-in-gaza-strip-generates-heat-in-lok-sabha/
-----------
'Diplomatic misadventure of private man': Govt on Vaidik-Saeed meet
TNN | Jul 15, 2014
NEW DELHI: The row over the meeting of journalist Ved Pratap Vaidik with 26/11 terror mastermind Hafiz Saeed on Tuesday stalled Parliament for the second consecutive day, with government stating it has nothing to do with it. It termed it as "diplomatic misadventure of a private individual".
Lok Sabha and Rajya Sabha saw disruptions as soon as the two houses met for the day, with opposition Congress seeking suspension of Question Hour to get government's response over the "serious" matter.
Both houses were again disrupted during the Zero Hour with Congress members expressing concern over the meeting and entering the well raising slogans.
Finance minister Arun Jaitley told Rajya Sabha that the government has nothing to do with either the visit or the meeting between Ved Pratap Vaidik and Saeed. "It is a diplomatic misadventure of a private individual," he said.
Full report at:
http://timesofindia.indiatimes.com/india/Diplomatic-misadventure-of-private-man-Govt-on-Vaidik-Saeed-meet/articleshow/38417609.cms
-----------
Africa
Nigerian leader tells Malala missing girls to be home soon
July 15, 2014
ABUJA (Reuters) - Nigerian President Goodluck Jonathan promised on Monday that more than 200 Nigerian schoolgirls kidnapped by Islamist militants would soon return home, teenage Pakistani activist Malala Yousafzai said after meeting him.
Malala, who became a global celebrity after surviving being shot in the head by the Taliban for campaigning for girls' education, was visiting Nigeria to support an international campaign for the release of the teenage students abducted in mid-April by the Islamist insurgent group Boko Haram.
"The president promised me ... that the abducted girls will return to their homes soon," Malala, who has called the 219 missing students her "sisters", told a news conference after a 45-minute meeting with Jonathan at the presidential villa.
The Pakistani teenager, who turned 17 on Saturday, also appealed directly to Boko Haram to stop its attacks and release the schoolgirl captives, saying Islam was a "religion of peace" that allowed education for girls as well as boys.
Full report at:
http://af.reuters.com/article/worldNews/idAFKBN0FJ1IL20140714?sp=true
-----------
Release My Warriors And Get Back Your Girls- Boko Haram Leader
July 15, 2014
The leader of the dreaded Islamic terrorist group Boko Haram, Abubakar Shekau, in a fresh video on Sunday said that he would continue to keep the Chibok schoolgirls in captivity until the federal government released his men currently in various detention facilities across the country.
Shekau, who appeared in the 15-minute-long video fully kitted in military fatigue with a black band wrapped around his head and an AK 47 rifle hanging across his bulletproof-covered chest, read his message from a spiral bound document.
Delivering his message in Arabic, Hausa and a spice of his native language, Kanuri, the terror kingpin appeared happy and confident as he often interjected his message with cynic leers, song and even dancing.
He said his group was responsible for the bombing in Abuja shopping plaza, Kano, Jos, Konduga (Borno State) and the recent blast in Lagos which the security sources said was a fire disaster.
Full report at:
http://www.dailytimes.com.ng/article/release-my-warriors-and-get-back-your-girls-shekau-tells-fg
-----------
Tripoli clashes claim 15 lives; destroy 90 per cent of planes
July 15, 2014
TRIPOLI: Militants shelled Tripoli airport, destroying 90 per cent of planes parked there, a Libyan government spokesman said, as heavy fighting between armed groups prompted the United Nations to pull its staff out of the North African country.
At least 15 people have been killed in clashes in Tripoli and the eastern city of Benghazi since Sunday, and a Libyan official said several Grad rockets hit the Tripoli International Airport on Monday, damaging the control tower.
Government spokesman Ahmed Lamine said 90 per cent of the planes parked at the airport were destroyed.
"The government has studied the possibility to bring international forces to enhance security," he told reporters On Tuesday.
Three years after the fall of Muammar Qadhafi, Libya has slipped deeper into chaos with its weak government and new army unable to control brigades of former rebel fighters and militants who often battle for political and economic power.
Full report at:
http://www.dawn.com/news/1119371/tripoli-clashes-claim-15-lives-destroy-90-per-cent-of-planes
-----------
Nigerian schools remain closed amid Boko Haram threats
July 15, 2014
ABUJA, Nigeria — Three months ago, Nigeria closed schools in the northern state of Borno to protect students from bombings by Islamic terrorists who later abducted 300 girls. Amina Gambo attends class behind closed doors in a friend's house.
ill try and cover the remaining syllabus at home with the help of my teacher," the 15-year-old says. "I have not gone to school for the last two years."
She says, "I really need to prepare for exams next year. I wish somebody could transfer me to another school."
As the search for 219 girls remaining in captivity continues, schools are closed for 120,000 children in Borno because of the Boko Haram terrorist group's murderous campaign to shut down all education except for classes that teach strict Islamic values. The group's name means "Western education is sinful" in the African language Hausa.
Monday, a global champion of education for girls, Pakistani activist Malala Yousafzai, celebrated her 17th birthday in Nigeria to promote efforts to release the girls kidnapped April 15.
Full report at:
Contributing: Associated Press
-----------
Libya weighs international help after surge in violence
July 15, 2014
Libya's government said Tuesday it was considering calling for international forces to help re-establish security after deadly clashes closed Tripoli airport, severing air links with the outside world.
Fighting between liberal and Islamist militias locked in a brutal power struggle forced the closure of the country's main international airport, leaving the North African state feeling increasingly isolated.
On Monday, the United Nations announced it was evacuating its remaining staff from Libya because of the deteriorating security situation.
The locked-down airport came under renewed attack late Monday when dozens of rockets -- including one that hit a plane -- were fired, killing a security guard and injuring six others, officials said.
Full report at:
http://english.ahram.org.eg/NewsContent/2/8/106280/World/Region/Libya-weighs-international-help-after-surge-in-vio.aspx
-----------
Pakistan
Over 400 terrorists killed in N Waziristan operation: ISPR
July 15, 2014
ISLAMABAD: Chief military spokesman Major General Asim Bajwa said on Tuesday that the Pakistan army will "completely eliminate" terrorists sanctuaries and hideouts from North Waziristan.
In a press briefing, Bajwa said that 447 terrorists have been killed so far whereas 88 hideouts have been destroyed. He also said that 26 soldiers have lost their lives. However, this information could not be independently verified as journalists do not have access to most parts of the restive agency.
The major general said that a ground operation in Mir Ali has started and that militant commander Matiullah was among those who were killed. Terrorists put up resistance when forces penetrated the area, however, 11 surrendered.
The DG ISPR also added that 80 per cent of Miramshah has been cleared by the security forces.
Full report at:
http://www.dawn.com/news/1119392/over-400-terrorists-killed-in-n-waziristan-operation-ispr
-----------
6 terrorists killed in encounter with security forces early Tuesday: ISPR
July 15, 2014
RAWALPINDI: Director General of Inter Services Public Relations (DG-ISPR) Asim Saleem Bajwa said on Tuesday that six terrorists were killed during hand-to-hand combat between security forces and militants in Mirali early Tuesday, Express News reported.
Bajwa told Express News that a Tehreek-e-Taliban Pakistan (TTP) commander, Matiullah, was one of the terrorists killed in the encounter.
While briefing the media, Bajwa stated that a total of 447 terrorists have been killed in the operation, while 88 of their hideouts have also been destroyed.
According to Bajwa, 26 soldiers have also been killed since June 15, when Pakistan launched the military operation.
Full report at:
http://tribune.com.pk/story/735929/6-terrorists-killed-in-encounter-with-security-forces-ispr/
-----------
Blasphemy accused sentenced to death
July 15, 2014
Lahore- A session's court today handed down the death sentence and imposed a fine of Rs100, 000 on a blasphemy accused after charges were proved against him.
According to reports the additional session's court Judge Naveed Iqbal issued the ruling in the case. The accused, Zulfikar, was 'caught red-handed' while writing blasphemous remarks on the walls of Afghan Park in Lahore's Islampura area in 2008. He was booked under blasphemy charges on a complaint filed by area residents. The area residents also claimed that the man used bad language at the time of Azaan (call for prayers).
http://www.nation.com.pk/national/14-Jul-2014/blasphemy-accused-sentenced-to-death
-----------
Taliban return to Swat as target killers
July 15, 2014
MINGORA - Five years have passed since security forces cleared Swat Valley from Mullah Fazlullah-led militants during military operation Rah-e-Rast (Straight Path) in 2009. Apparently, the situation is normal in the area; there are no militants on the street, music and barber shops are open, girls are going to schools and women are visible in bazaars; but people of Swat are still under the constant fear of target killers who from time to time attack pro-government and peace-loving people in the valley.
In a fresh incident on Sunday night (July 14), unknown killers targeted Biadar Khan, 29, a resident of Roringar village in tehsil Matta in Swat. According to his relatives, he had neither a family feud nor any kind of rivalry with anyone, but he openly opposed militants.
"He was a brave and courageous person who tried his best to keep the saboteurs out of his village. During the militancy period in Swat (2007-09) he had snatched a gun from a militant in his village that made him an enemy for the Taliban", said his nephew Abbas Khan while talking to this scribe, adding, "This is the only 'crime' he had committed".
The rising incidents of target killing in the presence of security forces have worried the peaceful inhabitants of Swat. These incidents have also raised questions about the performance of law and order agencies.
Full report at:
http://www.nation.com.pk/national/15-Jul-2014/taliban-return-to-swat-as-target-killers
-----------
Five militant killed during operation in Karachi's Landhi area
July 15, 2014
KARACHI: Five suspected militants were killed during an operation in Gulshan-i-Buner area of Karachi's Landhi area.
Security sources said that a police team conducted the raid after receiving a tip-off regarding the presence of hardened criminals in the vicinity.
The police team was fired upon once they entered the area.
At least five 'terrorists' were killed in retaliatory firing by security personnel, while police also claimed to have recovered a weapon factory, in addition to a large quantity of arms and ammunition.
Those killed during the operation included a commander belonging to Tehreek-i-Taliban Pakistan's (TTP) Swat chapter.
Full report at:
http://www.dawn.com/news/1119393/five-killed-during-operation-in-karachis-landhi-area
-----------
PM Nawaz criticises Imran, Qadri for becoming hindrance to country's progress
July 15, 2014
ISLAMABAD: Referring to the 'tsunami march' and the 'revolution' announced by Pakistan Tehreek-e-Insaf (PTI) chairperson Imran Khan and Pakistan Awami Tehreek (PAT) chief Tahirul Qadri respectively, Prime Minister Nawaz Sharif on Tuesday remarked that his government will not let anyone become a hindrance to the progress of the country.
Addressing a ceremony for Taxpayer Privileges and Honour Card Scheme, the premier said that there was no place for negative politics in the country, adding that it was time for constructive politics.
Implicitly criticising his two political rivals, the prime minister said their parties were involved in centuries-old politics while living in the 21st century.
Premier Nawaz stated that his government will not allow anyone to become an obstacle to the country's development.
Full report at:
http://tribune.com.pk/story/735926/pm-nawaz-criticises-imran-qadri-for-becoming-hindrance-to-countrys-progress/
-----------
Government doesn't want Musharraf to face long jail term: Saad Rafiq
July 15, 2014
Islamabad- Federal Minister for Railways Khawaja Saad Rafique has said that the government did not want that former president Pervez Musharraf land in jail for a long term, and that the issue of Article 6
would go to parliament.
In an interview to a private TV channel, the minister said the government was focusing on the main challenges being faced by the country and the Musharraf issue was not a part of them. He said the Musharraf issue was sub judice and the court will decide about it, adding if the court permitted him to leave the country, the government will follow the decision.
Saad said the government had decided to bring the Independence Day celebrations from drawing rooms to the open. He said the Pakistan Tehreek-e-Insaf (PTI) Chairman Imran Khan should have avoided giving a message of division to the nation on the Independence Day.
The minister said important personalities, including Imran Khan, would be invited to the celebrations, adding that people would wave national flags to show unity instead of waving party flags.
Full report at:
http://www.nation.com.pk/national/15-Jul-2014/government-doesn-t-want-musharraf-to-face-long-jail-term-saad-rafiq
-----------
Pakistan and India likely to reach trade deal this year: Dastgir
July 15, 2014
Islamabad- Commerce Minister Khurram Dastgir says Pakistan and India are likely to reach an agreement to remove taxation and other hurdles in bilateral trade this year.
In an interview, he said talks between the two countries on the issue have made headway. The minister said he will meet his Indian counterpart on the sideline of the meeting of South Asian Free Trade Area, which will be held in Bhutan this month.
He said in the meeting he will stress for liberalization of visa regime for Pakistani businessmen and establishment of banking system between India and Pakistan.
http://www.nation.com.pk/national/14-Jul-2014/pakistan-and-india-likely-to-reach-trade-deal-this-year-dastgir
----------
Displaced tribesmen from Waziristan living in misery
Omer Farooq Khan,TNN | Jul 13, 2014
BANNU: Apparently, the model of 2009 military operation in scenic Swat valley has been followed in North Waziristan tribal region but a thorough assessment of the events reveal that there is a huge difference between the two offensives in many respects.
Unlike the Swat operation which was pre-planned and was timely announced by the then Prime Minister Yusuf Raza Gilani, the North Waziristan action came abruptly following the blatant militant assault on Karachi airport. Even, the civilian government was taken by surprise when the unilateral announcement of long-awaited and much-hyped military operation in North Waziristan was made by the military late on evening of June 15. In this entire scenario, the wrath fell on poor tribesmen who had been given little time for evacuation from the region. With options running thin for local population of the volatile region, they left their homes in haste without being fully prepared for migration and that consequently caused immense losses to them.
Full report at:
http://timesofindia.indiatimes.com/world/pakistan/Displaced-tribesmen-from-Waziristan-living-in-misery/articleshow/38321513.cms
-----------
Faisalabad: young Christians and Muslims for social peace, starting with traffic
July 15, 2014
Faisalabad (AsiaNews) - Hundreds of high school and university students, both Christians and Muslims, attended a two-day symposium on a "Strategy and pedagogy for social transformation."
The event's aim is to change people's attitudes and overcome old social traditions and practices through initiatives that favour peace, harmony and respect for human life. The ultimate goal is to transform society, starting from the problems of everyday life.
The process of development cannot happen with "cosmetic touches"; it requires "radical and substantive" changes that focus on modernity, adapting it to Pakistan's cultural realities.
Held last Tuesday and Wednesday in Faisalabad (Punjab), the conference was organised by LEAP (Learn-Empower-Promote-Act), a Christian group, and Transparency Network (TNNP), a network of local NGOs, the event
Full report at:
http://www.asianews.it/news-en/Faisalabad:-young-Christians-and-Muslims-for-social-peace,-starting-with-traffic-31605.html
-----------
Southeast Asia
Muslim group says Negara-Ku in line with Quranic teachings
July 15, 2014
Negara-Ku has found an ally in a Muslim group, the Alumni of the Malaysian Islamic Study Group US and Canada (MISGUSC Alumni), amid a growing list of Muslim groups coming out to attack the new people's movement.
As opposition from groups such as Perkasa, Isma and Muafakat Sejahtera Masyarakat Malaysia mount, the alumni said Negara-Ku was a step in the right direction to promote harmony and unity among Malaysians.
"It is time for the people to come forward and play an active role in shaping a transparent, more progressive and civilised future for Malaysia," said MISGUSC Alumni vice-president Yunus Tasnim in a statement today.
"We must resolve the tensions and encourage understanding between the races and religions, and end all enmity and conflict."
He said this stance was in line with verse two of Surah Al Maidah in the Quran, which states: "... And help one another in goodness and piety, and do not help one another in sin and aggression..."
Full report at:
http://www.themalaysianinsider.com/malaysia/article/muslim-group-says-negara-ku-in-line-with-quranic-teachings#sthash.1pFynTcm.dpuf
----------
Indonesians Vent Anger Over Gaza Attacks
July 15, 2014
Jakarta. While the One Nation Student Movement, the youth wing of National Awakening Party, held a protest on Friday to not only condemn Israeli airstrikes in the Gaza Strip but even to pray for the destruction of the Jewish state, other Indonesians have opted for more constructive ways to help end the suffering of Palestinians under fire.
The youth organization said it prayed for the demise of Israel because the nation's violence against Palestinians had reached a point of total senselessness.
"Israel has committed acts of extraordinary cruelty and barbarity against the Palestinian people far too many times while other countries remained silent — not daring to stand up to Israel because they are afraid of the United States," its national chairman Ghozali Munir said.
In addition to his strong condemnation of the deadly military operations, which Israel claims to be carrying out to protect its citizens from rocket attacks by Palestinian groups, Ghozali also expressed disappointment over the United Nations Security Council, which according to the activist had not done enough to protect the Palestinians.
Full report at:
http://www.thejakartaglobe.com/news/indonesians-vent-anger-gaza-attacks/
-----------
North America
US warns Israel against Gaza ground assault
July 15, 2014
GAZA CITY - Washington warned its Israeli ally Monday against any ground invasion of Gaza, as Egyptian officials said the US top diplomat was headed to the region to join efforts to end a week of deadly violence.
The White House stopped short of criticising Israel over the civilian casualty toll from its devastating air and artillery bombardment of the densely populated Palestinian enclave that has drawn flak from the United Nations and human rights watchdogs.
It said the Israeli government had the "right" and "responsibility" to defend its citizens against rocket attacks by Hamas from its Gaza stronghold.
But it said even more civilians would be put at risk were Israeli Prime Minister Benjamin Netanyahu to heed hardliners in his governing coalition and send in troops and armour. "Nobody wants to see a ground invasion because that would put more civilians at risk," White House spokesman Josh Earnest said.
Full report at:
http://www.nation.com.pk/national/15-Jul-2014/us-warns-israel-against-gaza-ground-assault
-----------
Obama hosts Iftar marking Ramadan
July 15, 2014
US President Barack Obama has hosted an Iftar party and dinner for foreign diplomats in USA, celebrating Ramadan in the State Dining Room.
According to a youtube video clip, the invited guests include elected officials, religious and grassroots leaders in the Muslim American community, and leaders of diverse faiths and members of the diplomatic corps.
Democrat Congressmen and envoys of Bangladesh, Pakistan, Iraq, Egypt, Sudan, Afghanistan, Saudi Arabia, Mali, Indonesia, Malaysia, Jordan, Morocco, Mauritius, Cameroon, Albania and Uzbekistan were among the guests invited to join the Iftar dinner what has become a White House tradition.
Full report at:
http://www.dhakatribune.com/world/2014/jul/15/obama-hosts-iftar-marking-ramadan-0#sthash.FaYWu2Ju.dpuf
---------
Iran nuclear talks uncertain after Kerry push
July 15, 2014
VIENNA: The fate of nuclear talks between Iran and world powers was unclear Tuesday after two days of "very tough" talks between US Secretary of State John Kerry and his Iranian counterpart in Vienna.
"We are in the middle of talks about nuclear proliferation and reining in Iran's programme, it is a really tough negotiation I will tell you," Kerry said in the Austrian capital.
He said later after the talks with Iranian Foreign Minister Mohammad Javad Zarif: "We are working, we are working very hard. Serious discussions. (It was a) good meeting."
A senior US official said there was "more work to do".
The deadline for Iran and the five permanent members of the UN Security Council plus Germany to get a deal is Sunday, when an interim accord from November expires.
This can be extended, allowing both sides to continue talking, but only if both sides agree and Washington insists Iran has to make major concessions first.
Full report at:
http://tribune.com.pk/story/735927/iran-nuclear-talks-uncertain-after-kerry-push/
-----------
American claims kingdom in Africa
July 15, 2014
ABINGDON: An Ameri­can man says he has claimed a kingdom in Africa so his daughter can be a princess.
Jeremiah Heaton tells the Bristol Herald Courier that he recently trekked to a small, mountainous region between Egypt and Sudan called Bir Tawil. No country claims the land.
Heaton says he planted a flag designed by his children there so that he could become a king — and more importantly, so his 7-year-old daughter Emily could be a princess. They named the area the Kingdom of North Sudan.
Shelia Carapico, a professor of political science and international studies at the University of Richmond, says Heaton would not have political control over the land without legal recognition from neighbouring countries, the United Nations or other groups.
Heaton says he hopes to get Sudan and Egypt to recognise the kingdom.
http://www.dawn.com/news/1119253/american-claims-kingdom-in-africa
----------
Qatar to buy Patriot missiles in $11 bln arms deal: US
July 15, 2014
Qatar will buy US Patriot missiles for the first time in a major arms deal worth $11 billion, officials said Monday, as Washington awaits a decision by the Gulf state on a lucrative fighter jet contract.
The sale will provide Qatar with roughly 10 batteries for Patriot systems designed to knock out incoming missiles, as well as 24 Apache helicopters and 500 Javelin anti-tank missiles, the US officials, who spoke on condition of anonymity, told AFP.
Qatar was investing in missile defense systems to counter what it sees as the threat from Iran across the Gulf, as Tehran has built up its missile arsenal, officials said.
The weapons deal was the biggest for the United States in 2014 and came as Qatar weighs proposals in a fighter jet competition, with US aerospace firm Boeing vying against British BAE Systems and Dassault Aviation of France.
Full report at:
http://english.ahram.org.eg/NewsContent/2/8/106277/World/Region/Qatar-to-buy-Patriot-missiles-in--bln-arms-deal-US.aspx
-----------
Europe
France sets up anti-Islamist force in Africa's Sahel
July 15, 2014
France is to set up a new military operation in the Sahel region of northern Africa in an effort to stop the emergence of jihadist groups.
About 3,000 French soldiers will be deployed, along with troops from Mali, Mauritania, Burkina Faso and Chad.
On Monday France ended its military deployment in Mali, set up 18 months ago after an Islamist insurgency there.
French forces helped the Malian government recapture the north from al-Qaeda-linked militants last year.
Counter-terrorism
The new long-term force, named Operation Barkhane, will be based in the Chadian capital Ndjamena, but will have a mandate to operate across borders.
Full report at:
http://www.bbc.co.uk/news/world-europe-28298230
----------
All-party conference In Pakistan asks UN to revoke Israel's membership
July 15, 2014
KARACHI: An all-party conference on Palestine on Monday called upon the United Nations to revoke the membership of Israel for its aggression on unarmed civilians in Gaza.
The demand came in a resolution at the conference titled "A clarion call from bleeding Al Quds" held under the aegis of the Palestine Liberation Foundation (PLF) Pakistan.
Those who spoke at the APC included Pakistan Peoples Party leader Senator Taj Haider, Pakistan Muslim League-Nawaz leader Salim Zia, Muttahida Qaumi Movement's Ali Raza Abidi, Majlis Wahdat-i-Msulimeen's Allama Amin Shaheedi and Allama Sadiq Raza Taqvi, Jamaat-i-Islami's Muzaffar Hashmi, Pakistan Tehreek-i-Insaf's Shamim Firdous Naqvi and others.
The leaders agreed that Israel was an illegitimate state that was imposed on Palestine by global imperialism.
They called for a united stand of Islamic states against the fresh brutality of Israel.
http://www.dawn.com/news/1119238/un-asked-to-revoke-israels-membership
-----------
Evidence of spiralling sectarian killings and abductions in Iraq: Amnesty International
Manash Pratim Gohain,TNN | Jul 15, 2014
NEW DELHI: A new briefing by Amnesty International sheds light on a growing pattern of sectarian killings and abductions by the Islamic State in Iraq and al-Sham (ISIS) since the group seized Mosul, Iraq's second-biggest city and other parts of north-western Iraq last month.
"Northern Iraq: Civilians in the line of fire", published on Monday, contains harrowing accounts from displaced civilians who fled areas seized by ISIS, fearing for their lives after their relatives were abducted and killed by the group, and amid increasing danger from Iraqi government air strikes.
"Once again, beleaguered civilians in Iraq find themselves trapped in a spiral of sectarian violence from all sides. Hundreds of thousands have fled their homes in terror of abductions and killings by ISIS and air strikes by government forces, as all sides are showing utter disregard for international humanitarian law," said Donatella Rovera, Amnesty International's senior crisis response adviser who has just returned from northern Iraq.
Full report at:
http://timesofindia.indiatimes.com/world/middle-east/Evidence-of-spiralling-sectarian-killings-and-abductions-in-Iraq-Amnesty-International/articleshow/38357673.cms
---------
Dutch urge PA: Stop funding convicted terrorists' salaries
July 15, 2014
The Dutch parliament passed a motion calling for an end to salaries that the Palestinian Authority pays to terrorists.
The motion, which passed unanimously, was supported by the 148 lawmakers who voted on the motion. The Dutch lower house, or the Tweede Kamer, has 150 members.
"The parliament asserts that since 2011, the Palestinian Authority transfers money to Palestinian convicts in Israeli prisons [and] that these moneys can have a negative effect, in which criminality and terrorism are rewarded," read the motion which was submitted by Joel Voordewind and Kees Van der Staaij of the Christian Union and SGP: Reformed Political Party parties, respectively.
Full report at:
http://www.haaretz.com/news/middle-east/1.604785
-----------
Greek Cypriots file war crimes complaint against Turkey
July 15, 2014
A group of Greek Cypriots has filed a war crimes complaint against Turkey at the International Criminal Court over what they say is its policy of settling Cyprus' breakaway north with mainland Turks.
Cyprus split into a Turkish-speaking north and an internationally recognized Greek-speaking south in 1974 when Turkey intervened after a coup that aimed to unite the island with Greece. A Turkish Cypriot declaration of independence is recognized only by Turkey, which maintains 35,000 troops there.
Greek Cypriot European Parliament member Costas Mavrides, who filed the complaint on the group's behalf, said yesterday that settlement activity contravenes international law and has significantly altered the demographics of northern Cyprus.
An Israeli-based rights organization, the Shurat HaDin Law Center, helped the group, which calls itself Cypriots Against Turkish War Crimes, draft the complaint.
http://www.hurriyetdailynews.com/greek-cypriots-file-war-crimes-complaint-against-turkey.aspx?pageID=238&nID=69119&NewsCatID=359
-----------
URL: https://www.newageislam.com/islamic-world-news/new-age-islam-news-bureau/religious-militias-blamed-for-31-deaths-at-brothel-in-baghdad/d/98120