New Age Islam News Bureau
2 Jun 2015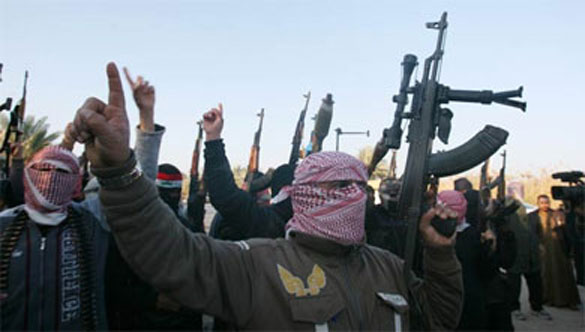 IS fighters have over the past year seized a formidable arsenal of military vehicles, weapons and ammunition from retreating Iraqi forces. (Representational Image - AP Photo)
------------
India
• Religious Freedom 'Non-Negotiable', PM Warns Hotheads
• Bareilly on Edge as Deobandi and Barelvi Sects Clash
• Medical College, Waqf Board at Loggerheads over Mosque on Campus
• Gilgit, Baltistan elections: India slams Pak attempt to camouflage illegal occupation
• Muslims who consider India their motherland are entitled to all citizen rights: Sena
• Mehdi charge-sheeted for Kashmir, pro-IS tweets
• Horror Rules the Refugee Muslims of Ballabhgarh, Haryana
Arab World
• Suicide Attack on Iraq Police Base Kills At Least 37
• Unidentified Gunmen Kill over 6 ISIL Terrorists in Syria's Deir Ezzur
• Saudi Arabia Shipping Arms to Al-Qaeda Terrorists in Yemen
• IS Militants 'Filmed Torturing Syrian Boy'
• IS maliciously fans sectarianism, says Egypt top Islamic body
• KSA denounces Israeli bid to Judaise Jerusalem
• Hezbollah: Fall of Palmyra Not Strategically Important
• Egypt postpones final ruling on Morsi death sentence
• IS has found new ways to intimidate Syrian troops
South Asia
• Eight Soldiers Martyred, 36 Militants Killed In Military Operations
• Militants Kills Nine Afghan Employees of Czech NGO
• Ban on Prayers on Chairs Sparks Outrage in Bangladesh
• Terrorism trials for Adhaalath, Jumhooree Party leaders set to begin
• Monk: Rohingya Treatment in Myanmar Not Representative of Buddhism
• Ghani: Afghans will respond to force with force
• Bangladesh: 'I work for the satisfaction of Allah,' bank robber tells police
Pakistan
• FC Kills 13 Suspected Mustung Carnage Militants
• IHC Orders Demolition of Illegally-Constructed Seminary
• Taliban and Haqqani members should be handed over to Kabul: Pakistani MP
• Drone Strike Kills 4 more in NW Pakistan
• Threat to life: ISI witness refuses to testify in BB murder case
• ECP orders re-polling in PK-95 after women barred from voting
• Military offensives against militants gains ground in battling polio
• In Islamabad: No implementation on uniform prayer timings
• Enemies of Pakistan want to divide the nation: PM Nawaz
• War in Pakistan, Afghanistan since 2001 has killed 149,000: study
• US-India N-deal affected strategic stability, says Pakistan
North America
• US, India Need To Fight Violence, Terrorism Together: Hillary Clinton
• ISIS Revamps Recruitment, With Savvy, Professional Broadcasts
• American freed in Yemen as US holds secret talks with Houthis
• Syrian rebel group ready to quit anti-ISIL fight: Report
• Iraqi PM to outline plan for retaking Ramadi: US official
• Obama calls on Myanmar to end 'discrimination' against Rohingya
• Obama defends Iran nuclear talks on Israeli TV
Europe
• Russia Terms US-Led Coalition against ISIL in Iraq, Syria as Mistake
• Arabic Newspaper Aims to Build Bridges in Sweden
• UN Agency: World Nuclear Facilities Vulnerable to Cyber-Attacks
Africa
• Somalia: Al Shabaab Fighters Take Over Kenya Village near Border
• Sudan likely to have armed S. Sudan rebels by air: Report
Mideast
• At Iran Anti-IS Cartoon Contest, Pens Also Jab the West
• Salafist Leader killed in clash with Gaza police
• CHP leader: Threat against journalist shows Erdoğan's 'impotence'
• AKP's Kurdish Quran translation 'full of errors'
• Iran's Rouhani says Arabs, West miscalculated in Syria
• Israel accuses UN of recognising Hamas-linked NGO
Southeast Asia
• Mat Sabu tells PAS to Exercise Tolerance with Non-Muslims
• Pas Won't Use 'Back Route' To Realise Hudud Dreams, PAS Youth Chief Says
• IS makes inroads in Southeast Asia
Compiled by New Age Islam News Bureau
URL: https://www.newageislam.com/islamic-world-news/new-age-islam-news-bureau/religious-freedom-%E2%80%98non-negotiable%E2%80%99,-pm-warns-hotheads/d/103299
----------
India
Religious freedom 'non-negotiable', PM warns hotheads
TNN | Jun 2, 2015
NEW DELHI: Prime Minister Narendra Modi has warned BJP members from spreading communal hatred, acknowledging that provocative comments made by some of his party colleagues were "totally uncalled for" and declaring that constitutional guarantees of religious freedom and non-discrimination were "non-negotiable".
Asked by the news agency UNI about some BJP members spreading communal hatred, the PM said, "Some unfortunate comments have been made, which were totally uncalled for. Our Constitution guarantees religious freedom to every citizen and that is not negotiable... any discrimination or violence against any community will not be tolerated. My position on this is very clear: Sab ka saath, sab ka vikas. We stand for every one of the 1.25 billion Indians regardless of caste or creed and we will work for the progress of every one of them."
Though broadly a reiteration of the public rebuke to in-house hardliners, including ministers of state Sadhvi Niranjan Jyoti and Giriraj Singh, and outspoken MPs Mahant Adityanath and Sakshi Maharaj, the PM's comments in the interview to the news agency stood out for the forthright admission that some of his party colleagues were in the wrong. Observers were quick to point out that the statement was a departure from the efforts to establish an equivalence by assigning the blame to the unknown and unidentifiable "whoever responsible".
The controversial statements and actions of other allied Sangh outfits embarrassed the government, and were used by its opponents to allege that Modi's campaign promise not to discriminate among communities on grounds of faith was a mere ploy. On Monday, Modi asserted that he would exclusively focus on growth acceleration and job creation. "Our focal point is clear: Vikas, Vikas, Vikas; jobs, jobs, jobs."
On the performance of the NDA government, he said all actions in the past one year had been driven by long-term national interest. Pointing out the string of scams that dogged the UPA regime, Modi said, "Our precious natural resources were going into the hands of a chosen few. In contrast, there are neither any charges of corruption against my government nor any scandals. We have given a clean, transparent and efficient government."
On the contentious land acquisition bill and the opposition charges of being 'pro-corporate' and 'anti-poor', the PM said, "Those who gave away precious natural resources like coal and spectrum to their favourite industrialists have no right to say this." He accused Congress of sustaining its politics only in the name of the poor in the last six decades. "You should ask them, if you were pro-poor, why does poverty still exist in India?" he countered.
He said UPA's land acquisition Act was neither in the interest of farmers nor in the interest of the country's development. "After we took over, many state governments, chief ministers and public representatives made representations against various provisions of the 2013 Act. Tell me, in a federal system, should we have ignored concerns voiced by states?" he asked, adding that the amendments only try to correct anomalies pointed out by states. "The criticism against our bill is politically motivated. Our bill focuses on benefitting the farmer and balancing the long-term interests of the nation," he said.
Modi said the government was open to a discussion with all political parties, and would consider their suggestions so long as the core objectives were met.
On the agrarian crisis, the PM said the problem in agriculture was endemic and decades of mismanagement had led to the present situation. "We have started long-term steps for the farm sector. Unlike the previous government, we were successful in defending the interests of the farmers at the WTO... agriculture, industry and services are equally important," he said.
Citing the Jan Dhan scheme, he said the NDA government had taken steps for financial inclusion of the poor by bringing them under the banking system. "People get insurance cover as well as overdraft facility through these accounts. For workers, we introduced a number of schemes including the Universal Account Number so that they can avail their EPF benefits. The so-called pro-poor have been just repeating that there is leakage in subsidy. We used technology to see that LPG subsidy and scholarships reach the targeted person directly," he said.
Modi said 'Swachh Bharat' mission was to address health and hygiene issues of the poor so that they do not affect their working capacity and output.
Asked about his much-touted 'Achhe Din' promise, Modi said UPA was a 'scam a day' government. "If you can recall that bad phase, misdeeds and wrong doings, you will feel that the country got rid of 'bure-din' (bad phase)... 'Achhe din' have already been heralded but some people are trying to belittle and tarnish our performance," he said.
Asked about freeze in Indo-Pak ties, Modi said India had only one expectation from Pakistan that the "nation follows the path of peace and non violence. Then there is no issue... The deadlock should end".
On the boundary dispute with China, the PM said he had already made India's point of view very clear to Beijing. "Both India and China have potential for growth ... President Xi and I are committed at personal level to take the cooperative and peaceful process forward."
http://timesofindia.indiatimes.com/india/Religious-freedom-non-negotiable-PM-warns-hotheads/articleshow/47507956.cms
----------
Bareilly on Edge as Deobandi and Barelvi Sects Clash
June 2, 2015
Muslims in Bareilly are caught in a violent internecine feud over control of the Masjid Qutubkhana, an 80-year-old edifice in the heart of town. .
Followers of the Deobandi and Barelvi sects, both unique to Islam in India, who refuse to acknowledge the other as 'Muslim', have laid claim to the mosque at a prime location in the city, with a sprawling courtyard and shops on its premises.
Tension simmers in Bareilly after two violent clashes last week. The local administration has barred both sects from performing prayers in the mosque. A large contingent of the Provincial Armed Constabulary has been deployed across the city as a precaution. A committee of senior officers has been constituted to assess the situation and decide in the next fortnight on who will control the mosque.
The followers of the two sects have meanwhile also taken their fight to social media platforms like Facebook and WhatsApp groups.
The dispute started with the appointment of an Imam after the last imam, Imtiyaz, was arrested on charges of sodomy on May 25. Imtiyaz belonged to the Deobandi school as did all the priests of the mosque for last 30 years. The Deobandis allege that the arrest of Imtiyaz was a conspiracy hatched by the Barelvis to take over the mosque.
After the arrest of Imtiyaz last Monday, the Barelvi group did try to take over the mosque which was strongly resisted by the Deobandis, resulting in stone pelting and violent clashes.
Making a strong statement to claim the mosque, thousands of Barelvis marched to the Kotwali police station on Saturday. The protesters claimed that the Masjid Qutubkhana is registered with Sunni Central Board of Wakfs in Lucknow and belonged to them.
http://www.thehindu.com/news/national/other-states/bareilly-on-edge-as-muslim-sects-clash/article7272611.ece?ref=tpnews
----------
Medical College, Waqf Board at Loggerheads over Mosque on Campus
June 2, 2015
AGRA: SN Medical College authorities and the Waqf board officials are at loggerheads over construction work in a mosque on campus, near the boys' hostel. College management are worried that any expansion in the mosque could lead to a clashes between the devotees and college students even as Waqf board officials claimed that they were not expanding the premises and were only renovating the building. That the matter is taking a political hue was evident after Samajwadi Party leader Farukh Siyar intervened, backing the Waqf board officials and on Monday, members of Hindu Jagran Manch met SN Medical College principal Dr Ajay Agarwal, extending their support to the college administration.
Several Muslim leaders along with SP leader Faruk Siyar met SN Medical College authorities on Saturday and demanded permission for "expansion of the mosque". When Dr Ajay Agarwal refused to allow the expansion of the mosque, the SP leader reportedly threatened the principal to either allow the construction or be ready to quit his job.
On Monday, a group of members of Hindu Jagran Manch met the SN Medical College's principal, extending their support to the management. The Manch members claimed that they did not want politicization of matters relating to an educational institution. Siyar has denied threatening the principal.
"We have already taken an appointment with the district magistrate who will be meeting us on June 6. The decision of the construction in the mosque will be taken by the DM and we will act accordingly," added Siyar.
"The Waqf board officials and Muslim leaders are trying to disturb the peace in the city. We will not let this happen. We have extended our support to the college administration who in reply have said they will act as per the orders of the district administration," said Vivek Shukla, spokesperson, Hindu Jagran Manch.
Talking to TOI, Dr Agarwal said there is a temple, Gurdwara and a mosque on college campus. The turnout at the Gurdwara is not too big; hence the college administration has no problems with its existence. The temple witnesses a larger crowd and that is why college authorities have made another route for entry and exit of devotees to the temple, away from the route taken by students.
"The mosque is situated in the middle of the campus. Its expansion will lead to chaos as people from outside will come in contact with the students. We have already faced some untoward situations due to religious structures and we do not want any expansion of the mosque as the space is sufficient for students to offer prayers," added Dr Ajay Agarwal.
The students too stood by their principal along with the doctors of the medical college, who claimed that a nuisance would be created in the college premises if the mosque is expanded and outsiders allowed to offer Namaz there.
"Outsiders from Muslim localities use to sit in the mosque for hours and tease girls, misbehave with the students and create chaos in the hostel premises. Even wardens of the hostel do not want the expansion of the mosque to maintain peace on college campus," said a student.
http://timesofindia.indiatimes.com/city/bareilly/Medical-college-Waqf-board-at-loggerheads-over-mosque-on-campus/articleshow/47505180.cms
----------
Gilgit, Baltistan elections: India slams Pak attempt to camouflage illegal occupation
June 2, 2015
NEW DELHI: Reacting strongly to the upcoming elections in Gilgit and Baltistan on June 8, India on Tuesday said it is an attempt by Pakistan to "camouflage its forcible and illegal occupation" of the regions which are integral part of the country.
Official spokesperson in the external affairs ministry Vikas Swarup also expressed concern at the "continued efforts" by Pakistan to deny the people of the region their political rights and to absorb these territories.
"India's position is well known. The entire state of Jammu and Kashmir which includes the regions of Gilgit and Baltistan is an integral part of India. The election in Gilgit and Baltistan on June 8 under the so called 'Gilgit Baltistan Empowerment and Self Government Order' is an attempt by Pakistan to camouflage its forcible and illegal occupation of the regions.
BLOG: Pay attention to the sufferings of people of Gilgit and Baltistan
"We are concerned at the continued efforts by Pakistan to deny the people of the region their political rights, and the efforts being made to absorb these territories. The fact that a federal minister of Pakistan is also the 'governor of Gilgit Baltistan' speaks for itself," the spokesperson said.
He noted that "unfortunately, in recent times the people of the region have also become victims of sectarian conflict, terrorism and extreme economic hardship due to Pakistan's occupationary policies."
http://timesofindia.indiatimes.com/india/Gilgit-Baltistan-elections-India-slams-Pak-attempt-to-camouflage-illegal-occupation/articleshow/47512548.cms
--------
Muslims who consider India their motherland are entitled to all citizen rights: Sena
PTI | Jun 2, 2015
MUMBAI: Weeks after the Election Commission expressed displeasure over senior leader Sanjay Raut's comments on voting rights of Muslims, the Shiv Sena on Tuesday said all Muslims who consider India their motherland should be given all citizen rights.
"All Muslims who consider India as their motherland and those who are ready to sweat it out for the development of the country are our brothers and they should be given all the rights as citizens of India," the Sena said in an editorial in its mouthpiece 'Saamana'.
The Sena also said it was wrong on part of a business house to deny job to a young man, named Zeshan Khan, for being a Muslim and took a swipe at the Adani Group for offering him a job in the company for "publicity."
Full report at:
http://timesofindia.indiatimes.com/india/Muslims-who-consider-India-their-motherland-are-entitled-to-all-citizen-rights-Sena/articleshow/47511752.cms
----------
Mehdi charge-sheeted for Kashmir, pro-IS tweets
TNN | Jun 2, 2015
BENGALURU: Mehdi Masroor Biswas, 24, who tweeted about the Islamic State (IS), was on Monday charge-sheeted for waging war against India, based on his tweets on Jammu and Kashmir.
The management executive with a multinational company, who was picked up from his Jalahalli apartment on December 13, 2014, has also been charged with waging war against Asiatic powers allied with India and a host of other offenses.
The 36,986-page charge-sheet, submitted before the additional chief metropolitan magistrate on Monday, names Mehdi as the only accused. The bulk of the charge-sheet comprises documentary evidence in the form of tweets and emails.
Mehdi was arrested after he gave an interview to a foreign media house, claiming to operate the Twitter handle @ShamiWitness, which published pro-IS propaganda. Police said Mehdi was arrested after a British television channel reported that a Bengalurean was tweeting pro-IS messages.
Full report at:
http://timesofindia.indiatimes.com/india/Mehdi-charge-sheeted-for-Kashmir-pro-IS-tweets/articleshow/47507469.cms
----------
Horror Rules the Refugee Muslims of Ballabhgarh
June 2, 2015
BALLABHGARH, FARIDABAD: For the last eight days, the police station at Ballabhgarh has been turned into a refugee camp, where more than 200 terrified Muslims have taken shelter. They are among the 1800 members of the community, who have fled Atali village following violence.
The flashpoint was the construction of a mosque on disputed land. Discontent was brewing for a while, but last Monday, 20 houses belonging to the minority community were set on fire. The mosque, which was being built next to a temple, was torched too. Twelve people were injured - many of them women and children -- in the half-hour violence that followed.
At the police station, the villagers insist that no action has been taken in the case. "They burnt our houses in the presence of the police... We don't trust the police... If they can't even arrest them, how will they protect our families?" said a young man.
Full report at:
http://www.ndtv.com/others-news/horror-rules-the-refugee-muslims-of-ballabhgarh-767803
-------
Arab World
Suicide attack on Iraq police base kills at least 37
June 2, 2015
BAGHDAD: A suicide attack using an armored vehicle packed with explosives against an Iraqi police base northwest of Baghdad killed at least 37 people on Monday, officers said.
They said the attack was against a federal police base between Samarra and the Tharthar lake.
A doctor said the bodies of at least 37 people were brought to Samarra hospital. "They are mostly policemen," he told AFP.
He said at least 33 people were also wounded in the attack, which some police officers said was carried out with a tank.
The area is being used in a military operation aimed at cutting off the Islamic State jihadist group's supply lines in Anbar province of western Iraq.
IS fighters have over the past year seized a formidable arsenal of military vehicles, weapons and ammunition from retreating Iraqi forces.
"The attack was carried out with a tank and left more than 70 killed and wounded," a senior police officer for Salaheddin province said.
Iraqi security forces have in recent days successfully repelled several suicide attacks involving explosives-laden vehicles thanks to guided anti-tank systems.
http://www.arabnews.com/middle-east/news/755226
----------
Unidentified Gunmen Kill over 6 ISIL Terrorists in Syria's Deir Ezzur
June 2, 2015
At least six terrorists were killed after a group of unidentified armed men stormed an ISIL compound in the Eastern Syrian province of Deir Ezzur.
Local sources said that a group of unknown armed men launched an attack on an ISIL hideout in the city of al-Mayadeen, Deir Ezzur, late on Monday, claiming the lives of more than 6 Takfiri militants.
The sources added that the gunmen left the area with no injuries after accomplishing their mission.
The locals believe that the armed men were members of a local resistance group which is running sting operations against the ISIL terrorists across Deir Ezzur.
The ISIL Takfiri terrorists currently control shrinking swathes of Syria and Iraq. They have threatened all communities, including Shiites, Sunnis, Kurds, Christians, Ezadi Kurds and others, as they continue their atrocities in Iraq.
Senior Iraqi officials have blamed Saudi Arabia, Qatar, and some Persian Gulf Arab states for the growing terrorism in their country.
The ISIL has links with Saudi intelligence and is believed to be indirectly supported by the Israeli regime.
http://english.farsnews.com/newstext.aspx?nn=13940312000605
----------
Saudi Arabia Shipping Arms to Al-Qaeda Terrorists in Yemen
June 2, 2015
The Saudi monarchy is smuggling large consignments of weapons and munitions into Yemen in a bid to aid the al-Qaeda terrorists in the Arab country, a report said.
Yemeni media outlets released a report on Tuesday, saying that Riyadh is sending large quantities of arms and ammunition to al-Qaeda terrorists operating in Yemen to undermine the Ansarullah popular fighters.
The report added that so far 36 trucks, 16 of them loaded with arms and munitions, have been smuggled into Yemen through Wadia border crossing in the Eastern Yemeni province of Hadhramaut.
The terrorists were also provided with medicine and funds, the report added.
Back in April, an informed Yemeni source said that the Saudi regime has sharply increased the flow of weapons to the al-Qaeda terrorists and the loyalists to Yemen's fugitive President Mansour Hadi in the city of Ta'izz.
Full report at:
http://english.farsnews.com/newstext.aspx?nn=13940312000997
----------
IS militants 'filmed torturing Syrian boy'
June 2, 2015
A graphic mobile phone video obtained by the BBC appears to show militants from Islamic State (IS) torturing a 14-year-old Syrian boy.
The footage, filmed by a defector from the jihadist group, shows the boy being beaten while he hangs by his wrists.
The UN has accused IS and other armed groups in Syria and Iraq of torturing and killing children.
Children have also been recruited, trained and used on the battlefield.
The mobile phone footage shows Ahmed hanging a foot or so off the ground.
He is blindfolded, and two masked men, dressed head to toe in black, pace the ground in front of him. One has a knife and a pistol; the other strides around the room with an AK-47.
They hung Ahmed from the ceiling by his arms and then the beating started.
He was just 14 when IS captured and tortured him.
Full report at:
http://www.dhakatribune.com/world/2015/jun/02/militants-filmed-torturing-syrian-boy#sthash.8qeeA5gl.dpuf
----------
IS maliciously fans sectarianism, says Egypt top Islamic body
June 2, 2015
CAIRO: A top religious institute in Egypt has called attempts by the Islamic State group to fan sectarianism in the region a "malicious" way to undermine modern societies and states.
The statement Monday by Dar Al-Ifta, one of the region's top religious bodies that advises Muslims on spiritual and life matters, follows a recent audio recording by an alleged IS group member who calls for "purifying" Saudi Arabia from Shiite Muslims.
The audio comes in the wake of recent bombings against Shiite mosques in the kingdom, which has a small Shiite minority.
In a new emphasis to counter extremist ideas, Dar Al-Ifta said citizenship, not sects, should be the link between people of the same country. It said the principle of citizenship stands in the way of IS and its goals.
http://www.arabnews.com/middle-east/news/755246
-------
KSA denounces Israeli bid to Judaize Jerusalem
June 2, 2015
JEDDAH: The Cabinet meeting on Monday urged the international community to stop the Israeli violations in the occupied Palestinian territories and its attempts to Judaize Jerusalem and divide Al-Aqsa Mosque.
"Israel has moved some offices to occupied Jerusalem and has been arresting Palestinians in groups. Such developments and violations of Palestinian human rights prove its flagrant attempts to Judaize the holy city through accelerating the pace of settlements," it said.
The Cabinet hailed Custodian of the Two Holy Mosques King Salman's program to host 1,000 Muslims for Umrah every year.
The Cabinet passed a new law to regulate grants and donations by government bodies. It appreciated a statement issued by the Council of Senior Islamic Scholars urging citizens to keep away from activities that would lead to division, chaos and confusion. The Cabinet amended some of the articles of the Saudi Fund for Development, allowing the fund to provide grants for technical assistance to finance studies and logistical support for projects. However, the total annual amount allocated for this purpose should not exceed 2 percent of its net income.
Full report at:
http://www.arabnews.com/saudi-arabia/news/755631
----------
Hezbollah: Fall of Palmyra Not Strategically Important
June 2, 2015
Deputy Secretary General of the Lebanese Hezbollah Resistance Movement Sheikh Naeem Qassem underlined that the fall of the ancient city of Palmyra (also known in Arabic as Tadmor) would not give the terrorists the upper-hand in Syria's Homs province.
"The occupation of Tadmor city by the ISIL cannot change the (military) equations," Sheikh Qassem said in an interview with the Beirut-based Al-Manar TV on Monday.
The Hezbollah deputy chief pointed to the West's support for the terrorist groups in the regional countries, and said, "Were it not because of the Hezbollah presence in Syria, the terrorists groups would be in Beirut and many others regions of Lebanon now."
He noted that the Syrian army is fighting the Takfiri terrorists in 760 locations across Syria, and said that the army is capable of safeguarding the country.
Full report at:
http://english.farsnews.com/newstext.aspx?nn=13940312000468
----------
Egypt postpones final ruling on Morsi death sentence
June 2, 2015
CAIRO: An Egyptian court Tuesday postponed its final ruling on ousted president Mohamed Morsi, who was sentenced to death along with dozens more over a mass jailbreak during the 2011 uprising.
The court said it would also announce on June 16 its verdict against the ex-president and 18 other defendants in a separate case of espionage.
On May 16 Morsi and more than 100 others were sentenced to death after being convicted of plotting jailbreaks and attacks on police during the uprising more than four years ago that overthrew president Hosni Mubarak.
The death sentence was referred to the mufti, the government's interpreter of Islamic law who plays an advisory role, and a final ruling had been scheduled for Tuesday.
Judge Shabaan El-Shamy said that the final ruling in the jailbreak case will now come in two weeks.
Full report at:
http://tribune.com.pk/story/896300/egypt-postpones-final-ruling-on-morsi-death-sentence/
----------
IS has found new ways to intimidate Syrian troops
June 2, 2015
ABOVE us, white clouds graze the top of Tel Moussa, 2,800 metres of red rock above foothills of granite and valleys of innocent-looking cherry orchards.
Across the gaunt peaks and caves of the Qalamoun range, east of the Lebanese border, a kind of victory has been celebrated by the Syrian army after the sudden collapse of Palmyra to the self-styled Islamic State (IS), a loss which – as they both admit freely – deeply shocked Col Median and his senior officer, General Ghassan. Months of fighting west of the town of Yabroud have freed a 40-km front from the Nusra Islamists right up to the Lebanese frontier, and Gen Ghassan's 130mm artillery are now dug in on the Syrian side of the border, scarcely 20 kilometres from the Lebanese city of Baalbek.
It has been a personal war for these soldiers: infantrymen along with paratroopers from the Syrian Republican Guard and the locally-raised "National
Full report at:
http://www.dawn.com/news/1185624/is-has-found-new-ways-to-intimidate-syrian-troops
----------
South Asia
Eight soldiers martyred, 36 militants killed in military operations
Jun 02 2015
Eight soldiers have embraced martyrdom while 36 militants were killed in newest military operations across the country, Ministry of Defense announced on Tuesday.
Ministry of Defense states that the eight soldiers embraced martyrdom in landmine explosion and insurgent fire in past 24 hours but it does not specify the exact location of the incidents.
The statement adds that 36 militants were killed and 23 others wounded during separate military operations in past 24 hours.
Those killed included three local commanders of the militants by the name of Qari Gawhar, Commander Lachi and Qari Zewar.
18 suspects were also arrested during these operations conducted in Badakhshan, Urozgan, Sar-e-Pul, Balkh, Kundoz, Helmand, Daikundi, Parwan and Bamyan province.
Security forces have also confiscated weapons and ammunitions during these operations but a specific number is not given.
http://www.khaama.com/eight-soldiers-martyred-36-militants-killed-in-military-operations-3416
----------
Militants kills nine Afghan employees of Czech NGO
June 2, 2015
Nine Afghan employees of a Czech aid organisation were killed when militants attacked their guesthouse in northern Afghanistan early on Tuesday, officials said, the latest attack targeting humanitarian workers in the war-battered country.
No group has so far claimed responsibility for the killings in the relatively tranquil Balkh province, but the attack comes as the Taliban intensify their annual spring offensive despite repeated government attempts to reopen peace talks.
"Those killed in Zari district of Balkh province include seven aid workers, six men and one woman, and two guards," deputy provincial police chief Abdul Razaq Qaderi told AFP, blaming the Taliban for the attack.
Full report at:
http://www.themalaysianinsider.com/world/article/militants-kills-nine-afghan-employees-of-czech-ngo#sthash.p8XHpZyy.dpuf
----------
Ban on prayers on chairs sparks outrage in Bangladesh
June 2, 2015
DHAKA: A ban on using chairs in mosques has provoked outrage in Muslim-majority Bangladesh, with critics saying it will exclude the elderly and infirm from prayers.
The Islamic Foundation, an autonomous government agency, issued the fatwa over the weekend, saying devotees must instead use prayer mats.
But the move has attracted criticism both from within the government and Muslim clerics.
Prime Minister Sheikh Hasina told a weekly cabinet meeting on Monday she was "stunned", according to media reports, while pro-opposition Islamic groups reacted with fury.
"We strongly protest this faulty and fictitious fatwa," said a statement issued by a group of Islamic leaders and clerics.
Full report at:
http://www.dawn.com/news/1185728/ban-on-prayers-on-chairs-sparks-outrage-in-bangladesh
----------
Terrorism trials for Adhaalath, Jumhooree Party leaders set to begin
June 2, 2015
The terrorism trials of opposition Adhaalath Party and Jumhoory Party (JP) leaders are set to begin at the Criminal Court tonight.
Adhaalath Party president Sheikh Imran Abdulla's trial is set for 8:00pm, while trials for JP deputy leader Ameen Ibrahim and council member Sobah Rasheed have been set for 8:30 pm and 9:00pm, respectively.
The three are charged with inciting violence at a mass antigovernment protest on May 1. If convicted, they face between 10 and 15 years in jail.
At tonight's hearings, state prosecutors will read out charges against the three and judges are expected to give them a three-day period to appoint lawyers.
Imran is in police custody at present. He was arrested from his home at 11:00pm last night on Full report at:
http://minivannews.com/politics/terrorism-trials-for-adhaalath-jumhooree-party-leaders-set-to-begin-99050#sthash.ct5RcHbS.dpuf
----------
Monk: Rohingya Treatment in Myanmar Not Representative of Buddhism
June 2, 2015
Jakarta. The conflict between Rohingya Muslims and Buddhists in Myanmar should not be seen as representative of the entire Buddhist religion and all of its adherents, a monk from a Buddhist monastery in Jakarta said on Tuesday, stressing that his religion advocates peace.
Nyanagupta of the Ekayana Monastery in West Jakarta made the address during Vesak celebrations, a major religious event commemorating Buddha's birth and life.
"We must see this clearly. The case of the Rohingya [clashes with Buddhists, mainly in Myanmar's Rakhine state] happened several years ago. This does not represent all Buddhists entirely, not even all of Myanmar's Buddhists," the monk said on Tuesday, as quoted by newsportal Kompas.com.
Full report at:
http://thejakartaglobe.beritasatu.com/news/monk-rohingya-treatment-myanmar-not-representative-buddhism/
----------
Ghani: Afghans will respond to force with force
June 2, 2015
President Mohammad Ashraf Ghani said Monday that the Afghan people will respond to force with force while calling the ongoing violence in the country an 'imposed war'.
The remarks by President Ghani were made during a trip to western Herat province of Afghanistan while he was speaking during a gathering attended by the Afghan National Security Forces.
He said the enemies of Afghanistan are looking to weaken Afghanistan but the Afghan government and people will never negotiate from a weak position.
"Enemy wants us weaken us but we are negotiating from a position of strength," President Ghani said.
Full report at:
http://www.khaama.com/ghani-afghans-will-respond-to-force-with-force-1157
----------
Bangladesh: 'I work for the satisfaction of Allah,' bank robber tells police
June 2, 2015
The thirty-five year old "operation commander" of the Bangladesh Commerce Bank robbery in Ashulia that left nine people dead and more than 20 wounded says he did it all for God.
Shamim alias Sumon, 35, a leader of the outlawed extremist outfit Ansarullah Bangla Team, justified the extremely violent April 21 bank heist as piety, a district high official, requesting not to be named, told the Dhaka Tribune yesterday.
"I do not do anything, including the robbery, for myself, Sir. I do not even work for the organisation for myself ... I work for the satisfaction of Allah," Mahfuzul Islam Shamim, the head of the gang that robbed the Ashulia Commerce Bank was quoted by police as saying.
When the official asked the suspect whether such acts are mentioned in the holy texts, Shamim put his head down and would not answer, the official said.
Full report at:
http://www.dhakatribune.com/crime/2015/jun/02/i-work-satisfaction-allah-bank-robber-tells-police#sthash.kt8nvBSK.dpuf
--------
Pakistan
FC kills 13 suspected Mustung carnage militants
June 2, 2015
QUETTA: Frontier Corps on Monday claimed to have killed 13 suspected militants who were allegedly involved in the Mastung carnage that claimed at least 20 lives.
"FC launched targeted operations in Balochistan's Kalat and Pangjoor districts, killing 13 miscreants," Khan Wasey, the Spokesman for Frontier Corps said.
He said security forces also recovered weapons from the possession of the miscreants.
Wasey stated that search operations were carried out in Hat Boai and Borgan areas of Kalat district. An exchange of fire also took place between forces and miscreants, he added.
The FC spokesperson stated that the miscreants were allegedly involved in killings of bus passengers in Khad Kucha area of Mastung on May 29th. However, FC's claim could not be verified from independent sources.
FC also killed four militants in Parum area of Panjgor district. Wasey stated that the miscreants were killed during an exchange of fire with forces.
http://www.dawn.com/news/1185604/fc-kills-13-suspected-mustung-carnage-militants
----------
IHC orders demolition of illegally-constructed seminary
June 2, 2015
ISLAMABAD: The Islamabad High Court on Monday ordered the demolition of a religious seminary illegally constructed on a graveyard land at Sector G-11 within a week.
Justice Shaukat Aziz Siddiqui of the IHC issued the directions on a petition filed by a resident of G-11/3. The Capital Development Authority (CDA) was ordered to file a compliance report after retrieving the land.
"No religious seminary can be constructed in an illegal manner and without adopting a due procedure," Justice Siddiqui observed during the hearing of the petition. Addressing the counsel for the cleric who had encroached on the land, the judge remarked: "Do you have the permission from the CDA or any competent authority to establish the madressah?" In reply, the counsel said there were a number of madressahs in the capital running in a similar manner. However, Justice Siddiqui reminded him that it was against the teachings of Islam to encroach upon another's land.
Full report at:
http://www.dawn.com/news/1185671/ihc-orders-demolition-of-illegally-constructed-seminary
----------
Taliban and Haqqani members should be handed over to Kabul: Pakistani MP
June 2, 2015
A member of Pakistan's National Assembly has said the members of the Afghan Taliban and Haqqani terrorist network should be handed over to Kabul in a bid to help revive Afghan peace talks.
The remarks by Awais Ahmad Khan Laghari – chairman of National Assembly Standing Committee on Foreign Affairs, comes as President Mohammad Ashraf Ghani demanded Pakistan's military leadership to issue a "directive" to deny sanctuary for the Afghan Taliban.
President Ghani also demanded that "Pakistan should extend counterterrorism operations to the Haqqani network and arrest those responsible for the recent terrorist activities inside Afghanistan."
Full report at:
http://www.khaama.com/taliban-and-haqqani-members-should-be-handed-over-to-kabul-pakistani-mp-1158
----------
Drone Strike Kills 4 more in NW Pakistan
June 2, 2015
At least four people were killed in a fresh US drone strike in Pakistan's volatile North Waziristan tribal area near the Afghan border.
According to sources, the strike took place when the assassination drone fired two missiles at a vehicle in the Shawal area of the militancy-riddled North Waziristan late on Monday, press tv reported.
The car was completely destroyed in the strike, leaving the four dead.
On May 18, another US drone attack claimed the lives of at least three people in Pakistan's northwestern restive tribal region. A similar attack killed four people in the Warokey Mandi area of North Waziristan, where the Pakistani military forces have been operating against pro-Taliban and al-Qaeda-linked militants since last June.
Full report at:
http://english.farsnews.com/newstext.aspx?nn=13940312000895
----------
Threat to life: ISI witness refuses to testify in BB murder case
June 2, 2015
RAWALPINDI: A key witness of the Inter Services Intelligence (ISI) on Monday refused to testify before an anti-terrorism court in the former premier Benazir Bhutto's (BB) murder case.
Special Judge Rai Muhammad Ayub Marth of ATC No 1 took up the BB murder case in a newly established room in the commissioner's office where prosecution witness Ismail, the former ISI telephone operator, faced the court.
Ismail told the court that his life was in danger after he left his job at the ISI. Besides, he said, his native town borders Nusrati village of TTP's Baitullah Mehsud in Karak tehsil.
Consequently, the anti-terrorism court discarded his earlier statement he recorded before the investigation team which was probing BB assassination case.
Former telephone operator Ismail had confirmed to the investigation team that he had intercepted the communication between the suspects and the TTP terrorists.
http://tribune.com.pk/story/896020/threat-to-life-isi-witness-refuses-to-testify-in-bb-murder-case/
----------
ECP orders re-polling in PK-95 after women barred from voting
June 2, 2015
ISLAMABAD: The election commission of Pakistan (ECP) directed on Tuesday re-polling in PK-95 constituency, Lower Dir-II.
The decision came following petitions that women were denied their fundamental right of voting in May 7 by-polls for the provincial assembly constituency PK-95.
ECP is yet to announce the date for re-polling.
Women voters confirmed they were not allowed to vote during the elections.
Earlier, around 12 women from the constituency had approached Peshawar High Court through a petition, asking for the election to be declared null and void and to unseat Jamaat-e-Islami's elected candidate.
Full report at:
http://tribune.com.pk/story/896276/ecp-orders-re-polling-in-pk-95-as-women-barred-from-voting/
----------
Military offensives against militants gains ground in battling polio
June 2, 2015
The military's Operation Zarb-e-Azb against militants has not just been successful in combating terrorism in Federally Administered Tribal Areas (FATA), but also in battling polio.
"Pakistan has done remarkably well in tackling polio this year because the areas are now being cleared of militants and accessibility has become easier," chairman of Rotary International's PolioPlus programme, Aziz Memon said, according to the LA Times.
Claiming that the quality of the inoculation drive has improved in the wake of the military operation, Memon said, "There are areas that are still not within reach, where fighting is going on. But we hope to get there sooner or later."
Health authorities and relief officials credit improved security following the operation for the drastic decrease in the number of cases of the crippling disease over the months.
Six cases of the crippling disease were reported this year in Fata as compared to 56 in the same period last year.
Full report at:
http://tribune.com.pk/story/896243/military-offensives-against-militants-gains-ground-in-battling-polio/
----------
In Islamabad: No implementation on uniform prayer timings
June 2, 2015
ISLAMABAD: Most of the mosque committees reject the religious ministry's decision
Barely a month after clerics and religious scholars from different schools of thought announced uniform prayer timings in the federal capital, the move was spurned by most mosque committees. The initiative was taken by the ministry of religious affairs during the recent visit of Imam-e-Kaaba Sheikh Khalid al Ghamdi.
"The decision reversed soon after by the mosque committees expressed their concerns," an official from the religious ministry told The Express Tribune on Monday.
The implementation of uniform prayer timings in Islamabad started from Friday prayers on May 1 at Faisal Mosque, which was also attended by President Mamnoon Hussain.
On April 16, a meeting of religious scholars from different sects, including Shia, Barelvi, Deobandi and Ahle Hadith, had agreed on uniform prayer timings at a meeting convened by Minister for Religious Affairs Sardar Yousaf. The move was widely hailed by people from all walks of life.
Full report at:
http://tribune.com.pk/story/895988/in-islamabad-no-implementation-on-uniform-prayer-timings/
--------
Enemies of Pakistan want to divide the nation: PM Nawaz
June 2, 2015
QUETTA: While chairing an All Parties Conference (APC) in Quetta on Tuesday, Prime Minister Nawaz Sharif said that enemies of Pakistan want to divide the nation, and
"There are some who wish to make us fight amongst ourselves," said the premier.
PM Nawaz said that he was happy that all parties had agreed on the China-Pak Economic Corridor (CPEC) project.
"I want to congratulate the Pakistani leadership for owning it."
PM Nawaz also heaped praise on the Pakistani leadership for moving towards mature politics.
"We made decisions about the National Action Plan (NAP) and military courts during which the country's leadership stood together. What bigger example than this of national unity?"
NAP — the 21-point counter-terrorism strategy — was put in place through a strong political consensus after the Dec 16 Peshawar school tragedy.
Full report at:
http://www.dawn.com/news/1185710/enemies-of-pakistan-want-to-divide-the-nation-pm-nawaz
----------
War in Pakistan, Afghanistan since 2001 has killed 149,000: study
June 2, 2015
KABUL: A new study says civilian and military casualties in Afghanistan and Pakistan total almost 149,000 people killed, with 162,000 seriously wounded.
The study, called Costs of War and produced by Brown University's Watson Institute for International Studies, looks at war-related deaths, injuries and displacement in Afghanistan and Pakistan from 2001 to last year, when international combat troops left Afghanistan.
It says war in Afghanistan since the 2001 US-led invasion overthrew the Taliban regime has killed almost 100,000 people, and wounded the same number.
Noting a rise in annual figures for killed and wounded in recent years, the report's author, Neta Crawford, says the war in Afghanistan "is getting worse".
The United Nations said civilian casualties rose 16 per cent in the first four months of 2015, with 974 people killed.
Full report at:
http://www.dawn.com/news/1185713/war-in-pakistan-afghanistan-since-2001-has-killed-149000-study
----------
US-India N-deal affected strategic stability, says Pakistan
June 2, 2015
WASHINGTON: The US nuclear deal with India has affected the strategic stability that existed in South Asia before the deal, says Foreign Secretary Aizaz Ahmad Chaudhry.
The foreign secretary, who will lead the Pakistani team at the US-Pakistan talks on security, strategic stability and non-proliferation which begin in Washington on Tuesday, said that maintaining this strategic balance was necessary for peace in South Asia.
"This will be our main line in these talks," he told a news briefing at the Pakistan Embassy on Monday.
Full report at:
http://www.dawn.com/news/1185621/us-india-n-deal-affected-strategic-stability-says-pakistan
----------
North America
US, India Need To Fight Violence, Terrorism Together: Hillary Clinton
PTI | Jun 2, 2015
WASHINGTON: The US and India need to fight violence, terrorism and poverty together, Democratic presidential hopeful Hillary Clinton has said.
In her remarks to a delegation led by Jain leader Acharya Dr Lokesh Muni, Clinton said in future India will play a larger role on the international platform.
Meeting Clinton on the 10th foundation year of Ahimsa Vishwa Bharti, the delegation among others included international coordinator of Ahimsa Vishwa Bharti Karamjit Singh Dhaliwal, Congressman Joe Crowley and Congresswoman Grace Meng.
Noting that violence and terrorism cannot solve any issues, Clinton said problems can be solved through dialogues and discussions.
Full report at:
http://timesofindia.indiatimes.com/india/US-India-need-to-fight-violence-terrorism-together-Clinton/articleshow/47509962.cms
----------
ISIS revamps recruitment, with savvy, professional broadcasts
June 2, 2015
After a selection of tunes, the presenter with an American accent offers "a glimpse at our main headlines." ISIS militants have just seized three Iraqi cities. A bomb blows up a factory, killing everyone inside. Militants destroy four enemy Hummers and an armored vehicle.
The newscast's tone sounds much like National Public Radio in the United States. But this is Al-Bayan, the Islamic State of Iraq and Syria (ISIS) radio targeting European recruits - touting recent triumphs in the campaign to carve out a Caliphate - and it represents a major headache for Western powers trying to curtail the ISIS influence.
All news is good news for Al-Bayan's "soldiers of the Caliphate." In this narrative, the enemy always flees in disgrace or is killed. The broadcasts end with a swell of music and a gentle English message: "We thank our listeners for tuning in."
Full report at:
https://english.alarabiya.net/en/perspective/features/2015/06/01/ISIS-revamps-recruitment-with-savvy-professional-broadcasts.html
----------
American freed in Yemen as US holds secret talks with Houthis
June 2, 2015
SANAA: An American among several believed to be held by Iran-backed Houthis in war-ravaged Yemen was on Monday freed and flown to neighbouring Oman, which is hosting talks between the US and the rebels.
A diplomat in Oman said the "secret" talks between the Americans and the Houthis were to promote peace negotiations, which the UN has so far failed to organise in Geneva.
The news of the American's release, which was confirmed by a US State Department official, came as Omani state media reported that a Singaporean had also arrived in the sultanate before they both return home.
The official ONA news agency said the pair had been "found" with help from Muscat which had "coordinated with concerned parties in Yemen to search for the American citizen and the Singaporean".
Full report at:
http://www.dawn.com/news/1185638/american-freed-in-yemen-as-us-holds-secret-talks-with-houthis
---------
Syrian rebel group ready to quit anti-ISIL fight: Report
June 2, 2015
A key Syrian rebel group in the international fight against the Islamic State of Iraq and the Levant (ISIL) has reportedly threatened to quit the U.S.-led train and equip program for not being allowed to target the regime.
Mustapha Sejari, one of the rebels already approved for the U.S. training program, told the Daily Beast that he and his 1,000 men are on the verge of withdrawing from the program.
"The issue: the American government's demand that the rebels can't use any of their newfound battlefield prowess or U.S.-provided weaponry against the army of Bashar al-Assad or any of its manifold proxies and allies, which include Iranian-built militias such as Lebanese Hezbollah. They must only fight [ISIL], Washington insists," the Daily Beast reported May 31.
"[My men] don't want to be beholden to this policy because it can be used against them in Syria—that they've betrayed the revolution and now they're just mercenaries for the coalition forces," Sejari, a founding member of the Revolutionary Command Council, said.
The program has suffered unexplained delays as the U.S. has resisted Turkish calls for the force to be also prepared to fight the Syrian government, while the sides have also attempted to reach an agreement on whom to train.
Full report at:
http://www.hurriyetdailynews.com/syrian-rebel-group-ready-to-quit-anti-isil-fight-report.aspx?pageID=238&nID=83341&NewsCatID=352
----------
Iraqi PM to outline plan for retaking Ramadi: US official
June 2, 2015
Iraq's plan to recapture the western city of Ramadi from Islamic State of Iraq and the Levant (ISIL) jihadists will dominate a meeting June 2 in Paris of foreign ministers from the international coalition fighting the group, a senior US official said.
In the wake of the stunning defeat in Ramadi this month, Iraqi Prime Minister Haider al-Abadi will outline how his government intends to retake it and what coalition partners can do to help, a senior State Department official told reporters.
"This is not a business-as-usual meeting," said the senior official, speaking on condition of anonymity by teleconference.
"We're coming to discuss with Prime Minister Abadi his plan for liberating Ramadi and Anbar province."
Full report at:
http://www.hurriyetdailynews.com/iraqi-pm-to-outline-plan-for-retaking-ramadi-us-official-.aspx?pageID=238&nID=83332&NewsCatID=352
----------
Obama calls on Myanmar to end 'discrimination' against Rohingya
AFP | Jun 2, 2015
WASHINGTON: President Barack Obama has urged Myanmar to end discrimination against its ethnic Rohingya minority if it wants to succeed in its democratic transition from decades of junta rule.
The plight of the Muslim group, 1.3 million of whom live in western Myanmar but are mostly denied citizenship, has come under scrutiny as a migrant crisis unfurls in Southeast Asia.
Around 3,500 people, mainly Rohingya or economic migrants from Bangladesh, have reached land in Thailand, Malaysia and Indonesia, while thousands more are feared trapped on boats adrift at sea.
Full report at:
http://timesofindia.indiatimes.com/world/us/Obama-calls-on-Myanmar-to-end-discrimination-against-Rohingya/articleshow/47510955.cms
----------
Obama defends Iran nuclear talks on Israeli TV
June 2, 2015
JERUSALEM: US President Barack Obama said a negotiated deal and not military action is the way to prevent Iran procuring nuclear weapons, in an interview broadcast on Israeli television on Monday.
"I can, I think, demonstrate, not based on any hope but on facts and evidence and analysis, that the best way to prevent Iran from having a nuclear weapon is a verifiable tough agreement," he told 2, a private station.
"A military solution will not fix it, even if the United States participates. It would temporarily slow down an Iranian nuclear programme, but it will not eliminate it," Obama said.
Asked if he was concerned Israel may attack Iran's nuclear facilities without consulting Washington in advance if Tehran strikes a deal with world powers, he declined to "speculate".
Full report at:
http://tribune.com.pk/story/896287/obama-defends-iran-nuclear-talks-on-israeli-tv/
----------
Europe
Russia Terms US-Led Coalition against ISIL in Iraq, Syria as Mistake
June 2, 2015
The US-led campaign against the ISIL terrorists in Iraq and Syria is a "mistake," Russian Foreign Minister Sergey Lavrov said.
"Unfortunately, when the Americans announced this crusade against the ISIL in Iraq and Syria, they never came to the UN Security Council, they just announced the coalition and they announced that the Iraqi government gave its consent," Lavrov told Bloomberg in an interview.
Russia is not against the actions of the international coalition against the Islamic State (ISIS or ISIL), but bombardment of the militant-controlled areas of Syria without the approval of Damascus authorities is a mistake, Lavrov said.
Full report at:
http://english.farsnews.com/newstext.aspx?nn=13940312000939
----------
UN Agency: World Nuclear Facilities Vulnerable to Cyber-Attacks
June 2, 2015
The International Atomic Energy Agency (IAEA) called on the global community to do more to protect the world's nuclear facilities from cyber-attacks.
During the first-ever conference on the promotion of nuclear sites' security, the head of the UN's nuclear watchdog, Yukiya Amano, urged the international community to take more steps to secure global nuclear facilities and make them safe from ever-increasing cyber threats, Sputnik reported.
Full report at:
http://english.farsnews.com/newstext.aspx?nn=13940312000967
----------
Arabic newspaper aims to build bridges in Sweden
2 June 2015
As conflict continues to plague much of the Middle East and as tens of thousands of asylum seekers line European shores, immigration has become a phenomenon Europe can no longer afford to ignore. Sweden, once described as the "most successful society the world has ever known" by the Guardian, has found itself dealing with the issue of integration.
Aiming to target the fast-growing Arab refugee community, a free Arabic-speaking newspaper, Öresunds Puls, was launched in March to become "the voice of immigrants in Sweden," co-founder Mohamed Halwani told Al Arabiya News.
The 10-staffer newspaper is the country's first Arabic-speaking newspaper, distributing 10,000 copies every two weeks. Öresunds Puls is Swedish for "Pulse of Oresund," the strait that separates the Danish island Zealand from the Swedish province of Scania.
As of 2013, statistics agency Eurostat put the number of immigrants arriving to Sweden at 115,845. Being the first European country to open its doors to Syrian refugees, the Scandinavian country became the highest per capita recipient of asylum seeking applicants in the European Union.
Full report at:
https://english.alarabiya.net/en/media/print/2015/06/02/Arabic-newspaper-aims-to-build-bridges-in-Sweden-.html
----------
Africa
Somalia: Al Shabaab Fighters Take Over Kenya Village Near Border
June 2, 2015
Kenyan media has reported that Gunmen suspected to be members of armed group Al-Shabaab, have literally taken over a village in Mandera near the border with Somalia.
More than 30 armed fighters were seen in the village of Gari that created panic among students' of four primary schools in the area according to eye witnesses.
On Thursday, students of Gari Secondary School scampered for safety after receiving reports that the gunmen had been spotted on a nearby road.
Other reports say some residents have seek refuge in neighboring towns such as Elwak and Mandera.
This latest escalation by Al Shabaab yet again inside Kenya after Yumbis attack in Garissa comes as President Uhuru Kenyatta called upon Kenyans to unite to secure the country in his Madaraka day speechon Monday.
More than 150 people mainly students were killed when Al Shabaab attacked Garissa university college earlier part of May.
The group has carried out wave of attacks inside Kenya since it sent troops inside Somalia in October 2011.
http://allafrica.com/stories/201506020231.html
---------
Sudan likely to have armed S.Sudan rebels by air: Report
June 2, 2015
Sudan is likely to have supplied weapons by air to rebels battling the government in neighbouring South Sudan, a report released Tuesday said, despite Khartoum's denials of involvement in the conflict.
The study from the London-based small arms research organisation, Conflict Armament Research, documented a cache of weapons and ammunition captured by South Sudanese government troops from the rebels in Jonglei State in November.
"The composition of the documented materiel, and a precedent for airdropping identical materiel to rebel forces in South Sudan in 2012, prior to the current conflict, suggests direct supply from Sudan to SPLM-iO (Sudan People's Liberation Movement-in-Opposition) forces," the report said.
Full report at:
http://english.ahram.org.eg/NewsContent/2/8/131736/World/Region/Sudan-likely-to-have-armed-SSudan-rebels-by-air-Re.aspx
----------
Mideast
At Iran anti-IS cartoon contest, pens also jab the West
June 2, 2015
TEHRAN: Caricatures of Arab and Western leaders appeared beside those of top terrorists at an Iranian cartoon contest on Islamic State group crimes that drew entries from artists around the world.
Political cartoons have a long tradition in Iran, despite many restrictions in the staunchly conservative Islamic republic on taboo subjects such as the supreme leader, the clergy and military.
The competition called on cartoonists to submit drawings that reveal the "true nature" of IS as "no human being can turn a blind eye to the crimes" of the Sunni extremists.
Launched last week, the International Daesh Cartoon and Caricature Contest attracted 300 entries from more than 40 countries — including Australia, Brazil, Indonesia, Italy, Malaysia and Morocco.
Full report at:
http://tribune.com.pk/story/896181/at-iran-anti-is-cartoon-contest-pens-also-jab-the-west/
----------
Salafist Leader killed in clash with Gaza police
2 Jun 2015
A local Salafist leader was shot dead in Gaza City on Tuesday during a confrontation with Hamas police and security officials who went to arrest him, the interior ministry said.
The incident occurred in the northern Sheikh Radwan neighbourhood with the interior ministry identifying the gunman as 27-year-old Yussef al-Hatar, a local leader of a group of Islamic militants known as Salafists.
Hamas, the de facto power in Gaza, has in recent months been waging a harsh crackdown on Salafist groups operating in the enclave following a series of unclaimed bomb attacks.
http://english.ahram.org.eg/NewsContent/2/8/131748/World/Region/Salafist-Leader-killed-in-clash-with-Gaza-police.aspx
----------
CHP leader: Threat against journalist shows Erdoğan's 'impotence'
June 2, 2015
Main opposition Republican People's Party (CHP) leader Kemal Kılıçdaroğlu has slammed President Recep Tayyip Erdoğan for publicly and personally threatening the editor-in-chief of a newspaper that published video footage purportedly showing security forces discovering weapons being sent to Syria on trucks belonging to Turkey's National Intelligence Agency (MİT).
Speaking to reporters on the sidelines of his election rally in the eastern Anatolian province of Kars on June 1, Kılıçdaroğlu said Erdoğan's remarks marked the very first time that a Turkish president has "openly threatened a journalist for exposing a lie."
Full report at:
http://www.hurriyetdailynews.com/chp-leader-threat-against-journalist-shows-erdogans-impotence-.aspx?pageID=238&nID=83317&NewsCatID=338
----------
AKP's Kurdish Quran translation 'full of errors'
June 2, 2015
The Justice and Development Party's (AKP) Kurdish Quran translation was printed hastily despite numerous errors in an effort to garner popular support ahead of the June 7 elections, according to theologian and Kurdologist Kadri Yıldırım, who is also an MP candidate from the Peoples' Democratic Party (HDP).
In a rally held in Erzurum on June 1 alongside HDP Diyarbakır MP candidate Altan Tan, Yıldırım claimed Turkey's Directorate of Religious Affairs (Diyanet) sent him the translation a year ago for him to edit.
The Kurdish Quran was published before he could send his revisions to the Diyanet and with numerous incorrect translations in the text, Yıldırım said.
"Why did they [the AKP] rush? Because they wanted to publish it ahead of the elections and appeal to the religious sentiments of my fellow devout citizens from Erzurum, Bingöl and Siirt," he said.
Full report at:
http://www.hurriyetdailynews.com/akps-kurdish-quran-translation-full-of-errors-.aspx?pageID=238&nID=83343&NewsCatID=338
----------
Iran's Rouhani says Arabs, West miscalculated in Syria
June 2, 2015
Iranian President Hassan Rouhani accused Arab and Western governments of miscalculating in their backing for Syrian rebels as the US-led coalition against the Islamic State group gathered in Paris Tuesday.
Speaking at a reception for Syria's visiting parliament speaker Jihad al-Lahham, Rouhani renewed Tehran's longstanding accusation that it was those governments' support for armed insurgency against its Damascus ally that had led to the rise of the jihadists.
"Unfortunately some countries miscalculated and thought that terrorist groups would be a means for them to achieve their objectives, whereas sooner or later they were always going to be affected by the scourge of terrorism themselves," he said.
"After four years of resistance and perseverance, the plan of the enemies of Syria who thought they could dominate it within a few months has fallen apart," government website www.dolat.ir quoted him as saying.
"The government and nation of Iran will stand by the government and nation of Syria till the end."
Full report at:
http://english.ahram.org.eg/NewsContent/2/8/131744/World/Region/Irans-Rouhani-says-Arabs,-West-miscalculated-in-Sy.aspx
----------
Israel accuses UN of recognising Hamas-linked NGO
June 2, 2015
Israel on Tuesday denounced as "outrageous" a UN decision to recognise a London-based Palestinian non-governmental organisation it says is affiliated with the Islamist Hamas movement.
In a decision late on Monday, the UN committee on non-governmental organisations voted in favour of recognising the Palestinian Return Centre (PRC) as a permanent NGO with access to the world body's many forums.
The vote passed by 12 votes to three, with three abstentions.
The move was roundly denounced by Israel which outlawed the group in 2010, accusing it of being involved in "terror-affiliated activities" and serving as "the organisational and coordinating wing of Hamas in Europe".
Full report at:
http://english.ahram.org.eg/NewsContent/2/8/131749/World/Region/Israel-accuses-UN-of-recognising-Hamaslinked-NGO.aspx
----------
Southeast Asia
Mat Sabu tells PAS to exercise tolerance with non-Muslims
June 2, 2015
PAS deputy president Mohamad Sabu today reminded PAS members the importance of maintaining good relationship with non-Muslims to ensure their support for the Islamist party continues.
Mohamad, also known as Mat Sabu, said members should continue to exercise tolerance with non-Muslims, so long as it does not contravene with the teachings of Islam or party rules.
"In our actions, we should not be seen as chasing them away from us.
"Chasing them away here does not mean literally, but in our deeds and statements.
"Look for the highest level of tolerance as long as it does not damage our faith, contradict the shura council, and violate the principles of Islam," he said when opening the PAS Youth Muktamar in Shah Alam today.
Mat Sabu's call comes at a time when the party's push for the implementation of hudud has widened the gap between the Islamist party and its partners PKR and DAP.
Even today, the rift was evident with no DAP representatives attending the PAS Youth assembly.
Full report at:
http://www.themalaysianinsider.com/malaysia/article/mat-sabu-urges-pas-to-exercise-tolerance-with-non-muslims#sthash.vPjPbjc4.dpuf
---------
PAS won't use 'back route' to realise hudud dreams, PAS Youth chief says
June 2, 2015
SHAH ALAM, June 2 — PAS will not resort to using "back routes" to force the implementation of hudud in the country, the Islamist party's youth chief said today.
According to a copy of his opening address at the wing's annual meeting here, Suhaizat Kaiat said this is why the wing has conceded to having hudud implemented in stages or "tadarruj".
"PAS will never once force its agenda to be accepted through the back door, without a proper consultation process deemed mandatory in a parliamentary democracy system.
"In this matter, PAS Youth agrees to having hudud implemented via tadarruj, on the realisation that even if we are unable to enforce it (hudud) in its entirety, let us not abandon it altogether," he said in his speech.
Suhaizan then went on to explain that the hudud crimes highlighted under the recently amended Kelantan Shariah Penal Code II is similar to those under the already existing Shariah enactments that are in force, namely apostasy, adultery, alcohol consumption and qazaf.
However, on punishments, the penalties do not comply with the "hukum syarak" as the Shariah courts powers are limited by the Shariah Court Act (Criminal Jurisdiction) 1969 (Act 355).
Full report at:
http://www.themalaymailonline.com/malaysia/article/pas-wont-use-back-route-to-realise-hudud-dreams-pas-youth-chief-says#sthash.Nr63PwGO.dpuf
----------
IS makes inroads in Southeast Asia
June 2, 2015
THE self-styled Islamic State in Iraq and Syria has ramped up its activities in Southeast Asia so effectively that there is now an entire military unit of terrorists recruited from Indonesia, Malaysia and Singapore, according to Singapore's prime minister.
"Southeast Asia is a key recruitment centre for IS," Prime Minister Lee Hsien Loong said at the Shangri-La Dialogue here in Singapore on Friday. He noted that this included more than 500 Indonesians and dozens of Malaysians. "IS has so many Indonesian and Malaysian fighters that they form a unit by themselves — the Katibah Nusantara — Malay Archipelago Combat Unit," he added.
Full report at:
http://www.dawn.com/news/1185644/is-makes-inroads-in-southeast-asia
----------
URL: https://www.newageislam.com/islamic-world-news/new-age-islam-news-bureau/religious-freedom-%E2%80%98non-negotiable%E2%80%99,-pm-warns-hotheads/d/103299