New Age Islam News Bureau
9 Oct 2019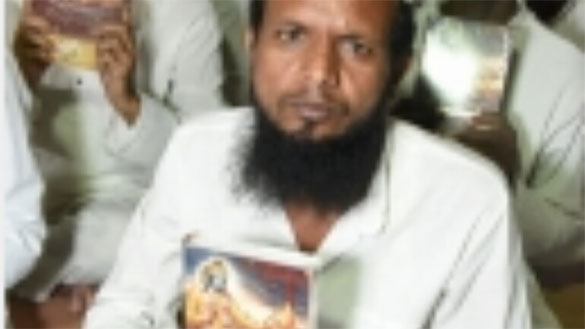 Photo: IANS
------
• 'Lynching' Alien Construct, Don't Use It To Defame India: Bhagwat
• US Restricts Visas For Chinese Officials Over 'Campaign To Erase Religion' In Xinjiang
• Trump to Kurds: We Paid You to Destroy ISIS, You're on Your Own Now
• Afghanistan Taliban Commanders Freed 'In Swap For Indian Hostages'
• Muslim Past Makes Spain Attractive For Pakistani Tourists: Envoy
• China Has Begun Moving Xinjiang Muslim Detainees To Formal Prisons, Relatives Say
• Kurdish-Led Syrian Democratic Forces Consider Cooperation With Syria's Al-Assad
• British Police Forces Operate Large Secret Database Targeting Minorities
India
• Religion Does Not Divide, Religion Unites: Muslim Inmates Of Gwalior Jail Take To Bhagwad Gita
• 'Lynching' Alien Construct, Don't Use It To Defame India: Bhagwat
• "Can't Silence Us": New Letter Slams Sedition Case Against Celebrities
• India-Born Al Qaeda Chief Of Subcontinent Killed In US-Afghan Raid: Report
• Dr Saifuddin Kitchlew, the freedom fighter who is hailed as the hero of Jallianwala Bagh
• Jaipur: Hotel Denies Accommodation to Unmarried Interfaith Couple
• China snubs Imran Khan, says resolve J&K bilaterally
• UK expects to use 'huge opportunities' to expand India-UK relations post Brexit: Lord Tariq Ahmad
• Search operation launched after drones spotted along India-Pakistan border in Punjab
• Two LeT militants killed in south Kashmir's Awantipora
--------
North America
• US Restricts Visas For Chinese Officials Over 'Campaign To Erase Religion' In Xinjiang
• Trump to Kurds: We Paid You to Destroy ISIS, You're on Your Own Now
• Trump's Green Light to Turkey Raises Fears About ISIS Detainees
• Trump's Call to Leave Syria Draws Fire From GOP Allies
• Graham Says Trump's 'Biggest Lie' Is of Islamic State's Defeat
• US doesn't want to confront NATO ally Turkey: Expert
• Trump says 'not siding with anybody' on Syria
• US calls on Iraqi prime minister to contain violence and reform
--------
South Asia
• Afghanistan Taliban Commanders Freed 'In Swap For Indian Hostages'
• Airstrikes kill 25 Taliban, ISIS militants; destroy weapons caches and car bomb
• Afghan officials say raid killed top al-Qaida commander
• Afghan Special Forces kill, detain 19 militants; destroy weapons caches in 4 provinces
• Taliban's military commission chief and 3 other senior leaders killed in Farah airstrike
--------
Pakistan
• Muslim Past Makes Spain Attractive For Pakistani Tourists: Envoy
• Seminaries Put Under Surveillance Ahead Of JUI-F's March On Capital
• ICRC, Shariah Academy Organize Course On Islam And International Humanitarian Law
• China voices support for Pakistan's core issues of national interest
• Maulana Fazl served legal notice by Ali Amin Gandapur
• Treason case against Musharraf to be heard daily from October 24: Court
• PPP, PML-N to thrash out role in march today
• Opposition rejects CPEC body formation through ordinance
• Chinese firm investing in Gwadar gets 23-year tax exemption
• PM Imran declared 'Man of the Year' by Jordan institute
• Senate body on interior approves NACTA amendment bill
--------
Southeast Asia
• China Has Begun Moving Xinjiang Muslim Detainees To Formal Prisons, Relatives Say
• China's Might Prevents Muslim Nations from Criticizing It, Mahathir Says
• Buy Malaysian Products First, Not Muslim-Made, Saifuddin Says
• Islamist MP wants Malays as finance minister, attorney general in Malaysia
• Task force: UEC failed by national education system, public wants to move on
--------
Arab World
• Kurdish-Led Syrian Democratic Forces Consider Cooperation With Syria's Al-Assad
• America Can't Be Trusted At All; It Stabs Own Allies In The Back: Nasrallah
• Pulling of U.S. Troops in Syria Could Aid Assad and ISIS
• In Iraq, Protesters Are Sick of Corruption and Foreign Influence
• Seven IS terrorists killed during counter-terrorism operation in Kirkuk
• Lebanese Officials Speak Out Against Hezbollah's Control Over Country
• Over 1,000 Teachers Sacked in Egypt for Terror Links
• Lebanese Paper: Mossad's Footprints Found in Recent Unrests in Iraq
• NSC Official: US Sees Kurdish Nation Another Israel in Region
• Iraq's Salih calls for national dialog, deplores attacks on protesters, security forces
• Iraq unveils new set of reforms to meet protesters' demands
• Qatar's Al-Ghufran expulsions termed 'breach of human rights'
• Saudi Shoura Council chairman receives China ambassador
--------
Europe
• British Police Forces Operate Large Secret Database Targeting Minorities
• Muslim World League Condemns Abuse On Jewish Students In Australia
• Counter-terror police arrest four people at Luton Airport
• French PM questions US hesitations over northeast Syria
• UK deeply concerned about Turkish plans for Syria military action: PM's office
• Macron vows to fight against 'Islamist terror'
• France's Macron pays homage to 'victims of terrorism'
• 'Home countries need to take back Daesh terrorists'
• Turkey's 'sole desire' is peace, stability in Balkans
• EU Parliament appoints new Turkey rapporteur
--------
Mideast
• Iran Charges Famous Kurdish Singer With Being Gay, Faces Execution
• In a Conflict, Iran Would Wage a Missile War Against America
• Iran unveils kit to convert artillery rockets into guided missiles
• Hundreds of Jewish settlers storm al-Aqsa Mosque in Jerusalem
• Iran sent thousands of troops to Iraq for Shia pilgrimage: Iranian commander
• Cyprus' president condemns Turkey's 'unacceptable actions'
• German MPs blame Iran after visit to Saudi Aramco attack site
• Dozens demonstrate in northern Gaza to demand full lifting of siege
• Israeli forces put occupied West Bank on lockdown for rituals
• Iranian general 'played leading role' in crackdown on Iraqi protests
--------
Africa
• UN Security Council Urges Progress In South Sudan
• Sudan Has Received Half Of $3 Bln Aid Promised By Saudi And UAE
• Niger soldiers killed in 'terrorist' attack in southwestern Dosso region
• U.N. peacekeeper killed, four wounded in Mali mine attack
• Rwanda Searches for Motive After 14 Are Killed in Tourist Region
• 24 al-Shabab militants killed in Somalia
• Troops rescue three from Boko Haram in Bama
• Ethiopia accuses Egypt of trying to maintain its grip over the Nile's waters
• EU observers regret Tunisia 'silent campaign' ahead of vote
Compiled by New Age Islam News Bureau
URL: https://www.newageislam.com/islamic-world-news/religion-divide-religion-unites-muslim/d/119953
--------
Religion Does Not Divide, Religion Unites: Muslim Inmates Of Gwalior Jail Take To Bhagwad Gita
October 9, 2019
Religion does not divide, Religion unites -- this is what Akeel Pathan, a convict of Madhya Pradesh's Gwalior Central Jail believes, and therefore has decided to read the 'Shrimad Bhagwad Gita'.
Pathan has been convicted in a murder case. A Muslim man with an urge to know the Hindu scripture, his zeal may not go down well with those who divide people on the religious lines.
Akeel says that all religions preach good things. He has been reading books in the jail and being a Muslim, his preference has been the books concerning his religion. But, now he has come across the Gita and will read it. He says that he will try to understand the teachings and accept them if he likes them.
Gwalior zone Additional Director General of Police (ADG) Raja Babu Singh has started a campaign to create awareness about the Gita among various sections of the society. He even goes to schools to talk about the "Gita Gyan" with the children. On the day of Dusshera, Singh distributed the copies along with rosary in the jail premises.
Singh said: "Gita has 18 chapters and 700 'shalokas' which can help those who have wavered from the path of righteousness. The inmates are living here because of some bad Karma and by reading Gita, they can overcome many problems like anger and desperation."
"The Gita is not just a religious book, it is a spiritual growth that a human being should accept as the life's constitution. One who goes against this constitution of the country, lands in jail. Similarly, one who violates the spiritual constitution gets stuck in this life-cycle," said Anandeshwar Das Chaitanya, a religious scholar from Vrindavan who spoke about the relevance of Gita before the jail inmates.
Like Akeel, other Muslim inmates have also expressed willingness to read the book and understand the moral.
The Central jail of Gwalior has 3,396 inmates at present, out of which 164 are women. The women inmates have 21 children with them. All the inmates, irrespective of their religion, have shown willingness to read the Gita.
https://www.indiatoday.in/india/story/muslim-inmates-of-gwalior-jail-take-to-bhagwad-gita-1607417-2019-10-09
--------
'Lynching' alien construct, don't use it to defame India: Bhagwat
Oct 9, 2019
NAGPUR: Rashtriya Swayamsevak Sangh (RSS) chief Mohan Bhagwat on Tuesday condemned the growing trend of killings by mobs even as he maintained that the incidents were not "one-sided" and objected to the term "lynching" used for group violence, saying the usage was part of an effort to defame the country and the entire Hindu community and generate fear among the "so-called minority communities".
"It must be accepted that these tendencies of violence have somehow or the other crossed the limits of law and order and wreaked havoc by eroding mutual relations in society. Neither this tendency is the tradition of our country, nor does it fit in the spirit of the Constitution," Bhagwat said while delivering the RSS's customary Vijaydashmi speech at Reshmibagh ground in Nagpur.
"Howsoever deep the differences of opinion be, howsoever provocative action might have taken place, still, we should act by remaining within the limits of the Constitution, handing over such cases to the police and reposing faith in the judicial system of country," Bhagwat said in what is being seen as a reference to the violence by gau-rakshaks. Bhagwat said the Sangh did not support those involved in such violence and was against "each and every incident".
However, Bhagwat asserted that the blame did not lie with only one community and took issue with reportage of instances of mob violence. "There have been reports that members of a community in our society have been attacked by another community, making them victims of social violence. Such incidents have not been one-sided. There are reports of incidents happening from both sides and allegations and counter-allegations. It has also come to light that some incidents have been deliberately fabricated, while some others have been published in a distorted manner," he said.
The RSS chief objected to incidents of mob violence being referred to as "lynching". "By branding such incidents by words like 'lynching', denoting traditions which were alien to Bharat and belong elsewhere, efforts are underway to defame our country and the entire Hindu society and create fear among the so-called minority communities," he said.
Bhagwat also spoke of a "conspiracy" by "so-called leaders" try to create confrontation between communities by taking advantage of "provocative language and actions". He said, "Adequate laws exist in the country to curb such incidents. They must be honestly and strictly implemented."
Bhagwat was speaking against the backdrop of a blistering attack on RSS by Pakistan PM Imran Khan, who, while addressing the UN General Assembly last month, had dubbed the Sangh a racist organisation with a plan to engineer genocide to establish Hindu hegemony.
The Sangh chief said the RSS was firm about its view on India being a "Hindu Rashtra". "The vision and proclamation of the Sangh regarding the identity of the nation, social identity of all of us, and the identity of the country's nature, are clear, well thought of and firm that Bharat is Hindustan, a Hindu Rashtra," he said. However, he added that RSS's concept of who was a Hindu was not limited to those practising a particular faith. He said a Hindu welcomed religious plurality and left it for different people to decide their respective ways to salvation.
He rejected as "propaganda" Khan's charge about RSS being Islamophobic. "It is true that Islam came to India through some invaders and there had been some battles, memories of which have lingered longer in minds. But still, it does not mean that unifying Hindus is part of opposition to Islam," he said.
He spoke about growth in support for RSS, calling it "transformation in the direction of the thought process of Bharat", and said it has led to efforts to create divisions by exploiting diversities of caste, creed, language and region. He said, "Well-meaning policies, decisions and statements are being exploited to create conflicts," in what was seen as a reference to the recent row over Hindi.
Bhagwat lavished praise on PM Narendra Modi, home minister Amit Shah and other members of BJP for nullifying Article 370 and said the 2019 verdict in favour of the ruling party was an endorsement of the performance of the Modi government in the first five years. Referring to legislations nullifying Article 370, Bhagwat said the re-elected government had once again proved that it had the courage to fulfil expectations and respect people's sentiments and wishes in the interest of the country.
"Removal of Article 370 has been already in the thought of the ruling party. But this time, by skillfully garnering the support of other parties in both Houses, with strong logic and plea in consonance with public sentiment, the work was accomplished, for which members of the ruling party, including the prime minister and home minister, and other political parties who upheld the public sentiments in Parliament deserve congratulations," Bhagwat said.
In the morning, Bhagwat performed 'shastra puja'. HCL founder Shiv Nadar was the chief guest at this year's event. Union ministers Nitin Gadkari, V K Singh and Maharashtra CM Devendra Fadnavis were among those present at the event.
https://timesofindia.indiatimes.com/india/lynching-alien-construct-dont-use-it-to-defame-india-bhagwat/articleshow/71496356.cms
--------
US restricts visas for Chinese officials over 'campaign to erase religion' in Xinjiang
8 Oct 2019
The US has imposed visa restrictions on Chinese government and Communist party officials accused of being involved in the mass internment of more than a million Uighurs and other Muslim minority groups in Xinjiang province.
The restrictions, announced by the state department on Tuesday, come a day after the US commerce department imposed export restrictions on US companies preventing them from selling their products – particularly face recognition and other surveillance technology – to 28 Chinese entities, including the Public Security Bureau and firms involved in surveillance in Xinjiang.
"China has forcibly detained over one million Muslims in a brutal, systematic campaign to erase religion and culture in Xinjiang. China must end its draconian surveillance and repression, release all those arbitrarily detained, and cease its coercion of Chinese Muslims abroad, the US secretary of state, Mike Pompeo, said in a statement.
The US punitive measures mark the first time China has been held to account internationally for its programme of mass incarceration and persecution of religious minorities.
The sanctions prompted a furious response from Beijing's embassy in Washington, which said that the US was using "the excuse of human rights" to interfere in the China's internal affairs.
In a string of tweets the embassy said the move "seriously violates the basic norms governing international relations, interferes in China's internal affairs and undermines China's interests".
The embassy said: "The counter-terrorism and de-radicalization measures in Xinjiang are aimed to eradicate the breeding soil of extremism and terrorism. They are in line with Chinese laws and international practices, and are supported by all 25 million people of various ethnic groups in Xinjiang."
Inside the administration, the sanctions mark a victory for Pompeo, Vice-President Mike Pence, the administration's ambassador at large for international religious freedom, Sam Brownback, and the new deputy national security adviser, Matthew Pottinger, over the treasury secretary, Stephen Mnuchin.
Mnuchin reportedly argued against sanctions that would further derail difficult trade talks. News of the sanctions drove stock prices lower on the assumption that it would make a trade deal less likely.
Donald Trump himself has sought to avoid direct criticism of the Chinese government for its treatment of the country's Muslims, as well as its attempts to crush pro-democracy protests in Hong Kong, so as to avoid a breakdown in his personal relations with his Chinese counterpart, Xi Jinping.
At a meeting on religious freedom last month at the start of the UN general assembly, scheduled at the same time as a global climate action summit, Trump gave the keynote speech but did not mention China or the events in Xinjiang, leaving it to Pence, Pompeo and Brownback.
The fact that these long-planned measures have been taken may reflect Trump's awareness of his reliance on the religious wing of the Republican party for his re-election bid next year.
The state department announcement did not name the Chinese officials that had been targeted, but officials had previously pointed to the Xinjiang party secretary, Chen Quanguo, a member of the politburo.
https://www.theguardian.com/world/2019/oct/08/us-restricts-visas-chinese-officials-uighurs-muslim-minorities
--------
Trump to Kurds: We Paid You to Destroy ISIS, You're on Your Own Now
Jamie Ross
10.07.19
It's clear that Donald Trump feels no remorse over his decision to abandon the U.S. military's Kurdish allies in Syria to make way for an attack from Turkey. The White House announced late Sunday that U.S. troops will withdraw from northern Syria and leave the Kurds, who have carried out the majority of the fighting against ISIS and led the fight to take down the terror group's "caliphate," to face an invasion from Turkey. Writing Monday morning, Trump more or less said "tough luck" to the allies he's abandoned, saying the Kurds "will now have to figure the situation out." He wrote: "The Kurds fought with us, but were paid massive amounts of money and equipment to do so. They have been fighting Turkey for decades. I held off this fight for almost 3 years, but it is time for us to get out of these ridiculous Endless Wars, many of them tribal, and bring our soldiers home. WE WILL FIGHT WHERE IT IS TO OUR BENEFIT, AND ONLY FIGHT TO WIN." The president added: "We are 7000 miles away and will crush ISIS again if they come anywhere near us!"
https://www.thedailybeast.com/trump-to-kurds-we-paid-you-to-destroy-isis-youre-on-your-own-now
--------
Afghanistan Taliban commanders freed 'in swap for Indian hostages'
7 October 2019
Several senior Taliban members have been released in exchange for three kidnapped Indian engineers, sources in the militant group told the BBC.
The 11 Taliban reported freed included a member of the militant Haqqani group.
The Indians released on Sunday were part of a group of seven engineers kidnapped more than a year ago with their driver in northern Afghanistan.
The news came after the Taliban were said to have met the US peace envoy for the first time since talks collapsed.
Zalmay Khalilzad reportedly met senior members of the group in Pakistan last week, almost a month after President Donald Trump cancelled secret plans to host a Taliban delegation in the US.
The prisoner swap was one of the issues discussed at the meeting, sources told the BBC.
Three key Taliban figures were released from prison in Afghanistan, according to the source within the militant group, including the former "shadow" governor of Nimroz province.
The New York Times reported that Abdul Rashid Baluch was previously listed as a Specially Designated Global Terrorist by the US Treasury Department. He was accused of deploying suicide bombers and helping finance the Taliban through the drugs trade in Afghanistan.
A second "shadow" governor for Kunar province, and a member of the powerful Haqqani network, which is said to have been behind co-ordinated attacks on both Afghan and Nato forces in recent years, were also said to be among those released.
Another eight militants were freed as part of the deal, the Associated Press news agency reported.
The Taliban commanders had been held in the high-security prison at Bagram, reports said.
The three Indian engineers have not been named. One of the hostages was released in March this year, while the fate of the rest of their colleagues remained unclear.
There was no immediate comment from the Afghan, US or Indian authorities.
The group, who were working at a power station in the northern province of Baghlan, were taken from a vehicle along with their colleagues and an Afghan driver in May 2018.
Kidnappings are a serious problem in Afghanistan, where gangs or militant groups operate in large areas of the country.
https://www.bbc.com/news/world-asia-49959557
--------
Muslim past makes Spain attractive for Pakistani tourists: Envoy
October 9, 2019
ISLAMABAD: Ambassador of Spain Manuel Duran has said Spain and Pakistan have a lot in common.
The Muslim past of Spain (Al-Andalus) makes our country a very attractive tourist destination for Pakistanis and more and more Spaniards are coming to Pakistan to discover the beauty of its mountains and landscapes.
"Our two countries are willing to expand this good relationship by getting to know each other better. We are organizing a beautiful concert for April 2020 in which a Spanish flamenco group and Pakistani sufi performers will show everyone how beautifully both styles go together," said the Spanish ambassador in an interview to DNA.
He added, actually part of the flamenco tradition stems from Sindh and from the soulful and very spiritual chants that can still be heard in that region. The idea of melting together both styles proves that we have a lot of things in common and that we should explore more into our two cultures and find the many links that exist between them
Travelling and promoting cultural activities that bond our two nations are a both perfect ways of strengthening our already solid ties.
While talking about business ties, the ambassador said: "Our trade and economic relations are doing very well.
The interest towards Pakistan as a potential market for Spanish companies is growing, and Pakistan is opening itself to our products and to possible investors by facilitating their presence here."
He said Pakistan exports more than one billion to Spain, mostly textiles, while Spain brings to Pakistan technology, tiles and olive oil. But there are several projects in the making.
A Spanish company might start manufacturing helmets here in Pakistan. They would make the helmets according to the Pakistani regulations regarding the kind of helmets required to drive a motorcycle.
This would be a milestone for it would imply a direct investment in Pakistan. Other companies are also exploring this market.
When asked to comment on Pakistan's investment climate the ambassador said, a lot of progress has been made in the last five years, but there is still room for improvement.
"I cannot hide the fact that our trade volume plays in favour of Pakistan; therefore I would like to increase the level of our exports to Pakistan. That can be done , but for that to happen, Pakistan must ease the barriers that currently prevent many Spanish products from entering Pakistan mainly the labeling of the product in Urdu and the Halal requisite also on the labels."
He said consumer goods from Spain would be appreciated by the growing Pakistani middle classes and Spanish technology can foster the development of Pakistan.
Railways could be an example of this. "We are also ready to export items such as very high quality bathroom equipment made with a very groundbreaking design."
Not only the materials such as porcelain are really competitive, but also the aluminum for the faucets and tubes. Kitchen equipment is also very competitive.
The ambassador said Spain produced furniture with a modern design but a good price. And of course, technology that can be applied to different industries already operating in Pakistan, he added.
https://tribune.com.pk/story/2075372/1-muslim-past-makes-spain-attractive-pakistani-tourists-envoy/
--------
China Has Begun Moving Xinjiang Muslim Detainees To Formal Prisons, Relatives Say
October 8, 2019
This August, Aibota Zhanibek received a surprising call in Kazakhstan from a relative through Chinese chat app WeChat. It was about her sister, Kunekai Zhanibek.
Aibota, 35, a Kazakh citizen born in China, knew that Kunekai, 33, had been held for about seven months in a detention camp in China's Shawan county, in the northwestern region of Xinjiang. For six of those months, Kunekai was forced to make towels and carpets for no pay, Aibota says. On the call, Aibota was told that Kunekai had been released and assigned a job in Urumqi, the capital of Xinjiang.
That was the good news. But the relative also told Aibota Zhanibek that her 65-year-old mother, Nurzhada Zhumakhan, had been sentenced in June to 20 years in Urumqi's No. 2 Women's Prison. According to a verdict sent to Zhanibek 's relatives, Zhumakhan was guilty of "illegally using superstition to break the rule of law" and "gathering chaos to disrupt social order."
As Muslim Kazakhs, Zhanibek's mother and sister are among the targets of a sprawling security operation by Chinese authorities. Human rights experts estimate that 1.5 million Uighur Muslims and members of other ethnic minority groups, including Chinese-born Kazakhs, have been detained in Xinjiang since 2016. Former detainees say that while in detention they were forced to memorize Chinese communist propaganda and learn Mandarin and were occasionally violently interrogated or beaten.
The government has said the operations are part of a reeducation campaign and defends its detentions and sophisticated surveillance system across Xinjiang as necessary counterterrorism measures. Senior Xinjiang officials have said that most of those brought to the centers have been returned to society. But reporting suggests that these are not mere vocational training centers and that detentions, surveillance — and worse — continue.
Last month in Kazakhstan, NPR interviewed 26 relatives of ethnic Kazakhs and Uighurs currently detained or imprisoned in Xinjiang and five former detainees. They said that rather than setting free reeducated citizens, the authorities have been transferring many detainees to formal prisons. Those who have been released remain under strict surveillance.
"I miss my mother," Zhanibek says in her home in Almaty, Kazakhstan. Since this summer, twice a month, her relatives have been able to go to an Urumqi police station and have video calls with her mother. Zhumakhan is nearly blind, hairless and extremely thin since being detained on June 8, 2018, her relatives said.
Zhanibek still also worries about her sister, despite her release: "Nobody is in a good situation. My sister has been released and has a job, but she still has no freedom. She cannot go where she wants. How can you say things are getting better?" she says.
"Targeting people somehow related to religion"
Xinjiang courts have been sentencing detainees to lengthy prison terms — sometimes up to 20 years — in hasty trials where little but a verdict is presented, according to relatives and an ex-detainee. The sentences overwhelmingly target citizens with religious Muslim backgrounds; 23 of the 32 people sentenced in Xinjiang recently were religious students, imams or people who prayed regularly, according to their family members.
"It was a closed court trial. ... They just read the verdict to him, according to his parents," Shakhidyam Memanova says of proceedings in May in which her husband, Nuermaimaiti Maimaitiyiming, a Chinese-born Uighur, was sentenced to 17 years. He is now in prison in Xinyuan county.
One night in May 2018, her husband, a carpet seller, was taken out in handcuffs and a hood in front of their two young children. Memanova suspects it was because he took Quranic classes when he was 14. But in the absence of any trial documentation, neither she nor her husband's parents can be sure. Her in-laws can video call with their son once a month at a police station, and what they have described to her is not reassuring. "[Maimaitiyiming] looks very bad. He has lost a lot of weight," Memanova says.
Bahedati Aken, 27, is also being held in a Xinyuan county prison, sentenced last June to 15 years in prison for studying the Quran with an also-imprisoned imam named Muhtourhan Kanodil, according to Aken's aunt, Gulbaran Omirali.
"[Aken] was 13 when he attended two months of religious courses," Omirali says. "I do not understand why something so long ago and which was legal at the time is now a crime."
"They are targeting people somehow related to religion," concludes Kassym Tursynkan. His two younger brothers — Kasyem, an imam, and Karkyn, who prayed regularly — were sentenced to 20 and 10 years, respectively, this summer and are now being held in the northern Xinjiang city of Wusu.
Tursynkan believes his brothers were betrayed, particularly Kasyem the imam, who he says was regularly praised by local religious authorities for upholding ethnic harmony: "They were not extremists. They did what they were allowed to do within the state limits."
Some detention centers have been outfitted with makeshift courts, according to former detainees. Ergali Ermekuly was tried on April 7, 2018, in a detention center court in Xinjiang's Huocheng county. He received a three-year sentence based on evidence allegedly taken from his cellphone showing he had visited Kazakhstan, downloaded WhatsApp and listened to audio describing China's mosque-destruction campaign in Xinjiang. He was not allowed to see the evidence itself.
"They did tell me I could hire a lawyer, but based on cases of other people in the detention camp, those who hired lawyers were given longer sentences because it was seen as a sign of opposition to the state," says Ermekuly, now living in Kazakhstan.
Ermekuly was freed during an agreement between Kazakhstan and China to release 2,000 Chinese-born ethnic Kazakhs at the end of 2018. But he says his life has already been destroyed. "I do not have a family, and I do not have my home," Ermekuly, whose wife divorced him this year, says. "I came back [to Kazakhstan], but I have nothing."
"They threatened my father"
While relatives describe being able to contact their loved ones through video monitors at local police stations, they say they have not been able to visit them in prison. What little information they can glean from infrequent contact suggests that those sent to Xinjiang's prisons are held in poor conditions.
Almakhan Myrzan says her brother Bakytzhan, a former imam at a mosque in Xinjiang, was sentenced in May to 14 years in prison in a closed trial with no relatives present. The verdict was delivered by mail to his family.
Myrzan says her brother was allowed one phone call from prison in Urumqi. "When he finally called his wife, he sounded really faint. He could not even remember his own name at first," Myrzan says.
The family members of another prisoner in Wusu, Berzat Bolatkhan, have phoned police repeatedly to find out why he was sentenced to 17 years in August.
"They threatened my father, saying, 'If you keep asking about your son, you will end up the same way,' " Bolatkhan's brother Yerzat recalls.
Construction tenders for Wusu prison show it underwent an expansion beginning in August 2016.
"Suitable jobs"
Xinjiang officials, however, say they are winding down the sprawling network of detention centers.
"Most people who received educational training returned to society and returned home," Alken Tuniaz, the Xinjiang government's vice chairman, said at a news briefing in July.
The government's chairman, Shohrat Zakir, said about 90% of those released have found "suitable jobs."
Some younger, well-educated detainees have been released and assigned to jobs, say relatives. But once they leave detention, they remain closely monitored through heavy state surveillance set up in the region.
University-educated Razila Nural, an ethnic Kazakh woman, was forced to work in a textile factory in Xinjiang after authorities deemed her fit for release from a detention facility in August 2018. Since being released from the factory late last December, Nural has effectively disappeared, says her mother.
"I last spoke to Razila this January and have not had contact since," says her mother, Aiytkali Ganiguli. "She said, 'I am healthy. I am working now. Do not believe fake media reports about my working in a black factory.' "
A graduate student forced to work in a textile plant located within another detention facility was allowed to resume his graduate studies this year — under strict monitoring. "He is not permitted to travel anywhere except the route from his home to his classes and back," says a relative in China who did not provide a name for fear of retaliation from the authorities.
Relatives of Xinjiang residents describe how they are effectively under house arrest; they must get permission to leave the township where their residency is registered.
The rules are enforced by a network of closed-circuit TV cameras, some equipped with facial recognition. Relatives say the cameras can spot whether someone in a household receives undeclared visitors, takes an unauthorized trip or turns on the lights suspiciously early or late.
"Once, my mother left to attend a relative's funeral without public security permission, and the public security bureau called my nephew within an hour to have her come back. At checkpoints, her identification card sets off alarms. She is 80 years old," says Aydarhan Salamat. She thinks her mother is monitored because Salamat's aunt, Meniarbek Mariya, 46, is being held in a prison in the Xinjiang county of Yining for an unknown length of time.
Even nondetained Xinjiang residents who have relatives in detention or who have been previously detained have to check in with local administrative offices to report their movements.
"Every day, my brother still has to go to ideology classes at the local government office to rid him of religious thoughts," says the brother of a Muslim former detainee living in the city of Hami, Xinjiang. He withheld both their names because he still lives in China and risks detention for speaking to a foreign journalist.
Chinese state control covers all spheres of life in Xinjiang. Kunekai Zhanibek, the woman released in August and assigned a job in Urumqi, "got married recently but had to ask for state permission beforehand," says her sister Aibota. "Can you imagine having to ask for permission about such a personal decision?"
Passports in exchange for good PR
Relatives in Kazakhstan desperate to learn more about loved ones in China are turning to a new potential source of information: the slow trickle of ethnic Kazakhs born in Xinjiang who can now get Chinese passports to travel to Kazakhstan.
Once forbidden from traveling abroad, some of Xinjiang's ethnic Kazakh residents have even been able to procure Chinese passports this year to visit relatives in Kazakhstan for one month at a time. As a condition for the passports, the residents are told by local authorities to share only positive news about the region. Travelers must name guarantors in China, such as friends or relatives, who are punished if the travelers don't return or if they meet people they aren't supposed to.
"If you don't return, the guarantors will suffer," says Gulserik Kazykhan. Her brother-in-law Raman uly Zahrkyn was sentenced to 3 1/2 years in February for praying and for donating to his local mosque. He is being held in Wusu's prison. She finally learned of uly Zahrkyn's fate this May from relatives living in China who visited her in Kazakhstan. They stayed for a month before they were forced to return to Xinjiang.
Access to passports still appears strictly controlled. "There are three people from the village who can go abroad for a month, and they take turns," says Aitalim, who goes by one name. From his fellow village residents, Aitalim learned that his cousin Aiturgan Turlan, a former religious affairs state employee, remains detained in Xinjiang's Zhaosu county for allowing a local mosque to be built too large.
Gunikai Naruzibieke is seeking information about the condition of her cousin Bayimulati Naruzibieke, sentenced to a decade in prison this summer and now held in the military garrison city of Shihezi.
Gunikai Naruzibieke has had a hard time persuading relatives from Xinjiang to talk to her. "My relatives are terrified to talk because there was an imam in my family who is now in Kazakhstan — he didn't come back from a trip [there]," she says. As punishment, the imam's guarantor, his daughter Saule, was briefly placed in a detention camp last year.
State control over Xinjiang residents extends internationally, says Ainur Turlyqozha, who lives in a village outside Almaty. Her younger brother Baiasyl disappeared into the detention system in October 2018. Turlyqozha heard he had been sentenced to prison, but she could not get confirmation from relatives who recently visited Almaty.
"One relative even came just five days ago," says Turlyqozha. "But when they come, they will not answer my questions about my brother. They just say vaguely, 'We have heard of something like this.' "
https://www.npr.org/2019/10/08/764153179/china-has-begun-moving-xinjiang-muslim-detainees-to-formal-prisons-relatives-say
--------
Kurdish-led Syrian Democratic Forces consider cooperation with Syria's al-Assad
8 October 2019
Leaders of the Kurdish-led Syrian Democratic Forces (SDF) are considering a partnership with Syrian President Bashar al-Assad ahead of Turkey's imminent invasion of northeast Syria.
"We are now looking into all options to deter a Turkish attack, including communicating with Moscow and Damascus in the event that there is an American void," said a Syrian Kurdish official in an exclusive interview with Al Arabiya English.
A potential collaboration between the SDF and al-Assad would be an alliance of convenience against Ankara. The two parties are not allied but have previously cooperated in the fight against ISIS in SDF-controlled northeast Syria.
The possible cooperation follows US President Donald Trump's order on Sunday for American troops to withdraw from northern Syria, a decision that enables Turkey to attack Kurdish forces inside Syria.
Turkey considers the SDF as an enemy due to its links with the Kurdistan Workers' Party (PKK), a Kurdish organization based in Turkey which has fought the Ankara government for Kurdish independence.
Trump's order will remove the buffer of US troops preventing a Turkish assault on SDF-controlled territory. The order came into effect Monday with about 50 to 100 US special operators pulling out of the area.
The Turkish military carried out strikes overnight on Monday, targeting the Syrian-Iraqi border to prevent Kurdish forces using the route to reinforce northeast Syria, according to two unnamed Turkish officials cited by Reuters.
According to Reuters, Ankara aims to drive out Kurdish forces from northeastern Syria and create a space to resettle the two million Syrian refugees currently in Turkey.
The SDF, with help of the US-led coalition, has spent years gaining ground in northern and eastern Syria against ISIS.
American political and military experts have expressed fear that pulling out troops would mean a possible resurgence of ISIS and would be a betrayal to the Kurds.
"We [The US] want to prevent an attack on the Kurds, who have fought against ISIS and now face the possibility of Turkish incursion or perhaps an attack by the regime," International Crisis Group CEO Rob Malley told Al Arabiya English in an interview last month.
Former US General Jack Keane called the withdrawal a "betrayal" of the Kurds and "a strategic blunder that will have significant implications," during an interview with Fox News on Monday.
President Donald Trump responded to the criticism on Tuesday insisting that the US has not "abandoned the Kurds."
"We may be in the process of leaving Syria, but in no way have we Abandoned the Kurds, who are special people and wonderful fighters," Trump tweeted.
The day before, Trump had threatened to "totally destroy and obliterate" the Turkish economy if Turkey took any action he considered "off limits."
The Kurds are an ethnic group who live primarily in northern Syria and Iraq, western Iran, and eastern Turkey. They were promised their own country after World War I by the Western allies, but that promise was not fulfilled after the modern state of Turkey was established in 1923.
https://english.alarabiya.net/en/News/middle-east/2019/10/08/Kurdish-led-Syrian-Democratic-Forces-consider-cooperation-with-Syria-s-al-Assad.html
--------
British police forces operate large secret database targeting minorities
Oct 8, 2019
In the latest scandal to hit the UK's core counter-terrorism strategy, known as Prevent, it has been revealed that counter-terror police across Britain have been running a secret database containing details of all Prevent referrals.
The National Police Prevent Case Management database is owned and managed by the national counter-terrorism policing headquarters. The database is readily accessible by all police forces in the UK and the Home Office.
The latest revelation has raised concerns amongst privacy campaigners who fear that the database not only infringes privacy rights, but that more worryingly it disproportionately targets minority groups.
Gracie Bradley, who is policy and campaigns manager for the human rights group, Liberty, told the Guardian on Sunday that: "This secret database isn't about keeping us safe. It's about keeping tabs on and controlling people – particularly minority communities and political activists".
Developed in early 2003, Prevent is one of four strands of CONTEST, the UK's overarching counter-terrorism strategy. The other strands are Pursue, Protect and Prepare.
Prevent operates in the pre-criminal space, that is well before individuals, deemed to be at risk of exposure to so-called radicalization and extremism, have crossed the threshold into criminal behaviour.
Prevent has been controversial from the outset as it has been perceived to target ideas and ideology, as opposed to troublesome behaviour.
The controversy escalated when Prevent was placed on a statutory footing in February 2015 following the ratification of the Counter-Terrorism and Security Act.
The statutory classification placed a duty on local authorities, schools, NHS trusts and prisons to report concerns about individuals perceived to be at risk of embracing so-called extremist or radical ideologies.
In recent years tens of thousands of people have been referred to the Prevent programme, with Home Office data indicating that 7,318 people were referred in 2017-2018 alone.
Out of this large group only 394 persons were put on the so-called Channel process, which provides specialist support to individuals deemed to be at risk of getting drawn into terrorist activity.
An investigative report by the Financial Times, on January 24, 2019, reveals in rich detail how the Prevent programme penetrates Muslim communities across the country as part of a wide-ranging effort to identify and engage so-called radicals and extremists.
Meanwhile, The Independent reported back in November 2017 that British Muslim children as young as nine were being referred to the Prevent programme.
https://www.presstv.com/Detail/2019/10/08/608151/UK-Counter-Terrorism-Prevent-Database
--------
India
"Can't Silence Us": New Letter Slams Sedition Case Against Celebrities
October 09, 2019
MUMBAI: Over 180 public personalities, including actor Naseeruddin Shah and historian Romila Thapar, have come out against a police complaint lodged against 49 celebrities over an open letter they had written to Prime Minister Narendra Modi three months ago.
In the letter released on Monday, the signatories questioned how writing an open letter to the prime minister could amount to sedition. "An FIR has been lodged against 49 of our colleagues in the cultural community simply because they fulfilled their duty as respected members of civil society by expressing concern about mob lynching in our country," it questioned, wondering if this does not amount to "harassment by misusing the courts to silence citizens' voices".
The object of contention was a complaint filed in Bihar's Muzaffarpur against several personalities such as filmmaker Adoor Gopalakrishnan and writer-columnist Ramchandra Guha over a letter they wrote to PM Modi in July over growing incidents of mob lynching in the country. They were charged with sedition, among other offences.
Signatories of the new letter, including writers Ashok Vajpeyi and Jerry Pinto, academician Ira Bhaskar, poet Jeet Thayil, author Shamsul Islam, musician TM Krishna and filmmaker-activist Saba Dewan, promised to continue speaking up against the silencing of "people's voices".
"All of us, as members of the Indian cultural community, as citizens of conscience, condemn such harassment. We do more: we endorse every word of the letter our colleagues wrote to the Prime Minister, and that is why we share their letter here once again and appeal to cultural, academic and legal communities to do the same. This is why more of us will speak every day. Against mob lynching. Against the silencing of people's voices. Against the misuse of courts to harass citizens," the letter added.
The FIR was lodged on October 3 under several sections of the Indian Penal Code, including those related to sedition, public nuisance, hurting religious feelings with an intent to provoke breach of peace. The 49 personalities - including filmmakers Mani Ratnam, Anurag Kashyap, Shyam Benegal, actor Soumitra Chatterjee and vocalist Shubha Mudgal - were also accused of "tarnishing the image of the country, undermining the impressive performance of the Prime Minister, and supporting secessionist tendencies".
However, Bihar police maintains that there is no reason for concern as far as the complaint is concerned. "We have taken cognizance of this matter and whatever FIR was filed, it was on the local CJM (chief Judicial Magistrate) court's order. I can assure you that an investigation will be done as per the order, and there's no cause of worry or panic," Bihar police chief Guptesvar Pandey told NDTV a few days ago.
https://www.ndtv.com/india-news/new-letter-slams-sedition-case-against-celebrities-cant-silence-us-2113754
--------
India-born al Qaeda chief of subcontinent killed in US-Afghan raid: Report
October 8, 2019
India-born Asim Umar, the chief of the Al-Qaeda in the Indian Subcontinent (AQIS), has been killed during a joint US-Afghan raid on a Taliban hideout in Afghanistan's Helmand province, Afghan officials said on Tuesday.
Al-Qaeda leader Ayman al-Zawahiri had announced the formation of the AQIS to take the fight to India, Myanmar and Bangladesh in a video message in September 2014.
Umar, who led the AQIS from its formation in 2014, was killed during a joint US-Afghan raid on a Taliban compound in Musa Qala district of Helmand province on September 23, Afghanistan's National Directorate of Security said.
It said Omar was killed along with six other AQIS members, most of them Pakistani. Among them was Raihan, Umar's courier to Al-Zawahiri.
"They had been embedded inside the Taliban compound in the Taliban stronghold of Musa Qala," the NDS said in a statement.
Umar, who was in early 40s, was designated as a "global terrorist" by the US which placed the AQIS on the list of "foreign terrorist organisation" in 2016.
He was former member of US designated Foreign Terrorist Organisation Harakat ul-Mujahidin - a Pakistan-based terrorist group with branches across the Indian subcontinent.
Umar, who was born as Sana-Ul Haq in Sambhal in Uttar Pradesh, reportedly graduated from Darul Uloom seminary in Deoband in 1991. He later travelled to Pakistan where he studied at the Darul Uloom Haqqania Nowshera, the seminary which is dubbed as the 'University of Jihad'.
The AQIS claimed responsibility for the September 6, 2014 attack on a naval dockyard in Karachi, in which militants attempted to hijack a Pakistani Navy frigate.
It has also claimed responsibility for the murders of activists and writers in Bangladesh, including that of US citizen Avijit Roy, US Embassy local employee Xulhaz Mannan, and of Bangladeshi nationals Oyasiqur Rahman Babu, Ahmed Rajib Haideer and AKM Shafiul Islam.
Full report at:
https://www.business-standard.com/article/pti-stories/al-qaeda-in-indian-subcontinent-s-india-born-chief-killed-in-us-afghan-raid-119100800857_1.html
--------
Dr Saifuddin Kitchlew, the freedom fighter who is hailed as the hero of Jallianwala Bagh
UNNATI SHARMA
9 October, 2019
New Delhi: Dr Saifuddin Kitchlew, a frontline freedom fighter, an advocate of Hindu-Muslim unity and a barrister, is remembered today as the face of the protests against the Rowlatt Act that the British passed exactly 100 years ago, in 1919.
He was also an educationist who played a major role in the founding of Delhi's Jamia Millia Islamia University. Kitchlew was the guiding force behind the Naujawan Bharat Sabha, an organisation founded by Sardar Bhagat Singh in 1926.
Introduction to nationalist movement
Kitchlew was born in 1888 in a Kashmiri family of businessmen and government servants. A student of sharp intellect, Kitchlew completed his bachelor's from Cambridge University and obtained his PhD from Germany. He then returned to Amritsar and started practicing law.
His revolutionary aspirations dated back to his Cambridge days, when he actively participated in majlis, a society formed by Indian students to discuss India's colonial woes. It was through these meetings that he met India's future prime minister Jawaharlal Nehru.
F.Z. Kitchlew (Dr Kitchlew's grandson) writes in his book Freedom Fighter — The Story of Dr Saifuddin Kitchlew, "It was at Cambridge where certain socialistic ideas of Kitchlew were developed… he had always been fascinated by the French Revolution. He read books on these themes, which excited in him a kind of admiration for nationalism and freedom movements."
Kitchlew was deeply influenced by Mohandas Gandhi and the national movement and left his legal practice to join the same.
Rowlatt Act and Jallianwala Bagh
In March 1919, the Imperial Legislative Council passed the Rowlatt Act, which gave constitutional legitimacy to wartime emergency measures. It empowered the government to gag the press at will, make arrests without warrants and detain political suspects without evidence.
Protests broke out throughout the country against the draconian Act. Kitchlew urged for hartal or general strike, urging people to suspend businesses and take part in non-violent satyagraha against the British government.
Kitchlew's appeal generated great enthusiasm among the people of Punjab. Around 30,000 people attended his public meeting on 30 March 1919, where Kitchlew's eloquence gripped the vast audience.
"The message of Mahatma Gandhi has been read to you. All citizens should be prepared for resistance. This does not mean that this sacred town or country should be flooded with blood. The resistance should be a passive one. Do not use harsh words in respect of any policeman or traitor which might cause him pain or lead to the possibility of a breach of peace."
On 9 April 1919, Kitchlew and Dr Satyapal helmed an anti-government procession that progressed through the heart of Amritsar. The two leaders were arrested, and interned in Dharamsala.
Just a few days later, on that fateful Baisakhi day of 13 April 1919, Brigadier-General Dyer and his troops fired 1,650 rounds of bullets at a peaceful crowd, killing at least 500-600.
The government released Kitchlew in December 1919.
F.Z. Kitchlew notes, "As soon as Kitchlew came out of the prison, a huge crowd gathered in Amritsar and took a historic procession through the city carrying Kitchlew on their shoulders."
Khilafat and Partition
Kitchlew was appointed chief of the All India Khilafat Committee, whose ideal was pan-Islamism — that all Muslims in India recognise The Caliph of Turkey as their mentor. After Turkey decided to form its government on secular lines, the movement in India failed.
Kitchlew understood the futility of pan-Islamism and became committed to the cause of united nationalism in an atmosphere charged with communal hostility. He maintained that India's greatest enemy was British imperialism and only united action could defeat it. He strongly opposed the idea of partition along religious lines. He argued that a divided India would only debilitate the Muslim cause, in terms of its political emancipation and economic prosperity.
Both Nehru and Kitchlew believed in Poorna Swaraj or complete self-rule. F.Z. Kitchlew writes, "He was of the opinion that Indian freedom could only be attained through India's own efforts. According to him, the history of nations that have attained their freedom tell us that self-reliance. self-sacrifice and sufferings are the only road to freedom."
The aftermath of the Khilafat movement was disastrous for Hindu-Muslim unity. Gandhi, Nehru, Kitchlew and others struggled to bridge that chasm but the damage could never be fully reversed. In fact, the Muslim League became disillusioned with Gandhi and the Congress agenda, ultimately leading to the partition of India on religious lines.
Kitchlew, nevertheless, played a major role in alleviating the tensions, although he wasn't spared himself. His home in Amritsar was burned to ashes during the communal violence of 1947 and he was forced to take refuge in Delhi, along with his family.
Later his son Taufique Kitchlew, who returned to Amritsar, had to leave his birthplace, since no one was willing to give shelter to a Muslim.
Full report at:
https://theprint.in/theprint-profile/saifuddin-kitchlew-freedom-fighter-hero-jallianwala-bagh/302658/
--------
Jaipur: Hotel Denies Accommodation to Unmarried Interfaith Couple
October 09, 2019
Jaipur: A Muslim man and a Hindu woman were not allowed to check into a hotel in Jaipur that they had booked online, after the hotel staff 'identified' their religion. The couple was told that the local police had specifically ordered the hotel to deny entry to 'unmarried couples' from different religions.
The man, a resident of Rajasthan, was in the capital city of Jaipur for work. He had booked a room for two on Goibibo, an online travel booking app. When he reached the OYO Silverkey 39701 hotel in the Tonk Phatak area on Saturday, he was asked to present his identity card.
"I had reached the hotel alone earlier. While checking-in, the receptionist asked me for the name of the other person who would be accompanying me. From the name, she quickly figured out that my friend is a Hindu," the Muslim man told The Wire.
"He told me, 'This is not going to happen. We can't allow you a room here since you two hail from different religions,'" he said.
The man tried to convince the hotel that there is no such rule that bars two adults from staying together, either on the hotel website or the constitution of India. However, the hotel maintained that the local police had given strict orders to them to not permit interfaith couples.
Speaking to The Wire, OYO Silverkey 39701 hotel manager Govardhan admitted that the hotel had denied entry to the couple, "We politely explained the instructions from local police to not allow interfaith couples in the hotel to the customer. We even helped them book a room at another property. If the couple [interfaith] can present their marriage certificate to us, we have no issue with giving them a room."
The manager also admitted that the hotel had denied entry to another interfaith couple two months ago. "This was not the first time that we stopped an interfaith couple from staying together in the hotel. Earlier, a Hindu woman had checked into the hotel and then her Muslim friend arrived. We had a lot of trouble handing the matter then," he added.
However, the police have denied the allegations made by the hotel. In a statement to the Indian Express, commissioner of police Anand Shrivastava said, "No such instructions, either written or verbal, have been issued. They are merely misusing the name of the department."
Sunil Godara, sub-inspector at the Bajaj Nagar police station in Jaipur said that the hotels had made such guidelines by themselves. "There is only a general rule to not allow any suspects but we haven't issued any order restricting interfaith couples in the hotels. If the hotels are doing so, it is their own mentality. Our seniors will take action against the hotel owners for misusing our name," he told The Wire.
The couple said that it was for the first time in their decade-old relationship that they had been questioned on the grounds of their religions. "The whole system is flawed. I don't understand how can the police issue orders governing what adults can do or not do? It's so strange that the hotel has no issues with the unmarried couple from the same religion staying together," the man said.
After the matter came to light, the man was compensated by the travel booking service. "They paid the entire amount back to me and even booked a room at a different property although that hotel was of inferior quality than what I had previously booked. One thing is clear, if they are compensating me that means they were wrong."
Speaking to Express, OYO Hotels and Homes said, "We have initiated an inquiry into the manger's actions which resulted in the inconvenience caused to the customer. We sincerely apologise for this unfortunate experience."
Full report at:
https://thewire.in/rights/jaipur-oyo-hotel-hindu-muslim-couple
--------
China snubs Imran Khan, says resolve J&K bilaterally
Oct 9, 2019
BEIJING: In what is being seen as a snub to the visiting Pakistan PM Imran Khan, China on Tuesday significantly modified its position on the Kashmir dispute by omitting its recent references to the UN charter and Security Council resolutions to the issue and stressing that New Delhi and Islamabad should take the bilateral route to resolve all disputes.
"We call on India and Pakistan to engage in dialogue and consultation on all issues, including the Kashmir issue, and consolidate mutual trust. This is in line with interest of both countries and common aspiration of the world," Chinese foreign ministry spokesperson Geng Shuang said on Tuesday.
The statement, coming ahead of Chinese president Xi Jinping's visit to India, which is expected to take place between October 11 and 13, is a departure from the position that Beijing took when Pakistan foreign minister Shah Mahmood Qureshi had visited China post-nullification of Articles 370 and 35A. Qureshi's Chinese counterpart Wang Yi had then said: "It (Kashmir issue) should be properly and peacefully resolved based on the UN charter, relevant UN Security Council resolutions and bilateral agreement." In fact, China had maintained that position at a meeting of the UN Security Council on Kashmir, which ended without any outcome.
However, on Tuesday, China indicated that it was ready to go back to its pre-August 5 position when it had held that the Kashmir issue should be resolved bilaterally between India and Pakistan. The omission of references to the UN charter and Security Council resolutions particularly assume significance at a time when Imran Khan and Pakistan army chief Gen Qamar Javed Bajwa are in Beijing to meet Xi and other Chinese leaders. By changing its position, China seems to be in agreement with the Indian stand that there should be no third-party mediation on the Kashmir issue. "China's position on Kashmir issue is clear and consistent," Geng emphasized.
Explaining Beijing's changed position, observers said supporting Pakistan's position on Kashmir might make it difficult for Xi to make his India visit successful. Also, by changing its position, China is trying to soften Pakistan's rhetoric on the Kashmir issue. Beijing's show of neutrality comes in the midst of Pakistan asking China to take a tough stand against India on the Kashmir issue.
Meanwhile, Beijing has not yet formally announced Xi's visit to India. It has called a press conference on Wednesday to discuss the President's "outbound tour" where the announcement might be made. Referring to Modi's visit to the Chinese city of Wuhan which hosted an informal summit between him and Xi, Geng said: "Both (India and China) are major developing countries of the world and major emerging markets. Since the Wuhan informal summit, our bilateral relations have gathered good momentum. We have been advancing our cooperation and properly managing our differences."
"We have a tradition of high-level exchange and our two sides are maintaining communication on high-level exchange in the next phase. We should make a good atmosphere and environment for this," he added.
Speaking about Imran Khan's visit, Geng said, "We have a good tradition of close exchange and communication. We have strategic mutual trust and advancing practical cooperation. Our cooperation in the China-Pakistan Economic Cooperation (CPEC) is bringing more outcomes to our peoples."
Full report at:
https://timesofindia.indiatimes.com/india/china-snubs-imran-says-resolve-jk-bilaterally/articleshow/71496416.cms
--------
UK expects to use 'huge opportunities' to expand India-UK relations post Brexit: Lord Tariq Ahmad
Oct 8, 2019
Post Brexit, the UK expects to use the "huge opportunities" to expand India-UK relations, says Lord Tariq Ahmad, UK Minister of State for the Commonwealth, UN and South Asia.
On his first visit to India, Ahmad, whose parents were both born in India, said the "special" UK-India relationship goes further because of the strength of the diaspora.
Speaking to TOI, Lord Ahmad said, "Prime Minister Johnson absolutely gets it. By that, I mean he's absolutely passionate about India and I'm sure you will find that post-Brexit, India is very much high up on his priorities list."
The relationship, he said, is already on a sound footing but, "Brexit allows us huge opportunities to expand our opportunities, not just in terms of trade, which is important, but also to improve our relations in all sectors — culture, heritage. What is the distinct British Indian advantage that we have? The diaspora. The diaspora provides huge opportunities — those that live and work in the UK, and those that are keen to work in tandem for the benefit of both countries. The prosperity agenda is immense."
However, recent attacks on the Indian high commission by Pakistani-Britons have caused a wrinkle in the relationship.
Addressing that, Ahmad said, "its regrettable that the last incident resulted in some property vandalism. We do take that seriously. These acts of violence causes deep concern. We have to balance the right to protest which is legitimate, but at the same time ensure the protection of premises and of people. We take that very seriously. This incident was highly regretable. I have met the high commissioner since. We have taken measures to tighten security, also to see that those who are not protesting, but inciting violence, they are dealt with severely and according to our laws. Certain arrests were made in respect of the latest incident. Let me assure you that we take this very seriously."
On how things will change after Brexit, he said, "Certainly on trade. No longer will this be something that we will be negotiating and working in a cohort of 28. There is opportunity to far expand the work we're doing in every sector on a bilateral basis. That means deals and free trade agreements can be worked through much quicker. The issues are reflective of our bilateral priorities and also in terms of their trade and prosperity agenda."
The UK was the biggest stumbling block to a services agreement with India. Will that attitude change after Brexit? Ahmad said, its a two way process, the sharing of skill sets from India to the UK and the sharing of knowledge from UK to India.
"There is a substantial increase in students studying and there is good reason for that - the reason is common culture, heritage , common systems. we want to attract the best and brightest, but we want to go one step further. Its also an opportunity for British students, who've completed their bachelor's degree in the UK to be able to come to Indian universities. The key is to not look at this as a one-way street. I think there is a huge scope, and look at it in a holistic, bilateral way."
This, he said, comes through on new areas, such as technology, climate change etc, finance etc.
Full report at:
https://timesofindia.indiatimes.com/india/uk-expects-to-use-huge-opportunities-to-expand-india-uk-relations-post-brexit-lord-tariq-ahmad/articleshow/71493870.cms
--------
Search operation launched after drones spotted along India-Pakistan border in Punjab
Oct 8, 2019
FIROZPUR: A search operation was launched in the region after a drone was spotted by BSF on Monday night near HK tower Hussainiwala border here.
"BSF spotted the drones last night. Initially, the drone was seen flying on the other side of border but later it was also spotted entering the Indian side. Out SWAT team and BSF are involved in the search operation", Deputy Superintendent of Police, Sukhvinder Singh told ANI.
He also stated that search operation was carried throughout the night and intelligence inputs will be used to ascertain more information about the incident.
"The operations were carried out at night as well and we are doing them again now. We will be using intelligence inputs to ascertain which side the drone came from," Singh said.
The drone was seen flying from the Pakistan side of the border from 10 pm to 10:40 pm and it crossed the Indian border at 12:25 am. Later, BSF officials informed their seniors and Punjab Police.
Last month, Punjab Police had launched a probe to account for the weapons consignment apparently smuggled into India from Pakistan across the border by the two drones recovered near the India-Pakistan border over the period of last month.
Full report at:
https://timesofindia.indiatimes.com/india/search-operation-launched-after-drones-spotted-along-india-pakistan-border-in-punjab/articleshow/71491394.cms
--------
Two LeT militants killed in south Kashmir's Awantipora
Ashiq Hussain
Oct 08, 2019
Two Lashkar-e-Toiba (LeT) terrorists were killed and a civilian injured in an encounter with security forces in south Kashmir's Pulwama district on Tuesday, police said.
They said that security forces had launched a search operation late Monday night near Kawni area of Awantipora after being tipped off about the presence of militants.
"During the search operation, the hiding terrorist fired on the search party. The fire was retaliated leading to an encounter. In the ensuing encounter, one terrorist was killed and the body was retrieved from the site of encounter," a police spokesman said.
In the evening, Kashmir police tweeted that two militants have been killed in the encounter and arms and ammunition have been recovered from the slain men.
A police official of Awantipora said that the encounter took place in an orchard where one of the militants was killed in wee hours and another in the evening.
The two slain militants have been identified as Ufaid Lone and Mohammad Abbas, both locals and members of Lashkar-e-Toiba.
Superintendent of police, Tahir Saleem said that there were two militants in the area. "While Lone was killed in the orchard, another fled away and entered a house which was immediately cordoned," Saleem said.
Abbas was killed later in the day while a civilian Sabzar Ahmad Bhat was also hit near the site of the encounter.
"The civilian was lying there for some 30 minutes and we retrieved him with much difficulty and took him to hospital," said another police officer. He has been shifted to SMHS hospital in Srinagar.
The police spokesman said that Lone had a history of "terror crime" records since 2018. "Several terror crime cases were registered against him including two grenade attack on security forces and the police, atrocities against civilians, threatening, intimidation and beating of locals at Padagampora besides enforcing shutdown of business establishments and forcible suspension of transport facilities in the area," the spokesman said.
Security forces have been involved in an anti-insurgency operation in the forests and mountains of Ganderbal in central Kashmir since September 28. At least two militants have been killed on two separate occasions since then. National Security Advisor Ajit Doval had earlier asked security agencies to intensify anti-militancy operations after reports of increase in infiltration attempts.
Superintendent of police, Ganderbal, Khalil Poswal said that the 'combing searches' continue in the area even today as the forces have used the services of paratroopers wherever the terrain was tough.
"The combing searches are continuing even though two militants have been killed who appear to be infiltrators. We suspect two more militants in the area. At the places where the terrain is tough, the paratroopers are also air dropped," he said.
On Saturday, 14 people including two women and a traffic cop were injured in a grenade attack in south Kashmir's Anantnag district. Suspected militants had lobbed a grenade near Anantnag deputy commissioner's office in the morning which exploded on the road.
Since the Centre revoked the special status of Jammu and Kashmir on August 5 and put the region under a security lockdown, six militants have been killed in Kashmir including the two on Tuesday.
In comparison, 30 militants were killed in various encounters with security forces in the months of June and July during which 14 security forces also lost their lives. Four militants and an army man were also killed in the first four days of August.
Full report at:
https://www.hindustantimes.com/india-news/two-militants-killed-in-south-kashmir-s-awantipora/story-D6cywlbRRTyQiNHQUoooGK.html
--------
North America
Trump's Green Light to Turkey Raises Fears About ISIS Detainees
By Charlie Savage
Oct. 7, 2019
WASHINGTON — President Trump's sudden blessing of a Turkish military operation in northern Syria and his announcement of an American troop withdrawal from that region raised questions about the fate of thousands of Islamic State detainees that the Turks' targets, American-backed Syrian Kurds, have been holding in makeshift wartime prisons.
Mr. Trump insisted that Turkey must assume responsibility for the captured ISIS fighters and their families. But it is far from clear what will happen to them, and a host of issues arose from Mr. Trump's abrupt, if still murky, change in policy.
What is going on in northern Syria?
The situation is deeply complicated. For now, the Kurdish-led Syrian Democratic Forces control northern Syria. They have been the primary American ally inside Syria in the war against the Islamic State, carrying out the brunt of the ground-level fighting with support from American airstrikes and weapons. They operate prisons where ISIS members are detained.
The Kurds are menaced from the north by Turkey, which has been fighting separatist Kurds inside its borders for years and considers the Syrian Kurds to be terrorists, too. Meanwhile, President Bashar al-Assad of Syria, backed by Russia, controls the southern part of the country and wants to eventually retake it all, raising the possibility of a deal with the Kurds.
The presence of American troops has helped maintain a fragile peace. But the White House said that Mr. Trump has given a green light for a Turkish military operation into northern Syria, and Mr. Trump said on Twitter that it was time to pull out. "Turkey, Europe, Syria, Iran, Iraq, Russia and the Kurds will now have to figure the situation out," he said, "and what they want to do with the captured ISIS fighters in their 'neighborhood.'"
Who are the ISIS detainees?
The Syrian Democratic Forces operate an archipelago of ad hoc wartime detention sites for captive ISIS fighters, ranging from former schoolhouses in towns like Ainissa and Kobane to a former Syrian government prison at Hasaka.
The prisons hold about 11,000 men, of whom about 9,000 are locals — Syrians or Iraqis — and about 2,000 come from some 50 other nations whose home governments have been reluctant to repatriate them. They also operate camps for families displaced by the conflict that hold tens of thousands of people, many of them non-Syrian wives and children of Islamic State fighters.
"If Turkey attacks these Kurdish soldiers, there is a grave risk that the ISIS fighters they guard will escape and return to the battlefield," a bipartisan group of lawmakers who recently visited the Middle East said in a joint statement on Monday.
Would a Turkish invasion reach the prisons?
This is one of many unknowns. An American-brokered plan in the works would create a demilitarized "safe zone" a few miles deep along a roughly 78-mile portion of the Syrian-Turkish border to reassure Turkey and forestall any military conflict with the Kurds. That would not affect the Kurds' ability to keep running the prisons.
But Mr. Erdogan, speaking at the United Nations General Assembly last month, has instead pushed for a much longer and deeper zone. A broader invasion could reach the prisons, and it would set off an armed conflict that could prompt the Kurds to pull guards from prisons so they could instead join the fight.
The "worst-case scenario" is that the Kurds are so frustrated and angered by the United States' action that "they decide to release wholesale some of the detainees," said Christopher P. Costa, a former senior director for counterterrorism on Mr. Trump's National Security Council who now heads the International Spy Museum.
Is Turkey planning to take custody of ISIS prisoners?
It was not clear. The White House said Turkey would "now be responsible for all ISIS fighters in the area captured over the past two years." But Turkey has given no public sign that it has agreed to take over that headache.
For now at least, the Kurds have told American officials that they will continue to hold the ISIS detainees. But a senior State Department official acknowledged that the best-trained guards could be pulled away in the event of a conflict with Turkey, calling it a "big concern" that some ISIS fighters could go free.
"It's hard to imagine Turkey has the capacity to handle securely and appropriately the detainees long held by the Syrian Kurds — and that's if Turkey even genuinely intends to try," said Joshua A. Geltzer, a former senior director for counterterrorism at the National Security Council in the Obama administration.
Why did Trump complain about Europeans?
The Kurds have implored countries around the world to take back their citizens who fought for the Islamic State and were captured. But that idea is politically unpopular in many European countries. Mr. Trump is correct that nations like Belgium, Britain, France and Germany have been largely content to let the Kurds bear the burden of detaining their citizens — particularly the male fighters.
Many European law enforcement officials fear that if they repatriate their extremist citizens, they would be unable to convict them or keep them locked up for a long time. European counterterrorism laws are weaker than those in the United States, where a conviction merely for joining a designated terrorist group can yield a 15-year prison sentence.
But Mr. Trump was wrong when he also said that the captured ISIS fighters were "mostly from Europe." While scores of the imprisoned men have European citizenship, far more come from other countries that are part of the Muslim world — like Tunisia, Egypt and Yemen, to say nothing of the thousands of local Syrians and Iraqis.
What about the 'Beatles'?
Unlike many other countries, the United States has taken its citizens off the Kurds' hands. But there are two British detainees still in Kurdish custody whom the United States has a particular interest in keeping locked up: El Shafee Elsheikh and Alexanda Kotey.
They are two of the so-called Beatles, a four-member cell of British ISIS members who tortured and murdered Western hostages, including James Foley, the American journalist who was beheaded in August 2014 for an ISIS propaganda video. Another member of the cell, who was later killed in a drone strike, is believed to have killed Mr. Foley.
The Justice Department intends to eventually bring them to the Eastern District of Virginia for trial, but a court fight in Britain has delayed that transfer. The lawsuit is over whether the British government may share evidence with the United States without an assurance that American prosecutors will not seek the death penalty.
"It's a good day for the Beatles," said Senator Lindsey Graham, a South Carolina Republican who is normally a staunch Trump ally but who denounced the president's move as "complete chaos" and "a disaster." In a phone interview, Mr. Graham vowed to lead a congressional vote to try to impose sanctions on Turkey if it invades northern Syria, despite Mr. Trump's acquiescence.
Eric Schmitt and Lara Jakes contributed reporting.
Charlie Savage is a Washington-based national security and legal policy correspondent. A recipient of the Pulitzer Prize, he previously worked at The Boston Globe and The Miami Herald. His most recent book is "Power Wars: The Relentless Rise of Presidential Authority and Secrecy." @charlie_savage • Facebook
https://www.nytimes.com/2019/10/07/us/politics/isis-prisons-detainees.html
--------
Trump's Call to Leave Syria Draws Fire From GOP Allies
By Dion Nissenbaum and Gordon Lubold
Updated Oct. 7, 2019
President Trump's latest move to end U.S. involvement in Syria drew a burst of condemnation from dedicated supporters, who warned that abandoning a key ally, the Kurds, and walking away from the fight against Islamic State would cause irreparable damage to U.S. interests.
Congressional leaders including GOP Sens. Marco Rubio of Florida, Ted Cruz of Texas and top Democrats sharply criticized Mr. Trump's decision. Senate Majority Leader Mitch McConnell (R., Ky.) urged Mr. Trump to "exercise American leadership" and keep U.S....
Full report at:
https://www.wsj.com/articles/u-s-begins-pullback-from-northern-syria-clearing-way-for-turkish-offensive-11570439862
--------
Graham Says Trump's 'Biggest Lie' Is of Islamic State's Defeat
By Jennifer A Dlouhy and Glen Carey
October 7, 2019
One of Donald Trump's biggest defenders in Congress rebuked the president's decision to step aside from Kurdish allies in Syria while Turkey's military advances, saying it would result in the re-emergence of ISIS.
Full report at:
https://www.bloomberg.com/news/articles/2019-10-07/trump-says-of-syria-it-s-time-u-s-gets-out-of-endless-wars
--------
US doesn't want to confront NATO ally Turkey: Expert
Beyza Binnur Dönmez, Vakkas Dogantekin
08.10.2019
The U.S. administration has concluded that it would be "absurd" to get into a confrontation with Turkey, a political analyst said Monday, after President Donald Trump reiterated his commitment to pull back American troops in Syria.
"I believe from both a political point of view and cost-benefit analysis, the U.S. administration came to the conclusion that it would be absurd to get into a confrontation with NATO ally and long-term partner Turkey and sacrifice Ankara for the sake of a tactical partnership with the Syrian branch of the PKK [YPG]," Dr. Ali Bakeer, a political analyst and consultant, told Anadolu Agency.
Bakeer, who obtained a PhD from Beirut Arab University, stressed that Turkey will carry out a "gradual" operation to clear areas close to the border of YPG/PKK elements without going deeper to achieve two main goals: "driving the YPG threat from its borders and securing the return of some refugees to their hometowns and lands in the north."
He said there is one "unfavorable scenario," which is the YPG/PKK giving the areas it controls back to the Bashar al-Assad regime before the Turkish operation.
Asked whether the U.S. pullback could bring the YPG closer to Assad or Iran, Bakeer said "all scenarios are possible."
"The YPG never opposed the Assad regime and at certain points even kept good relations with Iran," he said. "So it would not be a surprise if the YPG strengthened its relations with Assad."
The Assad regime was the "de-facto founder" of the Syrian branch of the PKK when it hosted, supported and used Abdullah Ocalan, the jailed leader of the PKK terrorist group, against Turkey, Bakeer said.
"It used the YPG later against Ankara at the beginning of the Syrian revolution," he added.
He said he does not think Russia or Iran will participate in efforts to stop Turkey's operation in Syria, adding the role of two countries in the region is to "help Assad gain more control of Syrian lands."
"Maybe Russia would be interested later in brokering a deal with the YPG, but as I said before, it is still early to foresee how things will emerge," he said.
Bakeer underlined that the "best option" for the YPG/PKK is to dissolve itself, surrender its weapons and turn into a political party.
He added the way is to do that is "legitimize itself, join the political process, stop being a tool of Assad, pave the way for long-term sustainable relations with Turkey and bring benefits to northern Syria."
"The United States was supposed to be in Syria for 30 days; that was many years ago. We stayed and got deeper and deeper into battle with no aim in sight," Trump tweeted earlier, referring to the U.S. presence in the region to fight Daesh.
He reiterated that he is pulling U.S. troops from conflict zones where there are no national interests.
"WE WILL FIGHT WHERE IT IS TO OUR BENEFIT, AND ONLY FIGHT TO WIN. Turkey, Europe, Syria, Iran, Iraq, Russia and the Kurds will now have to figure the situation out, and what they want to do with the captured ISIS fighters in their 'neighborhood'," he said.
Trump also warned Turkey ahead of the planned operation in the country's northeast, saying there would be economic consequences if it does anything "off limits."
Turkey has long called for the U.S. to partner with it in the fight against Daesh, a terrorist group Ankara has worked to root out, arresting and deporting its members within Turkey.
Since 2016, Turkey's Euphrates Shield and Olive Branch operations in northwestern Syria have liberated the region from YPG/PKK and Daesh terrorists, making it possible for nearly 400,000 Syrians who fled the violence to return home to western Syria.
After strategic coordination with American officials, the YPG re-branded itself as the Syrian Democratic Forces (SDF) in July 2017 to dissociate itself with the PKK, which is recognized as a terrorist group by Turkey, the U.S. and the European Union.
Full report at:
https://www.aa.com.tr/en/americas/us-doesnt-want-to-confront-nato-ally-turkey-expert/1605303
--------
Trump says 'not siding with anybody' on Syria
Servet Günerigök
08.10.2019
WASHINGTON
U.S. President Donald Trump said Monday he was not "siding with anybody" on Syria after his decision to pull back troops.
"I am not siding with anybody. We've been in Syria for many years. Syria was supposed to be a short-term hit. We were supposed to be in and out," Trump said during a press conference at the White House, adding he has "a good relationship" with his Turkish counterpart Recep Tayyip Erdogan.
Trump has been facing mounting pressure in Washington after the White House announced late Sunday that the U.S. would pull back its forces in Syria ahead of a "long-planned" Turkish operation.
The Trump administration has ruled out any U.S. support for the operation, and in the face of significant pushback, the president vowed "if Turkey does anything that I, in my great and unmatched wisdom, consider to be off limits, I will totally destroy and obliterate the economy of Turkey."
In his remarks, the U.S. president said there were just 50 troops in the area where Ankara was planning to carry out the operation and did not want them to get hurt.
"I think there is a lot of pressure on Turkey. They have been fighting with the PKK for many years," said Trump, adding the former Obama administration started the dispute and "natural war" between Turkey and the PKK, citing reports.
A senior administration official speaking to reporters denied suggestions that Trump acted on the request of anyone, emphasizing the president's priority has been the protection of U.S. forces.
The official further said the U.S. will not engage with Turkey militarily, noting Washington "is not in a position to, and will not be in a position to, fight Turkey over any actions that it takes with respect to Syria."
"There's no green light. We're protecting our troops, and the president's made it very clear, that there should be no untoward actions with respect to the Kurds or anyone else," he said.
Turkey has long called for the U.S. to partner with it in the fight against Daesh, a terrorist group Ankara has worked to root out, arresting and deporting its members within Turkey.
Since 2016, Turkey's Euphrates Shield and Olive Branch operations in northwestern Syria have liberated the region from YPG/PKK and Daesh terrorists, making it possible for nearly 400,000 Syrians who fled the violence to return home to western Syria.
Full report at:
https://www.aa.com.tr/en/americas/trump-says-not-siding-with-anybody-on-syria/1605260
--------
US calls on Iraqi prime minister to contain violence and reform
Oct 9, 2019
The United States Secretary of State has called Iraqi Prime Minister Adel Abdel Mahdi and urged him to limit bloodshed as mass demonstrations demanding political reform rage on in Baghdad.
More than 110 people have been killed and over 6,000 wounded in just over a week as street demonstrations in central and southern Iraq have been met by a heavy response from authorities and pro-Iranian militias.
Secretary of State Mike Pompeo telephoned Mr Adel Mahdi, "lamented the tragic loss of life over the past few days and urged the Iraqi government to exercise maximum restraint," the State Department said overnight Tuesday.
Mr Pompeo urged Mr Abdel Mahdi "to take immediate steps to address the protesters' grievances by enacting reforms and tackling corruption," it added.
The two officials spoke recently, it said in a statement, but did not mention the date.
Mr Abdel Mahdi released a 13-point plan for jobs, training and welfare for unemployed youth on Tuesday but the move is being seen by many as too little too late and is unlikely to ease public anger.
Following a cabinet meeting, the prime minister posted his reforms on social media, although most Iraqis have been cut off from the internet and social media for several days.
In Baghdad, questions are being raised as to the extent of the prime minister's authority as police and the military admitted earlier this week that excessive force has been used on protesters.
"Whoever thinks the executive branch, including the commander in chief, really are controlling the armed forces should come up with a proof," said Kamran Karadaghi, a former aide to the late Iraqi President Jalal Talabani.
President Barham Salih urged calm and dialogue this week in a televised address.
Demonstrations erupted again overnight in Sadr City, Baghdad's largest slum and a stronghold of Shiite cleric Moqtada Sadr.
Protesters set fire to tires outside the municipal council building and courthouse in Mudhaffar Square, police said, adding that gunfire that targeted the security forces came from a crowd of protesters.
Iraq's military said on Tuesday one member of an Interior Ministry force was killed and four wounded when they came under fire from unknown assailants in Sadr City, where 15 people died the previous night in riots.
Demonstrators say they have come under attack from members of the security forces using live ammunition. Journalists on the scene reported seeing protesters killed and wounded by snipers firing from rooftops into crowds.
Iraqi security forces began arresting protesters after nightfall on Tuesday in eastern and northwestern parts of Baghdad, police sources said. Police carried recent photographs of protesters to identify and arrest them. Iraq's semi-official high commission for human rights said about 500 people had been released from the 800 detained last week.
On Tuesday, Iraq's military called back into service those officers and soldiers dismissed on suspicions they abandoned cities and towns to an Islamic State onslaught in 2014.
Parliament, which on Tuesday held its first session since the crisis began, discussed the move and reform plans aimed at pacifying protesters.
Full report at:
https://www.thenational.ae/world/us-calls-on-iraqi-prime-minister-to-contain-violence-and-reform-1.921179
--------
South Asia
Airstrikes kill 25 Taliban, ISIS militants; destroy weapons caches and car bomb
08 Oct 2019
A series of airstrikes killed at least 25 militants of the Taliban and ISIS groups in six provinces of Afghanistan in the past 24 hours.
The military officials said Tuesday an airstrike killed 11 Taliban militants in Now Bahar district of Zabul.
The officials further added that a similar airstrike killed 6 ISIS Khurasan militants and destroyed a cache of weapon sin Khugyani district of Nangarhar.
The security forces also conducted airstrikes in Aab Band district of Ghazni which killed 4 Taliban militants and destroyed a weapons cache and a car bomb, the officials added.
Another airstrike in Marjah district of Helmand killed 2 Taliban militants, the officials said, adding that a similar air raid killed 2 Taliban militants in Khak-e Safid district of Farah and destroyed a cache of weapons.
The officials also added that airstrikes in Jaghatoo district of Wardak destroyed 4 caches of weapons.
https://www.khaama.com/airstrikes-kill-25-taliban-isis-militants-destroy-weapons-caches-and-car-bomb-04200/
--------
Afghan officials say raid killed top al-Qaida commander
Oct 8, 2019
KABUL: A top al-Qaida commander was killed in a raid by Afghan forces last month, Afghan intelligence officials said Tuesday, in an operation backed by US airstrikes that also killed tens of civilians.
Afghanistan's National Directorate for Security said in a statement Tuesday that the raid on Sept. 23 killed Asim Omar along with six other al-Qaida members in the southern Helmand province.
Omar was the head of al-Qaida operations in South Asia.
Among those killed was Raihan, Omar's courier to Ayman Al-Zawahiri, the leader of the al-Qaida network, the statement added.
"They had been embedded inside the Taliban compound in the Taliban stronghold of Musa Qala," added the Afghan intelligence services' statement.
The joint US-Afghan operation targeted a Taliban hideout in the Musa Qala district, but the civilian deaths it caused rattled Afghanistan.
At least 40 people attending a wedding party in the area were killed on the same day, according to provincial officials, in the US airstrikes.
Abdul Majed Akhund, deputy provincial councilman in Helmand, had said that most of the dead were women and children. An additional 12 civilians were wounded and were hospitalized in Lashkar Gah, the capital of Helmand province.
For the first time in 18 years of war, civilian deaths caused by US and Afghan government forces have surpassed those caused by the Taliban and other insurgents, according to a UN report.
The operation also killed 22 Taliban fighters, including foreigners, Afghanistan's defense ministry had reported in a statement. Fourteen people were arrested, including five Pakistani nationals and one Bangladeshi. The statement said a large warehouse of supplies and equipment was also destroyed.
The Taliban are at their strongest since their ouster in 2001 and hold sway over more than half the country, staging near-daily, deadly attacks across Afghanistan.
On Tuesday, a bomb detonated inside a classroom in eastern Ghazni province, wounding at least 19 university students, a provincial official said.
Arif Noori, spokesman for the provincial governor, said 12 of the wounded are female students of the Ghazni University, located on the outskirts of the provincial capital, the city of Ghazni.
Noori added that two of the wounded are in critical condition.
No one immediately claimed responsibility for Tuesday's attack.
Last month a magnetic explosive device attached to a minibus belonging to the same university detonated, killing the driver. Noori says five students were also wounded in that blast.
The Taliban are active in the province and regularly launch attacks against security forces there.
Full report at:
https://timesofindia.indiatimes.com/world/south-asia/afghan-officials-say-raid-killed-top-al-qaida-commander/articleshow/71493771.cms
--------
Afghan Special Forces kill, detain 19 militants; destroy weapons caches in 4 provinces
09 Oct 2019
The Afghan Special Forces killed 4 Taliban militants and detained 15 others during the operations in the past 24 hours.
The military officials said Wednesday that the Special Forces also destroyed multiple caches of weapons during the same operations.
The officials further added that the Special Forces conducted the operations in Khoshamand district of Paktika, Farah, Giro district of Ghazni and Almar district of Faryab.
According to the officials, the Special Forces killed 4 of the militants and detained 8 others in Paktika while they arrested 7 others in Farah district of Farah province.
Full report at:
https://www.khaama.com/afghan-special-forces-kill-detain-19-militants-destroy-weapons-caches-in-4-provinces-04202/
--------
Taliban's military commission chief and 3 other senior leaders killed in Farah airstrike
08 Oct 2019
An airstrike in western Farah province killed the military commission chief of the group and three other senior leaders of the group.
The provincial police headquarters said in a statement that the security forces on Monday conducted an airstrike targeting a vehicle in Nal Dasht Village of Khak-e Safid district.
The statement further added that the airstrike killed Mawlavi Kamran, the military commission chief of Taliban for 20 provinces.
The airstrike also killed three other senior Taliban leaders including Mawlavi Samad, Mawlavi Dawood and Mawlavi Akhundzada, the statement added.
Full report at:
https://www.khaama.com/talibans-military-commission-chief-and-3-other-senior-leaders-killed-in-farah-airstrike-04199/
--------
Pakistan
Seminaries put under surveillance ahead of JUI-F's march on capital
Munawer Azeem | Mohammad Asghar
October 09, 2019
ISLAMABAD: Seminaries and leaders of Jamiat Ulema-i-Islam (JUI-F) in the capital have been put under surveillance to prepare a strategy to deal with the Azadi march of the politico-religious party to the capital.
On the directives of the capital administration, the police have alerted its Special Branch to collect information about the affiliation of the religious seminaries, teachers and students with the JUI-F. Besides, seminaries, teachers and students who may support the JUI-F should also be identified.
In this regard, intelligence was mounted in and around the seminaries to collect details.
Officials deployed around seminaries are watching people visiting the premises and preparing their lists. The teachers and senior students are also under surveillance to check whom they are meeting and contacting these days.
Details are being collected about people and those who are found affiliated with JUI-F and other politico-religious parties have been put under surveillance to take action against them when needed, the officers stated.
There are 329 religious seminaries in the capital and it is expected that the JUI-F may get support, including manpower, from 207 of the seminaries, said the officers, adding over 28,000 students are getting education in these seminaries.
Moreover, surveillance of Maulana Fazlur Rehman, Maulana Attaur Rehman, Mufti Abrar, Khawaja Mudassar and Majeed Hazarvi has also been started. The staff members of Maulana Fazlur Rehman are also being monitored.
Rent-a-car service providers, hotels and catering services are also being monitored along with clients visiting them, said the officers.
The Maintenance of Public Order or the Criminal Procedure Code (CrPC) may be used against the leaders of the JUI-F, teachers and students to restrict them from preparing for and participating in the long march.
Besides, CrPC may also be used against service providers to restrict them from dealing with the organisers, leaders and participants of the long march.
Meanwhile, the capital police have started a major anti-riot exercise to test its newly-prepared strategy, said a police officer, adding the exercise was started after the JUI-F announced its Azadi march against the government from Oct 27.
In Nov 2017, Tehreek-i-Labbaik Pakistan outclassed the capital police and continued its sit-in at Faizabad. After assuming charge as the inspector general of the police (IGP) Islamabad, Sultan Azam Temuri in Dec 2017 introduced the Anti-Riot Unit (ARU) and Police Reserves.
Huge shields were introduced to cover the ARU and reserves units, comprising over a dozen officials, to deal with any mob.
The ARU has the strength of 451officials while the Anti-Terrorist Squad has 71 personnel, said the officer, adding over 1,000 officials of the capital's security and operation wings were participating in the exercise being held in the police headquarters. The police reserves and ARU along with ATS will later participate in the exercises.
The officer said the long march would not be allowed to enter Red Zone and if necessary the high security area would be sealed. Besides, the participants of the long march will not be allowed to gather at Faizabad.
Pindi police prepare lists
The Rawalpindi district police have prepared lists of JUI-F local leaders and like-minded seminaries in addition to starting talks with them to convince them not to participate in the long march.
According to sources, the lists of local leaders and prominent figures of the JUI-F were prepared soon after the protest against the government was announced by the leadership of the party. However, intelligence and police officials have been engaged in holding meetings with the local leaders.
"Yes, we are holding meetings with them but they are strict to their stance and giving no information regarding their protest plan," said a security official, adding details about madressahs were being collected.
A senior police official said the government's strategy regarding the march was yet to be announced. Therefore, it would be too early to say whether the police have been tasked to allow or disallow the protesters to proceed to Islamabad.
https://www.dawn.com/news/1509792/seminaries-put-under-surveillance-ahead-of-jui-fs-march-on-capital
--------
ICRC, Shariah Academy Organize Course On Islam And International Humanitarian Law
Faizan Hashmi
08th October 2019
ISLAMABAD (UrduPoint / Pakistan Point News / Online - 08th October, 2019) A four-day regional course on islam and International Humanitarian Law (IHL) organized by the Shariah academy of the International Islamic University Islamabad (IIUI), commenced here on Tuesday.Academy is organizing this course in collaboration with International Committee of the Red Cross (ICRC) which is being attended by the Islamic scholars hailing from Bangladesh, Afghanistan and all the provinces of Pakistan representing various universities.The course contents include protection of cultural property, command responsibility: Islam & IHL perspectives, acts prohibited in war (IHL perspective), acts prohibited in war (Islamic law perspective), enforcement mechanism of IHL, relevance of Siyar & contemporary Muslim ummah and Islamic law of Siyar and curriculum of madaris and universities.
Dragana Kojic Head of Delegations (ICRC) elaborated activities of ICRC in Pakistan.
Full report at:
https://www.urdupoint.com/en/education/icrc-shariah-academy-organize-course-on-isla-731154.html
--------
China voices support for Pakistan's core issues of national interest
October 8, 2019
BEIJING: Pakistan and China have agreed to strengthen socio-economic ties as the leaders of both the countries, PM Imran Khan and Chinese PM Li Keqiang, signed a number of agreements and Memoranda of Understanding (MoUs), stated an official press statement on Tuesday.
According to the press statement, Prime Minister Imran Khan held bilateral talks with Chinese Premier Li Keqiang at the Great Hall of the People in Beijing.
Chinese PM Li reiterated China's support for Pakistan's issues of core national interest, mentioned the statement.
The meeting revolved primarily around the strengthening of bilateral economic partnership.
PM Imran Khan emphasised that expeditious completion of the China Pakistan Economic Corridor projects was the foremost priority of his government.
He maintained that the second phase of CPEC will be instrumental in reinforcing and consolidating Pakistan's economic development and pave the way for enhanced Chinese investments in Pakistan.
Premier Li was also apprised of the actions undertaken recently to fast-track CPEC projects and to push the development momentum in Gawadar.
The bilateral talks were followed by a banquet hosted by Premier Li.
The two sides also discussed deepening bilateral trade and explored ways of increasing Pakistan's exports to China.
Both leaders agreed that the implementation of the second phase of China-Pakistan Free Trade Agreement would lead to more trade, economic and investment opportunities between the two countries.
Other areas of potential collaboration discussed between the two sides included railways, steel, oil and gas, industry, and science and technology.
The two sides also discussed regional security situation including serious human rights and humanitarian situation in Indian occupied Kashmir.
Prime Minister Imran Khan apprised Premier Li of the latest developments and the importance of urgent action by the international community to alleviate the sufferings of the Kashmiri people in the lockdown.
The two leaders also witnessed signing of various agreements and MOUs aimed at deepening Pakistan-China ties in a range of socio-economic sectors.
Prime Minister Imran Khan reiterated his invitation to Chinese PM Li to visit Pakistan at the earliest opportunity.
On his arrival, the prime minister was presented a guard of honour, accompanied by 19-gun salute.
Full report at:
https://www.thenews.com.pk/latest/538391-china-reiterates-support-for-pakistans-core-issues-of-national-interest
--------
Maulana Fazl served legal notice by Ali Amin Gandapur
October 8, 2019
ISLAMABAD: Federal Minister for Kashmir Affairs and Gilgit-Baltistan Ali Amin Gandapur served a legal notice to Jamiat Ulema-e- Islam Chief Maulana Fazl-ur-Rehman on Tuesday.
The federal minister had announced to take action against the JUI-F leader a day ago.
The minister said that Fazl has been issuing incendiary speeches after losing the elections last year, adding that he would initiate legal action if the JUI-F leader fails to respond within next 15 days.
Gandapur said that he has 'a lot of evidence to get him (Fazl) sentenced'.
JUI-F leader Hafiz Hamdullah said that the action against Maulana Fazl is only to stop the march and these steps are only mean to incite, which can cause contention.
He further said that the minister can send the legal notice by all means, but the march will take place.
On Monday, Punjab's minister for colonies, Fayyaz ul Hassan Chohan, requested that the National Accountability Bureau (NAB) probe Maulana Fazlur Rehman.
Chohan — a leader of the ruling Pakistan Tehreek-e-Insaf's (PTI) — said the NAB should question and investigate Fazl over railways and alleged fraud pertaining to the martyrs' estates.
Full report at:
https://www.thenews.com.pk/latest/538377-ali-amin-gandapur-sends-legal-notice-to-maulana-fazl
--------
Treason case against Musharraf to be heard daily from October 24: Court
Oct 8, 2019
ISLAMABAD: A special court in Pakistan on Tuesday said the high treason trial of former military dictator Pervez Musharraf will start on a daily basis from October 24 as his counsel is down with dengue fever.
A three-member tribunal headed by Justice Waqar Ahmad Seth directed all parties to submit their written arguments before the next hearing.
The bench had decided last month to conduct 75-year-old Musharraf's trial on a daily basis from October 8 to conclude the case pending since December 2013. However, an application was submitted on Tuesday on behalf of his counsel for deferment of the hearing for two weeks as the counsel was down with dengue fever.
The court accepted the plea but said that hearing would be held on daily basis from October 24.
The previous Pakistan Muslim League-Nawaz (PML-N) government had filed the treason case against the former army chief in 2013 over the imposition of extra-constitutional emergency in November 2007, which led to the confinement of a number of superior court judges in their houses and sacking of over 100 judges.
The trial in the high-profile treason case has not seen much progress since Musharraf left for Dubai in March 2016 after his name was removed from the no-fly list.
He has not returned since, and is said to be suffering from Amyloidosis, a rare condition for which he has been admitted to a hospital.
The special court has declared him a proclaimed offender and ordered the confiscation of his property owing to his no-show. The case has been virtually stalled as Musharraf's presence is important to record his statement.
Full report at:
https://timesofindia.indiatimes.com/world/pakistan/treason-case-against-musharraf-to-be-heard-daily-from-october-24-court/articleshow/71491738.cms
--------
PPP, PML-N to thrash out role in march today
Kashif Abbasi
October 09, 2019
ISLAMABAD: As opposition parties at a Rahbar committee meeting on Tuesday discussed strategies for their participation in the Jamiat Ulema-i-Islam's (JUI-F) anti-government march on Islamabad, the Pakistan Muslim League-Nawaz and Pakistan Peoples Party decided to convene meetings of their senior leaders to finalise modalities.
Hours after the opposition's Rahbar committee meeting, PPP chairman Bilawal Bhutto-Zardari called a meeting of the party's core committee in Karachi, whereas PML-N president Shahbaz Sharif directed senior party leaders to gather at his Lahore residence to discuss the options for participation in the long march.
Ignoring the calls of other opposition parties to delay the proposed long march, JUI-F chief Maulana Fazlur Rehman had last week announced his party's decision to hold "Azadi March" to Islamabad on Oct 27 that he said was aimed at ousting the Pakistan Tehreek-i-Insaf government.
The JUI-F chief had said a sit-in would be staged at Islamabad's D-Chowk, the place where the PTI had staged a sit-in for 126 days five years ago. He said they had chosen Oct 27 for the march to express solidarity with the Kashmiri people who would observe a black day on the same day to condemn the Indian occupation of Jammu and Kashmir.
Meanwhile, Mr Bhutto-Zardari directed Sindh Chief Minister Murad Ali Shah to ensure cooperation with the JUI-F for their peaceful democratic protest "against the injustice of the federal government".
The directives were issued by the PPP chairman during his meeting with the chief minister in Karachi, according to an official announcement by the party's media office.
The Sindh government would make all-out efforts to ensure safety and security of the protesters and citizens alike, the chairman said. The Sindh government would coordinate with the protesters and arrange alternative routes for traffic to ensure minimum disruption of daily life, he said.
Mr Bhutto-Zardari said protest was a fundamental right of every citizen in a democratic society, and the benchmark of a thriving democracy.
Earlier at the Rahbar committee meeting, the JUI-F leaders briefed other opposition parties about their plan for the long march.
A participant in the meeting later told Dawn that the JUI-F had apprised them of its strategy, but he believed that there might be a few things that had been kept secret to ensure the government did not prepare a counter-strategy.
The representatives of the opposition parties told reporters after the meeting that their demand was resignation of Prime Minister Imran Khan and elections in the country.
Rahbar committee convener and JUI-F leader Akram Durrani said the opposition parties had agreed that the prime minister must resign and new elections should be conducted in which there should be no role of the army inside or outside of the polling stations.
Those who attended the meeting included PML-N's secretary general Ahsan Iqbal, PPP leaders Farhatullah Babar and Nayyar Bukhari and ANP's Mian Iftikhar Hussain.
While claiming that "all the opposition parties are with us", Mr Durrani said the JUI-F as per its plan would hold Azadi March to Islamabad on Oct 27 against the government.
He said that holding the protest march was their constitutional right and his party had already held 15 'million marches' in various parts of the country in the past and all of them had remained peaceful.
"During our marches, we did not even disrupt traffic," he said, adding that his party was striving for the protection of the Constitution.
The senior JUI-F leader made it clear that they would not use any religious card. He also recalled that it was the PTI that had held the 126-day-long sit-in in Islamabad during which the party workers attacked the state buildings including Pakistan Television and Parliament House and also thrashed police officers. He said the PTI activists had not allowed the parliamentarians to move into the building from outer gates. "But we are going to hold a peaceful march," he said.
Full report at:
https://www.dawn.com/news/1509853
--------
Opposition rejects CPEC body formation through ordinance
Amir Wasim
October 09, 2019
ISLAMABAD: The major opposition parties — the Pakistan Muslim League-Nawaz (PML-N) and Pakistan Peoples Party (PPP) — have rejected the government's act of setting up the CPEC Authority through a presidential ordinance and termed it an "illegal" move in violation of recommendations of the parliamentary committee concerned.
PML-N secretary general Ahsan Iqbal, during a press talk after attending a meeting of the opposition's Rahbar Committee here on Tuesday, said the setting up of the CPEC Authority through a presidential ordinance was a "backdoor legislation" and that his party would not accept the move.
Condemning the government's act of establishing the authority through a presidential ordinance, he said the "rulers have expressed no confidence in civil institutions".
"President Dr Arif Alvi has bypassed the [related] parliamentary committee and parliament by signing the controversial ordinance," he alleged.
PPP secretary general Farhatullah Babar said it appeared that the government wanted to "hand over the CPEC [China-Pakistan Economic Corridor] project to the military".
"We don't want militarisation of civil society," the PPP stalwart said, adding that his party would take up the issue in parliament.
Before Prime Minister Imran Khan's departure for China on Monday, President Alvi had promulgated two ordinances to set up the CPEC Authority and grant tax concessions to the Gwadar port and its free zone.
"The CPEC Authority Ordinance 2019" and "The Tax Laws (Amendment) Ordinance 2019" have been promulgated by the government to oversee and implement the ambitious project of the economic corridor and give income tax, sales tax and customs duty exemptions to the Gwadar port and its free zone.
The authority has reportedly been given vast powers to call for any information related to CPEC activities, and in case of failure to provide the information, it will have the powers to impose penalties on those who defy its orders.
Earlier, in a statement, Ahsan Iqbal said the PML-N would strongly contest and protest against this act in parliament and other relevant forums.
He pointed out that the National Assembly's Committee on CPEC had unanimously opposed and rejected the formation of such a body. "Bulldozing parliament and implementing this authority through an ordinance" was an "intentional effort to make this giant national project controversial", he said.
Ahsan Iqbal, who had worked as minister for planning and development in the previous PML-N government, said he had personally sent a message directly to the president that the creation of this body would be an illegal act and, therefore, he should not sign it under any circumstances. However, the PML leader claimed, the president ignored the advice of the top national institution — parliament.
"The creation of this authority is a clear message to undermine trust in civilian institutions," Mr Iqbal said, adding that this investment of $28.5 billion did not come through any such "authority" rather it was brought over by a civilian political government through democratic and constitutional institutions.
"It does not take such bodies to complete and operate CPEC. It takes money and vision, and the current regime is devoid of both."
The former planning minister said that the formation of this authority would create problems and complications in collaboration between ministries and departments. This would create bureaucratic hurdles and limitations that would hamper and stall CPEC.
Mr Iqbal said the NA committee had recommended that the matter of formation of this authority should be presented before parliament where it should be exhaustively debated.
The committee, he added, had also advised the government not to go ahead with the creation of any such body in any way other than an act of parliament (through legislation).
Full report at:
https://www.dawn.com/news/1509863/opposition-rejects-cpec-body-formation-through-ordinance
--------
Chinese firm investing in Gwadar gets 23-year tax exemption
October 09, 2019
ISLAMABAD: Federal Minister for Maritime Affairs Ali Haider Zaidi has announced that the government has granted tax exemption to the China Overseas Ports Holding Company (COPHC) for 23 years to facilitate establishment of its industrial units at Gwadar Port.
Accompanied by COPHC Chief Executive Officer Zhang Baozhong and Minister for Economic Affairs Hammad Azhar, Mr Zaidi told a press conference on Tuesday that the COPHC that had already been operating at Gwadar Port would get tax exemption for installation of machinery and other equipment at the port.
The initiative was a step towards relocation of the Chinese manufacturing industry in Gwadar and engaging the local labour, he said, adding that the move would ultimately boost Pakistan's economy.
The minister said the COPHC would also set up a desalination plant with the cost of Rs1.95 billion to provide 5,000 gallons of water per day to the people.
He announced that China would build Pak-China Technical and Vocational Training Institute in Gwadar at a cost of around $10 million, which would open job opportunities for locals. "About 360 students equipped with technical skills would pass out from the institute every year," he said.
Mr Zaidi said Pak-China Friendship Hospital would also be established on 68-acre land at an estimated cost of $100 million. Besides, he added, a coal power plant for generating 300MW electricity would also be set up in Gwadar.
On the issue of Gwadar Port's connectivity with Makran Coastal Highway, he said the Executive Committee of the National Economic Council (ECNEC) had approved construction of three bridges on the Eastbay Expressway to resolve the grievances of local fisherman.
Around 40 per cent construction work on the Eastbay Expressway had been completed while the rest would be completed by December 2020, he added.
Full report at:
https://www.dawn.com/news/1509855/chinese-firm-investing-in-gwadar-gets-23-year-tax-exemption
--------
PM Imran declared 'Man of the Year' by Jordan institute
October 09, 2019
ISLAMABAD: Jordan's Royal Islamic Strategic Studies Centre named Prime Minister Imran Khan as its 'Man of the Year' in its recent list of the most persuasive Muslims in the world, Arab News reported on Tuesday.
The centre is an autonomous research entity with the Royal Aal Al-Bayt Institute for Islamic Thought in Jordan .
"If The Muslim 500 was in print back in 1992 and I was the chief editor then, I would have nominated Imran Khan as our 'Muslim Man of the Year' because of his brilliant performance in cricket, which culminated in Pakistan winning the 1992 Cricket World Cup — a sport I have always admired for its combination of elegance and intense competitive play," said Professor S Abdallah Schleifer, a professor emeritus of Journalism in the American University in Cairo, who chose Imran as the winner of the title.
Schleifer was quick to add that Imran's role in cricket was not the only criteria for him being bestowed with the title.
He said that he was also impressed with Imran's launching of a successful fund-raising campaign to establish a hospital devoted to both the care of cancer victims and its research.
"This was his magnificent response to the loss of his mother to cancer in 1985 and given Imran's extraordinary popularity with Pakistanis both at home as well as among the large number of Pakistani expats – along with his own, no doubt, generous personal contribution — he raised sufficient funds so that by 1994, the Shaukat Khanum Memorial Cancer Hospital opened its doors in Lahore whereby 75 percent of its patients receive free-care," he added.
However, it was PM Imran's desire for peace with neighboring India which earned him the title, Schleifer said.
Imran assumed the office of prime minister last year after devoting 22 years of his life to building an opposition political party that was committed to reform and confronting Pakistan's civilian political establishment over the issue of embedded corruption and mismanagement, the report said.
This and his other accomplishments, professor Schleifer says, are detailed in the biography that accompanies his ranking (Number 16) in the latest edition of The Muslim 500.
"But what is particularly to his credit is that upon taking office in August 2018, Imran made it quite clear that one of his top priorities was to work for lasting peace with India, he said.
In his first televised broadcast as the premier of the country, Imran addressed not just the people of Pakistan and the world, but India in particular. At the time, he had said that Pakistan wanted lasting peace with India and "if it took one step forward, we would take two steps."
A meeting between the foreign ministers of both the countries was arranged on the sidelines of the United Nations General Assembly (UNGA) in September 2018, but India canceled the meeting, the report said.
"Imran says that while all his efforts to start a dialogue were rebuffed by India, he and his cabinet assumed that Modi's increasingly hard-lined positions and his rhetoric against Pakistan were aimed at whipping up a nationalist frenzy among the Indian voters with an eye to the Indian elections," Schleifer said.
Full report at:
https://www.pakistantoday.com.pk/2019/10/08/pm-imran-declared-man-of-the-year-by-jordan-institute/
--------
Senate body on interior approves NACTA amendment bill
October 09, 2019
ISLAMABAD: The Senate Standing Committee on Interior has approved the National Counter Terrorism Authority (NACTA) amendment bill and also approved the resolution condemning Indian brutalities in Kashmir.
The committee meeting was held on Tuesday with Rehman Malik in the chair. Soon after the commencement of the meeting, a resolution against Indian adversities in Indian Occupied Kashmir was approved demanding UN to pressurize India to lift curfew in Kashmir.
The committee also offered Fateh for the victims who died during the October 2008 massive earthquake in AJK and KP.
Commenting over the passage of the amendment in NACTA, Minister for Parliamentary Affairs Azam Swati told that the chairman NACTA will lead the committee while interior minister will be the head of the board rather prime minister.
DIG Punjab briefed the committee over the rape with kids and said only 12 cases were registered out of 100 missing kids as the dead bodies of the missing children were found at deserted areas. He apprised the committee that the initial report suggested that the prime accused of the case Sohail Shehzad was also the victim of the rape during his childhood and was working on Tandoor.
Full report at:
https://www.pakistantoday.com.pk/2019/10/08/senate-body-on-interior-approves-nacta-amendment-bill/
--------
Southeast Asia
China's Might Prevents Muslim Nations from Criticizing It, Mahathir Says
2019-09-27
China's economic and military strength may have prevented Muslim nations from criticizing its repression of the ethnic Uyghur minority, and Southeast Asian nations from questioning Beijing's increasingly assertive actions in the South China Sea, Malaysian Prime Minister Mahathir said.
In an interview with BenarNews, an RFA-affiliated online news service, Mahathir suggested that China would most probably ignore them even if they criticized Beijing, adding that it was better not to antagonize the Asian giant and face negative consequences.
Mahathir has been a big champion of issues affecting the Muslim community, including the Rohingya, more than 740,000 of whom have fled to Bangladesh following a brutal crackdown by Myanmar's military two years ago. He has also persistently condemned Israel's actions against Palestinians.
But the 94-year-old leader has been relatively quiet on Beijing's repression in Xinjiang, where it has been accused of holding more than 1.5 million Uyghurs and other Muslim minorities in a vast network of internment camps since April 2017.
Asked about the apparent contradiction and the Muslim world's general reluctance to criticize Beijing over the Uyghur issue, Mahathir cited what he described as the power wielded by China.
"Because China is a very powerful nation," he told BenarNews. "You don't just try and do something which would anyway fail, so it is better to find some other less violent ways not to antagonize China too much, because China is beneficial for us.
"Of course it's a big trading partner of ours, and you do not want to do something that will fail, and in the process, also, we will suffer," said Mahathir, who has never held back his criticism against the United States and other Western powers over various issues.
Human rights groups have attacked Mahathir and the 57-nation Organization of Islamic Cooperation (OIC) for not speaking up for the Uyghurs when countries such as the United States had described Beijing's actions in Xinjiang as "the stain of the century."
"When even outspoken leaders like Mahathir bite their tongue rather than criticize, it illustrates the incredible steps China is taking to intimidate critics both near and far," Phil Robertson, the deputy Asia director for New York-based HRW, told BenarNews.
"Like the rest of the OIC, Malaysia crumbled under pressure when it came time to speak the truth about the Uyghurs to the powers that be in Beijing. Mahathir should have bucked the trend and condemned the violations of rights and freedom of religion suffered by the Uyghurs," he said.
Mujahid Yusof Rawa, Malaysia's Islamic affairs minister, also came under fire recently for describing a Uyghur camp he visited in Xinjiang as a "training and vocational center" in line with Beijing's claims.
Beijing said the Uyghurs had been put in "education and training centers," calling them "schools that help the people free themselves from terrorism and extremism and acquire useful skills."
Mahathir: ASEAN can't stand up against Beijing
Mahathir also told Benar that Southeast Asian nations would not be able to stand up as a group to China's growing assertiveness as Beijing reinforces its claims to nearly the entire South China Sea.
Beijing has installed anti-ship cruise missile and surface-to-air missile systems on three islands in the Spratlys, a disputed group of atolls and isles in the sea, according to experts.
Malaysia, a Muslim-majority nation of 33 million people, as well as the Philippines, Brunei and Vietnam, are among members of the Association of Southeast Asian Nations (ASEAN) that have overlapping claims with Beijing on the South China Sea. About U.S. $5 trillion in ship-borne trade passes through the waterway each year.
"When we find that we ourselves [are] singled out by China for some action, I don't think the other ASEAN countries have the capacity to put a stop to it. So like it or not, we have to deal with China by ourselves," Mahathir said.
"Because although ASEAN wants to work together, there are things that it's not able to do," he said. "So because of that, well, even working together without any violence, that's possible, we can have a firm stand on something, but if the Chinese take action, we are not in a position to resist or to act against them."
Recently, the Chinese coast guard was tracked around an oil rig on Malaysia's continental shelf and Chinese survey ships, which reportedly conduct research related to oil and gas exploration, were sighted in Malaysia's exclusive economic zone off Borneo.
Asked about the Chinese survey ships, Mahathir said they had not obtained the Malaysian government's permission to operate in Malaysian waters.
"No. They don't have. And well, we watch what they are doing, we report what they are doing, but we do not chase them away or try to be aggressive," he said.
"We have to accept the fact that China is a big power. You know, the Malay states have existed near China for the past two thousand years. We have survived because we know how to conduct ourselves," Mahathir said. "We don't go around trying to be aggressive when we don't have the capacity, so we use other means."
https://www.rfa.org/english/news/china/malaysia-china-09272019171146.html
--------
Buy Malaysian products first, not Muslim-made, Saifuddin says
Minderjeet Kaur
October 9, 2019
KUALA LUMPUR: Domestic Trade and Consumer Affairs Minister Saifuddin Nasution Ismail today urged the people to buy Malaysian products instead of focusing only on goods made by Bumiputera-owned businesses, the main thrust of the recent "Buy Muslim-made First" (BMF) campaign.
"In the context of our country, we prioritise the 'buy Malaysian products first' campaign.
"Malays, Ibans, Kadazan, Chinese, Indians can sell their products as long as they meet the (ministry's) criteria," he said in the Dewan Rakyat when questioned by Ismail Sabri Yaakob (BN-Bera) about the government's stand on the BMF campaign.
He said his ministry was focusing on healthy competition to ensure that the people get quality items at reasonable prices.
"We encourage competition, not discrimination, not price monopolies.
"The price has to be competitive," he said, adding that there should be no compromise regarding halal products.
Ismail had raised concerns over some products which were allegedly marketed as halal despite receiving no certification.
The BMF campaign began on social media with the Bumiputera community urged to avoid buying products made by businesses owned by non-Bumiputeras.
Full report at:
https://www.freemalaysiatoday.com/category/nation/2019/10/09/buy-malaysian-products-first-not-muslim-made-saifuddin-says/
--------
Islamist MP wants Malays as finance minister, attorney general in Malaysia
Veronica Cordoba
October 9, 2019
An Islamist MP from the state of Kelantan is urging the government which is run by Prime Minister Tun Dr Mahathir Mohamad to ensure that all top government positions are held only by Malays.
This would include the post of the attorney general and the post of the minister of finance, both held by non-Malays since the Pakatan Harapan came to power last year.
The Pasir Mas member of parliament Ahmad Fadhil Shaari presented his views on the religion cluster at the 'Malay Dignity' forum officiated by Dr Mahathir and attended by Islamic party leader Hadi Awang, Justice Party deputy leader Azmin Ali (who is also Economic Affairs Minister), Umno's secretary-general Annuar Musa and Parti Amanah Nasional leader and Minister of Defense Mat Sabu.
In his statement, the MP said, "This includes positions such as Chief Justice, Attorney-General, Chief Secretary, Inspector-General of Police, Chief of Defence Forces and other strategic positions such as the Prime Minister, Deputy Prime Minister, Chief Ministers and Menteris Besar, Finance Minister, Defence Minister and Education Minister.
"This congress also urged the Bar Council, Suhakam and liberal NGOs to not meddle in Islamic matters," said Ahmad Fadhil, who represented Persatuan Peguam Muslim Malaysia (The Muslim Lawyers Association).
Lim Guan Eng from the Democratic Action Party is the Minister of Finance and Tommy Thomas is the attorney general.
The congress organised by four Universities in Malaysia also presented a photo opportunity for Islamist party leader Hadi Awang and Annuar Musa of Umno.
They managed to hold hands with Dr Mahathir, Hadi on the left of the PM and Annuar on the right while Azmin Ali was on the left of Hadi. They raised hands together in unison, showing Malay unity.
Anwar Ibrahim, the de-facto Prime Minister-to-be of Malaysia was not at the event. He was not invited because his party is not a Malay-based party but many questioned why his deputy leader was at the event?
Dr Mahathir said he attended the event not as Prime Minister but as a 'Malay leader', sparking comments within the Pakatan Harapan coalition since Anwar is also a Malay leader.
At the event, Dr Mahathir defended his presence at Sunday's event, saying that as a Malay he had the right to attend it.
He also dismissed calls by some Pakatan leaders for him to give the event a miss.
Dr Mahathir also said he believed the gathering was necessary for the Malay community to take action and improve their lot in the wake of divisions among them.
Full report at:
http://theindependent.sg/islamist-mp-wants-malays-as-finance-minister-attorney-general-in-malaysia/
--------
Task force: UEC failed by national education system, public wants to move on
BY RADZI RAZAK
04 Oct 2019
PUTRAJAYA, Oct 4 — The problems surrounding the controversial Unified Examination Certificate (UEC) were caused by the failure of the national education system, said the Ministry of Education's fact-finding task force on the issue.
The UEC Policy Task Force (PPDUEC) said the consensus among various stakeholders that it interviewed was that the federal government did not manage to address the problems even after four decades since the UEC was introduced.
"The pattern [of answers received] was that it is the failure of educational system," its chairman Eddin Khoo told a press conference here.
"I don't mean it's hypocrisy, if there was a same point given by everyone — no matter whether from the former ruling pact or the current ruling pact, then and now — is that the national education system must be improved and revamped."
Khoo, founder of culture advocacy group Pusaka, was selected to lead a three-man committee along with Muslim Youth Movement of Malaysia (Abim) president Mohamad Raimi Ab Rahim and the Malaysia-China Chamber of Commerce president Datuk Tan Yew Sing, to advise on the ministry's policy regarding the issue.
Since January, they have interviewed around 500 individuals from fields such as the academia, media, experts, civil societies, as well as those in the former government, on the issue.
UEC is a standardised test for Chinese independent high school students, which are not regulated by the Ministry of Education, that was introduced in 1975.
In Malaysia, the issue has been politicised by certain quarters that claim UEC is an obstacle to achieving national unity, especially in education.
UEC is accepted in certain private colleges in Malaysia and countries such as Singapore, Australia and the United Kingdom.
Currently, five states — Penang, Melaka, Sabah, Sarawak and Selangor — have announced that they recognise UEC though the students also need to take the Malaysia Education Certificate (SPM) examinations as well.
Khoo said although there are sensitive issues surrounding UEC, some stakeholders especially from the younger generation, told PPDUEC that the public needs to reconcile and move on from the controversy it has caused.
"There is a great desire from the young Malays to learn Chinese language. There is also a great desire from young Chinese to converse deeply in Malay language," he said.
Meanwhile, Raimi said the stakeholders want recommendations made by PPDUEC to instil a sense of unity especially among Malaysian students.
"They want unity. They want the government to handle the issue to bring a better sense of unity in education," he said.
PPDUEC will have one more session with MPs on October 16 before presenting its findings at the end of this month.
Full report at:
https://www.malaymail.com/news/malaysia/2019/10/04/task-force-uec-failed-by-national-education-system-public-wants-to-move-on/1797215
--------
Arab World
America can't be trusted at all; it stabs own allies in the back: Nasrallah
Oct 9, 2019
The secretary general of the Lebanese Hezbollah resistance movement has warned against placing trust in the United States, emphasizing that Washington cannot be trusted at all as it betrays own allies in a surreptitious way and does not stand committed to any agreement.
"No one can rely on (the United States of) America and an agreement struck with it because of the latter's disloyalty and treachery," Sayyed Hassan Nasrallah said in an address to his supporters in a televised speech at Sayed al-Shohadaa Complex in the Lebanese capital city of Beirut on Tuesday evening.
Nasrallah then pointed to President Donald Trump's decision to withdraw US forces from northeastern Syria, saying, "America broke faith with Kurds at once, and abandoned them. Such a fate awaits anyone who trusts Washington."
"Americans can't be trusted at all since they break promise with anyone who depends on them, and left them alone," the Hezbollah chief said.
White House Press Secretary Stephanie Grisham said in a statement on Sunday that Washington had begun withdrawing US troops from Syria's border with Turkey, adding that the American forces "will not support or be involved in the (Turkish) operation" and "will no longer be in the immediate area."
Trump on Monday defended the decision to withdraw US troops from northern Syria, saying it was too costly to keep supporting its allies.
"The Kurds fought with us but were paid massive amounts of money and equipment to do so. They have been fighting Turkey for decades," he said in a series of tweets.
Turkish President Recep Tayyip Erdogan said on the same day that the Turkish army was ready to launch operations against militants of the People's Protection Units (YPG), the backbone of the so-called Syrian Democratic Forces (SDF), at any moment.
"There is a phrase that we always say: we can come any night without warning," the Turkish president told reporters in televised remarks. "It is absolutely out of the question for us to further tolerate the threats from these terrorist groups."
SDF later warned that a Turkish military invasion would spark a major resurgence of the Daesh Takfiri terrorist group, and vowed to battle Turkey's military.
Ankara views the YPG as the Syria branch of the homegrown Kurdistan Workers' Party (PKK) militant group, which has been seeking an autonomous Kurdish region in Turkey since 1984.
https://www.presstv.com/Detail/2019/10/09/608214/America-cant-be-trusted-at-all-it-stabs-own-allies-in-the-back-Nasrallah
--------
Pulling of U.S. Troops in Syria Could Aid Assad and ISIS
By Ben Hubbard
Oct. 7, 2019
BEIRUT, Lebanon — Before dawn on Monday, at a military base in northeastern Syria, an American general delivered the bad news to his Syrian counterpart.
The United States was going to allow Turkish forces to move into the area, leaving the Kurdish-led Syrian militia vulnerable.
"You are leaving us alone," the Syrian commander, Mazlum Kobani, responded angrily, and accused the United States of complicity in a looming Turkish attack, according to a United States official and another person with knowledge of the meeting.
President Trump's surprise announcement that the United States would allow Turkey to take over a swath of northeastern Syria, at the expense of the militia that fought alongside the United States against the Islamic State, could alter the course of the country's eight-year civil war.
In addition to betraying the militia, the Kurdish-led Syrian Democratic Forces, analysts said, the move could empower Turkey, extending its control over another part of northern Syria. It could also create a void in the region that could benefit President Bashar al-Assad of Syria, Russia, Iran and the Islamic State, also known as ISIS.
And it would likely further limit the United States' influence over the conflict.
"The United States just threw away the last leverage it had," said Dareen Khalifa, senior Syria analyst with the International Crisis Group. Even if the United States kept its roughly 1,000 troops in Syria, Mr. Trump's announcement late Sunday night made it clear to the war's other combatants that he wants out.
"They are just waiting for the tweet," she said.
After the jihadists of the Islamic State seized control of nearly a third of northeastern Syria, the United States partnered with a Syrian Kurdish militia in 2015 to fight them. Other groups also joined to form the Syrian Democratic Forces, or S.D.F., which claimed control over the land it liberated from ISIS.
Since then, a small contingent of American troops, now numbering about 1,000, have backed the S.D.F. in holding the area.
After the decline of ISIS, the Trump administration came to see the S.D.F. as the best means to check the influence of Iran and Russia, prevent a jihadist resurgence, and maintain a stake in eventual peace talks.
Thank you.
On Monday, Kurdish officials condemned Trump's decision. In a statement, they wrote, quote, "Our brave men and women" have "just won a historic victory over the ISIS 'caliphate,' a victory announced by President Trump and celebrated across the world. To abandon us now would be tragic." In Washington, both Democratic and Republican leaders in Congress said they would use their power to try to block Turkey from invading Syria. Senators Lindsey Graham and Chris Van Hollen said they would introduce bipartisan legislation to sanction Turkey if it entered Syria, while Senators Chris Murphy and Mitt Romney said they would hold congressional hearings on Trump's decision as soon as possible. Amid the growing backlash, President Trump seemed to walk back his original message, saying he would now seek to restrain Turkey. In a tweet, the president wrote, quote, "If Turkey does anything that I, in my great and unmatched wisdom, consider to be off limits, I will totally destroy and obliterate the Economy of Turkey." We'll be right back. Here's what else you need to know today. In their latest demand for documents, the leaders of the House impeachment inquiry subpoenaed the Defense Department and the Office of Management and Budget for documents about why the White House withheld nearly $400 million in security aid to Ukraine. Both a whistle-blower complaint and text messages from senior U.S. diplomats have raised the possibility that Trump withheld the money in order to pressure Ukraine to carry out political favors, including an investigation into Joe Biden and his son. And on Monday, a federal judge rejected President Trump's effort to shield his tax returns from New York prosecutors, calling the president's argument that he is immune from such investigations, quote, "repugnant to the nation's governmental structure and constitutional values." The New York prosecutors had subpoenaed eight years of Trump's tax returns over the summer as part of an investigation into hush money the president paid to women who said they had affairs with him, prompting a lawsuit from Trump to block the subpoena. Lawyers for the president immediately appealed Monday's ruling, which could eventually require him to hand over the returns. That's it for "The Daily." I'm Michael Barbaro. See you tomorrow.
But if the S.D.F.'s hold on northeastern Syria weakens, it could make it easier for Mr. Assad and his Russian and Iranian backers to reclaim the territory. An open conflict with Turkey could siphon Kurdish fighters to the front lines, allowing ISIS remnants to reassert themselves elsewhere.
Turkey has always objected to the S.D.F. presence on its border. President Recep Tayyip Erdogan saw the Kurdish fighters who form the group's backbone as an extension of the P.K.K., the Kurdish guerrilla movement that has fought a bloody, decades-long insurgency against the Turkish state.
He worried that greater Kurdish autonomy in Syria was a security threat and demanded a corridor, a so-called safe zone, up to 20 miles deep and hundreds of miles long, to keep Kurdish forces at bay.
For months, American diplomats had been working to ward off Turkish threats to send troops across the border, most recently carrying out joint security measures in a small safe zone with the United States.
But Mr. Erdogan was not satisfied, and he spoke by phone with President Trump on Sunday. Shortly afterward, the White House announced that the Turkish military would enter Syria and that the United States "will not support or be involved in the operation."
Mr. Trump argued Monday that the United States' partnership with the Kurds had essentially served its purpose, writing on Twitter that the Kurds had fought well "but were paid massive amounts of money and equipment to do so."
He dismissed their conflict with Turkey as of no concern to the United States. "It is time for us to get out of these ridiculous Endless Wars, many of them tribal, and bring our soldiers home," Mr. Trump wrote.
The decision surprised many of the military and State Department officials who carry out Syria policy, and was met with opposition by Mr. Trump's Republican allies in Washington. Mr. Trump later tried to mollify his critics, saying that if Turkey "does anything that I, in my great and unmatched wisdom, consider to be off limits, I will totally destroy and obliterate" its economy.
The S.D.F., which has said it lost more than 10,000 fighters battling the Islamic State alongside the United States, was bitter. Mr. Trump's decision, Mustafa Bali, an S.D.F. spokesman, wrote on Twitter, "is about to ruin the trust and cooperation between the S.D.F. and U.S. built during the fight against ISIS."
He and other Kurds also shared a video on Twitter of Mr. Trump lauding the Kurds as military partners during a news conference at the United Nations last year.
"We do get along great with the Kurds. We are trying to help them a lot," Mr. Trump said in the video, adding that many of them had "died for us."
"I can tell you that I don't forget, these are great people," he said.
On Monday, American forces pulled back from two observation posts in Syria, near the towns of Tel Abyad and Ras al Ain near the Turkish border.
Turkish media and military analysts have widely reported that Turkey will soon enter the area between the towns. Although Mr. Erdogan wants a buffer zone running the entire length of the Turkish-Syrian border, he said this summer that he would accept a smaller area to start with and proceed step by step.
A different group of Syrian fighters, known as the Free Syrian Army, are preparing to deploy with Turkish troops. They have said the plan was to enter the two border towns, but that the Turkish-backed forces would not enter towns where Americans are based.
But the Turkish incursion raises questions about the future of the entire area under S.D.F. control, which extends for hundreds of miles along the Turkish border and deep into Syrian territory on the eastern side of the Euphrates River. It includes major cities such as Raqqa, once Islamic State's de facto capital, some of Syria's richest agricultural land and a number of oil fields.
The S.D.F. warned in a statement on Monday that a Turkish military incursion could force it to divert its forces from areas where ISIS remains a threat in the south to defend itself against the Turks in the north. Abandoning anti-ISIS operations would "destroy all that has been achieved in terms of stability over the last years," the statement said.
A Kurdish redeployment would put other American objectives at risk, too.
"Bottom line: Trump tonight after one call with a foreign leader provided a gift to Russia, Iran, and ISIS," Brett McGurk, a former presidential envoy who pushed for the partnership with the S.D.F. wrote on Twitter on Sunday.
An immediate concern are the Kurdish-run prisons in the area holding captured ISIS fighters and at least two large camps for their families. One of the camps, Al Hol, houses tens of thousands of people including extremists whom the S.D.F. and aid organizations have accused of seeking to re-establish ISIS rule.
The White House statement said that Turkey would assume responsibility for "all the ISIS fighters in the area captured over the past two years," but two United States officials said there had been no discussion with Turkey or the Kurds about a possible handover. The camps and prisons are far from the area Turkey is expected to occupy.
Not long ago, the Kurds were seen as among the biggest winners in Syria's war, having gone from being a sidelined minority to the strongest component in a military force that controlled more than a quarter of Syria's territory, thanks to their fierce fighting and their partnership with the United States.
As their military victories against ISIS mounted, they established local councils to govern and instituted Kurdish education in their communities' schools.
Those projects are now at risk.
A decline in American support could leave them vulnerable to attacks by ISIS or by others who resent their rise. They have few other international allies, which analysts suspect could push them to seek an accommodation with Mr. al-Assad's government in Damascus.
But even that may not protect them from Turkey, which has sent its forces into other parts of Syria further west, displacing Kurds and establishing zones where it has provided services and resettled refugees. It says it will do the same in areas now controlled by the S.D.F.
It remains unclear how the S.D.F. would respond to a Turkish incursion, but on Monday it called on the inhabitants of northeastern Syria to "stand with our legitimate forces to defend our homeland from the Turkish aggression."
Full report at:
https://www.nytimes.com/2019/10/07/world/middleeast/trump-turkey-syria-kurds.html
--------
In Iraq, Protesters Are Sick of Corruption and Foreign Influence
BY AHMED TWAIJ
OCTOBER 7, 2019
Few Iraqis relish widespread recognition and support as much as Lt. Gen. Abdul-Wahab al-Saadi. Though he's relatively unknown outside of Iraq, Saadi's contributions to fighting terrorism in Iraq have been highly significant in ridding the country of the Islamic State. Suddenly, late last month, Saadi was unceremoniously stripped of his position in the Iraqi Army and transferred to an administrative role in the Ministry of Defense. The demotion of the celebrated general outraged his many supporters and triggered some of the deadliest protests seen in Iraq and the Middle East in recent years.
A tall, slim, and graying figure, Saadi has a commanding presence that appeals to many Iraqis. The three-star general was appointed to lead Iraq's Counter-Terrorism Service, a highly trained unit dubbed the "Golden Division" for its recognition as Iraq's elite force. The service, initially created through support from U.S. Special Forces, developed a reputation for being filled with nonsectarian and multiethnic nationalists. The unit has continued to receive training from U.S. forces throughout the war against the Islamic State. Prior to the Mosul offensive in 2017, 300,000 Iraqis applied to join the unit, with only 1,000 making it through the joint U.S.-Iraqi training academy.
The Golden Division was tasked with being on the front lines throughout the military campaigns in Mosul, fighting under only the Iraqi flag, compared to the mainly Iran-backed Popular Mobilization Forces (PMF) frequently fighting under sectarian banners. Such differences resulted in the banning of the PMF by then-Prime Minister Haider al-Abadi from operations in Mosul and Tal Afar. Being visibly on the front lines, ridding Iraq of a hated enemy, resulted in Saadi gaining a cultlike hero status among IraqisBeing visibly on the front lines, ridding Iraq of a hated enemy, resulted in Saadi gaining a cultlike hero status among Iraqis, especially when compared with the politicians occupying Baghdad's Green Zone, who are widely perceived as corrupt and paralyzed. A statue of Saadi was even erected in Mosul commending his role in its liberation.
The fact that Saadi and his division frequently received training from coalition forces likely ruffled some feathers among Iraq's pro-Iranian elite. Unlike the Golden Division, the PMF, under Hadi al-Amiri, received their training from Iran's Islamic Revolutionary Guard Corps and Gen. Qassem Suleimani.
The concerns about Saadi's close relationship with the U.S. military were exacerbated when Saadi was found to have visited the U.S. Embassy in Baghdad. Saadi said he "had one visit to the U.S. Embassy in Baghdad to get a visa to speak about terrorism at Harvard." It's a plausible claim, as he had spoken at the university a year earlier on a similar panel. Despite continually risking his life to combat the global threat of terrorism, Saadi, as an Iraqi citizen, is limited to yearlong U.S. visas only and must reapply annually.
The mounting apprehension of Saadi's relationship with the United States—and likely pressure from Iran—resulted in the dismissal of Saadi from his position in the Counter-Terrorism Service and his transfer to a desk job. The move could indicate the effective dismantling of the Iraqi Army as the PMF seeks to increase its influence across the nation, possibly by putting forward a pro-Iranian general to replace Saadi. Mindful of Saadi's military strength, Iraq's government could have viewed his widespread public approval as a worrying sign of the prospect of a military coup.
Protesting his innocence, Saadi—in an unusual move for military personnel—took to Iraqi satellite media to reject his dismissal. Saadi, describing his treatment by the Iraqi government as an "insult" and "punishment," lost some empathy from supporters as he publicly protested a direct order from Prime Minister Adel Abdul Mahdi.
The cult status of the general, however, meant Saadi's dismissal resonated among Iraqis, and Iraqi youth responded by taking to the streets and social media to air their disapproval. Numerous social media posts endorsing the general can be found across Iraq's social media, with messages of support trending across Iraq's internet. At the protests, many held posters of the ousted Army official.
The protests have had a markedly strong Shiite presence, with slogans commemorating Shiite religious figures being chanted throughout the streets of Baghdad, indicating a strong resentment toward Iranian interventionismThe protests have had a markedly strong Shiite presence, with slogans commemorating Shiite religious figures being chanted throughout the streets of Baghdad, indicating a strong resentment toward Iranian interventionism in Iraq by the Shiite community—similar to the sentiments expressed by protesters who attacked the Iranian consulate in Basra last year.
Now, Saudi Arabia is seeking to stoke these tensions. Seeing an opportunity to topple what it perceives as a pro-Iranian Iraqi government, Riyadh has begun to use social media platforms to perpetuate the violent protests in Iraq. Creating bots to target Western media outlets, tweets from pro-Saudi users asking to "save the Iraqi people" and push "Iran out" were posted despite an internet blockade in Iraq. Saudi Arabia, which has a long history of using social media influence to crack down on dissidents, is now attempting to spread anti-Iranian sentiment in Iraq.
The situation is quickly deteriorating, and Iran is not the only target. A diplomat, speaking on condition of anonymity, confirmed that rockets were fired into Baghdad's Green Zone and landed near to the U.S. Embassy during the internet blockade, indicating these protests are against any foreign interventionism in Iraq, be it Iranian, American, or Saudi. These protests have had a strong sense of Iraqi patriotism, with the activists referring to the movement as a "civilian movement," suggesting a post-Islamist movement in Iraq growing from the "traumatic experience of sectarian violence," as the researcher Zahra Ali put it.
Given the rising tensions and corruption in Iraq, the relative lull in violence since the collapse of the Islamic State should never have been seen as more than a momentary pause in conflict.Given the rising tensions and corruption in Iraq, the relative lull in violence since the collapse of the Islamic State should never have been seen as more than a momentary pause in conflict. Writing for Foreign Policy last year, I predicted that should underlying grievances persist, further outbursts of violence could be expected. Now, the unifying factor of a common evil in the Islamic State no longer exists, and Iraqi patriotism does not continue to extend to include support of the government, deemed to have achieved nothing for the people of Iraq. The root causes of grievances in Iraq have never been addressed; when heavily armed and trained fighters return home to a lack of jobs and housing in a country suffering from widespread corruption, that is a recipe for civil unrest.
Saadi's cause proved to be the final straw for Iraqis. It provided the outlet for Iraqis to revolt against the ruling elite in their central government. With many countries functioning at a deficit, Iraq's government budget recorded a surplus between 2018 and 2019 of 8 percent of its GDP. But such economic progress has not translated to improved public services, job opportunities, or security for the majority of Iraqis, as corruption is heavily discernible throughout Iraq's ruling elite, consigning Iraq to being ranked the world's 13th most corrupt country.
Reforms privatizing many of Iraq's industries have continued to devastate Iraq's public sector and have not promoted job opportunities in Iraq, as Iraq's employment rate dropped to a record low of 28 percent in 2018. One in four of Iraqi children continue to live in poverty, while families struggle to find stability. The abundance of Iraq's natural resources has failed to support its citizens, producing a lack of electrical infrastructure, access to clean water, and effective health care. In some parts of Iraq, 90 percent of school-aged children are not in the education system.
Similar to the protests of the Arab Spring, this largely Shiite-led movement lacks any well-defined direction, leadership, or a clear set of demands, leading Abdul Mahdi to refer to the protesters as "rioters" and belittle the legitimate grievances of Iraq's citizens.Similar to the protests of the Arab Spring, this largely Shiite-led movement lacks any well-defined direction, leadership, or a clear set of demands, leading Abdul Mahdi to refer to the protesters as "rioters" and belittle the legitimate grievances of Iraq's citizens. The fact that members of the powerful Iran-backed PMF, who could potentially instigate a civil war, have not yet become involved suggests that Iran disapproves of the protests and, to its benefit, continues to support the status quo. Protests in Sunni-majority cities in Iraq have yet to come to fruition, as their inhabitants are either living in camps or fear stigmatization as terrorists.
Iraq's government under the premiership of Abdul Mahdi, just short of a year old and heavily influenced by the political wing of the PMF, has responded violently. Applying both curfews and internet blockades, the government's clampdown has resulted in about 100 deaths and thousands of injuries in the protests.
Further polarizing the Iraqi protesters, Abdul Mahdi said on Facebook that he vows to "to learn the reasons" behind the protests, despite his government being the source of grievance, as protesters exclaim, "The people want the collapse of the regime." Abdul Mahdi's immediate violent response to the protests, compared with former Prime Minister Abadi's response to protests, suggests that this government fears the civil unrest could topple its leadership.
For too long, Iraq has been a playground for regional influence and interests. The protests should remind the government whom it is ultimately accountable to, after having become far too complacent over recent months, basking in the post-Islamic State world of ostensible security.
Full report at:
https://foreignpolicy.com/2019/10/07/in-iraq-protesters-are-sick-of-corruption-and-foreign-influence-saadi-abdul-mahdi/
--------
Seven IS terrorists killed during counter-terrorism operation in Kirkuk
by Mohammed Ebraheem
Oct 8, 2019
Kirkuk (IraqiNews.com) – An Iraqi counter-terrorism force said on Tuesday that seven Islamic State militants were killed during a security operation in the oil-rich province of Kirkuk.
"A Counter-Terrorism Service force, in coordination with the U.S.-led international coalition, carried out a security operation in Daquq area in Kirkuk," the Iraqi Security Media Cell said in a press statement.
The troops killed seven terrorists and destroyed several hotbeds and tunnels in the operation, the statement added.
Iraq declared the collapse of Islamic State's territorial influence in November 2017 with the recapture of Rawa, a city on Anbar's western borders with Syria, which was the group's last bastion in Iraq.
IS declared a self-styled "caliphate" in a third of Iraq and neighboring Syria in 2014. A government campaign, backed by a U.S.-led international coalition and paramilitary forces, was launched in 2016 to retake IS-held regions, managing to retake all havens, most notably the city of Mosul, the group's previously proclaimed capital.
Full report at:
https://www.iraqinews.com/iraq-war/seven-is-terrorists-killed-during-counter-terrorism-operation-in-kirkuk/
--------
Lebanese Officials Speak Out Against Hezbollah's Control Over Country
By Tzvi Joffre
October 7, 2019
Head of the Lebanese Kataeb party MP Sami Gemayel and leader of the Christian Lebanese Forces political party Samir Geagea spoke out against the control that the Hezbollah terrorist group exercises over Lebanon as protests continued amid a deepening financial crisis in the country, according to Asharq Al-Awsat.
Gemayel pointed to a settlement in 2016 that allowed Michel Aoun to be elected as president, claiming that this led Lebanon to its current "catastrophic" state of affairs. The MP added that this allowed Hezbollah to take control of the country.
"The current political class is covering for Hezbollah and is implementing the party's policies, whether in defending it at international arenas or justifying its internal policies," said Gemayel. "We believe that a government which is clearly controlled by Hezbollah must not be granted confidence."
Hezbollah's control over the government embroils Lebanon in regional conflicts against the people's will, according to the MP. Gemayel lamented the fact that the country's president is not invited to visit the United States.
"When the government remains silent over every challenge from Lebanese territory against Arab or foreign countries and all of Lebanon's historic friends, then this means that this government is complicit," said Gemayel.
The MP added that Lebanon now has to deal with "sanctions, restrictions and unusual cash flows because Lebanon is being used to smuggle fuel to Syria."
"The irony is that they want to challenge and threaten the world and then ask it for help and money," said Gemayel.
At a Lebanese Forces convention in Canada, Geagea expressed concerns about Hezbollah's influence in the country as well, describing Lebanon as a "bus without a driver," according to the Lebanese National News Agency.
"There are currently two imminent threats to Lebanon: the first is a security-military-strategic threat, seeing as Lebanon is currently like a bus without a driver, which is being driven by someone other than the one behind the steering wheel, and we don't know where he'll take us," said Geagea.
"The decision of peace and war is fully in Hezbollah's hand, and we hope Hezbollah will not drag us into a war in the region with all its dramatic repercussions."
The parliamentarian recalled the Israel-Lebanon War in 2006, saying that the Lebanese people went to sleep and woke up the next day at war. Then-prime minister Fouad Siniora said that he didn't know what had happened and hadn't approved it and he did what he could to remedy the negative effects on the Lebanese people.
He expressed hope that there wouldn't be a regional escalation and that Lebanon would avoid any danger.
Geagea called on the Lebanese president and prime minister to "tell Hezbollah that if it is a Lebanese party, it is not entitled to put the Lebanese people in dangers they do not want, because the decision of peace and war is in the hands of the procedural authority and the government combined."
Geagea was one of the officials who voted Aoun into power.
At the end of August, tensions escalated between Israel and Hezbollah when two explosive drones fell in Beirut near crates containing equipment for precision guided missiles and Israel carried out an airstrike in Syria which led to the deaths of two Hezbollah terrorists. Hezbollah responded a week later by firing anti-tank missiles at an IDF vehicle, narrowly missing it according to Israel and successfully hitting it according to Hezbollah.
In September, Aoun described the drone attacks on Hezbollah as a "declaration of war."
"What happened resembles a declaration of war that entitles us to resort to our right to defend our sovereignty, independence and territorial integrity," said Aoun.
On Monday, Lebanese Prime Minister Saad Hariri rejected any Lebanese involvement in regional conflicts.
"As head of the government, I refuse any form of Lebanese involvement in the conflicts around us. Moreover, I stress that the Lebanese cabinet refuses to intervene or participate in activities of any organization that is hostile to the Arabian Gulf countries," said Hariri while in the UAE in response to a question about Hezbollah's activities in the region, according to Asharq Al Awsat.
Hariri added that Hezbollah should be addressed as "a component of a regional system and not as a party" in his government.
Hariri did speak out against the drone attacks on Hezbollah in August, calling them a threat to Lebanon's sovereignty and and attempt to spark regional conflict, according to Reuters.
Full report at:
https://www.jpost.com/Middle-East/Lebanese-officials-speak-out-against-Hezbollahs-control-over-Lebanon-603998
--------
Over 1,000 Teachers Sacked in Egypt for Terror Links
8 October, 2019
Egypt announced on Monday that over a thousand teachers have been sacked for their affiliation to a terrorist organization.
Deputy Education Minister for Teachers Affairs Mohammed Omar said the ministry had clear mechanisms to identify teachers who have joined terror groups.
He told a press conference that 1,070 teachers have been dismissed.
Egypt designated the Muslim Brotherhood group as terrorist in 2014. Hundreds of its members and leaders are on trial for incitement or committing acts of violence.
Omar explained that given their affiliations, the sacked teachers are not qualified to teach or work in the education sector.
The fired teachers are only a small fraction of the educators in Egypt, estimated at over 1 million, he went on to say.
Full report at:
https://aawsat.com/english/home/article/1936031/over-1000-teachers-sacked-egypt-terror-links
--------
Lebanese Paper: Mossad's Footprints Found in Recent Unrests in Iraq
Oct 08, 2019
"Based on the precise security intelligence collected in the past few days, the Israeli intelligence service along with agents hired by the US embassy in Baghdad used the popular protests in Iraq and led the peaceful rallies towards chaos and sabotage acts," the Arabic-language al-Akhbar paper quoted unnamed sources privy to the Iraqi premier as saying on Tuesday.
It added that foreigners' interference changed the path of protests and the nature of slogans which called for overthrowing Prime Minister Adel Abdul Mahdi's government.
The sources also underlined the important role of the foreign news channels and social media users in pouring oil to the fuel of violent protests through their unprecedented coverage of the incidents in Iraq.
In relevant remarks on Saturday, a prominent Iranian analyst of international issues said that the Saudi, Israeli and British media are attempting to magnify the recent unrests in Iraq while the Iraqi cities are in full security.
"The Zionist enemy in collaboration with Britain and Saudi Arabia as well as their affiliated media and even the Wahhabis in the region are attempting to leave a negative impact on the Arbaeen walk through protests under economic pretexts," Hamid Reza Taraqqi told FNA.
He added that the Saudi and British media try to exaggerate the incidents and gatherings in Iraq to deter Arbaeen pilgrims' travel to the country.
"This is while calm is prevailing in Iraq and its cities are in full security," Taraqqi said.
Iraq is going through a different time just days before Arbaeen pilgrimage of the year of 1441 (according to the lunar calendar of Islamic months) with protests and demonstrations which apparently have no leader, are apparently popular and seemingly independent but dubiously questionable in many respects.
Demonstrations and street protests began on Tuesday (October 01).
Although some in Iraq are trying to frame the protests as a popular and independent movement without a political leader, there are several indications showing that they are certainly not spontaneous; the unstable living and economic situation that has been introduced as the cause of the protests is not a new, unprecedented and one-off phenomenon that could lead to a burst of public anger in Iraq.
Qais Khazali, the Leader of Asa'ib Ahl al-Haq Resistance Movement, revealed, in a press conference more than a month ago on August 26, that some political fractions in Iraq in a joint endeavor with some foreign powers are getting prepared for igniting demonstrations, because they are unhappy with Iraq's current foreign policy.
"The problem is the 'Deal of the Century'. They are after making the current administration abide by their demands…. Accordingly, we will witness new demonstrations in Iraq. The demonstrations are scheduled to begin in the tenth month (October). If you liked, record these words of mine. This is not my analysis; it is the information and intelligence I have. They also start with social media to pretend it is public opinion, but in reality they are being led by foreigners," he said.
Meantime, Lebanon's al-Akhbar newspaper disclosed that Saudi Arabia had handed a plot to the administration of US President Donald Trump to stir unrest in Tehran, Baghdad and Beirut. It shows that the three countries of Iran, Iraq and Lebanon are the main targets of the project which is aimed at stimulating the public opinion through the media in order to instigate street protests which would finally weaken the central government.
Full report at:
https://en.farsnews.com/newstext.aspx?nn=13980716000993
--------
NSC Official: US Sees Kurdish Nation Another Israel in Region
Oct 08, 2019
"To be honest with you, it would be better for the United States to support a Kurdish nation across Turkey, Syria and Iraq," the unnamed National Security Council official told Newsweek, adding, "It would be another Israel in the region."
In a scheduled phone call on Sunday afternoon between Trump and President Recep Tayyip Erdogan, the US leader claimed that he would withdraw American forces from Northern Syria.
Commenting on his decision to pull American troops deployed in Northeastern Syria back from an imminent anti-Kurdish incursion of the Turkish military, Trump noted on Monday, "It's time for the US to "get out of ridiculous endless wars".
"The Kurds fought with us, but were paid massive amounts of money and equipment to do so. They have been fighting Turkey for decades. I held off this fight for almost 3 years, but it is time for us to get out of these ridiculous Endless Wars, many of them tribal, and bring our soldiers home," he stressed.
The announcement triggered howls of fury from hawks in Congress and the media, as well as experts in Middle Eastern politic.
The official also denounced the move as stabbing Kurds in the back, saying, "We are telling the world, we will use you and then throw you away. It's not like they don't have a television in Asia, in Africa, and South America."
The National Security Council source, who has direct knowledge of the discussions between US and Turkish presidents, also told Newsweek that Trump got "rolled" by Erdogan during the recent conversation.
"Trump was definitely out-negotiated and only endorsed the troop withdraw to make it look like we are getting something — but we are not getting something," the National Security Council source revealed, adding, "The US national security has entered a state of increased danger for decades to come because the president has no spine and that's the bottom line."
According to the NSC official, who had first-hand knowledge of the phone call, Trump did not endorse any Turkish military operation against Kurdish Forces, but also did not threaten economic sanctions during the phone call if Turkey decided to undertake offensive operations.
In a fairly blunt warning to the NATO ally, Trump on Monday vowed to "obliterate" the Turkish economy if he thinks it's stepped out of line in Syria.
One of the main issues in the phone call between the two world leaders concerned the roughly 2,000 Islamic State of Iraq and the Levant (known as ISIL, ISIS or Daesh) militant prisoners being held by the Kurdish fighters in Northeastern Syria.
Trump told Erdogan he did not want anything to do with ISIL prisoners despite the United States not currently detaining ISIL prisoners in Syria, as the Kurdish forces control custody of the prisoners.
Erdogan announced that Turkey would take custody of the ISIL militant prisoners, according to the White House statement and the National Security Council official Newsweek spoke to for the story.
"The ISIL prisoners, some of them, will eventually be freed amongst the chaos, and remain in the area or go elsewhere to rejoin the fight," the National Security Council official speculated.
The National Security Council official compared Turkey to "playground bullies", noting, "When the bigger guy [United States] moves aside in the playground, they [Turkey] get to beat on the smaller guy [Kurds] and this is not about the US being the world police."
While Turkey considers the Kurdish YPG militia an extension of the banned terrorist group PKK, the US has been arming and protecting the Kurds for years.
Turkey has deployed reinforcements to the Syrian border following Erdogan's announcement of a looming military operation against Kurdish militants, but Washington-backed militants had warned of an "all-out war", if Ankara will carry out an air and ground military operation.
Neither the US nor Turkey bothered to consult Damascus, which has repeatedly blasted all their joint and unilateral endeavors as flagrant violations of Syria's sovereignty and territorial integrity.
Damascus has reiterated that Turkey and US military presence in Syria is illegal and any foreign troop in Syria is regarded as an occupying force and the Syrian government has the right to take all the needed measures to confront it.
Meantime, The Kurdish forces were surprised after the US turned its back to them and declared decision to withdraw military men from Syria as foreseen by Lebanese Hezbollah resistance group Leader Seyed Hassan Nasrallah.
In a growing number of posts that imply the Kurdish militants' deep regret over their dependence on the US military support against a Turkish incursion, several social media accounts of the Kurdish rebels noted the US retreat from Northern and Northeastern Syria and acknowledged their fatal miscalculation to fully trust and gamble their fate on the US military backup.
In a speech on August 26, 2018, the Hezbollah leader had praised the Syrian Kurds for their vigilance and starting negotiations with the Syrian government, saying that the Kurds entered the talks after they were skeptical about United States' loyalty and they were not sure when the US government would leave them.
"We know that Pentagon has set aside $500mn-$750mn under the name of protecting Kurds, the Kurdish People Protection Units (YPG). What is this share of the budget for? Is it for establishing democracy in Syria or it is for supporting the Kurds who must know from experience that the United States uses you as an instrument along with its own plans, attacks or in its war in Syria, be it against the Islamic Republic (of Iran), or against Russia, or against the Axis of Resistance," Nasrallah said at the time.
He warned the Kurds that "they (the Americans) eventually will only think of their own interests and will leave you alone, and will sell you like slaves in the market".
Full report at:
https://en.farsnews.com/newstext.aspx?nn=13980716000812
--------
Iraq's Salih calls for national dialog, deplores attacks on protesters, security forces
Oct 8, 2019
Iraq's President Barham Salih has condemned as "unacceptable'' the recent acts of violence targeting protesters, journalists and security forces amid a spate of unrest gripping the Arab country, warning against foreign attempts to fish in troubled waters. "The targeting of peaceful demonstrators and security forces with live bullets, and the targeting of media and media workers is unacceptable in Iraq, which we have pledged to be a democratic, in which rights and freedoms are respected, and where all abide by the Constitution," Saleh said during a televised speech on Monday.
A wave of protests began in Baghdad and some other cities a week ago, with the participants calling for better living conditions and more government efforts to end the nation's economic woes less than two years after the country declared victory over the Takfiri Daesh terror group.
The initially peaceful protests, however, turned ugly after armed elements and violent rioters entered the scene, starting to vandalize public property and attempting to enter the Green Zone in Baghdad — which houses government offices and foreign diplomatic missions.
The rioters also attempted to take over local TV stations in the capital Baghdad over the weekend after the government removed a days-long curfew.
On Sunday, the Interior Ministry said 104 people, including eight security officers, had been killed and more than 6,000 people wounded in the mayhem.
Iraqi officials say there are "malicious hands" and "infiltrators" behind the killing of both protesters and security forces during the unrest.
Salih went on to say that Iraqi people have the right to hold peaceful rallies, urging security forces to preserve the rights of all Iraqis.
He asked the protesters "to join a constructive and genuine dialog within the national framework that guarantees informing the people about the steps of reform, and holding direct and daily meetings with our youth in all cities."
The Iraqi leader further called for restraint and de-escalation in order to prevent non-Iraqis from interfering in the national dialog, proposing a government reshuffle and a review of the electoral law that meets the Iraqi people's "national ambitions."
Salih expressed support for a "fundamental ministerial reshuffle," while announcing a series of measures to combat corruption and provide better job opportunities and services — a key demand of the protesters.
The president urged the parliament to enact reforms, including electoral reform, to address the demands of demonstrators.
Salih also reiterated that an inquiry will be launched into the deadly violence "in order to prevent the use of excessive force and to follow the rules of engagement."
The president assured the nation that "the right to protest and freedom of expression are guaranteed by the Iraqi Constitution."
On Sunday, the Iraqi government announced a series of reforms after an "extraordinary" session overnight in response to the sweeping unrest.
Confronted by its biggest challenge since coming to power just under a year ago, Prime Minister Adil Abdul-Mahdi's cabinet also issued a decree including 17 planned reforms, such as land distributions and increased welfare stipends for needy families.
Authorities have asked protesters to give them time to implement the reforms.
Full report at:
https://www.presstv.com/Detail/2019/10/08/608137/Iraq-President-Barham-Salih-unrest
--------
Iraq unveils new set of reforms to meet protesters' demands
Oct 8, 2019
The Iraqi government has submitted a new series of reforms in an effort to respond to protests against corruption, staggering youth unemployment and poor public services, which started in the capital Baghdad last week and then spread to other cities.
On Tuesday, Prime Minister Adel Abdul-Mahdi's cabinet approved the second package of reforms, including distribution of residential plots of land to citizens, expansion of municipal borders of cities, and changing agricultural land into residential.
The planned reforms also contain freezing the law, which allows payment of several salaries to one public servant, providing jobs for young people and activation of the agricultural lending fund.
Additionally, the Iraqi cabinet endorsed a possible study to minimize the age of retirement to give more jobs to the youth.
Early on Sunday, the Iraqi issued a decree with more than a dozen planned reforms, including land distributions, military enlistment and increased welfare stipends for needy families, AFP news agency reported.
Also on Tuesday, Iraqi Shia cleric and leader of the National Wisdom Movement, Ammar al-Hakim, called on the Baghdad government to meet the "legitimate demands" of peaceful demonstrators.
"Each citizen has the constitutional right to peacefully protest and claim his rights," Hakim said, urging both the Iraqi cabinet and the parliament to take "urgent steps" to carry out comprehensive reforms in the country.
On October 4, Iraqi Parliament Speaker Mohammed al-Halbousi vowed to implement plans to generate housing, employment, and health "within a time frame." He supported the protesters' demands, promising that the legislature would work on combating corruption, which he said was "as dangerous as terrorism."
Iraqi officials say there are "malicious hands" behind the killing of both protesters and security forces during the recent spate of unrest in the country.
Interior Ministry spokesman Saad Maan confirmed for the first time on Sunday that 104 people had been killed, including eight security officers, and more than 6,000 wounded in the protests.
Maan said the ministry was working with other government institutions to find out who was behind the killings. According to medical sources, the majority of protesters killed were struck by bullets.
The protests began last Tuesday, with demonstrators calling for better living conditions. The rallies soon turned into riots as some protesters started vandalizing public properties and attempted to enter the Green Zone in Baghdad -- which houses government offices and foreign diplomatic missions.
Full report at:
https://www.presstv.com/Detail/2019/10/08/608208/Iraq-unveils-new-set-of-reforms-to-meet-protesters-demands
--------
Qatar's Al-Ghufran expulsions termed 'breach of human rights'
MOHAMMED AL-SULAMI
October 09, 2019
JEDDAH: Qatar's regime is inhumanely targeting the Al-Ghufran clan, a member of the larger Al-Murra tribe, for its failure to support a coup staged by the current ruler's father more than two decades ago, a leading human rights and civil liberties lawyer has told Arab News. UK-based lawyer Amjad Salfiti said that serious breaches of human rights are taking place in Qatar despite promises that things would change under the new ruler.
"The state of Qatar is not run by the new ruler but by an old guard, representatives of the father, which is still keen on punishing people using decisions that do not comply with the constitution of Qatar," he said.
Human rights violations carried out by the former emir include unfairly depriving thousands of people of citizenship rights.
Sheikh Hamad bin Khalifa Al-Thani, father of current Qatari emir Sheikh Tamim bin Hamad Al-Thani, "decided that they should be deprived of their nationality, and he tried to kick them out and exclude them from their home on the border between Qatar and Saudi Arabia," Salfiti said. More than 10,000 people have been targeted by the regime.
"The first round of expulsions or deprivations was reported to be 5,000. But that is a conservative estimate," he said.
"If you are referring just to this part of the tribe, to the Al-Ghufran clan, it is probable that the numbers are just over 10,000. They have all been subjected to draconian measures," he said.
Asked whether there were legal grounds to justify revoking the citizenship of women and children and deporting them without any crime having been committed, Salfiti said that all citizens — young, elderly, male and female — are covered by international law, and their rights to citizenship should be protected.
"As soon as a state takes any action to deprive a person of his nationality, whether as a group or individually, that would be a contravention of international human rights and international rights in general," Salfiti said.
In the case of Qatar, a collective form of deprivation that attracts what is commonly referred to as collective punishment is also prohibited under international law.
"An offense has been committed by the state against its own citizens. There would be some sort of recourse by these citizens to judicial forums, whether international, regional or local," he said. Salfiti said that depriving a person of their nationality and leaving them stateless runs contrary to international conventions.
"States ought not to create states of statelessness, they ought to reduce any state of statelessness," he said. "So Qatar claiming to be a reformist and proactive regarding international law is contradicting itself in committing a serious crime. "It is not only denying people access to education, hospitalization and medical care, but also uprooting people and declaring them stateless, which is a fundamental crime that the international community is working extremely hard to stop."
Salfiti told Arab News that he had worked to help free a prominent Qatari prisoner jailed for seven years by the former emir.
"That prisoner took issue with certain electoral matters, which he believed were in breach of the constitution. He was imprisoned for seven years without trial," Salfiti said.
The lawyer managed to win the prisoner's release by lobbying on his behalf and preparing a summons to the Qatari government seeking his freedom.
Drewery Dyke, chairman of the UK-based Rights Realization Center (RRC) and a senior researcher specializing in international advocacy relating to human rights in GCC countries, Iran and Afghanistan, told Arab News that the Al-Murra tribe is one of the principal clans of Qatar. Members of the tribe also live in other Gulf countries.
"The Al-Murra tribe is found mainly in Saudi Arabia and Qatar. There is a small number in the UAE and some members also are found in Kuwait," he said. "So they are found throughout the Gulf. A subset of the tribe, the Al-Ghufran clan is found principally in Qatar.
"Some Al-Ghufran activists have claimed that their clan numbers up to 10,000. Certainly, when the deprivation of citizenship process started in October, 2004, the numbers were precise — it was 927 heads of households. Therefore, all the dependants of those heads of households were also made stateless."
Numbers at the time ranged up to 5,000. So, with the passage of time and given the natural growth of those communities, today's figure could be as high as 10,000, Dyke said.
"The Qatar government has told the UN High Commission for Refugees (UNHCR) that there are 1,500 stateless people in Qatar now," he said.
"Whether that includes this community is unknown. It's difficult to gain a reliable figure on the numbers of the Al-Ghufran clan who have been left stateless to this day."
Human Rights Watch has accused the Qatari regime of depriving individuals of their basic human rights. Dyke said that the "arbitrary" deprivation of citizenship was a contravention of accepted human rights practice. "It happened at a time, 2004, when knowledge about this particular issue and about Qatar was relatively poor. In recent years, members of the community, many based in Saudi Arabia, have started campaigning for their rights," he said.
"In 2004, there was an arbitrary deprivation of citizenship by decree and, shortly afterwards, the authorities began removing people from their jobs. They were deprived of education, people were taken out of schools, they were no longer able to access medical services, had their bank accounts closed and were no longer allowed to own property," Dyke recalls.
Dyke said that a special UN meeting held in Geneva on Oct. 7, 2019, was intended to investigate measures to end statelessness.
"The RRC, other human rights groups and members of Al-Ghufran community are calling on Qatar to allow all those people who were arbitrarily and unfairly denationalized to be allowed back into the country and renationalized. We also want some kind of restitution and recognition of what they have been through," he said.
"Members of the tribe have petitioned leading authorities and government figures in the Gulf, including the government of Saudi Arabia."
However, Dyke said that "unfortunately, the trajectory seems to be pretty negative at the moment." Doha has signed up to a number of human rights covenants and international human rights treaties, "so it is a good time for Qatar to take action and acknowledge the wrongs that have been committed," he said.
Dyke highlighted some of the human-rights violations by the Qatari regime.
"A travel ban was imposed on Najeeb Al-Nuami, the longstanding human rights lawyer who used to be attorney general. He is still facing restrictions, an arbitrarily imposed travel ban.
Full report at:
https://www.arabnews.com/node/1566181/middle-east
--------
Saudi Shoura Council chairman receives China ambassador
October 09, 2019
Shoura Council Speaker Dr. Abdullah Al-Asheikh received China's ambassador to the Kingdom, the Saudi Press Agency reported.
Ambassador Chen Weiqing hailed the pioneering role of Saudi Arabia in the region and globally, remarking on the depth of bilateral relations.
The envoy condemned the recent attacks on Saudi Aramco oil facilities and civilian locations, and said the Kingdom had the right to defend its sovereignty and people.
He thanked King Salman and Crown Prince Mohamed bin Salman for their efforts toward promoting and developing Saudi-Chinese relations, and for hosting the G20 summit that will be held next year.
He also praised the launch of tourist visas, adding that the Kingdom was home to many attractions that would appeal to Chinese tourists.
Al-Asheikh noted the solid and
growing relationships with China on all levels.
He said trade and economic relations were growing rapidly and that the Saudi-Chinese Coordination Council was playing an important role in promoting these ties.
Full report at:
https://www.arabnews.com/node/1566191/saudi-arabia
--------
Europe
Muslim World League condemns abuse on Jewish students in Australia
October 08, 2019
The Muslim World League (MWL) denounced on Tuesday an attack on Jewish boys committed by Muslim students in Australia, calling it "appalling and barbaric."
Last week Australian media broadcasted images showing a Jewish student pressured to kneel and kiss the shoes of his Muslim classmate.
According to local reports, the Jewish student who was in the video kissing the shoes of the Muslim boy was a 12-year-old from Melbourne.
In a separate incident, a five-year-old boy was allegedly called a "Jewish cockroach" and was repeatedly bullied, local daily The Sydney Morning Herald reported.
"This appalling and barbaric act is contrary to the doctrine of Islam," Mohammed bin Abdul Karim Al-Issa, the secretary general of MWL said in a statement, noting that any person who does this is a disrespectful individual who wrongs Islam.
In Islam, Judaism is considered a divine religion and Allah called the Jews and Christians "the People of the Book," Al-Issa explained.
Al-Issa reiterated the MWL's condemnation of any abusive behavior toward anyone based on their religion, culture, ethnicity or color. This includes abuse of Islam by extremists, even if the attacks are from within the Islamic community, he added.
The MWL statement was issued from Makkah on "behalf of all Muslims and countries affiliated with the organization's secretariat, branch bodies and global councils," it read.
https://www.arabnews.com/node/1565846/world
--------
Counter-terror police arrest four people at Luton Airport
7 October 2019
Counter terror police have arrested four people on suspicion of being members of a banned organisation.
The Sri Lankan nationals were arrested after arriving at Luton Airport on Saturday and Sunday.
The Metropolitan Police said the group were stopped under the Terrorism Act 2000 and arrested under the Police and Criminal Evidence Act 1984.
The investigation is being led by the Met's Counter Terrorism Command.
A 39-year-old man, a 35-year-old man and a 41-year-old man remain in custody at a south London police station.
A 35-year-old woman has been bailed to a date in early November, pending further inquiries.
Full report at:
https://www.bbc.com/news/uk-england-norfolk-49963201
--------
French PM questions US hesitations over northeast Syria
8 October 2019
France's prime minister defended his country's policy in northeastern Syria on Tuesday saying that, unlike US hesitations, Paris' priority remained to defeat ISIS and preserve Kurdish-led forces fighting the terrorist organization.
The US decision to withdraw from northeastern Syria leaving Turkey to launch an offensive against Kurdish militants in the region has rattled allies, including France, one of Washington's main partners in the US-led coalition fighting ISIS.
Responding in parliament to criticism of the French government from some opposition lawmakers for not publicly defending Kurdish forces in the face of a possible Turkish offensive, Edouard Philippe said Paris had not wavered on its policy unlike Washington.
"The fight against Daesh (ISIS) is not over and continues alongside the (Kurdish-led) Syrian Democratic Forces (SDF)," Phillipe told lawmakers.
"Saying things with constancy and coherence is preferable to reacting to obvious hesitations from certain players notably our American friends," Philippe said, alluding to differences in the US administration.
Full report at:
https://english.alarabiya.net/en/News/middle-east/2019/10/08/French-PM-questions-US-hesitations-over-northeast-Syria.html
--------
UK deeply concerned about Turkish plans for Syria military action: PM's office
8 October 2019
Britain is deeply concerned that Turkey plans to launch a military campaign in northern Syria, Prime Minister Boris Johnson's spokesman said on Tuesday.
Turkey said it had completed preparations for a military operation in northeast Syria after the US began pulling back troops, opening the way for a Turkish attack on Kurdish-led forces long allied to Washington.
Full report at:
https://english.alarabiya.net/en/News/middle-east/2019/10/08/UK-deeply-concerned-about-Turkish-plans-for-Syria-military-action.html
--------
Macron vows to fight against 'Islamist terror'
8 October 2019
French President Emmanuel Macron vowed an "unrelenting fight in the face of Islamist terrorism" on Tuesday as he paid tribute to the four Paris police staff stabbed to death last week by a radicalized colleague.
"We will wage an unrelenting fight in the face of Islamist terrorism," Macron told a ceremony at the police headquarters where the attack took place.
Mickael Harpon, a 45-year-old computer expert in the police intelligence-gathering department, used a kitchen knife and an oyster shucker to kill three male and one female colleague in a 30-minute rampage that ended when an officer shot him in the head.
He had converted to Islam about 10 years ago and adopted increasingly radical beliefs, according to investigators.
The killings have raised questions about how he managed to avoid detection by the police, despite having top-level security clearance.
Macron said it was "inconceivable and unacceptable" that Harpon, who had worked for the police since 2003, had managed to carry out an attack "in the very place where we pursue terrorists and criminals."
Full report at:
https://english.alarabiya.net/en/News/world/2019/10/08/Macron-vows-to-fight-against-Islamist-terror-.html
--------
France's Macron pays homage to 'victims of terrorism'
October 08, 2019
PARIS: French President Emmanuel Macron led a national tribute Tuesday to the four police employees slain in last week's knife attack in Paris, calling them victims of terrorism.
At a ceremony at the police headquarters where they were stabbed to death in last Thursday's bloody rampage, a solemn Macron endured drizzle as he paid homage to the three police officers and one police administrator killed by their own colleague, a 45-year-old deaf technology administrator.
"They had made the choice to wear the uniform, to devote their lives to protecting others. They died in service, at work," said Macron, who was also met privately with families of the victims.
French prosecutors are investigating the killings as a potential act of terrorism as it transpired the knifeman likely had links with members of an ultra-conservative extremist movement.
"The whole nation (must) unite, mobilize, act... We will only win if our country gets up to fight against this underground (extremism) that corrupts the children of France," he added.
He proposed establishing a "society of vigilance" to protect France, a country still reeling from numerous extremist attacks in recent years — but he warned the French against "suspicion that corrodes."
Though Interior Minister Christophe Castaner initially said there were "no warning signs" ahead of the attack, he has since acknowledged breaches in security over a failure to detect signals of the attacker's radicalization. The man had previously "justified" the deadly 2015 extremist attack on satirical newspaper Charlie Hebdo in front of his colleagues. No written report was made at the time.
It took some 24 hours after the attack for authorities to say it was a potential act of terrorism, and the French government initially maintained there was nothing to suggest the armed attacker had any ties to extremist groups.
Earlier Tuesday, Castaner posthumously bestowed France's highest award, the Legion of Honor, on the four victims. The fifth fatality, the knifeman himself, was shot dead by a rookie officer who had completed police academy training six days before the attack.
Authorities said the attacker had worked for the Paris police force as a technology administrator in the intelligence unit since 2003 and didn't have a history of psychiatric problems.
Tuesday's ceremony came as justice officials said French investigators found a USB stick belonging to the killer containing information about his colleagues.
Full report at:
https://www.arabnews.com/node/1565941/world
--------
'Home countries need to take back Daesh terrorists'
Ahmet Gurhan Kartal
08.10.2019
LONDON
Turkish Ambassador to the U.K. Umit Yalcin on Tuesday urged countries to take back their nationals, who were involved in terrorist activities in Syria.
Speaking to SkyNews, he said it would be an ideal situation, if countries of their origin take back these captured terrorists and bring them to justice or rehabilitate them.
He argued that those individuals (terrorists) carried "their nationalities and passports" when they had left their countries.
The envoy said that Turkey can deport those held in Turkey to their own countries.
He called for exploring new mechanism of cooperation between the countries, to deal with foreign terrorists, detained in Syria.
Yalcin's interview with British news channel was aired in the wake of a possible Turkish operation into northern Syria, to secure safe zone for the return of Syrian refugees.
Turkish President Recep Tayyip Erdogan announced Sunday that Turkey is ready to launch "Operation Peace Spring" east of the Euphrates River in northern Syria, to clear the region from terrorists.
U.S. President Donald Trump said in a Twitter message that "Turkey, Europe, Syria, Iran, Iraq, Russia and the Kurds will now have to figure the situation out, and what they want to do with the captured ISIS fighters in their neighborhood."
Turkey has long called for the U.S. to partner with it in the fight against Daesh, a terror group Ankara has worked to root out, arresting and deporting its members within Turkey.
Since 2016, Turkey's Euphrates Shield and Olive Branch operations in northwestern Syria have liberated the region from YPG/PKK and Daesh terrorists, making it possible for nearly 400,000 Syrians who fled from the violence, to return to their home to western Syria.
In a report published in 2017, a London-based think tank Henry Jackson Society has documented 60 foreign fighters from 12 countries. Over 80% of them belonged to English-speaking nations.
The report also recommended that the YPG -- the PYD's armed wing -- should be added to U.K.'s list of alternate names of the banned PKK, so the anti-terror law could be applied to their activities under this name.
Although the U.K. has listed the PKK as a terrorist organization since 2001, the PYD/PKK -- its Syrian off-shoot -- is not in the list.
Full report at:
https://www.aa.com.tr/en/europe/-home-countries-need-to-take-back-daesh-terrorists-/1606310
--------
Turkey's 'sole desire' is peace, stability in Balkans
Diyar Guldogan,Talha Ozturk
08.10.2019
Turkey's "sole desire" is peace and stability in the Balkans, President Recep Tayyip Erdogan said on Tuesday.
Maintaining that Balkan region has suffered in the last quarter of century and has paid serious costs, Erdogan urged the need to build future together, not by seeing differences as an element of conflict, but by wealth.
''We should build our future together by seeing our differences not as an element of conflict but our wealth, and develop our cooperation in every field. I hope that we will add new ones to these projects, which are our common pride in the coming period," he said, at the inauguration of various projects and also groundbreaking ceremony of the Sarajevo-Belgrade Highway in Serbia's Sremska Mitrovica.
Erdogan said Turkey will continue to increase investments across Serbia, adding that the countries need to develop relations in all areas.
"Every part of these territories is a monument of our solidarity and cooperation," he added.
Meanwhile, Serbian President Aleksandar Vucic said that it is a historic event for everyone in the region.
"For us, this is a historic event. Since 1945, all roads, railroads, connections, and communications with Bosnia have generally been bad, as if some people living there were being punished intentionally," said Vucic.
He further said that an opportunity has come to take care of future, regulate relations and put aside doubts, fears and hatred.
''Today is an opportunity to show that we are taking care of our future, we can regulate relations between us. That is why one of the most important moments in the region begins today. The space that was once a space of doubts, fears, hatred, today we are starting to open and connect,'' he added.
Emphasizing urgency of connectivity, Vucic said that nothing in the Balkans is as necessary as roads.
"It is a way to move on to the future. They introduce us to one another, give us the opportunity to understand, and in the end, to forgive without a backlash ...," said Vucic.
Erdogan, remotely cut the ribbon of three different projects carried out by TIKA, Turkey's state aid agency. They included, the Ram Fortress, an Ottoman castle restored by TIKA, the Valide Sultan Mosque in Sjenica, and a court building in Novi Pazar.
Full report at:
https://www.aa.com.tr/en/europe/turkeys-sole-desire-is-peace-stability-in-balkans/1606209
--------
EU Parliament appoints new Turkey rapporteur
Yusuf Hatip
08.10.2019
BRUSSELS
Nacho Sanchez Amor has been appointed as the new rapporteur on Turkey, the European Parliament said on Tuesday.
A Spanish politician, elected to the European Parliament in 2019, Amor is member of the Spanish Socialist Workers' Party.
Born in Caceres, a city in western Spain's Extremadura region, he is a member of the European Parliament's foreign affairs committee and the delegation of the EU-Turkey joint parliamentary committee.
The Commission of the EU Parliament has approved Amor's nomination, to assume the office of Turkey rapporteur.
He will replace current rapporteur, Dutch Kati Piri, whose reports about Turkey had often invoked strong reaction from Ankara.
Piri had previously said that the PKK is not a threat to the EU despite it has been proscribed as a terrorist organization by Turkey, the US and the EU.
Full report at:
https://www.aa.com.tr/en/europe/eu-parliament-appoints-new-turkey-rapporteur/1606123
--------
Mideast
Iran Charges Famous Kurdish Singer With Being Gay, Faces Execution
By Benjamin Weinthal
October 8, 2019
Iran has alleged that a prominent singer is gay and under the Islamic Republic's anti-homosexual laws he could face the death penalty.
BBC journalist Ali Hamedani tweeted on Sunday that "A famous Iranian singer from the Kurdish province of Kermanshah has been 'accused' of being a homosexual and could face execution. Iran executes gay men."
Ali Hamedani
✔
@BBCHamedani
A famous Iranian singer from the Kurdish province of #Kermanshah has been "accused" of being a #homosexual and could face execution. Iran executes gay men. https://twitter.com/beehnam/status/1180898406149046279 …
Behnam Gholipour
@beehnam
#محسن_لرستانی خواننده مشهور کرمانشاهی به اتهام #همجنسگرایی در انتظار دریافت حکم اعدام!
View image on Twitter
72
11:33 PM - Oct 6, 2019
Twitter Ads info and privacy
43 people are talking about this
Volker Beck, a German Green Party politician and LGBTQ activist , told The Jerusalem Post that "It is a perversion of unjust states like Iran and Saudi Arabia that alleged or actual homosexuality is presented as an accusation that can cost you your life. It is time for the international community to outlaw states punishing homosexuals."
The Kurdistan Human Rights Network tweeted that "Mohsen Lorestani, a Kurdish singer from Kermanshah, has been charged with 'corruption on earth' in a public complaint. His lawyer told Kurdistan Human Rights Network, 'The alleged incidents happened in a private chat.' If convicted, this charge could result in death sentence."
Kurdistan Human Rights Network
@KurdistanHRN
#MohsenLorestani, a Kurdish singer from #Kermanshah, has been charged with "corruption on earth" in a public complaint. His lawyer told Kurdistan Human Rights Network, "The alleged incidents happened in a private chat." If convicted, this charge could result in death sentence. https://twitter.com/KurdistanHRN/status/1179364671889035264 …
Kurdistan Human Rights Network
@KurdistanHRN
#محسن_لرستانی، خواننده کرد اهل کرمانشاه با شکایت مدعیالعموم به "افساد فی الارض" متهم شده است. وکیل وی به شبکه حقوق بشر کردستان گفت: «مصادیق اتهام مذکور مکالمات وی در چتهای خصوصی عنوان شده است». این اتهام در صورت اثبات میتواند حکم اعدام در پی داشته باشد.http://kurdistanhumanrights.net/fa/?p=9953
10
6:19 PM - Oct 2, 2019
Twitter Ads info and privacy
See Kurdistan Human Rights Network's other Tweets
Iran News Wire reported that "Well known Iranian Kurdish singer, Mohsen Lorestani was charged with 'corruption on earth' by a court in Tehran for posting 'immoral' content on social media. 'Corruption on earth' can carry the death sentence."
Iran News Wire
@IranNW
Well known Iranian Kurdish singer, Mohsen Lorestani was charged with "corruption on earth" by a court in Tehran for posting "immoral" content on social media. "Corruption on earth" can carry the death sentence.
View image on Twitter
6
5:50 PM - Oct 2, 2019
Twitter Ads info and privacy
See Iran News Wire's other Tweets
The Jerusalem Post first reported on the Iranian regime's public hanging of a homosexual in January based on the country's anti-gay law. The unidentified man was hanged on January 10 in the southwestern city of Kazeroon based on criminal violations of "lavat-e be onf" – sexual intercourse between two men, as well as kidnapping charges, according to ISNA. Iran's radical sharia law system prescribes the death penalty for gay sex.
According to a 2008 British WikiLeaks dispatch, Iran's mullah regime has executed "between 4,000 and 6,000 gays and lesbians" since the Islamic Revolution in 1979.
In 2016, The Jerusalem Post reported that Iran's regime had executed a gay adolescent that year – the first confirmed execution of someone convicted as a juvenile in the Islamic Republic.
Hassan Afshar, 19, was hanged in Arak Prison in Iran's Markazi Province on July 18, 2016, after he was convicted of "forced male-to-male anal intercourse" in early 2015.
In 2011, Iran's regime executed three Iranian men after being found guilty of charges related to homosexuality.
https://www.jpost.com/Middle-East/Famous-Iranian-Kurdish-singer-charged-with-being-gay-faces-execution-604004
--------
In a Conflict, Iran Would Wage a Missile War Against America
by Zachary Keck
October 7, 2019
Just when you thought you'd seen it all in the six-year-long Syrian civil war, the conflict took another turn when Iran launched a missile attack against Islamic State militants in the province of Deir ez-Zour last Sunday. Iran depicted the attack, which was reportedly the first time Iran used missiles since the Iran-Iraq War, as a response to the ISIS attacks on the Iranian parliament and mausoleum of Ayatollah Ruhollah Khomeini earlier this month.
Although ISIS provided the immediate impetus for the attacks, there's little doubt that Tehran wanted to send a secondary message to the United States and its allies, especially given that U.S. forces have begun attacking Bashar al-Assad's forces in Syria. Indeed, Ramazan Sharif, a general in the Islamic Revolutionary Guards Corps (IRGC), told state-run media after the attacks: "The Saudis and Americans are especially receivers of this message. Obviously and clearly, some reactionary countries of the region, especially Saudi Arabia, had announced that they are trying to bring insecurity into Iran."
Deterring regional adversaries from threatening Iran is the primary reason Tehran has amassed the largest ballistic missile forces in the Middle East. The missile program actually began under the Shah, but it was accelerated during the Iran-Iraq War in order to threaten Saddam Hussein with strikes deep in Iraqi territory. Since then, Iran has worked with countries like Libya, North Korea and China in order to develop a large and diverse arsenal of ballistic and cruise missiles that form one part of its three-leg deterrent strategy. With Iran now using missiles in conflict, it's worth taking a closer look at the weapons in its arsenal.
The backbone of Iran's missile forces are the Shahab-series of liquid-fueled (mostly) short-range ballistic missiles (SRBM). There are three variants of the missile: The Shahab-1, Shahab-2 and Shahab-3. The Shahab-1 was the first missile Iran acquired and is based on the Soviet Scud-B missile. Iran reportedly purchased these initially from Libya and possibly Syria, but North Korea has been its main supplier. The Shab-1 has a reported range between 285–330 kilometers, and can carry a warhead of around one thousand kilograms. Iran is believed to have three hundred Shahab-1 rockets.
Later Iran acquired Shahab-2 missiles, likely from North Korea. This missile is based on the Scud-C and has a range of five hundred kilometers with a payload capacity of 770 kilograms. Iran first began testing the Shahab-2 in 1998, and it has been operational since at least 2004. Like the Shahab-1, the Shahab-2 is road-mobile, however, the Congressional Research Service has noted that: "Wartime experiences, such as in Iraq, show these missiles tend to operate within a radius of about 100 kilometers or less from their bases because of the need to ensure operational security and to be able to maintain key logistics support." Tehran only purchased between 100–170 Shahab-2s from North Korea, but can now produce them indigenously (although it relies on some imported parts).
Most importantly is the Shahab-3, also a liquid-fueled, road-mobile missile. The Shahab-3 is the first medium-range ballistic missile Iran acquired, with a likely range of between 1,000-1,300 kilometers depending on the size of the payload. The payloads themselves are said to weigh between between 760 and 1,200 kilograms. The Shahab-3 is widely believed to be based on North Korea's No Dong-1 missile, which itself likely relied heavily on Soviet technology. Unlike the other Shahab-variants, the Shahab-3 is a two-stage missile with an engine and separate reentry vehicle. Iran's version of the missile was first flight tested in 1998. That test was unsuccessful, and a number of subsequent tests also failed. Consequently, the Shahab-3 did not enter into service until 2003.
It is unknown how many Shahab-3 missiles Iran has deployed, in part because Tehran appears to rely mostly on a number of variants of the missile, which go by a number of different names like the Emad and Ghadr. These later editions of the missile incorporate Pakistani technology, have a redesigned reentry vehicle, and improved navigation and guidance systems. It's possible, but unlikely, that some of these variants use solid fuel. They do have an improved range of somewhere between 1,500–1,800 kilometers, and perhaps as high as 2,500 kilometers.
Fateh-Series
The Fateh-series missiles are the solid-fueled counterparts of Shahab missiles. Like the Shahab-1 and Shahab-2, the Fateh-110 and Faeth-331 are short-range and road-mobile. The Fateh-110 is a single-stage missile with a range of 210 kilometers. It is likely more accurate than some of the earlier Shahab variants, with some estimates suggesting a circular error probable (CEP) of one hundred meters. Iran began developing the Fateh-110 in 1995, with the first test coming in May 2001. The missile became operational in 2004. The Fateh-313 extends the range of the Fateh-110 to roughly five hundred kilometers, and also has other upgrades such as greater accuracy. It is believed to have entered into service in 2015. The U.S. Treasury has accused Chinese companies of aiding Iran's development of the Fateh series.
Last year, Iran unveiled a new part of the Fateh family, called the Zolfaghar. When Iran first revealed the missile, Defense Minister Hossein Dehghan claimed it had a range of seven hundred kilometers. According to IHS Jane's, "The Zolfaghar appears to be the same shape and size as earlier Fateh-110s, but the guidance system has been redesigned, seemingly so it sits closer to the nose. This may have freed up space for a larger solid-fuel motor, but has come at the expense of payload size, which clearly has been reduced." Fars News Agency, which is close to the IRGC, reported that the Zolfaghar "is capable of carrying Multiple Reentry Vehicle (MRV) payloads," although this seems unlikely. Iran claims that it used Zolfaghar missiles to attack Syria last Sunday, but Israeli intelligence believes that was actually a Shahab-3.
Sejjil
The Sejjil medium-range ballistic missile is the solid-fueled counterpart to the Shahab-3 liquid-fueled missile discussed above. According to CSIS's Missile Defense Project, the Sejjil missile has a similar size, weight and range to the Shahab-3. Specifically, the two-stage missile has a range of two thousand kilometers and can carry a warhead of between 500–1500 kilograms. Development reportedly began in the late 1990s, but the first test wasn't conducted until 2008. During a 2009 flight test, the missile flew around 1,900 kilometers. Although the Sejjil missile uses an Iranian design, it likely benefitted from Chinese assistance, with some commentators comparing it to the DF-11 and DF-15. Iran has claimed that it has developed multiple variants of the missile, including a Sejjil-3 missile that some analysts believe will have a maximum range of four thousand kilometers.
Khalij Fars
Last but not least, Iran has developed an anti-ship ballistic missile to enhance its anti-access/area denial strategy against the U.S. military in the Persian Gulf. Appropriately enough, Iran named this missile Khalij Fars (Persian Gulf). Based off of the Fateh-110, the Khalij Fars was first tested in early 2011, and coincided with Iran announcing the completion of a long-range, passive radar covering a 1,100 kilometer-radius. Later that year Iran announced that the missile had entered mass production. In tests since that time Iran has claimed, rather implausibly, the missile registered a 100 percent success rate in hitting ship-like platforms positioned in the Persian Gulf. According to Iranian media outlets, "the supersonic projectile, which carries a 650-kilogram warhead, is immune to interception and features high-precision systems." An Iranian general has bragged in 2013, "Today, Iran has missiles that can crush U.S. warships like a can and send them deep into water." Iran has also unveiled two variants of the Khalij Fars: the passive radar-guided Hormuz-1 and the active radar-guided Hormuz-2.
Full report at:
https://nationalinterest.org/blog/buzz/conflict-iran-would-wage-missile-war-against-america-86401
--------
Iran unveils kit to convert artillery rockets into guided missiles
By Yaron Steinbuch
October 7, 2019
The Iranian military has unveiled what it claims is a conversion kit that converts artillery rockets into surface-to-surface missiles – technology that Israel has accused Tehran of trying to deliver to Hezbollah, according to a report.
The Islamic Republic unveiled the new guidance system upgrade — called Labeik – last week at an event where several new military technologies were showcased, according to a report in Jane's Defence Weekly.
The system appeared to be similar to the guidance systems in the Fateh-110 family of solid-propellant missiles, many of which are believed to be in the hands of Hezbollah terror group in Lebanon, The Times of Israel reported.
The new system also appears to be compatible with Zelzal heavy artillery rockets, according to the report by Jane's Defence Weekly.
Video of the new conversion system shown on Iranian TV shows a short body featuring four inverted fins that can be fitted between the rocket and its payload.
Uzi Rubin, one of the pioneers of Israel's earliest attempts at missile defense, told The Times of Israel that Iran has already been converting artillery rockets into missiles.
But "what's new here are the aerodynamics of the winglets — very unique, unseen in Iran to date and unseen in any other country," he told the news outlet.
"Going to indigenous design rather than copying others indicates self-confidence. The purpose of the new and unique aerodynamics is probably to increase the maneuverability of the converted rockets," Rubin added.
Asked if the latest development had any implications for Hezbollah's missile program or how the Jewish state deals with the terror group, Rubin replied that it "definitely" did.
"This is exactly the 'precision rocket' project that Netanyahu and the IDF regard as a red line," he said.
Hezbollah is believed to have more than 150,000 missiles, but only a small number of them can be guided to specific targets.
Full report at:
https://nypost.com/2019/10/07/iran-unveils-kit-to-convert-artillery-rockets-into-guided-missiles/
--------
Hundreds of Jewish settlers storm al-Aqsa Mosque in Jerusalem
8 October 2019
Hudreds of Jewish settlers stormed the courtyards of Al-Aqsa Mosque in Jerusalem, an Al Arabiya correspondent reported on Tuesday.
According to the Palestinian News and Info Agency, Israeli Agriculture Minister Yuri Ariel lead the Al-Aqsa raid.
The settlers were marking the holy Jewish holy day of Youm Kippur.
Thousands of settlers had stormed the courtyard of Al-Buraq Wall in the western wall of Al-Aqsa Mosque the night before to perform religious rituals of Yom Kippur, amid tight restrictions on the freedom of movement of surrounding residents.
The Undersecretary of the Ministry of Awqaf and Religious Affairs Husam Abu Al-Rub said in a statement on Tuesday that these "intrusions are aimed at the independence of Al-Aqsa Mosque, especially in light of practices that have gone beyond provocative daily violations, to systematic and deliberate violations in order to control and Judaize the area."
He added that the "new Israeli campaign is based on forging of facts and the imposition of a fait accompli policy testifying to the hateful racism practiced by the settlers on the holy sites."
The mosque has long been a flashpoint in the Israeli-Palestinian conflict. It is the third holiest for Muslims, and for their part, Jews refer to the area as the "Temple Mount," claiming it was the site of two Jewish temples in ancient times.
Israel captured the Old City and the rest of East Jerusalem from Jordan in the 1967 Middle East war, occupying and later annexing it.
Full report at:
https://english.alarabiya.net/en/News/middle-east/2019/10/08/Jewish-settlers-storm-al-Aqsa-Mosue-in-Jerusalem.html
--------
Iran sent thousands of troops to Iraq for Shia pilgrimage: Iranian commander
8 October 2019
Iran has sent 7,500 members of its special unit law enforcement force to Iraq, according to the force's commander, amid accusations from Iraqi protesters that Iranians have been directly involved in the crackdown on the protests in Iraq.
Iran is sending these forces to provide security for the Arbaeen Pilgrimage, a Shia religious ceremony, claimed the commander of the "special unit law enforcement force" Gen. Hassan Karami, reported the semi-official Mehr news agency on Monday.
Iran also has undercover agents in the crowds to control the situation, he said.
The special unit law enforcement force is responsible for dealing with protests in the country, and it was heavily involved in the crackdown on the protests that broke out in Iran between December 2017 and January 2018 in over 100 cities.
During those protests, 30 Iranians were killed and over 5000 were arrested, 50 of whom were tortured to death.
The thousands of Iranian forces sent to Iraq have been sent to help suppress the current protests in the country, say some observers.
The Iraqi protesters have accused Iran of being directly involved in the crackdown of their protests.
An Iraqi protester interviewed by Reuters on October 3 said that Farsi-speaking Iranians, not Iraqi forces, have been shooting at people during Iraq's recent deadly protests.
"There is no work, you come to protest, they fire at you. Live gunfire. They are all Iranian speaking in Farsi. You want to speak to them they answer in Farsi. The Iraqis would not fire at you," the Iraqi protester told Reuters.
At least 110 people have been killed across Iraq and more than 6,000 wounded, with protesters demanding the removal of Prime Minister Adil Abdul Mahdi and a government they accuse of corruption.
Iraqis have also been shouting slogans against the Iranian presence in their country. Videos of the protests on social media show protesters tearing images of Iran's Supreme Leader Ali Khamenei in the Shia holy city of Karbala.
Iran is influential in Iraq, including military personnel on the ground. Iraqi Prime Minister Adil Abdul Mahdi is a former member of the Supreme Islamic Iraqi Council, a Shia political party with close ties to Iran.
Many of the Popular Mobilization Units (PMU) militias are loyal to Iran, and the PMU's deputy commander Jamal Jaafar al-Ibrahimi – known by his nom de guerre Abu Mahdi al-Mohandes – is a key Iranian ally. Mohandes is also the leader of Katai'b Hezbollah, the terrorist organization accused of attacking Saudi Arabian oil pipelines in May.
Iran's Islamic Revolutionary Guard Corps (IRGC) is also influential in Iraq. Qassem Soleimani, the commander of the IRGC's Quds Force, has repeatedly travelled to Iraq in violation of UNSCR 2231, which established a travel ban as part of the Iran nuclear deal.
Khamenei, in his first reaction to the violence in Iraq, has called the protests a "conspiracy" by the enemies and an attempt to "sow discord" between Iran and Iraq.
Hossein Shariatmadari, one Khamenei's representatives, and the head of Iran's hardline Kayhan newspaper, had reiterated accusations by top Iranian officials claiming that the protests in Iraq were instigated "by America and foreign elements," and called on Iraqis to "occupy the US embassy like the Iranians did in 1979."
A senior Iranian cleric and member of Iran's Assembly of Experts' presiding board accused Saudi Arabia and the US of being behind the protests in Iraq.
Full report at:
https://english.alarabiya.net/en/News/middle-east/2019/10/08/Iran-sent-thousands-of-troops-to-Iraq-for-Shia-pilgrimage-Iranian-commander.html
--------
Cyprus' president condemns Turkey's 'unacceptable actions'
8 October 2019
Turkey's has carried out "unacceptable actions" and Cyprus will pursue diplomatic action to put an end to Turkish attacks, said Cyprus' President Nicos Anastasiades on Tuesday.
Anastasiades was attending the Cairo Summit in Egypt, where Cyprus, Greece, and Egypt reaffirmed their ties.
The Cypriot President also stressed the importance of the territorial integrity of Libya and Syria and the need for the establishment of a Palestinian state, and discussed the issue of illegal immigration and their economic consequences.
Anastasiades called on the international community to exert more efforts to combat terrorism and enhance energy security, stressing that the investment mechanism between Egypt, Cyprus and Greece should be encouraged.
Full report at:
https://english.alarabiya.net/en/News/middle-east/2019/10/08/Cyprus-president-condemns-Turkey-s-unacceptable-actions-.html
--------
German MPs blame Iran after visit to Saudi Aramco attack site
8 October 2019
German federal parliamentary members said on Tuesday that responsibility for last month's attacks on Saudi Aramco oil facilities were "plausibly imputable to Iran directly," following a visit to the Abqaiq facility in Saudi Arabia.
"The responsibility for this attack is plausibly imputable to Iran directly. Iran's policy to support terrorist & destabilizing other states is unacceptable!" Olav Gutting and Nikolas Lobel, members of Germany's Christian Democratic Union party, shared in posts on Twitter.
Olav Gutting
@olavgutting
Today I visit with @NikolasLoebel #Amcro in #Abquaiq, where drone attack on #KSA took place. The responsibility for this attack is plausibly imputable to Iran directly. Iran's policy to support terrorist & destabilizing other states is unacceptable! @KSAembassyDE
View image on Twitter
4
11:34 PM - Oct 8, 2019
Twitter Ads info and privacy
See Olav Gutting's other Tweets
The parliamentary officials' comments are in alignment with a joint statement issued by their home country of Germany, Britain, and France. The European countries blamed Iran for the attack on Saudi Arabian oil facilities and said the time had come for Iran to accept negotiations on its missile program and issues of regional security.
On September 14 drone attacks caused fires at two Saudi Aramco facilities, in Abqaiq and Hijrat Khurais oilfield. The attacks knocked out more than half of Saudi Arabia's oil production and damaged the world's biggest crude processing plant.
US intelligence shows that the attack originated from Iran and the Arab Coalition's preliminary findings showed the weapons were made by Iran. Iran denied US accusations it was to blame and the Iran-backed Houthi militia claimed responsibility.
Saudi Arabia's Minister of State for Foreign Affairs Adel al-Jubeir has said that the Kingdom holds Iran responsible as the equipment used was Iranian-made.
Full report at:
https://english.alarabiya.net/en/News/gulf/2019/10/08/German-officials-visit-Abqaiq-oil-facility-say-Iran-is-responsible-.html
--------
Dozens demonstrate in northern Gaza to demand full lifting of siege
Oct 8, 2019
Dozens of Palestinians have staged a demonstration in the northern part of the Gaza Strip to demand that the Israeli authorities completely lift the blockade that has been imposed on the impoverished coastal enclave for more than a decade.
On Tuesday, the protesters converged near Erez crossing, which is situated at the northern end of the Gaza Strip and opens to the Israeli-occupied territories, in a demonstration organized by the syndicate of trade unions and the highest commission of "The Great March of Return."
The demonstrators waved Palestinian flags, and carried banners reading: "The unfair siege which has been imposed on the Gaza Strip must be unconditionally lifted," and "Gaza siege is the biggest crime against humanity."
Raed Abu Hassanein, spokesman of the syndicate, said the protest aims "to attract the world's attention to see the crime of the siege on Gaza has caused disastrous consequences that influenced the life aspects."
He called on the international community "to bear its responsibility and stand by the side of the Palestinians against the unjust siege that suffocates the people and fully disabled the trade union and all its fields in Gaza."
Abu Hassanein emphasized that unity among all Palestinian factions would certainly contribute to the lifting of the Gaza siege, calling on the Palestinian Authority officials to help residents of the Gaza Strip confront the blockade's consequences.
Palestinians have been holding "The Great March of Return" protests every week since March 30 last year. The Palestinians demand the right to return for those driven out of their homeland by Israeli aggression.
Israeli troops have killed at least 314 Palestinians since the beginning of the rallies and wounded more than 17,000 others, according to the Gazan Health Ministry.
The Gaza clashes reached their peak on May 14 last year, on the eve of the 70th anniversary of Nakba Day (Day of Catastrophe), which coincided with the US embassy relocation from Tel Aviv to occupied East Jerusalem al-Quds.
In March, a United Nations fact-finding mission said that Israeli forces were committing rights violations during their crackdown against the Palestinian protesters in Gaza that may amount to war crimes.
Gaza has been under Israeli siege since June 2007, which has caused a decline in living standards.
Full report at:
https://www.presstv.com/Detail/2019/10/08/608187/Dozens-demonstrate-in-northern-Gaza-to-demand-full-lifting-of-siege
--------
Israeli forces put occupied West Bank on lockdown for rituals
Oct 8, 2019
Israeli military forces have put the occupied West Bank on complete lockdown in order to pave the way for Israeli settlers to perform religious rituals in Jerusalem al-Quds.
According to Palestinian media, Israeli army has announced that all crossings into the occupied West Bank and the besieged Gaza Strip will remain closed until Thursday morning.
The Israeli military also said that border crossings between the occupied territories and the neighboring countries would be closed until Wednesday night on the occasion of the Jewish holiday of Atonement, also known as Yom Kippur.
Israeli forces have imposed traffic restrictions, with public transportation, government services and television broadcasters ceasing operations during the holiday. All flights from the Ben Gurion Airport in Tel Aviv were also canceled.
According to Palestinian media, more than 200 settlers, who were being escorted by armed Israeli forces, provocatively toured the al-Aqsa Mosque compound in the occupied Old City of East Jerusalem al-Quds to attend the ritual ceremony.
Yom Kippur, the holiest day in the Jewish calendar, begins at sundown Tuesday, and is marked by fasting, abstinence and prayer over its 25 hours.
The al-Aqsa compound sits just above the Western Wall plaza and houses both the Dome of the Rock and the al-Aqsa Mosque.
The Israelis regard the site as their most holy place, as it is located where Jews believe the First and Second Temples once stood. Palestinians say the Tel Aviv regime seeks to change the status quo of the sacred site.
The Jewish visitation of al-Aqsa is permitted but according to an agreement signed between Israel and the Jordanian government after Israel's occupation of East Jerusalem al-Quds in 1967, non-Muslim worship at the compound is prohibited.
Furthermore, the number of Israeli lawmakers who come to the sacred compound has increased after Prime Minister Benjamin Netanyahu decided last July to allow such visits once every three months.
In a separate development Israeli forces raided Palestinian home in the occupied West Bank on Monday night, arresting at least nine people.
The nine were detained over various allegations, including participation in anti-occupation protests, according to the Jerusalem Post.
In recent months, Israeli forces have frequently raided the houses of Palestinians in the West Bank, arresting dozens of people, who are then transferred to Israeli prisons, where they are kept without any charges.
Full report at:
https://www.presstv.com/Detail/2019/10/08/608153/Israel-settlers-alAqsa-mosque-Jerusalem-alQuds
--------
Iranian general 'played leading role' in crackdown on Iraqi protests
October 09, 2019
BAGHDAD: The Iraqi government sent Iranian-backed armed factions to crack down on demonstrations and kill protesters, senior Iraqi security officials and politicians told Arab News on Tuesday.
The groups are said to directly report to Gen. Qasim Soleimani, the commander of Iran's Revolutionary Guards.
"The general personally came to Baghdad a few days ago to manage the crisis," said a senior security official in Baghdad. "He gave the orders to brutally deal with the demonstrators, and even kill them to sow terror in the hearts of the rest.
"On his orders, Iraqi security leaders were excluded from (dealing with the protests), the internet was blocked, most local journalists covering the demonstrations were threatened and some local and Arabic satellite TV stations were set on fire."
There have been widespread demonstrations in Baghdad and seven southern, Shiite-dominated provinces over the past week in protest against corruption, high levels of unemployment and a lack of basic daily services. They turned violent when Iraqi riot police used live bullets and tear gas to disperse demonstrators who were trying to reach government and political party headquarters.
In the past eight days, more than 180 people have been killed and 7,000 injured, including security personnel, and dozens of government buildings, political party headquarters and military vehicles have been torched, security sources said.
Video footage recorded by demonstrators and activists reveals that many of the demonstrators who were killed were unarmed and not close enough to any security services or government buildings to pose a threat.
One of the videos seen by Arab News showed a young demonstrator running through a popular small marketplace to escape his pursuers. When he stopped to talk to someone a gunman approached and, from a distance of less than a meter, shot him in the head.
In a speech on Monday evening, Iraqi President Barham Salih acknowledged that excessive force had been used against demonstrators but added that the authorities did not give any orders to use deadly force, and the killers are criminals.
"Targeting peaceful demonstrators and security forces with live bullets ... is unacceptable in Iraq, which we have accepted and pledged to be a democracy in which rights and freedoms are fostered," he said.
"The government and the commanders of the security services assure us that there were no orders to shoot, and that these abuses, the excessive violence and the targeting (of demonstrators) with live bullets, were not (the result of) a decision by the state and its agencies. Consequently, the perpetrators are criminals and outlaws."
Security chiefs said Prime Minister Adil Abdul Mahdi ignored their recommendations not to use force against protesters as long as they did not pose a threat to citizens or the state, and to try to calm their anger. Rather than allow some time to find a peaceful solution, he ordered armed factions allied with the government to deal with the situation, security officials said.
The factions that took to the street are said to be the Badr Organization, the largest armed Shiite group, Asaib Ahl Al-Haq, Sayyid Al-Shuhada Brigades and Saraya Al-Khorasani. Security leaders, politicians and activists said these groups played a pivotal role in cracking down on the demonstrations and the killing of demonstrators.
Iraqi authorities on Tuesday blocked internet access for an eighth consecutive day in an attempt to control the protests and prevent demonstrators from sharing videos and pictures that they hope will help gain more domestic and international support.
Most Iraqi and foreign journalists and activists who were reporting on or monitoring the protests left Baghdad over the past week after receiving warnings that warrants had been issued for the arrest of dozens of them under terrorism legislation, the punishment for which includes the death penalty or life imprisonment.
"We have nothing to do with any of these measures," said a senior National Security Council official. "Everything related to the demonstrations is currently managed by the Popular Mobilization Security Directorate. Even the arrest warrants issued against journalists and activists, we have nothing to do with them. The situation gets worse day after day."
The Popular Mobilization Forces is a governmental umbrella organization, established in June 2014, composed of pro-Iran Shiite armed factions and individuals who volunteered to fight Daesh alongside the Iraqi government. The Badr Organization, Assaib Ahl Al-Haq and several other factions form its backbone.
Abdul Mahdi on Sunday announced a package of policies he described as exceptional, including the creation of thousands of jobs, the construction of housing for poor families, loans for the unemployed, and the chance for thousands expelled from military service to return to their units and for volunteers to join the army. It coincided with large-scale arrests of protesters or anyone else involved in the demonstrations.
The protests in Baghdad have greatly diminished since Sunday. There are now only small groups concentrated in Sadr City, east of Baghdad, and the surrounding areas. However, they have been the deadliest in the city to date, with 57 killed and more than 1,000 wounded, 205 of whom are in a critical condition, security and medical sources said.
"What Abdul Mahdi and his allies have done to the protesters is particularly brutal," a key organizer of the demonstrations told Arab News. "They may silence the demonstrations by force for now but we will soon return more strongly.
Full report at:
https://www.arabnews.com/node/1566211/middle-east
--------
Africa
UN Security Council urges progress in South Sudan
8 October 2019
The UN Security Council said on Tuesday that a peace deal in South Sudan signed a year ago is "a window of opportunity" to end the civil war in the world's newest nation and achieve "sustainable peace and stability" - but it must be fully implemented.
The UN's most powerful body said in a statement approved by all 15 members and read at an open meeting that it welcomes "initial progress" in implementing the agreement. That includes a reduction of political violence and the return of some opposition representatives to the capital Juba.
It welcomed recent meetings between President Salva Kiir and opposition leader Riek Machar, who returned to Juba in early September for the first time in nearly a year for talks in preparation for the formation of a coalition government in November.
The talks focused on speeding up the screening and reunification of forces in order to create a united national army before Machar's expected return again next month, where he'll once again serve as Kiir's deputy.
But the council expressed concern at "the dire humanitarian, human rights and economic situation in South Sudan," and condemned all violations of the peace deal and a December 2017 cease-fire.
It singled out "the ongoing conflict in the Equatorias region, and continued use of sexual violence as a tactic by the parties to the conflict against the civilian population."
Council members called on parties to the peace deal to quickly implement transitional security arrangements and work toward agreement on internal political boundaries.
They also called on parties that have not signed the peace agreement "to renounce violence, adhere to cessation of hostilities agreements, and seek a political resolution to their concerns" about the peace deal.
South Sudan is slowly emerging from five years of civil war that killed almost 400,000 people and displaced millions. The fragile peace deal signed last September so far has been marked by delays and continued fighting in parts of the country.
The Security Council said it looks forward to seeing "substantial progress" on these and other issues during its visit to South Sudan in late October.
It underscored "the pressing need to ensure accountability and end impunity for any violations of international humanitarian law in South Sudan."
The council warned that "actions which threaten the peace, security or stability of South Sudan may be subject to sanctions."
But it also affirmed that it is prepared "to adjust measures contained in these resolutions in light of the implementation of the parties' commitments, including the cease-fire."
https://english.alarabiya.net/en/News/middle-east/2019/10/08/UN-Security-Council-urges-progress-in-South-Sudan.html
--------
Sudan has received half of $3 bln aid promised by Saudi and UAE
8 October 2019
Sudan has received half of $3 billion in aid promised by Saudi Arabia and the United Arab Emirates in April and expects the remainder to be paid by the end of next year, Sudan's finance minister said late on Monday.
The Gulf countries agreed the aid package soon after former President Omar al-Bashir was ousted, throwing a lifeline to Sudan's new military leaders at the time.
Finance Minister Ibrahim Elbadawi said Saudi Arabia and the UAE had deposited $500 million in the Sudanese central bank, while $1 billion worth of petroleum products, wheat and agricultural production inputs had been received.
Long lines for bread and fuel are a recurring feature of Sudan's economic crisis.
"I met with the ambassadors of the Kingdom and of the UAE, and we agreed on a programmed schedule that will God willing take us to the end of 2020, to finish off the rest of the grant," Elbadawi said.
He was speaking on the sidelines of an event in Abu Dhabi, where Prime Minister Abdalla Hamdok is visiting after traveling to Riyadh earlier in the week.
There was no immediate response from the government media offices of Saudi Arabia and the UAE to a Reuters request for comment.
Sudan's new prime minister was accompanied on his visit to the Gulf by General Abdel Fattah al-Burhan, head of the transitional sovereign council, and other senior officials.
Full report at:
https://english.alarabiya.net/en/News/middle-east/2019/10/08/Sudan-has-received-half-of-3-bln-aid-promised-by-Saudi-and-UAE.html
--------
Niger soldiers killed in 'terrorist' attack in southwestern Dosso region
OCTOBER 8, 2019
Two soldiers were killed and five others wounded in a "terrorist" attack in southwest Niger, a region that until recently had been spared insurgent raids, the interior ministry said on Monday, October 7.
"A detachment of the security and defense forces [FDS] clashed Sunday with heavily armed terrorists in a valley near Dogon Kiria," the ministry statement said.
"Following intense combat the enemy was pushed back," it said, leaving two soldiers dead and five wounded, while the "enemy" casualties were not yet known.
It was the second such attack in the Dogondoutchi department of Dosso region which until recently had been spared raids by armed groups. In February, two gendarmes and a civilian were killed in an attack by armed men at Bagaji, a village in the region.
One of the world's poorest countries, Niger lies in the heart of the fragile Sahel region.
Niger faces insurgency on two fronts: the southeastern Diffa region near Lake Chad is increasingly frequently hit by Islamic State West Africa Province fighters whose insurgency began in Nigeria, while militants based in Mali, including al-Qaeda-affiliated fighters, are active in the west of the country and the wider Sahel.
Attacks carried out by ISIS-affiliated militants in the Sahel have previously been attributed to Islamic State in the Greater Sahara but since May, Islamic State has attributed insurgent activities in the Mali-Burkina Faso-Niger tri-border area to ISWAP, rather than ISGS.
Full report at:
https://thedefensepost.com/2019/10/08/niger-terrorist-attack-dogondoutchi-dosso/
--------
U.N. peacekeeper killed, four wounded in Mali mine attack
OCTOBER 7, 2019
BAMAKO (Reuters) - A U.N. peacekeeper was killed and four others wounded on Sunday when their vehicle hit an explosive device in northern Mali, the U.N. mission (MINUSMA) said.
The identity of the attackers was not immediately clear.
U.N. peacekeeping and French forces are stationed in Mali to combat jihadist groups seen as threatening security across Africa's Sahel region.
The soldiers had been participating in a patrol near the village of Aguelhok when the blast hit, U.N. mission spokesman Olivier Salgado tweeted. Elsewhere on Sunday, peacekeepers in Mali's central region of Mopti exchanged fire with members of an unidentified armed group after they came under attack, he said.
"MINUSMA chief (Mahamat Saleh) Annadif strongly condemns the recent resurgence of this type of attacks, particularly in the centre of the country," he said.
The West African country has been in conflict since 2012 when Islamists hijacked an ethnic uprising by Tuaregs in the north. More recently the violence has moved to central Mali, where fighting between farmers and herders has also surged this year.
Jihadist groups have exploited ethnic rivalries in Mali and its neighbours to boost recruitment and render swathes of territory ungovernable.
Full report at:
https://af.reuters.com/article/topNews/idAFKBN1WM0OV-OZATP
--------
Rwanda Searches for Motive After 14 Are Killed in Tourist Region
By Saul Butera
October 7, 2019
Rwanda is questioning suspects to try and establish why militants staged a rare attack in its northern mountainous region known for gorilla trekking, one of the nation's main tourist attractions.
At least 14 people where killed in the Friday attack in Musanze district, about 58 miles northwest of the capital, Kigali. Nineteen of the attackers were killed and five arrested, according to the National Police. The militants are members of Forces for the Liberation of Rwanda or FDLR, a rebel group based in neighboring Democratic Republic of Congo, the police said.
"We are interrogating the suspects at the moment to establish what their motive was," police spokesman John Bosco Kabera said Monday by phone. "We don't know what exactly motivated them."
Rwanda's economy is among Africa's fastest-growing, partly driven by its tourism sector that President Paul Kagame helped build as part of a recovery programme after the genocide in 1994. The nation started an airline, built a convention center and hotels, signed a sponsorship deal with English Premier League soccer team Arsenal and is constructing a new airport in bid to boost tourism as a step to attaining middle-income status by 2035.
Rwanda Says Four Gunmen Killed in Battle With Congo-Based Rebels
All visitors to Volcanoes National Park in the region, "were and continue to be safe," state-run Rwanda Development Board said in a statement. Thousands of guests have visited the park over the past two decades and there have been no security incidents, according to the statement.
Mountain Gorillas
There are fewer than 1,000 mountain gorillas left in the world and the primates can only be found around the border of Rwanda, Uganda and DRC, and in Uganda's Bwindi Impenetrable National Park. Rwanda is monitoring 329 of the primates in its territory, its tourism agency said in August.
Security has been restored in the area and the hunt for the attackers continues, the police said in a statement on its Twitter account earlier.
Full report at:
https://www.bloomberg.com/news/articles/2019-10-07/rwandan-rebels-kill-14-in-rare-attack-in-tourist-region
--------
24 al-Shabab militants killed in Somalia
2019-10-07
MOGADISHU, Oct. 7 (Xinhua) -- Somali army backed by Jubaland state forces on Monday killed 24 al-Shabab militants and injured more than 19 others in an offensive in Lower Jubba region, an official confirmed.
Khiyar Abdi Mohamed, commander of one of Jubbaland units, told journalists that the joint offensive was conducted in the outskirts of Kismayo town after the forces got intelligence of the militants' presence in the area and the forces inflicted severe casualties on the militants.
"There was a fierce fire exchange between our army and the militants, but the forces defeated the extremists and killed 24 of them and injured more than 19 others," said the commander.
He noted that among the dead including the militants' commander in the western villages of Kismayo.
Locals reported heavy gun battle in the village. "As the militants were gathering in the town, they were suddenly attacked by government forces, both exchanged gunfire which caused casualties of warring sides and the residents," Hafsa Elmi, a resident told Xinhua by phone.
On Sept. 29, the Somali military army backed by African Union forces killed 20 al-Shabab militants in another offensive in the country's southern region of Lower Shabelle.
Full report at:
http://www.xinhuanet.com/english/2019-10/07/c_138454087.htm
--------
Troops rescue three from Boko Haram in Bama
October 7, 2019
Troops of Nigerian Army have rescued three kidnapped civilians from the Boko Haram terrorists at Firgi village in Bama Local Government Area of Borno State.
Col. Aminu Iliyasu, the Nigerian Army Operations Media Coordinator, disclosed this in a statement on Monday in Abuja.
Iliyasu said the troops safely detonated Improvised Explosive Devices planted on Bitta-Yamteke road in Borno State, by the terrorists.
Iliyasu explained that the victims were rescued after the troops; acting on information blocked and engaged the terrorists in a fierce gunfight.
He confirmed that a truck loaded with grains was recovered from the terrorists, adding that they succumbed to superior firepower by abandoning the truck and fleeing in disarray.
According to him, the troops are still on the trail of the criminals, while the rescued victims have been escorted safely back to their destination.
"Troops continue to dominate the area and deny the criminal elements freedom of action within the entire theatre of operation,'' he said.
Iliyasu also disclosed that troops have raided hideouts of some identified kidnap kingpins in Obio/Akpor, Tai and Gokana LGAs of Rivers State and arrested four high profile suspects.
He added that the suspects had been on the wanted list.
Full report at:
https://punchng.com/troops-rescue-three-from-boko-haram-in-bama/
--------
Ethiopia accuses Egypt of trying to maintain its grip over the Nile's waters
8 October 2019
Ethiopia has accused Egypt of trying to maintain its grip over the waters of the Nile with a proposal it says would imperil a giant hydropower dam under construction on Ethiopia's Blue Nile, in a growing diplomatic spat.
The comments highlight the difficulties finding a compromise between the two countries over the Grand Ethiopian Renaissance Dam (GERD). Two rounds of talks over the past month in Egypt and Sudan failed to produce progress.
Egypt relies on the Nile for up to 90 percent of its fresh water, and fears the dam, which is being built in Ethiopia close to the border with Sudan, will restrict already scarce supplies.
After talks had stalled, Egypt had submitted a proposal on August 1, including conditions over filling the reservoir, which Ethiopia rejected.
In an explanation for its decision, Ethiopia said the Egyptian plan was "one-sided," flawed, and would ultimately hamper its economic development.
"Egypt's proposal is an effort to maintain a self-claimed colonial era-based water allocation and veto power on any project in the Nile system," the Foreign Ministry said in an October 1 note circulated to embassies, a copy of which was seen by Reuters.
The Egyptian Foreign Ministry could not be immediately reached for comment.
Full report at:
https://english.alarabiya.net/en/business/energy/2019/10/08/Ethiopia-accuses-Egypt-of-trying-to-maintain-its-grip-over-the-waters-of-the-Nile.html
--------
EU observers regret Tunisia 'silent campaign' ahead of vote
8 October 2019
An EU observer mission on Tuesday regretted the lack of campaigning for Tunisia's presidential run-off between a candidate detained in prison and a rival who has called off his own canvassing for votes.
Business tycoon Nabil Karoui has been behind bars since late August - just before campaigning began for the first round - in a money laundering probe, but won through to the run-off on Sunday.
He will run against conservative law professor Kais Saied, who announced last Saturday that he would stop his campaign to keep a level playing field with his adversary.
"What we are seeing is an unprecedented situation - a campaign of silence instead of debate - because one cannot campaign and the other does not want to," said Fabio Massimo Castaldo, head of the EU observer mission.
The mission, as well as many Tunisian political bodies and officials, has called for Karoui to be able to campaign freely, but courts have rejected several appeals for his release.
Nazih Souei, a lawyer for Karoui, told AFP on Tuesday that his client has lodged a suit to postpone the second round until he is free and able to campaign.
"We still hope there will be opportunities, ways of allowing each candidate to express his view," Castaldo said, while expressing support for the Tunisian judiciary, told a news conference.
"Our concern is that every voter has access to the positions of the different candidates so as to shape an informed opinion," he added.
The EU observer mission also regretted that Nessma TV, a channel founded by Karoui, had not been officially granted permission to broadcast on the election.
Tunisia's legislative elections held on October 6, however, had been "well organized," it said.
Full report at:
https://english.alarabiya.net/en/News/north-africa/2019/10/08/EU-observers-regret-Tunisia-silent-campaign-ahead-of-vote-.html
--------
URL: https://www.newageislam.com/islamic-world-news/religion-divide-religion-unites-muslim/d/119953
New Age Islam, Islam Online, Islamic Website, African Muslim News, Arab World News, South Asia News, Indian Muslim News, World Muslim News, Women in Islam, Islamic Feminism, Arab Women, Women In Arab, Islamophobia in America, Muslim Women in West, Islam Women and Feminism