New Age Islam News Bureau
28 Oct 2014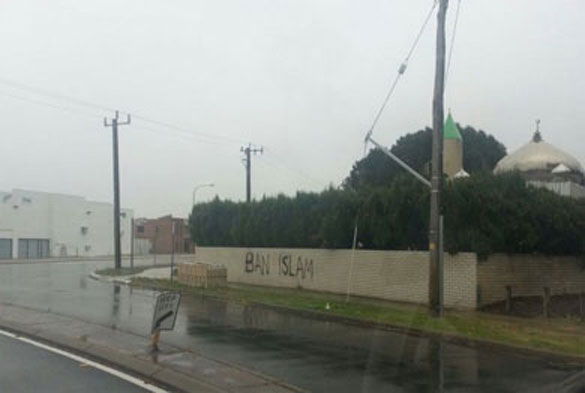 Taroudant – Two mosques and a Muslim school were vandalized last weekend in the city of Perth, Western Australia, according to ABC news.
----------
India
• Regain Lost Glory, Al Qaeda Tells Indian Muslims
• Anti-Muslim Sentiment Gives Social Sanction to BJP in Tagore's Land
• Indian man jailed in US for supporting Hezbollah
• Show of Solidarity with Kashmir, Demonstration and Rallies in Pakistan
-----------
Africa
• Nearly 40 Boko Haram Militants Killed In Cameroon
• Leader: Tunisian National Unity Is More Important Than Sharia, Jihad
• Tunisian Islamists concede polls defeat to secular party
• Pakistan offers services of defence industries to Nigeria
• Israel violence as dangerous as ISIL actions: Jordan
-----------
Australia
• Australian teenager appears in new IS video
• Australia: Muslim School and Two Mosques Vandalized
-----------
South Asia
• Bangladesh, UAE for combating terrorism including IS
• Afghan forces kill 27 Taliban militants across country
• Another 'Huji member' held in Dhaka
• Taliban storm Afghan court; seven killed
• Nizami verdict now Wednesday
-----------
Pakistan
• Balochistan taking steps to end sectarian terrorism, insurgency: Malik
• 33 militants killed in NWA air strikes
• Jamaat-e-Islami for Teaching India a Lesson
• 'Over Rs46.8b spent on fighting terror war'
• Aitzaz asks MQM to keep religion out of politics
• Alleged rigging: PTI to demonstrate outside ECP building
• US special envoy in Pakistan for consultations with civil, military leaders
• Capital gets major chunk of funds for war on terror
• 'Sacrifice of Hazrat Imam Hussain a beacon of light'
-----------
Arab World
• For Iraq's Sunnis, sectarian militias pose an extra threat
• Suicide Bomber Kills 27 in Iraq
• Lebanon army enters militant refuge after thousands flee
• Saudi lawyers jailed, banned from media over Tweets
• Lebanon army back in control of Tripoli
• Egypt expands terror-linked military trials of civilians
• Education plays key role in fight against extremism
-----------
North America
• Us Unveils Coalition with Muslim and Western Nations to Fight Islamic State in Cyberspace
• Us Officials Should Have Better Ties with Muslims: American Analyst
• Insecurity and opium blight Afghan province as British leave
• US senate warns against disengagement from Afghanistan
• New video shows US police shot black man 45 times like 'firing squad'
-----------
Mideast
• Israel green lights plans for 1,000 Jerusalem settler homes
• About 250 killed in 3 days fighting in Yemeni town
• MEPs urge Turkey to cooperate in battle against ISIL
• Al-Qaeda-linked militants retreat from southern Yemen
• Israel plans to build Palestinian-only city
• Terrorism, extremism more dangerous than Ebola: Rouhani
• Iraq, Syria can contain terror on their own: Iran top diplomat
-----------
Europe
• BBC trending: Young Muslim Canadians - 'We are human after all'
• Tehran, Riyadh must be involved in Syria talks: Russia FM
• UK plans to hike arms sales to Qatar: Report
-----------
Southeast Asia
• Malaysia court hears Anwar sodomy appeal
• New home minister to delve into minority issues
• Three things we learned from: The backlash against 'I Want to Touch a Dog'
Compiled by New Age Islam News Bureau
URL: https://newageislam.com/islamic-world-news/regain-lost-glory,-al-qaeda/d/99761
-----------
India
Regain lost glory, al Qaeda tells Indian Muslims
October 28, 2014
In its recently launched English mouthpiece Resurgence, Islamic terror outfit al Qaeda has called upon Indian Muslims to regain their lost glory by visiting "Free Afghanistan" and then return to India to engineer jihad.
"The time has come for the Muslims of India to play a proactive role in the Jihad in Afghanistan and benefit from the experience of forty years of Jihad so that they may build a better future for coming generations," the outfit claimed in an article titled 'The Future of Muslims' in India.
The article is written by Maulana Aasim Umar and is spread over six pages. Umar has been introduced as 'ameer of jama'ah qaeda al-jihad in the subcontinent' that roughly means the head of operations in the Indian subcontinent.
The article predicts, "sooner or later, the Muslims of India too will come to the realisation that their future is inextricably linked to the success of the Afghan Jihad".
The first issue of Resurgence has 177 pages, and is not readily available on the net in India. However, intelligence officers point out that one can get hold of the magazine through a circuitous route on the net.
The article alleged that Brahmins and upper-caste Hindus in India have reduced Muslims to the status of Dalits, and no institution in India, including the supreme court, stands for the Muslims.
Intelligence officers in West Bengal apprehend that this article on India, or the entire magazine, would soon be translated into Bengali and that would enter India through Bangladesh.
However, Banibrata Basu, additional director general, intelligence branch did not reply to HT's calls and text messages.
Police and security agencies are already seized with the situation in Bengal where the October 2 blasts in Burdwan have exposed a deep terror network mainly set up by Bangladeshi jihadi elements.
"Al Qaeda had a track record of translating all their important publications into Bengali, meant especially for Bangladesh. However, a good number of these articles in Bengali are also transported in West Bengal," an intelligence officer monitoring Islamic terror activities told HT on the condition of anonymity.
"It is the symbol of Muslim dominance that has unfortunately been forgotten by the Muslims of India…it is an irony of fate that those who had ruled India for centuries have been forced out of their homes, left with no choice but to live in refugee camps," said the article.
"How can the spiritual sons of Muhammad bin Qasim, Mahmud Ghaznavi, Aurangzeb and Tipu Sultan Shaheed even forget this humiliation…?" Umar wrote.
The magazine, Resurgence, focused significantly on the Indian subcontinent and carried separate articles on India, Pakistan, Bangladesh and Afghanistan. The article on India started with a photograph of Modi with a sword. In an article on Bangladesh, written by Sulaiman Ahmed, the magazine takes a strong anti-India stance and equates it with the West as an enemy of Islam.
http://www.hindustantimes.com/india-news/regain-lost-glory-al-qaeda-tells-muslims/article1-1279636.aspx
-----------
Anti-Muslim sentiment gives social sanction to BJP in Tagore's land
Oct 28, 2014
KOLKATA: From Singur to Simulia, the political scene in Bengal is undergoing a paradigm shift. Once the key players — Congress and Left Front — that ruled the state for long 64 years, are no longer the front runners. Even the Trinamool's coming to power in 2011 seems to be a development in the passing. The Tata factory in Singur is a dated debate by now, with public attention turning to terror factories spread across the state.
Bengal has a history of political terror. Gory incidents in Suchpur, Nanoor, Nandigram, Arambagh showcase the terror story followed by Maoist ambush in Jangalmahal during the Left Front regime. The Mamata Banerjee government continued with the legacy as evident from the recent killings in Burdwan, Parui and Bhangar. But all these were law and order issues till the Burdwan blast gave violence a new dimension altogether. It showed that the danger has come closer home.
Terror as such, has no religion and it ignores geographical boundaries. Yet, the developments in Khagragarh and Simulia have a religious subtext. Preliminary findings by the National Investigation Agency show that terrorists have used some of unrecognised madrasas — centres of Islamic theological training set up to teach atfal among muslim kids. Launcher designs, deadly chemicals such as potassium chlorate and picric acid, recovered the blast site point to a larger design, posing a threat to national security. Nearly a year ago, human rights activist Shahriar Kabir in Kolkata touched upon the contours of growing Islamic fundamentalism in his book named Potrait of Jihad.
The shock has brought back some issues on the back of the public mind from the days of Partition. Take a peek at the informal discussions in city parks — Regent Estate, Santoshpur, Jadavpur, Bijoygarh in south Kolkata, initially refugee settlements and Left strongholds. The educated urban middle class has started talking about "minority appeasement", "vote bank" politics and state governments — Left Front and Trinamool — going soft on infiltration from Bangladesh that has made way for terrorists. The apathy is slowly taking shape into a hate campaign against Muslims as one moves northward — Dum Dum, Belghoria, Kamarhati, Panihati, Barasat and Basirhat — in North 24 Parganas. The anti-muslim sentiment has given a social sanction to the BJP in Tagore's land. The ghotis (people rom this part of Bengal) and the hindi speaking population from Bhowanipore to Shyampukur have found in the Modi government a tool to keep the Muslims under leash.
The bottomline is that the secular vote in Bengal's urban and peri-urban areas is under siege. Even mainstream parties including the Left have got their supporters divided on religious lines at the grassroots. No wonder then, that the BJP is the rising force. Going by the 2014 Lok Sabha poll results, the BJP has emerged as a determining force in six districts — Kolkata (27.27%), North 24 Parganas (21.43%), Nadia (21.12%), Dakshin Dinajpur (22.50%), Jalpaiguri 23.24%) and Darjeeling (47.68%). The party had an alliance with the Gokha Janmukti Morcha (GJM) in the Darjeeling Lok Sabha seat. The party is ahead in as many as 24 assembly segments, while the Left are in 28. BJP won Darjeeling and Siliguri and its candidate for south Kolkata was ahead of the Trinamool in Mamata Banerjee's home turf Bhowanipore assembly segment though he ended up second in the race.
The saffron surge didn't plateau here. BJP candidate Shamik Bhattacharya won the Basirhat assembly polls devouring the Left in a constituency that had elected CPM's Narayan Mukherjee seven times in a row. "Even sections of muslims disillusioned with the Trinamool government has joined our party in pockets of Birbhum and South Parganas. In fact the party's first martyr in the run up to the Lok Sabha polls is a muslim," said Bhattacharya. The party's membership has doubled during this period, it is expecting a major breakthrough in the coming city civic polls.
Not only Basirhat, the BJP's gain has mostly been the Left's pain in all the districts. The CPM in its electoral analysis has conceded that it is not being able to attract the new voters. "For a population that has never suffered major riots after 1964, it is difficult to explain the BJP danger simply by the Godhra riots. The new generation has believed in Narendra Modi's achhe din campaign. It will continue till the dream shatters," a CPM leader said.
However, the BJP can't make a break through in Bengal by consolidating Hindu votes only. There is a counter consolidation going on among the Muslims who are determining force in as many as 51 of the 294 constituencies in Bengal. Taken together with Dalits like the Mulayam-Mayawati model, the figure goes up to 141 — the reason why BJP is concentrating on the Dalits in Bengal.
"We all condemn terrorism, and acts of subversion against our country. But why is this effort to link madrasa education with terrorism? The NIA should identify terrorists who misused the madrasa. But would it be fair to link the Malegaon blasts with Hinduism on the plea that some Sadhvi's name came up in the blast?" said Shahnaj Nabi, head of the department of urdu, Calcutta University. "I have no objection if all the madrasas including the unrecognised ones are brought under some sort of a monitoring by a body with representation from muslim clerics. But I won't accept the terrorist tag given with a motive on madrasas," she said.
Saying that Indian muslims have equal share in the country's freedom, Nabi said: "We didn't leave this country during the 1964 riots in Kolkata. Why should one brand the entire muslim population as terrorists?" Nabi instead harped on cooperation between people of the countries — India and Bangladesh. "Now I am afraid. I will think twice before going on a delegation to a university in Bangladesh. Some people may suspect that I am going there with some ulterior motive," Nabi said. The urdu professor isn't happy with the Mamata Banerjee government. "Mamata Banerjee should come forward and take a bold stand. I have criticisms against the Left Front. When in government for so long, the party didn't empower the muslims in the fields of education and jobs. But one thing it did. It made us feel secure," the CU HOD said. She hastened to add that a large section of muslims might vote for Mamata only to keep the BJP at bay as the Left is no longer a major force in many constituencies.
Qari Altaf ur Rahman runs the Babul Quran Ajmatia Madrasa at 11 Watgunge Road. "It is an unrecognised madrasa meant to teach salamti to kids from 6-10 years. We give them theological training along with bengali and hindi. Come to my place and see if I am spreading terrorism," the madrasa head said. The qari is however averse to taking government recognition. "Whenever the government comes in and funds the madrasa it will push its representatives which we don't want. I have no faith in political parties, and governments other than the Supreme Court," said Rahman.
Hindu activists, on the other hand, is not a mood to accept the independence that religious minorities — muslims, buddhists, christians — enjoy as provided in the Constitution. They point to the private unaided schools namely Sarada Sishu Tirtha or the Banabashi Kalyan Samity — being run allegedly by hindu missionaries at Nagrakata, or other places in Alipurduar and Jalpaiguri in north Bengal that are recognised by the state board.
Congress leader and MLA from Alipurduar Debaprasad Roy blames the Mamata Banerjee government for distorting secular politics. "Mamata Banerjee claims that she runs a secular party, but her overtures are actually distorting it. On one hand, she is gagging the dissenting voice, and her men are luring elected representatives of the Opposition to manufacture consent for Trinamool. She is creating division everywhere for narrow political gains thus prompting people to think of saffron as alternative," Roy said.
Sensing the public mood, the Left Front is trying hard to go back to the masses and take up economic issues affecting their lives. CPM politburo member Surjya Kanta Mishra has been leading the peasant jathas that have touched 30,000 of the 38,000 villages in Bengal. CPM central committee member Shyamal Chakrabarty reminisced the days of the tebhaga movement in the late Forties. "It began just days within the Great Calcutta killings in 1946, turning the country's attention to the peasant movement, and not riots. We need to build movements on issues that can touch the minds of masses," Chakrabarty said. That is less easy than said. CPM is a decaying force till date and people are not in a mood to choose the Left Front as Trinamool's alternative. In a hurry to come back to power, CPM leader Gautam Deb is in a way trying to play up the matua issue with an eye on the Bongaon assembly bypoll where the matua community, comprising mostly of namashurdras from Orakandi in Bangladesh, is a majority. The CPM's North 24 Parganas unit has planned a stir with the matuas coming to India after the cut-off date March 25, 1971, asking for their refugee status. The slogan goes in tune with the BJP's slogan for treating hindu migrators from Bangladesh as refugees, and muslims as infiltrators.
Mamata Banerjee isn't indulging in this debate. For she has a minister from the matua community in her Cabinet. What annoys her is the rising rising resentment among men who brought her to power. Her urban middle class vote bank is under threat. Mamata thus eyes on the rural poor including the muslims to steer clear in the electoral battle. She has a long list of doles on offer. It includes the hundred-days work, free treatment in district hospitals, free distribution of winter garments among students of government and government-aided schools and rations at Rs 2 a kg. The party enjoys popular support in the rural belt still as evident in the Basirhat by polls. BJP won, but Trinamool increased its vote share squeezing out the Left in rural Basirhat.
http://timesofindia.indiatimes.com/city/kolkata/Anti-Muslim-sentiment-gives-social-sanction-to-BJP-in-Tagores-land/articleshow/44954726.cms
-----------
Indian man jailed in US for supporting Hezbollah
October 28, 2014
A 50-year-old Indian man, who was residing illegally in the US, has been sentenced to 15 years in prison by a US court for conspiracy and attempting to provide material support to Lebanese group Hezbollah.
Patrick Nayyar, was sentenced in Manhattan federal court on Monday by US district judge Robert Sweet for crimes related to the support he attempted to provide to Hezbollah, which has been designated as a foreign terrorist organisation by the US.
Nayyar was convicted in March 2012 after a seven-day jury trial, US Attorney for the Southern District of New York Preet Bharara said.
According to the superseding indictment filed in court, between July 2009 and September 2009, Nayyar and his co-conspirator, Conrad Stanisclaus Mulholland, agreed to provide weapons, ammunition, and vehicles to Hezbollah.
During a series of meetings with a confidential informant working with the FBI, who represented himself as able to deliver materials to Hezbollah, Nayyar and Mulholland agreed to sell guns, ammunition, vehicles, bulletproof vests, and night-vision goggles to the confidential informant.
During these meetings, Nayyar and Mulholland also provided the informant with a handgun, a box of ammunition, and a pick-up truck, believing that the informant would deliver the items to Hezbollah in Lebanon.
Nayyar was charged in the Southern District of New York in October 2009, following his arrest at his residence in Queens here in September 2009 on a separate charge.
Nayyar's co-conspirator Mulholland, 47, who is not a citizen of the US and resides abroad, left the US before charges were filed, and remains at large.
http://www.hindustantimes.com/india-news/indian-man-jailed-in-us-for-supporting-hezbollah/article1-1279712.aspx
-----------
Show of Solidarity with Kashmir, Demonstration and Rallies in Pakistan
October 28, 2014
LAHORE - Kashmiris staged demonstration and held rallies across the country including Lahore to mark the October 27 as Black Day, conveying world that they rejected India's illegal occupation on Jammu and Kashmir.
It was on this day in 1947 when Indian troops had invaded Jammu and Kashmir and occupied it in total disregard to the partition plan of the Subcontinent and against the aspirations of the Kashmiris. The United Nations Security Council passed several resolutions mandating a plebiscite in Jammu and Kashmir to determine the future of the territory but India never accepted it. India is controlling Kashmir through its army and its brutalities against the innocent people have been continuing for years to crush their right to self-determination.
Kashmiris mark October 27 as black day every year to ask the world for pressurising India for their self-determination right.
A big number of Kashmiris held protest against Indian aggression in front of Lahore Press Club on Monday. Kashmir Centre Lahore organised the event. Leader of Pakistan Peoples' Party AJK Lahore, PML-N AJK Lahore, and Jamaat-e-Islami AJK Punjab, JUI AJK Lahore, Kashmir Journalist Forum, Jammu Kashmir Lawyers' Forum, Kashmir Study Forum, Muhajireen Ladakh Forum, different colleges and universities students, representatives of other political and religious parties, civil society, minorities and large number of people from different walks of life attended the protest against India. They chanted slogans for self-determination right in Indian held Kashmir and demanded the UNO and world powers for pushing India for their basic right of self-determination.
Known minority leader J.Salik, Director Kashmir Centre Sardar Sajid Mahmood, MPA Farzana Nazir, Ghulam Mohiuddin Dewan, Naseebullah Gardezi, Ghulam Abbas Mir and other leaders addressed the protestors.
They said that Kashmiris would never compromise their self-determination right. Days were not so ahead when the Kashmiris would get rid of Indian brutalities on them and would be the part of Pakistan, they said. The torch of struggle against Indian illegal occupation was now in hands of third generation of Kashmiris and they would continue their fight till the freedom from Indian cruelties, said the leaders.
Media reported that call for the shutdown had been given by Hurriyet leaders including Syed Ali Gilani, Mirwaiz Umar Farooq, Shabbir Ahmed Shah and Muhammad Yasin Malik and supported by other pro-freedom organizations and the High Court Bar Association of the occupied territory.
http://nation.com.pk/lahore/28-Oct-2014/show-of-solidarity-with-kashmir
-----------
Africa
Nearly 40 Boko Haram militants killed in Cameroon
Oct 27, 2014
Cameroon says its army has killed nearly 40 Boko Haram Takfiri militants who conducted a series of attacks in the country's northern region.
Cameroon's Defense Ministry said on Sunday that the Boko Haram militants raided a refugee camp in northern part of Cameroon near the Nigerian border on October 24.
The raid triggered deadly fighting during which, the ministry said, several Nigerian refugees died and a Cameroonian civilian was wounded. At least 39 members of Boko Haram were also killed.
The militants carried out two ambushes on the Cameroon soil, but the moves were repelled, the army added.
Full report at:
http://www.presstv.ir/detail/2014/10/27/383827/cameroon-kills-boko-haram-militants/
-----------
Leader: Tunisian National Unity is more important than Sharia, Jihad
October 25, 2014
By: Ali Younes
Speaking to Sheikh Farid al Baji on the eve of the Parliamentary elections in Tunisia due to take place this coming Sunday was full of surprises. Al Baji, 46, who spoke to me at his office in the Tunisian capital, Tunis, is outspoken and is perceived as controversial about his political positions on Islamic law, and on political Islam. He told me with a big smile on his face that "Terrorism is the biggest problem facing Arab and Muslim societies today and in order to combat it, Muslims should stand united against Political Islam." He also heads an anti- terrorism center in cooperation and affiliation withe Tunisian law enforcement agencies and is very proud about that. He sees his efforts in this direction as his religious and patriotic duty toward his country.
The Shaikh;s work can only be understood in the contest of political Islam that has been sweeping the region and is a very sensitive topic in Tunisia since Islamist party Ennahda is poised to win big in the upcoming elections this Sunday.
Ennahda has a majority of seats in the current parliament and has formed the previous government with two other center left parties. Al Baji , however, has urged his followers to vote against Ennahda because he considers the group as a " Salafist" organization at its core and that it supports and cooperate with terrorist Jihadist- salafist group in Tunisia called " Ansar Al Sharia" or the supporters of Islamic law.
Al Baji who heads " Dar al Hadith al Zaytouniya" an organization dedicated to the preservation and implementation of Prophetic tradition through the lenses of Tunisian Al Zaytounah university stands, doctrinally, in the opposite direction of the Islamic salafist traditions with all of its colors and diversity which include the Muslim brotherhood, Wahabist groups and terrorist organizations like ISIS or ISIL and in Tunisia, Ansar Al Sharia group. Al Baji commands large following among the Tunisian society especially those who oppose using Islamic ideology as their platform, and has made a lot of enemies as well as allies within and outside the Tunisian government.
While Ennahda which is headed by its long time leader, Rashid Ghannouchi , does not say that it seeks to implement Islamic law in Tunisia as the law of the land, but for al Baji, this is not enough. He claimed that the majority of the group supporters and its rank and file members are "extremist Salafists" and thus he warns against voting for it.
But Ennahda's official Samir Diyalo denied such accusations to me during a meeting in his office last week, and said that his party is in line with the Tunisian Islamic culture that it emphasizes a moderate Islamic laws and tolerance towards others. He also accused al Baji of having his own agendas.
Full report at:
http://thearabdailynews.com/2014/10/25/leader-tunisian-national-unity-important-sharea-jihad/
-----------
Tunisian Islamists concede polls defeat to secular party
October 28, 2014
TUNIS - Tunisia's Ennahda party, the first Islamist movement to secure power after the 2011 "Arab Spring" revolts, conceded defeat on Monday in elections that are set to make its main secular rival the strongest force in parliament.
Official results from Sunday's elections - the second parliamentary vote since Tunisians set off uprisings across much of the Arab World by overthrowing autocrat Zine El-Abidine Ben Ali - were still to be announced. But a senior official at Ennahda, which ruled in a coalition until it was forced to make way for a caretaker government during a political crisis at the start of this year, acknowledged defeat by the secular Nidaa Tounes party.
"We have accepted this result, and congratulate the winner Nidaa Tounes," the official, Lotfi Zitoun, told Reuters. However, he repeated the party's call for a new coalition including Ennahda. "We are calling once again for the formation of a unity government in the interest of the country." Earlier, a party source said preliminary tallies showed the secular party had won 80 seats in the 217-member assembly, ahead of 67 secured by Ennahda.
"According to the preliminary results, we are in the lead and in a comfortable position," one Nidaa Tounes official said, without confirming figures given by the first source.
One of the most secular Arab countries, Tunisia has been hailed as an example of political compromise after overcoming a crisis between the secular and Islamist movements and approving a new constitution this year that allowed the elections.
Electoral authorities were due to give preliminary results later on Monday, but larger parties had observers at polling stations to oversee the initial counts, allowing them to tally results unofficially.
Ennahda, which espouses a pragmatic form of political Islam, won Tunisia's first free election in 2011 after Ben Ali fled protests against corruption and repression, and went into exile in Saudi Arabia.
The party formed a coalition government with two secular partners but had to stand aside in the crisis that erupted over the murder of two opposition leaders by militants. During campaigning Ennahda cast itself as a party that learned from its mistakes, but Nidaa Tounes appeared to have capitalised on criticism that it had mismanaged the economy and had been lax in tackling hardliners.
A Nidaa Tounes victory will open the way for the return of some Ben Ali-era figures who have recast themselves as technocrats untainted by the corruption of his regime, but possessing the administrative skills to run the country.
Since its revolt, the small North African state has fared better than its neighbours which also ousted long-ruling leaders during 2011, avoiding the turmoil suffered by Egypt and the outright civil war of Syria and chaos of Libya.
Many Tunisians are proud of their history of liberal education and women's rights dating back to Habib Bourguiba, the first president after independence from France, and Essebsi portrayed his party as the force of modernity.
Full report at:
http://nation.com.pk/international/28-Oct-2014/tunisian-islamists-concede-polls-defeat-to-secular-party
-----------
Pakistan offers services of defence industries to Nigeria
October 27, 2014
Minister for Defence Khawaja Muhammad Asif sharing views with Nigerian Chief of Air Staff Air Marshal Adesola Nunayon Amosu
ISLAMABAD – Nigerian Chief of Air Staff Air Marshal Adesola Nunayon Amosu called on Minister for Defence Khawaja Muhammad Asif and Minister for Defence Production Rana Tanveer Hussain separately on Monday.
During his meeting, the defence minister said that Pakistan has been fighting successfully the menace of terrorism. "We can extend training to Nigeria to overcome the problem," he said. "Our armed forces have sacrificed greatly in this regard and it is because of the high standards of training that we have been able to curtail extremism," he said.
In a meeting with Tanveer Hussain, areas of defence production were generally explored. Pakistan emphasised the need to enhance defence cooperation between the two countries and offered services of its defence industries to Nigeria. During the meeting, the minister stressed that Pakistan produces the top of the line aircraft JF-17 Thunder which can be equaled to some of the best aircrafts in the world.
Full report at:
http://www.dailytimes.com.pk/national/27-Oct-2014/pakistan-offers-services-of-defence-industries-to-nigeria
-----------
Israel violence as dangerous as ISIL actions: Jordan
Oct 28, 2014
Jordanian Parliament Speaker Atef Tarawneh has compared the Israeli regime's atrocities against the Palestinians to the ISIL Takfiri militants' acts of violence in Syria and Iraq.
He made the remarks on Monday during a meeting with visiting Maltese Foreign Minister George William Vella, Jordanian media reported.
Tarawneh called on the international community to exert pressure on Israel to resume talks with the Palestinians and put an end to its "repeated violations against the holy sites" in East al-Quds (Jerusalem) as well as construction of settler units in the occupied Palestinian territories.
His comments mirrored earlier remarks by Jordanian King Abdullah ll who warned about "Zionist extremism" in the region last Monday.
The king said that people in the Middle Eastern country should join hands to keep threats posed by all extremists away from its borders, adding, "We have to think together how to deal with the various challenges."
Full report at:
http://www.presstv.ir/detail/2014/10/28/383867/israel-no-less-hazardous-than-isil/
-----------
Australia
Australian teenager appears in new IS video
October 28, 2014
An Australian teenager who ran away from his Sydney home in June to join Islamic State (IS) militants has featured in a second propaganda video.
Abdullah Elmir, 17, is pictured with other jihadist fighters saying they will "strike the necks of the infidel and Arab countries".
IS says the video was shot on a bank of the Tigris River in Mosul, Iraq.
It comes as Australia's Senate prepares to debate new laws regarding extremists who fight in the Middle East.
The government bill would make travelling to an area of the world deemed by the government a terrorism hot spot an offence.
An Australian who travels to such a place without an acceptable reason would be guilty of a crime punishable by 10 years in prison.
IS has overrun swathes of Syria and Iraq and has acquired a reputation for brutality in the territory it controls.
At least 70 Australians are believed to be fighting with jihadist groups in Iraq and Syria, according to Foreign Minister Julie Bishop.
Ms Bishop has cancelled 73 Australian passports to prevent extremists from either flying to the Middle East or returning.
Full report at:
http://www.thedailystar.net/australian-teenager-appears-in-new-is-video-47783
-----------
Australia: Muslim School and Two Mosques Vandalized
24 October 2014
Larbi Arbaoui
Islamphobic words like "Ban Islam" were spray painted on the walls of the mosques and the Islamic school and beer bottles were found in the surrounding area of another mosque in the city.
Commenting these heinous acts of Islamophobia, Burhaan Mehtar, an Australian imam, said that despite the good behavior of most Australians towards Muslims, anti-Muslim sentiments and these sorts of religious attacks were becoming more common.
The Australian imam thinks that the best way to deal with such xenophobic attacks is "perhaps to ignore this minority group that are terrorizing Australian Muslims, but there is a limit to what people can actually digest and they do become fearful at what happened."
The Australian Police who has been investigating the "graffiti attacks," said that there "had been no recent increase in racially-motivated crime."
"Western Australia is a tolerant and inclusive state, and people should respect the diversity in our community," the spokesman of the police said.
Full report at:
http://www.moroccoworldnews.com/2014/10/142318/australia-muslim-school-and-two-mosques-vandalized/
-----------
South Asia
Bangladesh, UAE for combating terrorism including IS
October 28, 2014
Bangladesh and the United Arab Emirates (UAE) have expressed deep concern over the growing phenomenon of terrorism, and stressed the importance of combating it including the Islamic State.
Both the countries agreed to cooperate with each other in various fields and expand the scope of partnership in the fields of trade, business and investment in infrastructure.
The two sides also agreed to move forward towards the promotion of cooperative projects between the two countries in the sectors of higher education, culture and tourism and cooperation in the field of energy, including renewable energy, climate change and blue economy, and security issues, said a joint statement issued by the Bangladesh foreign ministry.
Prime Minister Sheikh Hasina visited the UAE from October 25 to 27 at the invitation of Vice President and Prime Minister of the UAE and Ruler of Dubai, Sheikh Mohammed Bin Rashid Al Maktoum.
During the visit, the two prime ministers held official discussions on bilateral, regional and global issues of mutual interests.
The discussions between the Bangladesh and UAE leaderships were marked by warmth, long-standing friendship and understanding between the two people and countries. During the discussions, the two sides emphasised the need for further strengthening relations between the two countries.
Full report at:
http://www.thedailystar.net/bangladesh-uae-for-combating-terrorism-including-is-47774
-----------
Afghan forces kill 27 Taliban militants across country
Oct 27, 2014
Afghan national security forces have killed 27 Taliban militants and injured 10 others during separate cleanup operations across the country over the past 24 hours.
The Afghan Interior Ministry said in a statement issued on Monday that the militants were killed and injured during a series of operations carried out in Badakhshan, Kandahar, Kunar, Uruzgan and Zabul provinces.
The statement further noted that twelve Taliban militants were arrested during the operations.
It, however, did not mention whether there were any casualties on the side of the Afghan forces.
The statement added that Afghan bomb disposal experts also defused 31 roadside bombs and landmines across the country.
The Taliban have not yet confirmed any casualties and made no comments on the operations.
The Taliban militants have stepped up their attacks against the Afghan government, foreign forces and civilians. The group has vowed to escalate the attacks on Afghan forces and US-led troops, their bases, diplomatic missions and vehicle convoys before the foreign forces exit the country at the end of 2014.
Full report at:
http://www.presstv.ir/detail/2014/10/27/383846/27-militants-killed-in-afghanistan/
-----------
Another 'Huji member' held in Dhaka
October 28, 2014
Rapid Action Battalion (Rab) members claimed to have arrested an active member of banned outfit Harkat-ul-Jihad-al-Islami (Huji) from Khilgaon area of Dhaka.
The man was identified as Mufti Jubaer Abdullah, alias Sazed Muhammad Foyez, alias Khairul Hasan, alias Noyon, in a text notification Rab issued to the media this morning.
Jihadi books, identity cards and photos of militant training sessions were seized from him.
There were no further details in the text message.
Full report at:
http://www.thedailystar.net/another-huji-member-held-in-dhaka-47777
-----------
Taliban storm Afghan court; seven killed
October 28th, 2014
KUNDUZ: Taliban militants stormed a court in northern Afghanistan on Monday and killed at least seven people including prosecutors, shooting them in their offices at close range, officials said.
The raid was mounted in Kunduz, a city which the insurgents have encircled in recent weeks and attempted to storm, so far without success.
Four attackers wearing army uniforms attacked the provincial appeals court, triggering a four-hour gunbattle with Afghan security forces, provincial police spokesman Sayed Sarwar Hussaini said.
Know more: New Afghan President Ashraf Ghani calls for Taliban peace talks
"They first blew up an explosives-laden car at the gate of the court and then entered the building," he said.
"The attackers killed six court officials and one police. Eight people were wounded," he said, adding that the militants were also killed.
Chief prosecutor Amruddin Amin said the gunmen went door-to-door in the court compound, shooting their victims at close quarters.
"I jumped out of a window. I saw the gunmen shooting people at close range," he said.
"The police guards inside the building fought them for hours, but they were eventually overpowered after they ran out of ammunition."
The Taliban claimed responsibility for the attack on their website and said several court officials and prosecutors were killed.
They did not elaborate on the motive for the attack but the court was hearing several cases against Taliban militants.
A suicide car bomber rammed into the Supreme Court building in Kabul in June last year, killing 15 civilians and wounding 40 others including women and children.
The Taliban later claimed responsibility and threatened further attacks on the judiciary if it continued to sentence its members to death.
The insurgents also stormed a provincial court in the western town of Farah in April 2013, killing 44 people in a bid to free insurgents standing trial. The dead included 34 civilians, while all nine attackers were also killed.
Full report at:
http://www.dawn.com/news/1140880/taliban-storm-afghan-court-seven-killed
-----------
Nizami verdict now Wednesday
October 28, 2014
A tribunal in Dhaka today fixed tomorrow (Wednesday) for delivering the long-awaited judgement in the war crimes case against Jamaat-e-Islami chief Motiur Rahman Nizami four months after the deferment of the verdict.
The 71-year-old former lawmaker and minister is facing 16 war crimes charges for his alleged involvement in the crimes against humanity and genocide during 1971 war.
With the latest order, the tribunal kept the case waiting for verdict delivery for the third time.
The International Crimes Tribunal-1 was scheduled to deliver the verdict on June 24 but the court deferred the judgement as Nizami was not produced in the courtroom "due to illness".
After fixing the fresh date for delivering the verdict, The ICT-1 headed by its chairman Justice M Enayetur Rahim ordered the jail authorities to produce Nizami before the court by 10:30am tomorrow, reports our correspondent from the court.
Nizami, Jamaat ameer since November 2000, was arrested on June 29, 2010, in a case filed in connection with hurting religious sentiments of the Muslims. He was shown arrested in the war crimes case later.
The investigation agency, designated to deal with war crimes probes, handed over a 411-page probe report on Nizami to the prosecution on October 2011, and the prosecution on December 11, 2011, submitted formal charges against the Jamaat chief.
Nizami, the president of the then Jamaat-e-Islami student wing Islami Chhatra Sangha and chief of Pakistan army auxiliary force Al-Badr, was indicted on May 28, 2012.
On November 26, 2012, the prosecution produced their first witnesses and subsequently produced 25 more.
The defence began producing their witness on October 21, 2013, and a total of four witnesses testified.
Prosecution began placing closing arguments on November 3, 2013, and took four days to complete their arguments. Against the backdrop of repeated failure of the defence to appear before the tribunal to place arguments, the Tribunal-1 drew conclusion to the case on November 13, 2013, and kept the case waiting for verdict delivery.
Full report at:
http://www.thedailystar.net/nizami-verdict-now-wednesday-47778
-----------
Pakistan
Balochistan taking steps to end sectarian terrorism, insurgency: Malik
By Saleem Shahid
October 28th, 2014
QUETTA: Balochistan Chief Minister Dr Abdul Malik Baloch has said that alongside other parts of the region Balochistan is facing sectarian terrorism, extremism and insurgency but his government is taking all possible steps to solve these problems.
Speaking at the passing out parade of the fourth batch of 200 police personnel here on Monday, the chief minister said that with the capacity building of police and other provincial forces, the government had succeeded to improve law and order in the province.
Also read: Govt taking all measures to eliminate terrorism, says CM Malik
"The law and order has improved to a great extent, but more efforts are needed to establish complete peace in the province," he said.
About 1,000 personnel of police, Anti-Terrorist Force, Balochistan Constabulary and Levies received special training from Pakistan Army.
Full report at:
http://www.dawn.com/news/1140782/balochistan-taking-steps-to-end-sectarian-terrorism-insurgency-malik
-----------
33 militants killed in NWA air strikes
October 28, 2014
PESHAWAR - At least 33 militants were killed and nine of their hideouts destroyed in fresh air strikes carried out by Pakistan Air Force (PAF) fighter jets and gunship helicopters in North Waziristan Agency on Monday as a part of ongoing full-scale military operation in the region.
According to ISPR, a media wing of the Pakistan Army, a total of 33 militants were killed, while nine of their hideouts were also destroyed, in two different aerial engagements in North Waziristan.
In the first action, in the morning, gunship helicopters targeted militant hideouts in Lataka, Sanzai, Danari and other adjoining areas ahead of tehsil Dattakhel. As a result of which, at least 18 militants were killed. Later, gunships pounded militant positions at Gharlamai area, in which another 15 militants were killed.
It has been learnt that two militants among the dead were stated to be Uzbek origin. The ISPR said that Operation Zarb-e-Azb against local and foreign militants was progressing successfully. Pakistan Army had launched an offensive against militants in North Waziristan near Pak-Afghan border on June 15 last.
The ISPR said that more than 1,200 militants had so far been killed while 86 soldiers embraced martyrdom during the ongoing offensive.
Pakistan Military launched Operation Zarb-e-Azb after failure of peace talks between militants and government and a brazen attack on Karachi International Airport in which at least 30 people, including 10 attackers were killed.
Agencies add: At least nine security personnel were injured in a roadside blast in Bajaur Agency on Monday, officials said.
Full report at:
http://nation.com.pk/national/28-Oct-2014/33-militants-killed-in-nwa-air-strikes
-----------
Jamaat-e-Islami for Teaching India a Lesson
October 28, 2014
SIALKOT
Jamaat-e-Islam leader Liaqat Baloch has asked the incumbent rulers to adopt a bold stance against Indian war aggression along the Sialkot Working Boundary and Line of Control before the world community.
Addressing the party workers' convention, he urged the international community to use its complete influence to force India to ensure peace by ending the ceasefire violations and targeting the civilian population especially in the Sialkot border villages along the Sialkot Working Boundary.
Full report at:
http://nation.com.pk/national/28-Oct-2014/jamaat-for-teaching-india-a-lesson
-----------
'Over Rs46.8b spent on fighting terror war'
October 28, 2014
INAMULLAH KHATTAK
ISLAMABAD - The government has spent over Rs46.8 billion in the last five years on fighting the war against terrorism across the country while a hefty chunk has also been allocated for keeping Islamabad safe from terror incidents.
To a question addressed to Interior Minister Chaudhary Nisar Ali Khan, the National Assembly was told the government spent Rs23,838 million alone on security of Islamabad. While Khyber Pakhtunkhwa (KP) and Federally Administered Tribal Areas (FATAs), being on frontline to fight terror, were given Rs8.5 billion and Rs3.4 billion respectively.
The House was informed that 1,921 police and Rangers personnel sacrificed their lives while fighting terrorism since Pakistan joined the global war against terrorism with Sindh province topped the list of maximum casualties of law enforcers. The National Assembly was told that as many as 835 police and Rangers personnel were killed in Sindh while fighting terrorism in the last five years followed by Khyber Pakhtunkhwa where 802 police personnel were killed in militant attacks.
Sindh, where maximum security personnel were killed by terrorists, got only Rs341 million to fight terror as compared to Punjab that got Rs7,174 million for fighting terrorism where 19 police and Rangers personnel got martyrdom due to terrorism incidents. But despite pumping in billions of money to secure Islamabad from terrorists, the federal capital even then has witnessed some of the worst terrorism incidents. In 2014 alone, Islamabad witnessed over 30 terrorist incidents, including target killings. At least 23 people were killed and many others injured in a bomb explosion at Pir Wadhai area near Sabzi Mandi locality in Islamabad. In another incident, at least 11 people, including Additional District and Sessions Judge Rafaqat Awan, a woman lawyer, and a policeman, were killed and 25 others were injured when militants attacked the courthouse complex in Islamabad.
Full report at:
http://nation.com.pk/islamabad/28-Oct-2014/over-rs46-8b-spent-on-fighting-terror-war
-----------
Aitzaz asks MQM to keep religion out of politics
October 28th, 2014
ISLAMABAD: The Pakis­tan Peoples Party (PPP) on Monday appealed to the estranged Muttahida Qaumi Movement (MQM) not to incite people's sentiments by giving religious colour to political issues.
Speaking at a news conference a day after MQM observed a 'black day' in Sindh against a controversial statement of Leader of Opposition in National Assembly Syed Khurshid Shah, PPP's Chaudhry Aitzaz Ahsan expressed surprise over the MQM's move to use religion to achieve political objectives, saying: "We did not expect this from the MQM."
Flanked by senior party leaders, Mr Ahsan also hit out at the Pakistan Tehreek-i-Insaf (PTI) leadership for using "foul language" against the PPP leadership in its public meetings, warning the PPP workers might not remain silent all the time.
Mr Ahsan said the PPP had always believed that parties like MQM, ANP and the BNP were against all sorts of extremism and would never use religion in political matters. He said the use of religion by progressive parties was a matter of concern for all of them.
"There seems to be no justification to incite people after a clarification by Khurshid Shah about his statement," Aitzaz Ahsan said. He said MQM had the right to make a demand for the creation of new provinces. However, he added, the demand should only be made through constitutional means.
Full report at:
http://www.dawn.com/news/1140789/aitzaz-asks-mqm-to-keep-religion-out-of-politics
-----------
Alleged rigging: PTI to demonstrate outside ECP building
By Irfan Haider
October 28th, 2014
ISLAMABAD: Pakistan Tehreek-i-Insaf Chairman Imran Khan said on Monday that the PTI would stage a rally outside the building of the Election Commission of Pakistan on Tuesday.
Addressing the participants of his party's sit-in at D-Chowk, he said the current assembly, the prime minister and the government were not genuine because last year's elections were massively rigged.
"We would have never given a call for protest had we succeeded in getting justice against poll rigging," Mr Khan said.
He said Nov 30 would be a decisive day for the PTI movement when people from across the country would converge on Islamabad to take part in the sit-in.
The PTI chief challenged Prime Minister Nawaz Sharif to move the Supreme Court if his allegations against him regarding declaration of assets were not true.
"Mian Sahib, you are lying because you did not declare your 'actual assets' before the ECP. You can move the court against me if you believe that my allegations about your assets are wrong," he said.
Mr Khan advised his supporters in a lighter vein to raise the slogan of 'Go Nawaz Go' in order to sleep well because it would reduce their blood pressure and tension.
He claimed that the PTI was the only party which expressed concern about over-billing of Rs70 billion in electricity bills.
Full report at:
http://www.dawn.com/news/1140756/alleged-rigging-pti-to-demonstrate-outside-ecp-building
-----------
US special envoy in Pakistan for consultations with civil, military leaders
By Anwar Iqbal | Mateen Haider
October 28th, 2014
WASHINGTON: The United States Special Representative for Afghanistan and Pakistan Mr Dan Feldman on Tuesday arrived in Islamabad on a two-day visit of the country.
The envoy held a meeting with Adviser to Prime Minister on National Security and Foreign Affairs Sartaj Aziz and the two discussed bilateral ties and issues relating to the region and Afghanistan.
Both sides shared their resolve to improve and strengthen relations between Pakistan and the US.
Feldman is scheduled to meet with "a wide range of civilian and military officials as well as representatives from civil society" during his stay in Pakistan, a statement issued by the US State Department had said prior to the envoy's departure.
Know more: Army chief to visit US next month for talks on strategic issues
While the agenda of Feldman's visit was not clearly stated by the State Department, his visit comes days before Chief of Army Staff (COAS) General Raheel Sharif's week-long visit to the US.
High-level political contact between the two countries is also expected to resume in January next year, sources told Dawn.
Full report at:
http://www.dawn.com/news/1140816/us-special-envoy-in-pakistan-for-consultations-with-civil-military-leaders
-----------
Capital gets major chunk of funds for war on terror
By Khawar Ghumman
October 28th, 2014
ISLAMABAD: The government spent Rs48.138 billion, during the last five years, on its civilian law enforcement agencies engaged in the war on terrorism.
The information was placed before the National Assembly during its question-hour session on Monday.
Dr Mahreen Razaque Bhutto of the PPP had asked the minister for interior about the estimated cost the government had to bear on its efforts to boost the country's law enforcement agencies over the last five years.
The Islamabad capital territory (ICT), according to the written response provided by Interior Minister Chaudhry Nisar Ali Khan, was on top of the list in terms of receiving funds under the head of war on terror - Rs23.83 billion. This amount also included the total allocations/expenditures for the capital police since 2009.
Next in line came Khyber Pakhtunwa, where the government spent Rs8.53 billion. The Federally Administrated Tribal Areas (Fata) was separately given Rs3.45 billion. The Frontier Corps (FC) deployed in the KP got Rs1.955 billion. The Punjab Rangers were provided Rs7.17 billion.
Full report at:
http://www.dawn.com/news/1140849/capital-gets-major-chunk-of-funds-for-war-on-terror
-----------
'Sacrifice of Hazrat Imam Hussain a beacon of light'
October 28, 2014
ATTOCK - The sacrifice of Hazrat Imam Hussain (A.S) for the glory of Islam is unique, giving us a lesson of patience sacrifice and tolerance. Religious scholars and other speakers said this while addressing participants of a procession taken out on first Muharram-ul-Haram here in Attock. The speakers in their sermons threw light on the philosophy of martyrdom and said that Hazrat Imam Hussain (A.S) through the martyrdom of his and his family members gave a lesson of patience and sacrifice which cannot be forgotten till the doomsday and the world cannot present its example.
Full report at:
http://nation.com.pk/national/28-Oct-2014/sacrifice-of-hazrat-imam-hussain-a-beacon-of-light
-----------
For Iraq's Sunnis, sectarian militias pose an extra threat
By Sarah Margon
IRBIL (Iraq): The traffic on the road to Tuz Khurmato, a town about an hour south of Kirkuk, was light on a recent morning when we set out to meet senior officials from the Kurdish security forces, the peshmerga. Their fortified bases, lean-tos flying various Shia militia flags and makeshift camps for displaced families dotted the side of the highway. Official Iraqi security forces were nowhere to be seen, even at checkpoints.
Inside a dusty office at the peshmerga base, a field commander relayed what he had seen during recent weeks of fighting. "They don't respect human rights, they arrest anyone," he said. "They kill, they behead, they burn houses." He was referring not to the Islamic State but to the government-backed Shia militias alongside whom the peshmerga are fighting the Sunni extremist group in an uneasy marriage of convenience.
The lines between Shia militias and official security forces have been blurred for years. But with the Iraqi army's near-total collapse this summer, their strength has increased. Politicians, security force personnel and civilians alike have told Human Rights Watch that these militias "control security" throughout much of Iraq, a point only reinforced by the recent appointment of Mohammed Ghabban, a Shia politician with strong links to the Badr Brigade, a notorious militia, as Iraq's interior minister.
In certain parts of Iraq under siege by the Islamic State, the militias continued the fight even after US-led coalition air strikes shifted to other targets. They did this primarily by attacking Sunnis who didn't flee the Islamic State advance, considering any remaining families "collaborators", and ransacking, burning and even demolishing scores of Sunni villages. In some cases, they travelled from village to village in US Army-issued Humvees, which were probably obtained from the Iraqi government.
This relentless arson and pillaging has resulted in death, destruction and, according to local sources, the displacement of more than 7,000 families in recent months. When we pulled over to the side of the highway to speak with a family living in an abandoned strip mall, a man in his late 40s told me, "I am no more afraid of Daesh" — the Arabic acronym for the Islamic State — "than I am of the Shia militias and the Iraqi government."
This lawless behaviour, of course, is not a new phenomenon but a pervasive part of post-Saddam Hussein Iraq. A congressionally mandated US report from 2007 presciently concluded that "sectarian militias are a fact of life in Iraq. They pose as much danger as Al Qaeda in Iraq and may even be a greater threat to Iraqi's long-term stability."
Over the past year, government-backed militias have increased kidnapping and killing of Sunni civilians throughout Baghdad, Diyala and Babil provinces, seriously escalating sectarian violence. Even in areas where Iraqi security forces are still somewhat intact — such as Anbar province — they are increasingly led by militias, mainly Kitaeb Hezbollah and Asaib Ahl al-Haq.
Full report at:
http://www.dawn.com/news/1140884/for-iraqs-sunnis-sectarian-militias-pose-an-extra-threat
-----------
Suicide bomber kills 27 in Iraq
US urges online fight against Islamic State as strikes hit militants
October 28, 2014
BAGHDAD - A suicide bomber killed at least 27 militiamen on the outskirts of the Iraqi town of Jurf al-Sakhar on Monday after security forces pushed Islamic State militants out of the area over the weekend, army and police sources said.
Holding Jurf al-Sakhar is critical for Iraqi security forces who finally managed to drive out the Sunni insurgents after months of fighting. It could allow Iraqi forces to prevent the insurgents from edging closer to the capital Baghdad, sever connections to their strongholds in western Anbar province, and stop them infiltrating the south.
The group has threatened to march on Baghdad, home to special forces and thousands of militias expected to put up fierce resistance if the capital comes under threat. Gains against Islamic State, an al Qaeda offshoot made up of Arab and foreign fighters, are often fragile even with the support of US airstrikes on militant targets in Iraq and neighbouring Syria.
As Iraqi government soldiers and militias savoured their victory and were taking photographs of Islamic State corpses on Sunday, mortar rounds fired by Islamic State fighters who had fled to orchards to the west rained down on Jurf al-Sakhar.
The blast hit the militiamen, killing dozens and scattering body parts, according to a Reuters witness. The next significant fighting near Baghdad is expected to take place just to the west in the Sunni heartland Anbar province.
Meanwhile, the US-led coalition carried out fresh air strikes Monday against militants in Syria and Iraq as Washington called for the battle against the Islamic State group to be taken to the Internet. The US military said its fighter jets and bombers carried out four more air strikes near Kobane on Sunday and Monday, destroying five IS vehicles and an IS-held building.
But there was no sign yet of promised reinforcements for the town's defenders, despite plans announced last week for Iraqi Kurdish peshmerga forces armed with heavy weapons to join the battle.
A senior Iraqi Kurdish official said the deployment was being held up by Turkey, which has agreed to allow the peshmerga to pass through its territory. "We are ready to send them," Mustafuz Qader, who heads the ministry responsible for the peshmerga, told journalists. "We are awaiting the stance of the state of Turkey and because of this have not sent any forces," he said, without elaborating. Kobane has become a crucial symbol in the battle against IS, an extremist Sunni group that has seized large parts of Syria and Iraq, declared an Islamic "caliphate" and committed widespread atrocities.
Full report at:
http://nation.com.pk/international/28-Oct-2014/suicide-bomber-kills-27-in-iraq
-----------
Lebanon army enters militant refuge after thousands flee
27 October 2014
TRIPOLI, Lebanon: Lebanese troops entered a Tripoli neighborhood Monday where thousands of civilians had fled deadly fighting with Al-Qaeda-linked militants who have battled the army across the northern city for three days.
The troops met no immediate resistance as they moved into the Islamist stronghold of Bab Al-Tabbaneh, where the militants were nowhere to be seen, an AFP correspondent reported.
Troops carried out house-to-house searches as they advanced and made several weapons seizures. Only sporadic gunfire could be heard.
Thousands of civilians had fled the impoverished Sunni neighborhood of some 100,000 people during a lull in fighting late on Sunday.
Dozens of homes and shops burned down as the army rained heavy mortar fire on the militants who had holed up in Bab Al-Tabbaneh after launching an unprecedented assault in Tripoli's central market district on Friday.
It was the first time that deadly violence had hit the historic heart of Lebanon's second largest city, which has been rocked by a mounting spillover of violence from the more than three year civil war in neighboring Syria.
At least five civilians and 11 soldiers have been killed since Friday.
Residents who had spent the night with relatives or in makeshift accommodation in schools or public offices were still too scared to return to their homes.
Full report at:
http://www.arabnews.com/middle-east/news/650836
-----------
Saudi lawyers jailed, banned from media over Tweets
October 28th, 2014
RIYADH: Three lawyers in Saudi Arabia were jailed on Monday for up to eight years and banned from using social media over Tweets that undermined the judiciary, the official news agency SPA said.
The lawyers were convicted, among other charges, of "disobeying the ruler" as well as undermining and slandering the judicial system which they describedas "retarded," it said.
They used "Tweets on social media" to carry out the offences, said SPA. "All this is to undermine public order," the agency reported, without identifying the accused or giving further details about what they wrote.
The court sentenced one accused to eight years in prison, while the other two were handed five-year terms.
The sentences start from the dates of their arrest, which were not specified.
They will also be banned from travel for several years and "from appearing in the media or writing in it, and through social media whatsoever, even under different IDs/names," SPA said.
Full report at:
http://www.dawn.com/news/1140875/saudi-lawyers-jailed-banned-from-media-over-tweets
-----------
Lebanon army back in control of Tripoli
28 Oct 2014
Lebanese soldiers have taken control of a Tripoli neighbourhood, once a base for al-Qaeda inspired fighters, after three days of fierce fighting that killed at least 16 and forced thousands to flee.
The fighting was the deadliest bout of Syria-related violence in Lebanon's second city since the 2011 outbreak of the civil war in Syria, leaving 11 soldiers and five civilians dead between Friday and Sunday.
It was also the first to pit rebels, blamed for attacks on military posts, against the army in Tripoli. The fighting caused major damage to the impoverished Sunni district of Bab al-Tebbaneh, which fighters had used as their stronghold.
On Monday morning, the army was in full control of the rebel bastion as troops moved in without facing any resistance, a military spokesman told AFP news agency.
"The army has taken over Bab al-Tebbaneh", said the spokesman, adding that troops had captured 162 fighters since Friday.
The army urged other fighters still at large to turn themselves in.
The soldiers carried out house-to-house searches and made several weapons seizures.
A 72-year-old woman said she had never before been forced out of Bab al-Tebbaneh, "not even during the civil war. But this time, I had to flee my house, along with my five grandchildren. I am in charge of them, because their father is in jail," said Umm Mohammed Jaaburi. "The violence was unprecedented," she said.
Full report at:
http://www.aljazeera.com/news/middleeast/2014/10/lebanon-army-controls-tripoli-after-clashes-2014102852350931809.html
-----------
Egypt expands terror-linked military trials of civilians
October 28, 2014 AFP
CAIRO - Egyptian President Abdel Fattah al-Sisi on Monday enacted a decree allowing military trials for civilians suspected of attacking state infrastructure, after a string of deadly strikes on soldiers.
The decree came after Sisi promised a tough response to what he called an "existential threat" to Egypt posed by militants, following an attack Friday on an army checkpoint in the Sinai that killed at least 30 soldiers. It places state infrastructure including electricity towers, major thoroughfares and bridges under military protection for two years, allowing the army to try anyone suspected of attacking the public facilities. "Crimes against public institutions, facilities and properties fall under the jurisdiction of the military judiciary," the decree states. Egypt has witnessed a surge in militant attacks since the army, then led by Sisi, ousted Islamist president Mohamed Morsi from power in July 2013.
Morsi's ouster also unleashed a deadly police crackdown on his supporters that has left hundreds dead and thousands in jail.
The government has cracked down on protests after Morsi's overthrow, passing a law that banned all but police-sanctioned demonstrations.
The military was already empowered with trying civilians for attacks on the army, but Sisi's decree considerably expands its powers by defining state infrastructure as "military facilities". "The law will remain in effect for two years after its enactment," the decree said.
Sisi's spokesman, Alaa Youssef, told AFP the decree was not meant to target protests but would deal only with "terrorism". "There is a big difference between attacking public installations and protesting," he said. "They are two different things."
The law, he said, was aimed at "protecting public installations and utilities from terrorist attacks." A military tribunal sentenced seven militants to death last week for a series of attacks on soldiers and police in Cairo and the Nile Delta.
Other militants who attacked only policemen have been tried before civilian courts.
Rights groups say military trials can carry swift and harsh verdicts.
An end to civilians appearing before military tribunals was a core demand of the revolutionaries who spearheaded a 2011 uprising that overthrew veteran strongman Hosni Mubarak.
Full report at:
http://nation.com.pk/international/28-Oct-2014/egypt-expands-terror-linked-military-trials-of-civilians
-----------
Education plays key role in fight against extremism
28 October 2014
Saudi Arabia has been moving toward a knowledge-based economy by bringing about a qualitative change in the teaching methods, improving its education infrastructure, and giving scholarships to students.
Evaluation of education on a regular basis is also a key component of this process, said Naif Al-Roomi, governor of the newly formed Public Education Evaluation Commission (PEEC) at its first press conference on Monday.
Al-Roomi shed light on PEEC's future plans as well as its ongoing projects for this academic year. He also discussed various strategic programs for raising the quality of public education.
An overhaul of the educational system has become necessary amid reports that some deviant ideology is being taught in public schools, where books with objectionable content have been prescribed. This syllabus should also meet the needs of the Saudi markets in terms of providing decent jobs to young Saudis.
"PEEC will be playing an important role in foiling extremist ideology, through highlighting moderate thoughts. We will work to keep education away from that ideology," the governor elaborated, adding that the PEEC's role in terms of the syllabus or the general frame work of the commission is also to ensure that education is under the government's moderate policy that fights extremism.
"Education in general and public education, in particular, is the cornerstone of the renaissance for national progress," he observed. "It is the front face of civilization that reflects the extent of progress and the pursuit of economic transformation through a knowledge-based economy. It is also one of the most important foundations of the national development strategy," he noted.
According to the official, Saudi Arabia has only 15 local specialists in the sector making it necessary for PEEC to forge partnerships with international experts from Finland, Poland, United Kingdom, the United Sates of America and Canada.
Full report at:
http://www.arabnews.com/saudi-arabia/news/651246
-----------
North America
US unveils coalition with muslim and Western nations to fight Islamic state in cyberspace
28 October 2014
The United States on Monday unveiled what it called an information coalition with Muslim and Western nations to combat efforts by Islamic State to recruit online and stoke sectarian hatred through a "cult of violence".
US officials told delegates from European and Arab countries at a meeting in Kuwait that this should complement parallel campaigns against the armed group on the battlefield and in the world of finance.
"There is a military coalition that is on the battlefield with Daesh (Islamic State) every day and from the very beginning the partners in the coalition felt that there should be an information coalition that complements the military coalition," US Undersecretary of State for Public Affairs Richard Stengel told a news conference after the talks.
Worried by the growing threat from Islamist militants after the Islamic State in Iraq and the Levant (ISIL) captured large swathes of territory in Iraq and Syria in June, Washington has been working with regional and world powers to fight the militants militarily, financially and politically.
ISIL has renamed itself Islamic State.
Campaigns by Islamic State on Twitter and other social media platforms have been slickly produced, incorporating up to the minute video and graphical techniques with battlefield footage to project an image of dynamism.
Representatives from Europe and the Middle East, including Britain, France, Saudi Arabia, Egypt and the United Arab Emirates attended the meeting.
A joint statement said the attendees agreed to "enhancing exchanges, training and other cooperative programs for government leaders and spokespersons, actively opposing the recruitment of foreign fighters and encouraging important religious and social leaders and the millions of young people who oppose violent extremism to raise their voices through traditional and social media."
Retired US General John Allen, special envoy for building the coalition against Islamic State, told participating delegates that ISIL must be exposed "for the un-Islamic cult of violence it really is".
Full report at:
http://www.dnaindia.com/world/report-us-unveils-coalition-with-muslim-and-western-nations-to-fight-islamic-state-in-cyberspace-2029809
-----------
US officials should have better ties with Muslims: American analyst
Oct 28, 2014
American analyst Patrick Basham has said that officials in the US should have better relationship with Muslims in the country, noting that the Muslims are productive citizens.
"I think that the authorities in America need to have a more constructive relationship with the local Muslim communities and especially with the Mosque," Basham, founding director of Democracy Institute, told Press TV on Monday.
He said that the majority of Muslims in countries such as America are "productive, structive good citizens."
Muslim citizens have been under pressure in the US in recent years, with many being spied on for no reason. Some Muslim citizens of the US have condemned the action as racial profiling.
Political analyst Lawrence Davidson said on Sunday that the United States tags Muslims as potential enemies, while Washington's aggressive foreign policy caused problems for the country.
Full report at:
http://www.presstv.ir/detail/2014/10/28/383903/us-should-have-better-ties-with-muslims/
-----------
Insecurity and opium blight Afghan province as British leave
October 28, 2014
Emmanuel PARISSE - Despite high praise from politicians, British troops ending their combat mission in Afghanistan's Helmand are leaving behind a province still blighted by insurgency and a huge opium harvest.
The last 400 or so British troops were airlifted from Camp Bastion to Kandahar on Monday in preparation for a flight home, ending a mission that lasted longer than World War II and cost 453 lives.
A similar number of US Marines were flown from the adjacent Camp Leatherneck to Kandahar, from where they will soon depart for the US.
US and British troops have been in Afghanistan since the 2001 US-led invasion which ousted the Taliban government in Kabul.
When the British took over command in the southern province of Helmand in 2006, there were hopes they could employ a softer approach than their US counterparts - and win hearts and minds in the stronghold of Taliban insurgents battling to regain power.
Their mission was hailed Sunday by British Prime Minister David Cameron and senior local Afghan officials as a success that lays solid foundations for NATO's post-2014 training and support mission.
Cameron said troops could be "proud of all they have achieved to keep us safe".
But while the Afghan National Army has been strengthened by billions of dollars of aid and Western training, some analysts warn that a lack of strategic foresight means the British have left with their mission uncompleted.
Chief among the concerns is the growing menace of opium production, which helps sustain the insurgency.
Full report at:
http://nation.com.pk/international/28-Oct-2014/insecurity-and-opium-blight-afghan-province-as-british-leave
-----------
US senate warns against disengagement from Afghanistan
By Anwar Iqbal
October 28th, 2014
WASHINGTON: The United States should not disengage from Afghanistan as it did in the 1990s, which had disastrous consequences for the entire region, warns a US Senate report released on Monday.
The report also described Washington's government-to-government ties with Pakistan as a "worthwhile arrangement" and urged the US administration to maintain its relations with both Pakistan and Afghanistan.
The report also emphasised the need to ensure the continuation of this policy by merging the office of the special representative for Pakistan and Afghanistan with the US State Department.
"In the 1990s, US disengagement from Afghanistan proved disastrous for the country, the region and the international community," the report states.
"Today, the US must avoid making the mistakes of the past and take steps to ensure the strength and sustainability of US assistance spending, diplomatic posture, and regionals as strategy."
The report notes that the long-term sustainability of the Afghan economy can only be ensured by its "enhanced integration with the region".
To achieve this target, the report reminds the administration to continue its Silk Route initiative for increasing inter-regional cooperation.
The report examines the development challenges that remain in Afghanistan following the recent political transition and offers a series of recommendations for US assistance approach and civilian presence.
Full report at:
http://www.dawn.com/news/1140861/us-senate-warns-against-disengagement-from-afghanistan
-----------
New video shows US police shot black man 45 times like 'firing squad'
Oct 28, 2014
A new video footage shows brutality of US police against black people as eight police officers shot a mentally ill African-American man 45 times in Michigan.
The 49-year-old victim, Milton Hall, was killed by the officers in Saginaw in 2012.
The shooting aroused a local outcry and a federal investigation two years ago.
The American Civil Liberties Union (ACLU) that released the video on Monday presented a testimony about the police shooting.
The video shows that eight police officers ringing the man in a parking lot with one dog growling at the poor man. Hall was not carrying any weapons except for a penknife. He was then shot by the officers 45 times and 14 of those shots struck him dead.
The ACLU gave the police dashboard footage to representatives of the Organization of American States in order to pressure the federal government to look at Hall's death scene one more time.
Full report at:
http://www.presstv.ir/detail/2014/10/28/383912/us-police-shot-black-man-45-times/
-----------
Mideast
Israel green lights plans for 1,000 Jerusalem settler homes
October 28, 2014
JERUSALEM - Israel has given the go-ahead for plans to build over 1,000 new Jewish settler homes in annexed east Jerusalem, an official said Monday, sparking a Palestinian warning of an "explosion" of violence.
The announcement followed fresh outbreaks of violence in mainly Arab east Jerusalem, where Israeli police have clashed nightly with Palestinian protesters for several days.
"The government has decided to advance the planning of more than 1,000 units in Jerusalem - roughly 400 in Har Homa and about 600 in Ramat Shlomo," the source in Prime Minister Benjamin Netanyahu's office told AFP, referring to two existing settlements in volatile east Jerusalem.
The official did not elaborate and declined to comment on the likely political and diplomatic impact of such a move.
Palestinians and the international community are already incensed at settler moves in the east Jerusalem neighbourhood of Silwan, scene of much of the latest violence.
Jibril Rajoub, a senior member of Palestinian president Mahmud Abbas's Fatah movement, warned of violent consequences likely to follow the settlement plans.
Full report at:
http://nation.com.pk/international/28-Oct-2014/israel-greenlights-plans-for-1-000-jerusalem-settler-homes
-----------
About 250 killed in 3 days fighting in Yemeni town
27 October 2014
SANAA, Yemen: Yemeni security officials say at least 250 people have been killed in three days of fighting between Shiite Houhti rebels and an influential tribe in the town of Radda in central Bayda province.
Fighters from the strong Qifa tribe, after three days of fierce fighting, forced the Houthis Monday out of the Manasih area in Radda, the officials said.
The Houthis, widely suspected of links to mostly Shiite Iran, gained control of the capital Sanaa in September and have waged ongoing battles with opposing tribes and militants from Al-Qaeda's Yemen branch.
Full report at:
http://www.arabnews.com/featured/news/650861
-----------
MEPs urge Turkey to cooperate in battle against ISIL
Oct 28, 2014
Members of the European Parliament have urged Turkey to fully cooperate in the battle against ISIL Takfiri terrorists operating in Syria and Iraq, Press TV reports.
Turkey's stance towards ISIL has been discussed during a recent meeting at the European Parliament in the French city of Strasbourg.
Victor Bostinaru, an MEP from Romania, said that Turkey, as a country that is seeking to join the EU, should show its "readiness to cooperate and to coordinate with EU and NATO" in fighting ISIL.
Arnaud Danjean, an MEP from France, pointed out that Ankara as a NATO member had an obligation to take action against ISIL, saying, "When we observe Turkey's attitude on Kobani or ISIS (ISIL), it raises many questions."
Full report at:
http://www.presstv.ir/detail/2014/10/28/383899/meps-urge-turkey-to-join-antiisil-war/
-----------
Al-Qaeda-linked militants retreat from southern Yemen
Oct 28, 2014
Al-Qaeda-linked militants in Yemen confirm they have retreated from their strongholds in the al-Manasseh area of the southern province of al-Bayda.
In a statement on Monday, al-Qaeda affiliate Ansar al-Sharia said that the Houthi movement's Ansarullah fighters drove them out after a series of battles.
According to the statement, all of the other local wings of al-Qaeda also withdrew from the region.
The statement was issued after locals reported that they had successfully flushed the Takfiris out of al-Bayda province.
Security officials said Monday that at least 250 people have been killed in clashes between al-Qaeda-linked militants and Houthi fighters in al-Bayda over the past three days.
According to the latest reports, the Ansarullah fighters have secured parts of the town of Rada' by forcing the extremist militants out.
Full report at:
http://www.presstv.ir/detail/2014/10/28/383891/qaeda-militants-retreat-from-south-yemen/
-----------
Israel plans to build Palestinian-only city
Oct 28, 2014
Israel is planning to build a Palestinian-only city in the northernmost part of Israel in a bid to decrease the number of Palestinians living in mostly Jewish-populated areas.
According to Israeli media outlets, the city is to be built near the coastal city of Acre (Akka) at the northern extremity of Haifa Bay, next to the Jdeideh Makr Arab community.
It is still unclear when the city is to be built and its municipal status is still unclear.
Many of Palestinians have condemned construction of the planned city, which is designed to accommodate a population of 40,000.
Full report at:
http://www.presstv.ir/detail/2014/10/28/383883/israel-to-build-palestinianonly-city/
-----------
Terrorism, extremism more dangerous than Ebola: Rouhani
Oct 28, 2014
Iran's President Hassan Rouhani describes terrorism as a "disease" more dangerous than the Ebola virus, expressing Tehran's readiness to help contain the threatening phenomenon.
"The diseases of terrorism and extremism are much more dangerous that the Ebola disease," President Rouhani said at a meeting with the Belgian Ambassador to Iran Francois del Marmol on Monday.
According to the latest figures by the World Health Organization (WHO), the number of confirmed, probable, and suspected people hit by Ebola has risen to 10,141. The disease has already claimed 4,922 lives.
Rouhani called the escalation of terrorism in the region a "menace," adding that the only solution to the problem would be "consultation, coordination, and cooperation among countries."
"The Islamic Republic of Iran is ready to consult with all influential countries in this regard."
Rouhani also touched upon the ongoing nuclear talks between Iran and six world powers to reach a final deal on the Islamic Republic's nuclear energy program, saying, "If there exists a serious political will among the sides [involved] in the negotiations, a final comprehensive agreement can be reached within the remaining time."
He further noted that the outcome of a comprehensive deal on Iran's nuclear energy program will be a "win-win for all sides."
Rouhani also placed emphasis on the peaceful nature of Iran's nuclear activities, saying, the fatwa (decree) by Leader of the Islamic Revolution Ayatollah Seyyed Ali Khamenei against the use of nuclear weapons is "the most important guarantee [that] Iran's nuclear program is peaceful."
On February 22, 2012, Ayatollah Khamenei said the Islamic Republic considers the pursuit and possession of nuclear weapons "a grave sin" from every logical, religious, and theoretical standpoint.
Full report at:
http://www.presstv.ir/detail/2014/10/28/383879/extremism-more-dangerous-than-ebola/
-----------
Iraq, Syria can contain terror on their own: Iran top diplomat
Tue Oct 28, 2014
A senior Iranian official has hailed a recent victory by the Iraqi army against the ISIL Takfiri militants, saying the triumph proves that Iraq and Syria can contain the terrorist group on their own.
The Iraqi military, supported by volunteer forces, succeeded in mopping up the last of ISIL Takfiri militants in the town of Jurf al-Sakhar, near the capital Baghdad on Monday.
Iran's Deputy Foreign Minister for Arab and African Affairs Hossein Amir-Abdollahian congratulated the Iraqi nation, government, and armed forces on the victory.
"The mop-up operation in Jurf al-Sakhar by the Iraqi armed and volunteer forces and without foreign intervention can serve as the best example for freeing and clearing areas in Iraq and Syria of Takfiri terrorists," the top diplomat said.
Full report at:
http://www.presstv.ir/detail/2014/10/28/383889/iraq-syria-can-contain-terror-alone/
-----------
Europe
BBC trending: Young Muslim Canadians - 'We are human after all'
28 October 2014
"Not in my name" is one of social media's simplest and often most powerful messages. It trended recently on Twitter in Europe, as Muslims distanced themselves from Islamic State (IS), and it's now being used on Facebook in Canada in direct response to last week's killings of two soldiers in two separate attacks.
Those actions, by recent converts to Islam, have threatened to polarise Canada. In a week that shocked the country, Warrant Officer Patrice Vincent was killed in a targeted hit-and-run, then, just two days later, Corporal Nathan Cirillo was shot dead during an attack on the National War Memorial. Police have taken steps to assure Muslim communities of their safety from reprisal attacks but, in Quebec, two teenagers took to the internet to spread their own message.
It's no coincidence that Muslims in Quebec feel compelled to speak out; both perpetrators are from the French-speaking region of the country. After a discussion about the incidents with her family, 15-year-old Nour Zirat set up the group "Not in my name Canada". She told BBC Trending she was inspired by the movement in Europe and "had to show solidarity with the rest of the world, to say this isn't acceptable." She also feels prejudice against Muslims in Canada has been present for a long time, but in her view those within the community have been too quiet. "I did this to break the silence and encourage people to express their beliefs," she says.
Full report at:
http://www.bbc.com/news/blogs-trending-29788885
-----------
Tehran, Riyadh must be involved in Syria talks: Russia FM
Oct 28, 2014
Russia's foreign minister has stressed the role of Iran and Saudi Arabia in efforts to end the Syria crisis, saying it will be a "great mistake" to exclude the two states from any future talks on the issue.
In a Monday interview with Russia's ITAR-TASS news agency, Sergei Lavrov pointed to the election of Staffan de Mistura as the new UN envoy to Syria and said "chances are improving now for the resumption of the political process" aimed at ending the foreign-backed violence in the Arab state.
Full report at:
http://www.presstv.ir/detail/2014/10/28/383913/russia-wants-iran-ksa-in-syria-talks/
-----------
UK plans to hike arms sales to Qatar: Report
Oct 28, 2014
A UK report has revealed that Britain is planning to increase its arms sales to Qatar despite criticism of its ties with the Persian Gulf state.
The report published by The Guardian on Monday said British ministers have identified Qatar as a "priority market" for the sales of arms.
According to a copy of a purchase order obtained by the Campaign Against Arms Trade (CAAT), the Qatari Amiri Guard ordered more than three million pounds worth of British-made Heckler and Koch assault rifles.
The report said the UK has approved export weapons licenses, including assault rifles and machine gun components, worth 23 million pounds since 2008, most in the last 12 months.
Britain also set up a national UK pavilion at an annual military equipment exhibition in the Qatari capital, Doha, earlier this month.
Full report at:
http://www.presstv.ir/detail/2014/10/28/383910/uk-plans-to-hike-arms-sales-to-qatar/
-----------
Southeast Asia
Malaysia court hears Anwar sodomy appeal
28 Oct 2014
Malaysia's top court has begun hearing a final appeal filed by opposition leader Anwar Ibrahim against a sodomy conviction widely regarded as politically motivated.
Anwar was sentenced to five years in prison in March on charges of sodomising a male aide in 2008 after the appeals court overturned an earlier acquittal.
"I am confident of winning the case if we have judicial independence,'' the 67-year-old said before entering the Federal Court, where around 200 of his supporters had gathered. "I'm mentally prepared, but I don't have much hope.''
Sodomy, even consensual, is a crime in Muslim-majority Malaysia and is punishable by up to 20 years in prison. Anwar would also be banned from running for office for five years from the day he is released from jail.
Critics and independent human rights activists say the case against Anwar is the latest salvo in a long-running campaign by Malaysia's coalition government to silence its most potent threat. The US government and other Western governments have expressed concerns over his treatment.
Full report at:
http://www.aljazeera.com/news/asia-pacific/2014/10/malaysia-court-hears-anwar-sodomy-appeal-20141028229712930.html
-----------
New home minister to delve into minority issues
October 28 2014
Newly appointed Home Minister Tjahjo Kumolo has said that he will scrutinize problems faced by minority groups over the past decade.
The Indonesian Democratic Party of Struggle (PDI-P) politician said that he would make an inventory of what could be categorized as minority problems.
"We will ask [for data] on what has happened in the past decade," he said on the sidelines of the Cabinet inauguration on Monday at the Presidential Palace.
He added that he would soon summon governors, mayors and regents to hear directions regarding a plan on financial austerity from President Joko "Jokowi" Widodo.
"We will deliver messages from Bappenas [the National Development Planning Board] and the Finance Ministry so that regional heads can understand about the limitation of [the current] state budget and will be able to anticipate [conditions]," said Tjahjo, referring to soaring fuel prices that may push the Jokowi administration to relieve some subsidies to make larger fiscal room for development programs.
Tjahjo, who is currently still serving as PDI-P secretary-general, is among five PDI-P members appointed in the new Cabinet.
Full report at:
http://www.thejakartapost.com/news/2014/10/28/new-home-minister-delve-minority-issues.html
-----------
Three things we learned from: The backlash against 'I Want to Touch a Dog'
BY ZURAIRI AR
OCTOBER 27, 2014
KUALA LUMPUR, Oct 27 ­— Last Saturday, pharmacist Syed Azmi Alhabshi was forced to apologise publicly for organising a canine-awareness event that gave many of his fellow Malay Muslims the chance to touch a dog for the first time in their lives.
In his apology — made at a news conference that was ostensibly his first public appearance since receiving slanderous vitriol and death threats — Syed Azmi who inadvertently became the event's "face" said he had not intended to make Muslims stray from their faith. The storm however, has not abated.
Here are three things we learnt from the furore that resulted from the "I Want to Touch a Dog" event.
Dogs are really a big deal for Malaysian Muslims
The violent backlash from some in the local Muslim community might have shocked a lot of non-Muslims, including the global community. The news was carried by many international news publications and held a tone of disbelief.
The situation might have even shocked Muslims abroad. For Muslims elsewhere, these hounds are common pets which they keep as guide dogs, guard dogs and hunting companions despite being tagged najis, or ritually unclean status in Islam.
In Malaysia, however, the stigma associated with dogs is seen to be a graver sin than drinking alcohol, only slightly below the "biggest sin" of all — eating pork.
Detractors have questioned Syed Azmi's motive for holding the event, claiming that a dog's role in Islam is clear, and there is no mistreatment of dogs in Malaysia among Muslims.
However, the degree of which some Malaysian Muslims went berserk after seeing photos of Malay girls in headscarves hugging dogs proved Syed Azmi right. There is a huge negative perception towards dogs among Muslims here.
Religious authorities are clawing for control
Some in the Malay-language media were quick to highlight reactions from the country's various state muftis and religious authorities, with headlines insinuating that the event had "insulted Islam" and demanding the Muslim participants "repent".
Full report at:
http://www.themalaymailonline.com/malaysia/article/three-things-we-learned-from-the-backlash-against-i-want-to-touch-a-dog
-----------
URL: https://newageislam.com/islamic-world-news/regain-lost-glory,-al-qaeda/d/99761